To finish off our trip to Florence, we returned to the United States in Lufthansa first class, flying from Munich to Chicago, on a flight operated by an Airbus A340-600. We booked using Aeroplan points within a few days of departure, as that's usually when Lufthansa opens first class awards.
I just recently reviewed Lufthansa's A340 first class, so I won't be publishing a full review of this flight. Lufthansa is consistent to a fault, and I feel like nothing has changed in a decade, so there's not much to add.
However, I did want to talk about what made this flight different for me, which had nothing to do with what was on offer. I don't think I've ever exercised such restraint while flying Lufthansa first class… and I have no regrets about it!
The "challenge" every first class traveler faces
Miles & points allow us to have some amazing premium experiences at a fraction of the retail cost. There are some amazing first class products out there, and I still pinch myself and get giddy when traveling in international first class.
However, there's a "problem" that any enthusiastic first class traveler can relate to (and I put that in quotes for good reason) — how do you maximize the experience, while balancing fun with arriving well rested?
On the one hand, the greatest thing about international first class is the amount of personal space you have, since that's the most precious commodity on a plane. If you're on an overnight flight, a first class seat could allow you to land refreshed and hit the ground running, in a way that most people couldn't do in economy.
On the other hand, flying international first class can also be really fun, rather than just relaxing. I mean, sure, you could board an Emirates A380 first class flight from New York to Milan and sleep the whole way, or you could enjoy the unlimited Dom Perignon and caviar, hit up the bar for an espresso martini, take a shower, etc.
Now, on many flights there's a happy medium, though I'm sure I'm not alone in often prioritizing fun over rest. In many cases I'll land from an international first class flight more exhausted than I'd probably be if I flew in economy… and I have no regrets about it!
Let me also of course add that reviewing flights is part of my "job," so that further encourages me to explore as many aspects of the service as possible. After all, sleeping from takeoff to touchdown doesn't make for a very interesting review.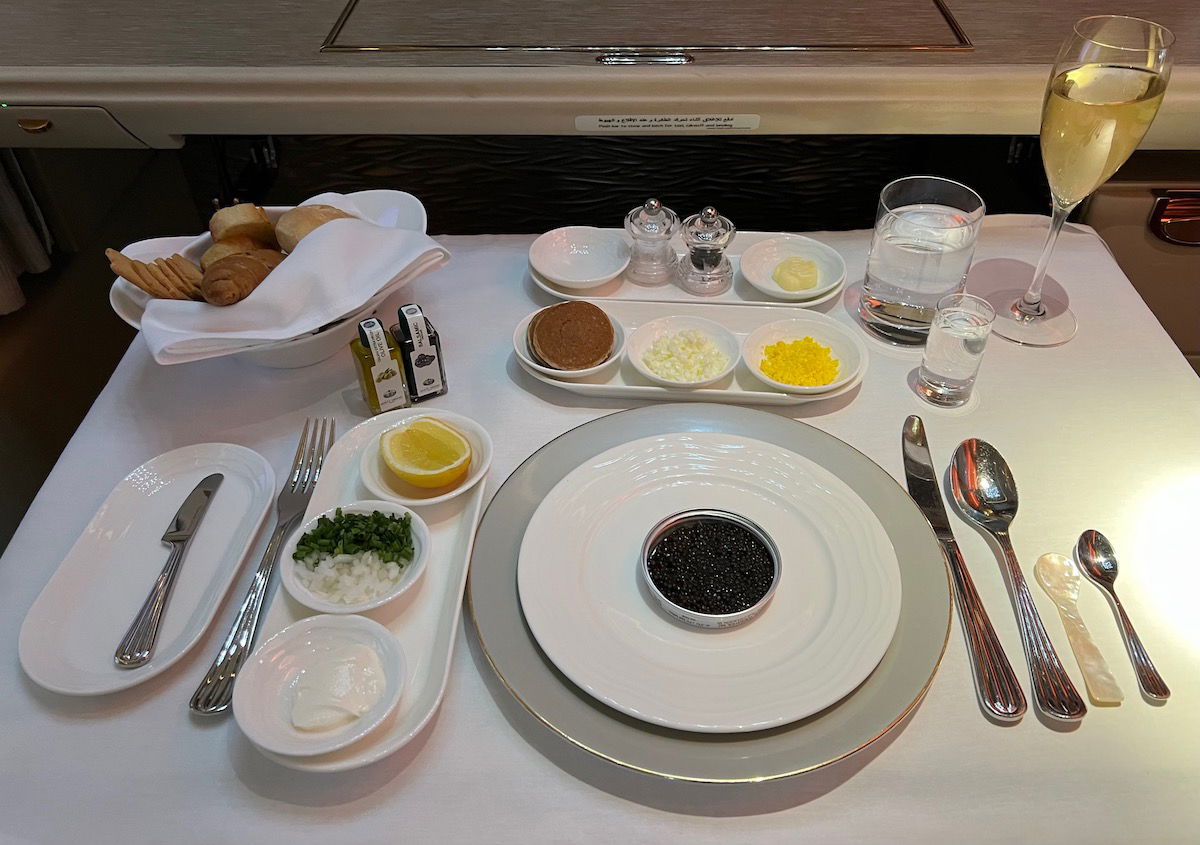 A lovely Lufthansa first class "office" above the clouds
On the roughly nine hour Lufthansa first class flight from Munich to Chicago, I indulged less than I've probably ever done in Lufthansa first class:
I wasn't reviewing the flight, so I didn't feel like I needed to "take one for the team" and eat and drink everything 😉
We had just wrapped up a ridiculously decadent trip with a lot of amazing food, and the day before the flight we even went truffle hunting, and had a four course truffle meal, so I was still full from that
It was a Monday, and I had work to do, and it's not fun or advisable to work while drunk or hungover (unless the goal is to be really sassy, or something)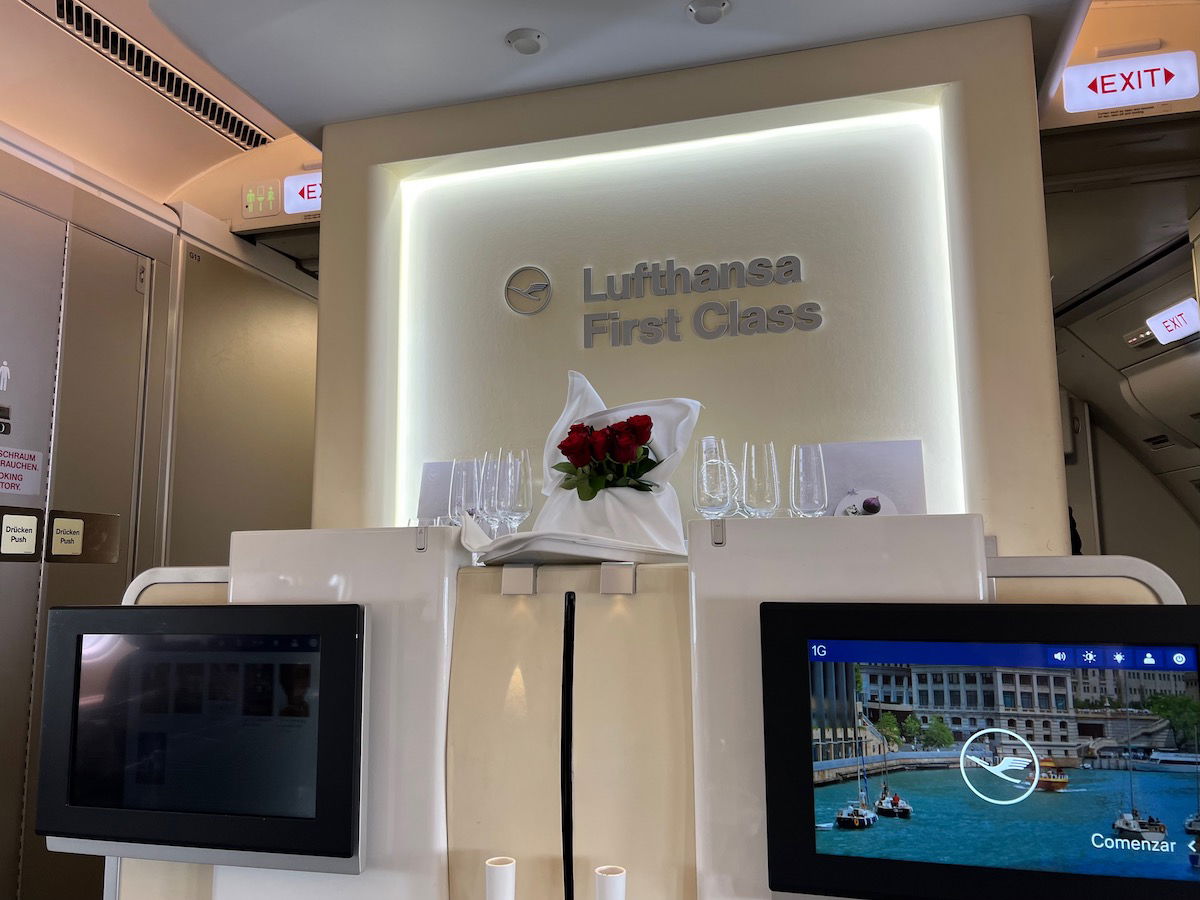 I skipped the pre-departure beverage and nuts. I did have lunch after takeoff, though without any alcohol. The meal started with an amuse bouche, and I just had some water to drink.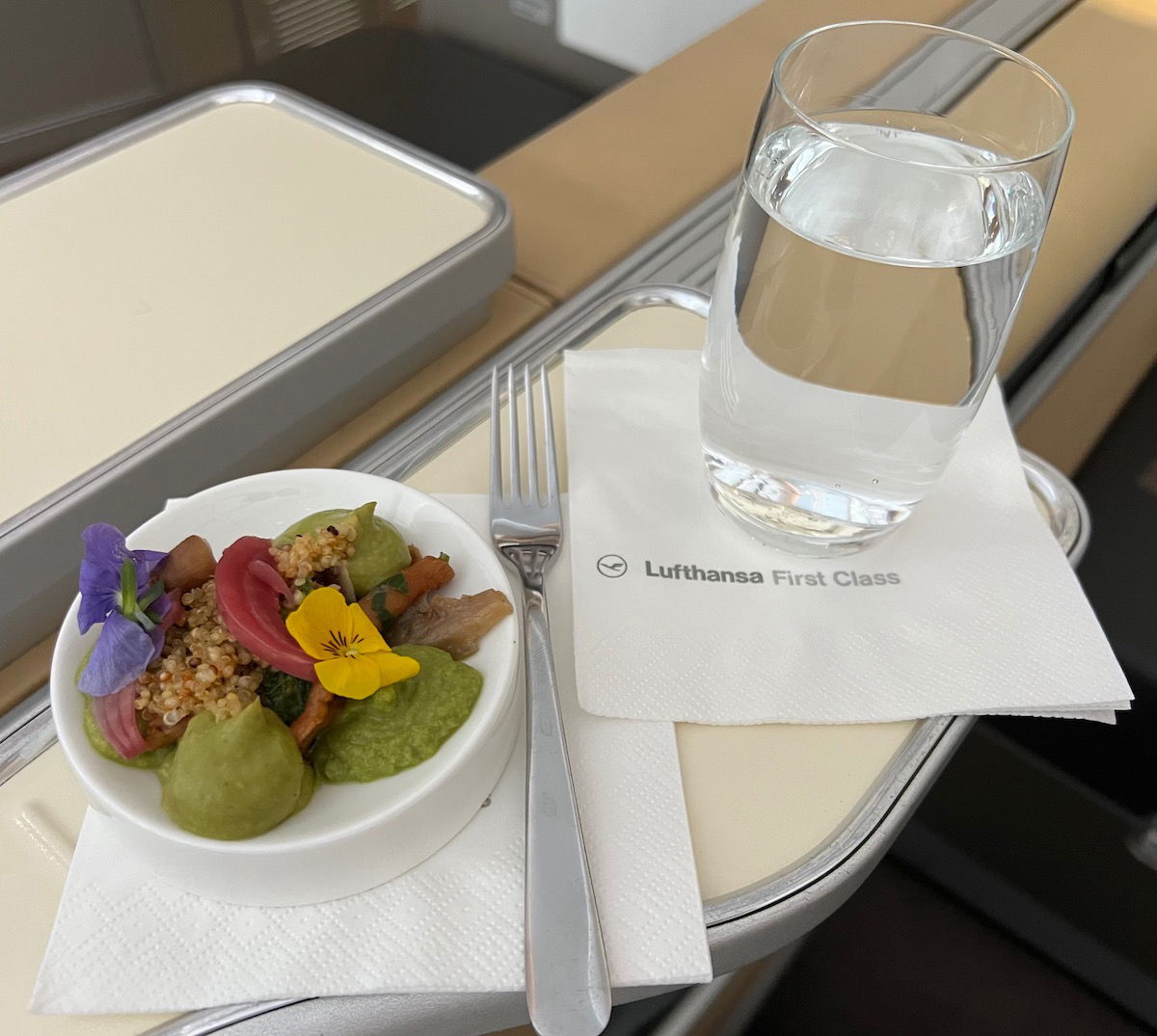 I couldn't say no to some caviar, and also had the tuna starter, and of course a pretzel, because that's a must on Lufthansa. I had a Diet Coke to drink — it was like the good old days of flying, 10+ years ago, when that was my drink of choice.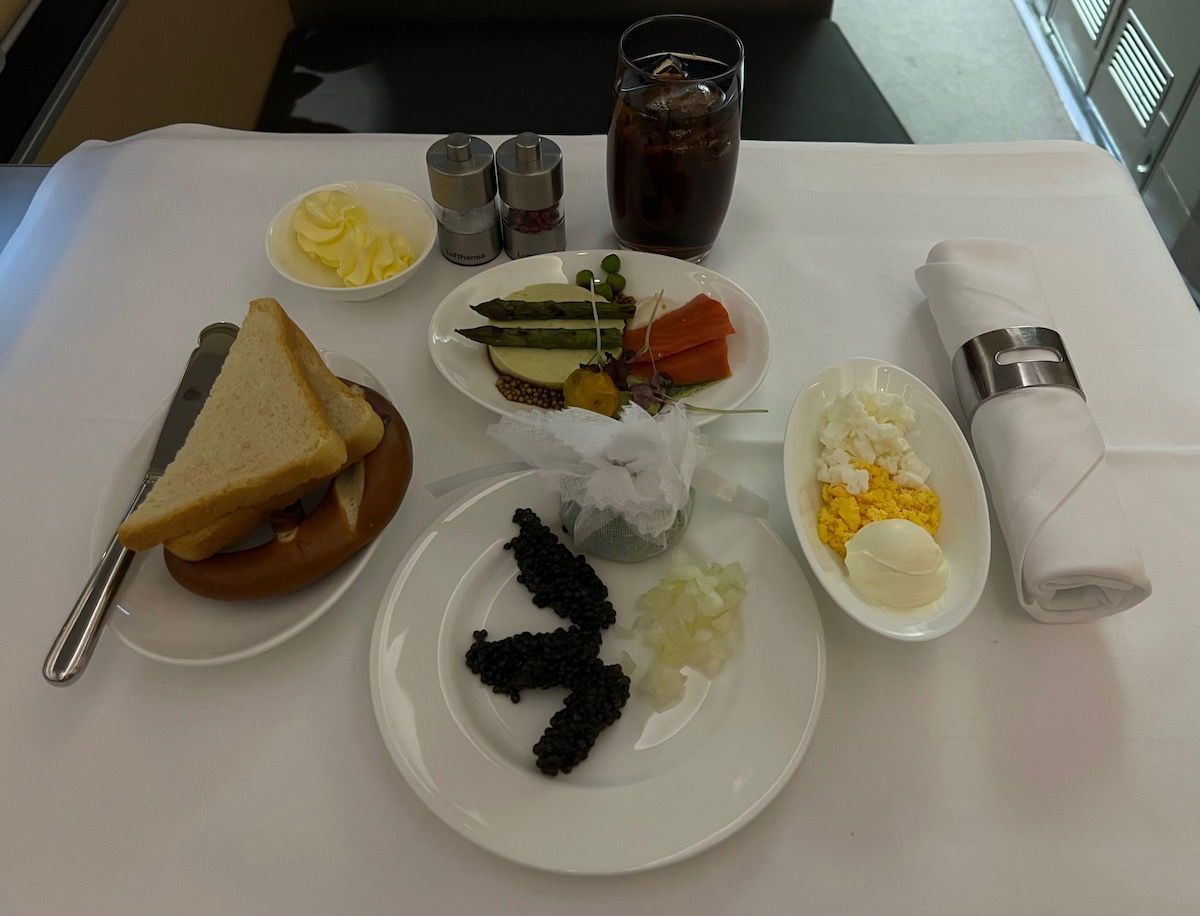 Then for the main course I had the asparagus, since that's in season, and was on the menu. I scraped off most of the hollandaise, but still enjoyed the asparagus (minus the urine side effects… TMI?).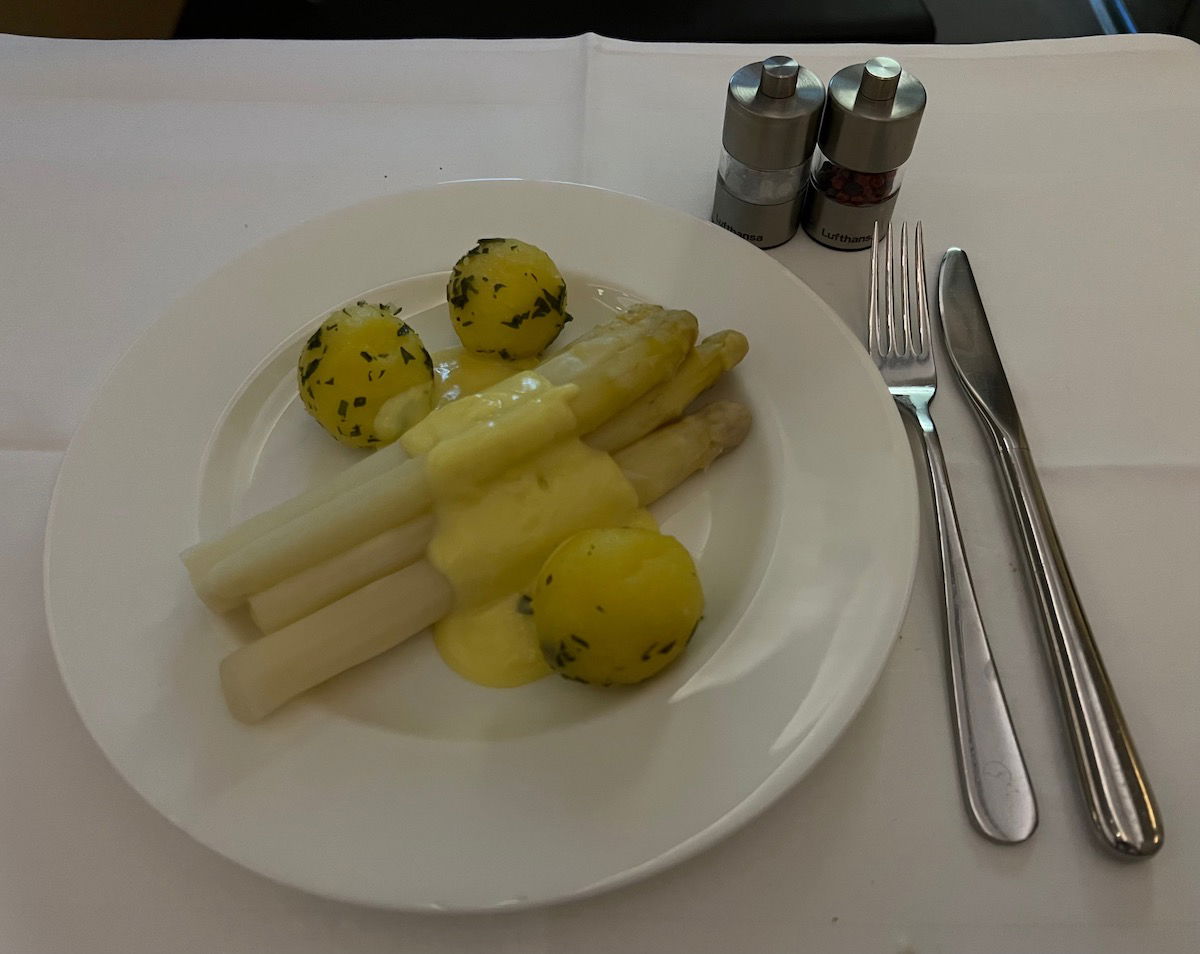 I didn't have any dessert or cheese. I got out my laptop and worked for the entire flight, and just hydrated with water. The only other notable thing about the flight is that I went to the "lower deck" to check out the bathrooms in the cargo hold.
I skipped the pre-arrival meal, but I did have a cappuccino.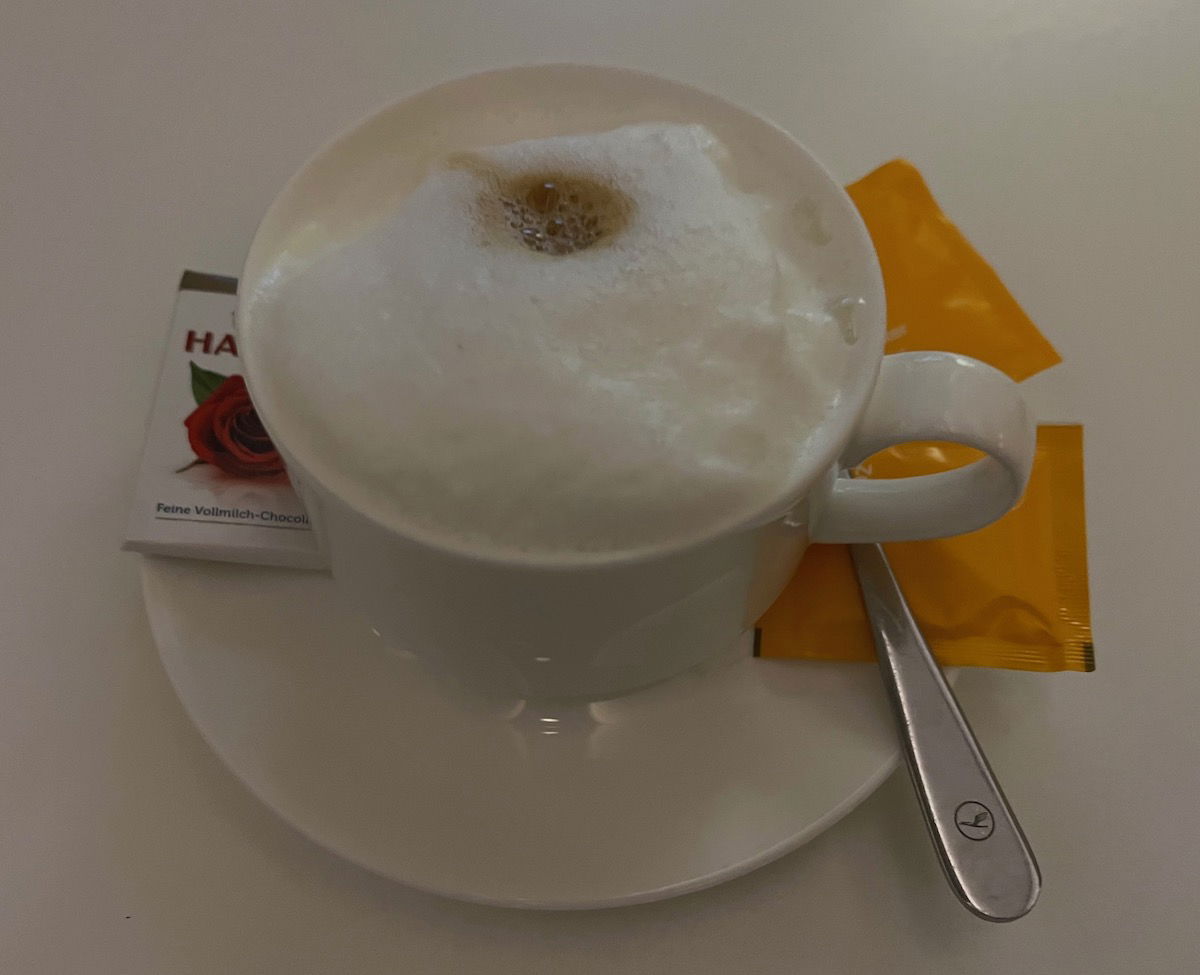 There were two friendly guys working in first class, and they almost seemed confused about how we weren't ordering anything else on a daytime flight.
I've gotta say, even though I didn't sleep on the flight, I felt fantastic when I landed in Chicago. It's nice to feel hydrated and to not feel totally full for once, which is a rare feeling for me when getting off an international first class flight.
Bottom line
Usually I "maximize" the international first class experience, which means enjoying the food and drink selection as much as possible, and having fun. On my recent Lufthansa first class flight, I took the opposite approach, and worked, stayed hydrated, and didn't overeat. As much as I enjoy an amazing first class experience, it was nice to land feeling great.
What's your approach when flying in an international premium cabin — maximize rest, maximize fun, or a happy medium?