In the interest of full disclosure, OMAAT earns a referral bonus for anyone that's approved through some of the below links. These are the best publicly available offers (terms apply) that we have found for each product or service. Opinions expressed here are the author's alone, not those of the bank, credit card issuer, airline, hotel chain, or product manufacturer/service provider, and have not been reviewed, approved or otherwise endorsed by any of these entities. Please check out
our advertiser policy
for further details about our partners, and thanks for your support!
We just wrapped up a two night stay at the 130-room Alila Marea Beach Resort Encinitas, which opened in early 2021. I had a great time, though I'm not sure why, exactly, as this hotel left me pretty confused. This hotel is both nice and… random. As a World of Hyatt Globalist member the value here is exceptional, and I'd consider returning.
Redeeming points at Alila Marea Encinitas
Alila Marea Encinitas is a Category 6 World of Hyatt property. That means a free night redemption costs 25,000 points per night, though with the introduction of peak and off-peak award pricing, stays will soon cost 21,000 to 29,000 points per night, depending on the day.
Redeeming points here is a spectacular value, especially as a World of Hyatt Globalist member:
The hotel has a $50 daily resort fee, and that's waived for all guests when redeeming points
The hotel charges $52 daily for valet parking, and that's waived for Globalist members when redeeming points
Globalist members receive complimentary daily breakfast
I was able to use one of my suite upgrade awards to confirm an upgrade to a one bedroom suite with an ocean view at the time of booking
For context, for the dates we were staying, the paid rate for a standard room would have been around $550, while the suite we confirmed an upgrade to retailed for over $1,500.
Even if you're not a Hyatt loyalist, earning World of Hyatt points can be pretty easy. In addition to being able to earn World of Hyatt points with the World of Hyatt Credit Card (review) and the World of Hyatt Business Credit Card (review), you can also transfer over points from Chase Ultimate Rewards.
Earn World of Hyatt points with the following cards:
How to book a cash stay at Alila Marea Encinitas
Paid rates at Alila Marea Encinitas vary seasonally, as you'd expect. Promotional rates in the off-season are available for as low as $400, and in peak season the hotel charges $800+ per night for a standard room. If you are booking a cash stay at Alila Marea Encinitas, I'd recommend doing so through a Hyatt Privé travel advisor. These rates cost the same as standard flexible rates (not member rates, advance purchase rates, AAA rates, etc.), and include the following additional perks:
Daily full breakfast for two in the hotel's restaurant
A $100 property credit per room per stay
A one category room upgrade confirmed within 24 hours of booking (room-to-room or suite-to-suite) — based on availability at the time of booking
Early check-in (as early as 9AM) and late check-out (as late as 4PM), subject to availability
A welcome gift and letter
Across the board, premium Hyatt properties are generally best booked through the Hyatt Privé program. Ford is happy to help with Alila requests, and can be reached at [email protected]
Alila Marea Encinitas location
Alila Marea Encinitas is located in Southern California, between San Diego and Orange County. As far as airports go, the hotel is about 30 miles from SAN, 60 miles from SNA, and 100 miles from LAX. We flew into San Diego, and from there it was an easy 30 minute drive to the hotel.
For those not familiar with the Encinitas area, think of it as a laid back surfer town. The hotel isn't immediately in town, but rather at the intersection of La Costa Avenue and Highway 101, so it's at a pretty busy intersection. Frankly the hotel doesn't fit into the area at all — the area otherwise only has small developments and homes, and then you have a massive hotel that seems kind of out of place.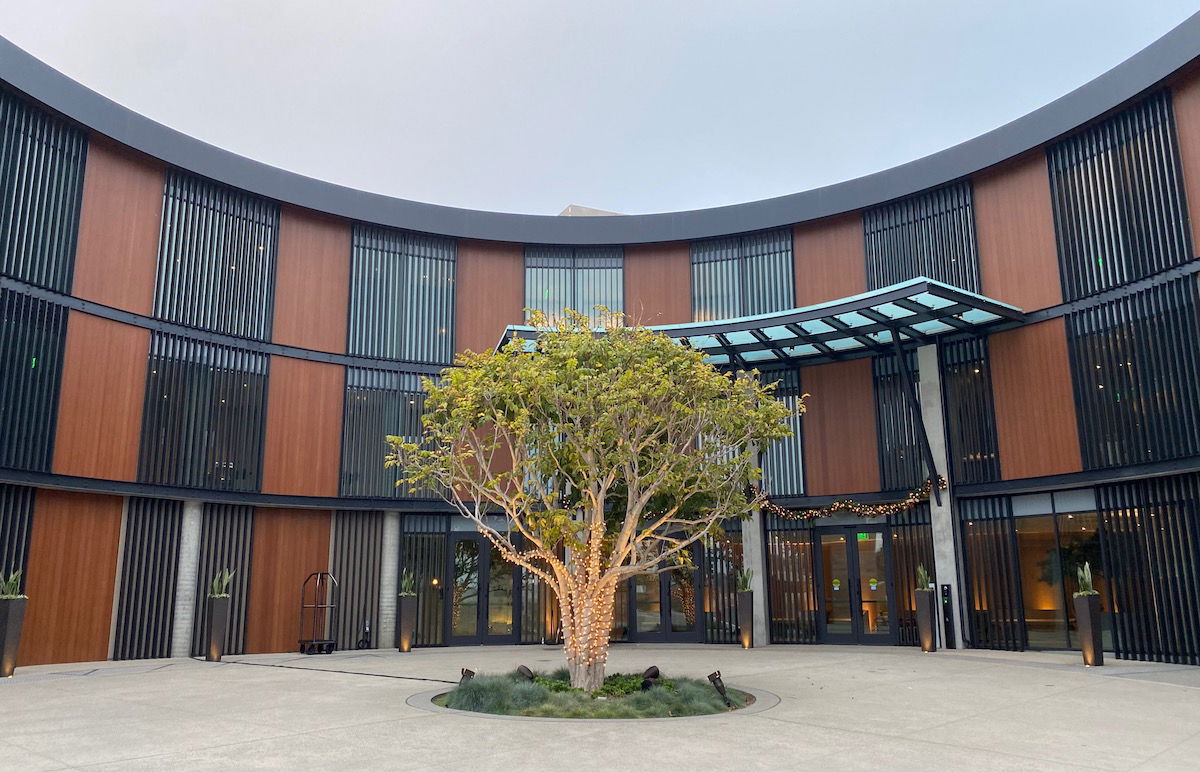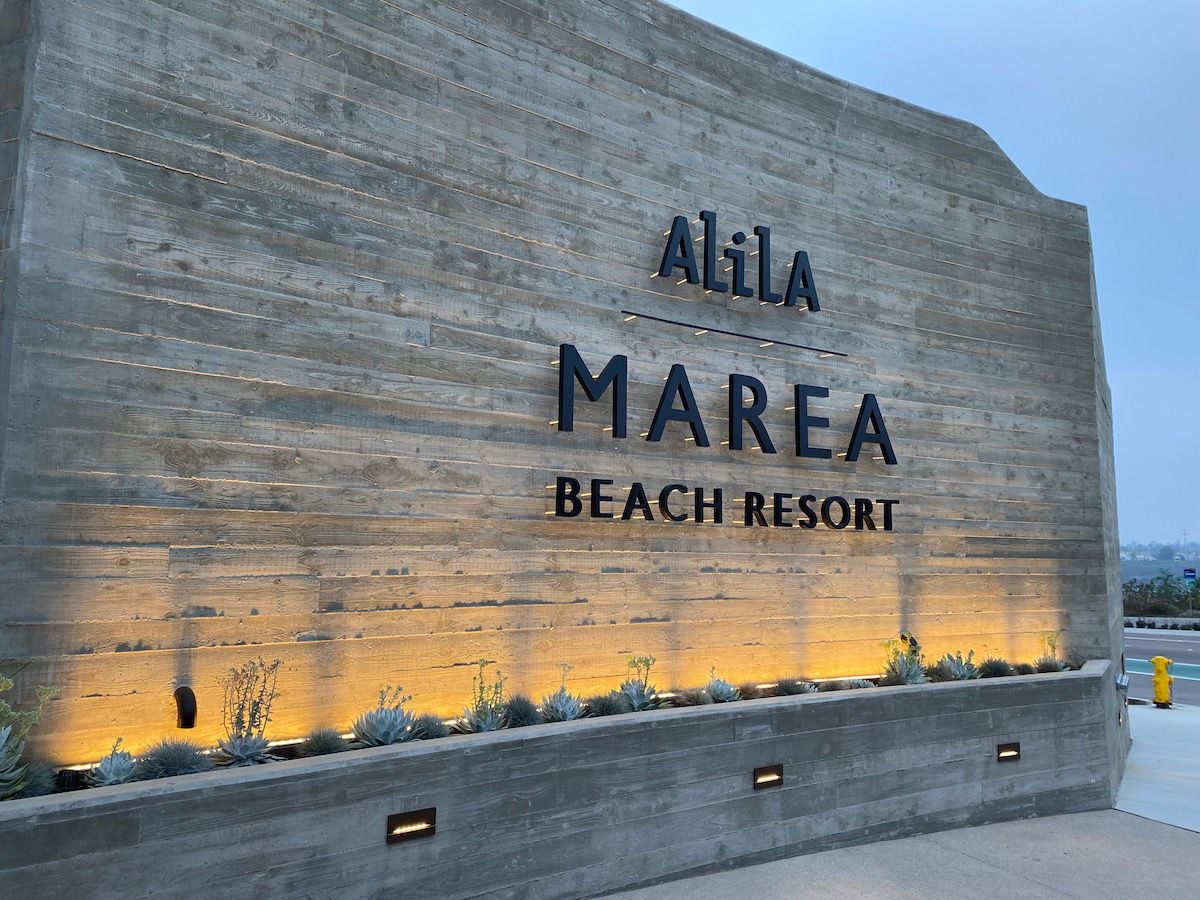 Alila Marea Encinitas property map
For context, below is a map that gives you a sense of the layout of the property. As you can tell, the hotel has four floors, and a rather unusual layout, as it's very long and narrow. The hotel is located on a 4.3 acre property, and the building itself takes up a vast majority of that space.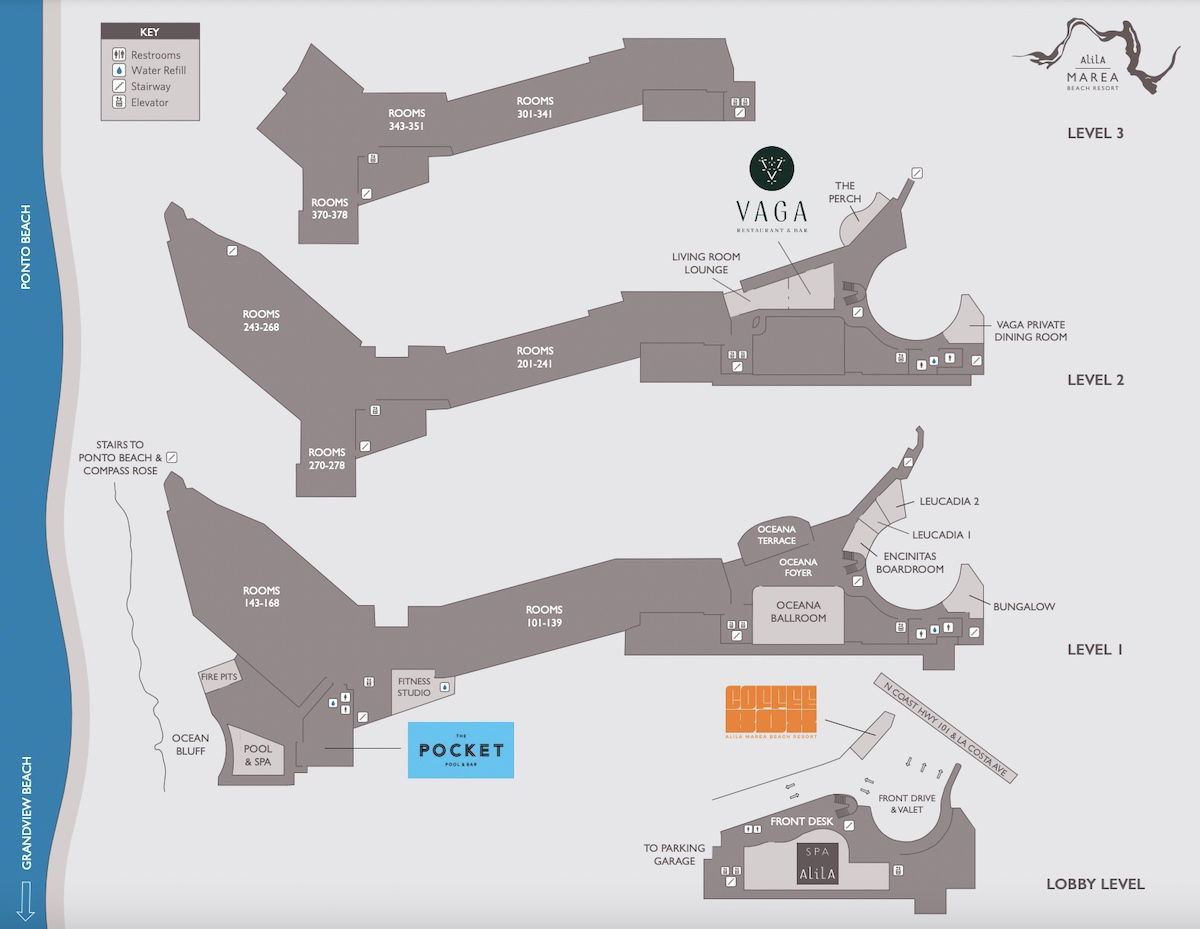 Alila Marea Encinitas lobby, layout, & check-in
As we pulled up to Alila we were helped by the friendly bellmen, who offered to park our car (there's no self parking here, just valet) and pointed us towards reception. The lobby level is significantly smaller than the other floors of the hotel. The hotel is kind of built into a hill, so I guess there was no way to do more with the lobby level.
The lobby simply has a bit of seating, and then a reception desk where guests can sit down while being helped.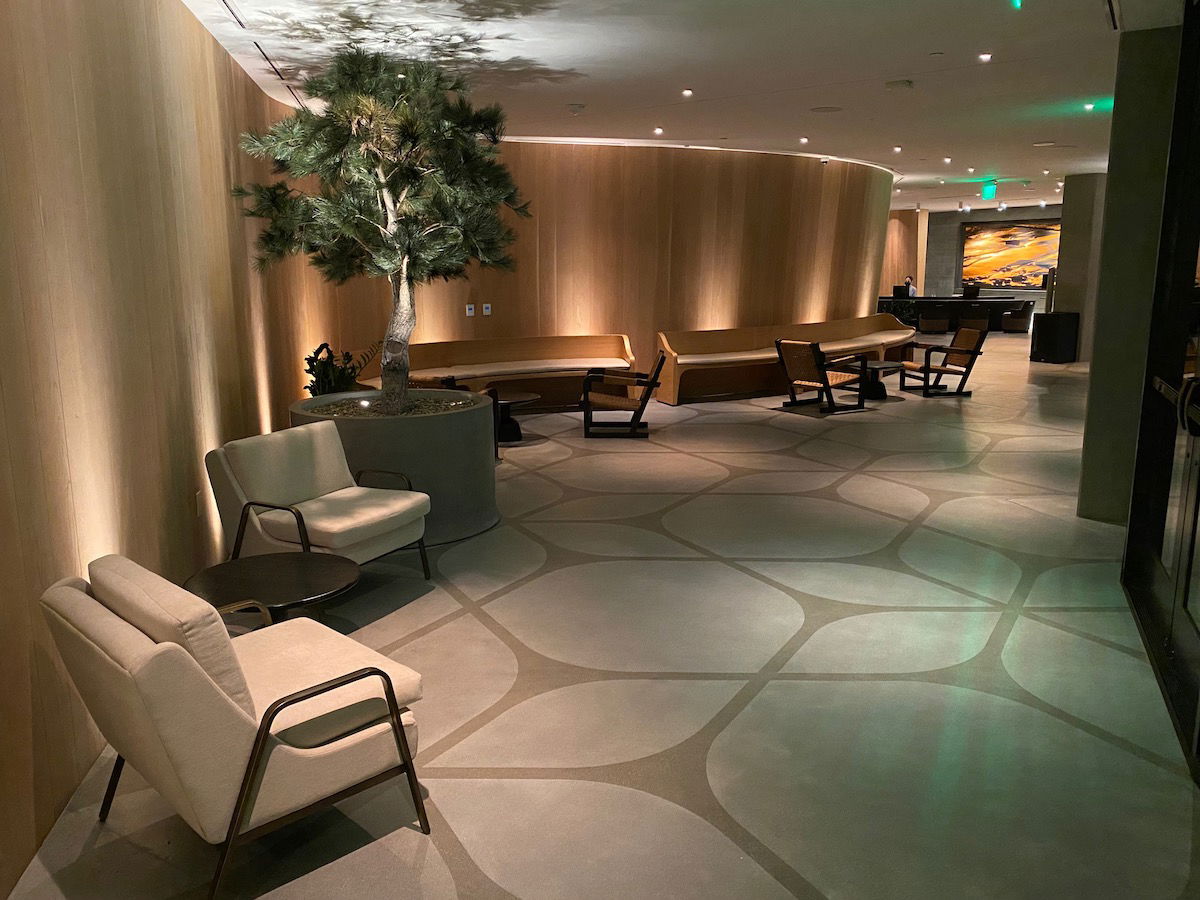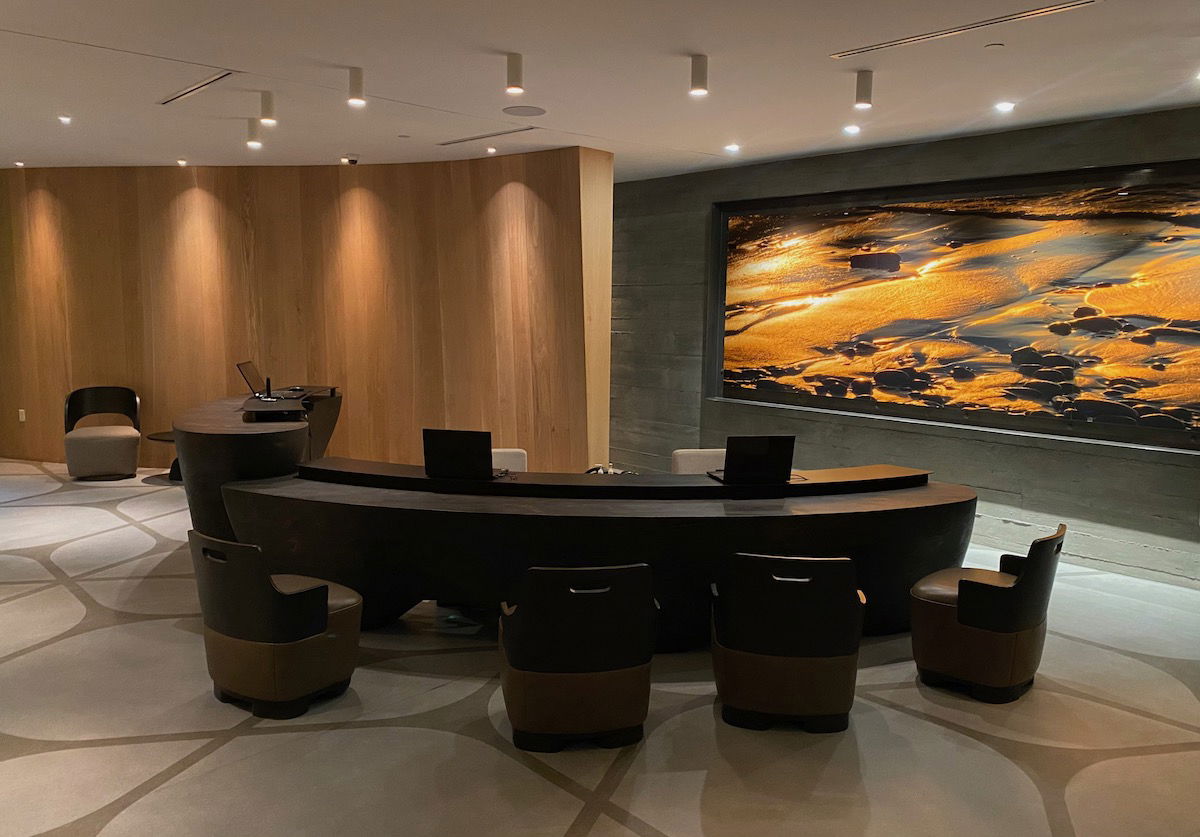 Across from reception is a staircase that leads up to VAGA (the hotel's signature restaurant), and then down the hall is Spa Alila, as well as the elevators to guest rooms.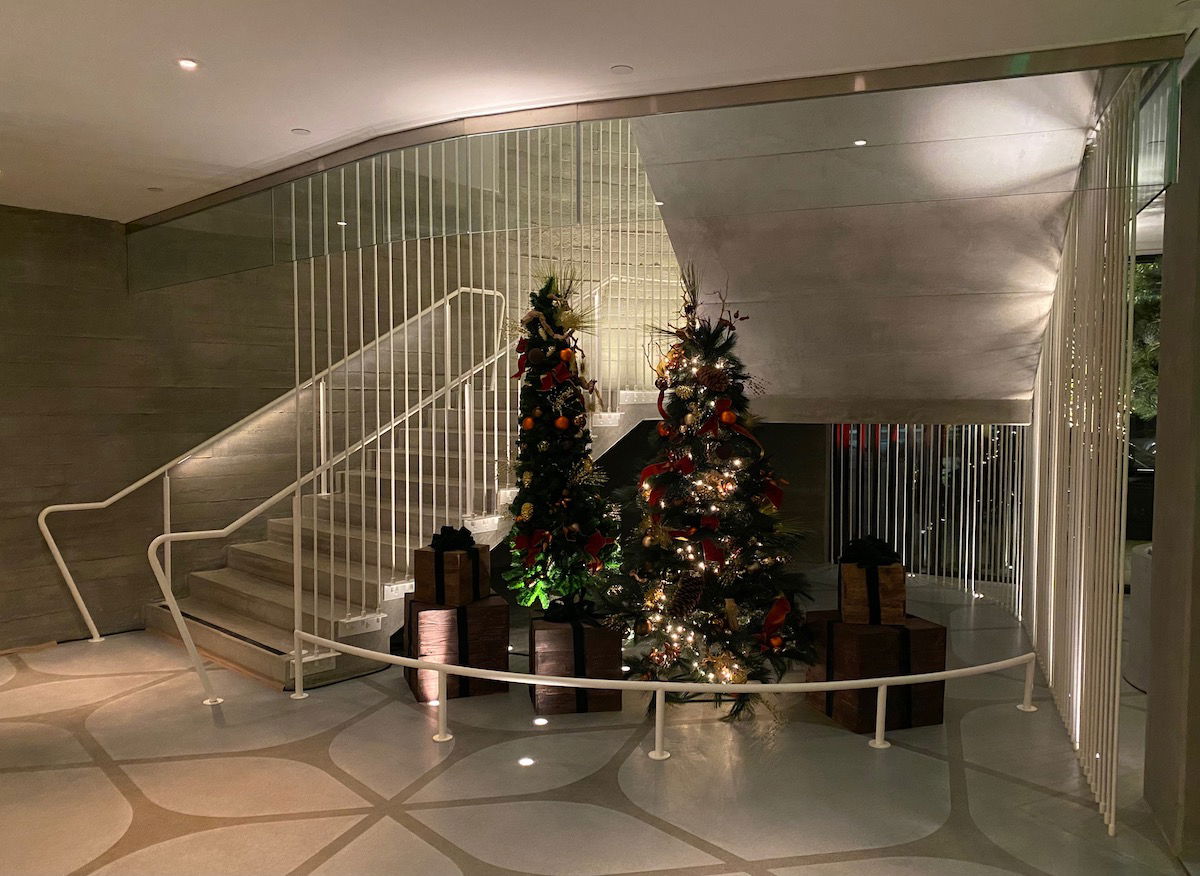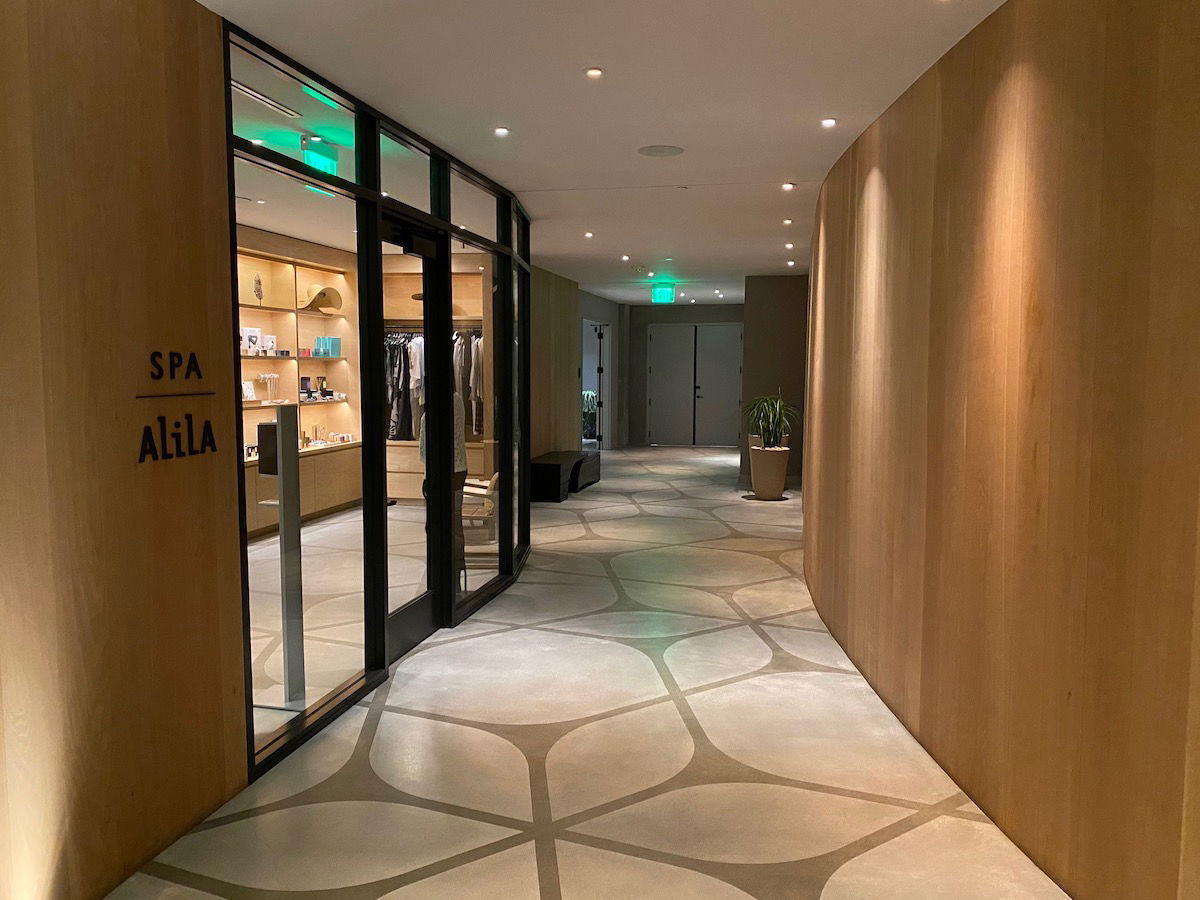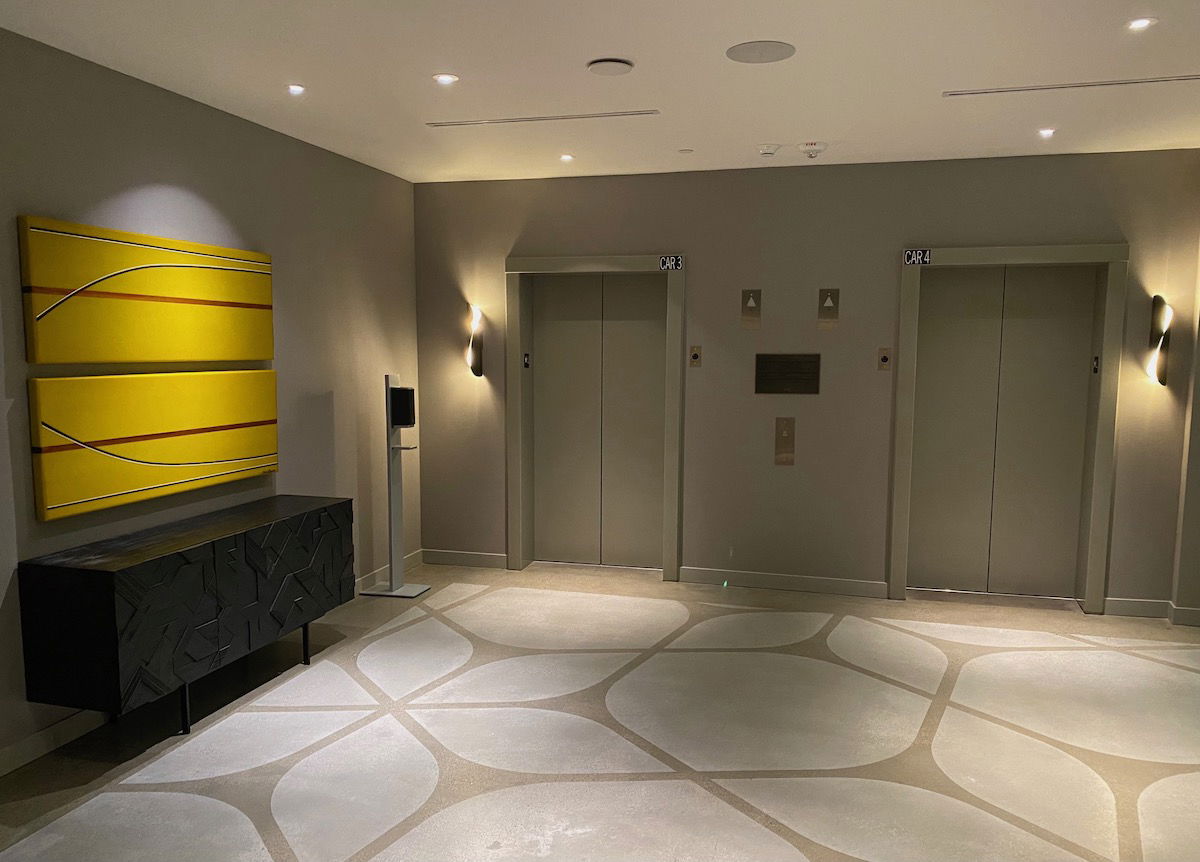 Our check-in experience was efficient, and the associate checking us in was laid back yet very friendly and professional.
Alila Marea Encinitas one bedroom suite with ocean view
We were assigned room 270, an ADA one bedroom suite with ocean on the second floor. Not only are keys required to access the elevators, but on top of that you have to once again scan your keys to even enter the hallway with guest rooms. Guest rooms were behind a door that simply indicated that was an exit route, so I think signage could be improved a bit.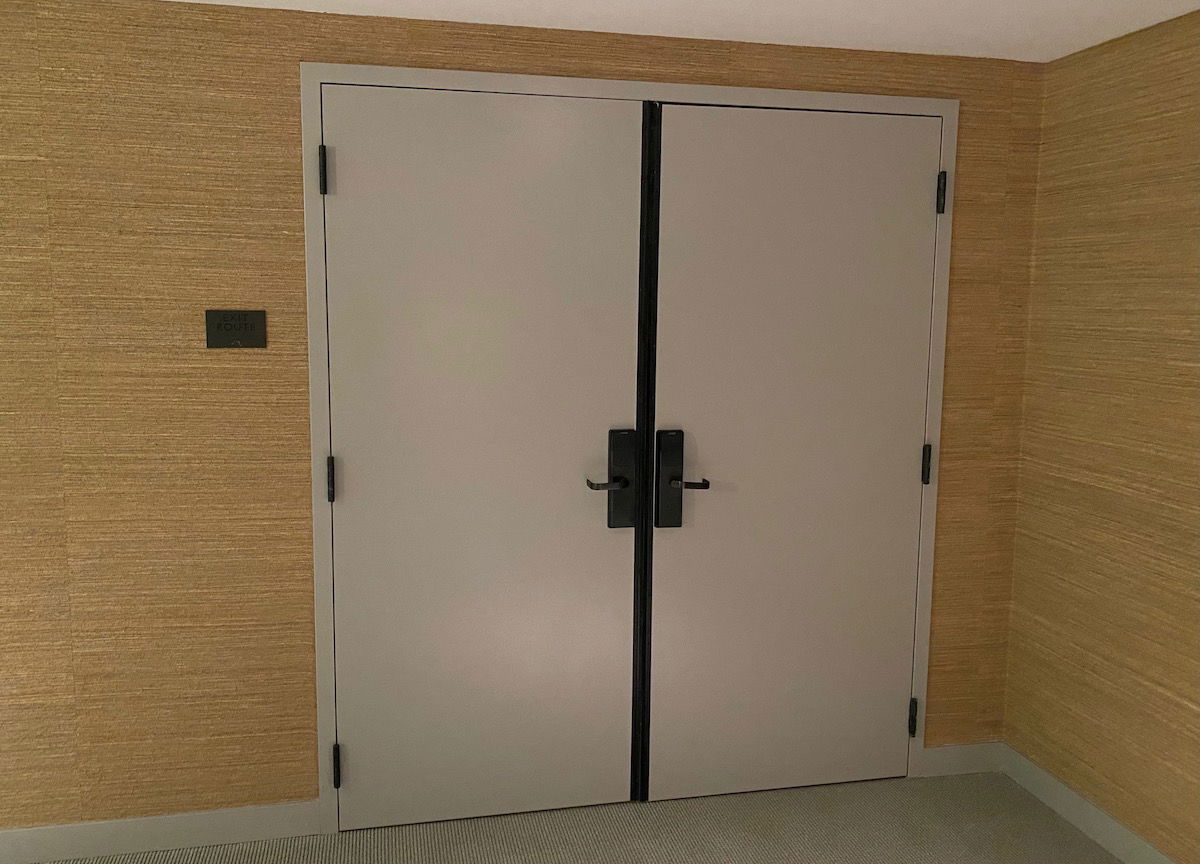 Once past the door, we were in the beautiful (but ridiculously long) hallway. Ford is big into getting his steps in, so he loved just how much stepping was required to get to & from the room. Others may feel differently. 😉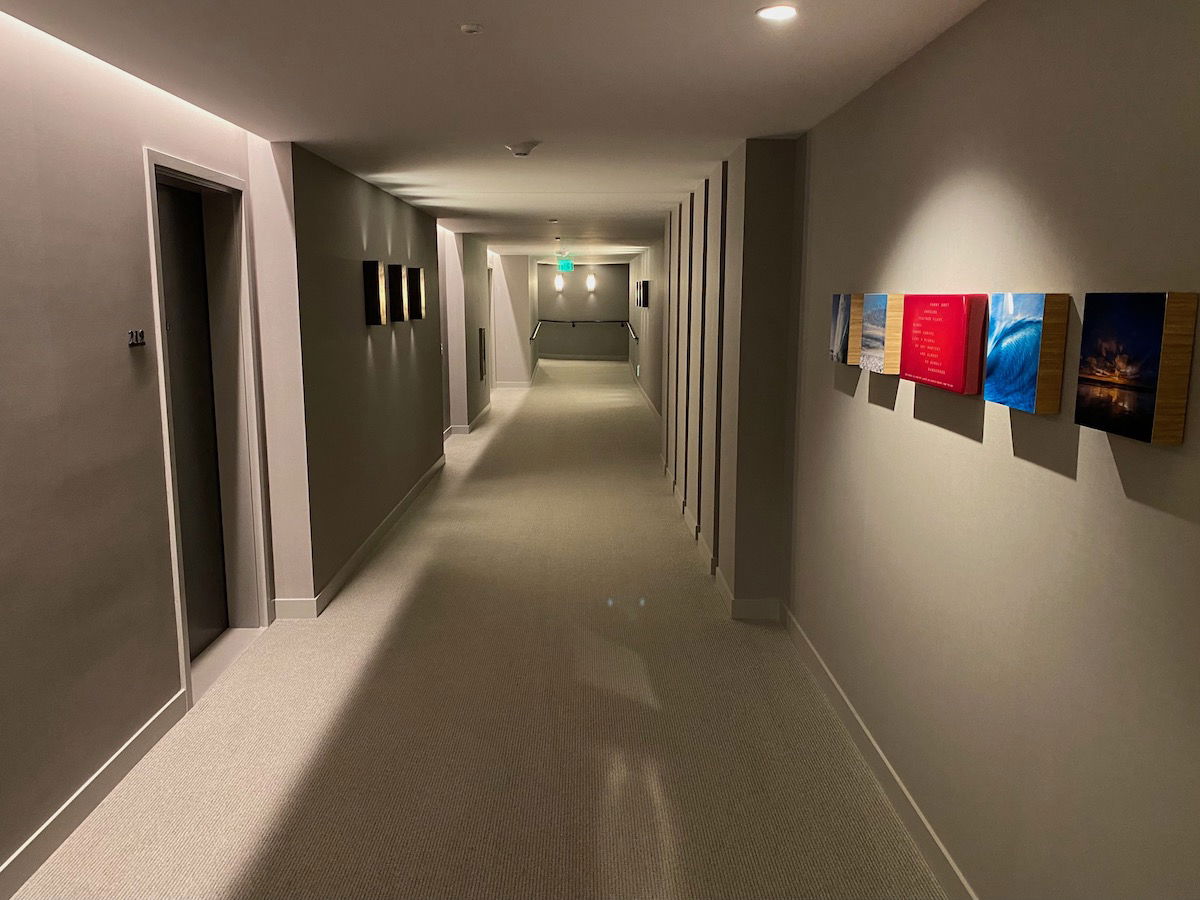 The one bedroom suites here are generously sized, at around 830 square feet. These are true suites with two full, separate rooms. Once inside our room, the living room was straight ahead, while there was a closet to the left and an entrance to the bathroom from the right (the bathroom could also be accessed directly from the bedroom).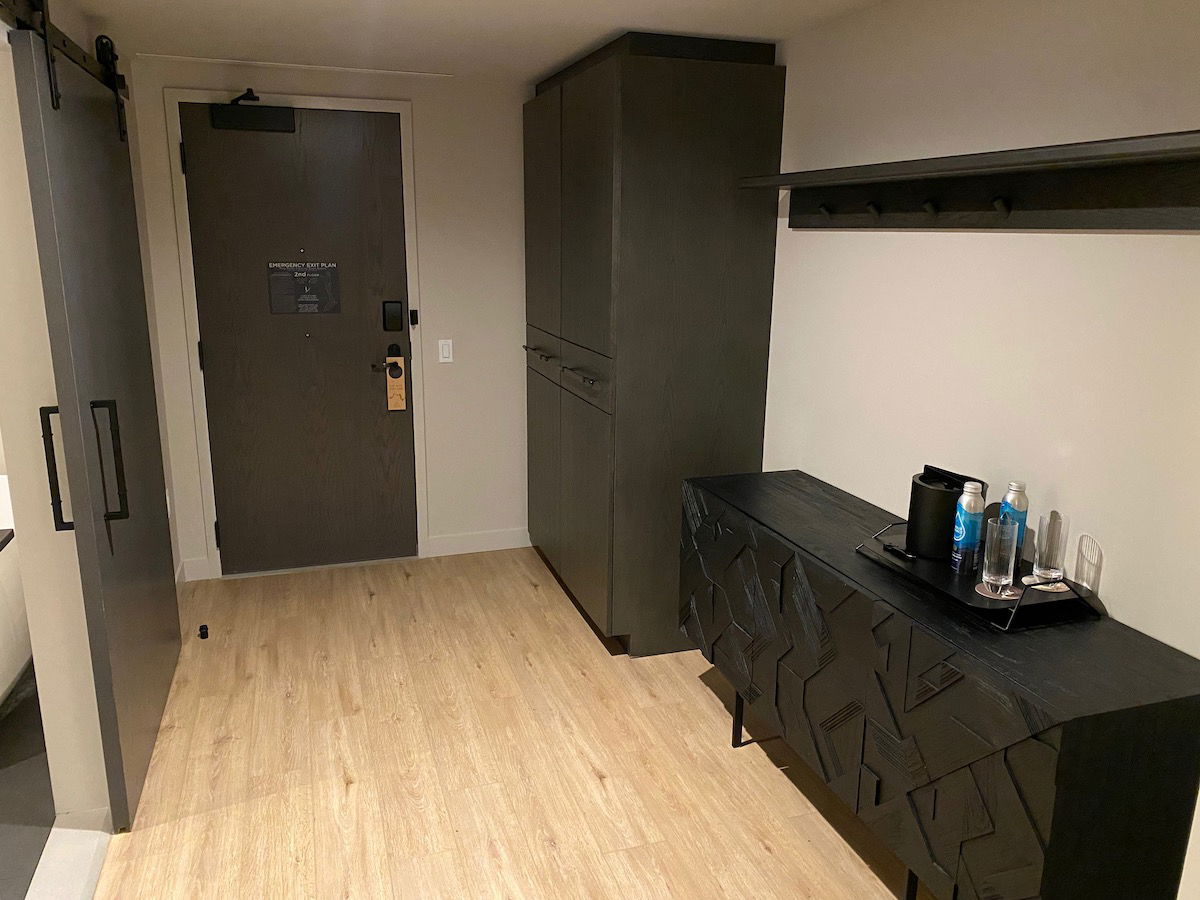 The living room featured a couch, two chairs, a coffee table, and a wall-mounted TV.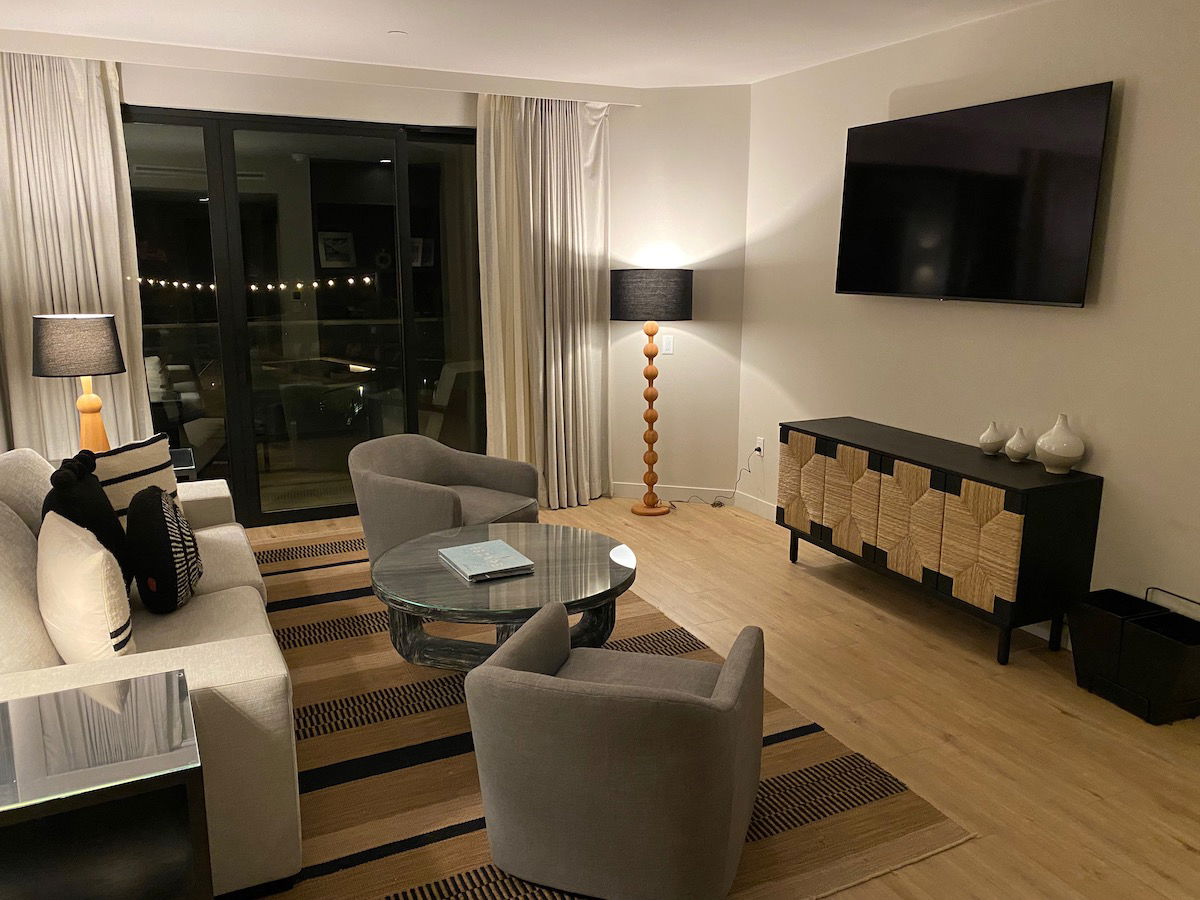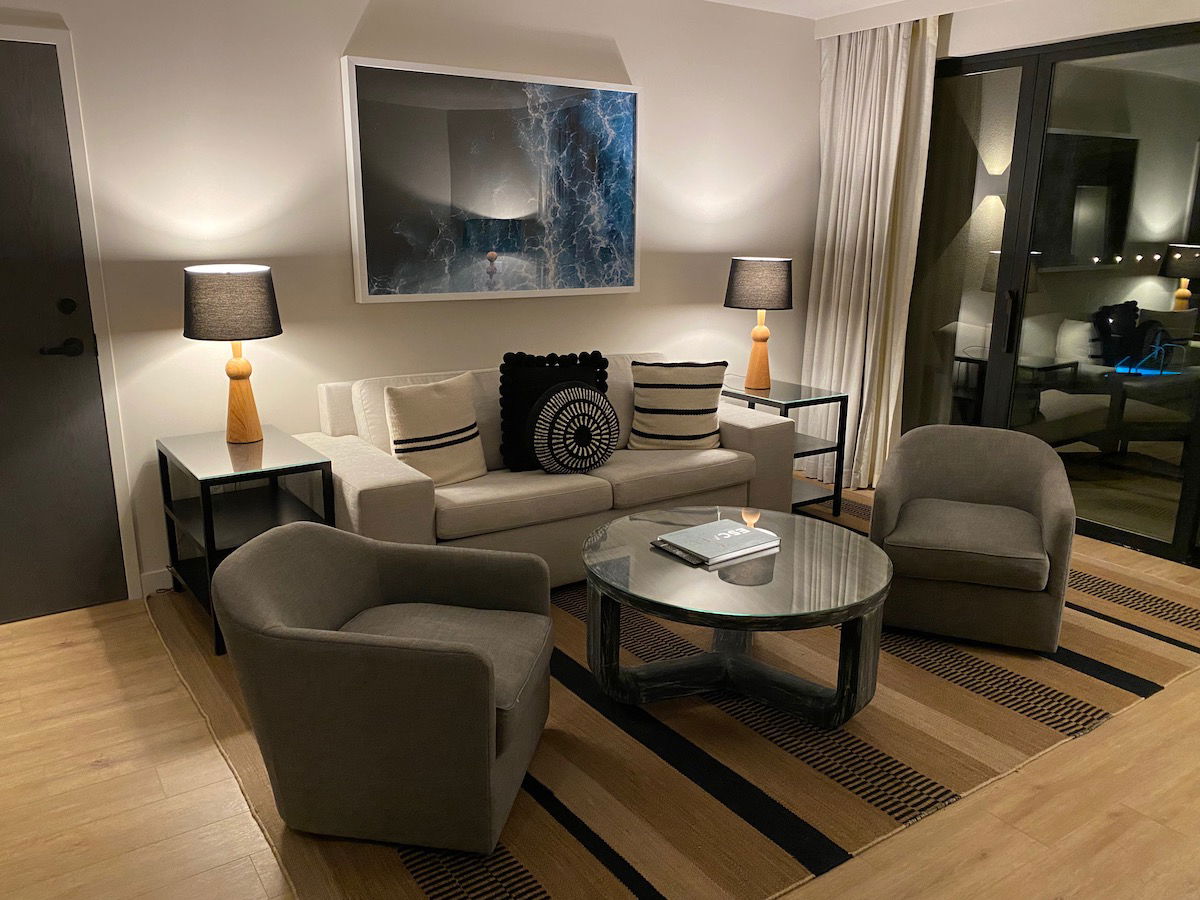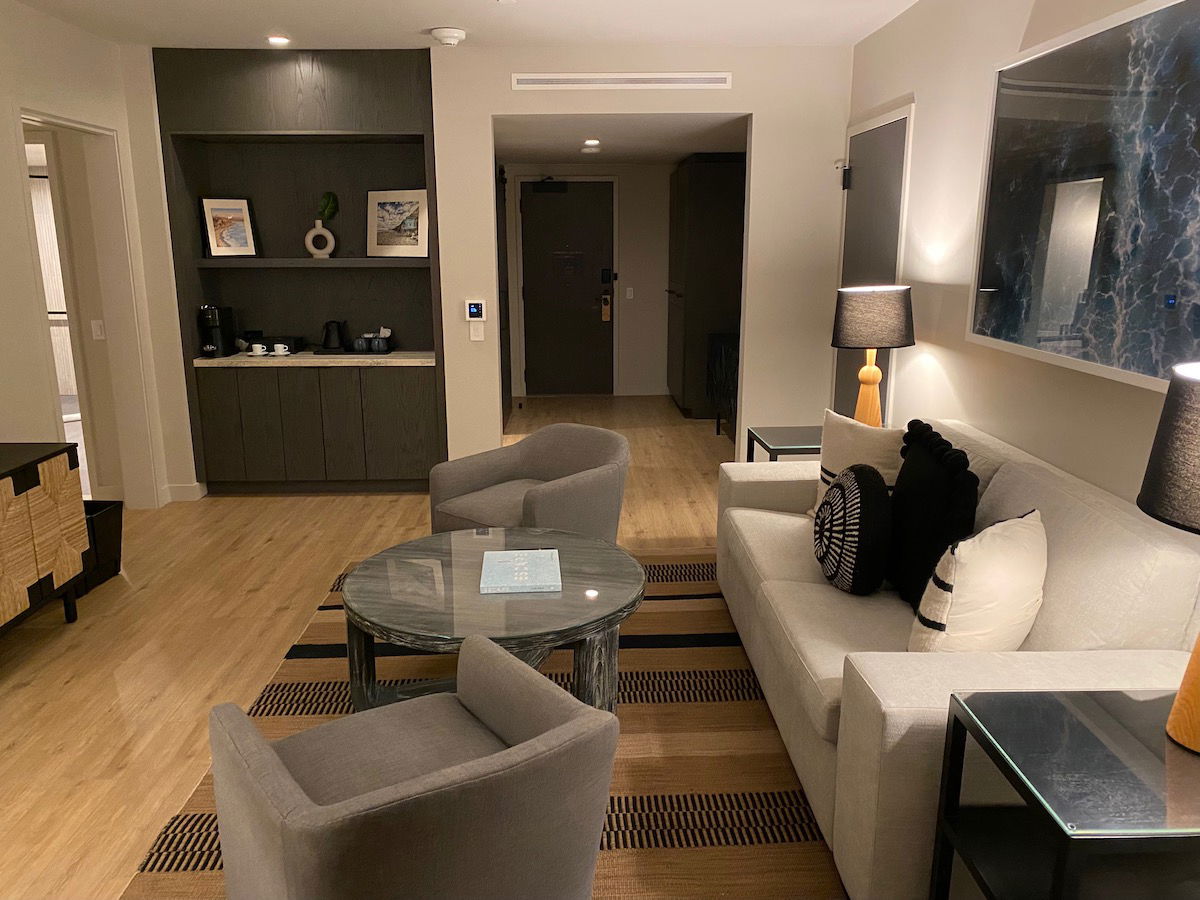 Along the interior wall of the living room was the minibar area, which had an espresso machine and a tea kettle. There was also a mini-fridge with two hard seltzers (we were told at check-in these were complimentary), but the minibar wasn't otherwise stocked.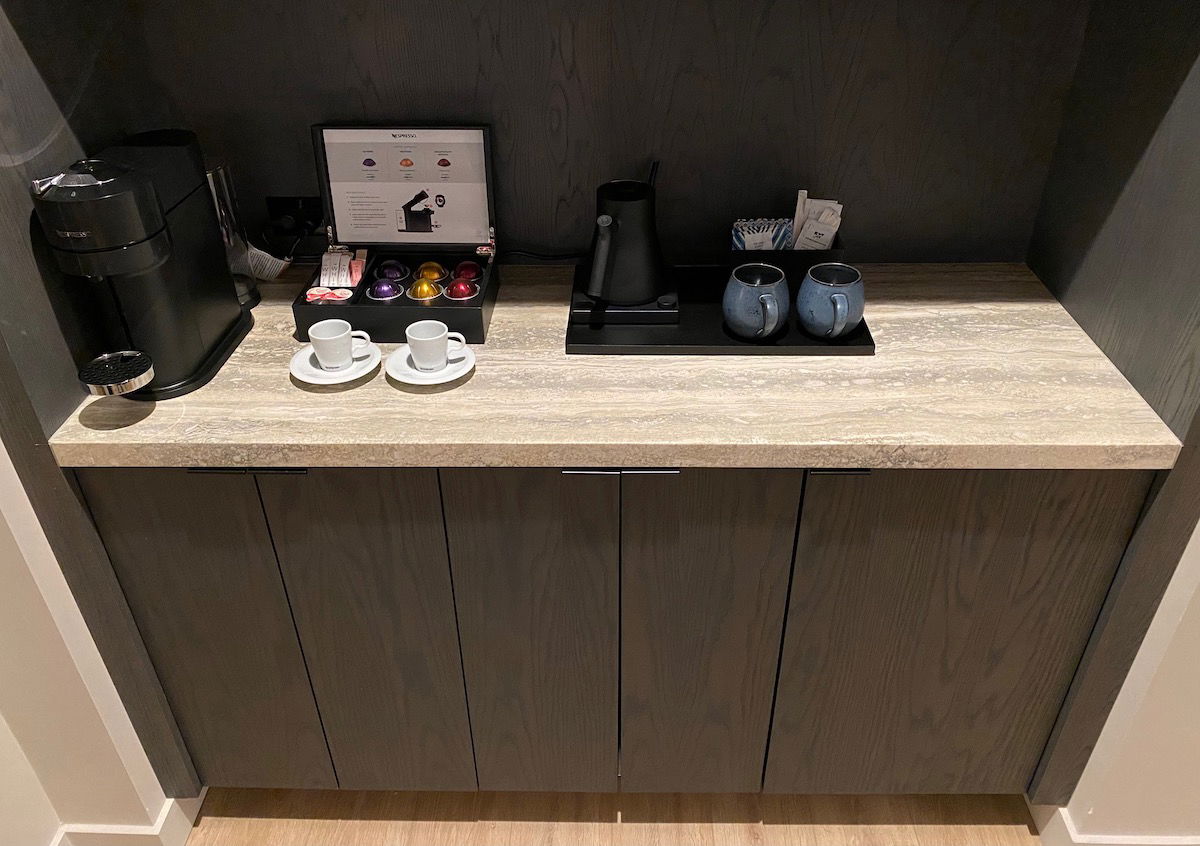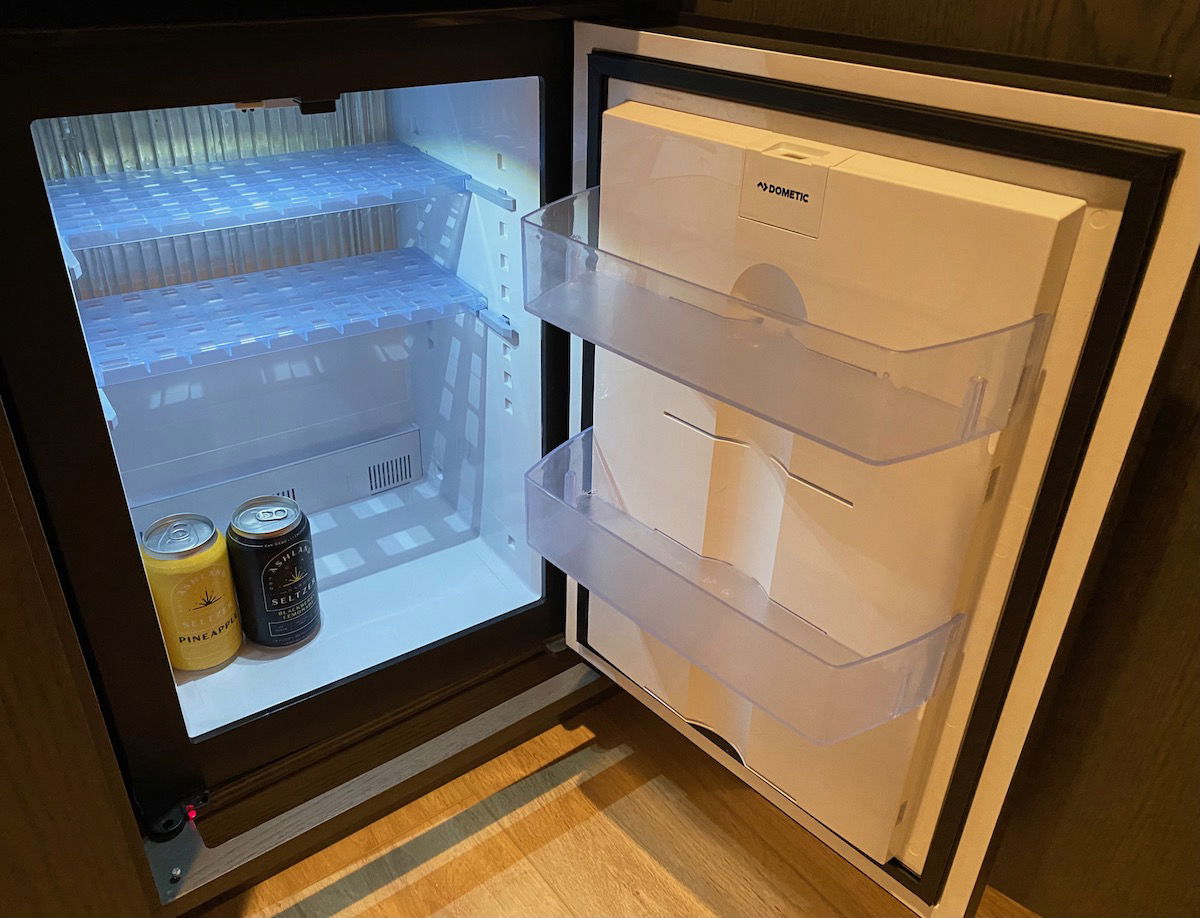 The bedroom was in a separate room, and was generously sized. It featured an extremely comfortable king size bed, a table with two chairs, and a wall-mounted TV. While I thought the furniture as such was nice, the bedroom could definitely use a bit more art, or something on the walls.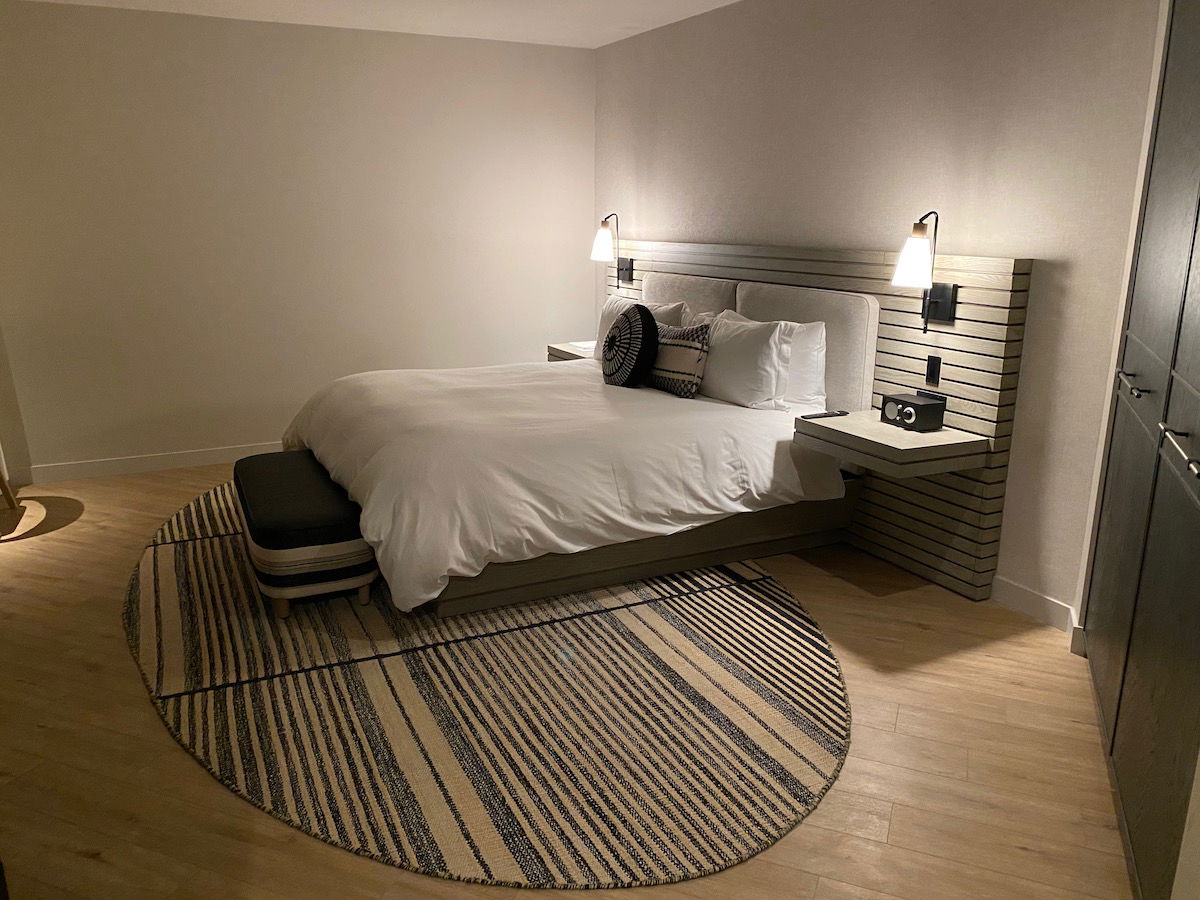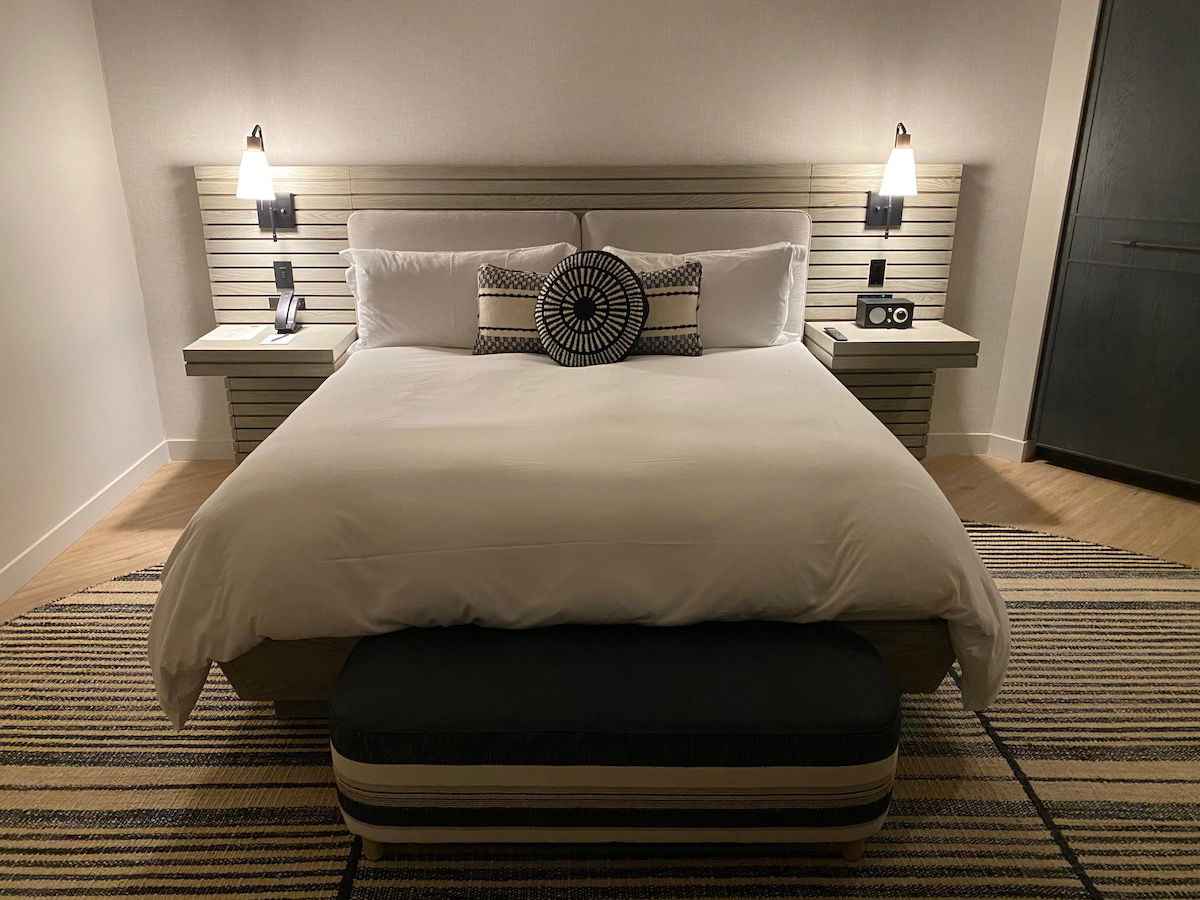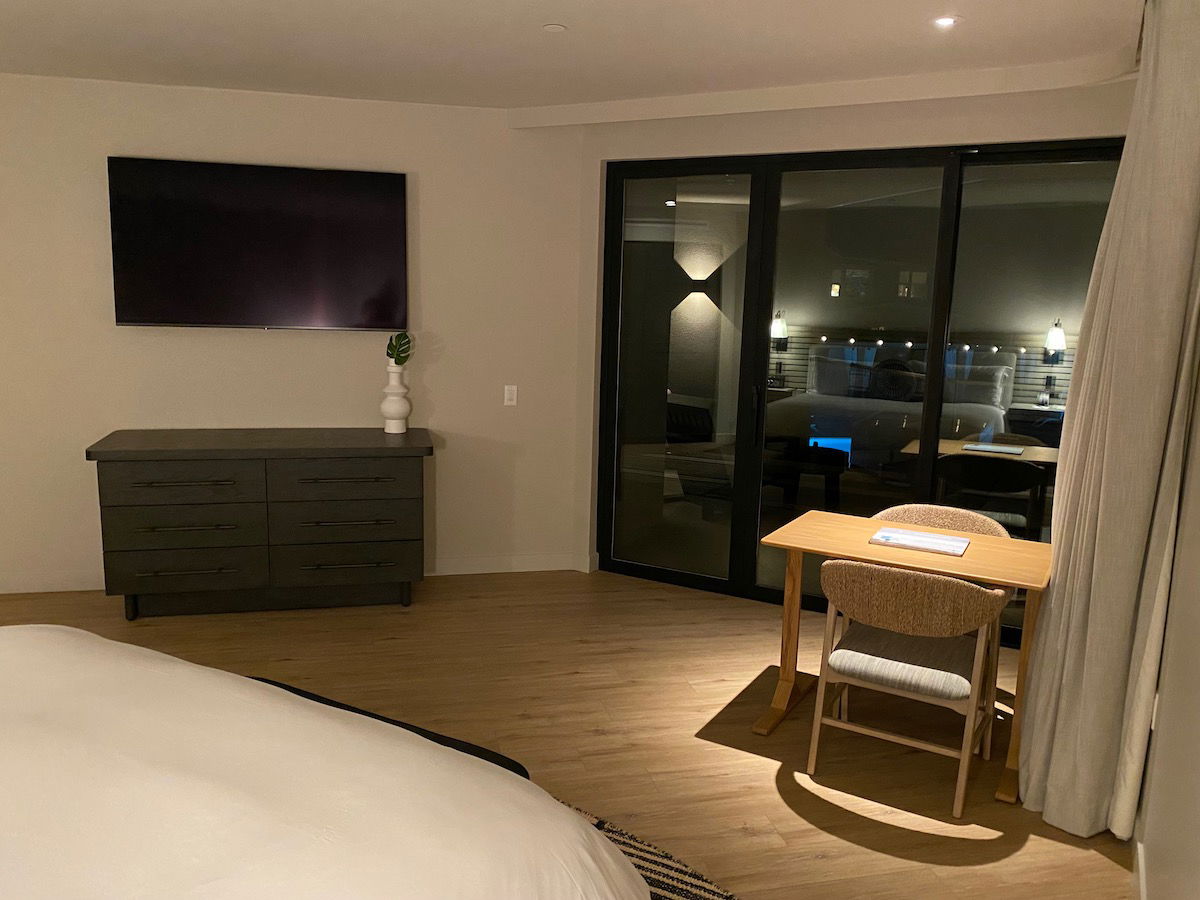 The bathroom was massive, and featured double sinks, a soaking tub, a walk-in shower, and a toilet (I imagine the layout was a bit different than in the non-accessible suites).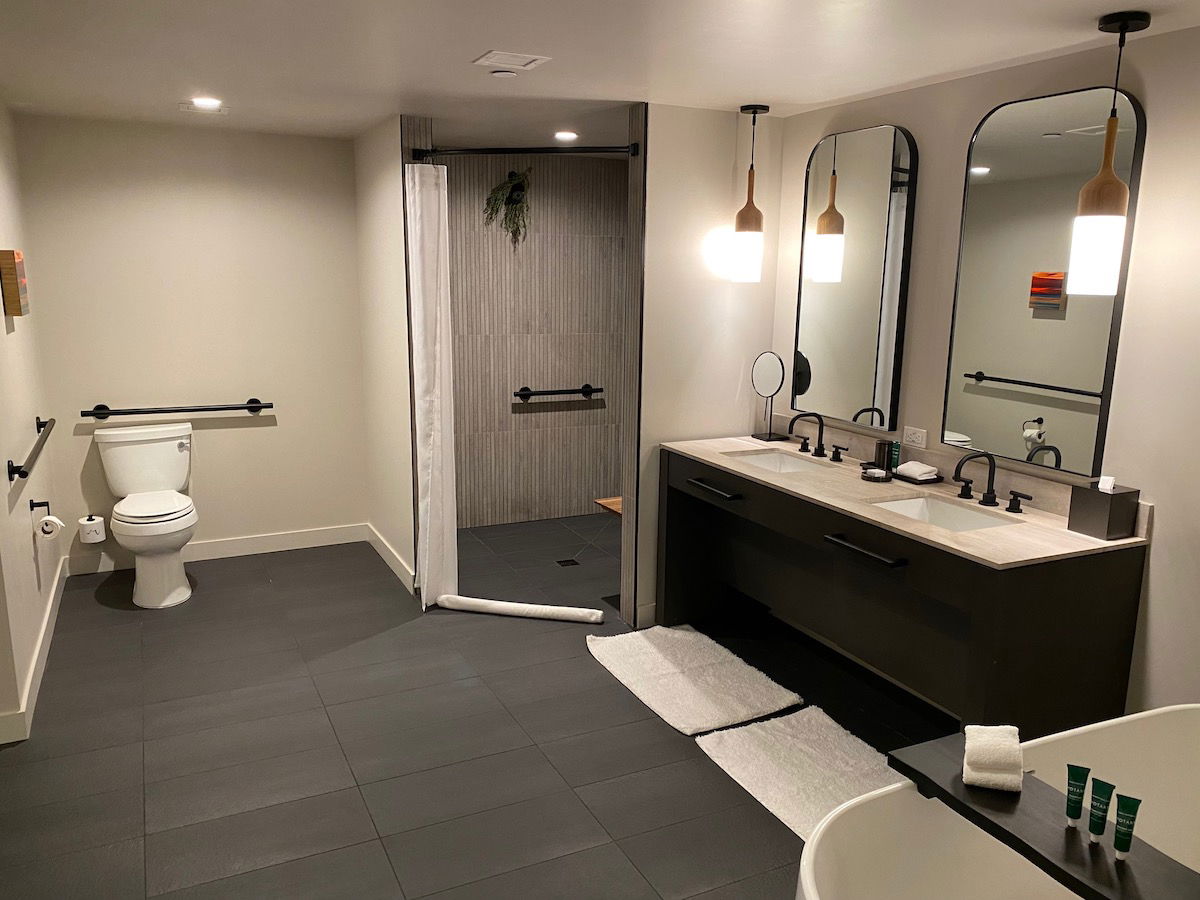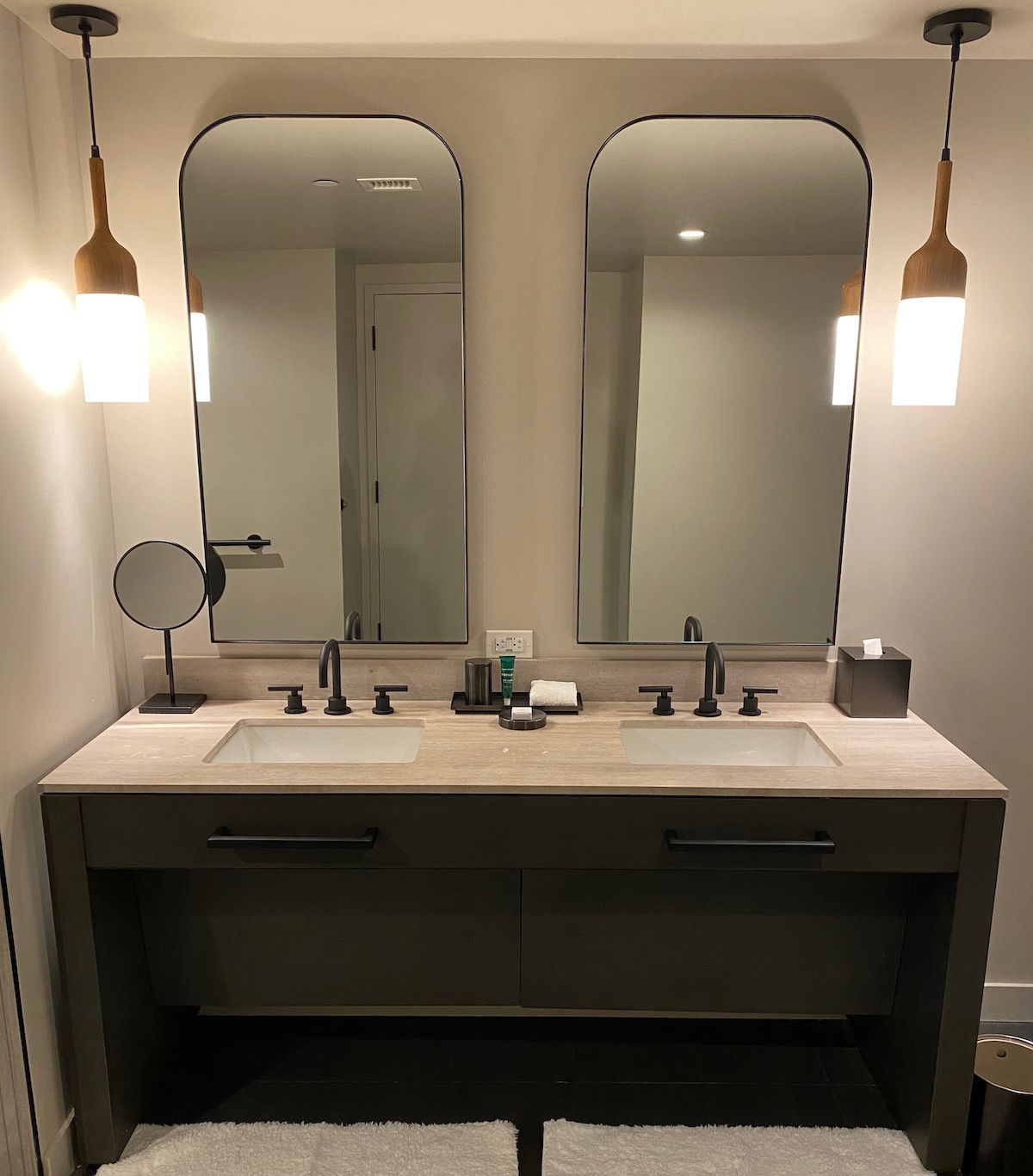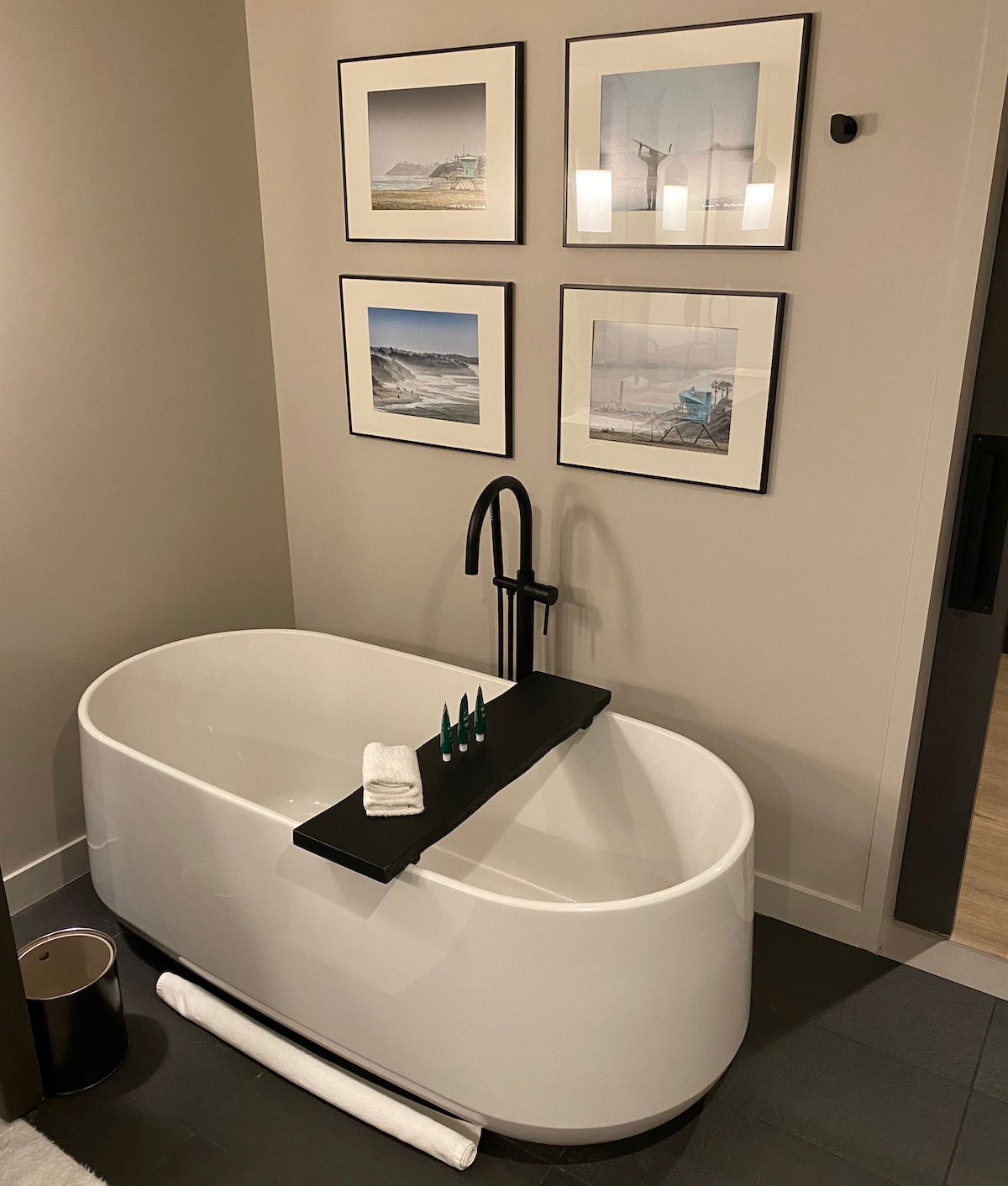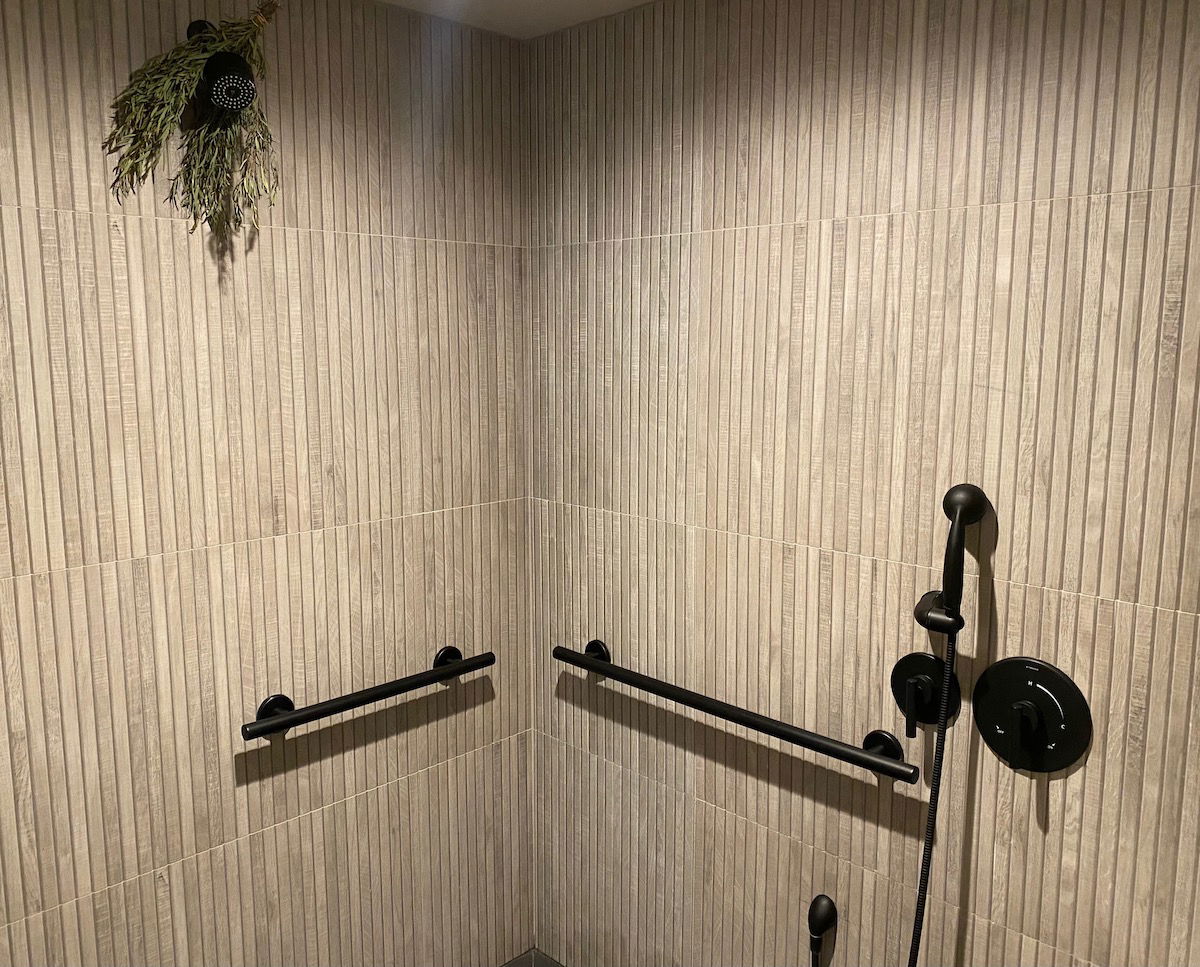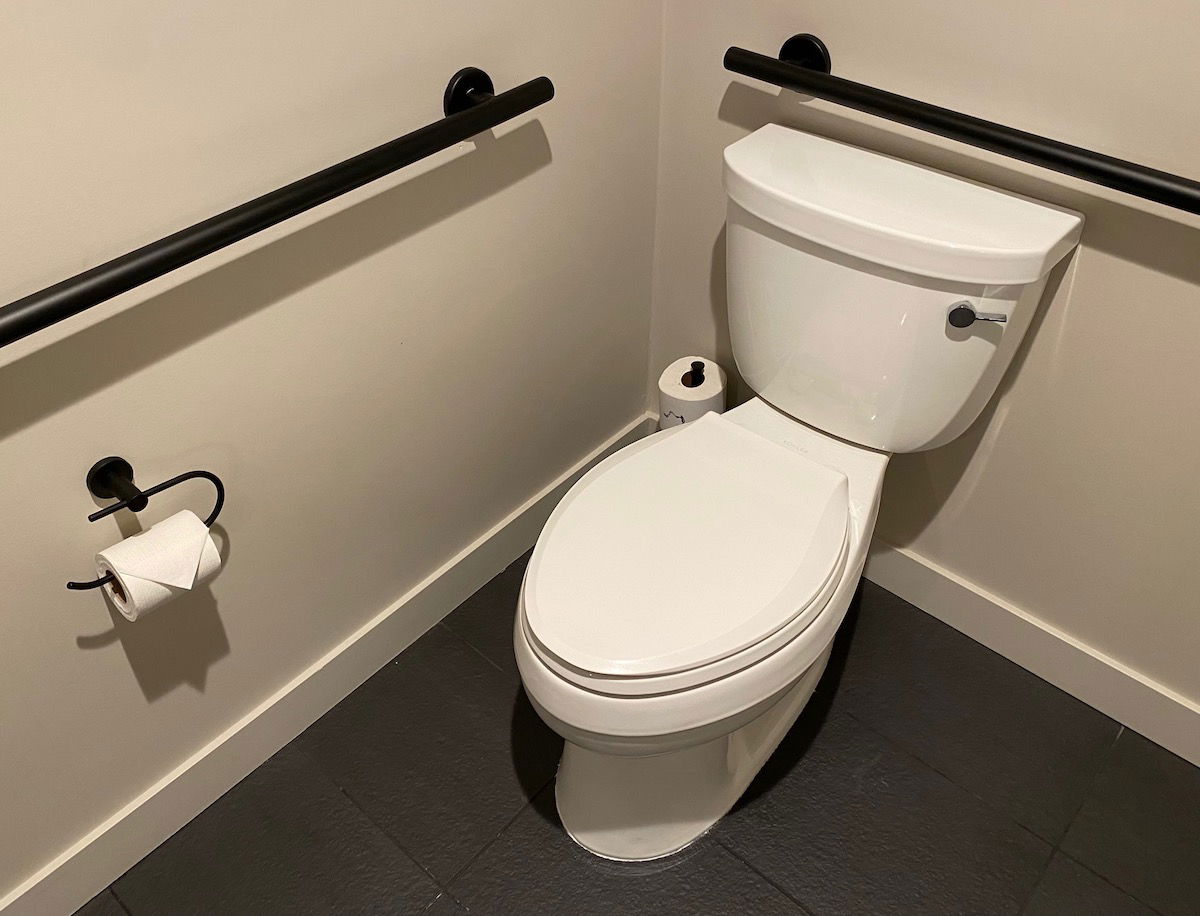 Toiletries were from VOTARY, and were in toothpaste-style tubes, which I don't think I've ever seen before.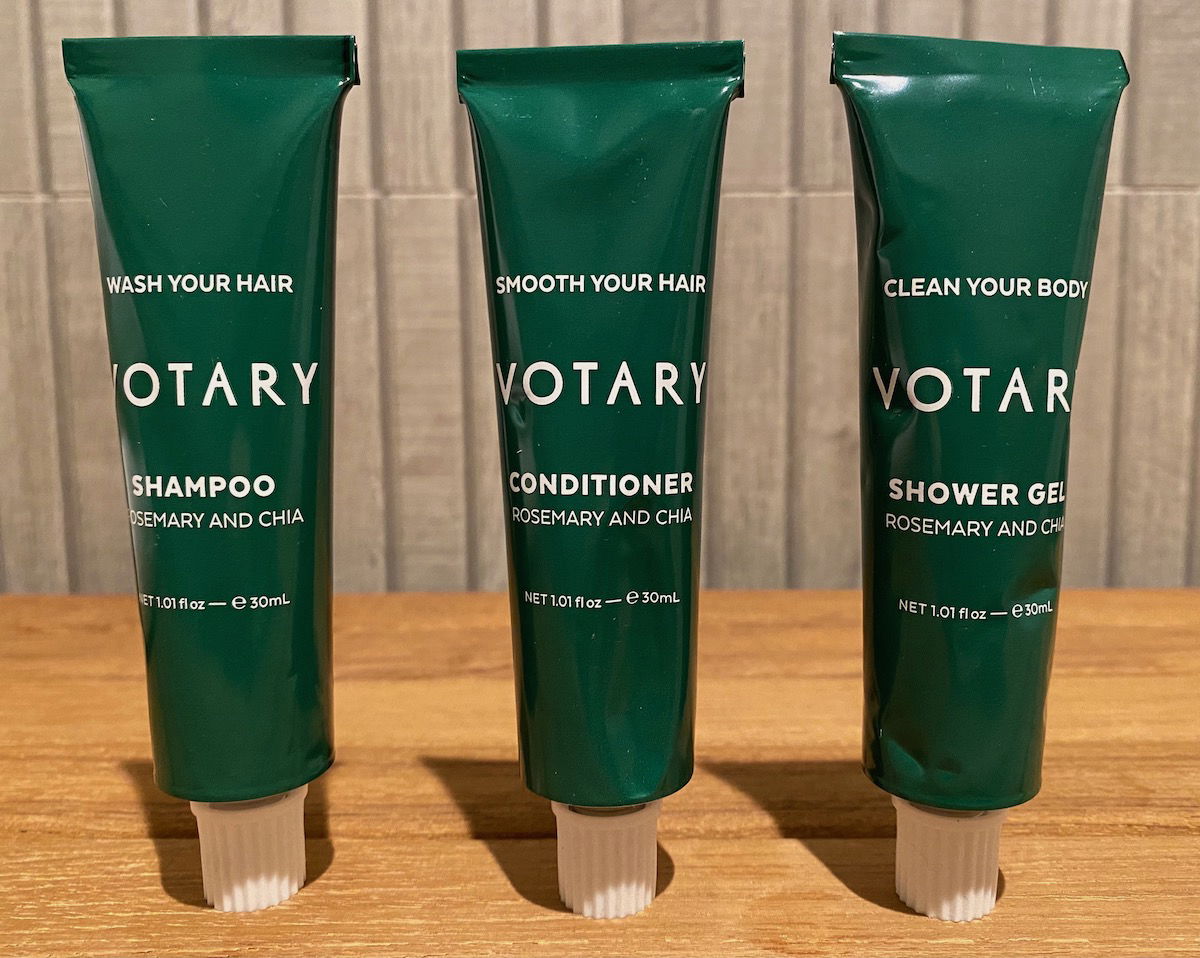 The room also had a large balcony, featuring two lounging chairs (one with an ottoman), plus a table with two chairs.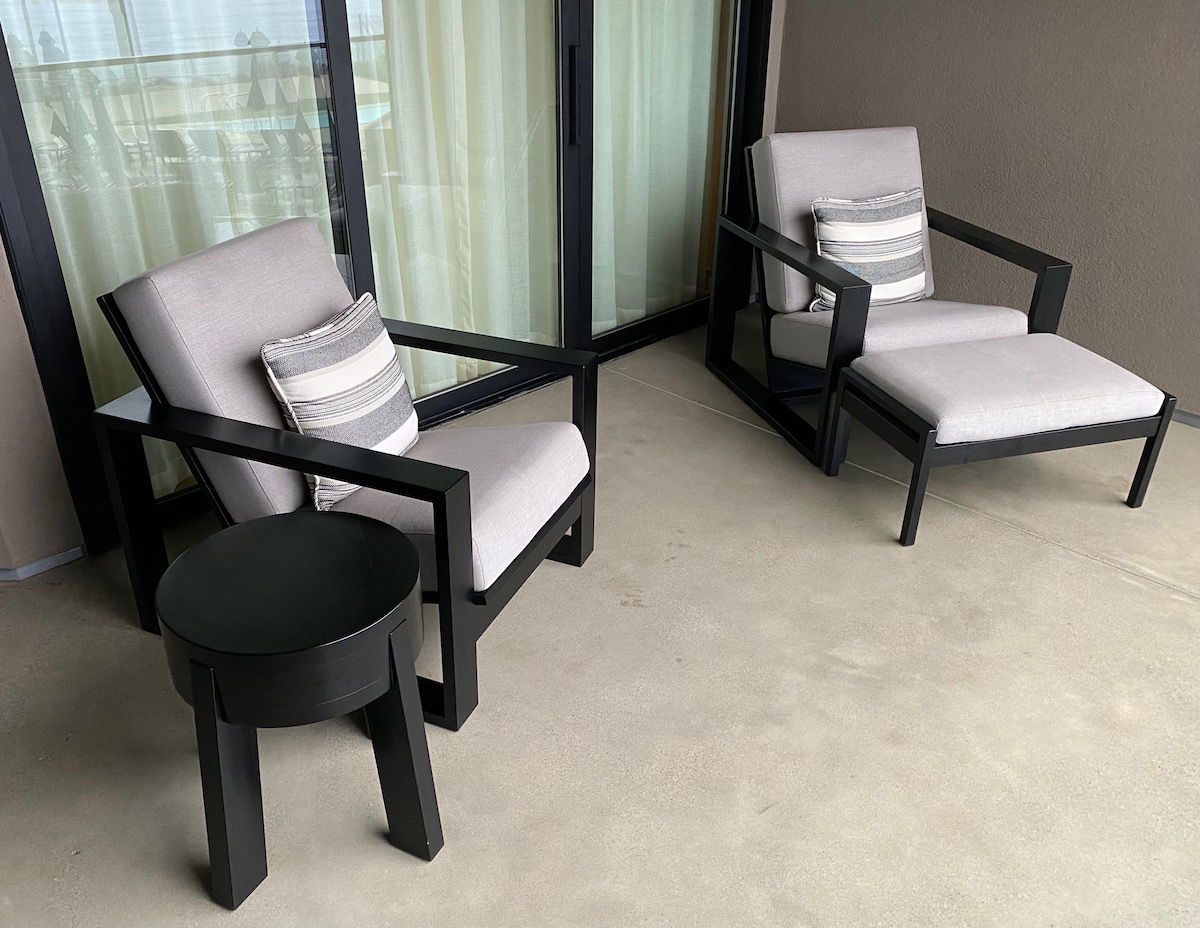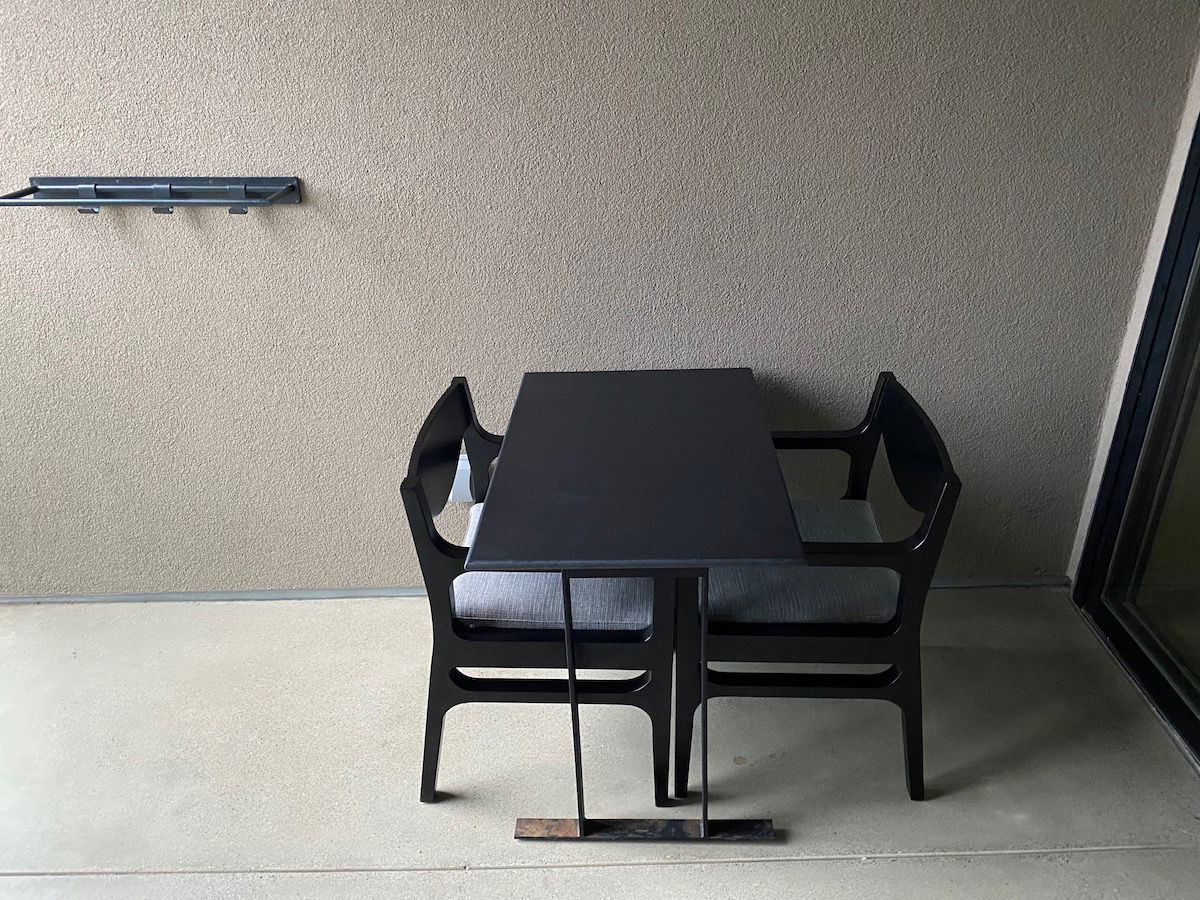 The room looked out over the hotel's pool deck, plus the Pacific Ocean in the distance (and someone's home — I can't imagine how that person must have felt when plans for the hotel were revealed).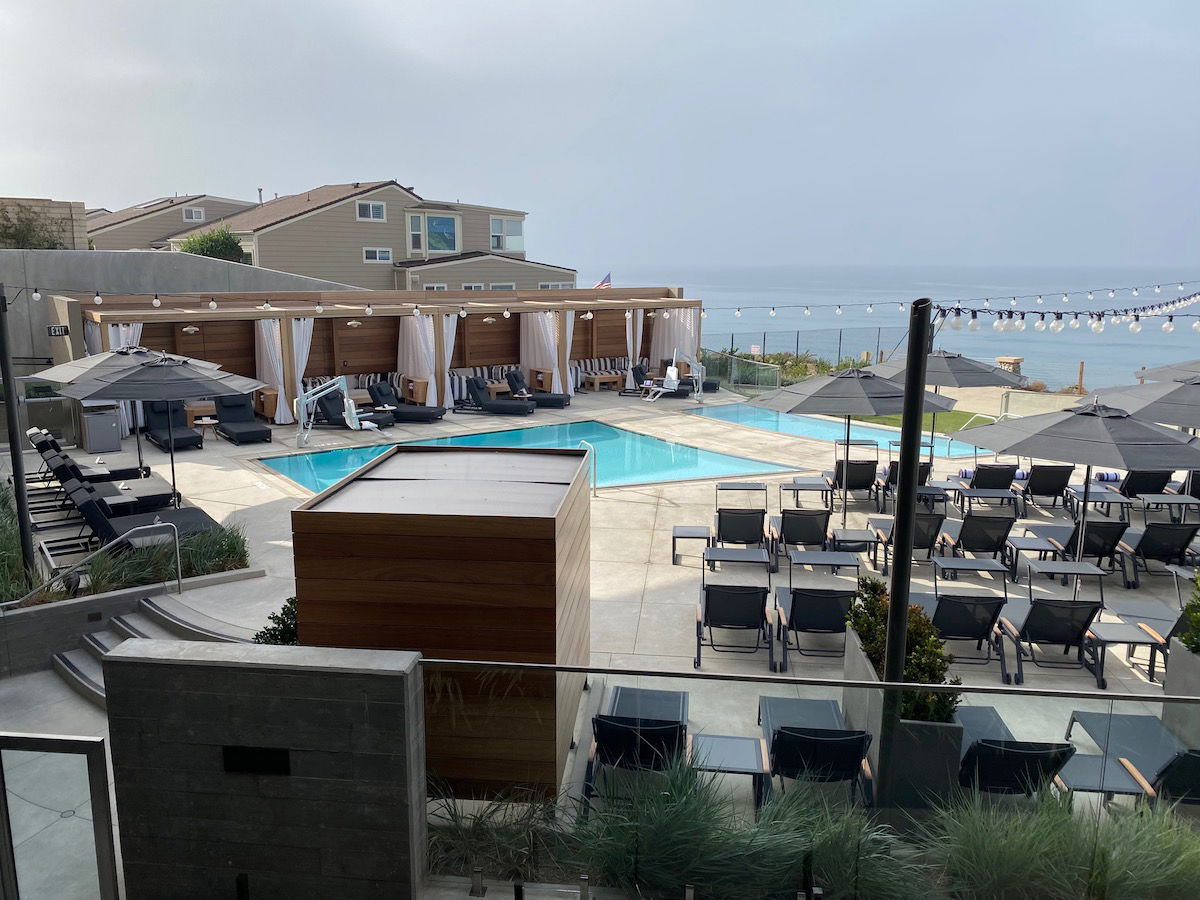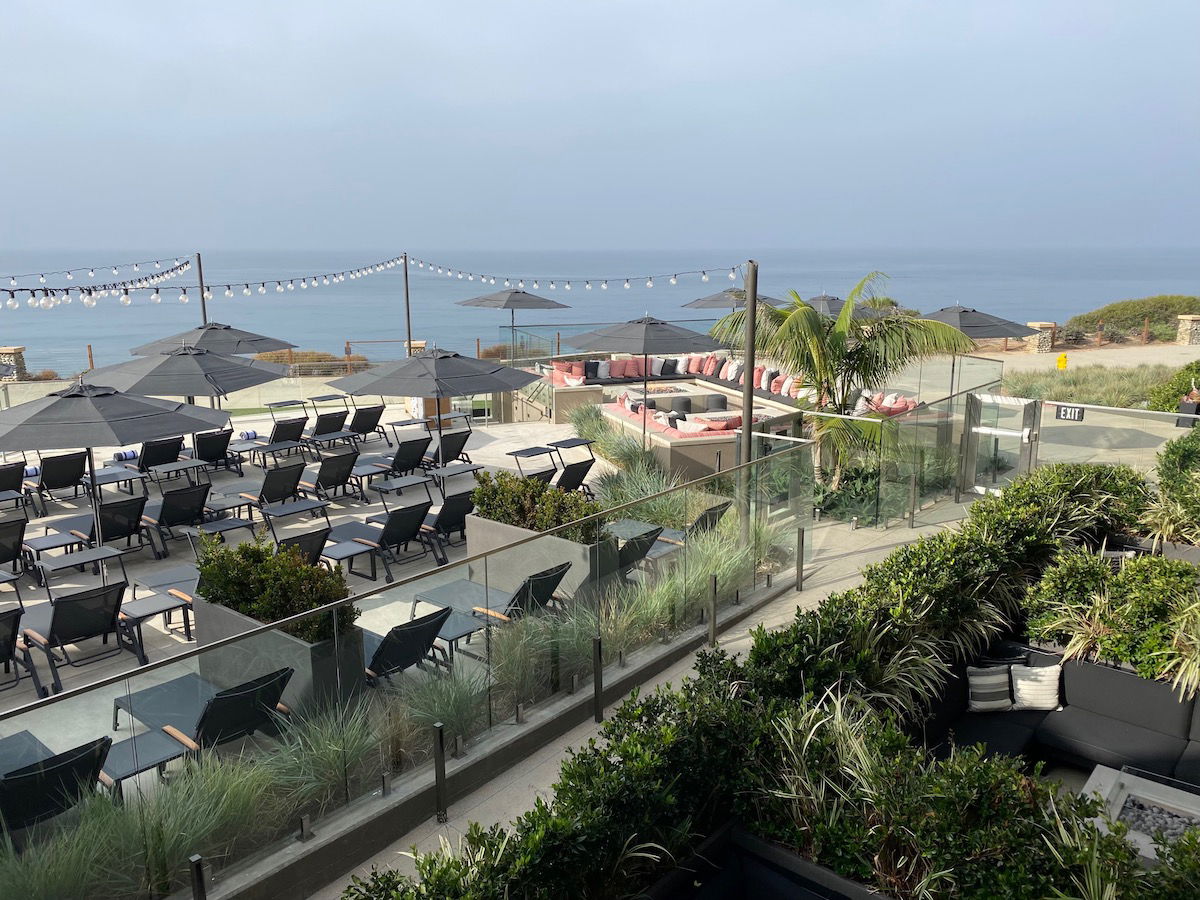 The views at sunset were beautiful.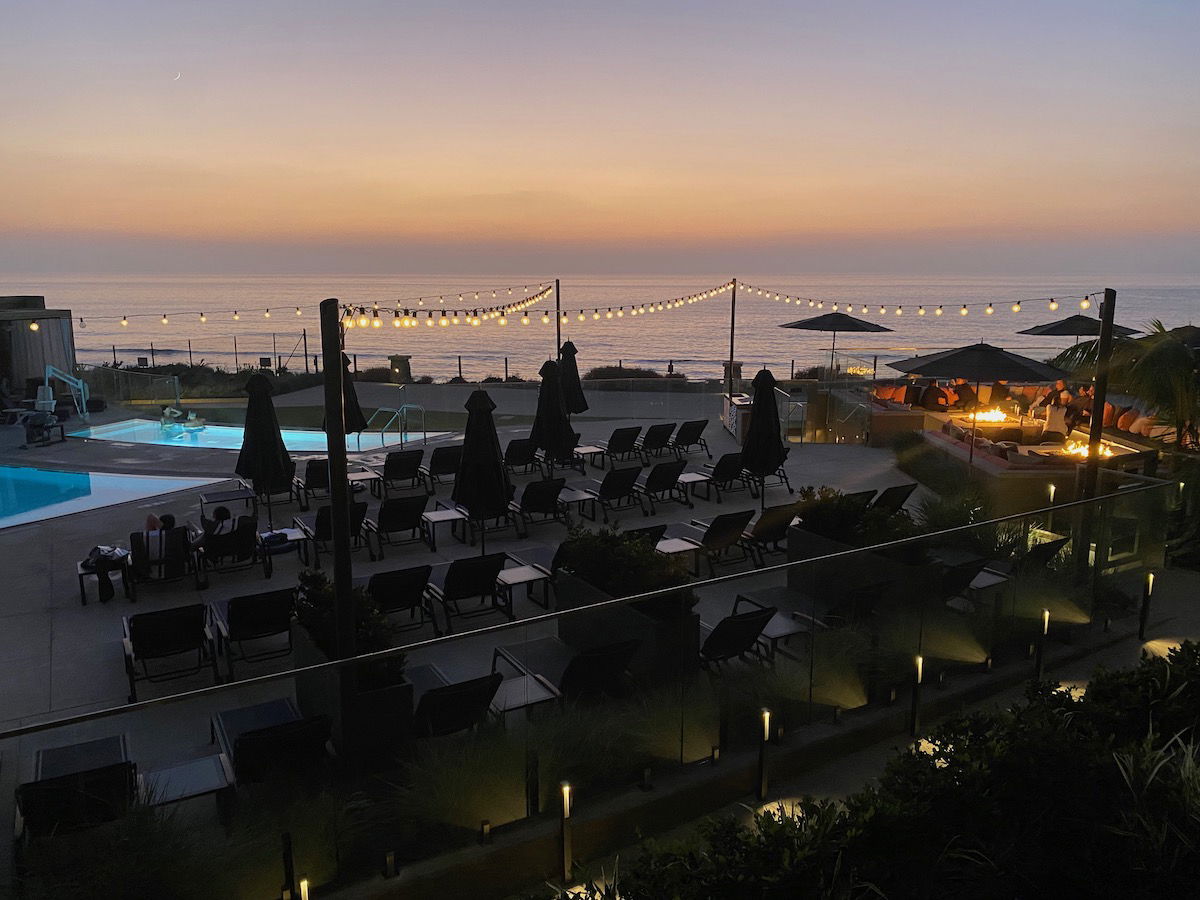 I should mention that you really don't have much privacy in these rooms. Our room wasn't even a full level up from the pool, and you can easily look into the rooms from the pool. For that matter, if the pool were busy, I imagine you could hear just about everything. In general just about all the rooms at this hotel lack privacy, so I find the design choices to be odd. More on that a bit later…
Anyway, all things considered I thought the room was great. It was spacious and felt pretty luxurious. My only real complaint is that it lacked privacy from the pool, and perhaps the room could use a bit more art.
Alila Marea Encinitas VAGA Restaurant
Alila's signature restaurant is VAGA, and it's open daily for breakfast, lunch, and dinner. The restaurant seems to be popular with both hotel guests and locals. It's located on the second floor (the same as our room), and it's a beautiful space with plenty of indoor and outdoor seating.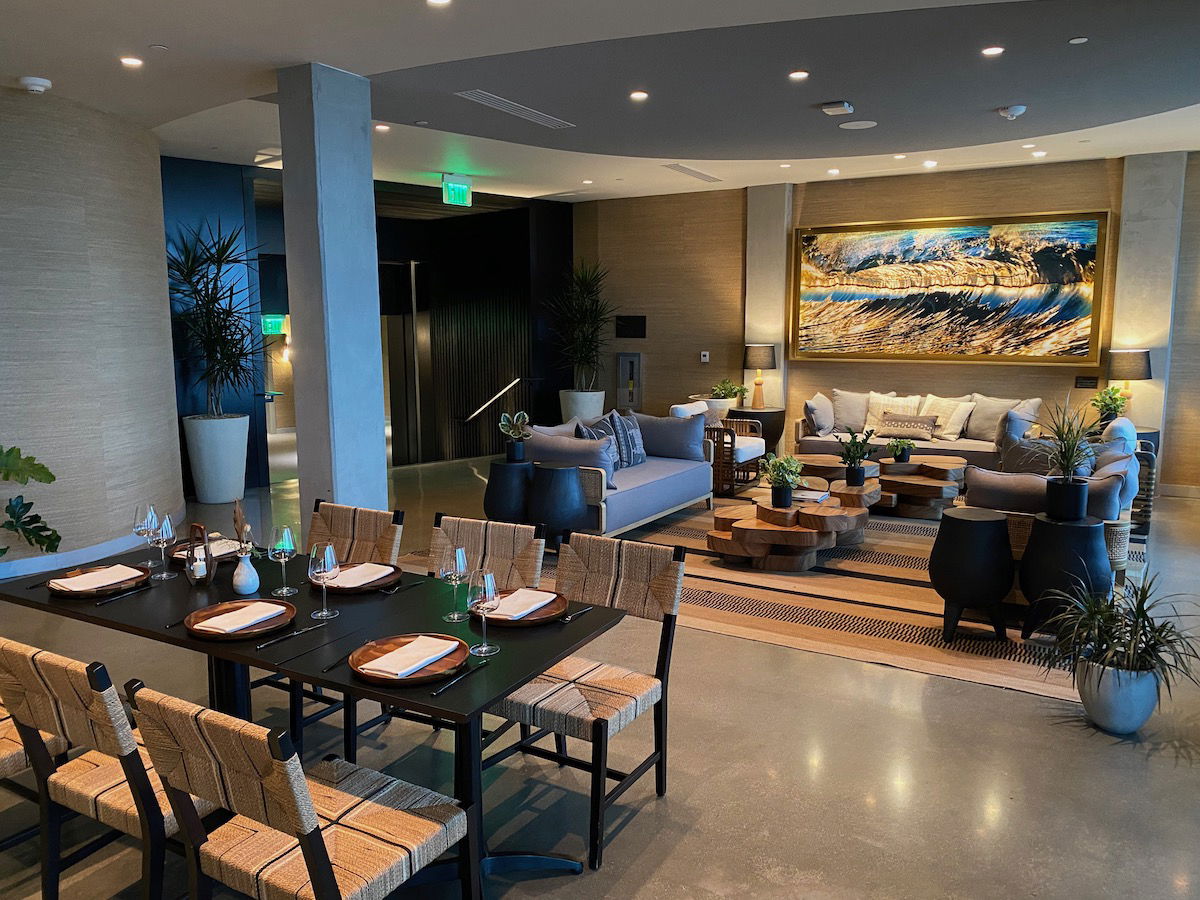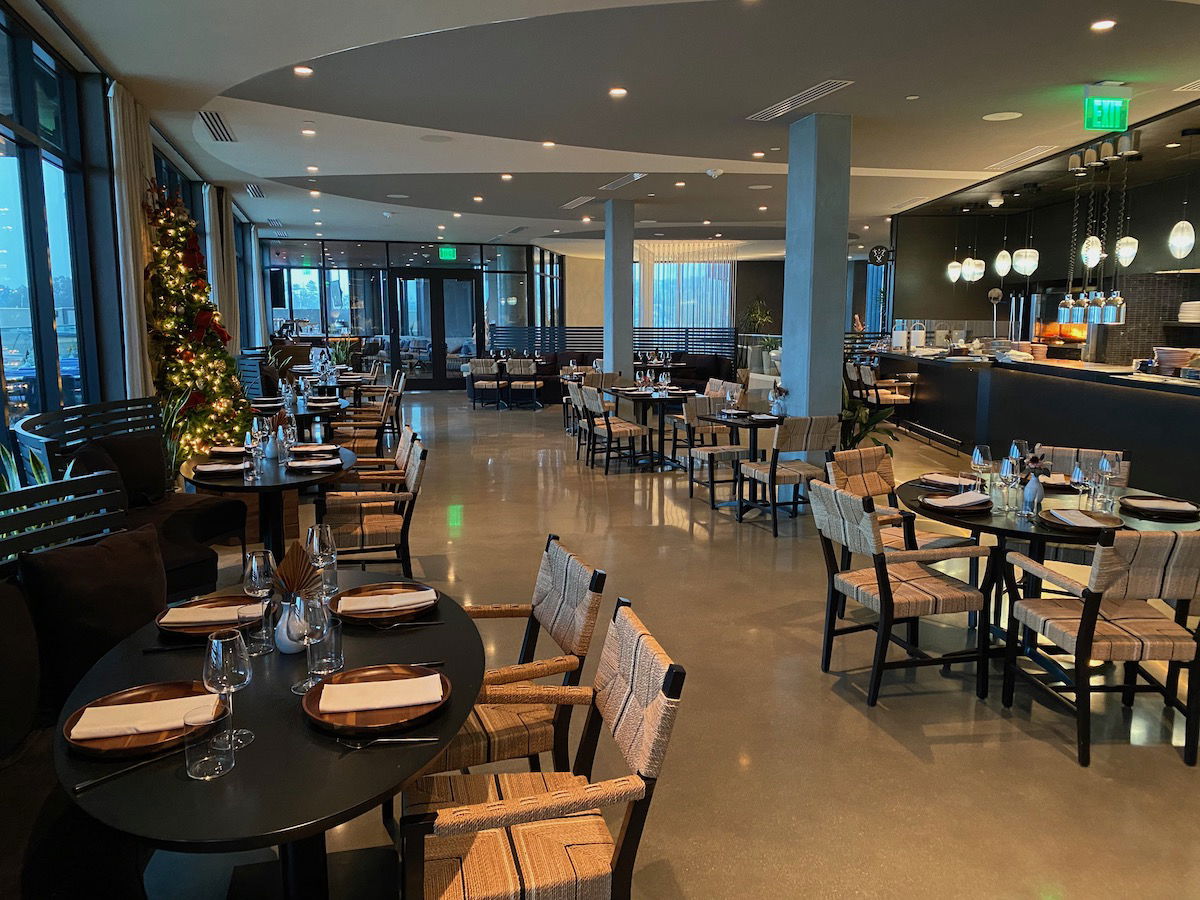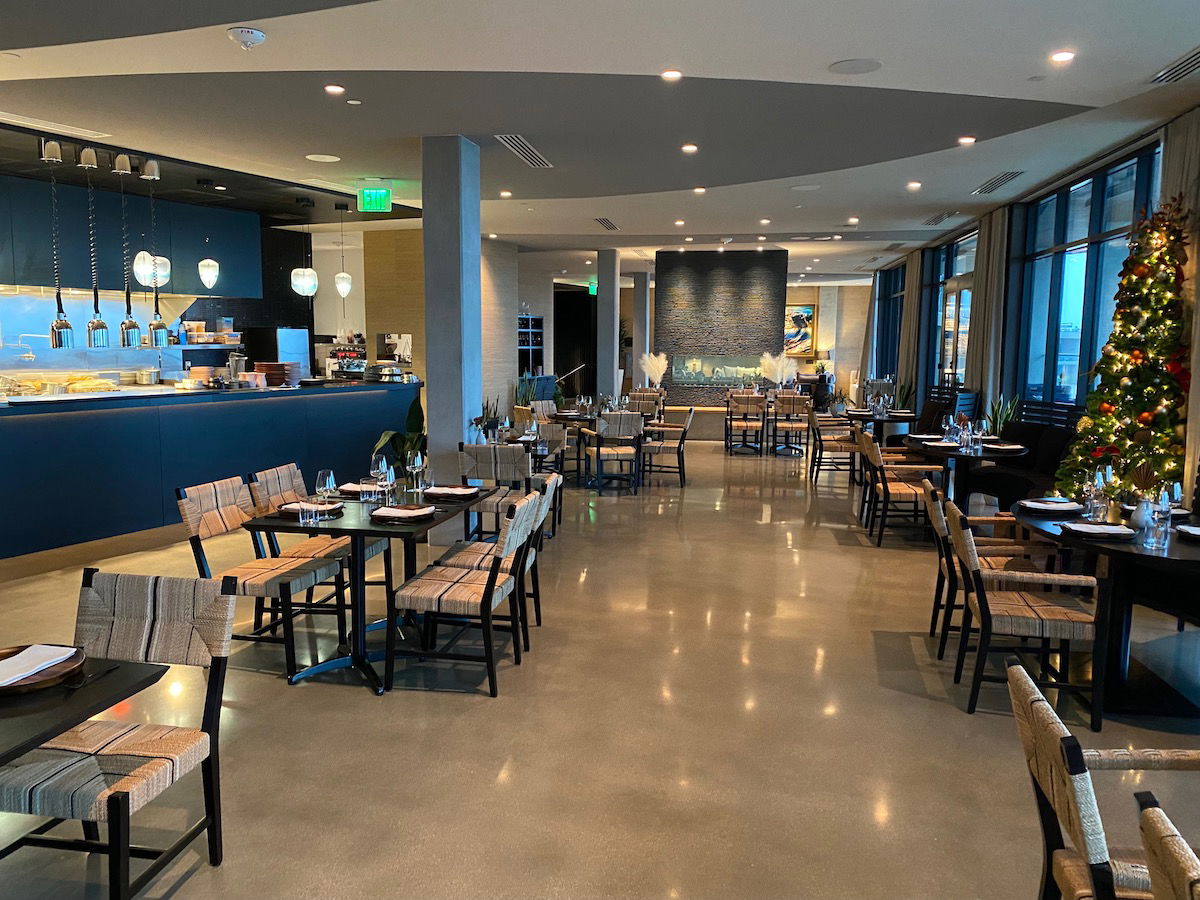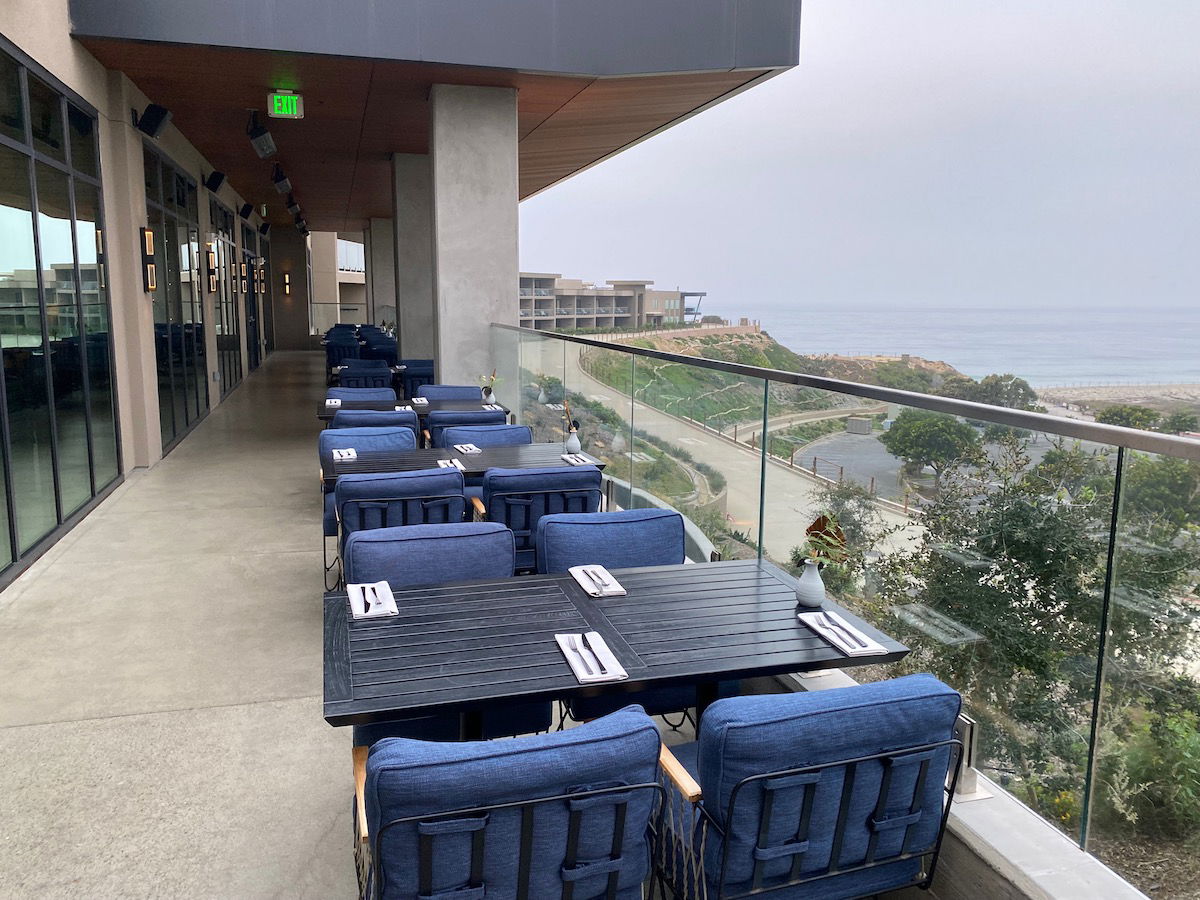 In addition to the main restaurant area, there's also a large bar area, which also has indoor and outdoor seating. The outdoor seating includes lawn chairs looking out over the Pacific Ocean (a great place to enjoy sunset), plus an area with a firepit.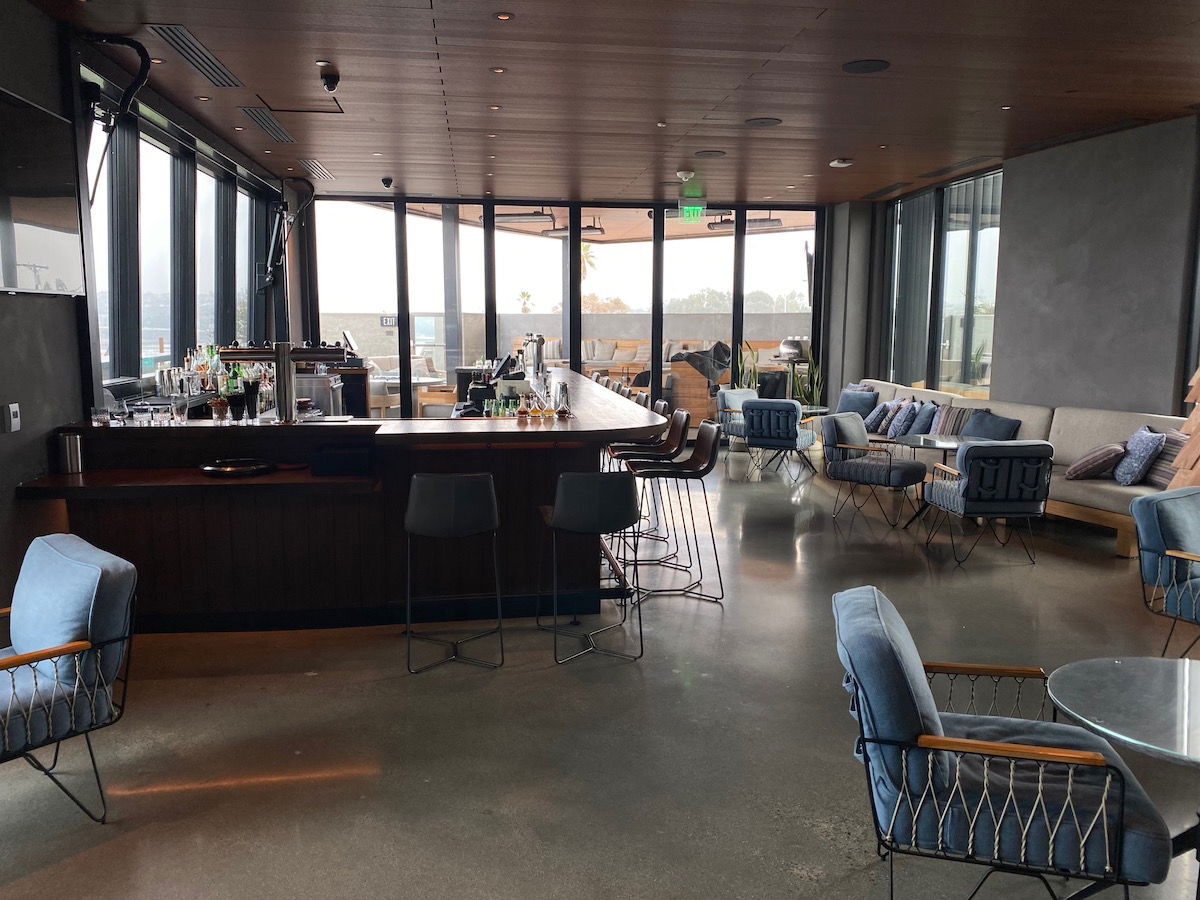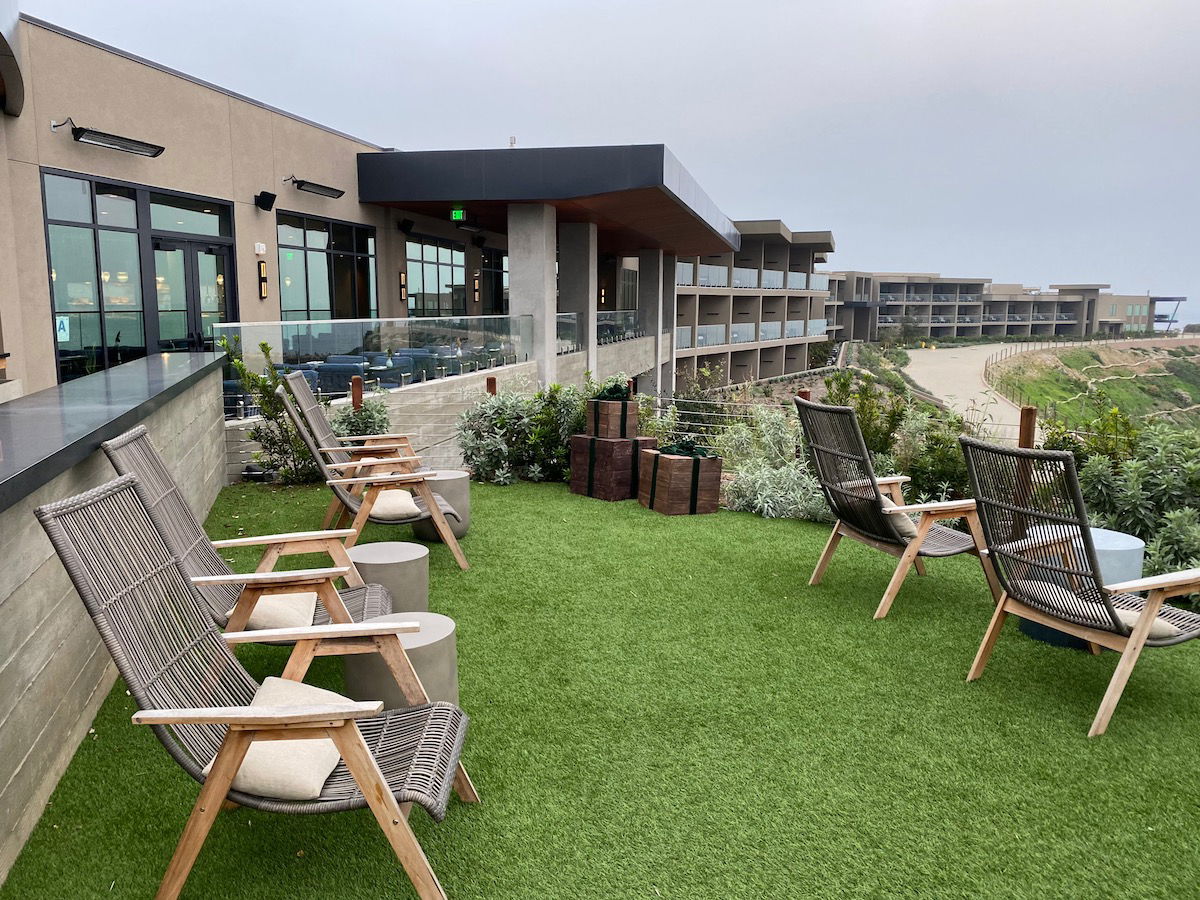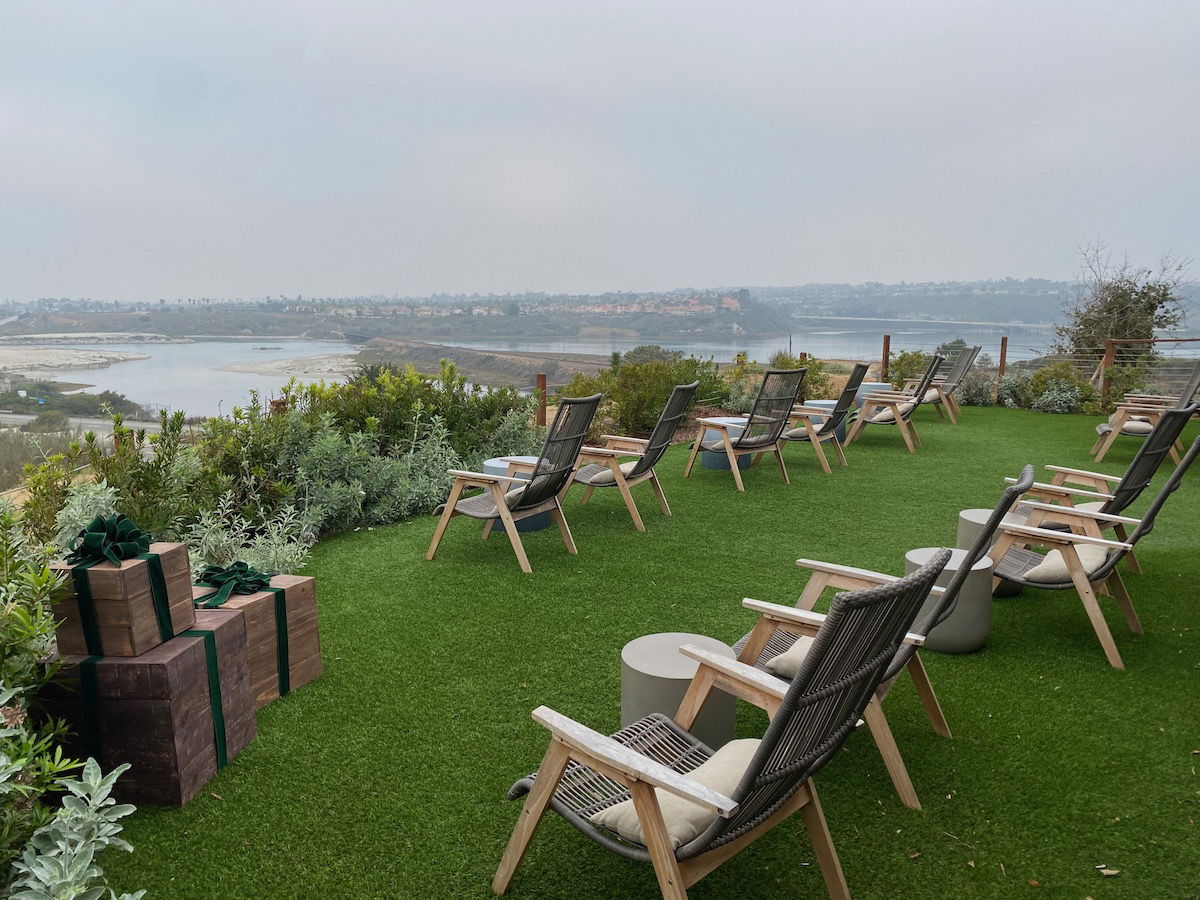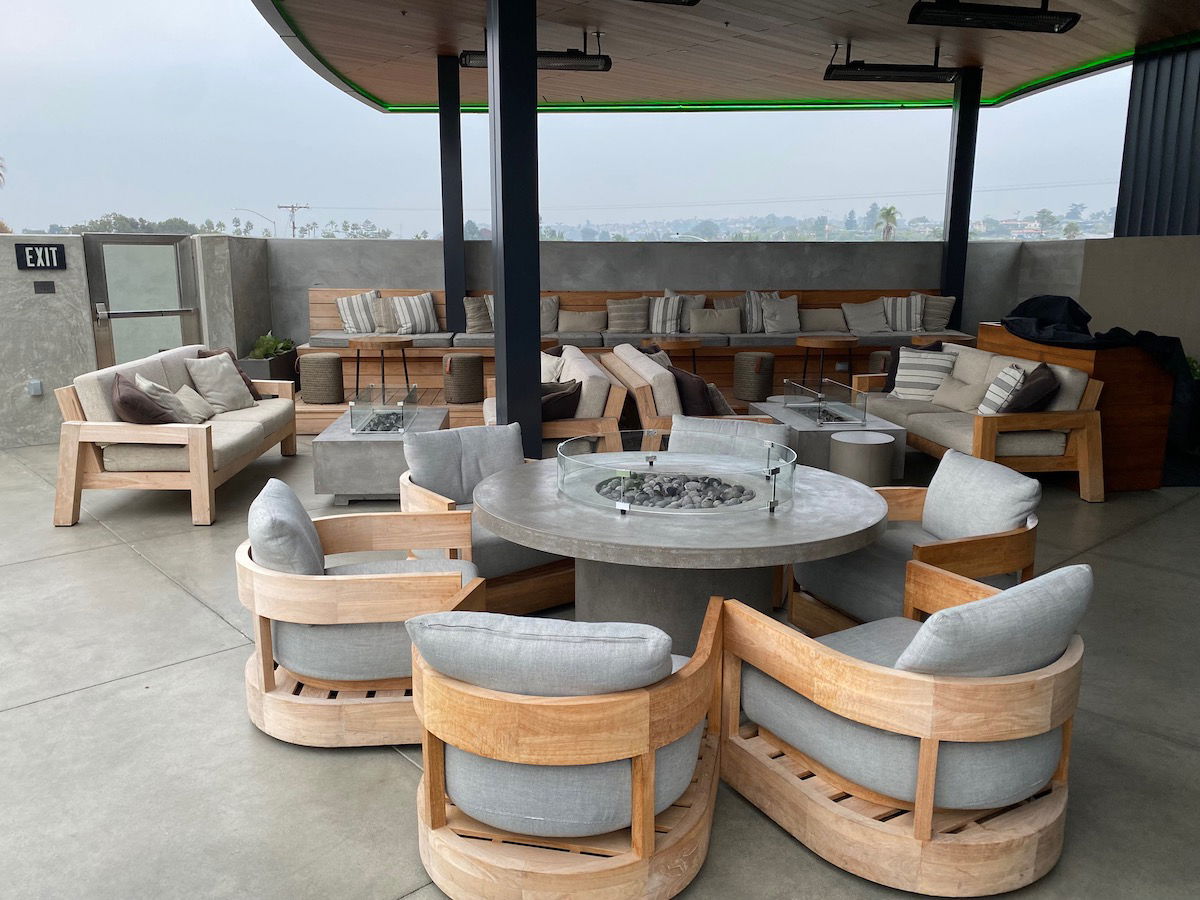 Breakfast is served daily at VAGA from 7AM until 11AM, and you can find the breakfast menu here. We were told that on account of my Globalist status breakfast would include one drink, one main course, and one side per person. However, on our second day we ordered a second thing to share, and that was taken off as well, so it seems like the limit isn't quite as strict as stated.
I had a coffee the first morning and a cappuccino the second morning, and frankly I think the restaurant could up its coffee game, as the taste wasn't great. The restaurant also doesn't seem to have any fresh juices, or at least I didn't see any on the menu.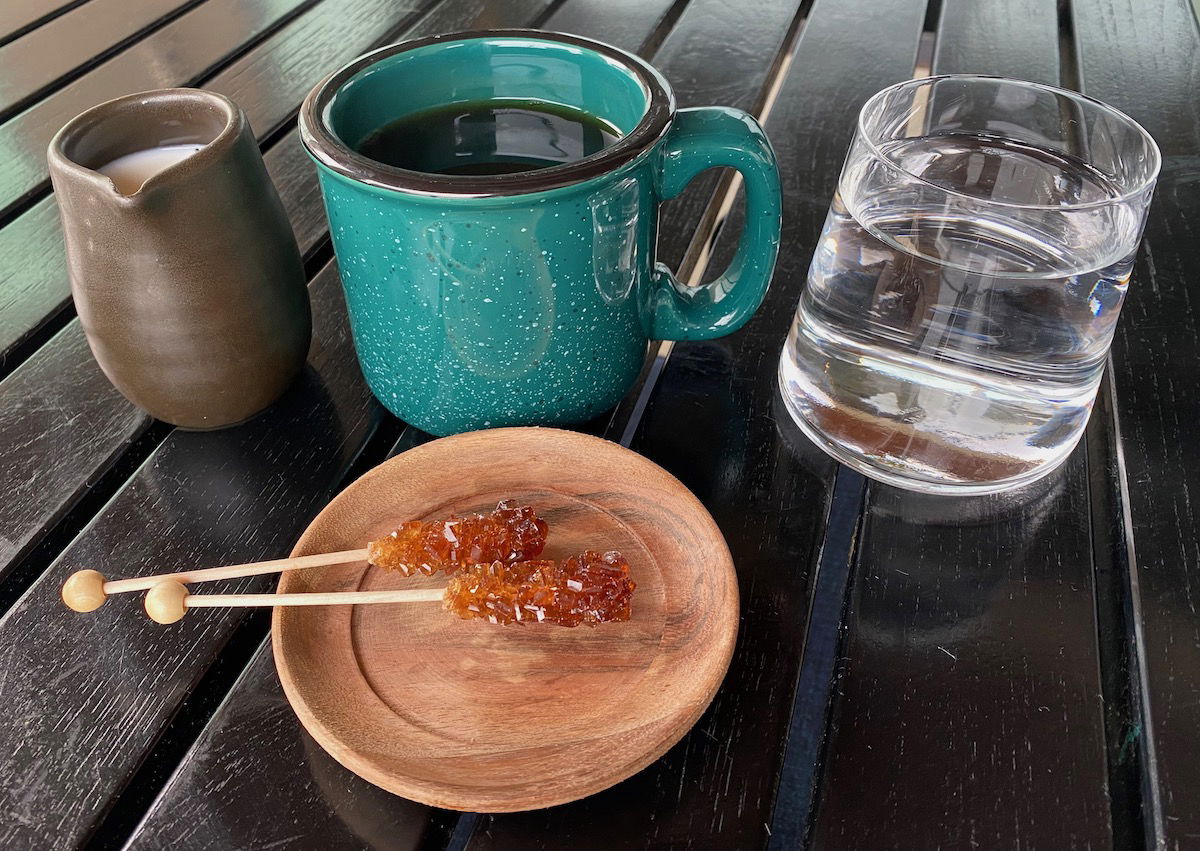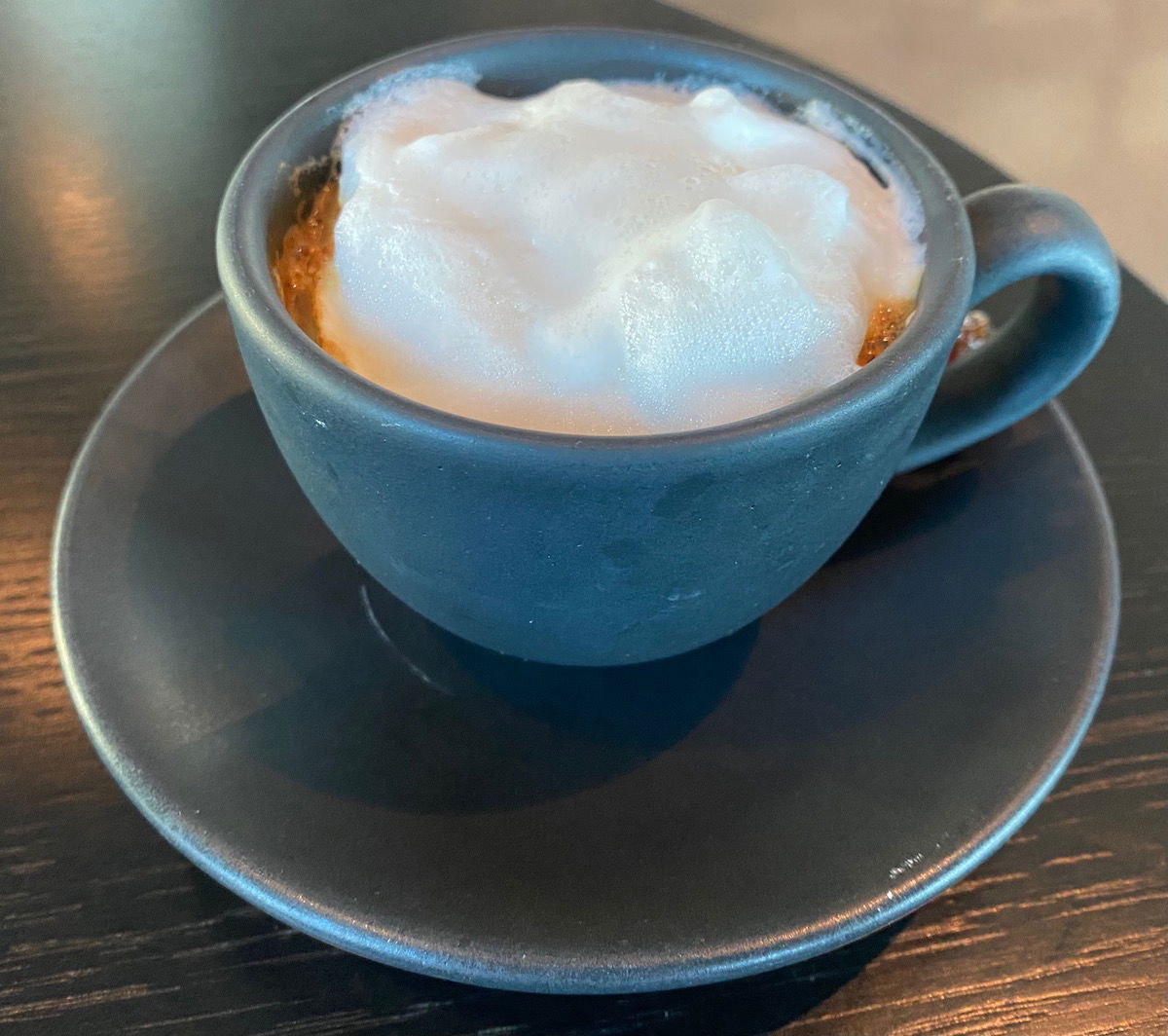 Fortunately the food was excellent. One morning Ford and I both had the heirloom tomato shakshuka, along with a side of avocado.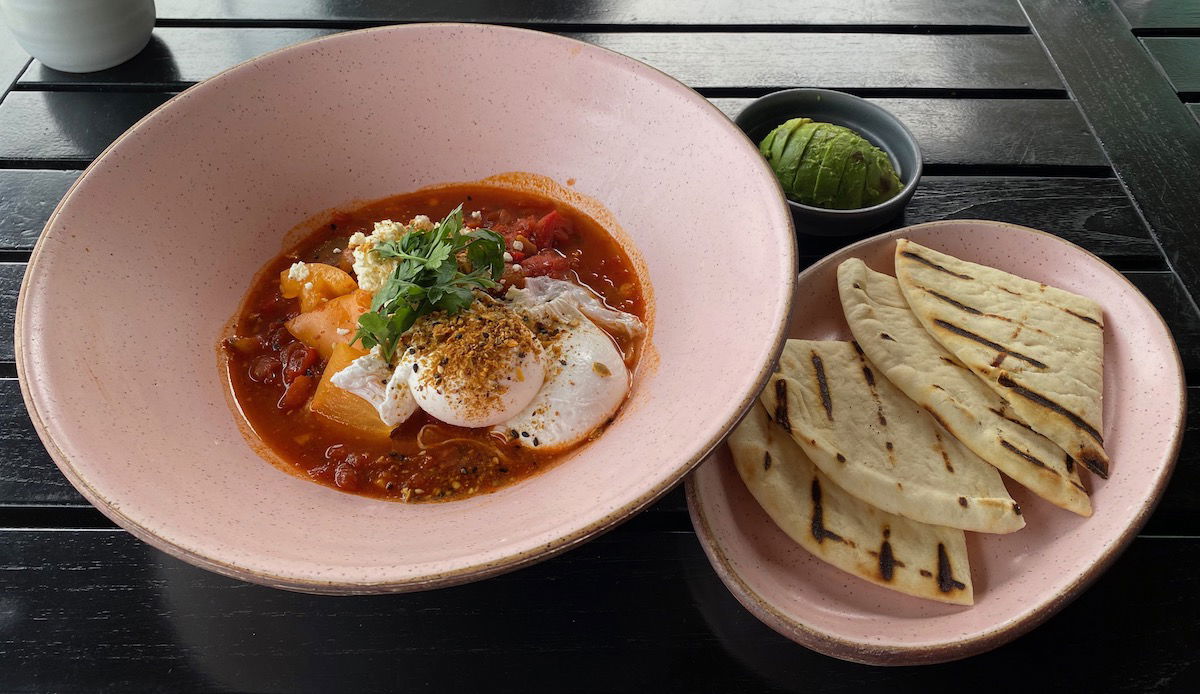 The next morning I had the VAGA breakfast, which consisted of eggs, crispy herb potatoes, and avocado (I asked for that in place of the bacon nuggets that are usually served with this).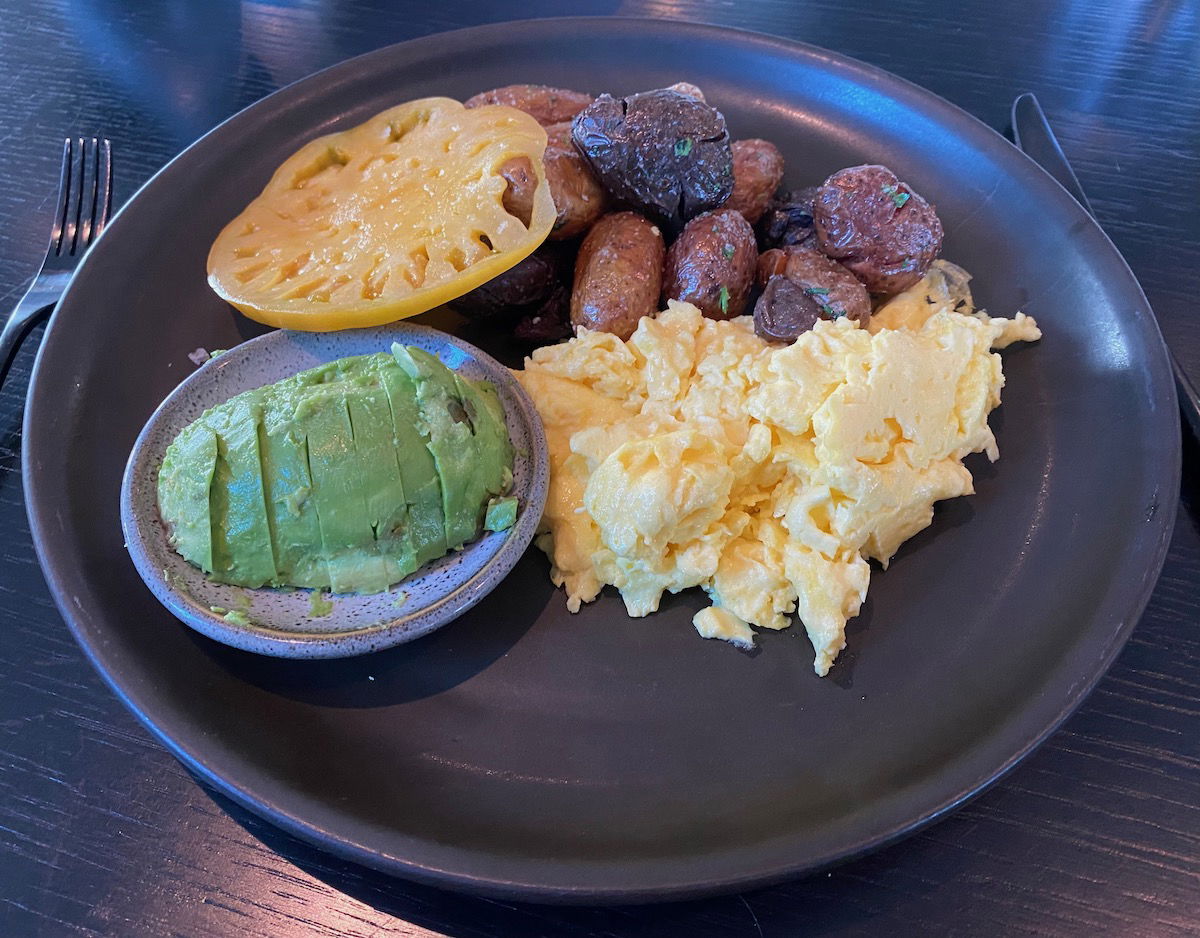 Ford had the whipped ricotta toast with fruit and honey syrup.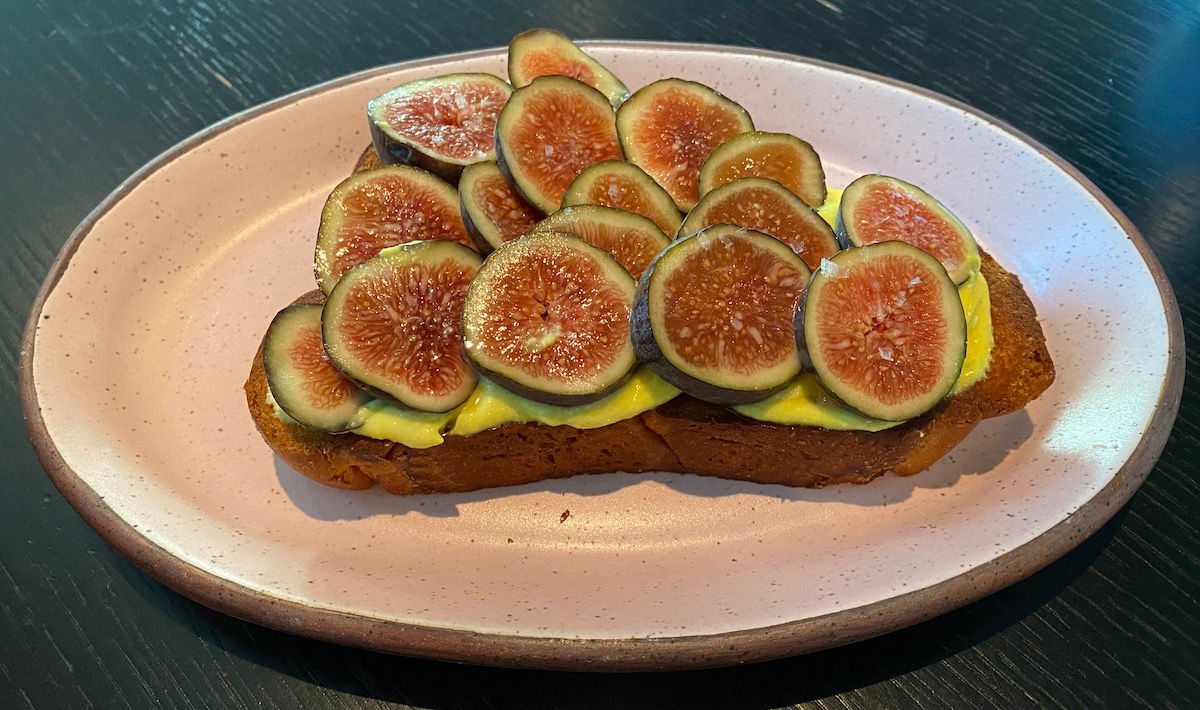 We also split the Cali Bowl with fruit yogurt whip, banana cajeta, roasted pineapple, and lychee.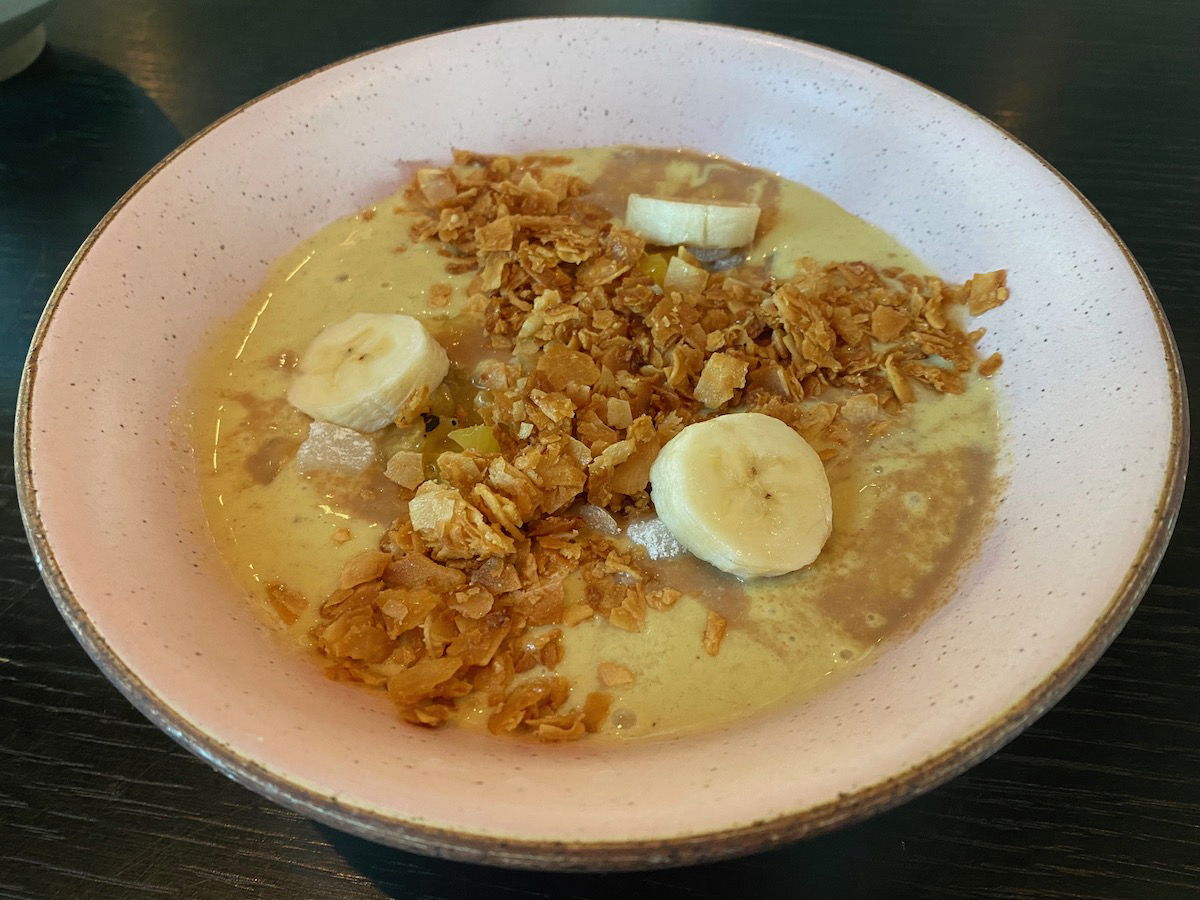 On our second afternoon we also went to the bar area for drinks. The cocktails were excellent.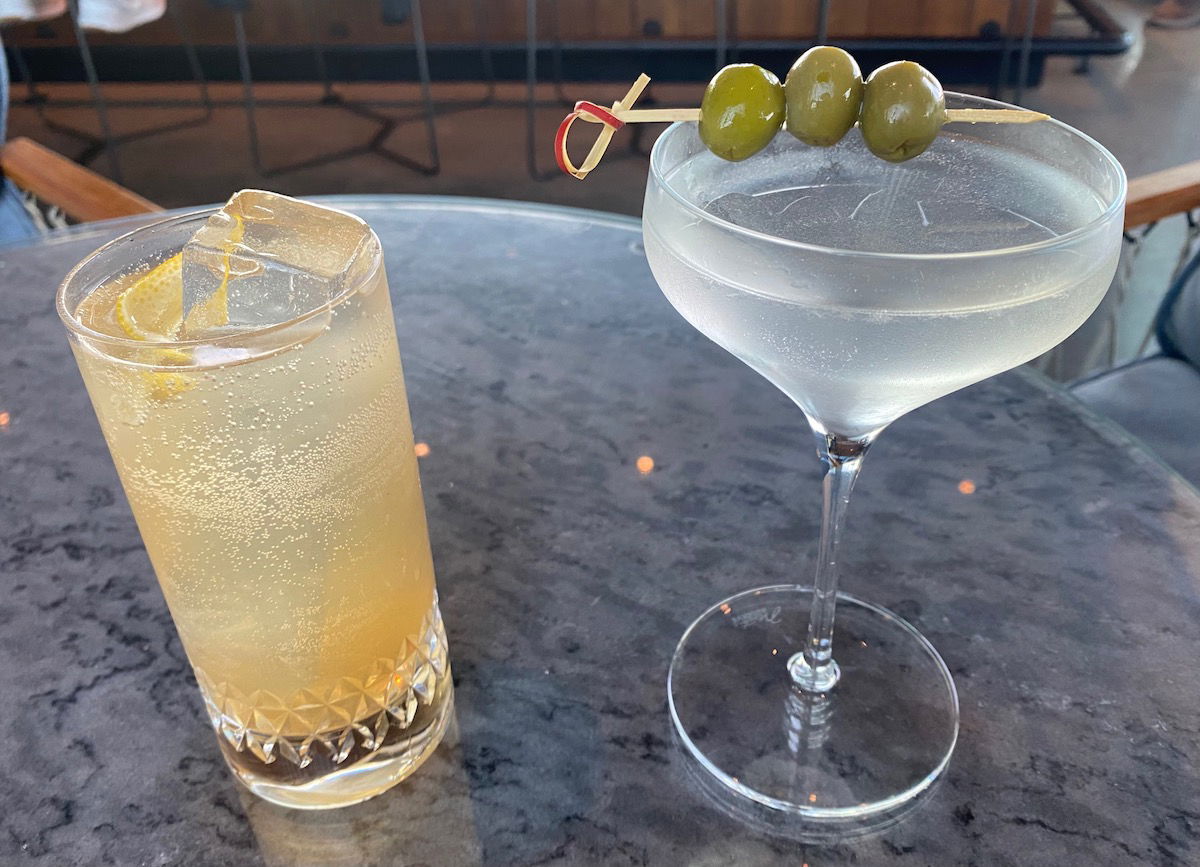 We were there at a time in the afternoon when the menu was transitioning, so they only had three food options. We had the fried cauliflower and crispy potatoes (with the other option being "bird wings"). Of course they were delicious, as most fried things are…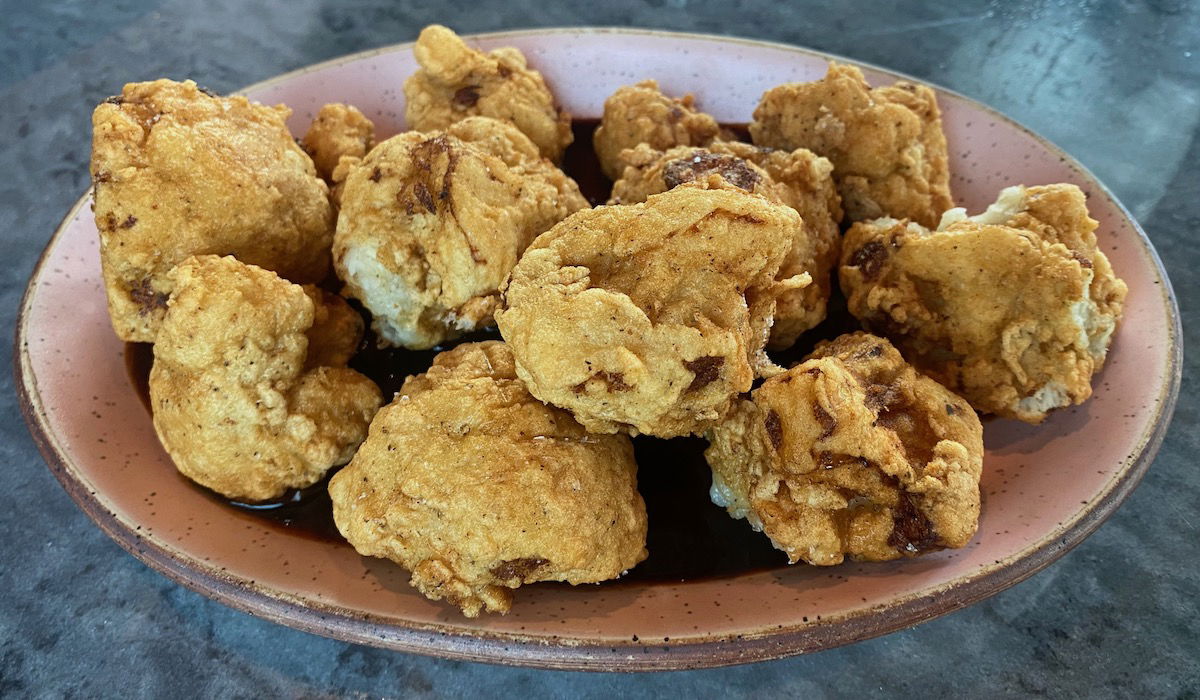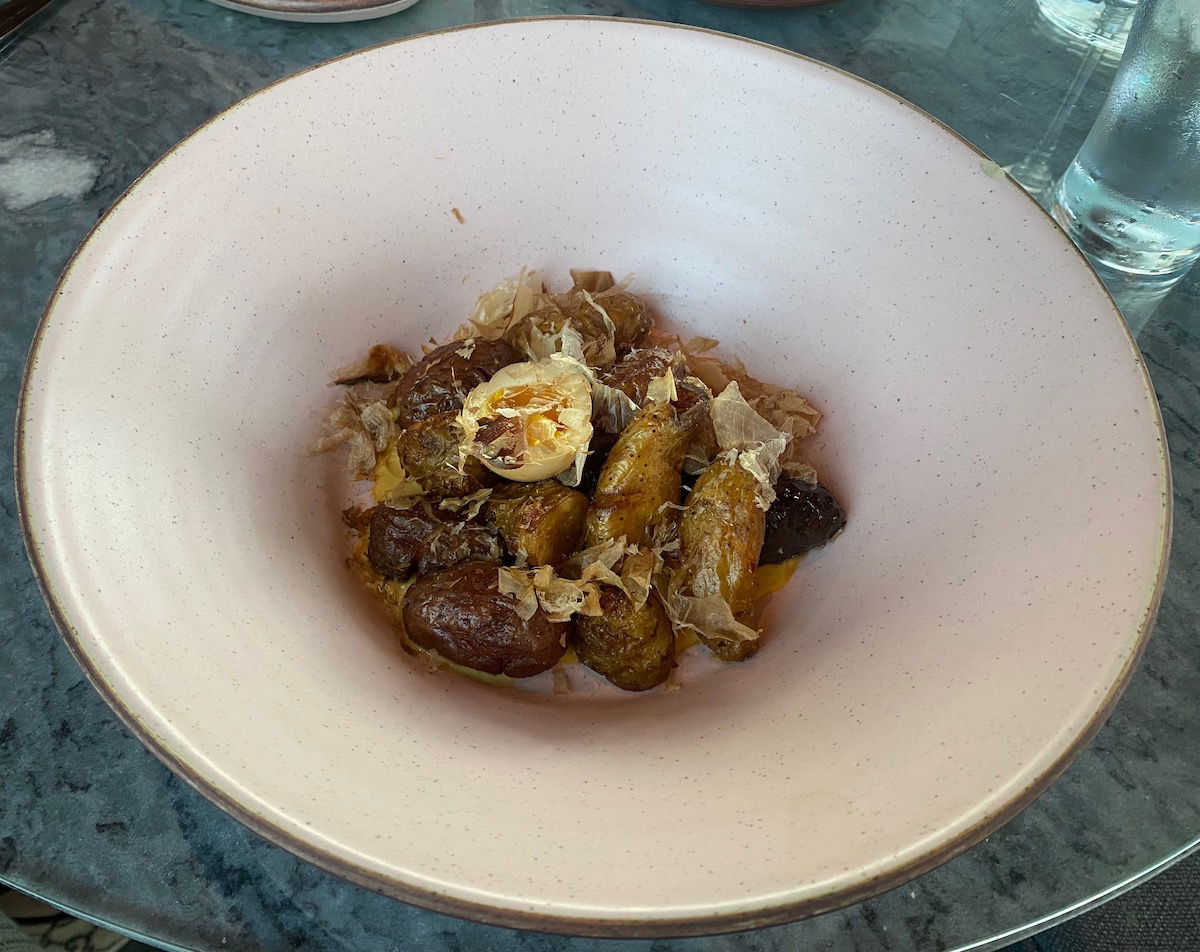 Alila Marea Encinitas The Pocket Restaurant
Alila's other restaurant is The Pocket, and it's located right next to the pool, and serves food daily from 12PM until 6PM. You can either dine indoors, or they can delivery food and drinks to the pool from here. I thought the vibe of the restaurant was unusual. It's described as "a seductive surf-inspired hangout," but felt to me a bit like a cross between a hotel lobby bar and a sports pub.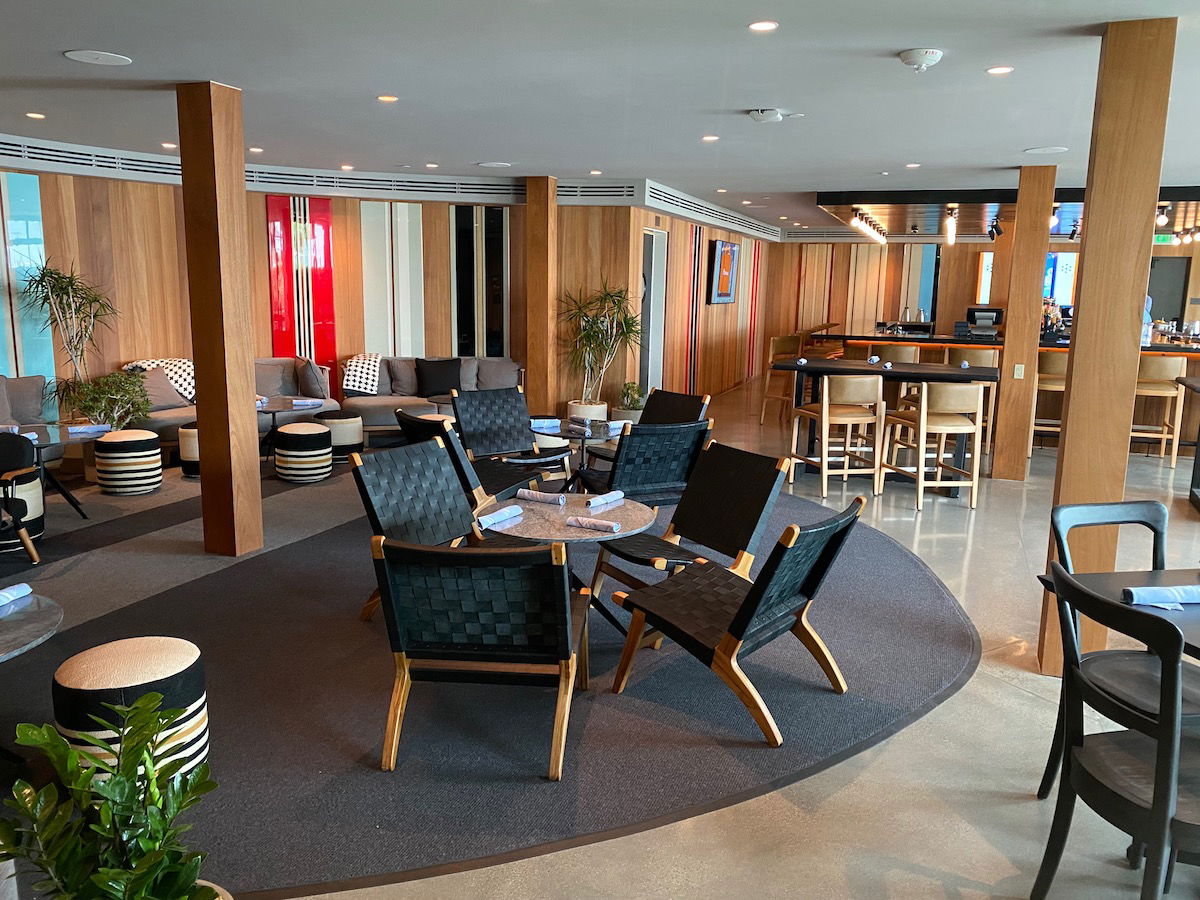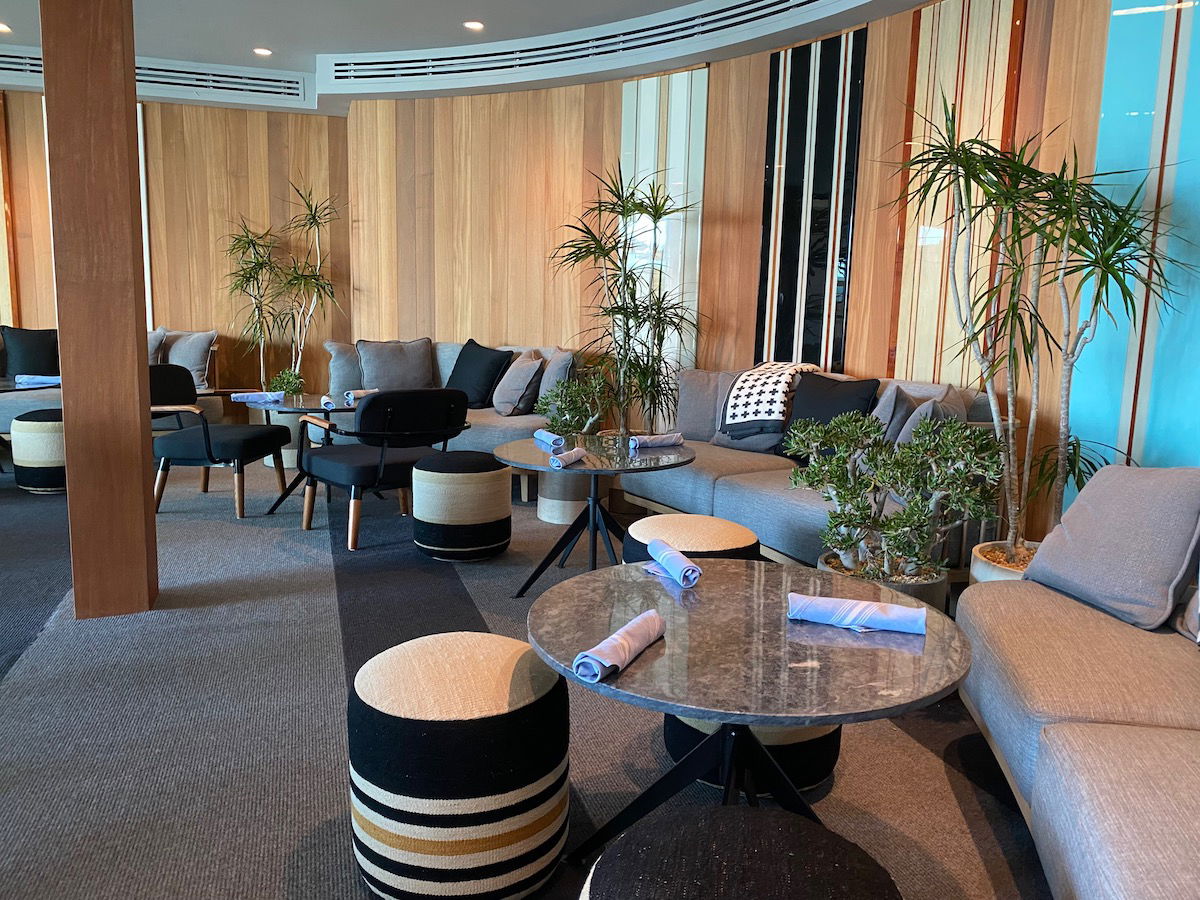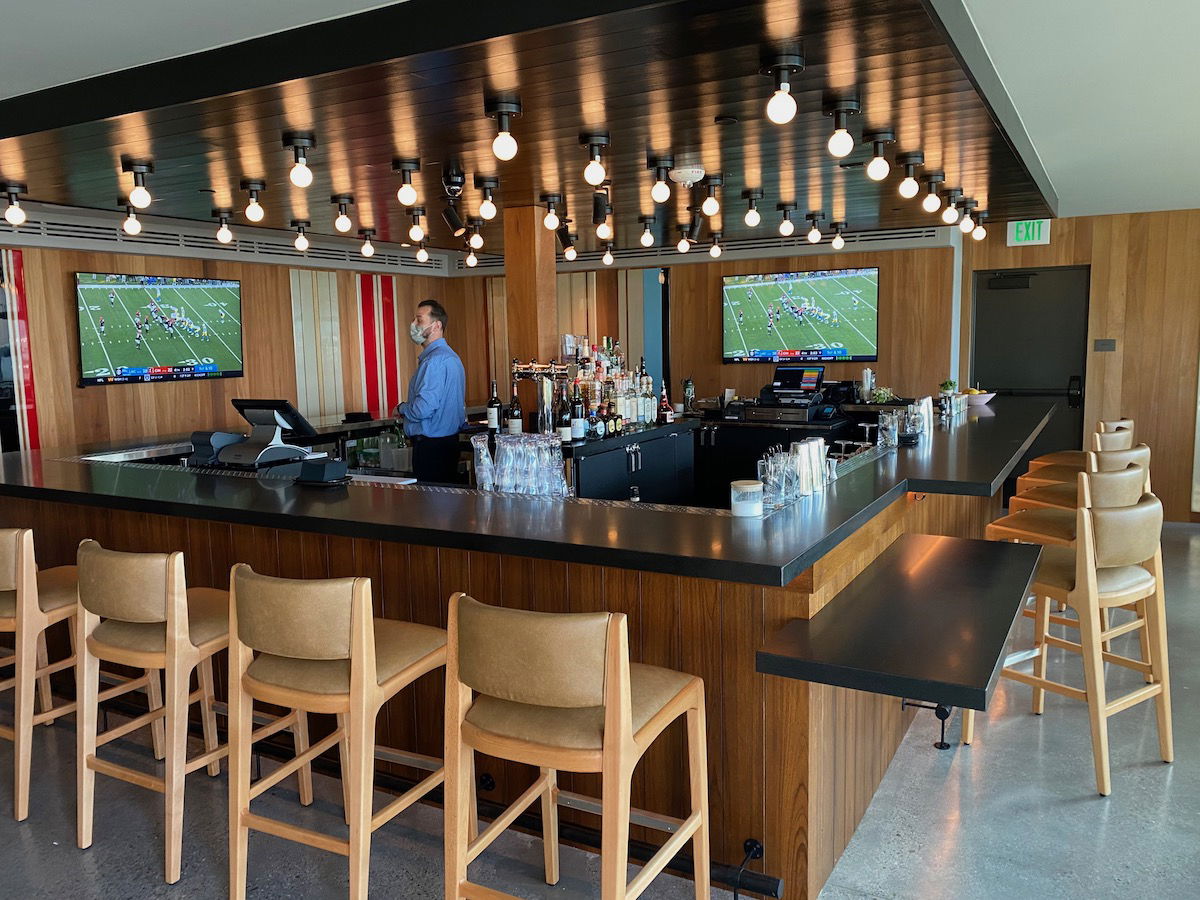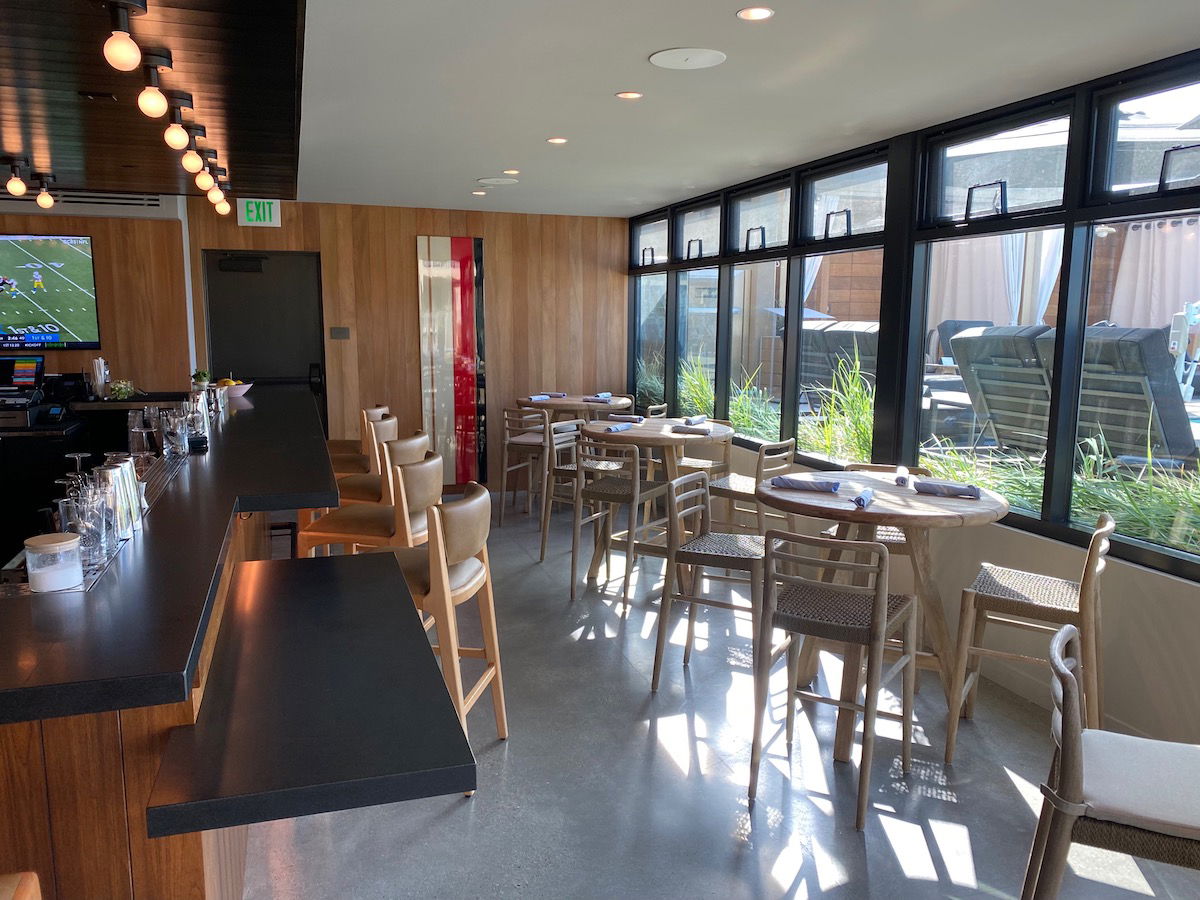 The Pocket largely serves Mexican food, and you can find the menu here. We decided to share the mushroom & chicken tostada and Oaxacan quesadilla, and both were tasty.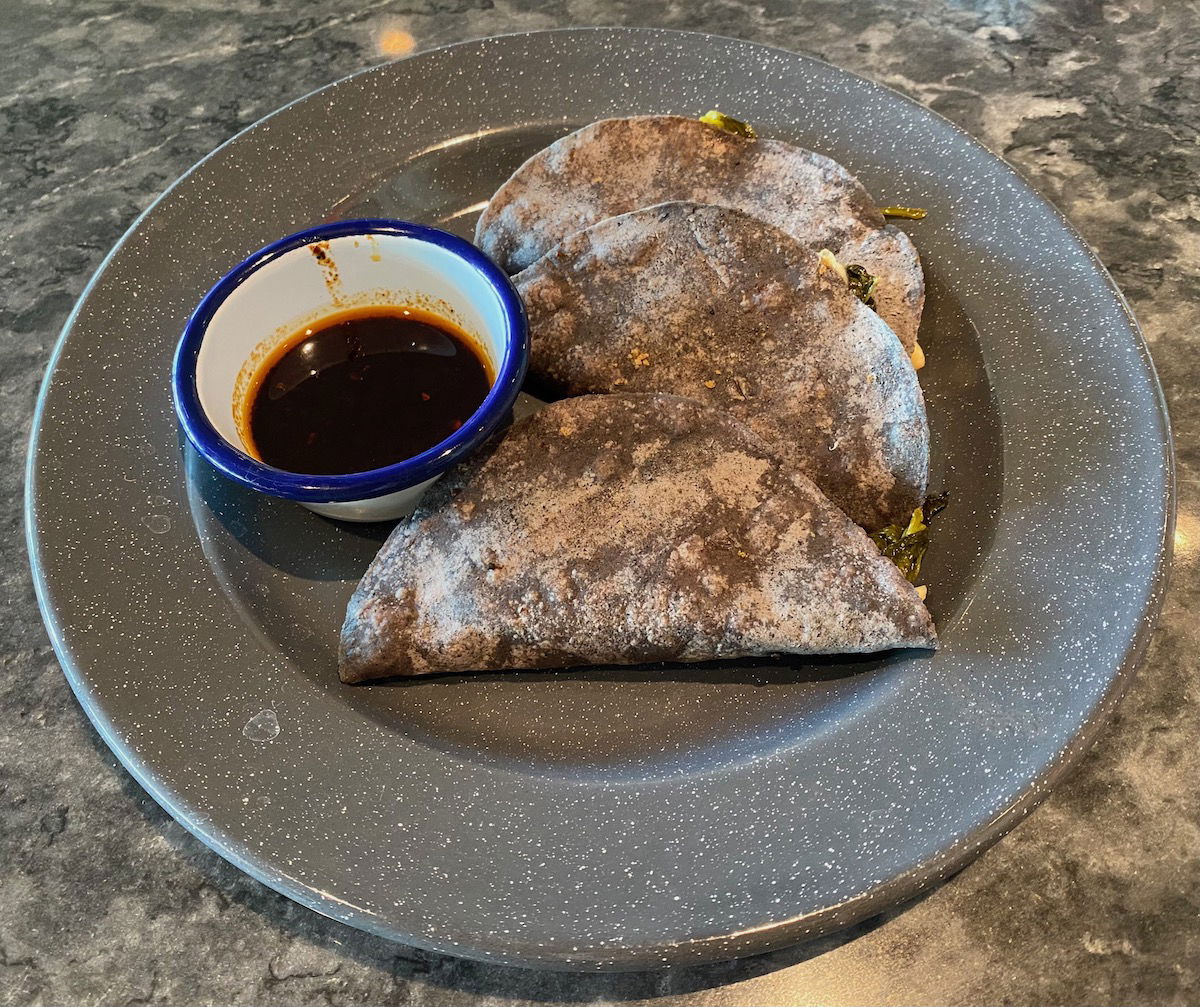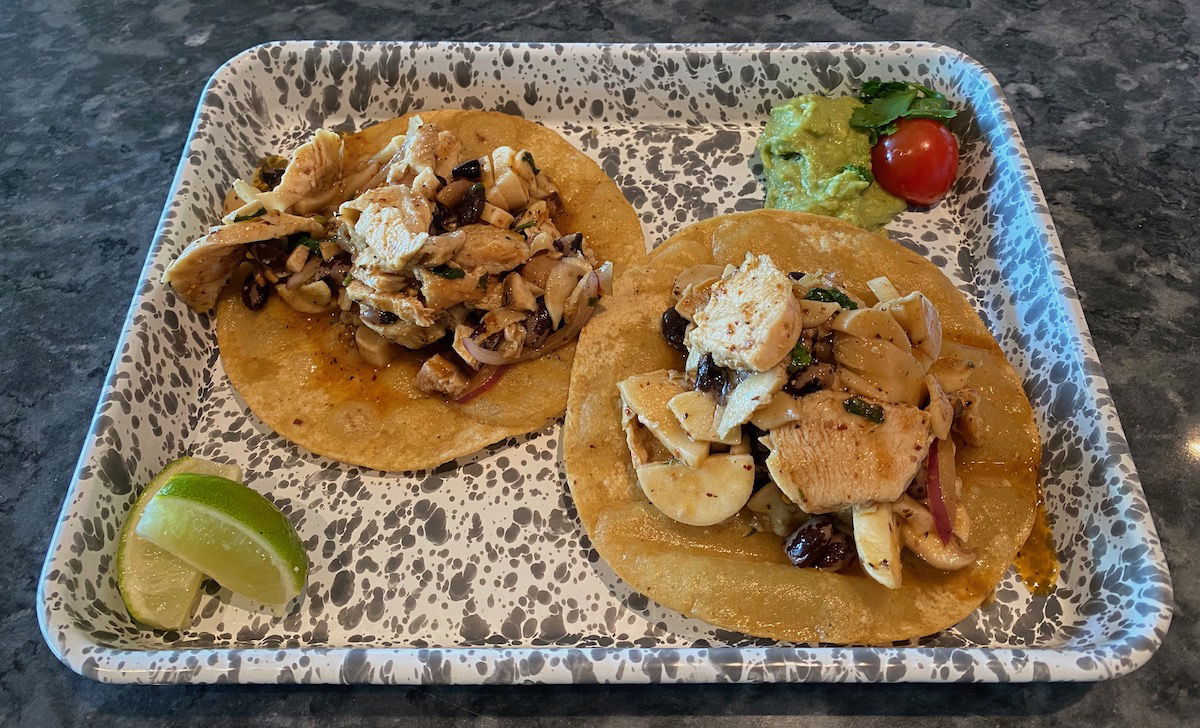 Alila Marea Encinitas Coffee Box
Alila has Coffee Box, which is essentially a coffee shop and gift store located at the front of the hotel, on the lobby level. It's open daily from 6AM until 1PM, so it's a good place to grab your first cup of coffee if you're an early riser. This is a pretty casual setup with some outdoor seating, plus a selection of coffee drinks and light snacks.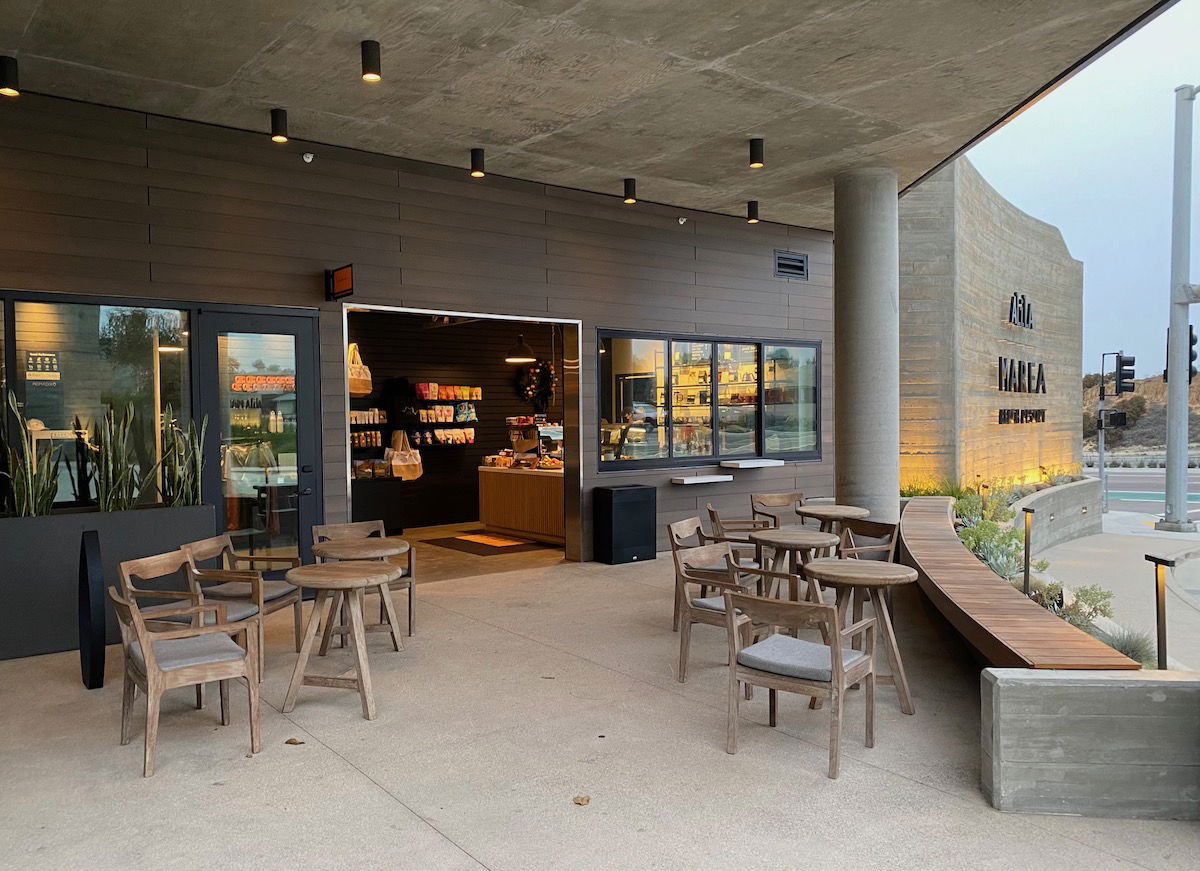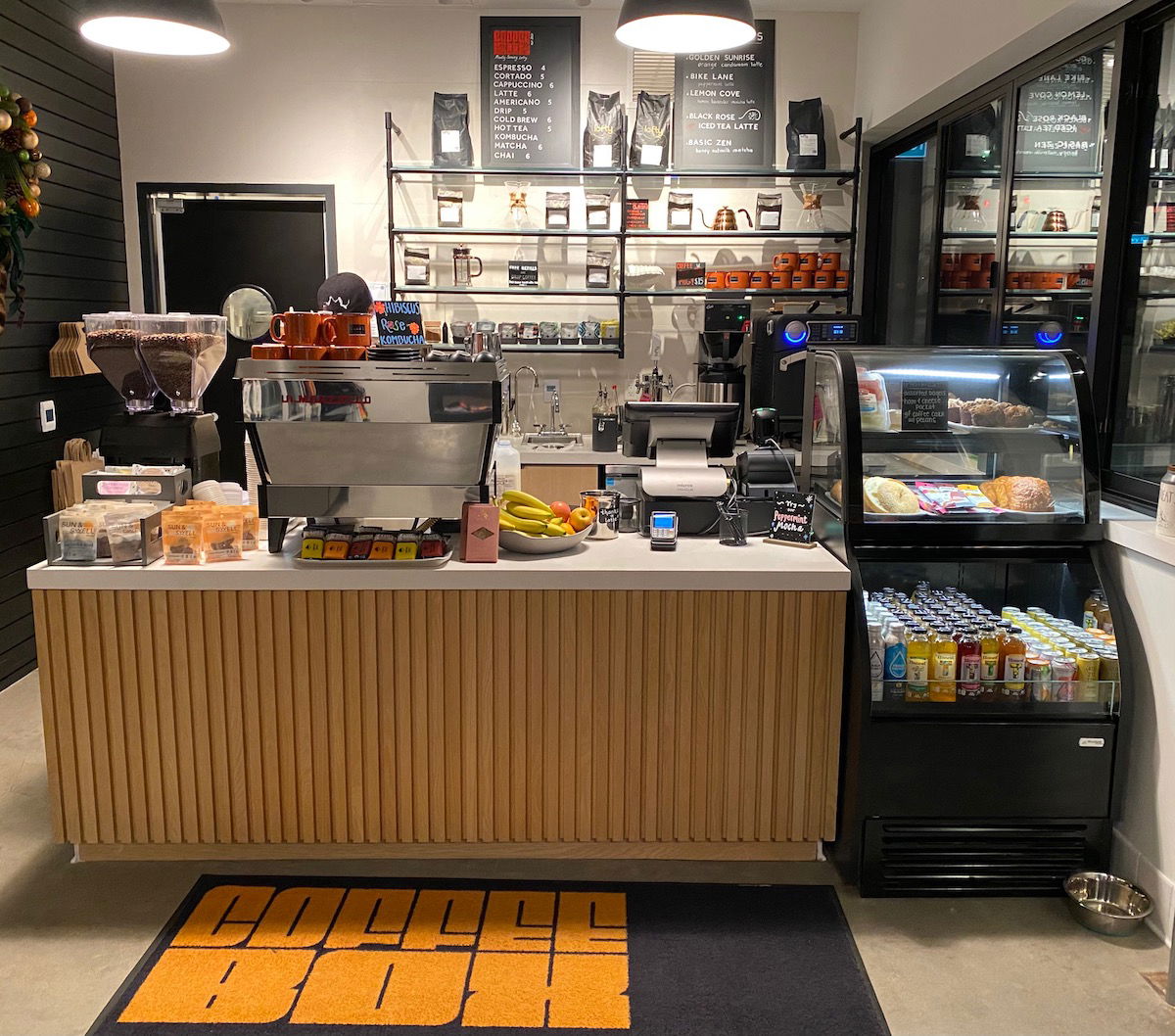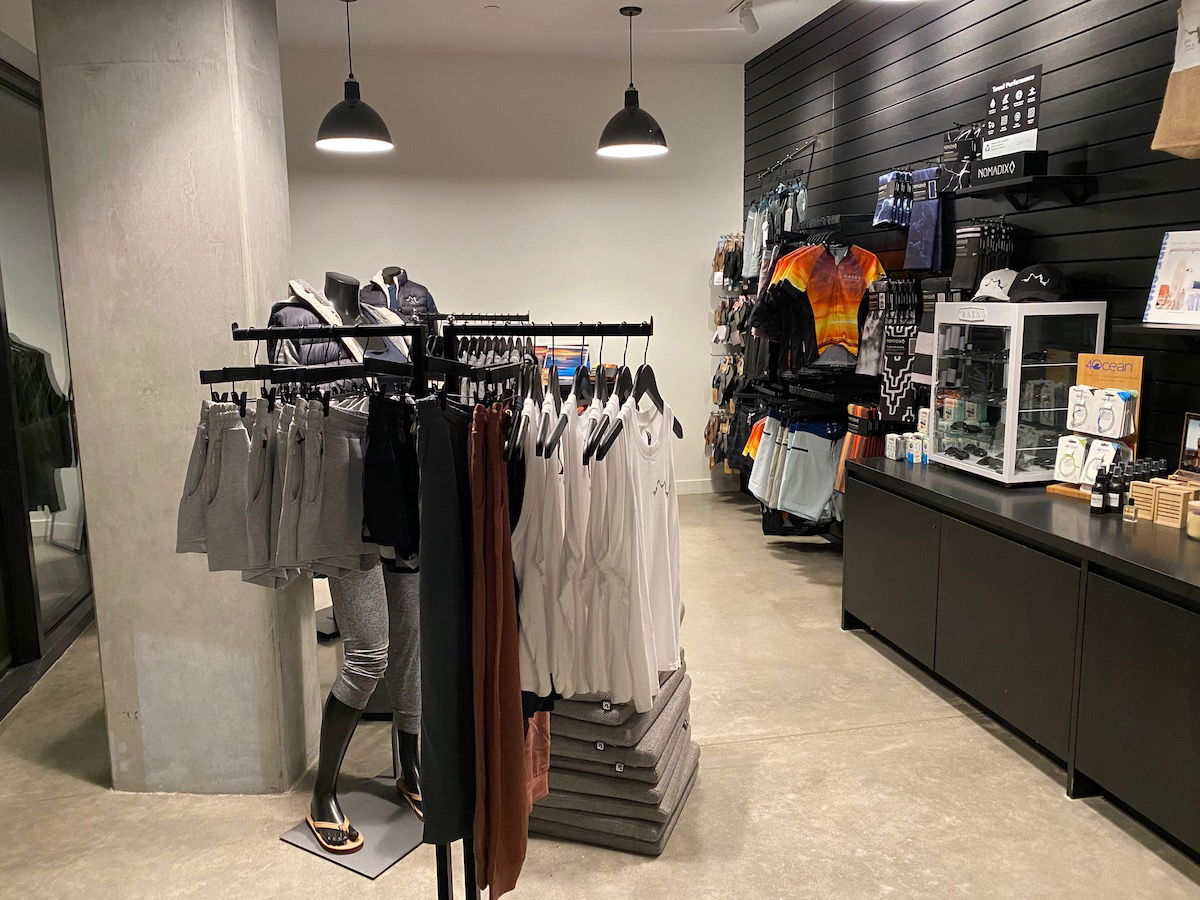 Alila Marea Encinitas room service
Since we were arriving late and hadn't eaten much that day, we decided to order room service our first evening. You can find the in-room dining menu here. The hotel offers proper room service, in the sense that they don't bring you stuff in to-go containers (as so many hotels did during the pandemic). The in-room dining was catered from VAGA, and was very good.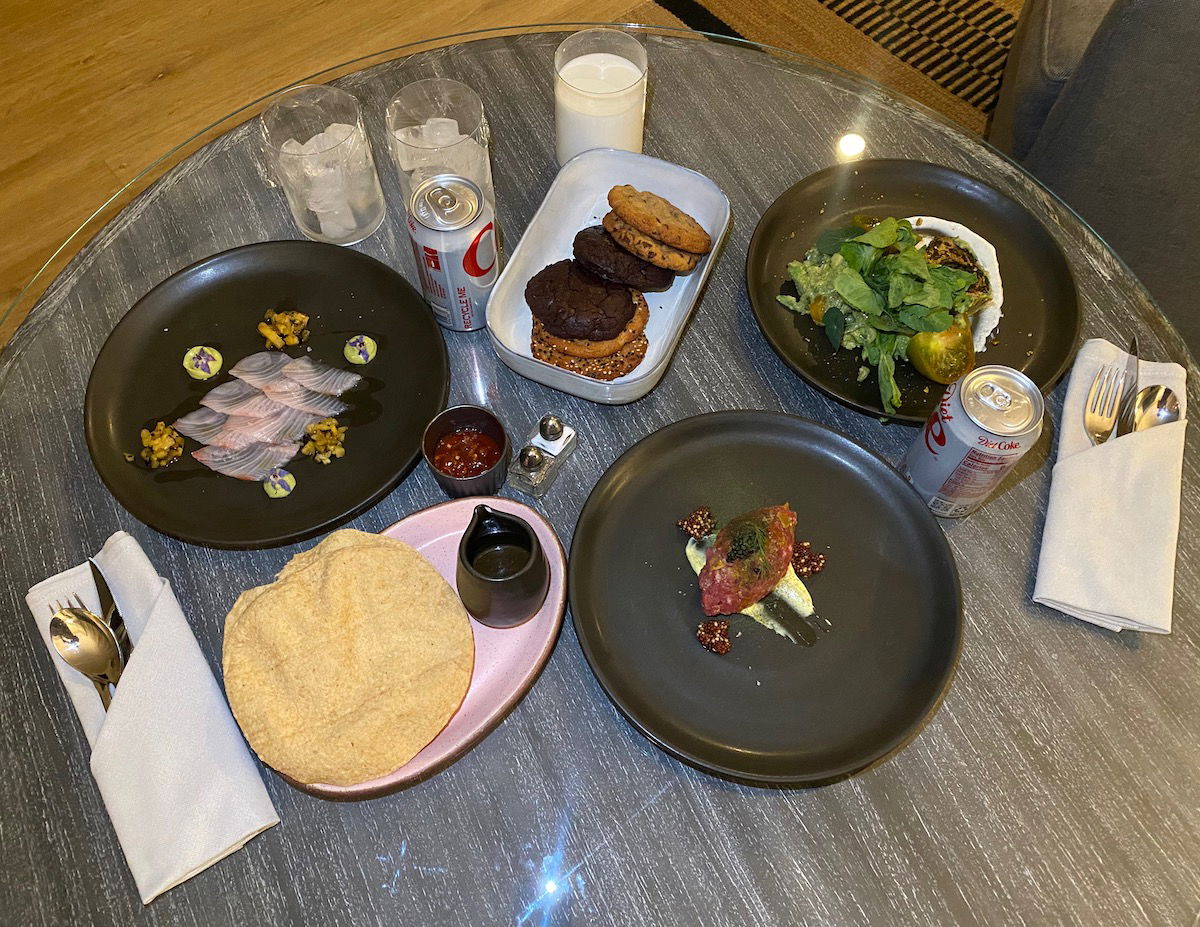 We ordered the avocado & tomato salad…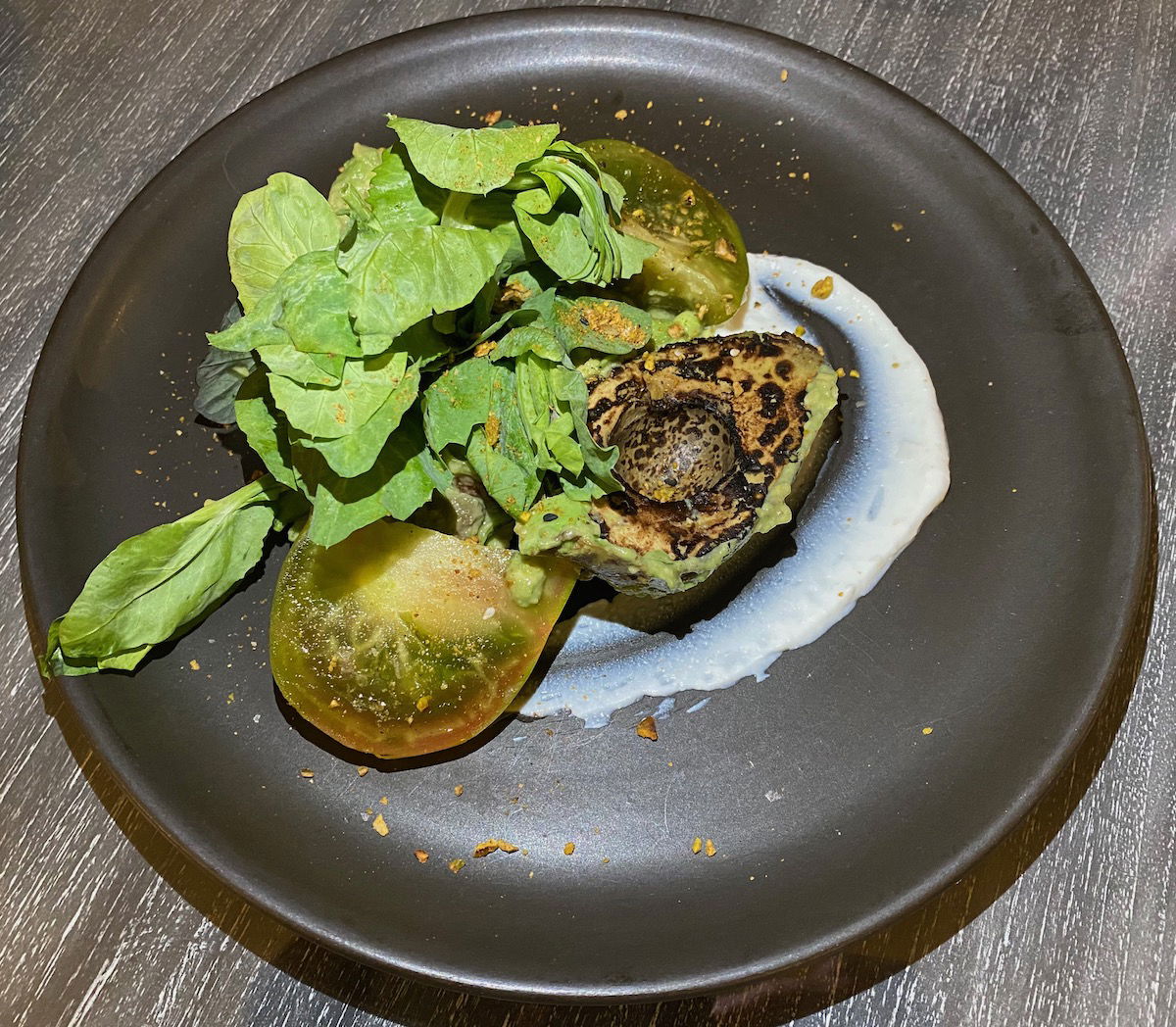 Beef tartare…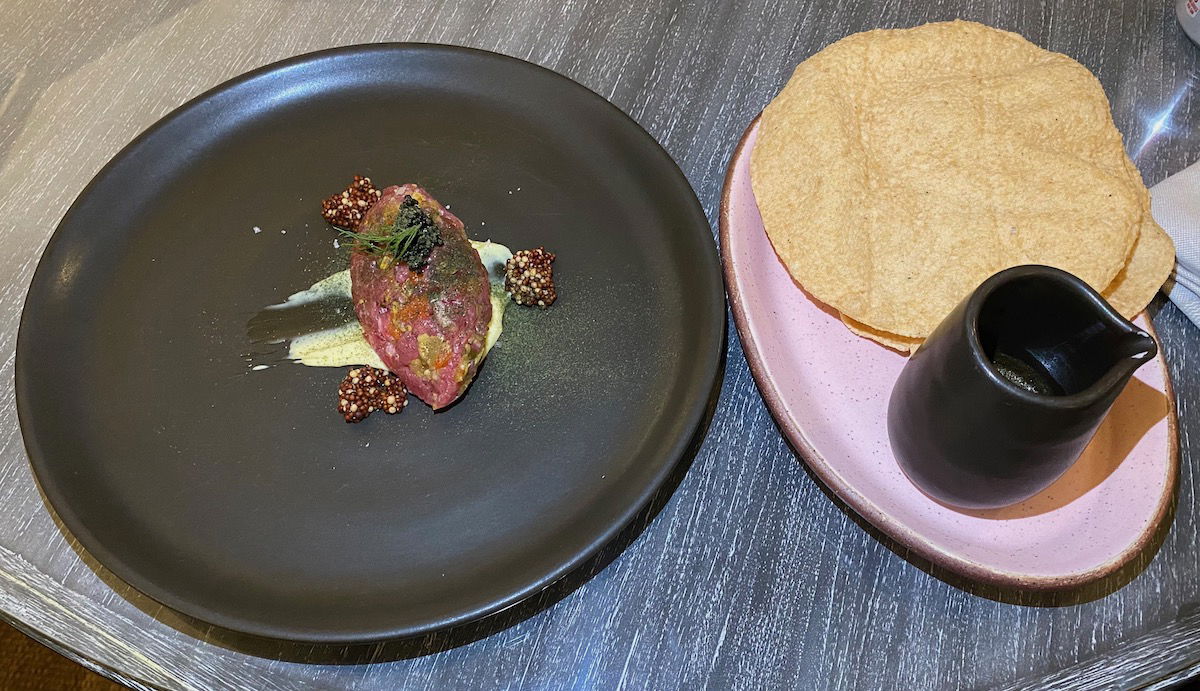 Yellowtail crudo…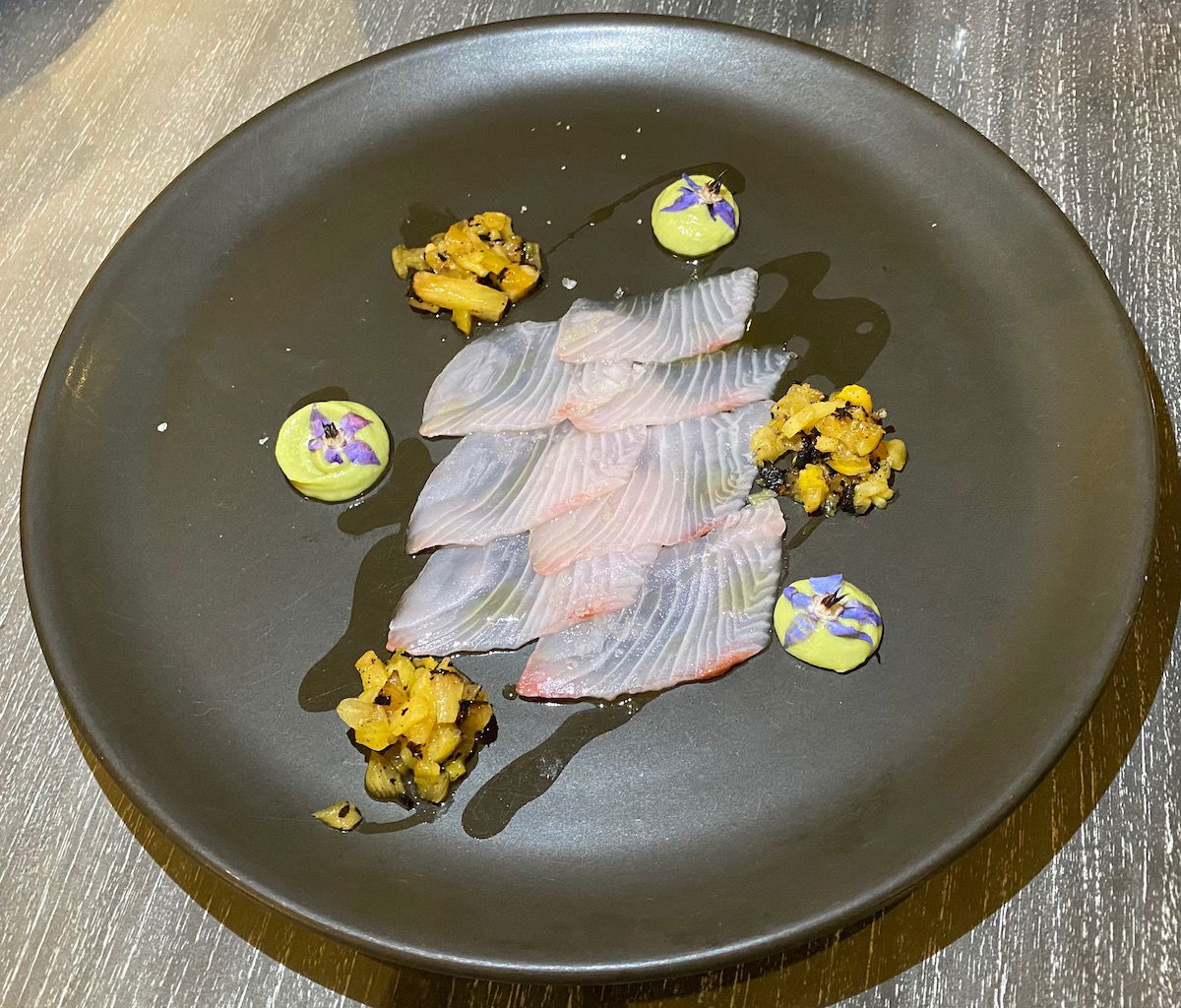 And… cookie plate. Don't ask.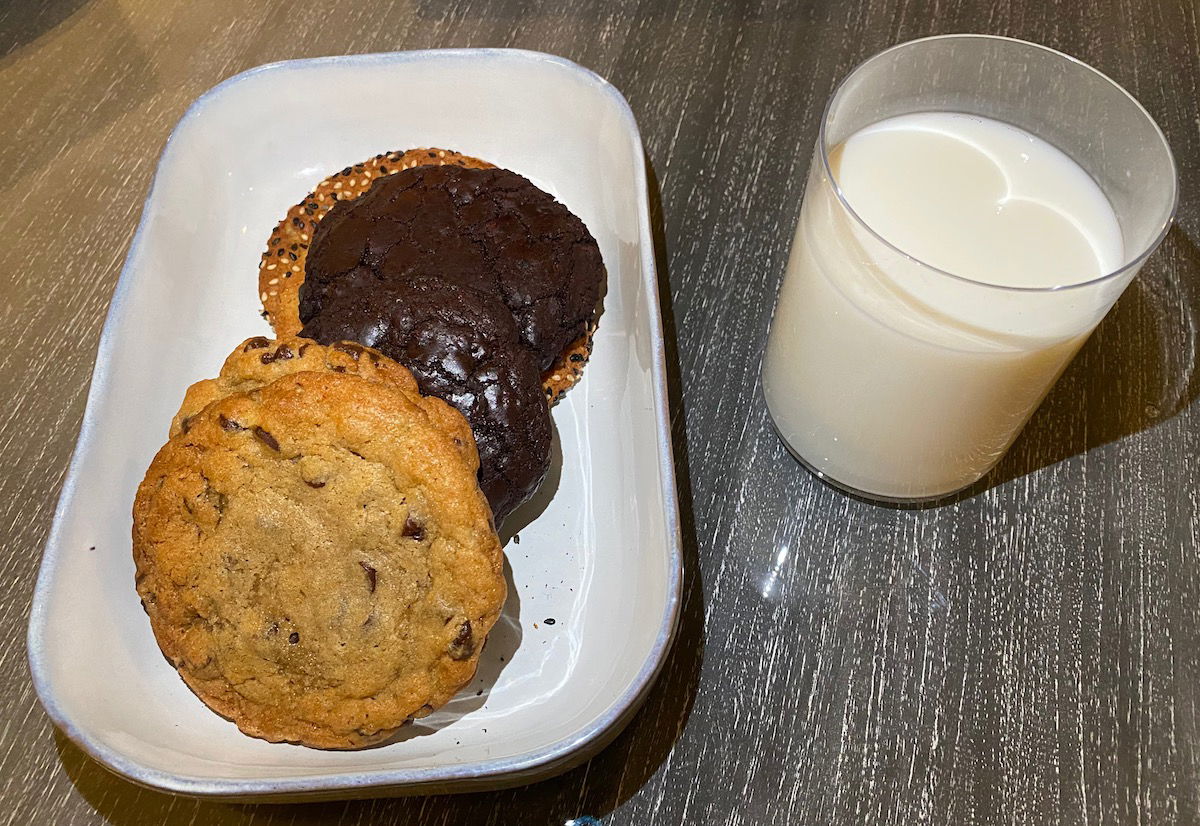 Alila Marea Encinitas pool
Alila has a pool and hot tub, though the area is oddly tiny. I get that space comes at a premium and they'd rather have rooms than pools, but the pool is small and kind of uninspiring design-wise.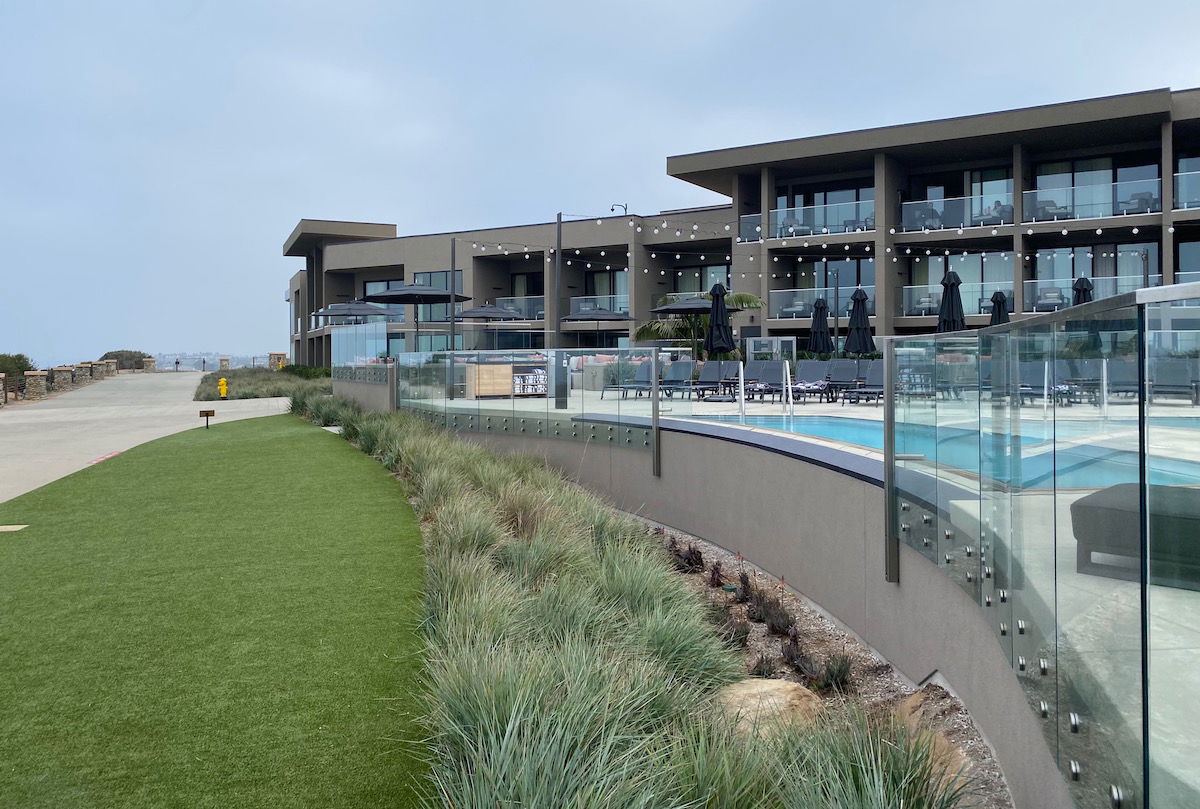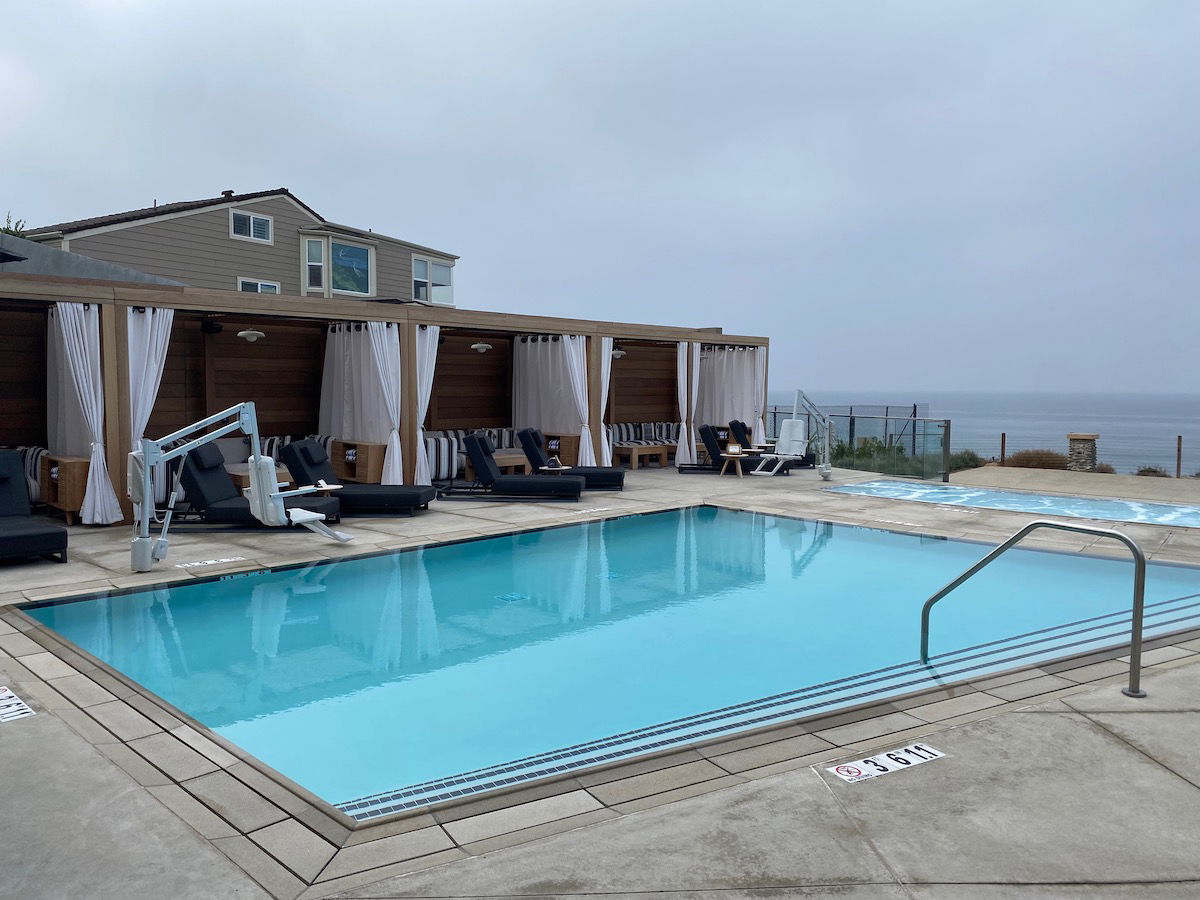 On the plus side, the hot tub was large.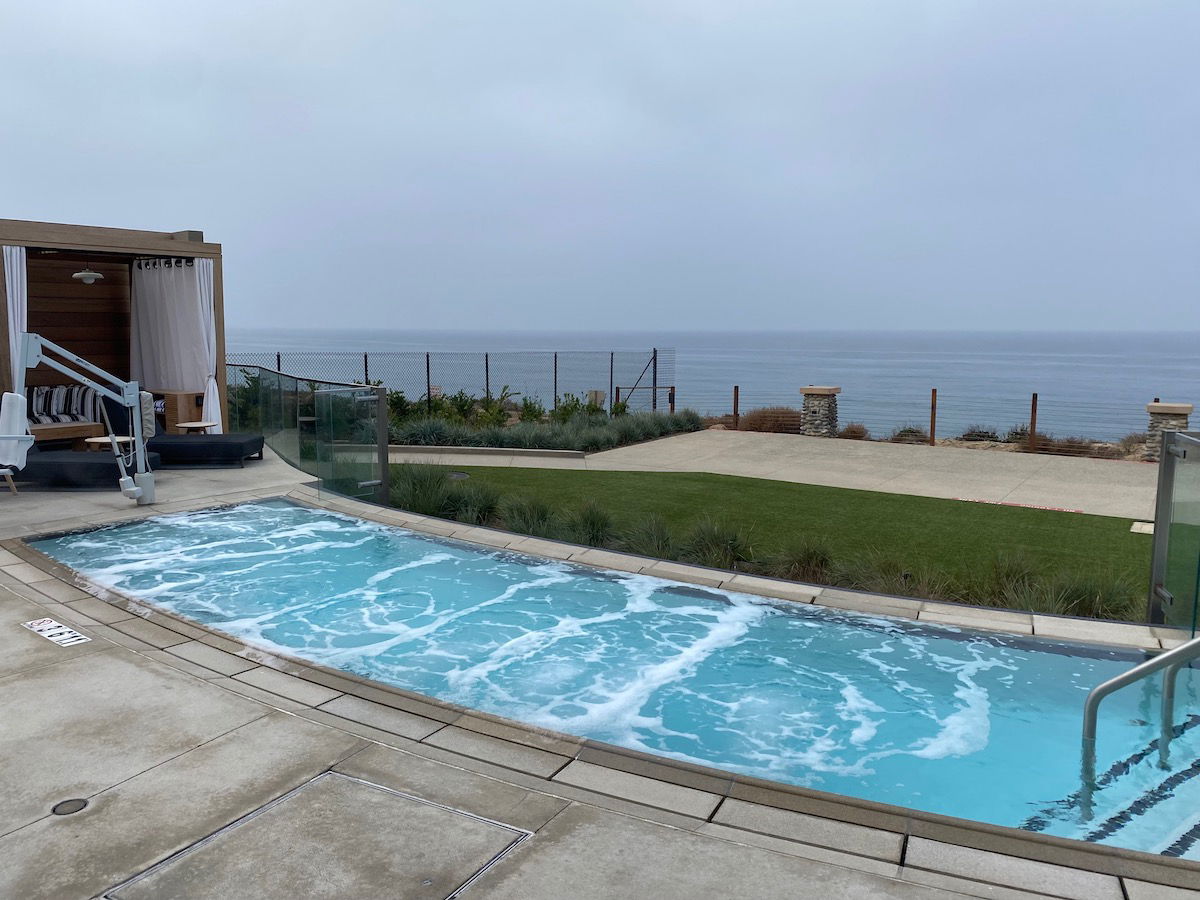 The pool has around three dozen lounge chairs, plus cabanas you can rent for the day. Admittedly we were then when temperatures were colder, but I can't imagine how busy this pool gets in the summer, especially if the hotel is full.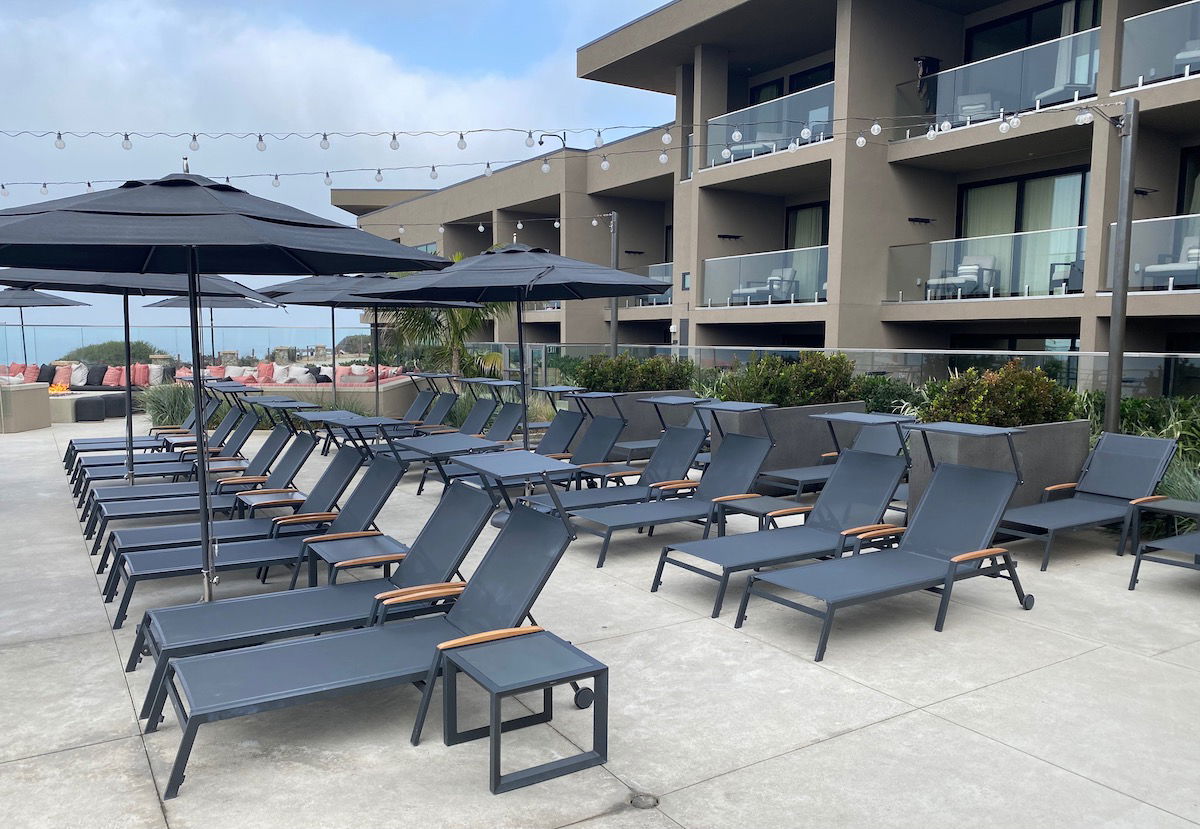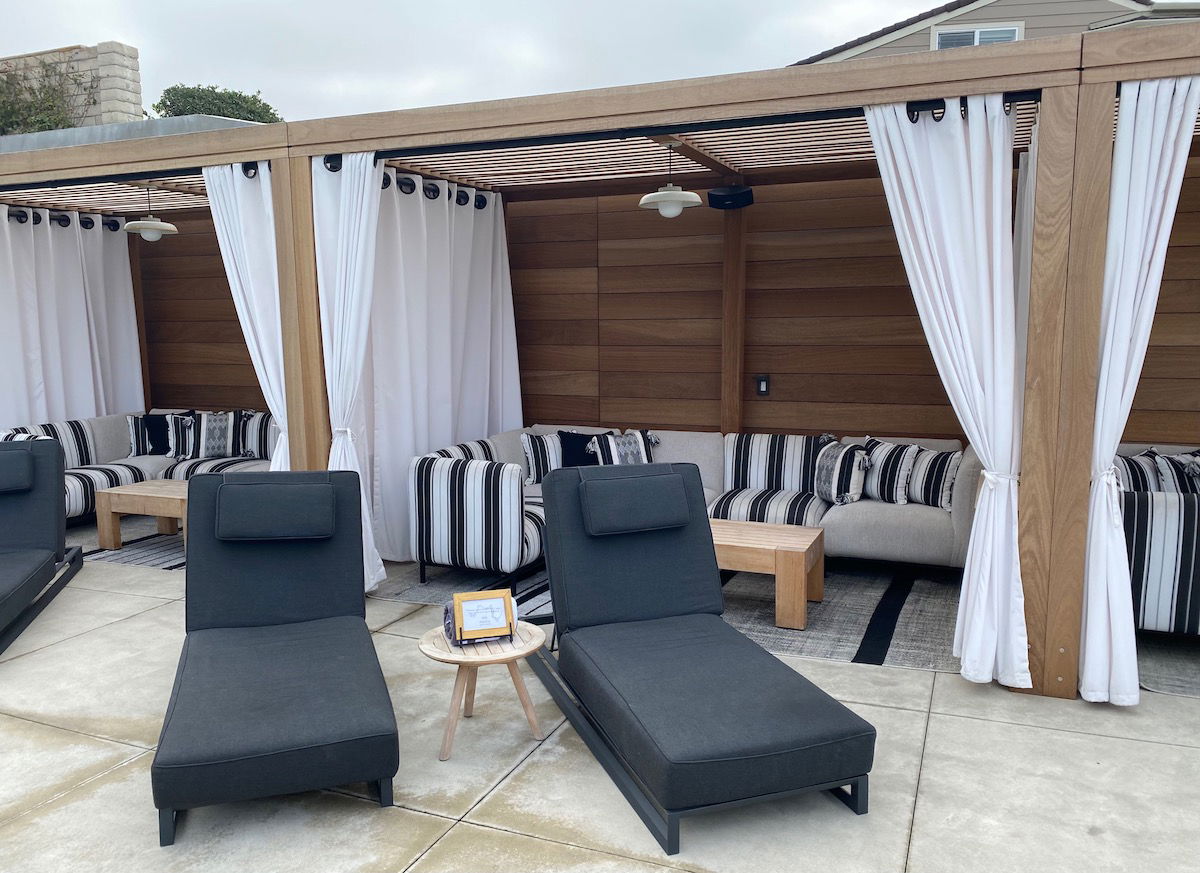 The below picture also maybe gives you a sense of how you can really look into rooms from the pool area. Our room was on the second floor and the pool was on the first floor, but in reality it's not even a full floor difference, since the pool is a bit higher than the first floor rooms.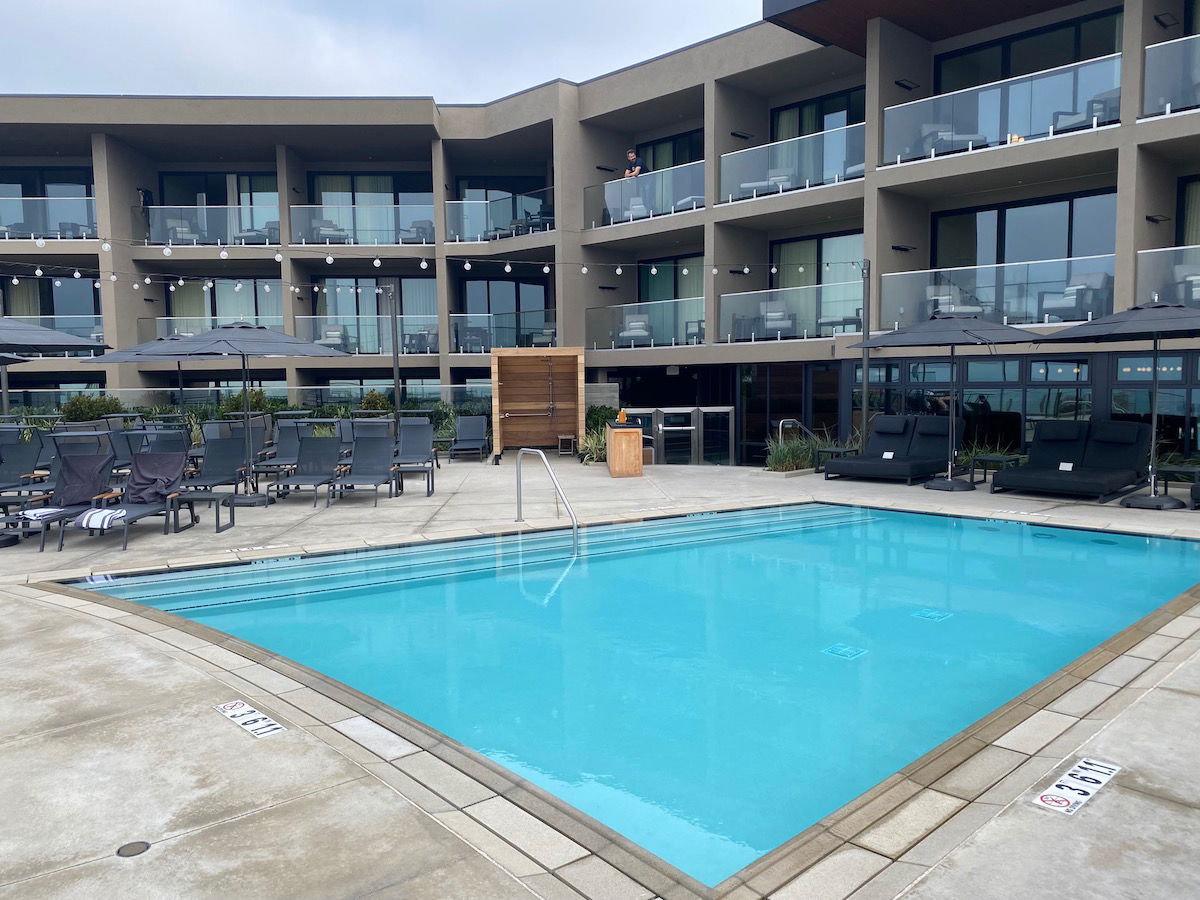 The pool area does have some pretty fire pits as well, with plenty of seating.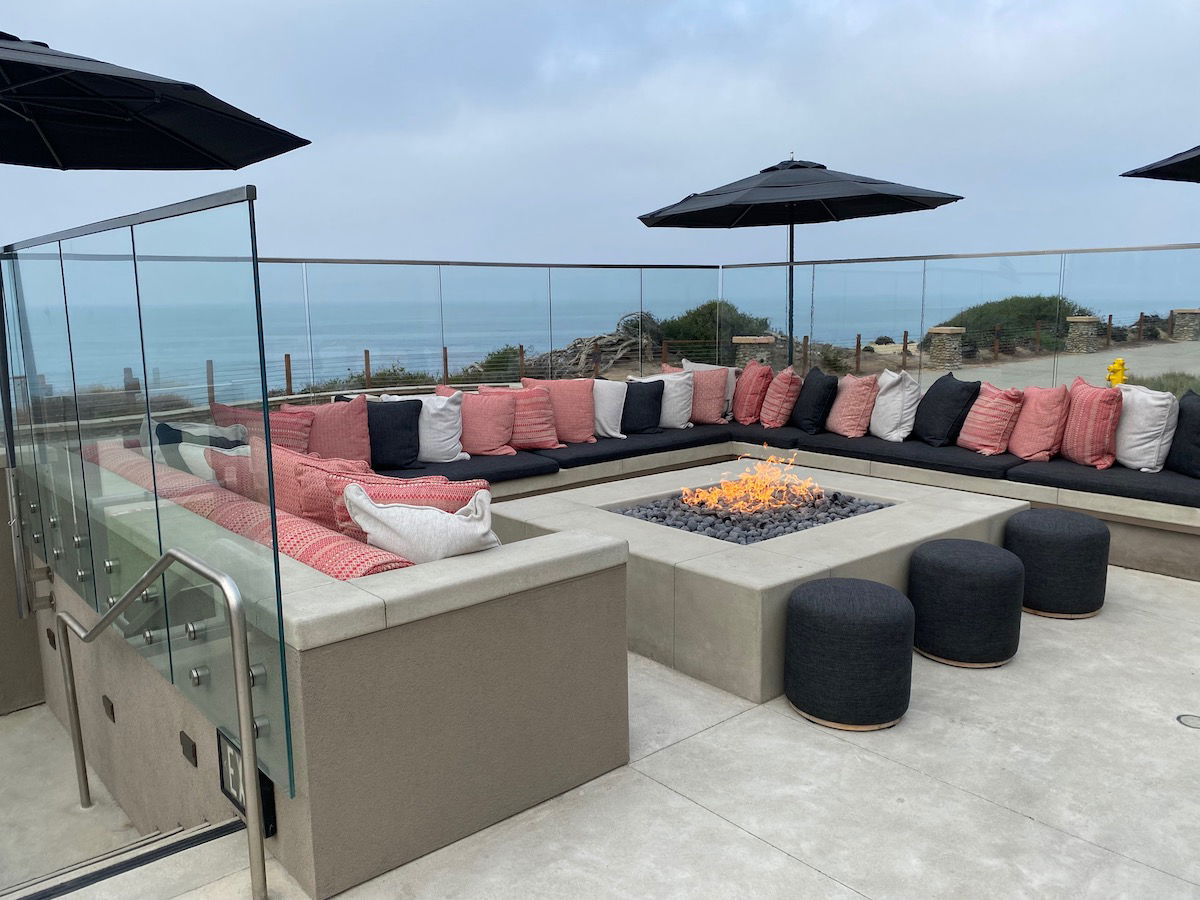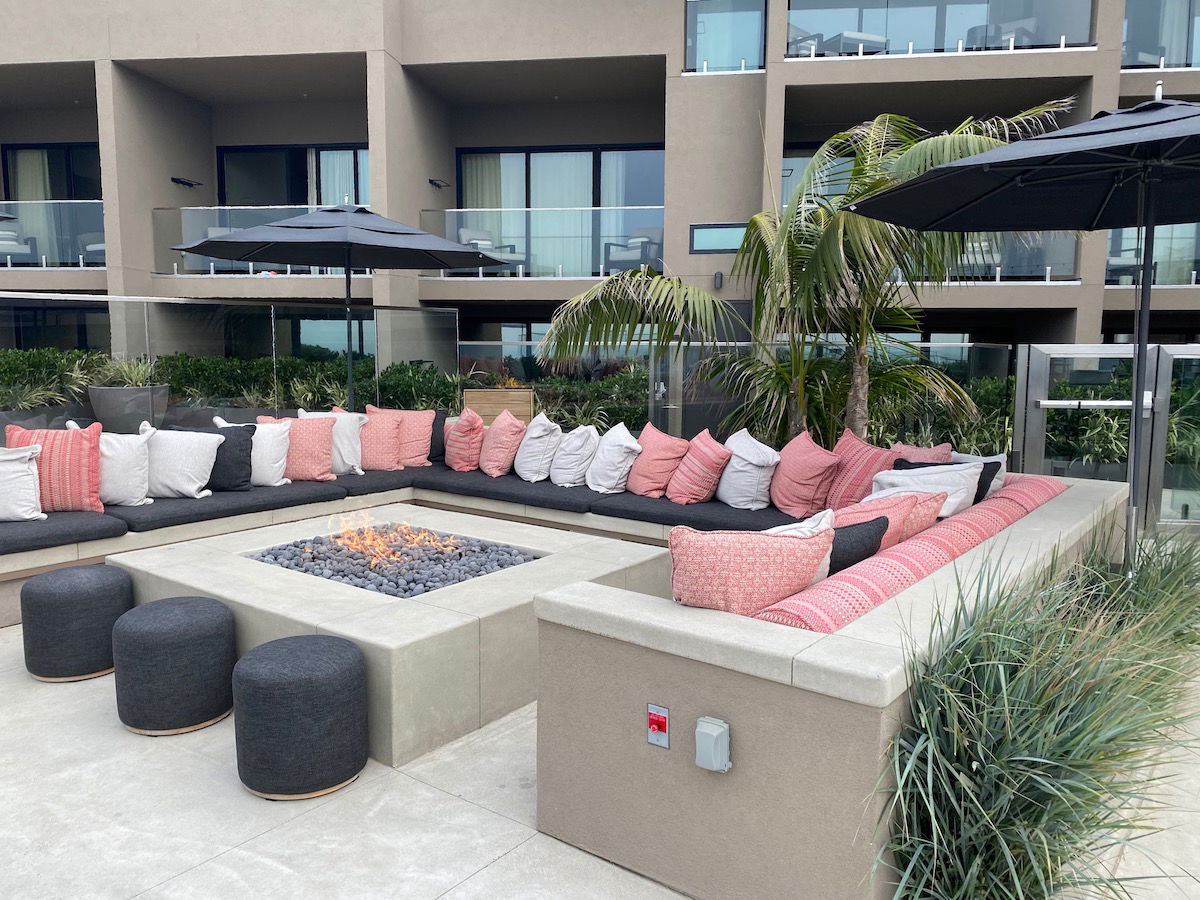 Alila Marea Encinitas beach access
Alila is essentially on a cliff above the Pacific Ocean. There are stairs leading down to the beach. It's a public beach, so there's no service from the hotel there. If you want food, drinks, or a lounge setup, you're on your own. This is totally fair, since that's the norm in the region.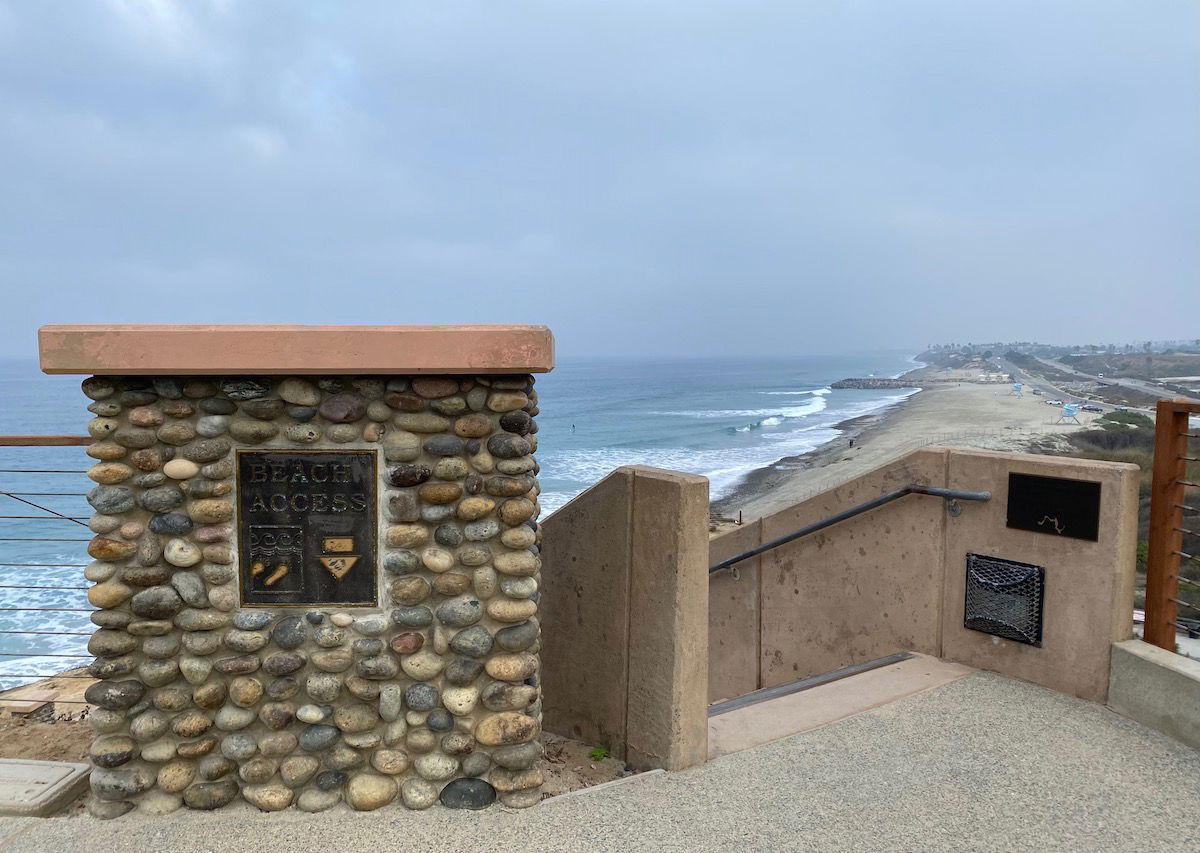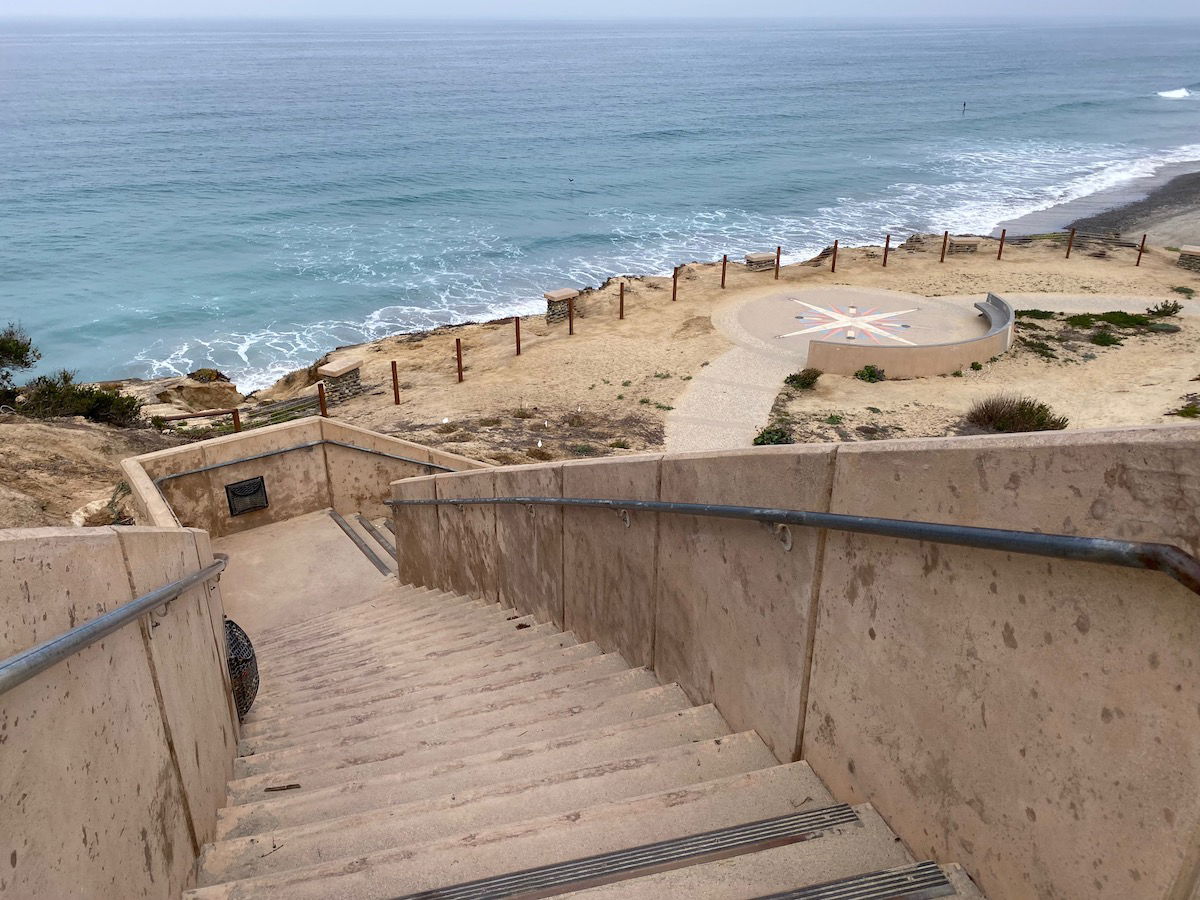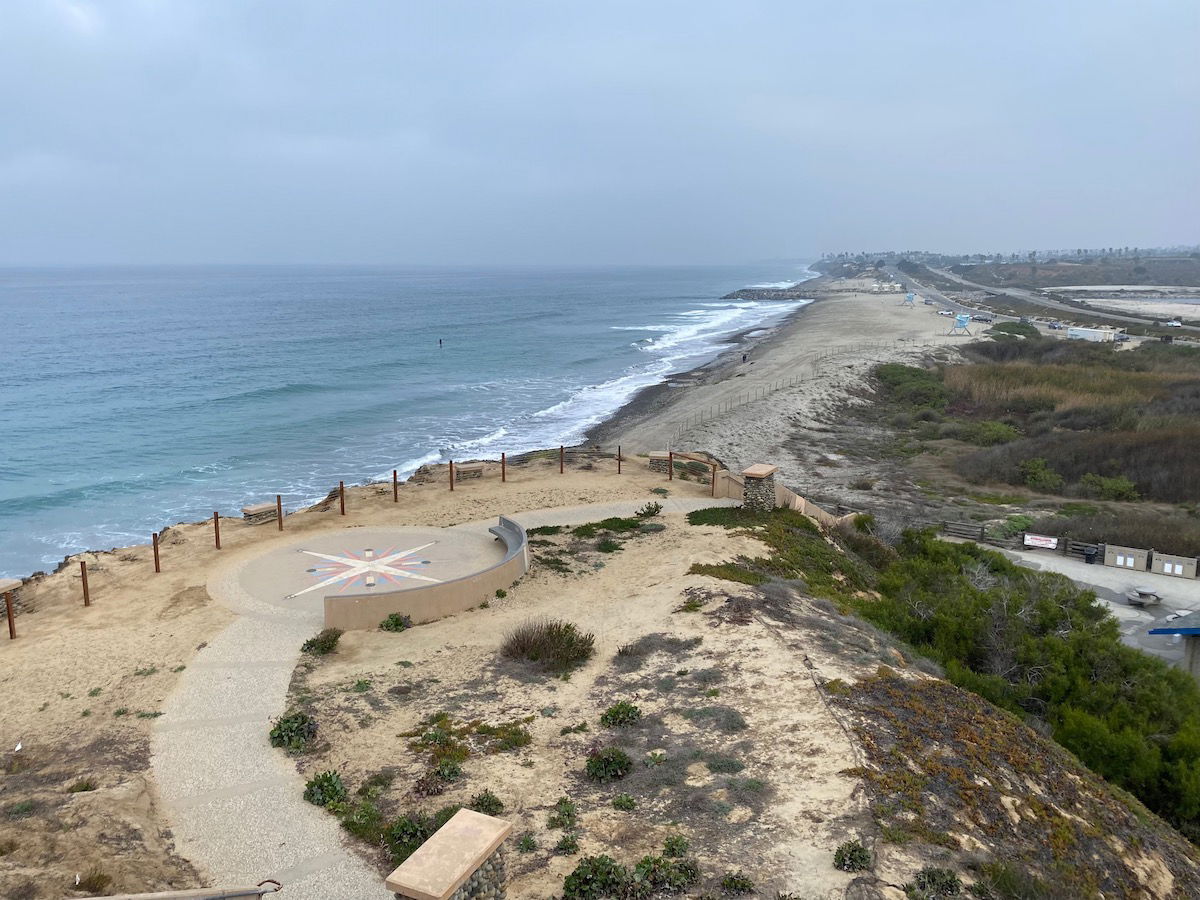 The beach itself is reasonably nice. It's certainly not the Maldives, but Southern California is blessed with a gorgeous coastline.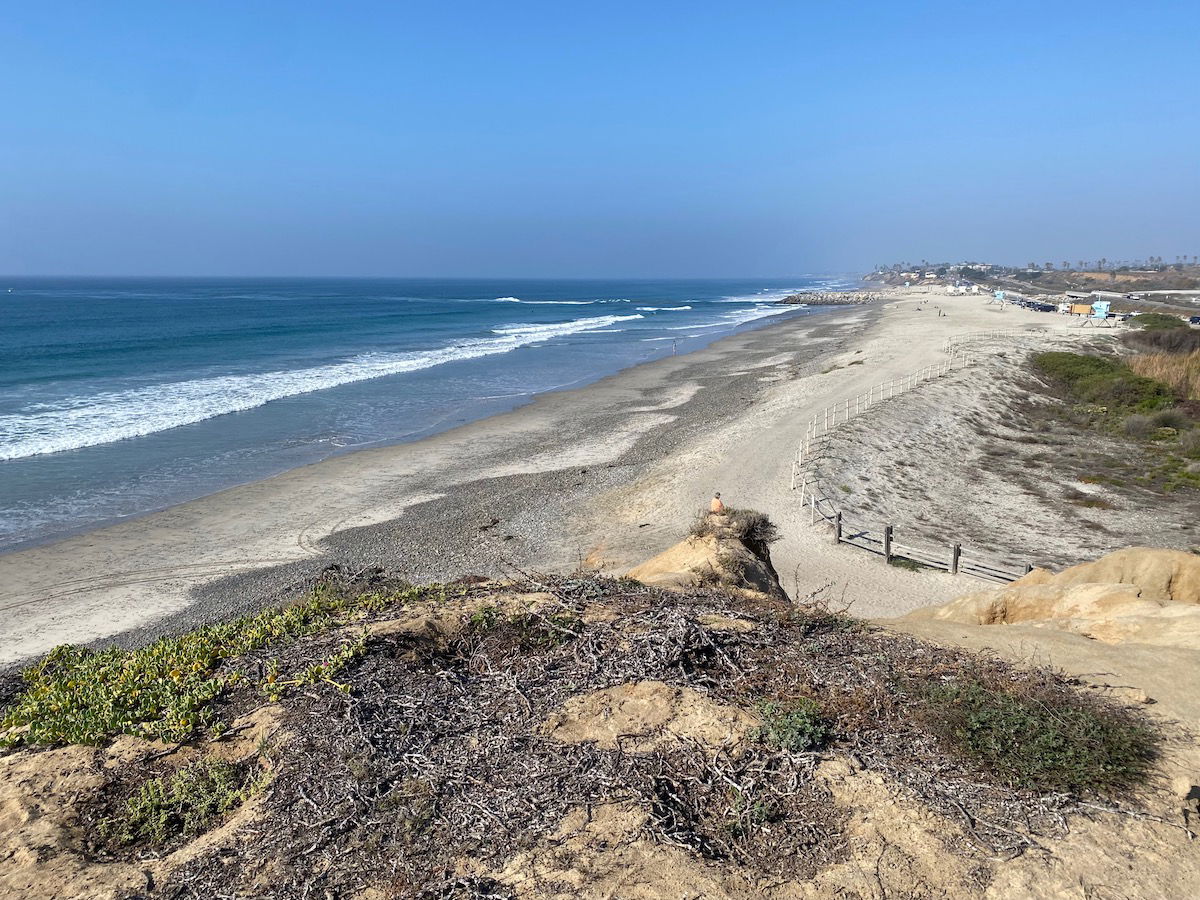 Alila Marea Encinitas gym
Alila has a 24/7 gym that's located on the first floor. It doesn't have any views, so it feels like a bit of a cave. The gym had a good amount of equipment, including both cardio and weights.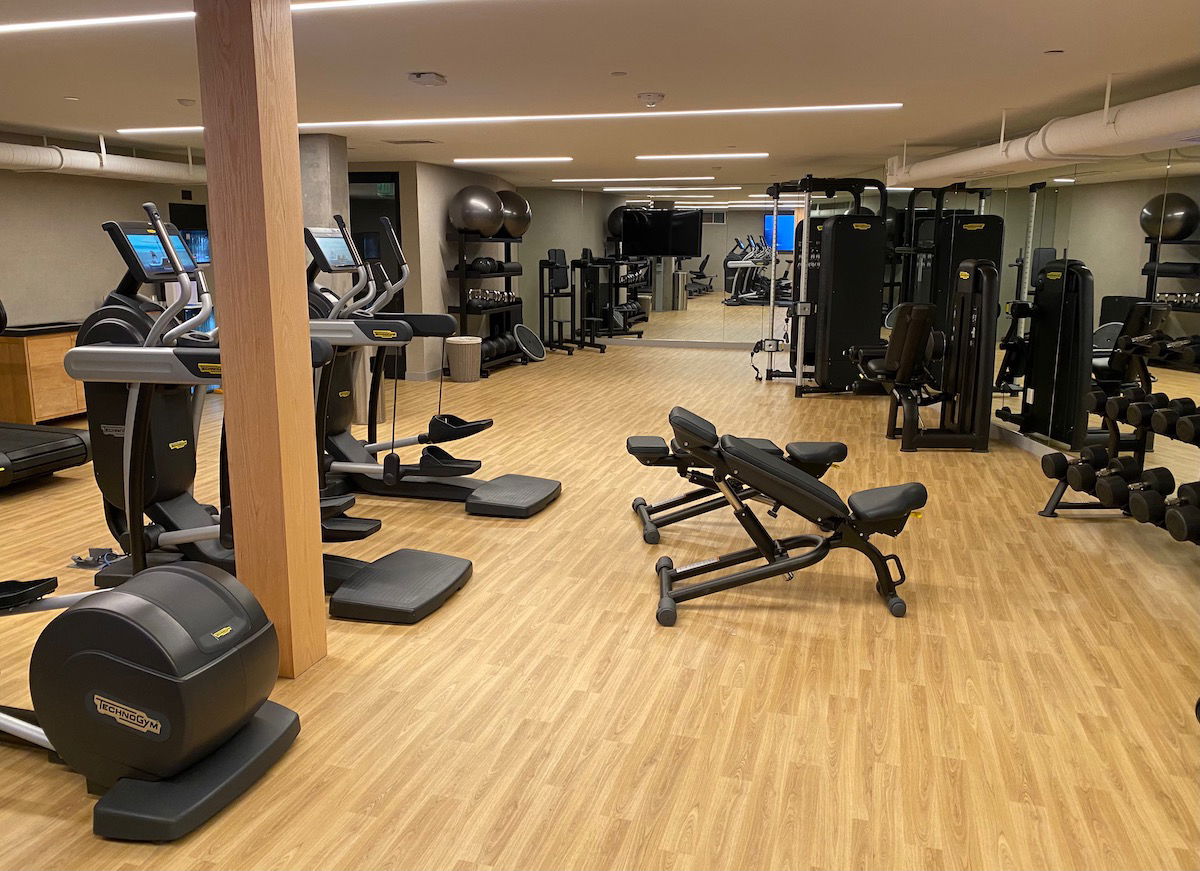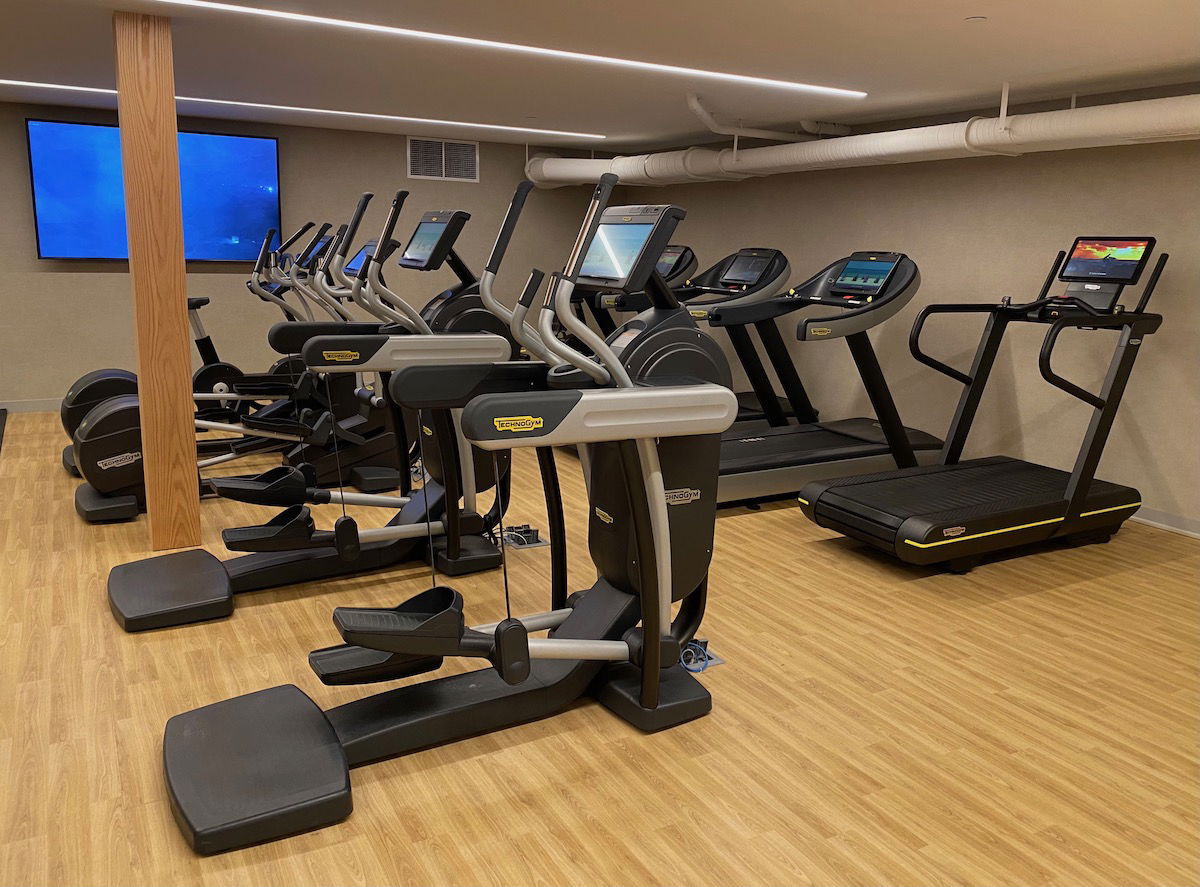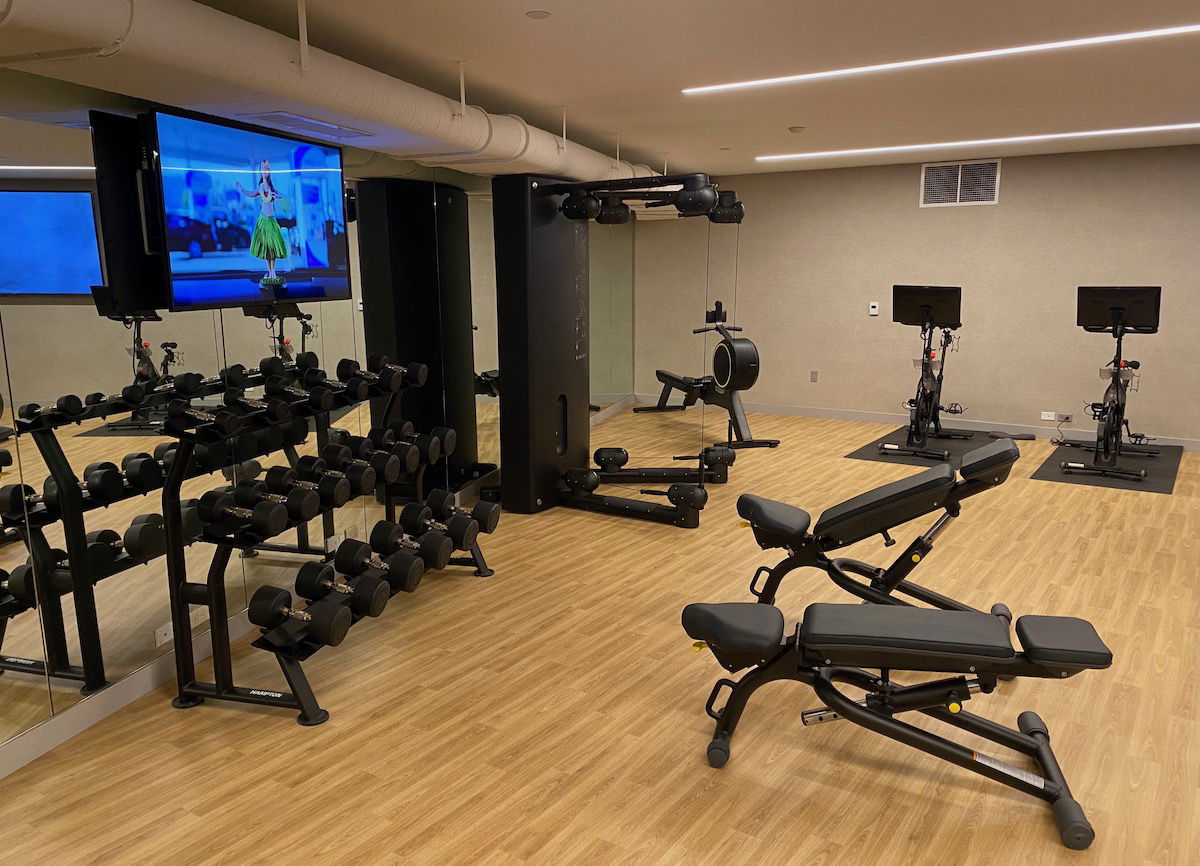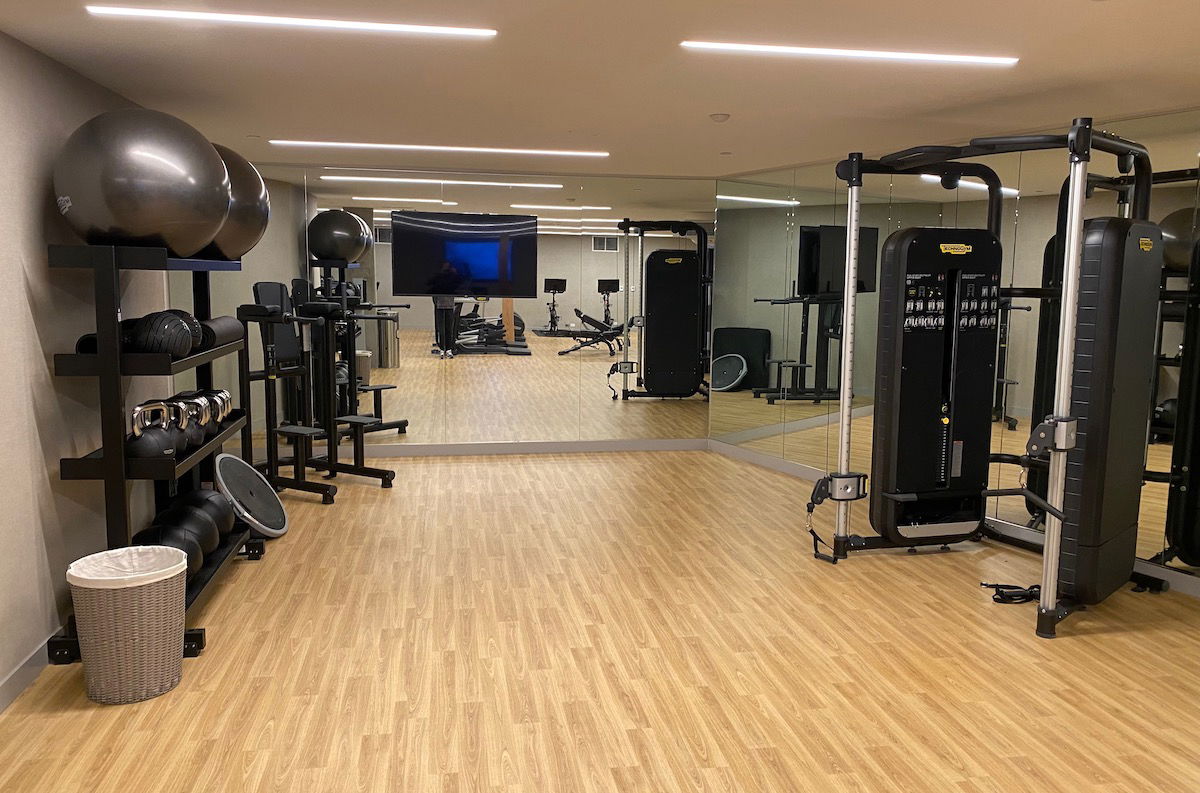 Alila Marea Encinitas Spa Alila
While we didn't visit, Spa Alila is on the lobby level, and is a full service spa. It's open daily from 10AM until 6PM, and you can find the spa menu here.
Alila Marea Encinitas electric bikes
Since the hotel isn't really within walking distance of anywhere, you can either get to town by car or using electric bikes. The hotel offers guests complimentary electric bikes, so we had a fun adventure driving them along the coast and to town.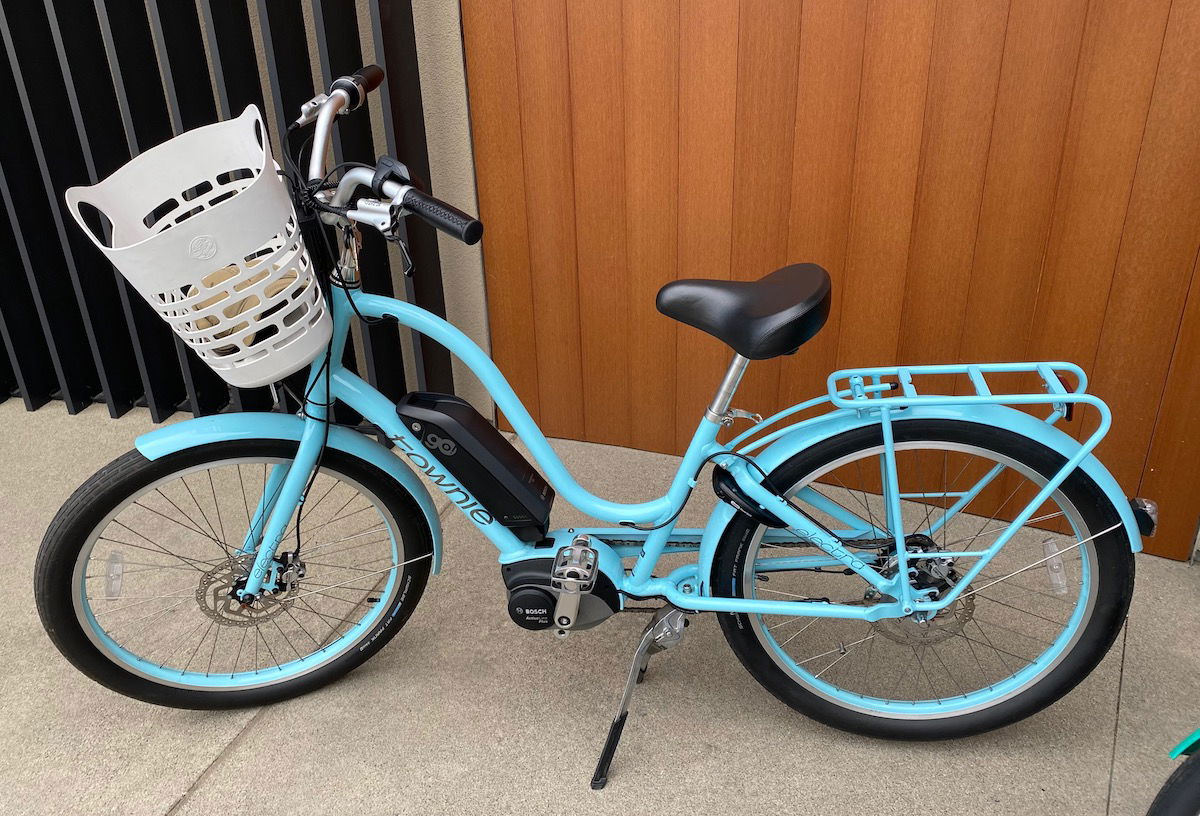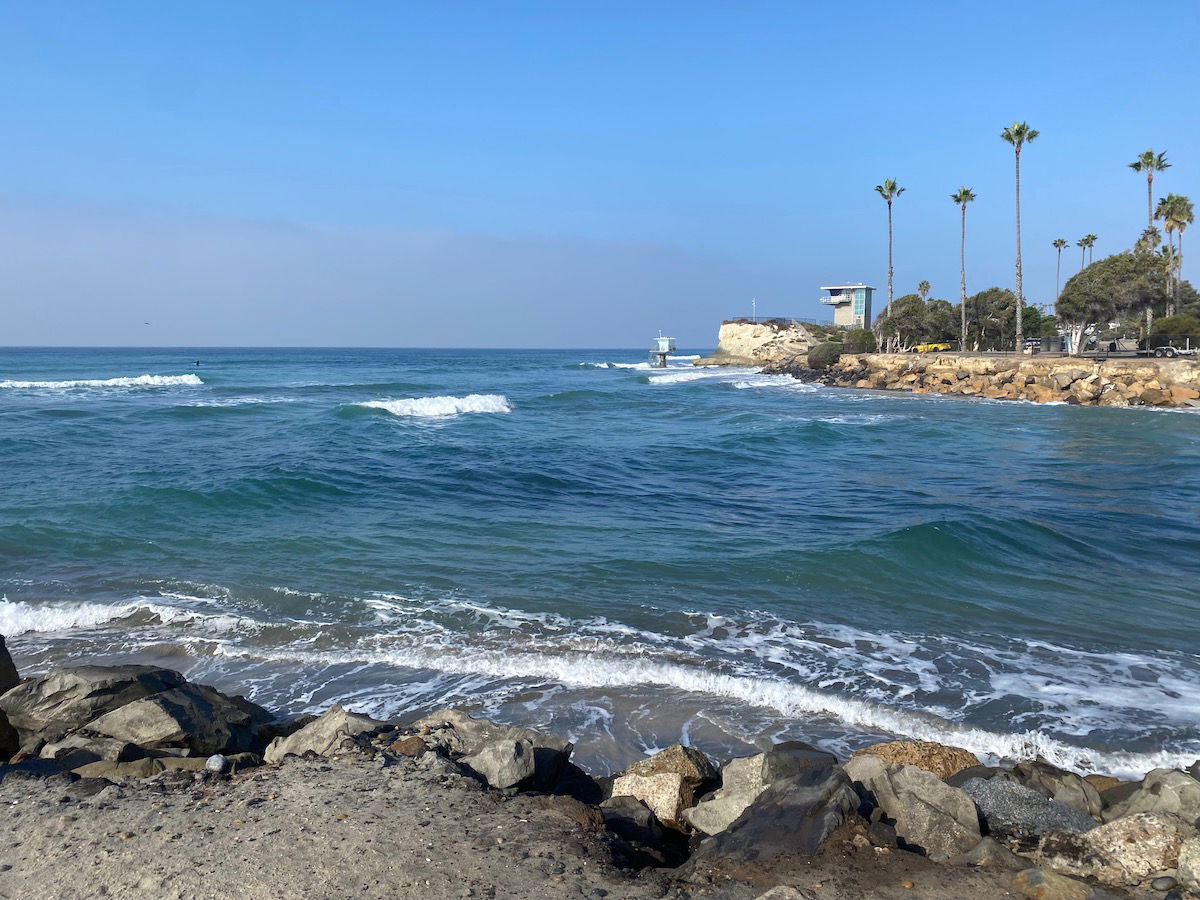 Alila Marea Encinitas service
Across the board, service at Alila was excellent. The staff were genuinely friendly and eager to please. We didn't come across a single person who wasn't polite, and all requests were handled promptly. Service here is definitely more laid back and informal than at some other luxury hotels, which I appreciate, as it didn't feel like staff were reading off a script.
The only minor service issue I can even point out is that our first morning we had to wait five minutes to be seated for breakfast. The restaurant had maybe five tables taken, but we were told that they were understaffed.
This hotel is strange, but I like it
I truly find this to be an incredibly strange and random hotel, yet we enjoyed ourselves here, and agreed we'd return. The hotel itself has an odd design.
For one, you have a coastal resort with a tiny pool and a DIY beach setup (which is fair enough, since I get how this works in Southern California). On top of that, the rooms lack privacy — you saw what our view looked like, and in reality we lucked out. Other rooms have even less privacy, and face a parking lot, with the beach and Pacific Ocean in the distance.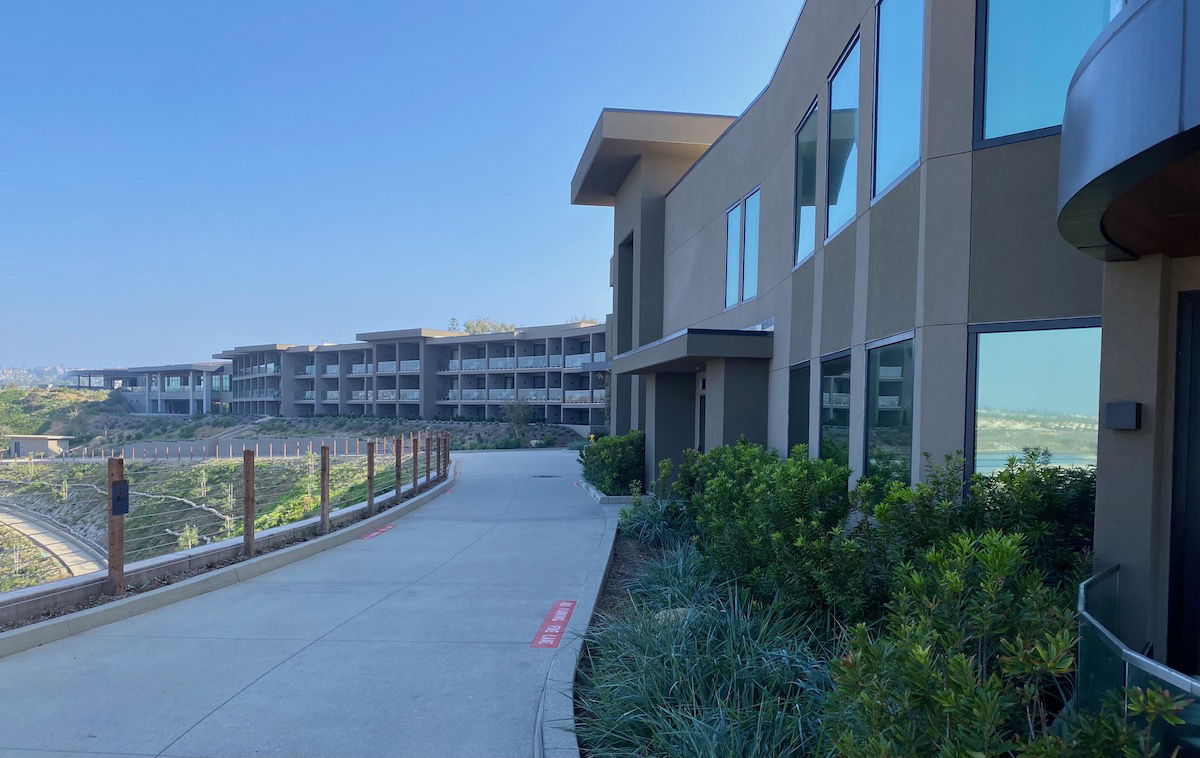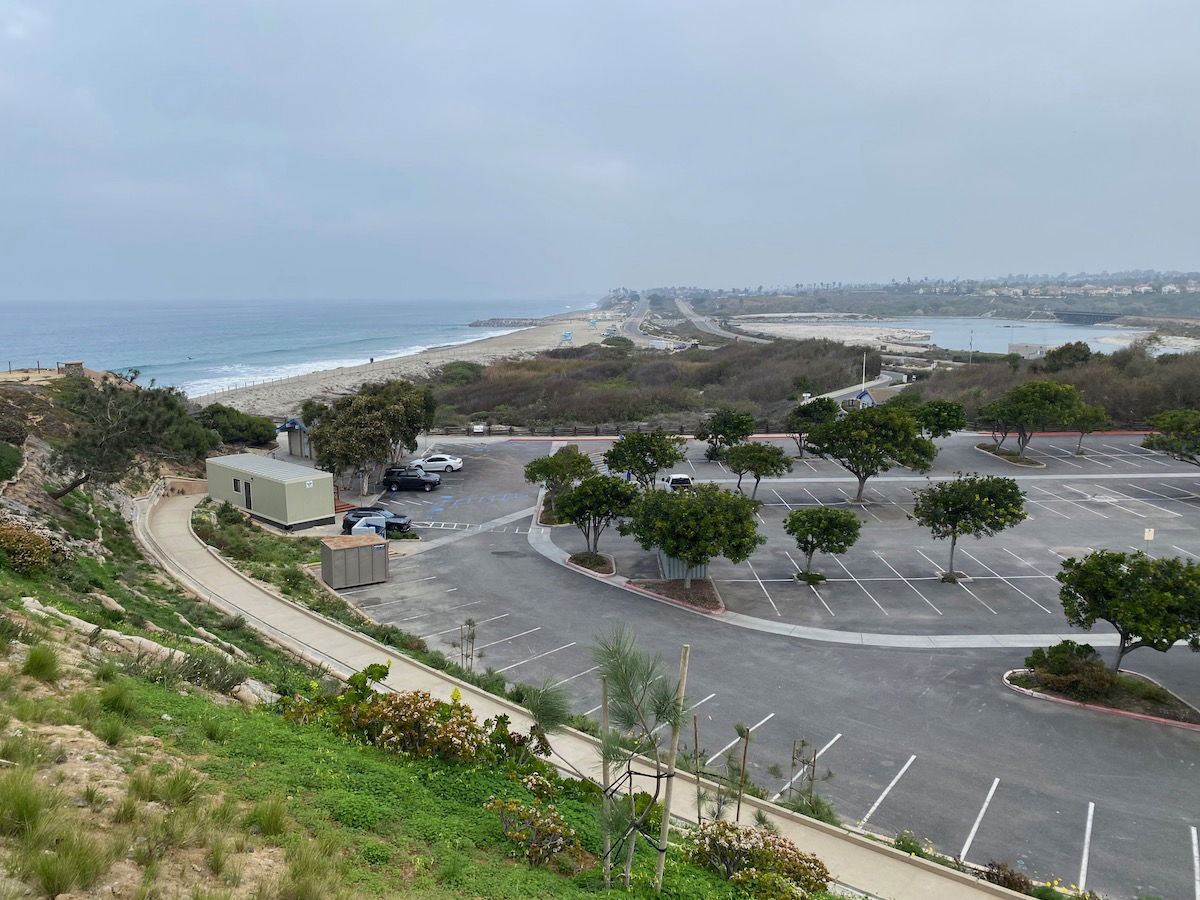 That being said, I really enjoyed this place. We had fun just having two leisurely days, the views are nice, the staff are genuinely friendly, the food is good, and it's cool to be close to a place like Encinitas.
On top of that, the value here is exceptional as a Globalist member redeeming points, especially compared to the other options in the area. For example, I preferred this to many of the other properties on the coast, like the Ritz-Carlton Laguna Niguel and Waldorf Astoria Monarch Beach, both of which have around 400 rooms. This hotel feels much more boutique and personalized, by comparison.
I'd absolutely consider returning here, and for those who live in Southern California, I think this is a great weekend trip if you want to get away from the hustle and bustle of a city. Just come in with reasonable expectations, and realize this isn't anything like Alila Ventana Big Sur, for example.
Bottom line
I was finally able to check out Alila Marea Encinitas, one of Hyatt's newest luxury properties in the United States. Our stay was a great value, as we were able to redeem points, I was able to use a suite upgrade award, and on top of that I received Globalist perks.
Alila has friendly service, great food, and a laid back atmosphere. That being said, the hotel also has some odd traits, like a small pool, a strange layout, and a lack of privacy. I'd absolutely return if the value were there.
What do you make of Alila Marea Encinitas? To OMAAT readers that have stayed, what was your experience like?