EXTRA PERKS AVAILABLE
Enjoy breakfast, upgrades, & more
Want to take advantage of Marriott STARS benefits, including a space available room upgrade, complimentary breakfast, a hotel credit, and more? Contact Ford ([email protected]) for more details. He may even be able to help if you already have a stay booked. This is valid for paid stays at BVLGARI, EDITION, Ritz-Carlton, Ritz-Carlton Reserve, and St. Regis.
For our next hotel in Los Cabos, we decided to check out Zadun, a Ritz-Carlton Reserve property, which opened in late 2019. While I've stayed at many Ritz-Carltons over the years, this was my first time staying at a property belonging to the Ritz-Carlton Reserve collection, and I was curious what the experience would be like. This is one of only two Ritz-Carlton Reserve properties in North America, along with Dorado Beach.
I'll say upfront that I was very impressed, and that I think this hotel probably has the best "standard" rooms of any hotel in Los Cabos.
Booking Zadun, a Ritz-Carlton Reserve
Ritz-Carlton Reserve doesn't participate in Marriott Bonvoy, so you can't earn or redeem points for stays here. If you are booking a stay here, I'd highly recommend booking through a travel advisor affiliated with the Marriott STARS program, so you can receive extra perks, like complimentary breakfast, a room upgrade subject to availability, a hotel credit, and more. Since STARS is Marriott's own proprietary program, these upgrades will typically be prioritized over those through Amex Fine Hotels & Resorts, Virtuoso, etc. Ford is of course more than happy to help with this, and can be reached at [email protected].
Rates at Zadun Los Cabos vary seasonally, and generally start at somewhere around $1,000 per night, which is in line with what the top hotels in Los Cabos charge (this doesn't include the 34% tax and service charge, which applies at most properties in Los Cabos).
We stayed for three nights, and full disclosure:
Ford is a Marriott STARS travel advisor, and a couple of weeks before our trip an email went out to all advisors offering a travel agent rate at this property, so we booked that for two nights; this had nothing to do with me, and it was still far from free (it was somewhere around half off the published rate)
We paid the standard rate for our third night
So while it wasn't cheap, Ford books a lot of clients in Los Cabos, so it's always great to see properties firsthand. On top of that, I know many OMAAT readers have been curious to see what a Ritz-Carlton Reserve property is like.
Zadun Los Cabos location
Zadun has a different location than many of the other resorts in Los Cabos. While many resorts are closer to Cabo San Lucas, Zadun is right near San Jose del Cabo. The hotel is only about 25 minutes from Los Cabos International Airport (SJD), and it's about 40 minutes from Cabo San Lucas.
This hotel is a bit more secluded, but I'd consider that to largely be a good thing. For those looking to dine off property, two of Los Cabos' most popular restaurants — Acre and Flora Farms — are just a 10 minute drive from the hotel. I'd highly recommend checking out both of those restaurants while in Los Cabos, and you can't beat the proximity of them to the Ritz-Carlton Reserve.
Zadun Los Cabos property layout
Zadun is set on a 20-acre property, and is built into a hillside. The resort has 115 rooms, but they're spread out across 42 different buildings, each of which is two stories.
The hotel's entrance and reception are at the very top of the property, and then there are winding paths leading down towards the pools, restaurants, and eventually all the way down to the beach.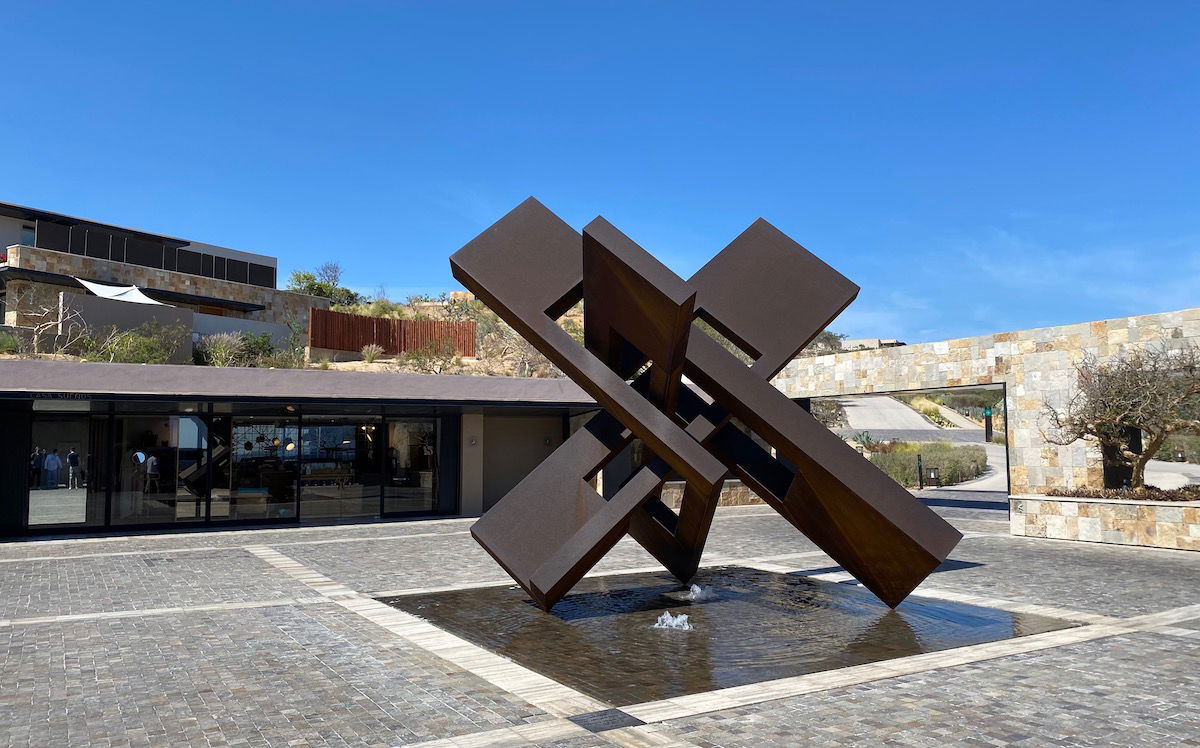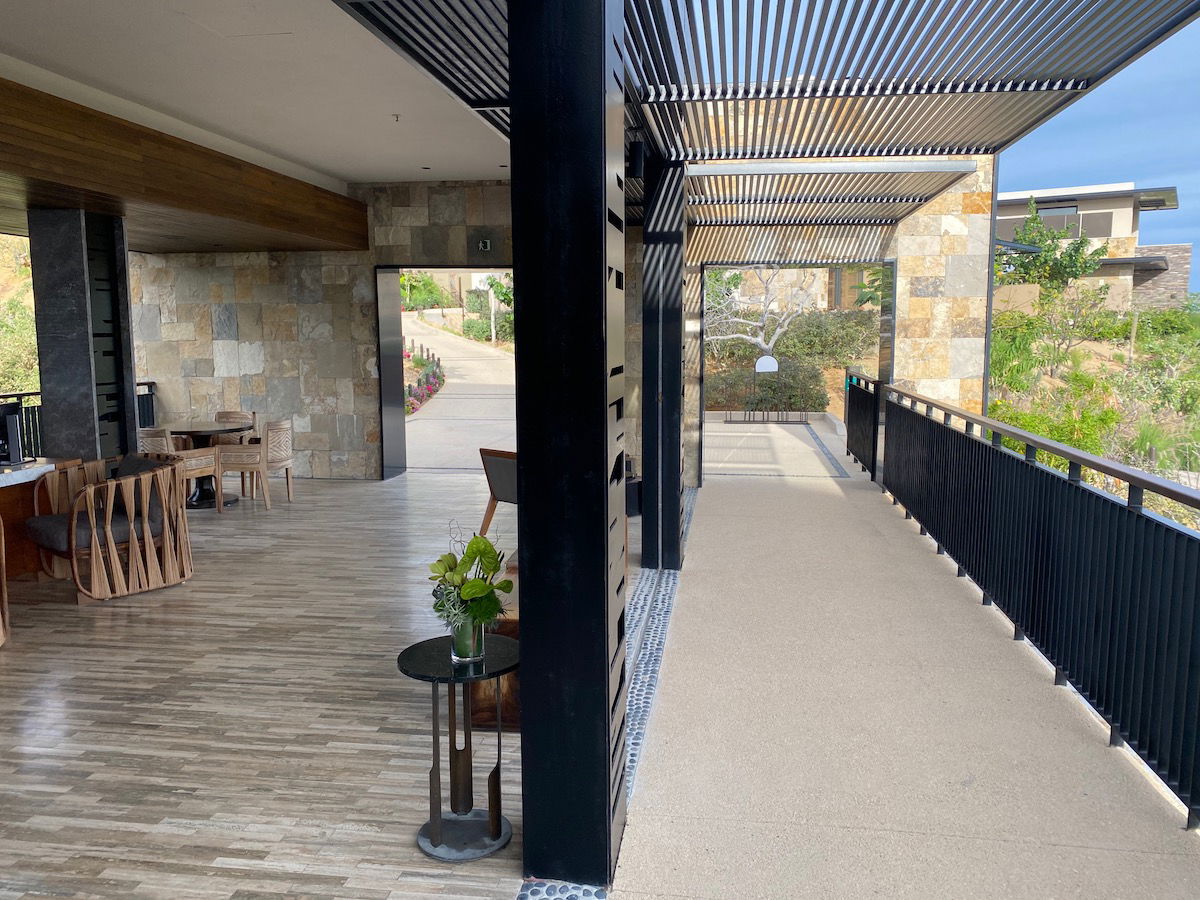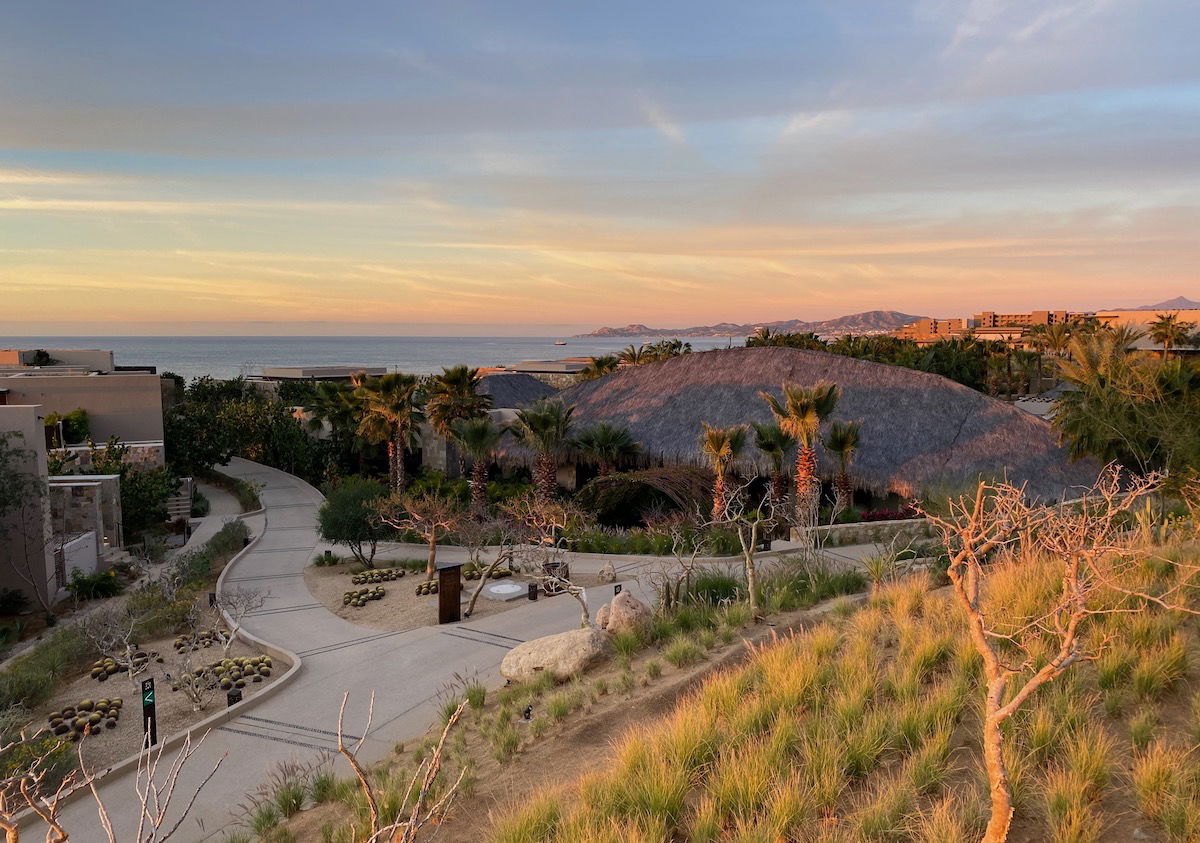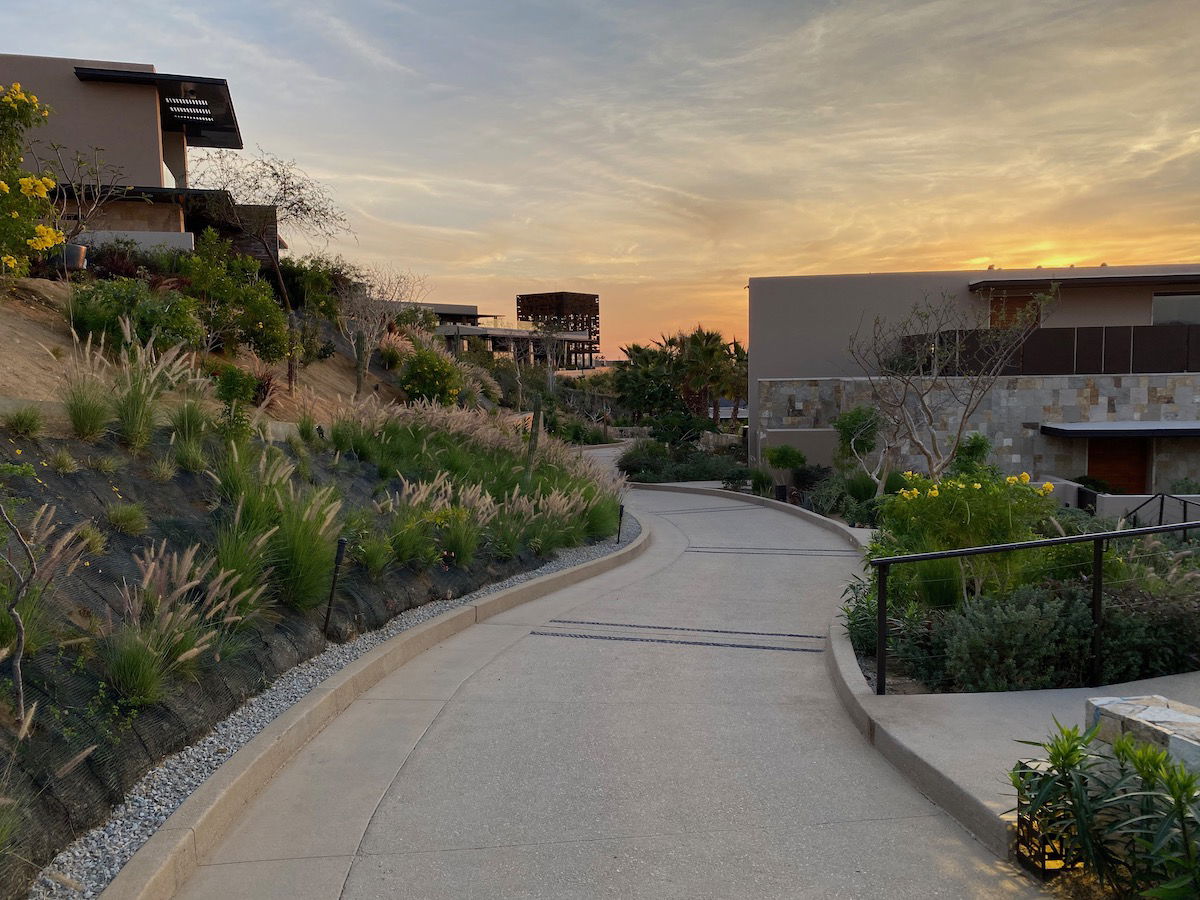 The hotel's signature restaurant is visible from just about anywhere on property, thanks to the distinctive building that houses it.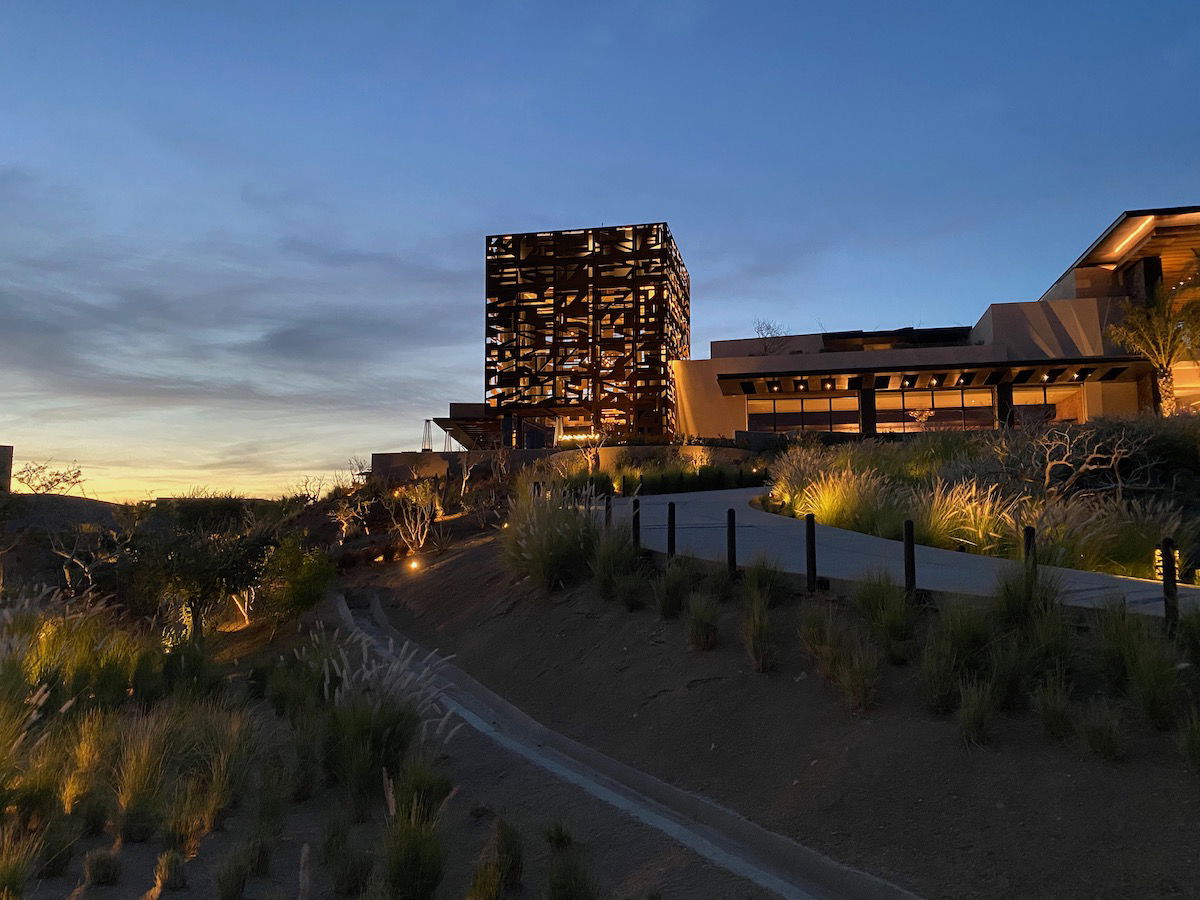 Zadun Los Cabos Ocean View Plunge Pool King Room
For our stay we were assigned an ocean view plunge pool king room on the "upper floor," room #244. This is the entry level room at the hotel, with the "lower floor" rooms considered more premium. The rooms here are ridiculously impressive, and are considered to be the best entry level rooms in all of Los Cabos. Not only are the rooms 750+ square feet, but they feature an amazing outdoor space with a plunge pool.
The rooms can be accessed through the outdoor space, and you need to use your key to open the gate and enter.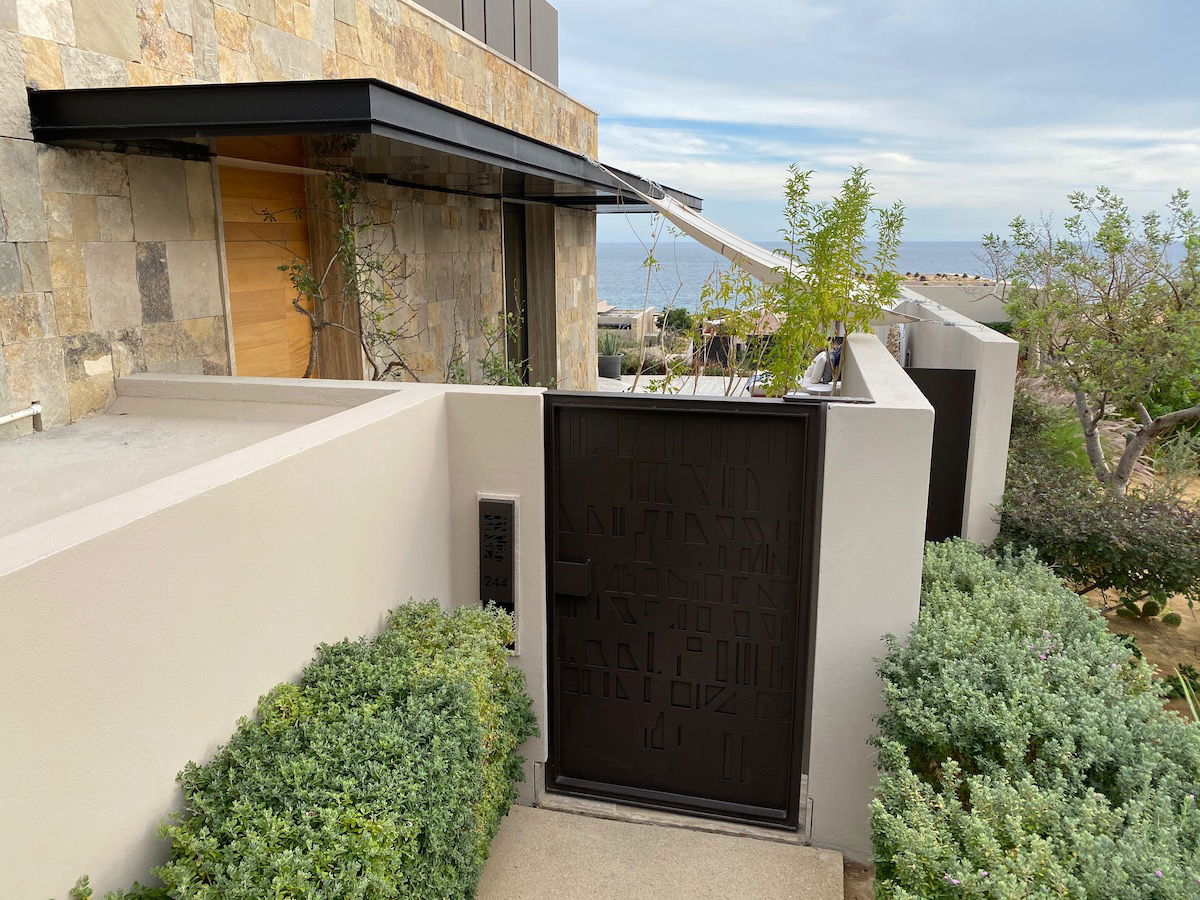 The outdoor space was gorgeous — in addition to a plunge pool, there was a dining table with four chairs, two lounge chairs for sunbathing, a daybed, and then another sitting area around the corner.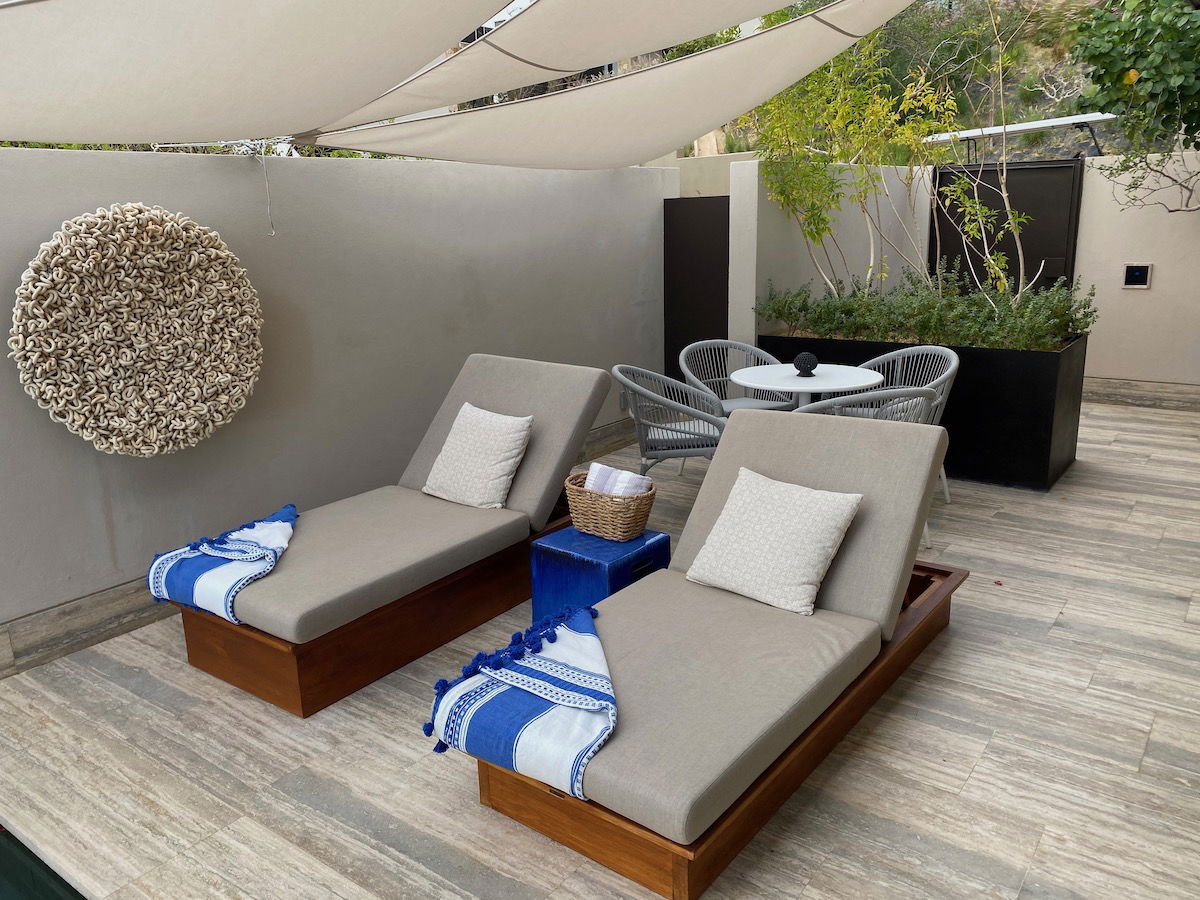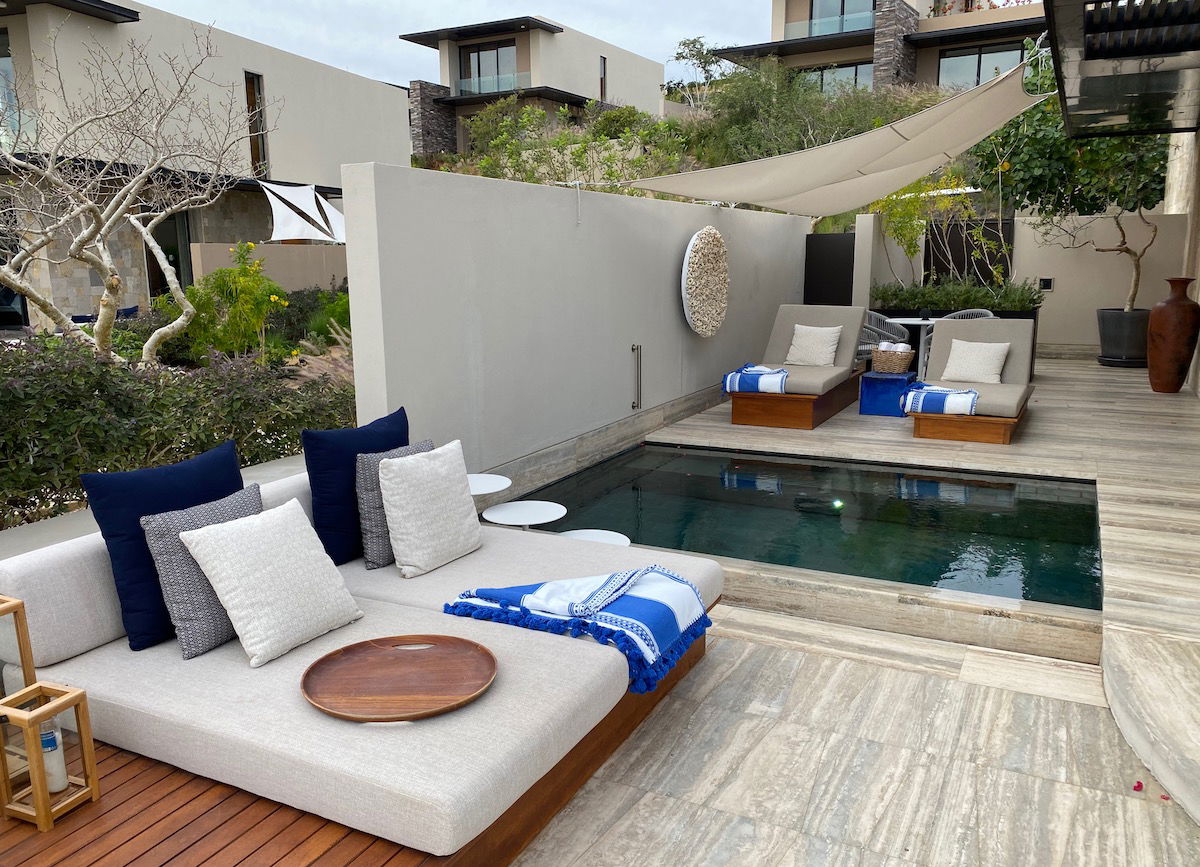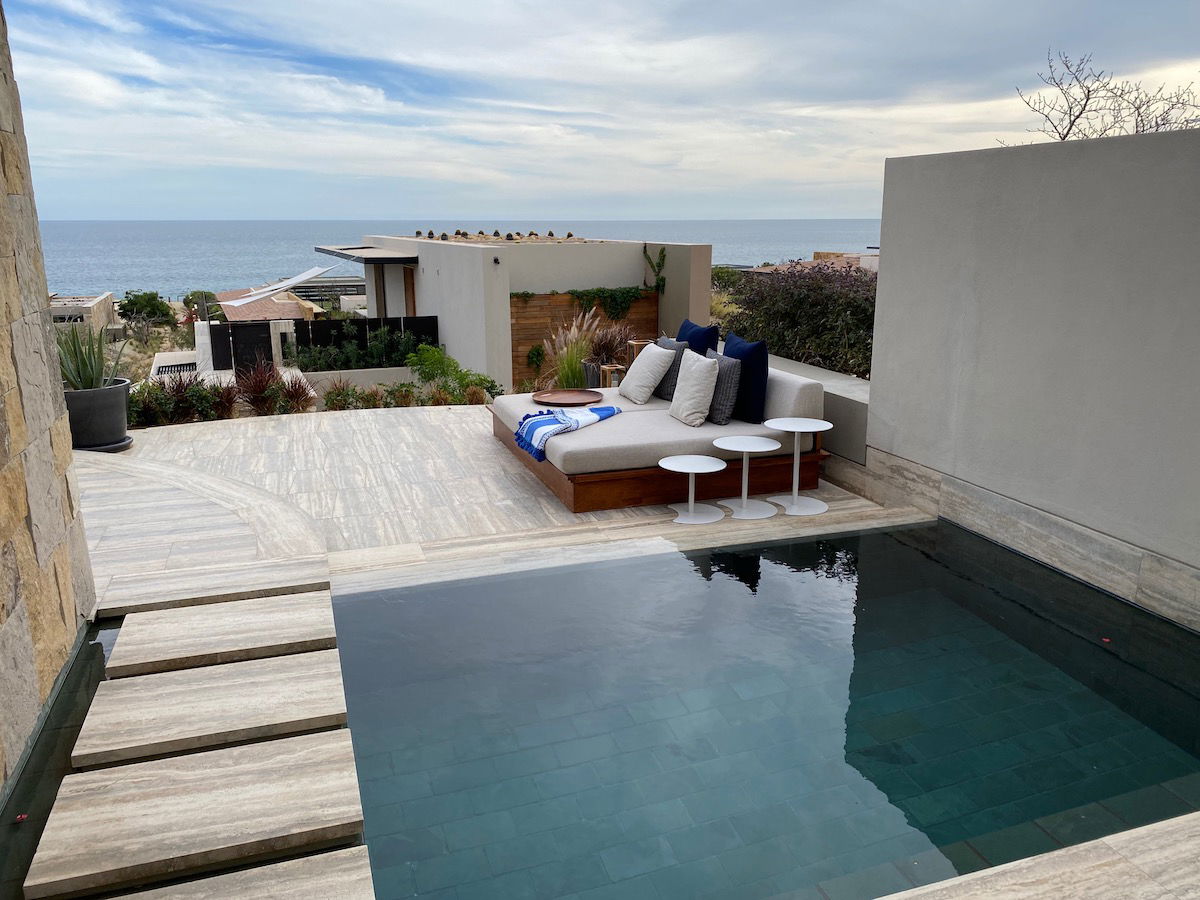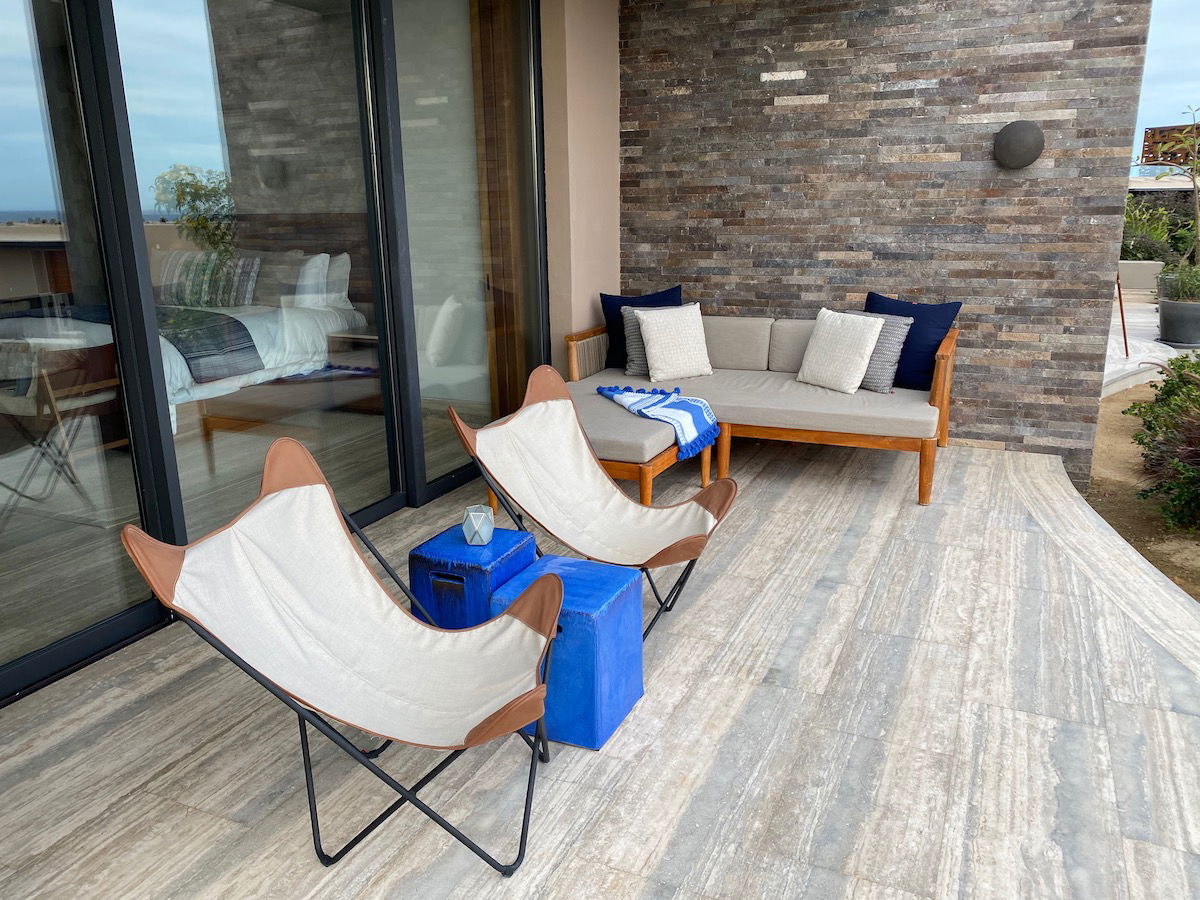 The views were awesome from this space, especially around sunrise and sunset. Even though this was an entry level room, you still had a view of the ocean.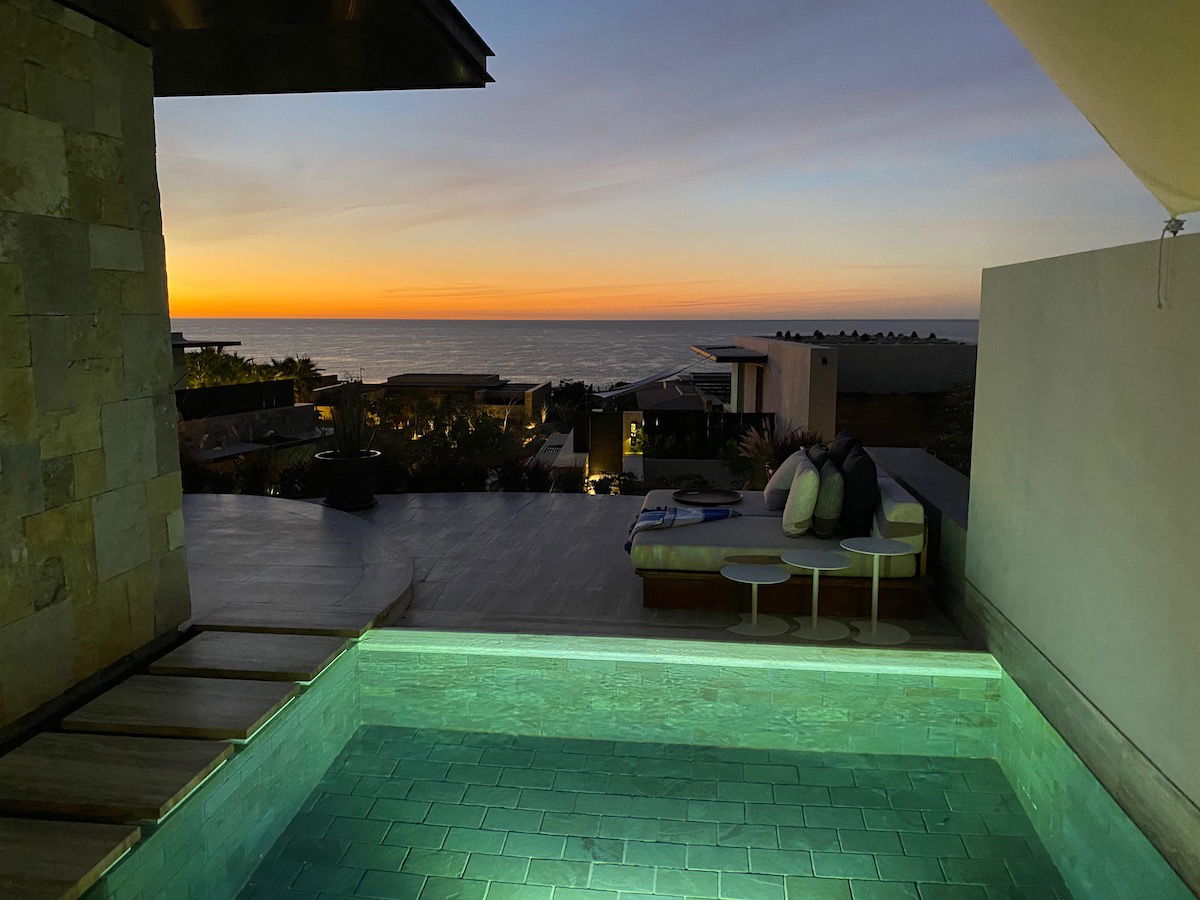 The indoor space was equally nice, and felt more like a suite than a standard room. The room featured a plush king size bed, a daybed, two chairs and a table, and a desk near the TV.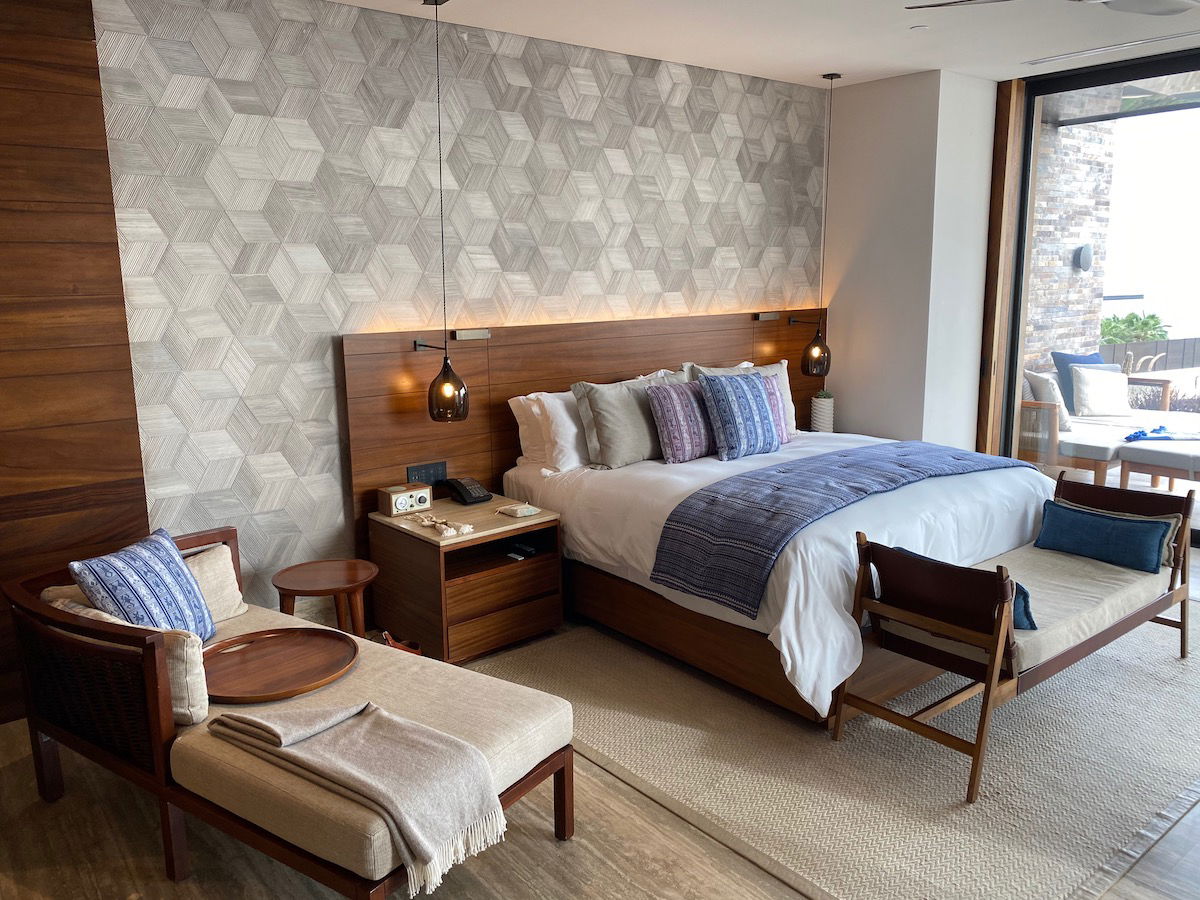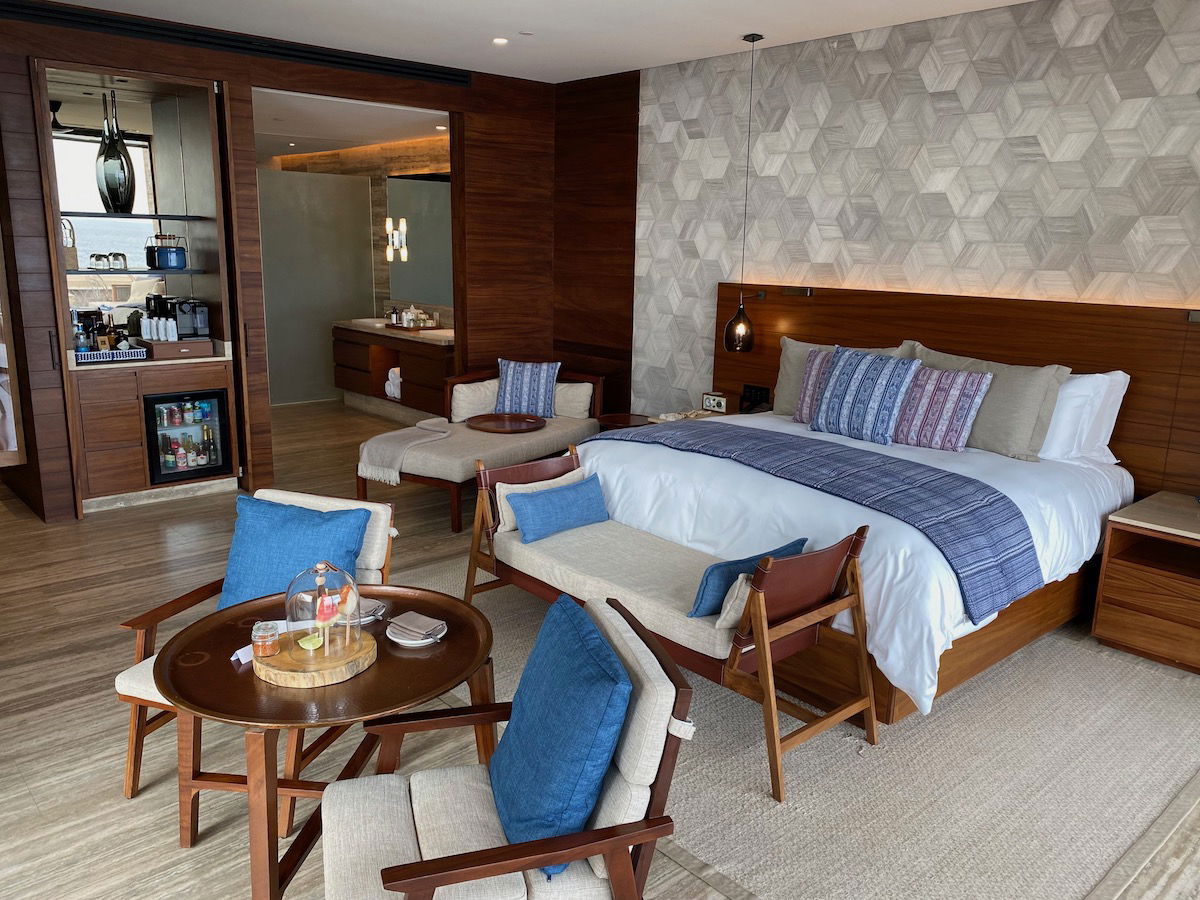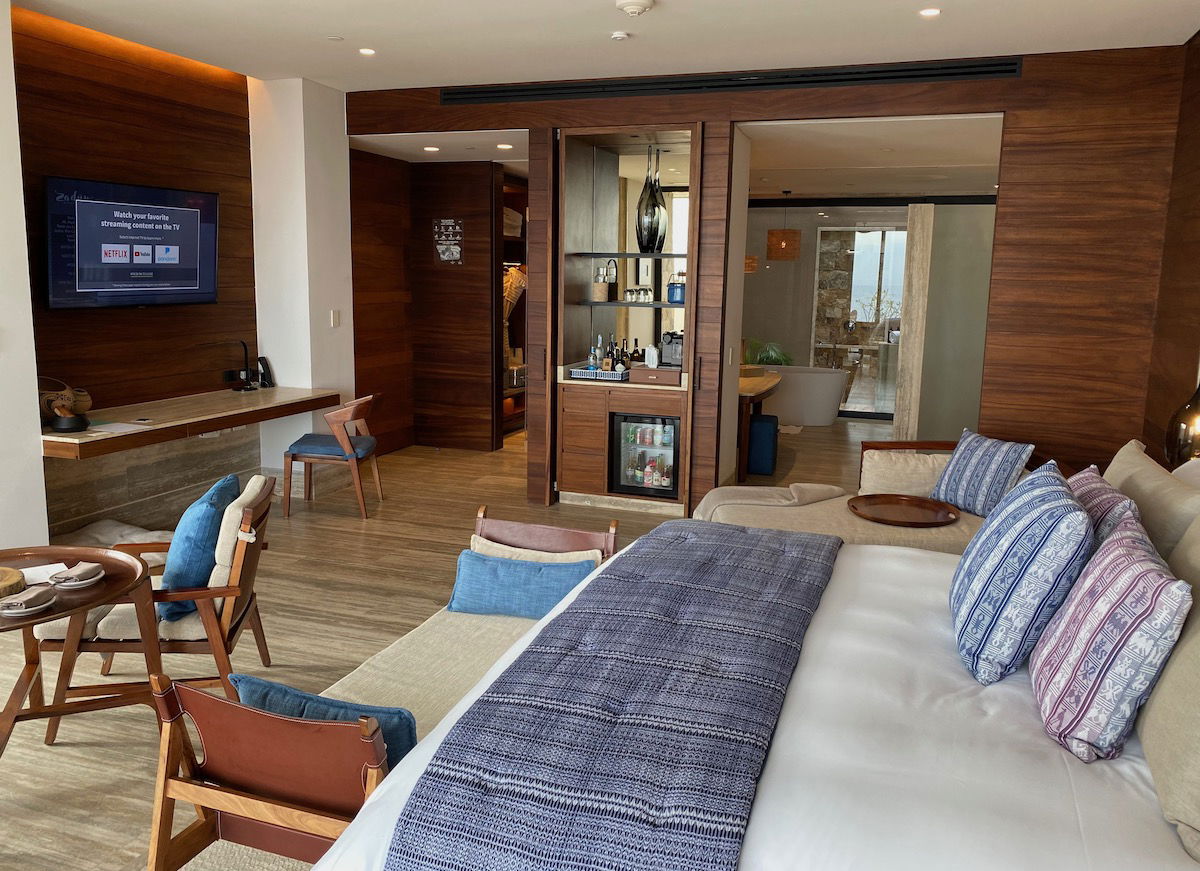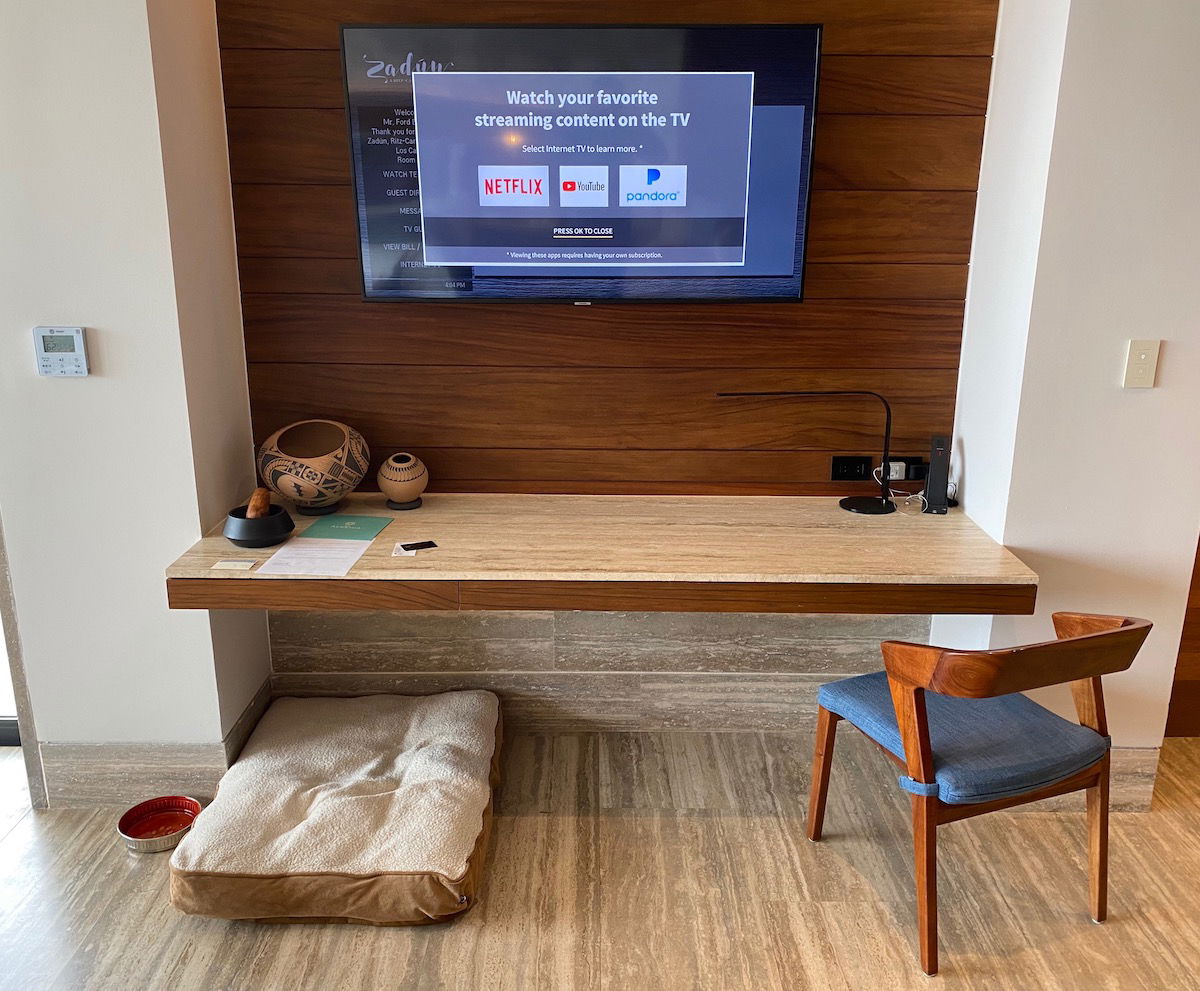 There was a minibar along one of the walls — coffee, water, and soda were free, while everything else was available for purchase.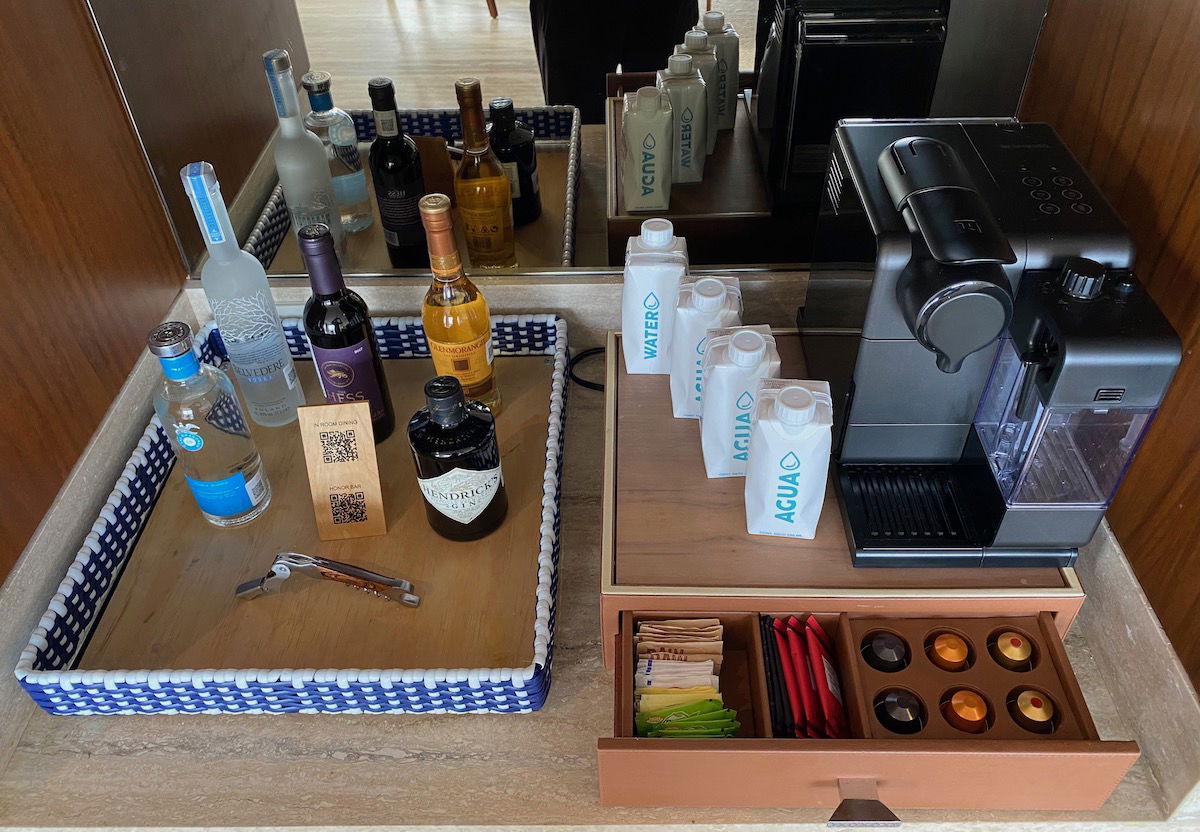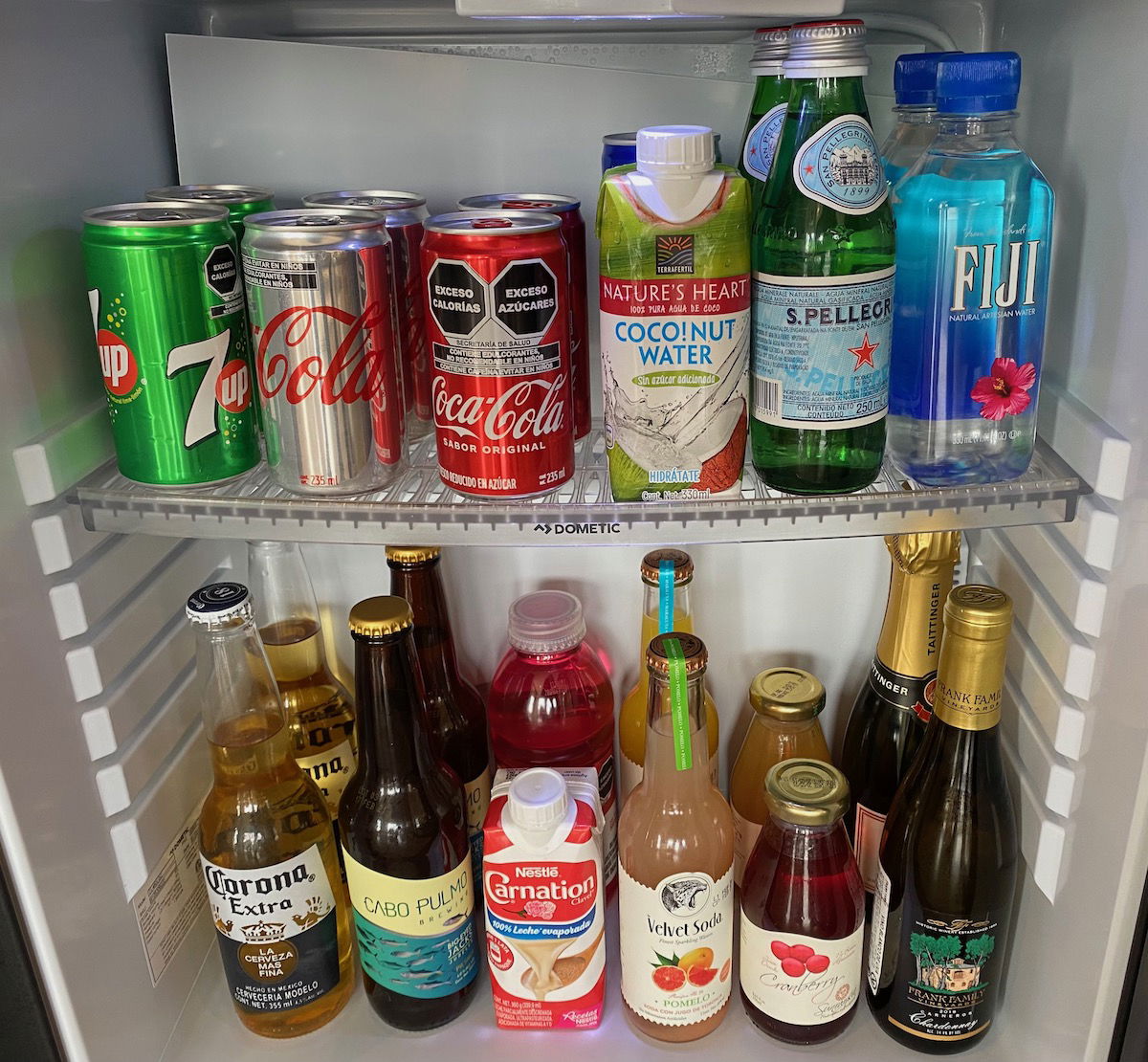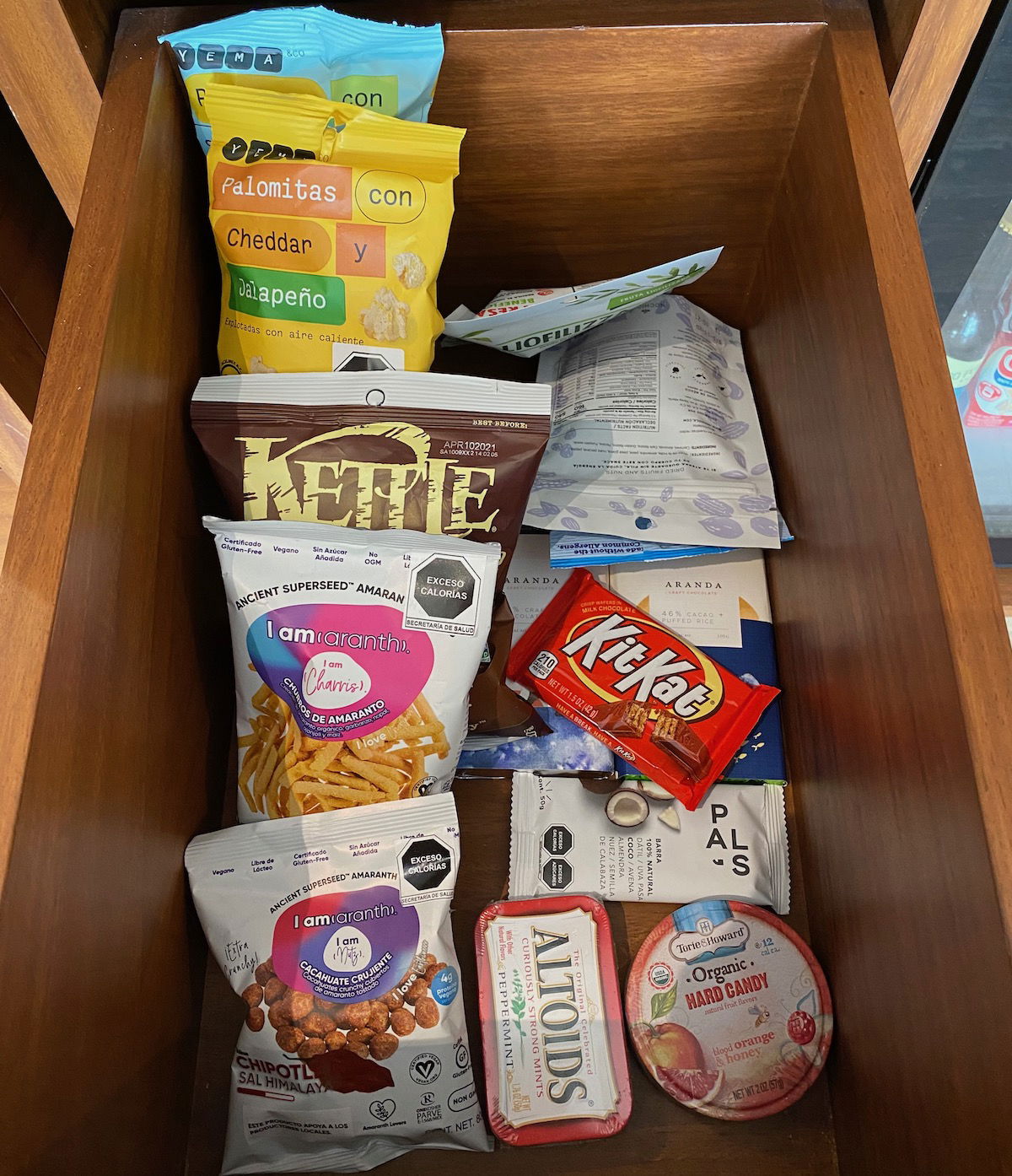 The bathroom area was roughly as big as the rest of the room. It featured double sinks, a large walk-in shower, a soaking tub, a vanity, an outdoor shower, and a toilet.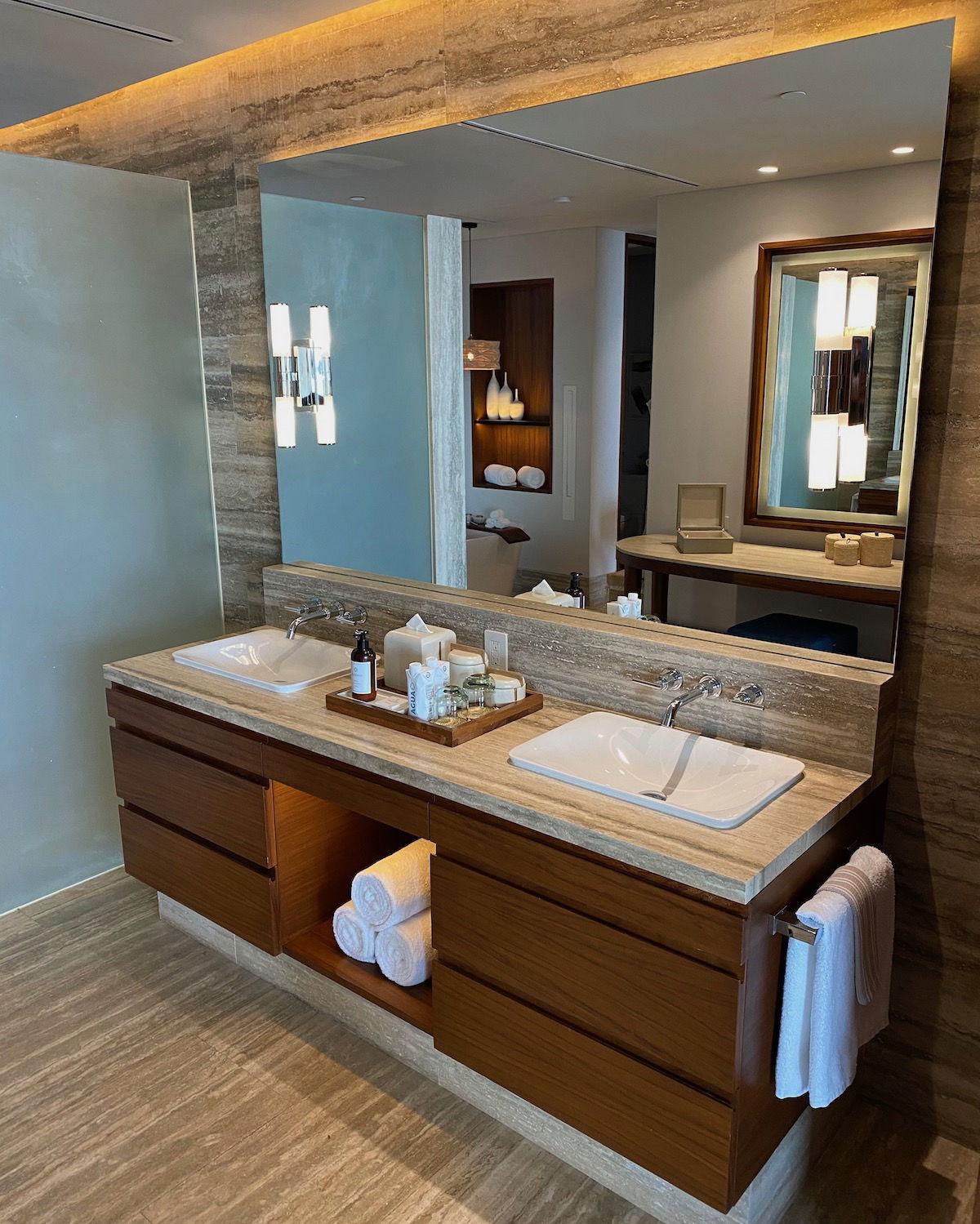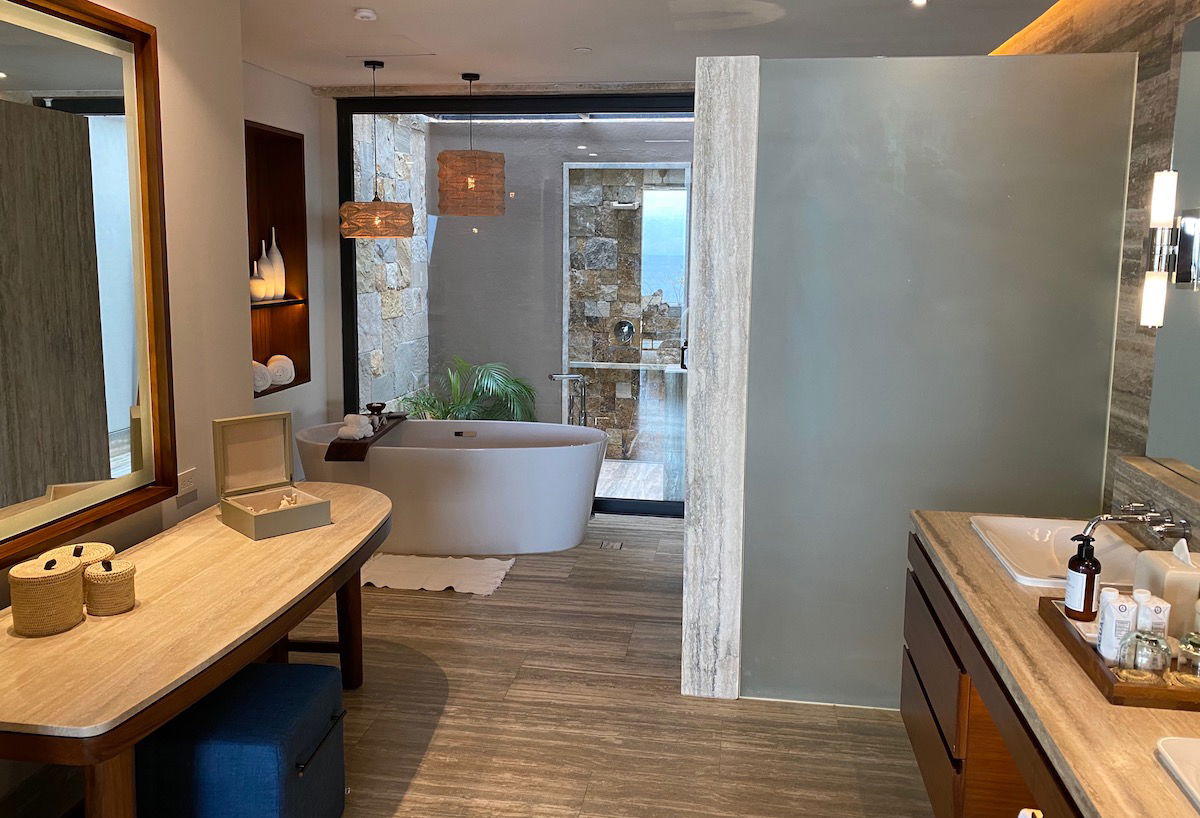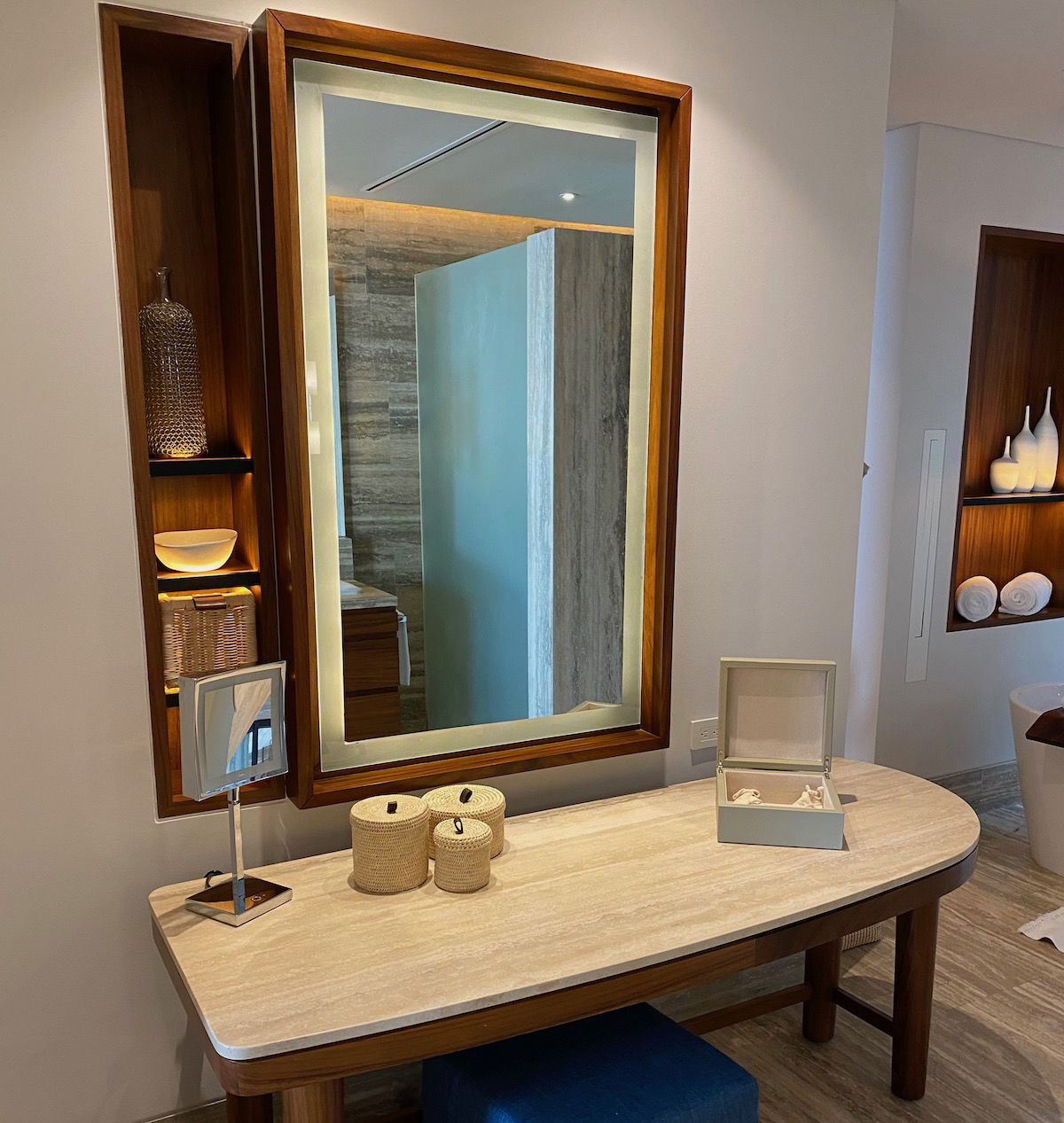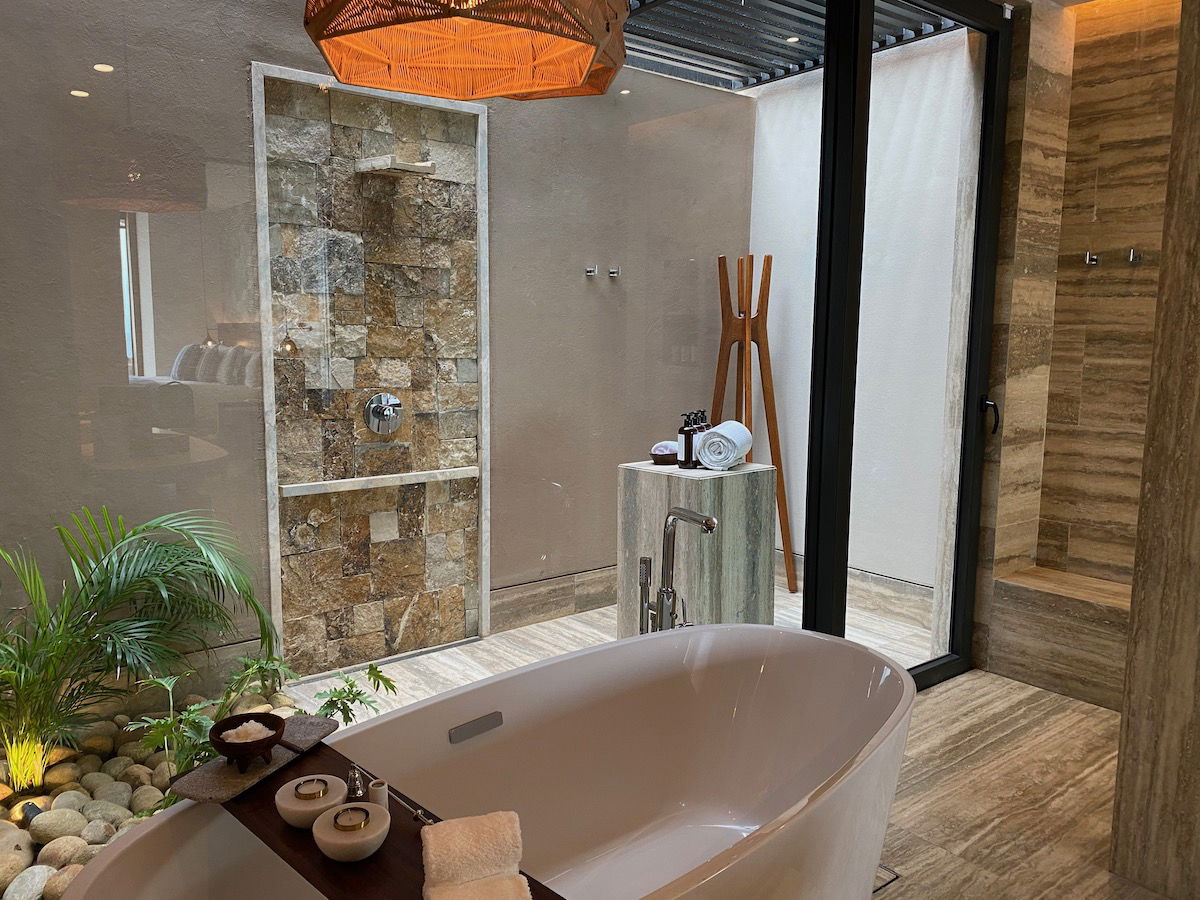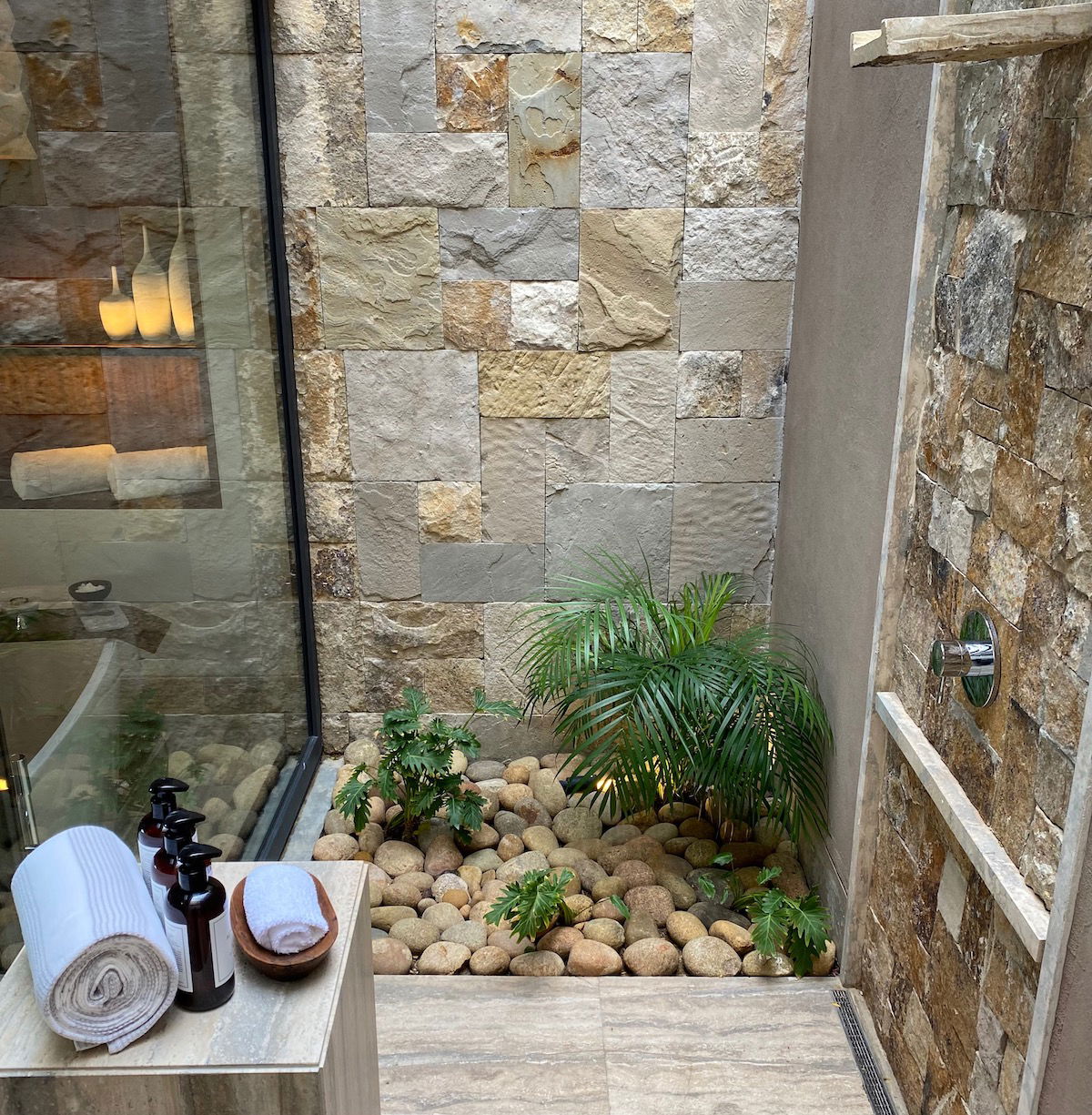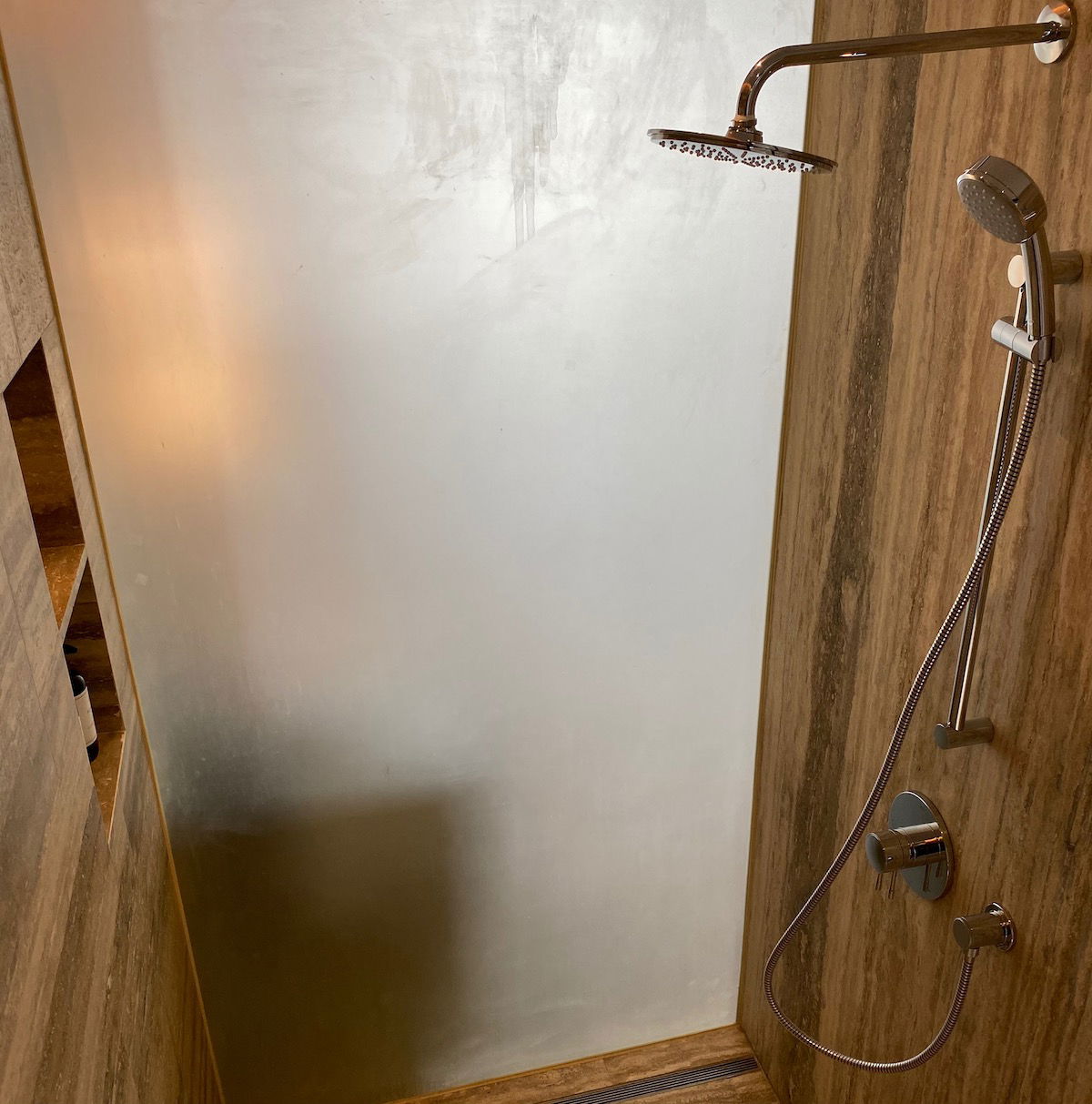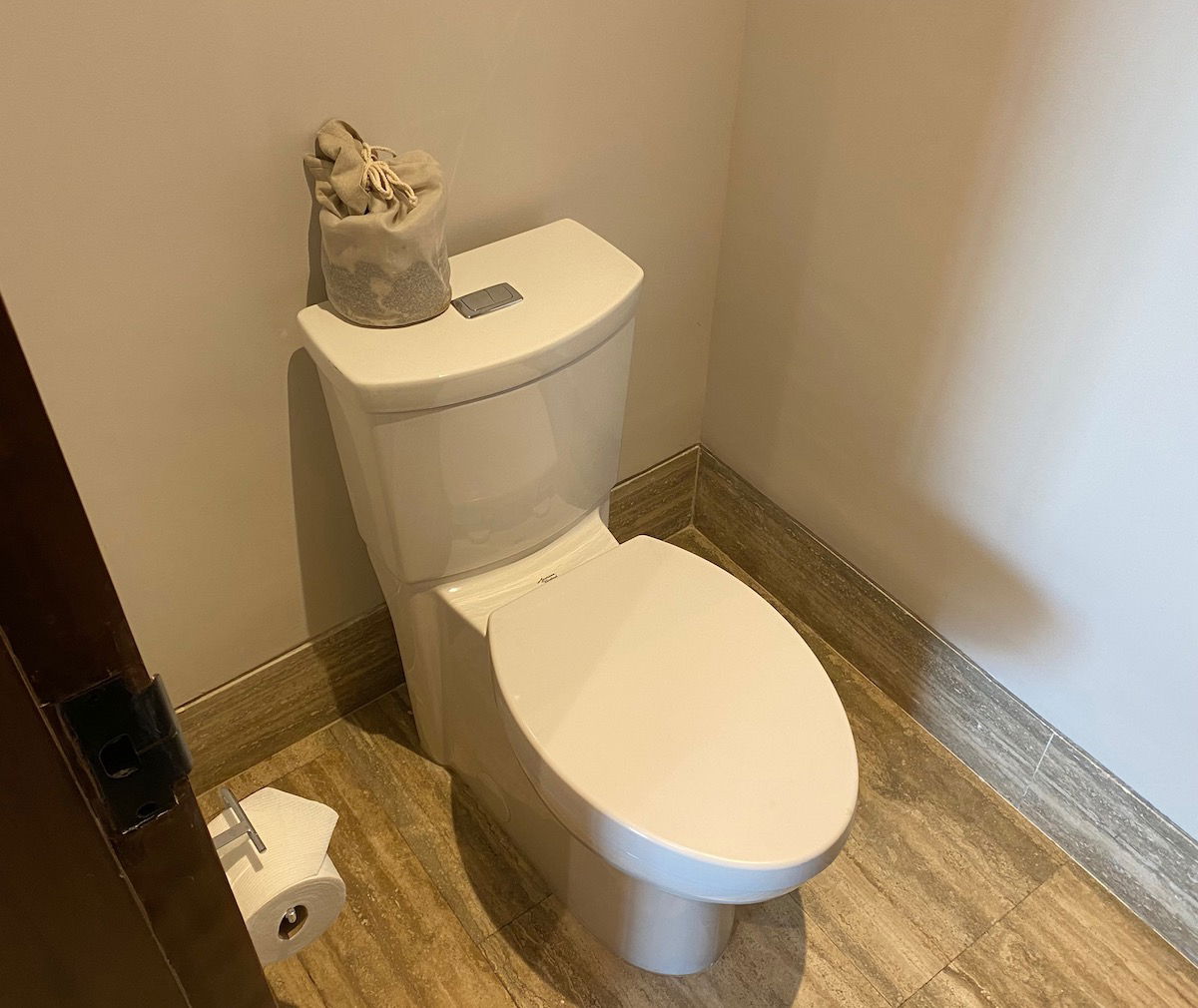 Toiletries were from Spa Alkemia, which is the hotel's spa, and were in reusable bottles.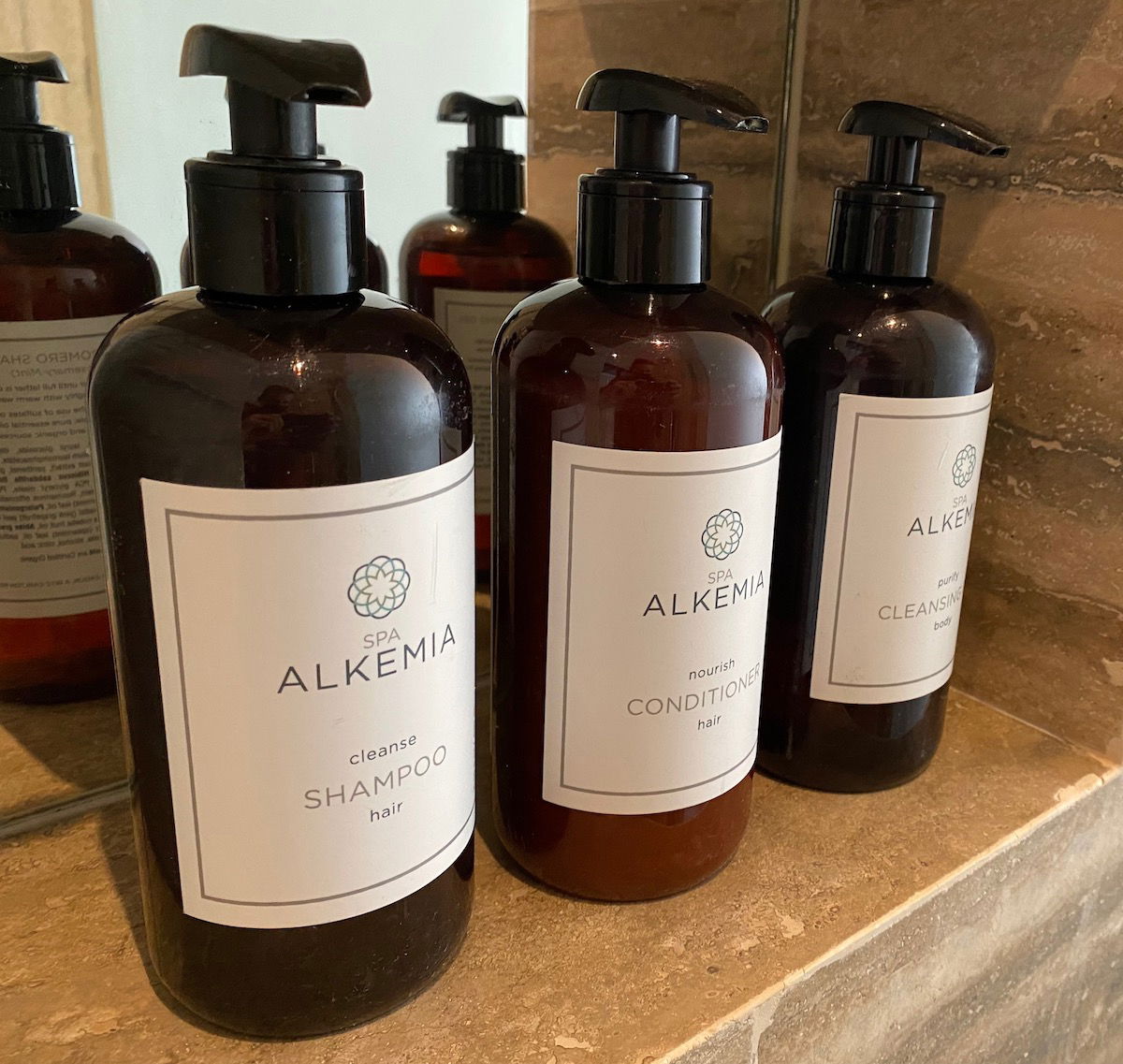 Wi-Fi in the room, and throughout the property for that matter, was fast and free. Housekeeping was provided twice daily, and was always thorough.
So yeah, the rooms at Zadun exceeded my expectations. While there are lots of great luxury hotels in Los Cabos, most have a huge variance in terms of the quality of entry level rooms, including the views, sizes, etc. At Zadun you're really getting a heck of an entry level room.
Zadun pools
Zadun's main pool area is roughly in the middle of the property, and it's elevated above the beach and ocean, so the views are great. There's one large infinity pool, and then there's another smaller pool next to it.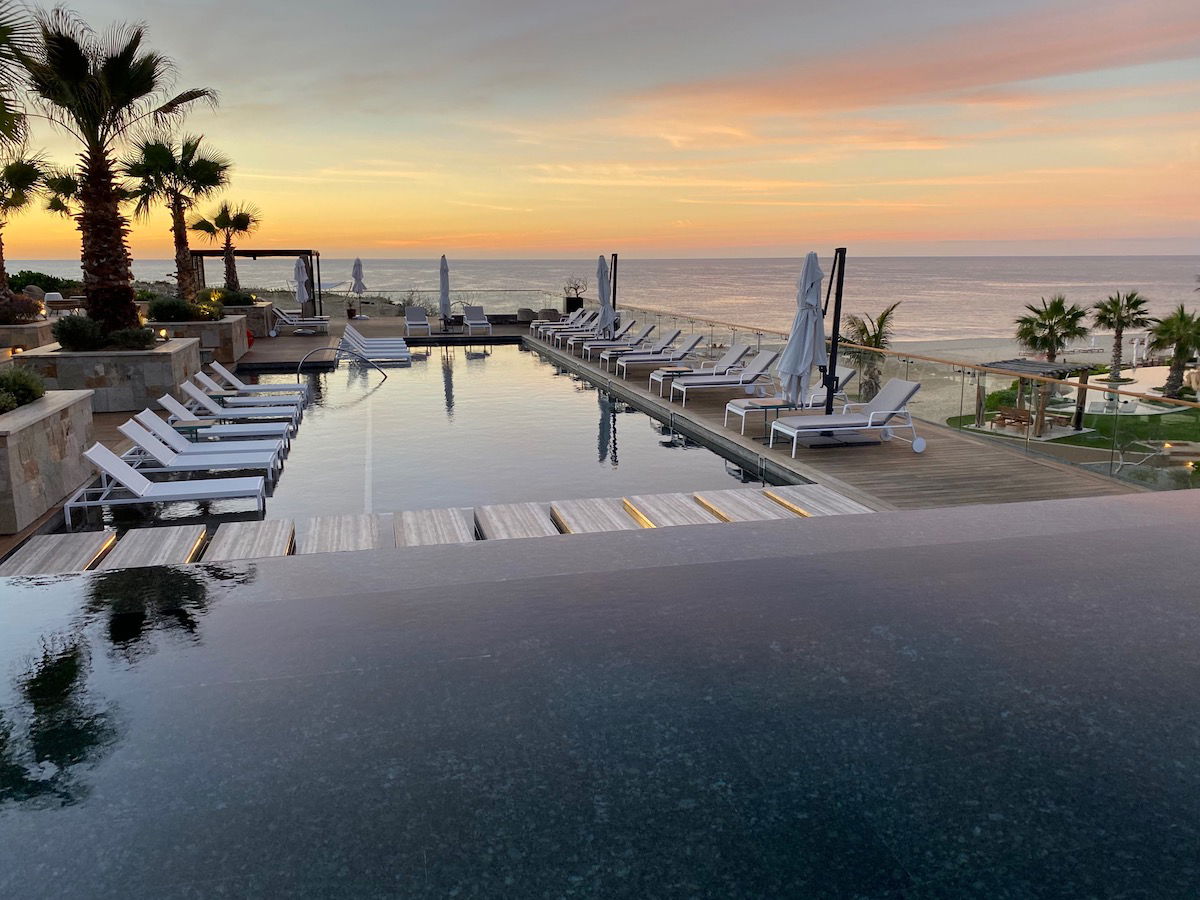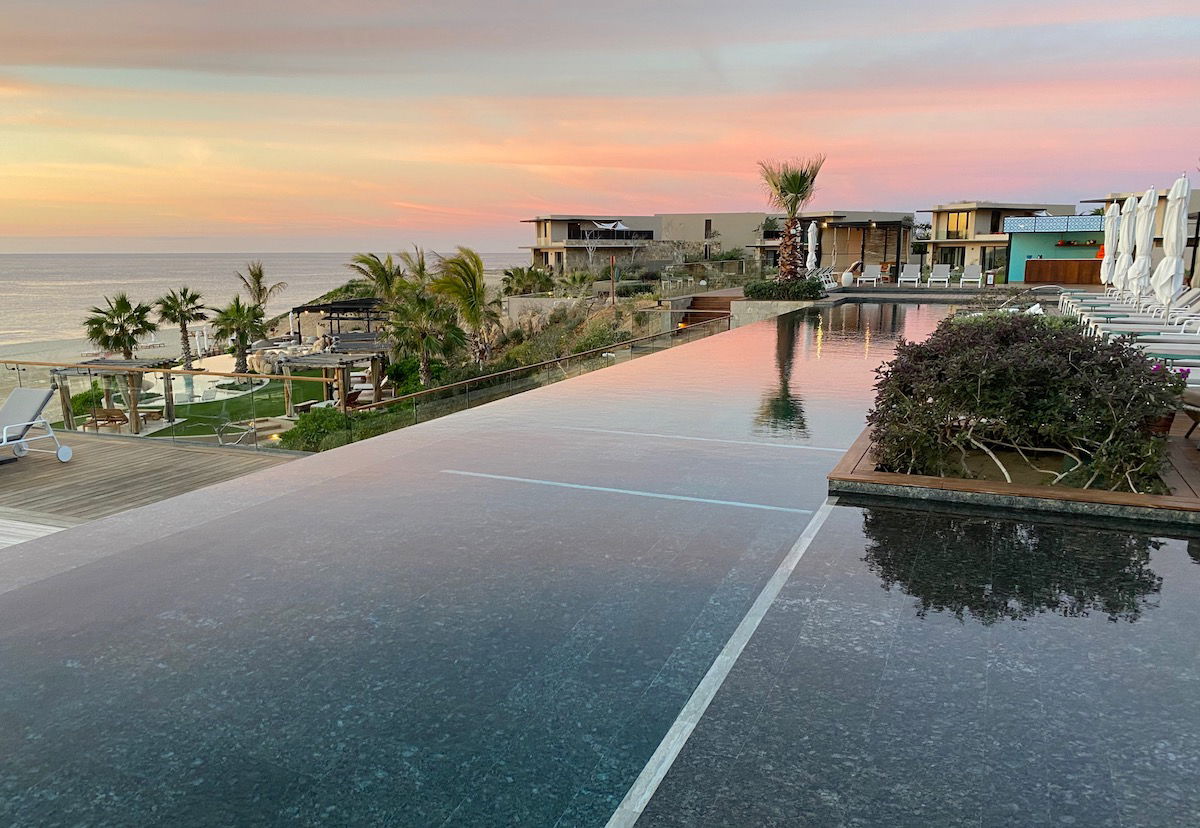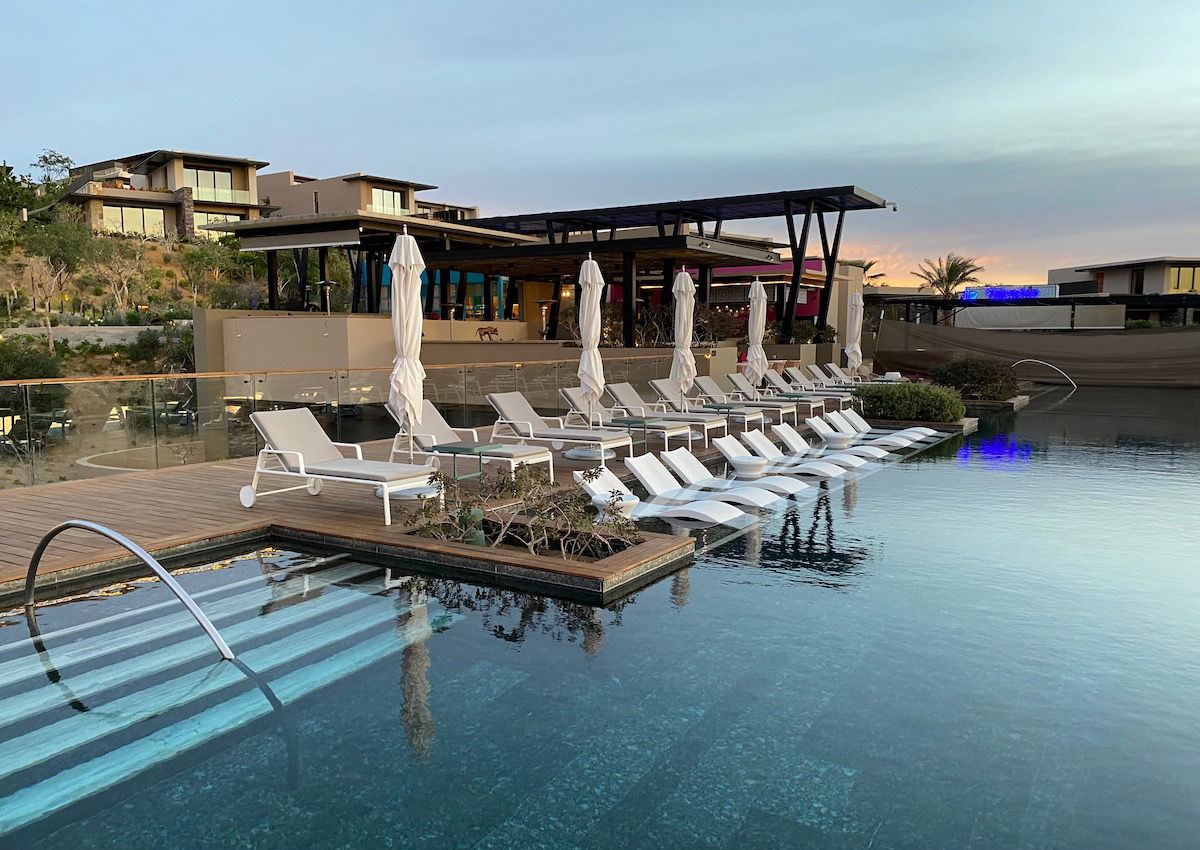 There's even a hot tub with a view!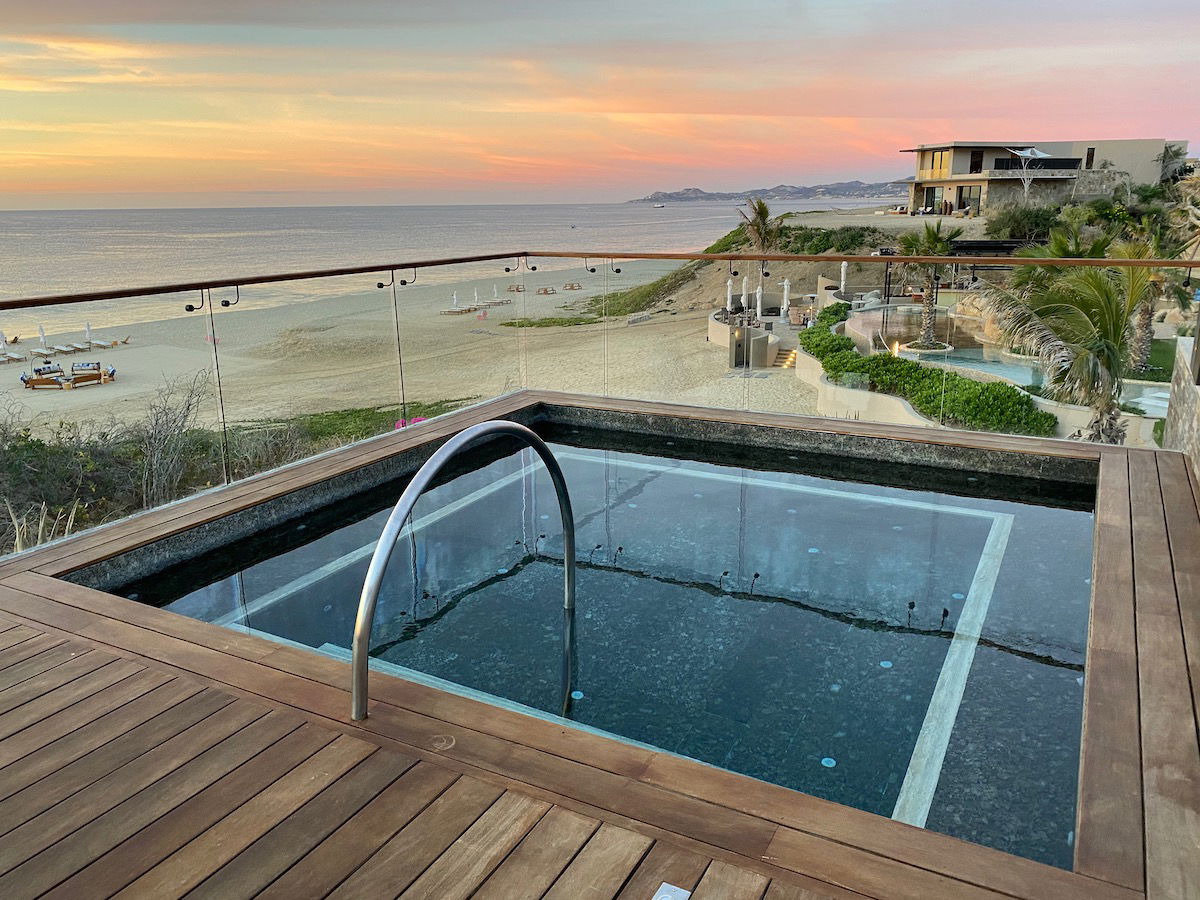 Zadun has several cabanas, and interestingly they're available on a first come, first served basis. Other hotels would charge a fortune for these, so that's pretty awesome.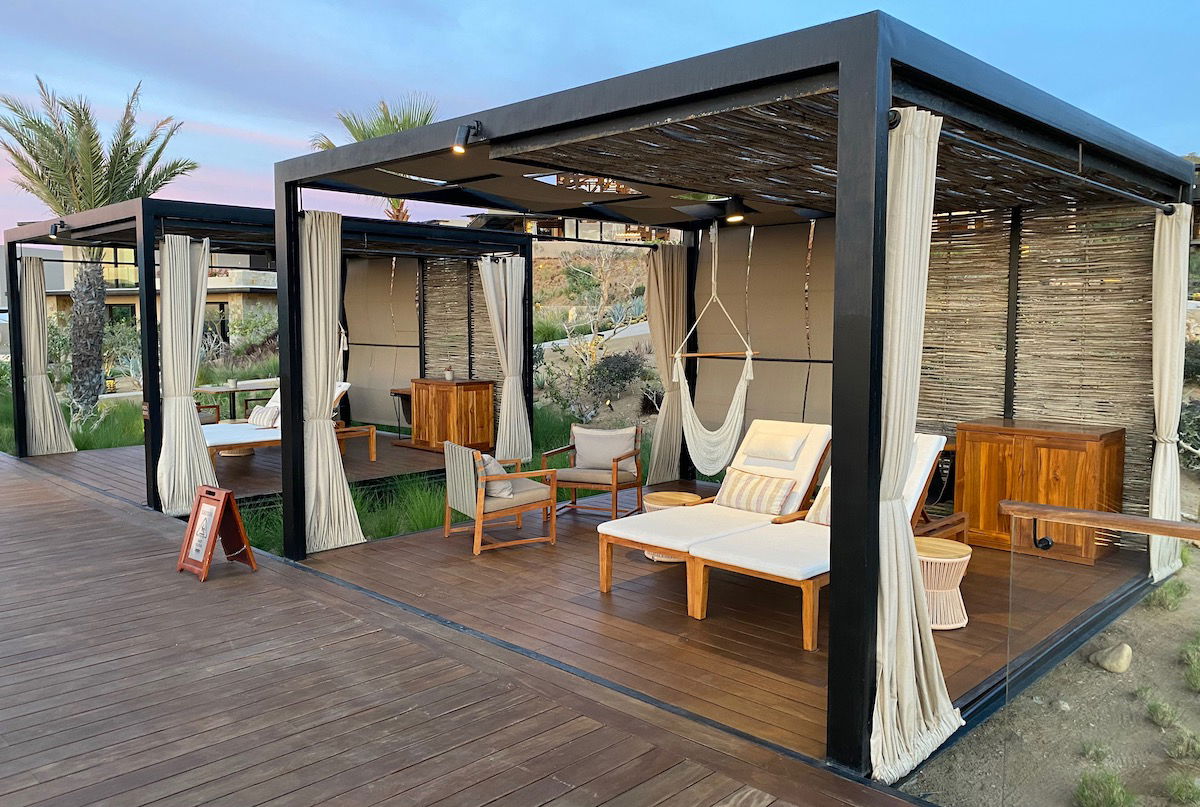 Down by the beach, Zadun has yet another pool, which is for adults only. This pool is smaller, and also has less seating around it, so will generally remain a lot quieter.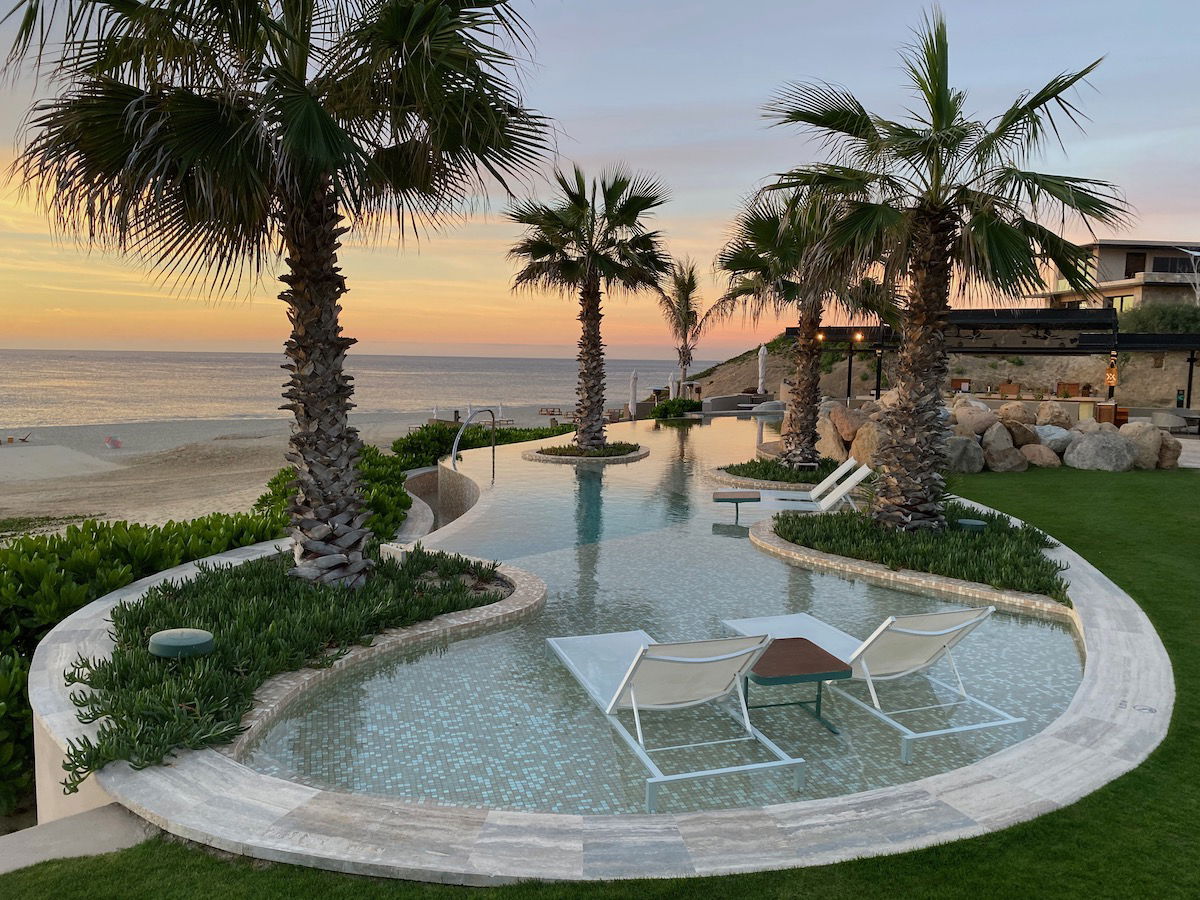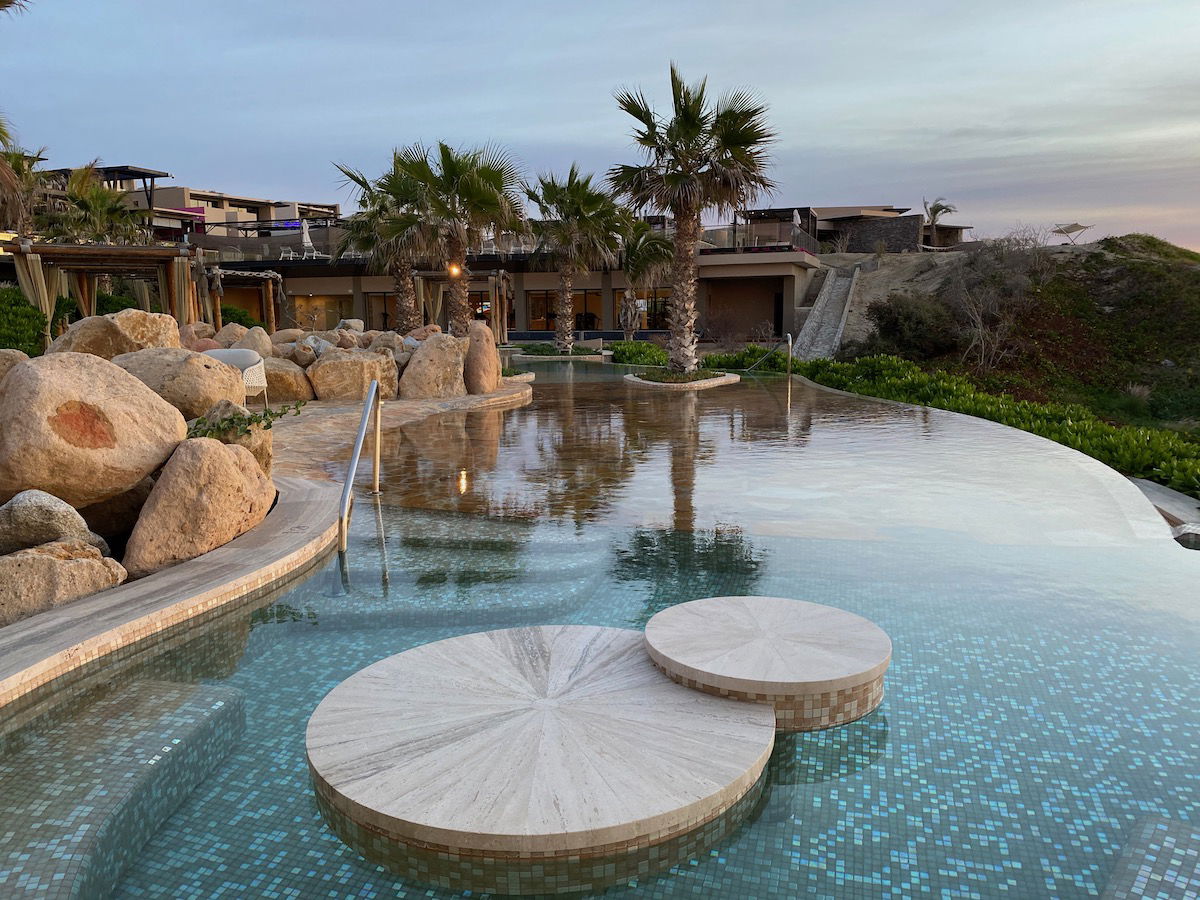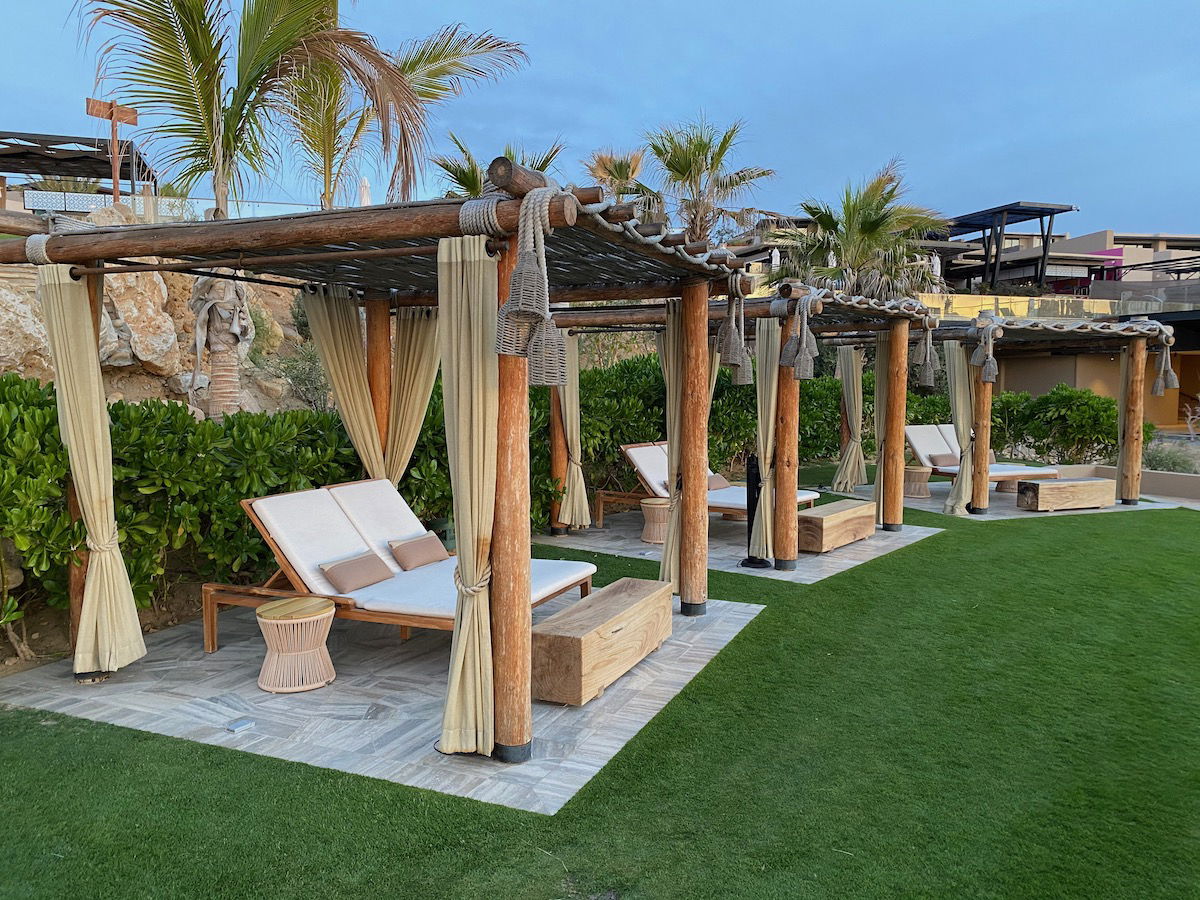 There's also a lap pool at the gym, which I'll cover below, as well as another pool at the spa.
Zadun beach
Zadun has a special stretch of beach, given how secluded it is. There's a really long and quiet beach right at the hotel, and for the most part there are just otherwise some houses along the stretch, so the beach doesn't feel too developed. We loved being able to walk on the beach in the mornings and evenings, and we never saw anyone else.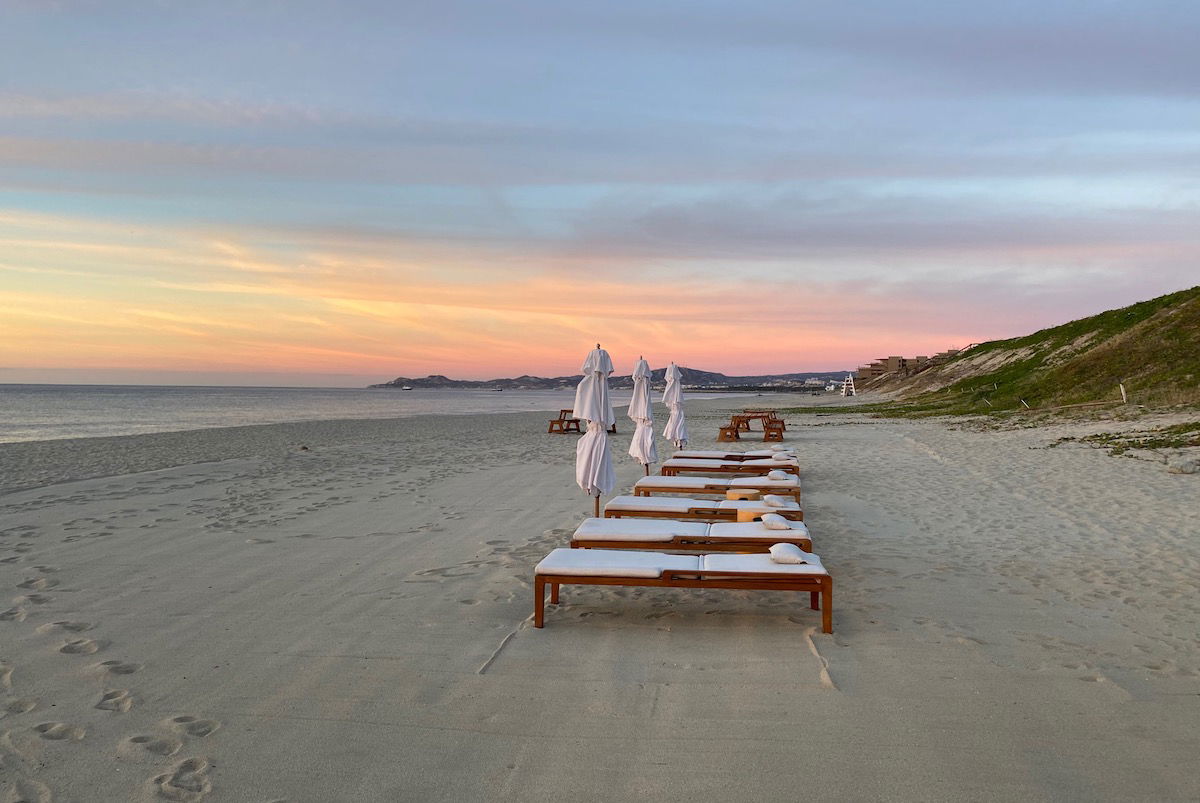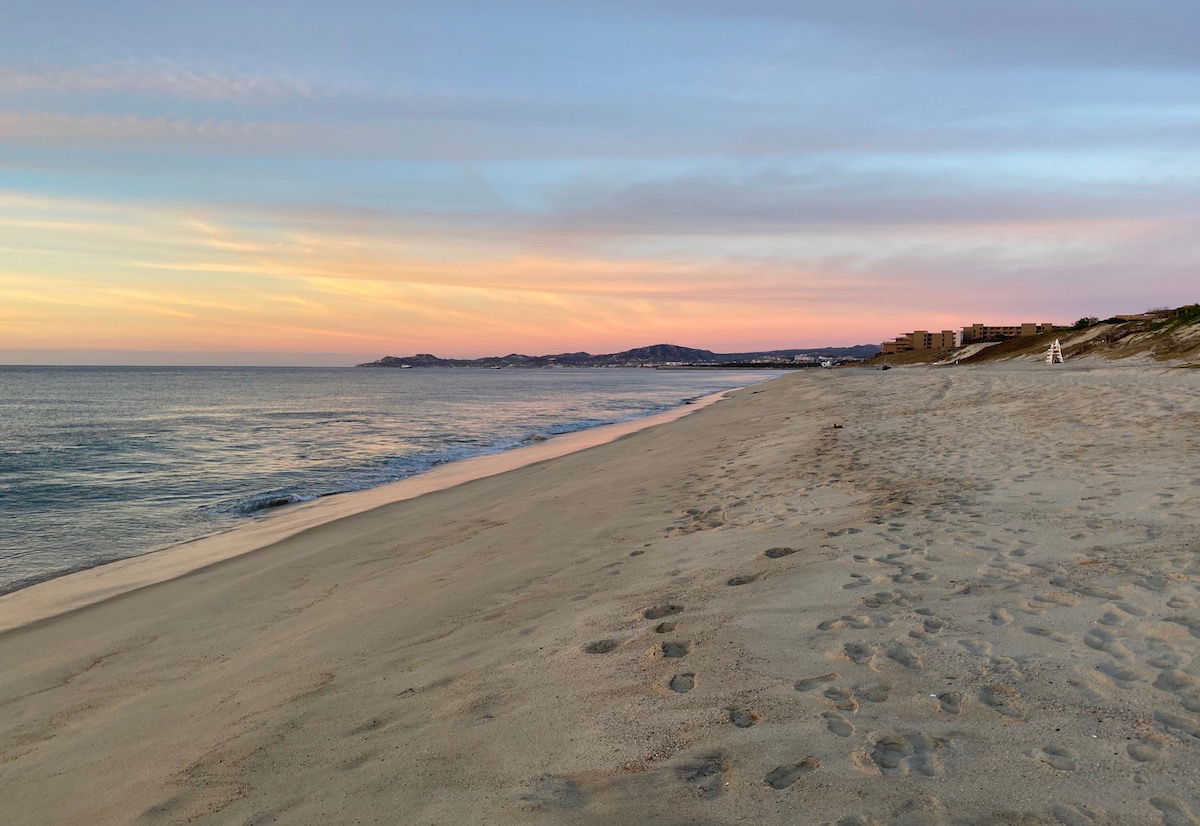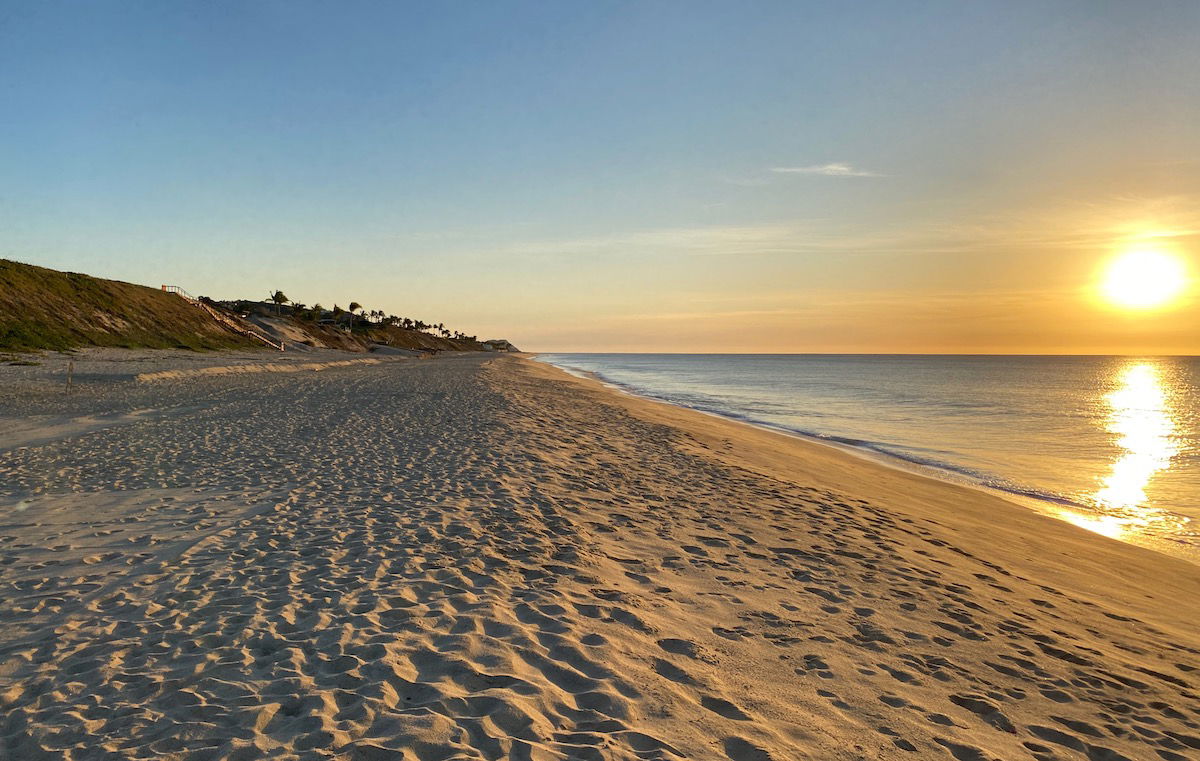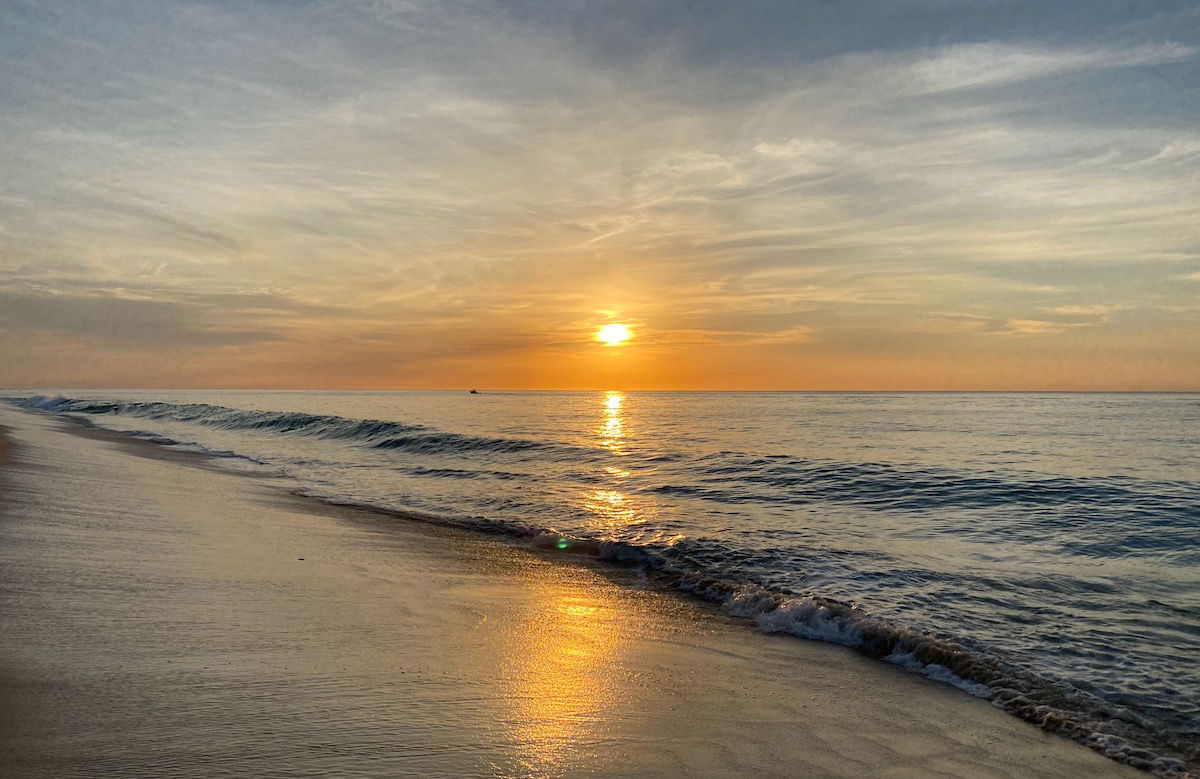 For hotel guests there are lounge chairs, umbrellas, etc., and there's even service at the beach. Staff were super attentive, and when we'd sit at the beach, we were brought a cooler with some waters, and a button if we wanted to order anything.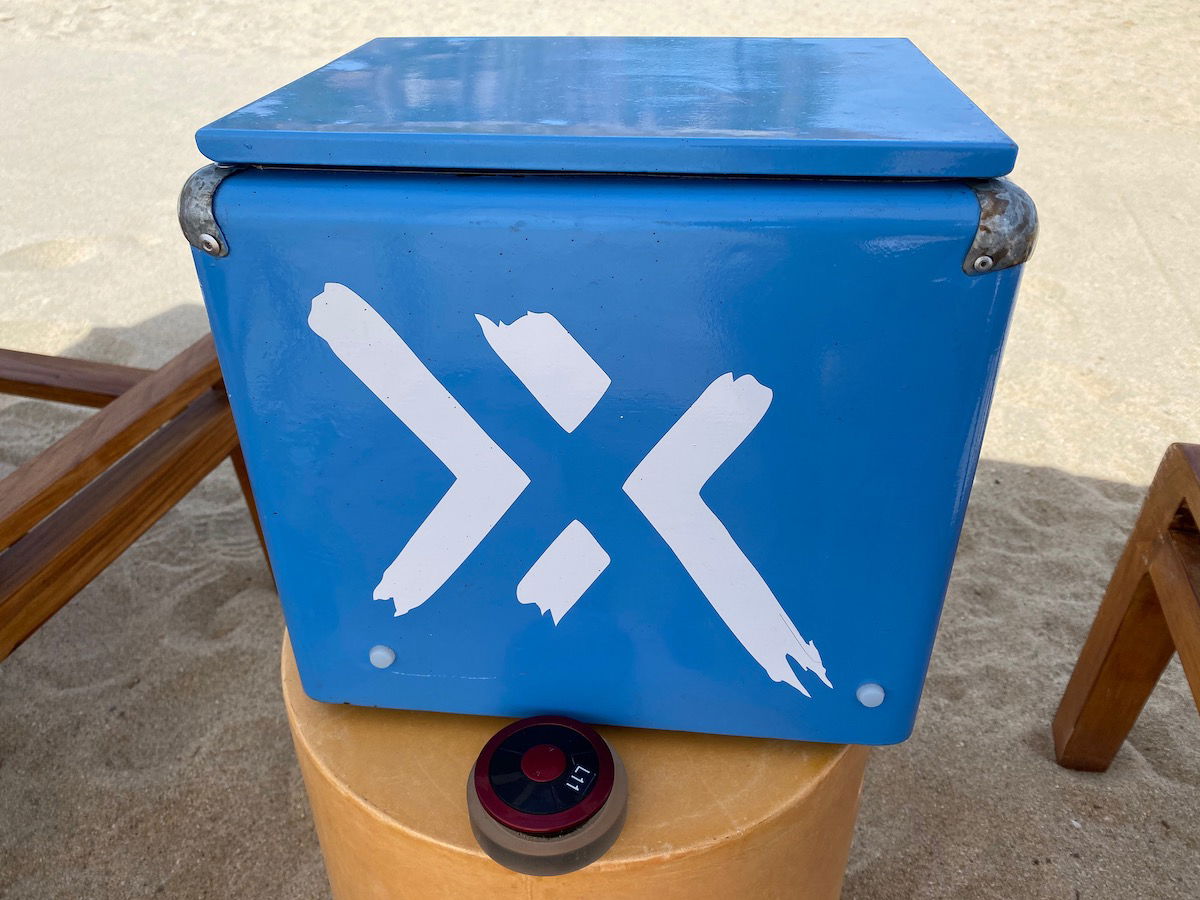 Note that like most beaches in Los Cabos, this one is generally not swimmable, because the waves can get quite big.
Zadun gym
Zadun has by far the most impressive gym I saw at any resort in Los Cabos. The resort had top of the line cardio and weight equipment.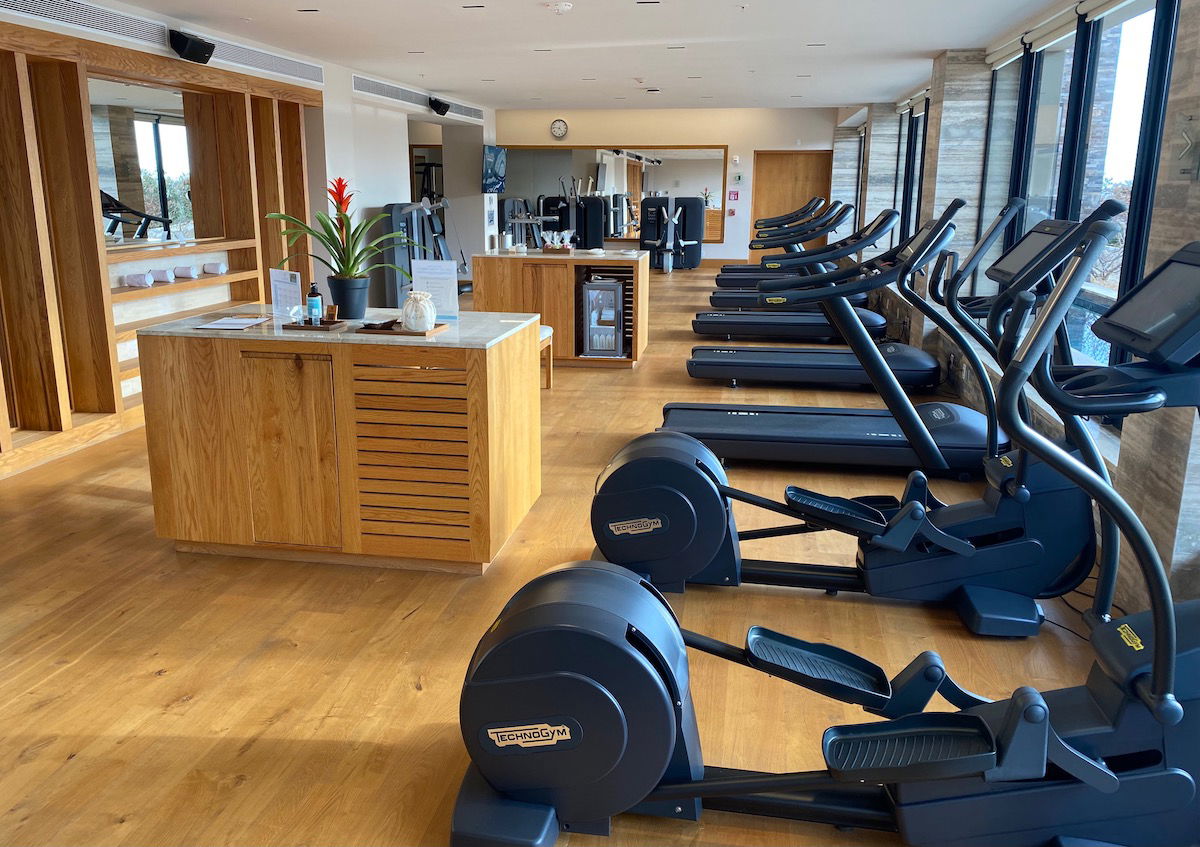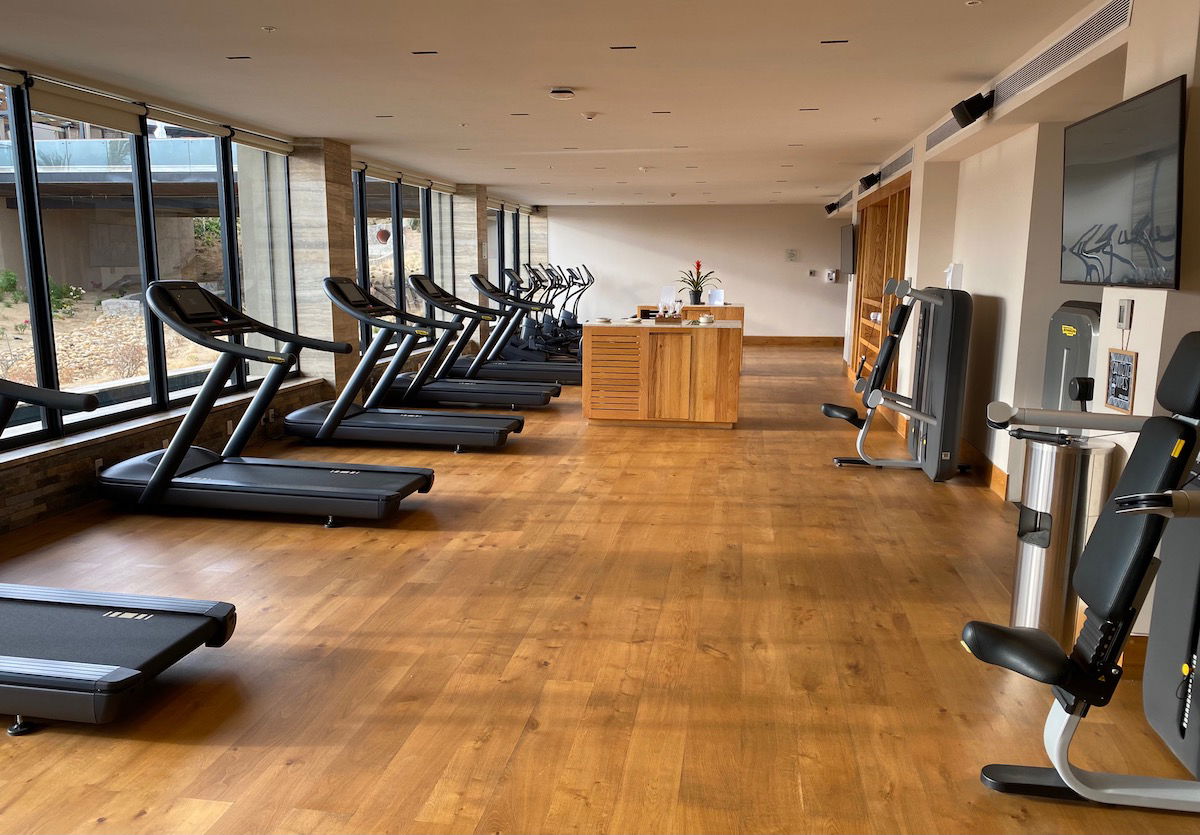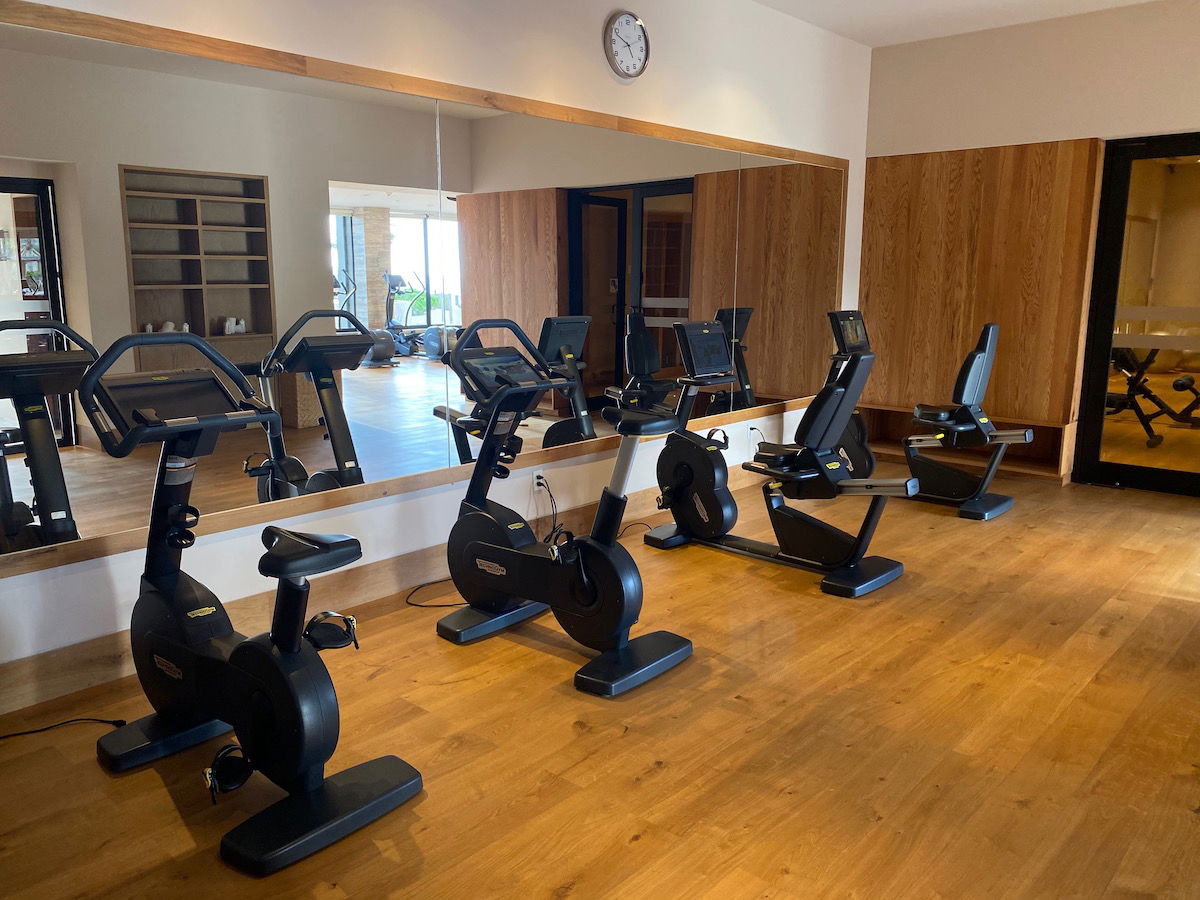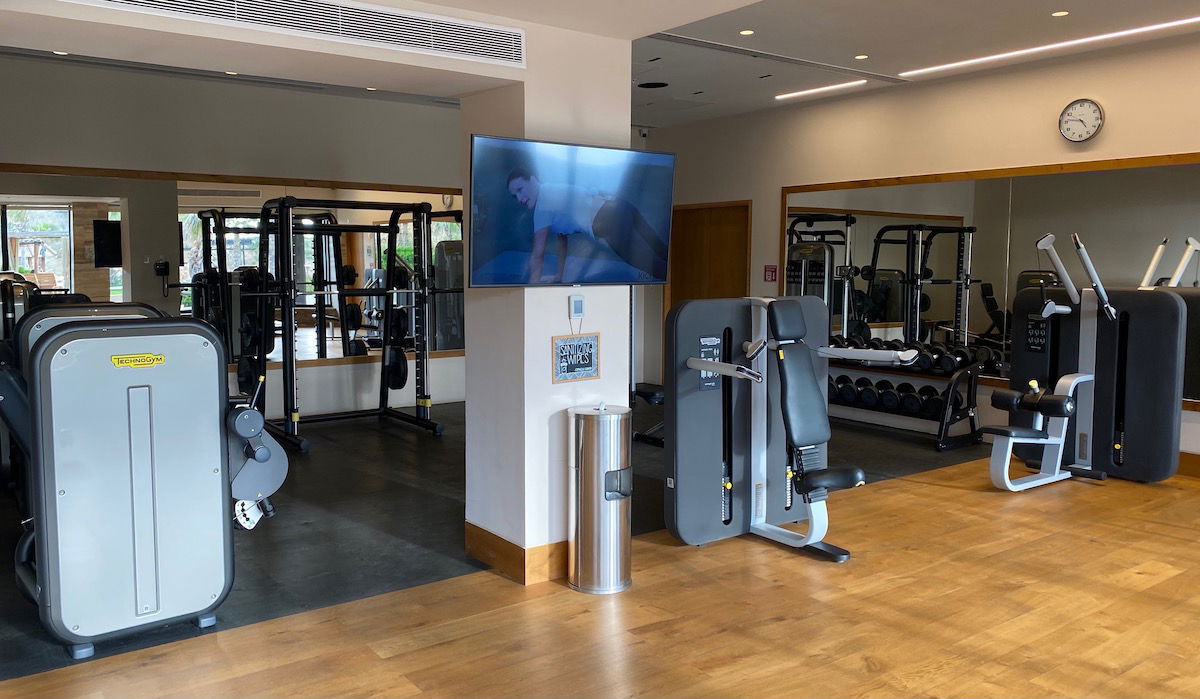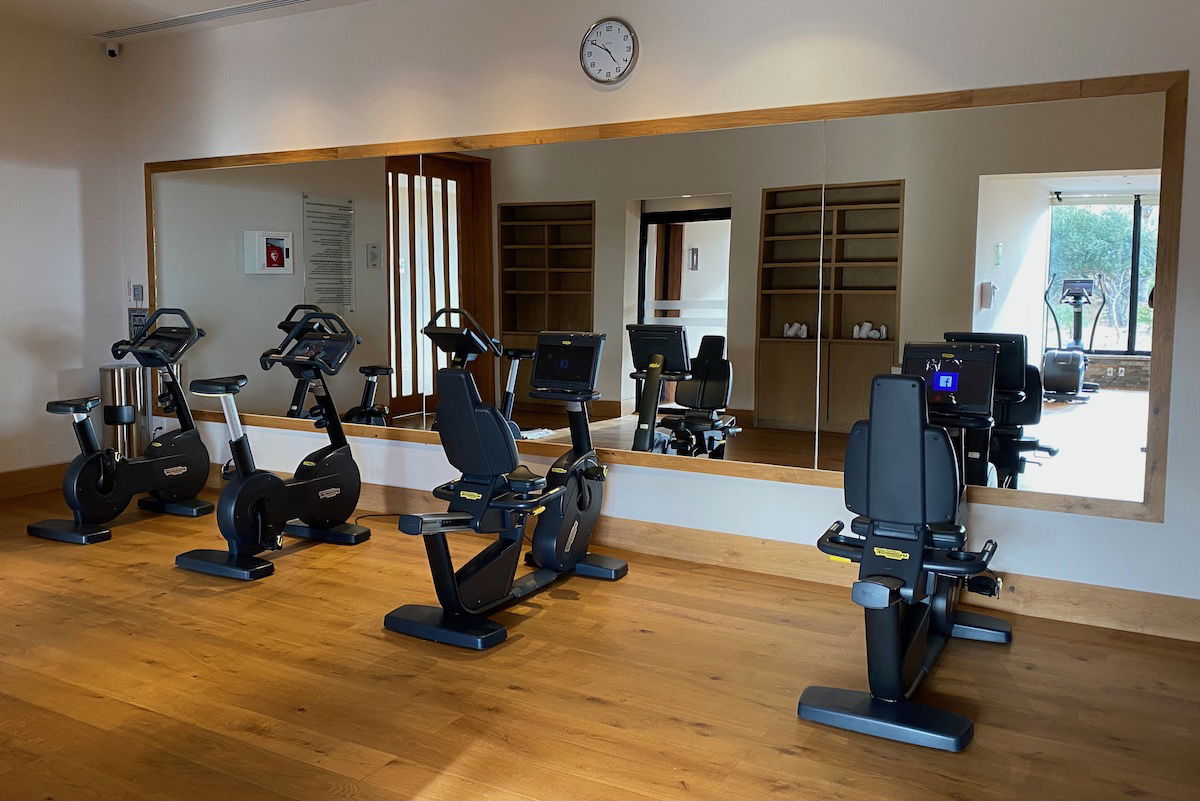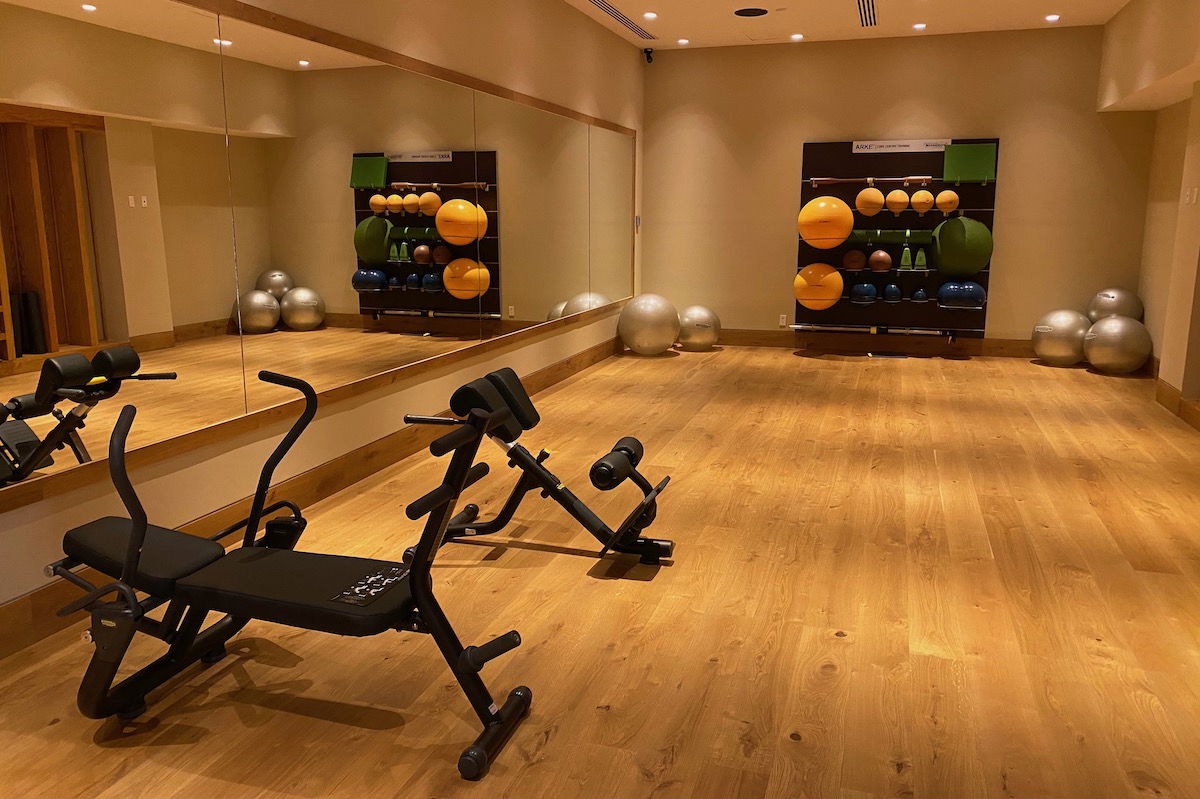 There was also complimentary vitamin water and granola bars.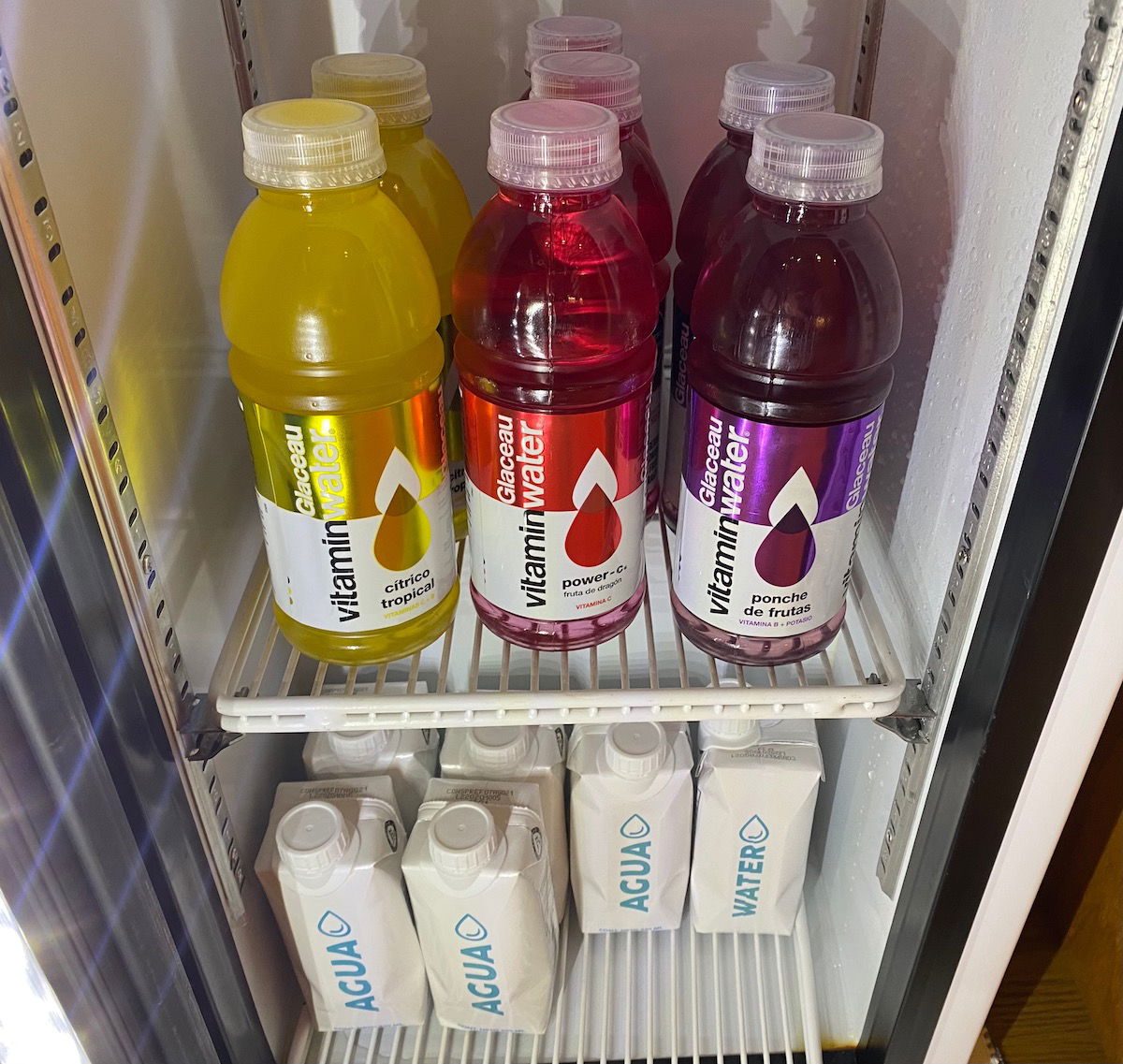 Probably most impressive is that the gym had an outdoor lap pool. What a cool feature!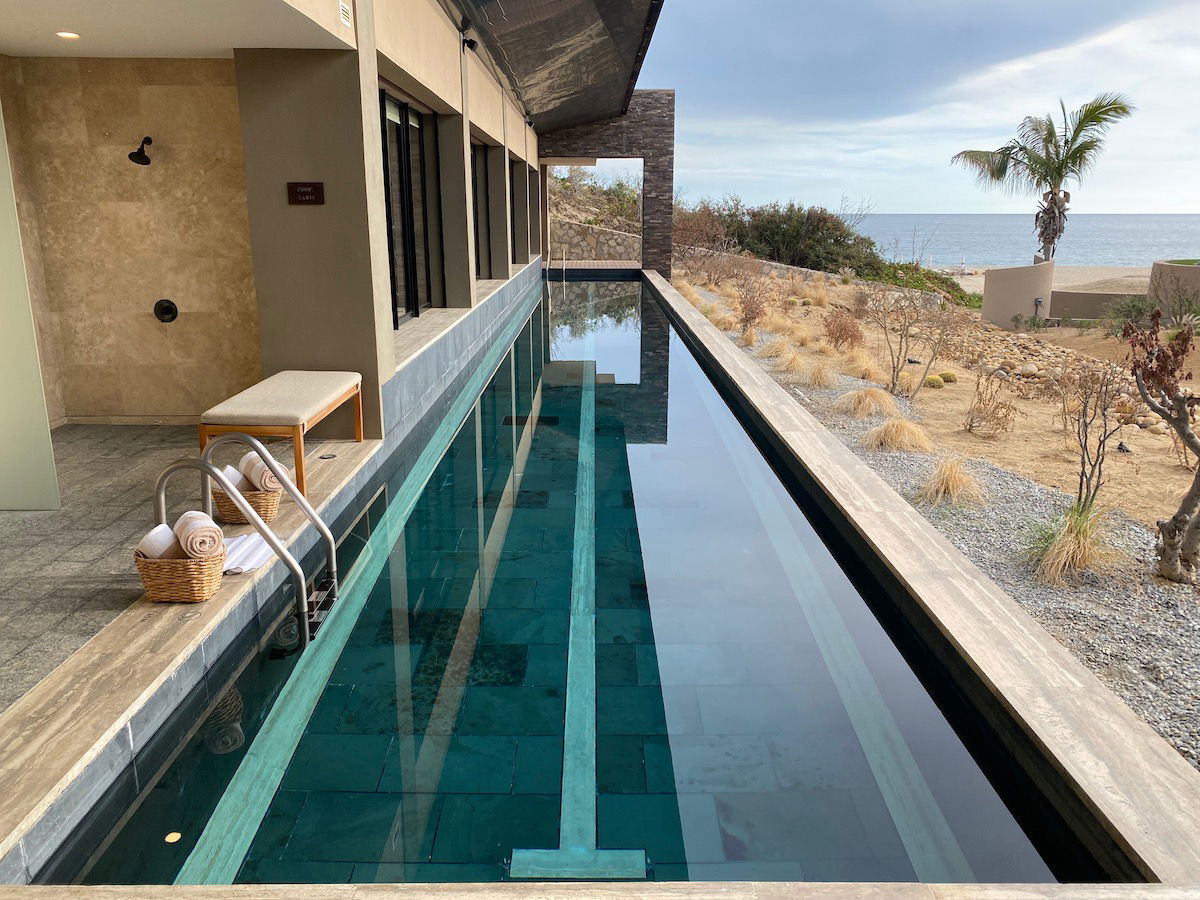 Zadun Spa Alkemia
Zadun has a massive 30,000 square foot spa, called Spa Alkemia. I've heard great things about it, but didn't check it out.
While I'm a huge fan of Los Cabos and generally find the prices to be "fair" (for a luxury destination only a short flight from markets with a lot of concentrated wealth), the one exception is spa treatments. I find that at luxury hotels in Los Cabos you can expect to pay $5+ per minute for an hour-long massage, and at that rate it's a hard pass for me. It makes a treatment at the Peninsula Beverly Hills look like a bargain, by comparison (this is why I haven't been commenting on spas much with these hotel reviews).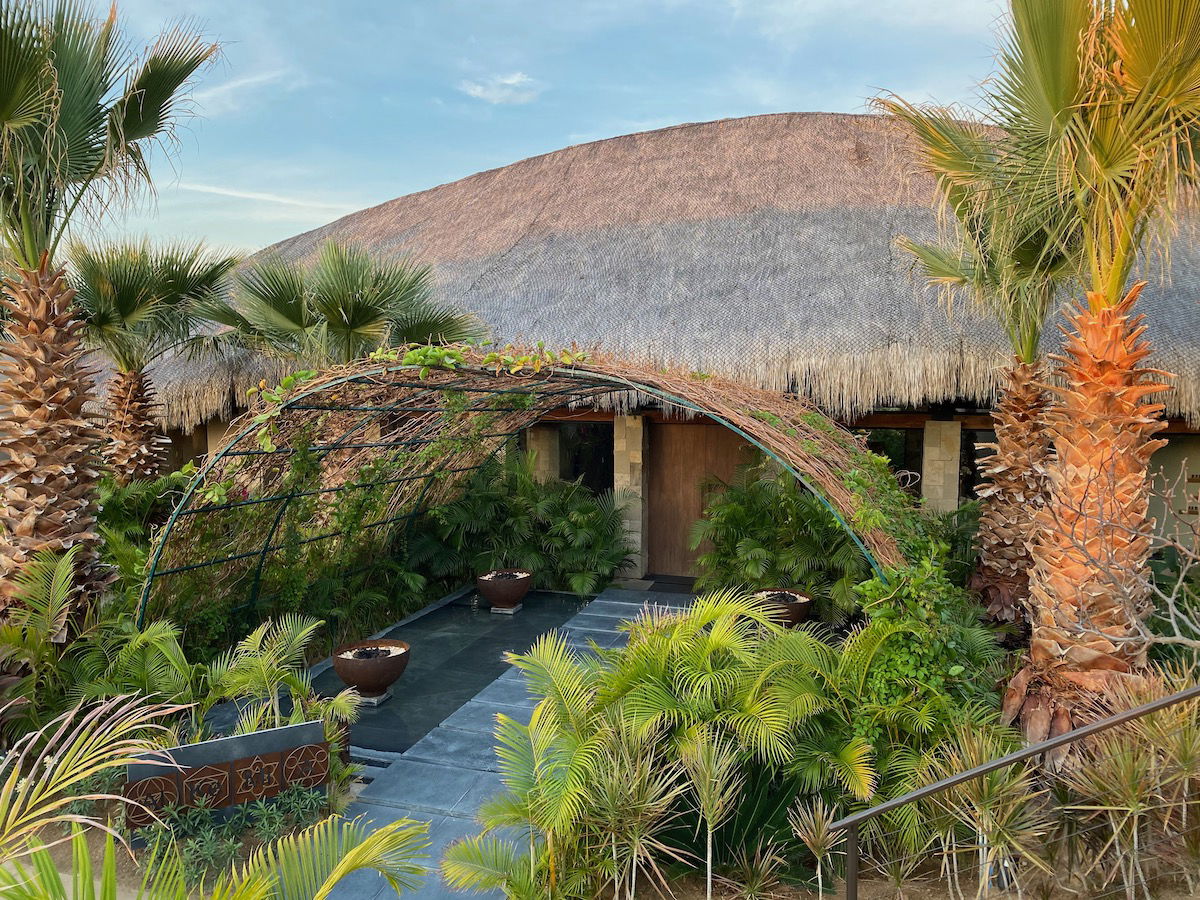 Zadun El Barrio Restaurant (breakfast & lunch)
Now let's talk a bit about the restaurants at Zadun. El Barrio is Zadun's casual all-day dining restaurant, primarily serving Mexican food. The restaurant is almost entirely outdoors, and has great views over the main pool area.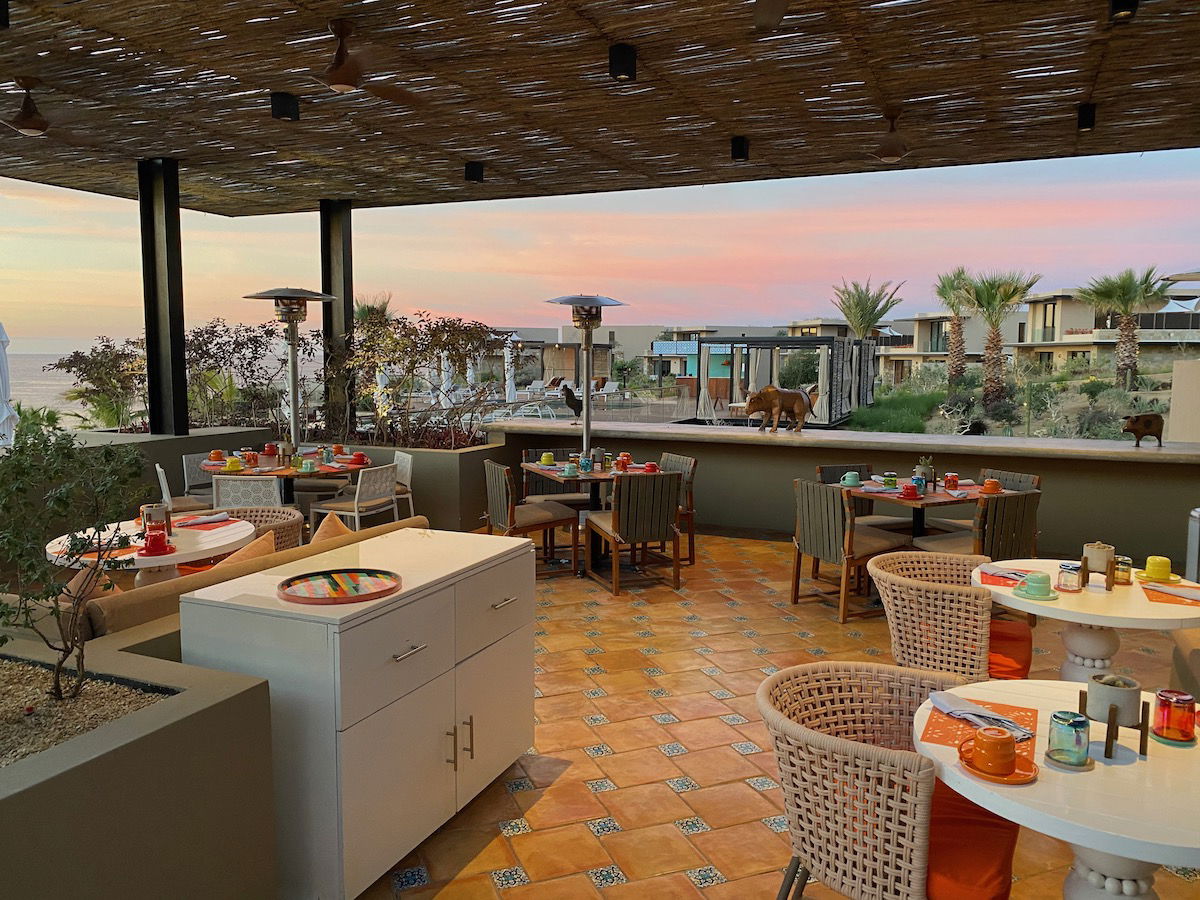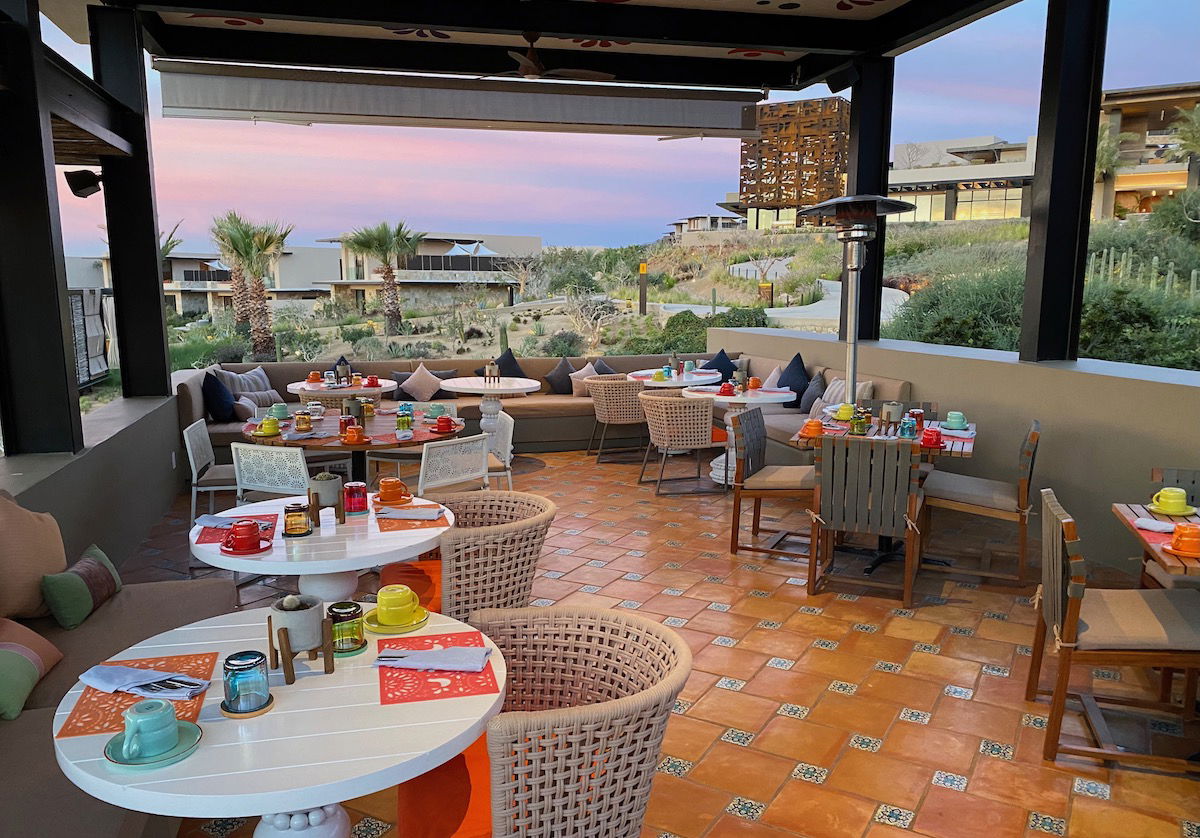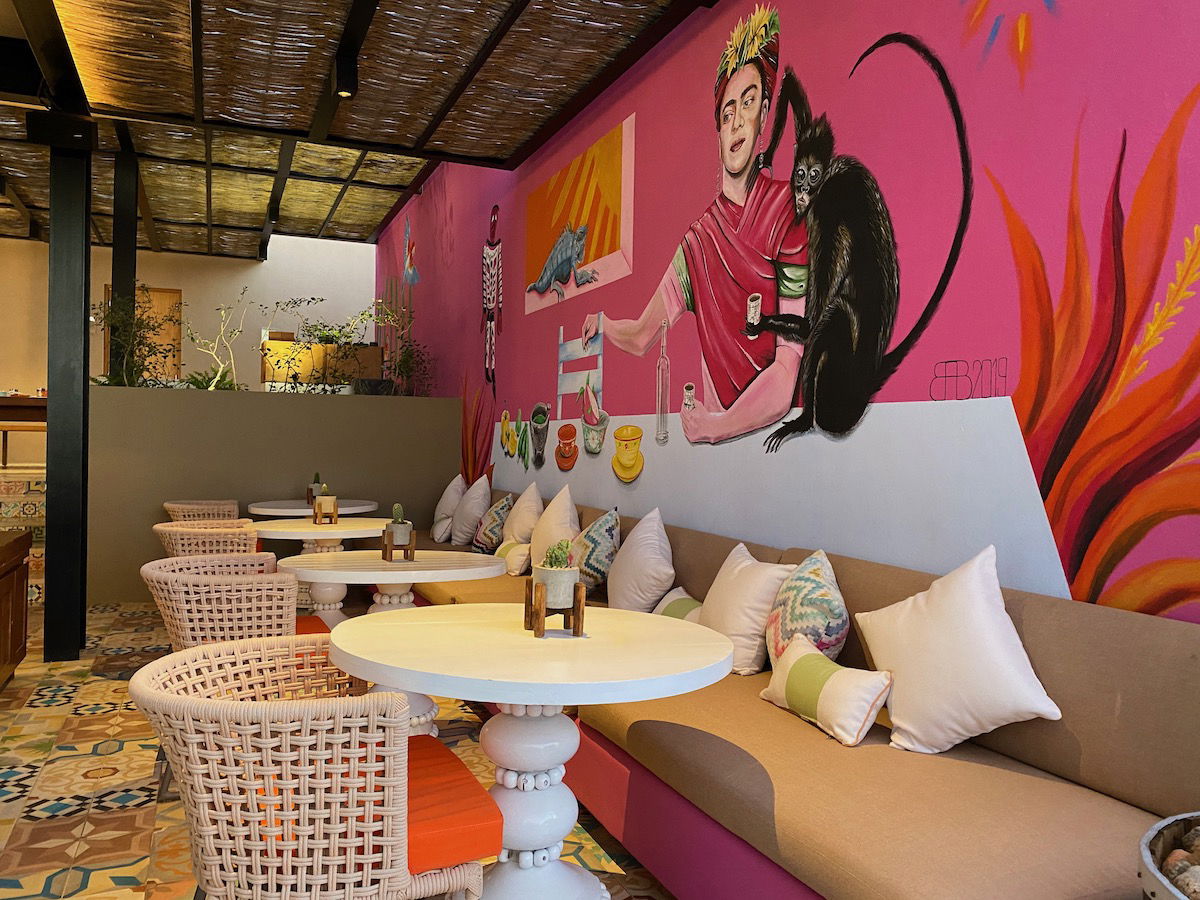 We had breakfast here each morning, and it was one of the highlights of our days. If your rate includes (like booking through Marriott STARS) you can basically order whatever you'd like (you can find the breakfast menu here). The cappuccinos, iced cappuccinos, and fresh fruit juices were excellent.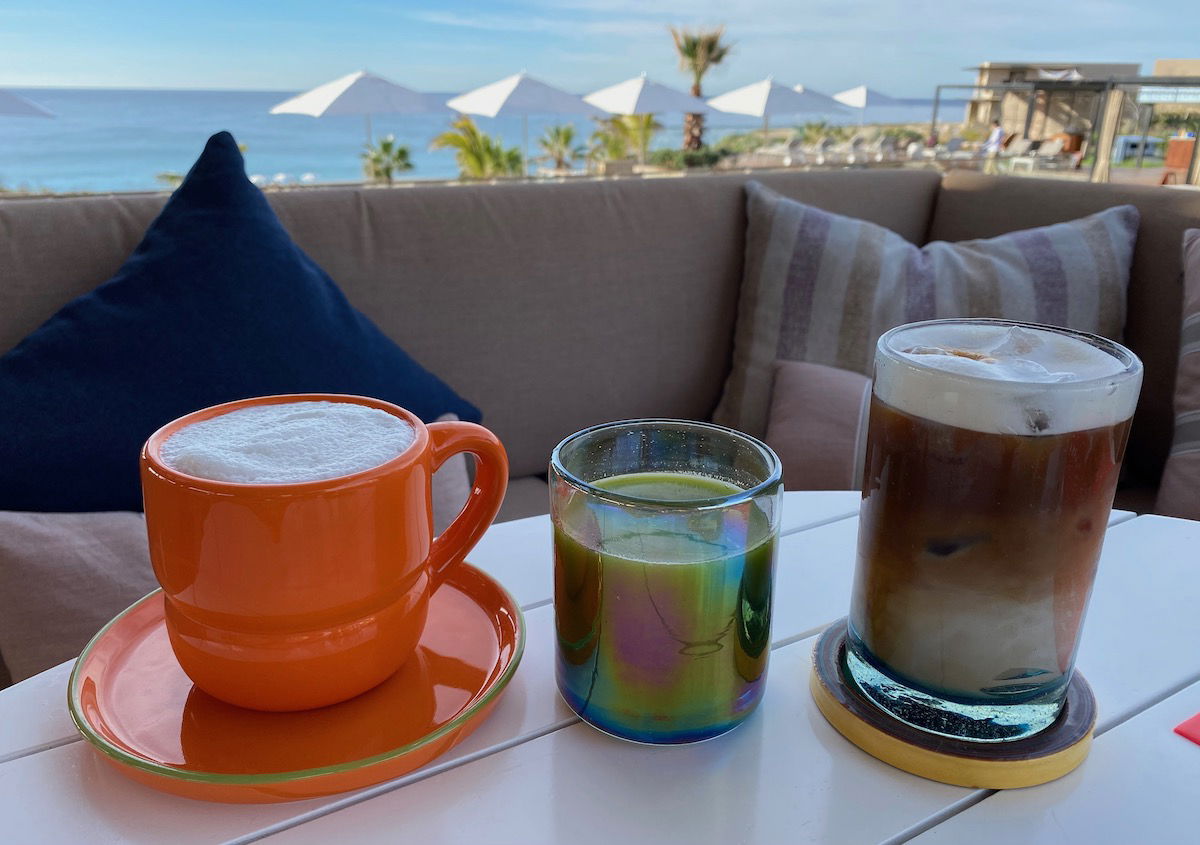 Then each morning there was an amuse bouche of sorts, which varied by day.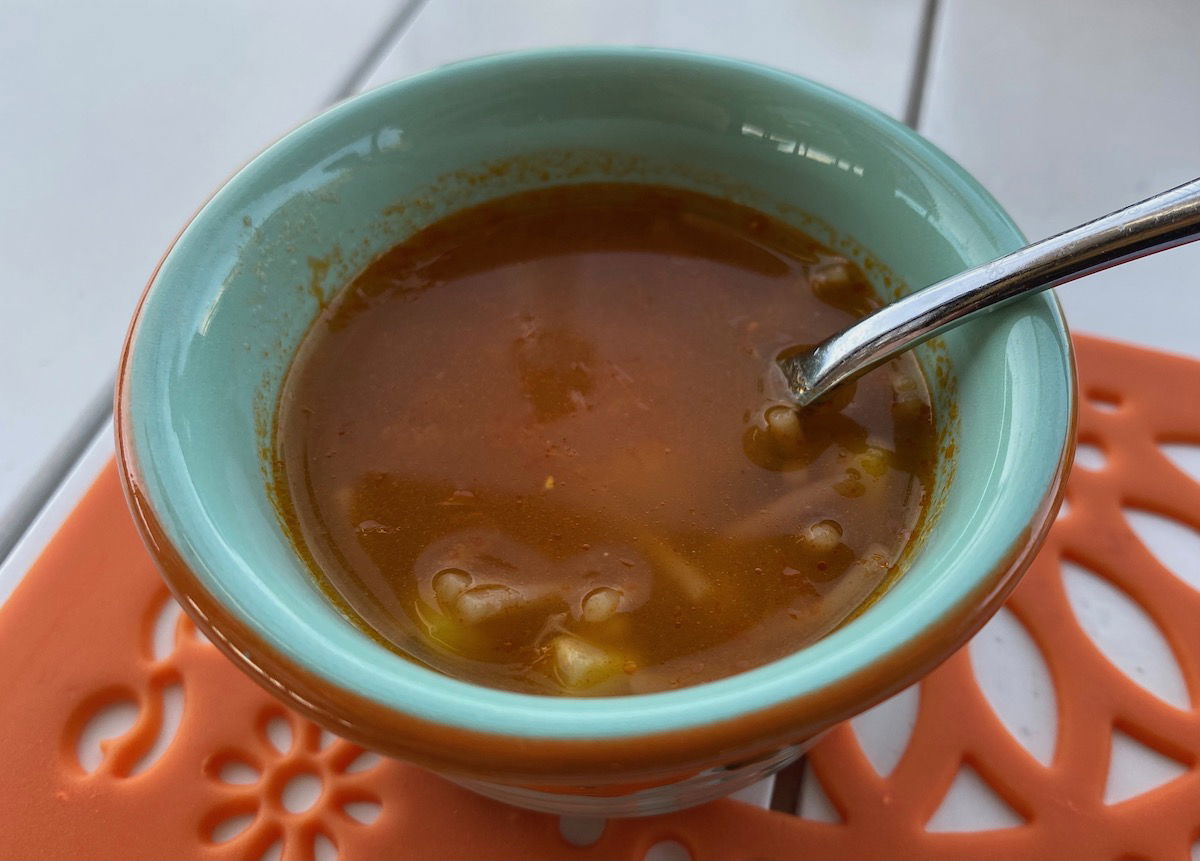 The food we ordered was excellent, from avocado toast, to chilaquiles, to some other Mexican specialties.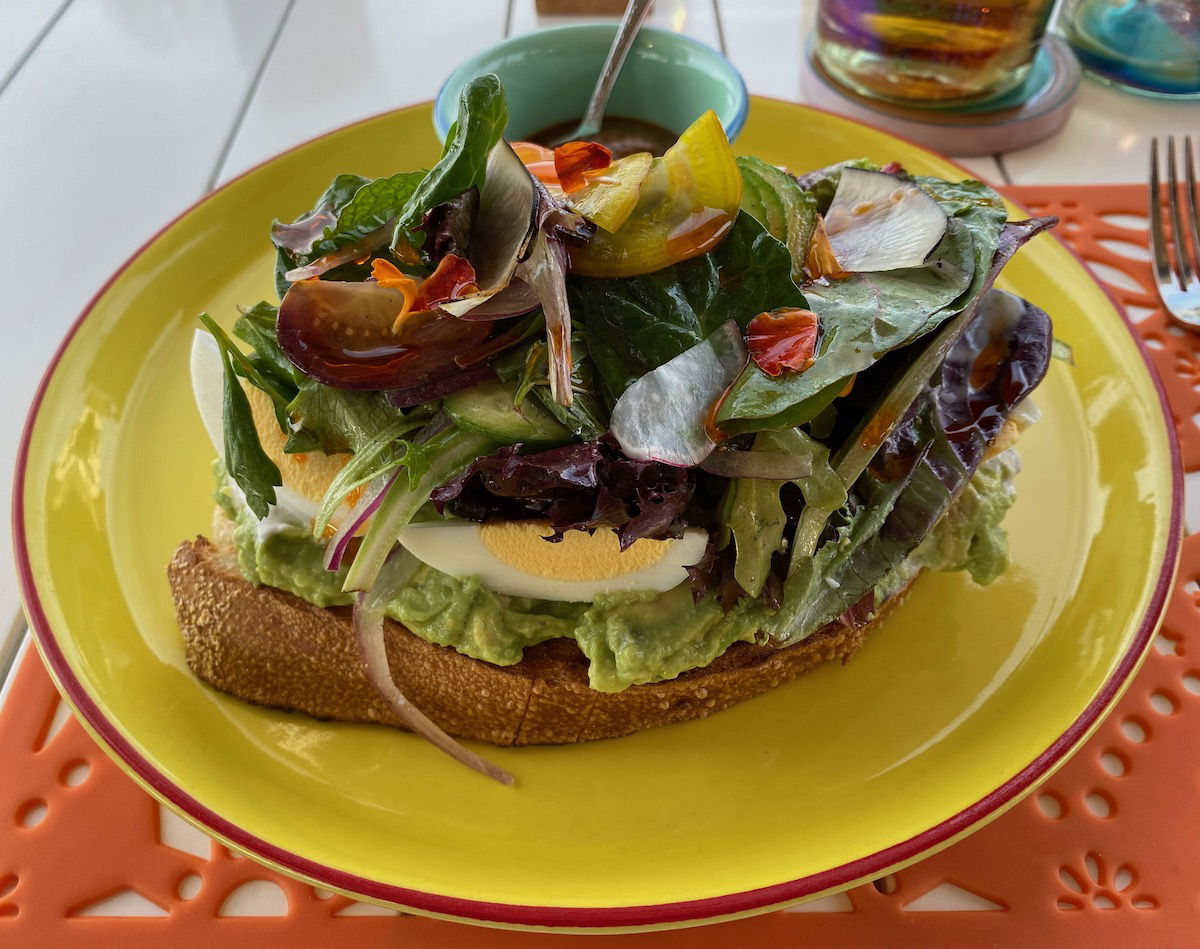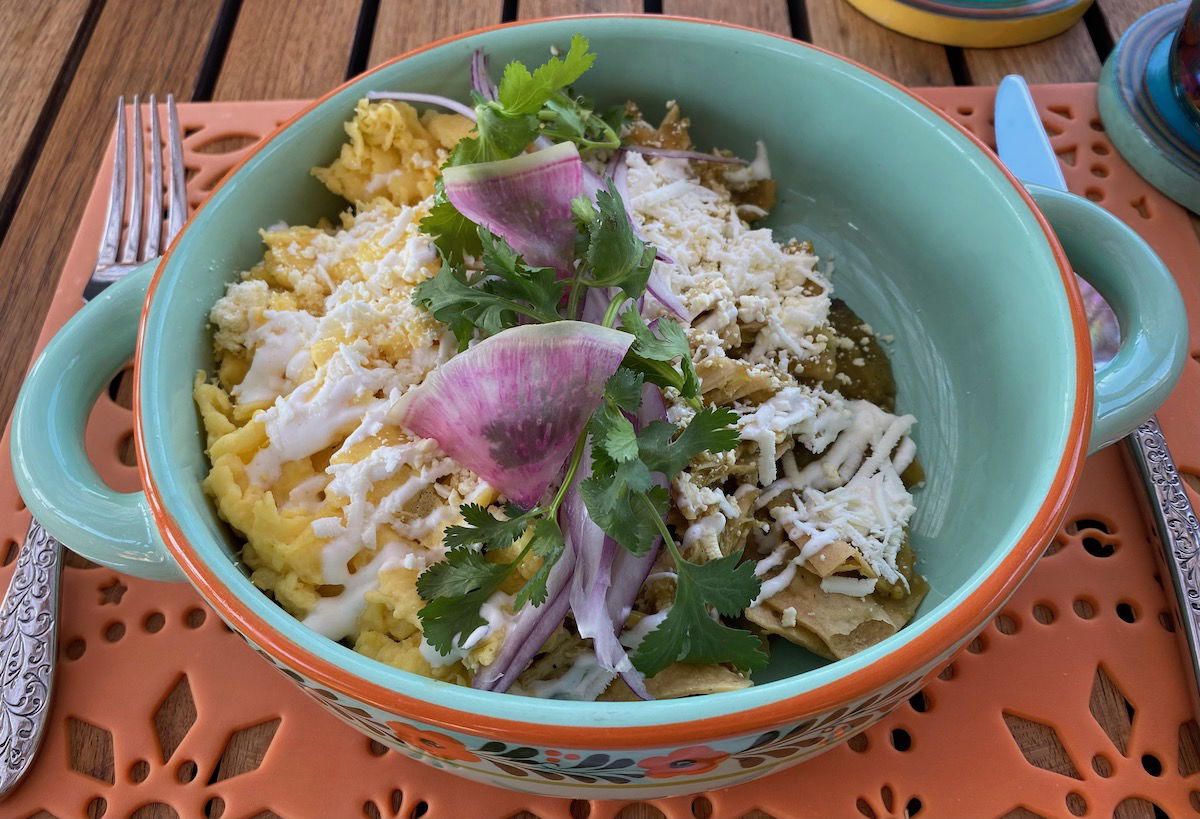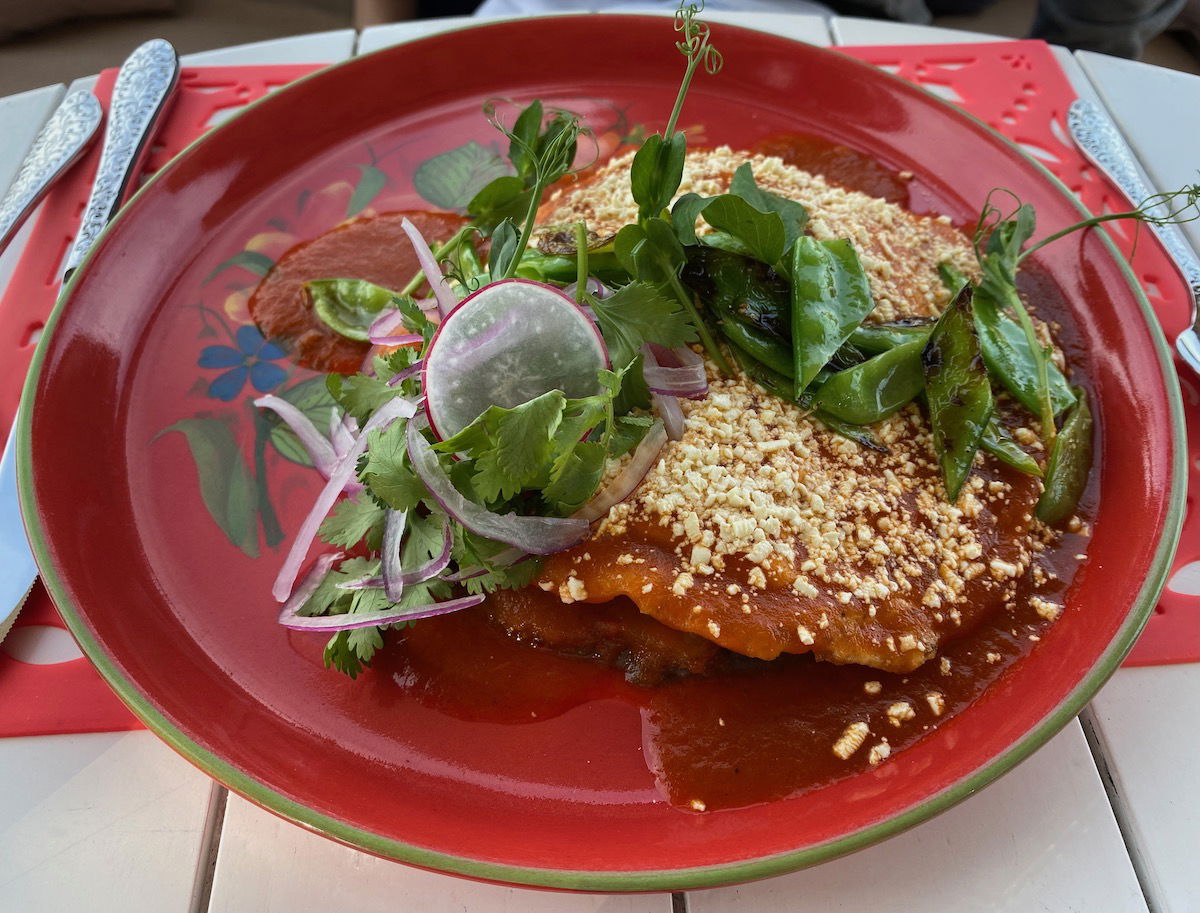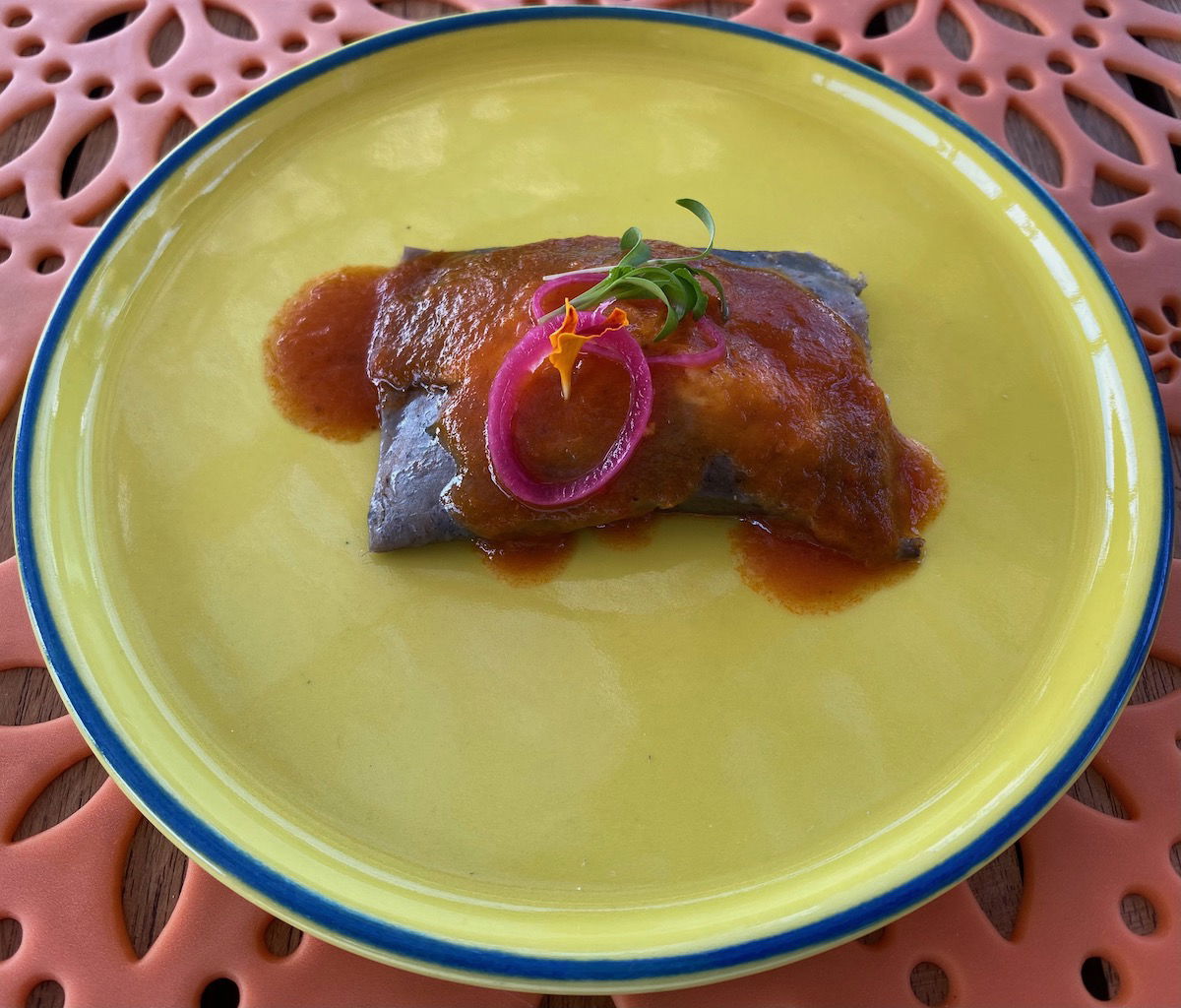 We also had lunch at El Barrio on our last day, as we were checking out at around 12PM, but wanted to still eat something. We had two salads, both of which we enjoyed.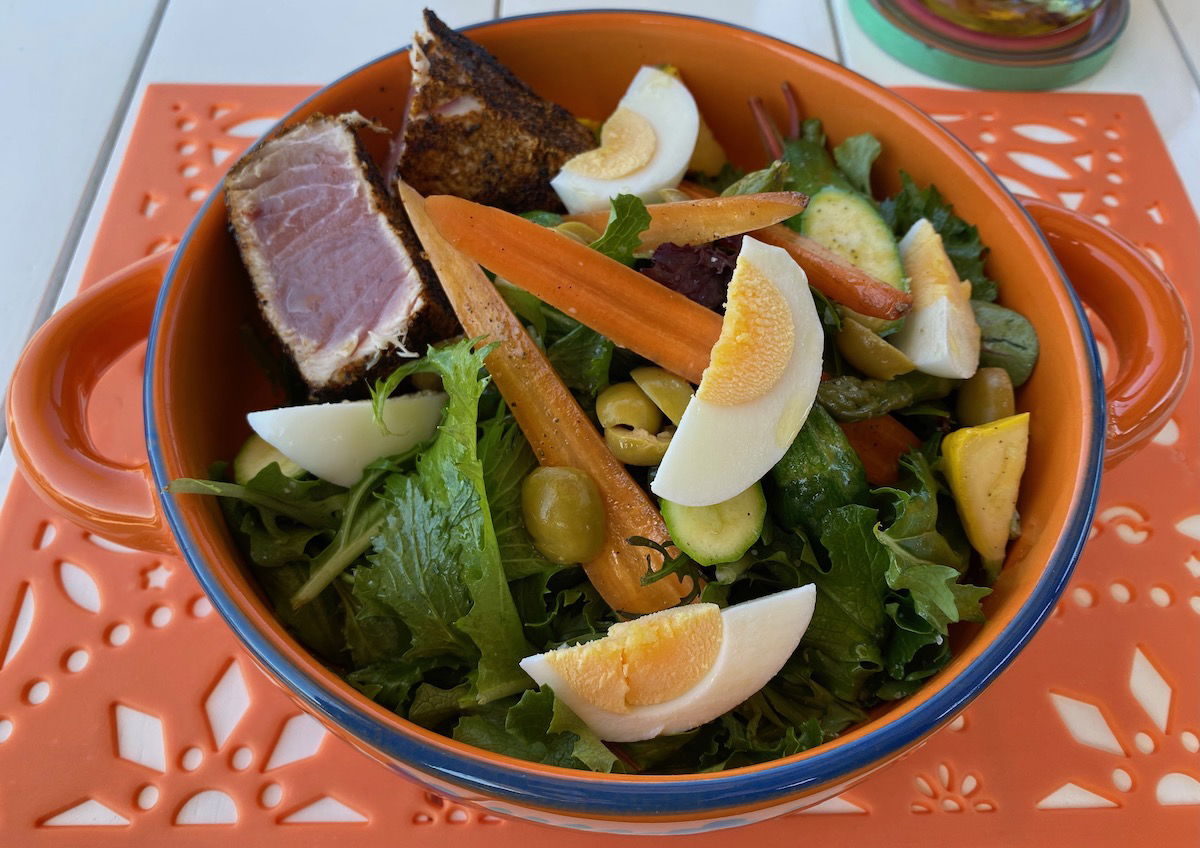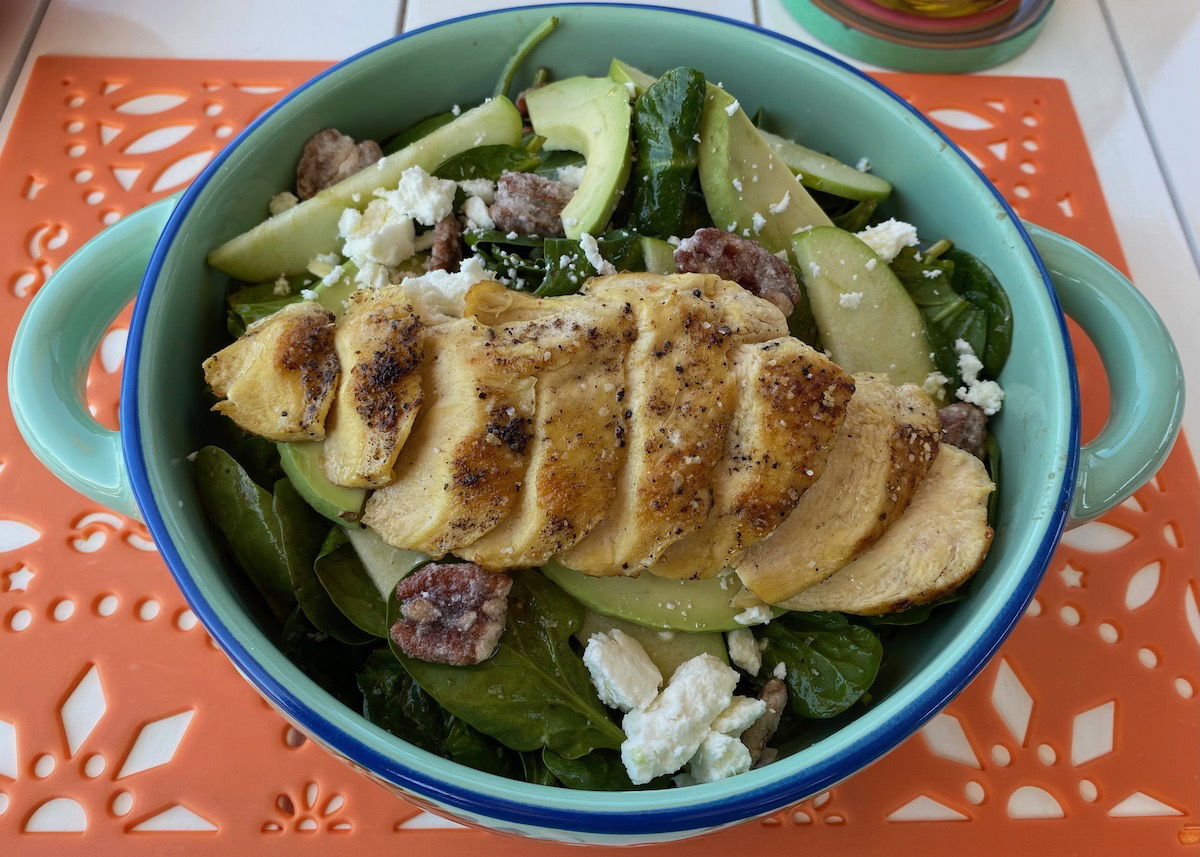 Zadun Equis Restaurant (lunch)
Equis is Zadun's lunch restaurant, located down near the beach by the adults only pool. It serves ceviche and other fish specialties, and on Fridays there's even a special dinner served here (though we weren't staying on a Friday).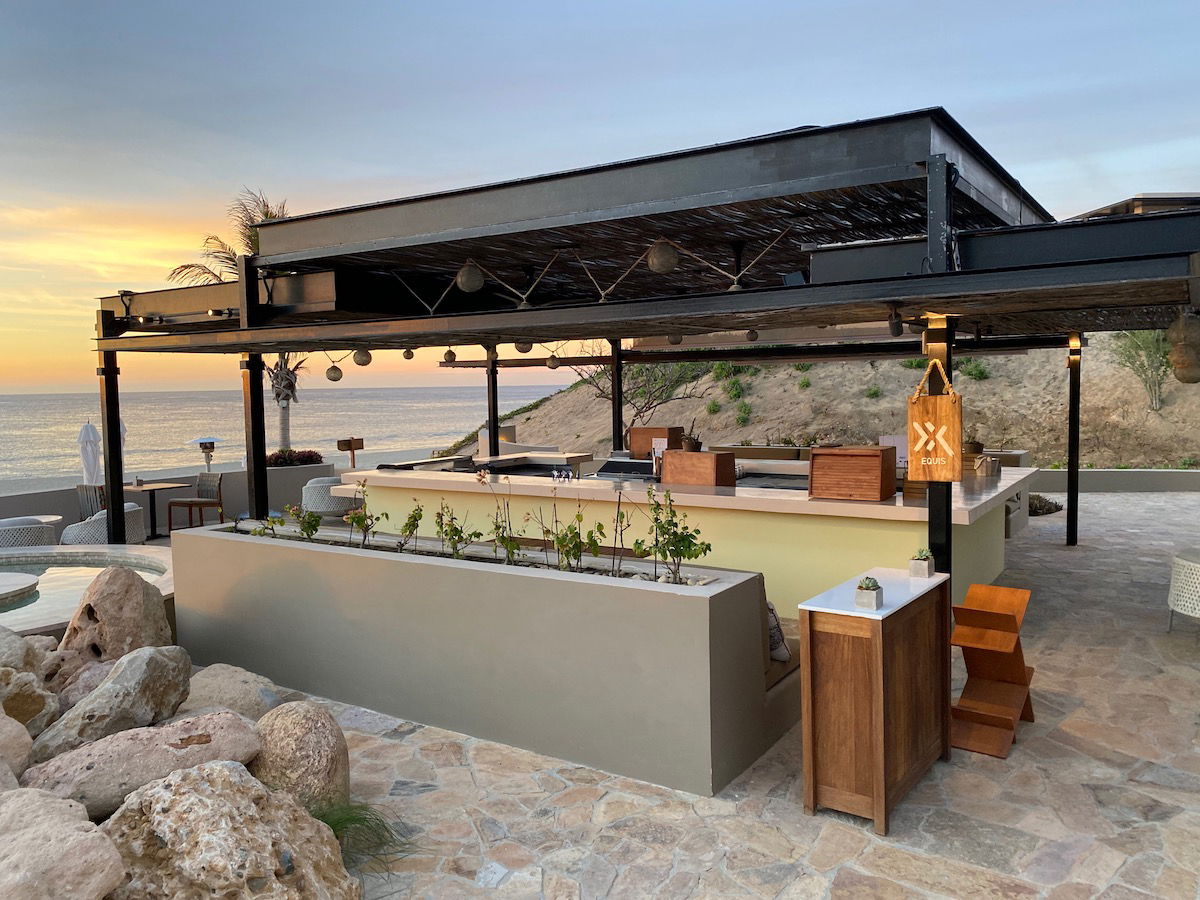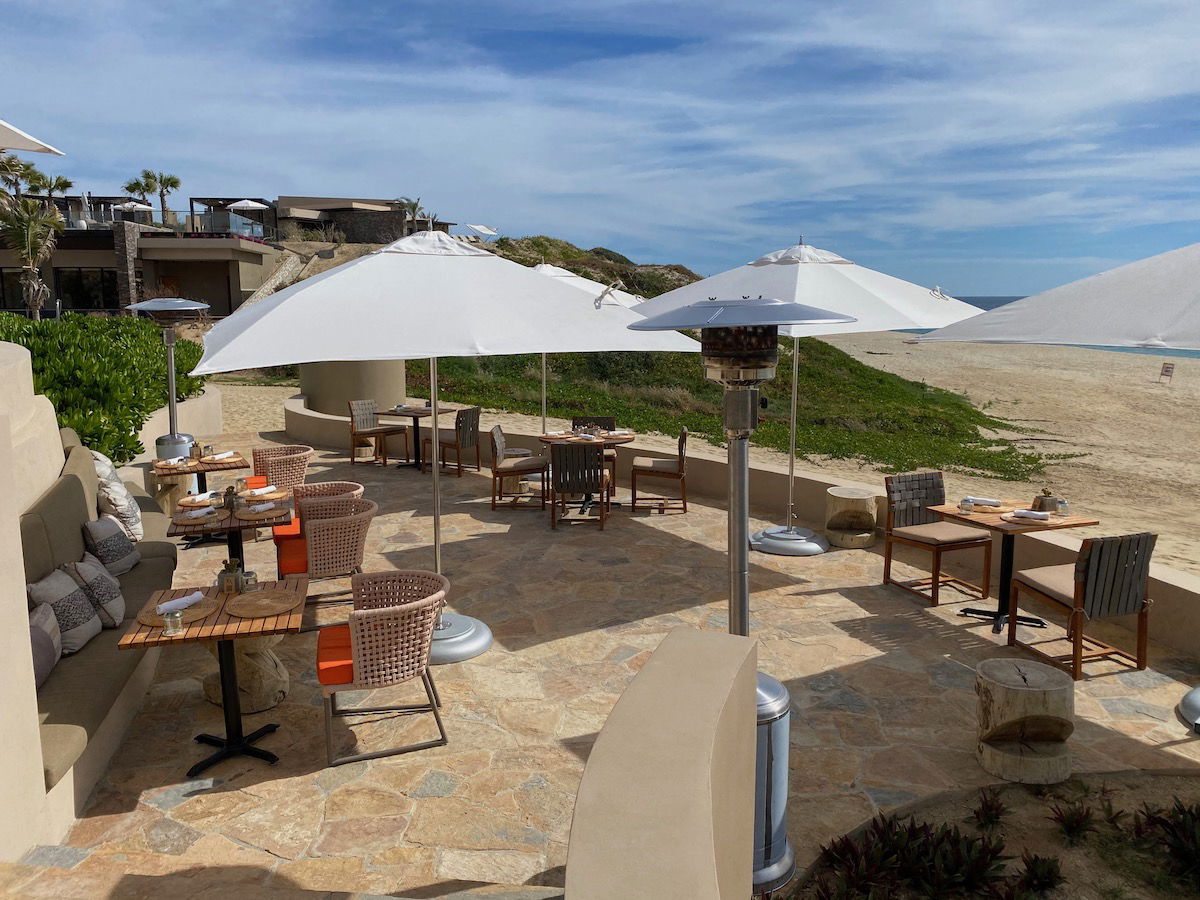 We had some ceviche here one day, along with some guacamole and vegetables, which we enjoyed.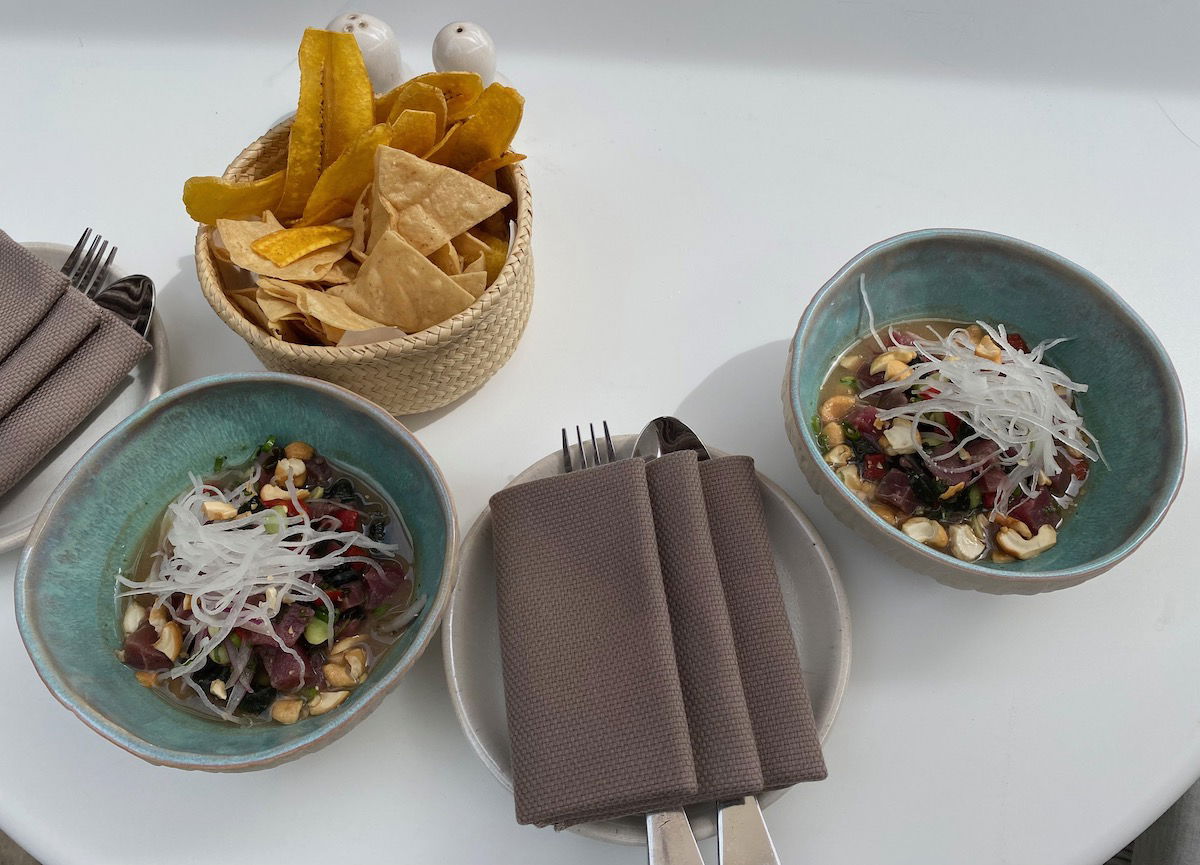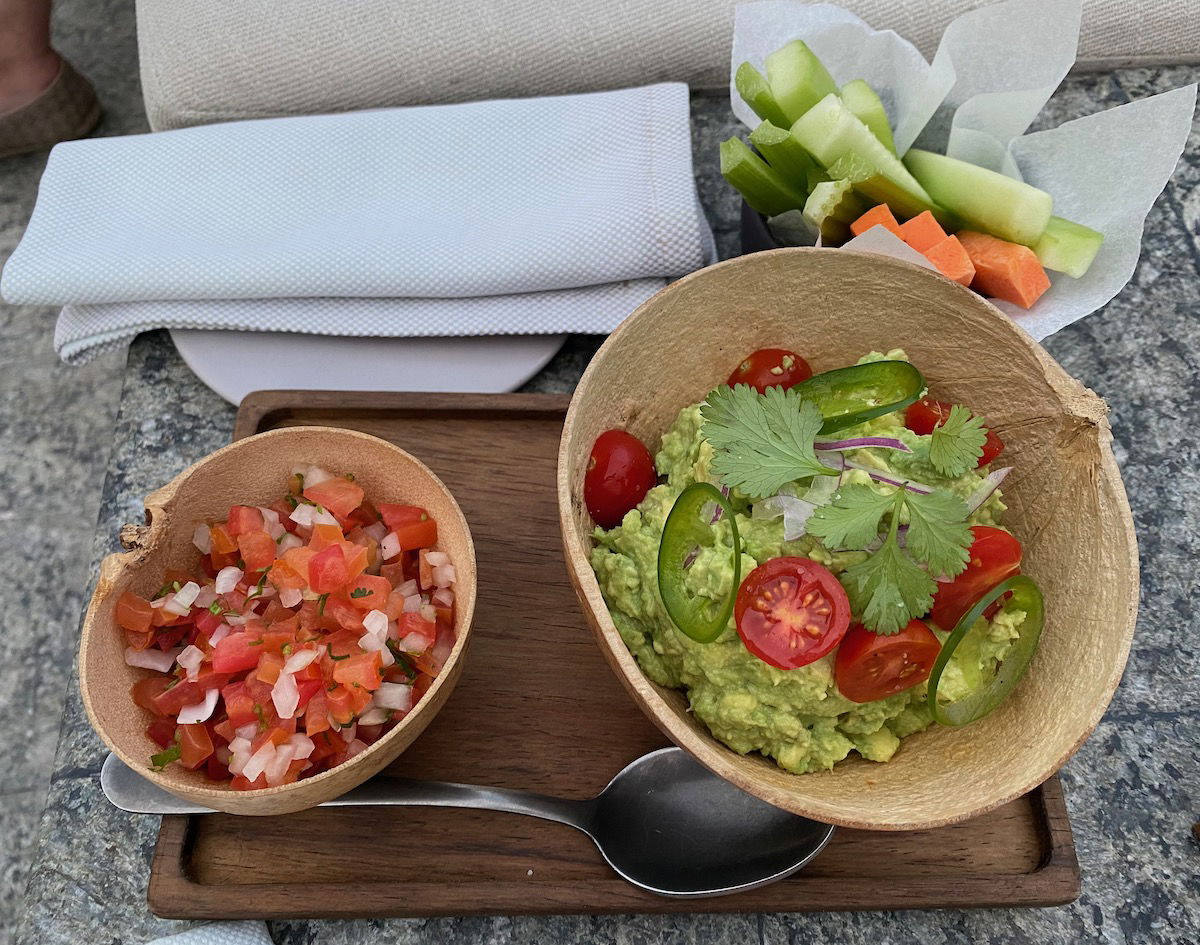 Zadun Candil Bar & Humo Restaurant (dinner)
The highlight of dining at Zadun is Humo, the hotel's signature dinner restaurant, and then there's Candil, the adjacent bar and lounge. The setting here is breathtaking.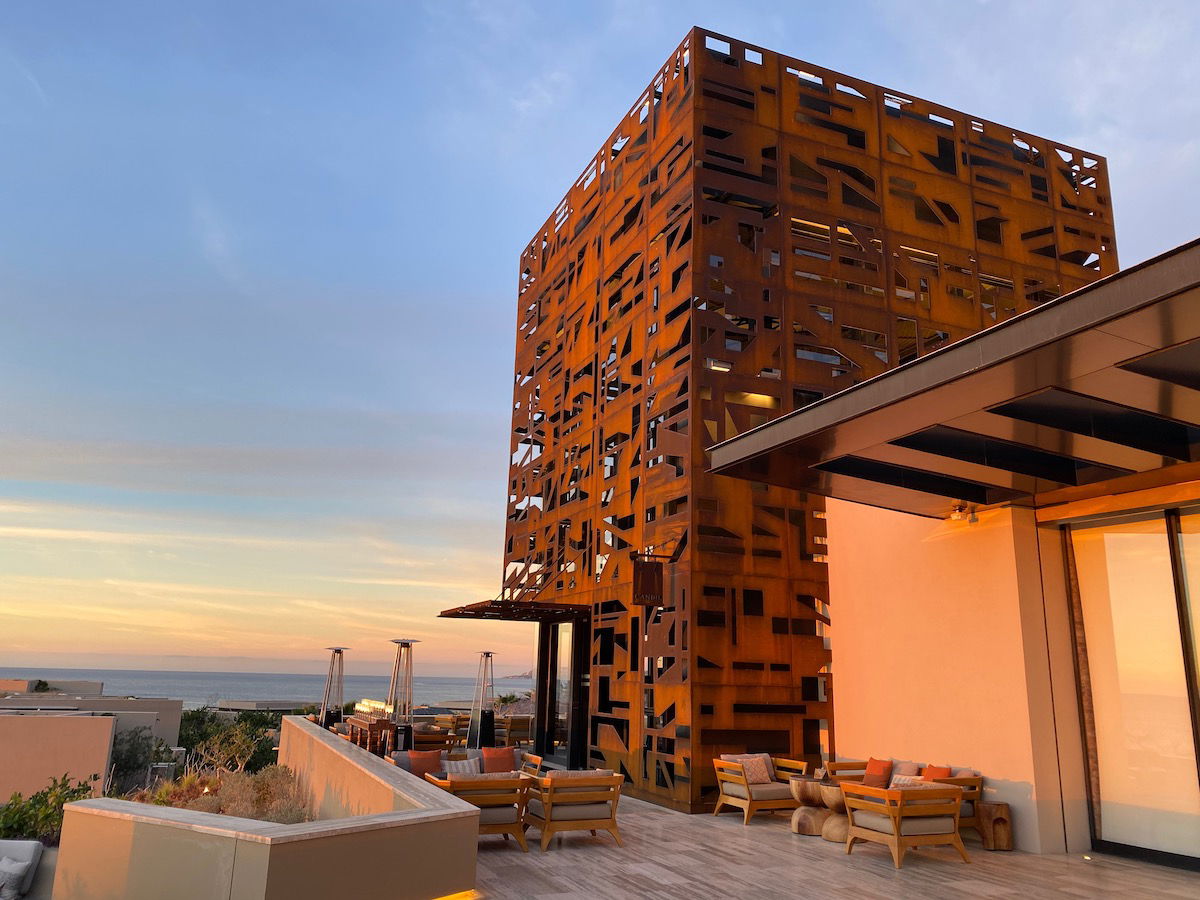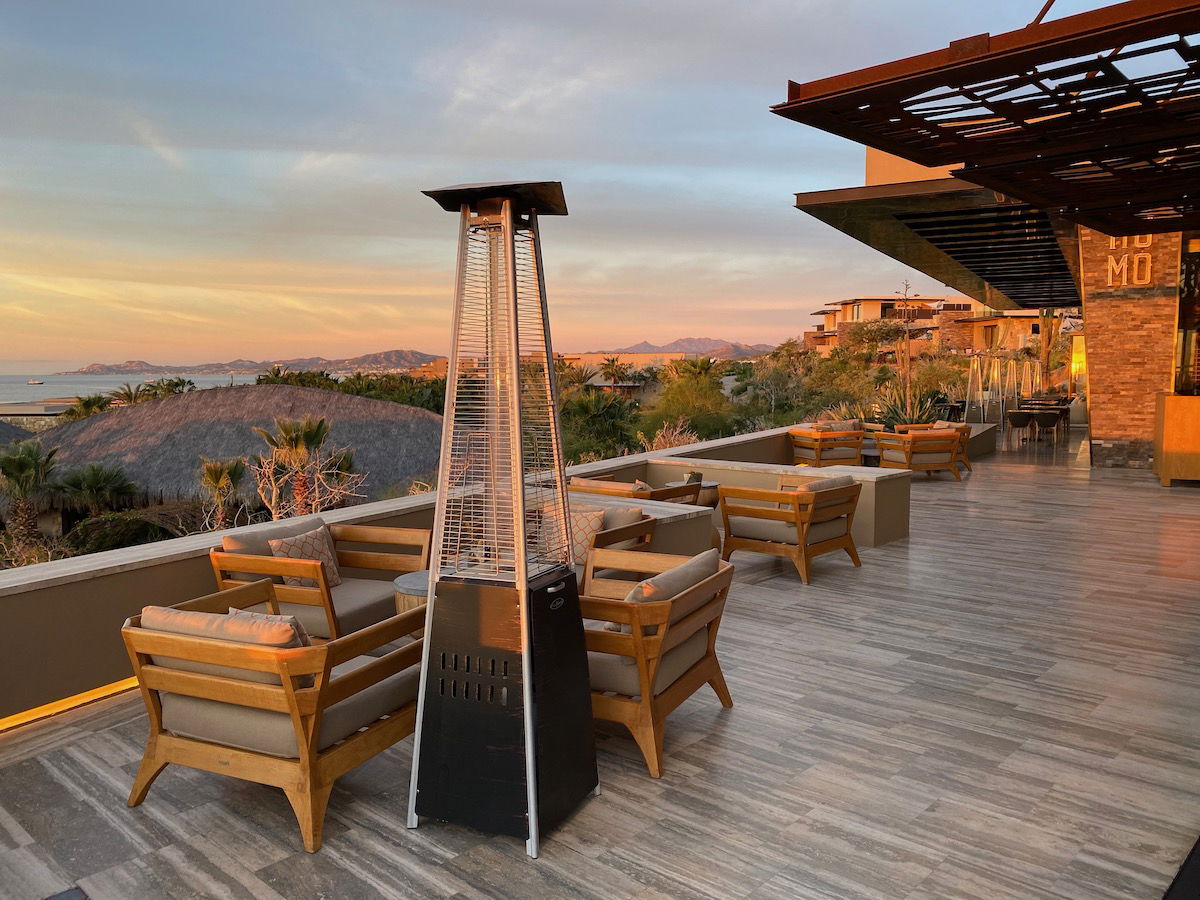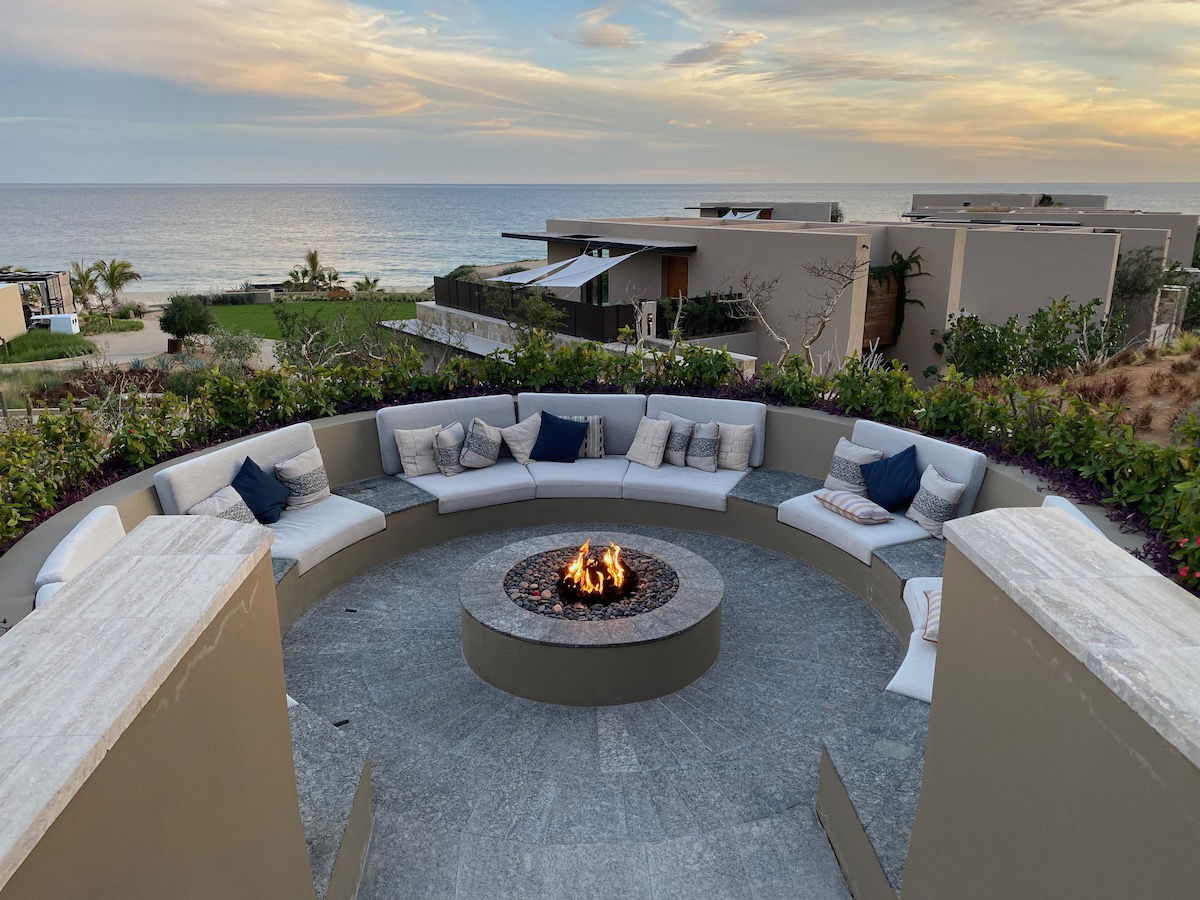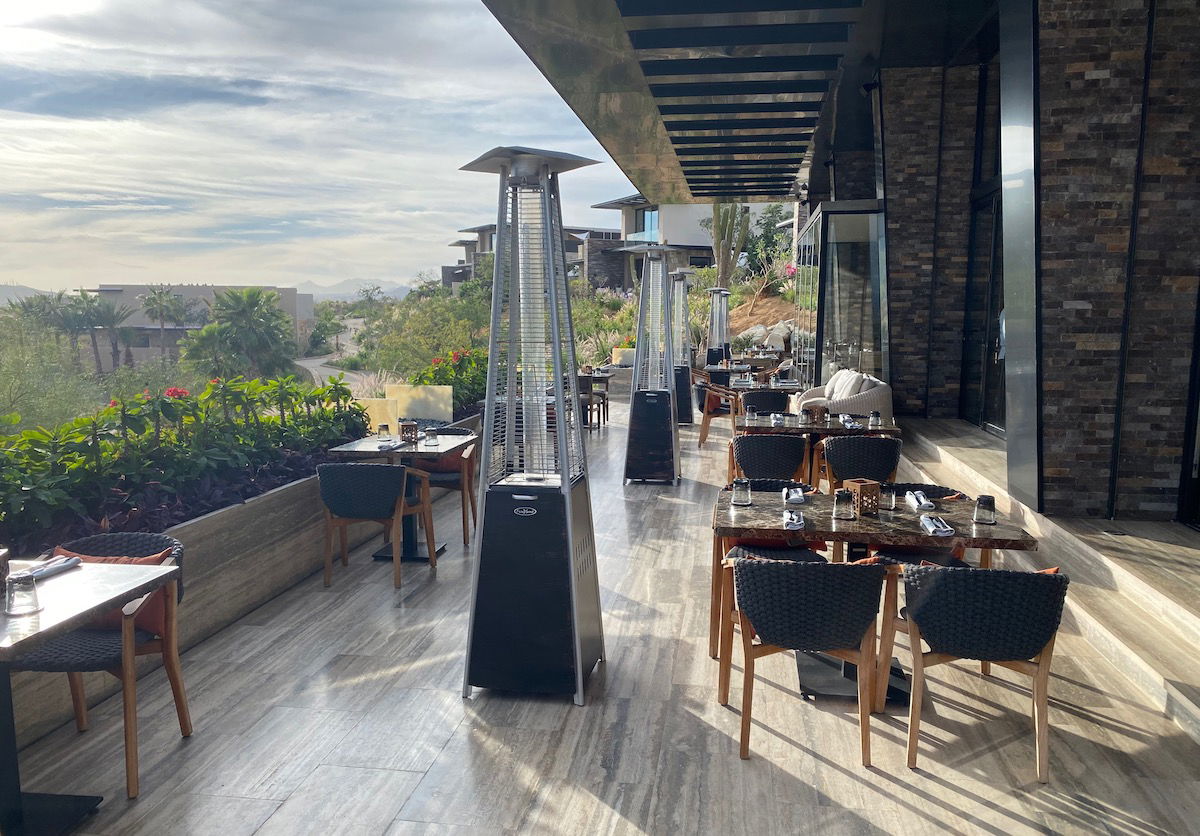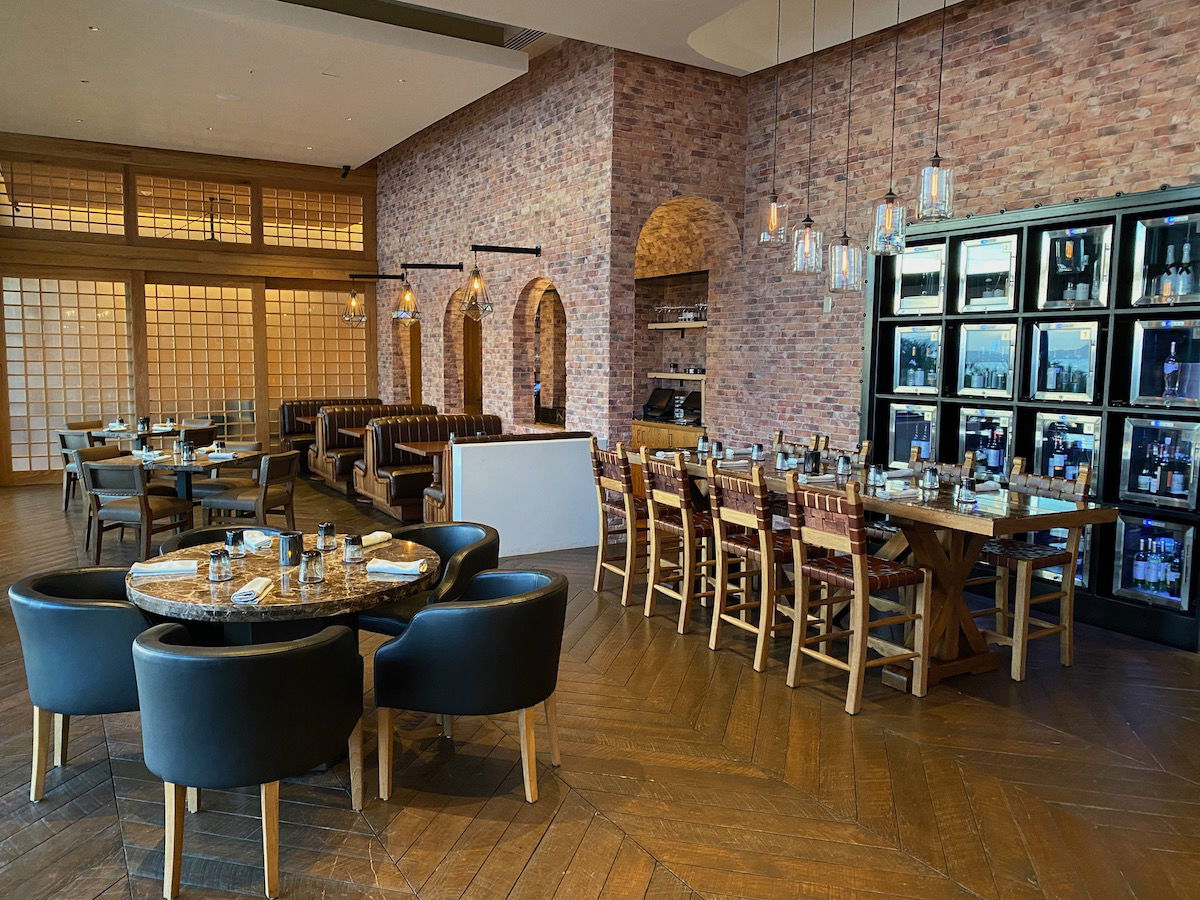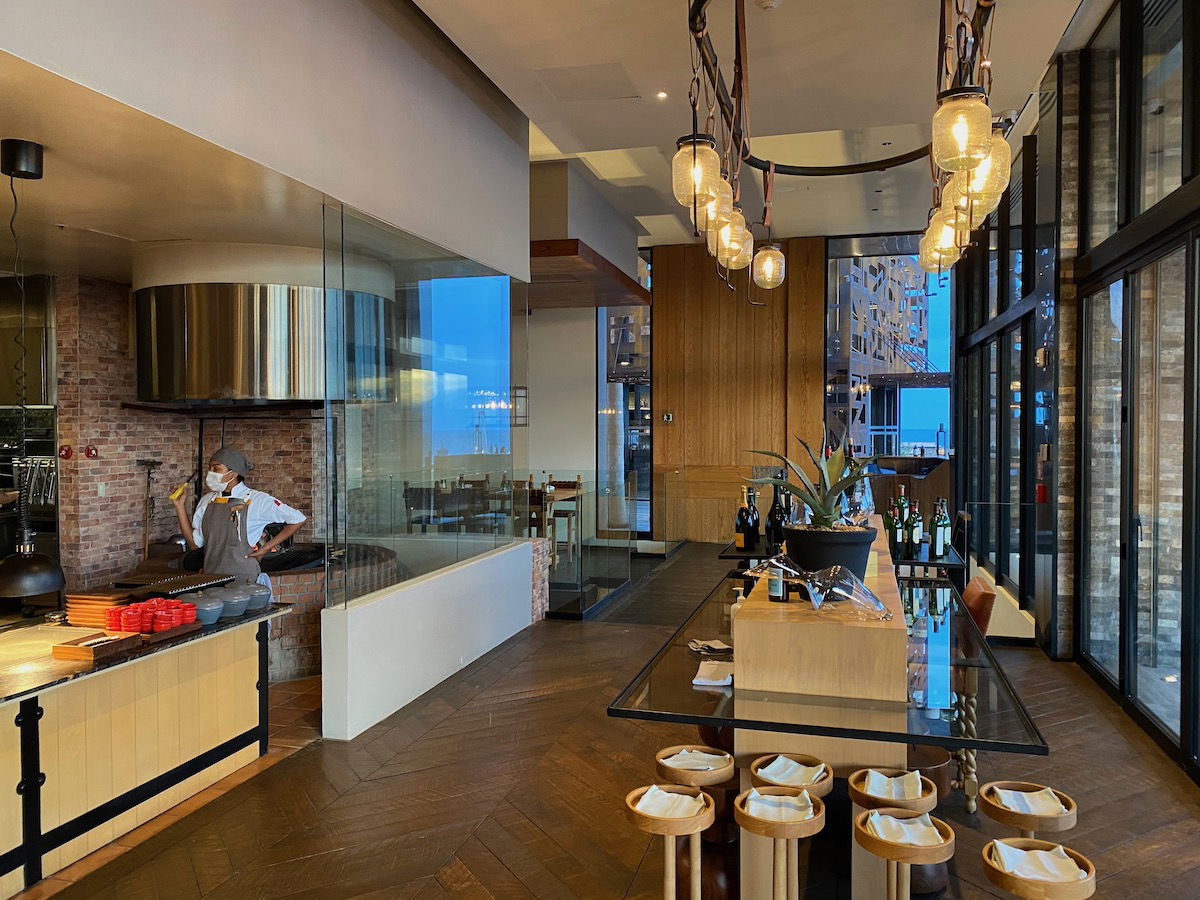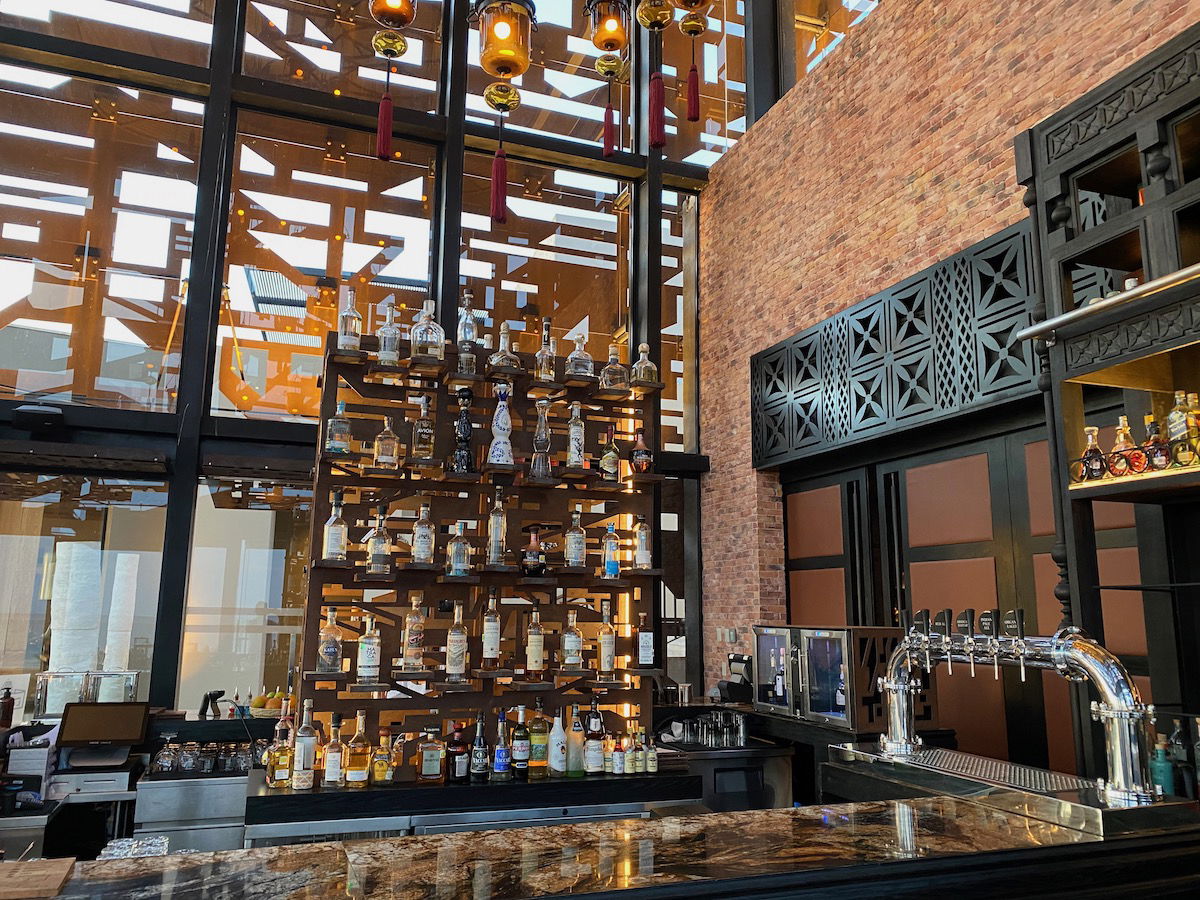 We had dinner here one night, and it was one of our favorites while in Los Cabos, both in terms of the food and service (you can find the Humo dinner menu here). Truthfully, though, we had so many amazing meals in the area. Dinner service began with warm bread, a dip, and some beans.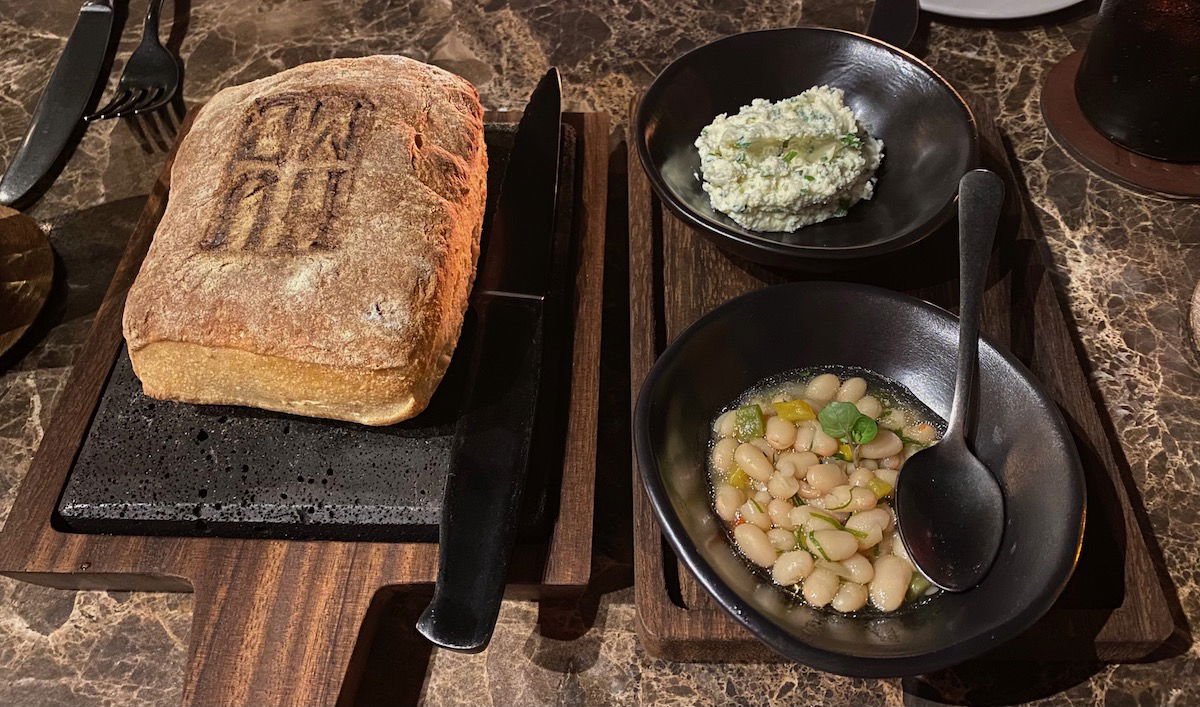 To start we had the Pacific tuna Nikkei and a salad.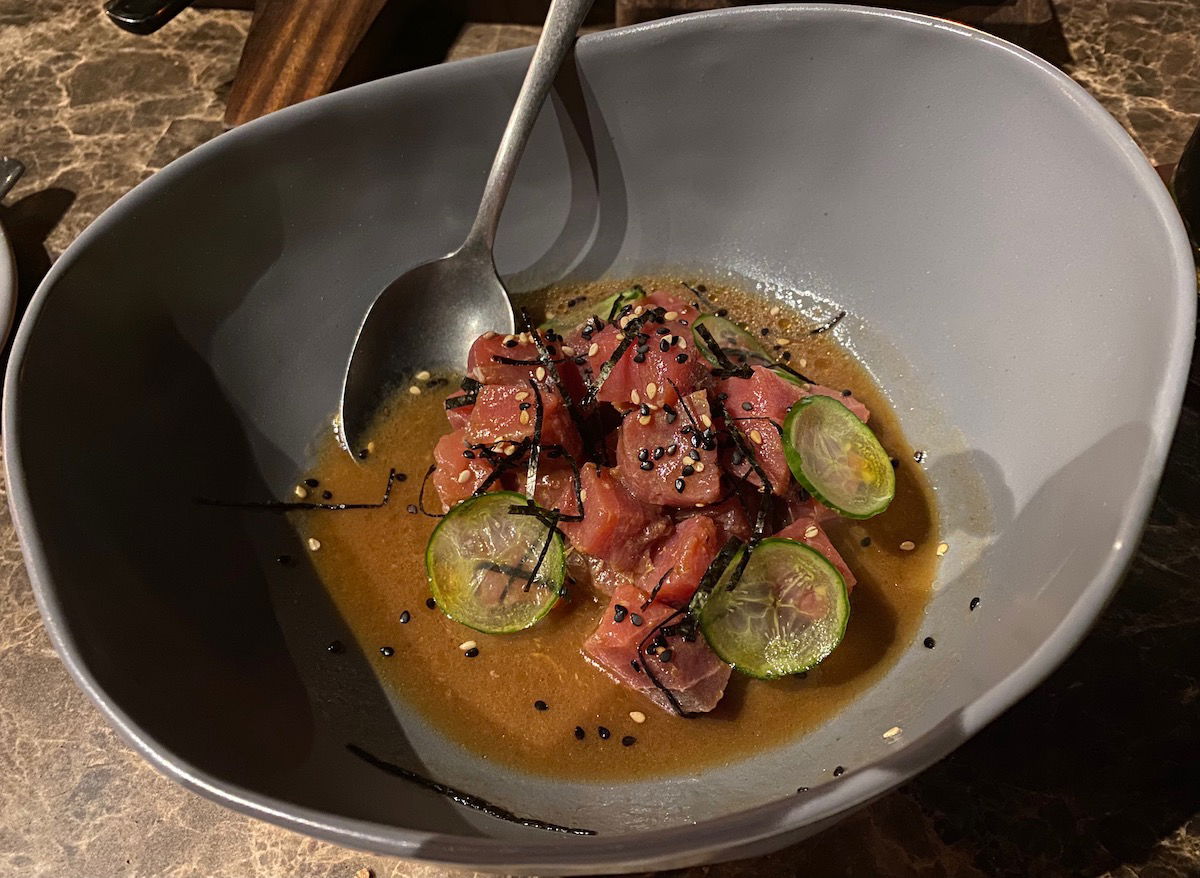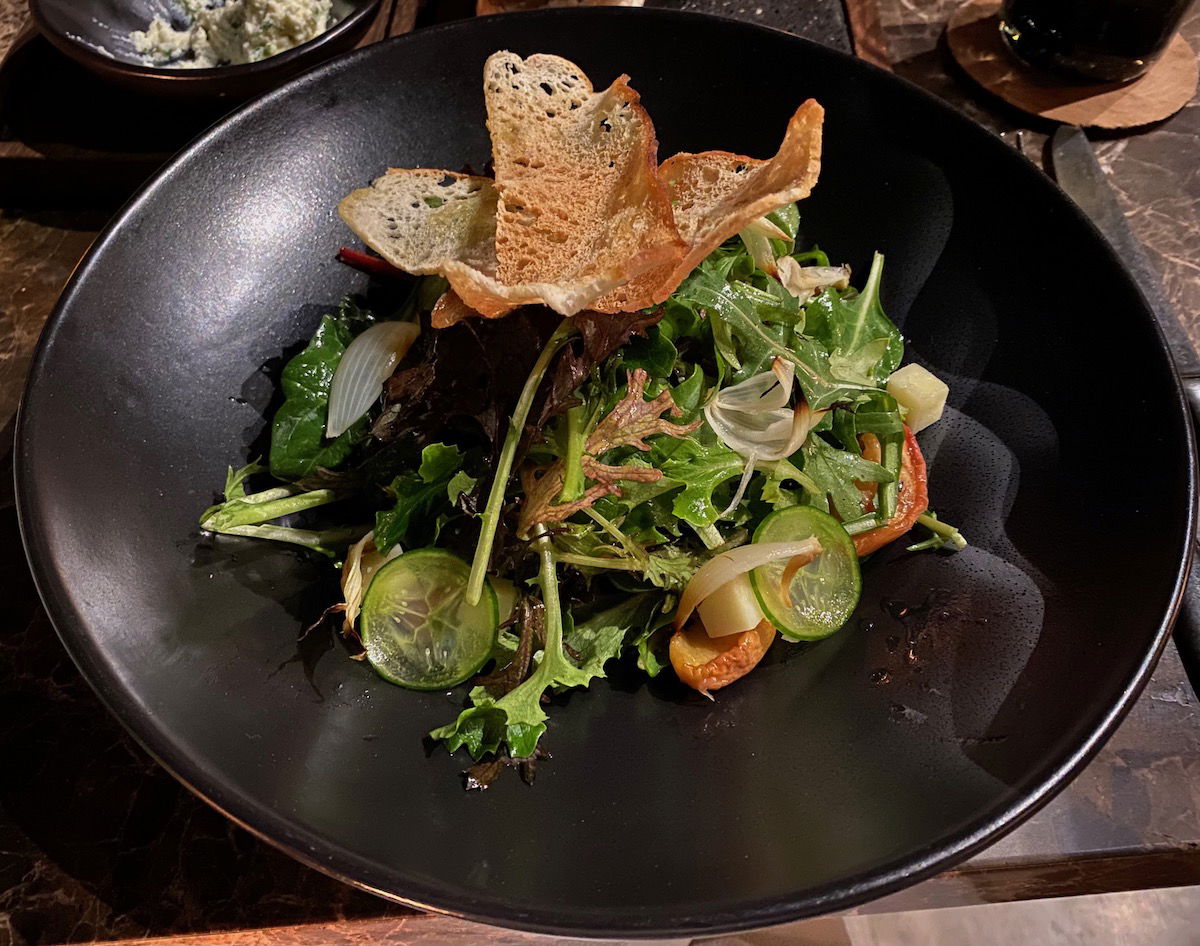 Then for our main courses we had one salmon and one totoaba dish, both of which were excellent.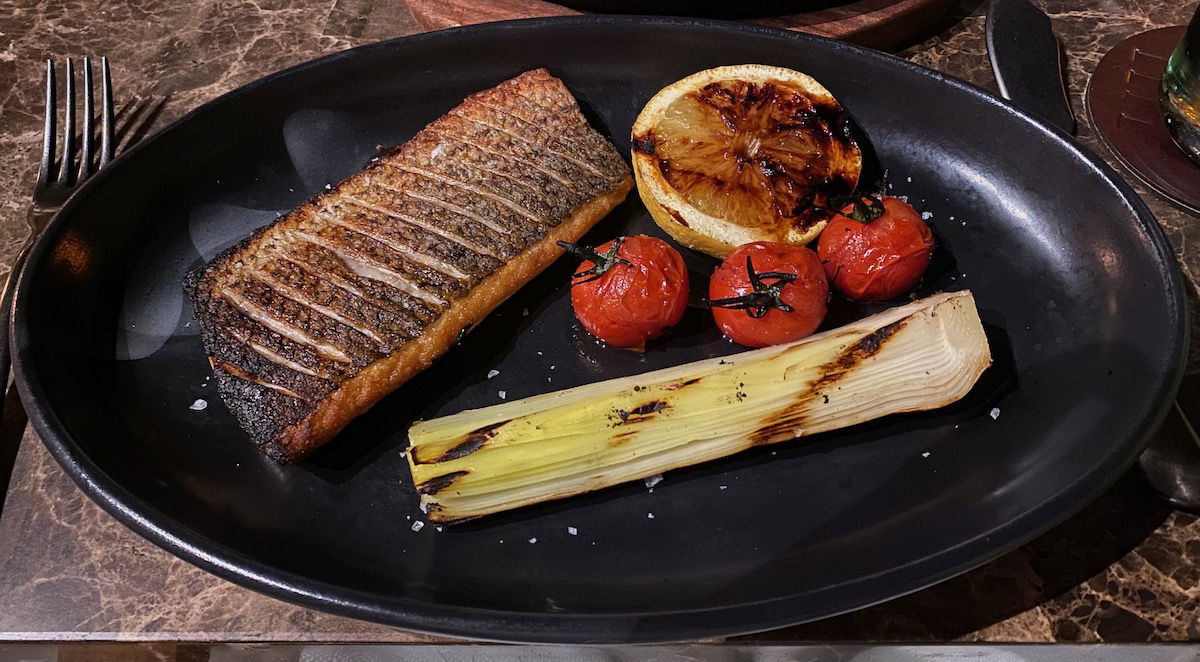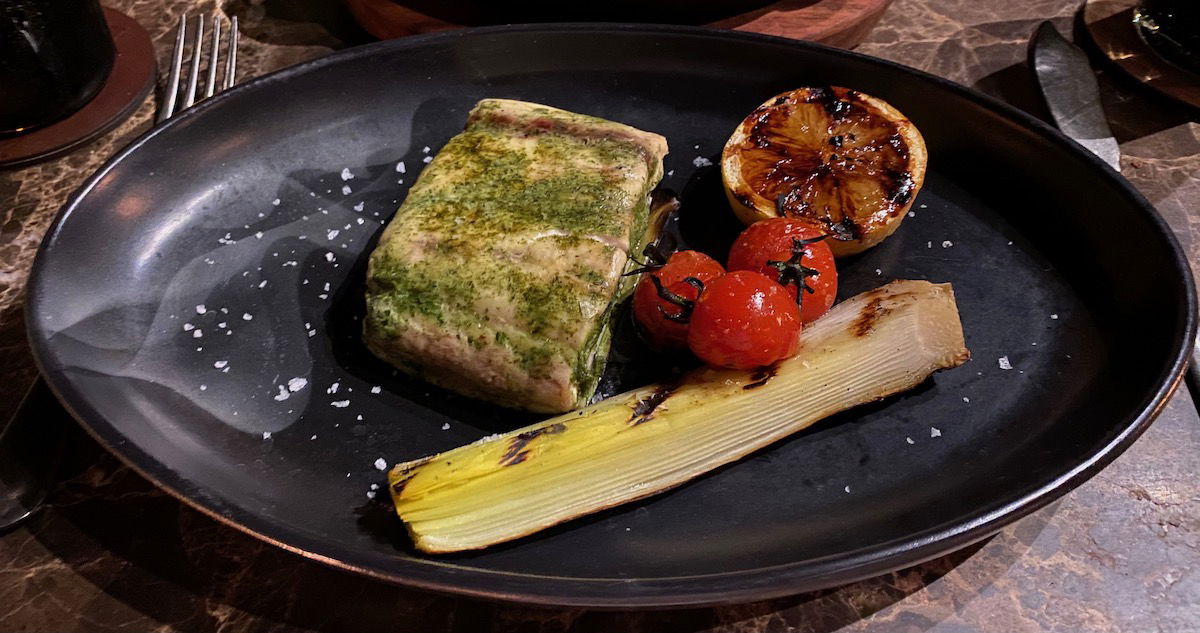 Then for sides we had roasted sweet potatoes and squash.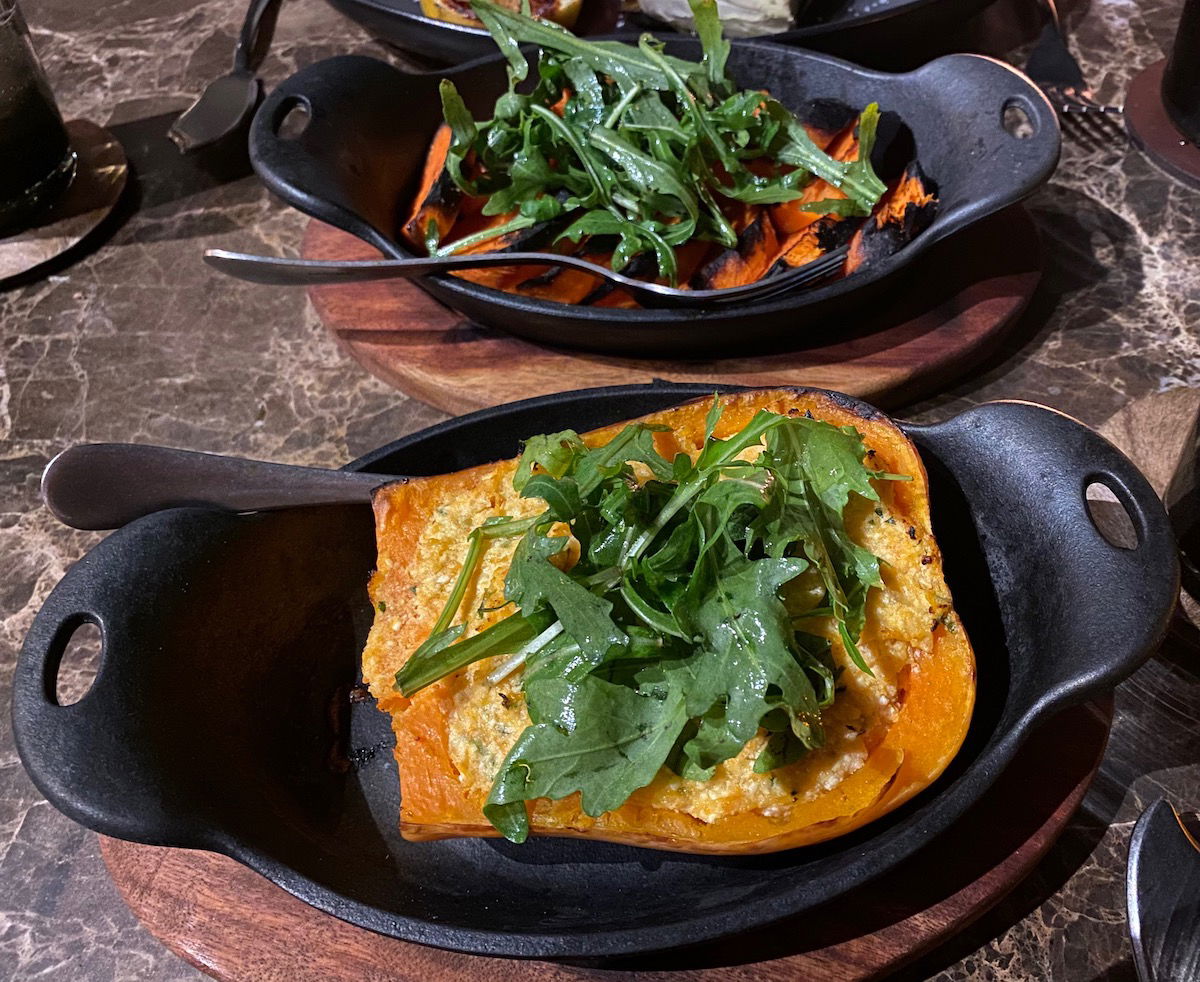 We were brought some candies at the conclusion of our meal.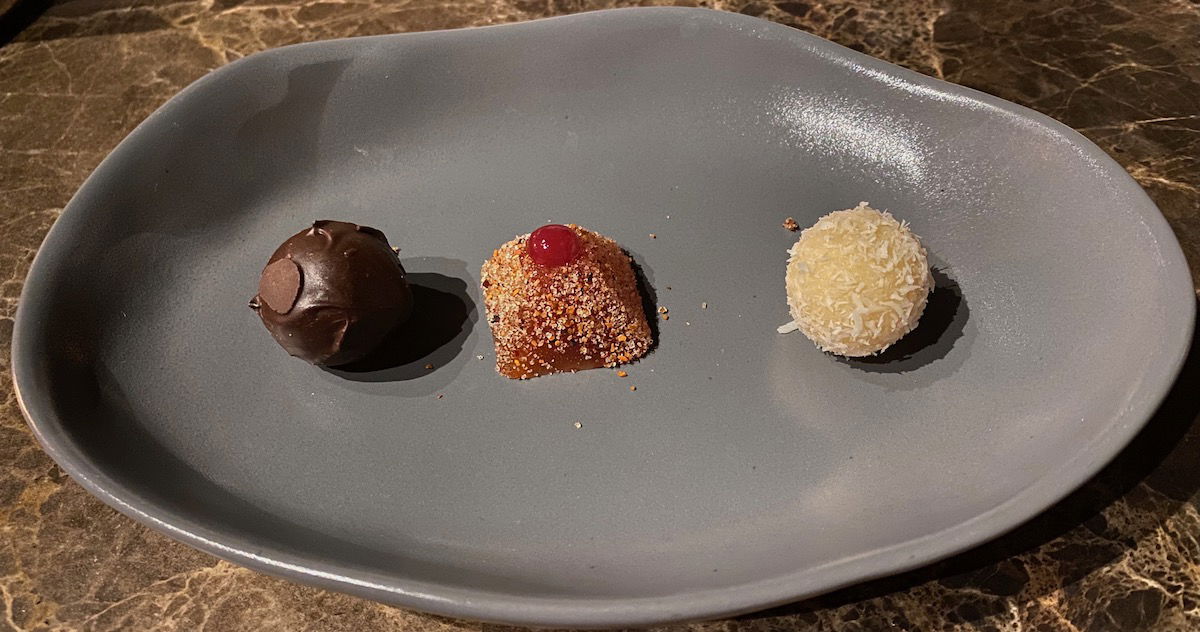 Zadun service
I was curious to see what service would be like at Ritz-Carlton Reserves, and how it would compare to the Ritz-Carlton service standard. Well, I was pleasantly surprised — the service had elements of the Ritz-Carlton service philosophy, but felt elevated.
On the most basic level, all staff were genuinely friendly, enthusiastic, and eager to please. Service in Los Cabos is incredible in general, so obviously it takes a bit more to "wow" than just being friendly.
Specific to the Ritz-Carlton Reserve's service philosophy, each guest is assigned a "tosoani," intended to be a single point of contact. As it's described, they're more of a "dream keeper" than a "butler" (okay, admittedly this is all a bit cheesy, I'm just passing on how the concept was explained to us).
We were assigned two different tosoanis during our stay, and they were both extremely friendly and attentive. That being said, maybe I'm in the minority, but as a concept I prefer having a number I can text 24/7 where I always get an immediate response, like at the Waldorf Astoria. I just find it's easier, because no single point of contact will otherwise always be available.
One of the highlights of service at this hotel is how they seem to constantly want to surprise guests. Reading TripAdvisor reviews before my stay, I couldn't help but notice how so many people pointed out how special surprises were prepared for them during their stay.
Do some staff here just spend all their time trying to surprise guests? Well, I think the answer is yes. For example, we would take Winston on early morning beach walks, and then sit on some beach chairs for a bit.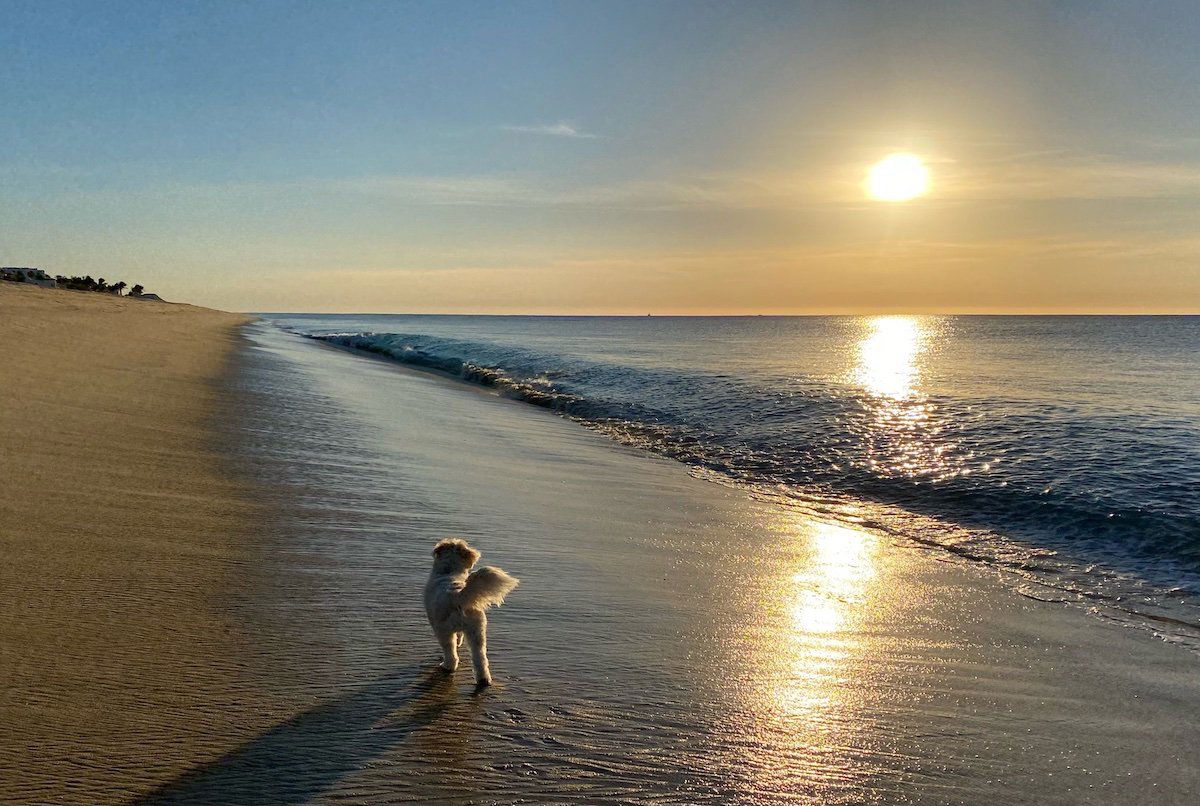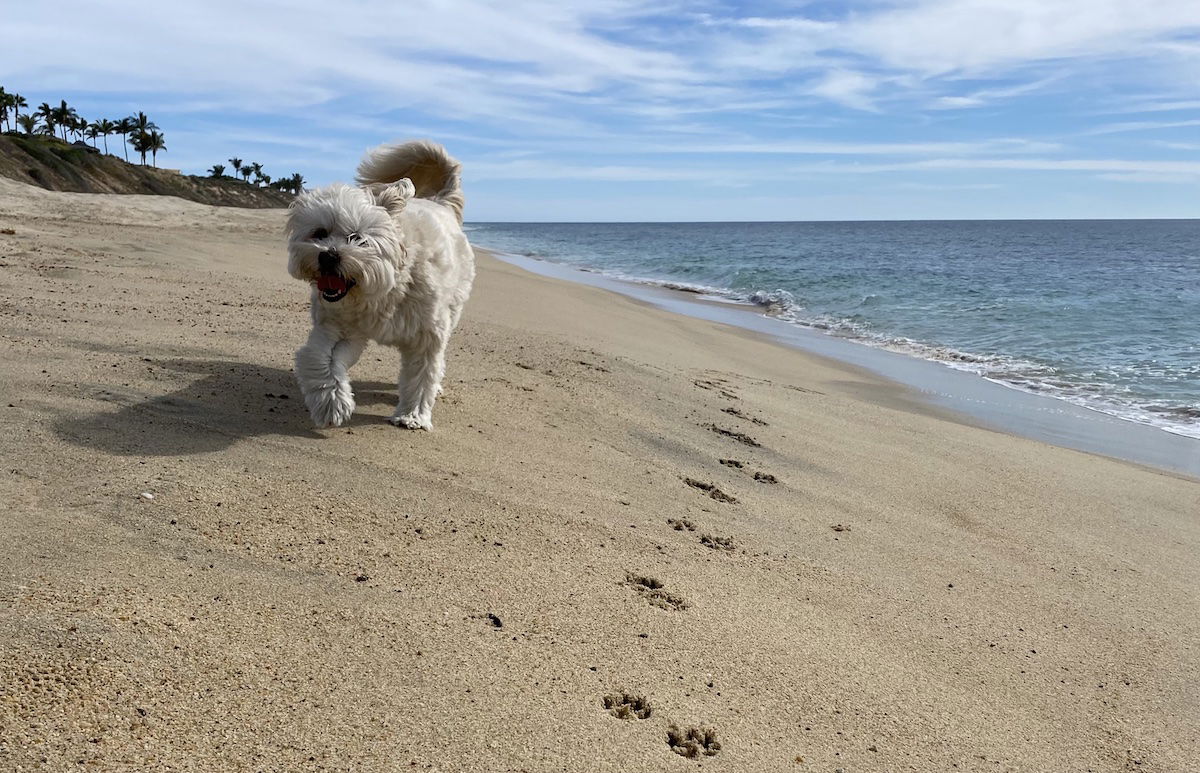 The staff noticed this, so on the second day when we returned from our walk, they set up a dog bed, a dog bowl, some water, and some bones for Winston (which even had a sticker with his name on it!). How cute!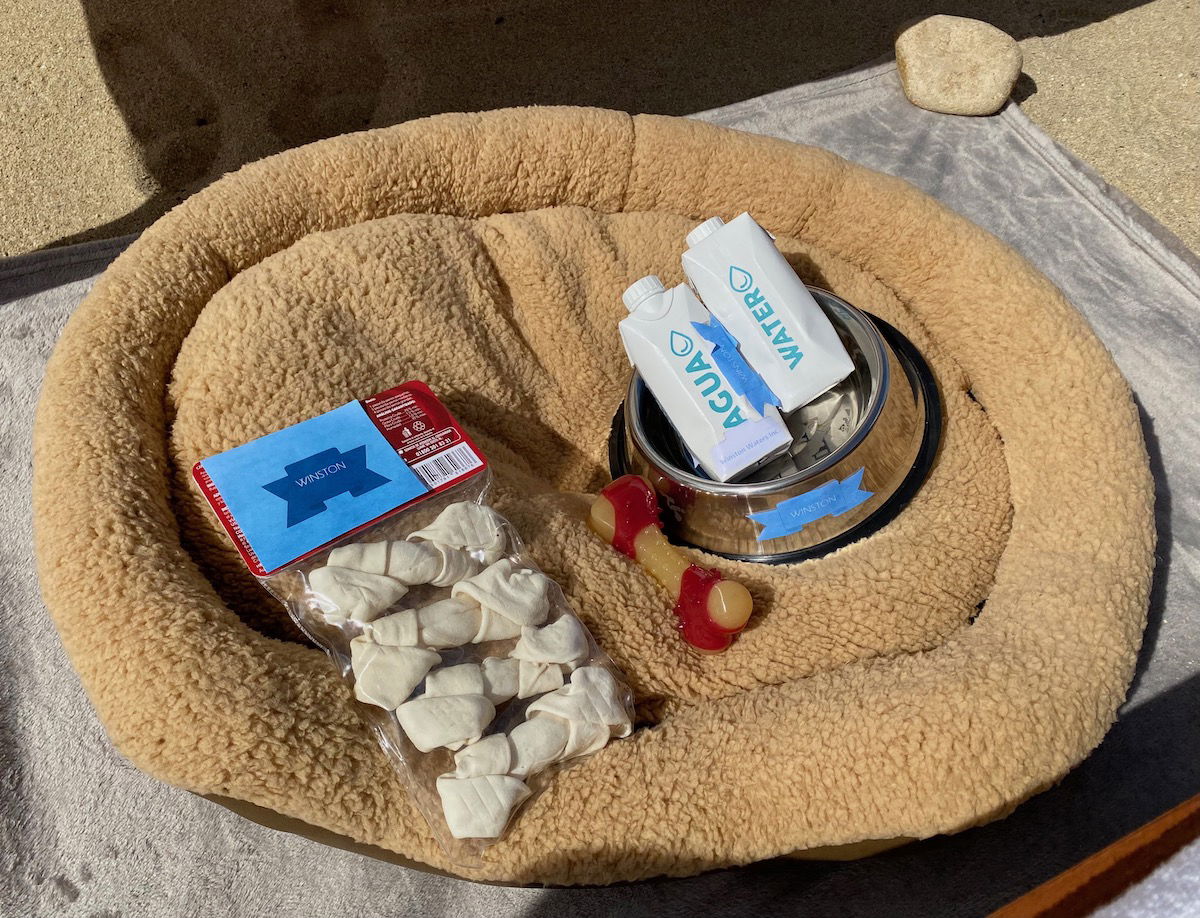 Similarly, when we had dinner at Humo, we were also brought out the below dog-themed desserts, with a picture of Winston.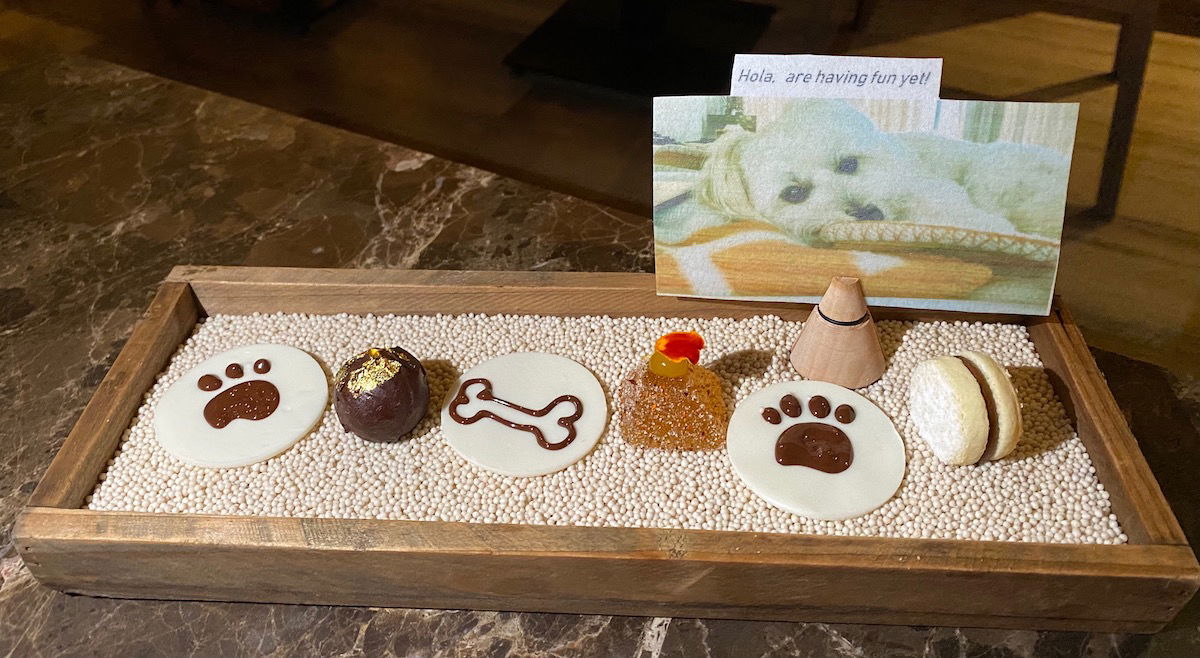 When we left the resort, they even prepared Winston some sort of a collar with a bowtie — LOL!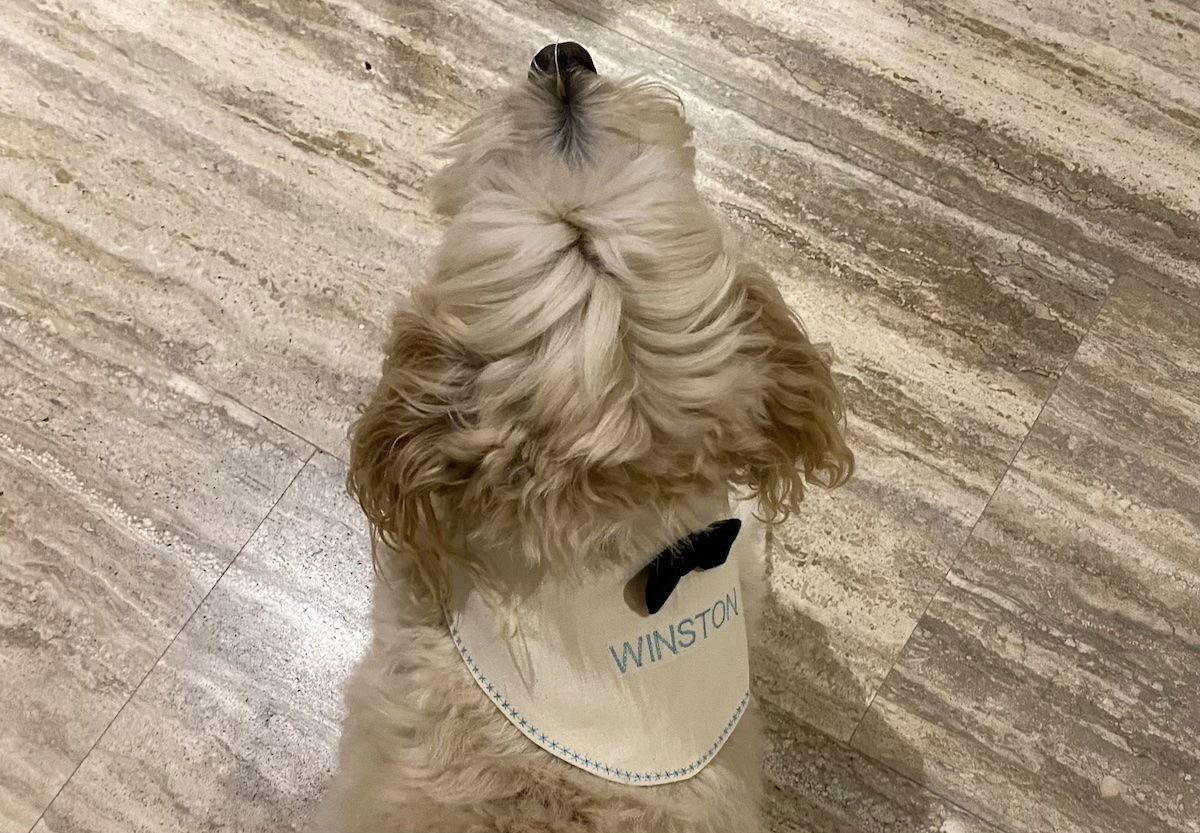 Basically this hotel seems to zero in on what people are enthusiastic about, and then create surprises around that. Admittedly the hotel was really empty when we were there, so I imagine this doesn't happen quite as consistently during peak season, but it does seem to be a theme.
Bottom line
We loved our three night stay at Zadun, which is the first Ritz-Carlton Reserve property we stayed at. In particular, we loved the huge and beautifully appointed entry level rooms with plunge pools, dinner at Humo, the quality and size of the beach, the gym, and the service.
If you're looking to do some luxury hotel hopping in Los Cabos, then I'd seriously consider spending at least a few nights at Zadun. It's a shame that the Ritz-Carlton Reserve brand doesn't participate in Marriott Bonvoy, but otherwise the pricing is competitive with other top hotels in Los Cabos.
If you've stayed at Zadun, or another Ritz-Carlton Reserve property, what was your experience like?