EXTRA PERKS AVAILABLE
Enjoy breakfast, upgrades, & more
Want to take advantage of Hilton Impresario benefits at no extra cost (when paying for your stay with cash), including a room upgrade, free breakfast, a hotel credit, and more? Contact Ford ([email protected]) for more details. He doesn't charge booking fees, and may even be able to help if you already have a stay booked.
I've been wanting to check out the 115-room Waldorf Astoria Los Cabos Pedregal since it joined Hilton Honors in 2019. Prior to that the hotel was independent and known as The Resort at Pedregal. Well, this hotel didn't disappoint, and is probably the best points hotel option in Los Cabos. This hotel has flawless service, and the property is immaculately maintained. There's only one area where there's significant room for improvement…
Booking the Waldorf Astoria Los Cabos
The Waldorf Astoria Los Cabos Pedregal is one of Hilton's two priciest hotels when redeeming points, as it costs 120,000 points per night (the only more expensive property is the Waldorf Astoria Maldives, which can cost up to 150,000 points per night).
While redeeming points here would have been a great value compared to the paid rate, Ford and I each had two Hilton Honors free night certificates from the Hilton Aspire Card. So we managed to redeem four of those for a four night stay at the property.
Thanks to the pandemic, these certificates are currently more flexible than in the past — not only have they been extended, but they can also be used any night of the week right now, rather than just over the weekends.
I can't even begin to say what an incredible value the Hilton Aspire Card has been for us. In addition to getting each of us Hilton Honors Diamond status and a free night certificate, the card also offers a $250 airline fee credit and $250 Hilton resort credit. Yep, all for a card with a $450 annual fee.
For what it's worth, the paid nightly rate for a room over our dates was $1,400 plus the 34% tax and service charge, for a total of ~$1,850 per night. Talk about an incredible redemption.
If you are going to book a cash stay at the Waldorf Astoria Los Cabos, I'd recommend doing so through the Hilton Impresario program, so you can receive extra perks, like an upgrade, complimentary breakfast, hotel credit, and more.
Waldorf Astoria Los Cabos location
The Waldorf Astoria Los Cabos Pedregal is located about 45 minutes (roughly 30 miles) from Los Cabos International Airport (SJD). The hotel is very close to the town of Cabo San Lucas, so you have easy access to that, along with plenty of activities.
You could either walk to the town, the hotel can drive you in a golf cart to the edge of the property in a golf cart and then you can walk, or you could just take a taxi.
In order to arrive at the hotel you have to go through a long tunnel that belongs to the hotel, which essentially cuts through a mountain. That's a pretty cool road leading up to a hotel, if you ask me!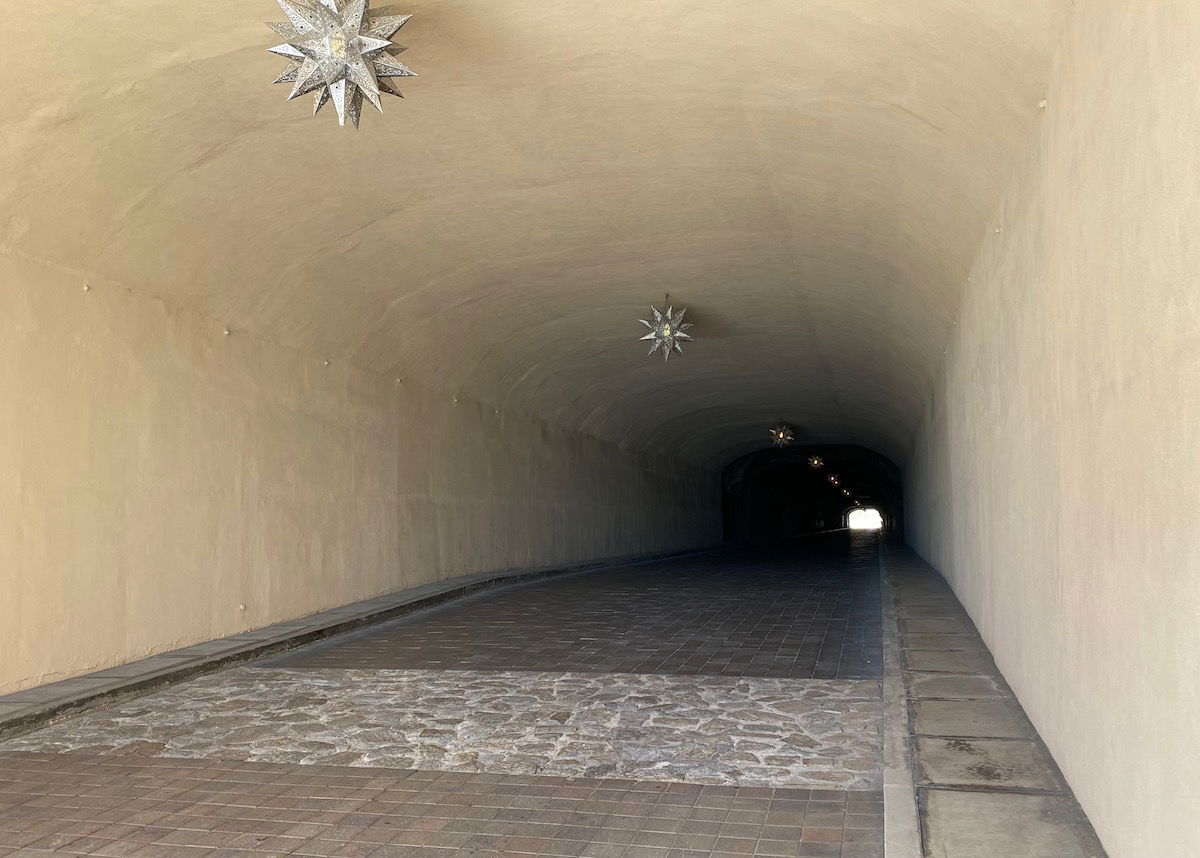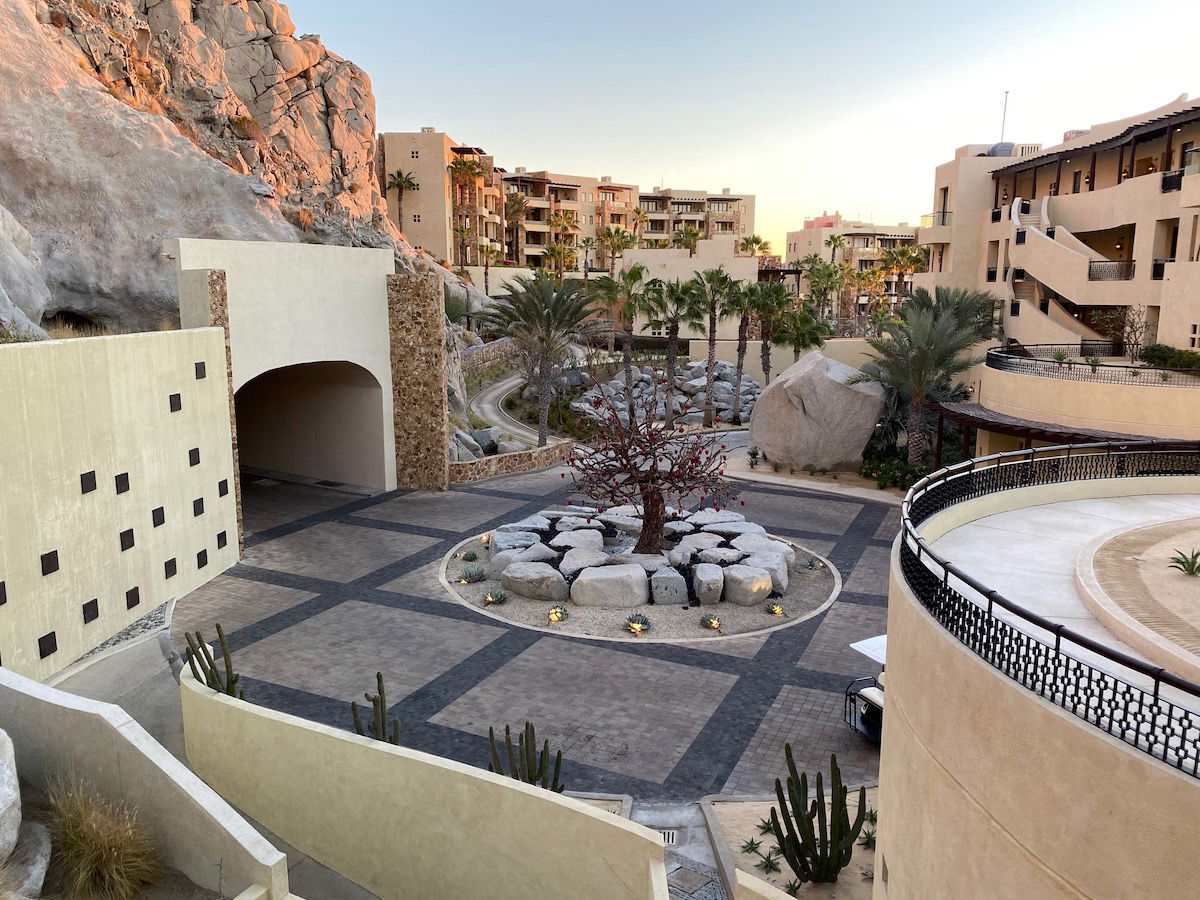 Waldorf Astoria Los Cabos service
I have to start my property review by talking about the service at this hotel. I think the Waldorf Astoria had my favorite service of any property we stayed at in Los Cabos. The thing is, service in Los Cabos is consistently extremely friendly — that's just the basic standard.
What impressed me was how competent, proactive, and fast the staff at this hotel were:
You can stay in touch with the concierge and the front desk of the Waldorf Astoria through WhatsApp, and it's truly the most well operated version of it that I've ever seen, and I so much prefer this to a butler service concept; someone always responded within seconds, and took care of whatever we requested promptly and accurately
The staff were incredibly proactive with service; for example, when you arrive at the pool you don't have to look for staff to help you find a chair and lay out a towel, but rather they come running up to you
There wasn't a single service lapse our entire stay, which is extremely rare
Even though this is a 100+ room hotel, staff really got to know guests; I'm not sure if this was because we were staying during a time where the hotel had low occupancy, or if that's standard
The staff here get perfect marks from me, and it's not often I can say that.
Waldorf Astoria Los Cabos property layout
The Waldorf Astoria Los Cabos Pedregal is set on a 24 acre property, so it's quite large, especially when you consider its proximity to town. The rooms are spread out throughout the property, with most buildings having very few rooms. Below is an aerial picture (from the hotel's website) which gives you a sense of the layout.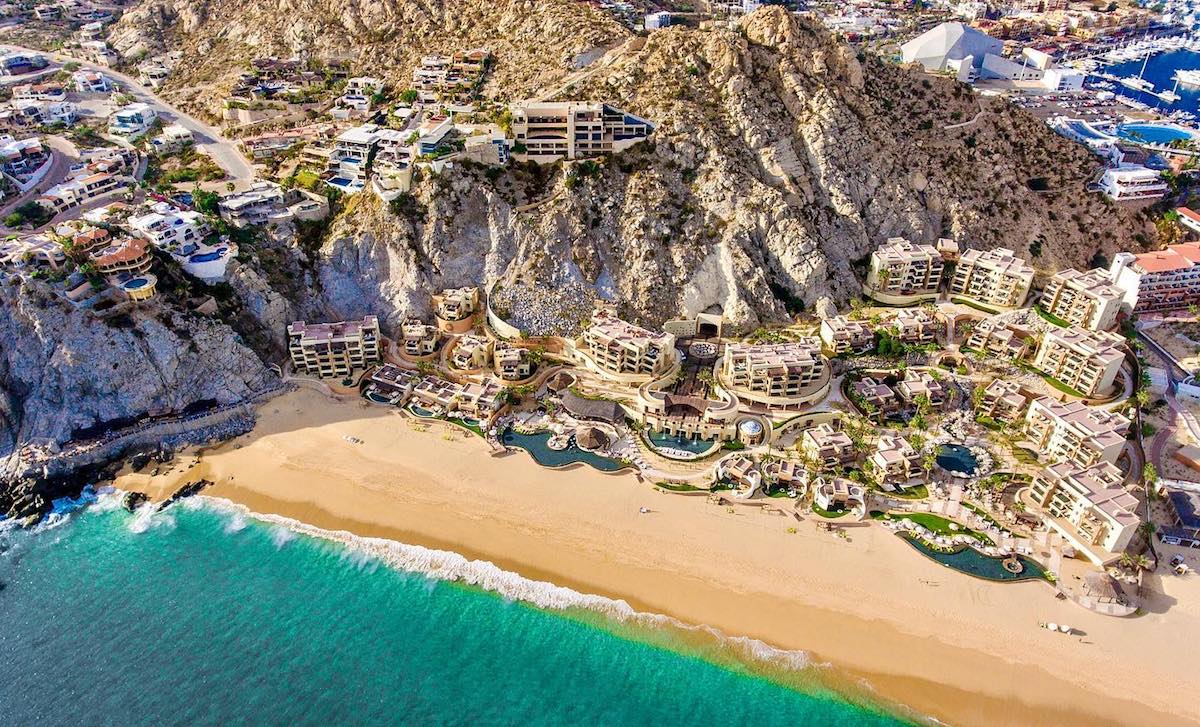 Just past the entrance to the hotel was the open-air lobby area, which is also where the concierge desk is.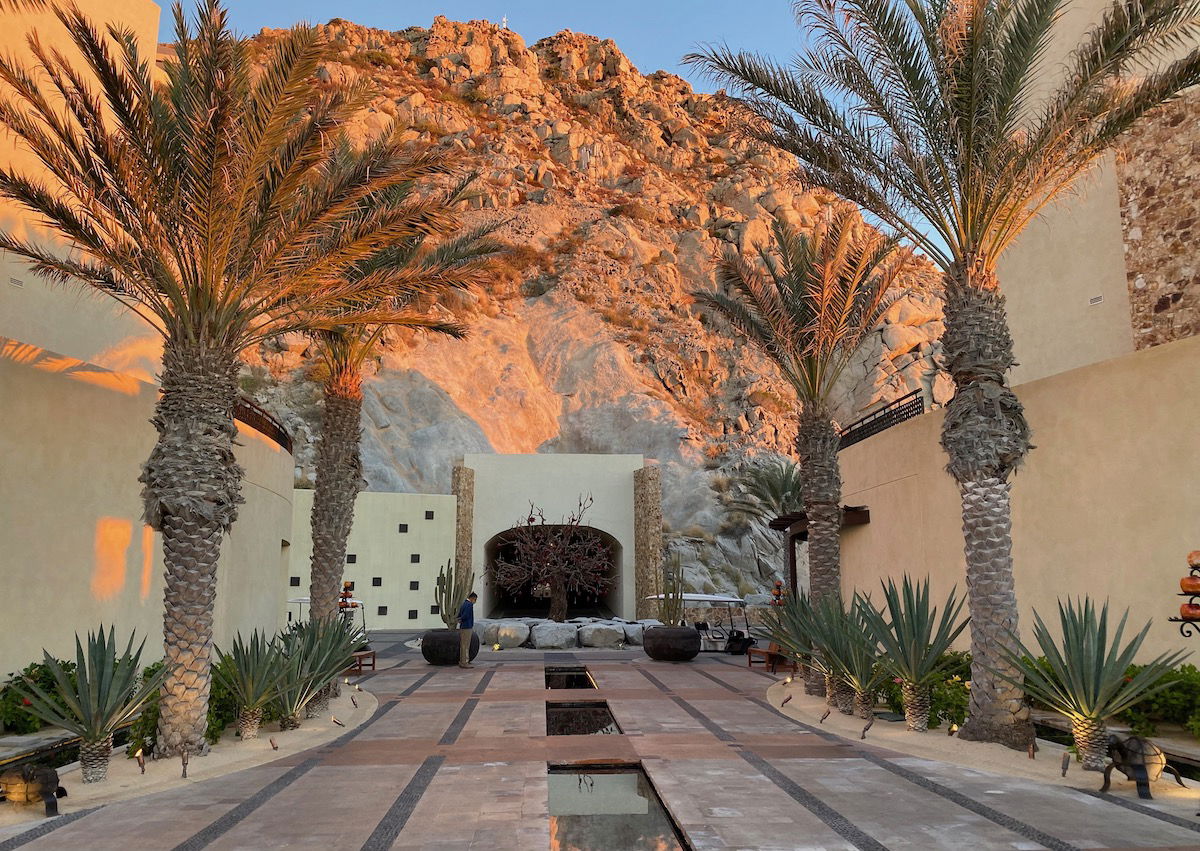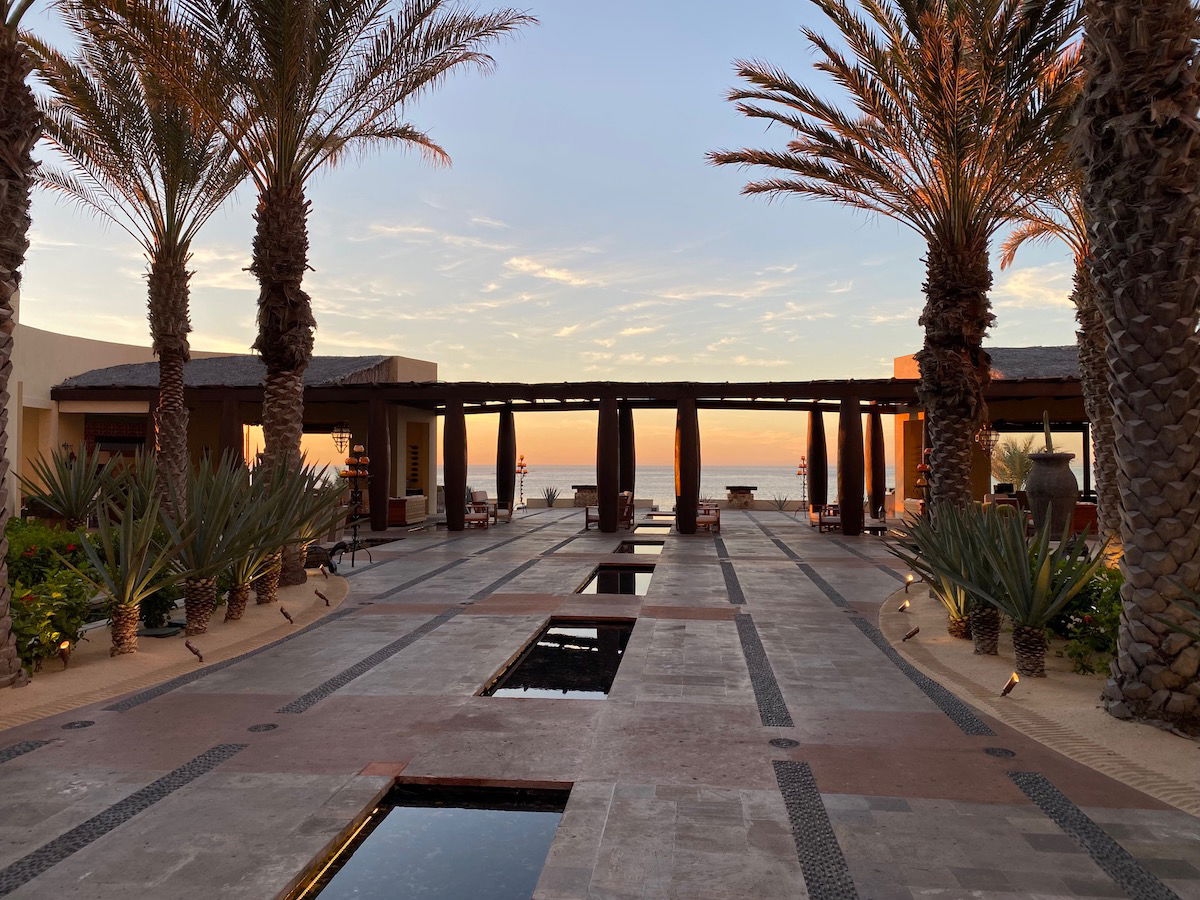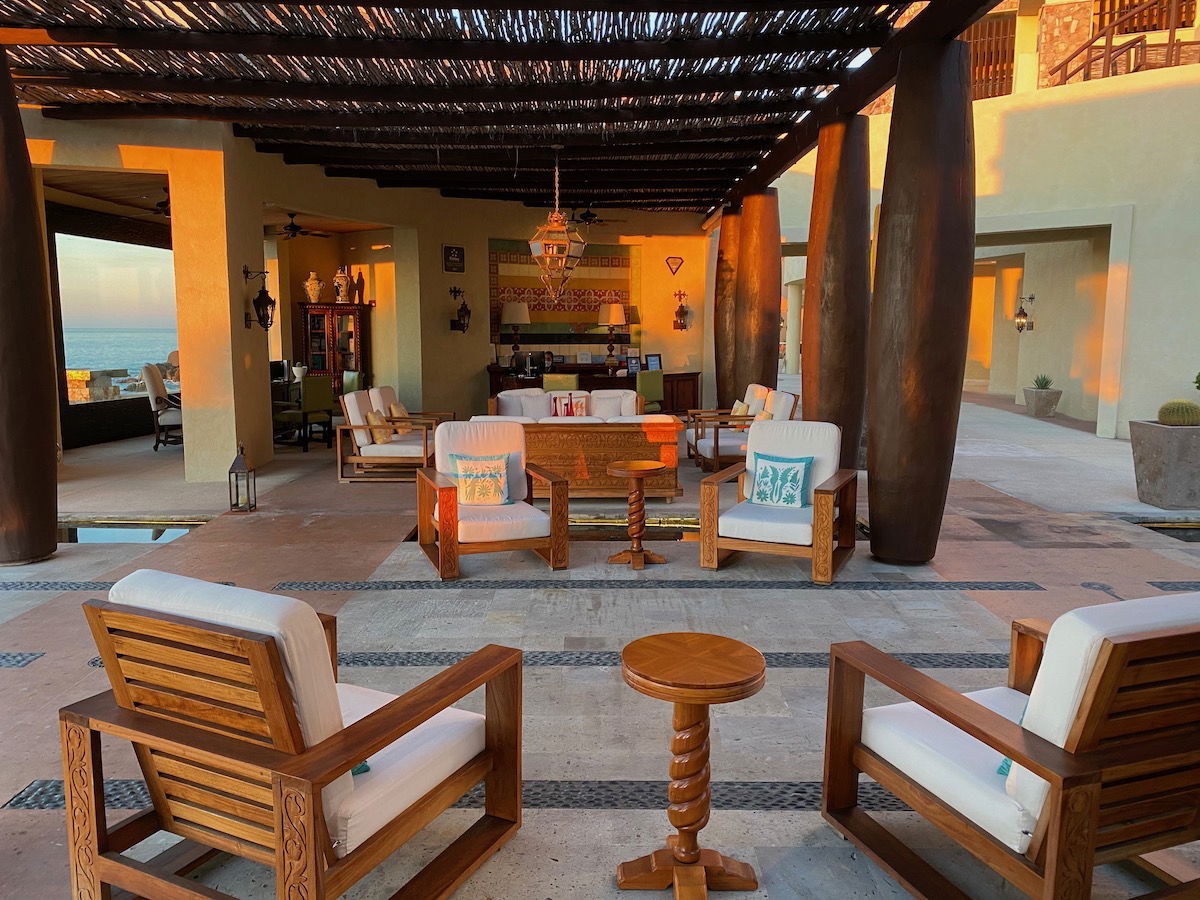 The public spaces of the hotel are gorgeous, and so immaculately maintained. There's an upper level to the public spaces, where many of the rooms are located.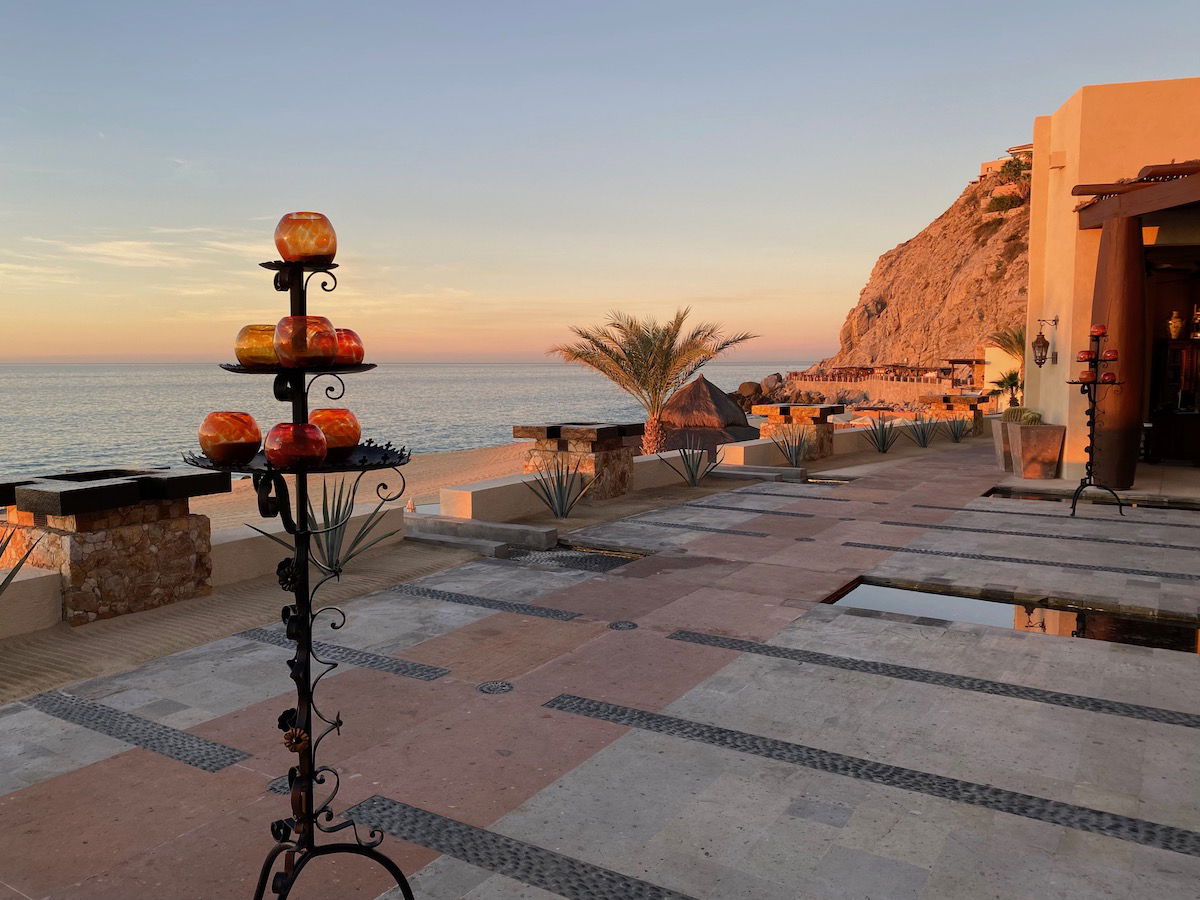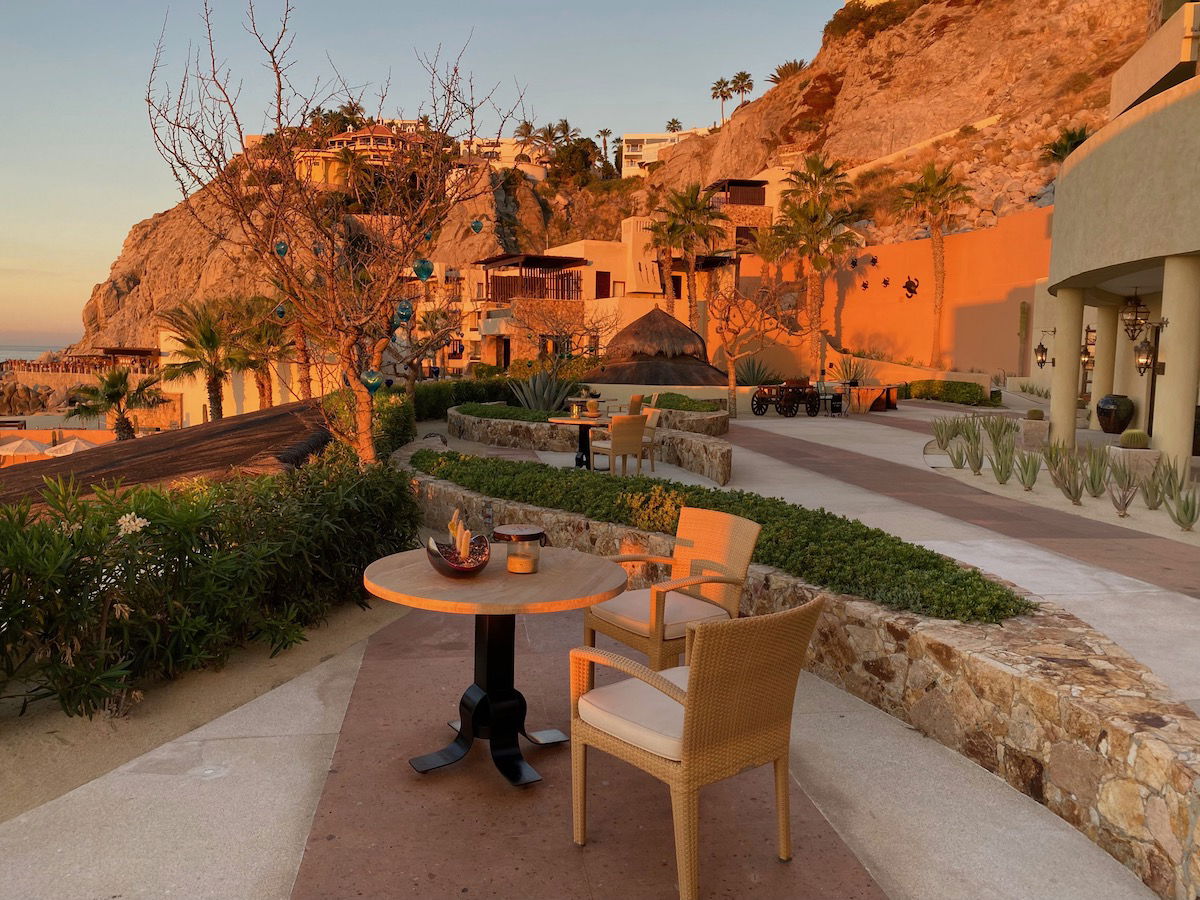 Then there's a lower level, leading to the pools, beach, and some of the restaurants.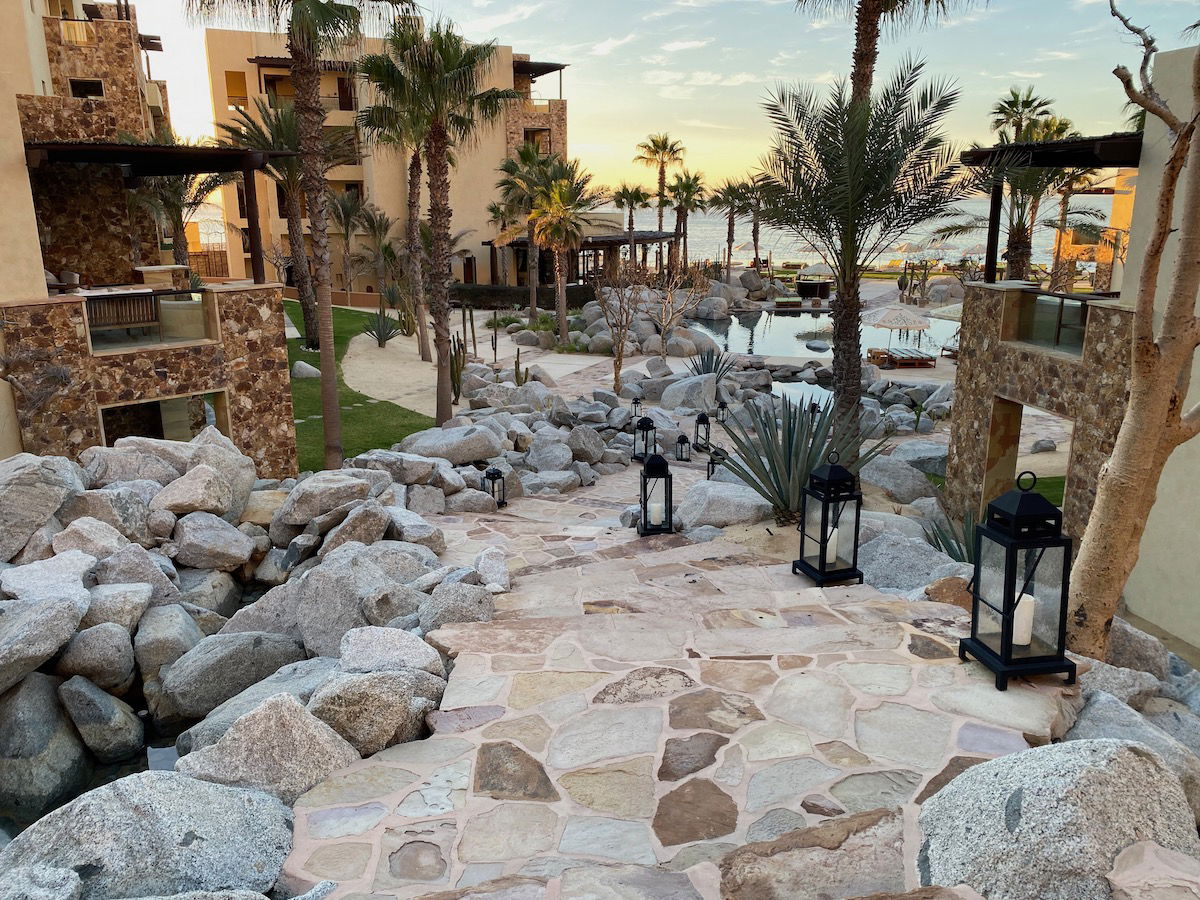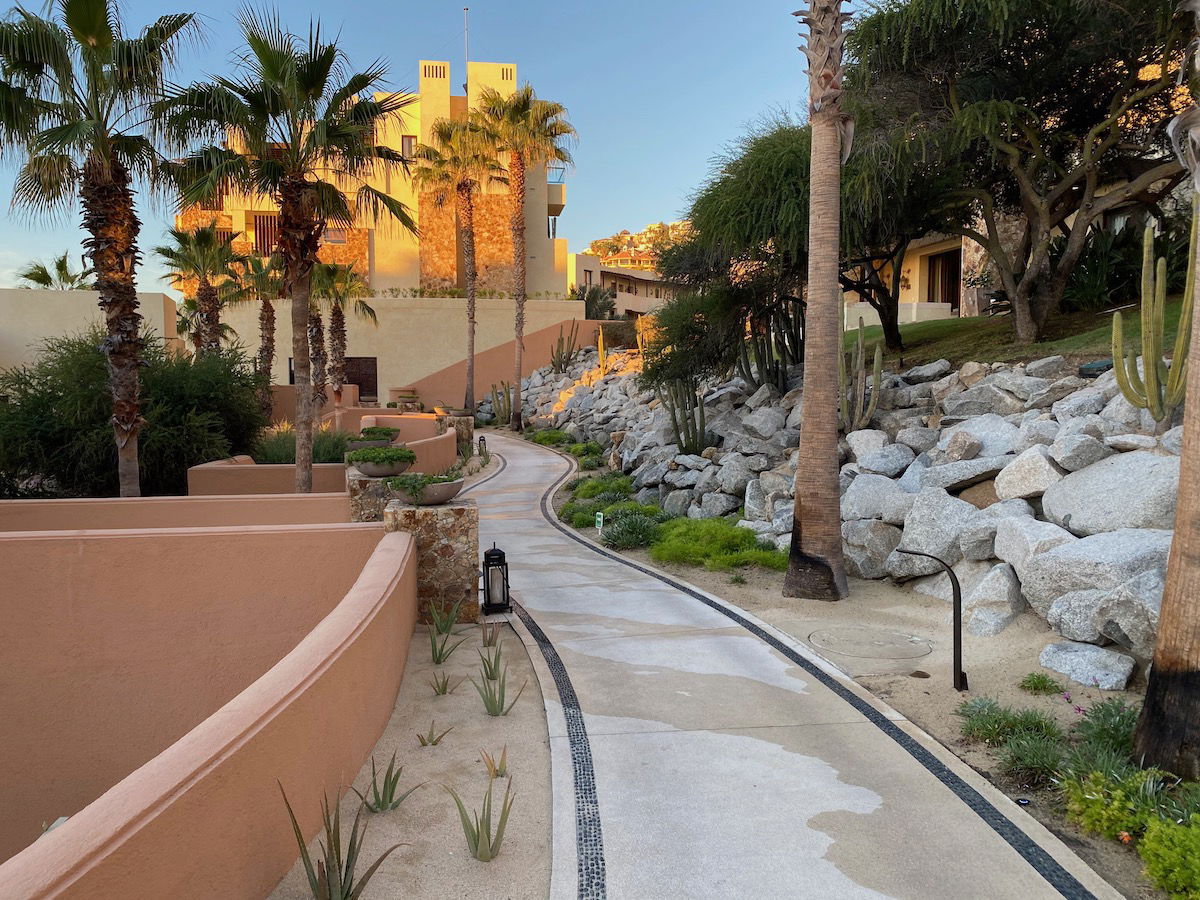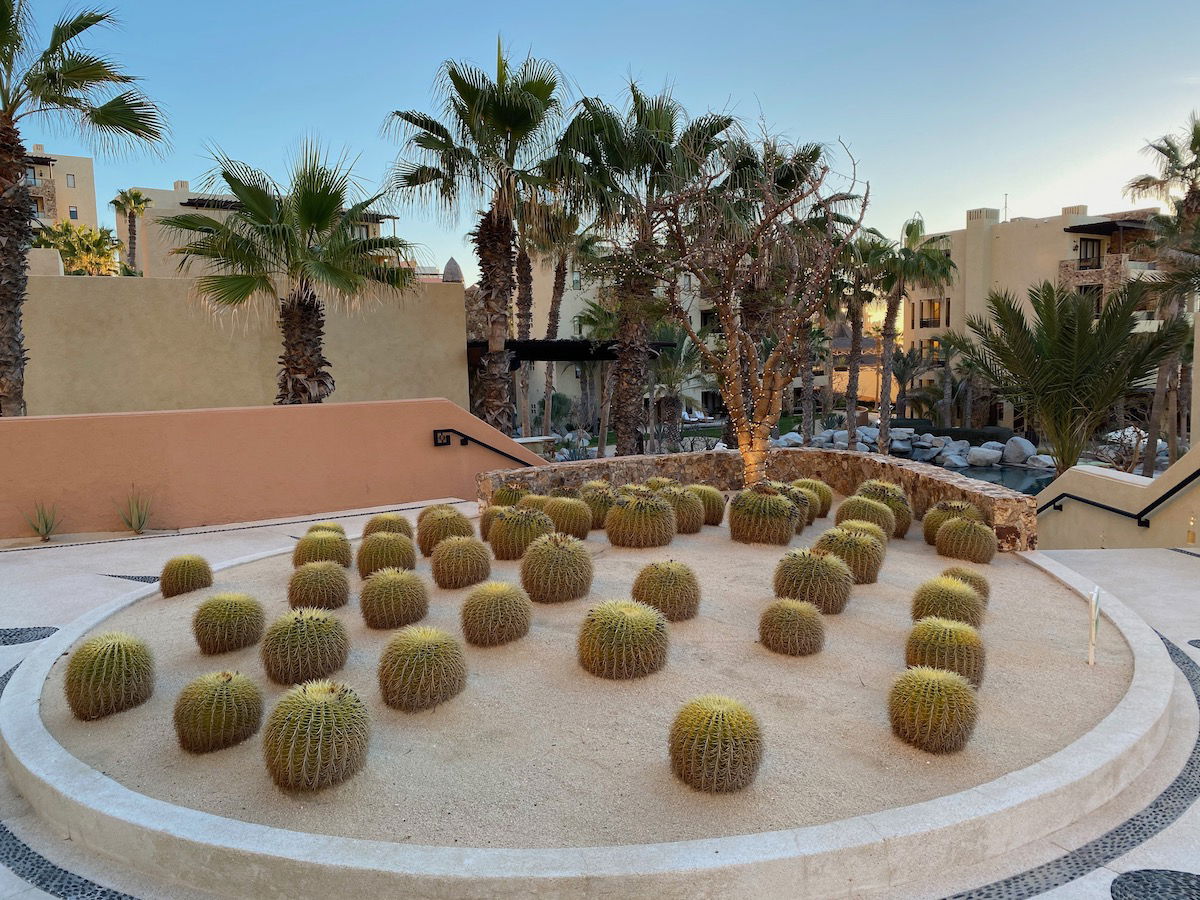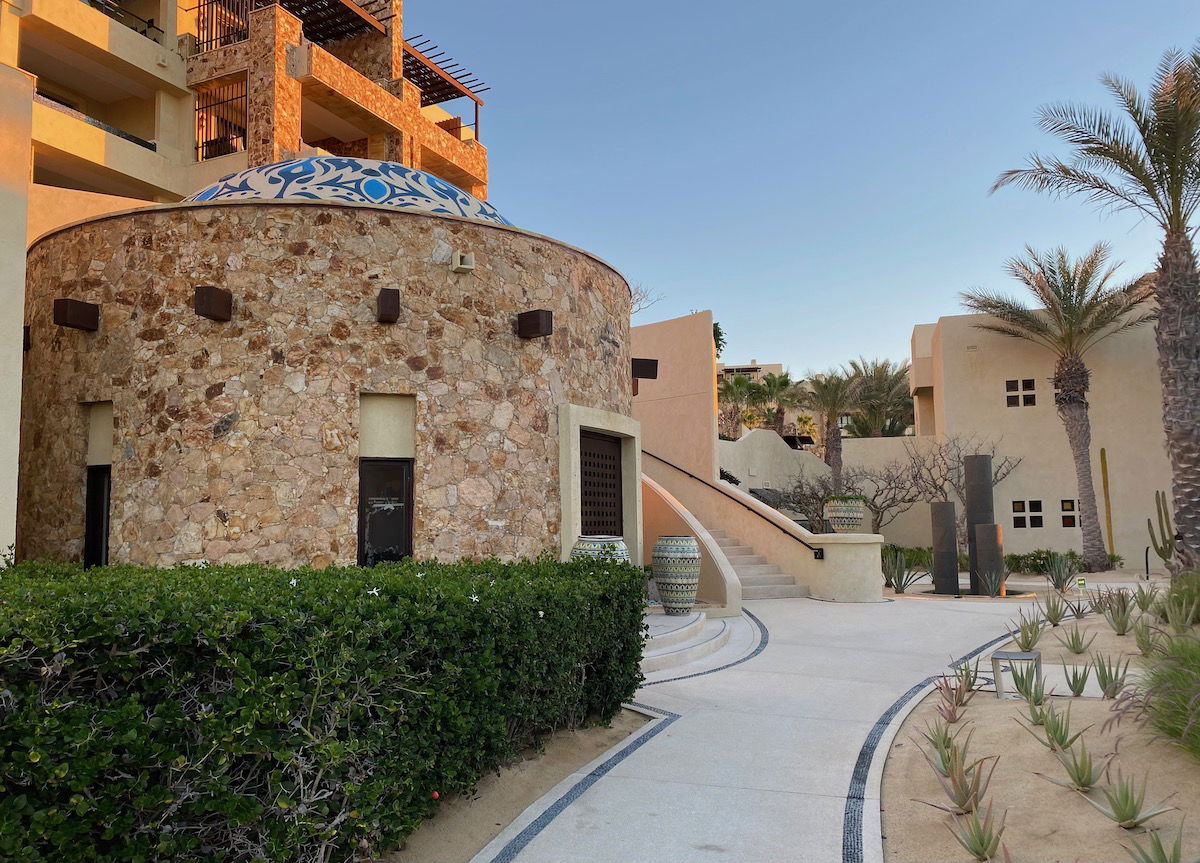 I can't even imagine how much effort goes into upkeep of the public spaces on a daily basis. For example, the sand was always perfectly raked along the paths.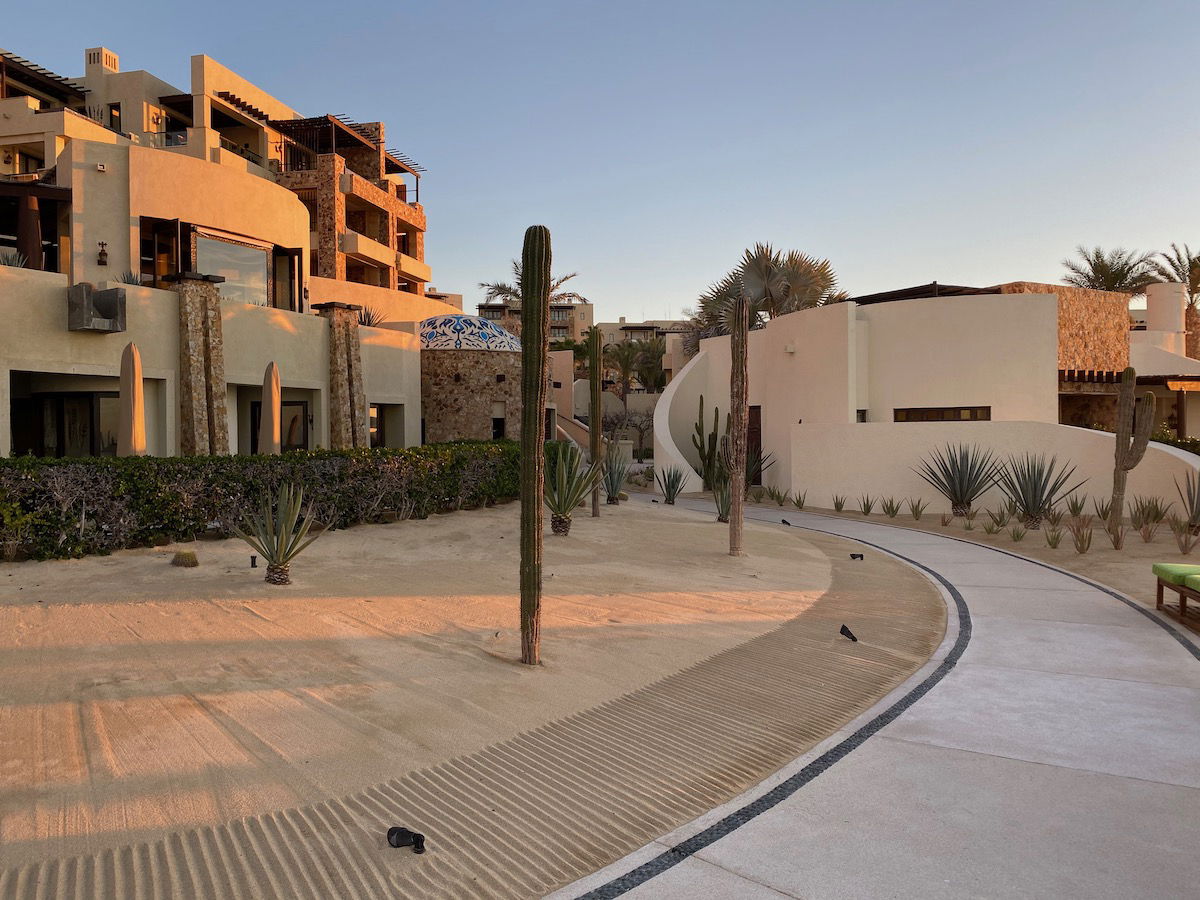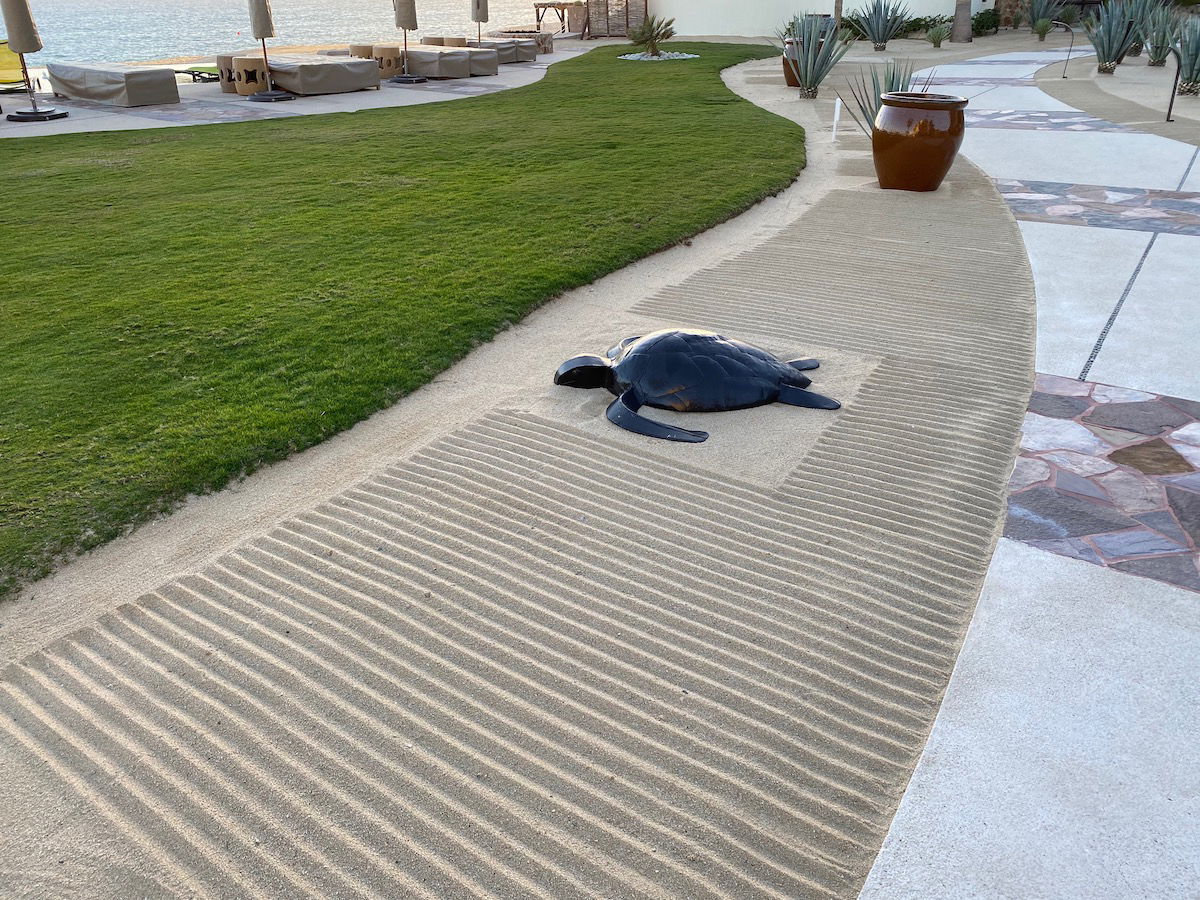 Waldorf Astoria Los Cabos deluxe terrace king room
Above I hinted at how the Waldorf Astoria has one area with major room for improvement, and that's the rooms. 😉
For our stay we were assigned room 231, which was an "ocean view deluxe terrace plunge pool king room." This was the same size as a standard room (and all rooms here have plunge pools), but it was just a couple of categories upgraded in terms of the view, presumably on account of our Hilton Honors Diamond status.
The room was marketed as being 856 square feet, though I'd imagine that includes all the outdoor space, because the interior space didn't feel much bigger than 500 square feet or so (even then, I still can't make sense of the size). Anyway, our room was located in a building just next to reception, and there were open-air corridors that could get us the entire way there (there was also an elevator, but we never used it).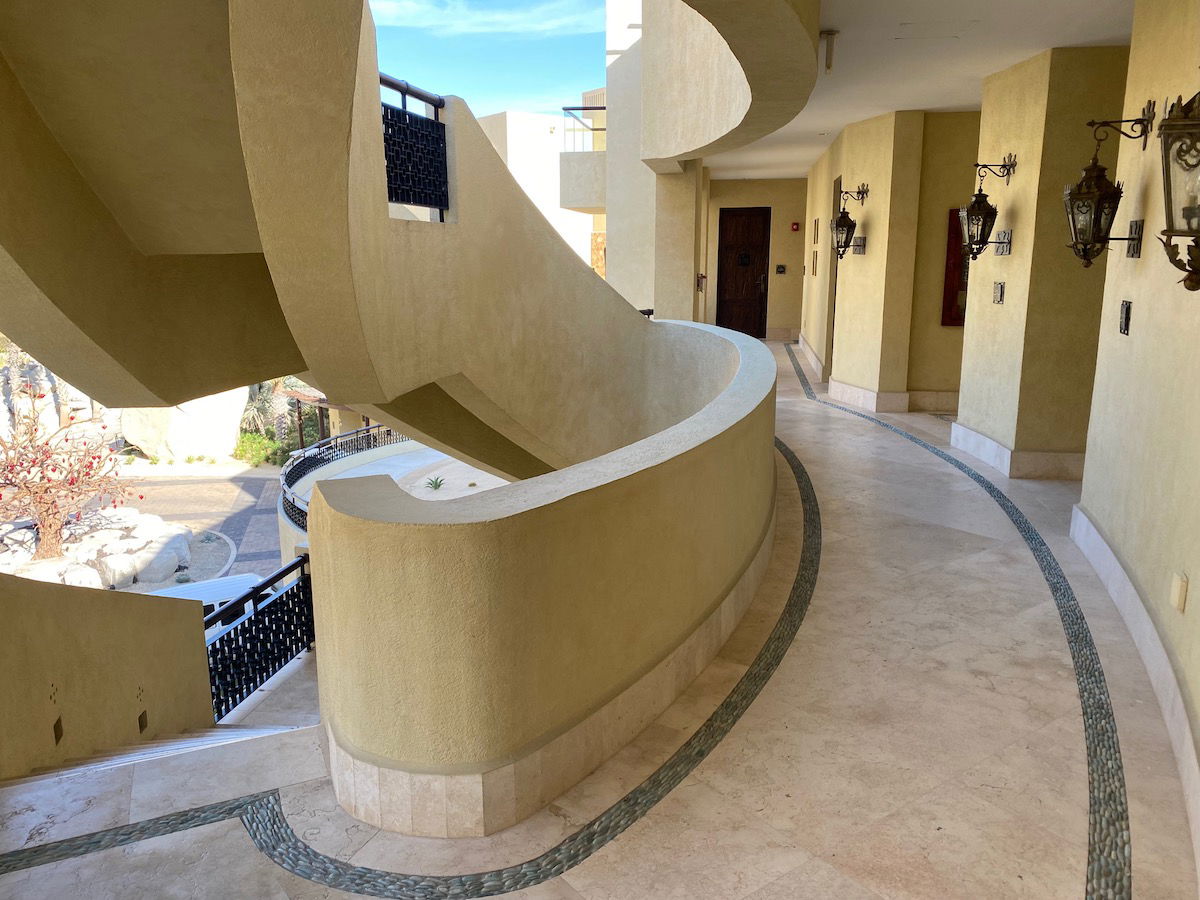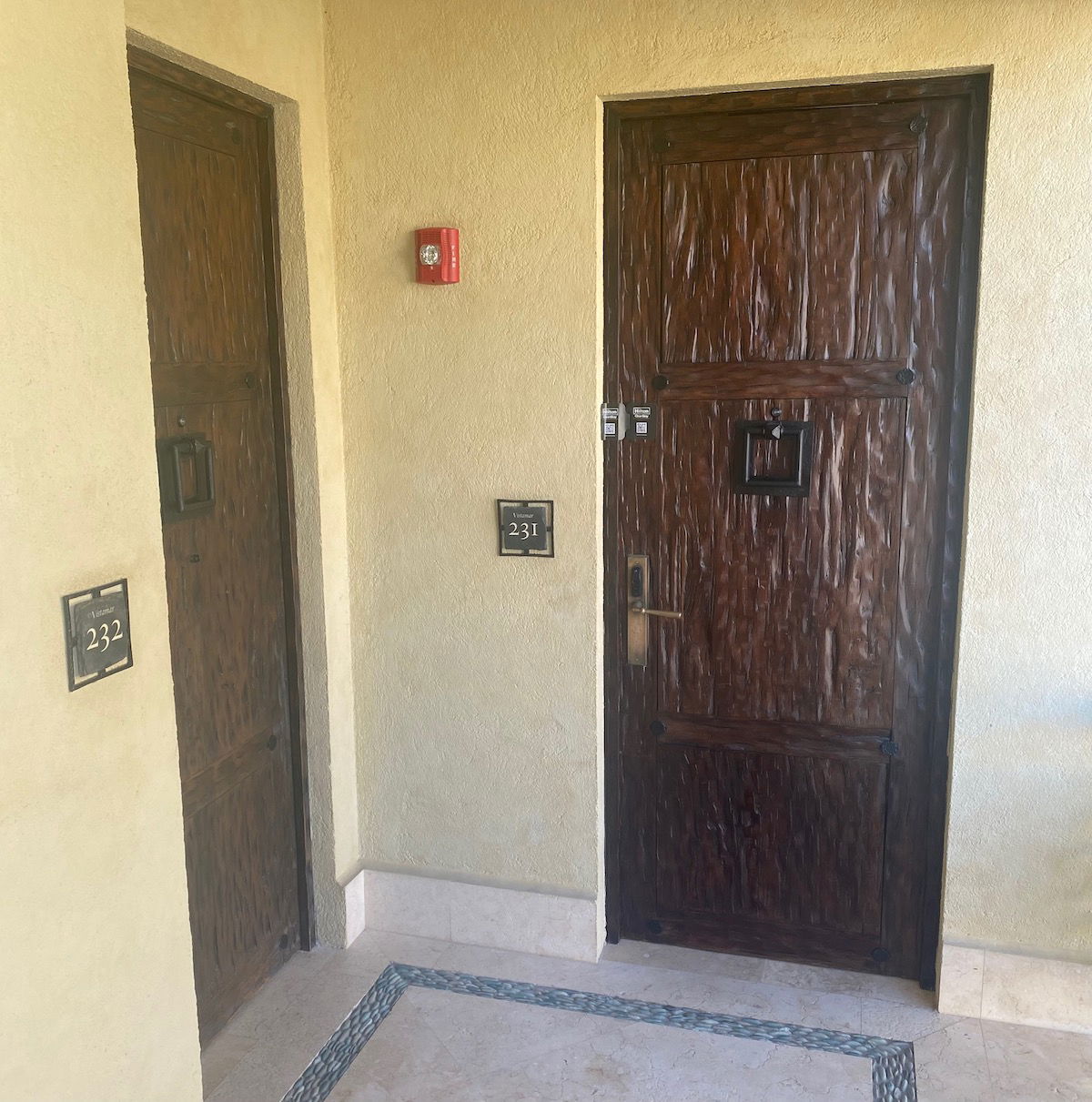 The room featured an entryway, which led into the bedroom and sitting area.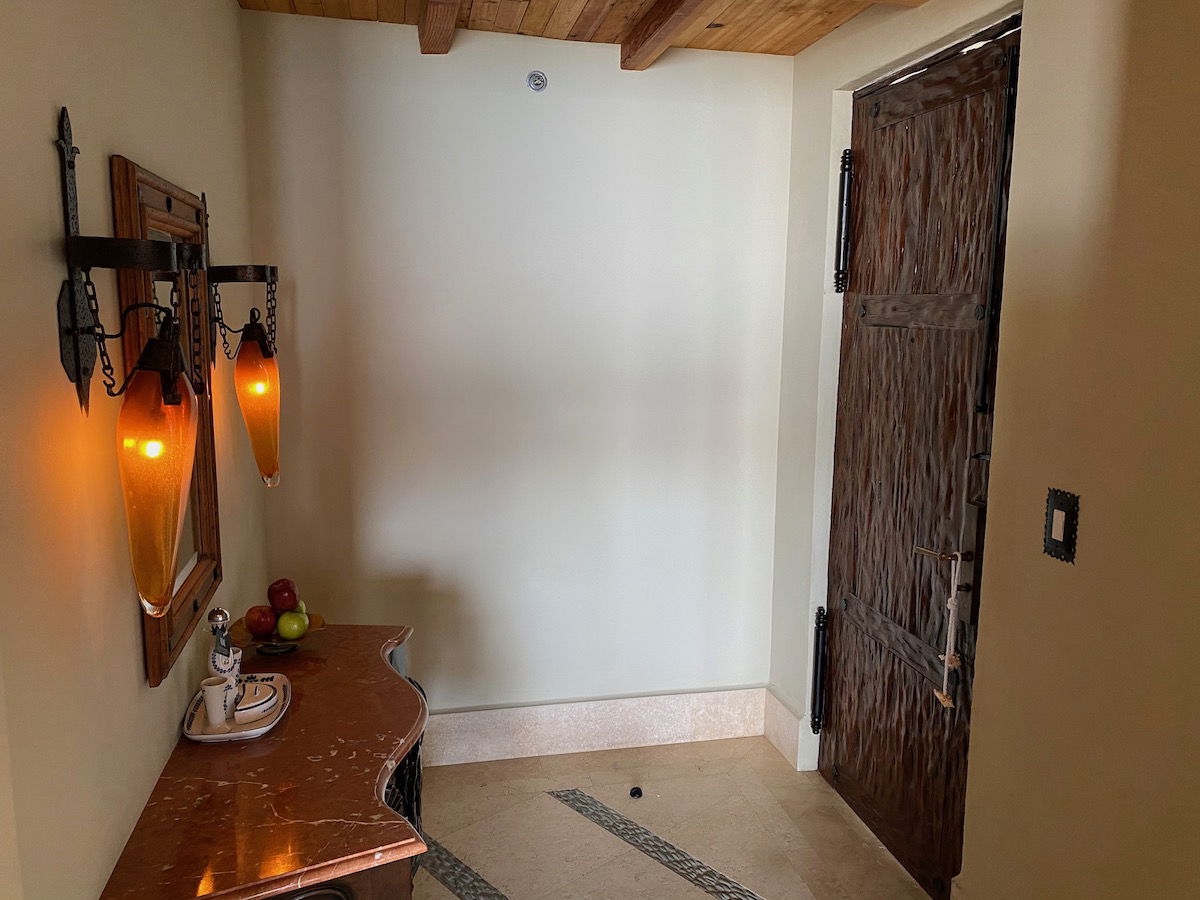 Waiting on the table was a bottle of tequila, which is a gift that all guests receive. You can take the bottle with you, though if you want to take the rest of the set home, you have to purchase it.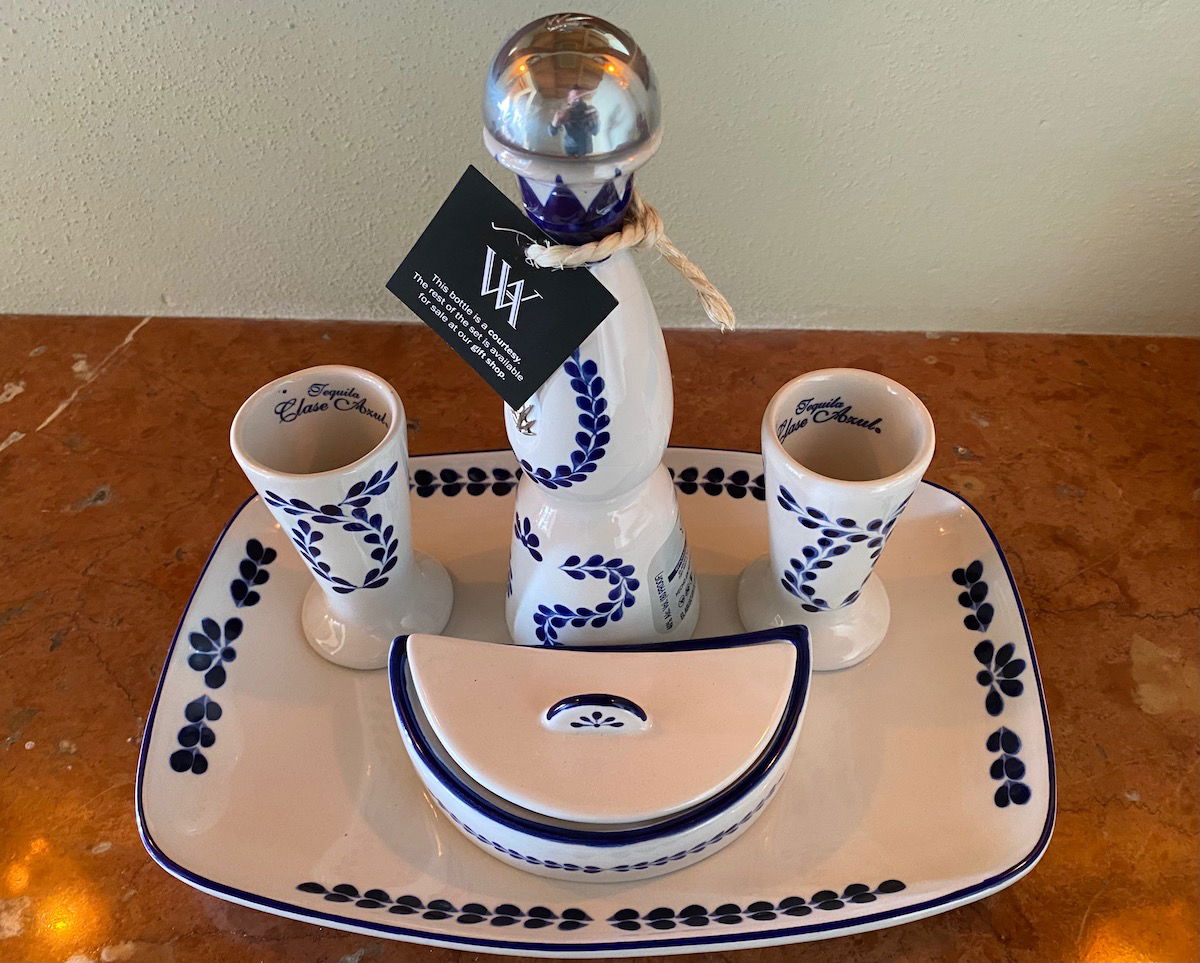 The room featured a king size bed, and a sitting area with two chairs, facing both a fireplace and TV.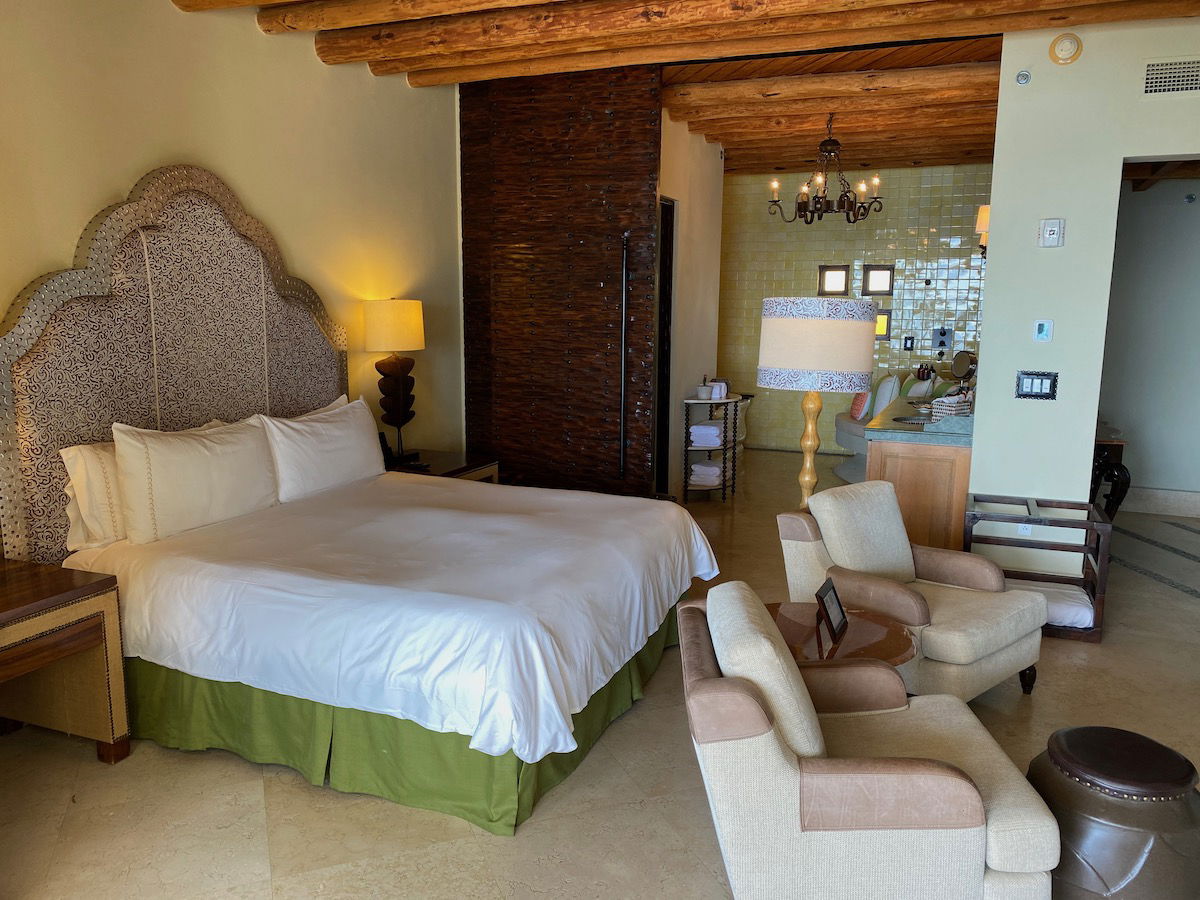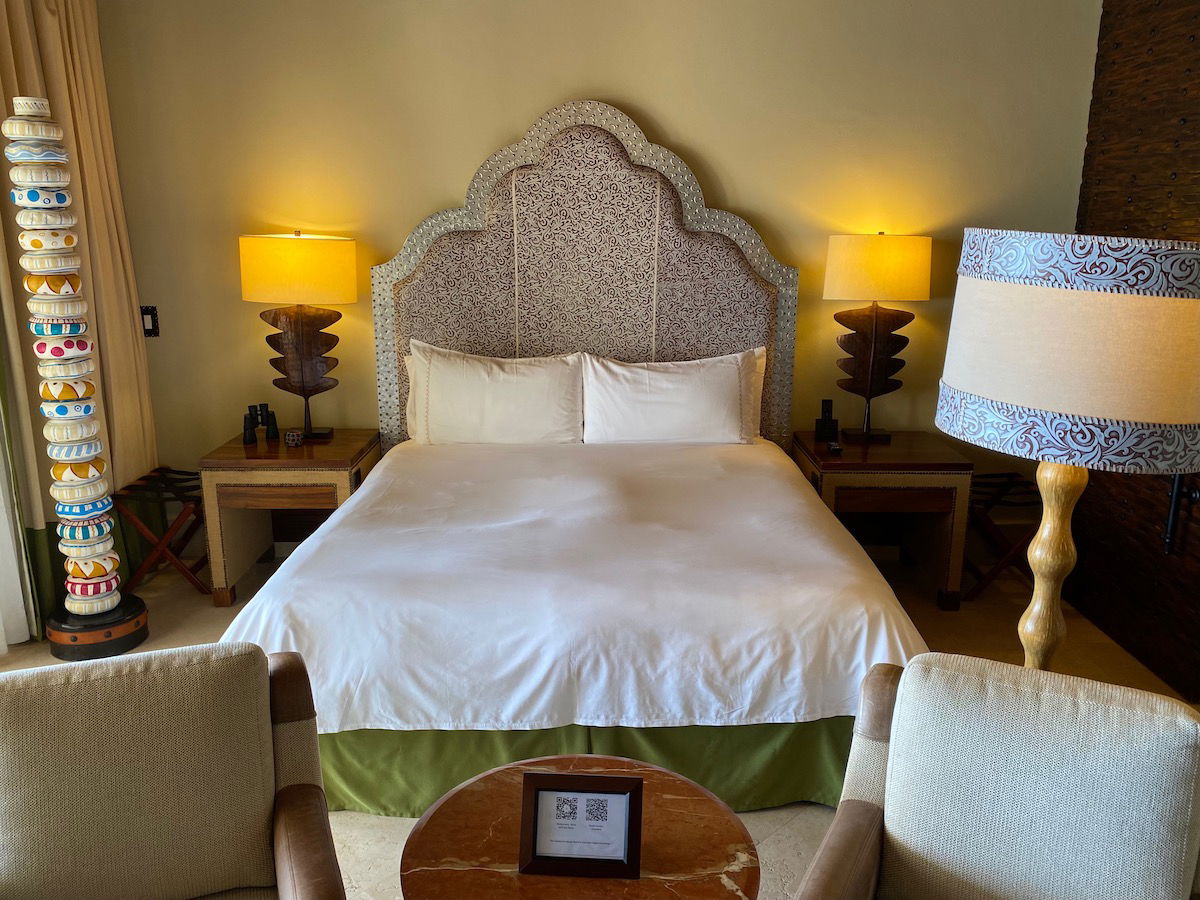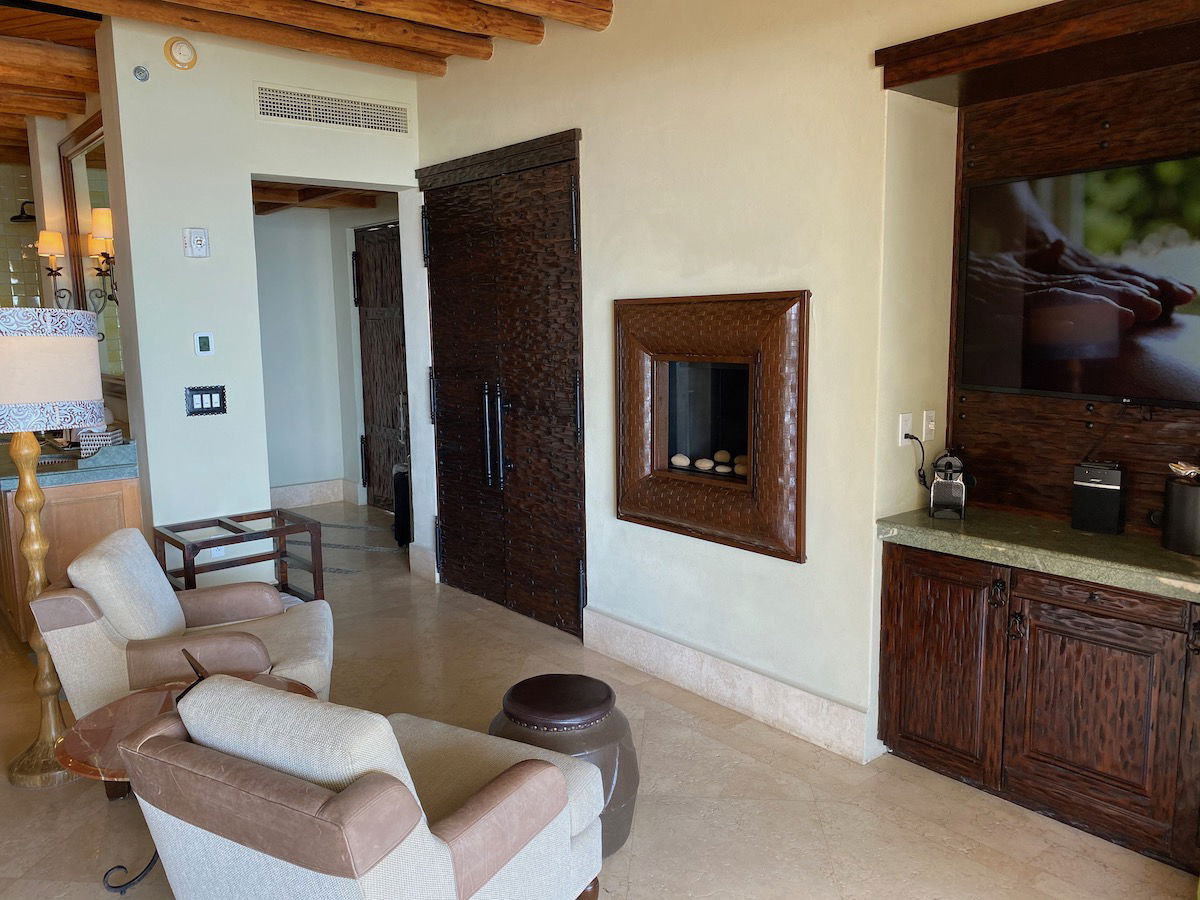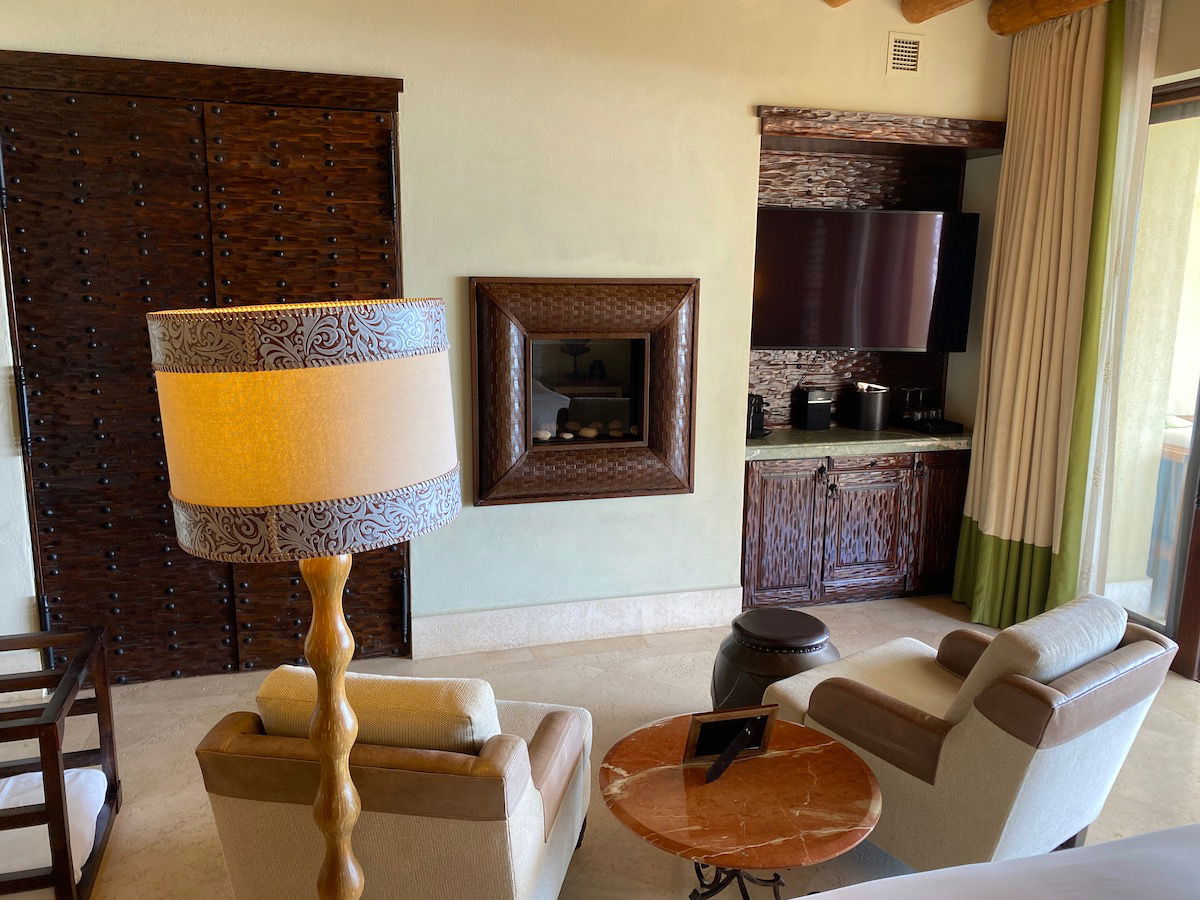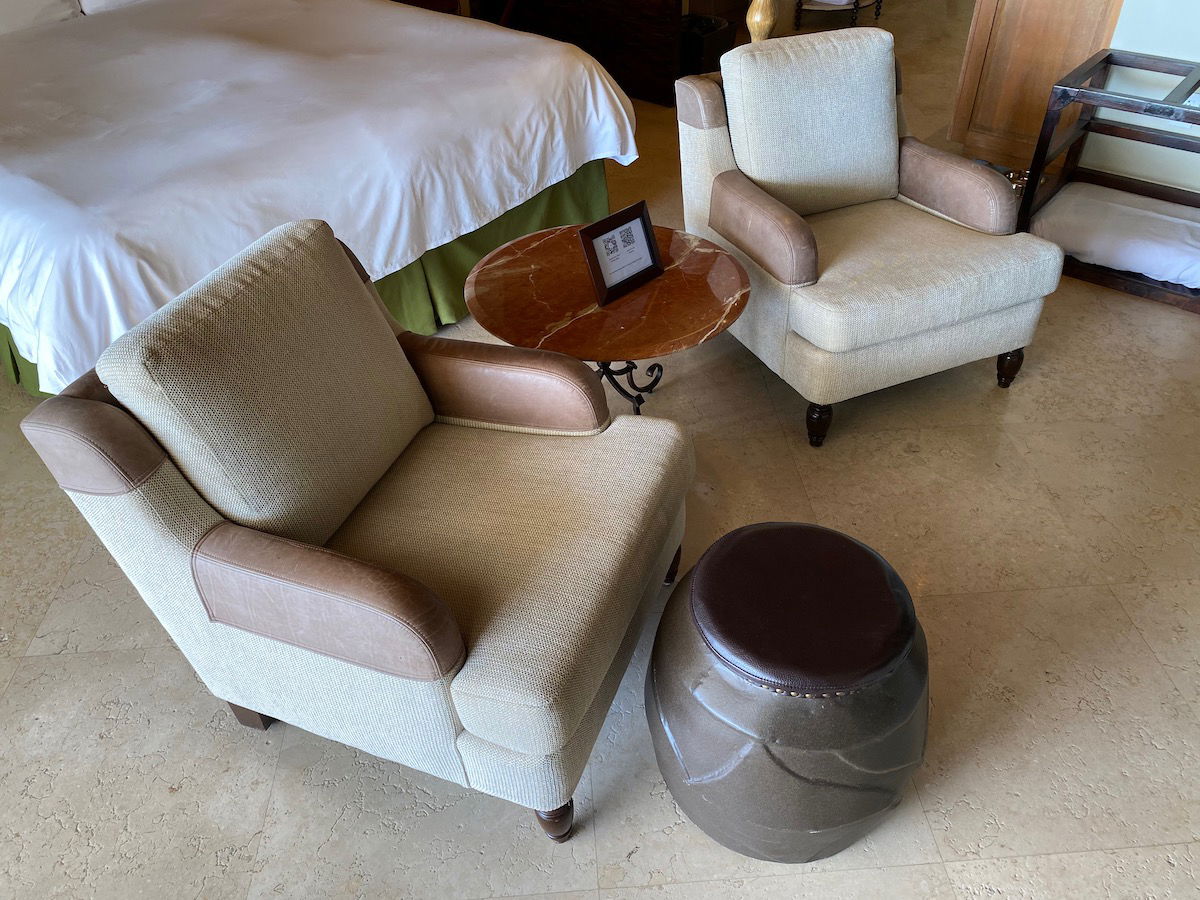 On the one hand, I loved the wood beam ceilings and some of the other local touches, which added some nice flair to the room. On the other hand, I felt like this room was so desperately in need of some TLC, and didn't feel all that luxurious.
In my opinion the smallest investment could elevate these rooms. For example, the bed just looked kind of lumpy and the bedding didn't fit in with the rest of the room, while the chairs were extremely bland, and just felt cheap. This is an incredible hotel and aspects of the room have a good sense of place, while other parts of the room didn't, in my opinion.
Anyway, in the far right corner of the room was the minibar area, which featured a Nespresso machine, soft drinks, water, and juice, all of which were complimentary.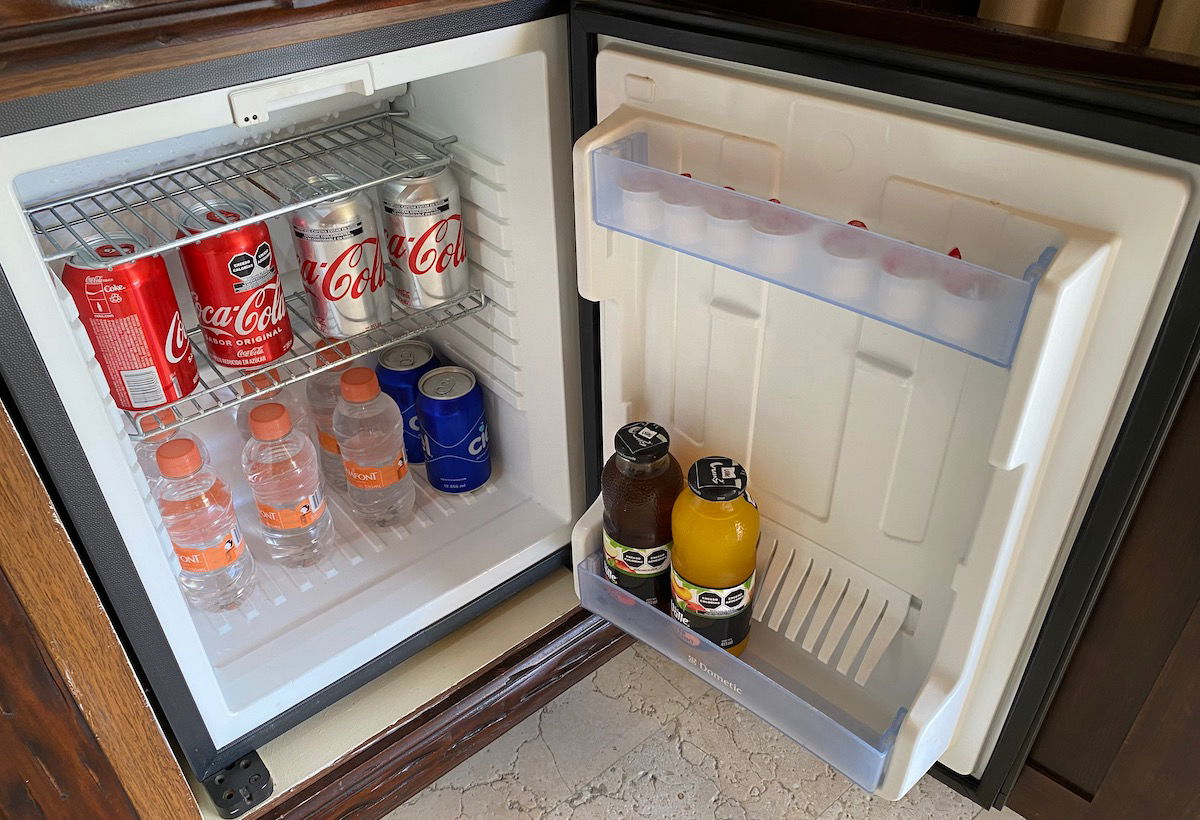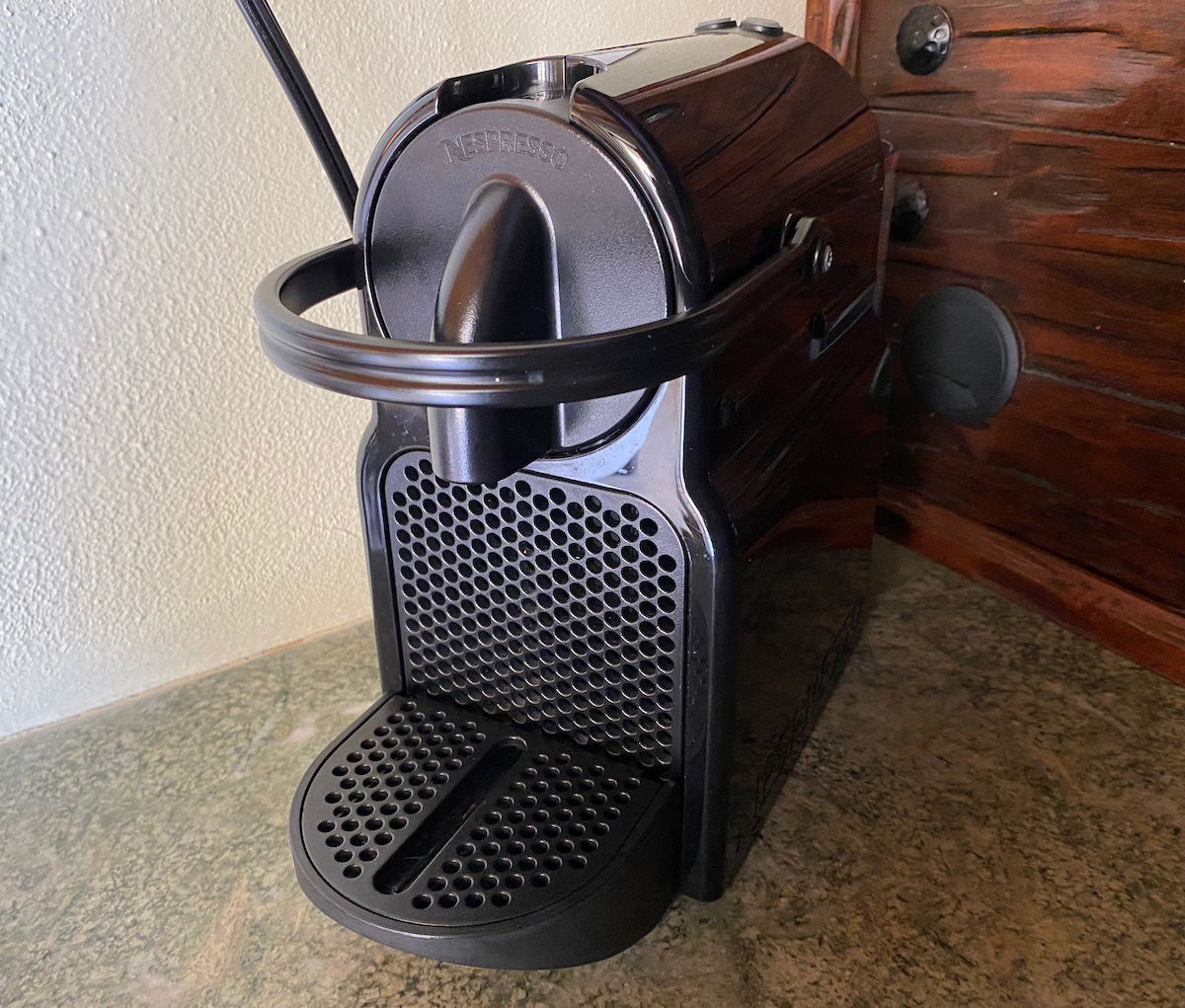 There was a sliding door separating the bedroom from the bathroom. The bathroom was large, and featured double sinks, a soaking tub, and a walk-in shower. Oddly the shower didn't have much separation from the rest of the bathroom, and was right next to the bench with pillows you see below. So those would naturally get splashed every time we showered, which seemed like a strange design choice.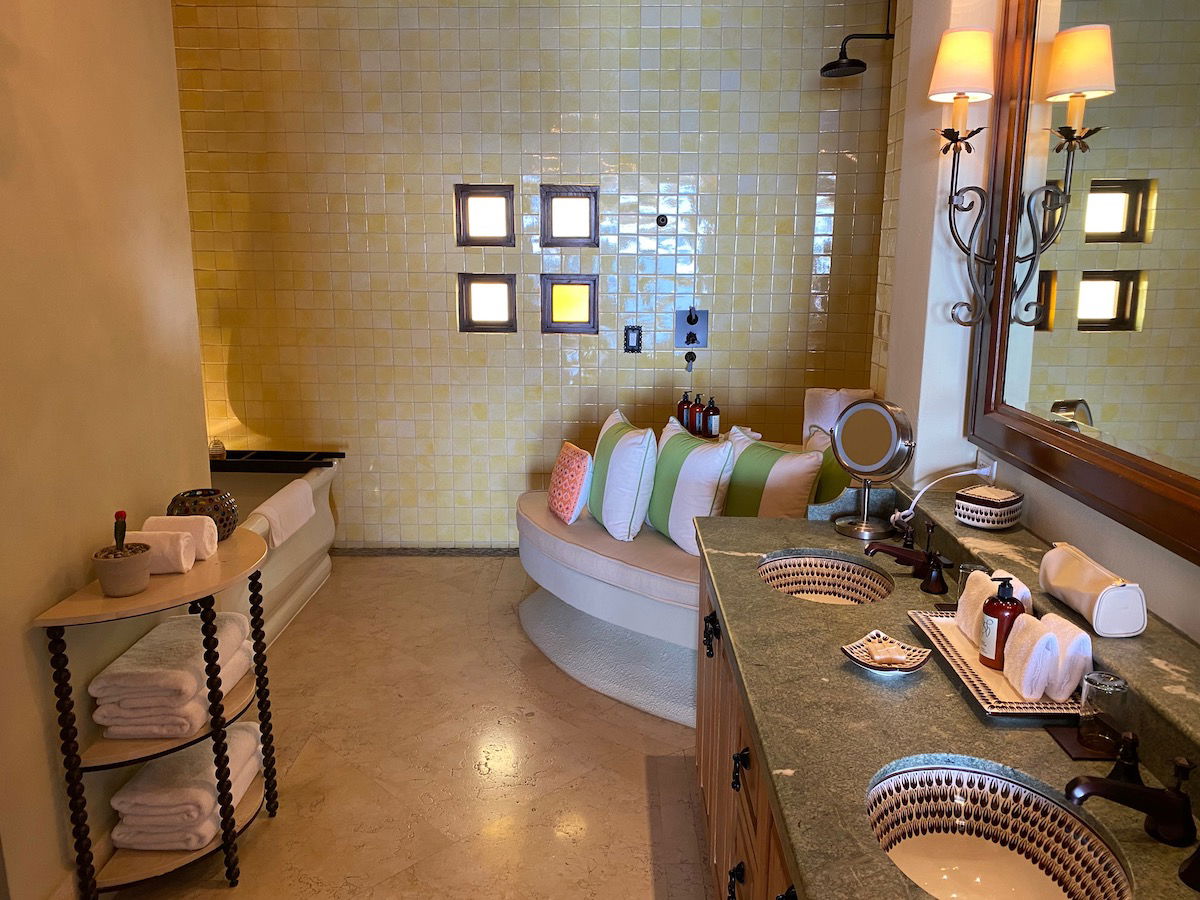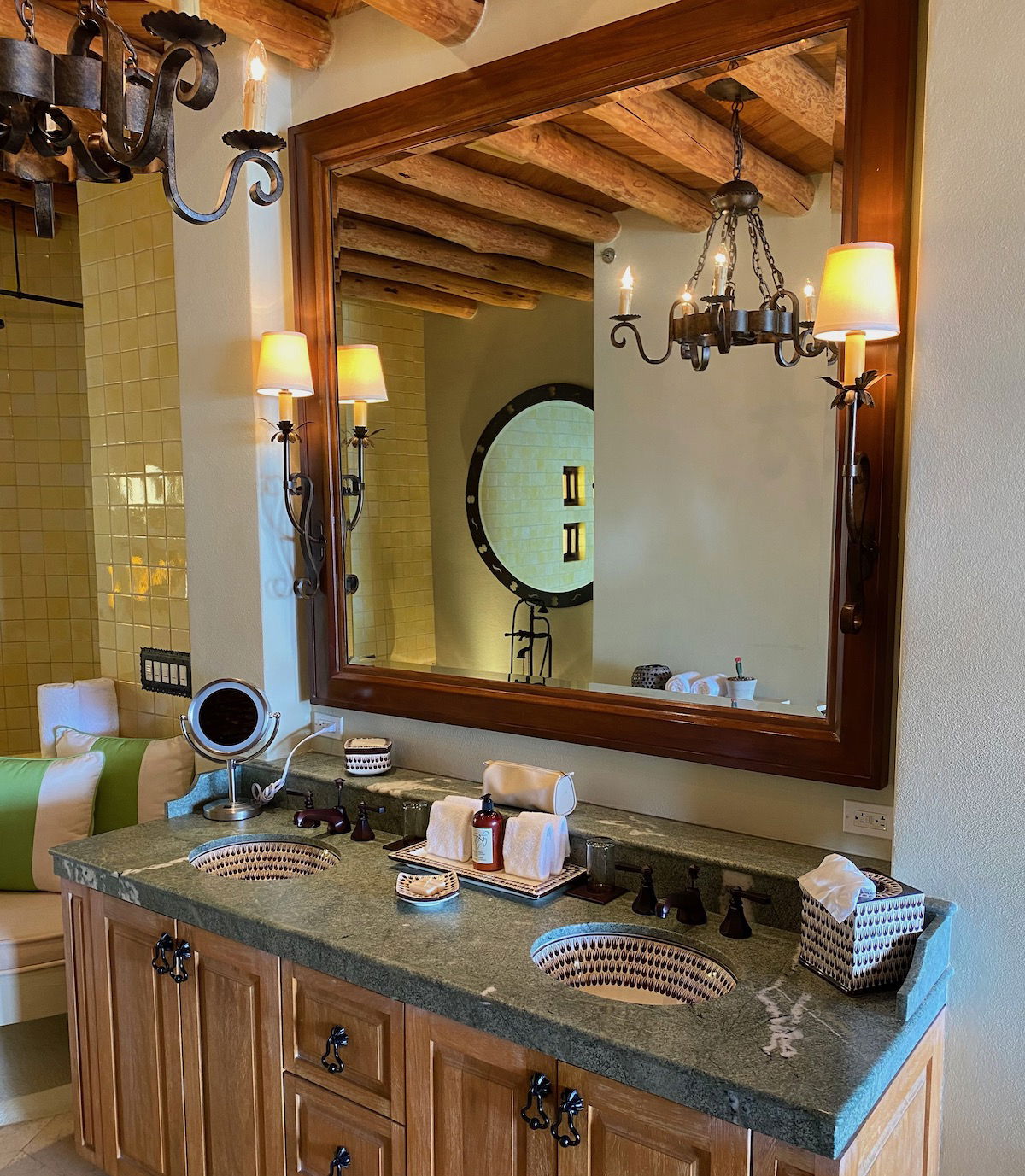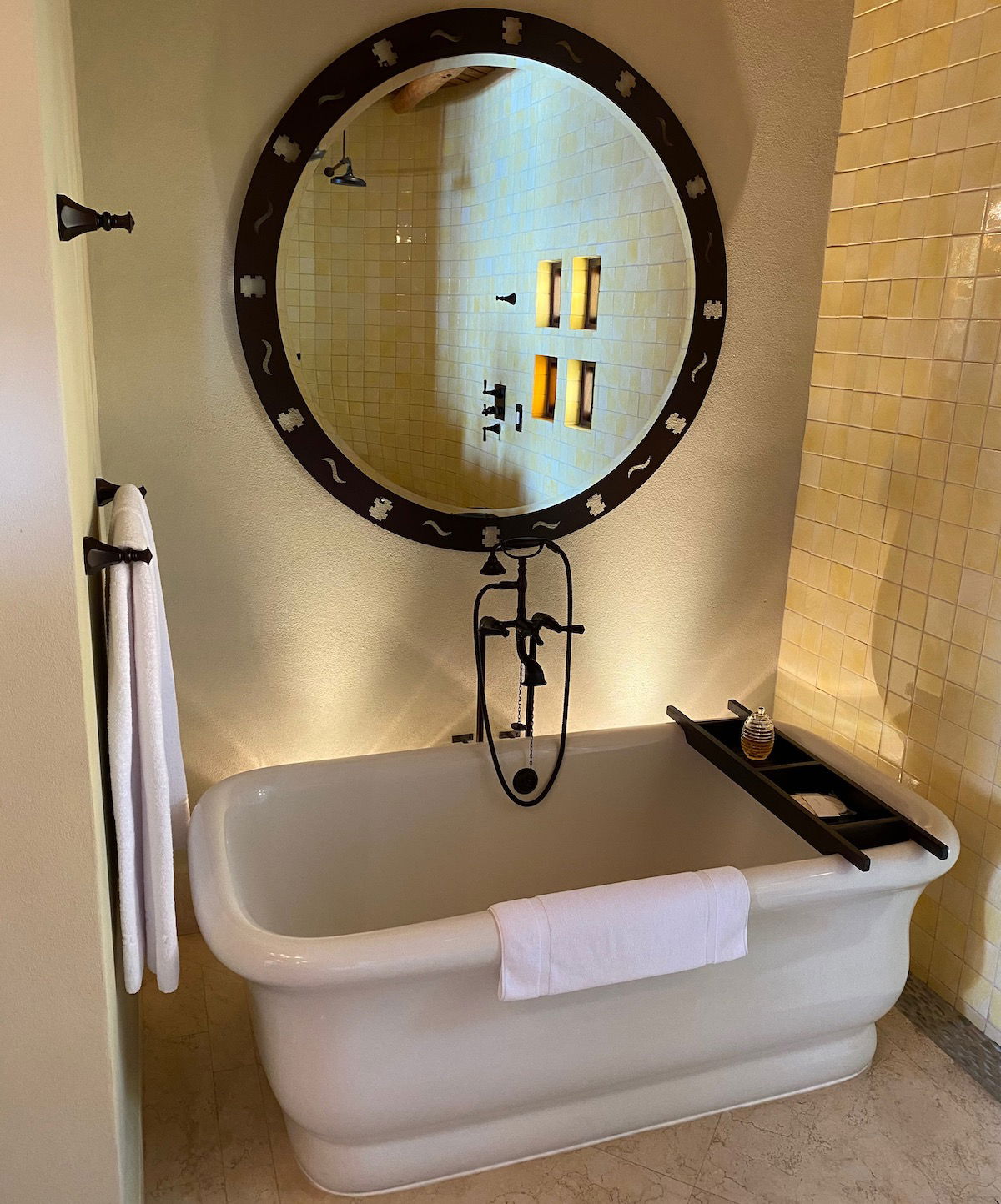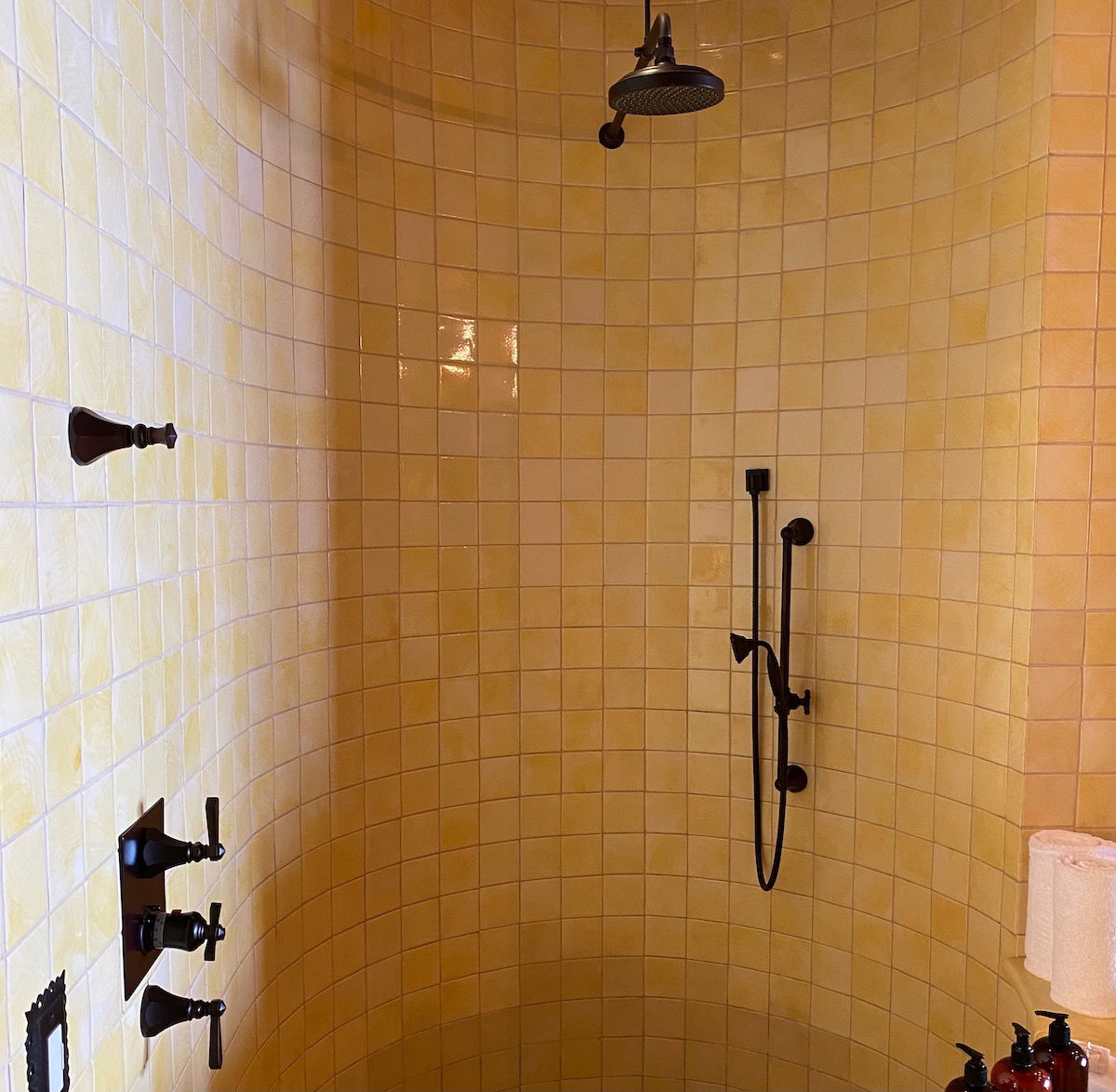 Toiletries were in reusable bottles, but were high quality.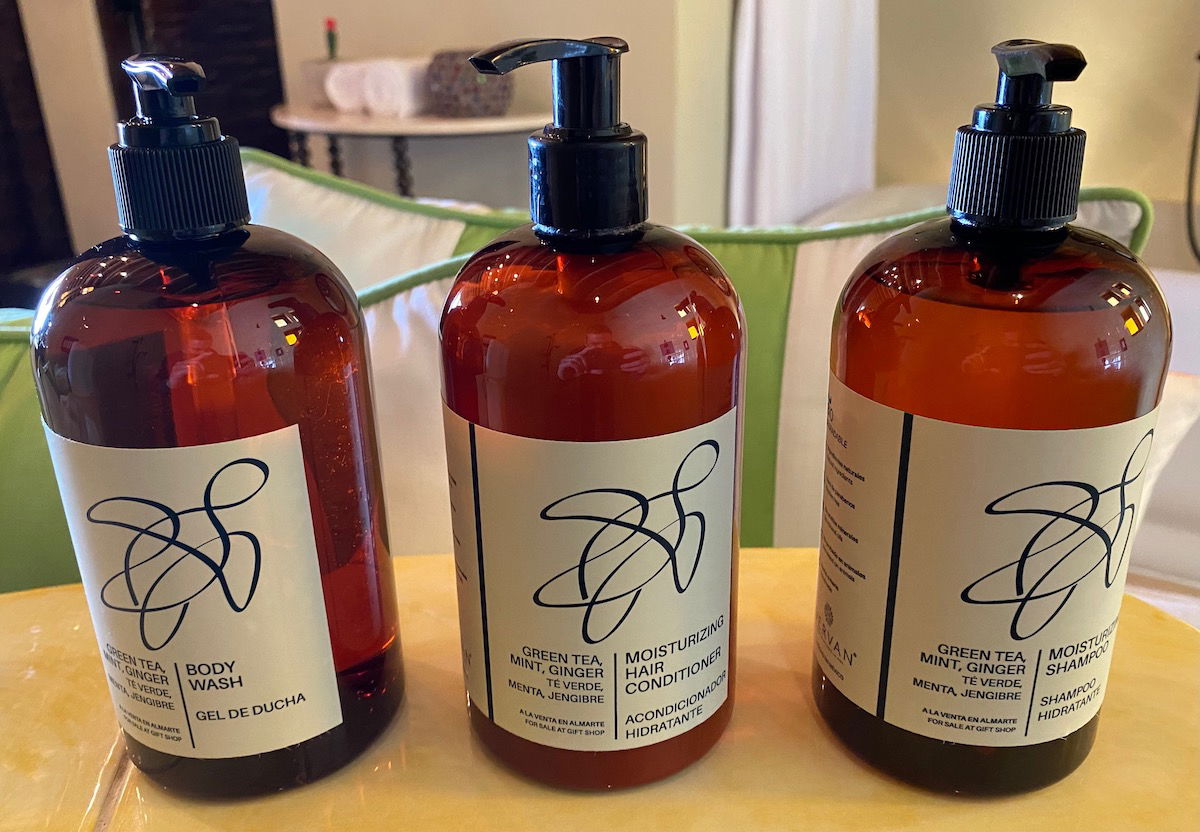 Then there was a toilet in a separate room in the corner of the bathroom.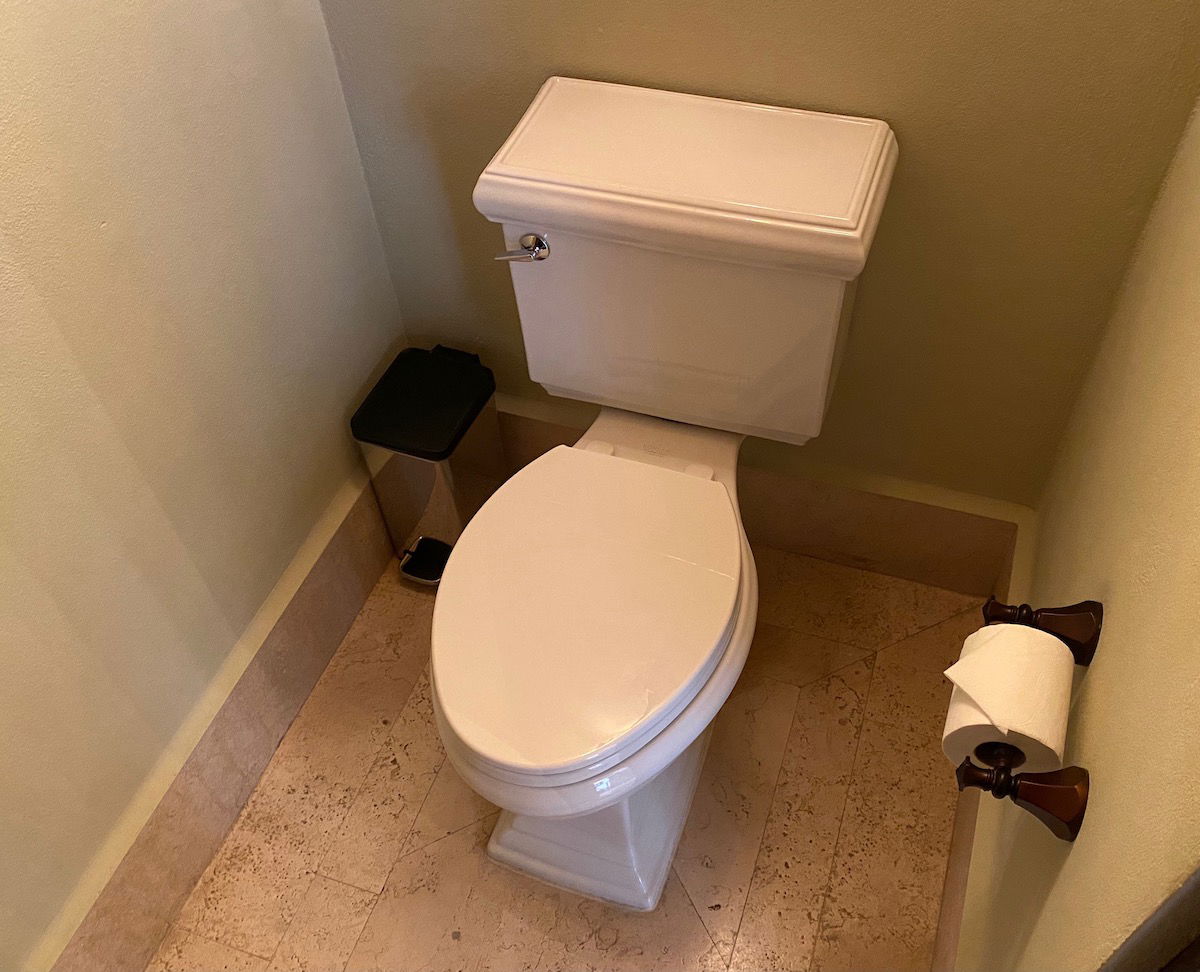 The outdoor space consisted of two benches, as well as a small plunge pool (size wise I'd almost consider it to be a massive bathtub).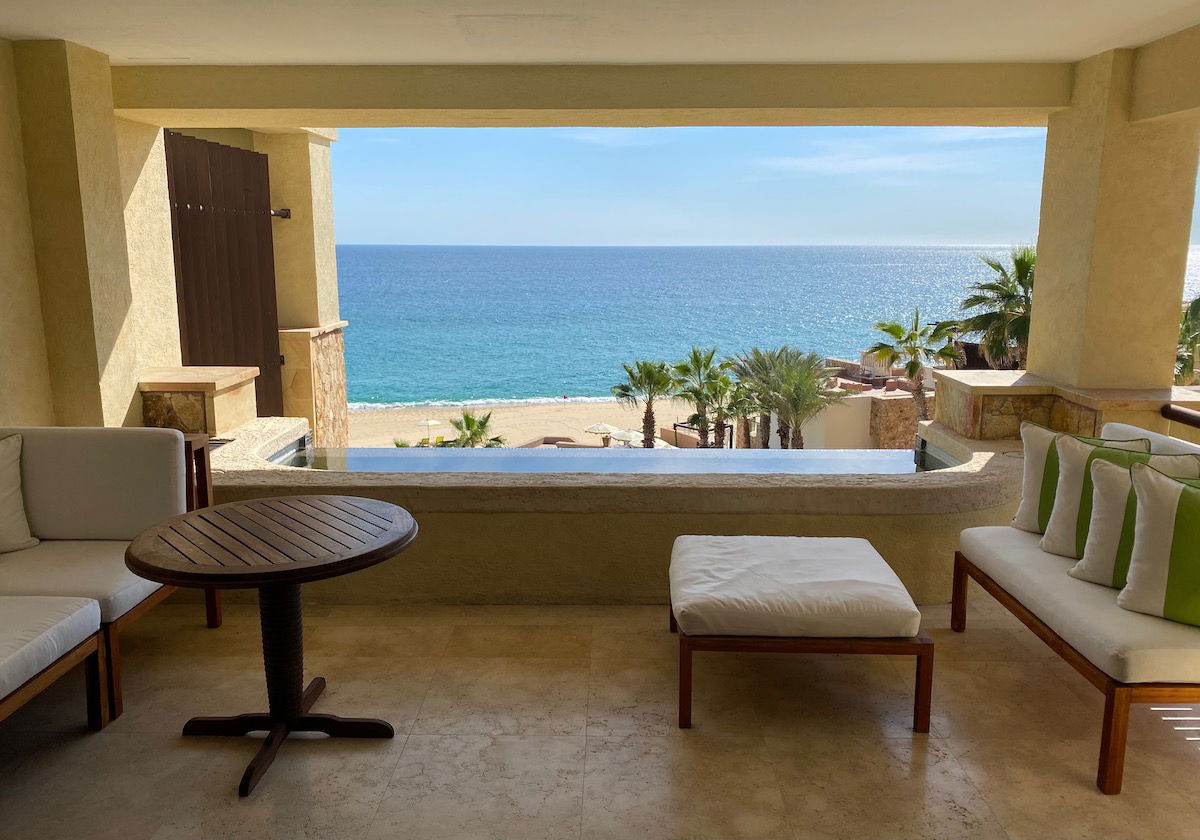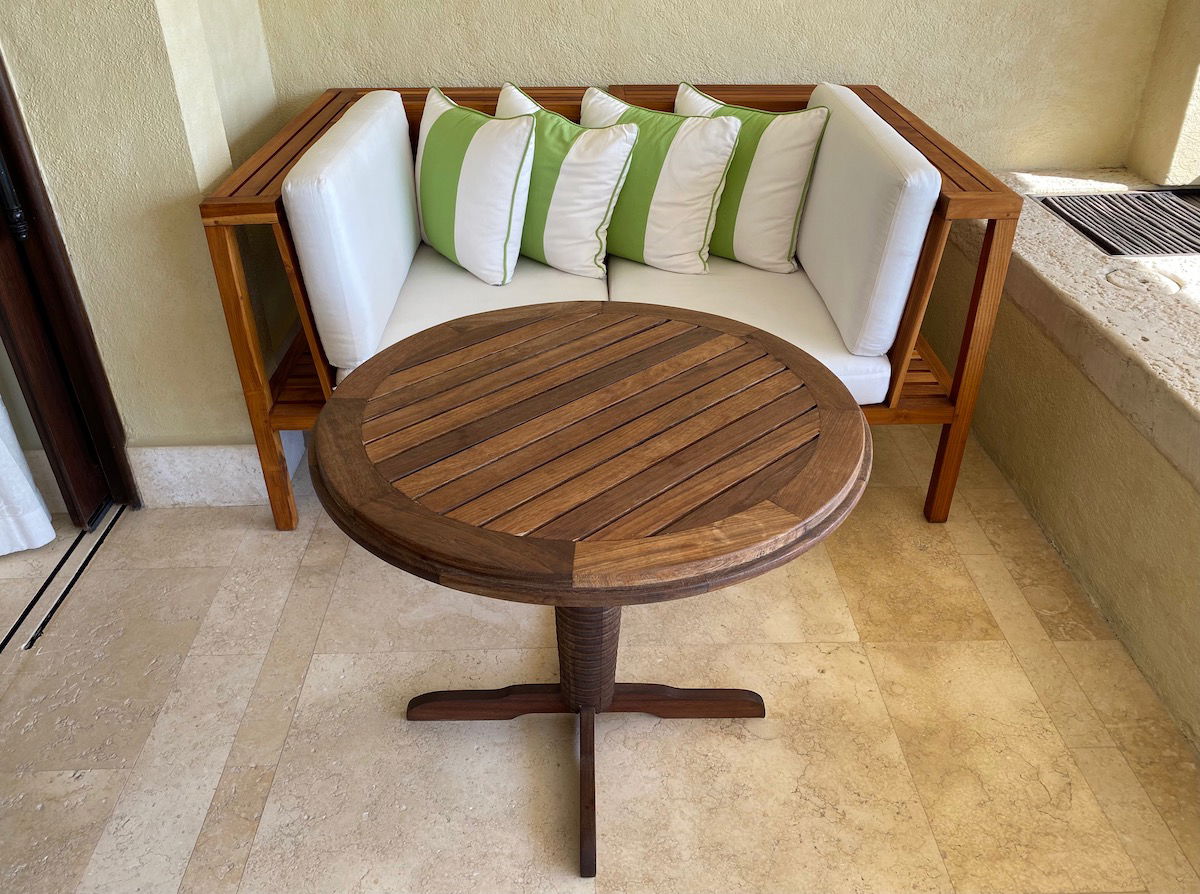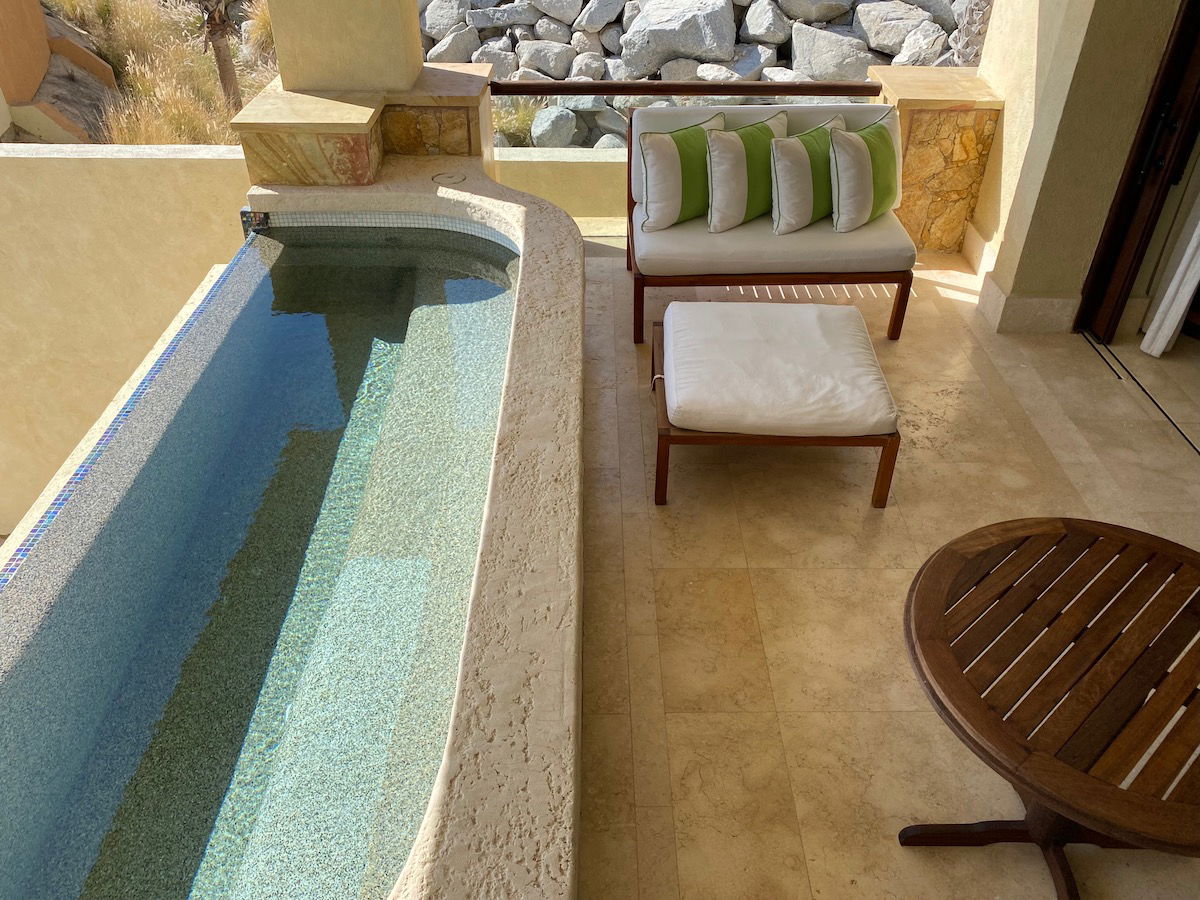 Our room had great views of the Pacific Ocean, the pool, and the beach, and we could hear the waves crashing from our room.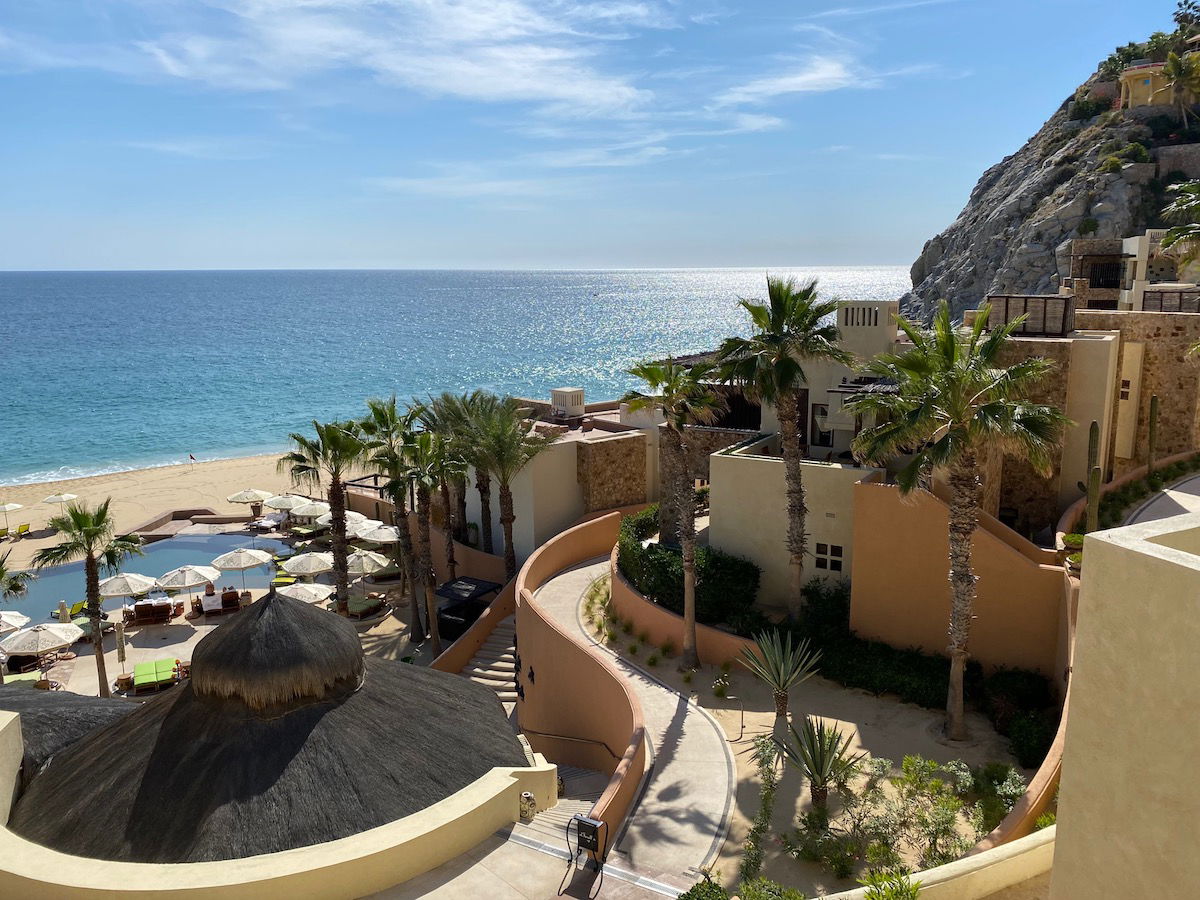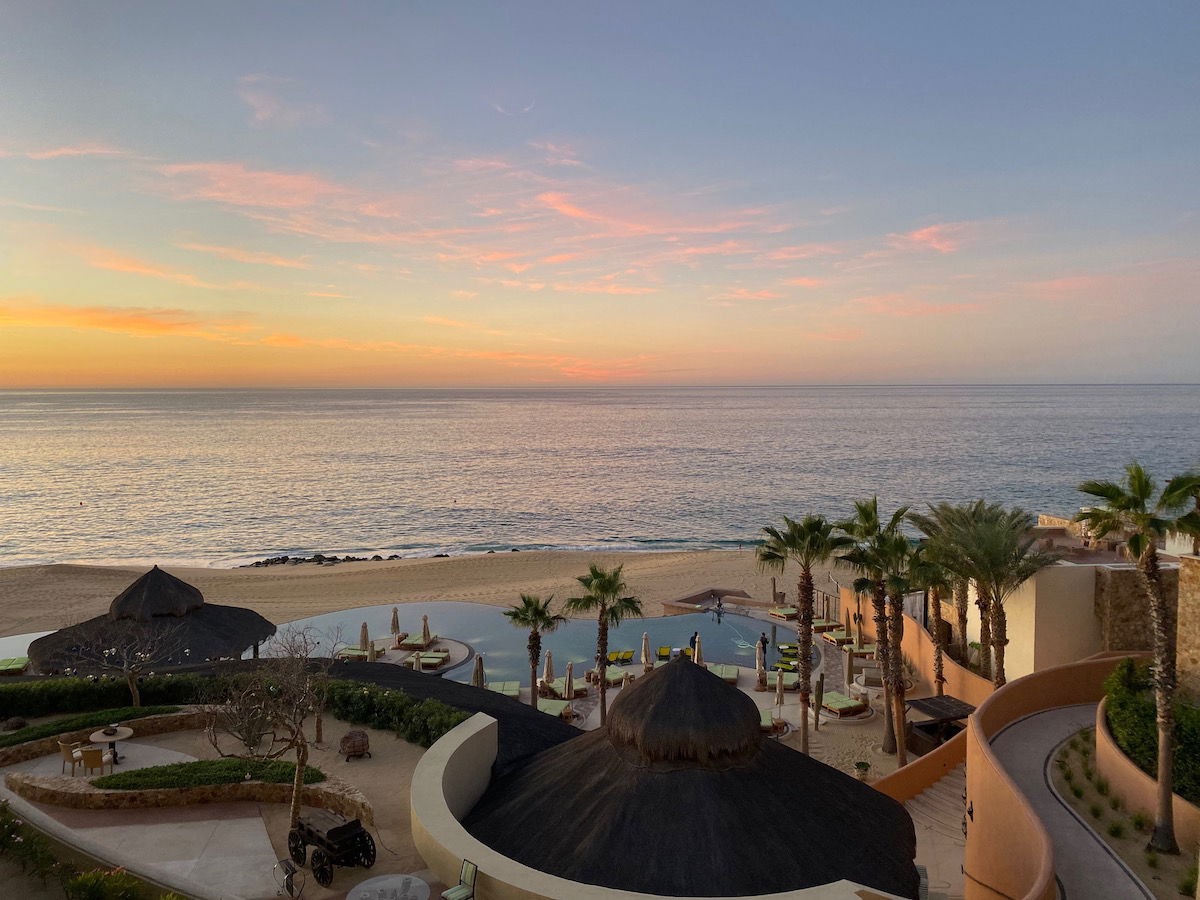 Months later, I still have such fond memories waking up here at around 4AM, opening the doors and listening to the waves, and turning on the fireplace, while drinking my first Nespresso coffee of the morning. Ahhh…
There's one other cool room amenity at the Waldorf Astoria Los Cabos. Every day between 4PM and 6PM, guests can have complimentary chips and guacamole, along with Coronitas, delivered to their room. You just have to call or text, and they'll bring them by. We're not beer drinkers, so when we ordered it one day without the Coronitas, they offered us margaritas instead, which was generous.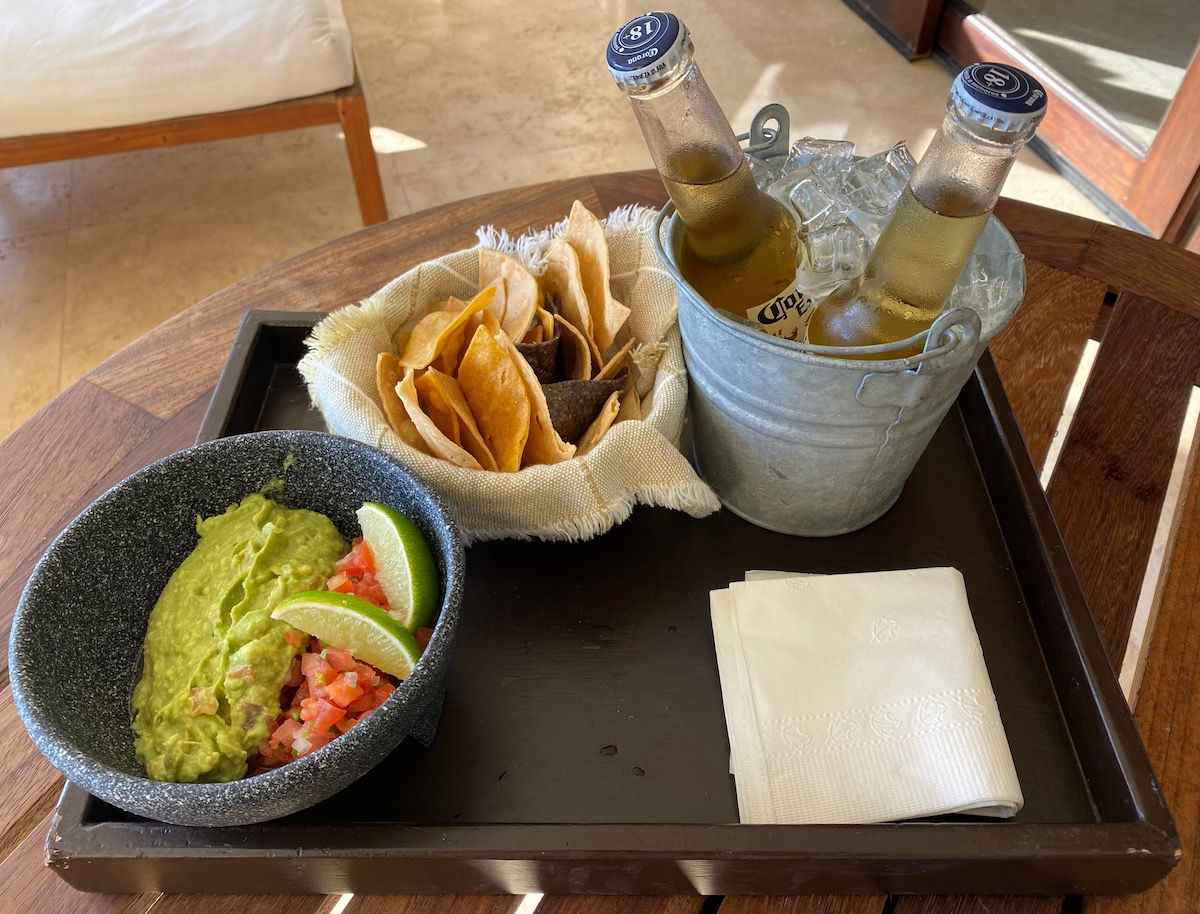 Waldorf Astoria Los Cabos pools
The Waldorf Astoria Los Cabos has four pools available to all guests. The two most popular are the infinity pools located right on the beach.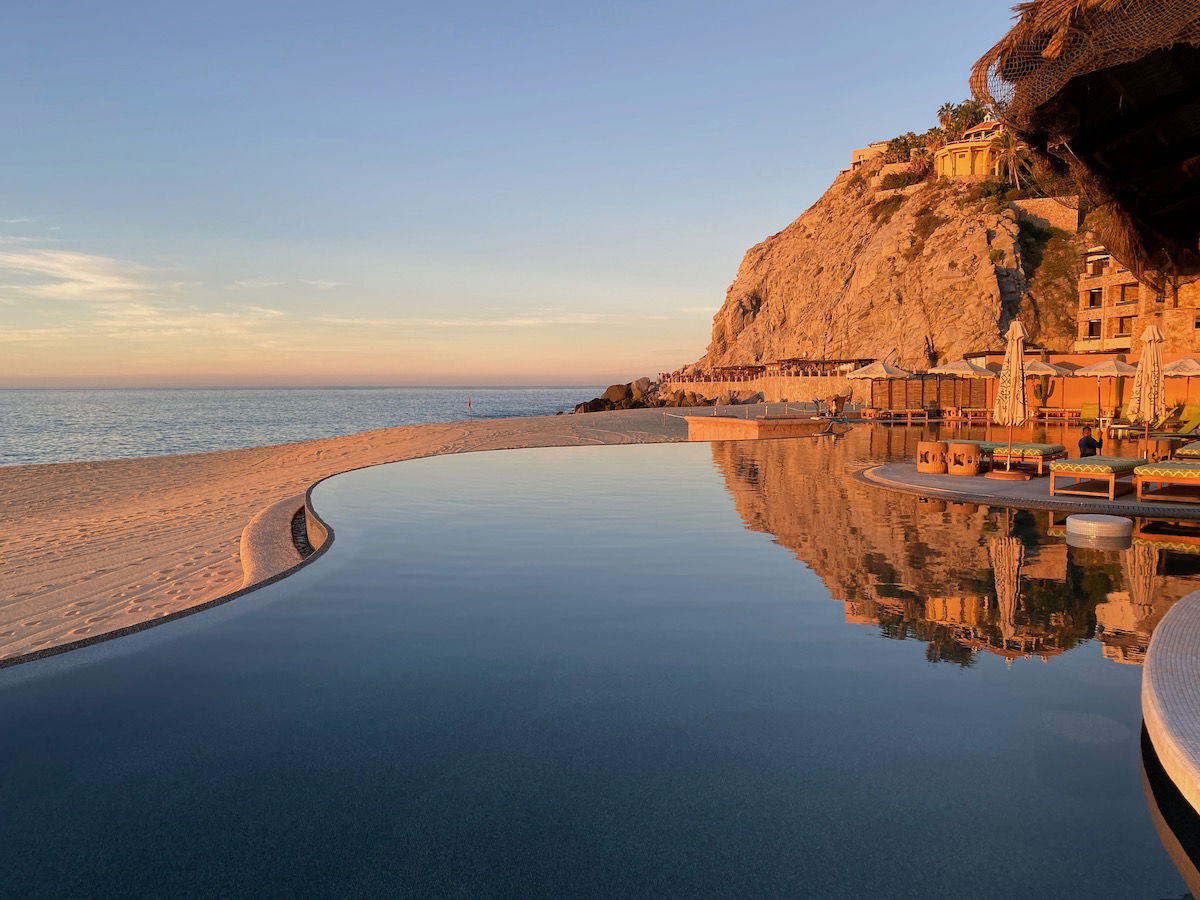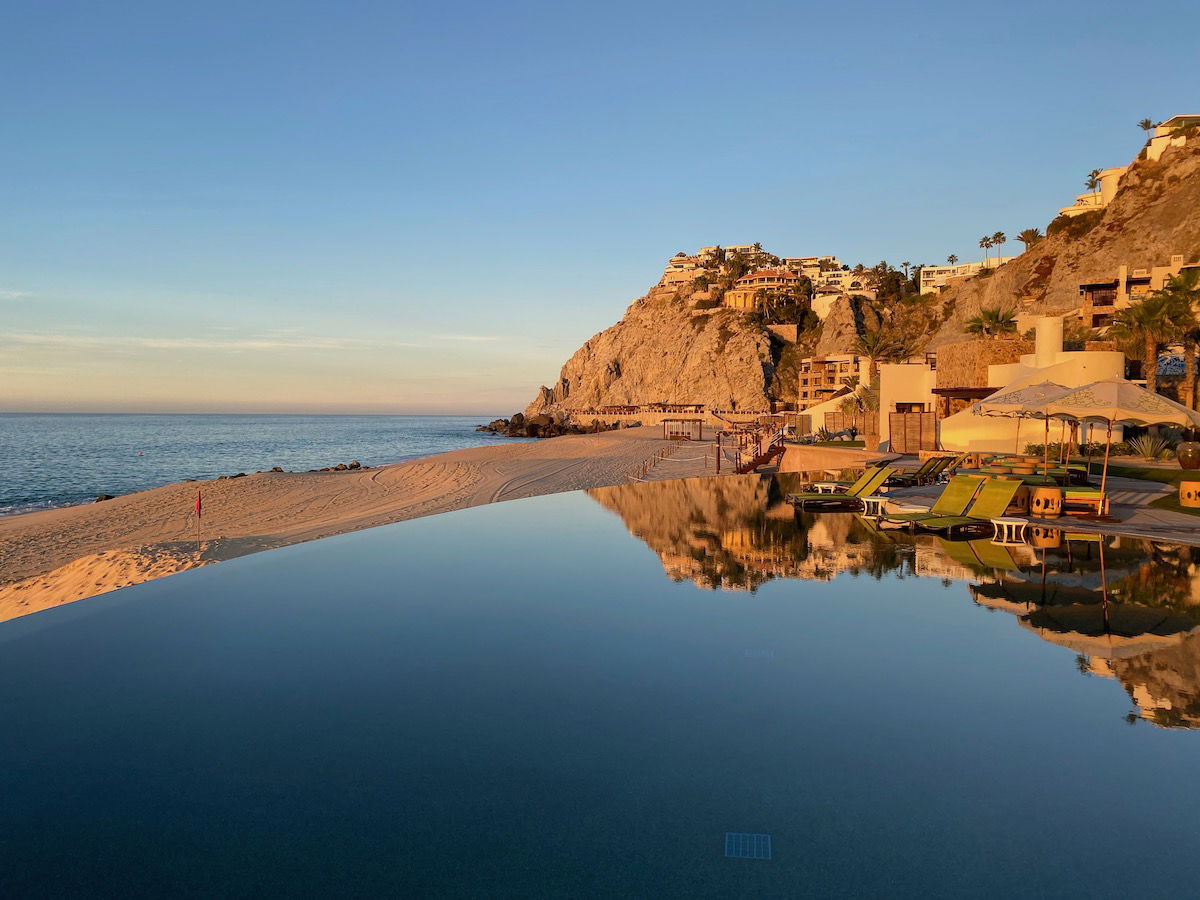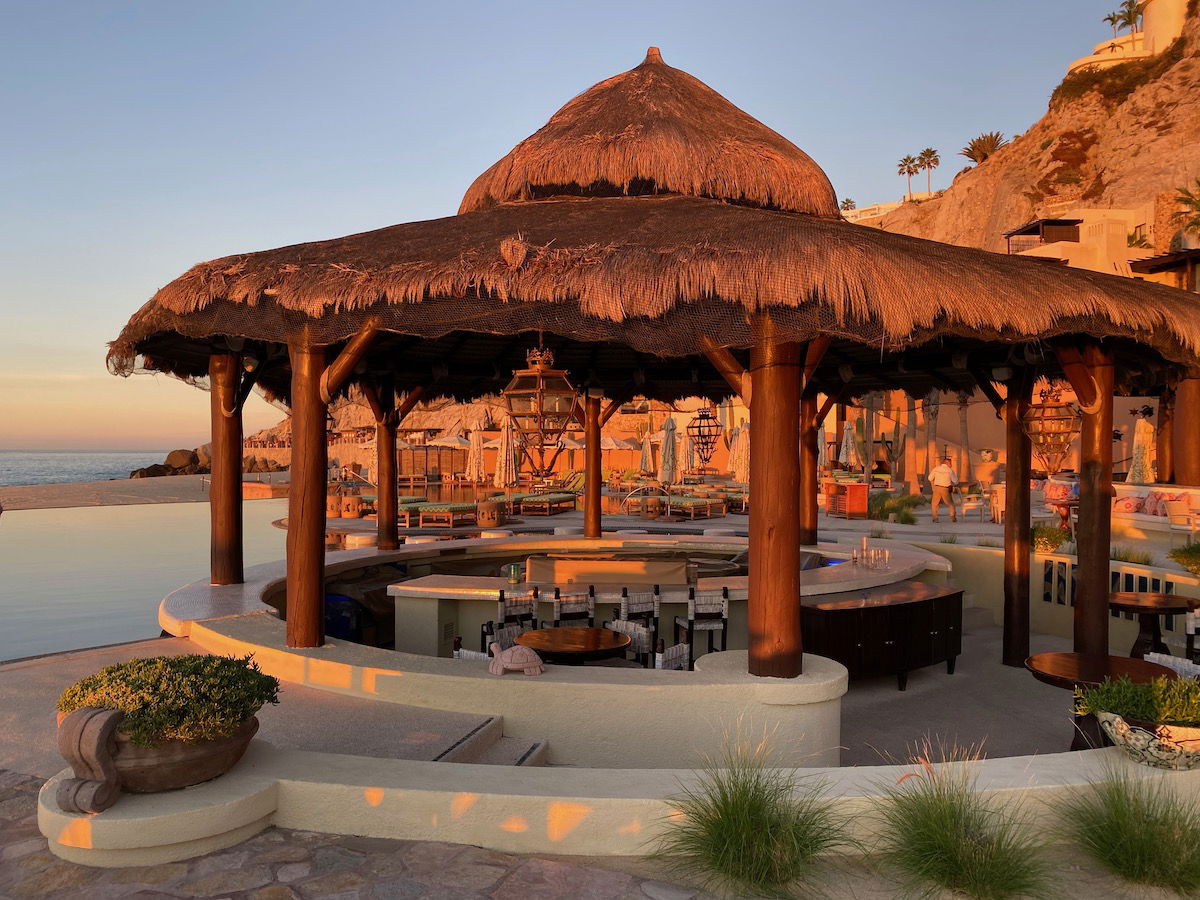 One of the infinity pools even had a hot tub built into the middle of it, which I thought was a cool design.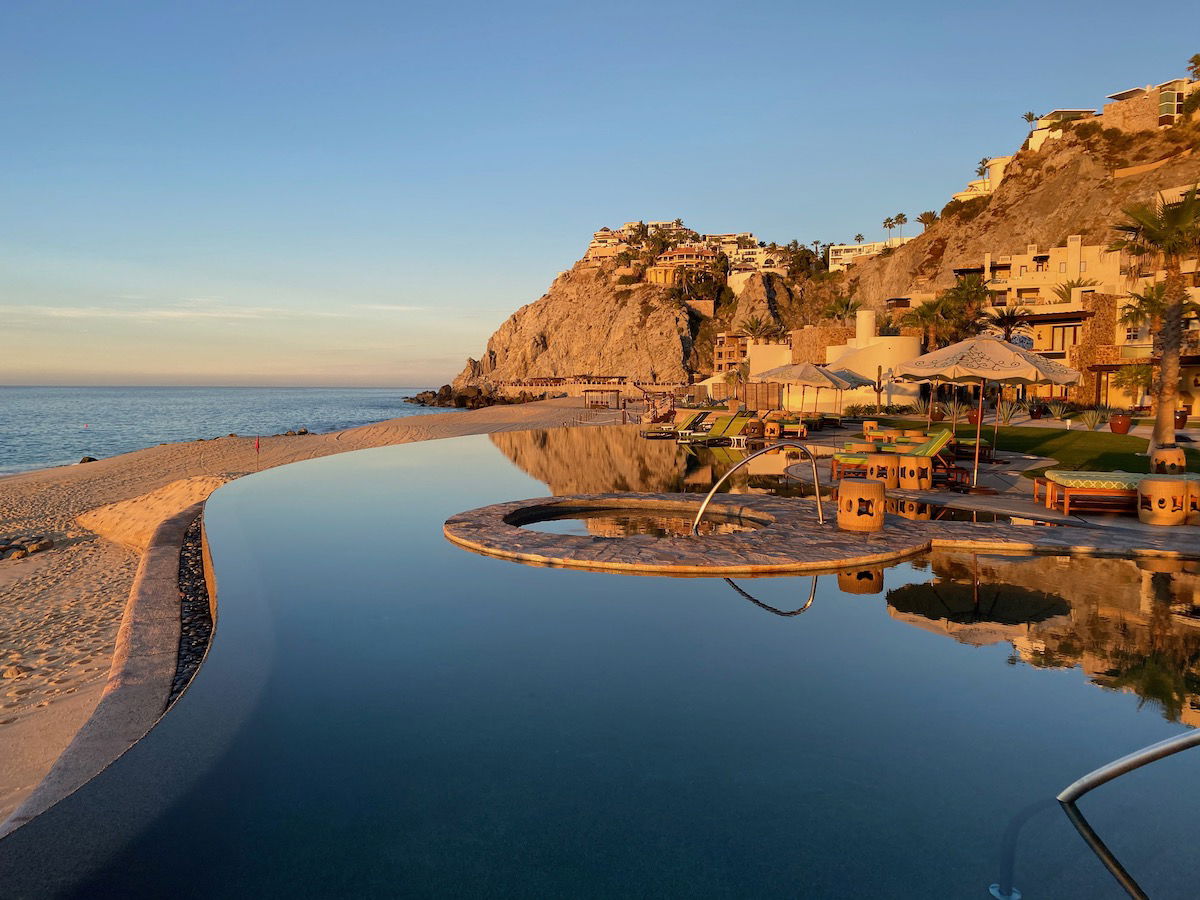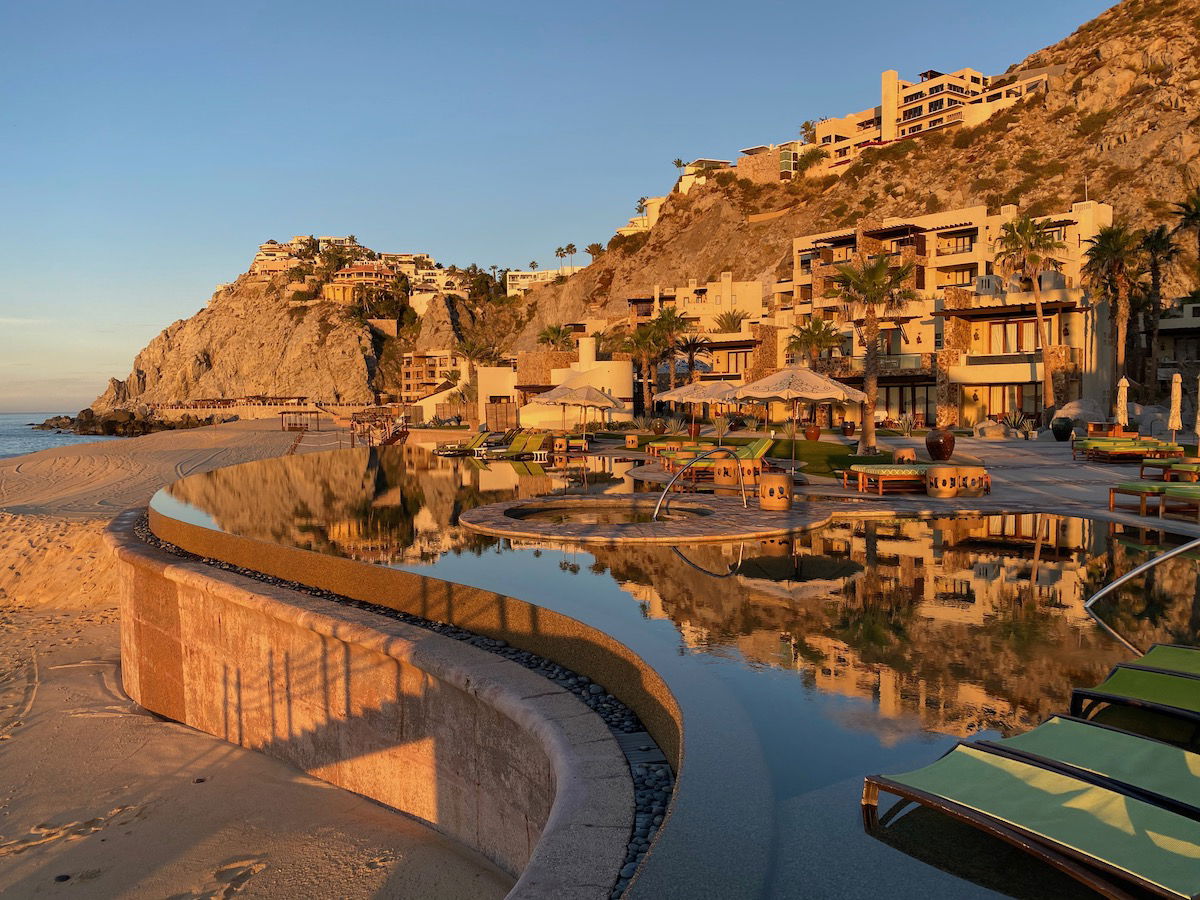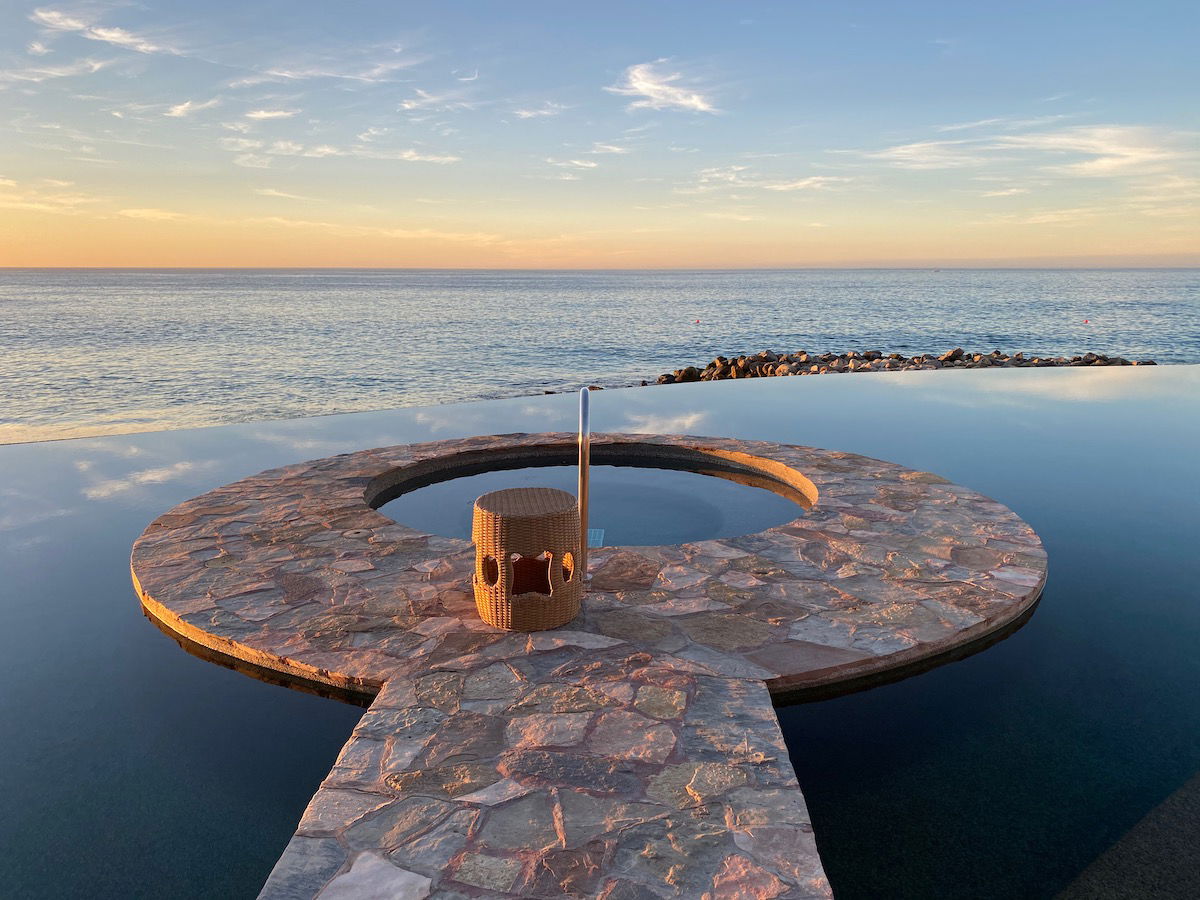 Further away from the beach was a circular pool that was typically the quietest.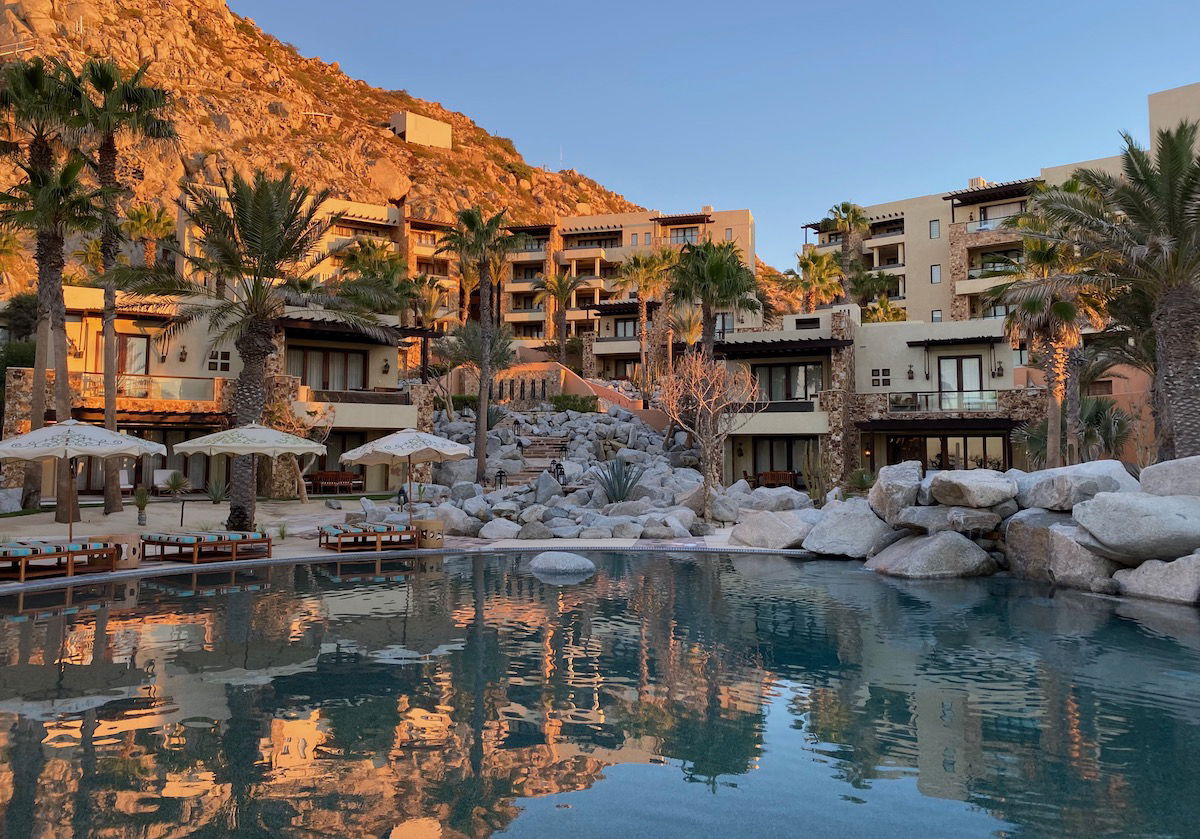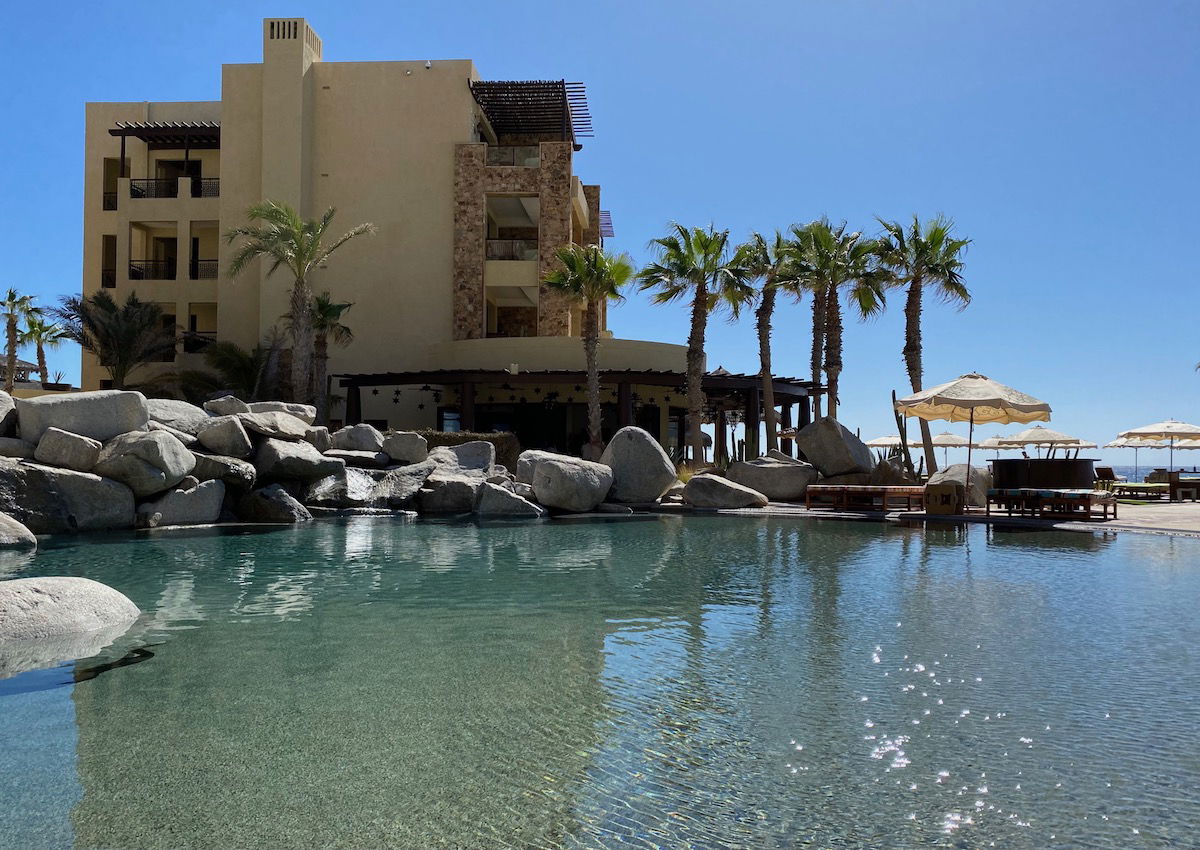 There was also a spa pool with some waterfalls, though we never used this one (and for that matter never used the spa).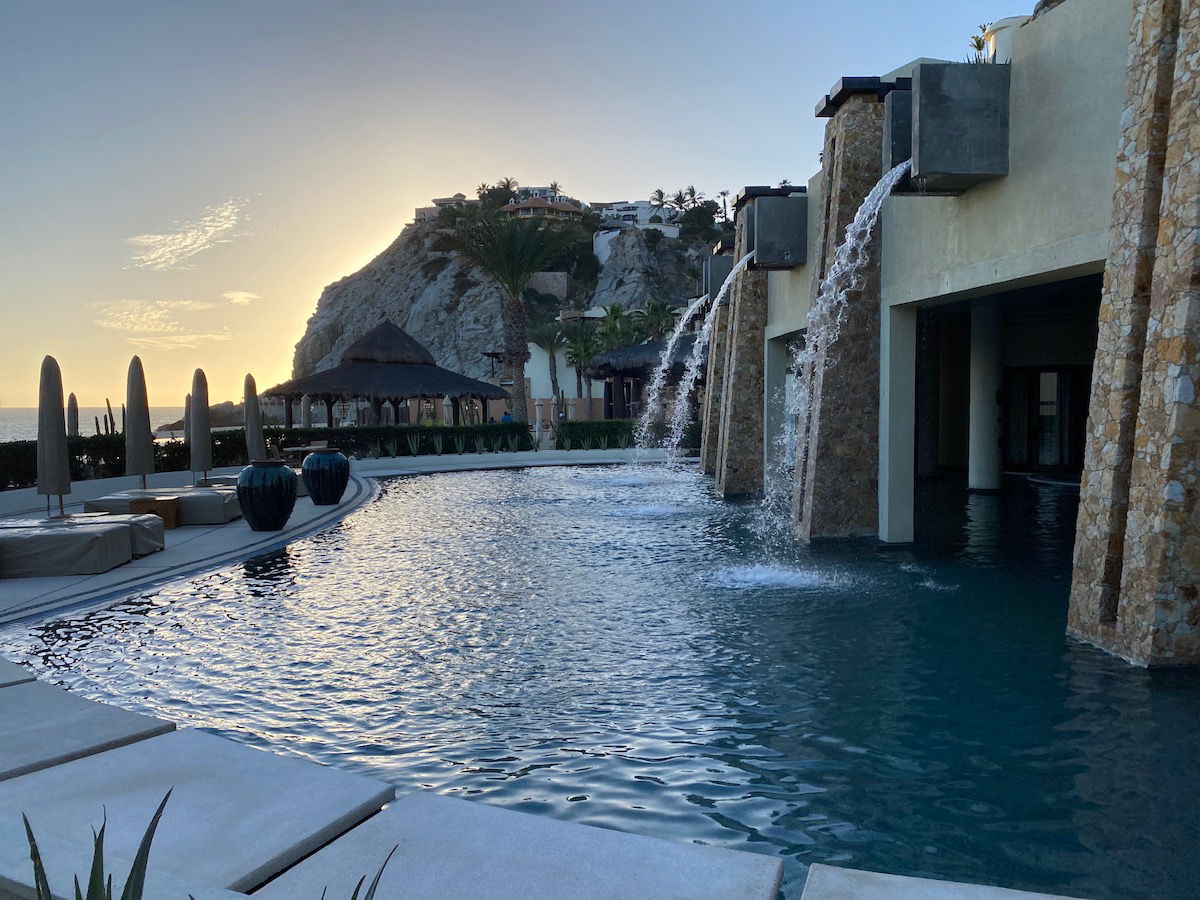 Service around the pools was great, and there were constantly staff serving complimentary drinks, popsicles, snacks, etc.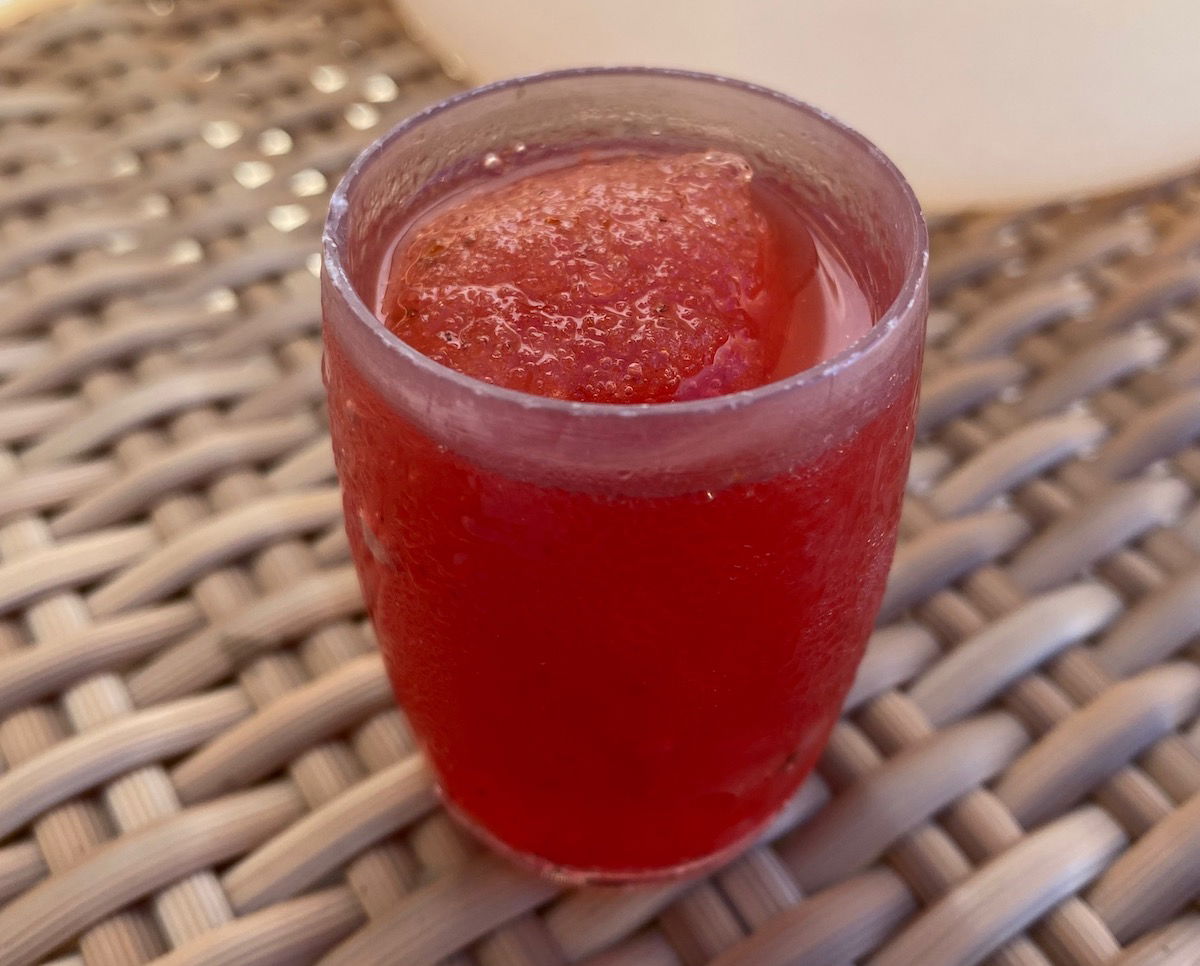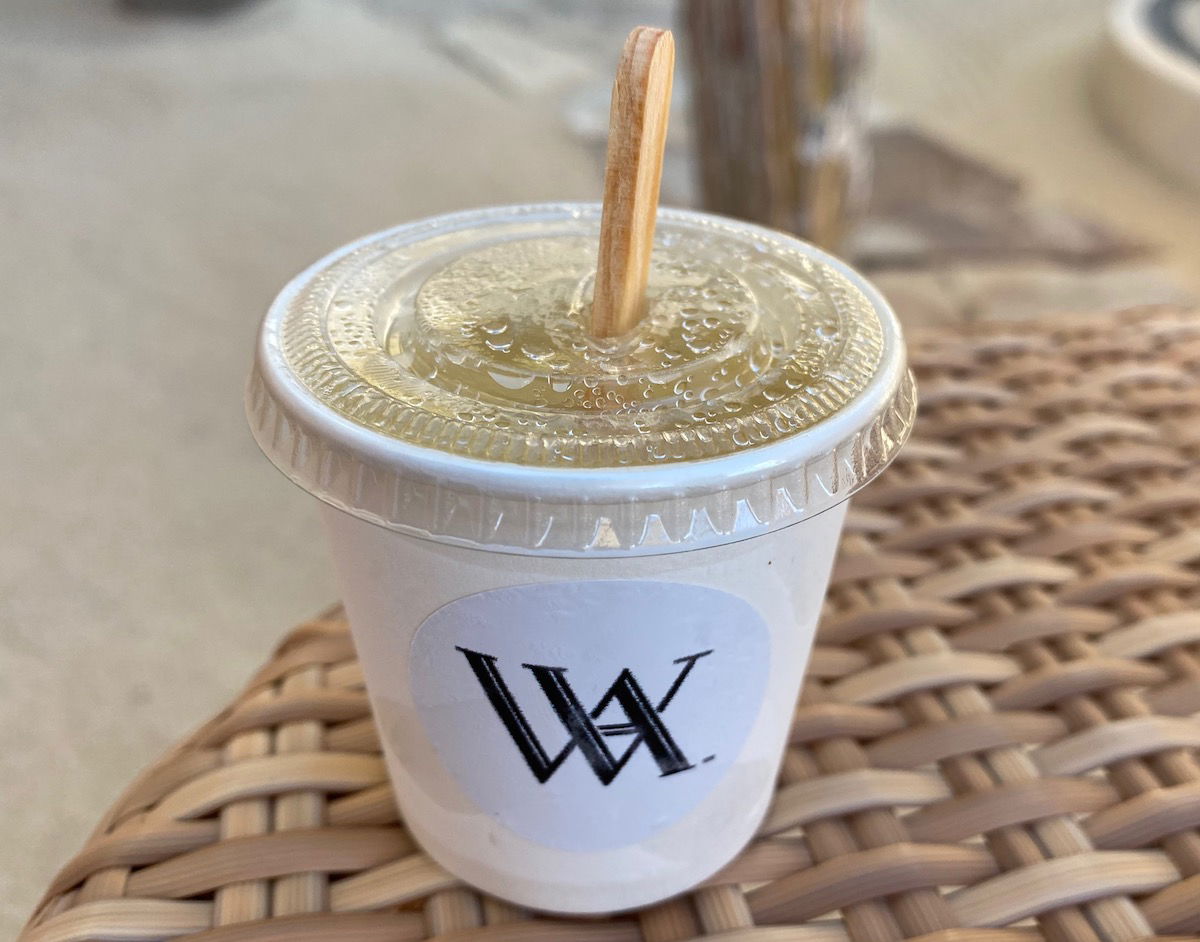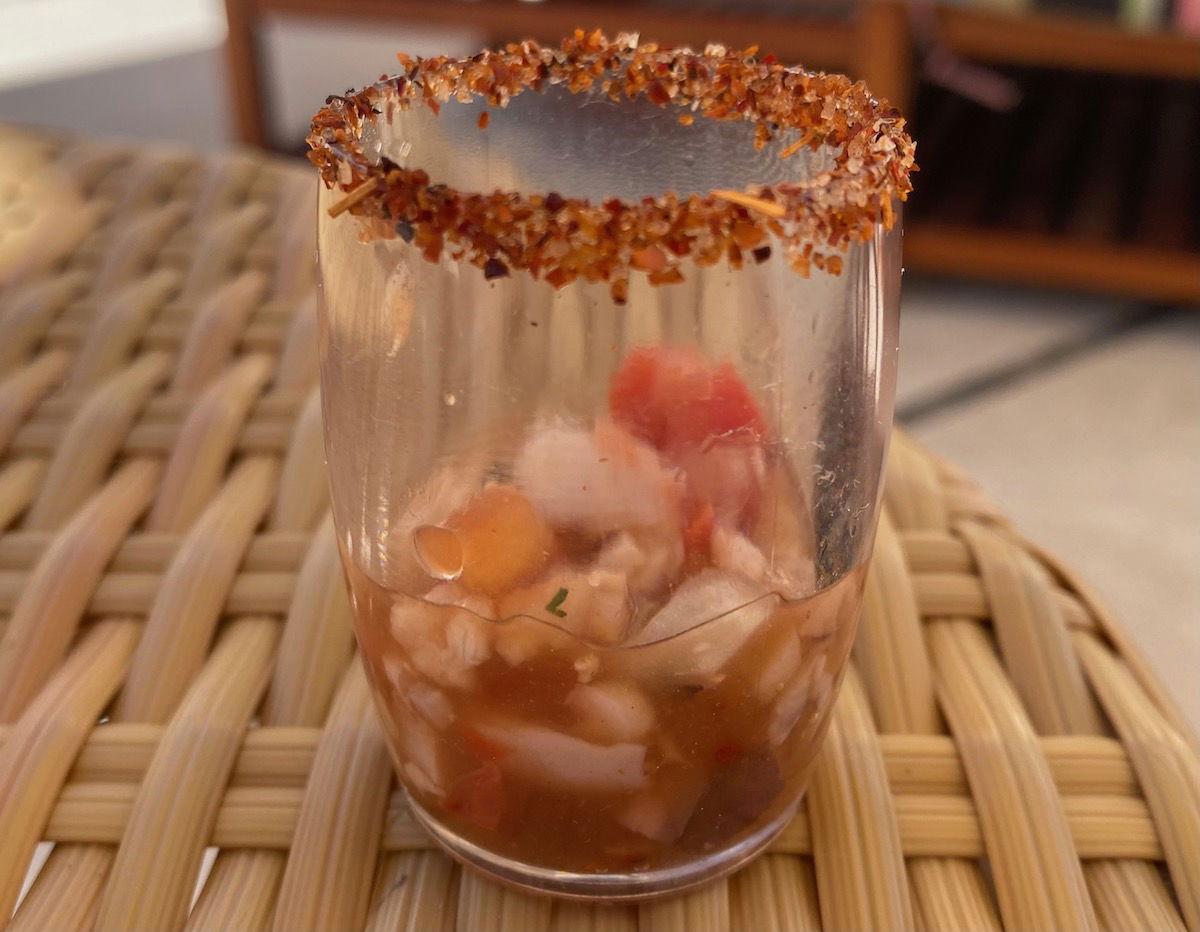 Waldorf Astoria Los Cabos beach
The Waldorf Astoria has a beautiful beach, though like in most parts of Los Cabos, it's not particularly swimmable.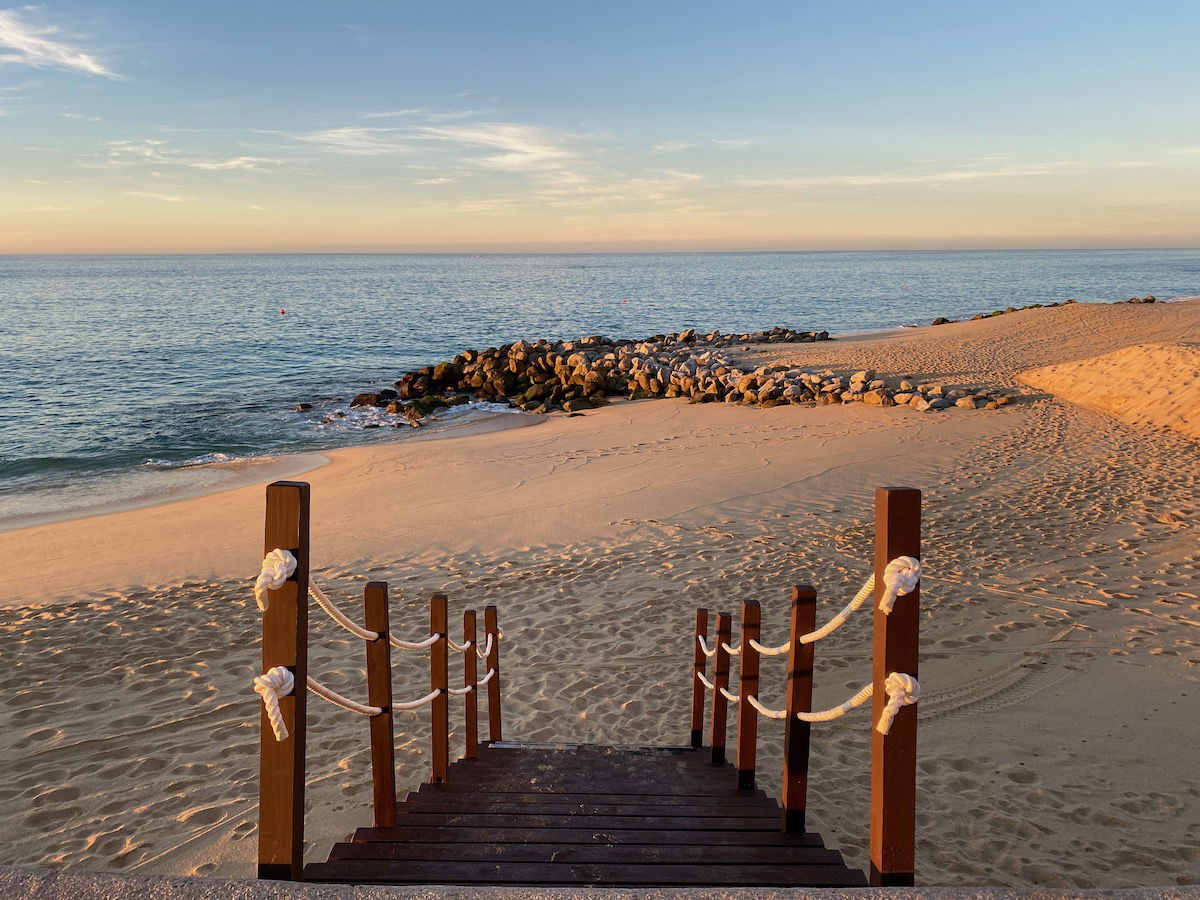 Of the hotels we stayed at, this was one of the less private beaches, in the sense that there are several hotels on that stretch of beach. Nonetheless the beach was almost eerily quiet, but that was probably more a reflection of the times than anything else.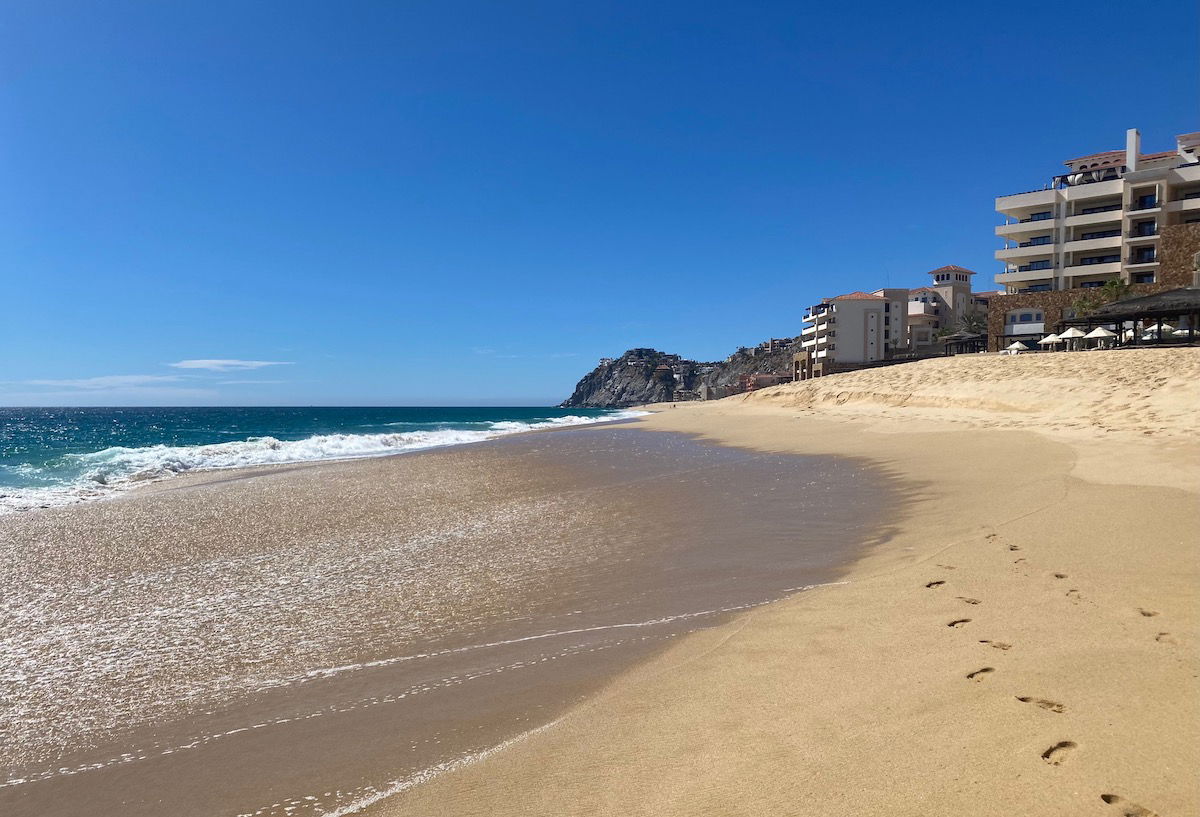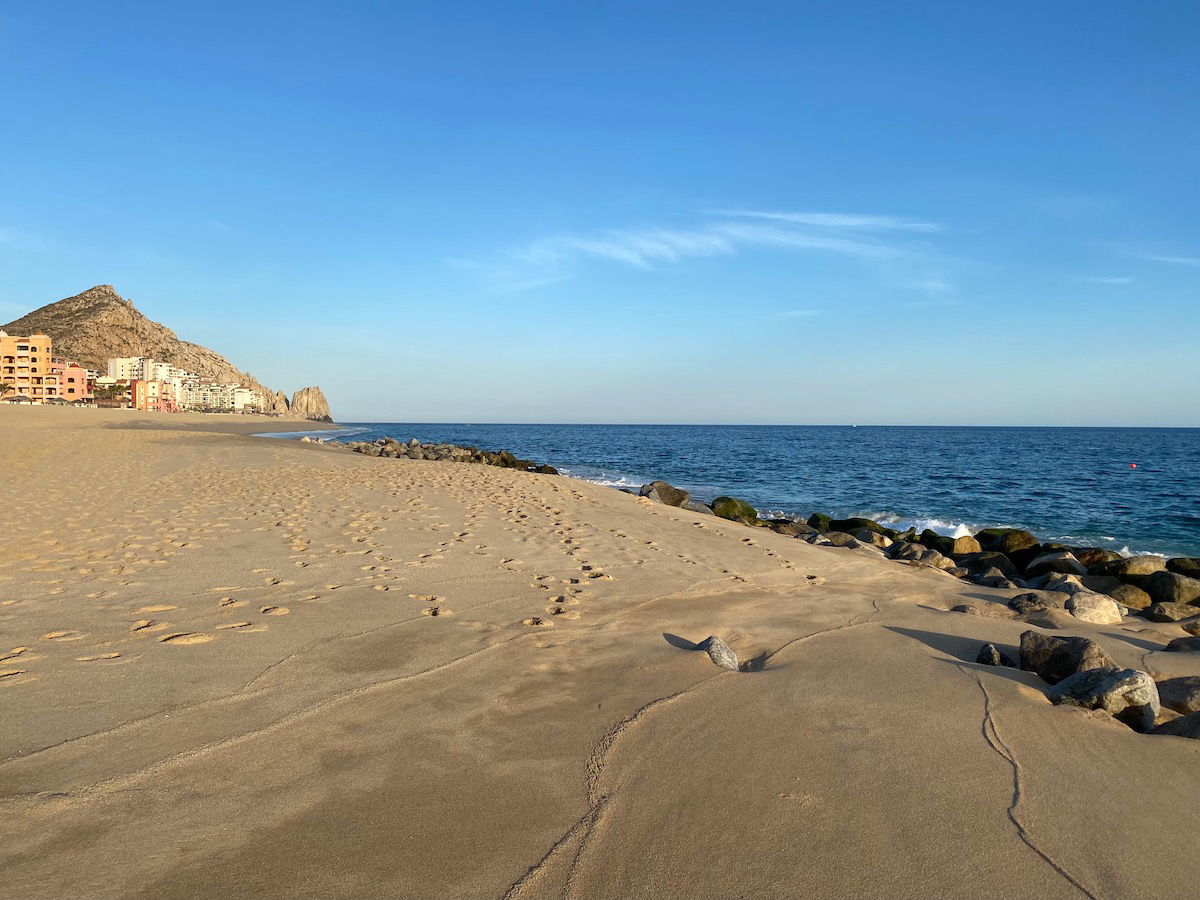 If you're into beach walking, this is a great area, as the beach extends quite a ways.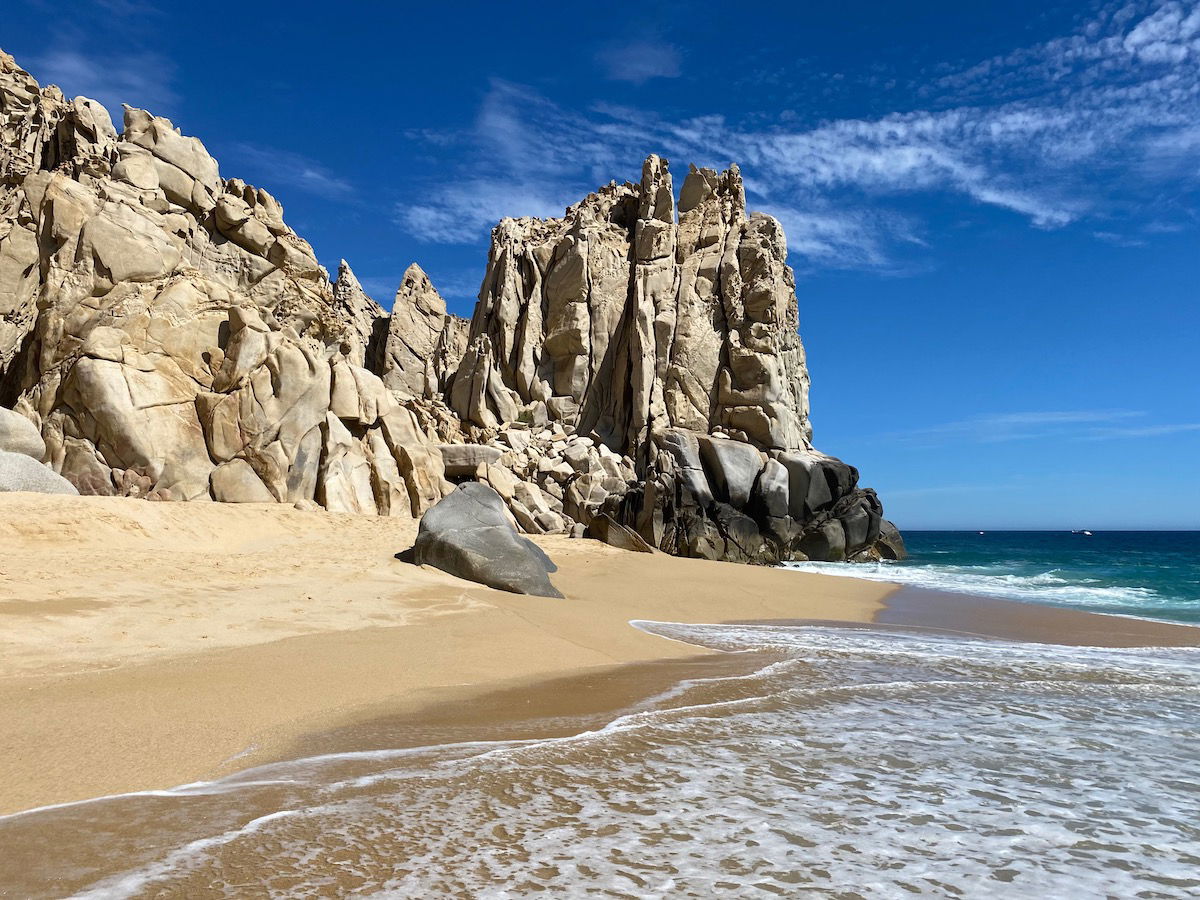 As I said in the introduction post, for me Los Cabos is a perfect destination — I prefer pools to the ocean, but I love walking on beaches, so the beach was perfect for me.
Waldorf Astoria Los Cabos gym
The Waldorf Astoria has an excellent gym, with plenty of cardio equipment, weights, and even a yoga room.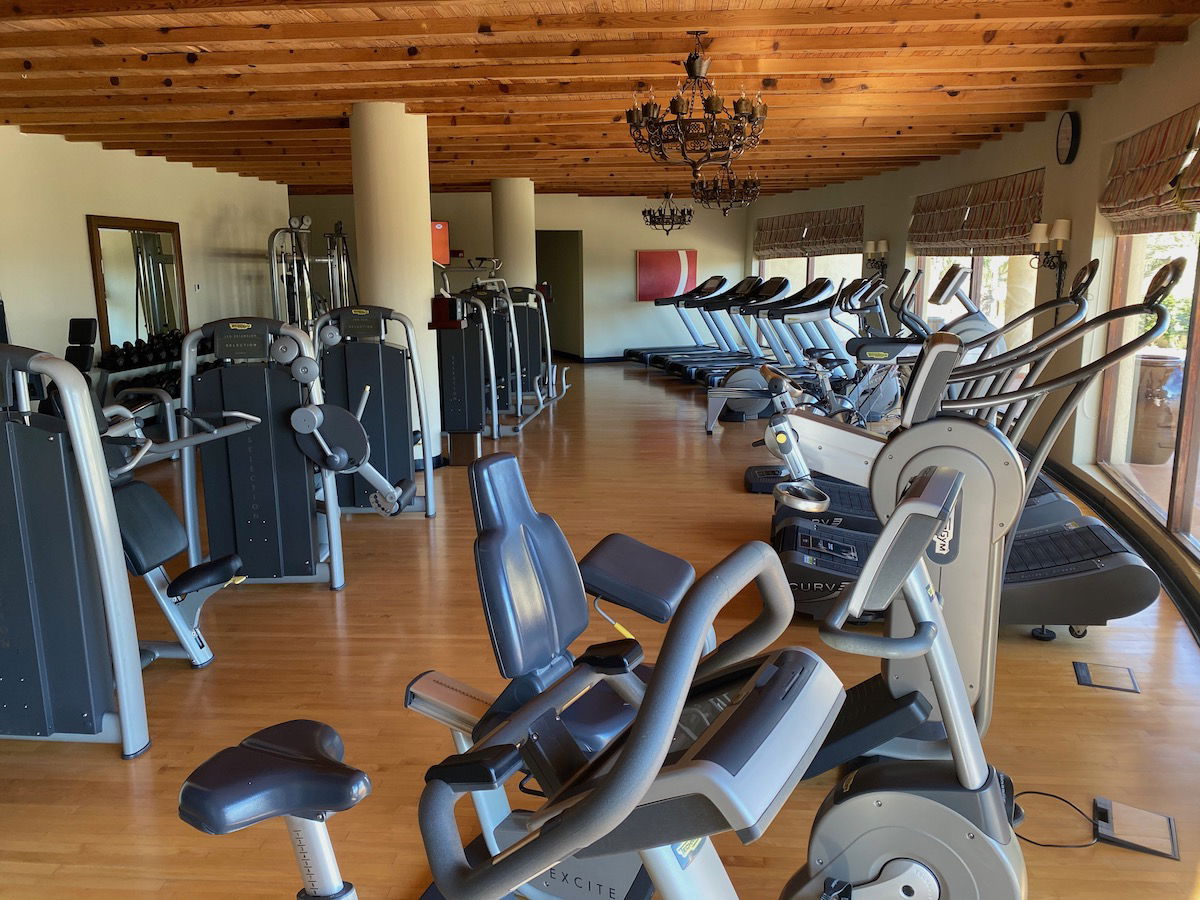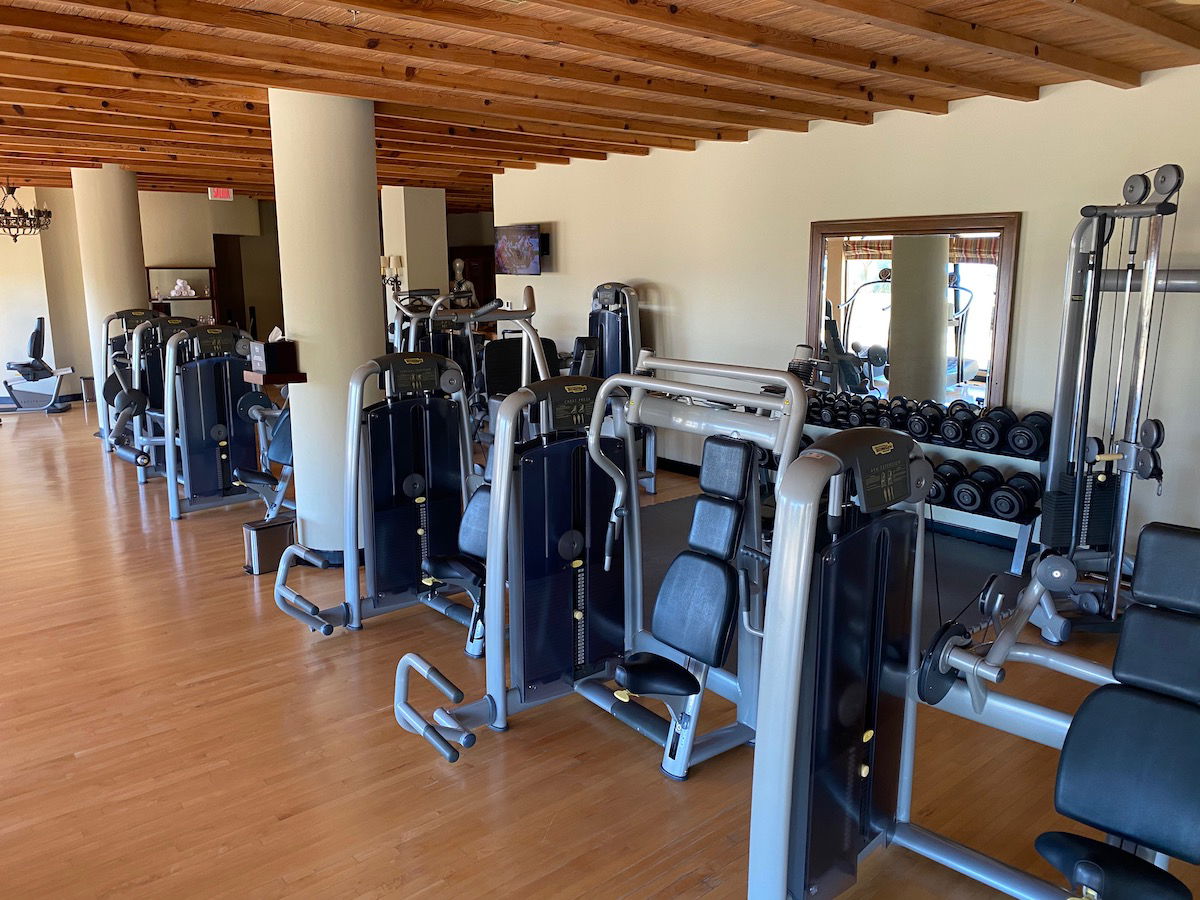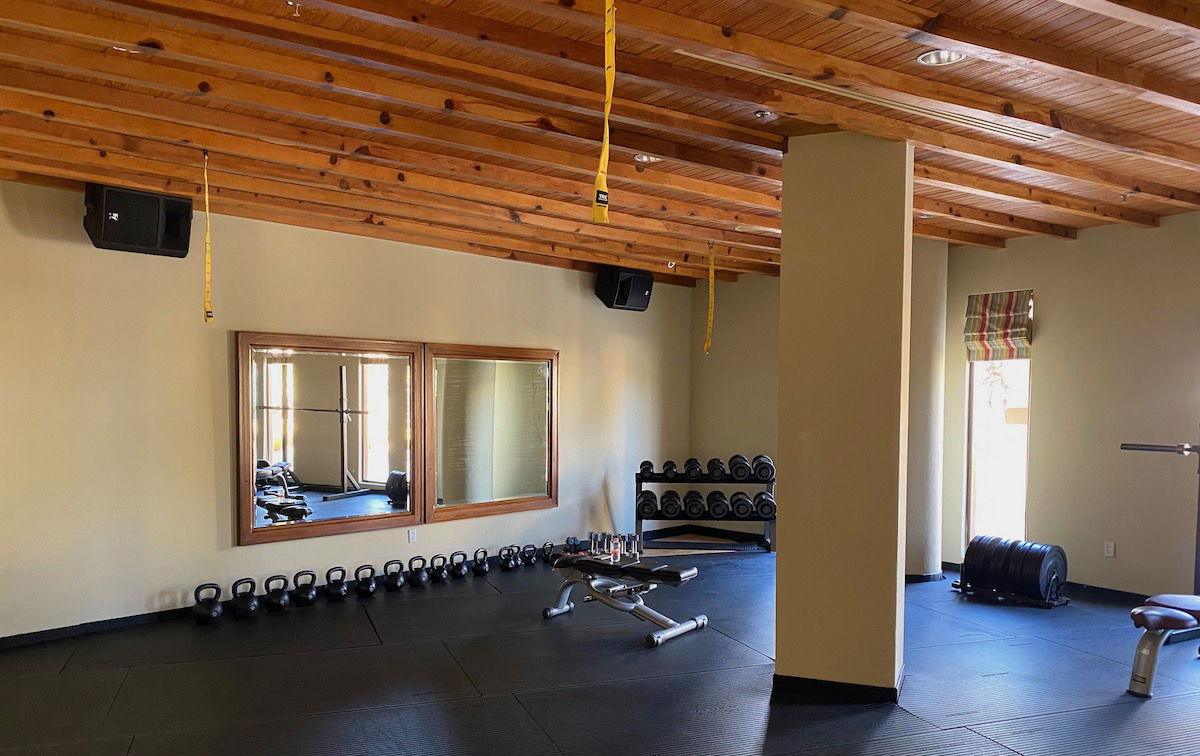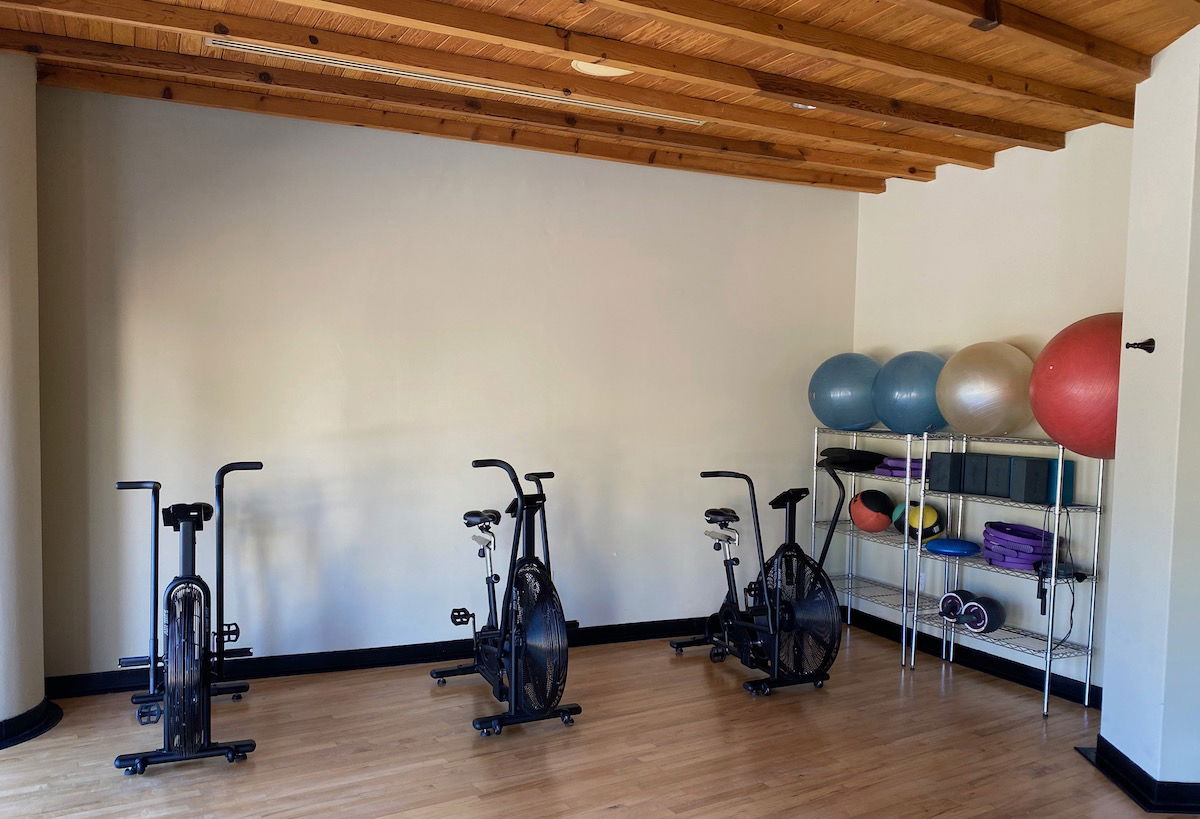 Also in the gym is a small business center and library of sorts.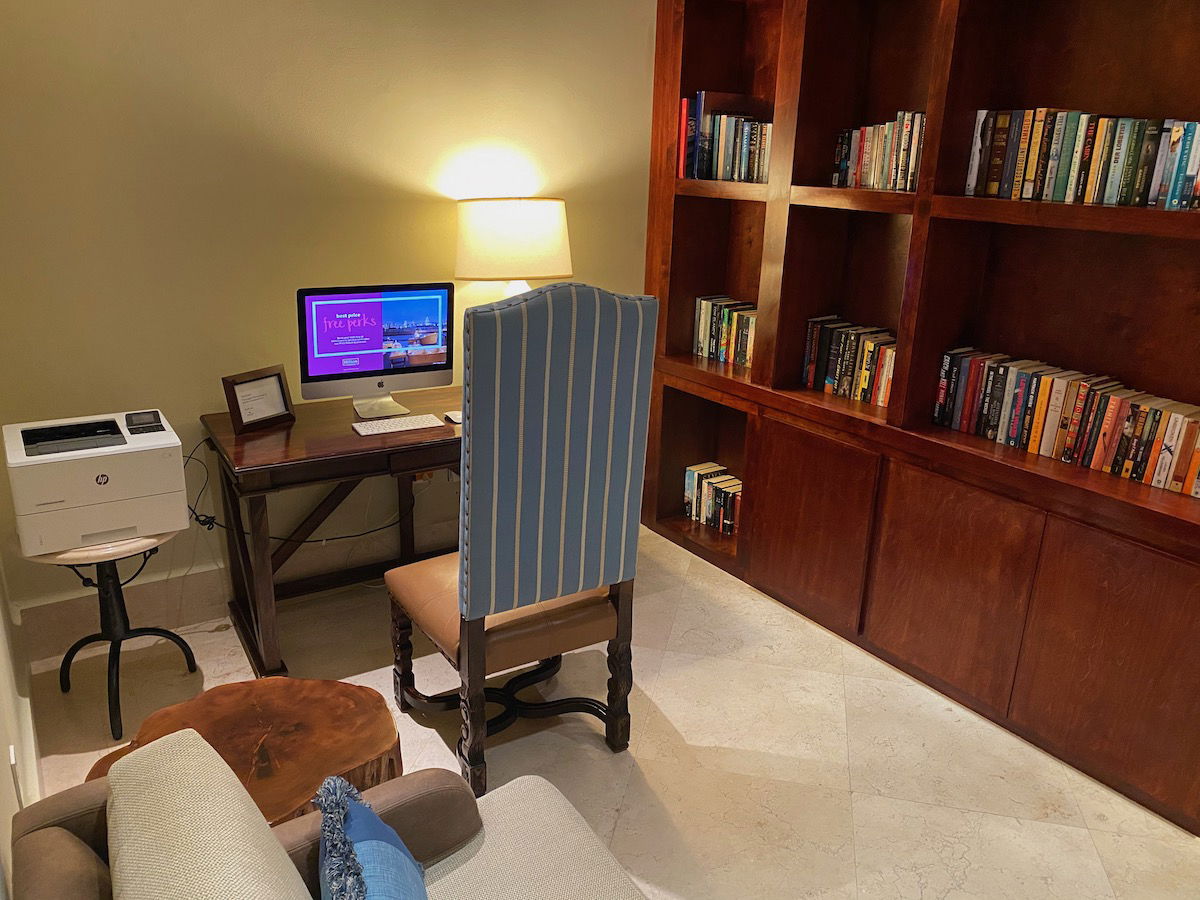 Waldorf Astoria Los Cabos Don Manuel's Restaurant (breakfast)
Breakfast at the Waldorf Astoria is served daily from 7:00AM until 11:30AM at Don Manuel's, located right near the pools. The restaurant has both indoor and outdoor seating, though with the doors fully open, the entire space is basically outdoors.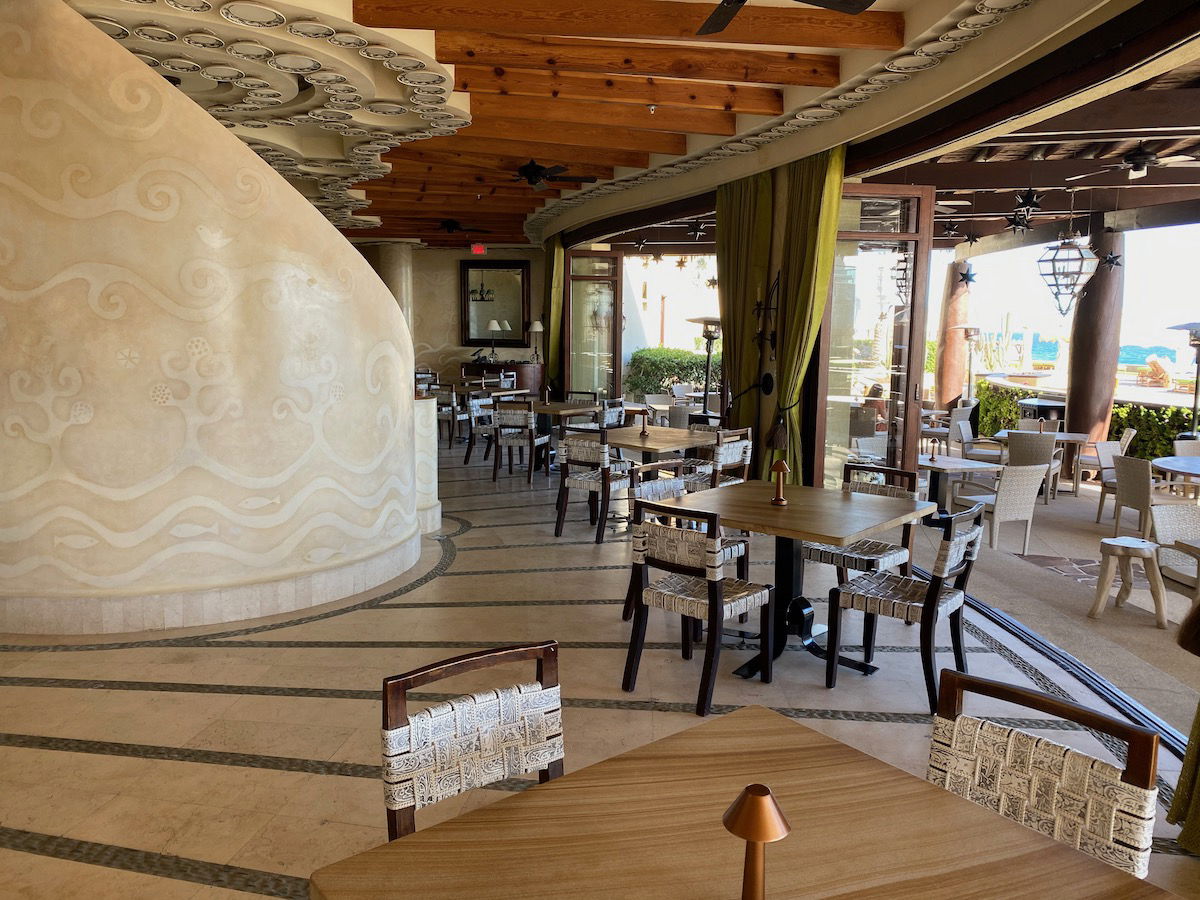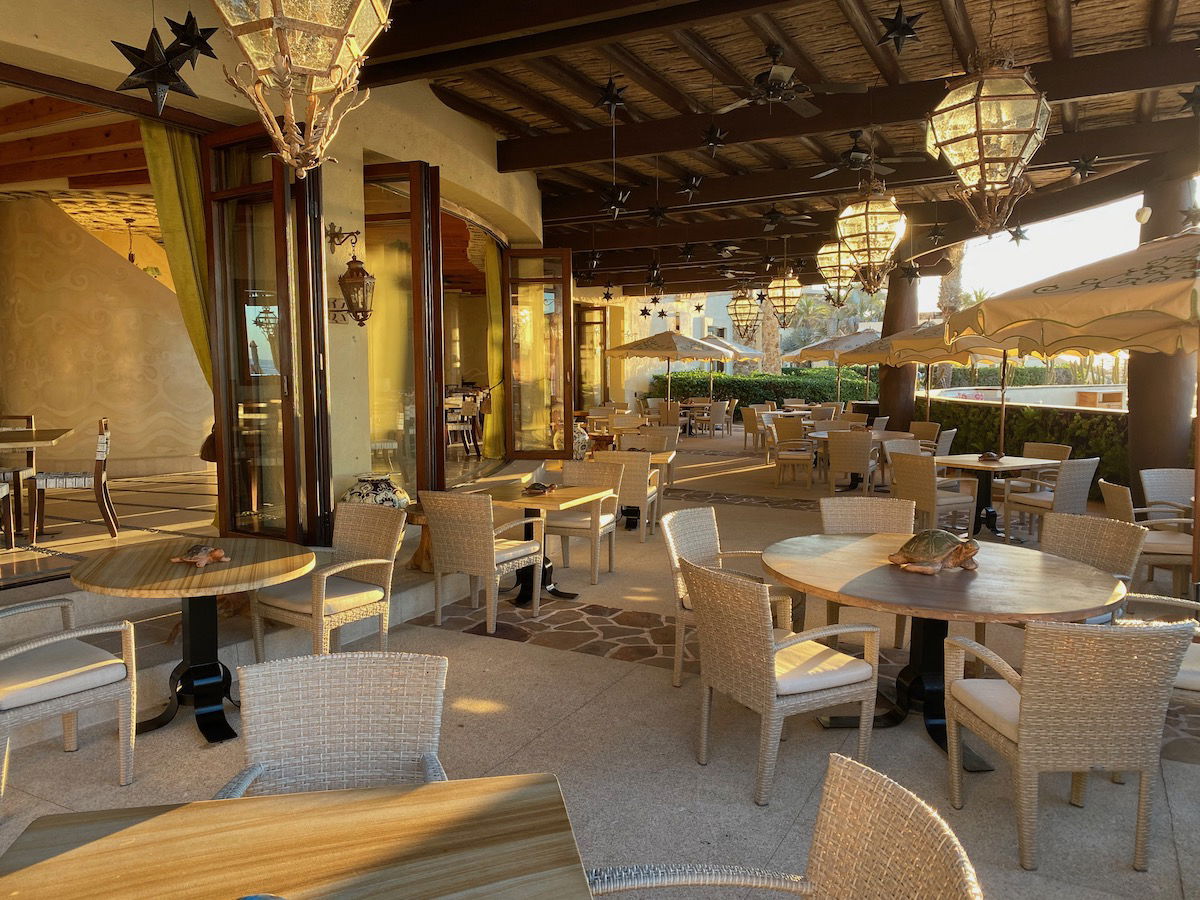 The restaurant also has a bar, which is popular in the evenings, and sometimes has live music.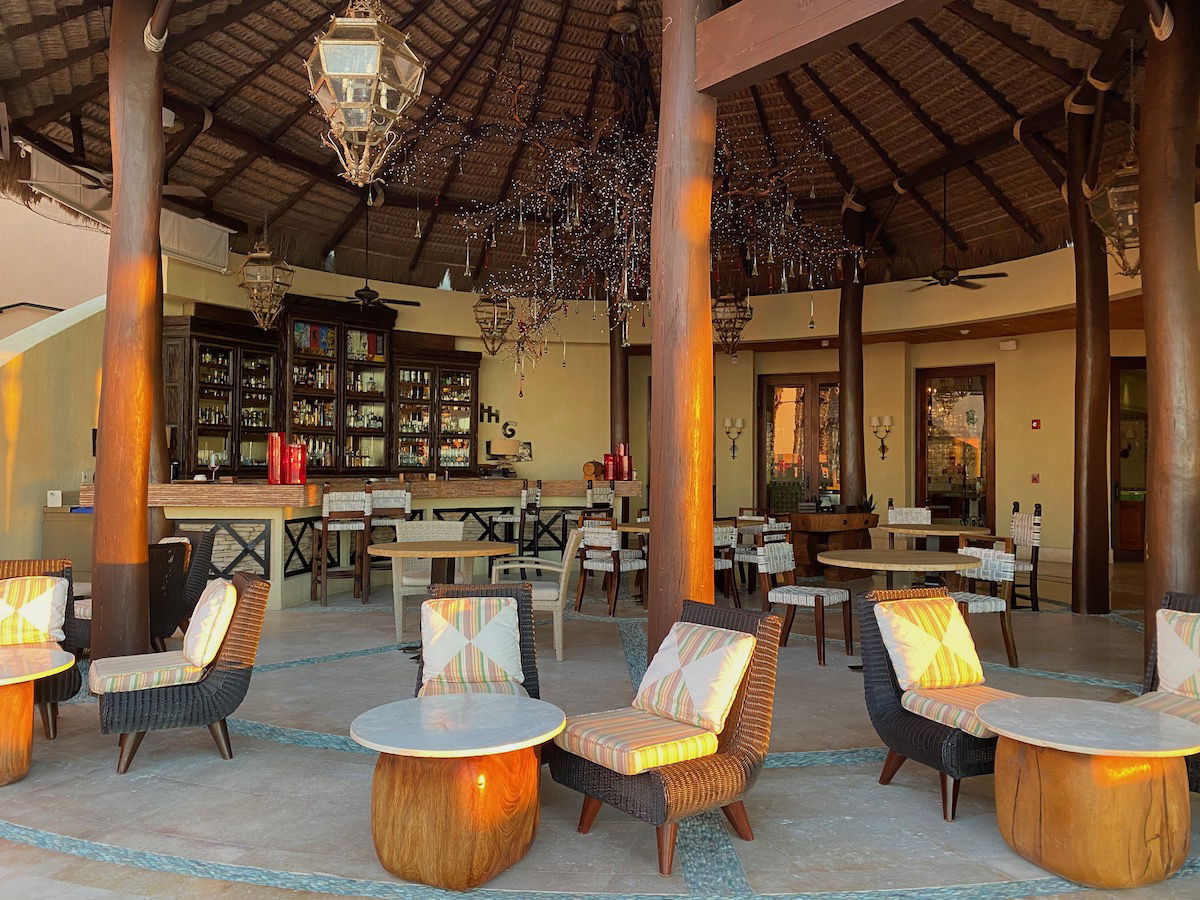 Thanks to our Hilton Honors Diamond status we received complimentary continental breakfast. The standard is that you receive the "light beginning" option from the menu, which includes coffee, freshly squeezed juice, a fruit plate, a pastry basket, and homemade granola or cereal (I chose granola with yogurt). The breakfast is quite filling.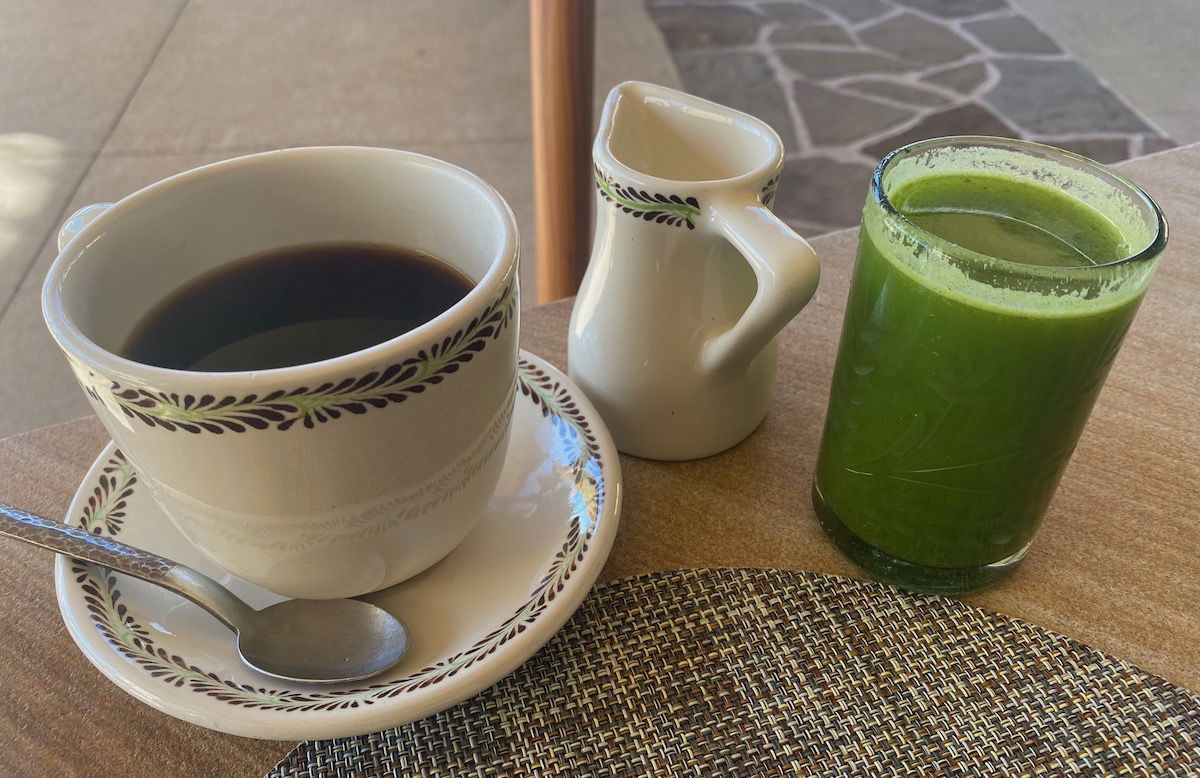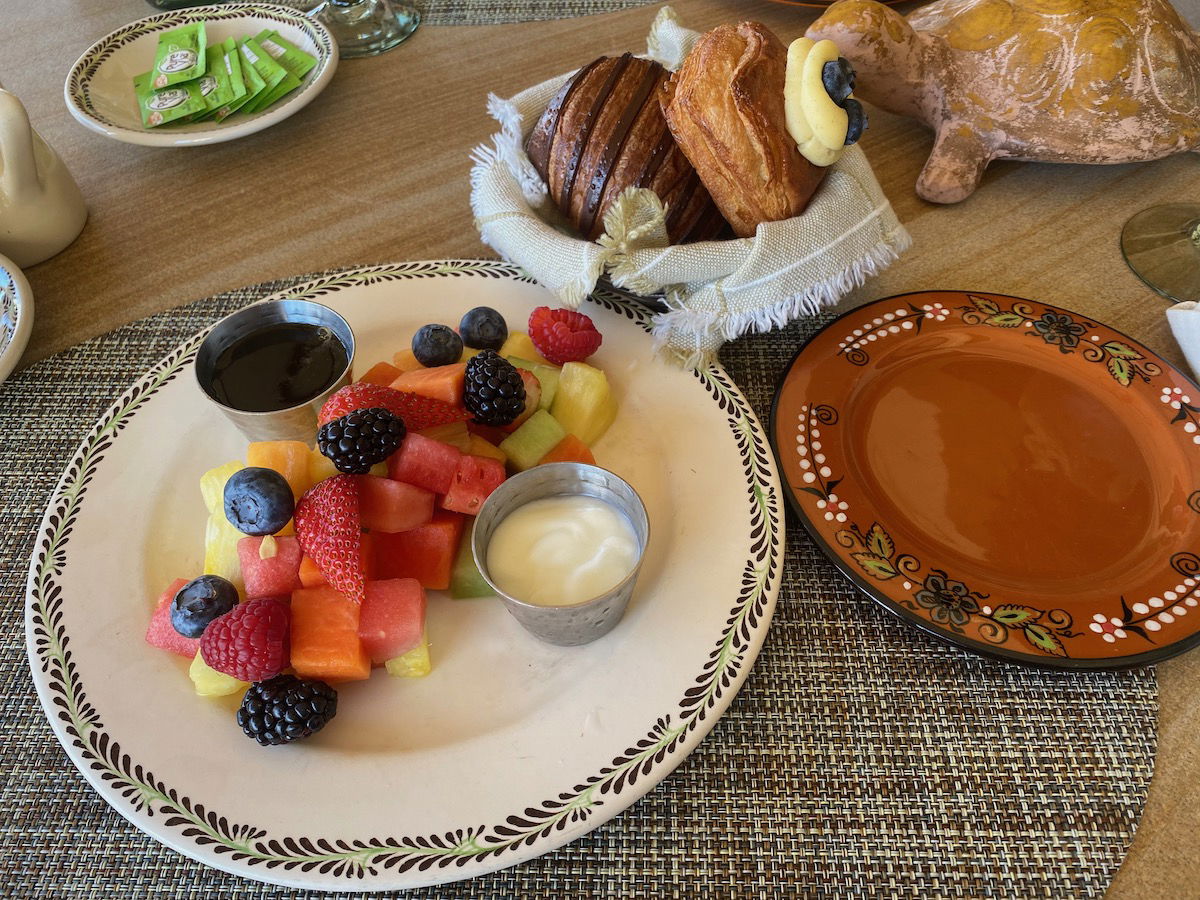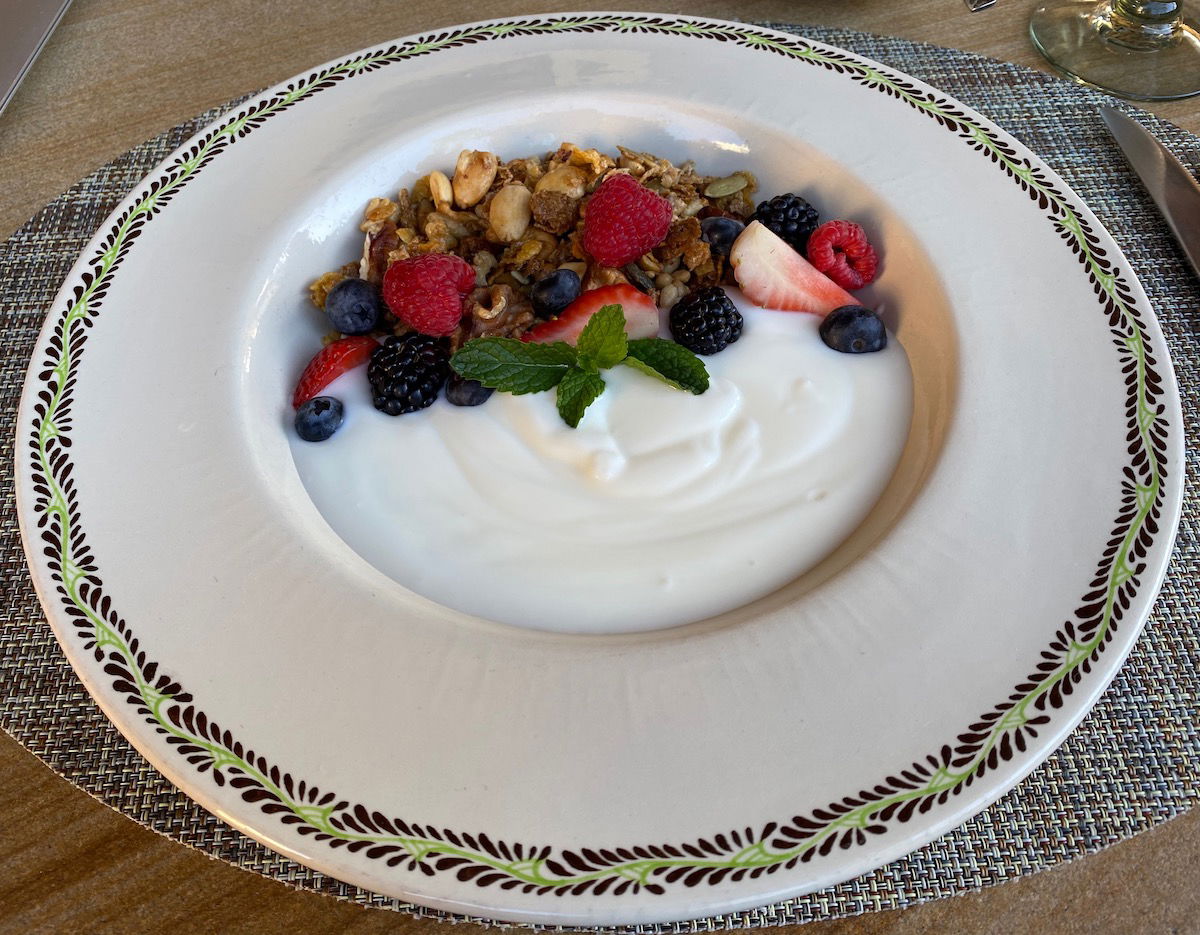 As an alternative, for $9 per person you can upgrade to the Mexican breakfast option. This also includes coffee, juice, a fruit plate, and pastries, but it also includes a hot dish. Generally people order scrambled eggs Mexican style, with green or red chilaquiles and black beans.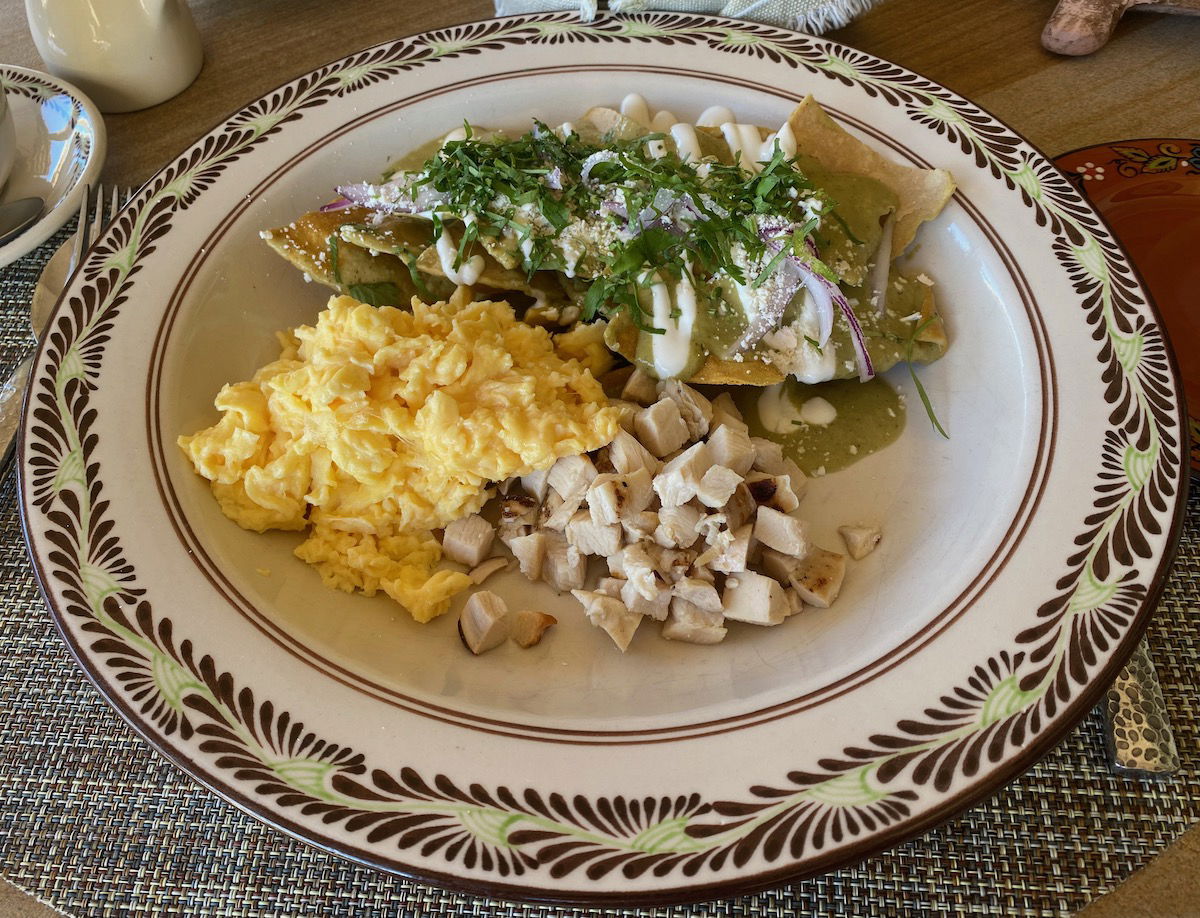 However, they seemed to be flexible when it comes to the egg choices, so for the same upcharge you could order an omelet, or something similar.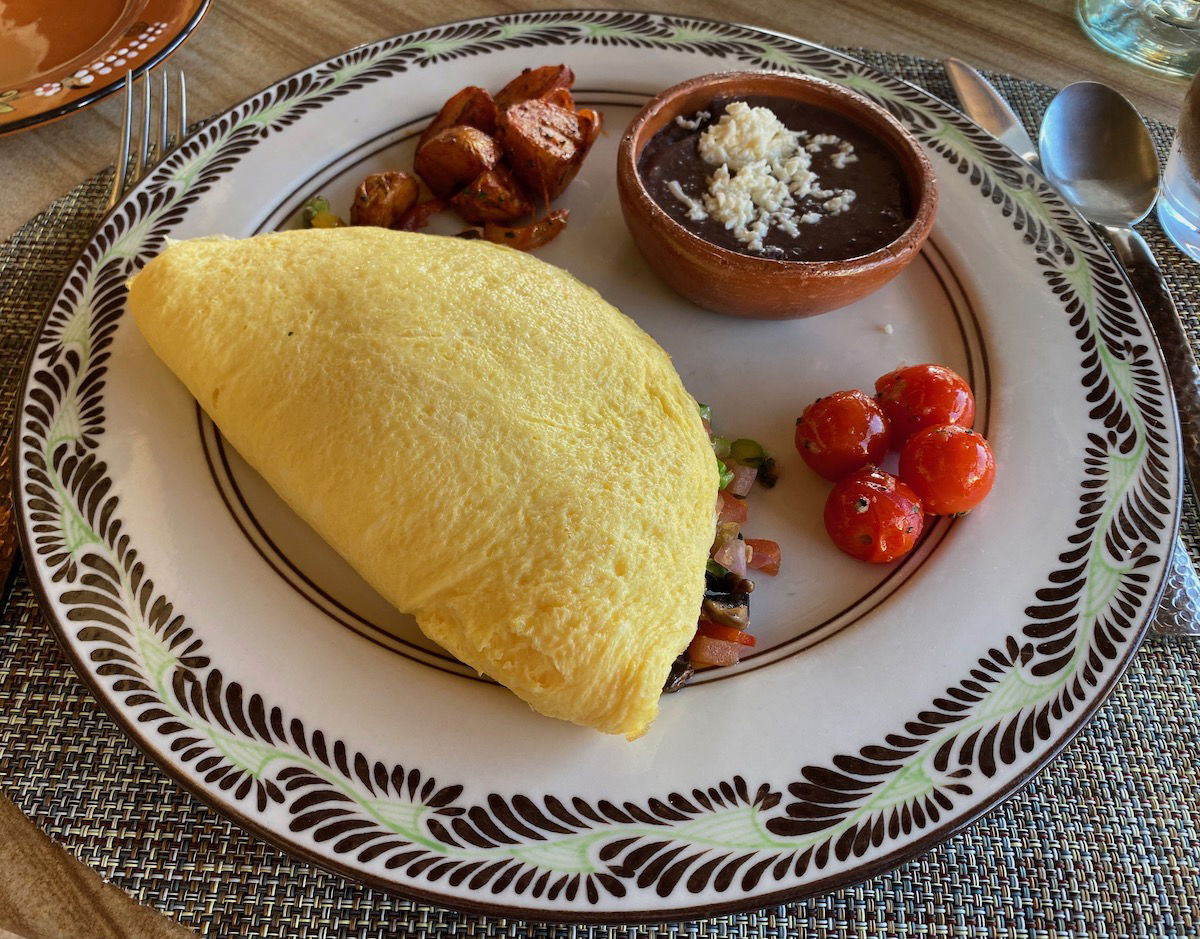 There was some inconsistency when it came to being charged for iced beverages. We had iced coffee two mornings — one morning we were charged extra for it, while another morning we weren't.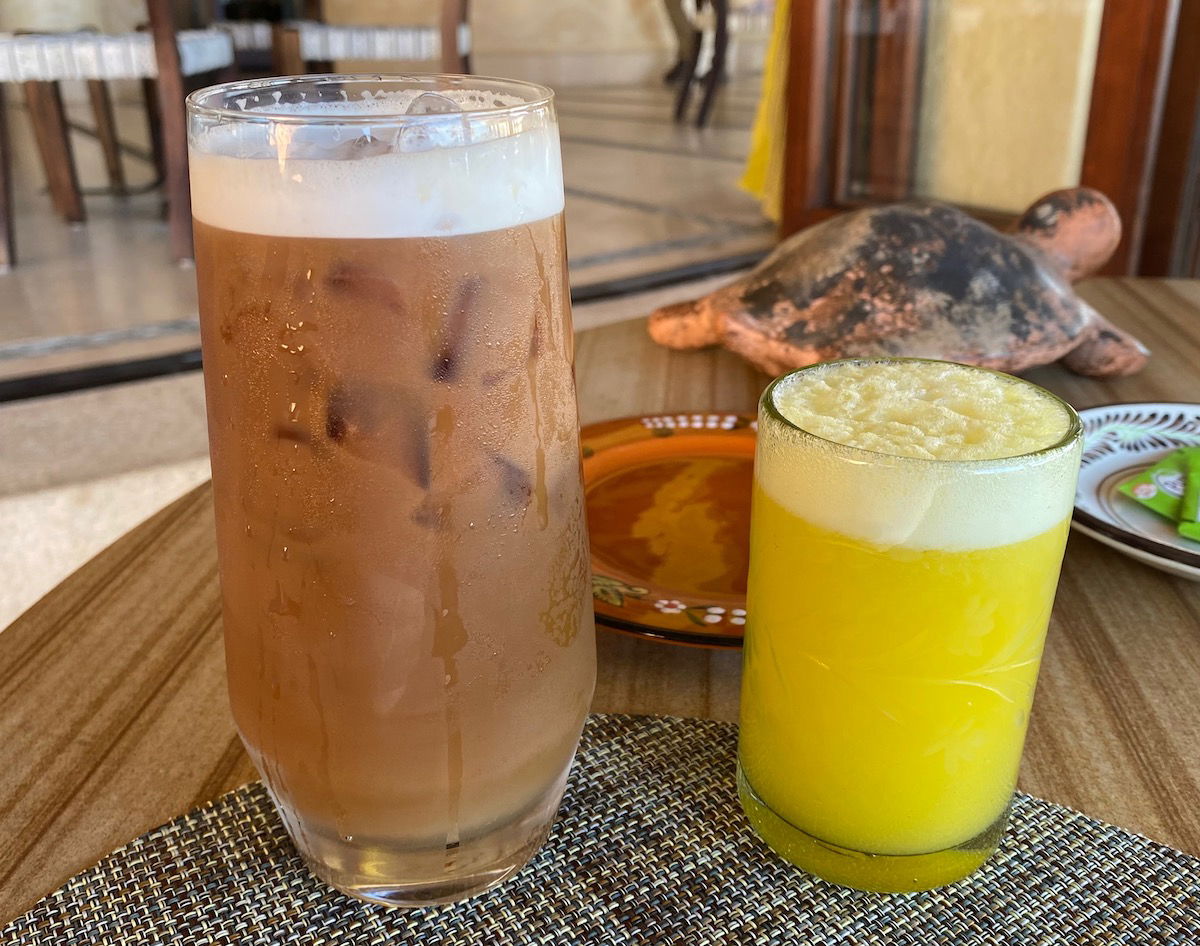 Waldorf Astoria Los Cabos The Beach Club Restaurant (lunch)
One day we had lunch from The Beach Club Restaurant, located next to the circular pool. While you could go sit in the restaurant, we ate at our pool chairs.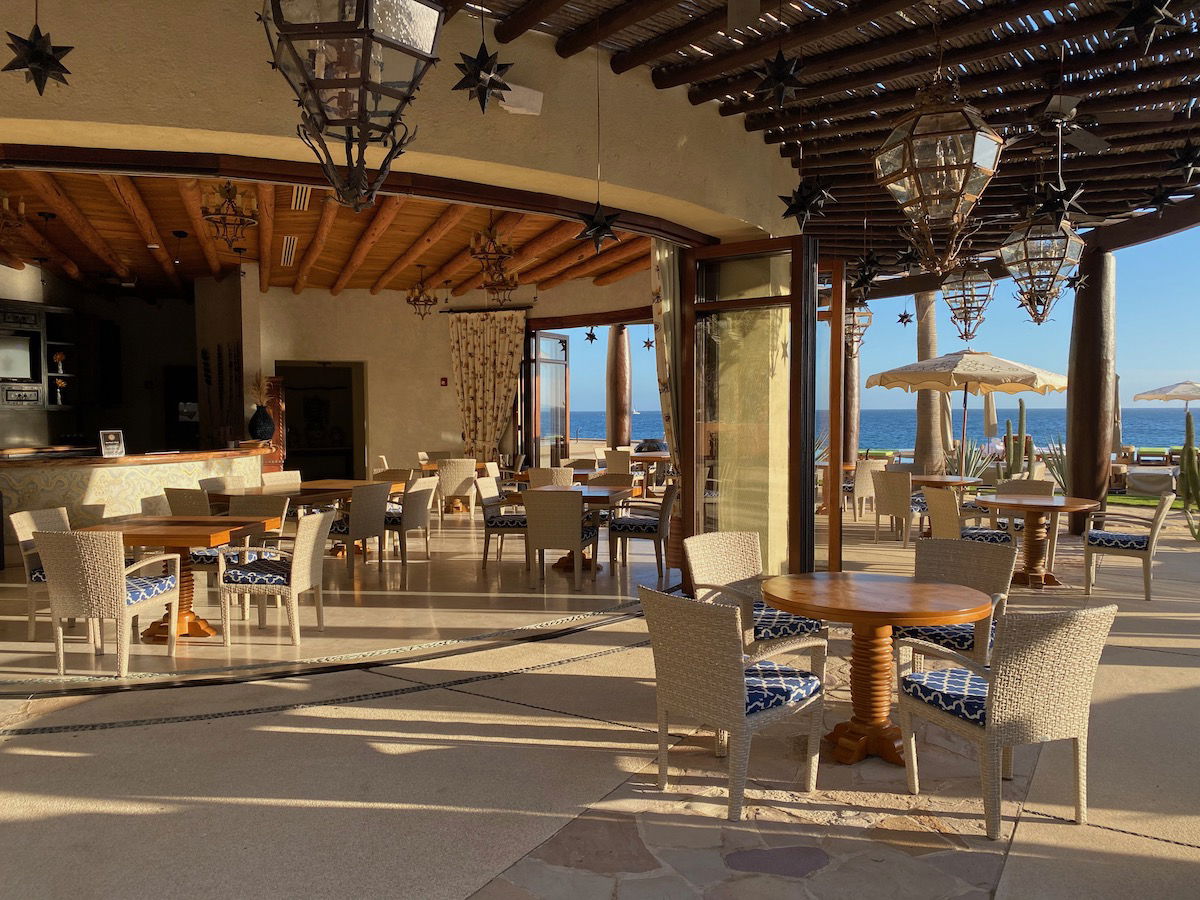 We decided to share the bluefin tuna appetizer and a Mexican pizza, both of which were excellent.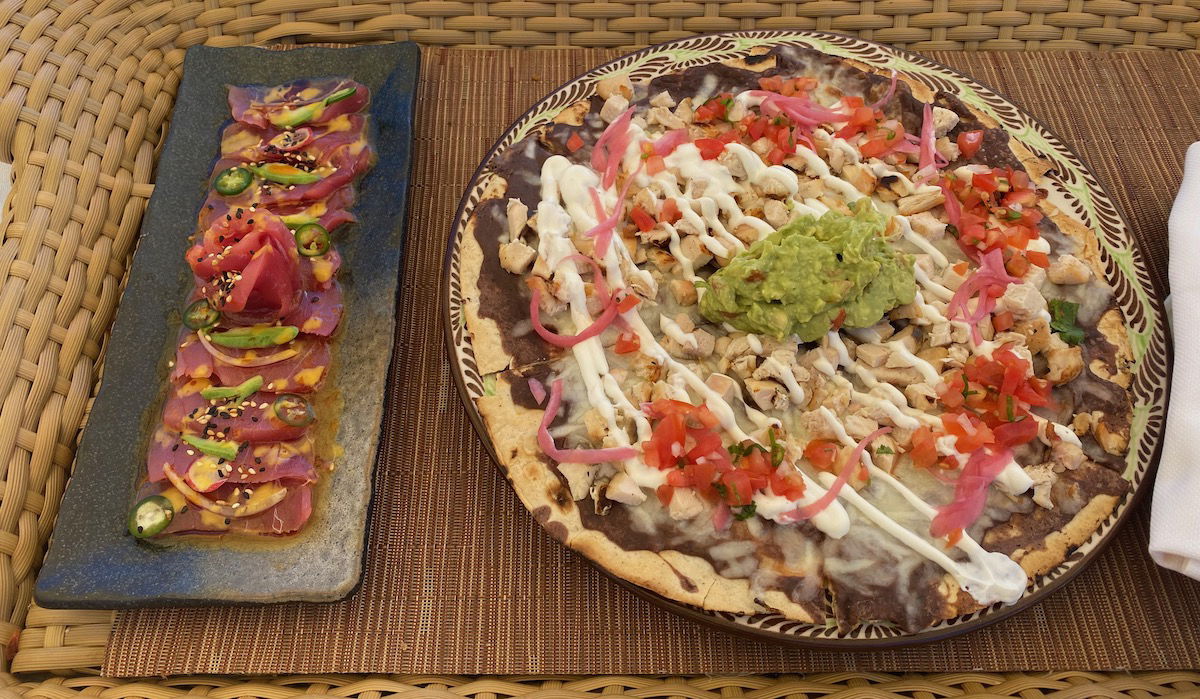 Waldorf Astoria Los Cabos El Farallon Restaurant (dinner)
El Farallon is the Waldorf Astoria's signature restaurant, and I can't recommend eating here enough, even if you're not staying at the hotel (but make sure you book in advance, because this restaurant can book out weeks in advance).
El Farallon is located at the far end of the resort in the cliffs overlooking the Pacific Ocean. The restaurant is entirely outdoors, and couldn't have a more beautiful setting.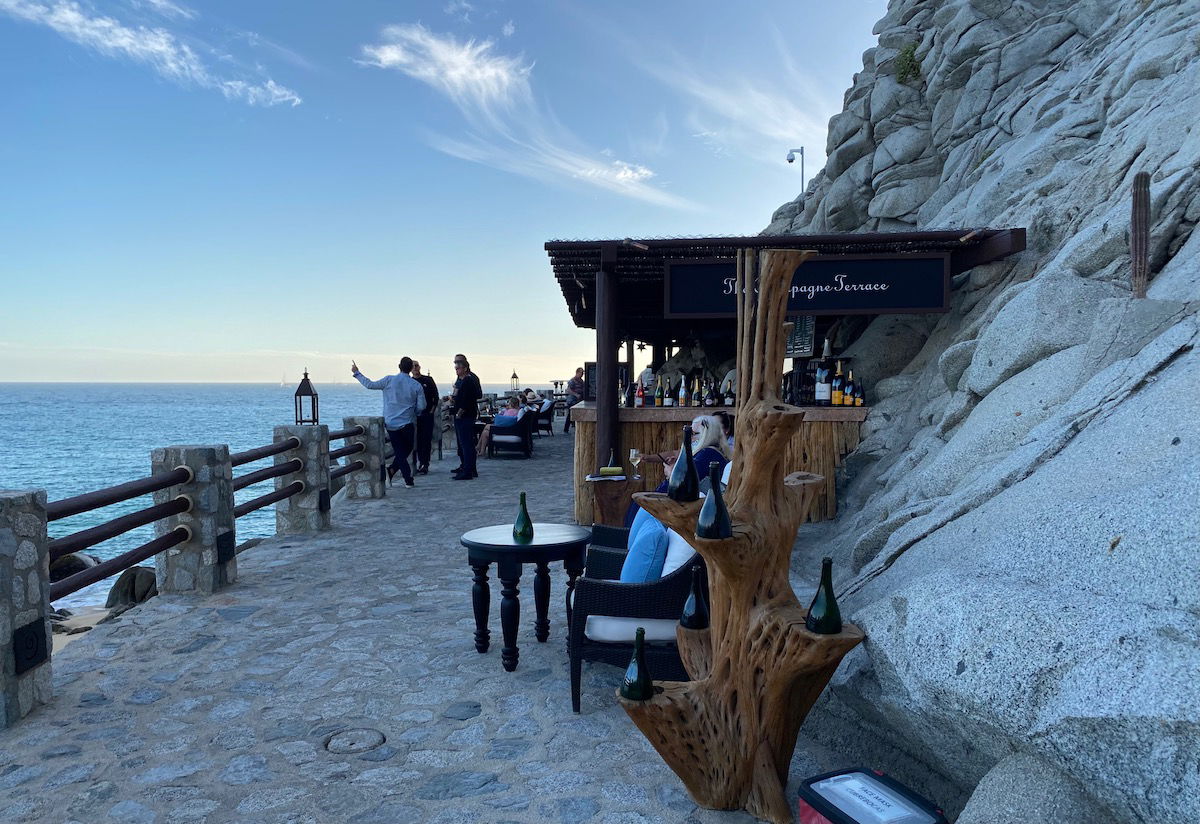 The restaurant has a bar area, then a seafood display, and then the main dining area.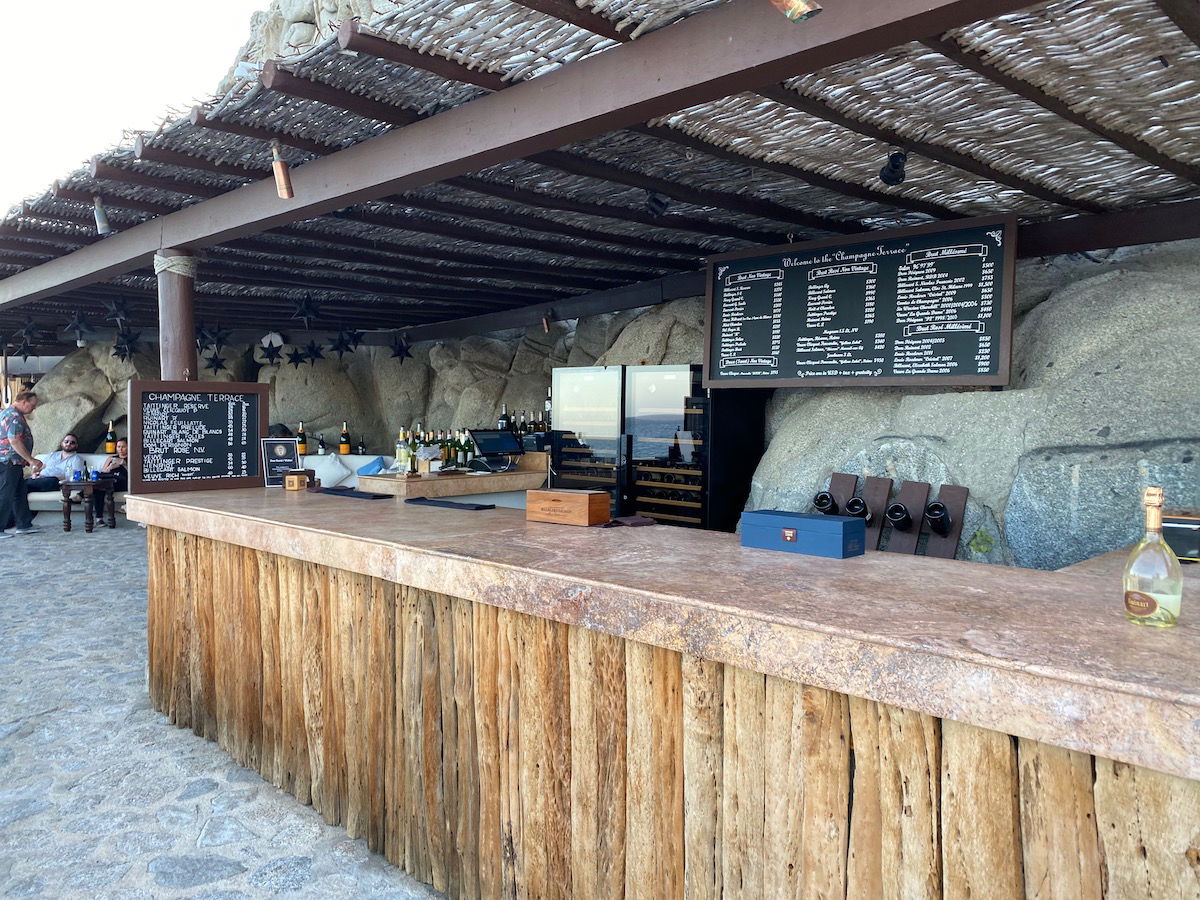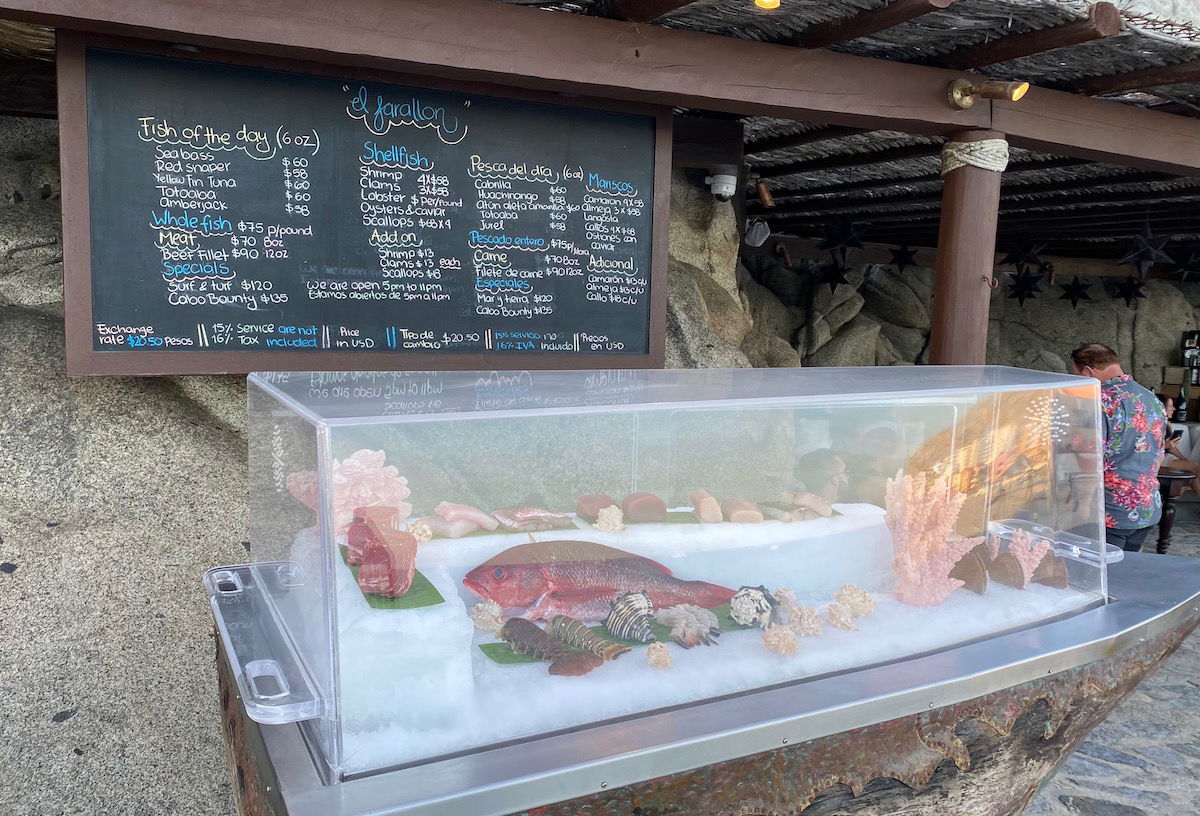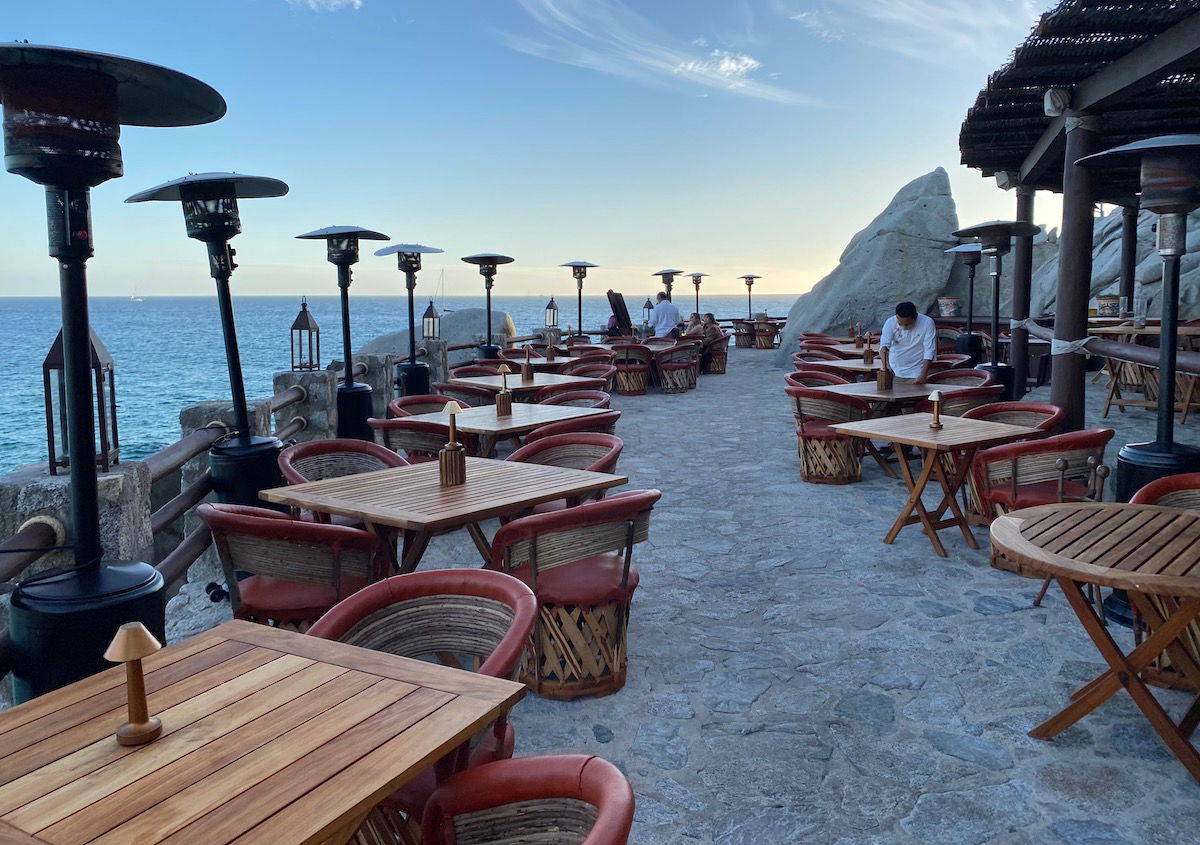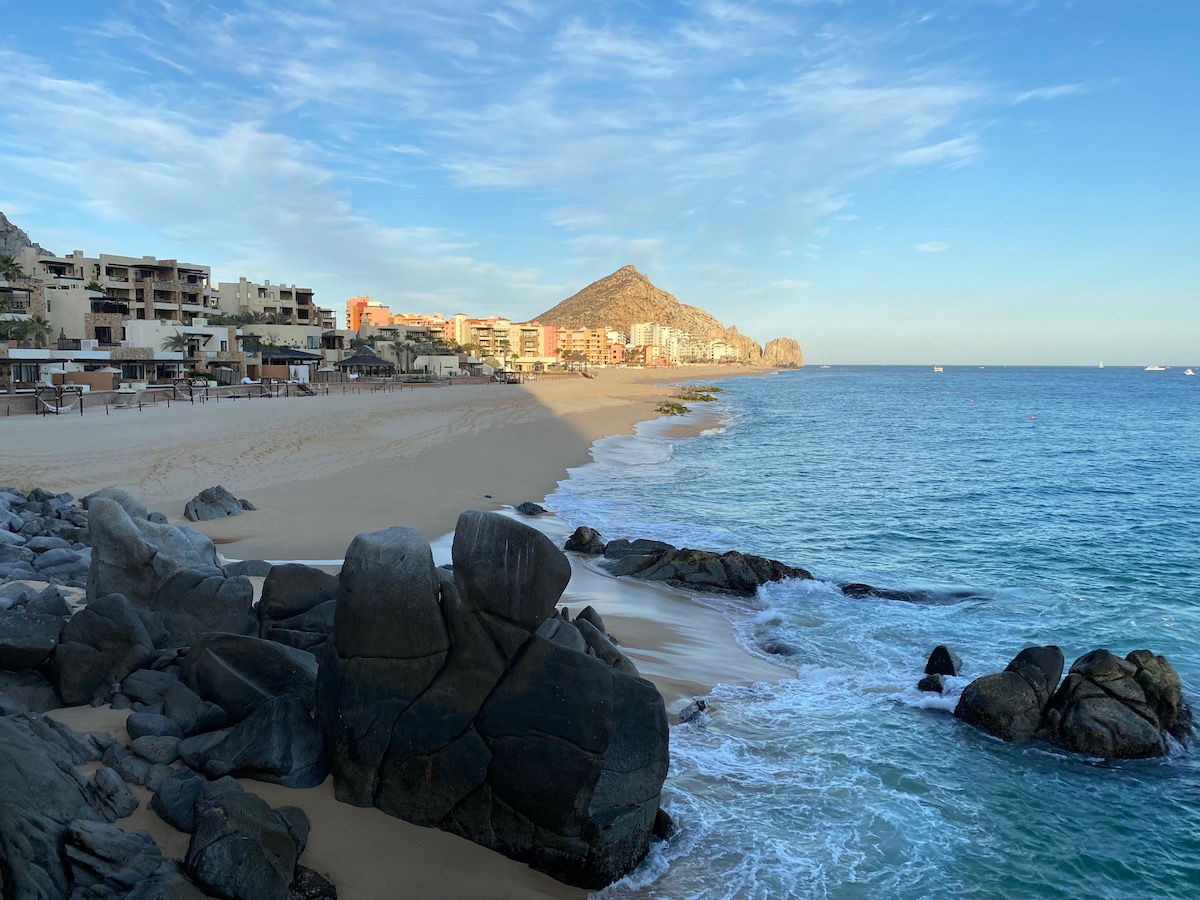 The ordering process at El Farallon is easy — a chalkboard is brought to your table sharing what's on offer that day, and you just choose your main course and then your sides. Then you're also automatically offered a soup, appetizer, and dessert. Everything is included in the prices shown above.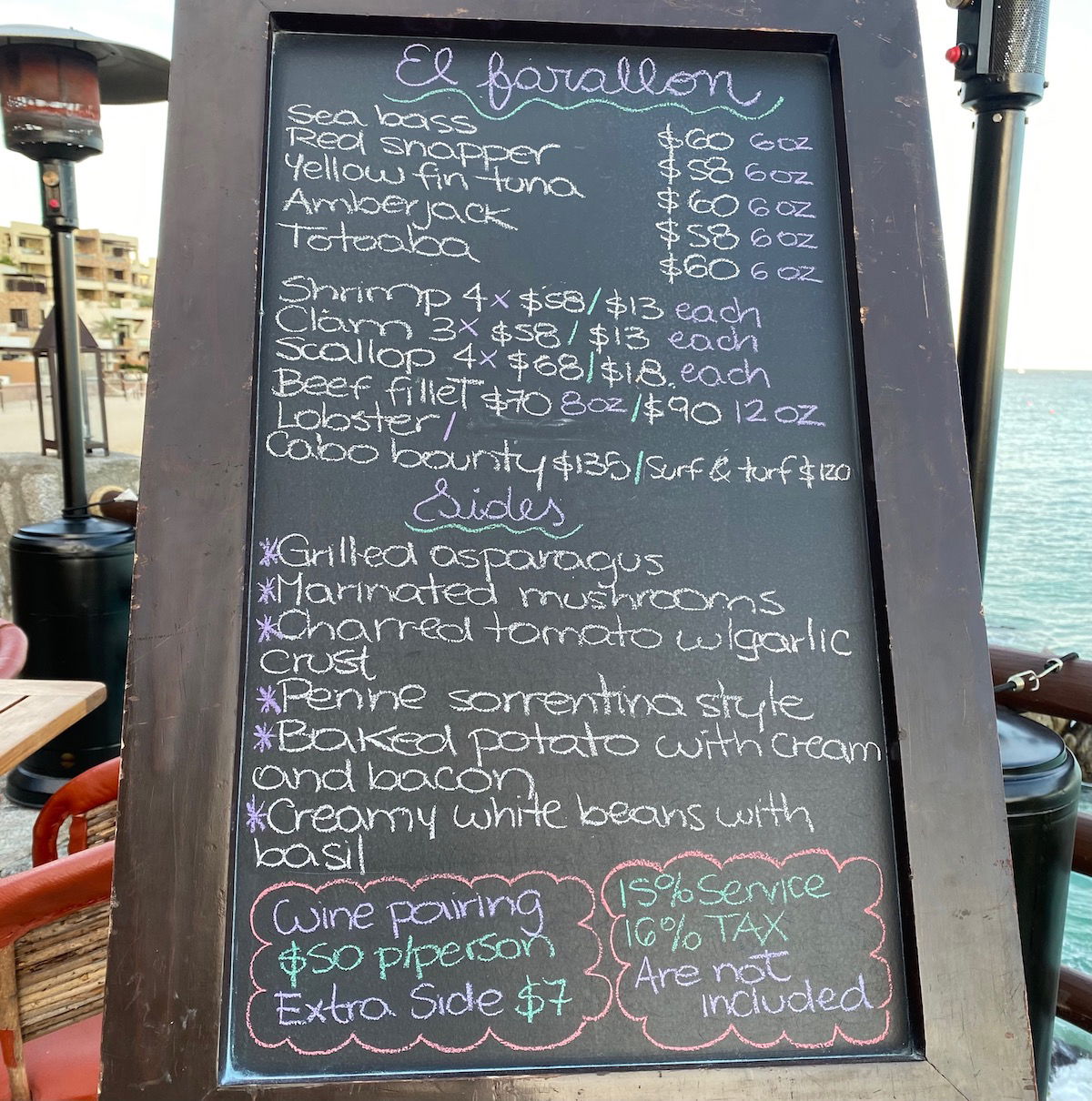 The restaurant had an excellent cocktail list, so we had a couple of drinks.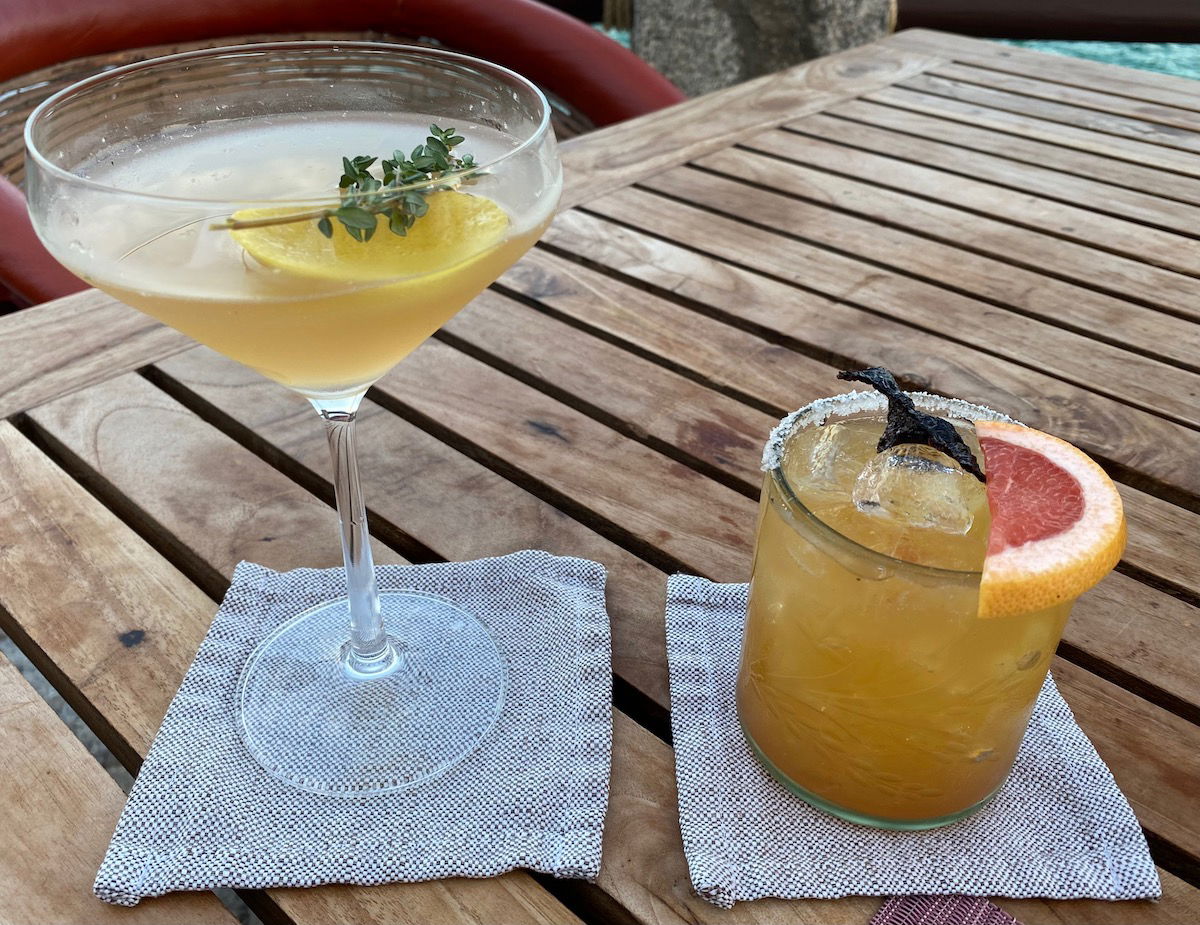 Shortly after settling in we were brought some bread and dip.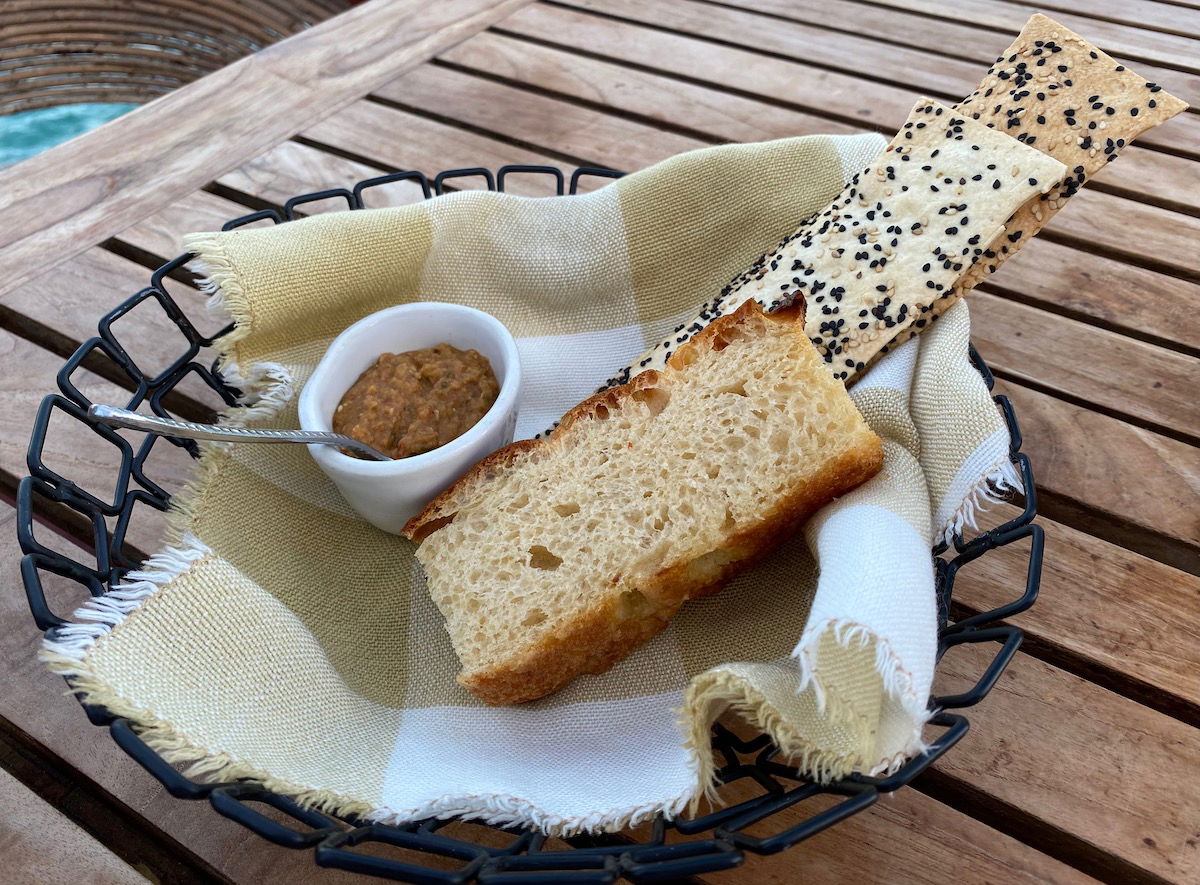 Next up was a delicious tortilla soup.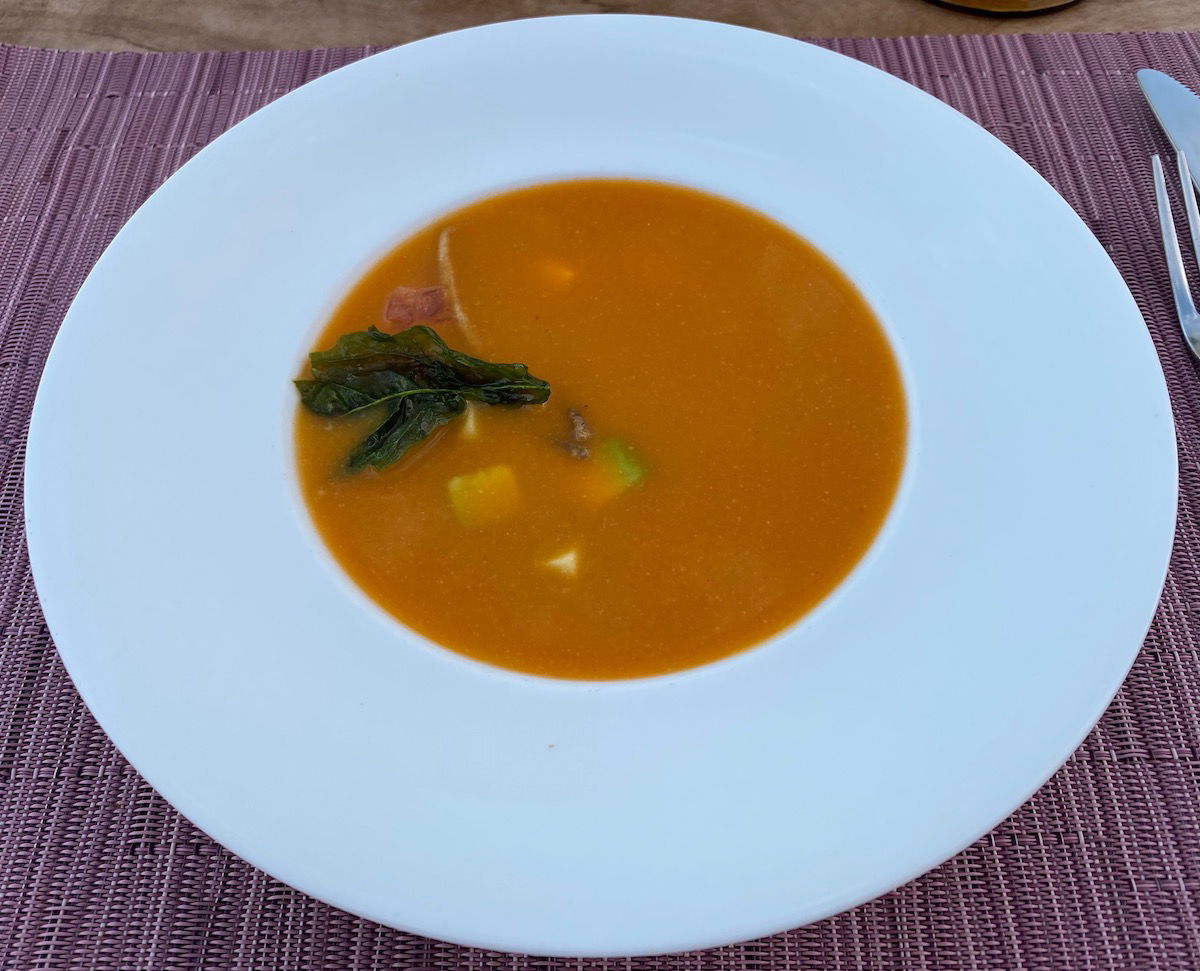 Then there was a trio of appetizers, including ceviche, calamari, and a watermelon salad.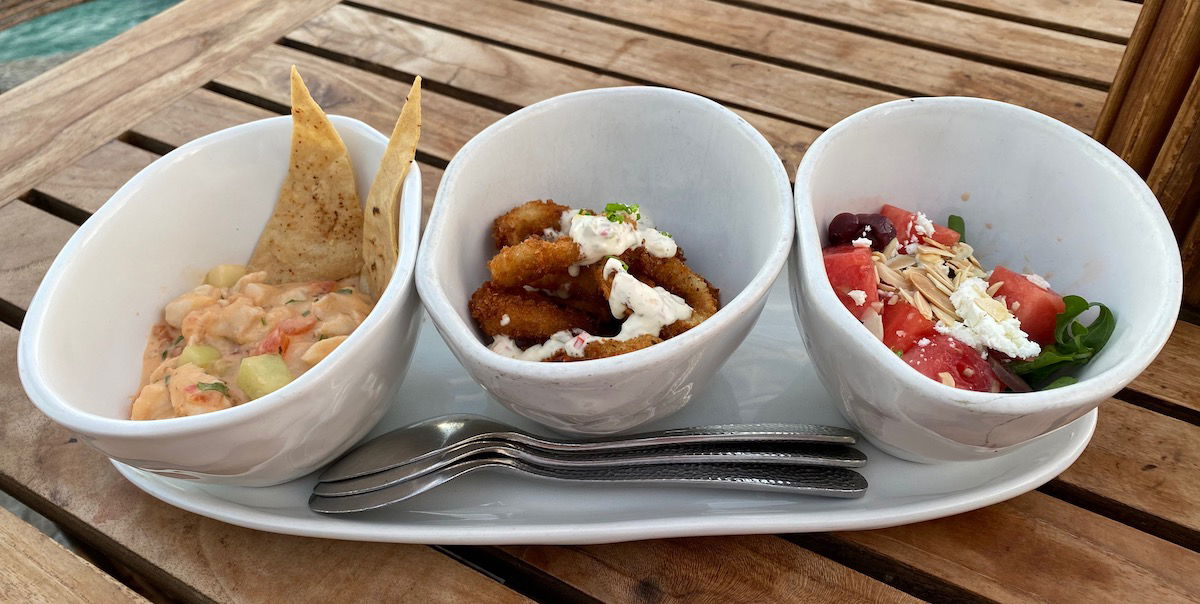 We ordered the yellowfin tuna and totoaba, both of which were exceptionally good. For sides we had grilled asparagus, marinated mushrooms, penne Sorrentina style, and creamy white beans with basil.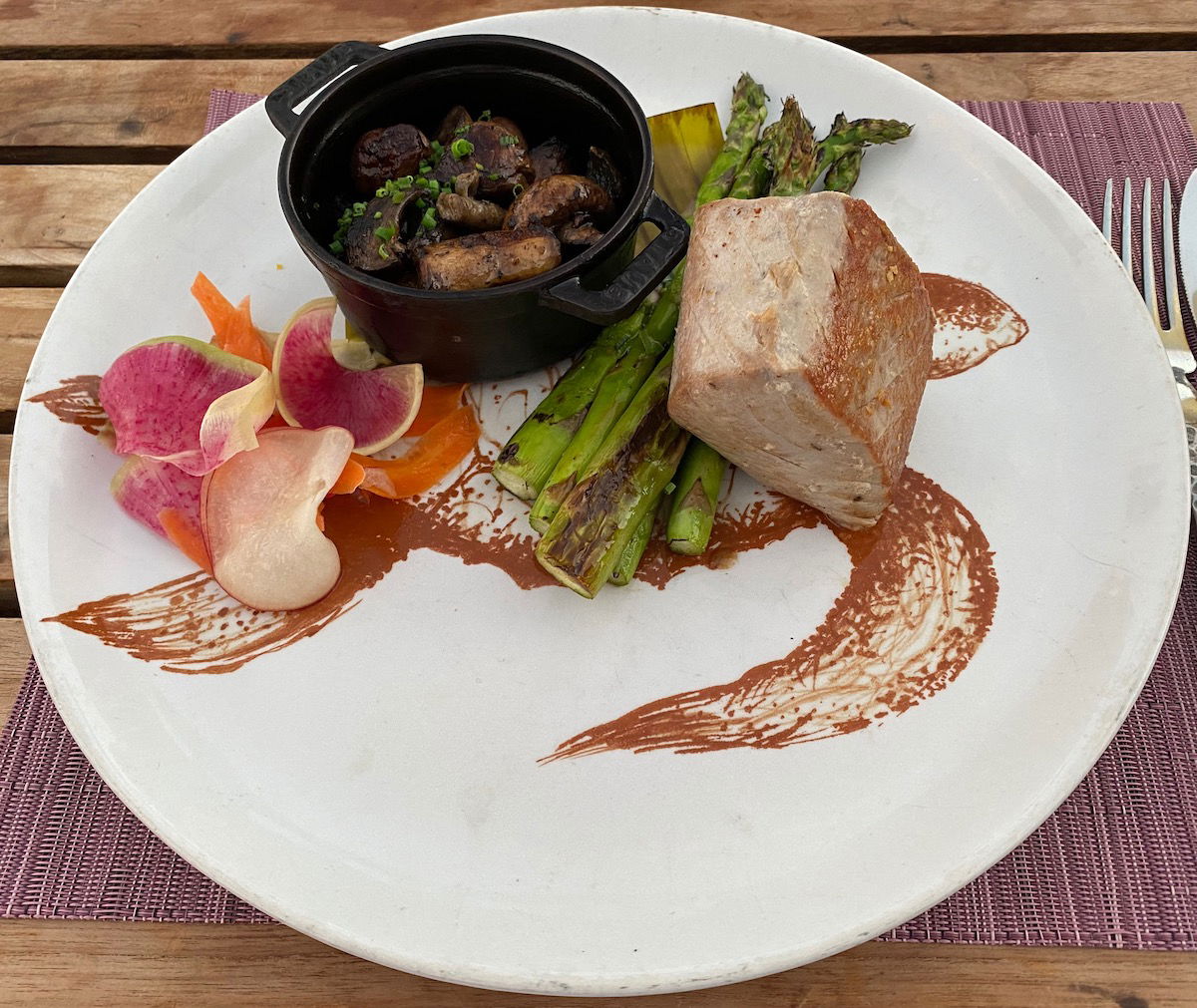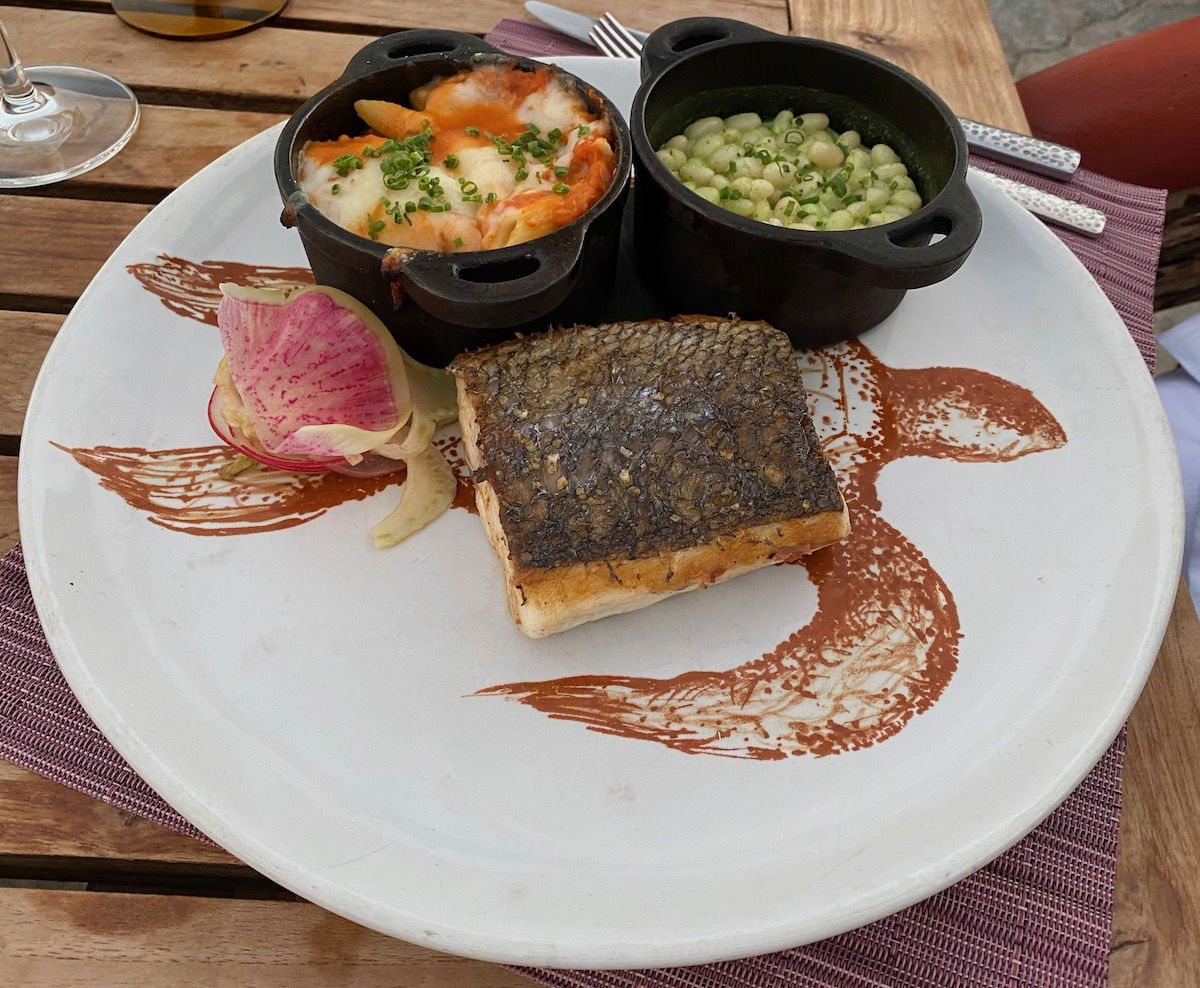 Lastly there was a tasty trio of desserts.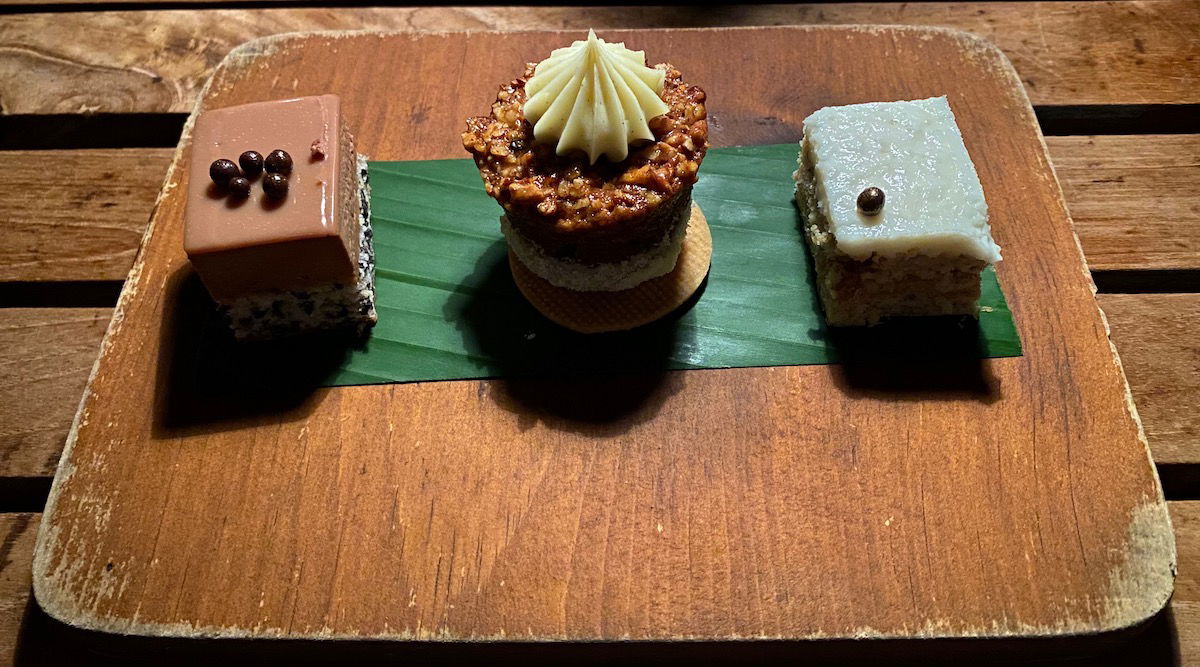 Not only was the food great, but the view at sunset was simply breathtaking.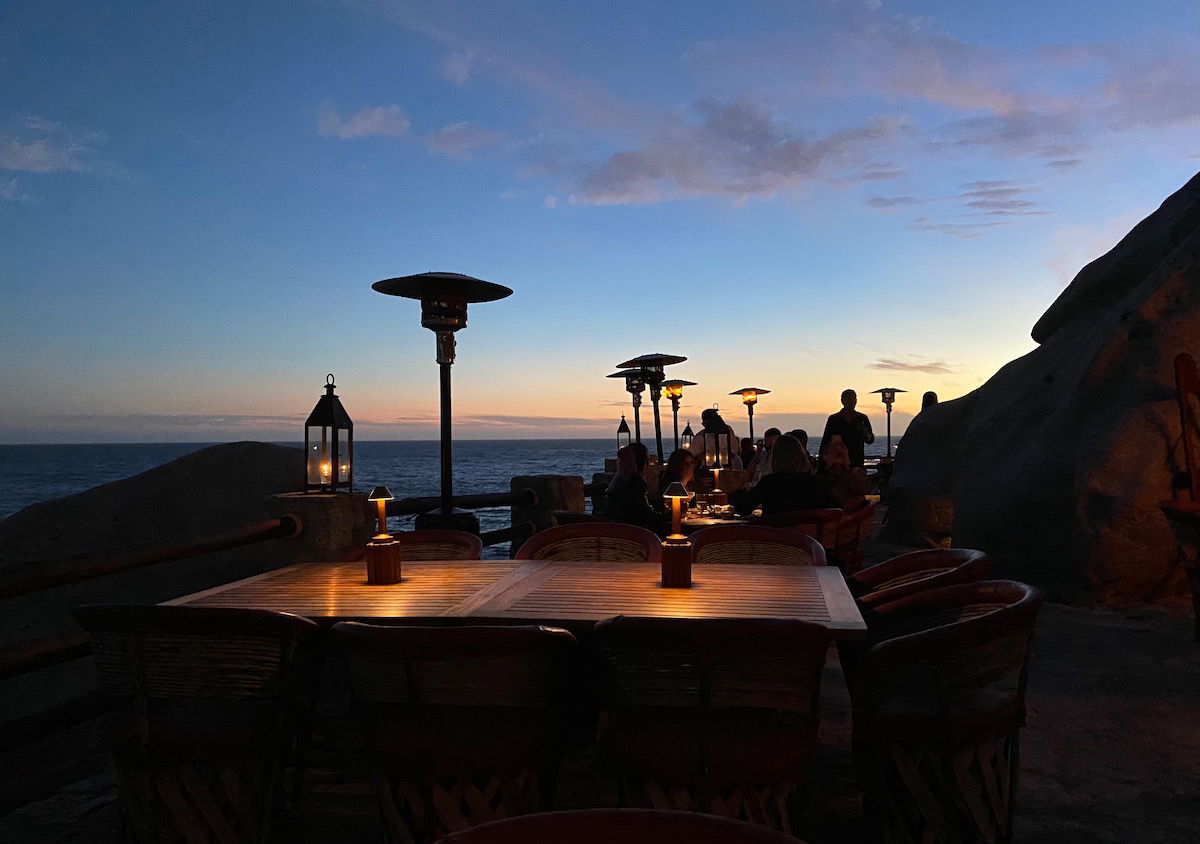 Waldorf Astoria Los Cabos dog friendly
We were traveling with Winston, and I should mention that the Waldorf Astoria Los Cabos was the most dog friendly hotel we stayed at this trip. Dogs of up to 40 pounds are allowed at the property, and there's a cost of $150 per stay.
They went above and beyond to be nice to Winston. For one, there was a bed and two bowls waiting for him in our room (if you're going to charge for a dog it seems like the least you could do, yet so many hotels don't do that).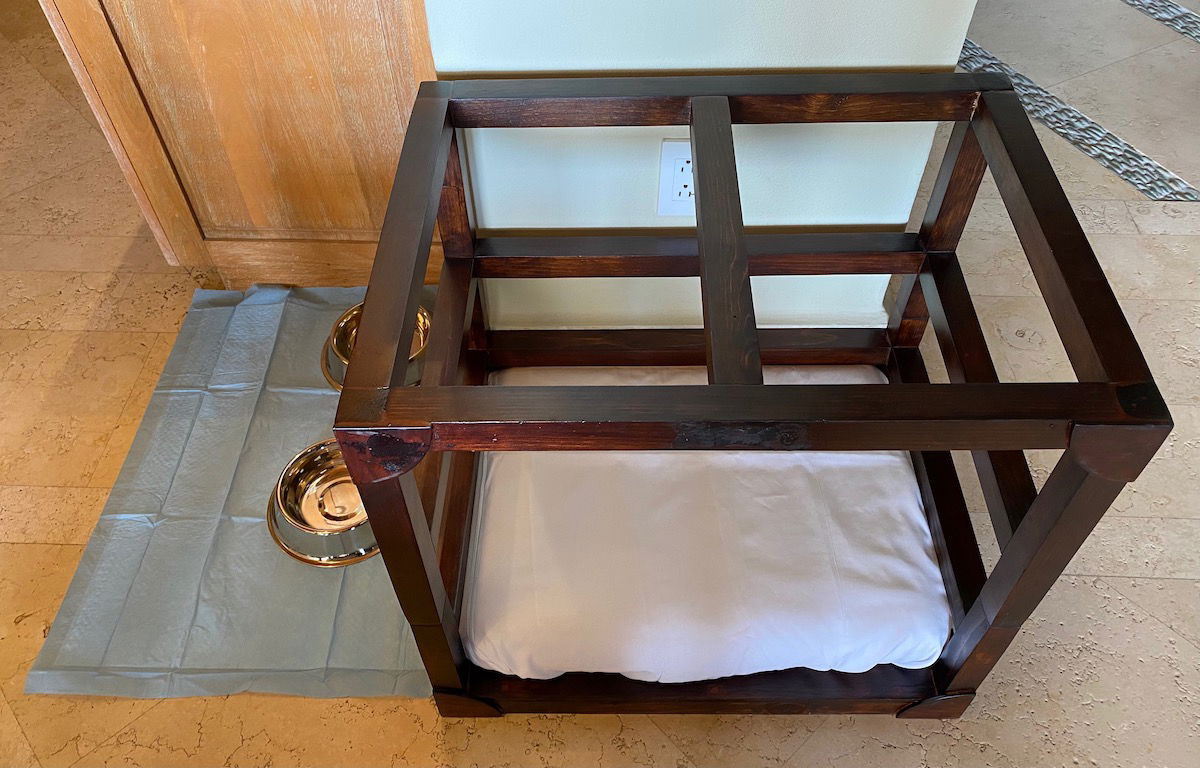 Also, the Waldorf Astoria had basically no restrictions on where dogs could go. They just couldn't go into the pools and inside restaurants, but he was allowed in all other public areas, including around the pools.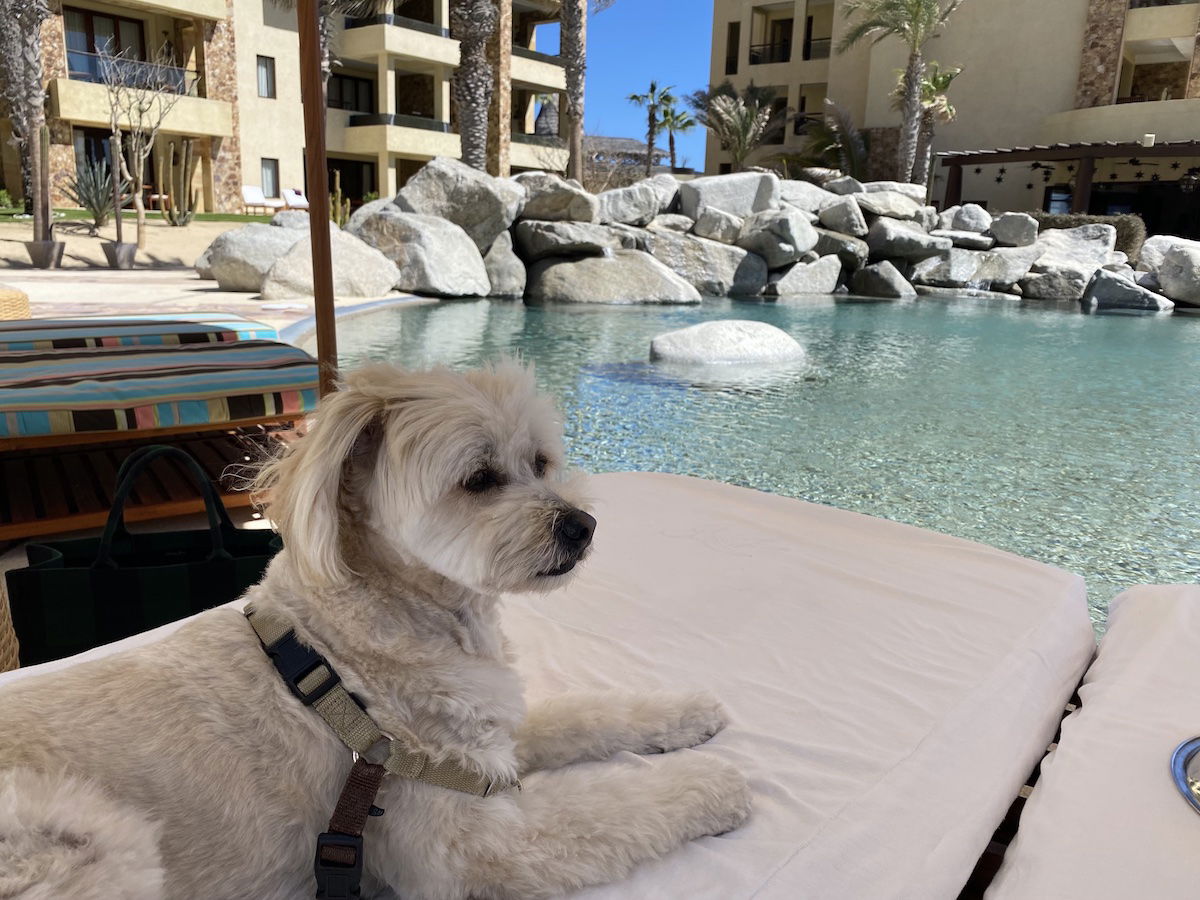 Not only that, but almost all staff on property knew his name (he was the only dog), and he was always offered a bowl of water, whether we were sitting at the pool or coming back from the beach. Speaking of which, Winston loved running around the beach — it was his first time ever doing that. Mexico in general is such a dog friendly place. I feel like all the staff I interacted with at the hotel had about five dogs themselves.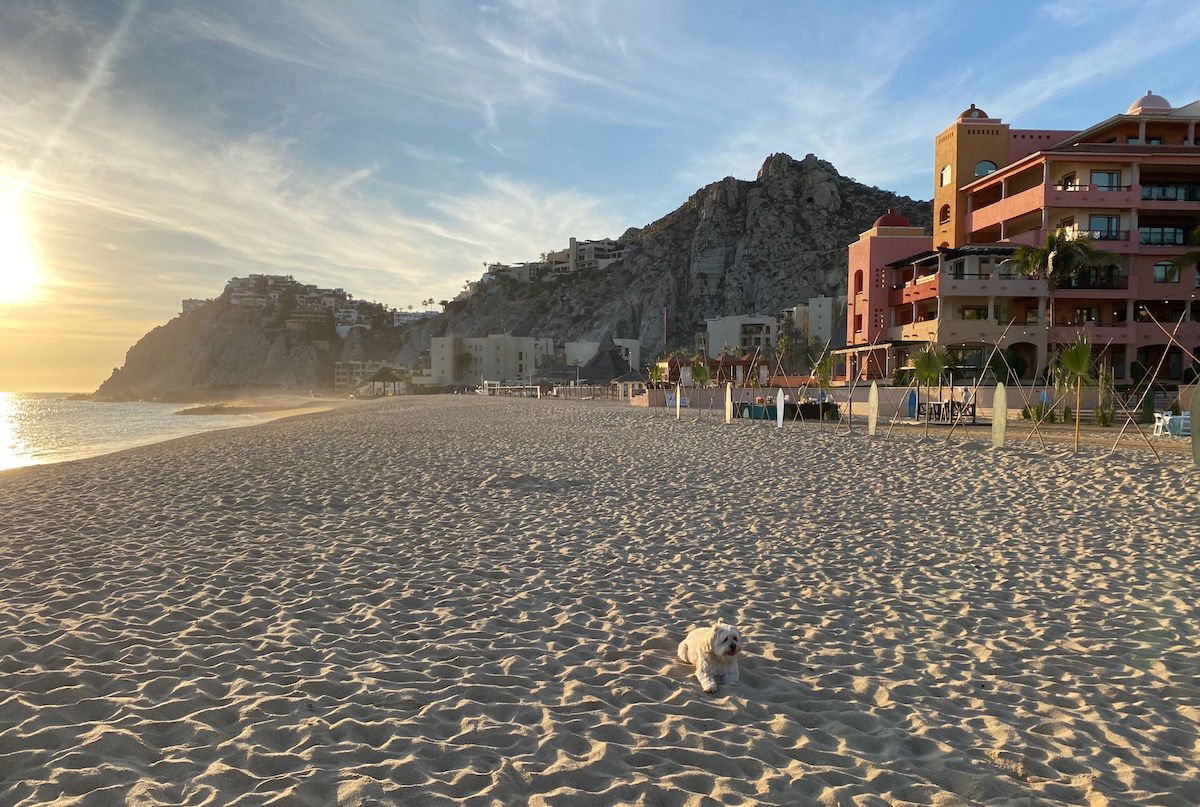 Speaking of the great service at this hotel, Winston desperately needed a grooming. We contacted the concierge about it, and within two hours he arranged to have Winston picked up, taken to a grooming place in town, and brought back, without us having to do anything. And he even got a great cut!
To be clear, I'm totally fine when hotels have restrictions on what dogs can do. And for that matter, even if dogs are allowed places, I still try to be conscientious (for example, the beach was totally empty when we went there with him, we only sat at the pool with him if there was no one else, etc.). That being said, I do think it's worth pointing out that not all dog friendly hotels are created equal, and the Waldorf Astoria was the best of our trip in that regard.
Bottom line
The Waldorf Astoria Los Cabos Pedregal is a spectacular hotel. I love the incredible service, and the hotel's setting and well maintained grounds. Even better is that this hotel belongs to a major hotel group with a great loyalty program, so you can earn and redeem points for stays here, and take advantage of elite perks. Being able to redeem four free night certificates here was such a phenomenal value, and makes me love the Hilton Aspire Card even more.
The one area for improvement, as I see it, is with the rooms. They could use a refresh, as they feel a bit outdated, and in some ways rather randomly furnished.
If you've stayed at the Waldorf Astoria Los Cabos, what was your experience like?