I was debating whether or not to even write this review, given that this hotel mysteriously closed in July 2021 due to "infrastructure" issues. I asked OMAAT readers if they still wanted to read a review (given that it's not actually useful at the moment), and everyone who answered said they did. So here we go…
For the first time ever, I'm going to give a hotel a one star rating. Not because I'm suggesting that this is a one star hotel, but rather because this property has no interest in actually being a hotel, or being hospitable. Based on my stay (and I hope others have had different experiences), this property exists solely to sell timeshares.
Imagine being told by an employee that the hotel isn't Solaz's main business, and it's more of a "side gig." Well, there's no need to imagine, you just have to stay at Solaz (except it's not open anymore, so it's a moot point).
How I booked Solaz Los Cabos
Solaz initially opened in mid-2018, and it's a Marriott property that has long been on my radar, since online it looks quite nice. For our stay we booked five nights using points. This is a Category 7 Marriott Bonvoy property, and we were staying over "off-peak" dates, meaning the cost was 45,000 points per night.
As a result, our five night stay cost a total of 180,000 Bonvoy points, given that you get the fifth night free.
I'd note that paid rates here were steep. Solaz was charging $800 per night plus the 34% tax and service charge, so the hotel was asking for well over $1,000 per night for a standard room. This pricing was significantly higher than at The Cape, which I preferred by a long shot.
Our bizarre & unprofessional check-in experience
When we pulled up to the Solaz compound in a taxi, the security person asked for our names. I provided my name, and he spent probably five minutes looking at a sheet of paper. He made phone calls. He claimed we didn't have a reservation. I assured him that we did, and showed him the confirmation.
"Oh, you're staying at the hotel?" Ummm, yes? Little did I know he was apparently just reviewing the timeshare check-in sheet, and not the hotel guest sheet. This really foreshadowed how Solaz views those staying in the hotel portion of the property — not as guests, but as potential timeshare customers.
We arrived in the beautiful open-air lobby and proceeded to check-in. We handed the host our passports and a credit card, and she said "while I check you in, my colleague will just give you a brief property orientation."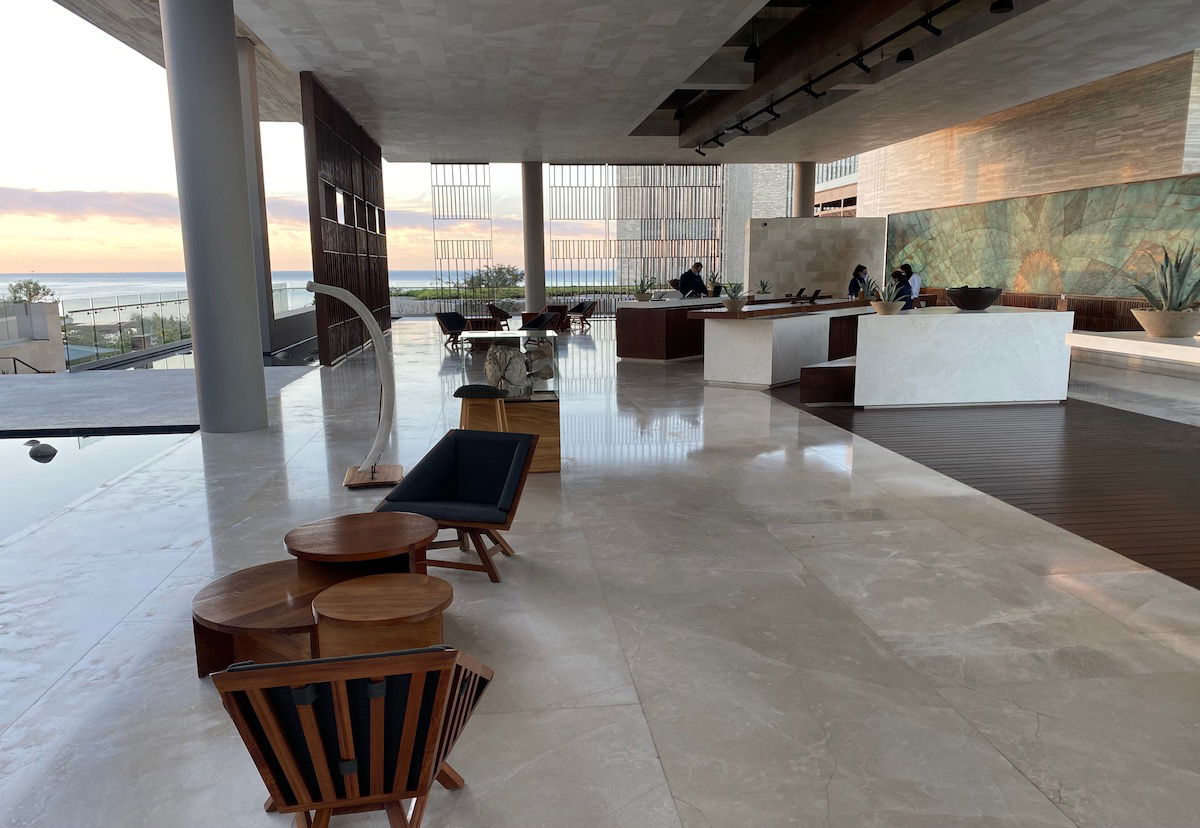 Her colleague took us over to the far end of the lobby and basically showed us the view of the resort for about 30 seconds (not much of an orientation), and then she took us over to someone who was oddly standing by a display case, and introduced us to her. The lady said "please follow me," and then about 100 feet away we entered a room.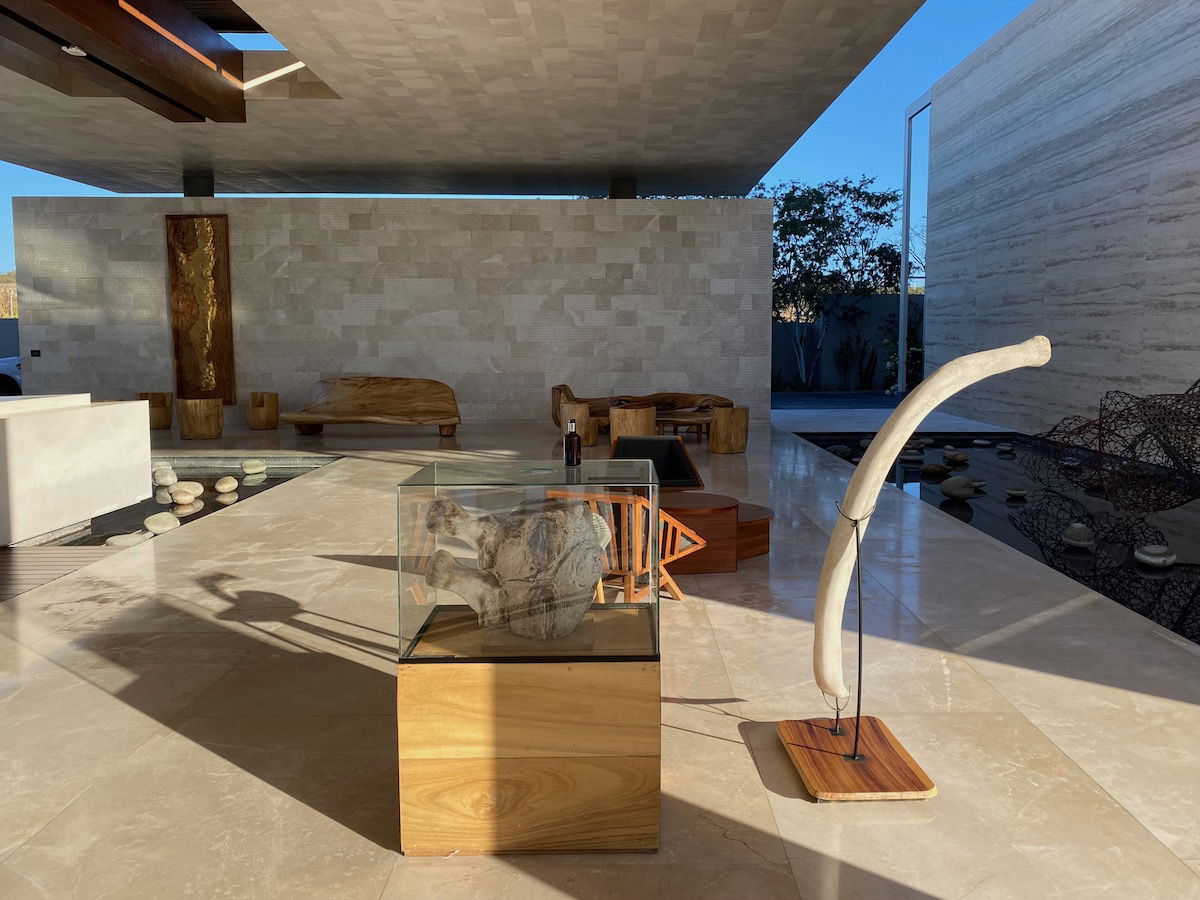 There it was explained to us that the owner of the property is a big art collector, and that this was the only hotel with an art museum in Los Cabos. At this point we're thinking "WTF?" We were being polite — after all, if someone tells you something they seem to be proud of at their hotel, you don't want to say "I'm not interested, take me out of here."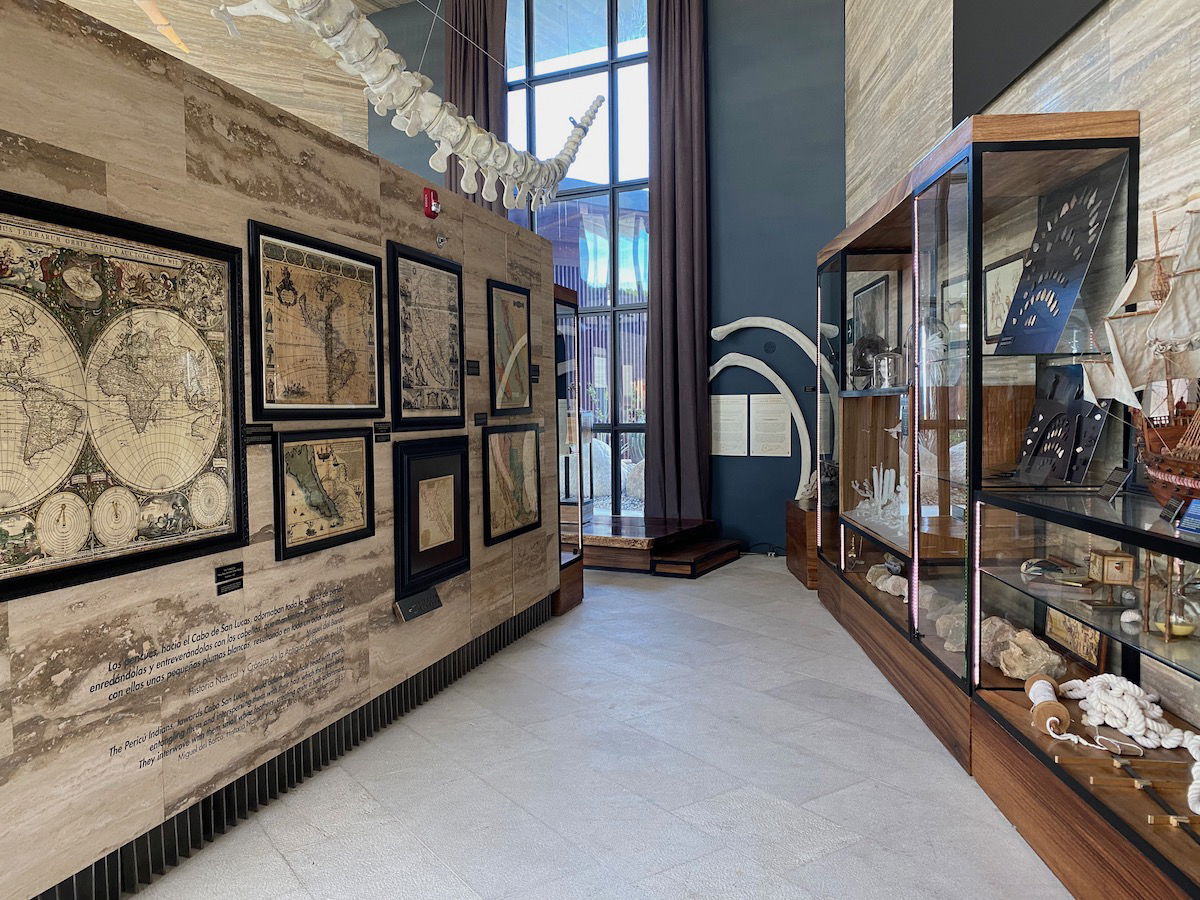 She probably spent five minutes showing us the "art," and then at the end of the "tour" she explained how enjoying this museum and resort could be part of our lifestyle going forward, if only we became "owners" (aka buying a timeshare).
"Why don't you attend a presentation tomorrow morning, we will invite you to breakfast, and we will give you a $100 credit you can use as well, so you can learn about all the ownership opportunities."
Okay, at this point I saw where this was going.
"I can promise you I'm not buying a timeshare, I'm not interested. Let's just go back to check-in."
"I don't want you to miss out on this amazing opportunity, why don't you schedule now?"
"No, we're really not interested, I'm telling you I will never buy a timeshare."
"We will offer you $200, do you have time tomorrow?"
"No, this is a working vacation, I don't have time."
"Well, when do you have time?"
"Why don't you give me your business card and I'll get back to you? I just want to check-in."
"We want to make sure we can secure your spot, we might not have availability if you don't book now, and you can't get the exclusive offer."
"That's not a problem, I'm not interested."
"What if we give you a $300 credit if you attend a presentation?"
"I'm still not interested, how about I get back to you, I'll take the risk?"
"This is an amazing once-in-a-lifetime opportunity. How about Tuesday instead?"
"Fine, Tuesday, if we can check-in then."
We were given a voucher for this "exclusive opportunity," and told we shouldn't lose it, because this was a "one time opportunity." We were also reminded to bring our IDs and a major credit card, and to make sure we had no activities planned after the presentation.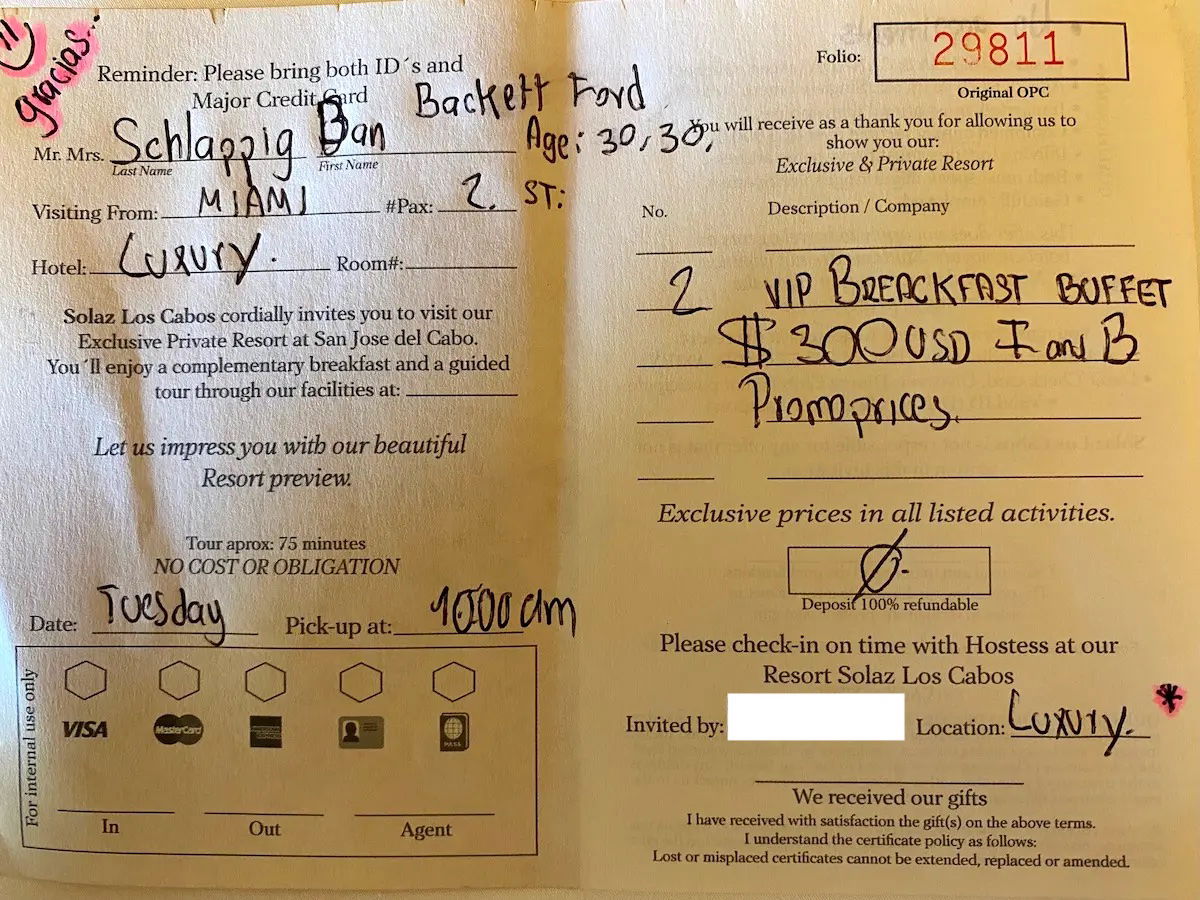 The interaction left such a bad taste in my mouth:
It would be different if we booked one of those timeshare packages where you get a discounted rate in exchange for attending a sales pitch, but that's not what we did
Last I checked, hotels (especially self-proclaimed luxury hotels charging $800+ per night) are in the hospitality business, and there's nothing about this interaction that made us feel welcome
The entire interaction felt nonconsensual — we were lied to about what was going on, and they basically wouldn't let us leave without agreeing to a pitch (I get we could have just walked out, but you shouldn't have to do that when checking into a hotel, when you repeatedly tell someone you're not interested)
Solaz sounds like it's on a racetrack
Before I talk about the actual timeshare pitch, let me share my biggest other beef with this property — the hotel had an unbelievable amount of noise from the nearby highway. I don't know what mistake was made with construction to cause this, because we weren't actually staying close to the street, and this wasn't a problem at any other hotel we stayed at. But even inside our room we could hear street noise.
Below is a video taken from near our room, which was pretty typical of how it usually sounded.
Is it just me, or do you guys hear that? And can someone help me understand how guests tolerate this so much, as I see surprisingly few complaints about this online? This is not normal at other resorts in Los Cabos. When you're staying at a beach resort you want to hear the ocean, not the street. There's a reason I share this point about noise before talking about the actual timeshare pitch…
A ridiculous timeshare pitch
Initially I was going to cancel our timeshare pitch appointment, since I will never, ever buy a timeshare. But then I figured we might as well do it. After all, I write about travel, and the last time I attended a timeshare presentation was with my parents when I was a kid. I figured it would be fun to see what kind of an approach they're taking, and what the value proposition is nowadays.
I know how timeshare pitches work in general, but this one was next level (or at least I assume it was). They generally take a "good cop, bad cop" approach. The initial person giving us the presentation was super nice. She was a younger Mexican woman, and while she tried to get us to order alcohol with our "VIP breakfast buffet," she was ultimately polite, tried to be friendly, and had a pleasant personality.
Based on her presentation, it became clear that the hotel exclusively exists to sell timeshares. Solaz has 128 hotel rooms, and then significantly more timeshare units than that:
The pitch is that the hotel charges $800 per night for a standard room, and essentially if you buy a timeshare you'll pay less than that per night for a multiple bedroom unit (never mind the risk, long term commitment, etc.)
The catch is that very few people are actually paying that rate at Solaz — rather I am convinced they inflate the room rates so that they can make people believe that a timeshare is a great deal, while I'd be willing to bet most people are getting significant discounts and/or are redeeming points
There were obviously paid actors who were cheering and pretended they bought a timeshare, and then that was used as a way to show us all the other happy owners, and what we're missing out on
When it was clear we weren't interested in buying, she brought in a complete douchecanoe from north of the border, who couldn't have been ruder and sleazier. Where do we begin?
I explained the hotel wasn't worth $800 per night and that we redeemed points; he responded with "well you're staying for free this time, but you'll have to pay next time" (um, no and no, this guy made the management at the Aegon Mykonos look like professionals by comparison)
He explained how the hotel is "more of a side gig" for the owners, and that the property is really about the timeshares, so we should get with the program
He talked about how "we value integrity over everything else," while simultaneously having no integrity with anything
He showed us the initial price for the timeshare, then he offered us a huge discount, then he offered to throw in an extra week each year, but only if we signed before leaving the table
I explained that I wouldn't take a timeshare even if it cost zero, given that I don't want to be stuck with the maintenance fees and risk long-term
He wasn't taking no for an answer, so then miraculously a unit just became available that minute with a shorter term
I repeatedly reminded him that I didn't actually particularly like the resort, and in particular had issues with the street noise; he denied that the issue existed, and even when I played him the video above with the noise, he pretended he couldn't hear anything
He also said "if you're not serious don't waste my time" (LOL)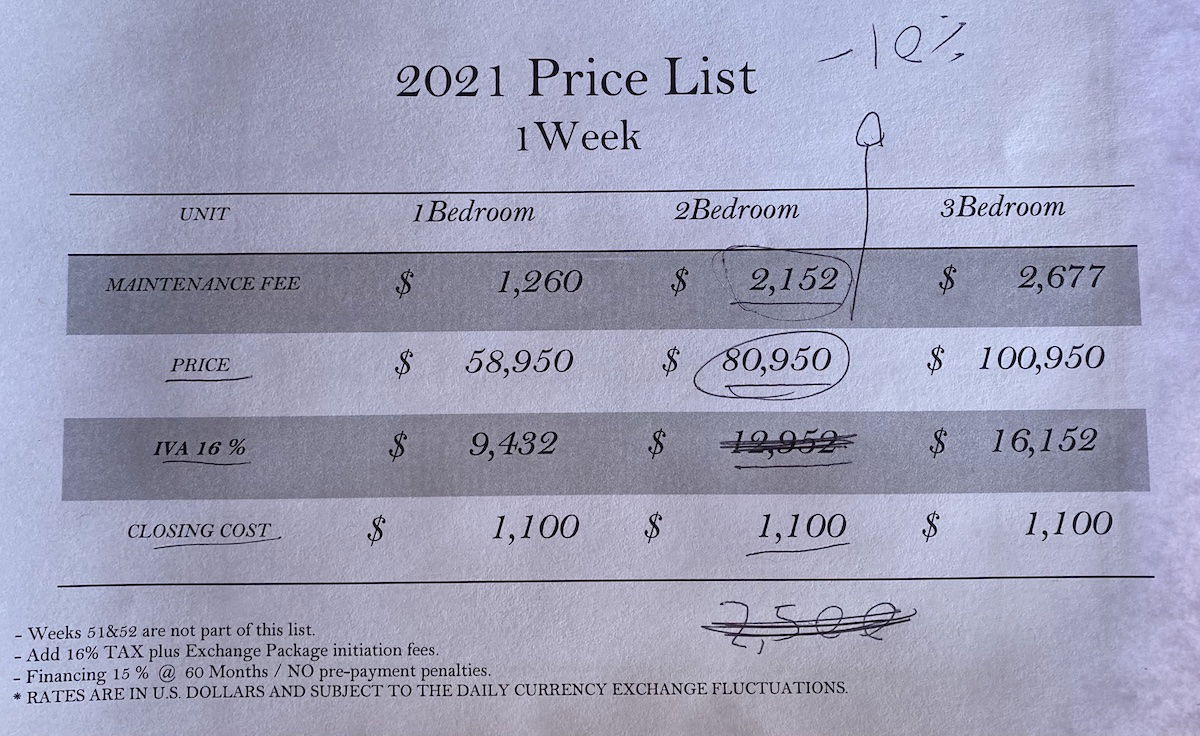 When it was clear we wouldn't buy anything, we were told to see another (American) woman, who would give us our voucher. That was a fun experience too;
She claimed to be with "marketing," and said that she was there to collect feedback on our experience
We told her exactly how we felt, and that the "bad cop" guy was a real jerk, and that we didn't like how we were forced into this presentation
Of course we quickly learned she wasn't there to collect feedback, but rather was there to try to sell us on the timeshare again
When it was clear we weren't interested, she offered to sell us a one week stay so that we could come back and experience the benefits of ownership; the cost was less than the maintenance fees would have been for a week
Every aspect of this experience was ridiculously off-putting. You don't pay to stay at a hotel in order to be treated like this, and honestly it fully tarnished our views of the hotel.
By the way, during our timeshare pitch we were given a tour of the property. It was explained to us that a large part of the main building was closed, because "updates" were being made. That seemed odd at the time, given that the hotel is just a few years old. With the hotel having recently closed for "infrastructure" reasons, I can't help but wonder if that's all related.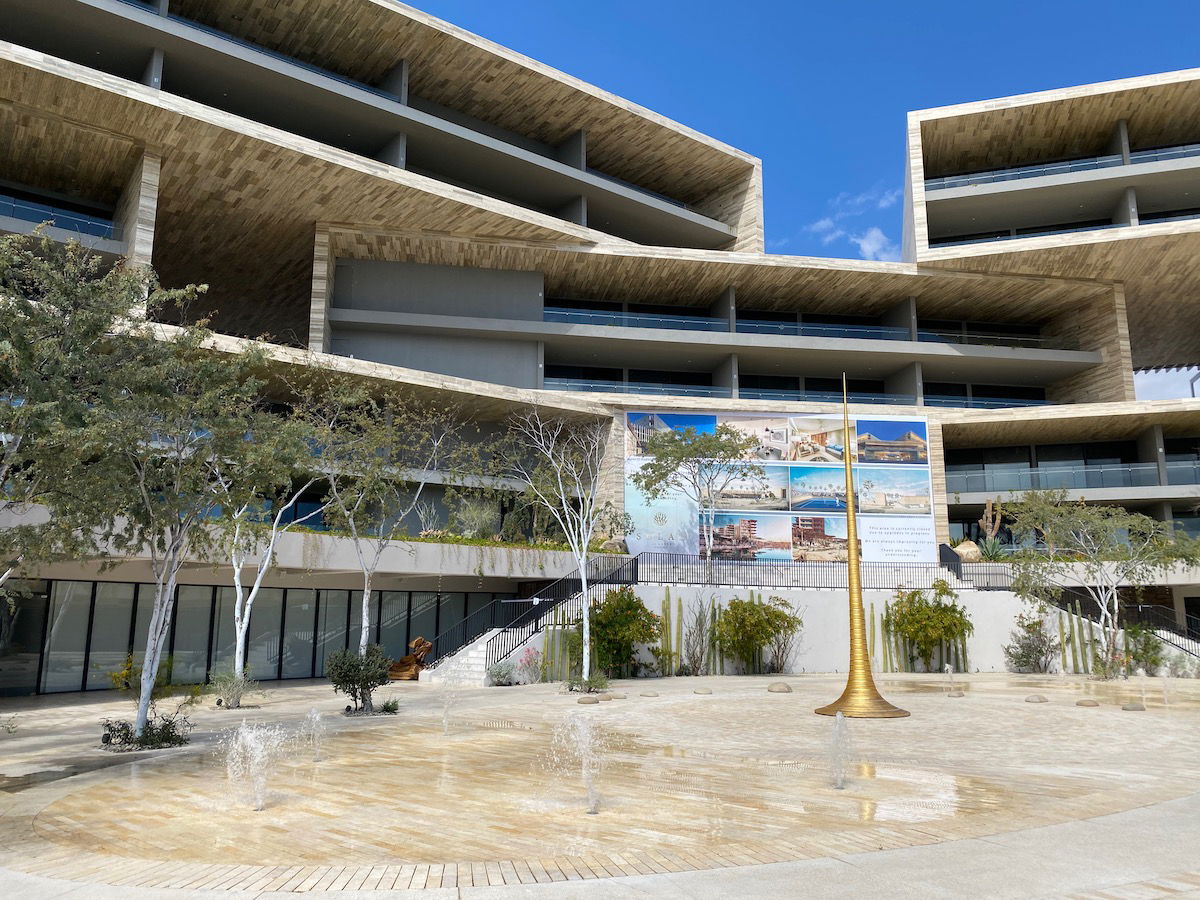 Solaz Ocean View King Plunge Pool Room
With the above out of the way, let me review other aspects of our experience. While we booked a standard room, we were upgraded to an Ocean View King Plunge Pool Room (I'm a Bonvoy Titanium member). Ironically I tried to apply a Marriott Bonvoy Suite Night Award to confirm that suite in advance, but it was denied. However, I was still given the suite at check-in.
While the standard rooms are located in the main buildings (which are architecturally cool), the accommodations with plunge pools are mostly located in rows of rooms closer to the water, which are just a single floor.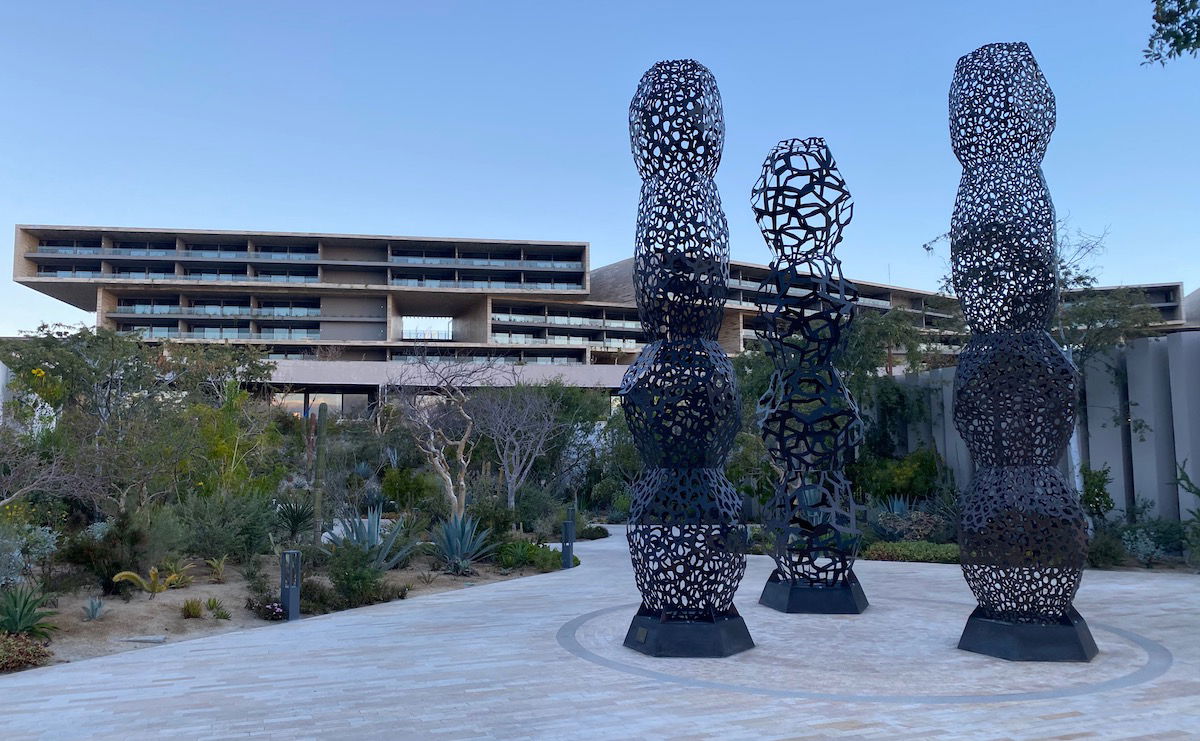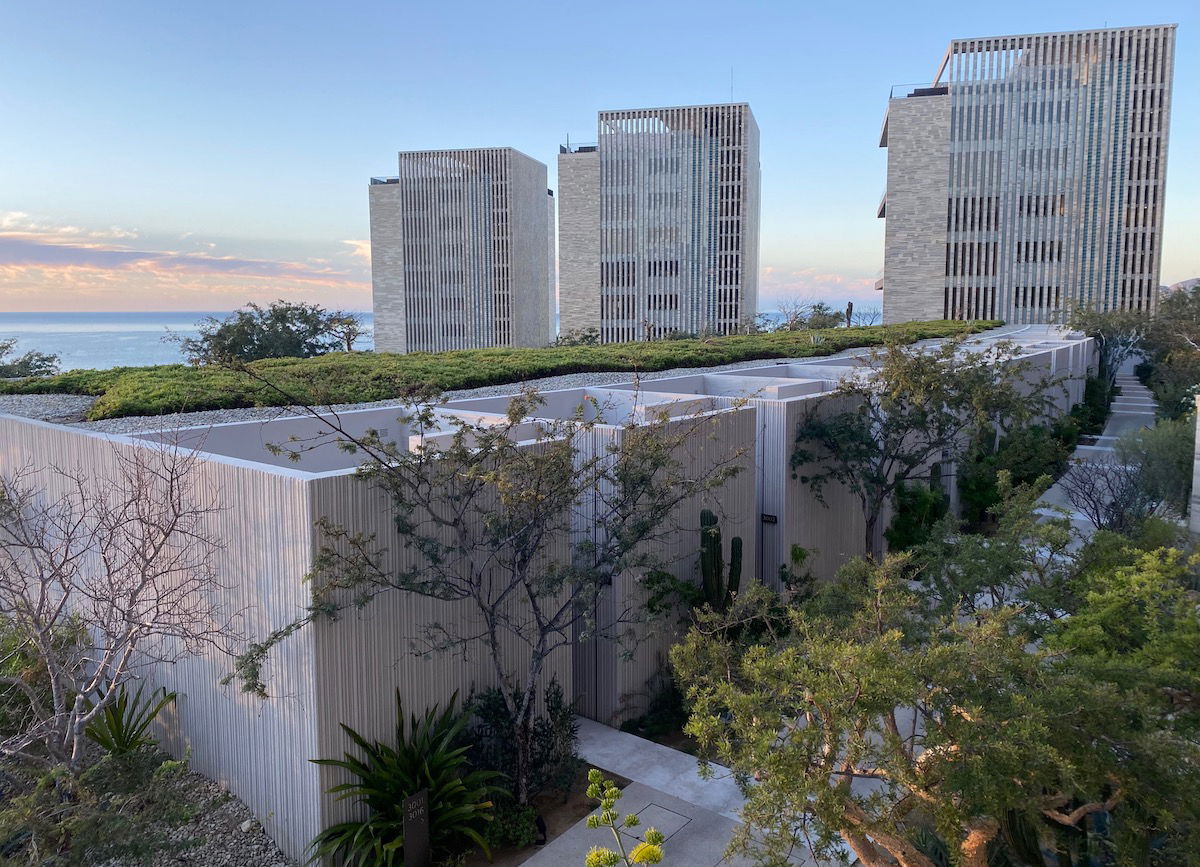 We were assigned room 2004, which was in the middle row of guest rooms.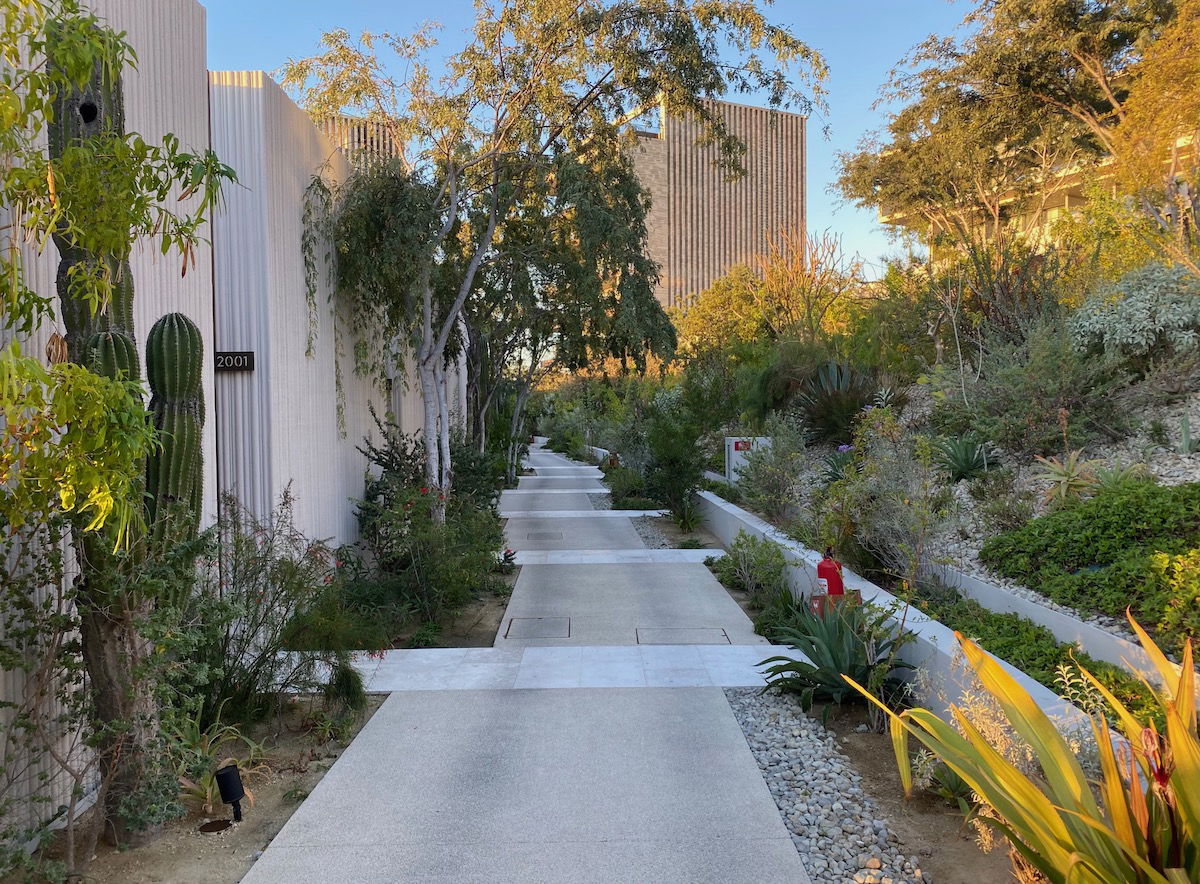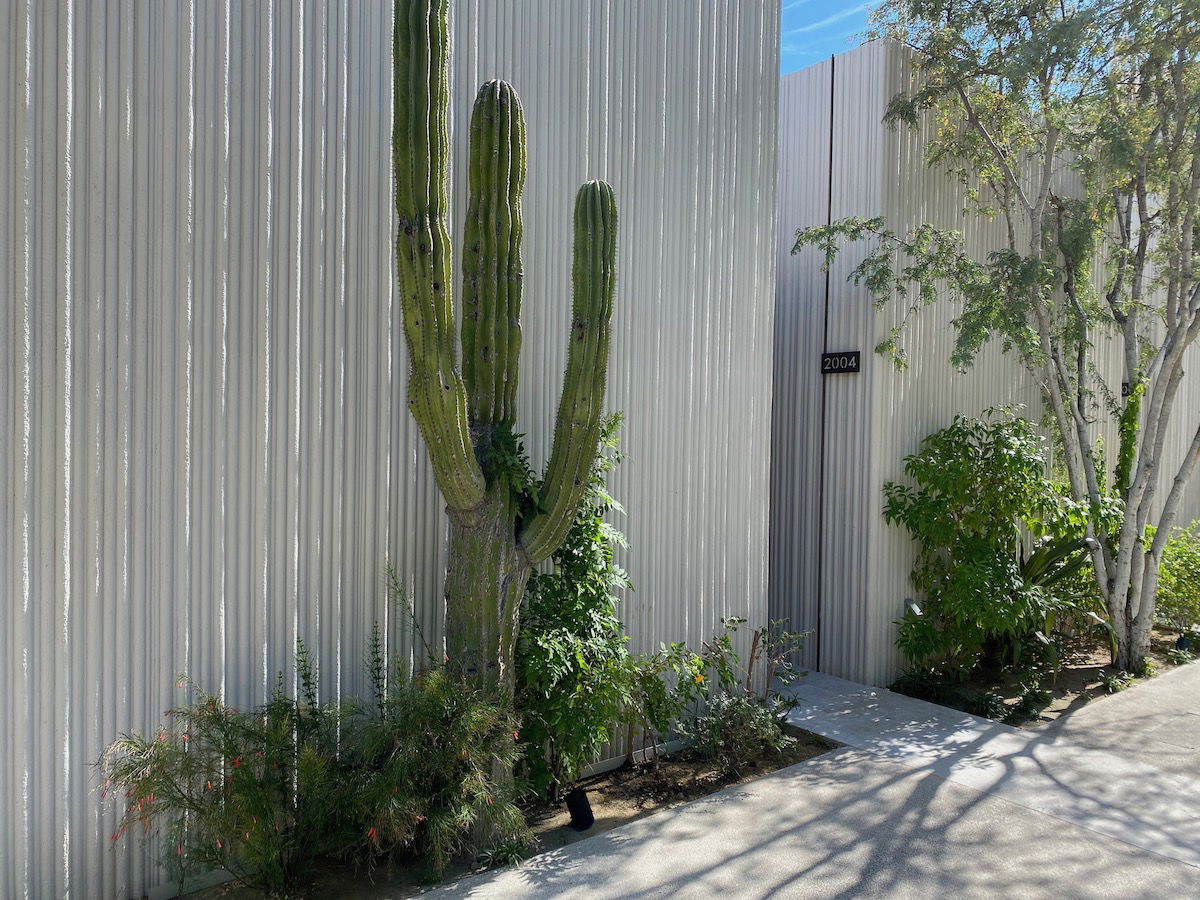 While the room is marketed as being 859 square feet, that clearly includes all the outdoor space. The room itself was maybe 400 square feet, about the size of a standard hotel room. Upon entering the room there was first a walled off outdoor area, with an outdoor shower and a bench.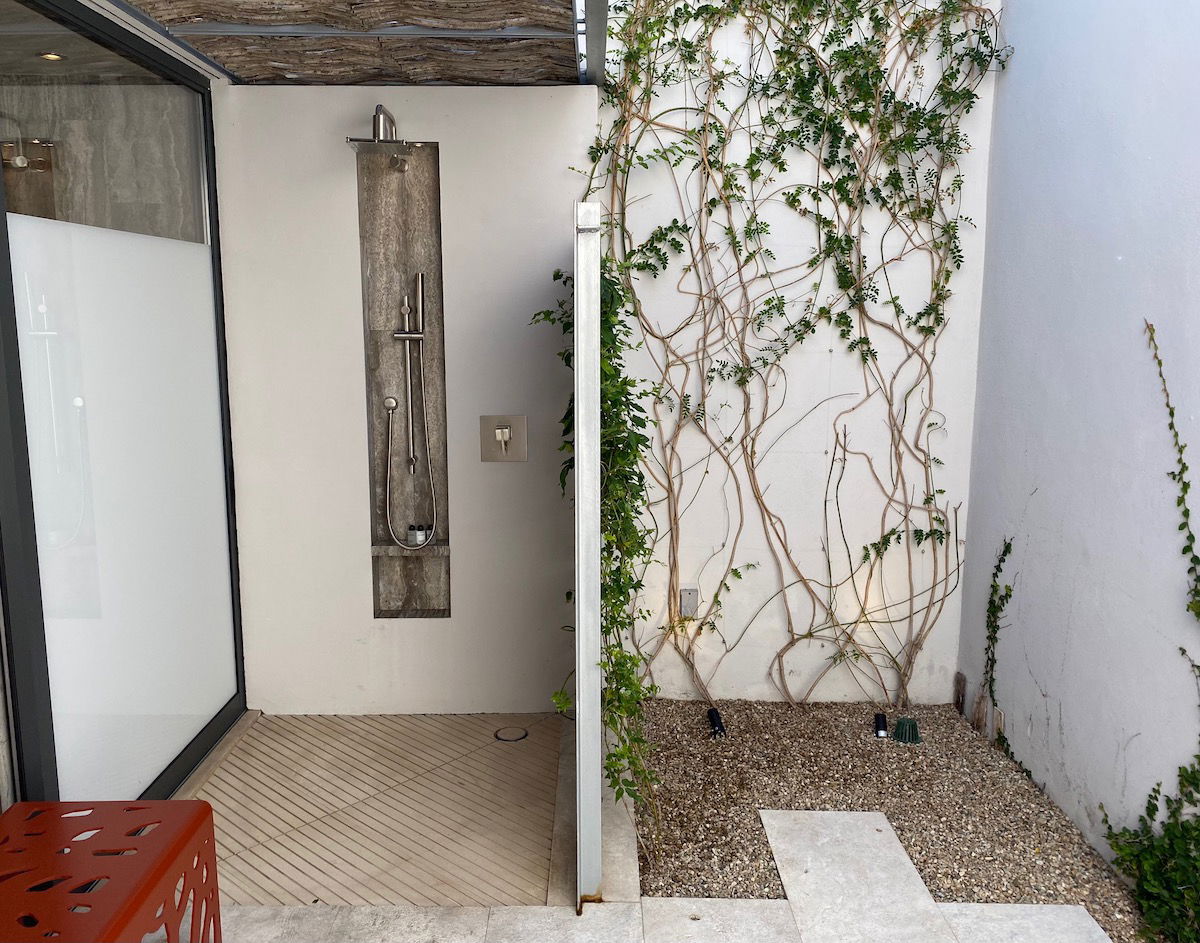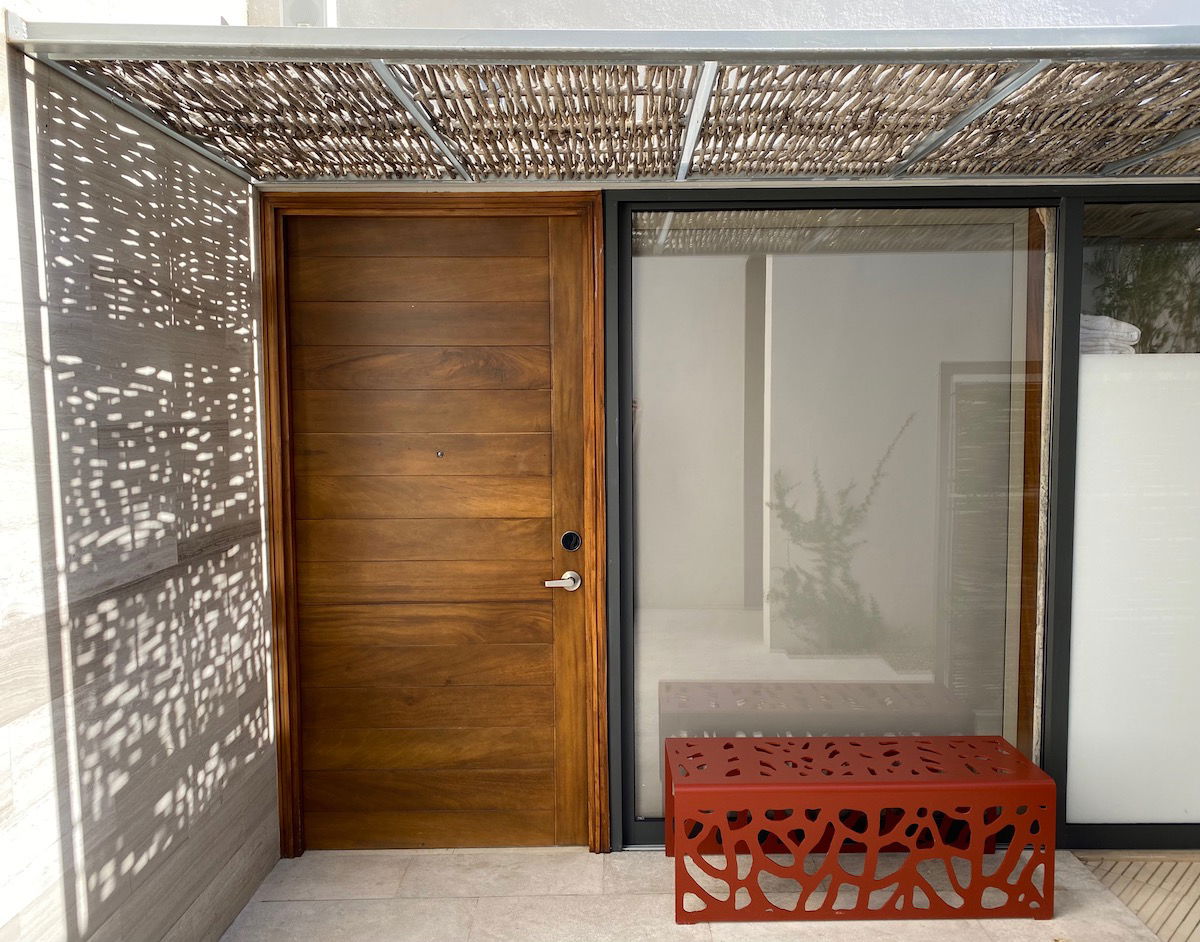 The room itself was rather uninspiring, and felt generic, cheap, and poorly thought out. It felt more to me like a W Hotel than a Luxury Collection property.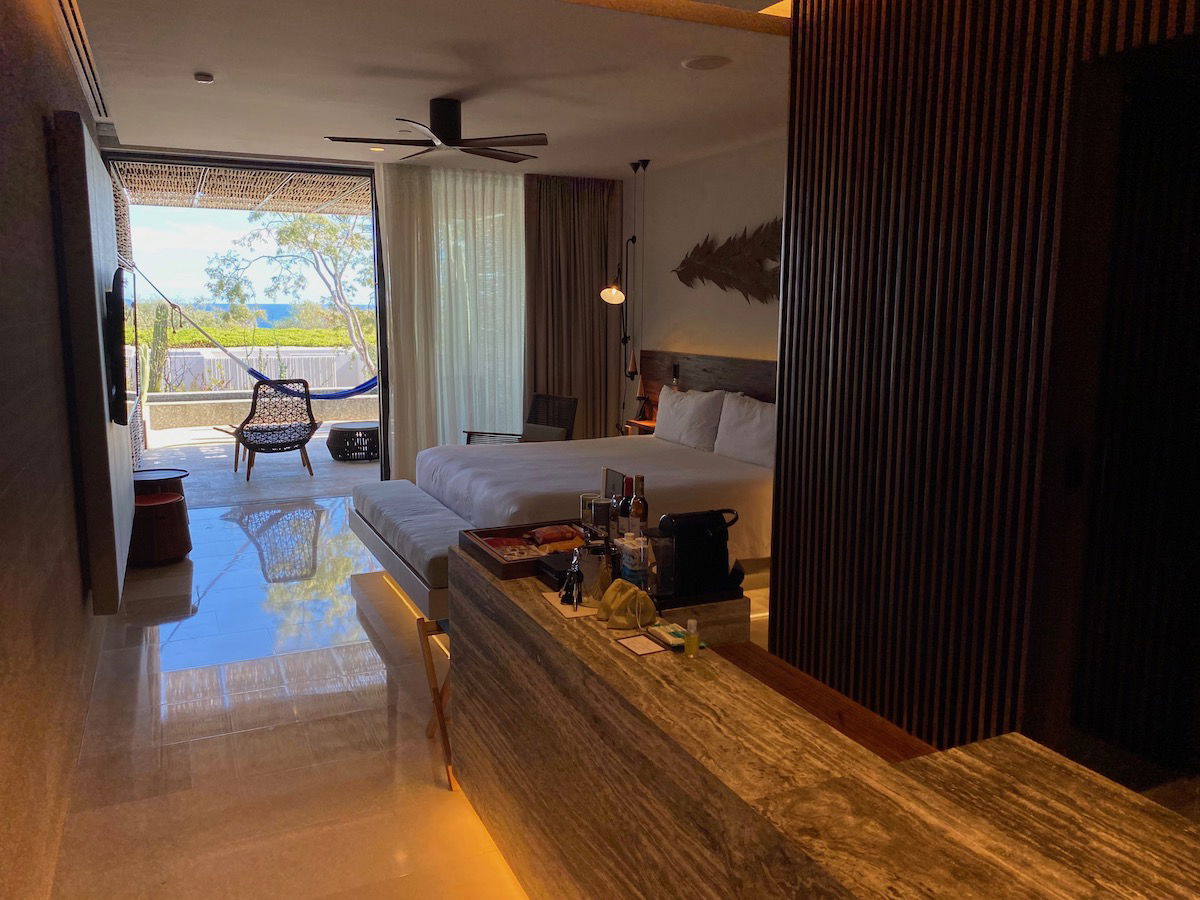 The room had a king size bed and then a rocking chair next to it.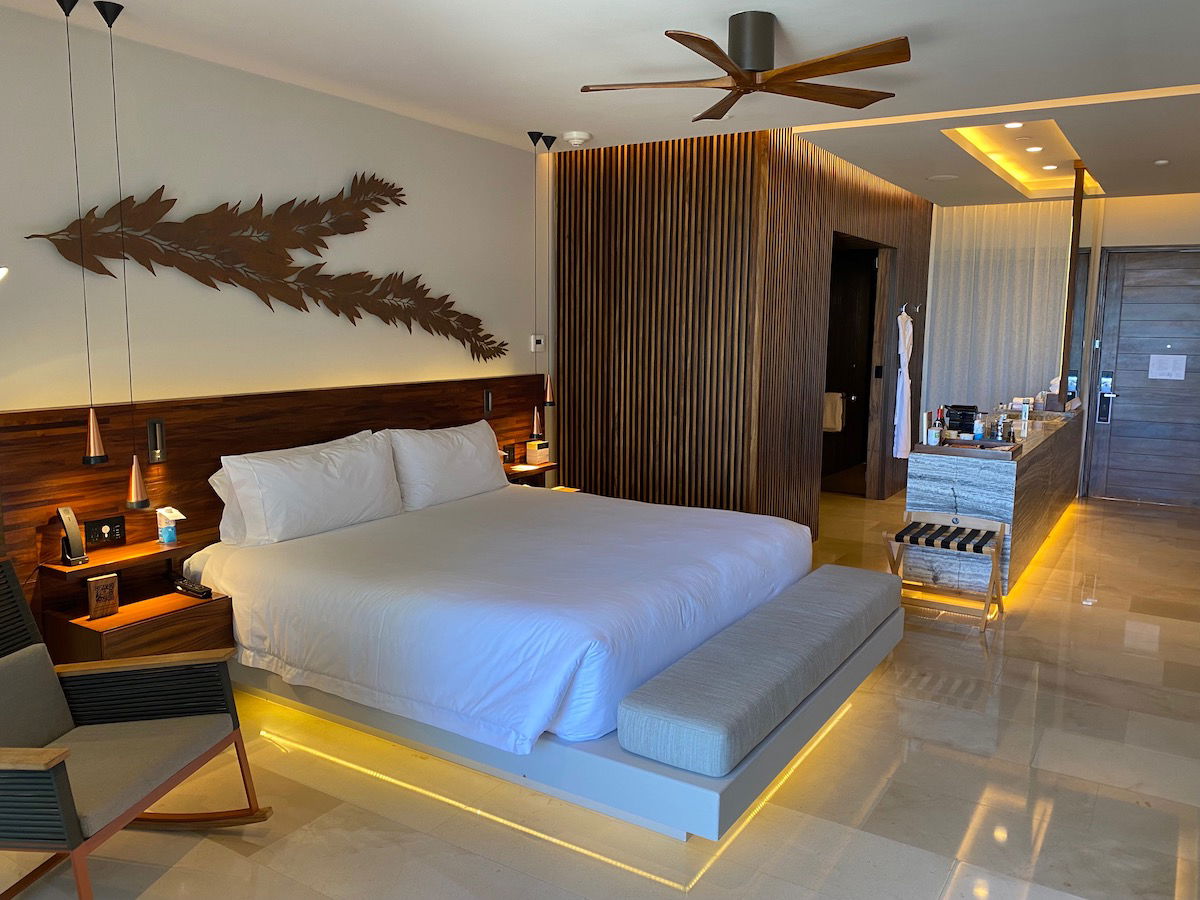 The only sitting area inside the room was a ridiculously small table with two wooden stools. Not only was it uncomfortable, but the stools were so low, it almost felt like what you'd expect inside the kids room in a Centurion Lounge.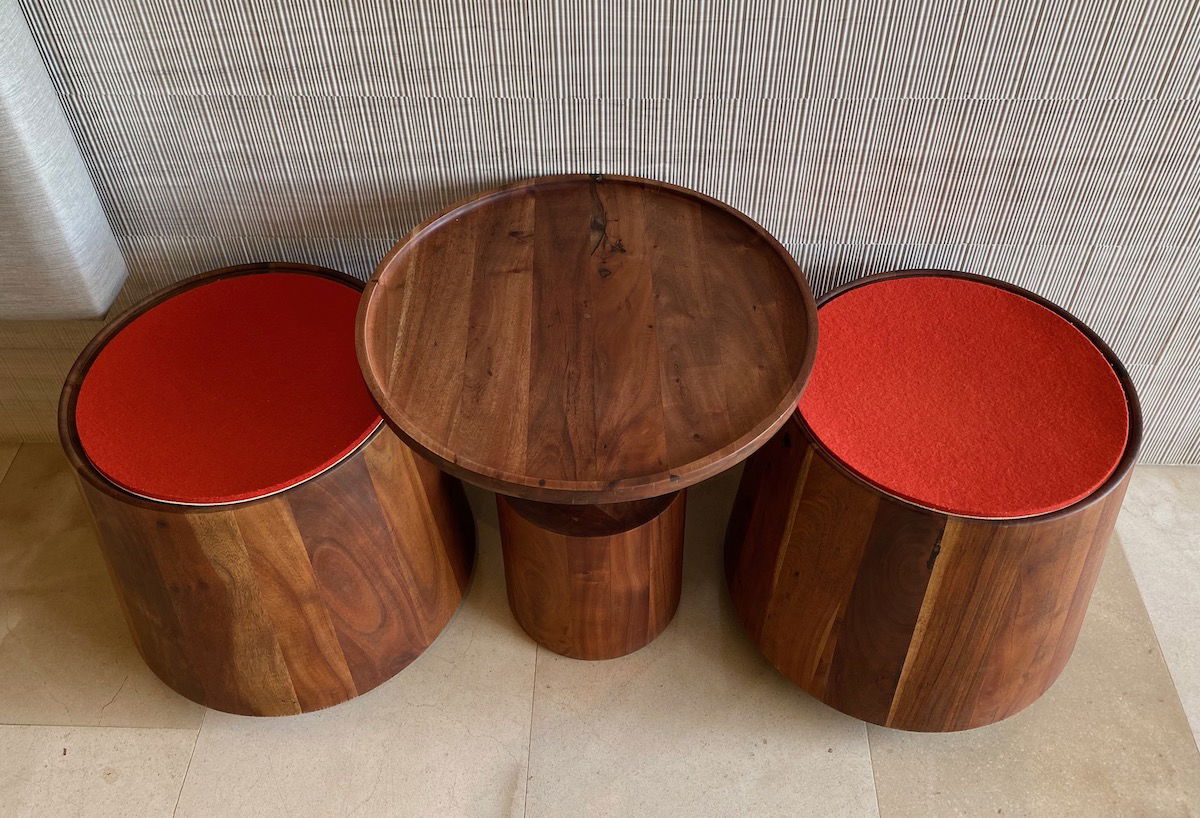 Much of the bathroom wasn't separated from the rest of the room. The sink and minibar area were all on a counter just inside the entrance to the room, so there was no privacy there.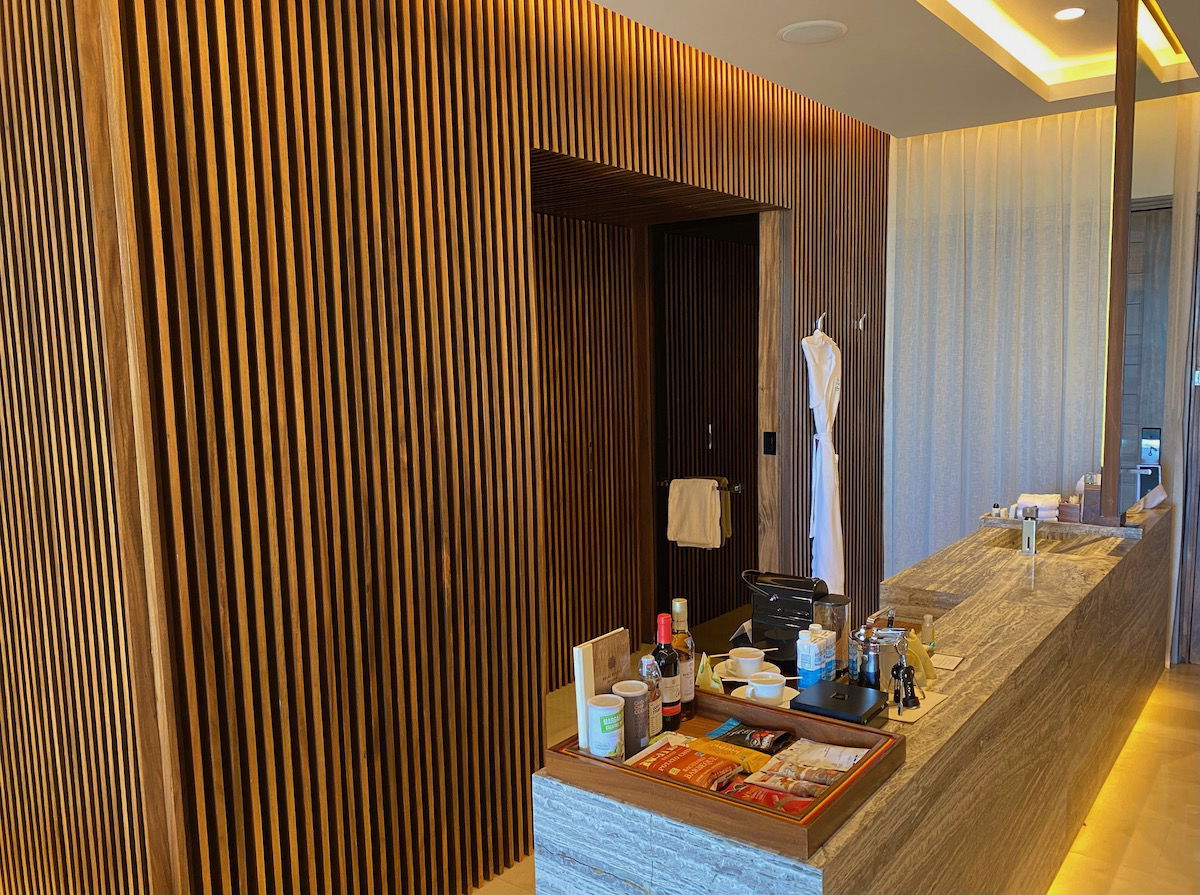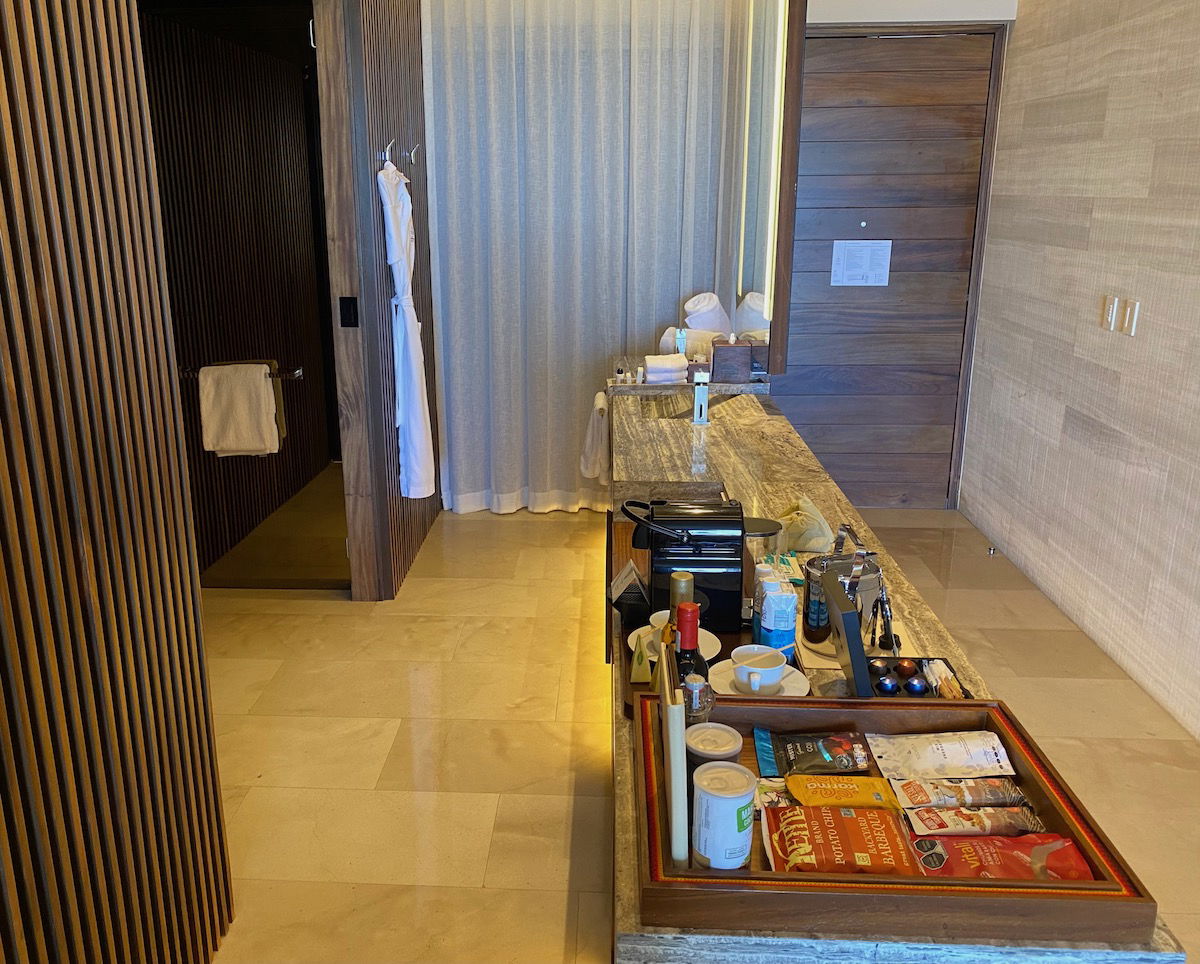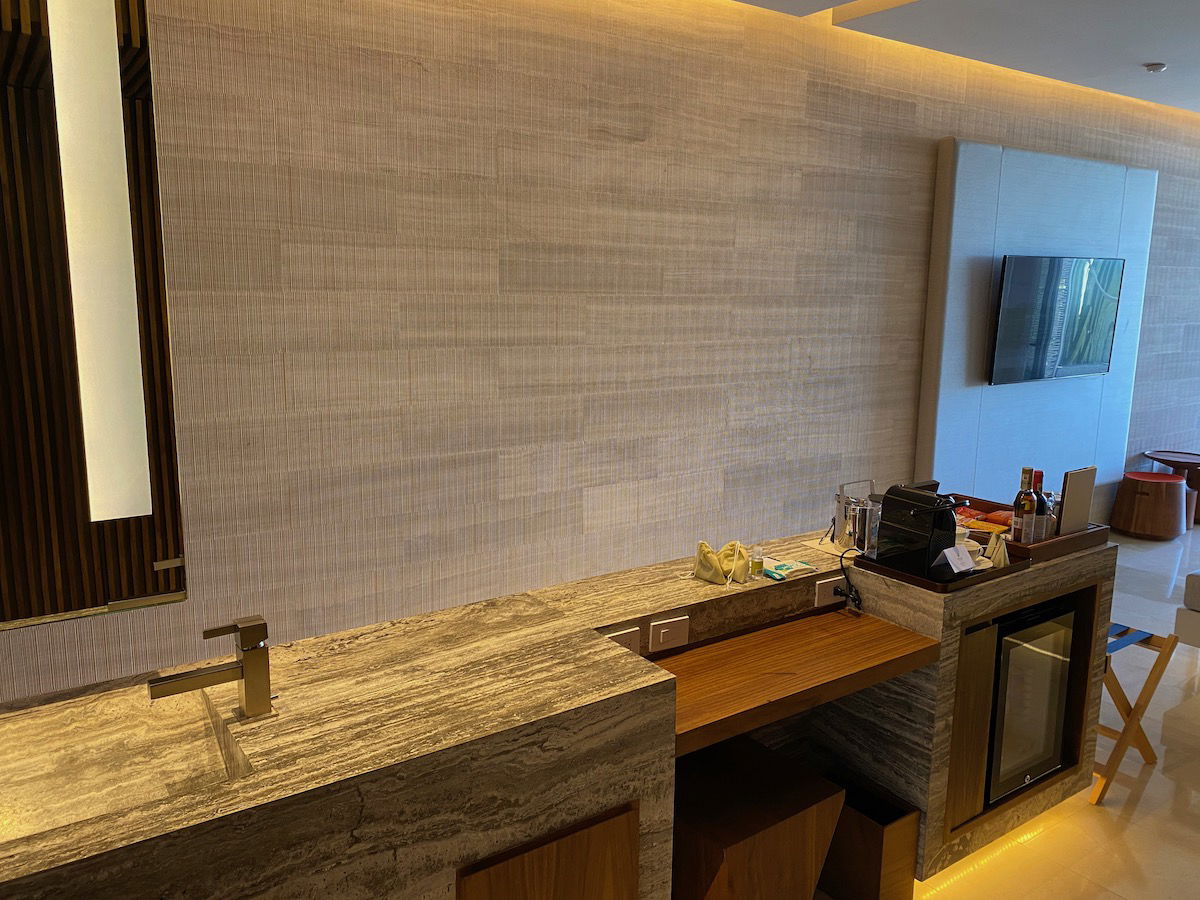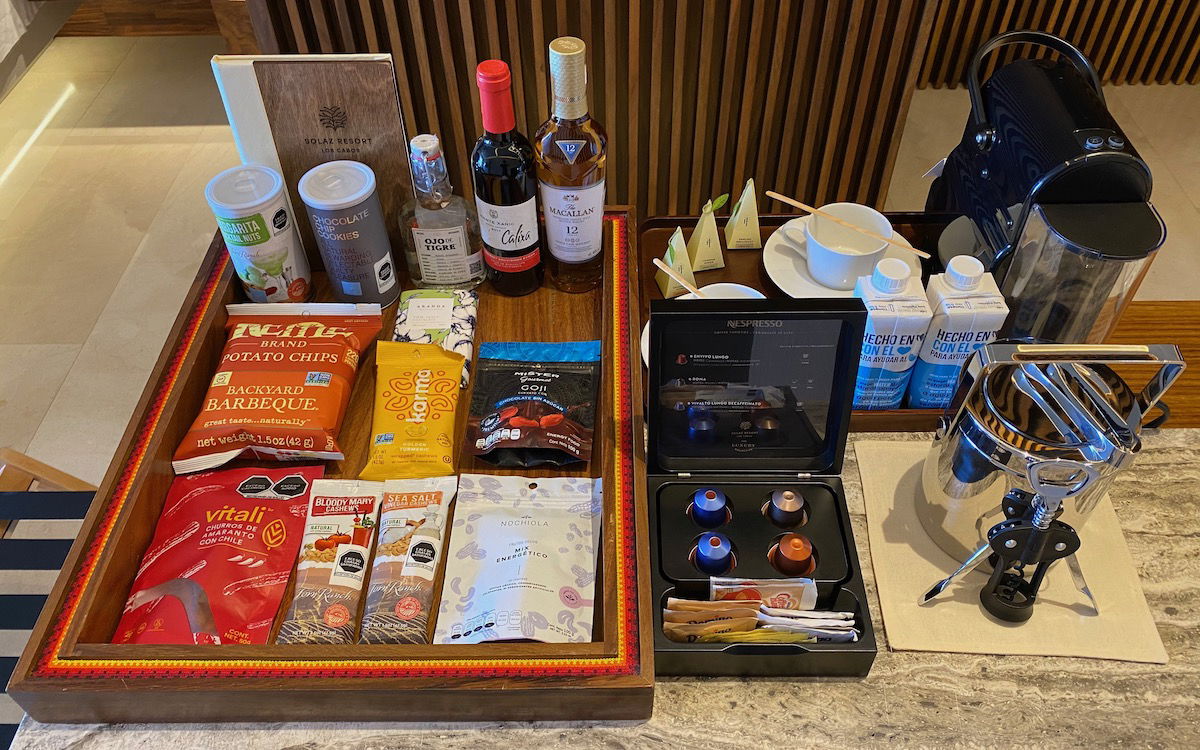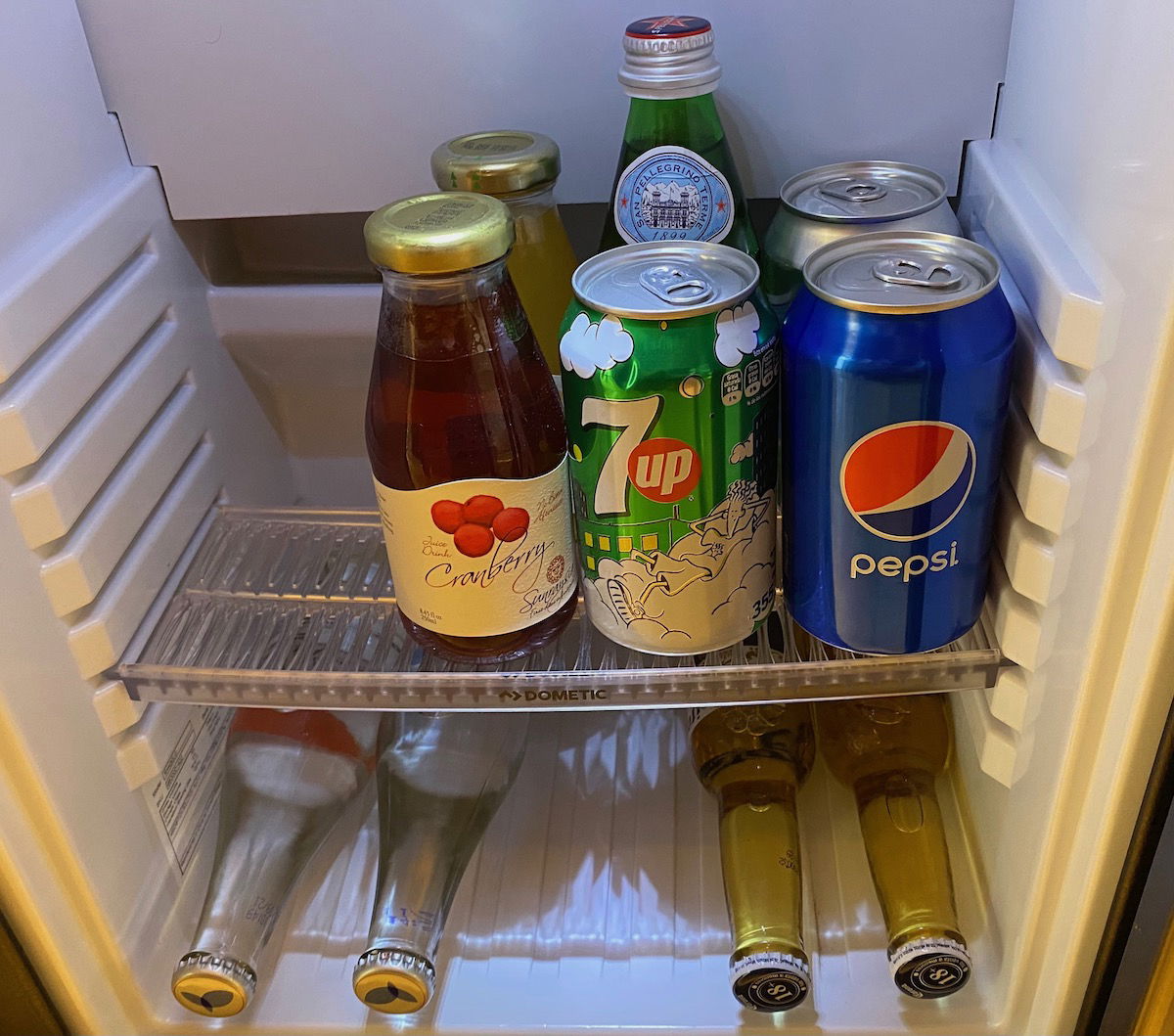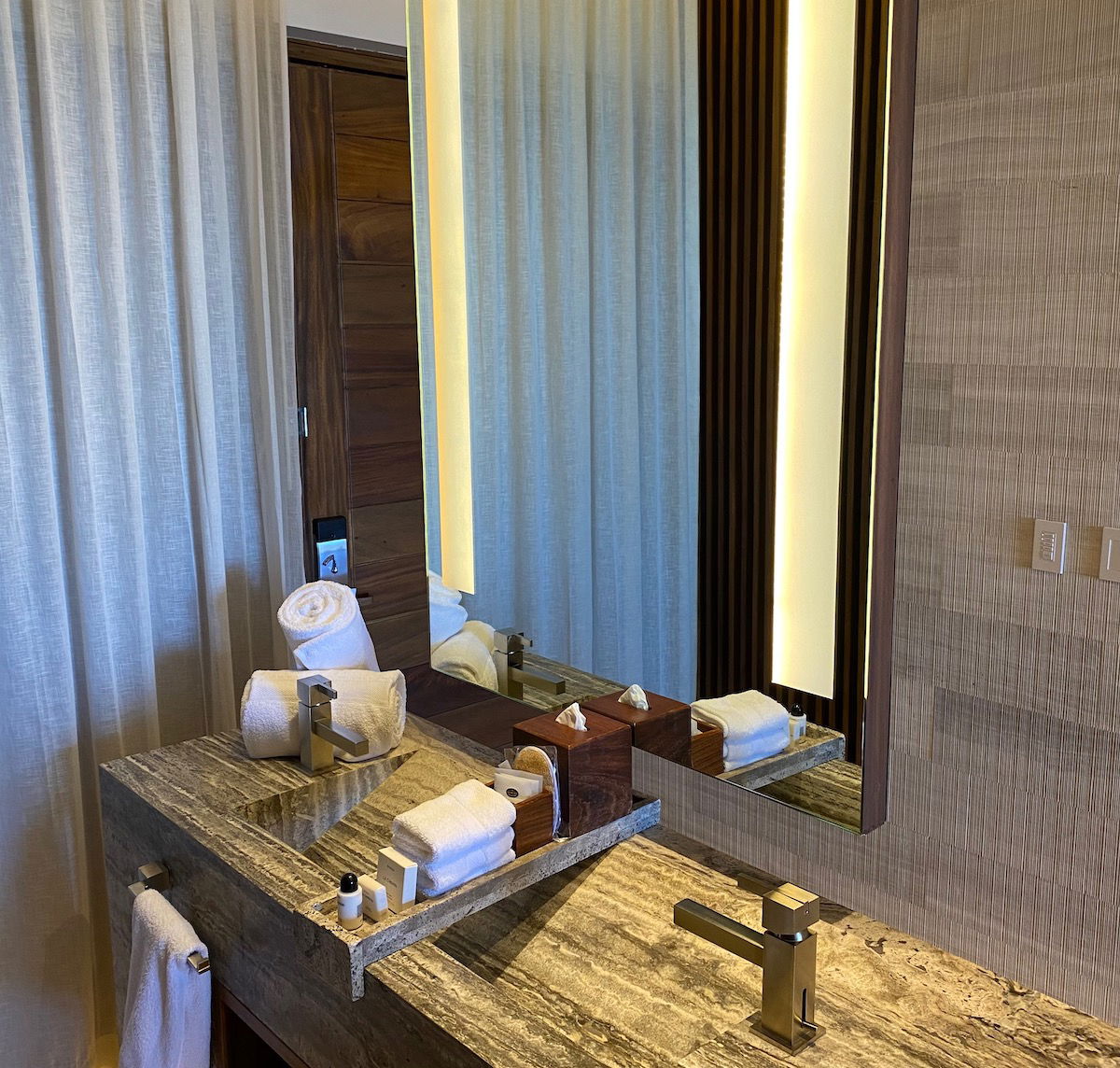 Then the toilet was in a small room to the left, while the shower was in a room to the right. While I'm personally not a bathtub guy (unless I'm getting ducks from the Lufthansa First Class Terminal), I'd note that this is the only hotel we stayed at in Los Cabos where we didn't have a bathtub.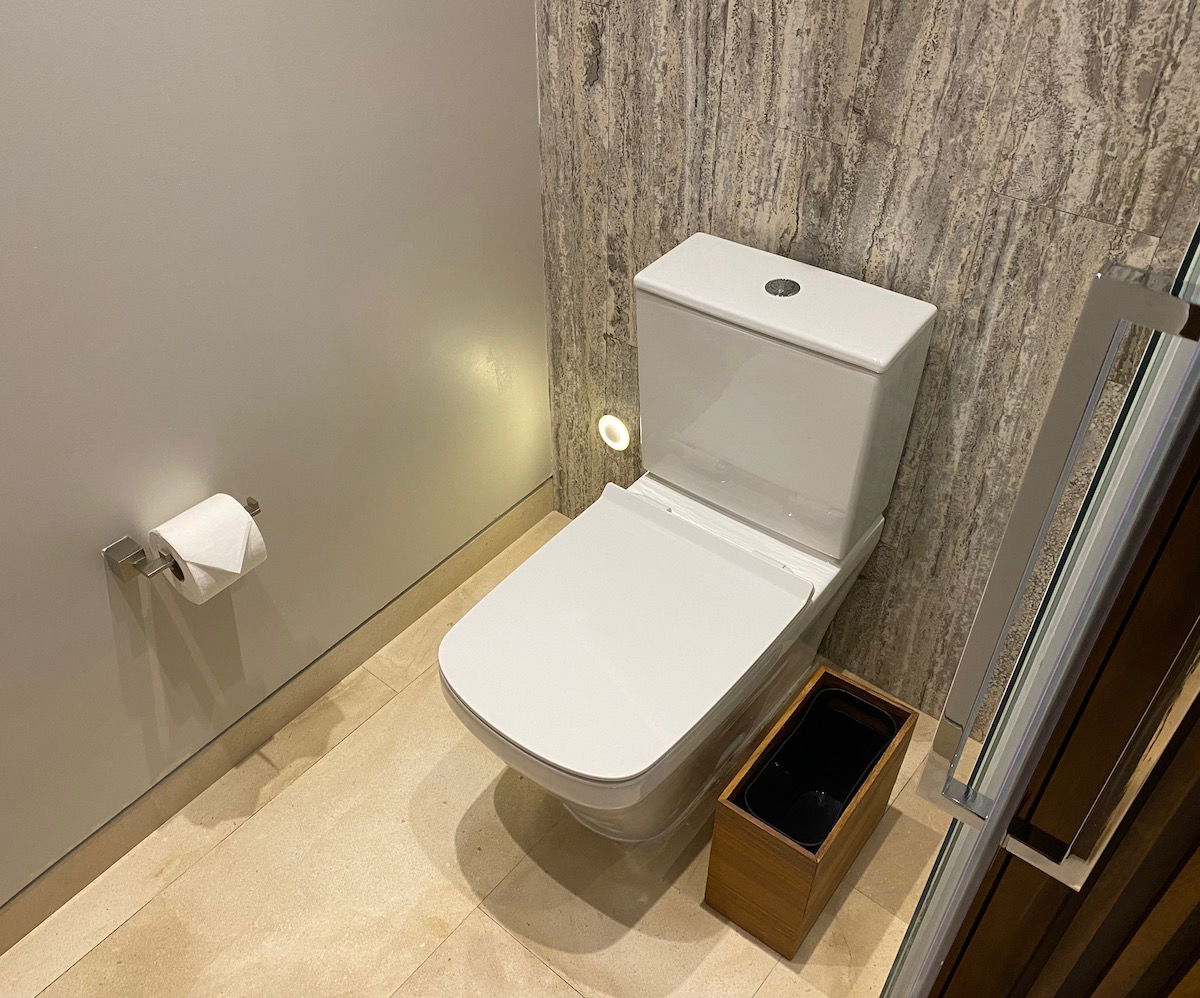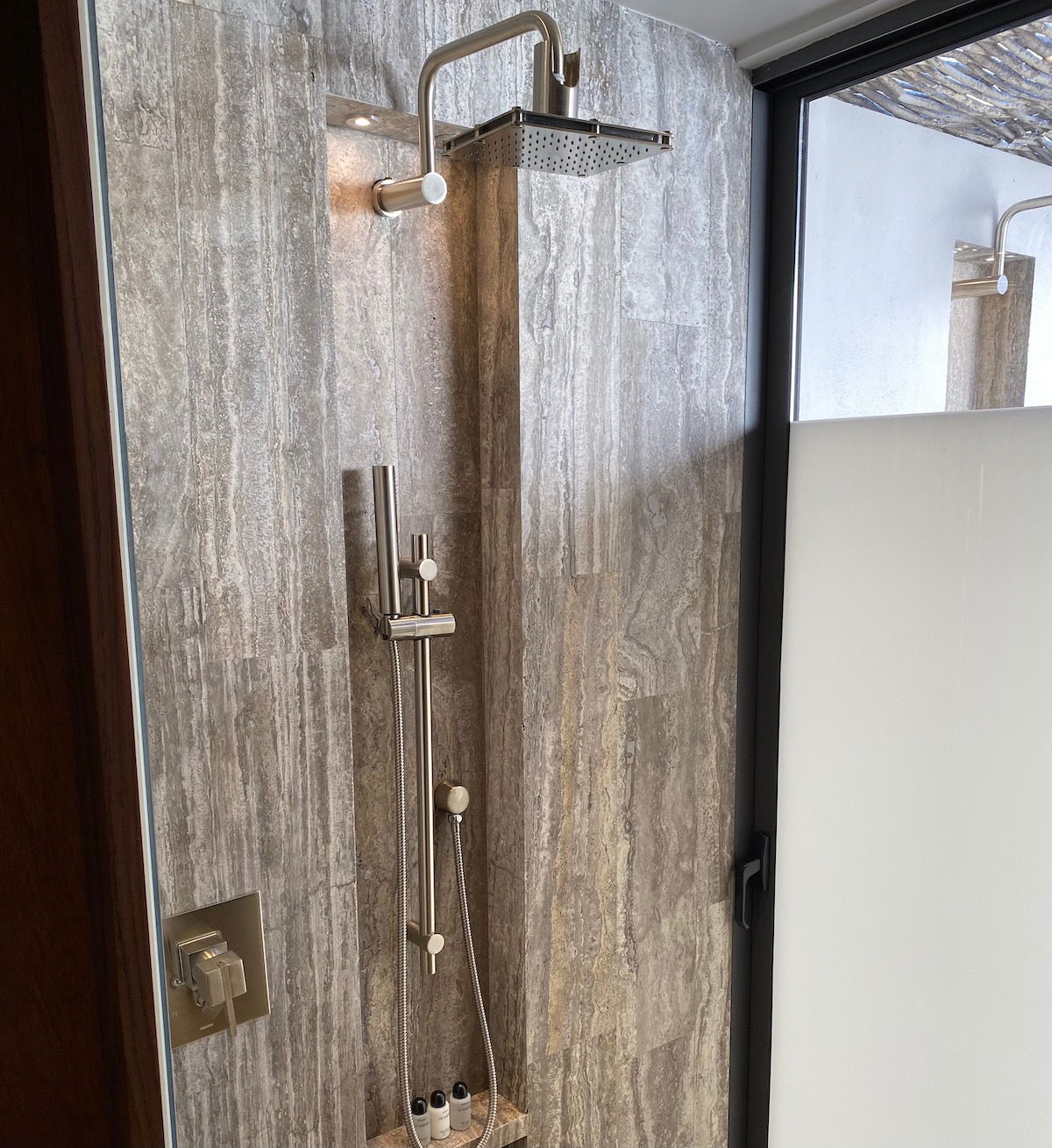 Toiletries were the Le Chemin collection from Byredo, which were pretty decent.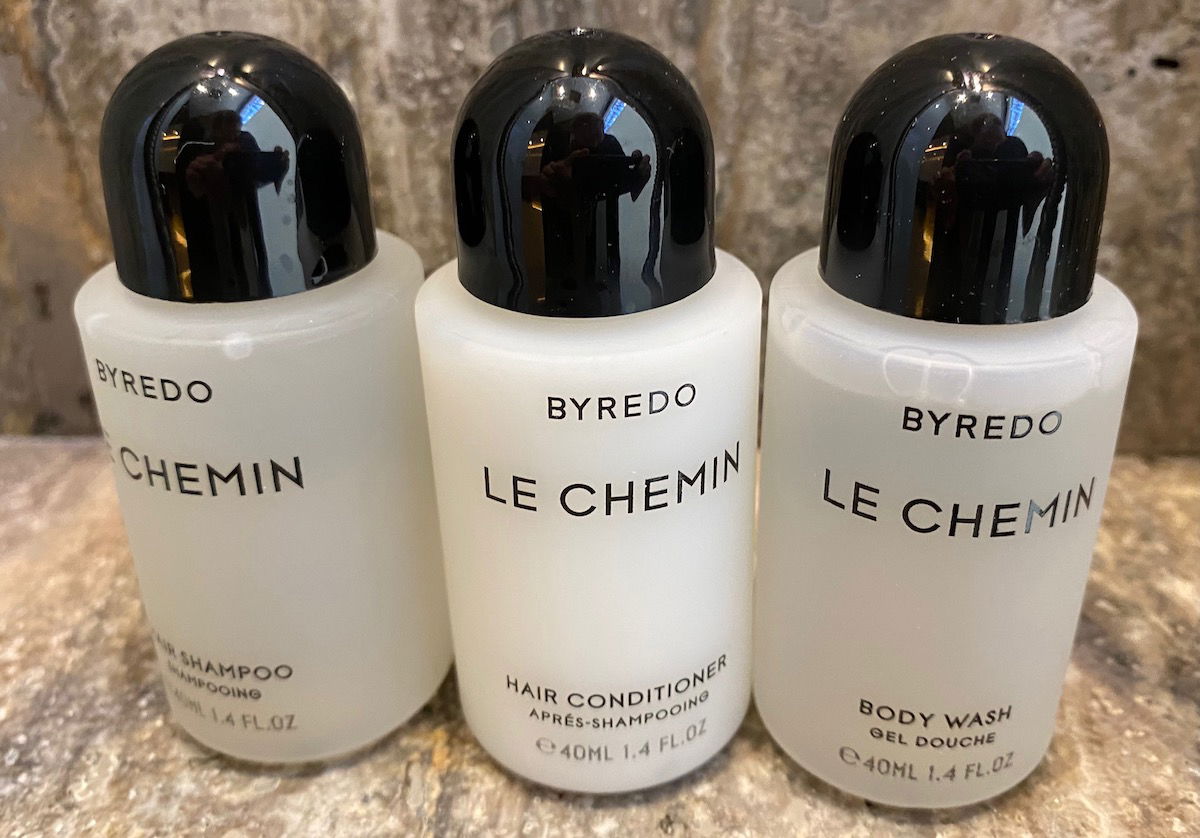 I guess the outdoor area was the highlight of the room. There were two chairs with ottomans, along with a hammock.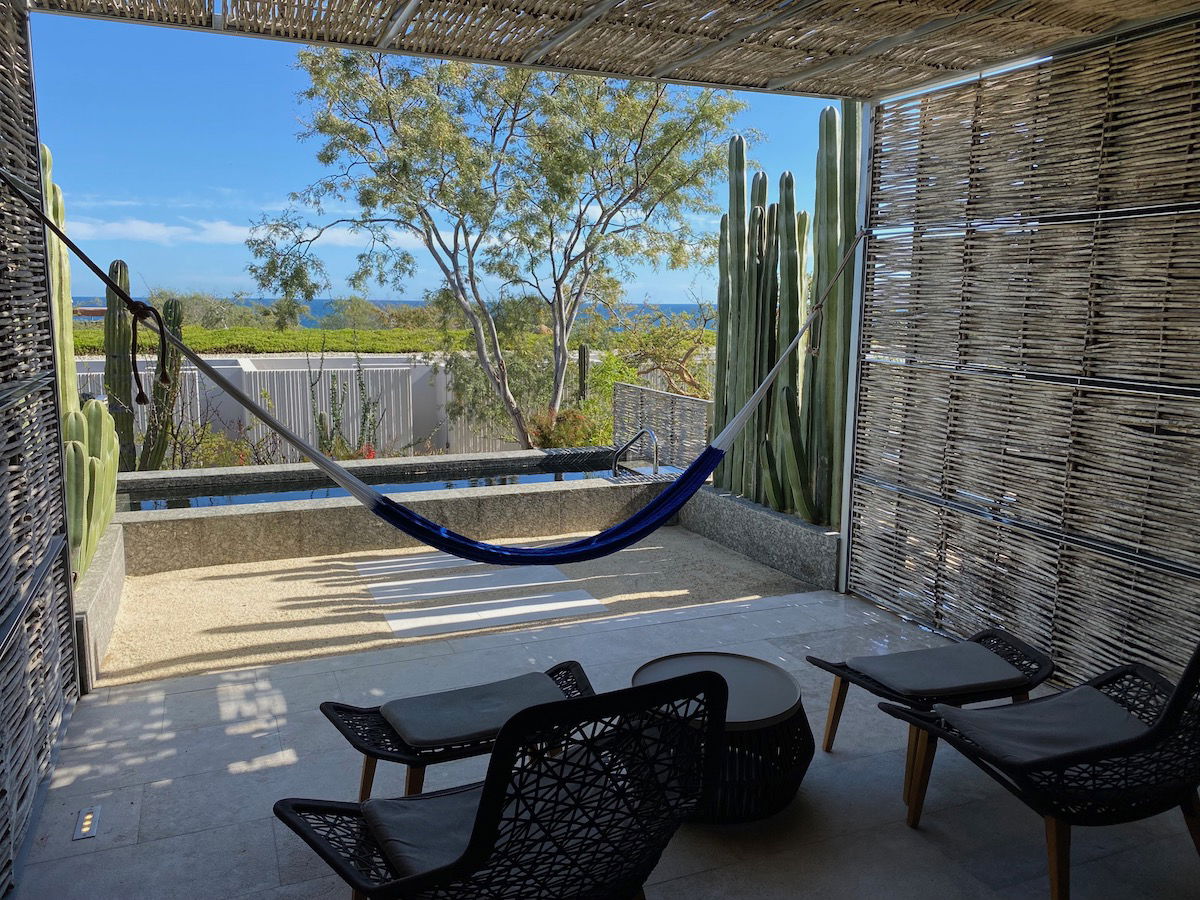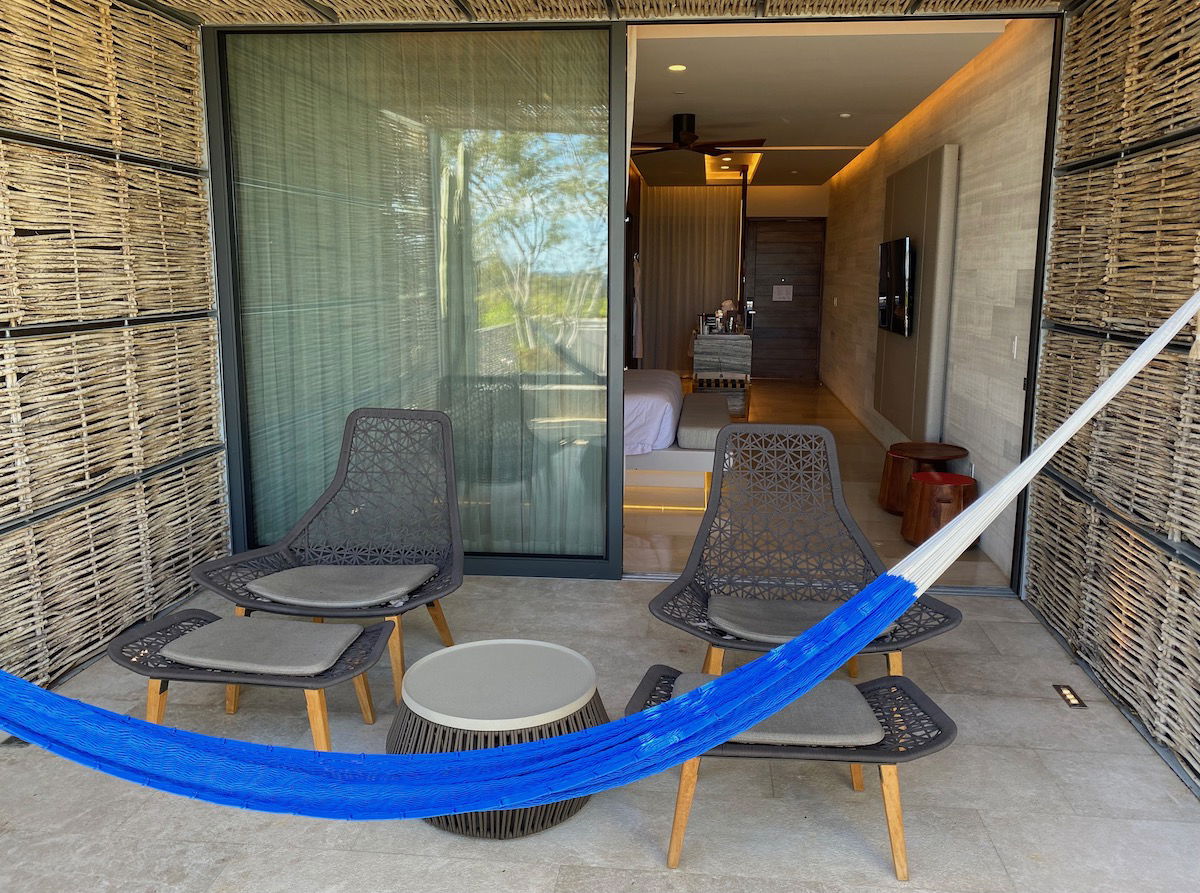 The plunge pool was small, and also wasn't actually a private pool. Rather several rooms share one long and very narrow pool, which just has some above-water wooden partitions that provide some privacy.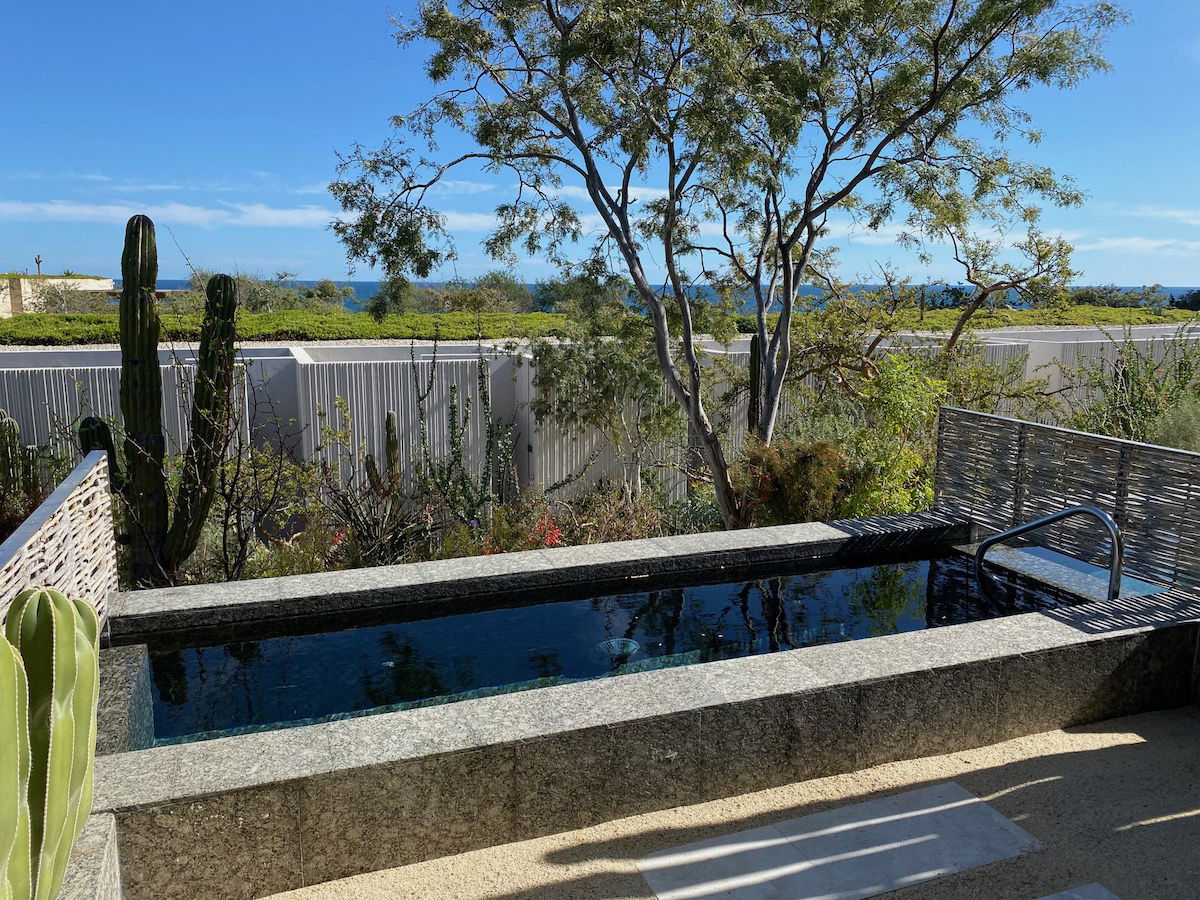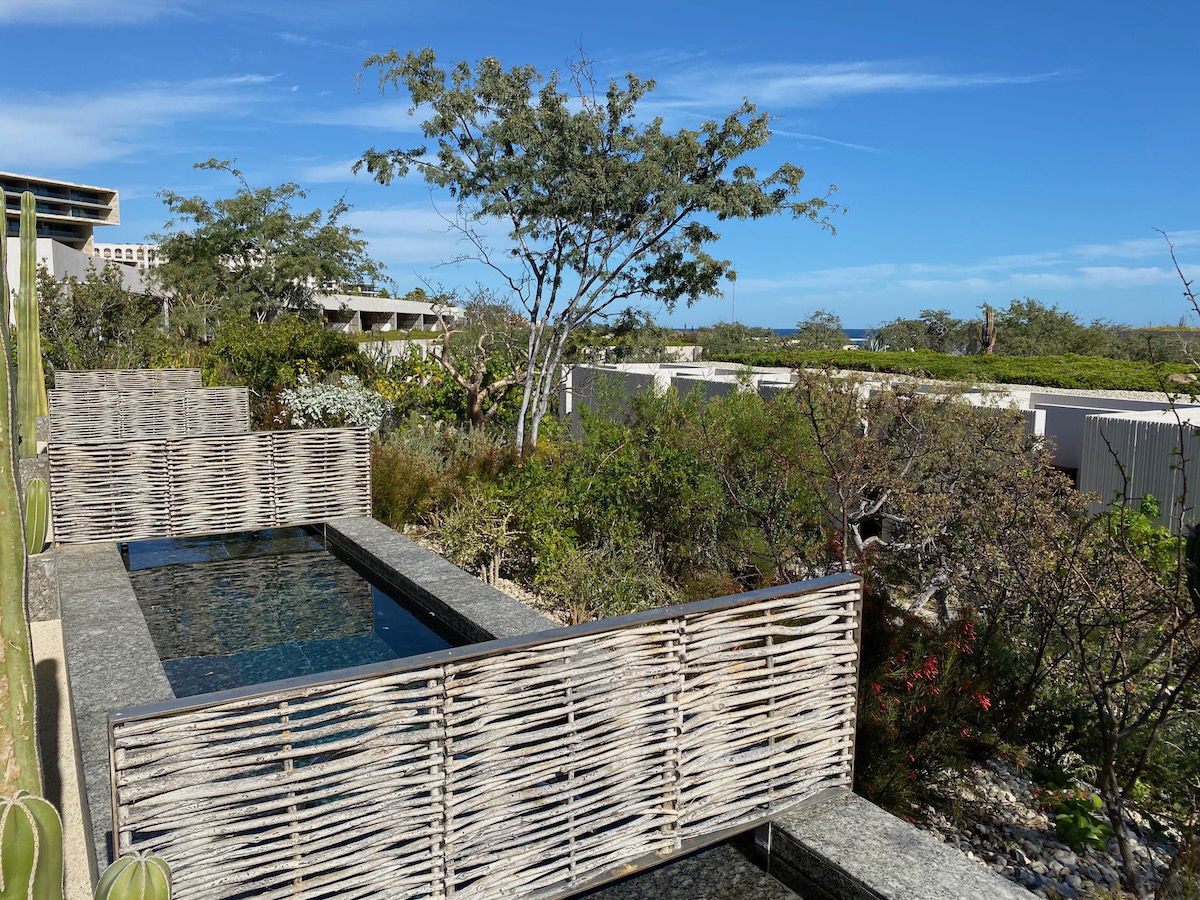 The sunrises were pretty, though I do think it's a stretch to suggest that this room has an "ocean view."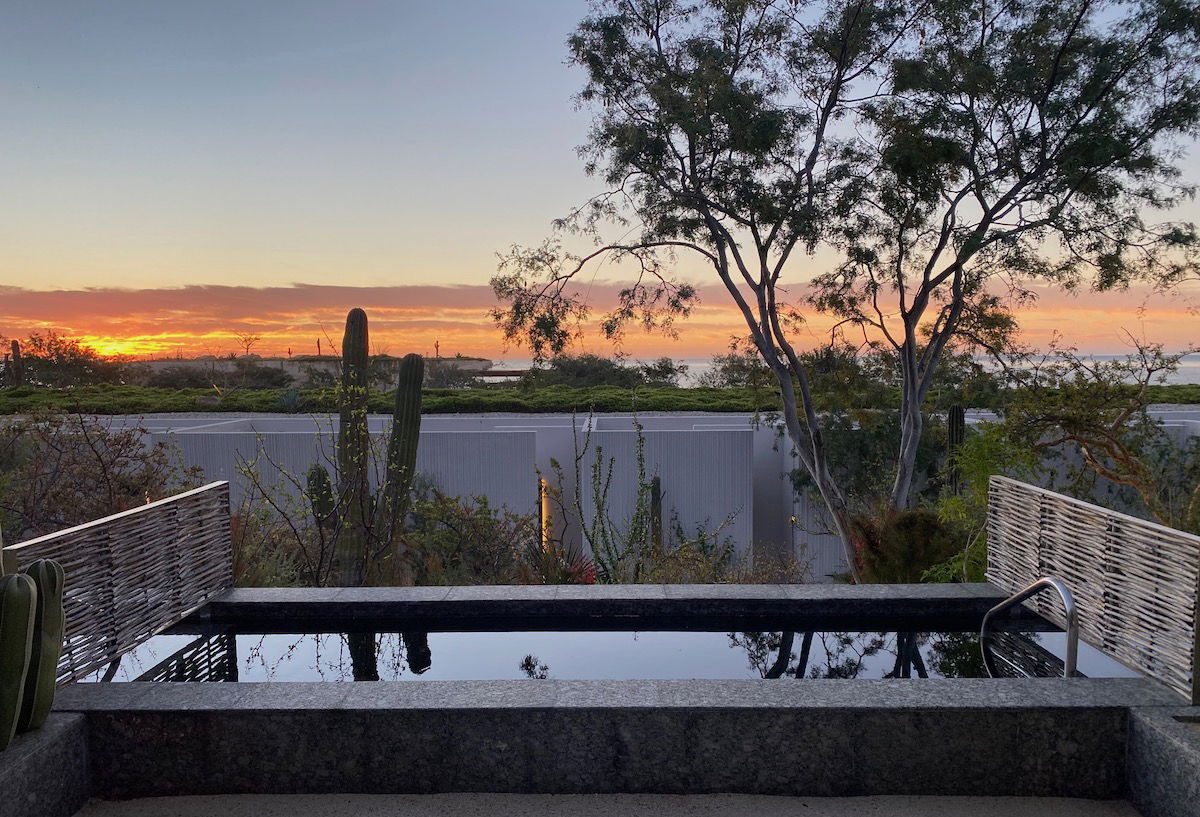 My biggest complaint was that I could even hear cars from the road from inside the room, even though it was quite far away.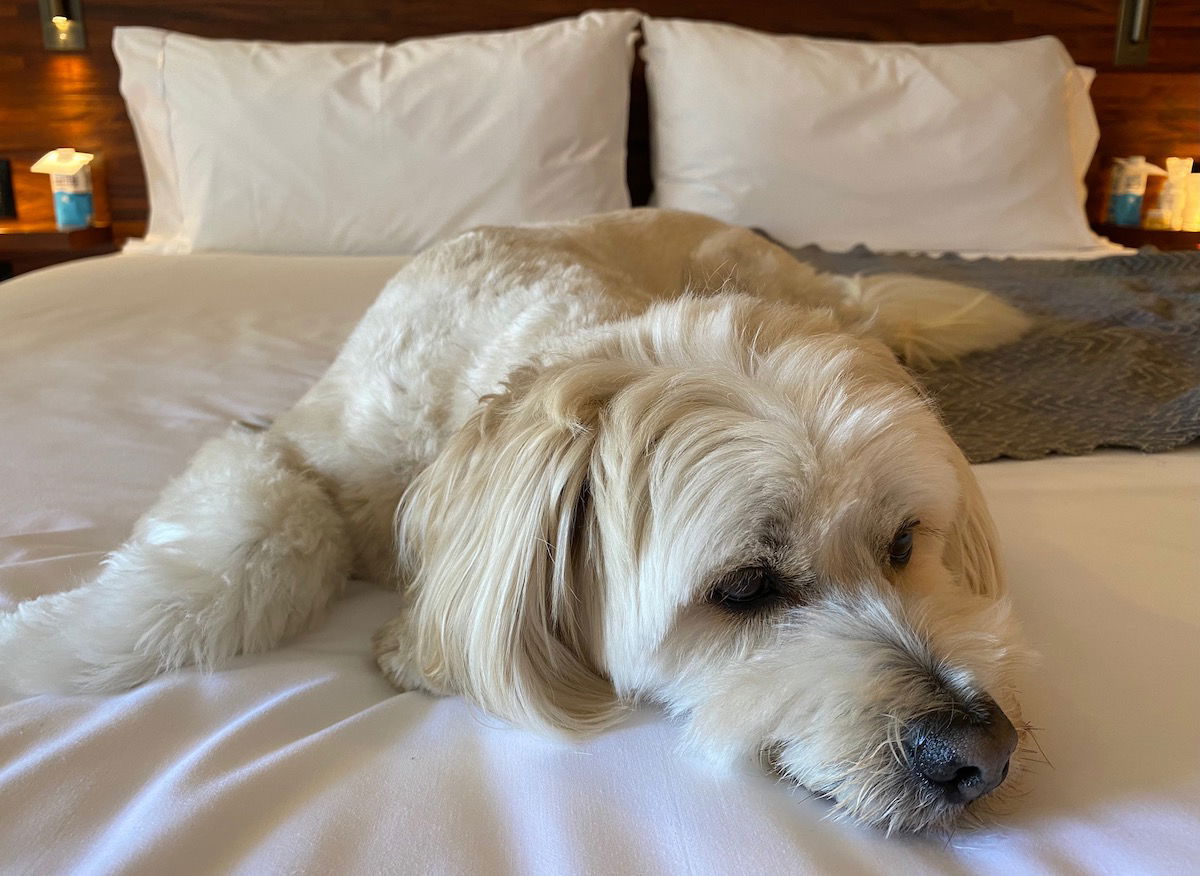 Solaz Los Cabos pools
Credit where credit's due, Solaz has huge and beautiful pools. They're mostly infinity-edge, and right along the beach, so visually they're gorgeous, and there's a ton of space to spread out (then again, this is kind of a mega-resort, given the number of timeshare units).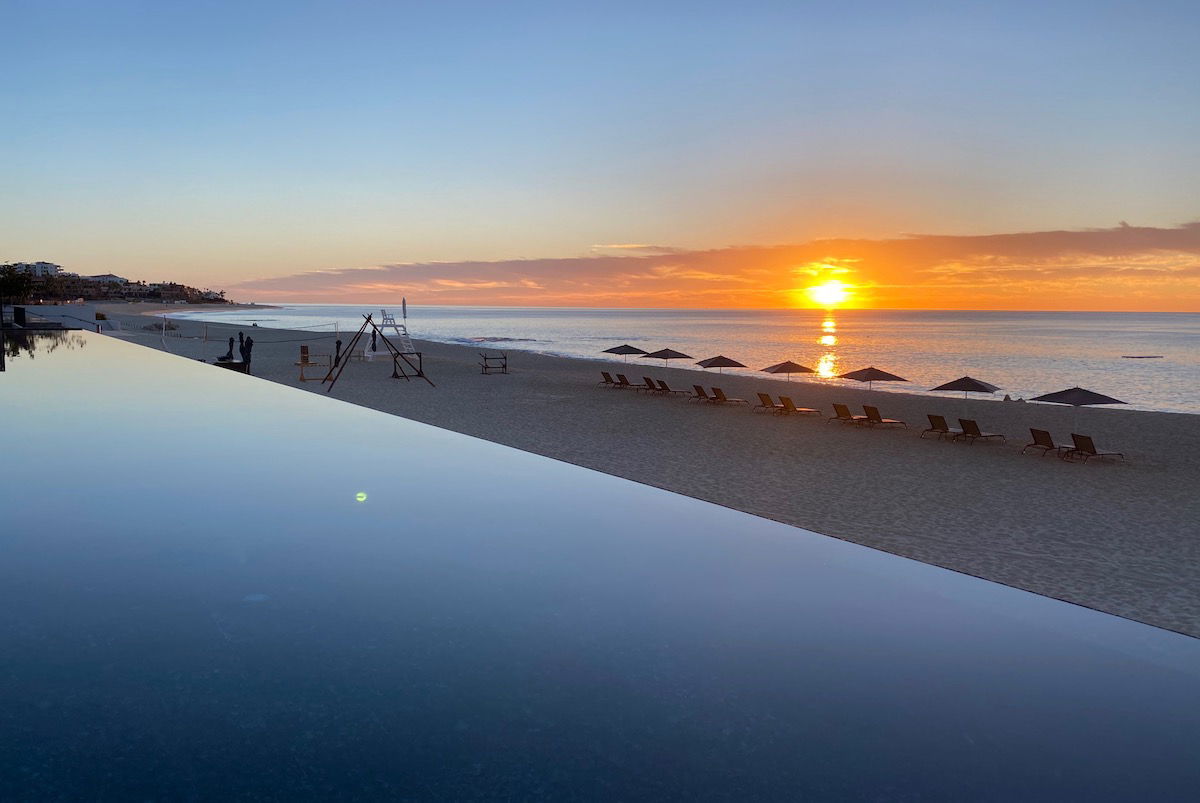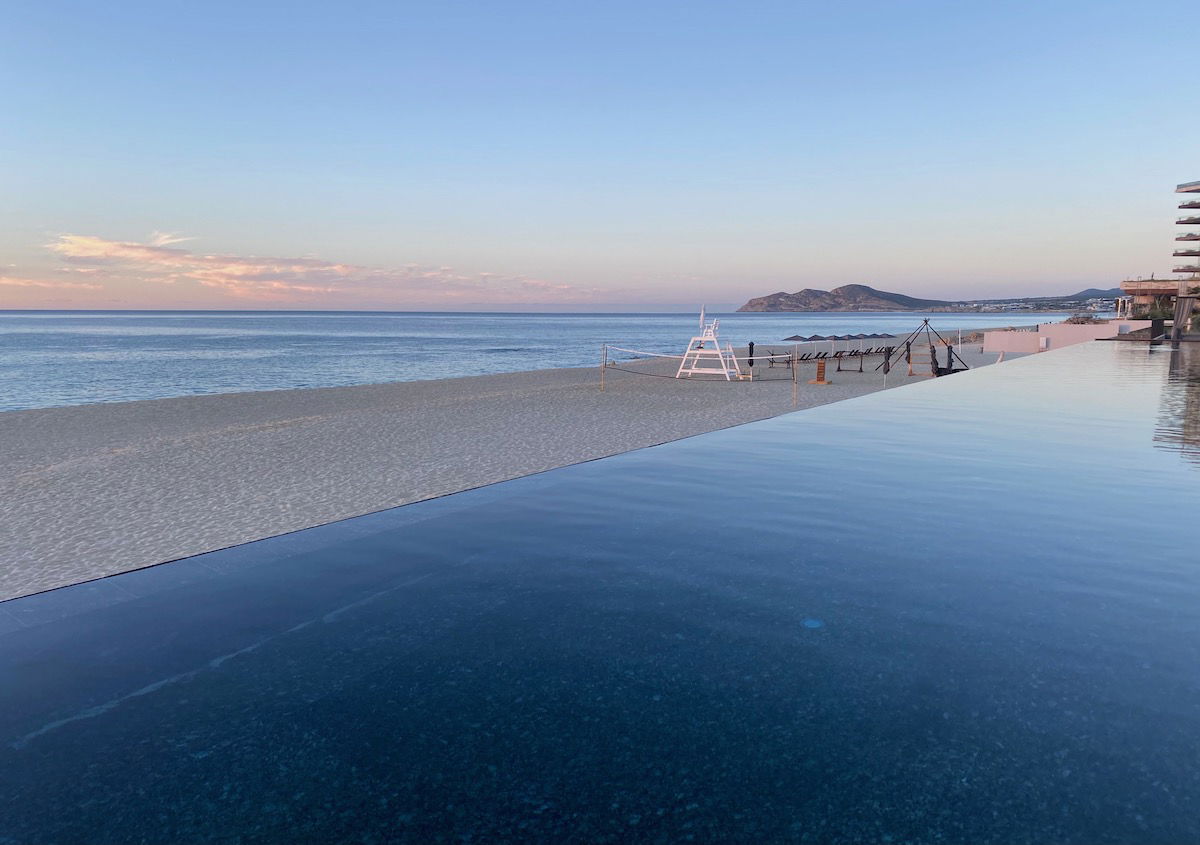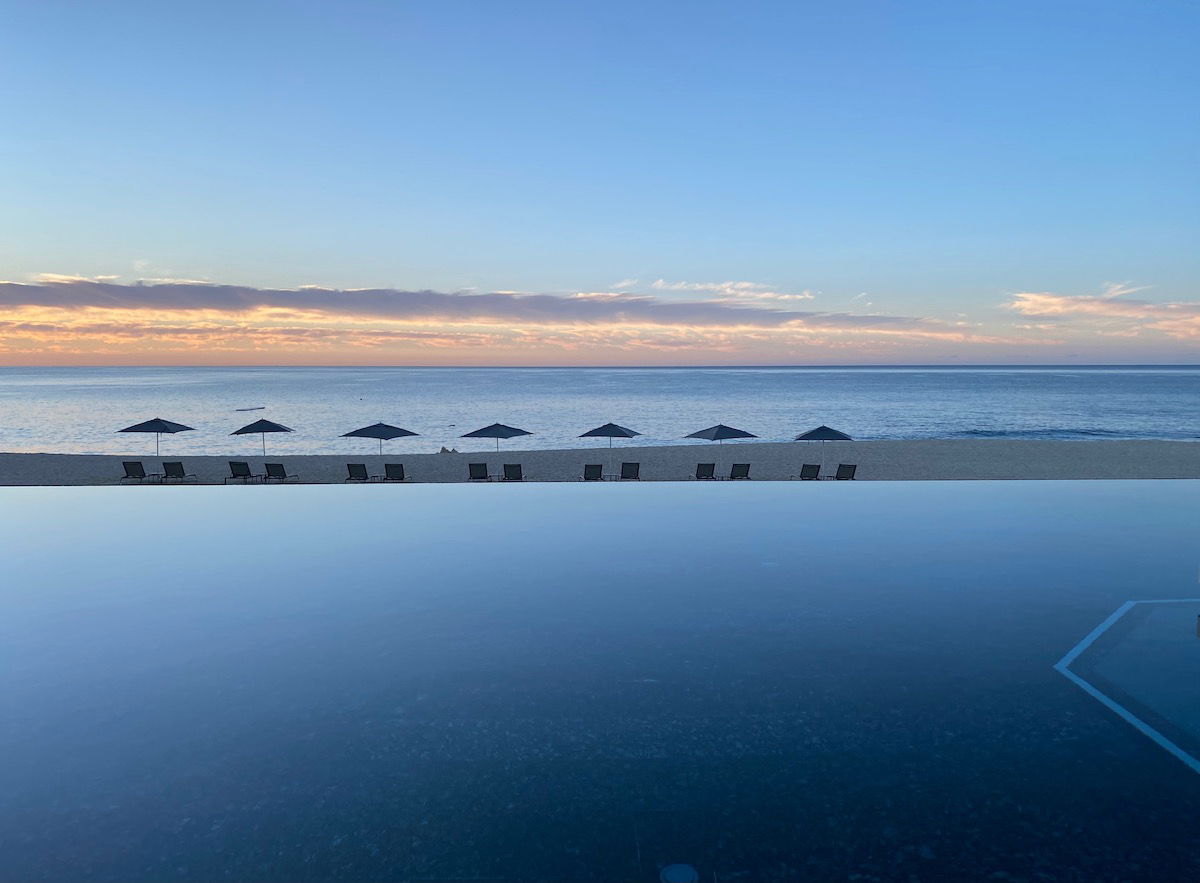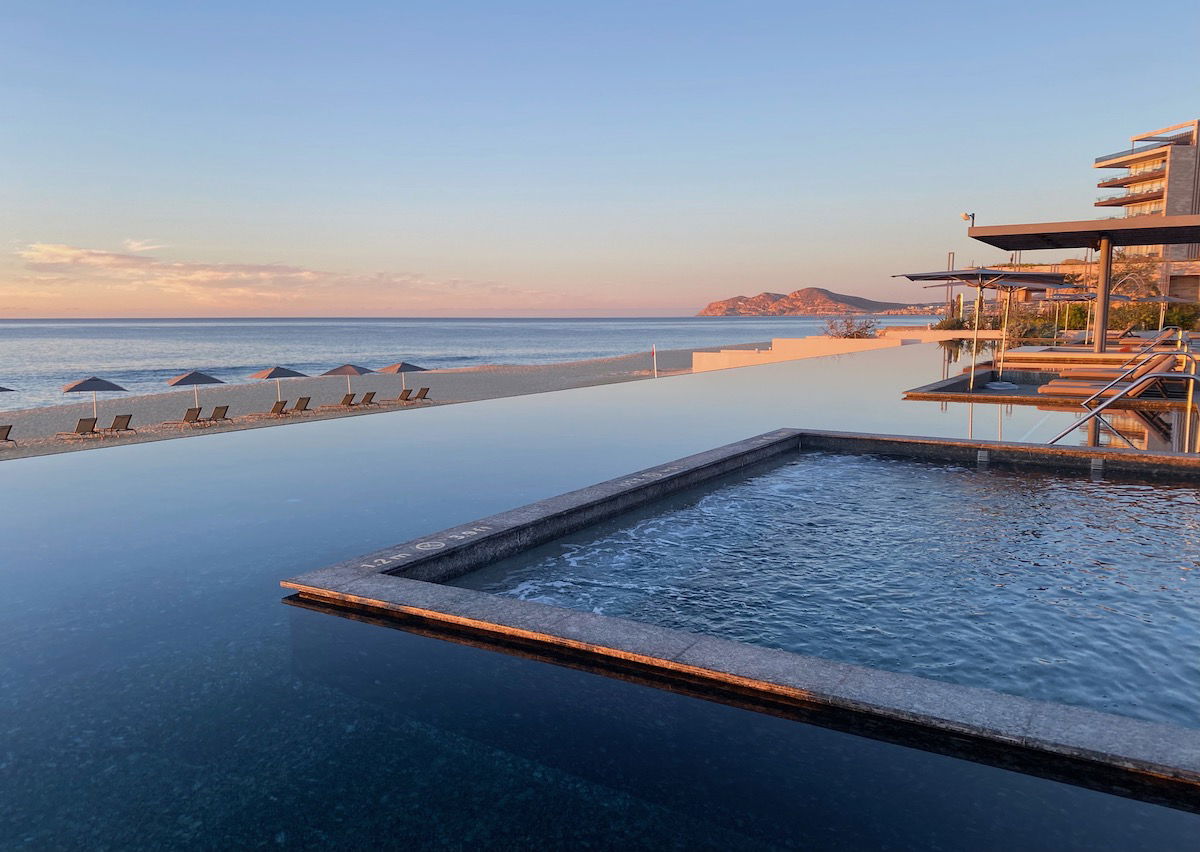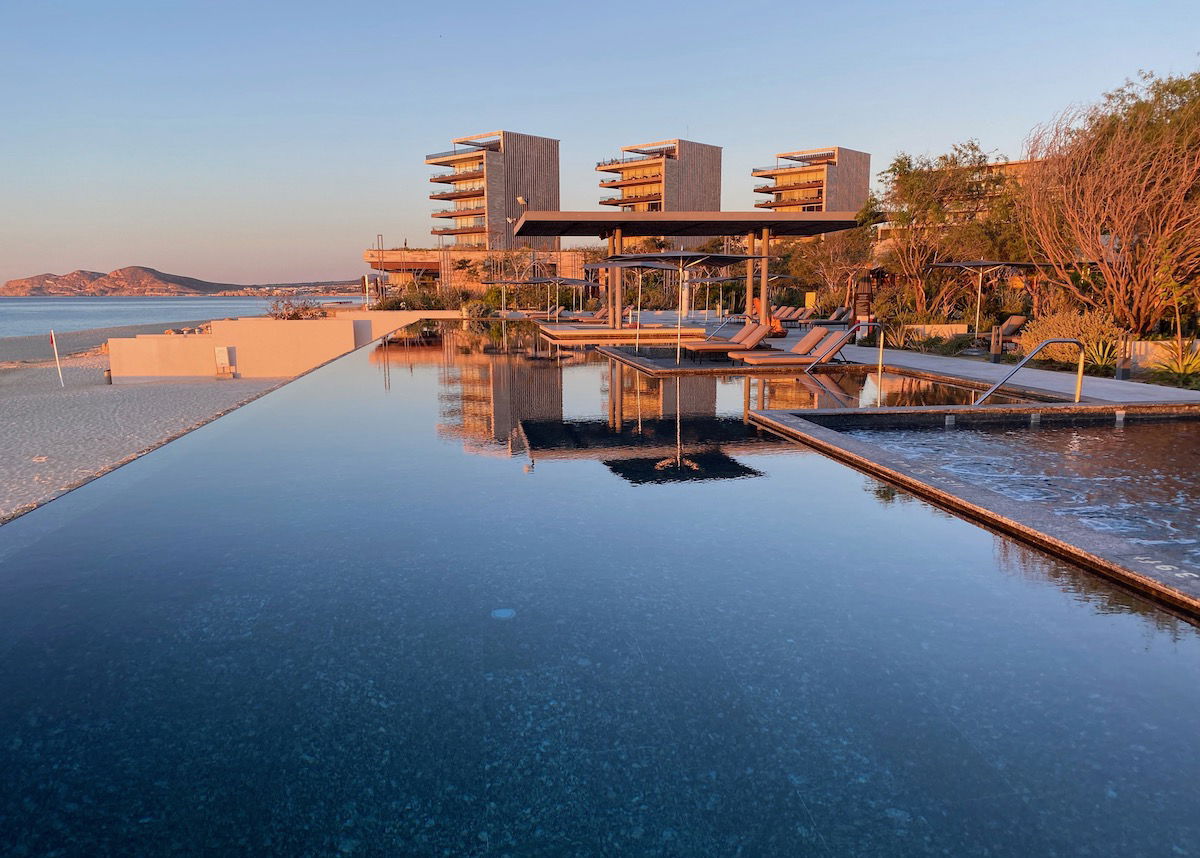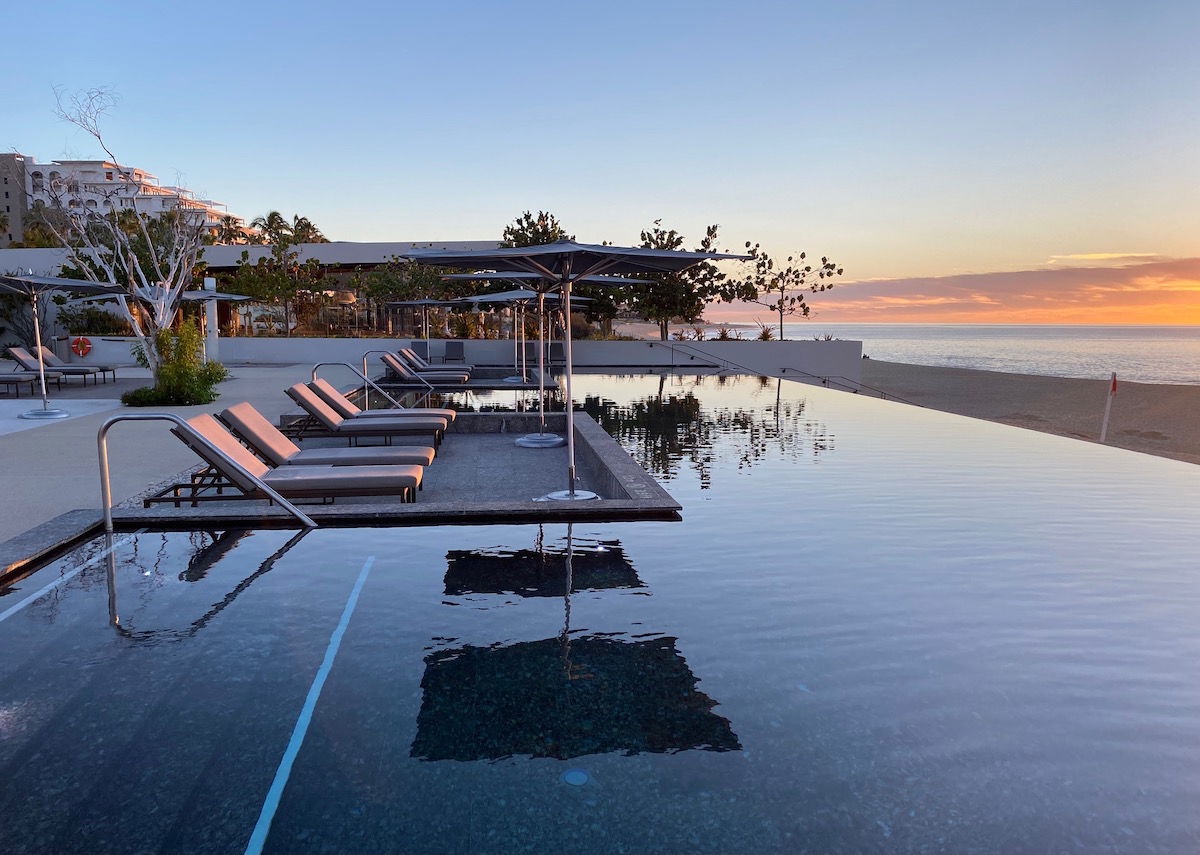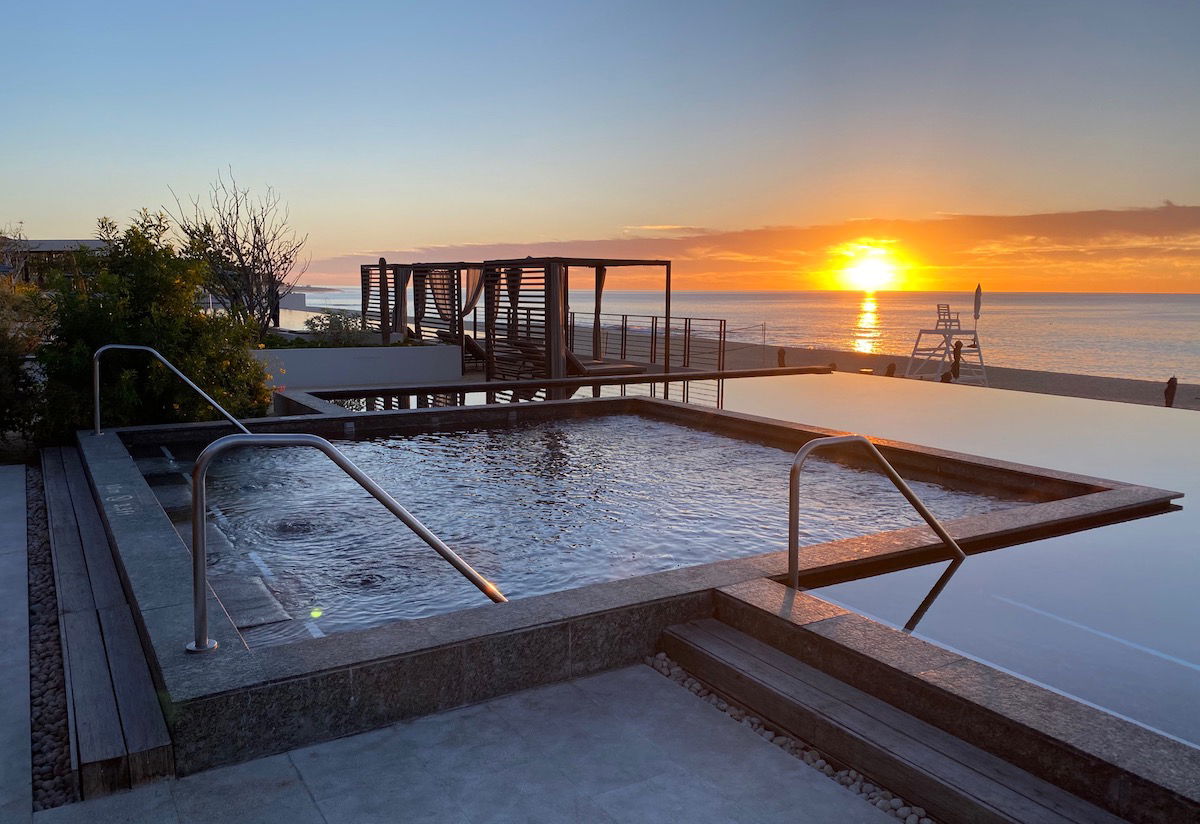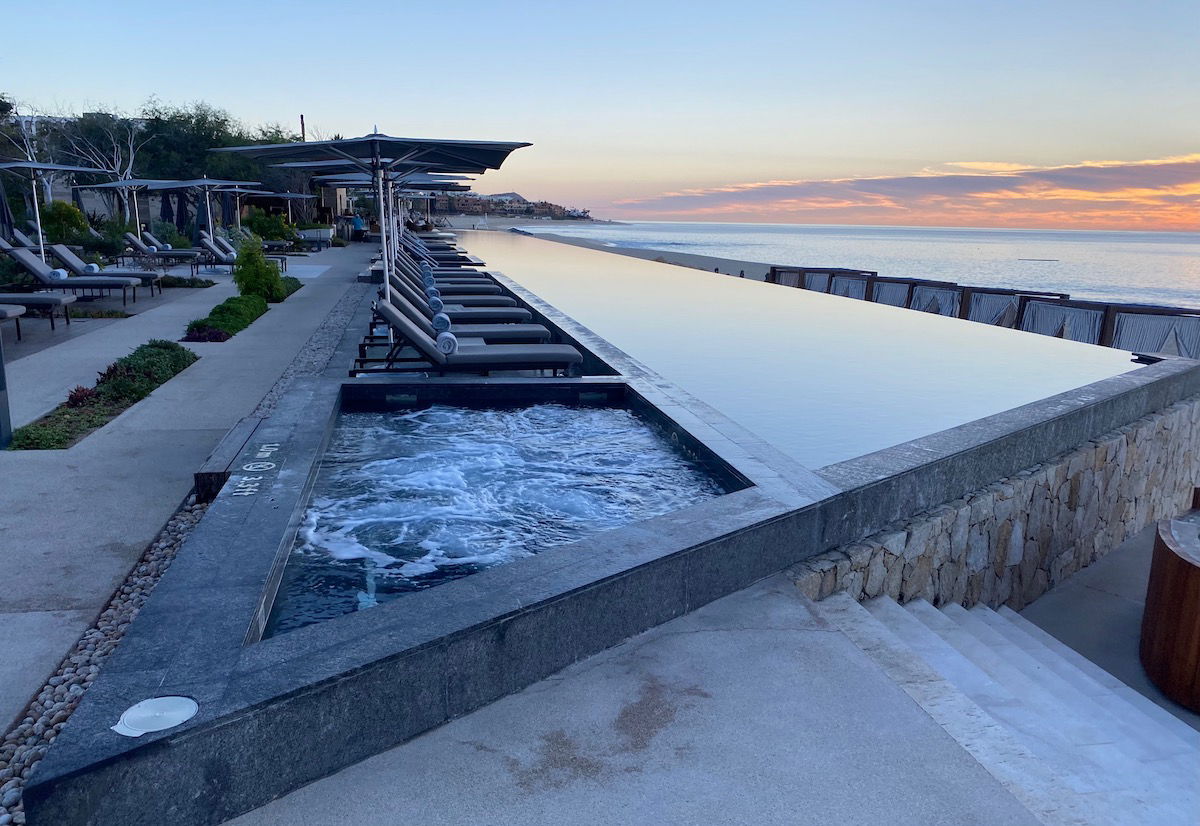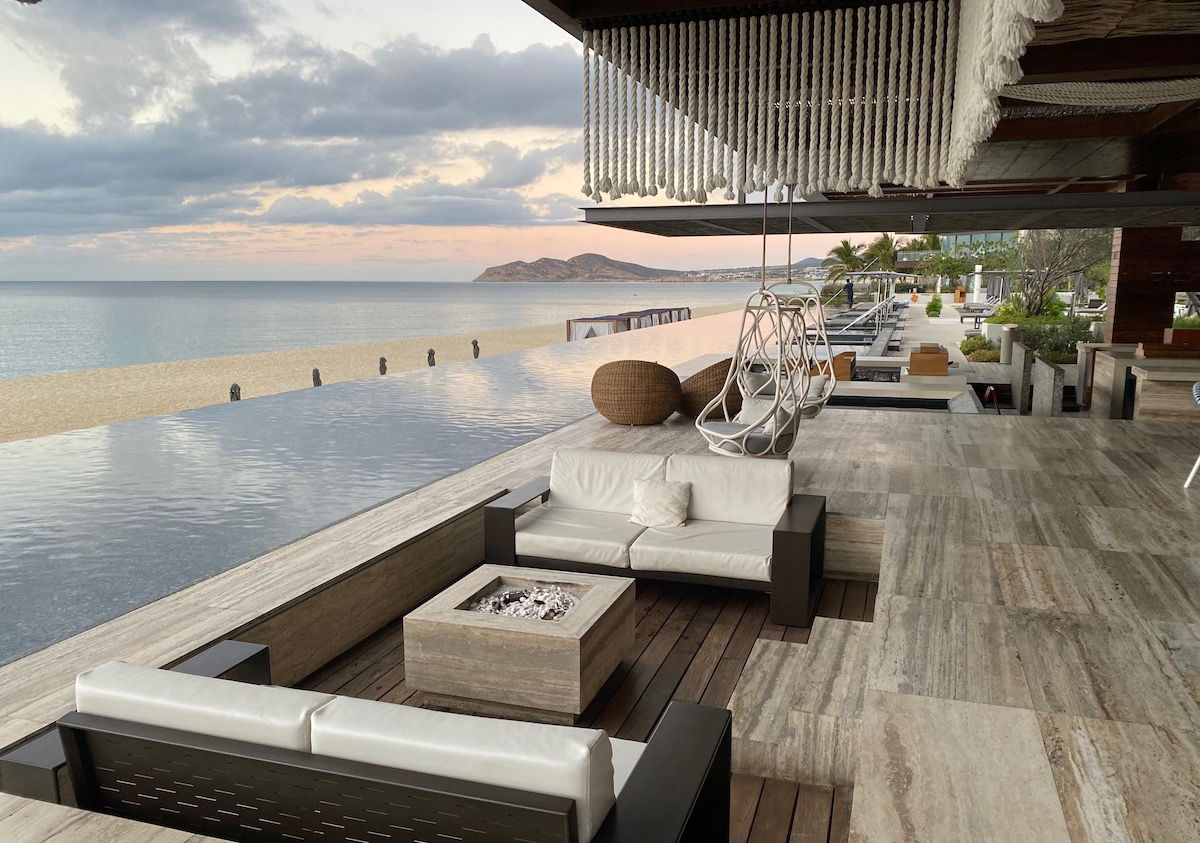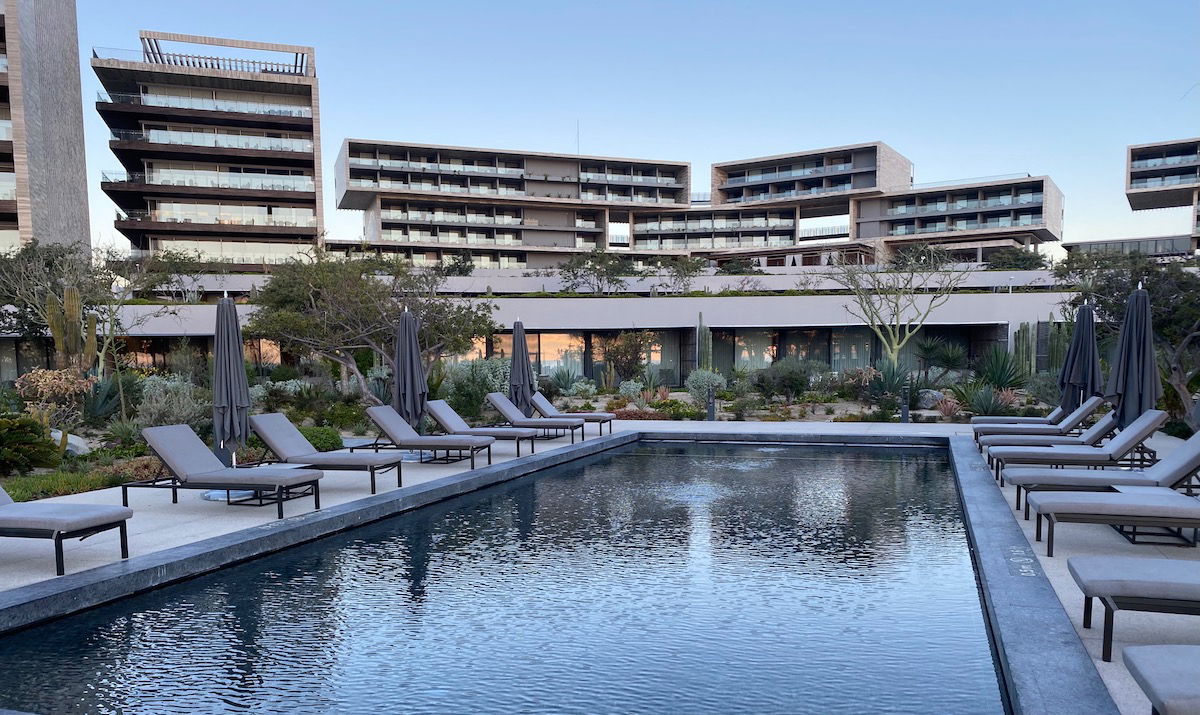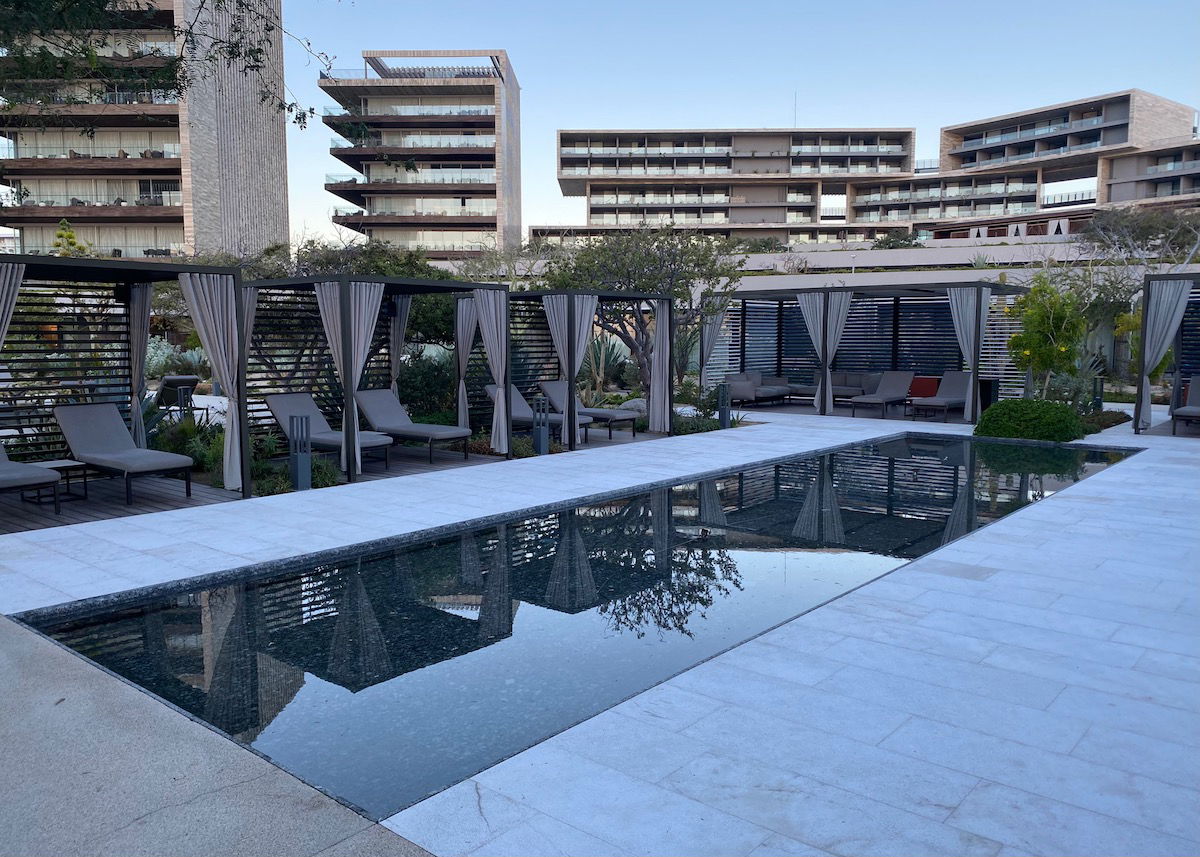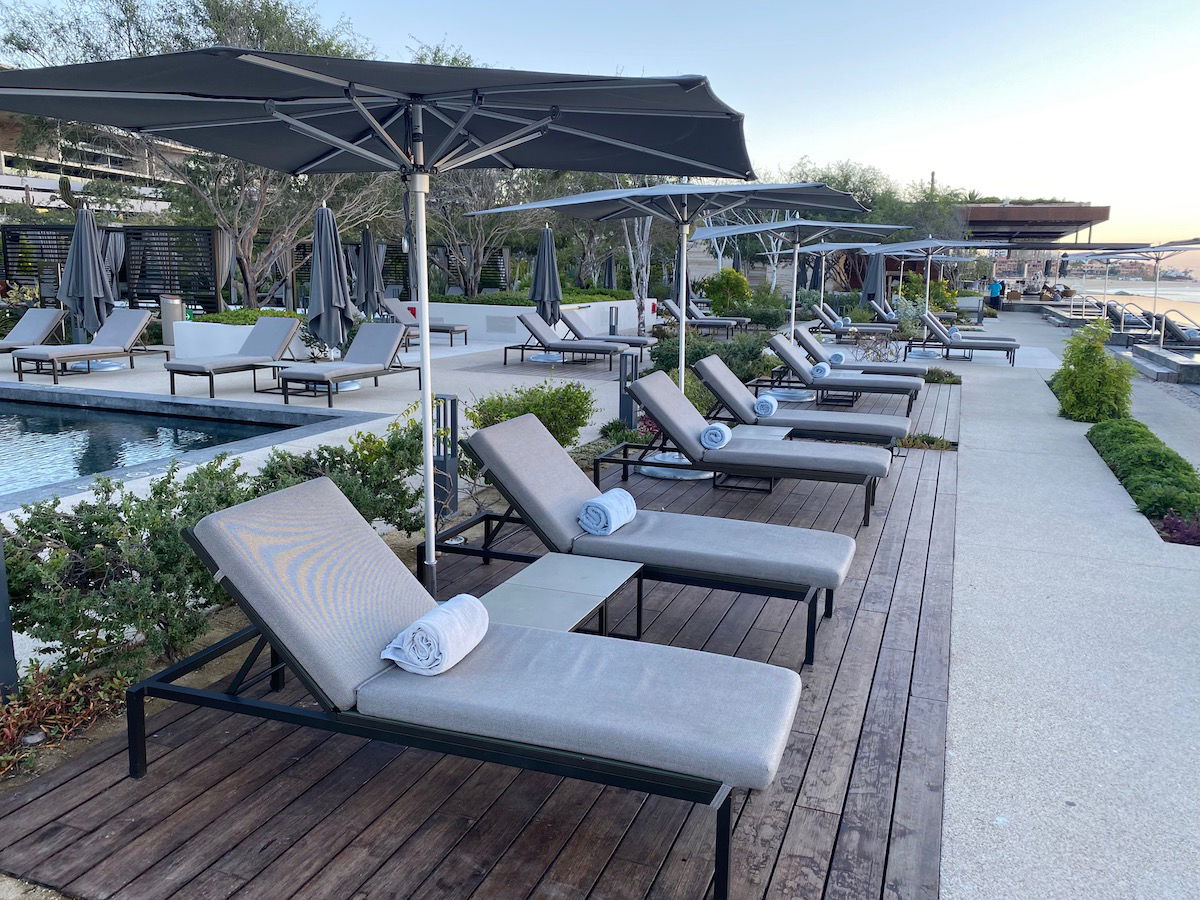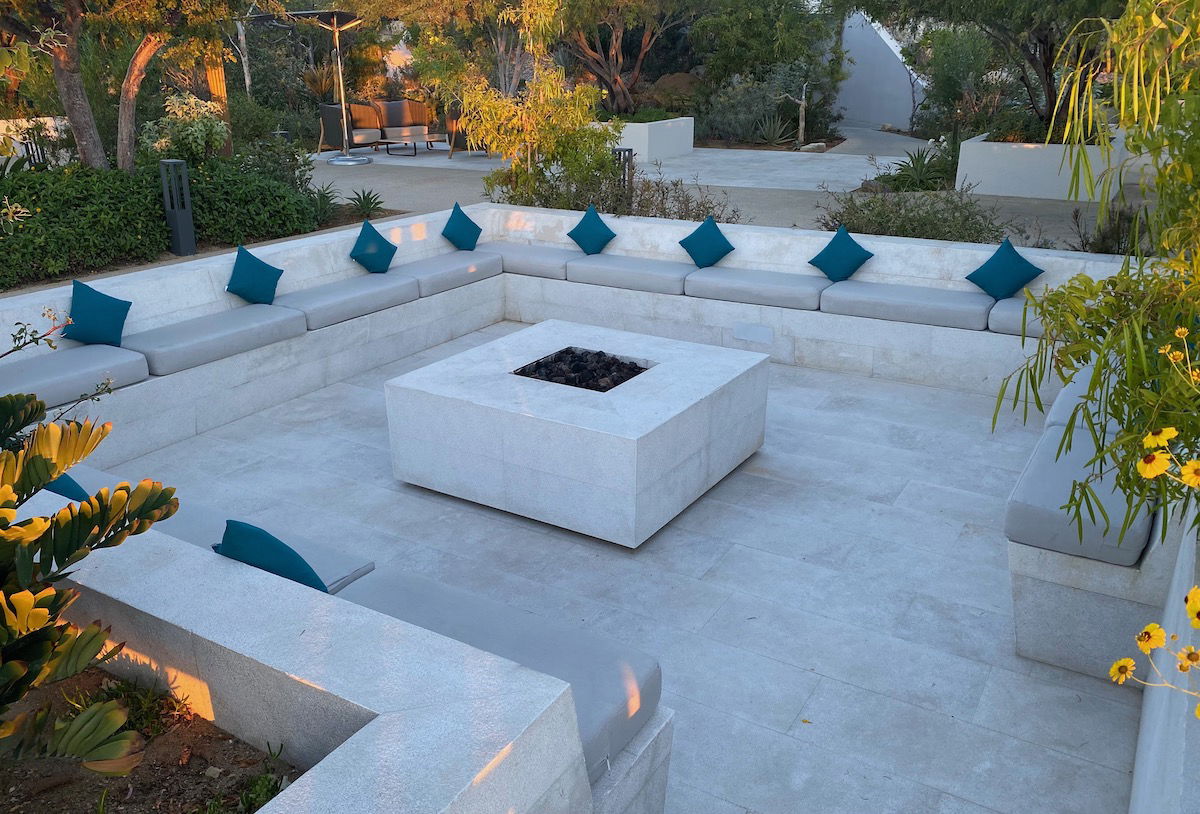 While the pools were pretty, service at the pools was a different story. We only visited the pool once, when we went to the hot tub one afternoon. When we exited, there weren't any towels available anywhere. We asked staff for some towels, and they said they'd bring some. Long story short, we had to ask three times over 20 minutes to get towels.
Solaz Los Cabos gym
While not as impressive as the gyms at Zadun or the Four Seasons, Solaz did have a solid gym with modern equipment. That being said, it got quite full, given how much bigger this property is than the others (due to the timeshare units).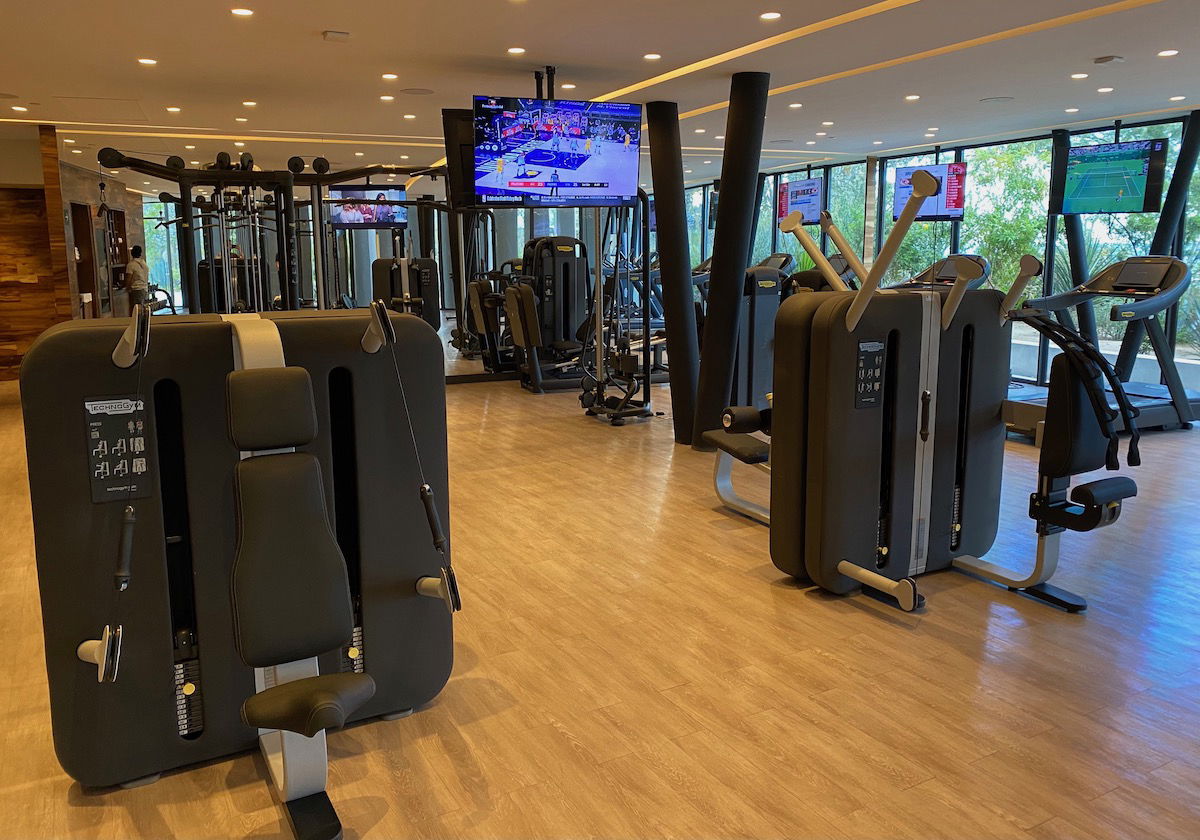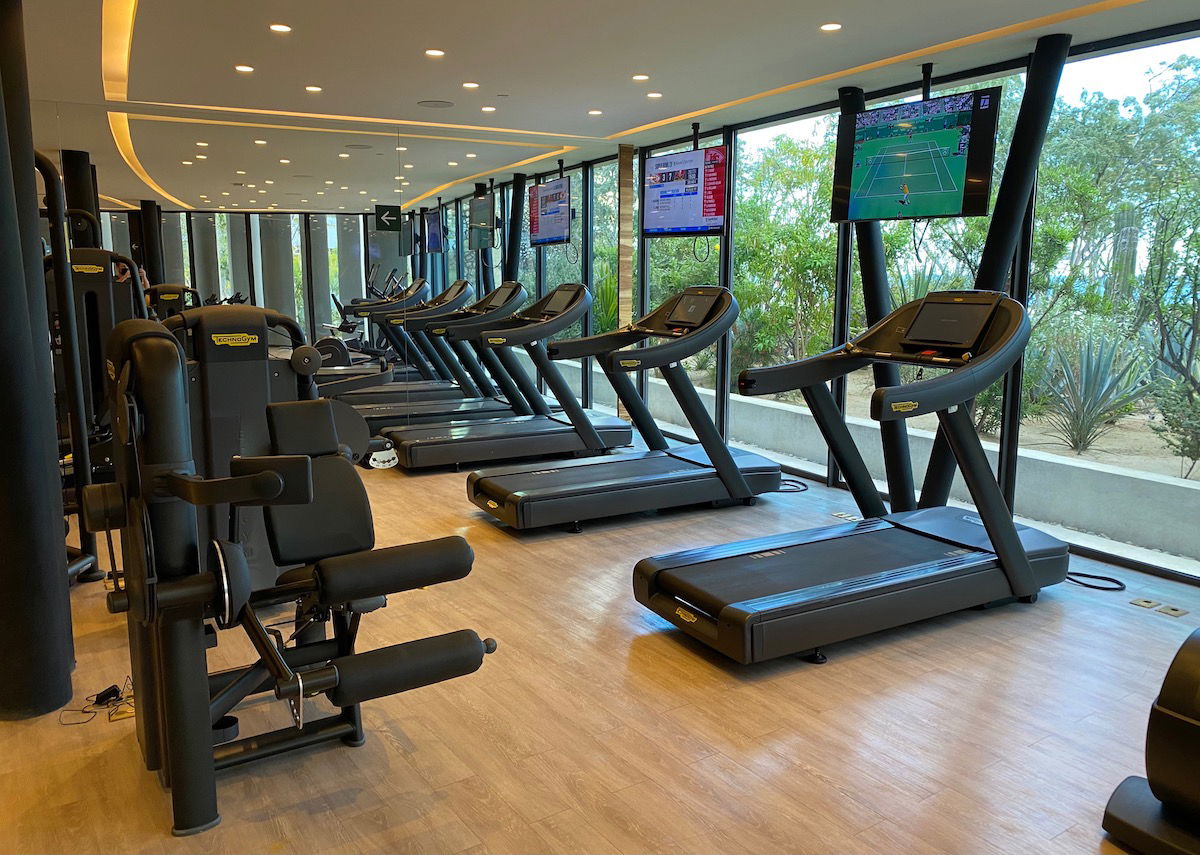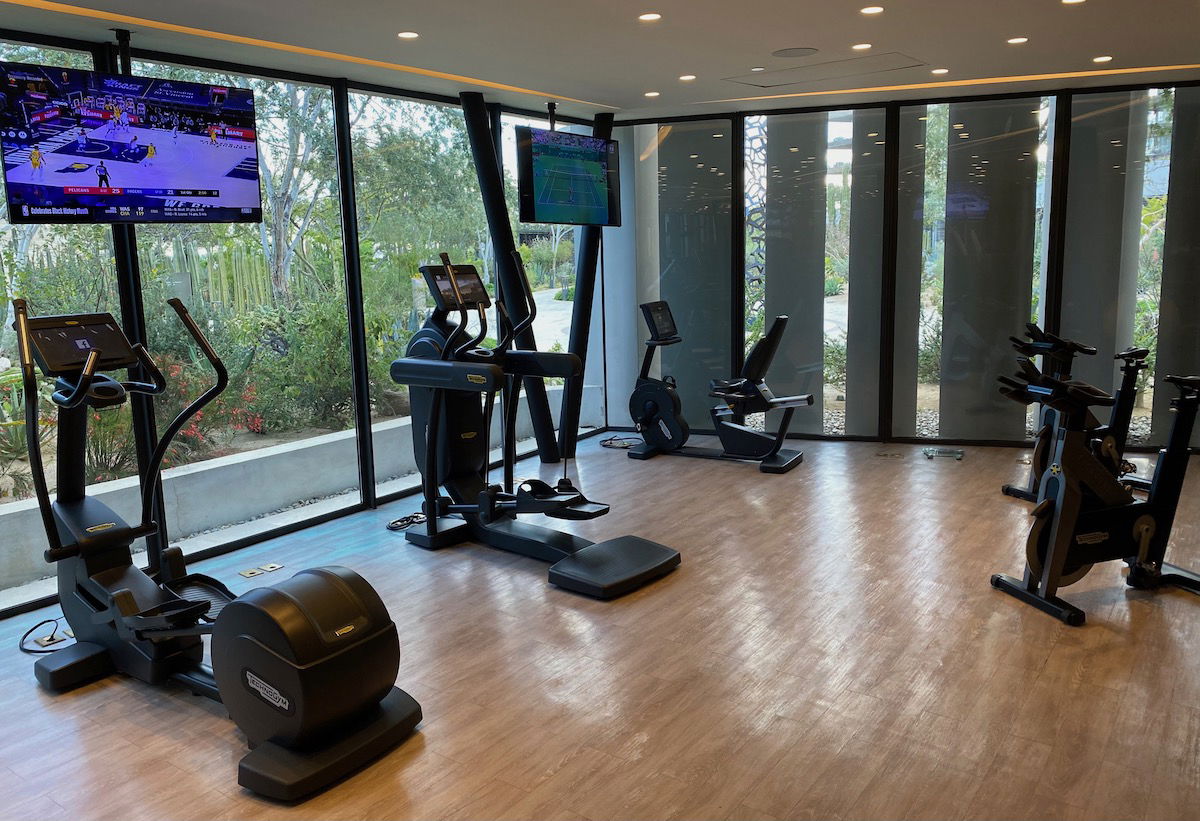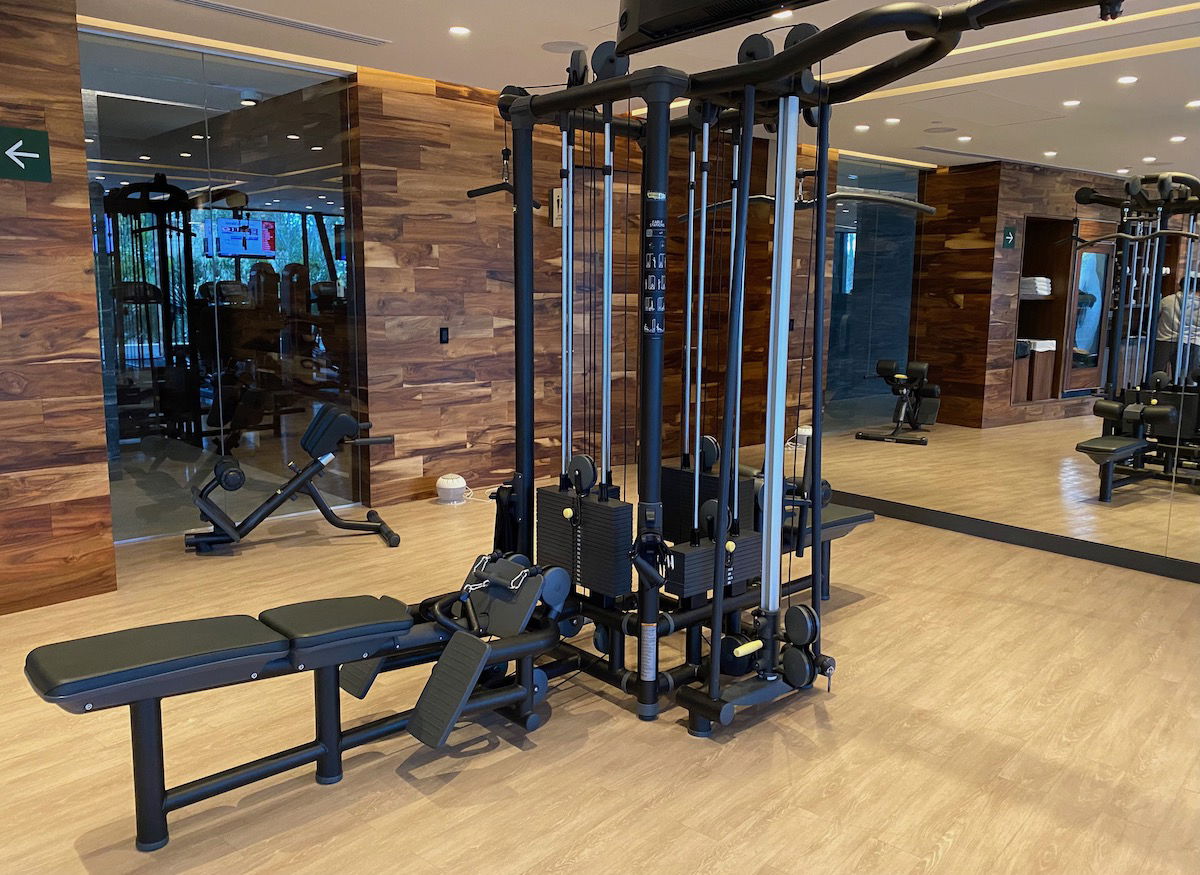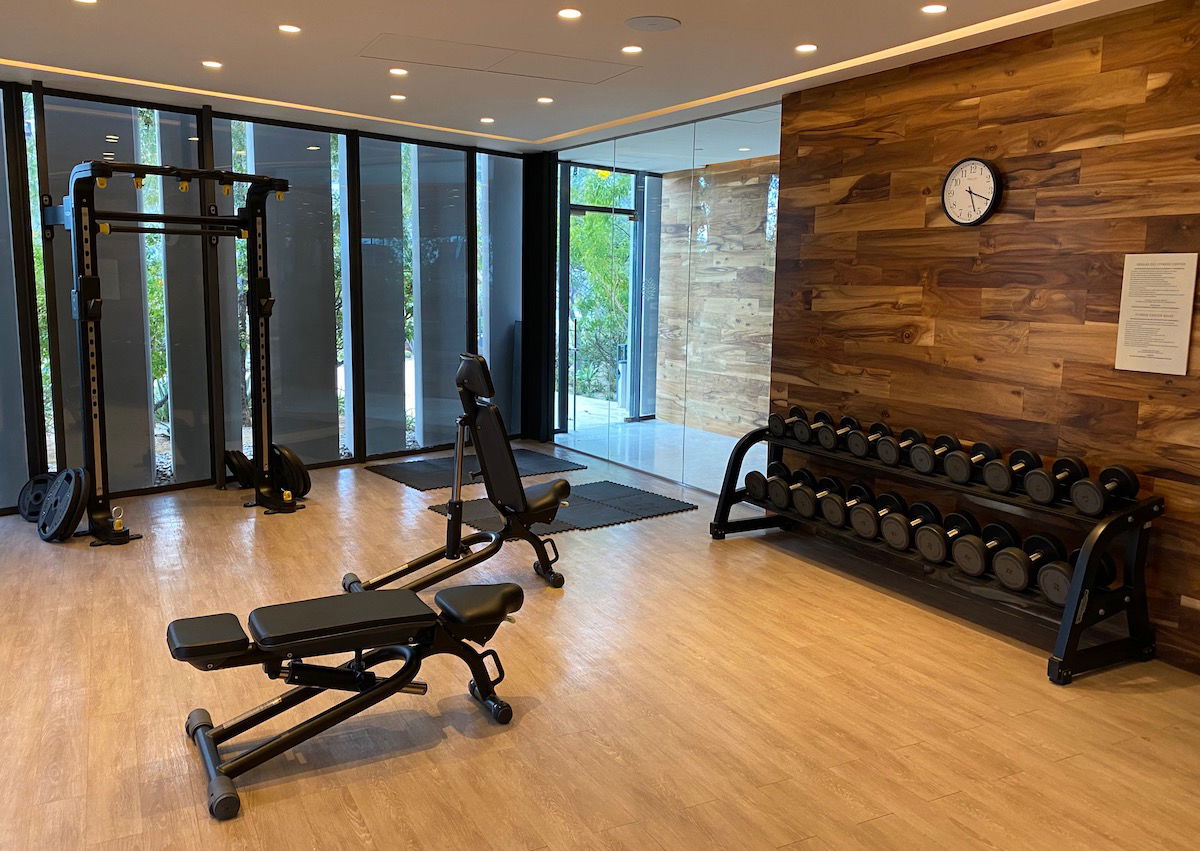 Solaz Los Cabos Cascabel Restaurant breakfast
Breakfast at Solaz was served daily from 7:00AM until 11:30AM at Cascabel Restaurant, located near reception. We received this complimentary thanks to my Marriott Bonvoy elite status. The restaurant wasn't terribly inspiring in terms of the design, though at least there was a terrace.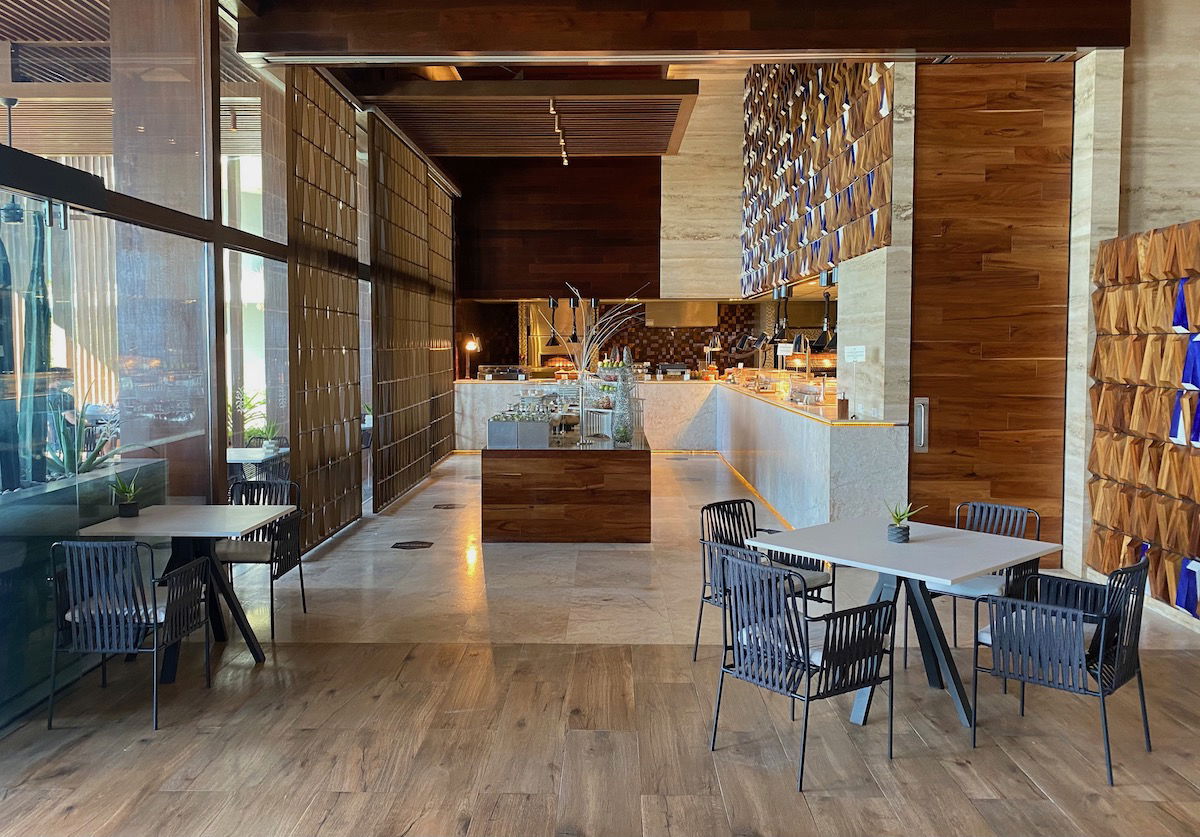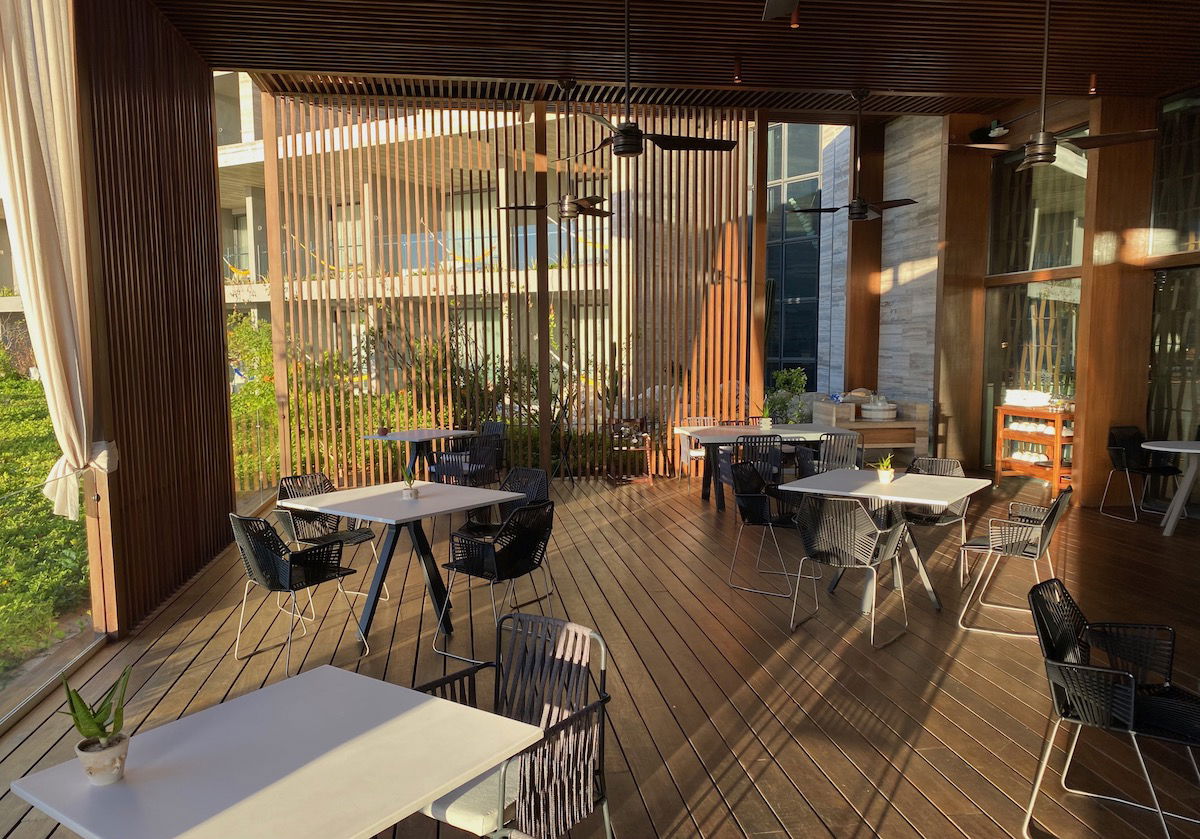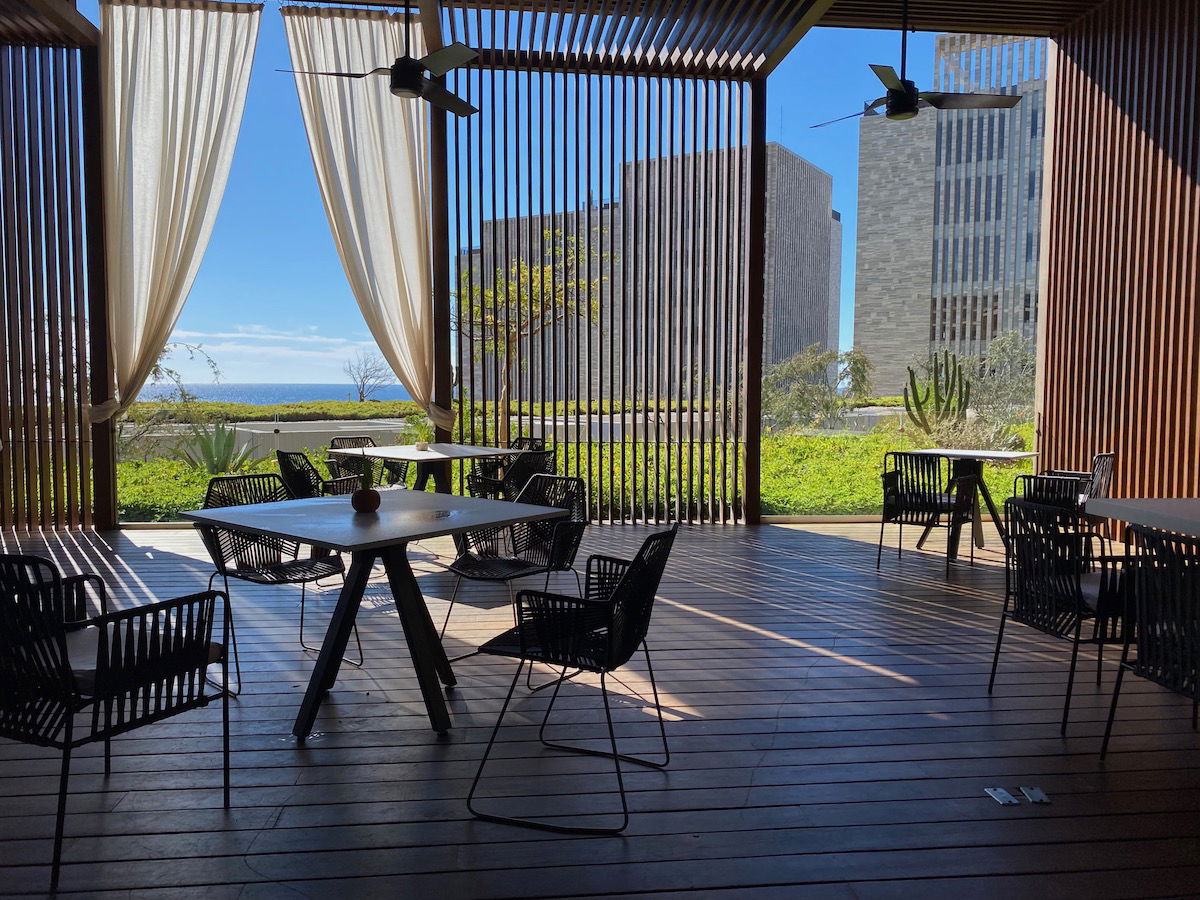 The first couple of days breakfast was kind of good — there was a buffet, and you could order whatever you wanted, including specialty coffee drinks, juice, etc.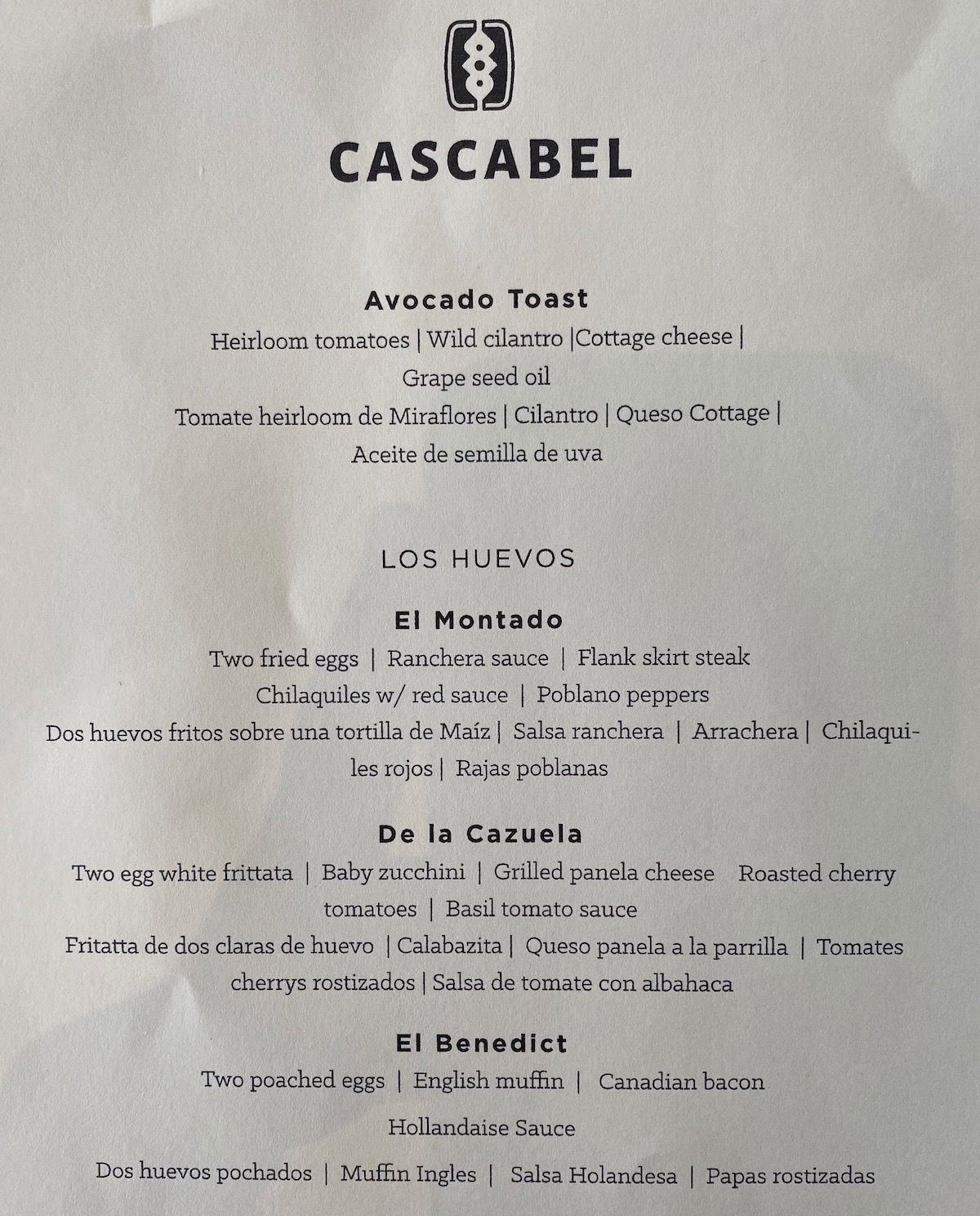 The buffet itself wasn't too exciting, but was fine.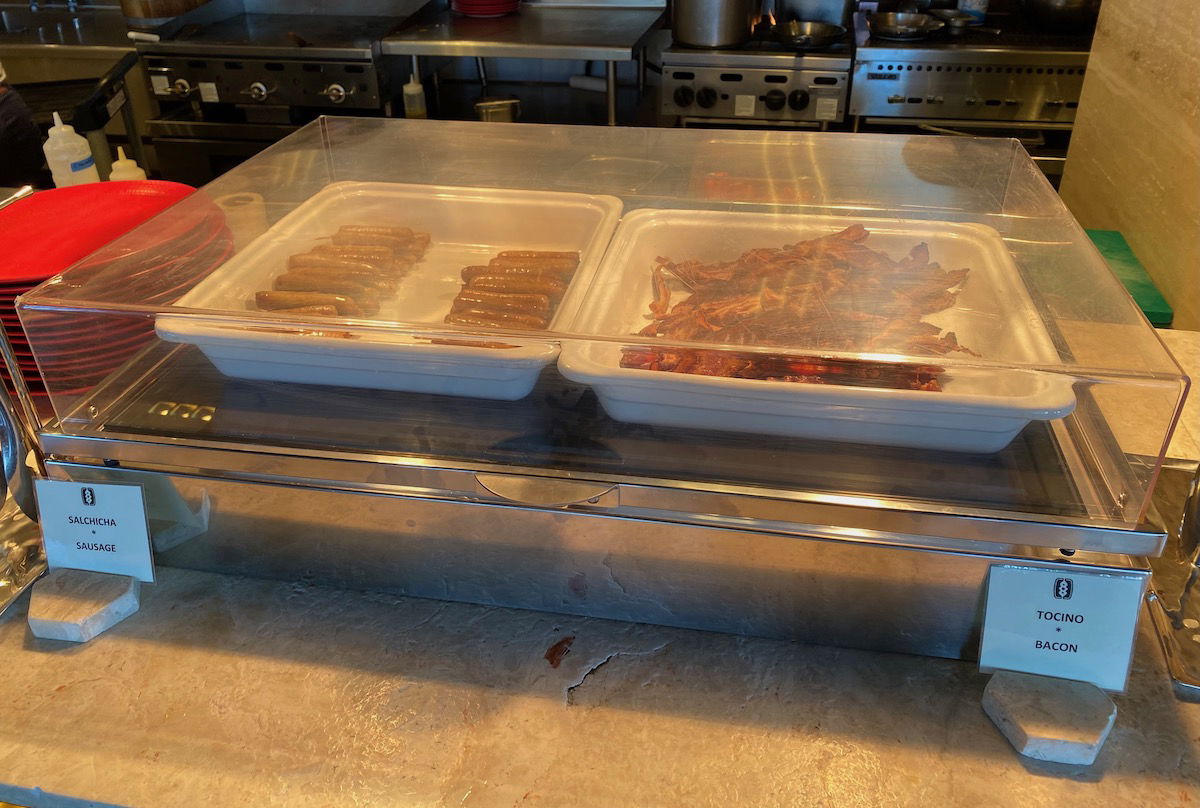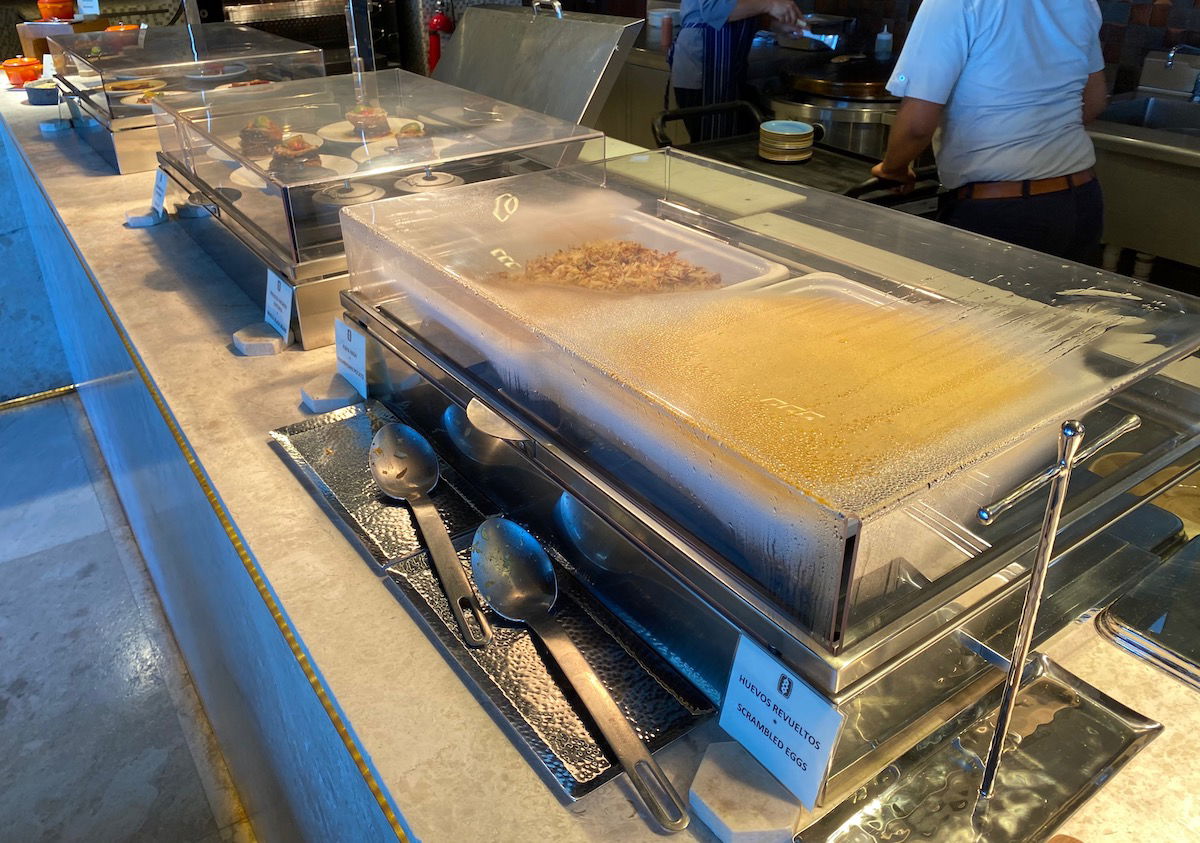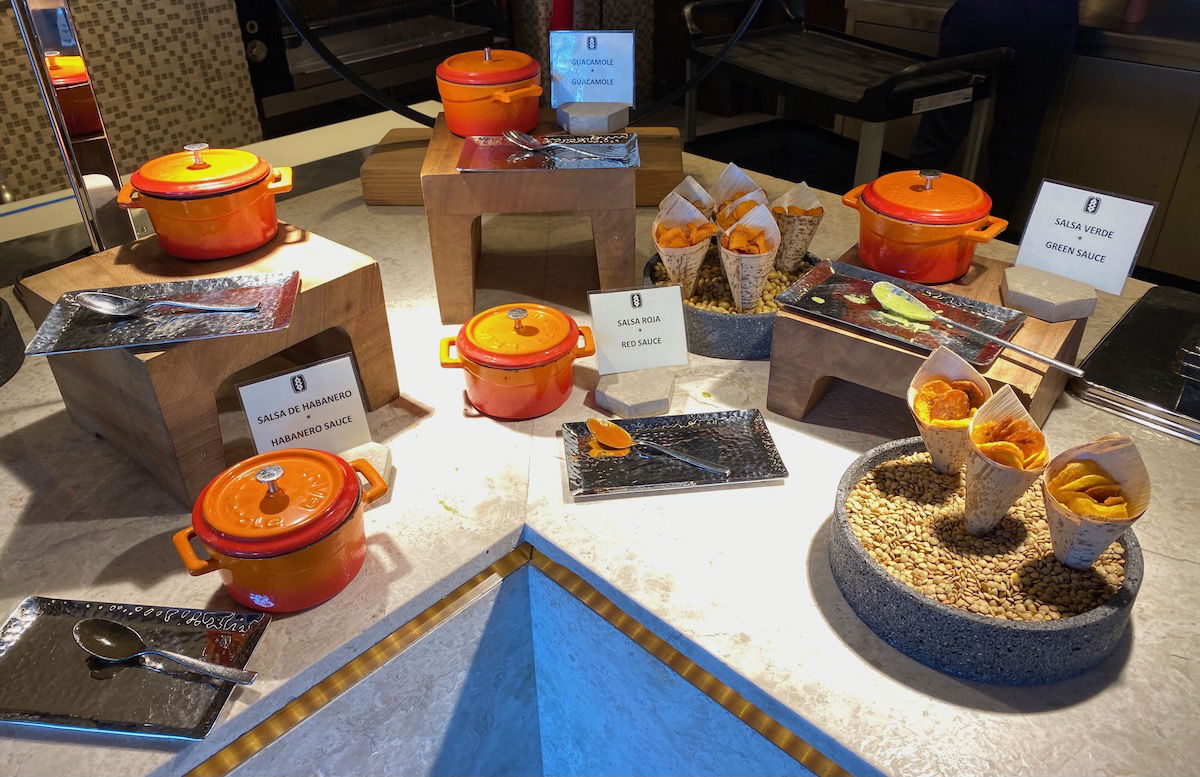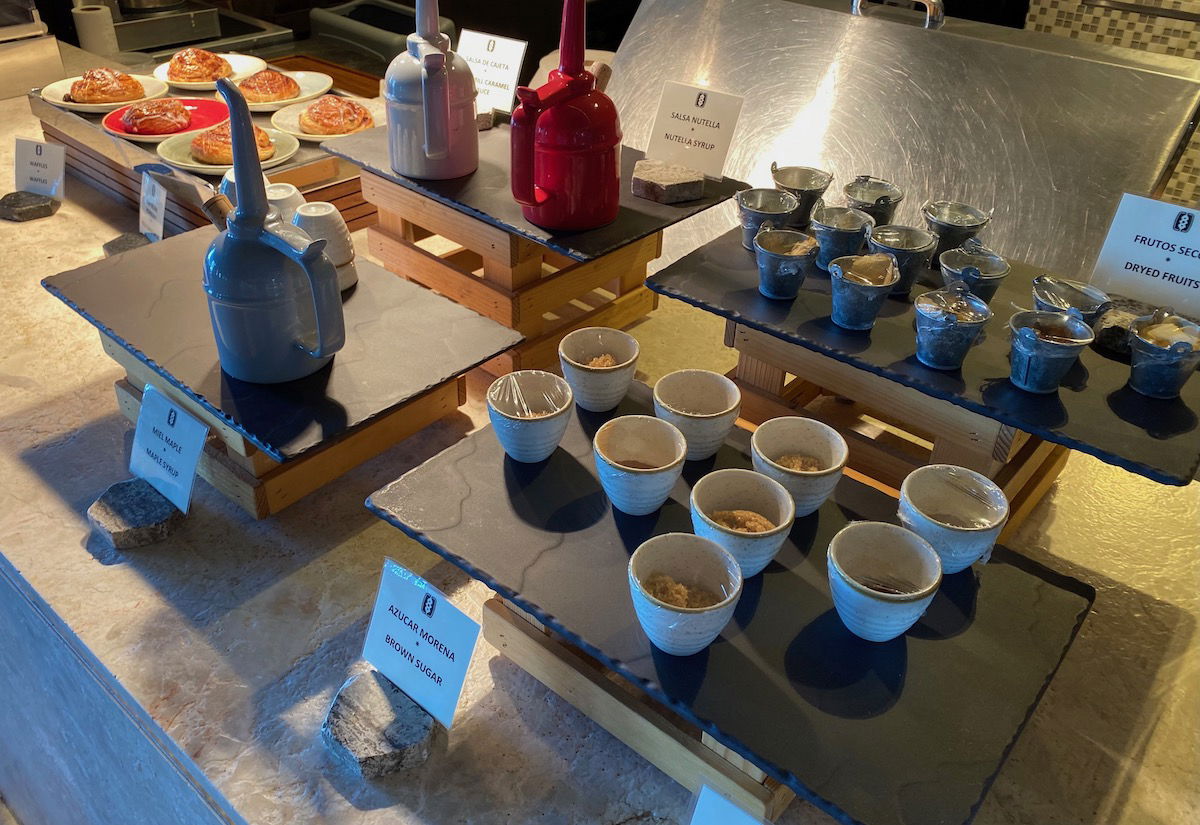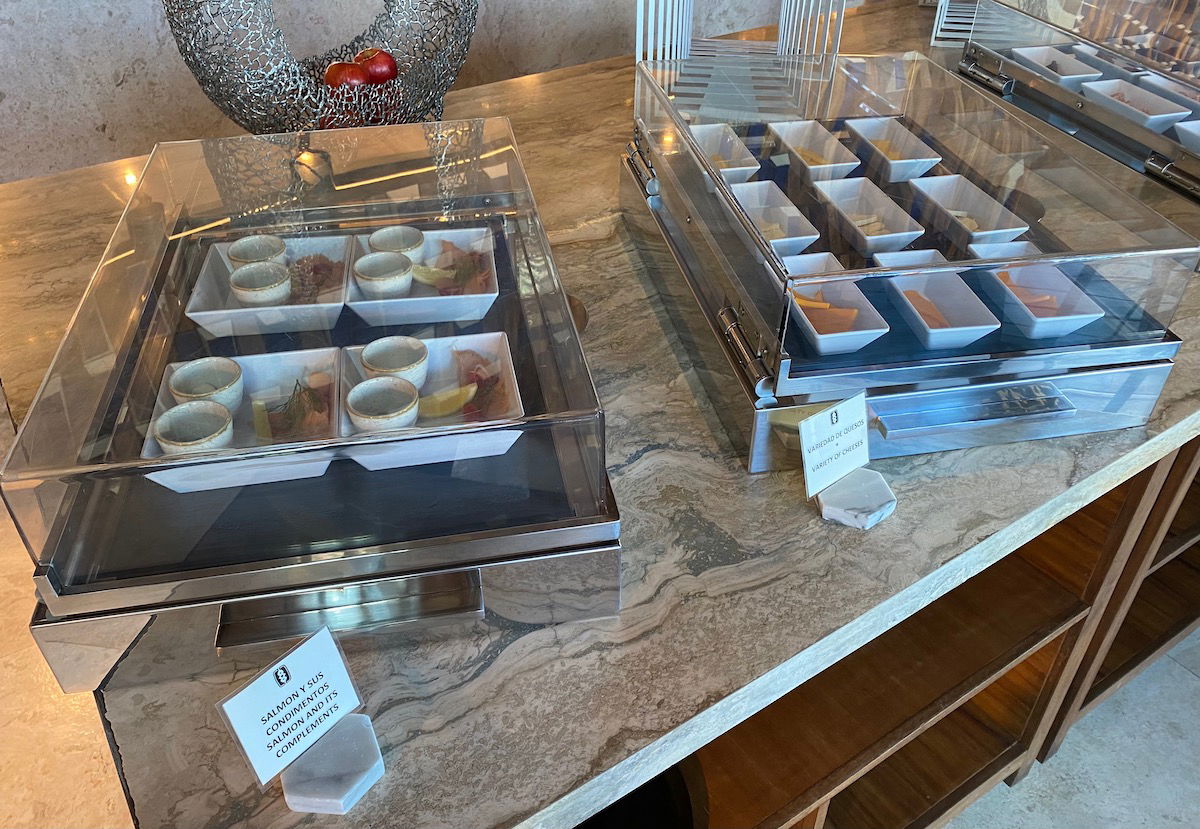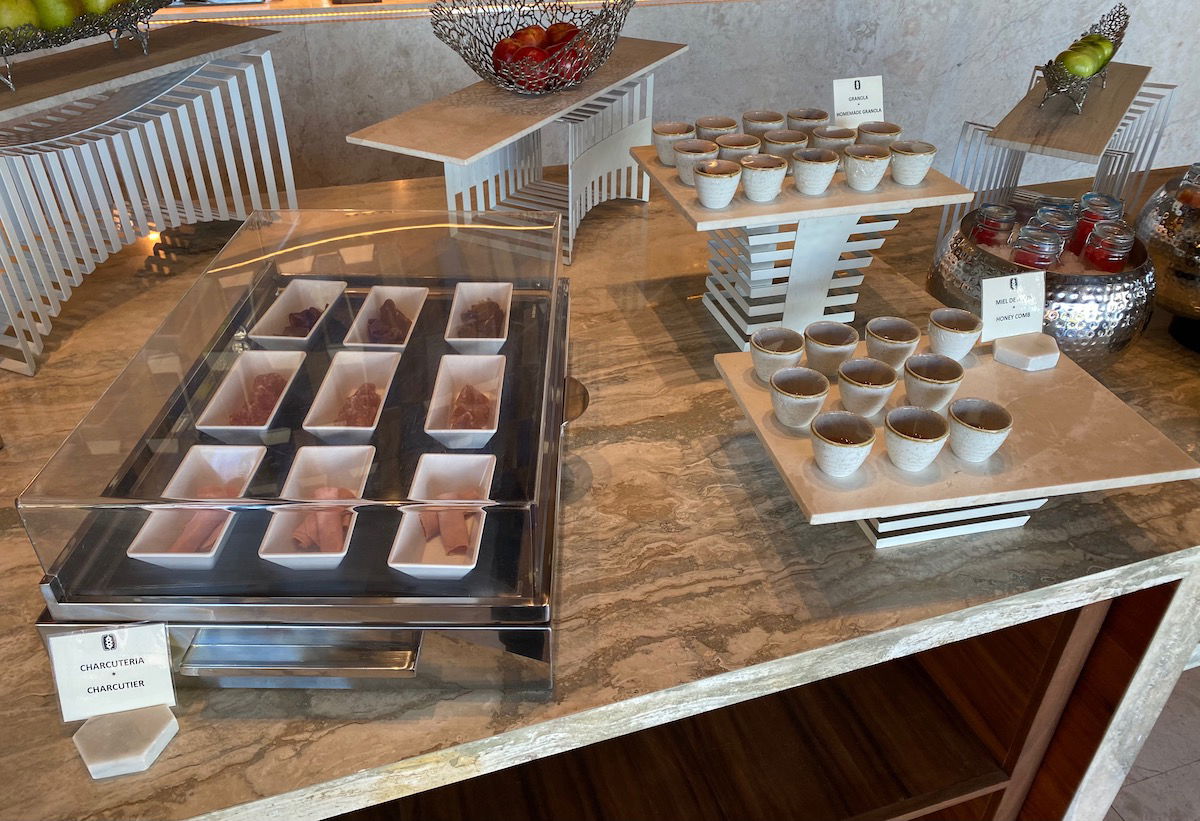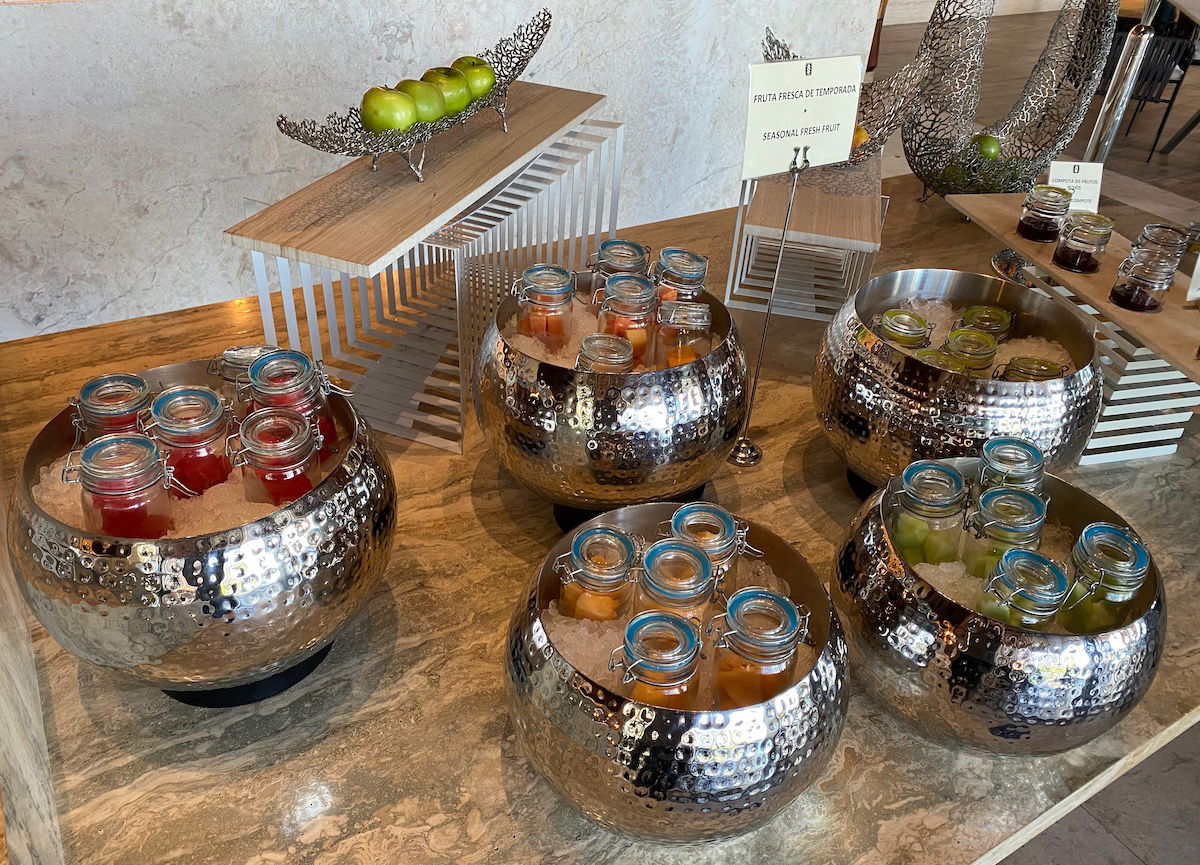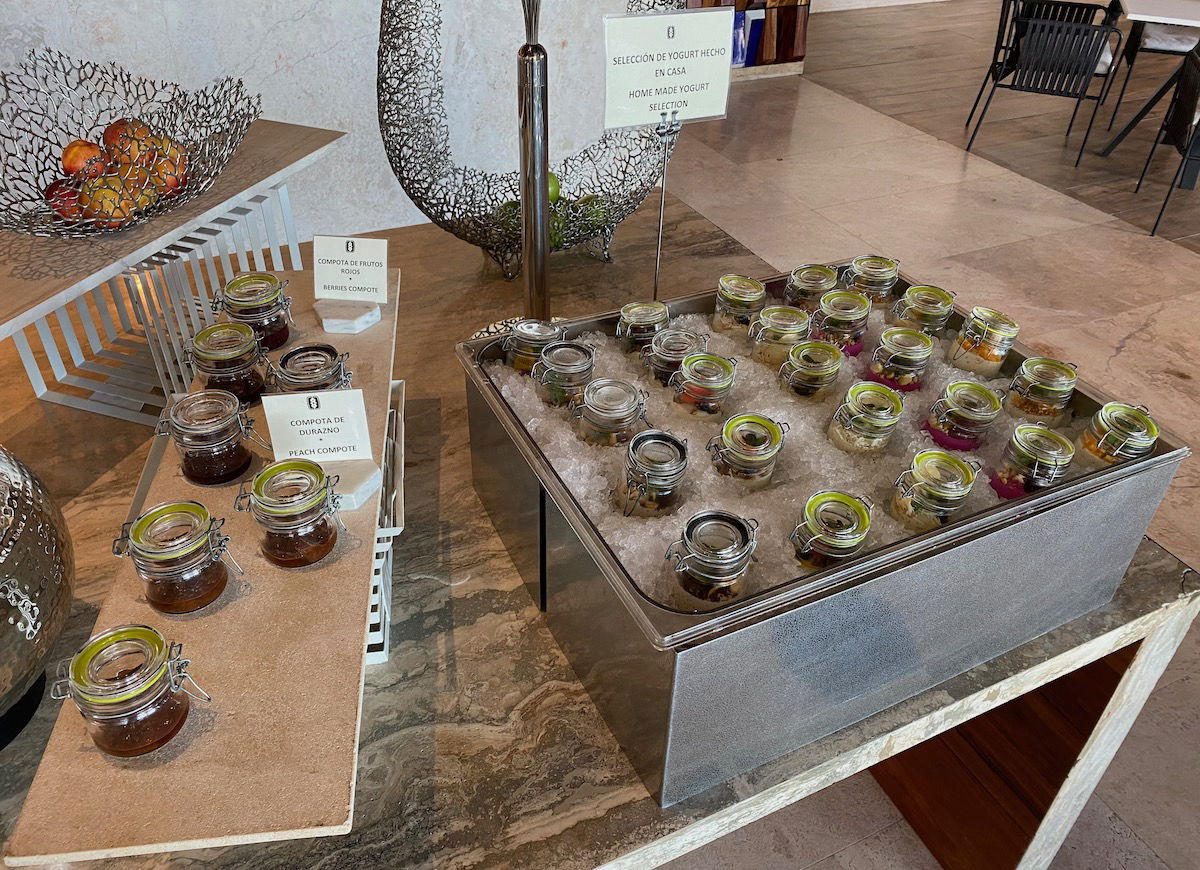 When combined with a decent iced coffee and menu items, it was a solid breakfast, though.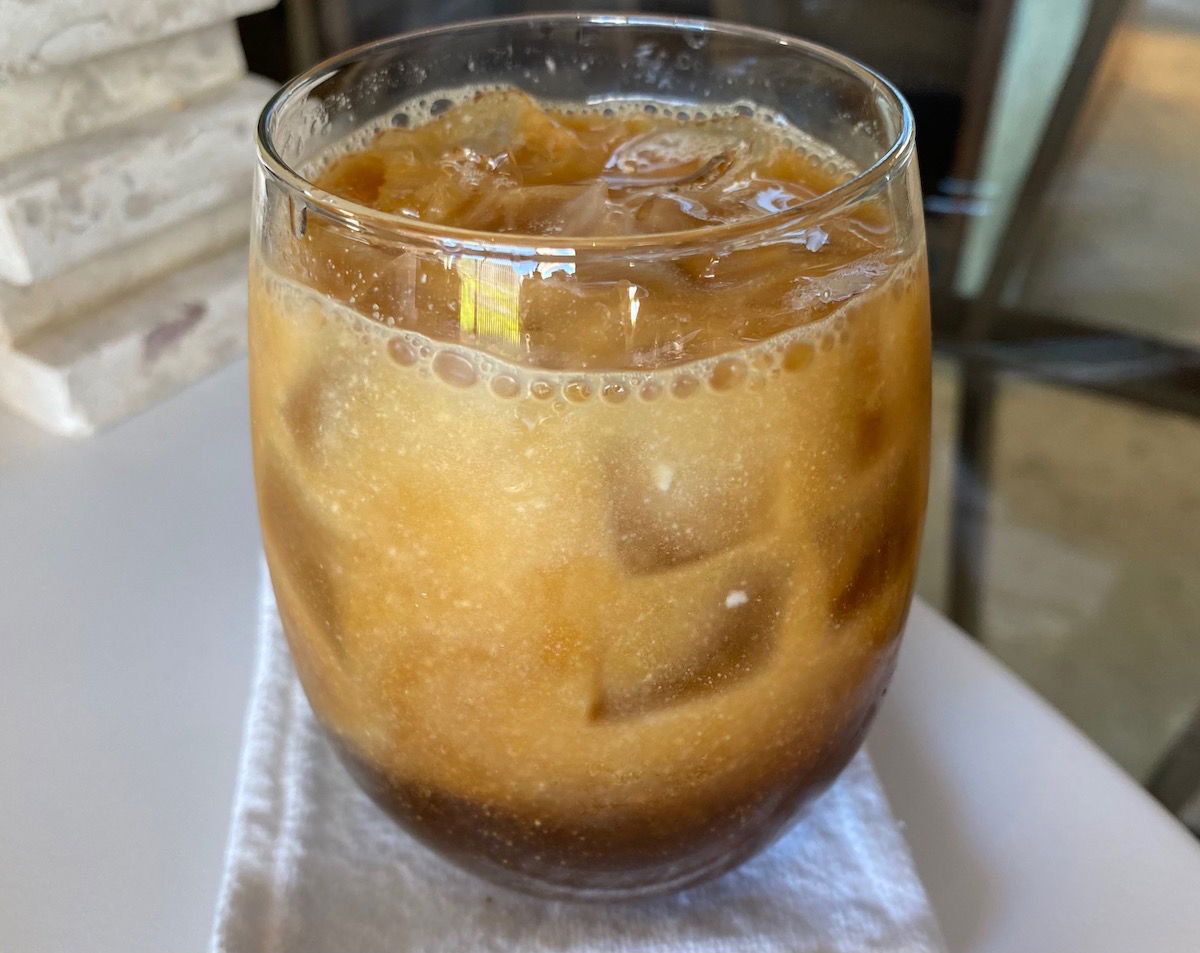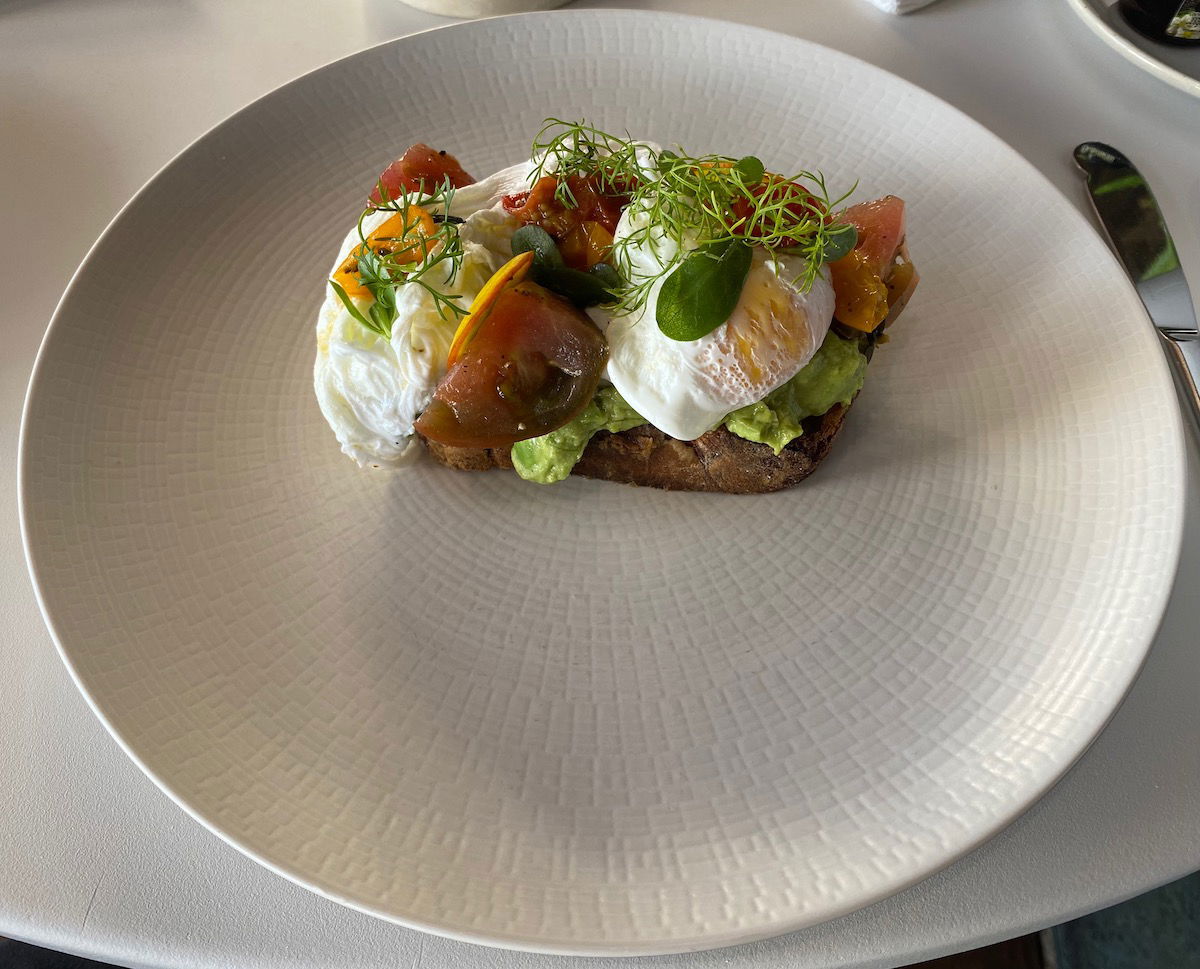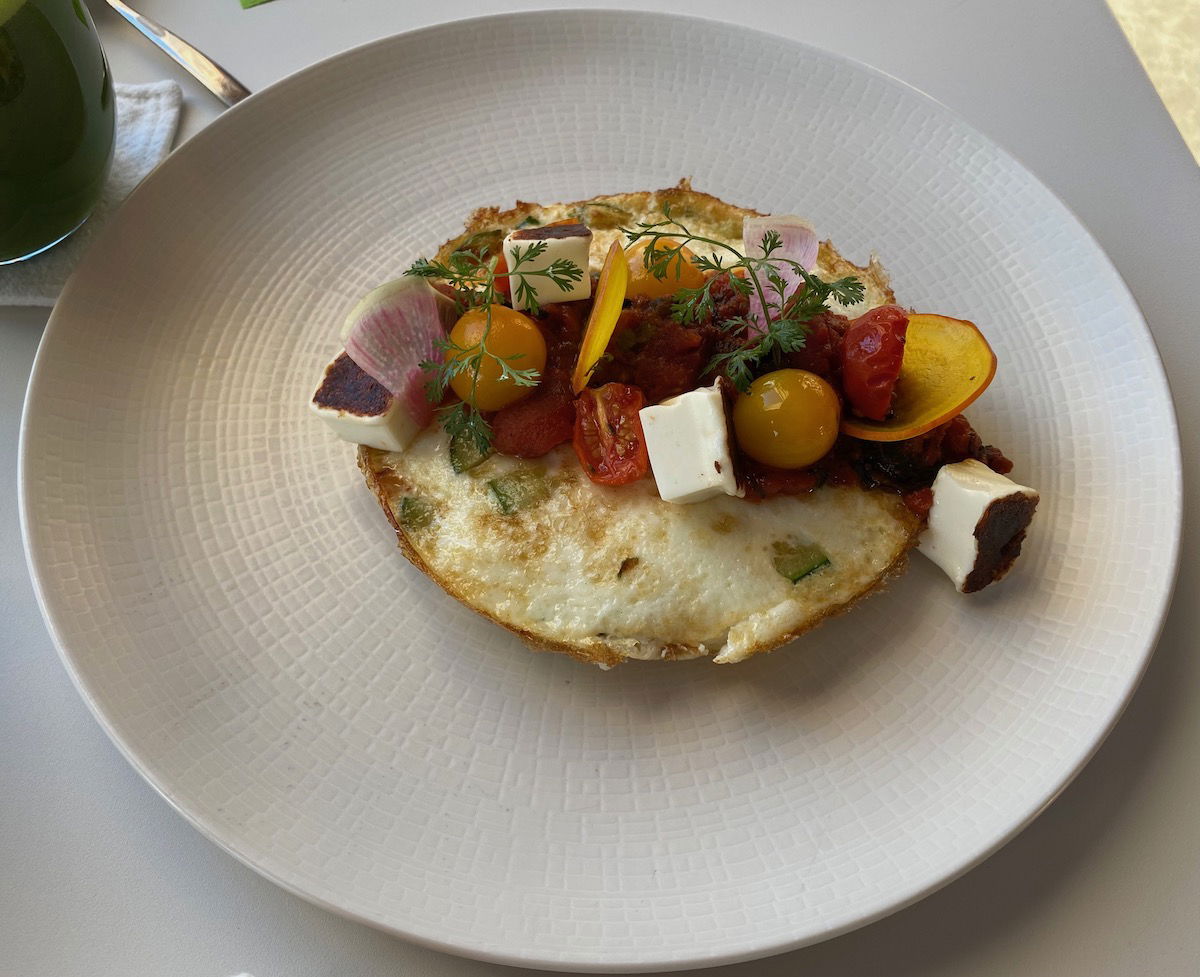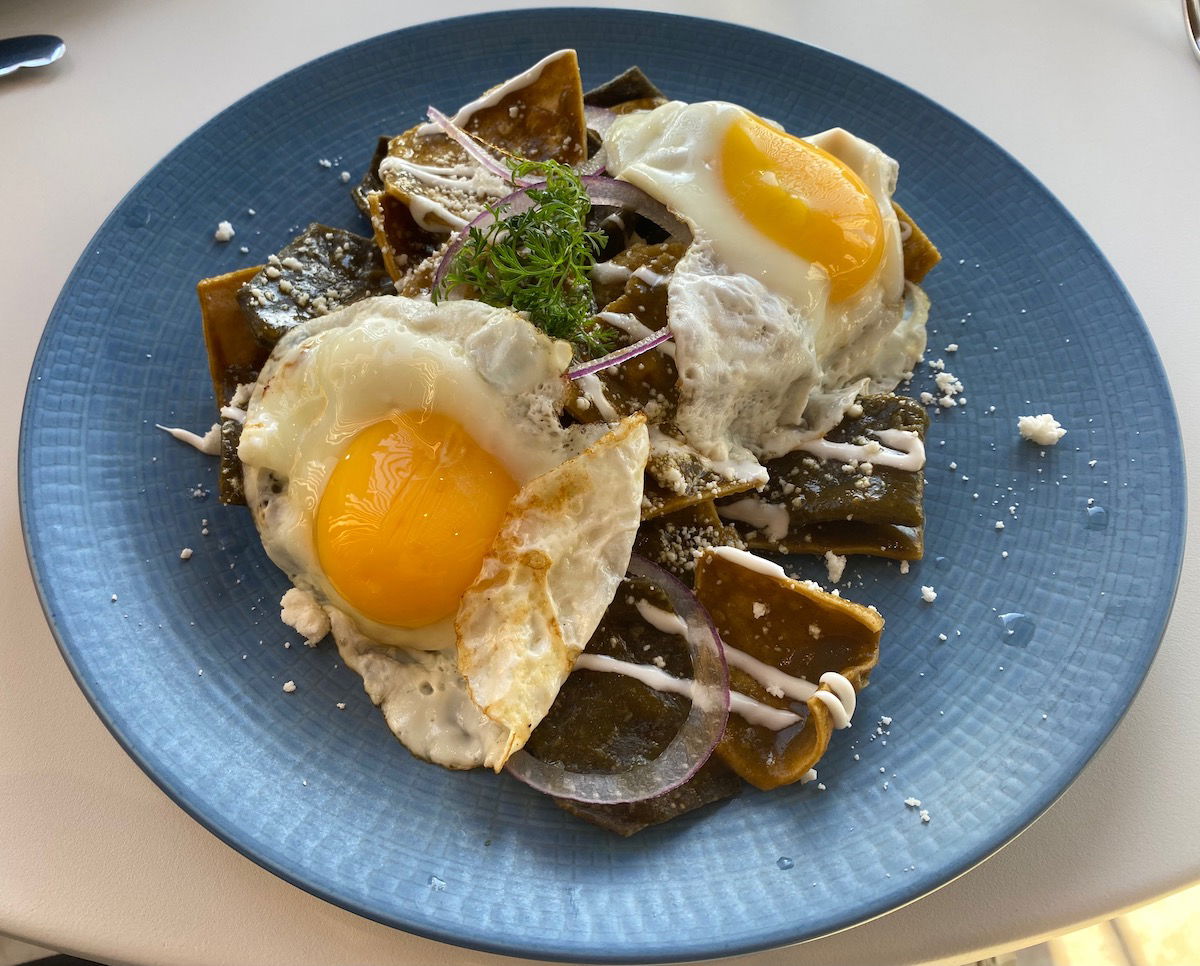 Well, halfway through our stay, the hotel changed its policy. Menu items and specialty coffee drinks were no longer included. Fair enough if that were the policy in the first place, but it seems kind of cheap to switch the policy mid-stay.
Solaz Los Cabos Erizo Restaurant lunch
We had lunch one day at Erizo Restaurant, which is the poolside restaurant serving ceviche, pizzas, etc. We ordered a couple of pizzas, and they were quite good.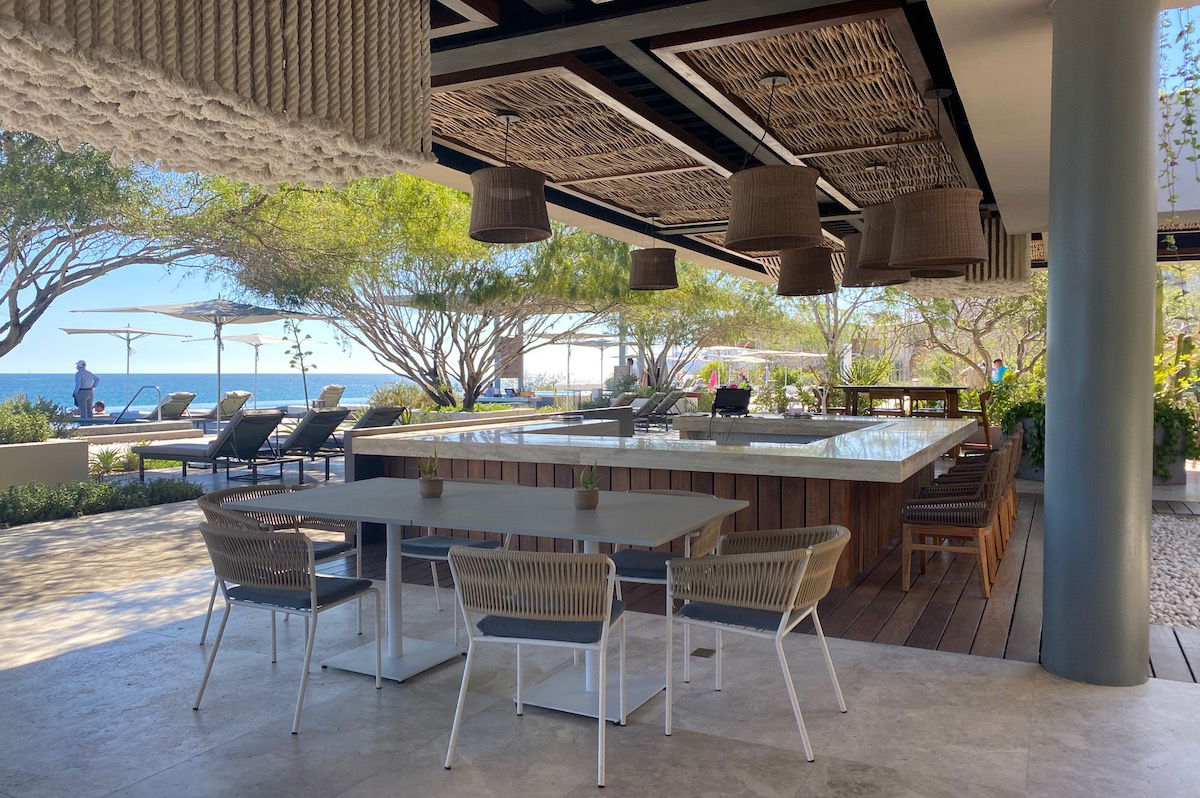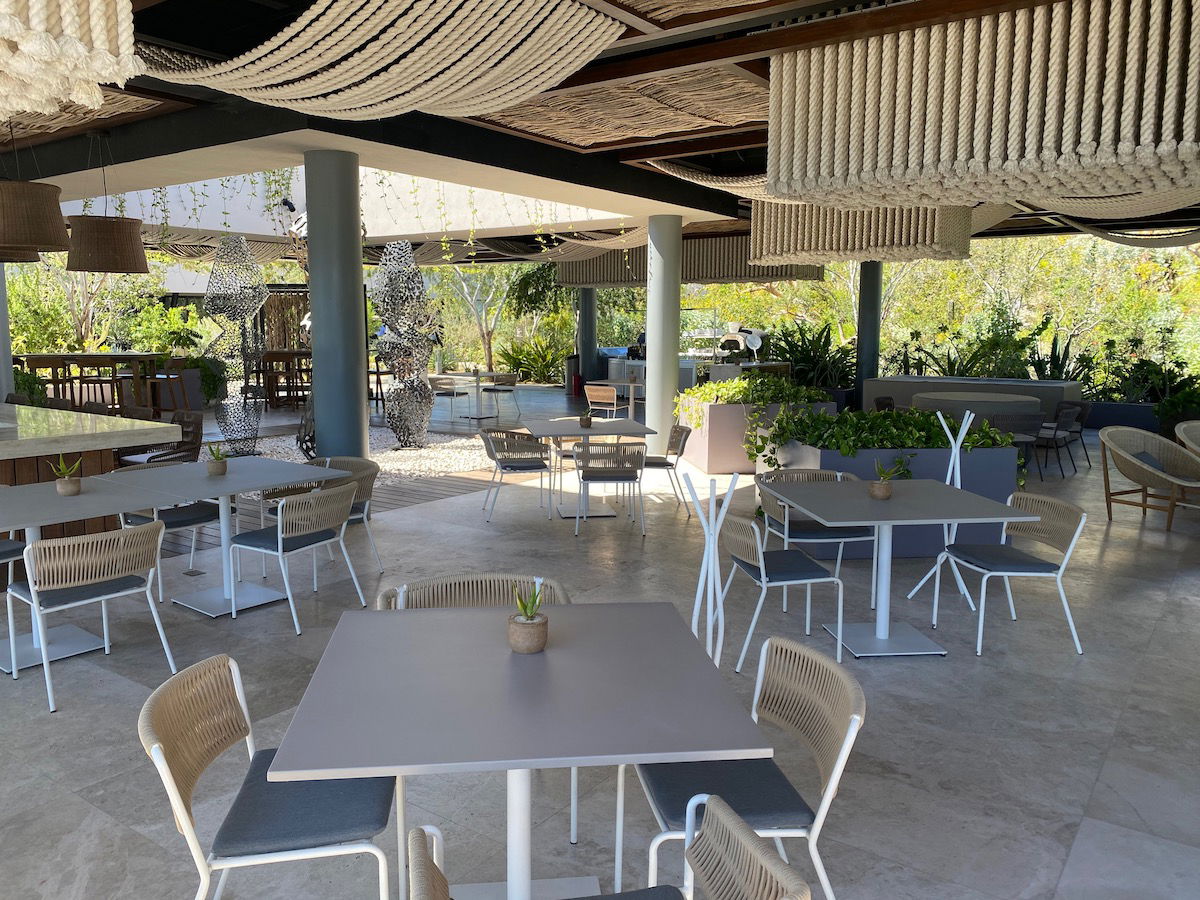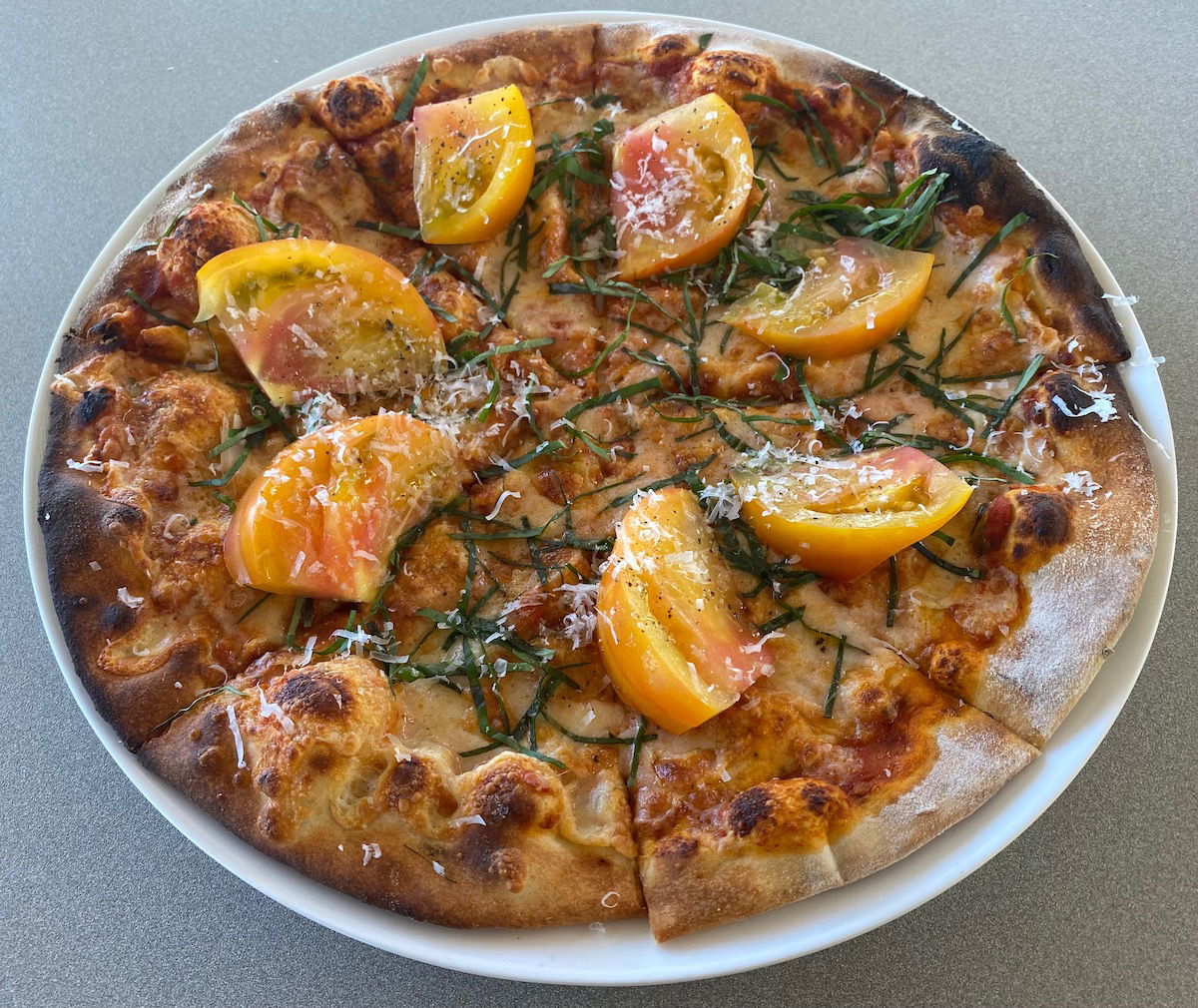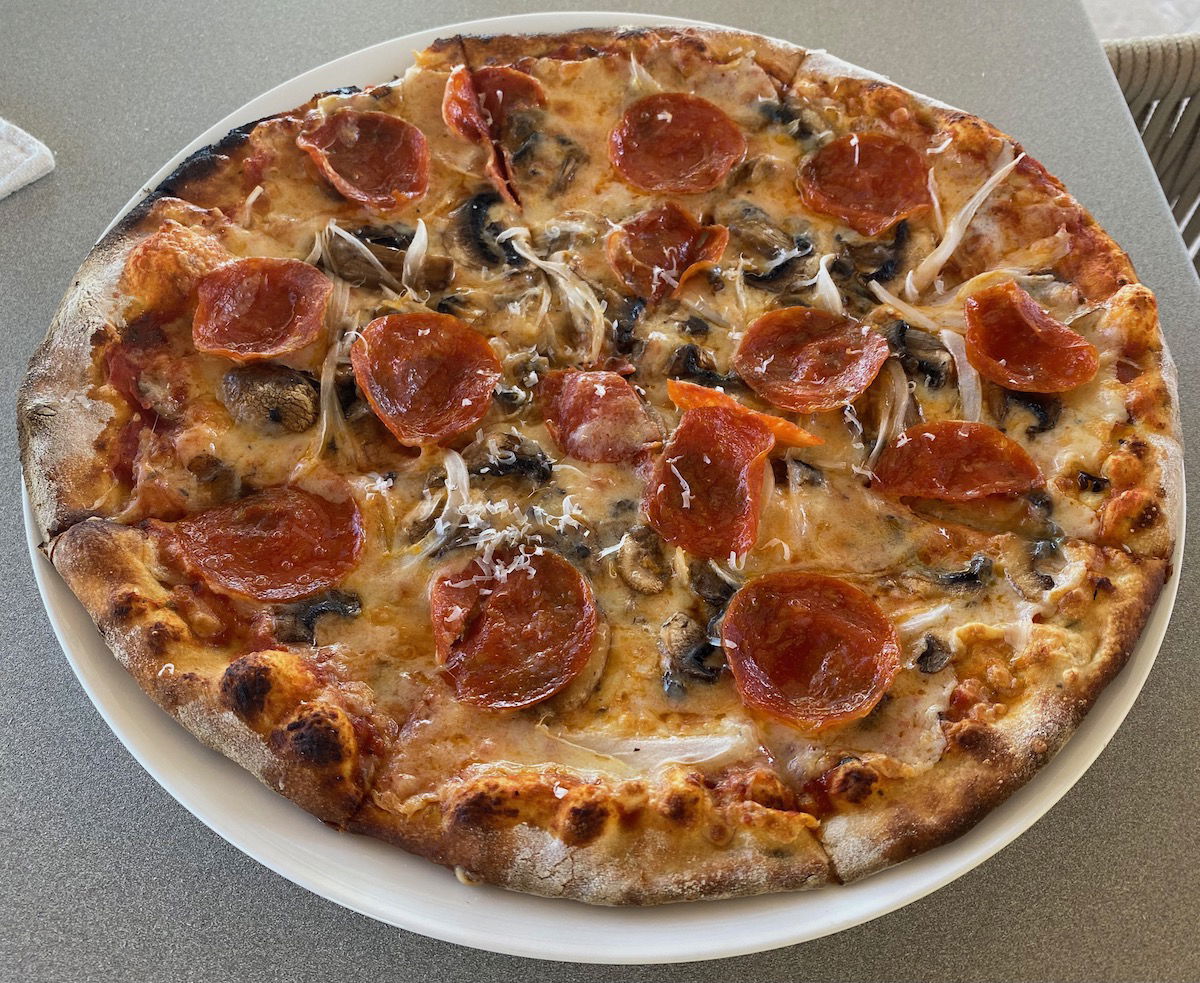 Solaz Los Cabos La Deriva Restaurant dinner
Our dining highlight at Solaz was at La Deriva, which is the hotel's Italian restaurant. The indoor space is fine, but what's really beautiful is the outdoor space, where we dined.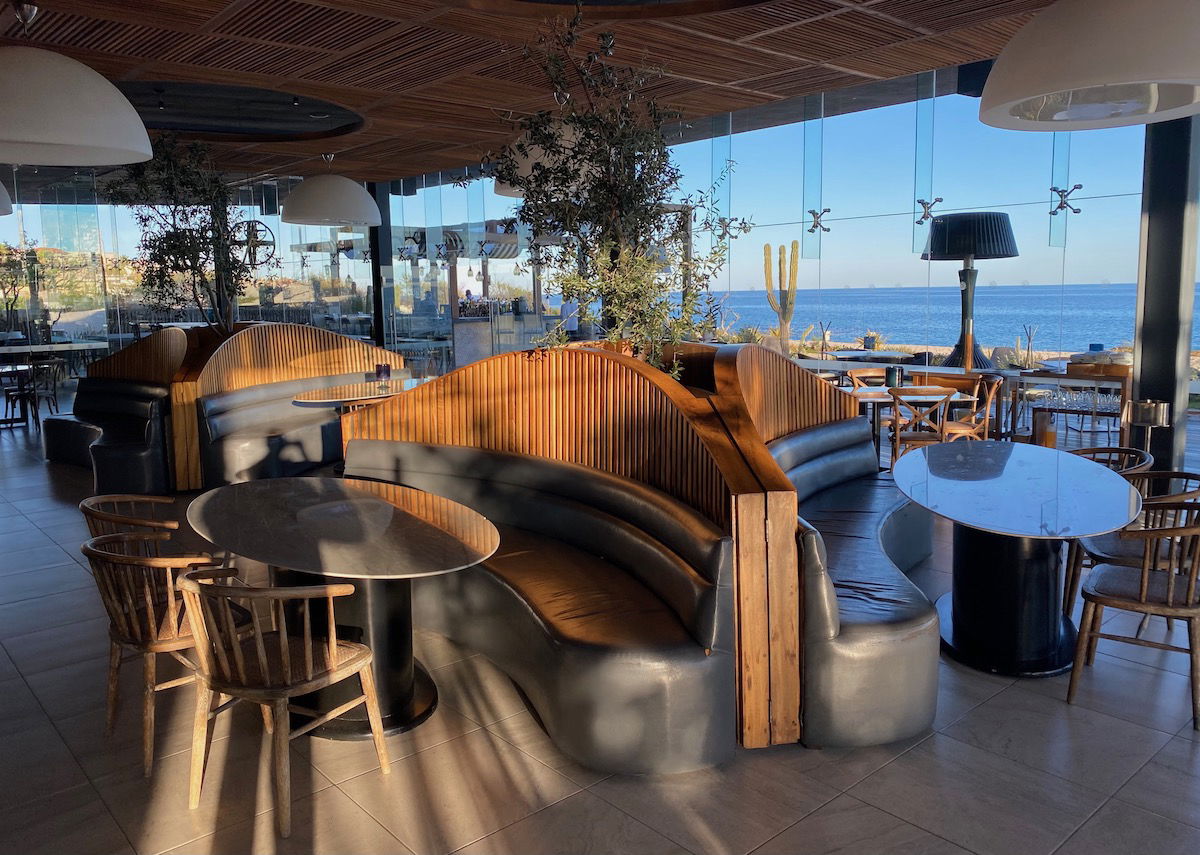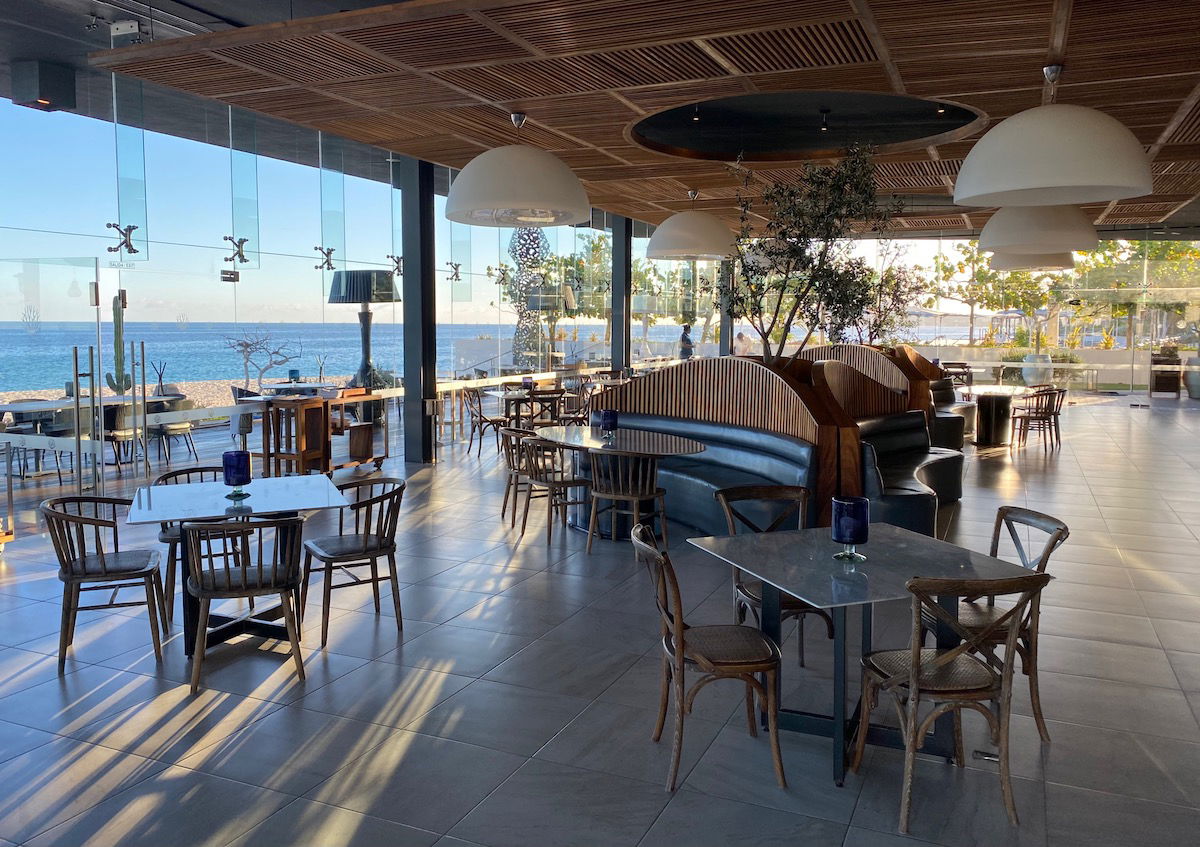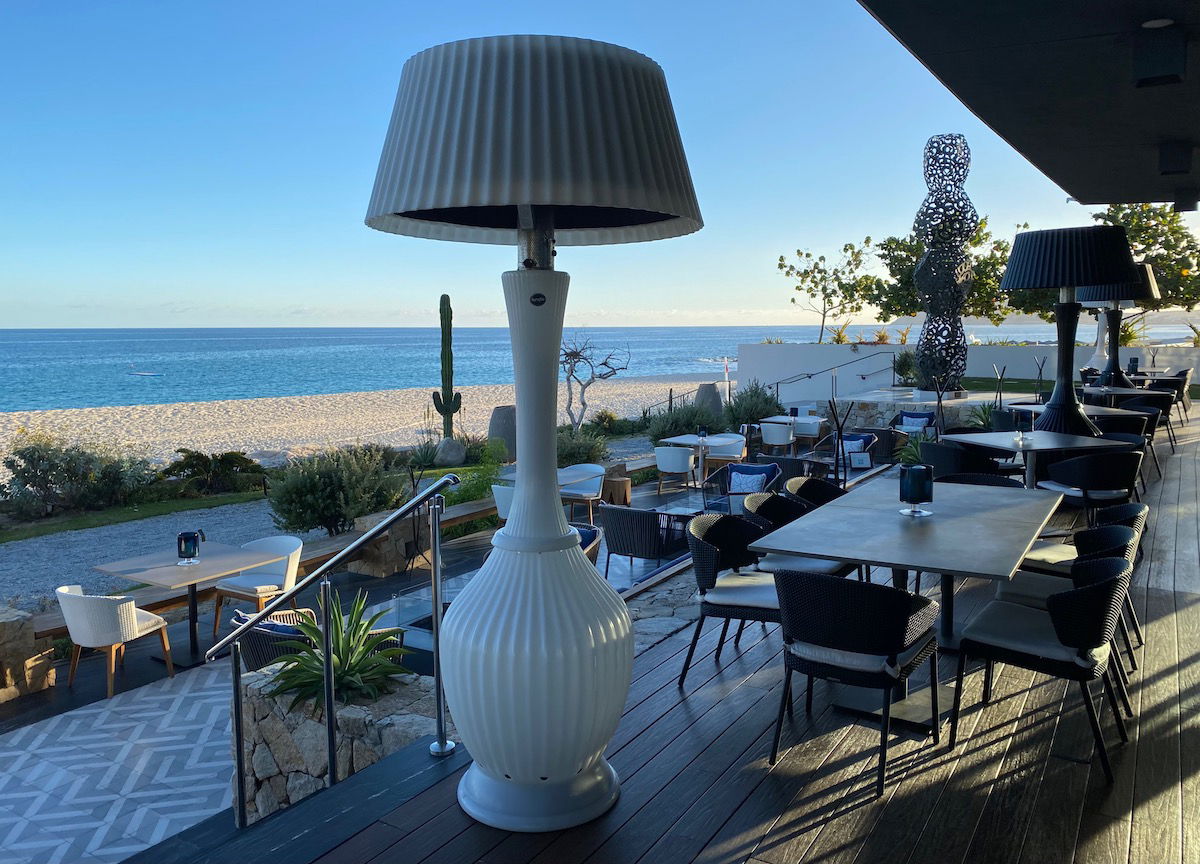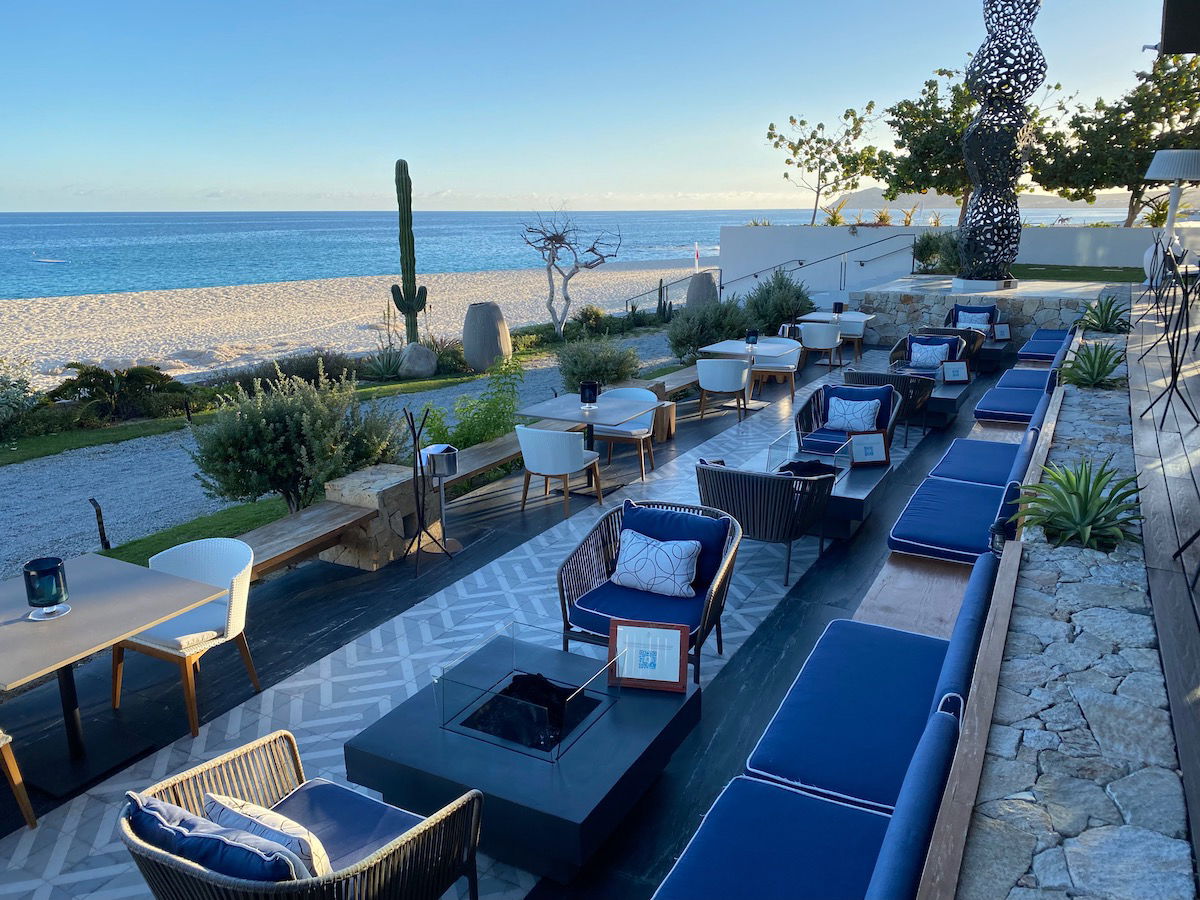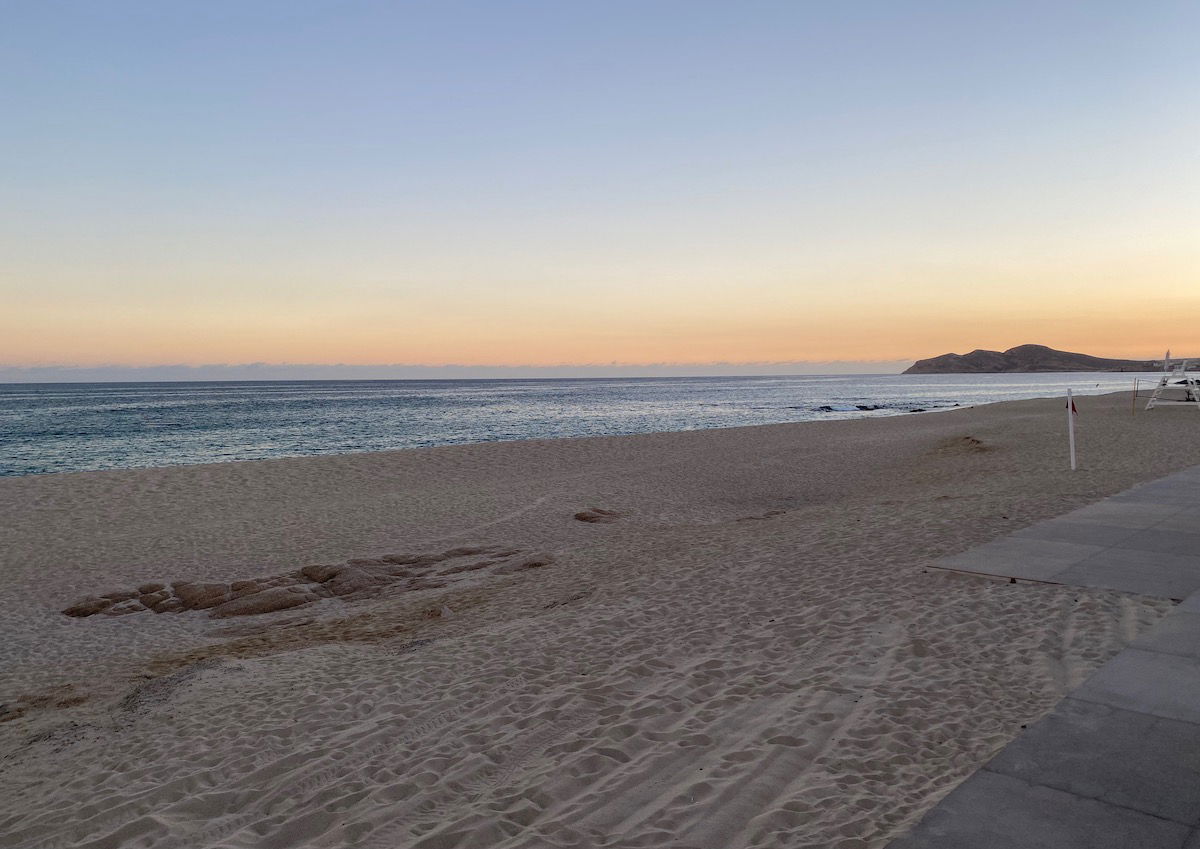 We were offered a complimentary welcome drink, bread, and an amuse bouche, at the start of our meal.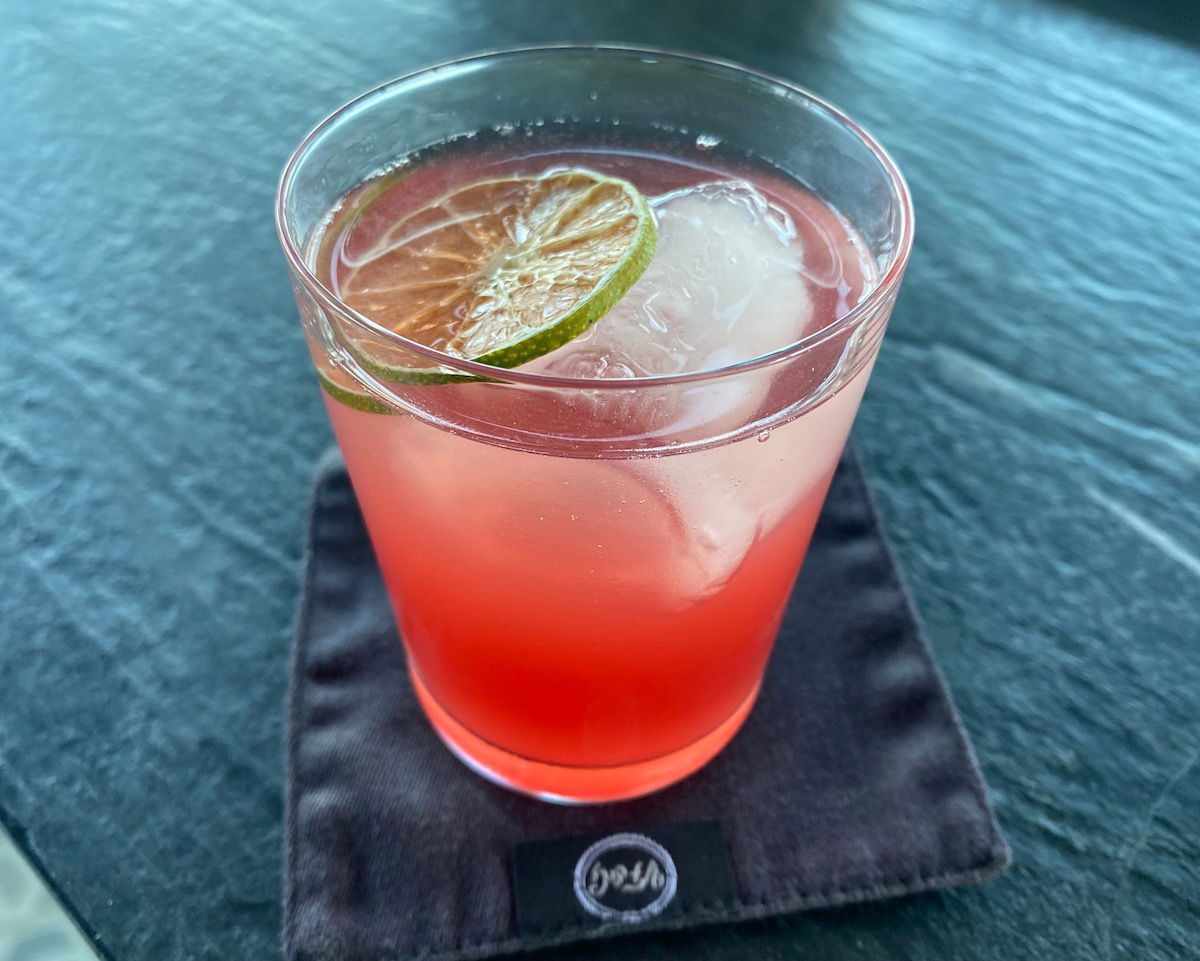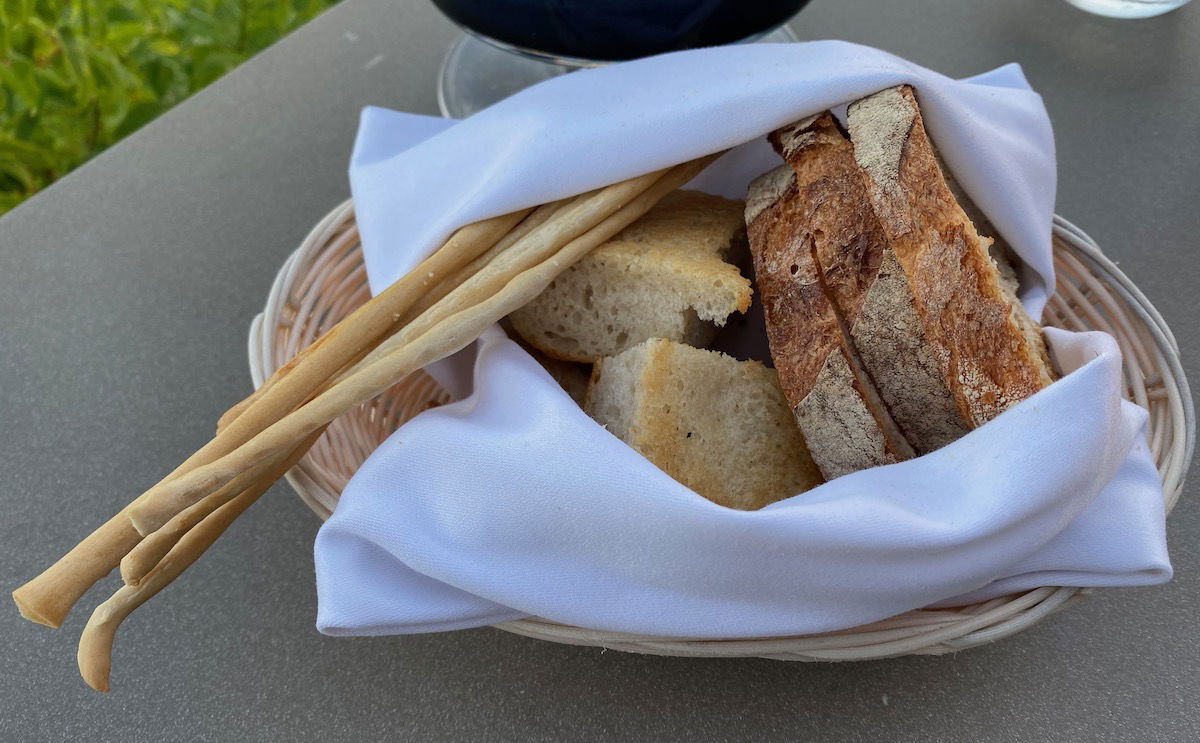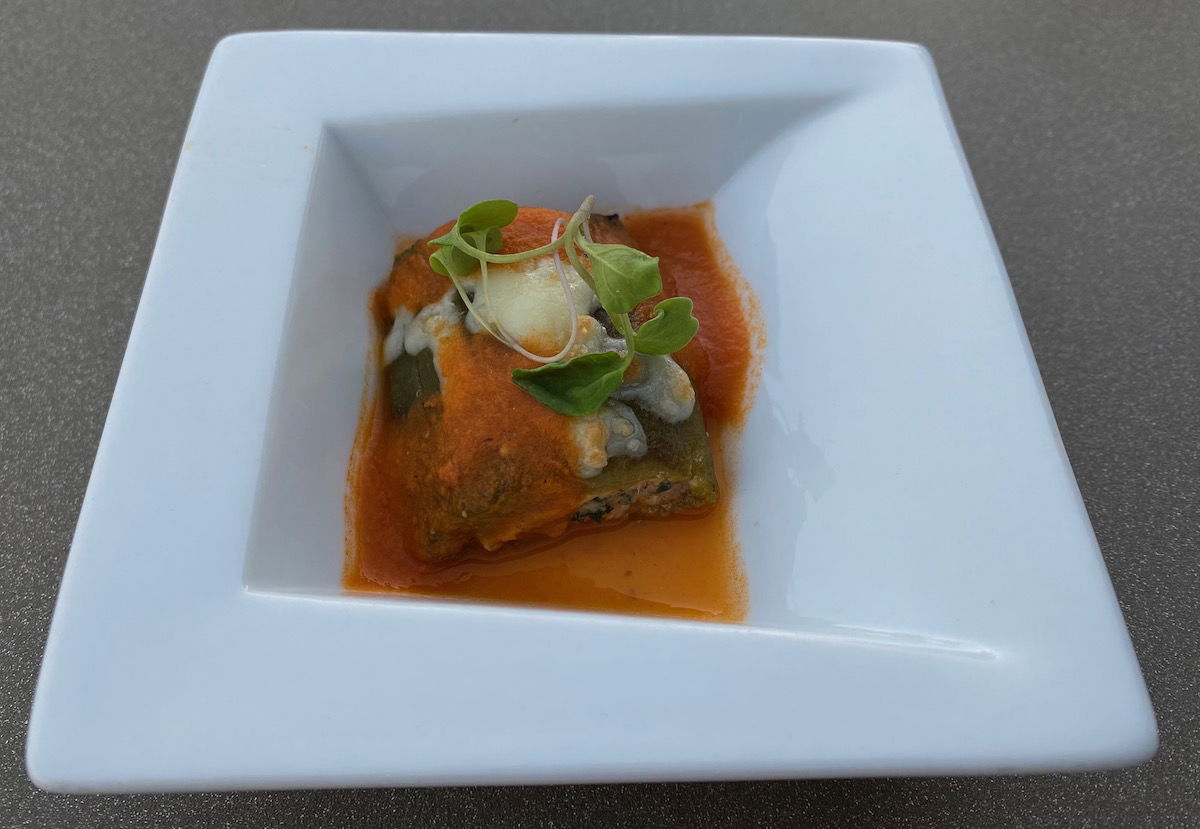 The food was excellent as well — we had a salad and soup as starters, and then a prawn and pasta dish as our mains. Service was friendly and attentive as well. This was the best meal we had on property, and while it wouldn't go on my list of the top five meals we had in Cabo, it was still very good.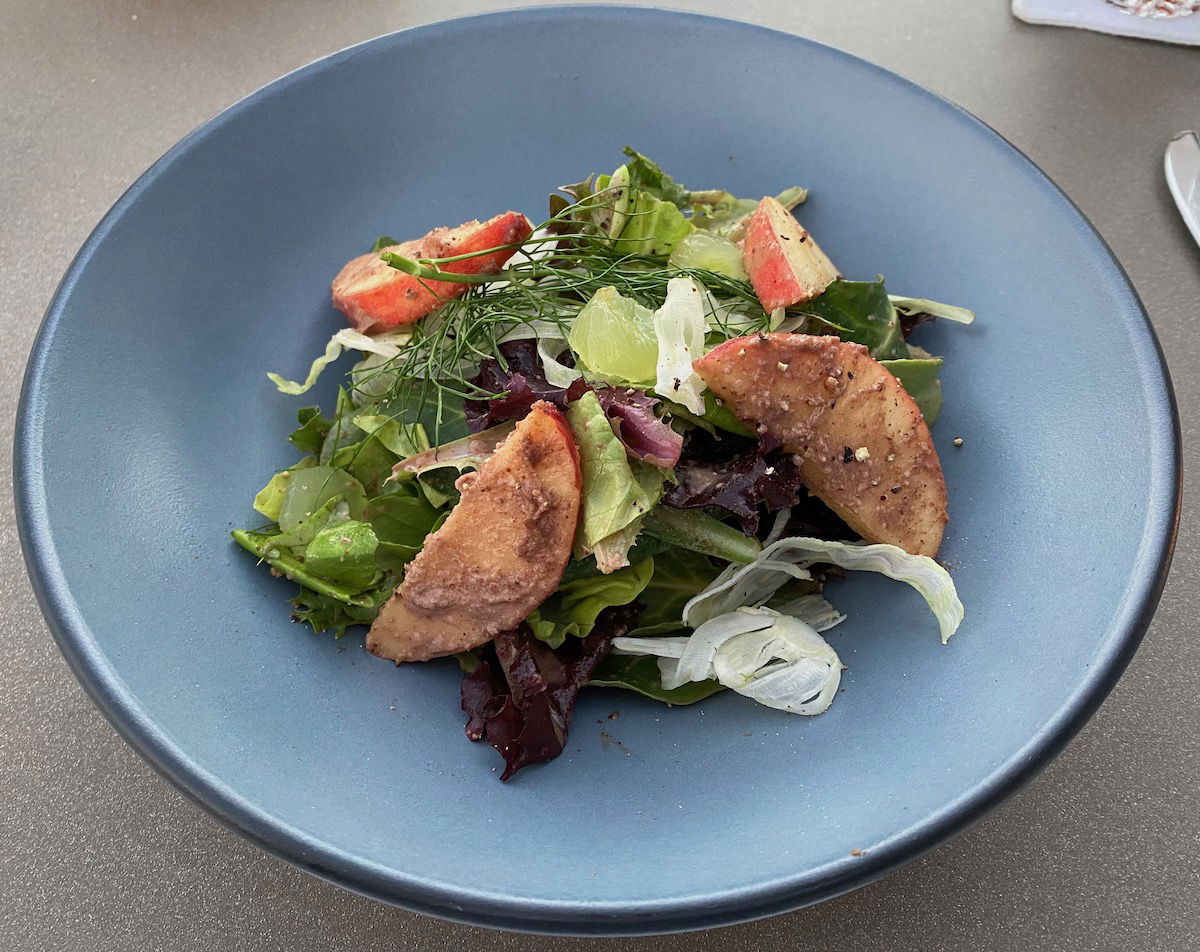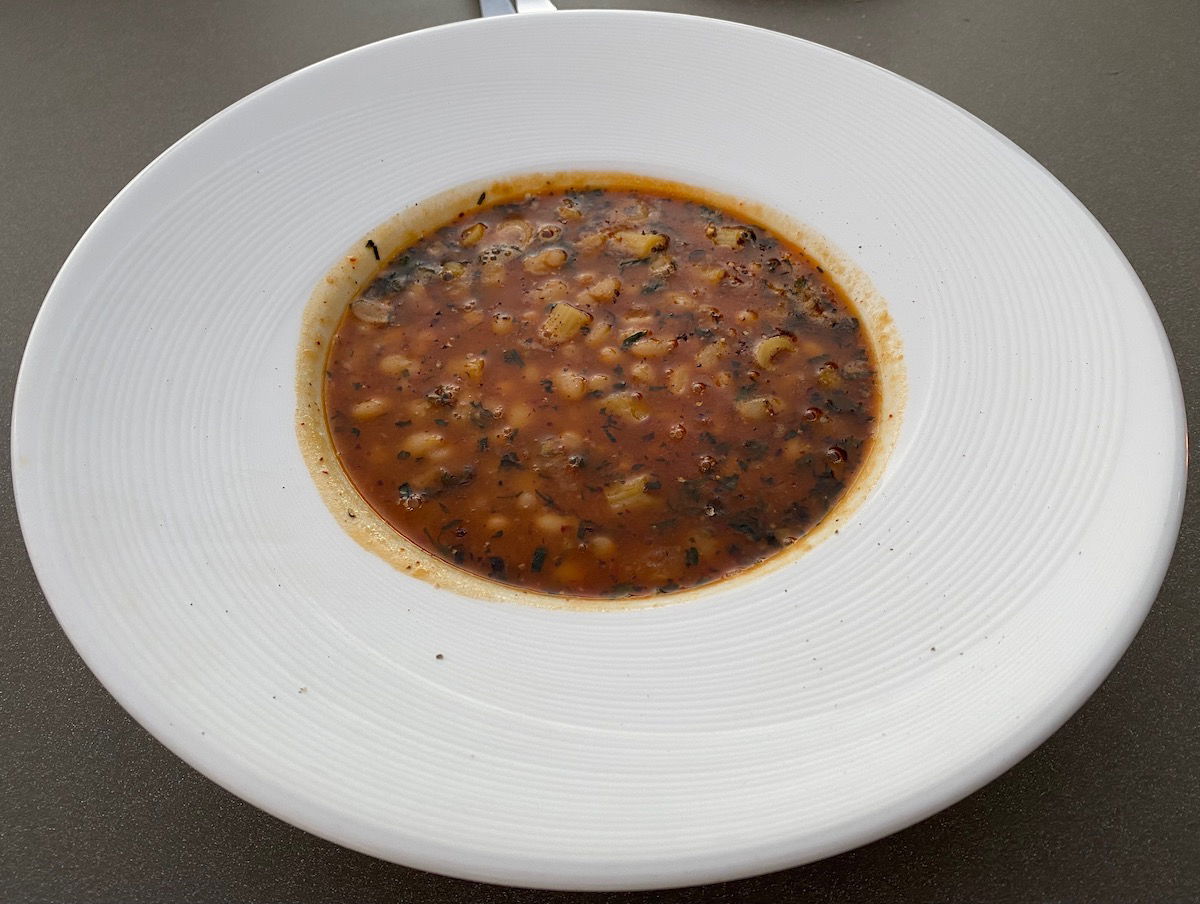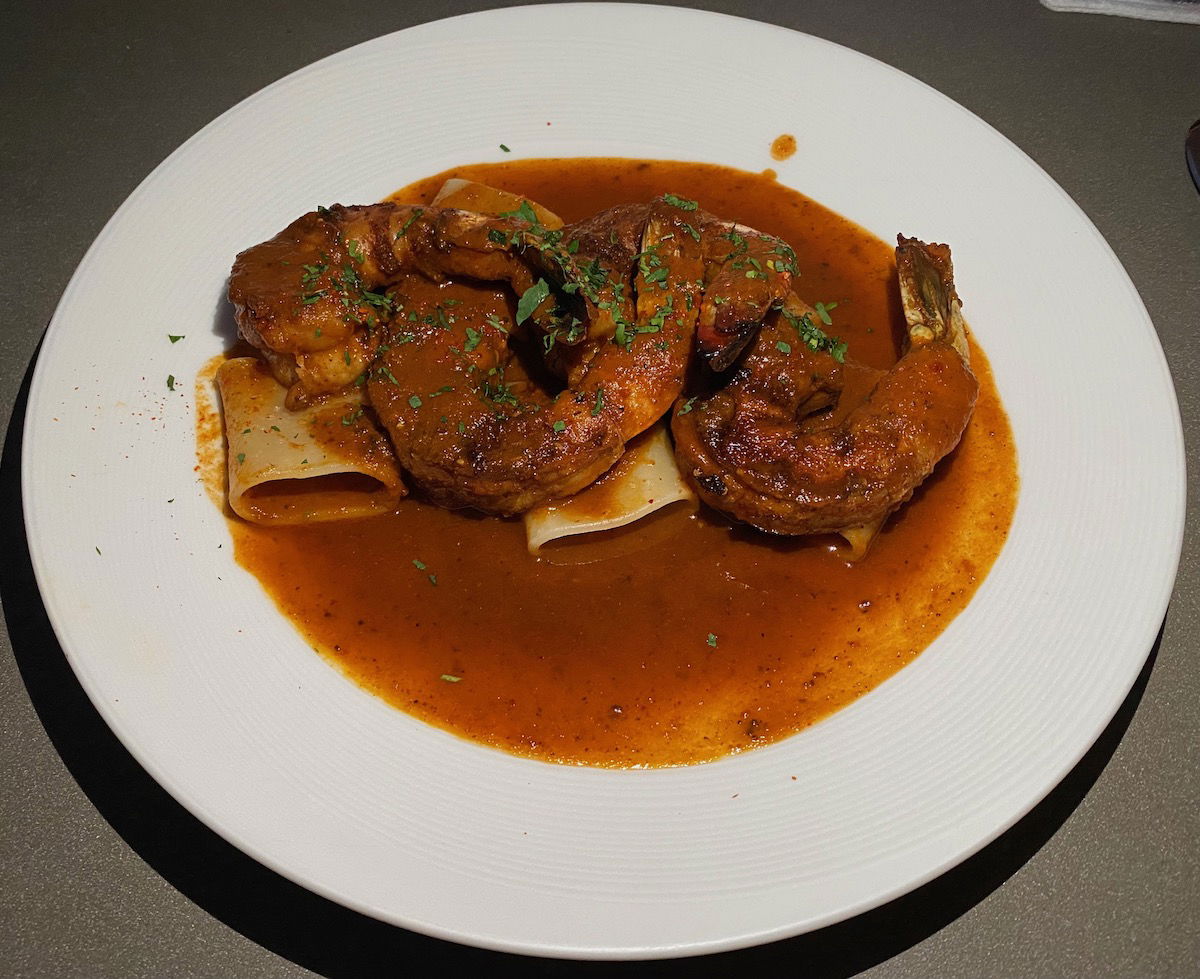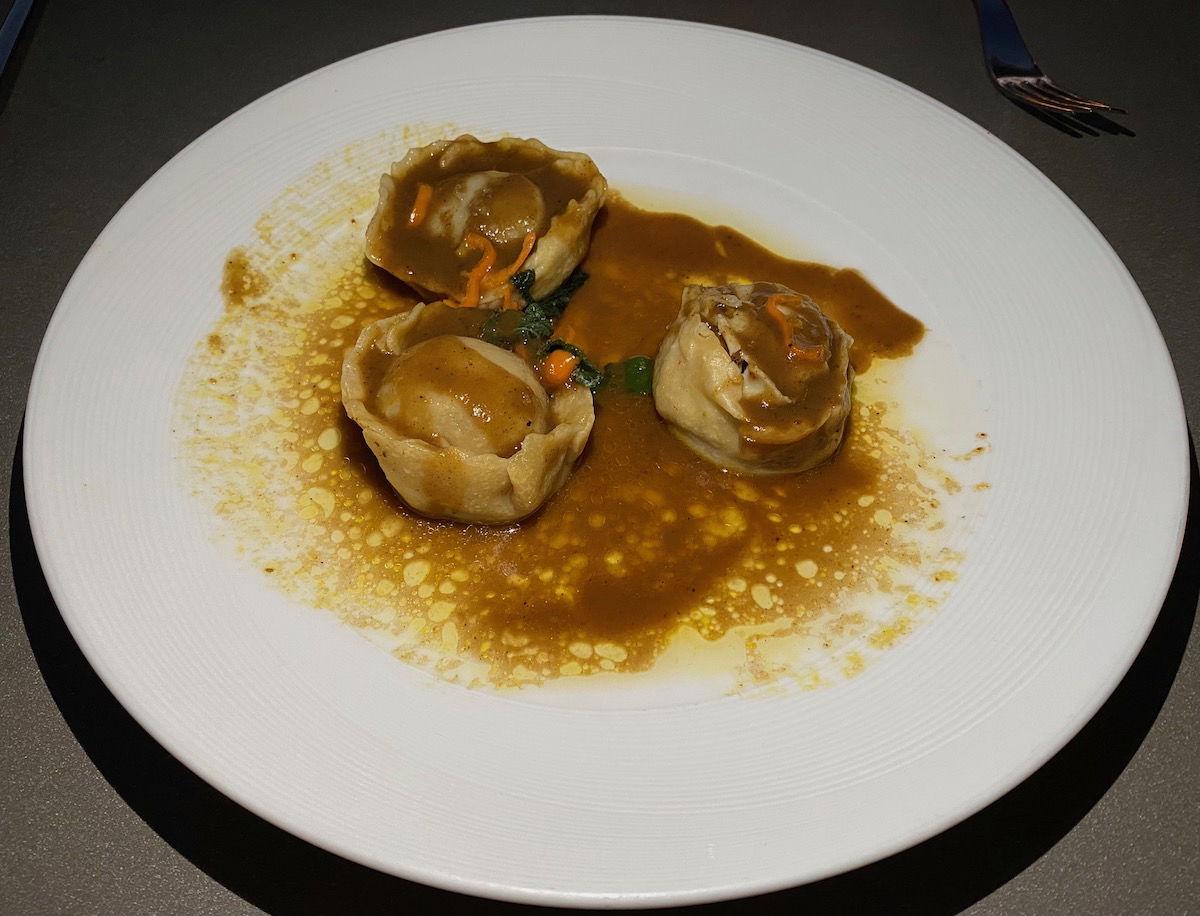 Solaz Los Cabos butler service
Solaz offers guests butler service, and I have to give huge credit to our butler, Josue. He was extremely friendly, provided great customer service, and was incredibly responsive. He told us we could reach him 24/7 via WhatsApp, and amazingly enough he responded late in the evening and early in the morning.
He was the only guy on property who seemed genuinely interested in ensuring that we had a great stay. When we left he asked how our stay was — we told him how impressed we were by him, but not by the rest of the hotel, and we said that we hoped we'd see him one day at another hotel.
With Solaz now closed, if any other hotel in Los Cabos is looking for an awesome butler or customer service professional, please reach out to Josue!
Bottom line
Yeah, our stay at Solaz Los Cabos wasn't great, to put it mildly. While I would've recommended steering clear of this property, I don't have to, since it's now closed for some mysterious reason.
The reality is that if it weren't for the timeshare situation, I'd probably give this hotel 3.5 stars (by my ratings). However, the extent to which we were pressured into something we didn't want before even being able to check in basically ruined the whole concept of hospitality.
It's totally fine if Solaz wants to run a timeshare business, and even present other guests with the opportunity to attend one of these presentations. But there's a fine line between that and what we experienced, where we were outright told that the hotel doesn't exist for hotel guests, but rather to sell timeshares.
What do you make of Solaz's techniques? Would anyone be fine with how they approach non-timeshare guests?