It has been a while since I've made a post with what I consider to be the best business class seats. I've been doing a lot of business class flying lately, so figured I'd write an updated post. The thing is, there are so many factors to consider when deciding which seat is "best," so I won't be providing absolute rankings. Instead I'll provide context for each recommendation.
In this post I'll be talking about the best business class seats for solo travelers. Stay tuned, because in a future post I'll share the best business class seats for couples traveling together.
First I'll talk about what I consider to be the three best seats out there, depending on the circumstances. Then I'll give some honorable mentions to other great seats as well.
What Makes A Great Business Class Seat?
Everyone has different preferences, though I'll share what I think makes for a great business class seat:
Not having a seatmate. I don't sleep with strangers on the ground, and I don't like doing it in the air either. If I can avoid sitting next to someone on a longhaul flight, then that's a big win, in my opinion.
Lots of privacy. This might sound the same as not having a seatmate, but it's not. There are plenty of solo seats which feel "exposed," because there's not any built in privacy. Similarly, there are plenty of seats with seatmates where you still have full privacy thanks to the presence of shields, barriers, etc.
Plenty of room for my feet. While many airlines have fully flat seats in business class nowadays, I find the biggest deficiency to often be the lack of room for my feet. What's the point of a fully flat surface if you have to squeeze your feet into a tiny cubby where you can't sleep in a natural position?
Easy to use. This might sound silly, but I like seats which are easy to control. I swear some seats are designed by people who have never been on a plane before. Reclining a seat or taking out the tray table shouldn't be rocket science.
Little features. I won't be covering these in this post, since I'm comparing seats and not airlines. But thick pillows, comfortable blankets, and the existence of personal air vents are very important to me. I've sometimes slept better in a crappy seat with a good pillow and blanket than in a good seat with a crappy pillow and blanket.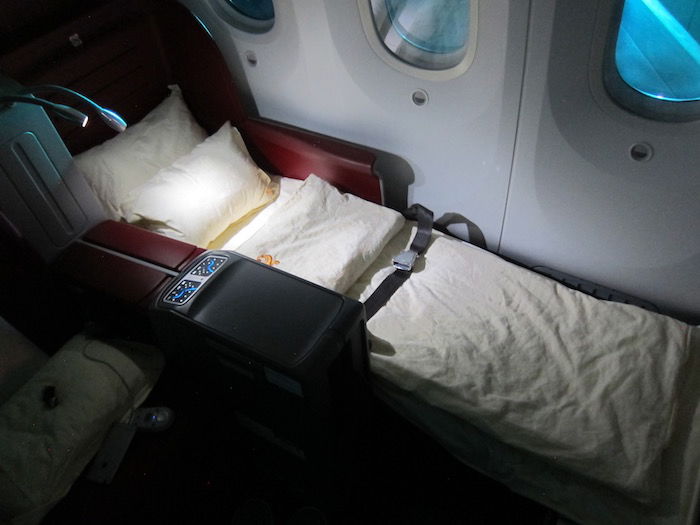 Hainan Airlines business class — great bedding, not-so-great bed
With that out of the way…
The World's 3 Best Business Class Seats
For years I've been saying the reverse herringbone seat is the best out there, though that was probably just because I hadn't yet flown the Apex Suite. This seat is available on select Korean Air, Japan Airlines, and Oman Air planes, among others.
The cabin features 6-7 seats per row, depending on the aircraft.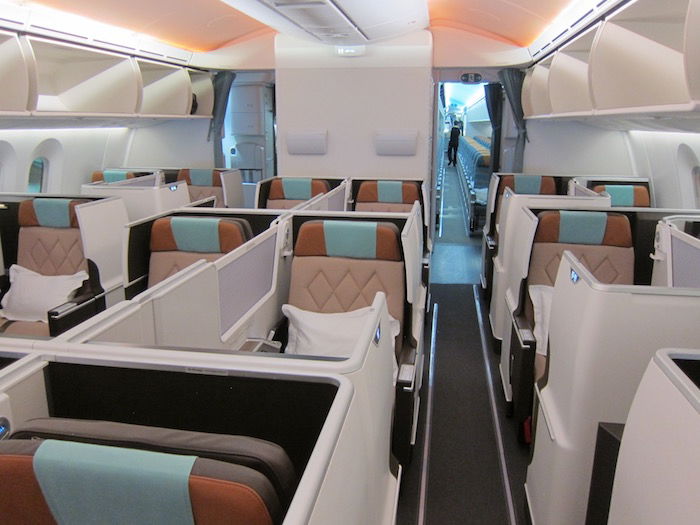 The key with this configuration is to select a window seat. The window seats are among the most private and spacious out there. You don't have to jump over your seatmate, but rather have a separate walkway through which you can enter your seat.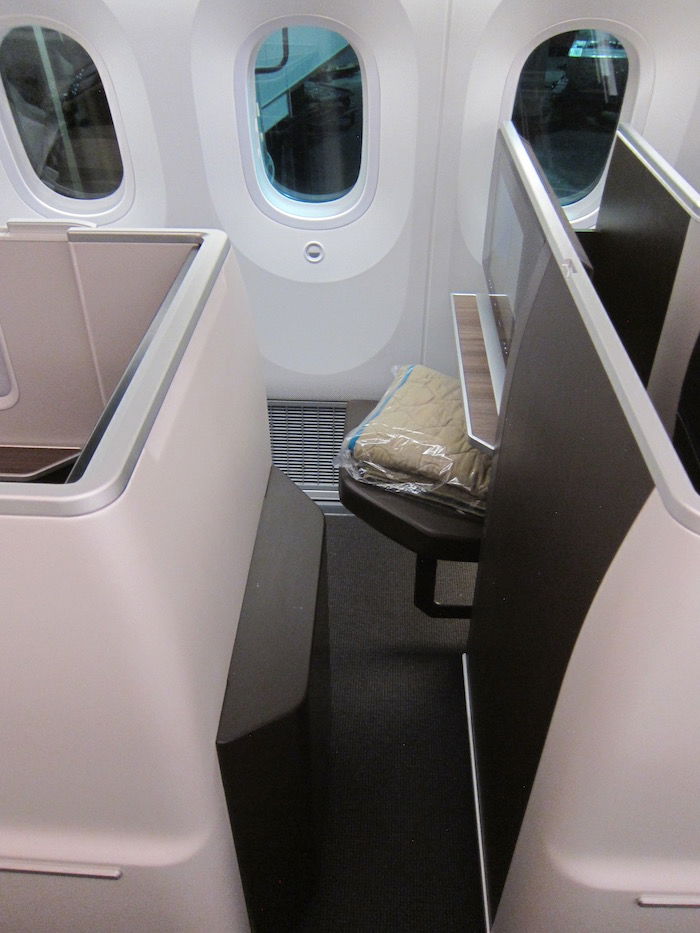 While you're technically sitting next to someone, there's a privacy shield between seats, so you'll never even know you have a seatmate.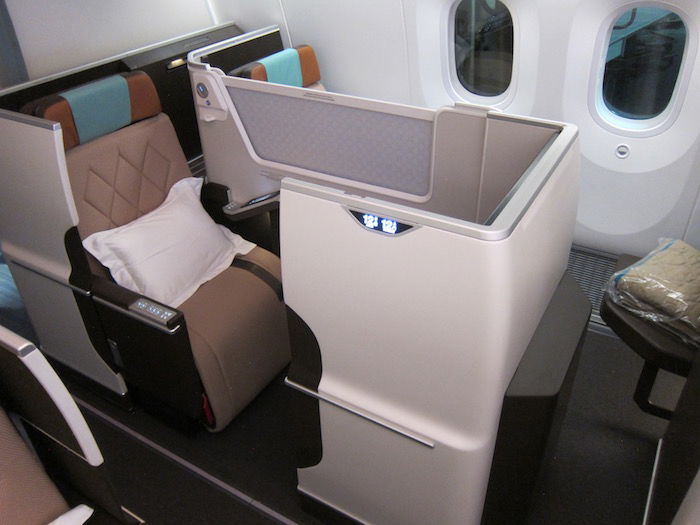 The seat is private and spacious, and truly feels like a cocoon. There's so much space under your ottoman that you can even store a full sized carry-on there.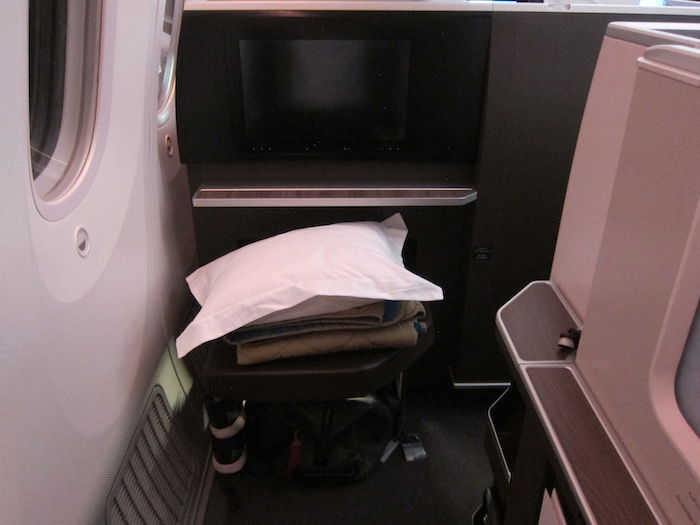 This is a common business class configuration offered by many airlines in many forms nowadays, including Air Canada, Air France, American, Avianca, Cathay Pacific, Finnair, Qatar Airways, SriLankan, and many more. They all have minor differences, though overall I think they're similar enough so they can be lumped into one group without being too unfair.
There's a lot to love about reverse herringbone seats. Each seat has direct aisle access, and there are only four seats per row. Furthermore, all the seats are roughly equal, so there's not a huge variance in quality based on where you're seated.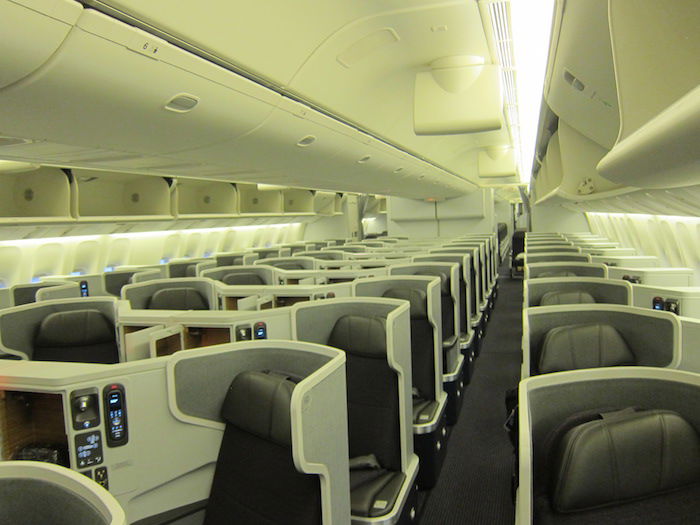 The window seats are angled towards the window, while the center seats are angled towards the center. The seat controls are easy to use, and there's plenty of counter space.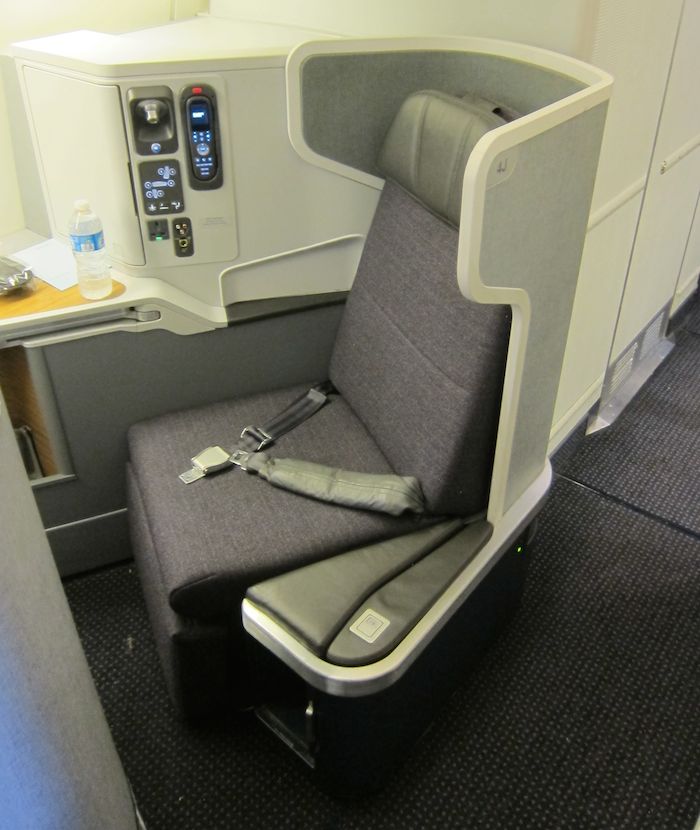 Your feet go on a fairly spacious ottoman, and the TV swivels out from the seat in front of you.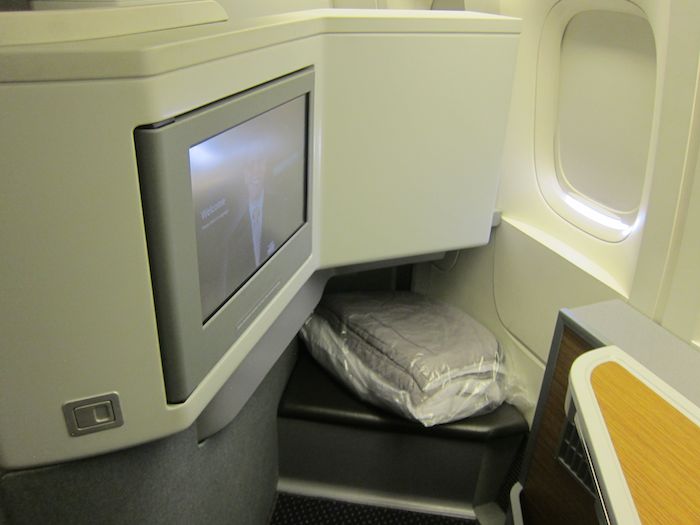 Best of all, the seat is extremely private, since everyone is sort of facing away from one another.
Singapore Airlines has long been an innovative airline, and the business class seat they've had for about a decade is no exception. On their 777s and A380s, Singapore Airlines has forward facing seats in a 1-2-1 configuration.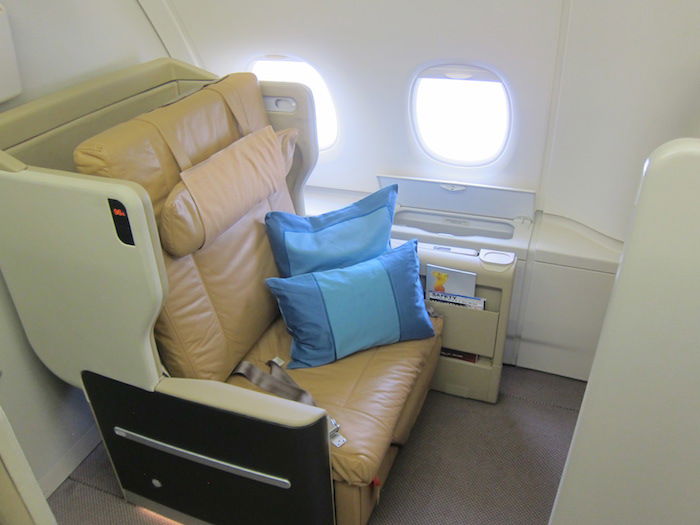 If you're lucky enough to score a bulkhead seat, you'll find yourself in a seat which is as spacious as most first class seats out there. As a matter of fact, when the seat was first introduced the biggest complaint was that it was too wide — it's not often that's a complaint you get on a plane. So they added some extra cushions to the side, so you could get cozier.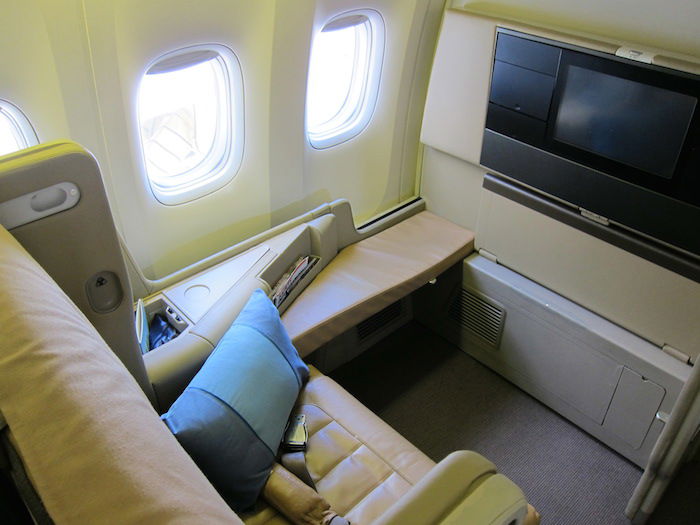 The catch is that the number of bulkhead seats are limited, and the other seats aren't quite as spacious. Instead the other seats have a cutout in the seat in front of them. They're still great, just not as good.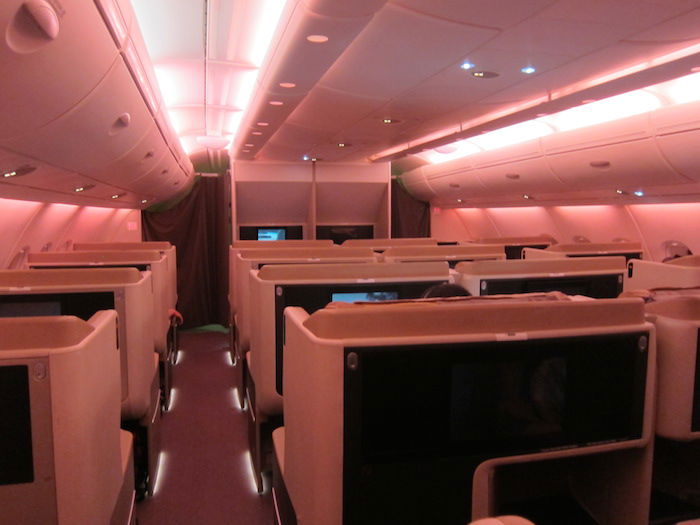 Ranking the seats
If I had my choice of any seat on a given plane with the above configuration, my preference would be as follows:
Singapore Airlines Business Class Seat (bulkhead)
Apex Suite (window seat)
Reverse Herringbone Seat (any seat)
Without a choice of seats, I'd rank them as follows:
Reverse Herringbone Seat (all seats are great)
Apex Suite (about a third of the seats are great)
Singapore Airlines Business Class Seat (there are very few bulkhead seats)
Other Seats Worth Mentioning
I'll be brief here, but I figured I'd provide a few honorable mentions to other configurations.
The Solstys Style Staggered Seat is my other favorite business class product, given how private the "true" window seats are. Furthermore, there's plenty of room for your feet, which is an issue with many other business class seats.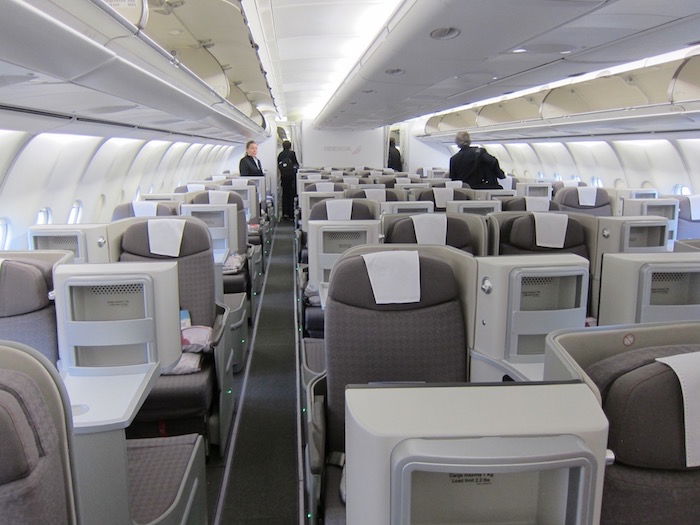 As far as non-direct aisle access seats go, I quite like the B/E Aerospace Diamond Seat, given that it's probably the most private seat where you have a seatmate, and also has a decent amount of storage. You can place stuff behind you at your seat, as well as under the TV console in front of you. The downside is that the foot cubby is quite small.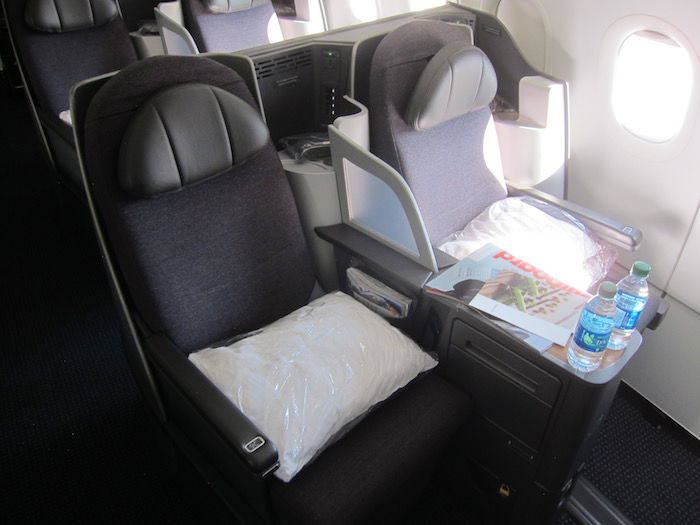 I should also mention that the Thompson Vantage XL Seat seems to be quite good, though I haven't flown it yet. I'll be flying SAS soon between Los Angeles and Stockholm, so will report back after I experience this product.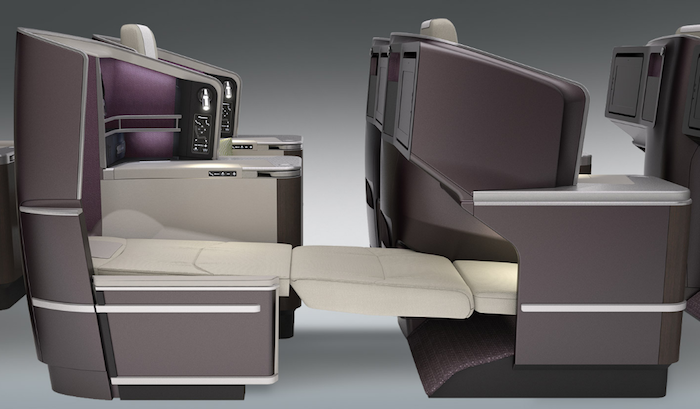 Bottom Line
There are a lot of things to consider when deciding which business class product is "best." It largely depends on the specific airline, seat assignment, flight, etc. But overall I think the three products mentioned at the top of the post are the absolute best, while there are some other noteworthy seats as well.
It's incredible the transformation we've seen over the years in terms of the quality of business class products. Nowadays many business class seats are better than first class seats were a decade ago.
What's your favorite business class seat as a solo traveler?