Good morning from Istanbul! I'm kicking off my trip to Germany with my parents, and just flew Turkish Airlines' Airbus A350-900 business class from Chicago to Istanbul, before connecting onwards to Frankfurt. I didn't just fly any A350, though. Specifically, I flew one of Turkish's A350s that was acquired from Aeroflot.
Oh my gosh, what a pleasant experience this was. I've always thought that Turkish had one of the world's best business class soft products, and when you combine that with this amazing hard product, this is one of the world's best business class experiences.
While I'll have a full trip report soon, in this post I wanted to share some initial thoughts on the Turkish business class experience. This was my first long haul flight with the airline since before the pandemic, and it didn't disappoint.
Turkish's A350 business class seats are amazing
All of Turkish's Boeing 787s, and most of Turkish's Airbus A350s, feature the Stelia Aerospace Opal product, which is a pretty standard staggered configuration. However, the Airbus A350s that were acquired from Aeroflot feature the Collins Aerospace Horizon product, for which Aeroflot was the launch customer.
I was curious what this product was like, since there aren't too many firsthand reports, given how few planes have these seats. Well, I'm happy to report that this is an exceptional product, in my opinion. The seats are in a staggered 1-2-1 configuration, all forward facing and fully flat, and with a privacy door.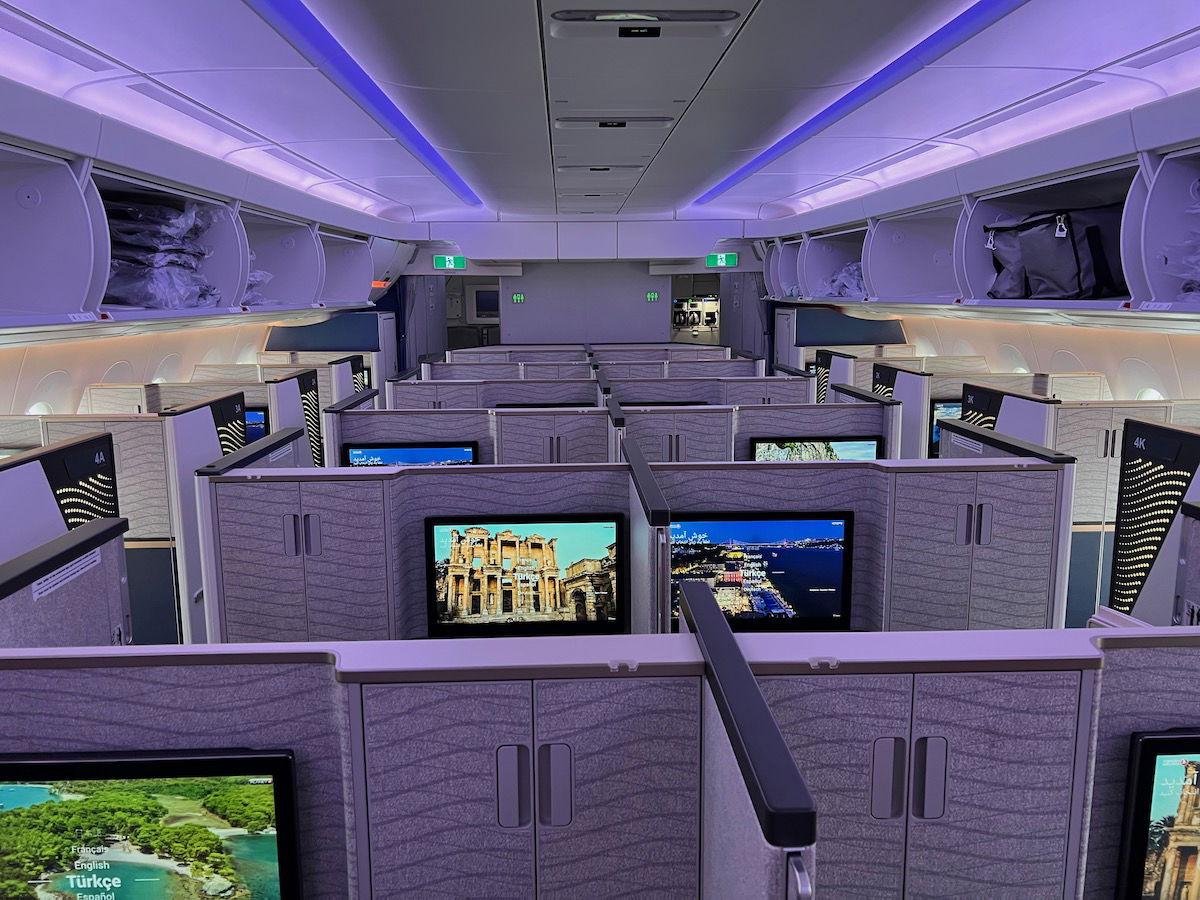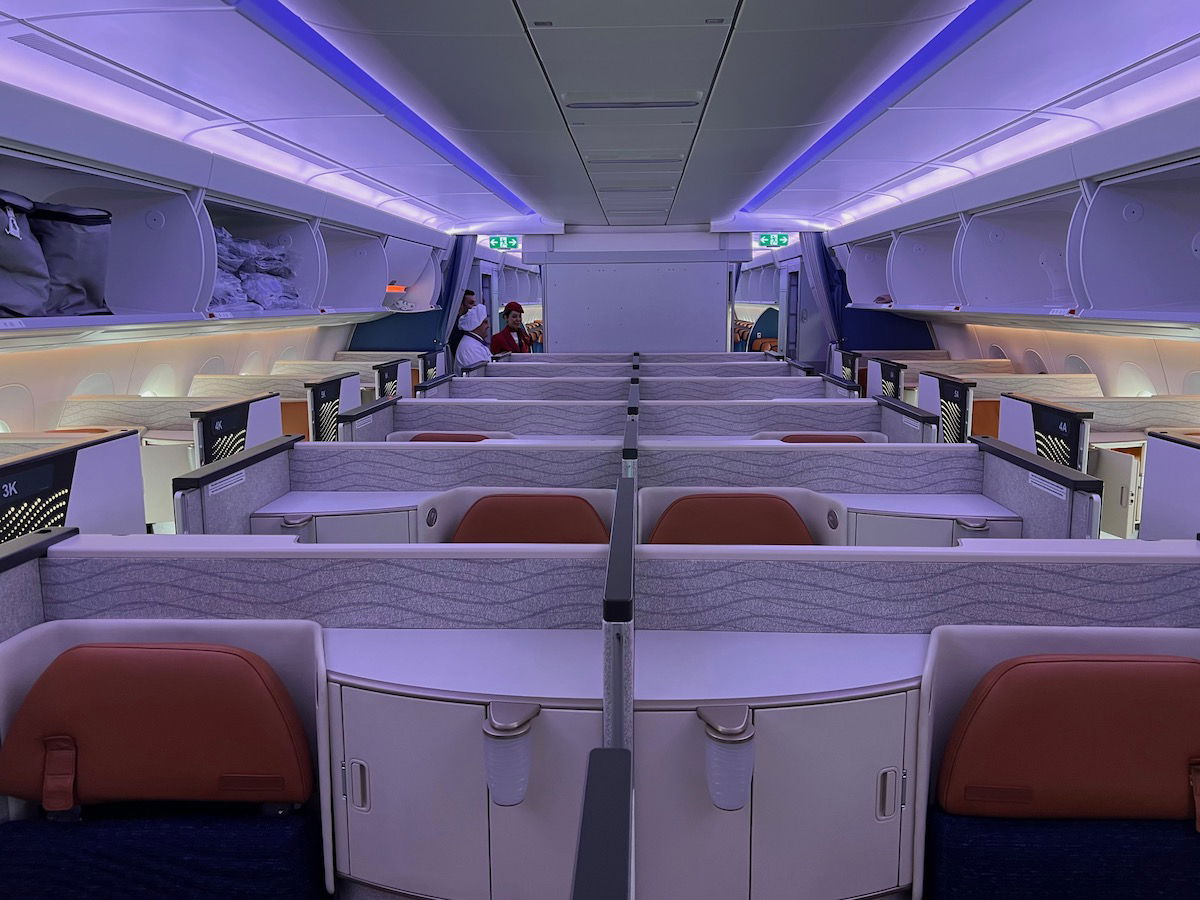 These seats almost feel like Qatar Airways' Qsuites business class. In some ways I like this product more, while in other ways I like Qatar Airways' product more.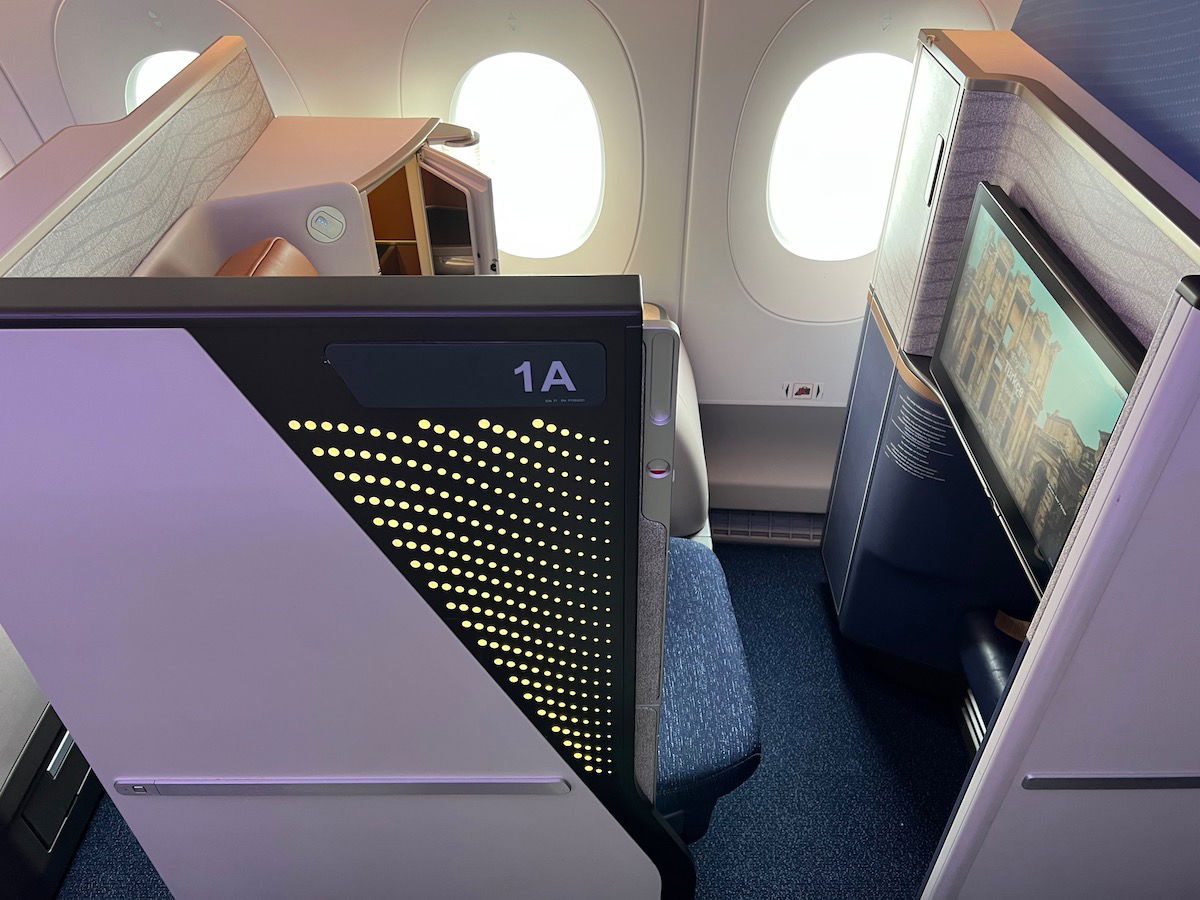 What I love is that each seat has a wardrobe, a massive television, and ample storage to the side of the seat.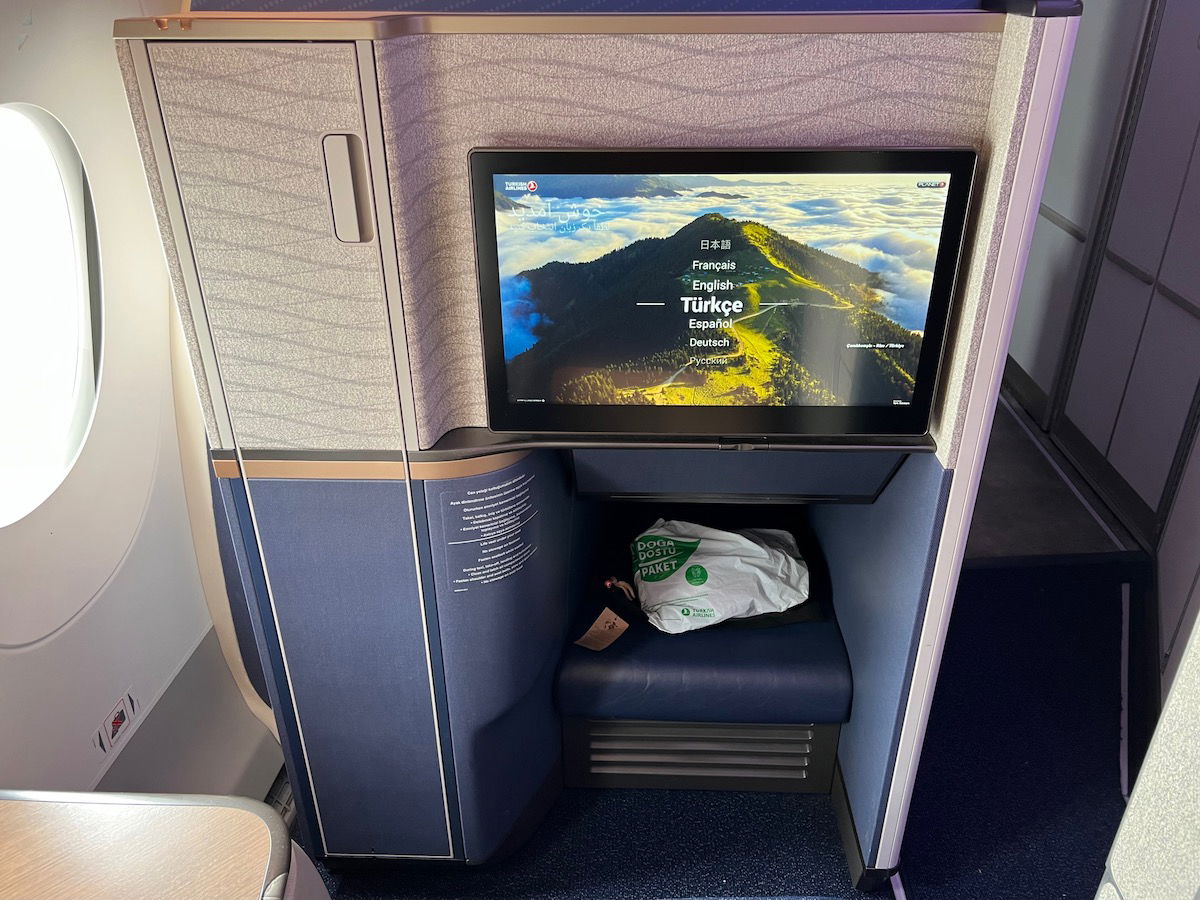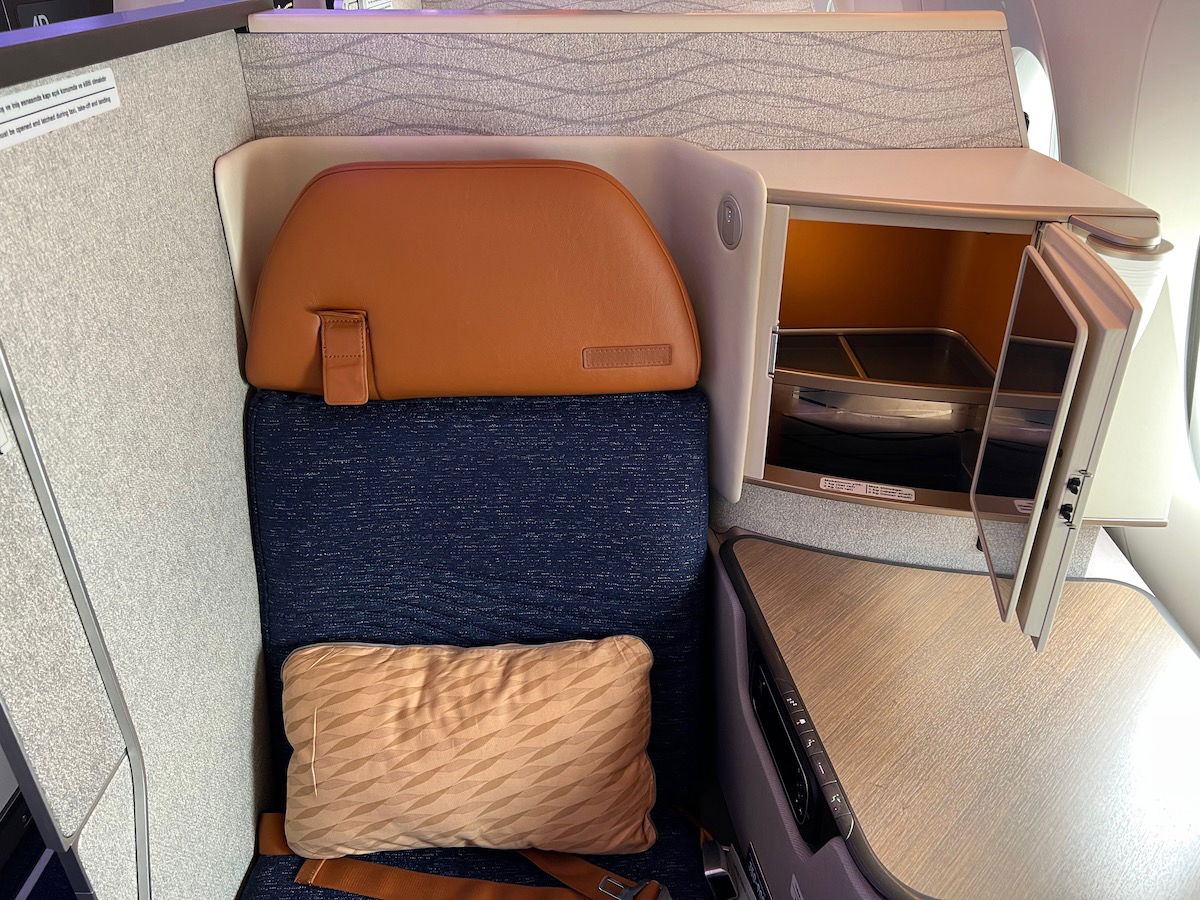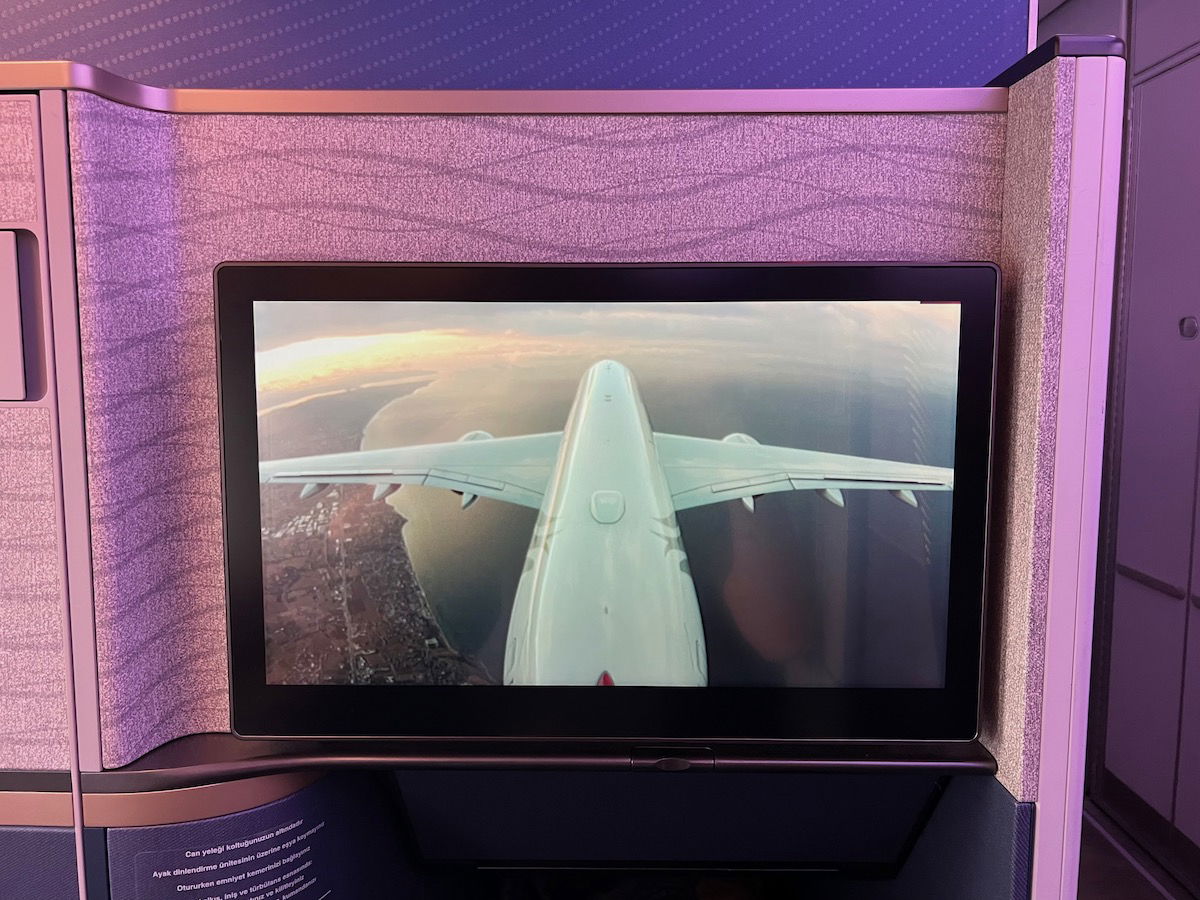 In bed mode, this is also quite a comfortable product. Much like in Qatar Airways Qsuites, it's a bit tight, but that's to be expected.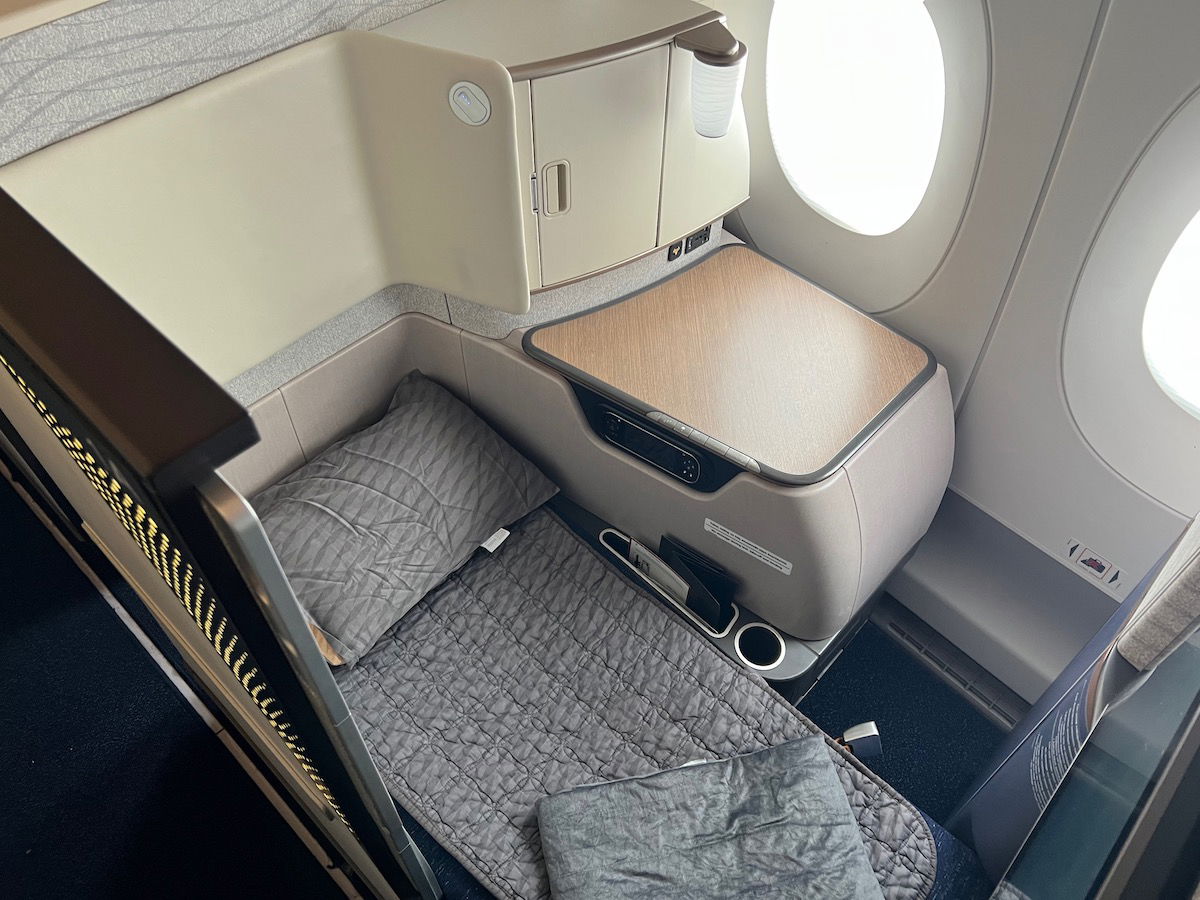 This is a very impressive product, and I'm surprised more airlines haven't committed to this. I'd rank this as one of the top five business class seats in the world, and definitely prefer this to what Turkish offers on its other aircraft.
Turkish's business class food is scrumptious
One of my favorite things about flying with Turkish Airlines is the food. I love Turkish food, and the airline acts as a great ambassador for the country. Turkish Airlines has DO & CO catering and an inflight chef, which makes for a great experience.
The meal service on this flight was phenomenal, and keep in mind that this was the watered down version of Turkish's signature meal service. When departing Istanbul, the chef plates the meals at your seat from a trolley, while when originating abroad, all dishes are pre-plated.
Before lunch, I had some champagne and warm mixed nuts. Turkish's wine selection is impressive, by the way, and includes five red wines, three white wines, one rose, and one champagne.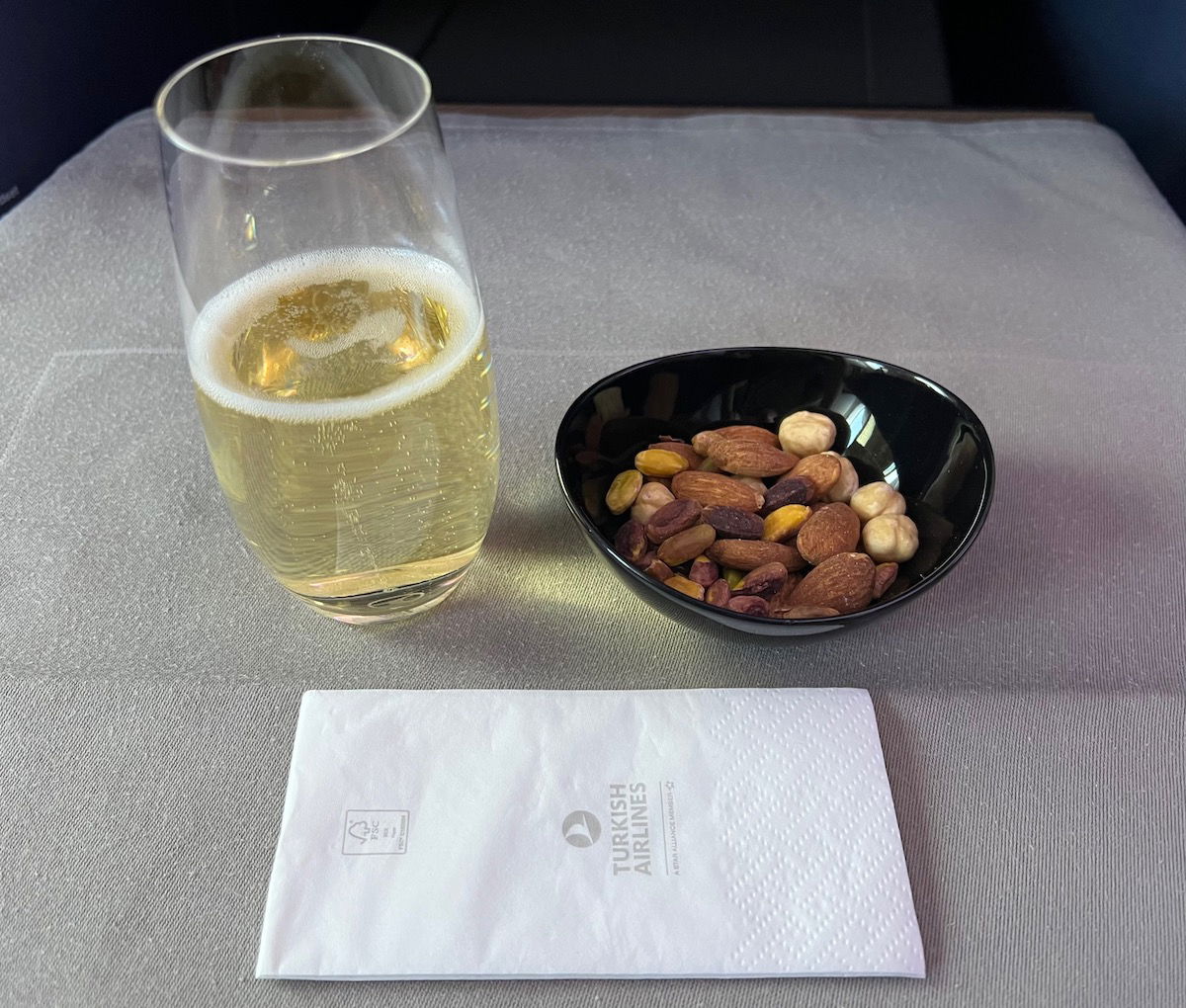 Next up was a potpourri of seafood appetizer, a sweet pumpkin soup, and a garden salad.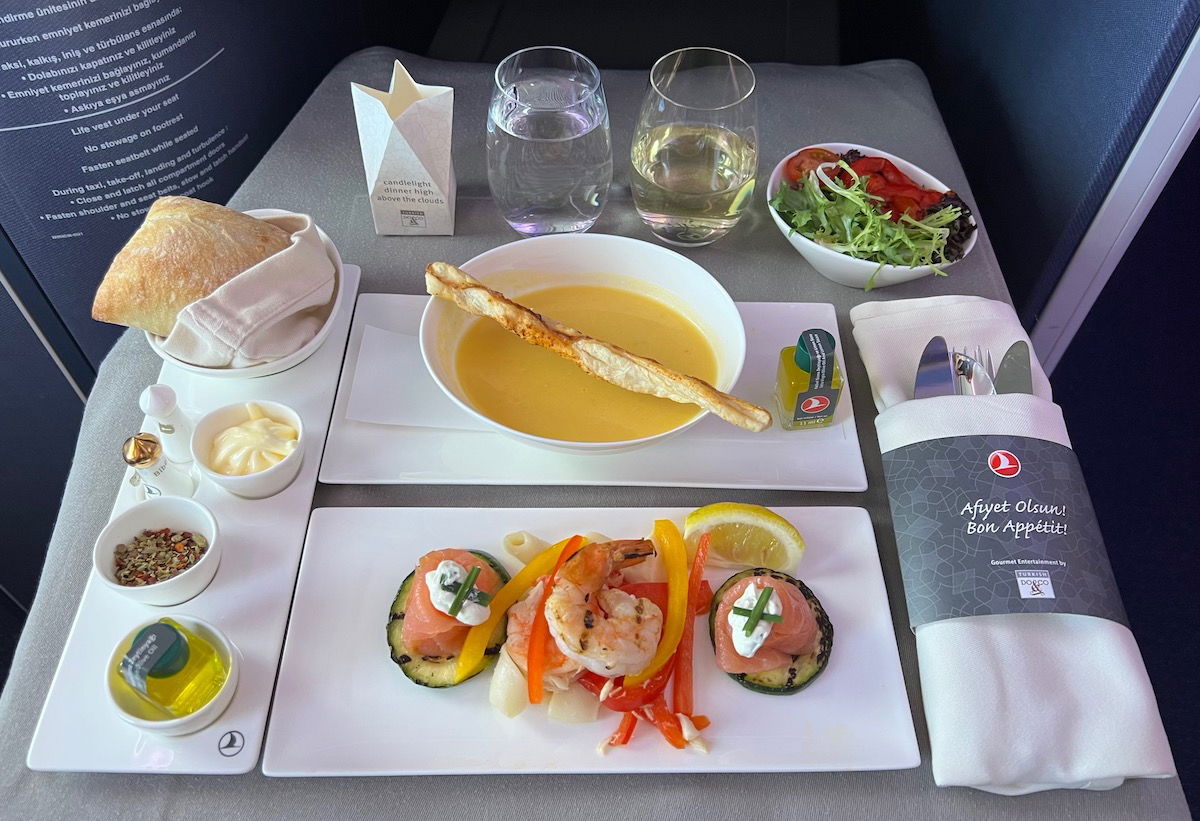 For my main course, I selected the fillet of red snapper, which has to be one of the best fish dishes I've ever had on a plane. I mean, look at that attention to detail, from the cute salt and pepper shakers, to the fish knife, to the "candle."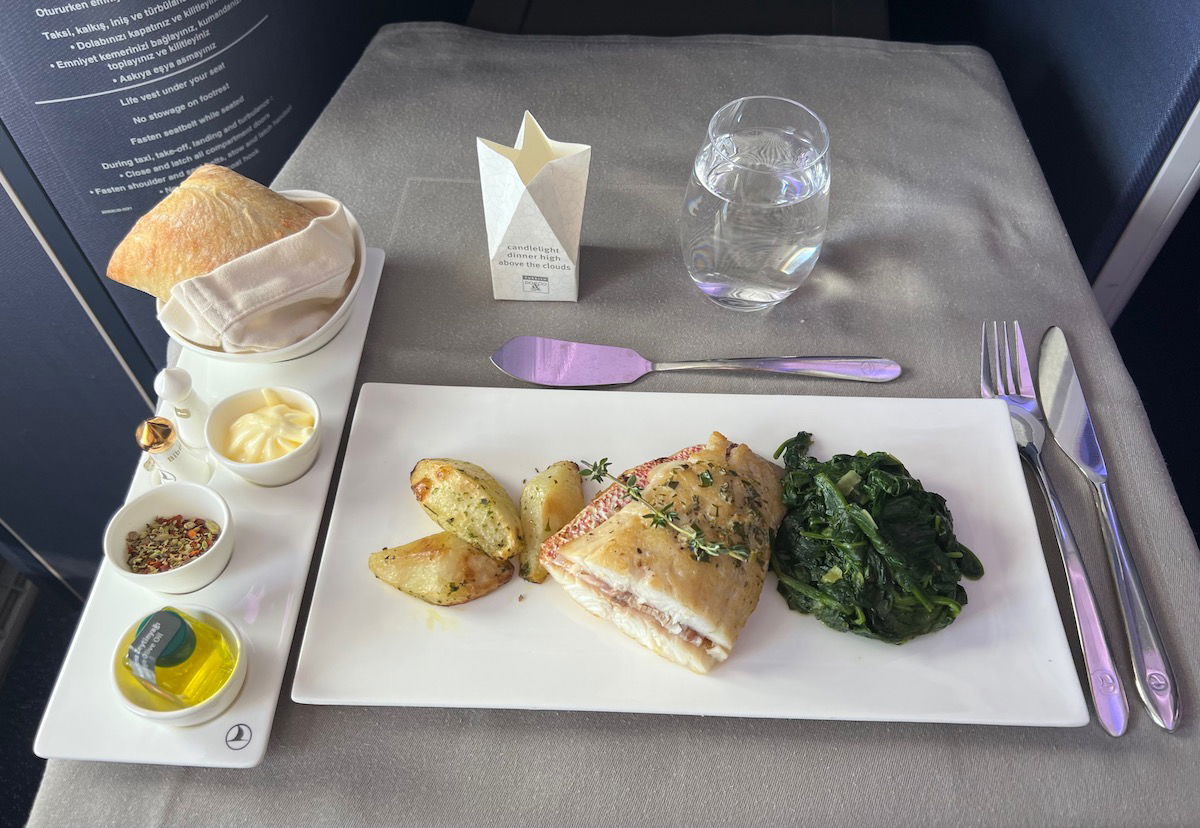 Lastly, for dessert was a tasty cheese plate, some Turkish sweets, and some tea.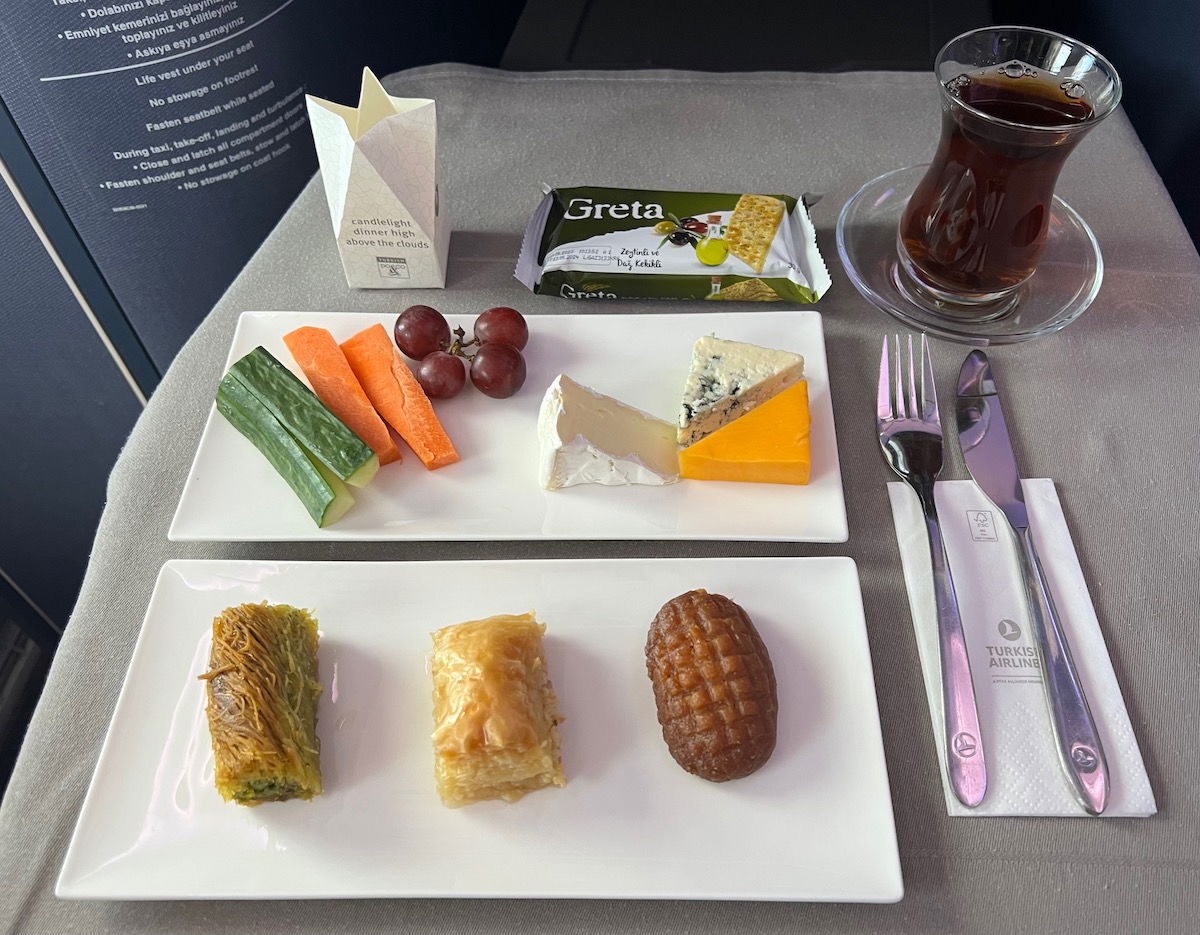 Perhaps this is a controversial take, but in a way I appreciate how Turkish Airlines doesn't offer a dine on demand concept. The airline has a really elaborate meal service, and then you can really rest interrupted. As much as I love airlines offering dine on demand, the constant smells, call buttons, sound of cutlery, and talking, can otherwise disturb rest.
Turkish puts so much effort into little details
Even beyond the excellent food, I appreciate how much effort Turkish puts into its soft product, as it doesn't go unnoticed.
Whether it's the very nice amenity kit with Salvatore Ferragamo products…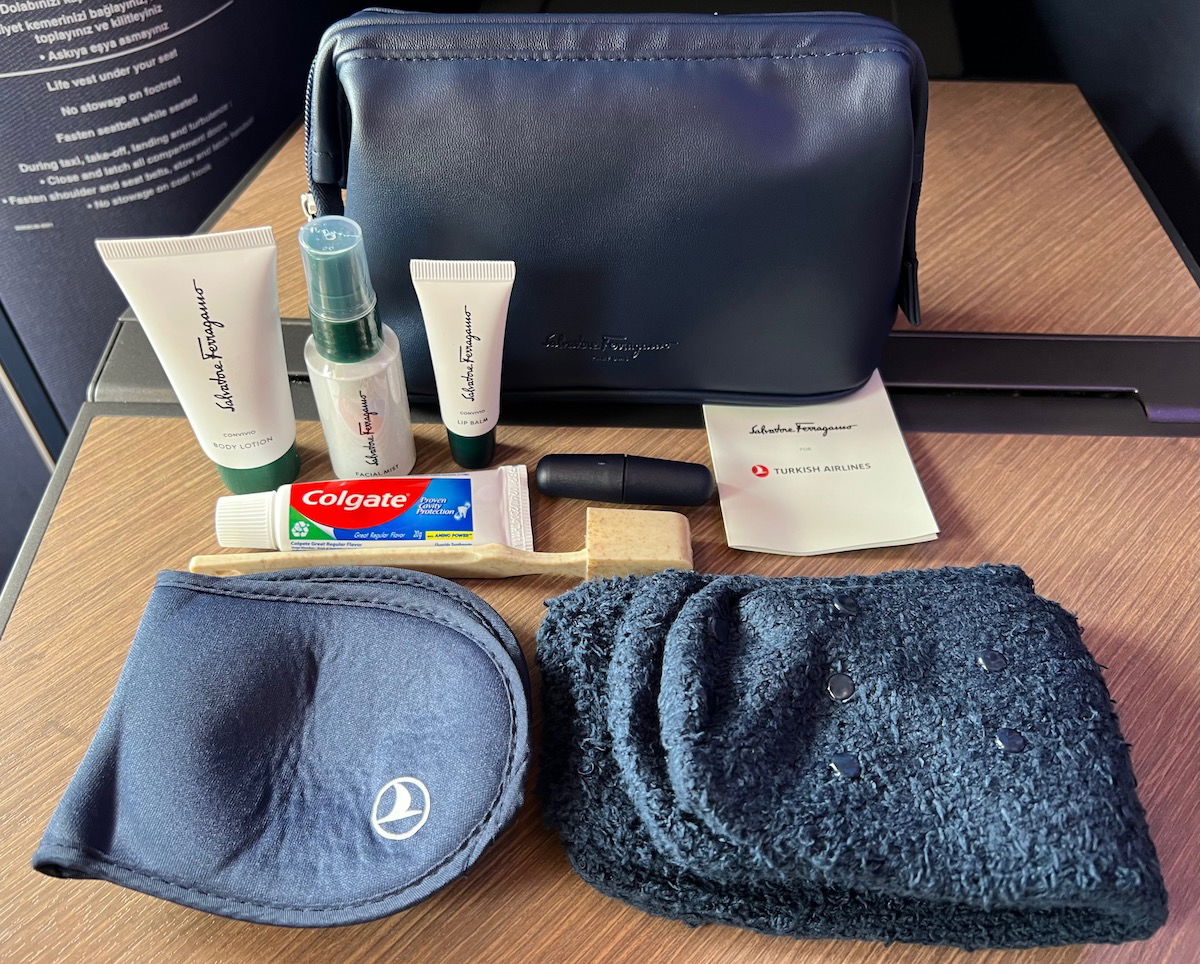 Or the complimentary Wi-Fi for business class passengers…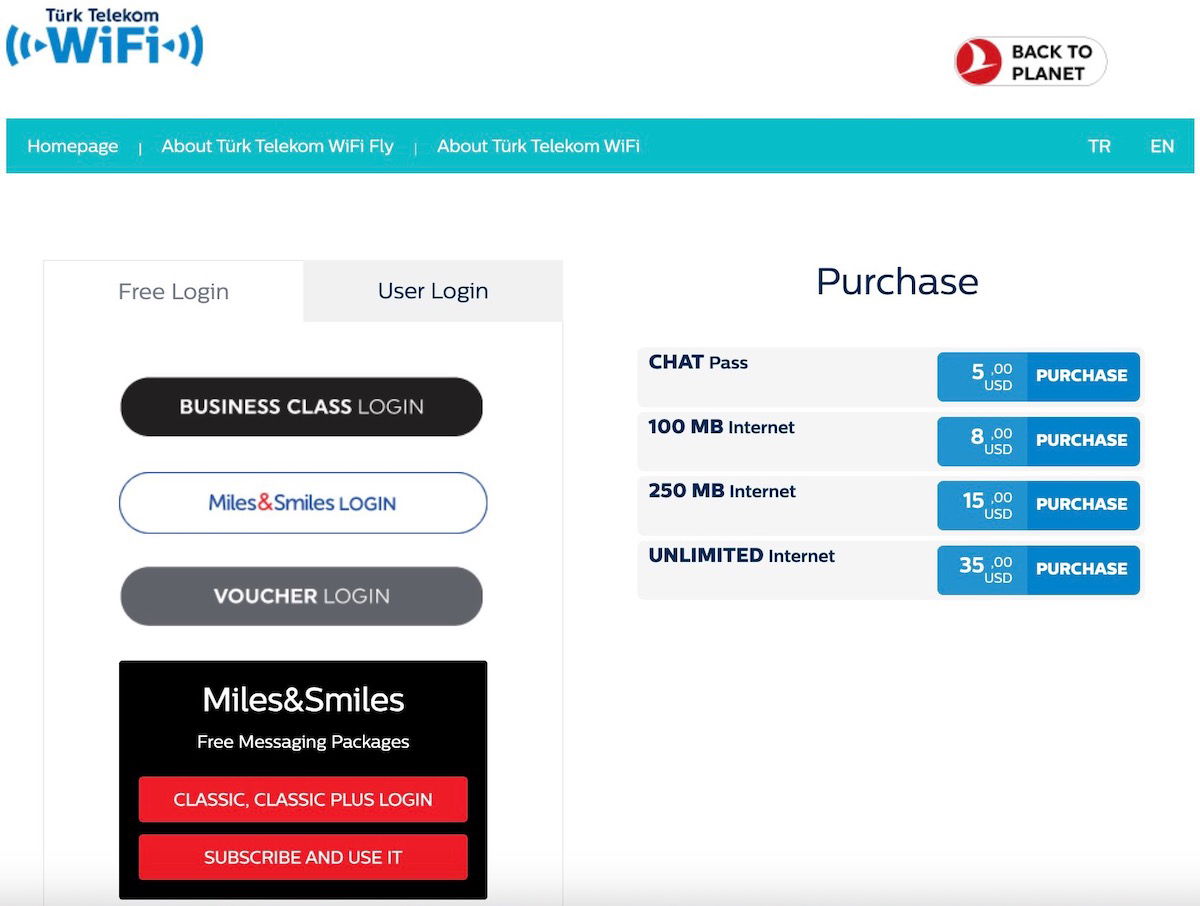 Or the Molton Brown amenities in the lavatories…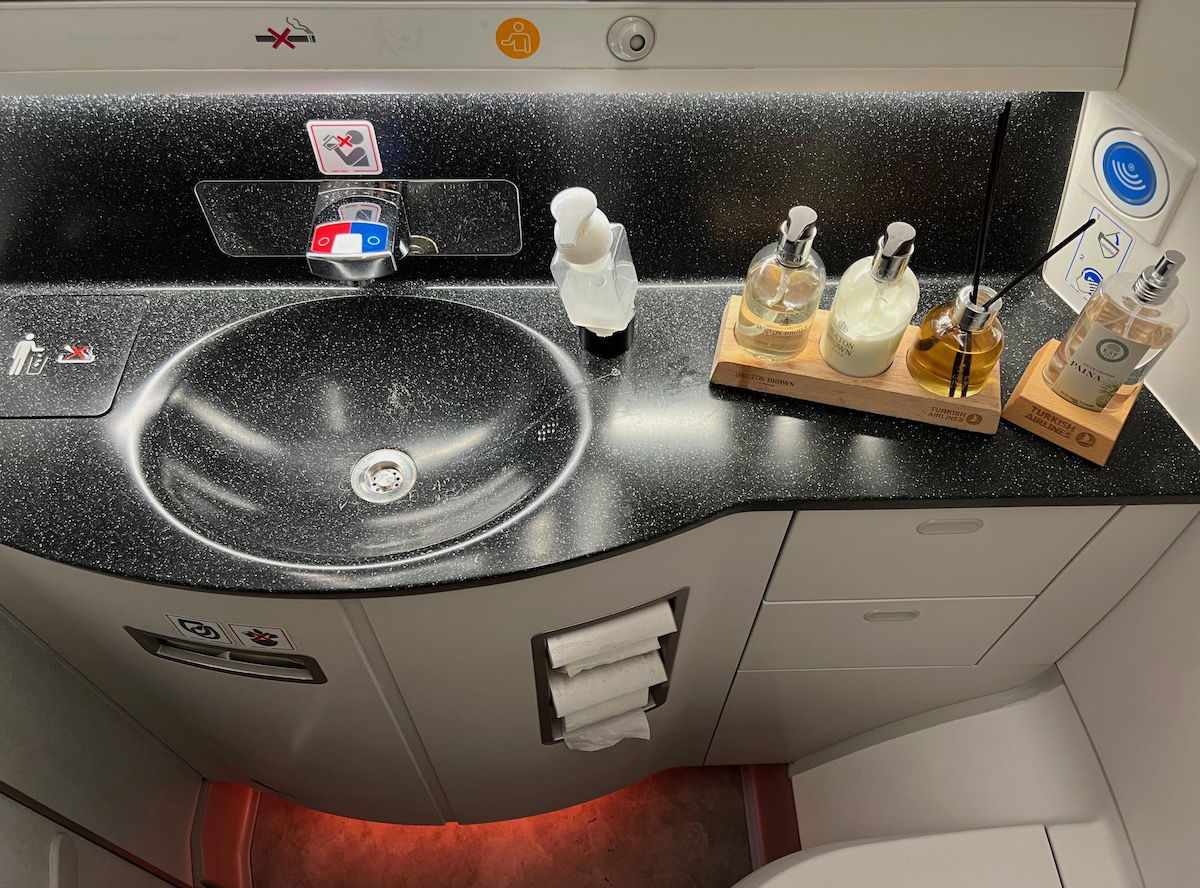 Or the tasty Turkish coffee and cappuccinos…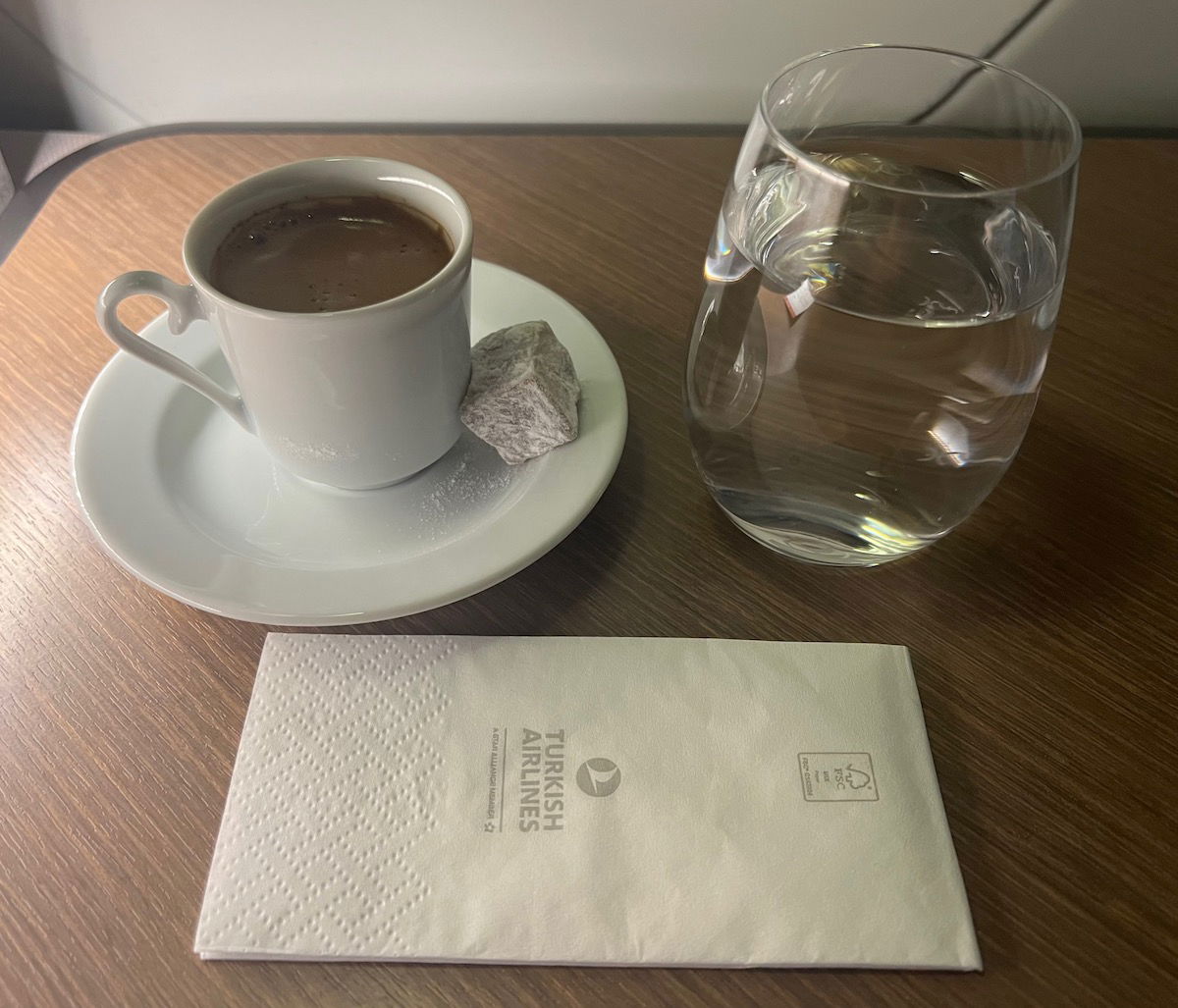 Or the excellent turndown service, where they even put a pillowcase on your pillow…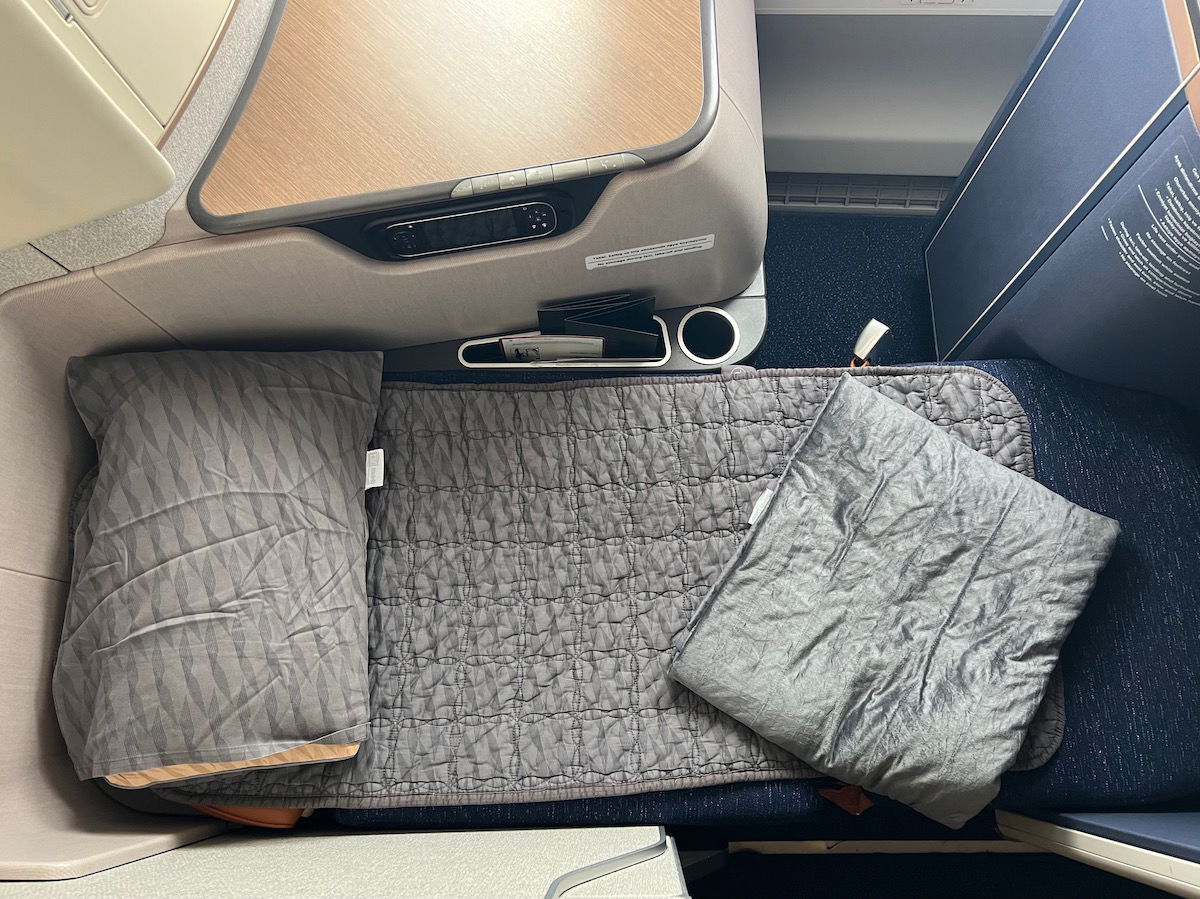 …Turkish just really puts a lot of thought and effort into the passenger experience.
I'm a huge fan of Turkish's genuine hospitality and service
I think often people are confused by why I like Turkish Airlines so much. For me, a big part of it is the people. Turkey is an incredible country, with such rich history and culture, so much to see, amazing food, and genuinely hospitable people (and let me clarify that I think it's important to separate the people from the government).
I'm not sure how exactly to describe what impresses me so much about service on Turkish Airlines, but let me try. When you think of airlines traditionally known for amazing service:
Obviously All Nippon Airways and Japan Airlines have amazing service, but that's because Japan is a one-of-a-kind place, and you get amazing service there even at a fast food joint
Singapore Airlines also has incredible service, but Singapore is a small country with a generally great service culture
Other than those airlines, I can't think of another airline where you get such hospitable service a high percentage of the time from people who are actually from that country, rather than imported labor (as you'll find at the Gulf carriers).
It's not that the crews on Turkish Airlines fawn over you, fake smiles, and constantly address you by name, but there's something I appreciate about the generally high service standard. On a "bad" day, crews on Turkish are nice, but perhaps not all that attentive. On a good day, Turkish crews are ambassadors for their country, encourage you to try every dish on the menu because they want you to experience it, etc.
I've flown Turkish dozens of times over the years, and service has ranged from good to exceptional. I've never had bad service on the airline, and there aren't many carriers I can say that about.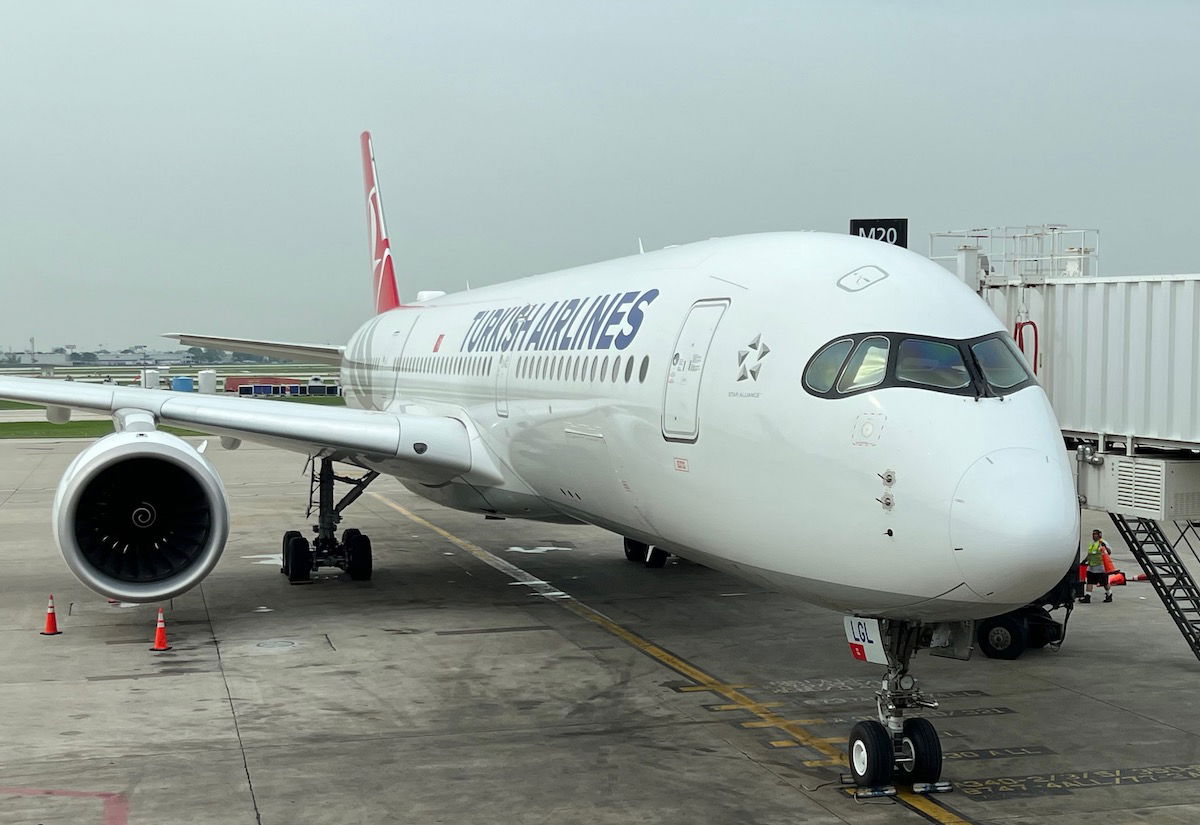 Bottom line
Turkish Airlines' ex-Aeroflot Airbus A350s offer a heck of a business class experience. These are some of the best seats that you'll find on any airline. When you add in Turkish's exceptional catering, amenities, free Wi-Fi, and friendly service, this is one of the world's most impressive business class experiences. What an absolute treat!
What do you make of Turkish Airlines' Airbus A350 business class?