I recently had the chance to fly the new Qatar Airways Boeing 787-9 business class suite from Milan to Doha. While I'll review the entire experience in a separate post, I wanted to first share my specific impressions about the cabin and seat.
What's interesting is that this is an all new business class seat type for which Qatar Airways is the launch customer, and we can soon expect this on other airlines as well.
Why did Qatar Airways introduce a new business class seat?
Qatar Airways is known for its incredible Qsuites business class product, which is regarded by many to be one of the best business class products in the world.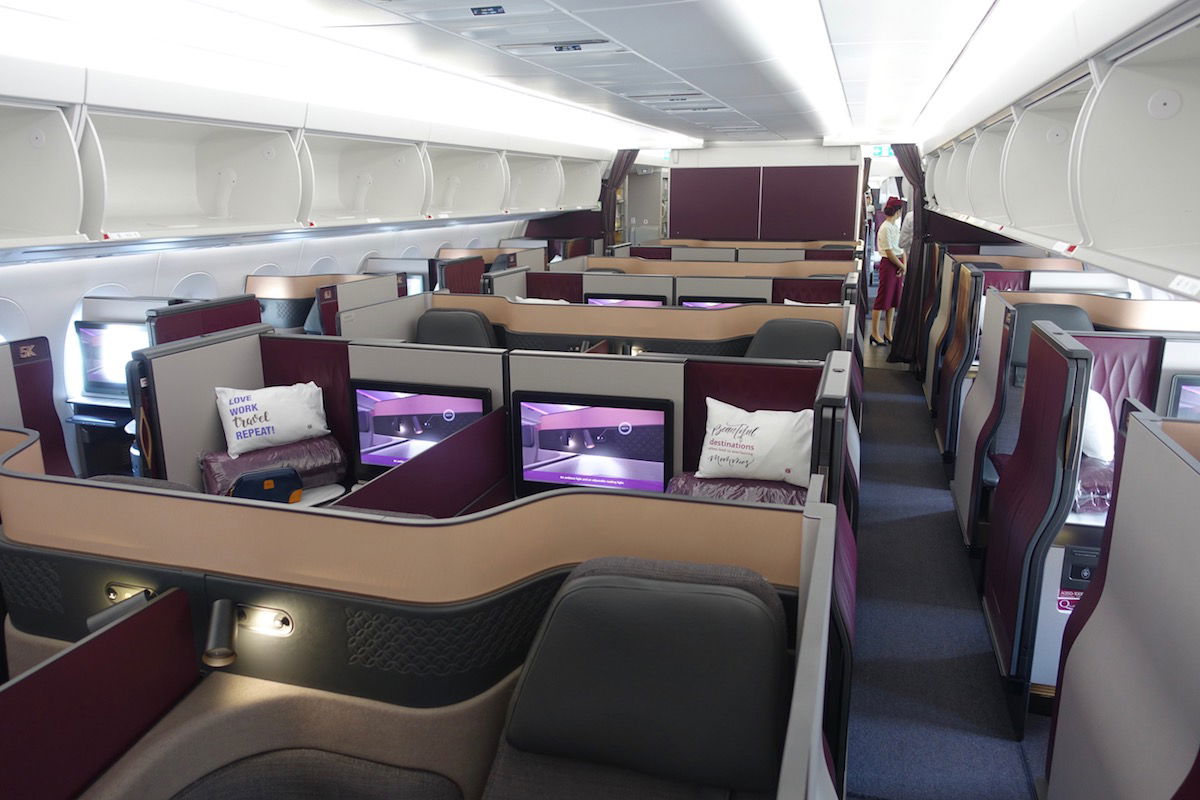 Qatar Airways recently started taking delivery of Boeing 787-9s, so why would the airline install an all new business class product, rather than Qsuites?
The reason is because the fuselage of the 787 is a bit narrower than that of the A350 and 777, and the 787 cabin allegedly isn't wide enough to have four Qsuites per row. The 787 cabin is only a few inches narrower than the A350 cabin, which is why this might come as a surprise to some.
So Qatar Airways decided to introduce a new business class seat on these planes. These seats are also allegedly lighter than Qsuites, which helps reduce fuel burn.
As of now we should only expect these seats to be installed on the 30 Boeing 787-9s than the carrier has on order. It's not expected that these seats will be installed on other aircraft, though who knows. Qatar Airways does have 30 Boeing 787-8s featuring standard reverse herringbone seats, so I wouldn't be surprised if those planes eventually get these new seats (but that hasn't been confirmed).
What's Qatar Airways' new 787-9 business class seat like?
Qatar Airways' Boeing 787-9s have 30 business class suites, each featuring direct aisle access and a door. The business class cabin takes up the entire space between doors one and two, and there's even a spacious entryway as you enter through the second door.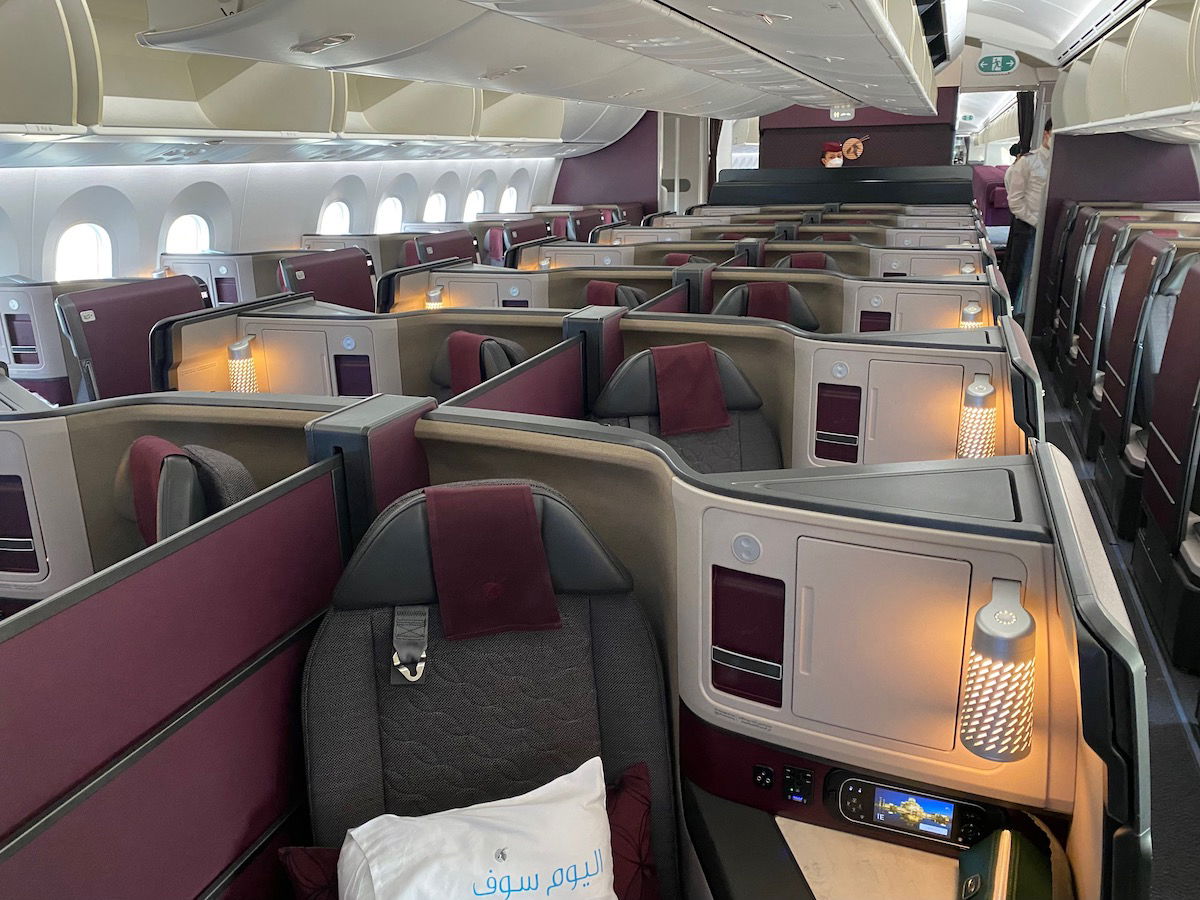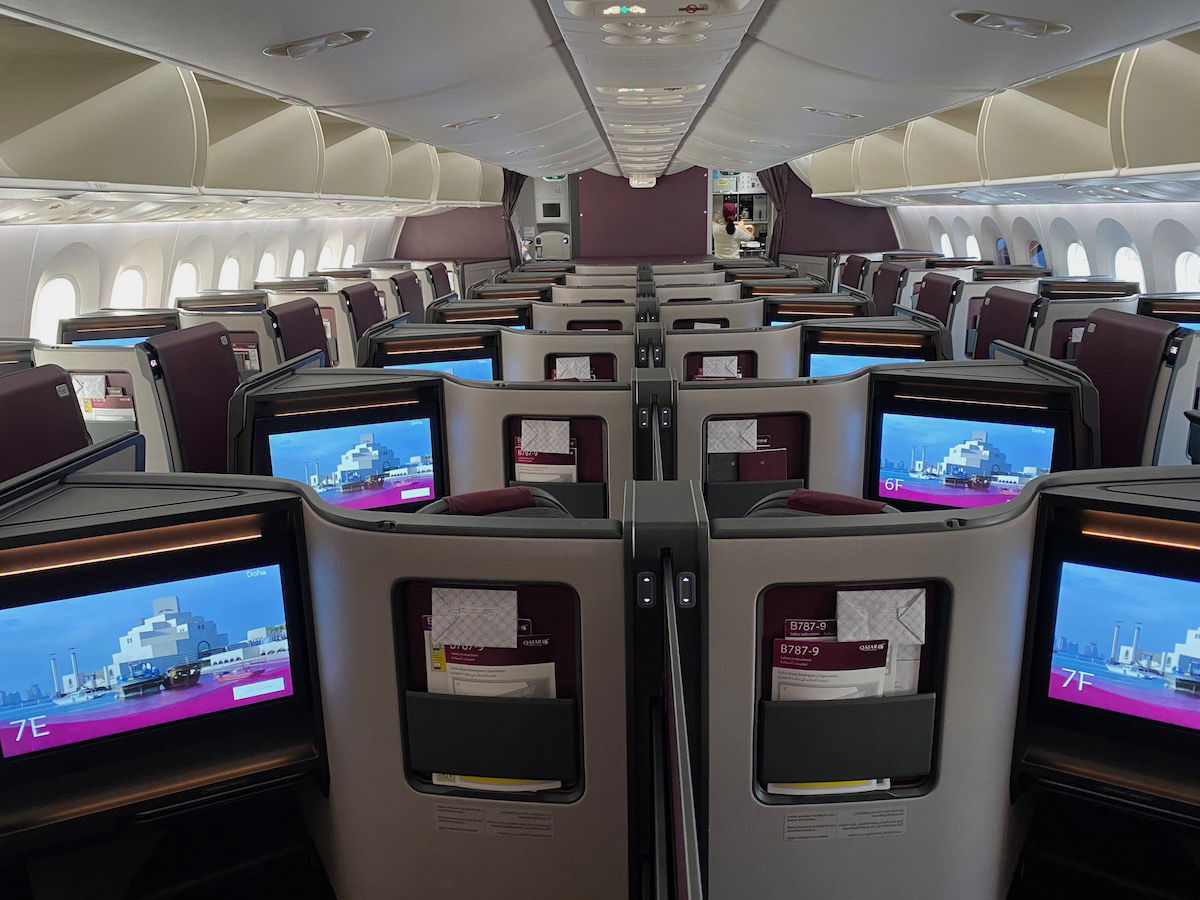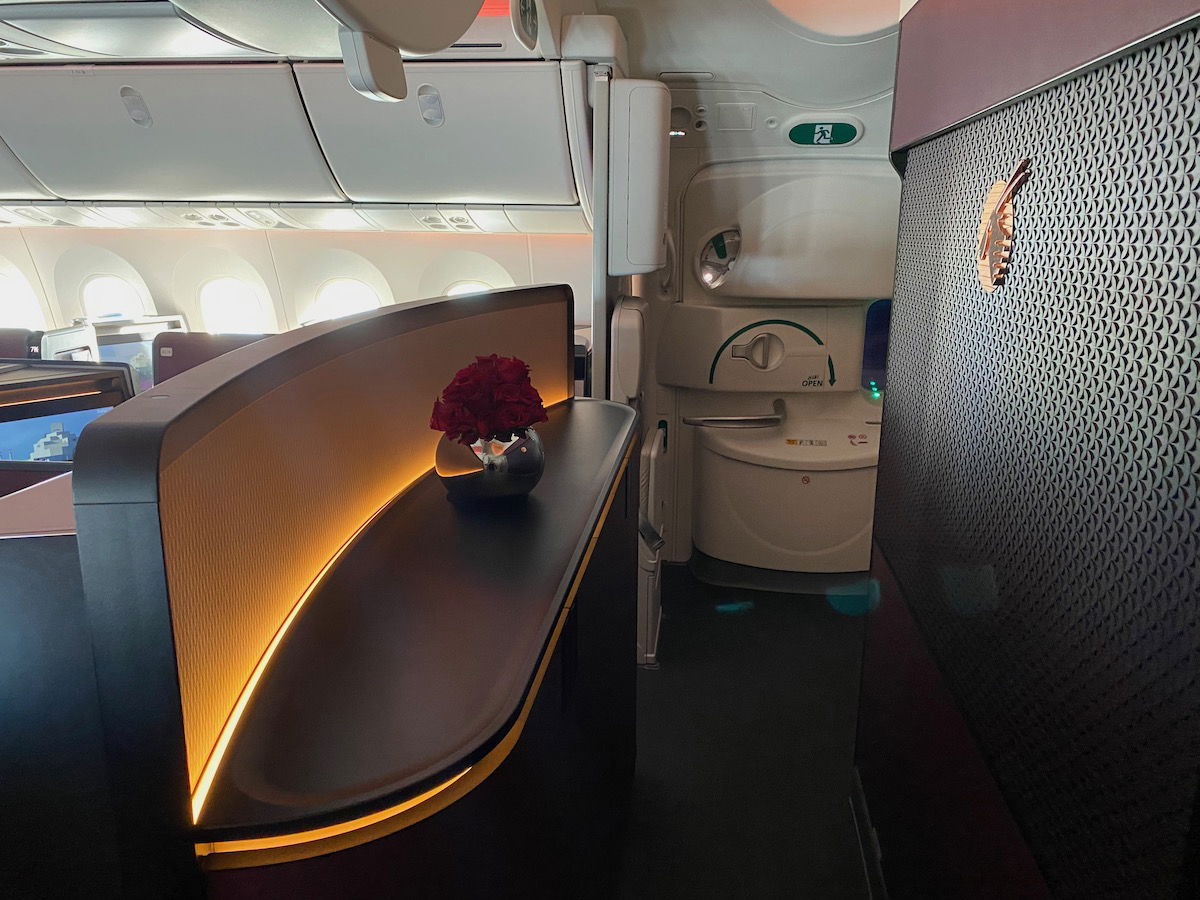 I think I'd mostly closely compare Qatar Airways' new business class to a hybrid of British Airways' A350 Club Suites and Virgin Atlantic's A350 Upper Class, only better. The cabin is in both a reverse herringbone and herringbone configuration.
Seats along the windows are in a reverse herringbone configuration, which is to say that they face the windows.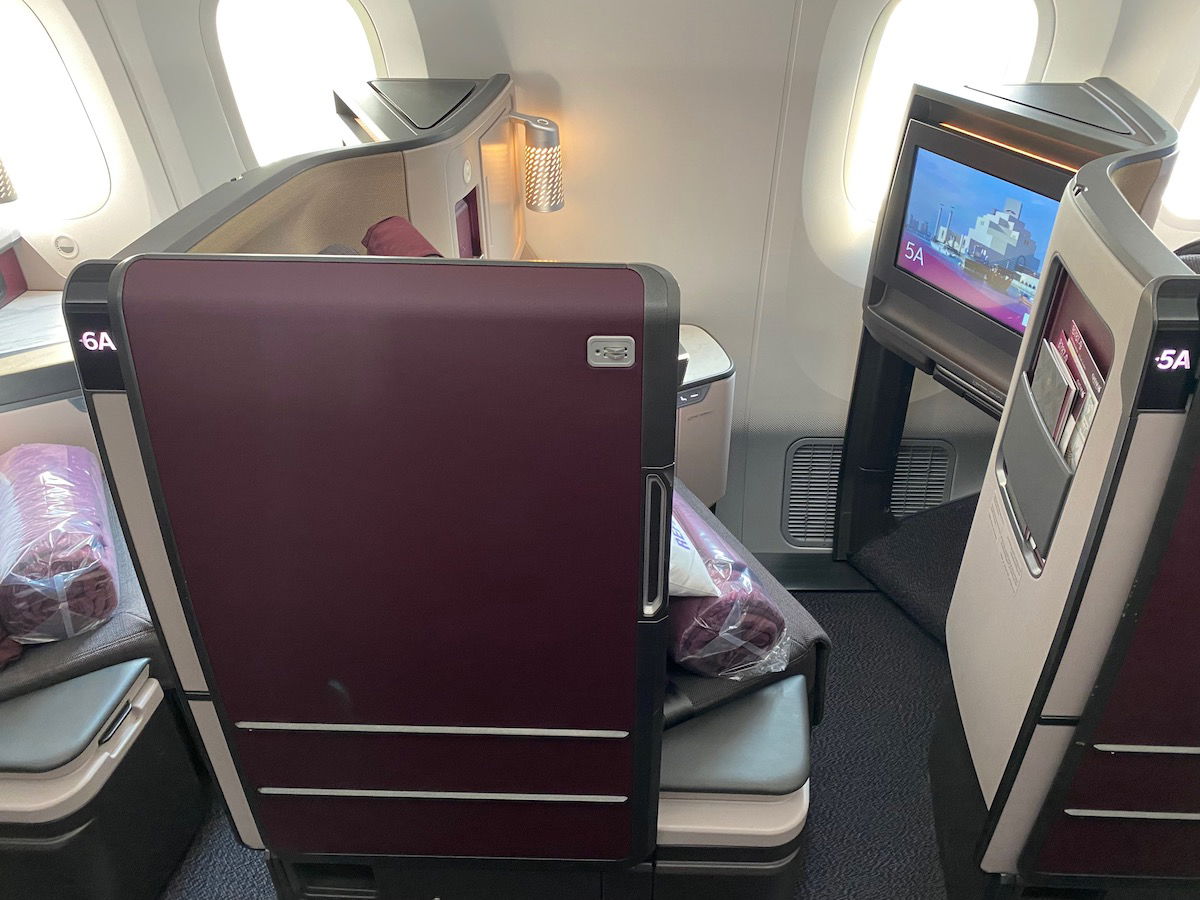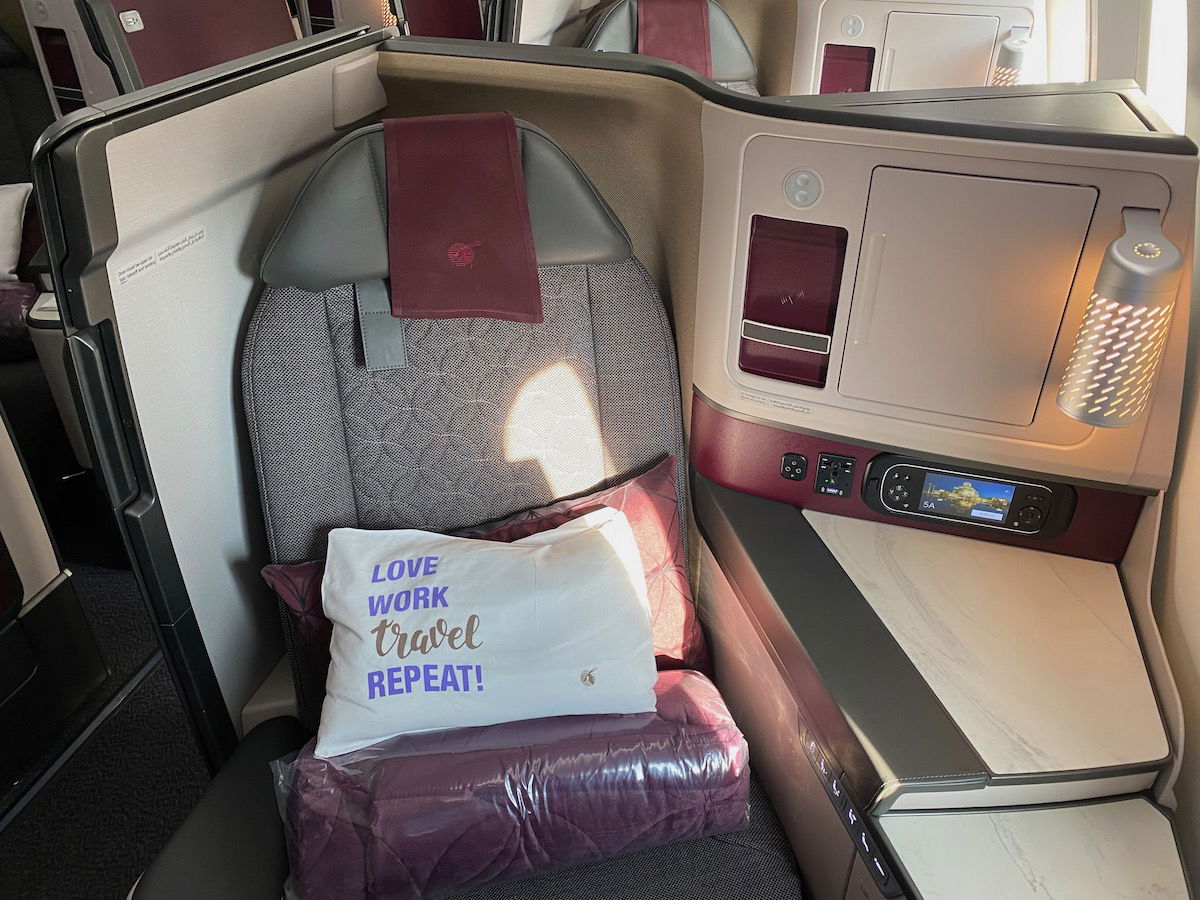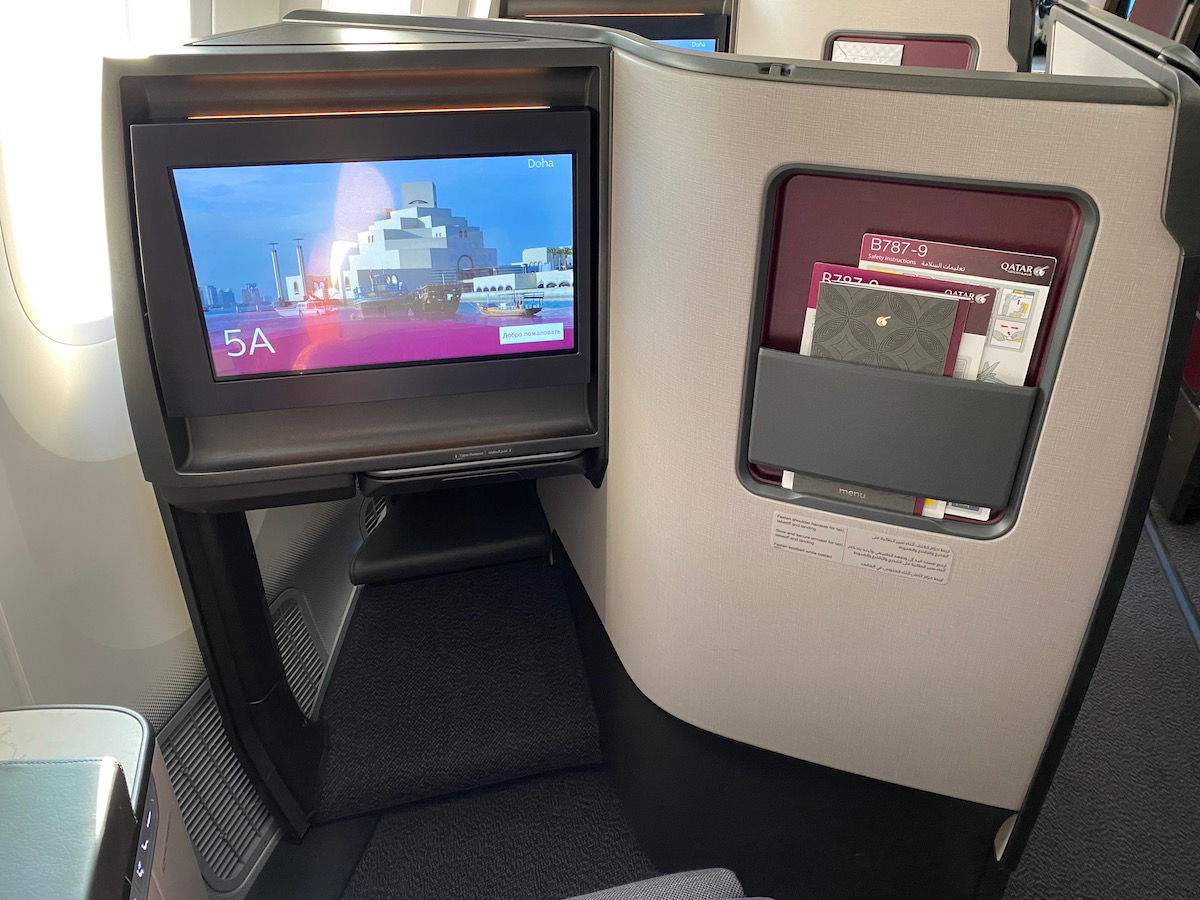 Meanwhile seats along the center are in a herringbone configuration, so they face the aisle and the two center seats face (slightly) away from one another.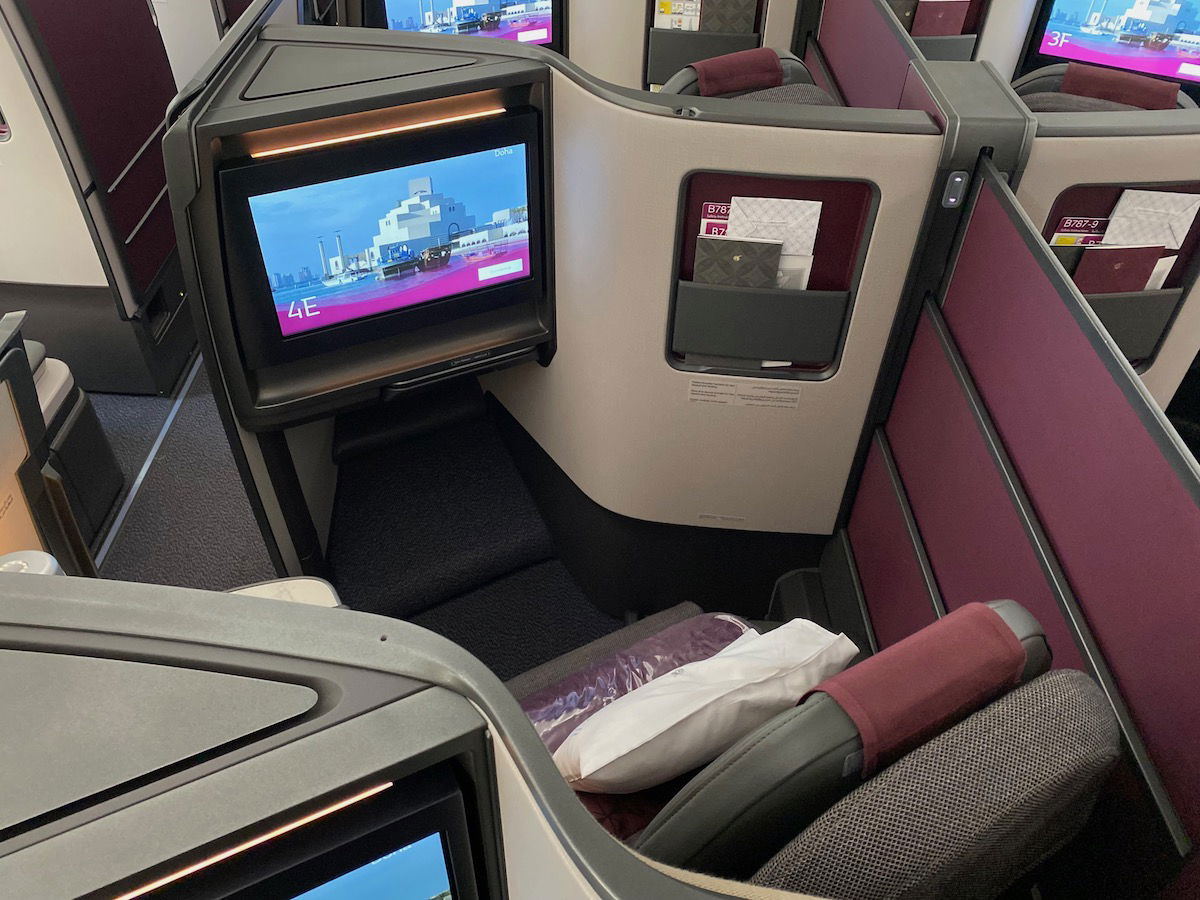 There's a very high privacy partition along the center seats, which is ideal if you're traveling alone. Fortunately that partition can also be lowered all the way, in the event that you're traveling with someone.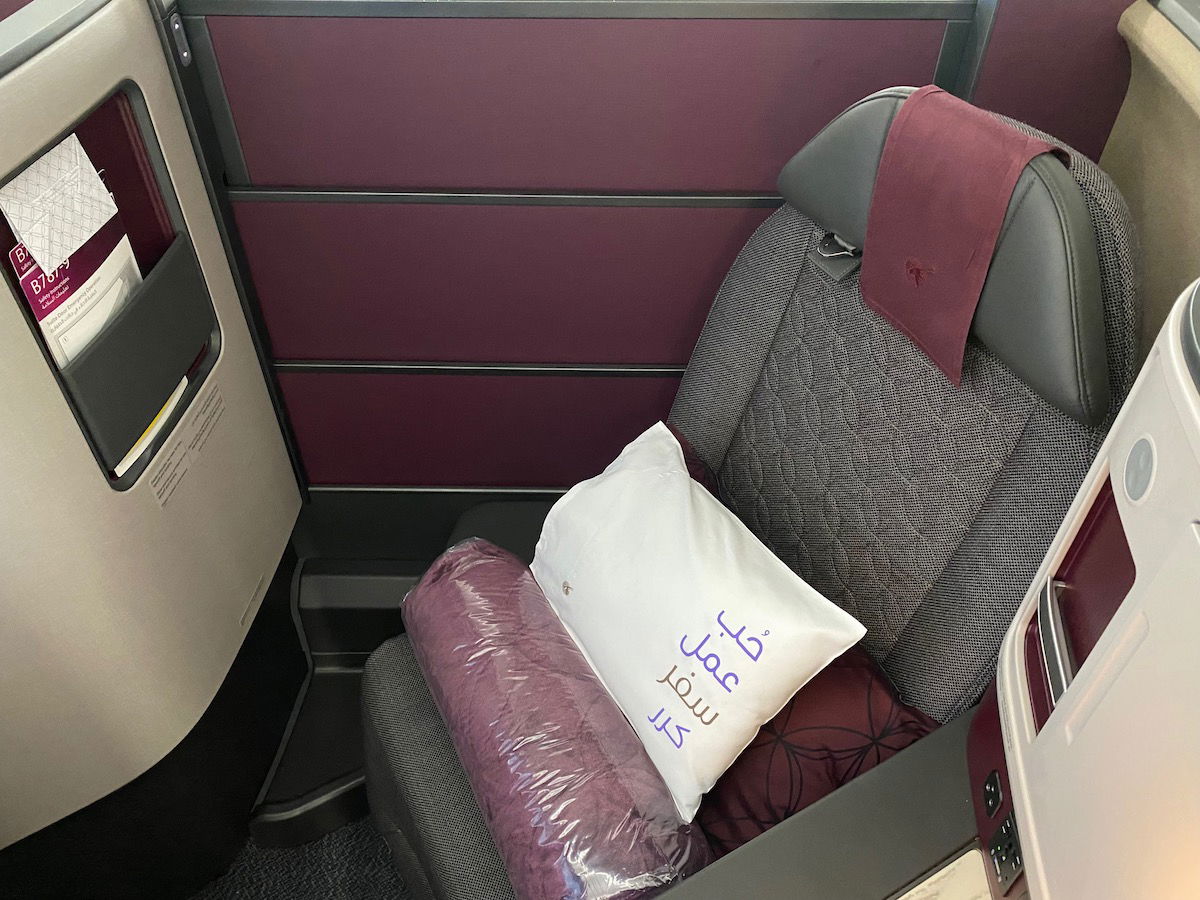 Each seat has a door, though the door doesn't quite close all the way, much like you'll find on Delta's A350s, for example.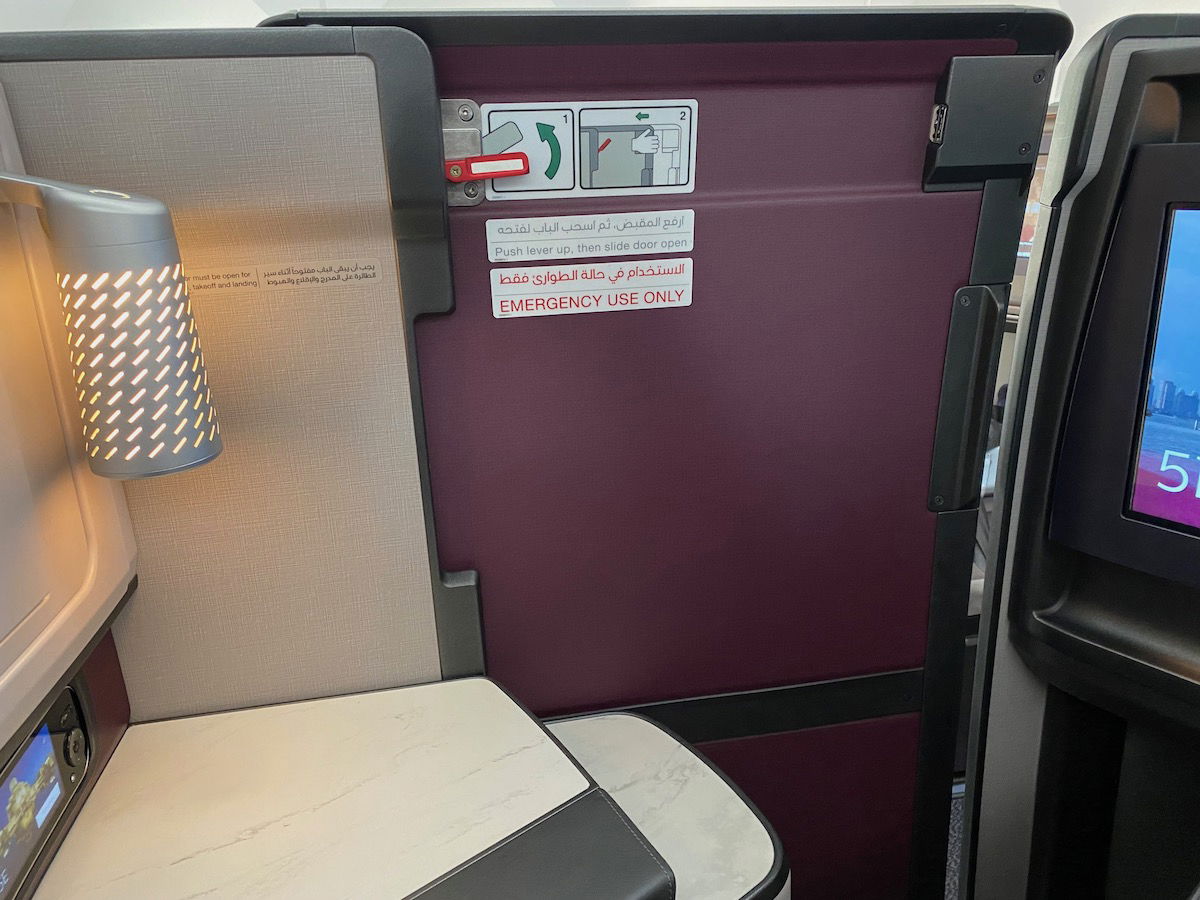 One thing Qatar Airways always does exceptionally well is attention to detail, and that applies here as well. The finishes are simply stunning and well thought out, from the beautiful lamp next to each seat, to the bluetooth audio, to wireless charging. Sometimes you see seats where you wonder if the person who designed them has ever actually flown in business class, and that's not a feeling I had with these seats.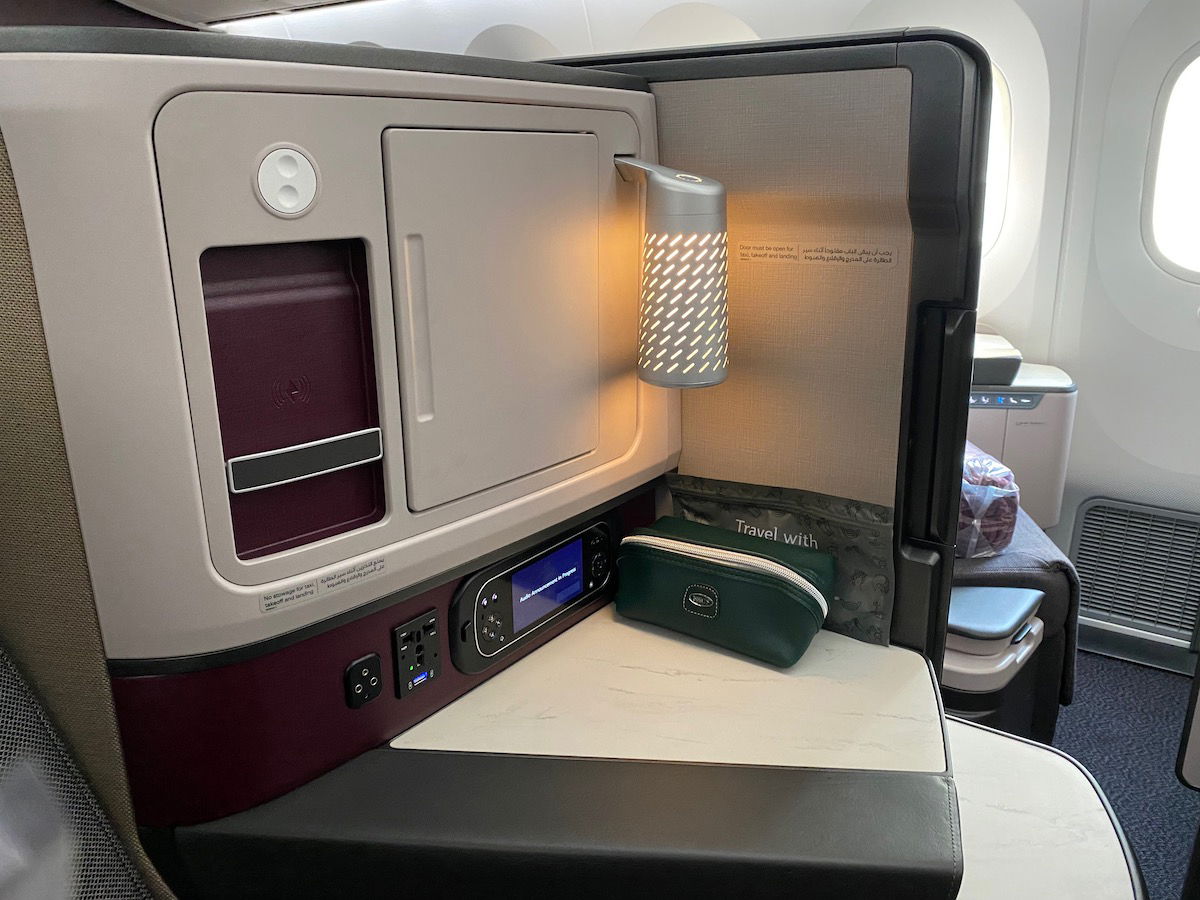 Much like with Qsuites, the tray table can be extended from in front of the seat, and is sturdy and well designed.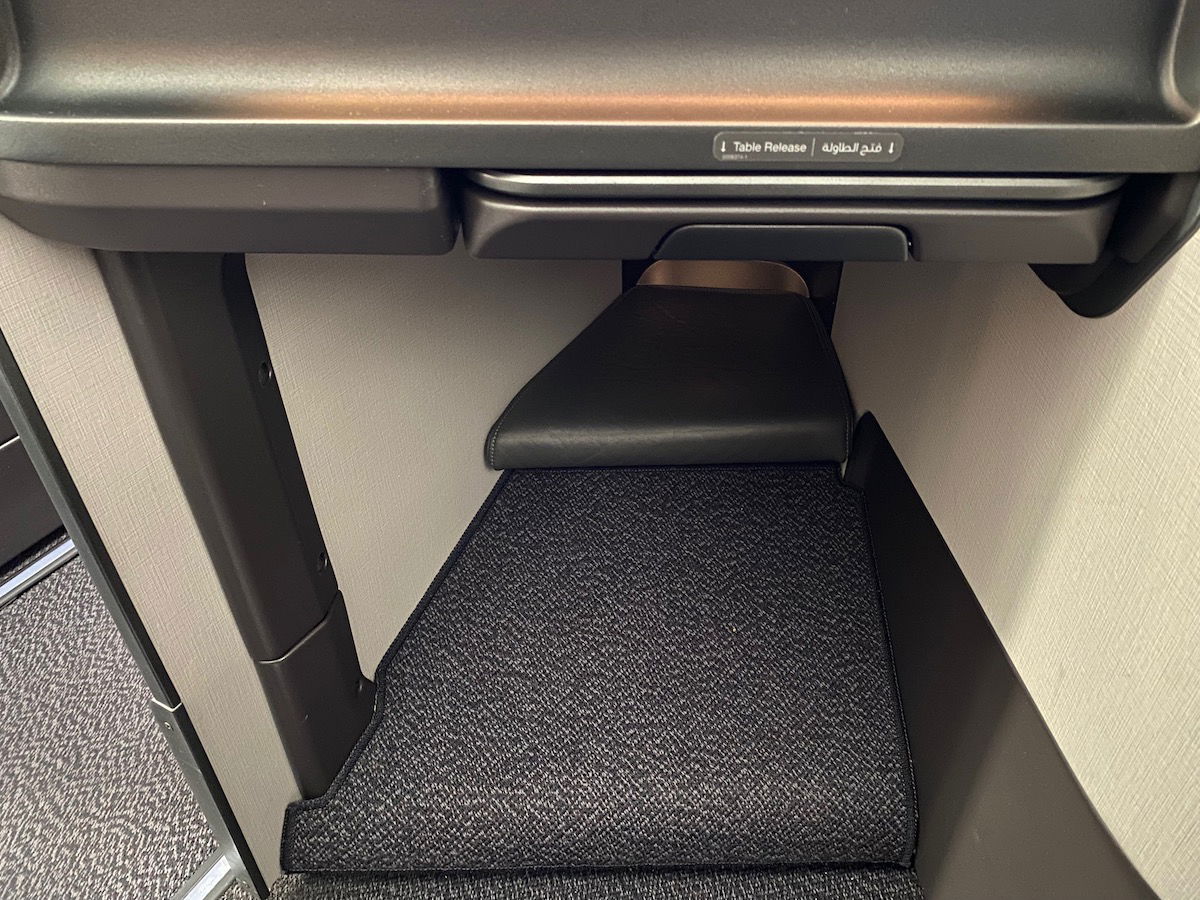 The one thing that's lacking with these seats is storage. There's a small storage compartment along the side of the seats that the headphones go into, but otherwise the seats don't have much storage.
In bed mode these seats are quite comfortable as well. I'd say they're most comparable to reverse herringbone seats in sleeping mode, though I found the seats to feel a bit less tight in the footwell than most reverse herringbone products out there, which is good.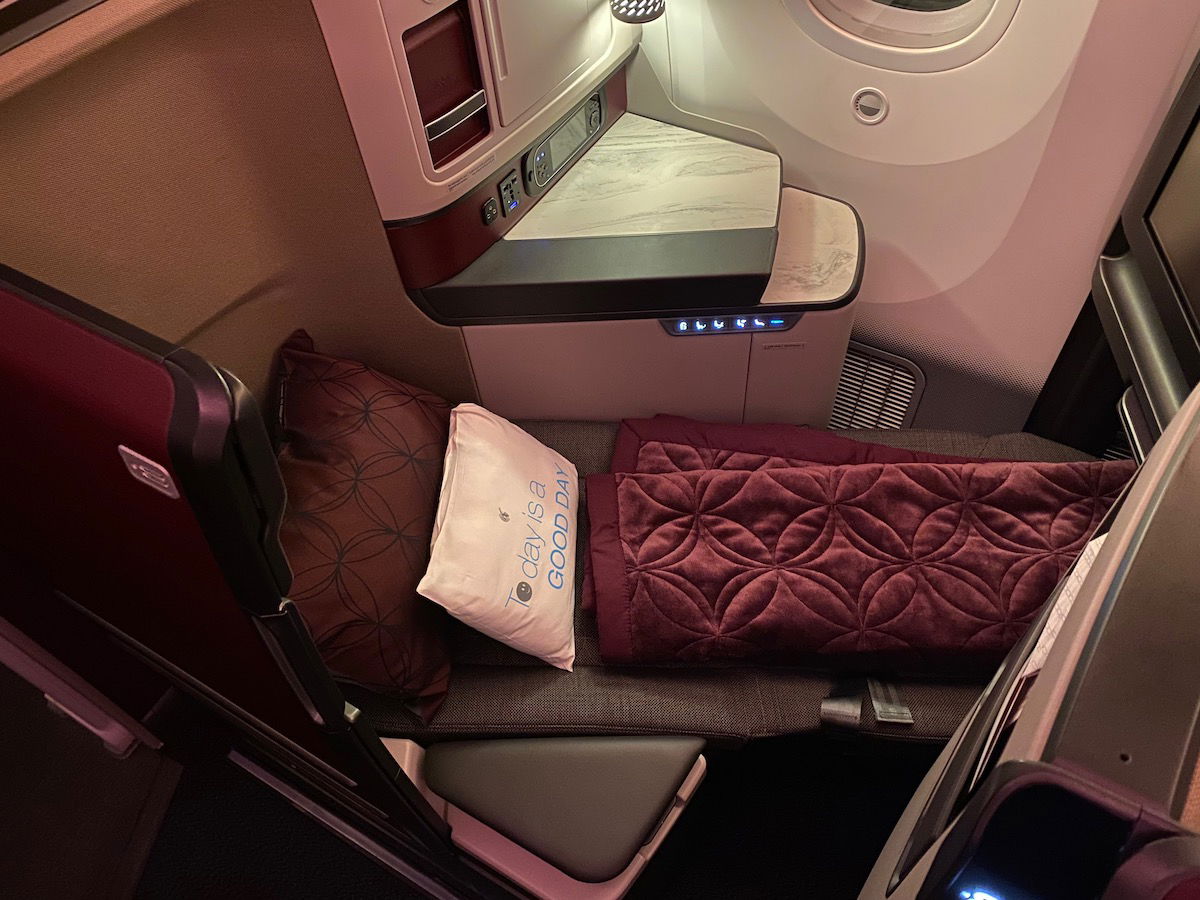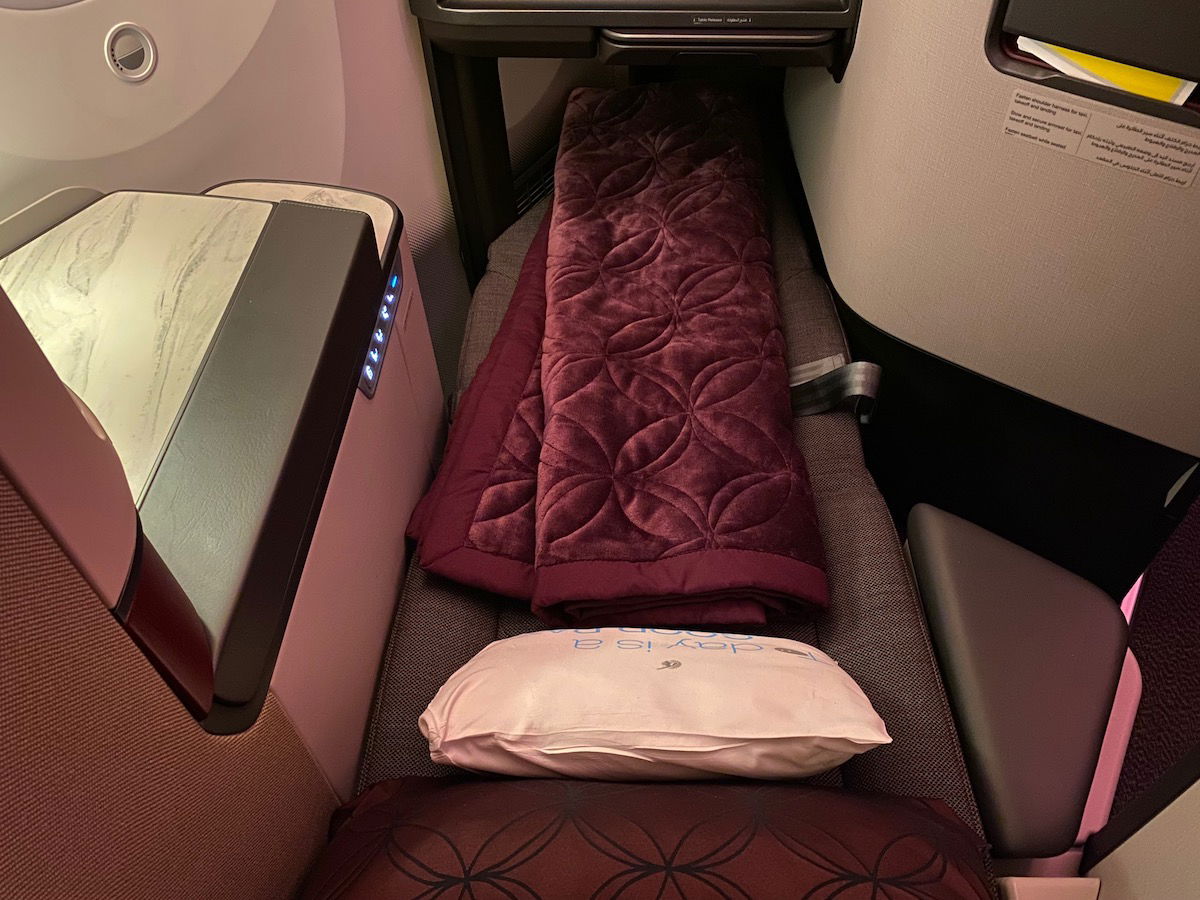 As mentioned above, a partition can be lowered by the center seats for those traveling together. However, unlike in Qsuites, don't expect a double bed. While you can fully lower the partition and have your heads next to one another, the seats otherwise angle away from one another.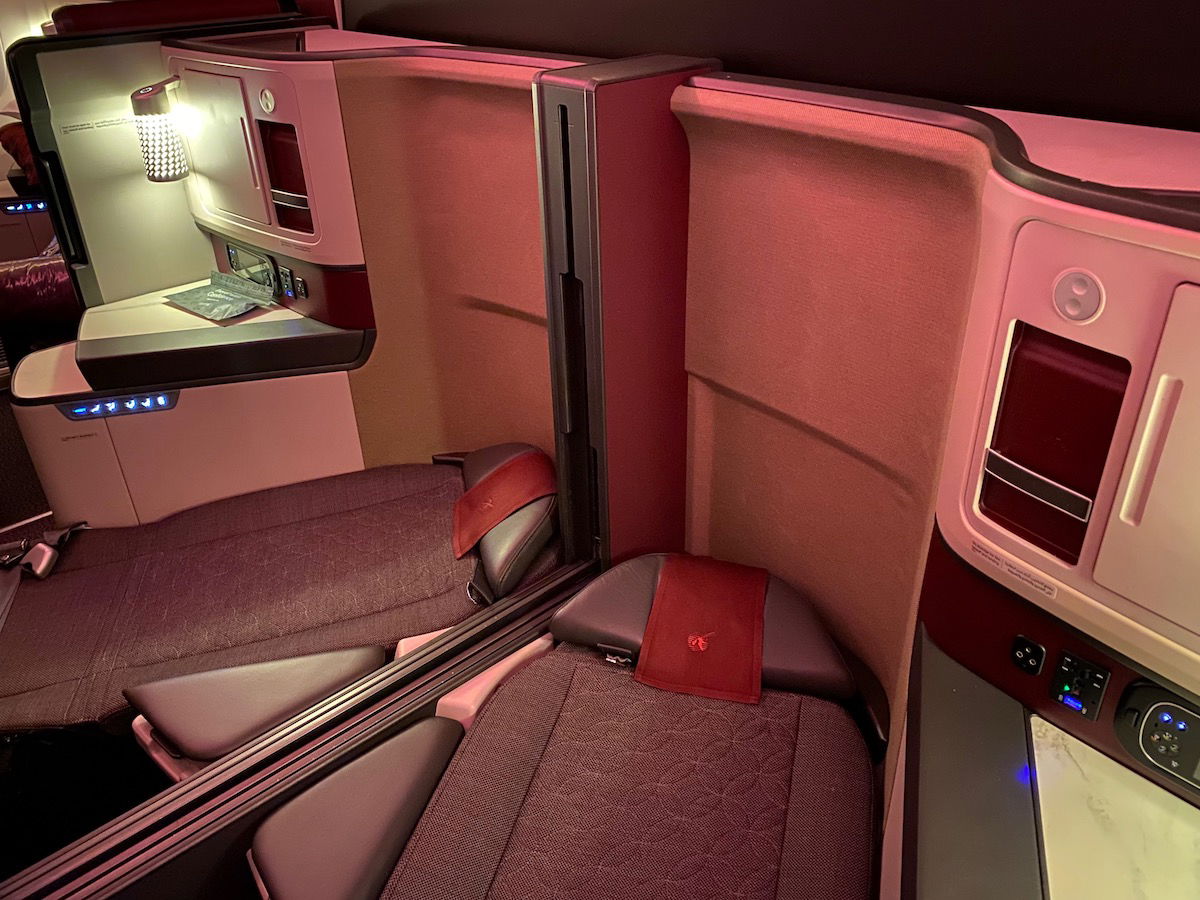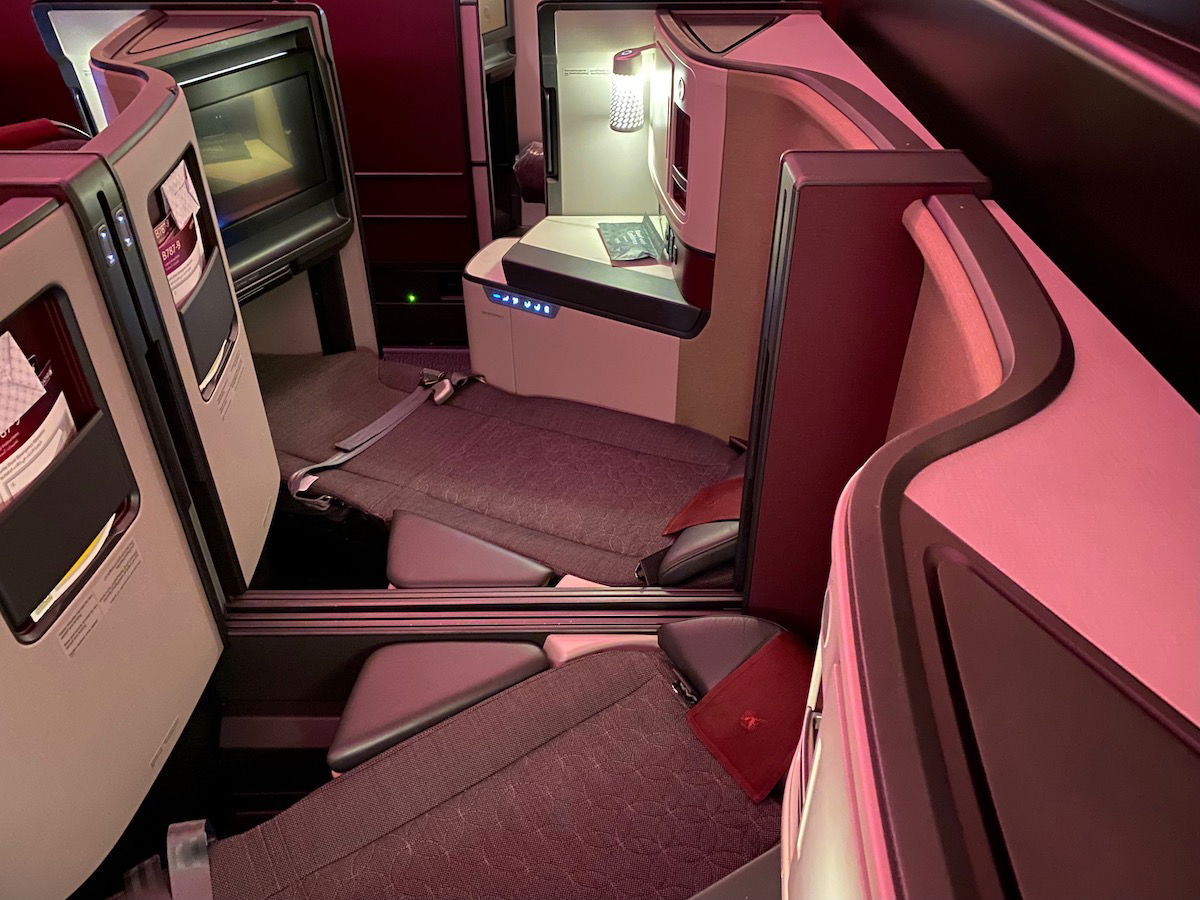 How does Qatar Airways' new business class compare to Qsuites?
Qatar Airways' new Boeing 787-9 business class is very good. I'd say it's probably the best Boeing 787 business class product out there. I probably prefer the window seats in Apex Suites, though realistically only one in three seats in business class will have that kind of space, while the others don't.
How does this product compare to Qatar Airways' Qsuites, though? Personally I'd say Qsuites is still a bit better. Ultimately that's a testament to Qatar Airways getting it right the first time around. There are a lot of similarities between the seats, so why do I prefer the original Qsuites?
Qsuites offers a more customizable seating arrangement — you can get a true double bed in the center seats, or even create a "pod" with four seats
Qsuites offers a larger storage compartment to the side of the seat, which isn't available with the new business class
The Qsuites door closes completely, so it offers a little more privacy
Interestingly as of now Qatar Airways isn't using 787-9s for any ultra long haul flights (even though the plane has the range), but rather exclusively for flights to Europe, Asia, and Africa. The aircraft is ultimately replacing other aircraft that primarily operated regionally, so maybe that'll continue to be the case. Talk about an amazing product for medium haul flights.
What other airlines will have Adient Ascent seats?
While the Qsuites product is exclusively available on Qatar Airways, the new 787-9 business class seat will be on other airlines as well. Specifically, Qatar Airways chose the Adient Ascent seat. We know that Hawaiian Airlines will have this on its Boeing 787-9s, and it's also rumored that American Airlines may introduce this as its new business class seat on future Boeing 787s.
One thing that makes the Adient Ascent seat unique is how customizable it is. I'm not just talking about the finishes, but rather the layout of the cabin as such can be modified significantly. For example, airlines can also select to have a more forward-facing configuration in the center. Hawaiian Airlines plans to do that, and have a double bed in alternating rows in the center section.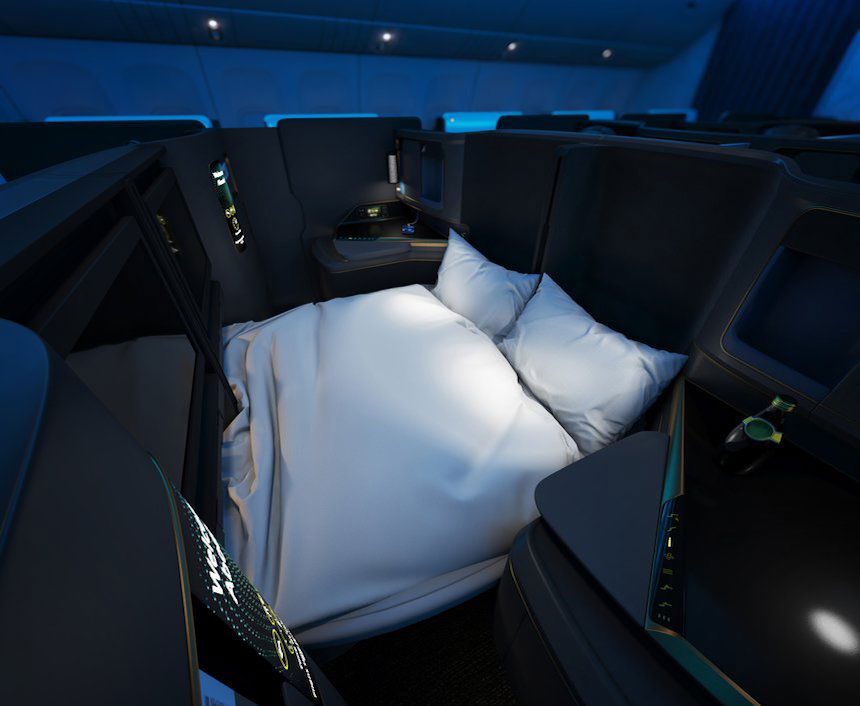 Bottom line
Qatar Airways has introduced a new business class product on its Boeing 787-9s, which is a customized version of the Adient Ascent seat. This is different than Qsuites, and the reason for this is that Qsuites was apparently too wide for the 787, and on top of that the new product is significantly lighter.
I had the chance to fly Qatar Airways' new Boeing 787-9 business class suite, and was impressed. The seat is comfortable, and the finishes are exceptionally well done, with impressive attention to detail. I do still have a preference for Qsuites, though, especially if traveling with someone.
Stay tuned, as I'll have a full review of my flight in the coming days.
What do you make of Qatar Airways' new Boeing 787-9 business class?