---
I had spent most of the day in the United Polaris Lounge prior to this flight (I had access because my flight from Tahiti landed the same morning). At around 6:30PM I headed from the G gates to the A gates in the International Terminal, which required clearing security again.
As a Qantas business class passenger I could have used the Cathay Pacific Lounge, though I decided not to check it out this time. My flight was departing from gate A11, at the very end of the terminal on the left.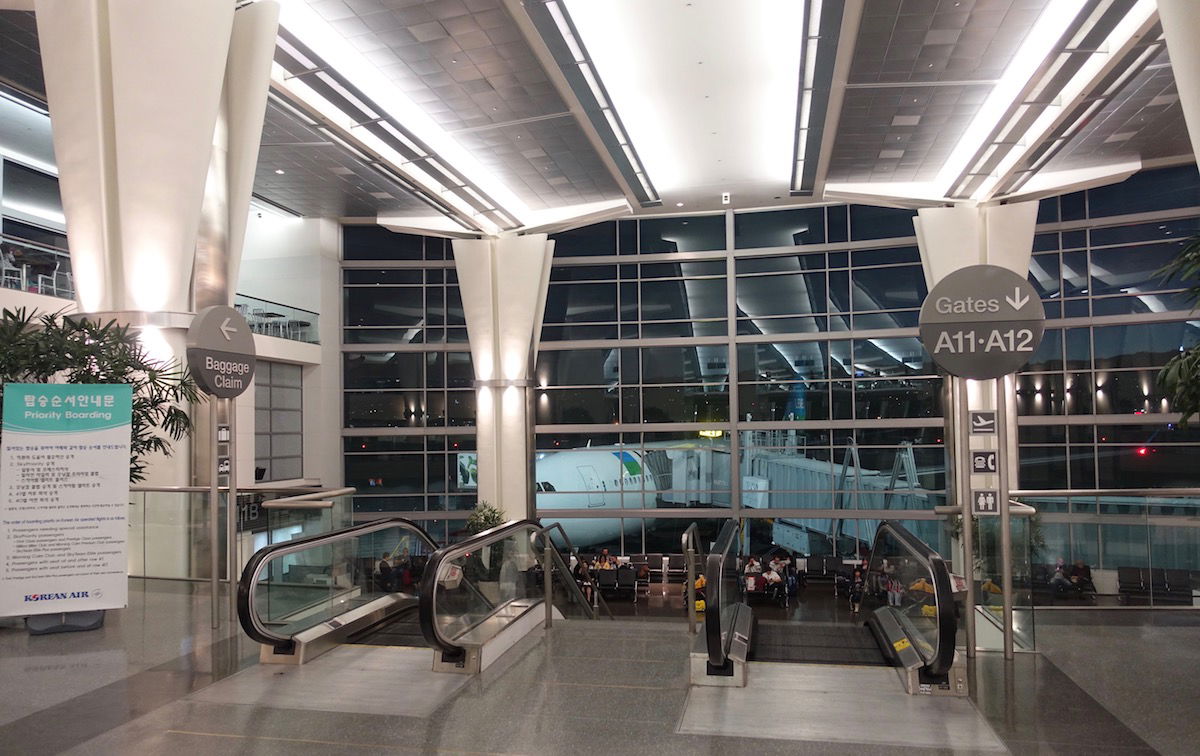 SFO International Terminal
Leaving from gate A12 was the LEVEL flight to Barcelona, and just about everyone lined up for that when boarding started, and the line snaked around to the Qantas gate.
The flight attendants boarded about 65 minutes before departure, and then 50 minutes before departure five(!!!) pilots boarded (one seemed to be very junior, and spent most of the flight in a business class seat).
Then boarding began at 7:30PM, 40 minutes before departure, with business class and oneworld elite members being called first.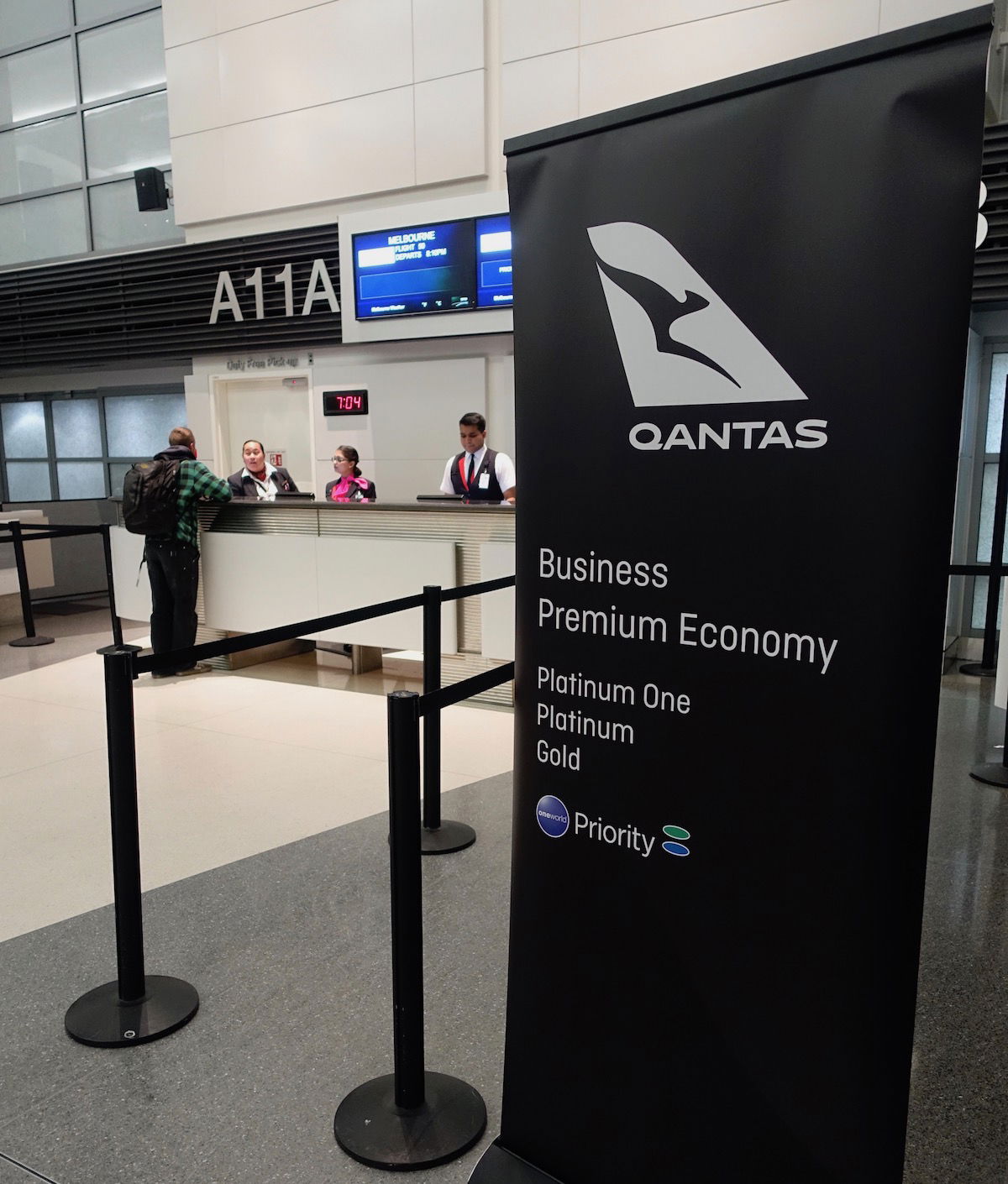 Qantas departure gate SFO
Qantas 50
San Francisco (SFO) – Melbourne (MEL)
Wednesday, December 12
Depart: 8:10PM
Arrive: 6:45AM (+2 days)
Duration: 15hr35min
Aircraft: Boeing 787-9
Seat: 12K (Business Class)
I was so excited to finally fly the Qantas 787-9 that I had heard so much about (or maybe the airline just really hyped the plane a lot).
Qantas' 787-9 has a total of 42 business class seats, based on Thompson Aero's Vantage XL seat. The forward cabin (between doors one and two) consists of 30 seats, while the rear cabin (where I was seated) consists of just 12 seats.
I chose a seat in the last row, since I figured it would be the quietest and would have the least foot traffic. It didn't disappoint, for the most part.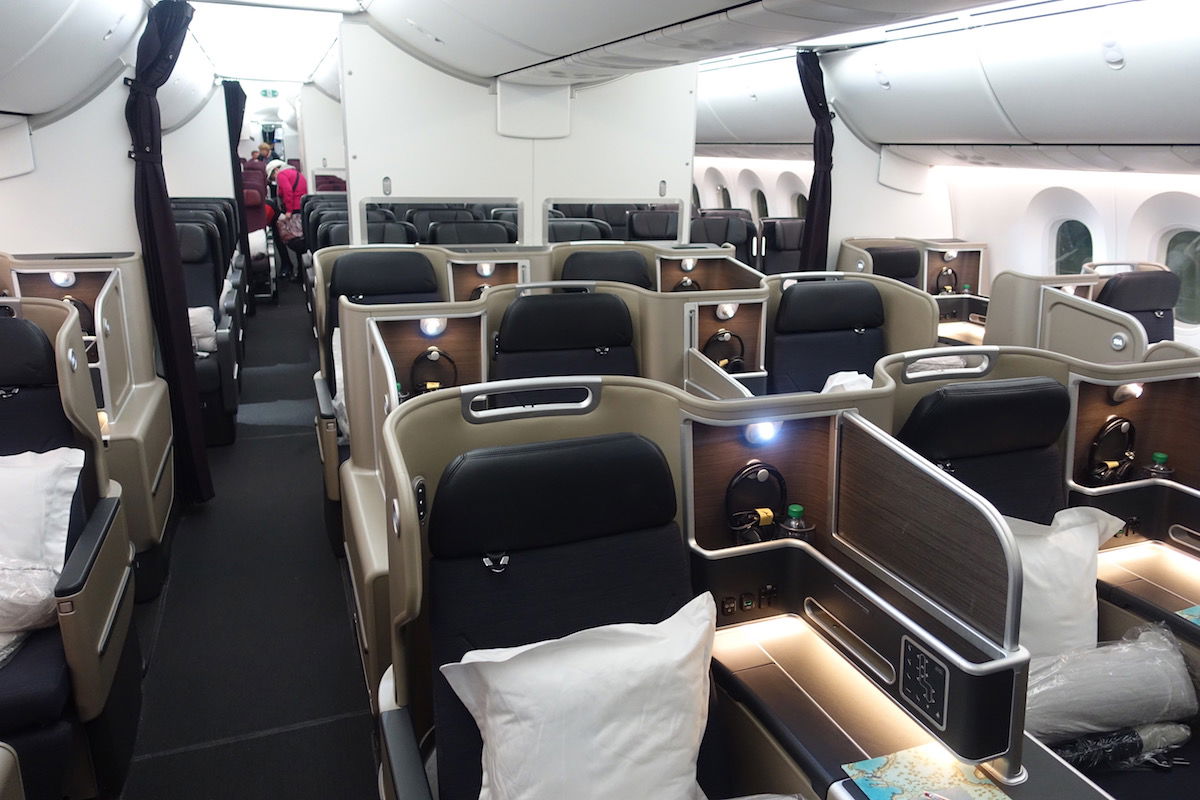 Qantas 787 business class cabin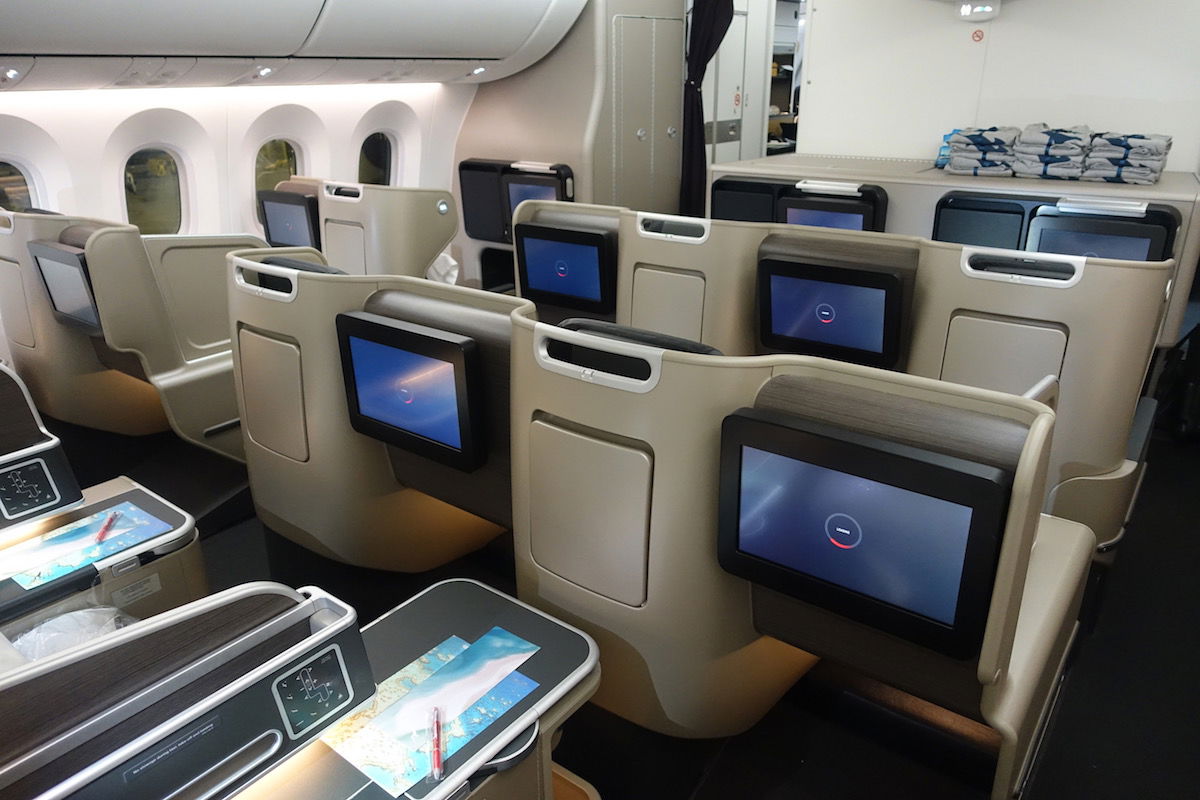 Qantas 787 business class cabin
As I walked back I also had a look at Qantas' premium economy cabin, consisting of 28 seats in a 2-3-2 configuration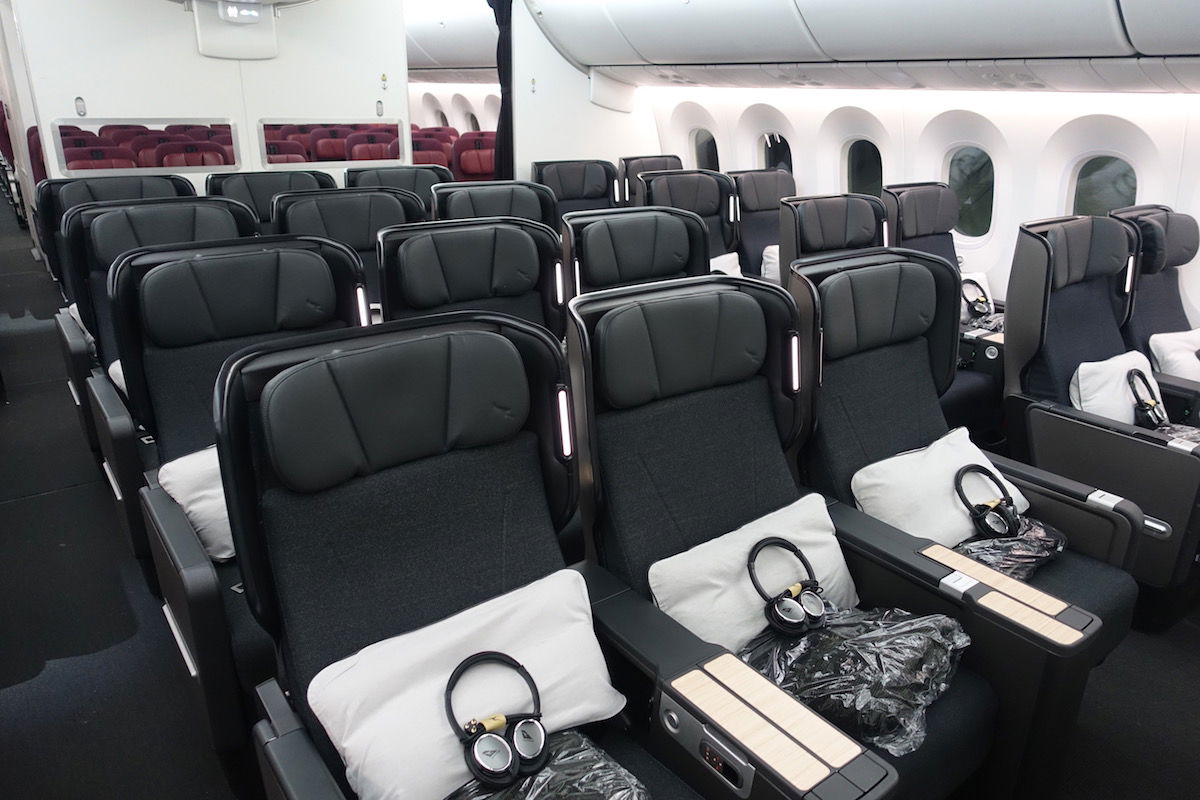 Qantas 787 premium economy cabin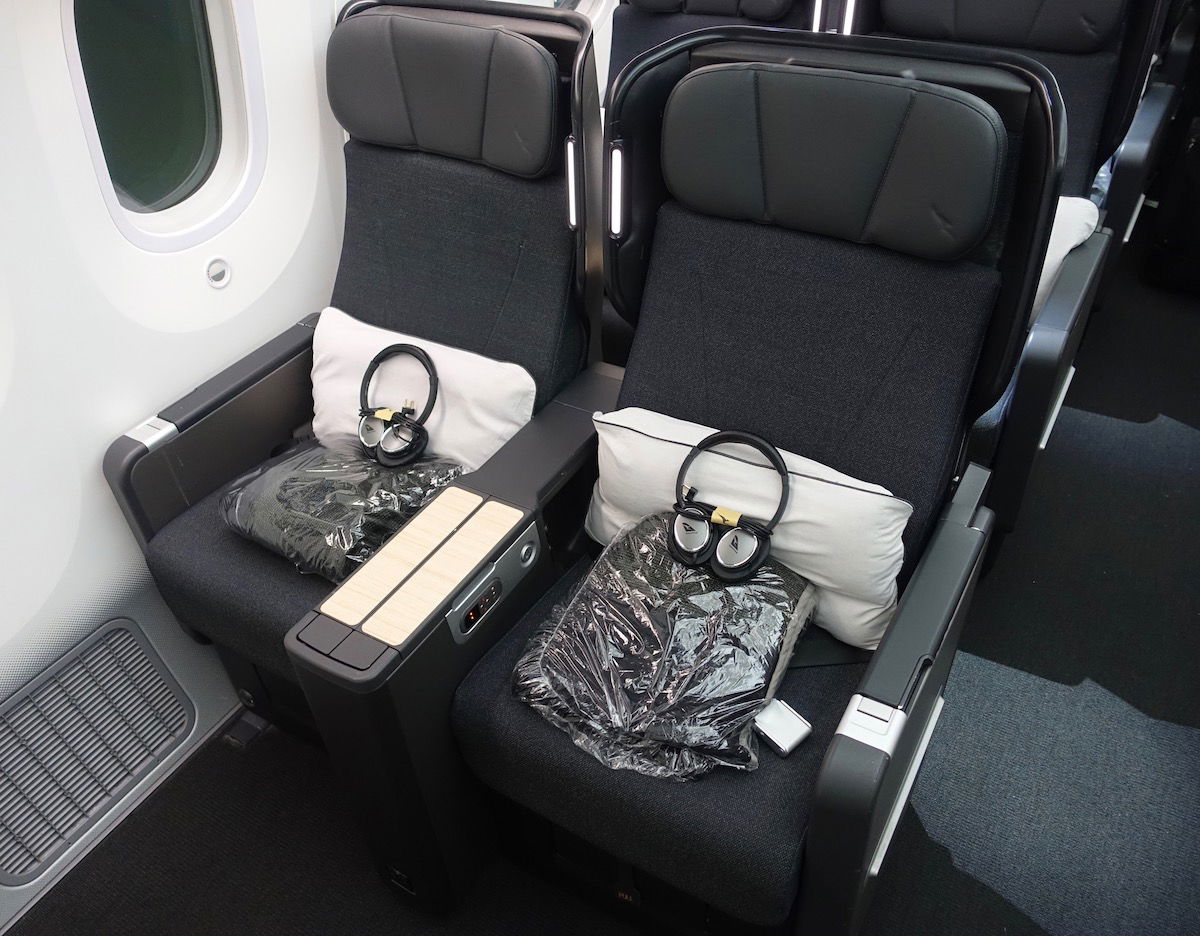 Qantas 787 premium economy seats
In this staggered configuration, the seats are fully flat and in every row are in a different position. This is because the area for your feet is essentially underneath the seat in front of you.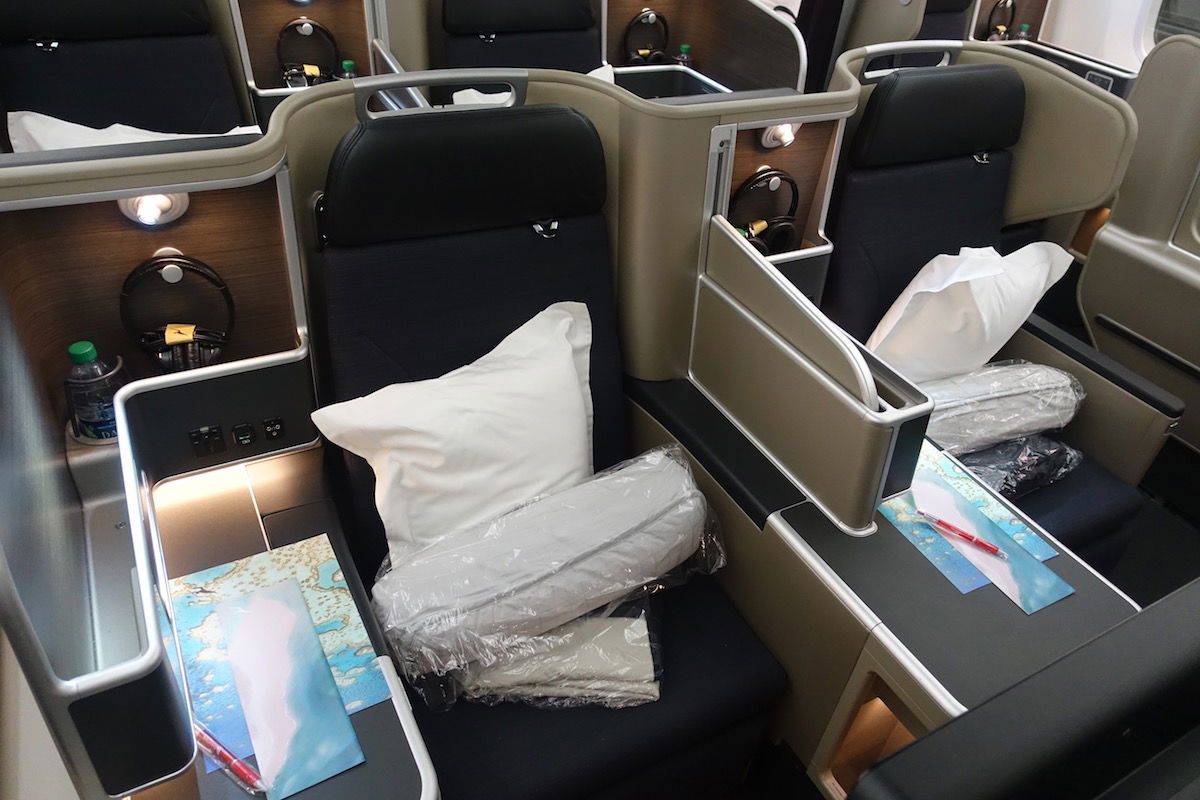 Qantas business class seats 787
When it comes to the solo window seats, there are two types of seats. You have the seats that are closer to the aisle, which would be every other row. Personally I'd avoid these seats if possible, since you'll feel a bit "exposed" to the aisle, and it also makes it tough to look out the window (not that there's much to see on these overnight flights to Australia).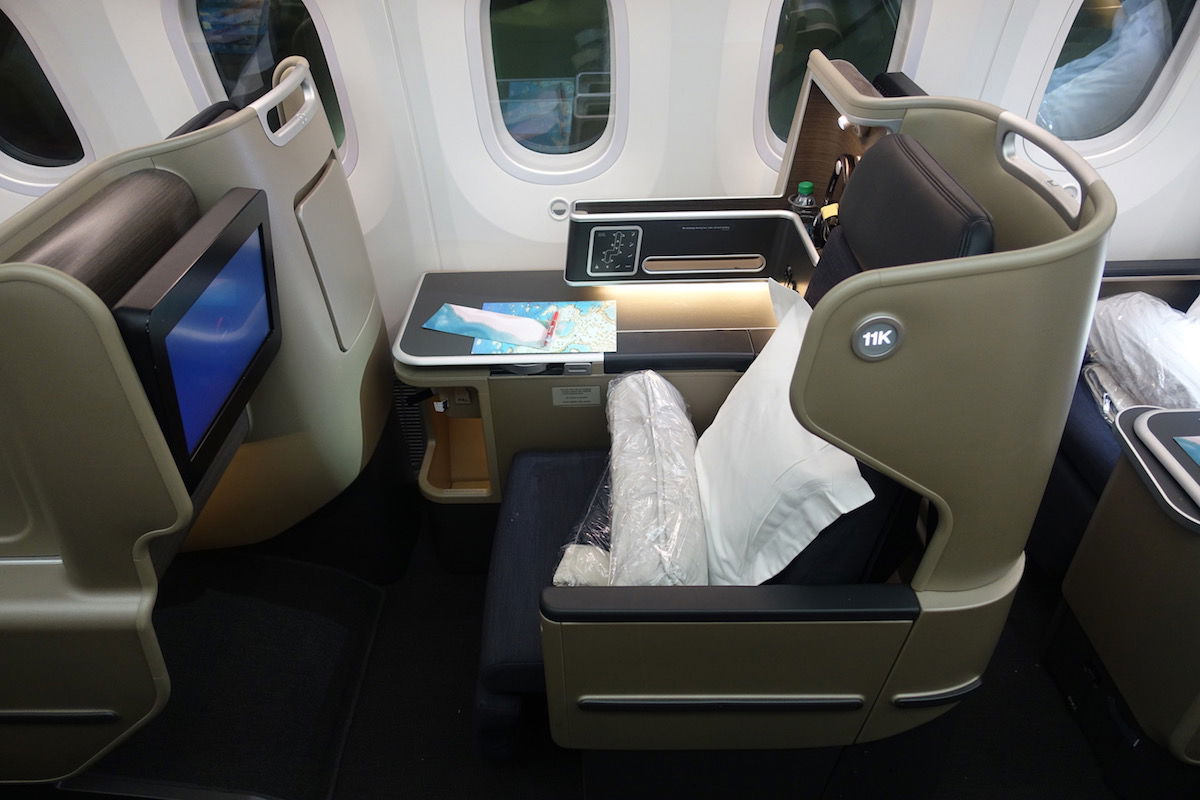 Qantas business class seat 787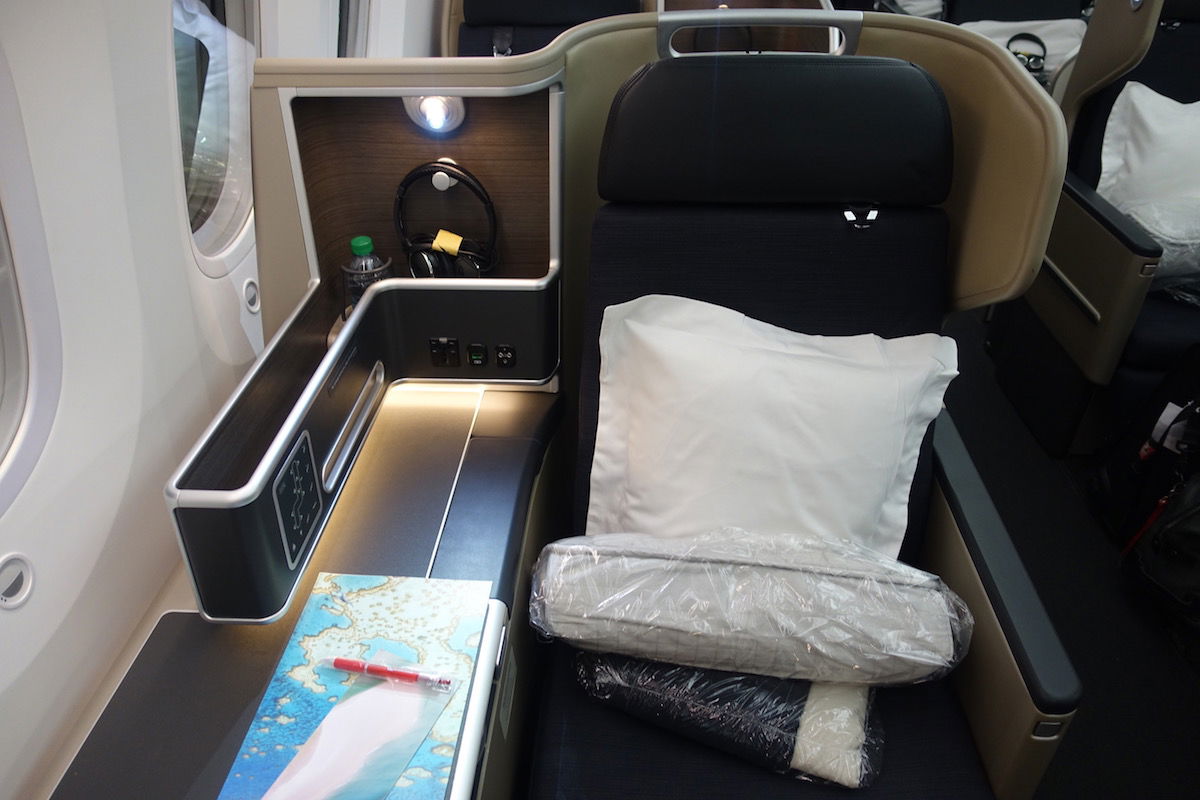 Qantas business class seat 787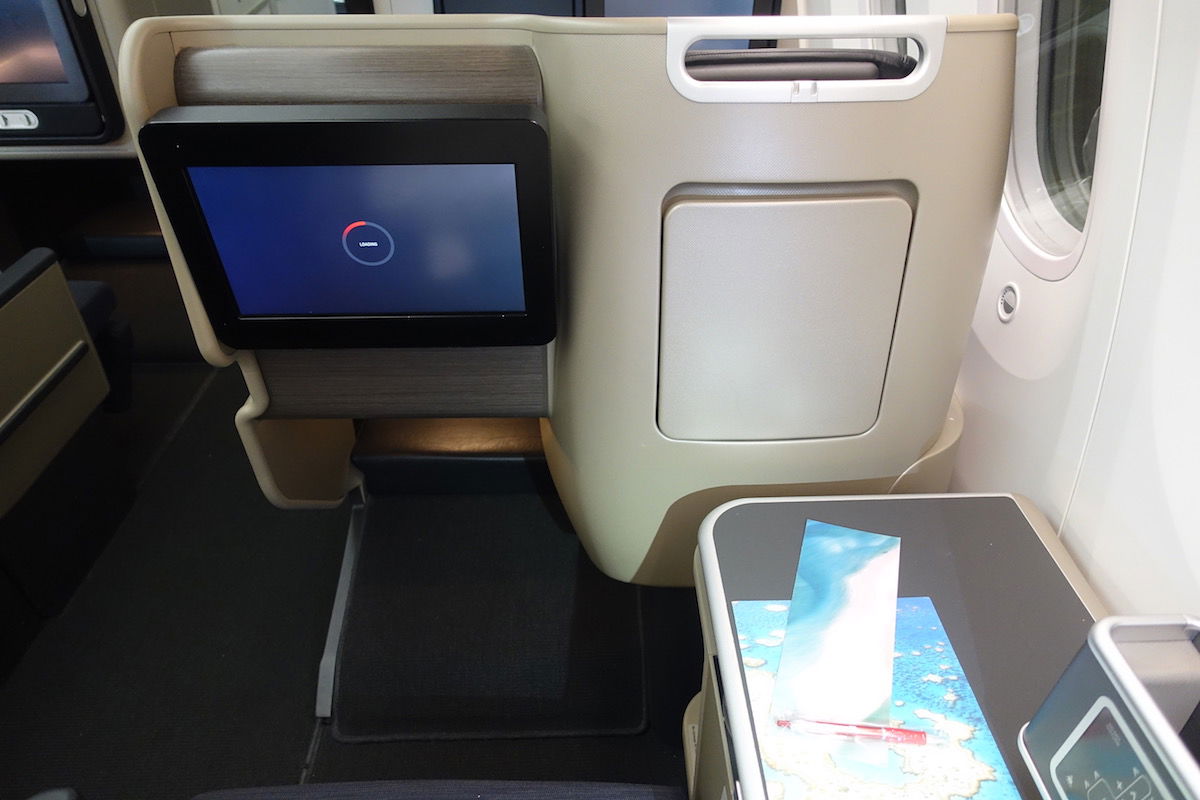 Qantas business class seat 787
Then my preferred seat is a "true" window seat like 12K, where you're closer to the window. While there are a lot of airlines with staggered seats, Qantas' seat has quite a few advantages, in my opinion:
Qantas makes these seats feel incredibly private thanks to the privacy shield they install
The seats generally feel more spacious than some other staggered products out there
Qantas chose incredibly sleek finishes; parts of the cabin almost feel like you're in a luxury car, rather than an airplane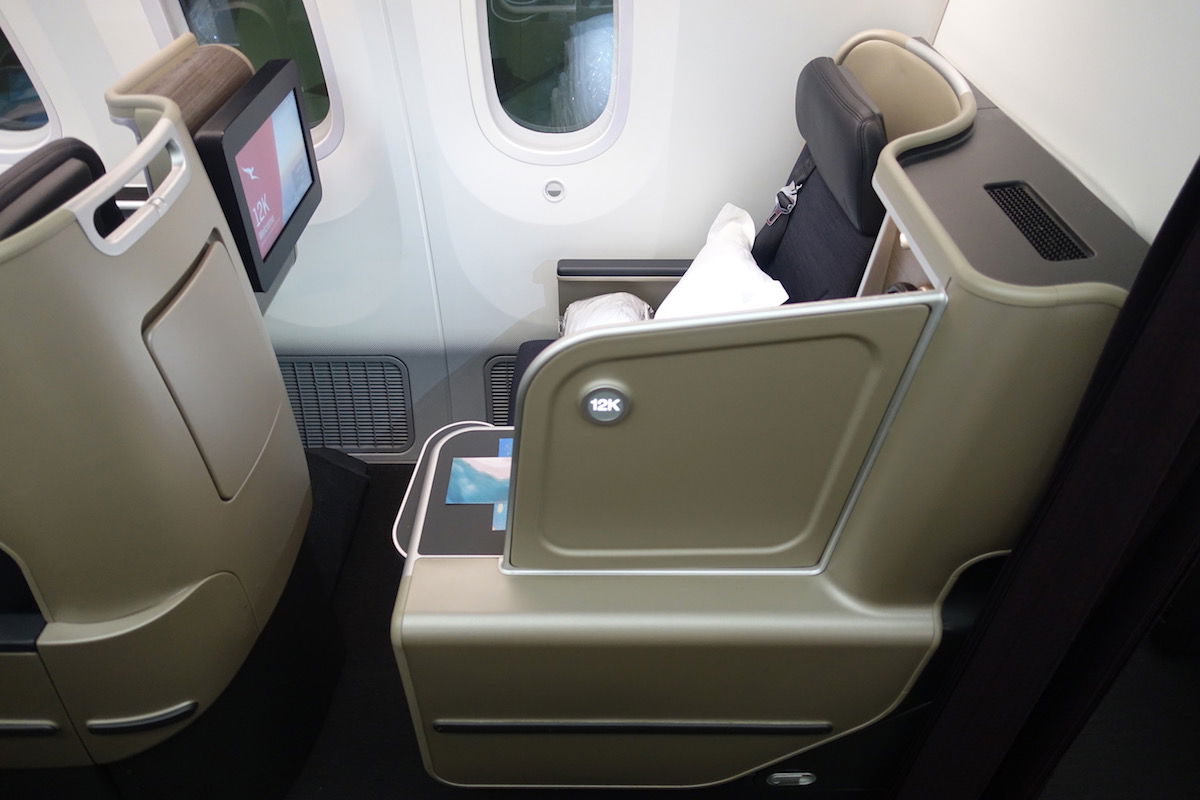 Qantas 787 business class seat
Note that the Qantas 787 business class seat and the Delta One Suite (which features a door) are based on the same concept. The primary difference is that Delta added a door.
Personally I think I almost prefer the amount of privacy offered by this seat without having to deal with the complexity of the door, mainly because I find Delta's door to be poorly designed.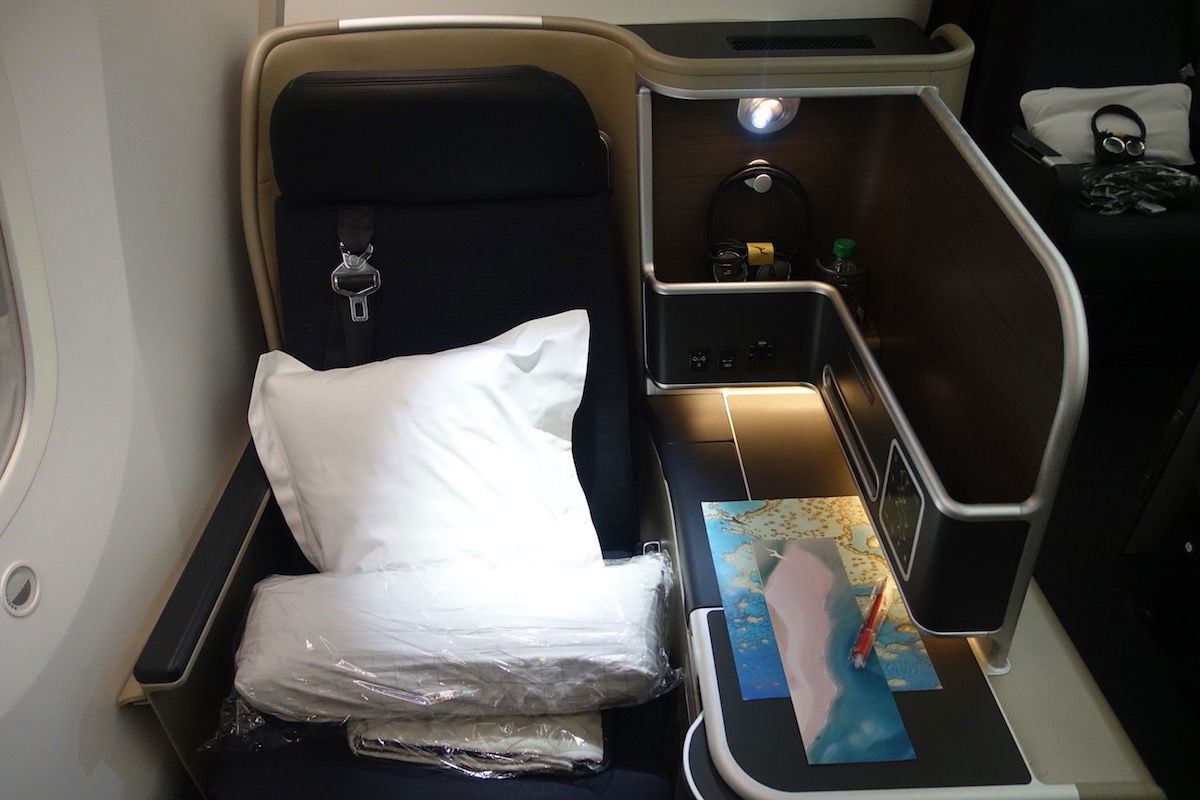 Qantas 787 business class seat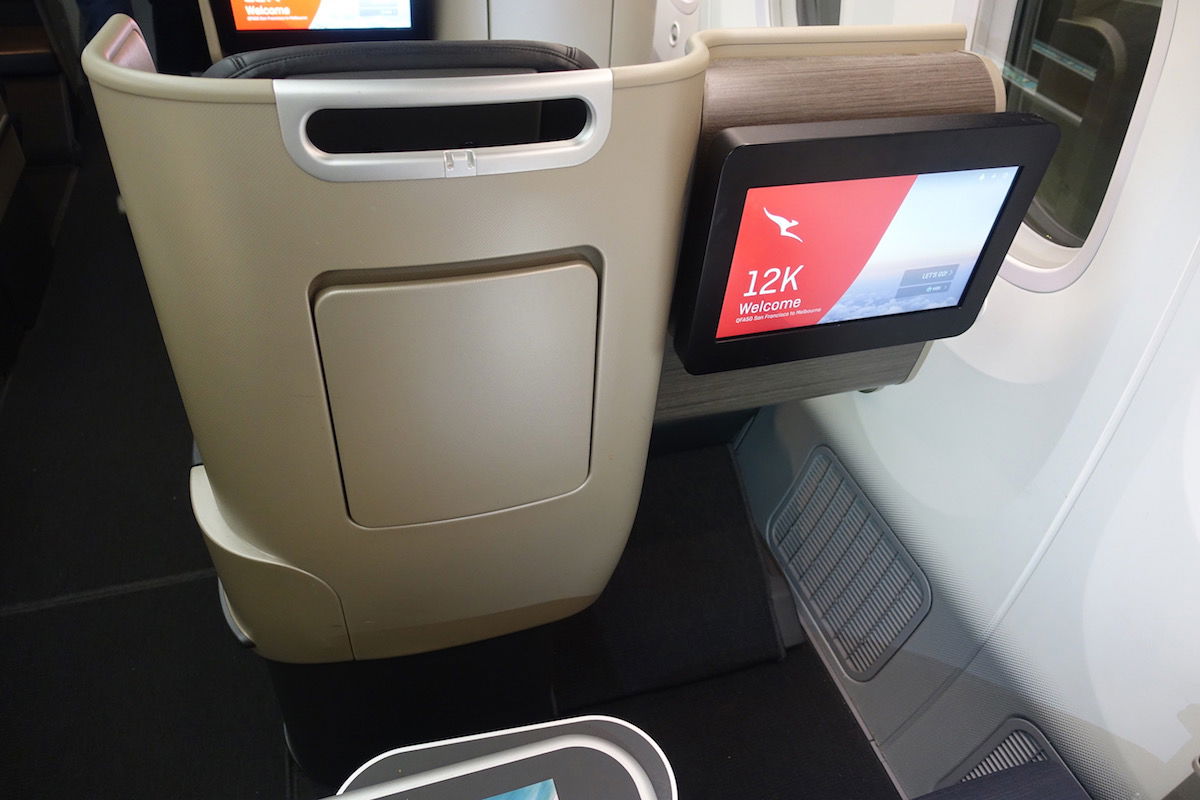 Qantas 787 business class seat
At the side of the seat, the privacy partition doubled as a storage compartment. Unfortunately this is just about the only storage at the seat, meaning there's no enclosed storage. The good news is that between the counter and the storage next to it there's a lot of space to place things.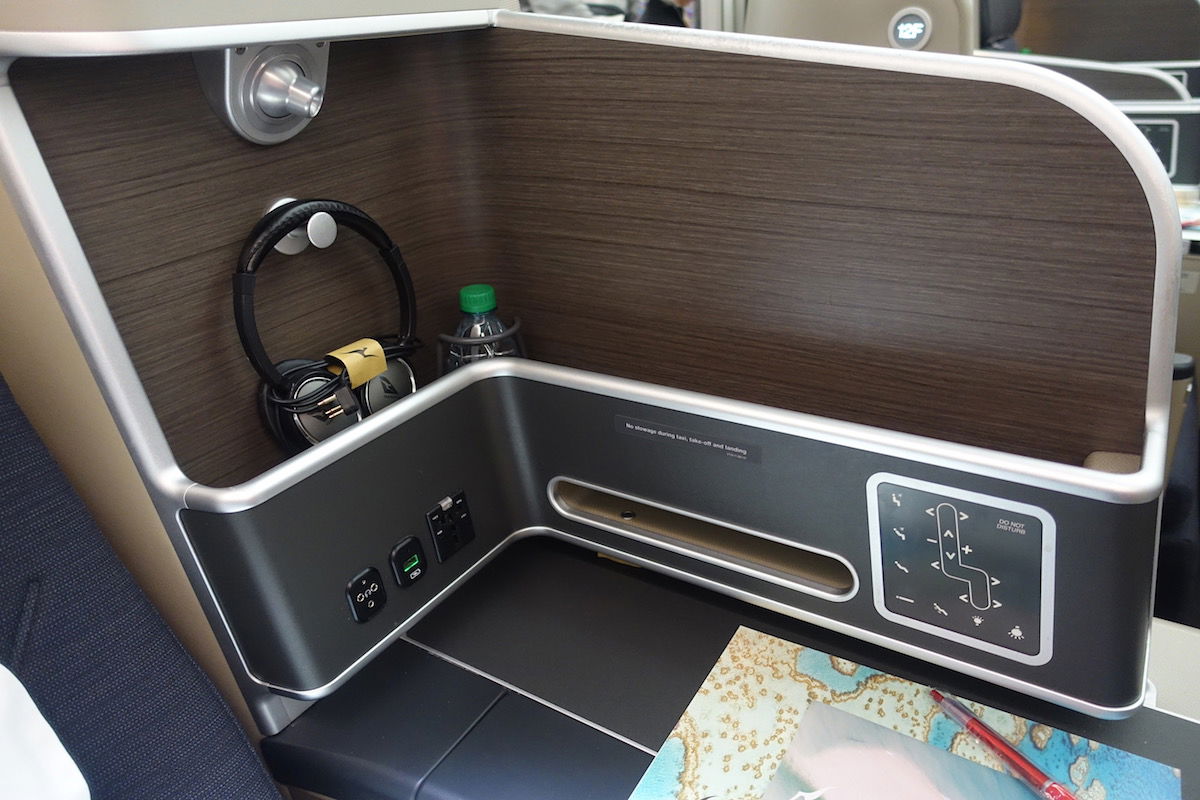 Qantas business class seat storage
Along this were the easy to use seat controls, as well as a 110v outlet, USB outlet, and headphone jack.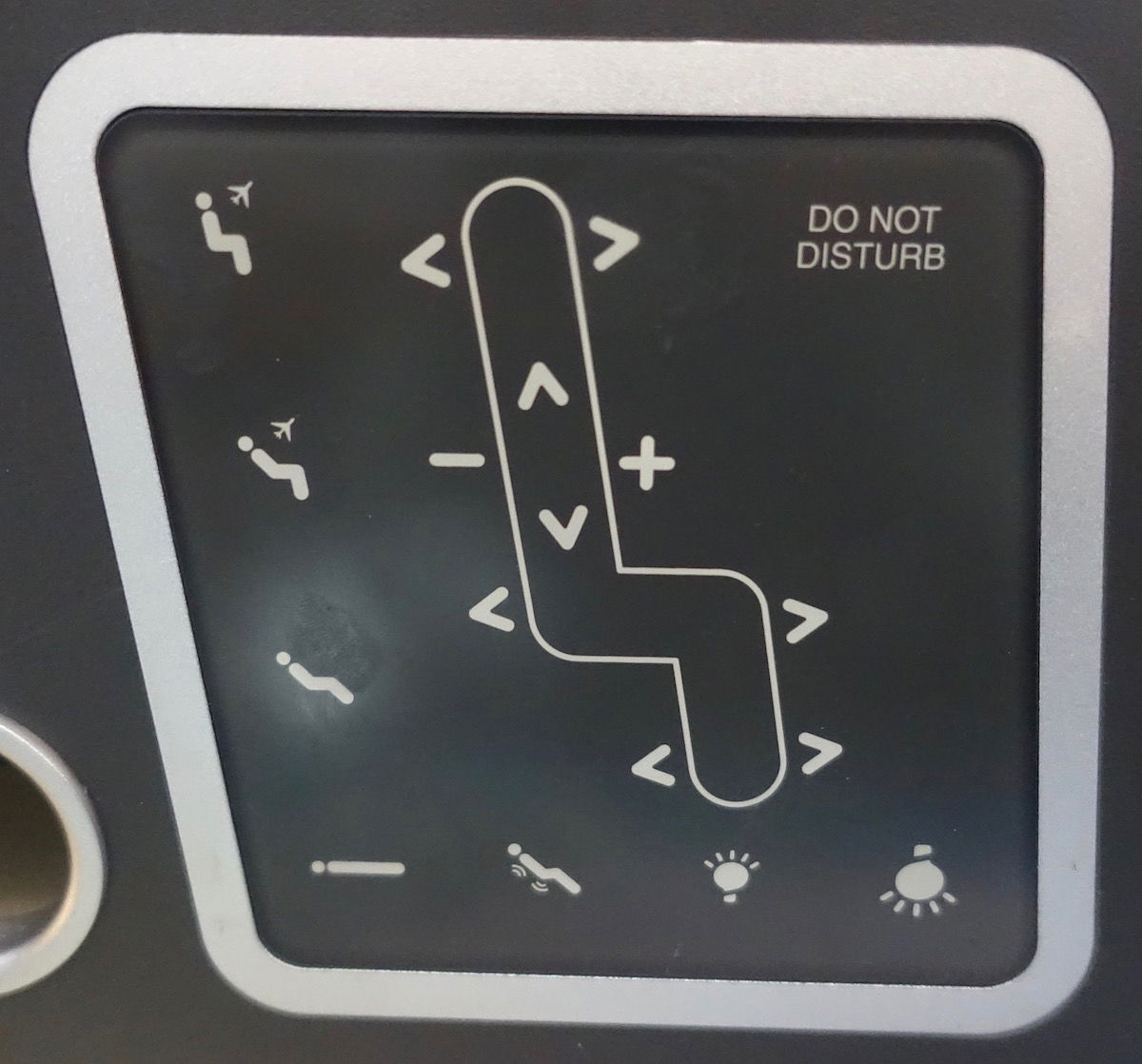 Qantas business class seat controls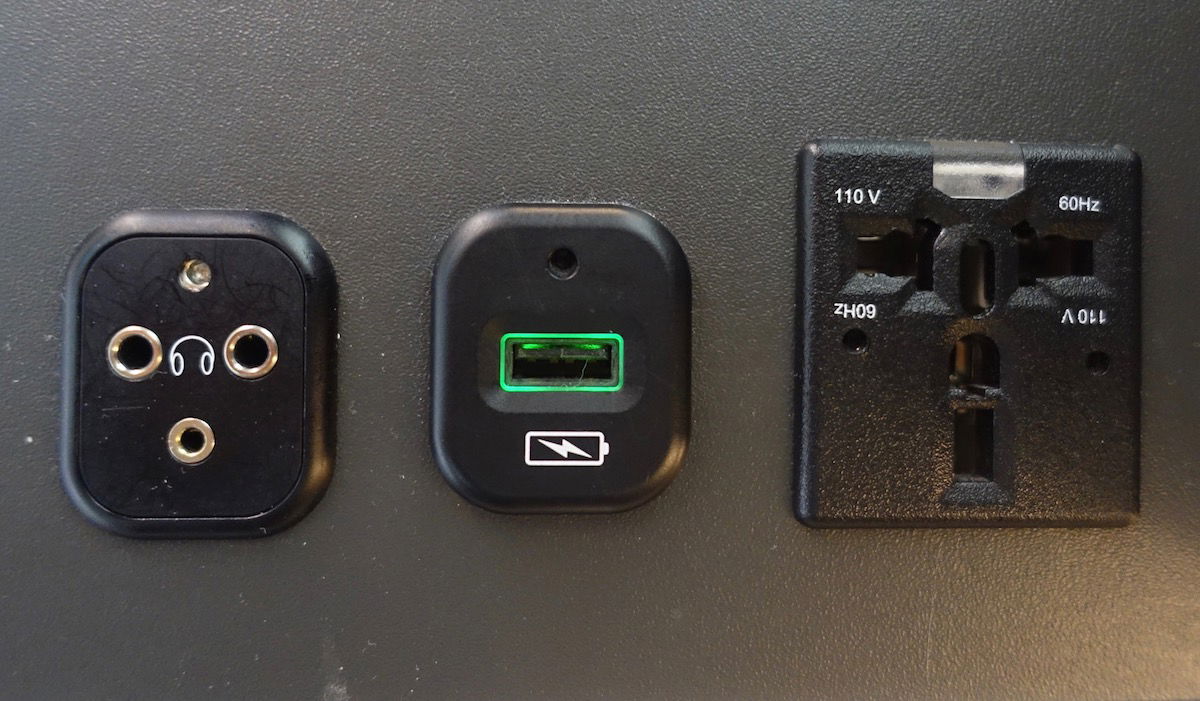 Qantas business class seat power outlets
The entertainment controller and a small vanity were located to the left of the seat.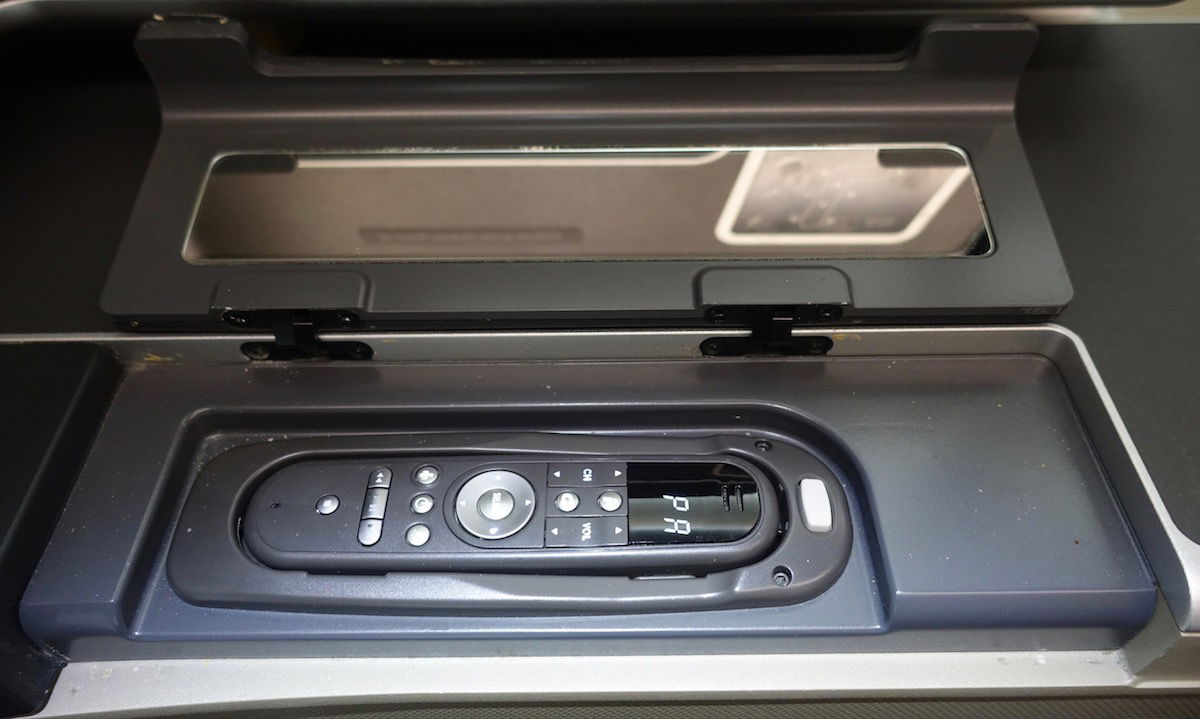 Qantas business class seat entertainment controller
This is also where the tray table folded out from. Personally I didn't love the tray table, as there was no way to fold it over in half or move it significantly, in the event you wanted to get up during the meal.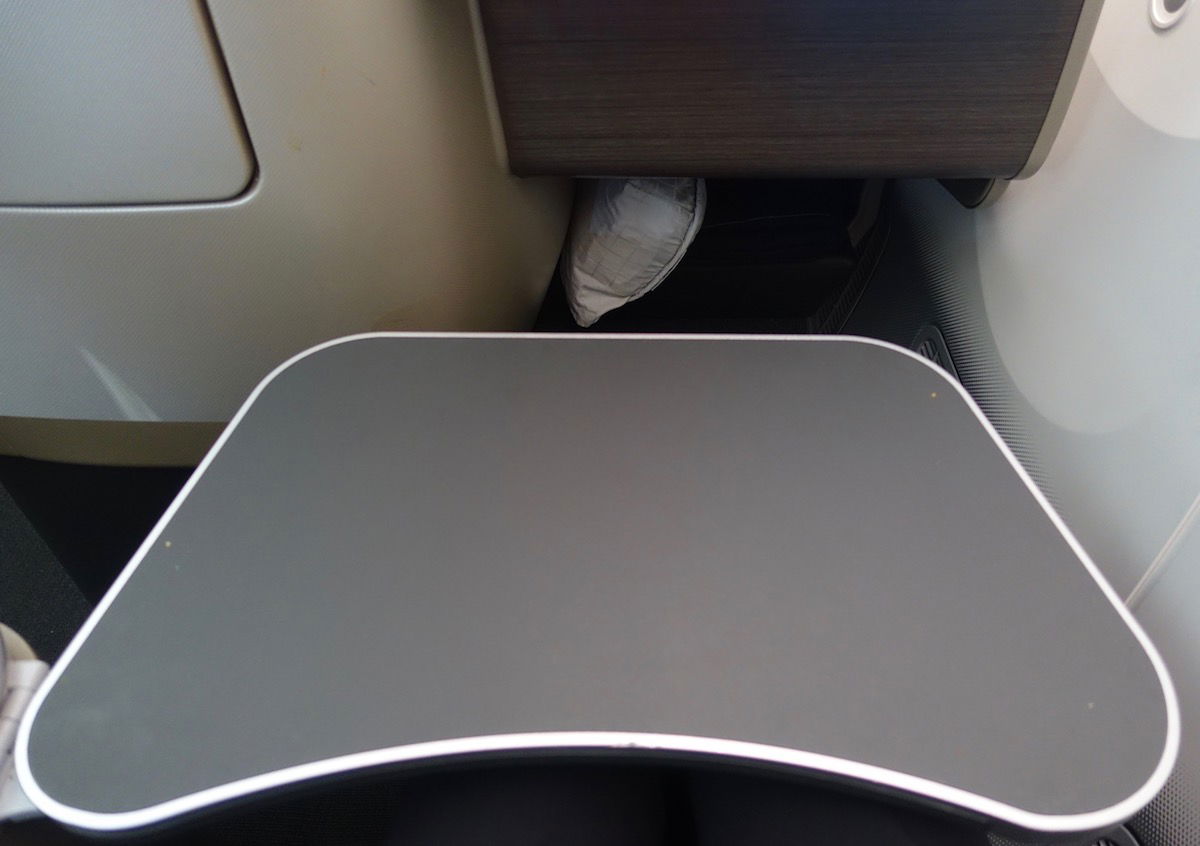 Qantas business class seat tray table
One of the major challenges I have with staggered seats is that the footwells are often quite small. Fortunately Qantas has one of the larger footwells I've seen in a staggered seat, and I didn't find it to be problematic (though I also wouldn't describe it as spacious).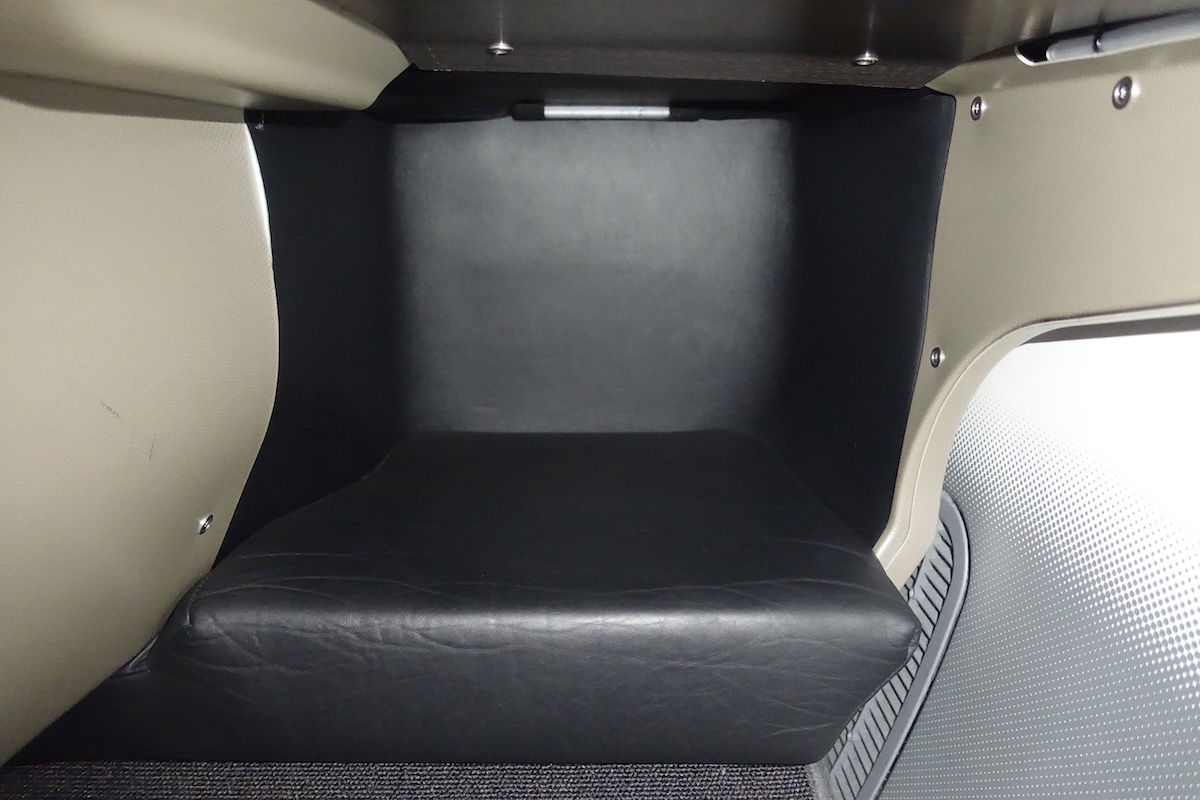 Qantas business class seat footwell
One last hard product note — Qantas has air nozzles at each seat, which is much appreciated.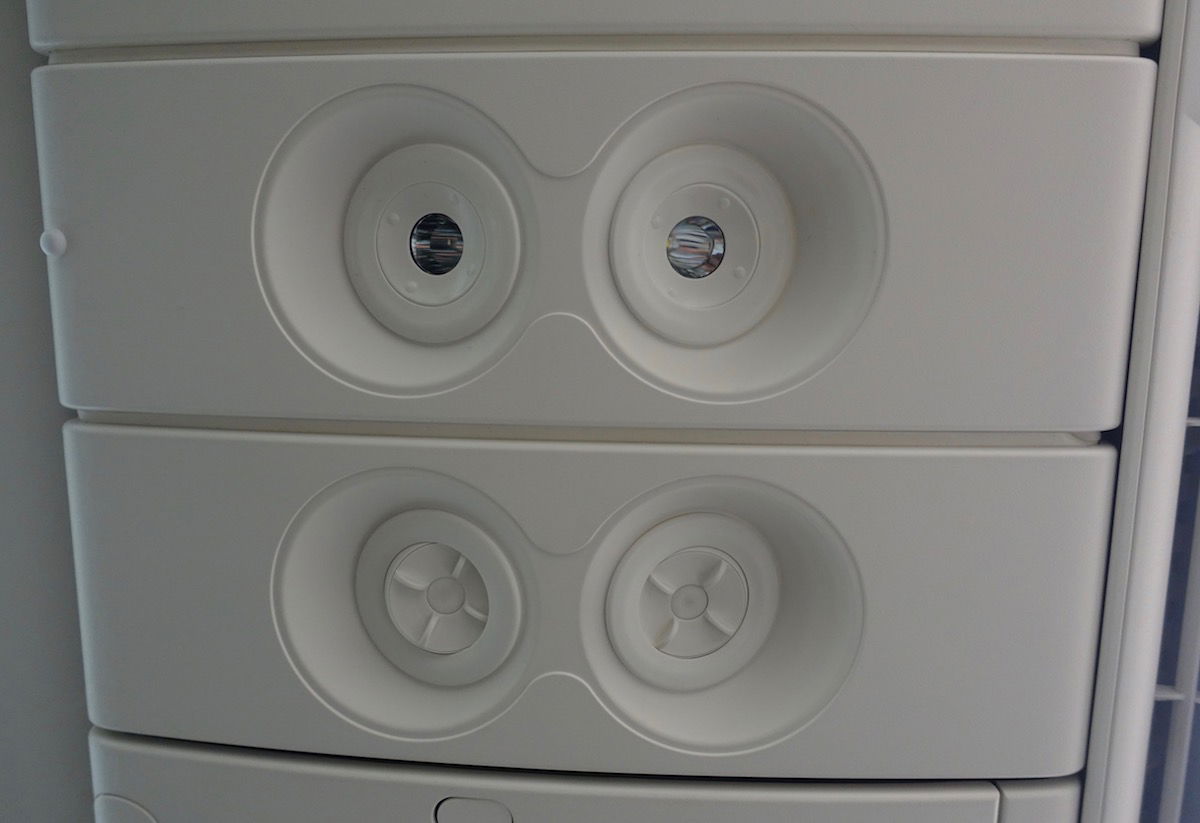 Qantas business class seat air nozzle
So yeah, overall this is an excellent hard product. Is it my favorite business class seat in the world? No, it's not quite to the level of Qsuites or Apex Suites, but it's up there. And it really is a gorgeous cabin.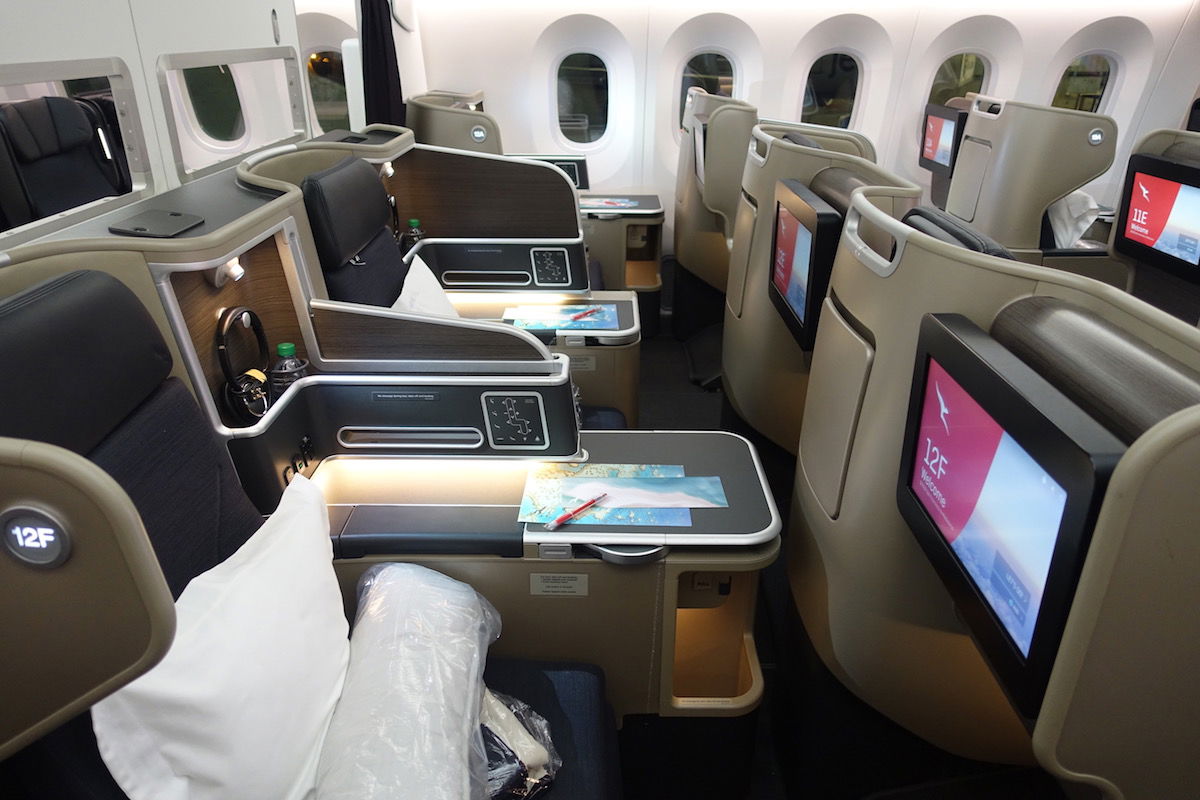 Qantas 787 business class cabin
Waiting at my seat upon boarding was the bedding for the flight, which was solid. This included a blanket, pillow, and mattress pad.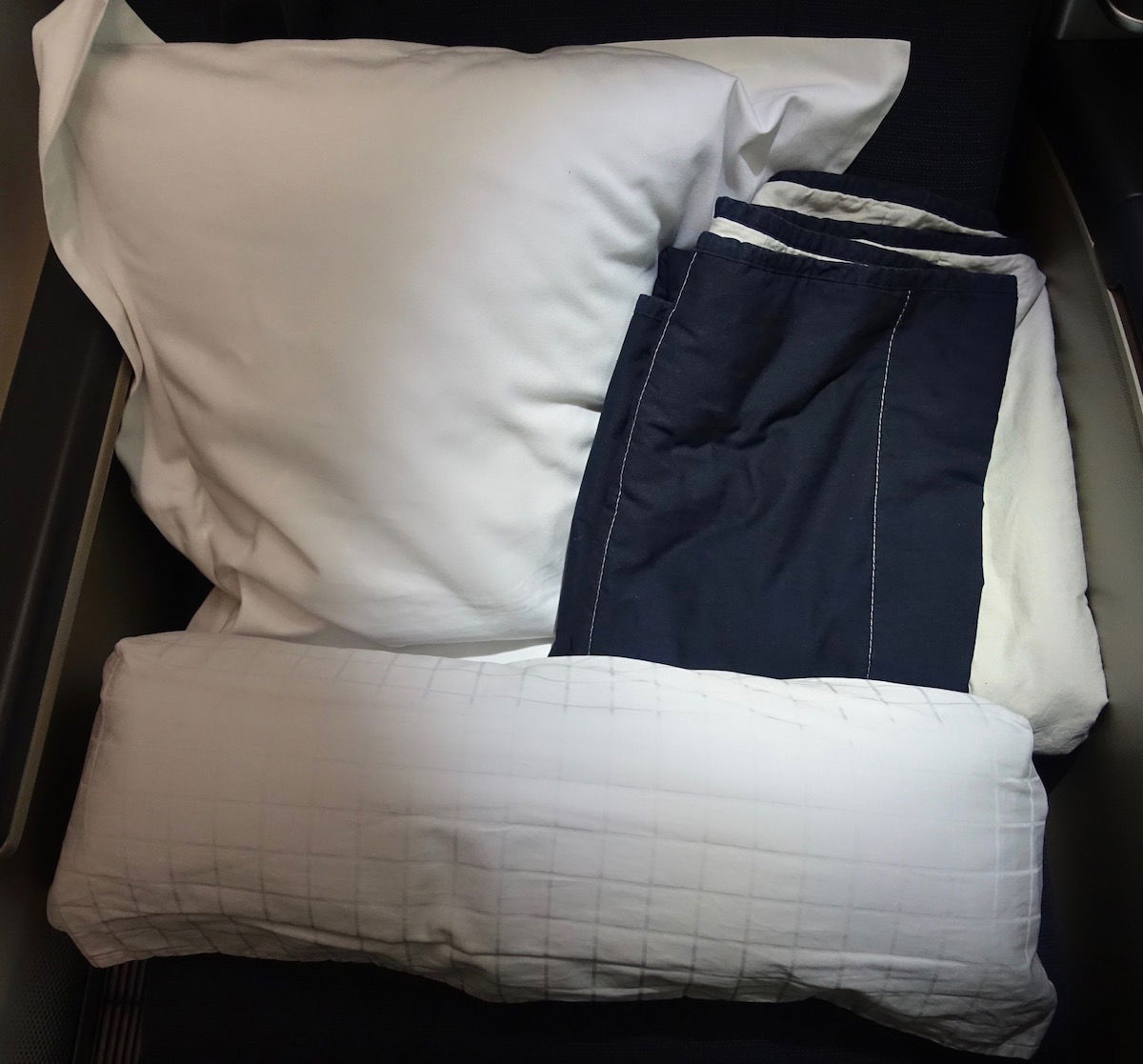 Qantas business class bedding
There were also headphones.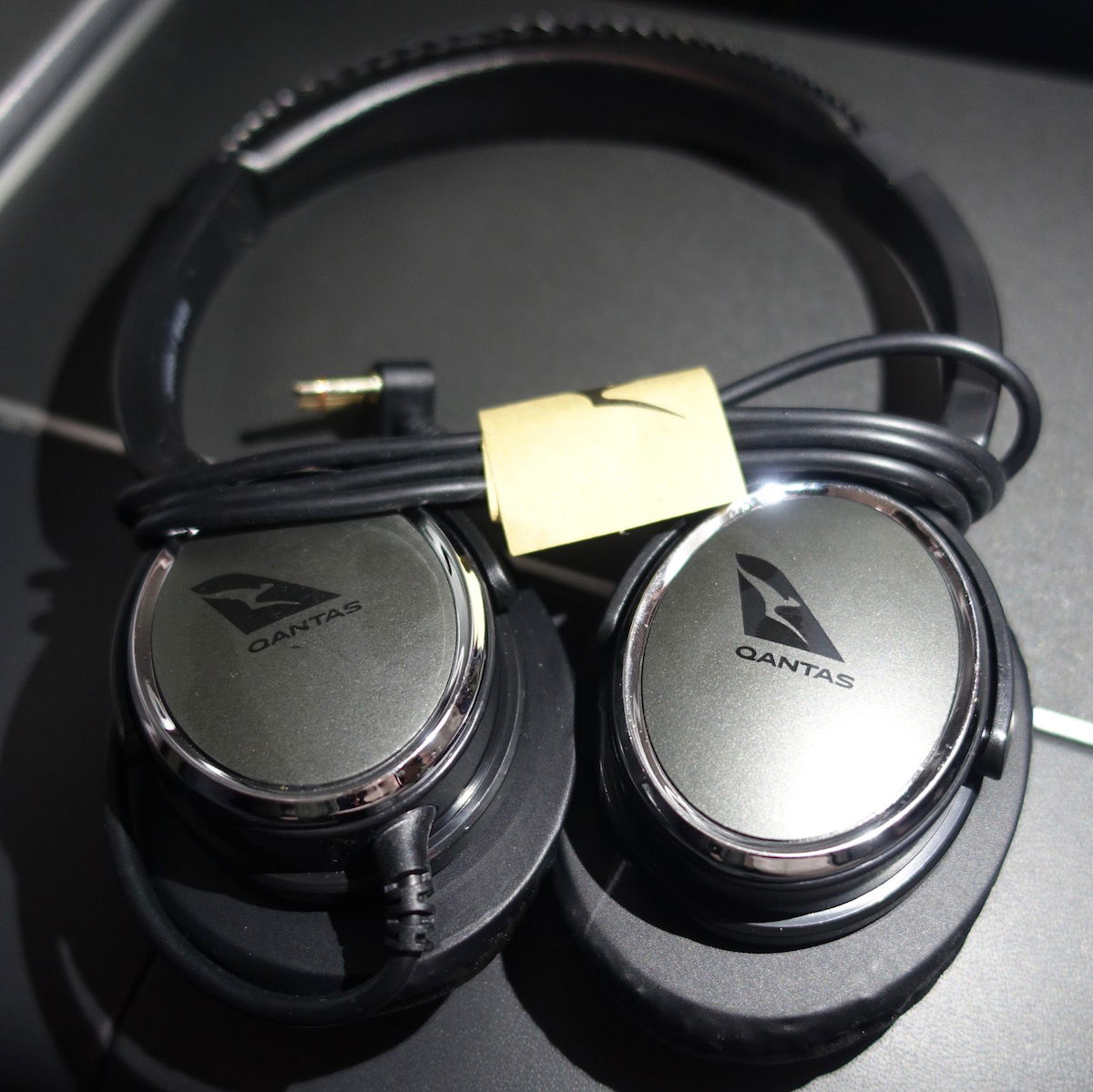 Qantas business class headphones
The menu and breakfast card, along with a pen, were also waiting at my seat. I loved the design.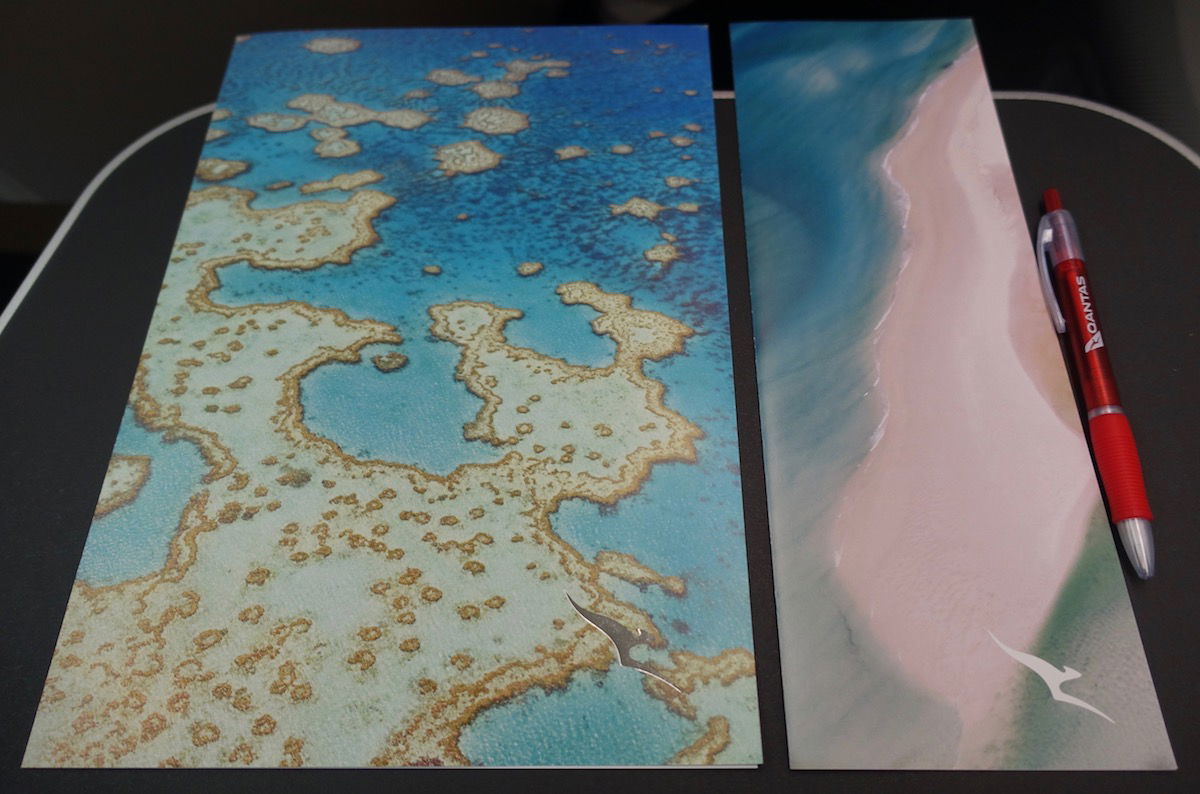 Qantas business class menu & pen
15 minutes after settling in, I was offered pajamas and amenity kits. Qantas is one of the (relatively) few airlines to offer pajamas in business class, and I really love the ones they offer, since they have a huge kangaroo logo on them.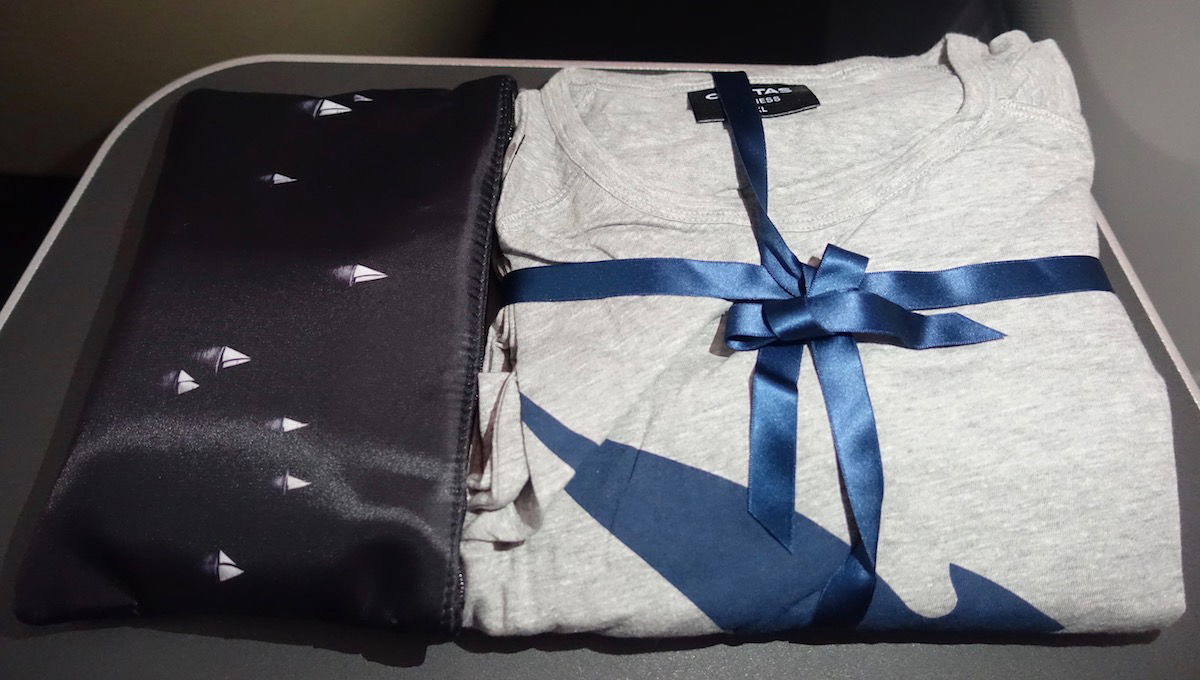 Qantas business class pajamas & amenity kit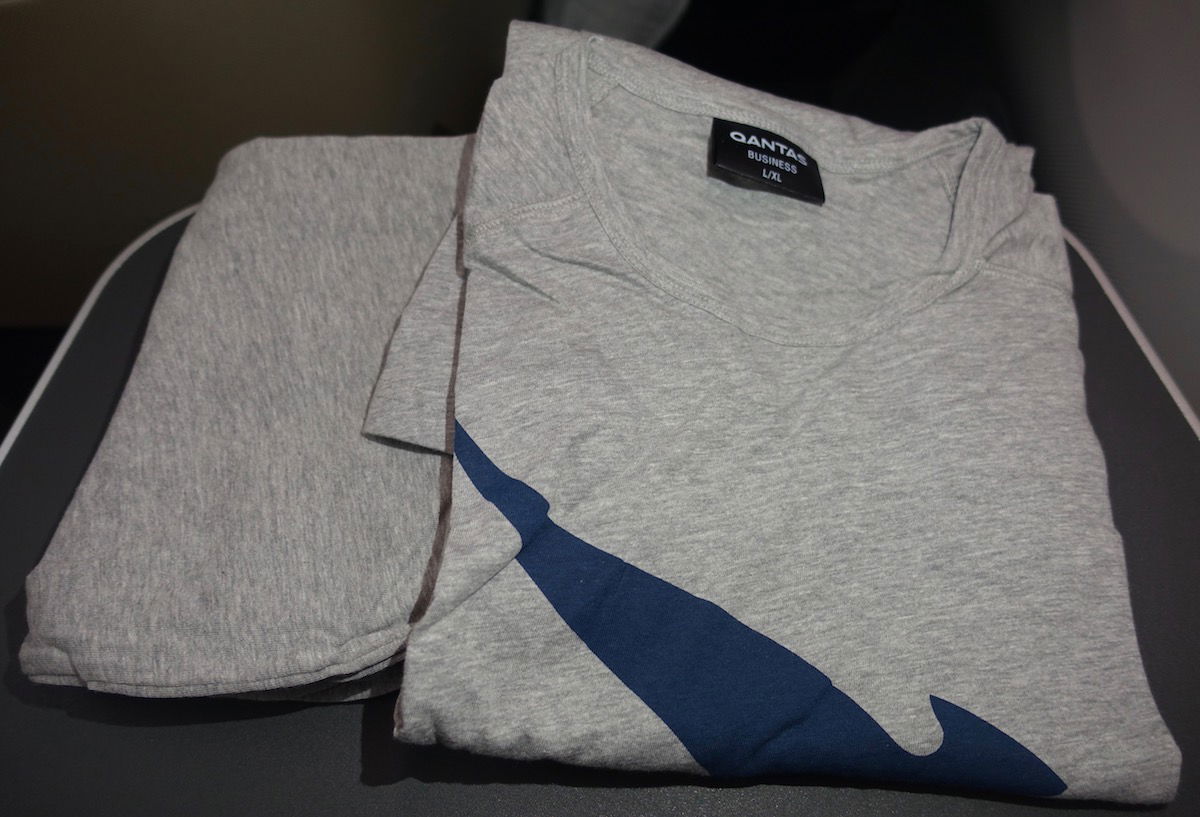 Qantas business class pajamas
The amenity kit consisted of eyeshades, socks, a toothbrush and toothpaste, lip balm, hand cream, and facial moisturizer.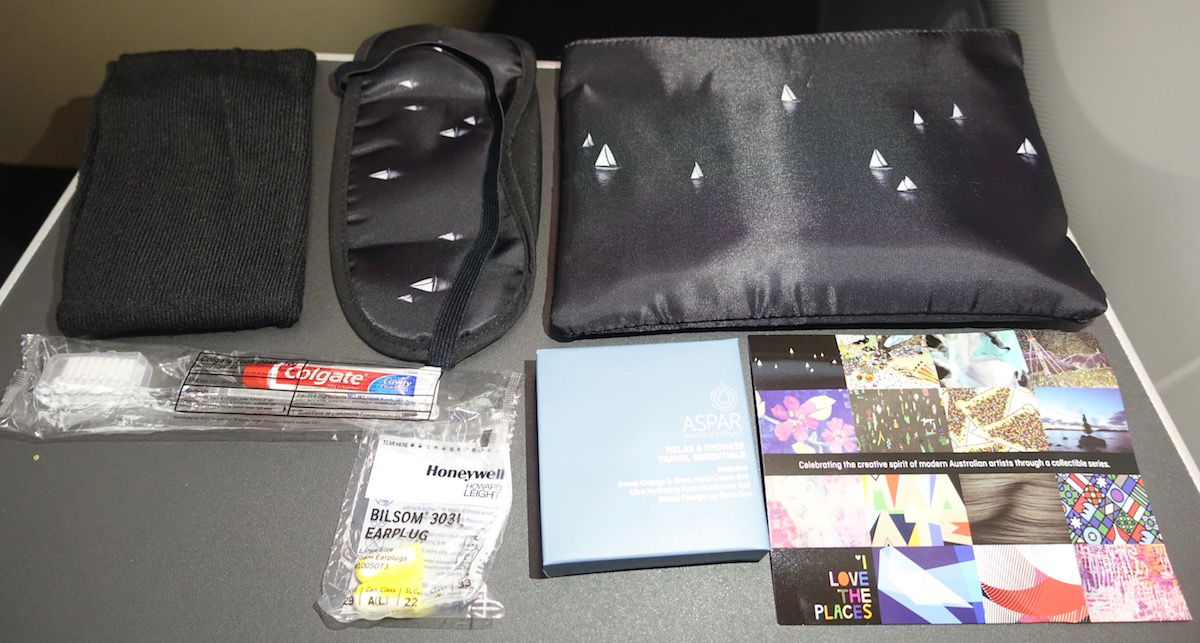 Qantas business class amenity kit contents
Five minutes after amenity kits and pajamas were distributed, pre-departure drinks were served. I was offered still or sparkling water or champagne, and went with champagne, served in proper glassware.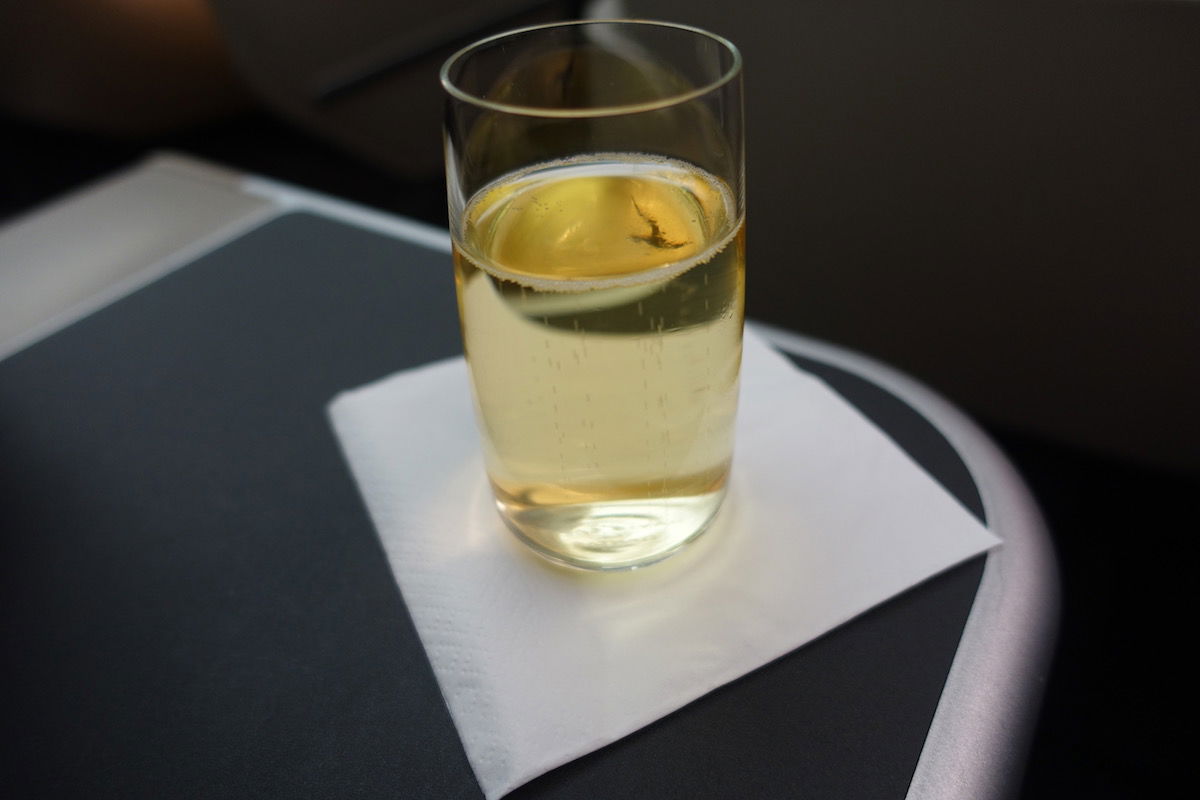 Qantas business class pre-departure champagne
At 8PM the main cabin door closed. There were eight empty seats in business class, including the two seats in front of me. In addition to less foot traffic, one other benefit of the rear cabin is that typically people choose seats front to back, so most of the empty seats were in the rear cabin.
Qantas has breakfast cards (so you can place your order before going to sleep), and at 8:10PM the flight attendant collected my card, around the same time we started our pushback.
At around 8:15PM the safety video was screened:
Our flight time to Australia was 14hr45min (the below screen isn't correct). I knew it was a long flight, but didn't realize it was quite that long.
At this point it occurred to me I've never actually flown nonstop from the US to Australia. I've been to Australia at least a dozen times, but oddly I've never flown from the US. I've flown from Australia to the US many times (including in Qantas first class, American first class, and Virgin Australia business class), but I've always gone to Australia via another country.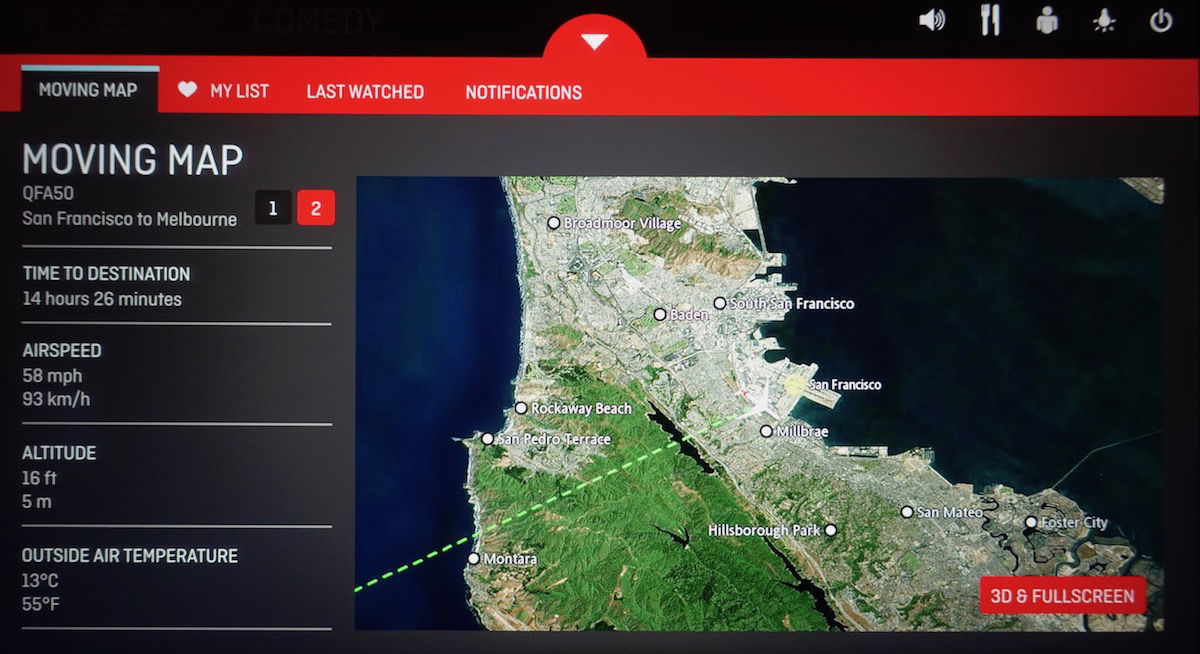 Map from San Francisco to Melbourne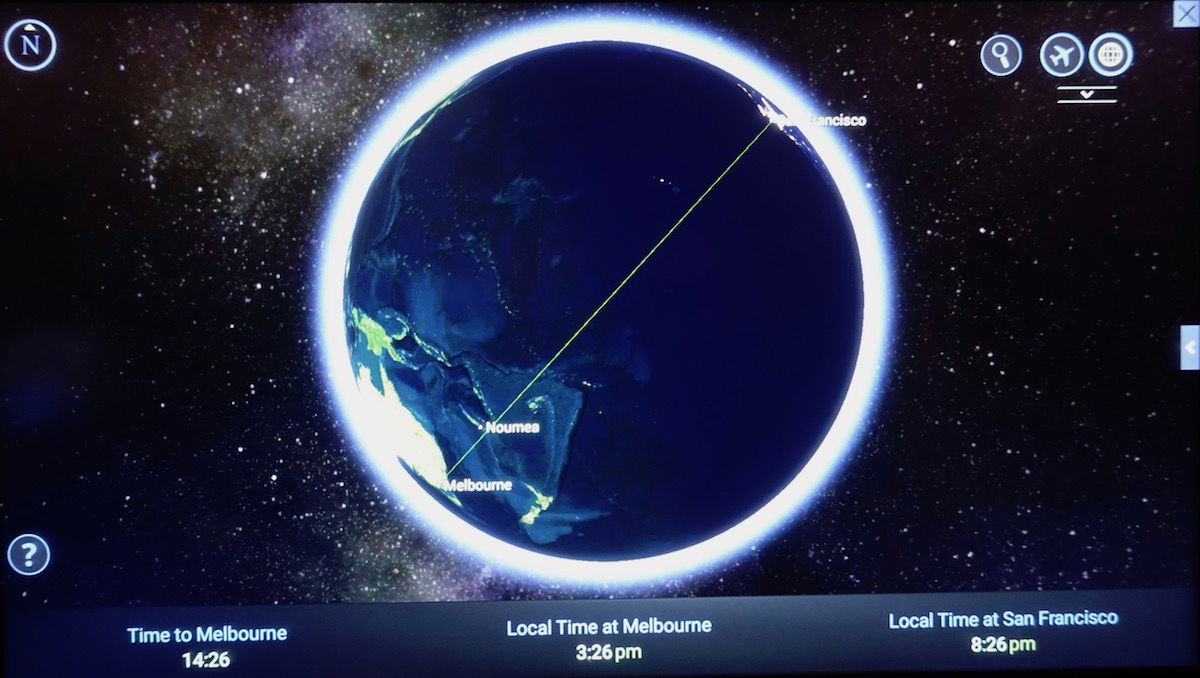 Map from San Francisco to Melbourne
At 8:35PM we were cleared for takeoff on runway 28R. It was a smooth climb out, and five minutes after takeoff the seatbelt sign was turned off.
As we climbed out I browsed the entertainment selection. Unfortunately Qantas doesn't have Wi-Fi on their 787s, so unless you bring your own entertainment, you're reliant on what they have.
First let me note that Qantas' entertainment system is incredibly crisp/high definition, and the system is very responsive.
Beyond that, the variety of movies and TV shows is exceptional, with a seemingly endless selection. So while Qantas loses points for Wi-Fi, they win points for their entertainment.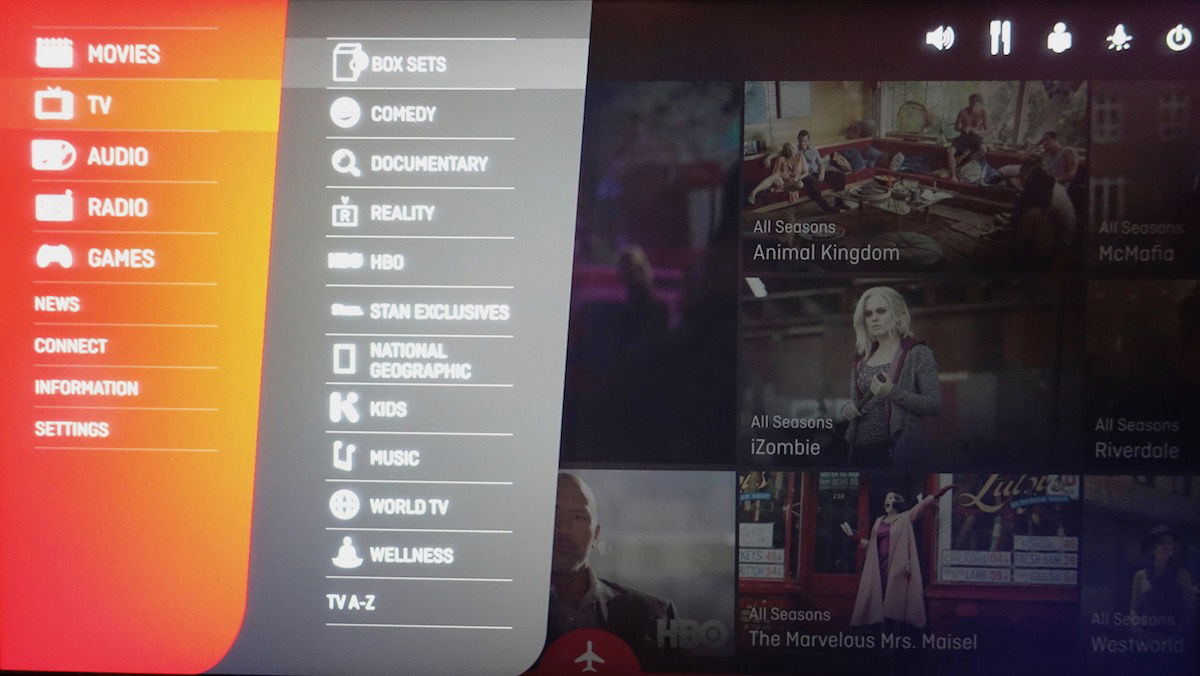 Qantas entertainment system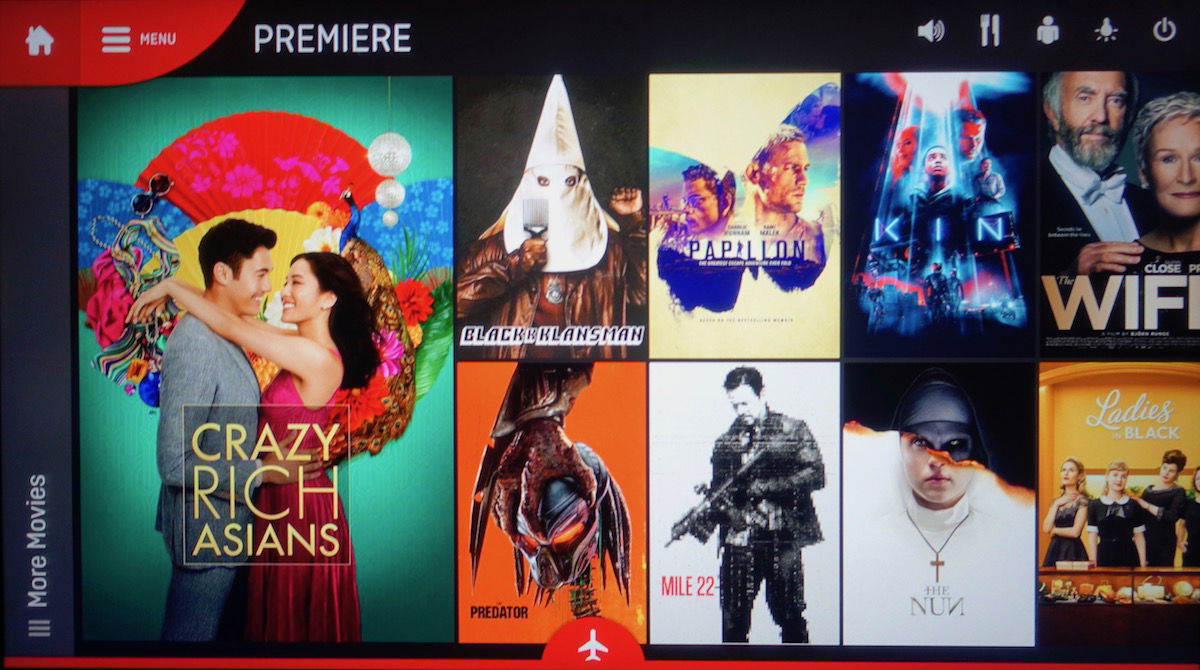 Qantas entertainment system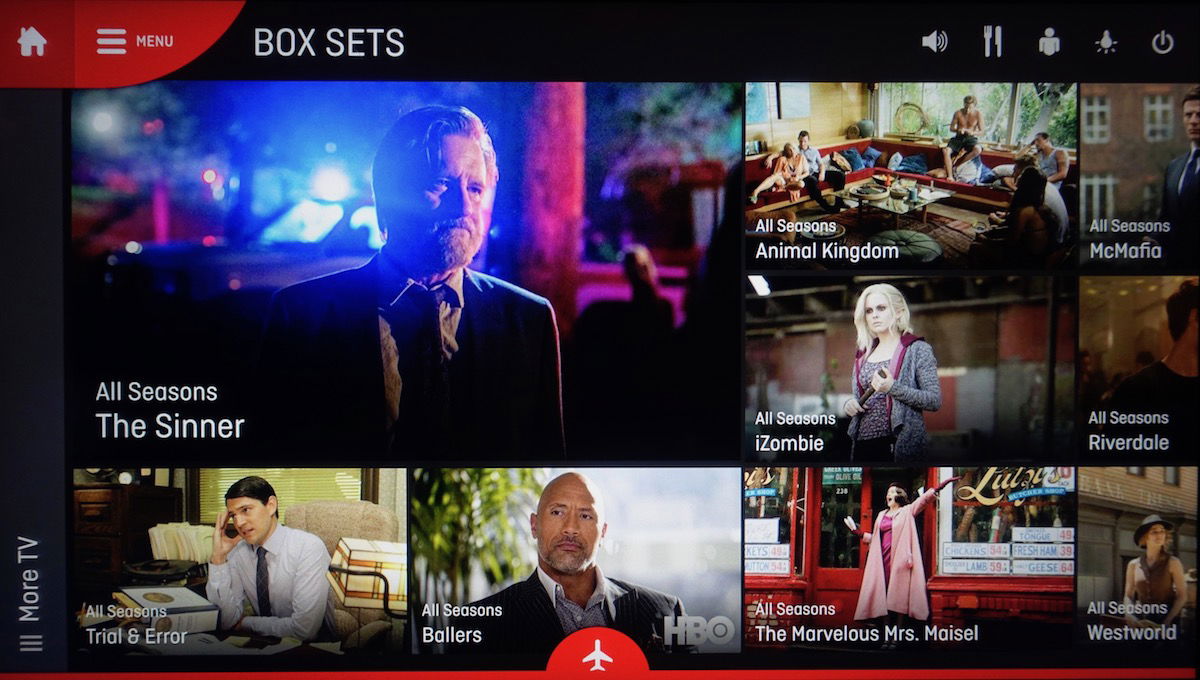 Qantas entertainment system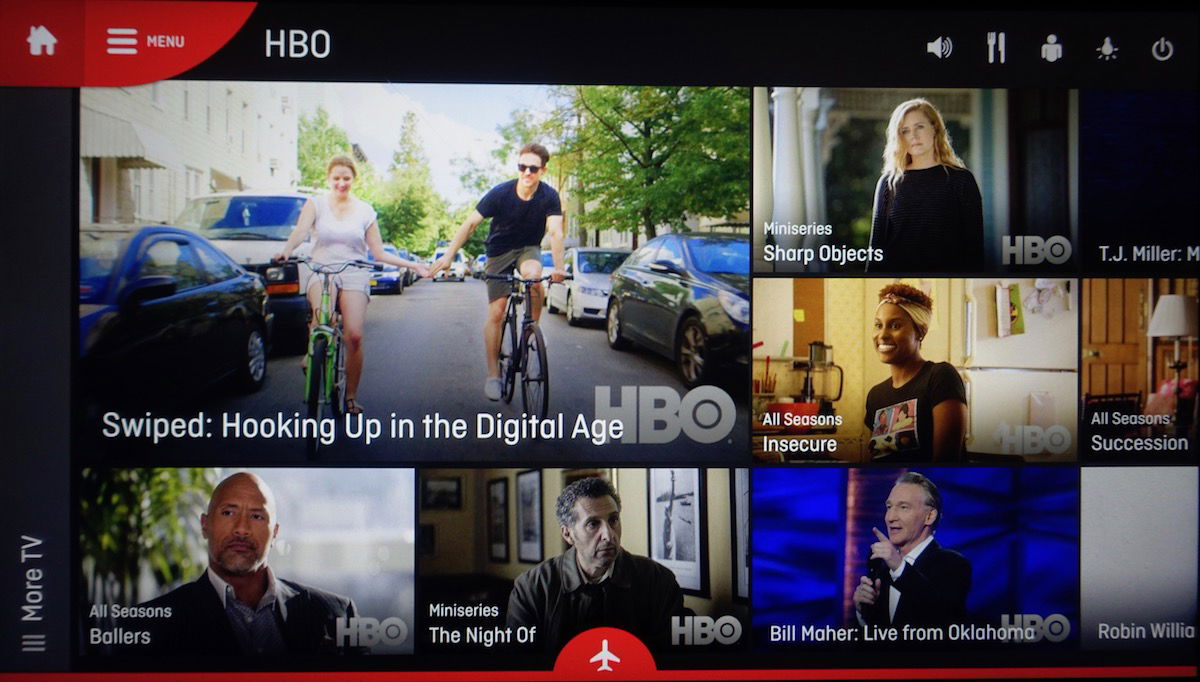 Qantas entertainment system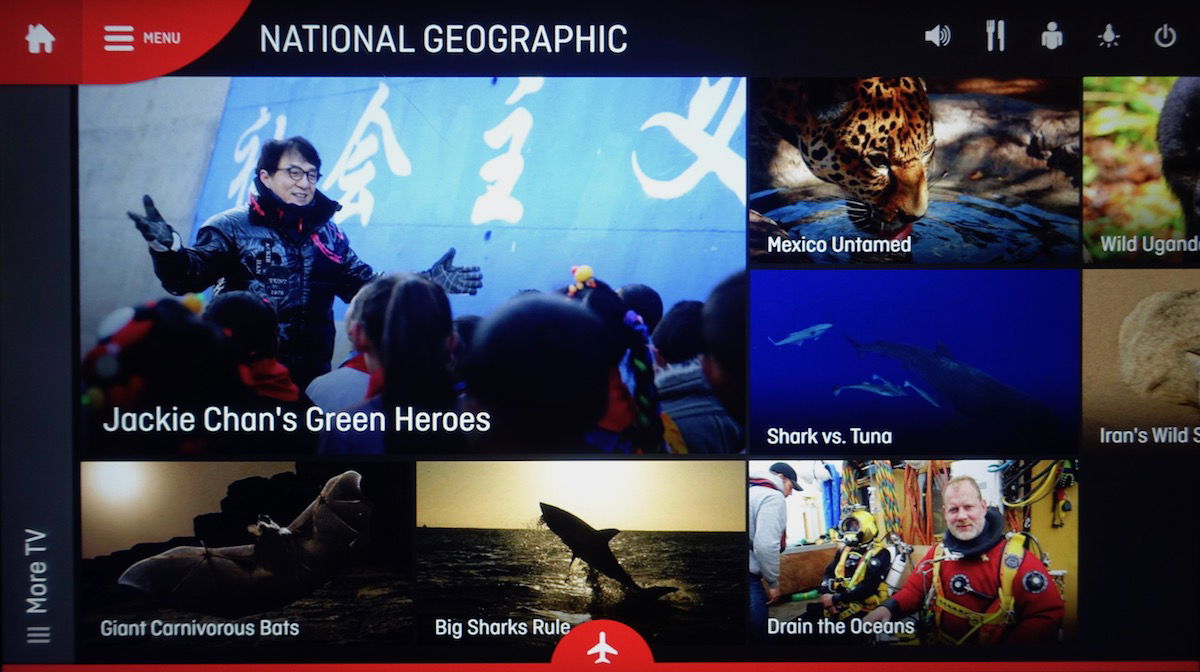 Qantas entertainment system
I ended up watching "Swiped: Hooking Up in the Digital Age," which was… enlightening?
As far as the lavatories go, there are two between the business class cabins, and one at the very front of the cabin. They're standard Dreamliner lavatories, and have amenities from ASPAR.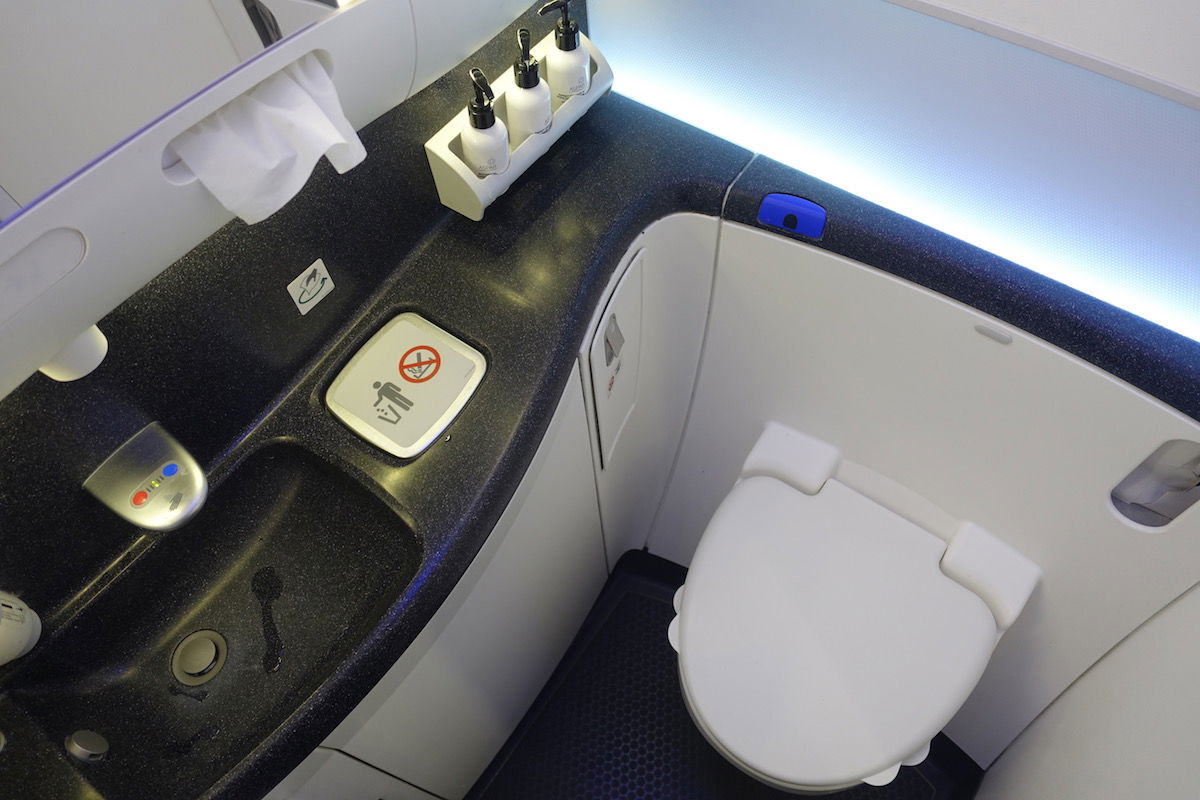 Qantas 787 lavatory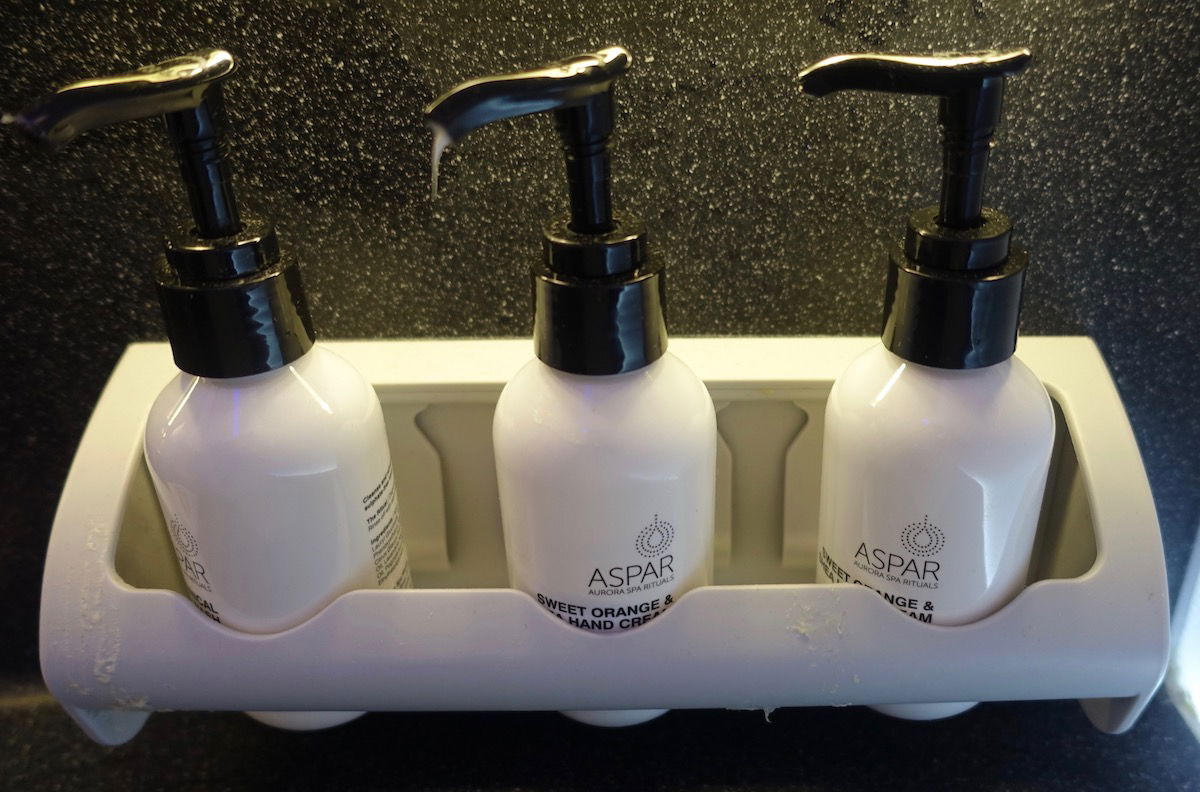 Qantas 787 lavatory toiletries
While up I also took a quick peek at the much larger forward business class cabin.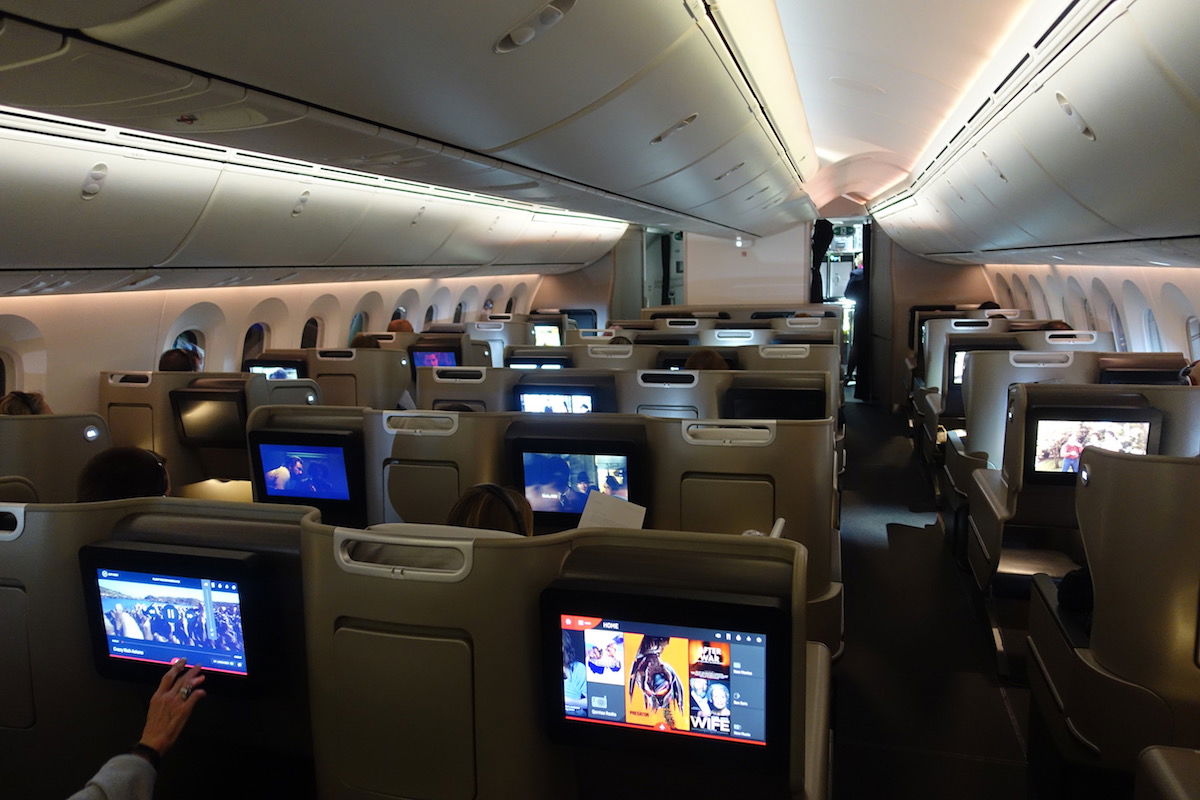 Forward Qantas 787 business class cabin
About 15 minutes after takeoff the customer service manager, Greg, came by my seat to give me an immigration and fast track card for Australia, and to thank me for being a oneworld Emerald member.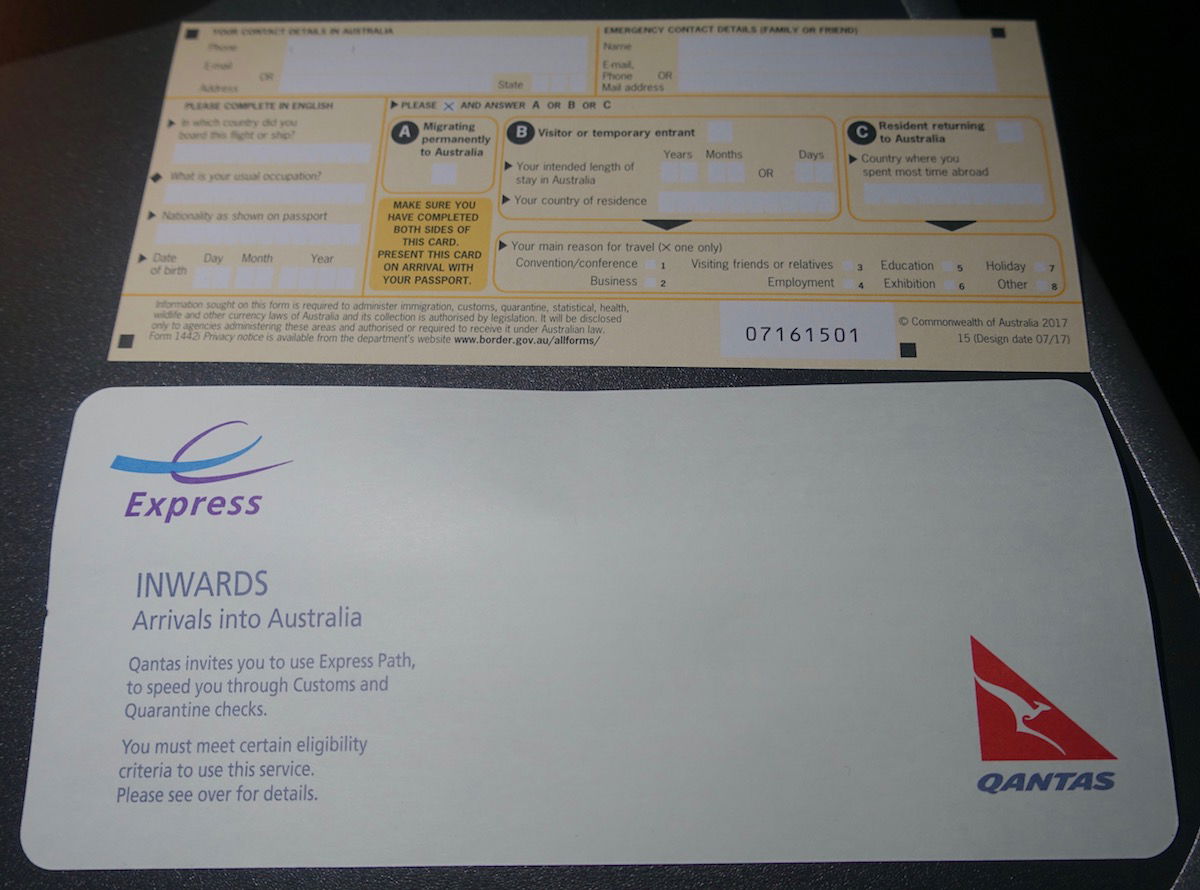 Australia landing & fast track card
He was such a nice guy. For that matter the entire crew was lovely.
About 25 minutes after takeoff the captain made his welcome aboard announcement, on behalf of himself, the first officer, and the three second officers. He informed us we were cruising initially at 34,000 feet, that we were flying towards the Hawaiian islands, and that we should be landing around 6:30AM.
In the cabin the meal service was slow to get started. 30 minutes after takeoff a flight attendant took my meal order. I asked for the salmon, and she commented that "the salmon is popular tonight."
The menu read as follows: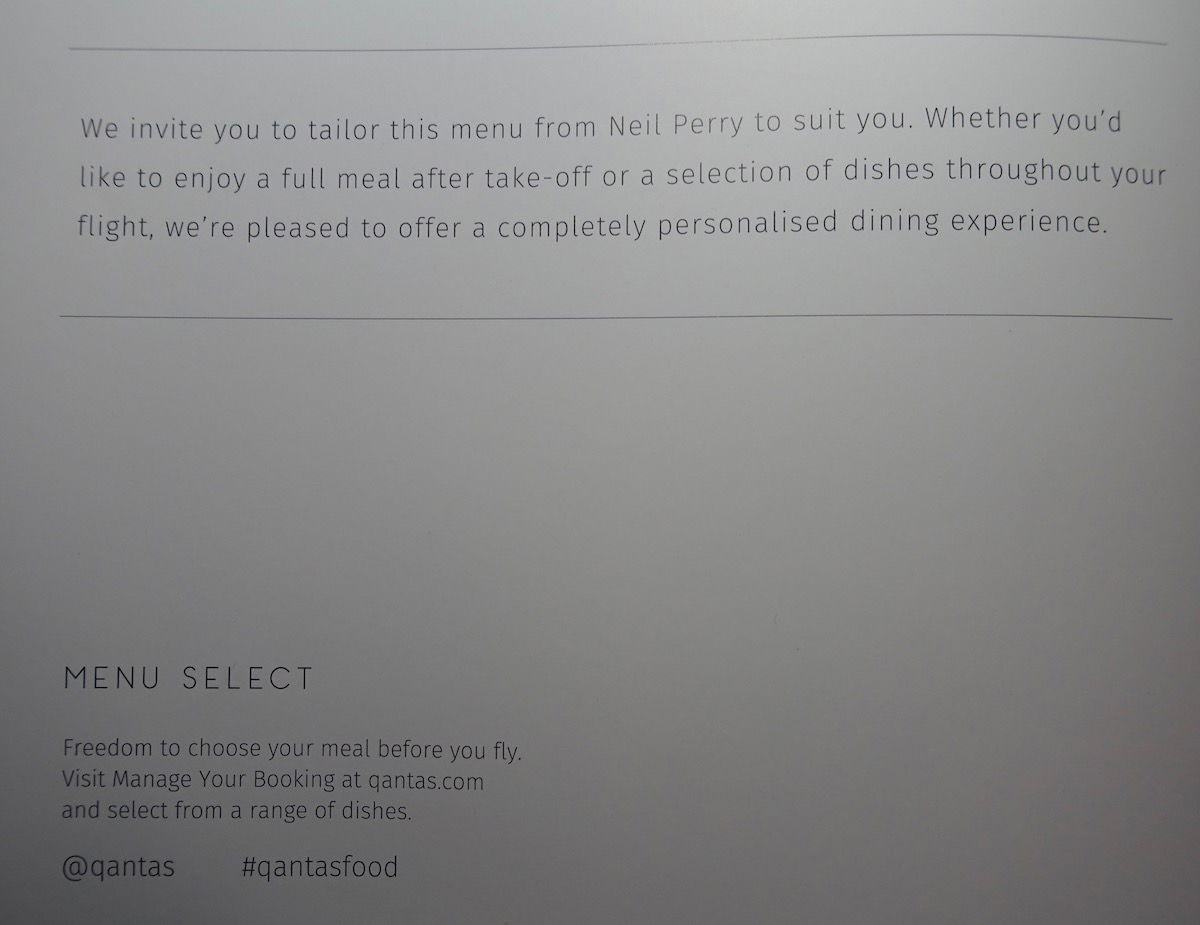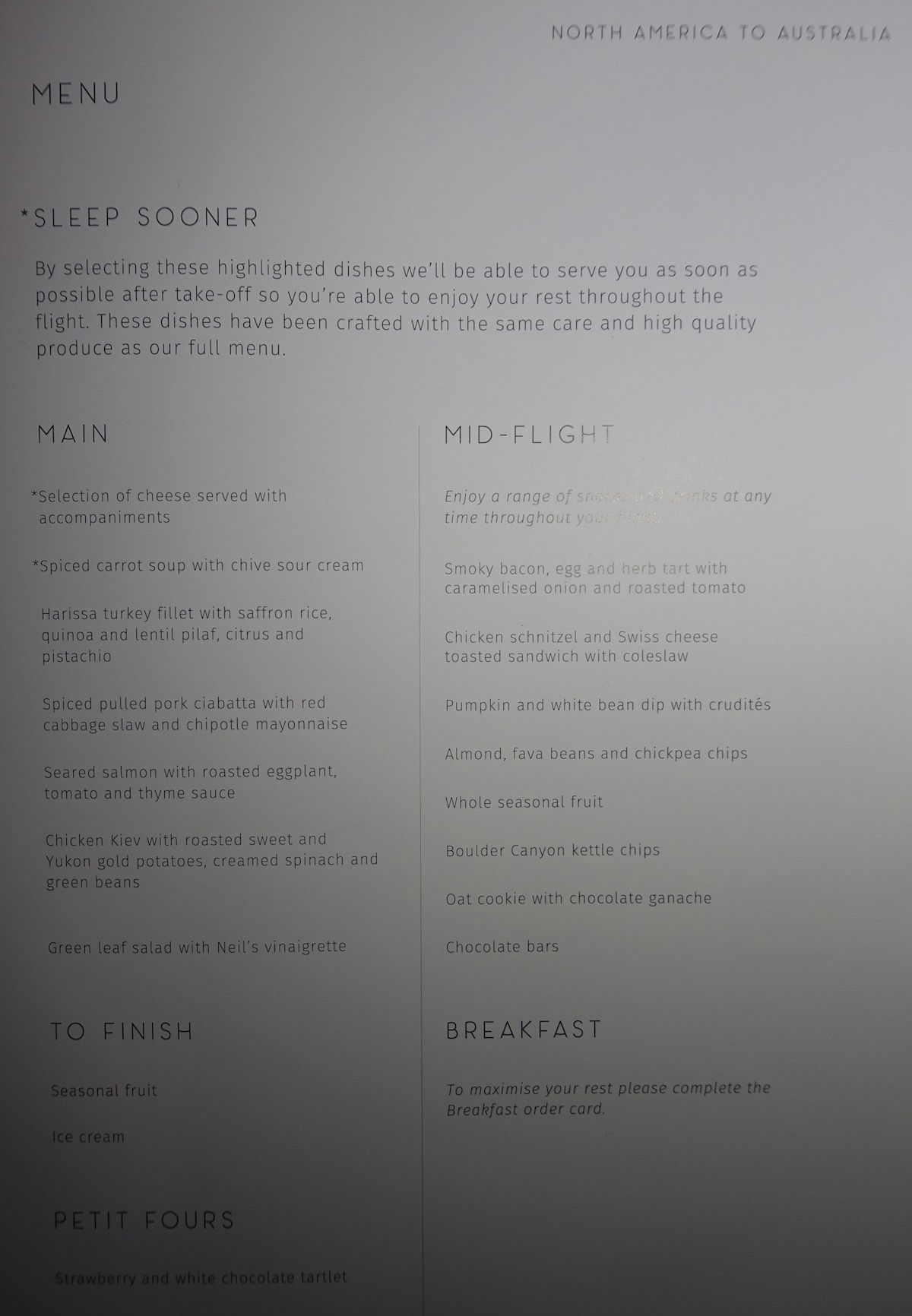 The drink list read as follows: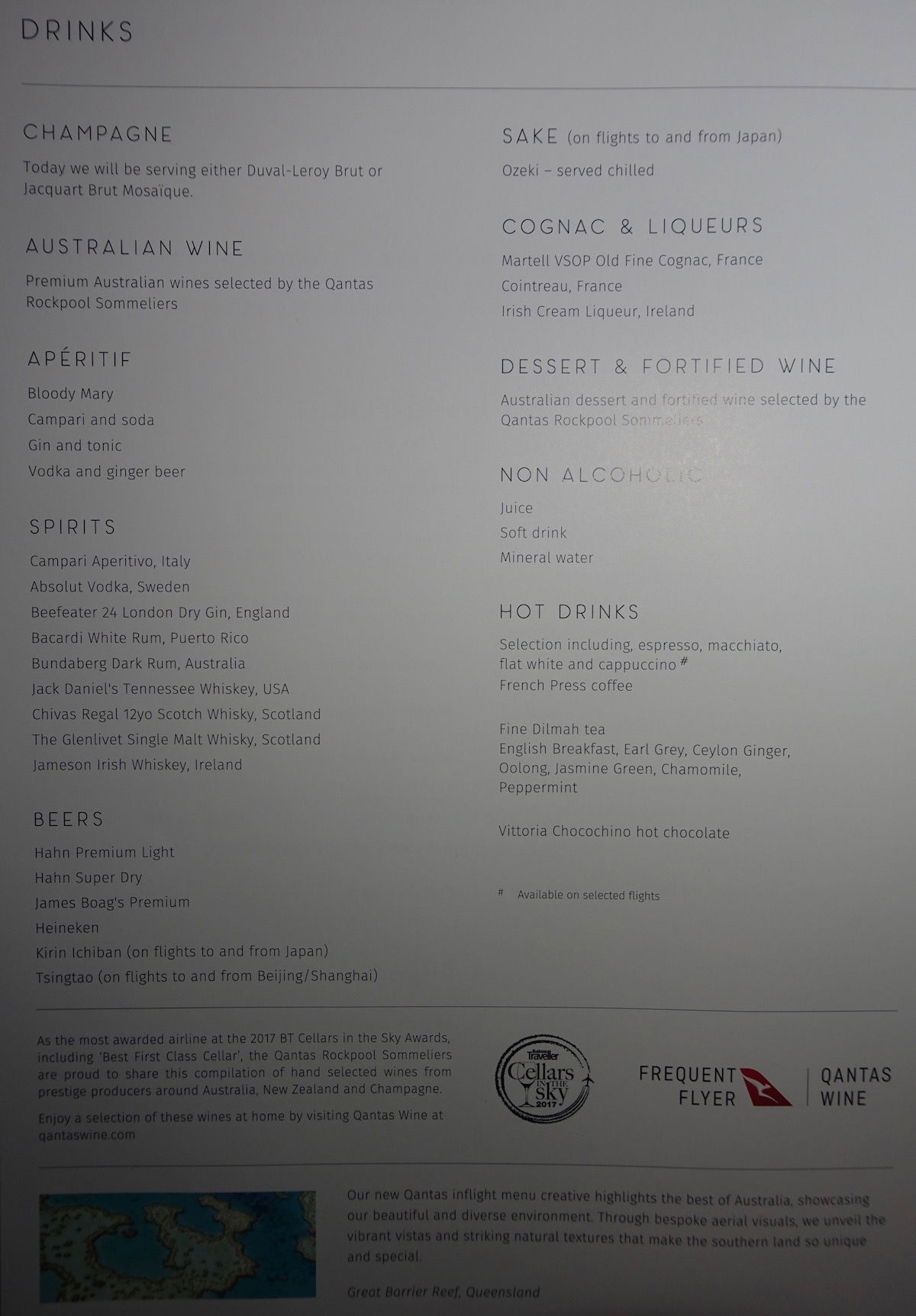 The first service began 75 minutes after takeoff. At that point drinks were served, and they weren't even accompanied by nuts or anything. Then it was another 15 minutes until the starter was served.
I had a tasty Australian sauvignon blanc, and spiced carrot soup with chive sour cream. The soup was excellent. I was also offered a selection of bread. While minor, I found the plastic salt & pepper container Qantas uses to be quite cheap-looking.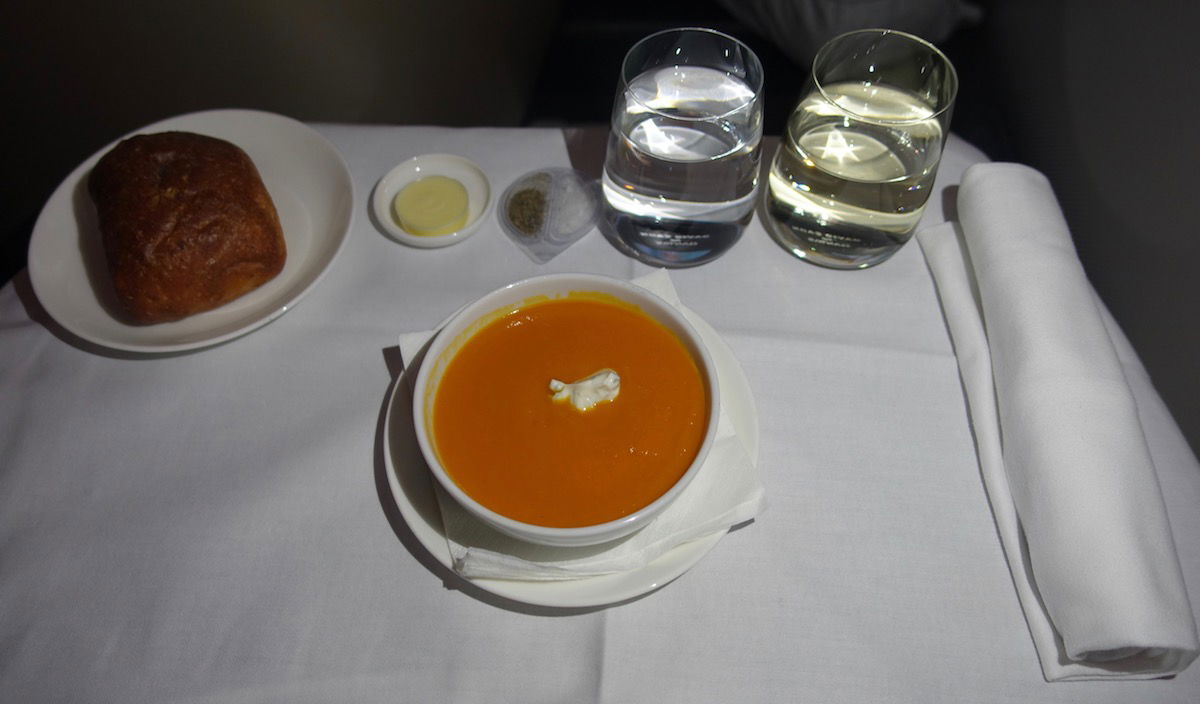 Qantas business class dinner — starter
A full 1hr45min after takeoff my main was served. They were out of salmon, so I had to switch my selection. The other options were turkey, chicken kiev, and pulled pork, so between those options I selected the turkey.
This was a harissa turkey fillet with saffron rice, quinoa and lentil pilaf, citrus, and pistachio. One thing the picture doesn't do justice to is that Qantas uses very small plates. Like this is more of an appetizer plate than a main course plate, so it was quite a small dish. The dish looked better than it tasted.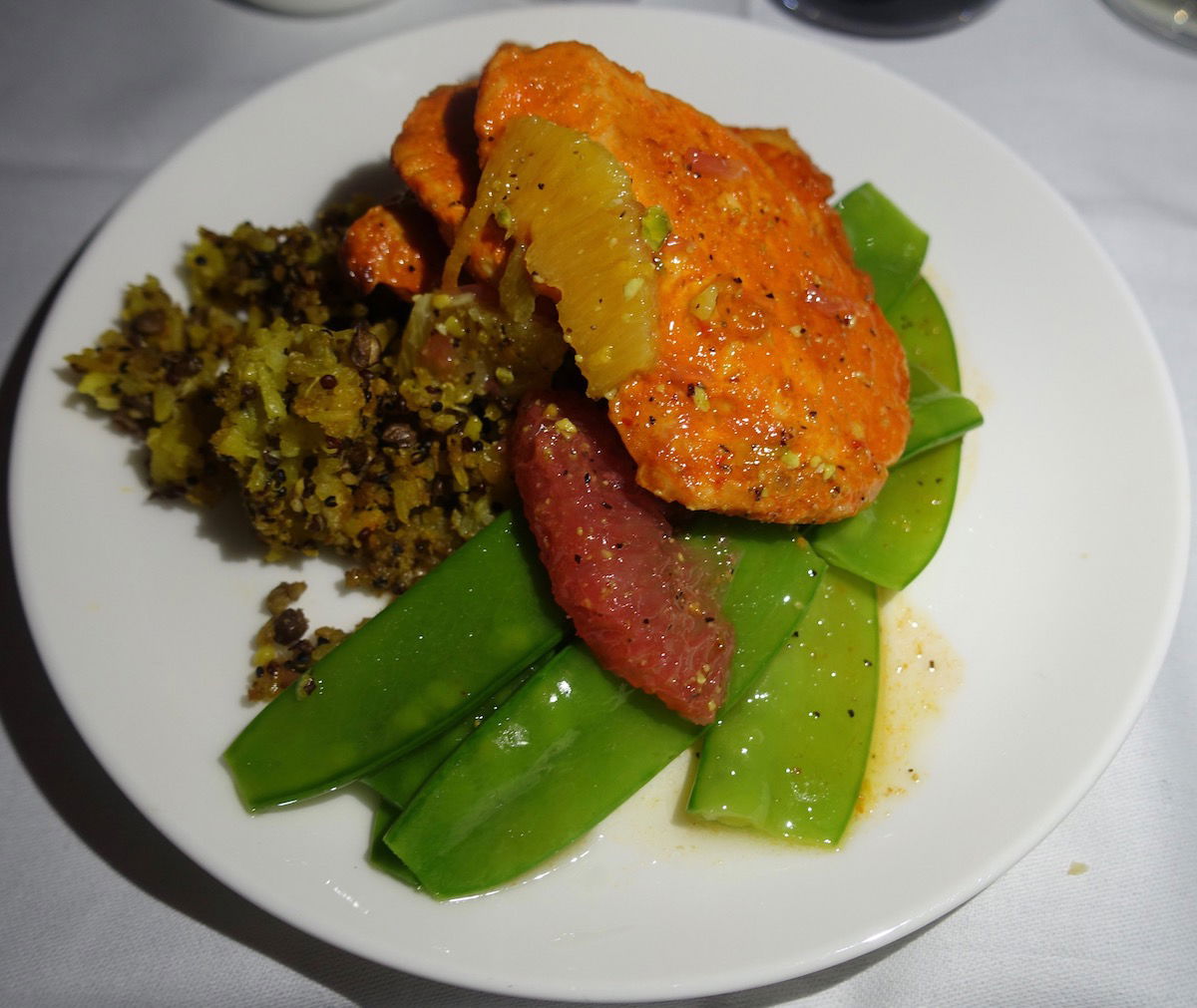 Qantas business class dinner — main course
Dessert was served 2hr5min after takeoff, and the choices were fruit, Haagen-Dazs ice cream, or a strawberry and white chocolate tartlet. I chose the tartlet, which was tiny (I guess as you'd expect from something described as a "tartlet").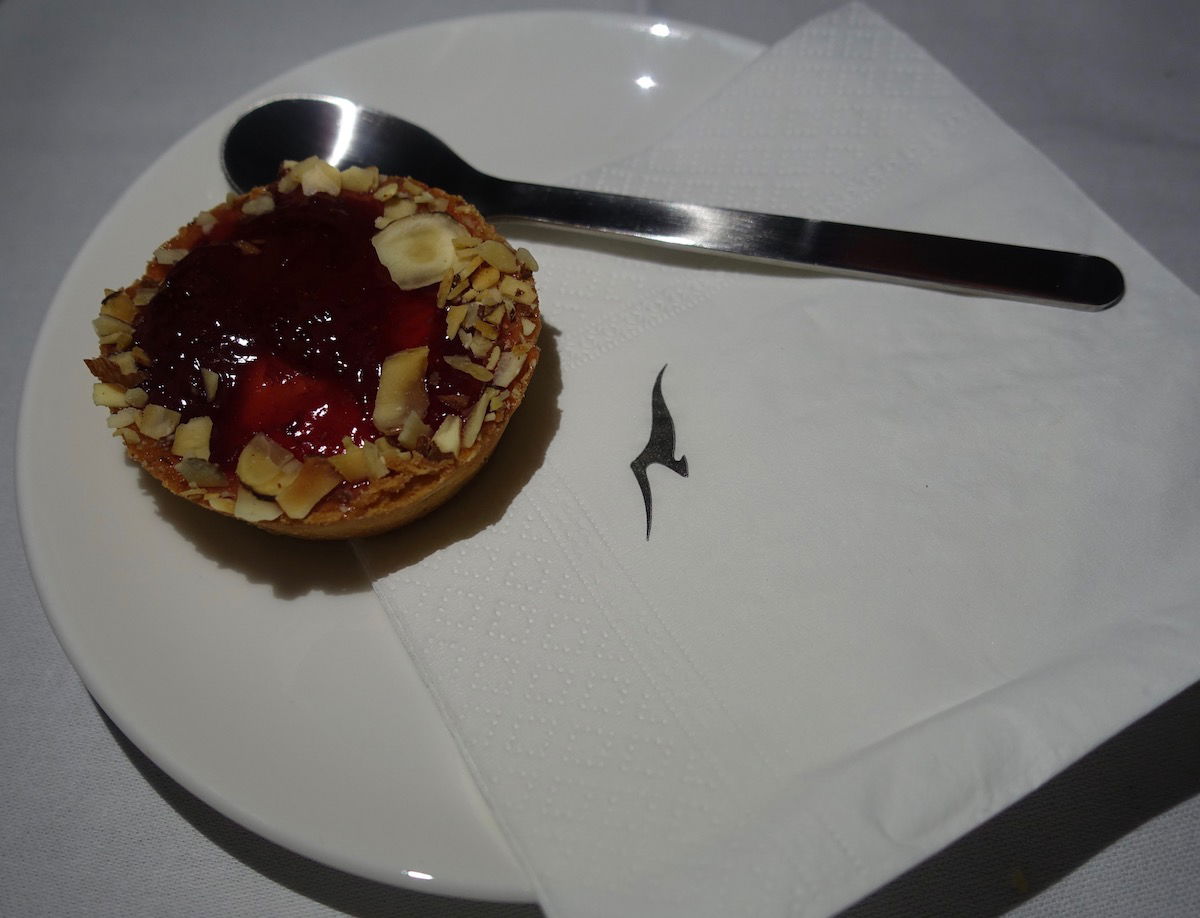 Qantas business class dinner — dessert
I was still hungry at this point, so asked if I could also have a cheese plate.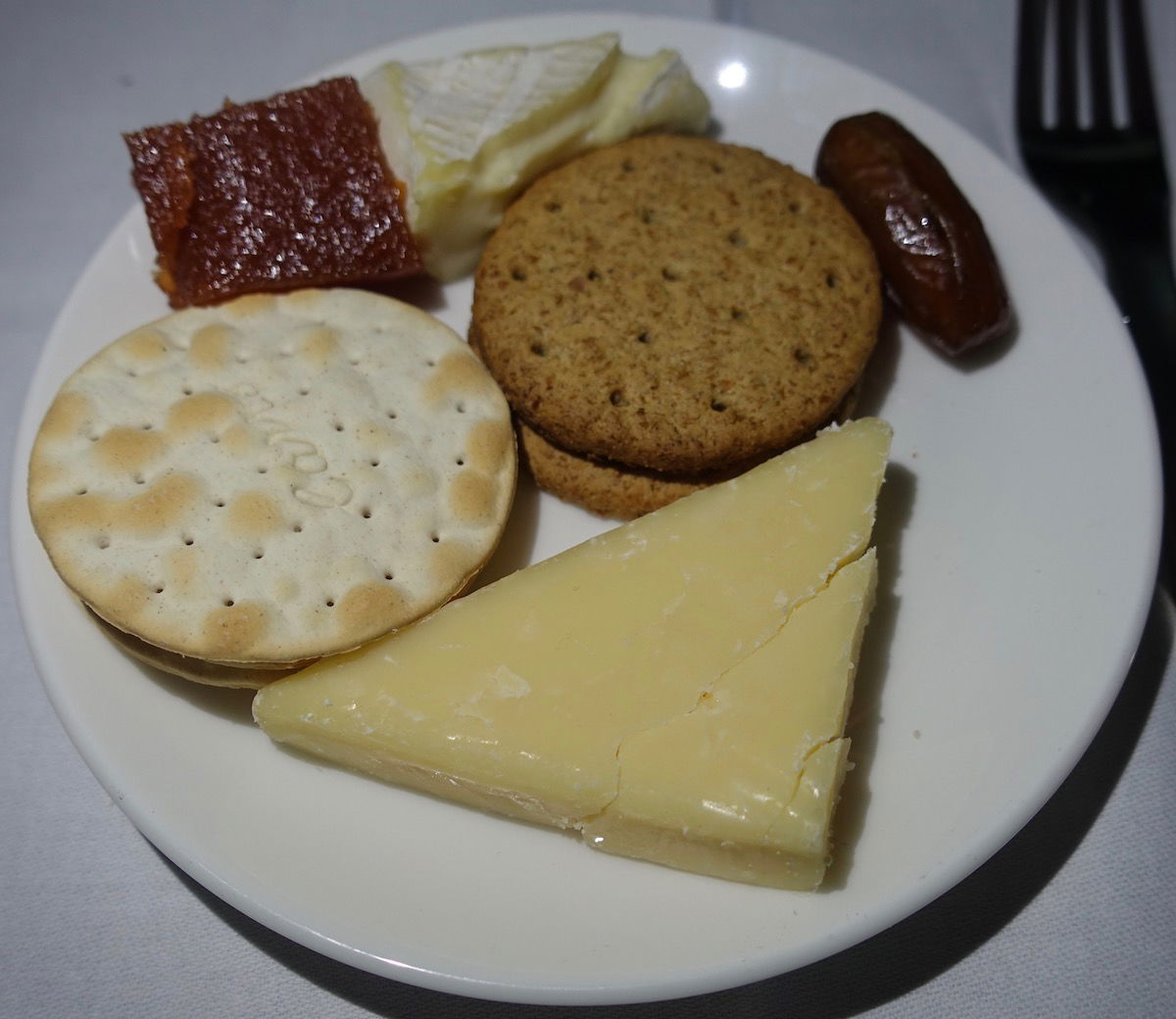 Qantas business class dinner — cheese plate
The meal service was done over 2hr30min into the flight. Okay, so let me start with the positive — the crew was delightful. Every single flight attendant was engaging, charming, and seemed to enjoy their job. I also love that Qantas has such a focus on Australian wines, and their flight attendants are also very knowledgable about them.
However, just about every other aspect of the meal and service flow was either confusing or disappointing. Qantas claims that they have a focus on serving healthy cuisine, but this seems to be code for not serving a lot of food. You should still give people more options, in my opinion.
A few observations:
The same flight attendants who serve business class also serve premium economy, so the cart is always being rolled back and forth between cabins; similarly, since there's no dedicated premium economy lavatory, some premium economy passengers kept coming up to use the business class lavatory
The meal service was so slow to get started, and it shouldn't be 75 minutes after takeoff before you have your first drink; and then when they served drinks, it didn't even come with nuts or an amuse bouche or anything
On a 15 hour flight, a premium airline shouldn't have such a limited/lackluster menu; the soup was the only starter (unless you consider cheese a starter?), then there were four mains, and then there were limited dessert options
So yeah, in my opinion Qantas masters service in terms of the friendliness of their crews, but has a very long way to go with their actual meal service. I know some people absolutely love Qantas, but based on this meal service I can't help but feel really disappointed.
Anyway, by the time my tray was cleared and I got changed we had about 12 hours remaining to Melbourne.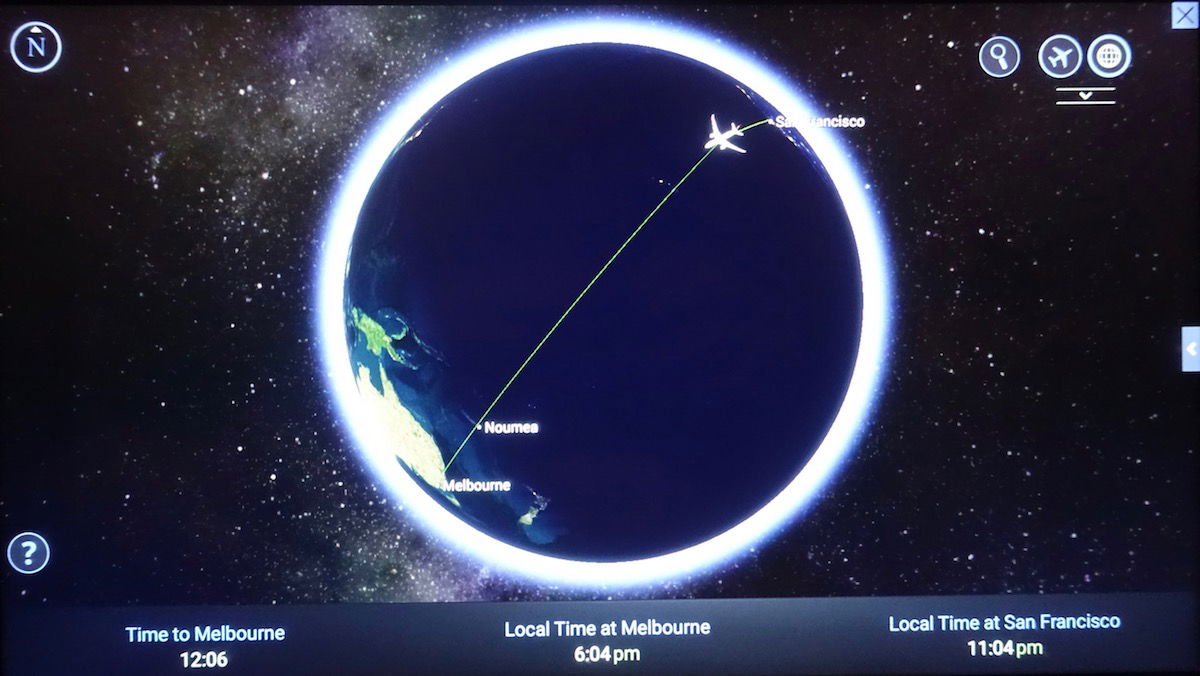 Progress enroute to Melbourne
The bed was comfortable, and I slept uninterrupted for over five hours, which is about as good as it gets for me on a plane.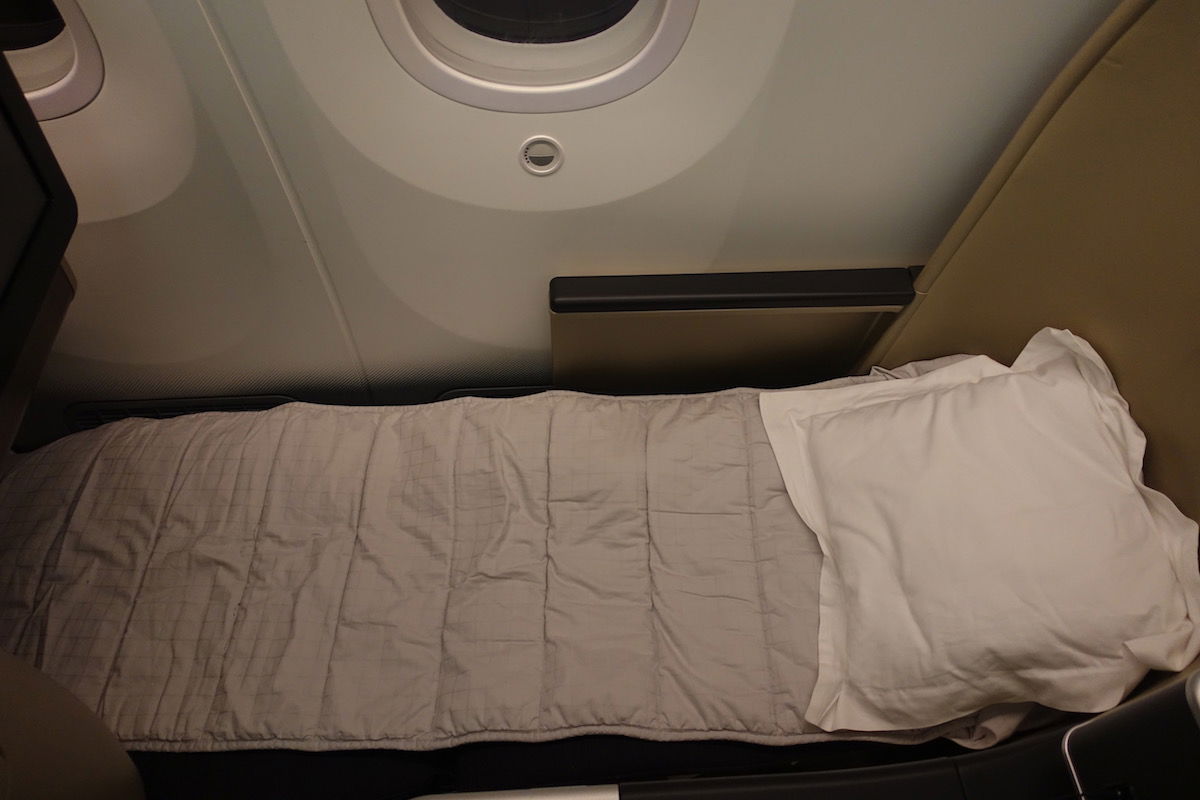 Qantas 787 business class bed
When I woke up we had just over 6hr40min remaining inflight to Melbourne.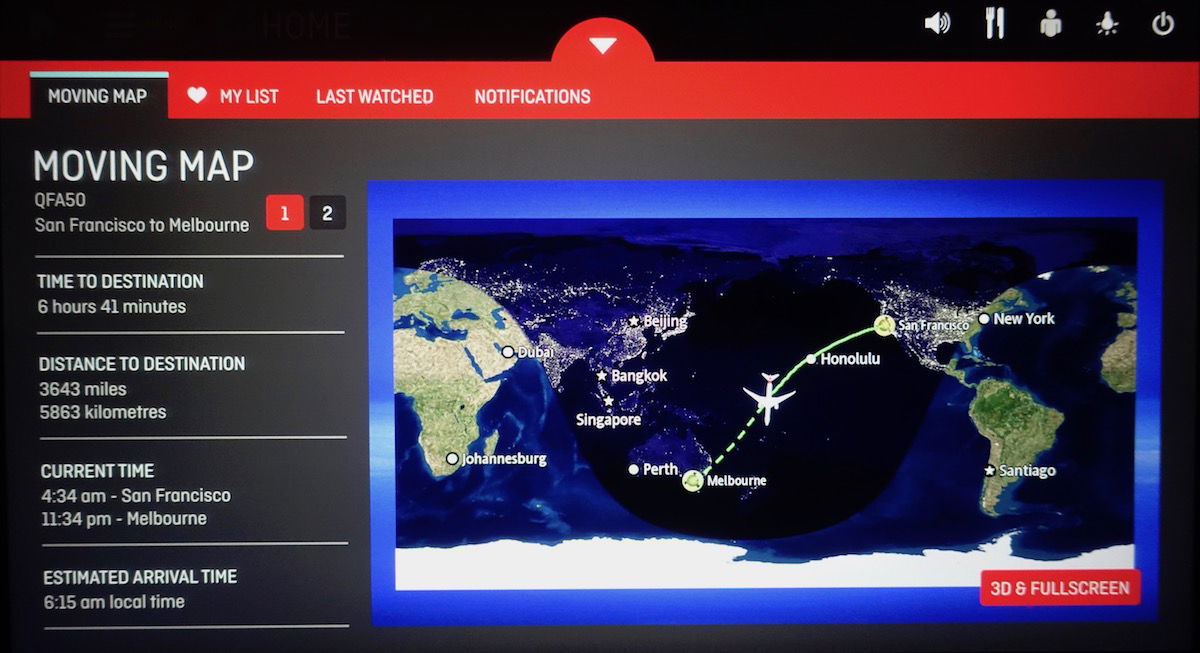 Progress enroute to Melbourne
Shortly thereafter we deviated a bit from course, presumably to avoid weather. I'd note that while the flight was smooth, the pilots constantly turned on the seatbelt sign when there was even the slightest bump.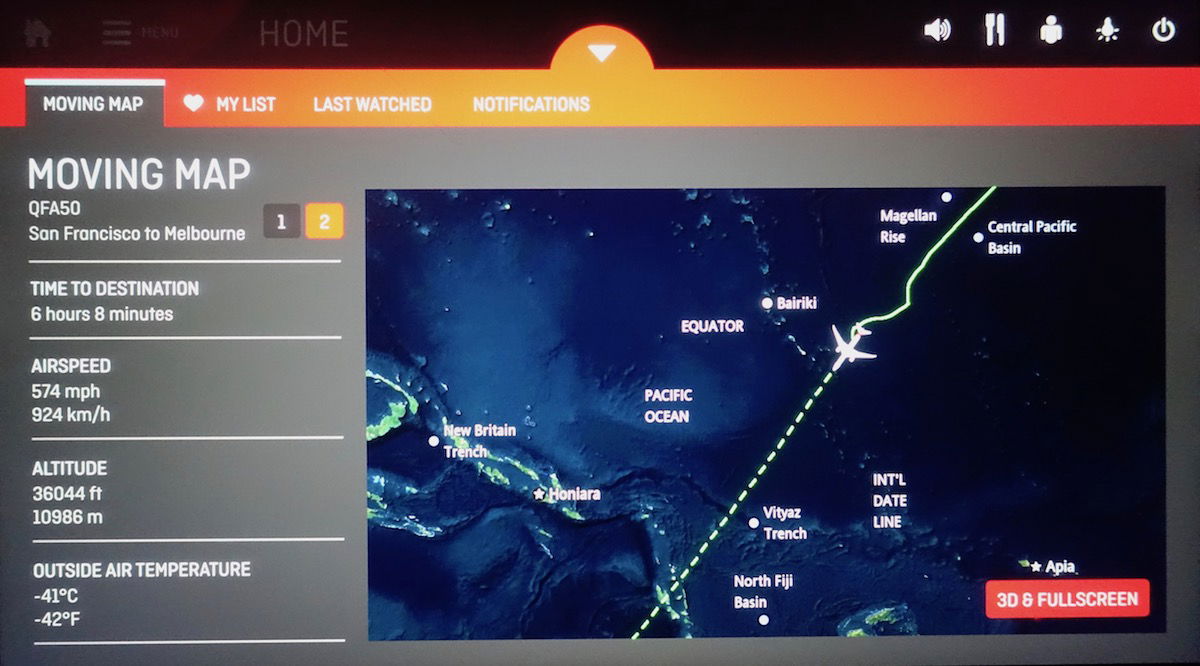 Progress enroute to Melbourne
At this point I checked out the snack bar, located in the middle galley. For a nearly 15 hour flight, I wouldn't exactly call this an impressive selection, as there was nothing more than candy bars, packaged chips and cookies, and some fresh fruit. Even British Airways has a significantly better self serve snack selection on flights half this long.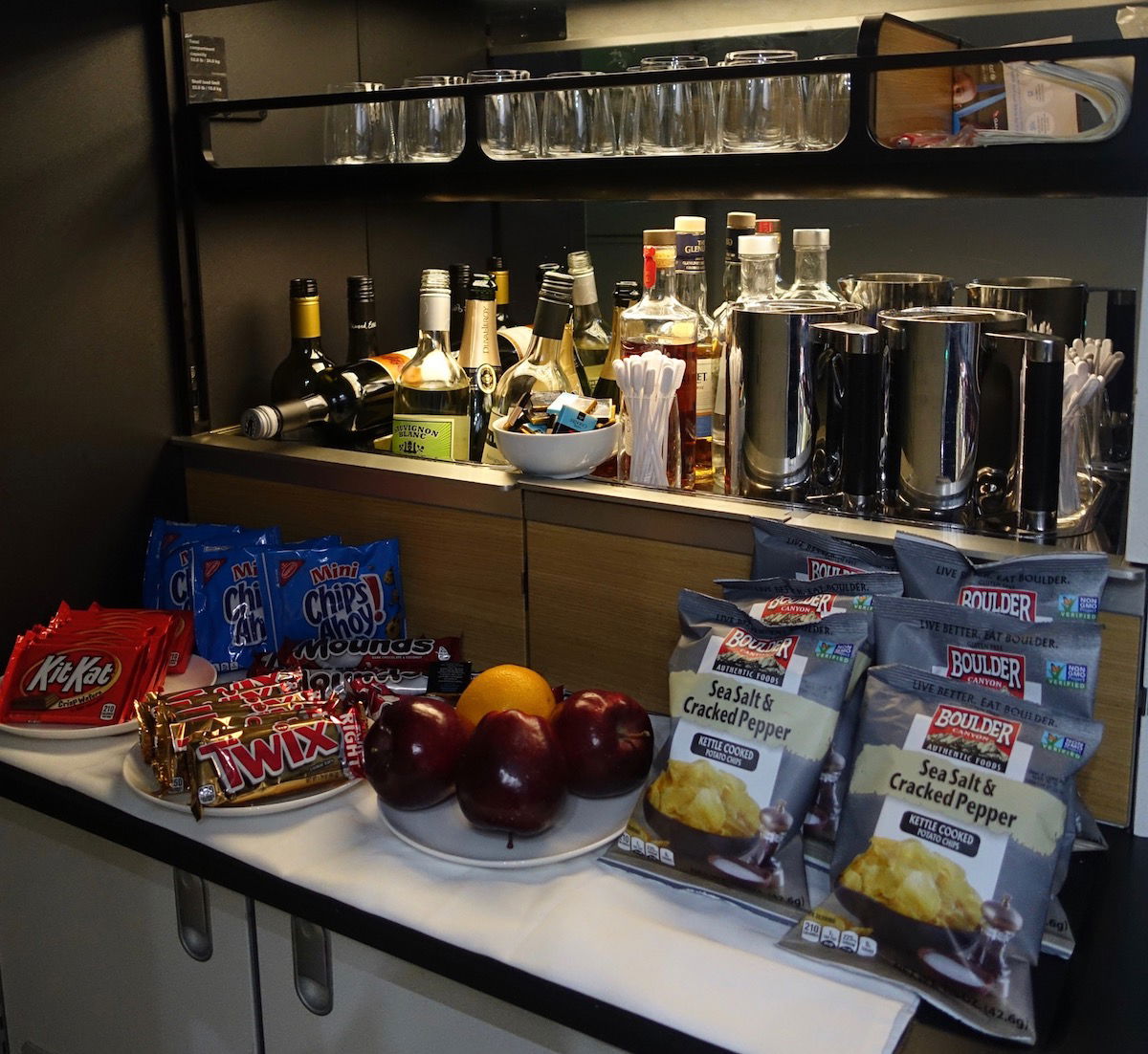 Qantas business class bar
Australia is known for its coffee culture, so I decided to work my way through their menu, starting with a flat white.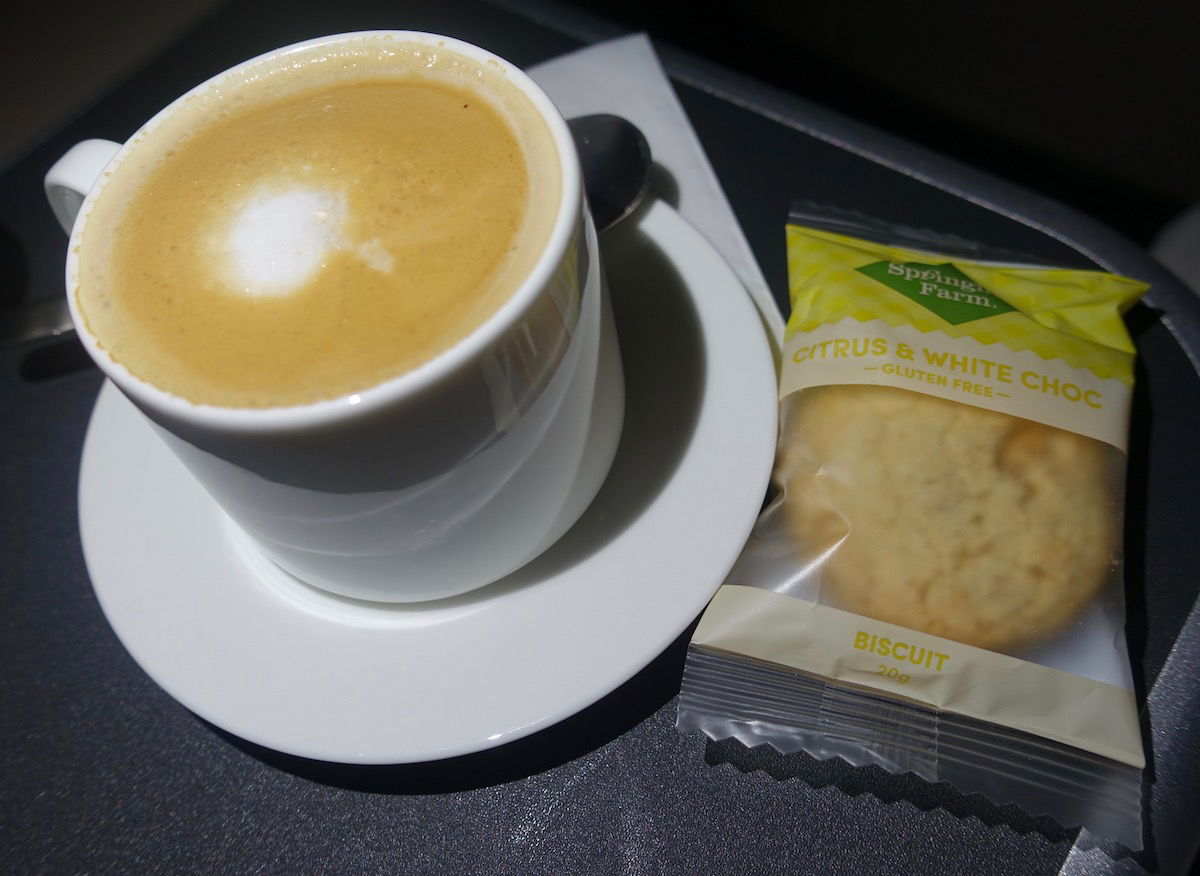 Qantas business class flat white
An hour or so later I had a long macchiato.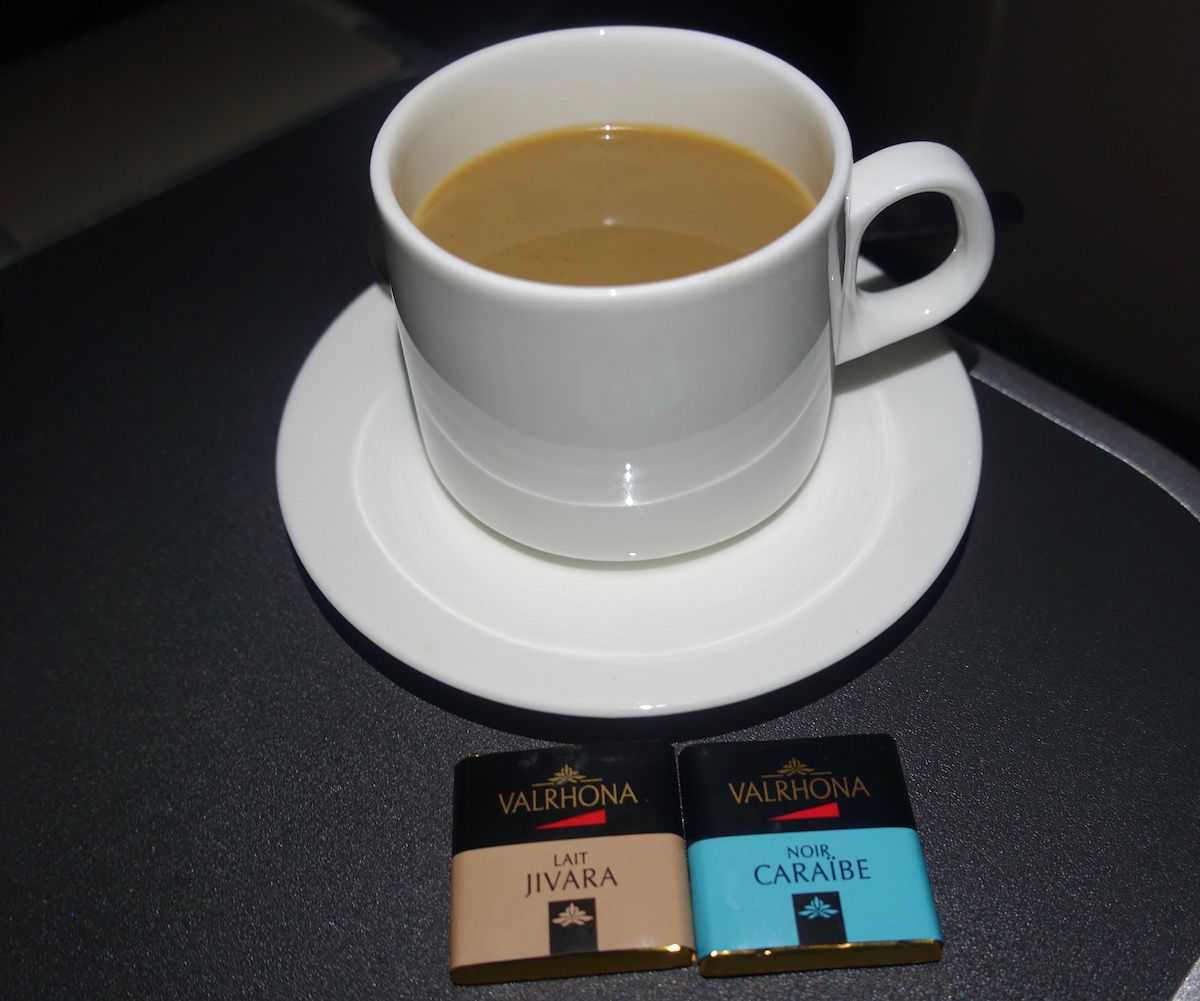 Qantas business class americano
Then eventually I had a cappuccino…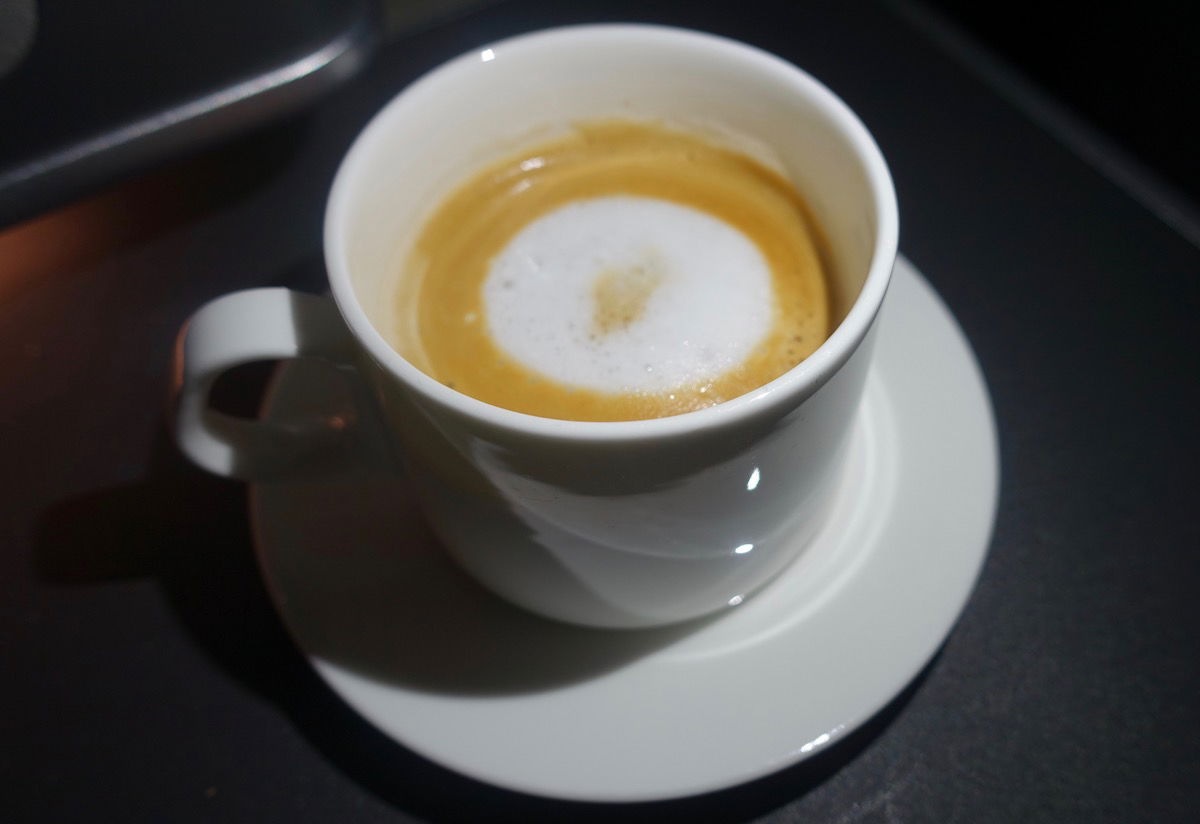 Qantas business class cappuccino
As you can see, the crew always kept offering cookies and chocolate as well.
Eventually I wanted something a bit more substantial, so ordered some veggies with hummus… which still wasn't exactly substantial.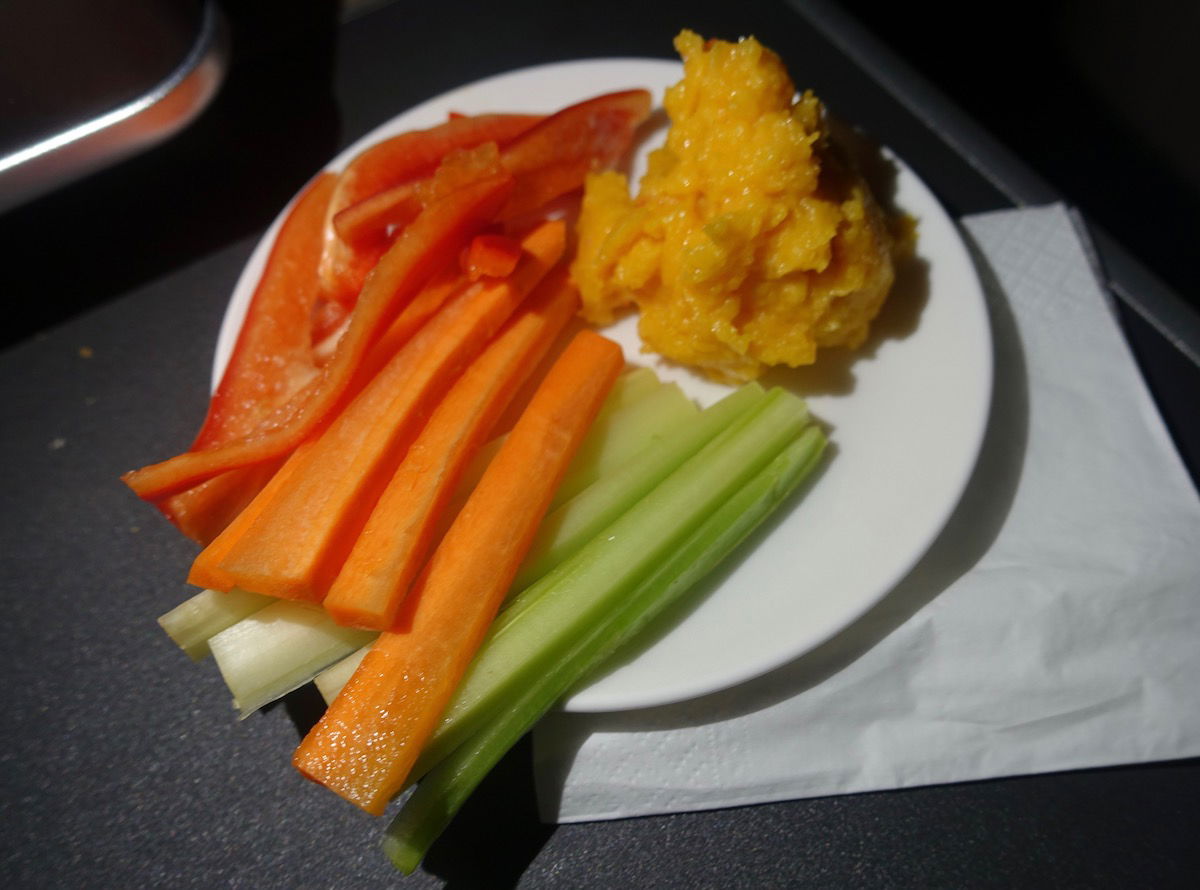 Qantas business class snack
Anyway, I spent the next several hours of the flight watching TV shows and also working a bit on my laptop.
Most passengers seemed to be much better sleepers than I am, and slept for most of the flight. Finally about 2hr15min before landing the breakfast service began. The breakfast menu read as follows:

As I mentioned earlier in the review, breakfast orders were taken before takeoff, as they have handy breakfast cards you can fill out and hand to the crew.
Since they can prepare the customized meals in the galley, the trays were brought out by hand.
To start I ordered a fruit salad, muesli with milk, toast, a green juice, and coffee.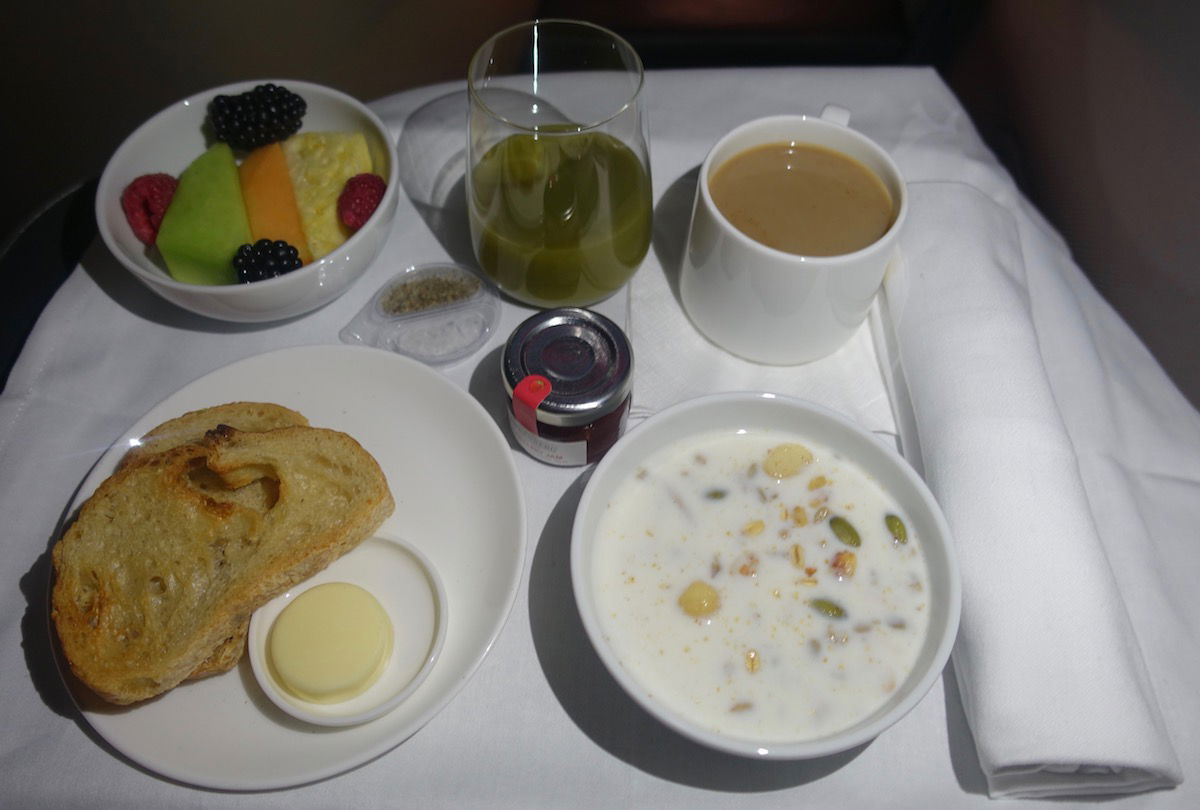 Qantas business class breakfast
For the main course I ordered the "healthy" option, which was actually good this time. I had the poached eggs with kale, quinoa grilled haloumi, sunflower seeds, and herbed tahini dressing. The portion was small (Qantas uses very small plates), but it tasted good.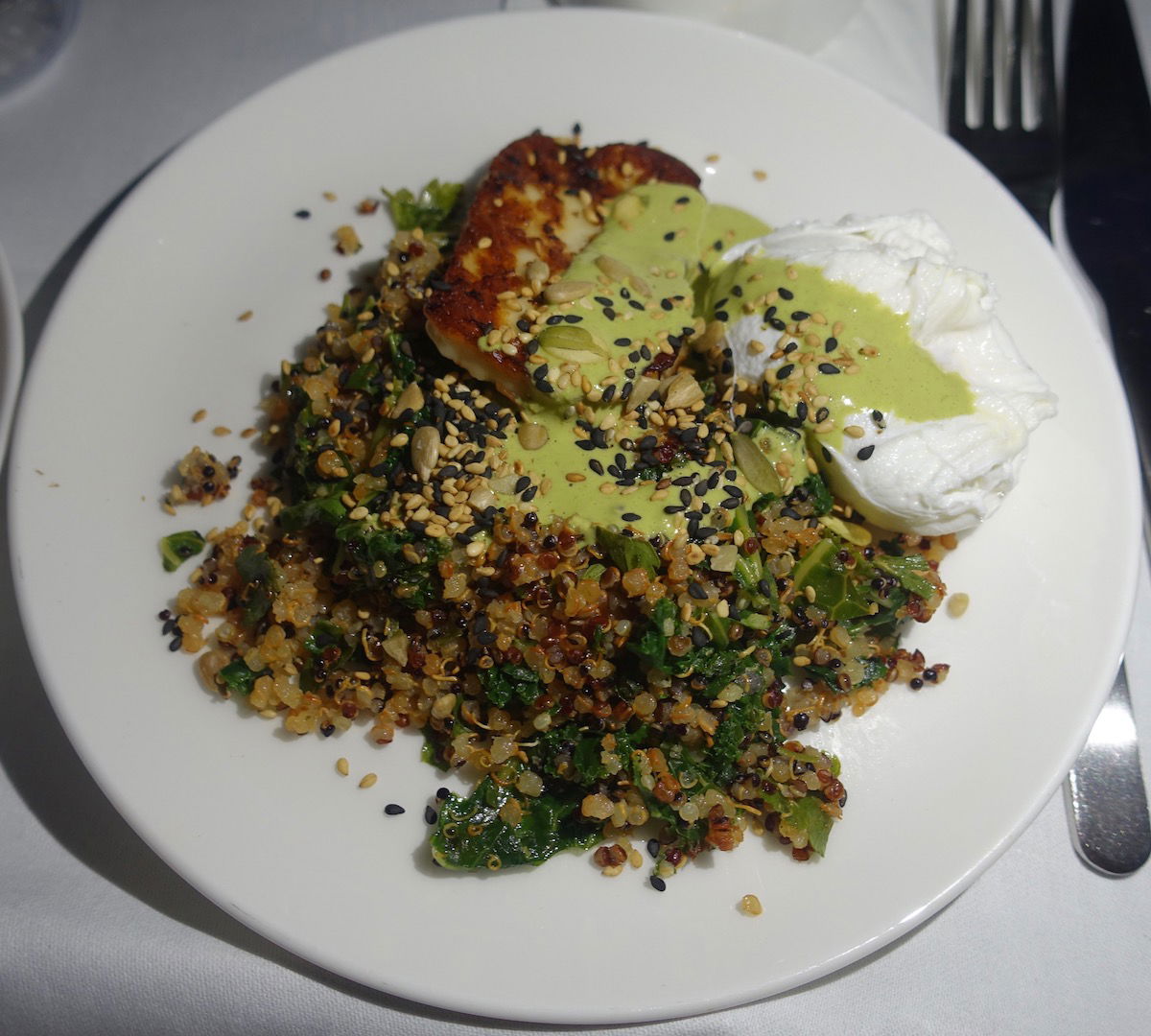 Qantas business class breakfast
About 40 minutes before landing the crew already prepared the cabin for landing, which seemed awfully early. On the plus side, Qantas doesn't require you to put your seat upright for landing, so you can still keep it reclined a bit if you'd like.
30 minutes before landing the captain announced that we'd be descending shortly. He explained that we lost some time enroute due to weather, but should still be at the terminal by 6:40AM. Sure enough a few minutes later we began our descent, and 25 minutes before landing the seatbelt sign was turned on.
The crew had dimmed the windows for the entire flight, so this was really the first daylight we got the entire flight (not that it got light that much earlier, as we flew in darkness all night).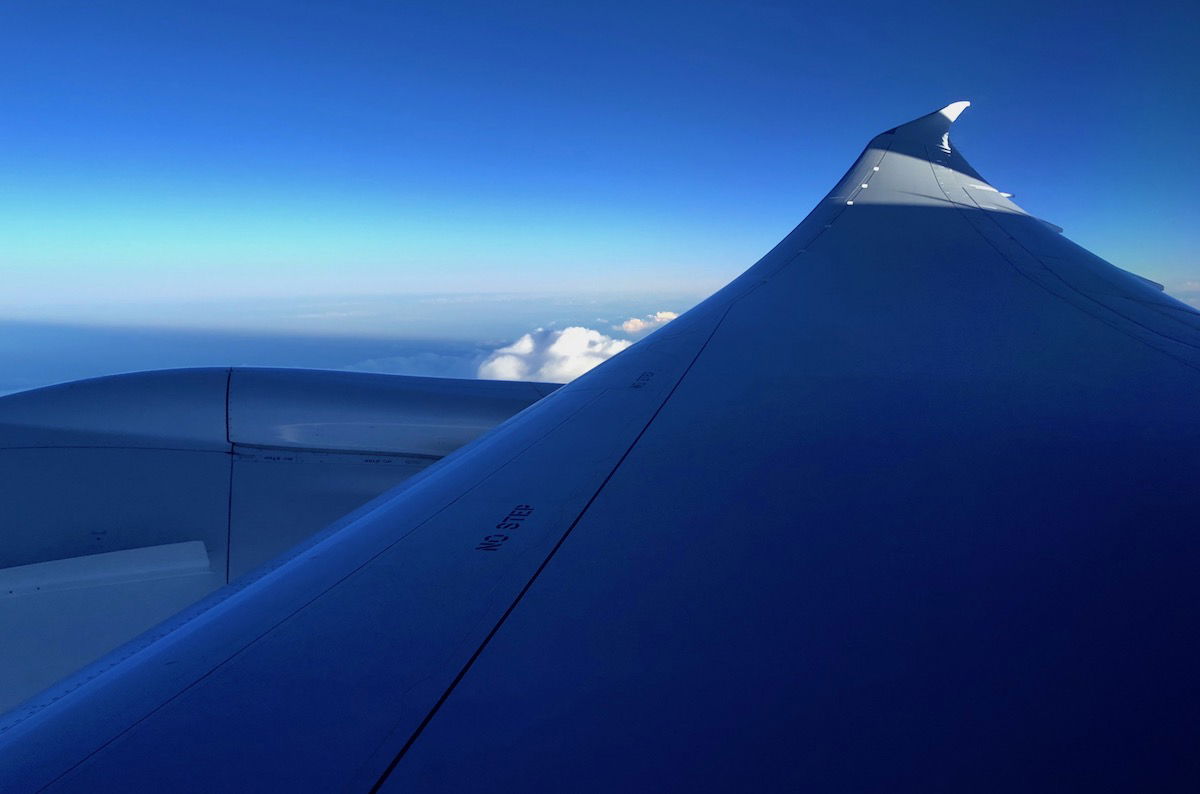 Descending into Melbourne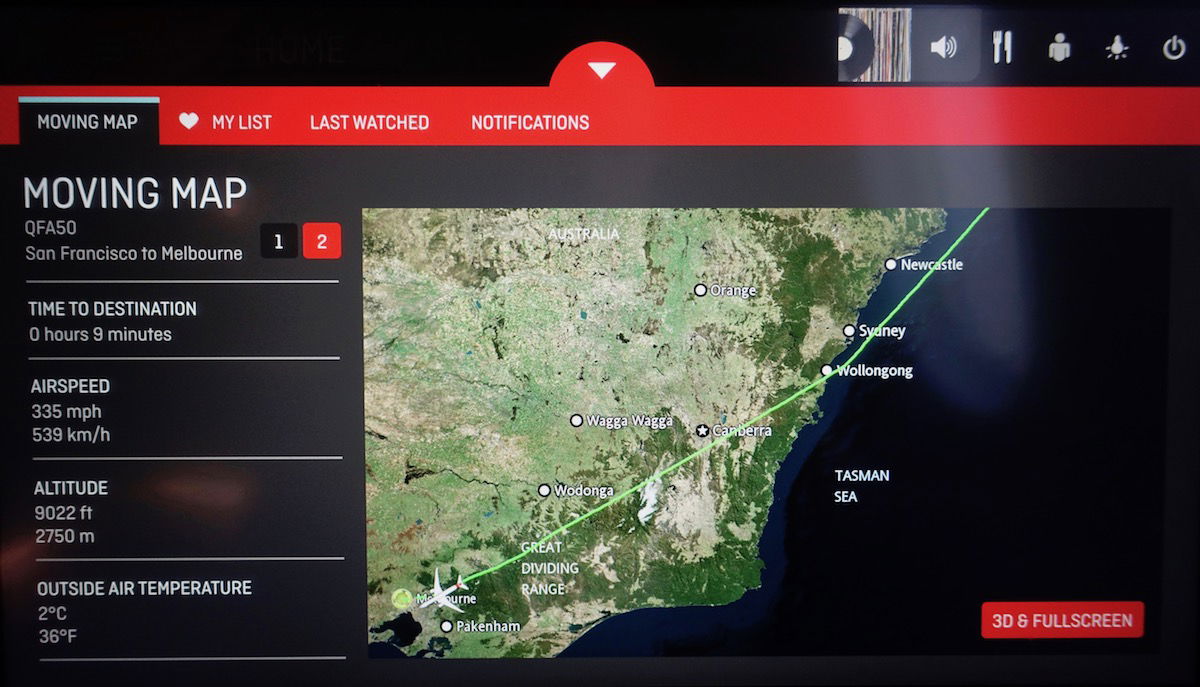 Map approaching Melbourne
Starting about 10 minutes before landing we hit a bit of turbulence, including one big air pocket that got my heart racing for a second.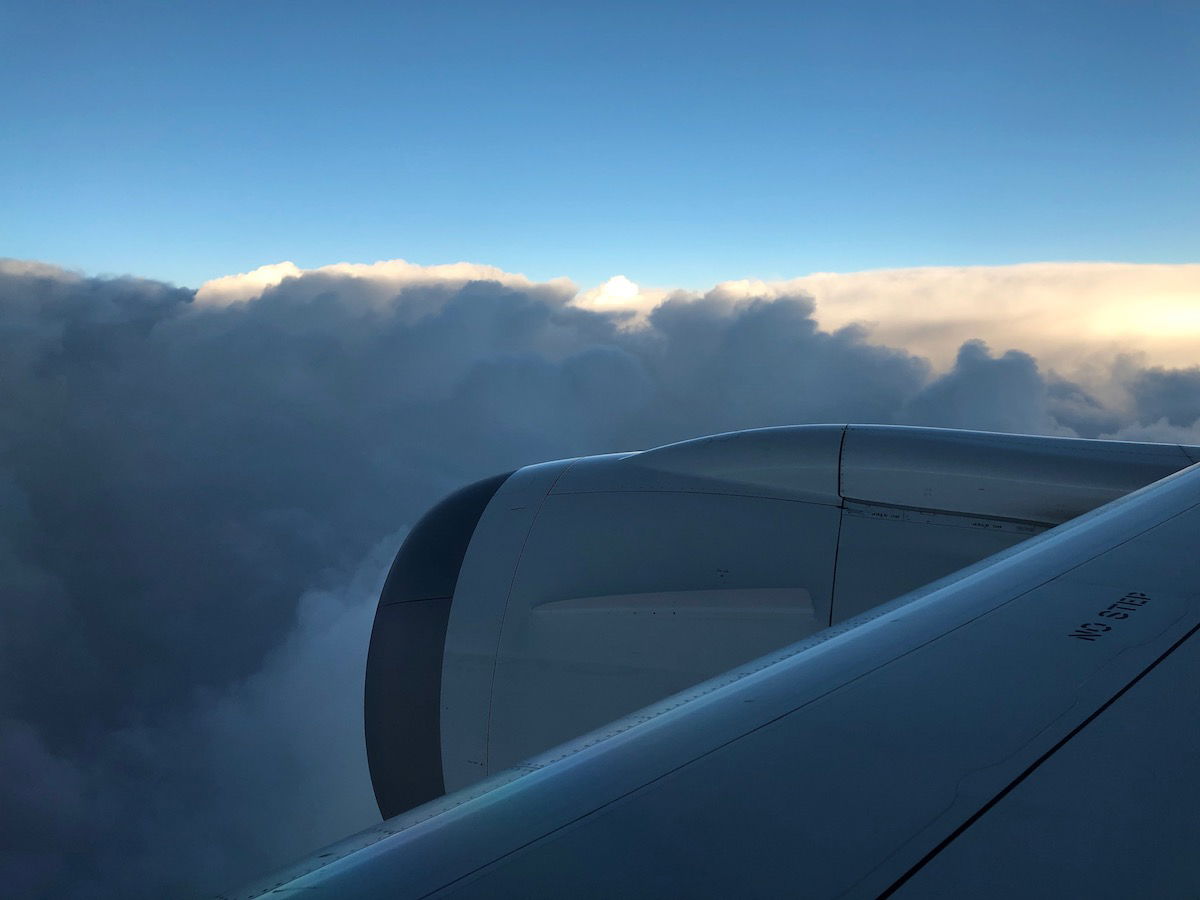 Descending into Melbourne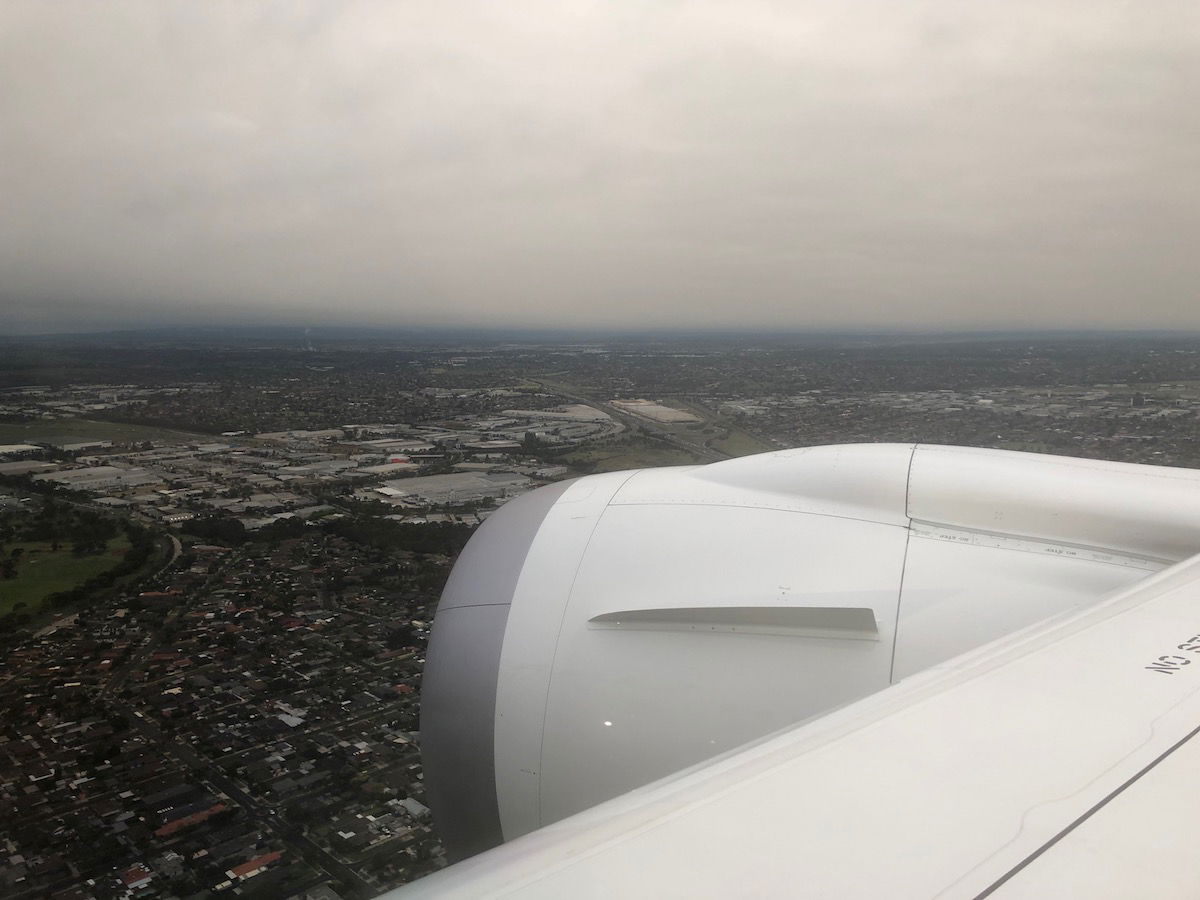 Approaching Melbourne
At 6:30AM we touched down in Melbourne, and from there we had a 10 minute taxi to our arrival gate, where we parked a few gates down from an Etihad 787.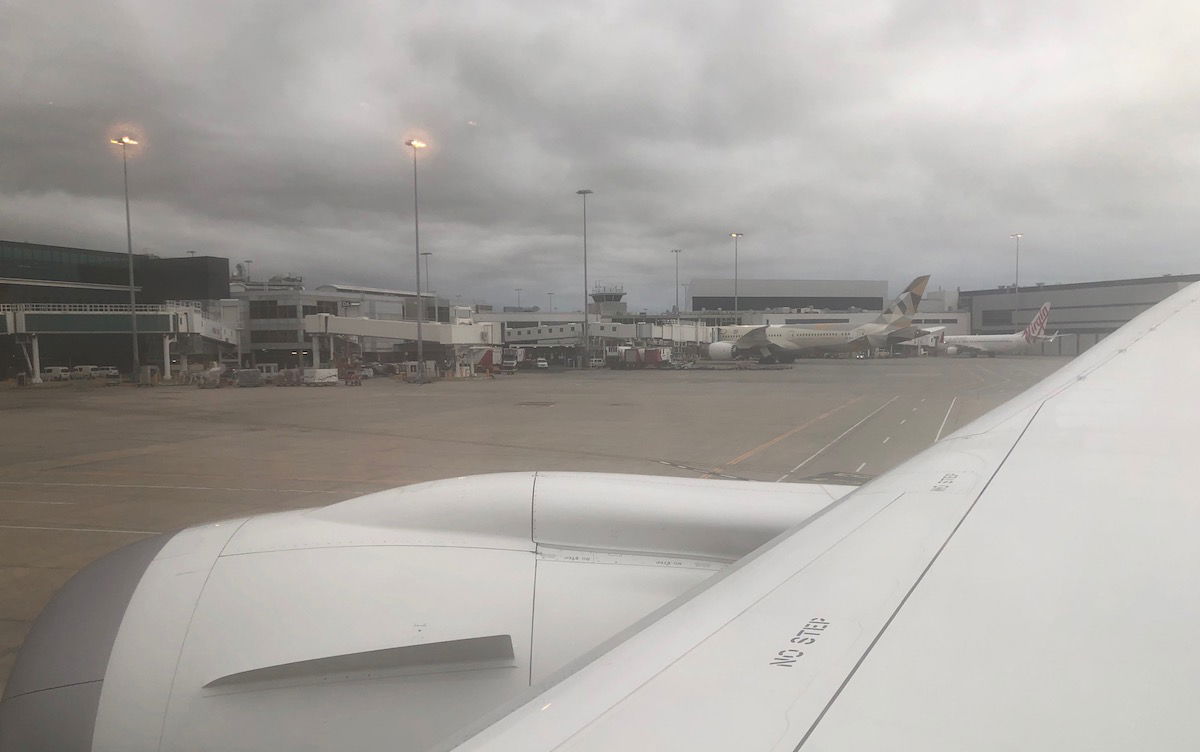 Taxiing Melbourne
I bid farewell to the crew, and once off the plane had my first real chance to view the plane from the outside.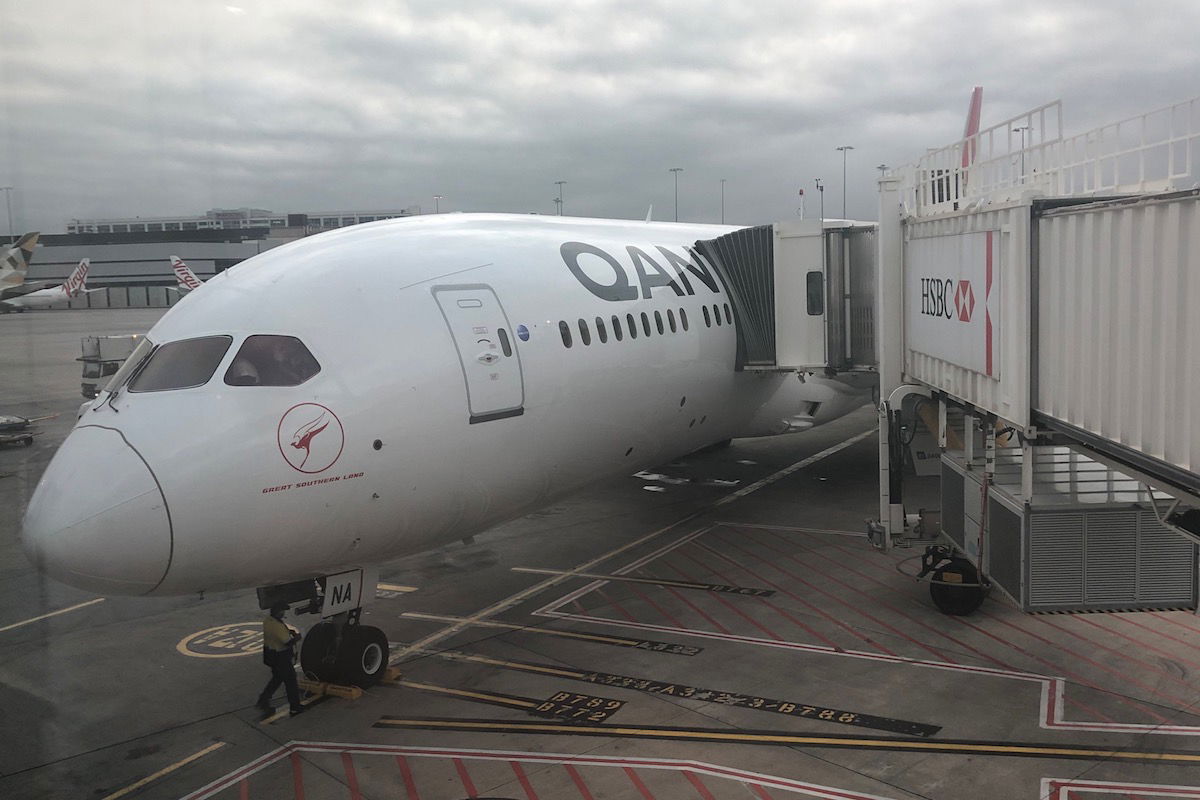 Qantas 787 upon arrival in Melbourne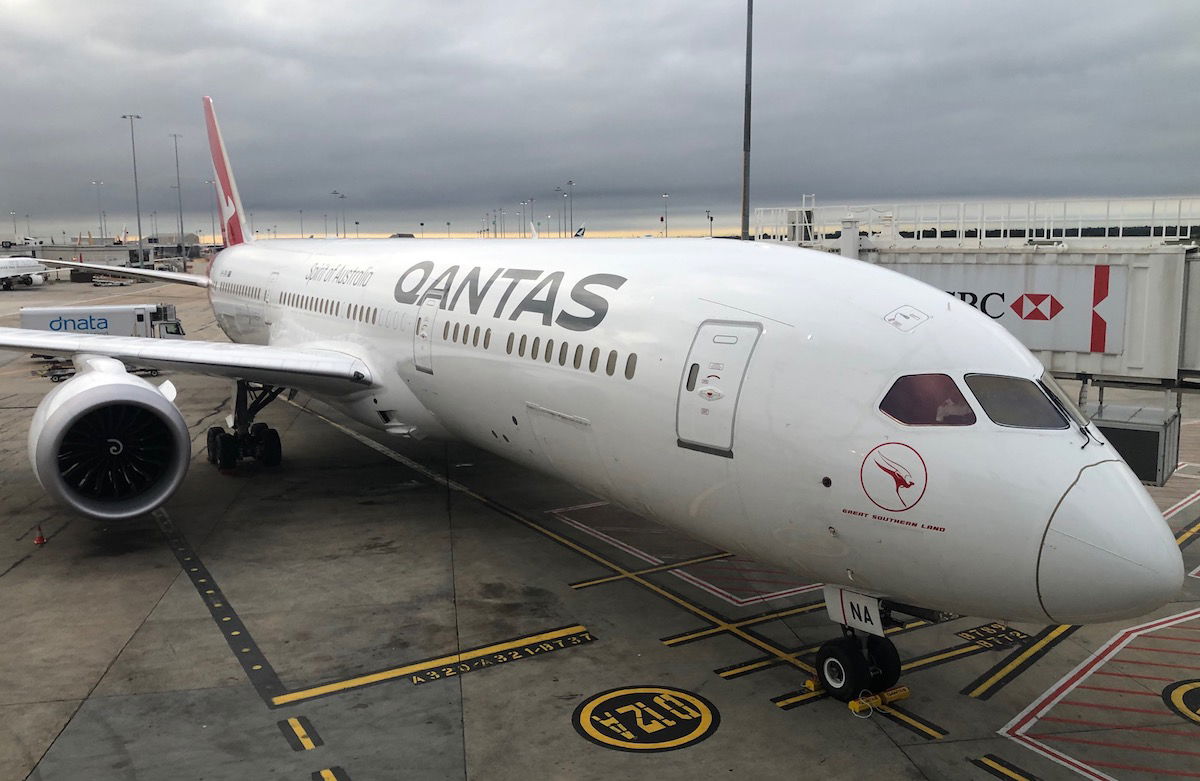 Qantas 787 upon arrival in Melbourne
Immigration was quick, and within about 15 minutes I was in an Uber to my hotel.
Qantas 787 business class bottom line
I'm conflicted about Qantas' 787 business class.
The pros included exceptionally friendly service, great Australian wines and coffee, pajamas, a comfortable seat and bedding, a sleek cabin, and a top notch entertainment system.
The cons include that Qantas doesn't have Wi-Fi, and that the meal service was extremely limited. It's not just that the meals as such weren't very big, but I found the overall selection to be quite limited.
It's really weird, because usually when I review an airline I either come away being pleasantly surprised or disappointed. In the case of Qantas I think back on the flight very fondly. I think Qantas has some pizzaz to it, but I also think they have one of the most limited menus I've ever seen on a premium airline for a 15 hour flight.
If you've flown Qantas business class, what was your experience like?