---
We had spent the night prior to our flight at the Grand Hyatt DFW, which is connected to the terminal. So we ended up only arriving at the airport shortly before boarding started. For what it's worth, Japan Airlines passengers have access to the American Airlines lounges, though the Amex Centurion Lounge is also conveniently located near Japan Airlines' gate.
Our flight was departing from gate D15, and boarding was scheduled to start at 11:10AM, 30 minutes before departure.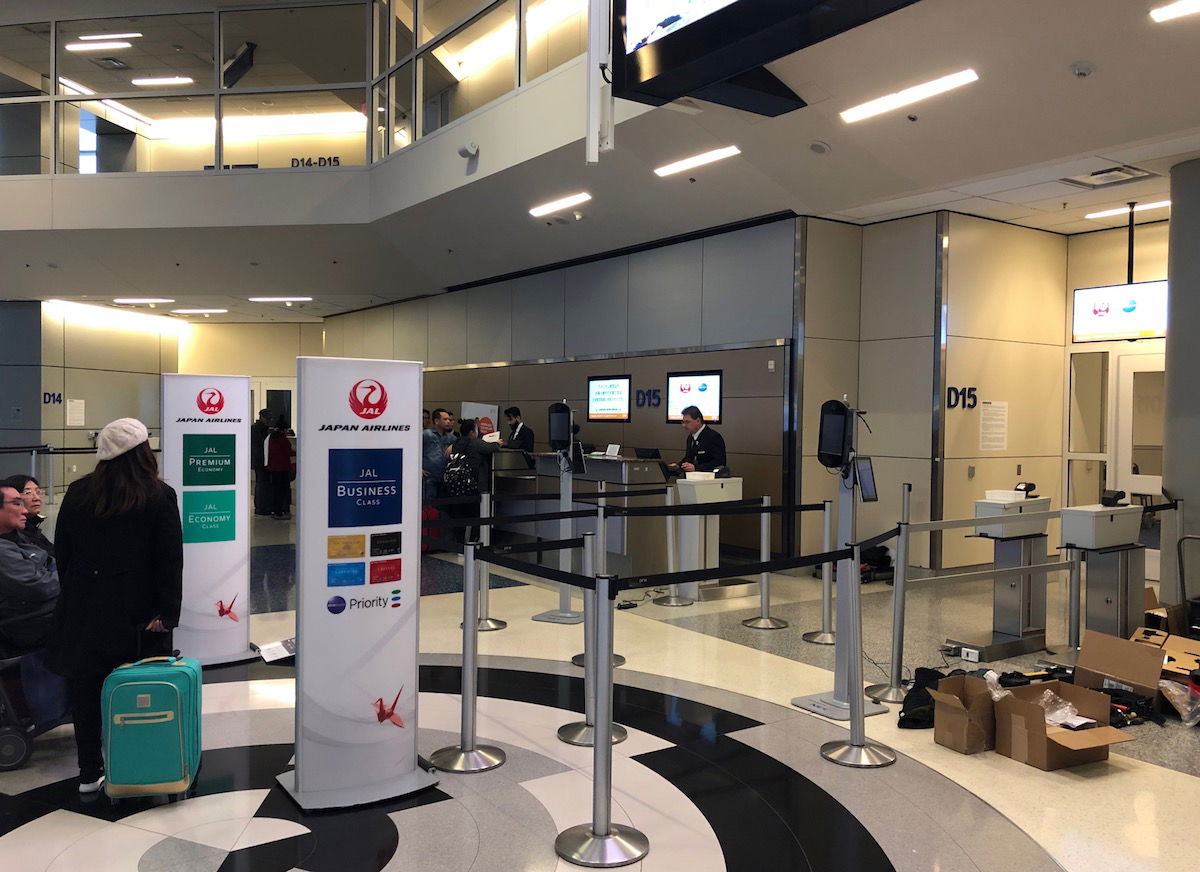 Japan Airlines departure gate DFW
Interestingly gate D15 was set up for biometric boarding. Boarding did in fact start at 11:10AM, and you boarded by standing in front of a screen, and once the screen lit up, you just presented your boarding pass to a gate agent — there was no need to present your passport. I can't decide whether I find advancements like this awesome, or just plain creepy.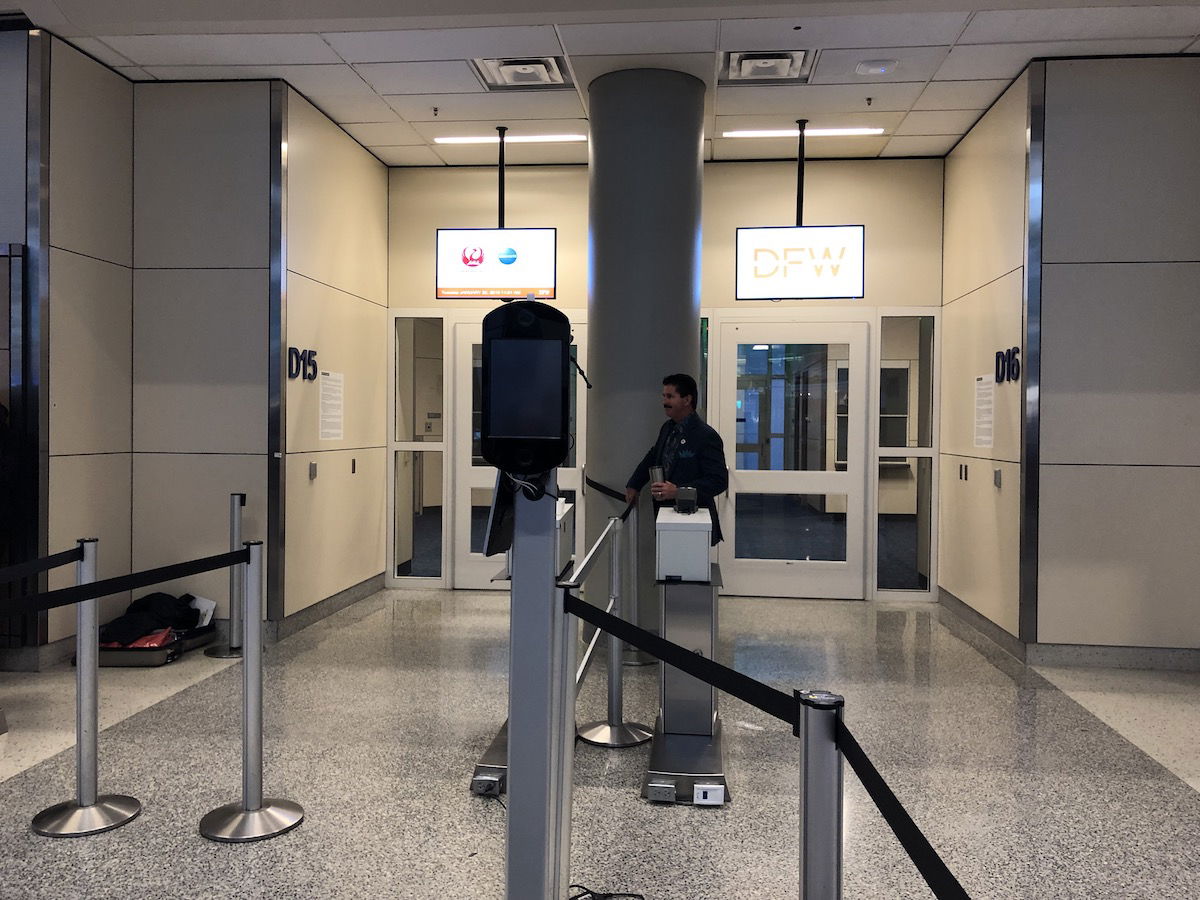 Japan Airlines departure gate DFW
Even though this plane didn't have first class, pre-boarding was offered to oneworld Emerald members.
Japan Airlines 11
Dallas (DFW) – Tokyo (NRT)
Tuesday, January 22
Depart: 11:40AM
Arrive: 4:25PM (+1 day)
Duration: 13hr45min
Aircraft: Boeing 787-9
Seat: 8A (Business Class)
I boarded through the second door on the left, where I was pointed right to my seat. Japan Airlines' 787-9 business class cabin consists of a total of 44 Apex Suites. Apex Suites are among my favorite business class seats out there.
The forward business class cabin had a total of 24 seats, spread across four rows in a 2-2-2 configuration.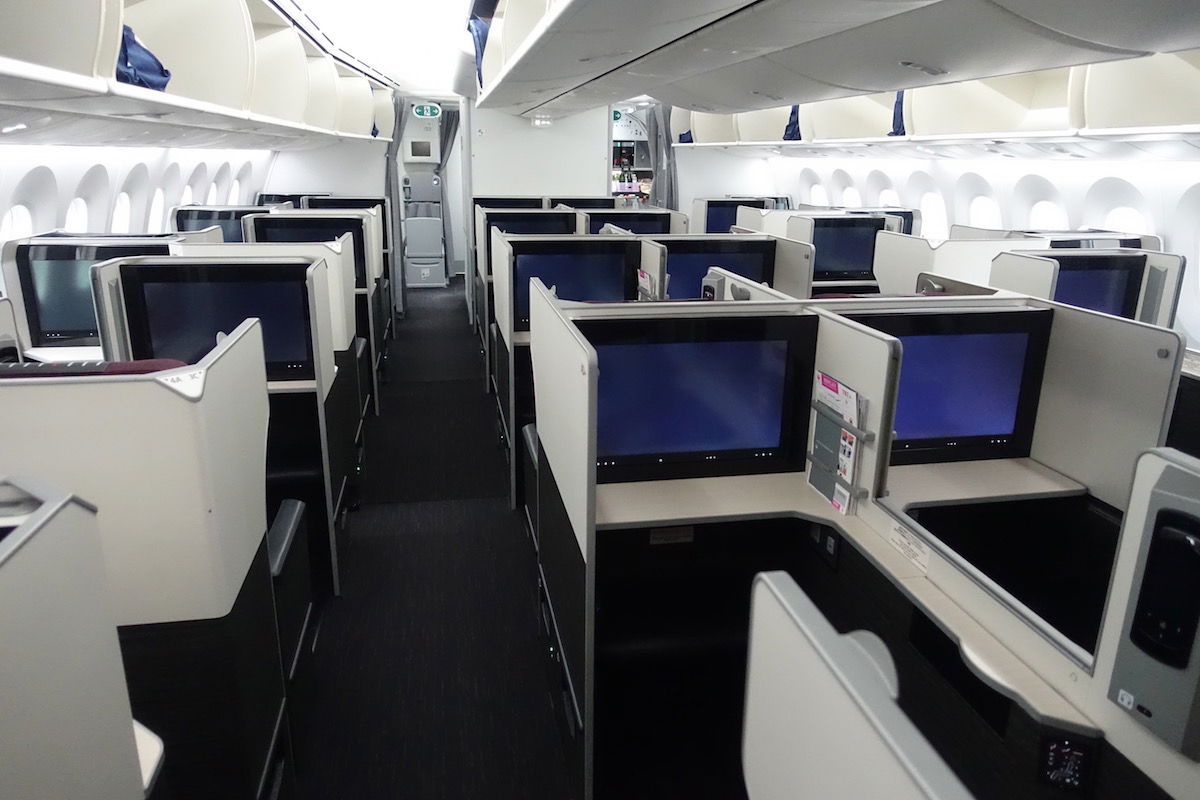 Japan Airlines 787-9 business class cabin
For what it's worth, Apex Suites take up quite a bit of space — some airlines squeeze 30 seats between the first two sets of doors on the 787-9, while there were just 24 here.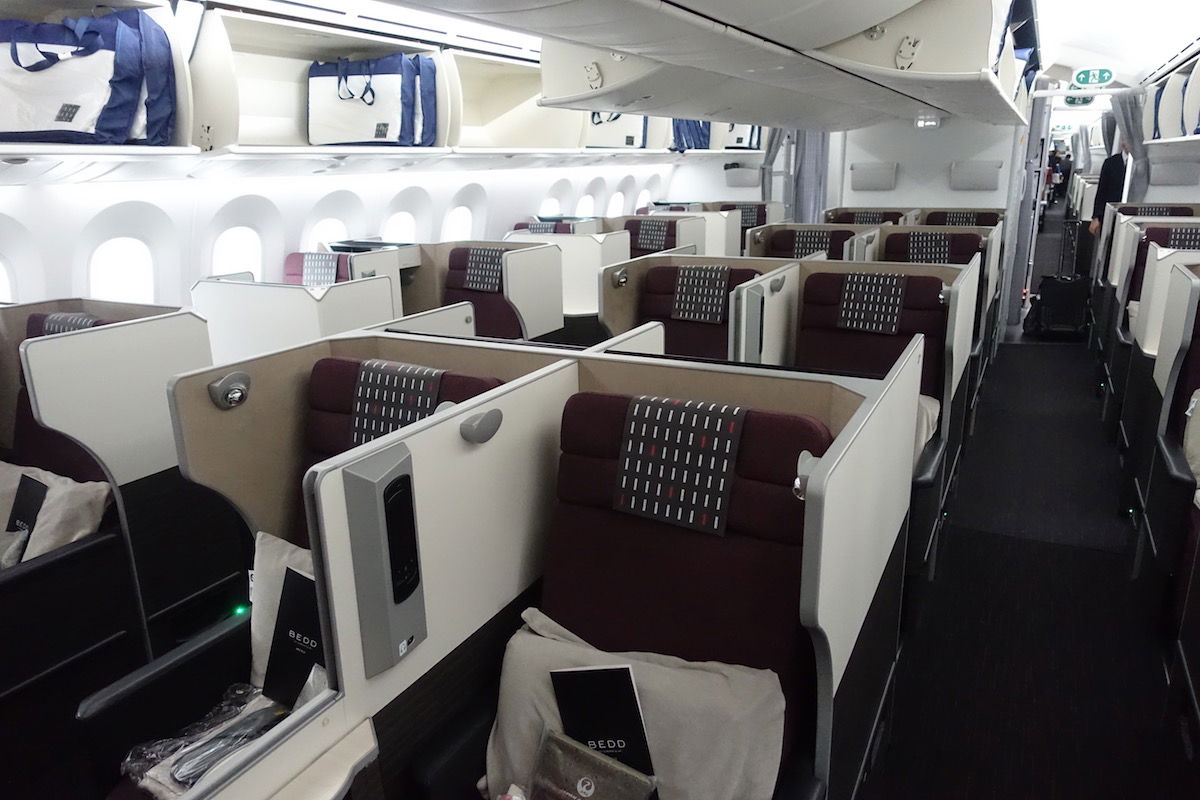 Japan Airlines business class cabin 787-9
Then there was the rear business class cabin, consisting of a total of 20 seats, including three full rows, and one row with just a pair of seats in the center.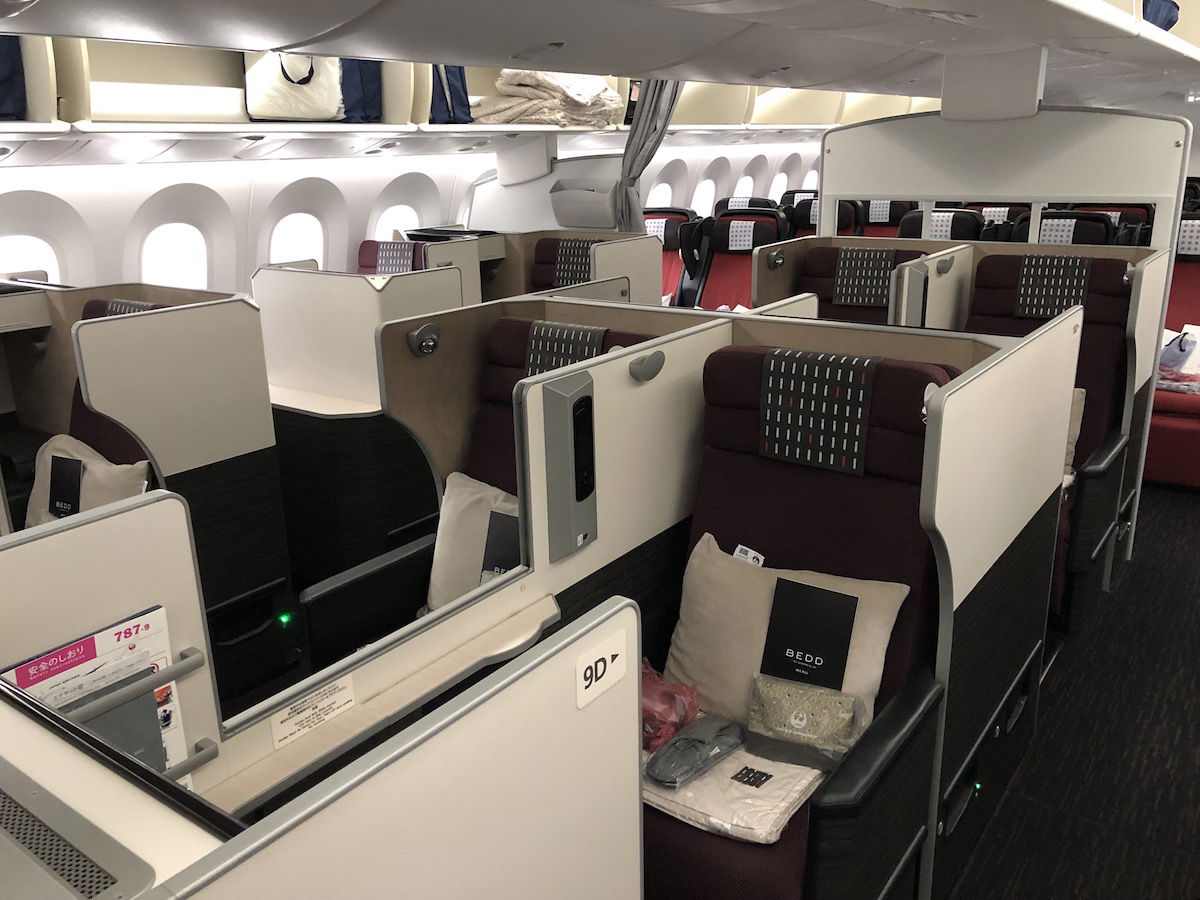 Japan Airlines 787-9 business class cabin
On the surface Apex Suites may look unremarkable, though what I love about them so much is that they're spacious, private, and you don't have to squeeze your feet into a small footwell, which is a trend we see all too often nowadays.
I assigned myself seat 8A, while I assigned Ford 7A, right in front of me. Window seats in this configuration are by far the best option.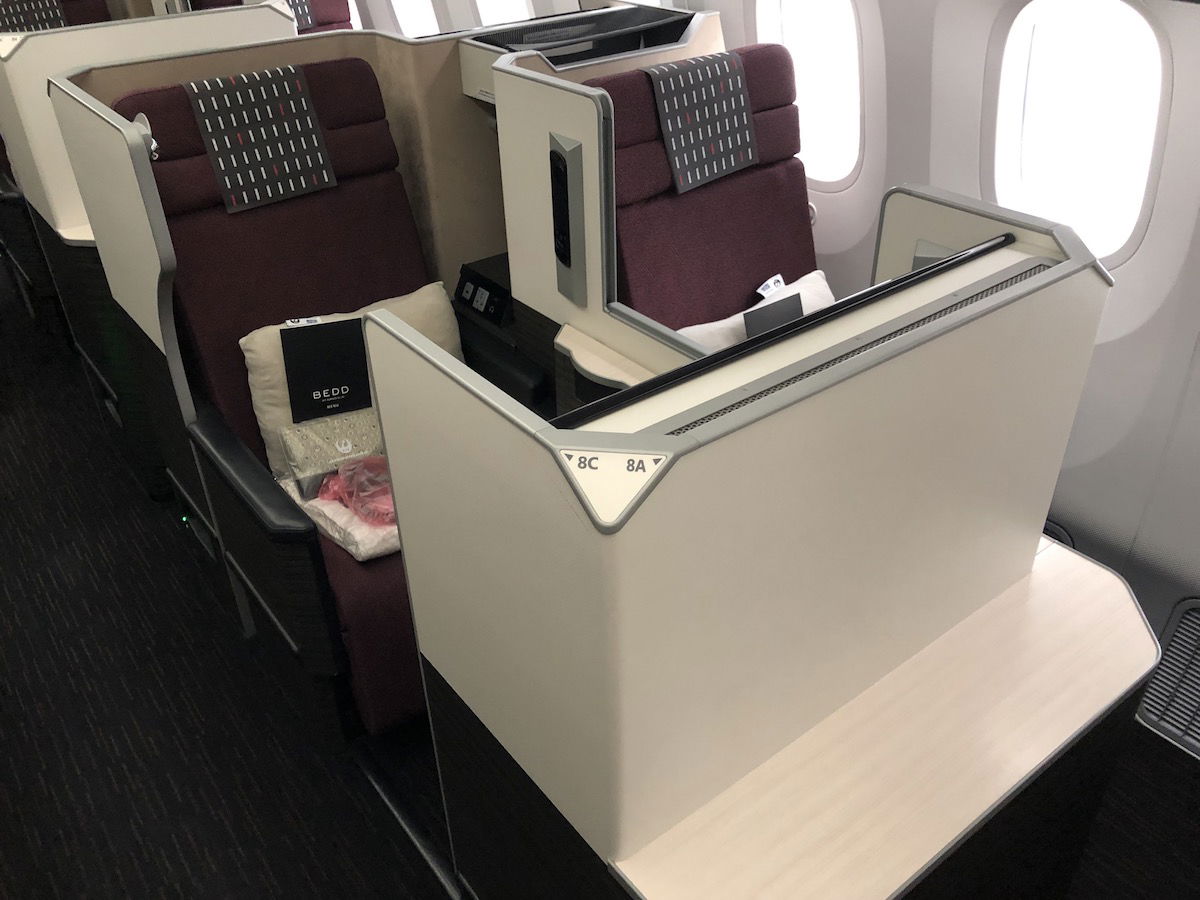 Japan Airlines business class seats 787-9
What makes the window seats so special? For one, you have direct aisle access. There's a small path leading to the window seats, so you don't have to jump over the person in the aisle.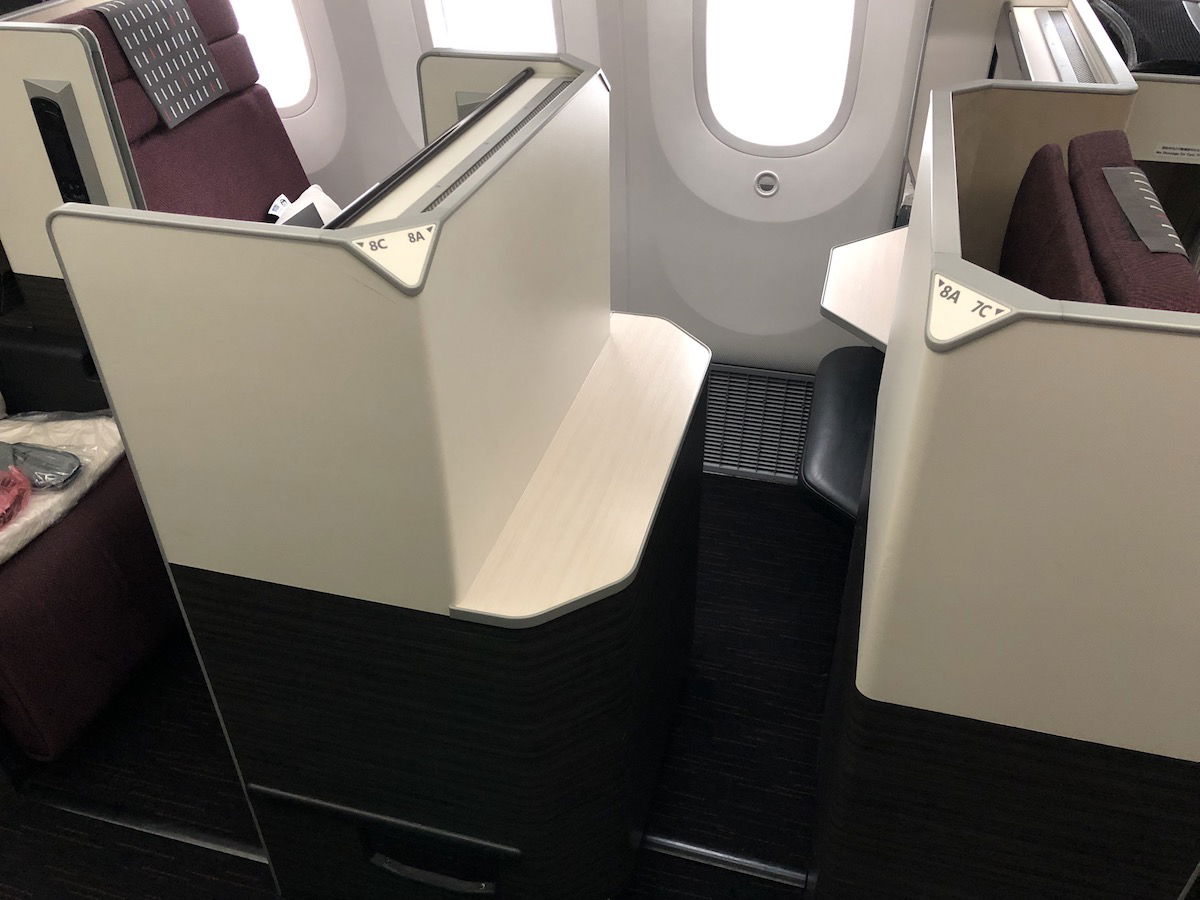 Japan Airlines business class seats 787-9
More importantly, there's a partition between the seats, and if that partition is raised (which you can do after takeoff), you have one of the most private business class seats in the sky.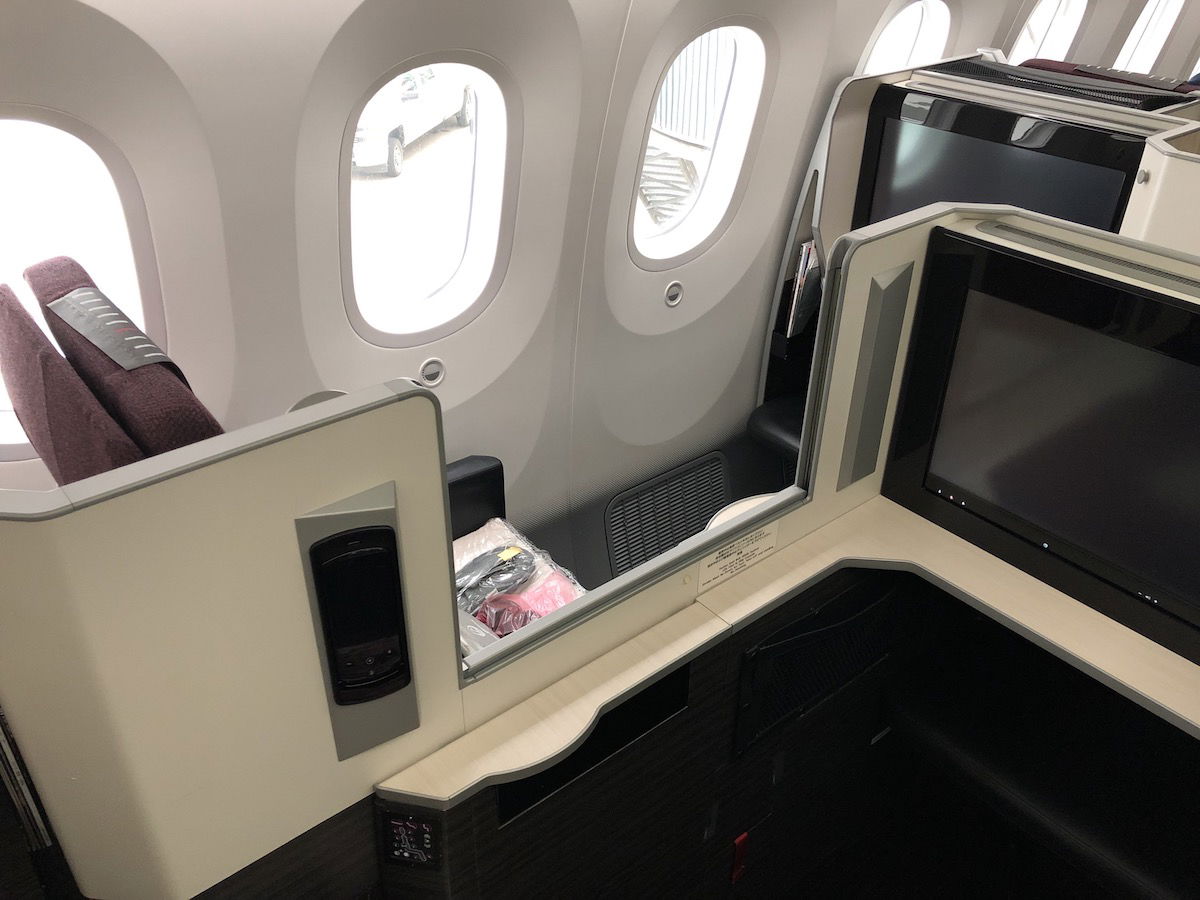 Japan Airlines business class seats 787-9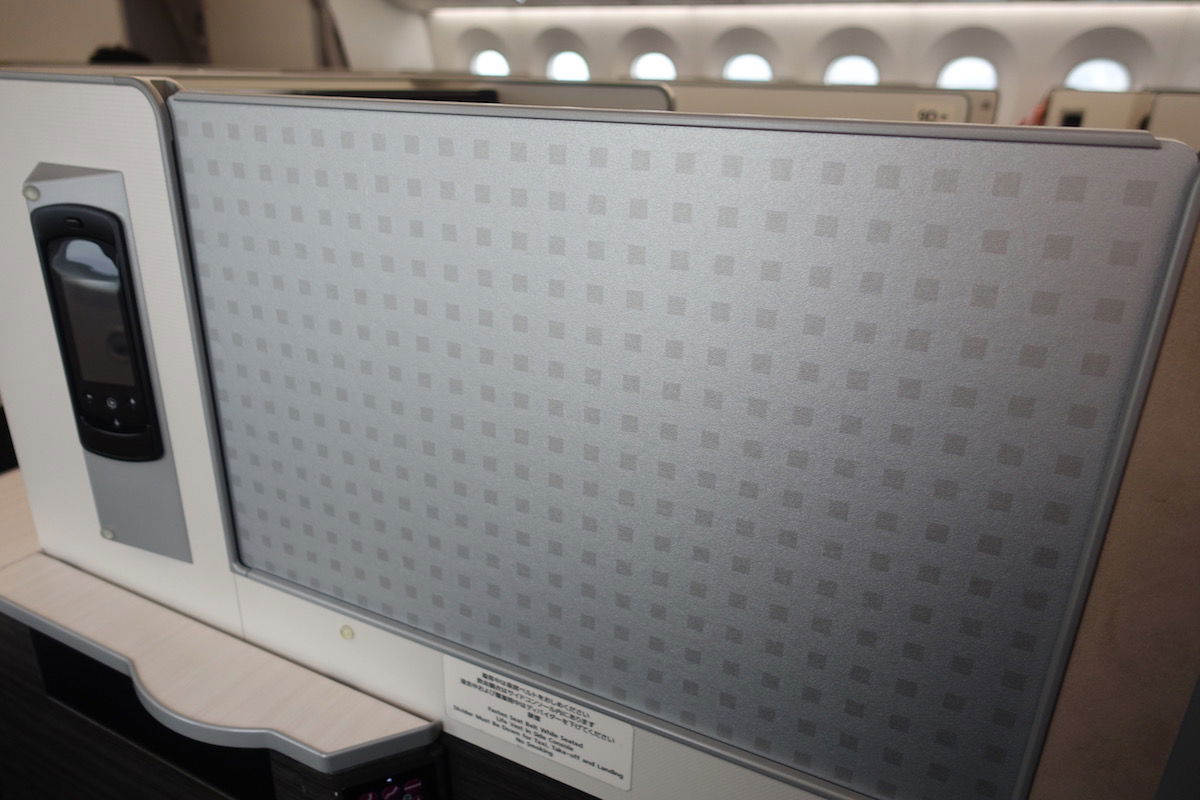 Japan Airlines business class privacy shield
While the aisle and window seats are staggered (one is further up than the other), the center seats are right next to one another. While that might seem ideal for those traveling together, personally I'd still choose an aisle and a window, or even two windows, if traveling with someone. The window seats in this configuration are just so much better (in case I haven't made that clear yet). 😉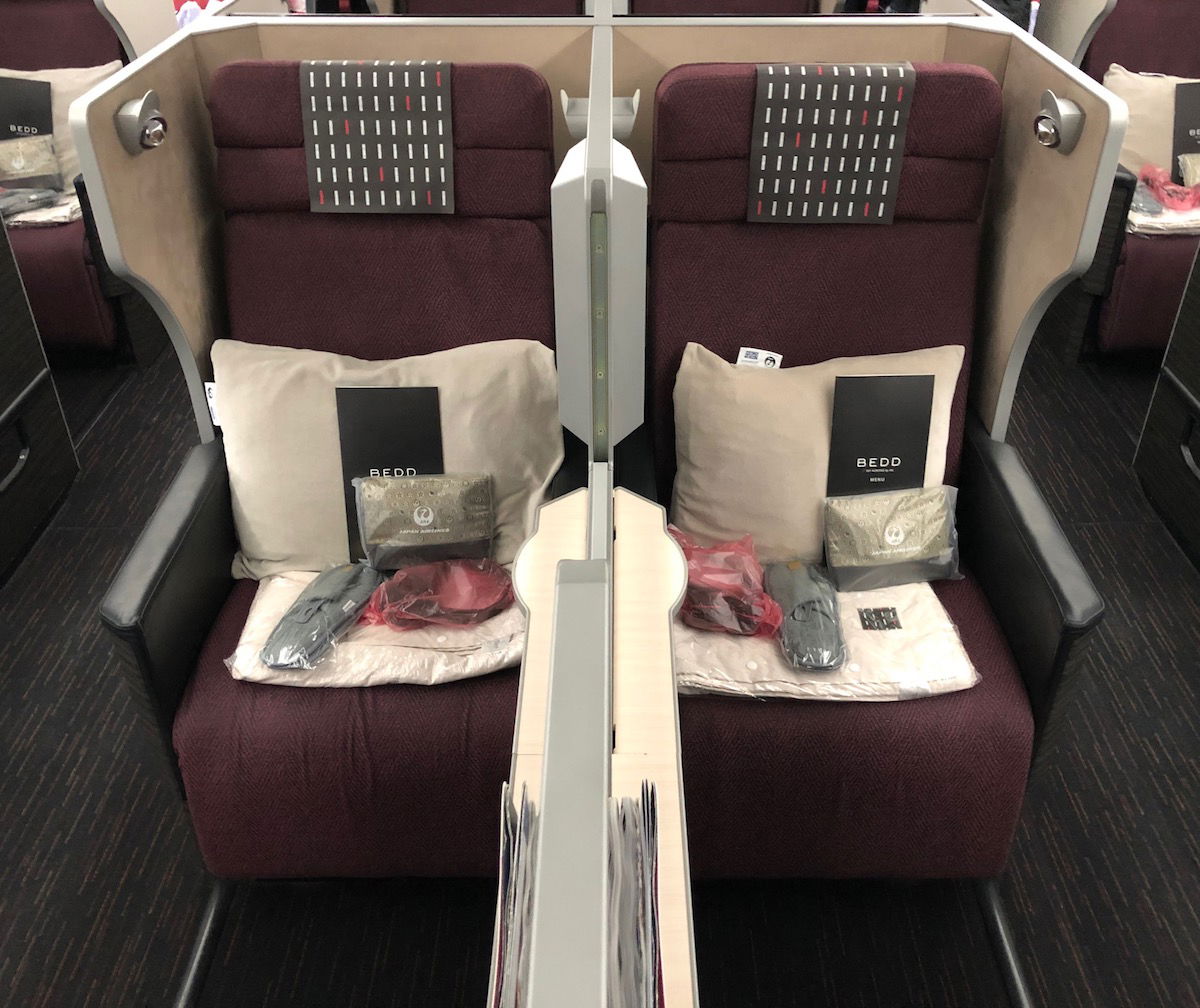 Japan Airlines business class seats 787-9
Now, perhaps the downside to Apex Suites is that they have virtually no storage, at least within easy reach. So it's almost tough to figure out where to place your phone.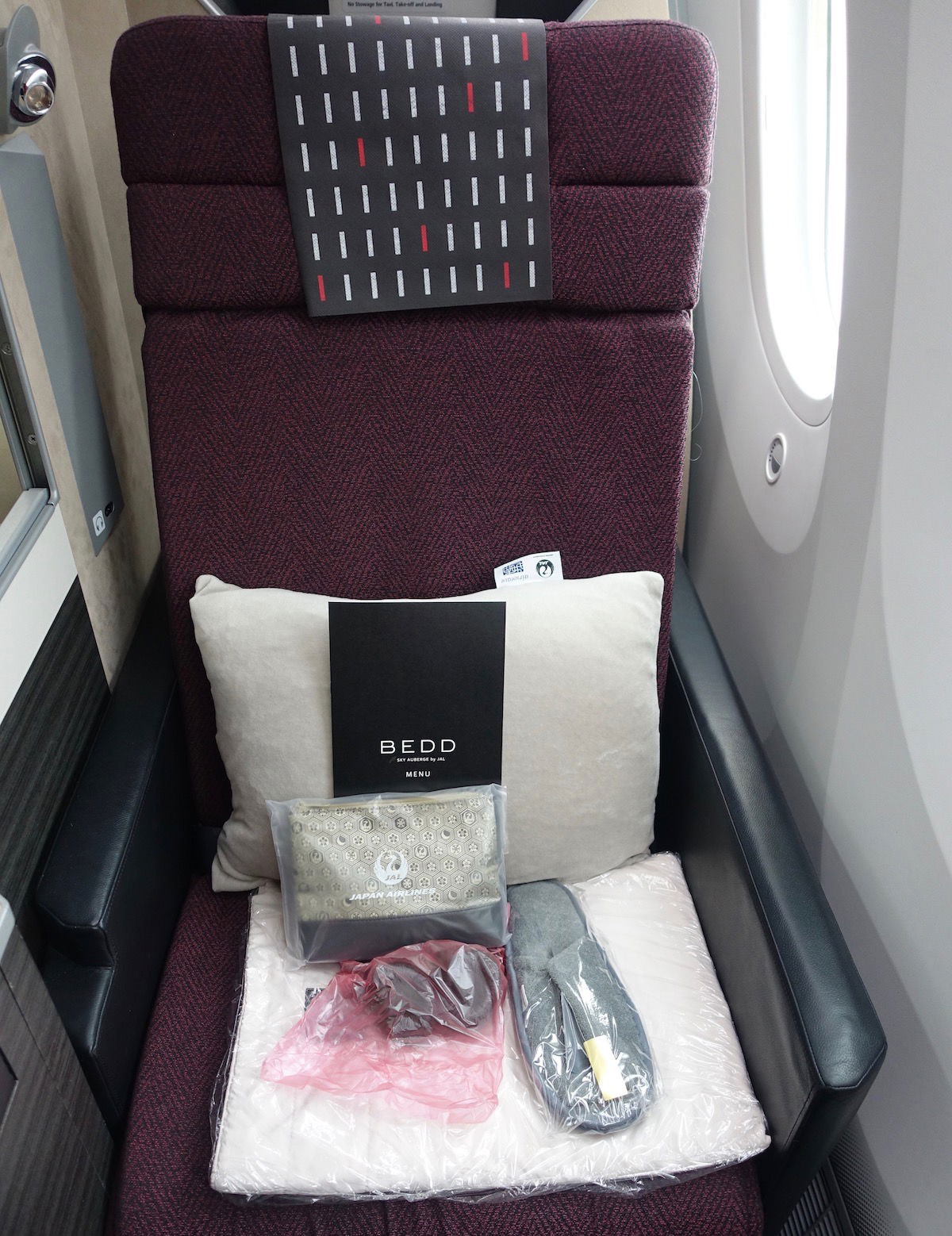 Apex Suite window seat Japan Airlines
But that's a small price to pay for having a massive ottoman on which to place your feet, rather than having to squeeze them into a small footwell. Furthermore, there's a significant amount of storage underneath the ottoman, so you can easily place a bag there during the flight.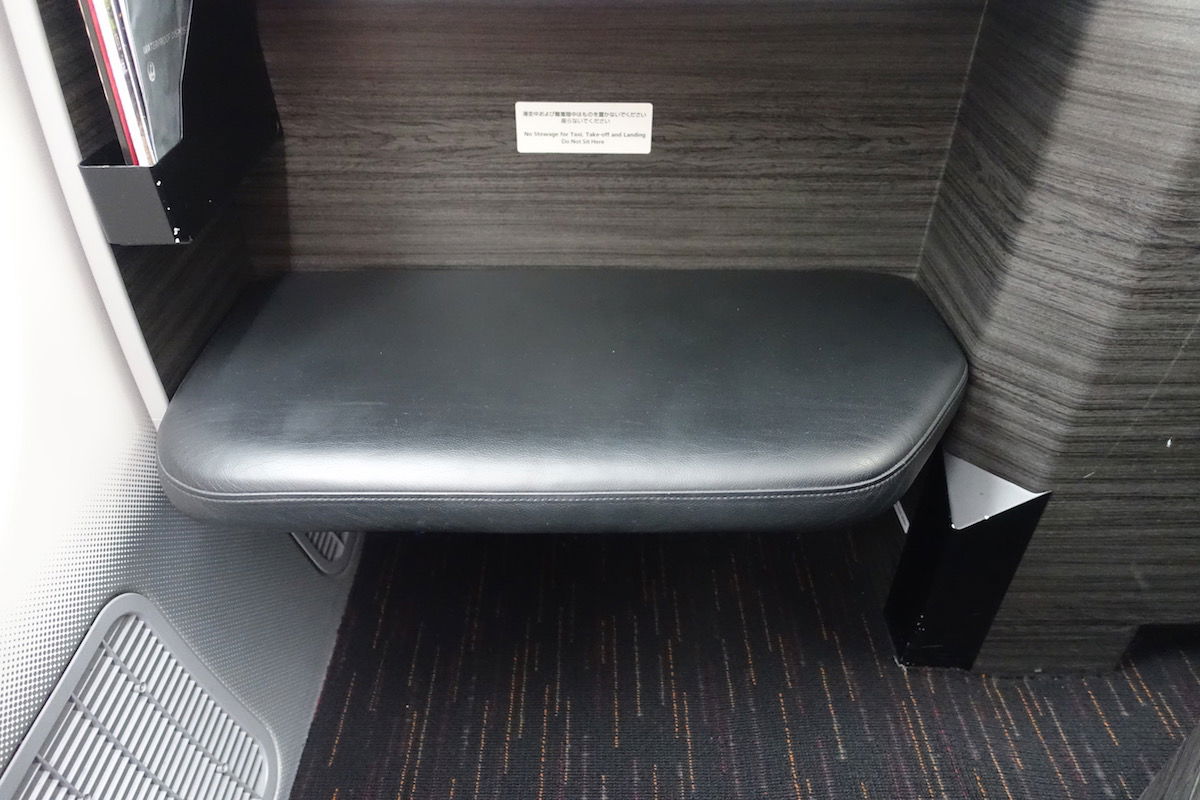 Japan Airlines Apex Suite 787-9
In terms of the seat features, there's a panel with seat controls to the side of the seat.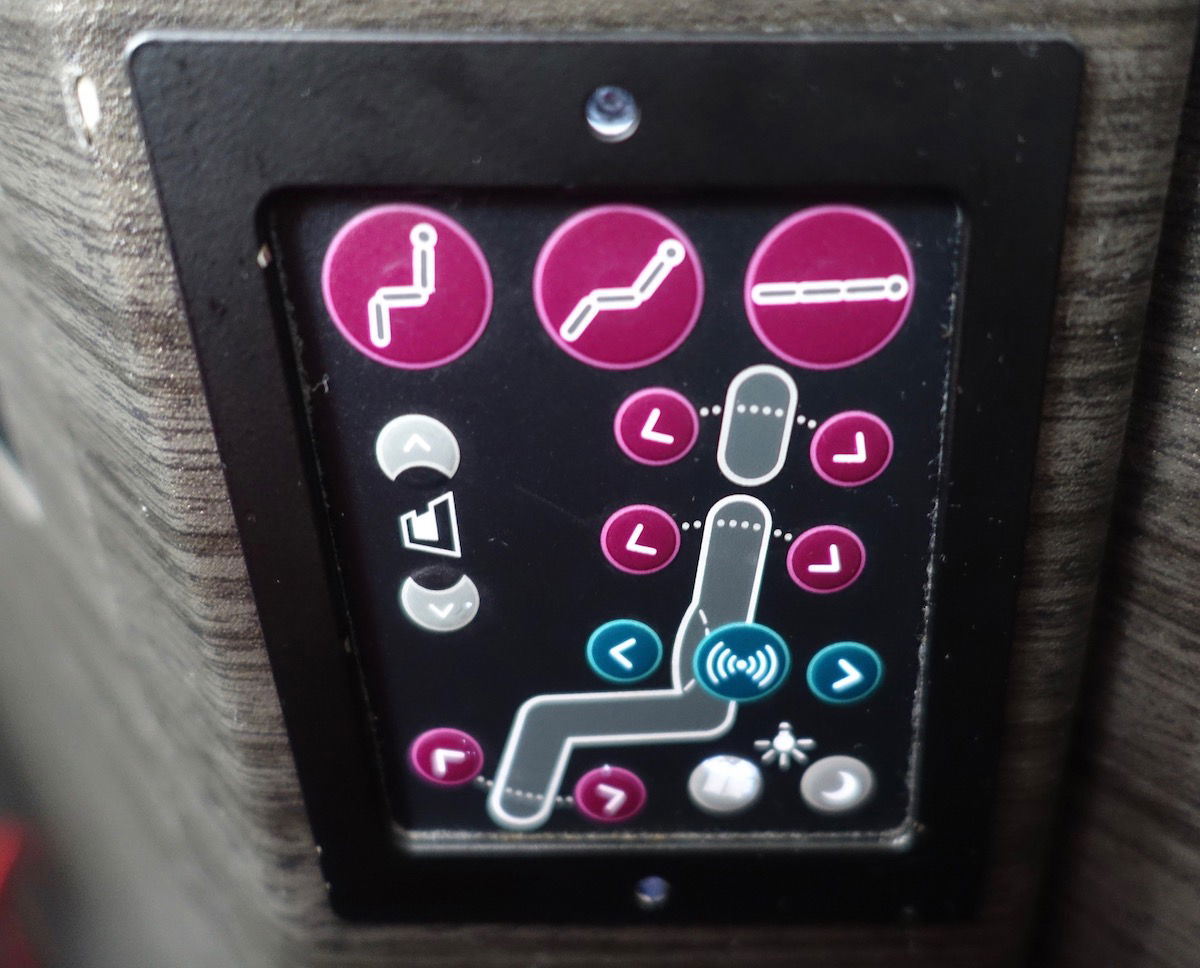 Japan Airlines business class seat controls
This is also where the entertainment controller is located.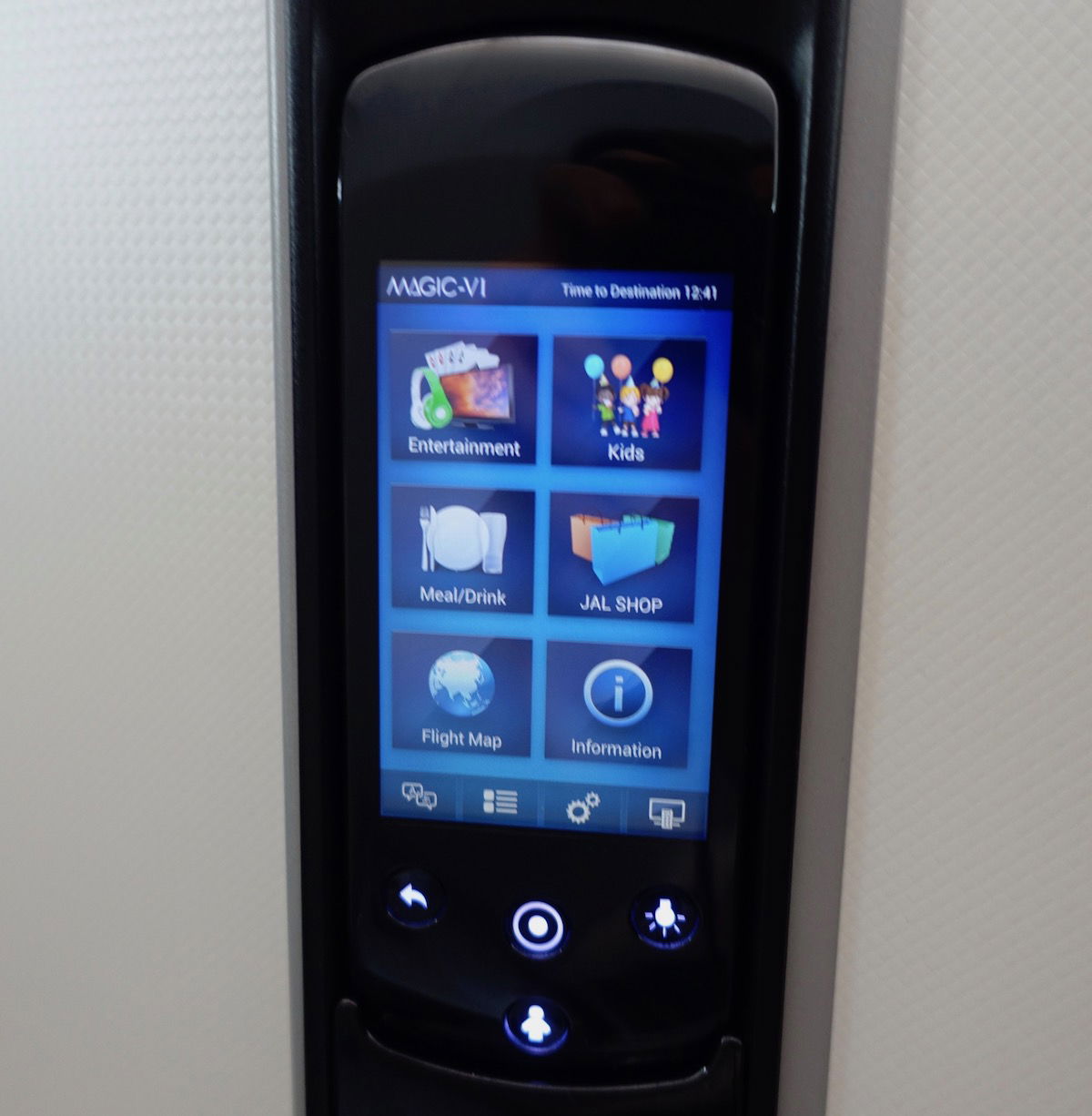 Japan Airlines business class entertainment controller
The 110v and USB outlet is also within easy reach.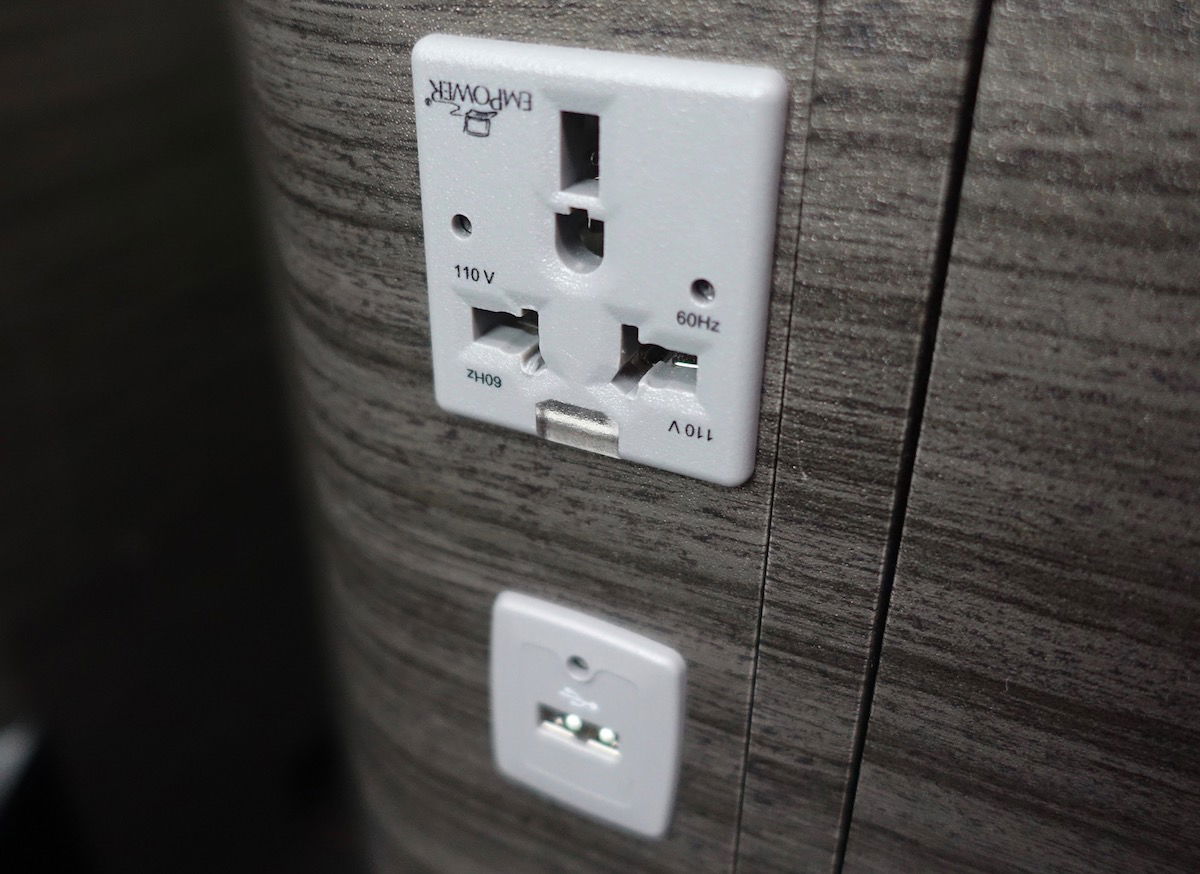 Japan Airlines business class power outlet
The tray table pops out of the side armrest, and consists of a solid table that can't be folded over (so don't expect that you can get up during the meal service).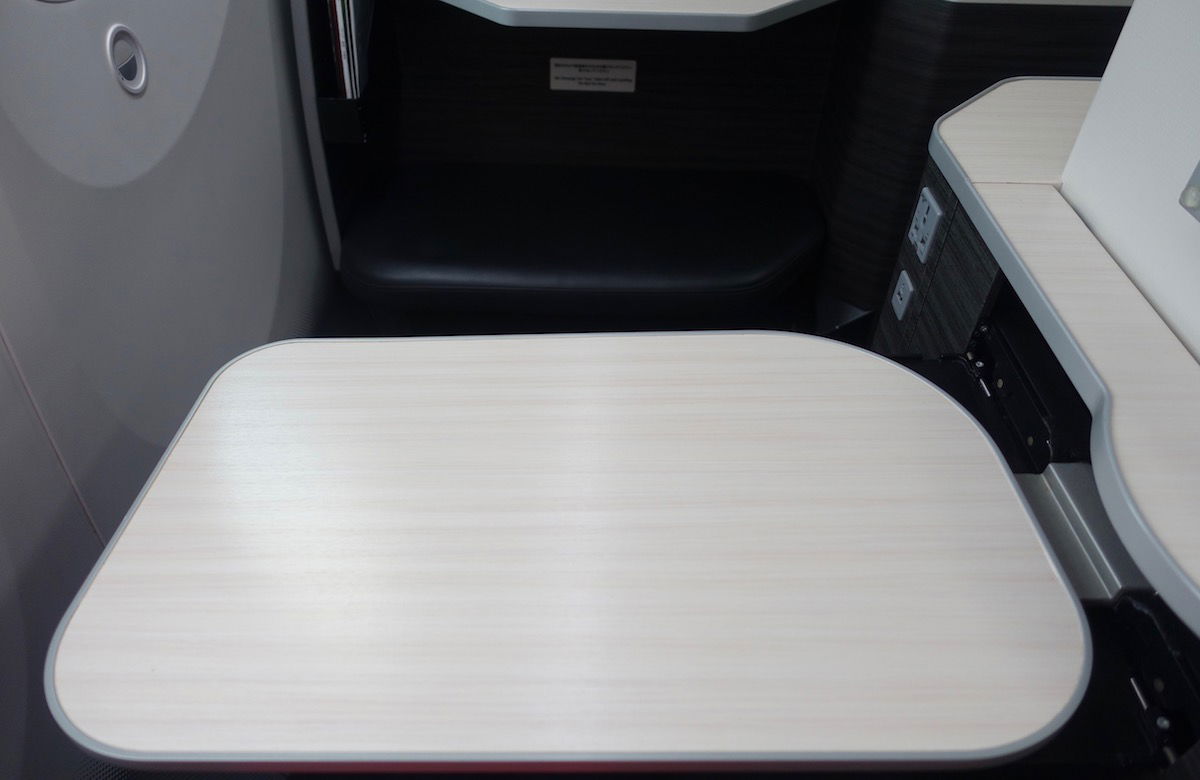 Japan Airlines business class tray table
This is an excellent seat, though I do have to note that rather annoyingly Japan Airlines doesn't have have individual air nozzles, which sure is frustrating, given that the airline keeps their cabins quite warm.
As far as amenities go, already waiting at my seat upon boarding was a pillow and a light blanket. This is only part of the bedding, as they have more bedding when it's time to sleep.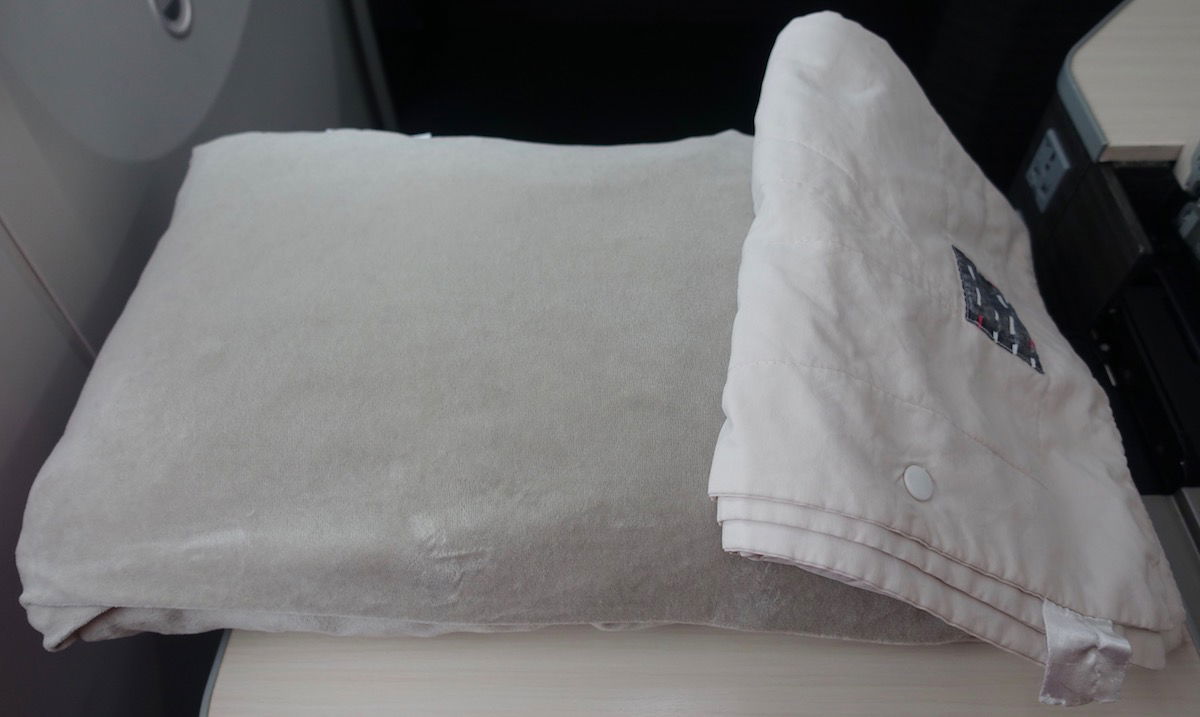 Japan Airlines business class bedding
There were also a pair of headphones, which were fairly high quality.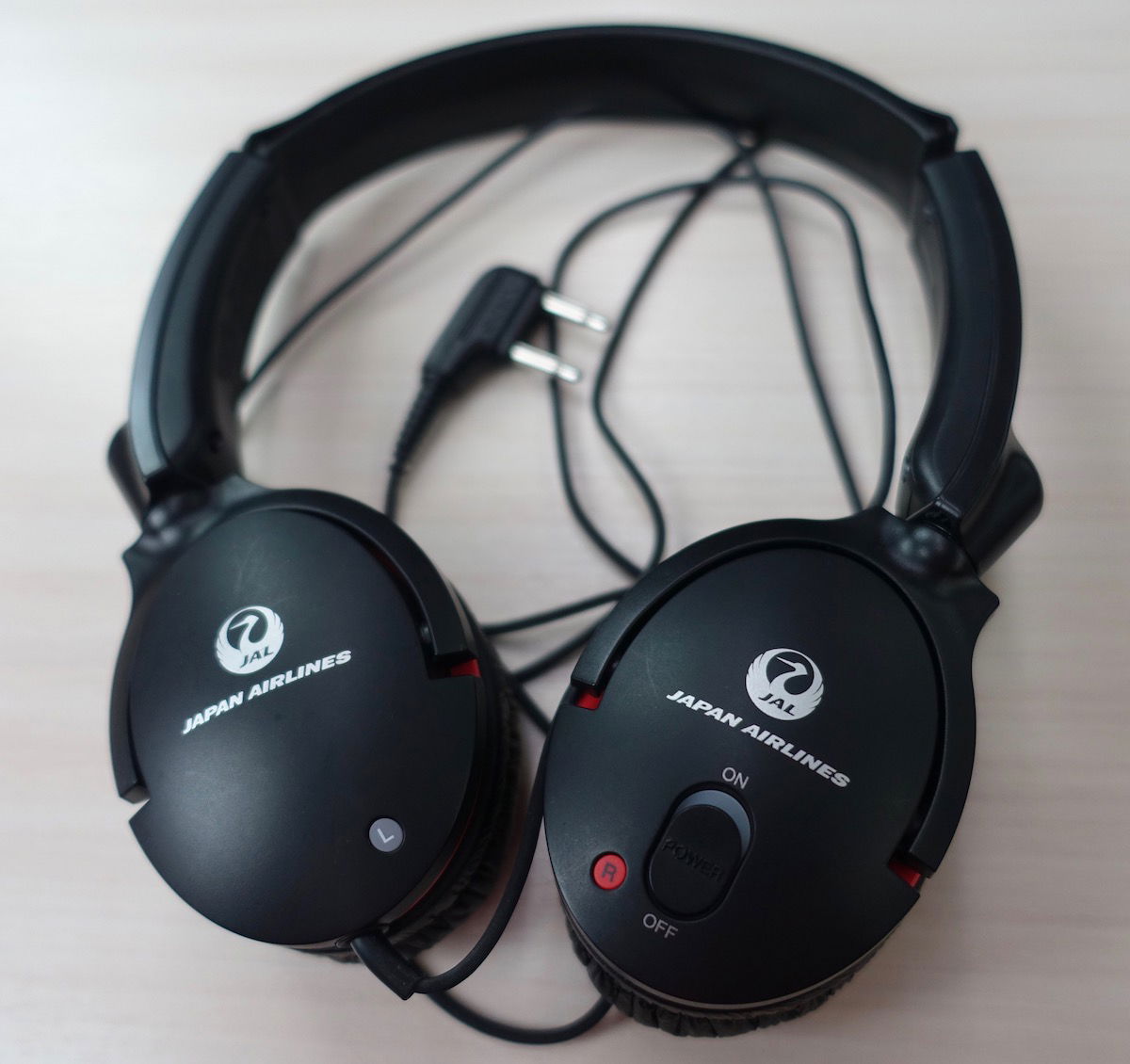 Japan Airlines business class headphones
Then there were slippers, along with a shoehorn.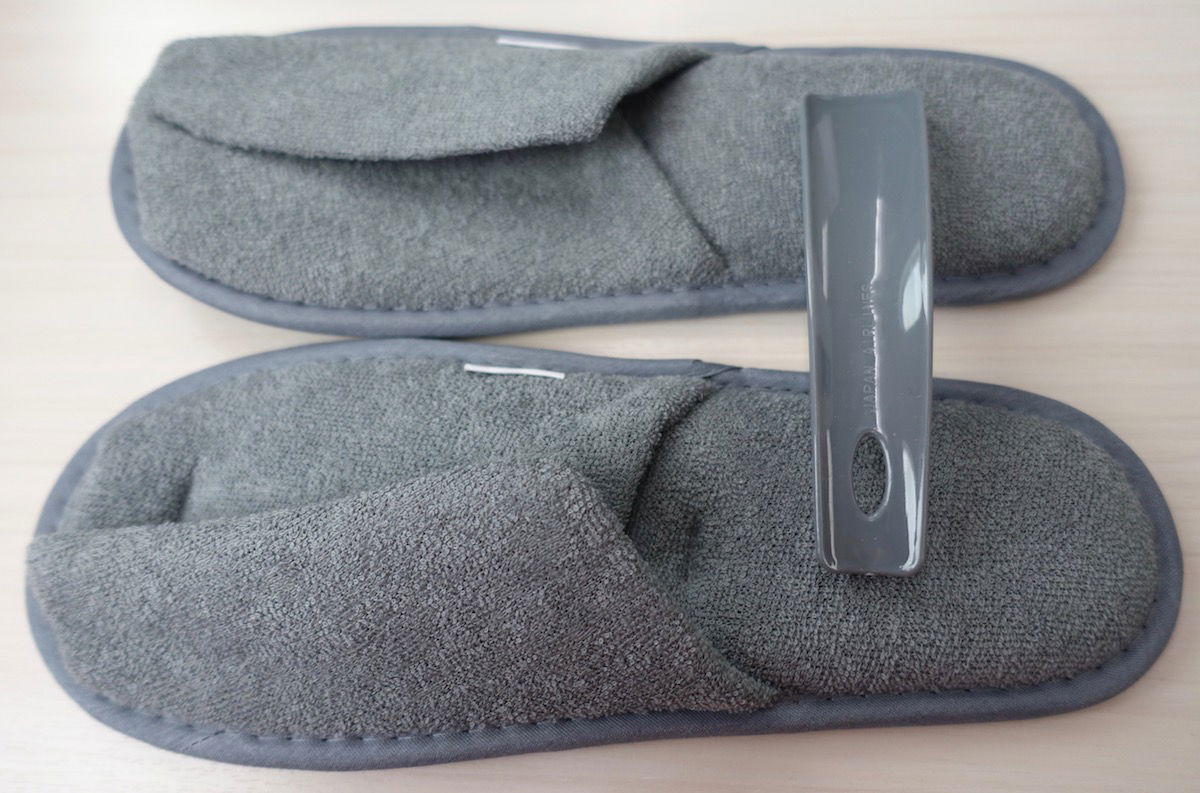 Japan Airlines business class slippers
There was also an amenity kit, which contained some rather unconventional products, like a "gentle steam eye mask," a "moisture mask," and a "medicated stick," as they were described.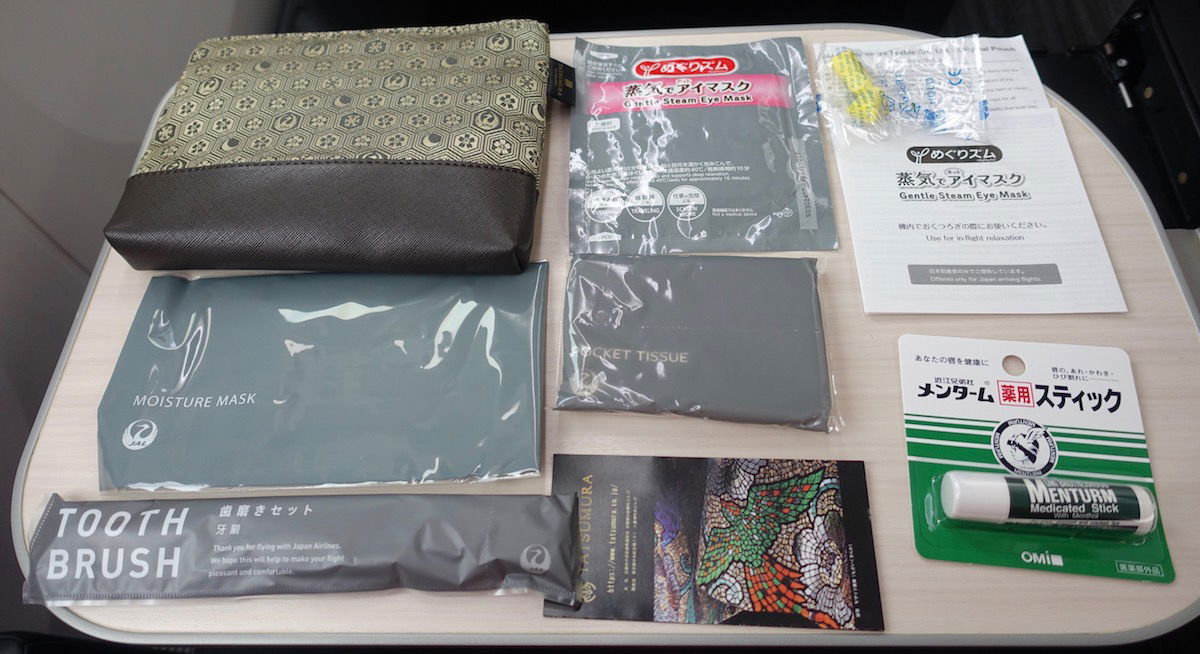 Japan Airlines business class amenity kit
Also waiting at my seat was the menu, from JAL's oddly named "BEDD Sky Auberge" dining program.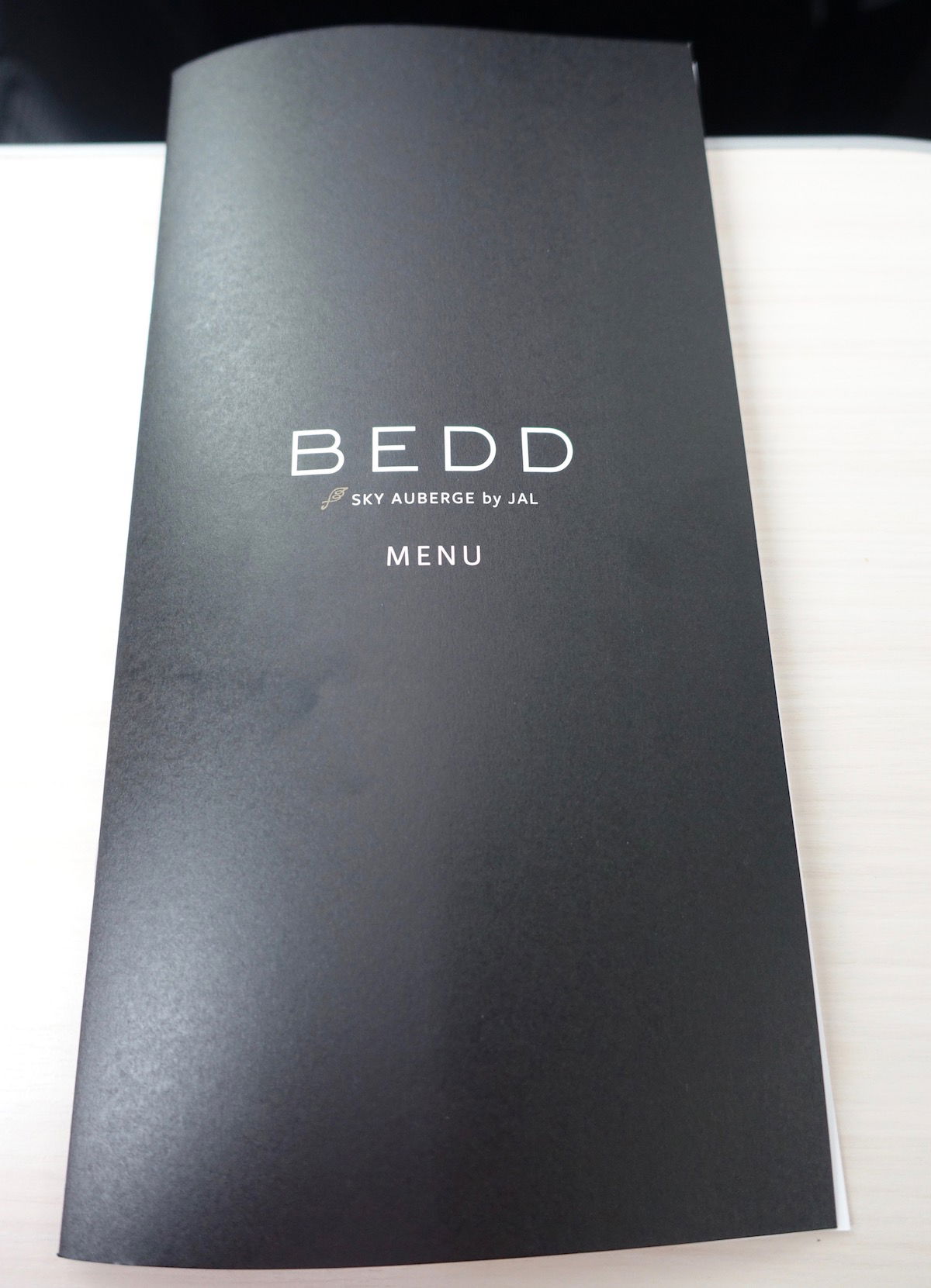 Japan Airlines business class menu
Japan Airlines' 787-9s are extremely low capacity (they have just 195 seats), so boarding was quick. Economy was full, premium economy was about half full, and business class was about 75% full.
The seat next to me stayed empty. This was ideal, since it meant Ford and I could both have window seats, but Ford could still come and sit next to me during meals.
25 minutes after boarding started, landing cards were distributed for Japan. Then a couple of minutes later pre-departure drinks were offered, with the choice between champagne and orange juice. I was offered a tiny pour of champagne, and frankly was surprised it was served in a plastic cup.
I know American and Japan Airlines have a transpacific joint venture, but I didn't think this would mean that JAL adopts American's service levels.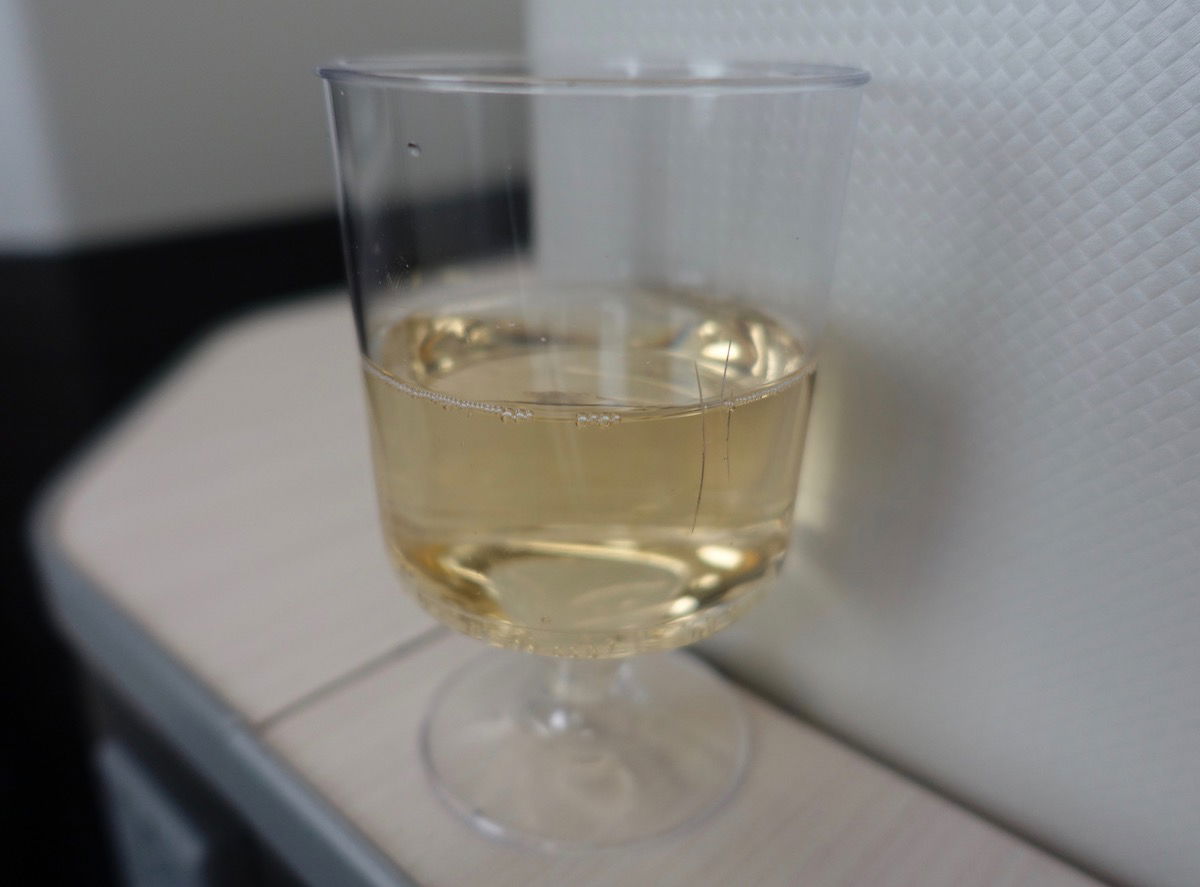 Japan Airlines business class pre-departure drink
A few minutes later the crew passed through the cabin with magazines and newspapers. Then cardigans were distributed. I know this is a Japanese thing — personally I've never thought to myself "ah, what I really need to get comfortable for the next 13 hours is a cardigan!"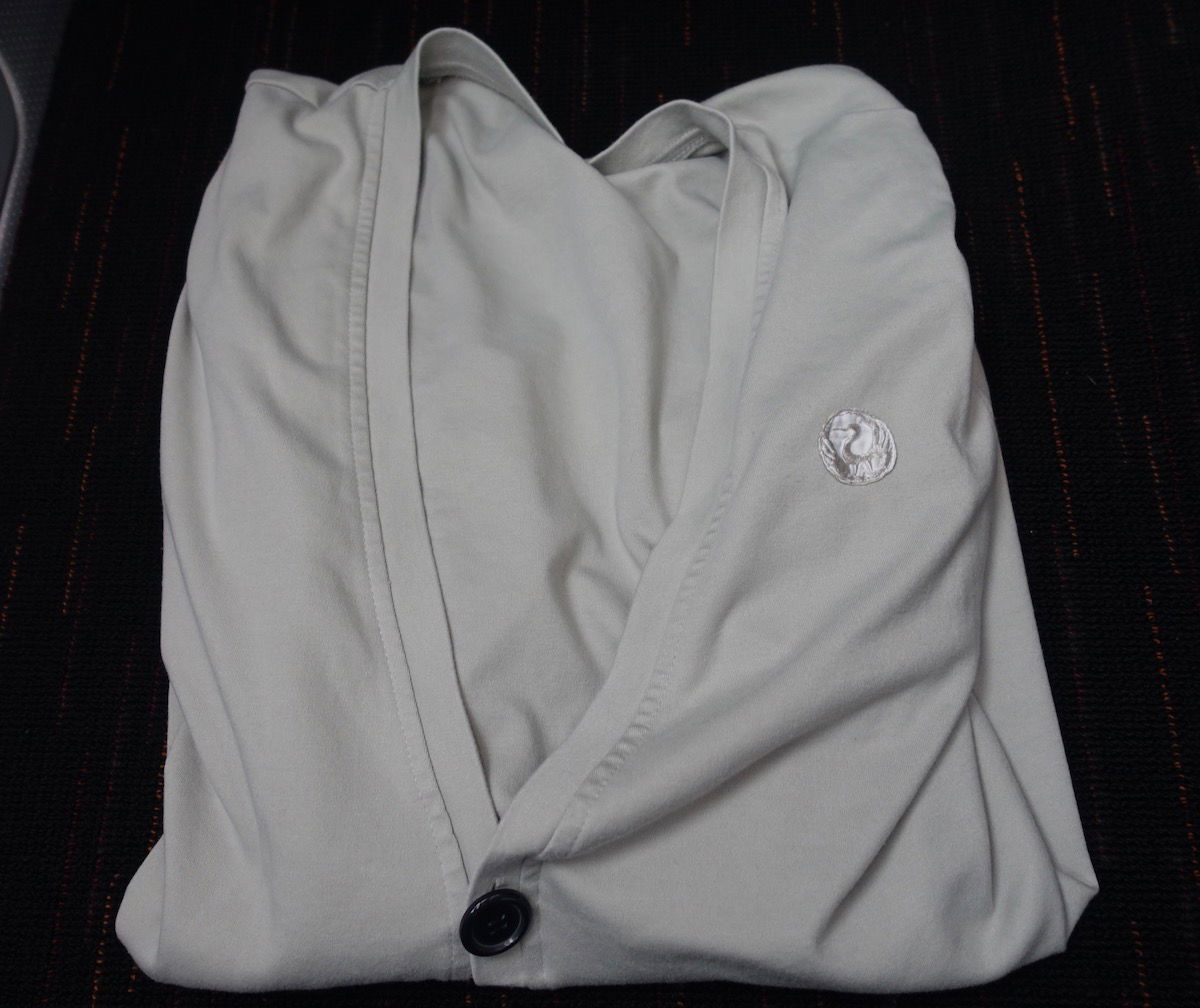 Japan Airlines business class cardigan
At 11:40AM the main cabin door closed, and we were advised of our flight time of 12hr55min. At 11:45AM we began our pushback.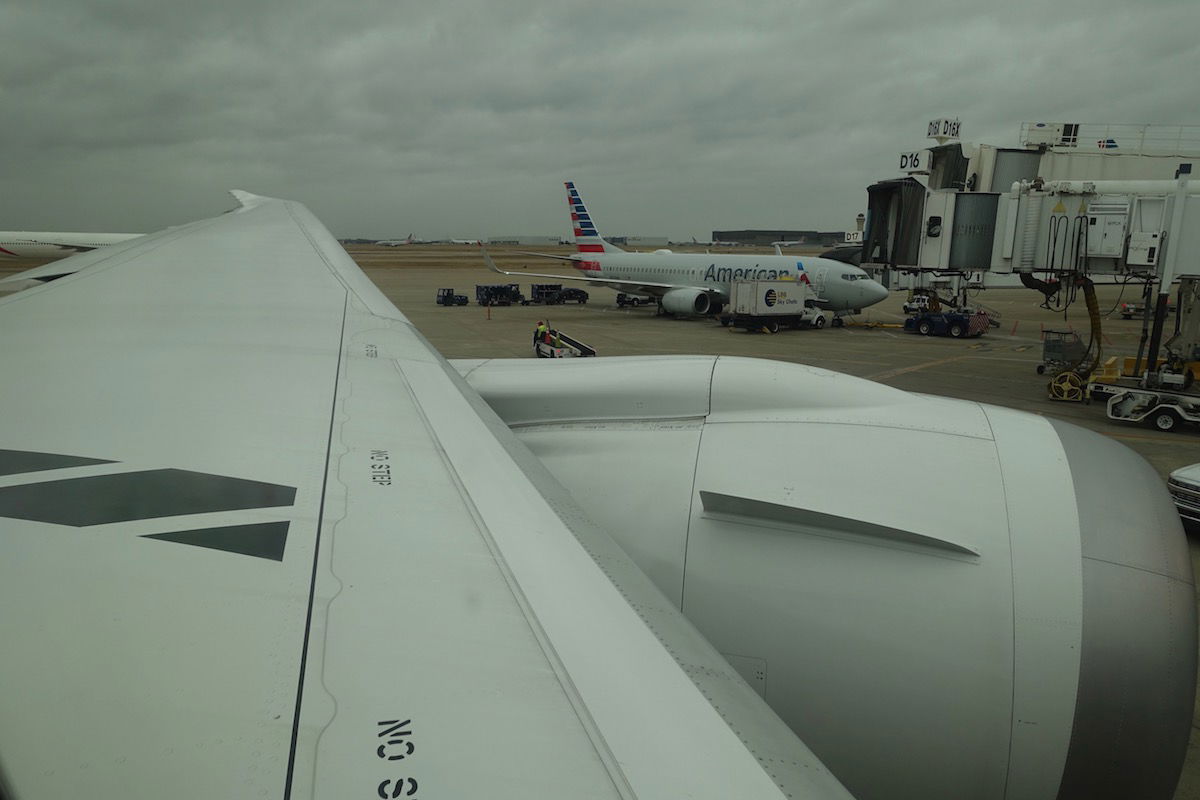 Pushing back DFW
During pushback the safety video was screened, and by 11:50AM we started our taxi to the departure runway. Hello Asiana cargo!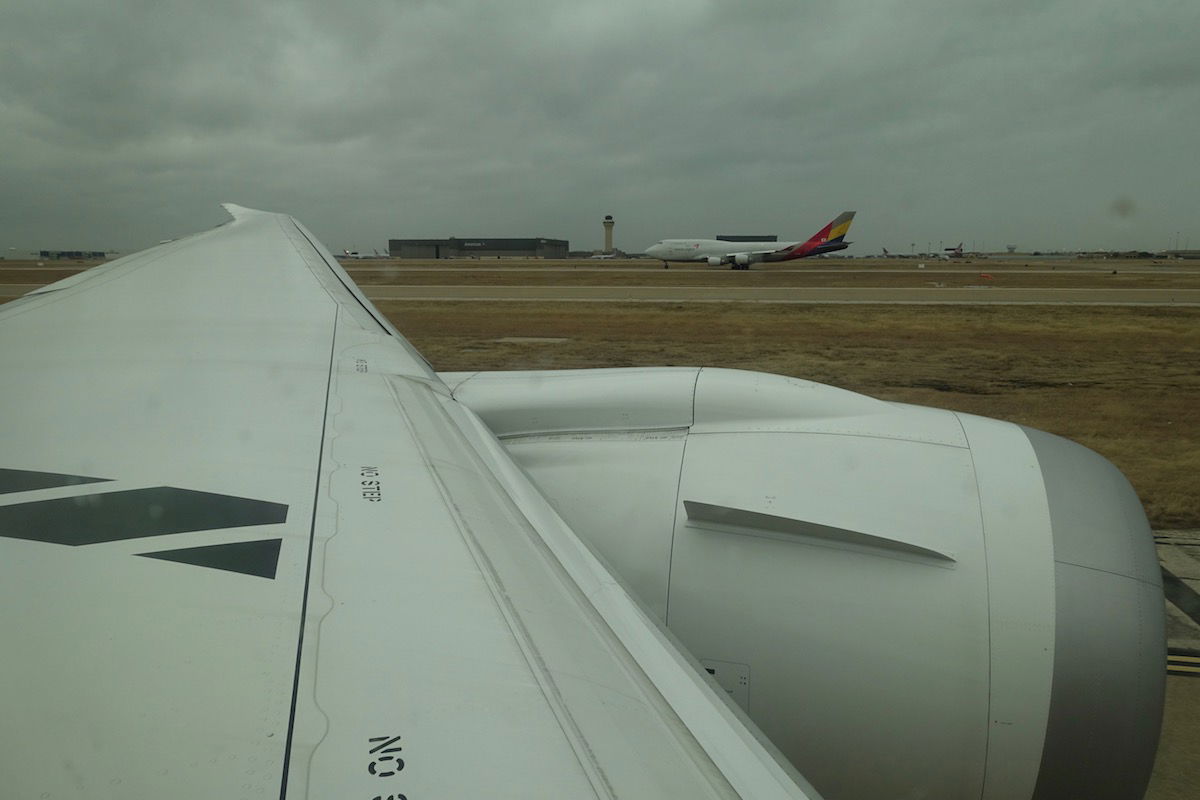 Taxiing DFW
We just had a short taxi, and at 12PM we were cleared for takeoff on runway 18L.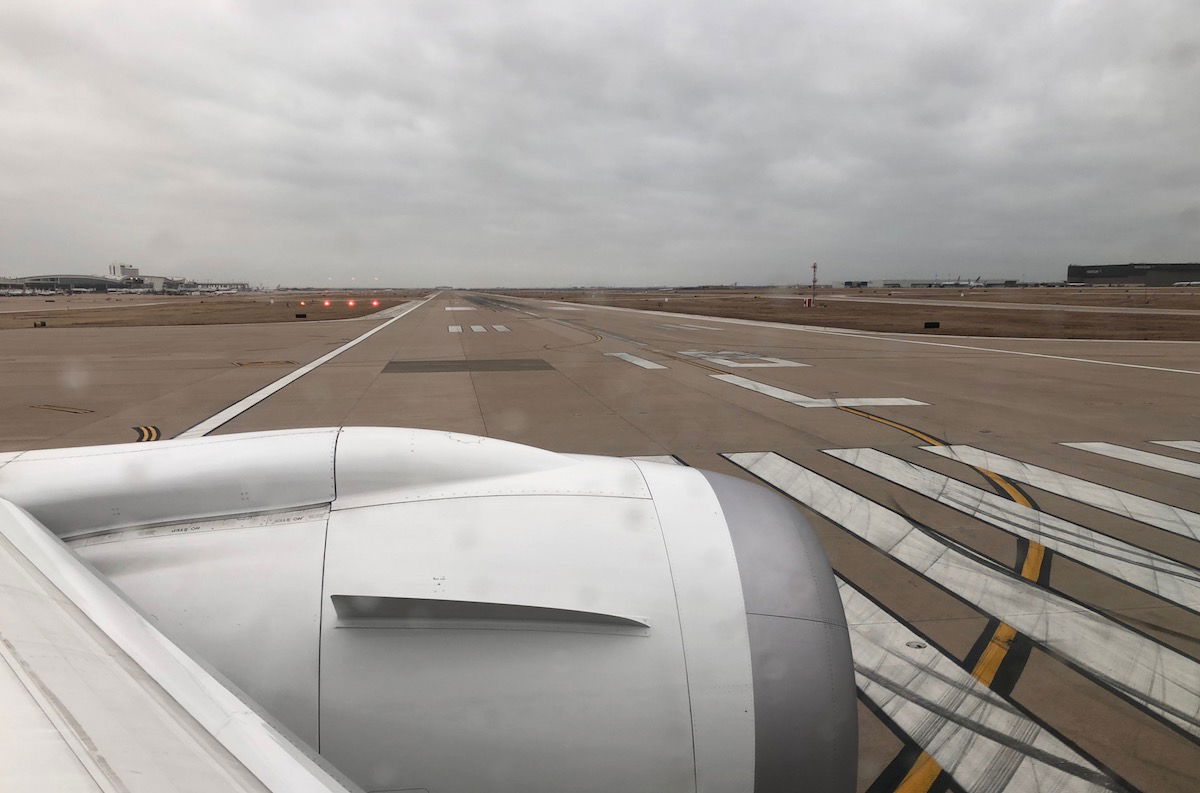 Taking off DFW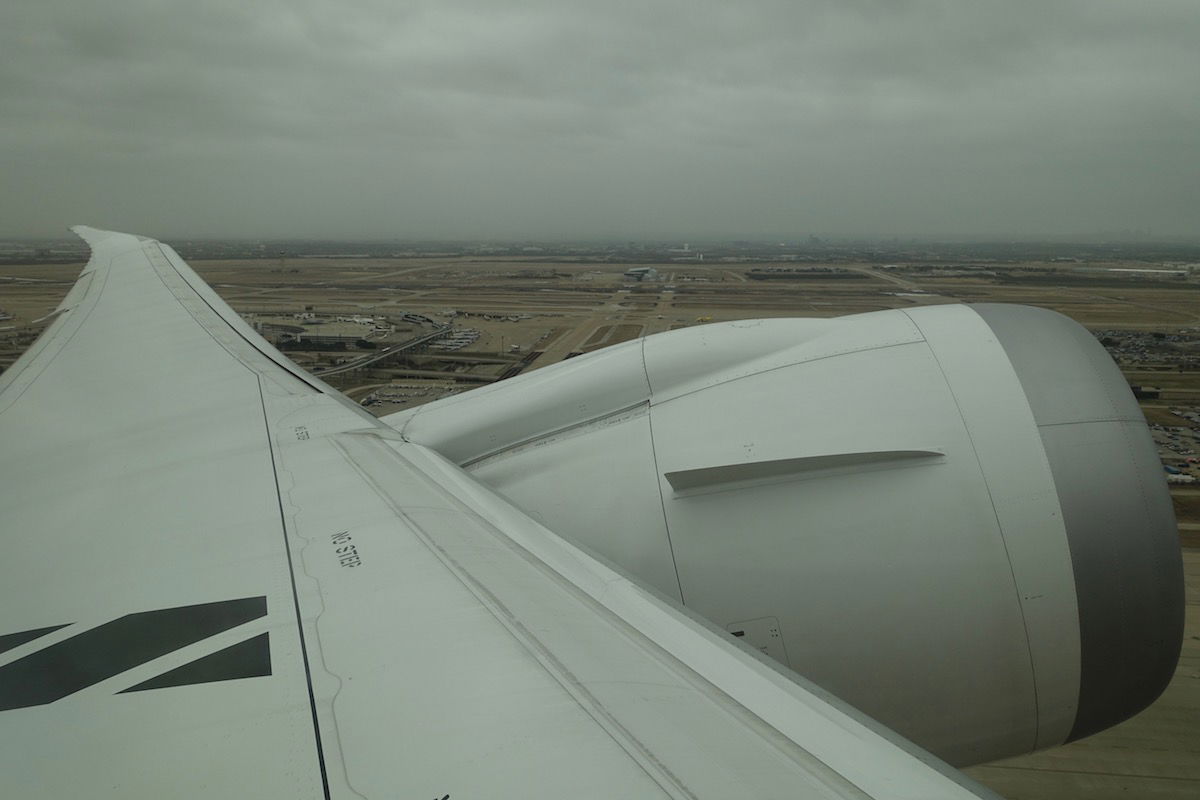 View after takeoff from DFW
The seatbelt sign was turned off just five minutes after takeoff, and as usual my first destination was the bathroom. The JAL 787-9 business class cabin had three lavatories, including two in the center of the cabin, and one at the very front of the cabin.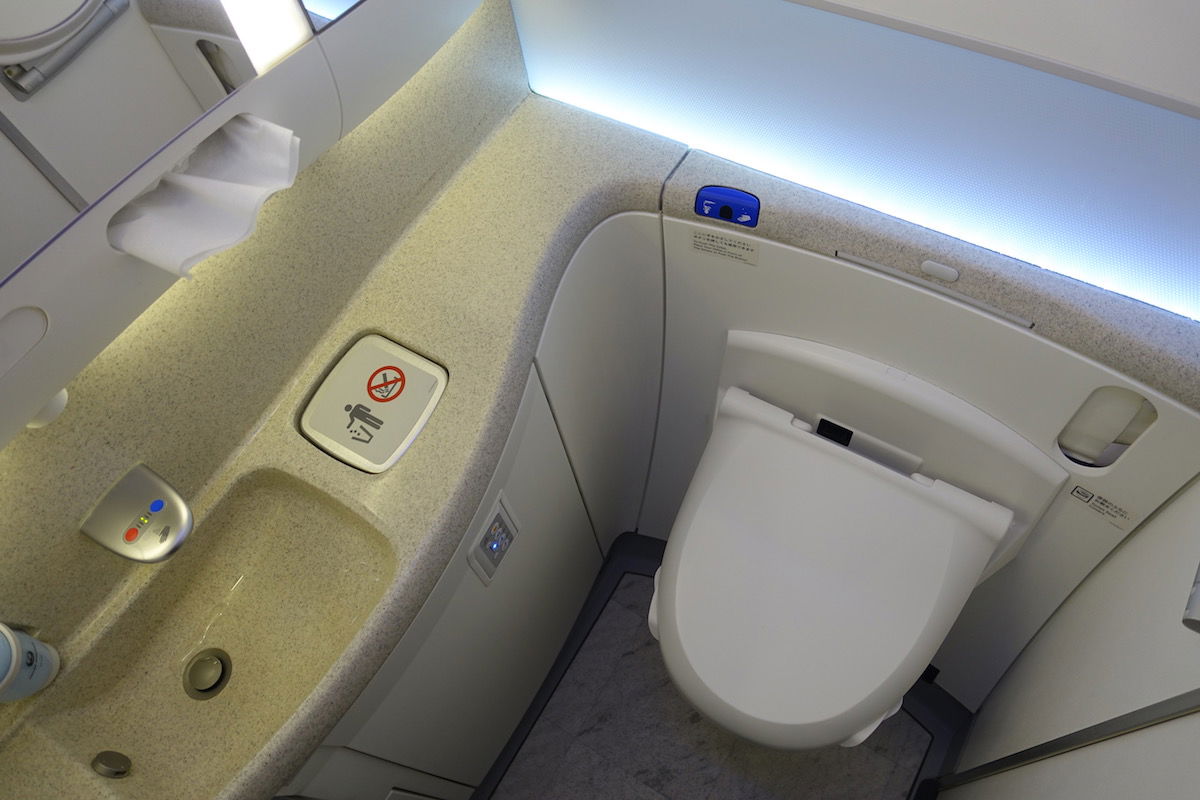 Japan Airlines lavatory
They had bidets, which sure is an awesome feature.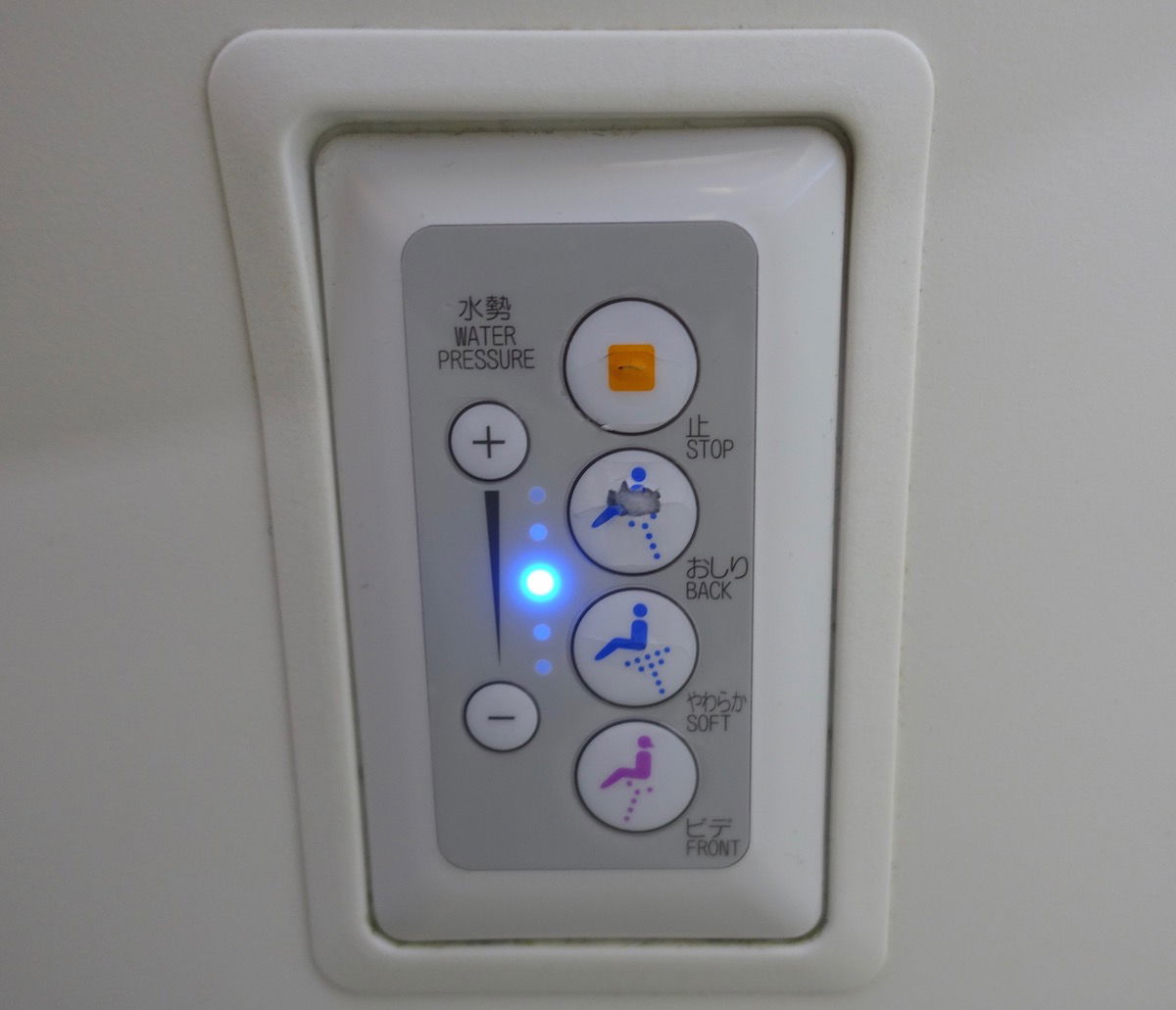 Japan Airlines lavatory bidet
They also had amenities like toothbrushes, toothpaste, mouthwash, and moisturizer.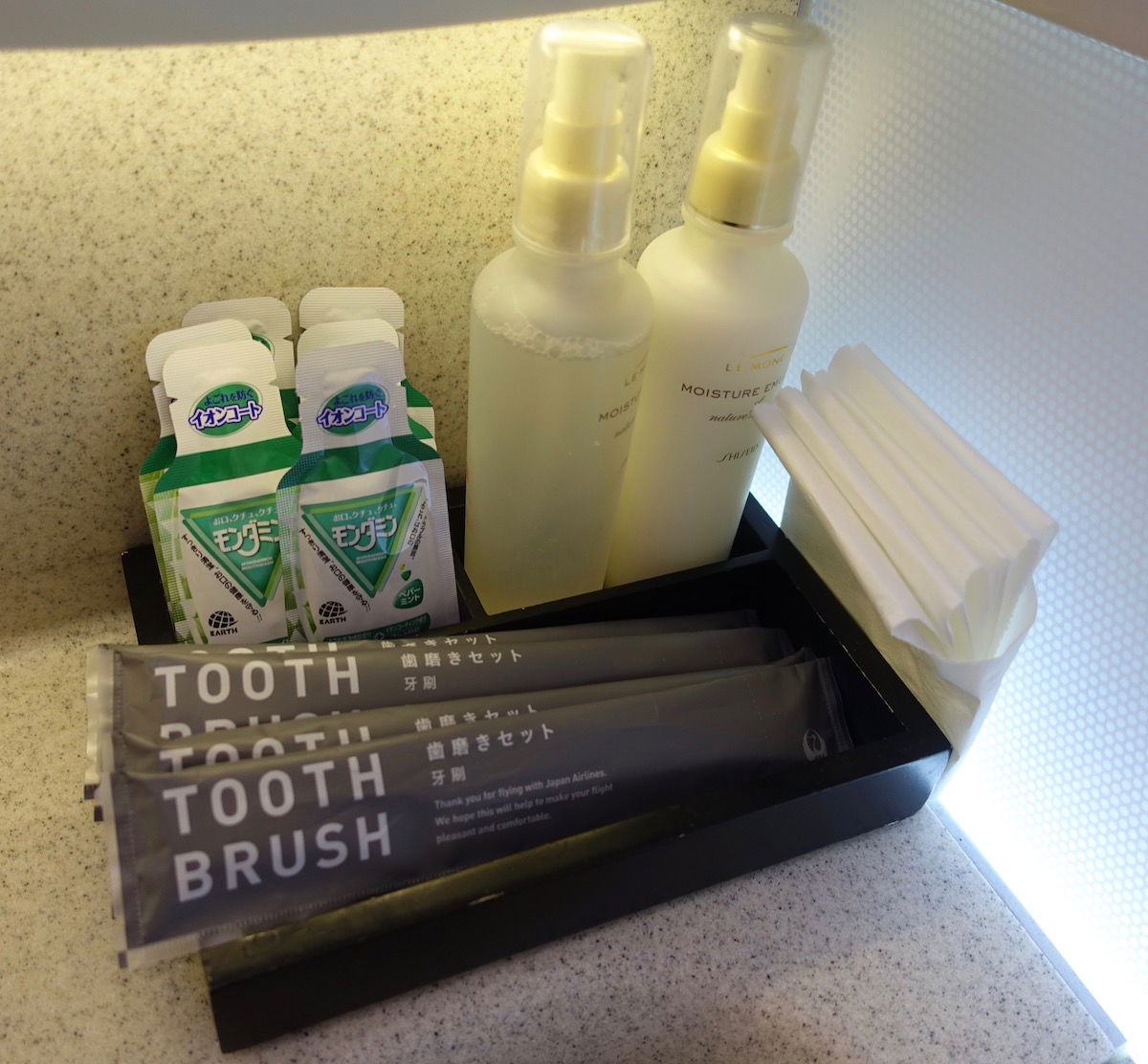 Japan Airlines lavatory amenities
The crew also put some cute notes in the lavatory.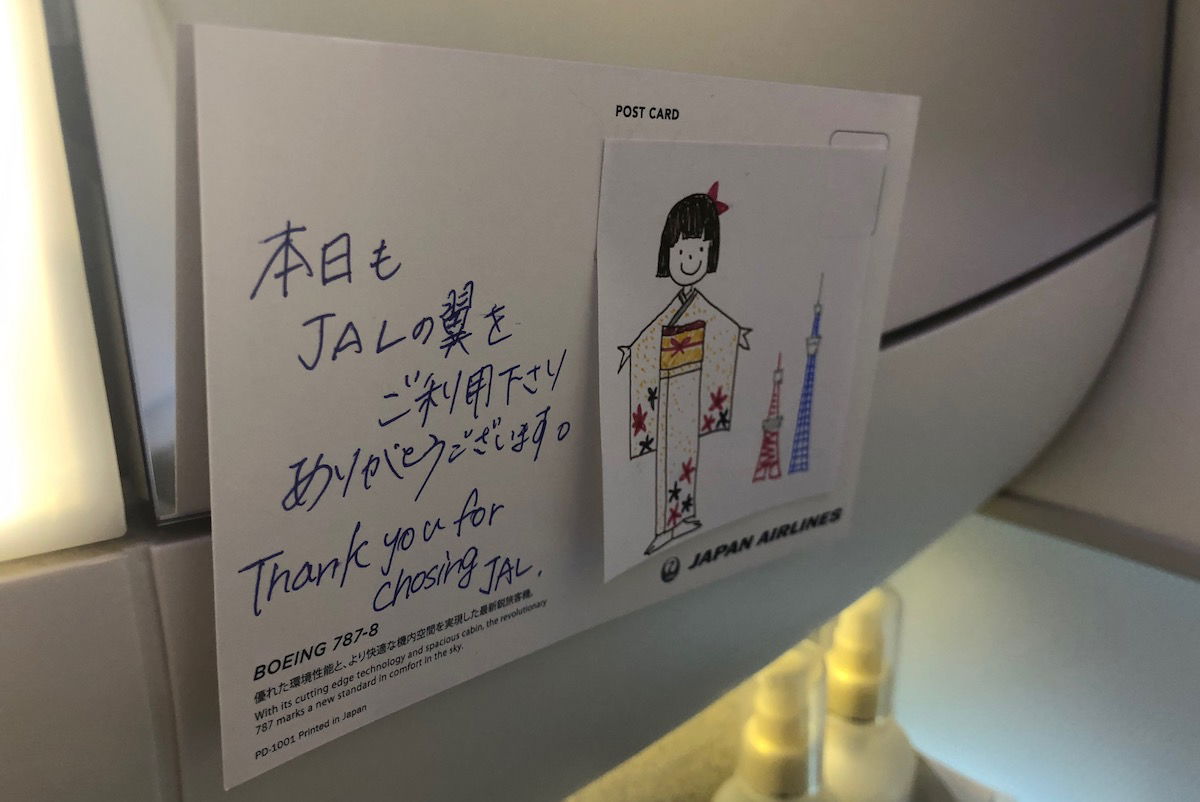 Japan Airlines lavatory
I was flying on a weekday and had quite a bit of work to get done, so one of the things I love about JAL is their Wi-Fi. They charge just $19 for Wi-Fi for the entire flight with no data caps. That's tough to beat.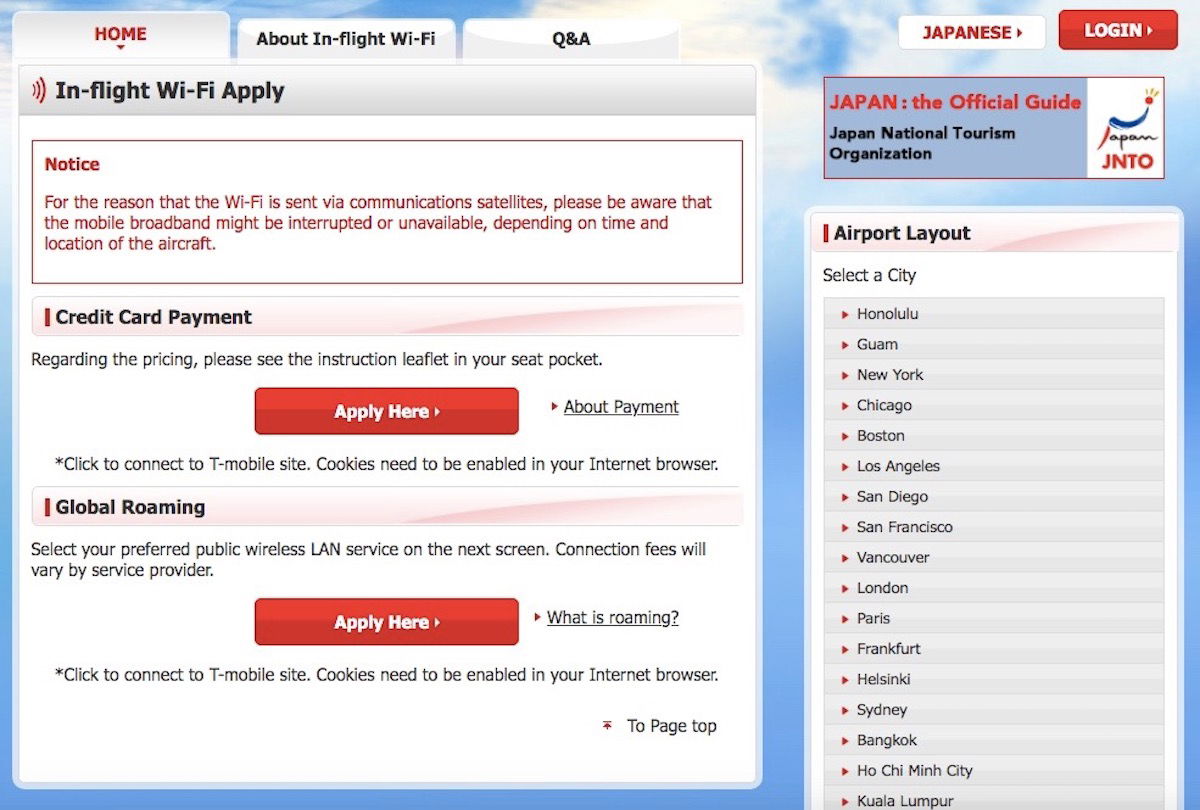 Japan Airlines Wi-Fi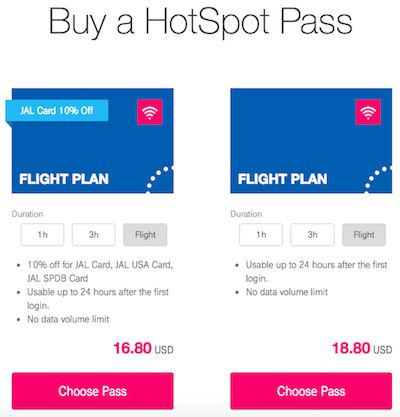 Japan Airlines Wi-Fi
As far as entertainment goes, JAL's entertainment selection is limited, though perhaps even more annoying than the selection is that the monitor isn't touchscreen. So you have to control everything off the small handheld controller (at least as far as I can tell), which I find complicated to use. Fortunately with Wi-Fi I don't care much, since I'm happy just to be productive.
After takeoff service was pretty slow to get started. Meal and drink orders were taken by the crew about 30 minutes after takeoff. Warm towels were distributed a few minutes after that, and then tablecloths were distributed about 15 minutes later.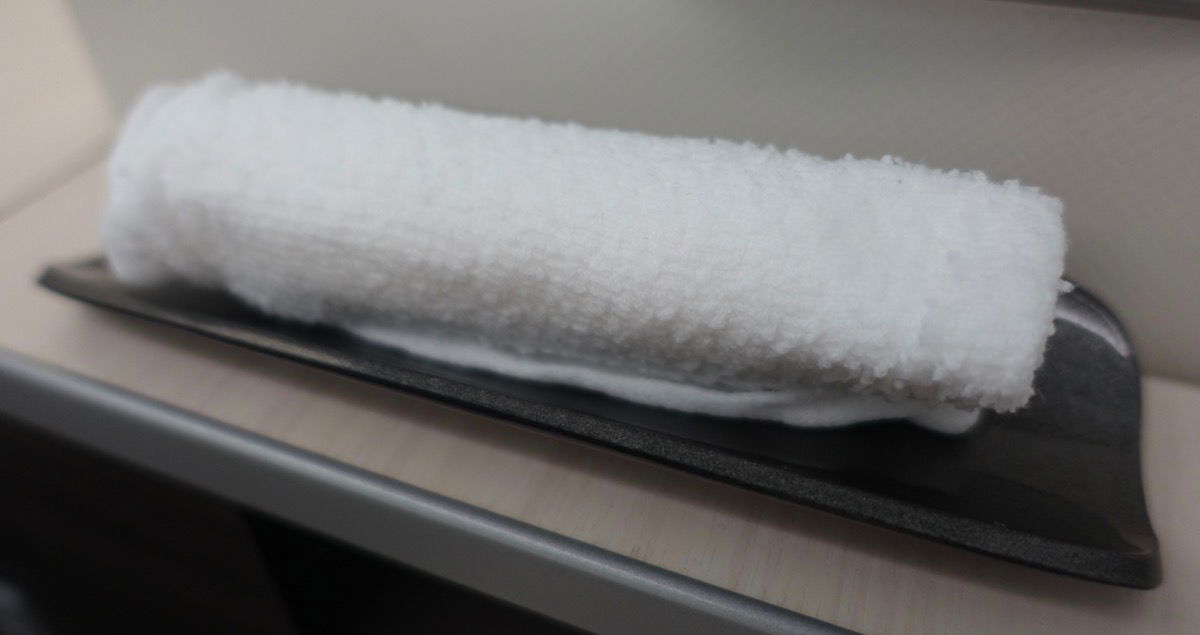 Japan Airlines business class warm towel
The menu read as follows: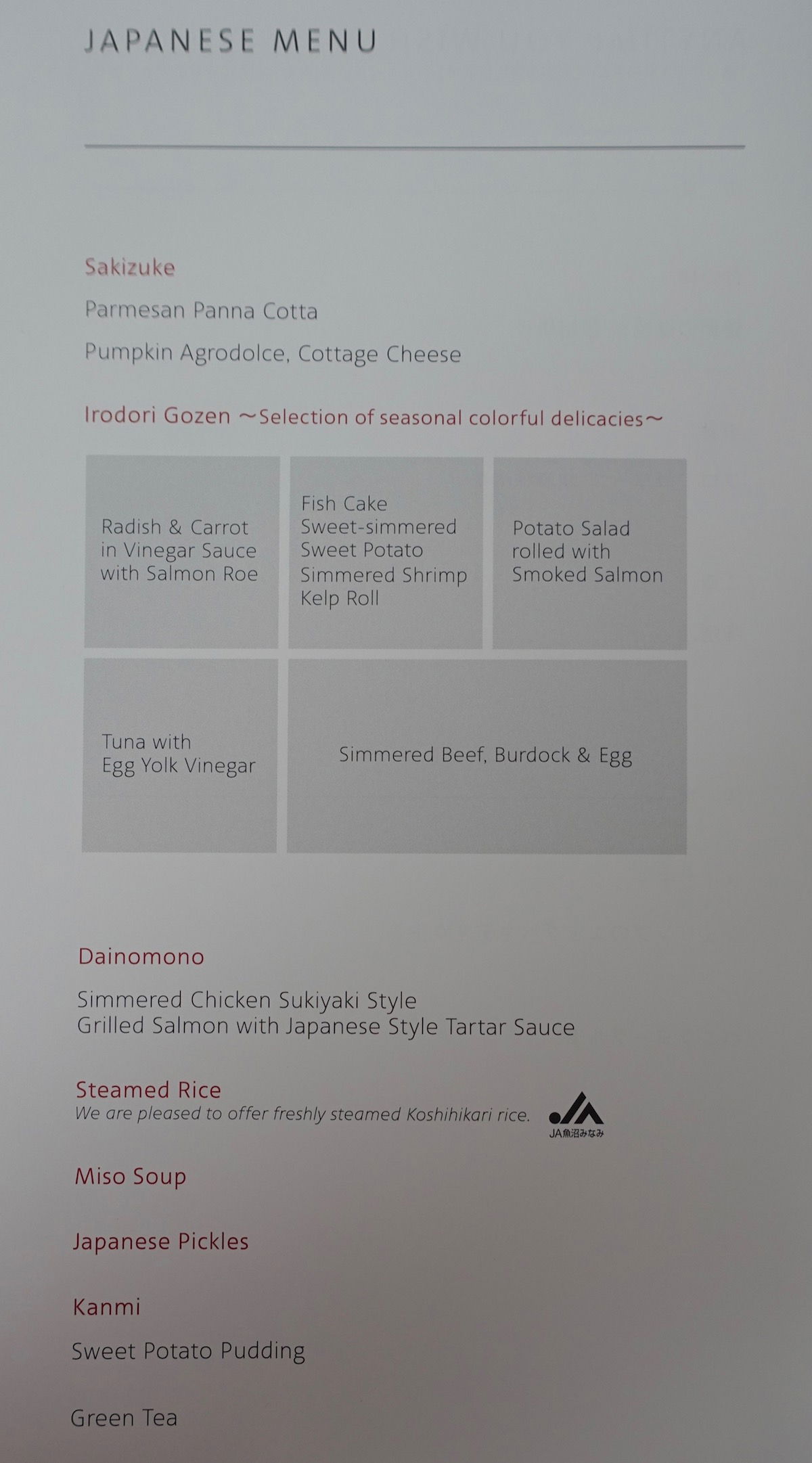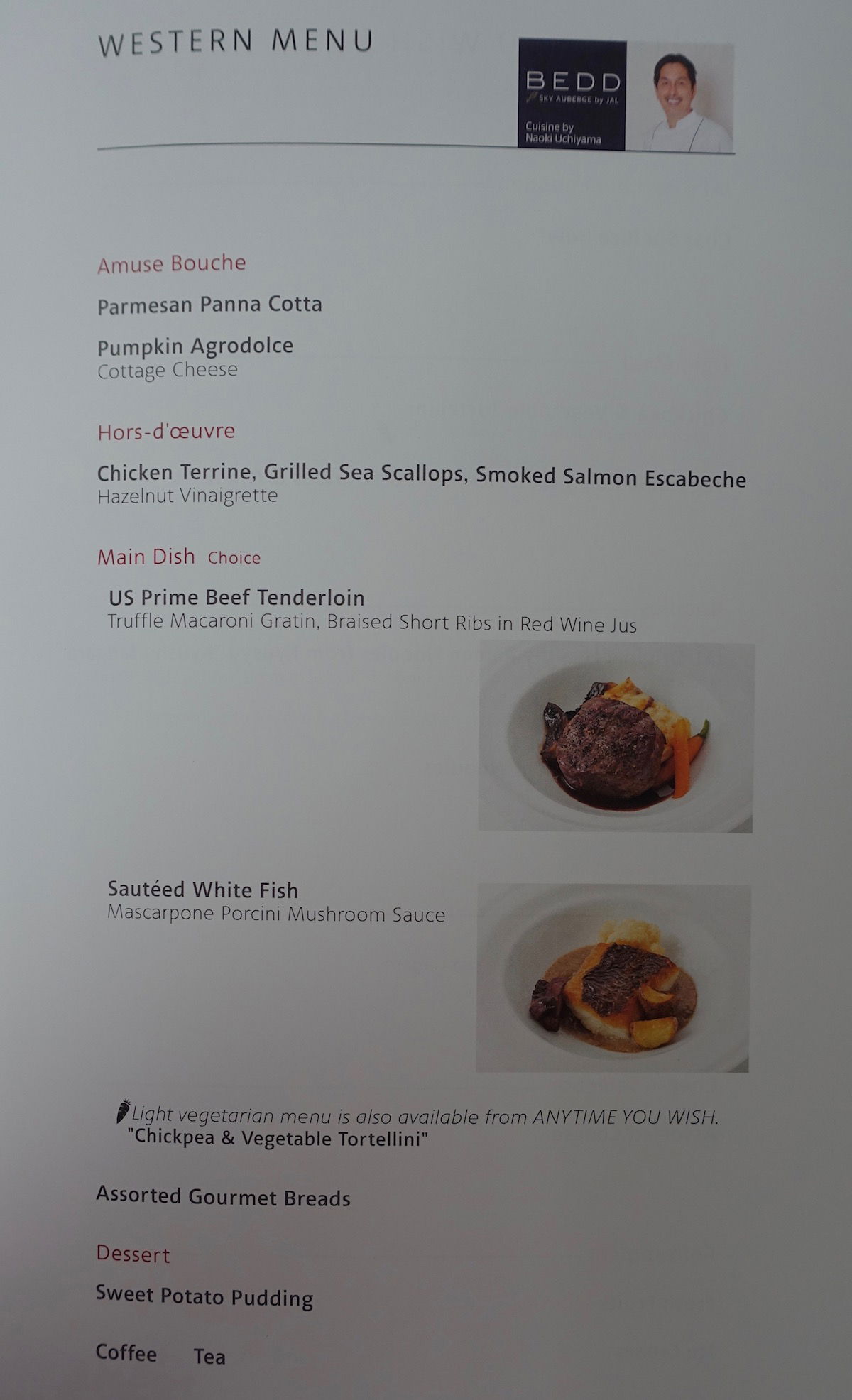 The drink list read as follows: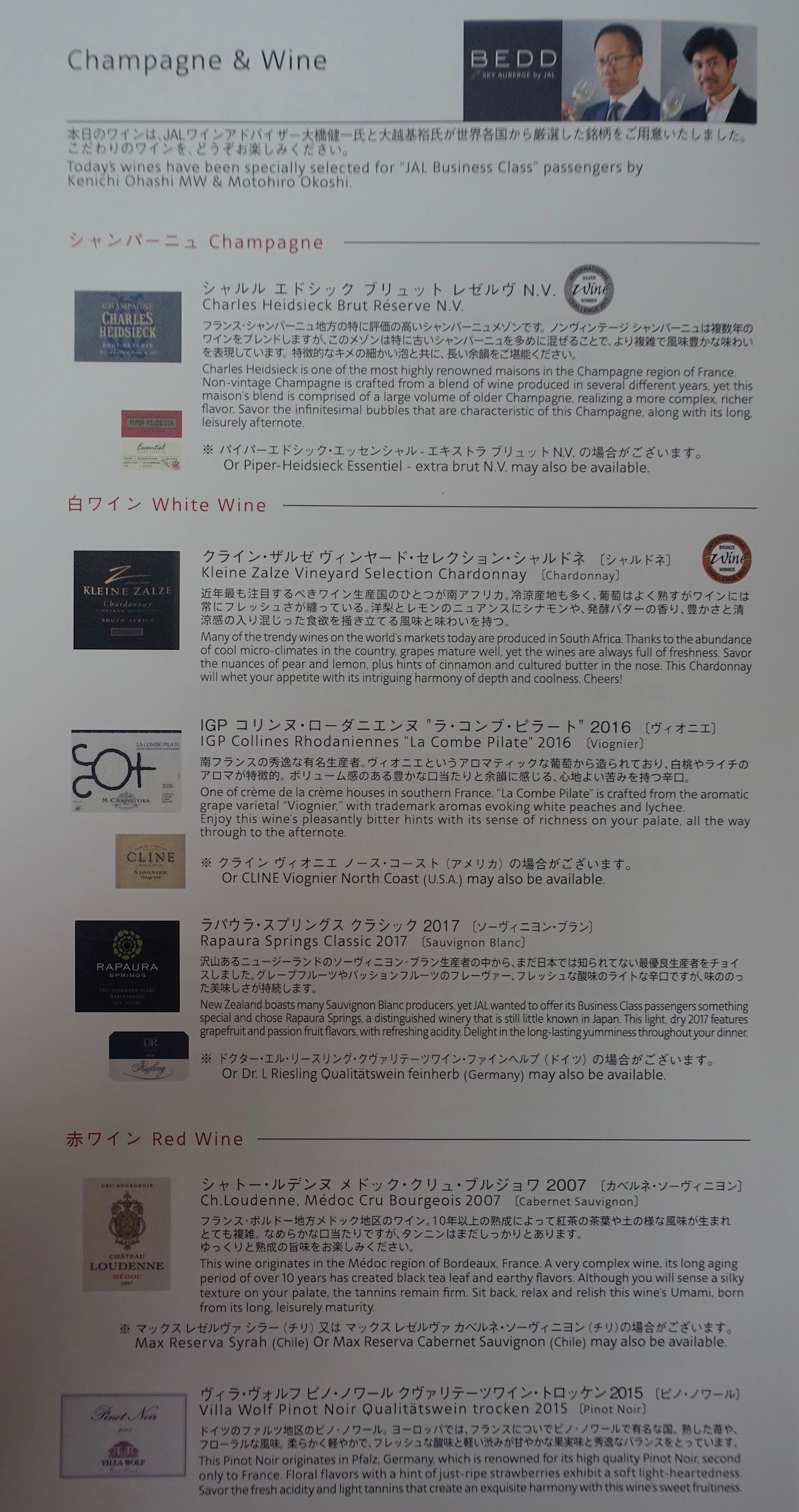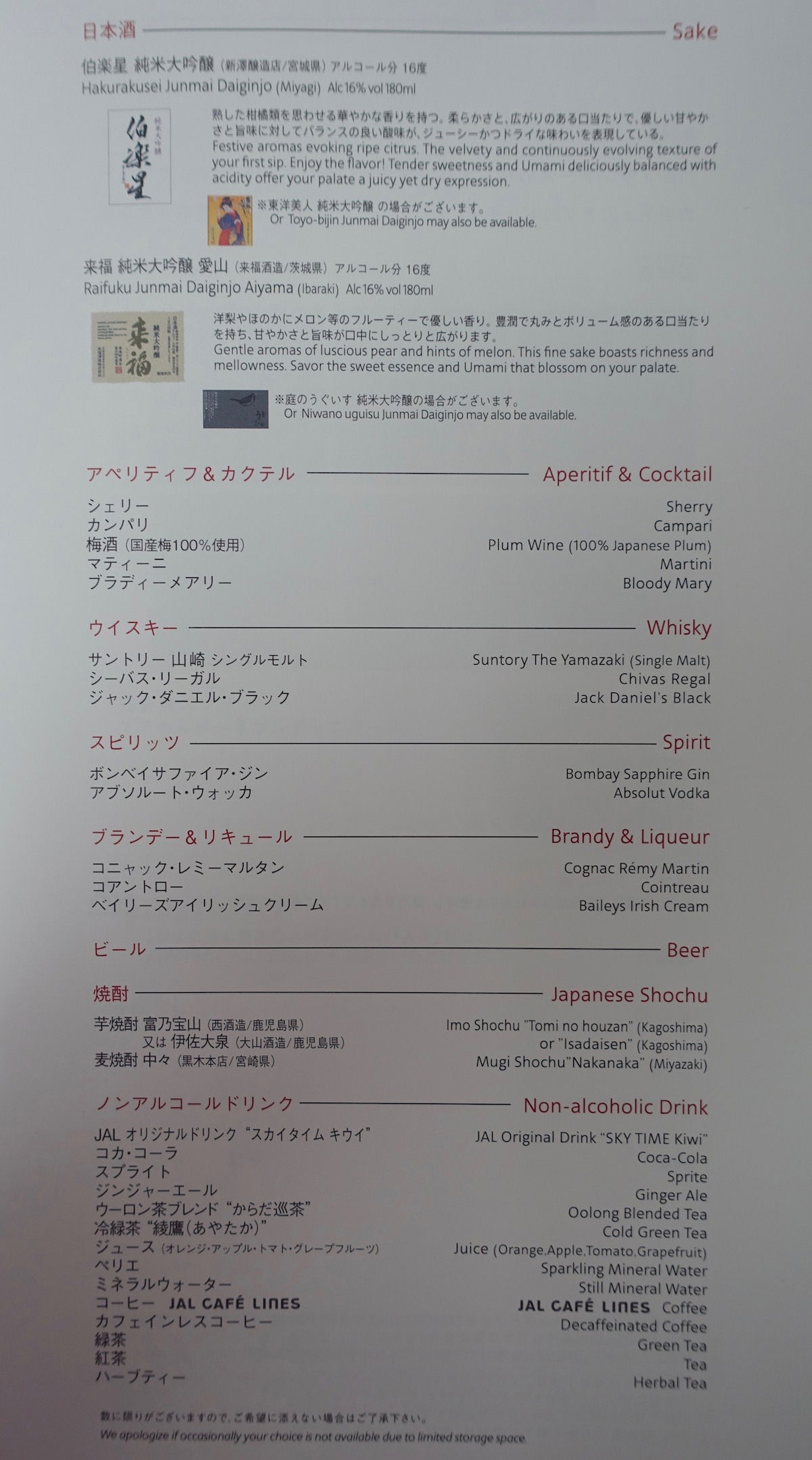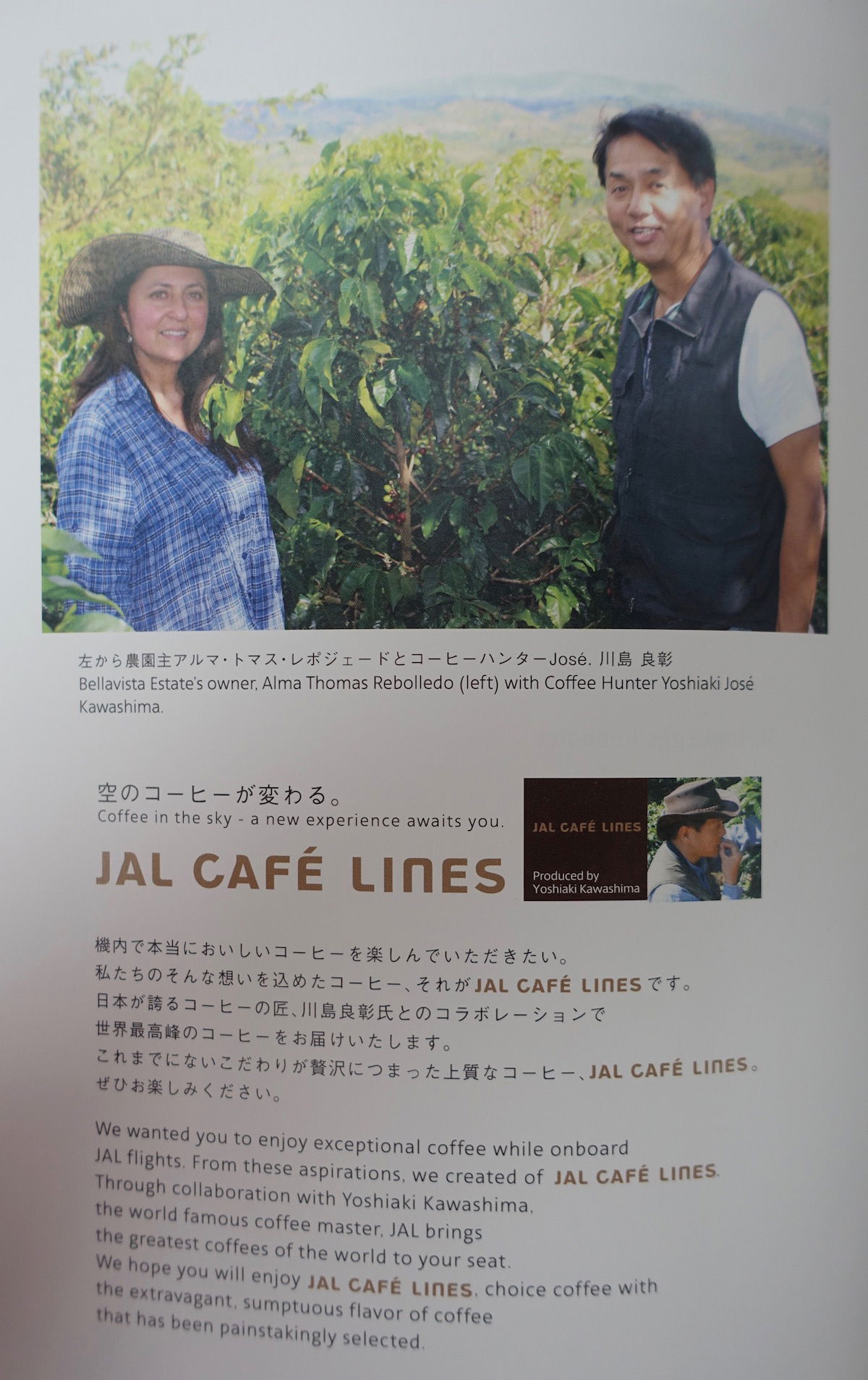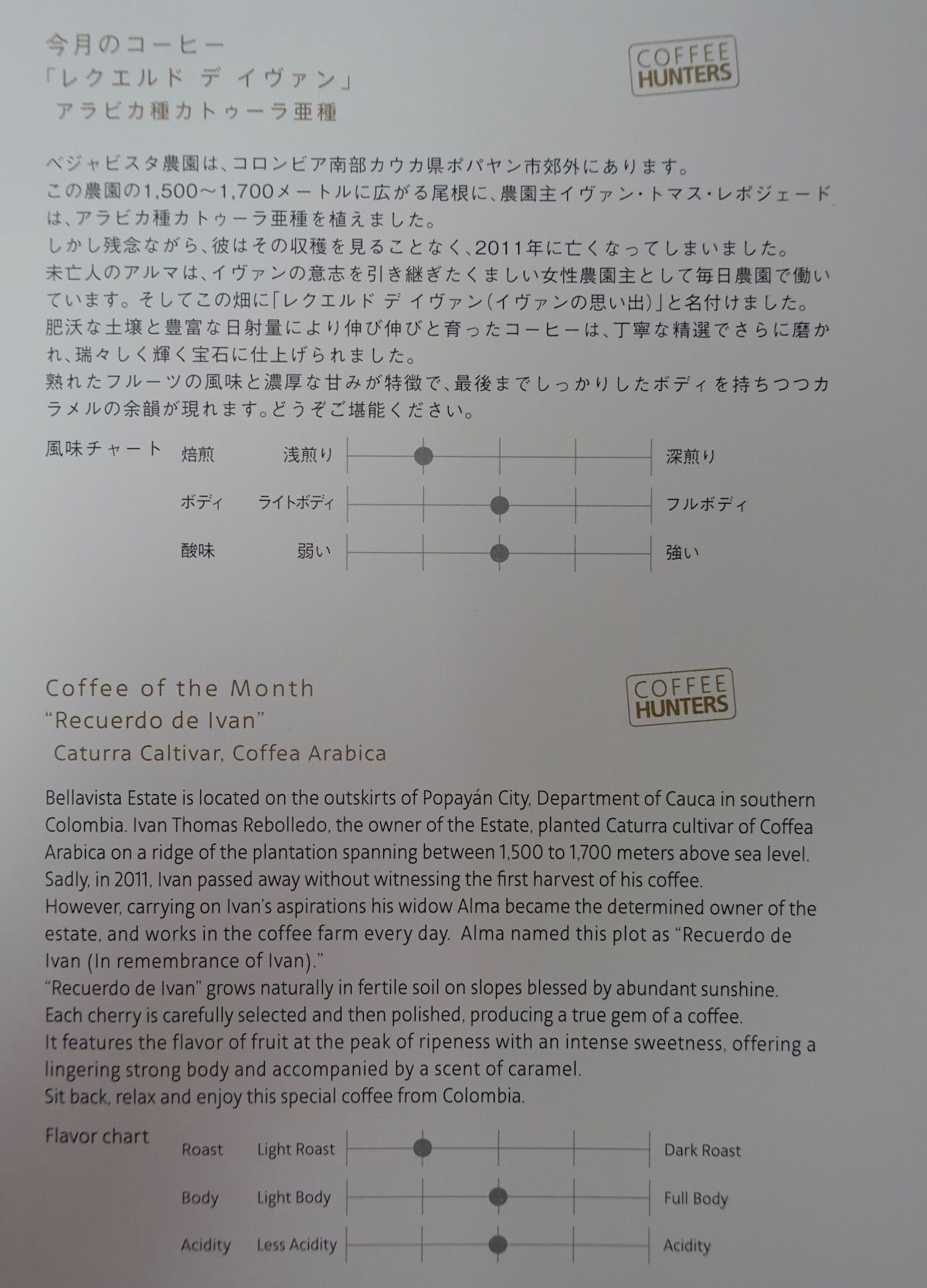 Just under an hour after takeoff the first drink was served, along with the amuse bouche. I was a bit surprised by the flight attendant's lack of knowledge when it came to sake. I asked for the driest sake, and she didn't seem to have a recommendation. Fortunately I enjoyed the sake that I randomly decided on.
The first drink was served with an amuse bouche, which consisted of parmesan panna cotta and pumpkin agrodolce with cottage cheese. The parmesan panna cotta also had pork, which I don't eat, but otherwise it was tasty.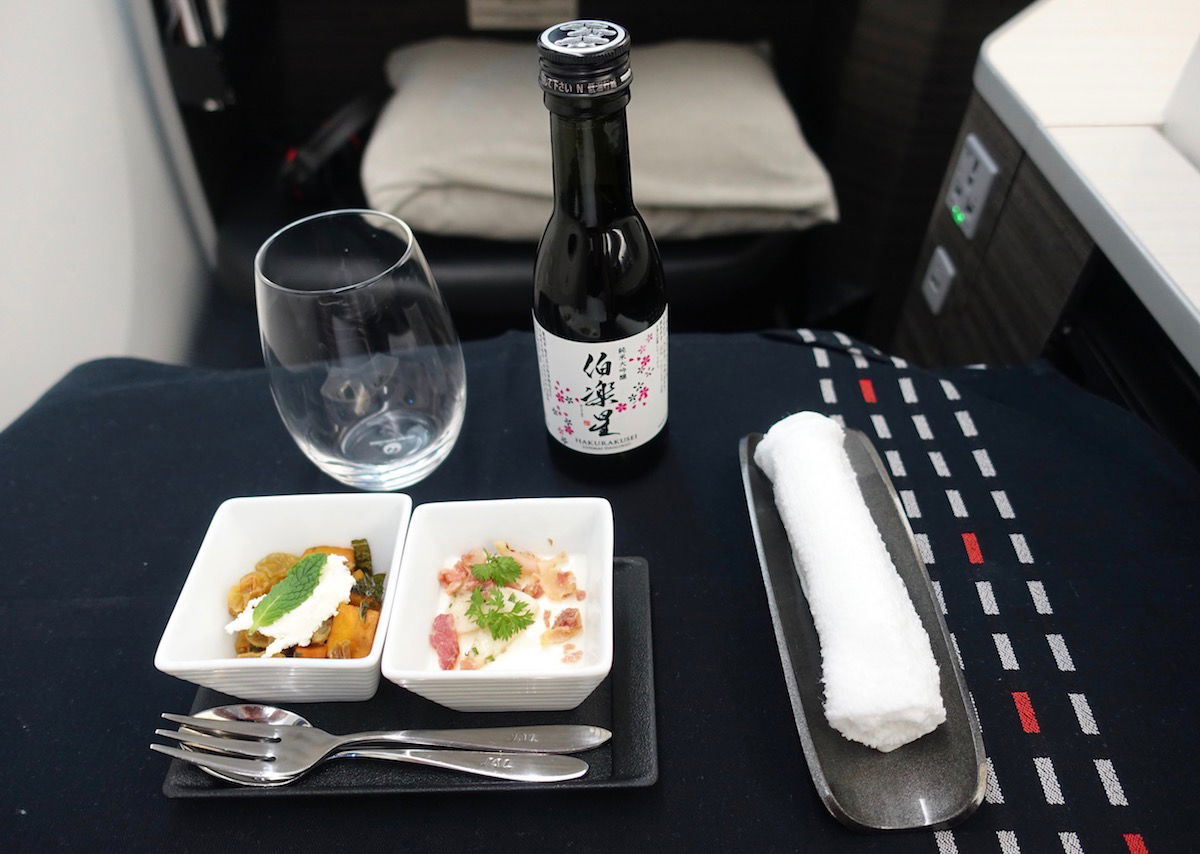 Japan Airlines business class amuse bouche
About 15 minutes later the starter was served. I wanted to sample both the Western and Japanese menu, so deferred to Ford as to which he preferred. He ended up having the Japanese, while I had the Western, though I tried a little bit of everything.
My starter consisted of chicken terrine, grilled sea scallops, and smoked salmon escabeche, with hazelnut vinaigrette. The dish was totally fine but nothing special, though personally I didn't like the way the dressing was presented on the plate.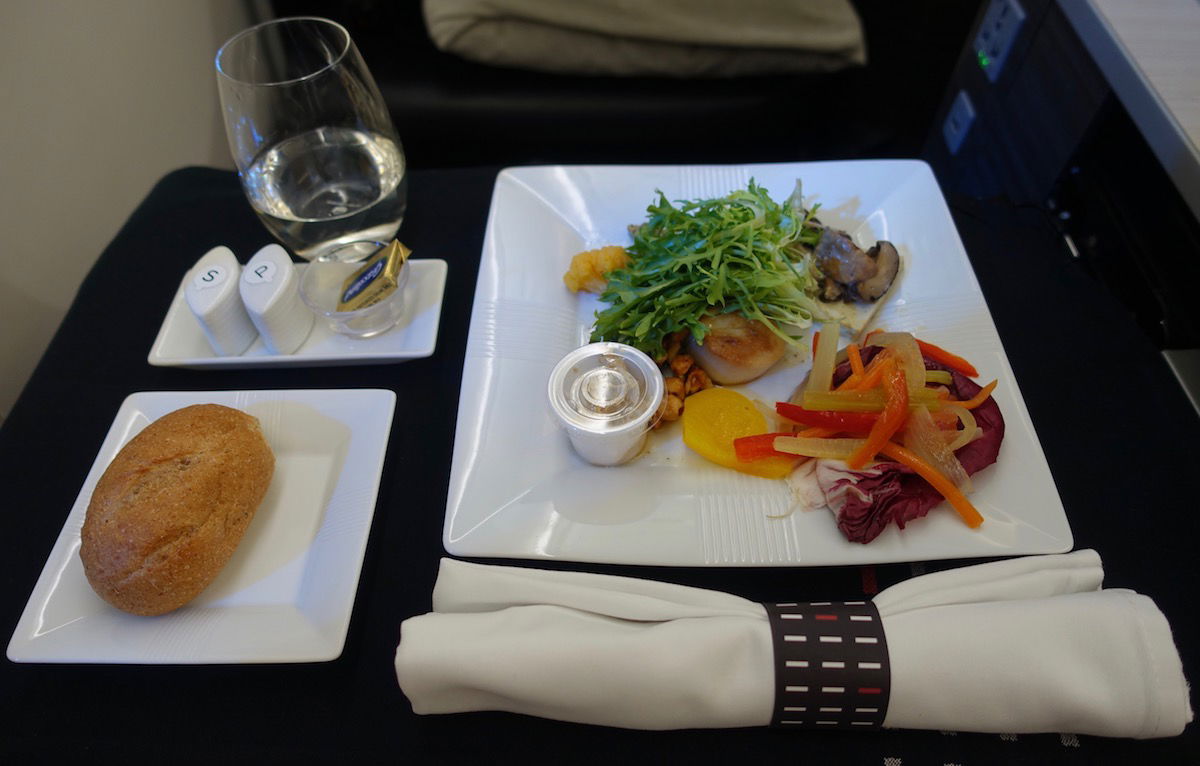 Japan Airlines business class hors d'oeuvre
Ford's starter was much better, and included:
Radish & carrot in vinegar sauce with salmon roe
Fish cake sweet-simmered in sweet potato simmered shrimp kelp roll (that's a lot of simmering!)
Potato salad rolled with smoked salmon
Tuna with egg yolk vinegar
Simmered beef, burdock and egg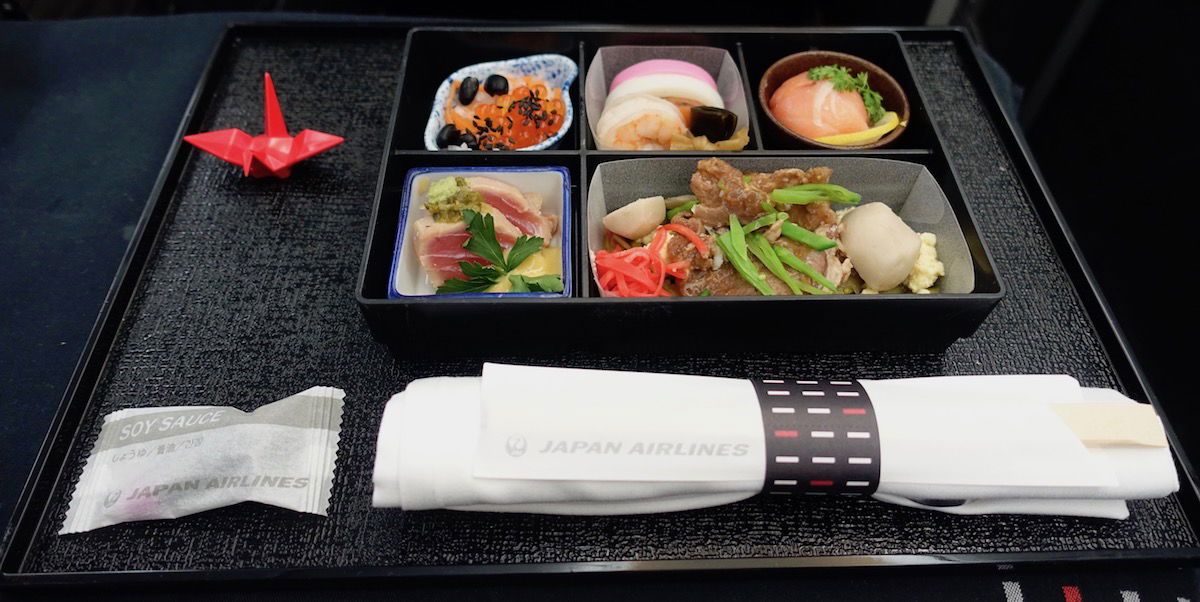 Japan Airlines business class Japanese meal
It was about 40 minutes between when the starter and main were served. For the main course I ordered the sautéed "white fish" with mascarpone porcini mushroom sauce, which was good.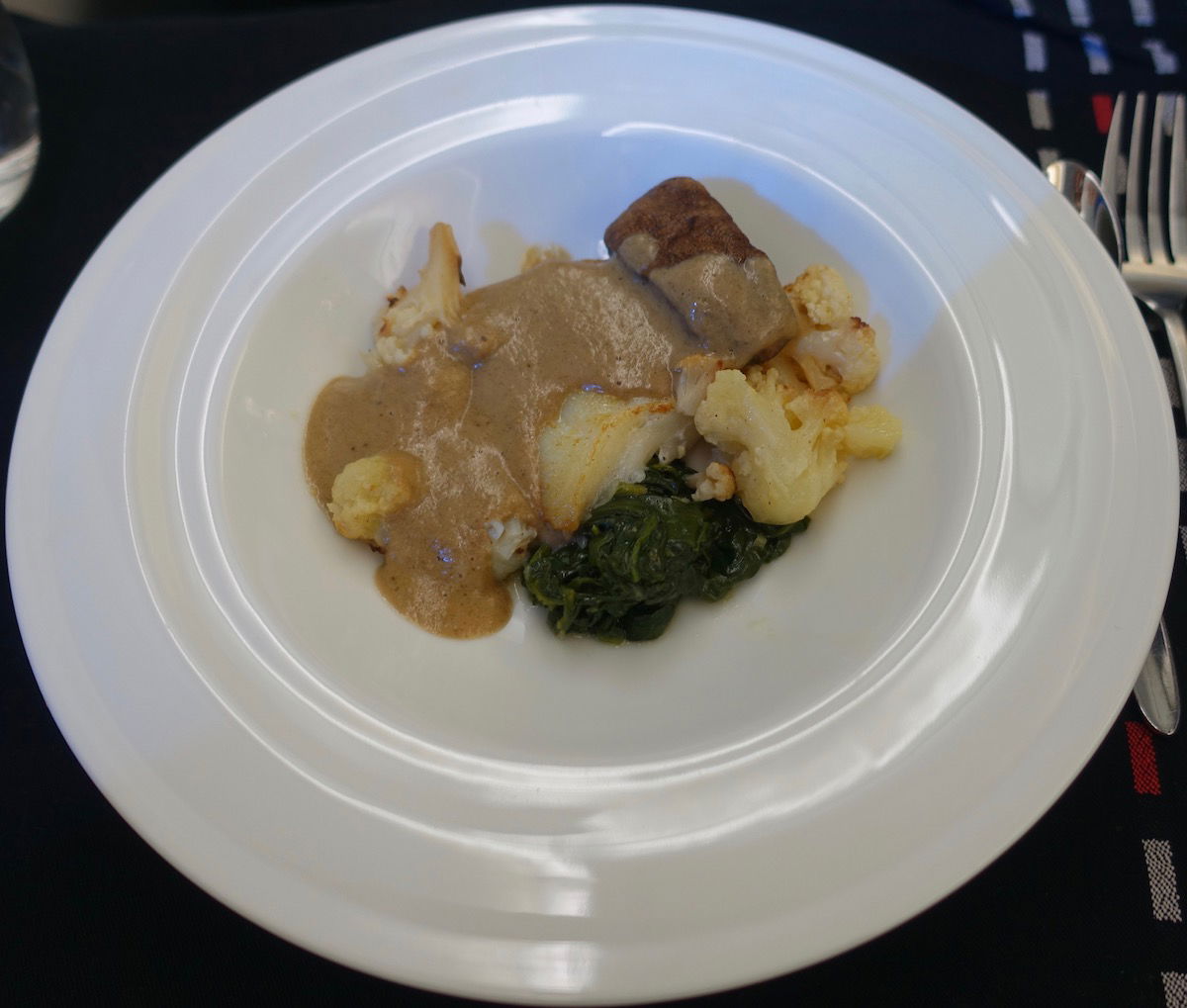 Japan Airlines business class Western meal
Ford's main consisted of simmered chicken sukiyaki style and grilled salmon with Japanese style tartar sauce, as well as miso soup and Japanese pickles.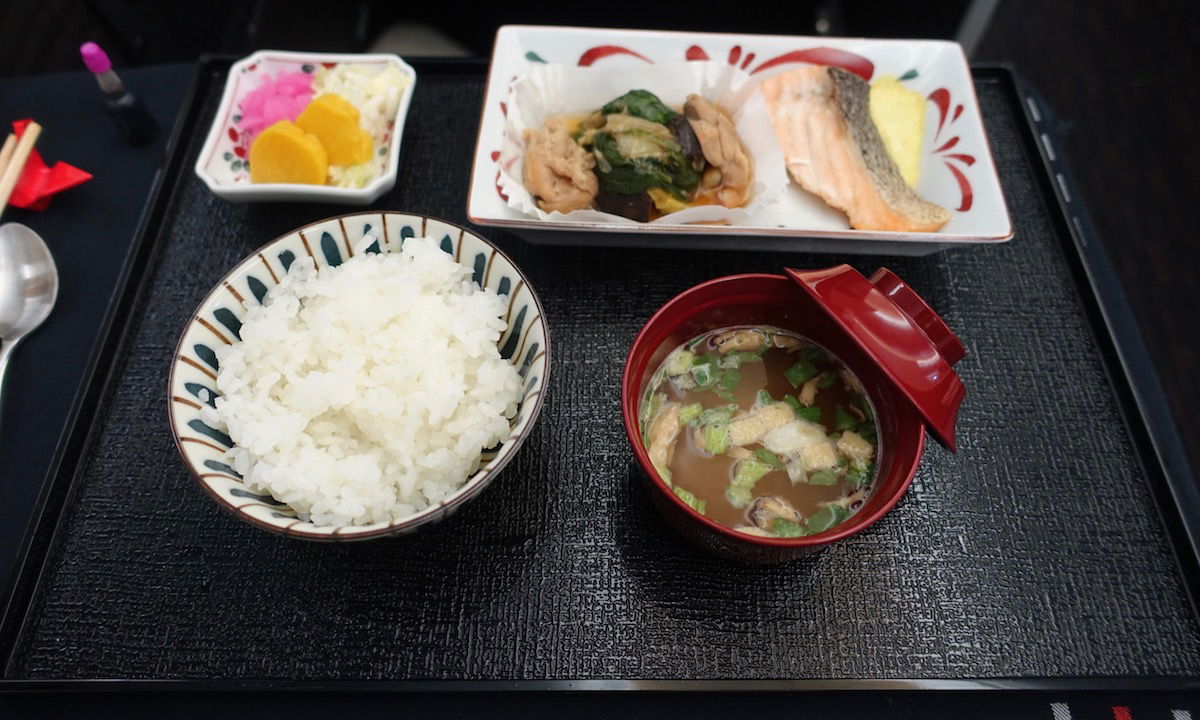 Japan Airlines business class Japanese meal
We were quite enjoying the sake, and decided to try a different one with our main course.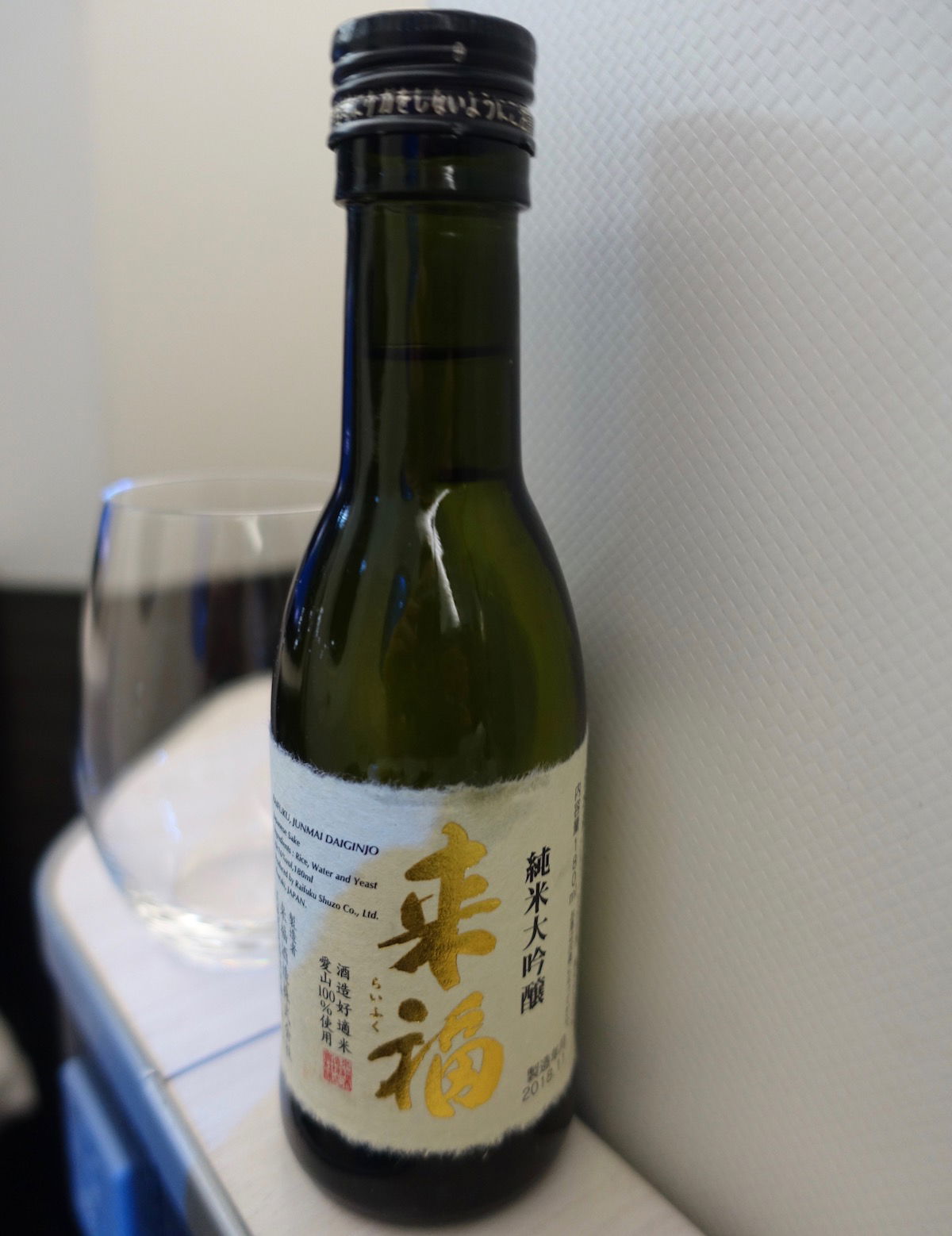 Japan Airlines business class sake
The dessert selection was limited, and for both the Western and Japanese menu consisted of sweet potato pudding. On the same trolley as the dessert they also offered coffee and tea.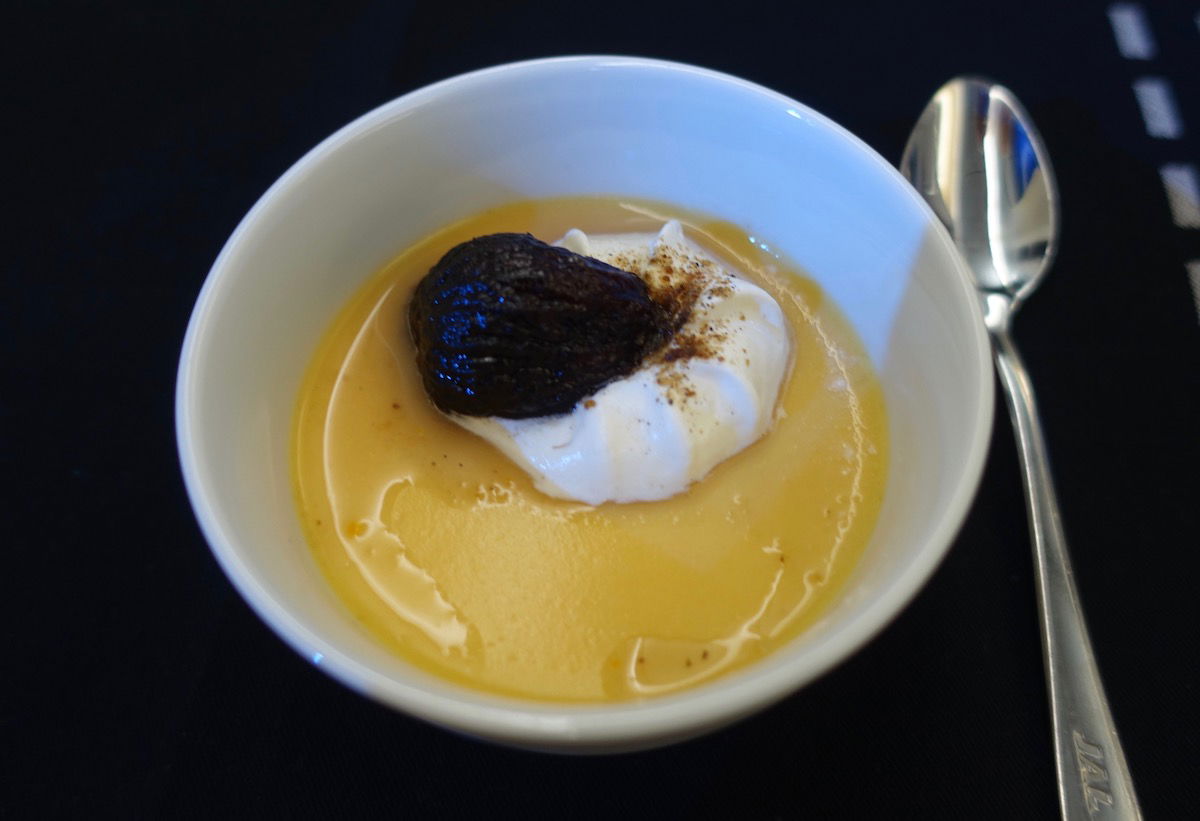 Japan Airlines business class dessert
Upon the conclusion of the meal we were offered bottles of water.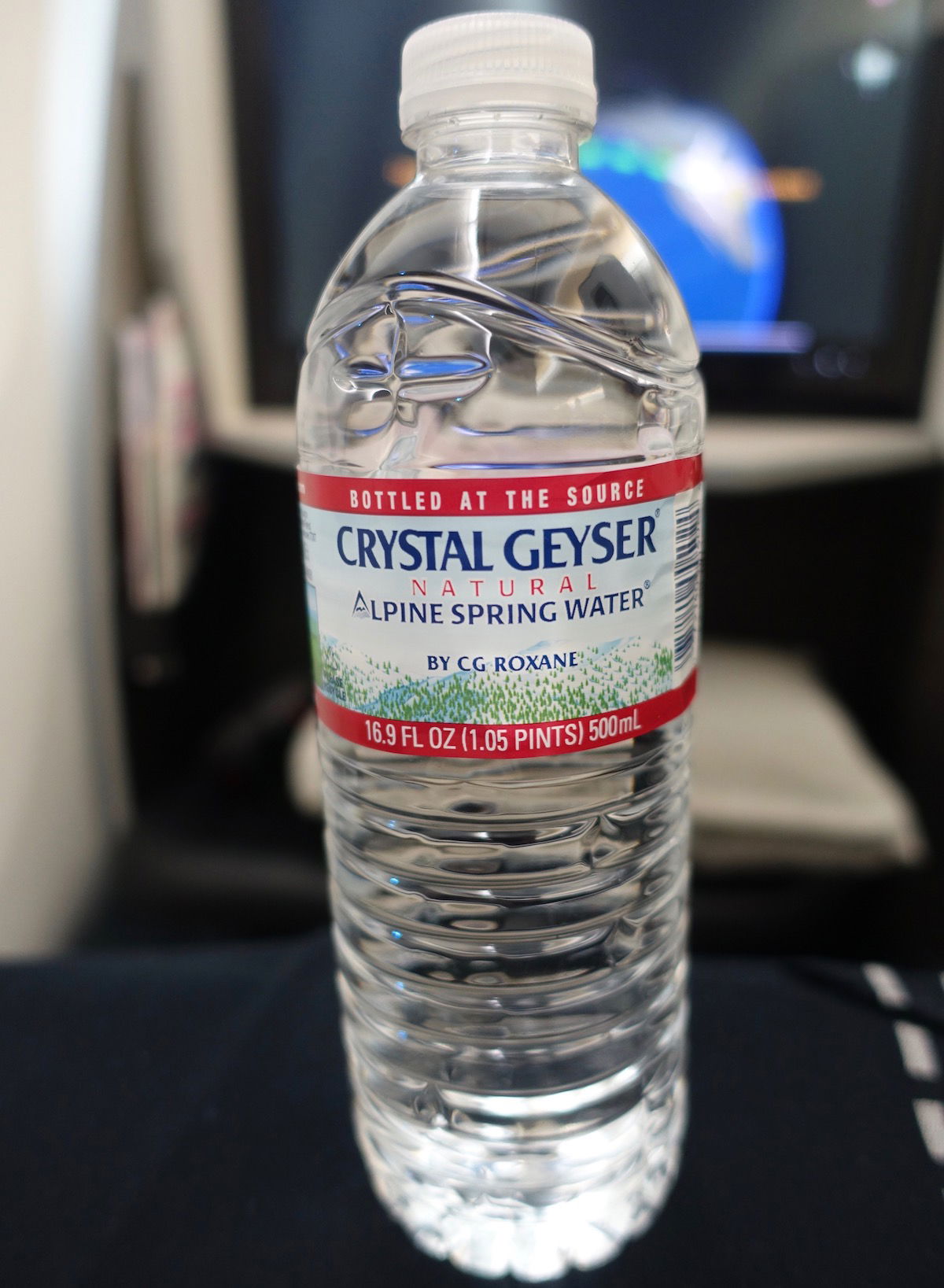 Japan Airlines business class bottled water
The meal service was concluded over two hours after takeoff, so was quite drawn out. That's not really an issue, though, since this is a very long flight.
As far as the service goes, I'm trying to think of the best way to describe it. I was flying a Japanese airline, so of course service was good.
But I'd be lying if I didn't say I found the service to be below average for a Japanese airline. Maybe the problem is that a few weeks prior I flew Japan Airlines first class and had an out-of-this-world-spectacular crew.
On this flight the crew just seemed to lack that x-factor that makes flying a Japanese carrier so special. They were friendly and they were well intentioned, but they just weren't as attentive or infectiously adorable as I often find on Japanese airlines. For example, it would take them forever to clear trays, both during the main meal service, and also later in the flight when I ordered snacks.
Anyway I worked a bit longer, and soon enough we had some great views as we were traveling northwest.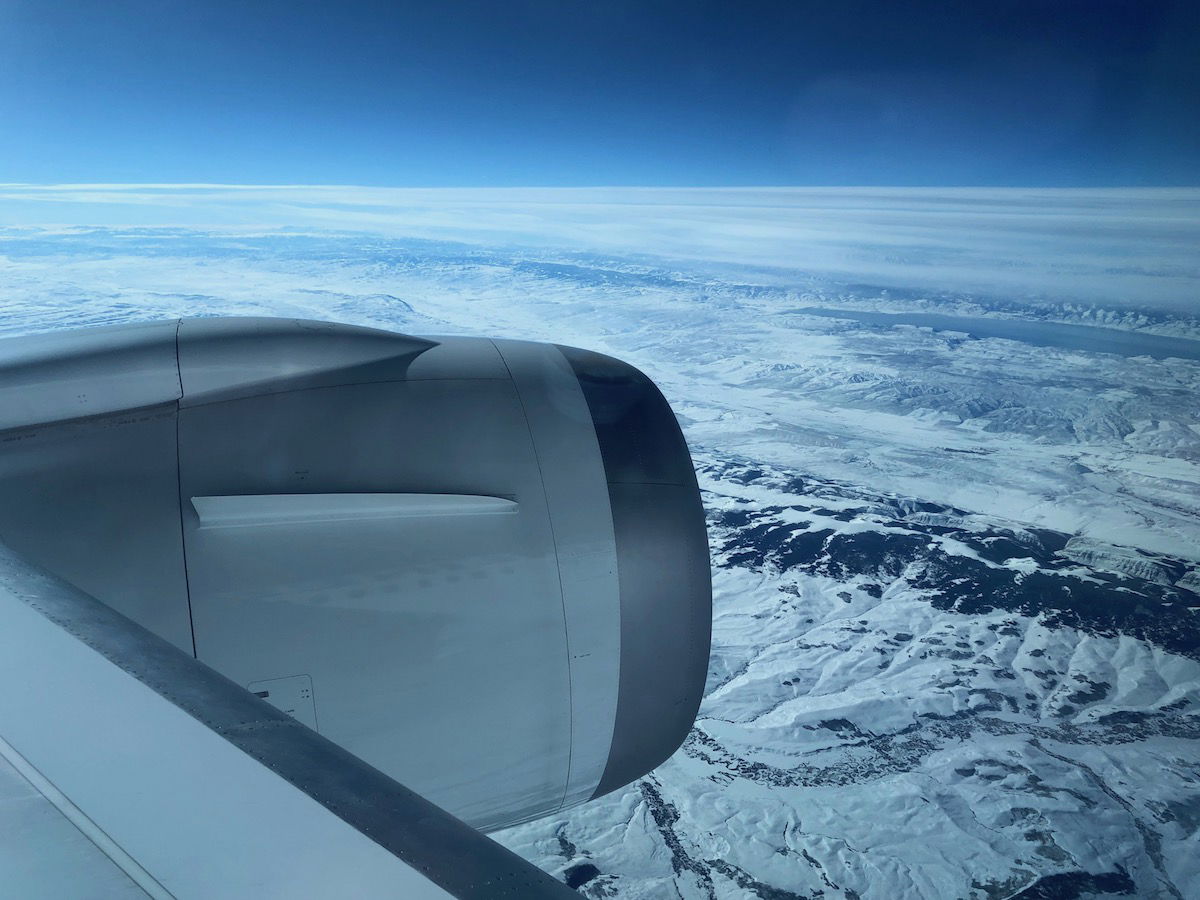 View enroute to Narita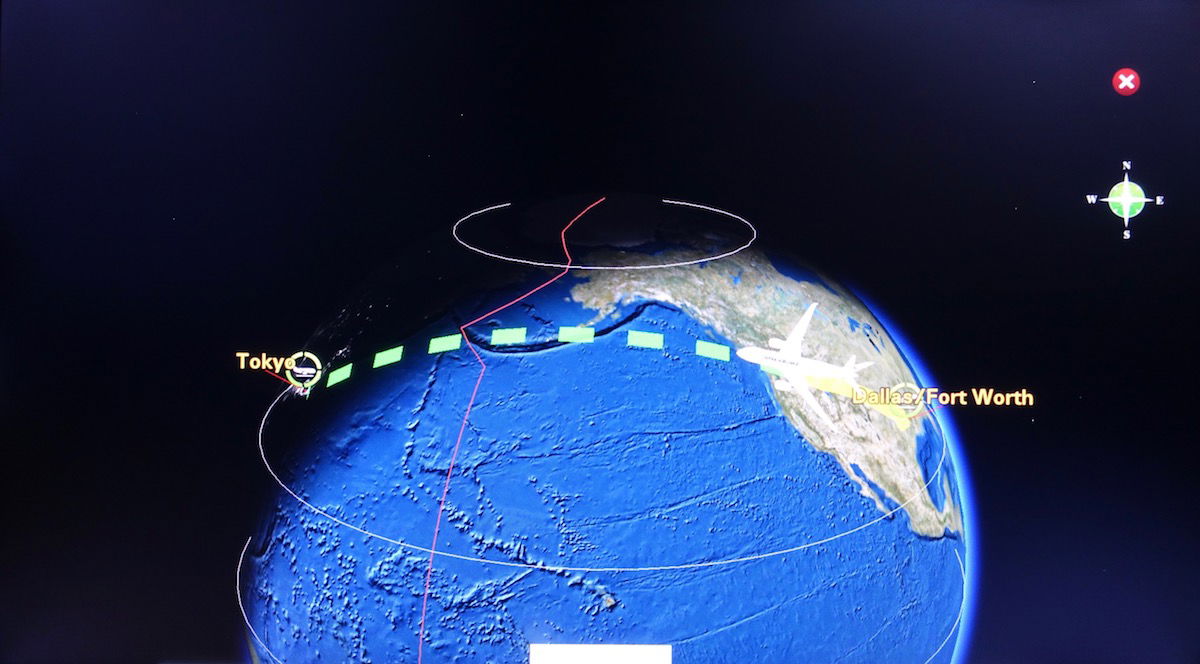 Moving map enroute to Narita
With just under 10 hours remaining inflight I asked to have my bed made, as I was hoping to get some rest.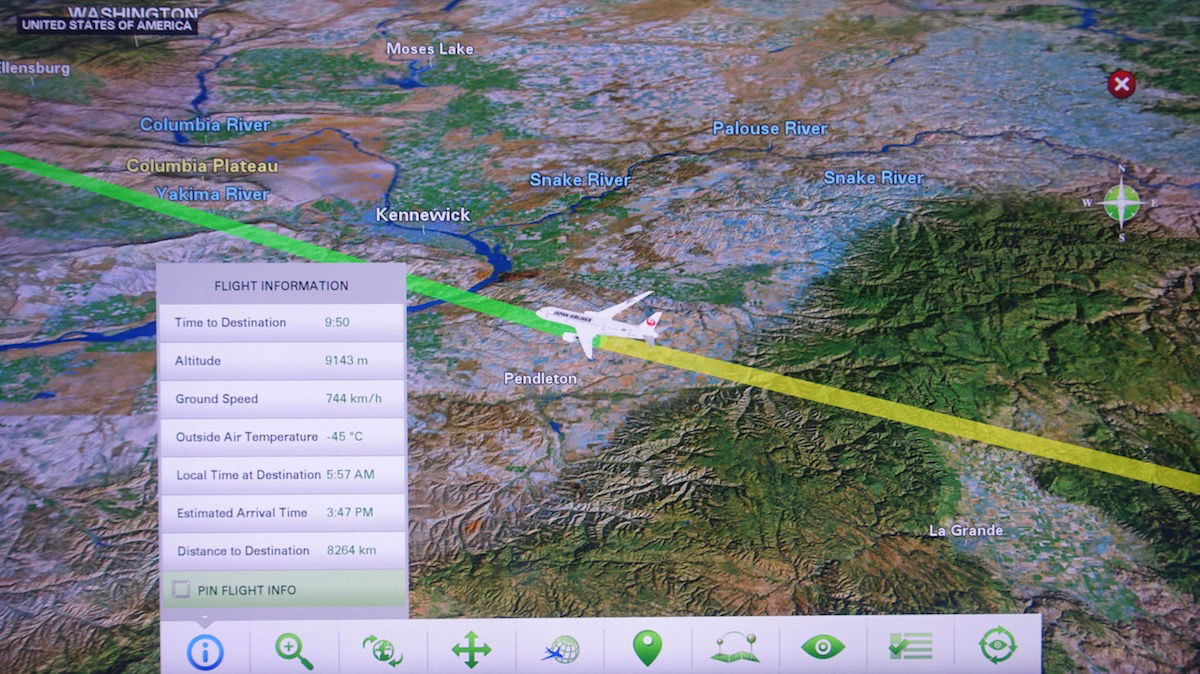 Moving map enroute to Narita
Japan Airlines has mattress pads in business class, which really help in terms of comfort. The Apex Suite window seat really is one of the most comfortable business class seats out there, especially in bed mode.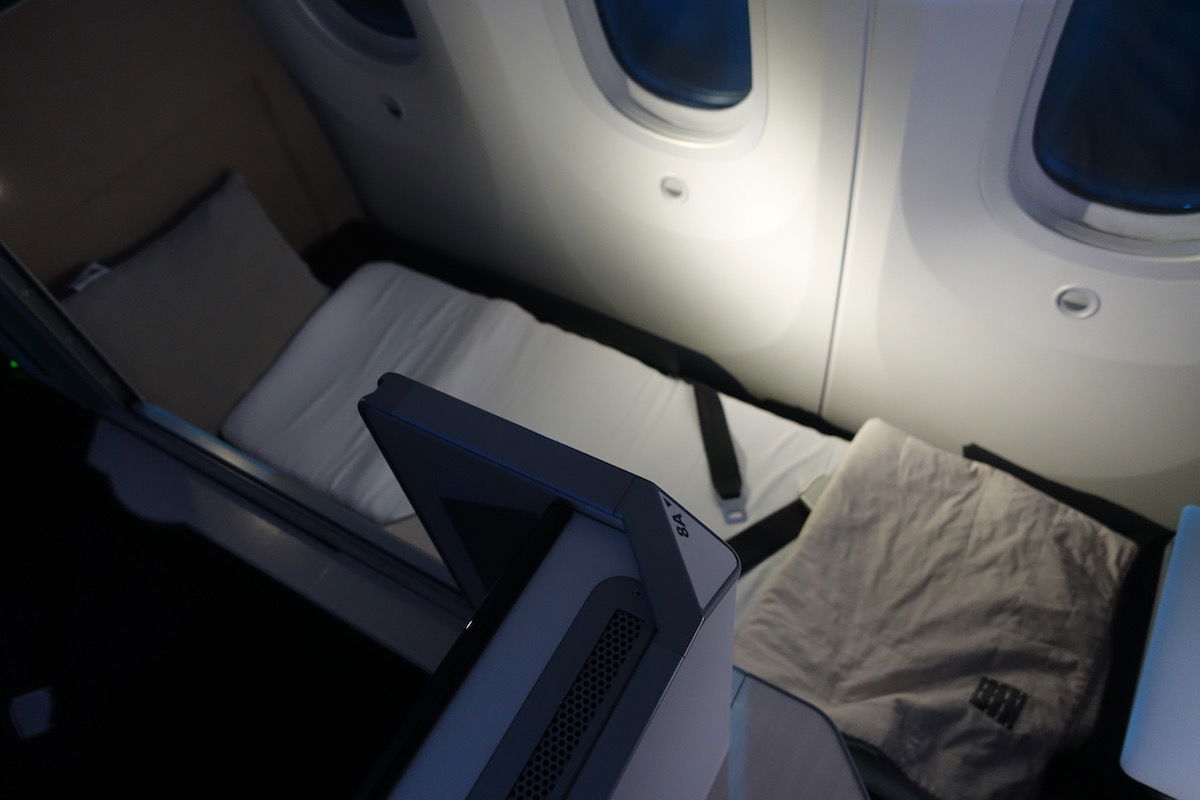 Japan Airlines business class bed
I'm always optimistic when it comes to sleeping on planes. I was hoping I'd sleep most of the way to Japan, but rather I got just under three hours of sleep, and woke up with just under seven hours remaining to Narita.
Unfortunately I found the cabin to be really warm due to the lack of air nozzles, which made it hard to sleep.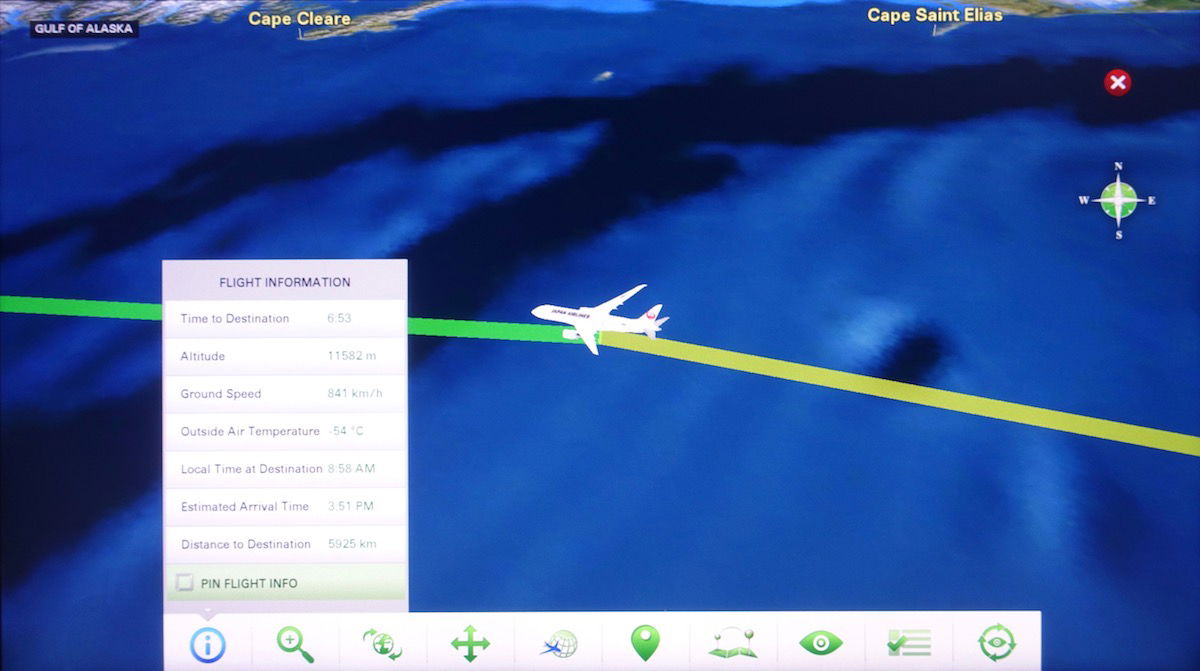 Moving map enroute to Narita
I worked for a bit longer, and then eventually ordered a coffee, as I realized my odds of going back to sleep were slim.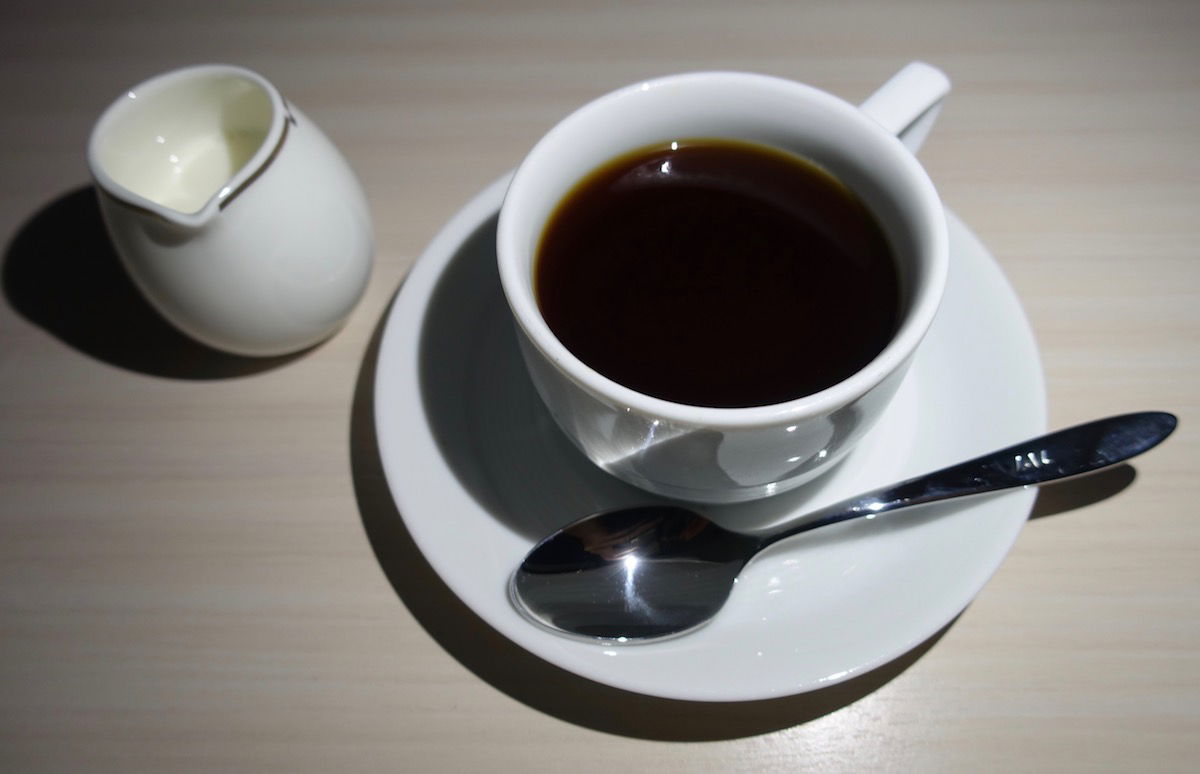 Japan Airlines business class coffee
While going to the lavatory I noticed a small snack bar set up in the galley between cabins, with some self serve wine, water, chocolate, and packaged snacks.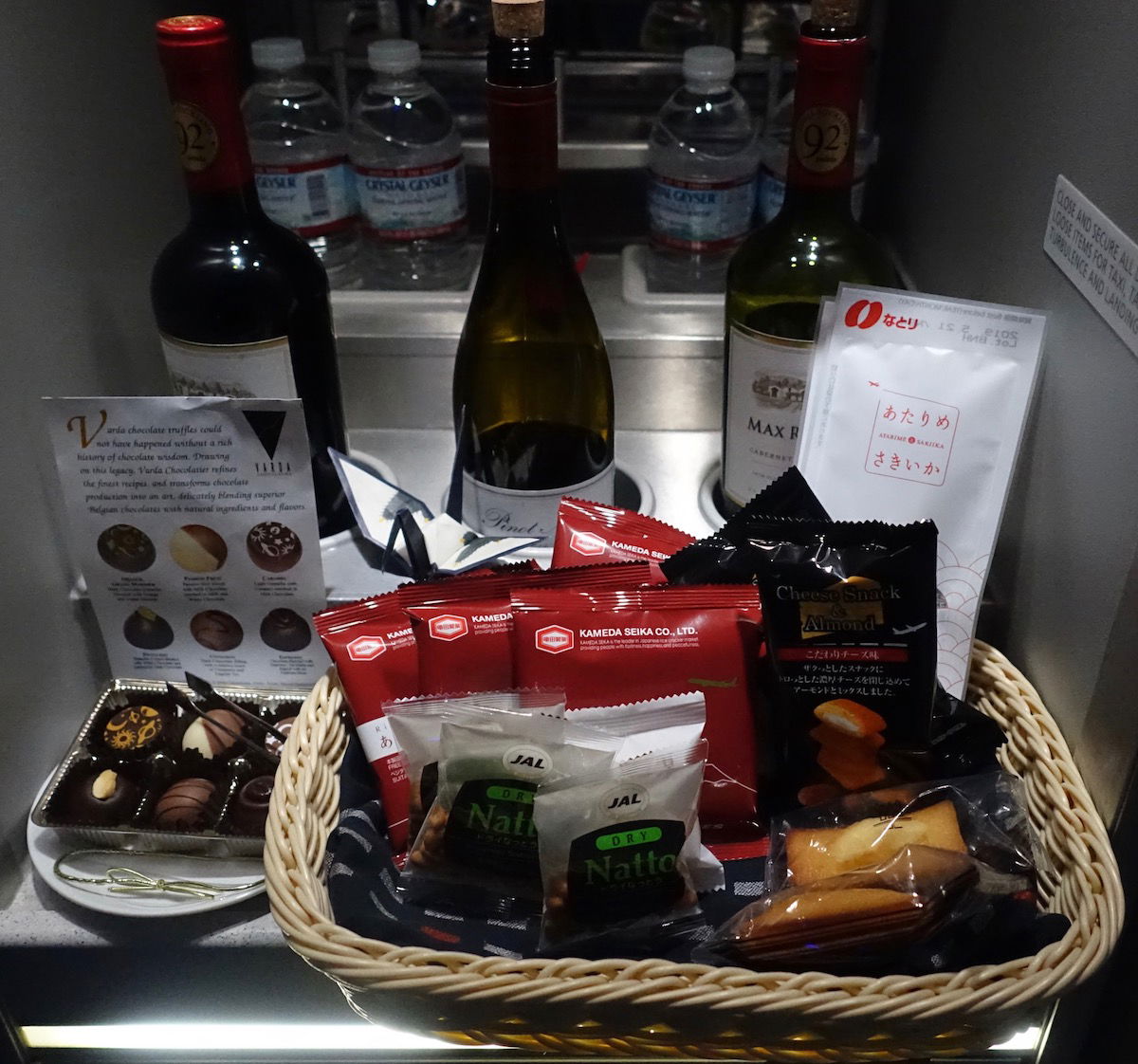 Japan Airlines business class snack bar
Eventually I was feeling a bit hungry so decided to order something off the "anytime" dining menu. While the first meal has set timing, the subsequent meal services are all on demand, and can be ordered anytime after the first meal service, up to 90 minutes before landing.
The menu read as follows: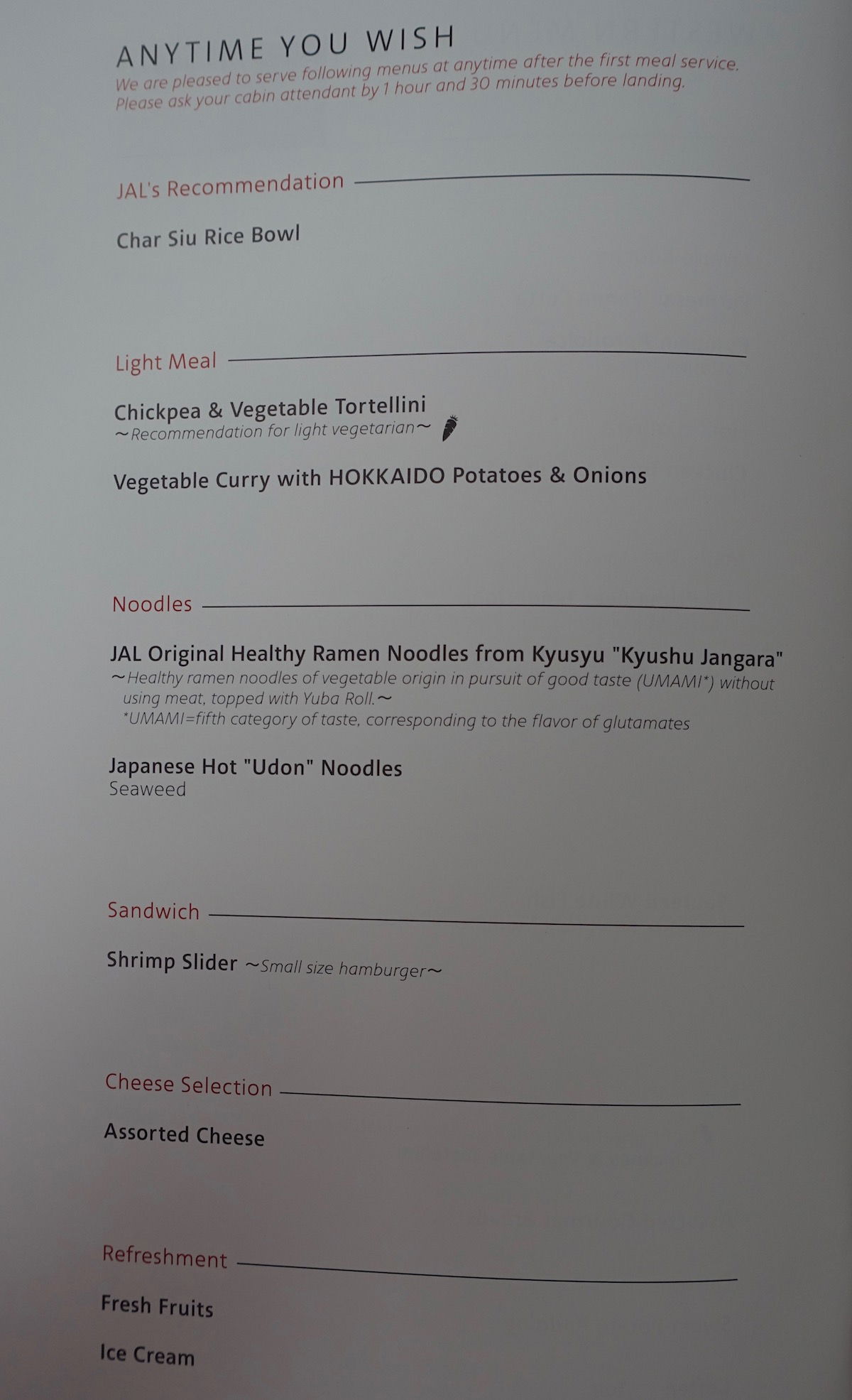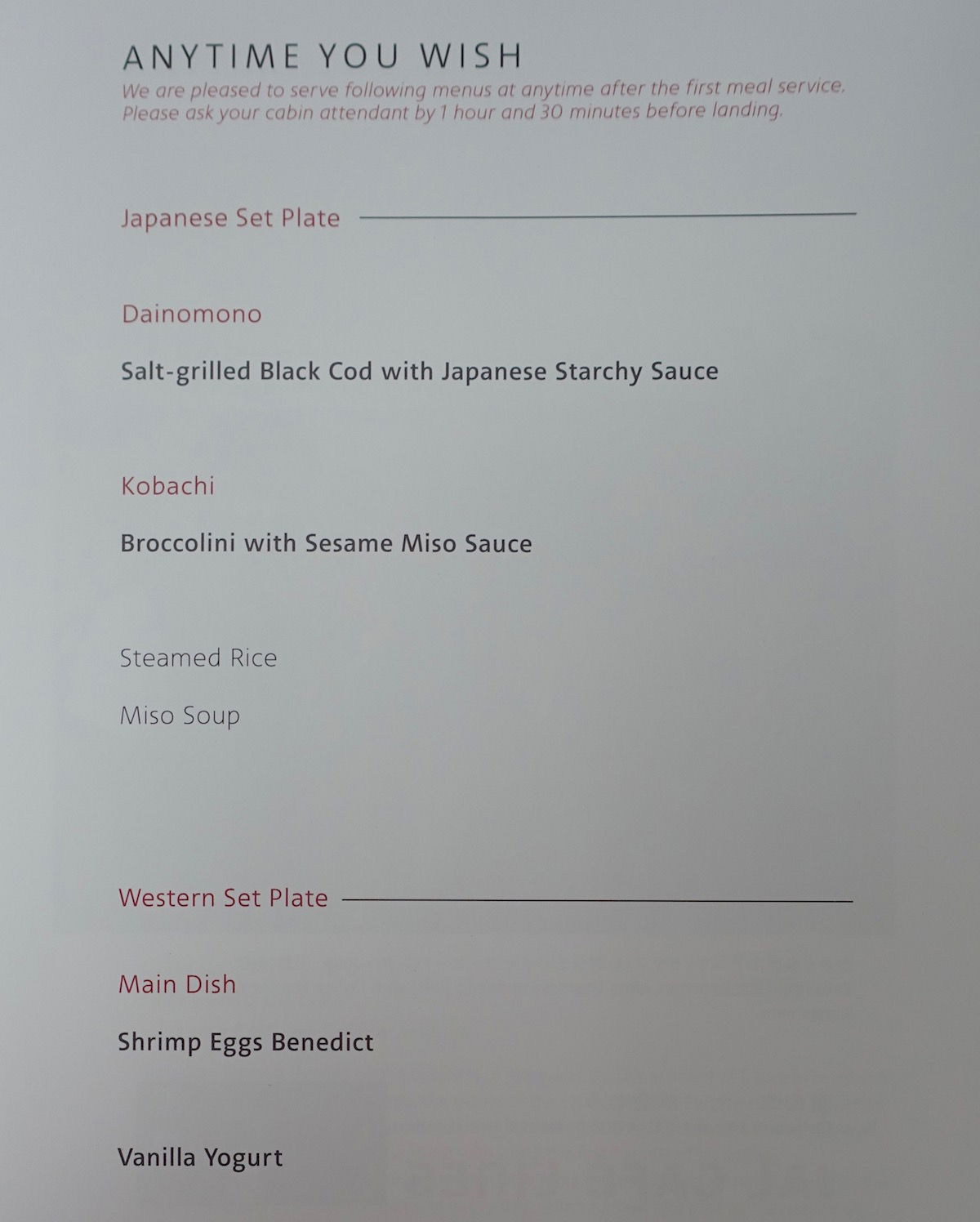 I decided to order the vegetable curry, which was exceptional. JAL's curries are consistently great, in my experience.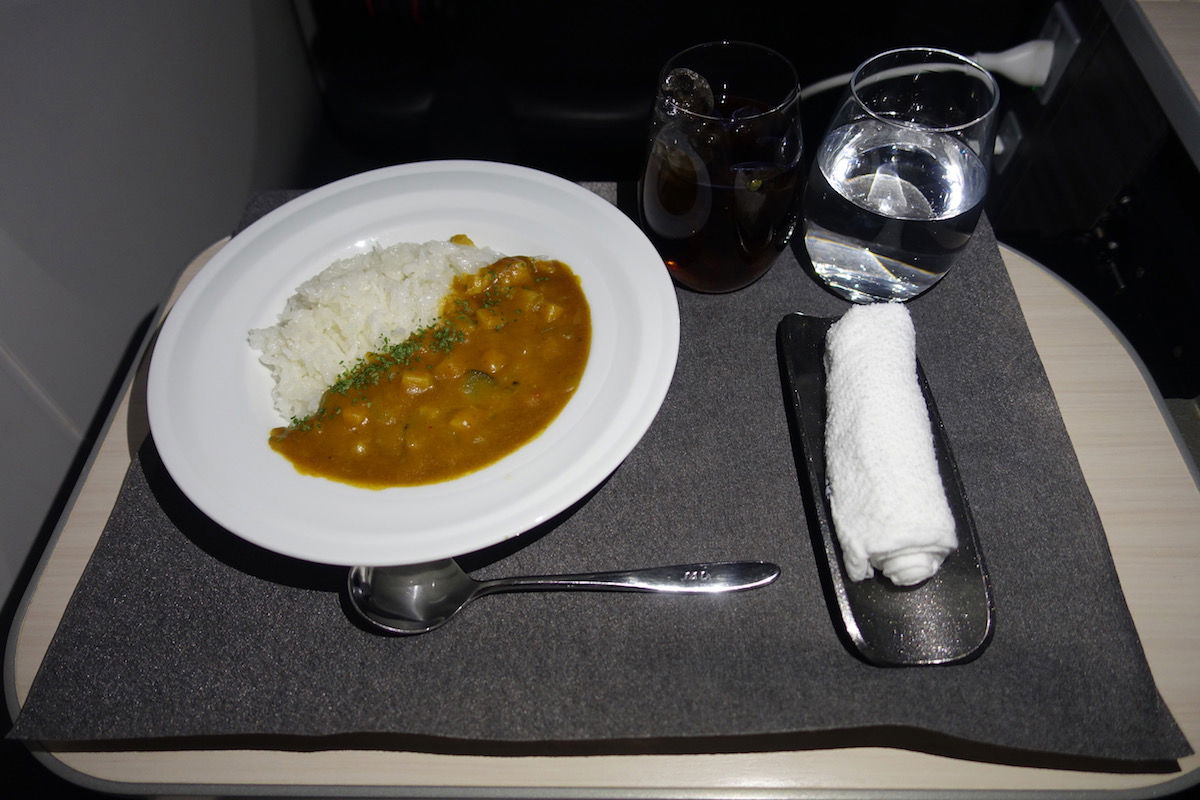 Japan Airlines business class snack
I also ordered some ice cream, which consisted of a vanilla Haagen-Dazs tub.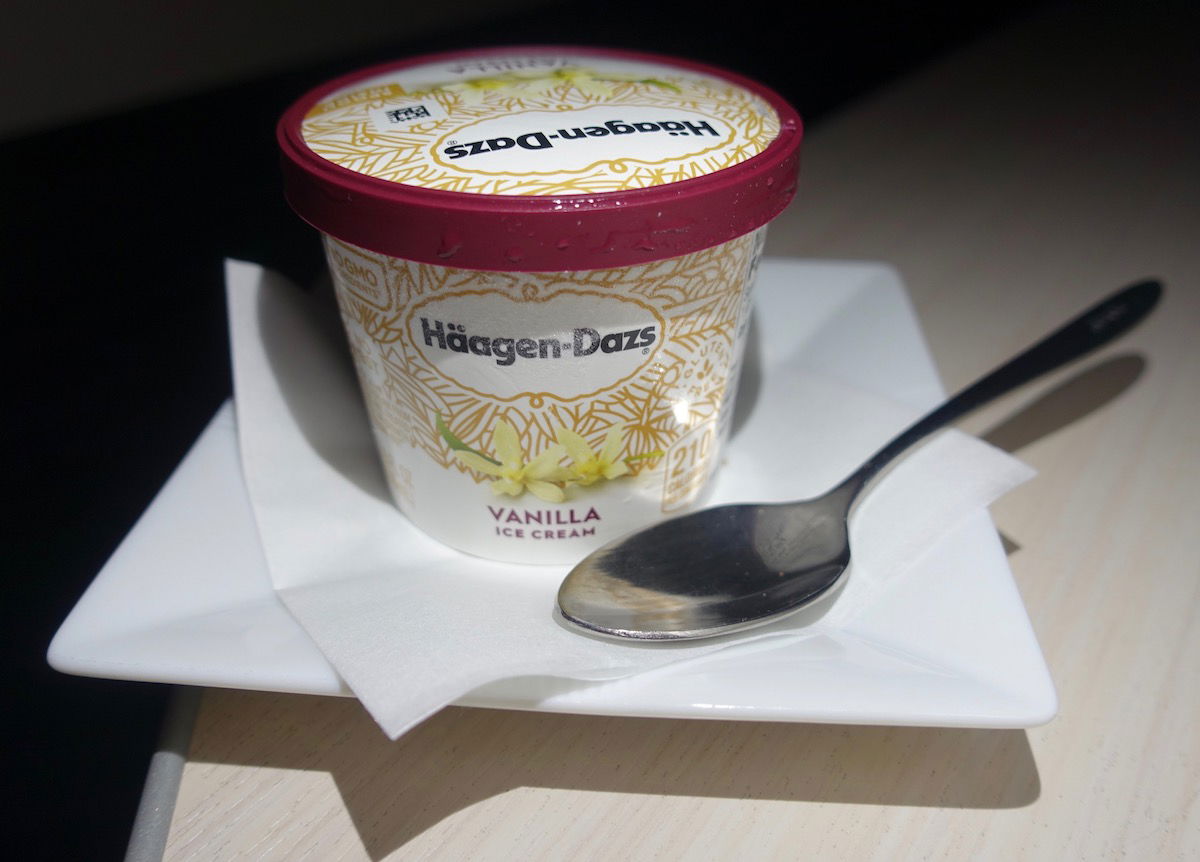 Japan Airlines business class snack
Ford woke up a short while later and ordered the Japanese set plate, consisting of salt-grilled black cod with Japanese starchy sauce, and broccolini with sesame miso sauce.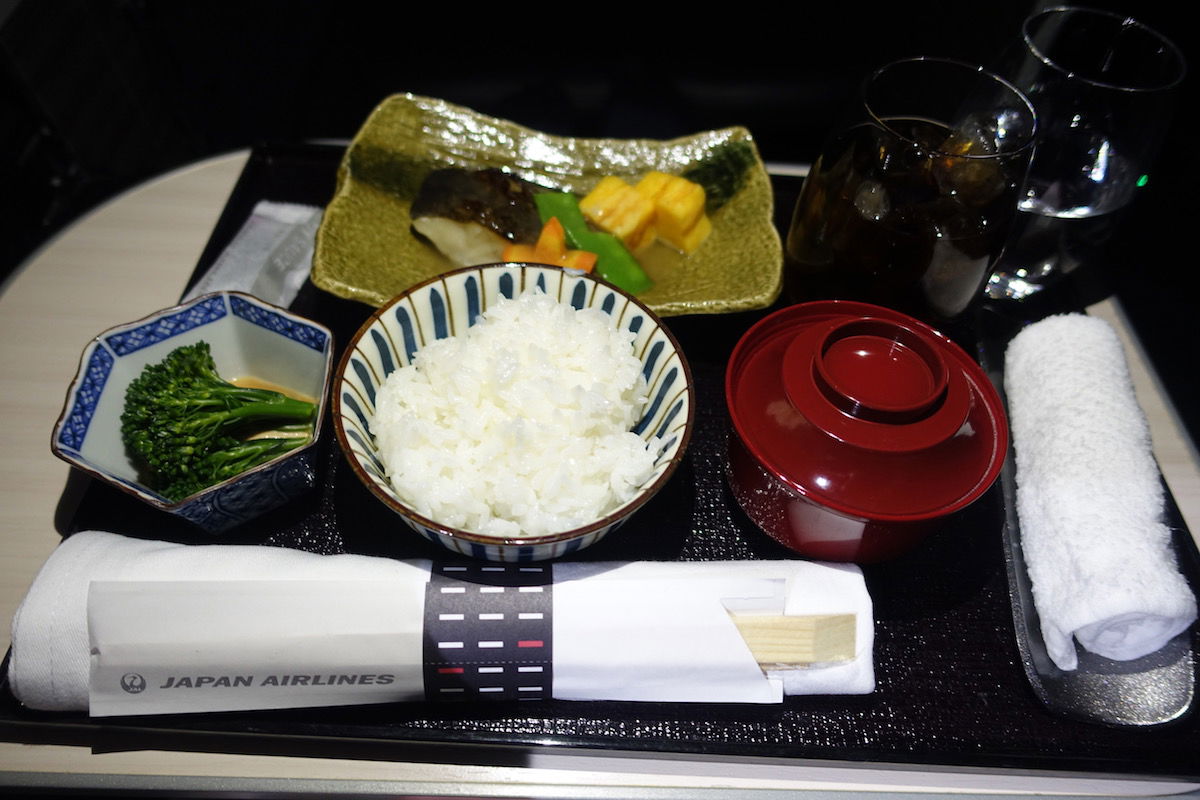 Japan Airlines business class snack
For the remainder of the flight I kept trying to go back to sleep, though ultimately failed, so ended up just working for most of the flight. So after spending many more hours working, just over 90 minutes before landing I ordered the pre-landing snack.
At this point the menu was quite limited, so I ordered the shrimp eggs benedict, which was quite good. It came with a side of yogurt with blueberries, and I drank another coffee.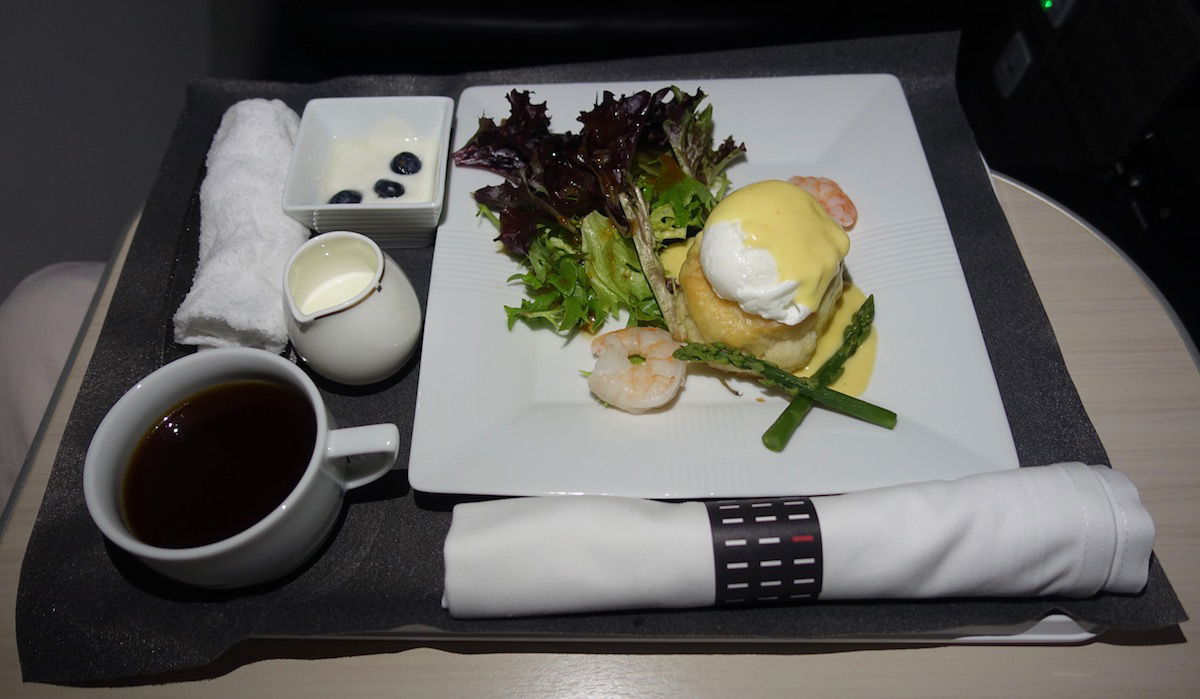 Japan Airlines business class pre-landing meal
Ford managed to nap a bit more (I'm jealous!), and woke up about 80 minutes out. He was hungry at that point so tried to order something. LOL amateur move if he thought that was going to work, given that they stop serving food 90 minutes out.
In fairness, he had never been to Japan before, and didn't realize that 90 minutes means 90 minutes… not 89min59sec, or anything less.
Towards the end of the flight I enjoyed the view out the window, as most people in the cabin started to wake up, meaning the windows could be undimmed.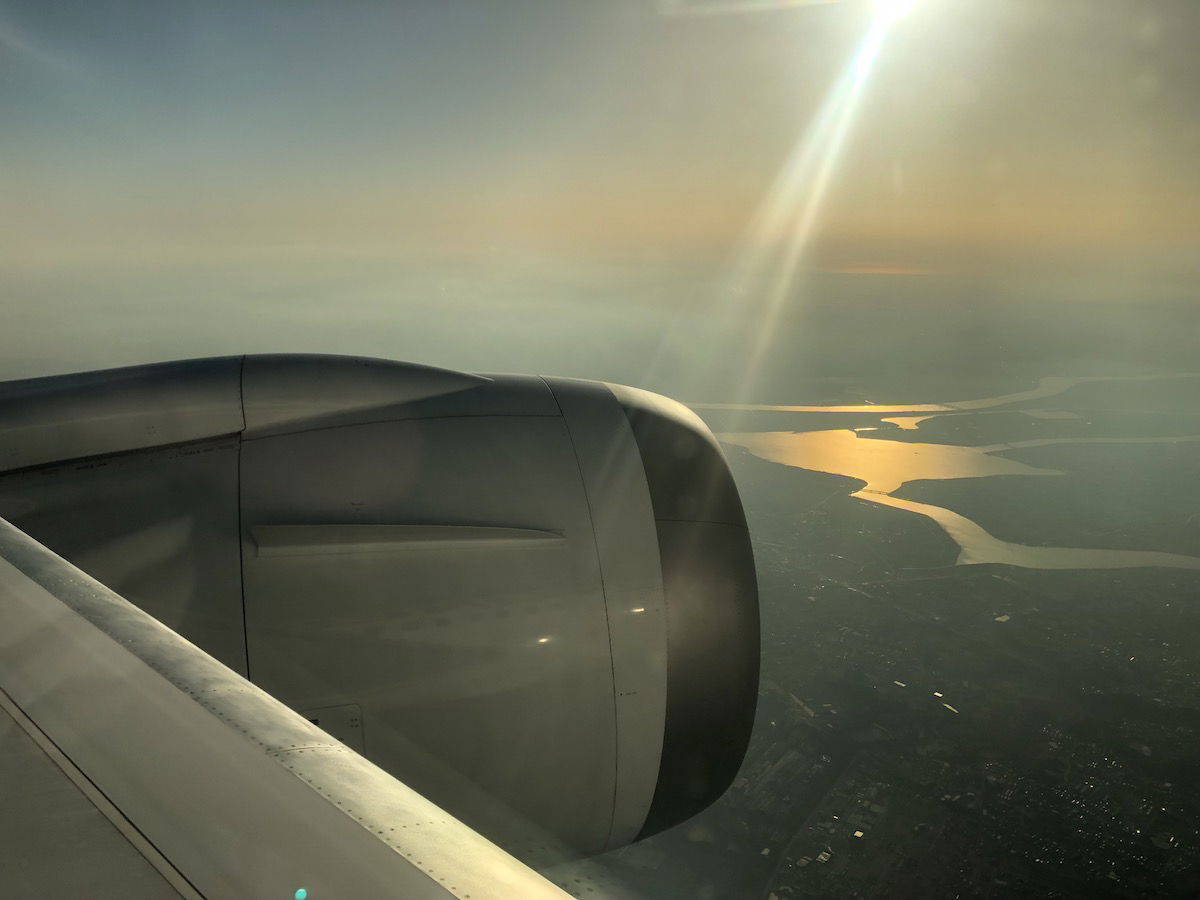 View approaching Narita
There were no announcements from the cockpit, other than that 20 minutes before arrival the pilots announced for the cabin crew to prepare the cabin for landing.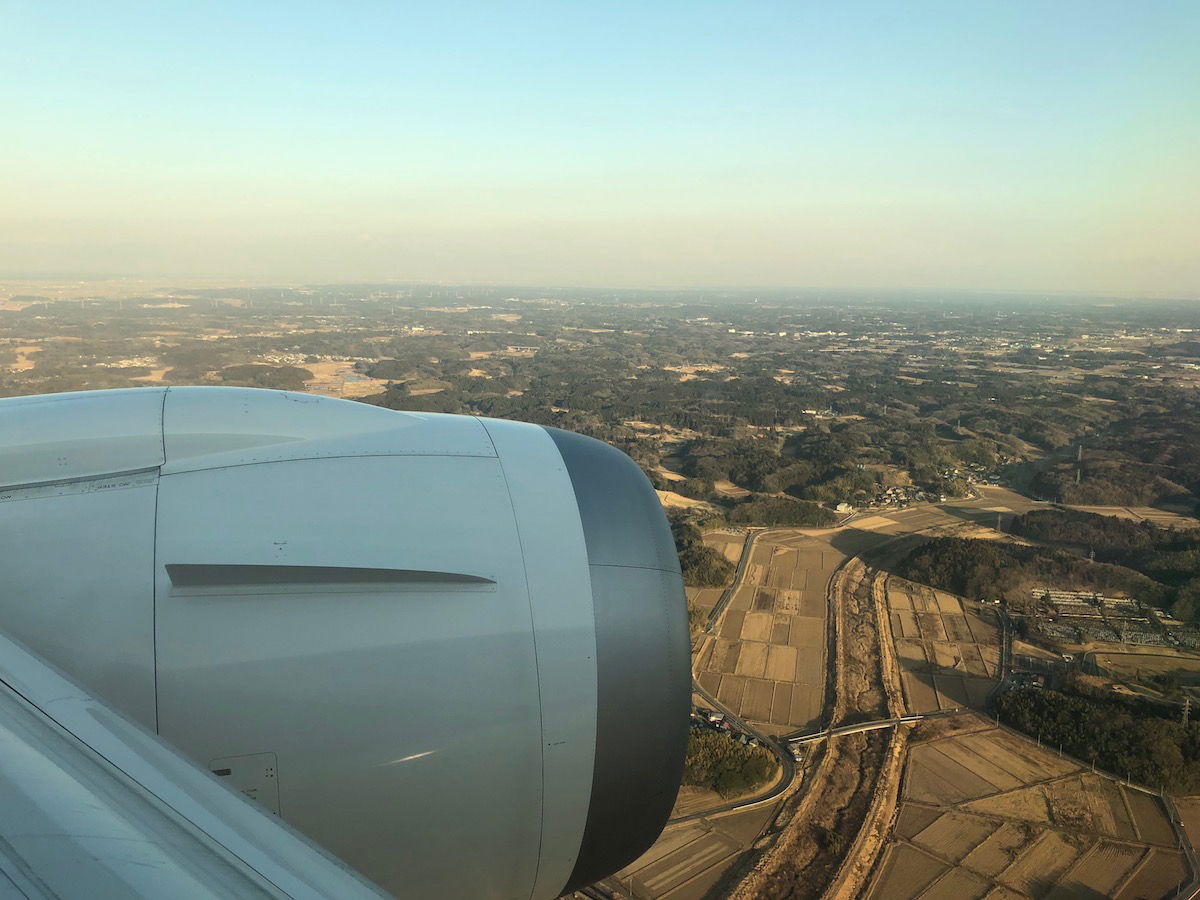 View approaching Narita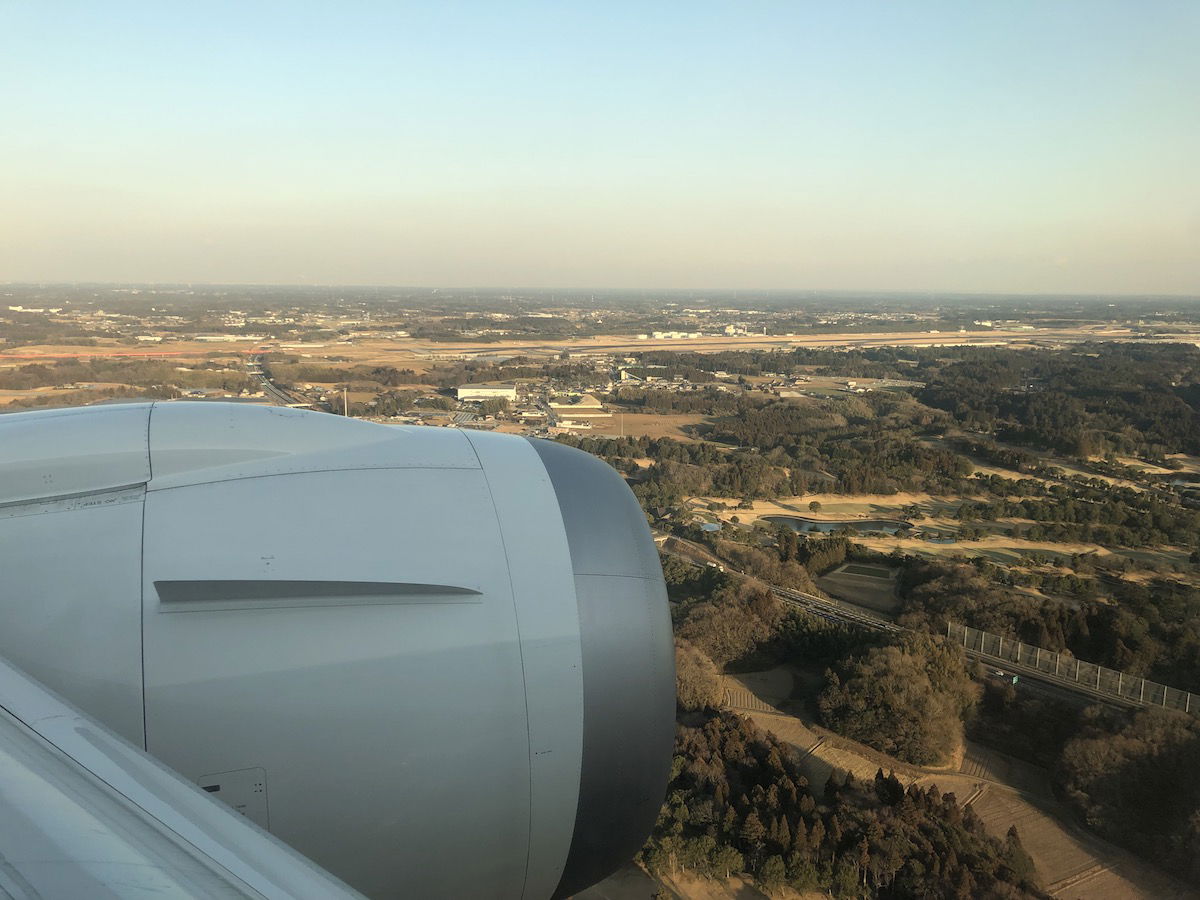 View approaching Narita
It was a beautiful (but cold) evening at Narita Airport, and we ended up touching down at 3:55PM.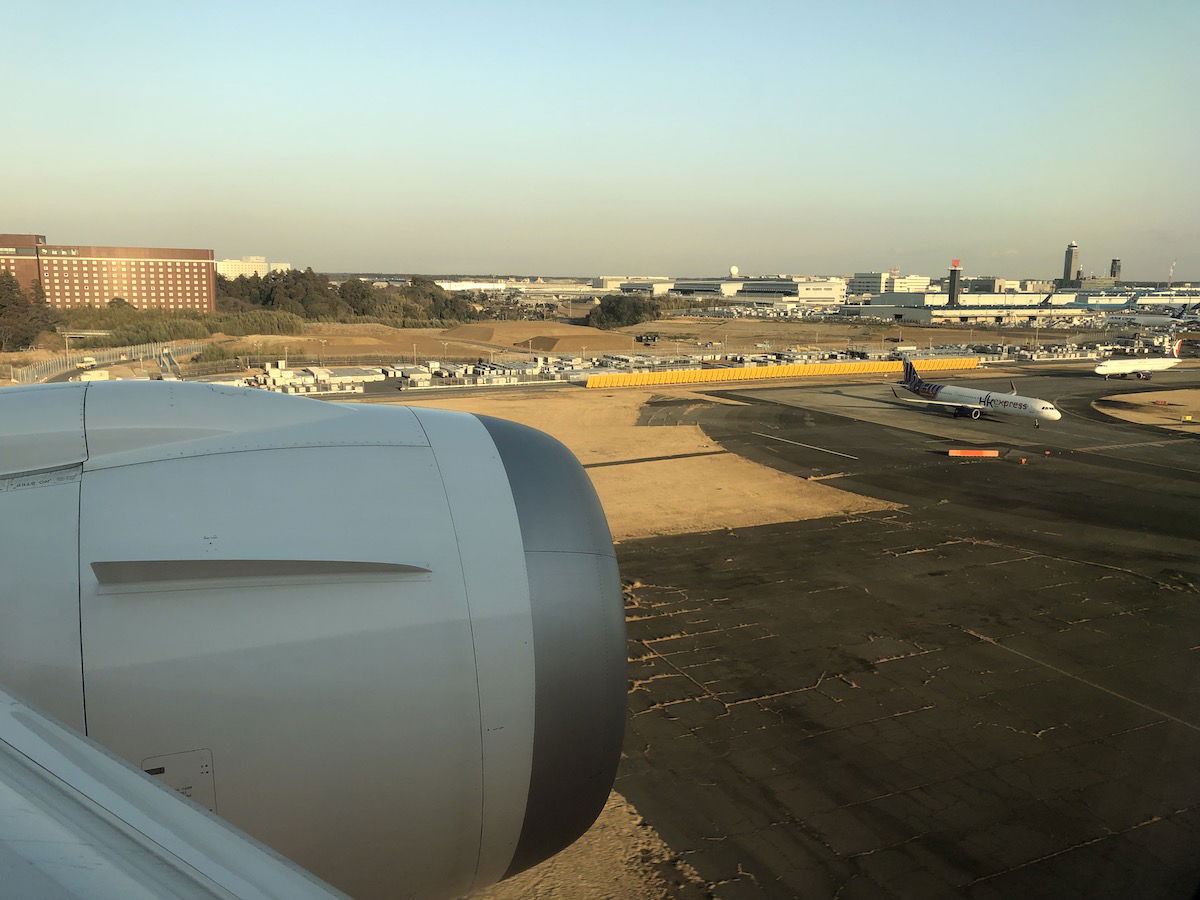 Final approach to Narita
From there we had a 10 minute taxi to our arrival gate, where we parked next to a JAL 767.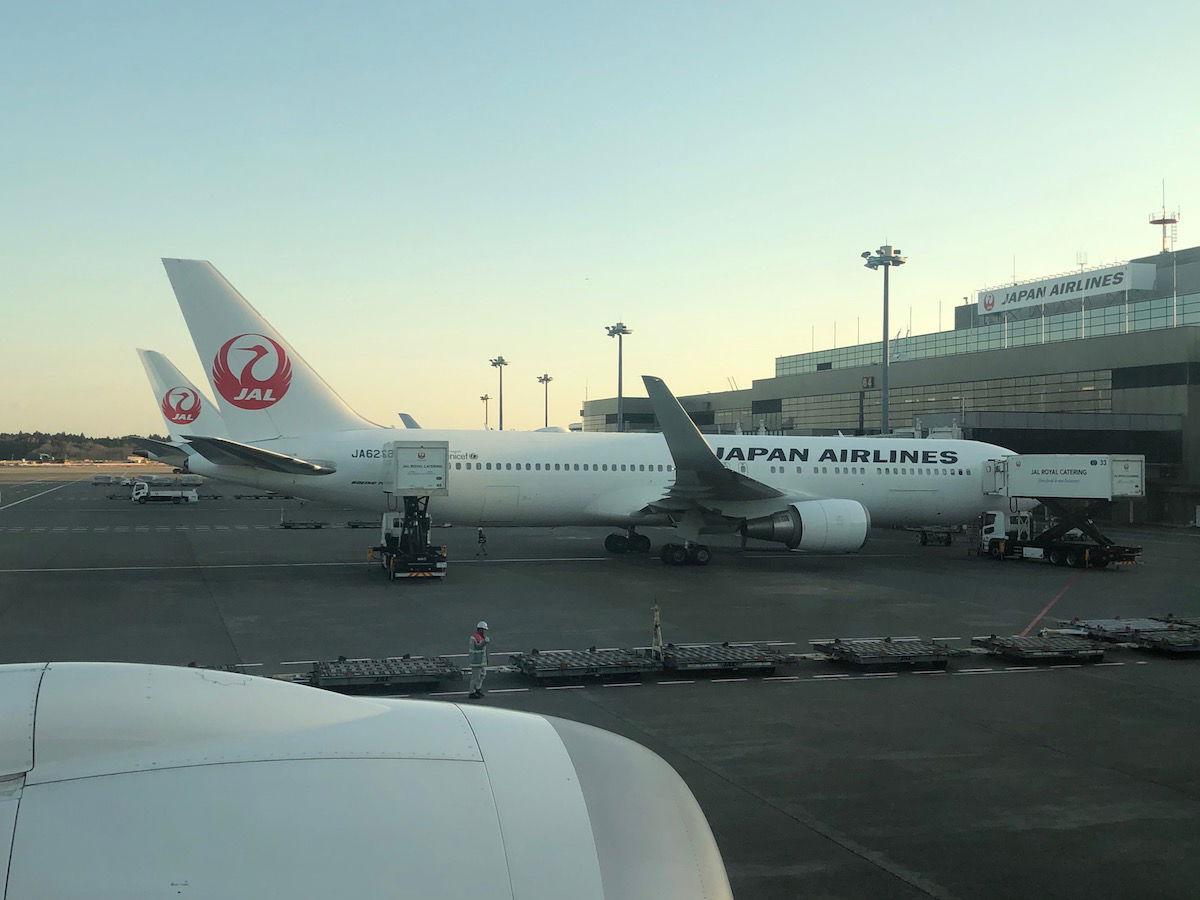 Arrival gate Narita
We headed towards immigration, and within about 15 minutes were on our way to our hotel for the night.
Japan Airlines 787 business class bottom line
Let's start with the biggest positives, which is that Japan Airlines has Apex Suites in business class, which are phenomenal seats, and that they offer Wi-Fi with no data caps for under $20, which is among the best Wi-Fi pricing out there.
That's where the exceptional aspects of the flight end, though. Don't get me wrong, just about everything else about the flight was good, it just wasn't exceptional.
Service was generally well intentioned and friendly, but just wasn't as over-the-top as I've otherwise found on Japanese airlines, and simply wasn't attentive. It would consistently take the crew a really long time to clear stuff, and they weren't proactive in the least (for example, I always had to ask for drink refills). As far as the food goes, I found the quality to generally be good, but I did find the selection to be fairly limited.
All things considered I'd absolutely recommend JAL for a transpacific flight. Their hard product is exceptional, while their soft product is good.
If you've flown JAL business class, what was your experience like?