To kick off the trip to Germany with my parents, I flew Turkish Airlines' Airbus A350 business class from Chicago to Istanbul. This wasn't just any A350, but rather it was one of Turkish Airlines' handful of A350s that were intended to be flown by Aeroflot, but that's no longer happening due to sanctions (for those curious, you can identify the ex-Aeroflot A350s by their seven rows of business class, rather than the eight rows on the standard Turkish A350s).
I'm happy to report that the experience was truly top notch. These A350s have some of the best business class seats you'll find on any airline. When you combine that with Turkish's excellent soft product, including amazing catering, lots of great amenities, and free Wi-Fi, this really is one of the best business class experiences in the world.
With that out of the way, let's get into the review…
How I booked my Turkish business class ticket
Turkish Airlines' Miles&Smiles frequent flyer program has some sweet spot redemptions, so I booked my ticket through that program. Specifically, I managed to book the following in business class for 45,000 Turkish Miles&Smiles miles plus $285.80 in taxes and fees (including some carrier imposed surcharges):
8/09 TK186 Chicago to Istanbul departing 11:35AM arriving 5:50AM (+1 day)
8/10 TK1591 Istanbul to Frankfurt departing 11:40AM arriving 1:50PM
This has to be one of the best sweet spot award redemptions out there, as you can fly Turkish Airlines from anywhere in the United States to anywhere in Europe for that amount, assuming you can find saver level award space.
Keep in mind that Turkish Miles&Smiles is transfer partners with both Capital One and Citi ThankYou, so there are lots of ways to accrue these points. Lastly, since it's something people are often curious about, I booked this ticket four days before departure, directly on Turkish Airlines' website.
Turkish business class lounge & boarding
I had arrived in Chicago the same morning from Miami, and had a roughly three hour layover, prior to my 11:35AM flight to Istanbul.
At check-in I was given an invitation to the Swissport Lounge, though I decided to skip that, since I consider it to be one of the worst lounges in the United States. I tried to instead use the Scandinavian Airlines Lounge, which should have been allowed per Star Alliance lounge access policies, though I was denied.
The associate sort of chastised me. "See how your boarding pass says Swissport Lounge? That's where you need to go." I reminded her of Star Alliance lounge access policies, though it was clear she didn't actually understand the rules. Therefore I decided to just head to the departure gate for my flight, which was M20.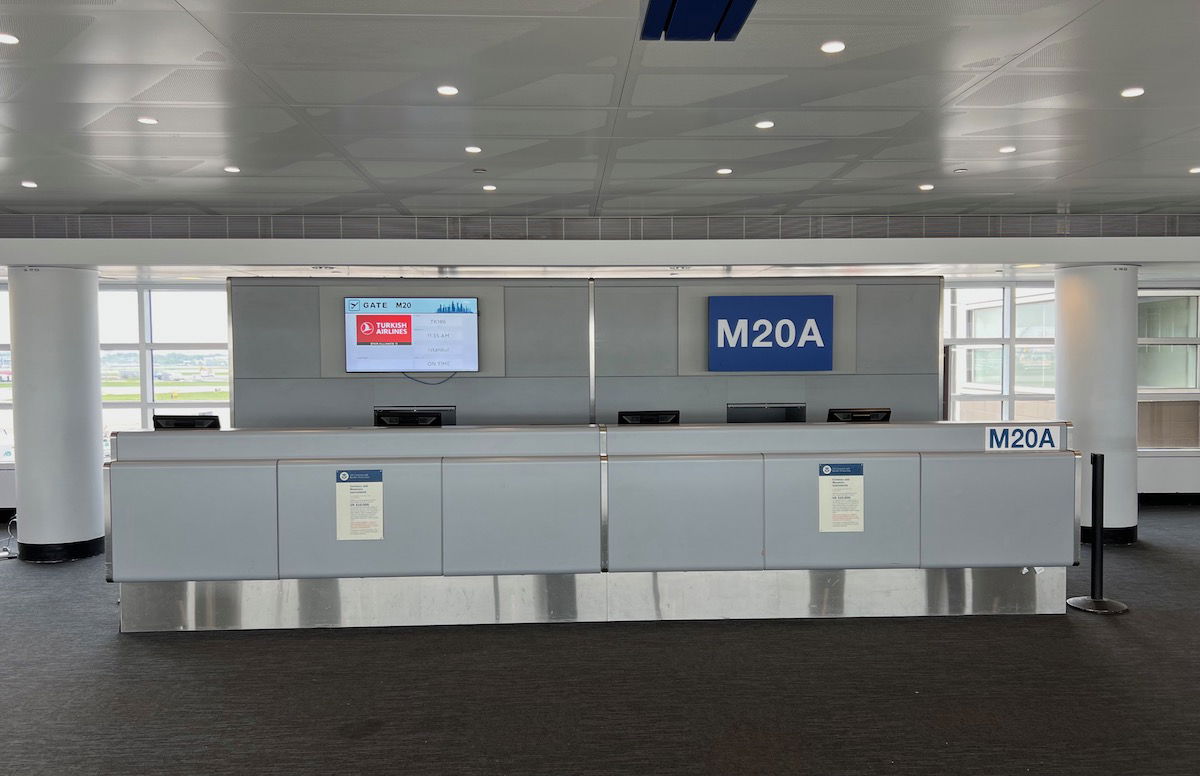 As I got to the gate, I saw the one-year-old A350-900 with the registration code TC-LGL pull into the gate. What a beauty!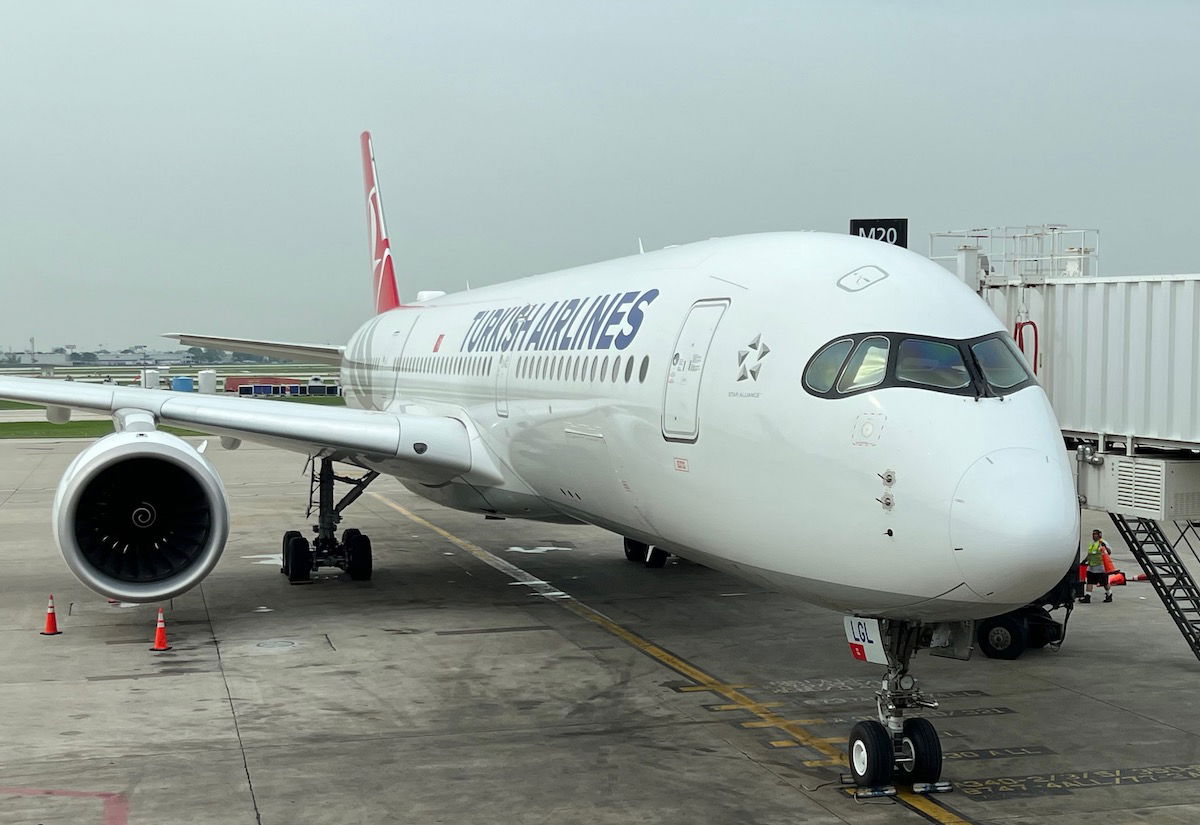 While boarding was supposed to start at 10:45AM (an hour before departure), unfortunately it was delayed significantly, with limited communication from ground staff. They first explained that the delay was "due to aircraft servicing," even though the plane arrived from Istanbul ahead of schedule.
Later the captain explained on the PA that there was a "minor technical problem." We ended up boarding at 12PM, about 75 minutes behind schedule. While the flight wasn't off to a great start, fortunately things improved once onboard…
Turkish A350 business class cabin & seats
I boarded through the second set of doors, where I was greeted by the friendly crew and pointed left into business class. Before doing so, I couldn't help but snap a picture of the premium economy cabin, as these are the only Turkish Airlines aircraft to feature this. Since Turkish Airlines doesn't typically offer premium economy, these are sold as extra legroom economy seats.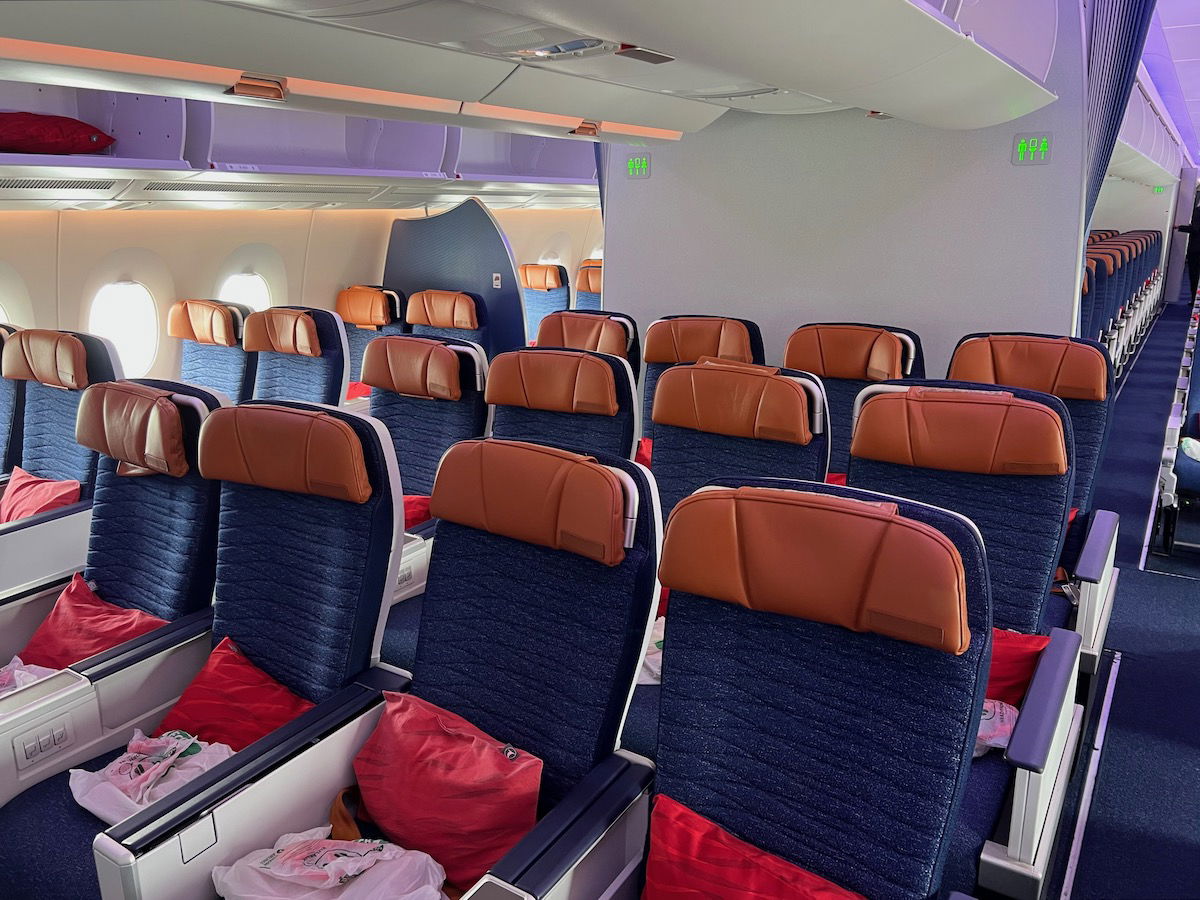 The business class cabin consists of a total of 28 seats, taking up the entire space between the first and second set of doors. The cabin is in a 1-2-1 configuration, with seats being staggered in each row.
These planes have the Collins Aerospace Horizon product, and as of now Turkish is the only airline to have these seats (Aeroflot was the launch customer, but Aeroflot's A350s are now flying for Turkish).
First of all, I have to comment on how the cabin is quite aesthetically pleasing, especially with the overhead bins in the middle removed, which gives the cabin a spacious feeling. Do keep in mind that the cabin finishes were designed for Aeroflot, which explains all the orange and blue, since those aren't typically Turkish Airlines colors.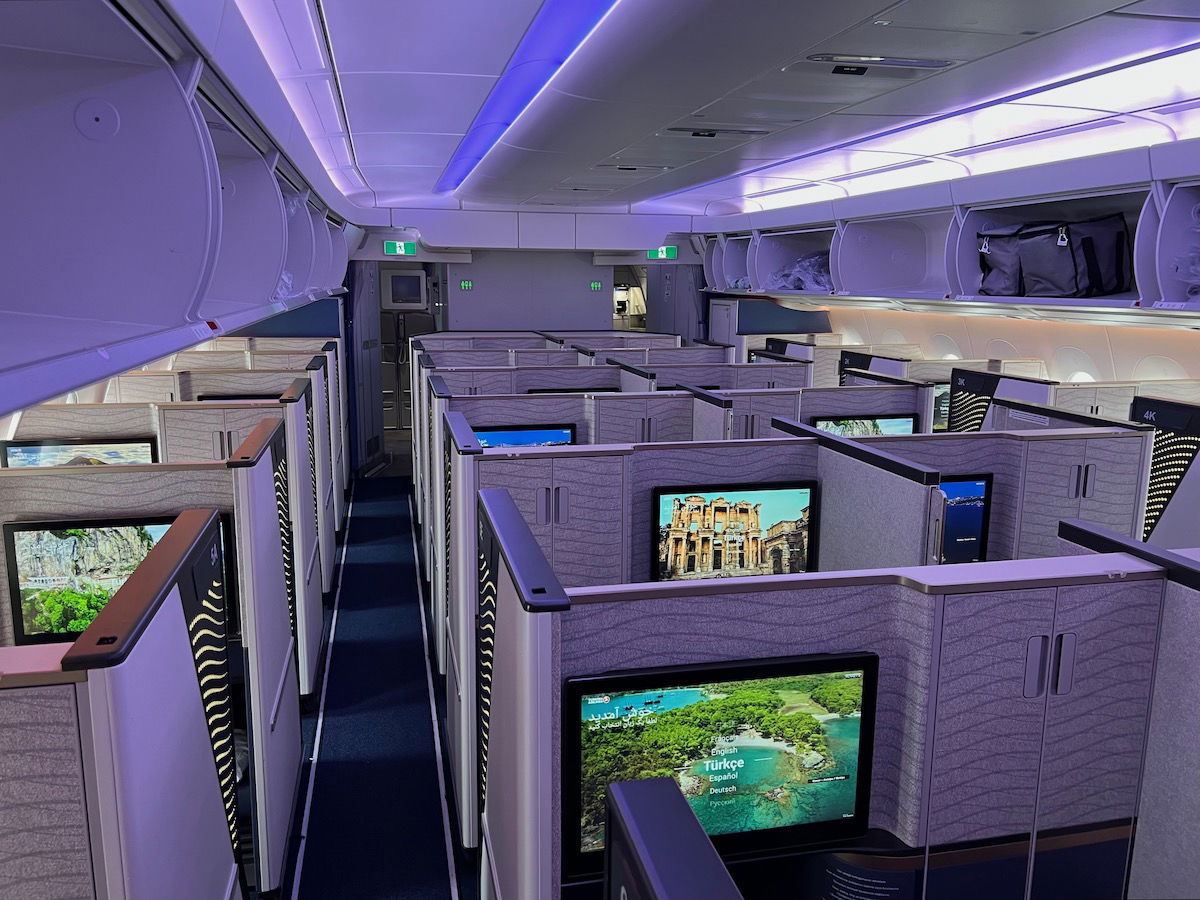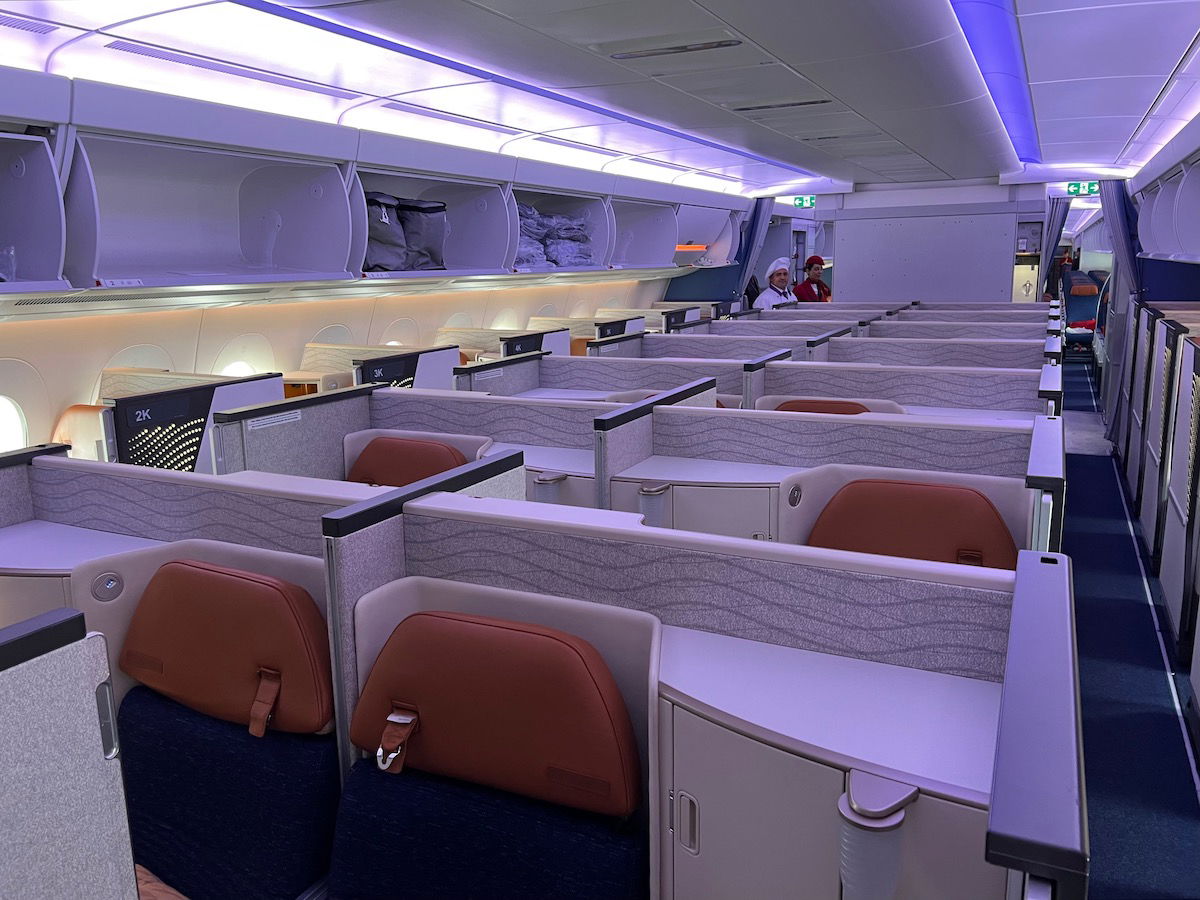 The configuration varies based on which row you're in. In odd numbered rows, the center seats are in a "honeymoon" configuration, meaning the seats are close to one another and far from the aisle. This is ideal for couples traveling together. Though don't worry, even if you're traveling alone, there's a partition that can be raised for full privacy.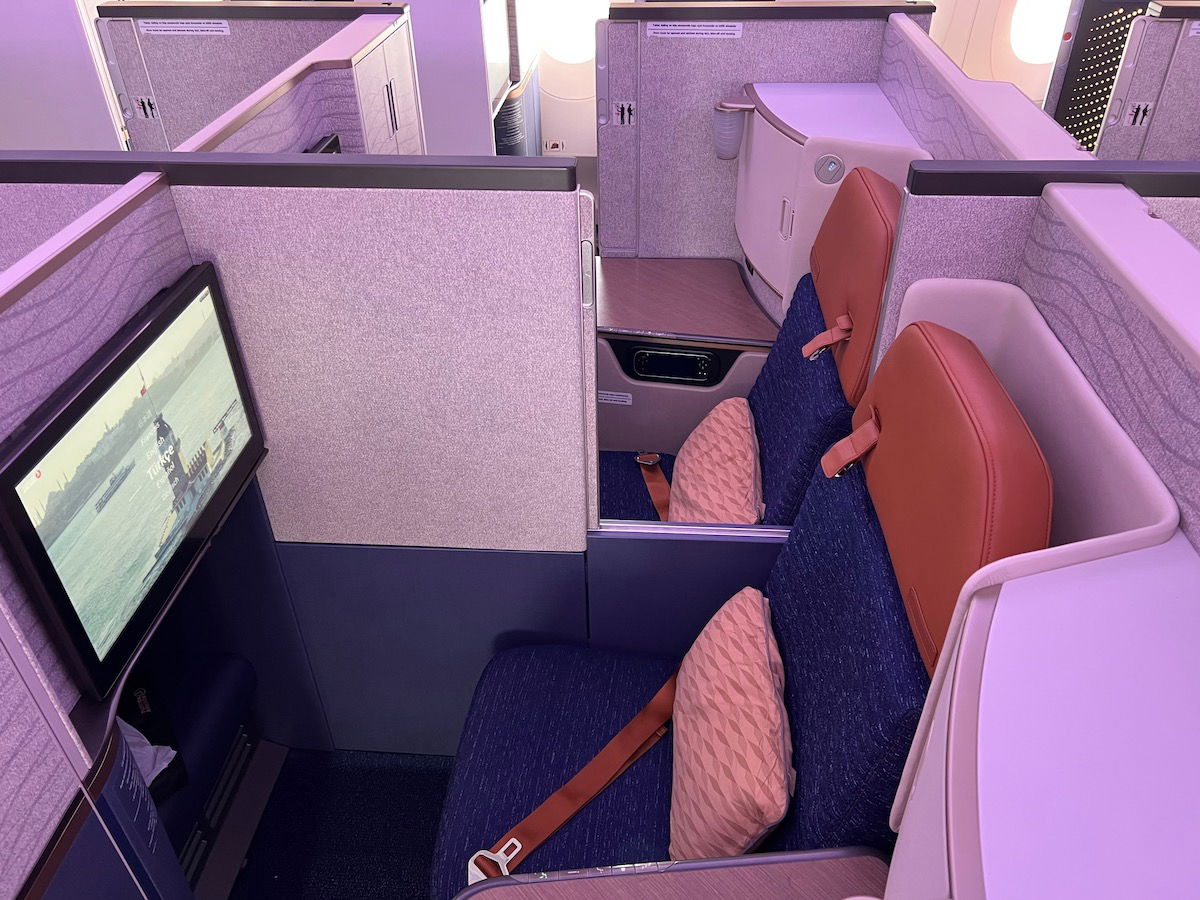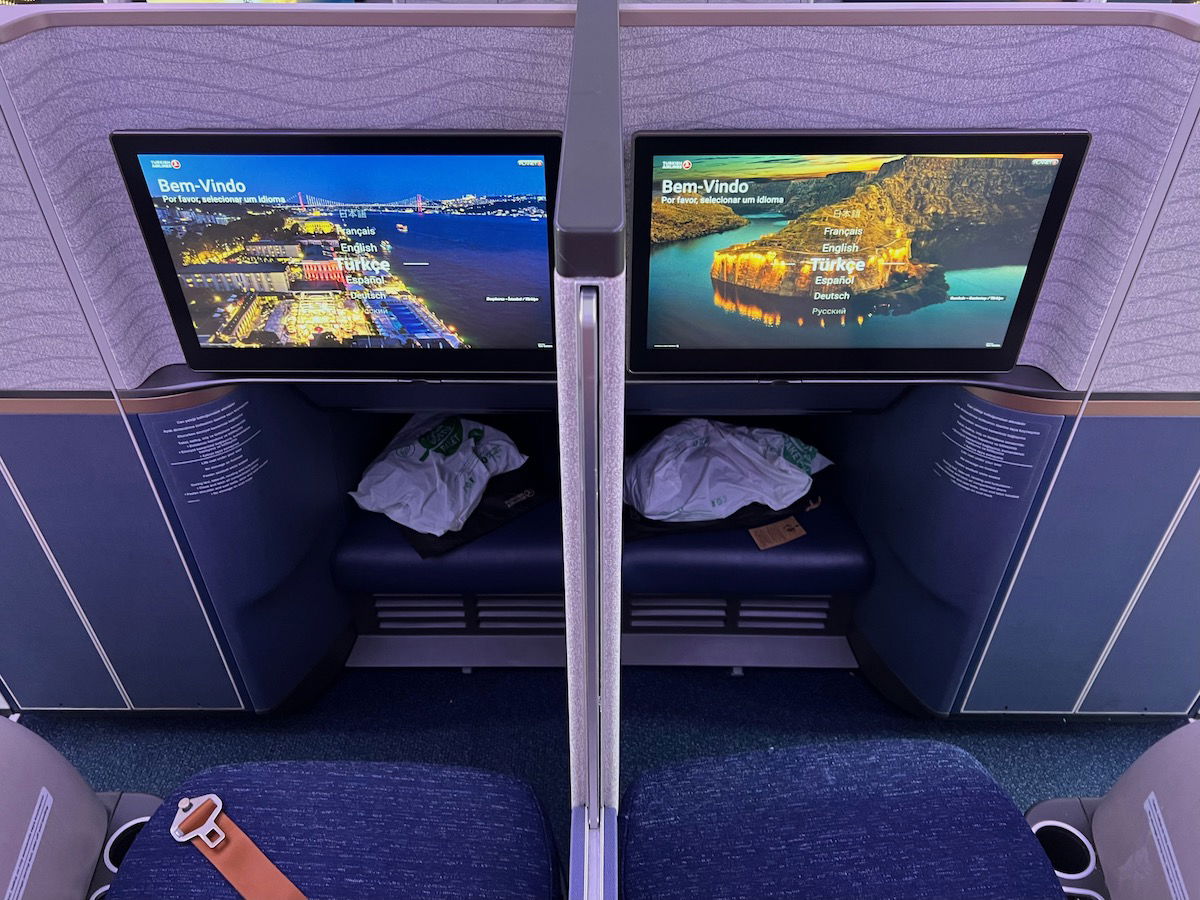 Meanwhile in even numbered rows, the seats are closer to the aisle and far apart. Those would be my last choice seats, since you don't have the benefit of sitting right next to a travel companion, and also aren't by a window.
As far as window seats go, the seats in even numbered rows are the best, as they're closer to the windows and farther from the aisle.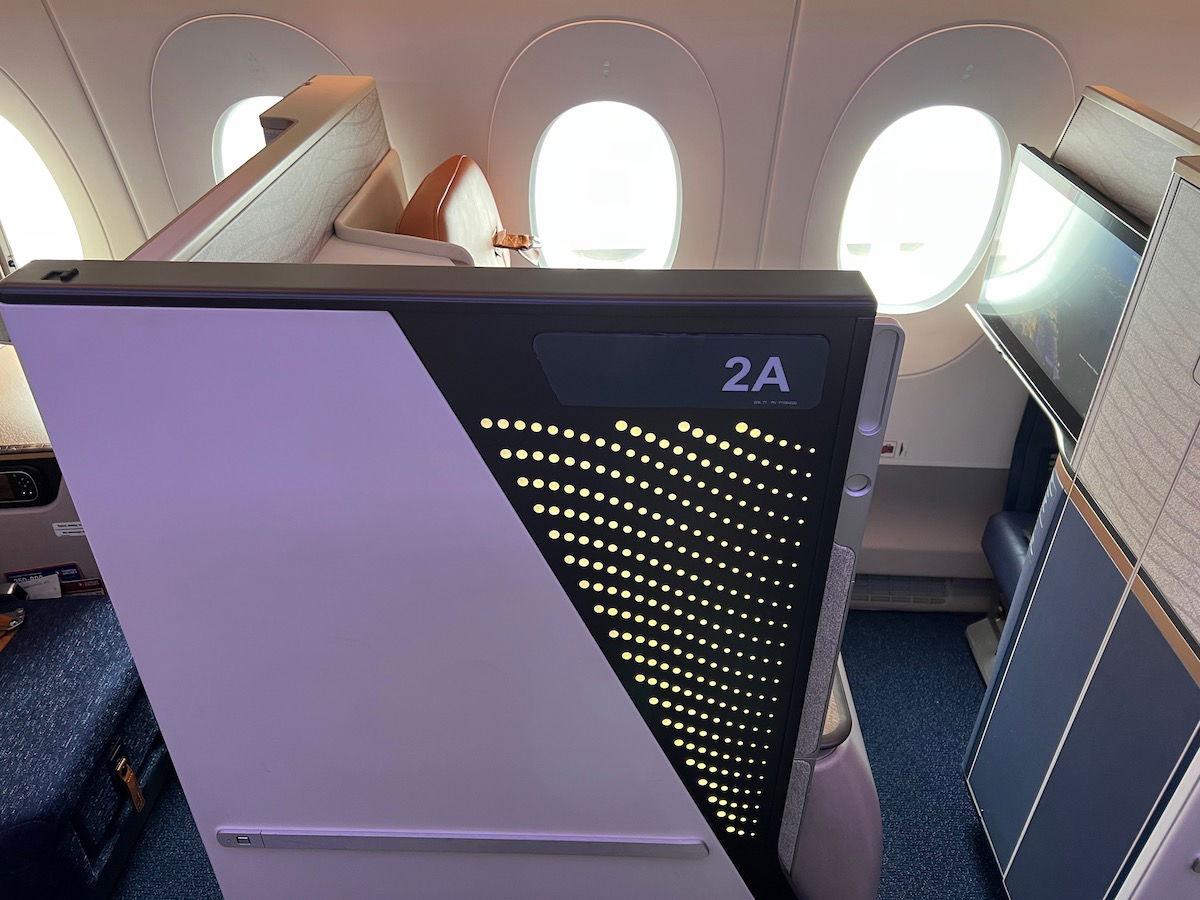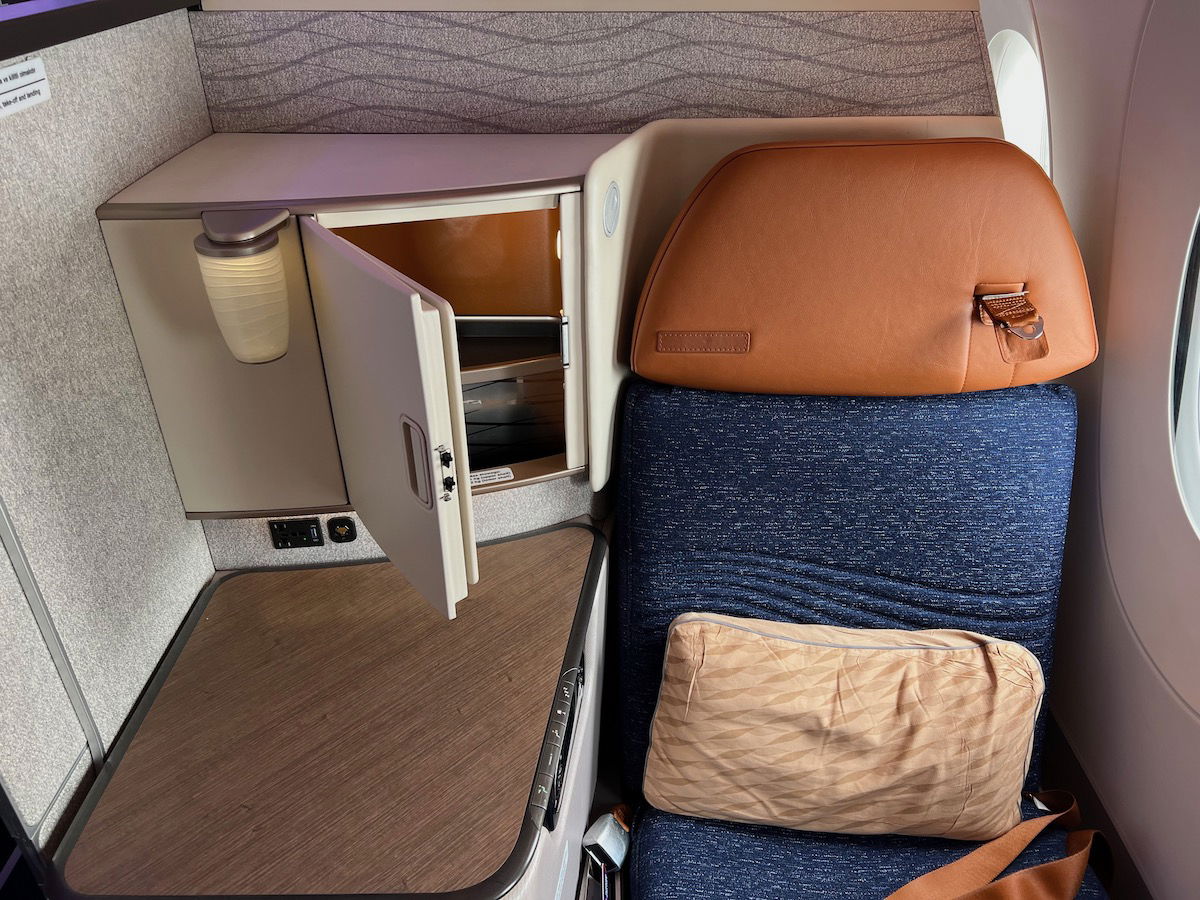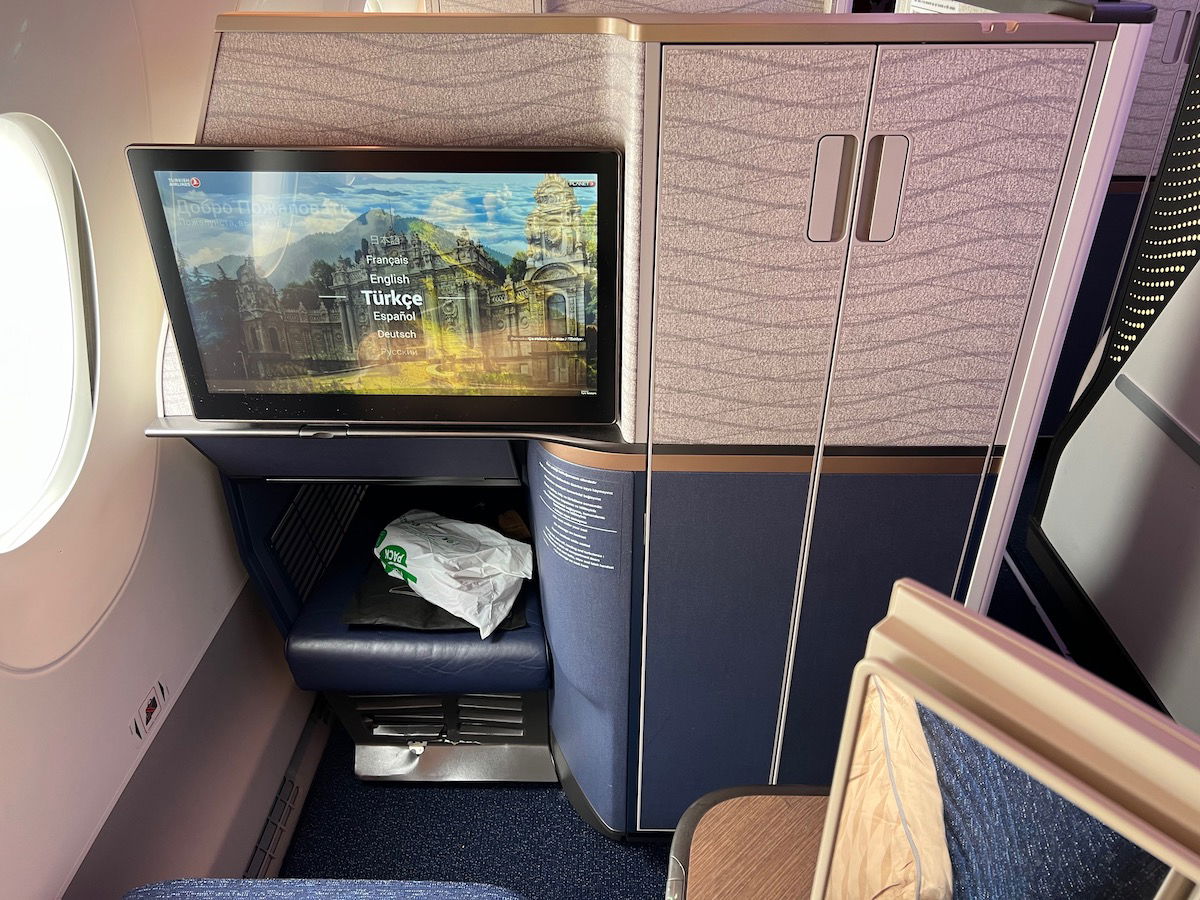 I had initially assigned myself one of these seats (6K), but there was apparently an issue with the seat, so I got moved to seat 1A at the gate. The seats in odd numbered rows are closer to the aisle and farther from the windows, so they're not quite as good as the other seats, but they're still great.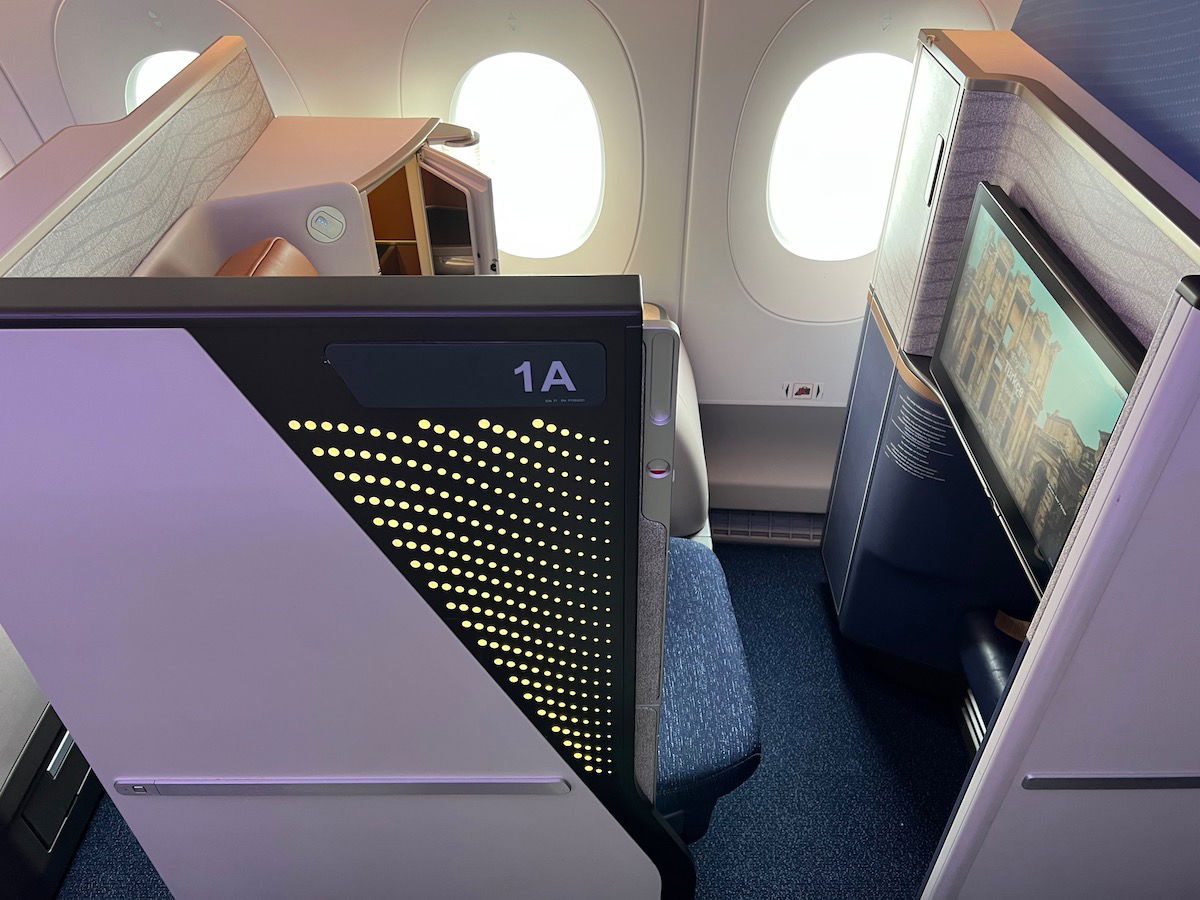 Let's take a closer look at the features of the seat. The seat isn't particularly wide, though I didn't find the width to be an issue. It's a bit odd how the seat doesn't have an armrest on one side, though oddly at no point during the flight did that stand out to me as something that was uncomfortable. I just kept the pillow next to me while sitting up, and that acted as an armrest.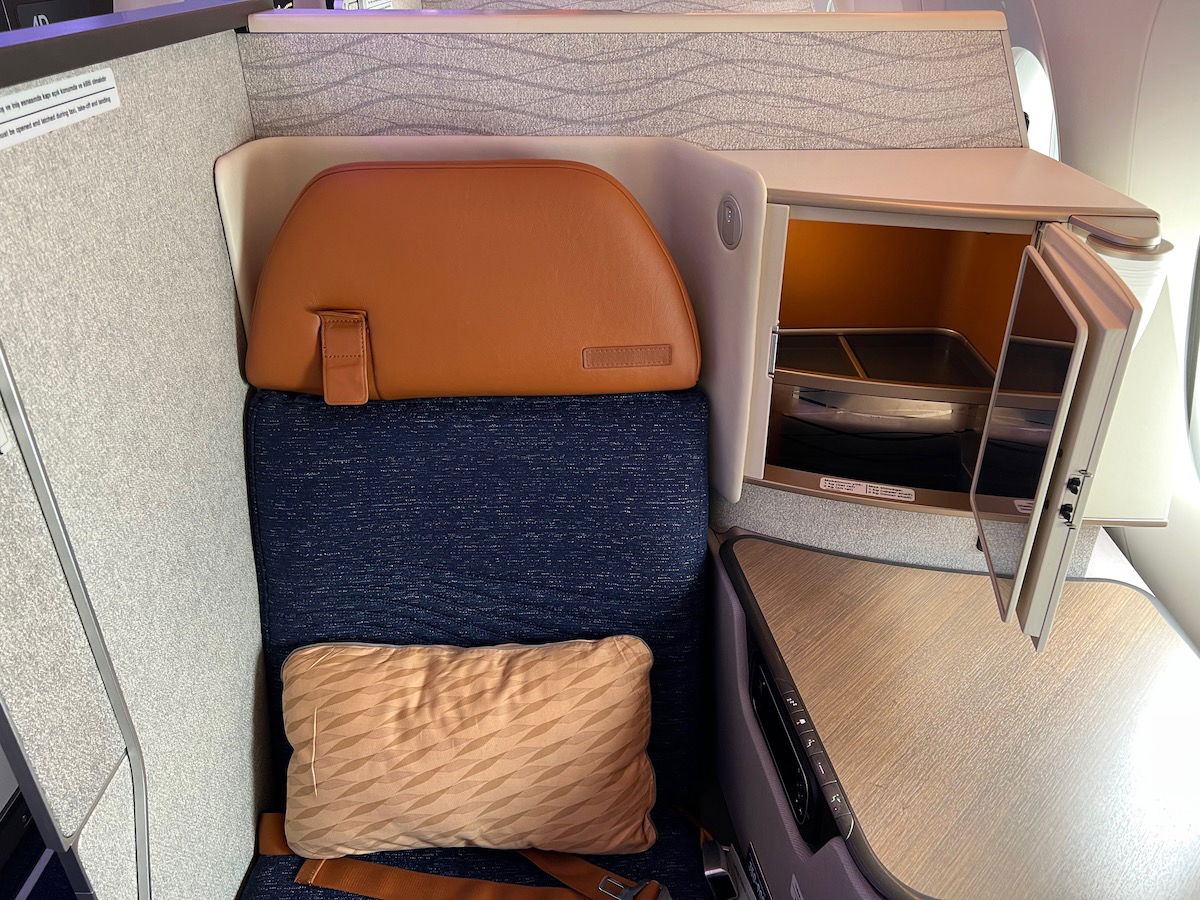 There's a large counter to the side of the seat, as well as an enclosed storage compartment. The storage compartment even has a mirror.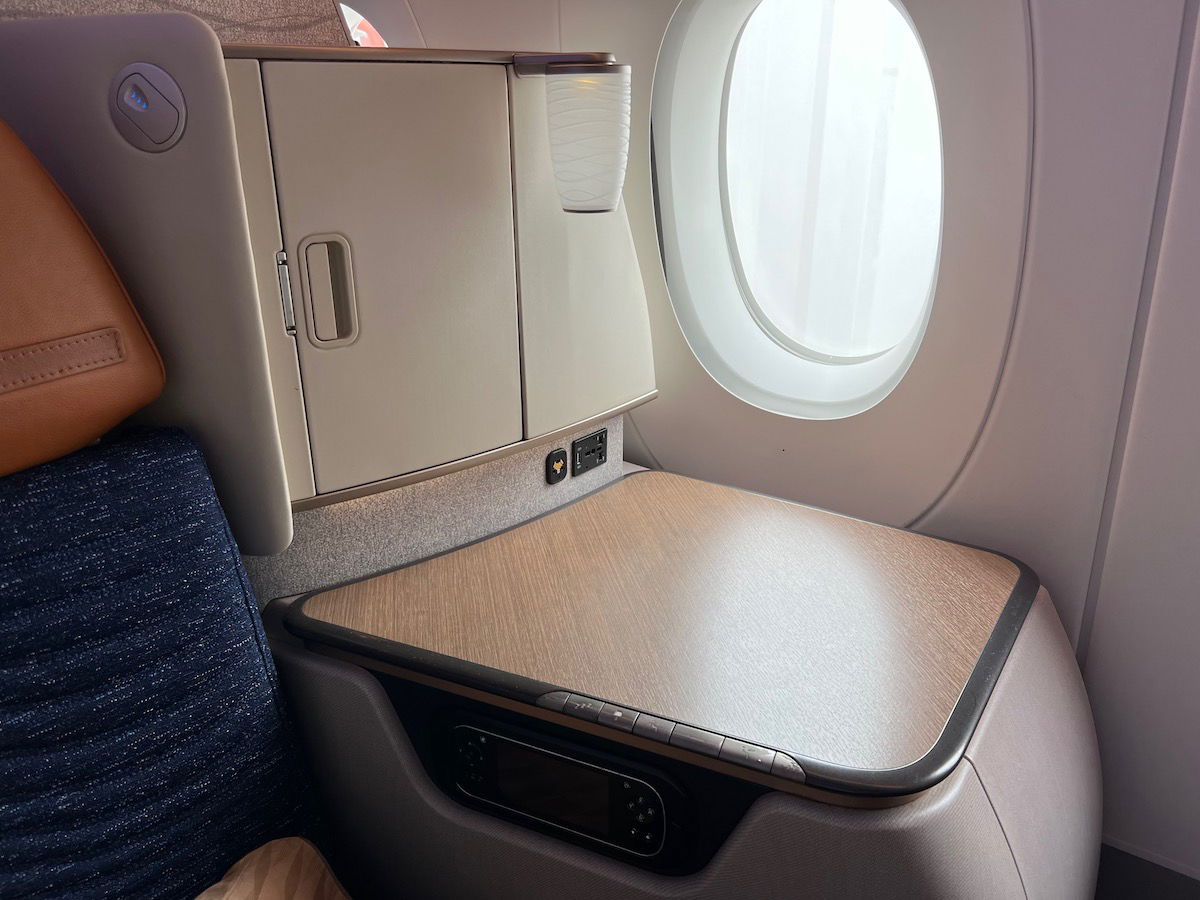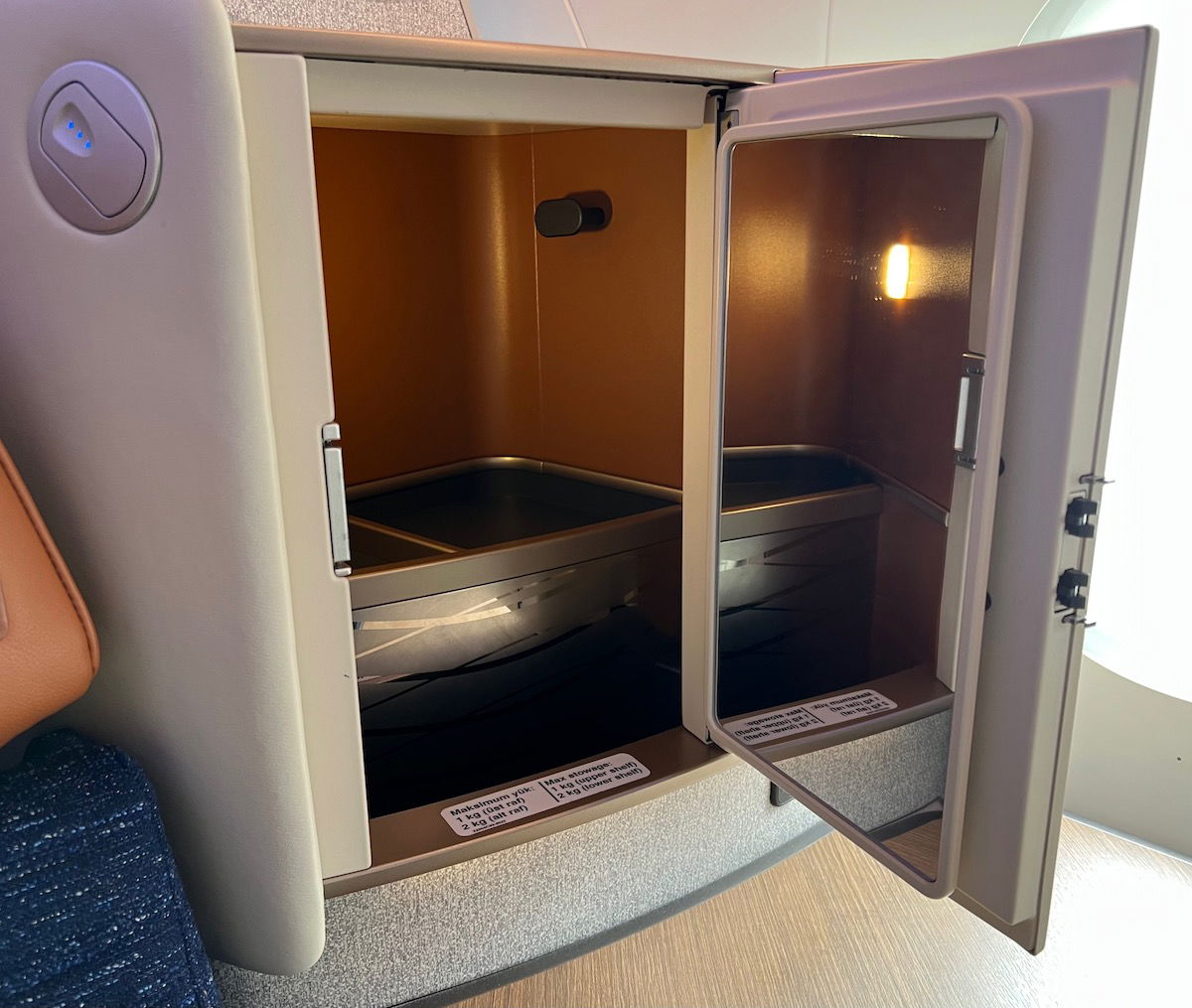 Underneath the storage compartment is the headphone jack, the AC power outlet, and the USB-A outlet.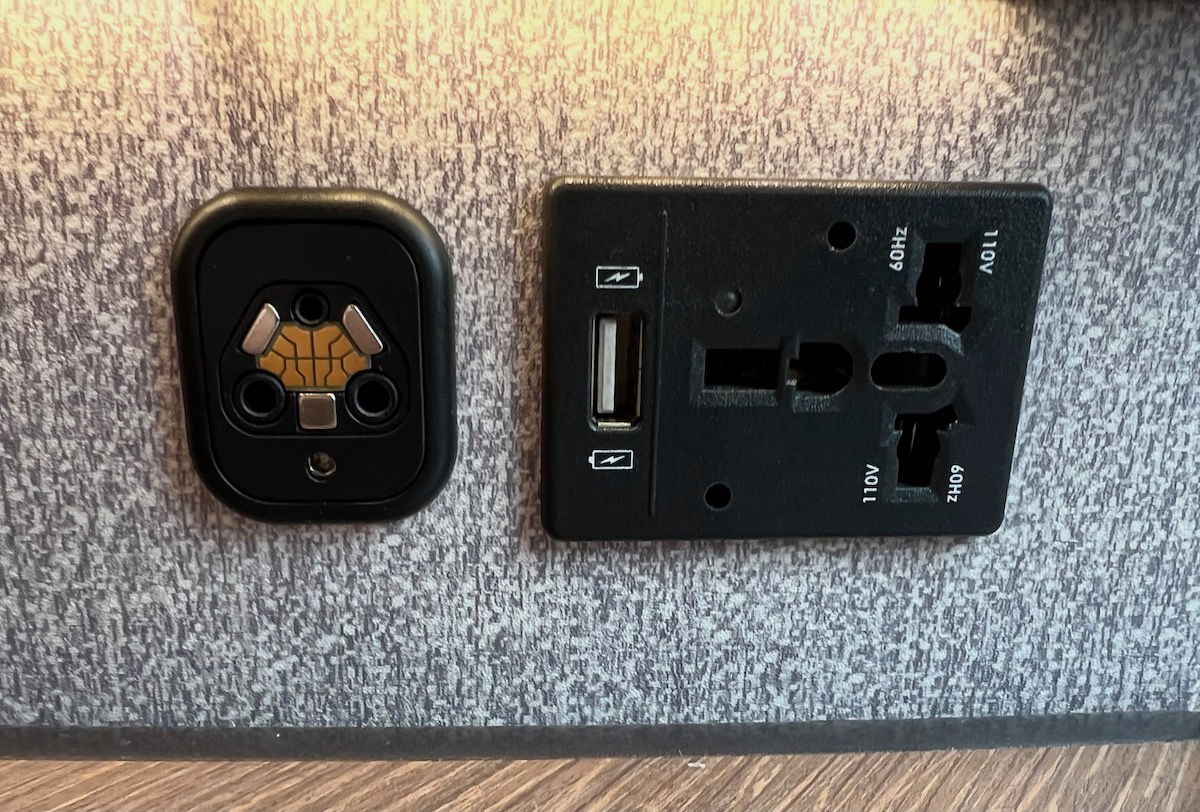 The seat controls are located right next to the seat, and are poorly positioned, in my opinion. This was naturally where I'd rest my elbow, so I frequently hit these by mistake. Underneath the seat controls is the entertainment controller, though I never used that, since the personal television is also touchscreen.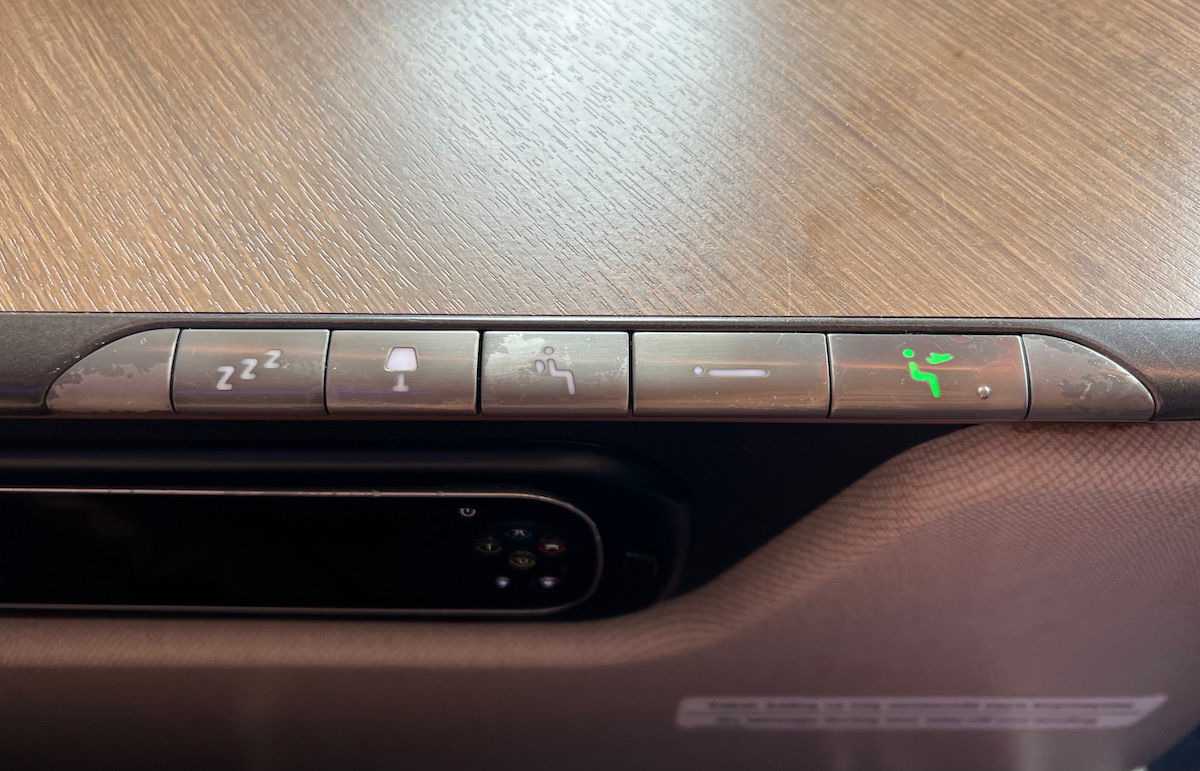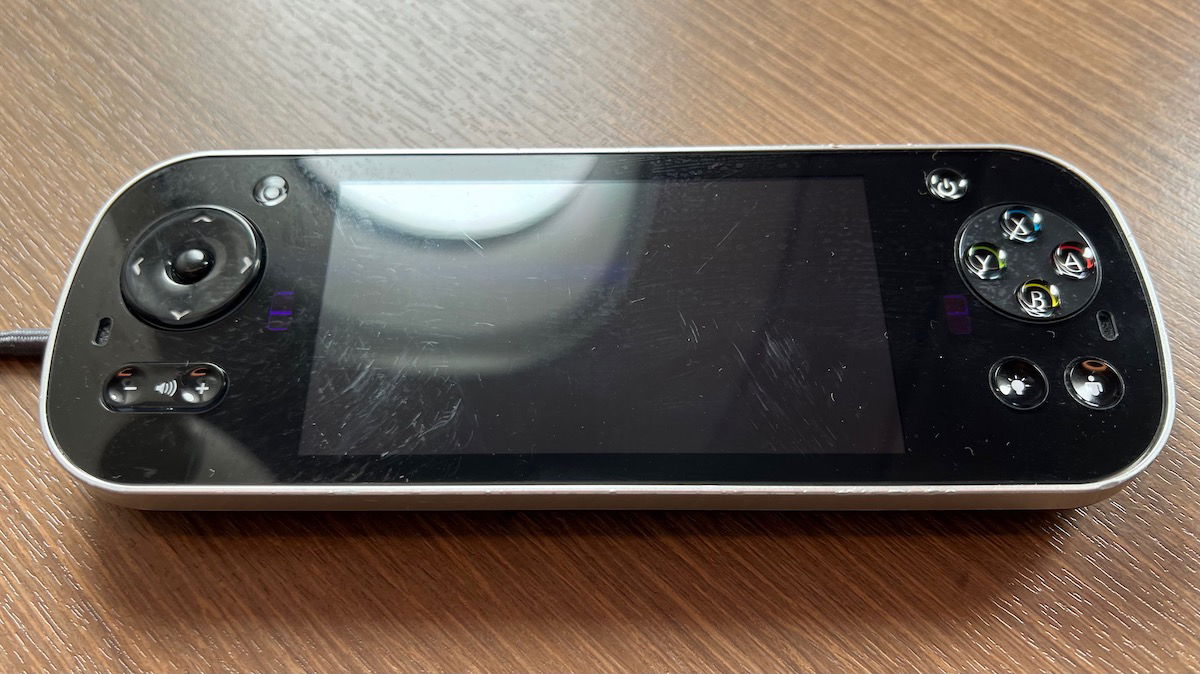 A really impressive aspect of this seat is the entire console in front of it. Not only is there quite a large television, but there's also a closet where you can hang clothes or store other things. It's not often you find something like this in business class.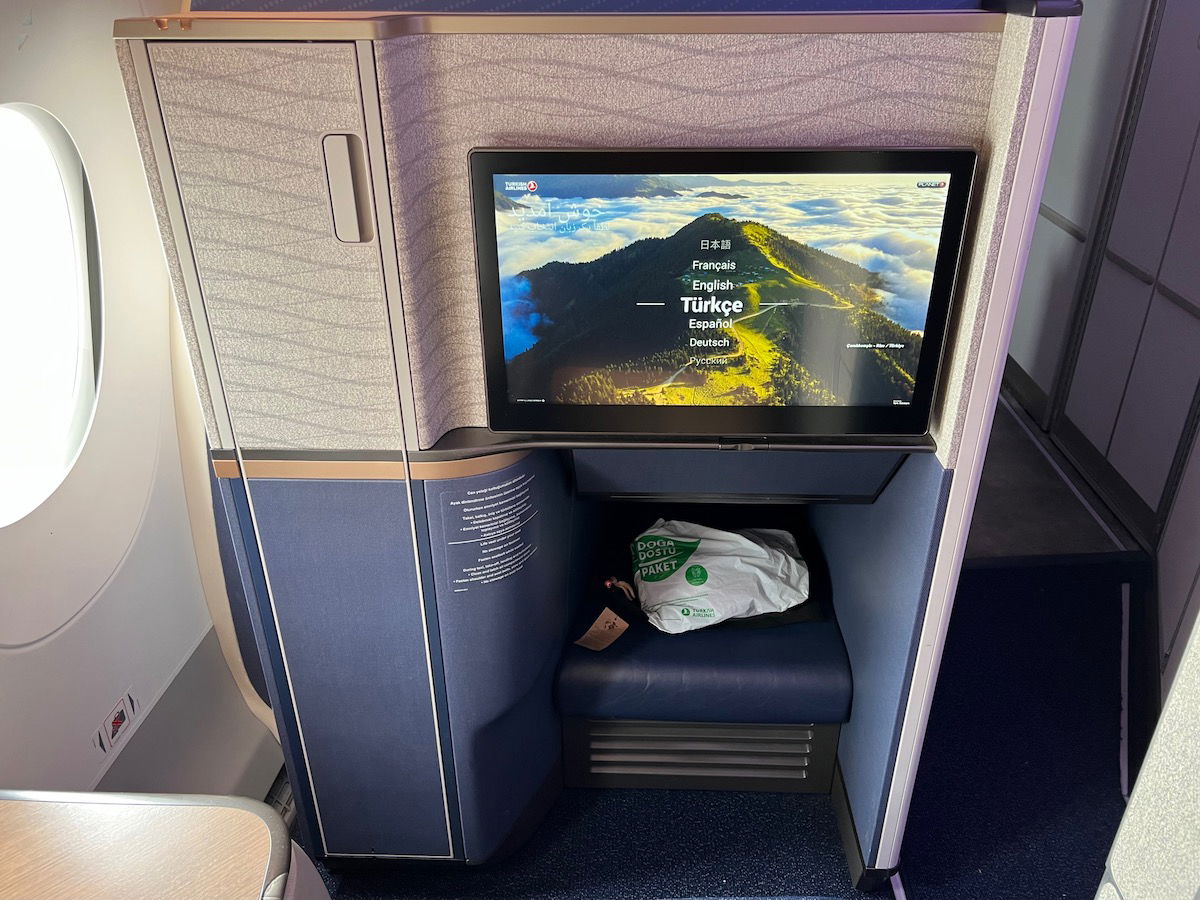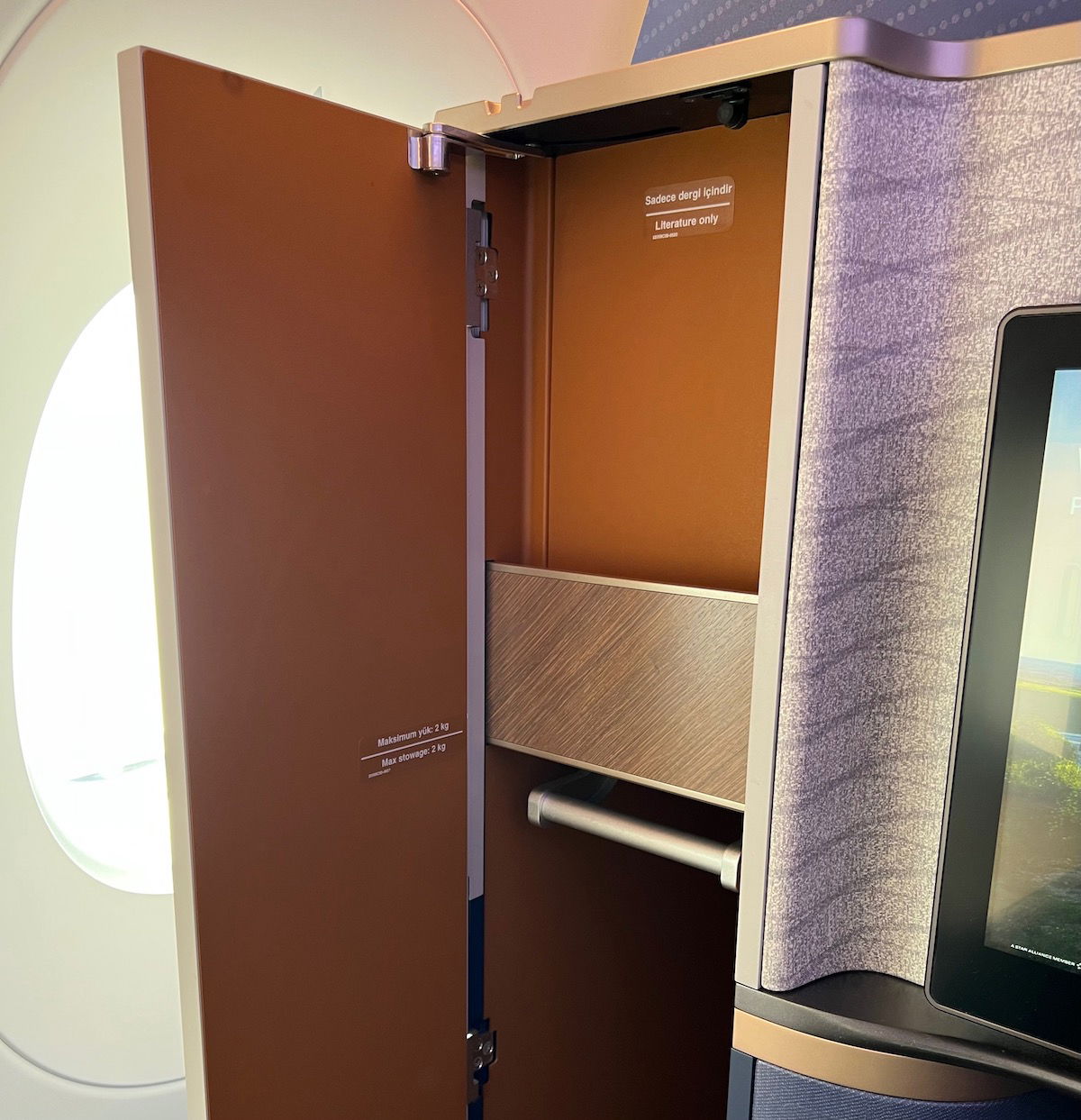 The way the tray table in this seat extends is different than I've seen in any other product. It's essentially stored above the footwell at a 45 degree angle, and then you can lower it so that you have a small tray, perfect for placing a drink or a snack.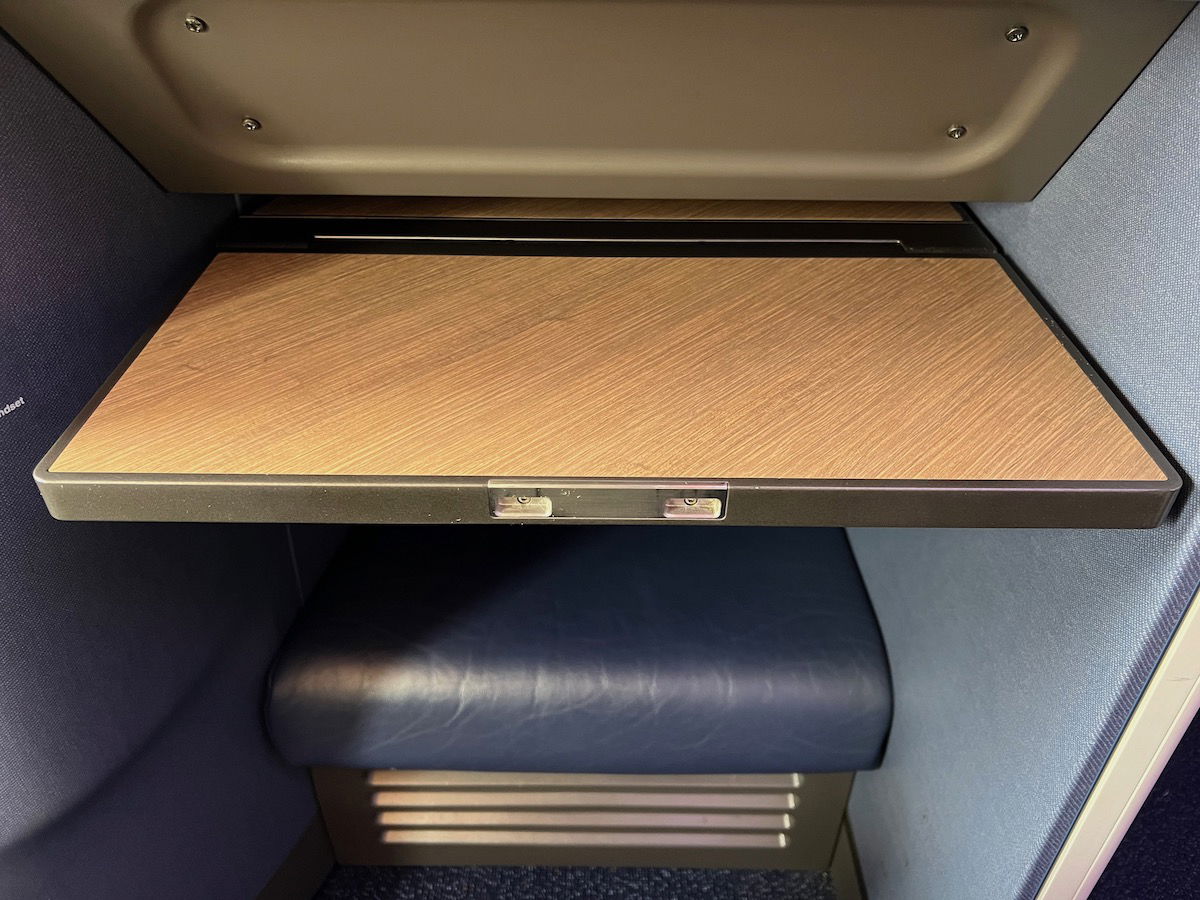 You can then pull the tray table out all the way, and it's quite large.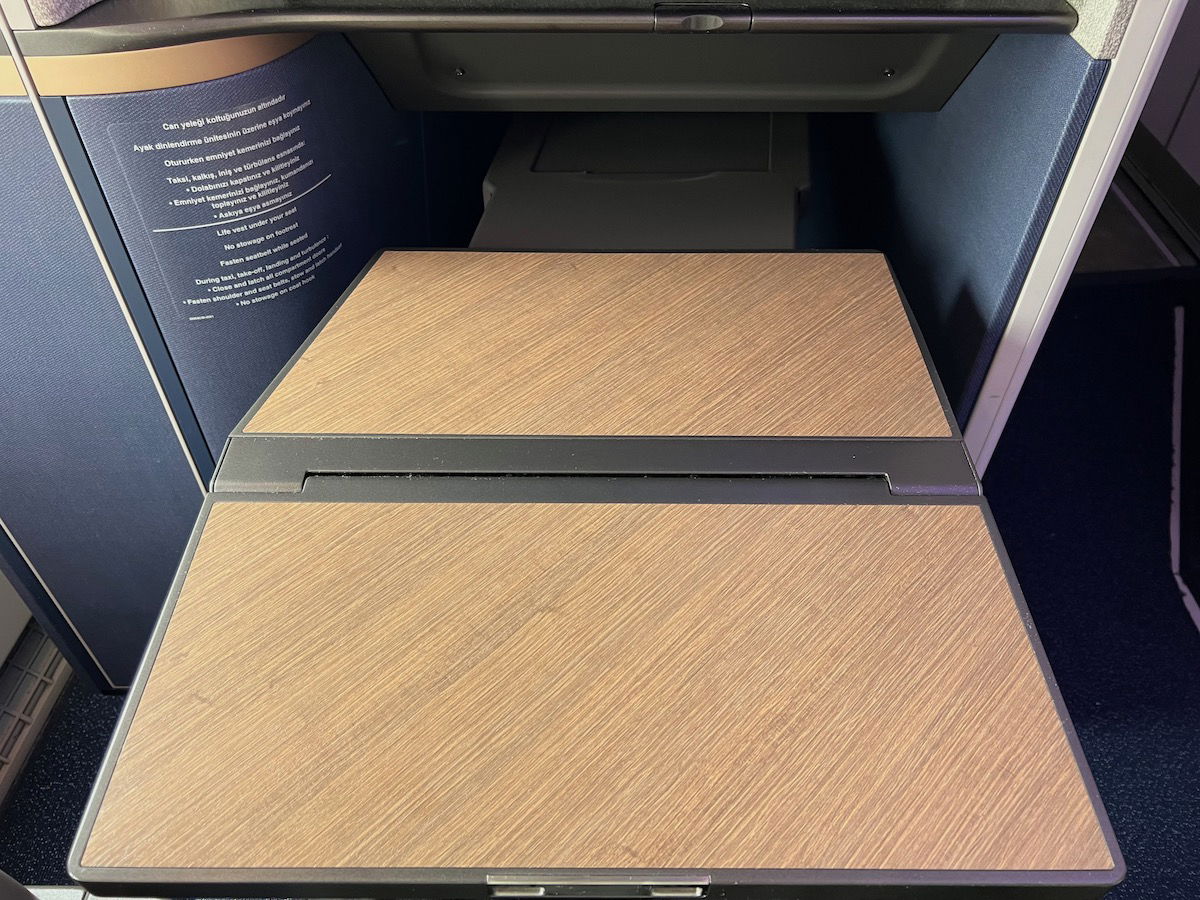 Speaking of the footwell, one general challenge with these kinds of seats is that there's a footwell you have to place your feet into, and sometimes it's quite restrictive. I found the footwell to be a reasonably good size for a product like this.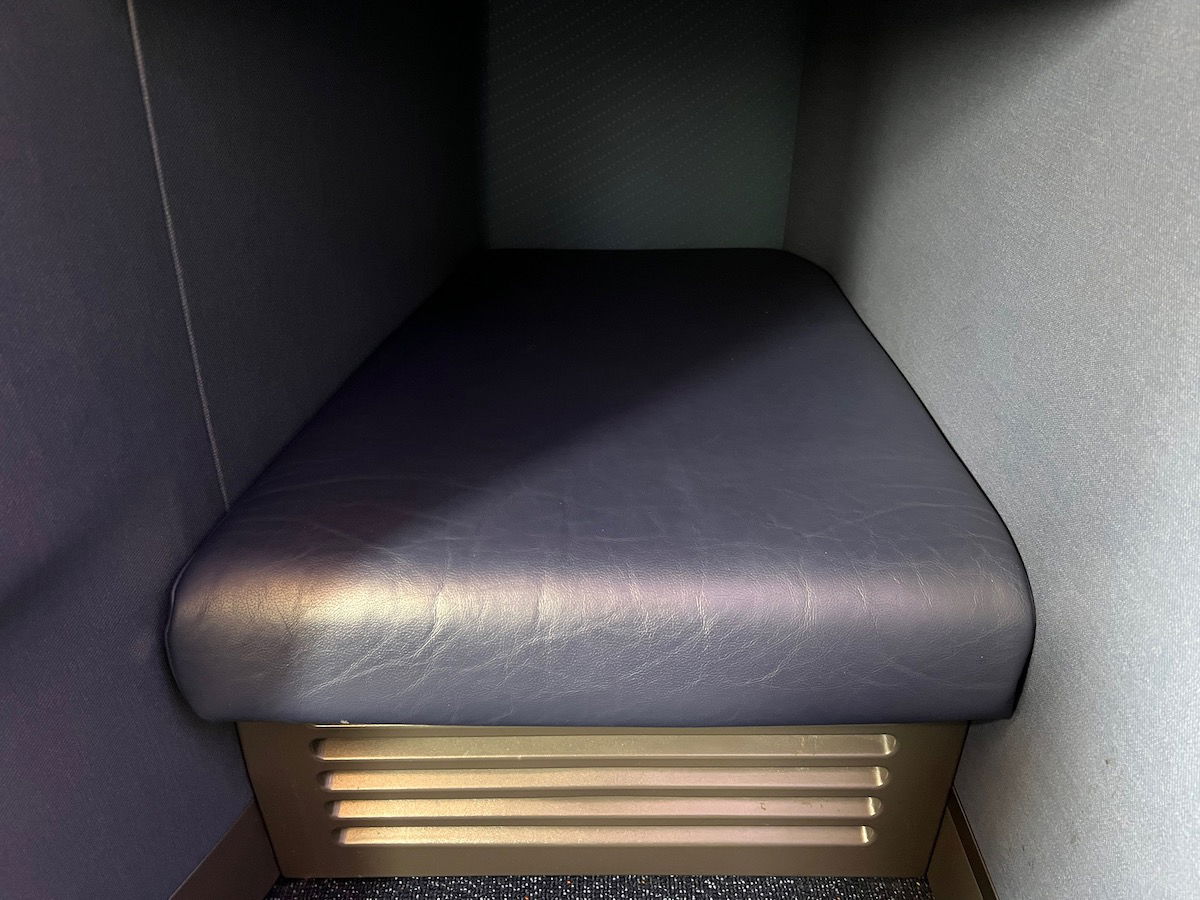 Another awesome feature of this seat is that it has a sliding door. I found this to be one of the best business class doors out there — it was quite large, and could be opened and closed easily.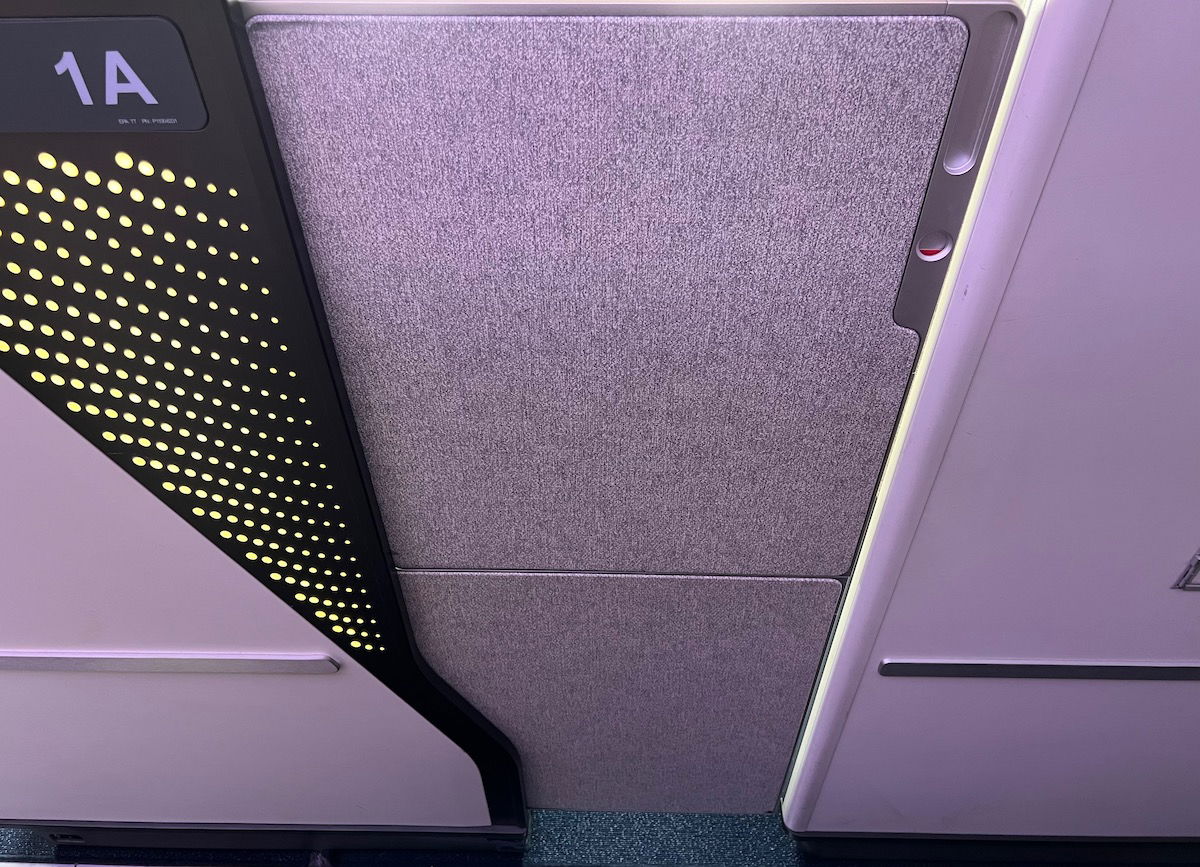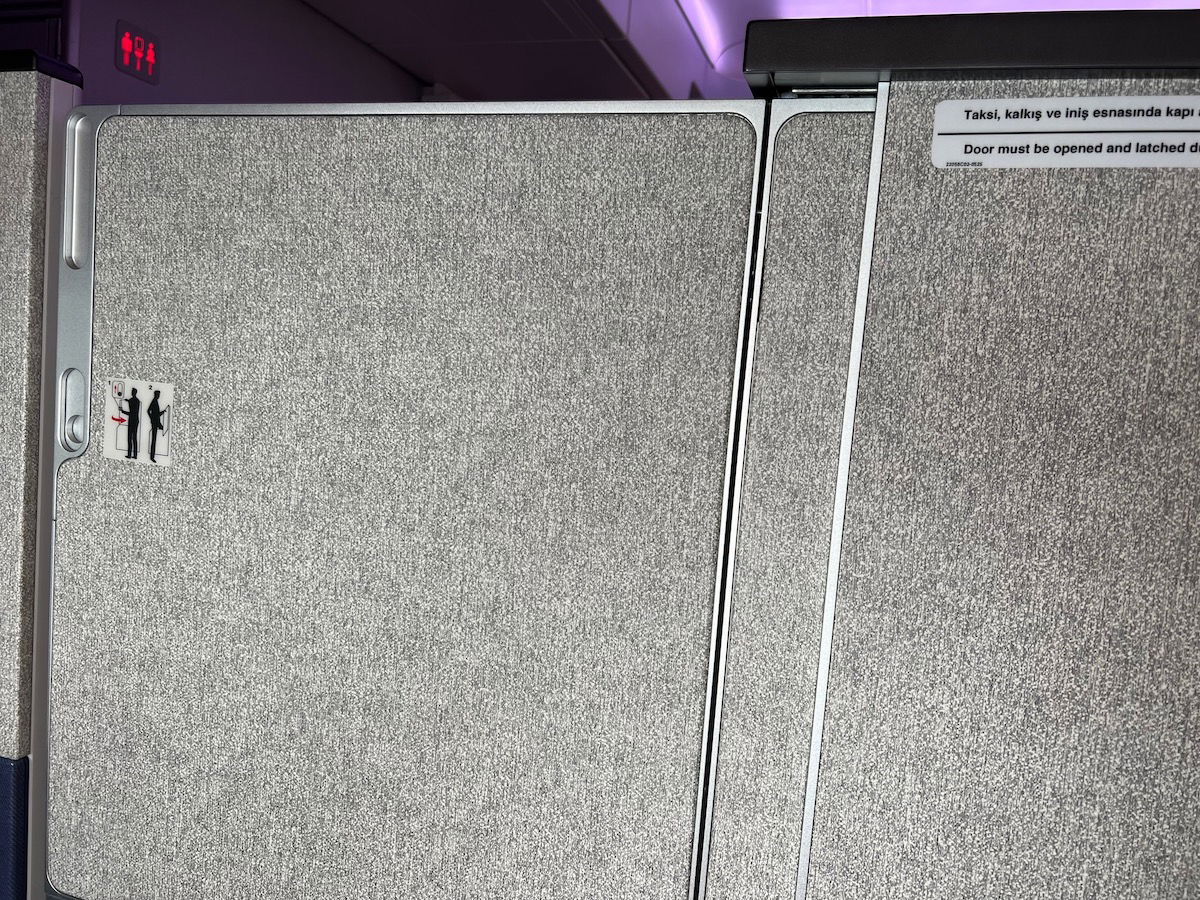 A couple more notes about the cabin on this A350. Each seat has an overhead console that contains individual air nozzles, which is much appreciated.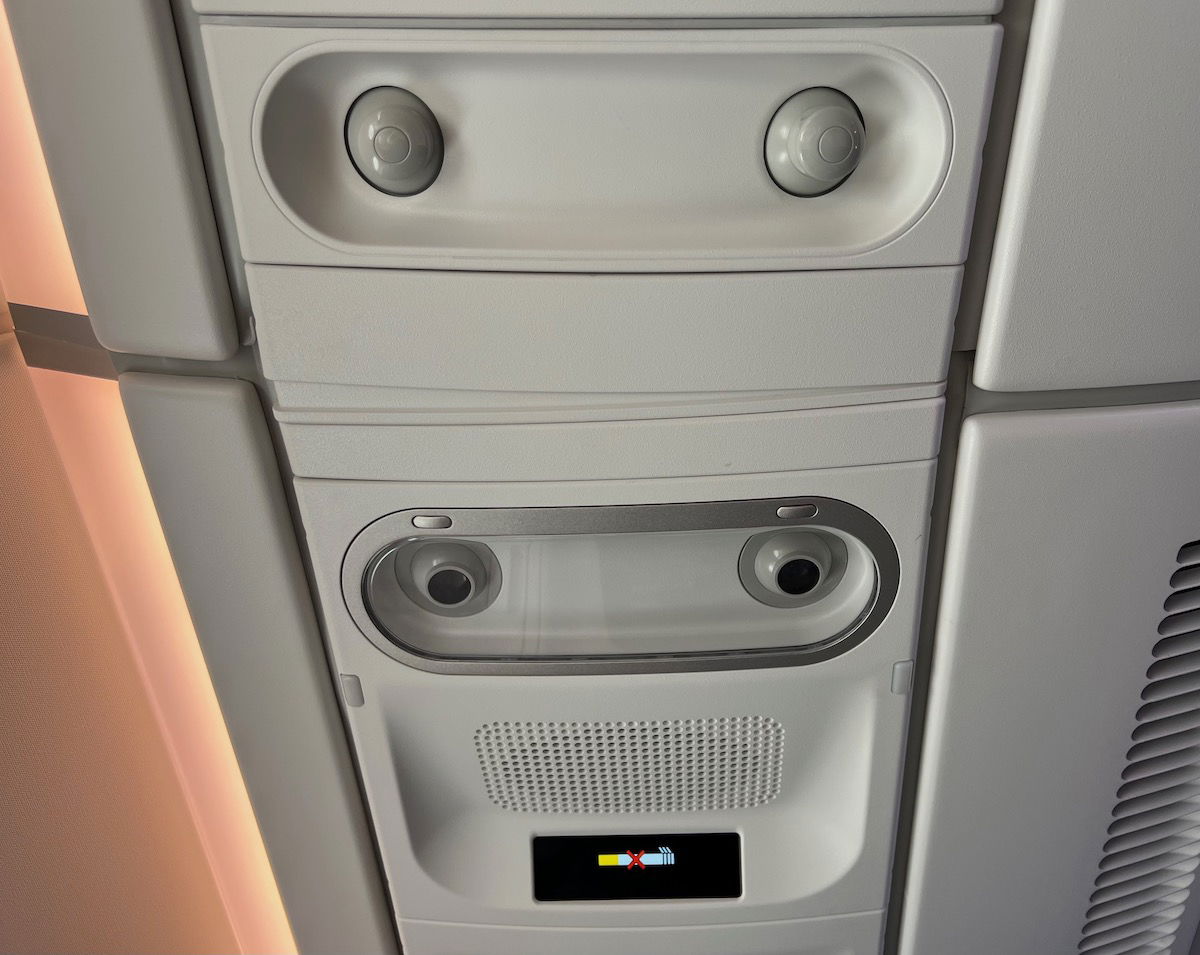 On top of that, the windows have automatic blinds that you can lower. First the blinds lower almost in an aesthetic way, and then if you keep going, they'll go completely dark.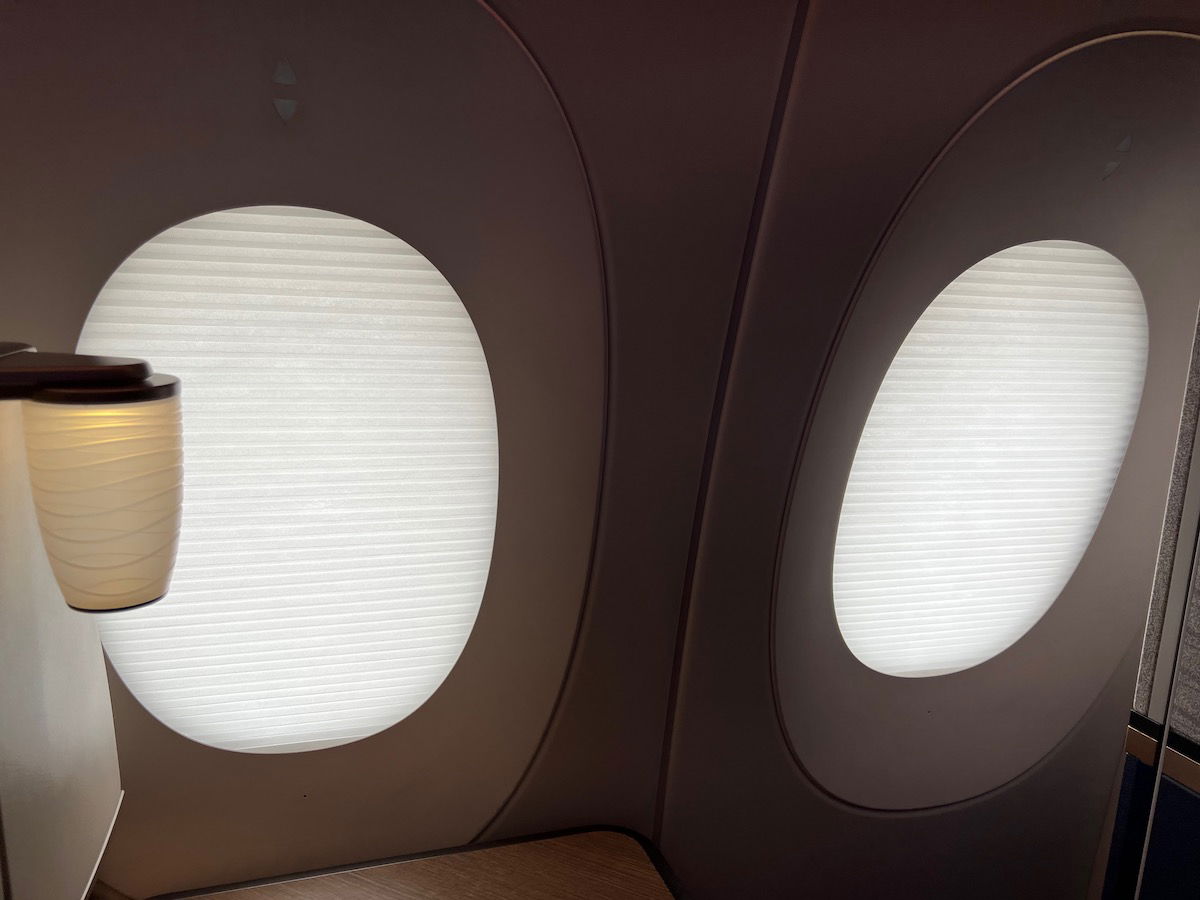 Honestly, I was really impressed by this business class hard product. I'd say this seat is most comparable to Qatar Airways Qsuites, with some minor differences between the two. I'd consider those to be among the best business class hard products, after ANA's "The Room" business class.
I'd also say that I prefer this to Turkish Airlines' "standard" business class product, found on all Boeing 787s and most Airbus A350s.
Turkish business class amenities
Waiting at each business class seat upon boarding was a pillow and blanket. On the surface the blanket doesn't look like something you'd expect in a long haul premium cabin, but this isn't the blanket that's offered when it's time to sleep, as there's a whole separate turndown service, which I'll cover later.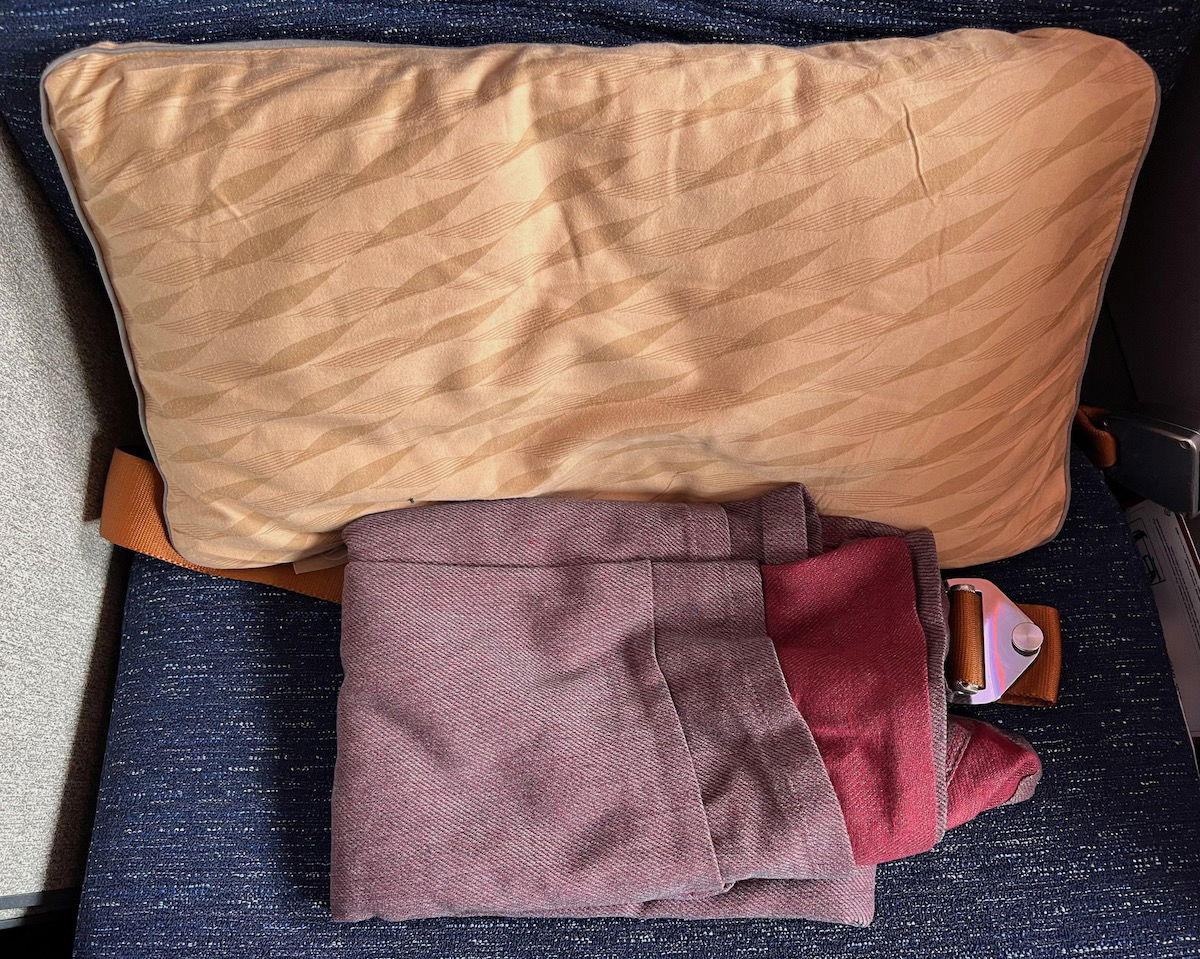 Also waiting at the seat upon boarding were a pair of slippers that were quite sturdy. I also like how they come with a shoe bag, so that you have somewhere to put your shoes during the flight.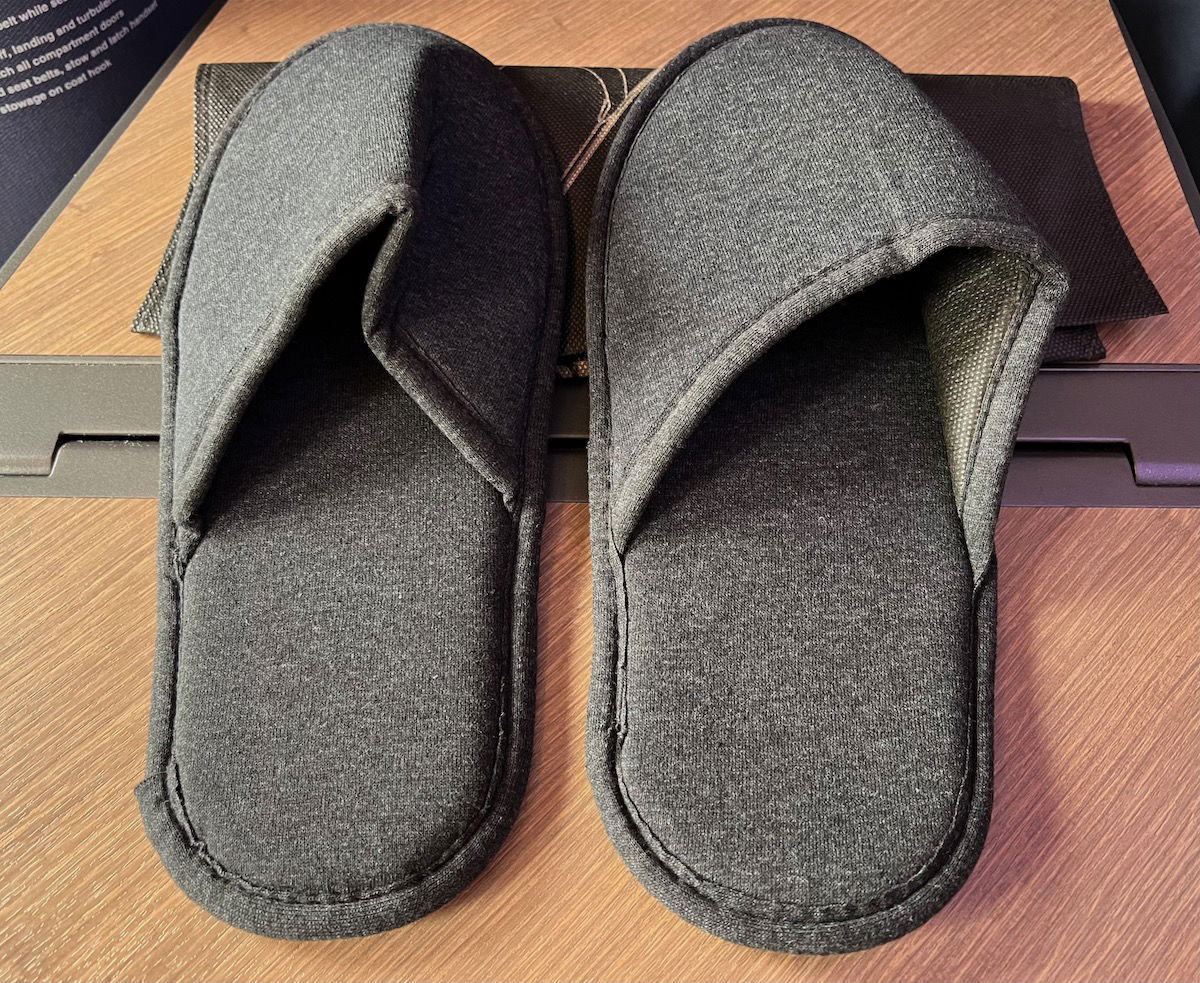 There were also a pair of noise canceling headphones waiting at each seat upon boarding, in this case from Denon. I found them to be high quality, and this is an area where many airlines seem to cut corners.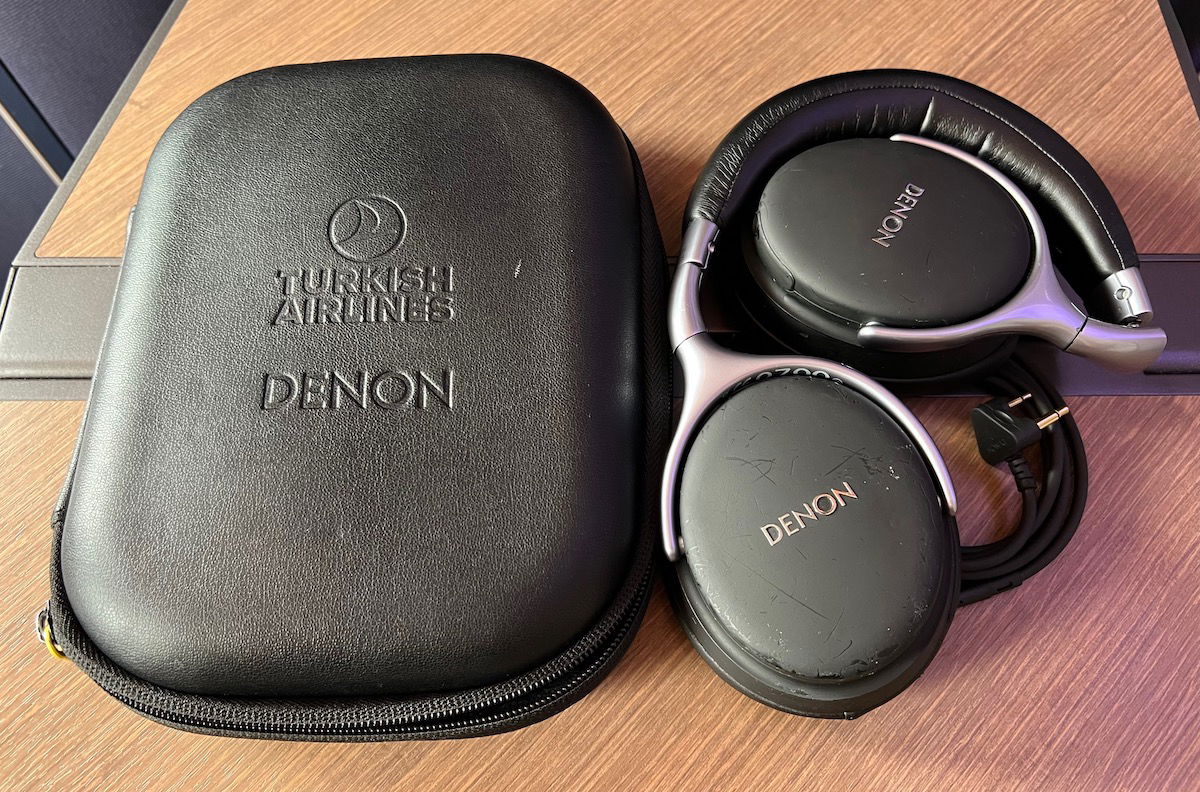 Once settled in, one of the flight attendants came by to offer pre-departure drinks, with the choice of lemon-mint juice, orange juice, raspberry juice, or water. While Turkish doesn't serve alcohol on the ground in the United States, I love the quality of the carrier's pre-departure drinks. I selected the lemon-mint juice.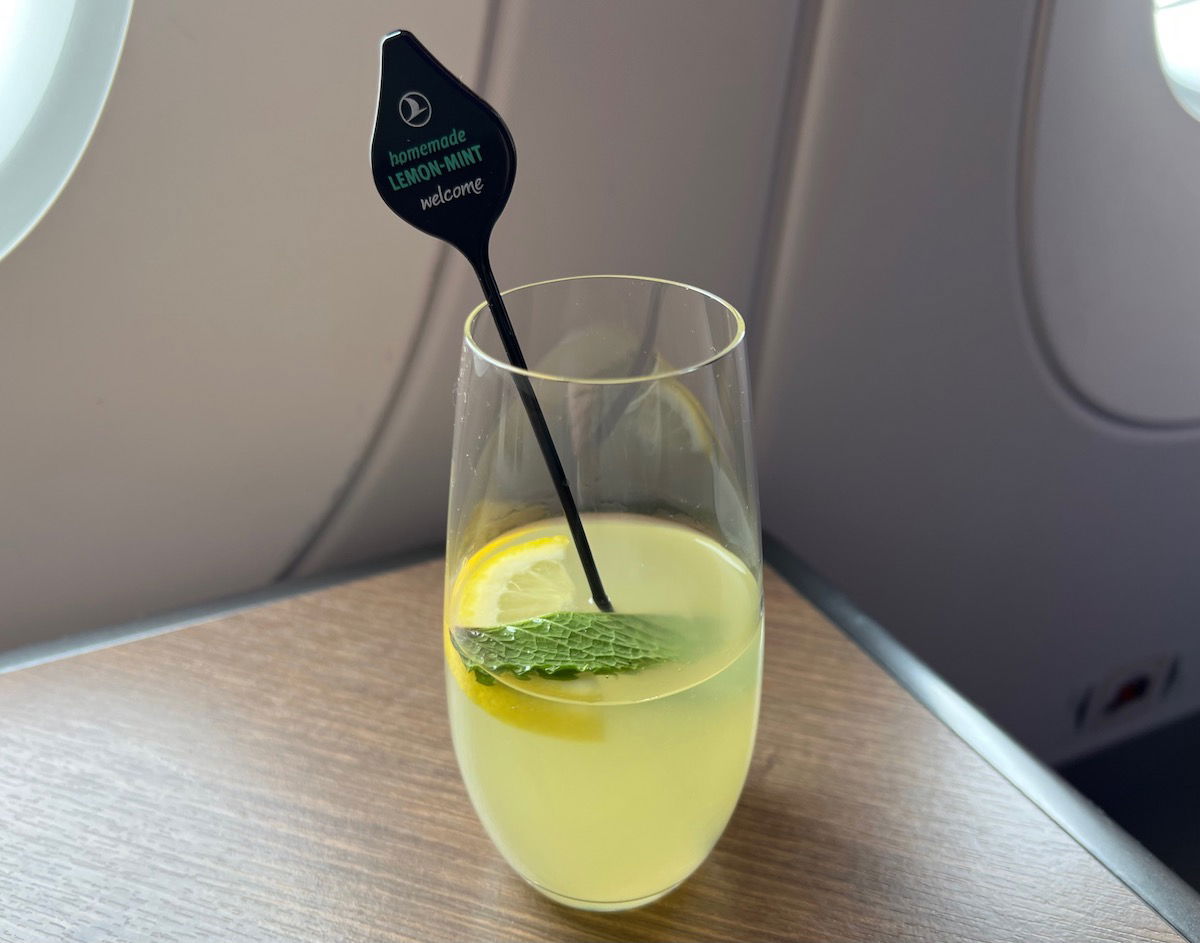 Salvatore Ferragamo amenity kits were also passed out, and they were pretty well stocked. They featured thick socks, eyeshades, a dental kit, earplugs, and some body lotion, facial mist, and lip balm.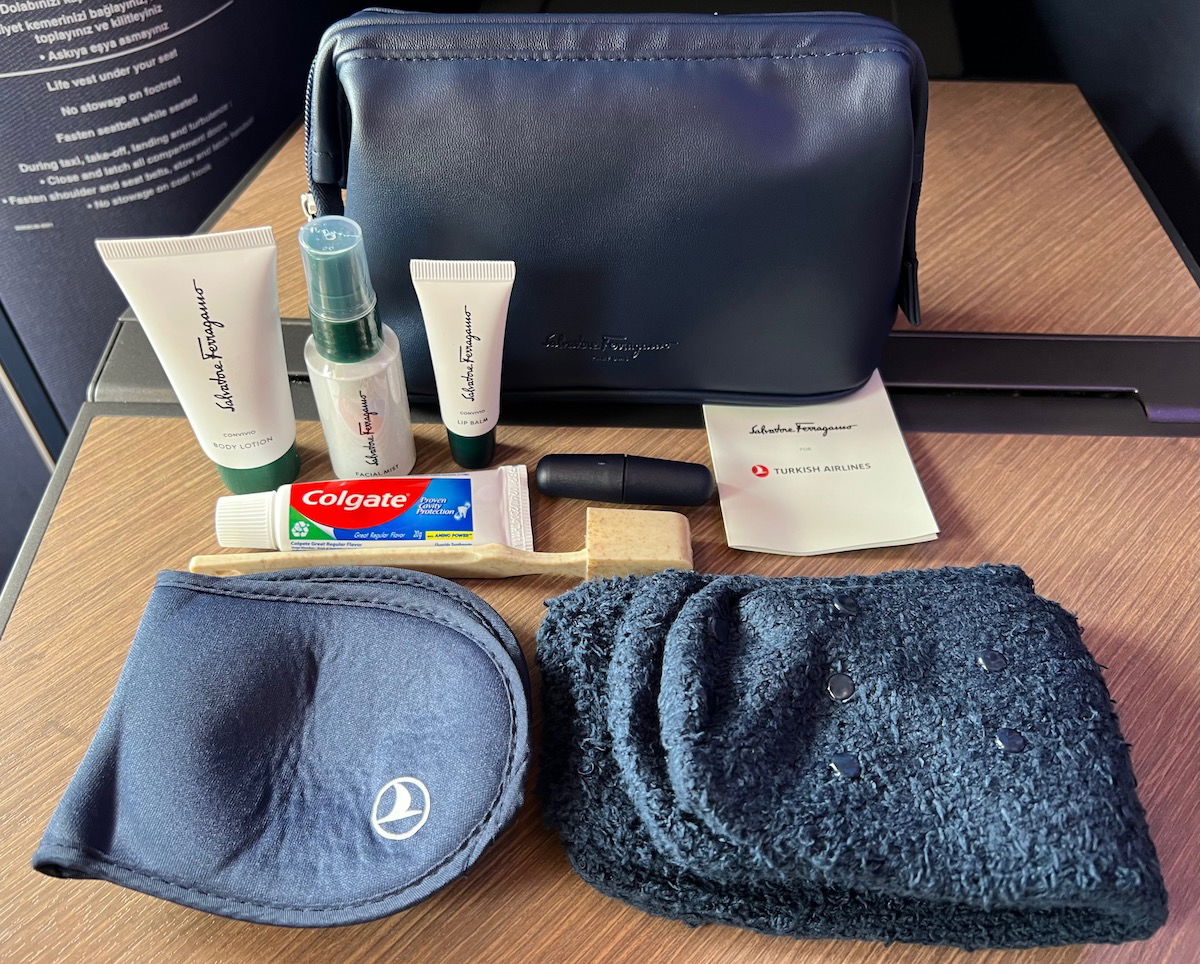 Toward the end of the boarding process, the inflight chef came through the cabin to distribute the menu and drink list for the flight.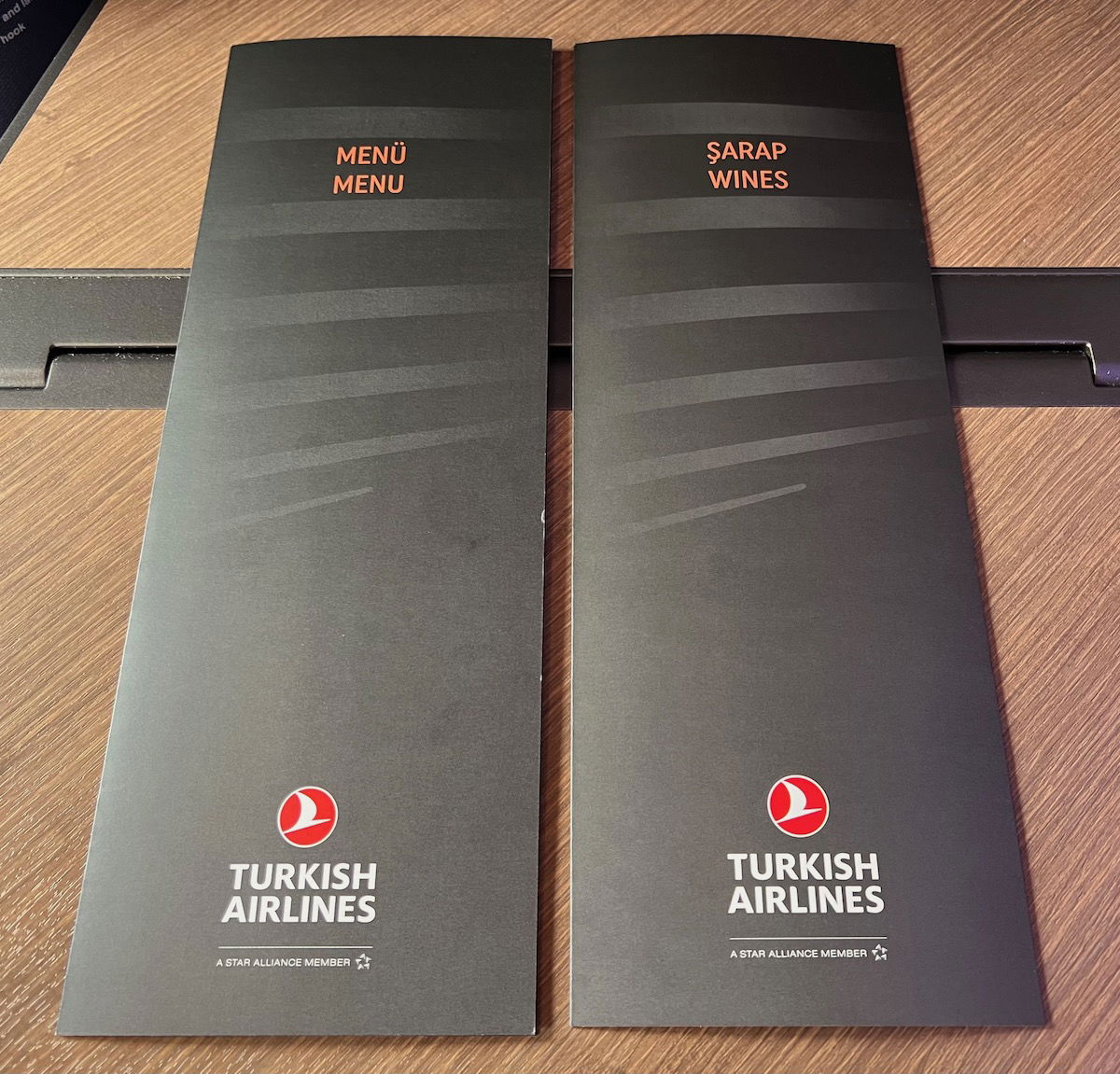 Turkish A350 business class entertainment & Wi-Fi
Turkish has an impressive entertainment system on its Airbus A350s. Not only is the entertainment screen large and high definition, but the selection is extensive as well.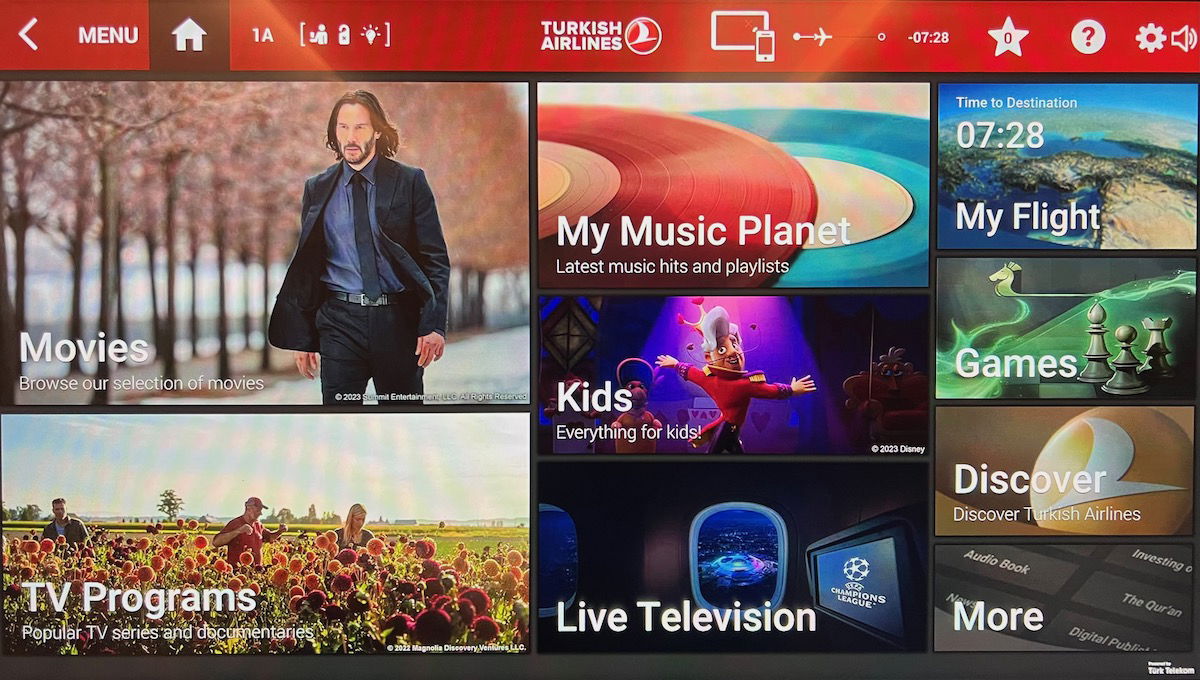 The entertainment library included 660 movies and 1,188 TV shows, so it doesn't get much better than that. On top of that, there was live TV, games, music, and more.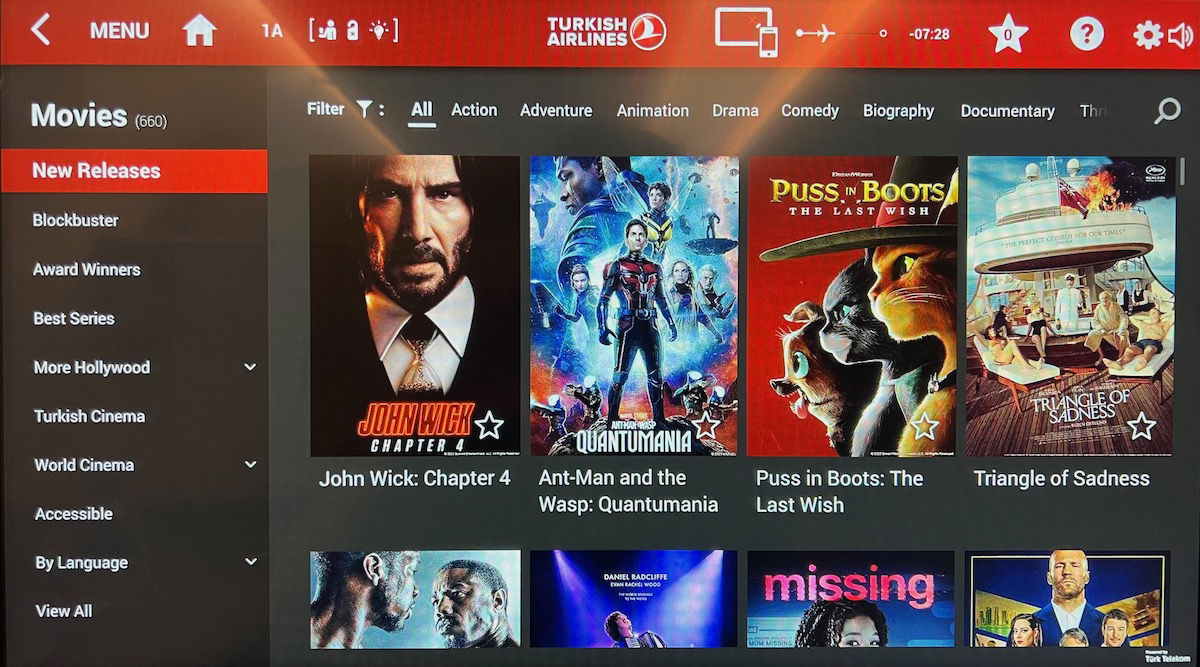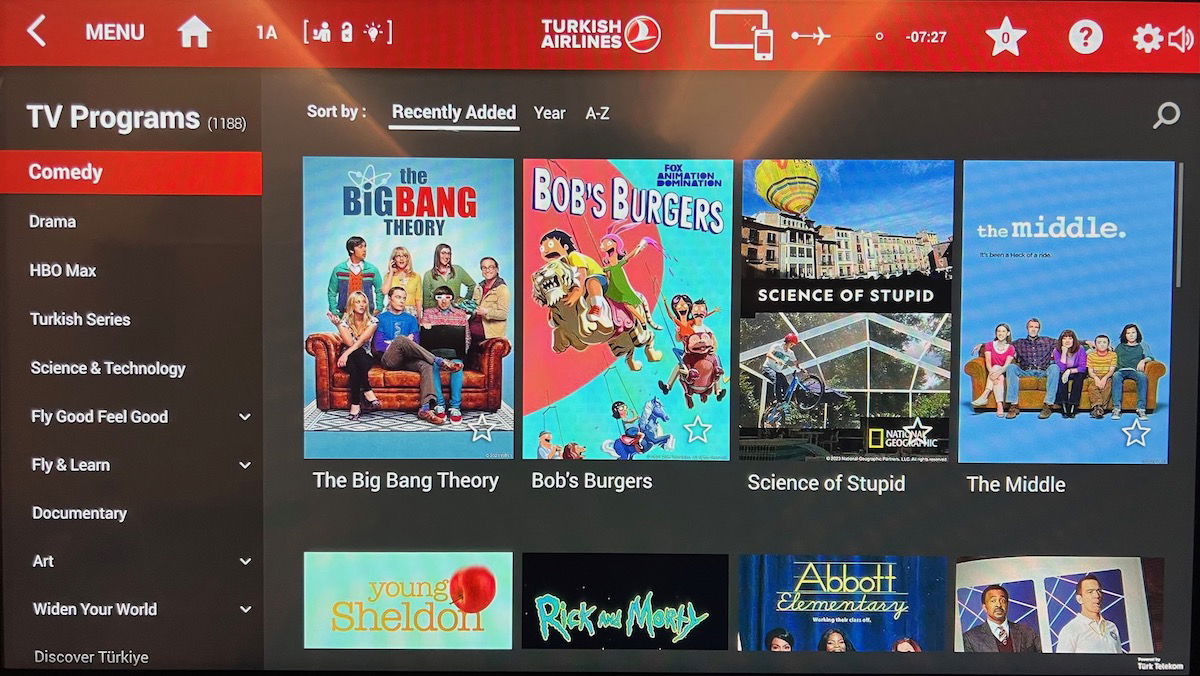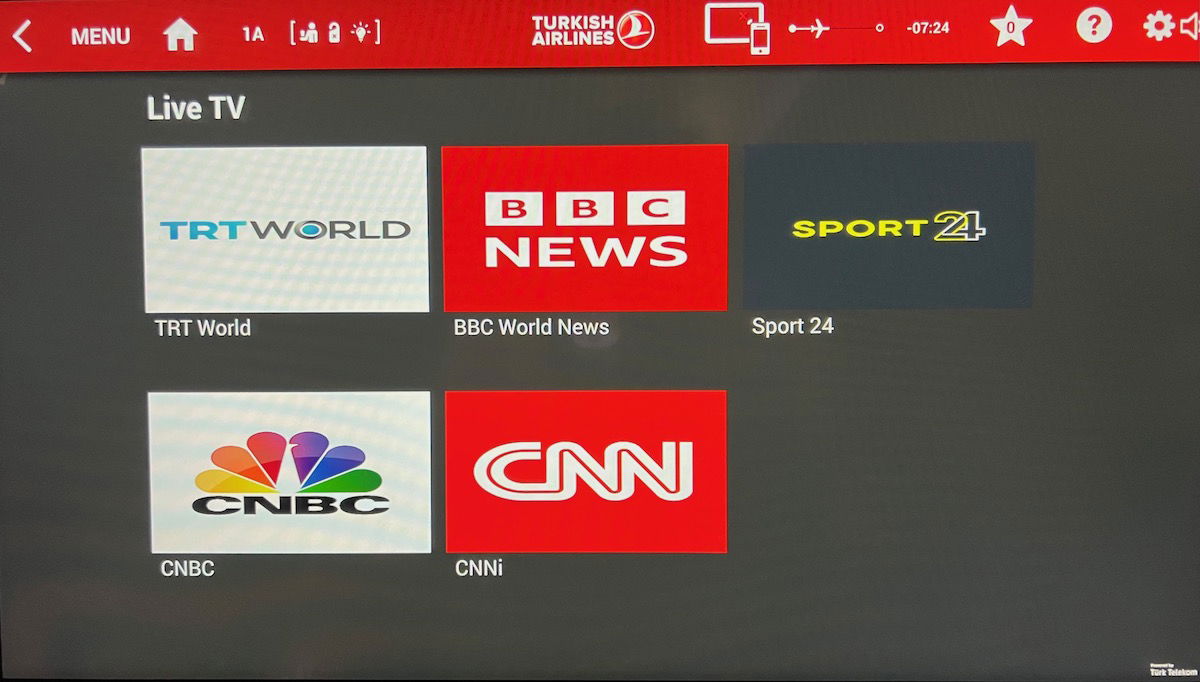 The one thing that disappointed me was the map feature, which was surprisingly low definition, and not very customizable. Fortunately these A350s do have tail cameras, so that's what ended up entertaining me for much of the flight.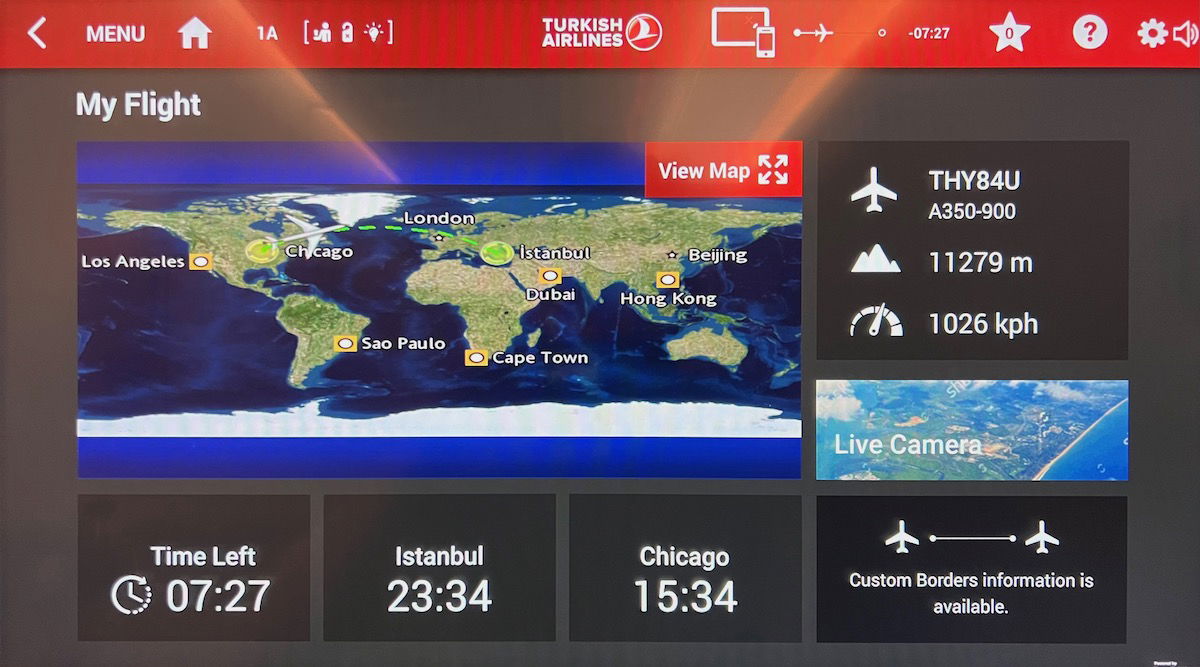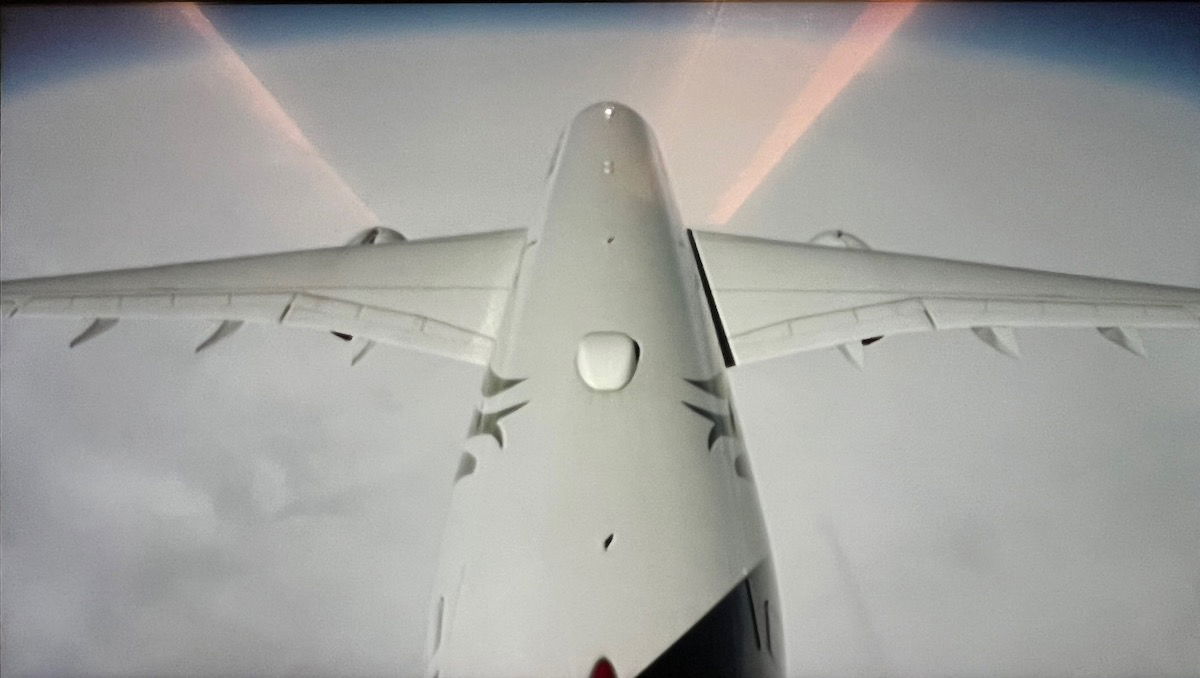 Turkish Airlines also has Wi-Fi on its Airbus A350s.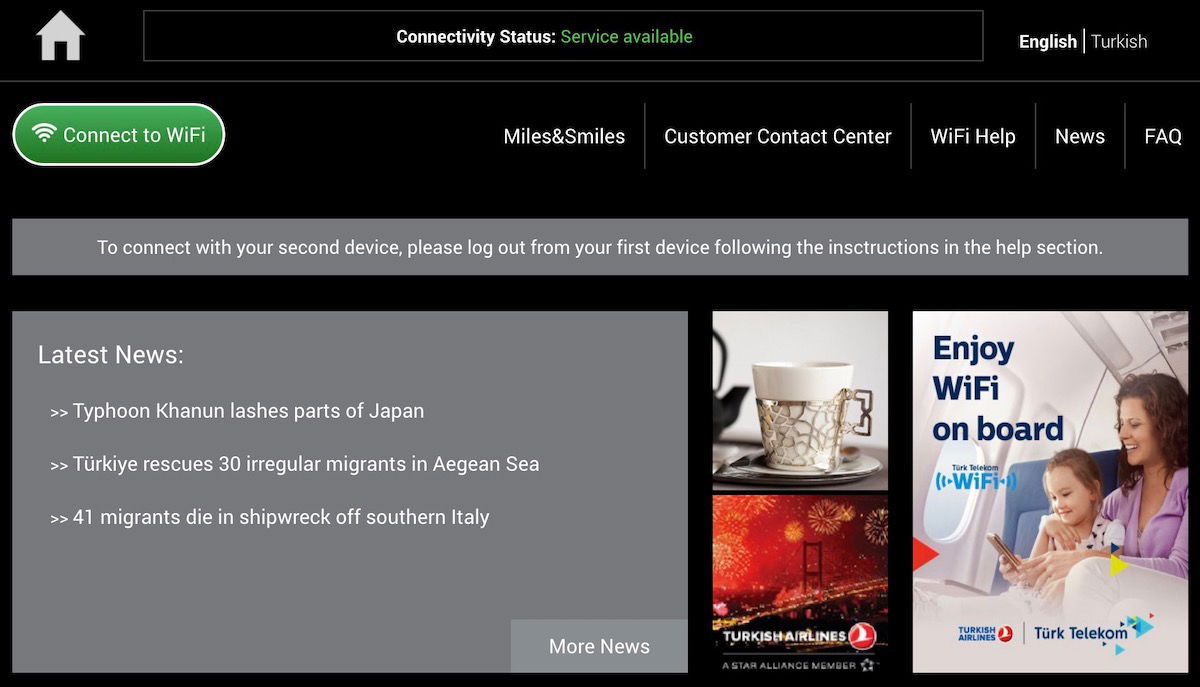 Turkish's standard Wi-Fi pricing for long haul flights is as follows:
You can purchase a chat pass for $5
You can purchase 100MB of data for $8
You can purchase 250MB of data for $15
You can purchase unlimited data for $35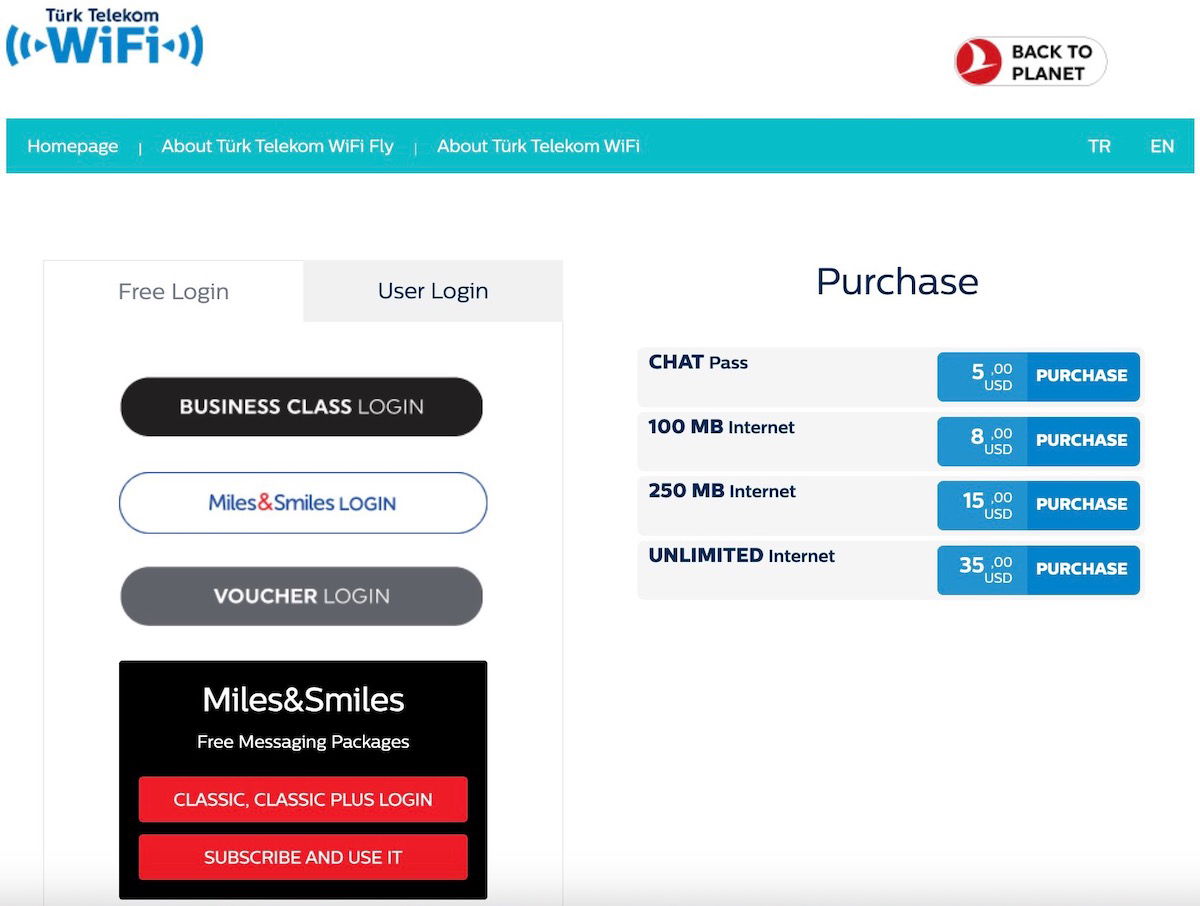 The airline offers free messaging for all Miles&Smiles members, and also offers free Wi-Fi for business class passengers. Taking advantage of this is easy, as you just have to enter your last name and seat number.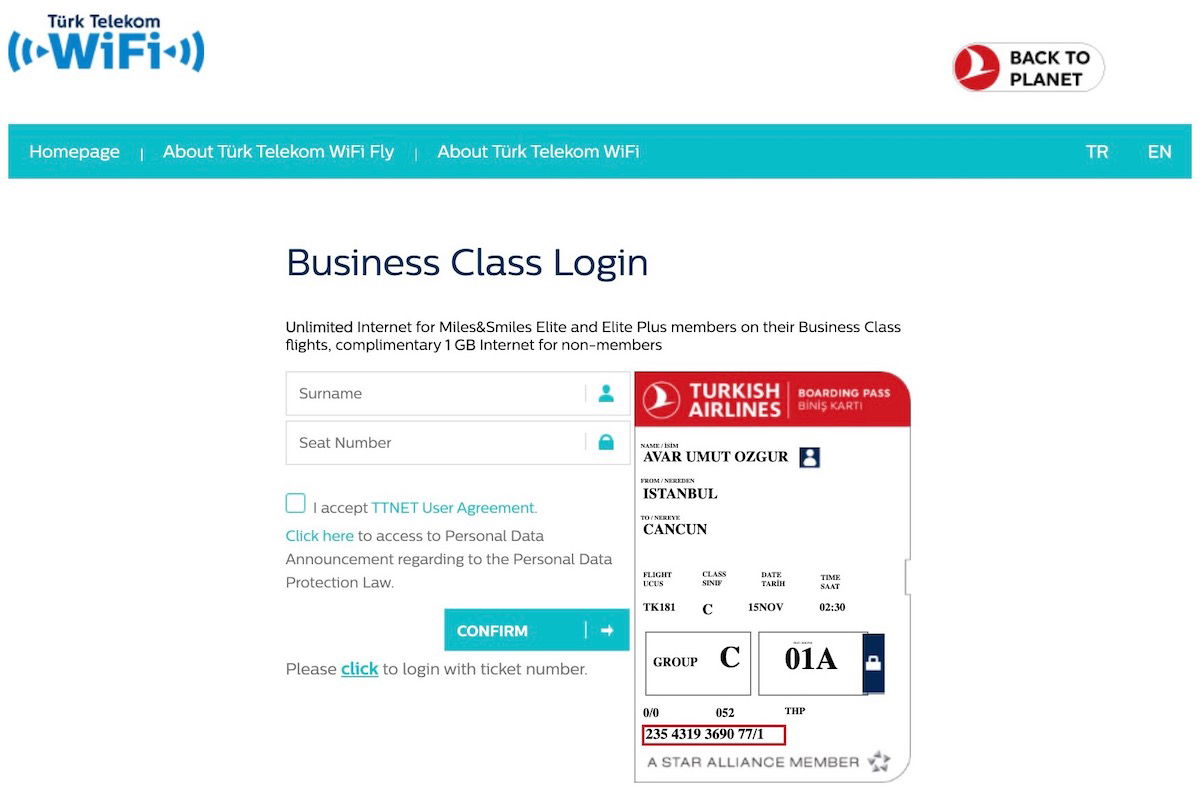 In the past, Turkish offered unlimited free Wi-Fi in business class, though now it's capped at 1,024MB of data. That's a lot of data that should be more than enough for a vast majority of people, though obviously no cap would be better.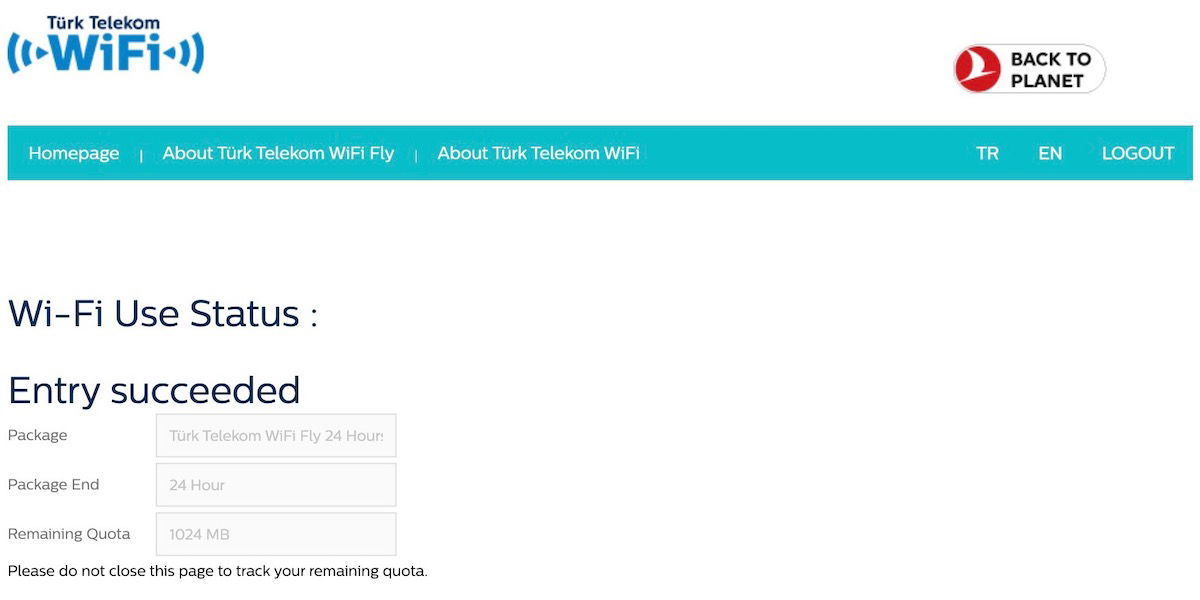 I found Wi-Fi speeds to be very good, and the free Wi-Fi kept me busy for much of the flight, especially as I struggled to sleep.
Turkish A350 departure from Chicago
Boarding was completed at 12:30PM, around 30 minutes after it started. At exactly this time the captain made his welcome aboard announcement, informing us of our flight time of 9hr45min, and our eventual cruising altitude of 41,000 feet. He also apologized for the delay, which he attributed to a "minor technical problem."
At 12:35PM the main cabin door closed, at which point the cabin chief made her welcome aboard announcement. For what it's worth, there were five empty seats in business class, so the cabin was just over 80% full. We began our pushback at 12:45PM, at which point the sort of adorable safety video was screened.
At 12:50PM we began our taxi, and I quite enjoyed the views, including of the Etihad A350-1000 (I flew the Chicago to Abu Dhabi route on Etihad recently).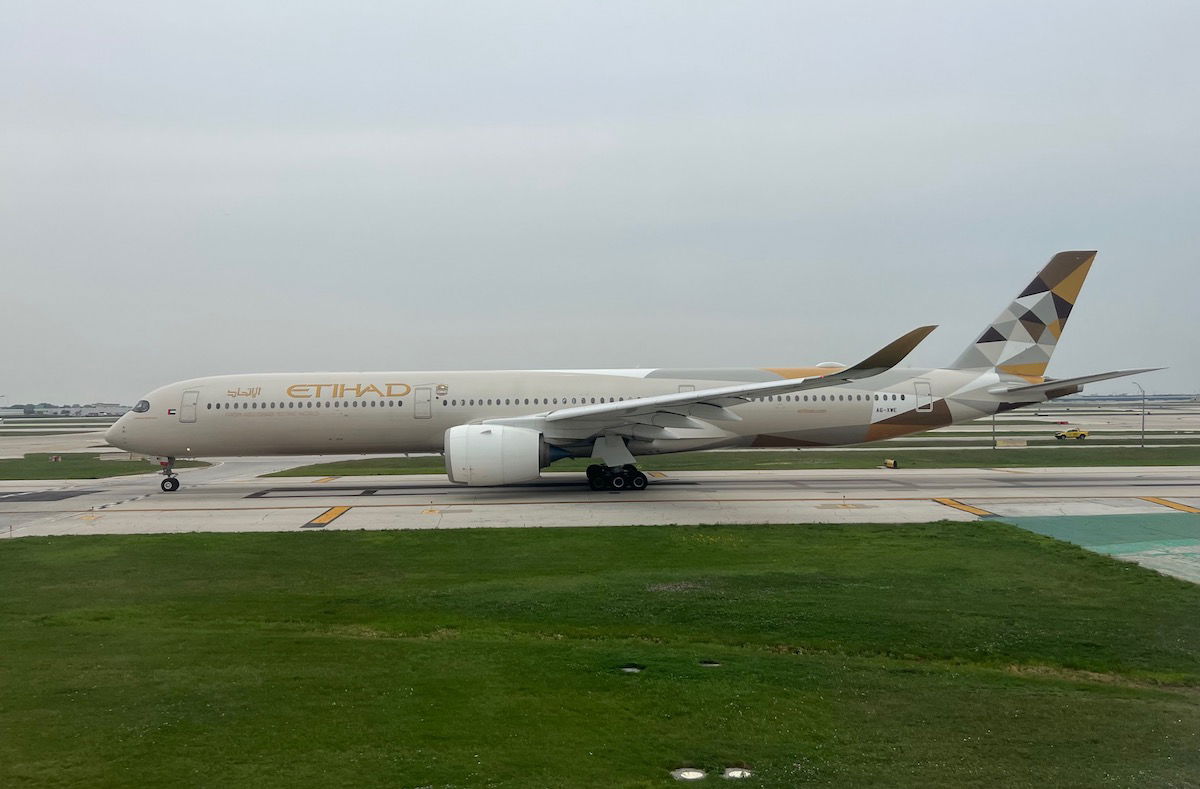 We taxied out to runway 28R, though there was quite the queue for takeoff. We ended up being cleared for takeoff at 1:15PM.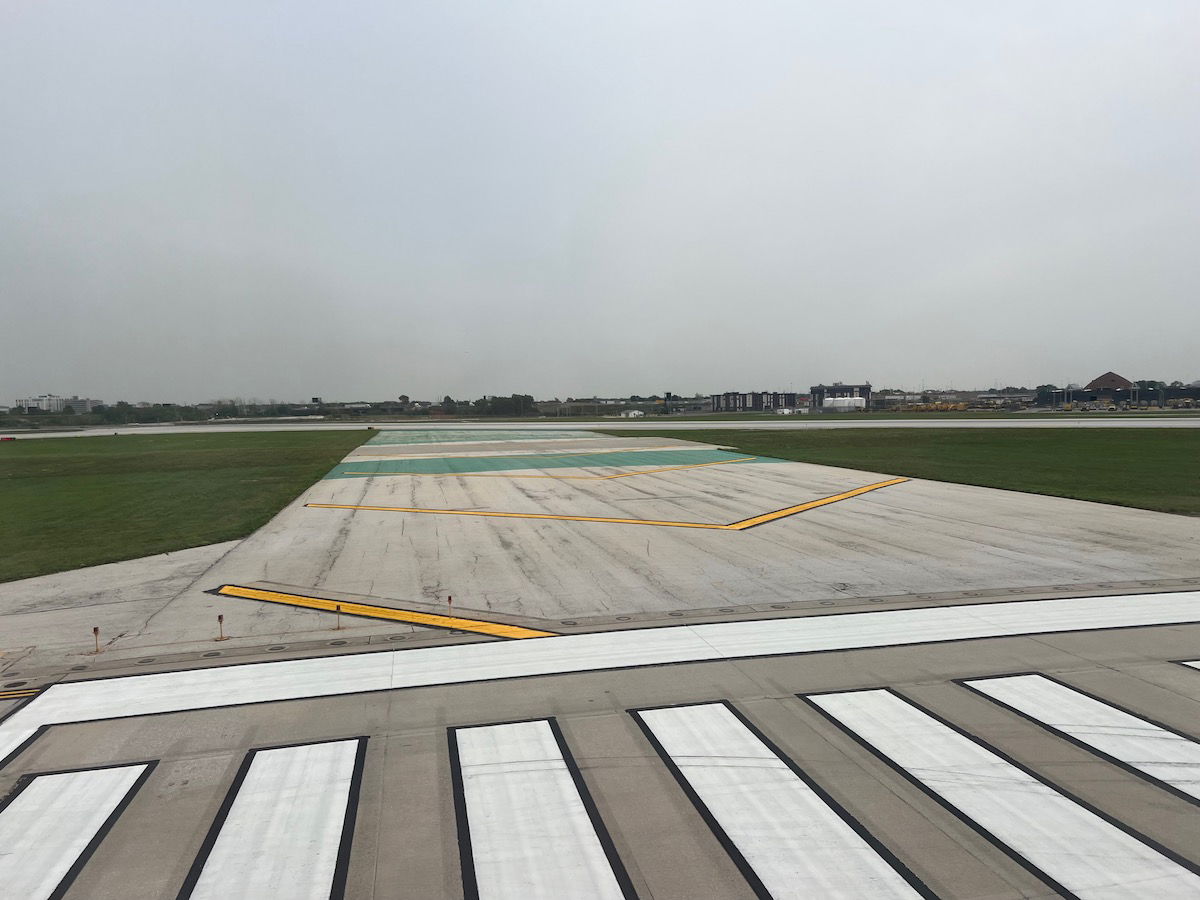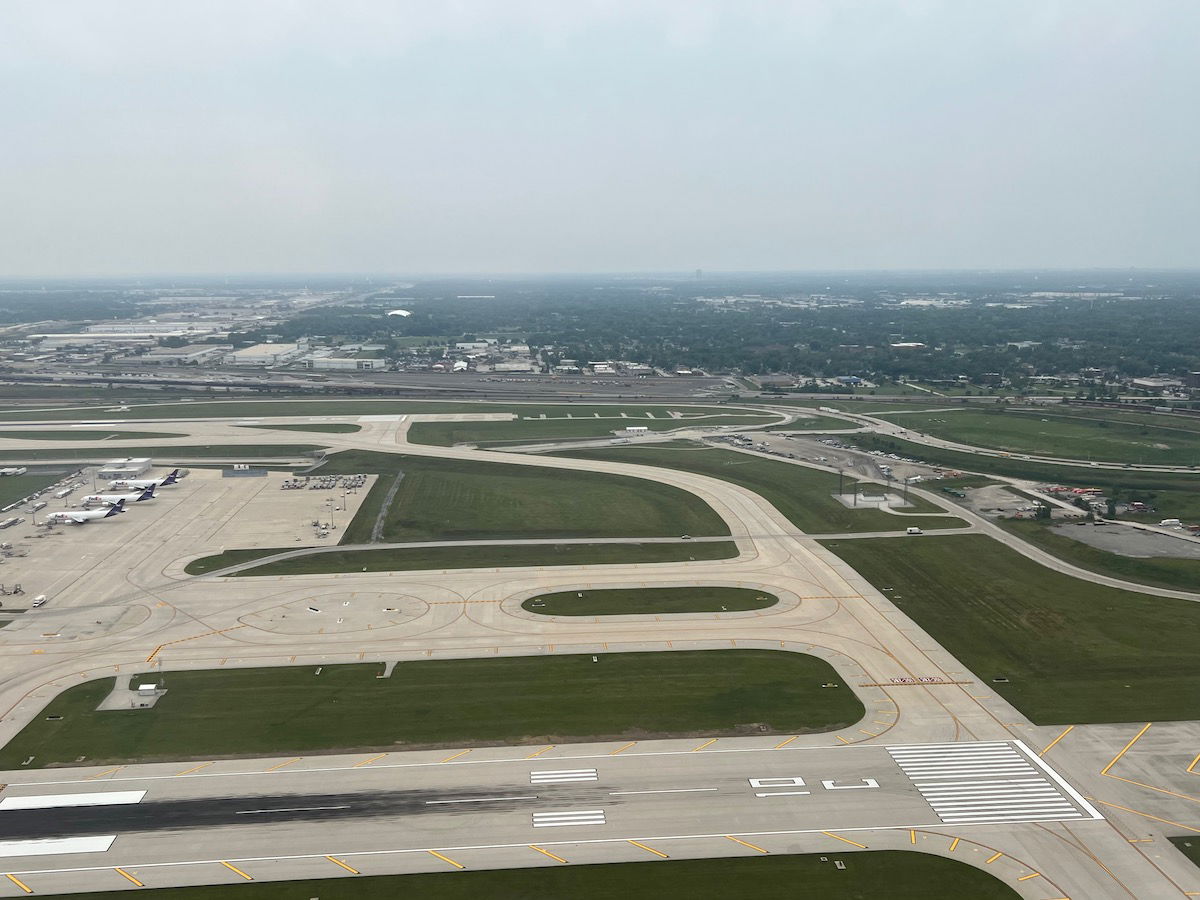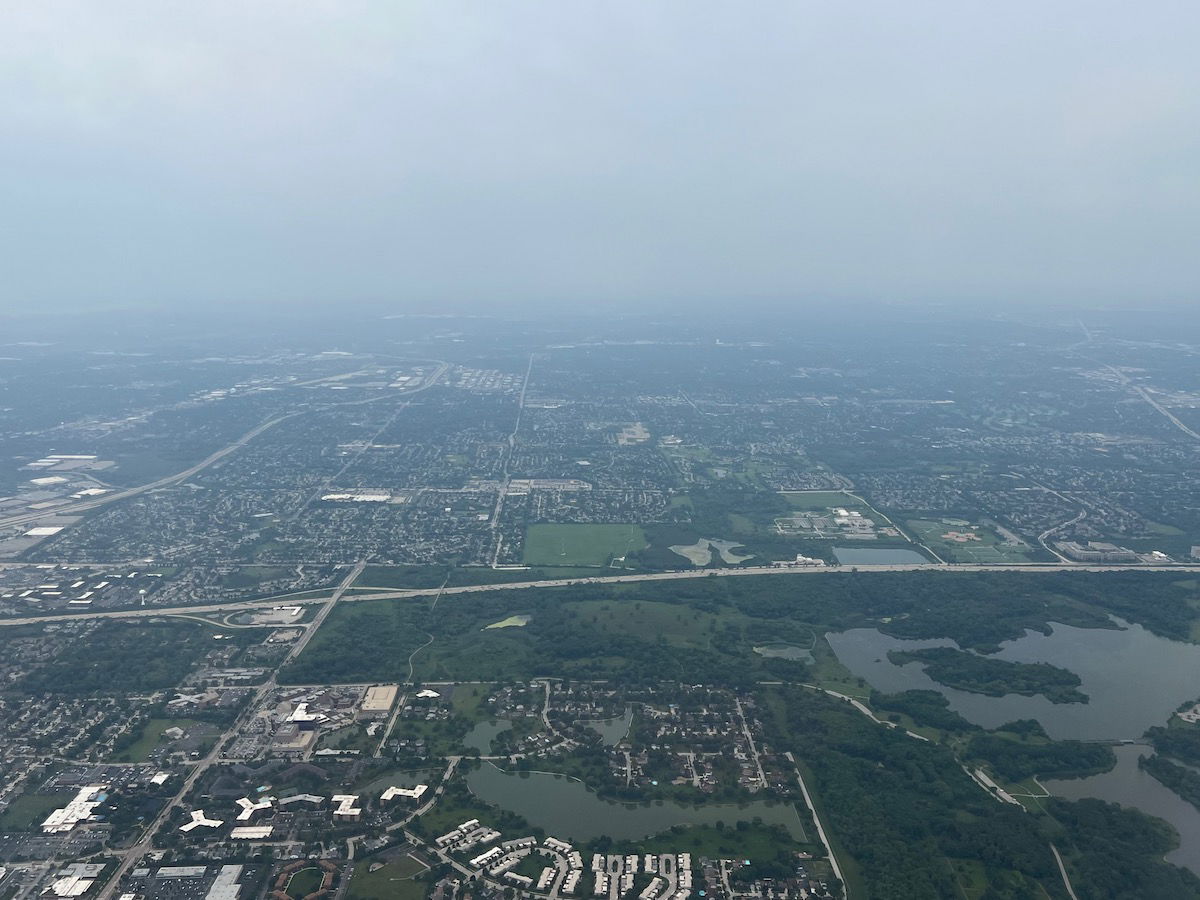 Our climb out was smooth, and the seatbelt sign was turned off about five minutes after takeoff.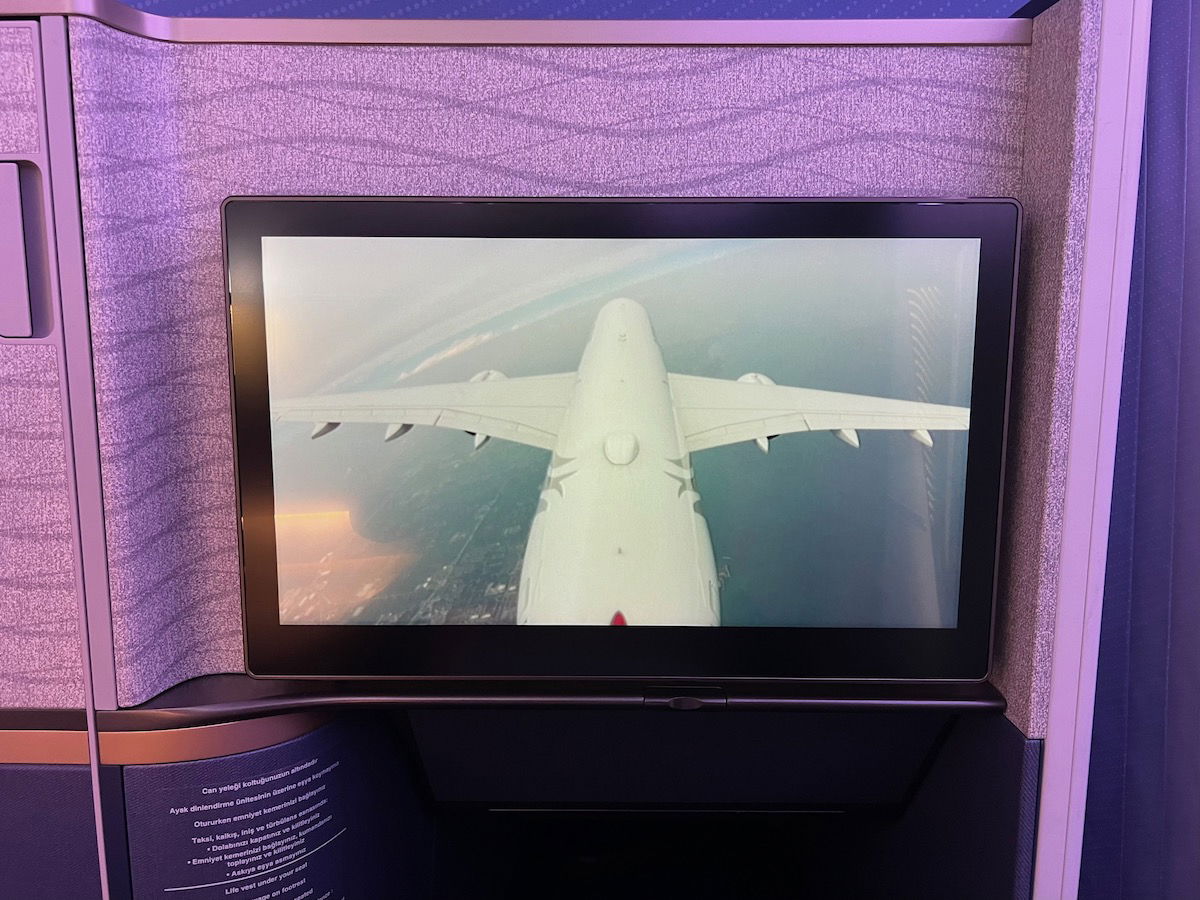 Turkish business class lunch service
Shortly after takeoff, the lunch service started. Dining on Turkish is always such a treat, though let me note upfront that Turkish has a more extensive meal service on flights from Istanbul than on flights to Istanbul. On flights from Istanbul, the appetizers and desserts are all plated directly from a trolley in the aisle, while on flights to Istanbul they're plated in advance, and just presented on a trolley. Still, this meal was a treat.
Below you can find the Turkish business class lunch menu for this flight.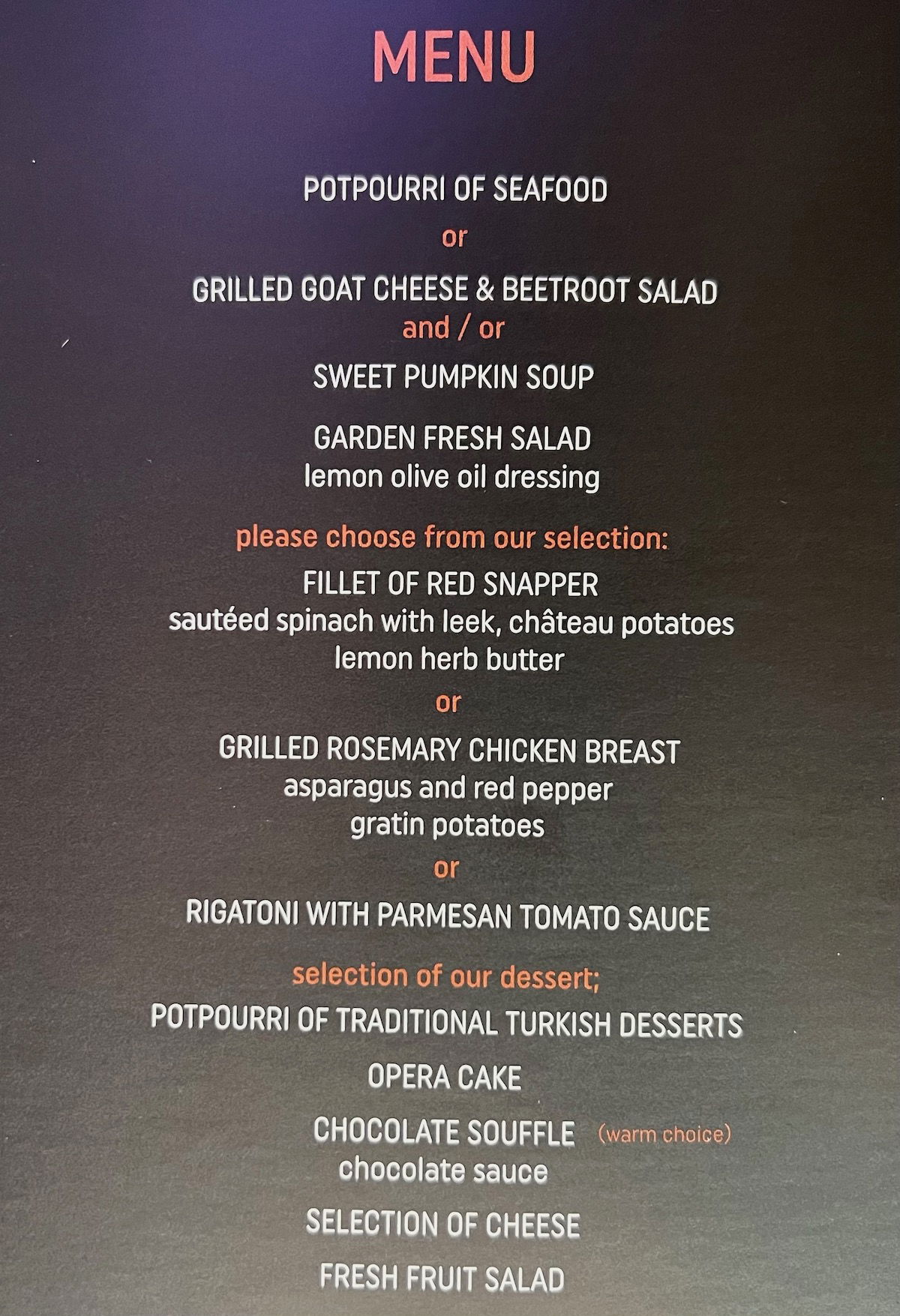 Then below you can find the extensive beverage list. I love how Turkish has such a big drink selection, and highlights so many Turkish wines. As you can see, there were three white wines, five red wines, a rose, and a champagne — there aren't many airlines with so many choices!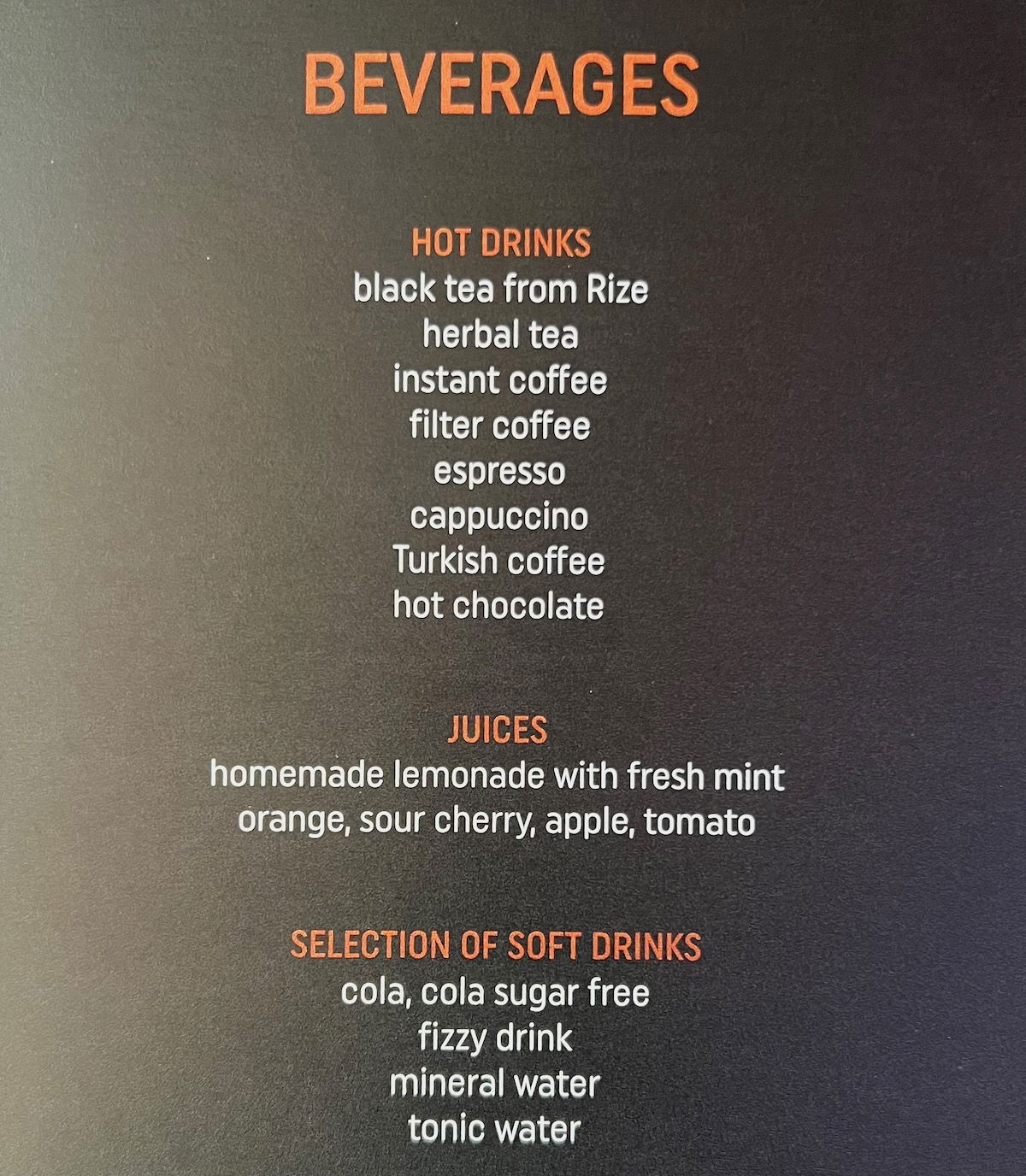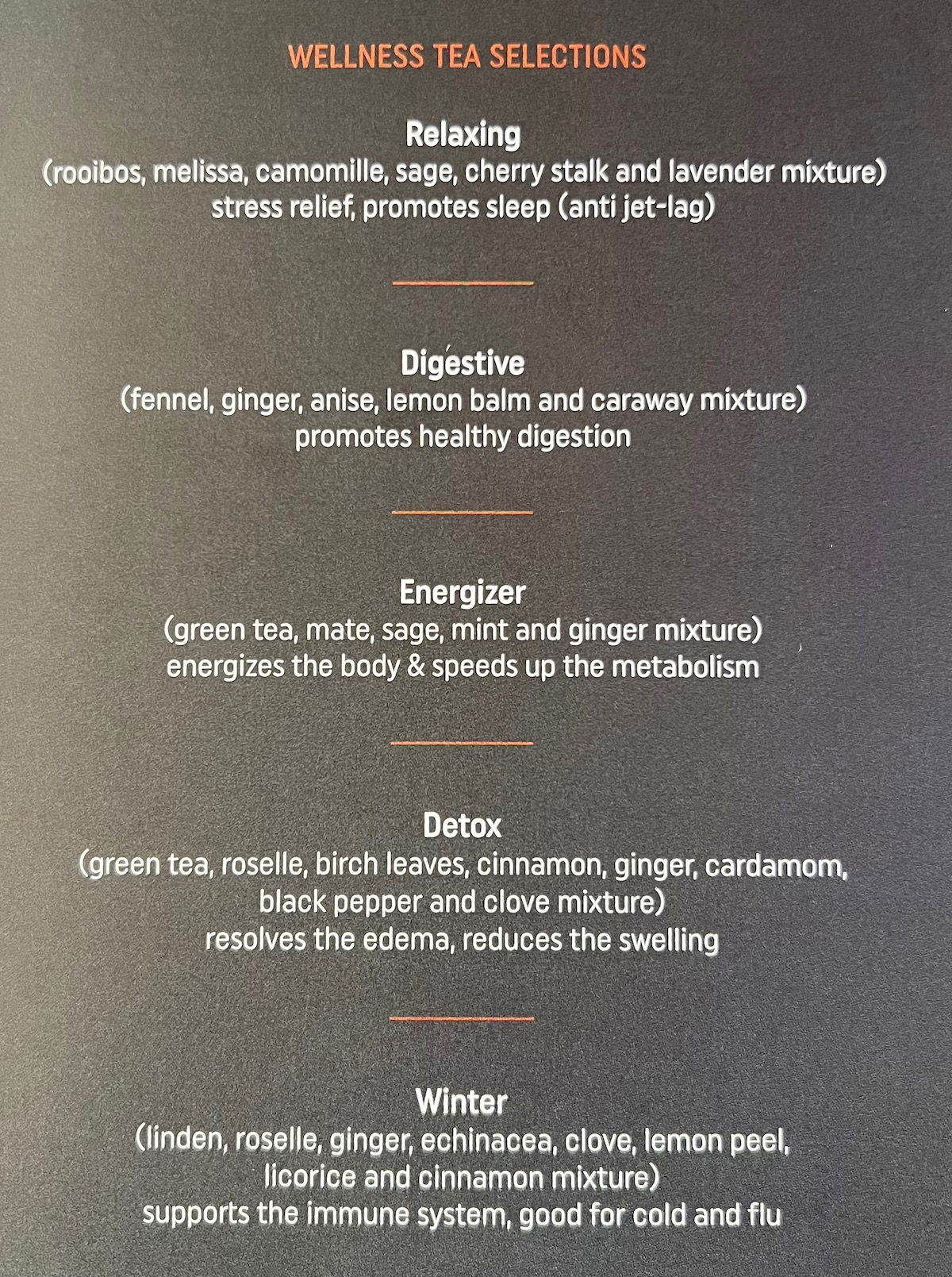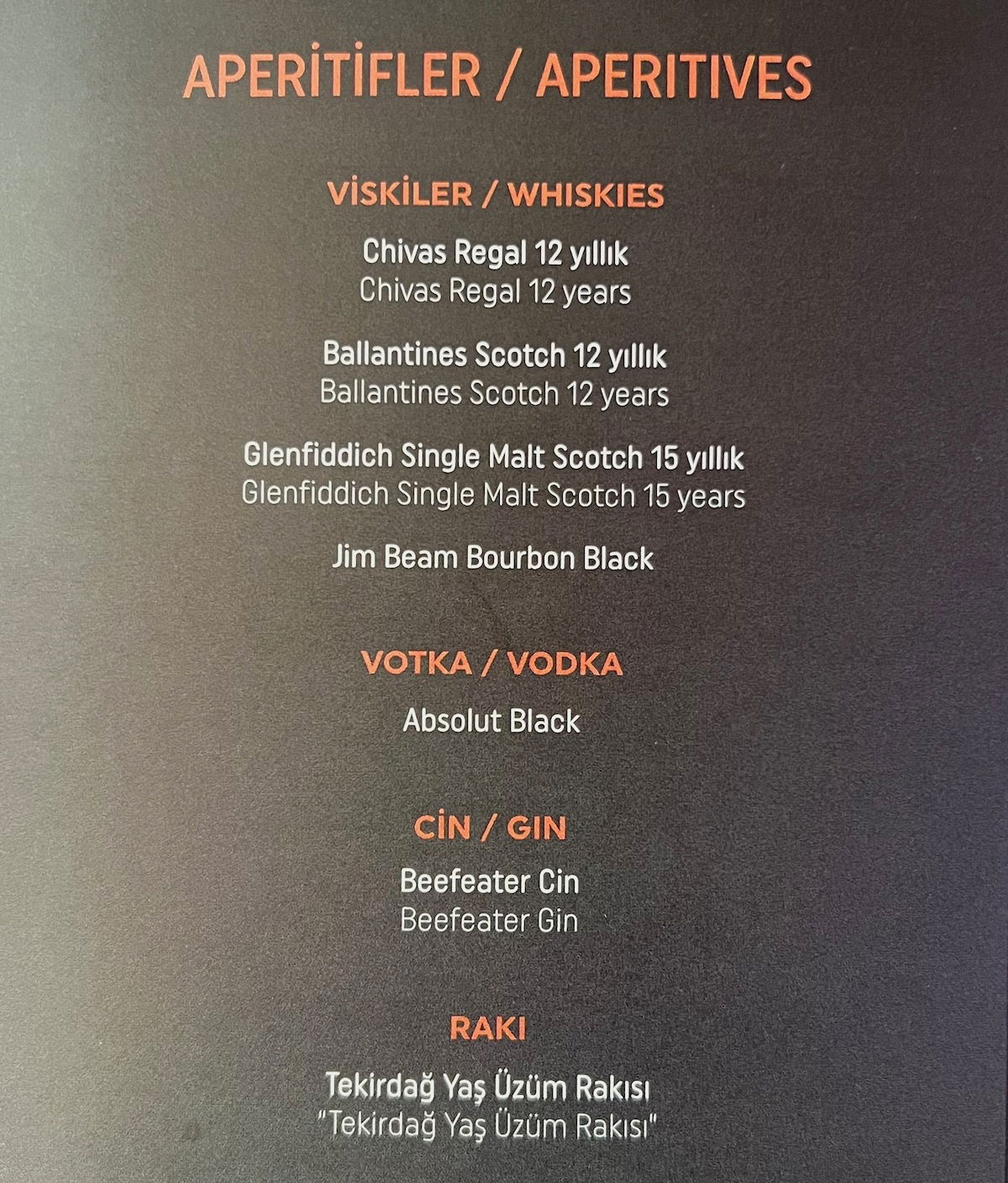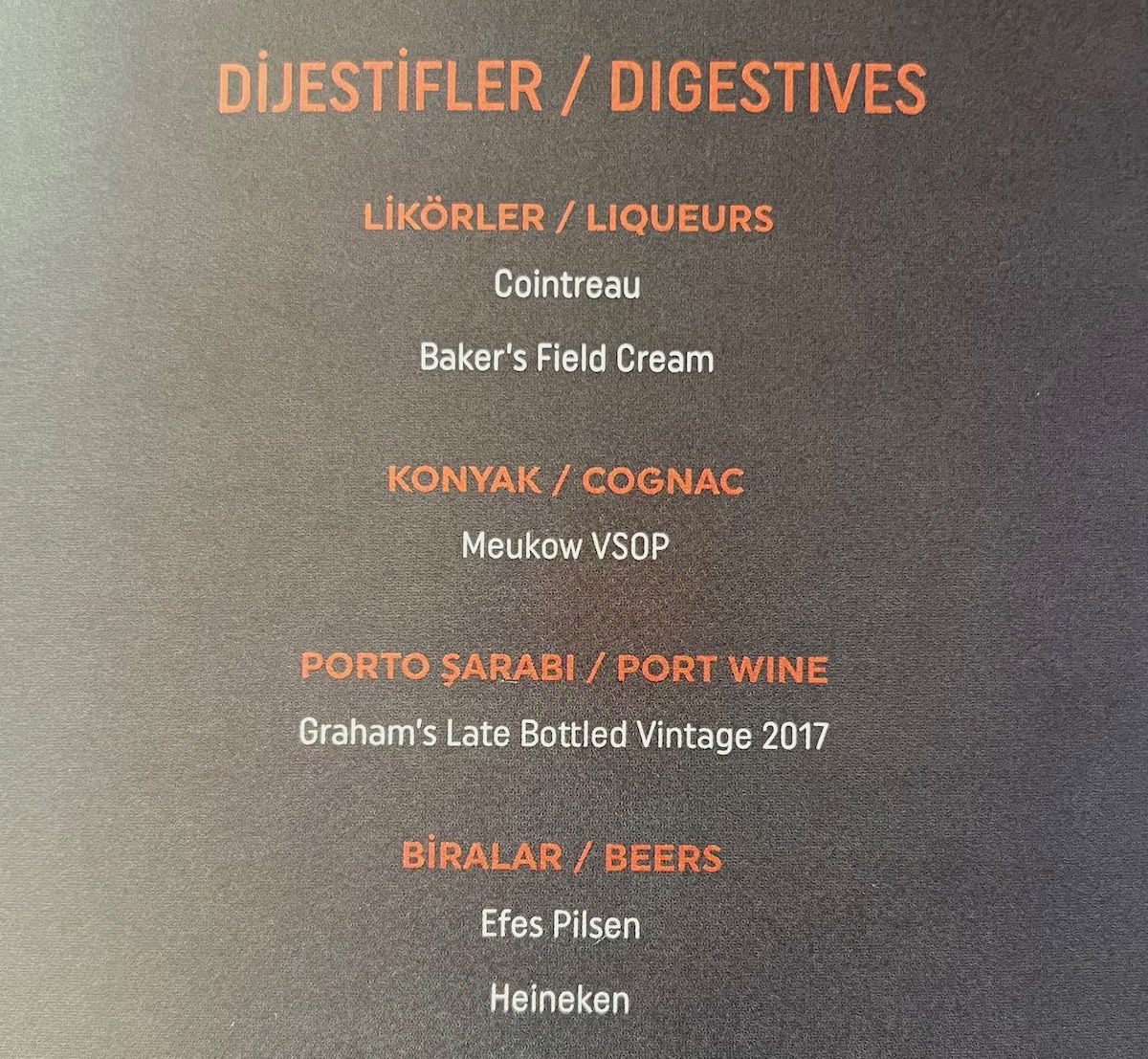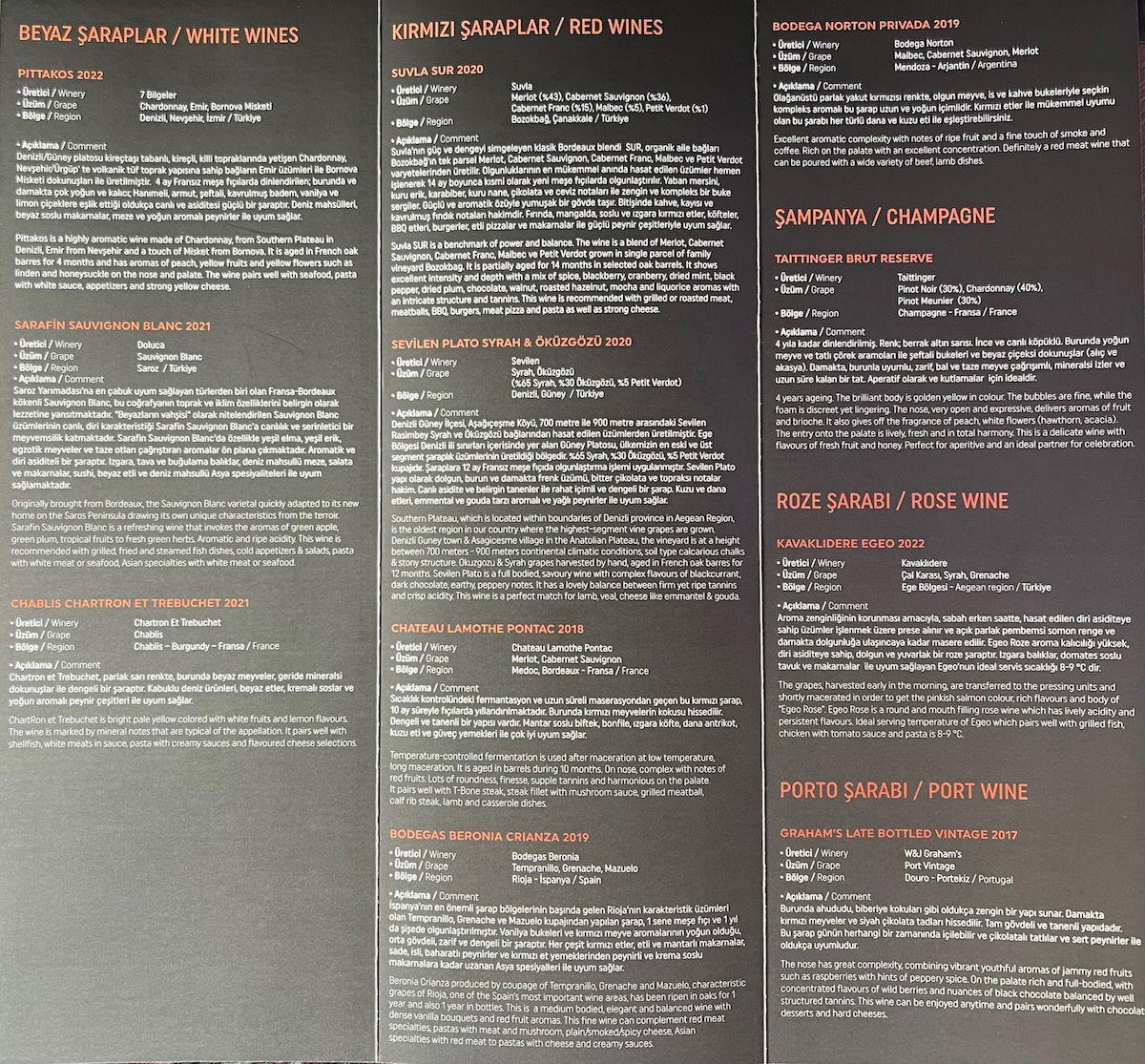 The chef had taken the main course orders on the ground. Around 15 minutes after takeoff, warm towels were distributed on individual plates.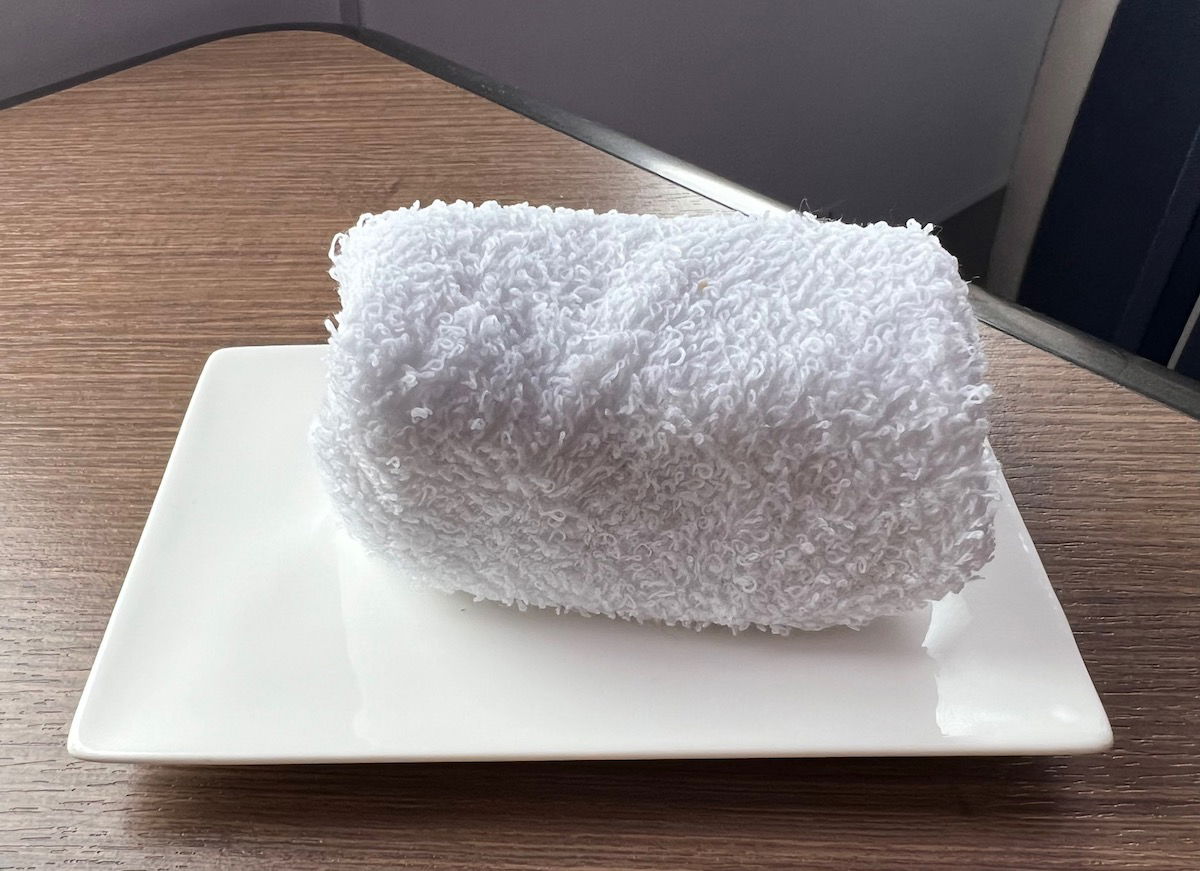 A few minutes after that, drink orders were taken. I ordered some champagne, with Taittinger Brut Reserve being on offer, and that was served with a ramekin of warm mixed nuts. I appreciated how quickly the first drink was served, since some airlines seemingly take forever.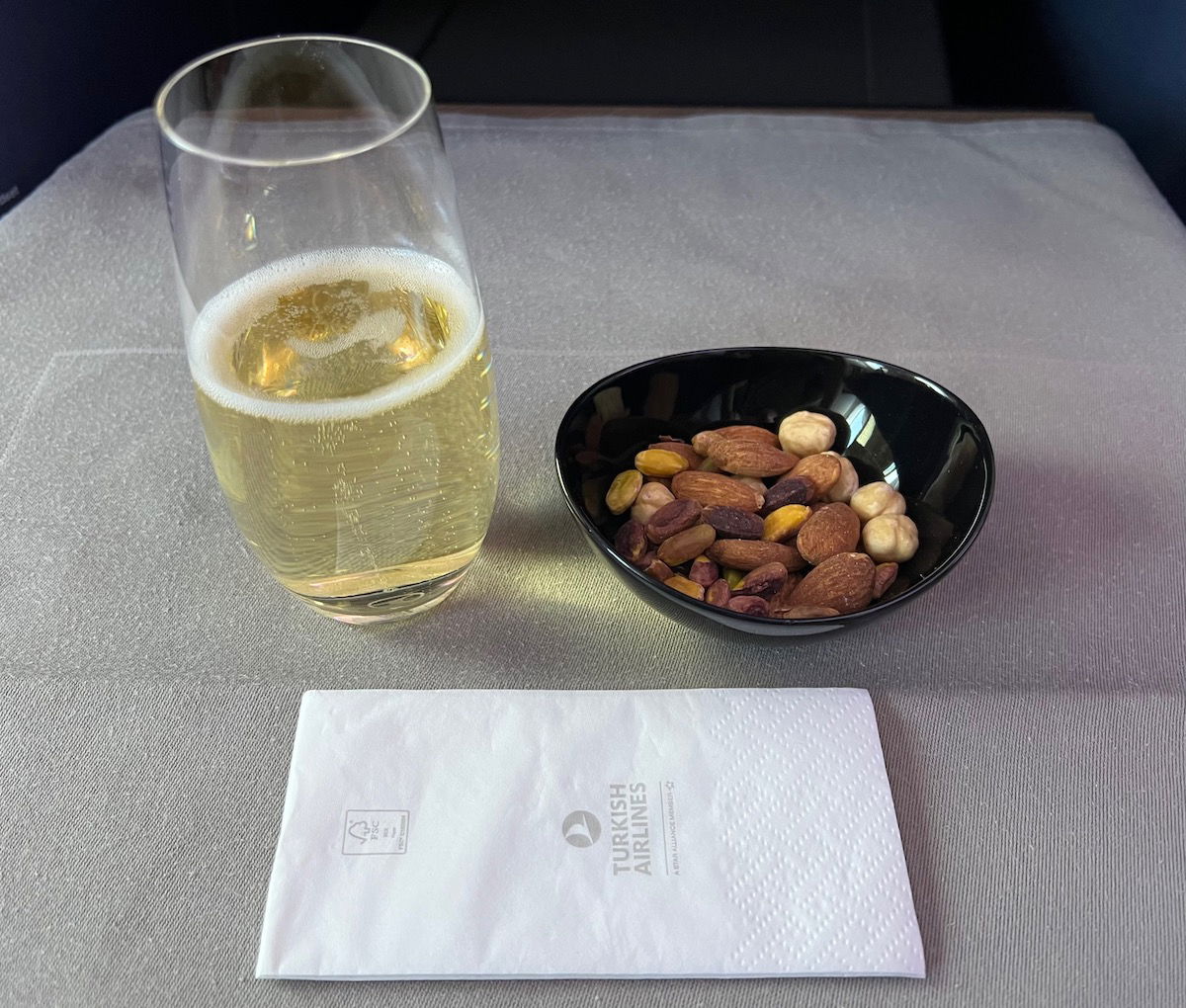 About 30 minutes after takeoff my table was set for lunch. Turkish puts so much effort into its meal presentation, and I appreciate the faux candle, the salt and pepper shaker, and the side plate with butter, olive oil, and a bread basket (which didn't exactly fit the pretzel stick!).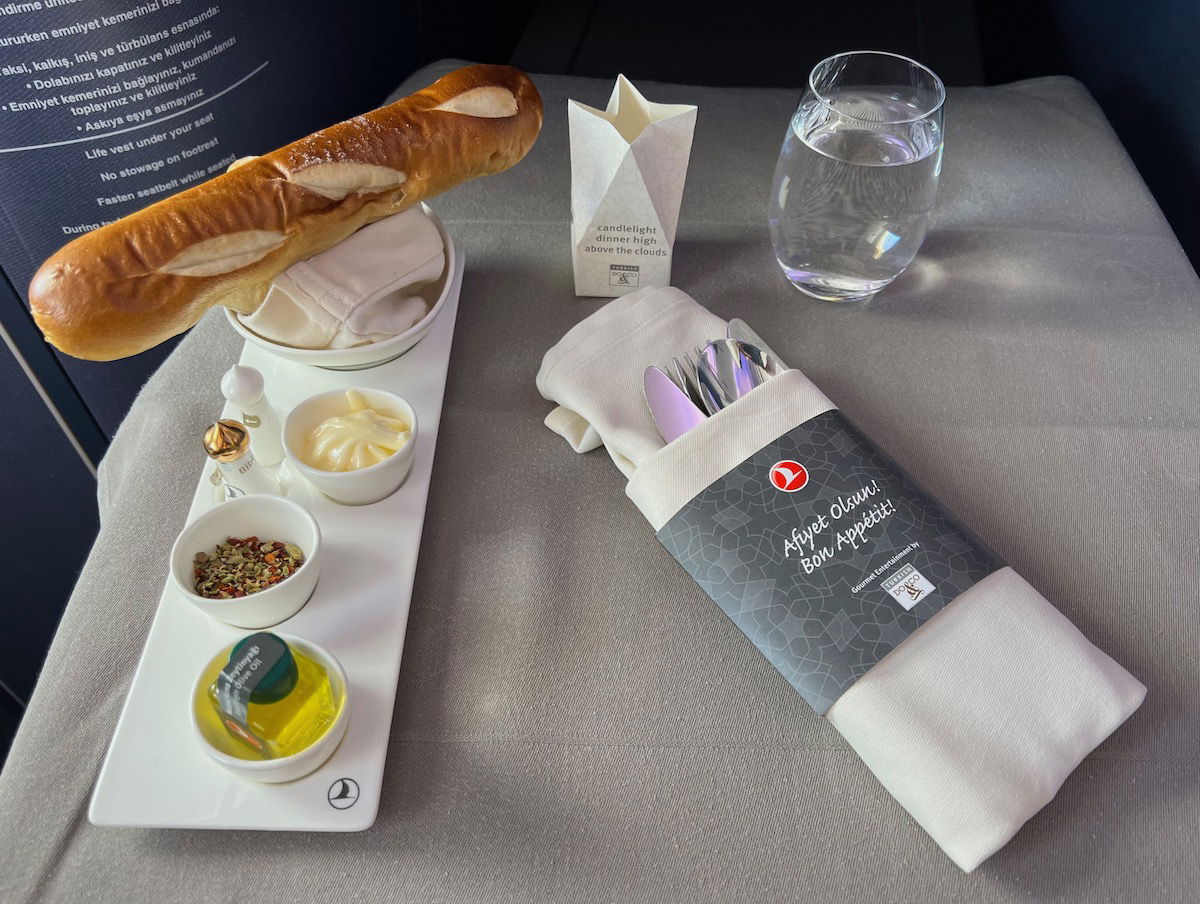 About an hour after takeoff, a trolley was rolled out with the starters. This included the choice of a potpourri of seafood or grilled goat cheese and beetroot salad. You could also have a sweet pumpkin soup and/or garden salad to accompany that.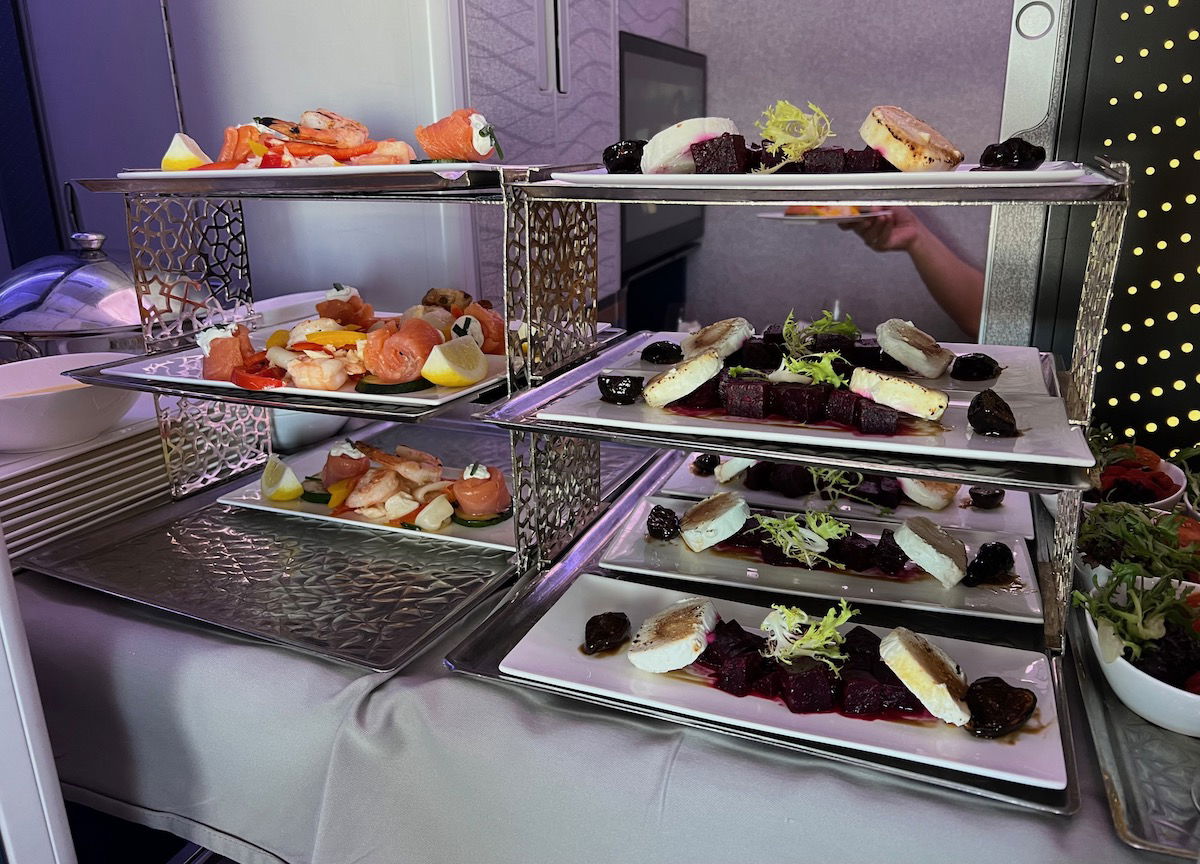 I ordered the seafood starter, which had shrimp, smoked salmon, and grilled calamari, with some zucchini. I also had the pumpkin soup, as well as the garden salad. To drink, I had a glass of the sauvignon blanc. Honestly, what an impressive starter — I can't think of another airline with starters that are to this level!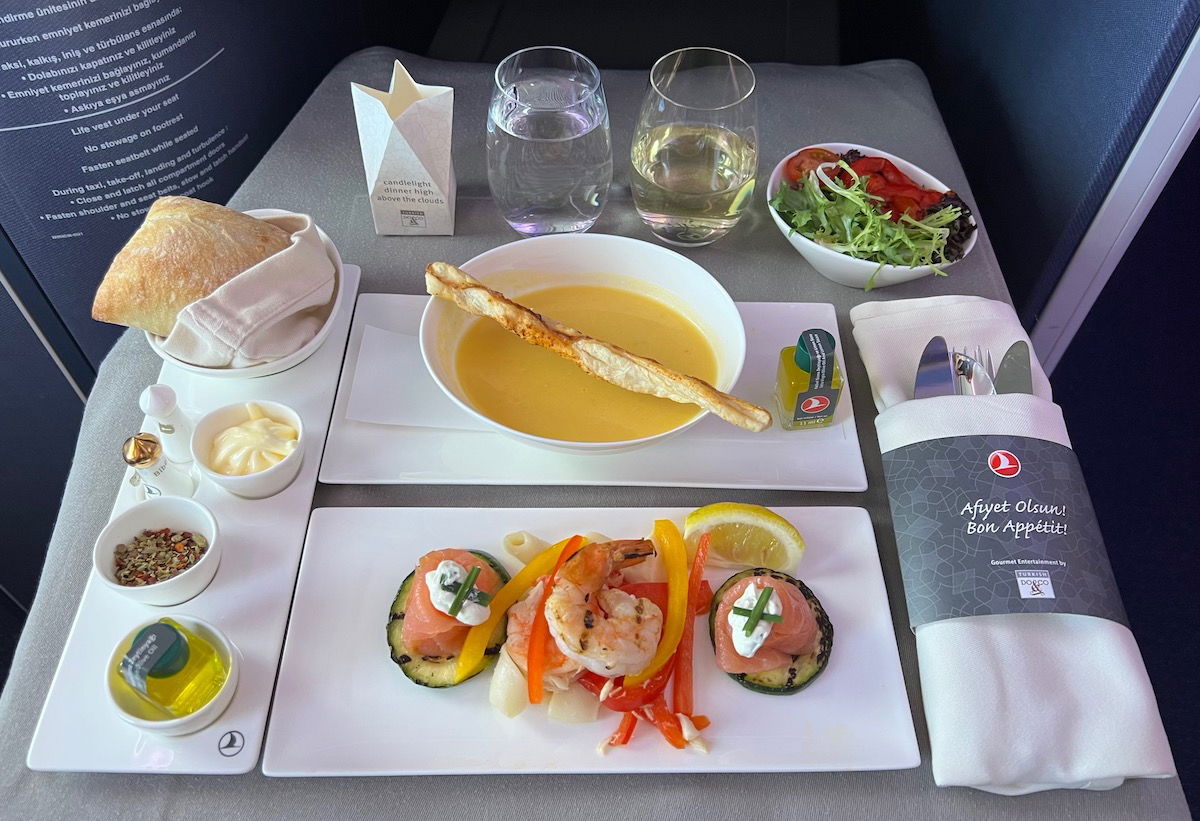 About 30 minutes later, main courses were served. There were three choices, and I selected the fillet of red snapper with sautéed spinach with leek, chateau potatoes, and lemon herb butter. I appreciated how this was even served with a knife specifically for fish dishes. This was one of the best fish dishes I've had on a plane, as the fish was flavorful and moist.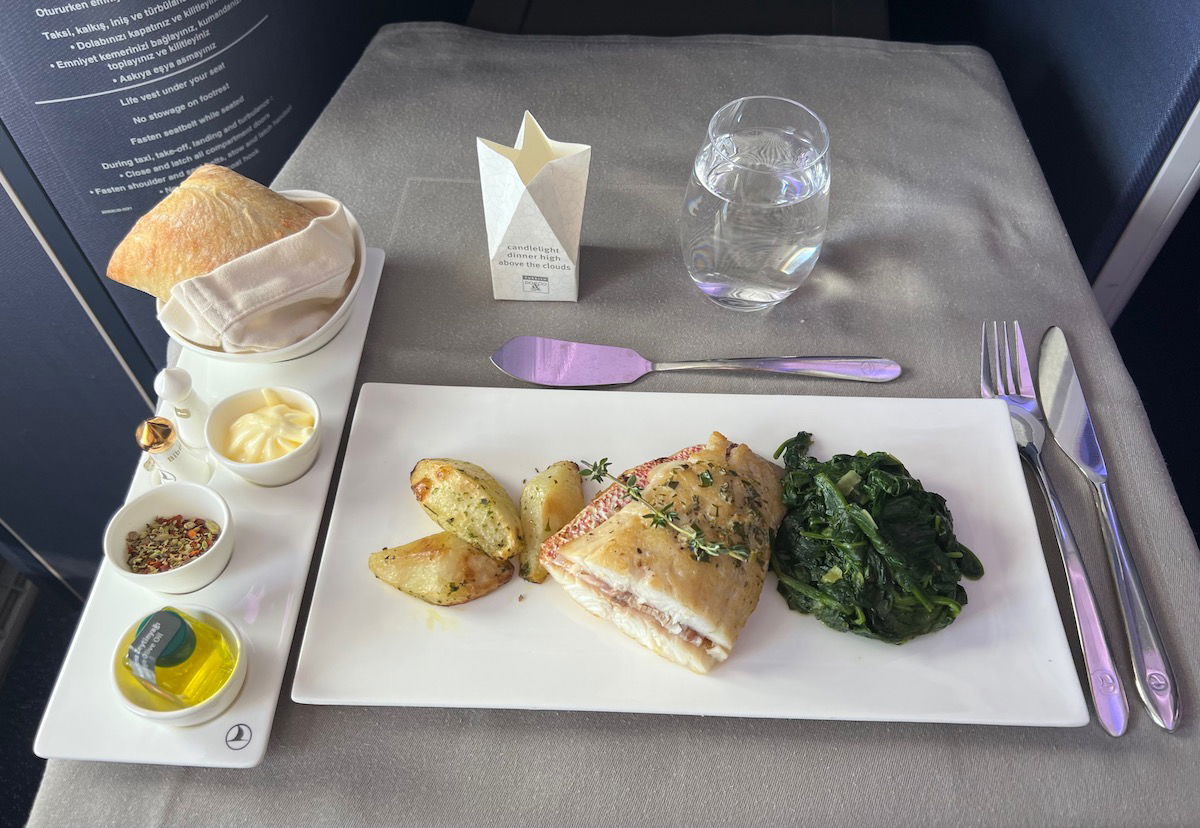 About 20 minutes later, the dessert trolley was rolled down the aisle. I chose the selection of Turkish desserts, and the cheese plate, and had some tea to drink.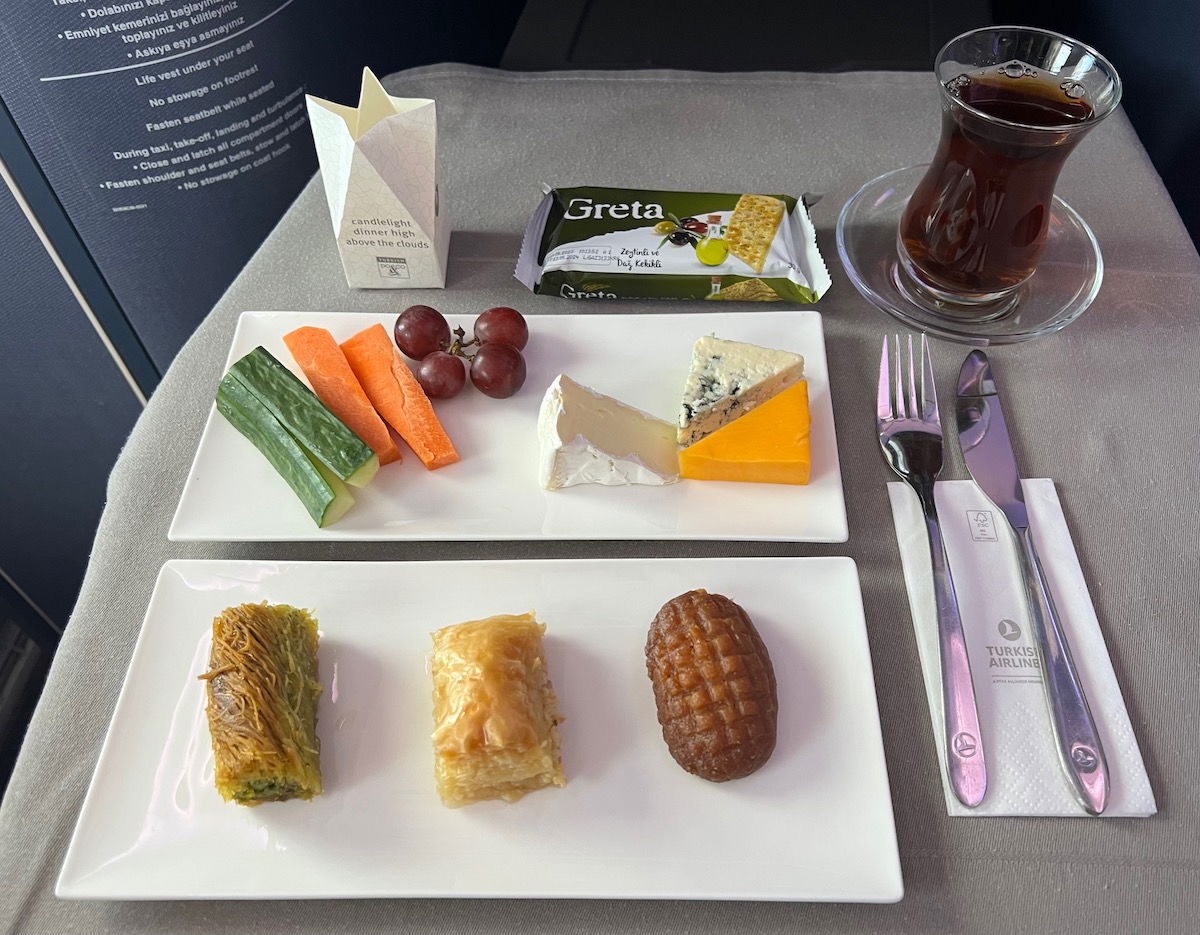 My plates were all cleared around two hours after takeoff. What a fantastic meal this was. Turkish really is in a league of its own when it comes to the quality of business class catering.
Turkish A350 business class lavatories
After the meal, I checked out the business class lavatory situation. Turkish has two lavatories in business class in front of the cabin. The lavatories were modern, but weren't particularly large.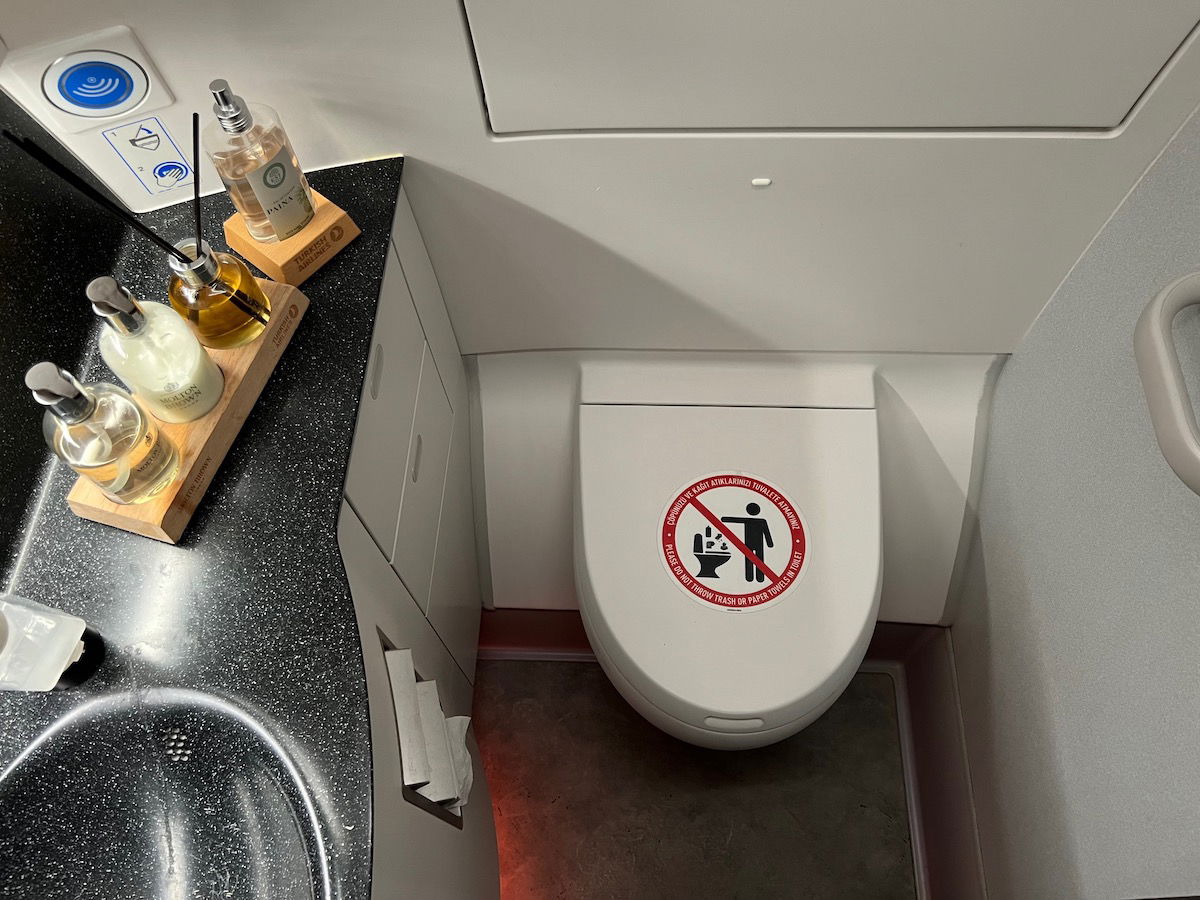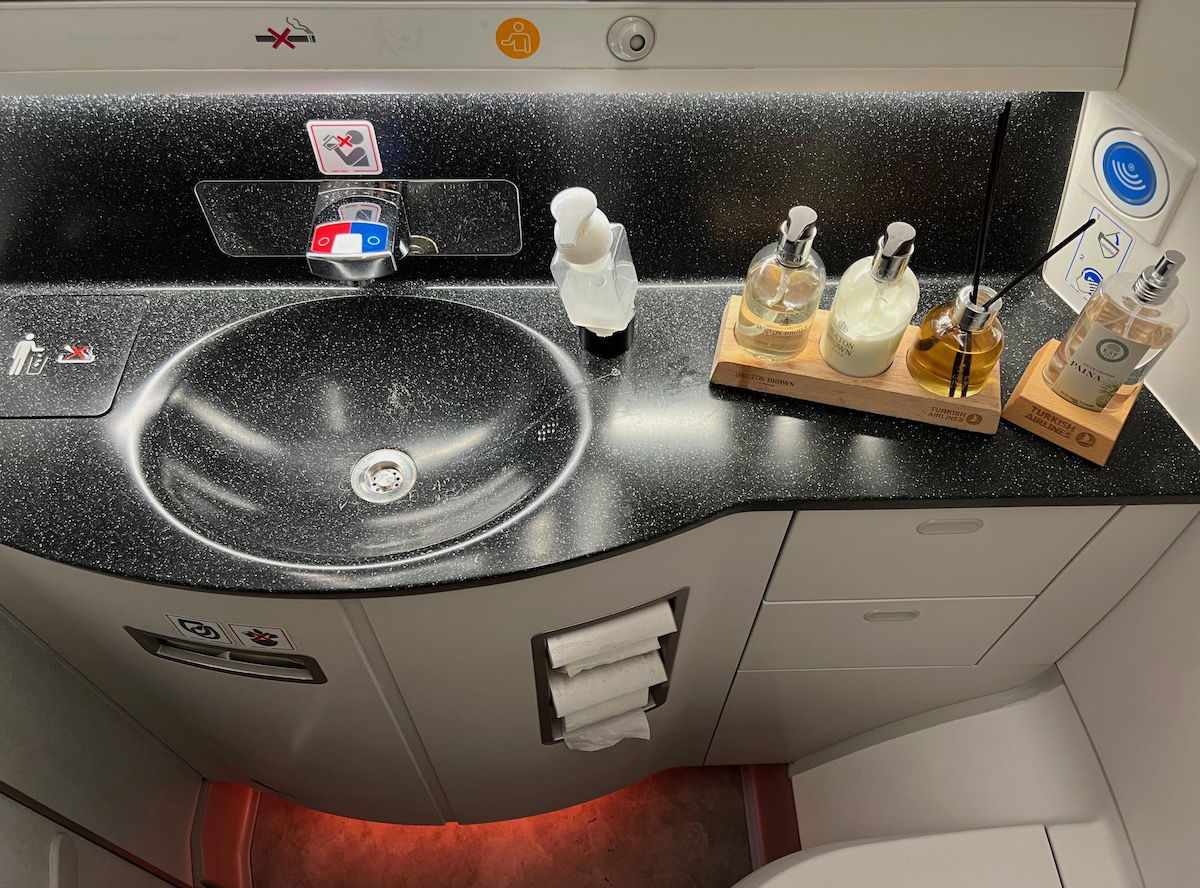 As is standard, they featured Molton Brown amenities, which is something I love about Turkish.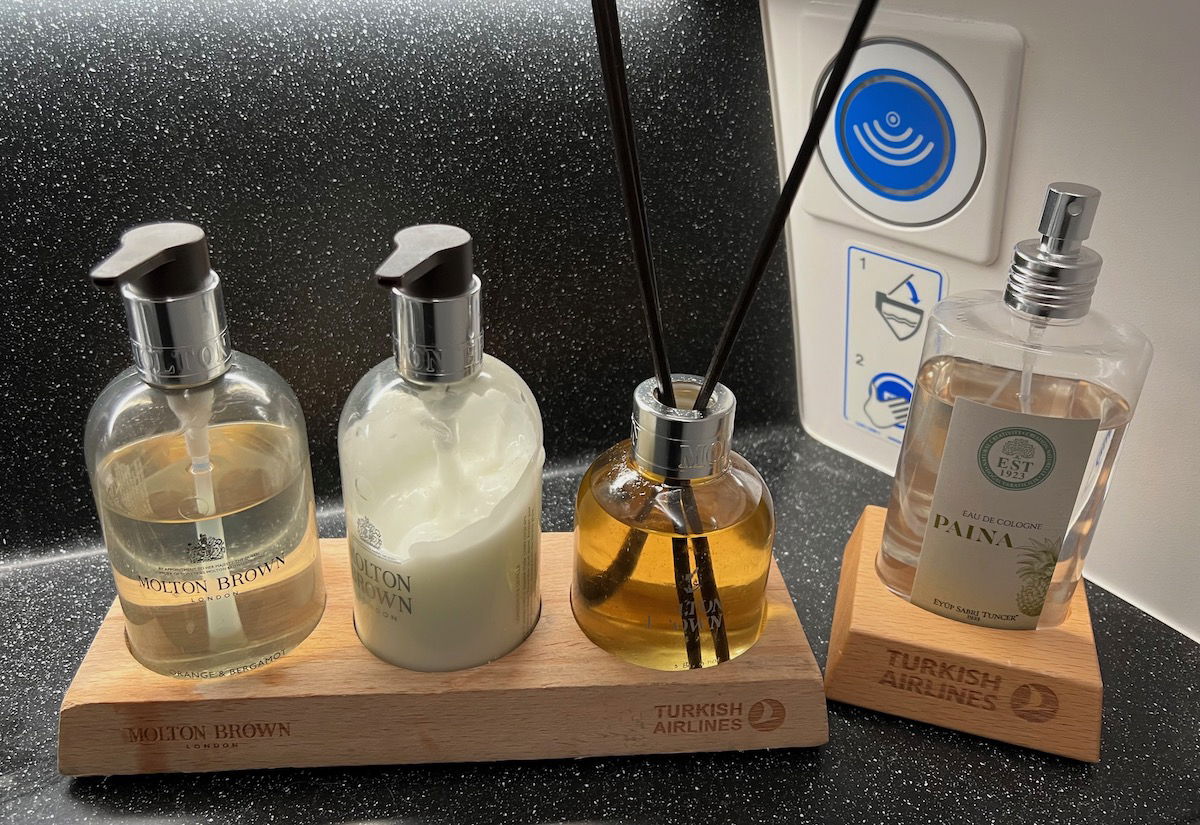 Turkish A350 business class bed
After the meal, I decided to try to get some rest, so I asked the crew to make my bed. Turndown service is a feature in Turkish business class, as there's additional bedding that isn't at your seat during boarding. The bedding included a (thin) mattress pad, and a proper blanket. On top of that, my pillow was put in a pillowcase.
I found the pillow to not have much padding, so I took a pillow from an empty seat next to me, which helped me to settle in.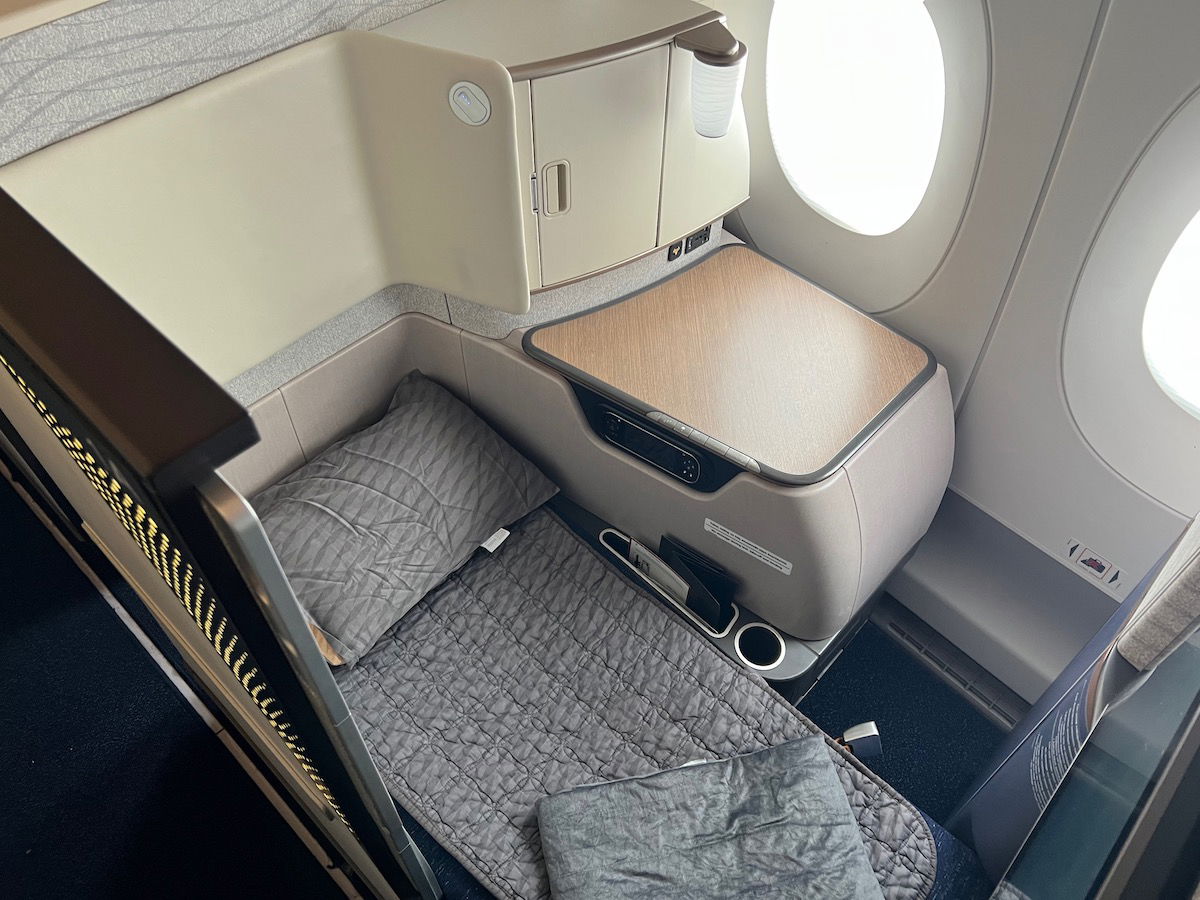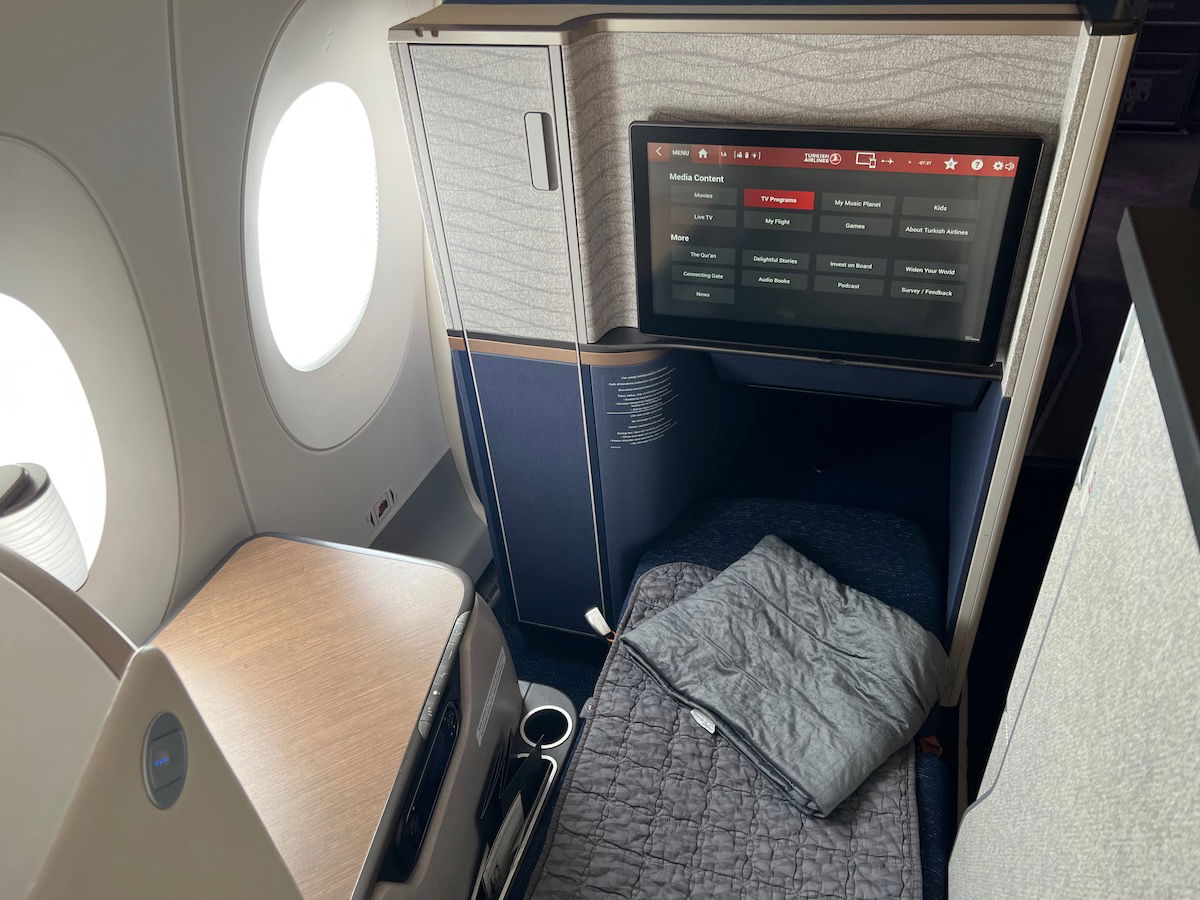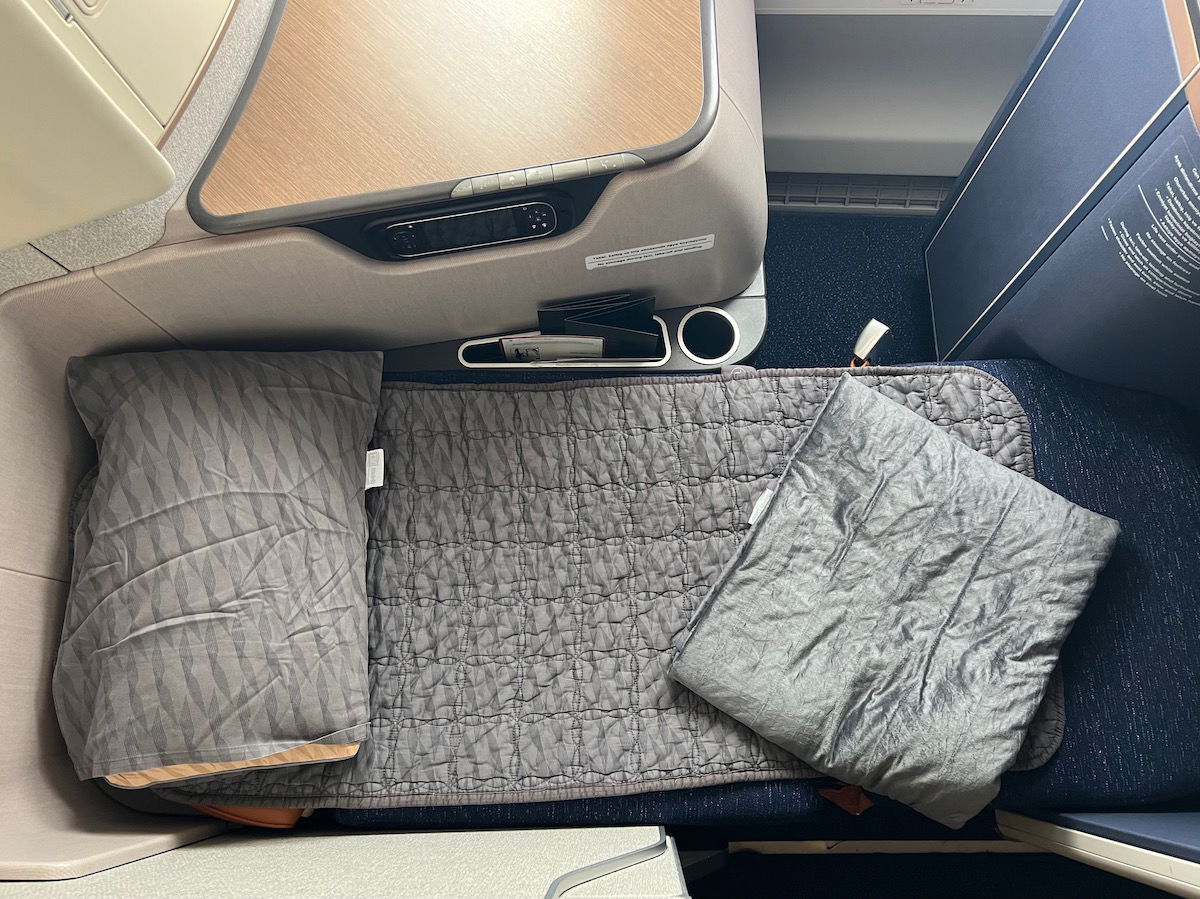 The good news is that I found the bed to be quite comfortable, and I liked the privacy afforded by the door. The bad news is that given the early departure of my flight, I really wasn't that tired. I managed to sleep for about 90 minutes, but then woke up again, and was wide awake.
That was all the sleep I ended up getting on this flight. I ultimately didn't mind that one bit, since it allowed me to get lots of work done. The crew did a good job keeping me hydrated, and I was offered lots of water, and also had a cappuccino and a Turkish coffee.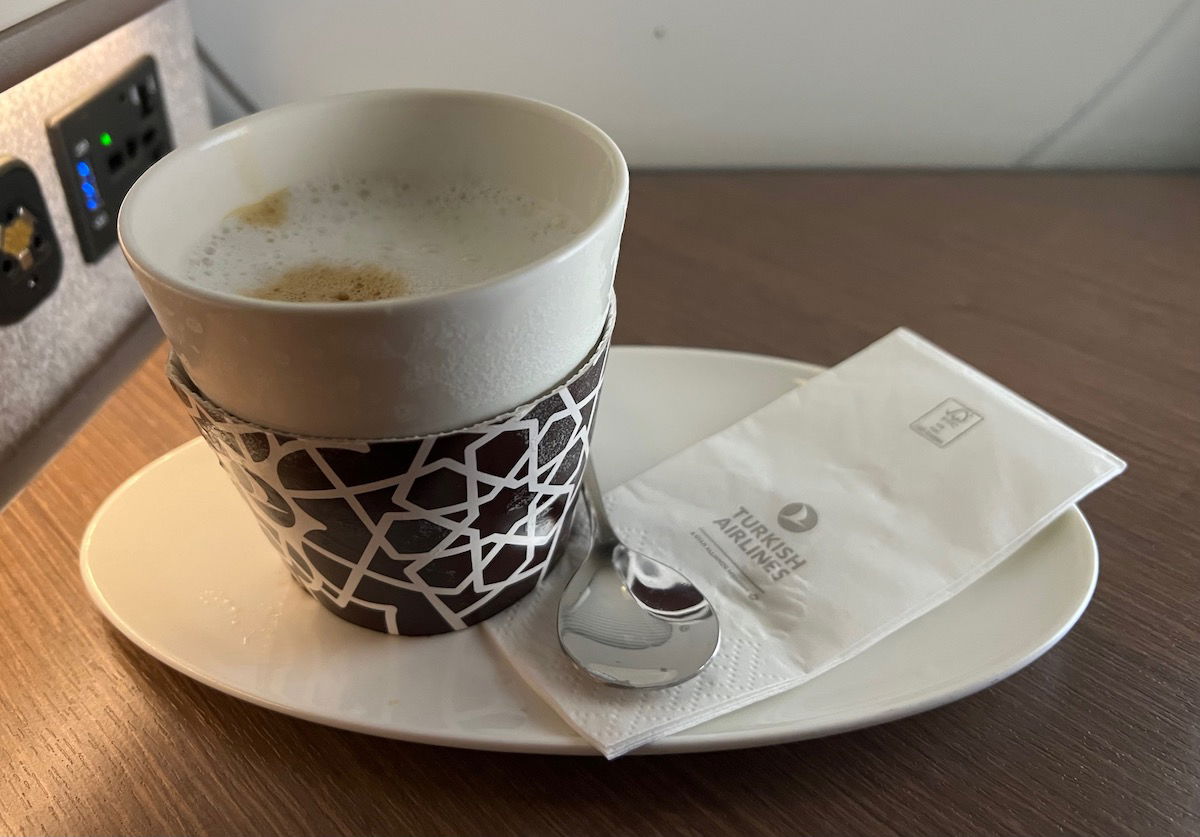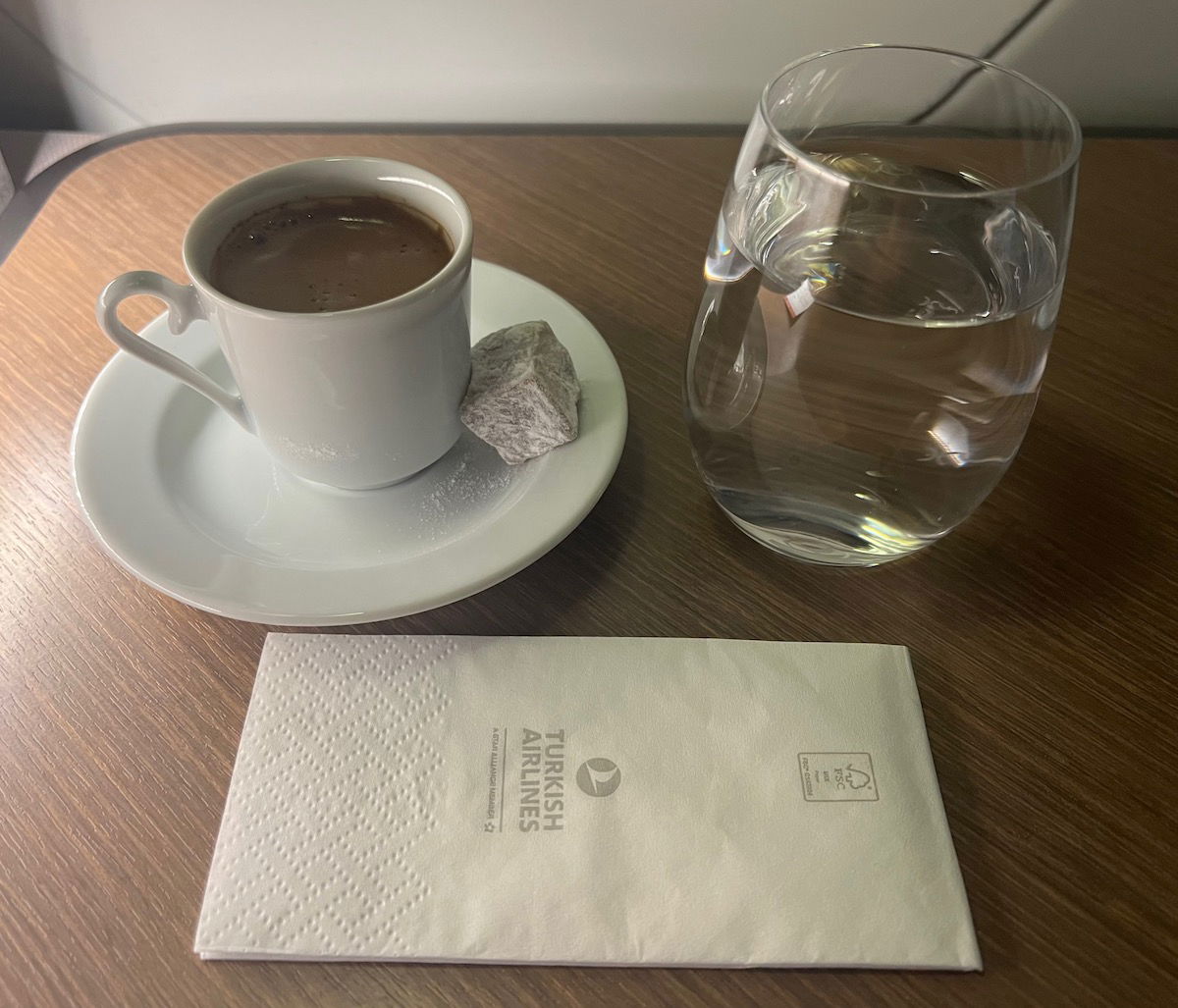 Turkish business class breakfast
About two hours before landing, the crew slowly started turning on the cabin lights, just as the sun was starting to come up outside.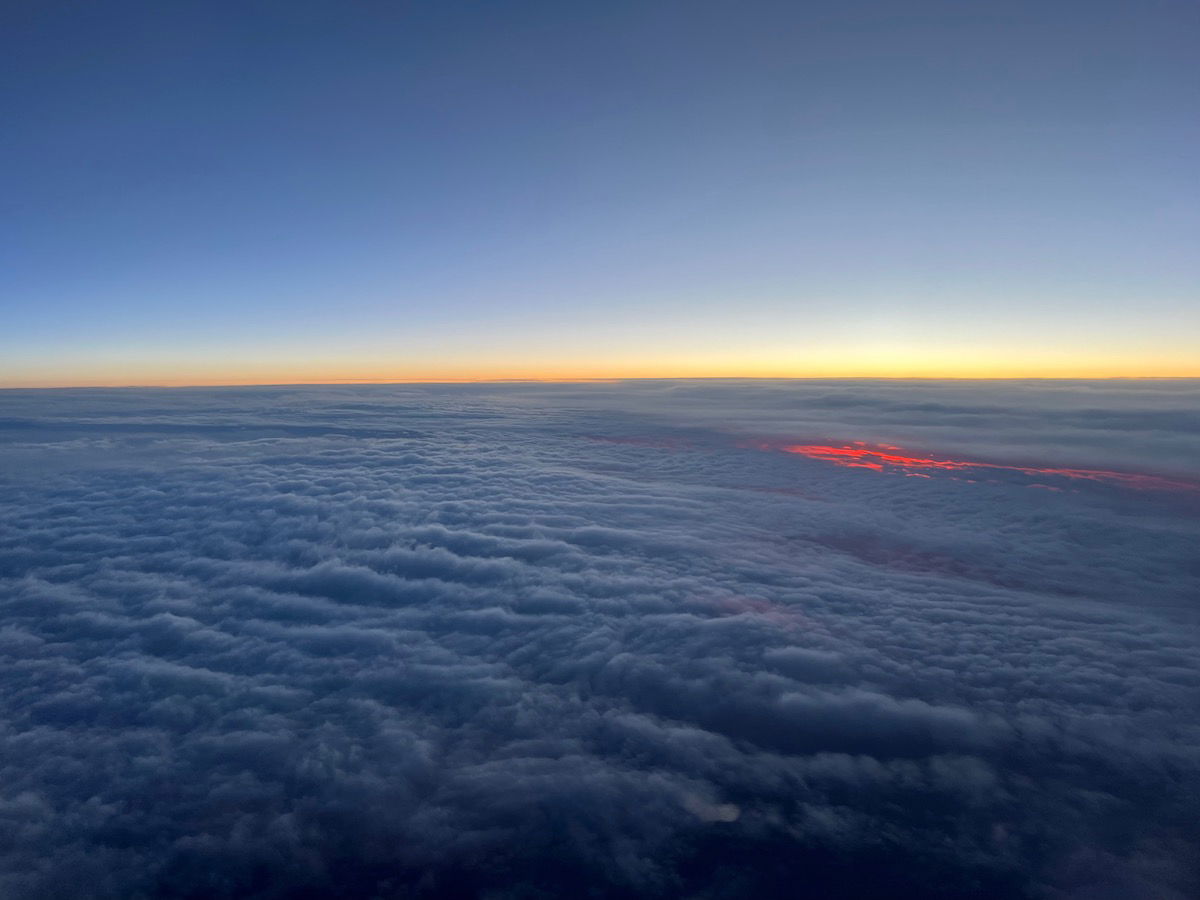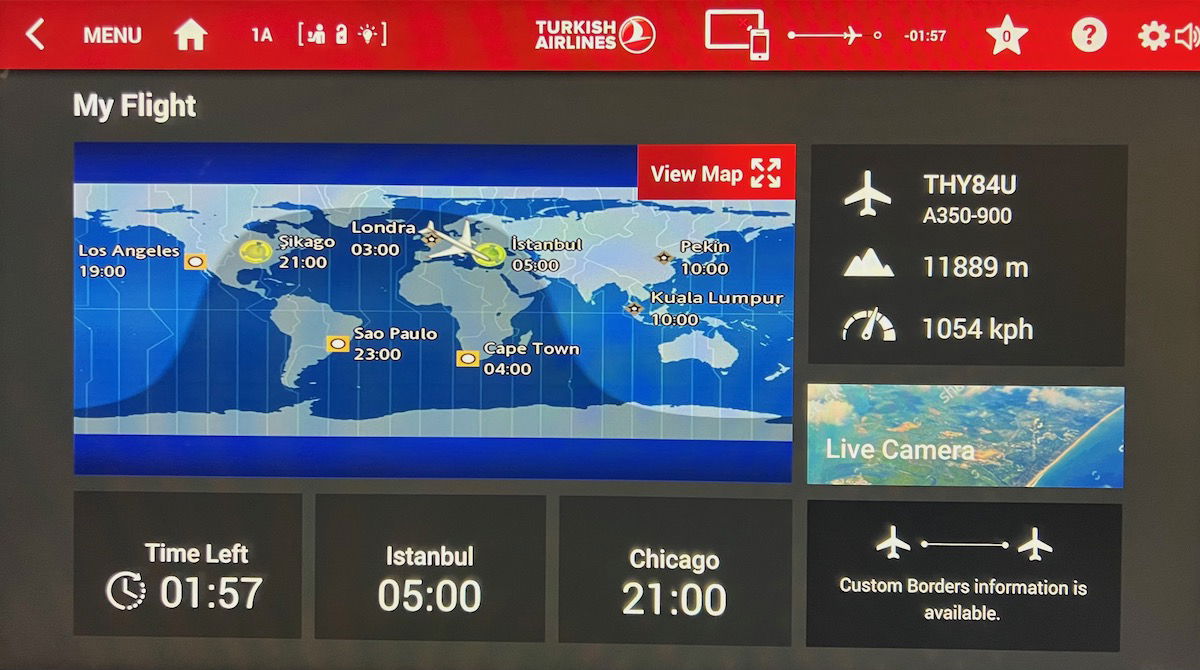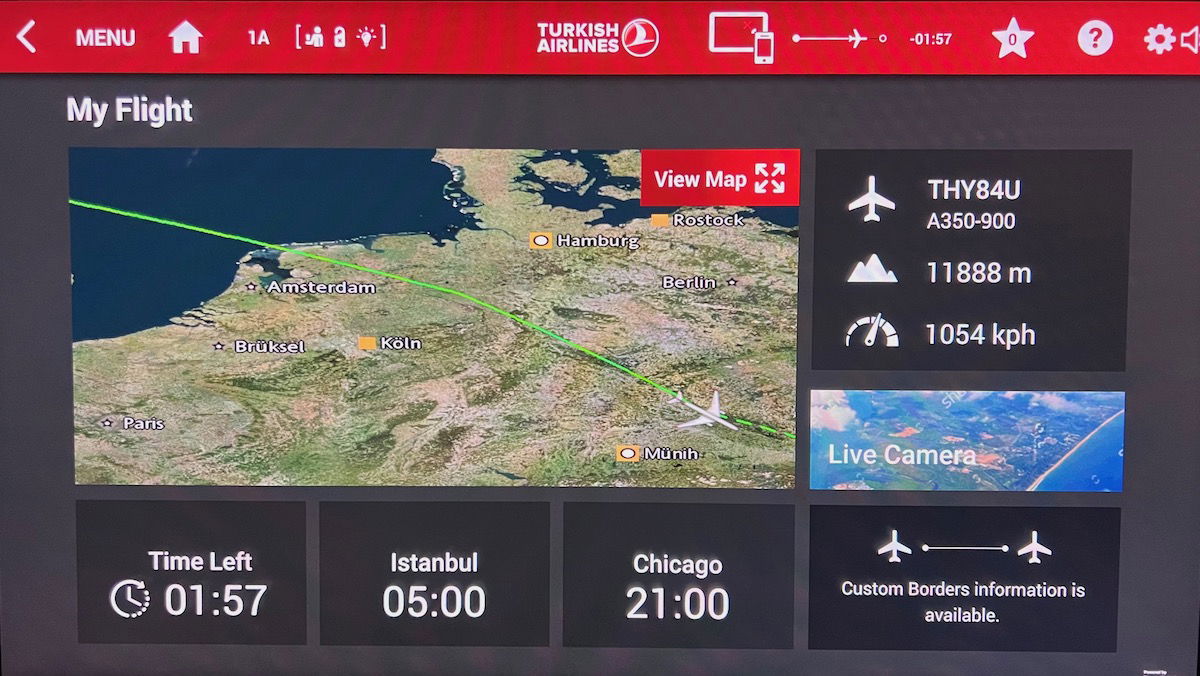 Below you can find the Turkish business class breakfast menu for this flight.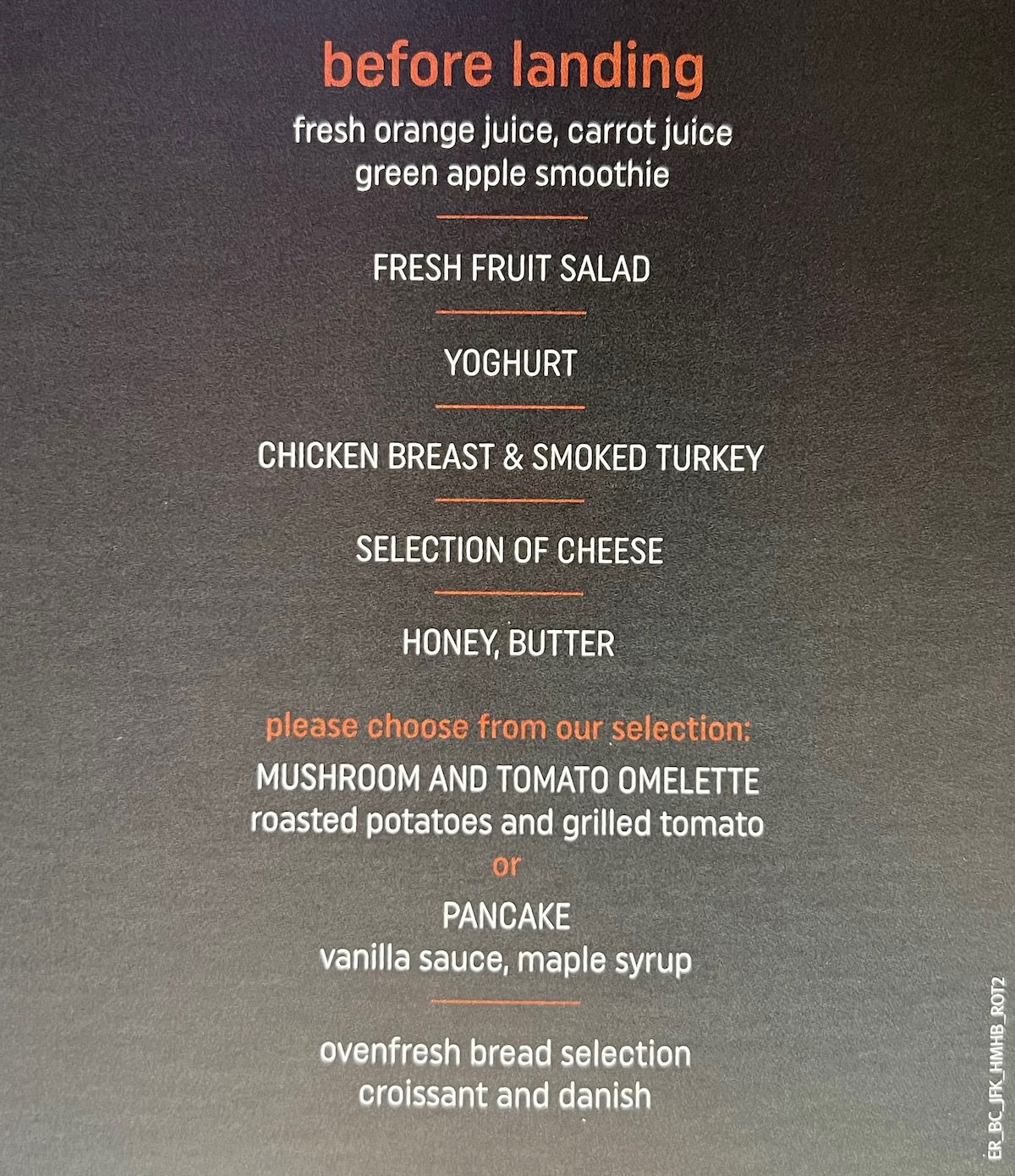 Service started with the choice orange juice or water. Unfortunately this didn't seem to be the freshly squeezed orange juice that Turkish ordinarily offers, so I kind of regretted selecting that.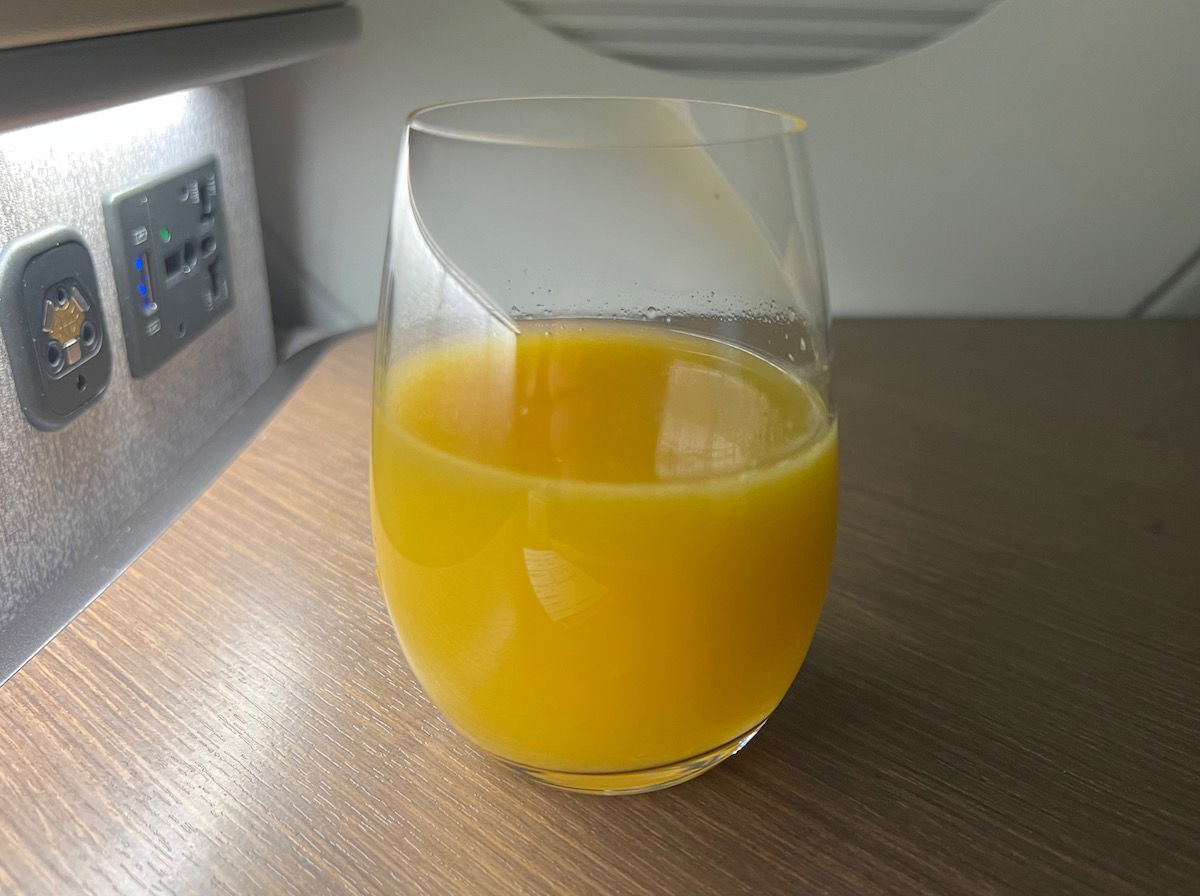 About 90 minutes before landing, I was brought a tray with the breakfast starter. This included some fresh fruit, cheese with tomato and cucumber, yogurt, smoked turkey, and chicken breast. I had a regular coffee to go along with this.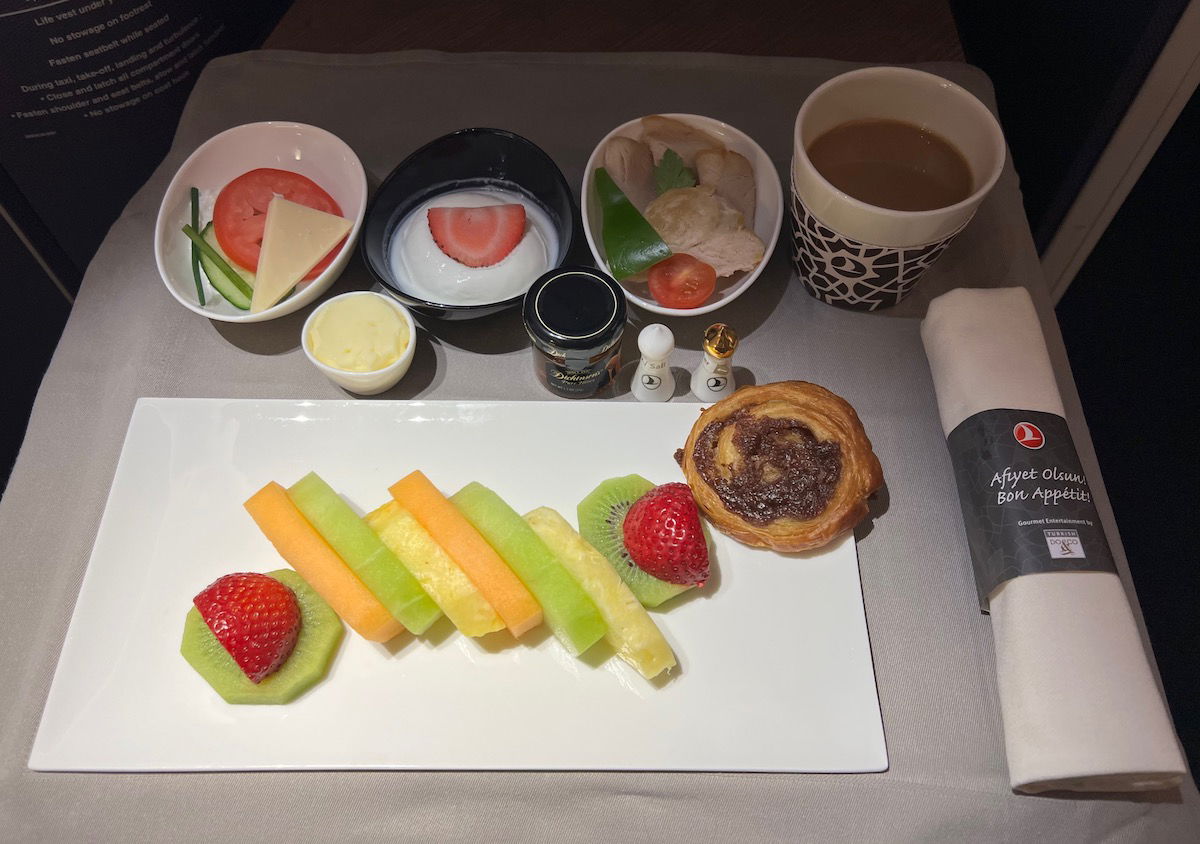 For the main course, I selected the mushroom and tomato omelet with roasted potatoes and grilled tomato. It was honestly one of the best airplane omelets I've ever had. It was fluffy and wasn't swimming in grease. Why can't other airlines serve omelets this good?!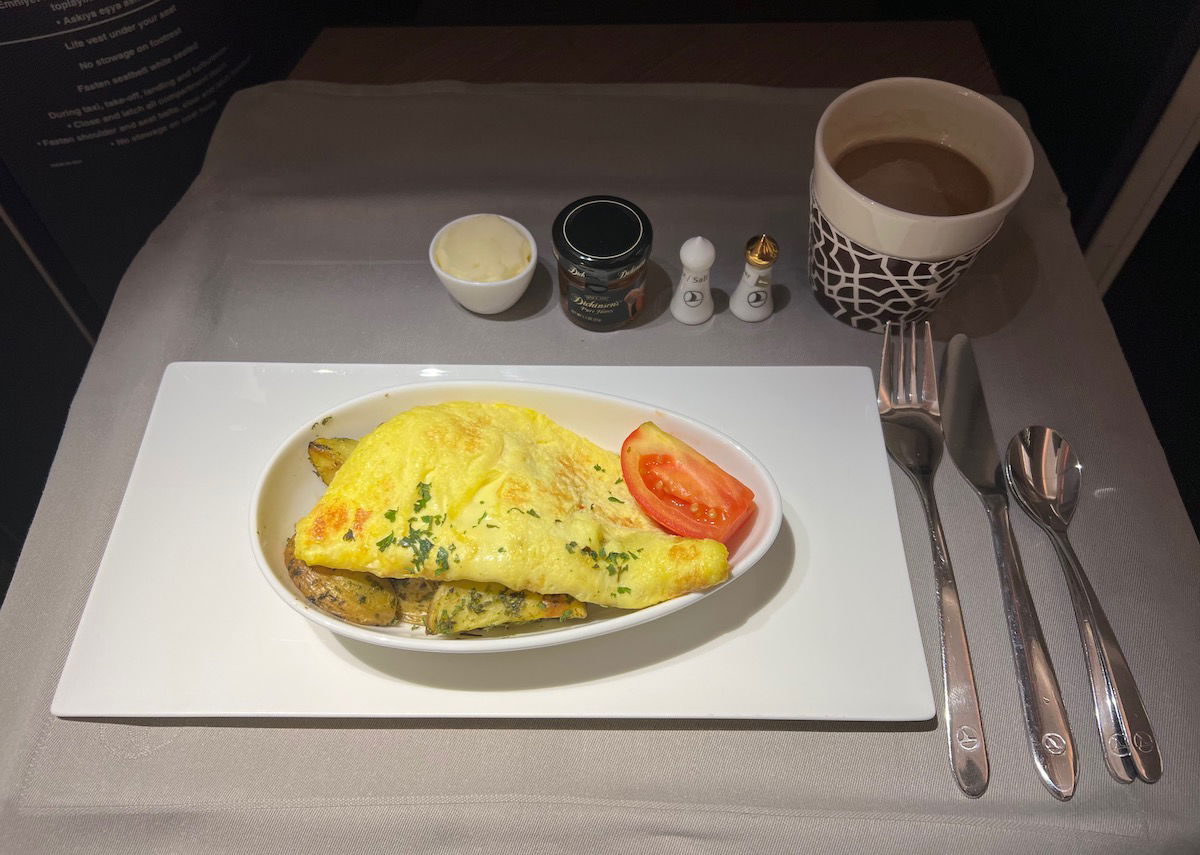 Turkish business class service
I find service on Turkish Airlines to typically range from good to exceptional. At a minimum, crews are courteous, professional, and responsive. I'd say the crew on this flight was in the good category, but not exceptional (unlike on my connecting flight).
The crew was friendly enough and responsive to all requests, though wasn't necessarily over-the-top friendly or overly hospitable, as I sometimes find to be the case on Turkish. That's not at all to say that the crew wasn't good, but rather it's just to recognize that some Turkish crews really go above and beyond, in my experience.
Turkish A350 arrival in Istanbul
At 6:20AM local time the captain was back on the PA to inform us that we'd be descending shortly, and would be landing in around 35 minutes. I feel like the flights I take through Istanbul usually land at night, so I absolutely loved having an early morning arrival, as the views were breathtaking.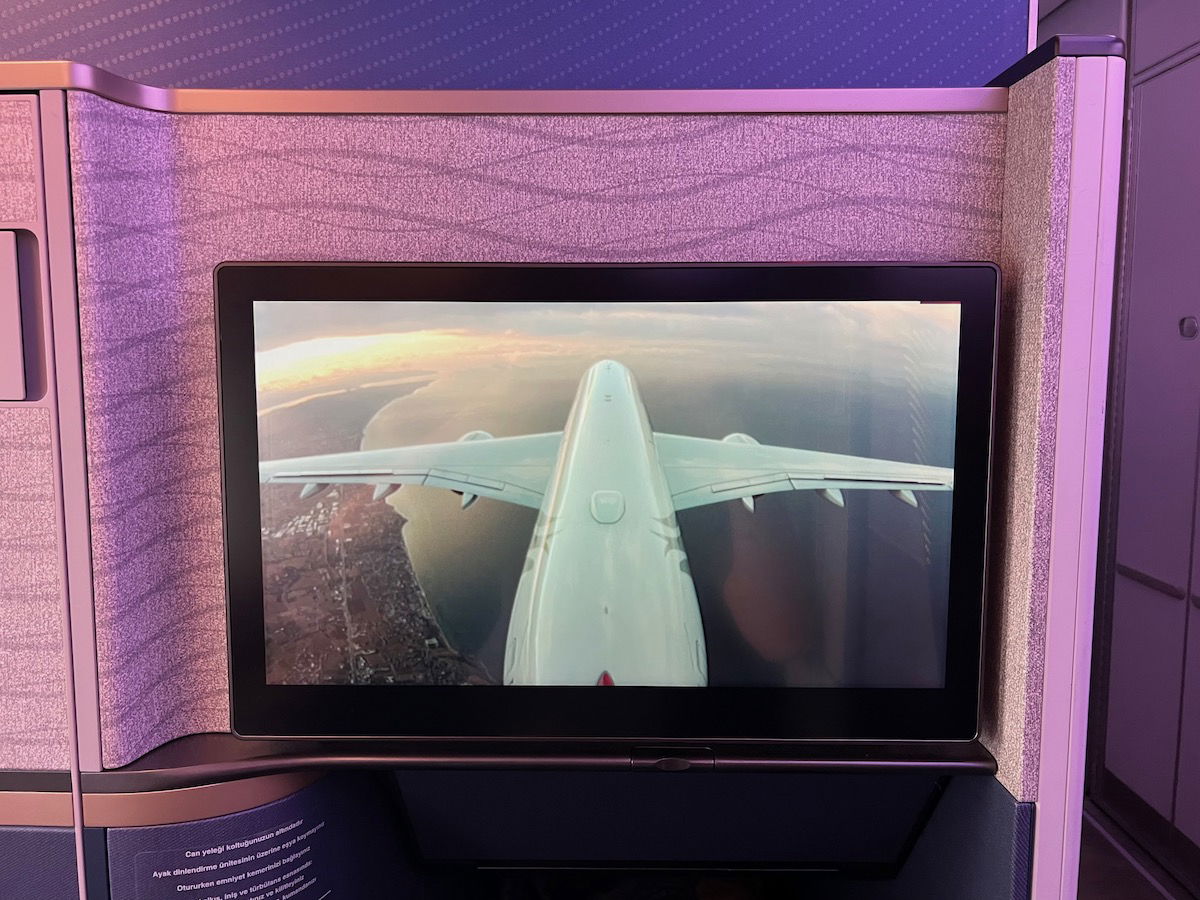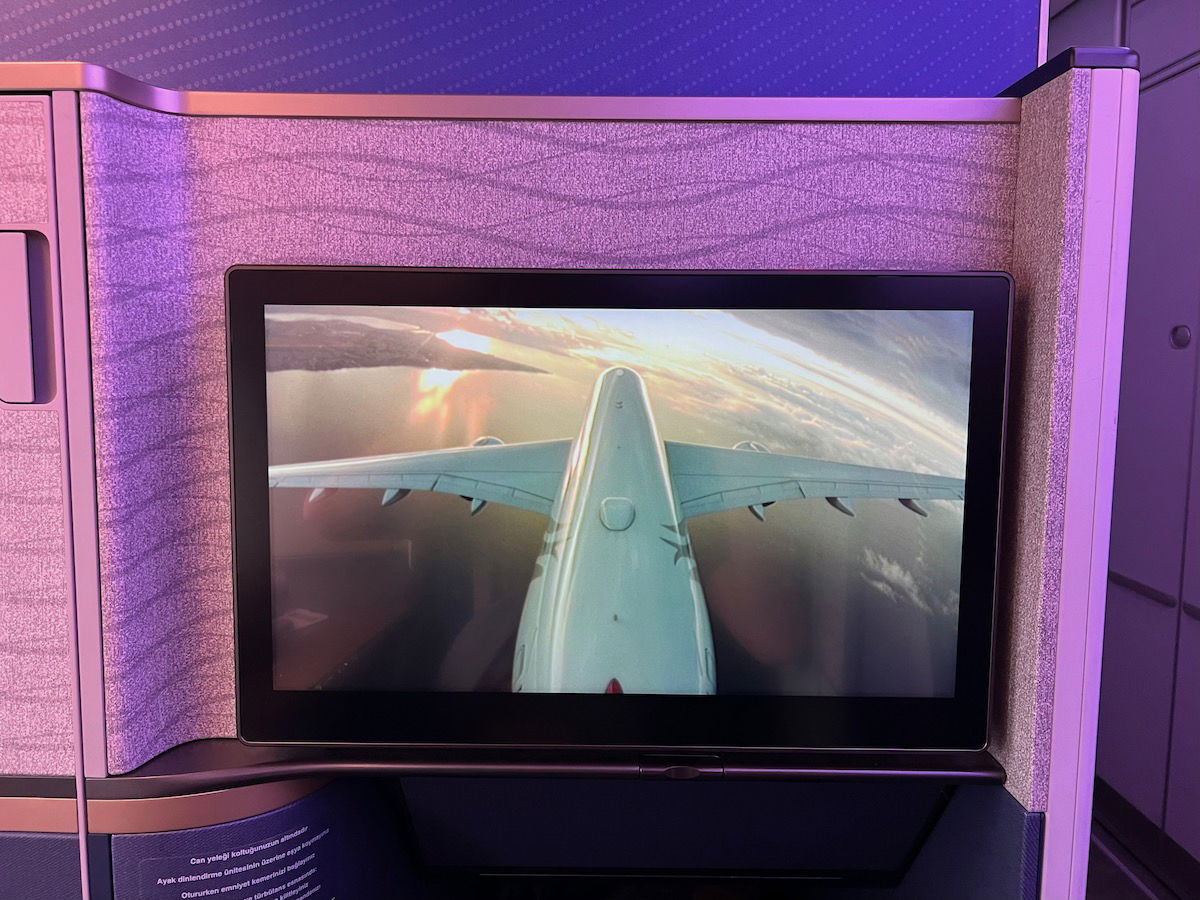 Istanbul is such a massive city, and I think the below really captures that.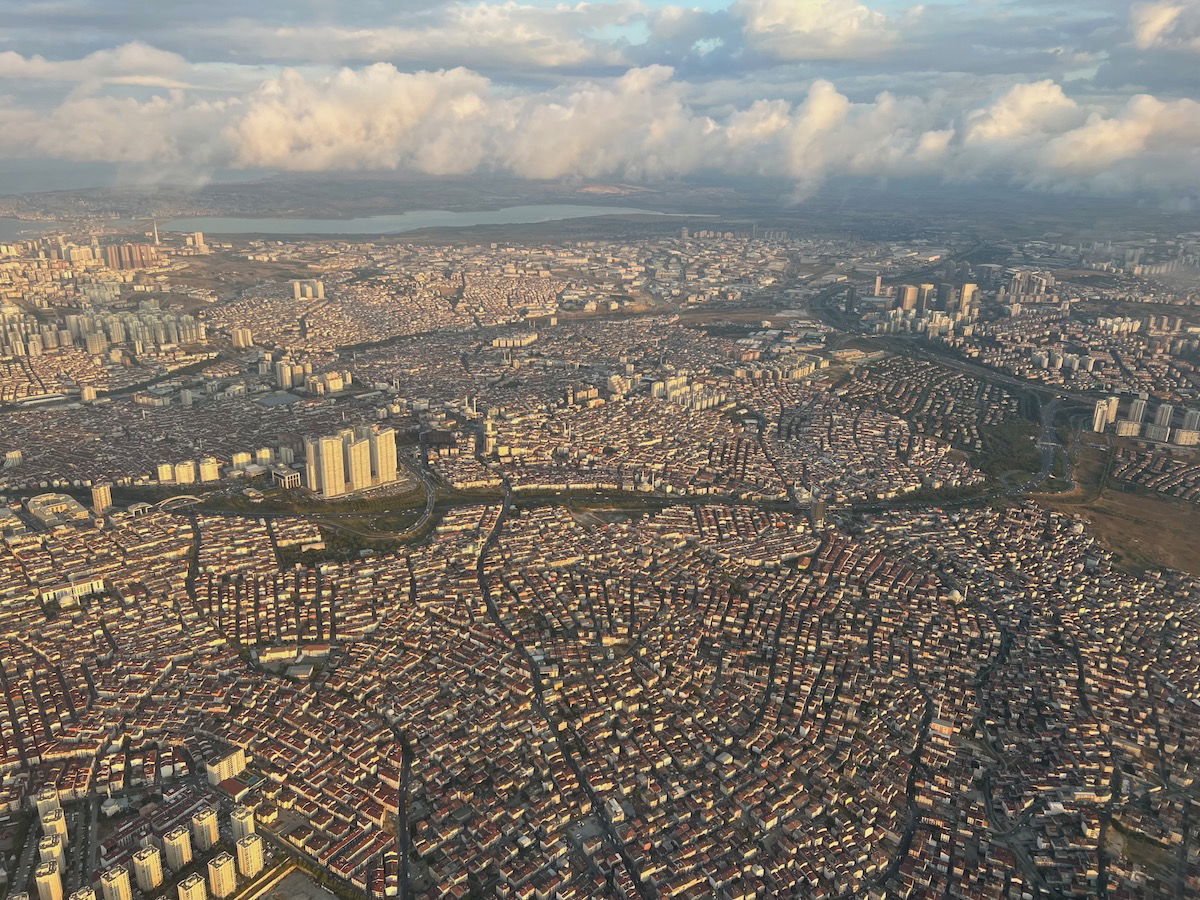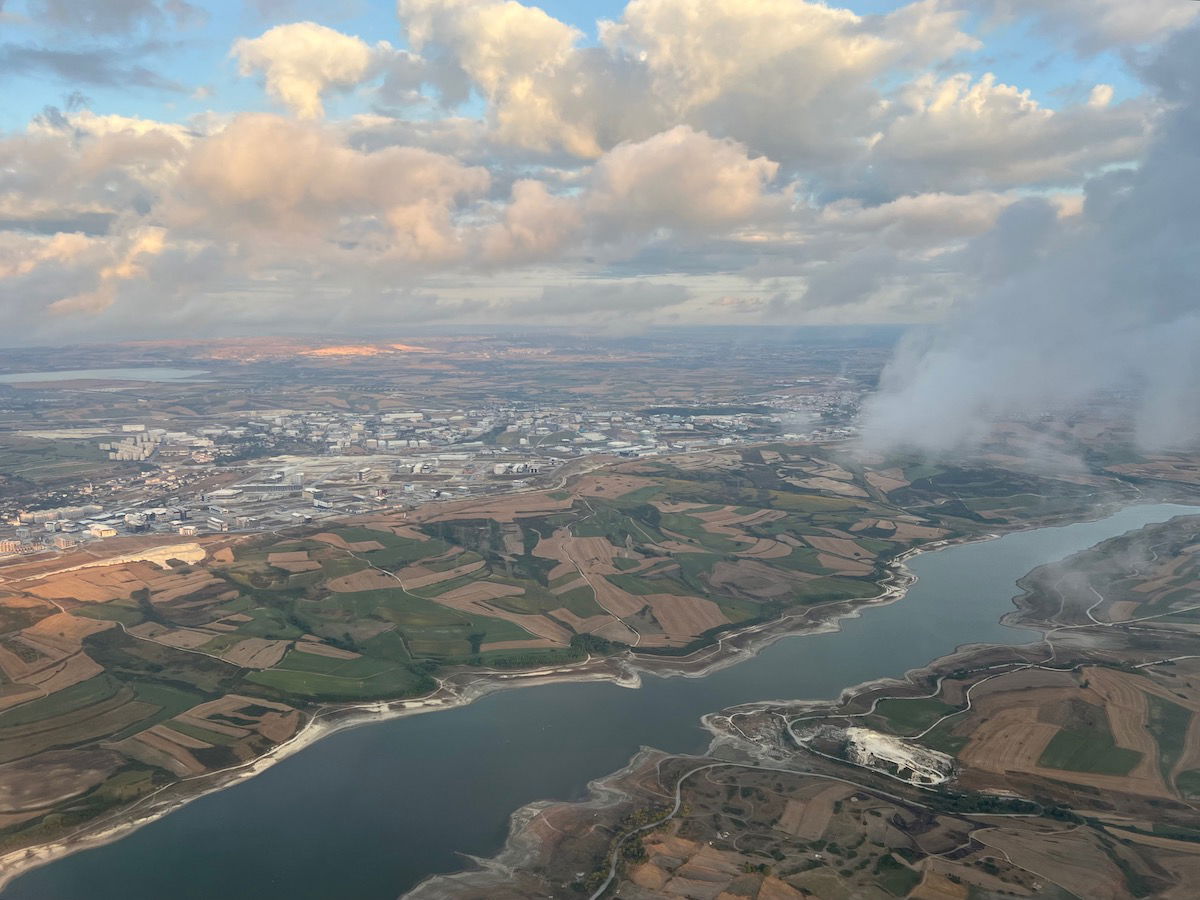 We ended up landing in Istanbul at 6:50AM, with a very smooth touchdown.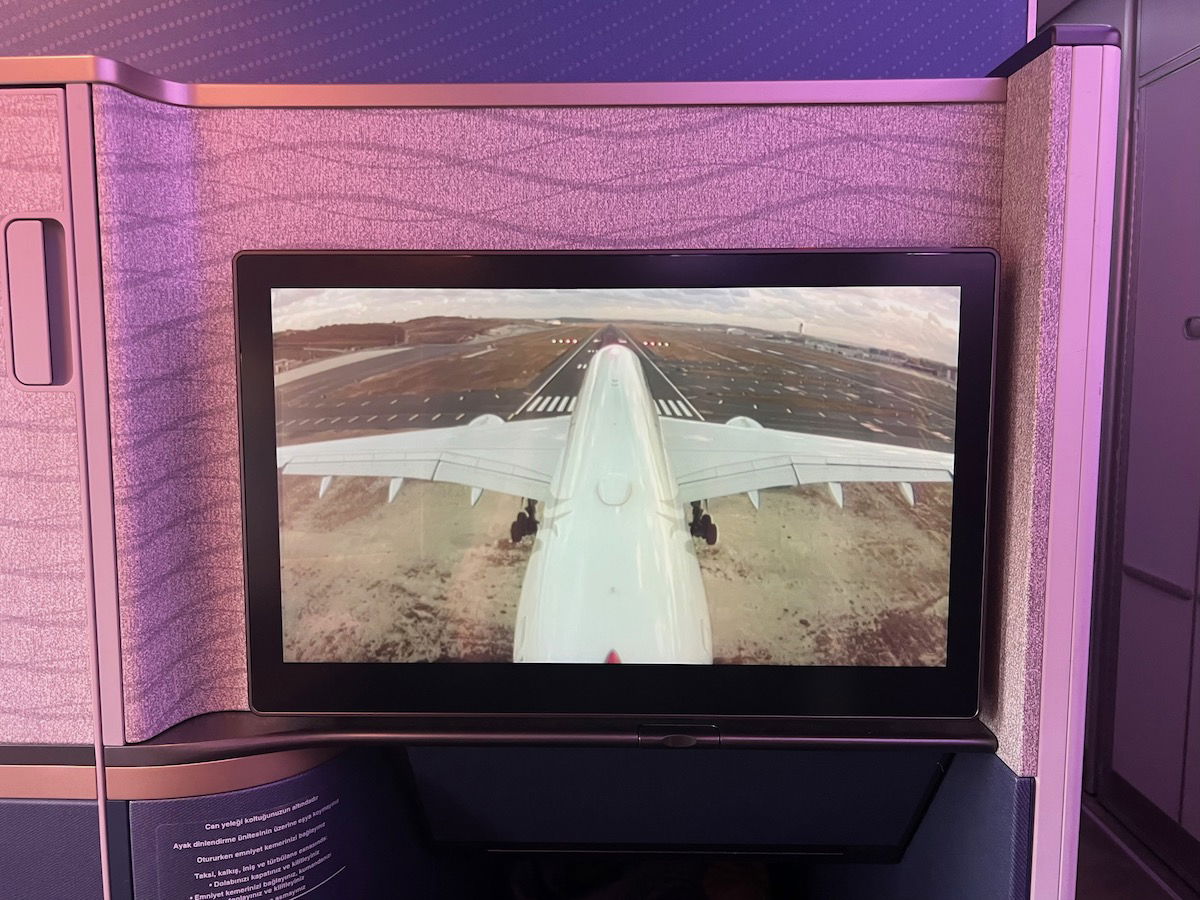 As is standard in Istanbul, we had a lengthy taxi.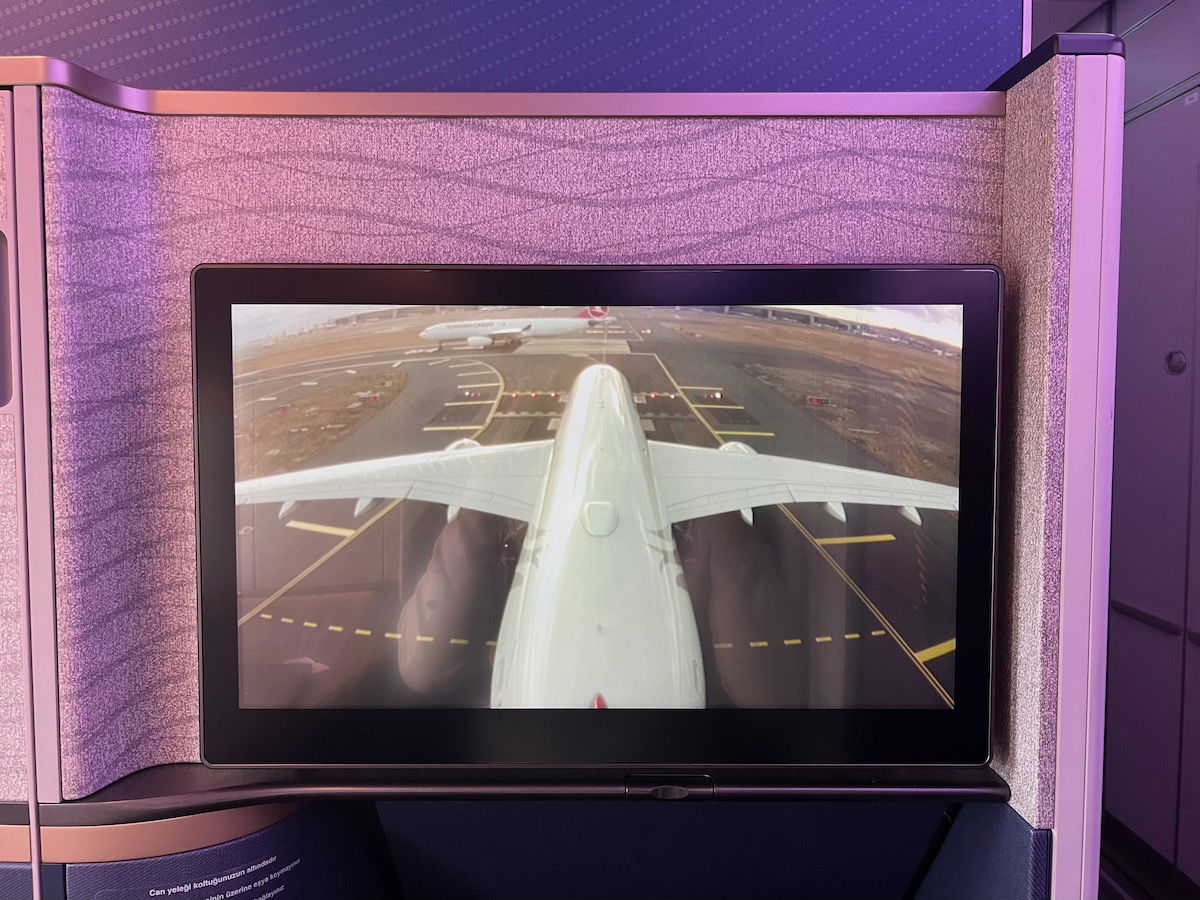 It took us around 15 minutes to make it to our arrival gate, where we arrived at 7:05AM, 75 minutes behind schedule.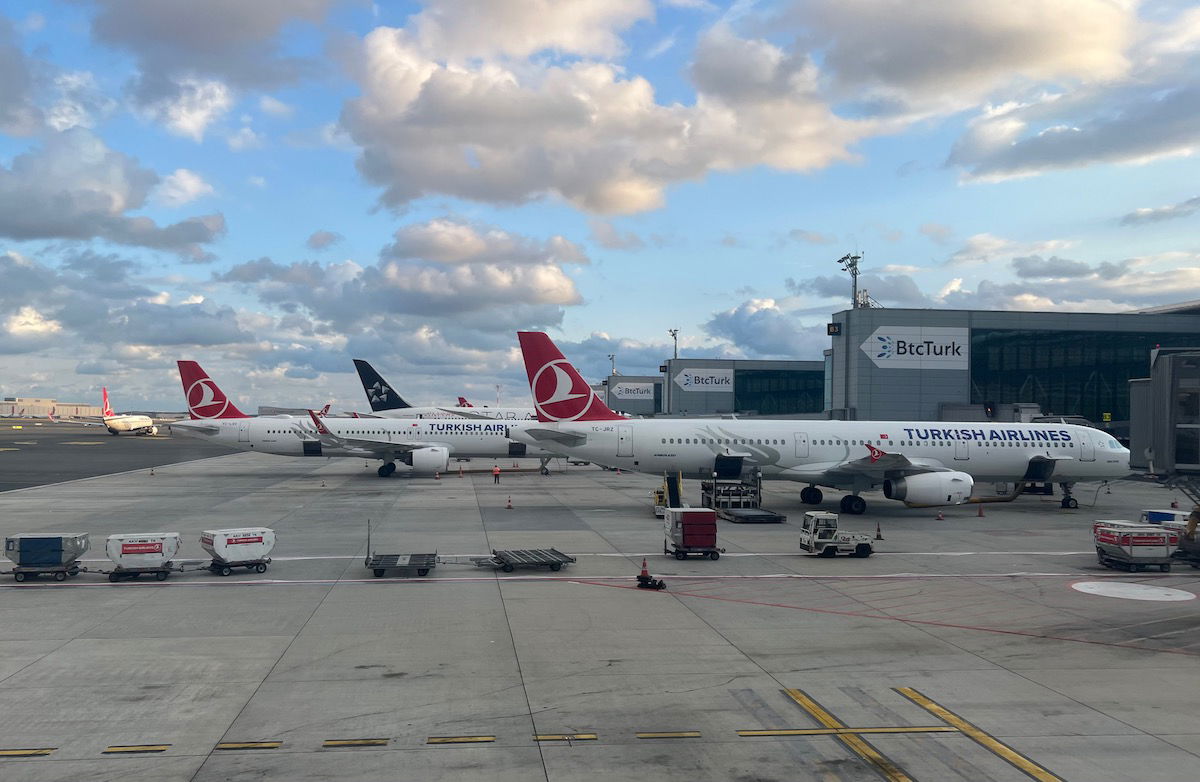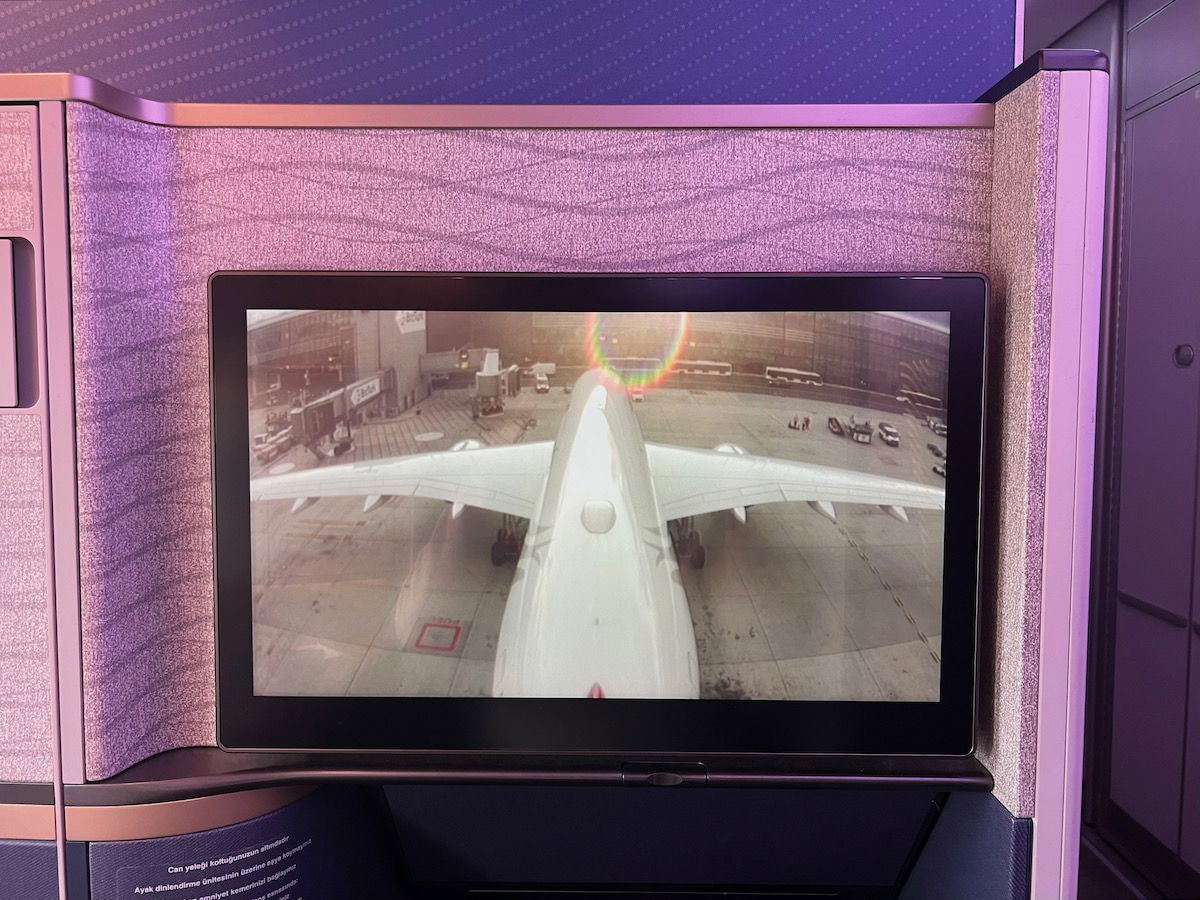 From there I cleared transit security, headed to the Turkish Airlines Lounge, and then took my connecting Turkish Airlines A330 flight to Frankfurt.
Bottom line
Turkish Airlines business class is always a treat, in my opinion, though especially on the carrier's subfleet of Airbus A350s. These ex-Aeroflot jets have incredibly comfortable interiors, which are the best you'll find at Turkish Airlines.
When you combine that with the carrier's excellent business class catering, free Wi-Fi, endless entertainment, etc., this is really one of the best business class experiences in the world, in my opinion.
What do you make of Turkish Airlines' A350 business class?