In the interest of full disclosure, OMAAT earns a referral bonus for anyone that's approved through some of the below links. These are the best publicly available offers (terms apply) that we have found for each card. Opinions expressed here are the author's alone, not those of the bank, credit card issuer, airlines or hotel chain, and have not been reviewed, approved or otherwise endorsed by any of these entities. Please check out my advertiser policy for further details about our partners, and thanks for your support!
---
Boy was I excited about this flight! I had flown Qsuites on Qatar Airways' 777-300ER before, but this was my first time flying their A350 Qsuites, and my first ever flight on any A350-1000 (I was on Qatar Airways' first-ever A350-900 flight back in 2015, though).
Redeeming Miles For Qatar Airways Qsuites
As I explained in my review of the Cape Town to Doha flight, we redeemed 75,000 AAdvantage miles and paid $59.43 per person for the following itinerary:
9/11 QR1370 Cape Town to Doha departing 12:40PM arriving 11:55PM [Business]
9/12 QR729 Doha to Dallas departing 7:50AM arriving 3:50PM [Business]
9/12 AA2206 Dallas to Miami departing 6:15PM arriving 10:00PM [Business]
This is such an incredible use of American miles, and was even bookable directly on aa.com. That's tough to beat.
You can easily replicate a trip like this using miles earned through credit cards.
See this post for details on the best credit cards for earning American miles.
Qatar Airways A350-1000 Qsuites Review
Qatar Airways 729
Doha (DOH) – Dallas (DFW)
Thursday, September 12
Depart: 7:50AM
Arrive: 3:50PM
Duration: 16hr
Aircraft: Airbus A350-1000
Seat: 9A (Business Class)
I boarded through the forward door, where I was greeted by the cabin manager and one of the business class flight attendants, and pointed down the near aisle towards my seat.
Qatar Airways' A350-1000 has a total of 46 Qsuites — what a breathtaking cabin!

Qatar Airways business class cabin A350-1000
While I'm sometimes annoyed by the lack of overhead bins in the center section, this makes such a huge difference with Qsuites. Since each of the seats has a door, this open feeling makes the cabin feel so much more spacious.
The forward business class cabin on the A350-1000 has a total of 38 seats spread across 10 rows, while there's also a rear cabin with an additional eight seats, spread across two rows.
Qatar Airways Qsuites cabin A350-1000
One of the cool features of Qsuites is that you can have a "quad" if traveling as four, where you can lower the partitions and basically have a four-person suite. I didn't assign us those seats, though. Why?
My expectation was that the cabin would be full, and having three of the four seats didn't seem nearly as cool
Ford and I are on very different sleep schedules when we fly, and I didn't want to disturb him by being awake while he tried to sleep (my dad, on the other hand, can sleep anytime/anywhere)
I love looking out the window, especially when you can have a rear-facing seat on a plane as beautiful as the A350-1000
The center seats don't have individual air nozzles, while the window seats do
Qatar Airways Qsuites quad
For those who do sit in the center section, seats alternate between being forward and rear-facing. The rear-facing seats are close to one another, and can turn into a double bed of sorts (though not really, since you still have different footwells). There's also a partition that can be raised and lowered.
A lot of people prefer these seats when traveling with someone.

Qatar Airways Qsuites middle seats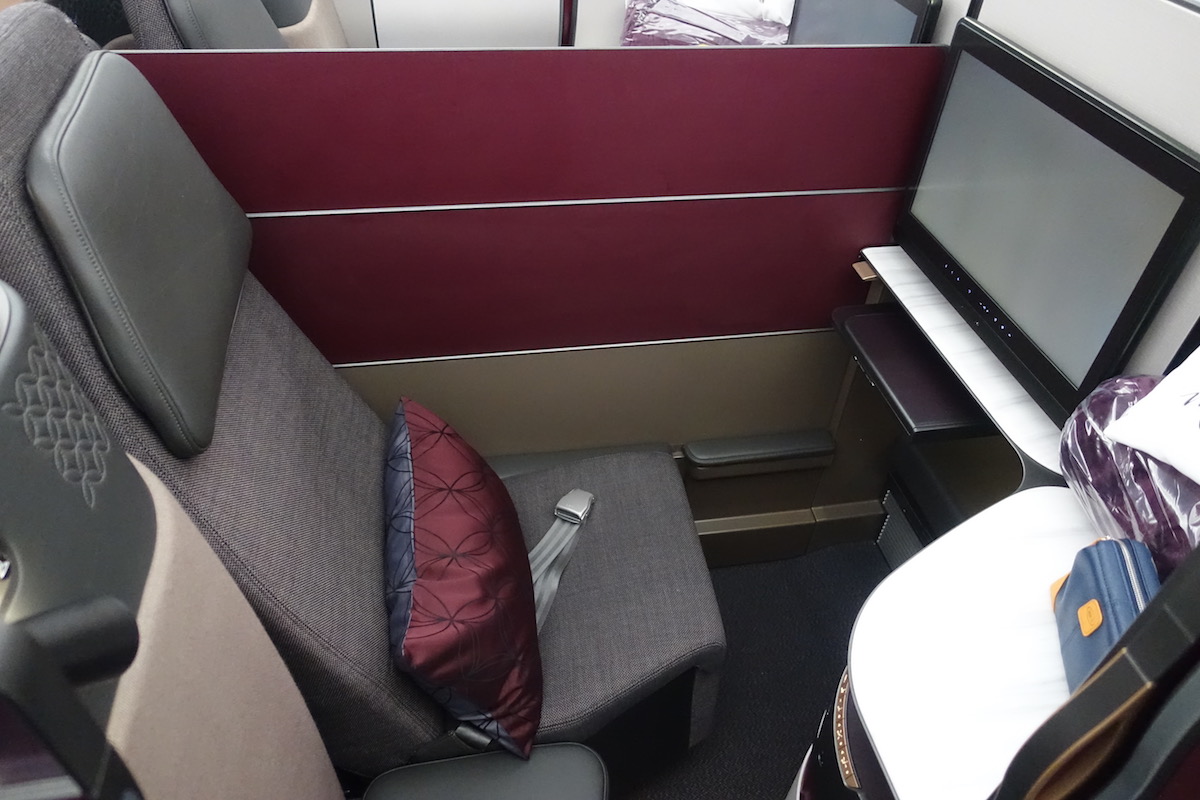 Qatar Airways Qsuites middle seats
The forward-facing center seats are further apart from one another, and are closer to the aisle. In general, these would be my last pick, since you don't have a window view and also aren't close to the person next to you.

Qatar Airways Qsuites middle seats
Then along the windows you also have two types of seats. In even-numbered rows you have forward-facing seats that are closer to the aisle. These have the benefit of still having a window view, though you are further from the window.

Qatar Airways Qsuites window seat

Qatar Airways Qsuites window seat
In my opinion, the absolute best seats are the window seats in odd-numbered rows. These are rear-facing and are closest to the windows, so you have the best views, and they also feel the least claustrophobic, since you're further from the door.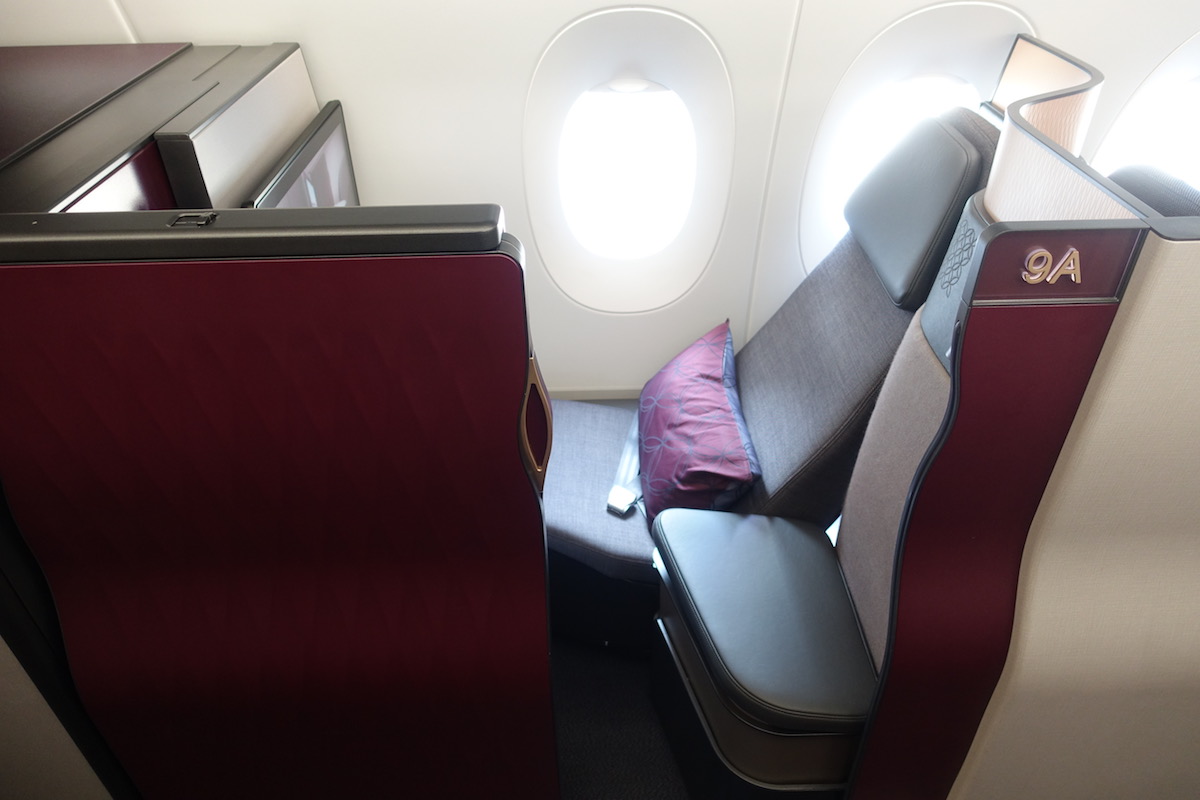 Qatar Airways Qsuites
I selected seat 9A for myself, the window seat on the left side in the last row of the forward cabin. Qsuites are essentially a modified staggered configuration, as the footwell for each seat is to the side of the seat in front (or behind, in this case).

Qatar Airways Qsuites A350-1000
At the front of the seat you have a large counter, the personal television, and then a tray table and footwell.

Qatar Airways A350-1000 Qsuites
The tray table permanently sticks out a bit from above the footwell. On the plus side, it can easily be moved around, and it's quite large.
Qatar Airways Qsuites
Qatar Airways Qsuites tray table
The footwell in this configuration is also a good size. With some staggered seats you feel like there's not enough space, but that's not the case here.

Qatar Airways Qsuites footwell
The counter to the side of the seat is extremely well designed, and to the side of it are easy-to-use seat controls, an entertainment controller, and both a 110v and USB outlet.

Qatar Airways Qsuites seat controls
Immediately to the side of the seat is a large compartment with a literature pocket, water bottle holder, and more. It's a well-designed space, and you can also close it to add some width to your bed when the seat is reclined (though it doesn't line up perfectly to the sleeping surface otherwise).

Qatar Airways Qsuites storage

Qatar Airways business class storage
Qatar Airways also has individual air nozzles on the A350, though only along the window seats (they don't have these in the center section because of how high the overhead bins are).
Qatar Airways Qsuites air nozzle
A couple of other quick notes about the seat. First of all, I find it interesting that Qatar Airways didn't choose to have electronic shades on the A350-1000. I'm not talking about the 787 dimmers, but rather on the A350-900, Qatar Airways has "blinds" that can be lowered at the touch of a button, but they didn't choose to put these on the A350-1000. Were they having too many issues with them, was it a cost saving measure, or what?
Second of all, I absolutely love Qsuites, but there's no denying the space feels a bit "compact." That's to be expected because they're trying to use the space efficiently. But by the end of the flight, I also had some legit bruises. It's really hard to move around in this seat without inadvertently hitting your knees, elbows, etc.
For example, I constantly hit my knee on the tray table above the footwell, when I tried to get up I hit my knee on the counter, etc. Am I the only one who felt like I was cruising for a bruising in Qsuites?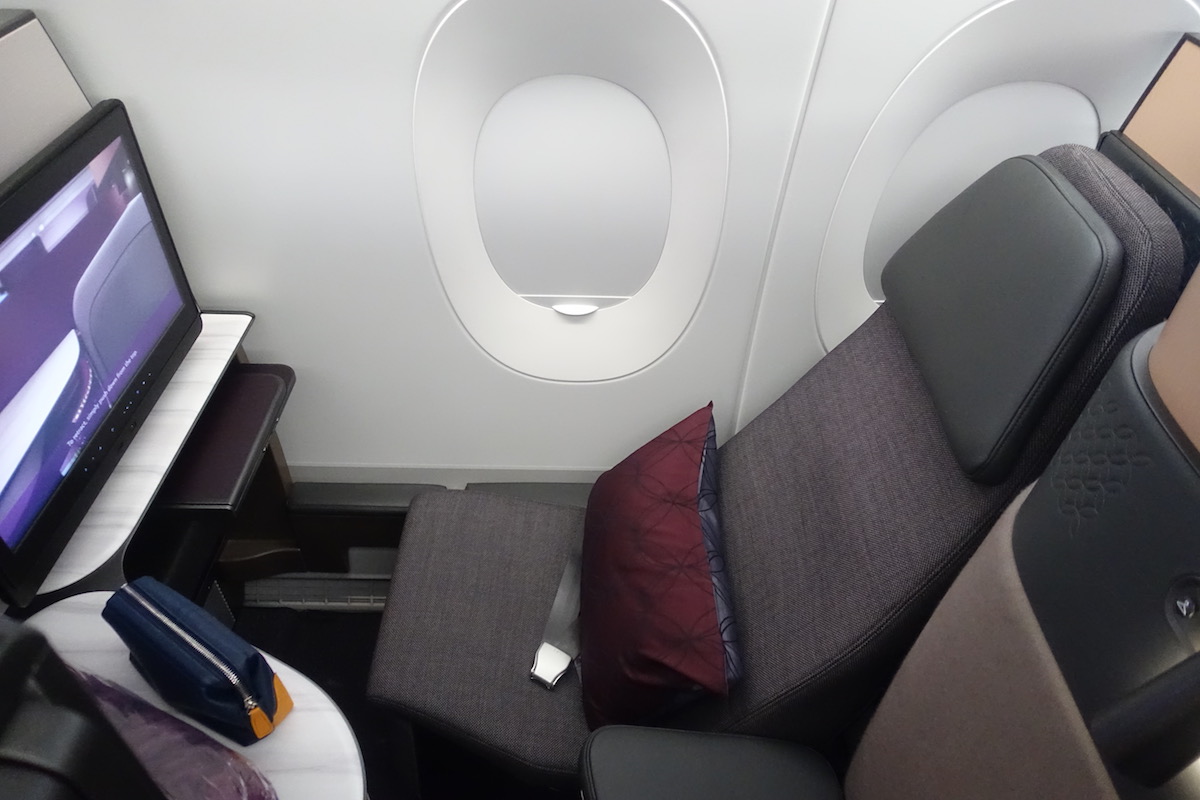 Qatar Airways Qsuites A350-1000
Already waiting at my seat upon boarding was the exceptional Qsuites bedding, including a thick pillow, comfortable blanket, and a second pillow that they exclusively have in Qsuites (which always has some travel-related quote on it). Then when it's time to sleep there's a mattress pad, and they also put a pillow cover around the main pillow.

Qatar Airways Qsuites bedding
Also at my seat was the Bric's amenity kit, containing skincare products from Castello Monte Vibiano Vecchio.

Qatar Airways Qsuites amenity kit
There were also the mediocre headphones that Qatar Airways has in business class.

Qatar Airways Qsuites headphones
A minute after settling in I was greeted by the lovely Claudine from the Philippines, who would be taking care of all of us for the flight to Dallas. She was one of the better business class flight attendants I've had with Qatar.
She first familiarized me with the seat, and then offered me a pre-departure drink. I ordered a glass of sparkling water and a warm towel. She was by the book in the sense that she would repeat every order no matter how small it was.
"Allow me to repeat your order sir. One warm towel and one sparkling water." That was brought out within a couple of minutes.

Qatar Airways Qsuites pre-departure drink & warm towel
She also presented me with pajamas and slippers from The White Company — it's so nice that Qatar Airways even has pajamas in business class.
Qatar Airways Qsuites pajamas
She then also presented me with the menu for the flight, including the small snack menu that's available exclusively in Qsuites. It's interesting that Qatar Airways has a special menu in Qsuites that isn't available on planes operated by their other business class products.

Qatar Airways Qsuites menu & wine list
A few minutes later the cabin supervisor stopped by each seat to welcome everyone on board. While perhaps not all that personalized, Qatar Airways delivers first class service in business class in terms of the "motions" they go through. In other words, I'm almost never addressed by name in Qatar Airways business class, but they welcome you onboard, before landing they thank you for flying with Qatar, etc.
Crews working Qatar business class really hustle when you consider how much service there is to provide, especially with the cabin being almost completely full on this flight.
Boarding was efficient, and by 7:55AM the main cabin door closed. At that point, Captain Pedro added his welcome aboard on behalf of himself, Captain Marco, and the two first officers. He informed us of our flight time of 14hr45min, and our anticipated cruising altitude of 40,000 feet.
At 8AM we began our pushback, with another A350-1000 in the oneworld livery right next to us.
Qatar Airways A350-1000
Having a rear facing seat with a wing view like this is awesome.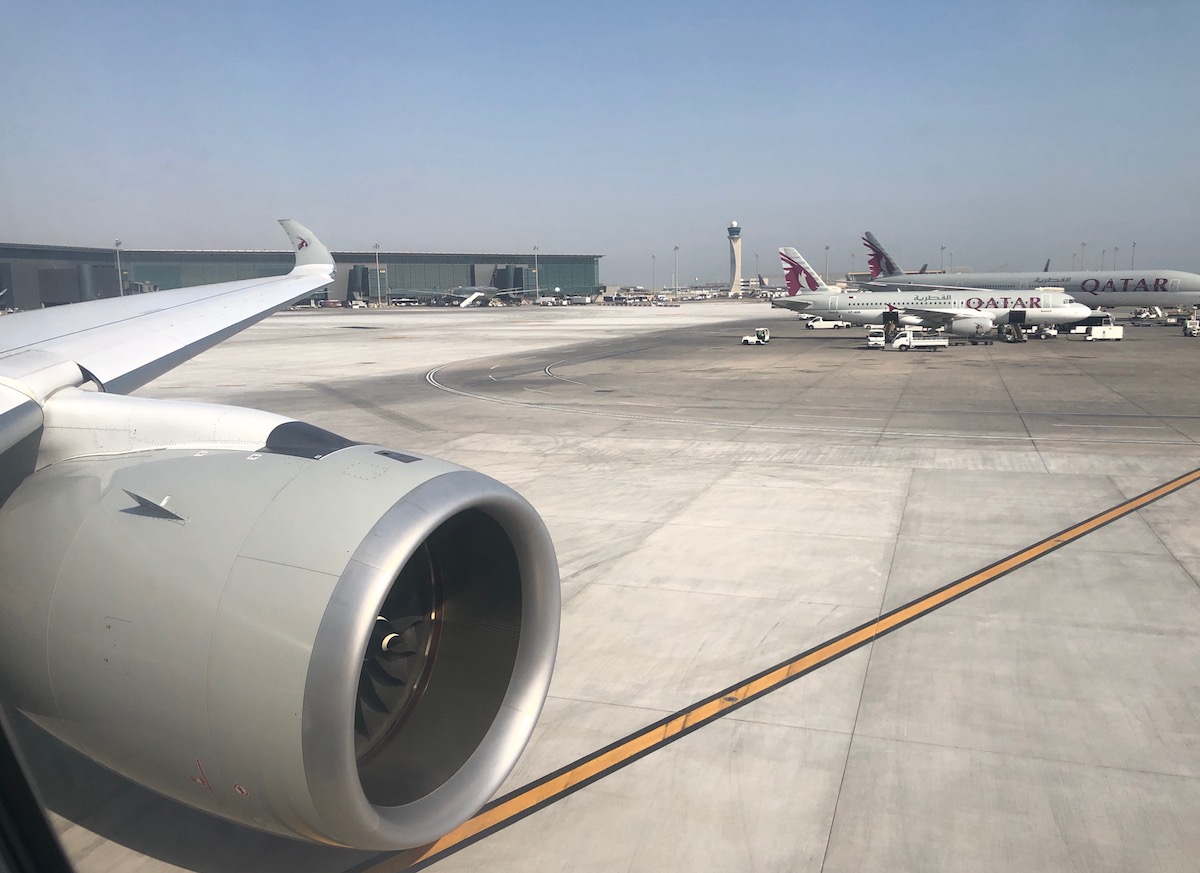 Taxiing Doha Airport
While our taxi to the departure runway was pretty quick, there was quite a queue for takeoff, so we had to wait for about 15 minutes before it was our turn.
Qatar Airways A380
I didn't mind one bit, since watching the tail camera combined with looking out over the wing is like avgeek heaven. At 8:30AM we were finally cleared for takeoff on runway 34R.
A350-1000 tail camera
We had a pretty long takeoff roll, though the A350-1000 sure is a quiet beast.

A350-1000 tail camera
Views on departure were beautiful, in particular of the Pearl.
View after takeoff from Doha

View after takeoff from Doha
We had a gradual climb out, which I guess isn't too surprising given how heavy we were. About 30 minutes after takeoff we were only climbing through 25,000 feet, so that's a pretty slow rate of climb.

View after takeoff from Doha
As we climbed out I browsed the entertainment selection. Oryx One has an excellent selection, with endless movies and TV shows.
Qatar Airways entertainment system

Qatar Airways entertainment system

Qatar Airways entertainment system
I also took a look at the moving map for our flight. You've gotta love when your flight is so long that you can barely see the entire route on one screen.
Moving map enroute to Dallas
I also connected to the wifi. Qatar Airways has new "super wifi" on the A350-1000, which I had a great experience with. A pass for the entire flight cost just $10, with no data caps. I found the speeds to be great.
Qatar Airways A350 wifi
For those who don't want to pay, there's an option to get an hour of free wifi.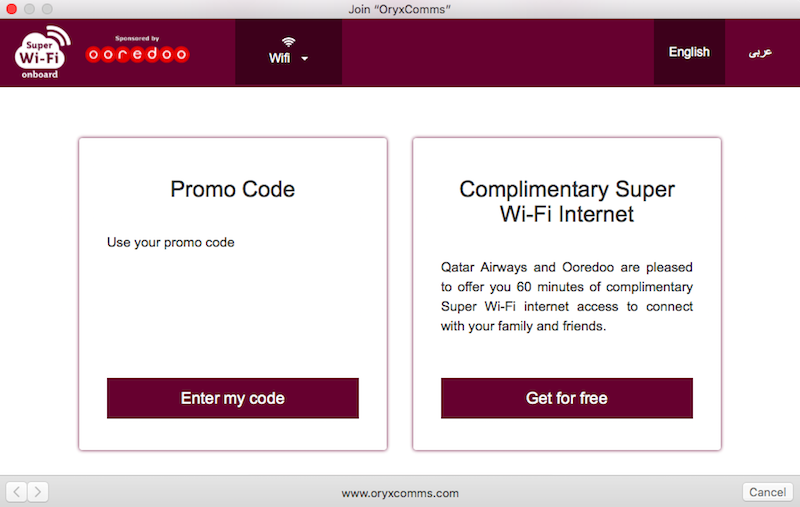 Qatar Airways A350 wifi
I've gotta say, Qsuites is just about my dream office. An amazing tail camera, a great view out the window, unlimited cappuccinos, and the ambient noise of engines. Ahhhh!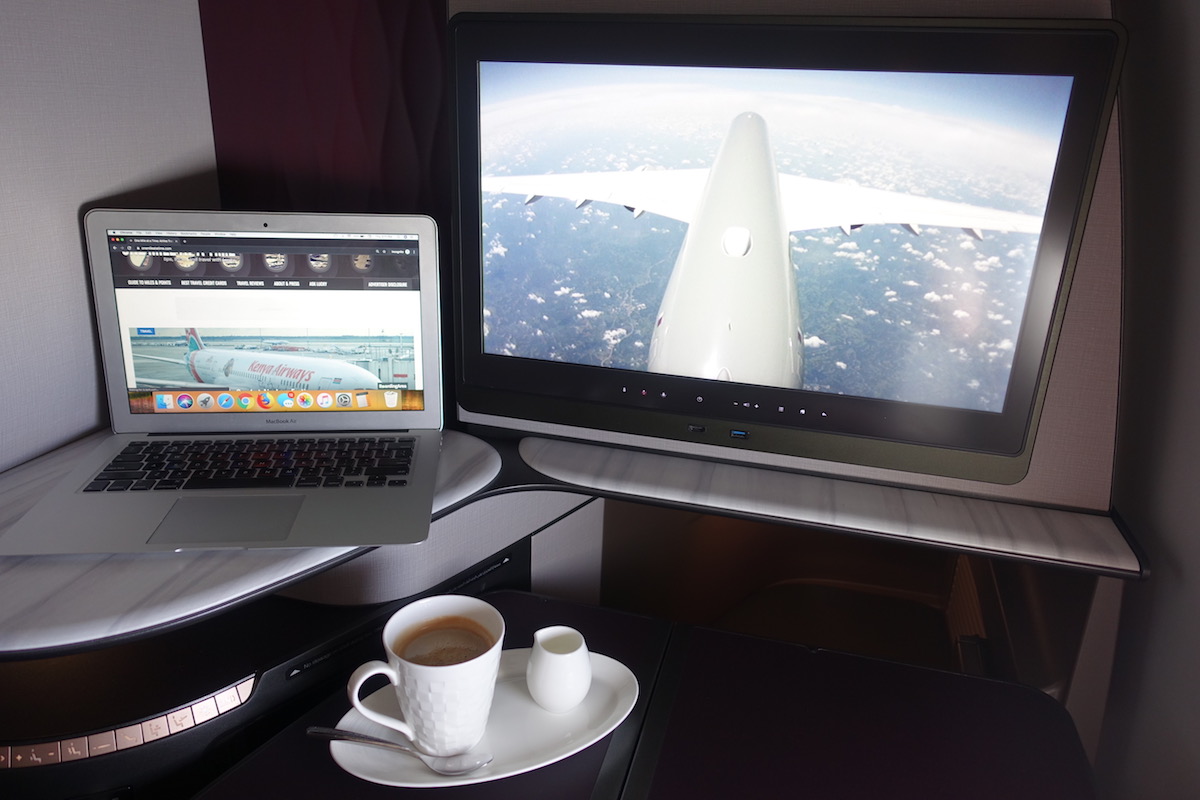 My Qsuites office
About 15 minutes after takeoff the crew came through the cabin to "unlock" the Qsuites doors. There's a key they have that unlocks this after takeoff, and then locks it again before landing.
The crew turned on the mood lighting, as some passengers went straight to sleep, while others were wide awake.

Qatar Airways A350-1000 Qsuites forward cabin
I also quickly took a look at the intimate business class cabin behind the second set of doors.
Qatar Airways A350-1000 Qsuites rear cabin
There were lavatories both between the two business class cabins and at the very front, and I was amazed by how clean the crew kept these. They'd go in after almost every use to refresh the bathrooms, fold the toilet paper into triangles, etc.
Qatar Airways A350 lavatory
After takeoff Claudine stopped by my seat to see if I wanted to order anything. I was a bit hungry at this point, so decided to have breakfast.
The menu read as follows:
Then here's the snack menu (available exclusively on Qsuites-equipped planes):
Lastly, here's the drink list:
To drink I ordered a cappuccino, which was served about 45 minutes after takeoff.
Qatar Airways business class breakfast — cappuccino
I then ordered breakfast. Qatar Airways has good food in business class, though I feel like they rarely mix up the options. Even before boarding a flight I feel like I could roughly tell you what the menu will look like based on a flight months ago. That's not necessarily bad, there's just not much mystery to the menu.
On the plus side, the table setting is absolutely beautiful, between the faux-candle, the breadbasket, the salt and pepper grinders, etc. I ordered a coffee to drink, and then had a greek yogurt with berry compote and toasted granola to start.

Qatar Airways business class breakfast
Qatar Airways business class breakfast
For the main course I had the Indian vegetarian option, as I almost always do on Qatar Airways. On this flight it was a dry fruit upma with sambar. Mmm…

Qatar Airways business class breakfast
After the meal I was offered a warm towel and a mint.

Qatar Airways business class warm towel & mint
Ford went right to sleep, while my dad had the omelet for breakfast, which he enjoyed.
Qatar Airways business class breakfast
After breakfast I watched a couple of TV shows, and after about an hour asked to have my bed made. Claudine brought out a mattress pad, and then also brought out a cover for my pillow, which is a cute touch.
Qatar Airways Qsuites bed
I closed the door and tried to get some rest. This really is a ridiculously cozy business class suite.

Qatar Airways Qsuites door
At this point we had about 12hr15min remaining to Dallas.

Qatar Airways map enroute to Dallas
I slept for about 30 minutes before waking up. Grrr…. I know, I probably shouldn't have had a cappuccino and a coffee.
I decided to work on my laptop for a couple of hours, and then with about 9hr30min remaining ordered something from the snack menu. I ordered the smoked salmon with dill mayonnaise, and the mixed pepper with tumeric crostini. These are really small portions, which is great if you just want a snack but don't want to grab a bag of chips or cookies.
Qatar Airways business class snack
I kept working, and eventually we were over Northern Europe. Goodness gracious this is a long flight.

Qatar Airways map enroute to Dallas
A bit later I ordered another cappuccino, which was served with cookies this time. Just what I needed. 😉
Qatar Airways business class cappuccino
A bit later, as we were approaching Greenland, I ordered the mini baguettes, described as coming with chicken and roasted pumpkin with za'atar, tahini, sesame seeds, and onions, served with chunky chips.

Qatar Airways business class snack

Qatar Airways map enroute to Dallas
I tried several more times to nap. After all, sleeping for 30 minutes on a 14hr45min flight is downright unreasonable. Unfortunately I was repeatedly unsuccessful. I don't know what it is, but sometimes I really struggle with sleeping on planes.
Oh well, on the plus side I was very productive. I ended up having my proper meal about three hours before landing. I figured I'd have a glass of wine in hopes of that maybe helping me get in a nap before landing.
To start I ordered a glass of the New Zealand sauvignon blanc, and was offered mixed nuts to go along with it.
Qatar Airways business class lunch — wine and mixed nuts
Once again, my table was beautifully set. I was offered an amuse-bouche consisting of crabmeat with pumpkin puree.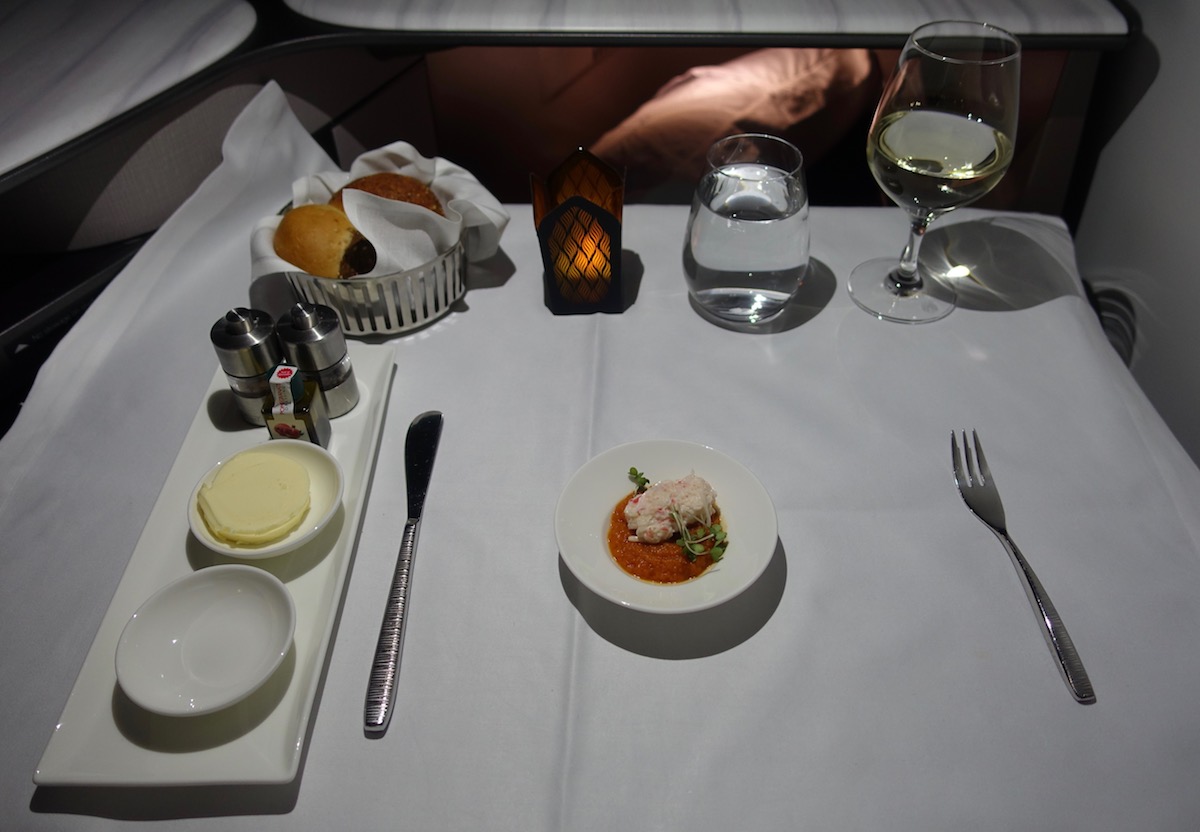 Qatar Airways business class lunch — amuse bouche
For the appetizer I ordered smoked salmon tartare with mushroom and dill prawns. It was excellent.

Qatar Airways business class lunch — appetizer
Then for the main course I ordered sayadiyah spiced cod with saffron basmati rice, fried onions, pine nuts, taratour sauce, and vegetable saloona. Once again, it was phenomenal, and most definitely restaurant quality.

Qatar Airways business class lunch — main course
For dessert I ordered the white chocolate and raspberry crumble with mango coulis.

Qatar Airways business class lunch — dessert
To finish off the meal I was offered another warm towel and a box of Godiva chocolates.

Qatar Airways business class lunch — warm towel & chocolates
My dad had virtually the same meal I had, while Ford had the potato and leek soup to start, and then the feta, roast pepper and basil stuffed chicken breast.

Qatar Airways business class lunch — soup

Qatar Airways business class lunch — main course
Once the meal was finished I managed to nap for about 30 minutes, which sure was nice. I was woken up when at 2:30PM local time the captain announced that we would be landing in 50 minutes. About 25 minutes after that Claudine and the cabin manager came around to thank everyone for flying with Qatar Airways, and at that point the cabin was prepared for arrival.
I opened up my window shade to enjoy the views and also turned on the tail camera. What a view!
View approaching Dallas
View approaching Dallas
We ended up touching down in Dallas at 3:20PM.

Landing in Dallas
From there we had a roughly 15 minute taxi to our arrival gate, where we pulled in at 3:35PM.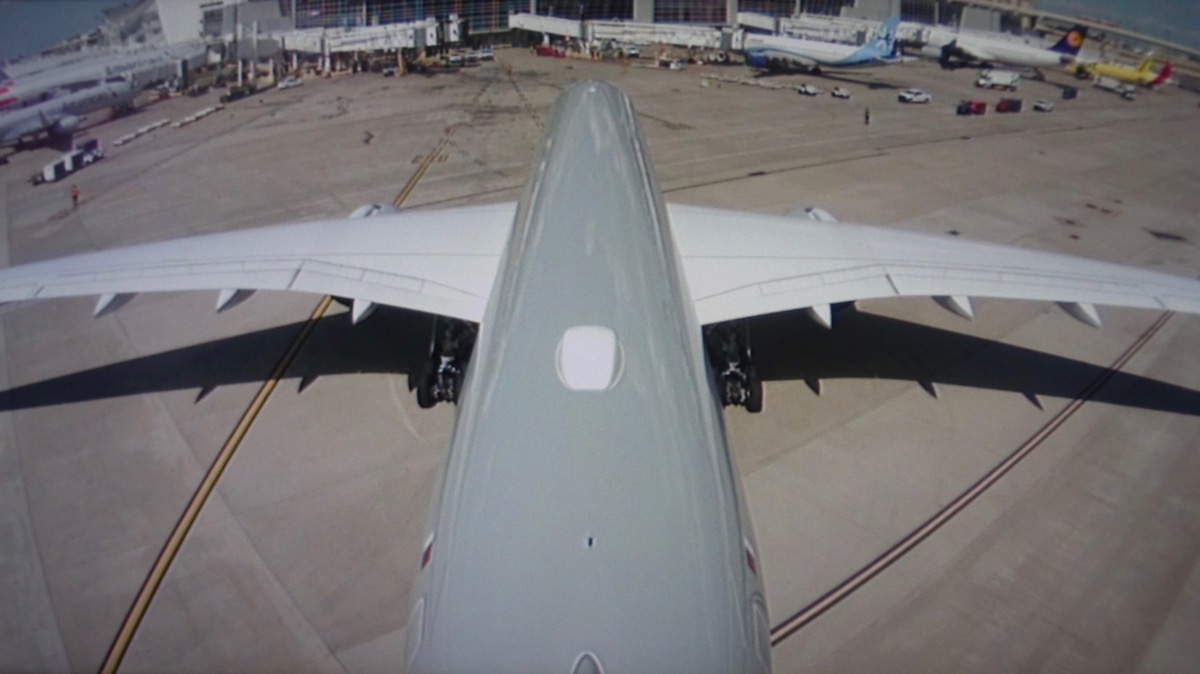 Arriving in Dallas
We bid farewell to the crew after our very long flight, and were ready for our connections home.
Bottom Line
Qatar Airways Qsuites is simply spectacular. Qsuites is incredible to begin with, but the A350 really elevates the product even further, between how quiet the plane is, and how spacious the cabin feels due to lack of overhead bins in the center section.
Not only is the Qsuites hard product great, but Qatar Airways has thought of everything beyond that. The amenities, dine on demand, air nozzles, fast wifi, good food and drinks, and more, really set Qatar Airways apart.
I'm a huge fan of Qsuites, and this A350-1000 experience was probably my favorite business class experience ever.
If you've flown Qsuites, what was your experience like?