In the interest of full disclosure, OMAAT earns a referral bonus for anyone that's approved through some of the below links. These are the best publicly available offers (terms apply) that we have found for each product or service. Opinions expressed here are the author's alone, not those of the bank, credit card issuer, airline, hotel chain, or product manufacturer/service provider, and have not been reviewed, approved or otherwise endorsed by any of these entities. Please check out
our advertiser policy
for further details about our partners, and thanks for your support!
At long last, It was time for the final stretch of my whirlwind Aeroplan adventure. And I suppose it's fitting that the trip ended on Air Canada, given how often I use Aeroplan miles. In this installment I'll be reviewing Air Canada's Boeing 777-300ER business class from Frankfurt to Toronto.
While there were some aspects of the experience I enjoyed, unfortunately this was a reminder of how an indifferent crew can really take the fun out of a flight. It's not fun to be around people who don't seem to enjoy their jobs, and that's very much the impression I got on this flight. Fortunately my next flight offered a very different experience.
Anyway, let's get into the review…
How I booked my Air Canada business class ticket
I booked my Air Canada business class ticket using Aeroplan points. Specifically, for the return portion of my ticket I redeemed 87,500 Air Canada Aeroplan points to fly from Hanoi to Frankfurt to Toronto to Miami, all in business class (I've already reviewed the Bamboo Airways Boeing 787 experience).
For more details on how I booked that, see my post about how to redeem Aeroplan points like a pro. Aeroplan points are easy to come by, as the program is transfer partners with Amex Membership Rewards, Capital One, and Chase Ultimate Rewards. On top of that, there's the Aeroplan® Credit Card (review) in the United States, which is phenomenal.
Specific to the Air Canada portion of my trip, here are the flights I took:
1/10 AC841 Frankfurt to Toronto departing 9:45AM arriving 12:30PM
1/10 AC1201 Toronto to Miami departing 6:30PM arriving 9:40PM
Air Canada business class lounge & boarding
I had spent the night at the Sheraton Frankfurt Airport, so I headed straight to Terminal 1 Concourse B, and used the Air Canada Maple Leaf Lounge. The flight was departing from gate B45, with boarding scheduled for 8:45AM (one hour prior to departure).
My flight was being operated by a 14-year-old Boeing 777-300ER with the registration code C-FIVR, in the old livery.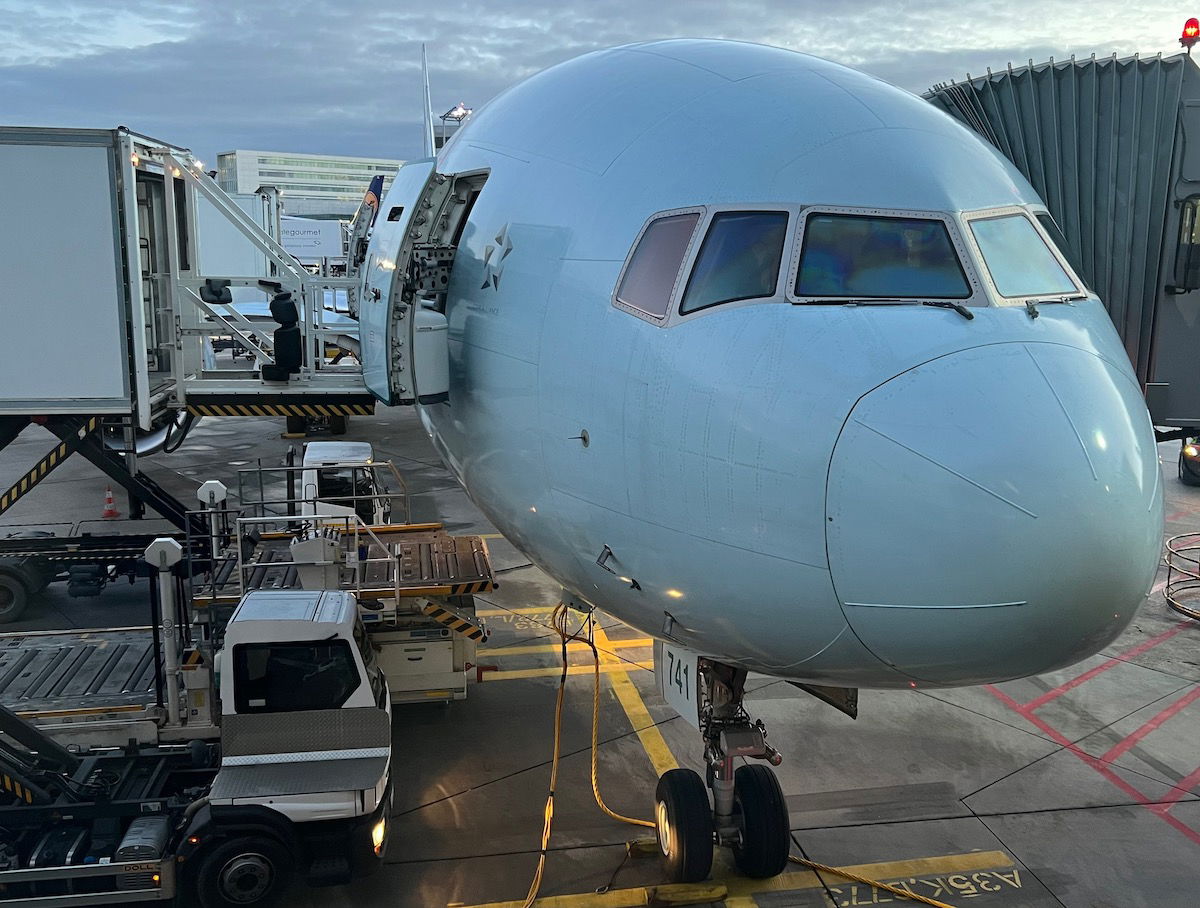 Air Canada 777 business class cabin & seats
I boarded through the forward door, where I wasn't even acknowledged by the crew. I turned right down the first aisle. This configuration of Air Canada's Boeing 777-300ER features 40 business class seats. This includes 26 business class seats in the forward cabin (between doors one and two) and 14 business class seats in the rear cabin (behind door two).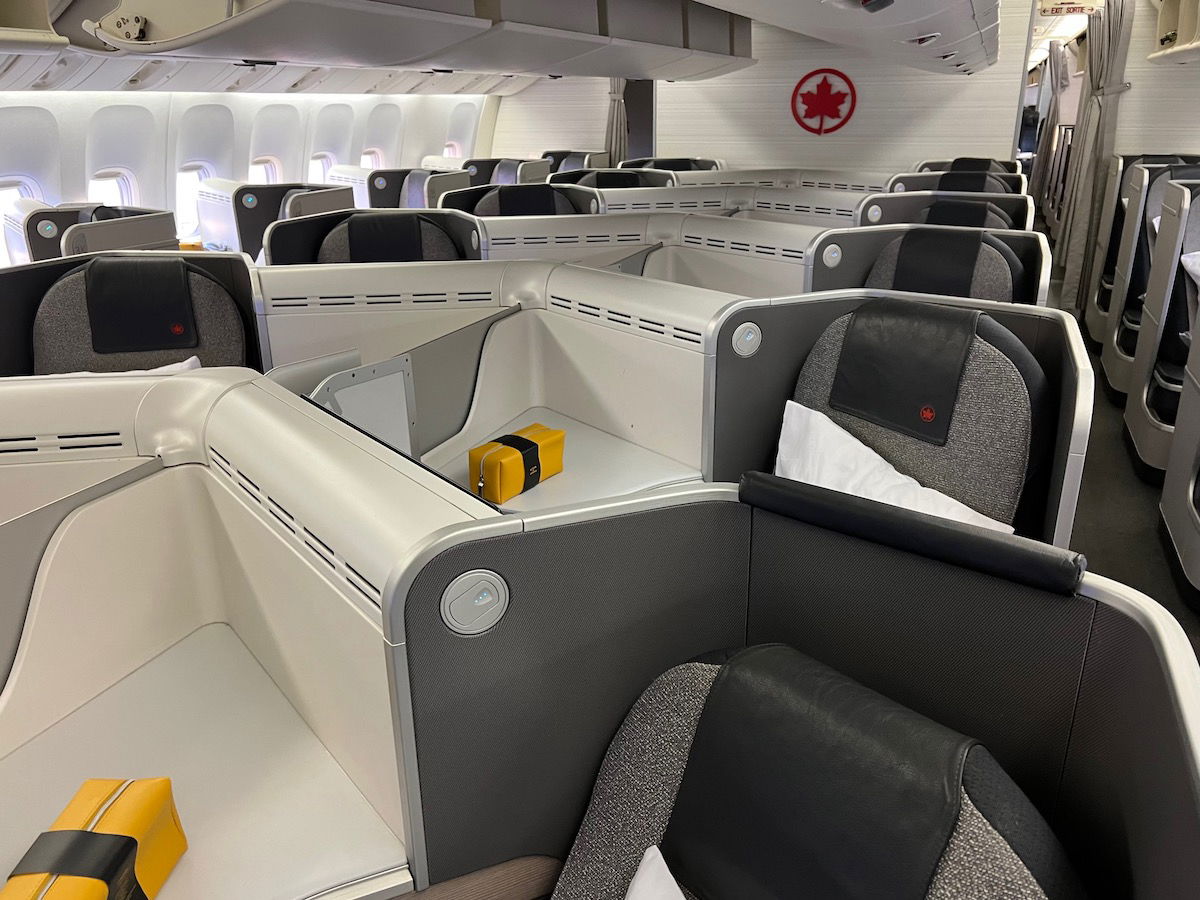 Air Canada has Collins Aerospace Super Diamond reverse herringbone seats in business class, which are in a 1-2-1 configuration.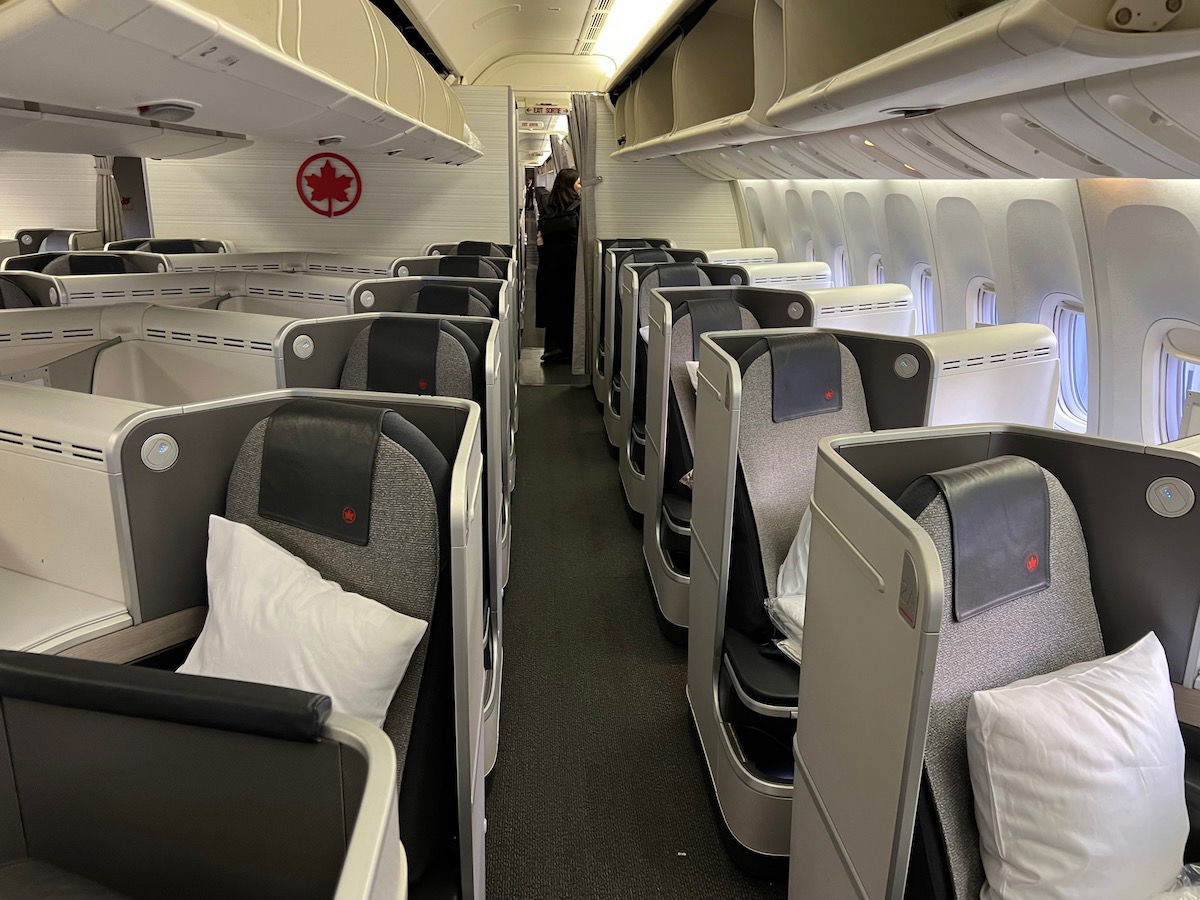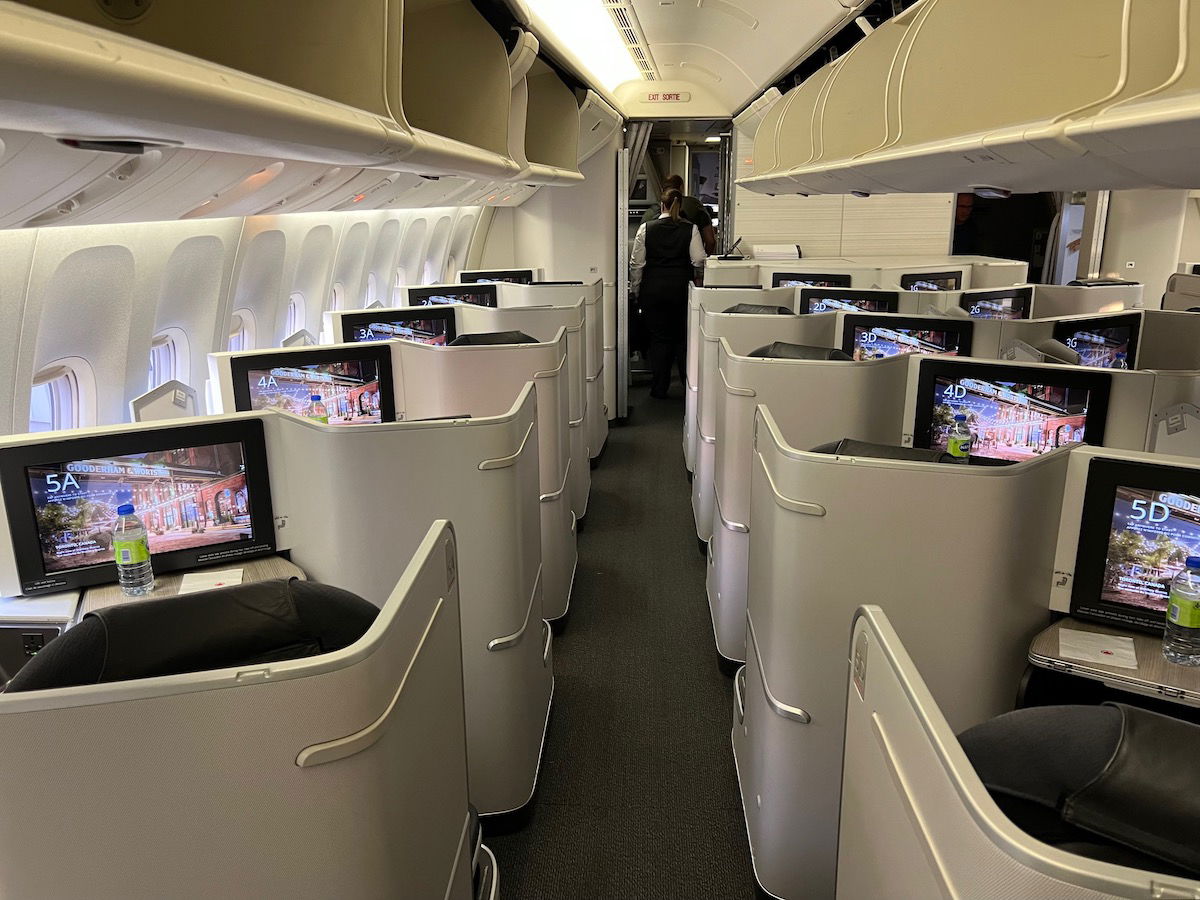 If you're traveling with someone, you may prefer to sit in the center section, so you can sort of face toward them. However, note that on the Air Canada 777 and 787, the partitions aren't movable, so you won't actually be able to see your travel companion well. Therefore even if you're traveling with someone, you may prefer to just grab two window seats.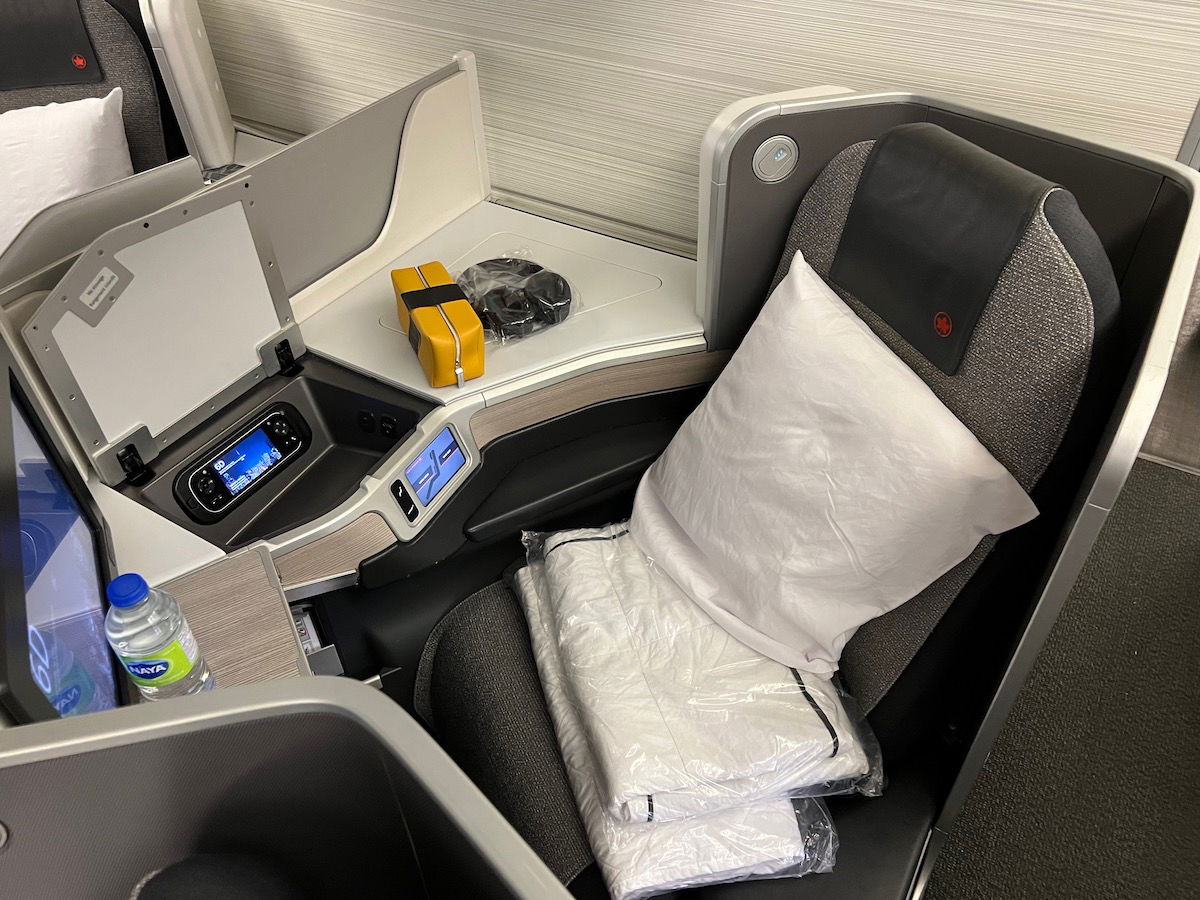 Otherwise I'd recommend a window seat, since it gives you a window view and direct access to the aisle. I assigned myself seat 7A, the window seat on the left side in the last row of the forward cabin. While this seat had only one window, the window was at least aligned pretty well with where my seat was.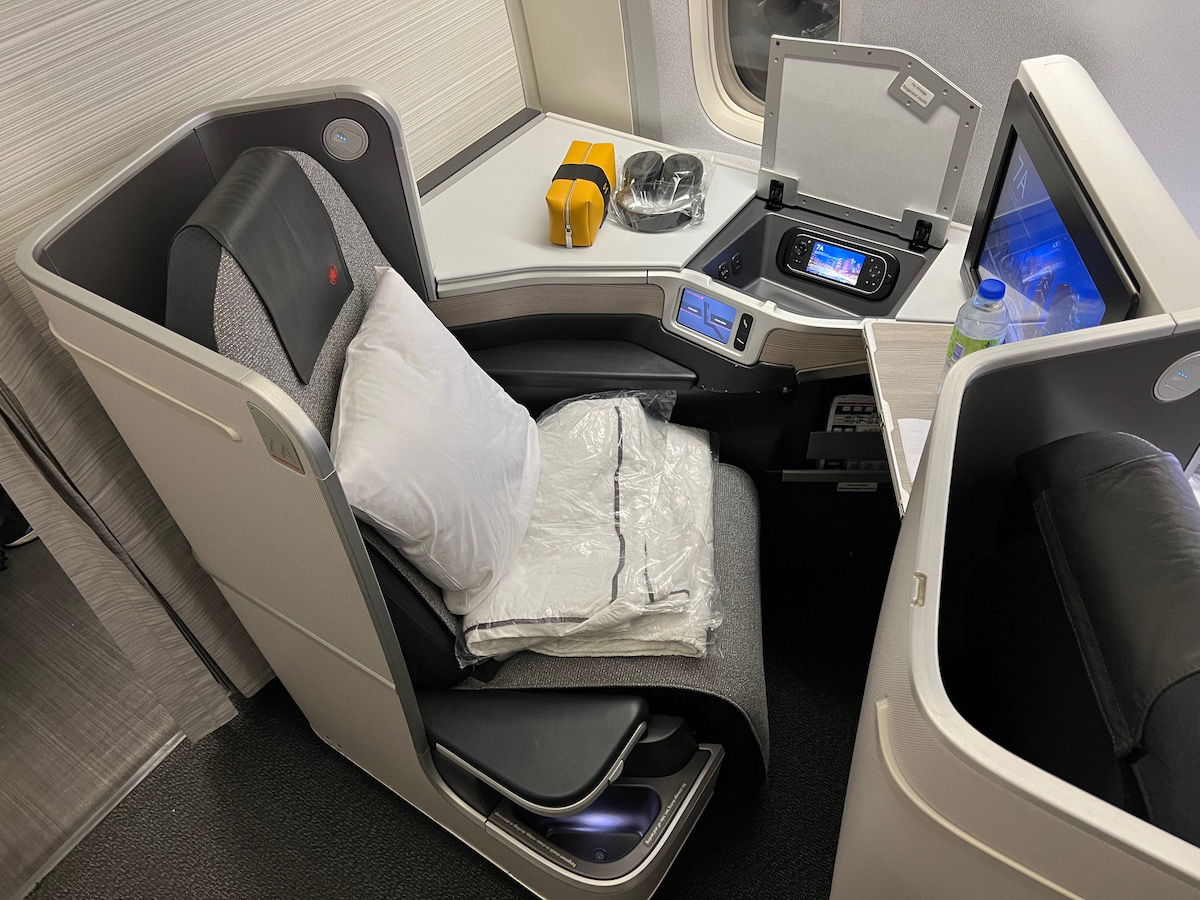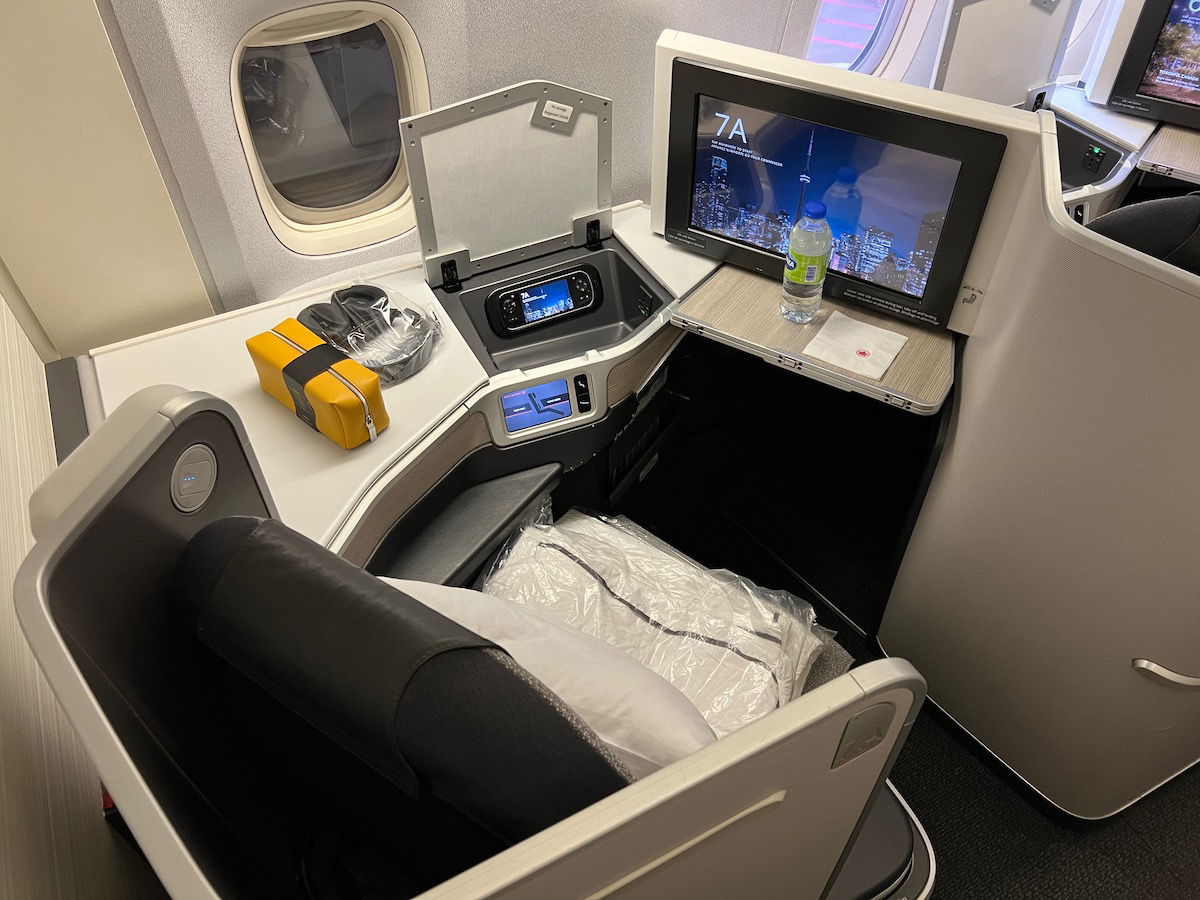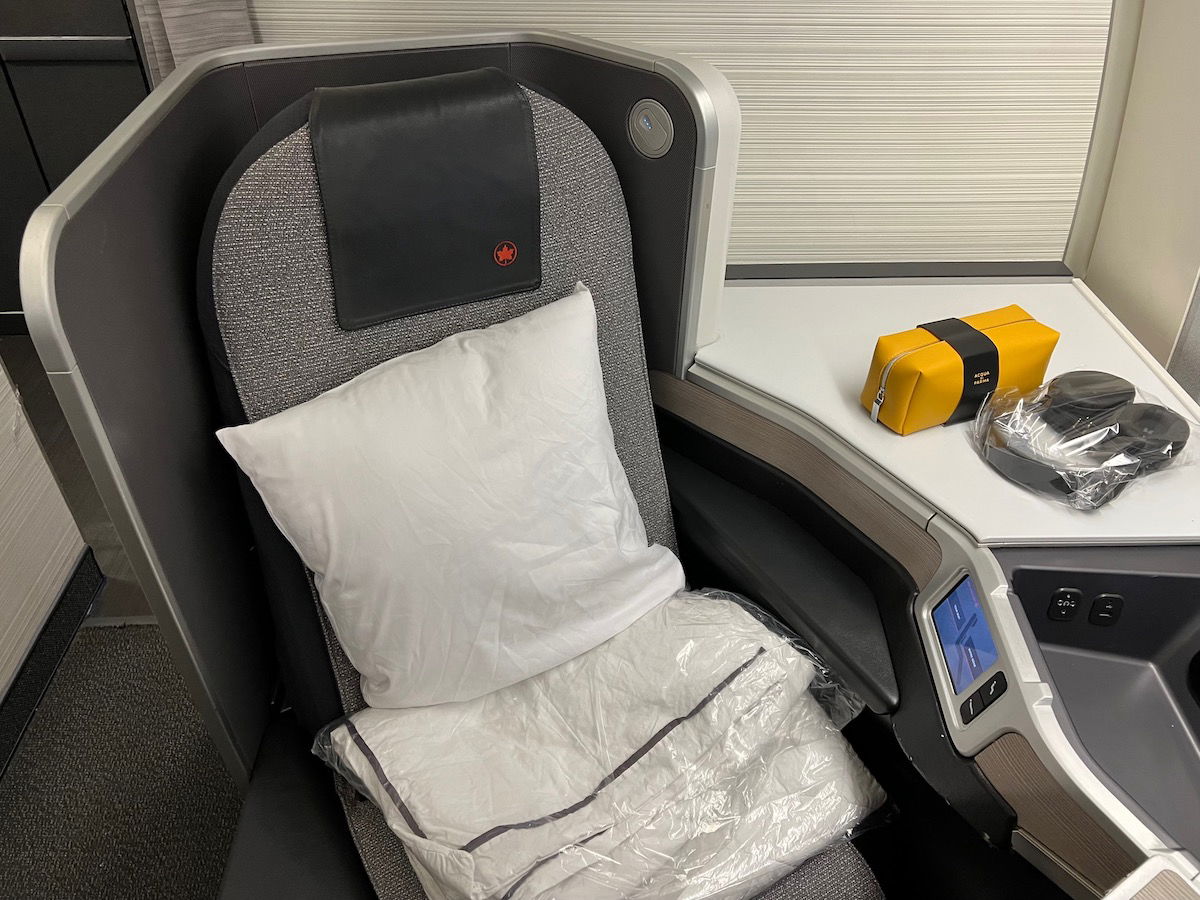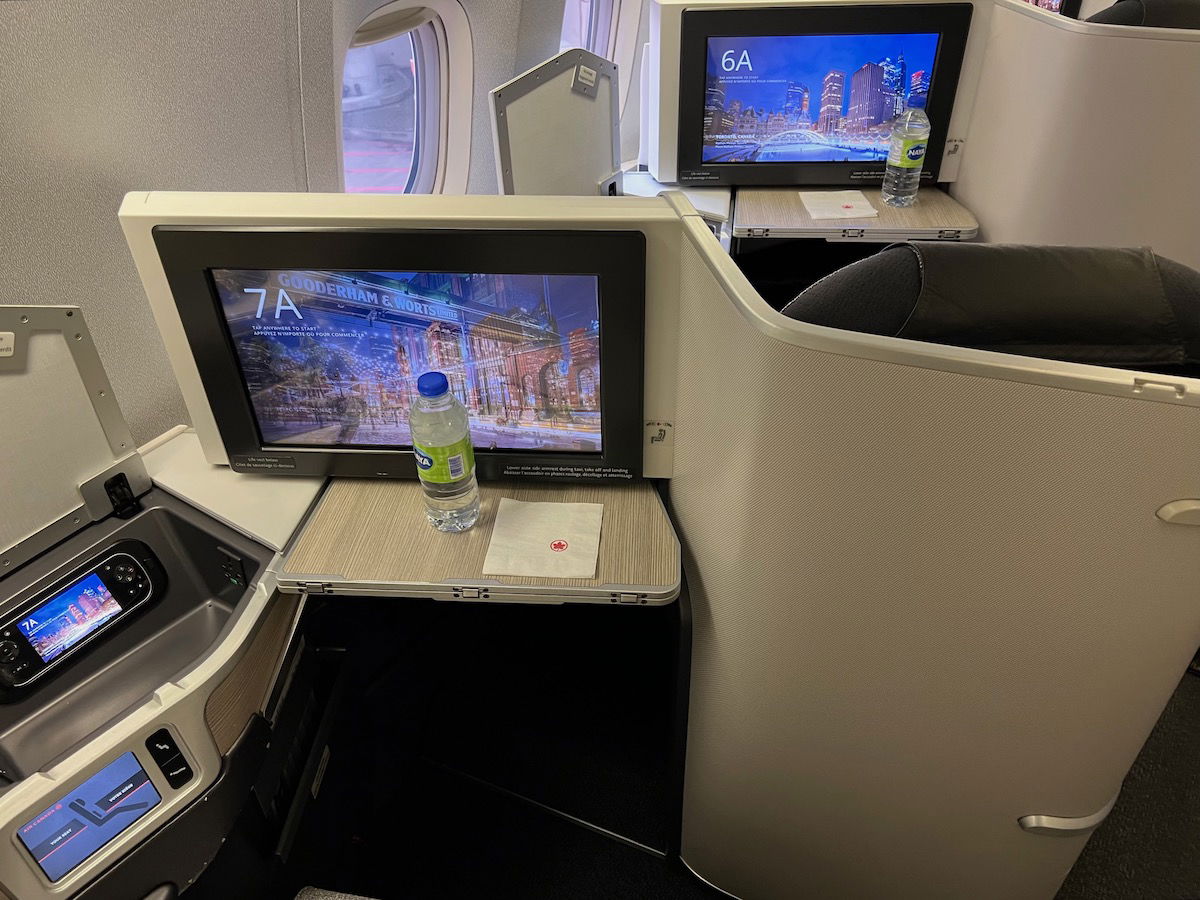 There's a ton of consistency between the Collins Aerospace seats offered by various airlines, so most OMAAT readers are probably quite familiar with these seats. There was a large counter next to the seat, including a console that could be opened.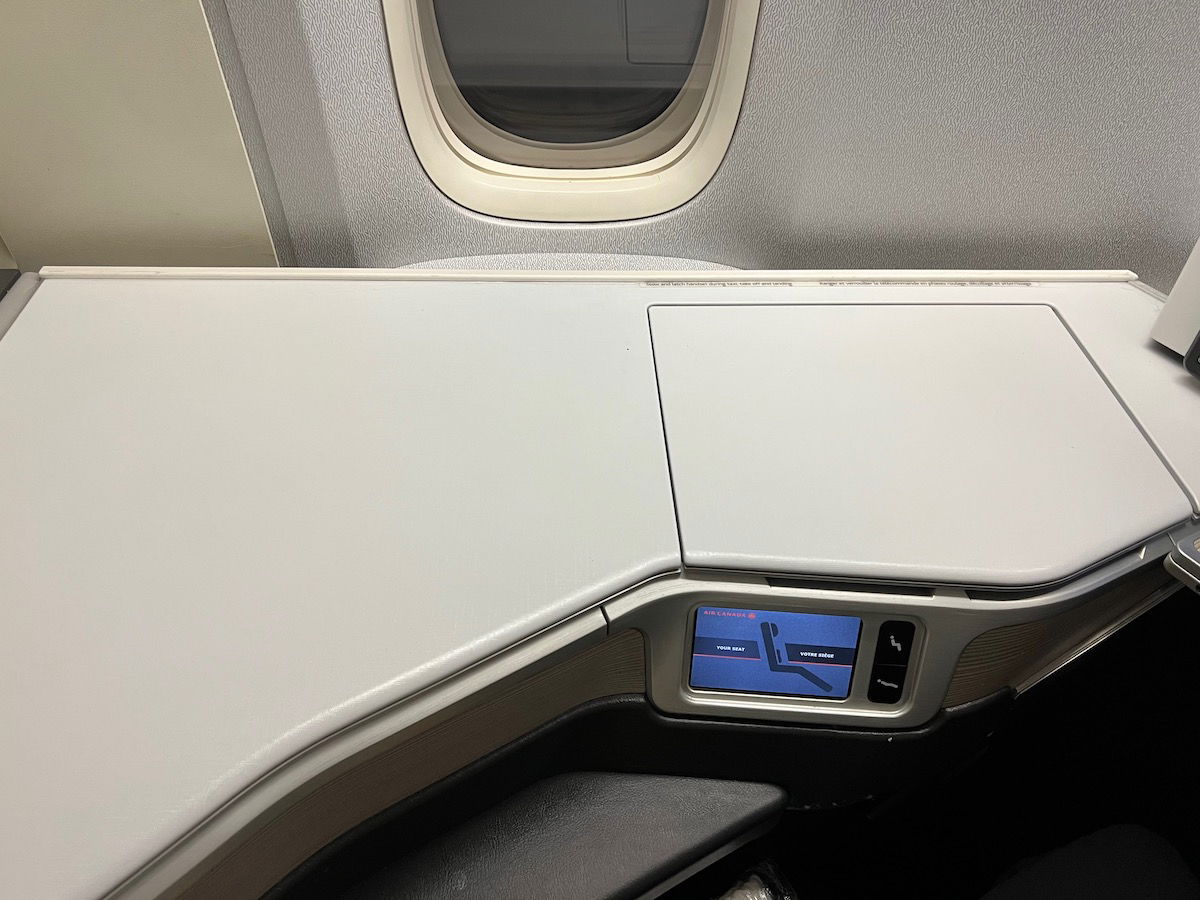 This console had an entertainment controller, AC power outlet, USB-A outlet, and headphone jacks.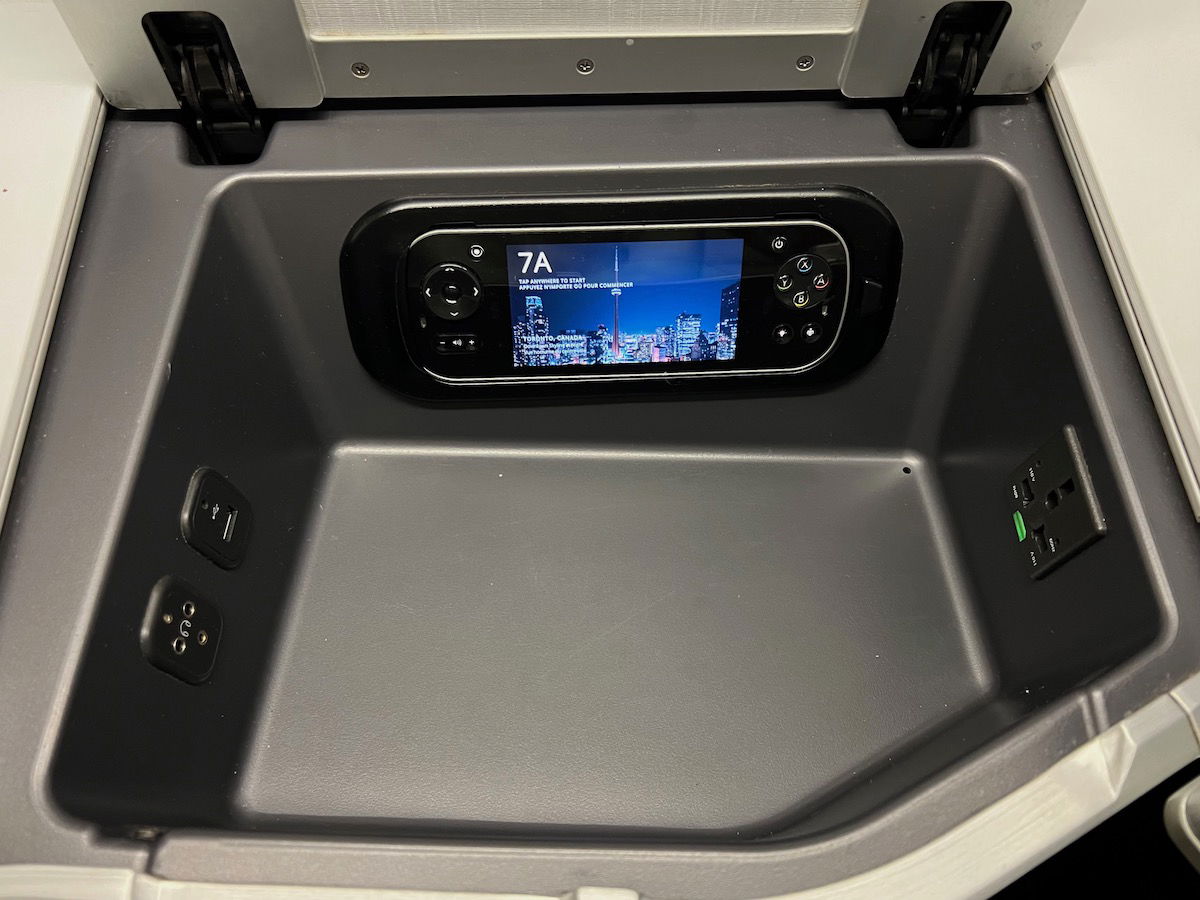 Immediately underneath that were the seat controls. There were a few buttons with pre-set options, and then individual seat functions could be controlled using a screen.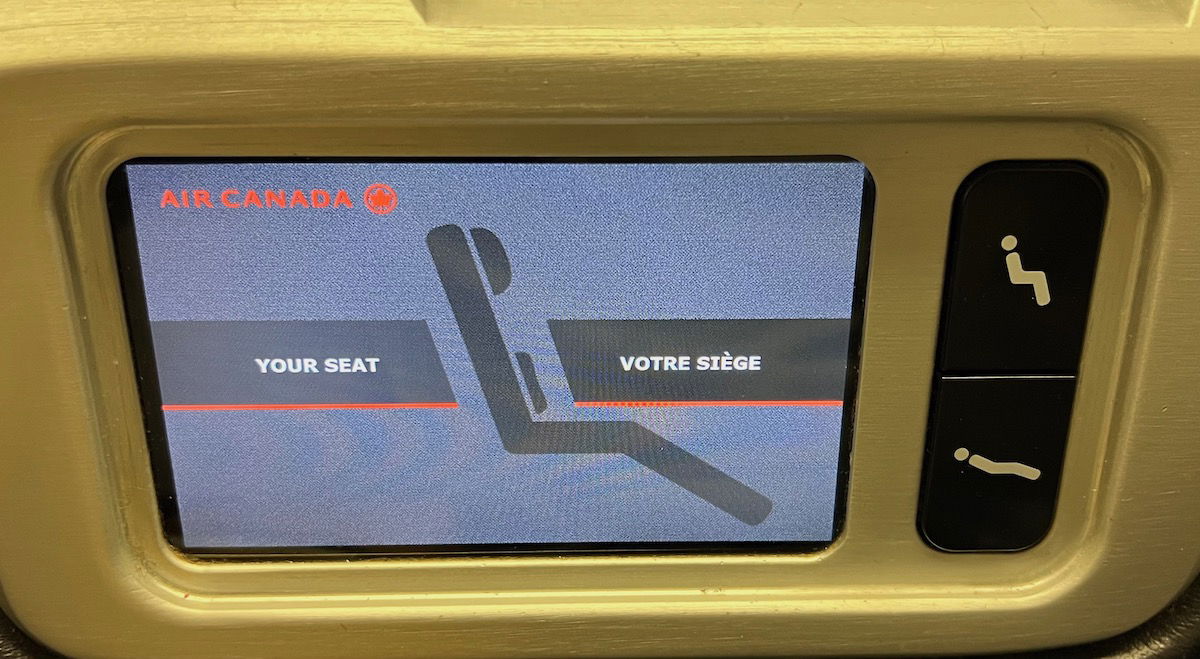 The tray table could be extended from underneath the personal television. When stored it's folded over in half, but you can flip it over to double the size of the tray table.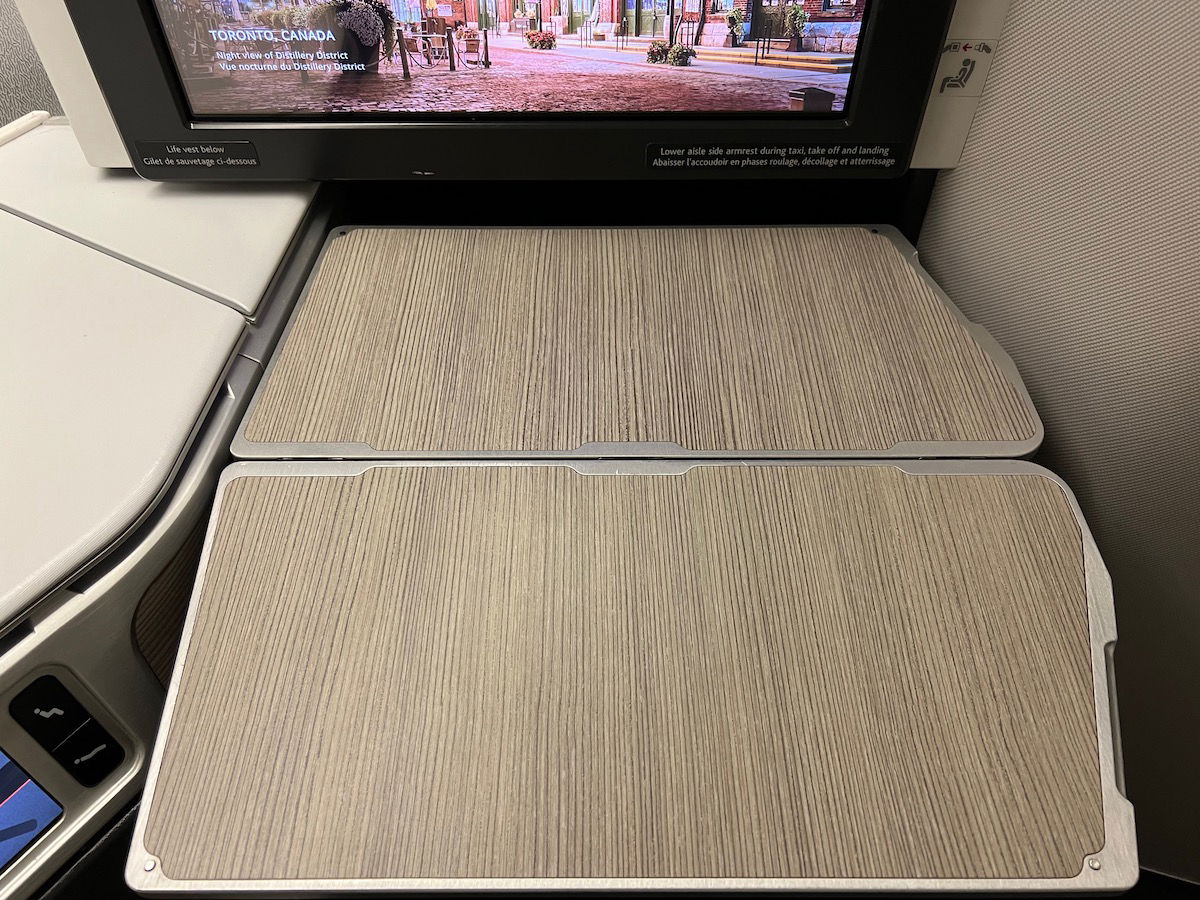 The aisle side of the seat had an armrest, which could be raised or lowered. There was also a small exposed storage compartment here, perhaps big enough for a bottle of water.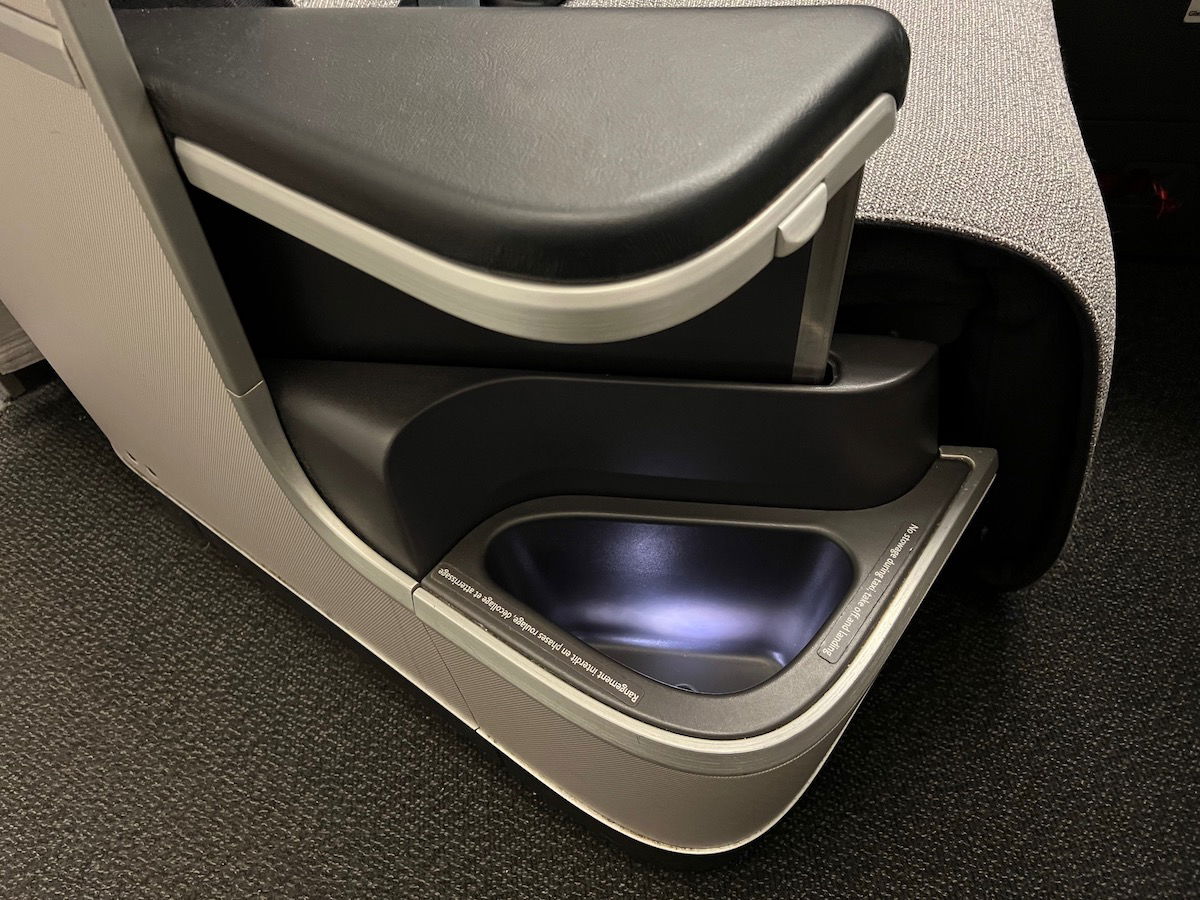 The seat had a reasonably sized footwell. Reverse herringbone seats are probably middle of the pack when it comes to the space for your feet.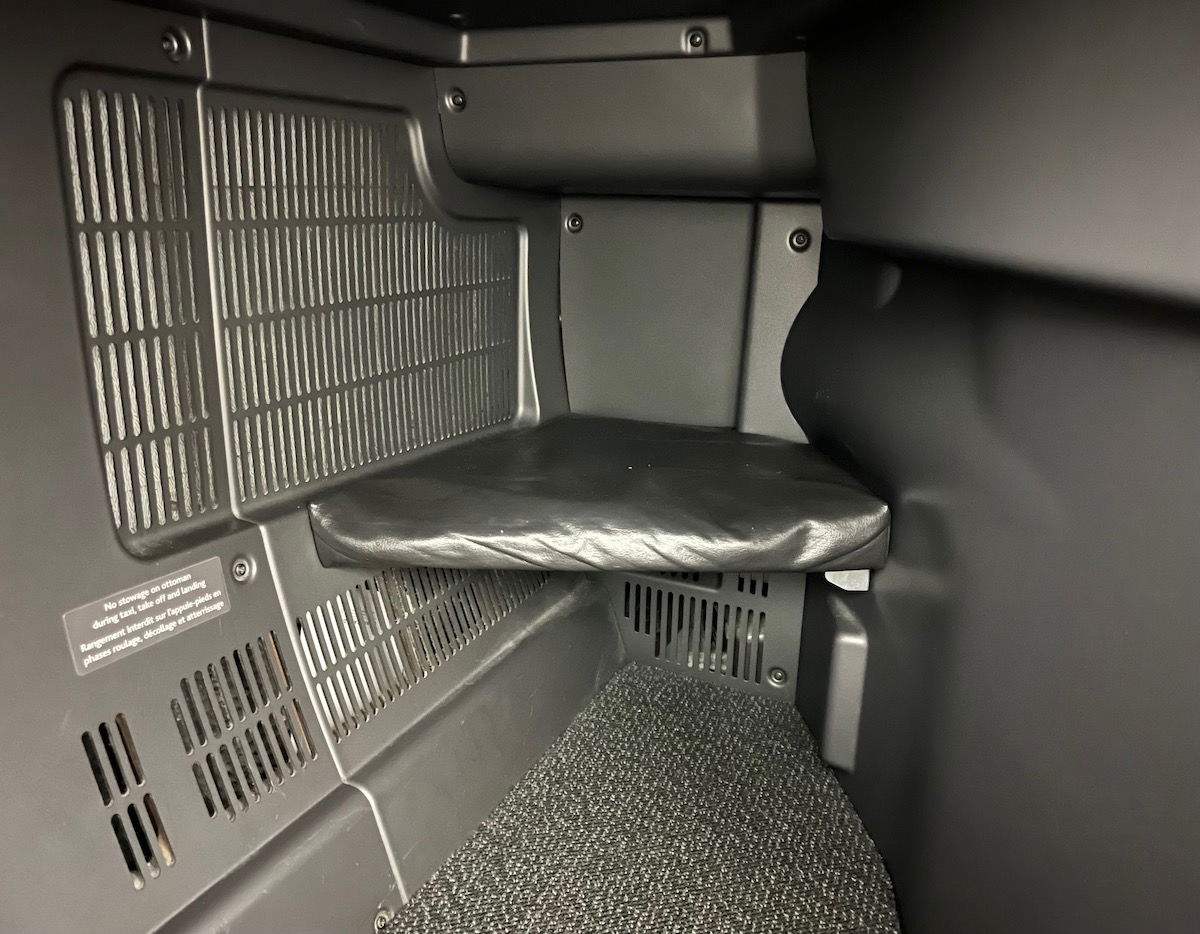 I appreciate that Air Canada has individual air nozzles at each seat on the 777, which is a feature that's way underrated, in my opinion.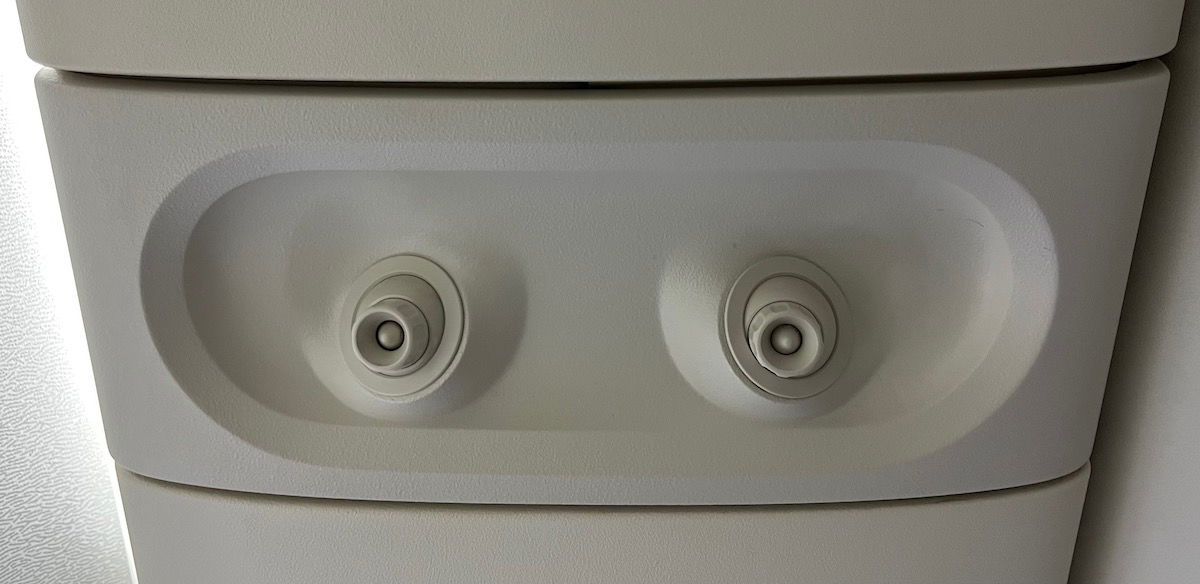 While not cutting edge, Air Canada has a very good business class hard product, and I also appreciate the product consistency, given that you'll find the same seats on virtually all of Air Canada's long haul aircraft. There are very few airlines the size of Air Canada with that level of consistency.
Air Canada business class amenities
What are the amenities like in Air Canada business class? Waiting at each seat upon boarding was an amenity kit. Air Canada now partners with Acqua di Parma on its amenity kits. That's a premium collaboration, and I quite like the yellow leather kits they come in. The amenities included socks, eyeshades, earplugs, a dental kit, a cloth for cleaning glasses, and hand cream and lip balm from Acqua di Parma.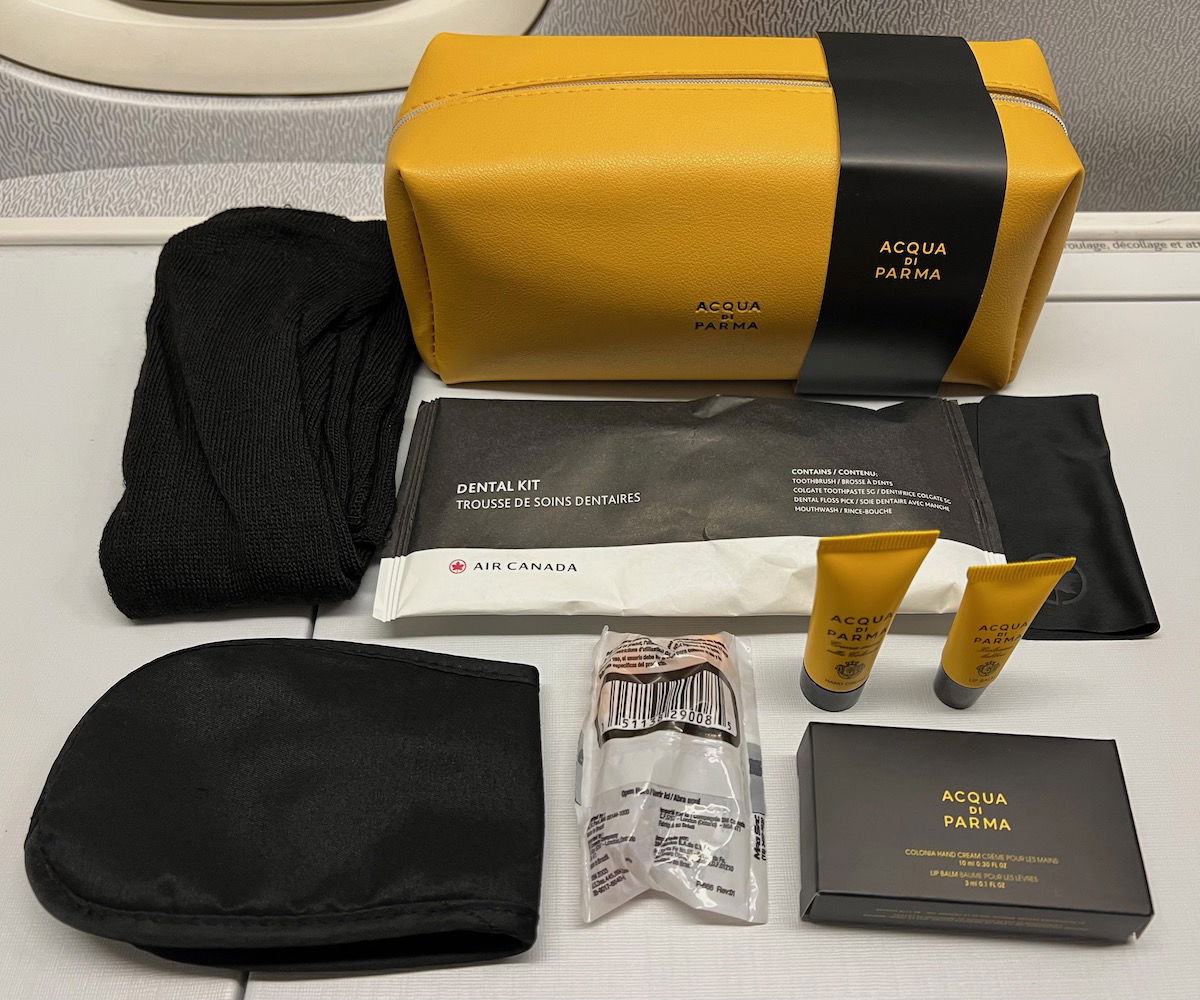 There were also a pair of headphones waiting at each seat. They weren't as good as the Bang & Olufsen headphones you'll find on American, but were decent.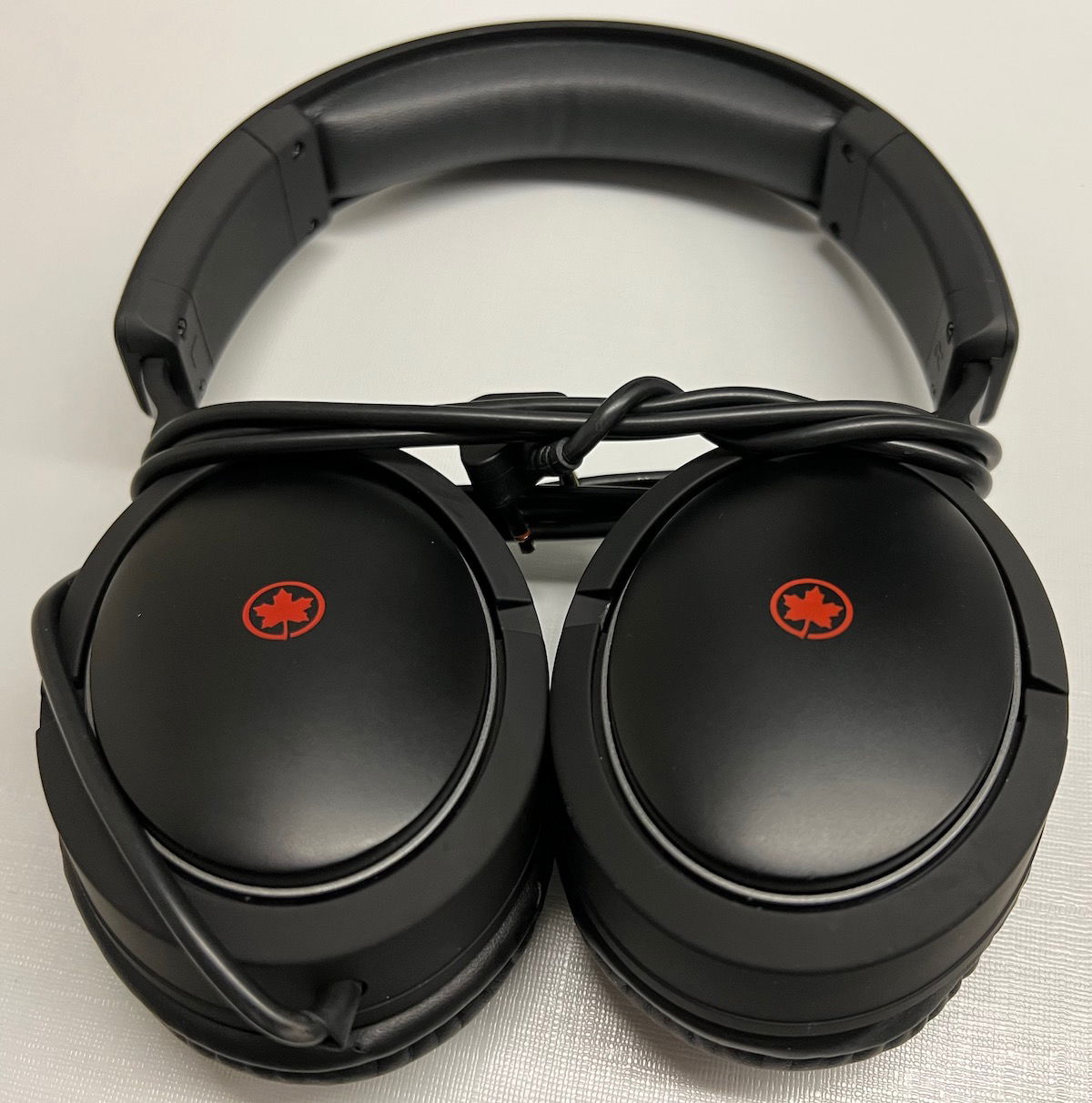 Also waiting at each seat was extensive bedding, including a pillow, a mattress sheet, and a blanket. I find Air Canada's bedding to be quite good, as I appreciate that the pillow is quite thick, and the blanket is cozy. Interestingly I found the bedding to be much rougher on this flight than on my next flight — I'm not sure if that's just because the number of wash cycles it has gone through, or if it's because of the different water in Germany vs. Canada.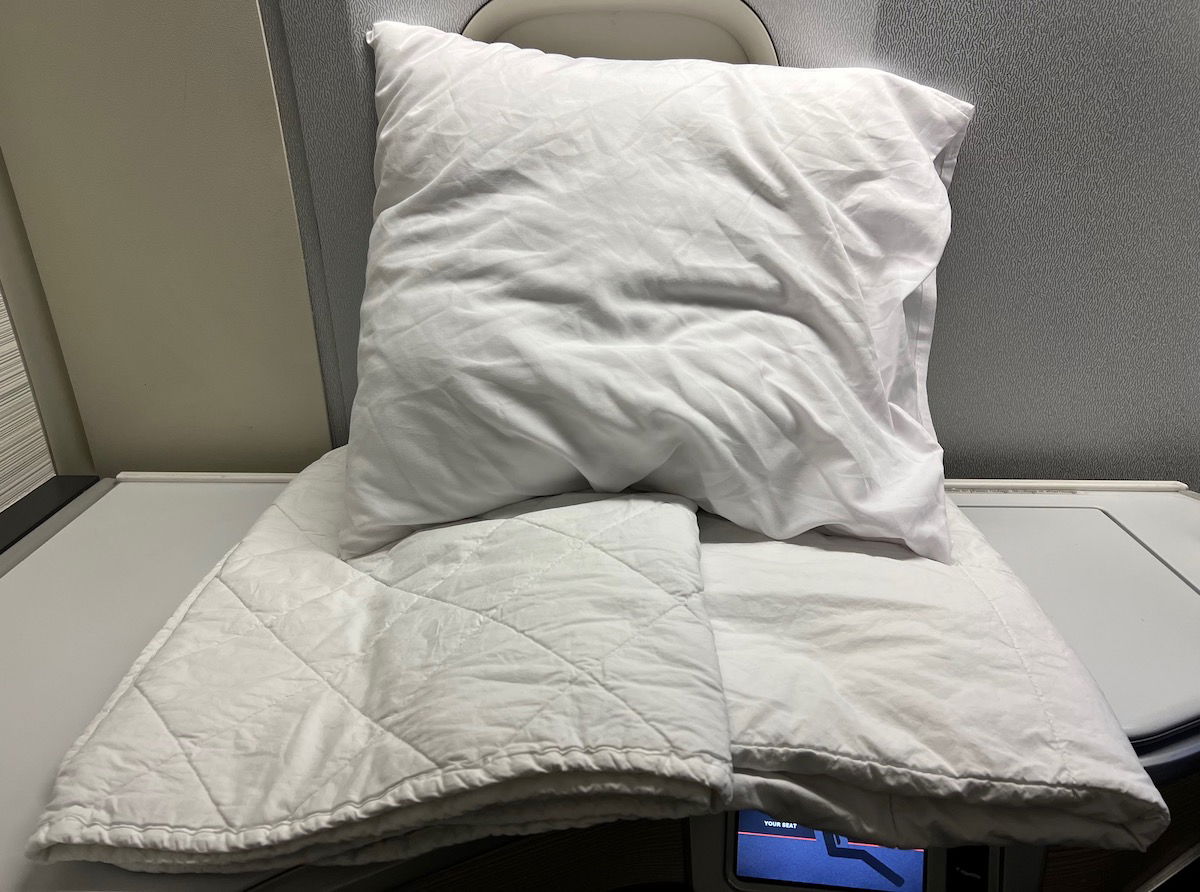 There was also a bottle of water waiting at each seat upon boarding.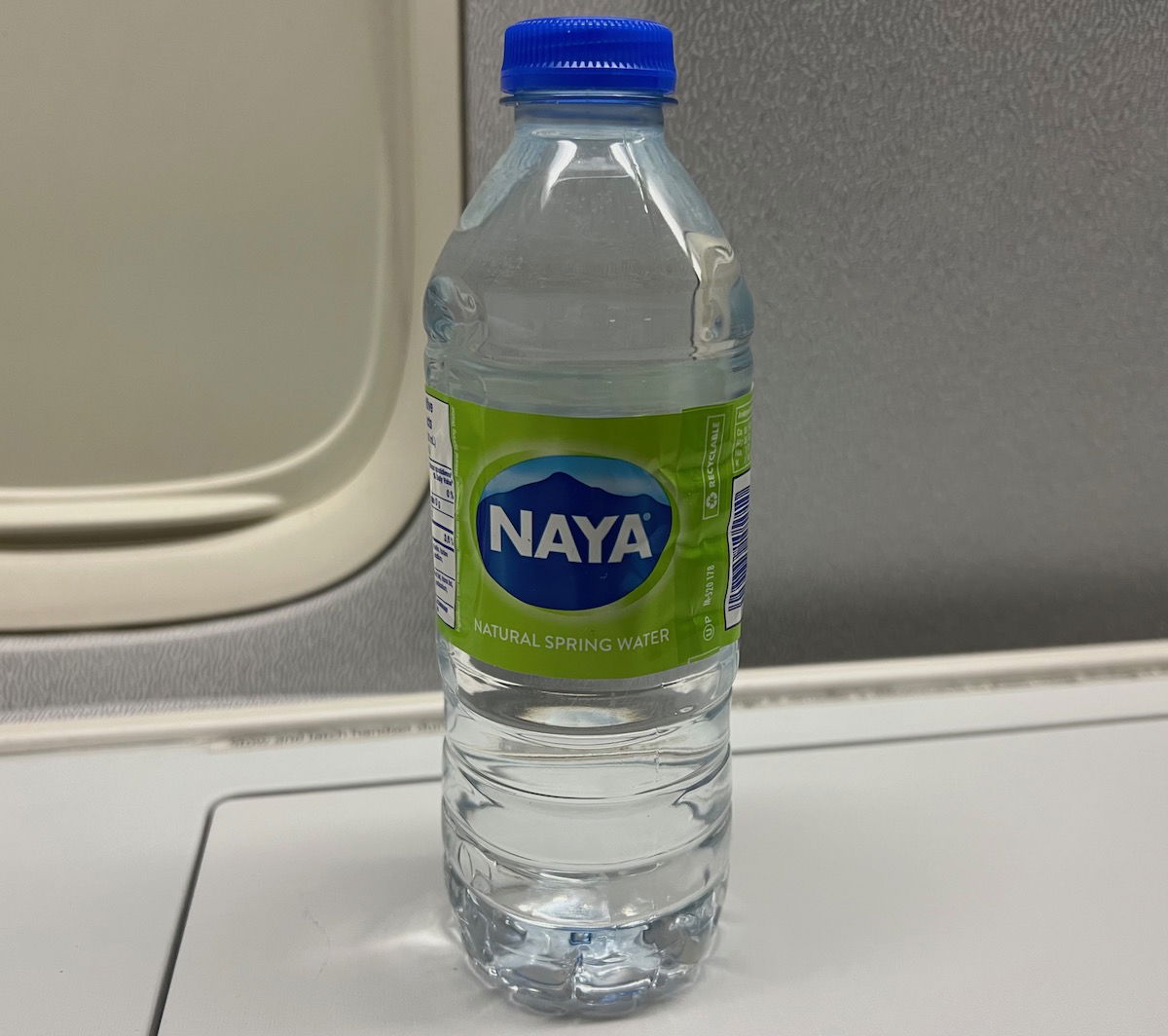 During boarding, the crew also passed out the menu and drink list. The crew member simply held out the menu without saying a word.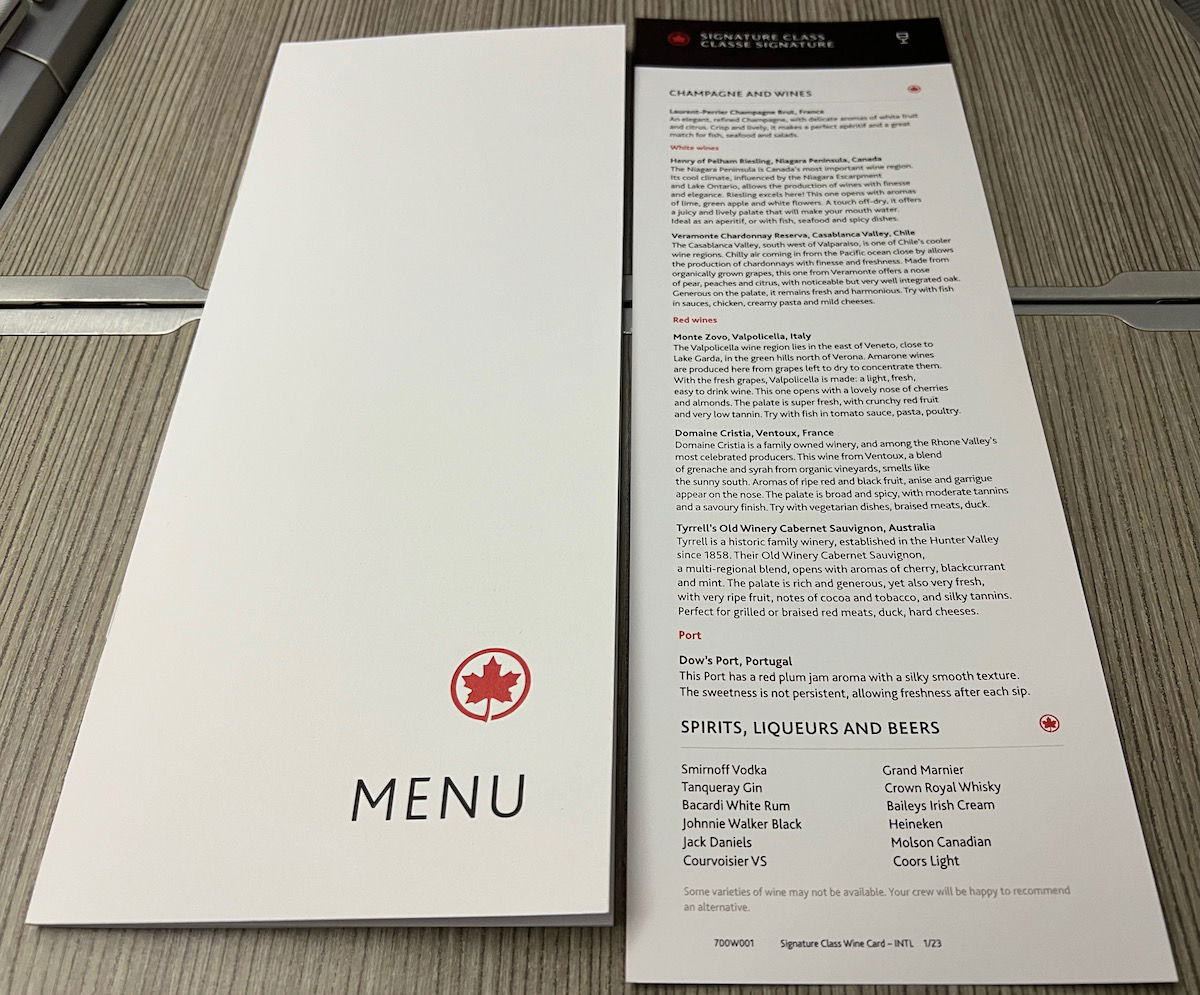 Then pre-departure drinks were brought around the cabin, with the choice of champagne or water. Again, this was done without saying a word — at this point I wondered if I had accidentally booked a fare that doesn't include the crew speaking with you. 😉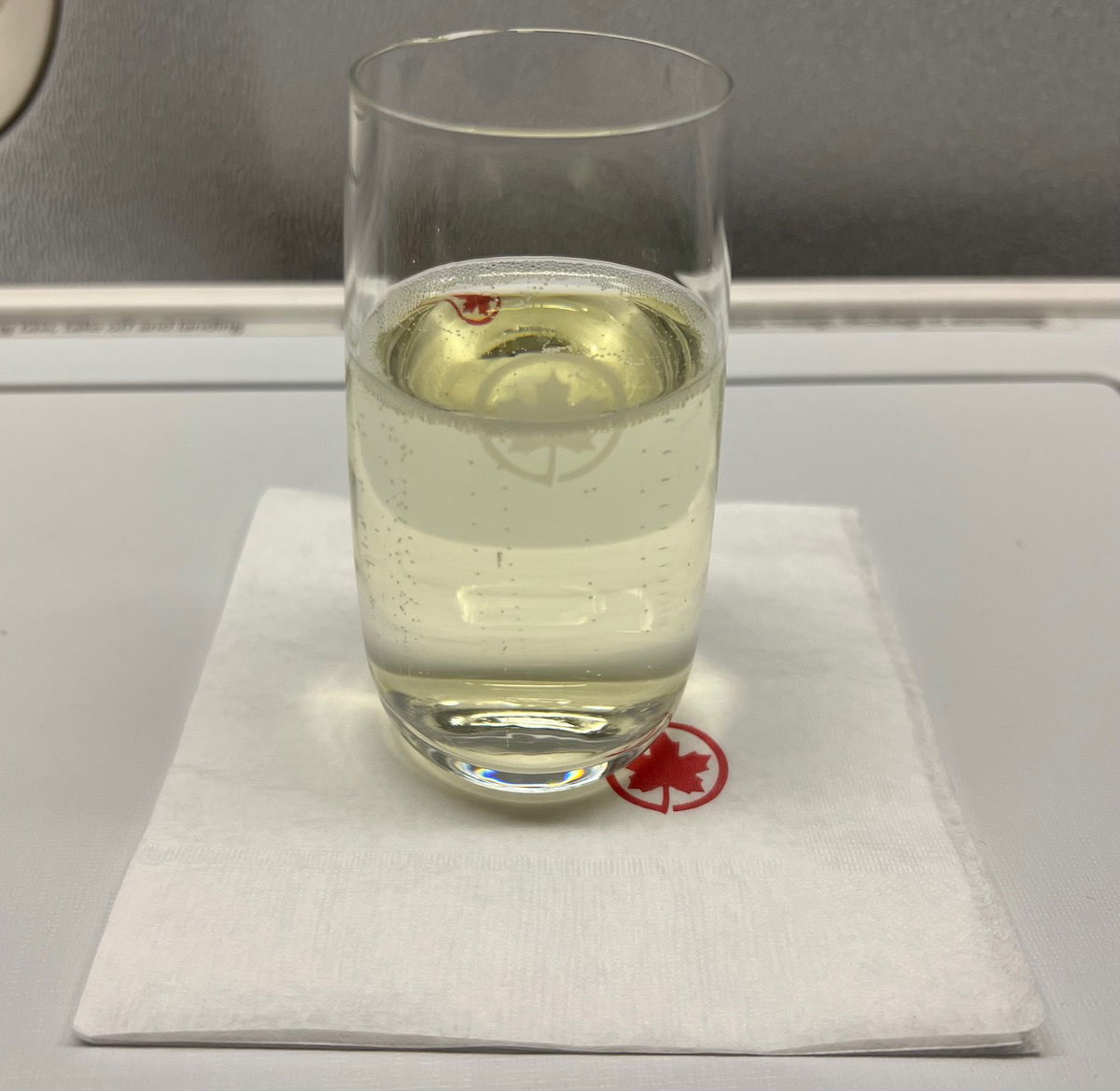 Toward the end of boarding I got my first communication from the crew, as a flight attendant said "can I get your meal choice?" That was the extent of the communication.
Air Canada business class entertainment & Wi-Fi
One area where Air Canada excels is with its inflight entertainment and Wi-Fi offering. I found Air Canada's entertainment system to be easy to use, and the selection of movies and TV shows was extensive. Due to how the shows were organized, it was hard to tell just how many movies and TV shows there were, but the answer is "a lot."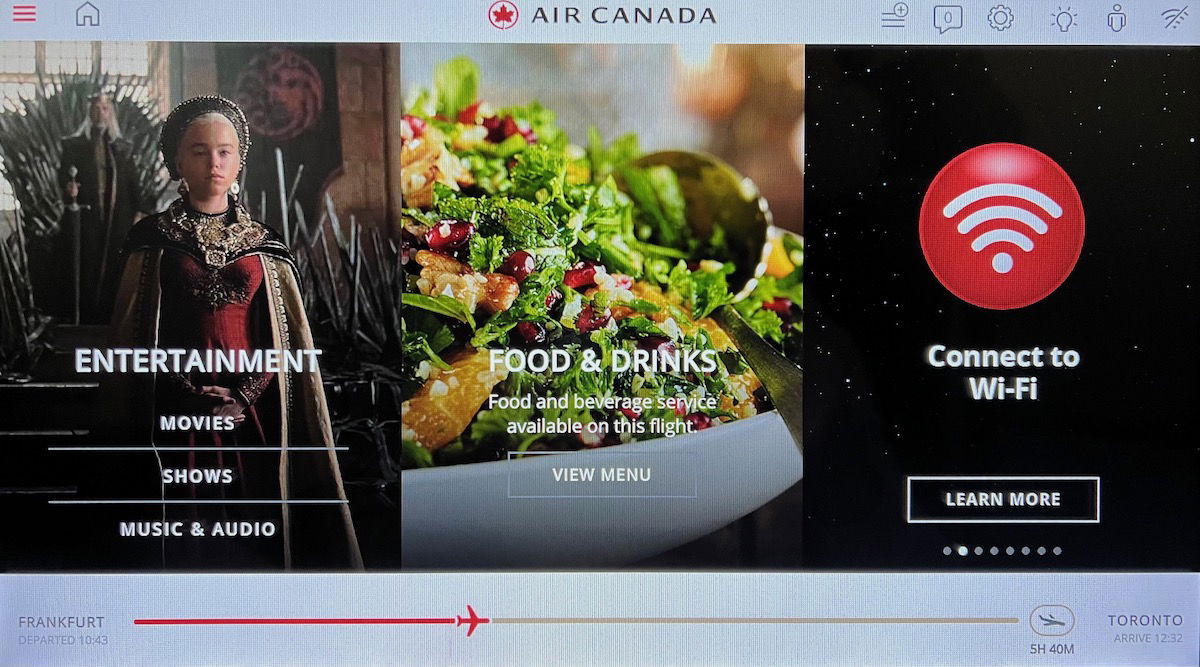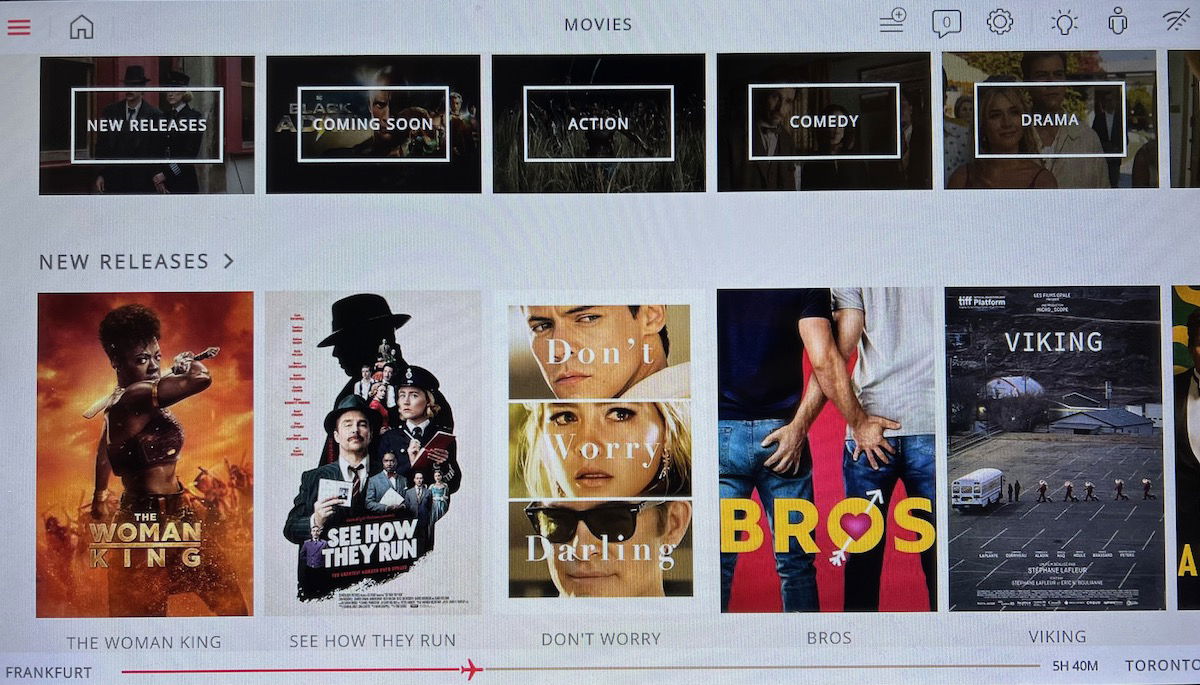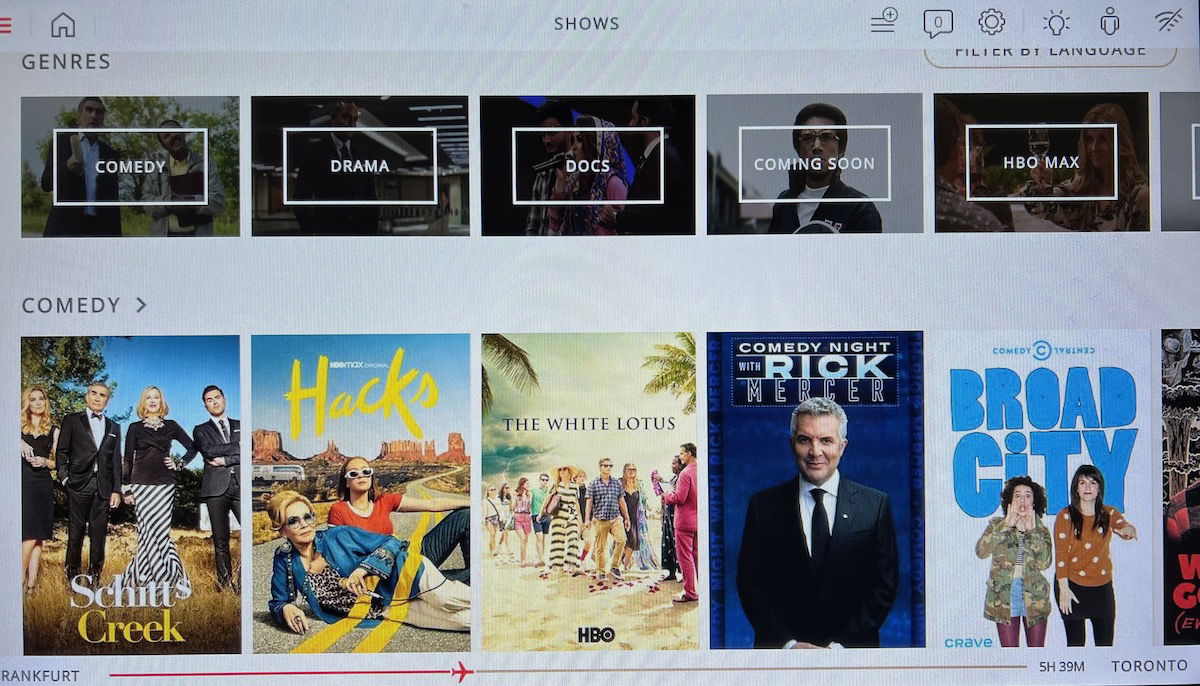 I ended up finishing the first season of The White Lotus on this flight, so that's fantastic inflight entertainment, as far as I'm concerned.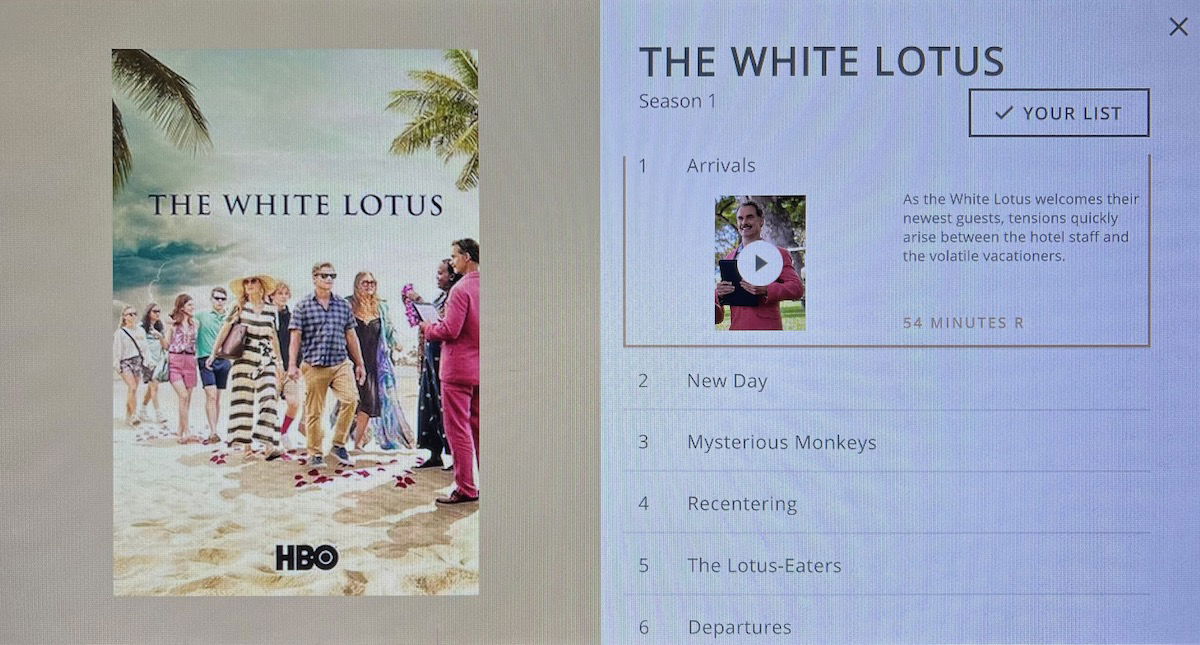 I also ended up watching some episodes of Hacks, a sitcom I hadn't seen before.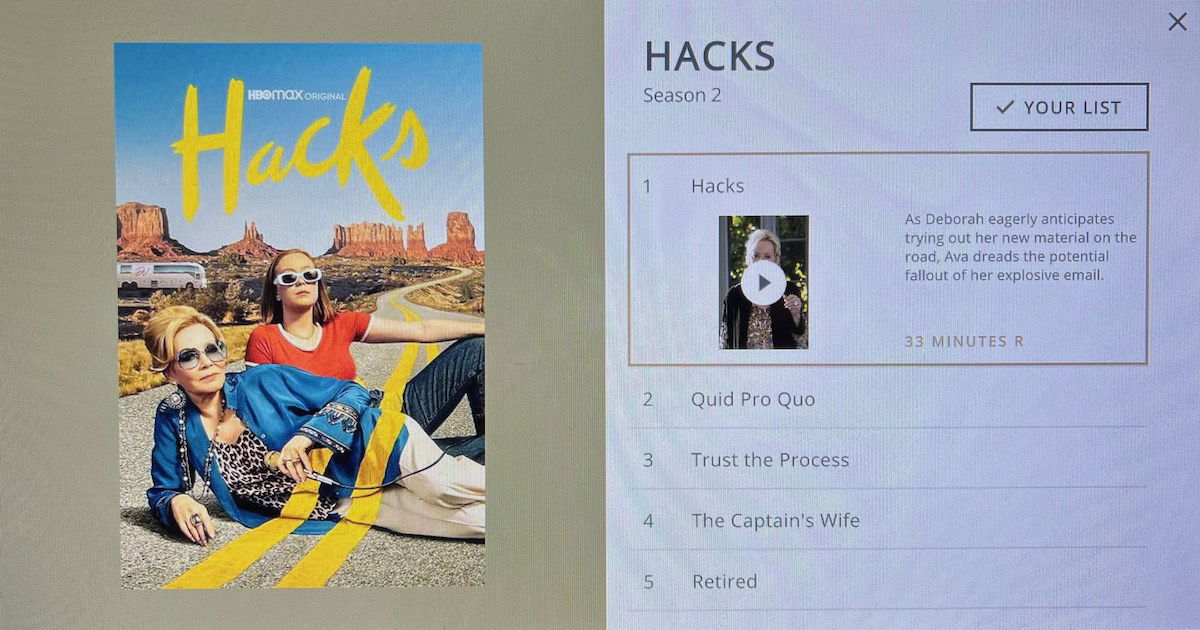 I also appreciated Air Canada's map feature, which made it easy to customize the view you prefer.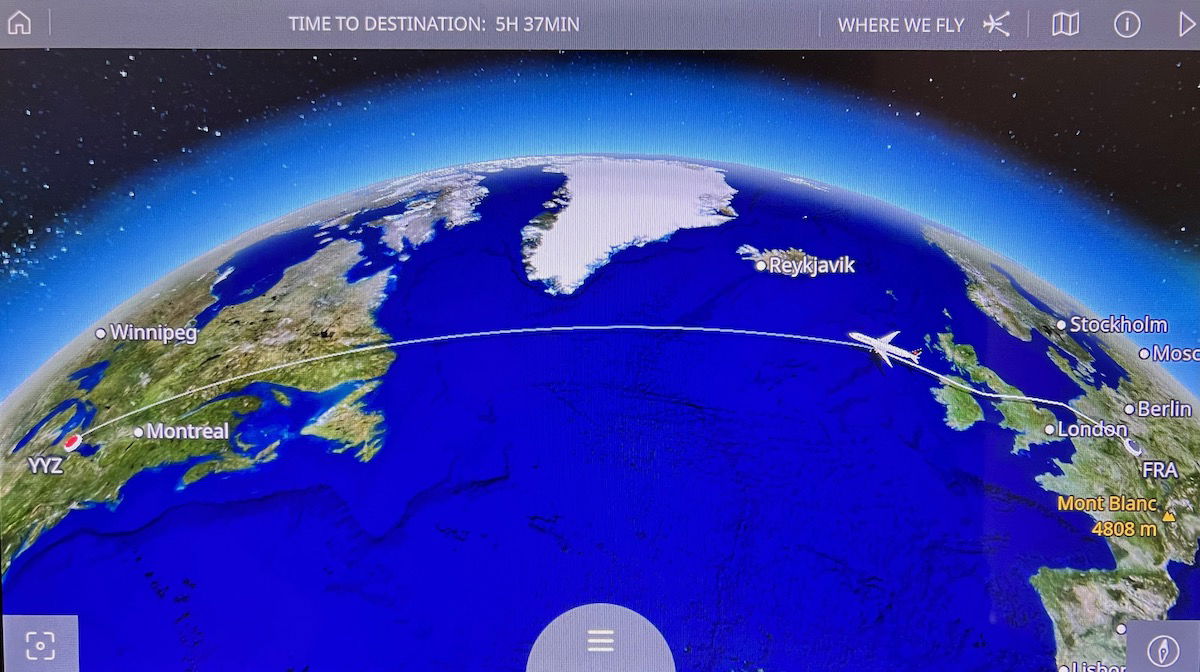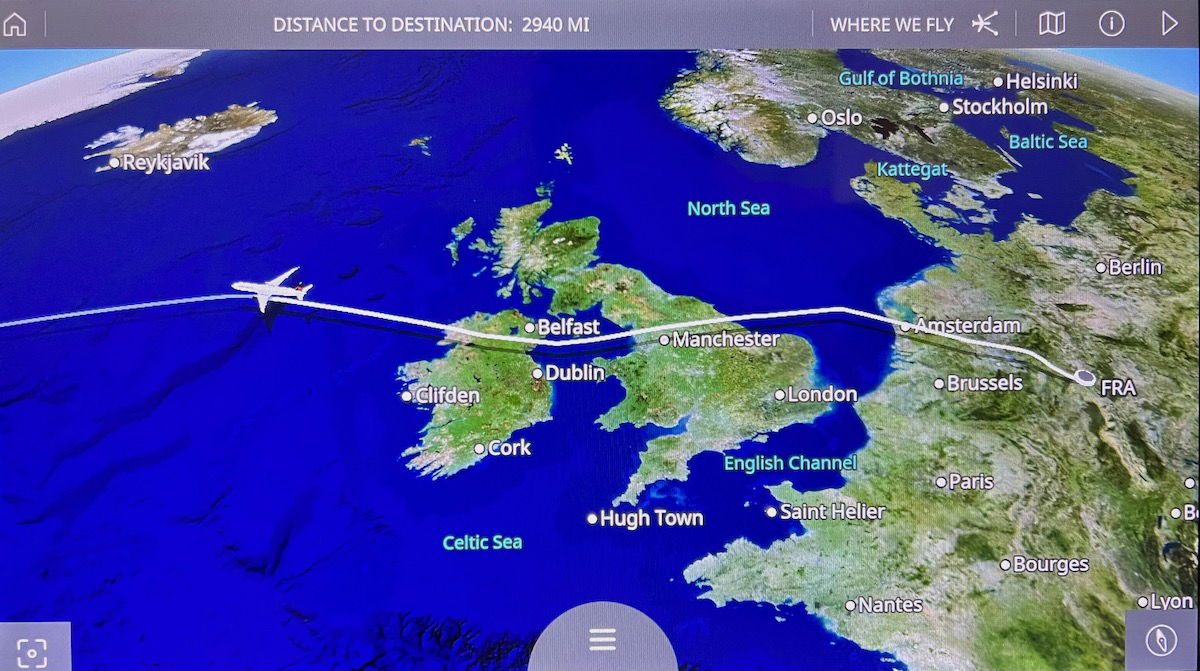 Air Canada's Boeing 777s also feature Wi-Fi, and I found the pricing and speeds to be fair. You could purchase Wi-Fi for an hour, for the full flight, or for the entire day. There were three pricing models:
The Browse plan cost 19.25 CAD for the full flight, and supports light browsing, email, messaging, and social media
The Stream plan cost 27.75 CAD for the entire flight, and offers faster speeds that support streaming sites and browsing
The Ultimate plan cost 34.50 CAD and offers premium internet service that supports higher quality streaming



I was confused about the distinction between the Stream and Ultimate pass. My understanding is that bandwidth is prioritized for the Ultimate pass, though I can't imagine that the difference is material. I ended up buying the Ultimate pass and found the speeds to be quite good, though not good to the point that I feel like there's a worthwhile distinction compared to what's allegedly a Stream pass.
Anyway, Air Canada does great with inflight entertainment and Wi-Fi.
Air Canada 777 departure from Frankfurt
Boarding took about 45 minutes, as the flight was pretty full. Economy was mostly full, while business class ended up being completely full. Business wasn't initially booked to capacity, but there was a deadheading crew that got accommodated in business class.
I'm of course all for crews getting space available business class seats contractually, as that's totally fair. What would have been nice is if they hadn't loudly exclaimed this, and if the working crew said "well if you need anything please let us know." The rest of us passengers never got such a greeting, so the optics of telling your colleagues but not your customers to feel free to make any requests isn't great.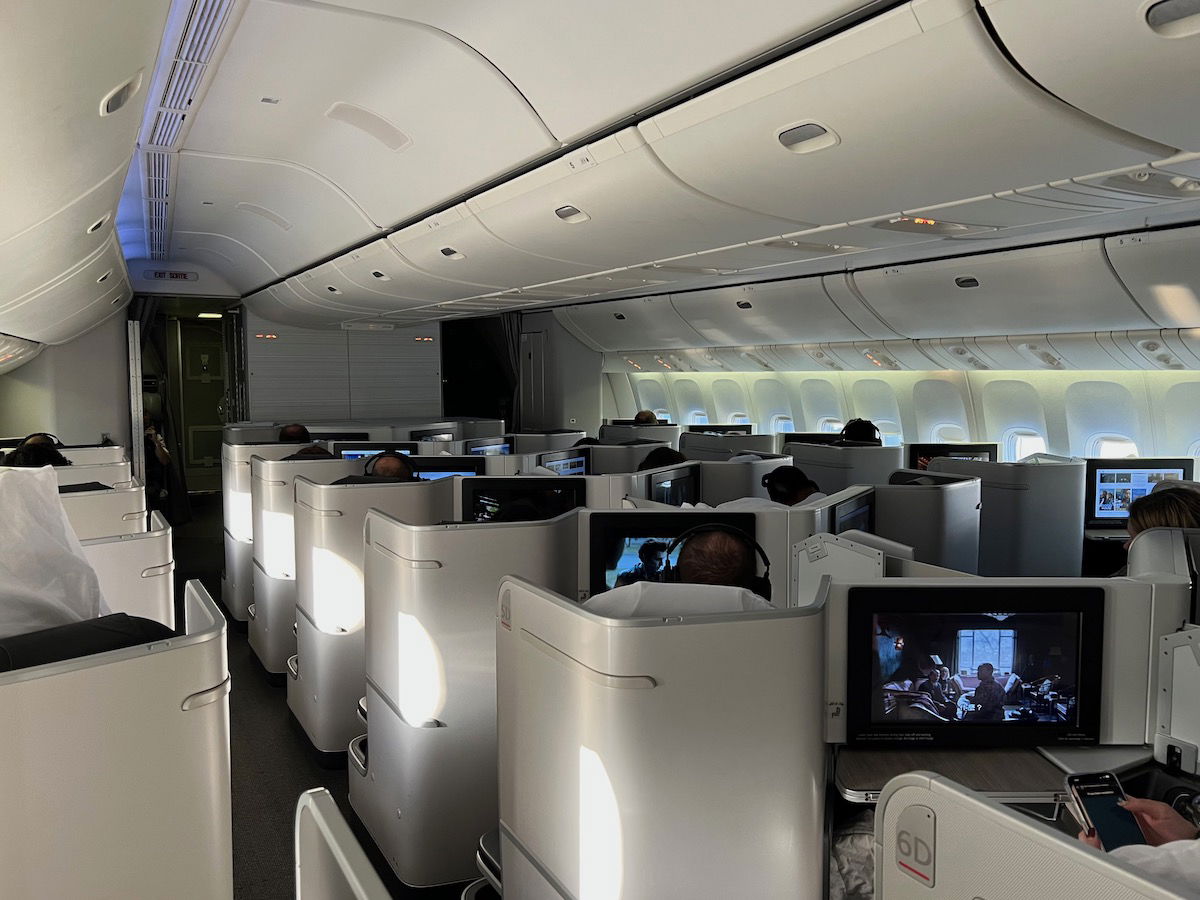 Boarding was finished by 9:30AM, and at 9:40AM the captain made his welcome aboard announcement, informing us of our flight time of eight hours. He explained that the aircraft would need to be deiced, causing a bit of a departure delay. Furthermore, he explained that we'd encounter some turbulence for the first 90 minutes of the flight.
The door closed at around 9:45AM, and five minutes later the safety video was screened. One thing that I always find frustrating about flying with Air Canada (though I get that it's unavoidable) is how long announcements and safety videos take.
All announcements are always made in English and French, and then they're also made in German on flights to & from Germany. Making all announcements in three languages sort of makes the flight feel like a narrated event, based on the amount of time the PA is in use.
At 10:10AM the deicing trucks pulled up to the plane. That took about 20 minutes, and then at 10:30AM we began our pushback.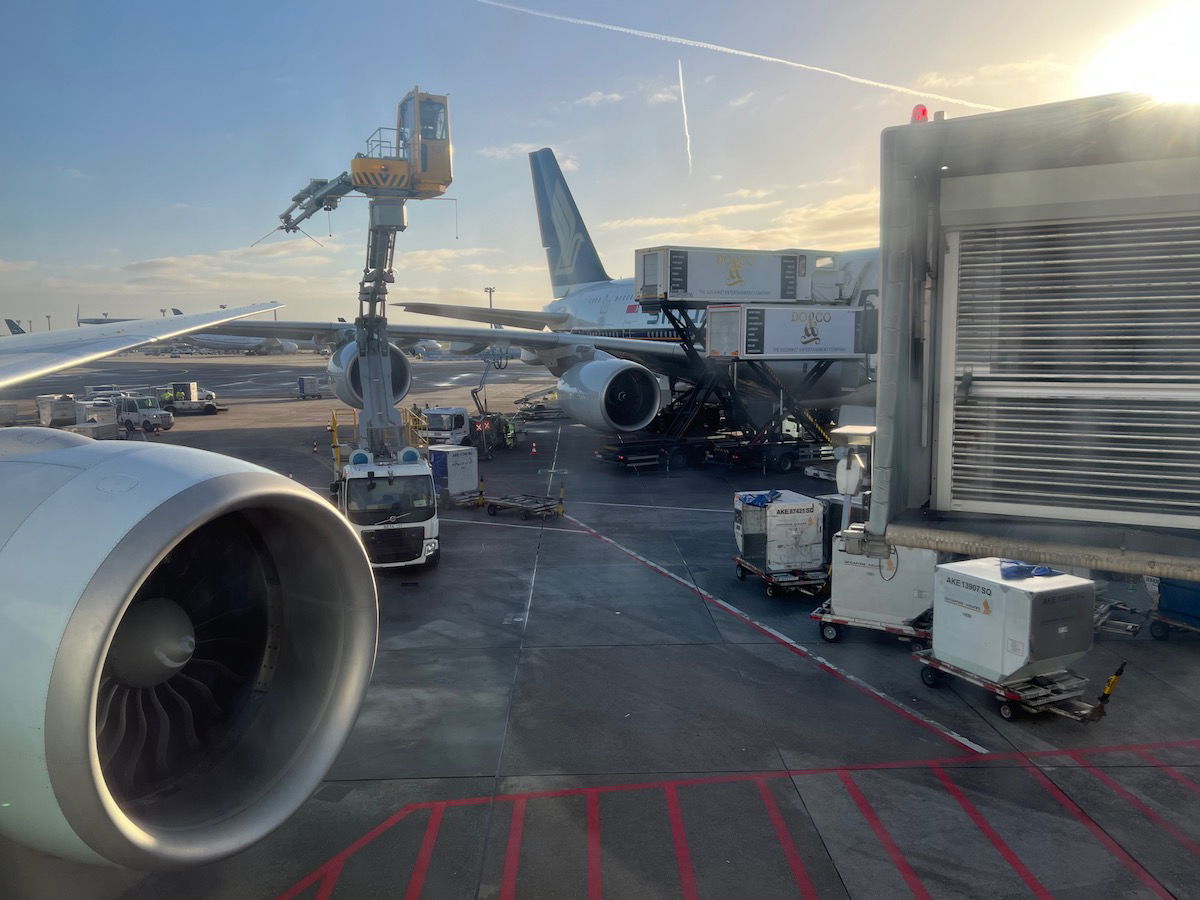 We then started up our engines, and had a very short taxi to runway 25C.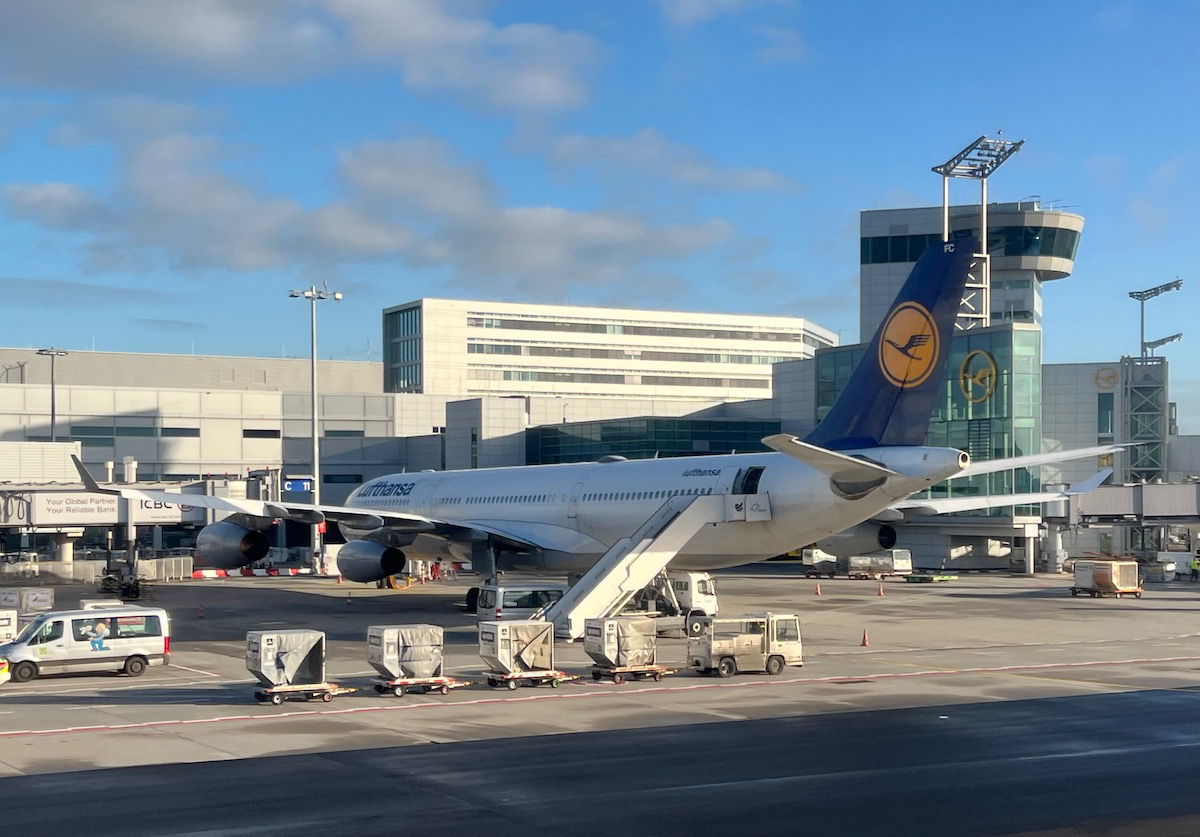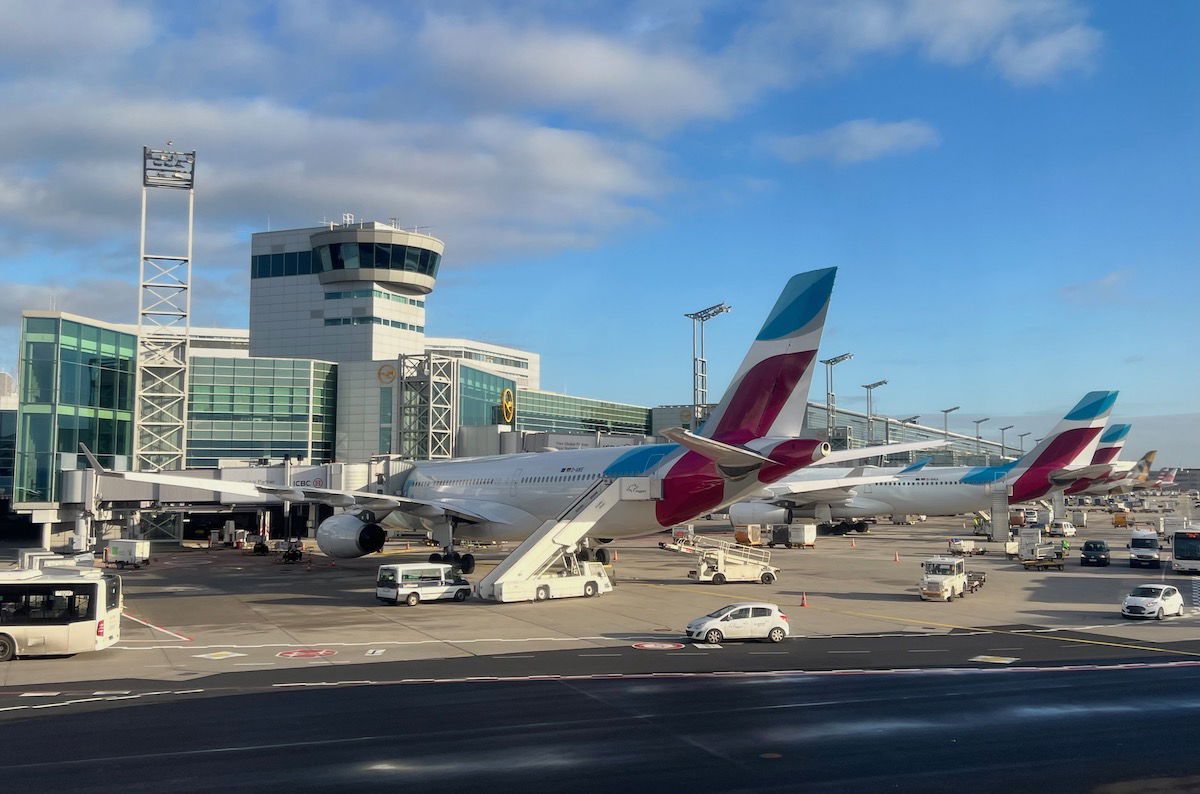 Once there, we had to wait for a couple of planes to take off, and then it was our turn at 10:45AM.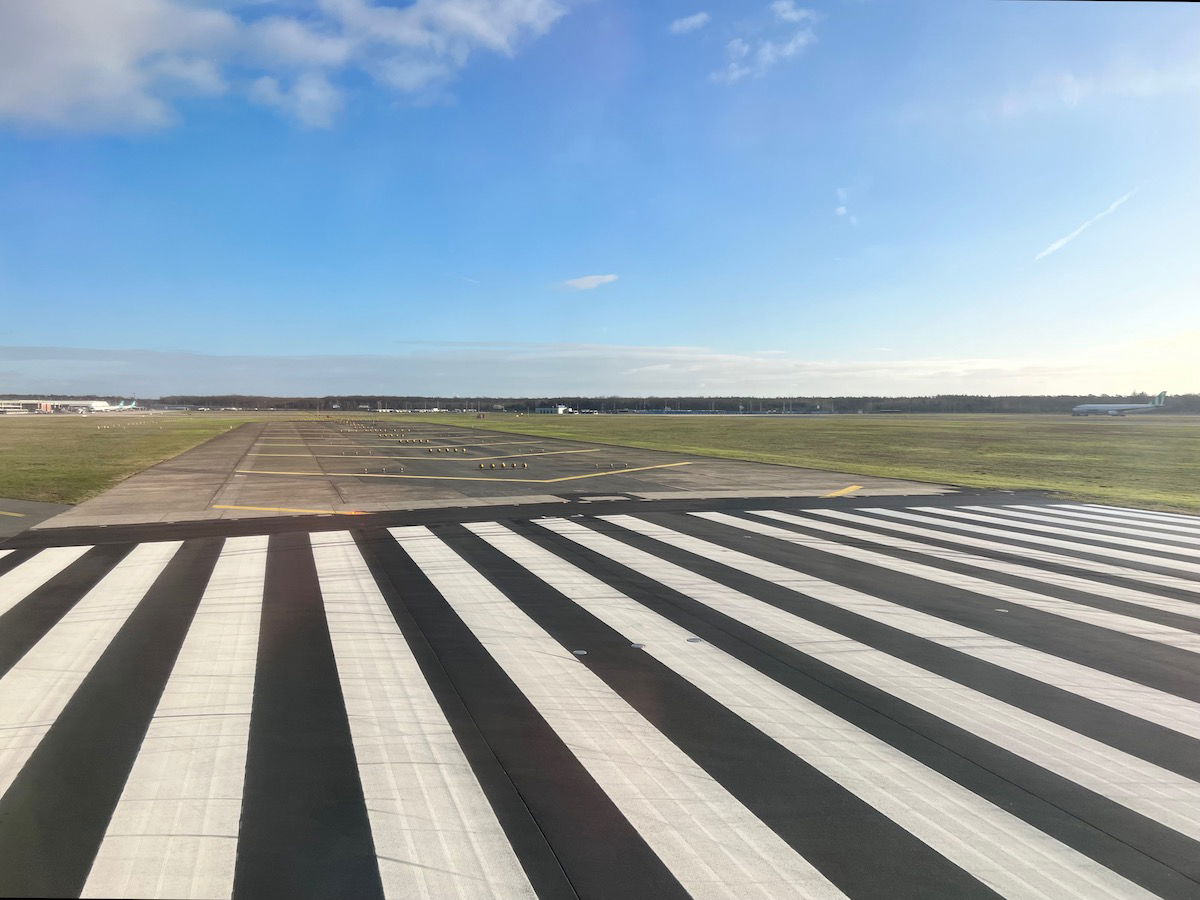 The views on the climb out were beautiful…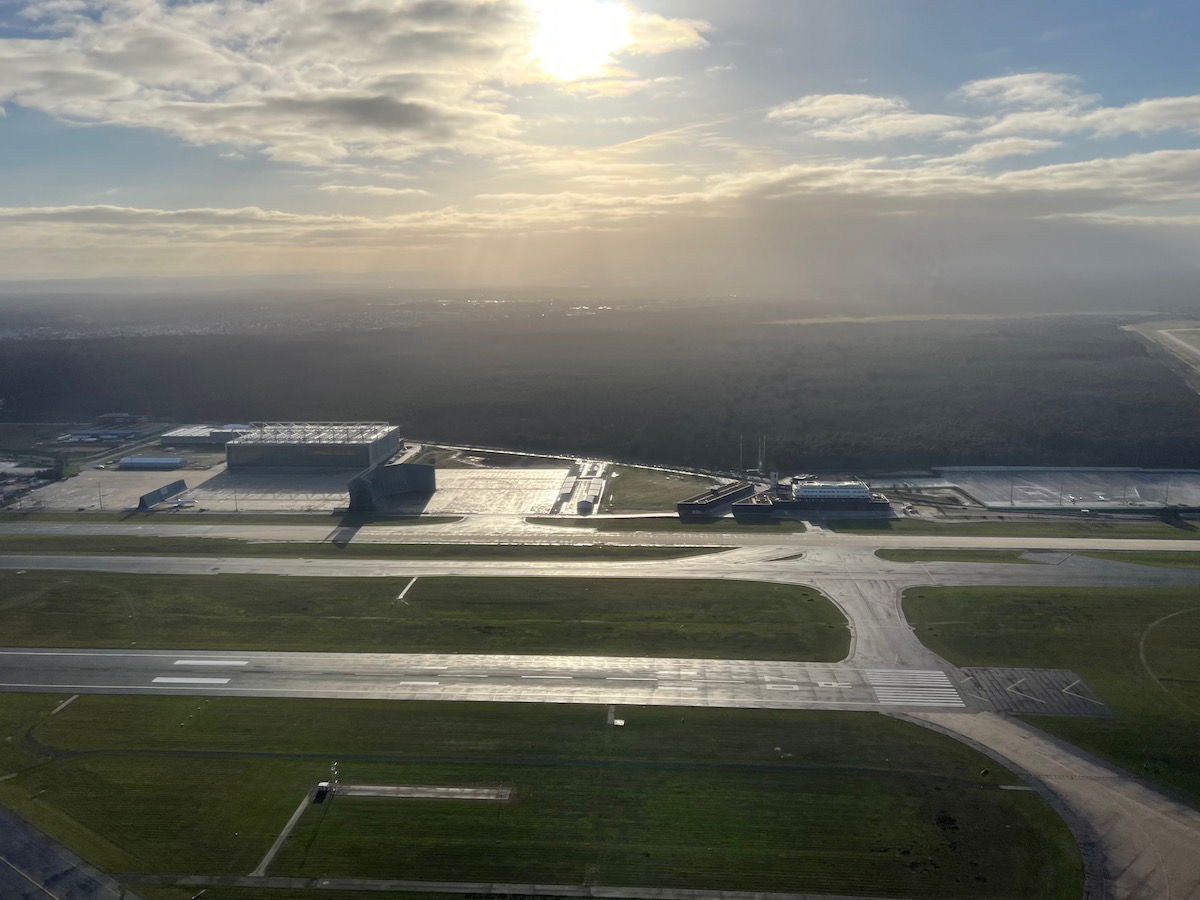 Air Canada business class lunch service
A meal was served after takeoff, and you can find the menu and drink list below. Not that it's a big deal, but I'm confused about the main meal being labeled as "dinner" when it's served before noon…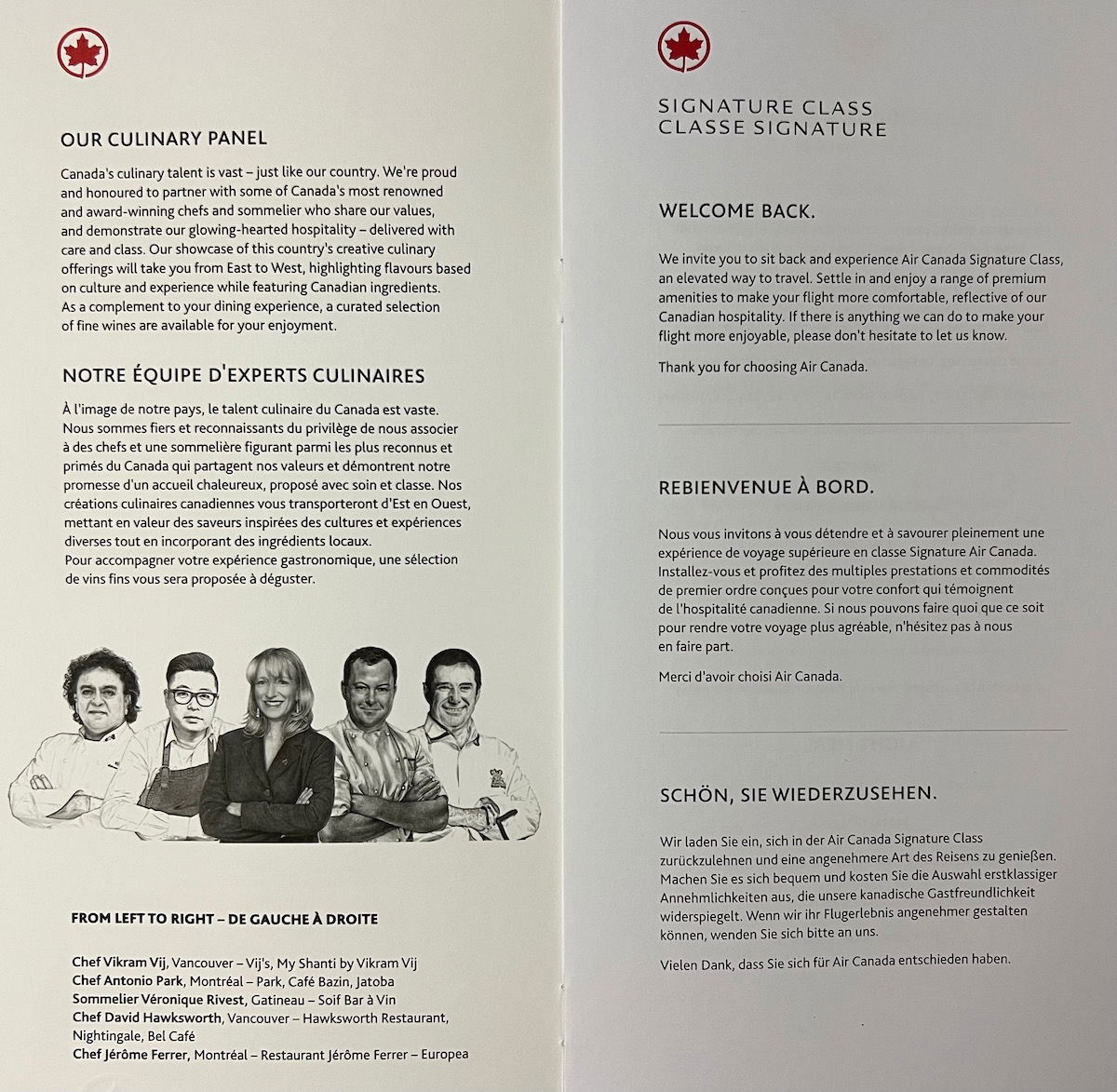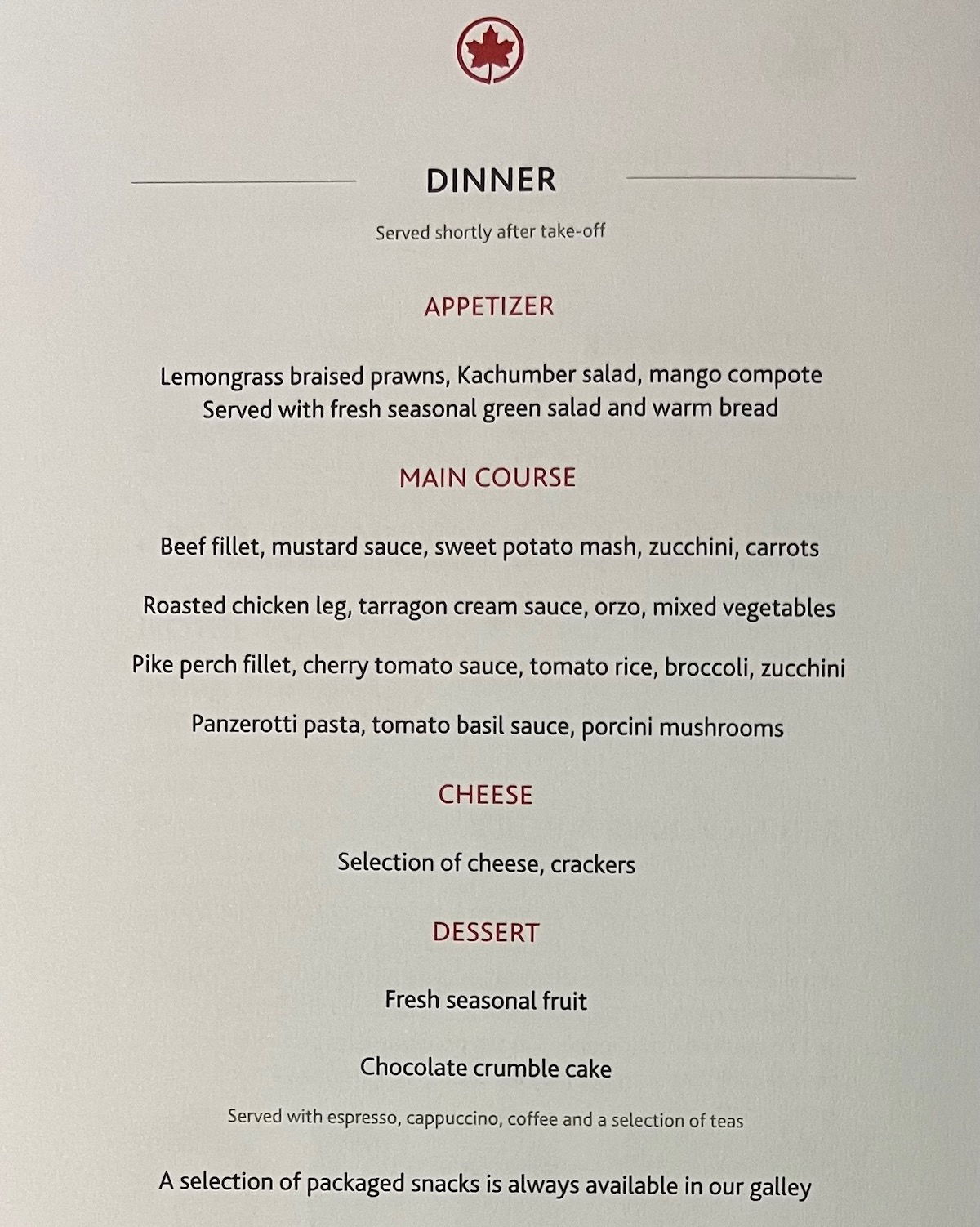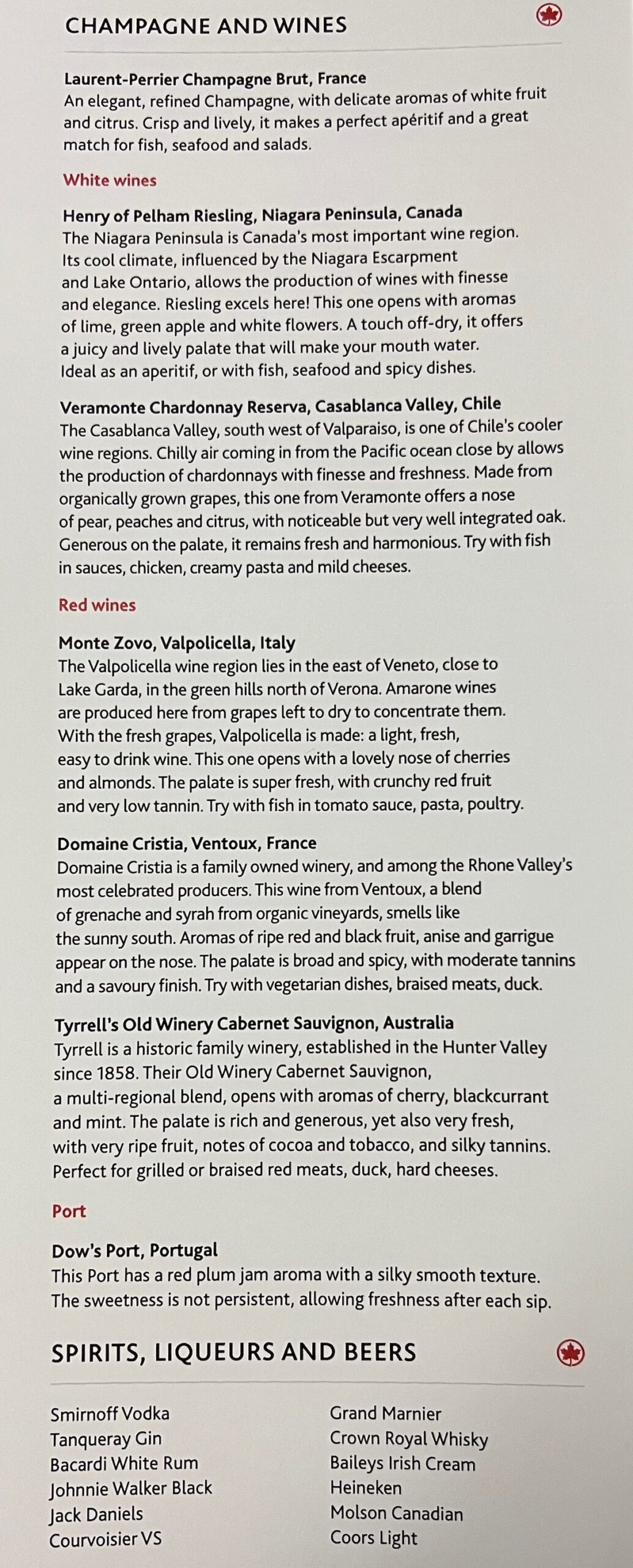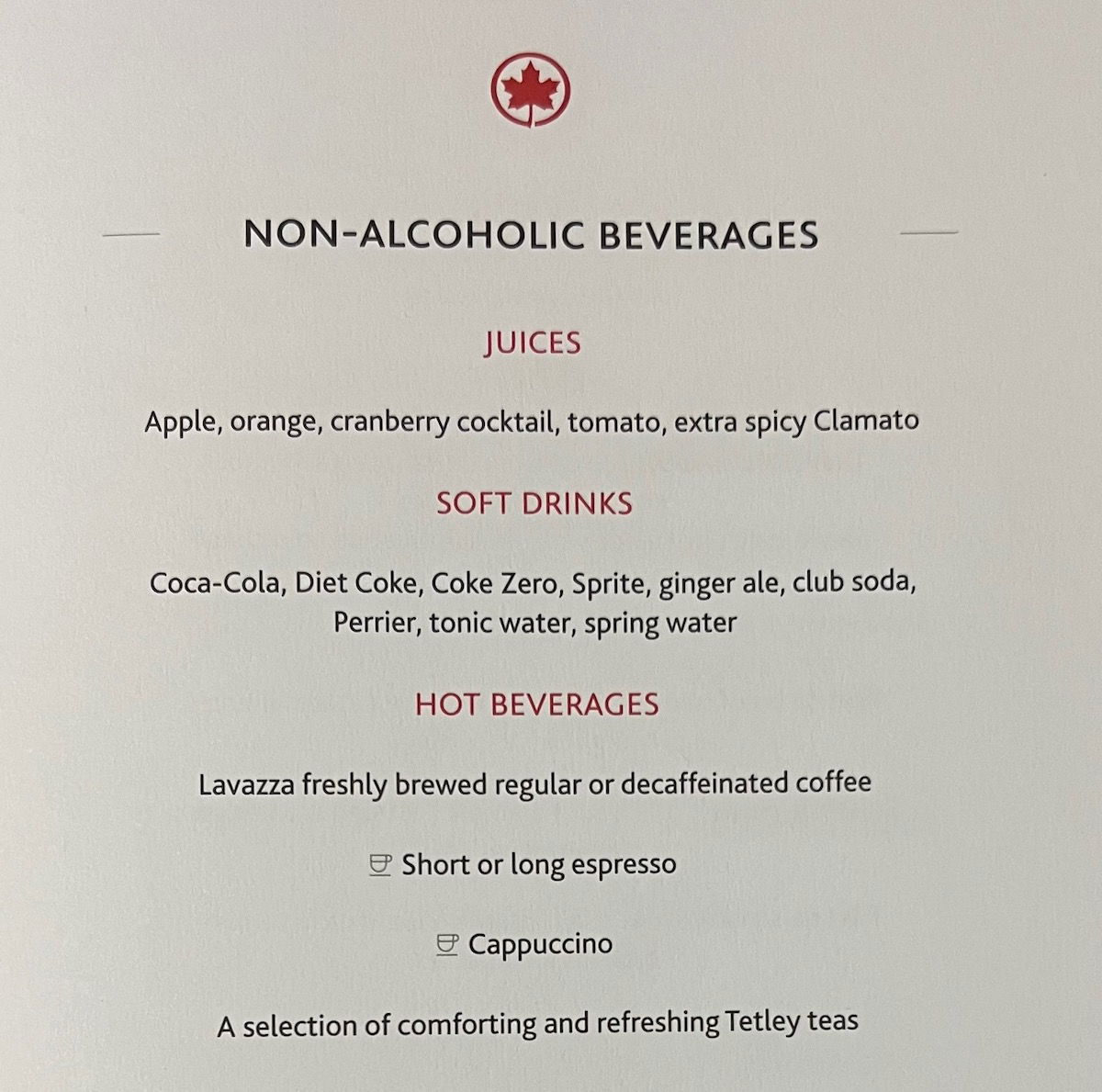 Service began pretty quickly after takeoff, with warm towels being distributed around 30 minutes after departure.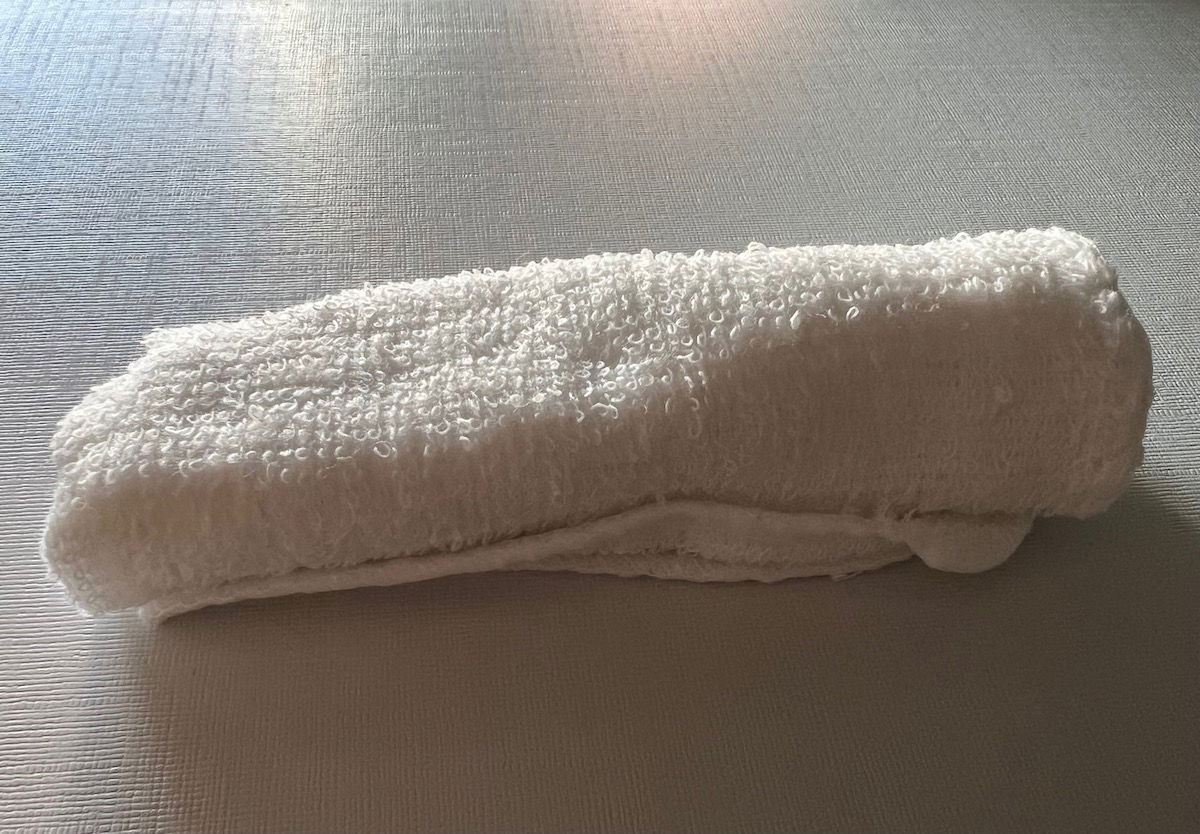 Next up tablecloths were brought out. Carts were then rolled down the aisles with drinks. I appreciated how quick this service happened, as I had a drink just 35 minutes after takeoff. I ordered a glass of champagne (Air Canada serves Laurent-Perrier, which I quite like), and that was served with almonds and cashews.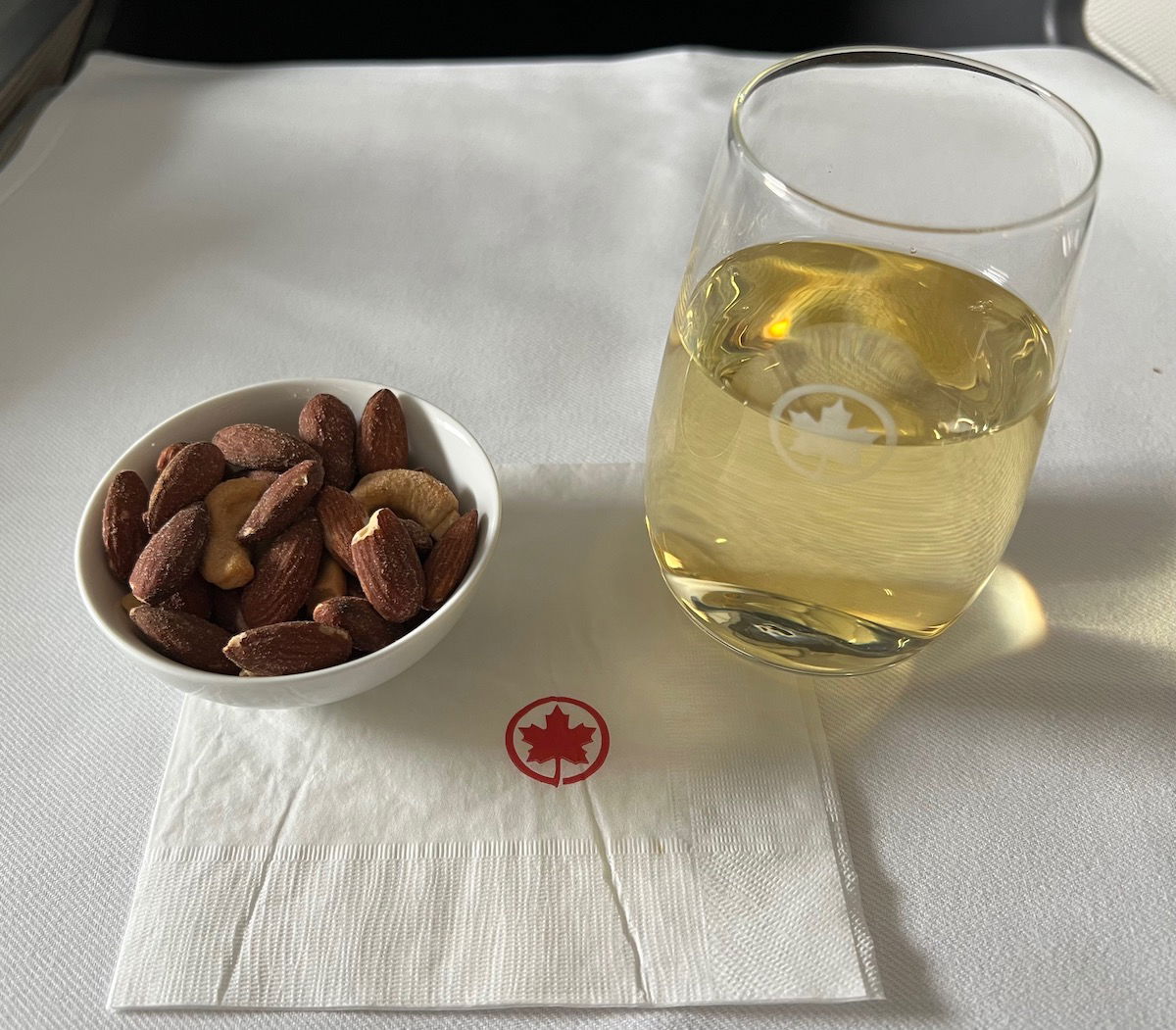 The starter course was served off a cart 55 minutes after takeoff, and was presented on a tray. This included an appetizer of lemongrass braised prawns with Kachumber salad and mango compote. There was also a simple green side salad, and some bread (sadly there was no pretzel bread, which is a shame when departing Germany!). The prawn dish was pretty good, I thought.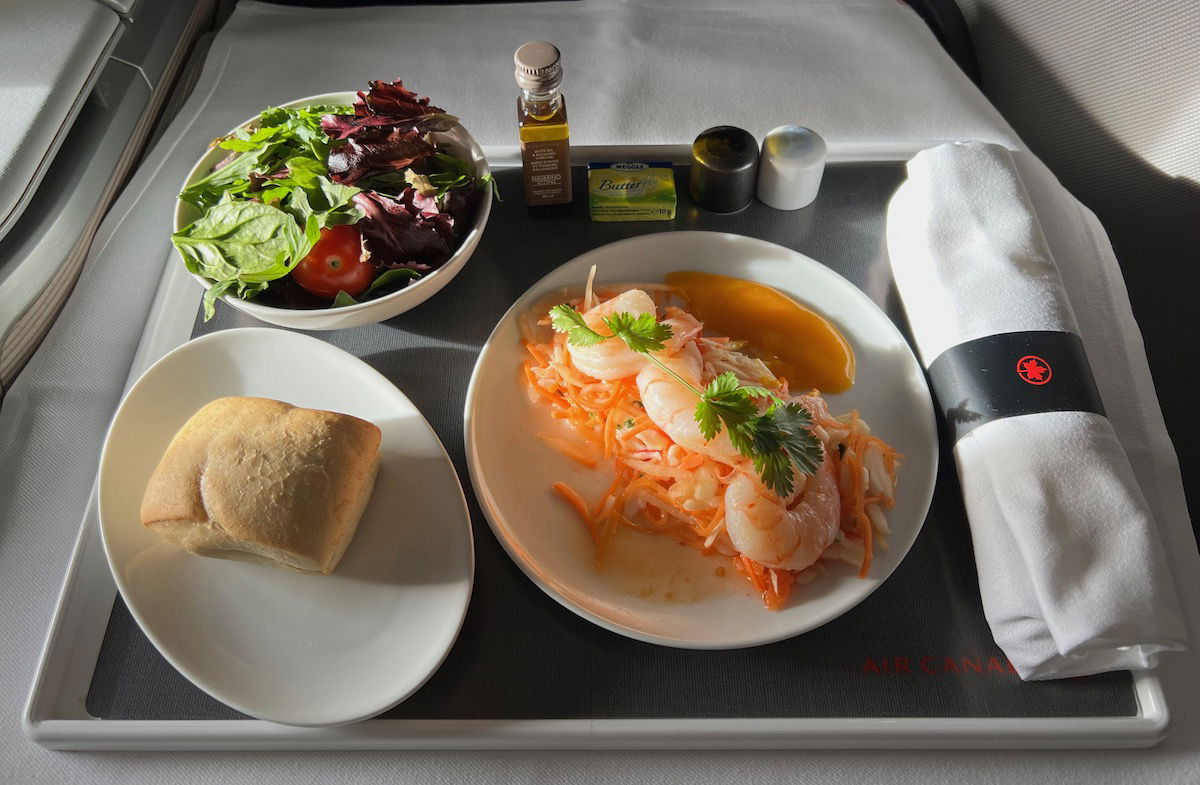 Eventually starters were cleared, and then 80 minutes after takeoff the main course was served. For that I selected the pike perch fillet with cherry tomato sauce, tomato rice, broccoli, and zucchini. The fish was bland, but the rice and sauce added quite a bit of flavor.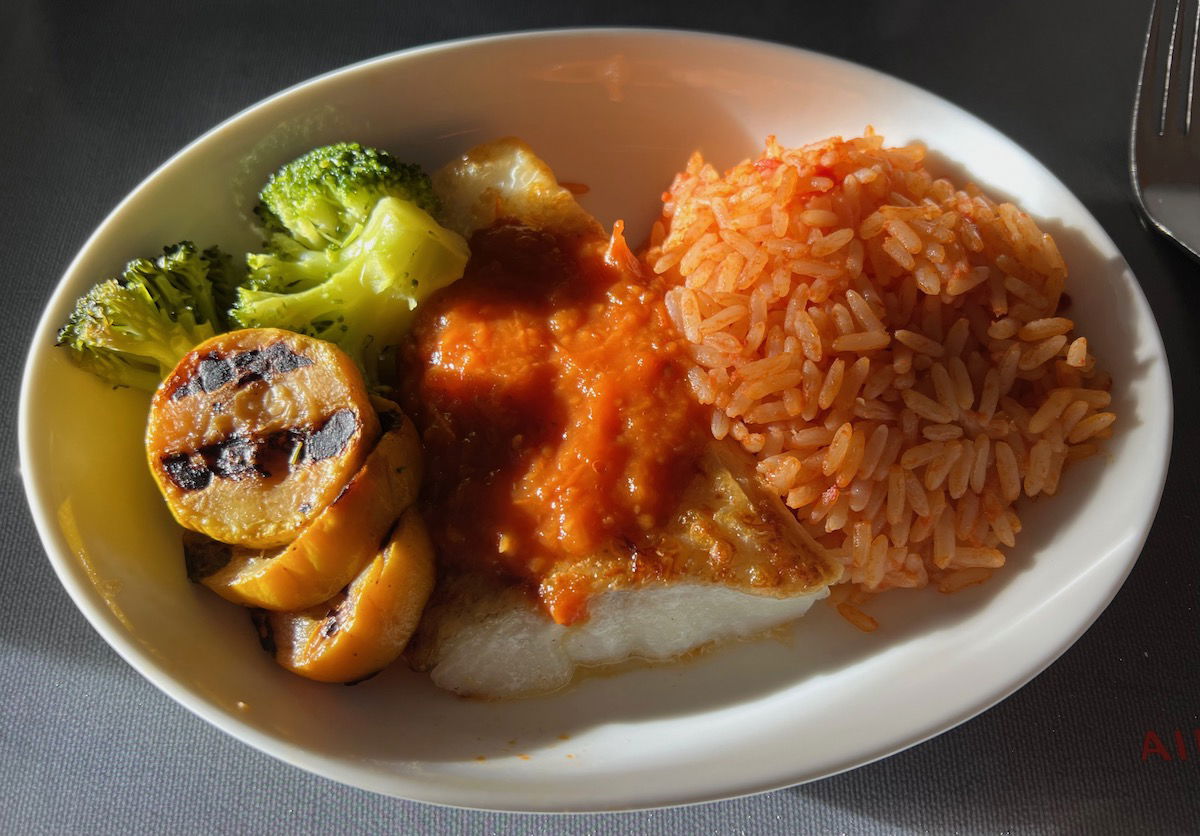 A bit later on, cheese and fruit were offered. I asked for both, which wasn't an issue. I enjoyed the cheese plate, and the chocolate crumble cake was also delicious.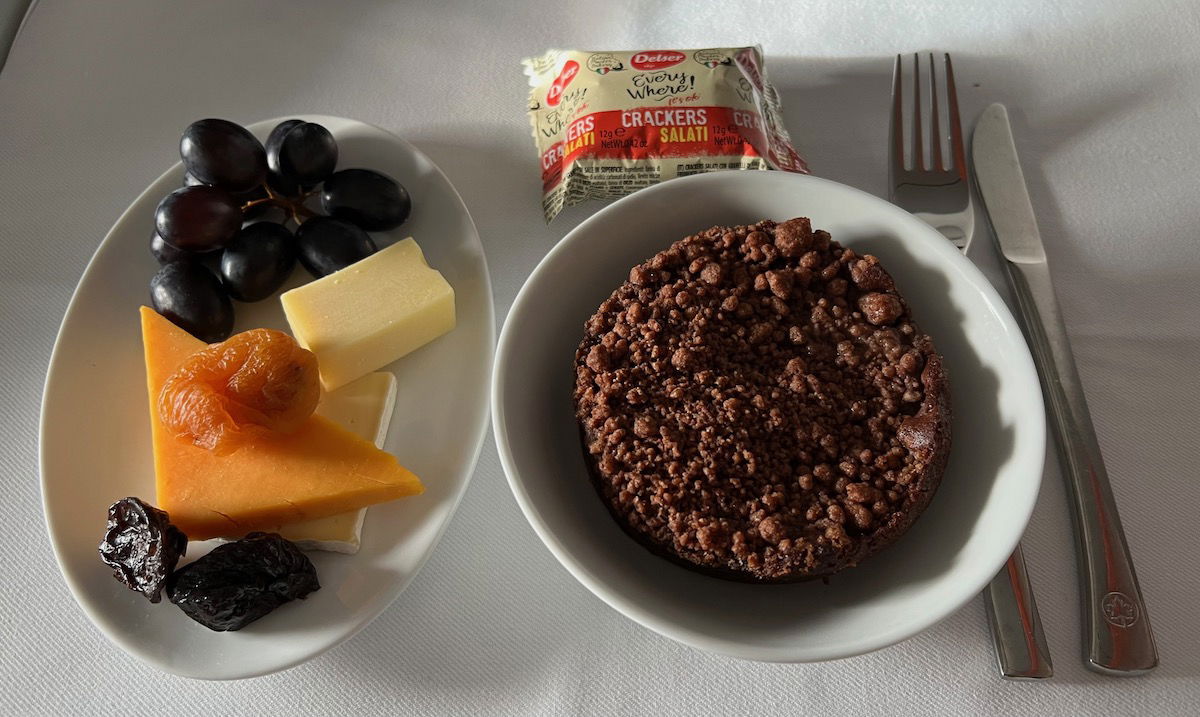 At the conclusion of the meal I ordered a cappuccino. It's nice that Air Canada serves these in business class, since many airlines only serve drip coffee.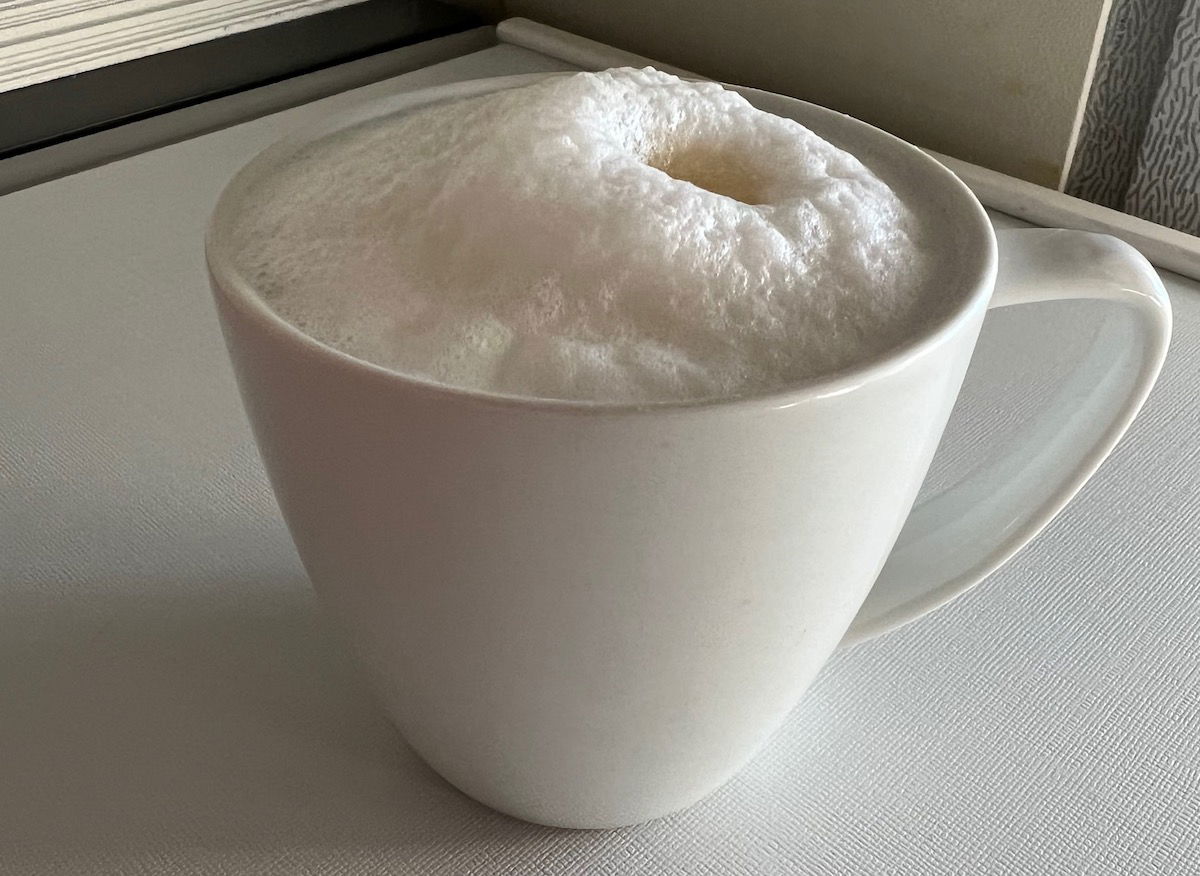 All-in-all, the food and drink quality was pretty good, and the service was efficient.
Air Canada 777 business class bed
After lunch I tried to take a brief nap. The comfort here was the same as you'll find in other reverse herringbone seats. Personally I find these seats to be great for resting, and the bedding also helps with getting comfortable.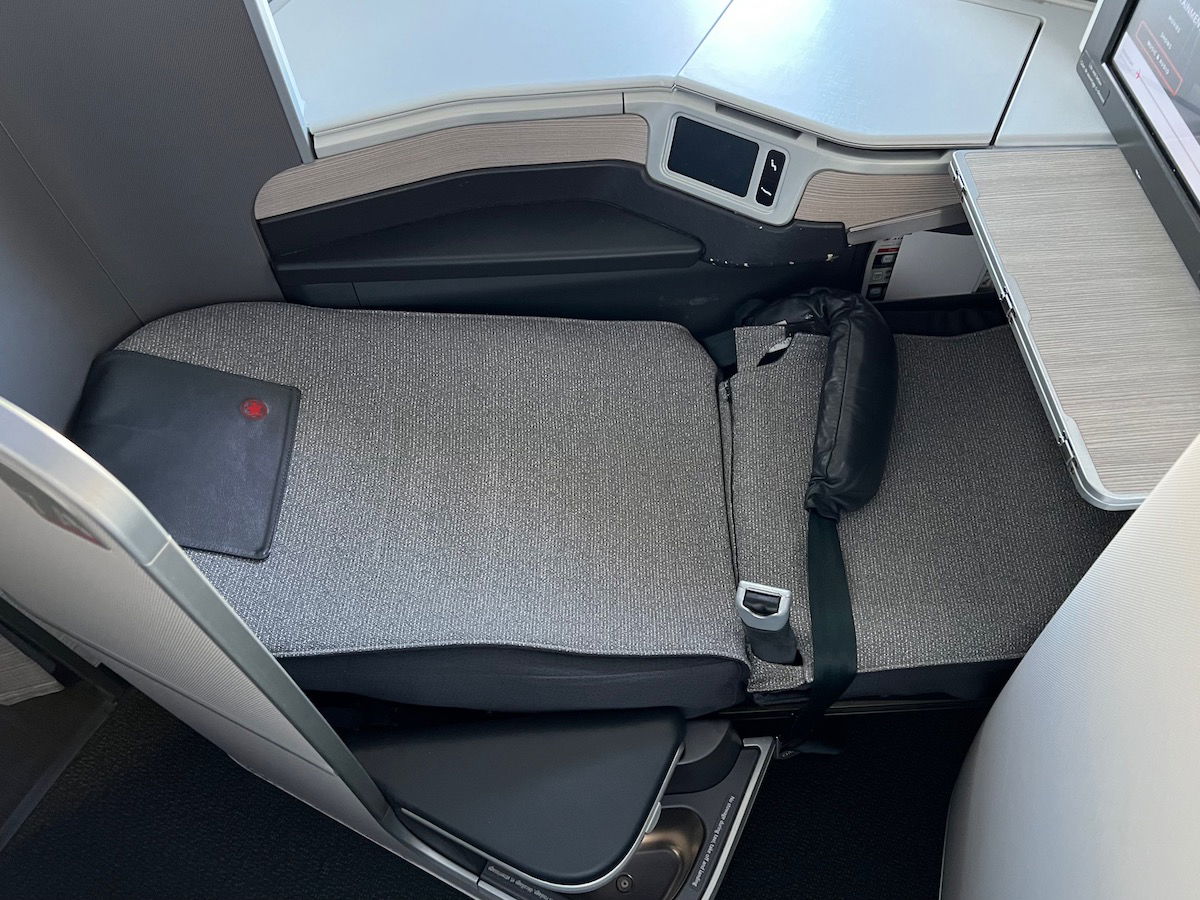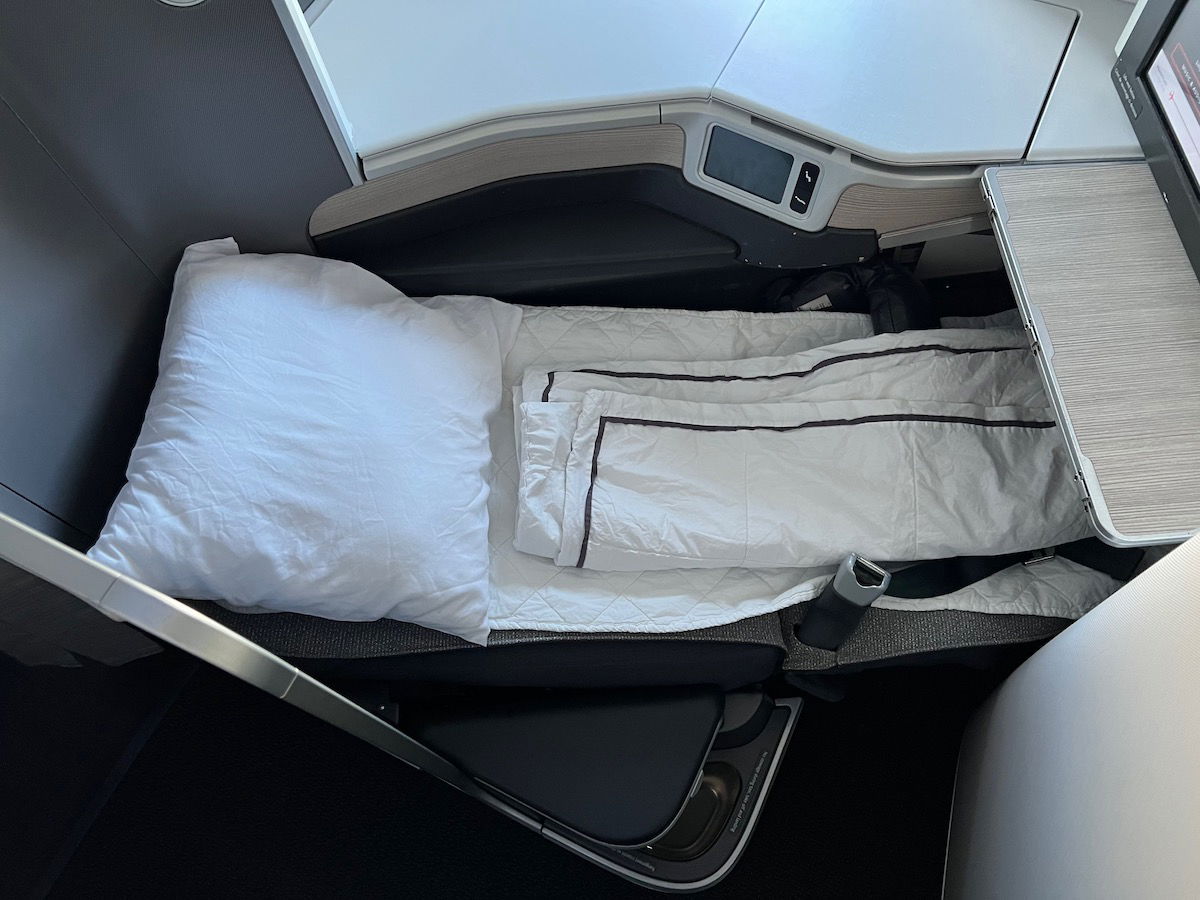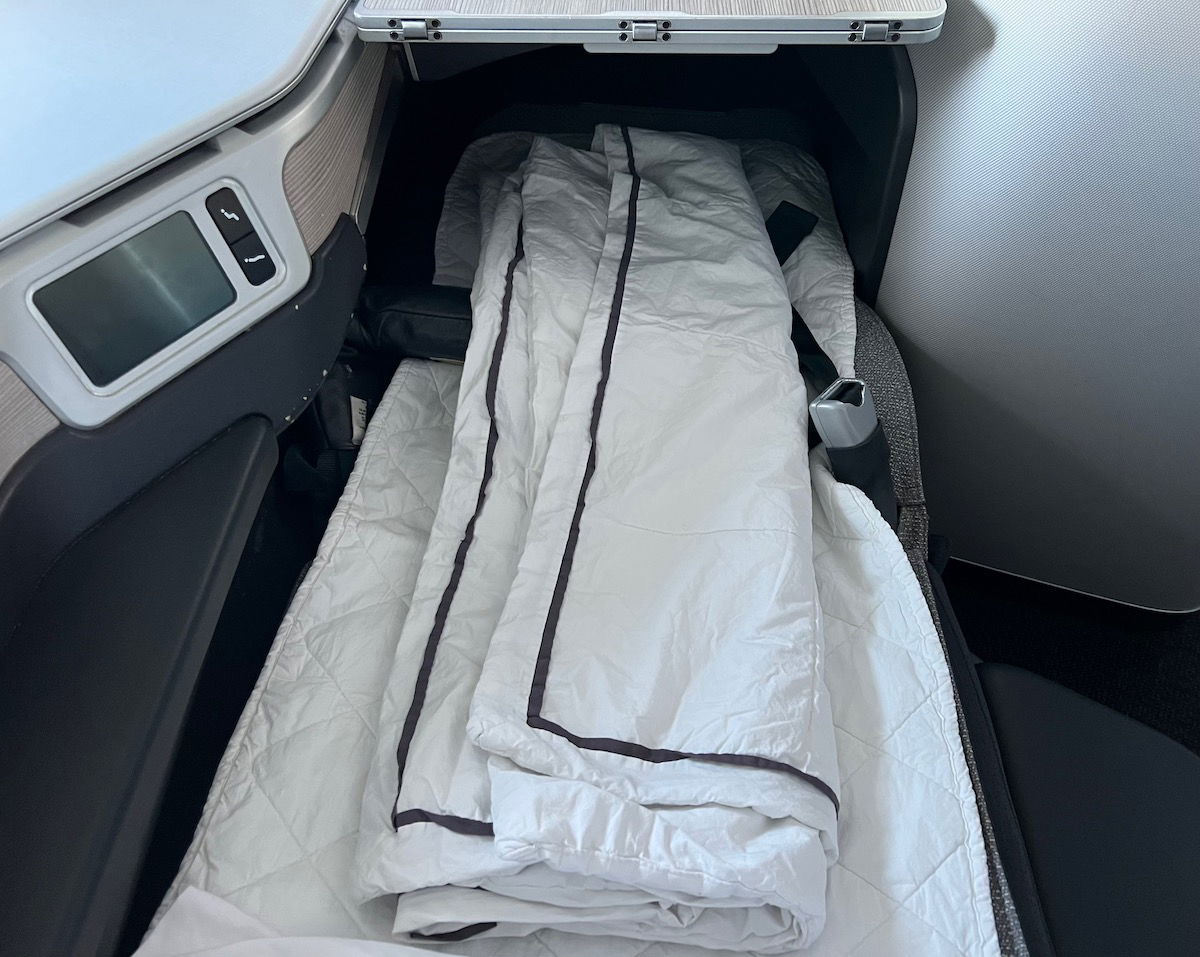 I managed to nap for about an hour after lunch, and then after that worked for most of the flight.
Air Canada 777 business class lavatory
There were three lavatories in business class on the Air Canada Boeing 777-300ER — one at the front of the cabin, and two between the two business class cabins. The galley between the two cabins was quite nice. Rather than just having exposed service carts, there were some panels that covered this area.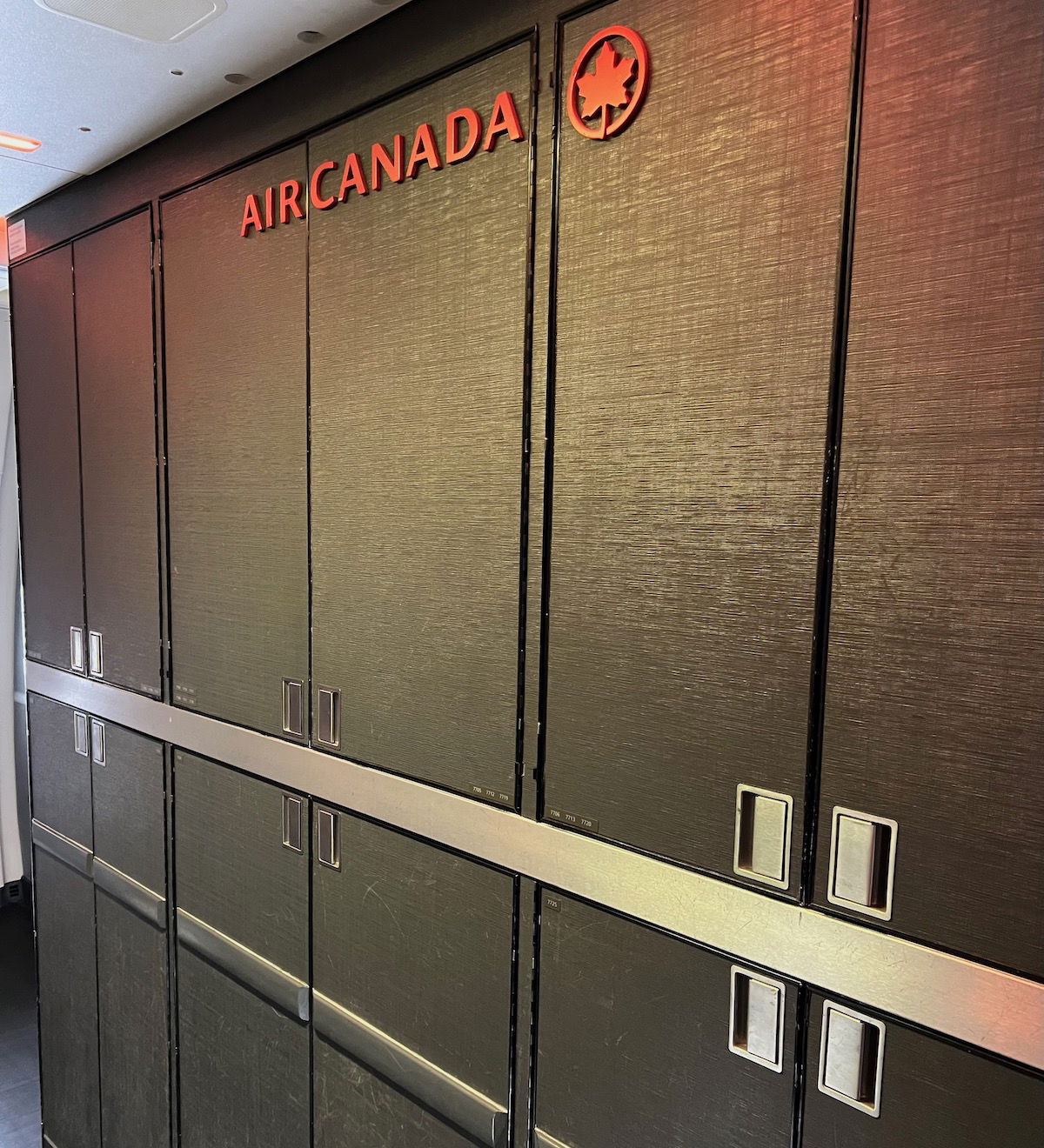 While the plane's cabin felt almost brand new, the lavatories were the only reminder of this plane's age, as they had the older style Boeing 777 sinks.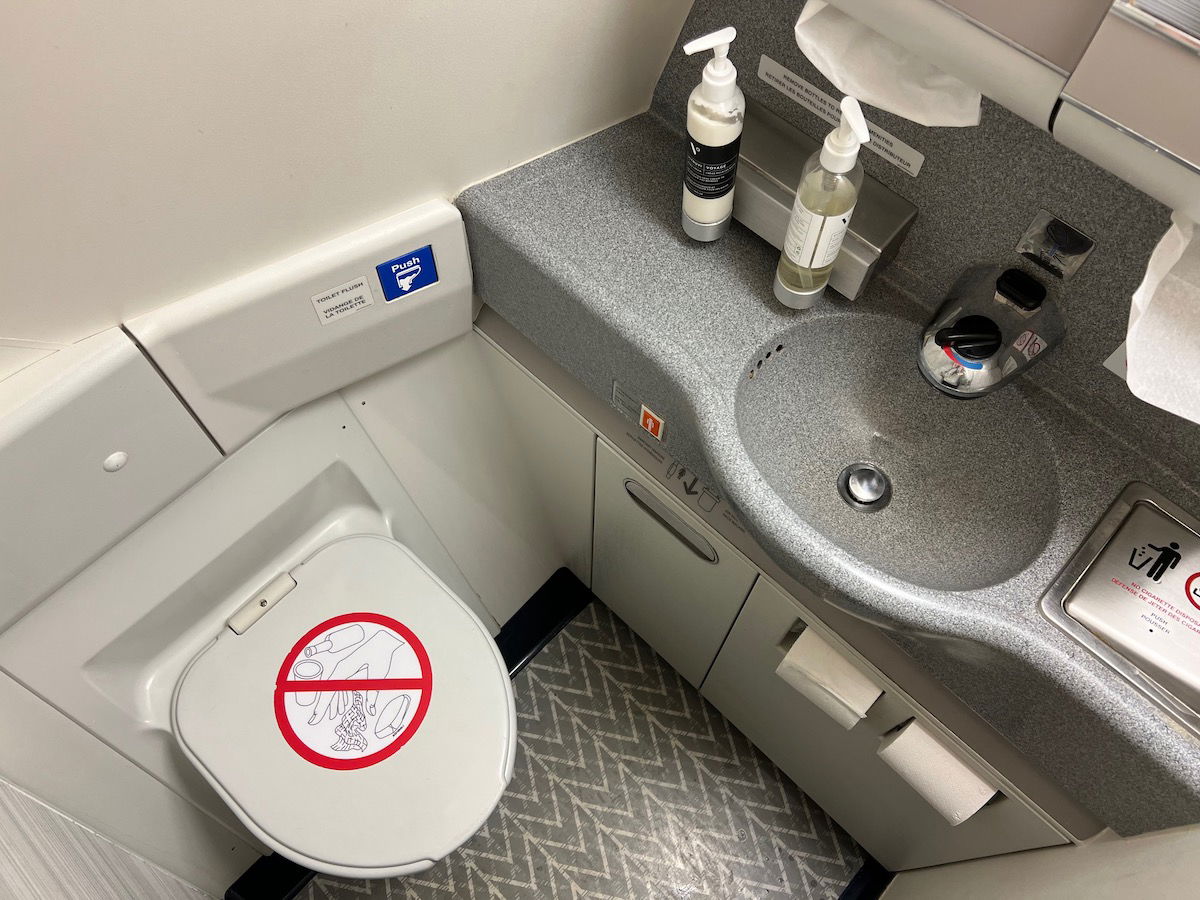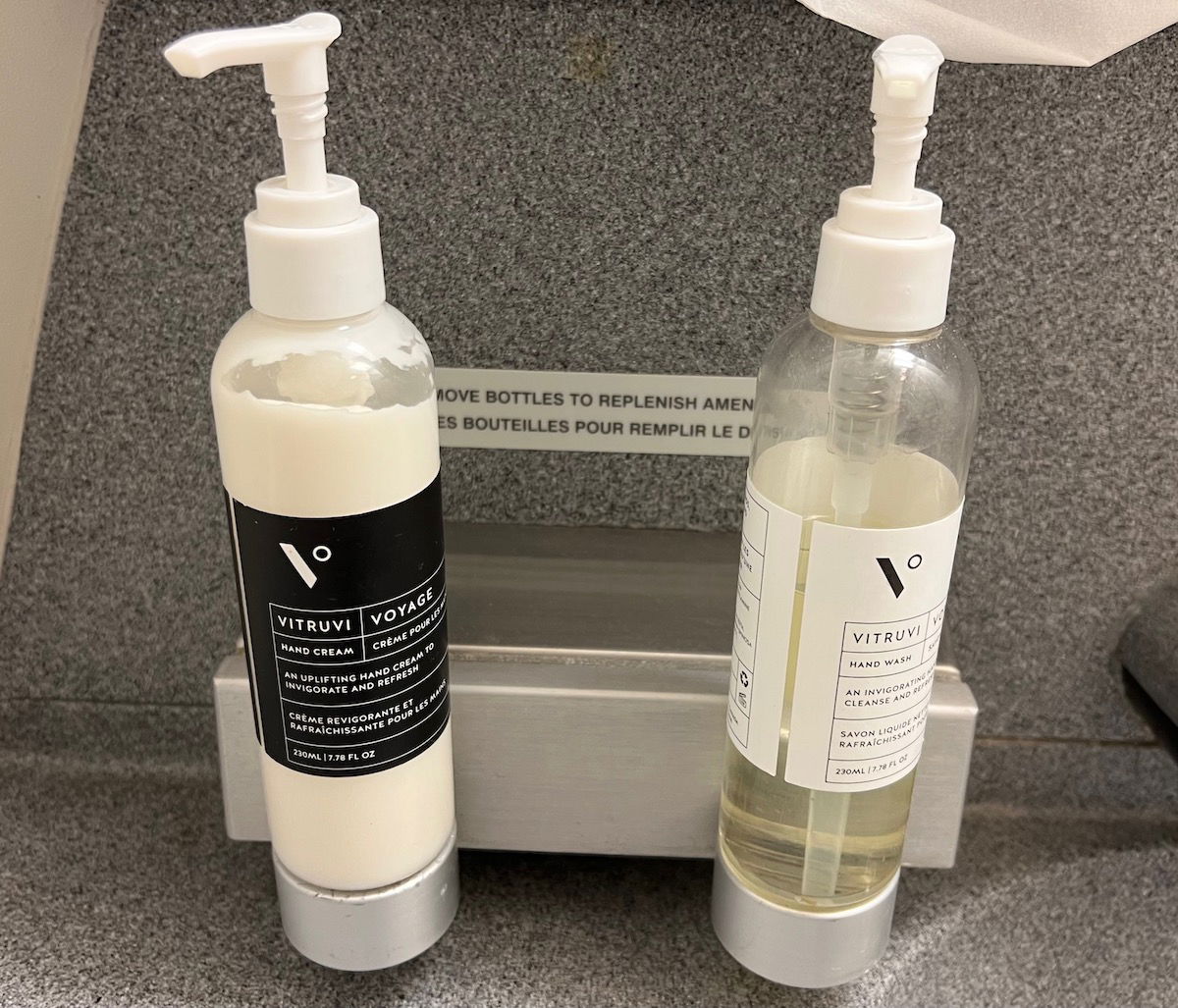 I liked how the lavatories had fun wallpaper with maple leaves.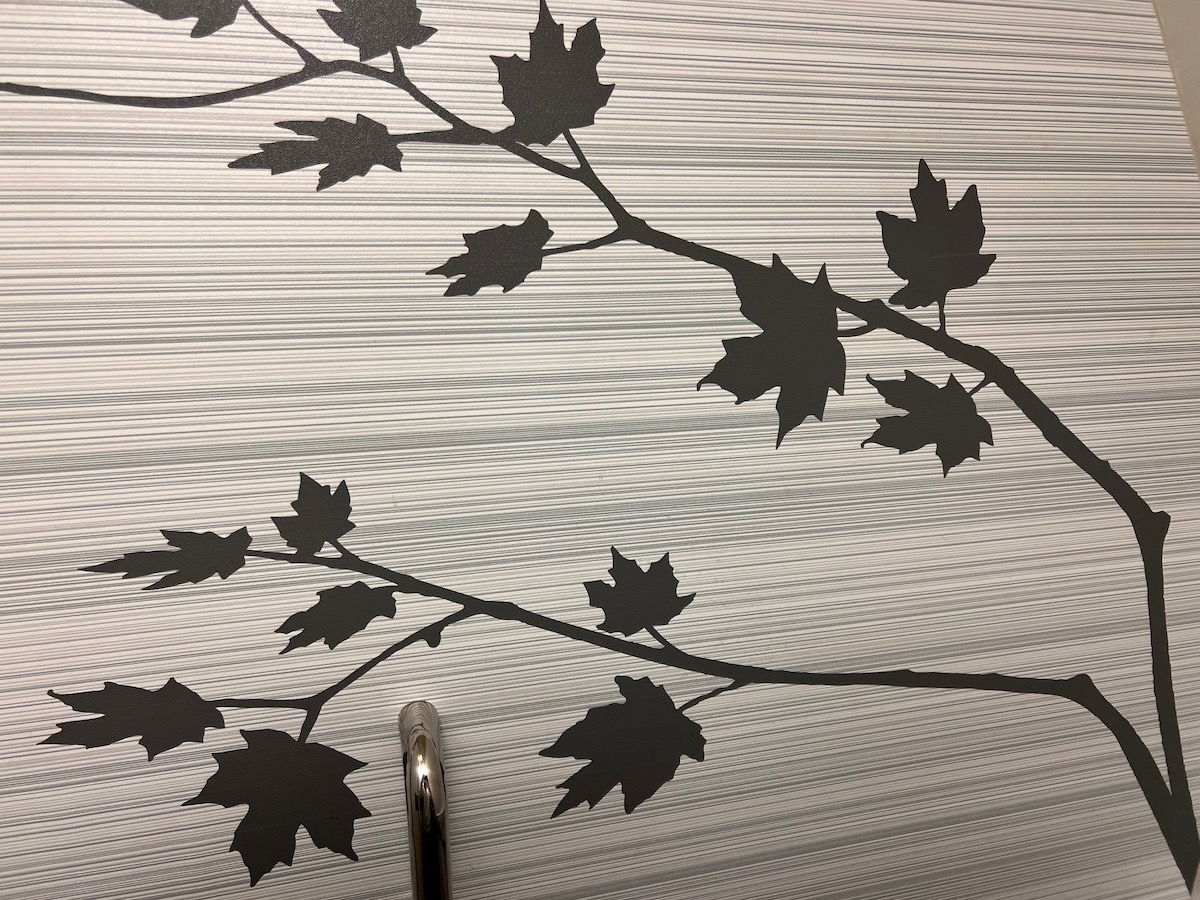 The lavatories between the two cabins even had windows, which is always a nice feature.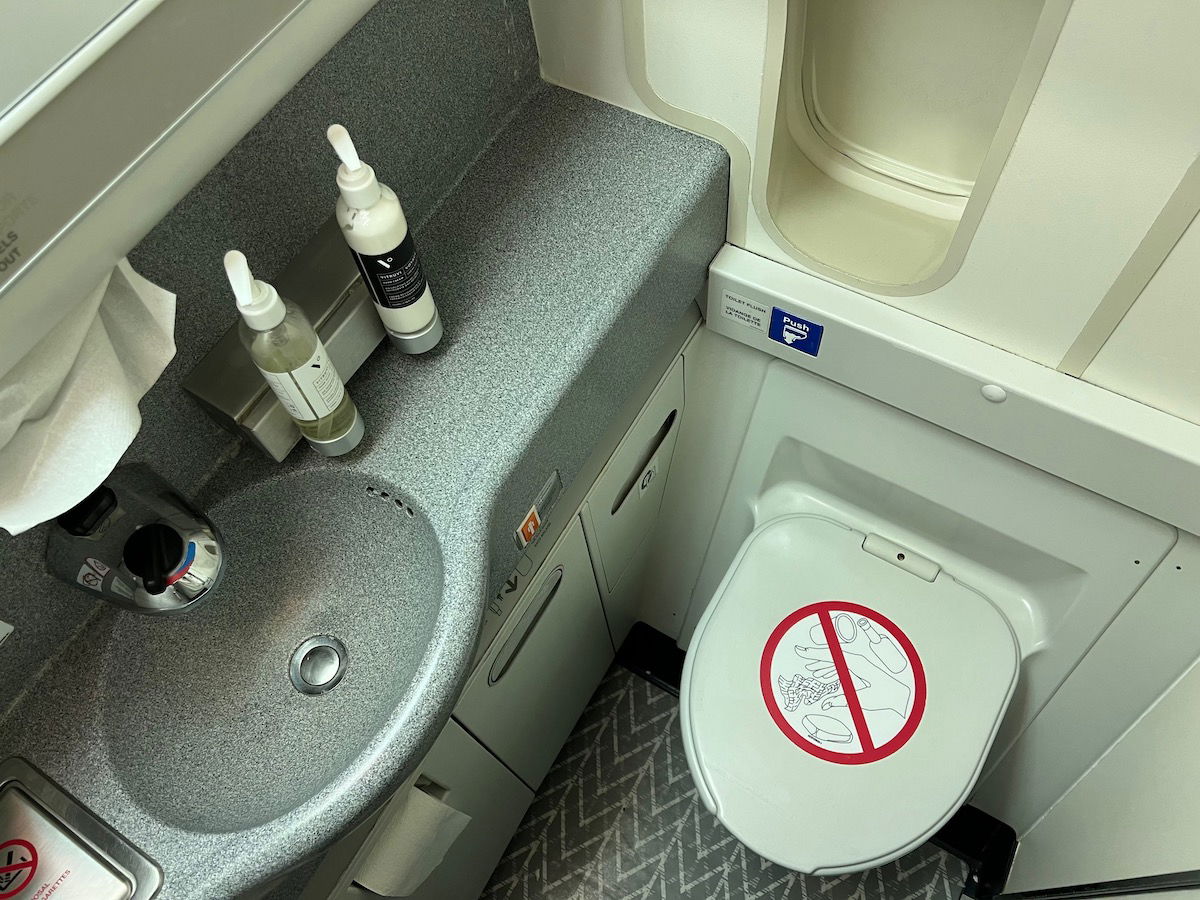 Air Canada business class snack service
About 90 minutes before landing, the crew performed the pre-arrival meal service.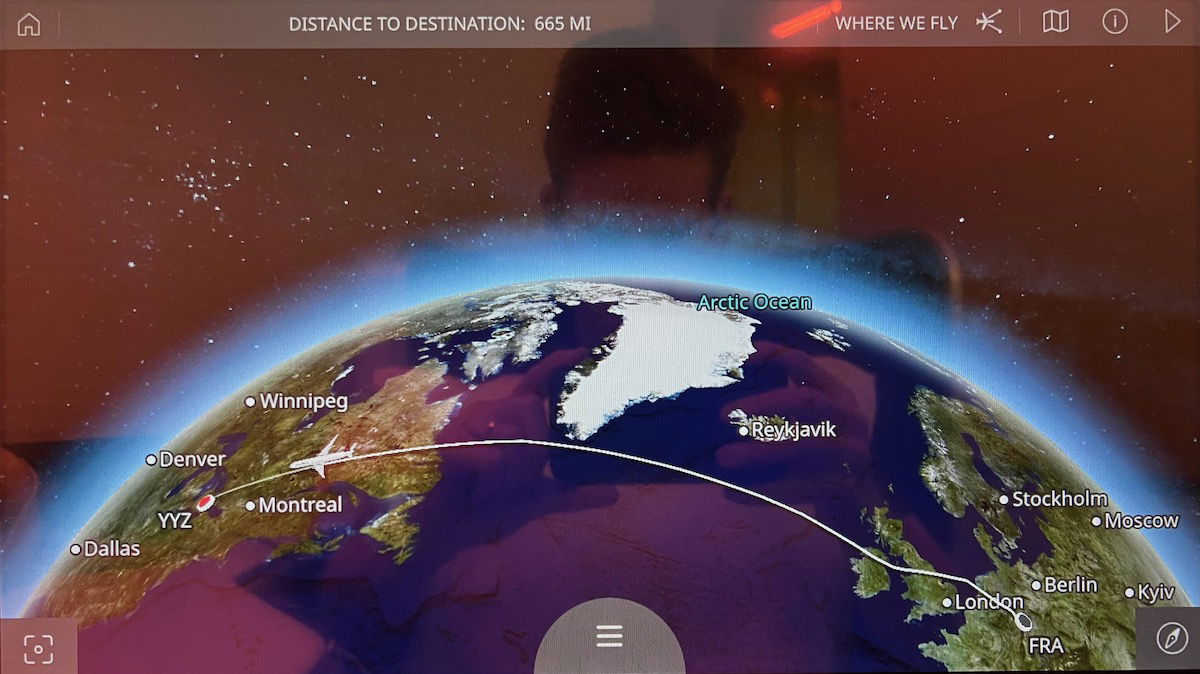 You can find the pre-landing menu below.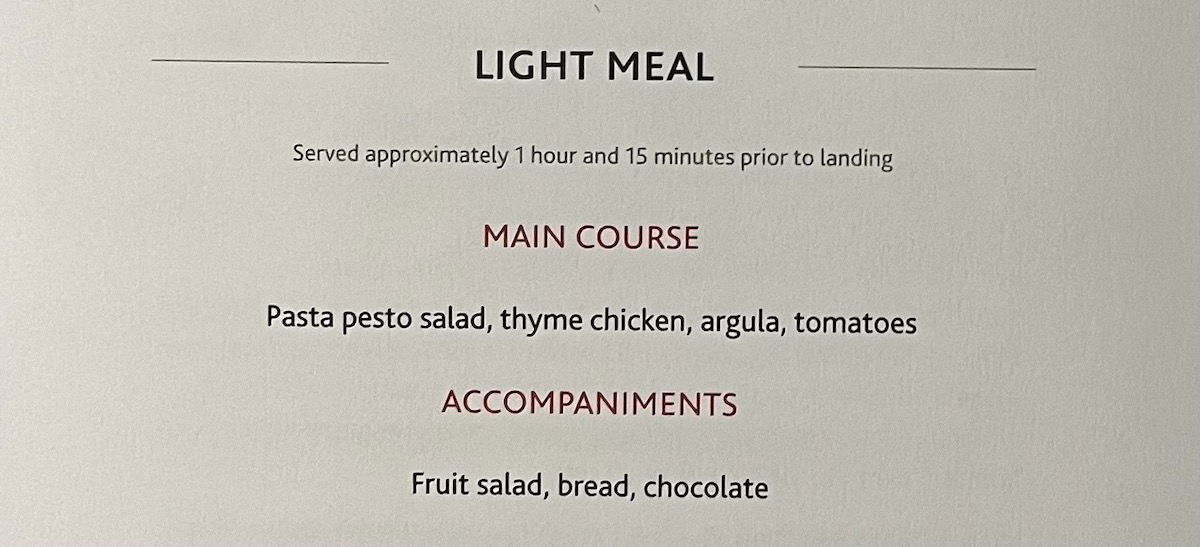 I ordered a cup of coffee to drink.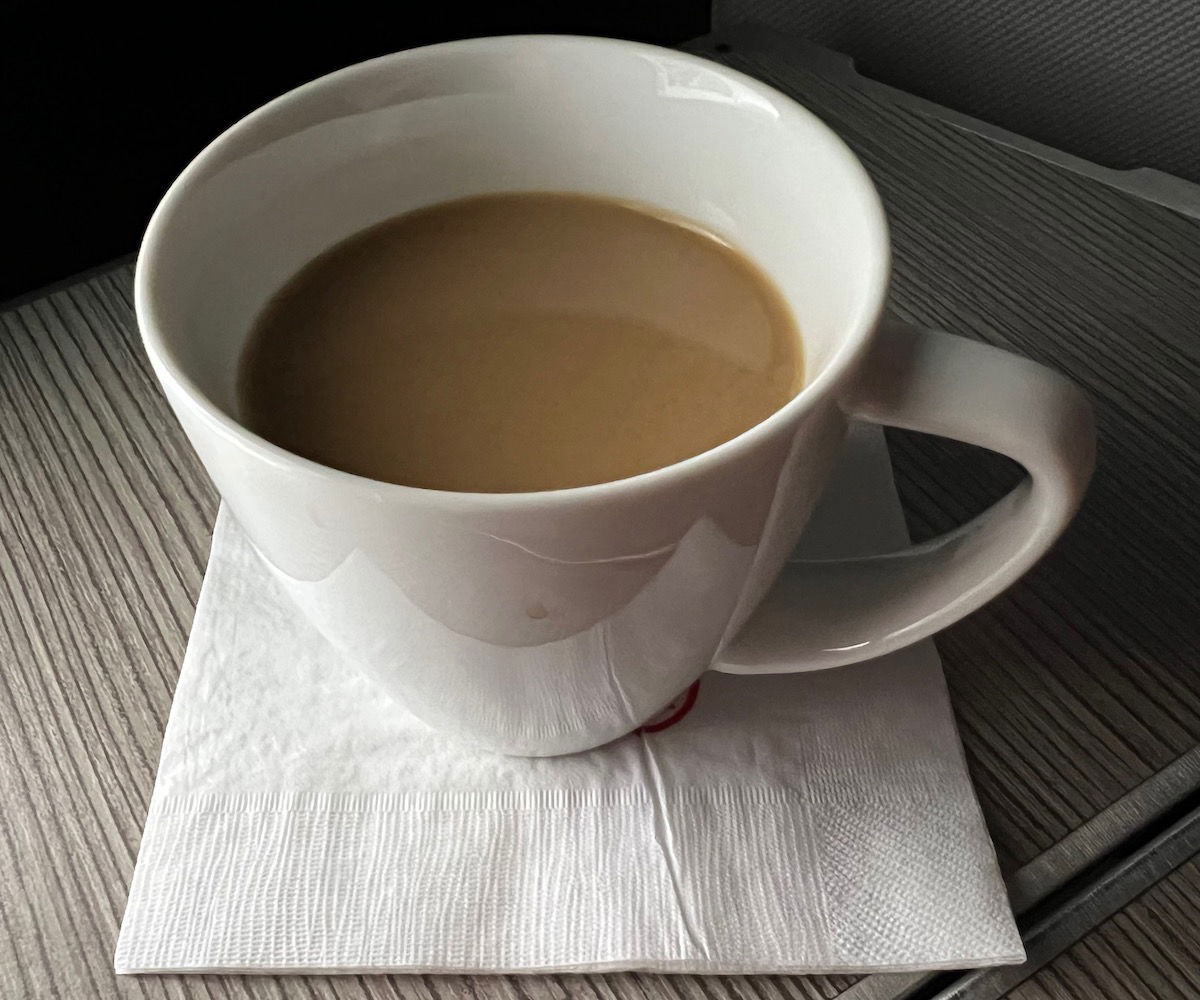 As you can see, there was no choice of meal, but rather everyone was served a pasta pesto salad with thyme chicken, arugula, and tomatoes. There was also a fruit salad, a box of chocolates, and a bread roll.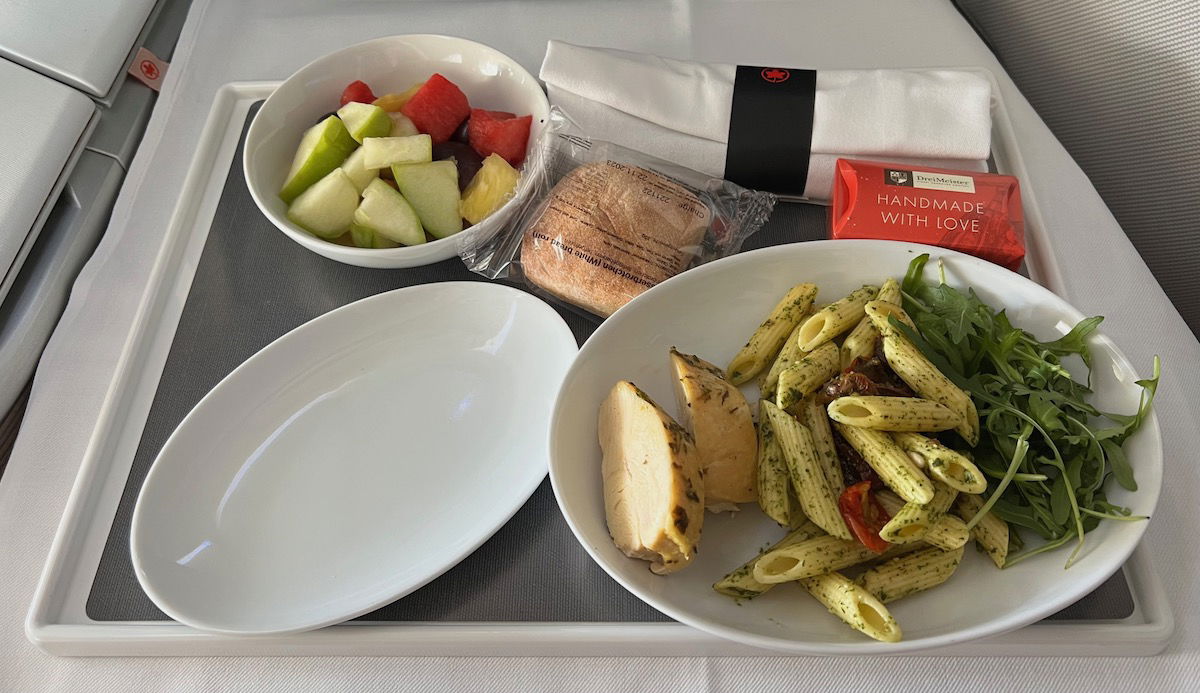 The pasta salad was reasonably good, though it would be nice if there were a choice of pre-landing meals, and if the bread weren't served in a package. The bread was hard as a rock and room temperature.
Air Canada business class crew service
Canada has a reputation for having friendly people, though that's definitely not consistently the case when flying with Air Canada. Much like with US airlines, service on Air Canada is consistently inconsistent. You have some fantastic crews, and you have some not-so-great crews. Unfortunately on this flight I had the latter.
Here's the thing — the crew wasn't rude in any way. They went through the motions, and they performed their service efficiently.
The issue is that they just came across as so incredibly indifferent. It was clear they didn't particularly enjoy their jobs, and were doing the minimum required. The lack of communication was what was most disappointing — there was no "hello" during boarding or "goodbye" during deplaning. Every aspect of the service seemed to be about minimizing interaction with customers, and there was nothing proactive.
It's just not terribly fun to be in an environment where you feel like people aren't happy, and that was very much the vibe on this flight. The only real nice comment from the crew was after landing, when the service director was reading off the script that "it was our pleasure service you today on Air Canada." Was it really, though?
Air Canada 777 arrival in Toronto
At around 12PM the captain announced we'd soon be starting our descent. At this point the crew started collecting headphones, offering passengers disposable earbuds if they wanted to continue enjoying the entertainment.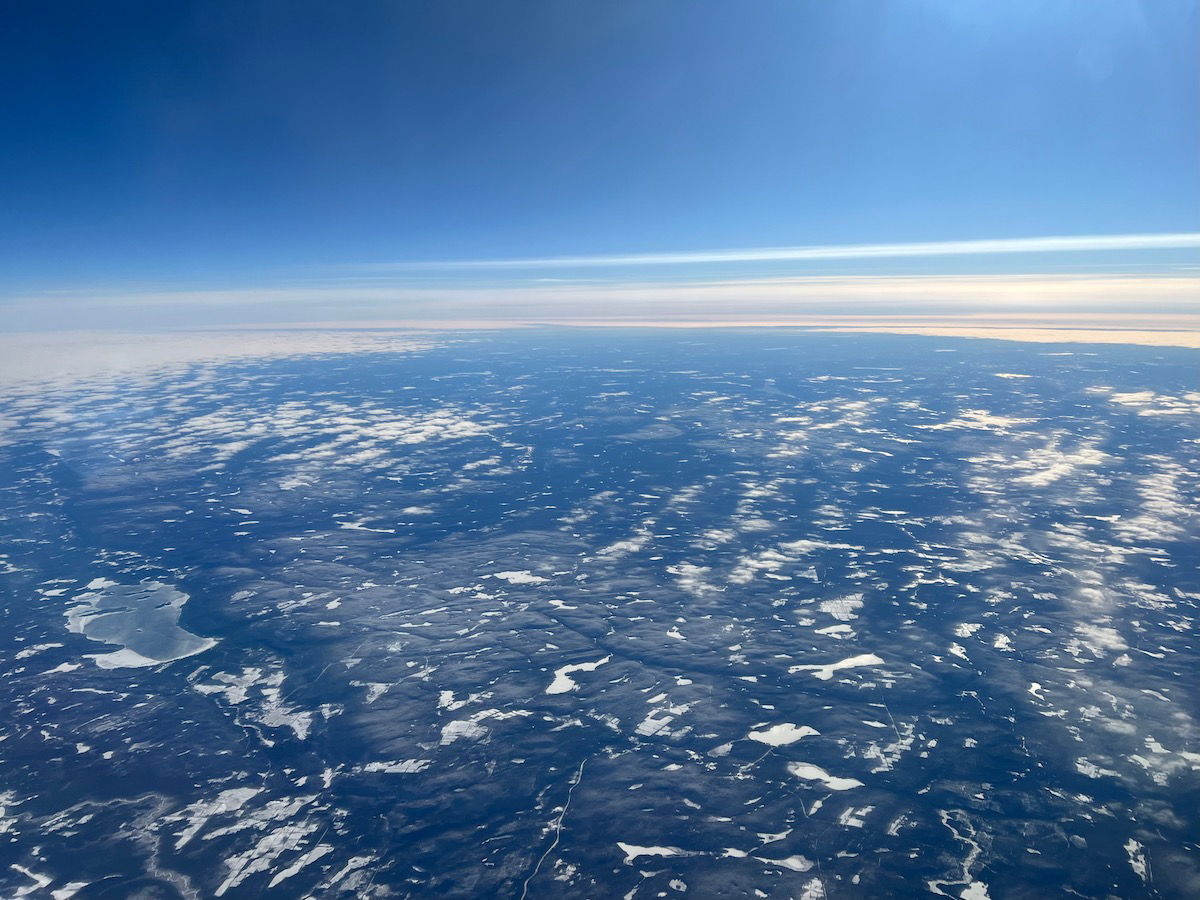 The seatbelt sign was turned on about 20 minutes before landing.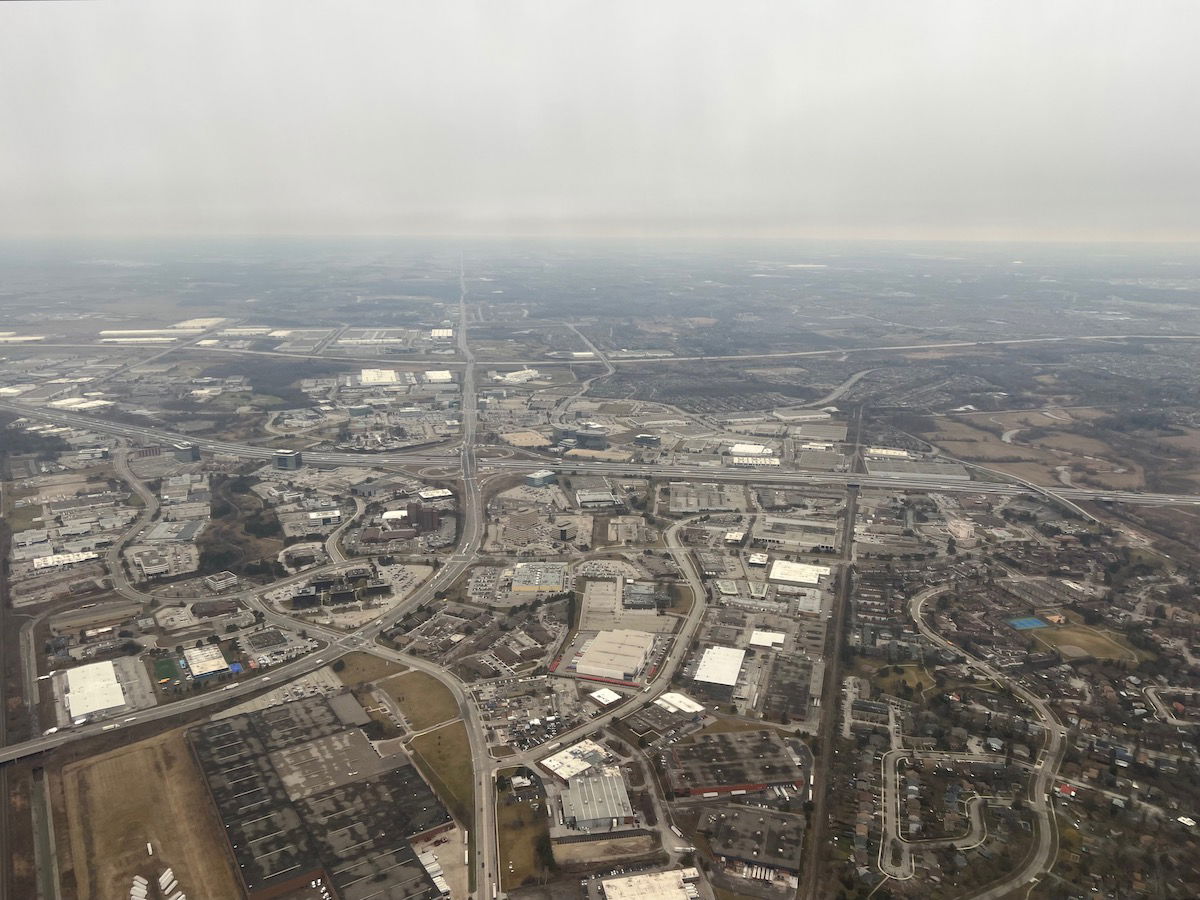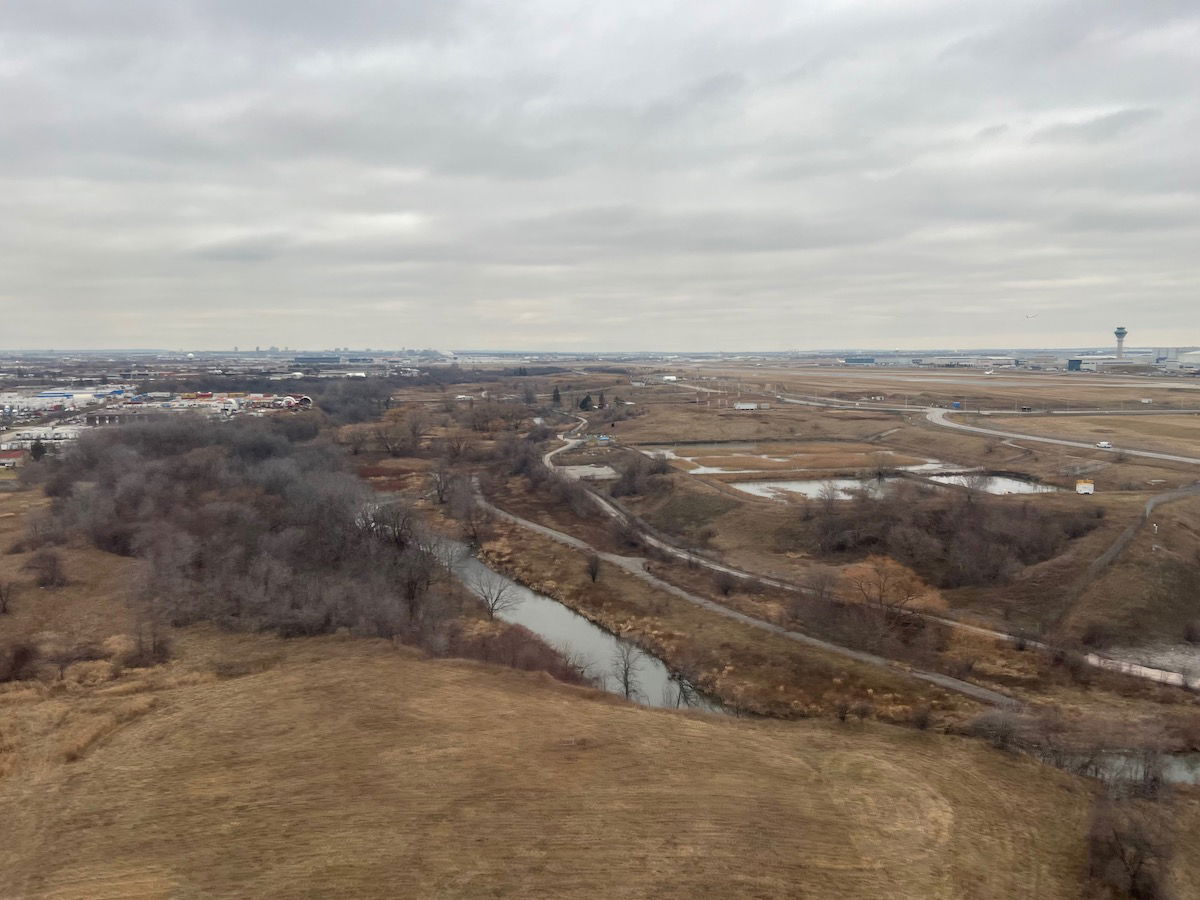 We had a smooth descent, and we landed in Toronto at 12:40PM.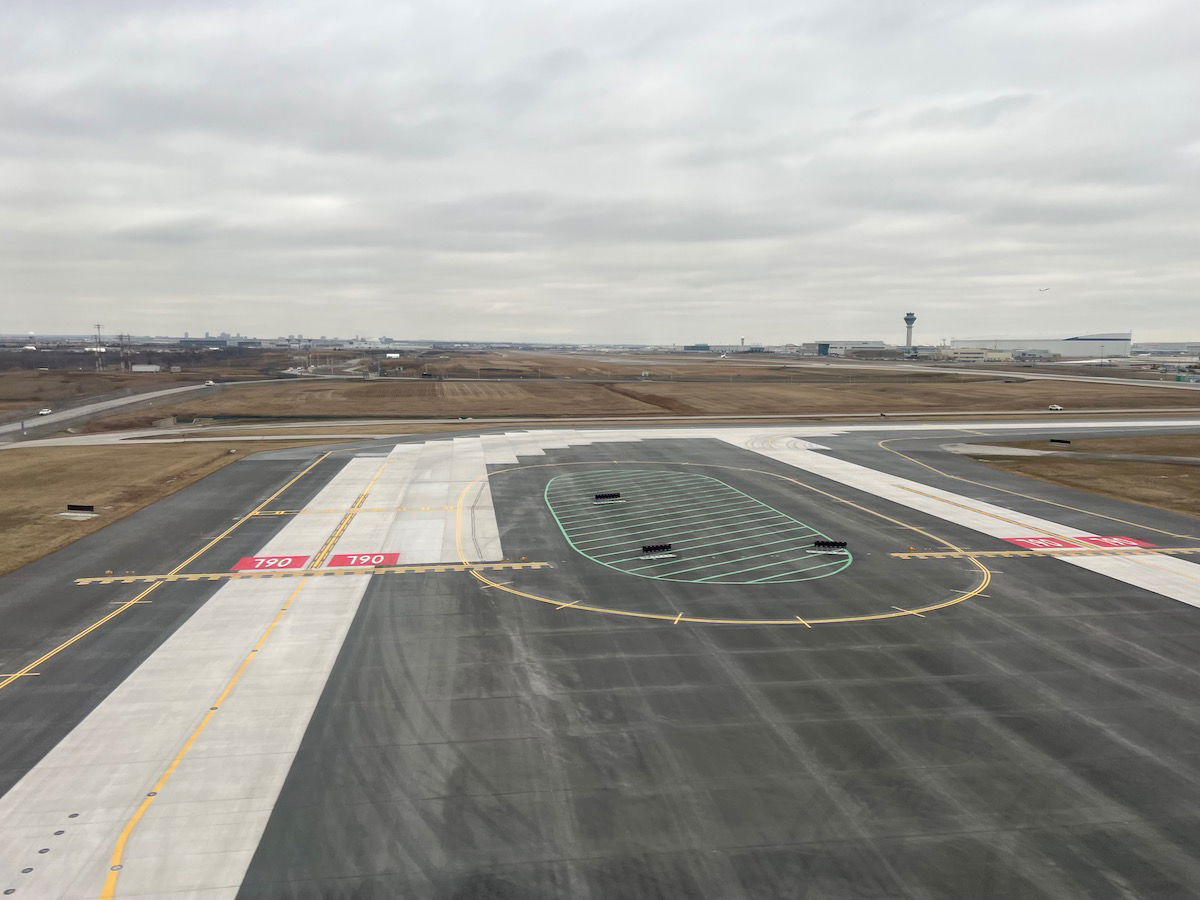 From there we a short five minute taxi to our arrival stand, where we pulled in just as an EgyptAir 777 was pulling out.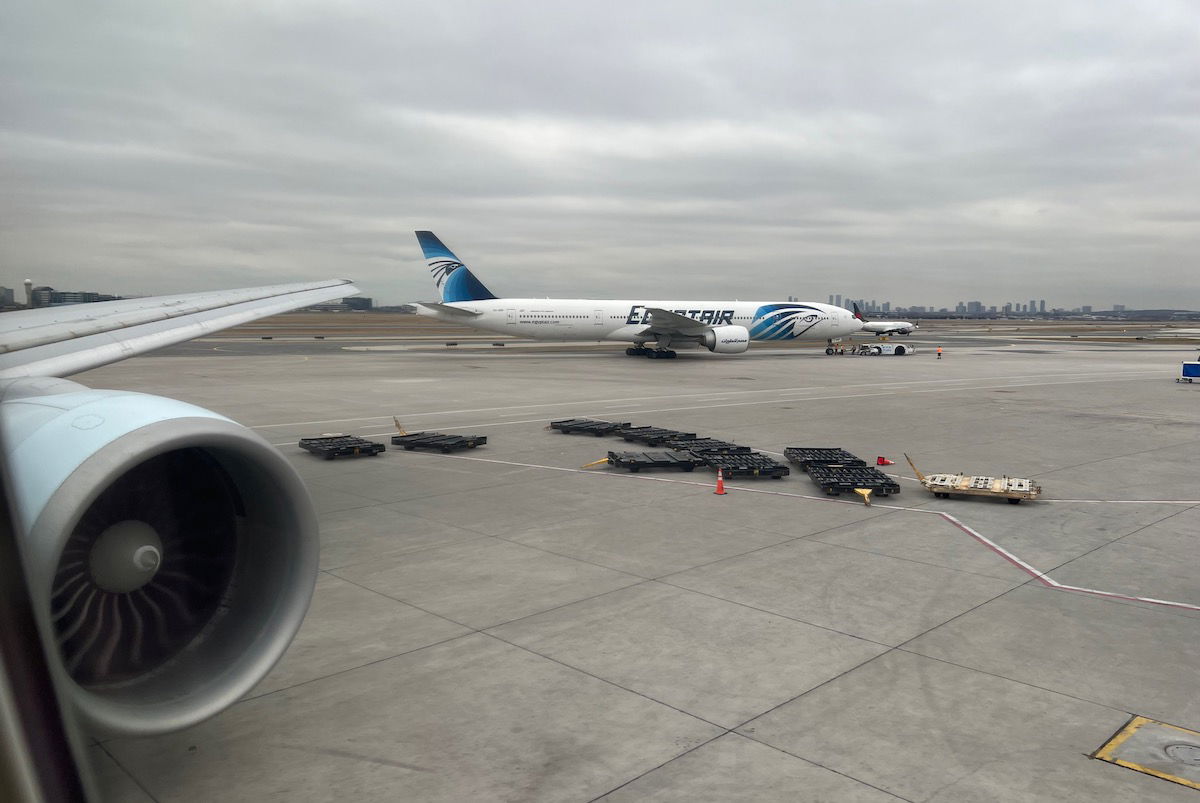 From there I headed to the US Pre-Clearance facility, and visited the Air Canada Maple Leaf Lounge, prior to my connection to Miami in Air Canada's Boeing 787-8 business class.
Bottom line
Air Canada offers a well rounded business class experience, with great amenities and bedding, excellent entertainment and Wi-Fi, comfortable reverse herringbone seats (with good fleet consistency), and solid food, champagne, and espresso-based drinks.
Unfortunately the one area where Air Canada fell short on this flight was with service. The crew was just disinterested, plain and simple, and that detracts from the experience of a premium flight. That's why I'm rating this flight 3.5 stars. If I had a stellar crew, I'd give this flight 4.5 stars.
What's your take on Air Canada's Boeing 777 business class?