---
In July 2019, All Nippon Airways introduced spectacular-looking new first & business class seats with barely any lead time, as their first plane with these seats entered service just weeks later.
I knew I had to try them, because both first and business class look industry leading. As of now ANA is offering their new cabins to London Heathrow and New York, and they'll soon also be flying them to Frankfurt.
To kick off this trip I flew ANA's new business class, known as "The Room," from New York to Tokyo Haneda.
Not to spoil anything, but move over Qatar Airways, because the Qsuite has officially been outdone!
Booking My ANA Business Class Flight
All Nippon Airways is in the Star Alliance, so there are plenty of options for redeeming miles for them, assuming you can find award availability. Some of the best options for one-way business class tickets include the following:
The very best value for redeeming on All Nippon Airways is to book through Virgin Atlantic Flying Club, as you can redeem just 95,000 miles for a roundtrip business class ticket from New York to Tokyo. Unfortunately they don't allow one-way awards, so in this case that wasn't an option for me.
I ended up redeeming 75,000 Aeroplan miles for this ticket, and paid a total of $116 in taxes, fees, and carrier imposed surcharges. Aeroplan is transfer partner with Amex Membership Rewards and Capital One, and in this case I redeemed miles I already had in my Aeroplan account from a previous Amex transfer bonus.
ANA Business Class "The Room" Review
After spending most of the day at JFK Terminal 7, I couldn't wait to get on my ANA flight. Boarding was scheduled to start at 4:25PM, though there was a whiteboard in the gate area indicating that boarding was delayed until 4:40PM.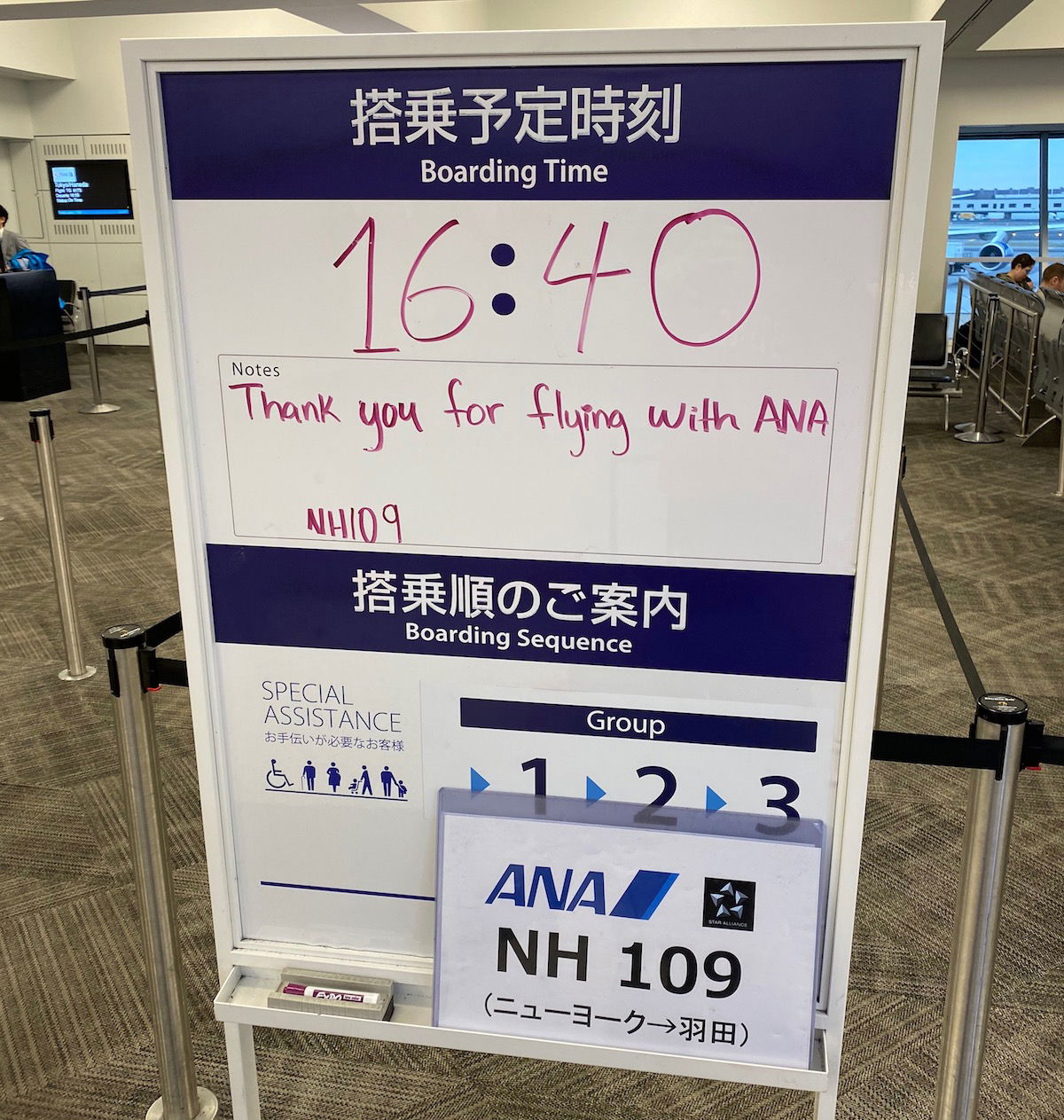 ANA departure gate JFK
It always amazes me the extent to which Japanese airlines maintain their "culture" with boarding, even at outstations. That's rarely the case with other airlines, but both ANA and JAL offer nearly identical boarding experiences at outstations as in Japan.
That's to say that the ANA gate staff were probably the only friendly people working in all of Terminal 7. Furthermore, everyone working the gate area made a habit of checking their watch every 30 seconds, to make sure they don't start boarding a minute too early, or a minute too late.
Boarding ended up starting at 4:40PM, with first class and ANA Mileage Club Diamond members being invited to board first, followed by business class.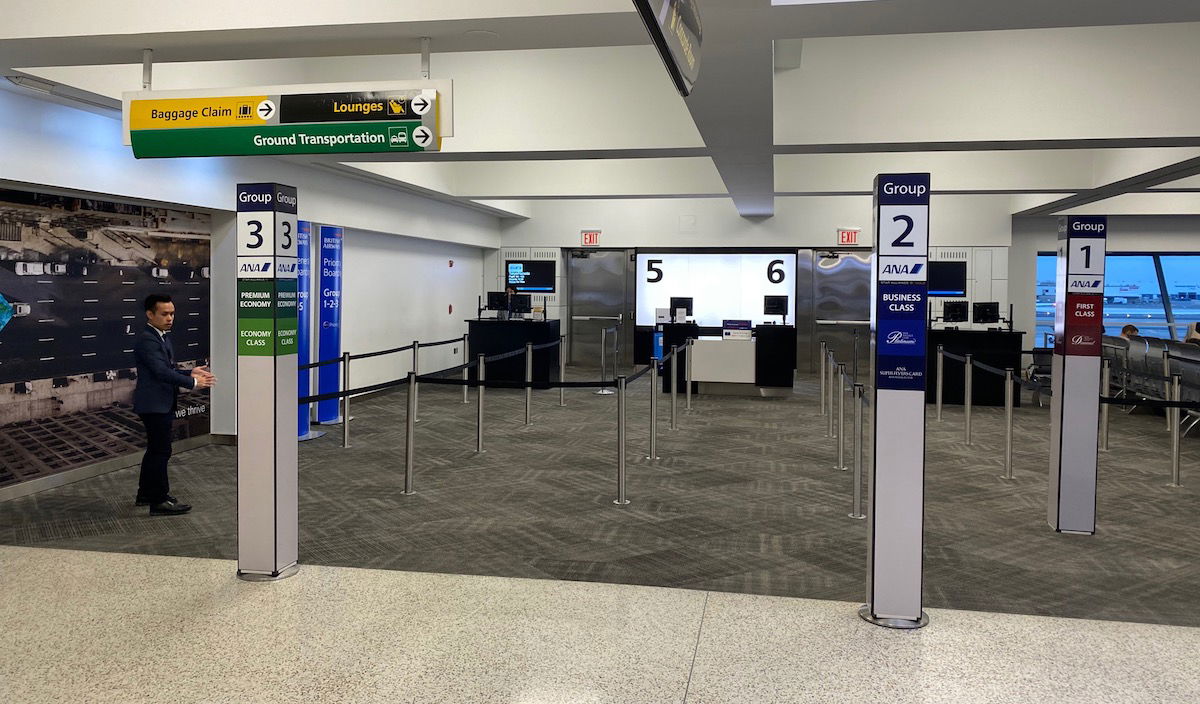 ANA departure gate JFK
All Nippon Airways 109
New York (JFK) – Tokyo (HND)
Tuesday, January 7
Depart: 4:55PM
Arrive: 9:10PM (+1 day)
Duration: 14hr15min
Aircraft: Boeing 777-300ER
Seat: 15A (Business Class)
I remember the feeling I had when I flew Qatar Airways Qsuites for the first time, and how I was in disbelief upon boarding.
Well, it was like that all over again — I was gobsmacked when I walked into All Nippon Airways' new business class cabin.
I had such a hard time believing these were business class seats, because to me this really looked like a cabin full of first class suites.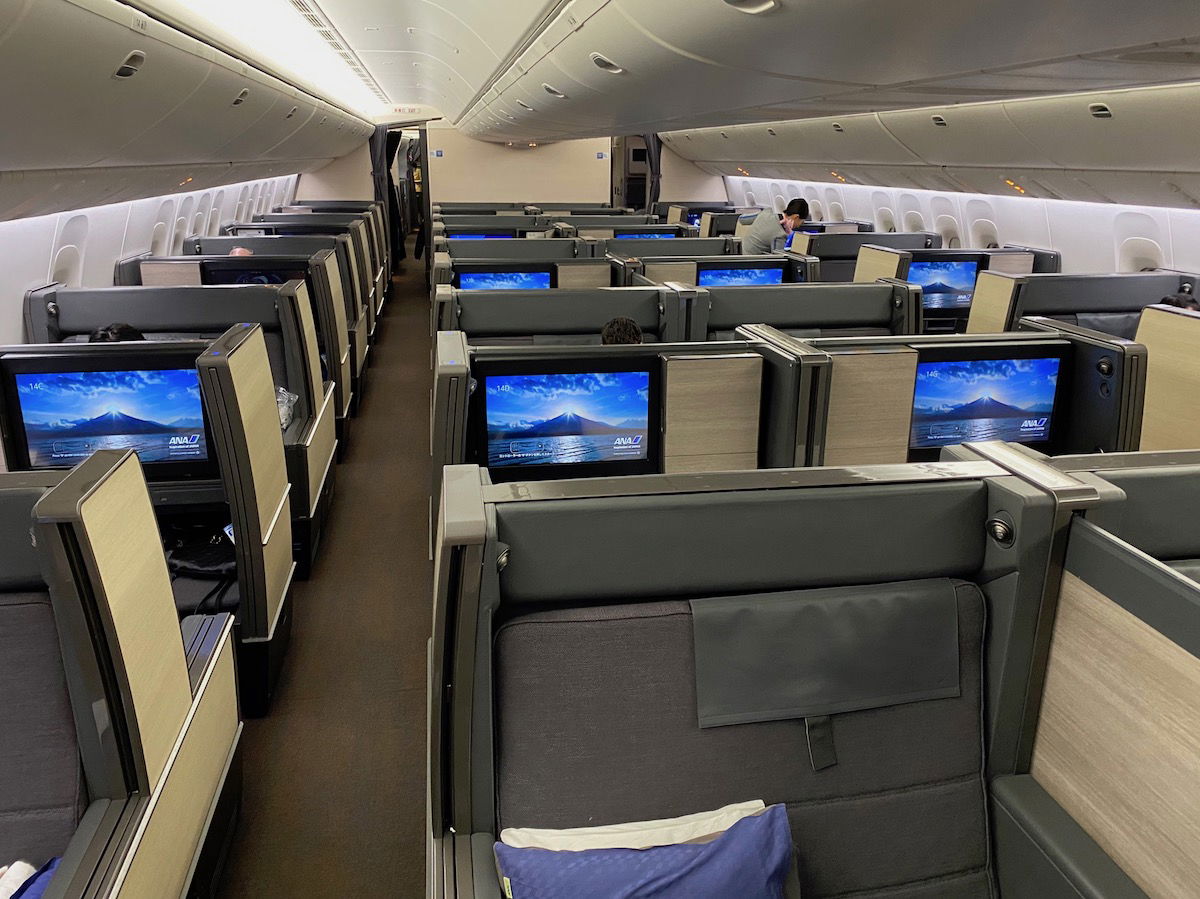 New ANA 777-300ER business class cabin
ANA's new business class cabin is massive, with 64 seats:
There's a forward cabin, between doors one and two (immediately behind first class), with eight seats spread across two rows
Then there's a main cabin with with 40 seats spread across 10 rows
Then there's a rear cabin with 16 seats spread across four rows
Sitting in one of the mini cabins is probably ideal in terms of minimizing foot traffic, though I chose to sit in the main cabin, since I was curious to observe the service flow.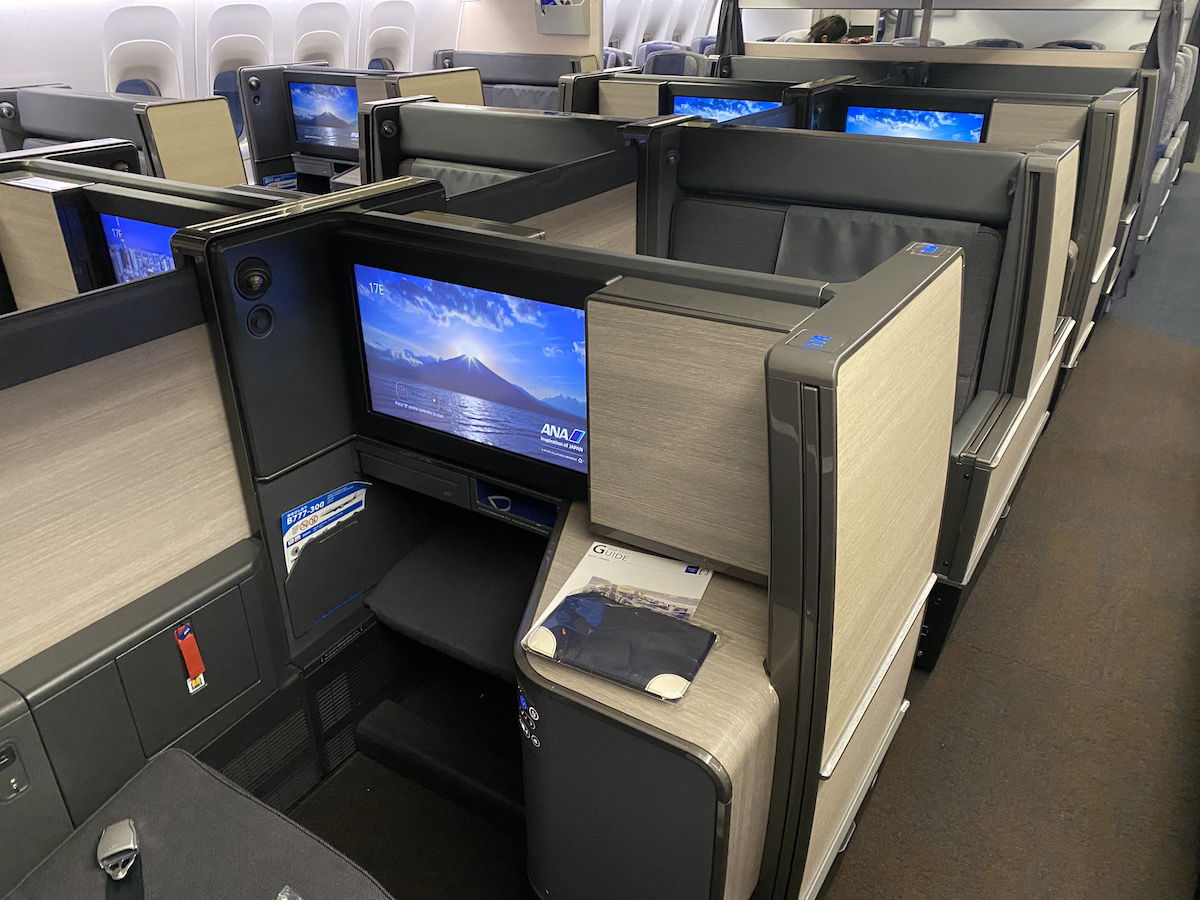 New ANA 777-300ER business class rear cabin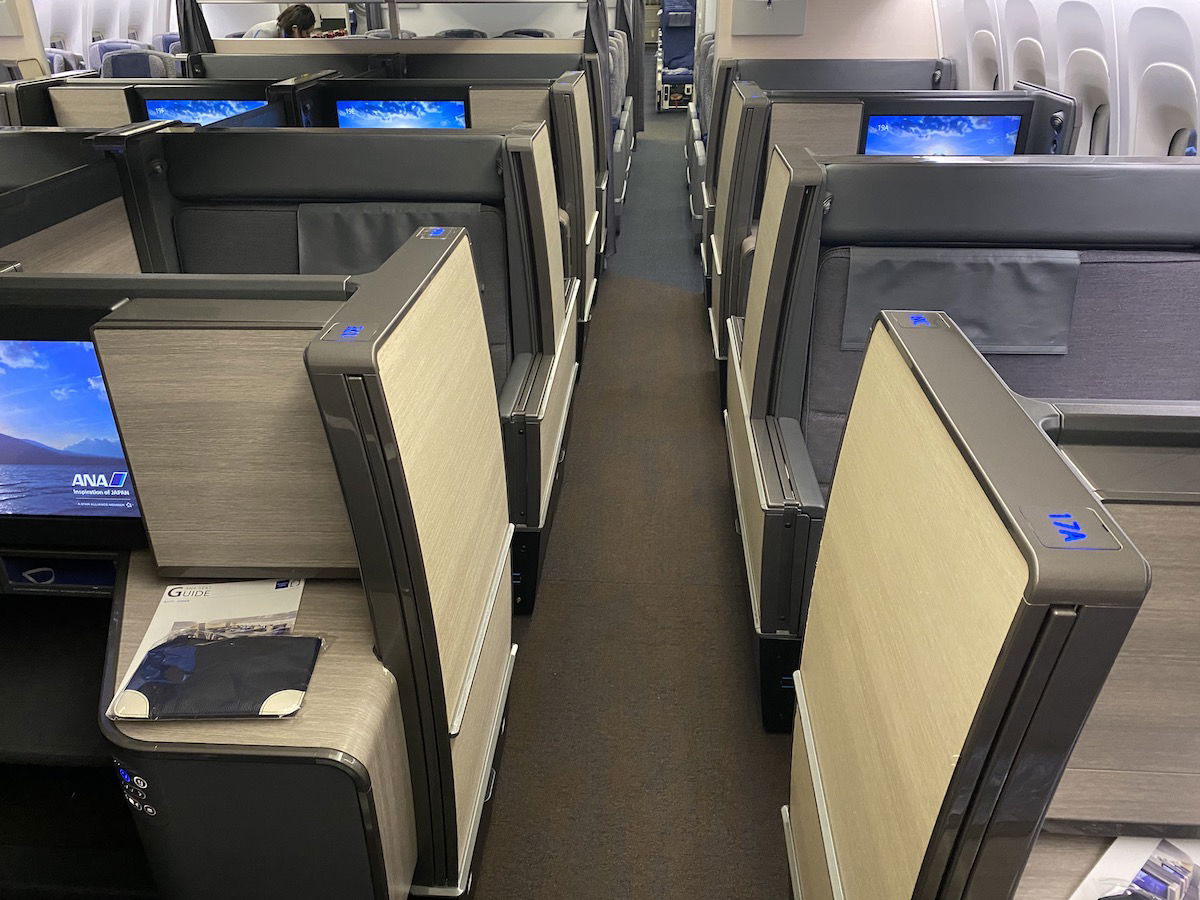 New ANA business class rear cabin 777-300ER
When I first saw the seats I had a few thoughts:
Oh my gosh these seats are massive
The seats as such kind of look about as thick as ironing boards
Design wise, this looked to me like a cross between Qatar Airways Qsuites and Singapore Airlines' "old" business class
While not the most stylish cabin in the sky, I do think it's significantly more stylish than ANA's old cabin
Fundamentally ANA's new business class seats are staggered, so in alternating rows passengers are either seated closer to the windows or closer to the aisle:
In odd numbered rows (seats "A," "E," "F," and "K"), seats are rear facing and are further from the aisle, and window seats are closer to the windows
In even numbered rows (seats "C," "D," "G," and "H"), seats are forward facing and are closer to the aisle, and window seats are further from the windows
Personally my strong preference would be to sit in a window seat in an odd numbered row.
For example, below is a picture of seat 16A, a forward facing seat that's closer to the aisle and further from the windows. As you can see, the seat is still super spacious.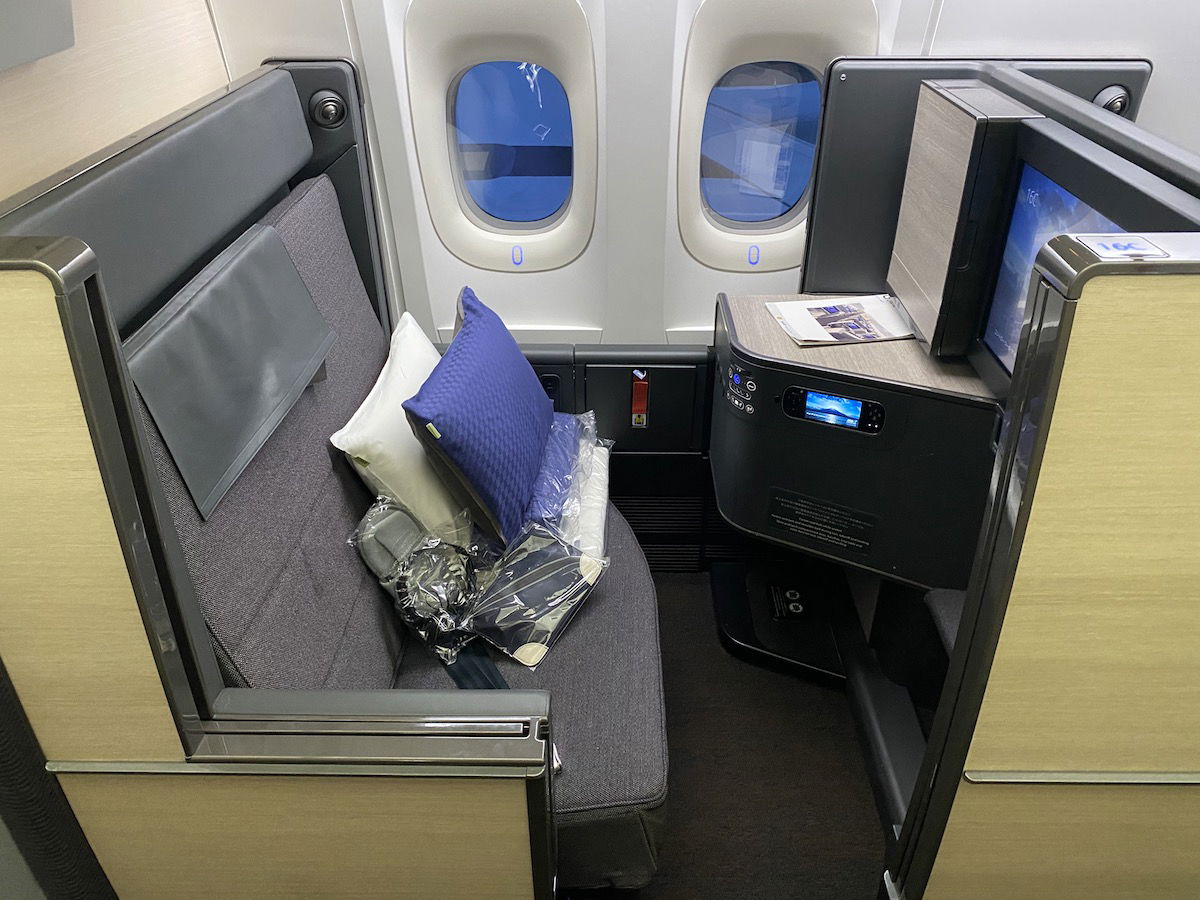 New ANA business class seat 777-300ER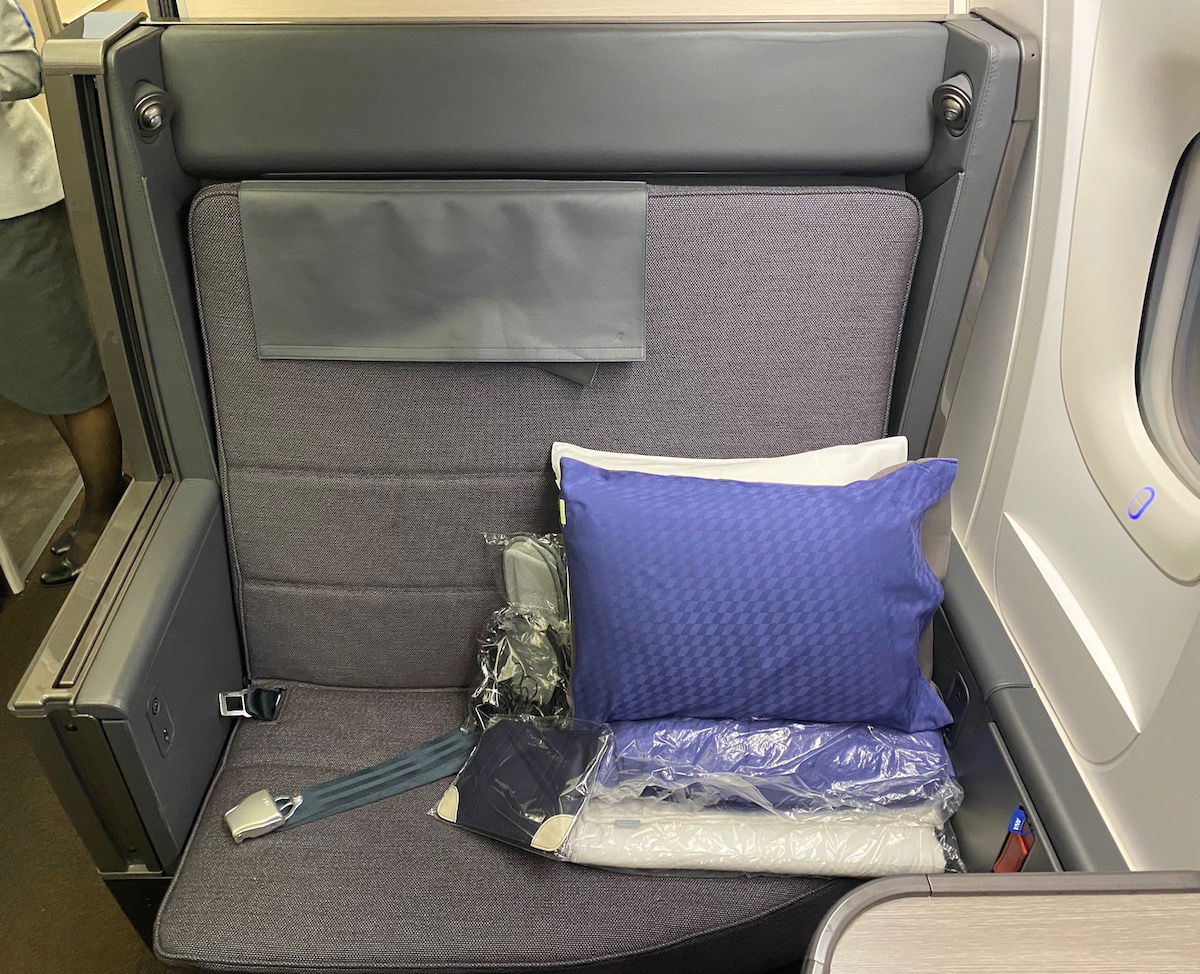 New ANA business class seat 777-300ER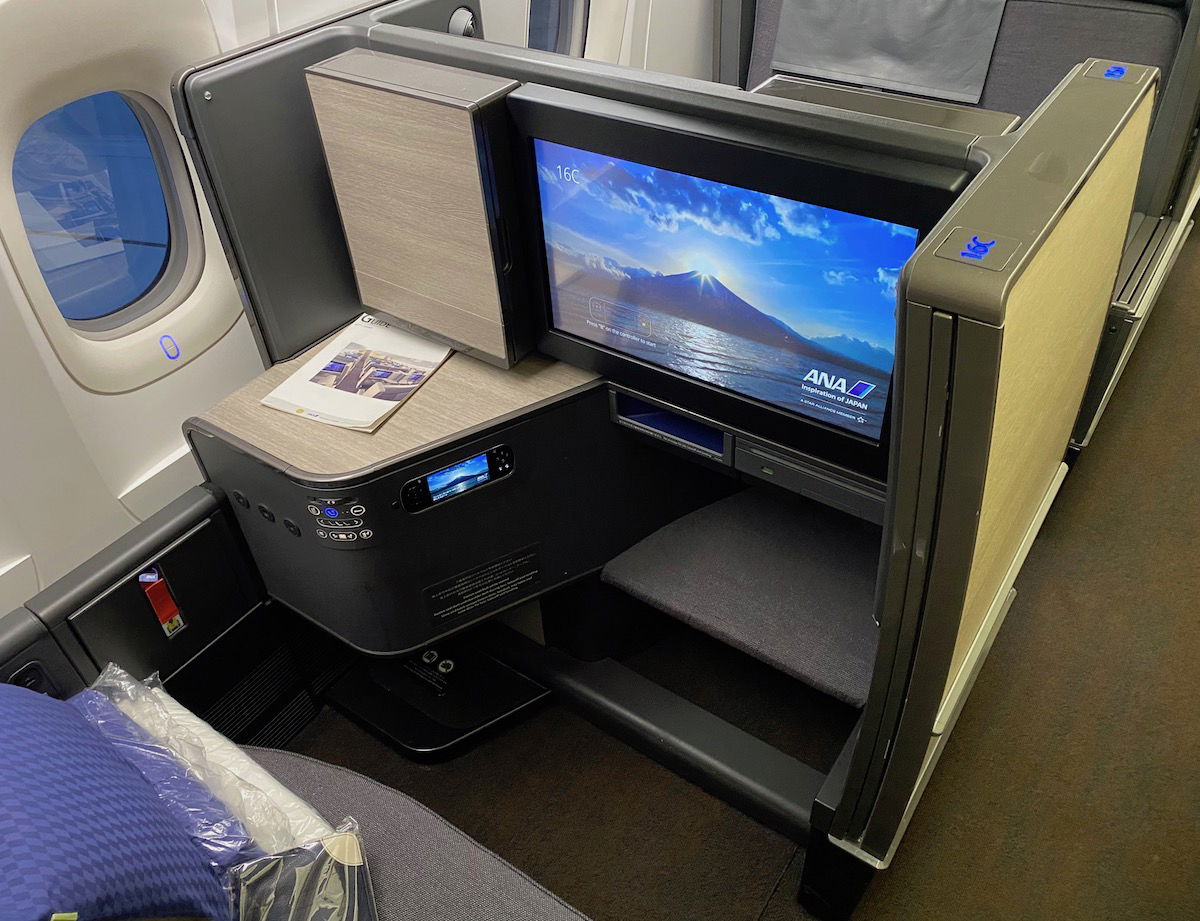 New ANA business class seat 777-300ER
However, I preferred my seat, 15A (in the second to last row of the main business class cabin), which was a rear facing seat closer to the windows. It was like my little cocoon… actually it wasn't so little.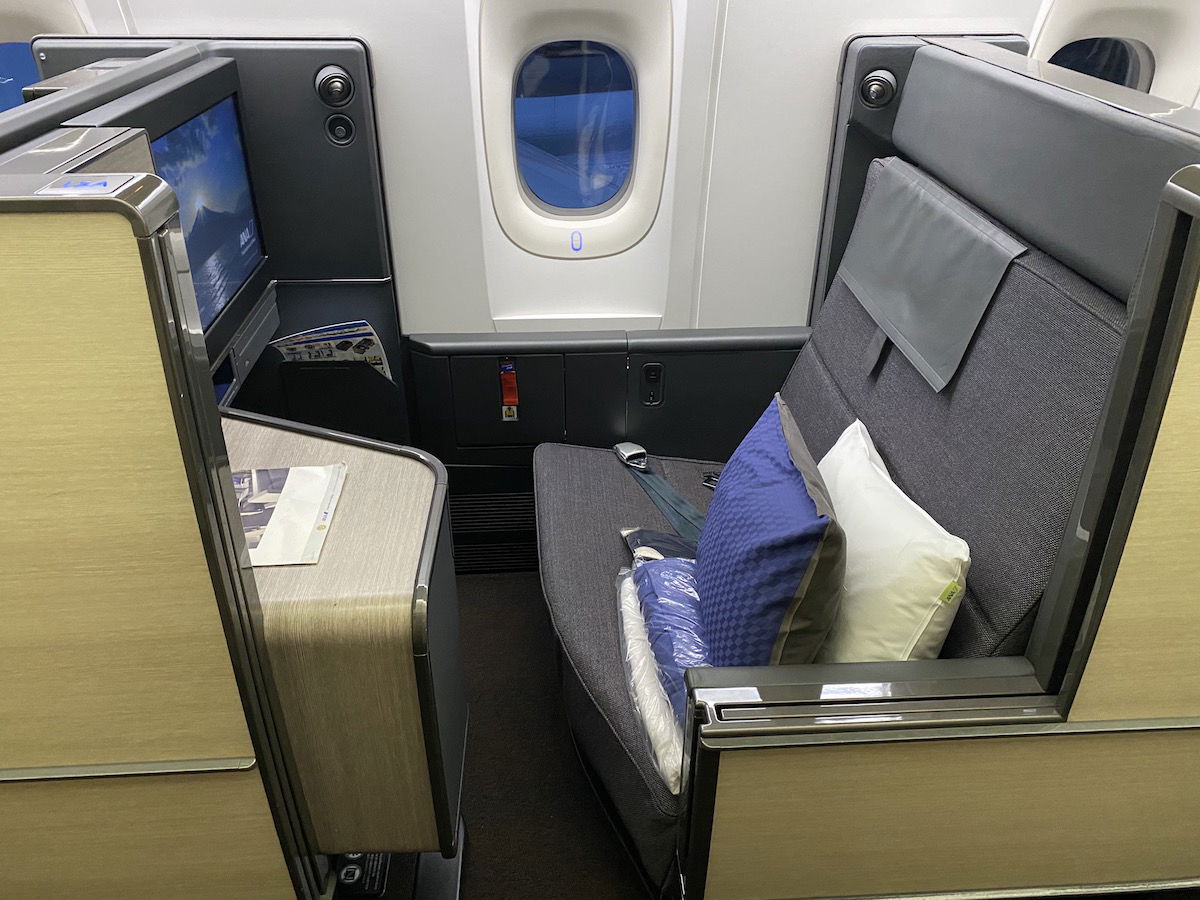 ANA "The Room" business class seat
As far as I'm concerned this is the best business class seat in the world. It has a lot in common with Qsuites — the seats have doors, half of the seats are rear facing, and the configuration is staggered.
But what really sets this apart, and what you can't understate, is the sheer amount of space you have. The difference is noticeable.
I love the Qsuite, don't get me wrong. But when I fly in that product I find myself constantly bumping my knees and elbows on things, because it is a bit tight. That's the cost of adding privacy without increasing the footprint of a seat.
When I was in this seat the difference in personal space was noticeable, and I honestly felt more like I was in a first class suite than a business class seat.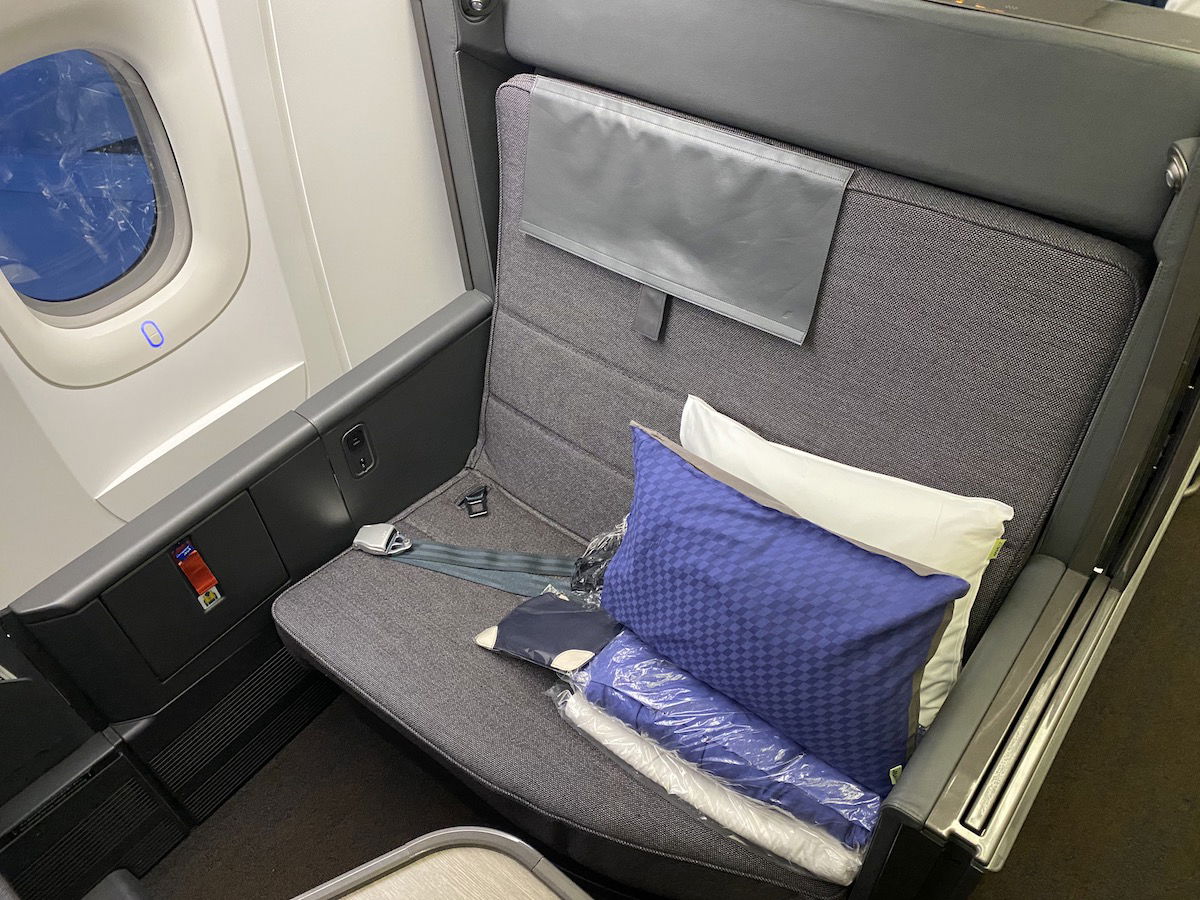 ANA "The Room" business class seat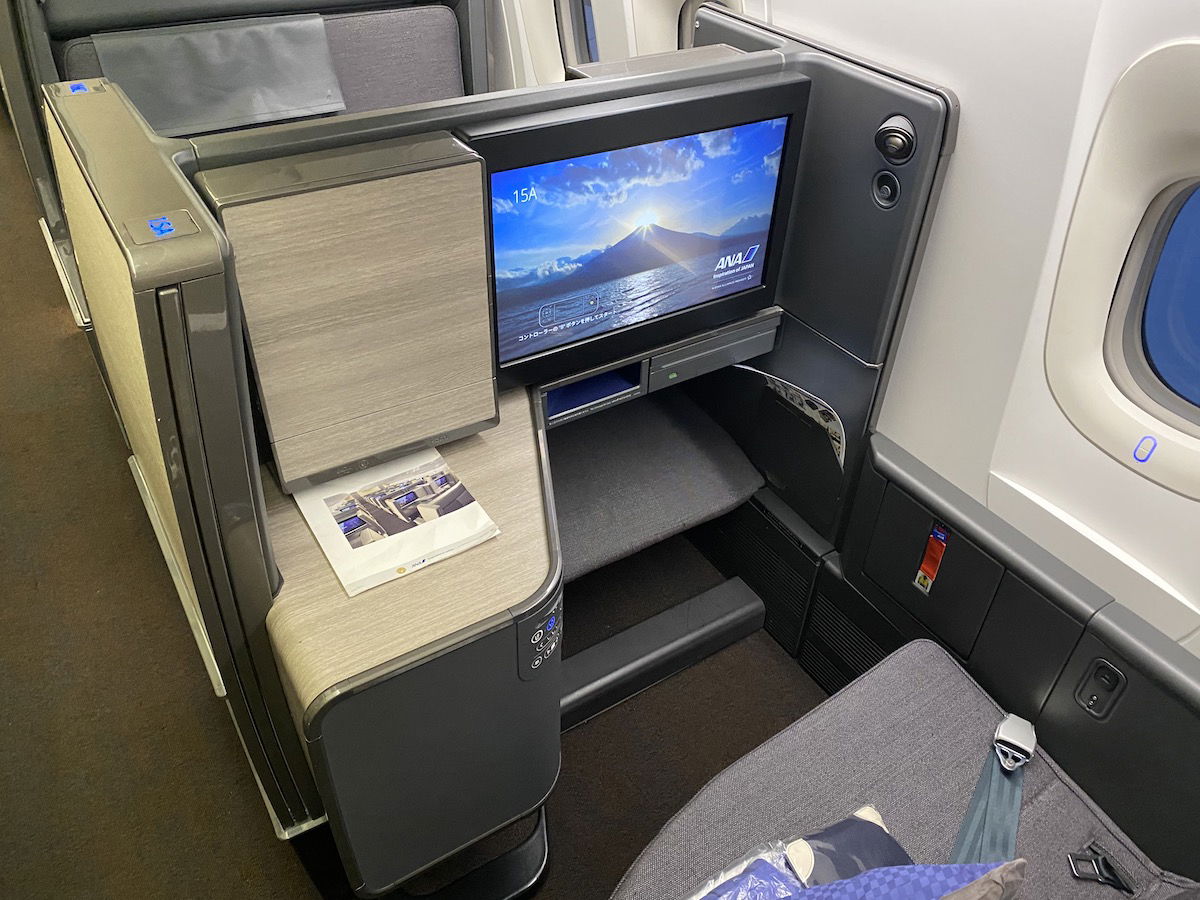 ANA "The Room" business class seat
The seat is just so brilliantly designed in almost every way. In front of the seat is a large high definition personal entertainment monitor.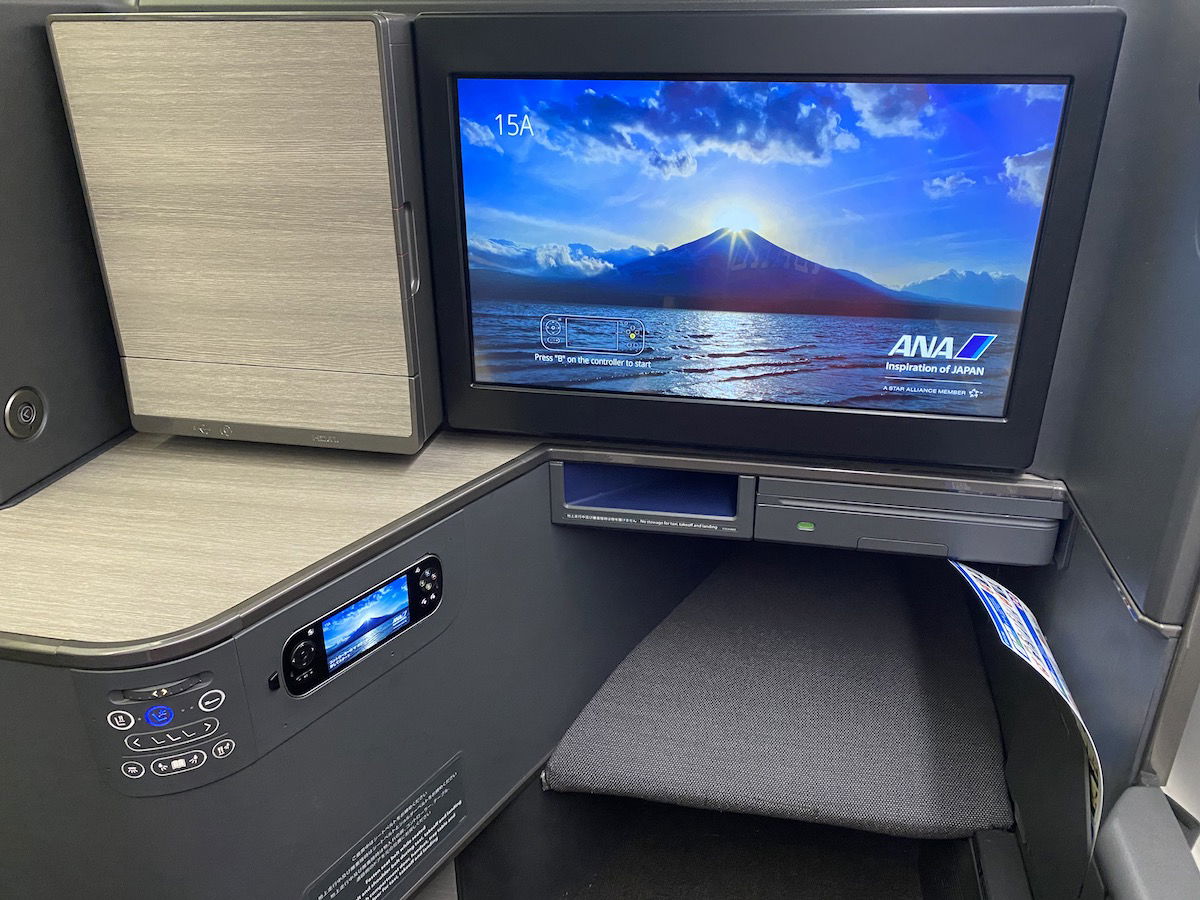 ANA business class personal television
To the left of the seat is a compartment that opens, which has a literature pocket, a mirror, and a small pouch where you can store things. At the bottom of this are 110v and USB outlets.
They put some thought into the design, because the bottom of the cabinet has an area that "folds up," so that you can charge things while the compartment is otherwise closed.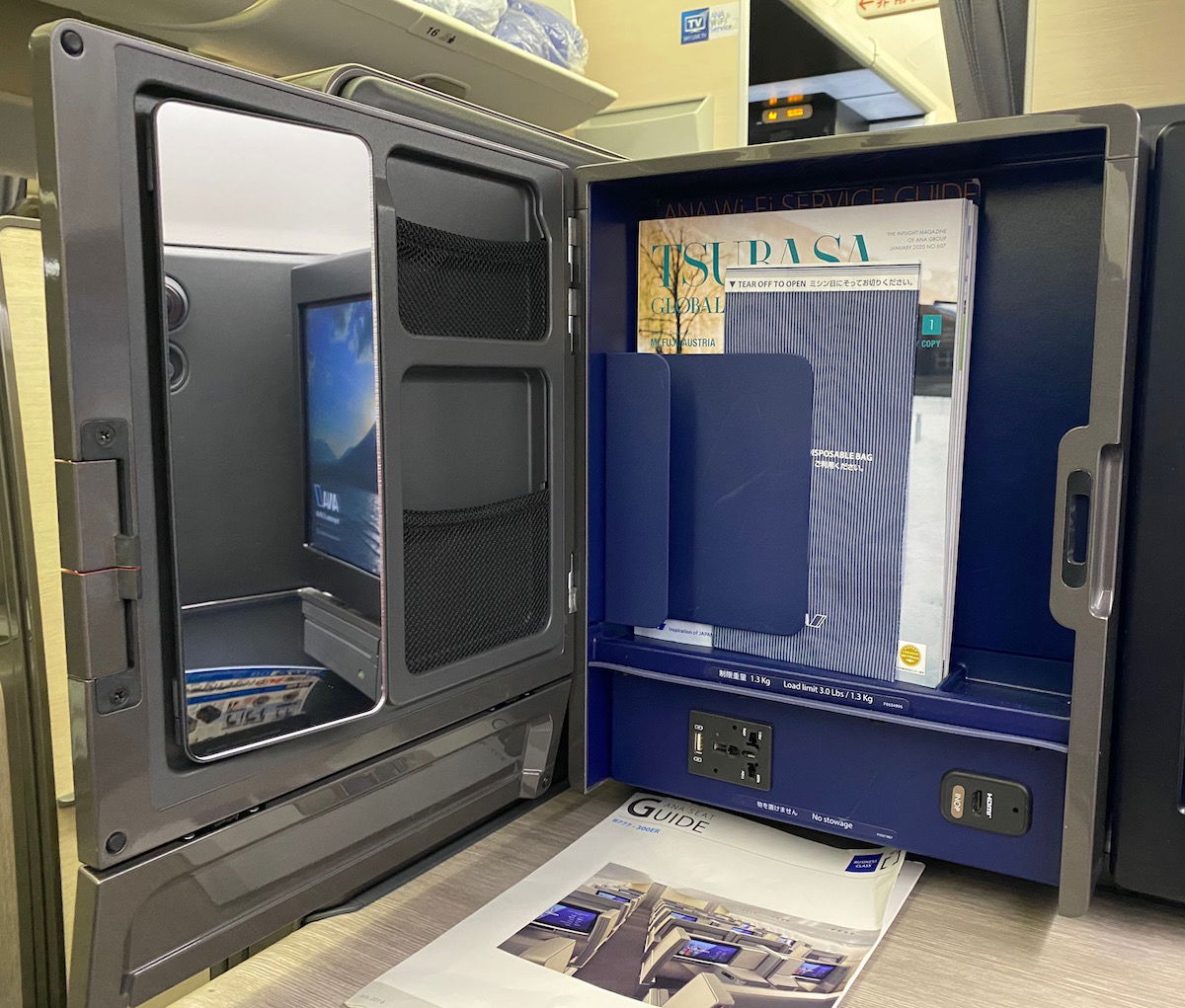 ANA business class storage compartment, mirror, and charging
Seat and entertainment controls are to the side of the seat, and are easy to use. There are seat pre-set options, and then there's also a knob you can twist to recline your seat. The entertainment controller can be held in your hand, as it also has a cord.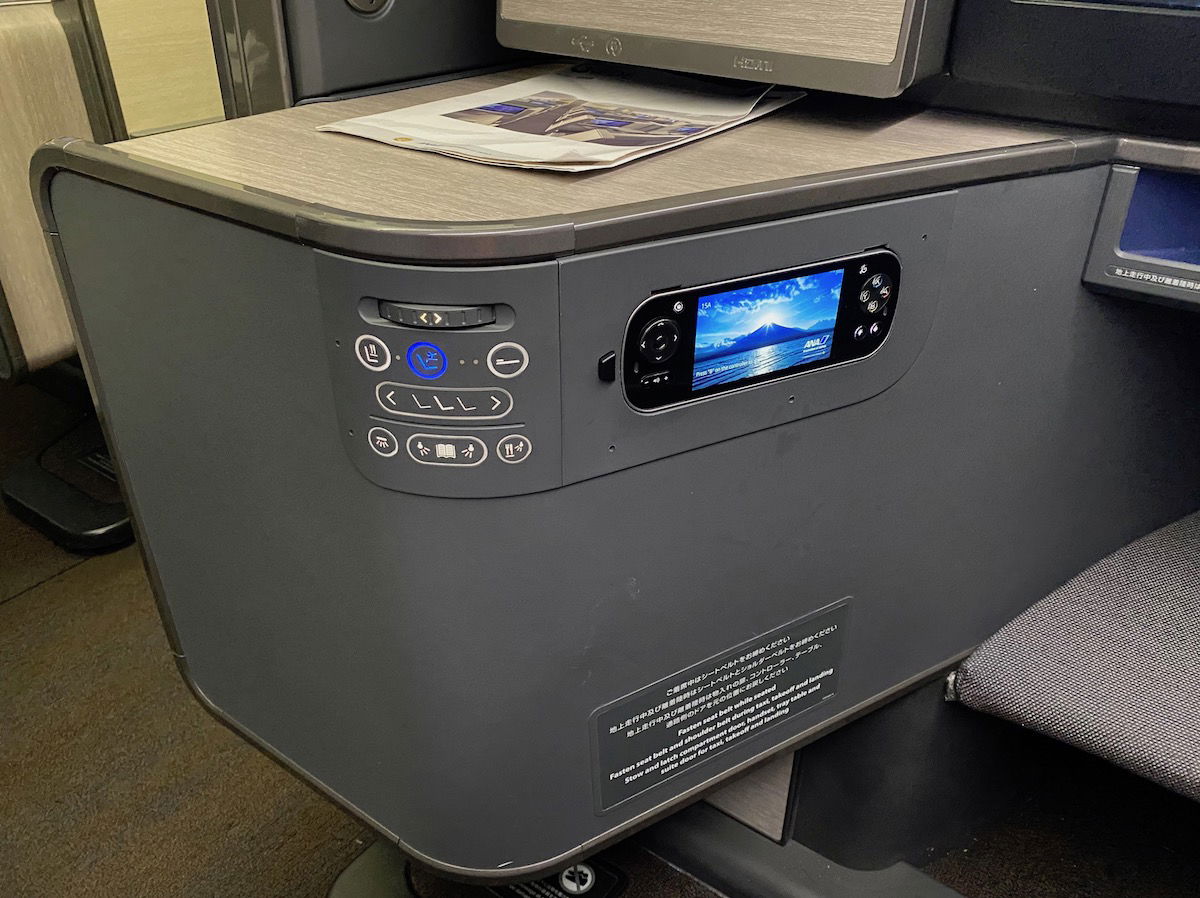 ANA business class seat & entertainment controls
The tray table extends from in front of the seat, and is huge. It can also easily be moved around, so that you could even get up during the meal service, for example.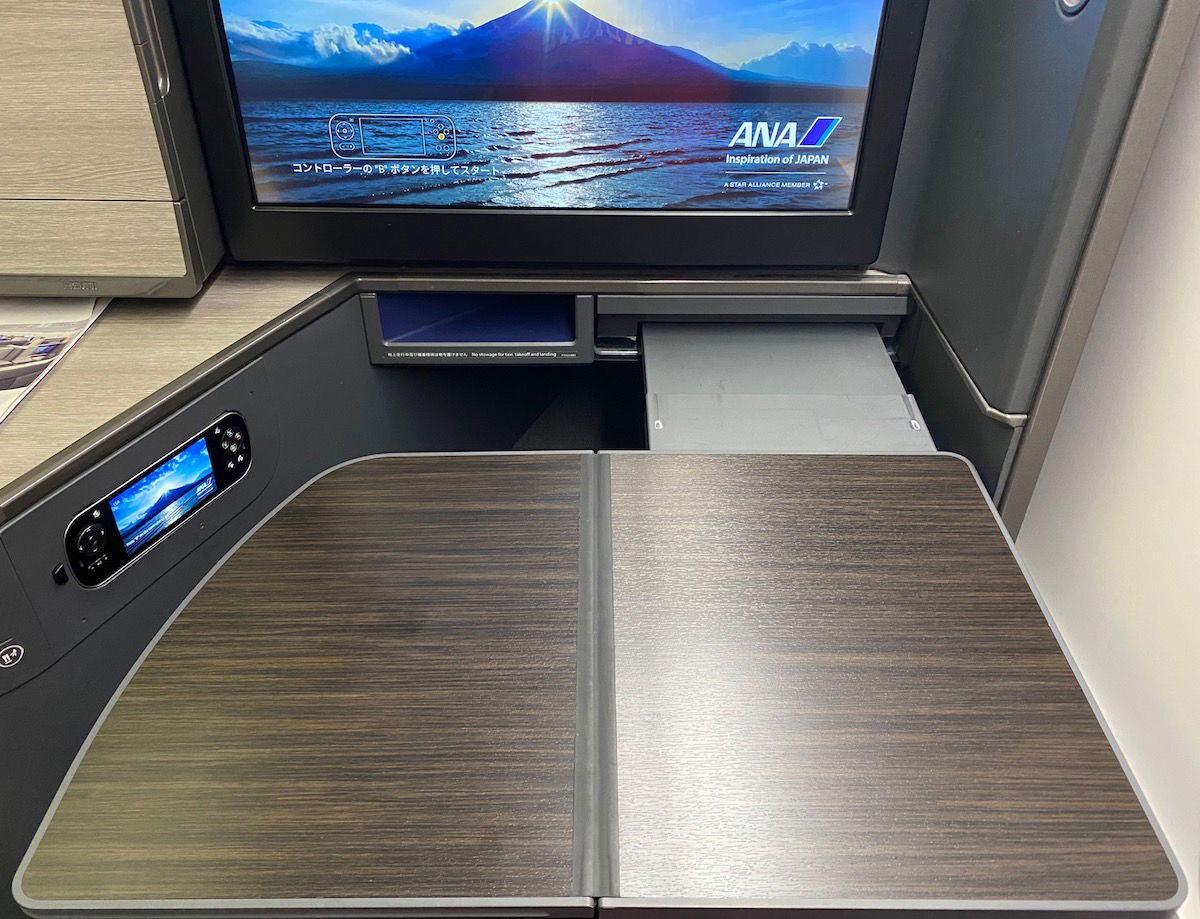 ANA business class tray table
Possibly most delightful is that the footwell is huge, so you won't feel restricted when sleeping. You can also store some things underneath that footwell.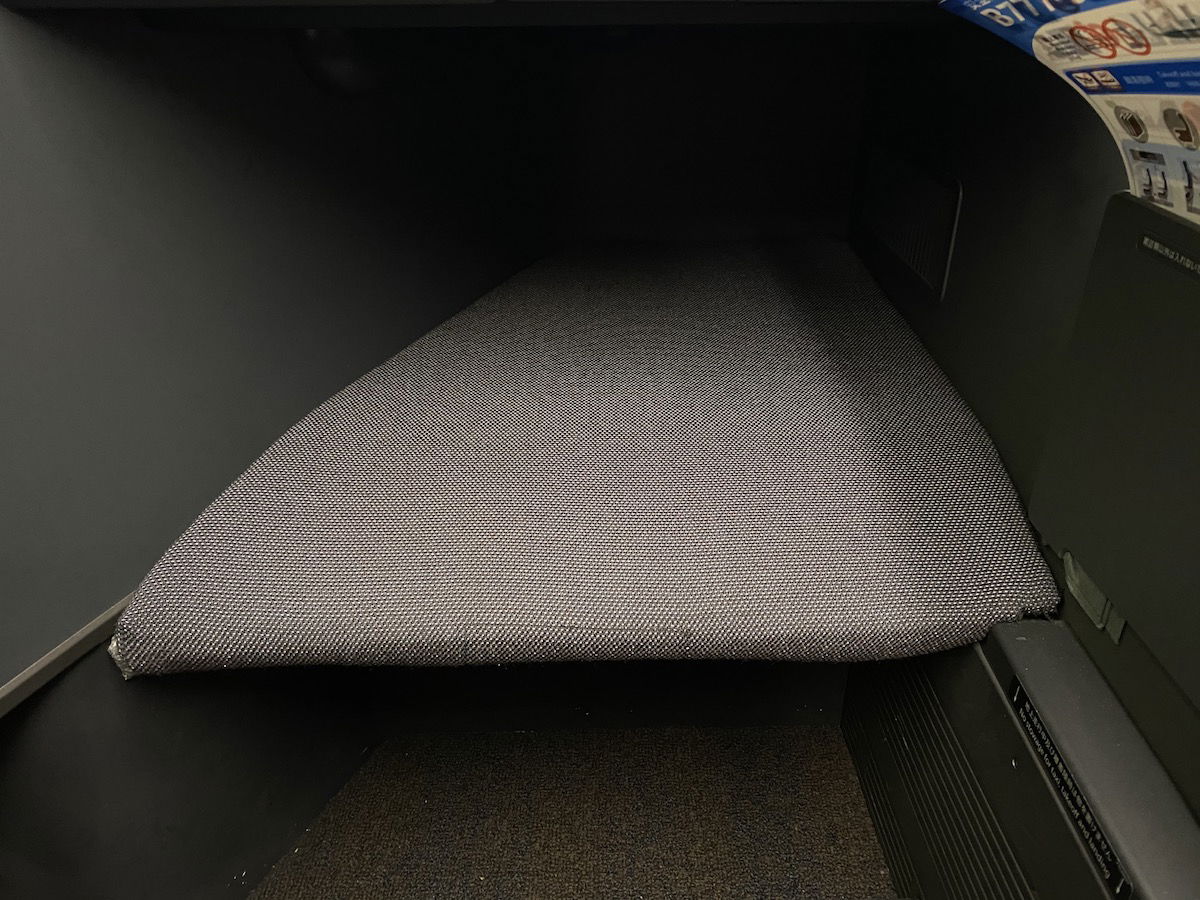 ANA business class footwell
On the far side of the seat is a USB outlet and a headphone jack.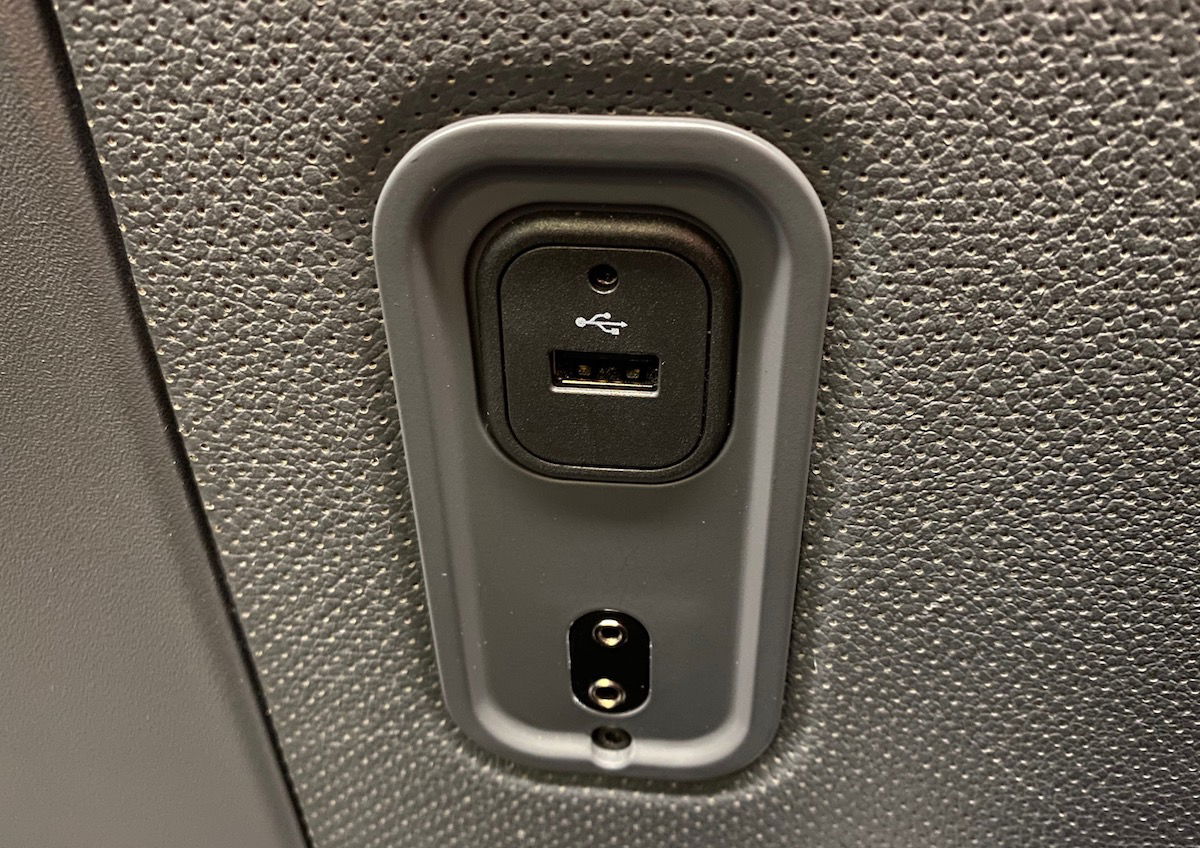 ANA business class headphone jack & USB outlet
Then of course there's the door, and I love the way it's designed. First of all, doesn't this look significantly larger than other business class seats with doors? I swear it looks like a first class suite.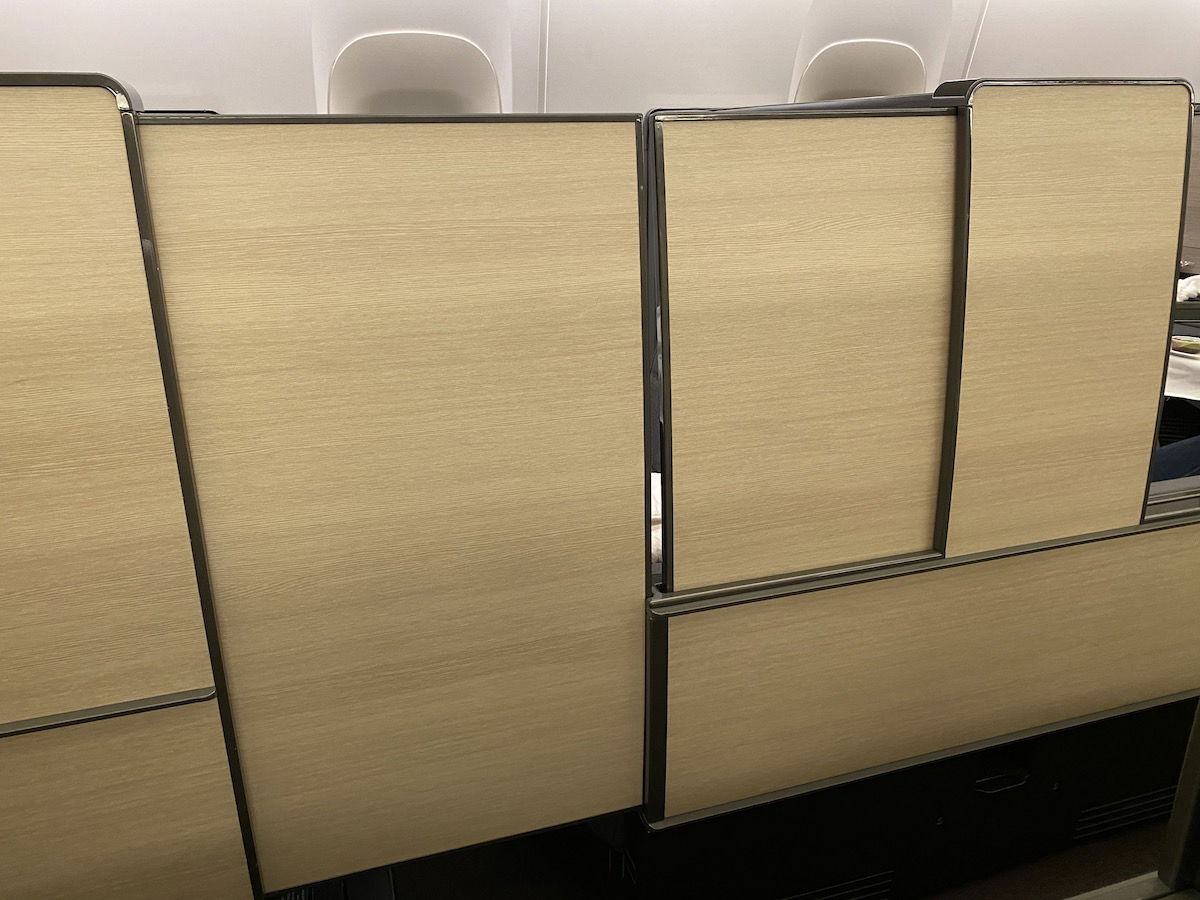 ANA business class seat with door
There are two parts to the door:
The door can be slid in or out from the "front" of the seat
Then there's a privacy partition at the "back" of the seat that that can be raised or lowered, and that becomes part of the door
There are two buttons to release the door components. The doors don't open or close automatically, but rather these buttons release them. Then when you want to open them, you have to do so manually (and they're quite heavy).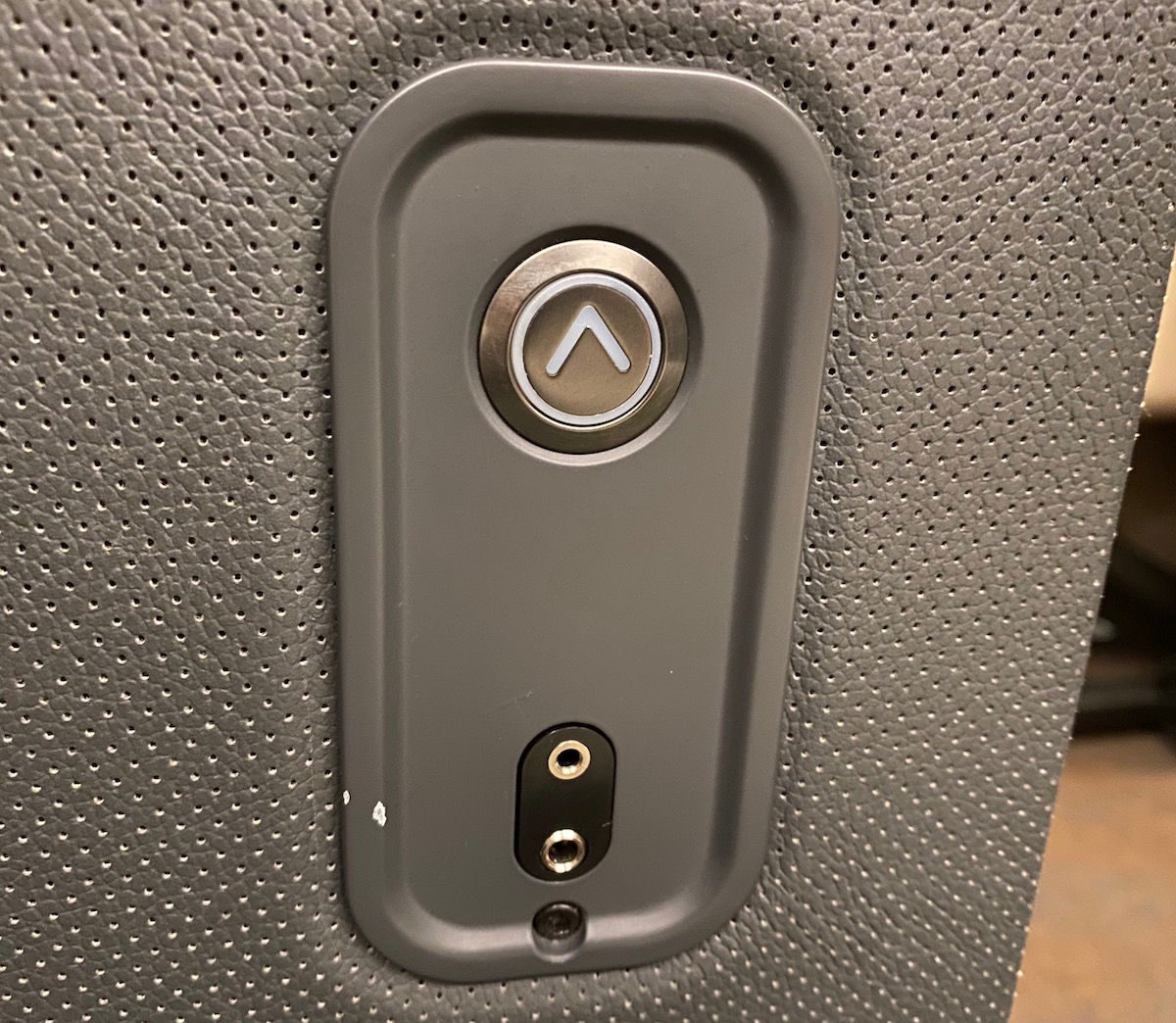 ANA business class door controls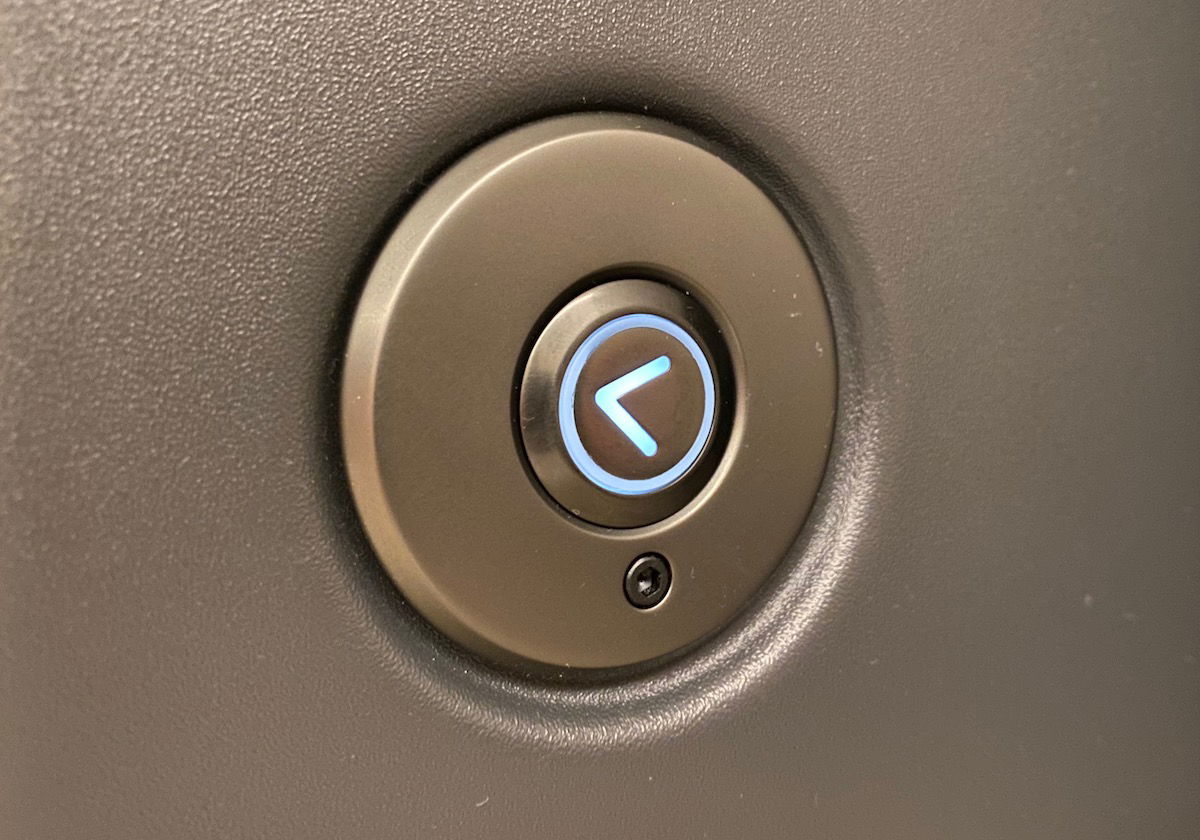 ANA business class door controls
Oh, and perhaps the most exciting of all of this? ANA has finally installed individual air nozzles on their new 777s. YAY!!!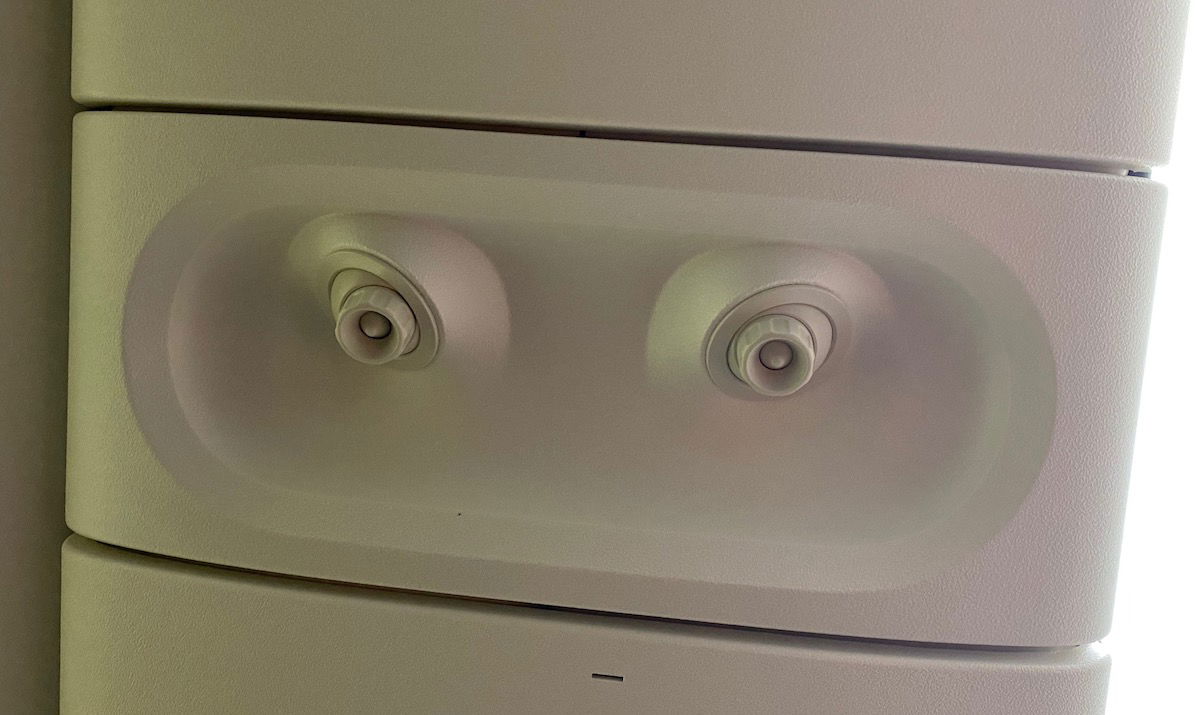 ANA business class individual air nozzles
As if the seat wasn't delightful enough already, I also love the new classy window shades they have, which are electronically controlled. If you push once the shade is drawn, and if you push it again it goes to full blackout mode.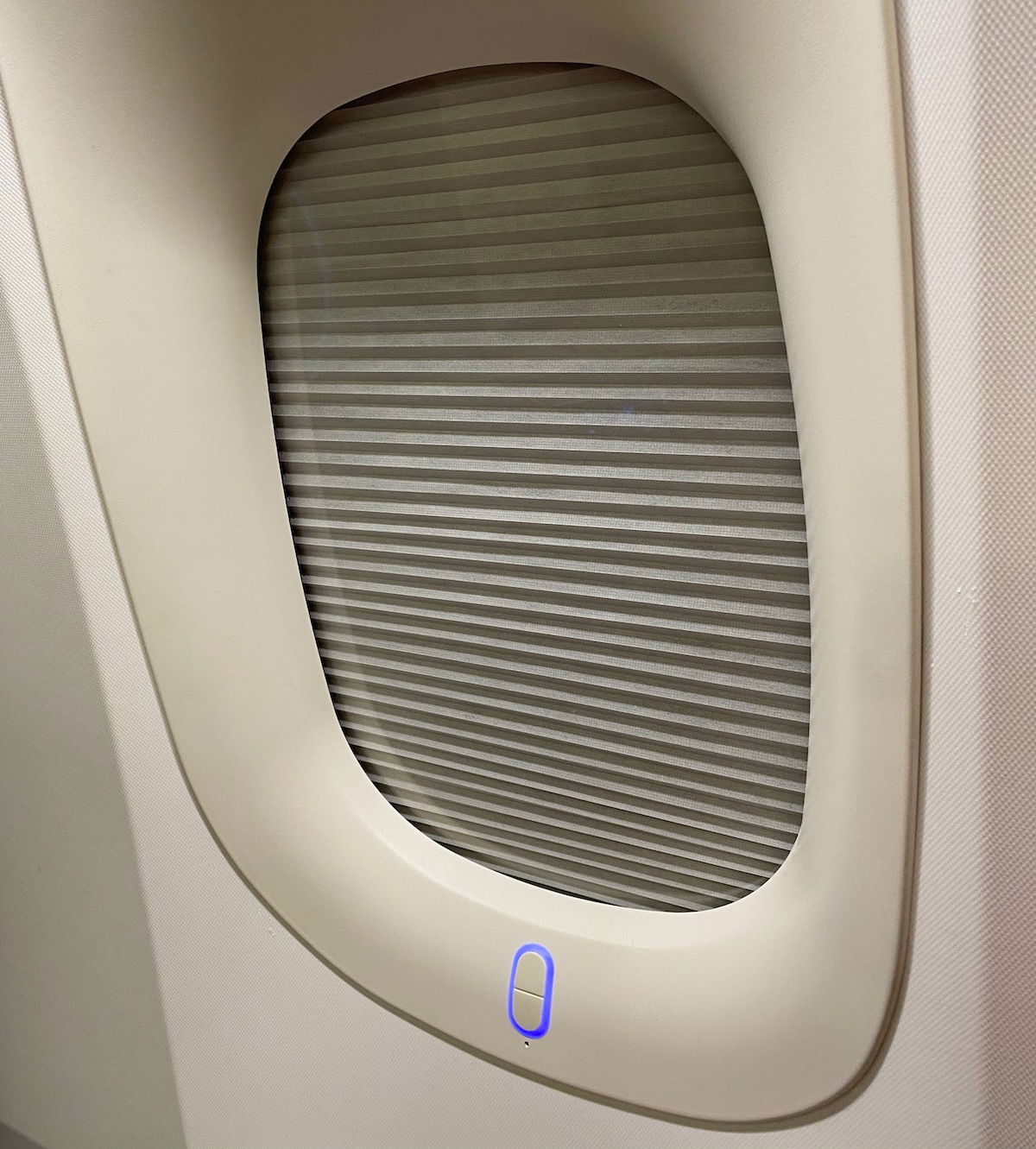 ANA business class window shades
The one thing the seat lacks is storage, though I don't find that to be a huge issue. You can store stuff underneath the footwell, on the "counter," and in the overhead bin. This doesn't bother me because the airline has made such great strides when it comes to personal space in a staggered configuration, and to me that's the biggest innovation.
Anyway, on to the soft product…
Waiting at my seat upon boarding was a pretty good pair of headphones.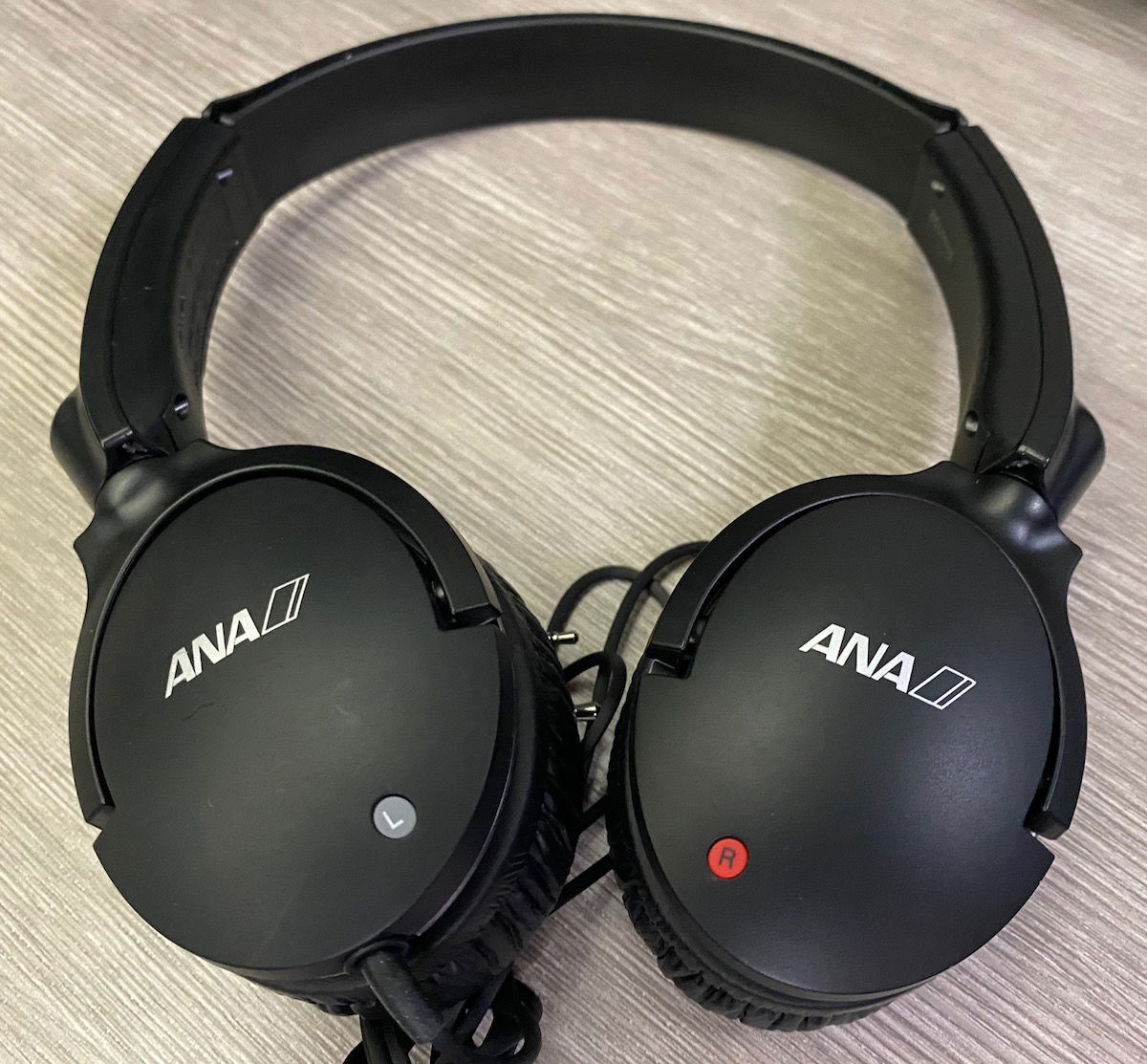 ANA business class headphones
There were also slippers, a shoehorn, and a shoe bag.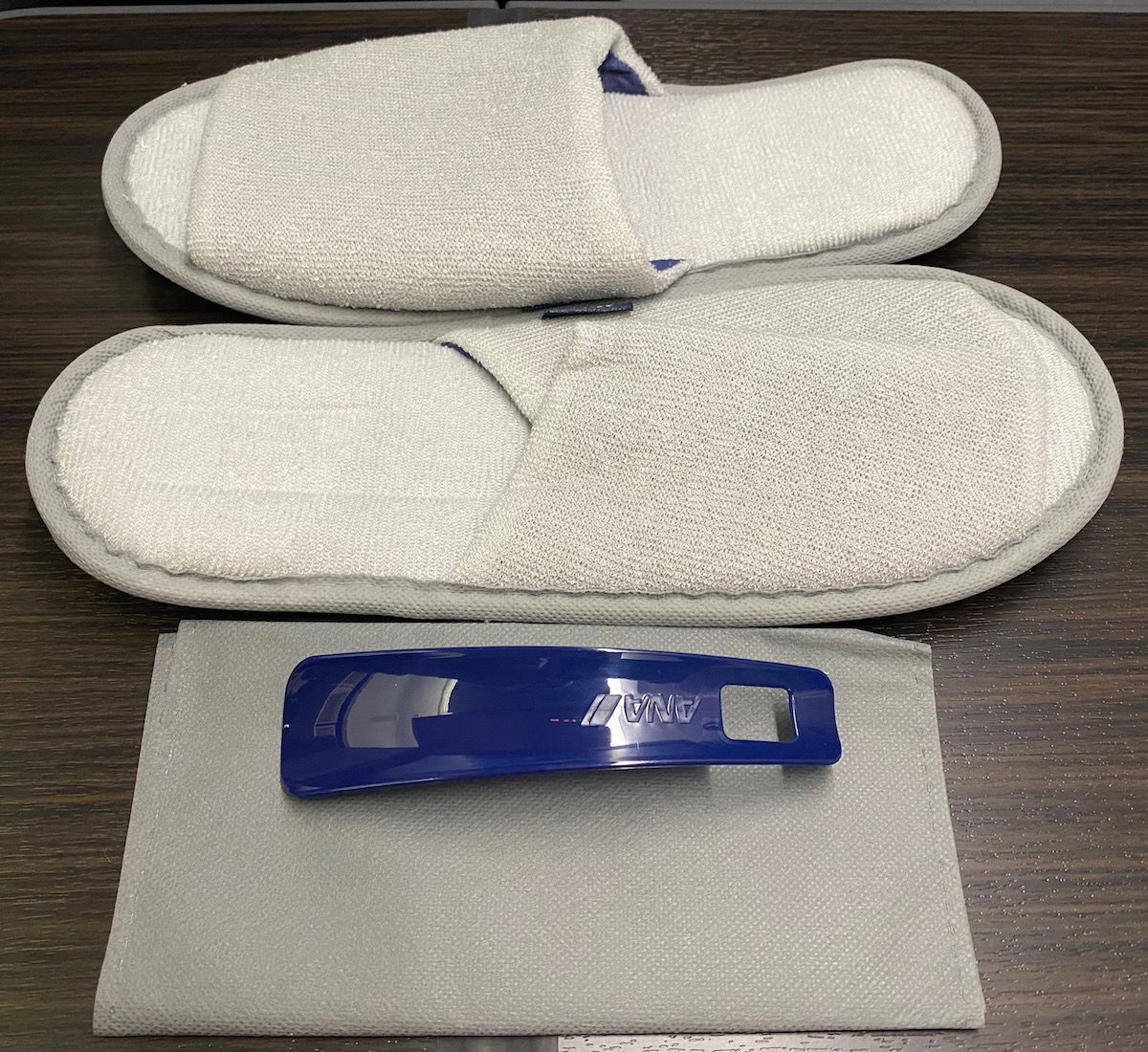 ANA business class slippers
Then there was an amenity kit, which had a dental kit, eye mask, earplugs, and three types of lotion.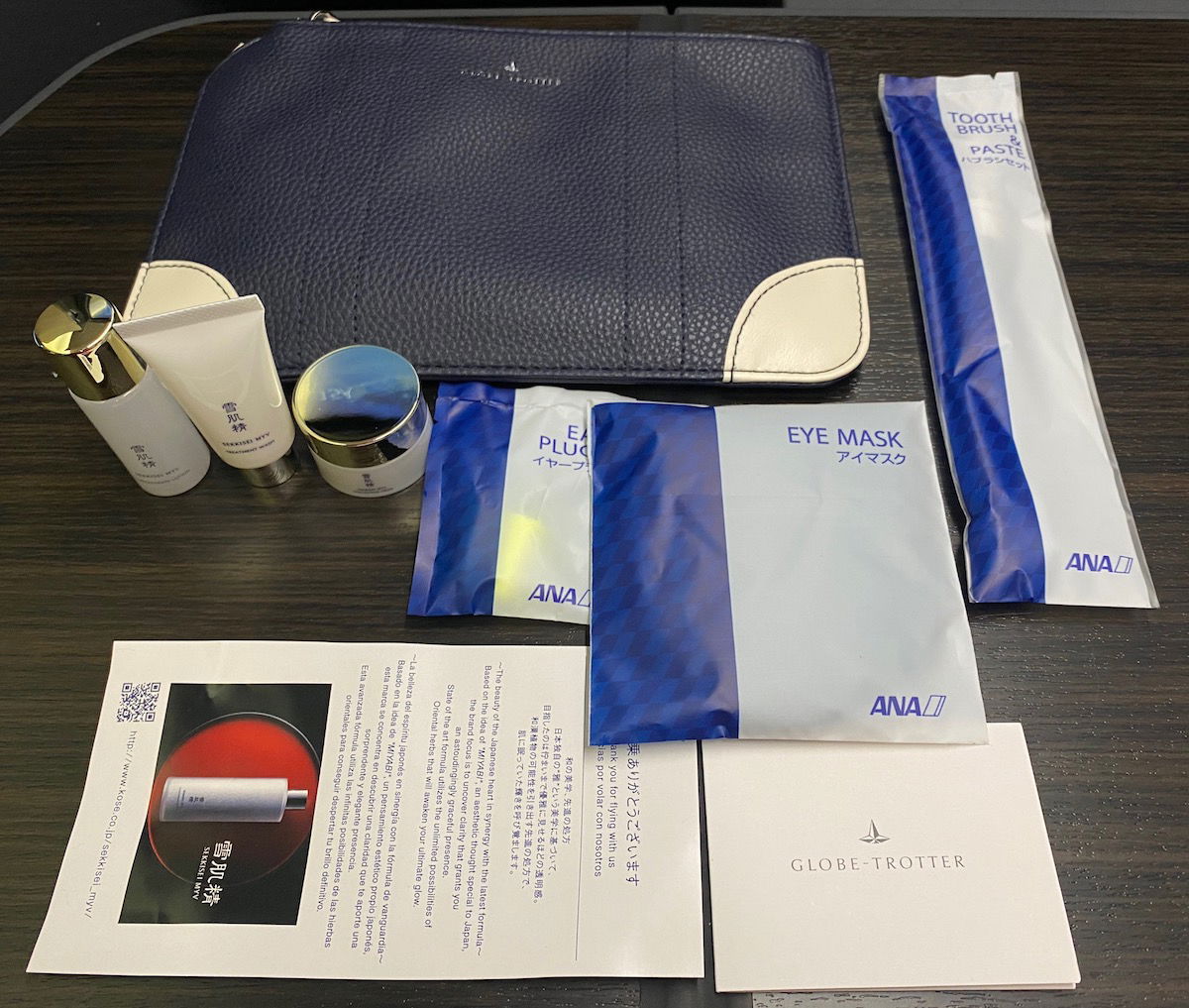 ANA business class amenity kit
There was also a significant amount of bedding at the seat, including two pillows, a blanket, and a mattress sheet (I wouldn't really call it a "pad," since it was really thin).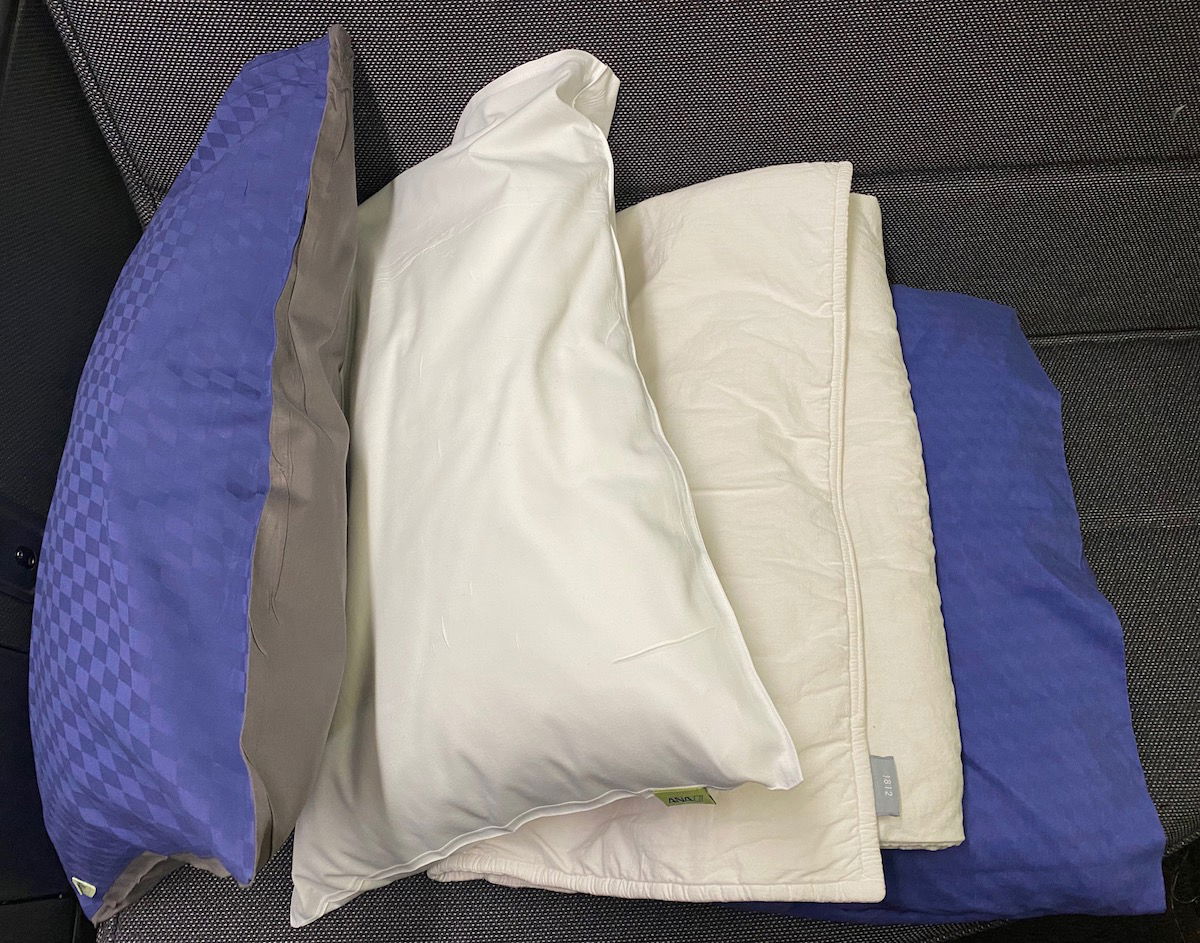 ANA business class pillows, blanket, and bedding
About five minutes after settling in Naito came by my seat to introduce herself, and tell me she'd be taking care of me. There wasn't much service on the ground otherwise, and ANA doesn't offer pre-departure drinks in business class.
Japanese airlines still have a weird culture around pre-departure drinks. Until a few years ago they didn't serve them at all due to "safety" reasons. Even now they often don't have them in business class, and in first class it's not like Singapore Airlines, where they'll top you off five times before takeoff.
In fairness, Japanese airlines board planes very efficiently, so it's not like you're sitting on the plane for an hour with the door open.
Anyway, at 5:05PM the main cabin door closed, and business class was mostly full, with just six empty seats (including the one right across from me).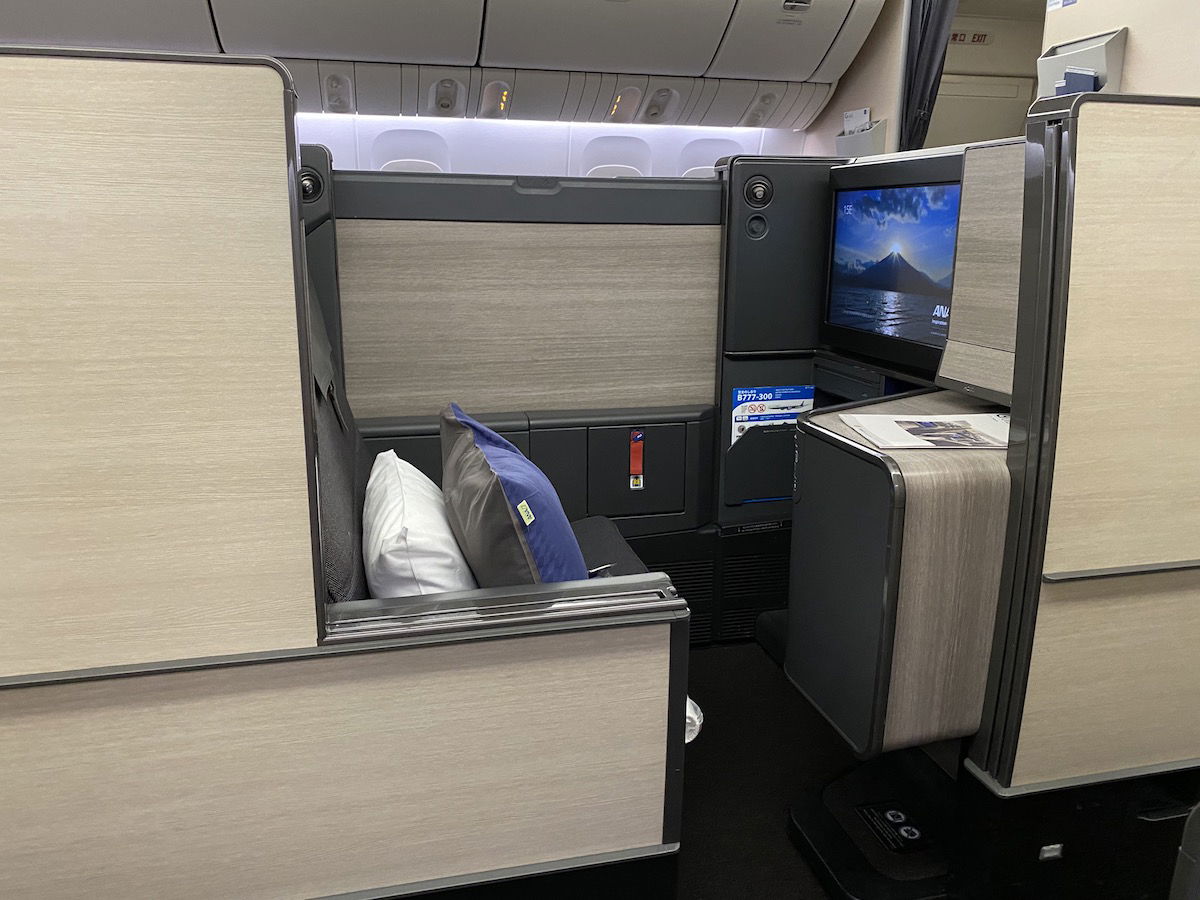 ANA "The Room" business class seat
At 5:10PM we began our pushback, at which point the safety video was screened. Our taxi was quick (at least by JFK standards), and by 5:30PM we were cleared for takeoff on runway 13R, for our 13hr10min flight to Tokyo Haneda.
I find it odd that ANA doesn't dim cabin lights during nighttime takeoffs, but rather they keep them at the brightest setting.
After takeoff we hit a bit chop, and the crew announced passengers should remain seated, and added "the turbulence does not impact the safety of the aircraft." The seatbelt sign was turned off 10 minutes after takeoff.
Once the seatbelt sign was off, the crew closed curtains between cabins. Can we once again just appreciate how impressive-looking this cabin is?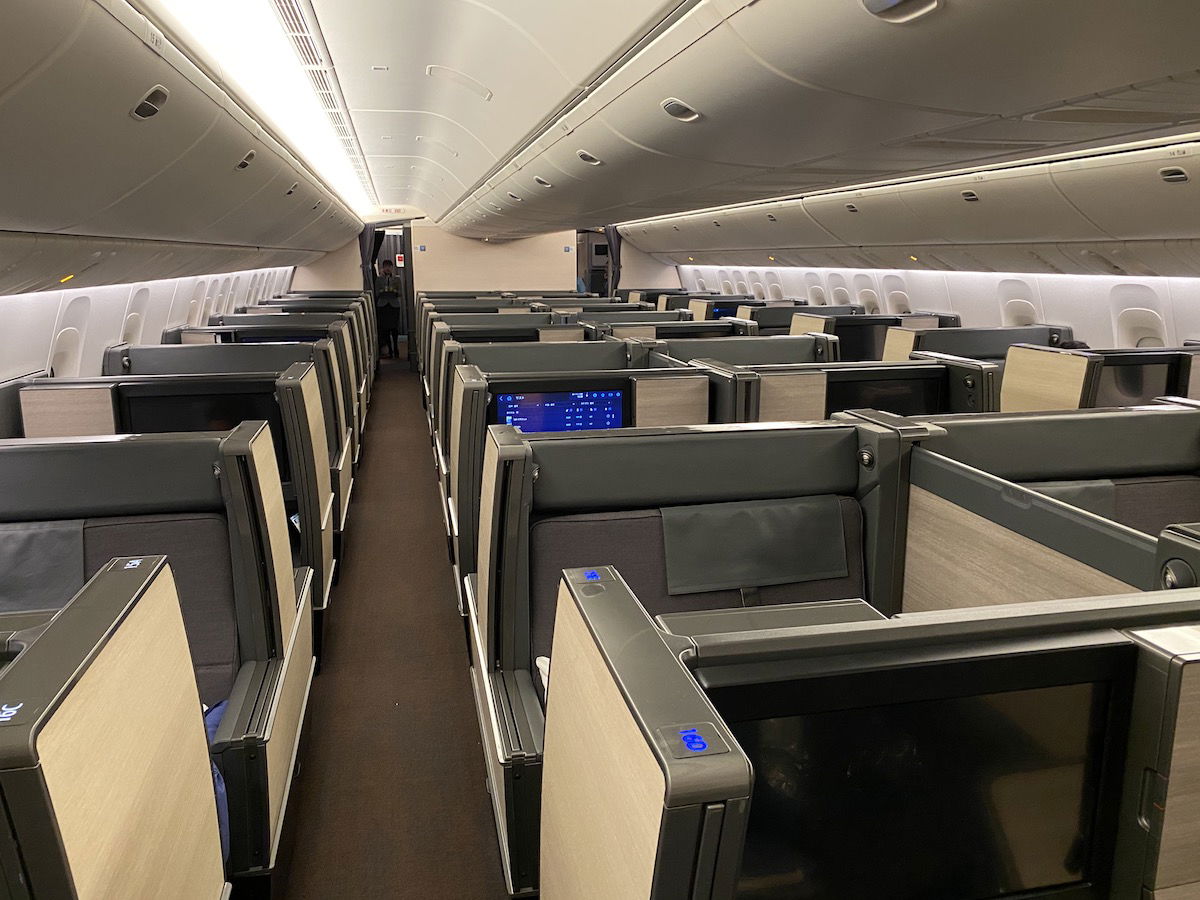 Stunning ANA 777 business class cabin
After takeoff I still had a bit of work to do, so I powered up my laptop and connected to the Wi-Fi. ANA has made huge improvements in this regard. Their 777s used to have slow Wi-Fi where they charged based on data, while they now have high speed Wi-Fi with pricing based on time, rather than data.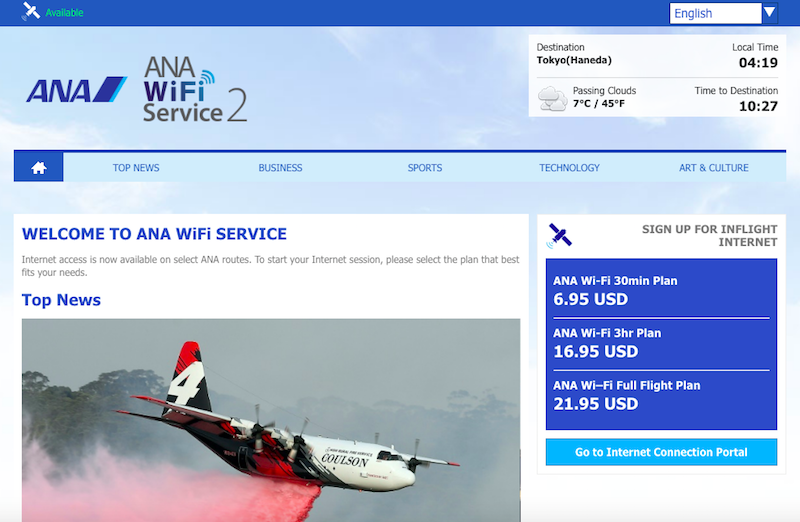 All Nippon Airways Wi-Fi
There are three Wi-Fi pricing plans:
$6.95 for 30 minutes
$16.95 for three hours
$21.95 for the full flight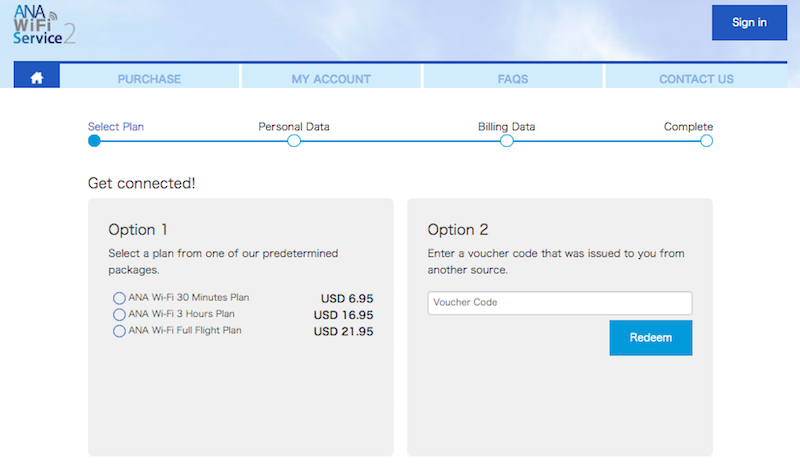 All Nippon Airways Wi-Fi pricing
You could switch between devices, and the speeds were truly excellent. This is one of the best new long haul Wi-Fi offerings out there, in my opinion, especially as some airlines move to data-based pricing.
I then browsed the entertainment selection. On the plus side, the screen was high definition, and the interface easy to use and responsive.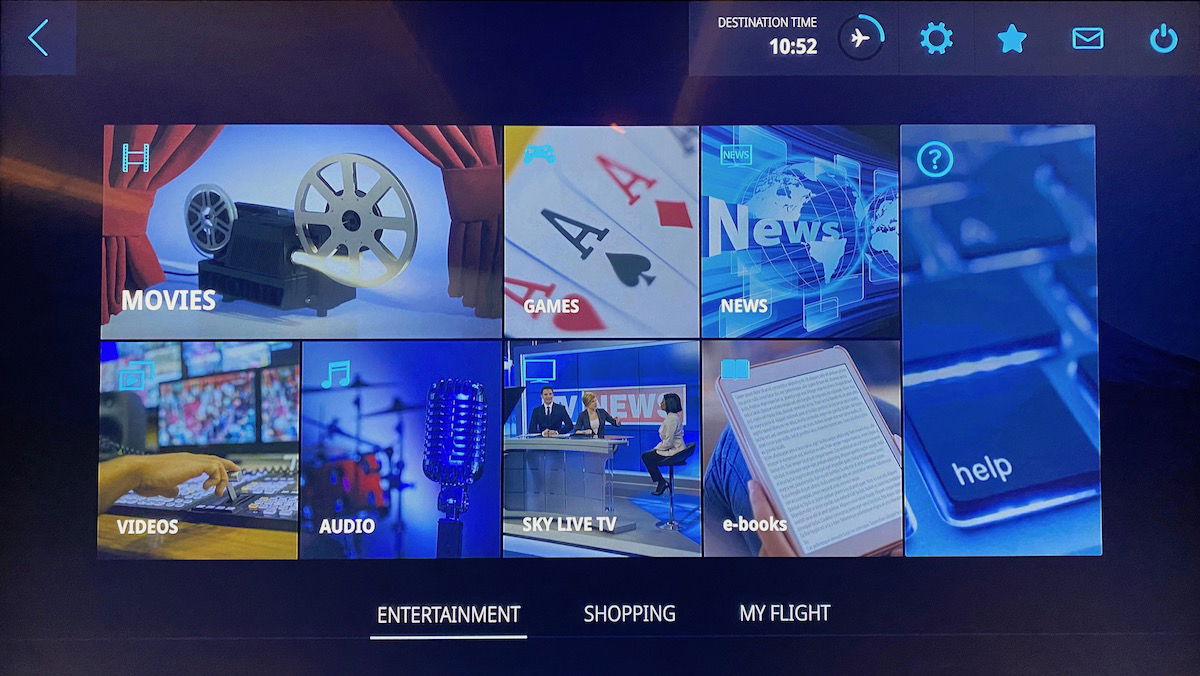 All Nippon Airways entertainment selection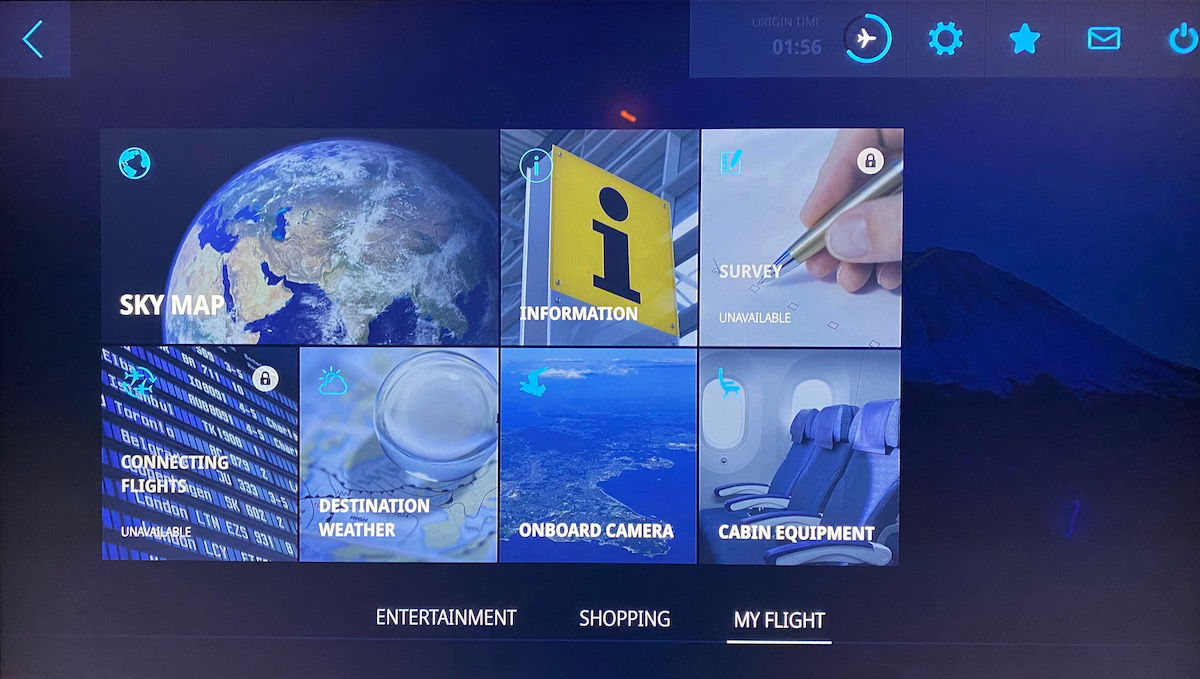 All Nippon Airways entertainment selection
Unfortunately the quality of the entertainment as such still isn't great. The movie selection is alright, with several dozen movies, though the selection seemed quite arbitrary.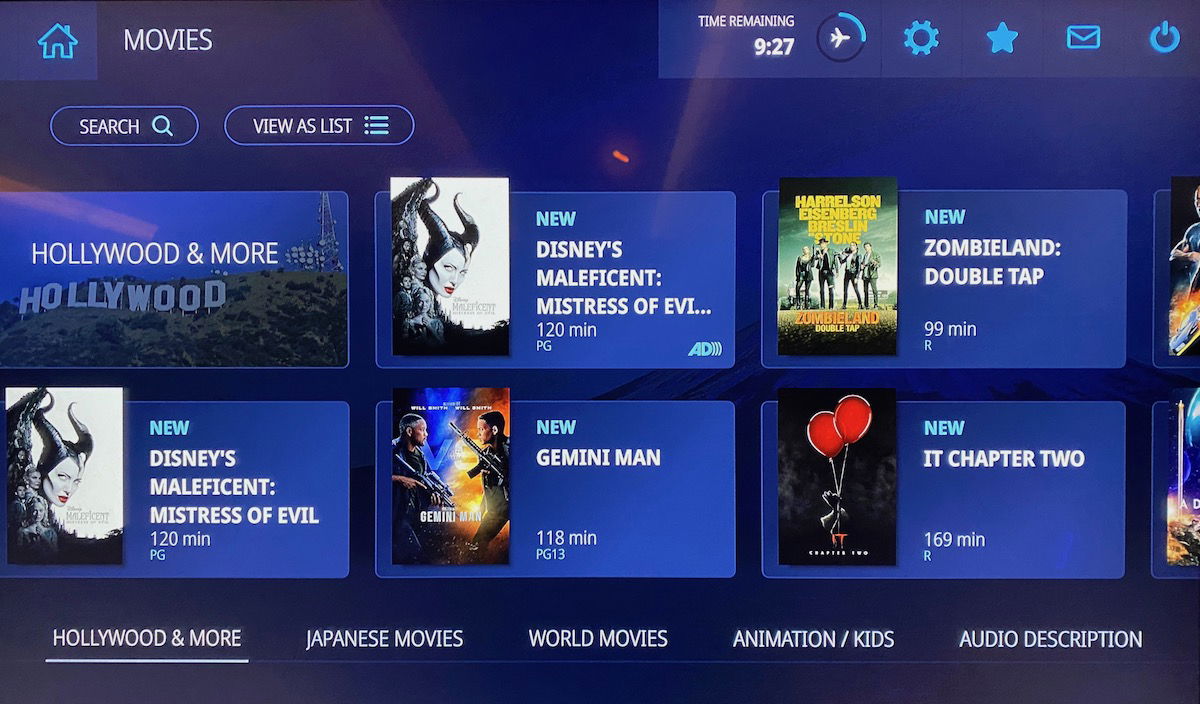 All Nippon Airways entertainment selection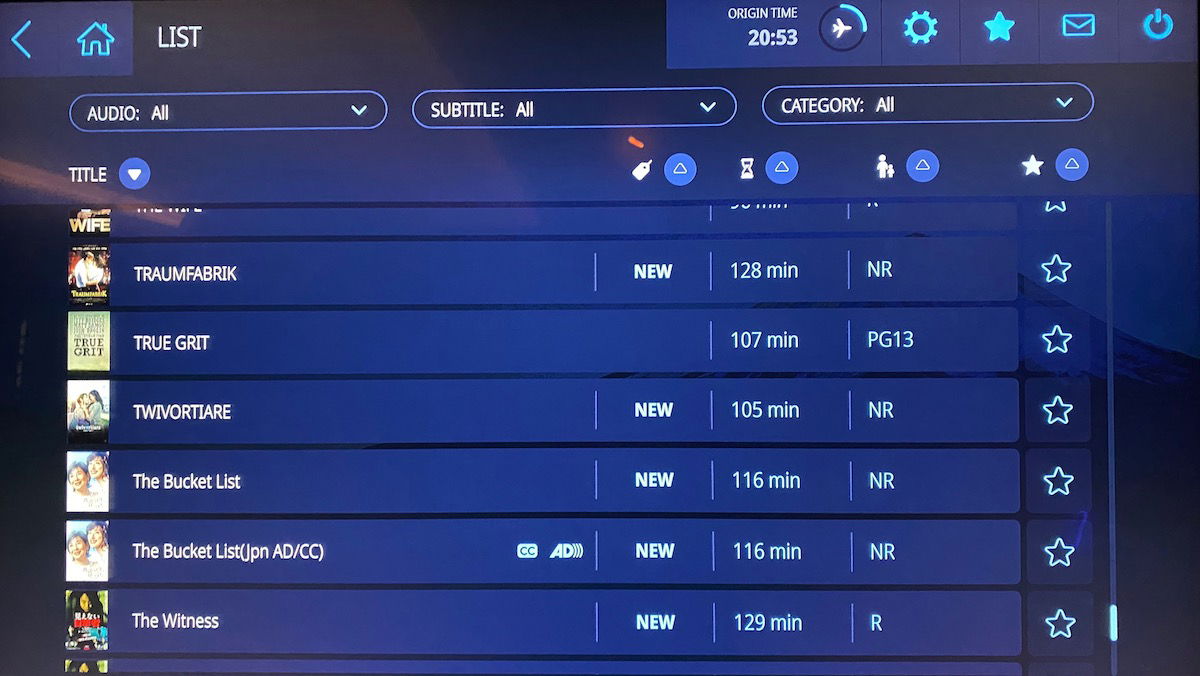 All Nippon Airways entertainment selection
There are no US sitcoms, so TV show options are limited. On the plus side, ANA has hilarious videos about safety in Japan, which I'd highly recommend watching. They're not meant to be funny, but they are.
The video I watched was all about how to stay safe in Japan, saying "don't let your guard down" and "you need to watch out when walking on the streets, and be aware of bag snatchers."
If there's one place in the world you can travel where you can let your guard down when it comes to safety, it's Japan. Obviously there are still some risks, but…
Personally I think videos explaining Japan's high context culture would be a lot more valuable to visitors.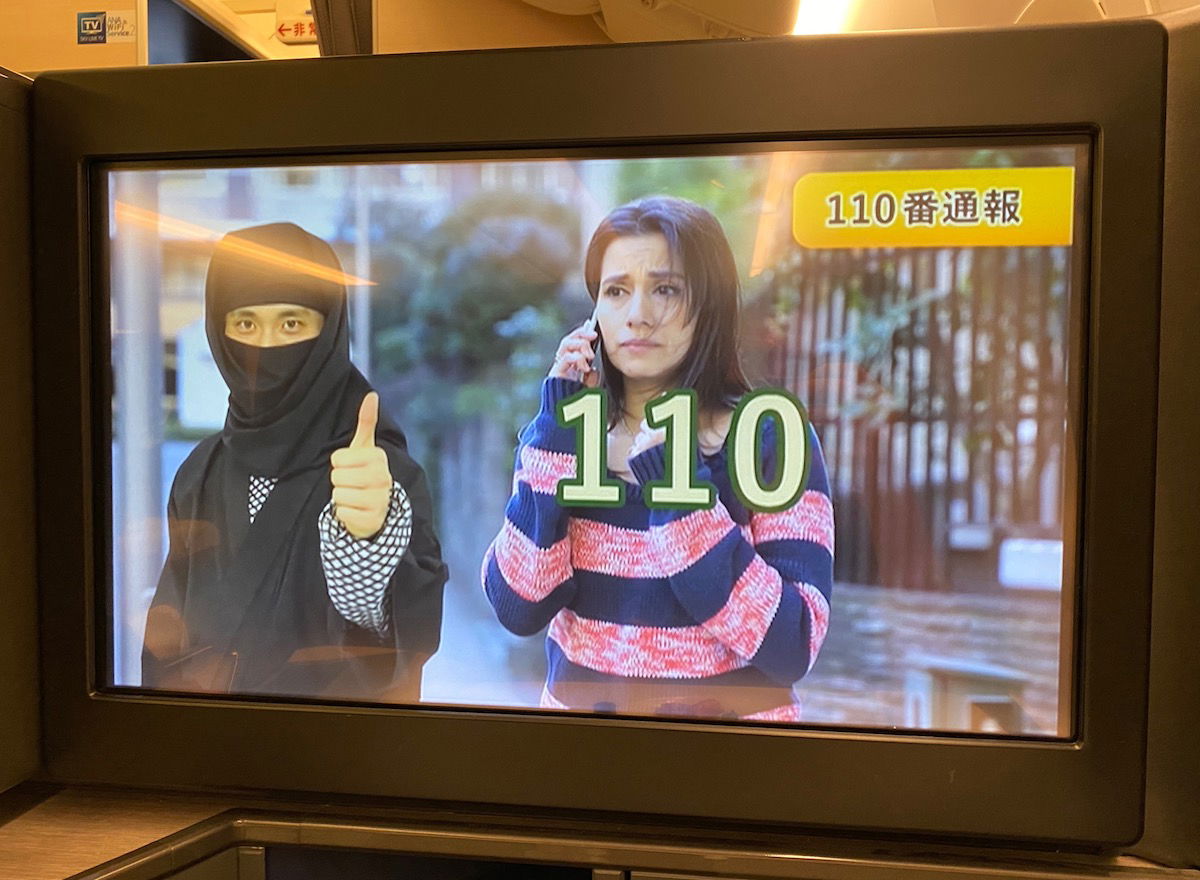 ANA business class entertainment selection
About 20 minutes after takeoff the crew served either champagne or orange juice in plastic(ish) cups. Essentially they do the typical pre-departure drink service post-departure instead. 😉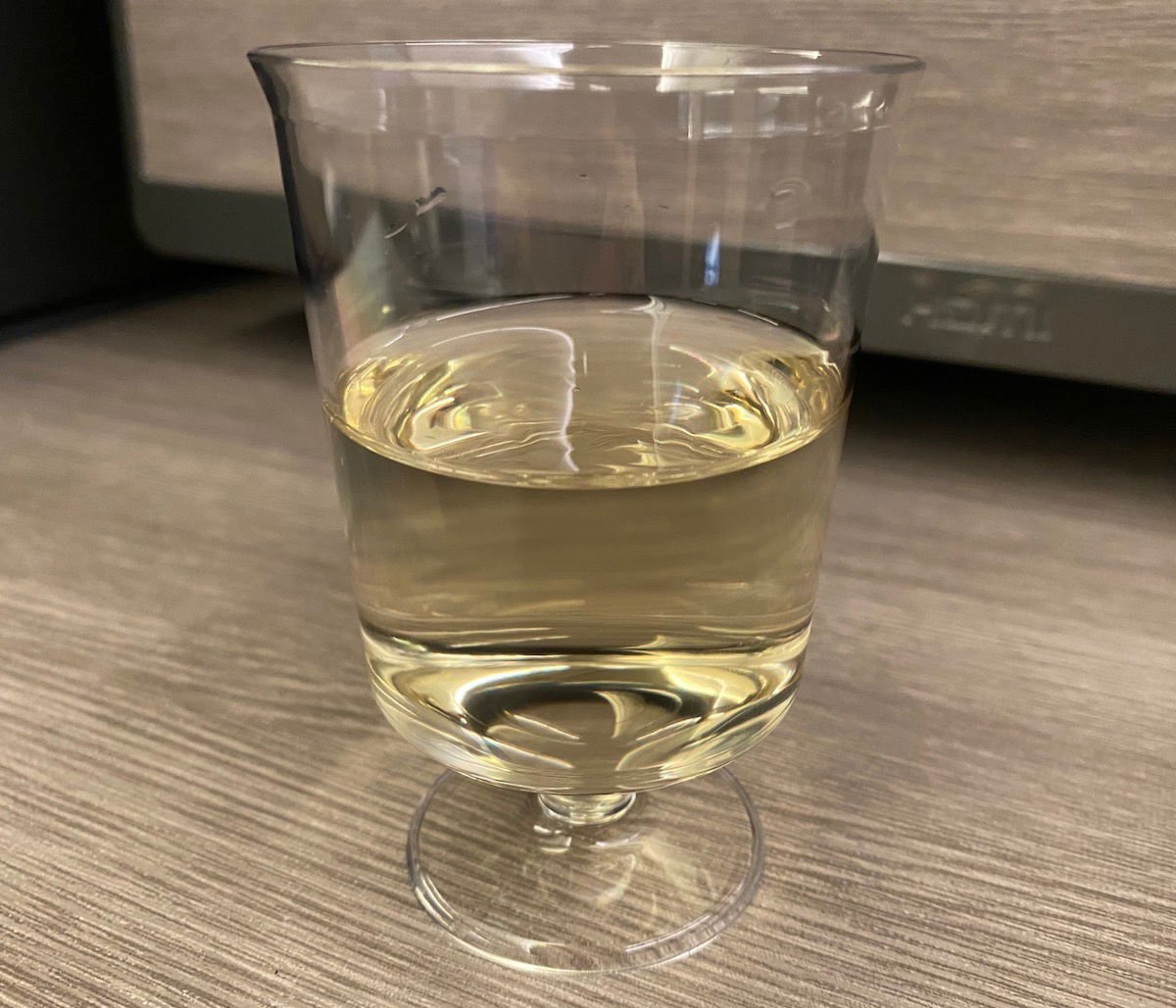 ANA business class after takeoff drink
Then 35 minutes after takeoff warm towels and menus were distributed.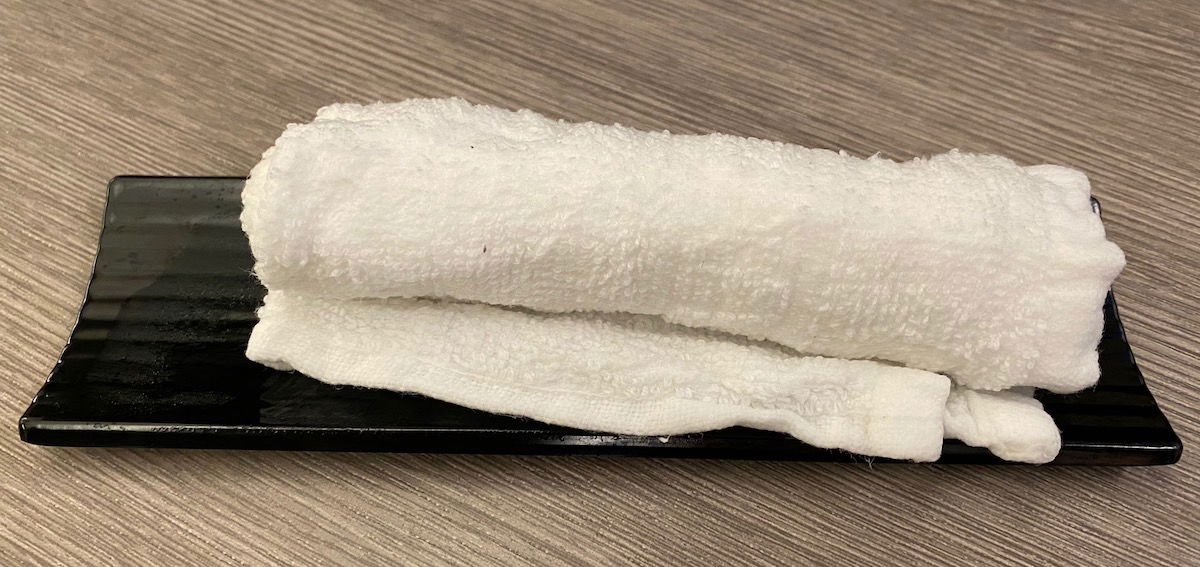 ANA business class warm towel
On this flight dinner was served after takeoff, and then there was a pre-landing meal, in addition to an "anytime" dining menu. The dinner menu read as follows: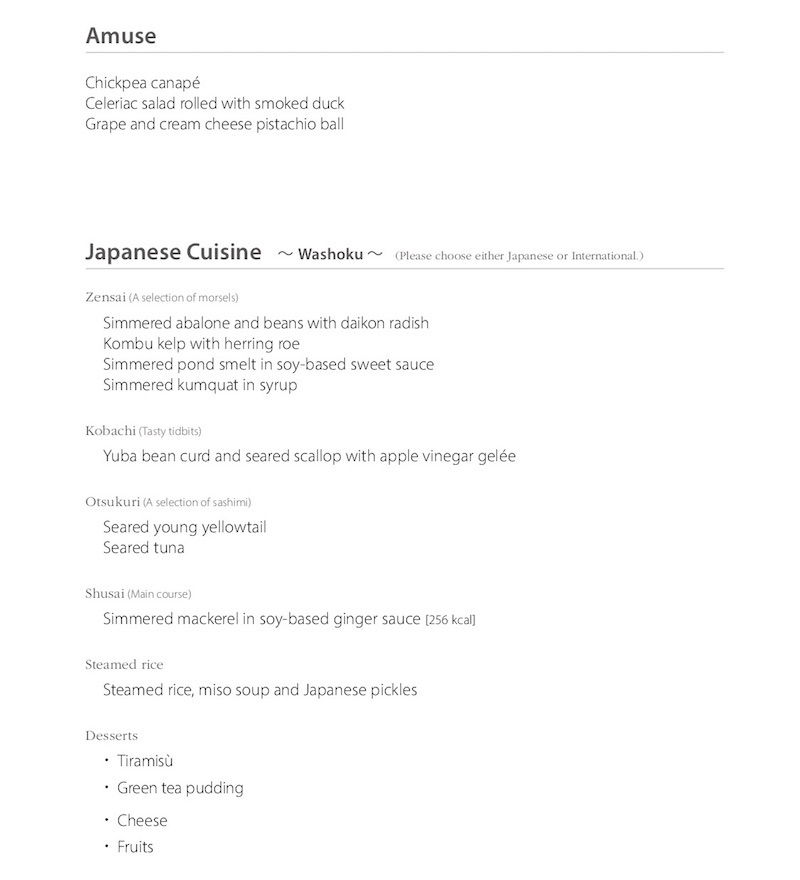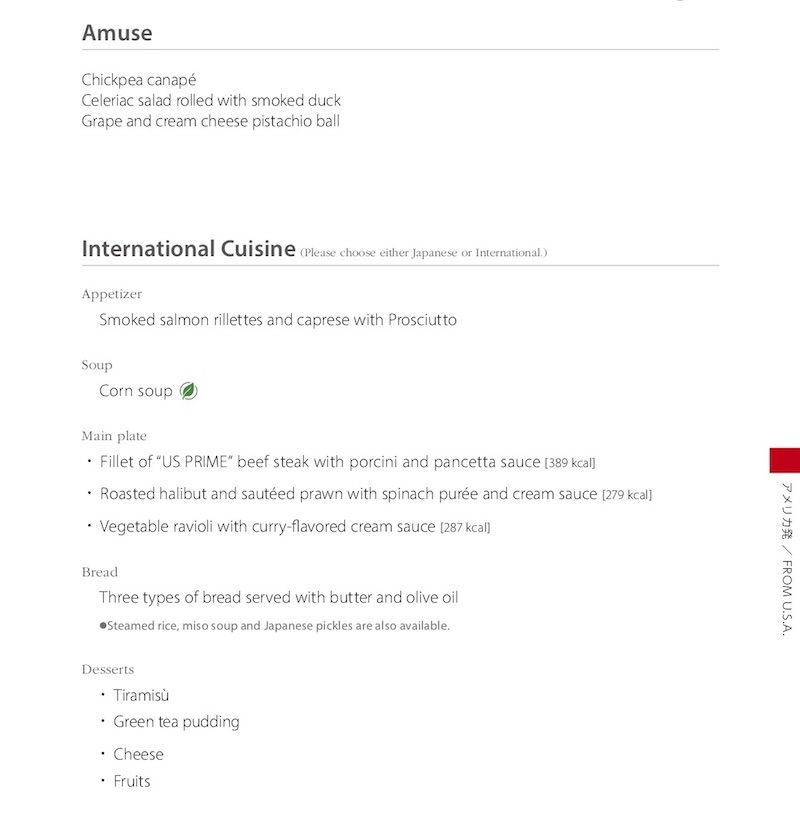 The drink list read as follows: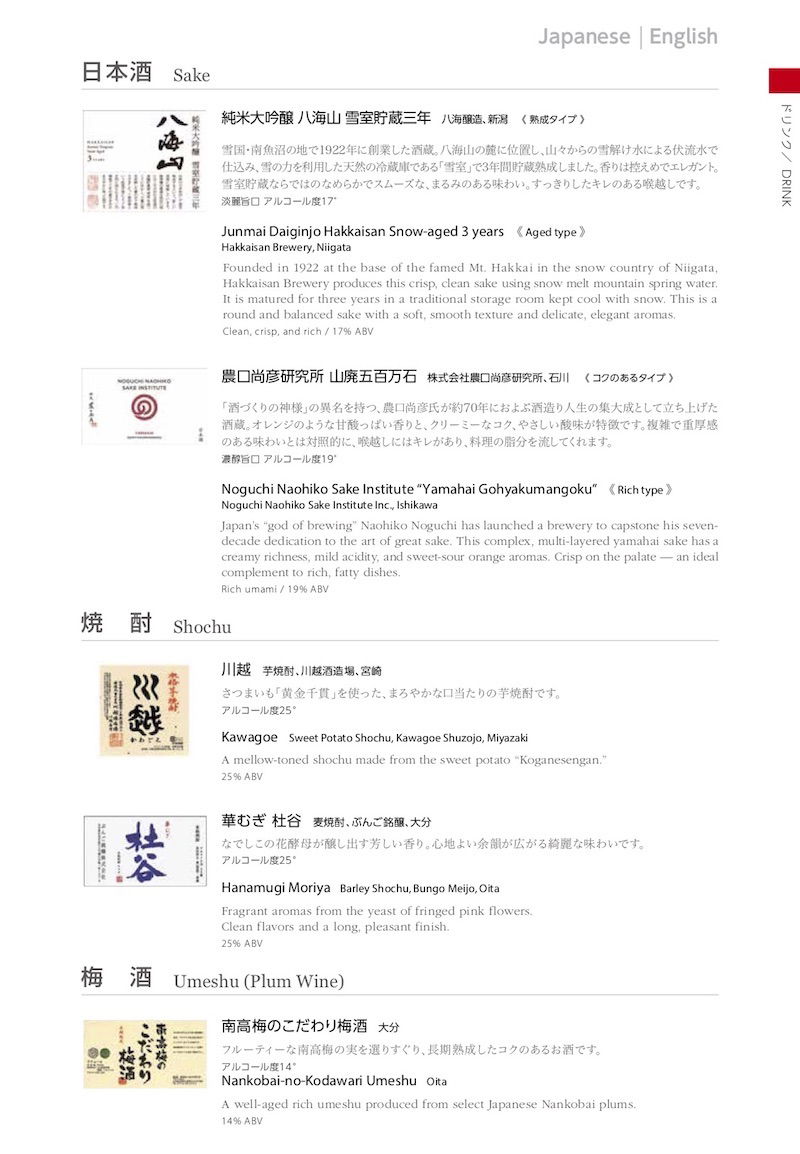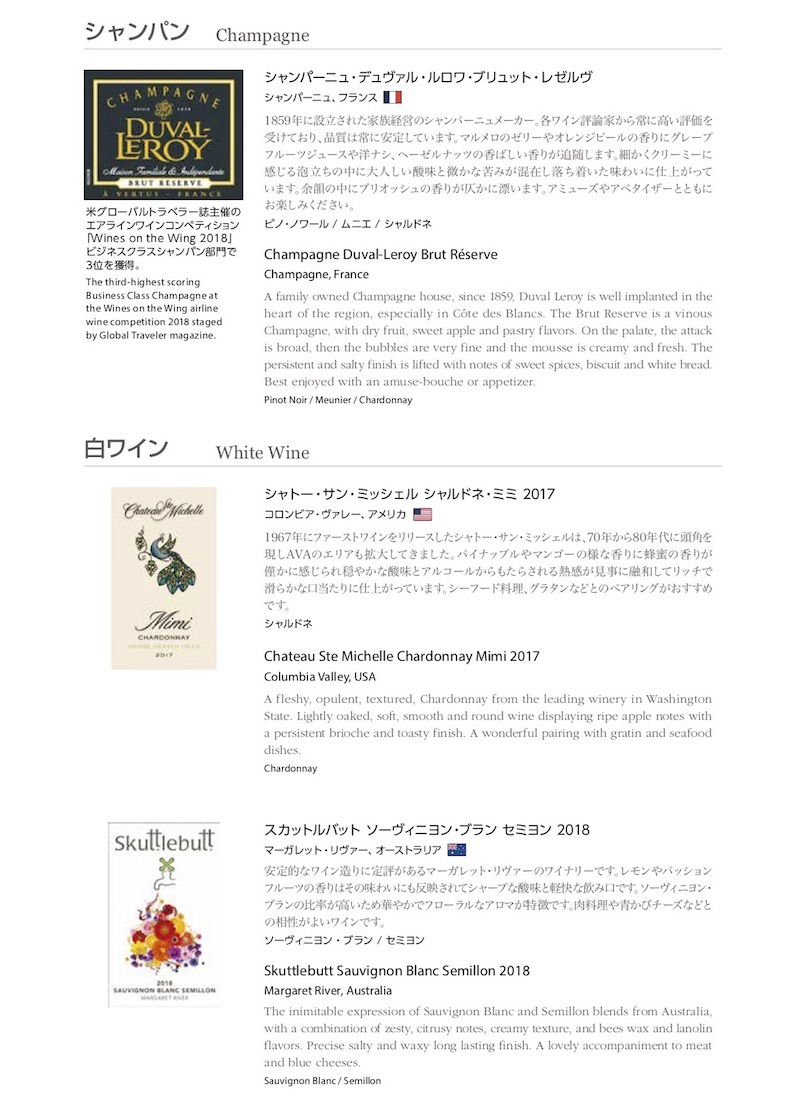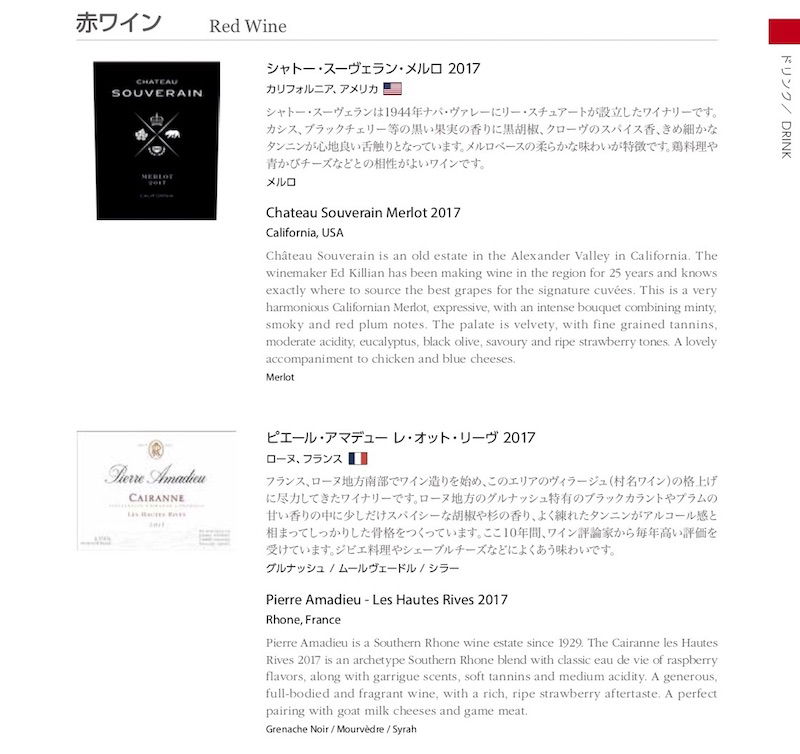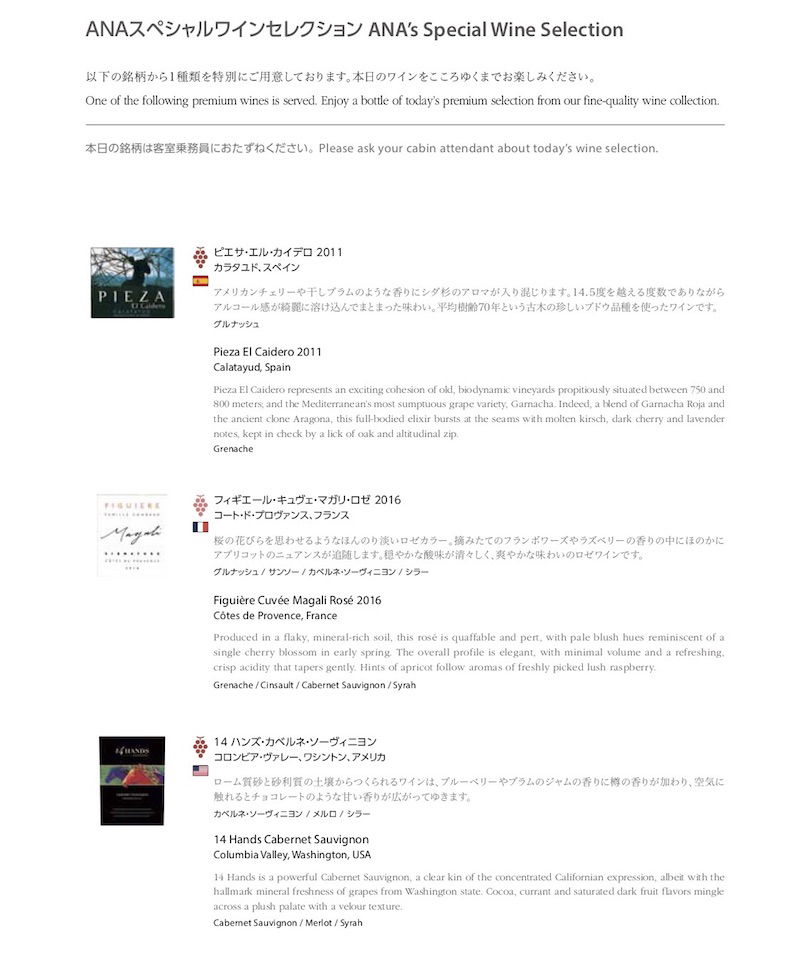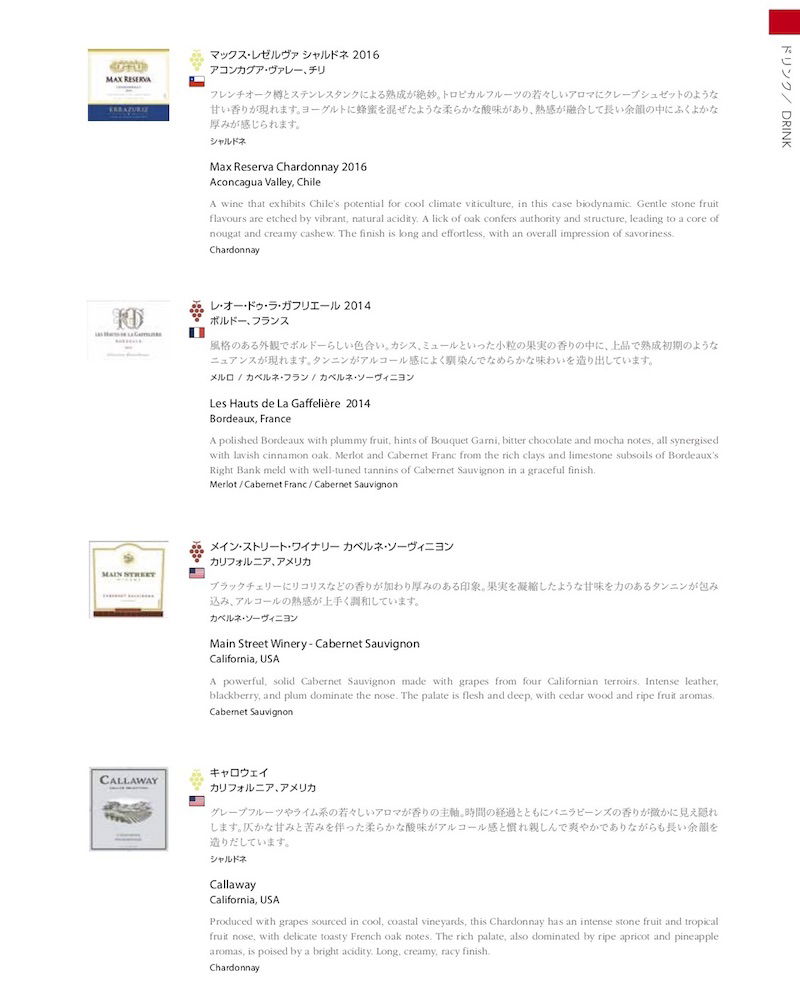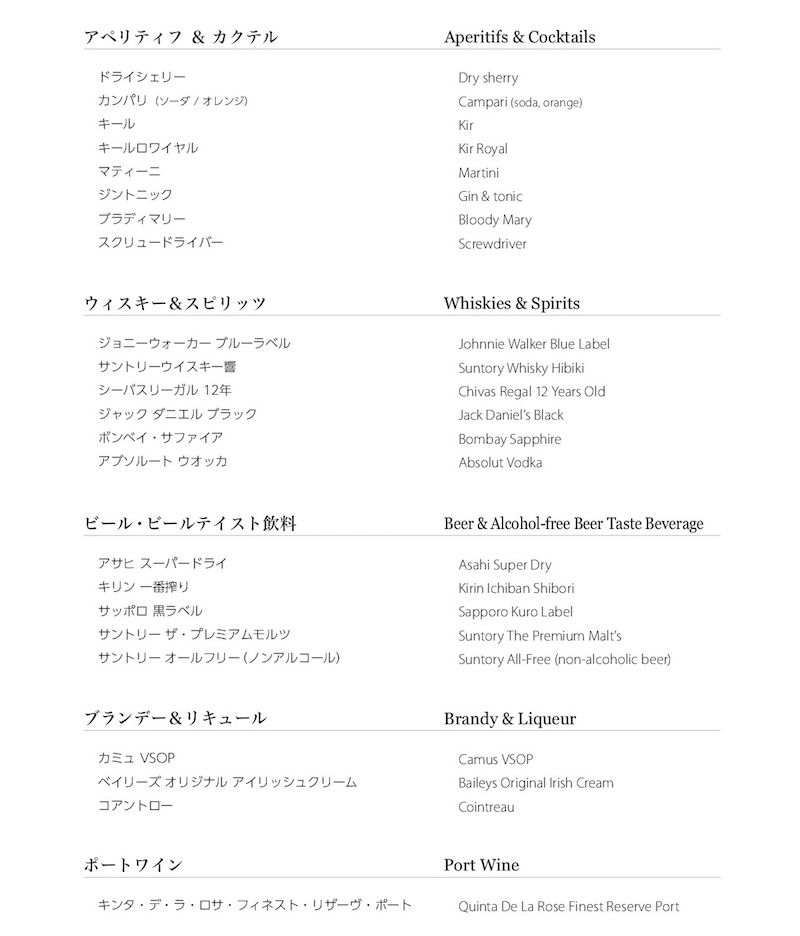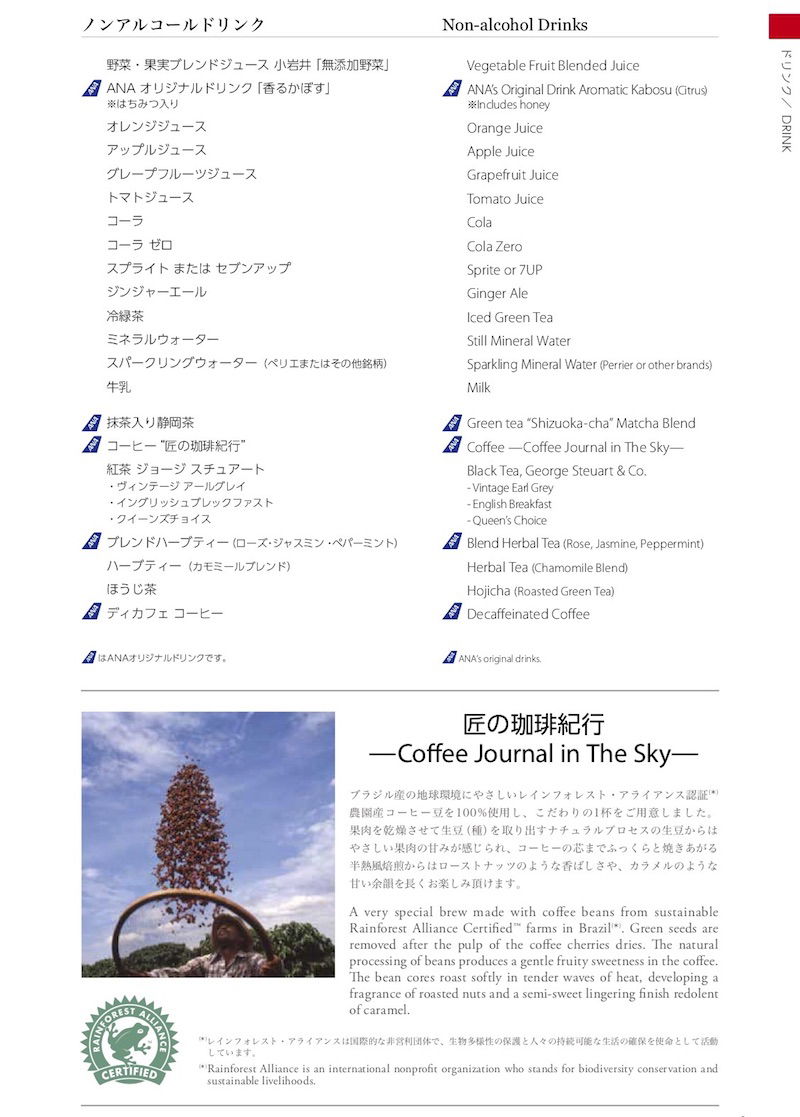 I was offered my first drink about 70 minutes after takeoff. I ordered a glass of champagne, and they were serving Duval-Leroy Brut Reserve. It's nice that they pour your drinks at the seat.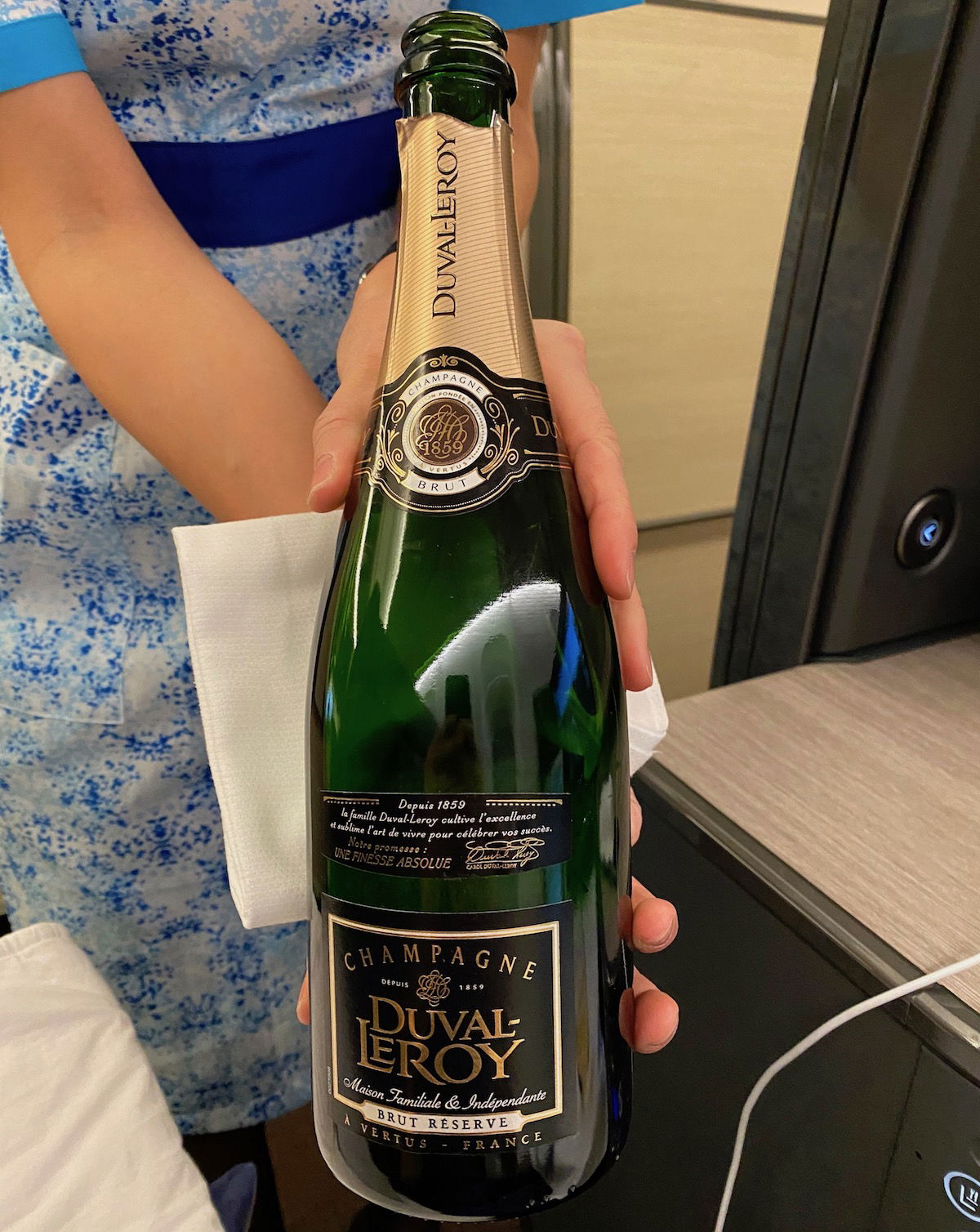 ANA business class champagne
I was also offered an amuse bouche, consisting of a chickpea canapé, celeriac salad rolled with smoked duck, and a grape and cream cheese pistachio ball.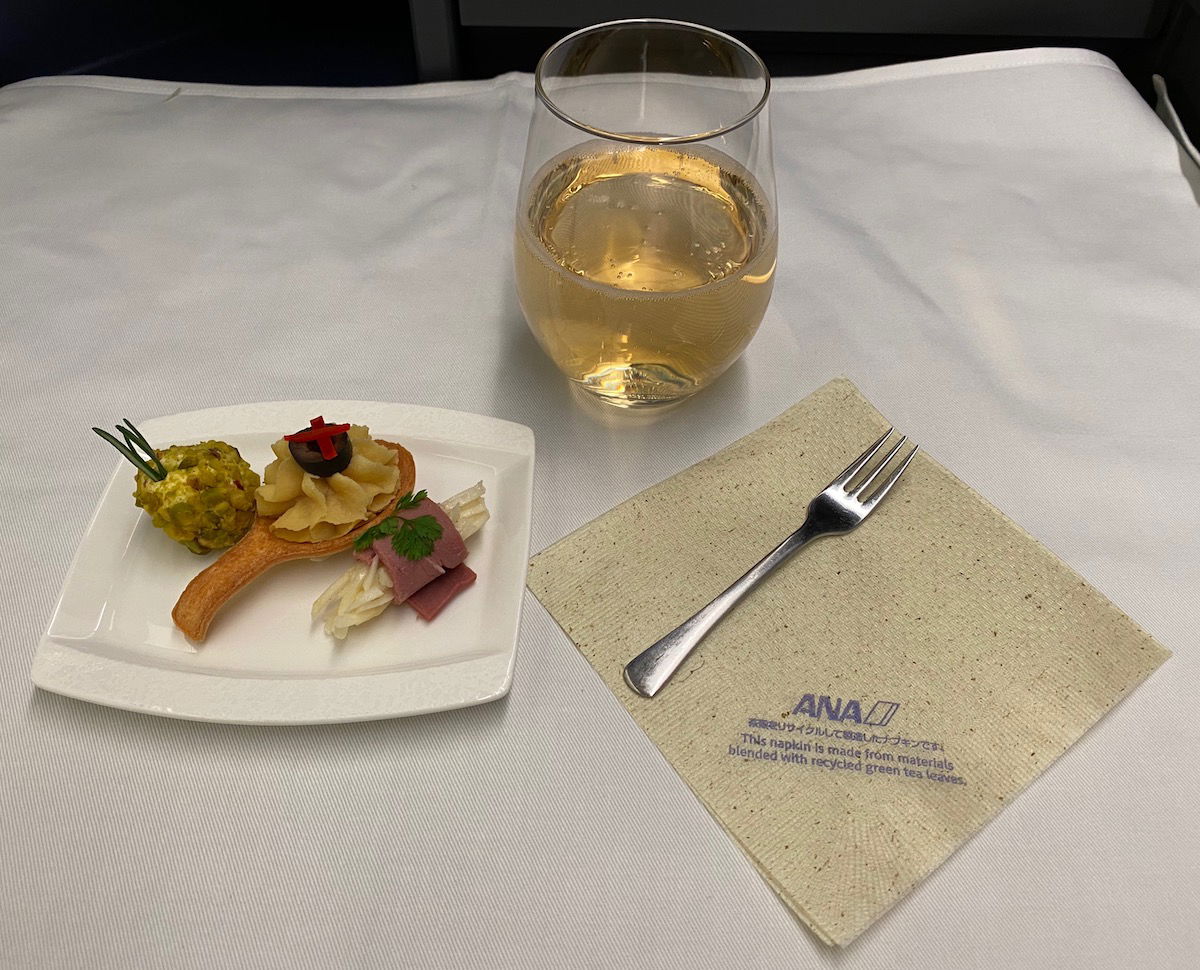 ANA business class champagne & amuse bouche
I decided to go with the western menu (don't worry, on my subsequent ANA flight I'll have the Japanese meal), and was served the starter about 90 minutes after takeoff. This included corn soup and smoked salmon rillettes with caprese with prosciutto.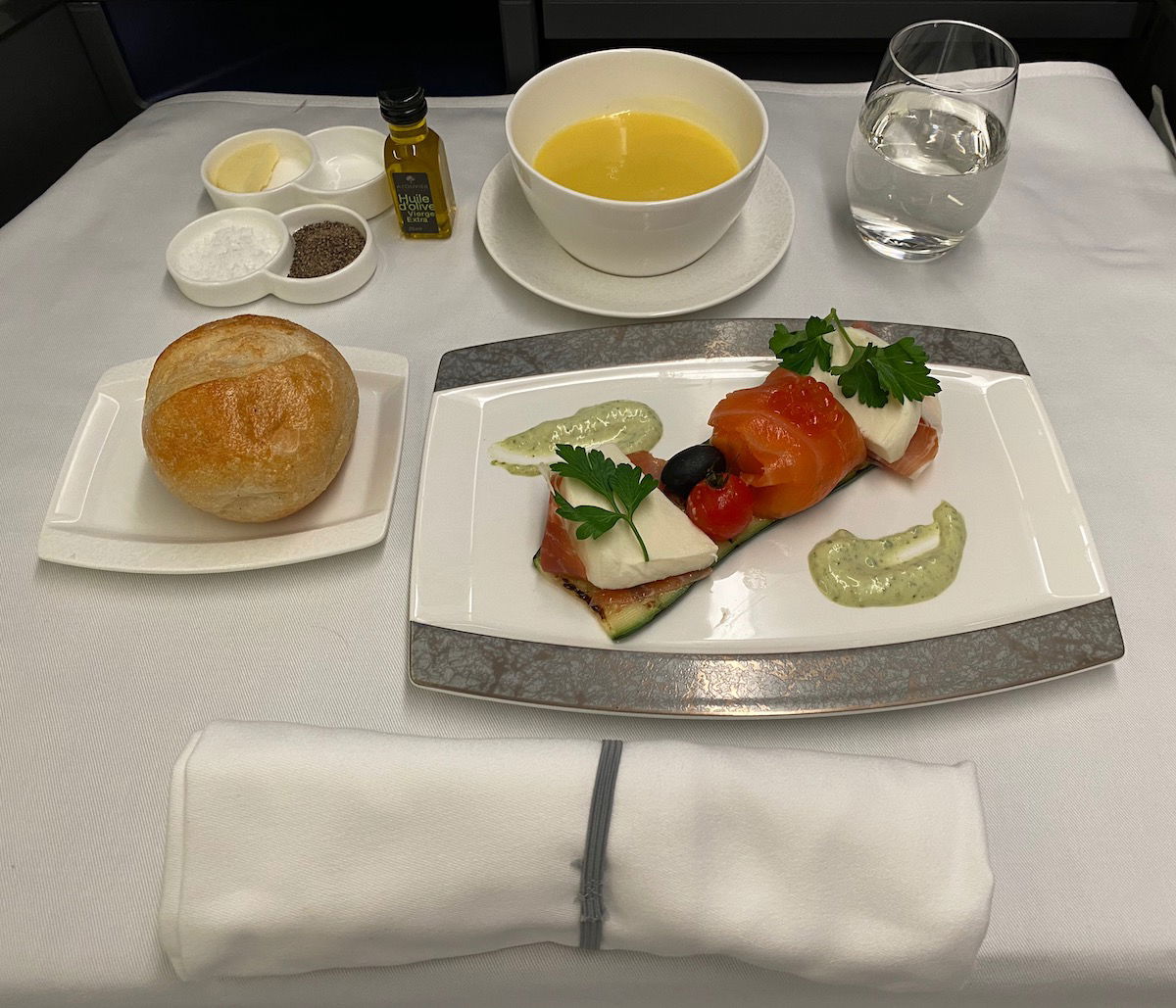 ANA business class dinner — appetizer & soup
Nope, that's not water I'm drinking, but rather I switched from champagne to the lovely Junmai Daiginjo Hakkaisan sake.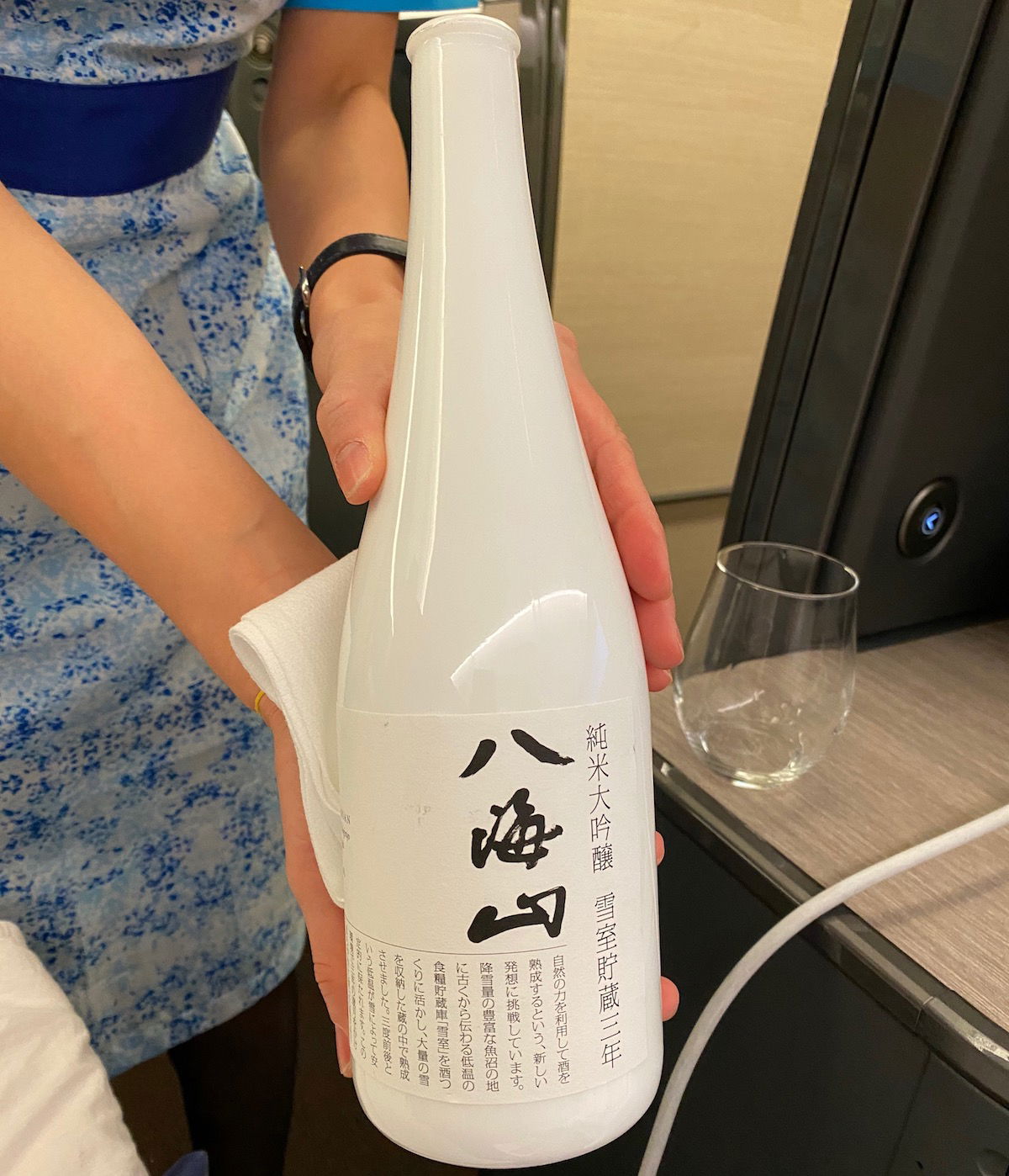 ANA business class sake
For the main course I ordered the roasted halibut and sautéed prawn with spinach puree and cream sauce, which was served about two hours after takeoff. This dish was excellent.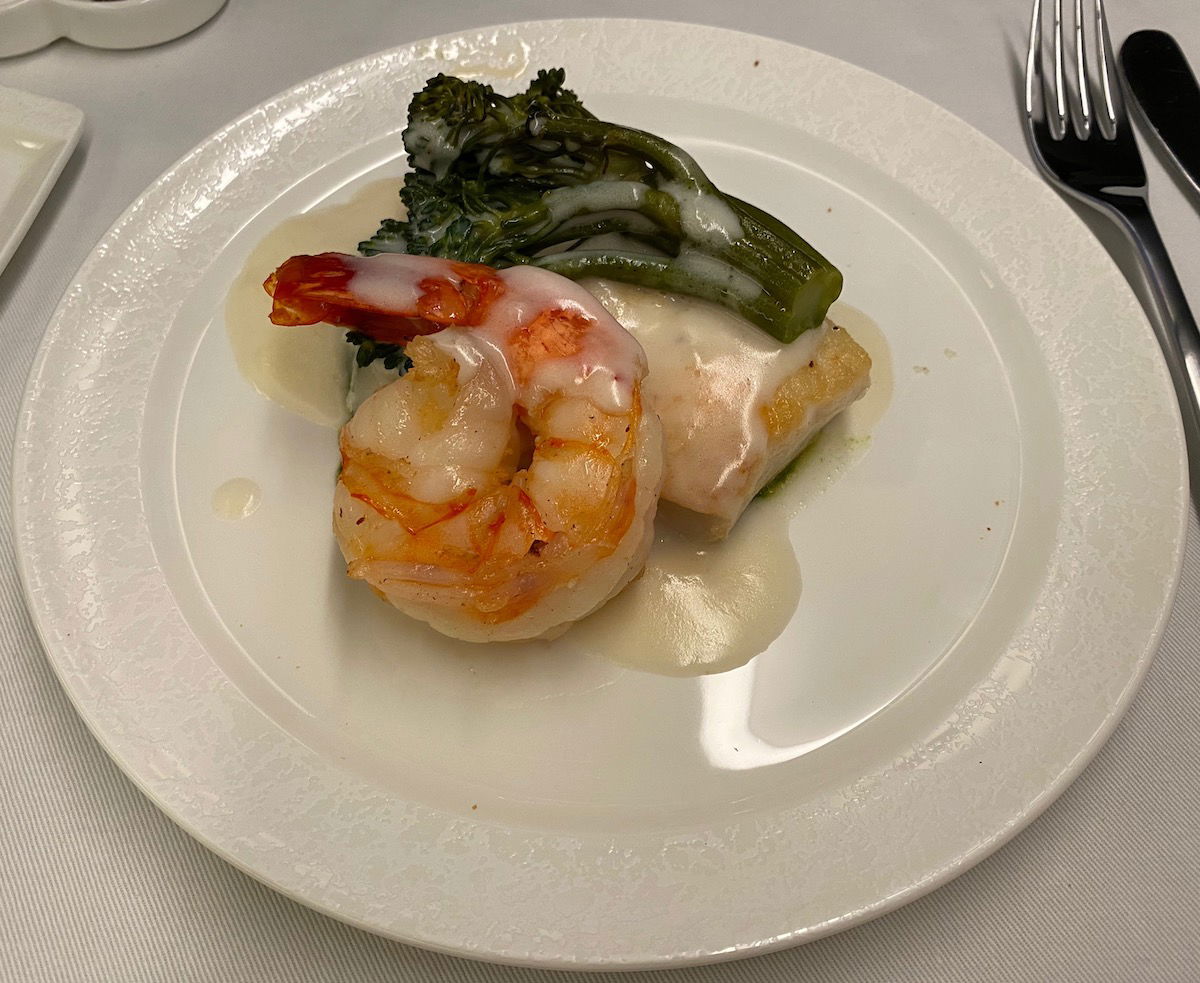 ANA business class dinner — main course
Dessert was served about 2hr20min after takeoff off a cart, with the choice of cheese, fruit, green tea pudding, or tiramisu. I had some cheese and green tea pudding.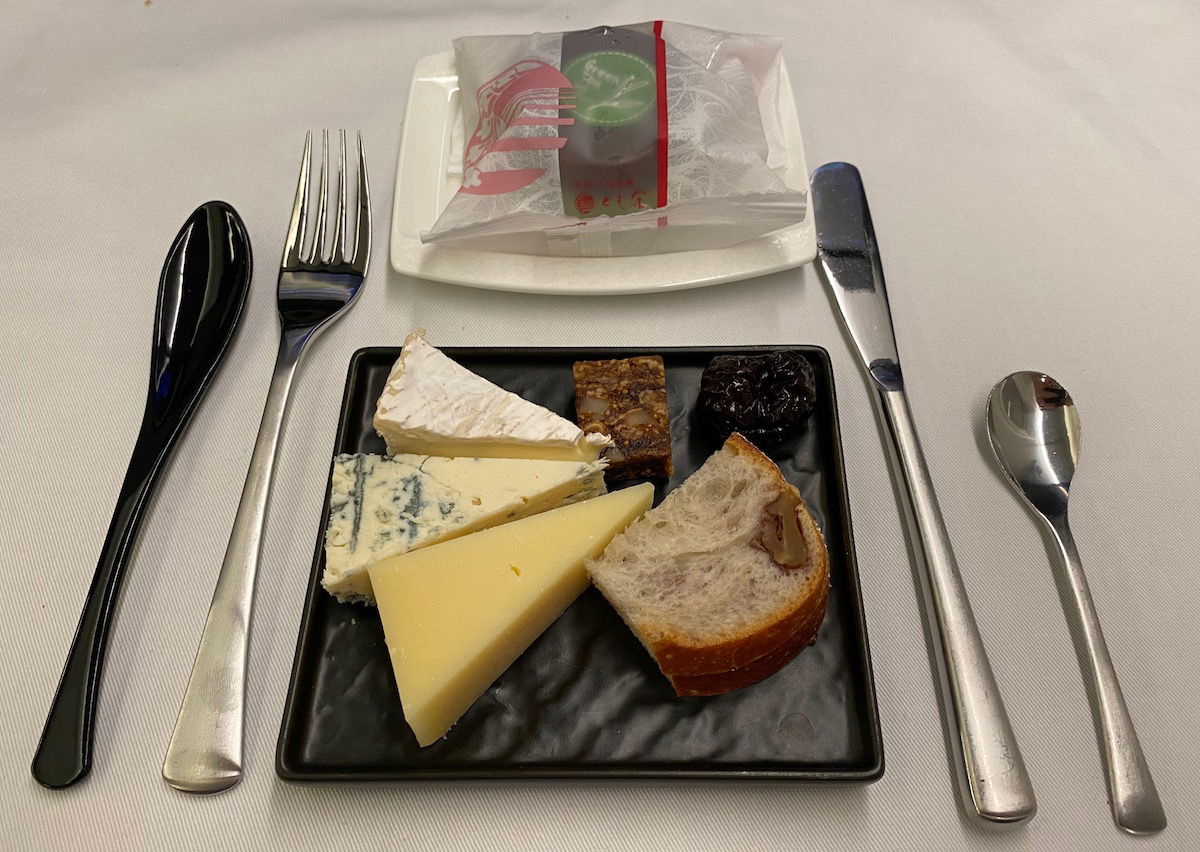 ANA business class dinner — dessert
I found the presentation of the green tea pudding to be odd, as it was served in a plastic container, inside a bag. It was still good, though!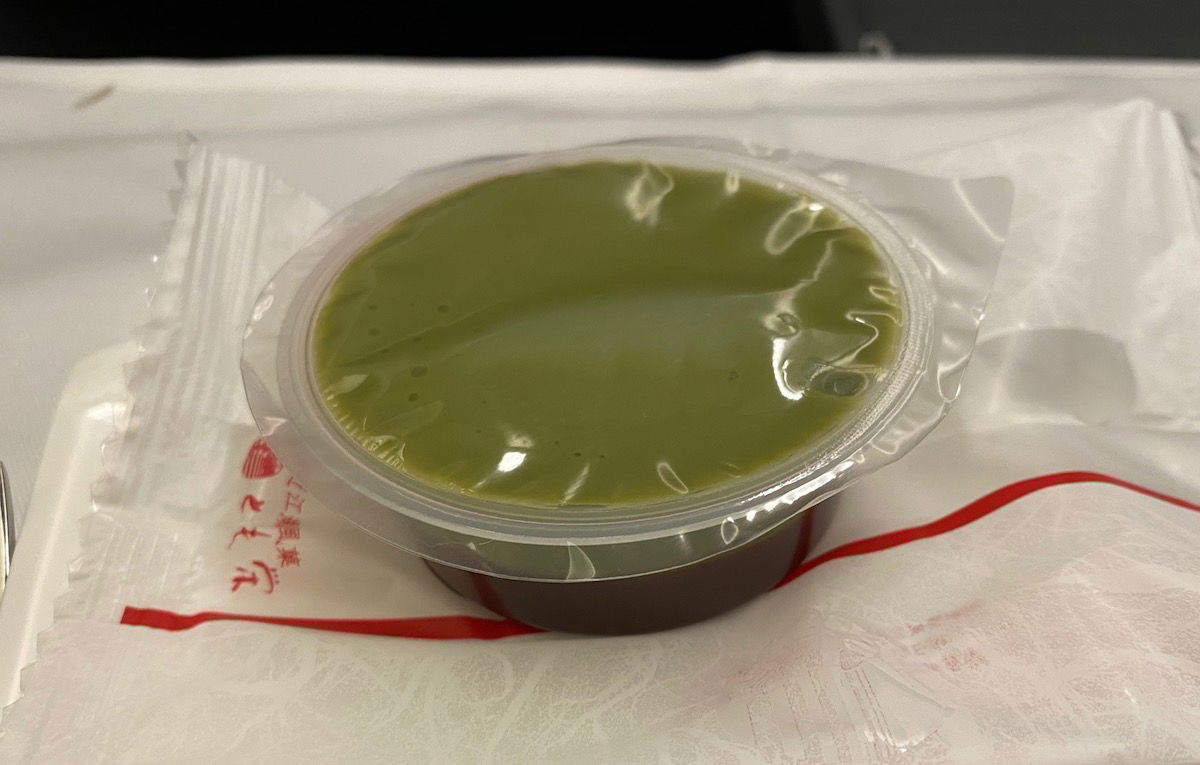 ANA business class dinner — green tea pudding
The crew finally ended up clearing trays about three hours after takeoff. Overall I thought the food quality was quite good, and the crew was friendly, though the service flow leaves a bit to be desired.
I think the problem is that ANA has massive business class cabins, and you notice that with the service flow, which is like an assembly line. Service isn't personalized, you're not really offered drink refills, and they clear your plates on their schedule, rather than your schedule.
The drawn out meal service didn't bother me much given that this was such a long flight, though.
After the meal I checked out the lavatories, of which there are two between the middle and rear business class cabins. The bathrooms were quite nice, and even had bidets. They were also well maintained throughout the flight.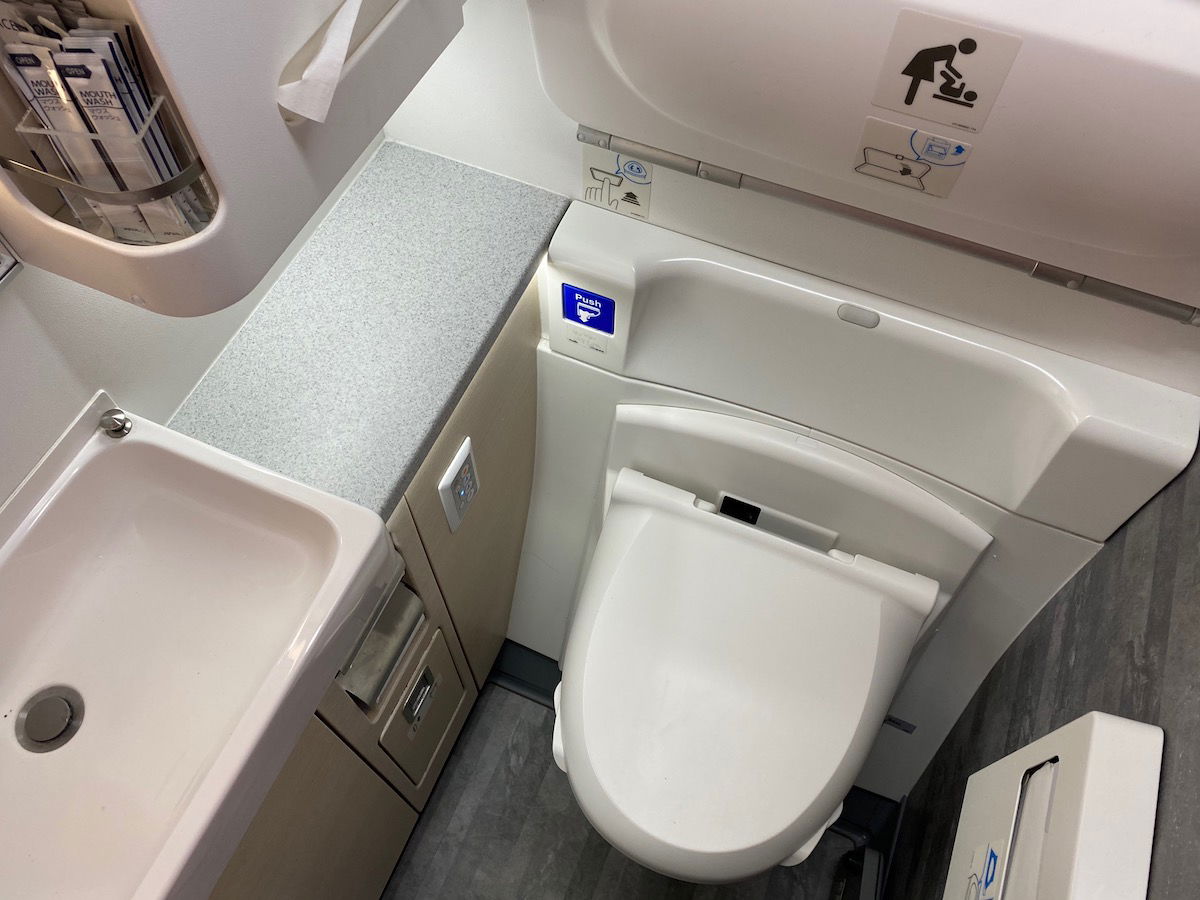 ANA business class lavatory 777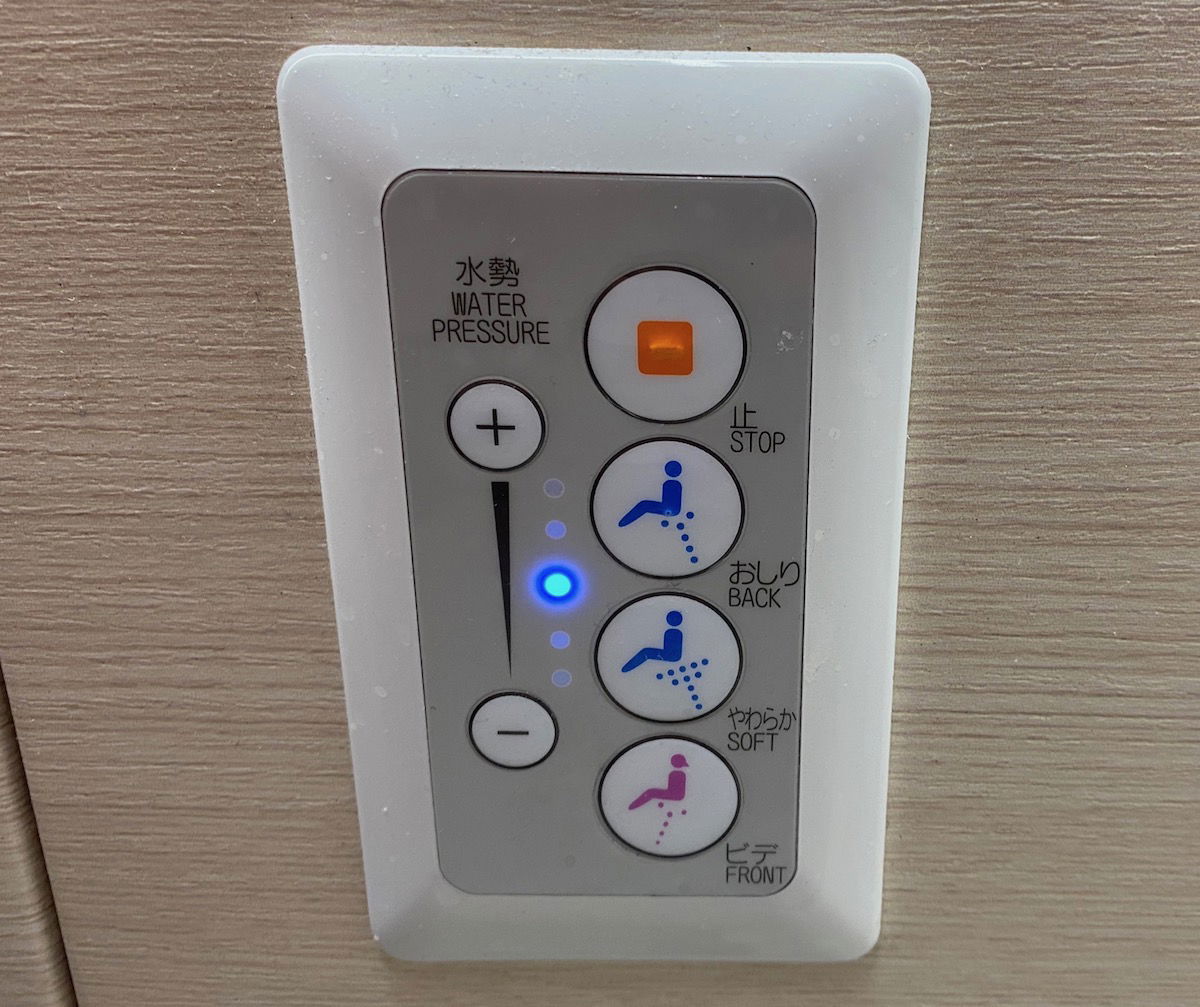 ANA business class bidet
There's also a small snack bar between these cabins, and they had both additional amenities, as well as a small selection of packaged snacks.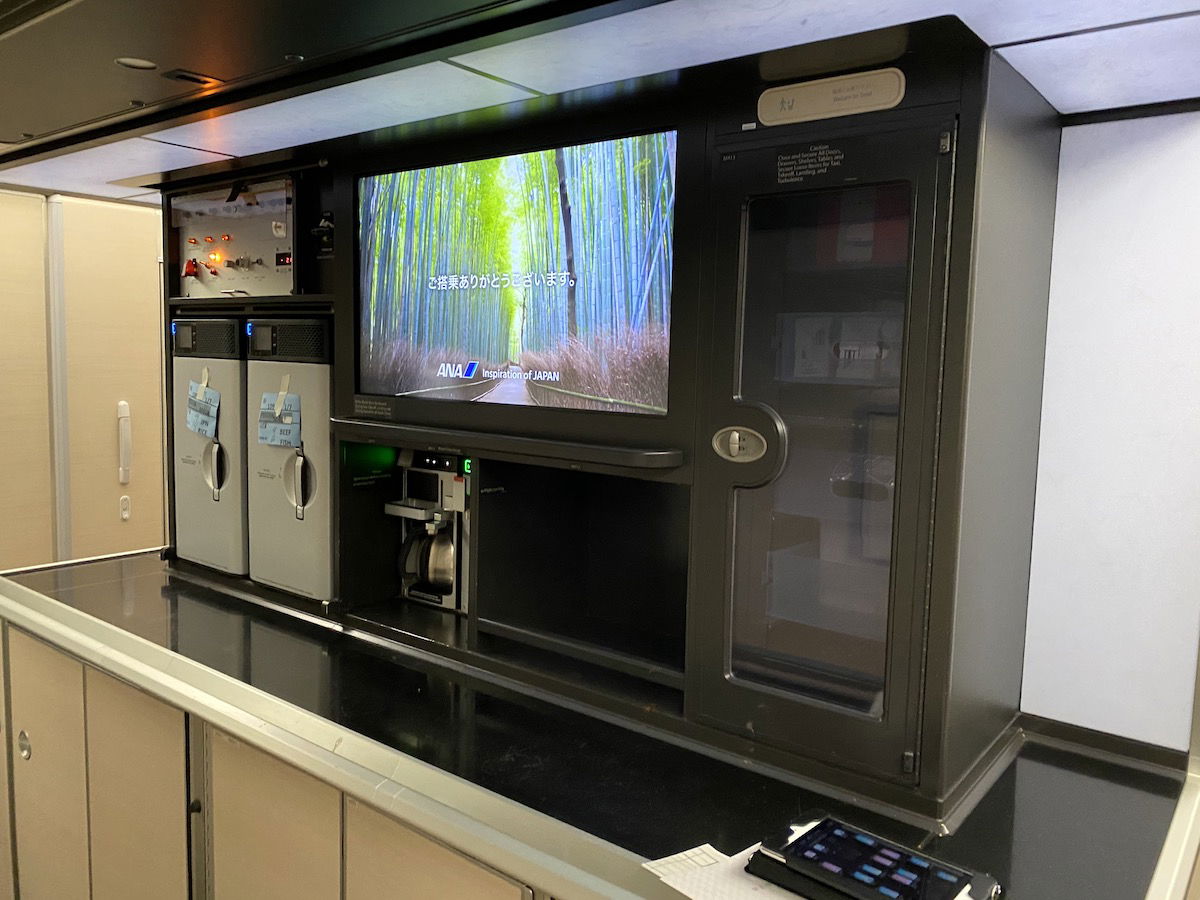 ANA business class galley 777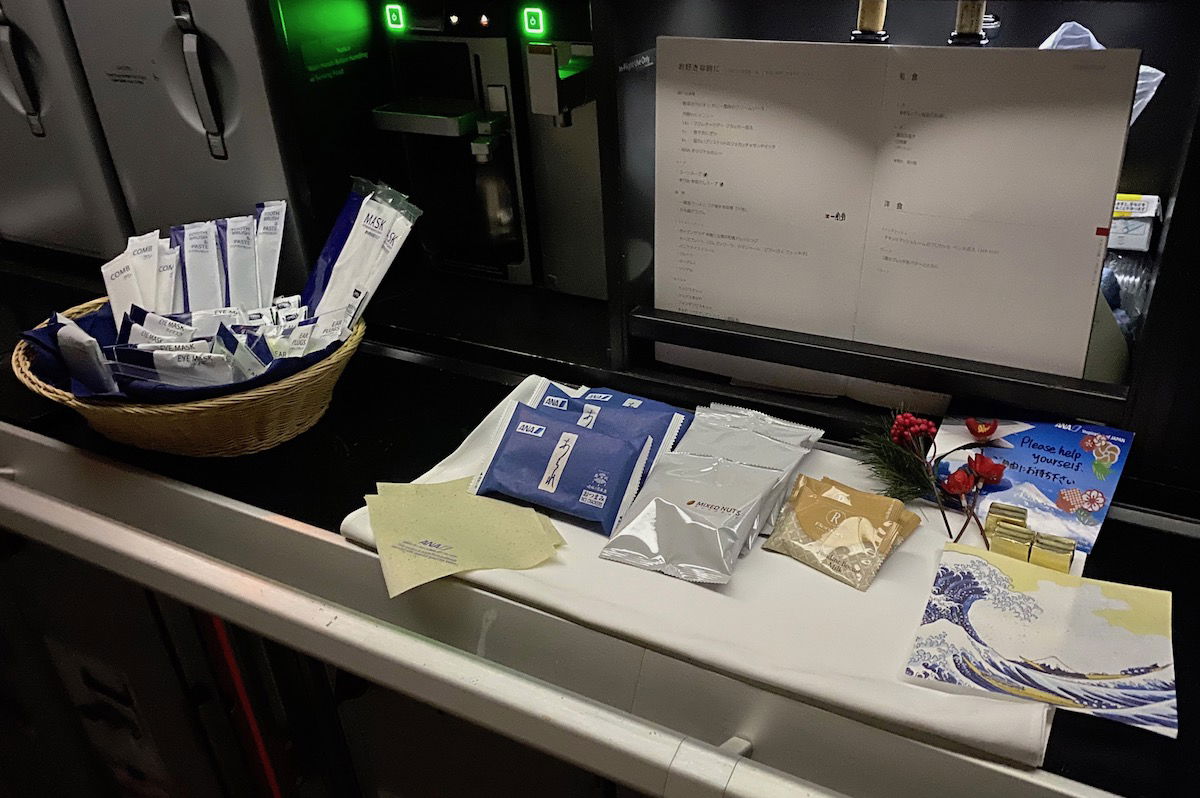 ANA business class galley snacks
At this point I decided to make my bed. It doesn't appear that they offer a turndown service in ANA business class (not proactively at least), and I also found it interesting that they didn't mention the doors to passengers, but rather people were left to find out themselves.
I can't overstate how huge this bed is.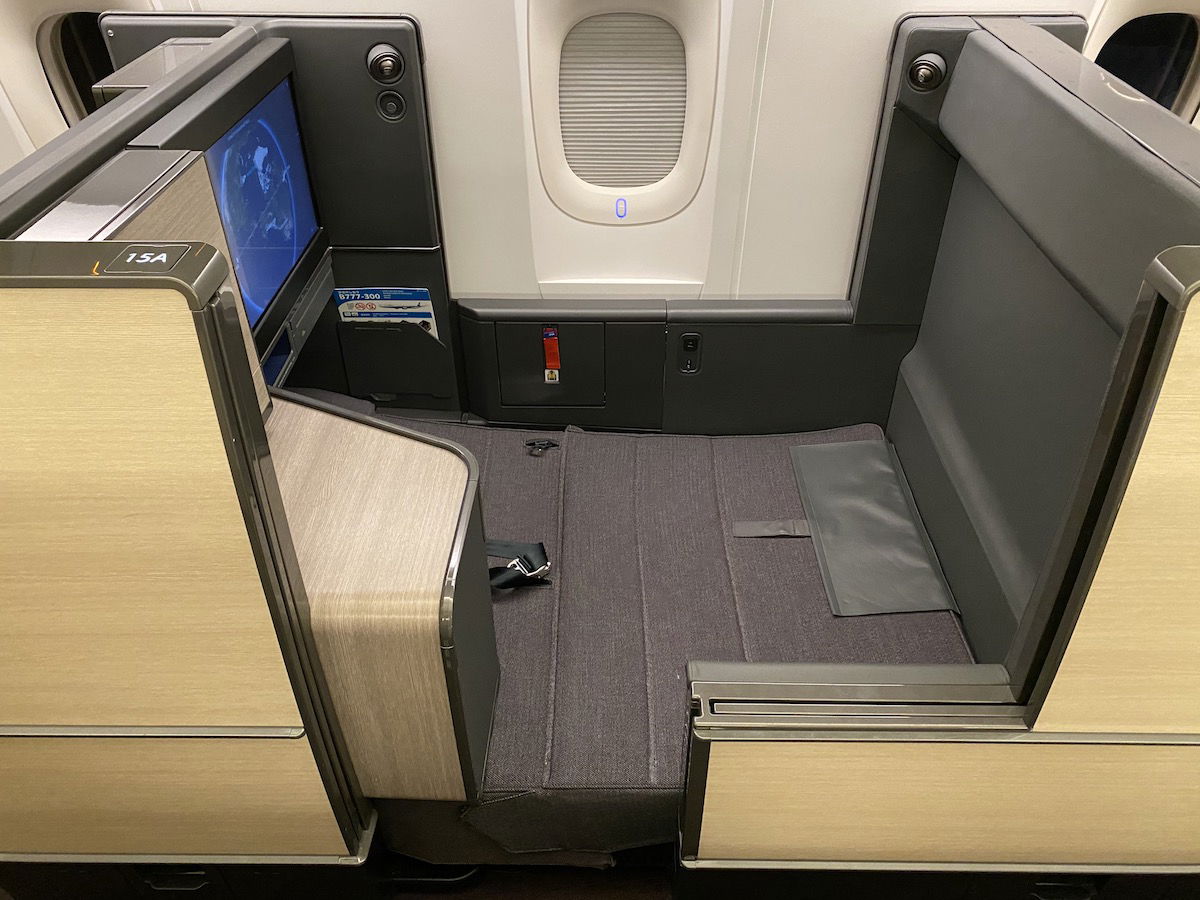 ANA The Room business class bed
It's not just the width towards the top of the bed, but what impressed me most was how wide the footwell is. I'm a side sleeper and I bend my knees, so in most business class products my knees are hitting a side of the seat.
This is the first staggered business class product I can think of where that wasn't the case at all. I was in disbelief and was wondering if I was dreaming, or something, because I intentionally kept wiggling around to figure out how the heck I had so much space.
I will say that the bed is on the firm side, though not uncomfortably so, and I'm someone who is sensitive to that. However, if ANA really wants to take this product to the next level, it would be nice if they offered the option of a thicker mattress pad.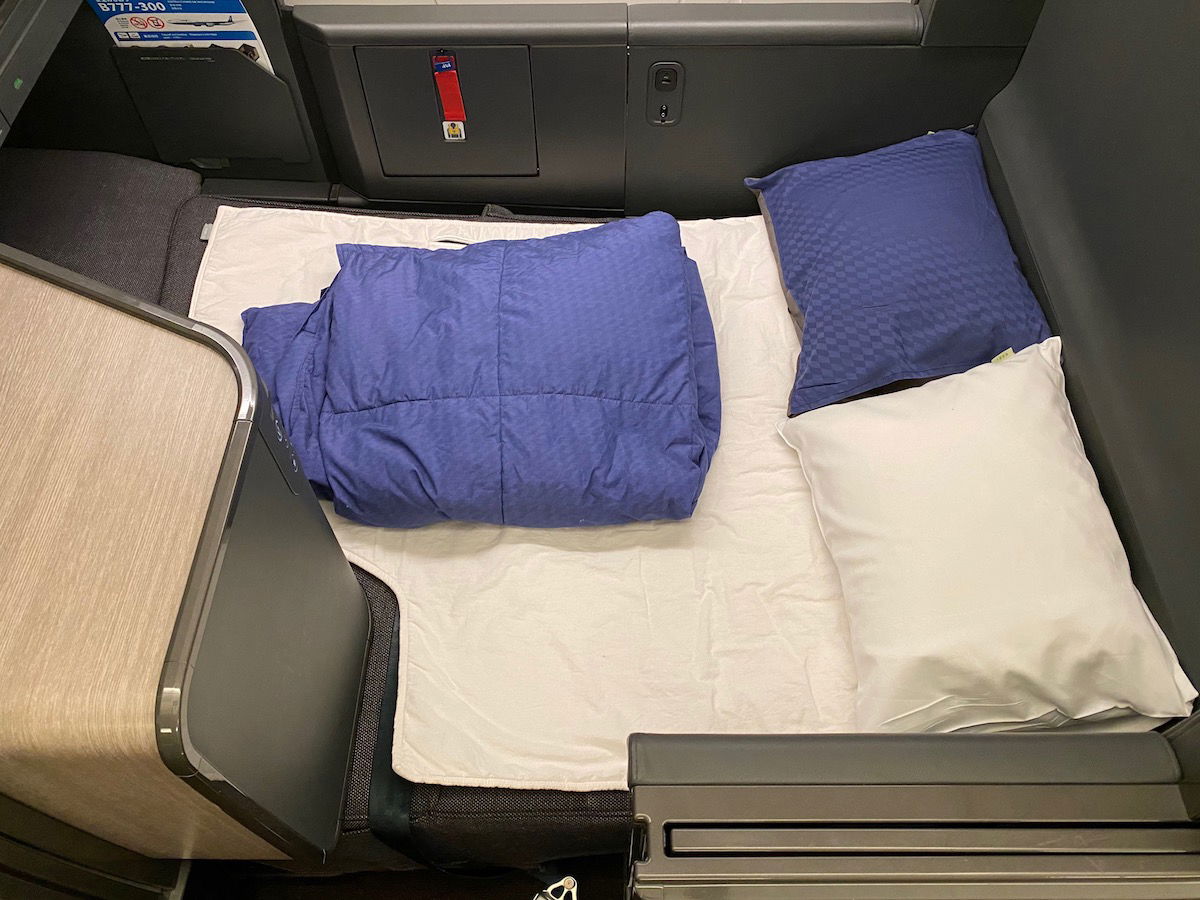 ANA The Room business class bed
Anyway, I closed my suite doors and tried to go to sleep. I'd note that there is a slight gap in the door, but it's not like these doors give you full privacy anyway.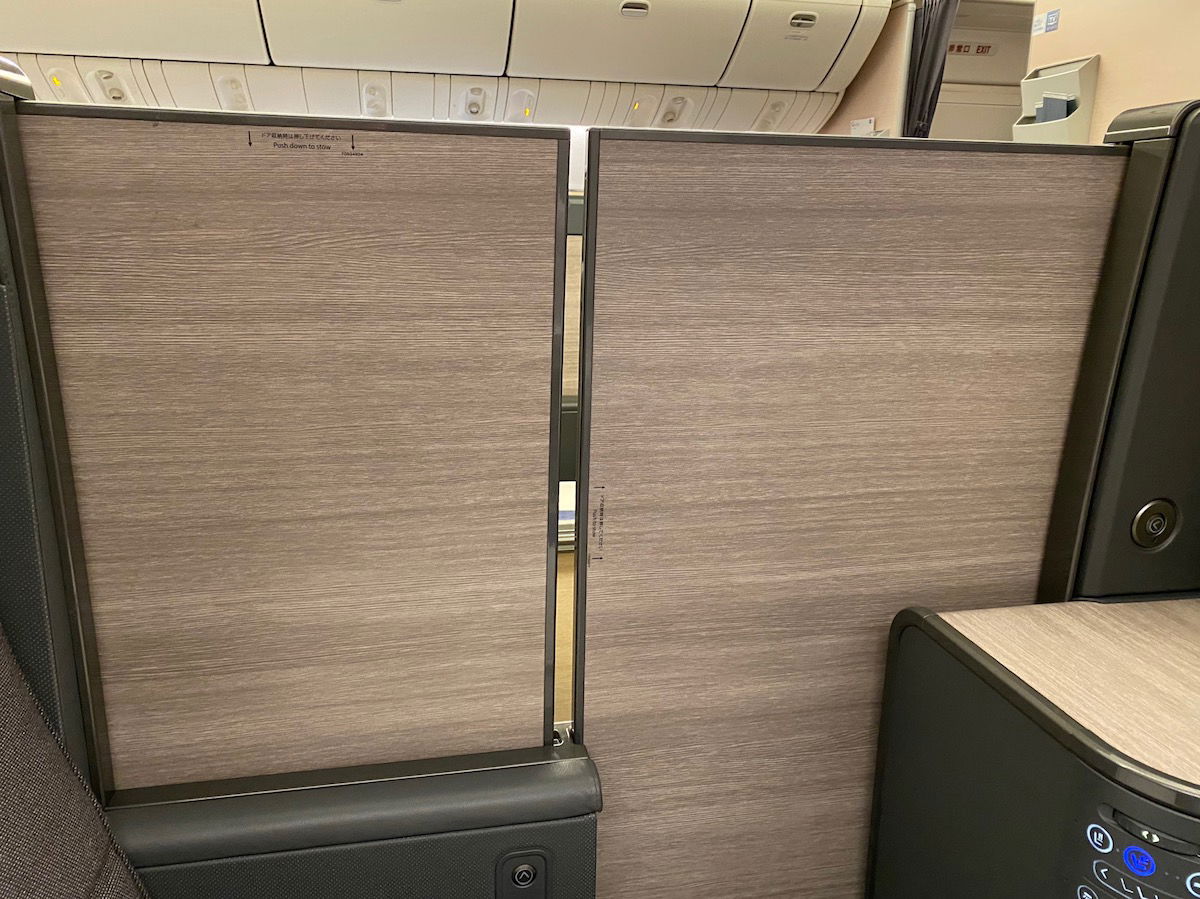 ANA The Room business class door
I went to sleep with about 9hr25min remaining to Tokyo.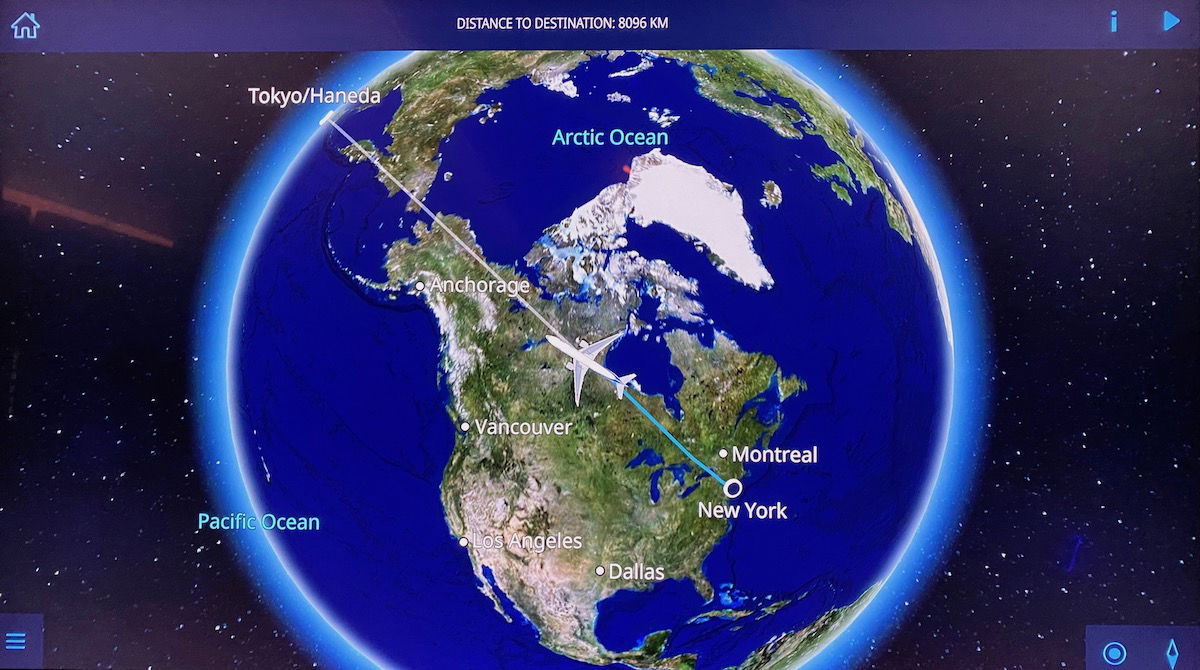 Map enroute to Tokyo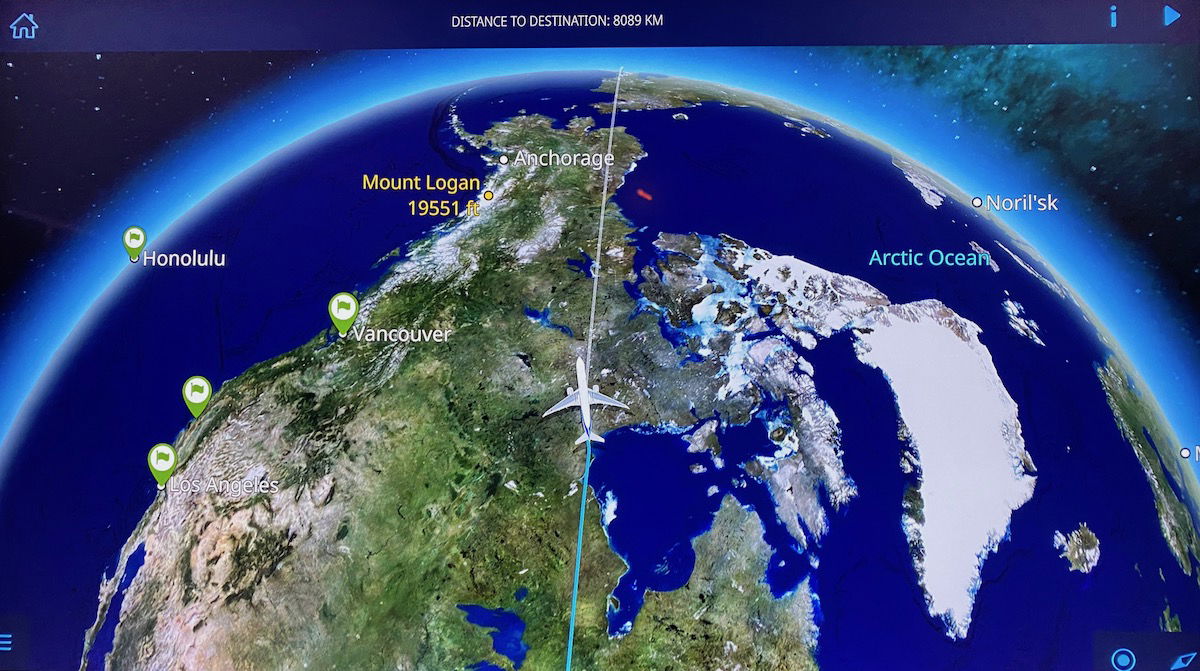 Map enroute to Tokyo
I slept really well for nearly five hours, and woke up with about 4hr30min remaining to Tokyo, as we had just crossed the Bering Strait. For me that's some good airplane sleep!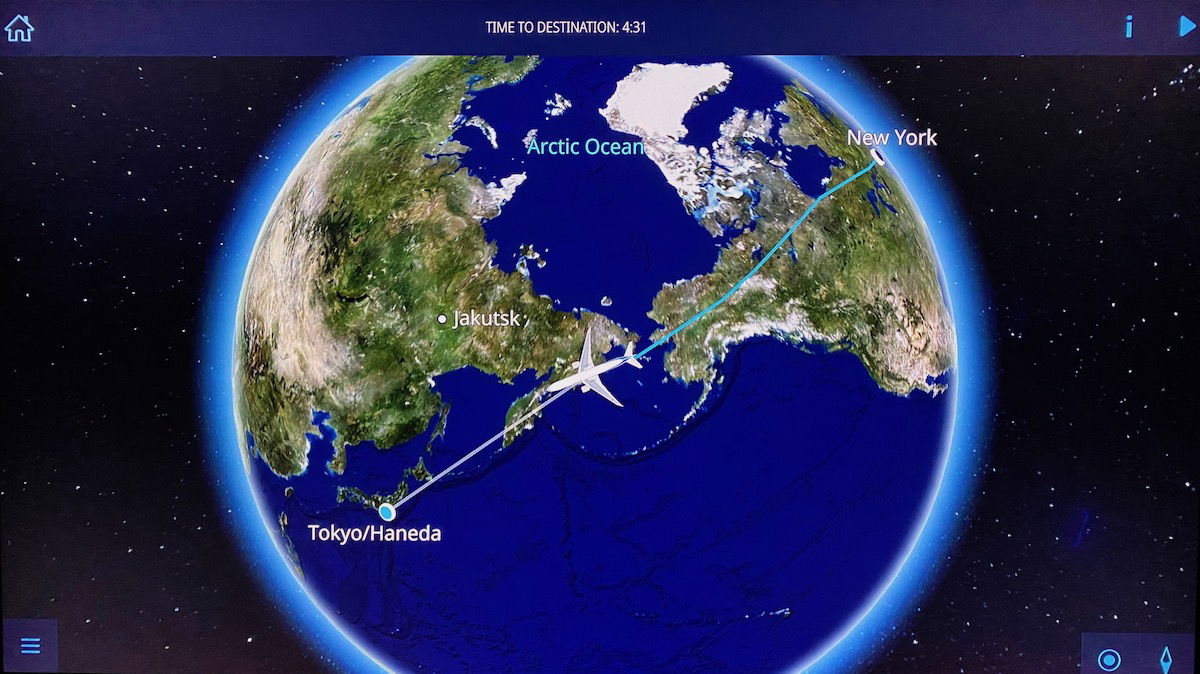 Map enroute to Tokyo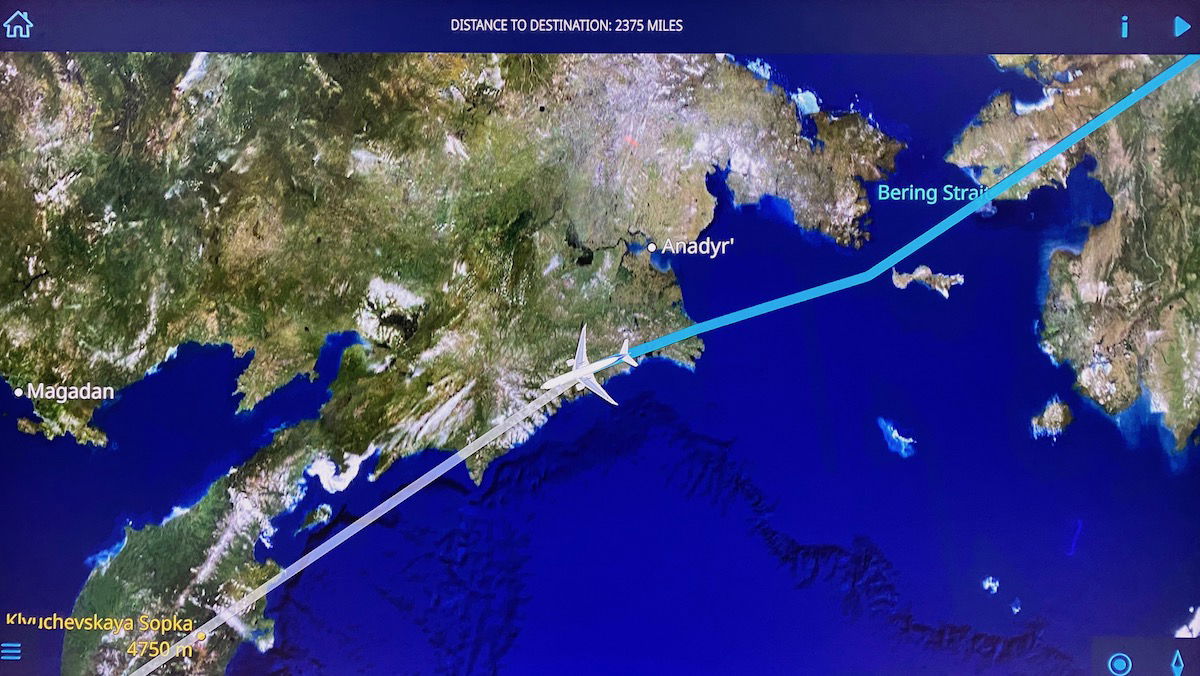 Map enroute to Tokyo
Upon waking up I ordered a coffee, which was served with a chocolate.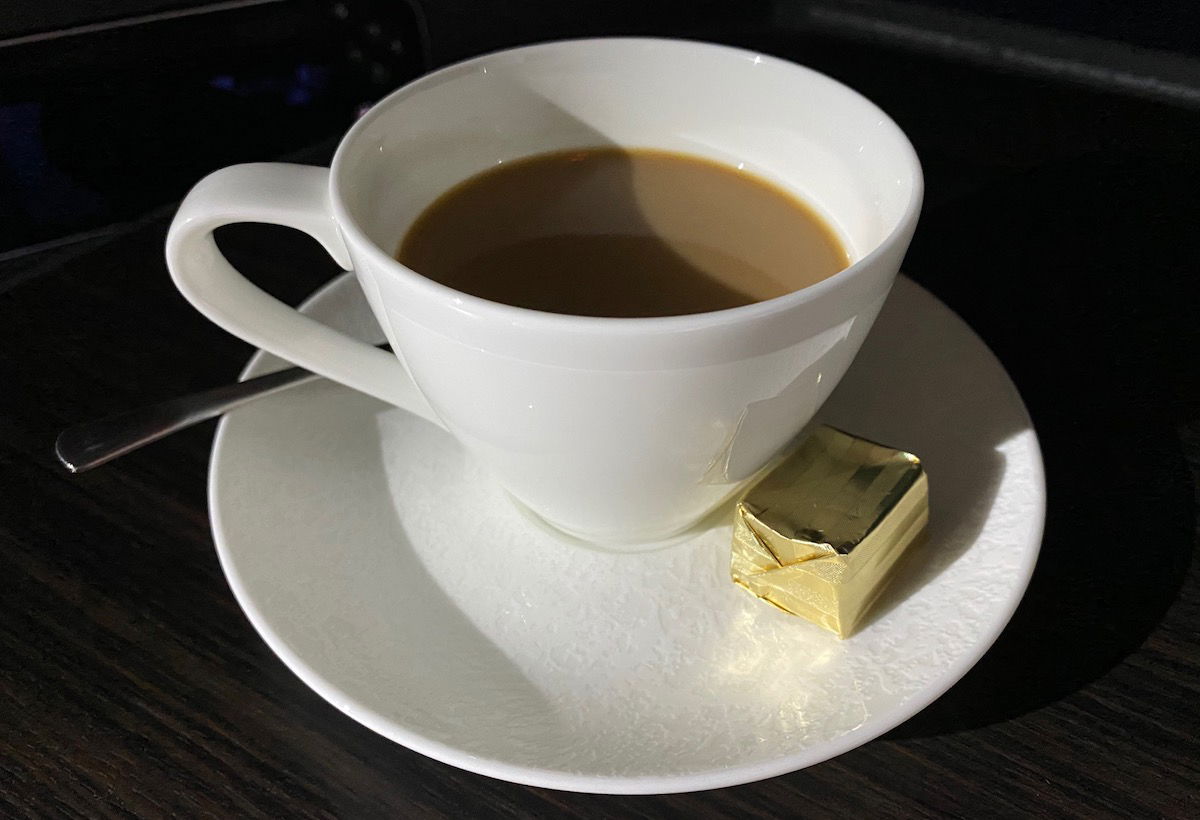 ANA business class coffee
I worked on my laptop for a bit, and then 2hr50min before arrival the crew turned on the cabin lights (though not to the brightest setting) in preparation for the pre-landing meal. Warm towels were distributed, and then about 20 minutes later orders were taken.
The pre-landing and anytime dining menu read as follows: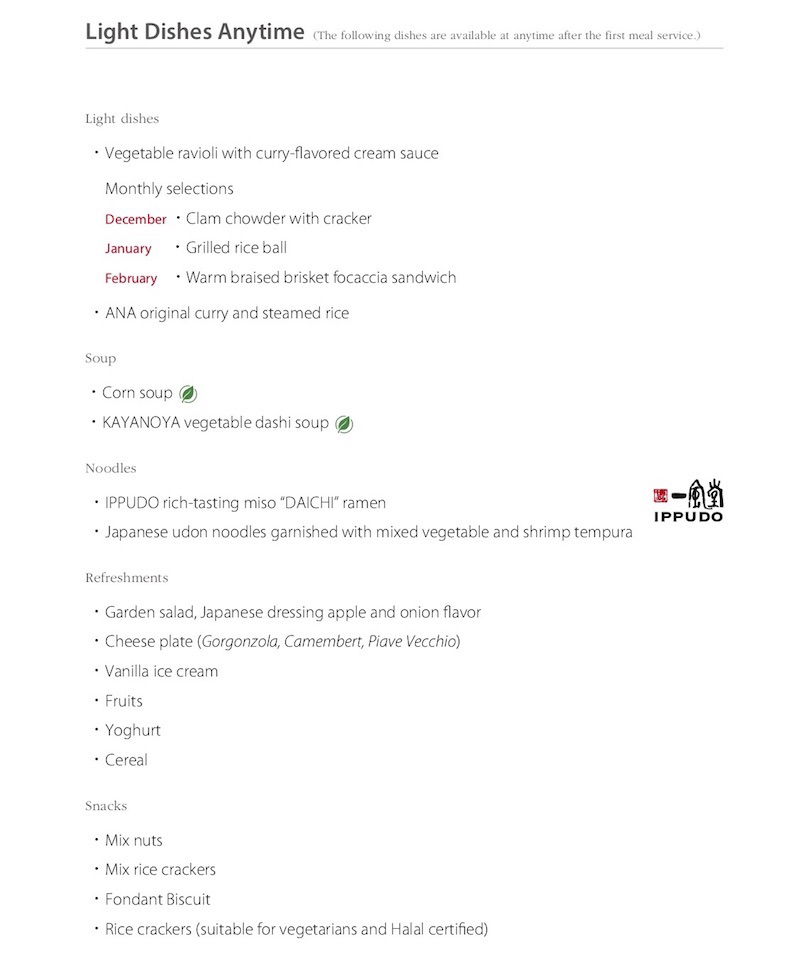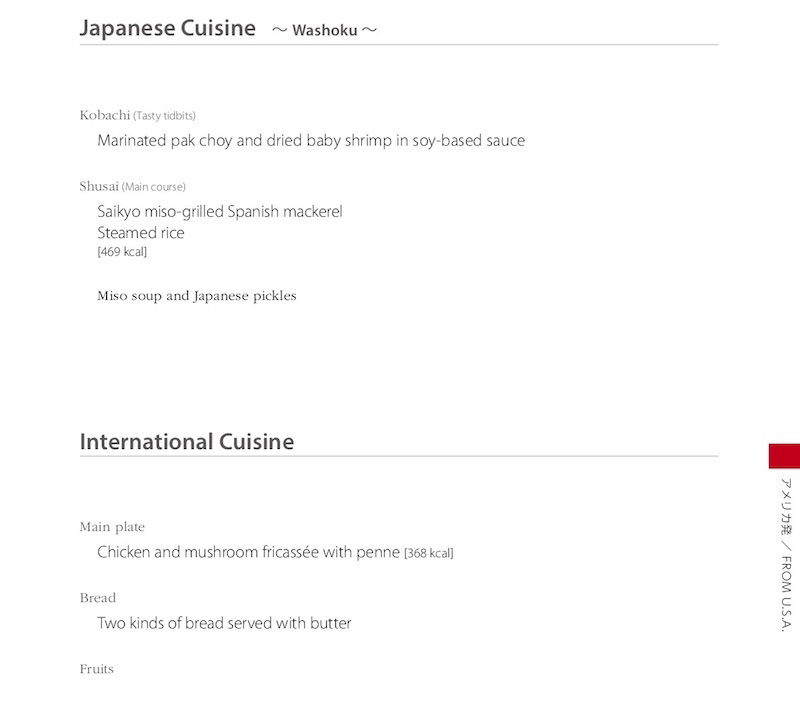 The international meal didn't appeal to me, so I instead ordered two things from the "anytime" menu, including the udon noodles with mixed vegetables and shrimp tempura, and the grilled rice balls, which hit the spot.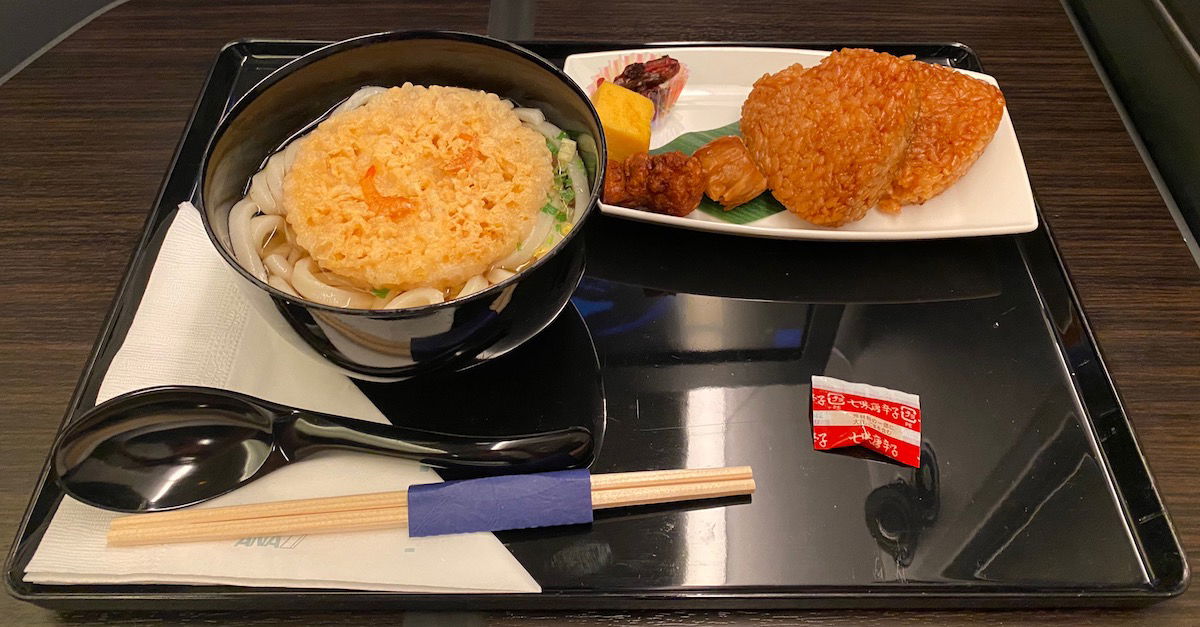 ANA business class meal
To finish off the meal I was offered a fruit plate.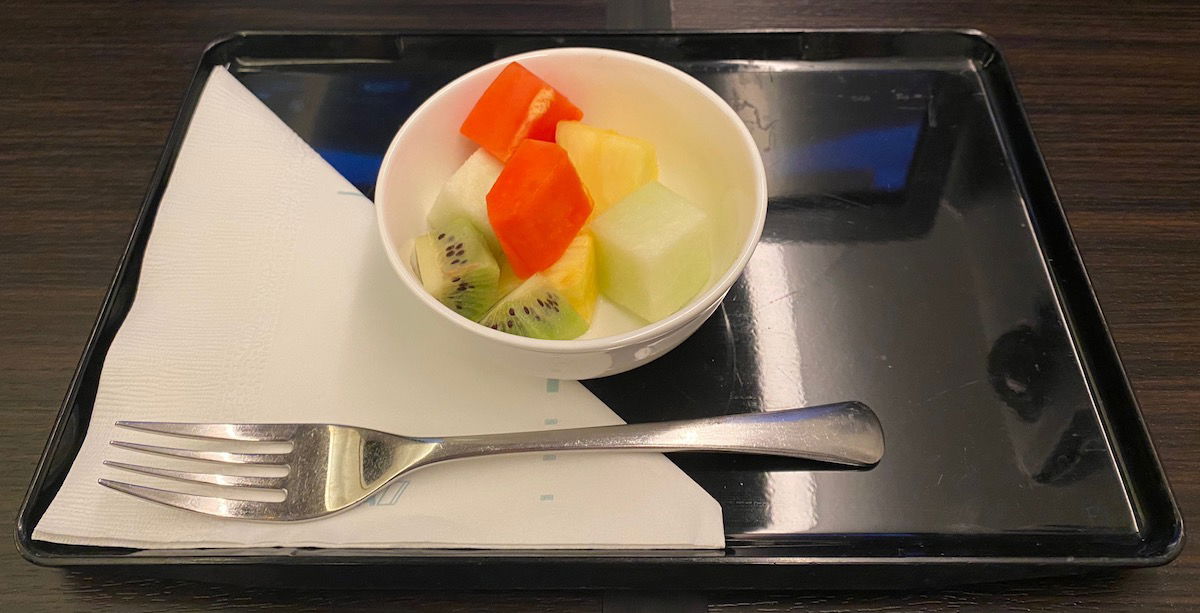 ANA business class meal
We began our descent about 30 minutes before landing, and about 20 minutes before landing the seatbelt sign was turned on. Around this point the crew passed through the cabin to distribute candy or other sweets.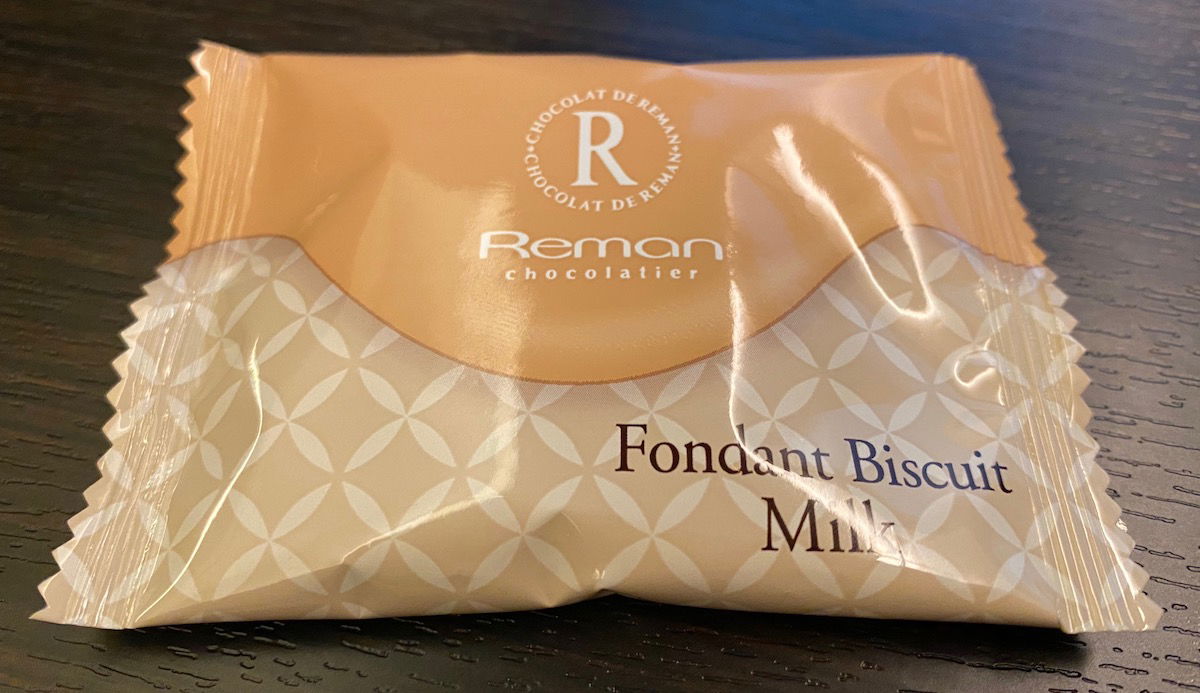 ANA business class candy
We ended up touching down at Haneda Airport at 8:40PM, and from there had a 10 minute taxi to our arrival gate, allowing us to deplane about 20 minutes early.
ANA Business Class "The Room" Bottom Line
ANA hit it out of the park with their new business class. Simply amazing. They've created what's the most spacious business class suite in the world, and I'm not exaggerating when I say that the seat really felt more like first class than business class.
And it's not just that they did that, but they also improved on the other issues I've had with ANA in the past — they installed individual air nozzles, and they introduced fast and reasonably priced Wi-Fi with no data caps.
Best of all, they did all of this with very little hype. They announced the product just weeks before it entered service, rather than teasing it for years, like some other airlines do, only to introduce something mediocre (I won't name and shame here). 😉
As far as the soft product goes, well, that's a different story. I'd say the soft product is fairly good, but doesn't match the hard product. The crew was friendly, but with the number of people in the cabin, it's really not a very personalized service experience.
Other areas for improvement include a better entertainment selection and an option for a thicker mattress pad.
I've long said that business class is all about the seat, and if that's the case, then ANA introduced the best business class in the world. But stay tuned, because soon I'll share my thoughts on whether I'd rather fly The Room or Qsuites.
VERY well done, ANA!