Etihad Airways has just shared details of its new business class seat, which will debut on Boeing 787s in the third quarter of 2023. It's not just business class getting a refresh, as there are also new economy seats, as well as improved Wi-Fi.
New Etihad 787 business class seats
As of the third quarter of 2023, Etihad Airways will be installing the new Collins Aerospace Elements seat on newly delivered Boeing 787s. The Abu Dhabi-based carrier still has around 30 Boeing 787s on order, including 787-9s and 787-10s. However, so far it has only been confirmed that 787-9s will be getting these seats.
For context, Etihad's Boeing 787s currently feature the Business Studio, which is a solid staggered configuration with seats that alternate between being forward and rear facing.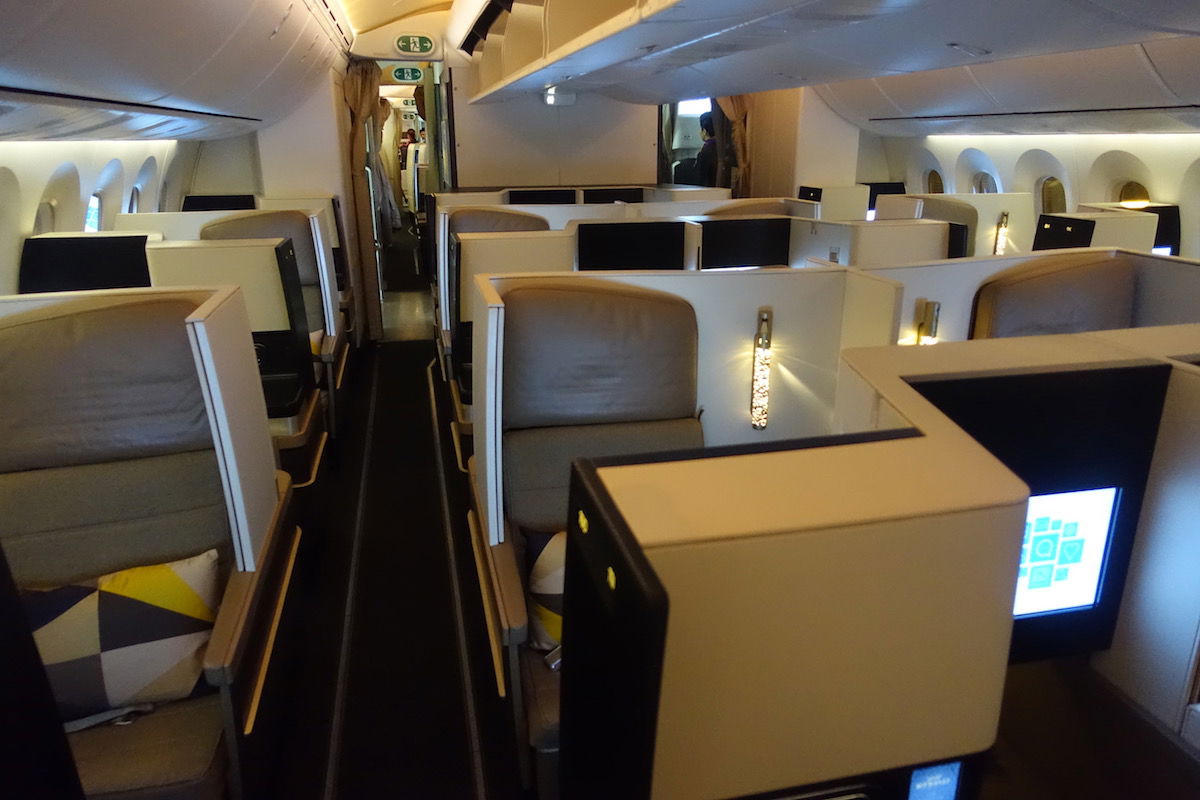 Meanwhile Etihad recently started flying Airbus A350s, featuring Collins Aerospace Super Diamond seats. These are reverse herringbone seats with doors.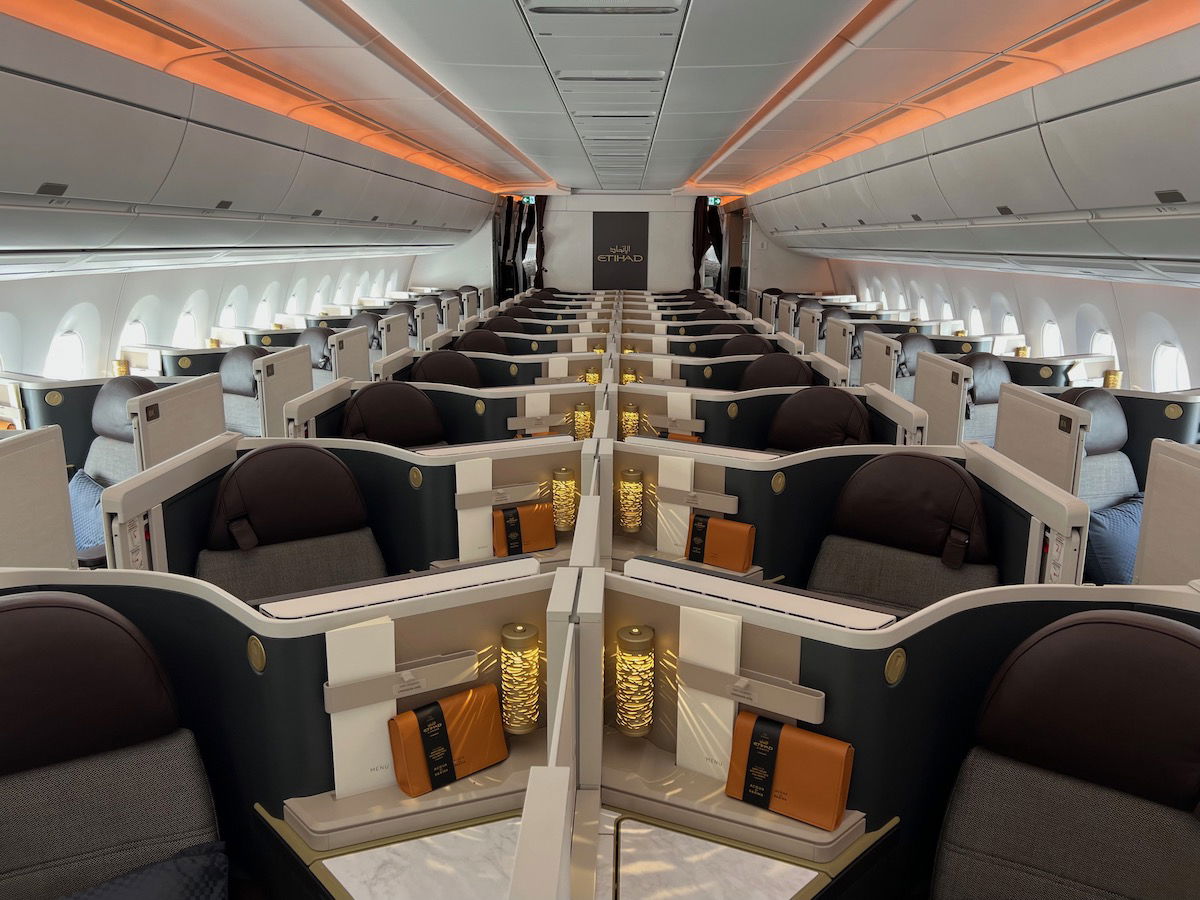 The new Collins Aerospace Elements seat seems like an upgrade over both of those products, and it first debuted on Starlux Airlines' new A350s. Etihad, meanwhile, is the launch customer for these seats on the Boeing 787.
These seats are also in a reverse herringbone configuration, and feature privacy doors. For all practical purposes, think of the future delivery 787s as featuring an upgraded version of the new A350 business class.
Etihad's Boeing 787-9s will boast 32 of these seats, in a 1-2-1 configuration. The seats will recline into 78″ flat beds, and will have 17.3″ 4K TV screens, bluetooth headphone pairing, multiple charging ports (including wireless charging), plenty of storage, and higher privacy doors than before.
Below you can find the first pictures of Etihad's new business class seats.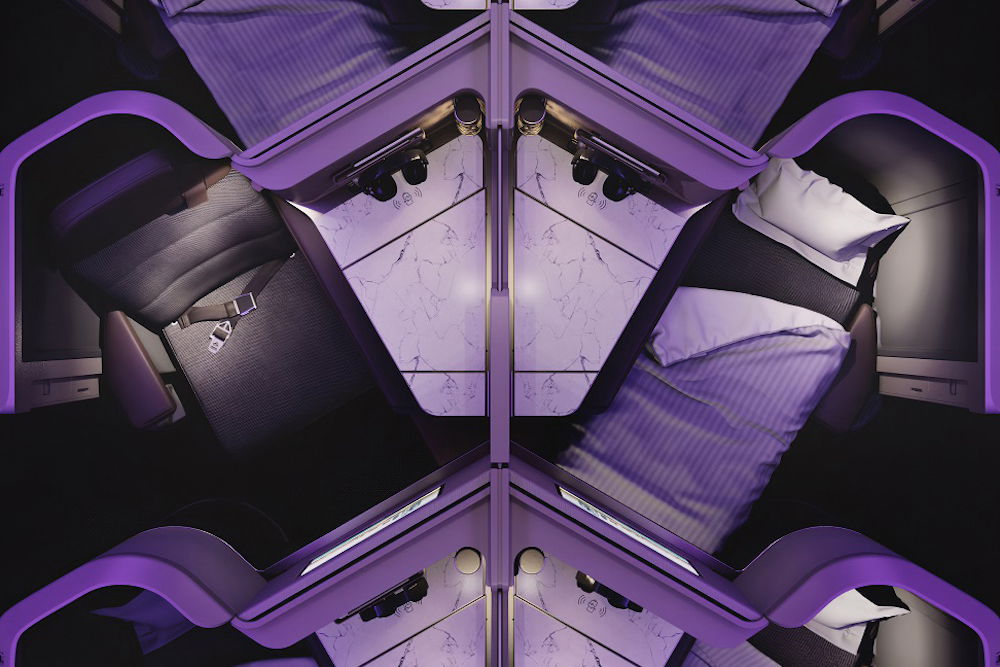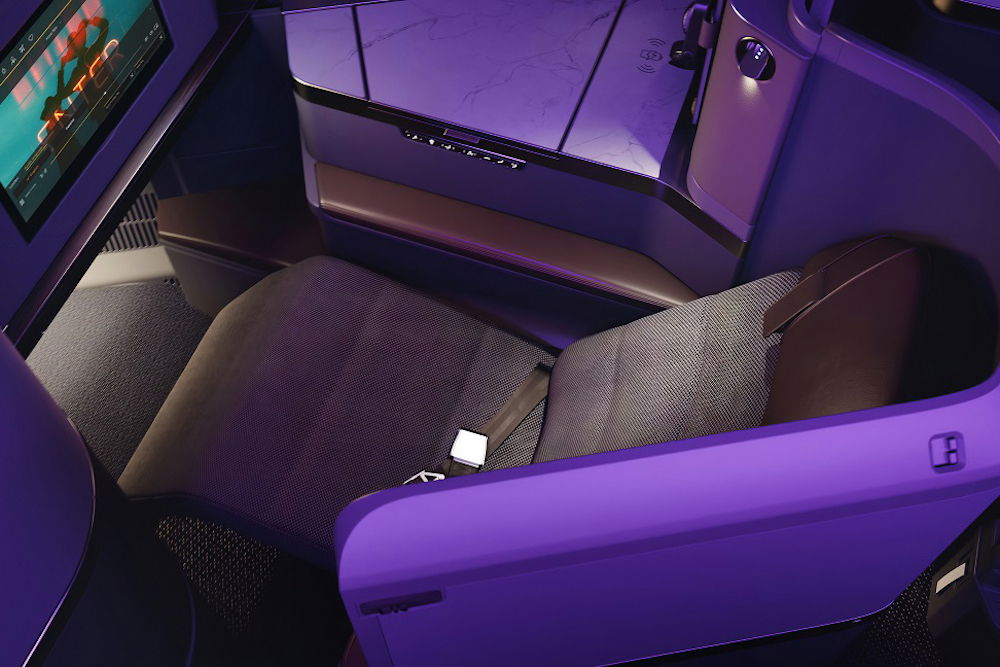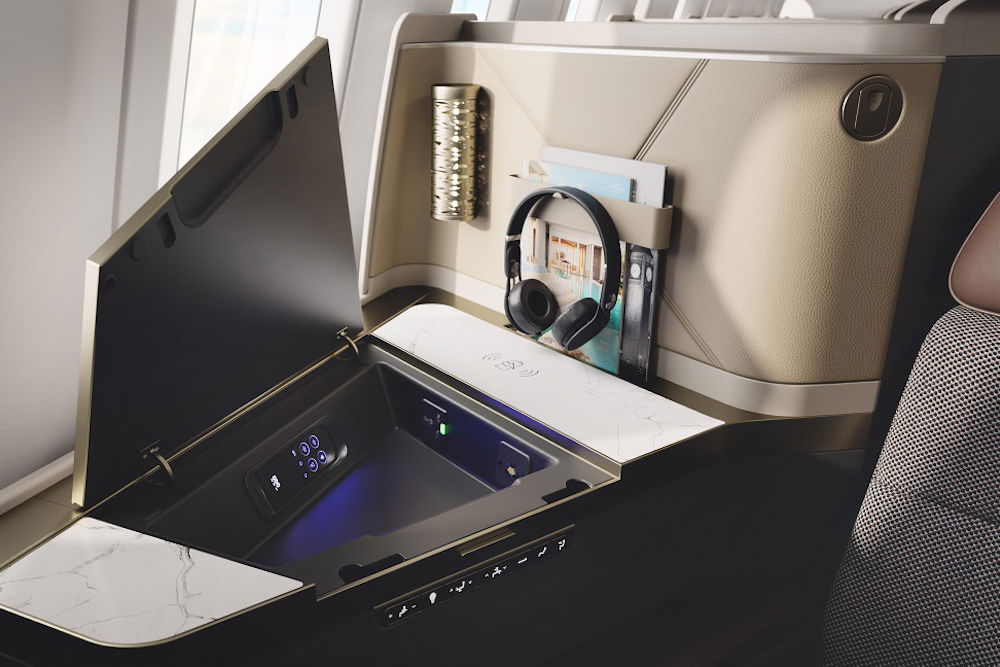 New Etihad 787 economy class seats
Etihad's upcoming Boeing 787 deliveries won't just feature new business class seats, but will also feature new economy class seats. Etihad's Boeing 787-9s are expected to feature 271 economy class seats, in a 3-3-3 configuration.
Etihad highlights how the new seats are lighter in weight than the current seats, and therefore will help with fuel economy. Furthermore, the seats will have a slimmer profile armrest, which I suppose is intended to make the seats feel a bit wider.
Each economy seat will feature a 13.3″ 4K touch screen monitor, bluetooth audio, and a USB charging port.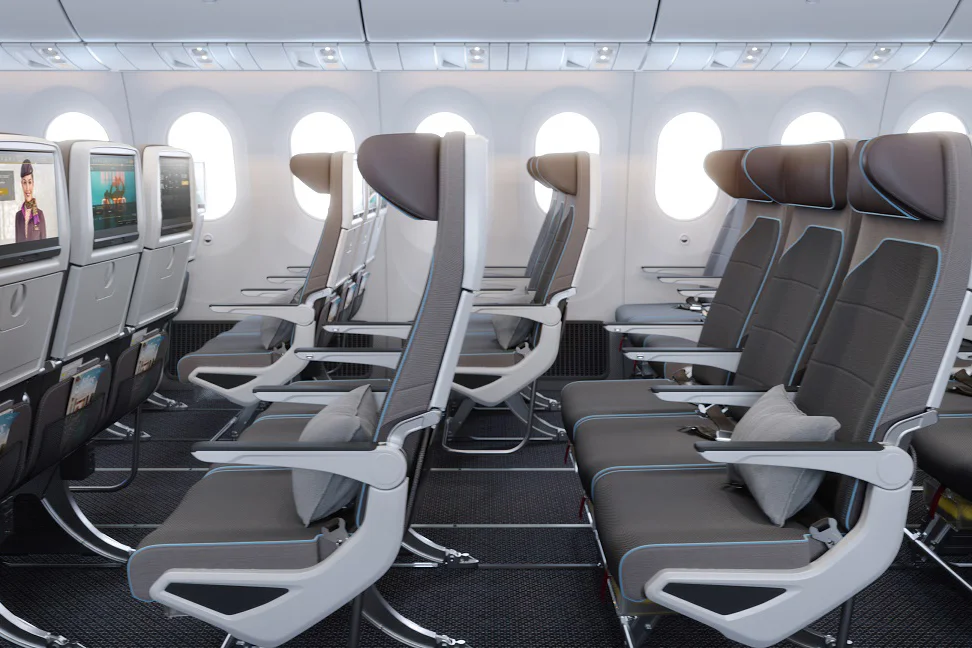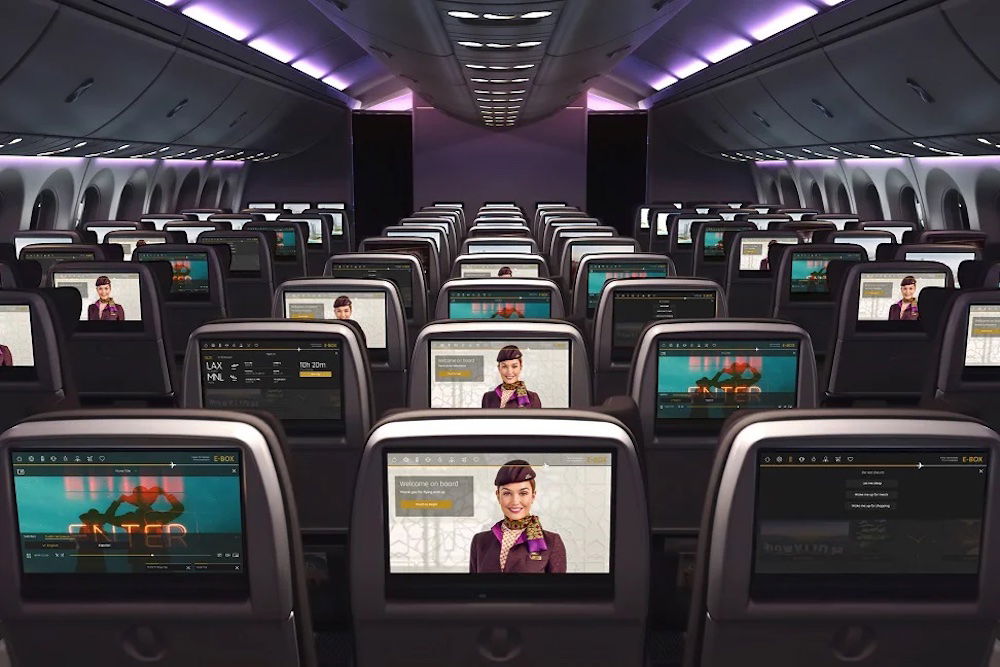 New Etihad 787 Viasat Wi-Fi
Another major tech upgrade for Etihad's Boeing 787s will be that these planes will feature Viasat Wi-Fi, representing a significant upgrade over the current Wi-Fi offered. Viasat is known for offering industry leading Wi-Fi speeds, so this is something that customers will no doubt appreciate.
Also keep in mind that nowadays Etihad Guest members can receive free messaging inflight, to help pass the time.
My take on Etihad's new Boeing 787 cabins
I'm looking forward to experiencing Etihad's new Boeing 787 cabins, though I do have a few concerns. Let's briefly talk about the two cabins individually.
In business class, there's no denying that Collins Aerospace manufactures some great seats, and the new Elements product is an evolution of the Super Diamond configuration that's already widely in service. I suspect that this will set the industry standard for "generic" business class seats going forward, so I'm excited to actually experience this product. Given Etihad's exceptional soft product (including new Armani / Casa amenities), this will be a very competitive business class.
My one concern is the seat count. The number of economy seats on the 787-9 is staying the same, while Etihad will be going from 28 business class seats to 32 business class seats. Will the airline really be able to fit 32 seats between doors one and two on the 787-9? If so, it seems like that will be a pretty tight squeeze. Or will the airline have a small mini-cabin behind the forward cabin?
As far as economy goes, usually an airline promoting how a seat is lightweight and the armrest is smaller isn't exactly a great sign in terms of comfort. At the end of the day there's only so much innovation you'll find with economy seating, so I'd say those seats look… fine?
What I am looking forward to is the much improved tech, from the Viasat Wi-Fi, to the higher definition video screens, to the bluetooth audio, to the several charging options in business class. In economy, I'm not a huge fan of Etihad only having USB outlets, while previously the airline had AC power outlets. But that's just personal preference.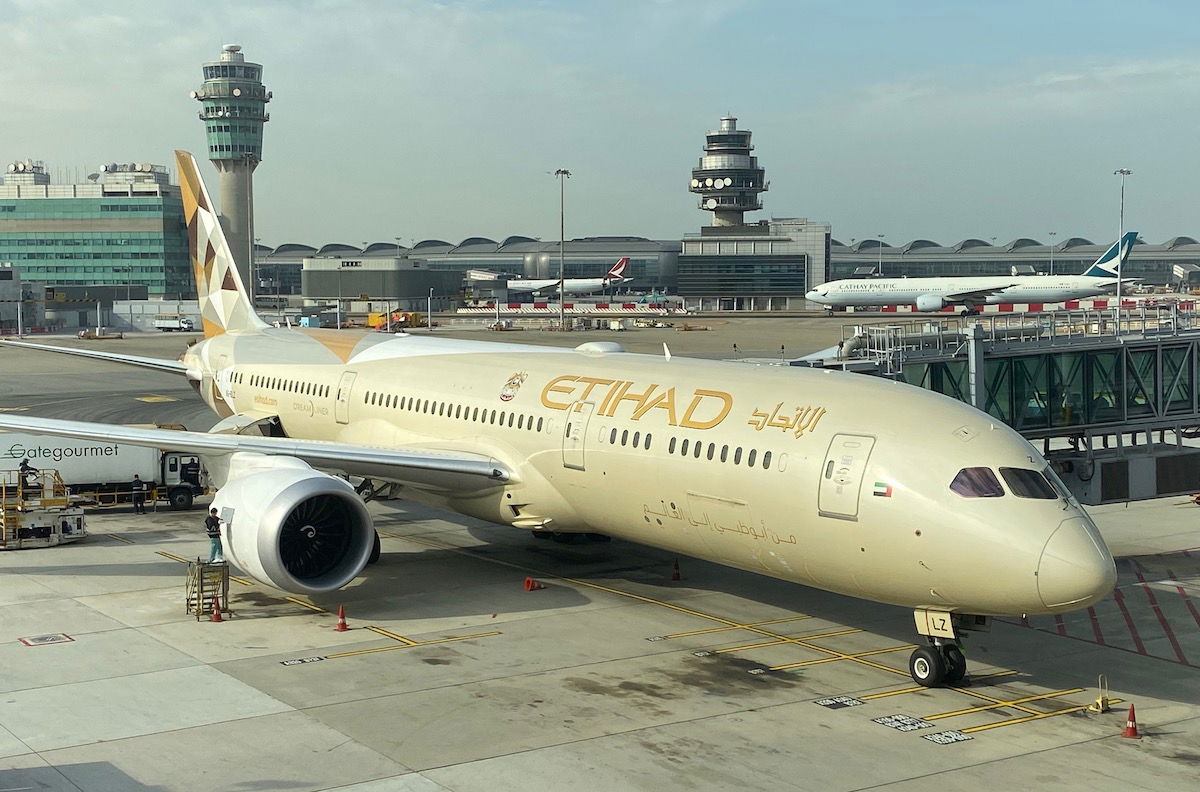 Bottom line
Etihad Airways will be installing Collins Aerospace Elements seats on its new Boeing 787s that are delivered as of the third quarter of 2023. This is an evolution of the carrier's new Airbus A350 business class seats. On top of that, you can expect new economy class seats, and improved tech throughout the plane, including Viasat Wi-Fi. I do have a few concerns, but all-in-all, this looks like a nice upgrade.
What do you make of Etihad's new Boeing 787 cabins, and in particular the new business class?