China Eastern has just taken delivery of their first of 20 Airbus A350-900 aircraft. Pictures of their interiors have emerged and they are looking pretty impressive.
They have chosen to install the Thompson Vantage XL seat for their business class seats, complete with sliding doors, which is the same seat as the Delta One Suites. Qantas, South African Airways and SAS also have this seat as their latest business class seat, although they have opted not to have sliding doors.
China Eastern has reverse herringbone seats in business class on their 777s, which is already a great product, but the Vantage XL seat, with the added privacy of sliding doors, really takes their hard product to another level.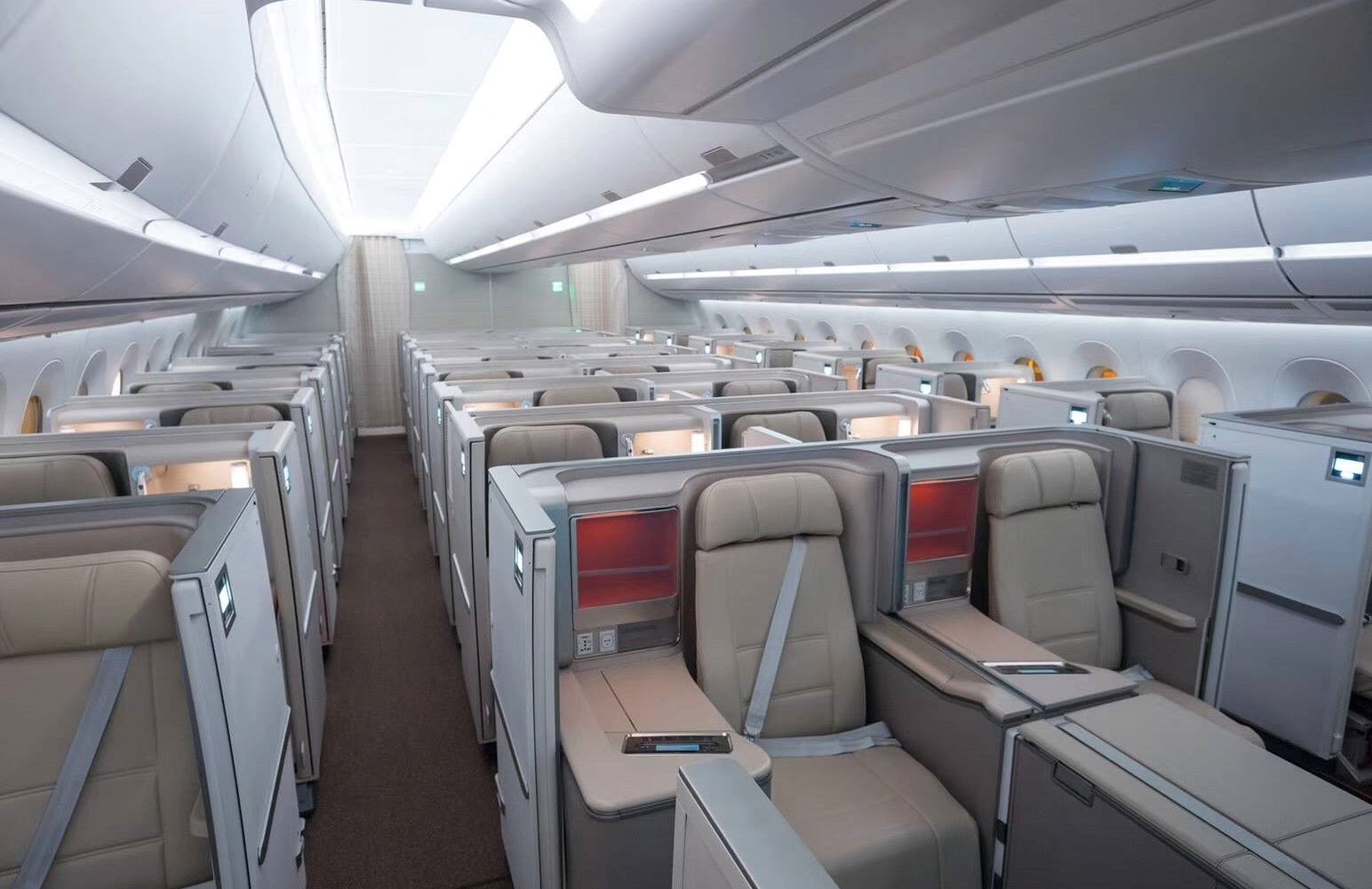 They have also introduced an unusual concept for the front row of their A350 cabin, which they are calling an 'Air Living Room.' Some press releases and news outlets are calling it first class, while others refer to it as a super business class. For the purposes of this article I'll call it super business class/J+, as it is not a separate cabin physically — it is the front row of the business class cabin.
China Eastern describe it as featuring (some of this describes the entire business class, some of this the Air Living Room):
New seats, the largest in-flight touchscreen in the airline, a next generation in-flight entertainment system, a full function bar, optimized cabin scene lightening, NFC (near field communication) reader for in-flight shopping, world premiere bluetooth earphone module, and high-throughput open spaces intersect.

The balcony-styled business class, the first of its kind, is equipped with a host of amenities, including Thompson Vantage's first "super business" products, 32-inch high definition touchscreens that are far larger than regular first-class allocations, mini-bars, convenient storage lockers, AC power outlets, and more comfortable three-point seatbelts.

The two premium business class seats in the middle row are also foldable, allowing flight crew to reshape the space into a community area that up to four people can comfortably use for a business meeting or family gathering.
Now some of this is just rather absurd marketing speak — what on earth is 'high-throughput open spaces intersect?' Does a 'balcony-styled' seat mean it looks like a balcony, or it has a balcony? Or it's the sort of seat you'd find on a balcony?
But what really interests me is how the two middle seats will supposedly fold together to 'reshape the space.'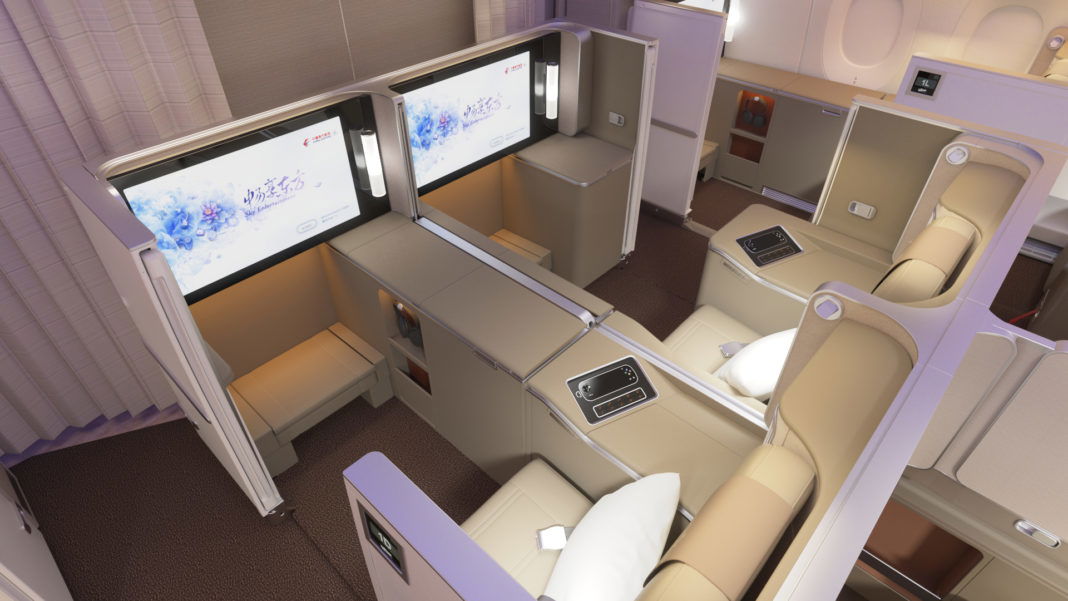 From these images I had guessed that perhaps the centre divider between the seats lowers down (and has a cushioned top), or perhaps the seats themselves go up to meet the existing height of the middle divider, so will make a completely flat surface.
While this will be great for kids to play around in with their parents, I would love to see what four business people would look like 'comfortably using this for a business meeting.'
But then Airbus has released a video of the delivery event, which shows four China Eastern and Airbus executives having their 'business meeting' in the centre middle seats. All that appears to have changed with these seats is the addition of a wooden tray over the divider.
The extra two people can sit on the ottoman in front of the IFE screen — I've managed to make a screen grab from the promo video:

While it does look like a business meeting, adding a wooden tray to a pair of seats hardly makes it a living room!
If it was some amazing double bed you'd think they would have it set up that way for the press tour — there doesn't seem to be any folding of the seats going on…
Now this front row of seats may look familiar for two reasons:

Given the additional space options airlines have with this front row of seats (as there is no row in front, so a lot more space to work with), Malaysia Airlines has chosen to use the space as a proper, separate first class cabin, while China Eastern is adding extra features like larger screens to, I'm guessing, have a super business class that they will presumably charge more for.
China Eastern is claiming that their 12″ IFE screens in economy are the largest of any airline in the world. The aircraft also has a premium economy cabin.
The airline will use the plane initially on orientation flights to Chengdu and Guangzhou, before introducing it on international flights from Shanghai to Amsterdam, Frankfurt, Sydney and Vancouver.
They are a massive airline with over 700 aircraft now in their fleet.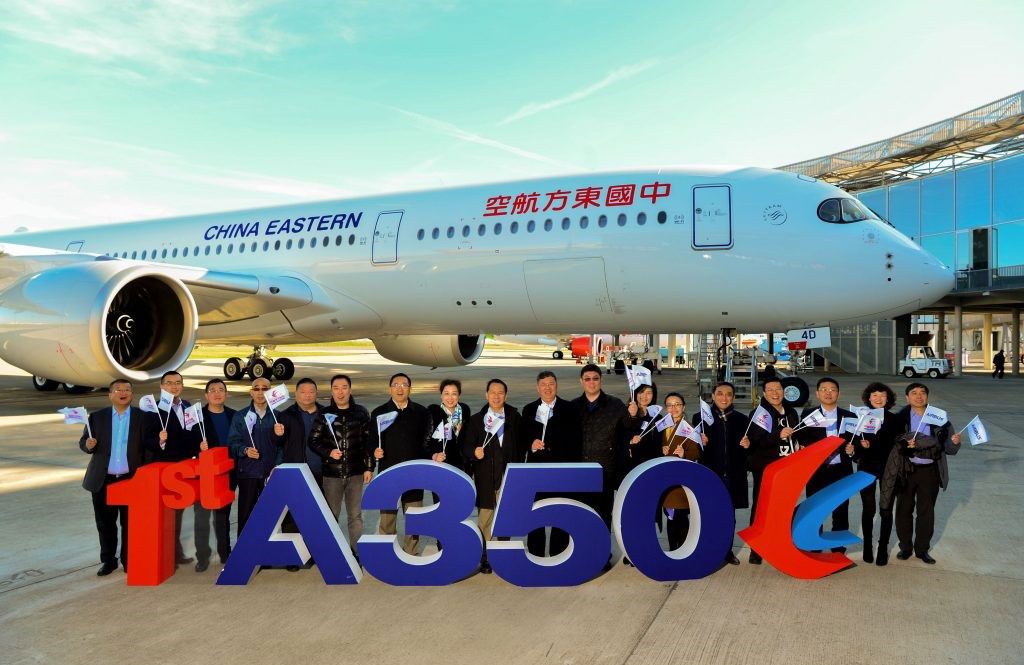 Bottom line
Given Delta are China Eastern partner so closely and both have this style of standard business class on their A350s (noting Delta does not have the Air Living Room concept), and Delta owns a large stake in Virgin Atlantic, this is giving me some hope that Virgin Atlantic may choose the Thompson Vantage XL seat for their A350s next year, noting that Virgin Atlantic appear to have chosen a 1-2-1 layout which would match up with this sort of seat layout.
This would put them light years ahead of whatever I expect British Airways comes up with for their A350s, which I have very low expectations of based on the patent designs BA have already registered.
To me it's crazy that Chinese airlines invest so much in their hard products yet don't do the same in their soft products, which many would argue are equally as important. These seats look amazing.
I'm not in any desperate rush to fly China Eastern although if I did, I'd seek out this aircraft as the hard product is very impressive in business class at least.
I'll be interested to see if they price the first row as first class with different soft product offerings, or if they, as I think they will, price it as a super business class for a small premium per flight (say, USD$200 per seat per flight over normal business class).
I'd love to see how this Air Living Room works in practice — especially for those business meetings!
Would you fly China Eastern's new A350?