In the interest of full disclosure, OMAAT earns a referral bonus for anyone that's approved through some of the below links. These are the best publicly available offers (terms apply) that we have found for each product or service. Opinions expressed here are the author's alone, not those of the bank, credit card issuer, airline, hotel chain, or product manufacturer/service provider, and have not been reviewed, approved or otherwise endorsed by any of these entities. Please check out
our advertiser policy
for further details about our partners, and thanks for your support!
To continue my whirlwind Aeroplan adventure, I flew Gulf Air's Boeing 787-9 business class from Bahrain to Singapore.
I was very much looking forward to this flight, as Gulf Air's Boeing 787s have some of my favorite business class seats. Unfortunately beyond the seat, the product had some highs and lows. I loved the very professional cabin manager, the Wi-Fi, and some of the amenities, while the rest of the service left a bit to be desired. Let's get right into the review…
How I booked my Gulf Air business class ticket
I booked my Gulf Air business class ticket using points. Specifically, I redeemed 115,000 Air Canada Aeroplan points to fly from Chicago to Vienna to Rome to Bahrain to Singapore to Ho Chi Minh City to Hanoi, all in business class.
For more details on how I booked that, see my post about how to redeem Aeroplan points like a pro. Aeroplan points are easy to come by, as the program is transfer partners with Amex Membership Rewards, Capital One, and Chase Ultimate Rewards. On top of that, there's the Aeroplan® Credit Card (review) in the United States, which is phenomenal.
Specific to the Gulf Air portion of my trip, here were the two flights I flew on Gulf Air (I reviewed the first segment in a separate installment):
1/07 GF26 Rome to Bahrain departing 11:10AM arriving 6:35PM
1/07 GF165 Bahrain to Singapore departing 11:50PM arriving 12:25PM (+1 day)
Gulf Air business class lounge & boarding Bahrain
I've reviewed the Gulf Air Falcon Gold Lounge, which is Gulf Air's flagship lounge at Bahrain Airport. Boarding for my 11:50PM flight was initially scheduled for 11:10PM, 40 minutes before departure.
However, a couple of hours before the flight, the departure monitor started indicating that the flight was delayed by 35 minutes, until 12:25AM. I'm not sure what the reason was, since the plane was there, and the crew was even at the gate plenty early.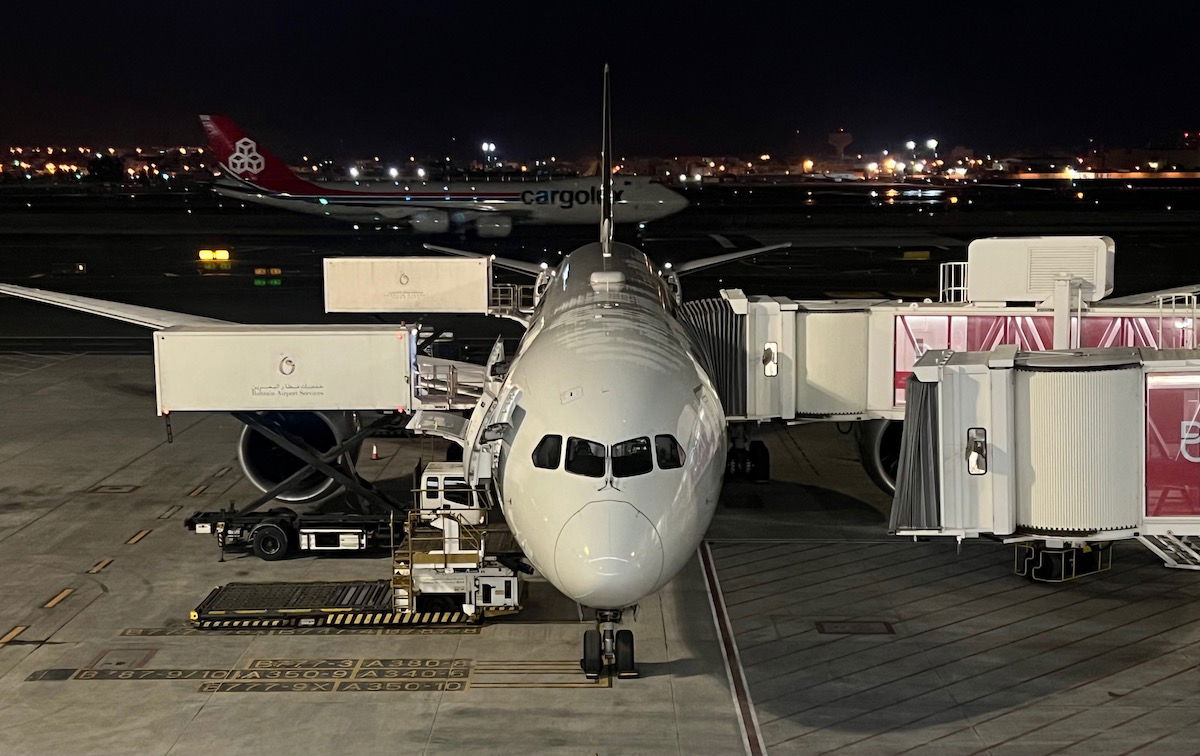 Anyway, boarding at gate 16 ended up starting at 11:40PM, about 30 minutes behind schedule. Those needing extra time were invited to board first, followed by those in business class.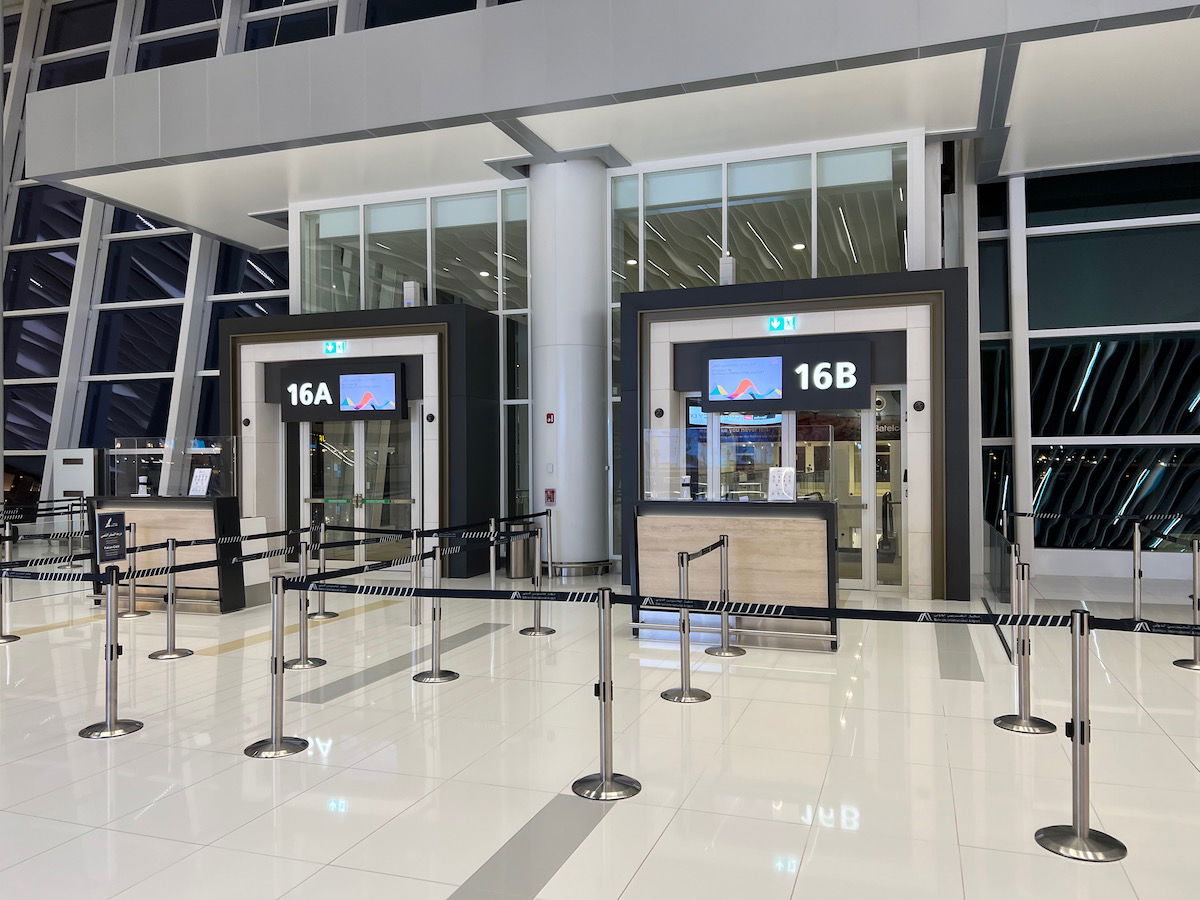 Gulf Air 787-9 business class cabin & seats
I boarded through the second set of doors, where I was greeted by the incredibly warm and kind Bahraini cabin manager, who pointed me toward my seat. Gulf Air has Apex Suites in business class on its Boeing 787s, which I rank as one of the best business class products in the world.
Gulf Air has a total of 26 business class seats on the 787, spread across five rows in a 2-2-2 configuration. The center section had five rows of seats, while there were only four pairs of seats along the windows.
The first thing I noticed when stepping into the Gulf Air business class cabin was how pretty all the finishes were. I loved all the textures, color variations, and logos. I also appreciated the lack of overhead bins in the center section, which make the cabin feel so much more spacious.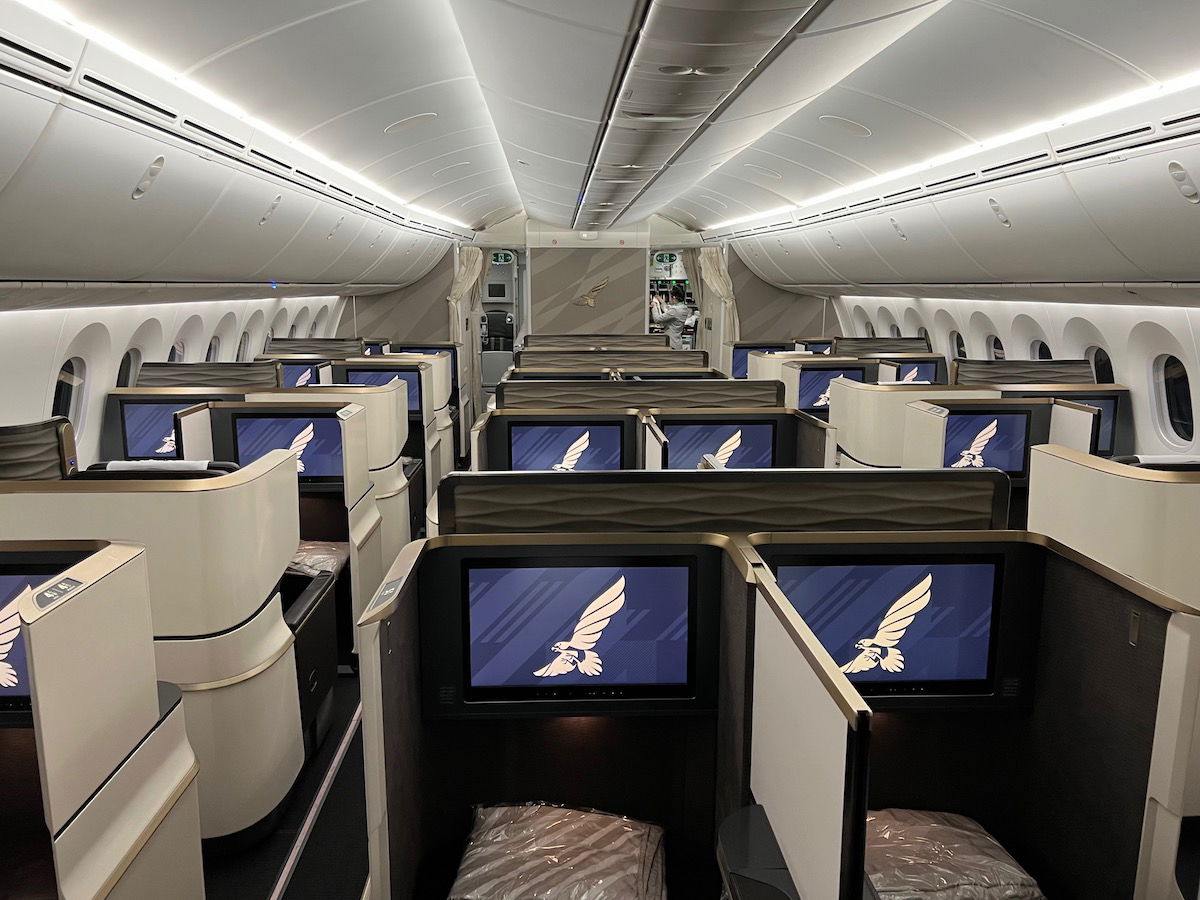 At first glance, Apex Suites might look totally ordinary.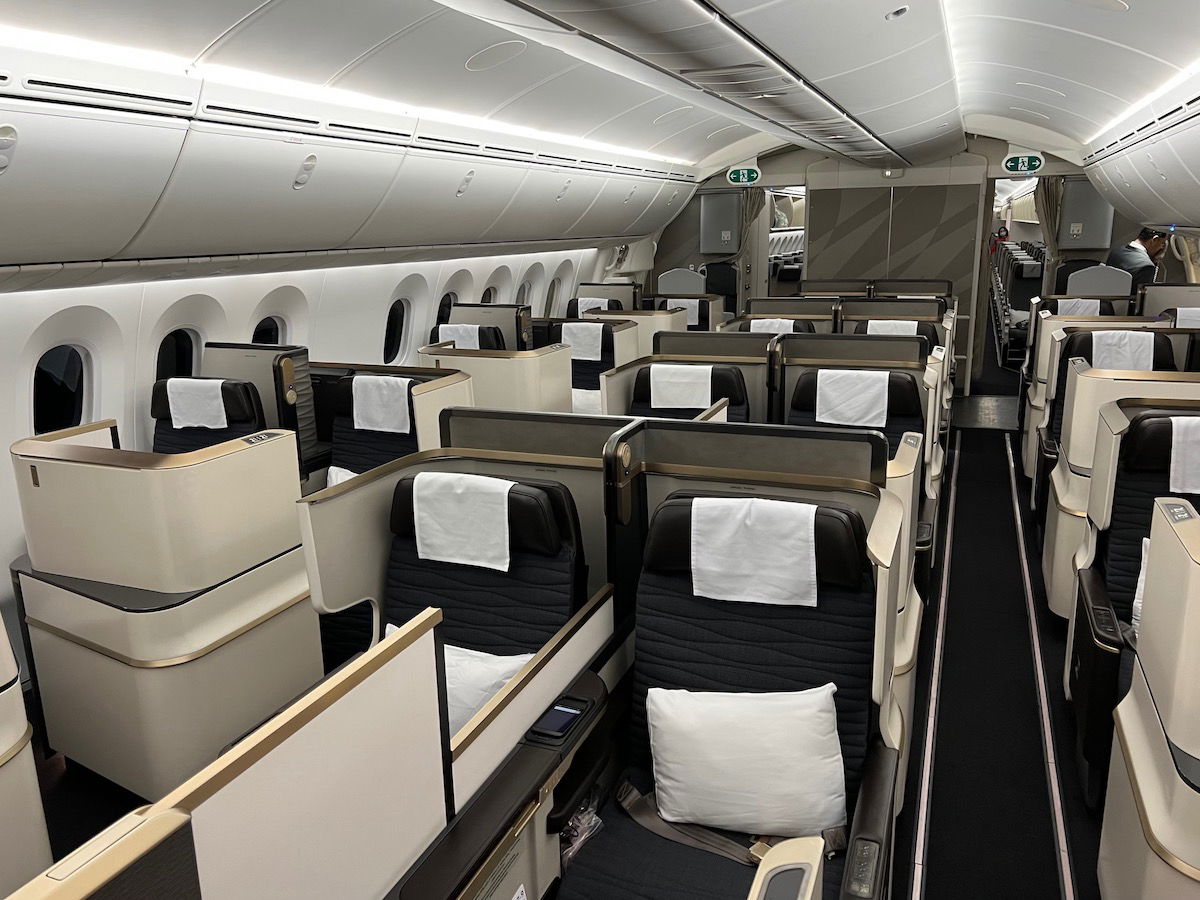 What makes all Apex Suites seats great is that there are no small footwells you have to cram your feet into, but rather everyone gets a big ottoman. Furthermore, each seat pair has a proper privacy divider. That being said, it's not the middle pair of seats that makes me love this configuration.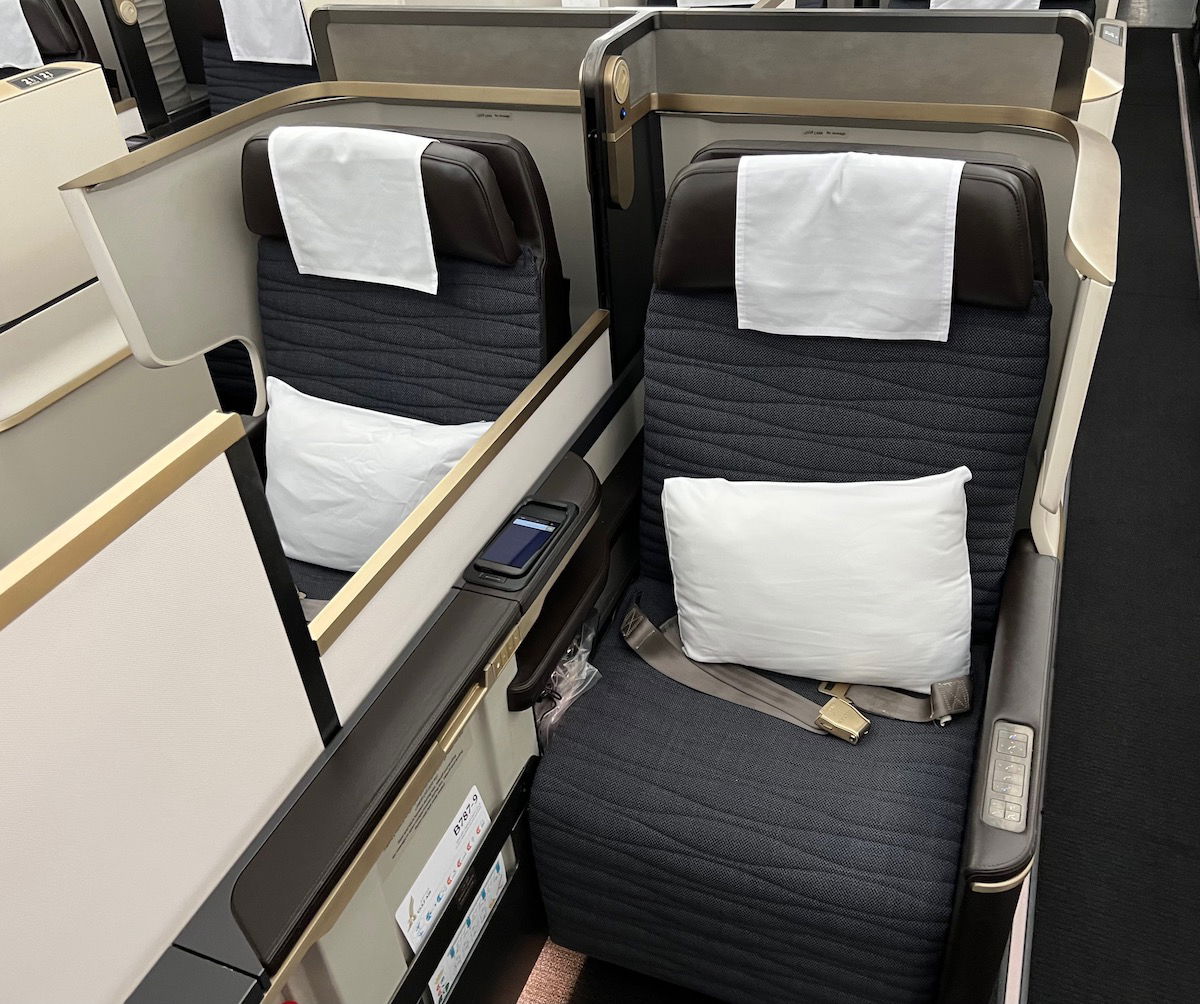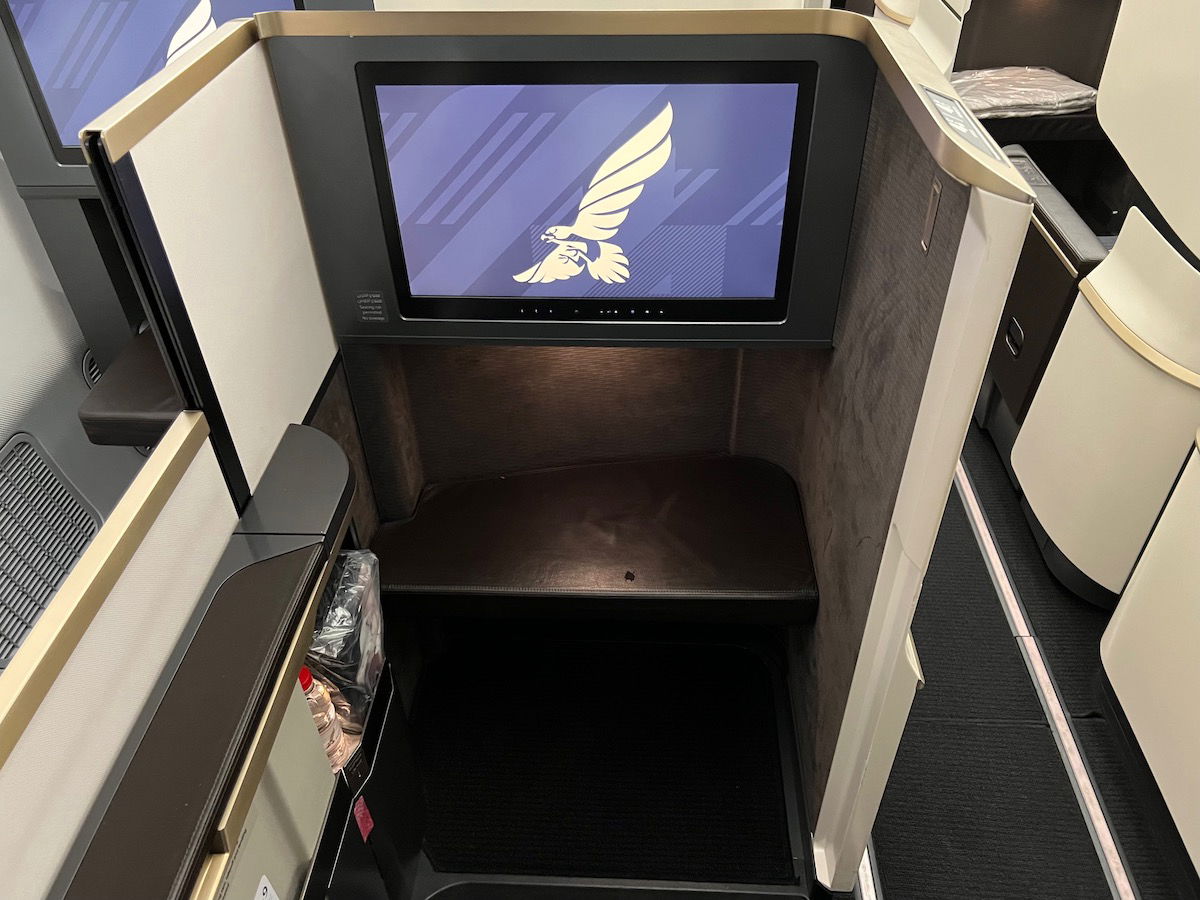 Rather what makes Apex Suites so great is the window seats in this configuration. I assigned myself seat 4A, the window seat on the left side in the last row.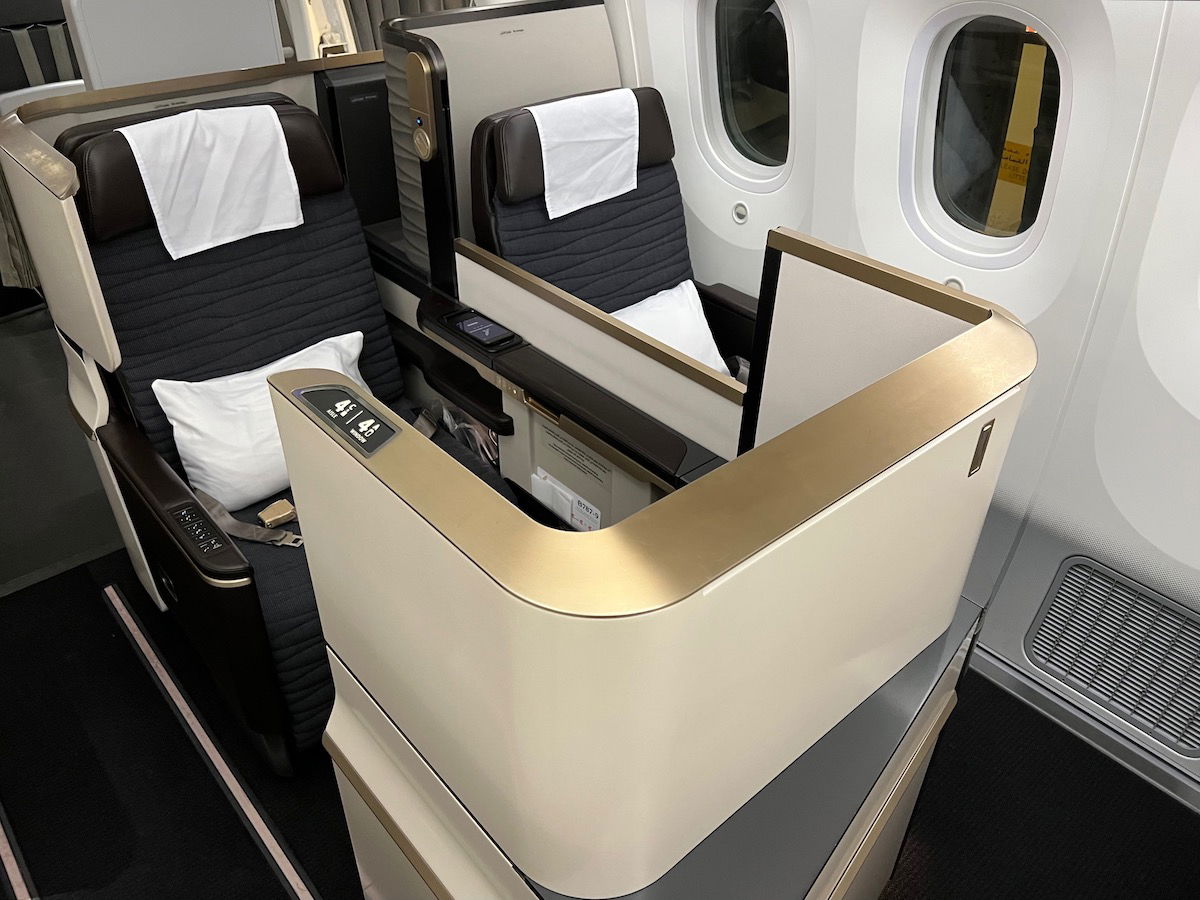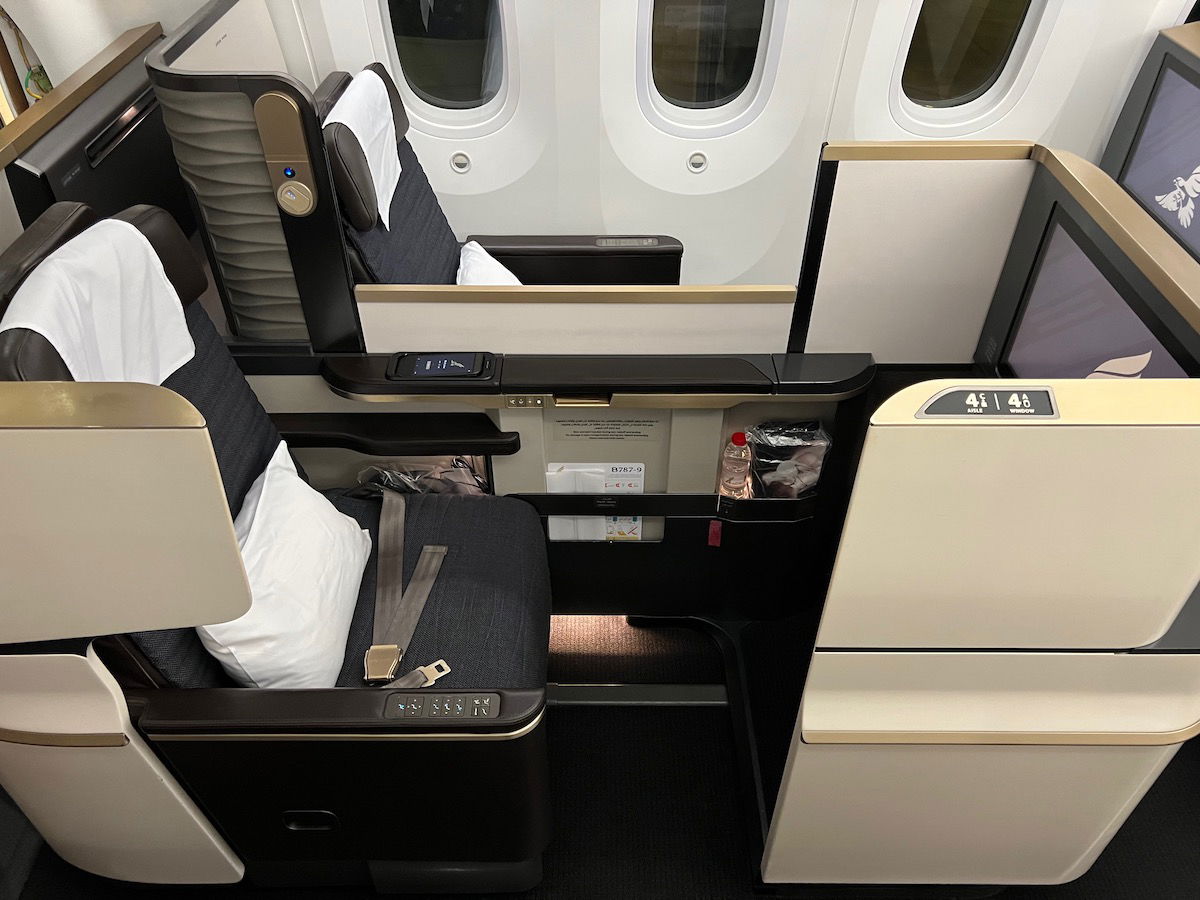 As you can see below, the seats by the windows are all staggered, and that's so that the person in the window seat gets direct aisle access. The window seat has a small pathway providing direct aisle access, so there's no need to jump over the person in the aisle.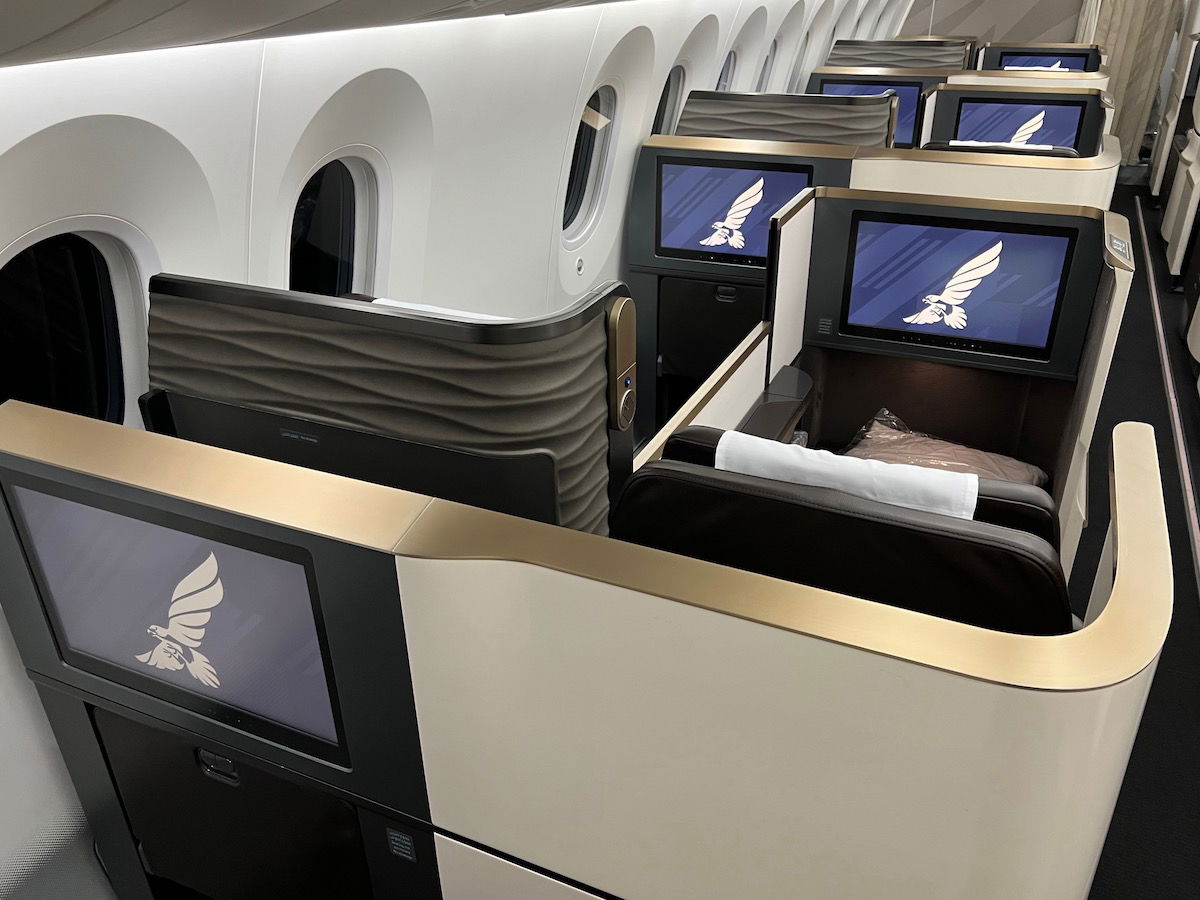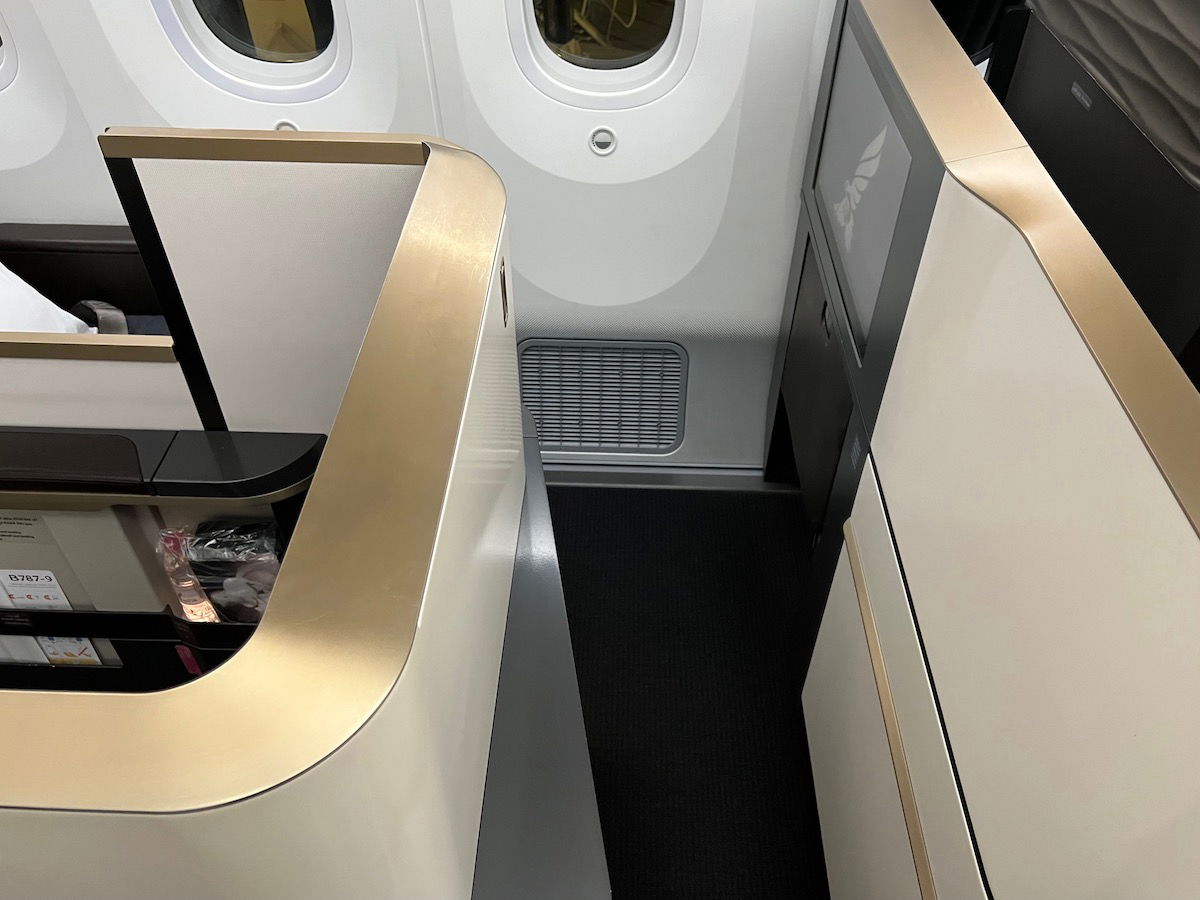 If you look at the seat head-on, it might not look too exciting.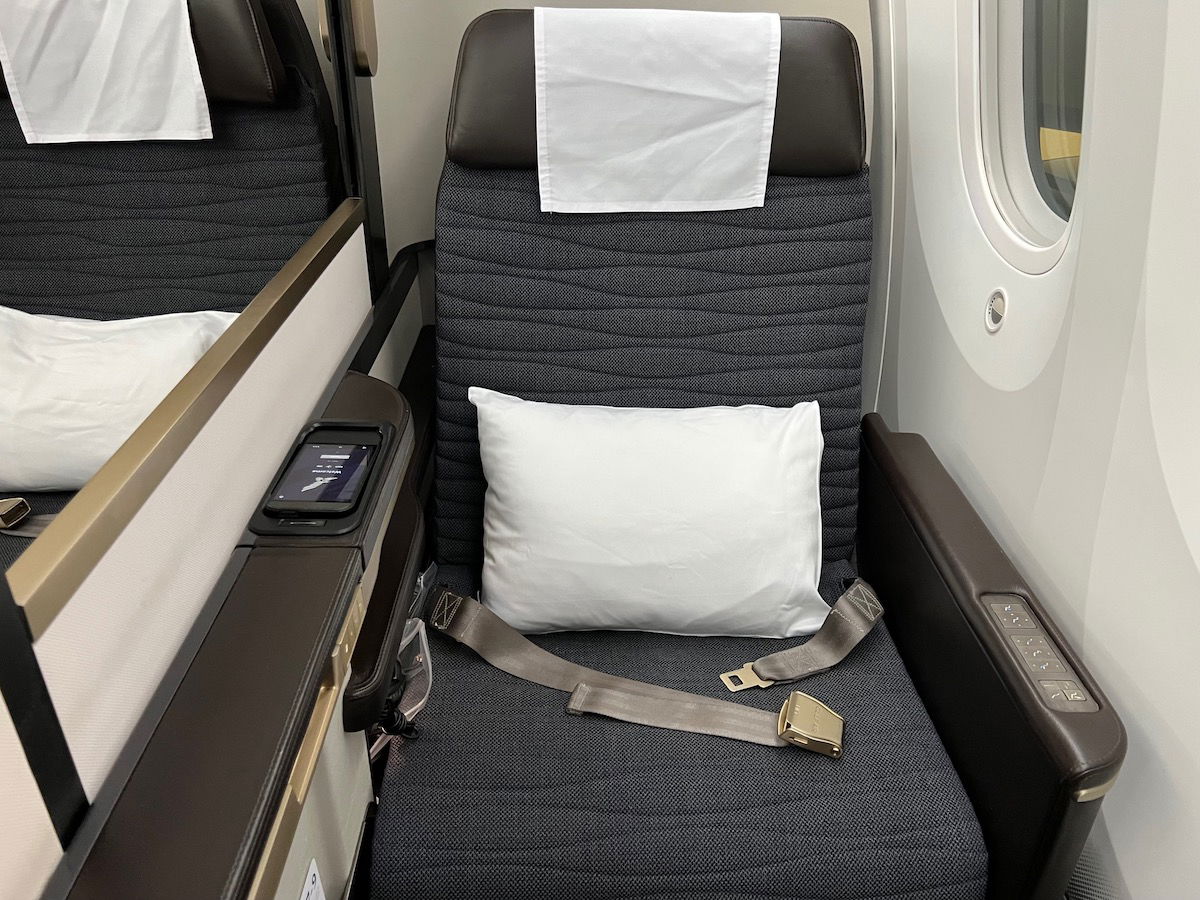 But what makes this seat so amazing is the view in the other direction. You have endless legroom, in a way that no other business class seat in the world provides. While the standard for most airlines is for there to always be an ottoman as part of this seat, on Gulf Air that ottoman can be folded up, to give you even more space.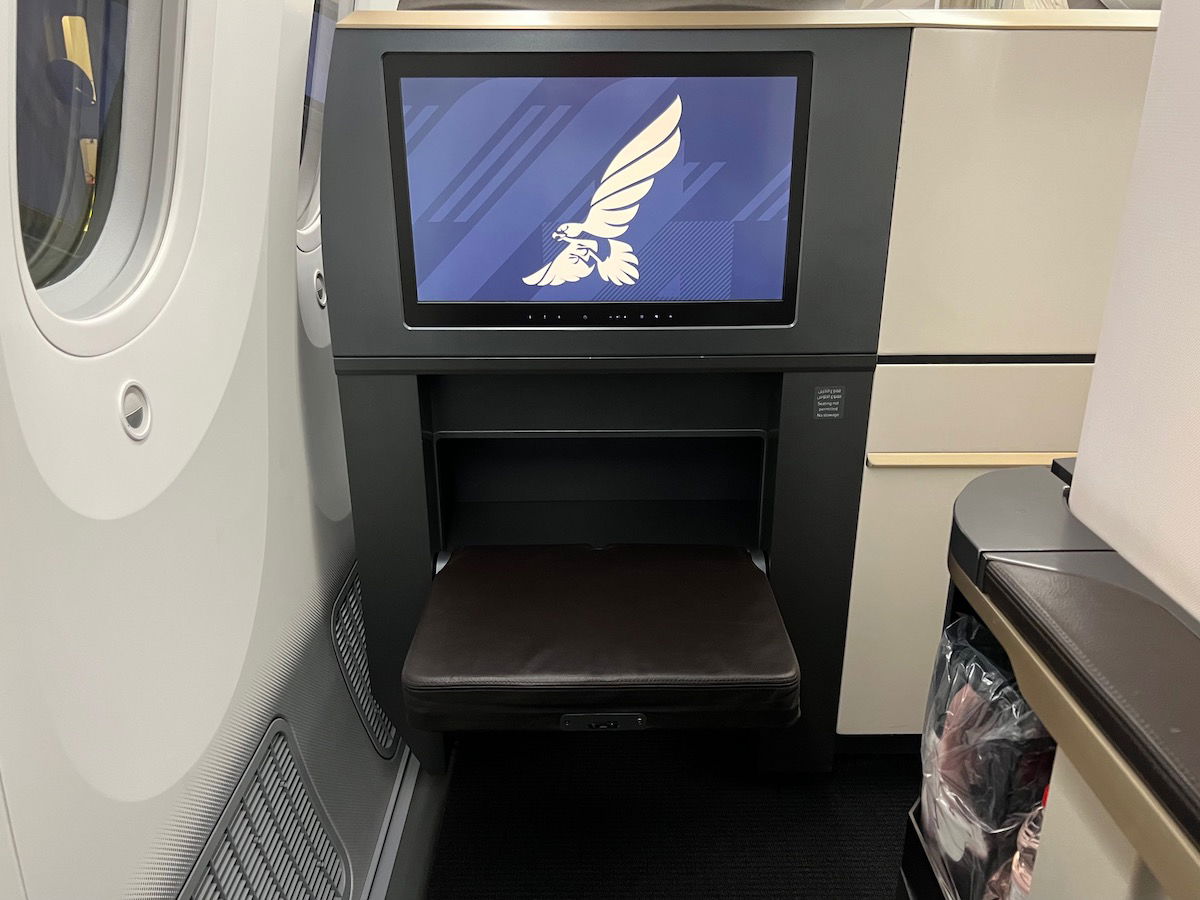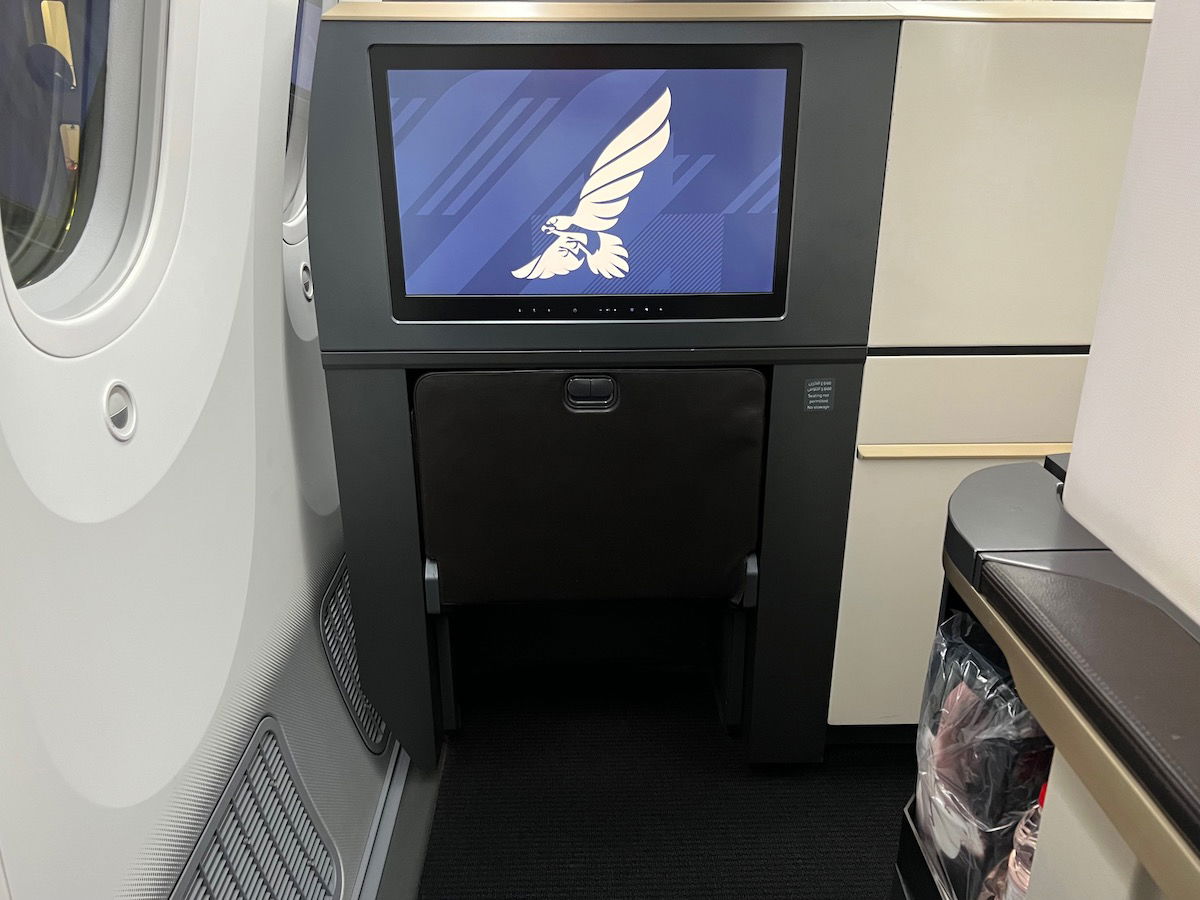 It's not just that you have unlimited legroom and don't have a small footwell you have to shove your feet into, but you also have more privacy than you'll find in any business class seat with a door. That's because there's a privacy partition that goes up between seats (and it didn't even need to stay down for takeoff and landing).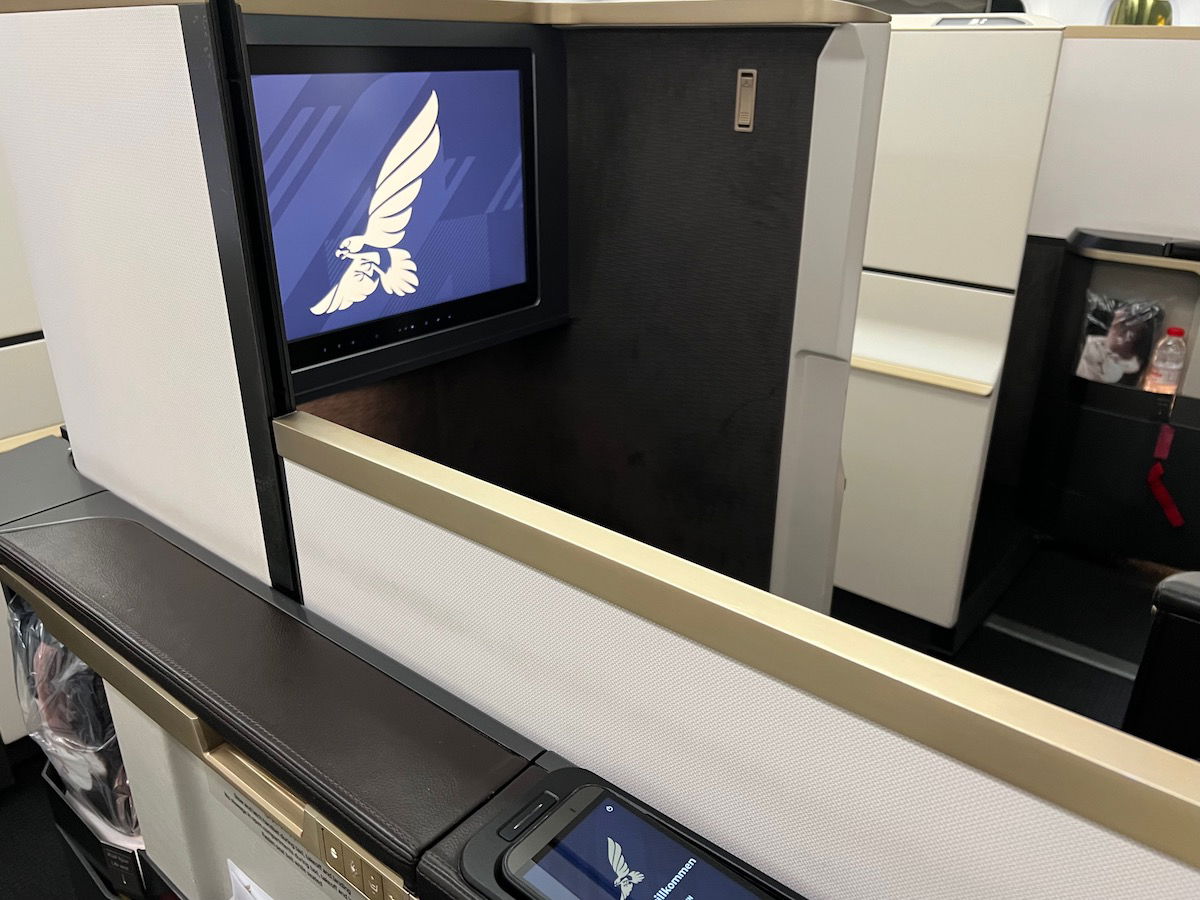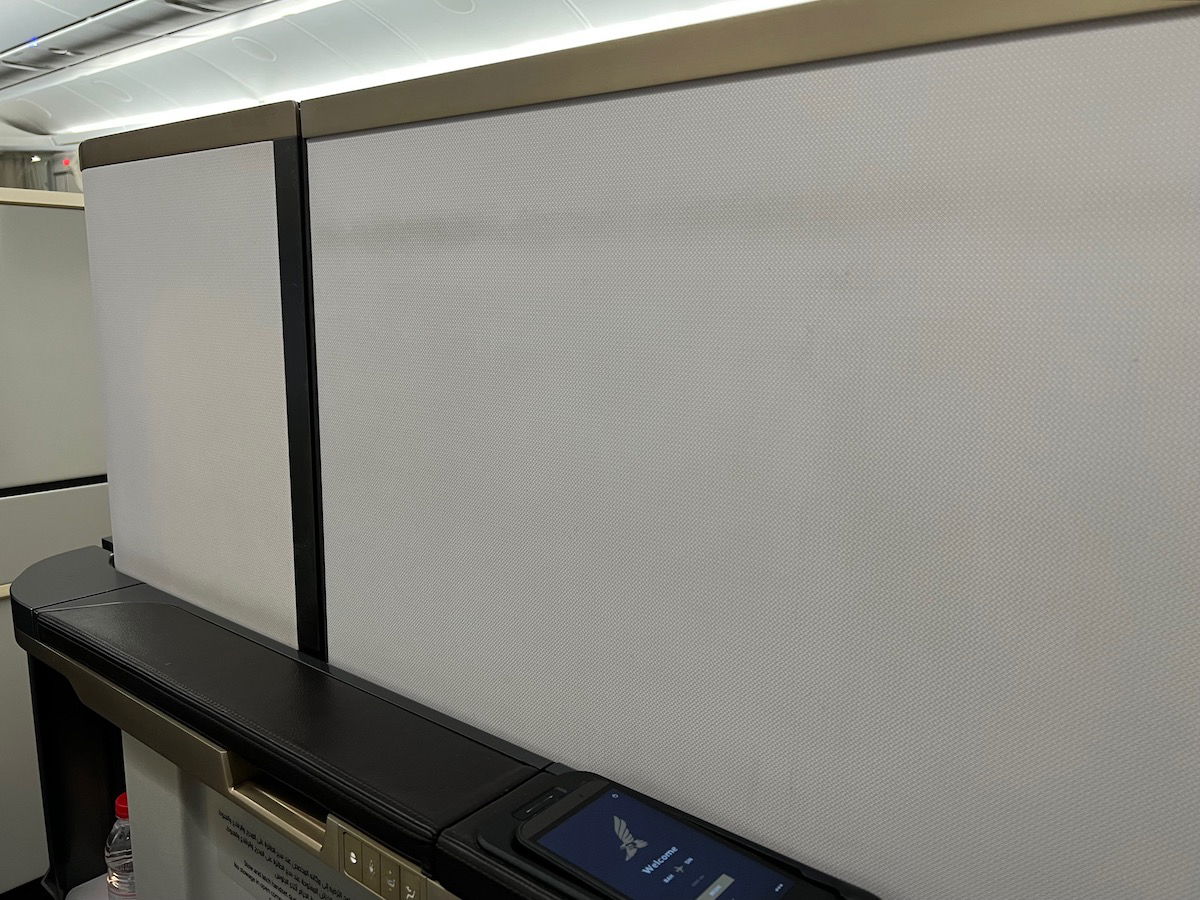 Now, every seat has its downsides, and this seat is no exception. I do find that many of the other seat features can feel a bit cramped. For example, the tray table is huge, but it extends out from your main armrest, which is also one of the only places to store things. So you'll want to be sure you remove everything before extending the armrest.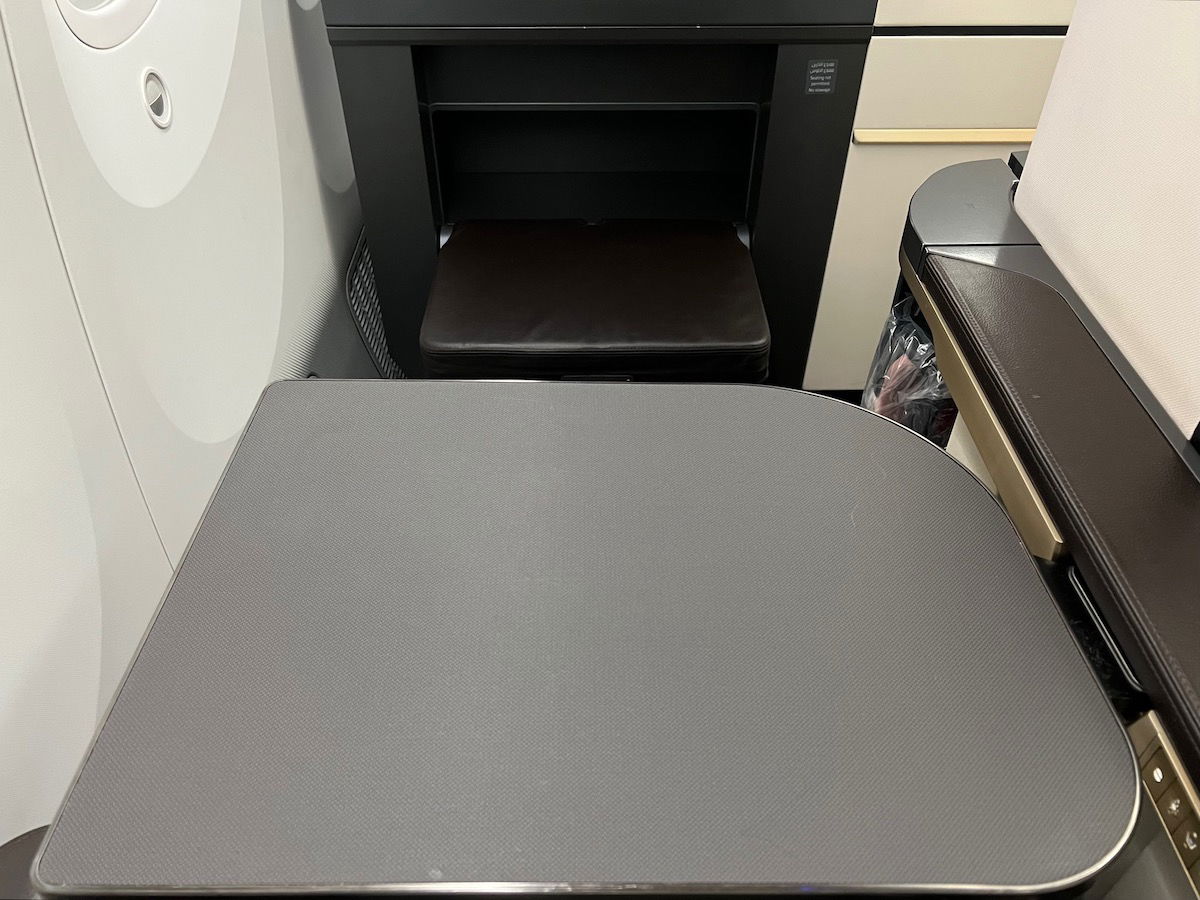 Furthermore, the headphone jack and power outlets are located underneath the center partition, and you really have to dig deep to access the power outlets. They're so far down there that I couldn't even get a proper picture of them, no matter how hard I tried to angle my camera.
On the plus side, the entertainment and seating controls are quite easy to use. There's an entertainment controller along the center armrest, which is easy to use.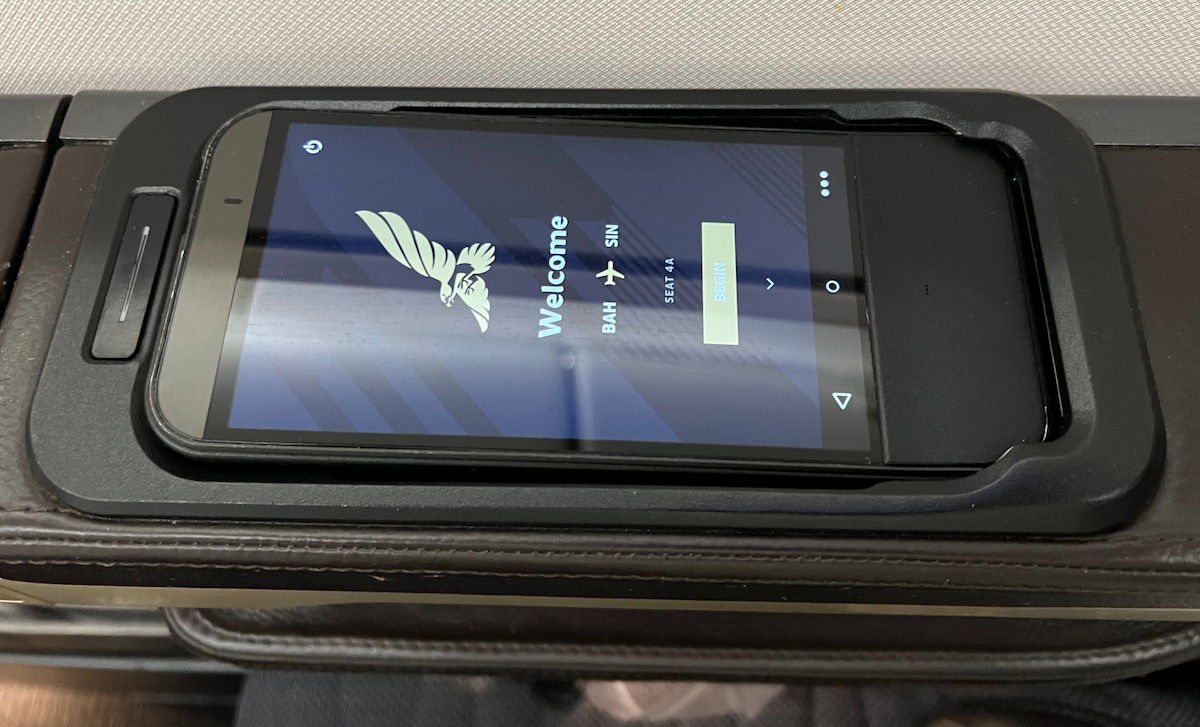 On the same side are the buttons for the privacy partition and lighting.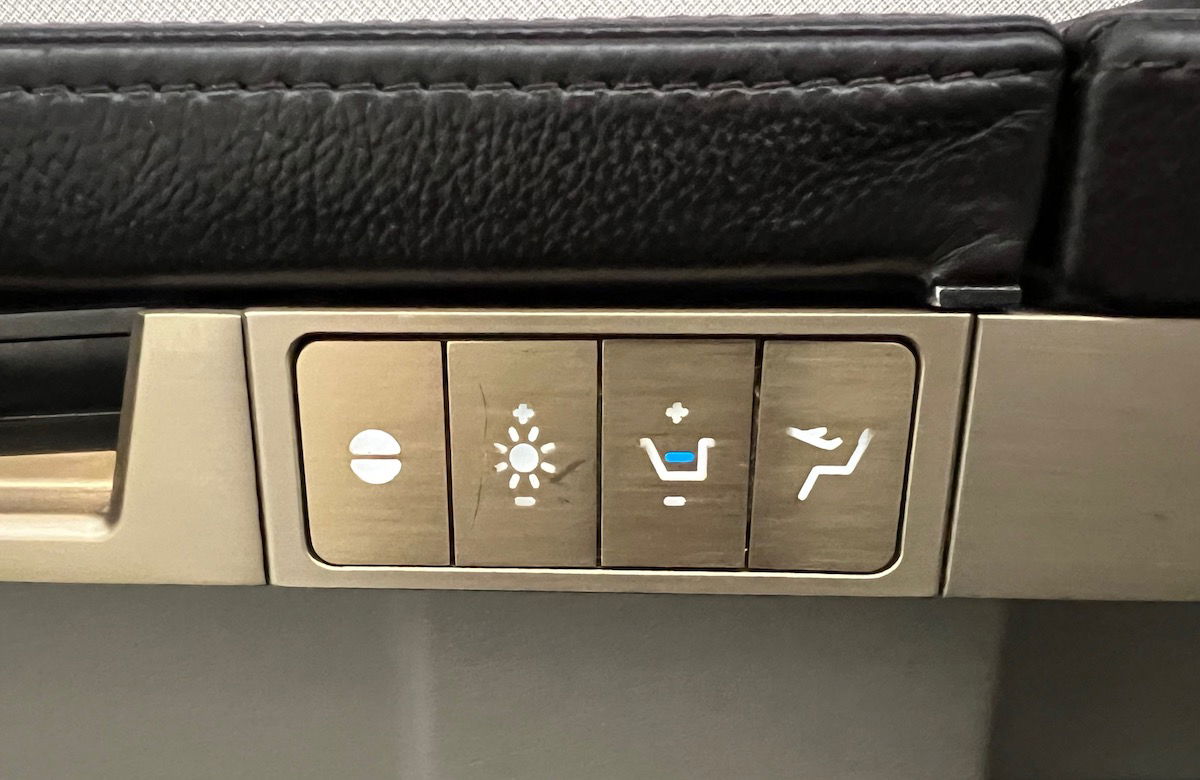 Then the main seat controls are on the opposite armrest.
As you'd expect on a Boeing 787, lighting was via dimmers, and the buttons for that were right underneath the windows.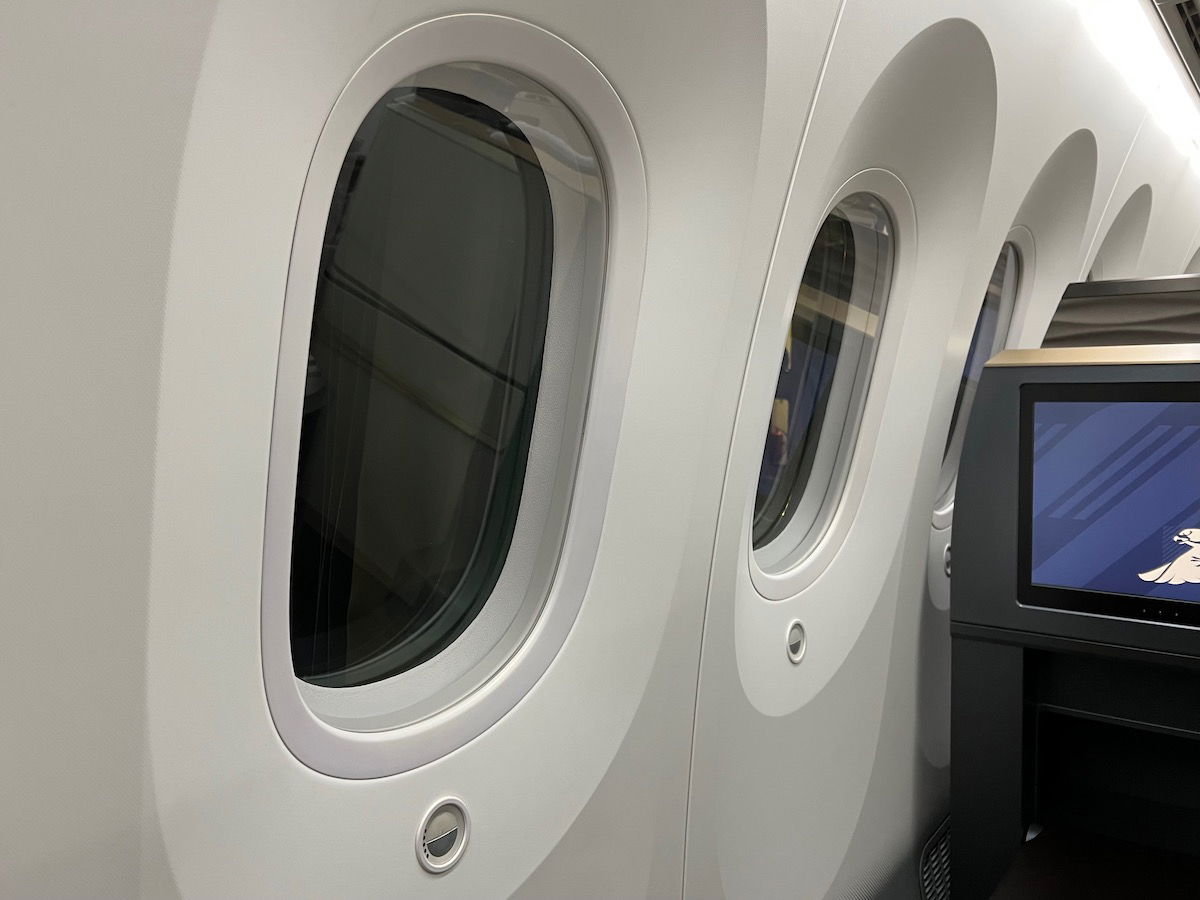 Unfortunately the overhead consoles just had reading lights, and didn't have individual air nozzles.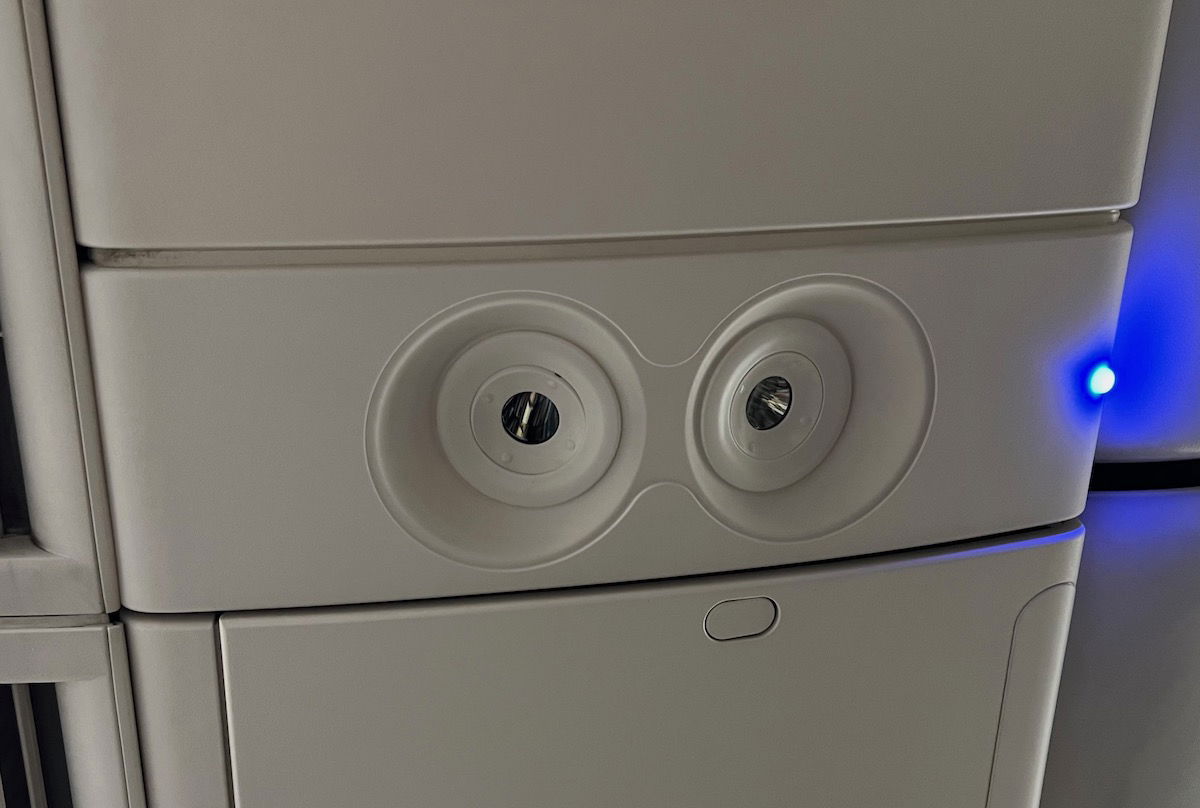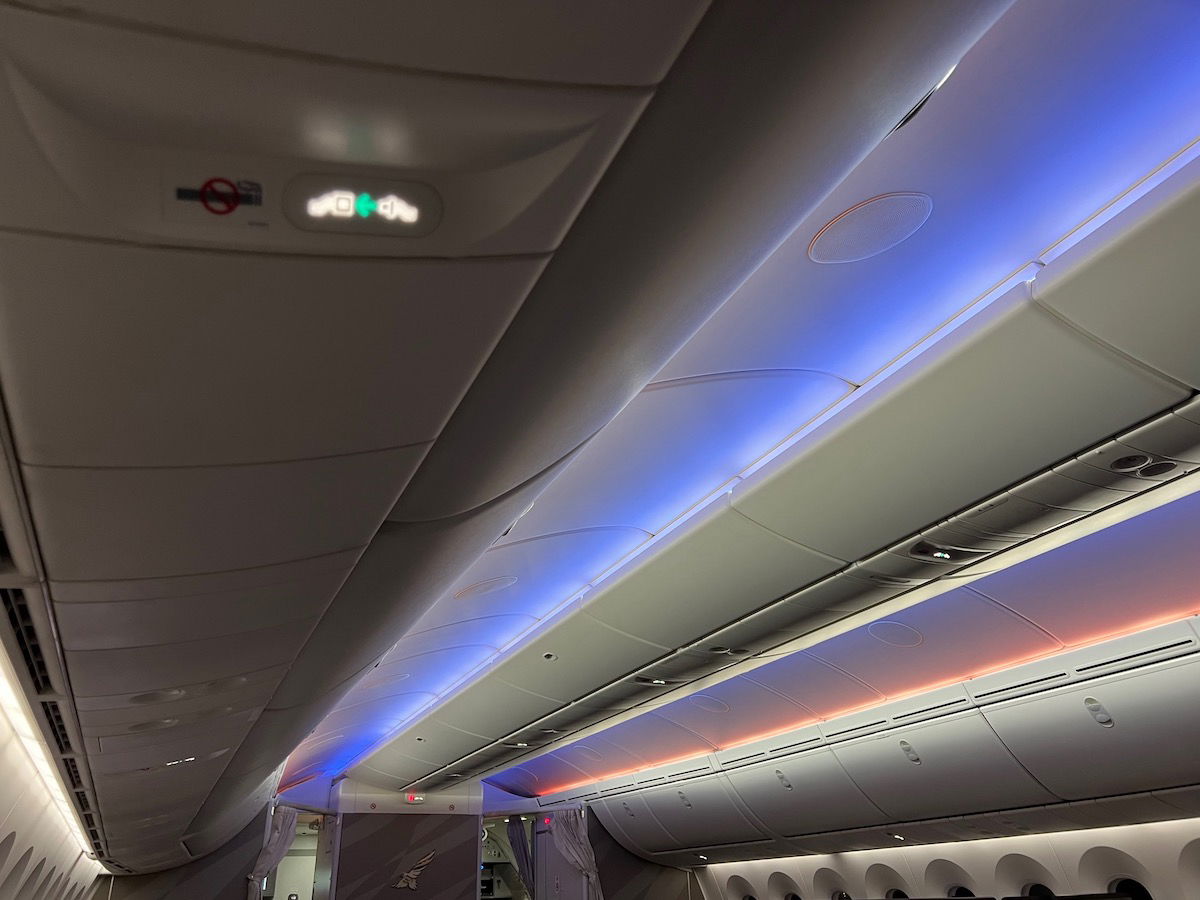 All-in-all, I found the hard product to be excellent. There's not another business class seat out there that offers this combination of privacy, infinite legroom, and not having to squeeze your feet into a footwell. Admittedly there are some downsides (like the lack of storage), but no seat is perfect.
I'd also like to point out that offering this product is a big investment from the airline. While you could typically fit 30 business class seats between the first and second set of doors on the 787-9, this product only allows 26 seats in that space.
Gulf Air business class amenities
Waiting at each seat upon boarding was a pair of noise canceling headphones. They weren't very high quality, but weren't terrible either.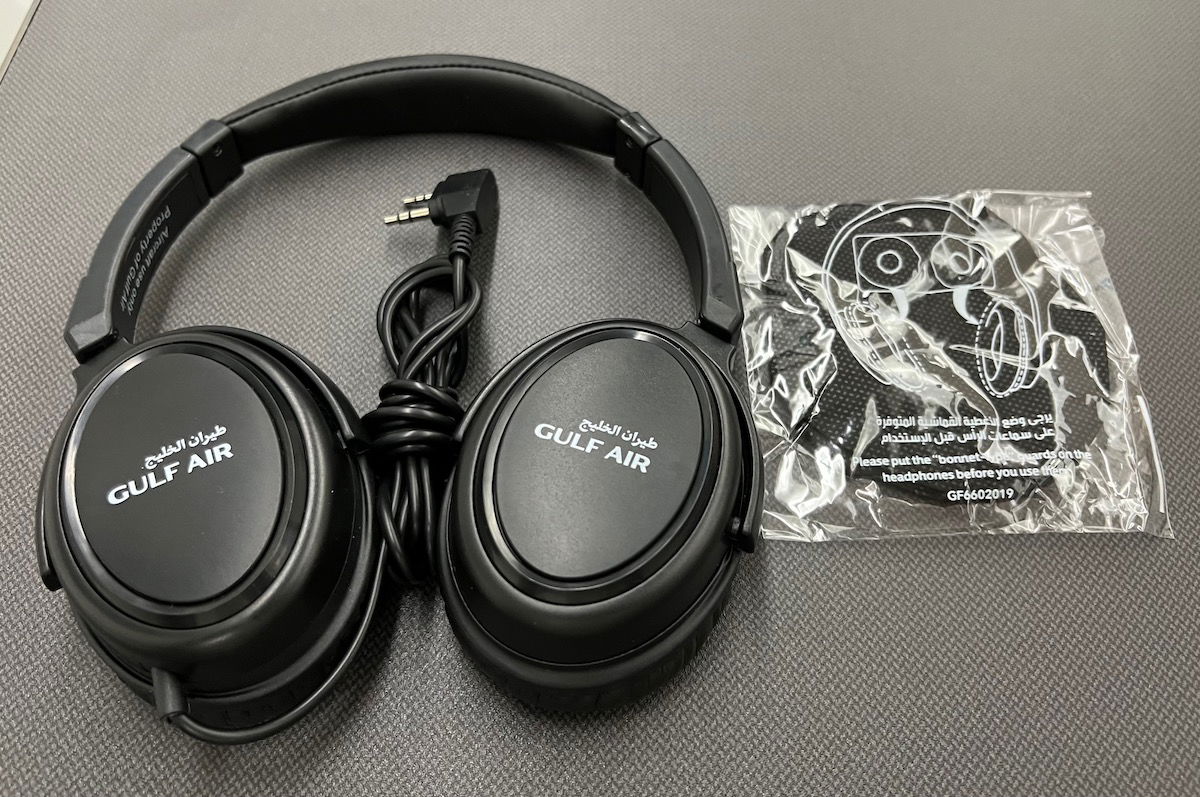 Shortly after settling in, amenity kits were distributed. Top marks to Gulf Air for these, as they're quite nice, with a dental kit, mouthwash, comb, earplugs, socks, lip balm, hand and body moisturizer, and a refreshing mist.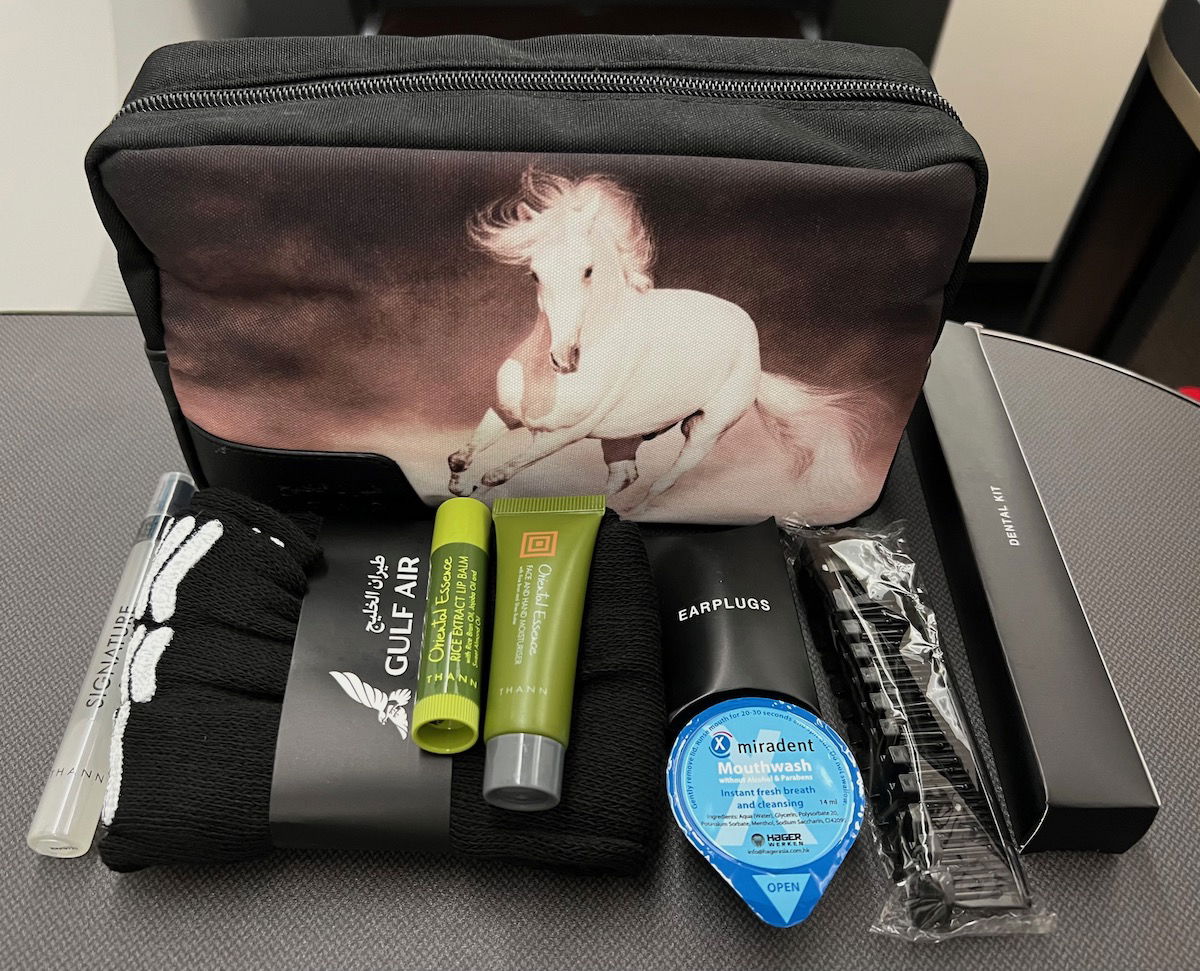 Pajamas and slippers were also distributed, which you won't find on many airlines. While it's nice that these are offered on such a short overnight flight, they're among the less exciting airline pajamas out there.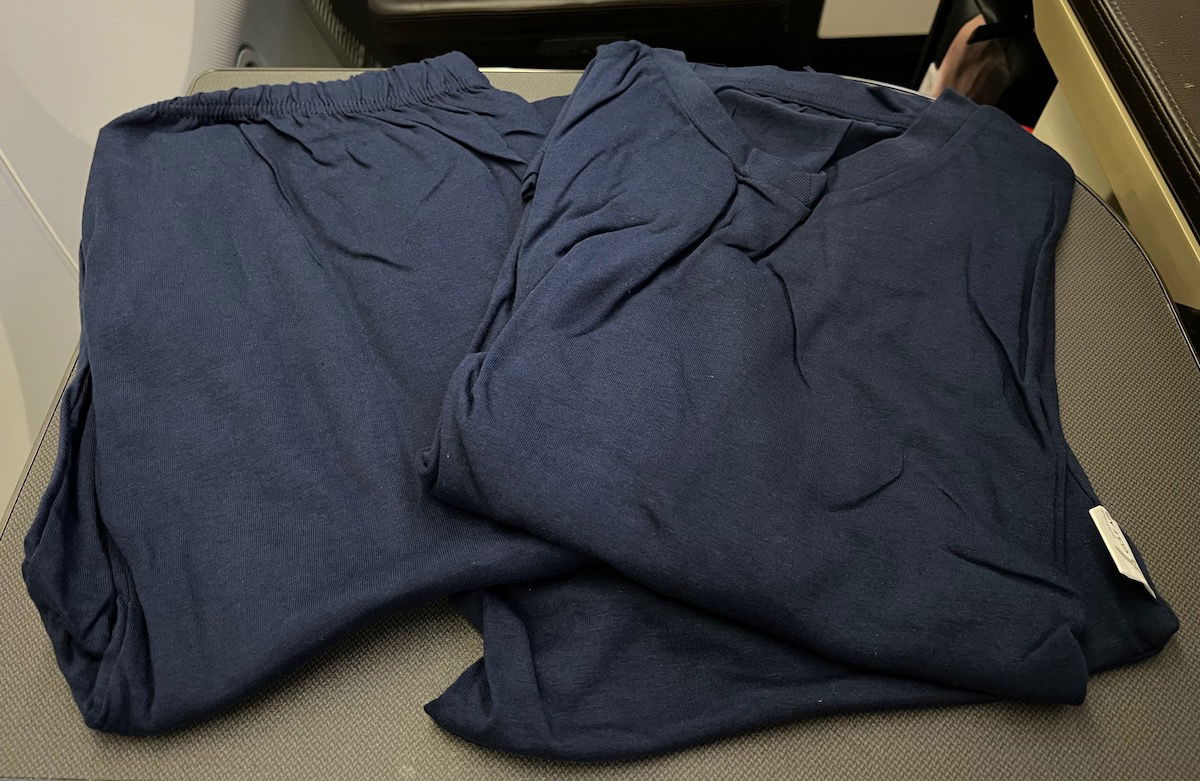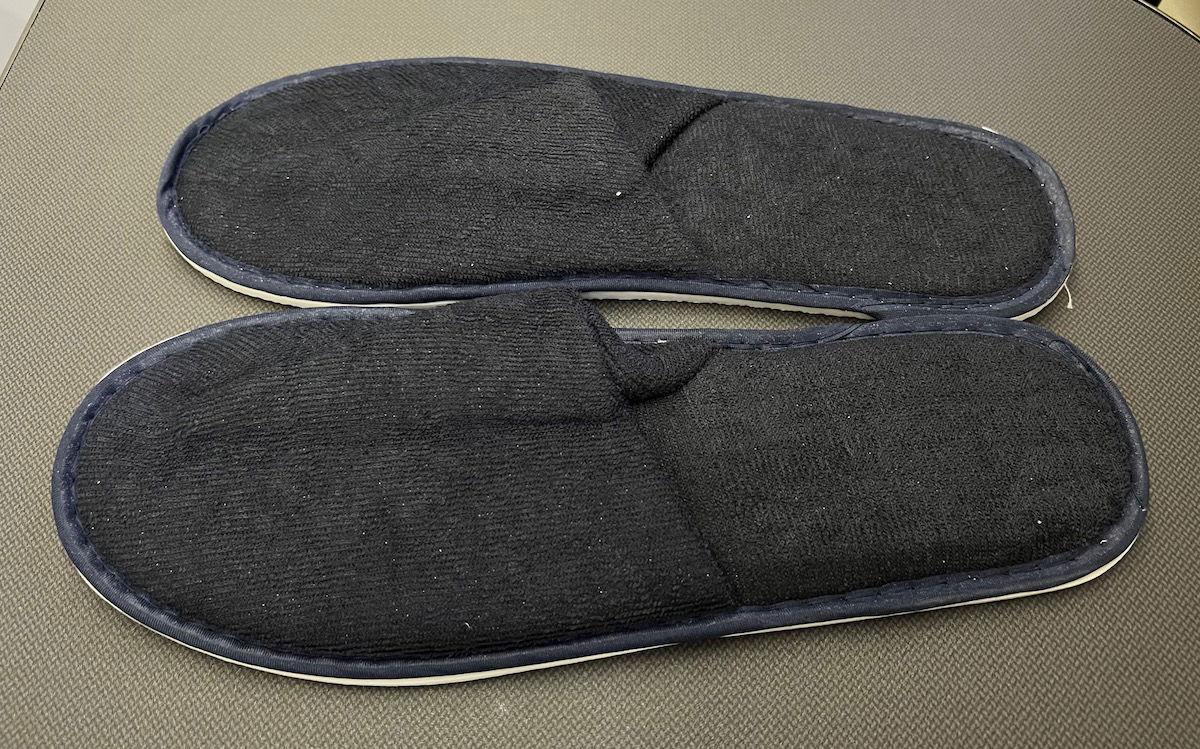 Menus were also distributed, and were then collected again about 10 minutes later, once meal orders were taken.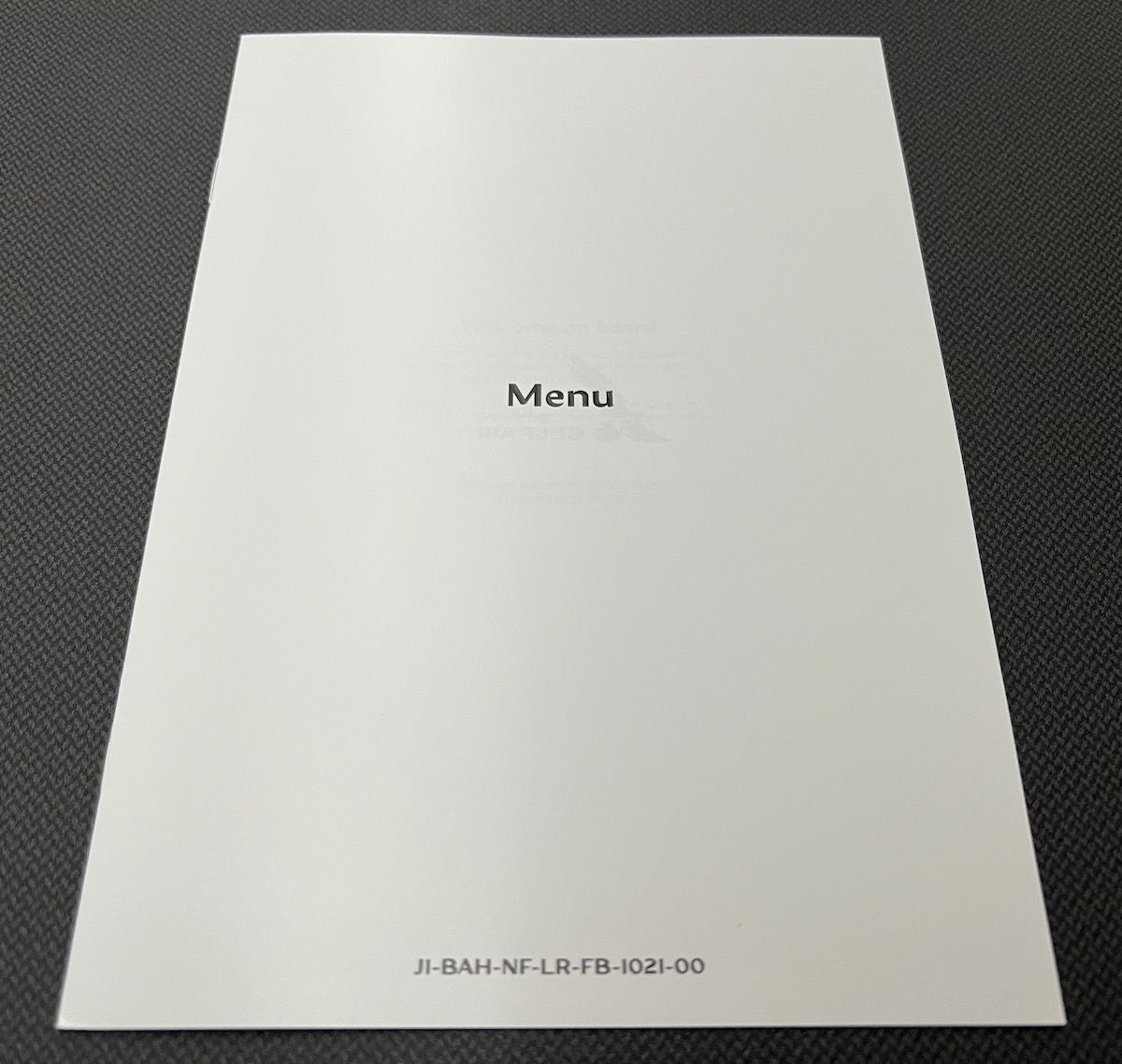 Pre-departure drinks were also offered from a tray, with the choice of champagne, water, or lemon-mint juice. I asked if I could have the champagne and juice, and the flight attendant said that would be totally fine.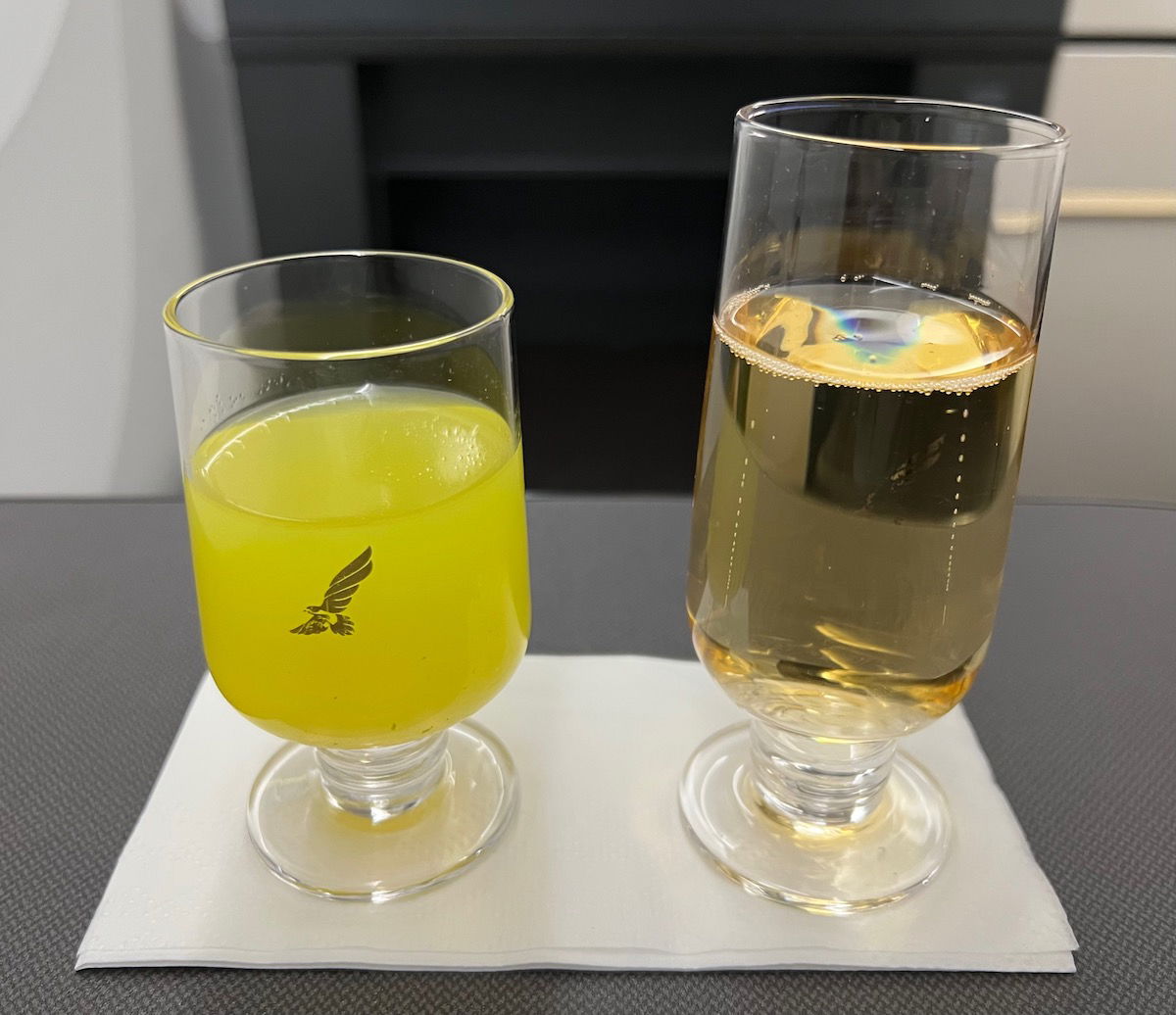 Next up, the choice of warm or cold towels was offered.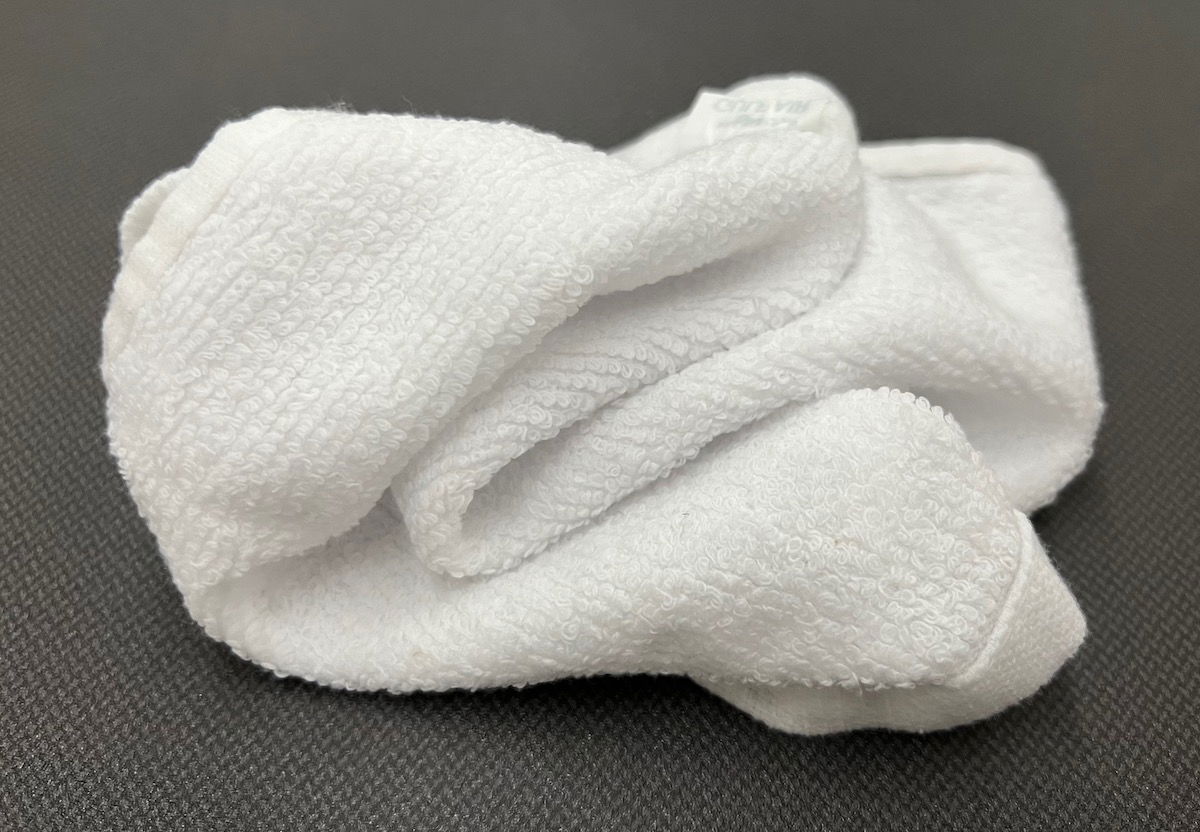 Lastly, Arabic coffee and dates were distributed.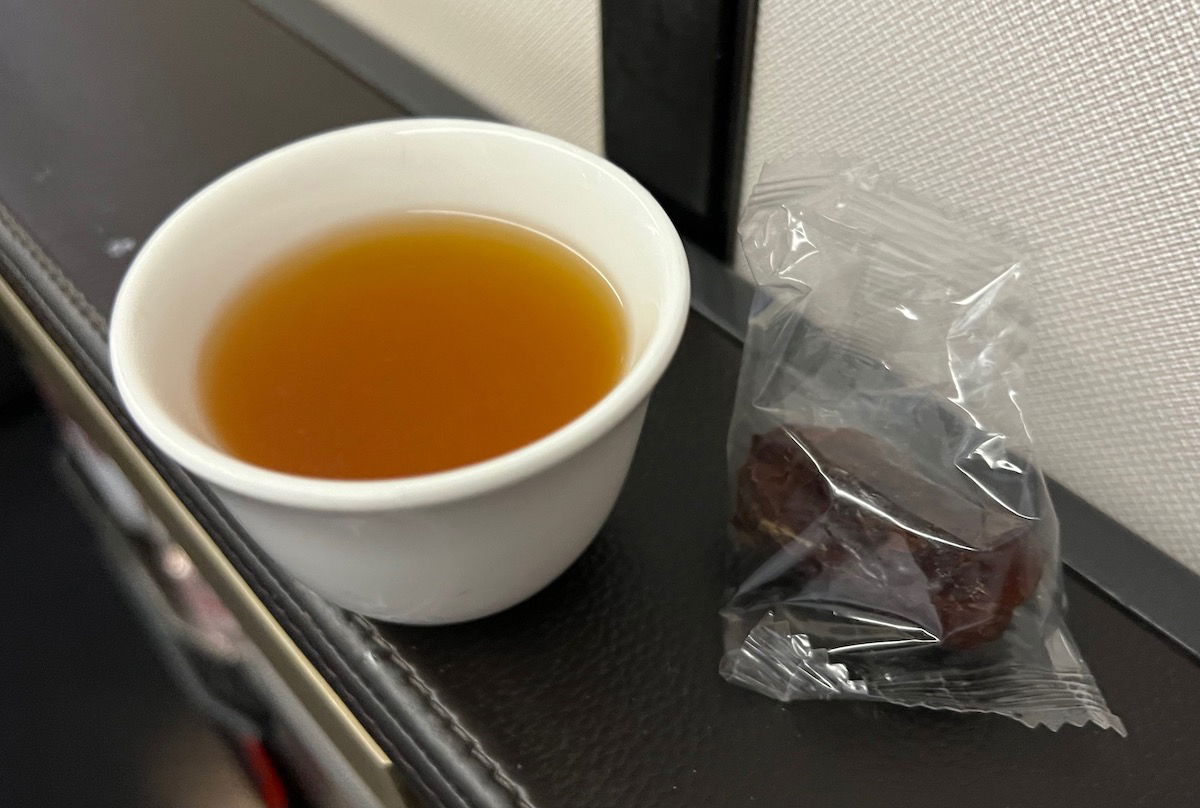 What an impressive ground experience! Proper pre-departure drinks, amenity kits, pajamas, Arabic coffee & dates, etc. Gulf Air outdoes its Gulf rivals in that regard… if only the same were true inflight.
Gulf Air 787-9 departure from Bahrain
At 12:10AM the cabin manager announced that boarding was completed, and informed us of our flight time of 7hr15min to Singapore. For what it's worth, there was only one empty seat in business class. Initially business class showed as being nearly empty, though economy did seem to be oversold, since there were no economy seats for sale in the days leading up to the flight.
The door finally closed at 12:20AM, and we began our taxi at 12:30AM, at which point the safety video was screened. We had a pretty slow taxi, and ended up being cleared for takeoff on runway 30R at 12:45AM.
We had a smooth climb out, and the seatbelt sign was turned off five minutes after takeoff.
Gulf Air 787-9 entertainment & Wi-Fi
Before we talk about the entertainment selection, let's talk about how you can browse it. Each Gulf Air business class seat has an entertainment controller, as you'll find on many airlines. I can appreciate why the main monitors on these planes aren't touchscreen, since the screen is many feet from the seat.
However, I found it frustrating how the entertainment selection could only be perused on the small monitor, rather than being able to use the controller to view options on the large screen. So unfortunately all I can do is post a small picture of the selection on my controller.
There were a total of 158 movies, and a small selection of TV shows. The selection wasn't awful, but also wasn't great. Most of the movies were a few years past their prime, so I'd recommend making other plans to entertain yourself, if possible.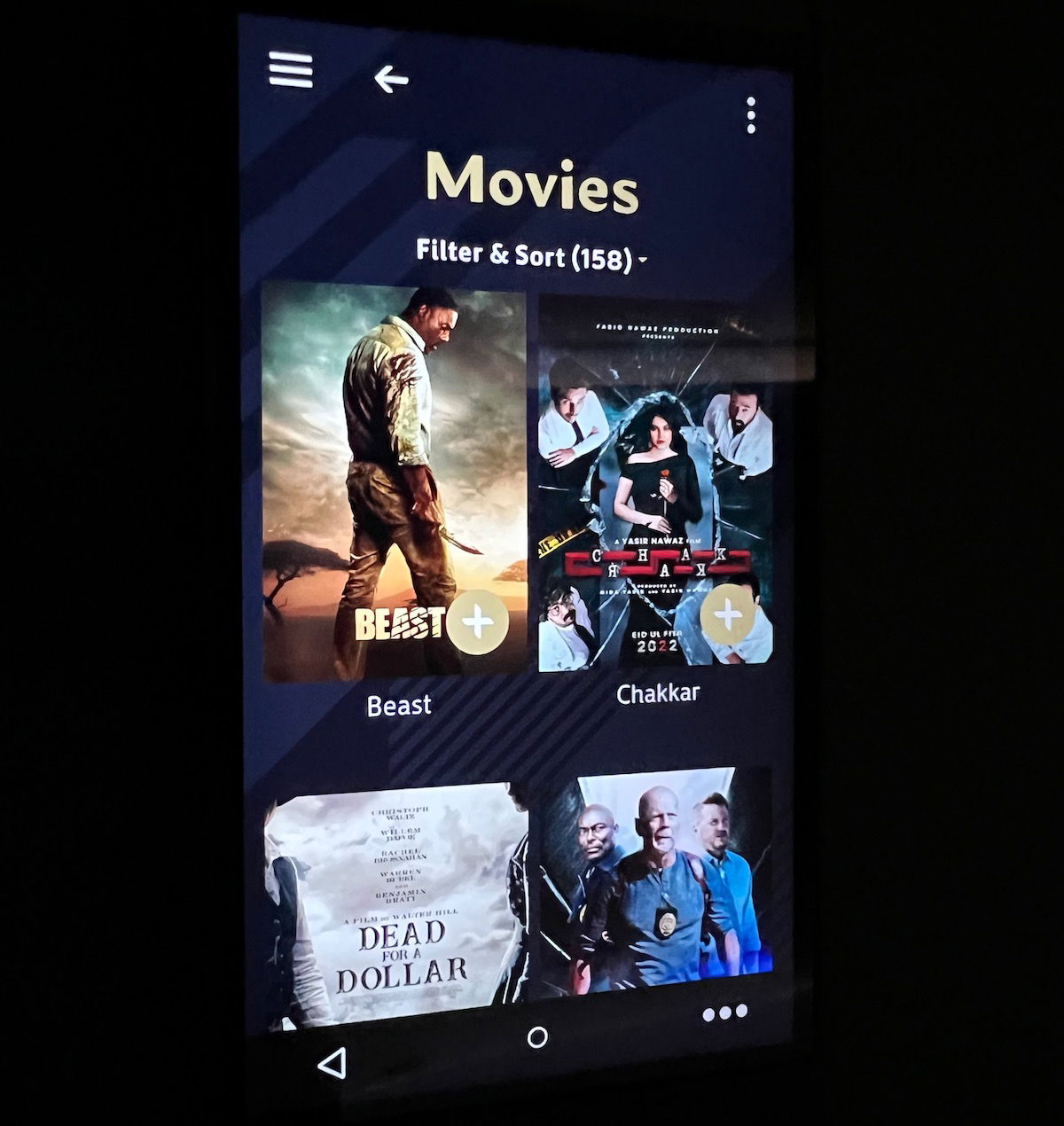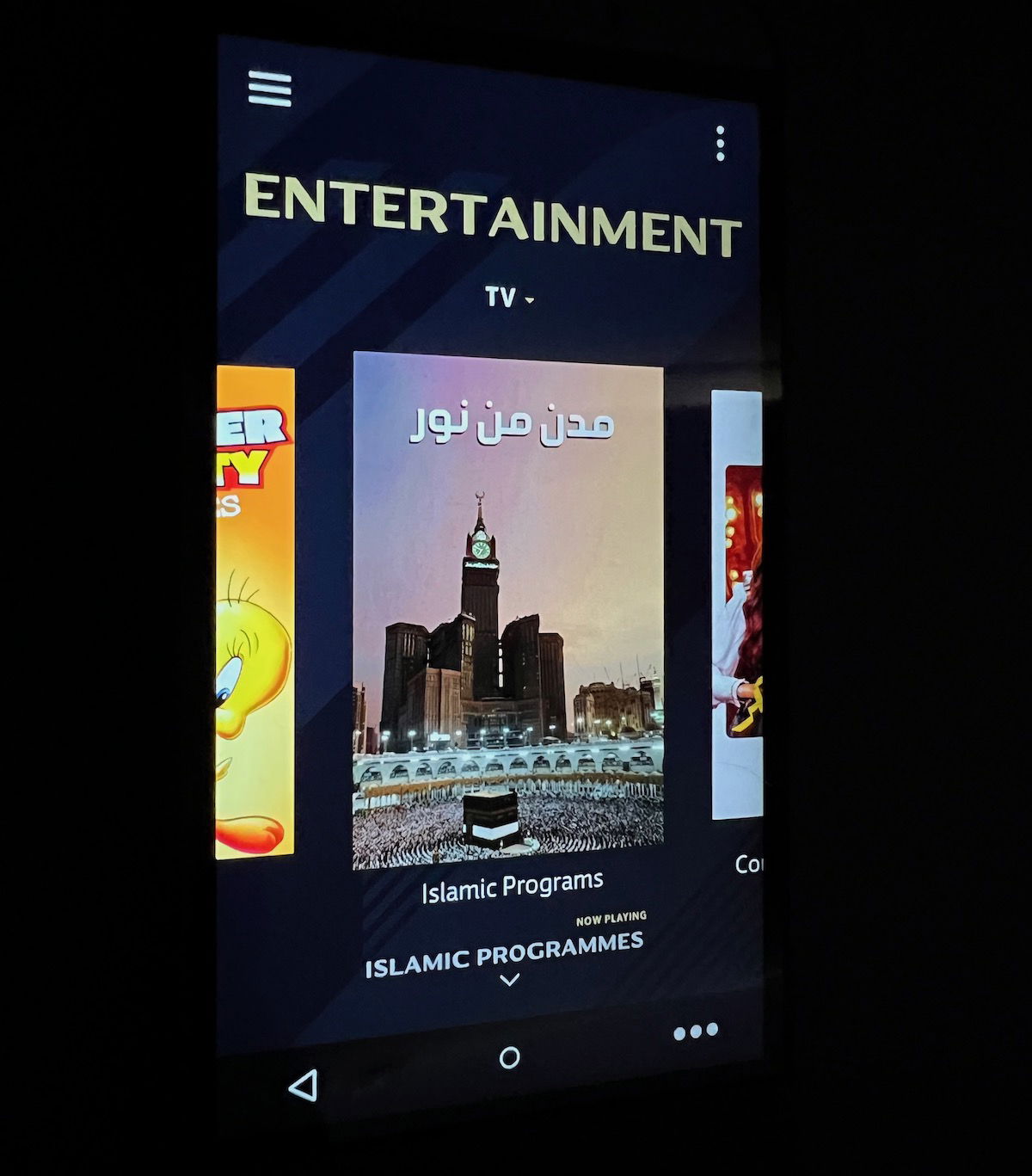 On the plus side, I appreciated Gulf Air's map feature, allowing me to track the flight.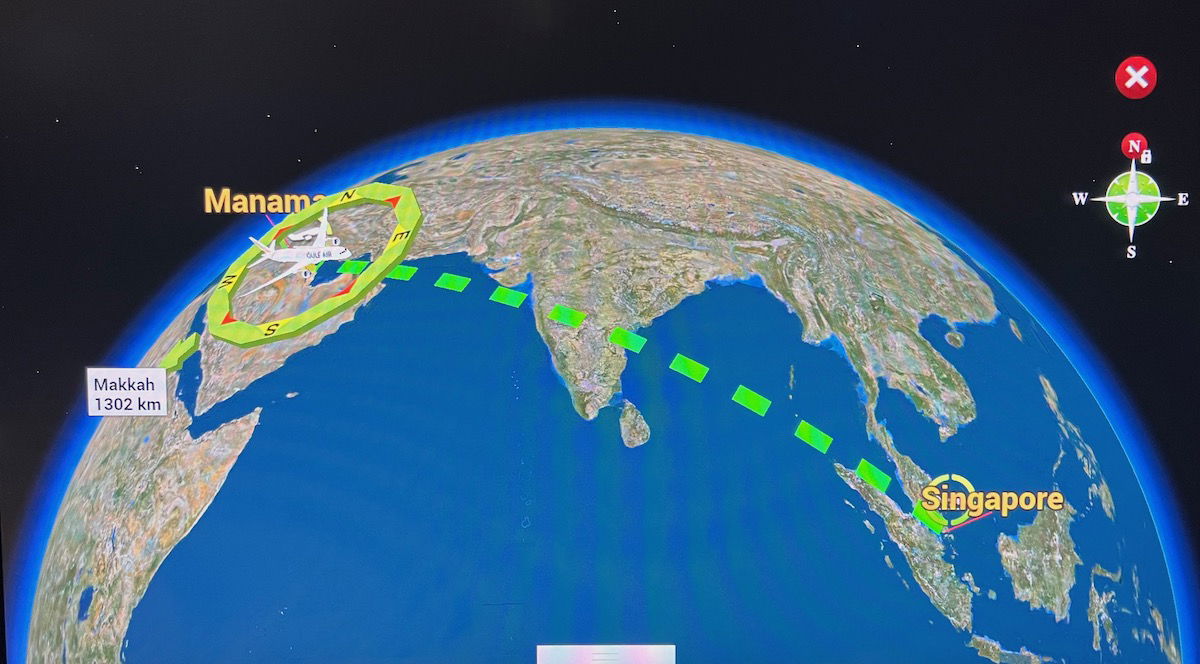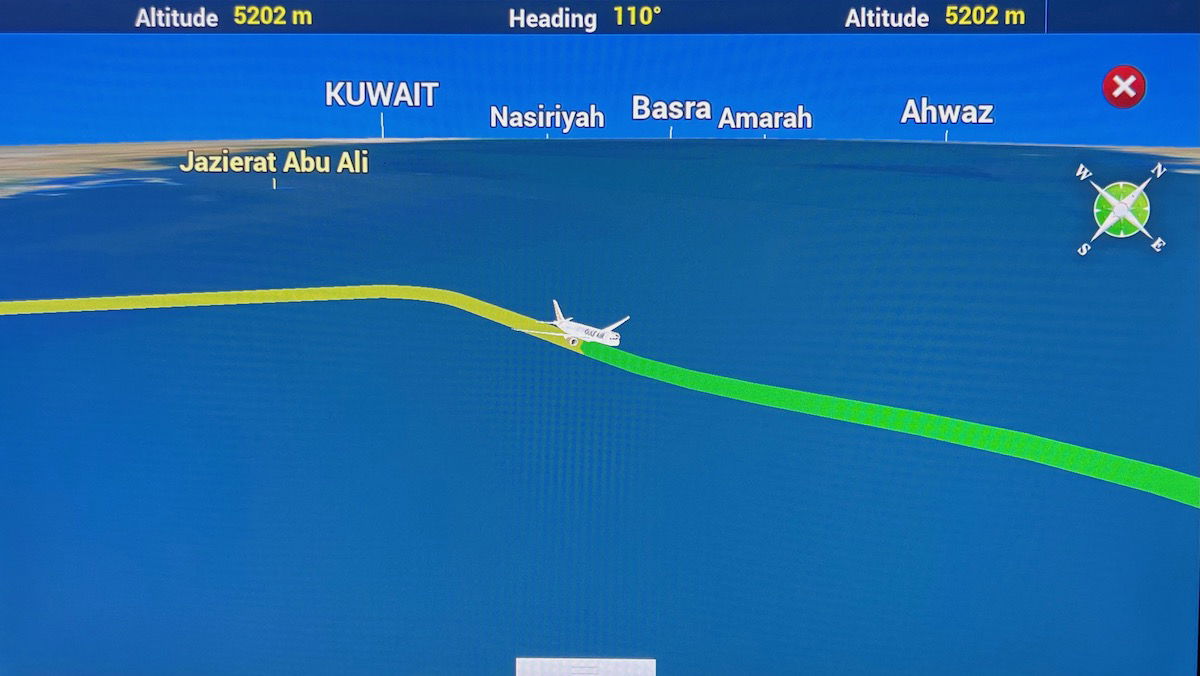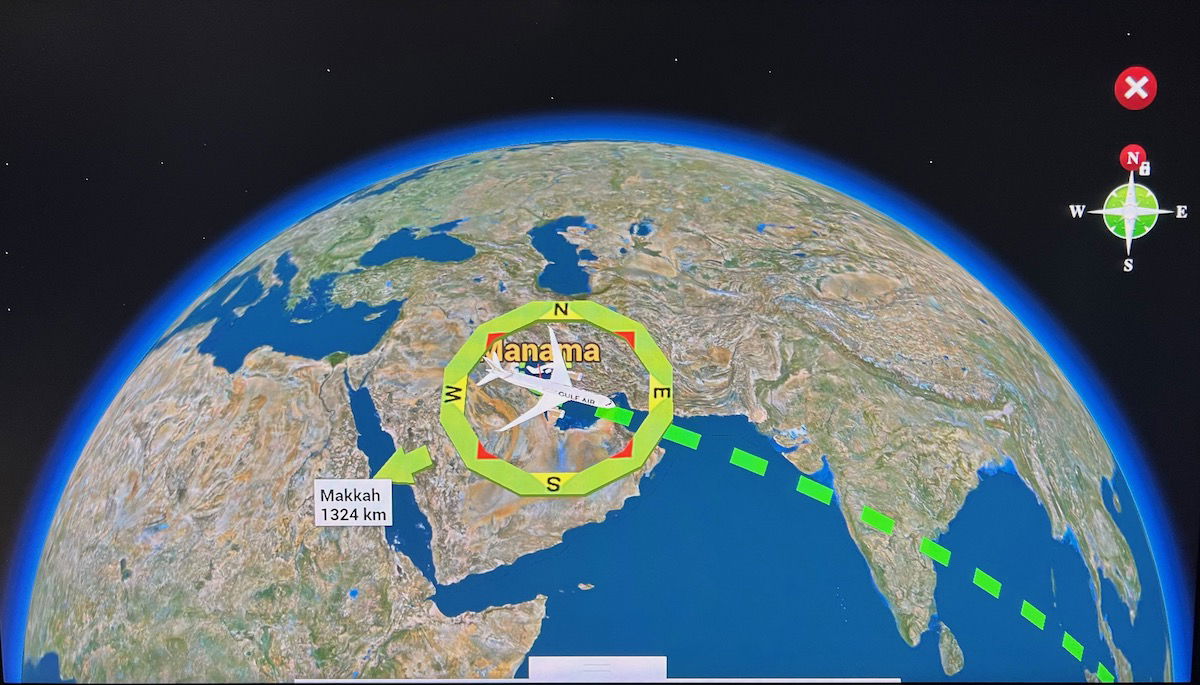 Gulf Air's Boeing 787s also have Wi-Fi, which is awesome.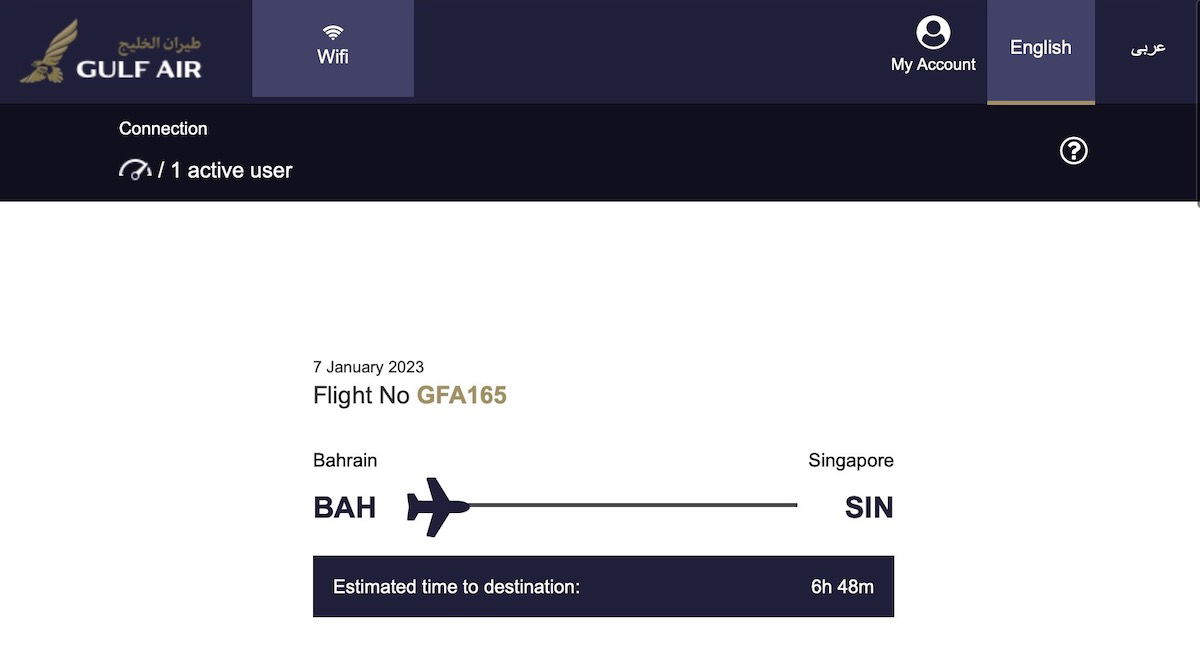 As was the case on the previous flight, you can buy a "Chat" plan for $10, or a "Smart" plan for $15, both of which come with no data caps. Paying $15 for Wi-Fi with no data caps is great, if you ask me.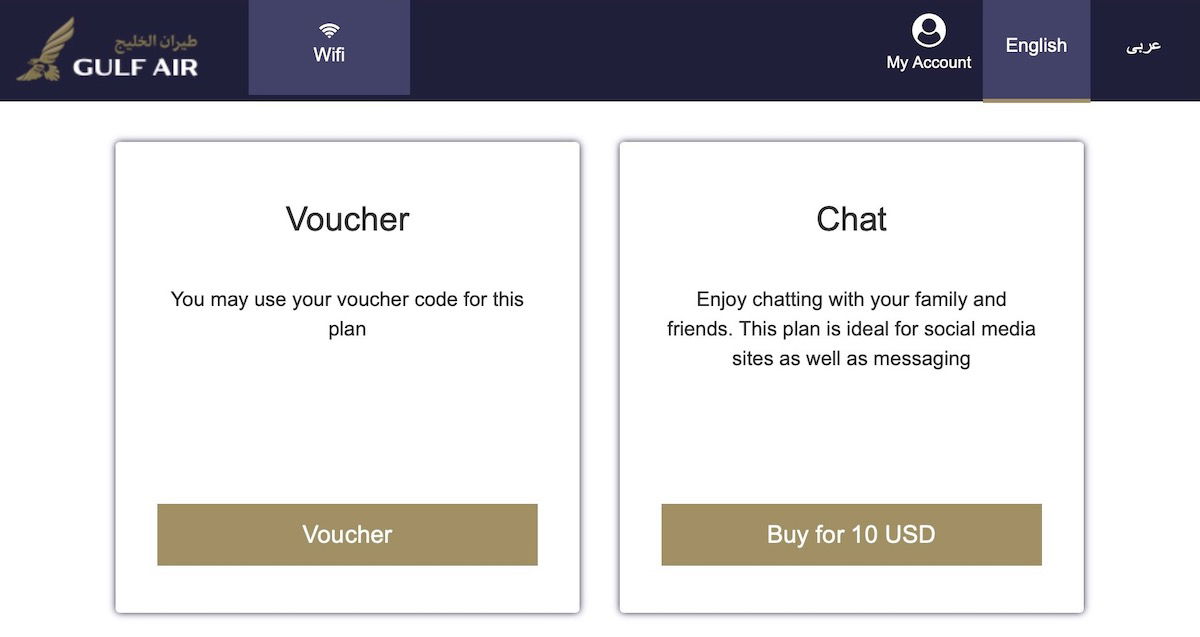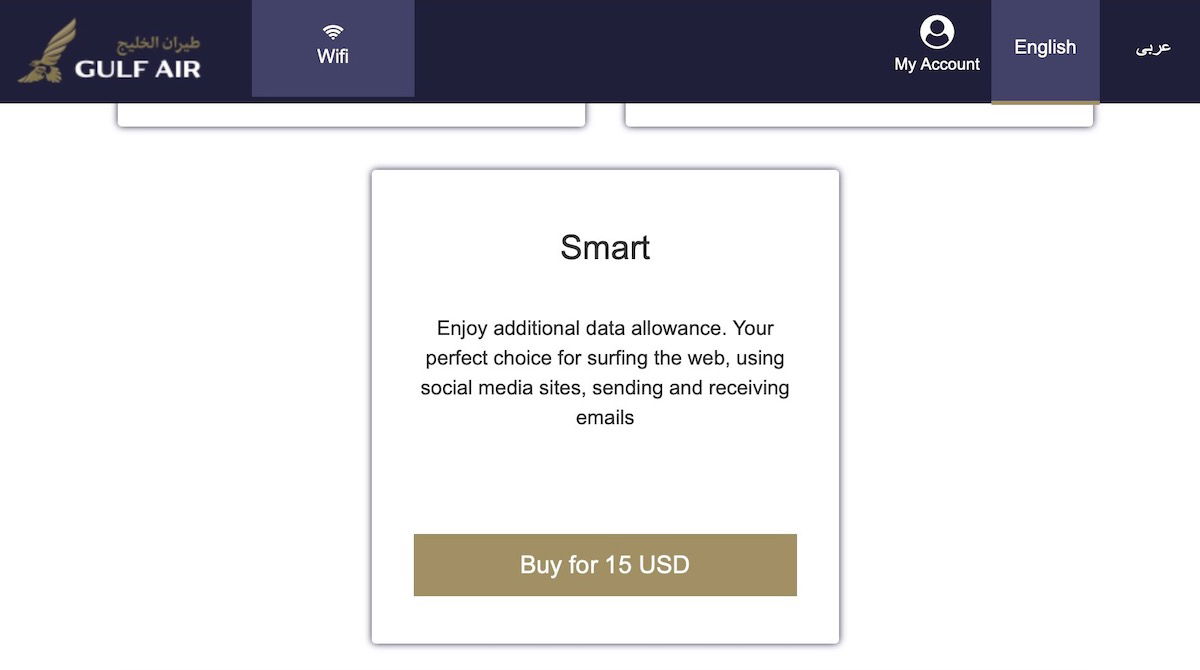 Gulf Air business class snack service
Planning meal services on overnight flights isn't easy, especially in the Gulf, where you have a large percentage of passengers connecting from elsewhere. For these eastbound late night (or early morning) departures, it's pretty normal for there to be a snack after takeoff, and then breakfast before landing.
Below you can find the after takeoff snack menu and the drink list.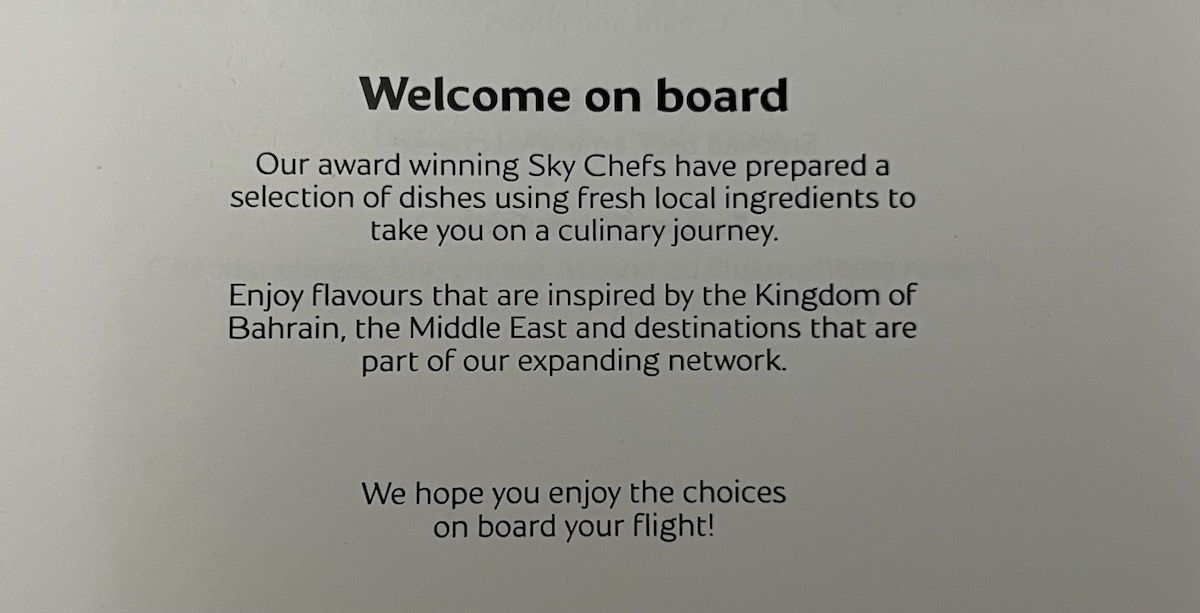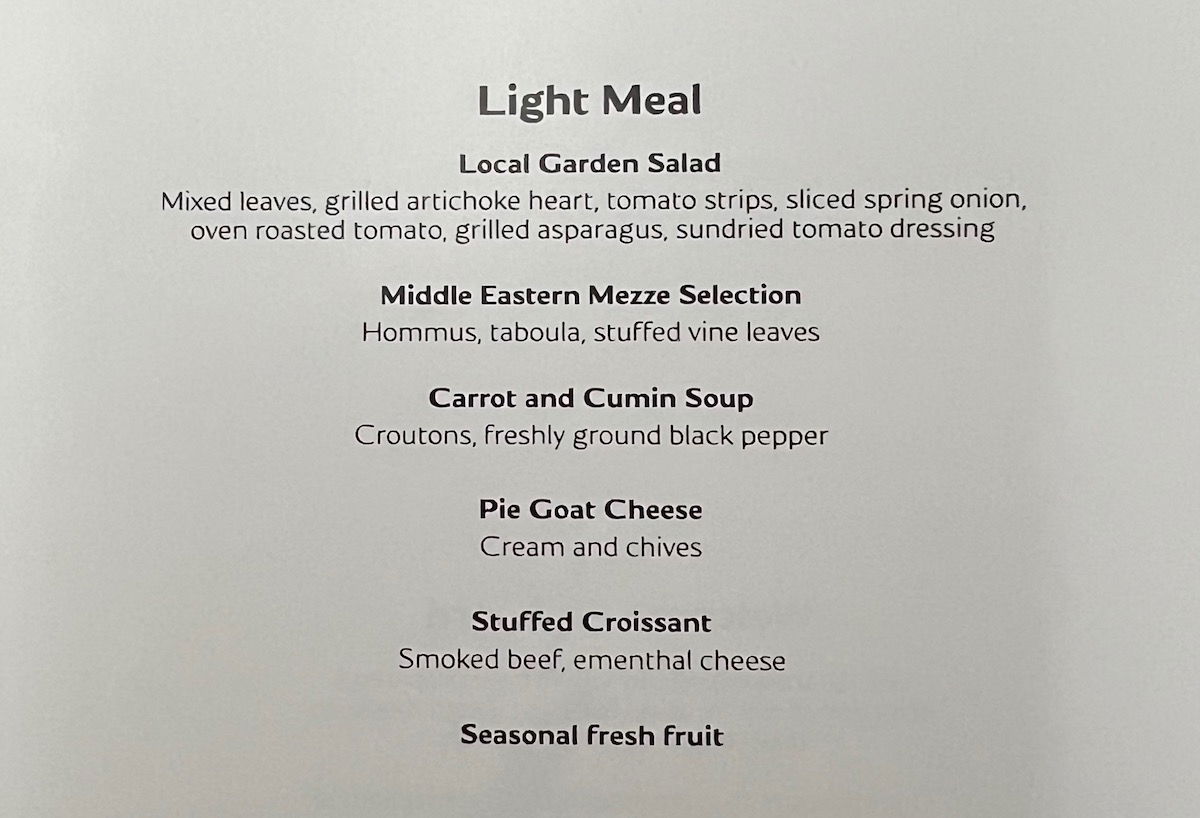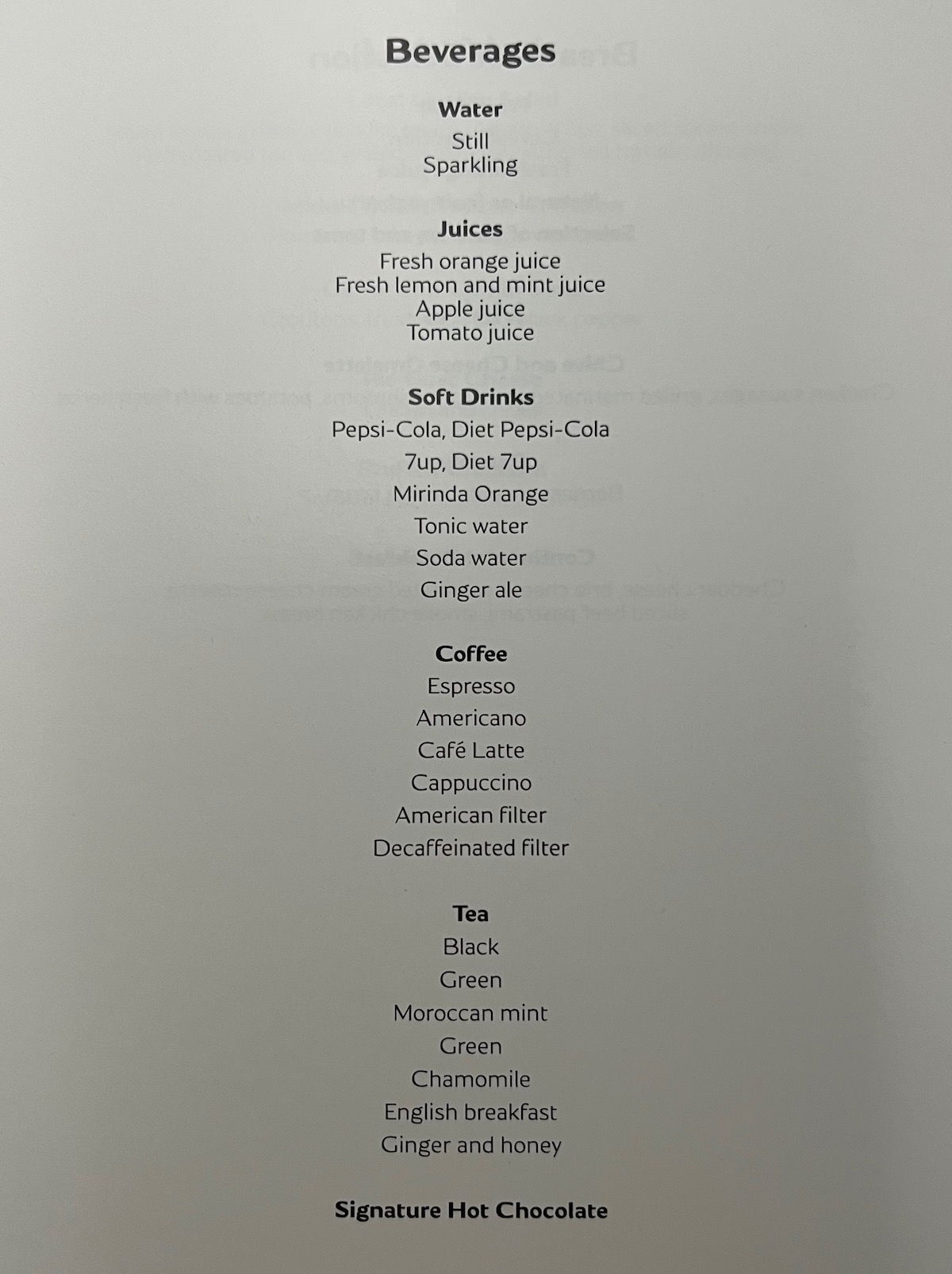 Admittedly I could've probably just gone straight to sleep, but for the purposes of reviewing flights, I try to always fully partake in the meal service. I found it a bit odd just how small the after takeoff meal was.
It wasn't clear to me based on the menu, so when the meal order was taken, I asked if the intent was to order just one thing, or if it was possible to select multiple things. The flight attendant indicated that the intent was that each person can have one thing. Okay, so that's a really light snack…
The crew hustled after takeoff, as some people wanted to go straight to sleep (and Gulf Air offers turndown service), while others wanted to eat. I was served my first drink around 35 minutes after takeoff. I had ordered a glass of champagne (Gulf Air serves Duval Leroy), and that was served with a ramekin containing mixed nuts and dried fruit.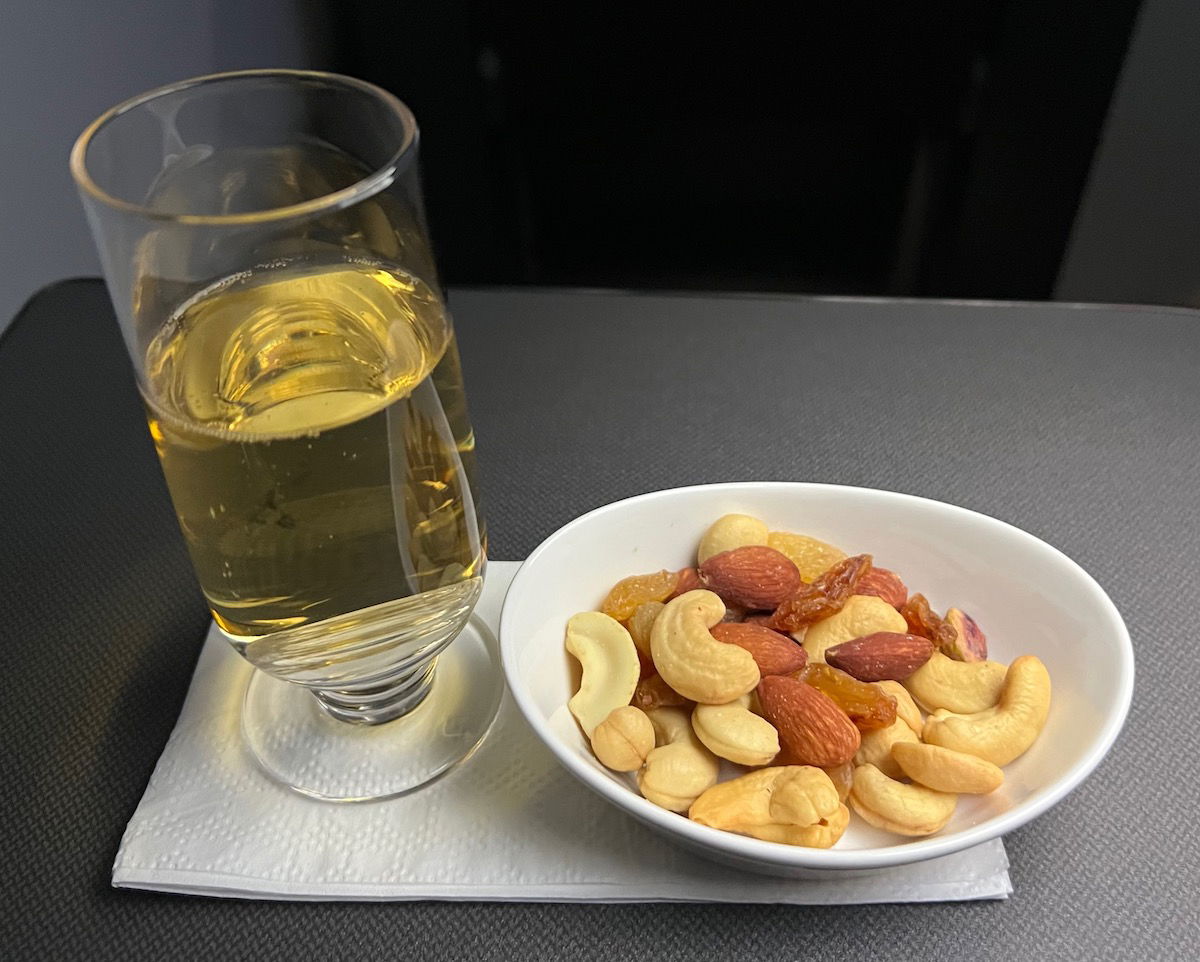 For my snack, I selected the mezze platter, with hummus, tabbouleh, and stuffed vine leaves. The snack was fine, though it was only served 75 minutes after takeoff, which seems like a long time to wait for a meal that requires no real preparation.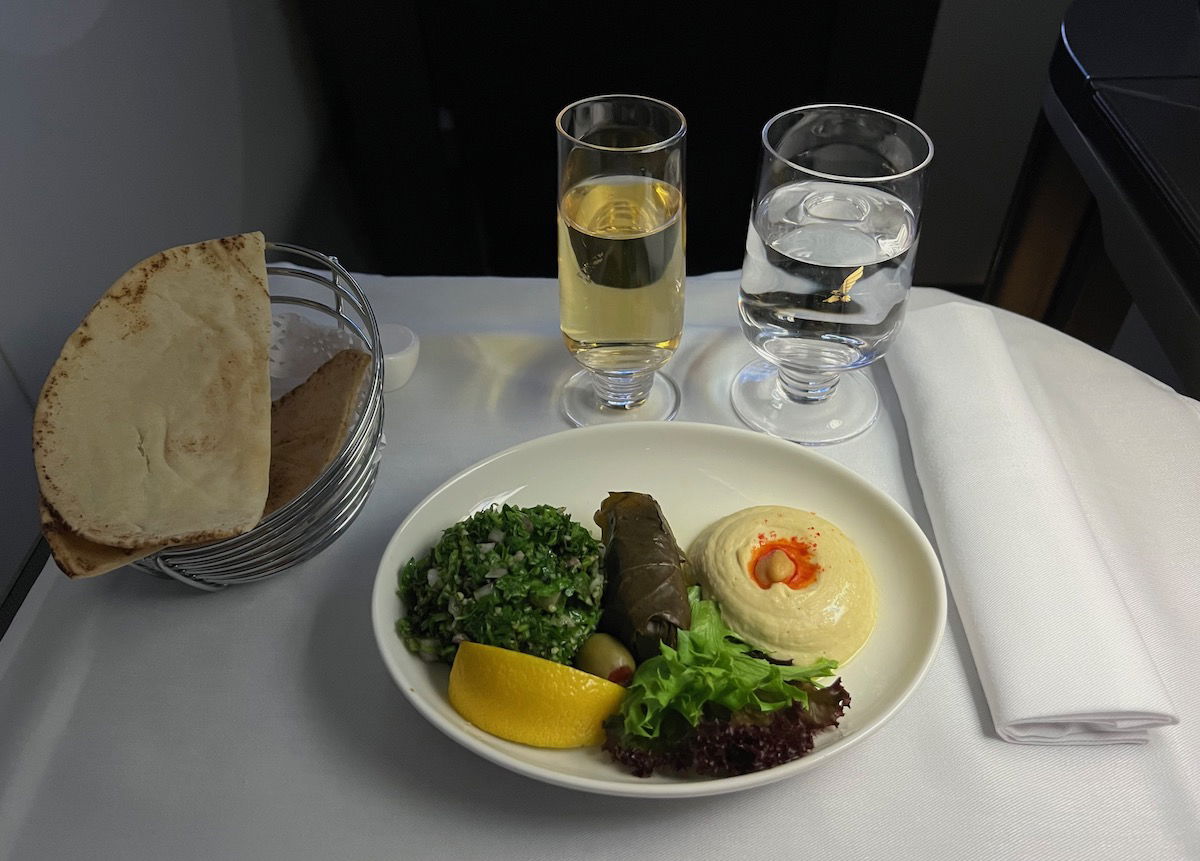 When the meal was done, I asked if it was also possible to try the fruit, and the flight attendant indicated they had extras. So below is what that looks like, in case you're curious.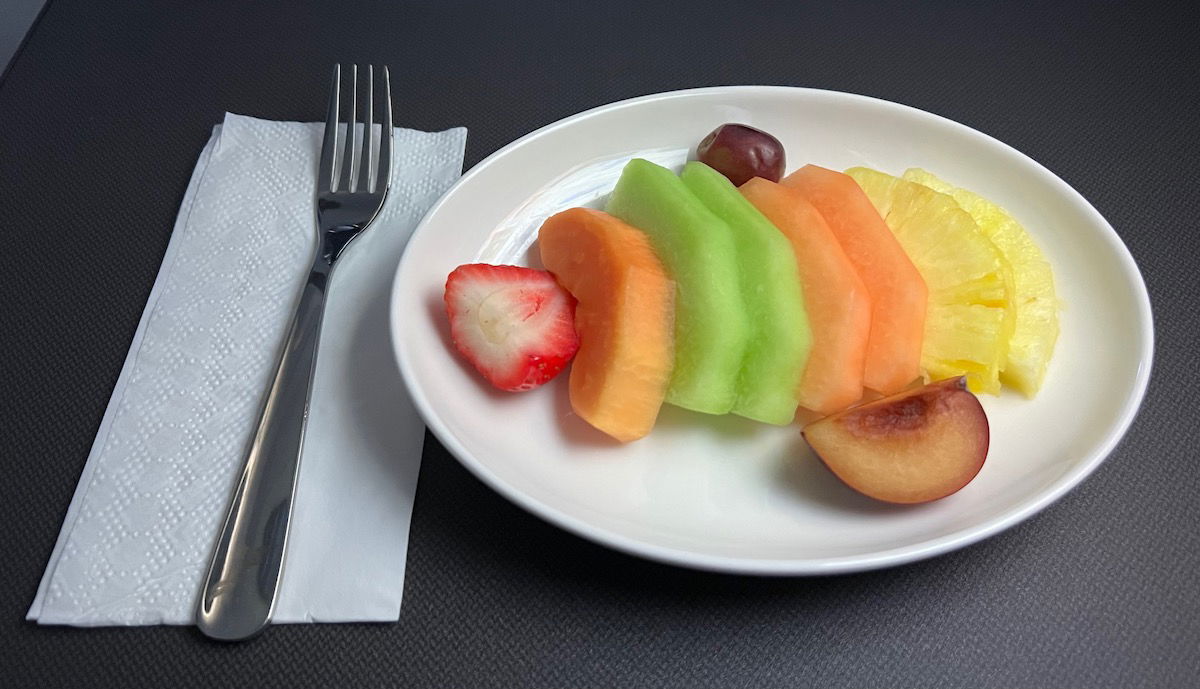 Gulf Air 787-9 business class bed
The crew offered to do turndown service. The cabin manager noticed that I had finished my meal, so he made my bed when it was time. This consisted of placing a mattress sheet on the seat, and then also putting a pillow and blanket on the seat.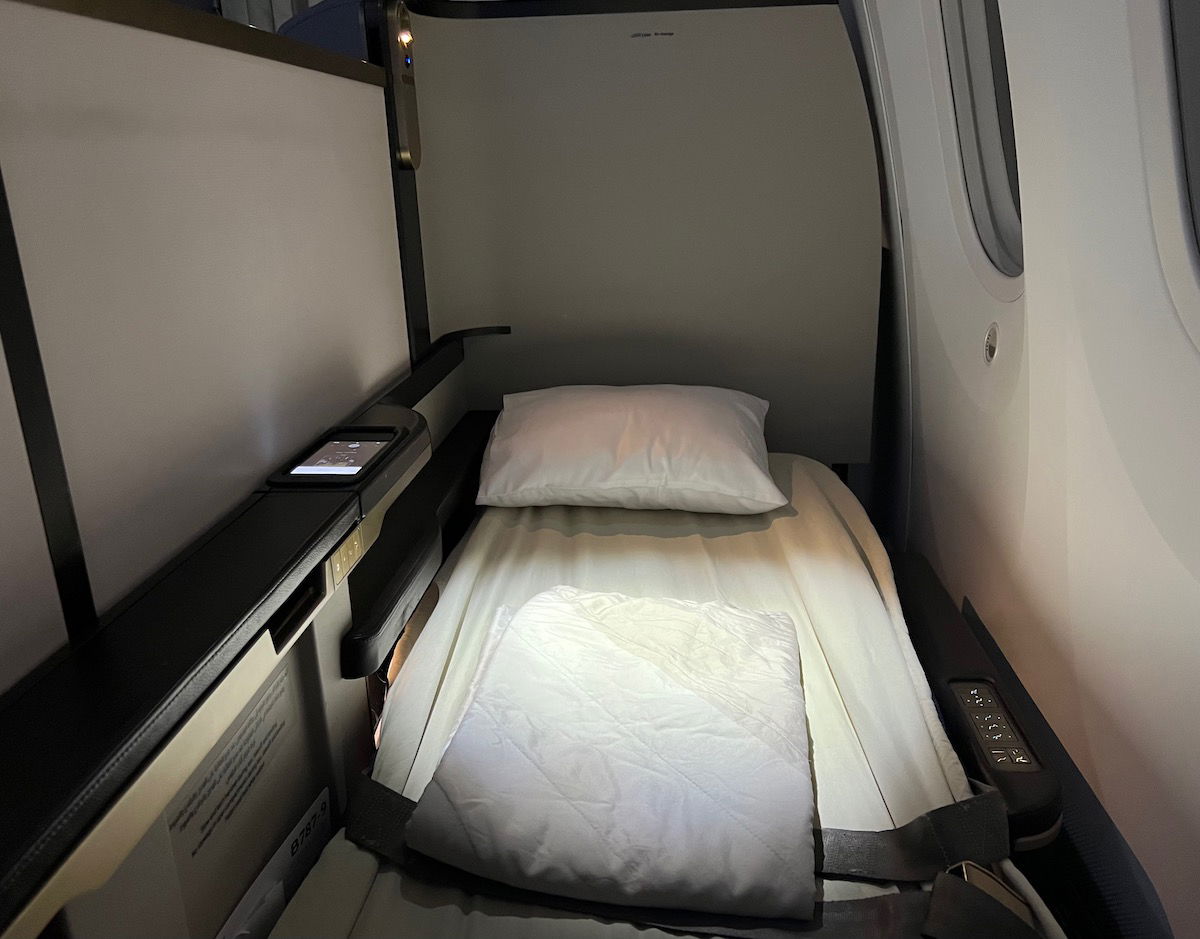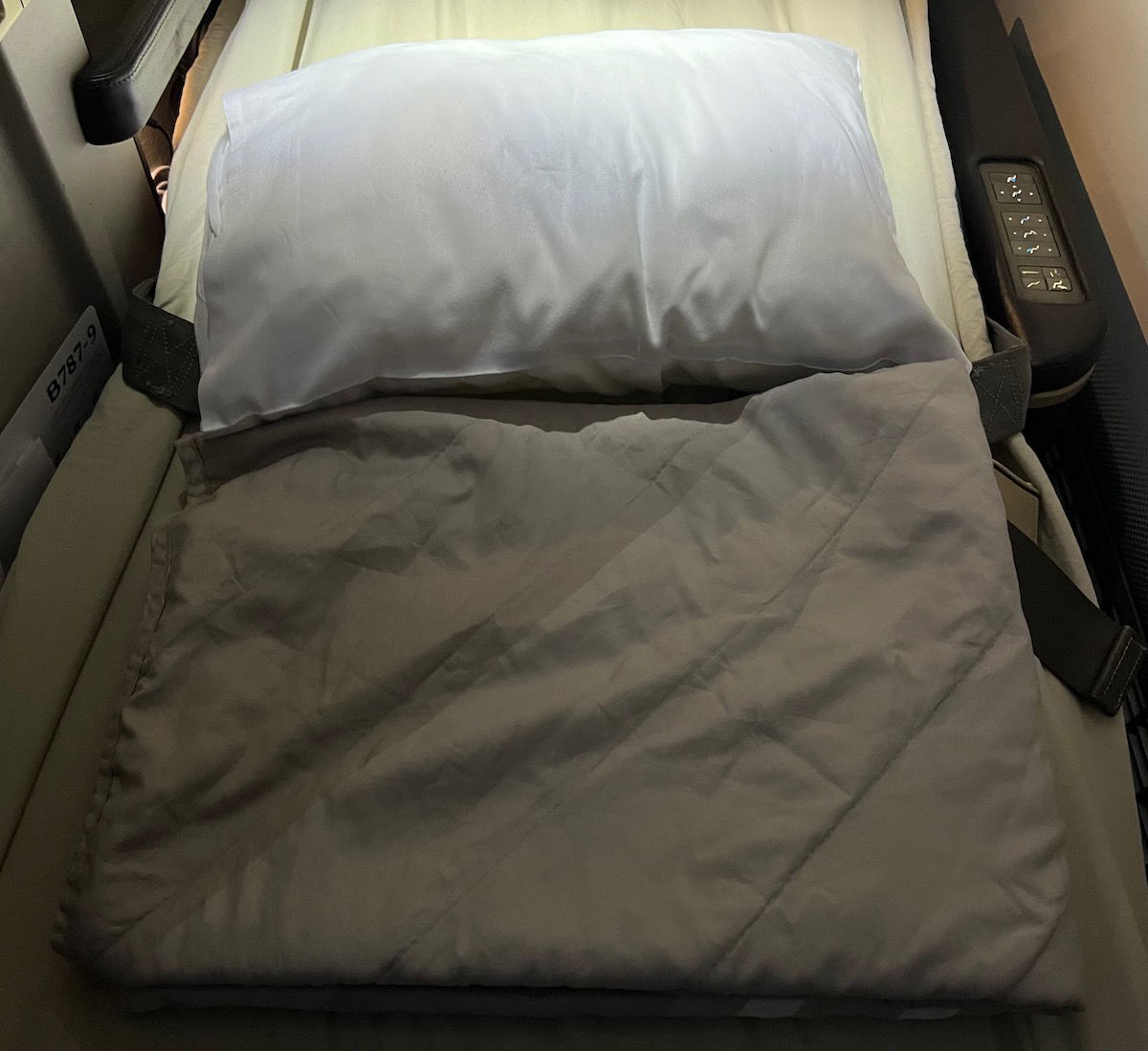 On the plus side, it was absolutely glorious to not have to squeeze my feet into a footwell, but rather to have so much space to stretch out and wiggle around.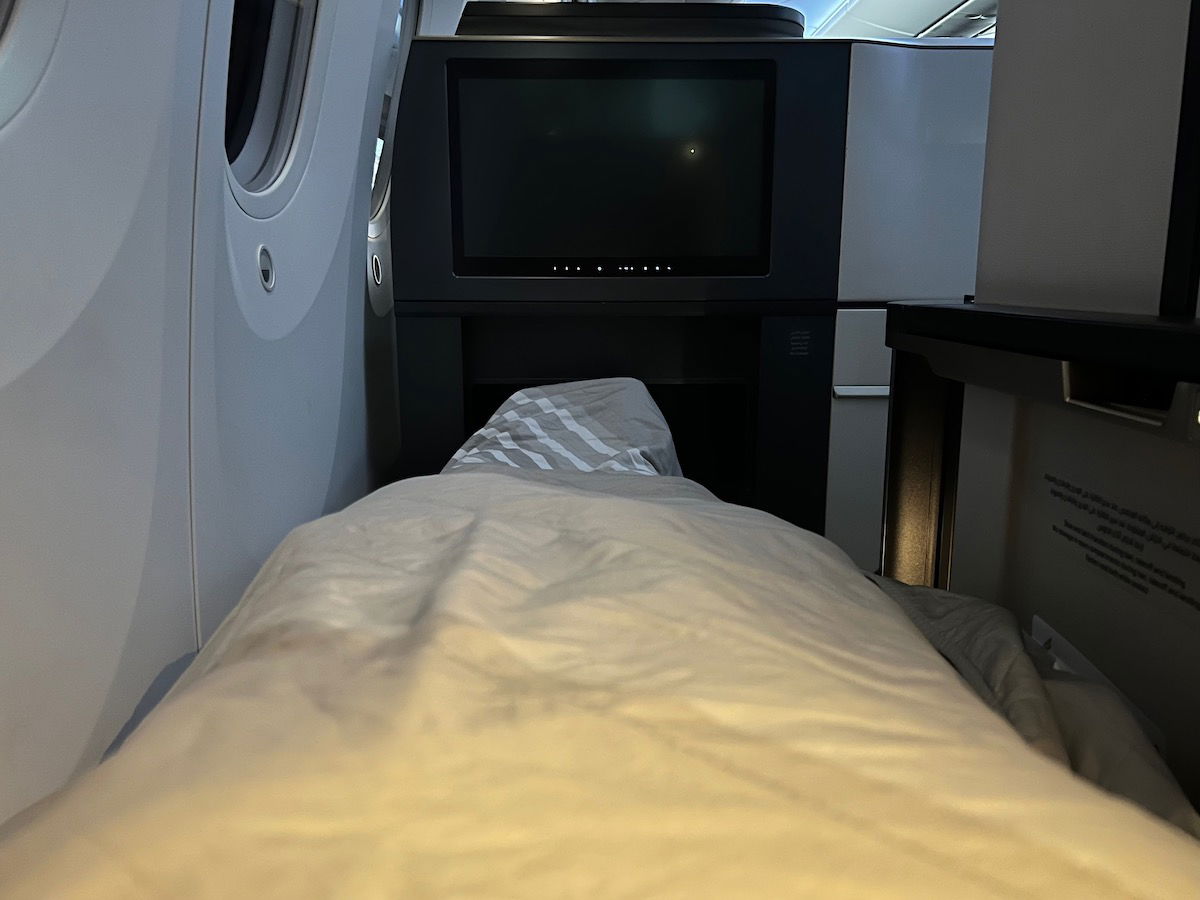 However, for whatever reason, I just couldn't get really comfortable. I found the seat to be really hard. It would be nice if Gulf Air offered an actual mattress pad rather than just a sheet, since the sheet doesn't do much to help with padding.
I also didn't find the rest of the bedding to be very good. The pillow was small, while I found the blanket to be quite rough. I went to sleep around 1hr45min after takeoff, with 5hr30min remaining to Singapore.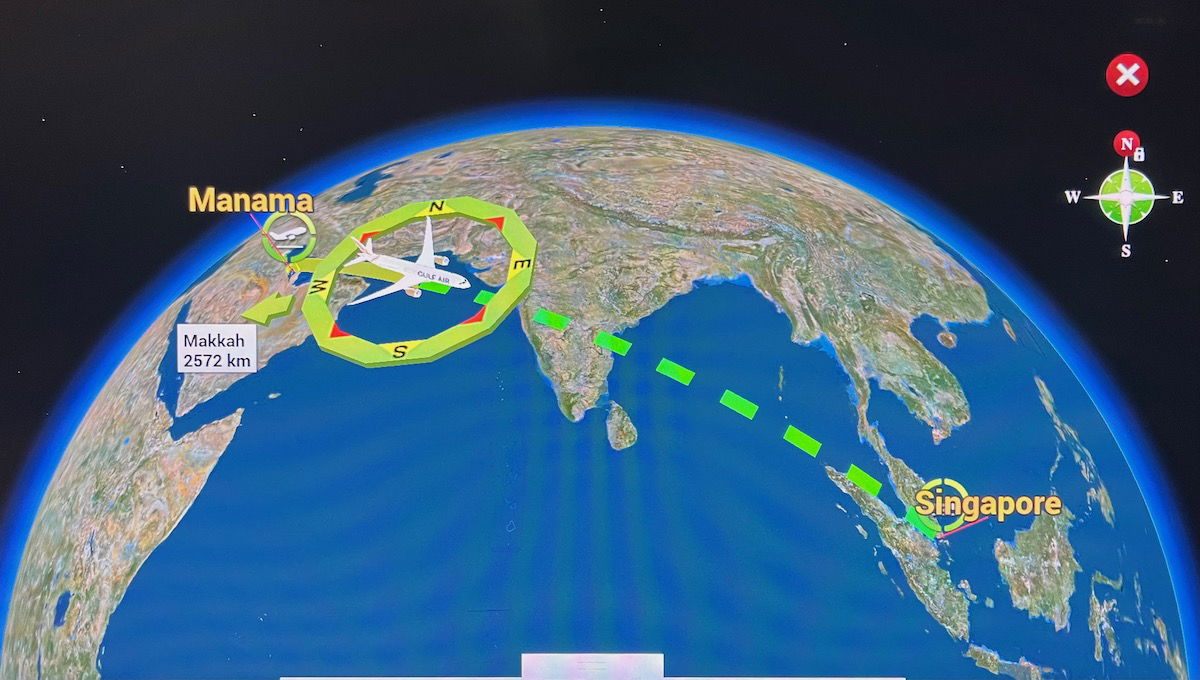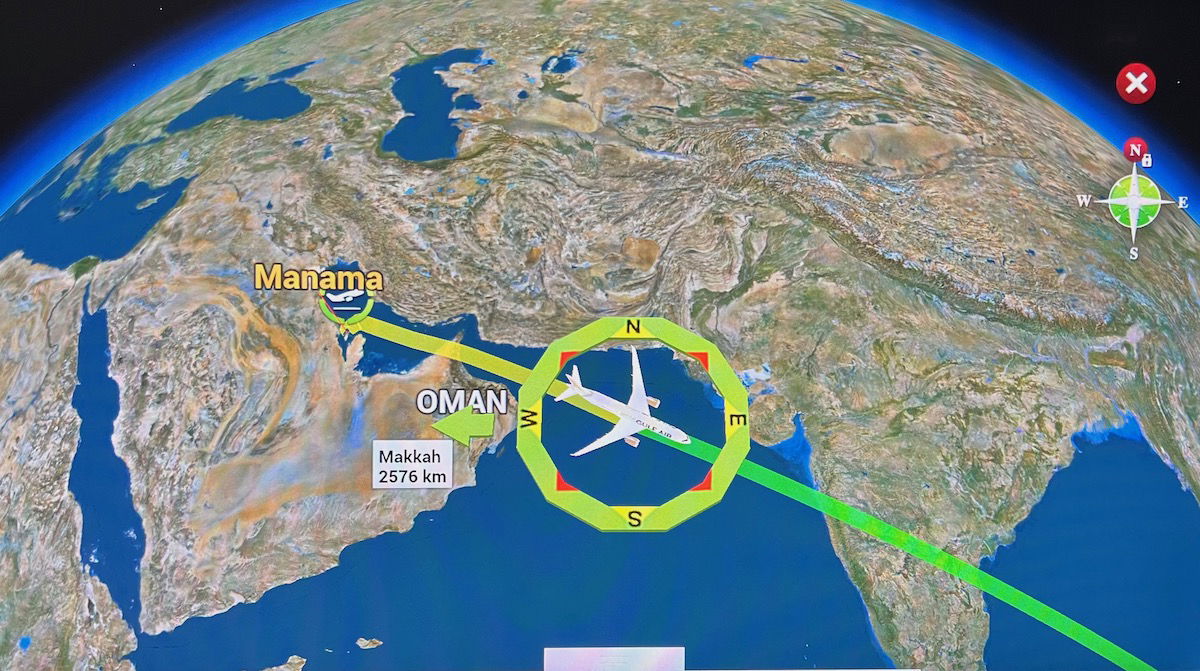 I ended up finally getting up around two hours before landing, while flying over the Nicobar Islands (which… have any OMAAT readers ever visited, because I'm intrigued?).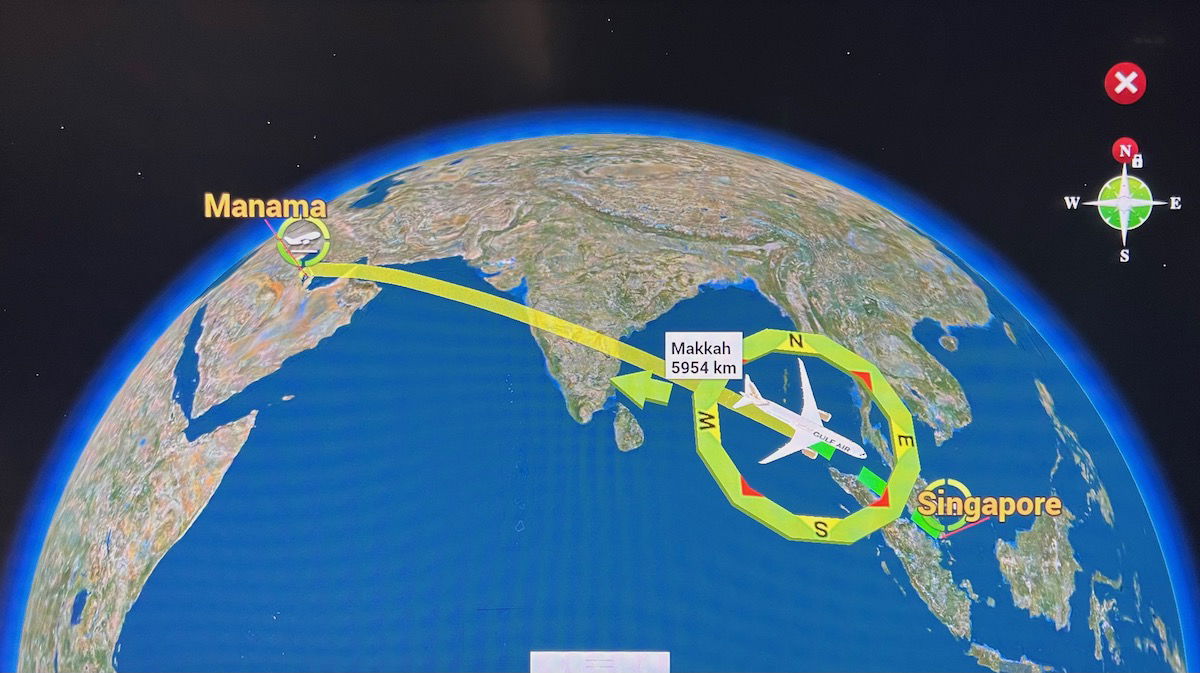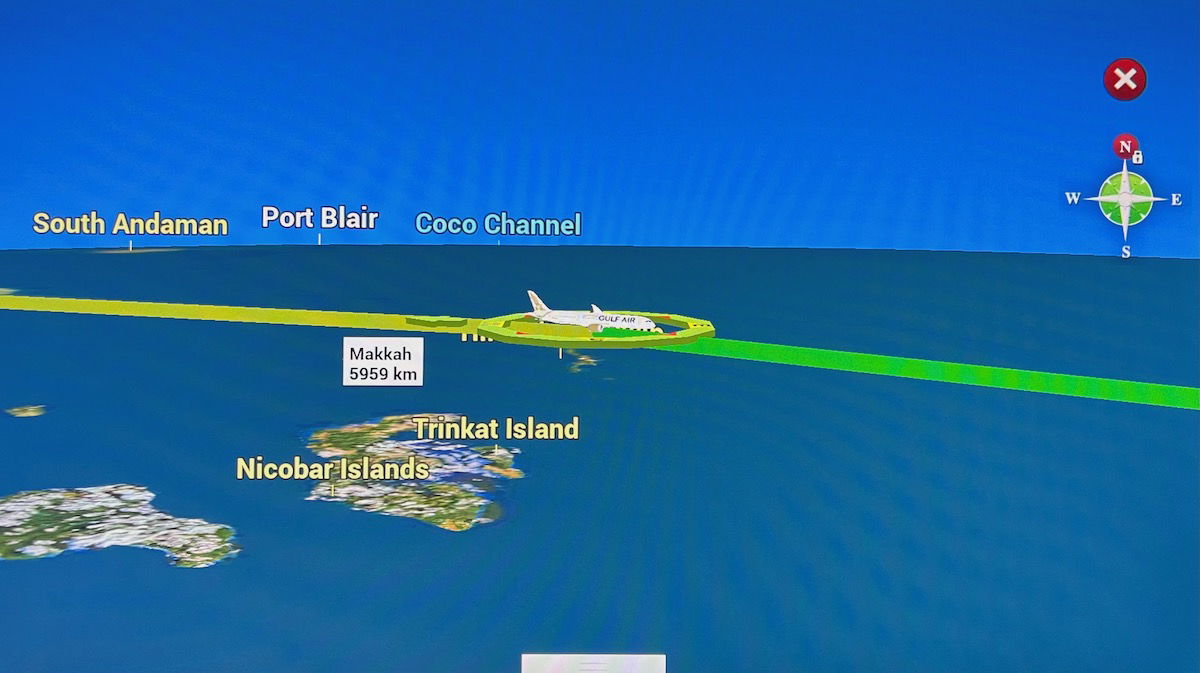 Unfortunately I didn't actually get anywhere close to 3.5 hours of sleep. I did a lot of tossing and turning, so I only slept for a fraction of that. Suffice it to say that this wasn't a great trip for sleep.
Gulf Air 787-9 business class lavatory
The Gulf Air Boeing 787 had two lavatories in front of the business class cabin, and two lavatories behind the business class cabin. They were the typical modern Dreamliner toilets, but they did have bidets, which you won't find on many airlines.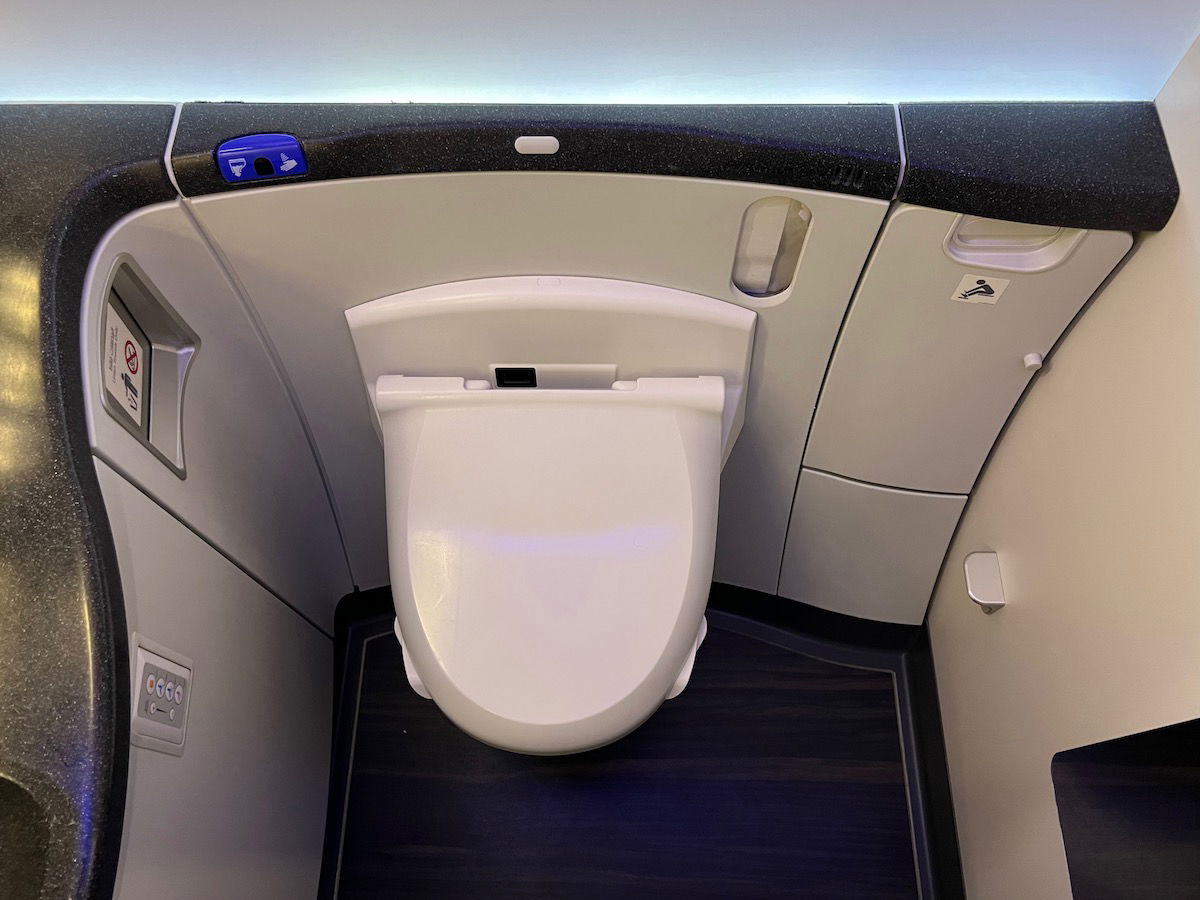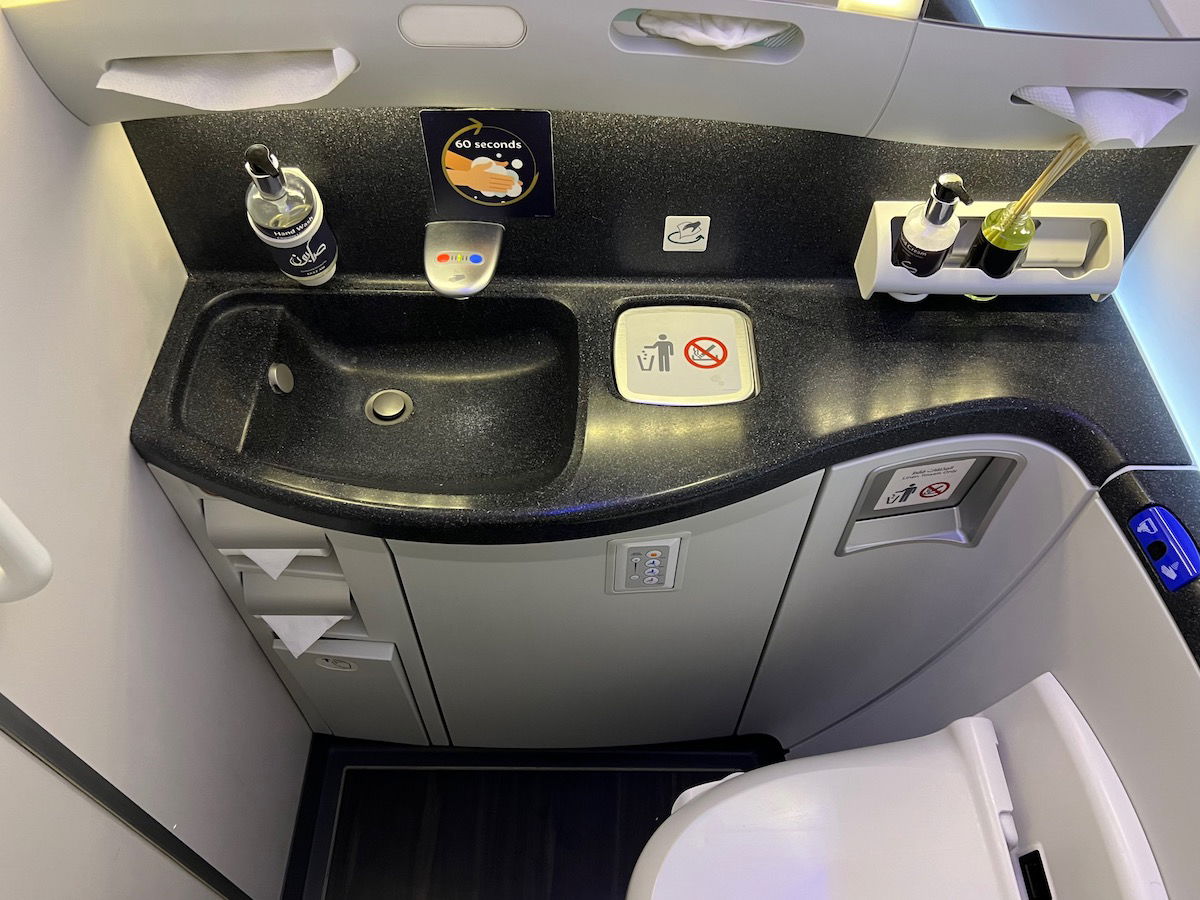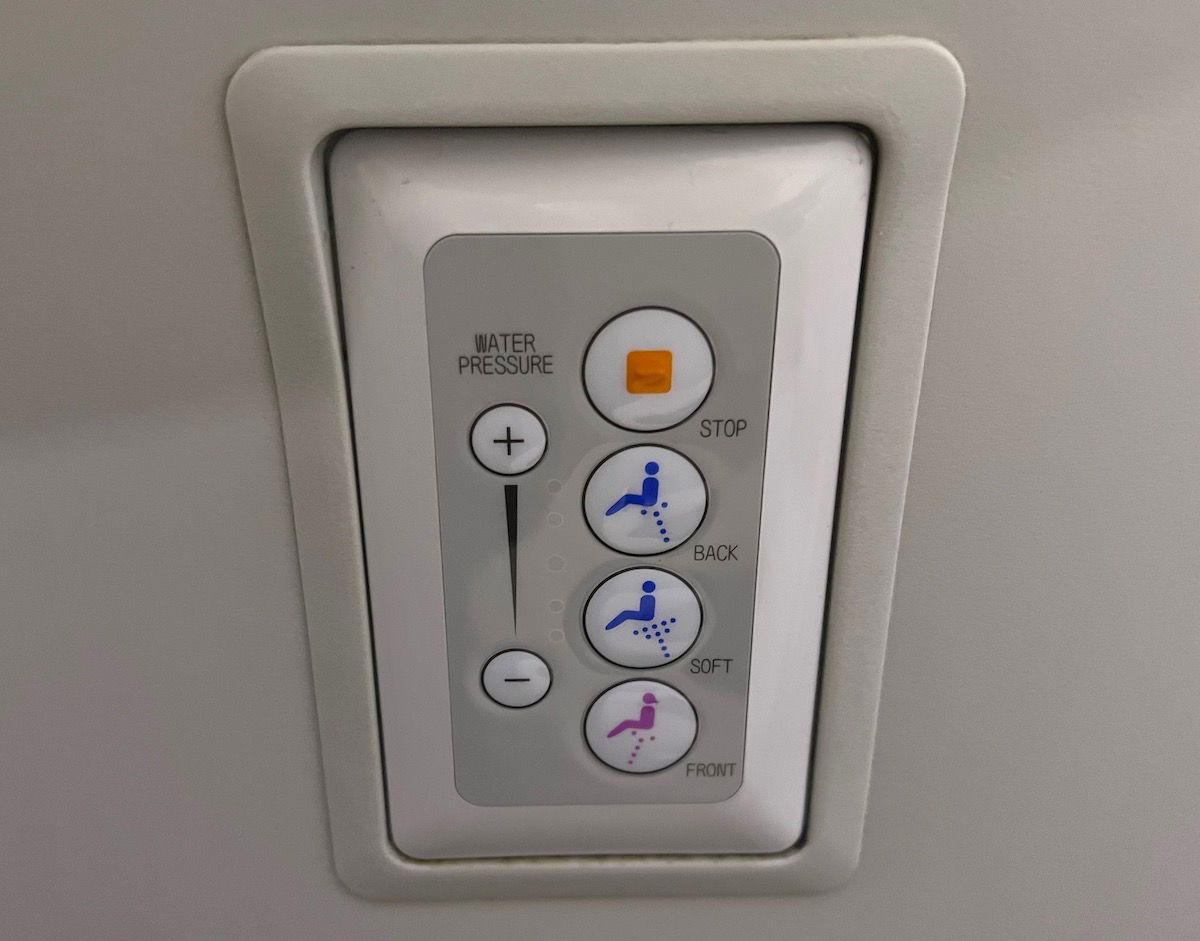 The lavatories also had some hand cream and diffusers, which were a nice touch.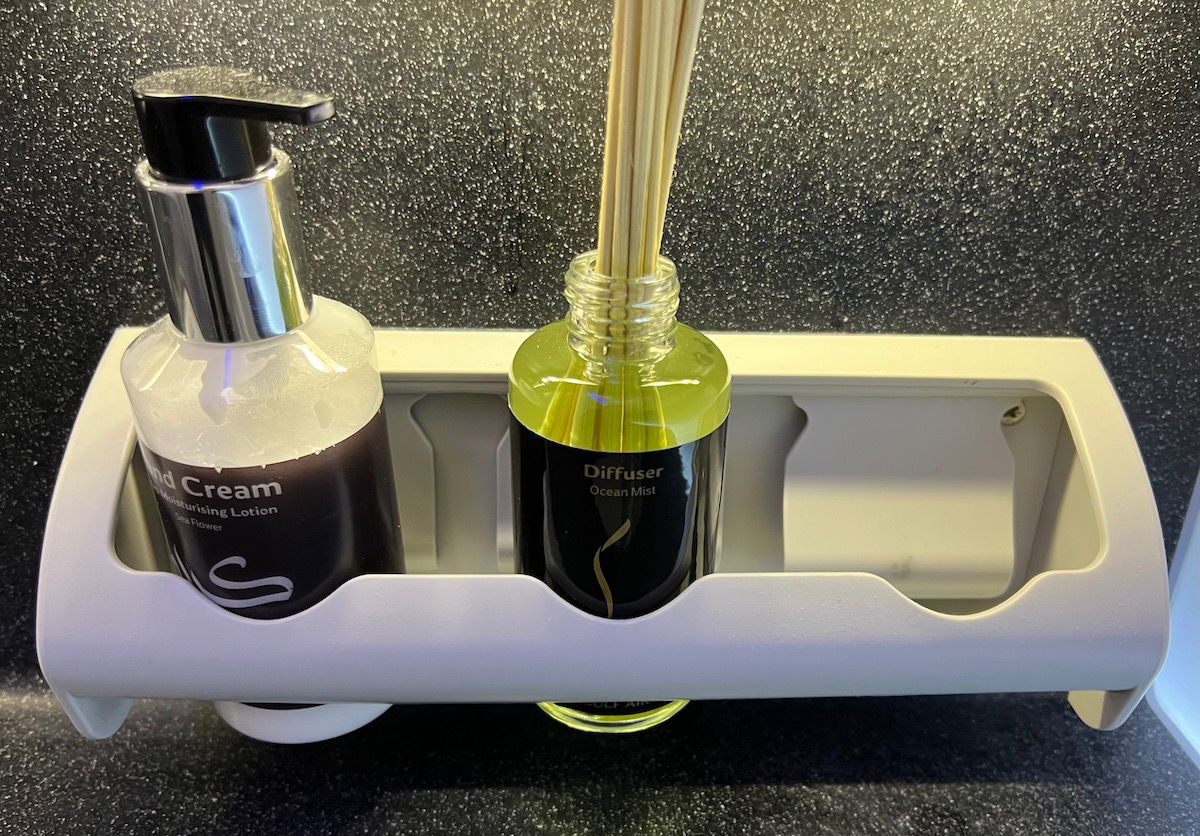 Gulf Air business class breakfast service
The breakfast service started around 1hr45min before arrival, which seemed early on such a short flight. You can find the breakfast menu below.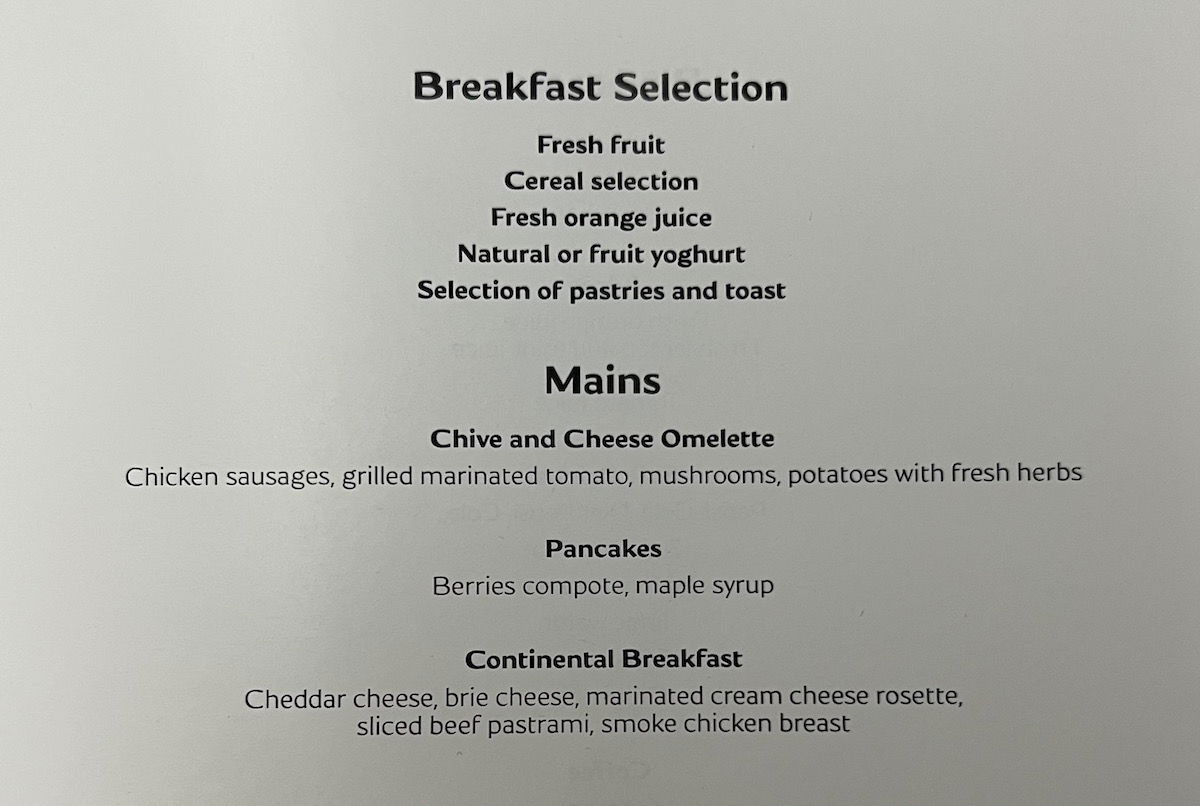 Service began with juice being distributed.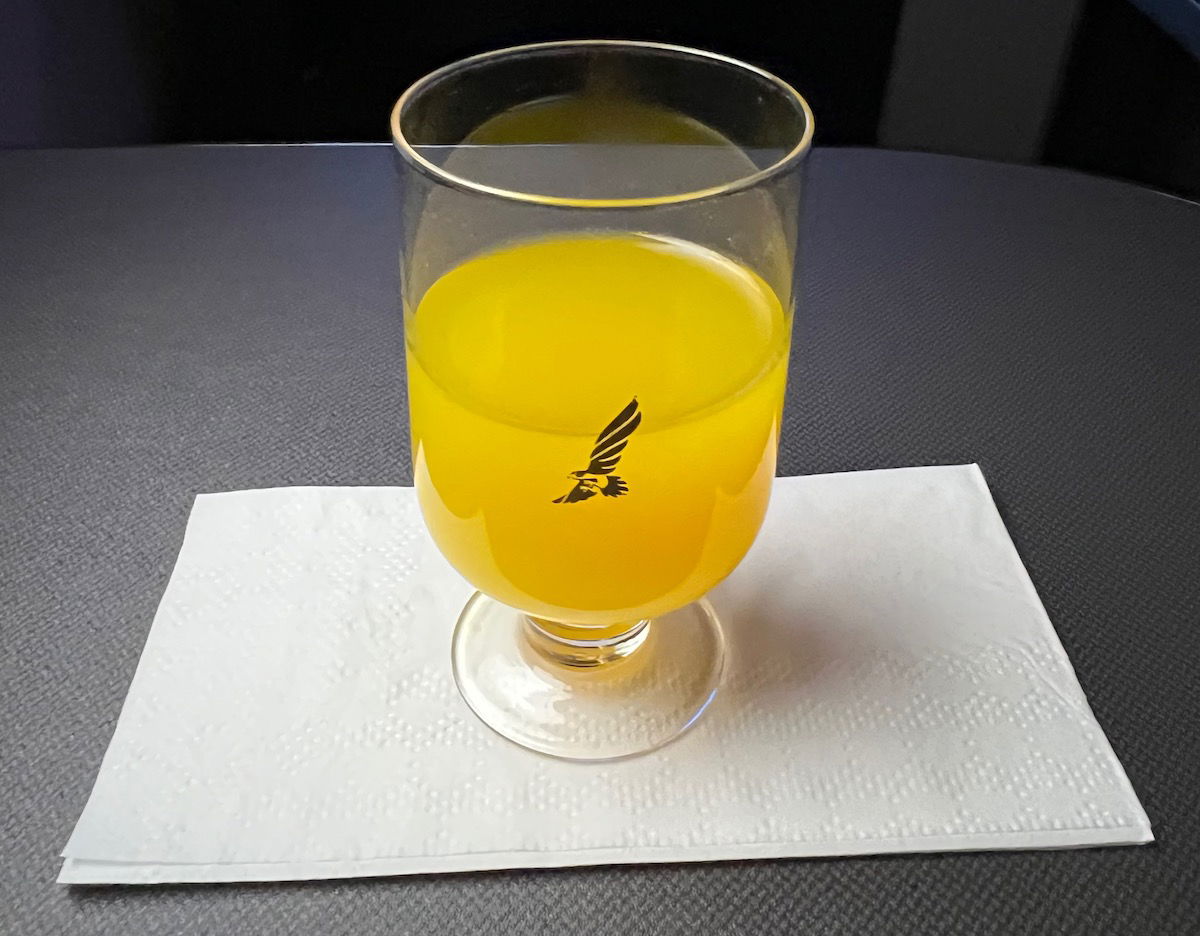 Around 1hr30min before landing I was served my first course, consisting of a fruit plate. I was also offered a selection from the bread basket, and chose a croissant.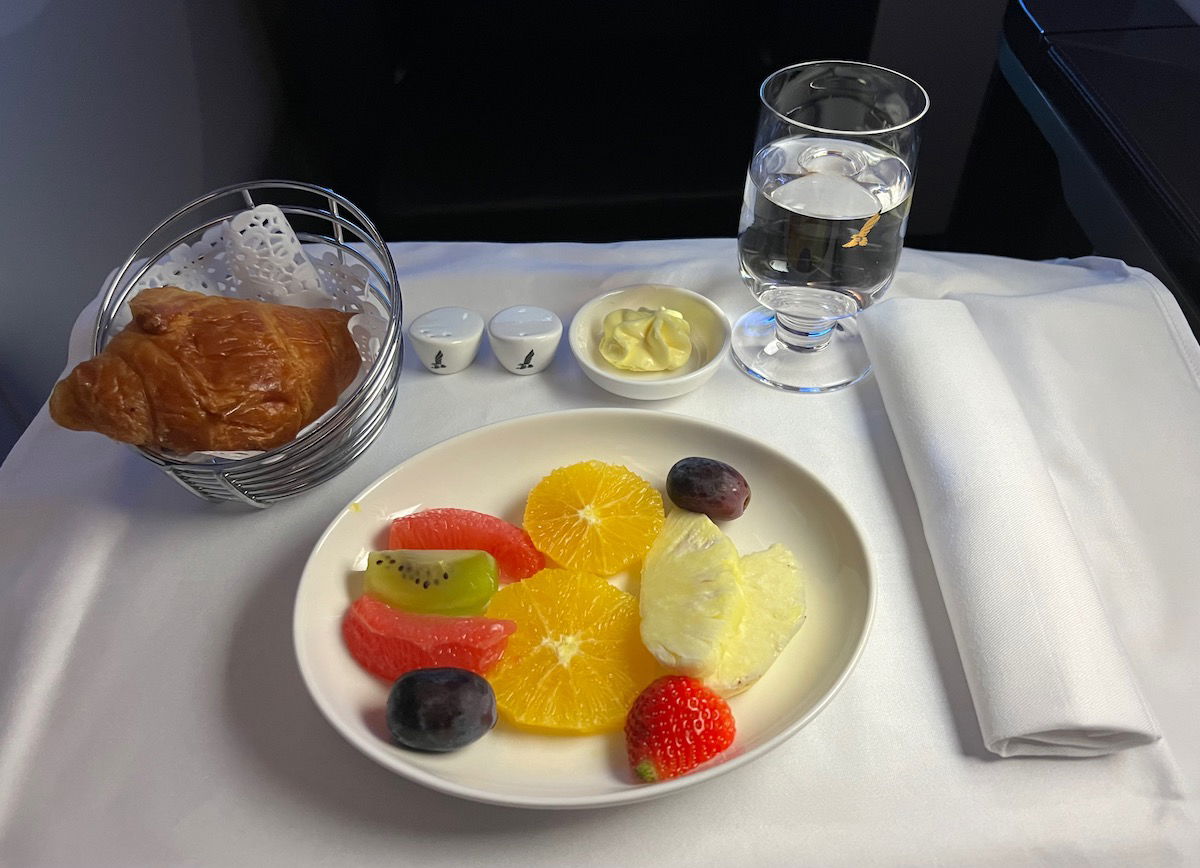 15 minutes later the main course was served. There were three choices, and I selected the chive and cheese omelet with chicken sausage, grilled marinated tomato, mushrooms, potatoes, and fresh herbs. The omelet was pretty good. I also had a cup of coffee to drink.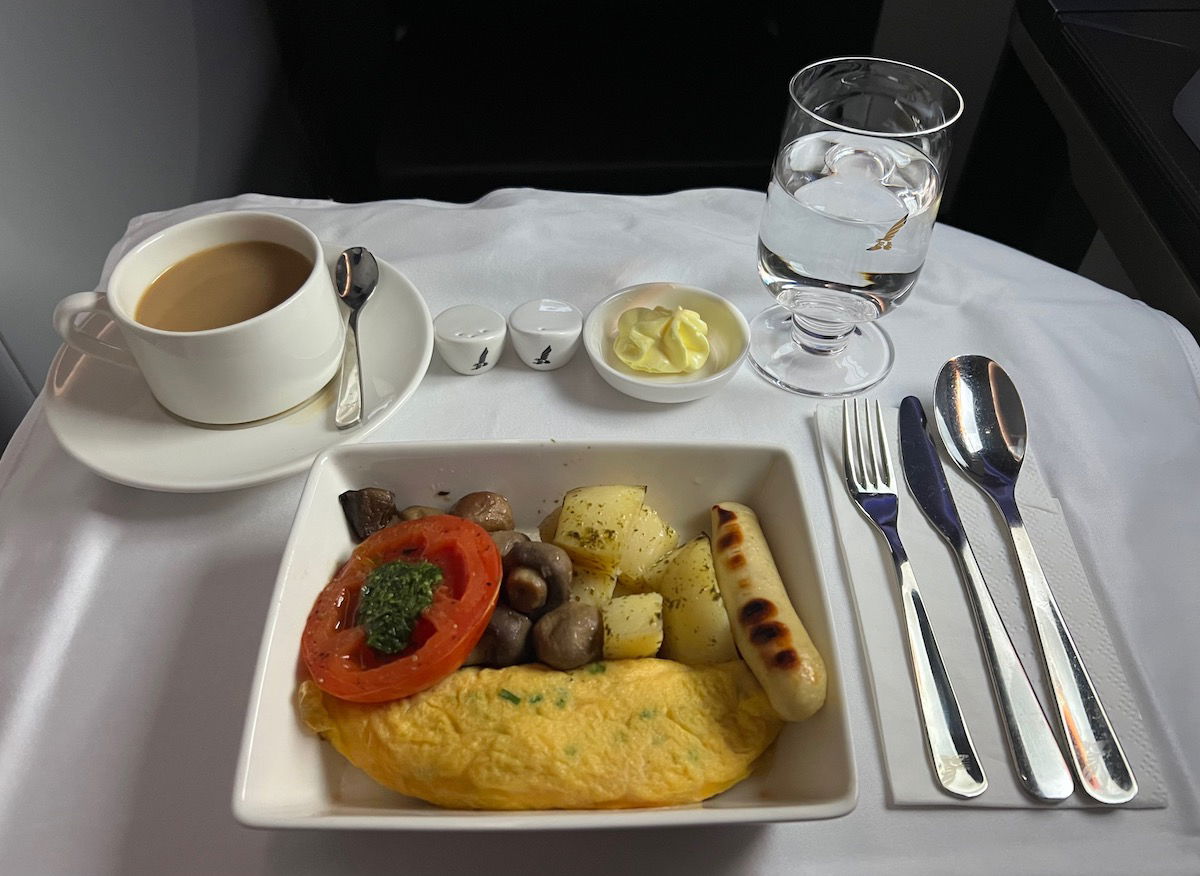 Gulf Air business class service
Ah, service… this is where Gulf Air really struggles. For some context, this crew consisted of a man from Bahrain (who was the cabin manager), and the remainder of the crew members were women from Southeast Asia (the flight continued to Bangkok, so I imagine they intentionally staff a lot of language speakers on this flight).
Let's start with the positive, which was a pleasant surprise. The cabin manager was phenomenal, and the hardest working and most polished crew member. He was so warm, kind, and had real attention to detail.
From personally greeting each passenger at the boarding door, to coming to each business class passenger during the flight to introduce himself, to having an eye for detail when glasses were empty or cutlery was missing, to personally providing turndown service and clearing dishes, no task was too big or small for him.
I've taken a countless number of flights over the years with this kind of setup (local men and foreign women), and in almost every case, the foreigners are more professional and harder working. This was the first time where that wasn't the case.
The rest of the crew was perfectly well intentioned, but the service flow was just consistently off. It's not that anything was individually awful, there was just a consistent lack of attention to detail, and lack of attentiveness. Just a few examples from the breakfast service alone:
Breakfast orders were taken in advance, and I ordered a coffee, which I would have liked to have prior to even being served any food; instead it was served five minutes after the main course (let alone that it didn't come with the starter), despite me asking a couple of times
The bread basket was brought around, and then jam and honey were brought around five minutes later
The crew took away my silverware with the starter, and I assumed it would be replaced; it wasn't, and when the main course was brought out, the flight attendant didn't notice she was putting the dish on a tray with no silverware
Individually these are all minor things, it just seems like there's a lack of training about service flow and attention to detail at Gulf Air, compared to rivals in the region. Airlines like Qatar Airways consistently nail service flow, while Gulf Air definitely doesn't.
Gulf Air 787-9 arrival in Singapore
Around 55 minutes before landing, the crew passed through the cabin with massive trash bags, asking to collect blankets.
About 30 minutes before landing the captain announce we'd be starting our descent shortly. Around this time, the cabin manager came around the cabin to spray rose water into peoples' hands, as a way of refreshing.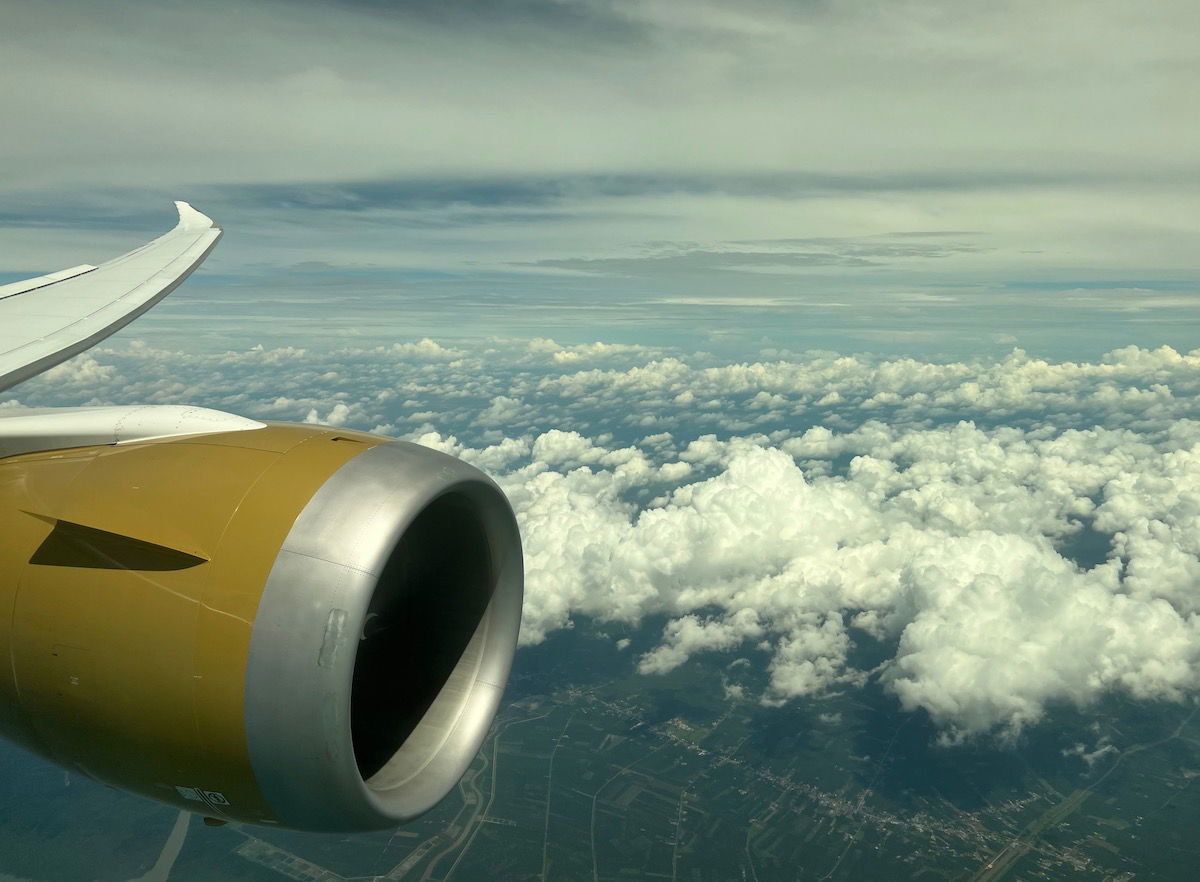 I know this might sound silly, but I can't even describe how excited I was to be on approach to Changi Airport. This was my first time in Southeast Asia since before the pandemic, and to me Singapore is just such a special place that feels both far away and familiar. I feel a certain sense of excitement every time I land in Singapore, and I felt that even more this time than usual.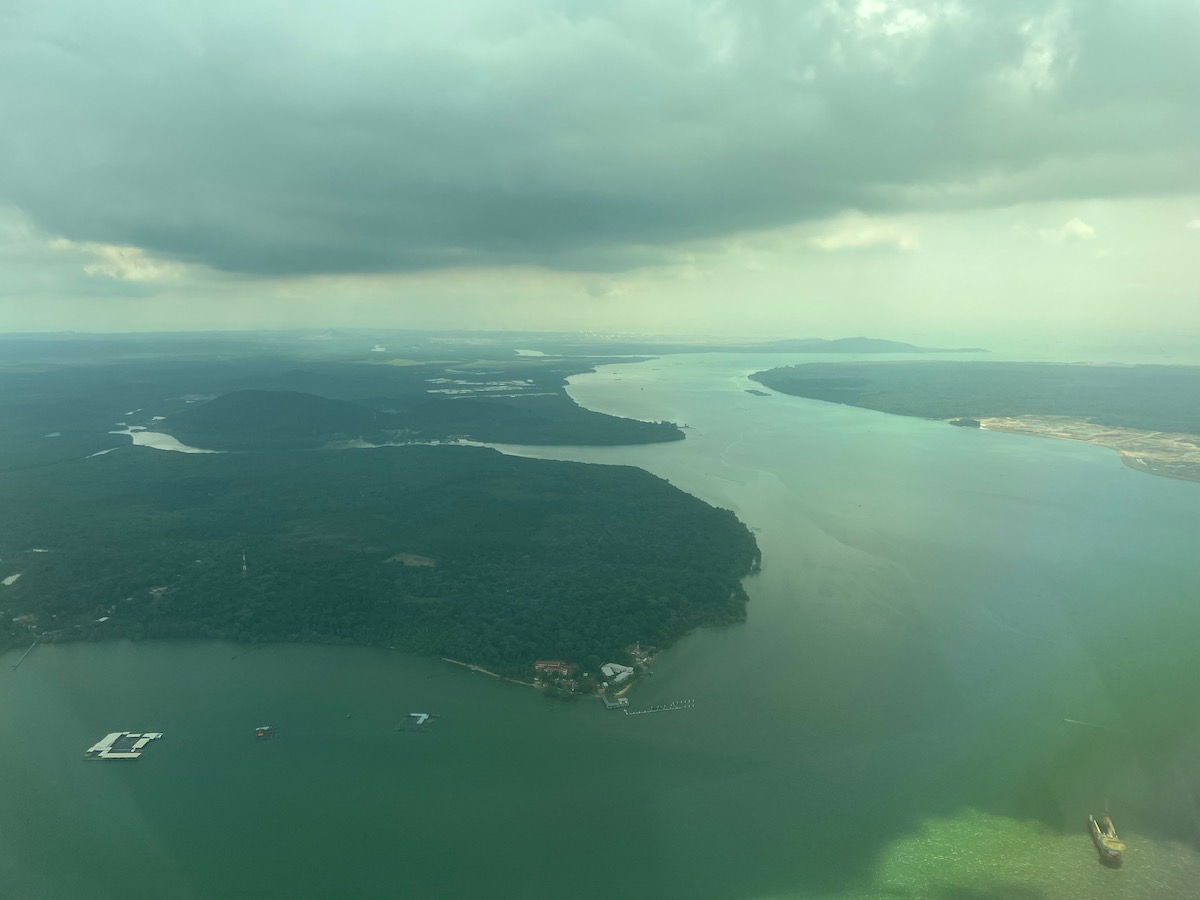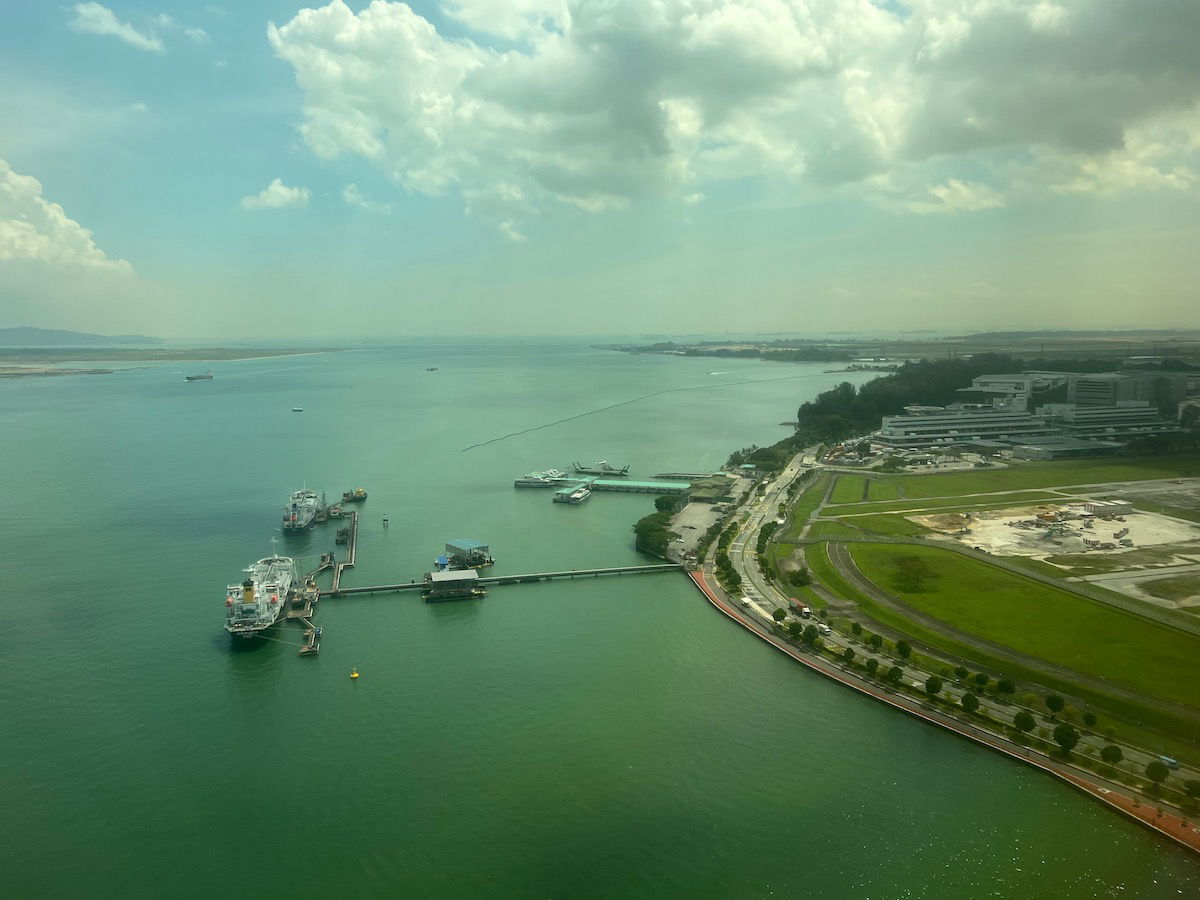 We ended up touching down at Changi Airport at 1:05PM.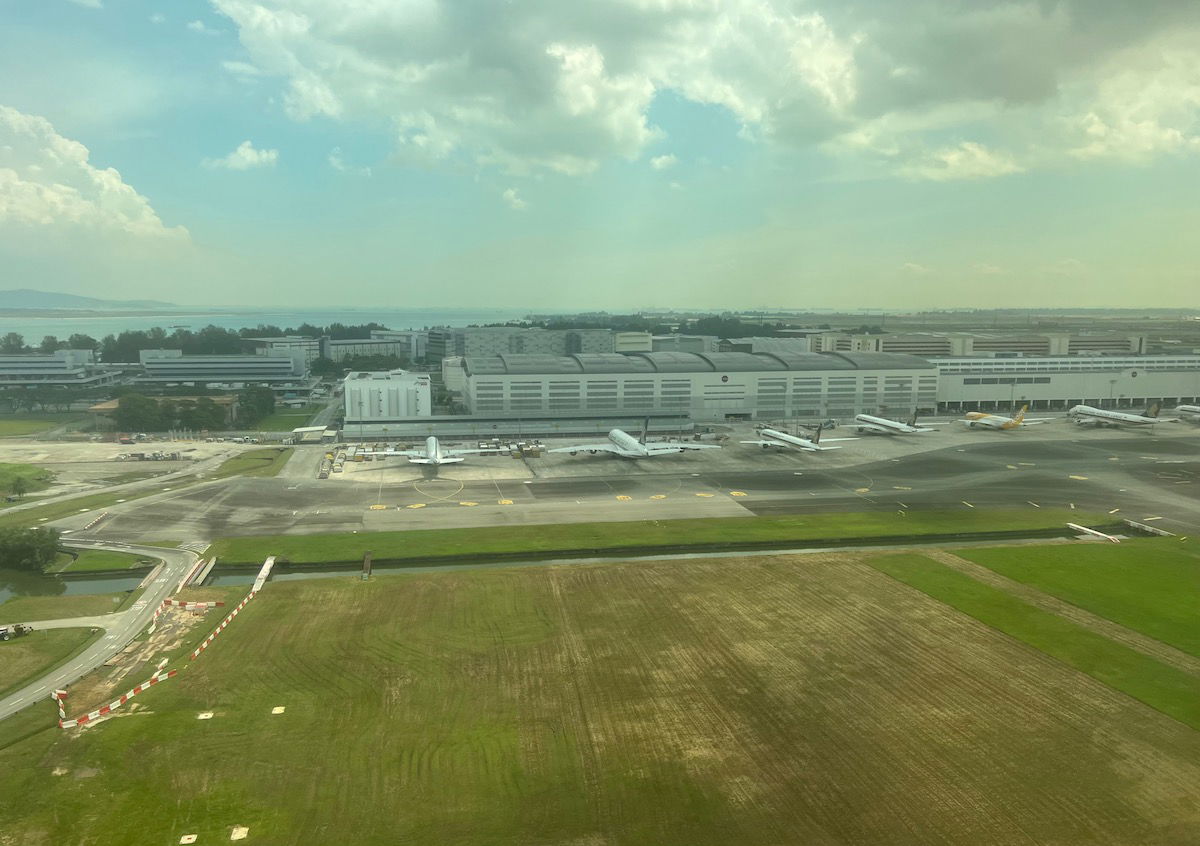 From there we had a short taxi to our arrival stand, where we parked at 1:10PM, next to an EVA Air Boeing 777.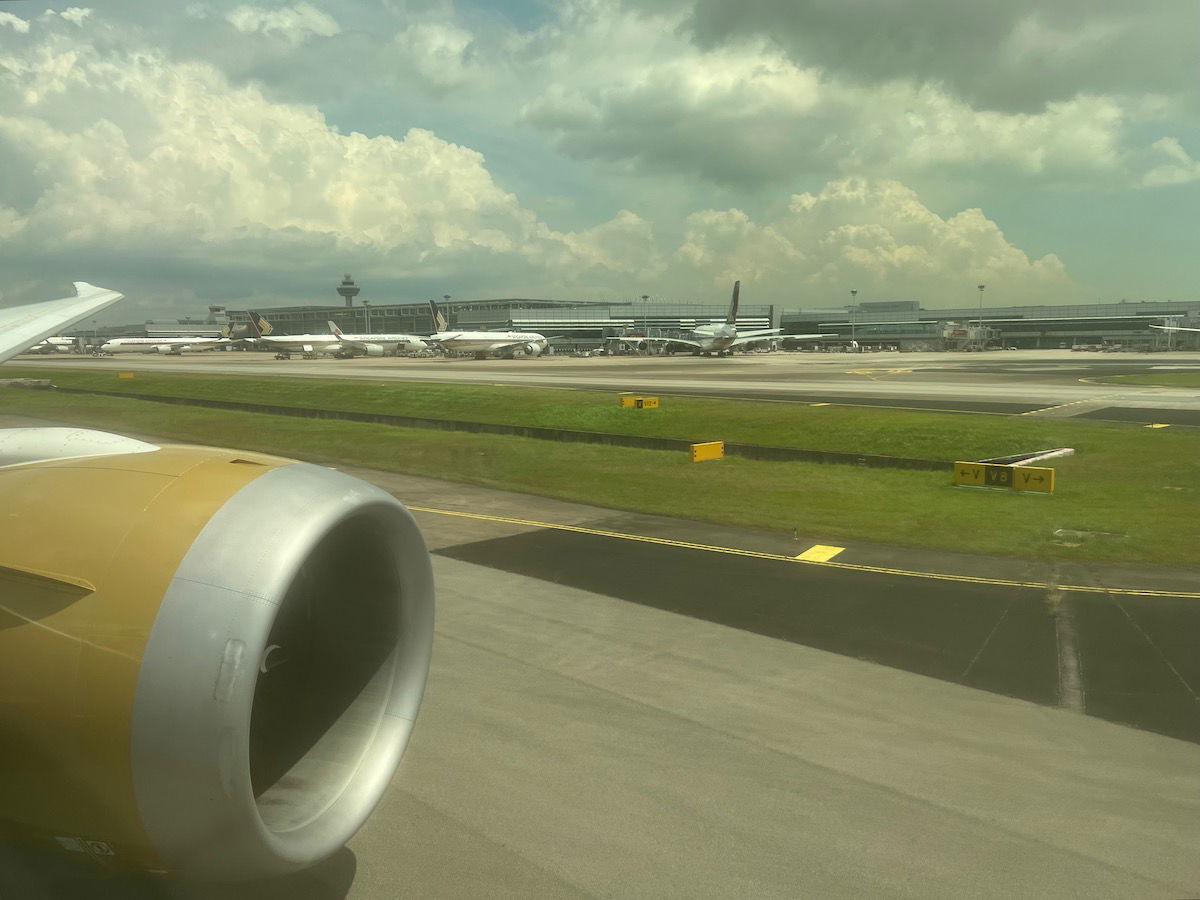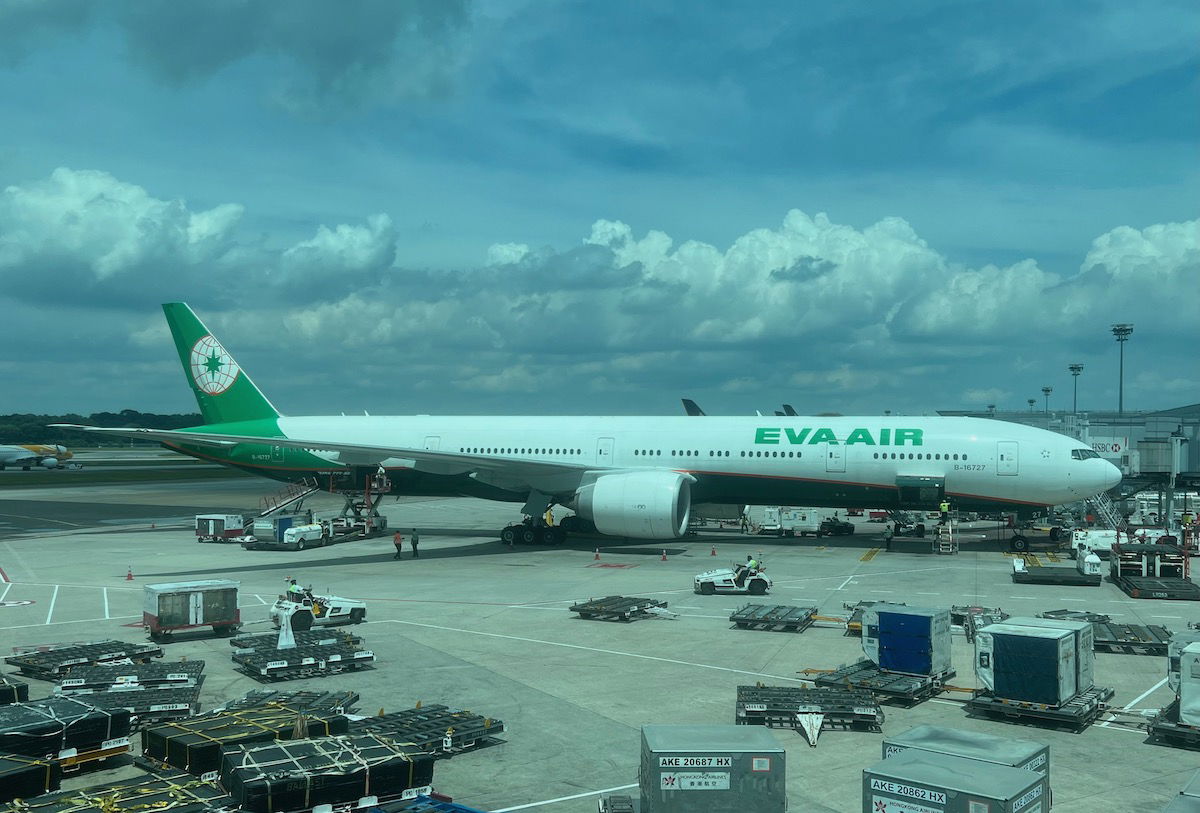 Both those ending their travels in Singapore, as well as those connecting to Bangkok on the same flight, had to deplane in Singapore. Upon arrival I headed straight to the Singapore Airlines Business Lounge, prior to my Singapore Airlines Boeing 787 flight to Ho Chi Minh City.
Bottom line
Gulf Air's Boeing 787 business class product is good, but with a bit more effort, it could be so much better. On the plus side, Gulf Air offers excellent Apex Suites, great amenities, reasonably priced Wi-Fi, and friendly service (it was friendly across the board, but the cabin manager was the best).
Unfortunately there are also some areas for improvement, which are largely the easiest things to fix. Gulf Air could use better bedding, a reimagined meal service for this type of sector, and also some training with service flow.
Competition in the Middle East is fierce, and I know Gulf Air management is trying to take the approach of being a boutique airline that differentiates itself with service. If that's the goal, then there's definitely room for improvement.
What do you make of Gulf Air's Boeing 787 business class?