The wait is finally over — American Airlines has revealed its new business class seats, which will be known as Flagship Suites. Yes, I said "seats," which is to say that there are are actually (at least) two types of new business class seats. These will debut on long haul aircraft starting in 2024.
American's new Flagship Suite business class seats
As of 2024, American Airlines will be installing new business class seats, which will be called Flagship Suites. These seats will be installed on newly delivered Boeing 787-9 and newly delivered Airbus A321XLRs. Existing Boeing 777-300ERs will also be reconfigured with these seats, though the exact timeline remains to be seen.
Not only that, but American will also be installing a new premium economy product, with completely restyled cabins. However, nothing has been revealed about economy yet, other than that the seats will have new finishes. Let's take a look at the details.
New American Airlines Boeing 787-9 cabins
As of 2024, American will start taking delivery of 30 Boeing 787-9s in an uber-premium configuration, featuring just 244 seats. This will include 51 business class seats, 32 premium economy seats, 18 Main Cabin Extra seats, and 143 economy class seats.
As a point of comparison, American's current Boeing 787-9s have 285 seats, only 30 of which are business class seats. Clearly these new planes are intended for markets with lots of business class demand, like London.
It looks like American Airlines has selected the Adient Ascent product as its new Boeing 787 business class. What makes the Adient Ascent product unique is that it's highly customizable.
Most business class products can be customized somewhat, but have a general pattern. After all, what differentiates seat types from one another are the space saving techniques that seat manufacturers use to make the cabin efficient. In the case of the Adient Ascent seat, it's customizable unlike any other product out there:
The product could come in a staggered configuration, where center seats could be turned into double beds (American didn't choose this option)
The product could come in a hybrid reverse herringbone and herringbone configuration, with reverse herringbone seats along the windows, and herringbone seats in the center; this is similar to Virgin Atlantic's A350 Upper Class, though those seats are the Safran Cirrus NG variety
Qatar Airways was the launch customer for this seat on the Boeing 787-9. Hawaiian Airlines is also supposed to install these seats on Boeing 787-9s, and those planes are supposed to join Hawaiian's fleet as of late 2023, so Hawaiian may beat American.
It looks to me like American has selected a configuration where all seats are reverse herringbone, as the center seats don't face toward the aisles.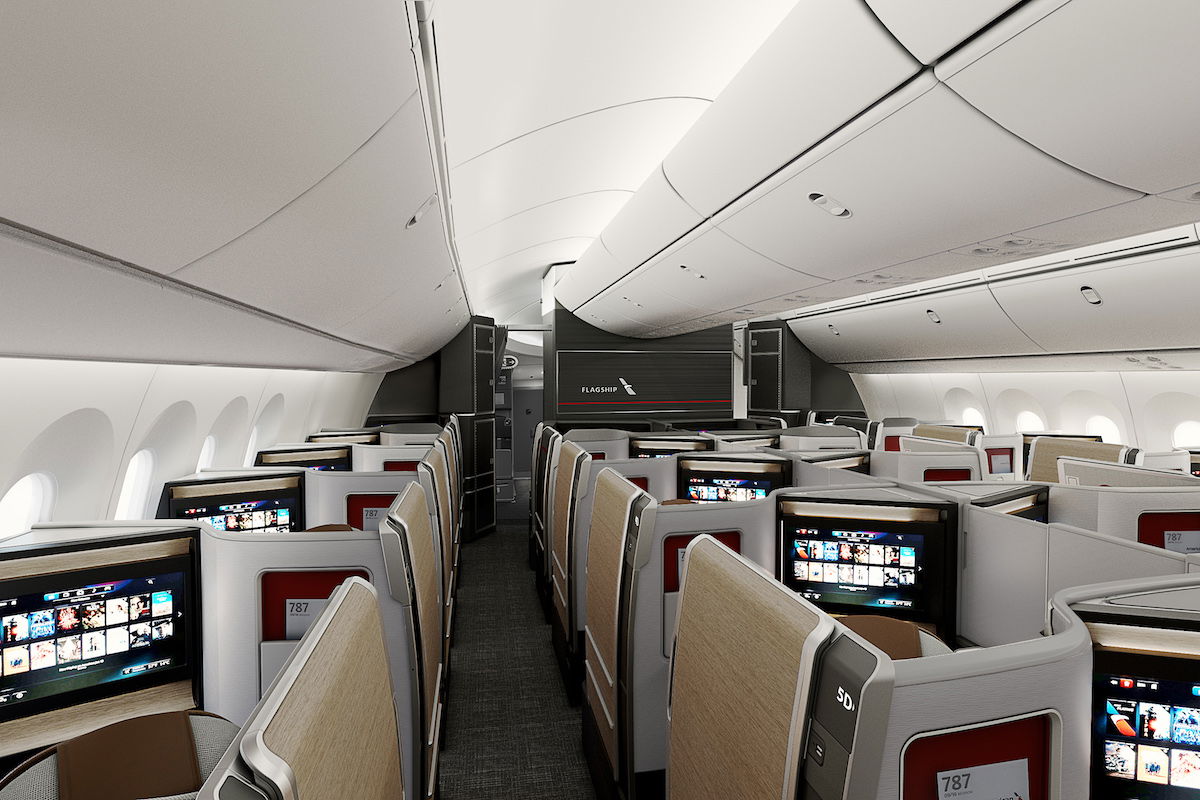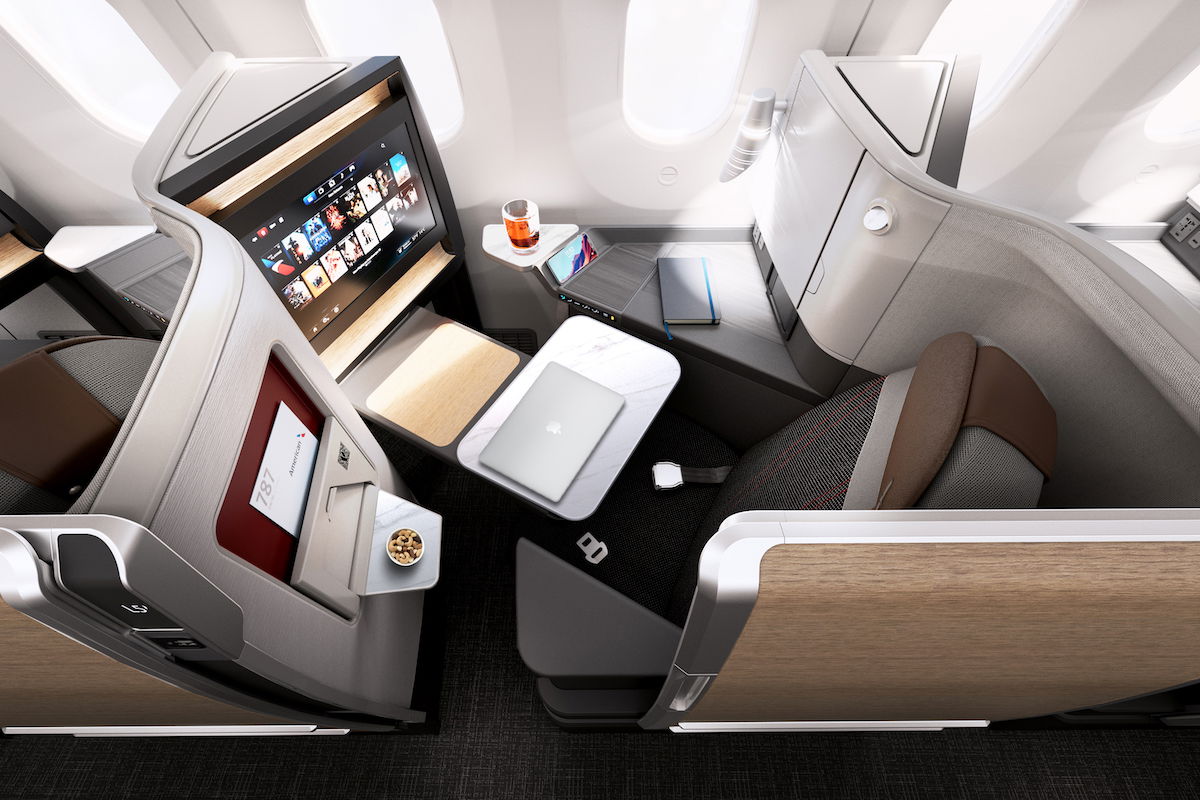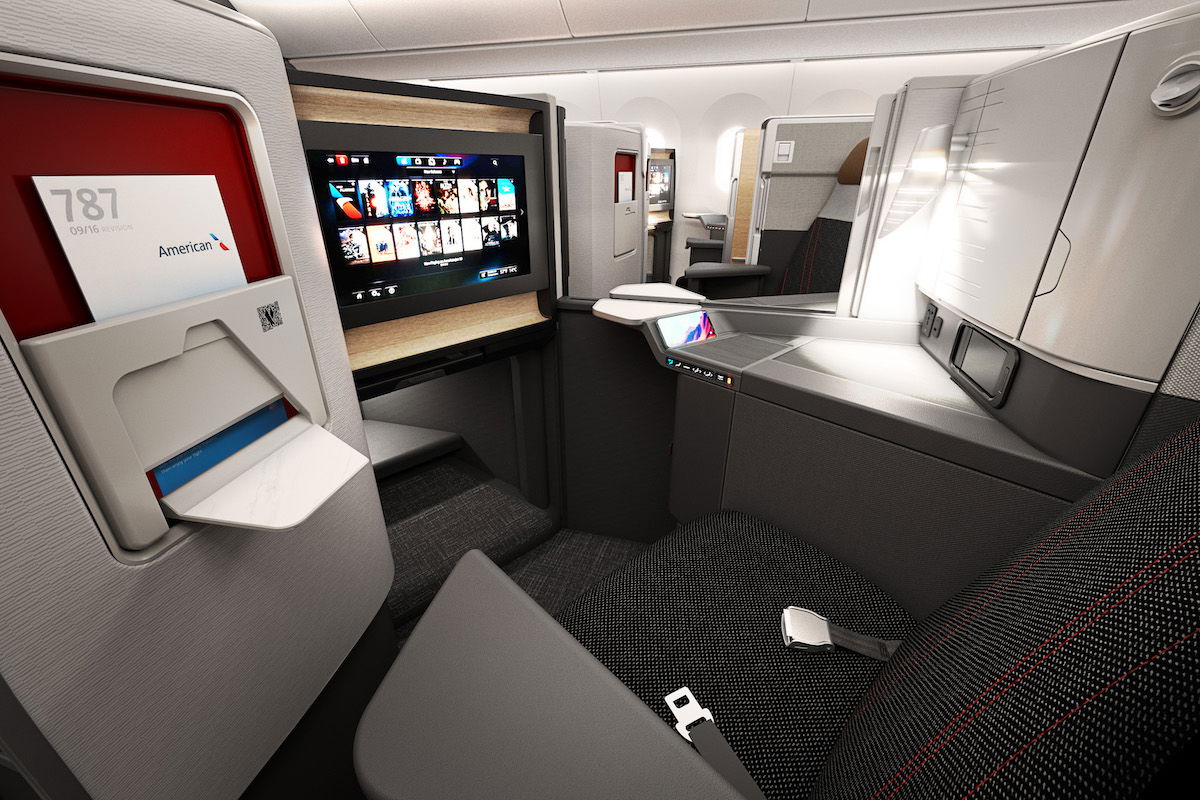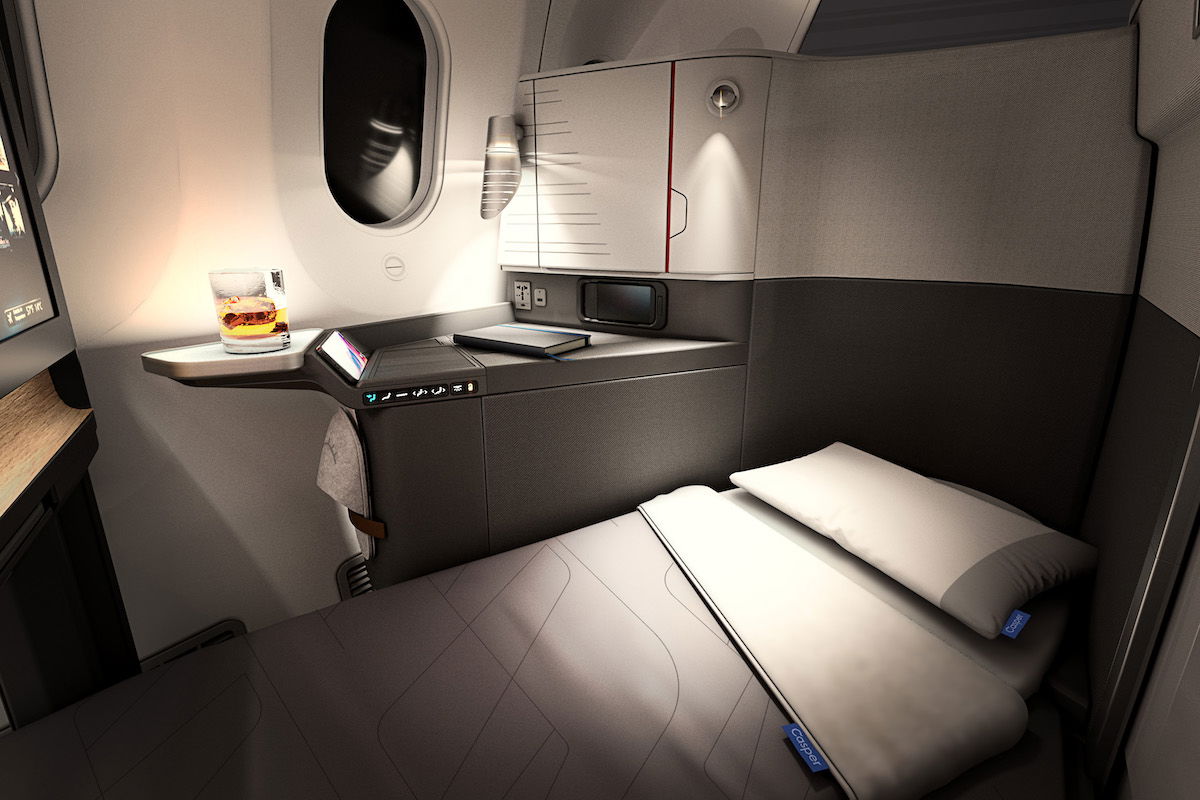 American will also be introducing a new premium economy on the Boeing 787-9, which looks quite nice.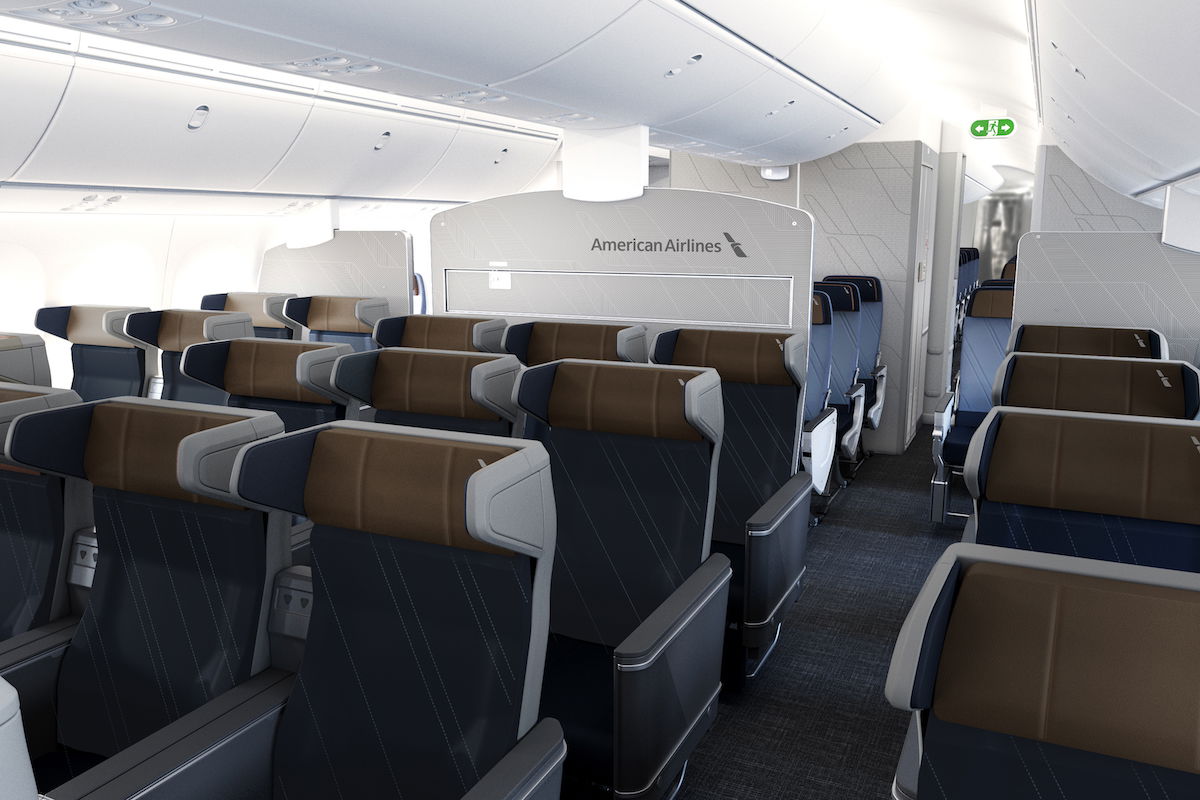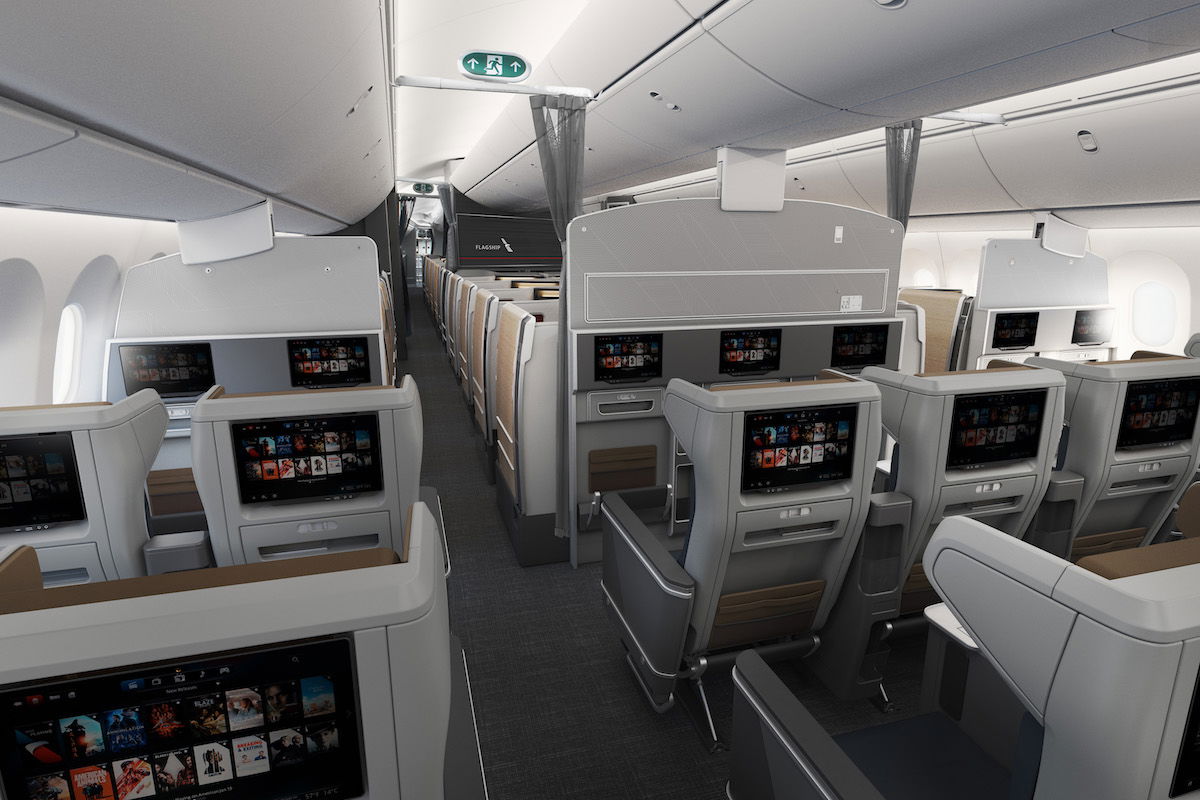 New American Airlines Airbus A321XLR cabins
American Airlines has 50 Airbus A321XLR aircraft on order, which will be delivered starting in 2024. This narrow body jet is the latest evolution of the Airbus A321 family, and will have incredible range. American plans to use this plane primarily for transatlantic flights from the Northeast, as well as for premium transcon flights.
American intends to configure its A321XLRs in a three-cabin layout, with business class, premium economy, and economy. The planes will feature 20 business class seats and 12 premium economy seats, so they'll be pretty premium.
The A321XLRs will get different seats than the 787s, since the requirements for seats are different for narrow bodies than wide bodies. American will be installing herringbone seats in a 1-1 configuration in business class, almost identical to JetBlue's new Airbus A321LR Mint cabin.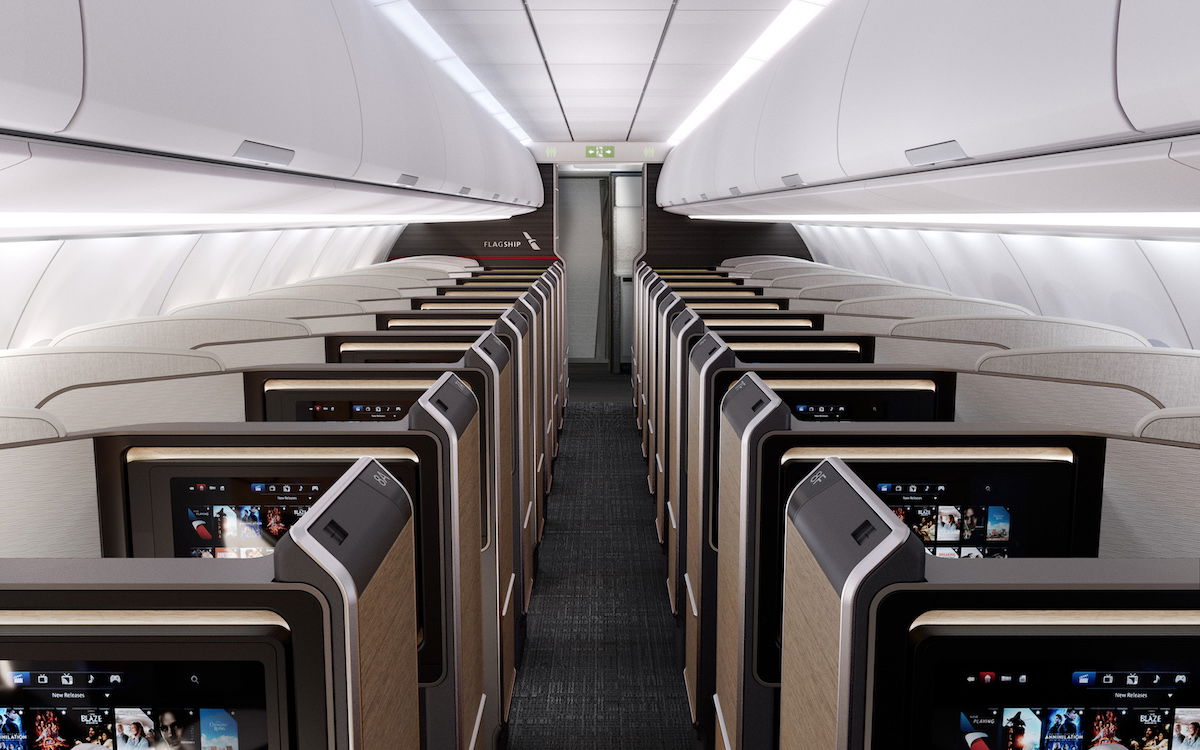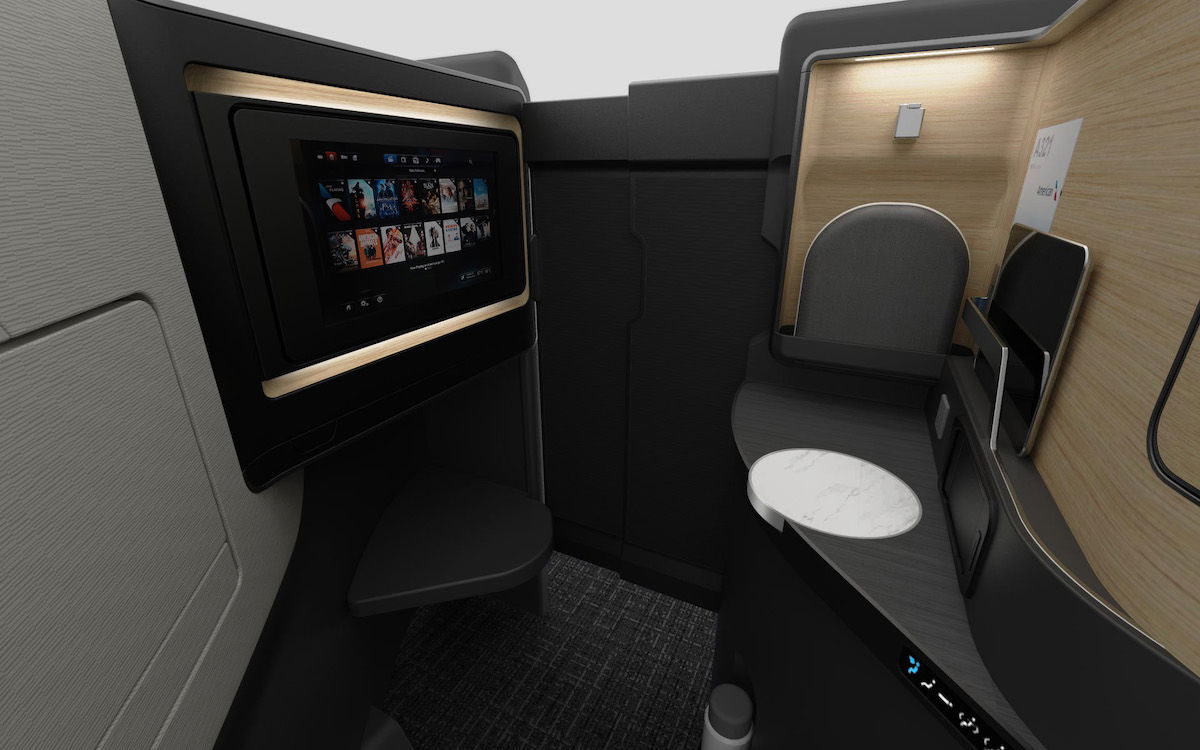 Premium economy also looks pretty elegant, as it will be in a 2-2 configuration, similar to domestic first class. The seats look mighty similar to Delta's new Airbus A321neo first class seats.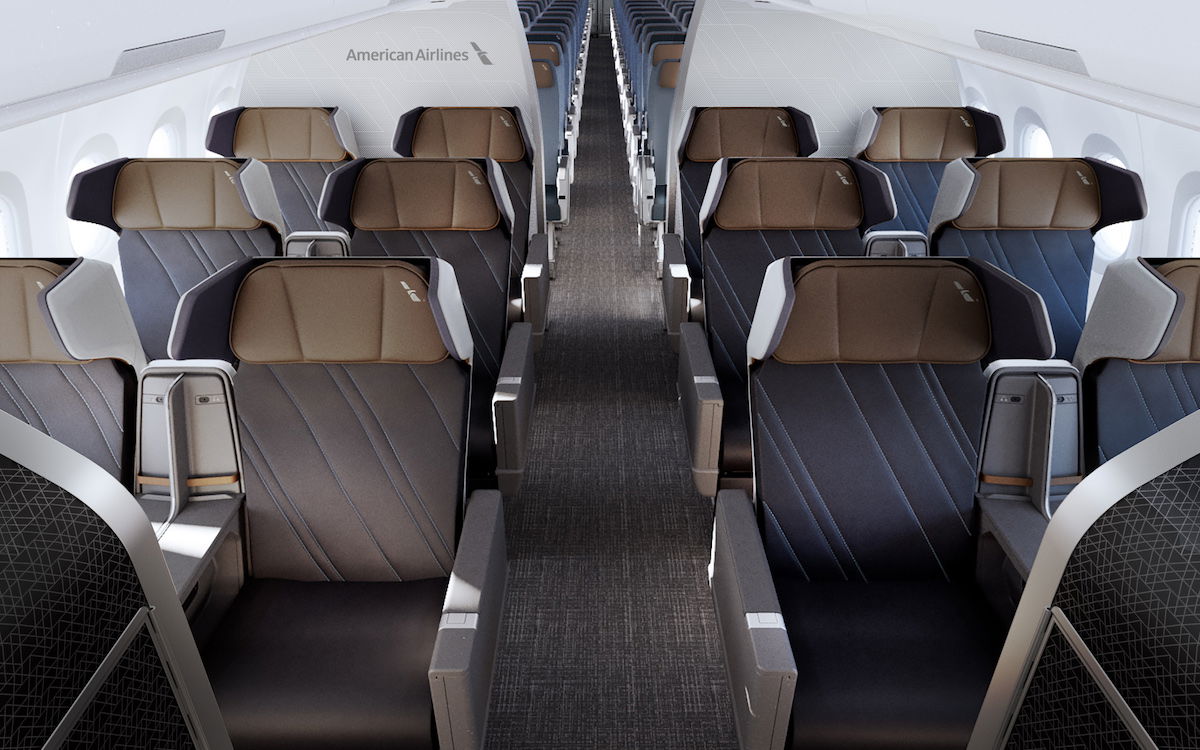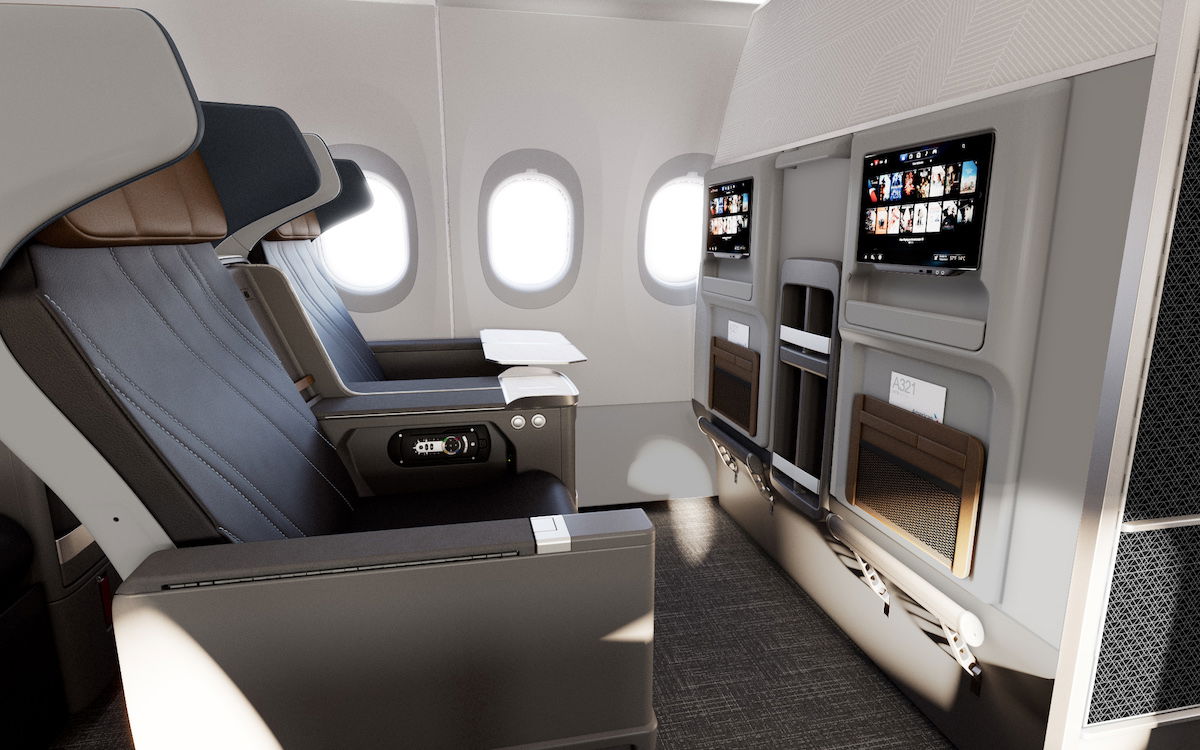 Expect a special row of business class seats
While American hasn't formally announced this, it's pretty clear that the airline is planning a special row of business class seats on these planes, at the front of the cabin. This will at least happen on wide bodies, and I wouldn't be surprised to see it happen on Airbus A321XLRs as well.
If you look at the below rendering of American's new Boeing 787-9 business class, you'll notice that the first row of seats have different color doors, and also seem to have TV screens at different angles.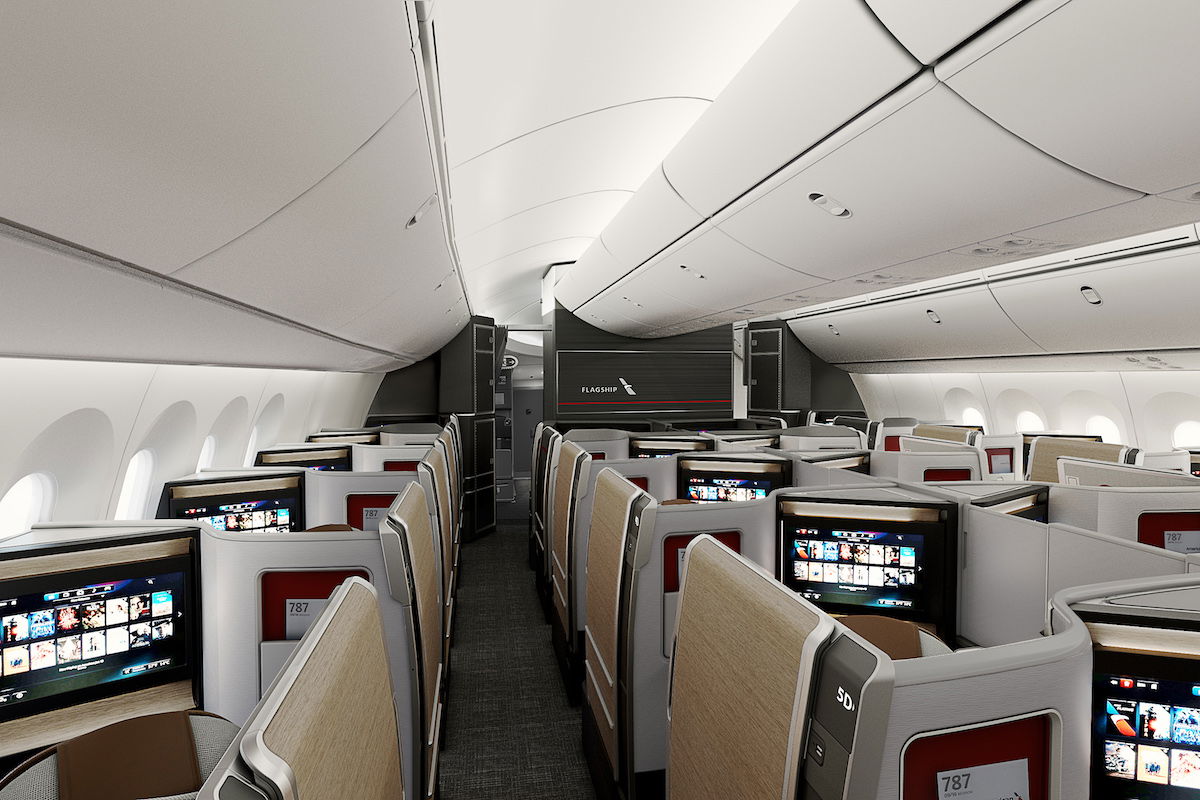 It's not surprising to see that, since these kinds of configurations generally take advantage of the space to the side of the seat in front. That's not the case in the bulkhead row, as there's quite a bit of extra space.
So American presumably plans to turn this into some sort of a business class "plus" product, to monetize the extra space here. This is no different than the Retreat Suites on Virgin Atlantic's A330-900neos, or the Mint Studios on JetBlue's A321LRs.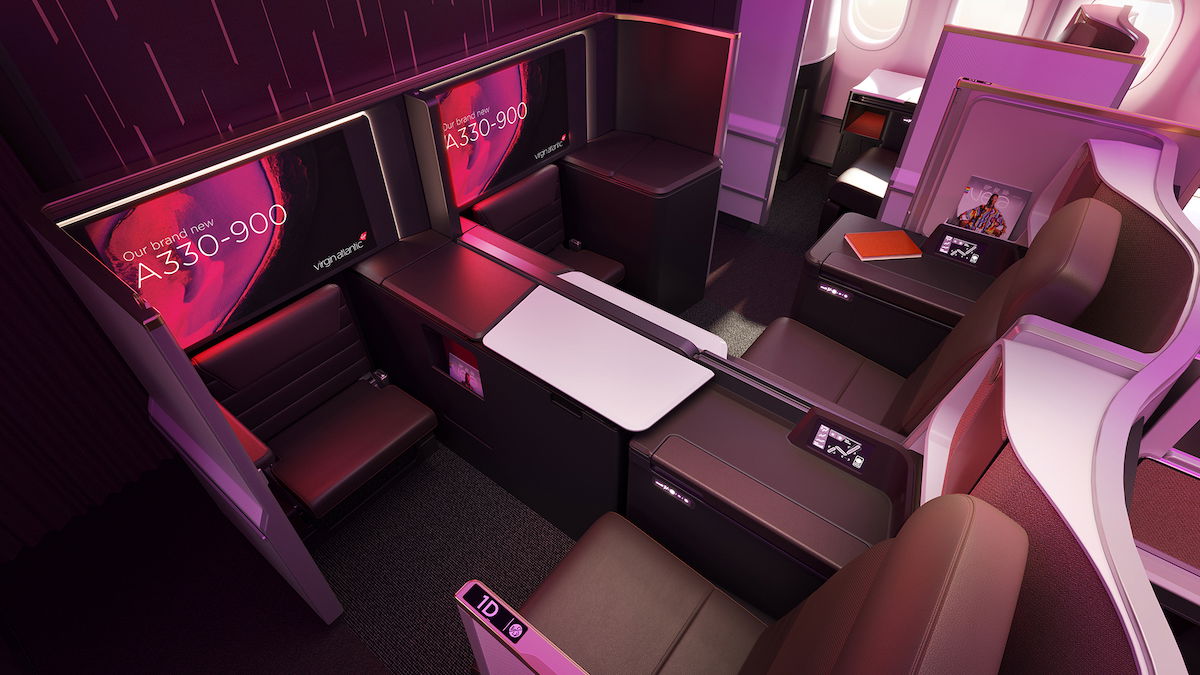 It's anyone's guess how this will be priced, and if it will offer any extra services beyond the seat. Heck, I imagine American isn't even sure yet, since this is still a couple of years off.
Will existing Boeing 787s & 777s get these seats?
American Airlines has confirmed that it will reconfigure Boeing 777-300ERs with these new cabins, though the timeline remains to be seen. The indications I've seen so far suggest that we could see these planes start to be reconfigured in 2024, though I imagine that could change.
However, as of now American has no plans to reconfigure existing Boeing 787s and existing Boeing 777-200ERs with these new seats. I hope American backtracks on that, at least for the planes that are sticking around in the long run (I imagine most existing Boeing 787s are).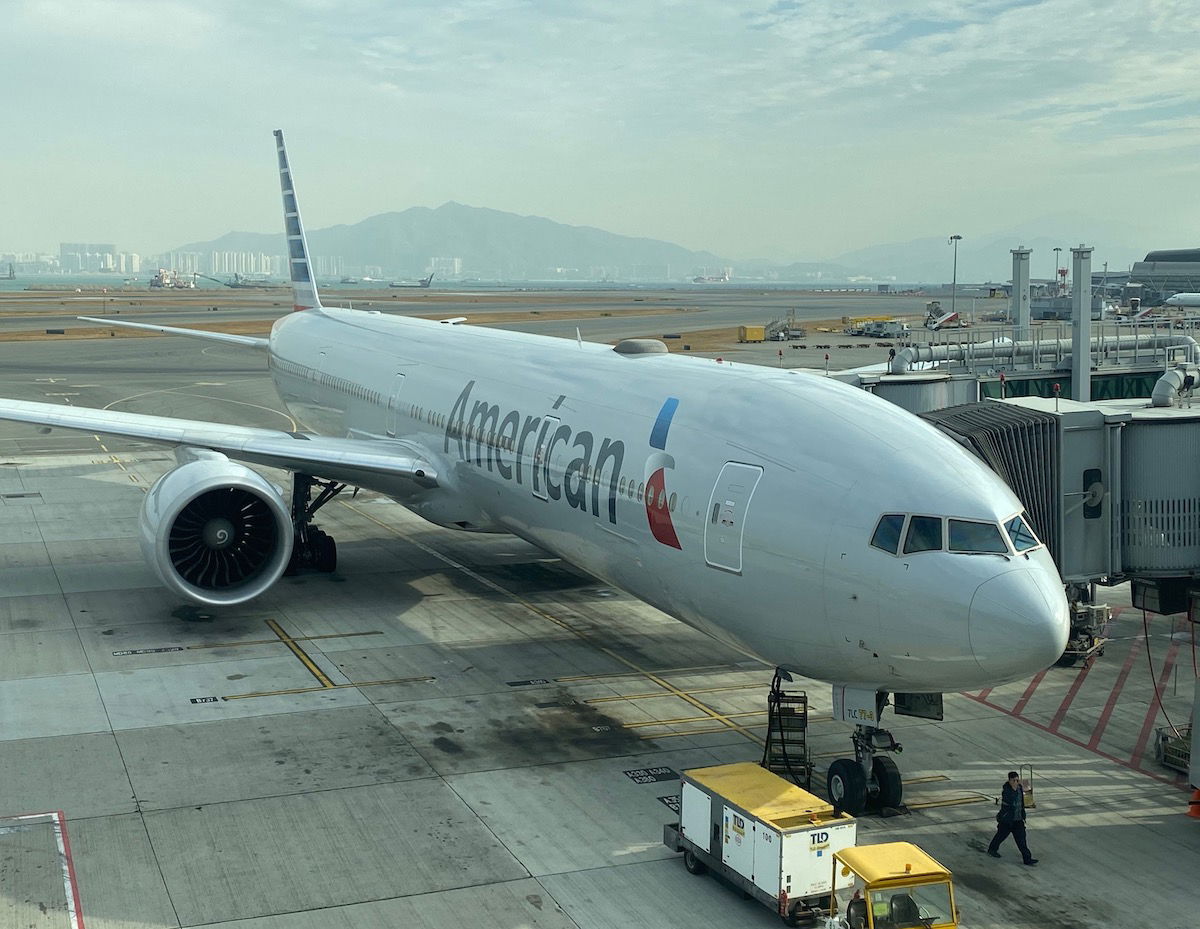 American Airlines eliminating "premium" first class
With American Airlines introducing a new business class seat, the airline will also be eliminating its "premium" first class as of late 2024:
Three-cabin Airbus 321Ts currently used for premium transcontinental flights will be reconfigured into a standard domestic configuration, and will be replaced on these routes by other jets with flat beds (probably A321XLRs)
When Boeing 777-300ERs are reconfigured with the new business class, the first class cabin will be eliminated
This is the end of an era not only for American Airlines, but this also marks the end of international first class for any US airline. It remains to be seen what happens to American's first class ground services, including Flagship First Check-In and Flagship First Dining. I wouldn't be surprised to see them stick around, but just monetized differently.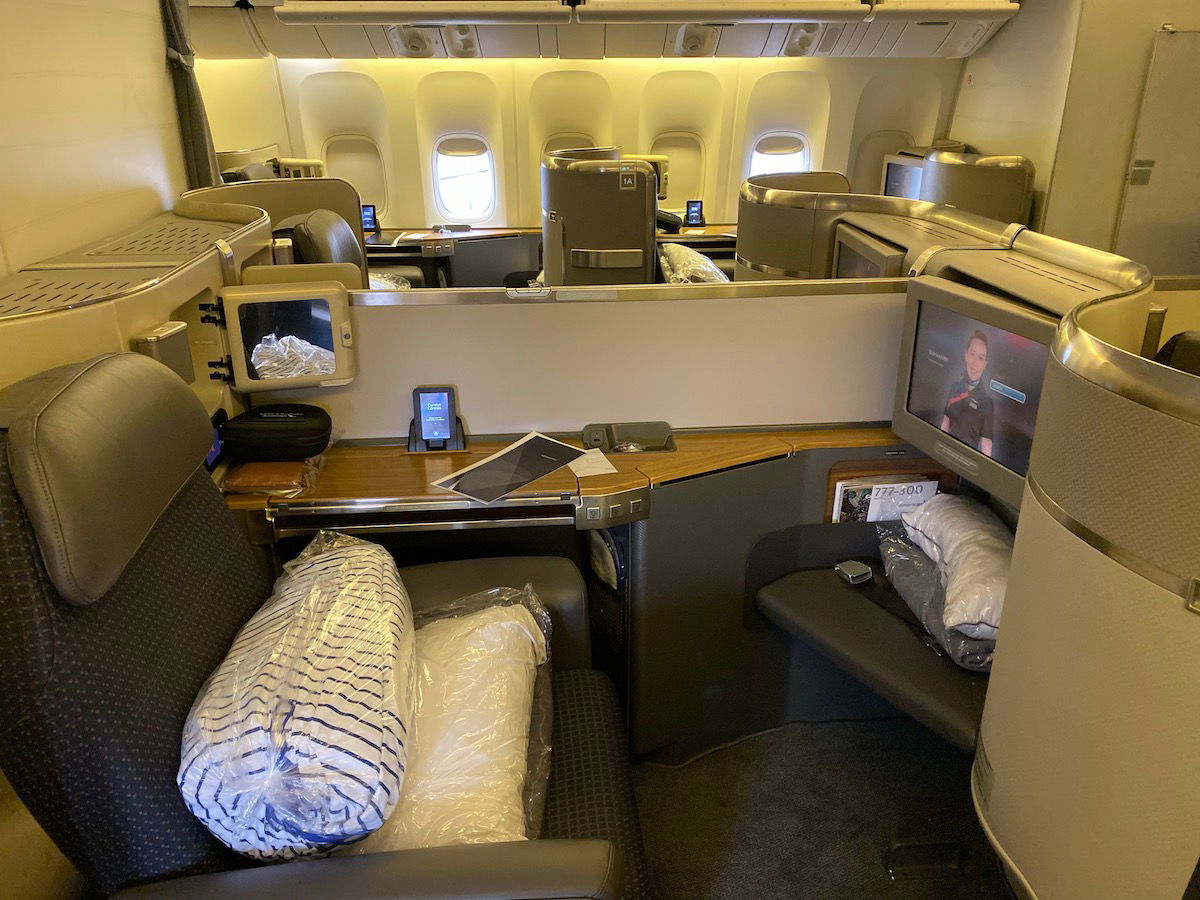 My take on American's new business class
It's nice to finally see what has been rumored for so long. At the end of the day there's nothing earth shattering here, in the sense that American is using products that other airlines already offer. However, these are among the best existing products out there, and on top of that I think American's cabin finishes are tasteful.
Equally exciting is generally seeing how American is increasing premium capacity, as that should be great for upgrades, and marks quite the departure from what American's strategy has otherwise been for years. American will also be eliminating first class, but I don't consider that to be much of a loss, given what a lackluster product it was.
Lastly, it's totally minor, but I can't even with the press release from American:
"Upon entering American's redesigned aircraft, created by design powerhouse Teague, customers will be greeted with an illuminated American Flight Symbol and thin red accent lines, affirming their flagship experience."
Nothing like having your flagship experience affirmed by the illuminated American Airlines logo!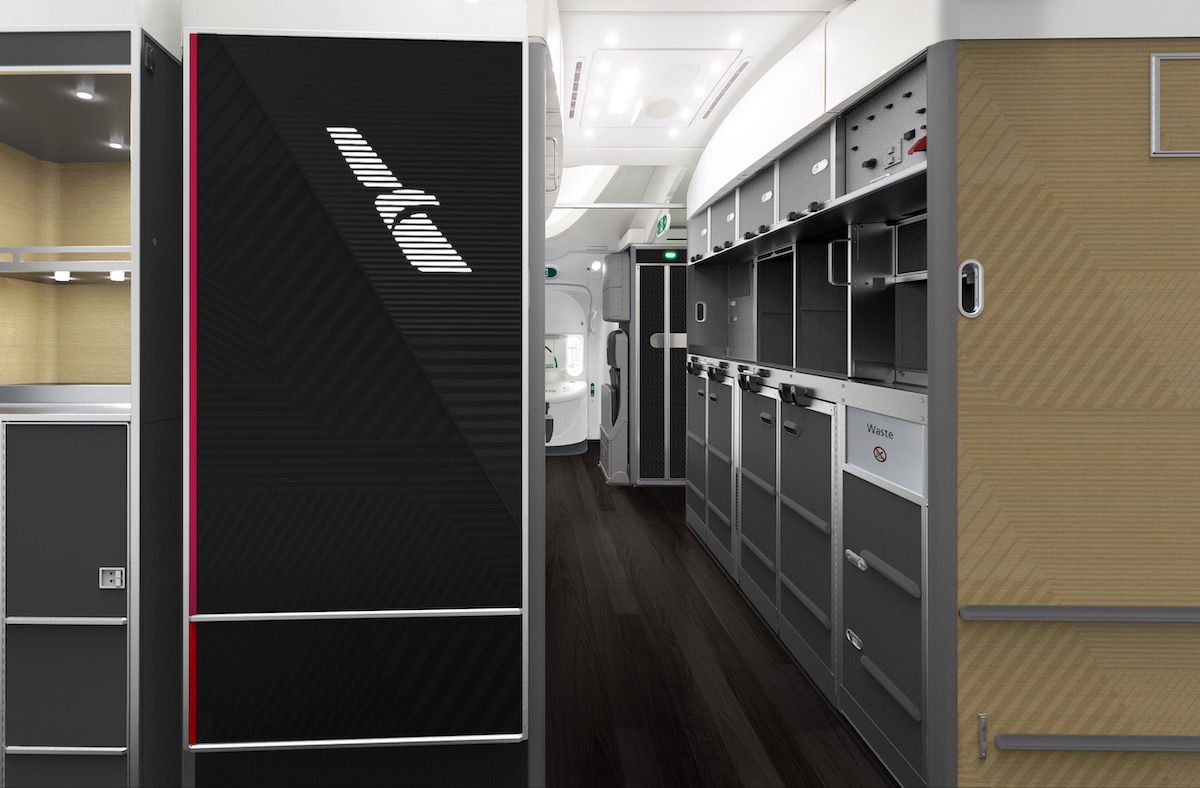 Bottom line
American Airlines has revealed its new business class products, which will debut in 2024 on Boeing 787-9s and Airbus A321XLRs.
Boeing 787-9s will get reverse herringbone Adient Ascent seats with doors, which should be a nice improvement to the passenger experience. Meanwhile Airbus A321XLRs will get herringbone seats with doors, almost identical to what you'll find on JetBlue's A321LRs. Expect planes to have at least one row of special business class seats that have more space.
Along with that, American is introducing a new premium economy product, and generally restyled cabins. The airline is also eliminating its premium first class product.
What do you make of American's new Flagship Suite business class?