Hello from Taipei! I just completed the 13.5 hour flight from Los Angeles on Starlux Airlines' Airbus A350-900. This is a flight I've been looking forward to ever since the airline was added as an Alaska Mileage Plan partner, and I managed to ticket an award in business class for just 60,000 miles.
As many OMAAT readers know (and often remind me), I seem to have a bit of an obsession with this airline, so I was really looking forward to this flight. After all, in this era it's not often you see full service airline startups.
I wanted to share my initial thoughts on the experience in this post, and then soon I'll have a full review. I know what some of you may be thinking — I'm just gonna be gushing all over this airline, and acting like this flight was the best thing since sliced bread.
Well, not quite. Rather, I walked away from the flight feeling conflicted. On the one hand, I think this is one of the 10 best business class products in the world. On the other hand, the experience left me oddly underwhelmed. That's more a reflection of my very high expectations than anything else, though.
I realize I'm sending mixed messages here, so let me share my initial impressions, in no particular order…
Starlux's A350 business class seats are incredible
Starlux Airlines' A350 business class cabin consists of 26 reverse herringbone seats (well, in addition to an awkward row of first class seats, which remain empty on most flights). Reverse herringbone seats are the most common long haul business class seats nowadays, but Starlux's seat is anything but ordinary.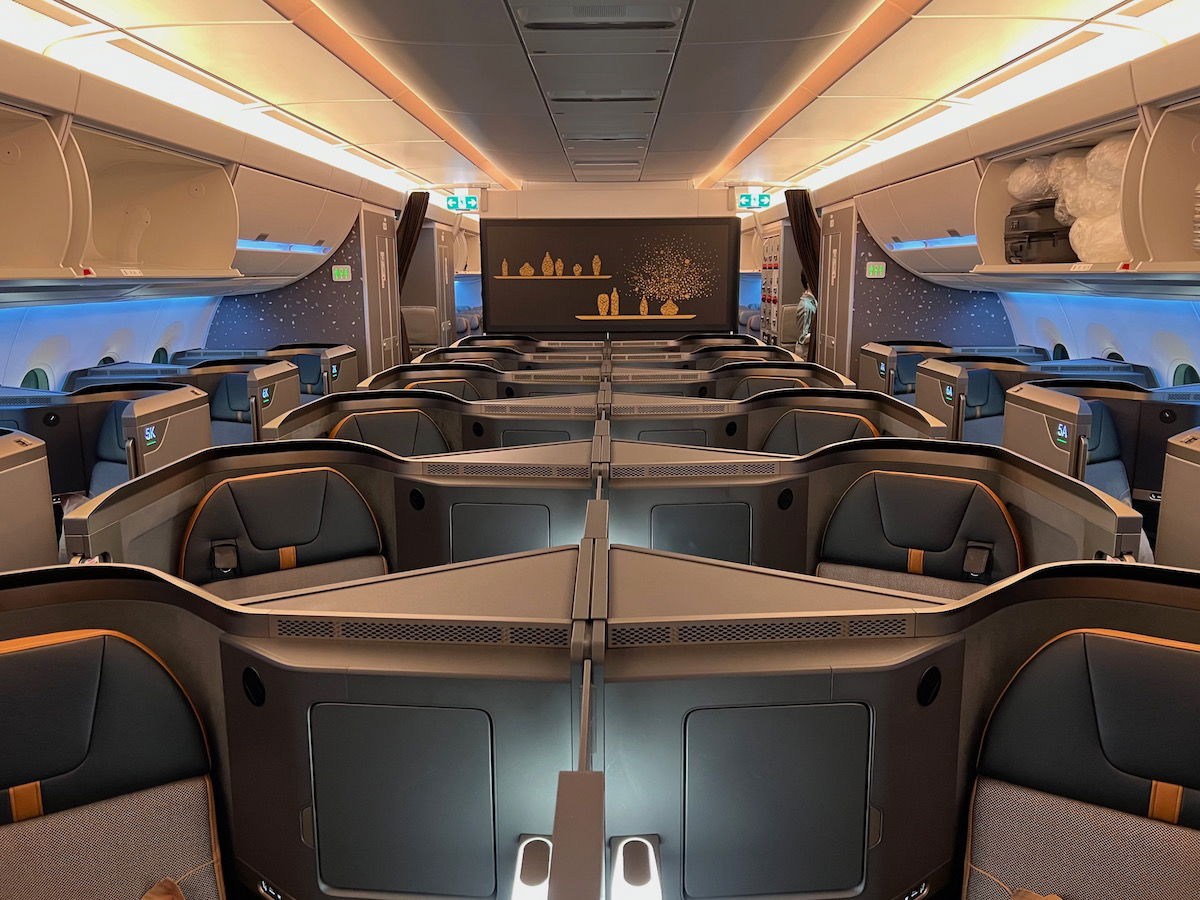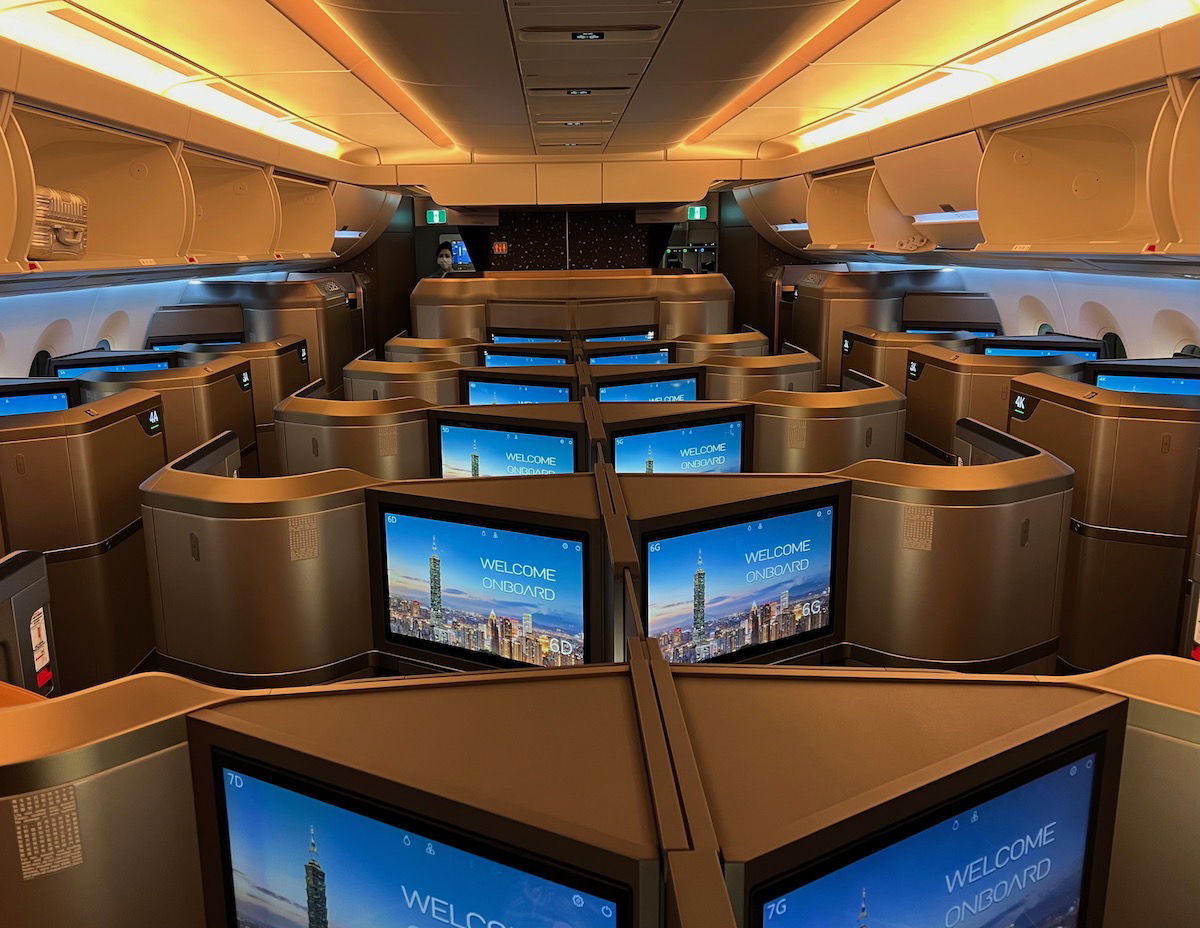 The airline is the launch customer for the new Collins Aerospace Elements product, which is an evolution of the Collins Aerospace Super Diamond seat that you'll find on many airlines. Going into this flight, I wasn't expecting this seat would be materially different than previous generation ones, so I was very pleasantly surprised.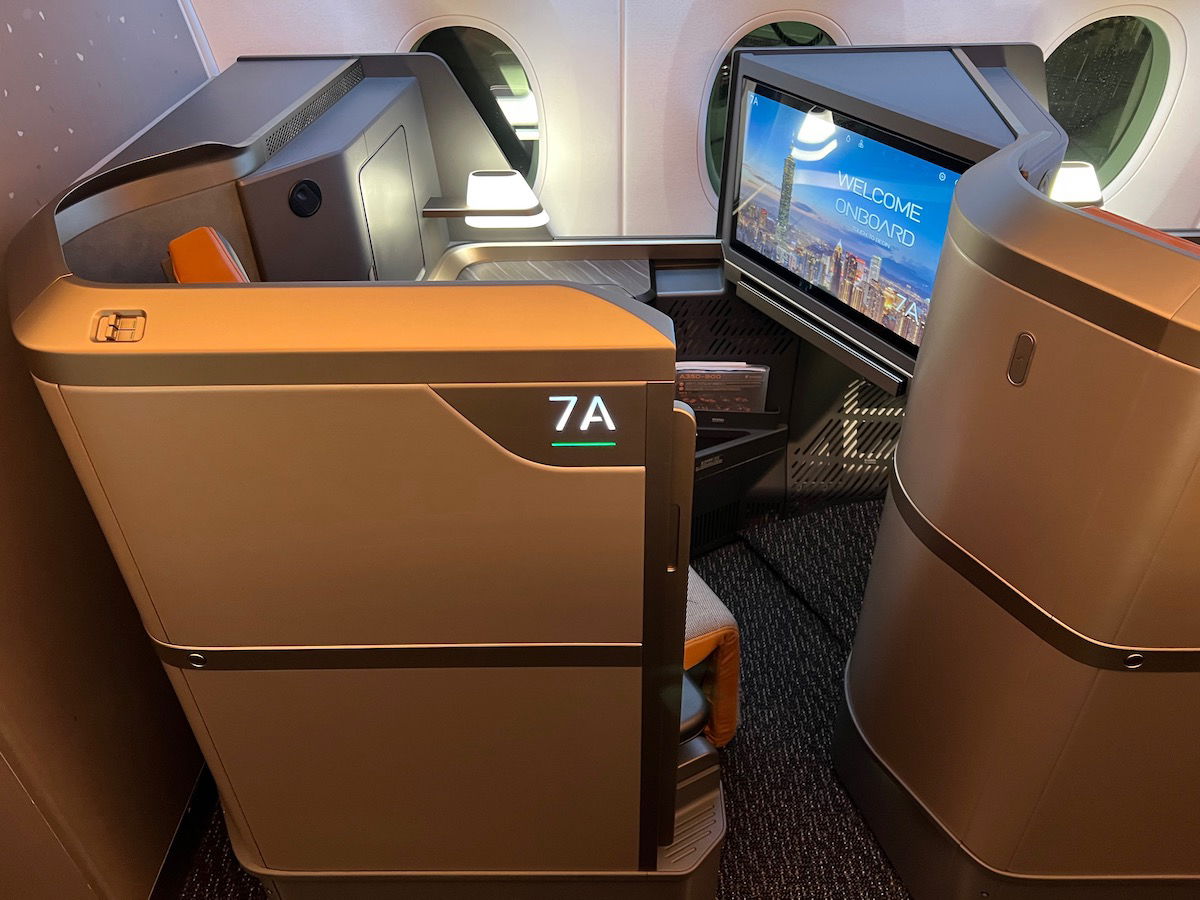 For one, the seat has amazing tech — a massive 24″ 4K screen (the biggest in any reverse herringbone seat), wireless charging, and bluetooth audio. Now, while the screen is great, the entertainment selection left a bit to be desired, especially when it comes to western movies and TV shows. But that's a personal preference, and also a software issue rather than a hardware issue.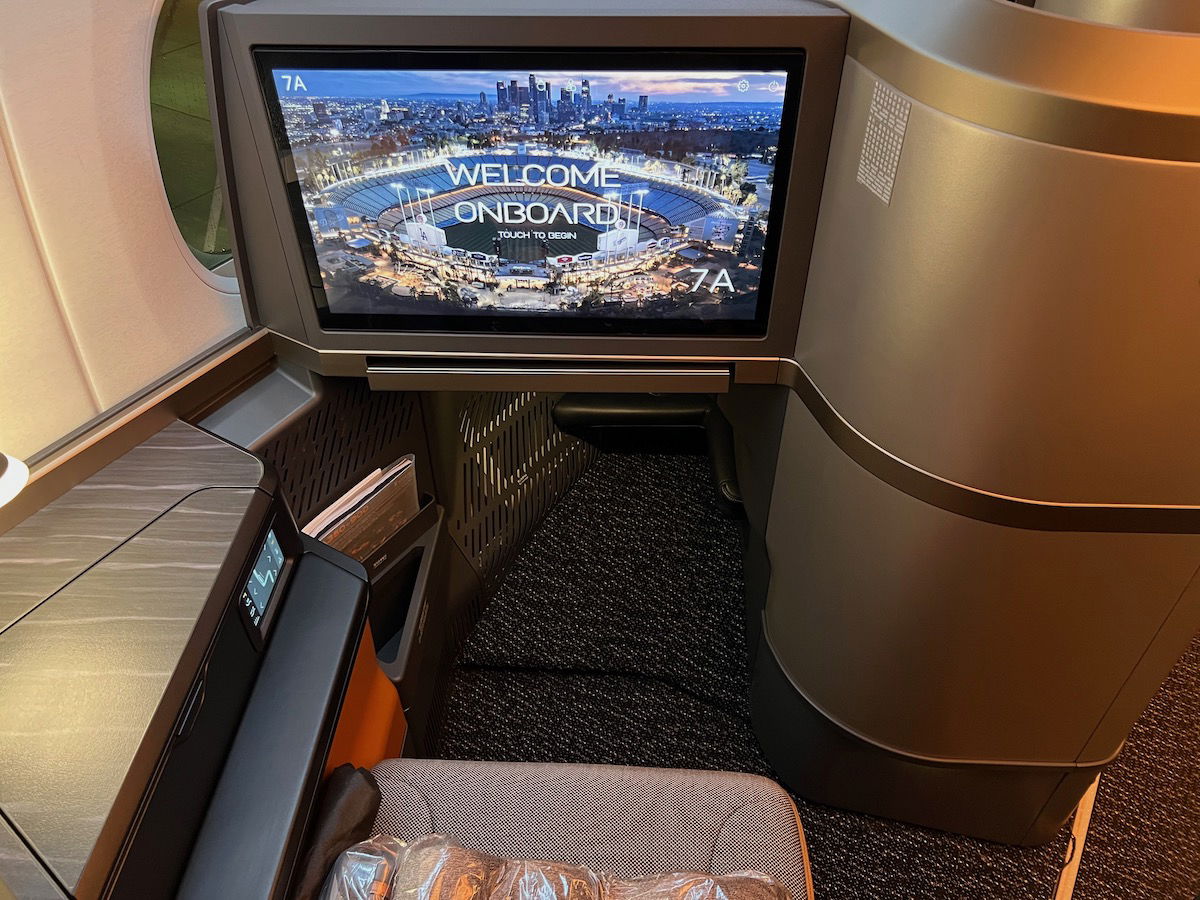 The suite also has gorgeous finishes and functional design, including multiple storage compartments, a substantial door, and more.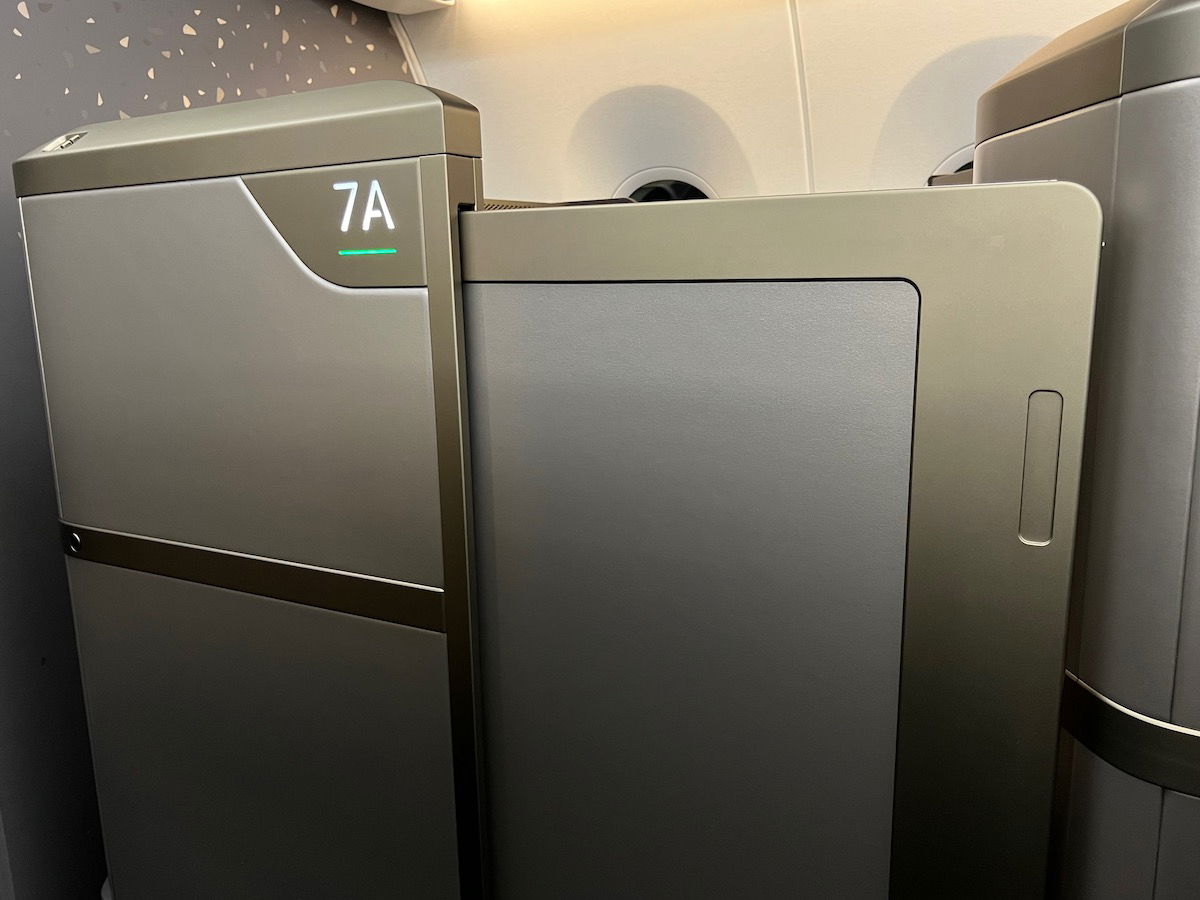 While that's nice and all, this seat has one biggest incremental improvement, in my opinion. One issue with many reverse herringbone seats is how tight the seat feels when in bed mode, as you have to place your feet in a small footwell. Us side sleepers often feel like we're basically wedged into the seat.
I don't know how exactly Collins Aerospace did it, but this seat feels much more spacious in bed mode. I never felt like my feet were restricted, and could comfortably sleep on my side without constantly bumping into things.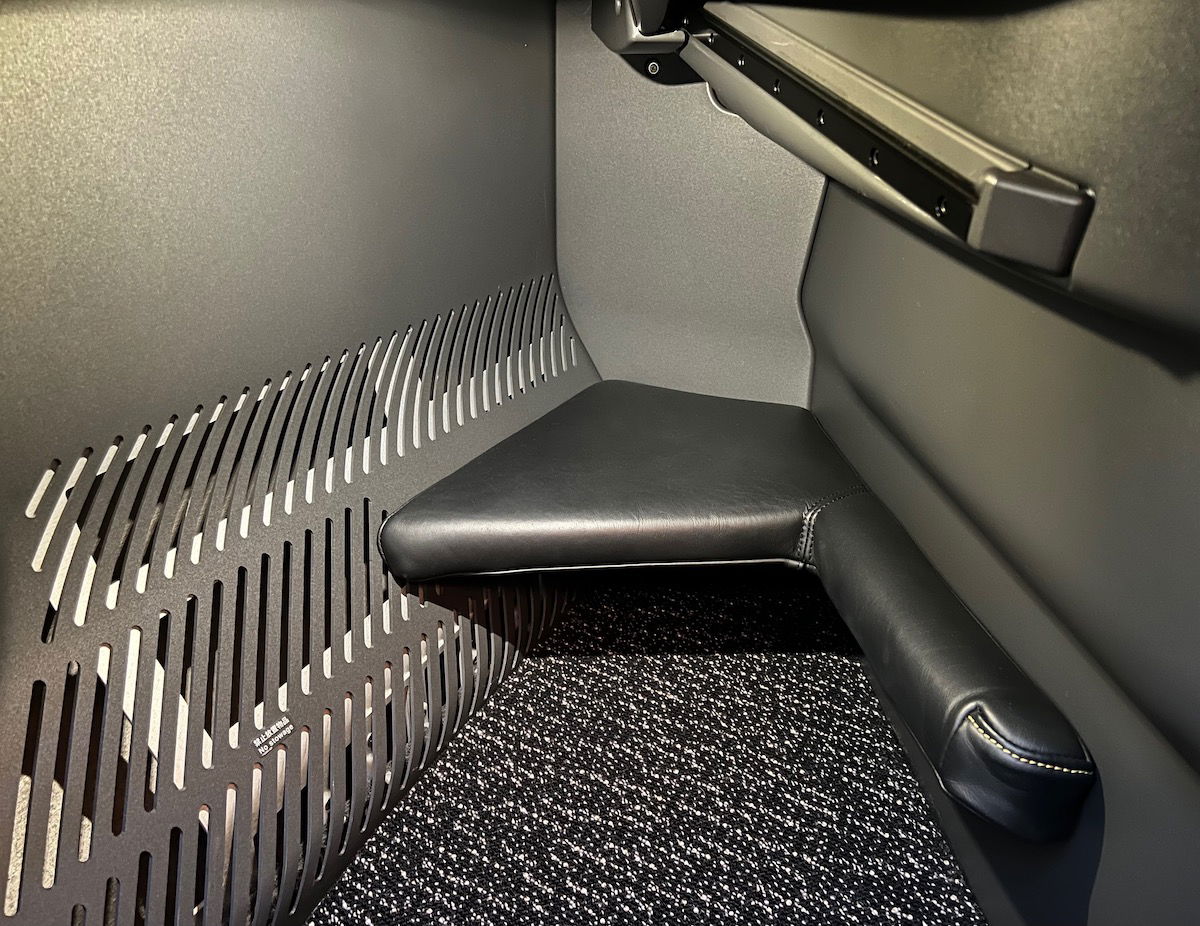 This is the reverse herringbone seat of the future, and I can't wait to see more airlines introduce it (Etihad will also be rolling out this product on some Boeing 787s in the near future).
Now, to be balanced, I do want to mention one criticism of this seat, and one criticism of the cabin. When it comes to the seat, the tray table isn't at all sturdy. It vibrates while the plane is just cruising (even if there's no turbulence), as I guess it's just not very stable. Hopefully that's something that can be fixed.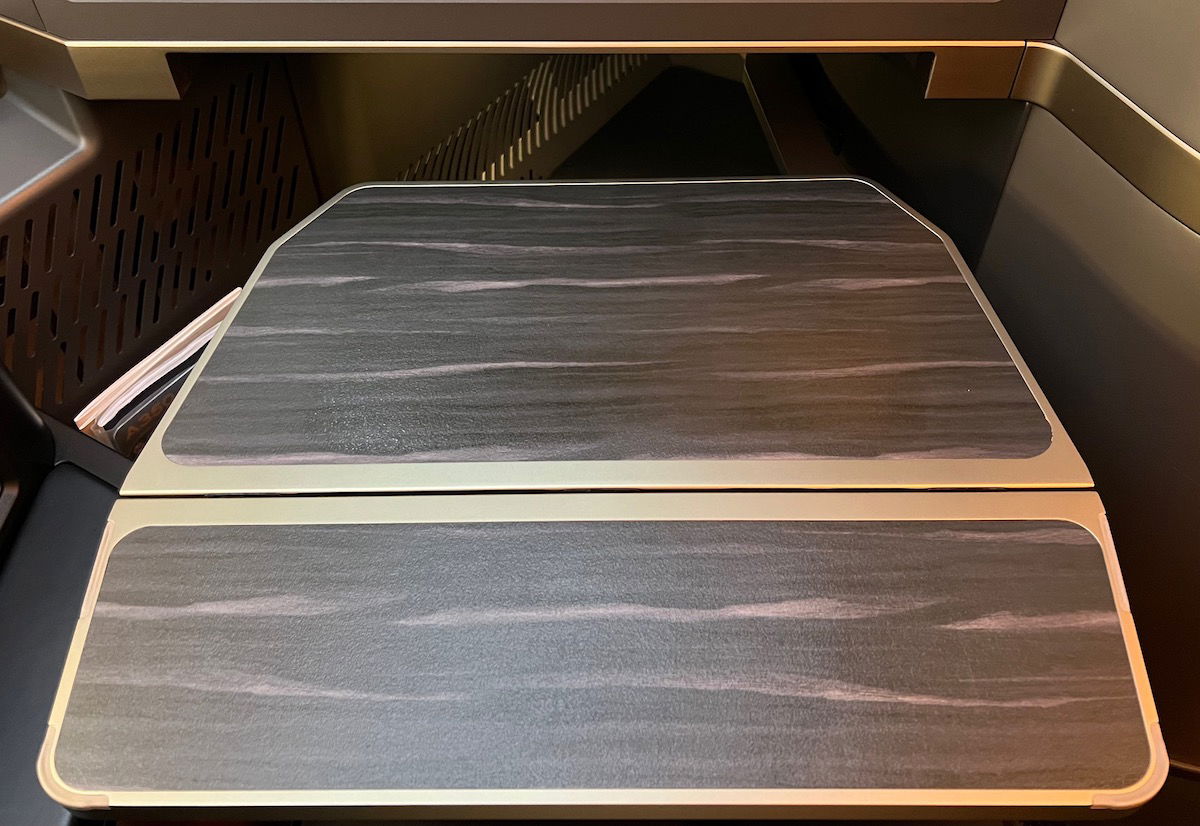 When it comes to the cabin, I also can't help but point out that while the seats are spacious, the cabin feels dense. For example, check out the location of the two rear lavatories. If you're in the pair of center seats in the last row of business class, you're uncomfortably close to the bathroom, which seems not ideal in terms of light pollution, noise, and odor.
Starlux's business class amenities are tough to beat
Starlux Airlines has an impressive selection of amenities on long haul flights. The airline has pajamas, among the most comfortable I've received on any airline.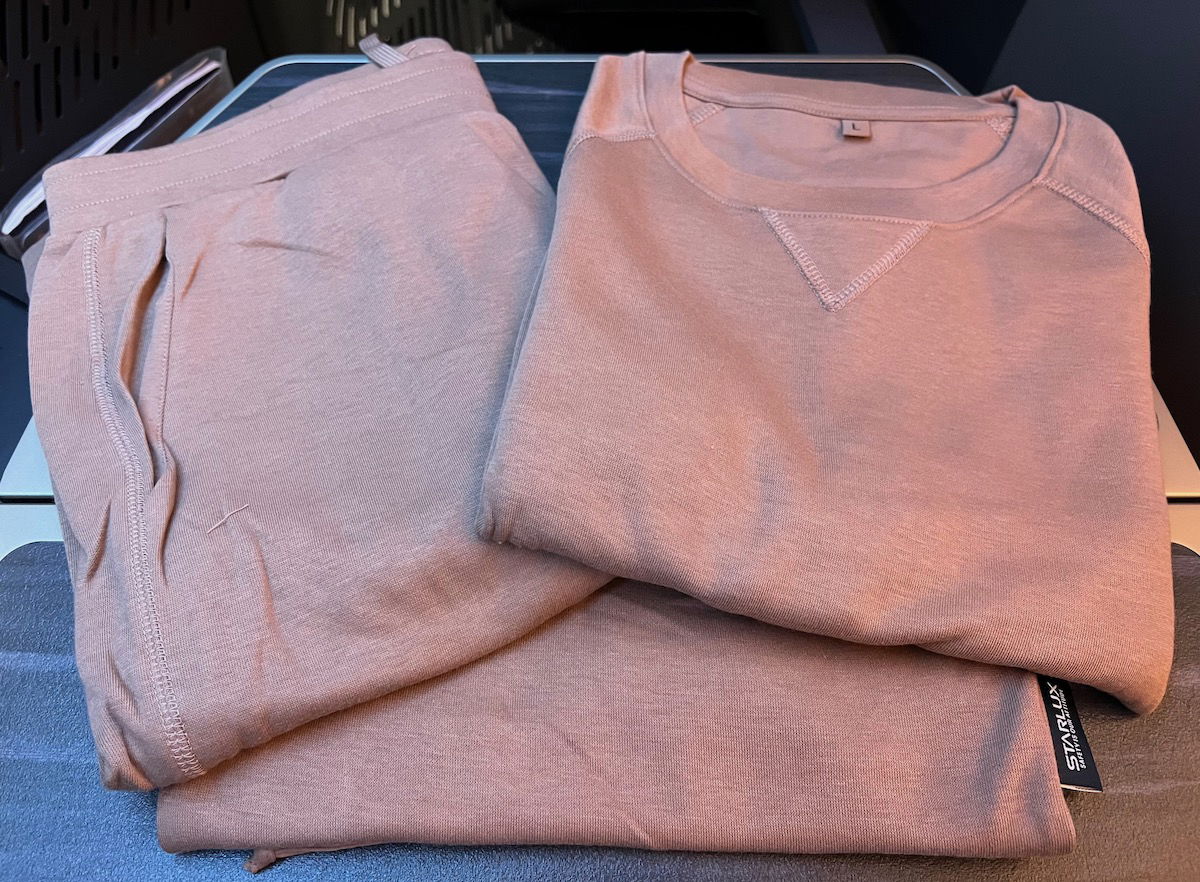 There are also amenity kits from BRIC's, containing products from Huygens.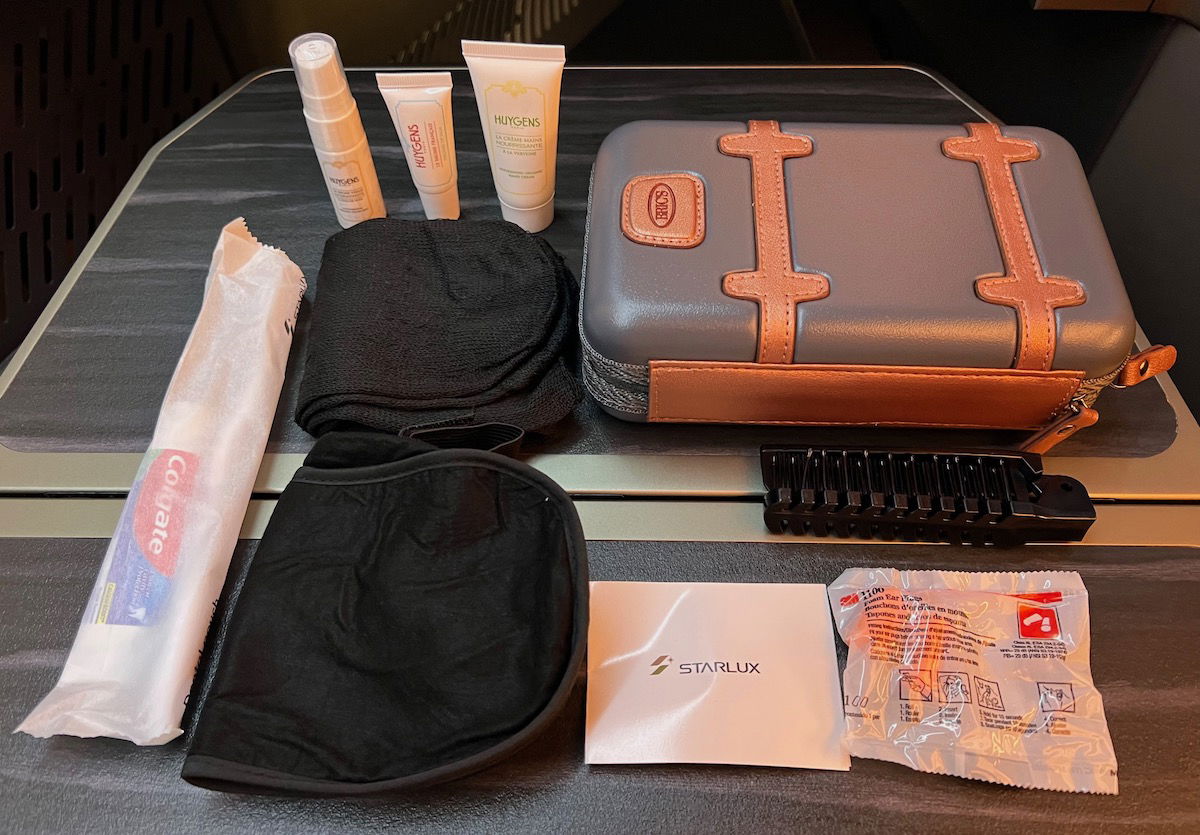 Starlux also offers each passenger a comfortable pillow and blanket, plus a substantial mattress pad, which makes this one of the most comfortable business class seats in the sky, in my opinion.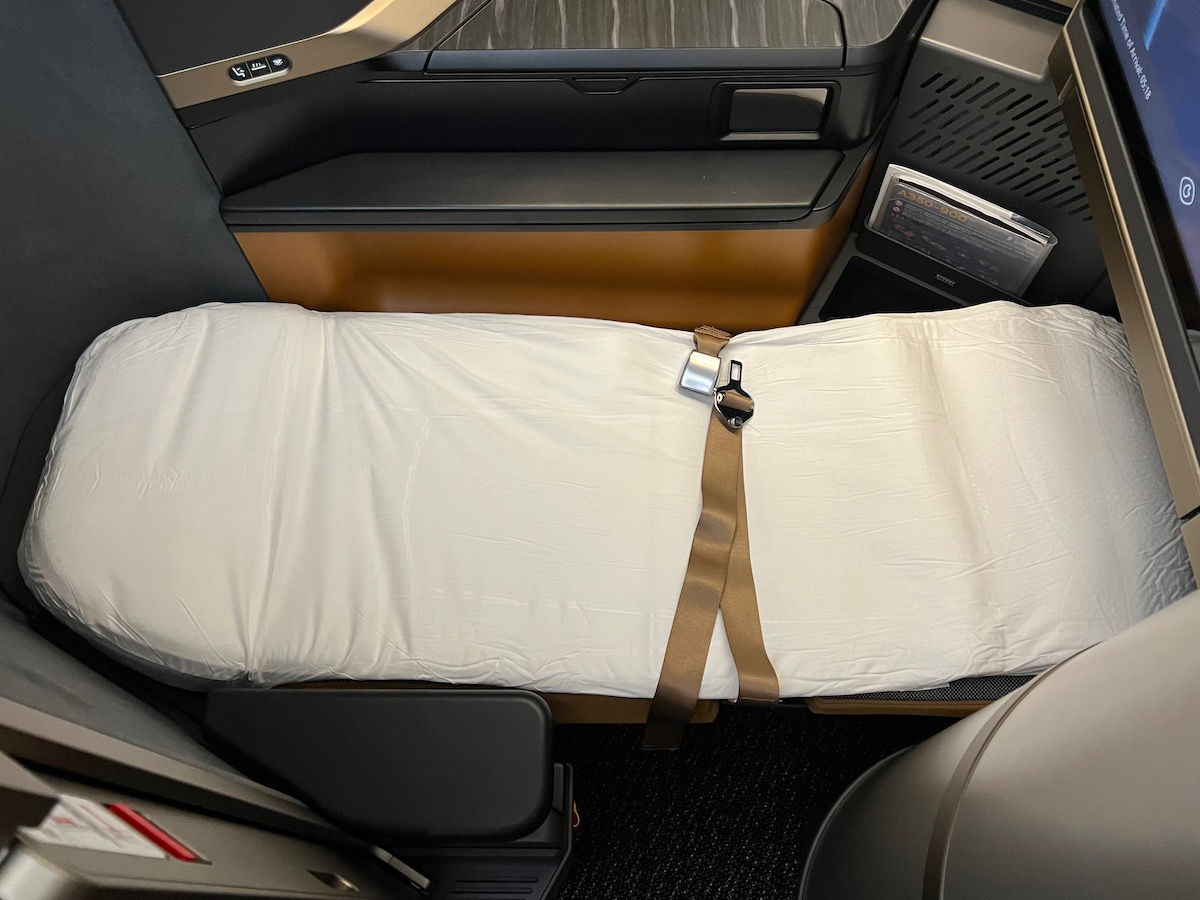 Lastly, Starlux offers business class passengers unlimited complimentary Wi-Fi with no data caps. It's nice to see that this is increasingly a trend at more airlines, as it hasn't historically been the case.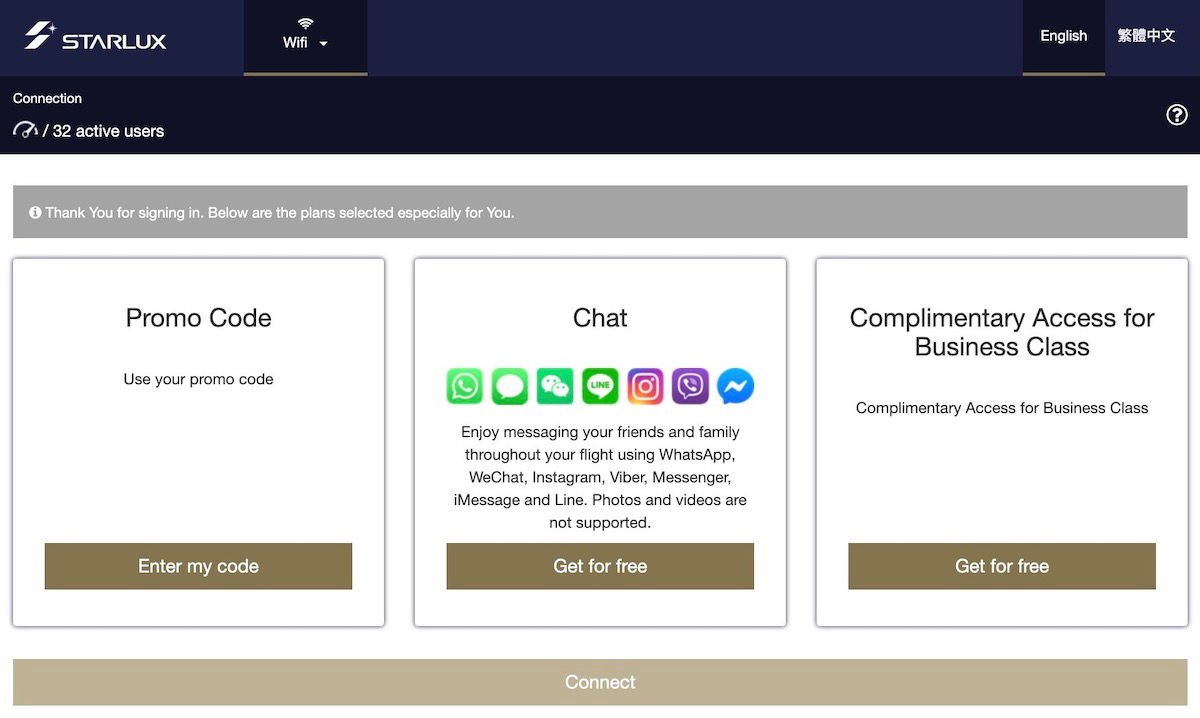 Starlux's business class food & drinks are good
I had really high expectations of Starlux Airlines' food and drinks based on everything I had heard.
On the plus side, Starlux has a solid alcohol selection, with some imaginative cocktails, plus an extensive selection of wine, including Bollinger champagne.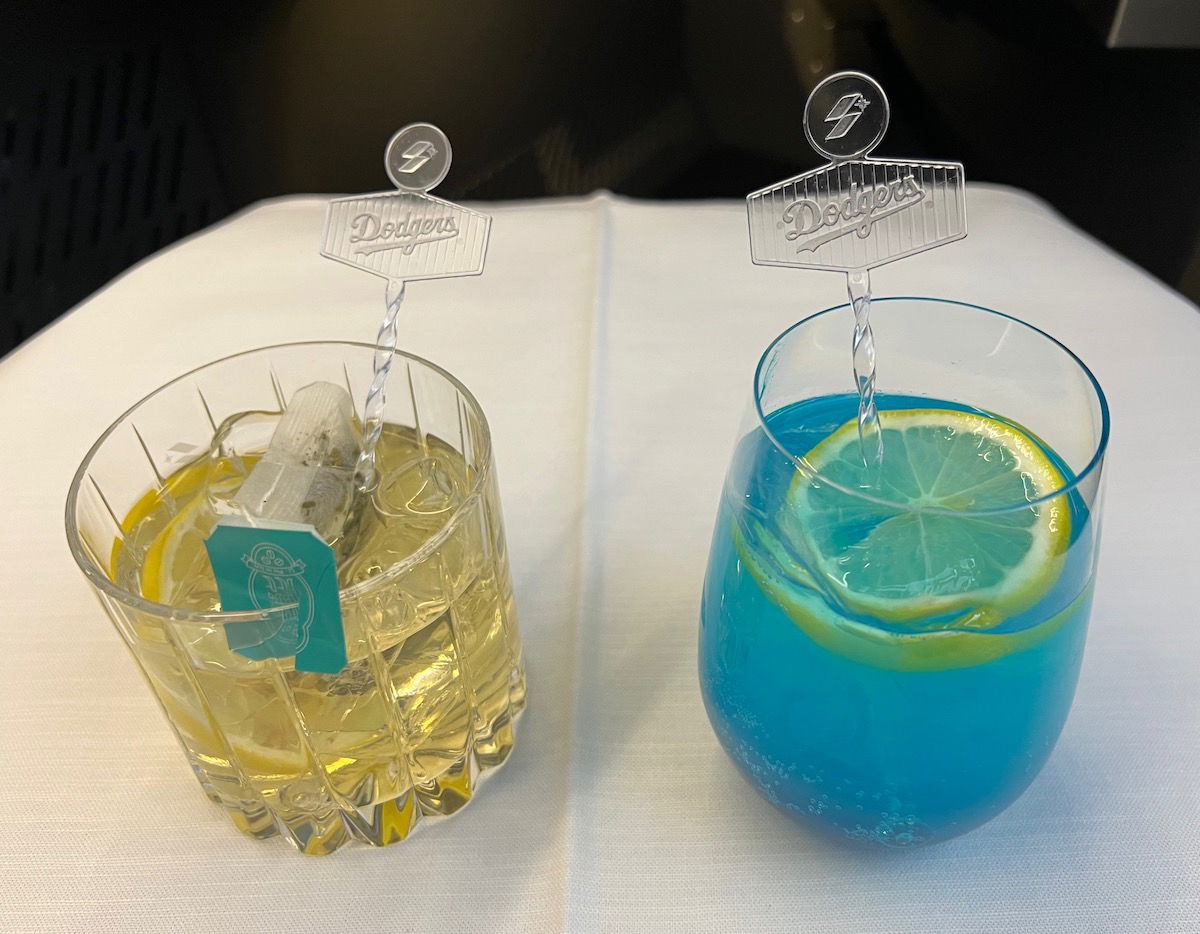 As far as the food goes, I'd say that fell more in the category of being good rather than great.
Starlux's flight from Los Angeles to Taipei departs at 1AM and arrives at 5AM the next day, so dinner is served after takeoff, and then breakfast is served before landing. Unless you pre-order (which you can't do online on a ticket issued by Alaska), the only meal options after takeoff are from the international menu.
There were no canapés or snacks before the meal, but rather it started with a grilled shrimp salad followed by a mushroom soup.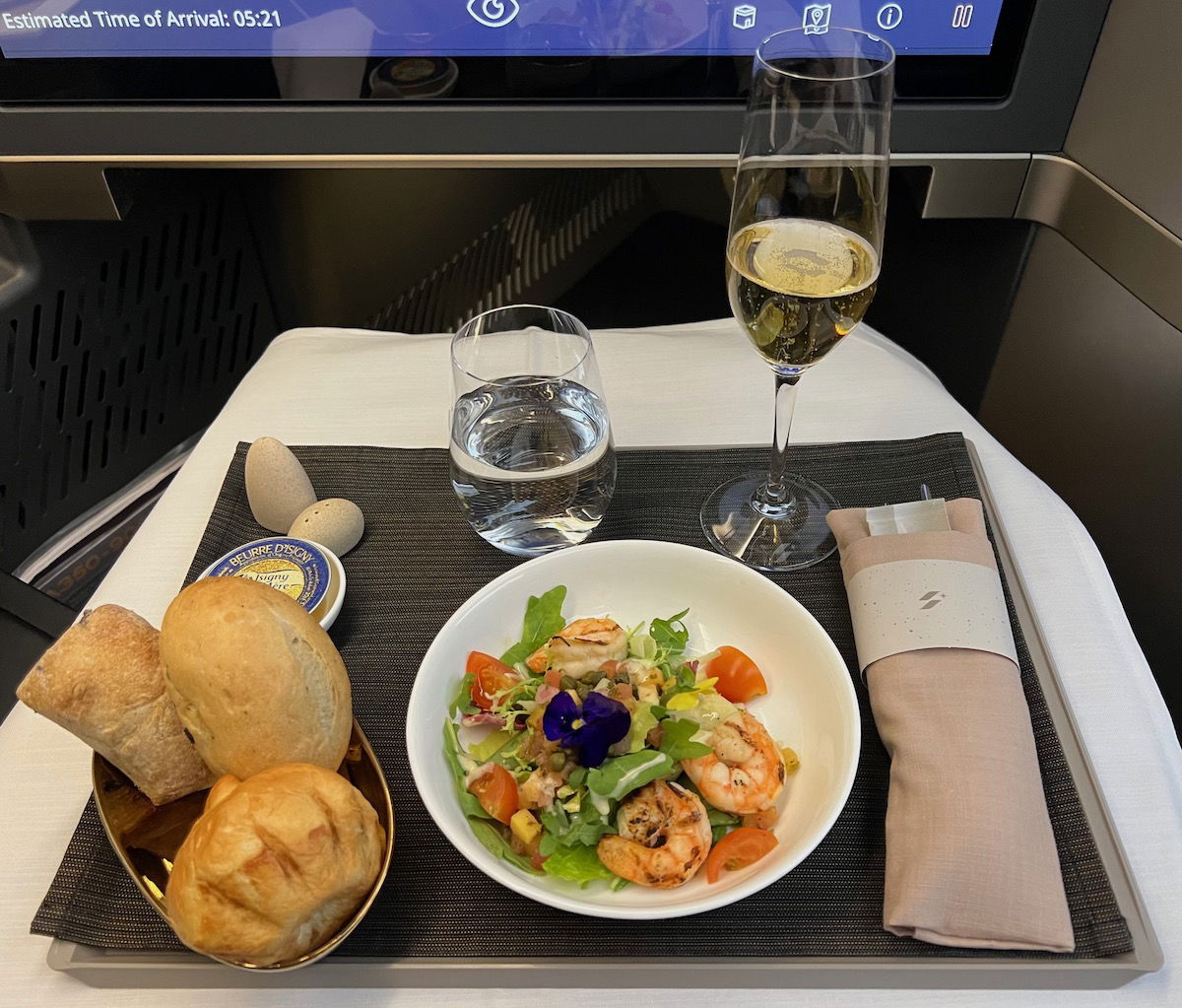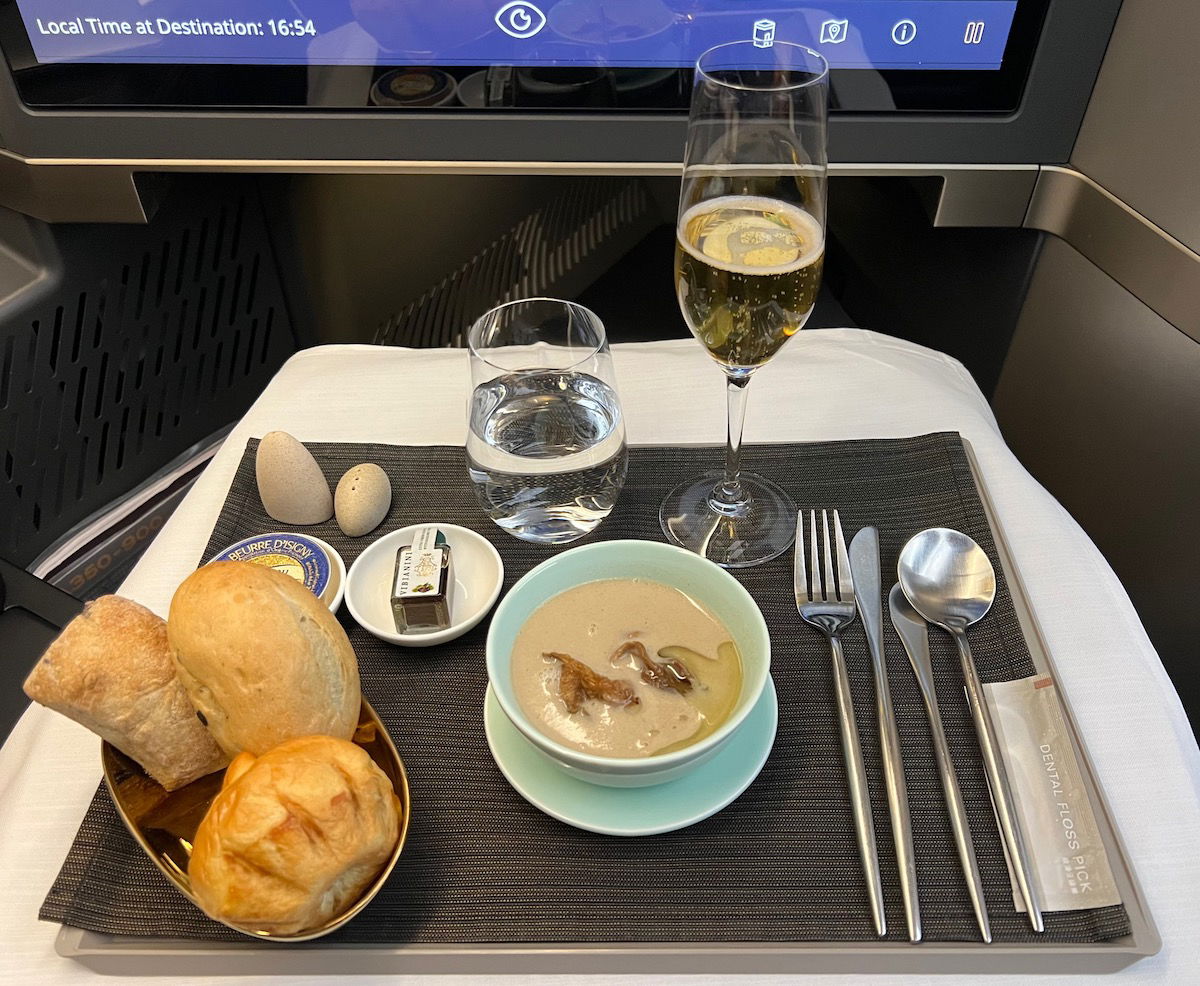 There were four choices for main courses, including a Chilean sea bass with oyster sauce, fried noodles, and vegetables.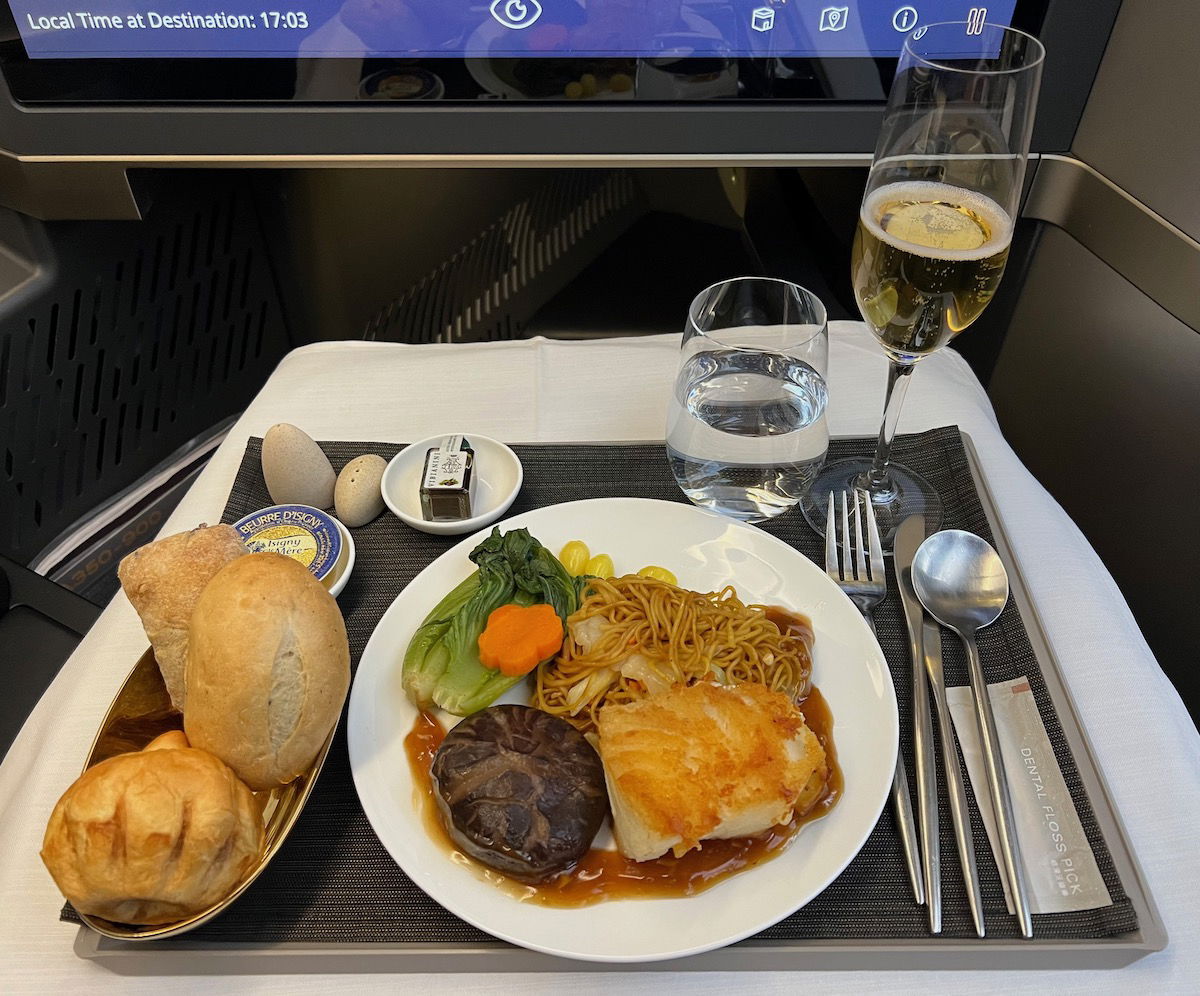 Then for dessert there was an apple pecan tart and a fruit plate.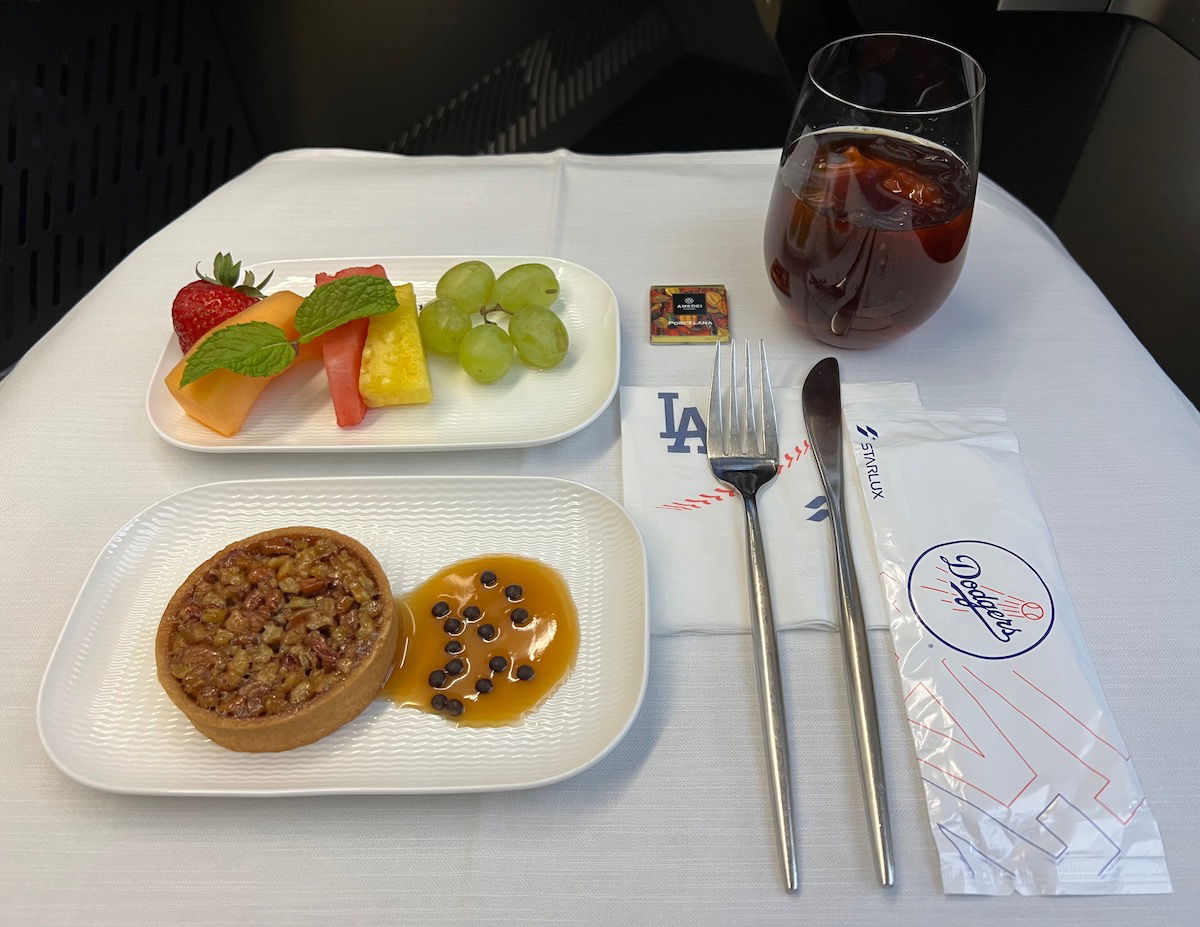 Honestly, the food was tasty enough, though oddly it looked better than it tasted, in my opinion. Don't get me wrong, it wasn't bad at all, it just wasn't memorable, and wasn't among the best meals I've had on a flight in business class.
Where Starlux business class disappointed me
Starlux Airlines markets itself as a "detail oriented luxury airline," and if I had one criticism of this flight, it's that it seemed like attention to detail was lacking. Perhaps I was just unlucky, though.
Starlux is known for having great staff, and the crew on this flight was perfectly friendly and well intentioned. On my first ever trip with Starlux, the service was flawless, among the best I've had on any airline. I hate criticizing service when it's well intentioned, but this crew wasn't of the same caliber.
The crew seemed quite robotic and reactive, rather than proactive:
The crew would walk down the aisle frequently, but always seemed to avoid making eye contact, or noticing things
For example, I had plastic wrapping from my amenity kit and bedding placed next to my seat for two hours, before I just went to the lavatory to dispose of them myself; at Singapore Airlines, the crew would've removed those proactively with the first pass
When I'd request a coffee or a bottle of water between meals, the crew would never come back later and see if they could clear it or offer me something else, but rather it would just sit there
The service also just felt sloppy; I was never brought a napkin with breakfast, and the crew brought the breakfast appetizer and bread around 10 minutes after bringing the main course
During the dinner service (shortly after 1AM), the cabin lights were turned all the way up, rather than using some sort of mood lighting, or creating a calming environment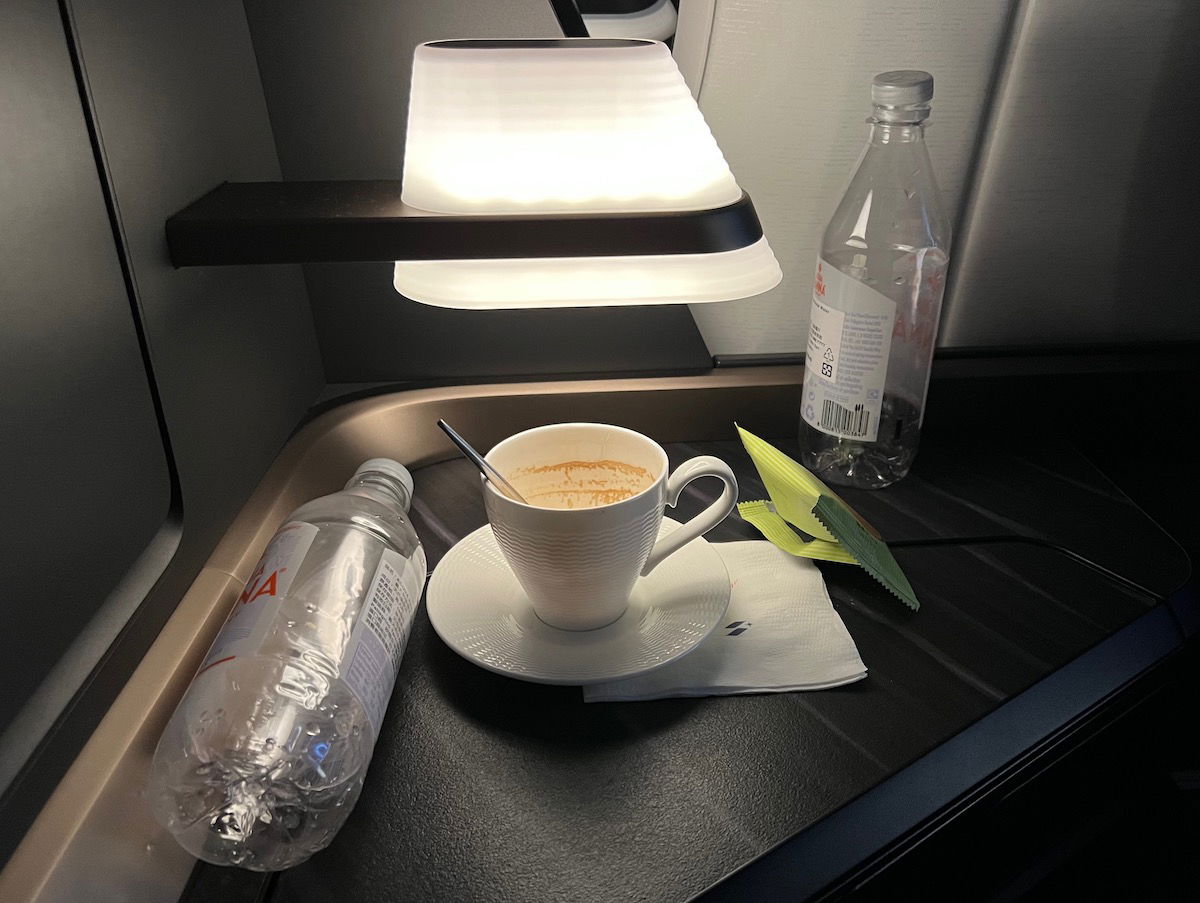 The above are just a few examples. Like I said, the crew was honestly friendly, so I'm not trying to say they were bad. It's just that Starlux sets the bar very high, and I feel like this crew didn't deliver on that.
It's not just the crew where attention to detail is lacking, though. A couple of other examples:
Starlux has some signature cocktails with unique names, but nowhere in the menu or drink list does it describe what's in those cocktails; how are you supposed to know what the Summer Sunbeam or Sci-Fi Cosmos 2.0 are?
For the mid flight snack, I ordered the angus beef burger, which was just described as coming with a cherry tomato salad; when it was served, it had bacon (which I don't eat), so you'd think they could have the menu accurately display how the dish is served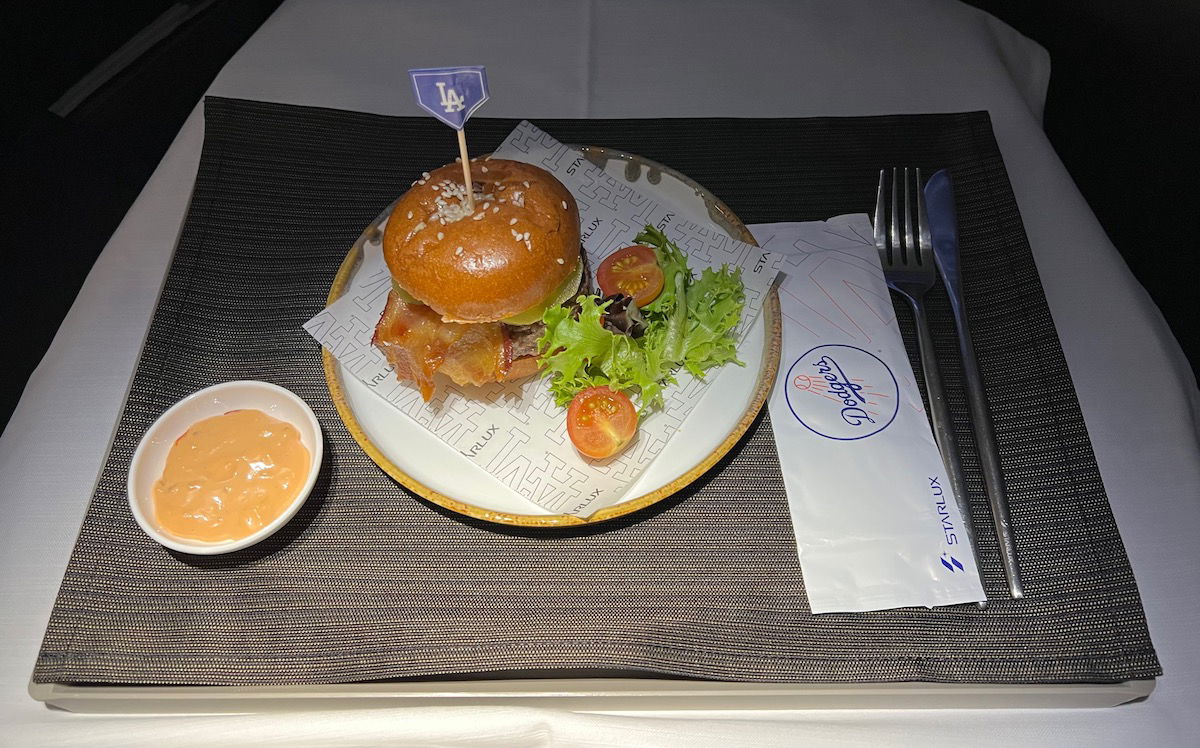 For what it's worth, I'm not the only one who felt a bit disappointed by the soft product. A reader happened to be on the flight, and as we deplaned, I asked him what he thought. He said that while it was pretty good, he was expecting it to be better, and he prefers China Airlines.
Bottom line
I'm delighted that I finally had the chance to fly Starlux Airlines' A350 business class on a long haul flight. The flight was very good — the reverse herringbone seats are great, the technology is phenomenal, the amenities were high quality, and the food and drink selection was quite good.
While I'd say this is a very competitive product and ranks in my top 10 business class products, I still got off the plane feeling a bit underwhelmed. Admittedly that's largely due to my high expectations going in, as the airline has set the bar very high. For that matter, Taiwan is probably the most competitive aviation market in the world, as it has three world class airlines.
I'd fly Starlux again in a heartbeat, but based on my experience, this flight didn't rank in the top three business class products in the world (which is initially what I was expecting). The food just wasn't that inspiring, and the service left a bit to be desired. Hopefully my experience was just an outlier.
What do you make of Starlux Airlines' A350 business class?