For the last portion of my four trips across the Atlantic, it was time to fly Virgin Atlantic's new Airbus A330-900 Upper Class (business class) from London to Miami. The A330-900neo is a fresh addition to Virgin Atlantic's fleet, and it features a brand new passenger experience.
I was impressed by Virgin Atlantic's new Upper Class product. The cabin is beautiful, the food and amenities were quite good, and as usual on Virgin Atlantic, the service was friendly. Let's get right into the review.
How I booked my Virgin Atlantic Upper Class ticket
I booked my Virgin Atlantic business class ticket using Flying Club points. There generally aren't any practical ways to avoid Virgin Atlantic's high carrier imposed surcharges, and Virgin Atlantic Flying Club has attractive points requirements, and the points are also easy to come by.
I booked the following flight in business class for 47,500 Flying Club points, plus $760 in taxes, fees, and carrier imposed surcharges:
2/13 VS5 London to Miami departing 12:20PM arriving 5:40PM
For context, the UK Air Passenger Duty (which is due when departing the UK, regardless of the airline you're flying) totaled $226, while the carrier imposed surcharges (often referred to as fuel surcharges) totaled $428.
What's awesome is that Flying Club partners with major transferable points currencies, including Amex Membership Rewards, Capital One, Chase Ultimate Rewards, and Citi ThankYou. I even managed to transfer over my points to Flying Club when there was a transfer bonus, meaning I paid even fewer transferable points in the end.
Virgin Atlantic Upper Class lounge & boarding
In the previous installment I reviewed the Virgin Atlantic Clubhouse Heathrow, which is one of my favorite business class lounges in the world. My flight was departing from gate 34, with boarding scheduled for 11:25AM, 55 minutes before departure. Sure enough, that's exactly when boarding started, with priority passenger being invited to board first.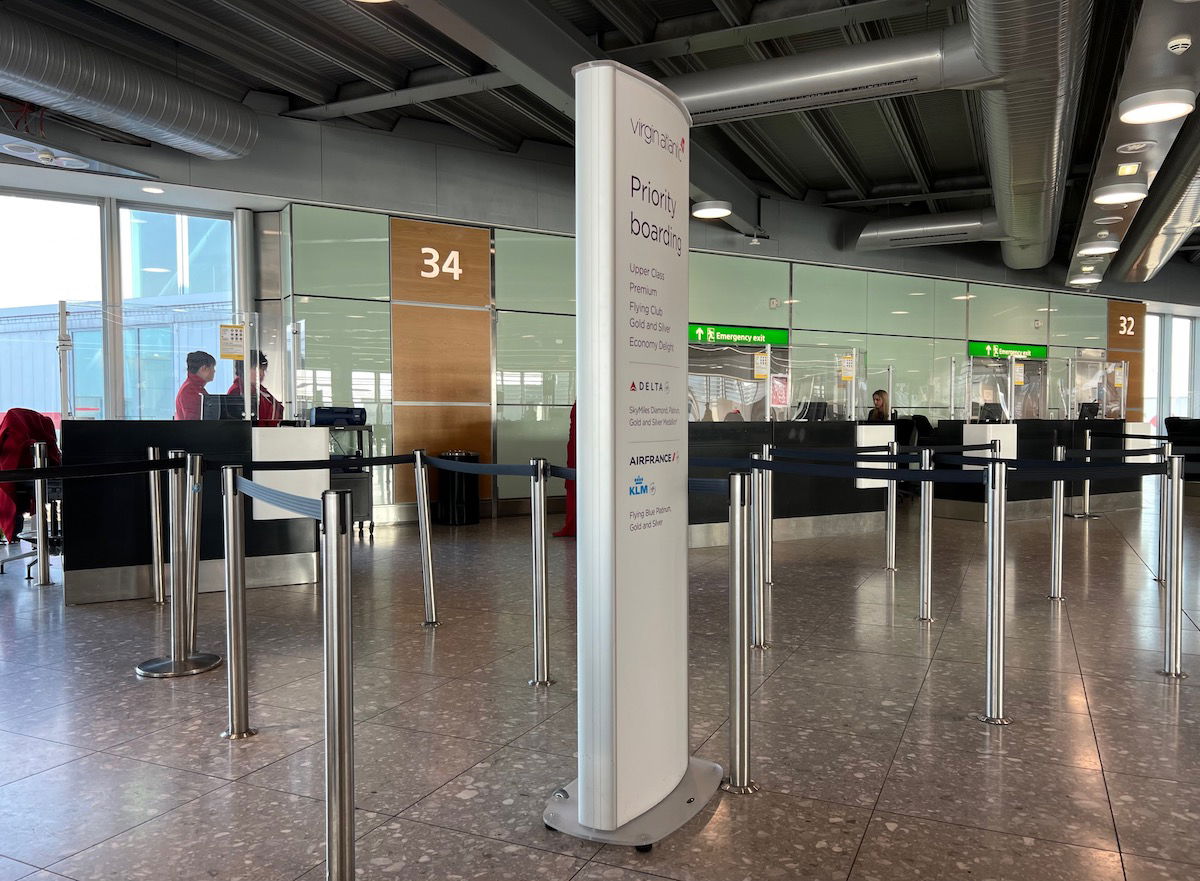 Isn't the Virgin Atlantic Airbus A330-900neo gorgeous?!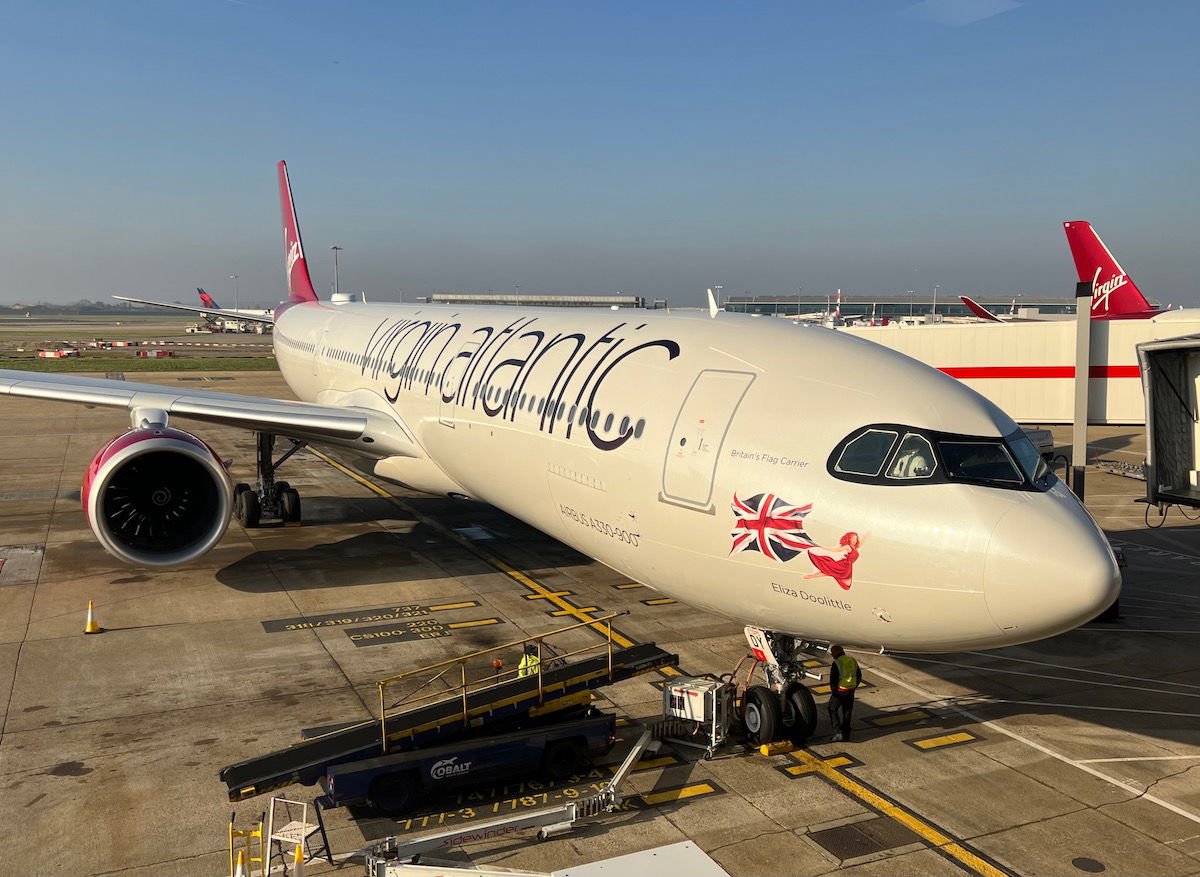 Virgin Atlantic A330-900neo Upper Class cabin & seats
I boarded through the second set of doors, which is where The Loft is located (which I'll talk more about below). Before turning left into the business class cabin, I took a quick glance at the huge 46-seat premium economy cabin, which looked quite comfortable.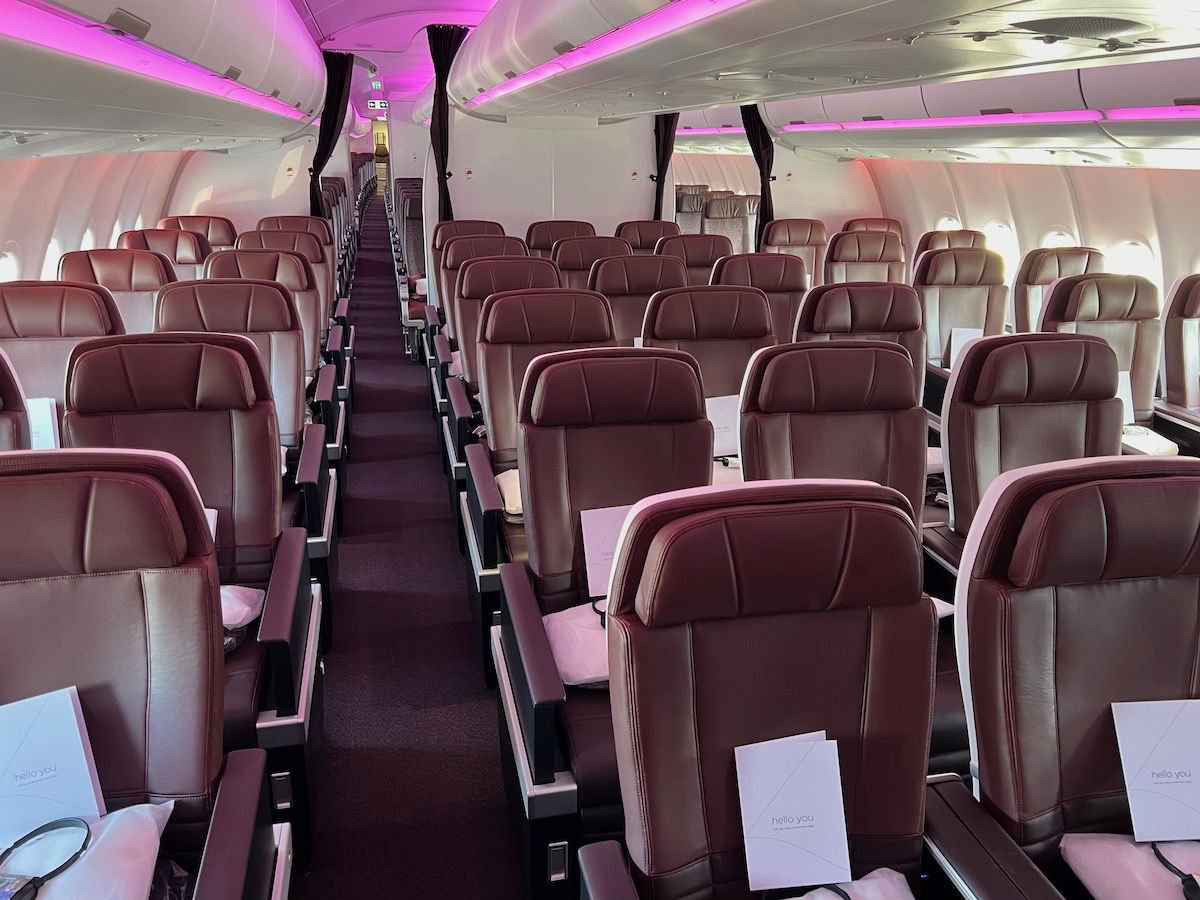 Virgin Atlantic's A330-900neo business class cabin consists of a total of 30 seats, spread across eight rows in a 1-2-1 configuration.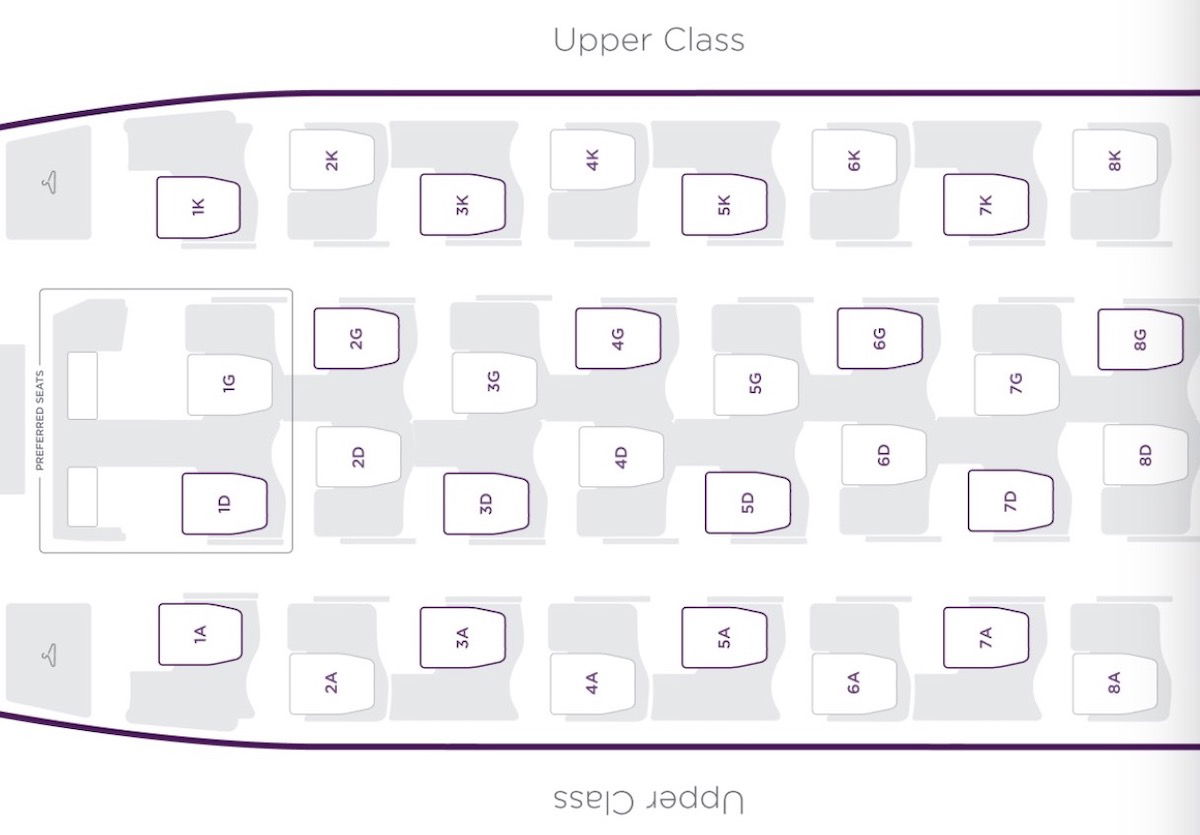 The business class product on these planes consists of customized Vantage XL seats with doors, which are in a staggered configuration. This product should look familiar, as the "bones" of the seats are almost identical to Delta's Airbus A330-900neo business class.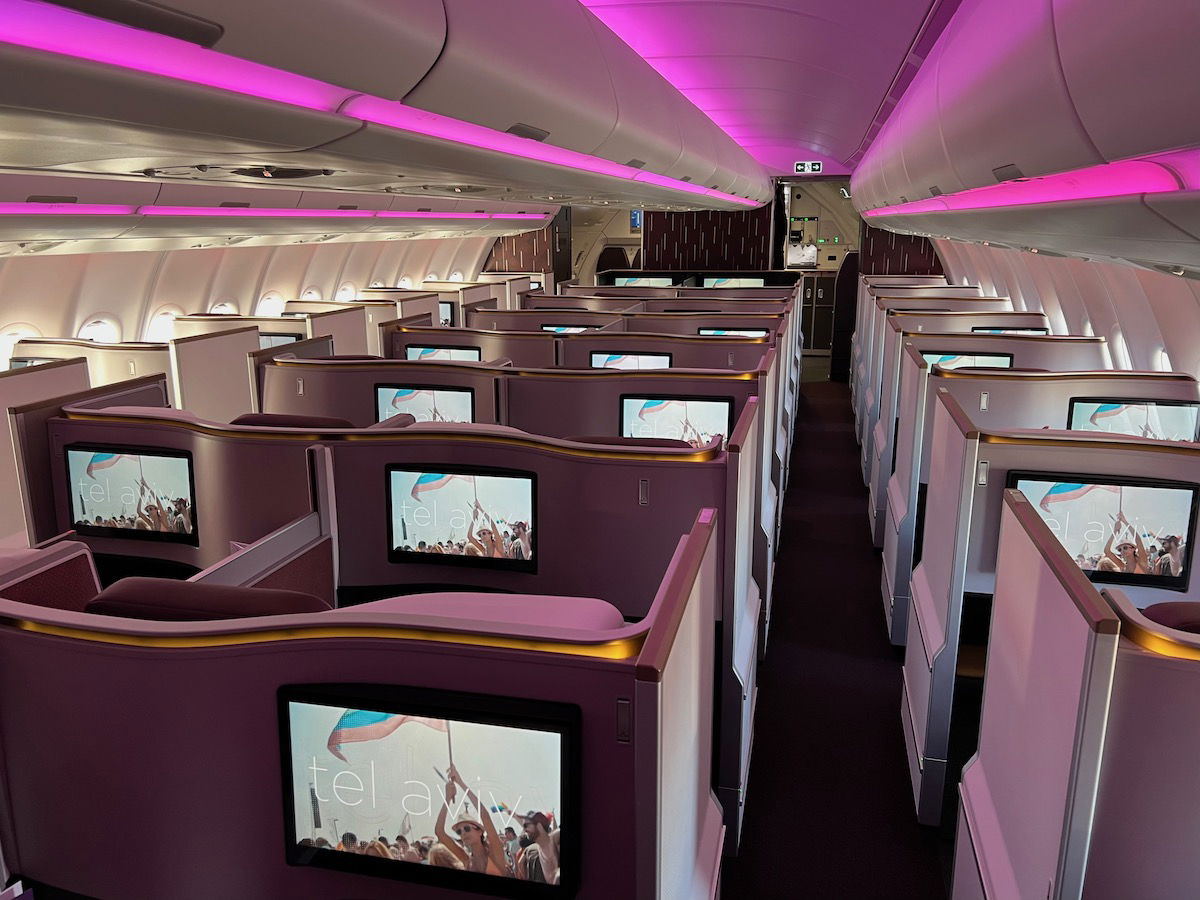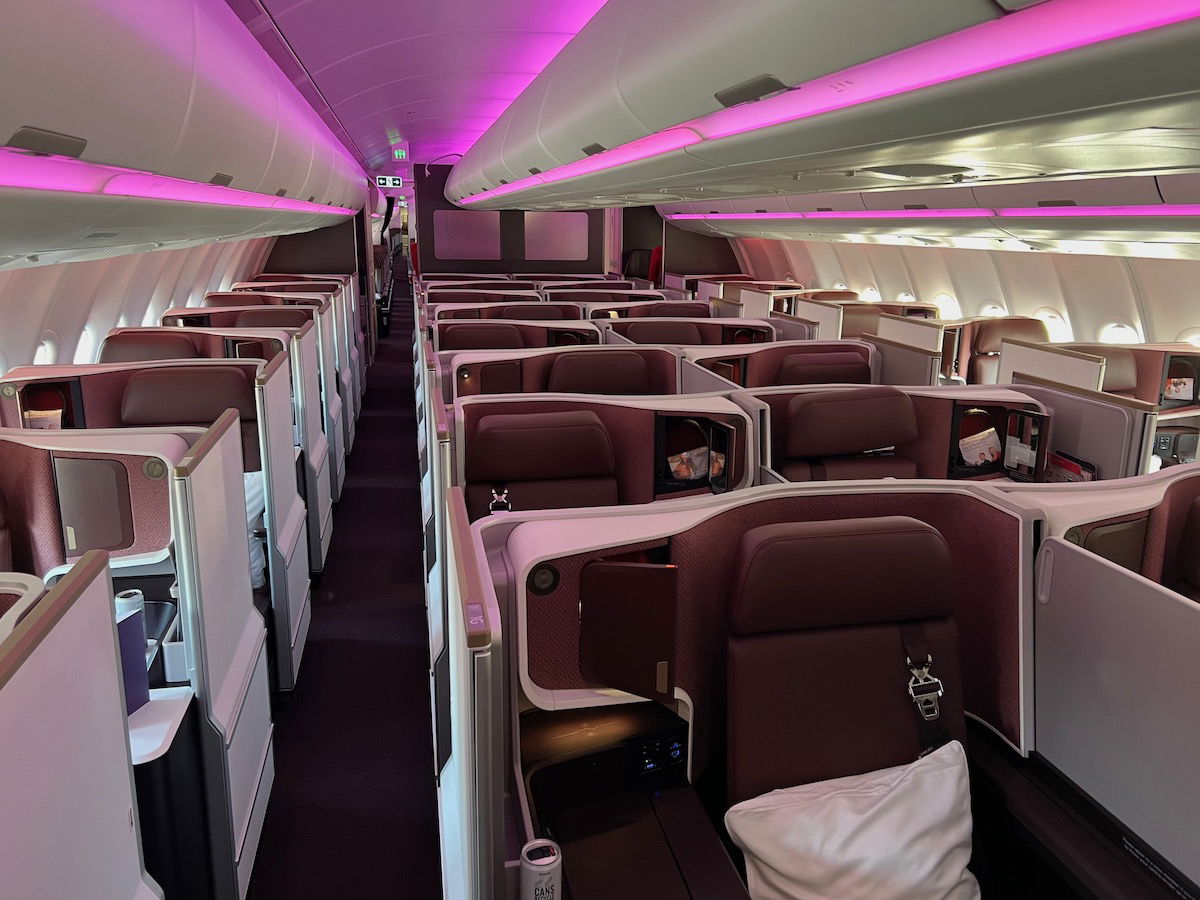 The two center seats in the first row are known as the Retreat Suites, and are a special product. Think of it like a business class "plus" product. In a separate post, I'll talk about my take on this, and whether I think it's worth it.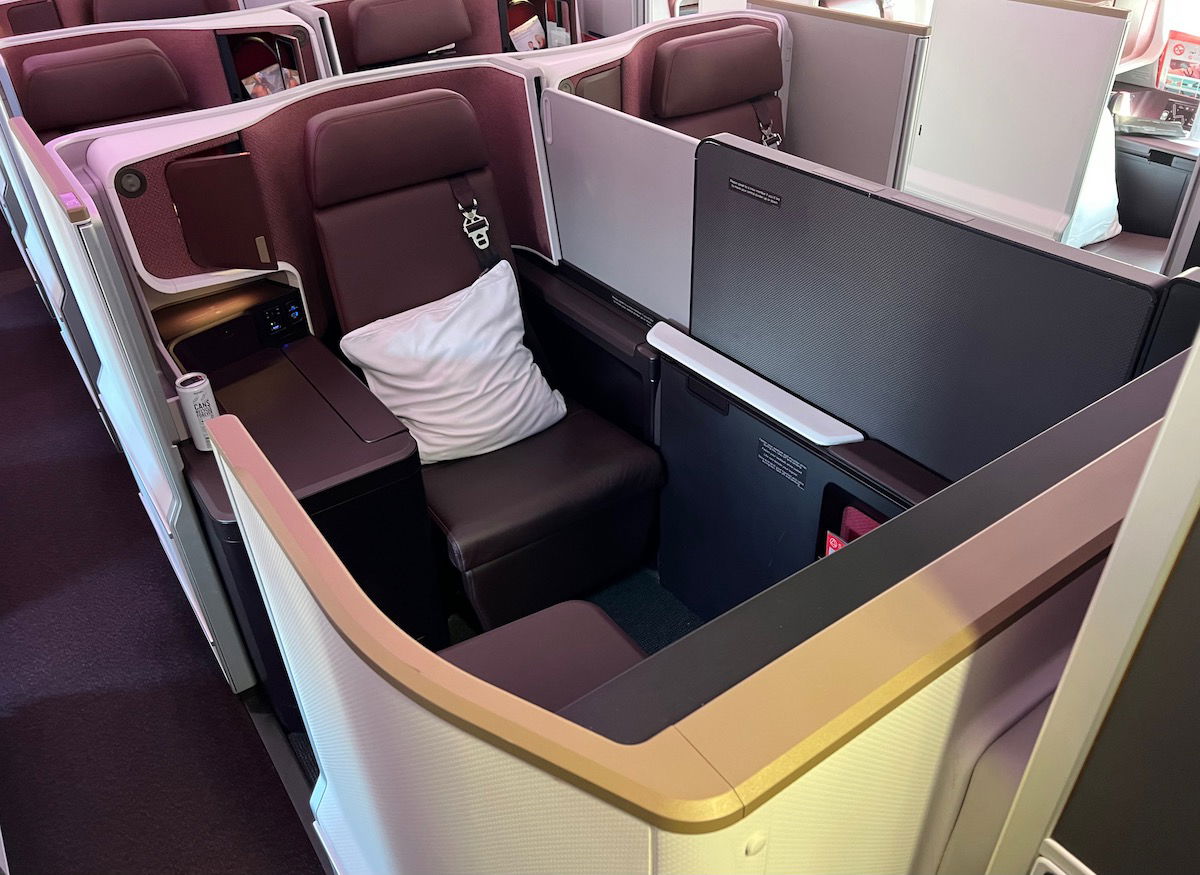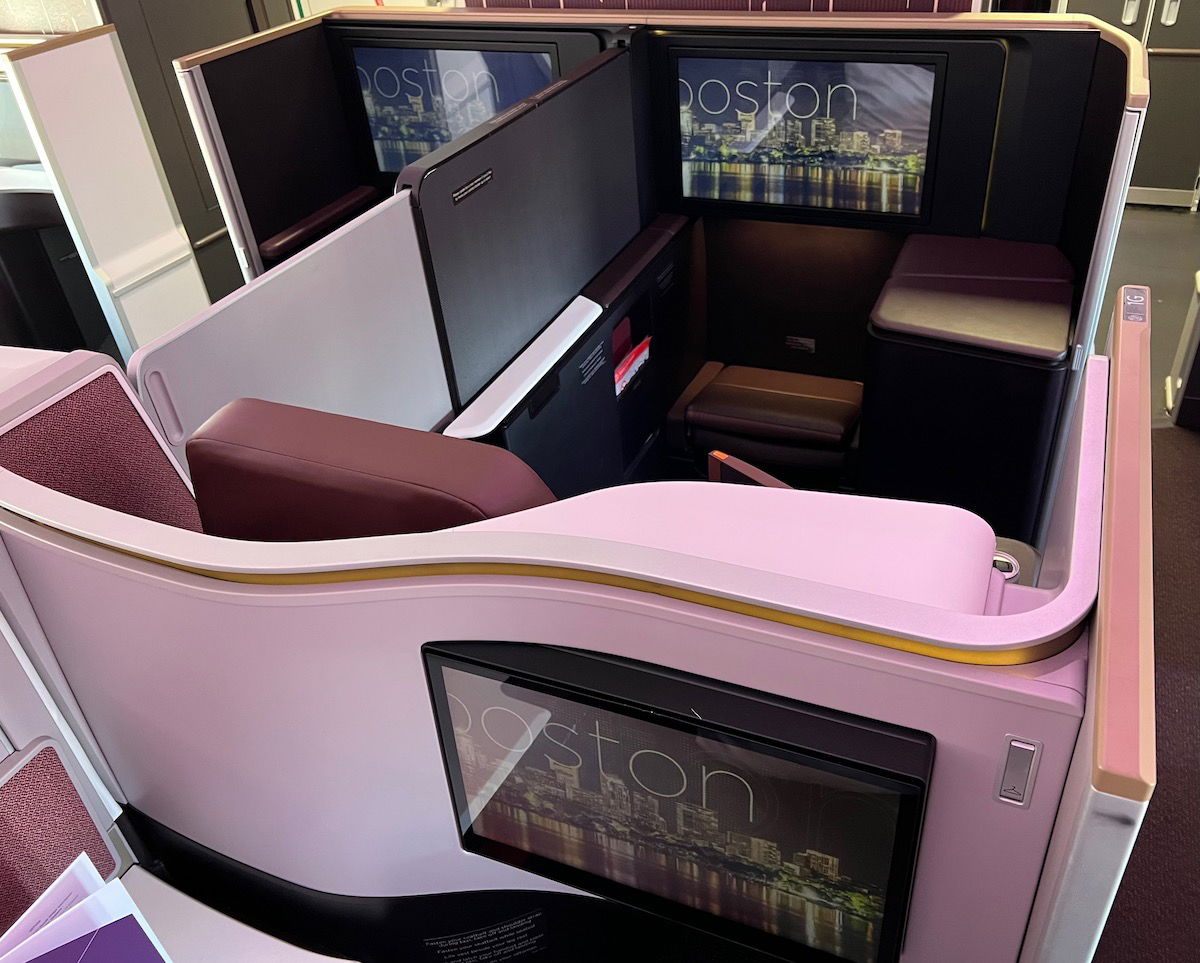 As far as the window seats go, I'd definitely select a seat in an even numbered row over seats in an odd numbered row. Seats in odd numbered rows are closer to the aisle and farther from the windows, so these aren't ideal in terms of privacy and being able to look out. Don't get me wrong, these seats are still perfectly nice, but just wouldn't be my first choice.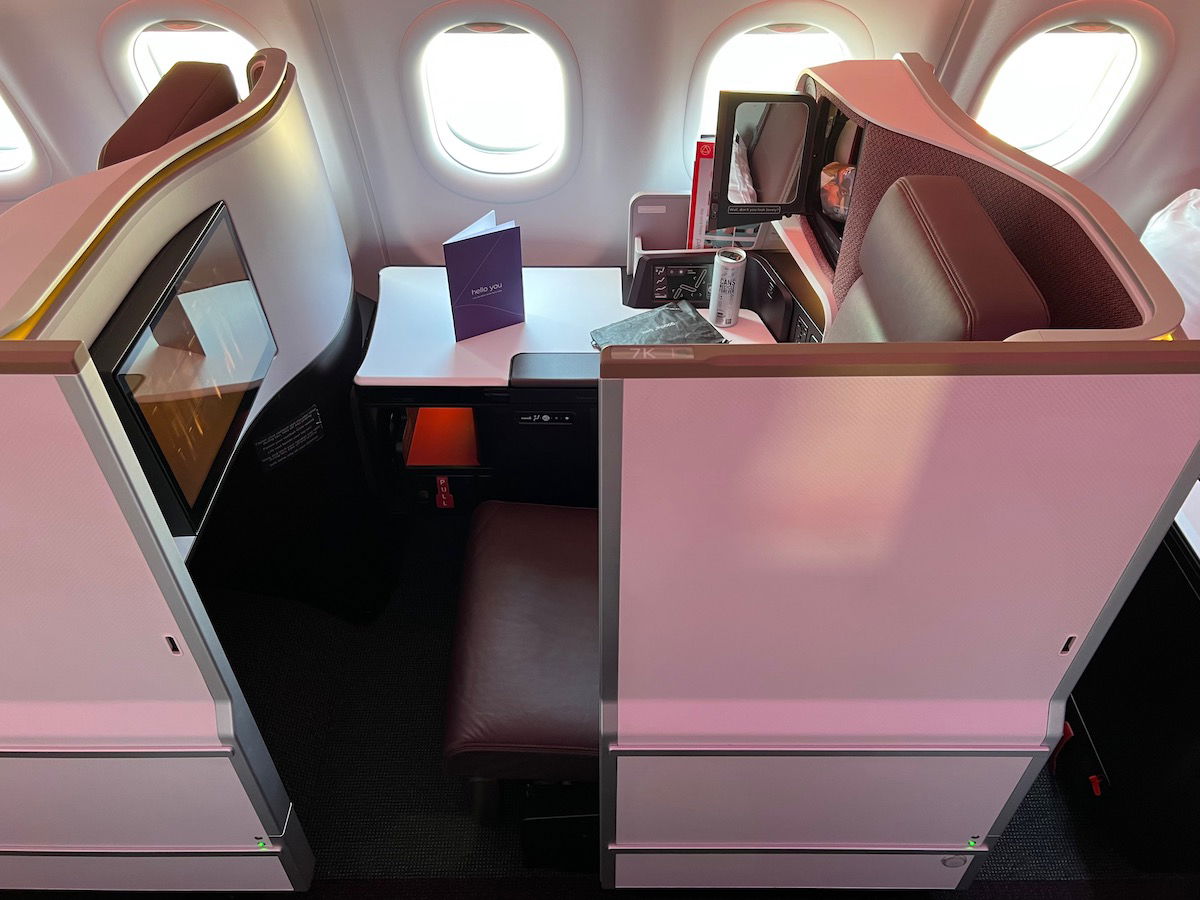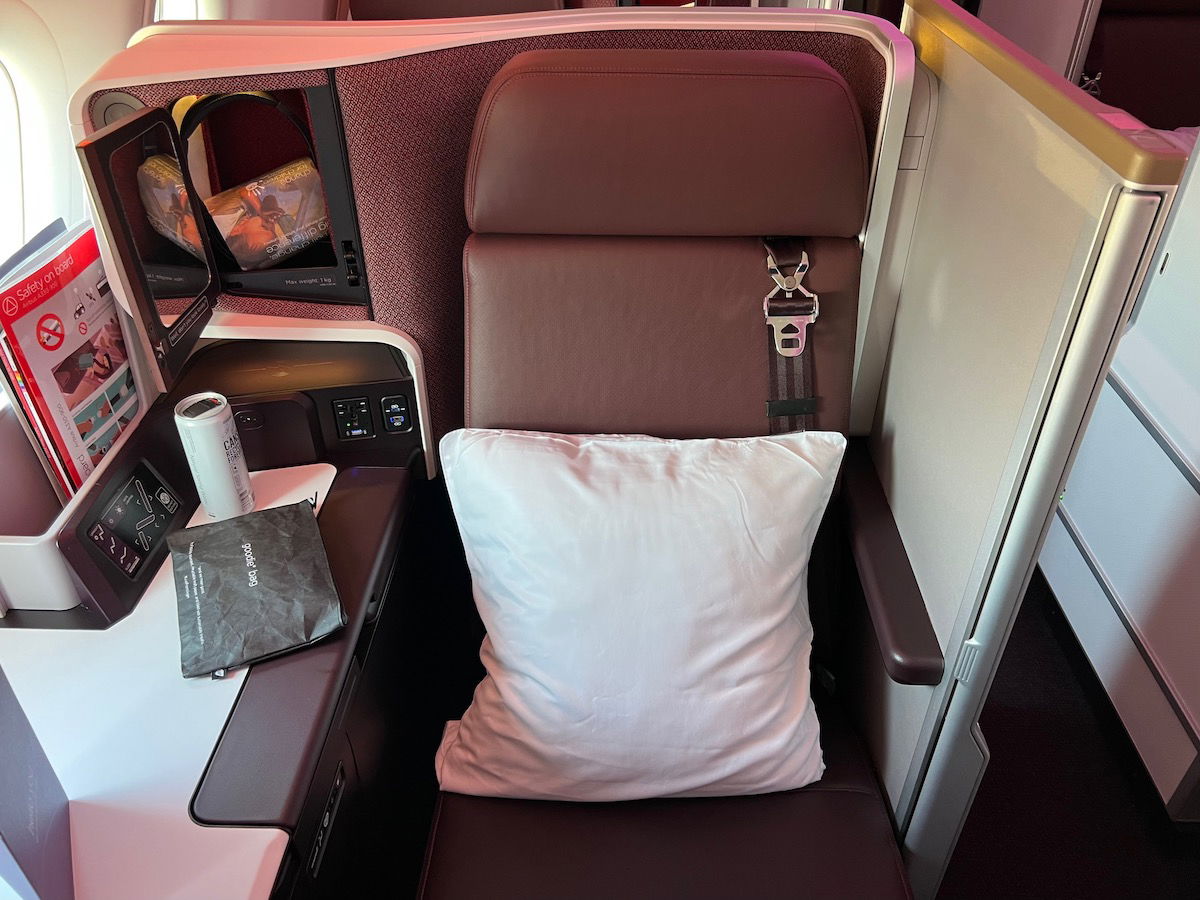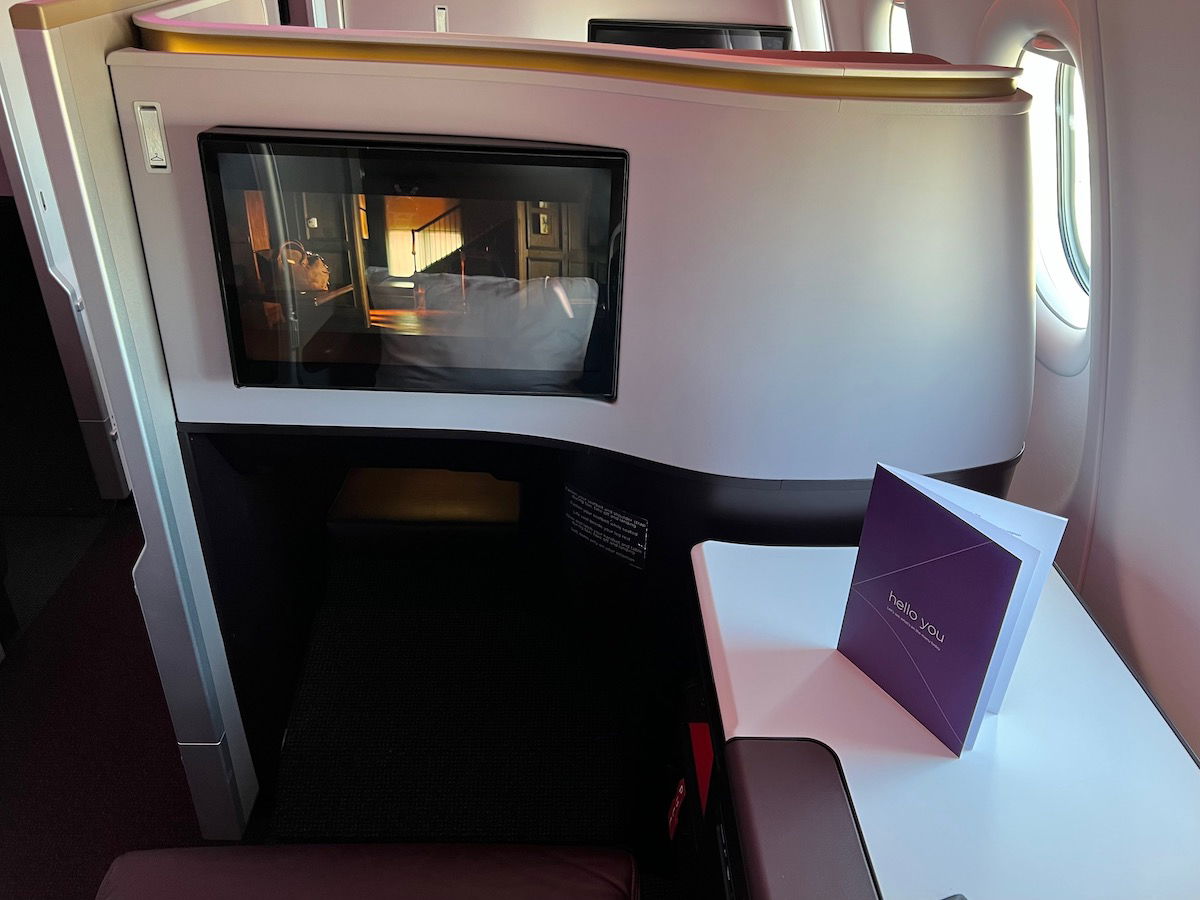 My preferred seats are the "true" window seats, which are in even numbered rows. Seats in even numbered rows are closer to the windows and farther from the aisle, so these offer the most privacy and the best views. I assigned myself seat 8K, the window seat in the last row on the right side (admittedly it's not the best seat for views due to the one missing window, but it was the last "true" window seat that was available when I booked).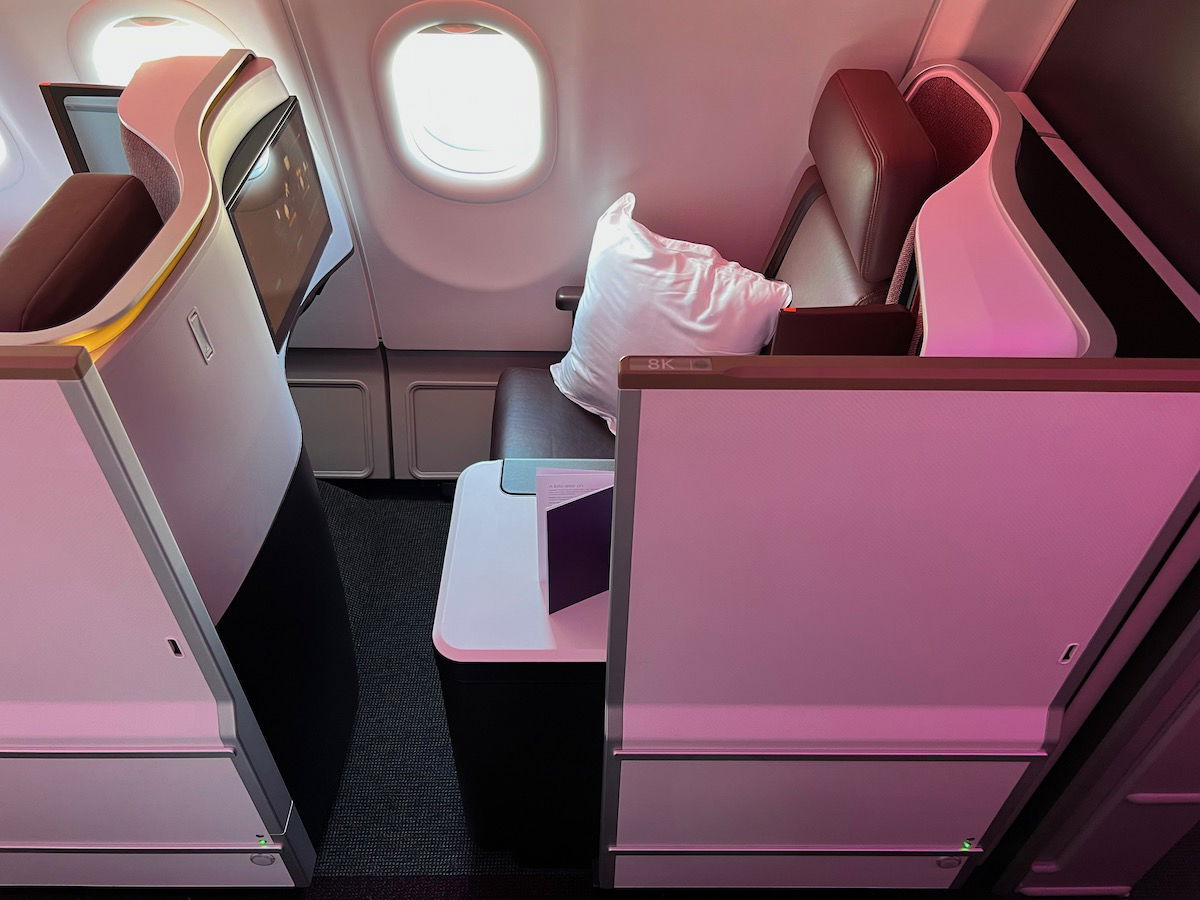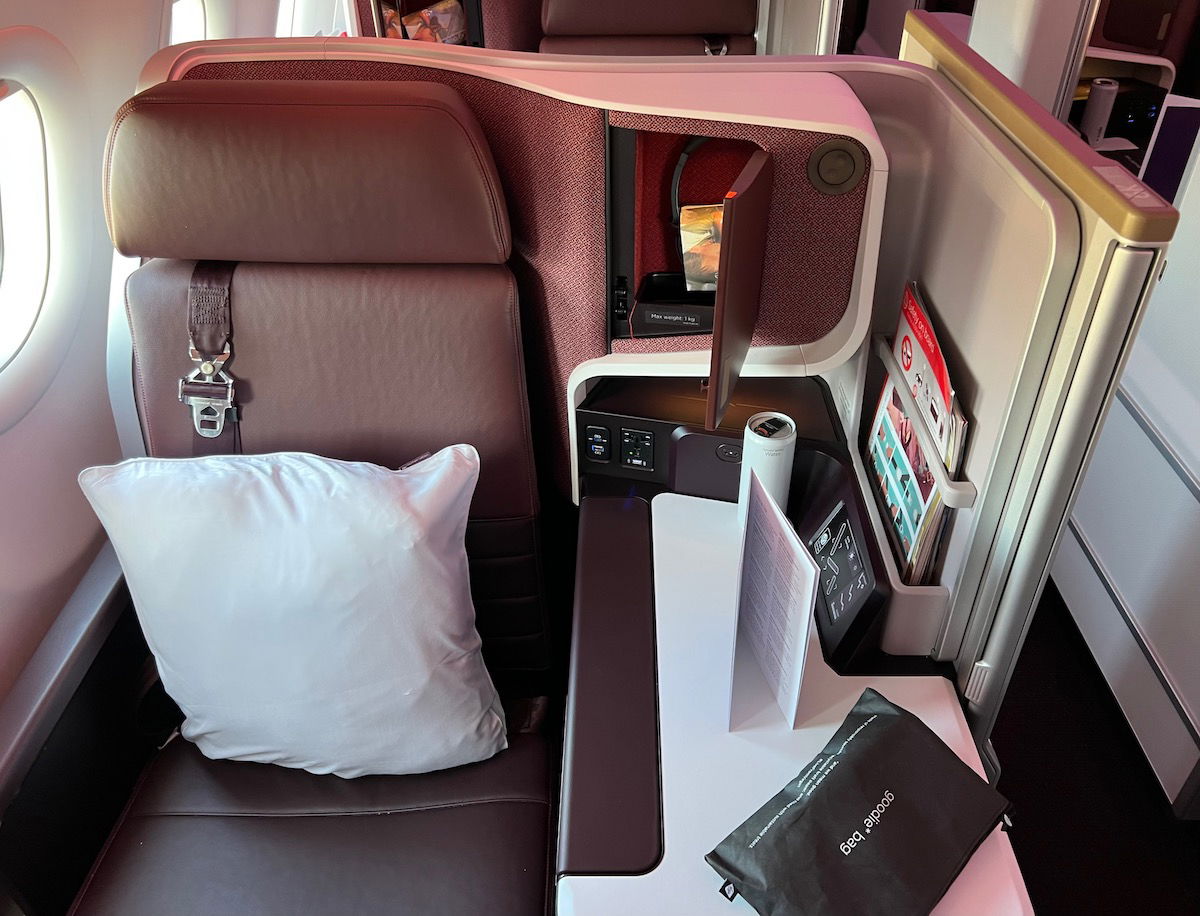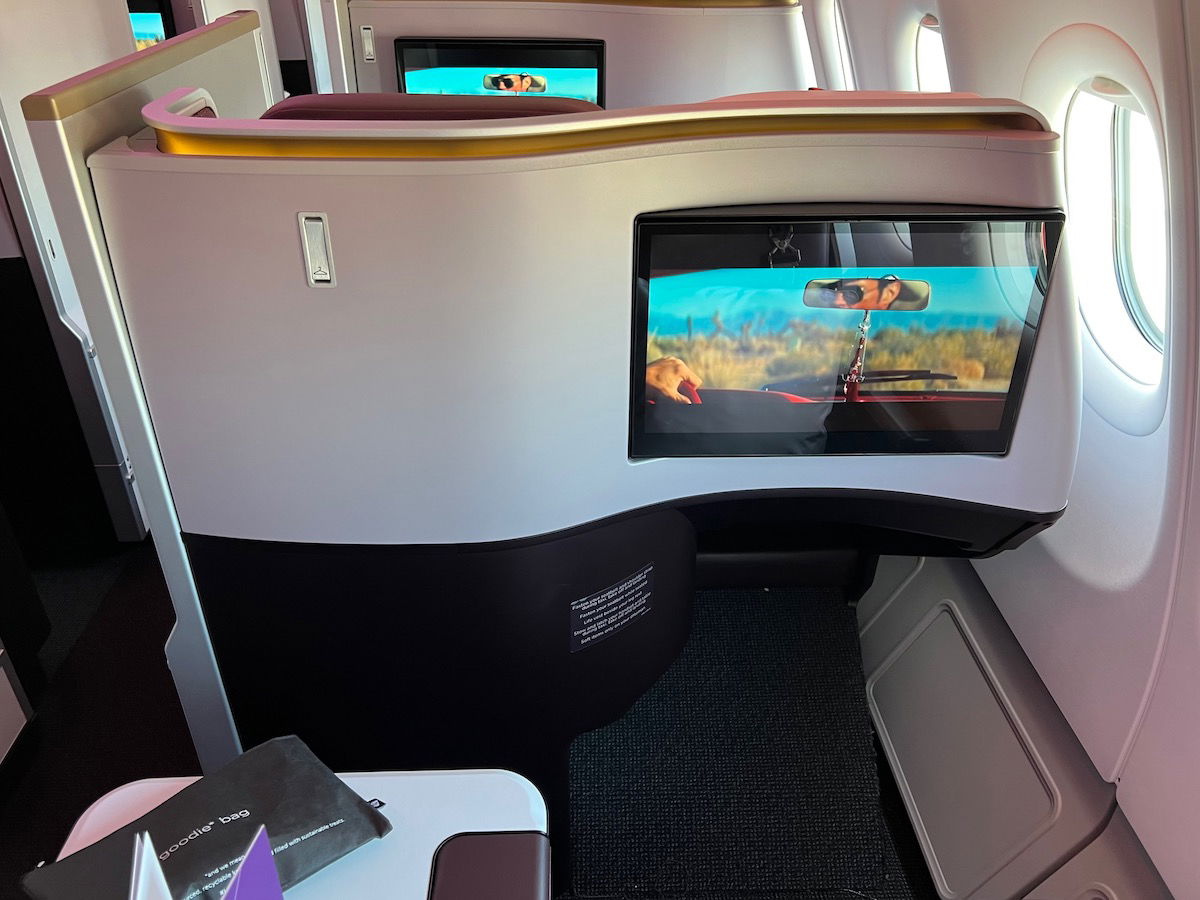 While the seats are fairly generic, Virgin Atlantic nicely differentiates them in terms of the finishes and tech features. For example, just take a look at the area to the side of the seat.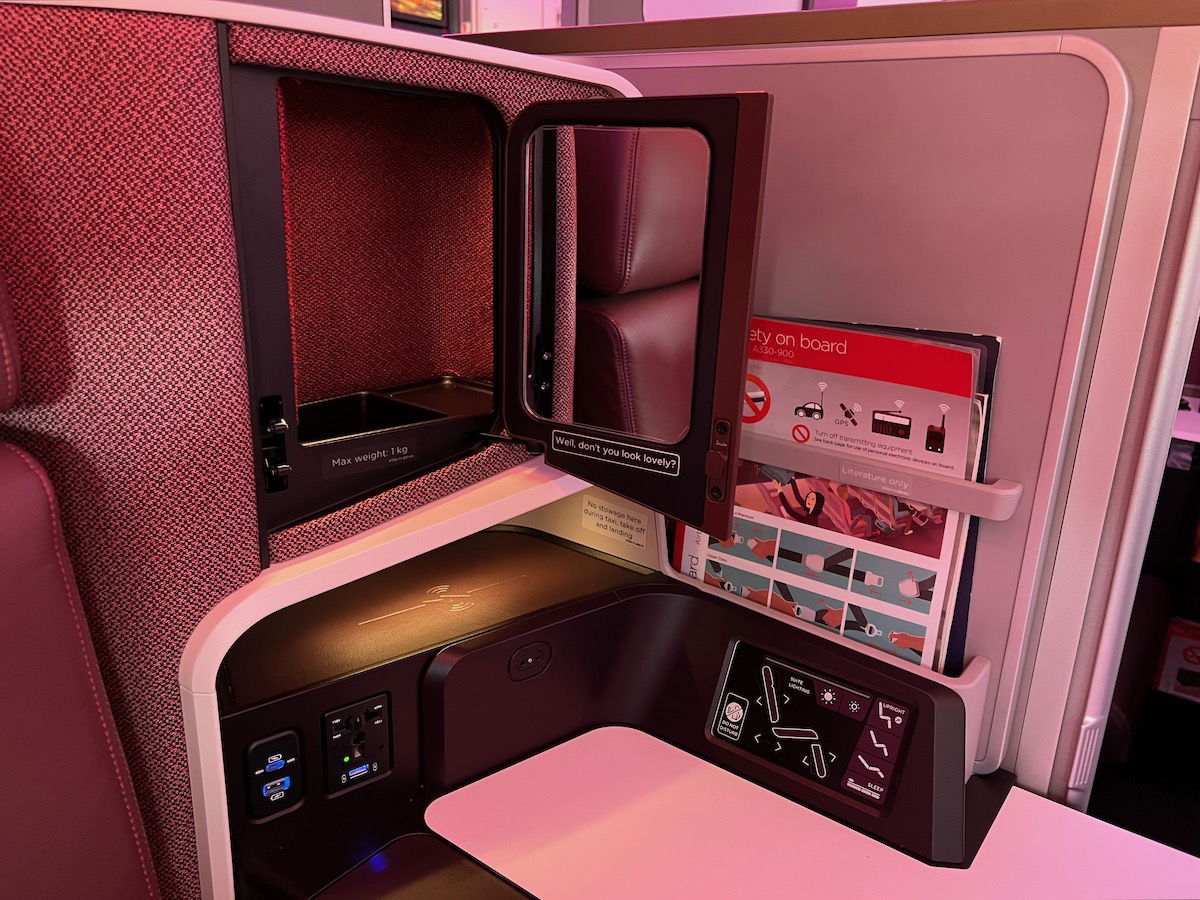 Each seat has an enclosed storage compartment, which also has a small mirror that swings out.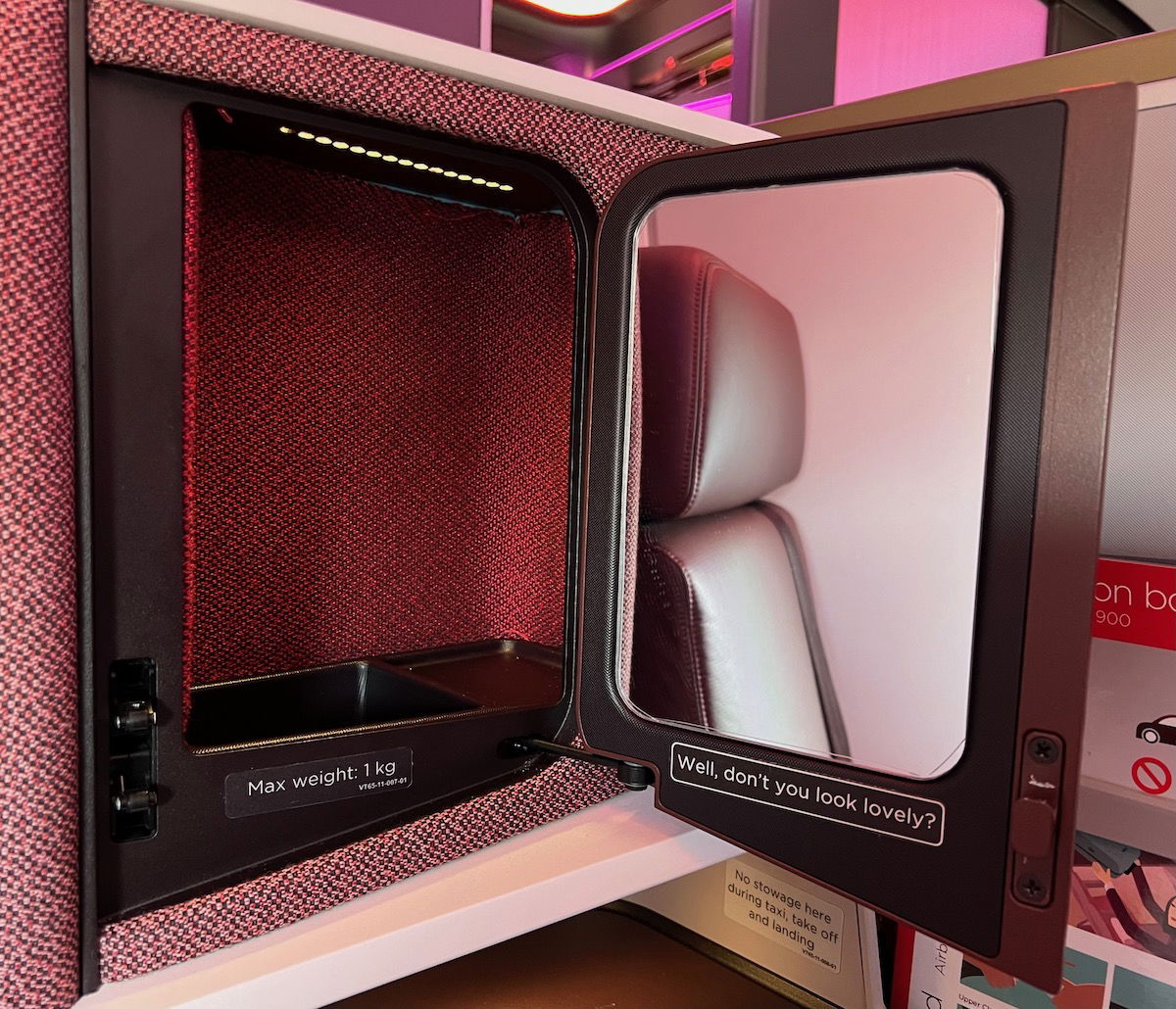 Also to the side of the seat are two separate panels with easy-to-use seat controls. You can either adjust a specific function of the seat, or can choose from four pre-sets, from a takeoff position to a fully reclined bed. There's also a panel that can be raised to expose yet another mirror, as well as the entertainment controller.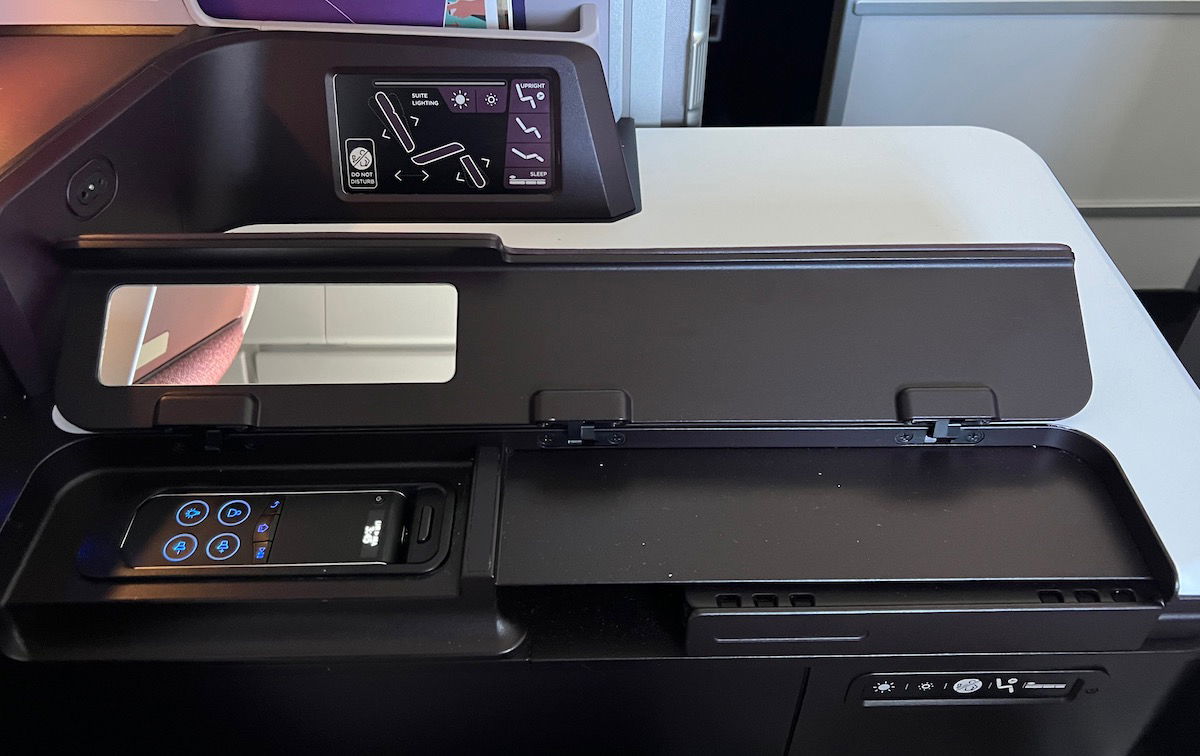 The tech in Virgin Atlantic's new Upper Class seats is top notch. There's an AC power outlet, two USB-A outlets, one USB-C outlet, and a wireless charging station, to the side of the seat. Very impressive, especially with the USB-A outlet being 60W.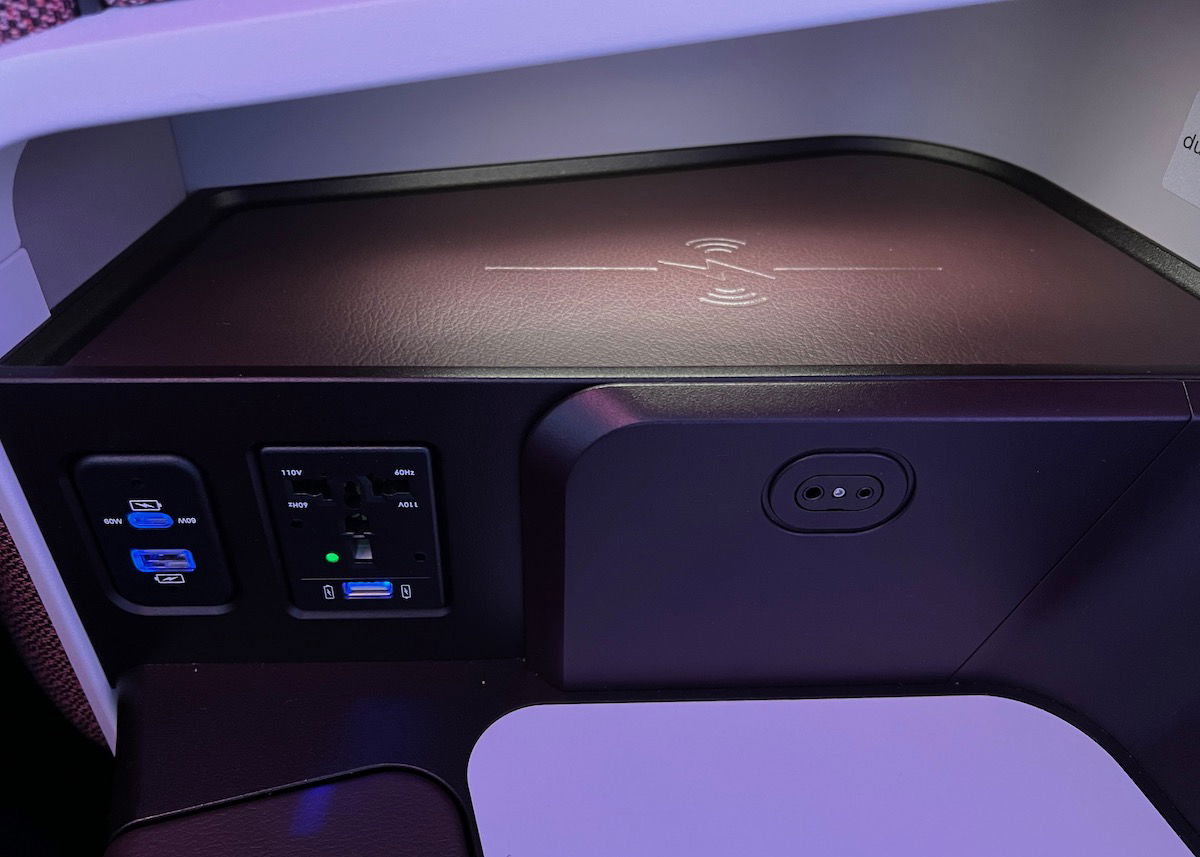 The tray table extends from the aisle-side armrest, and can be folded over in half. The bottom part of the tray table has a circular shape, presumably so that larger passengers can sit more comfortably (especially since these seats are otherwise fairly tight). That's a thoughtful touch.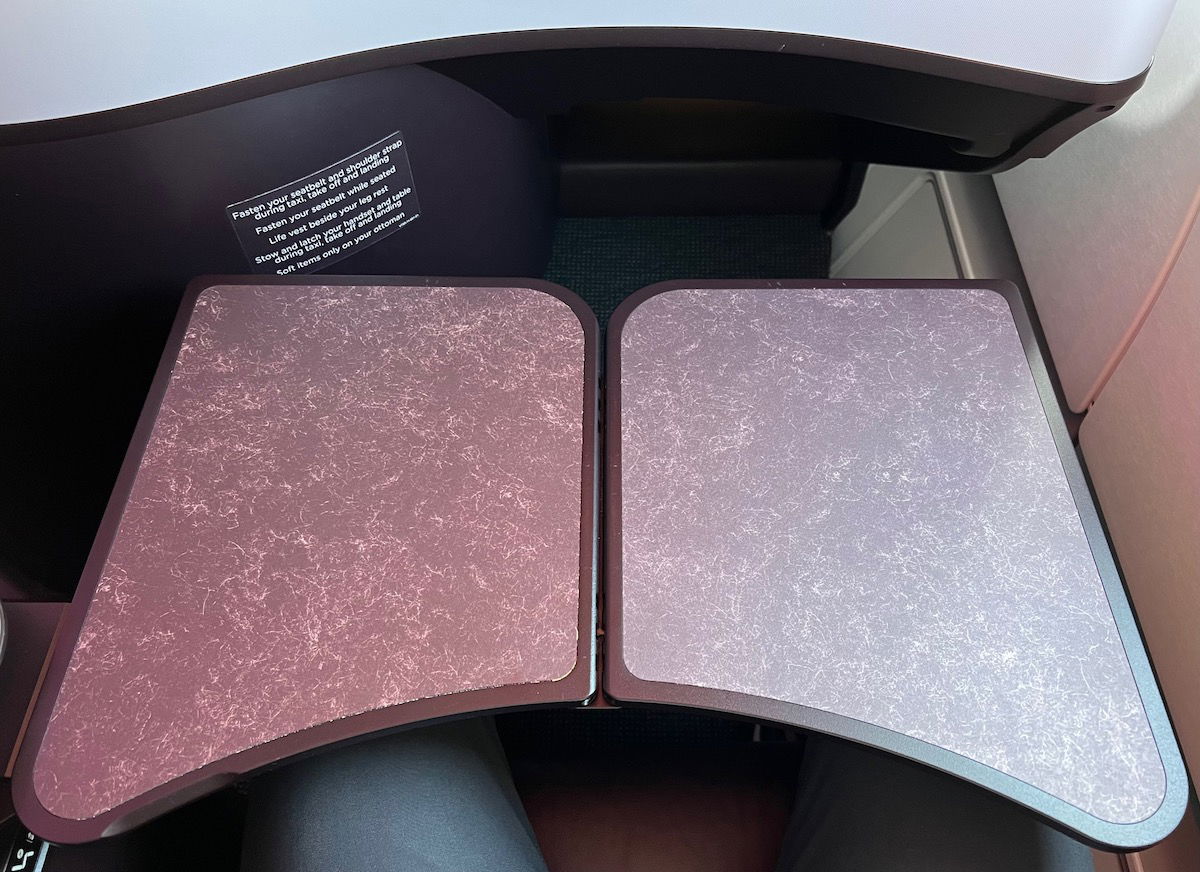 As you'd expect for this kind of staggered configuration, each seat has a footwell, which is how space is utilized efficiently, since it's to the side of the seat in front. The footwell was on the tight side, but not terribly so.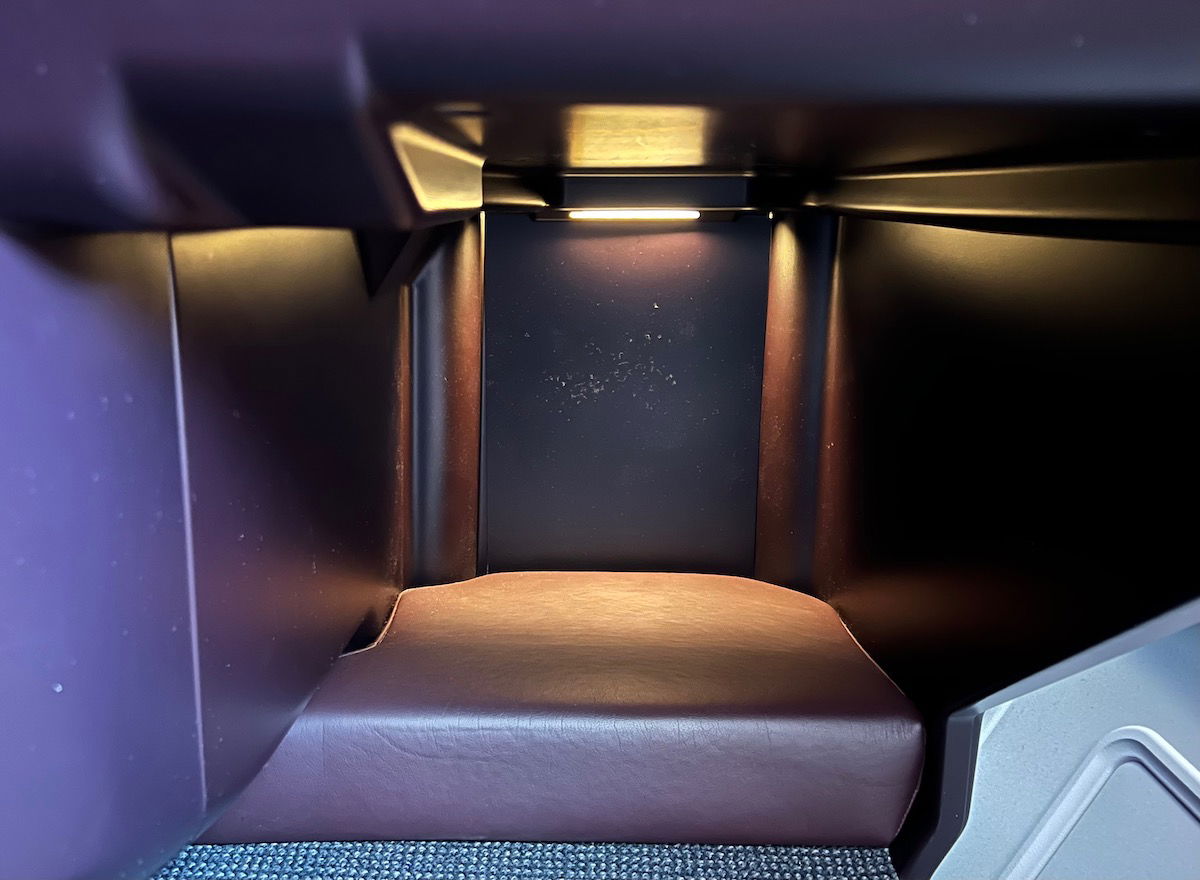 Of course another cool feature of this product is the door. This is quite easy to use, and can easily be pulled open or shut. Note that the door doesn't totally close, but rather there's a very small gap. This seems to be the case with many of these types of products, and I think it's to prevent the loud noises of the door and seat banging together if there's turbulence.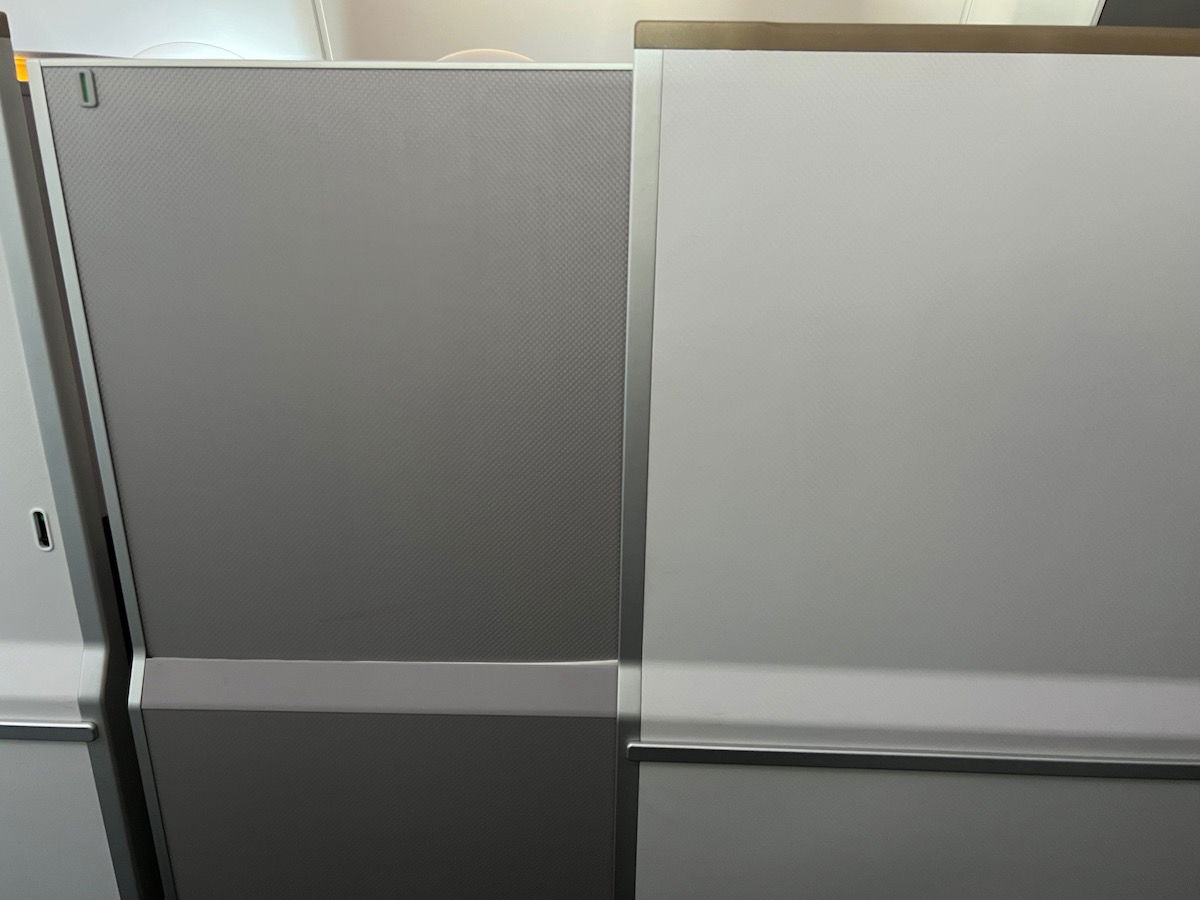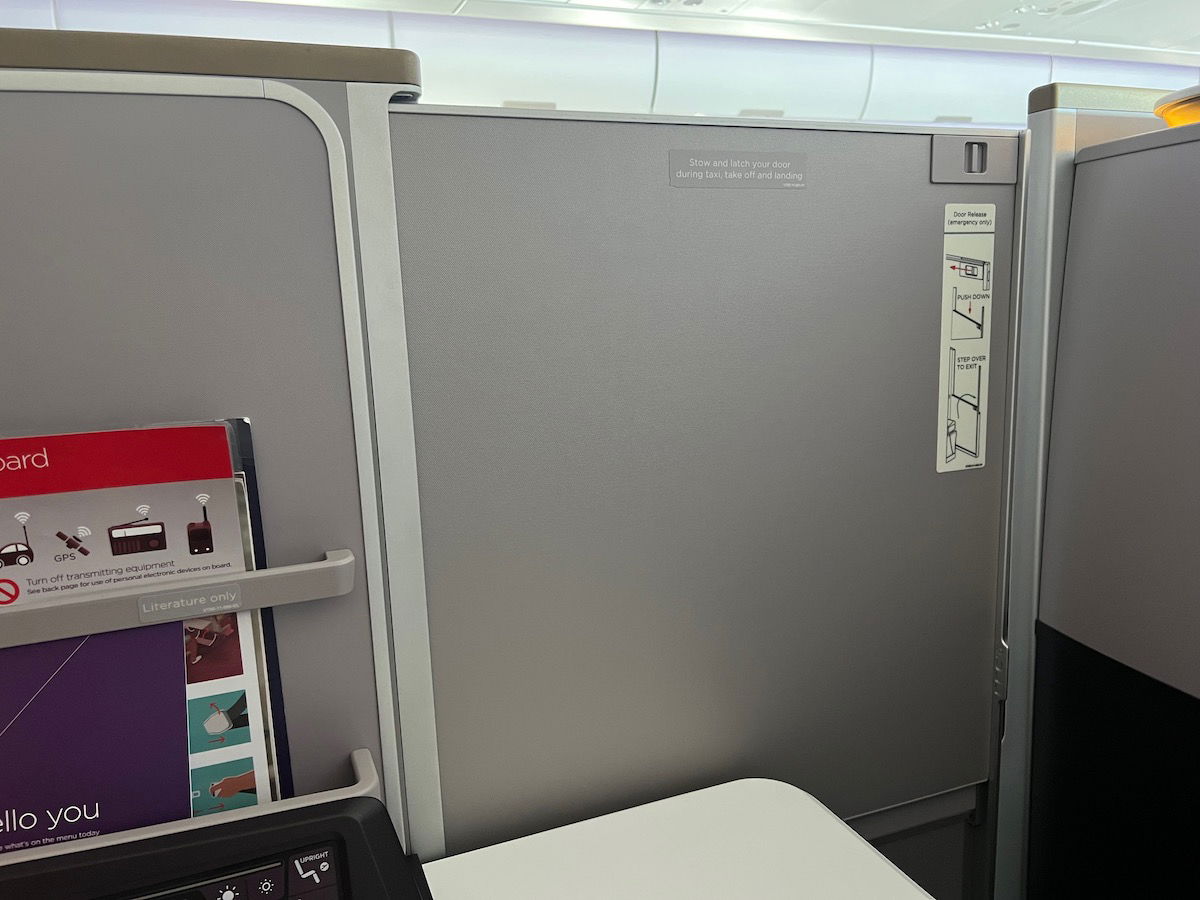 Each seat also has an overhead reading light and individual air nozzles, which is a nice touch.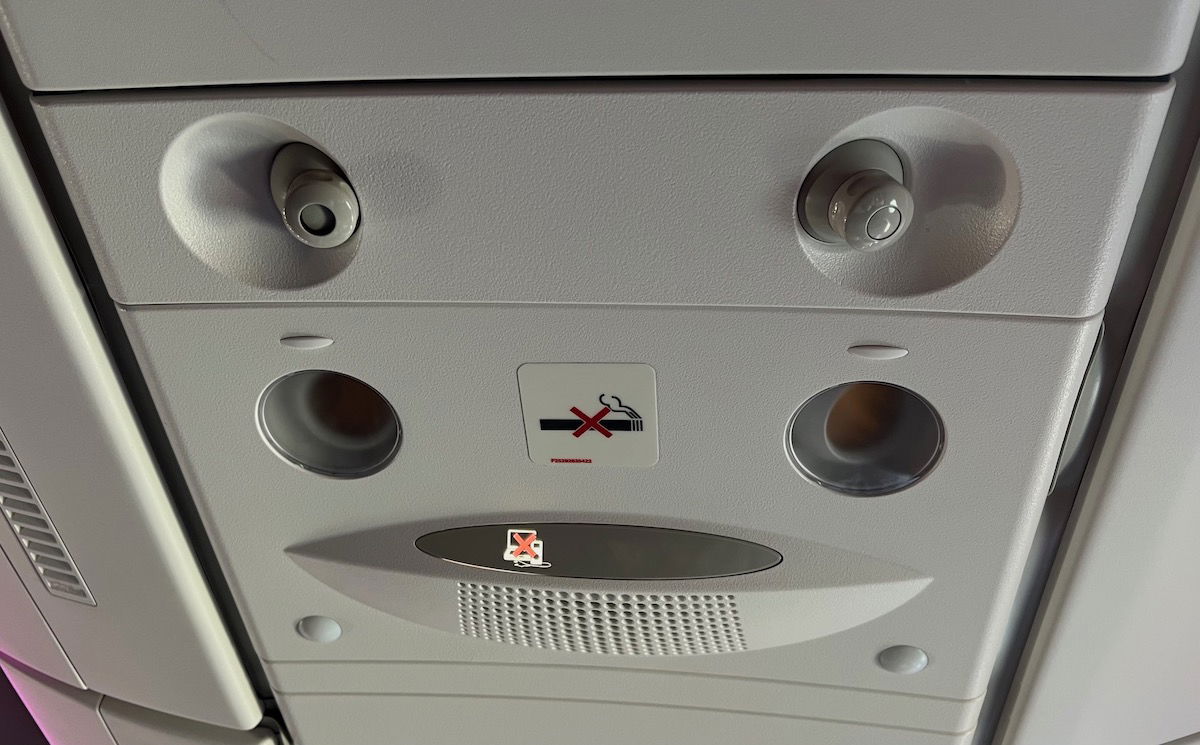 If you ask me, this is an excellent hard product. This is as good as A330-900neo seats get, with the added benefit of an aesthetically pleasing design, and top notch tech.
Admittedly the A330-900neo isn't as wide as some other jets, and you definitely feel that in the seats, since the space is a bit tighter. But that's to be expected. Personally I think this product is way better than Virgin Atlantic's Boeing 787-9 Upper Class and Airbus A330-300 Upper Class.
Whether it's better than Virgin Atlantic's A350-1000 Upper Class is a matter of personal preference. The A350 seat feels a bit more spacious, but doesn't have a door, and doesn't have tech that's as good.
Virgin Atlantic Upper Class amenities
Virgin Atlantic offers some pretty solid amenities in business class. Waiting at each seat upon boarding was an amenity kit. The kit is made of recyclable kraft paper, and is filled with sustainable products. This isn't your typical amenity kit in that regard. I think it's a cool initiative, though the material of the bag does feel a bit strange, and the material makes me less likely to reuse it.
The amenity kit consists of eyeshades, socks, earplugs, a pen, a dental kit, and several products from REN, including cream, lip balm, and hand cream.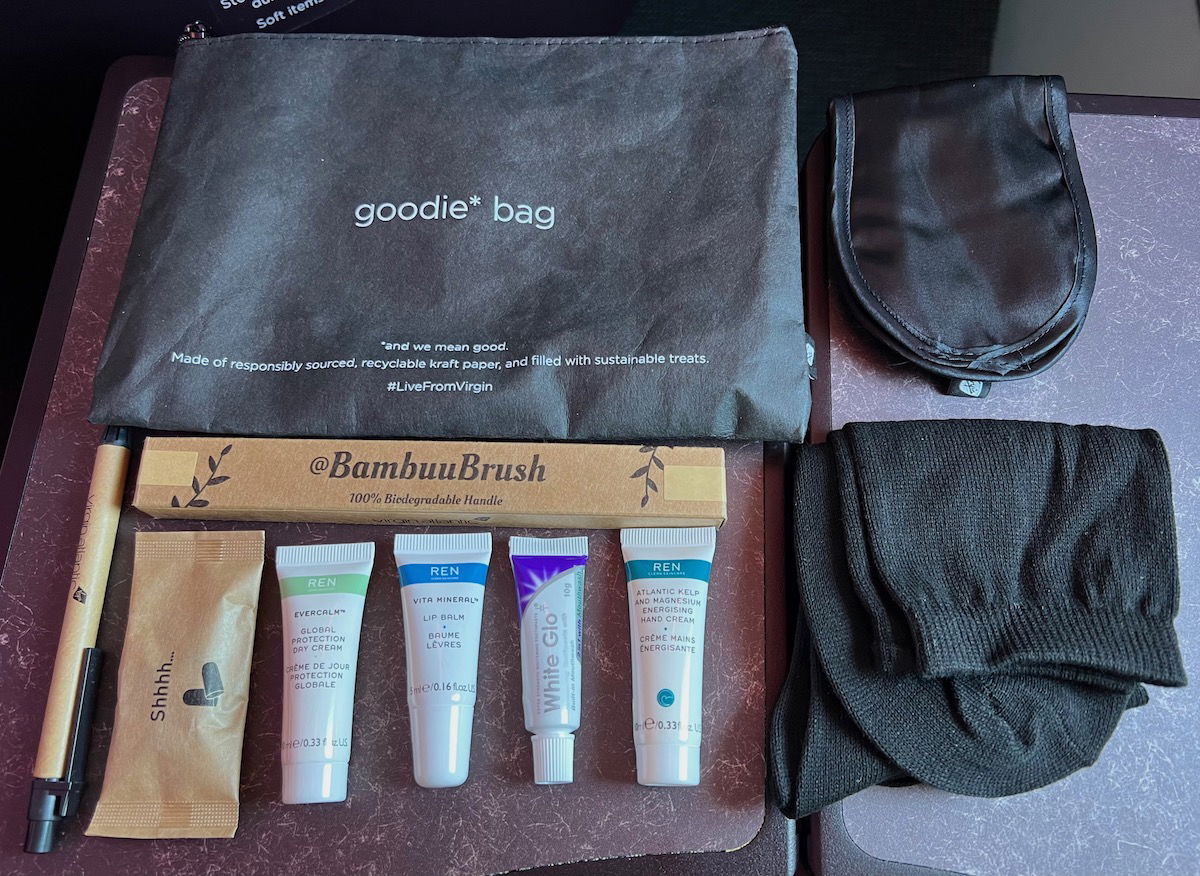 There were also headphones waiting at each seat. The quality was fine, though Virgin Atlantic has bluetooth audio with its inflight entertainment, which makes me not care about the quality of the headphones.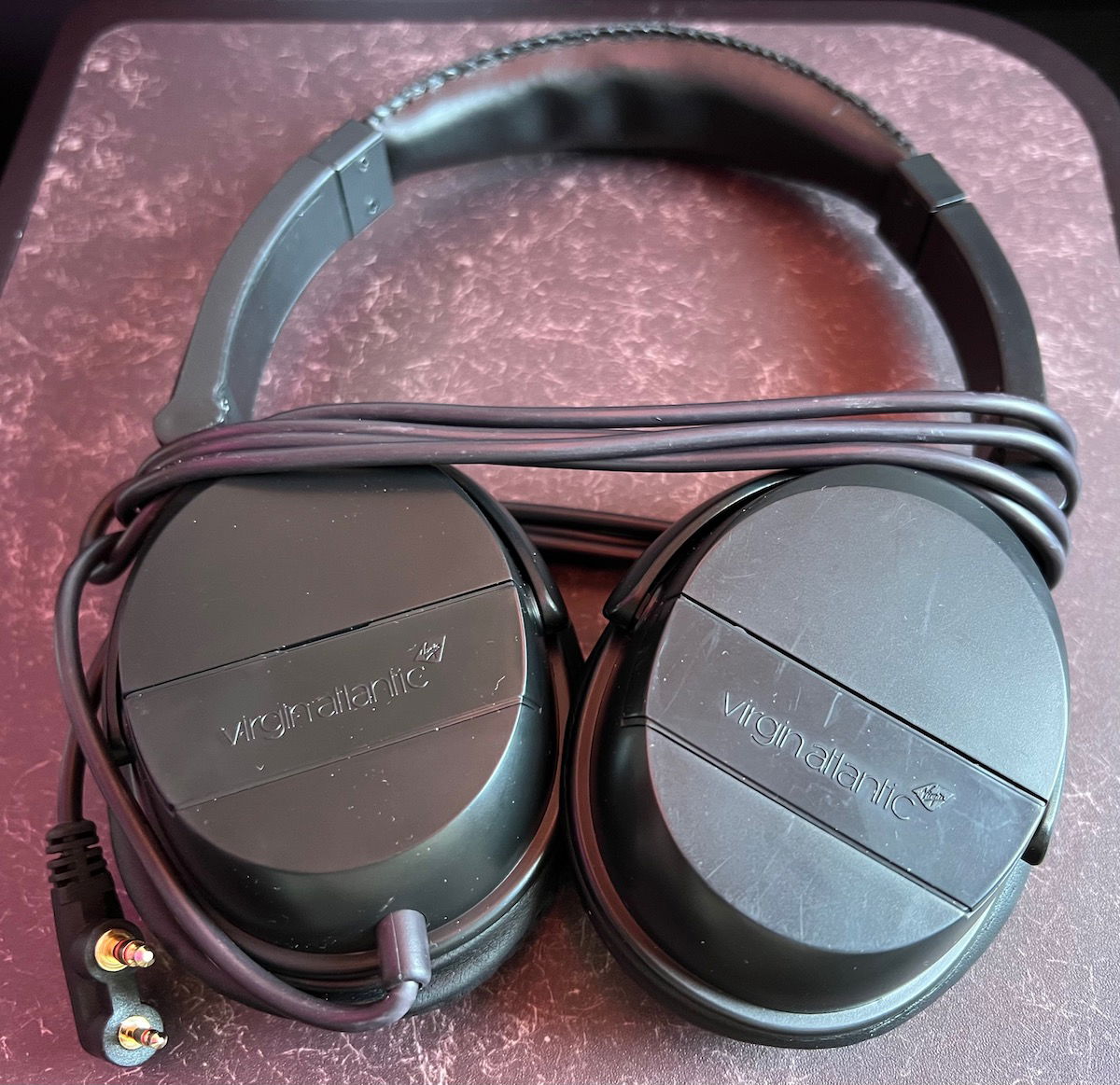 A can of water was also waiting at each seat. The use of canned water is one of Virgin Atlantic's other environmental initiatives, as it's more sustainable than plastic bottles.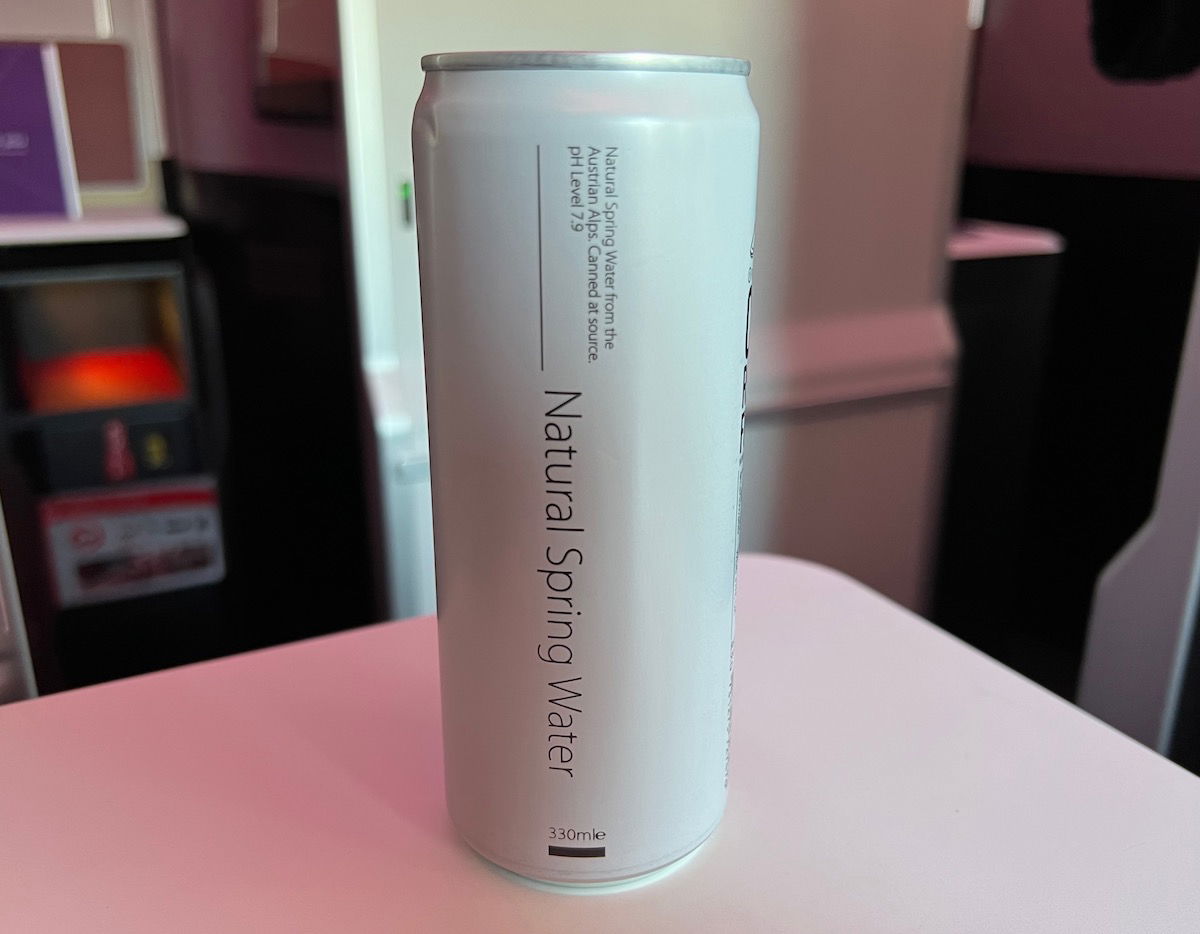 The menu for the flight was also placed at each seat prior to boarding.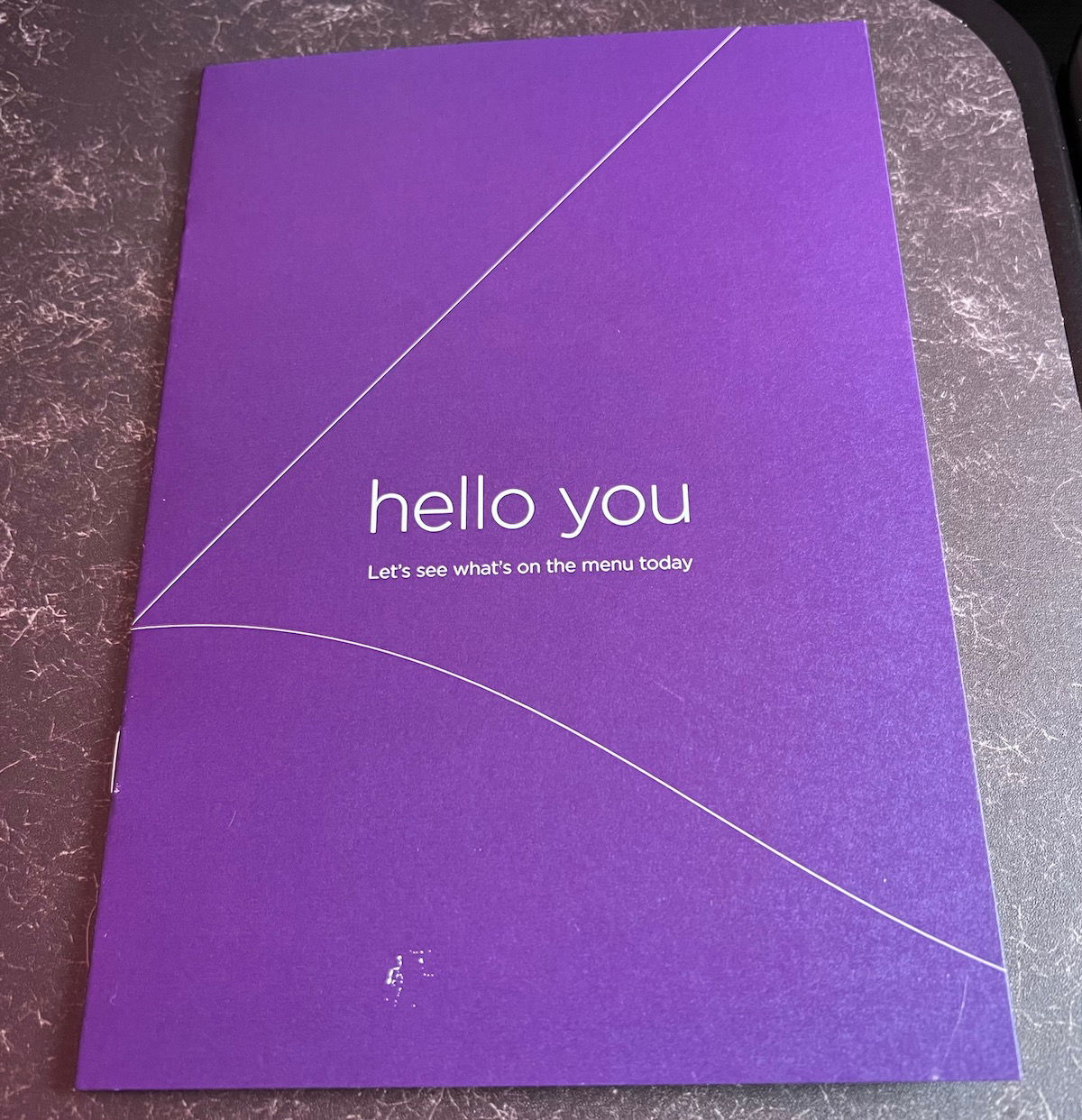 Virgin Atlantic has excellent Upper Class pillows, which are large and well padded. The rest of the bedding was provided later on during the flight, after the first meal service (though is available upon request earlier).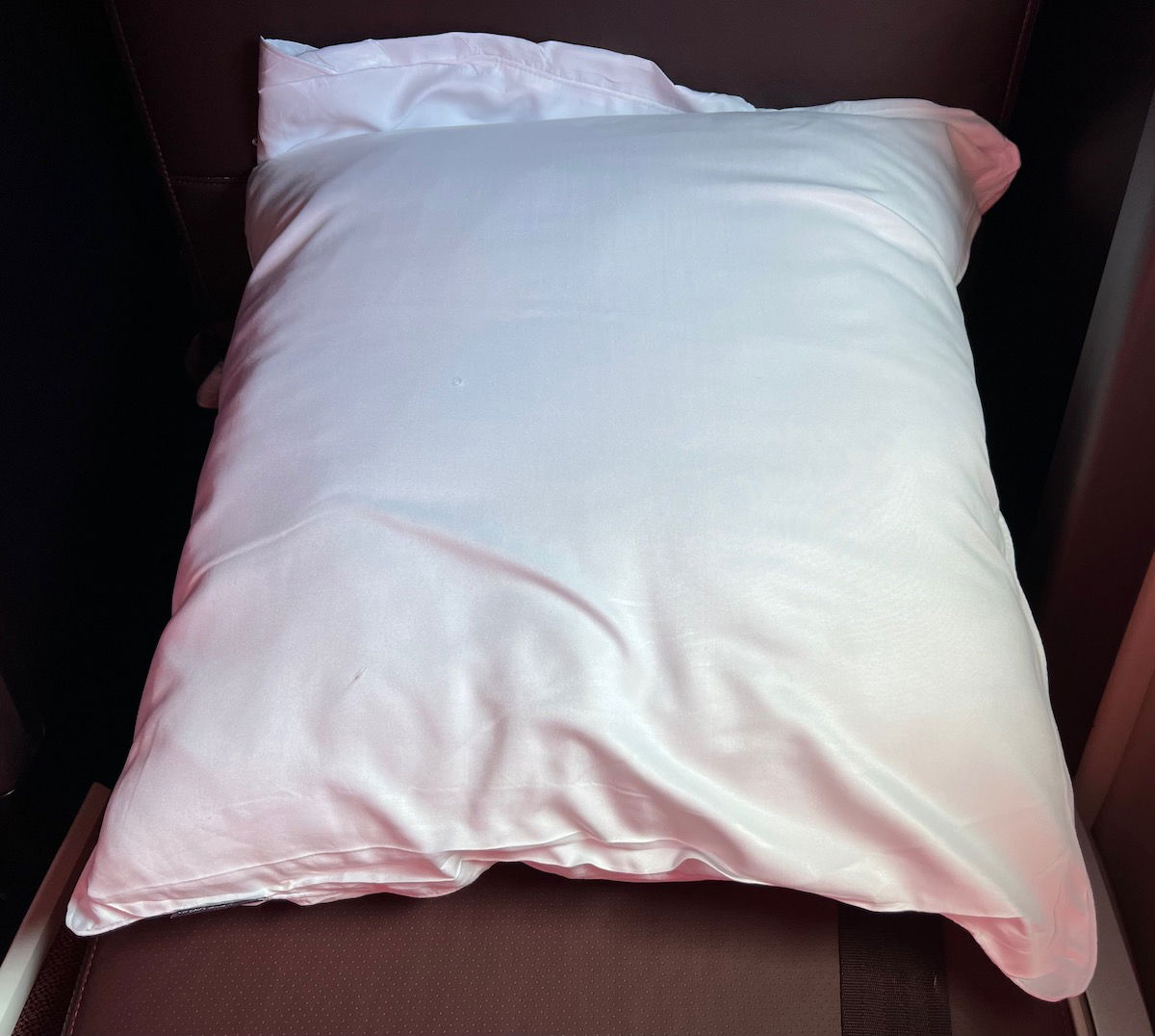 Virgin Atlantic is one of the few airlines to offer pajamas in business class, though they're only available on overnight flights.
Toward the end of boarding, pre-departure drinks were offered, with the choice of champagne, orange juice, or the signature "Ruby Sipper" drink (which is champagne with raspberry rhubarb tonic). I figured I'd mix it up from my typical champagne, and try the specialty drink.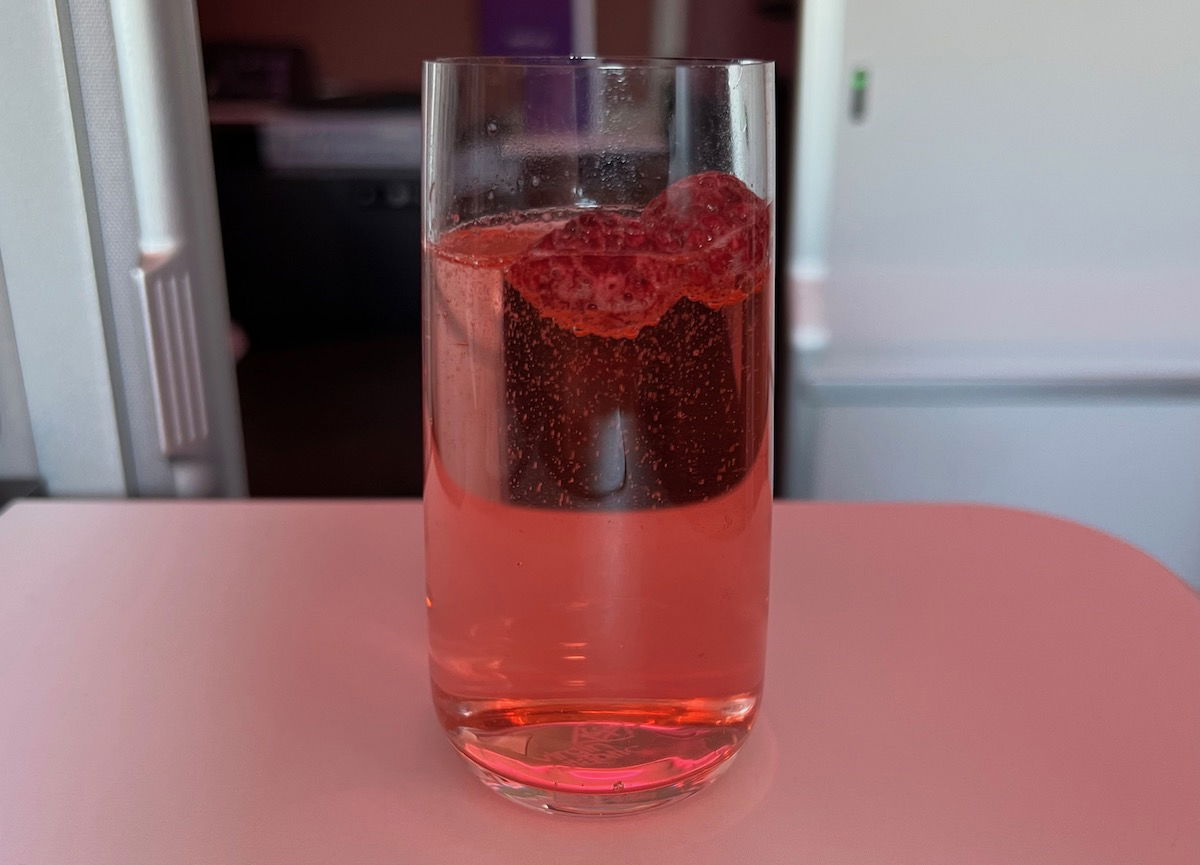 Virgin Atlantic A330-900neo Upper Class entertainment & Wi-Fi
Virgin Atlantic's A330-900neos have a cutting edge entertainment system. Upper Class seats have 17.3″ high definition monitors, which are easy to use.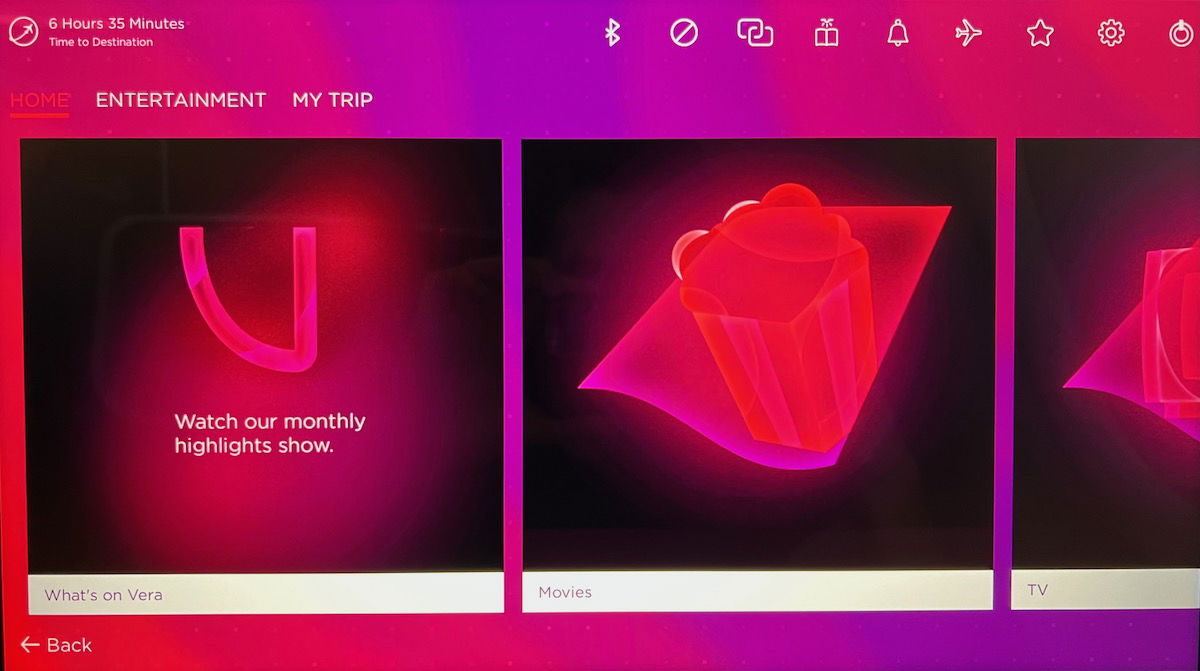 Virgin Atlantic's entertainment selection is big, with around 120 movies, 110 TV shows, audio, and more.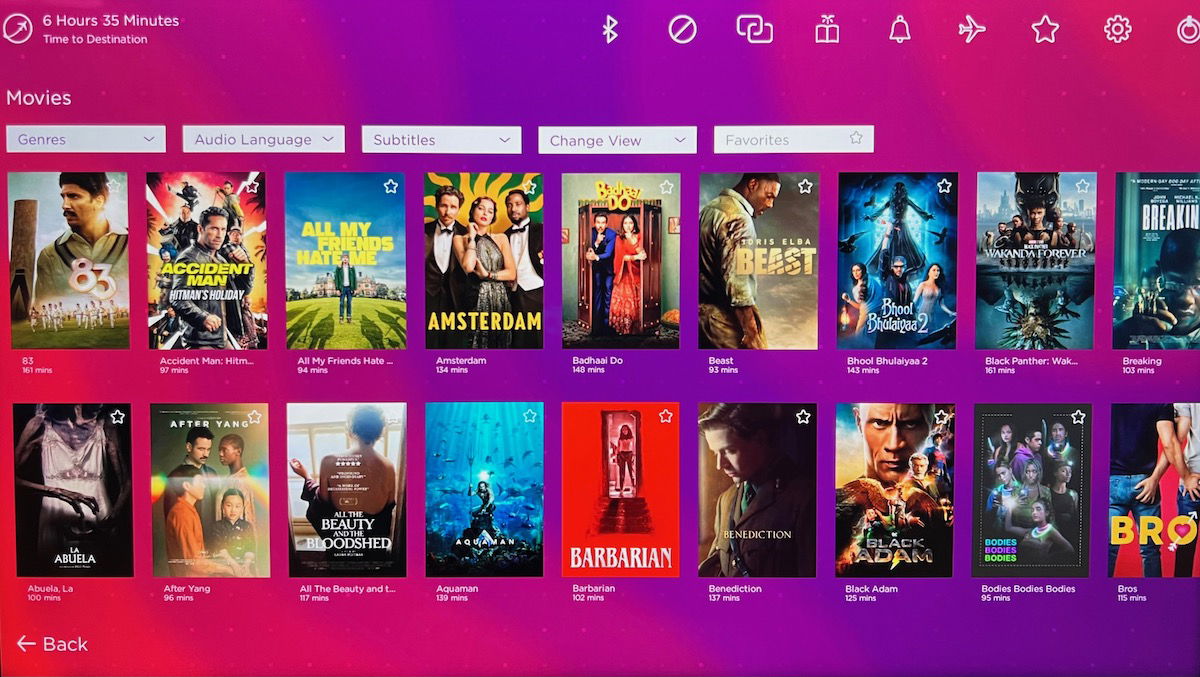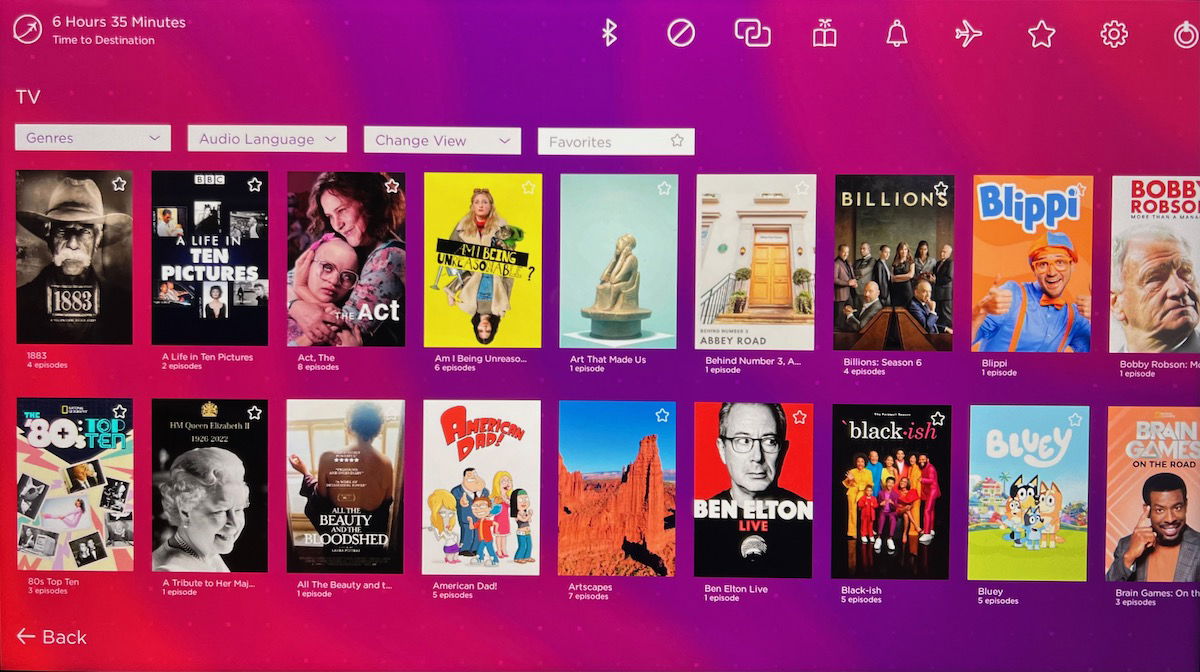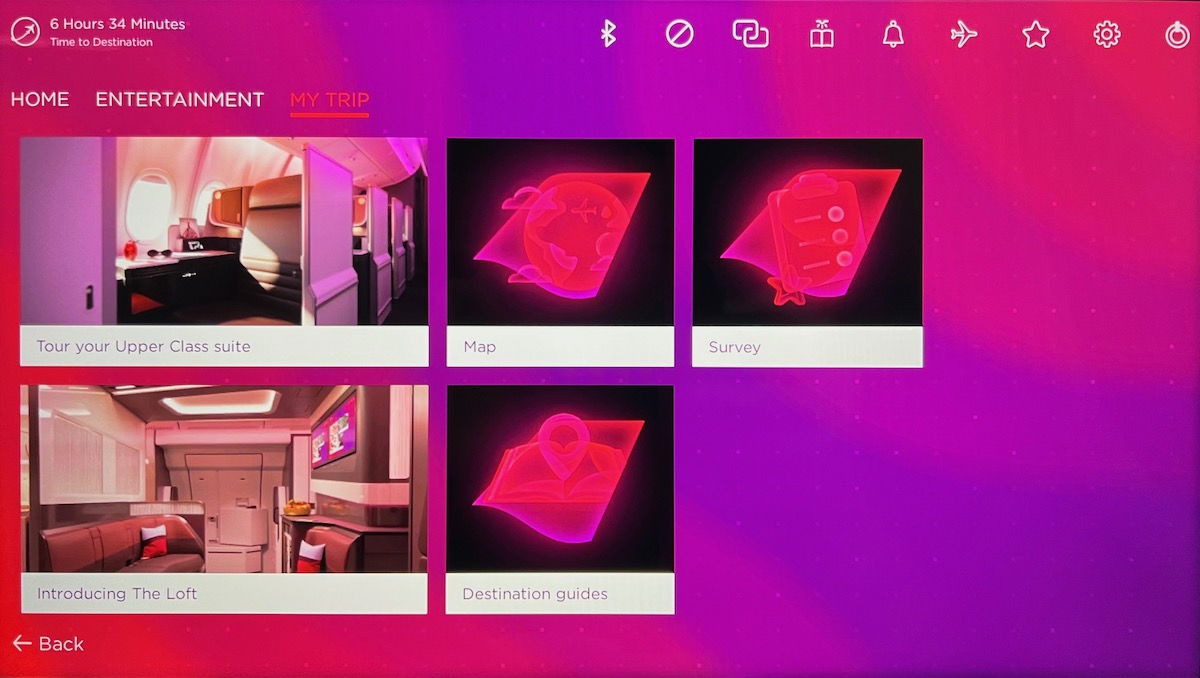 The interface for the entertainment system was the same as in Air France's new 777 business class. There was an easy feature at the top of the screen where you could always check the progress of the flight.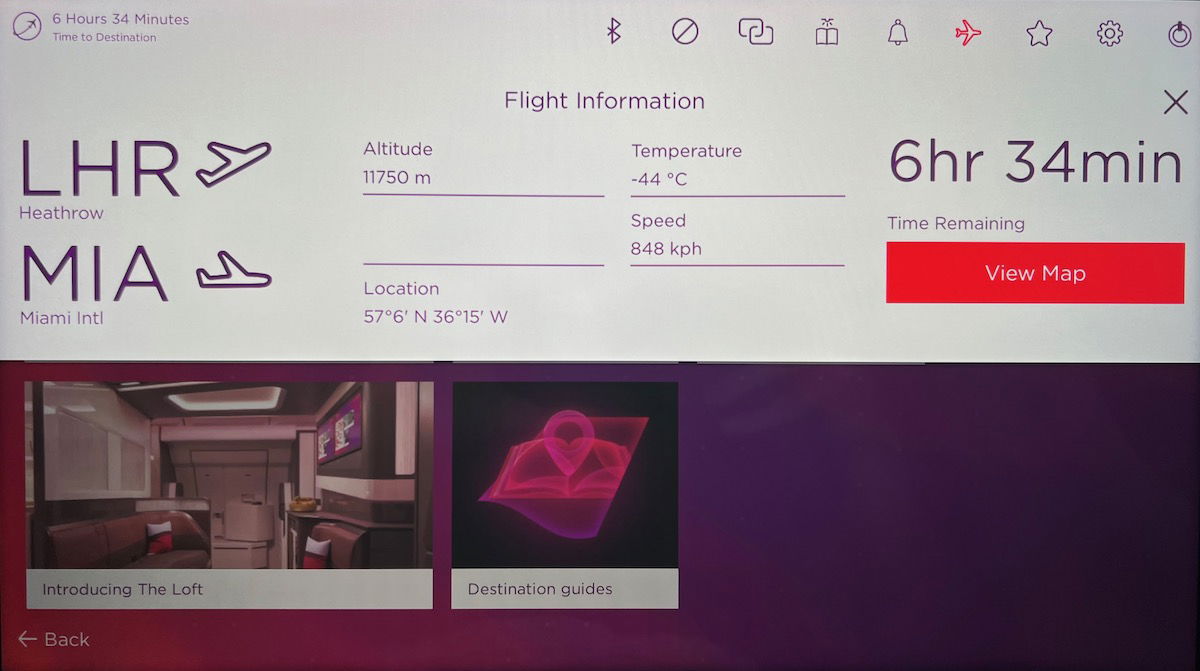 As I mentioned above, Virgin Atlantic's new A330-900neos also have bluetooth audio, so that you can use your own headphones with the entertainment system. This was easy to connect to — you just pushed the bluetooth symbol at the top of the screen, and could then pair your device.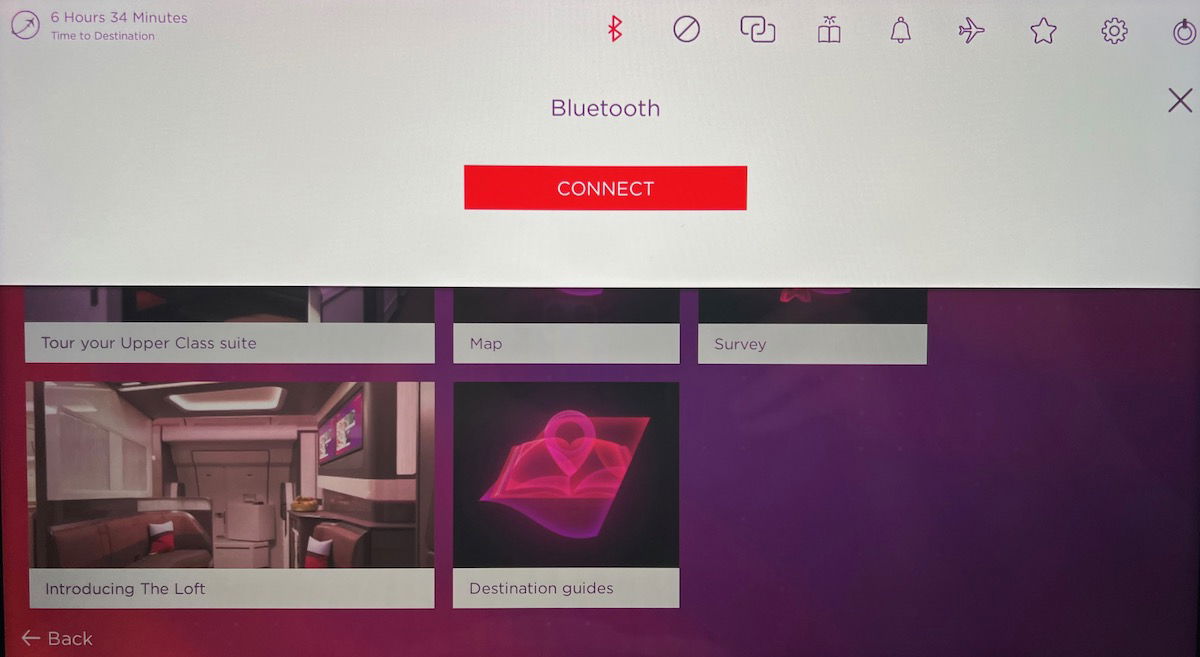 Virgin Atlantic's A330-900neos also have an awesome map feature, which you can customize depending on the view you prefer.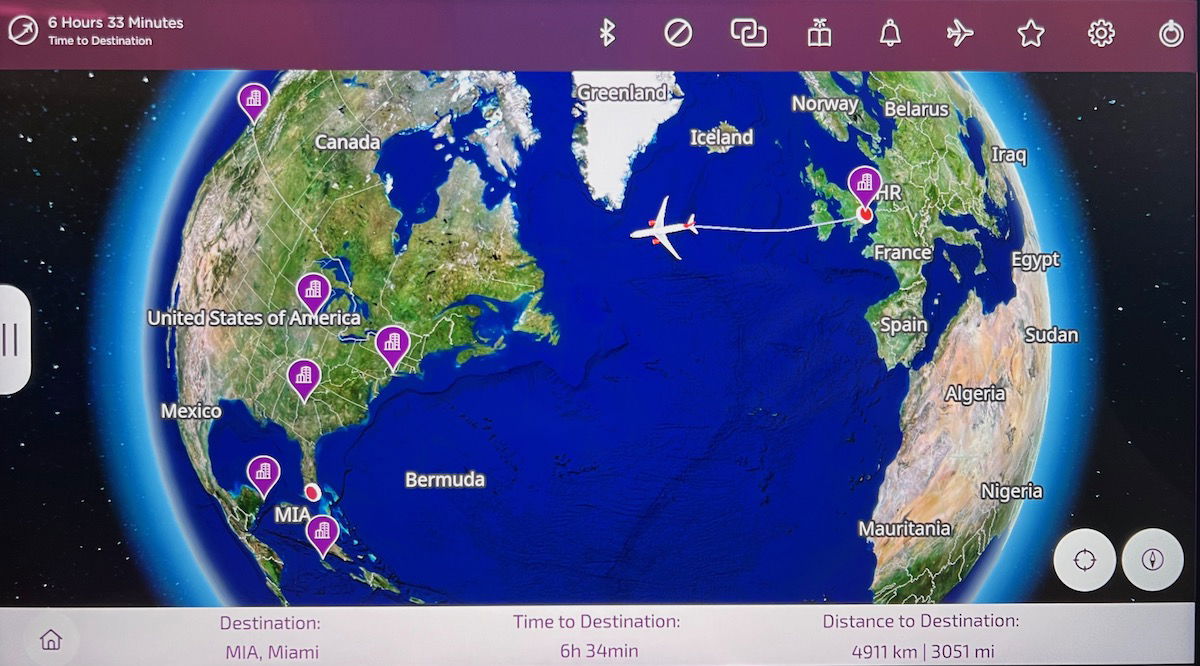 Another huge upgrade with Virgin Atlantic's A330-900neos is that these jets feature Viasat Wi-Fi, which is about as good as inflight Wi-Fi gets. There were two Wi-Fi pricing plans, both with no data caps:
A one hour pass cost 5.99 GBP
A full flight pass cost 18.99 GBP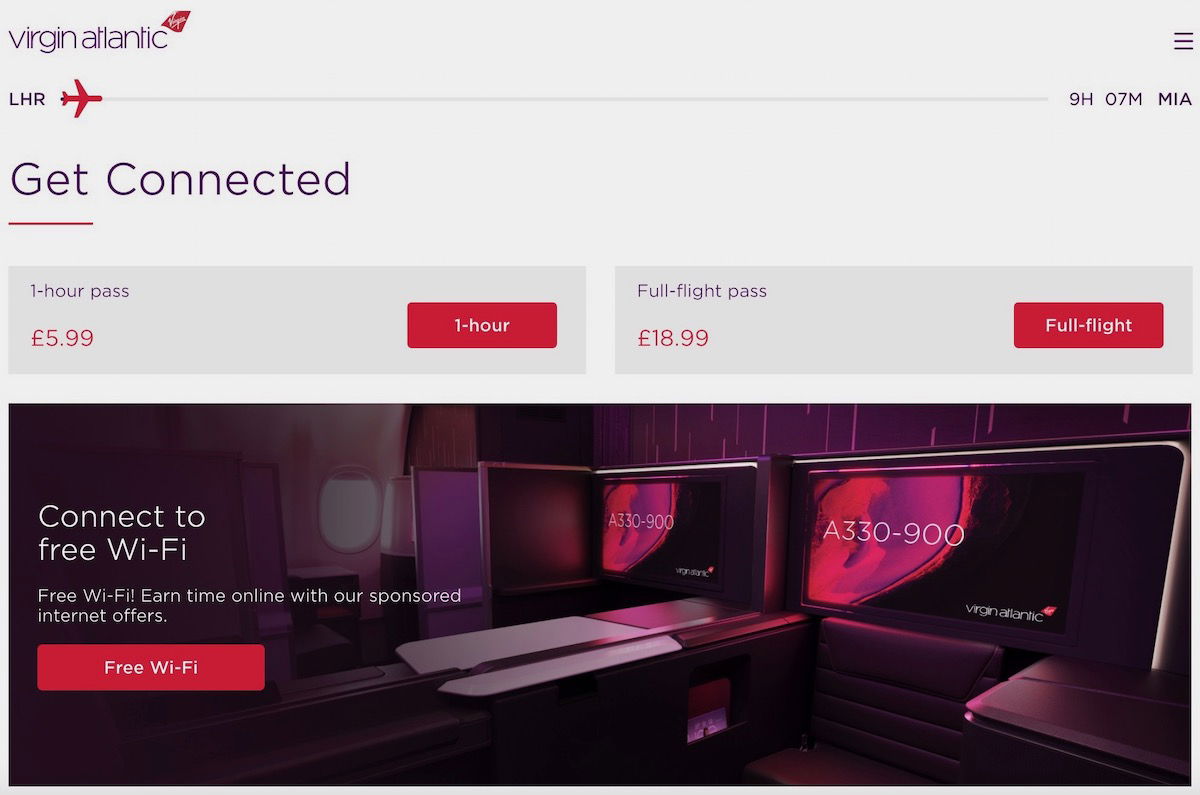 You can even switch between devices on the same plan, should you want to use a laptop for part of the flight, and a smartphone for another part of the flight.
Virgin Atlantic even offers 20 minutes of free Wi-Fi if you watch an ad, though this is limited to once per device during the flight.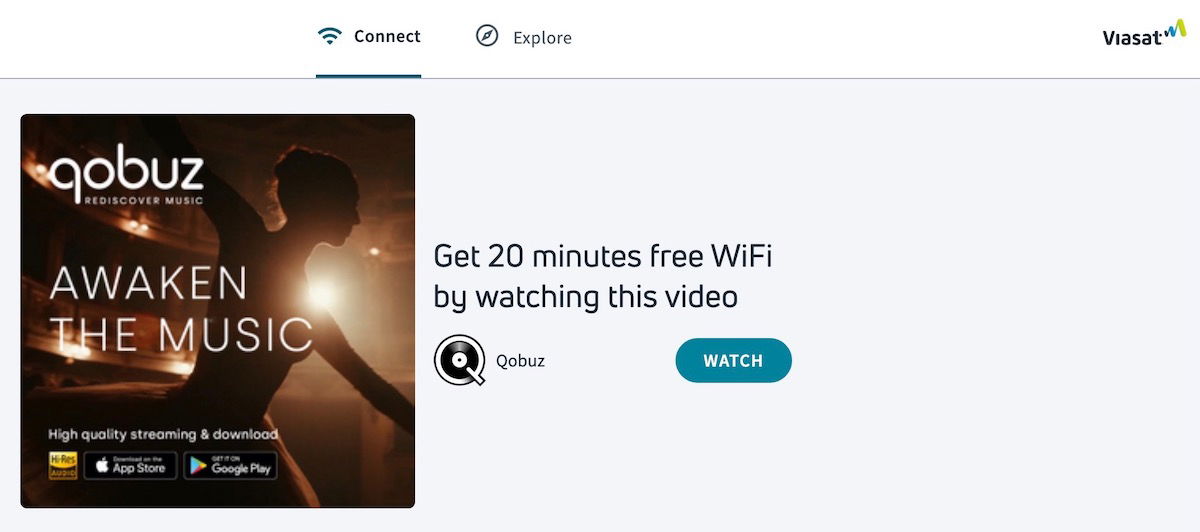 As you can see, both tech and entertainment are a real highlight of Virgin Atlantic's newest jets.
Virgin Atlantic A330-900neo departure from London
Boarding was pretty efficient, and was completed by 12:05PM, at which point the door closed. The flight was quite full — economy and premium economy were mostly full, and business class had six seats empty (including both of the Retreat Suites).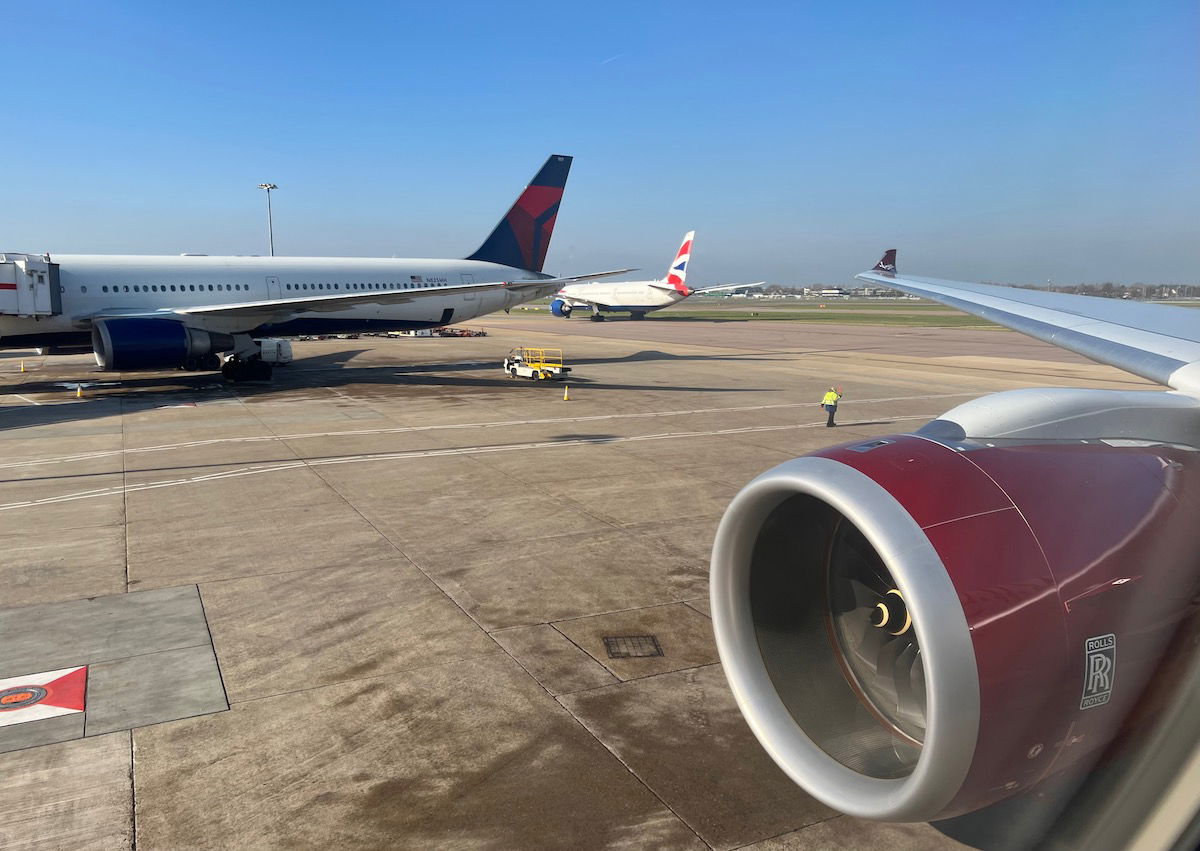 Toward the back of the Upper Class cabin, I seemed to be surrounded by a ground of about eight Dutch seniors, who weren't exactly the quietest. In addition to certainly enjoying the drink selection (which I don't fault them for), they were doing a lot of screaming across the cabin to communicate with one another.
Around the same time that the door closed, the captain announced our flight time of 9hr32min. I have to commend him for how upbeat and friendly-sounding his announcement was. Sometimes pilots just seem like they're going through the motions and are annoyed, and I appreciated this guy's enthusiasm. Once his announcement was complete, the safety video was screened.
We pushed back at 12:15PM, and five minutes later started our taxi to the departure runway. Our taxi was pretty quick, but then there was a substantial takeoff queue, so we had to wait for around 15 minutes.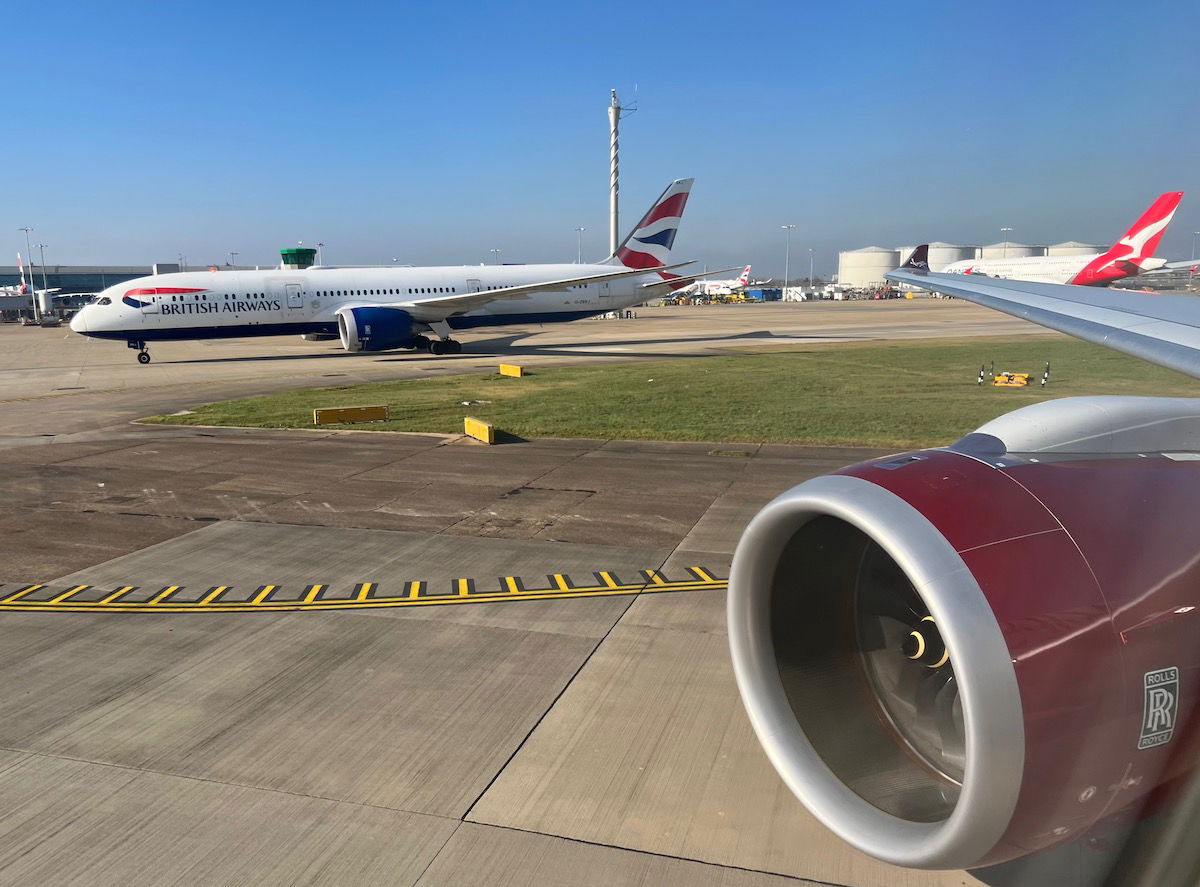 We took off at 12:40PM, and it was such a gorgeous afternoon. Since we departed toward the east, we made a sharp right turn after takeoff, which made for some great views of Heathrow.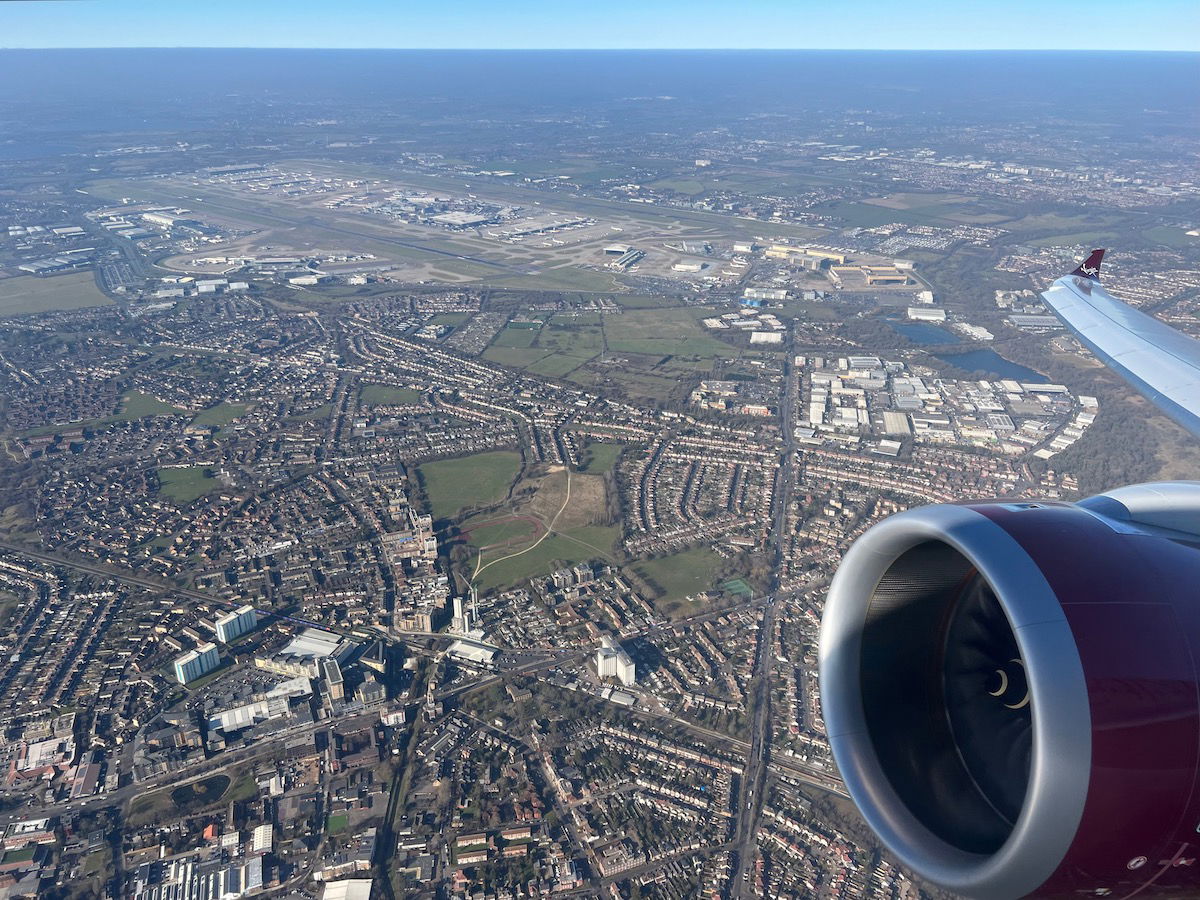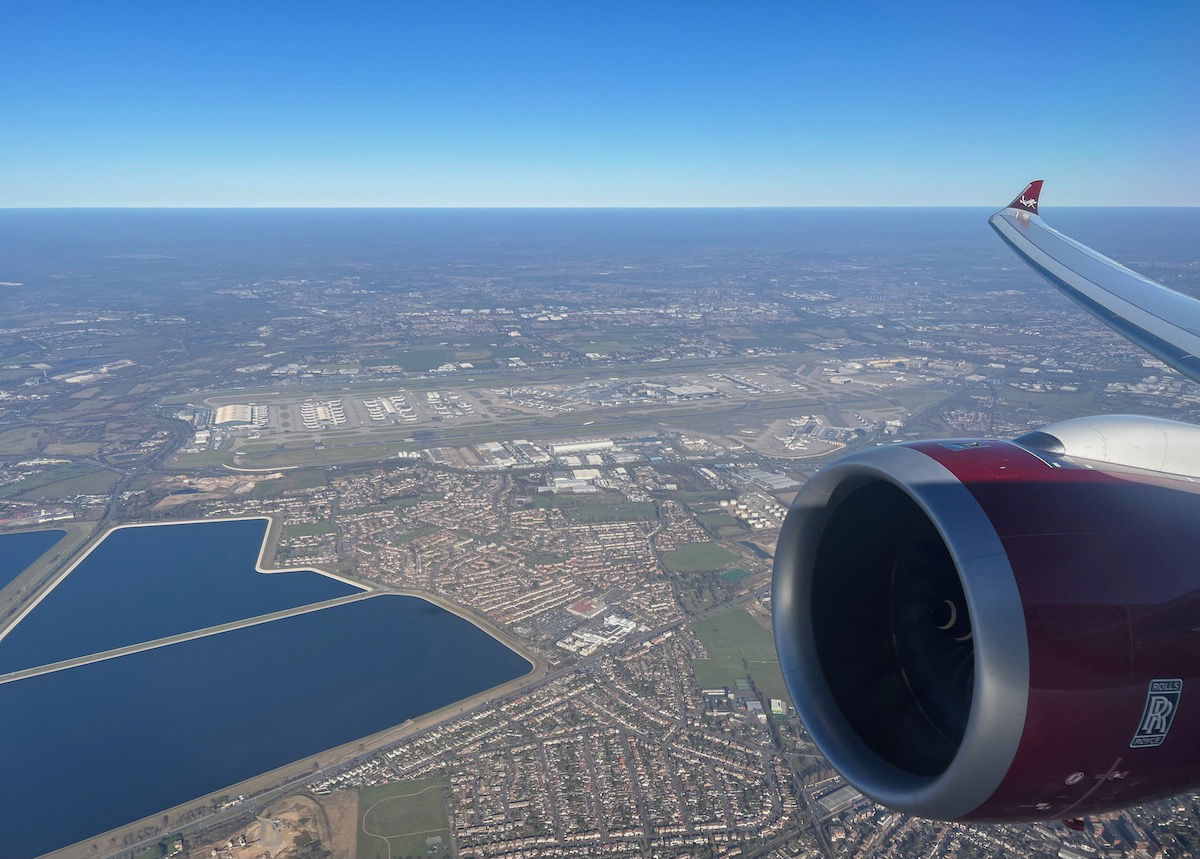 Our climb out was smooth, and the seatbelt sign was turned off about 15 minutes after takeoff.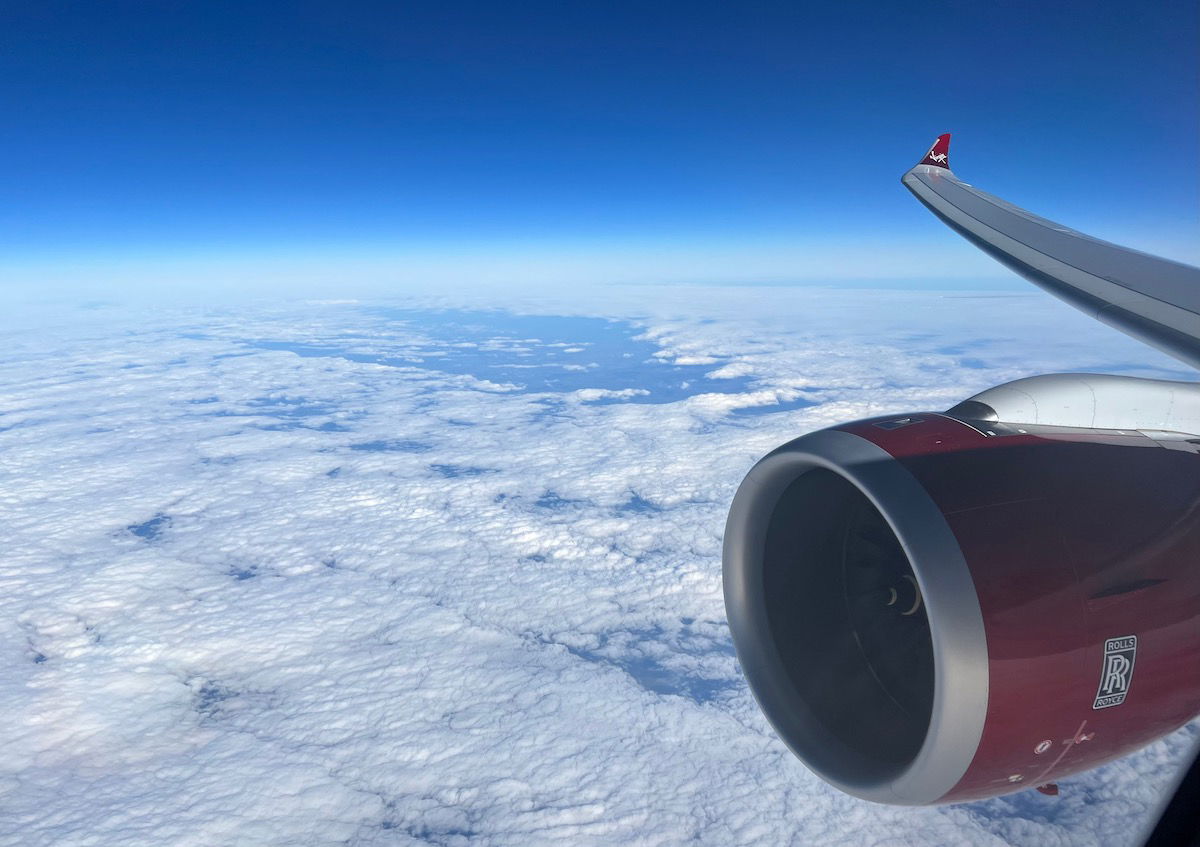 Virgin Atlantic Upper Class lunch service
Lunch was served after takeoff, and you can find the menu and drink list below.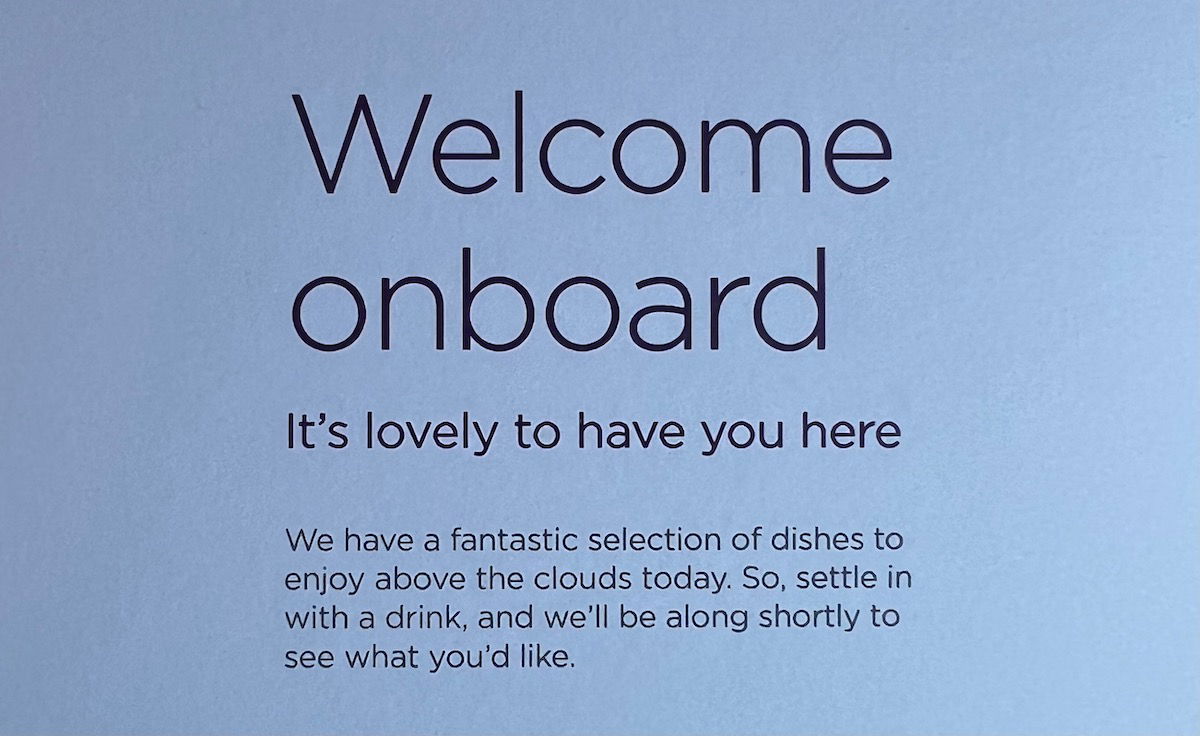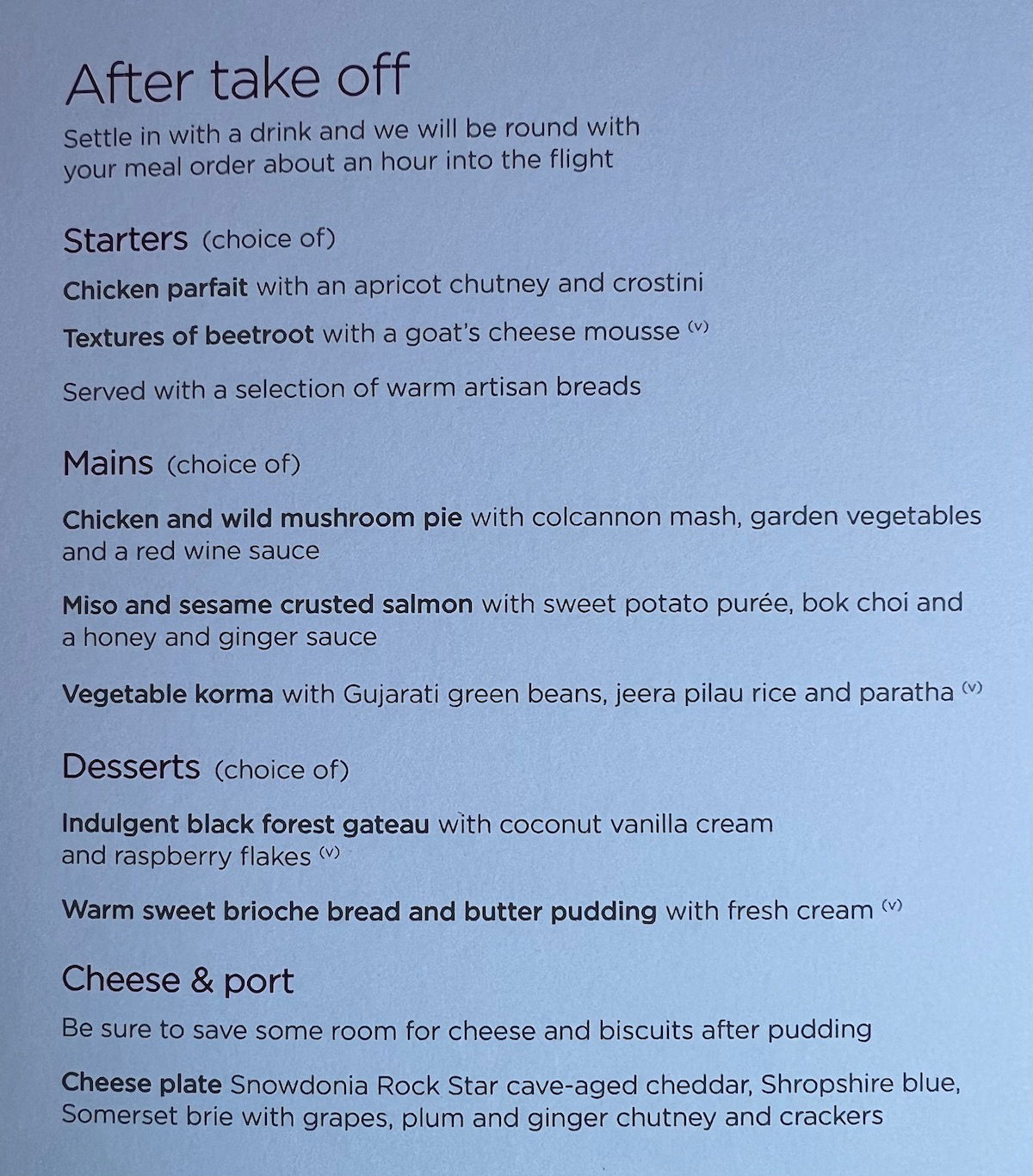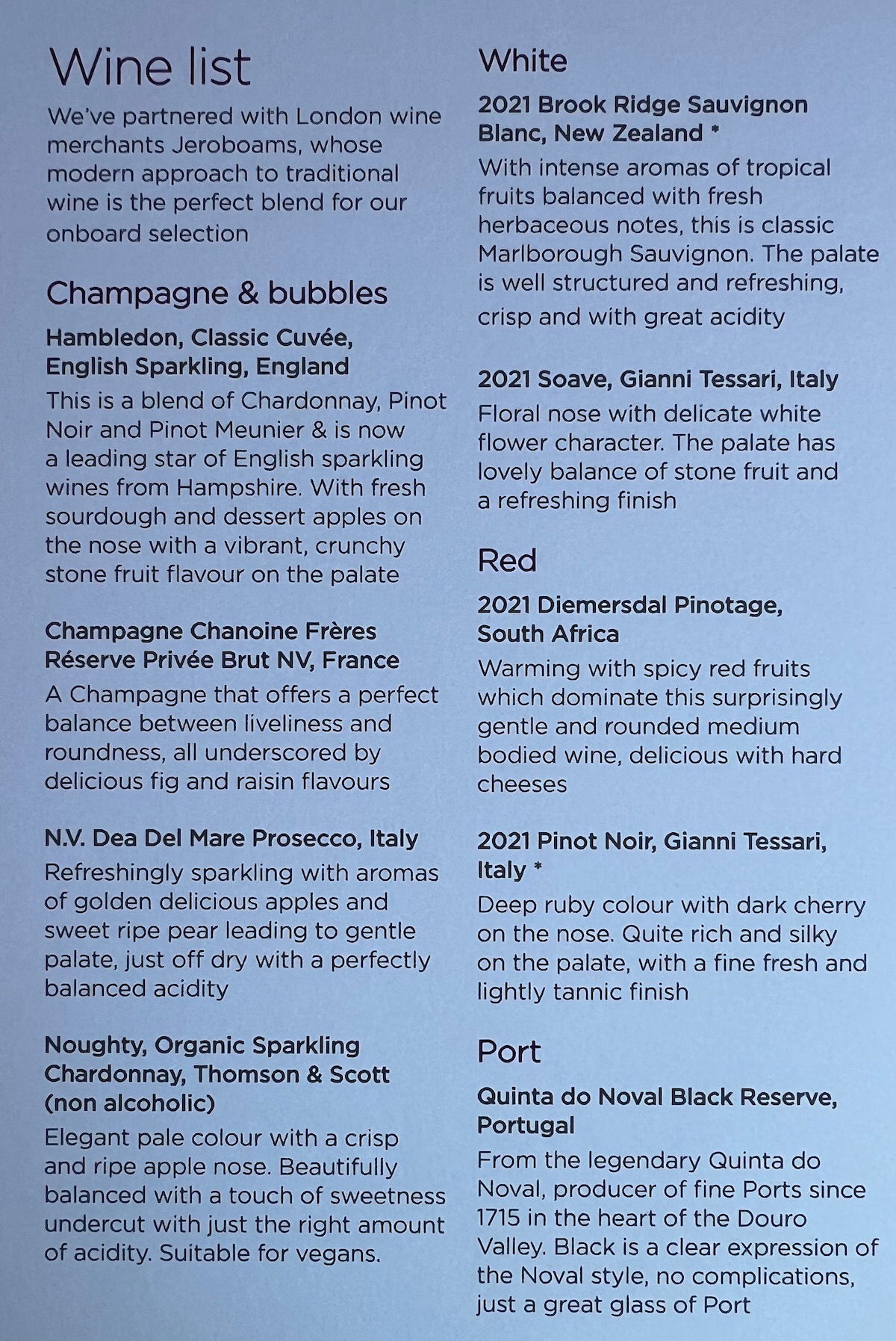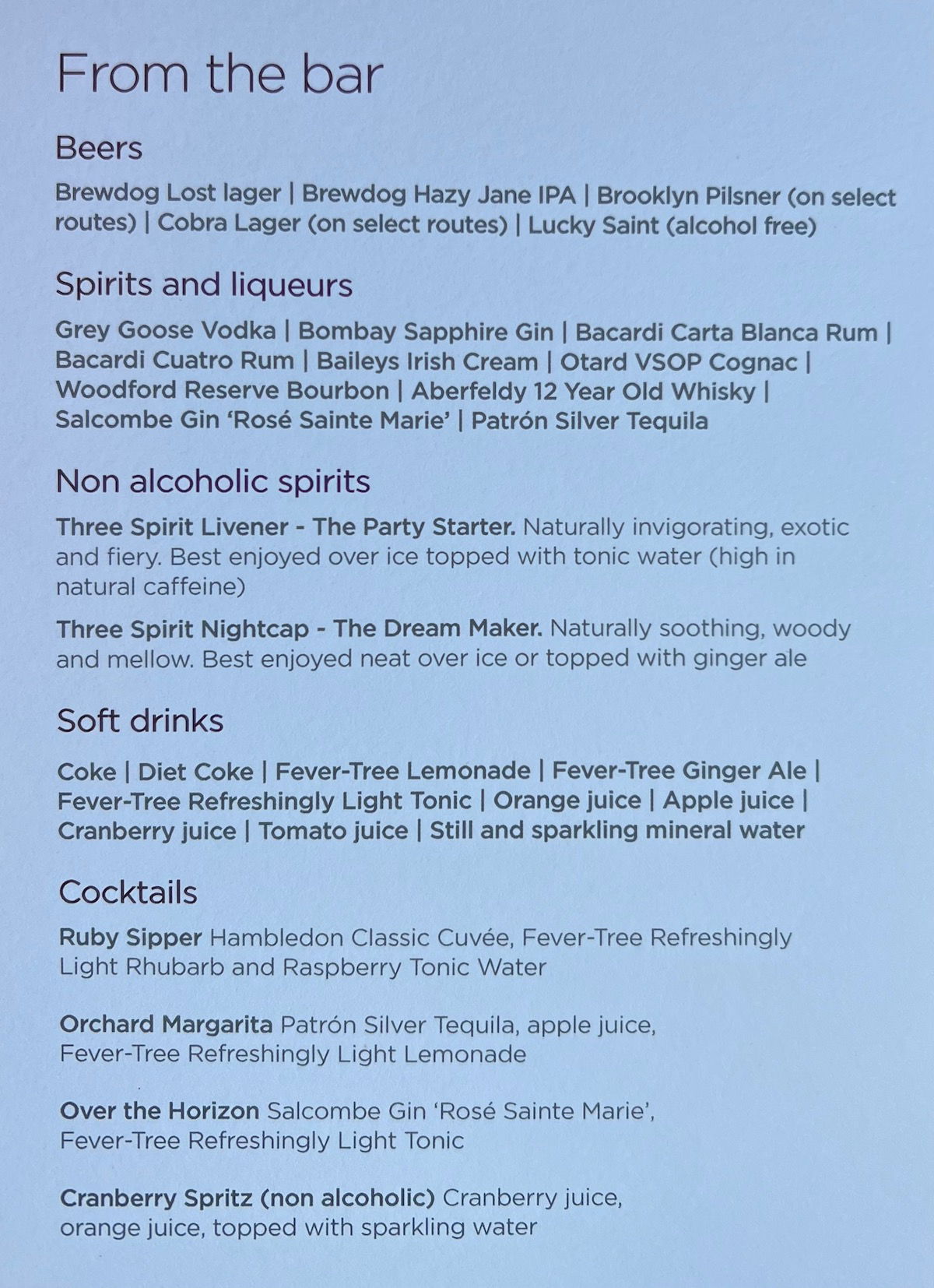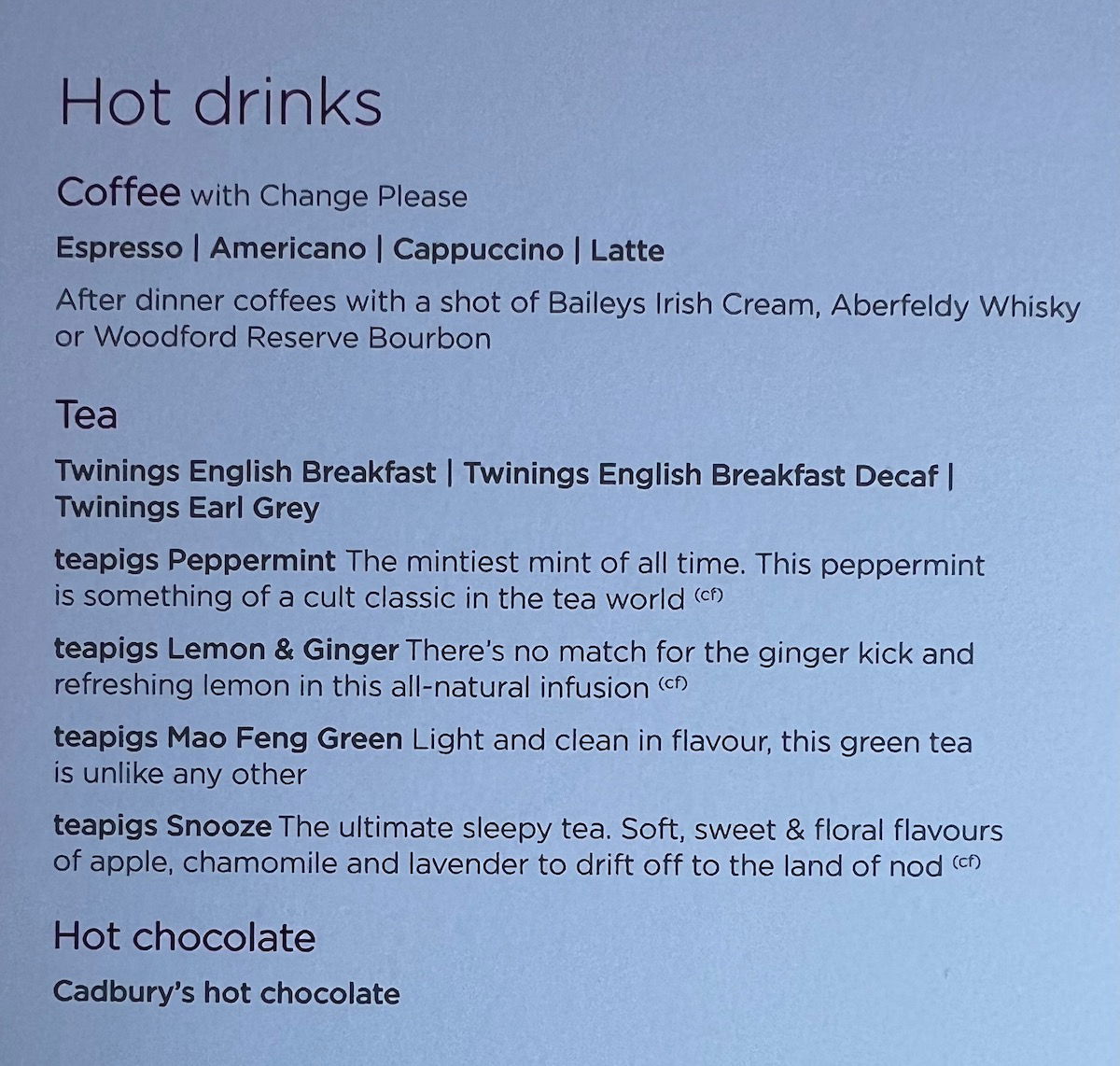 Service began with warm towels being distributed around 25 minutes after takeoff.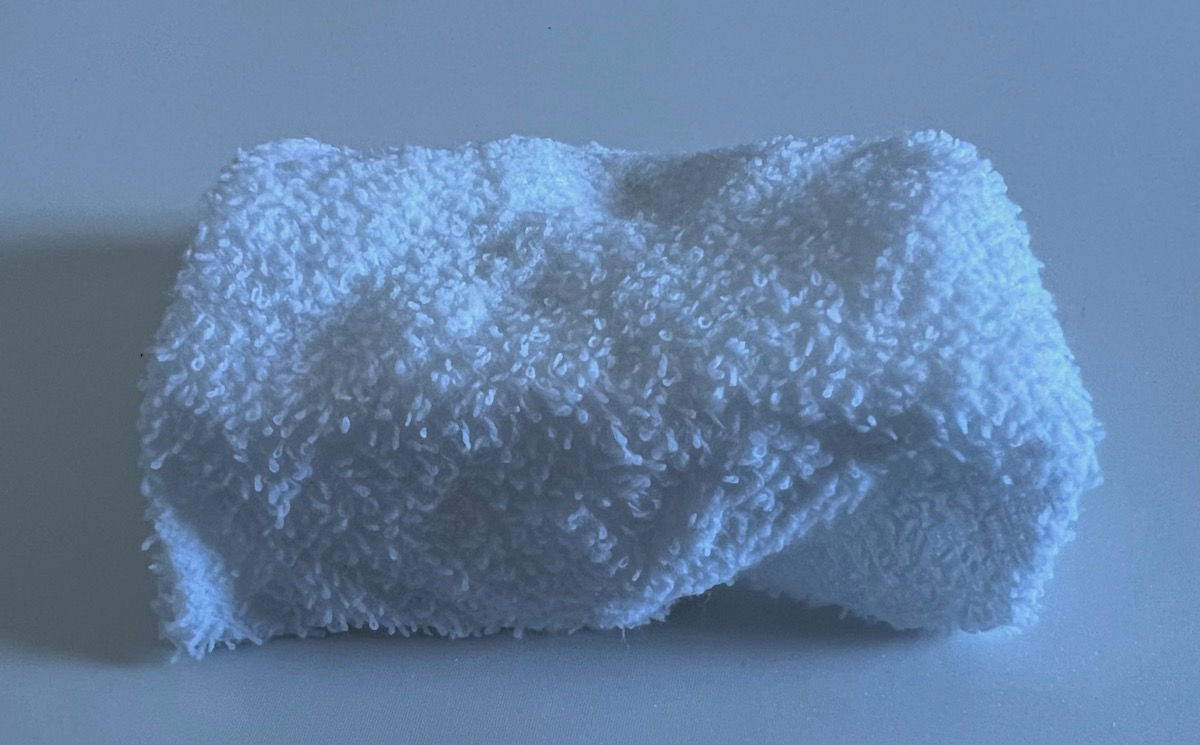 About 30 minutes after takeoff, one of the friendly flight attendants came through the cabin to take drink orders and ask passengers if they were familiar with the suite, and needed any help with the features.
Service was definitely a bit on the slow side on this flight, though I didn't mind the leisurely pace, given that it was a fairly long daytime flight. The first drink was served about 60 minutes after takeoff, with a side of chips (or crisps, for my friends on the other side of the pond).
I decided to mix things up and order a glass of the English sparkling wine rather than the champagne, since Virgin Atlantic likes to highlight local wines. It was quite good.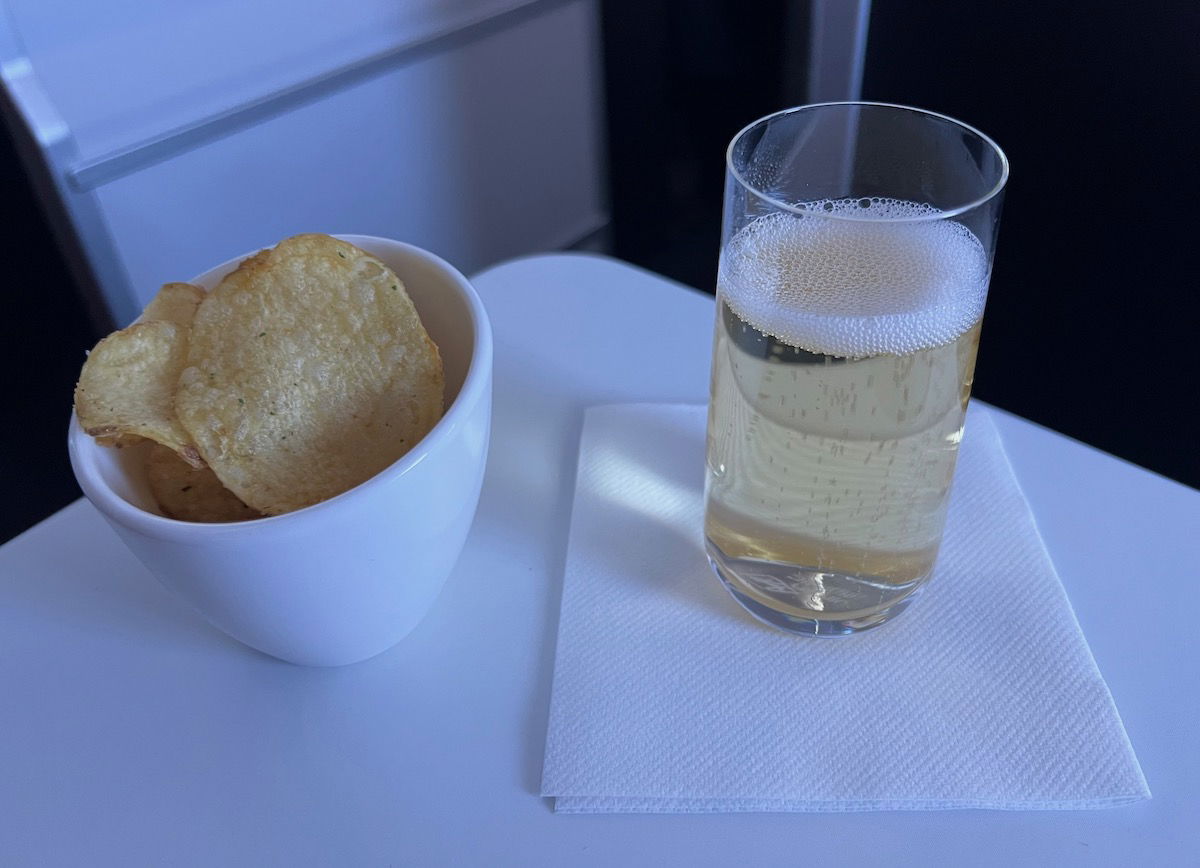 About 15 minutes later the table was set for the flight. Virgin Atlantic performs all service directly on a table setting on the tray table, which I quite appreciate, rather than bringing everything out on trays.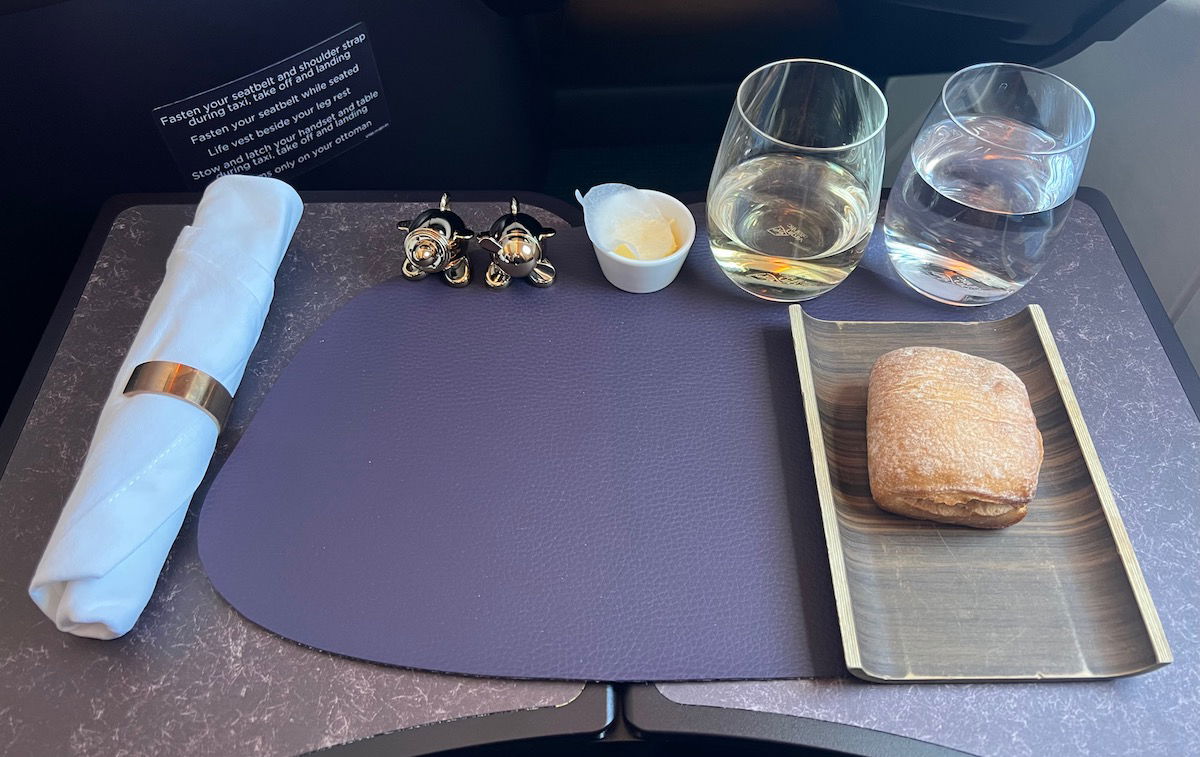 Also, you've gotta love Virgin Atlantic's salt & pepper shakers!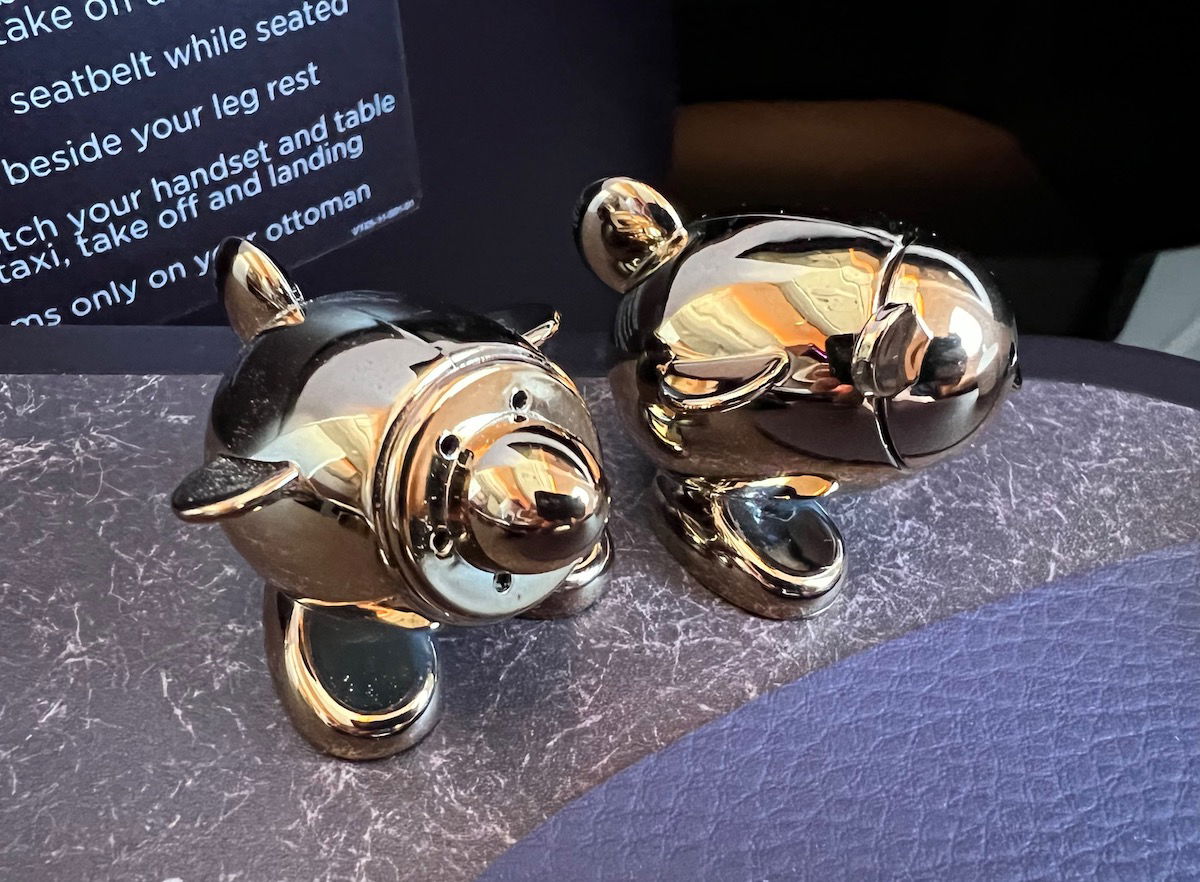 The starter was served around 1hr25min after takeoff. I selected the chicken parfait with an apricot chutney and crostini. It wasn't at all what I expected — I saw two people seated near me send this back, and frankly it smelled like dog food and looked like SPAM. Nonetheless I decided to try it, and it was actually fairly tasty.
That being said, I think this is probably something Virgin Atlantic should take off the menu, based on the smell and the reaction from other passengers.
A selection of bread was also offered, to go along with this. To drink, I decided to switch to a New Zealand sauvignon blanc with my starter.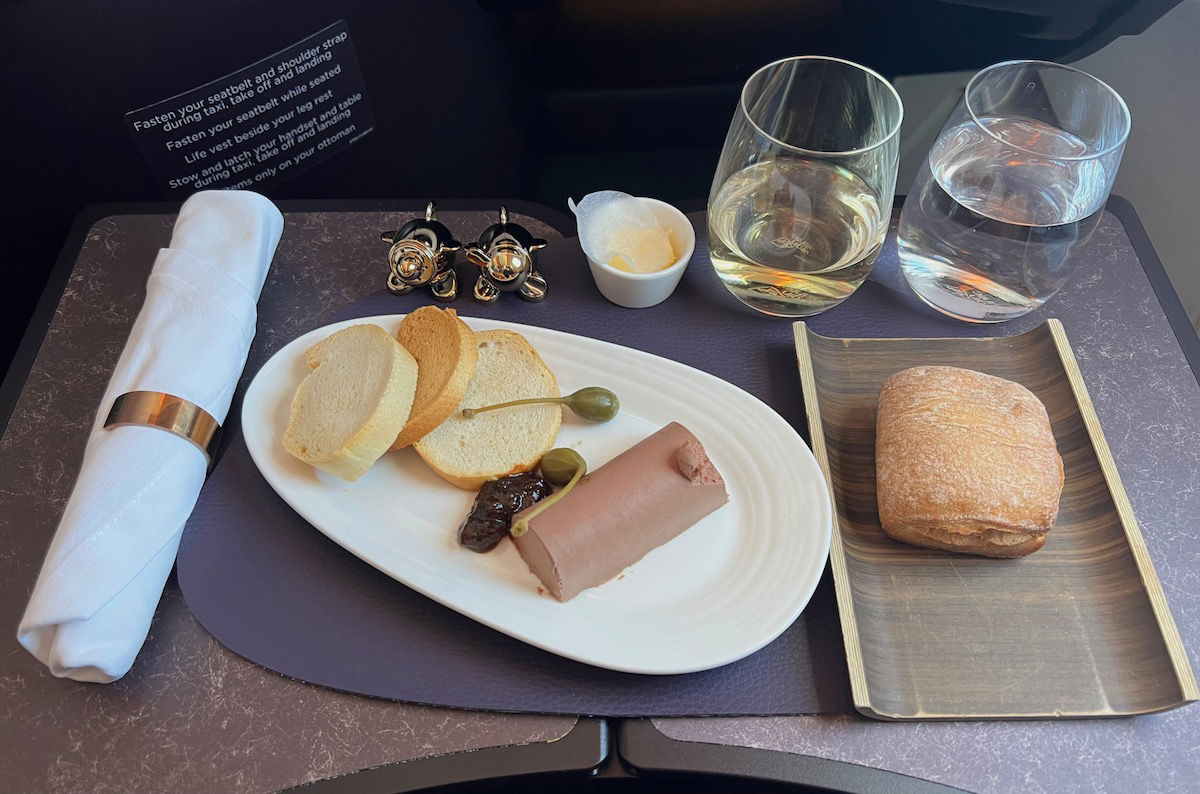 Each passenger's starter was cleared at their own pace, and then I was brought my main course around 1hr40min after takeoff. For this I selected the miso and sesame crusted salmon with sweet potato puree, bok choi, and a honey and ginger sauce. This was both delicious and nicely presented. I like how Virgin Atlantic main courses are (clearly) plated onboard, rather than coming in casserole dishes and just being reheated, like on some other airlines.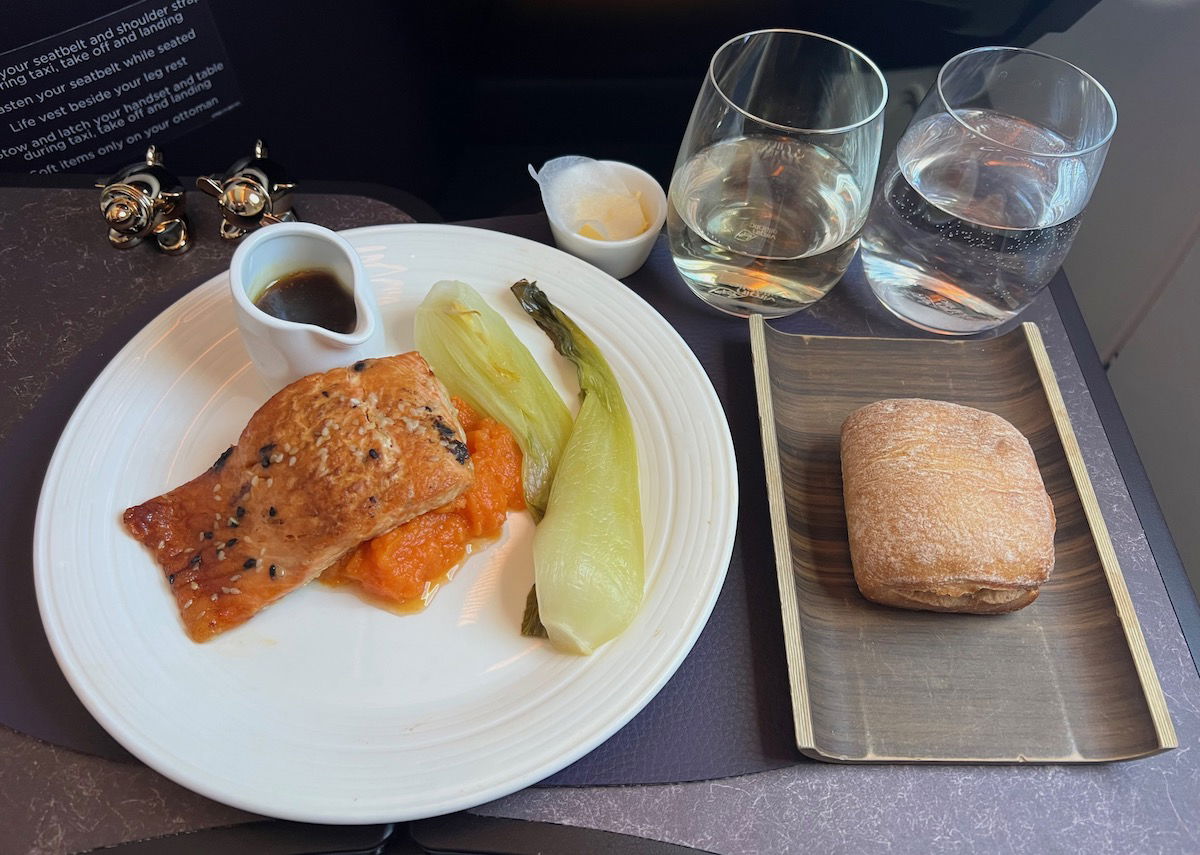 Once my main course was completed, I was offered dessert. There were two options, and I chose the black forest gateau with coconut vanilla cream and raspberry flakes, which I enjoyed. While I asked for a cappuccino to go along with, I was informed that the frother was broken, so I was instead offered a coffee. I love Virgin Atlantic's mugs.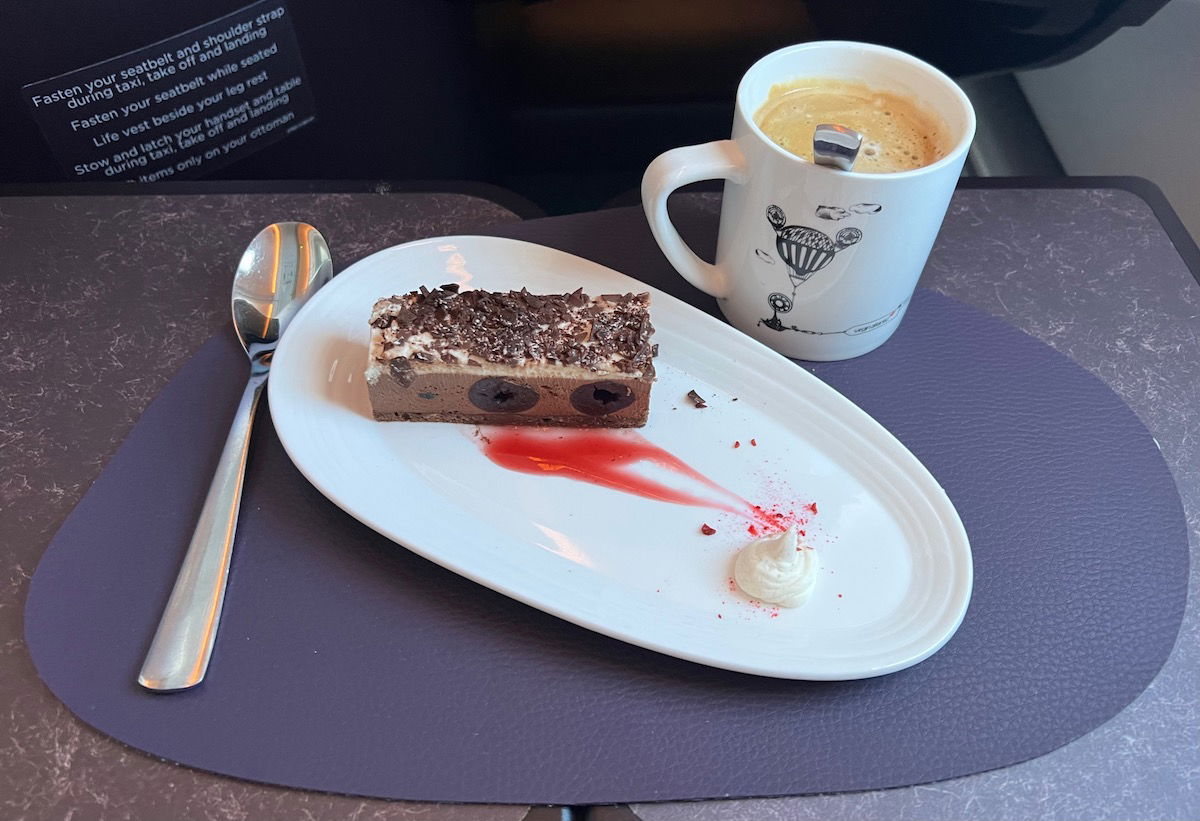 Lastly, to finish off the meal I was offered a cheese plate, which consisted of cheddar, blue, and brie cheese. This selection was more interesting than your typical airplane cheese plate.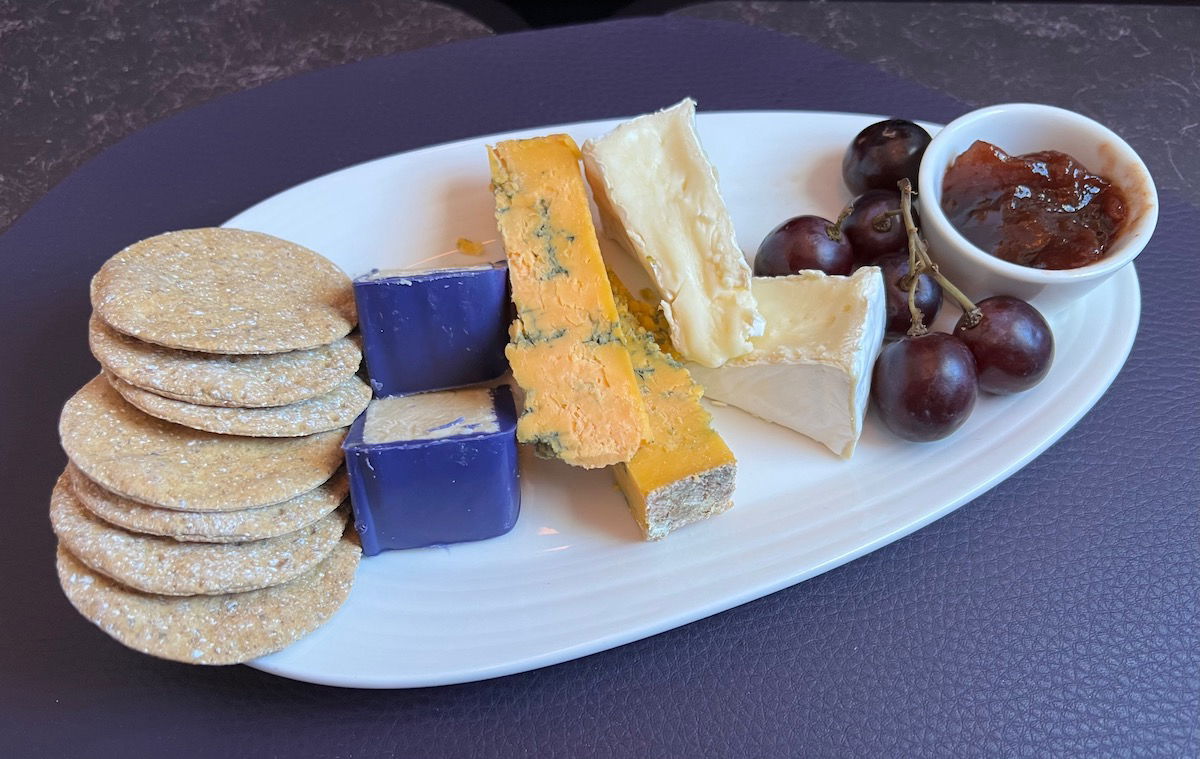 All-in-all, I thought the meal was great. The presentation was nice, service was friendly, and food quality good. I think there's room for improvement with the starter, but other than that, well done.
Virgin Atlantic A330-900neo Upper Class The Loft
Virgin Atlantic is known for its onboard bars and lounges. While the plane doesn't have a bar, it does have The Loft, which is a social space located between business class and premium economy. The area can seat a handful of people, with a solo seat on one side, and a longer bench on the other side. There's a large entertainment screen above the bar, where the map feature is typically playing.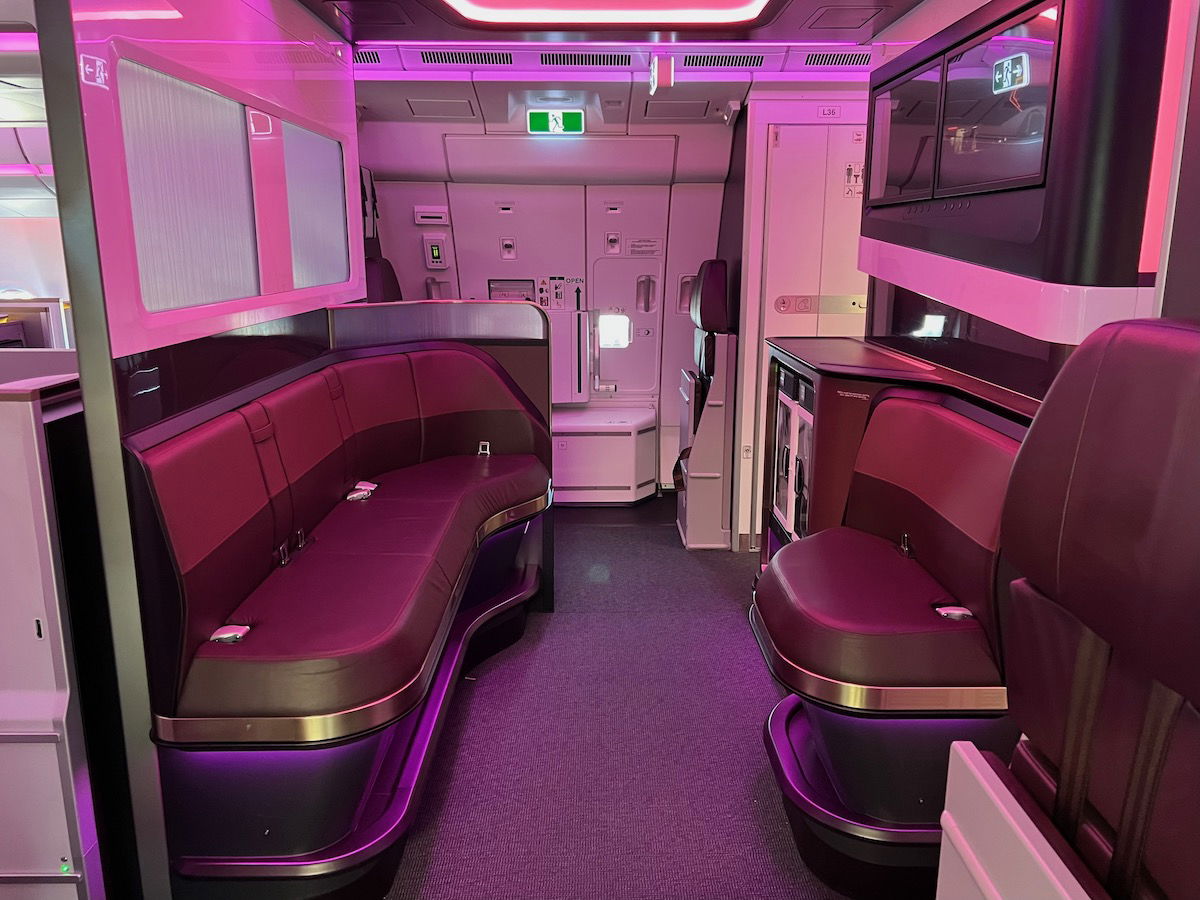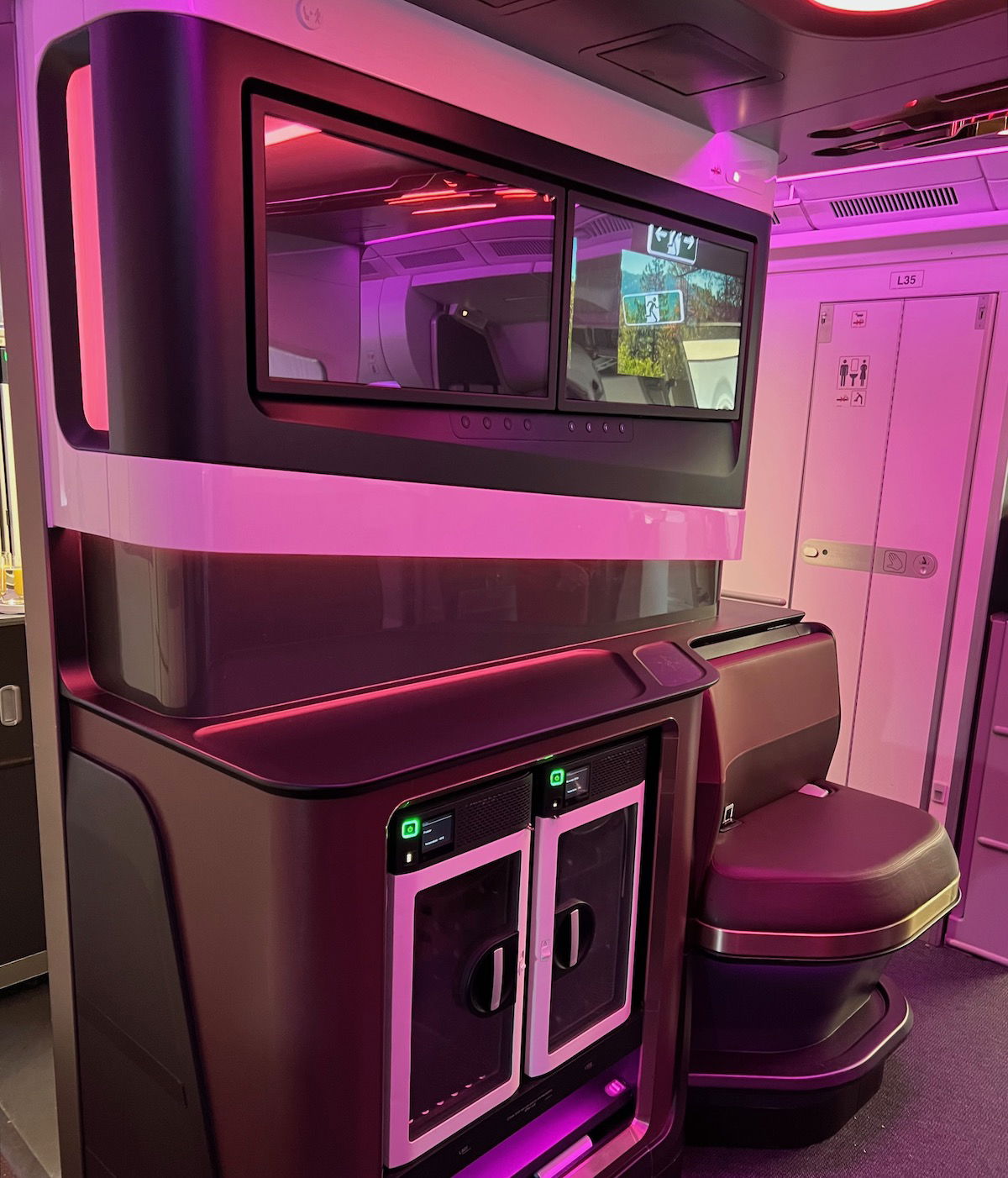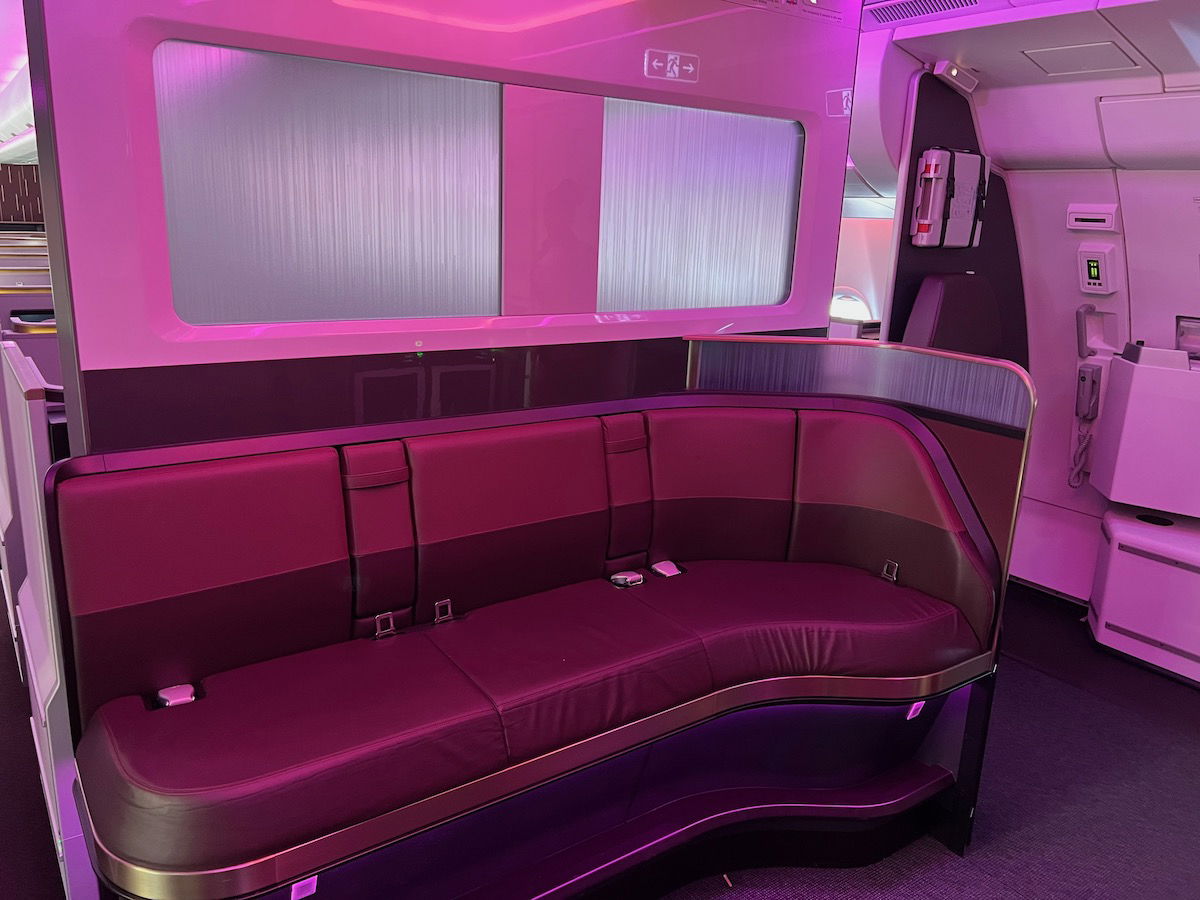 There's also a fridge at The Loft, which on daytime flight is filled with ice cream. That's a fun feature!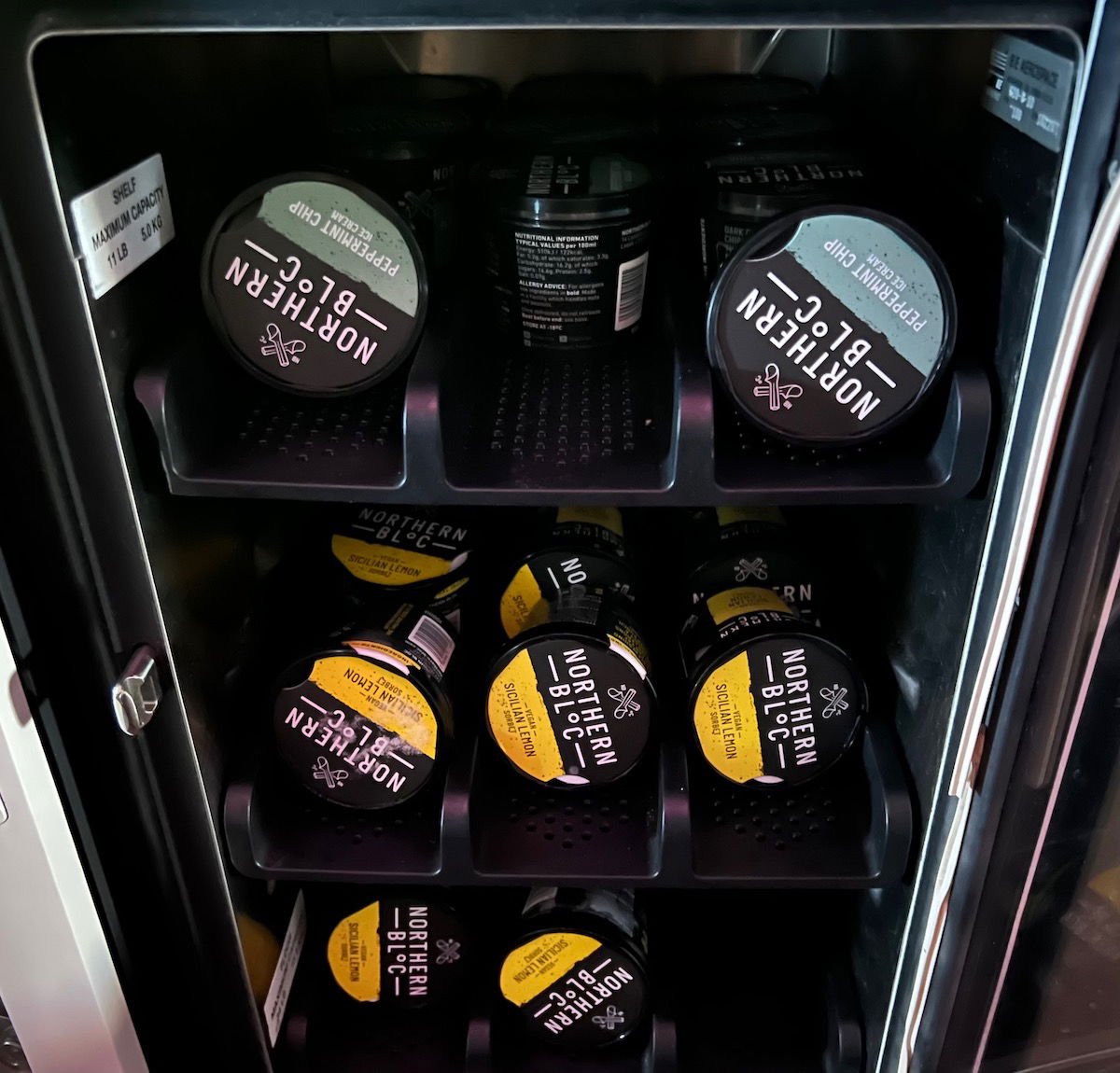 There was also a snack basket, with some light packaged snacks.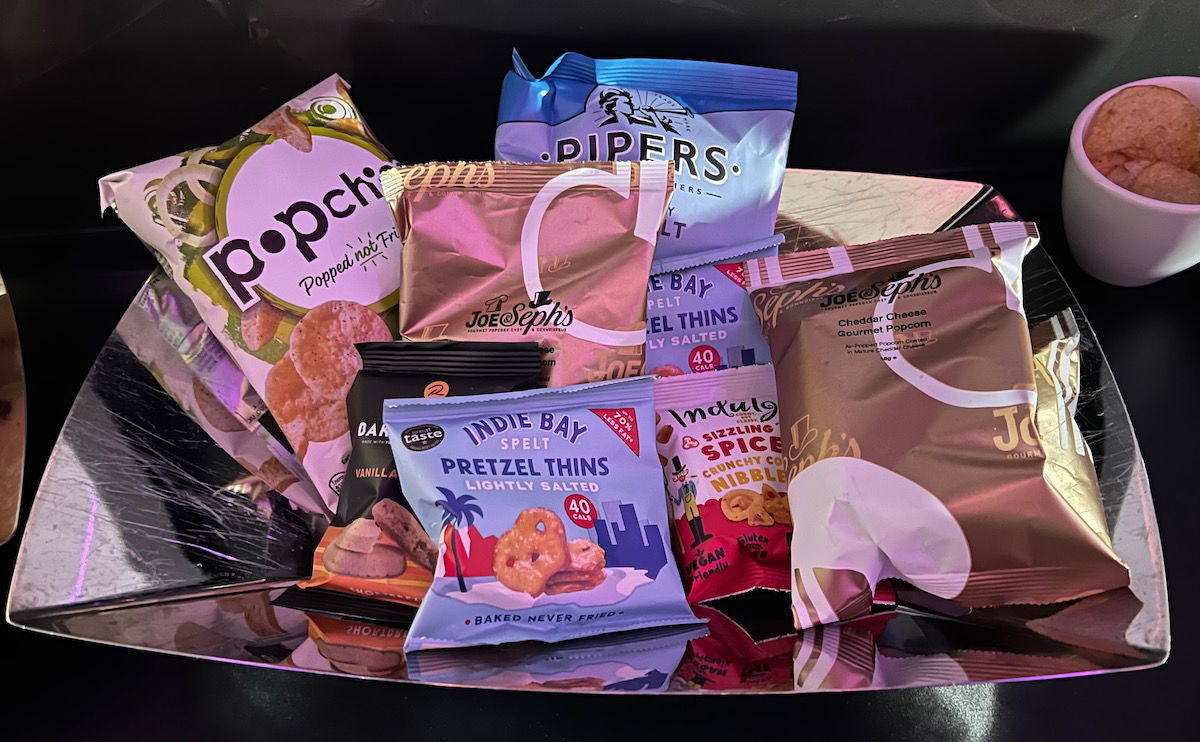 The crew is also happy to serve you drinks here, should you want to stretch your legs and socialize.
One (I assume) quirk with the A330-900neo is that there's no curtain between business class and premium economy. The lavatories behind business class are shared between the two cabins, and there's no obvious restriction preventing premium economy passengers from using the lounge area.
I'm not sure if that's supposed to be allowed, but practically speaking I saw several premium economy passengers relaxing in the lounge, enjoying the snacks and ice cream, etc. Like I said, I'm not sure if that's the intent, but it differs from the reality on Virgin Atlantic's other planes.
Virgin Atlantic A330-900neo Upper Class lavatories
Virgin Atlantic has three business class lavatories on the A330-900neo. One is located at the very front of the cabin, while two are located behind the cabin. As mentioned above, the ones behind the cabin seemed to be shared with premium economy.
While the lavatories were modern, they were on the tight side, and got quite dirty, especially toward the end of the flight.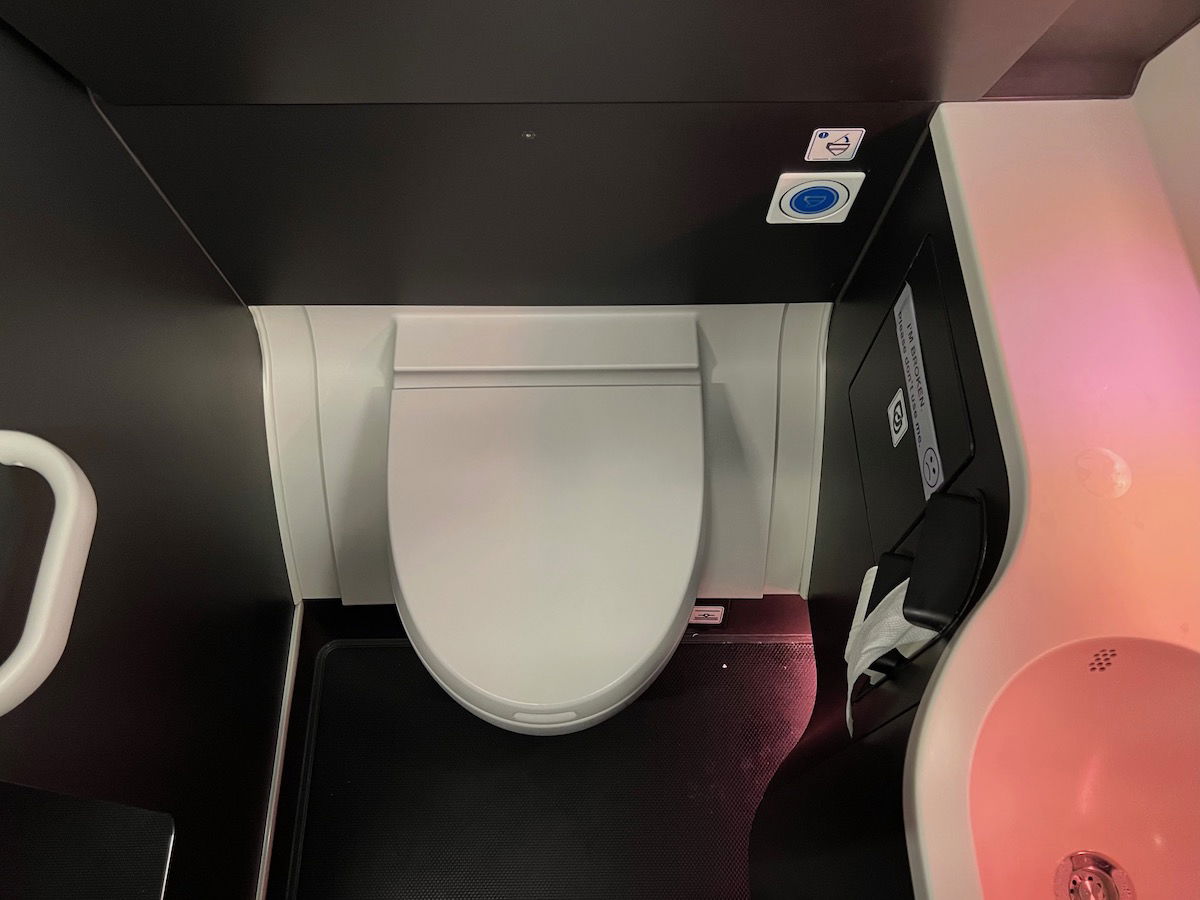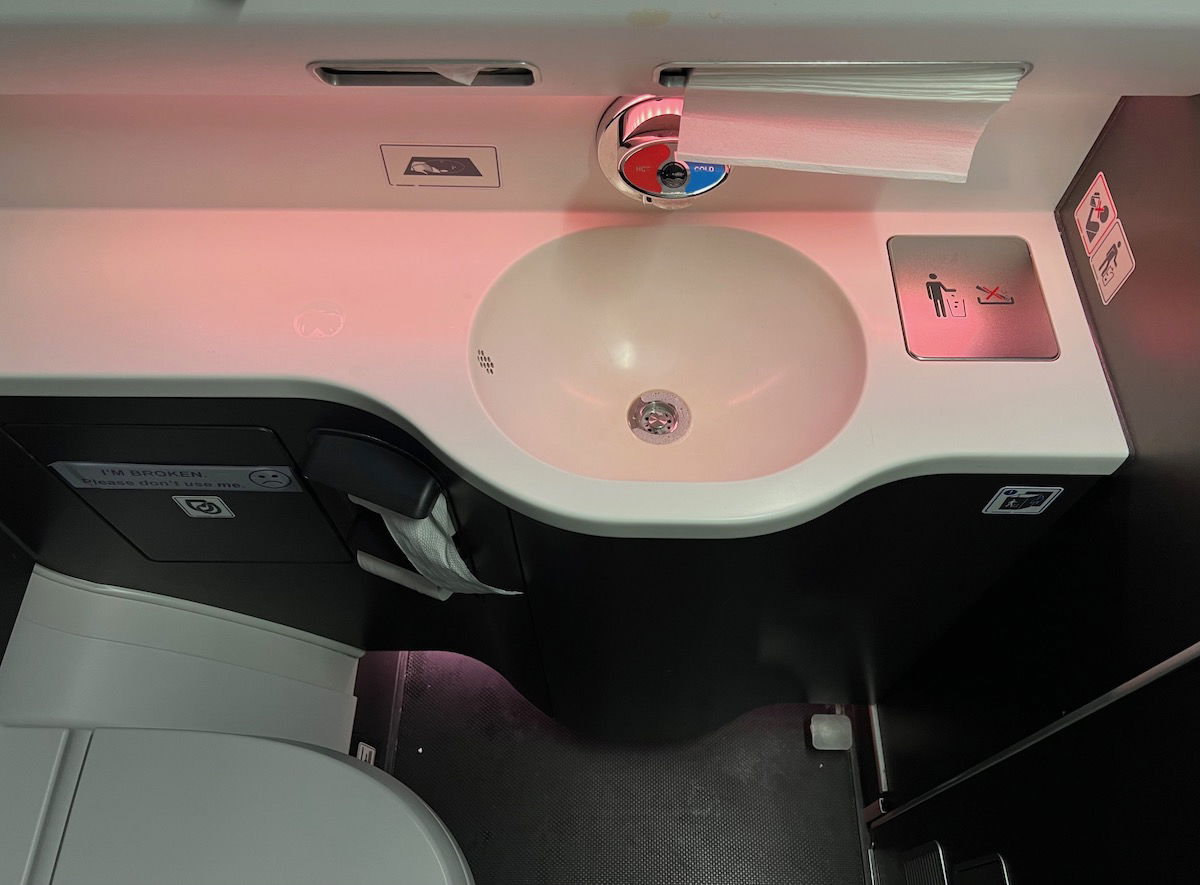 The lavatories also had toiletries from REN, much like you'll find in the amenity kits.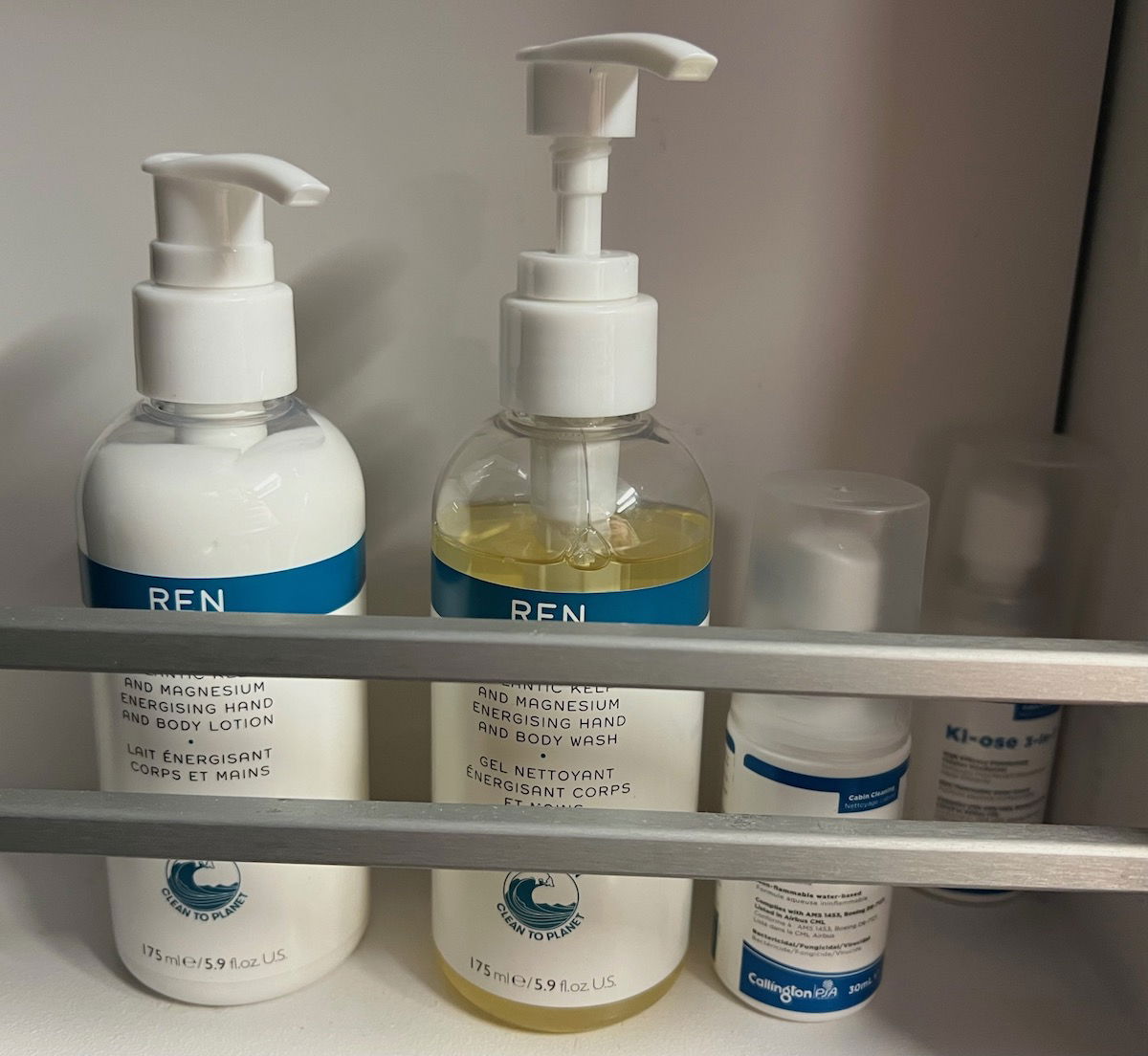 Virgin Atlantic A330-900neo Upper Class bed
After lunch, I decided to test out the bed. Virgin Atlantic offers turndown service, whereby the crew is happy to make your bed for you. Virgin Atlantic's bedding is excellent. In addition to the standard pillow at each seat upon boarding, there's also a mattress pad and a cozy duvet.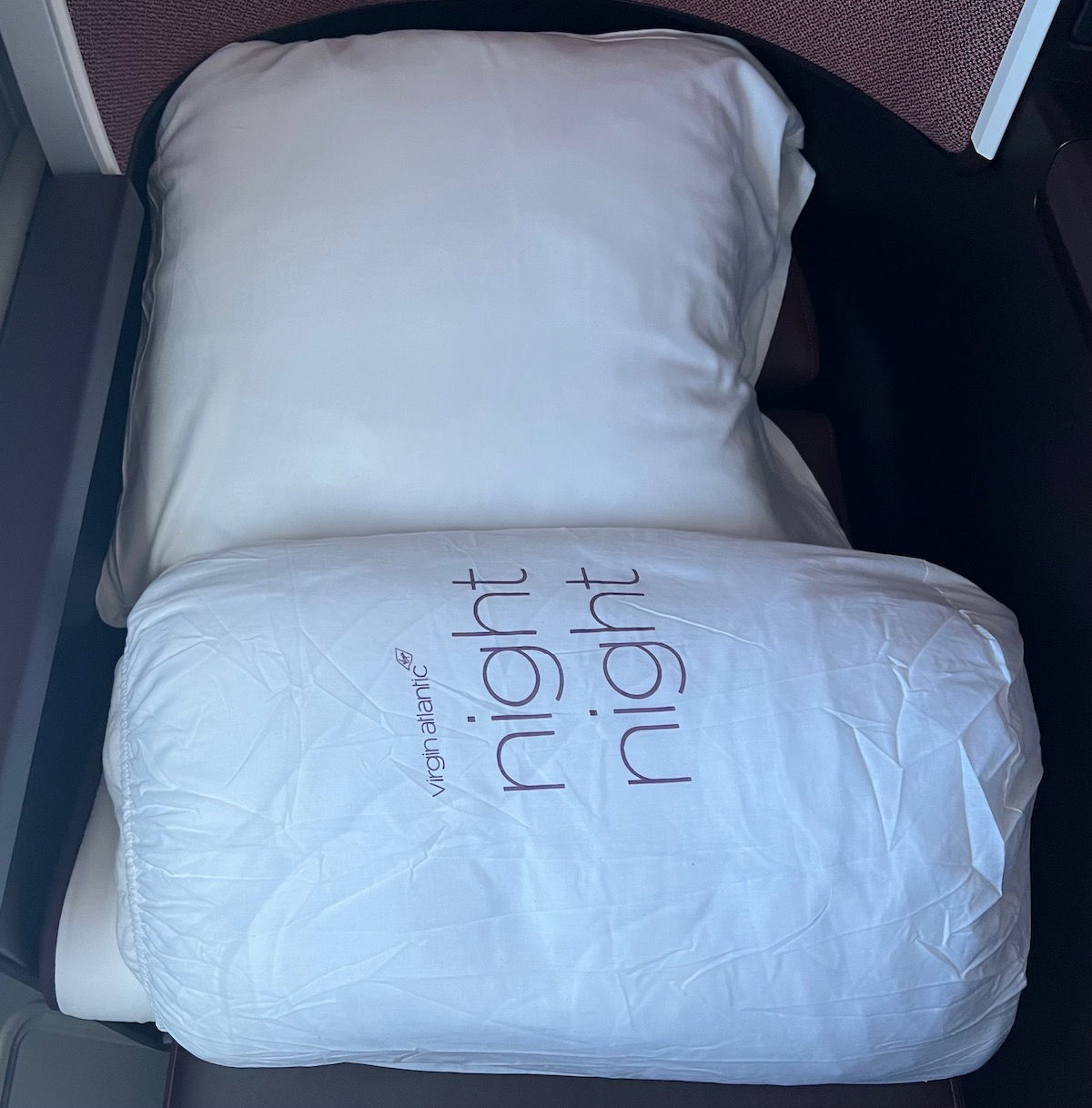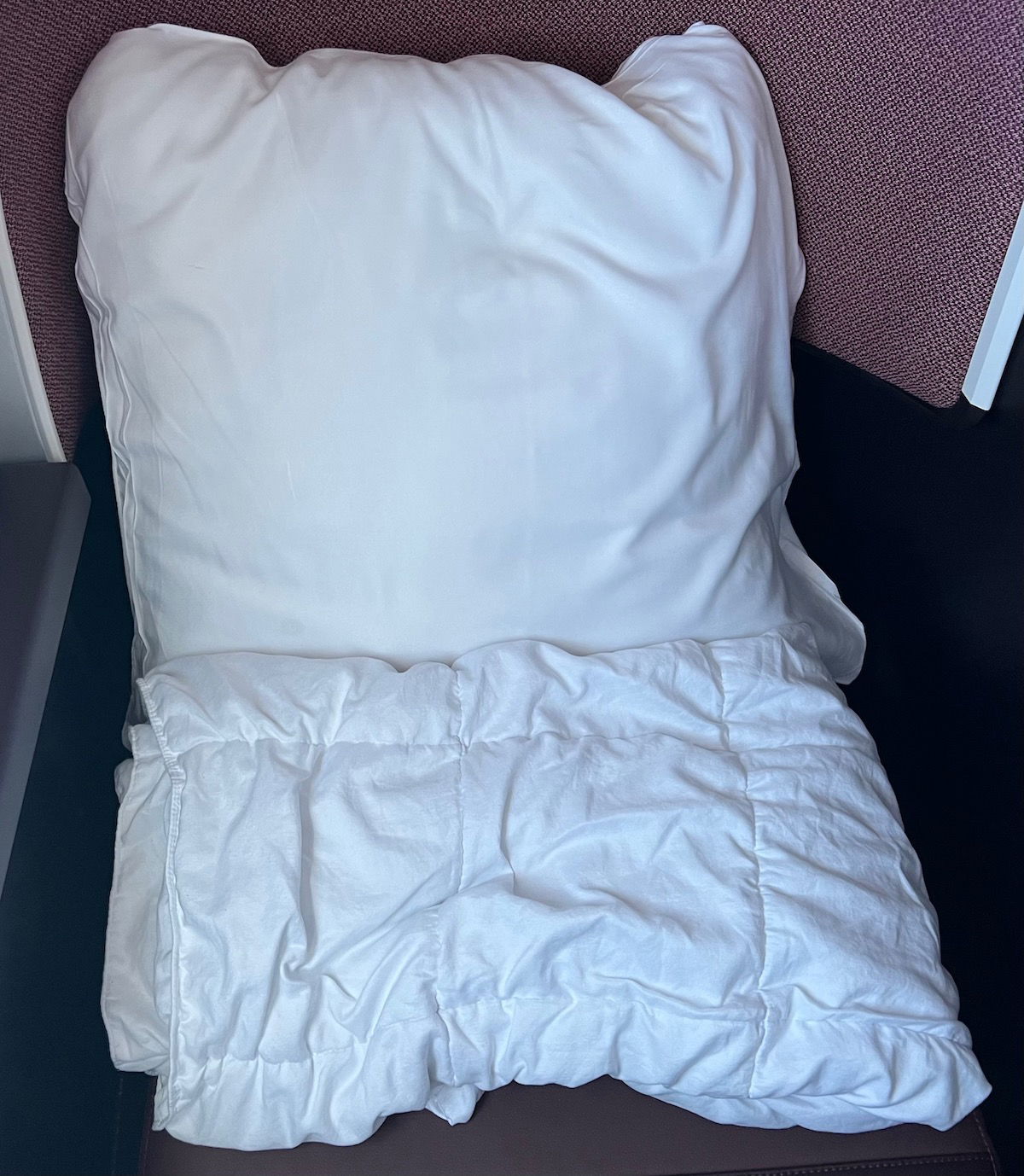 Virgin Atlantic's A330-900neo Upper Class bed is on the tight side, but that's to be expected given the width of the aircraft. Unless you're petite, you definitely won't be able to move around all that much once you recline.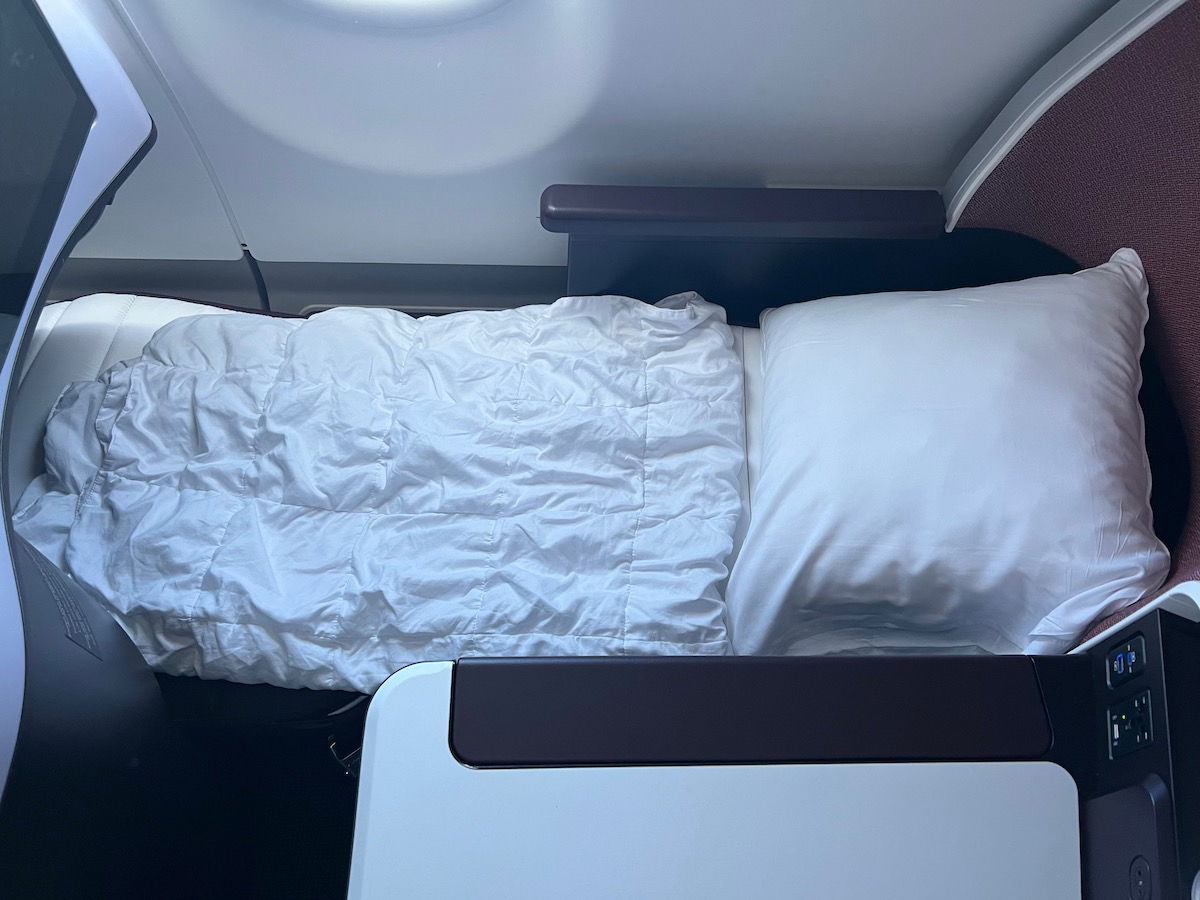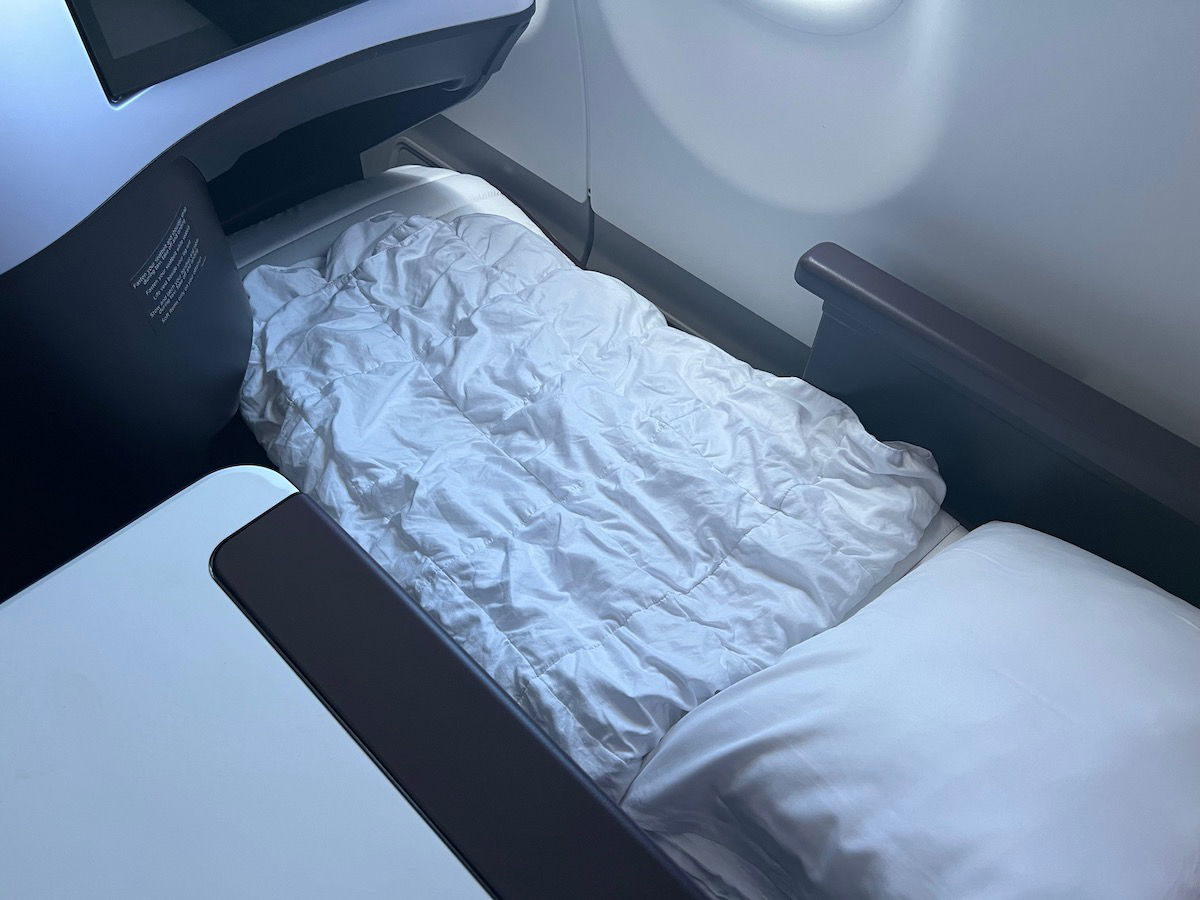 Between the great bedding and the air nozzles, I got a good nap in during this flight, and woke up around 4hr30min before landing, after completing our transatlantic crossing.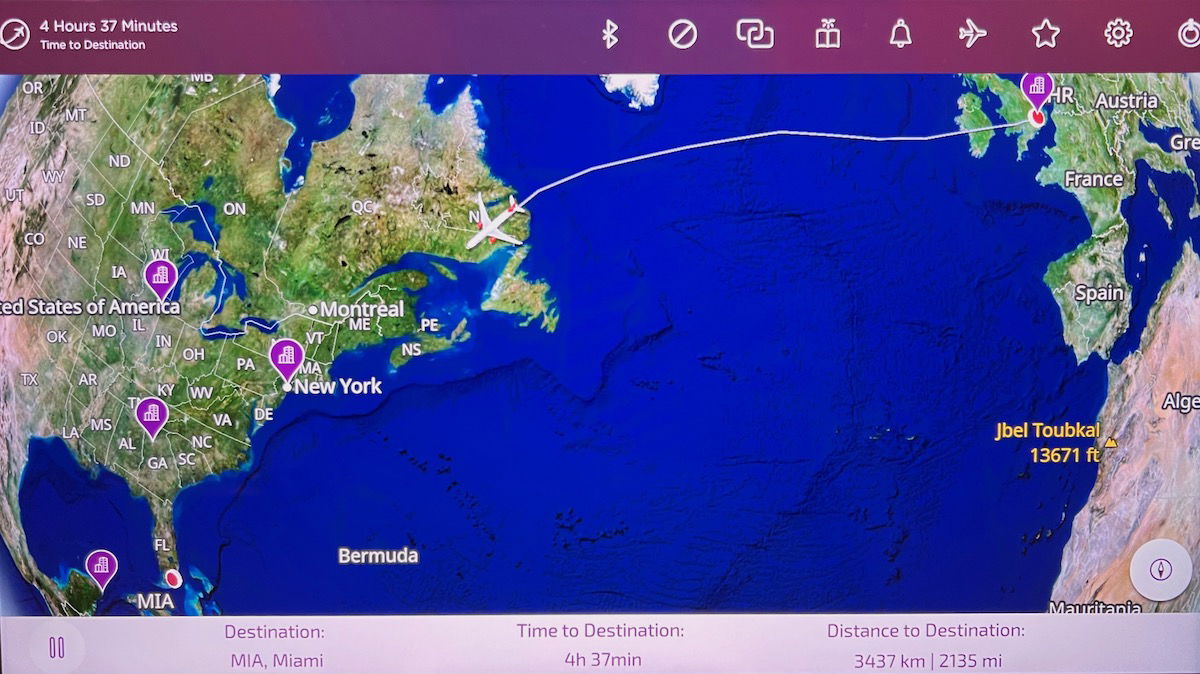 Virgin Atlantic Upper Class pre-landing meal
Virgin Atlantic's second meal service is on demand, and available anytime after the first meal service and until around 40 minutes before landing. Practically speaking, a vast majority of people choose to eat this when you'd traditionally have your pre-arrival meal. I requested to eat around two hours before landing.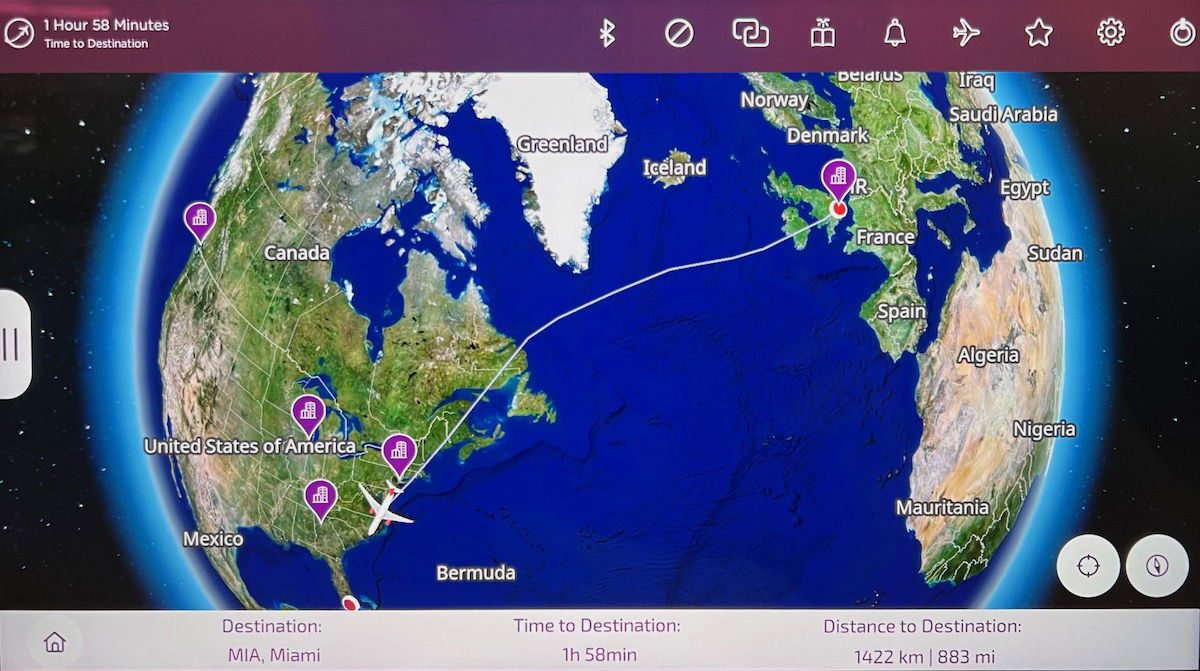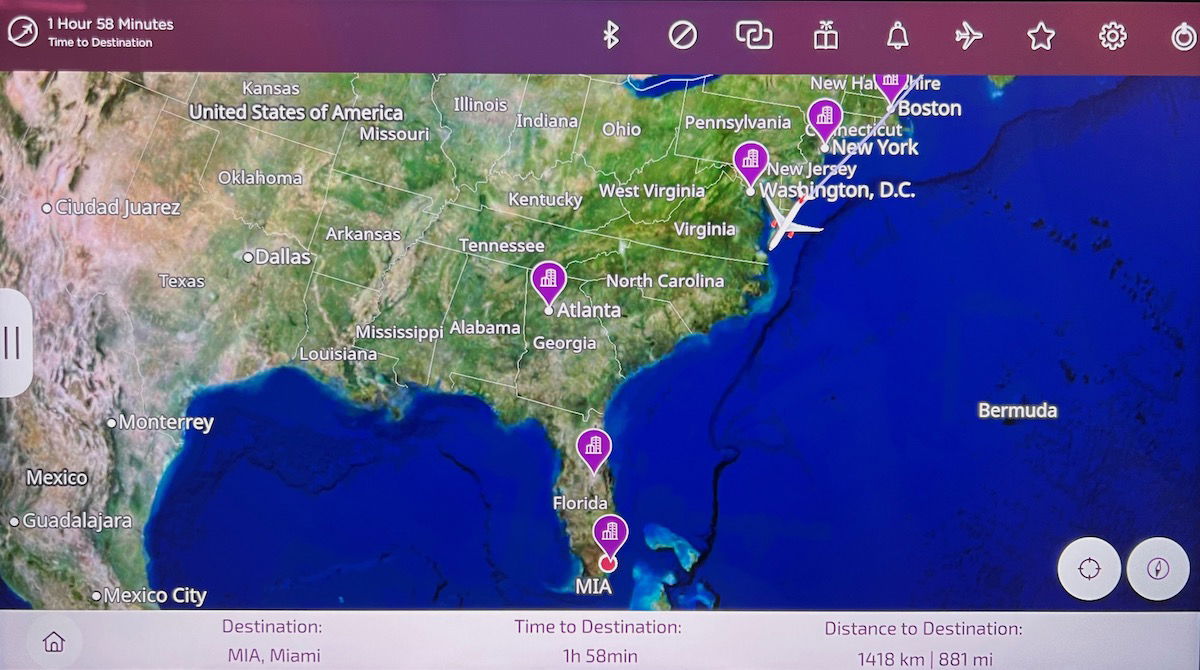 Below you can find the pre-arrival snack menu for this Virgin Atlantic flight.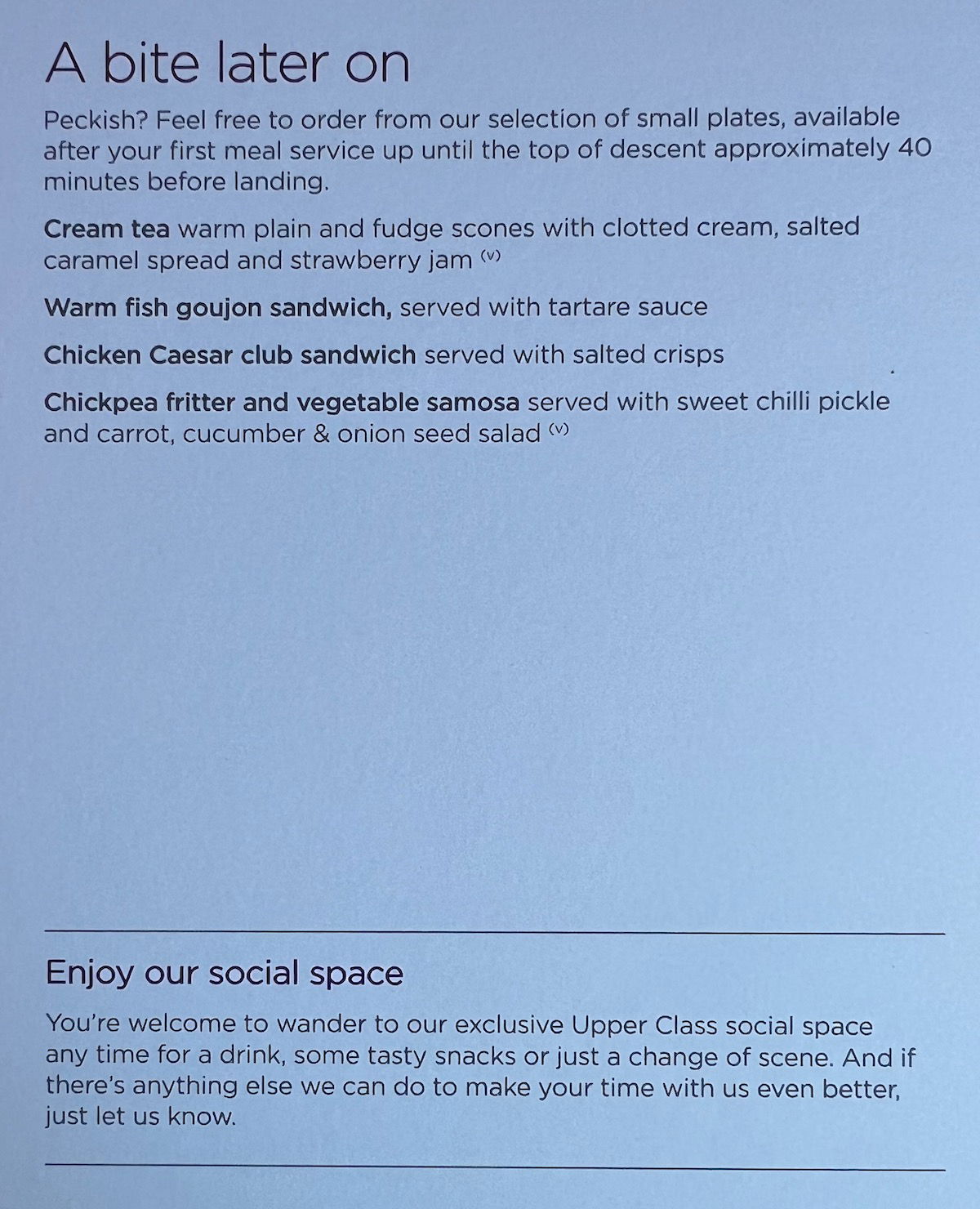 Virgin Atlantic's pre-landing snack is a bit on the stingy side, in the sense that I believe the intent is to order just one thing off the menu. The crew will happily serve you more if it's available, though one of these snacks really isn't a lot of food.
I decided to order the chickpea fritter and vegetable samosa, with sweet chili pickle and carrot, cucumber, and onion seed salad. I enjoyed this, as it was nice and spicy.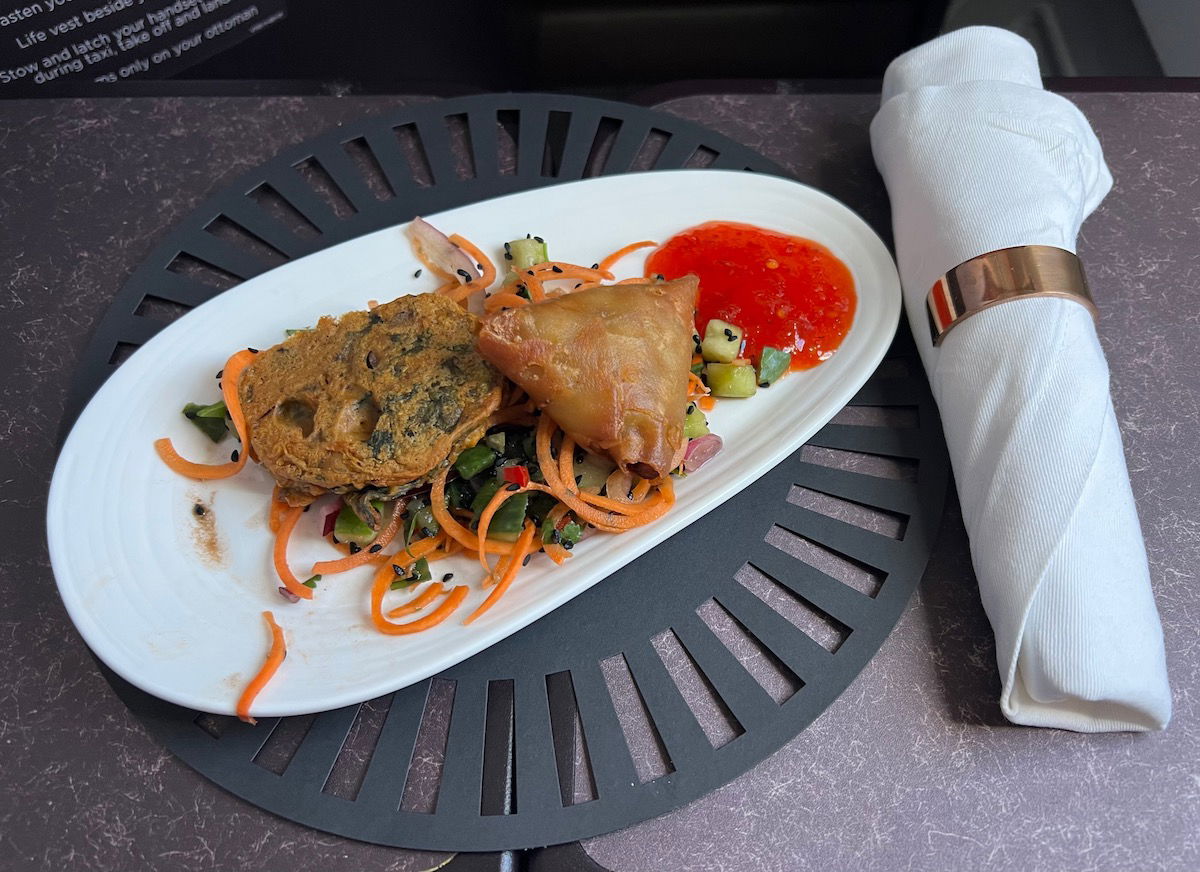 I was still a bit hungry, though, so asked for the cream tea, consisting of warm plain and fudge scones with clotted cream, salted caramel spread, and strawberry jam. It was sinfully delicious.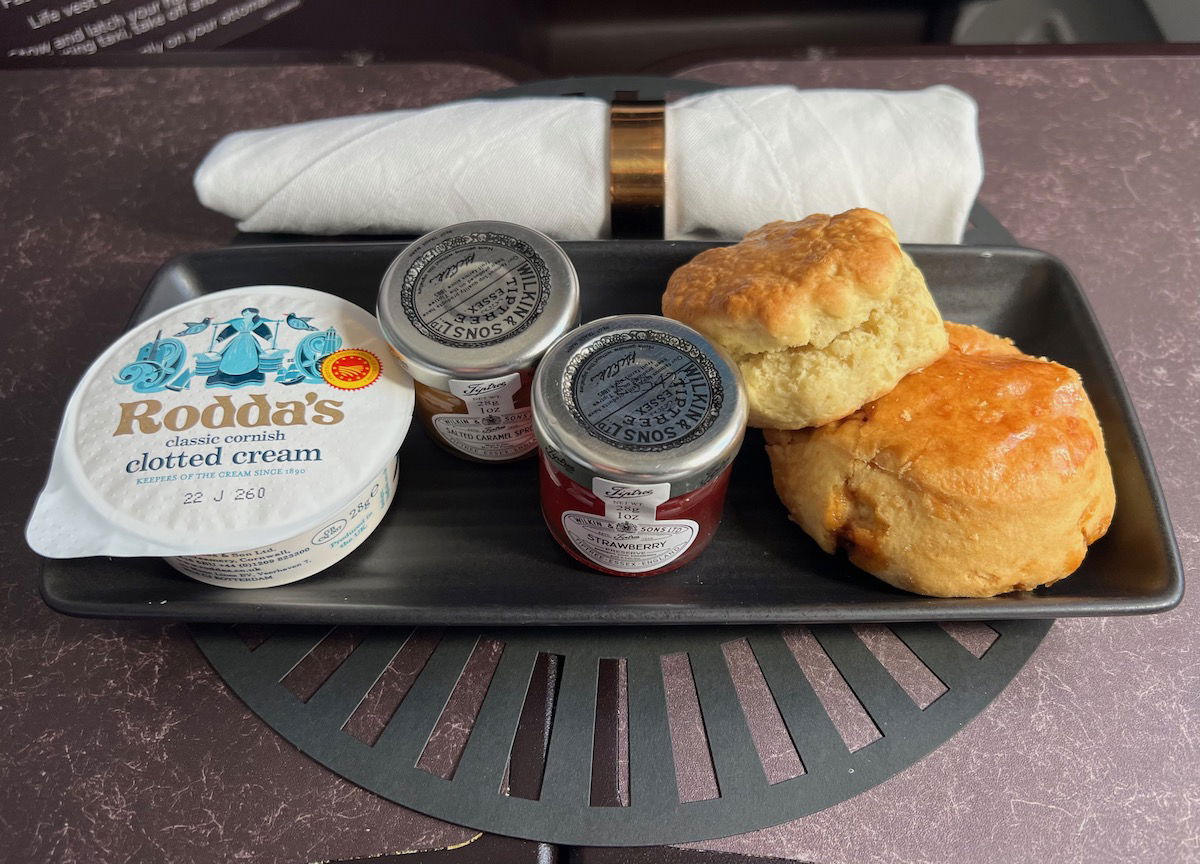 Virgin Atlantic Upper Class service
Virgin Atlantic is incredibly consistent when it comes to having well intentioned staff. Across the board, I find that Virgin Atlantic employees act like they enjoy their jobs, and that makes all the difference in terms of offering a great passenger experience.
This crew was no different, and was warm, enthusiastic, and attentive. I did get the sense that staffing levels weren't as good as they might have been pre-pandemic, as there were often lengthy waits. That's not because the crew wasn't hustling, but rather because there seemed to be fairly few flight attendants working Upper Class.
Regardless, the difference here was night and day between this flight and my British Airways first class flight in the other direction, which had lackluster service.
Virgin Atlantic A330-900neo arrival in Miami
At around 4:30PM Miami time the captain announced that we were at 40,000 feet, and around 250 miles from Miami. He explained that we'd be landing at around 5:15PM, and would have a 10 minute taxi from there.
About 25 minutes later the seatbelt sign was turned on, and the cabin was prepared for arrival. We had a really cool approach, as we essentially flew parallel along the Atlantic coast, which made for some great views of Fort Lauderdale and beyond.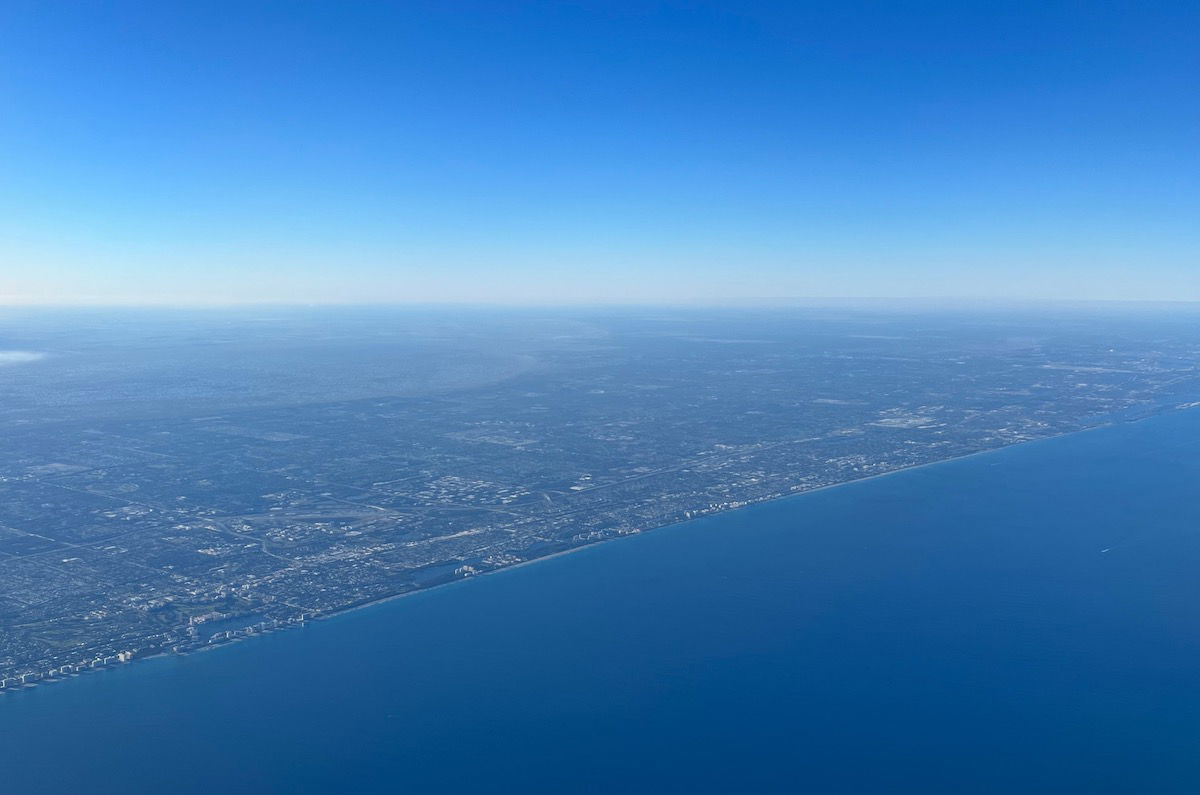 We had awesome views of Miami Beach on approach.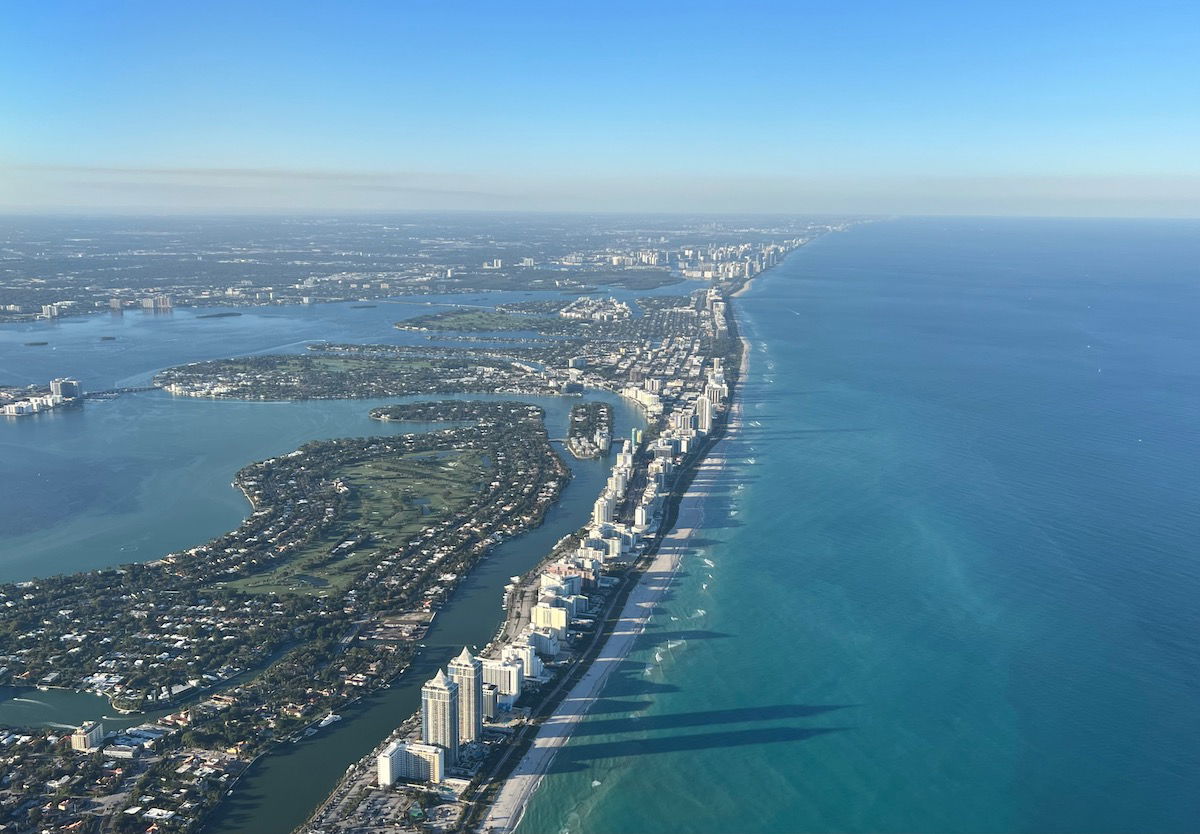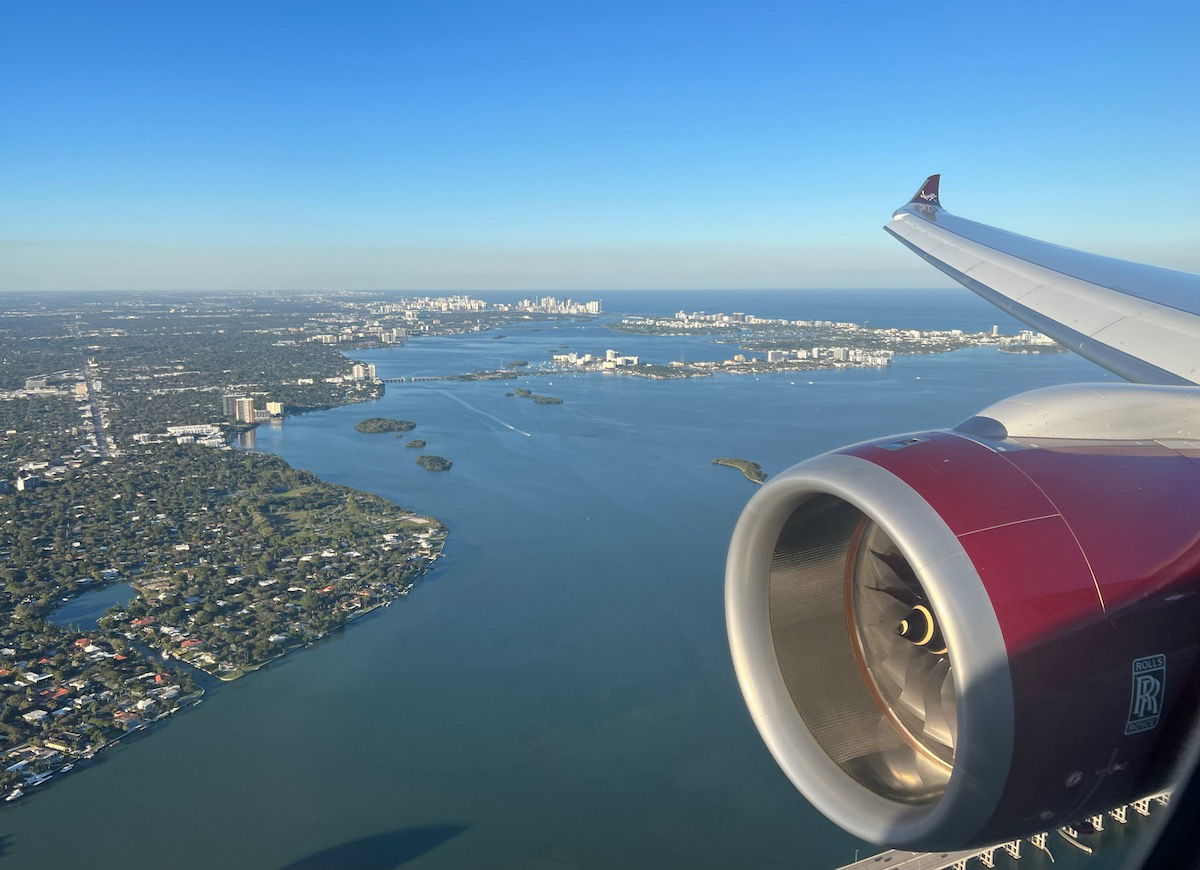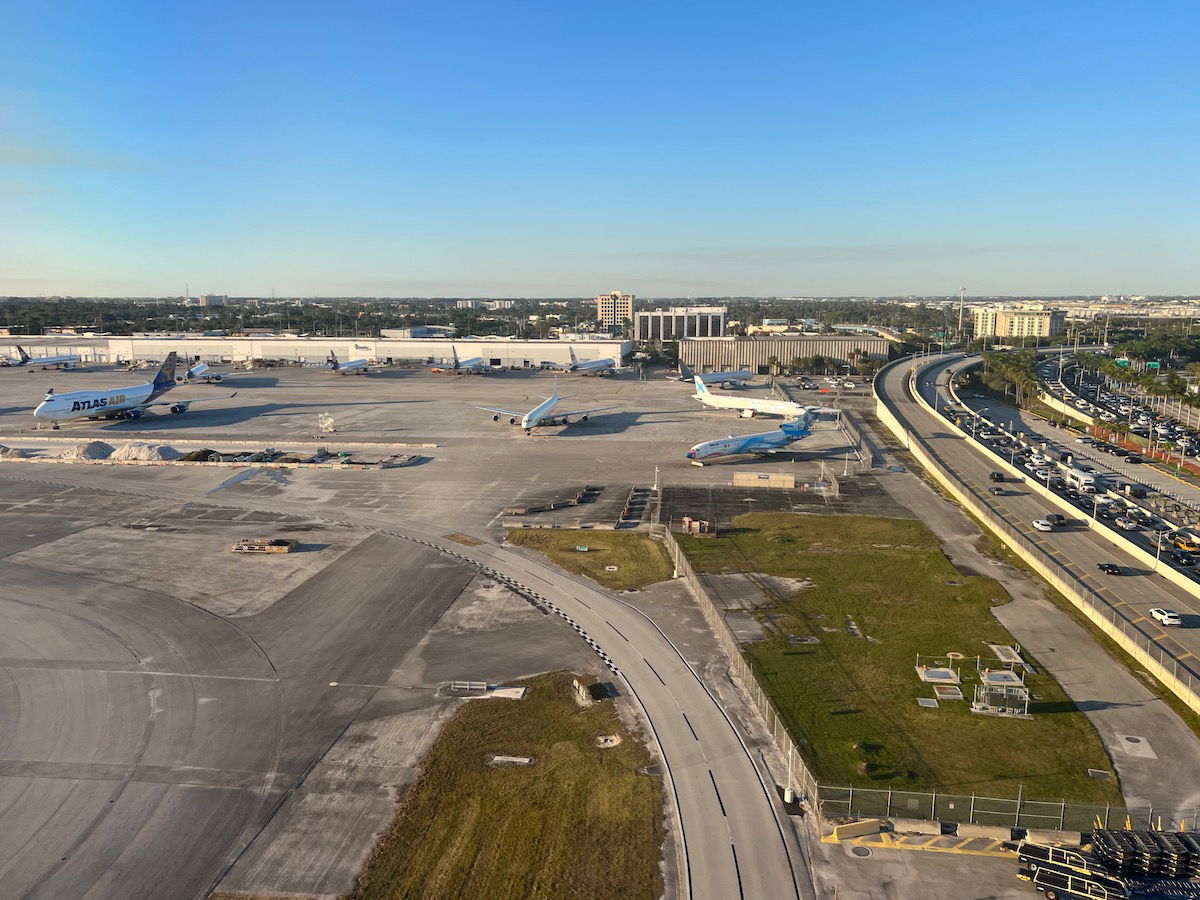 We touched down in Miami at 5:10PM. Unfortunately our gate wasn't ready yet, so we had to wait 20 minutes on a taxiway until our spot opened up. We eventually pulled into our parking position at 5:35PM, right next to an Air France 777 and Lufthansa A350.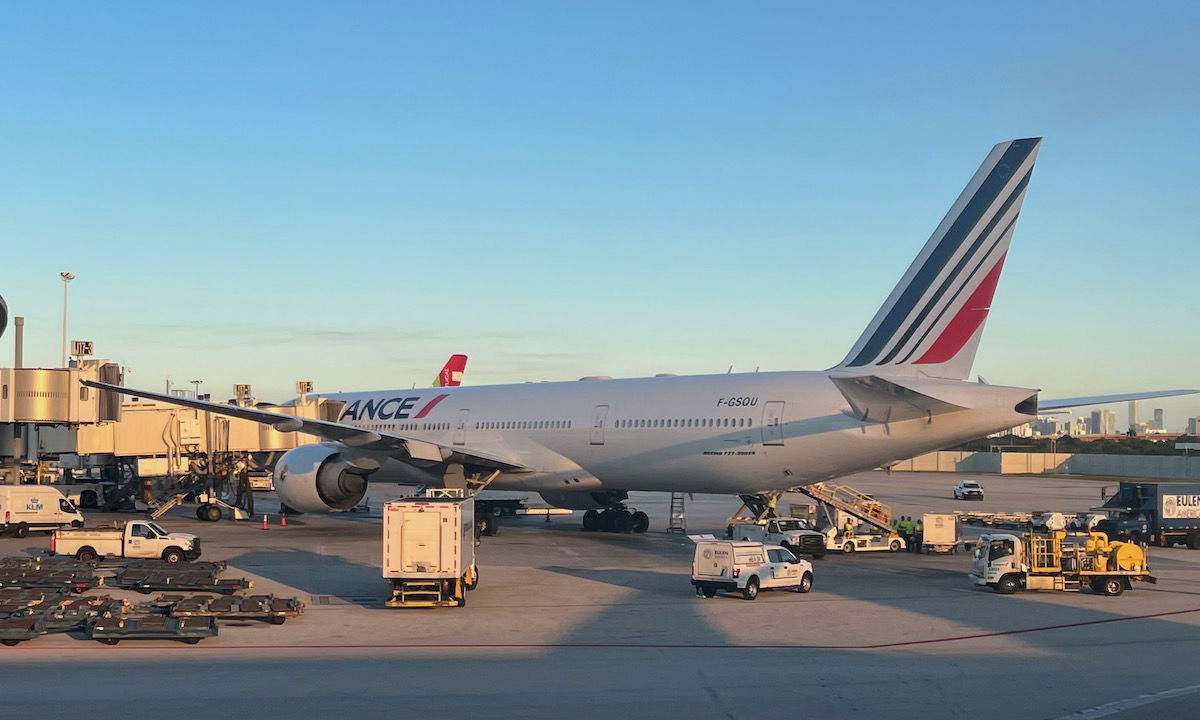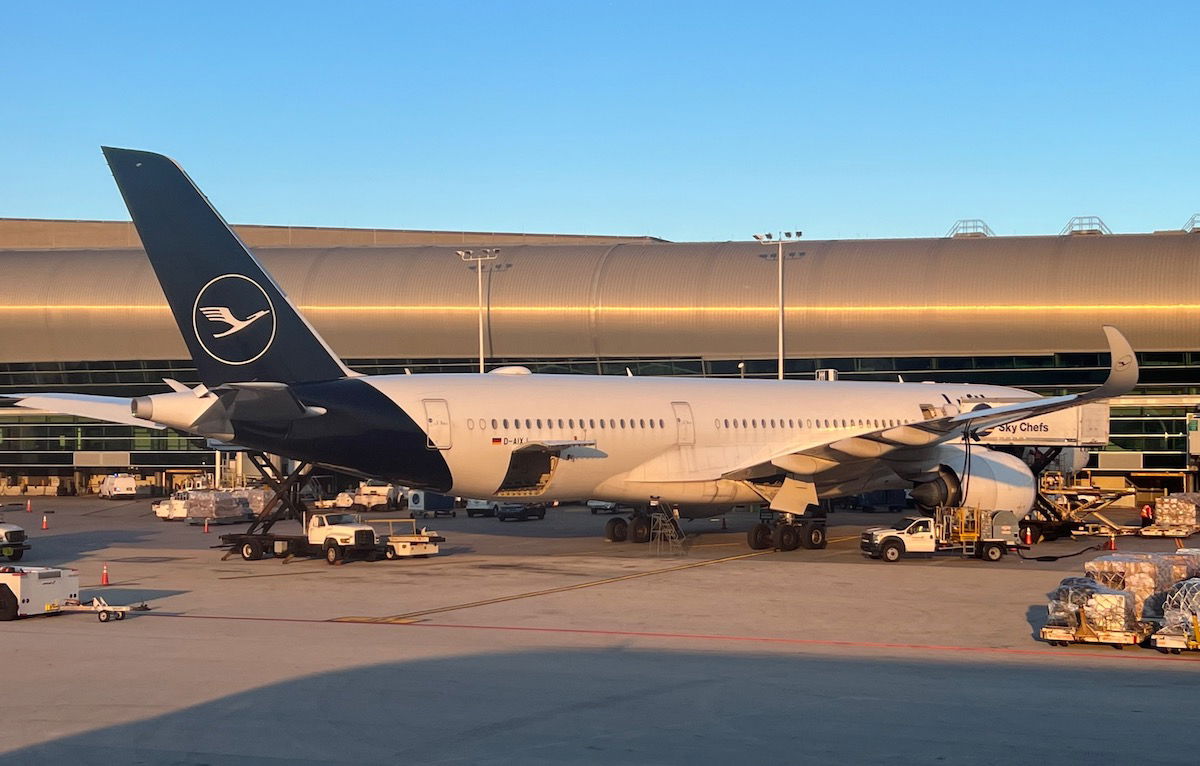 I quickly headed through immigration, and was excited to be back home after a fun but exhausting trip!
Bottom line
Virgin Atlantic's new A330-900neo Upper Class is a winner. The airline has comfortable new suites with doors and great bedding, as well as exceptional tech, including bluetooth audio, top notch charging, fast Wi-Fi, and a huge entertainment selection.
Add in Virgin Atlantic's friendly service, and I find Virgin Atlantic to be one of the most consistent and reliable airlines across the Atlantic.
Admittedly there are some minor areas for improvement, and there are certain limitations to how spacious seats can be on A330-900neo, but overall I'd highly recommend this product.
What do you make of Virgin Atlantic's A330-900neo business class?