Qatar Airways is well known for being a world-class airline, regardless of which cabin you're traveling in. Qatar Airways is probably most famous for its Qsuites business class. In this post, I wanted to look at how you can figure out whether your plane is scheduled to feature Qsuites or not and how to maximize your odds of getting this business class cabin.
What is Qatar Airways Qsuites?
Qsuites is Qatar Airways' business class product that was first introduced in 2017. There are many features that make Qsuites great, including that each seat has a door and that there are double beds in the center section for those traveling together. I've reviewed Qsuites several times, including on the Airbus A350-1000, Boeing 777-200LR, and Boeing 777-300ER.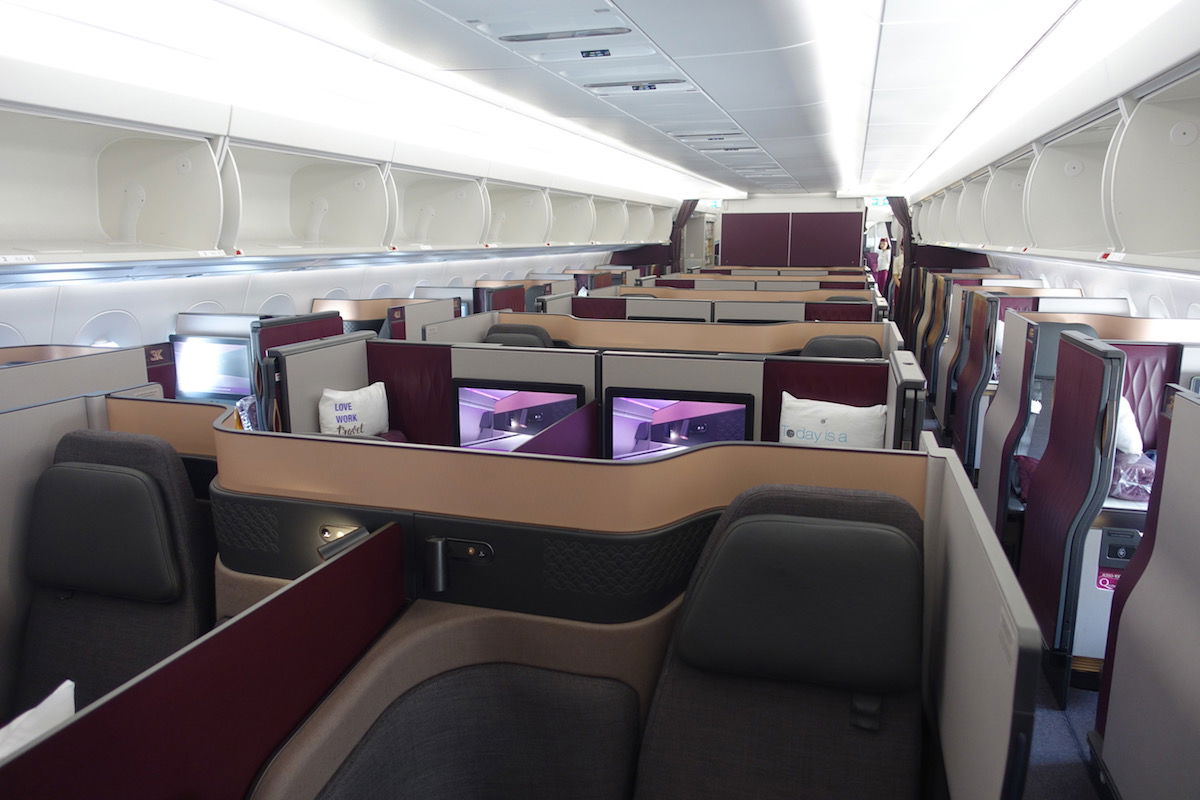 Even six years after Qsuites was introduced, this product isn't yet available on all planes. The good news is that even if you're on a flight not featuring Qsuites, you'll probably still have a great experience, as Qatar Airways' business class soft product is exceptional.
It's also worth remembering that not all new wide body aircraft feature Qsuites. For example, Qatar Airways is taking delivery of 787-9s featuring new suites in business class, but these aren't Qsuites. The reason for the new product is that these new seats are lighter and also better tailored to the fuselage of the 787.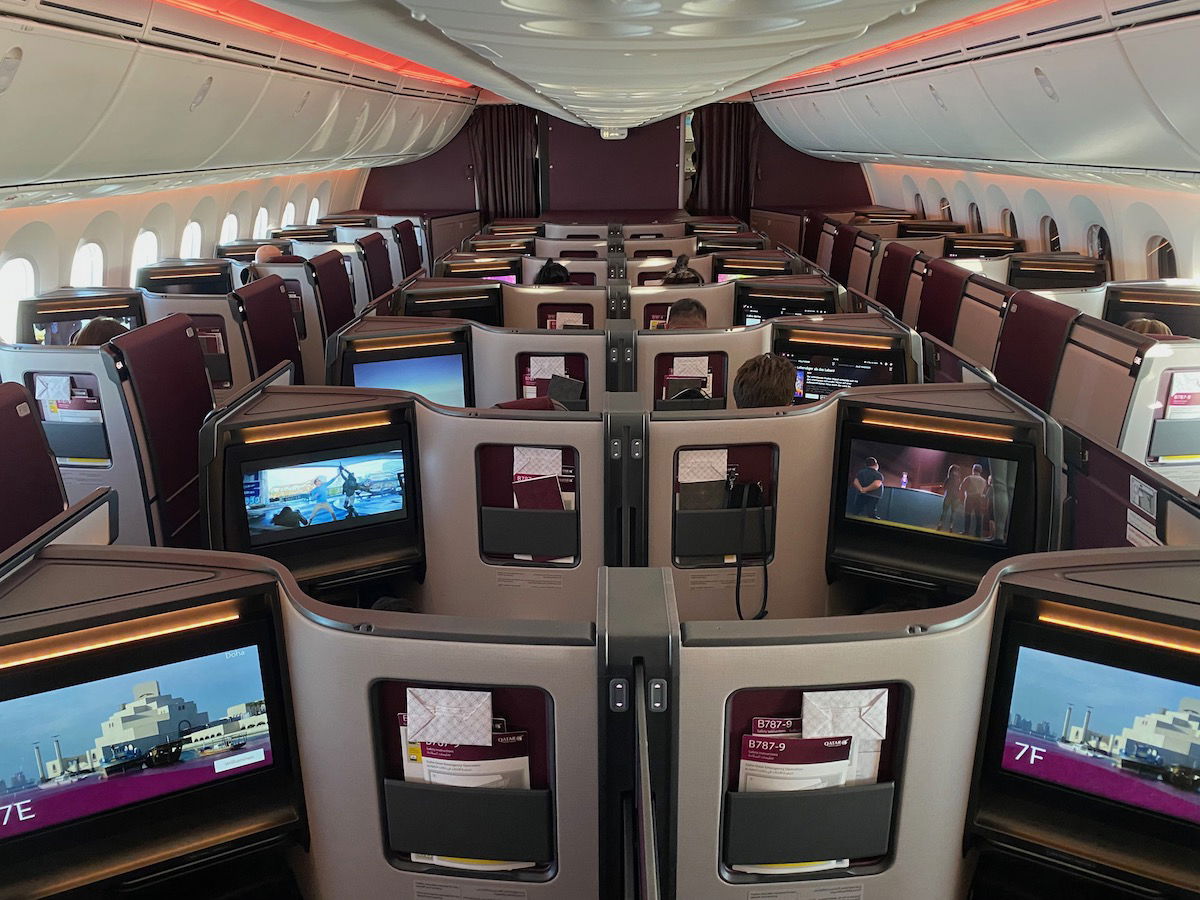 Qatar Airways even claims to be working on a next generation Qsuites business class product, which should be introduced in the coming years. However, as of now there are virtually no details about that.
Which routes have Qatar Airways Qsuites?
There aren't any routes that 100% consistently feature Qsuites. So first, let's talk about how you can figure out whether your flight is scheduled to feature Qsuites, and then we'll talk about which planes in the fleet feature Qsuites.
Look for a business class seat map with staggered seats
The easiest way to tell if your flight is scheduled to be operated with Qsuites is to look at the business class seat map:
If your flight features Qsuites, it will have a staggered configuration with seats alternating between being forward and rear-facing; by staggered configuration, I mean that a seat in one row will be in a different position than a seat in the next row, as you can see in the below seat map diagram
If your flight doesn't feature Qsuites, it won't have a staggered configuration; that's to say that seats are in the same place in each row of business class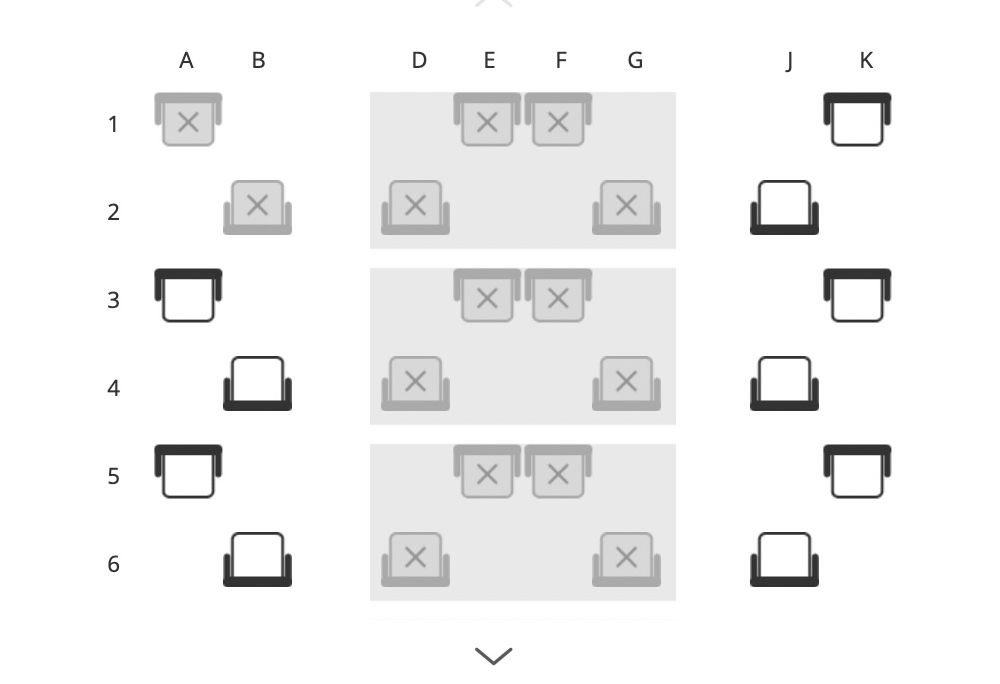 Why we've seen a lot of Qsuites inconsistency
For the past couple of years, Qatar Airways has had quite a bit of inconsistency when it comes to its fleet, and which flights feature Qsuites. In 2021, Qatar Airways grounded much of its A350 fleet due to a dispute with Airbus over the aircraft fuselage degrading at an accelerated rate.
This caused Qatar Airways to ground many of its A350s, and also caused the airline to stop taking delivery of new A350s. Fortunately Airbus and Qatar Airways reached a settlement regarding this dispute in early 2023, and at this point most A350s are back into service, and the airline has also taken delivery of new A350s.
In the period when the A350s were grounded, Qatar Airways got creative with adding capacity, including bringing back Airbus A380s, leasing 777s from Cathay Pacific and Virgin Australia, and leasing A330s from Oman Air. None of these planes feature Qsuites.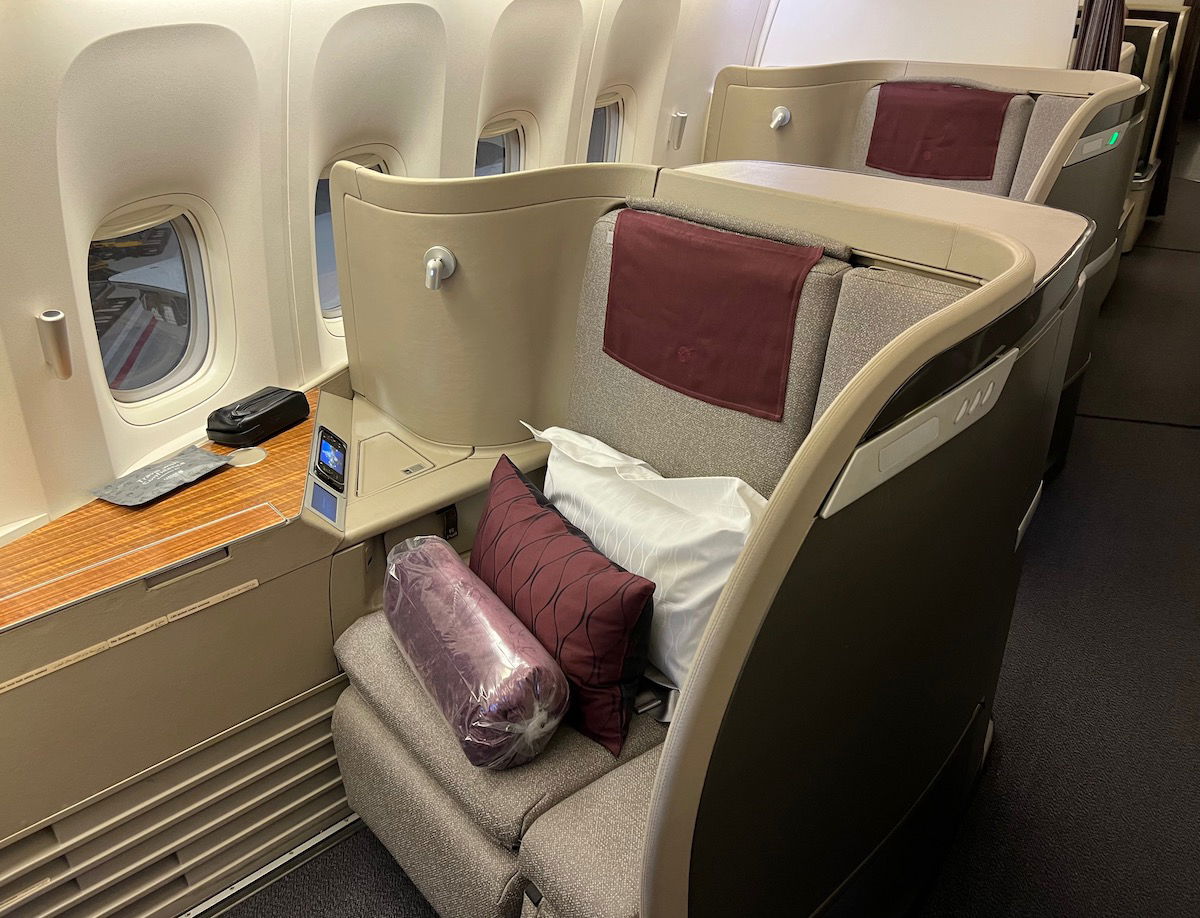 Last-minute aircraft swaps happen
Even if you book a plane with Qsuites, just keep in mind that last-minute aircraft swaps can and do happen. You might have the type of aircraft for a particular flight swapped, or the same plane with a different configuration substituted.
We've seen quite a few aircraft swaps, especially in the past year, as the airline is continuously optimizing its schedule and fleet. So no matter what flight you book, just be warned that you might experience an aircraft swap.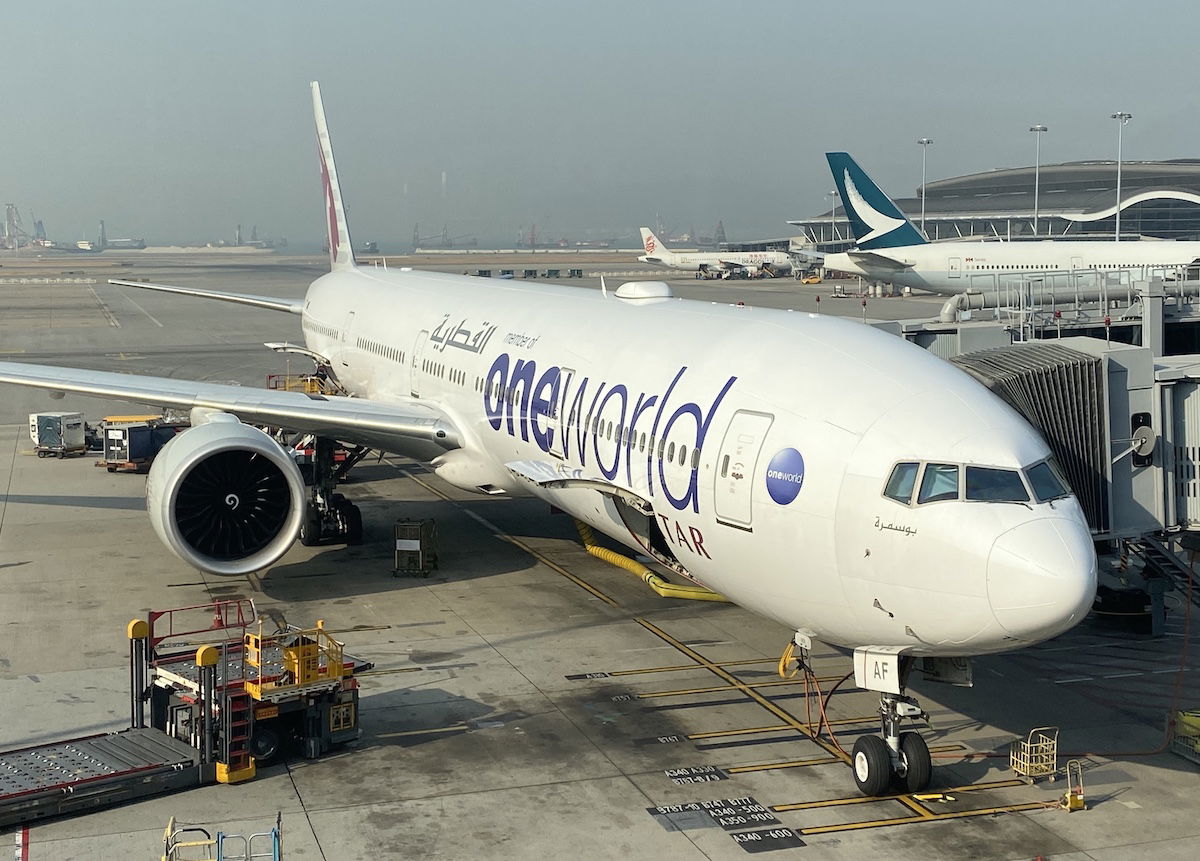 Which planes have Qatar Airways Qsuites?
Qatar Airways has quite a varied wide-body fleet, including A380s, A350s, A330s, 787s, and 777s. The availability of Qsuites differs significantly between those aircraft types — in some cases, all planes have Qsuites, while in other cases, no planes have Qsuites.
So below is the availability of Qsuites by aircraft type, ranked from the aircraft type with the highest percentage of planes with Qsuites to the aircraft type with the lowest percentage of planes with Qsuites.
All Airbus A350-1000s have Qsuites
Qatar Airways currently has 24 Airbus A350-1000s, and all of those jets feature Qsuites. This is the only aircraft type in the fleet where every plane features Qsuites. Qatar Airways is continuing to take delivery of these jets, and at this point none of the A350-1000s are grounded anymore.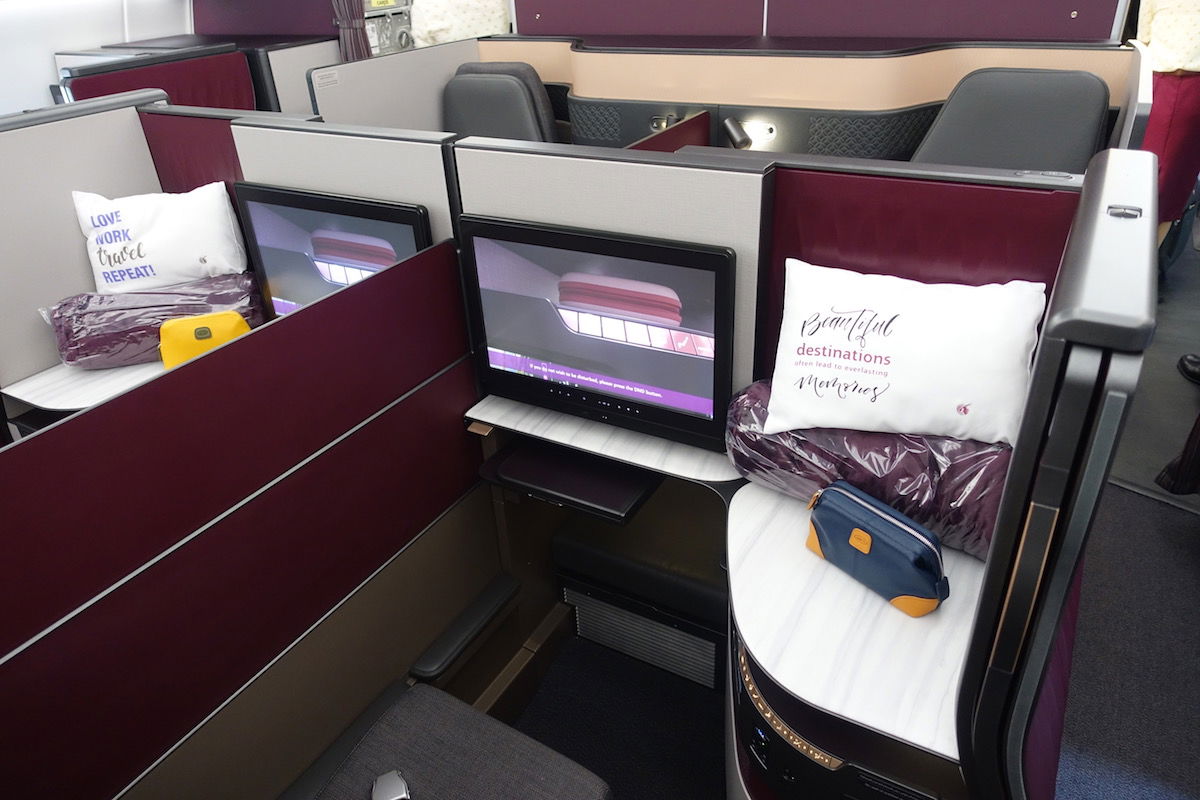 Nearly all Boeing 777-200LRs have Qsuites
Qatar Airways has nine Boeing 777-200LRs, and seven of those feature Qsuites (the others feature business class seats in a 2-2-2 configuration). So while it's not guaranteed, you have good odds (~78%) of getting Qsuites when flying the 777-200LR.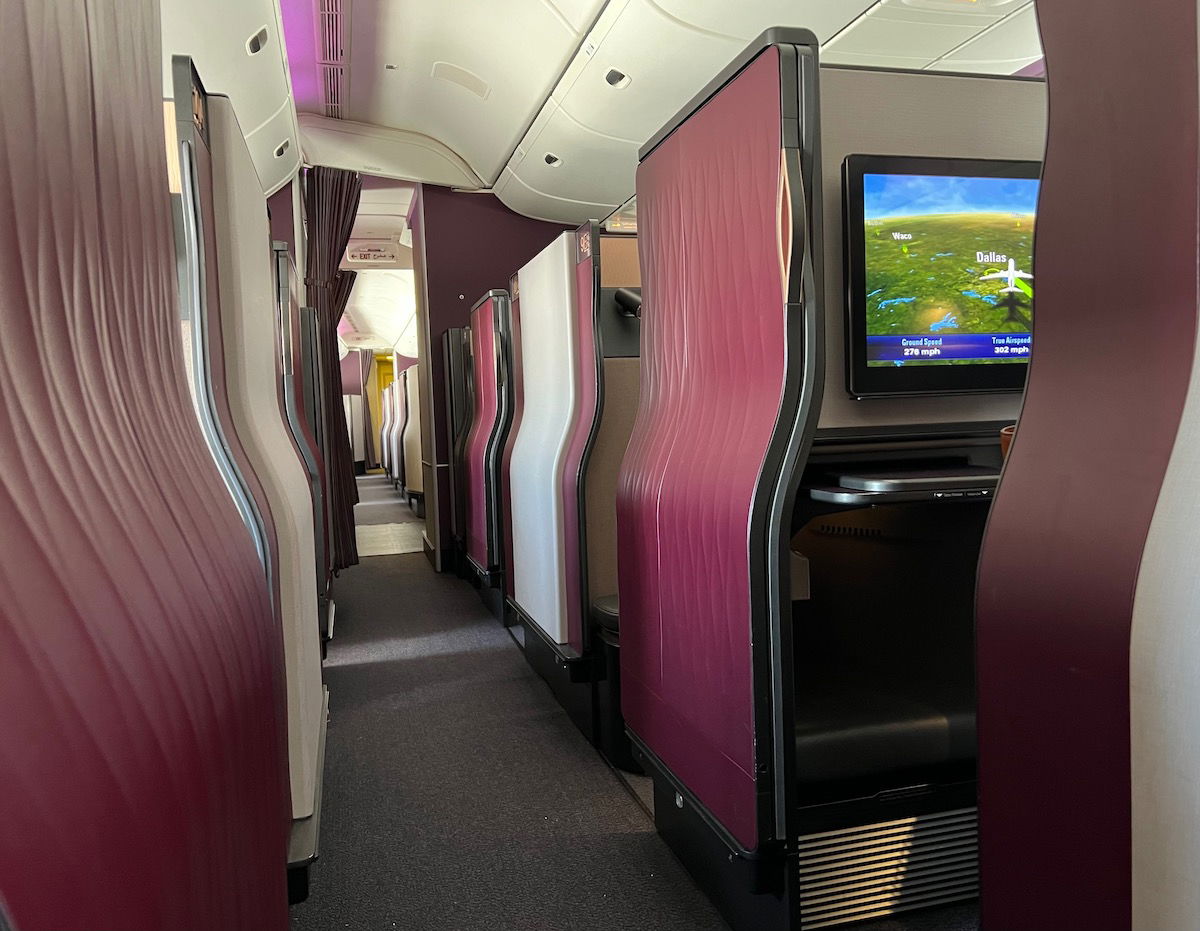 Most Boeing 777-300ERs have Qsuites
The Boeing 777-300ER is the backbone of Qatar Airways' fleet, as the carrier has 56 of these, including five former Cathay Pacific jets and three former Virgin Australia jets. Of these planes, 38 feature Qsuites (~68%), 10 feature Qatar Airways' old 2-2-2 business class (~18%), five feature Cathay Pacific's 1-2-1 reverse herringbone configuration (~7%), and three feature Virgin Australia's 1-2-1 reverse herringbone configuration (~5%).
A while back Qatar Airways had a higher percentage of 777-300ERs with Qsuites, but some of the 777s with the old business class have been brought back into service. That was initially due to A350s being grounded, but these planes are now needed to keep up with Qatar's huge network.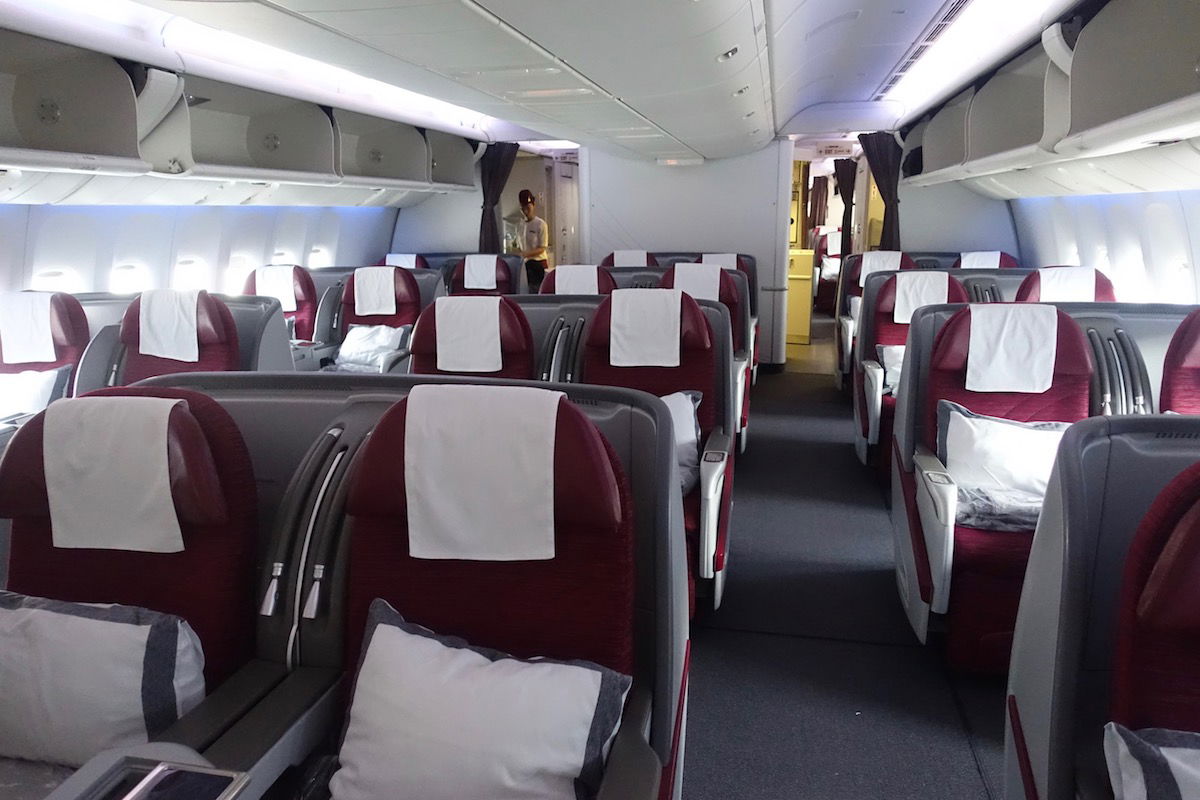 Some Airbus A350-900s have Qsuites
Qatar Airways has 34 Airbus A350-900s, and at the moment 11 of them remain grounded. These should be put back into service soon, as Qatar Airways works through the issues with these planes. Of the 23 A350-900s that are flying, 12 features reverse herringbone seats, while 11 feature Qsuites.
So while just under half of A350-900s in service feature Qsuites, you can expect that this percentage will decrease in the coming months, as the remaining 11 A350-900s returning to service all feature reverse herringbone seats. Once they're all back in service, only roughly one-third of A350-900s will feature Qsuites, which is rough. While it would be nice if the airline reconfigured these jets, I wouldn't hold my breath.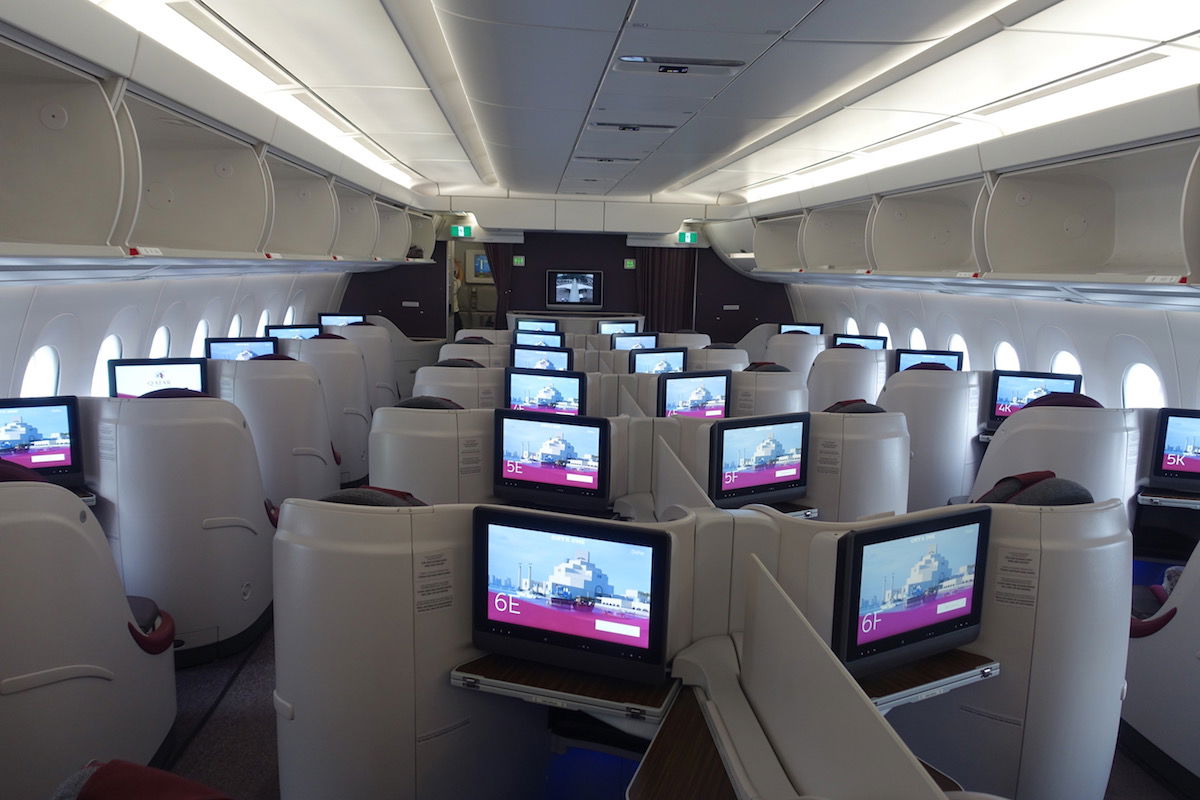 No Boeing 787s have Qsuites
Qatar Airways has 41 Boeing 787s, including 30 Boeing 787-8s and 11 Boeing 787-9s (with many more to be delivered). None of these feature Qsuites.
Qatar Airways' Boeing 787-8s feature pretty standard reverse herringbone seats (similar to the old A350 configuration above), while Boeing 787-9s feature an all new business class that isn't Qsuites.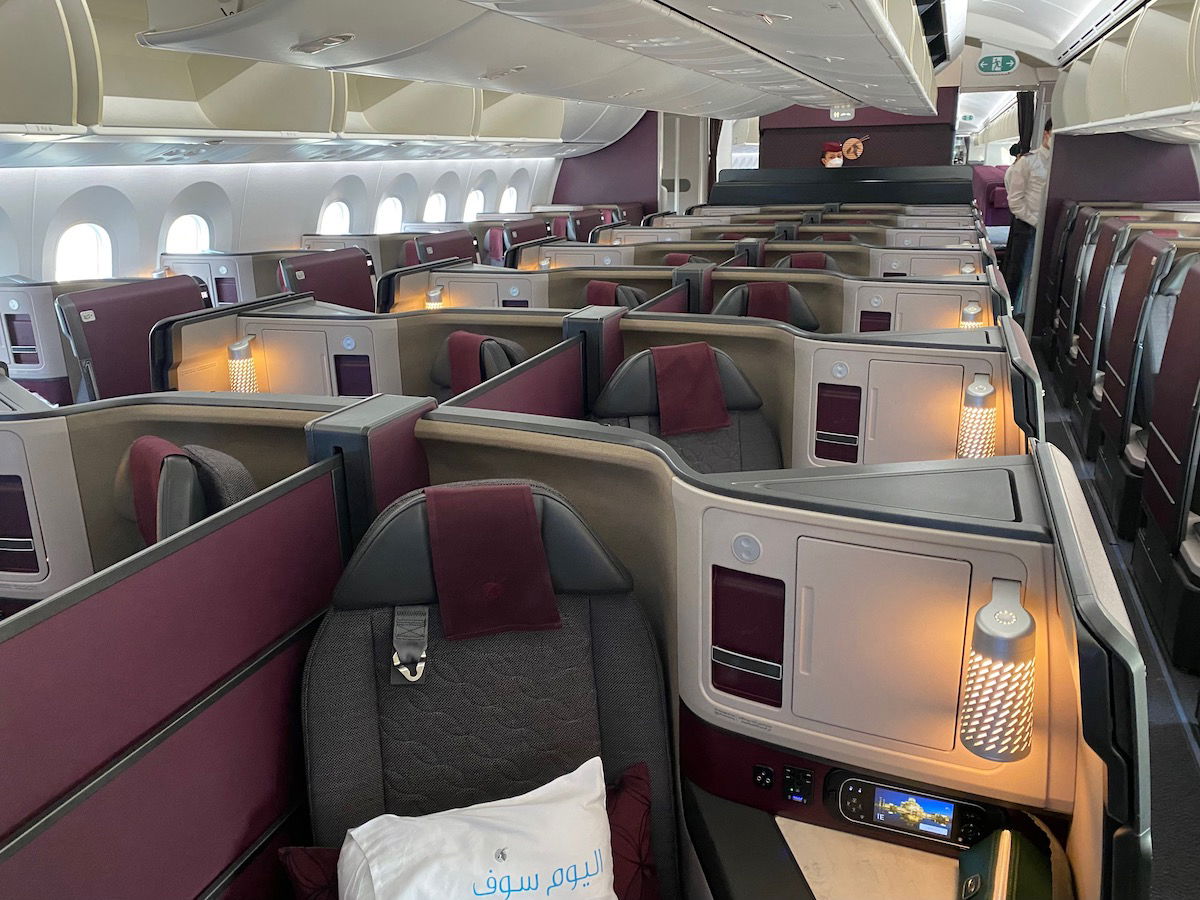 No Airbus A380s have Qsuites
Qatar Airways had planned to retire its fleet of 10 Airbus A380s, but brought back eight in order to increase capacity. These planes don't feature Qsuites in business class, but rather feature reverse herringbone seats, similar to what you'll find on some A350-900s and all 787-8s. On the plus side, the A380 does have an onboard bar.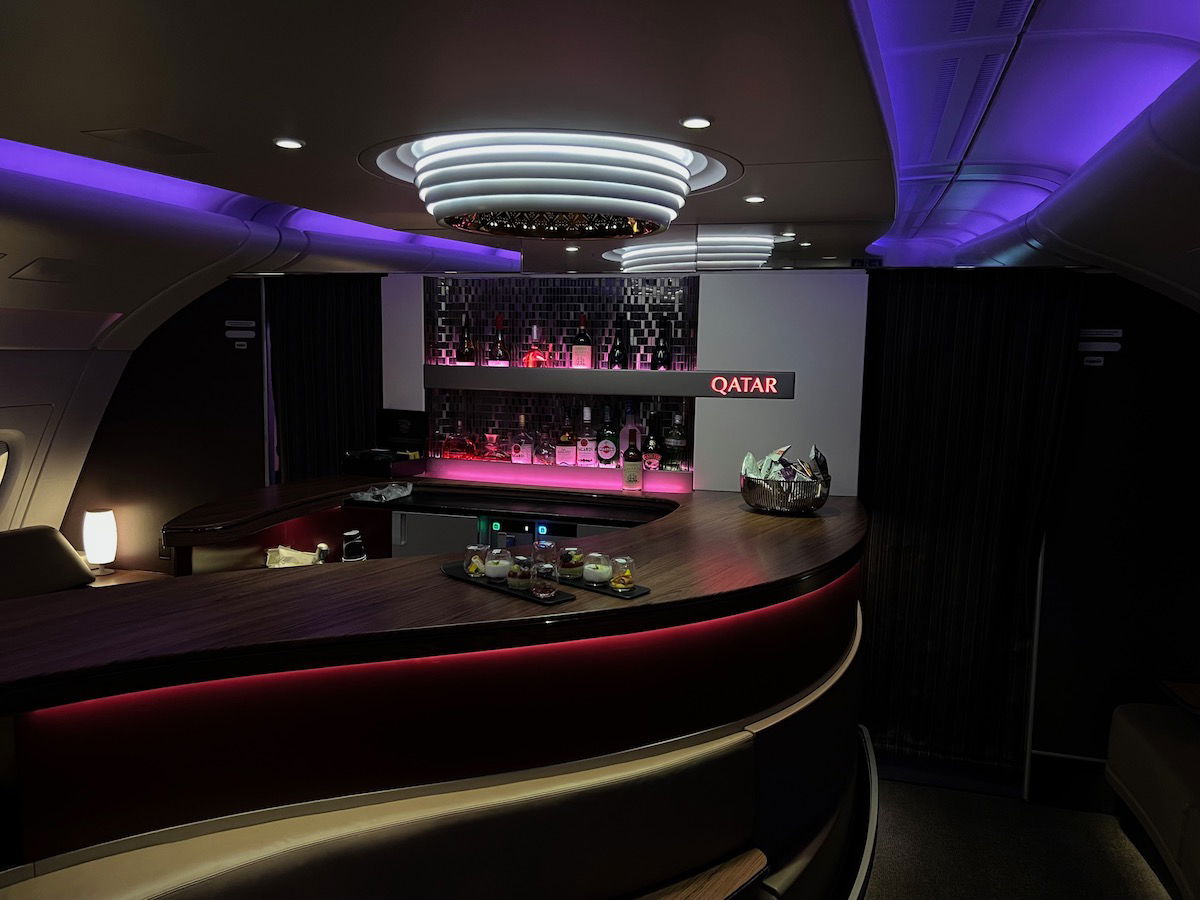 No Airbus A330s have Qsuites
Qatar Airways was supposed to retire its fleet of 14 Airbus A330s, including six A330-200s and eight A330-300s. The planes are still in service due to the A350 groundings, though. They're mainly used for regional flights, and feature a 2-2-2 configuration. So no A330s have Qsuites, and there aren't plans for any A330s to get Qsuites.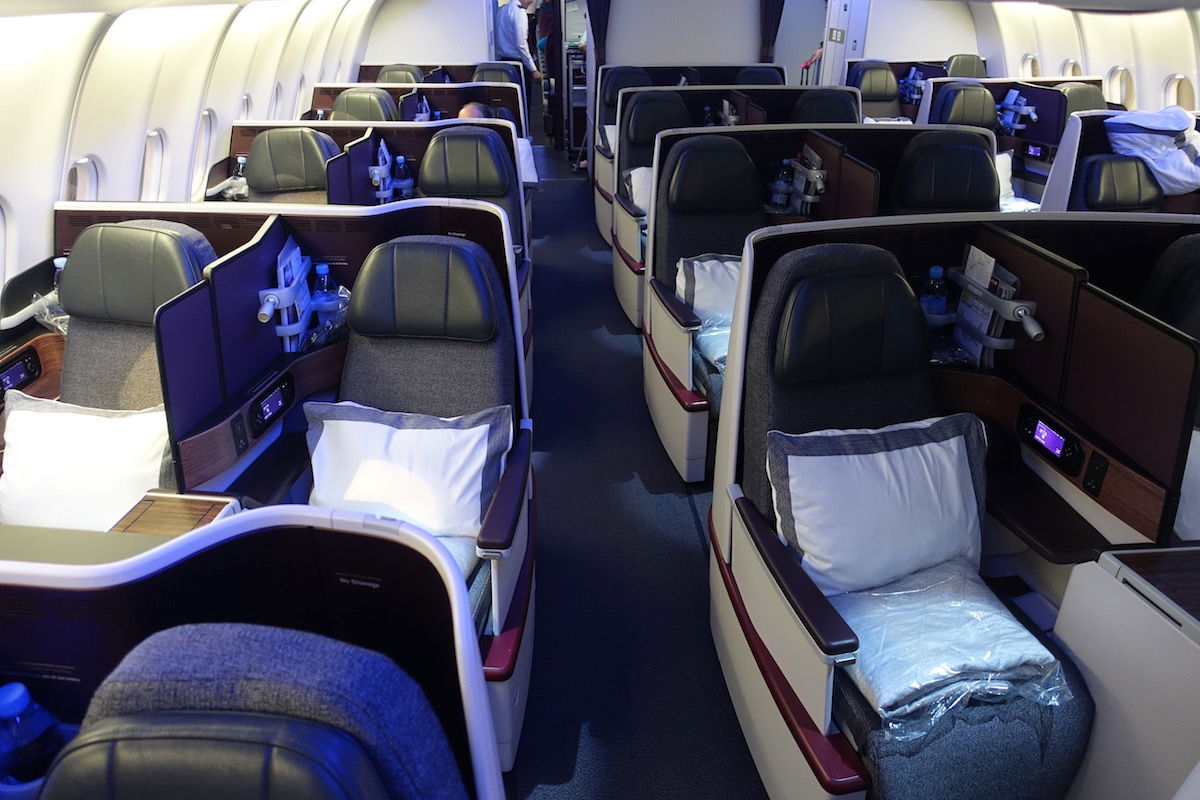 As mentioned above, Qatar Airways is also leasing some A330s from Oman Air, and these feature a superior product in business class. They have Apex Suites, which are in a 2-2-2 configuration.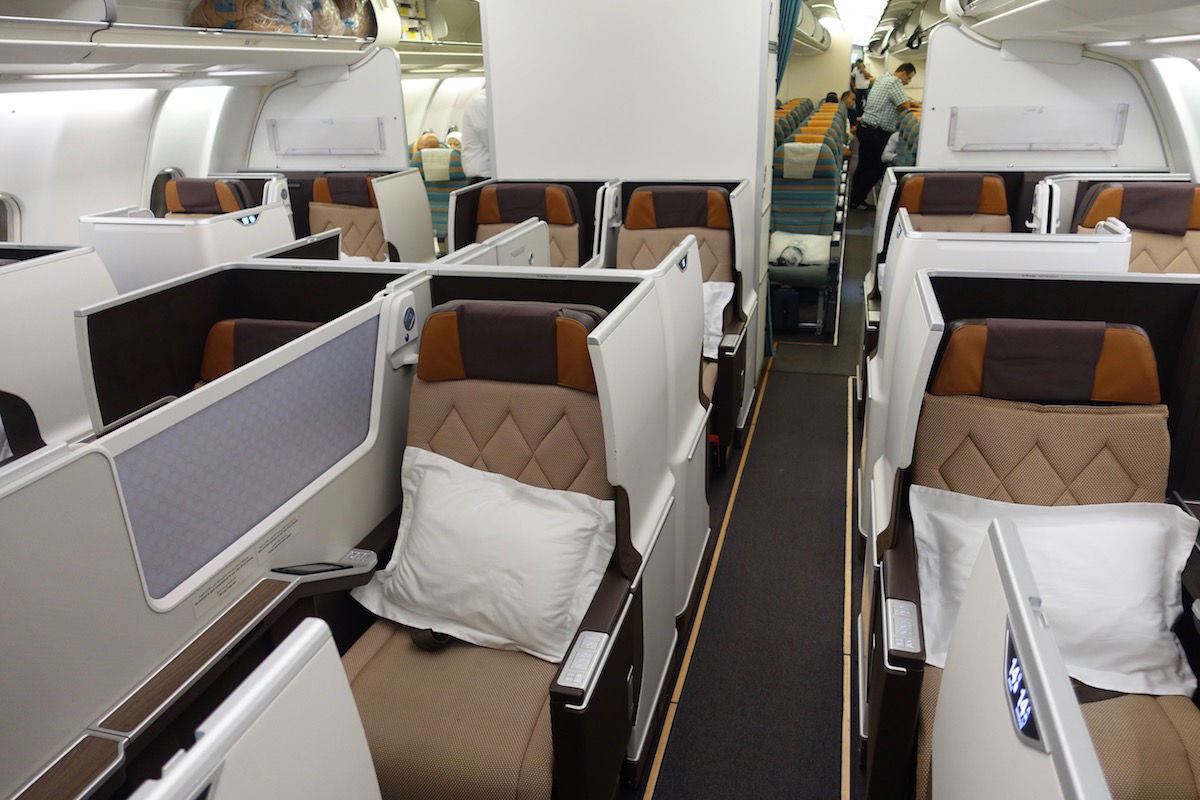 Bottom line
Qatar Airways is known for its excellent Qsuites business class. While it has been six years since the product was introduced, you won't yet find this on all of the carrier's long haul jets. For that matter, Qatar Airways has introduced a new 787 business class product since then, so there aren't even plans to install Qsuites on all jets.
Admittedly the percentage of planes with Qsuites has been adversely impacted by the A350 groundings, as Qatar Airways now has quite a varied fleet. With A350s returning to service once again, we're seeing a bit more consistency. Hopefully, the above is at least a useful rundown of what to expect in terms of your odds of getting Qsuites.
What has your experience been with Qatar Airways' reliability for not swapping planes?