In the interest of full disclosure, OMAAT earns a referral bonus for anyone that's approved through some of the below links. These are the best publicly available offers (terms apply) that we have found for each product or service. Opinions expressed here are the author's alone, not those of the bank, credit card issuer, airline, hotel chain, or product manufacturer/service provider, and have not been reviewed, approved or otherwise endorsed by any of these entities. Please check out
our advertiser policy
for further details about our partners, and thanks for your support!
EXTRA PERKS AVAILABLE
Enjoy breakfast, upgrades, & more
Want to take advantage of Hyatt Privé benefits, including a room upgrade, complimentary breakfast, a hotel credit, and more, when booking a cash stay? Contact Ford ([email protected]) for more details. He may even be able to help if you already have a stay booked.
Ford and I recently spent three nights at Miraval Arizona, which is a property that has been on my radar for years, as it's also probably the most aspirational Hyatt property in the United States.
For those not familiar, Hyatt acquired Miraval wellness resorts in 2017, and Miraval Arizona was the brand's first property. This resort has gotten tons of publicity, and has been featured on everything ranging from The Ellen Show to Real Housewives.
Going in, I wasn't sure if I'd love or hate the experience. I'm not really an "eat, pray, love" type, and ordinarily my idea of a fun vacation isn't sitting in a classroom learning which of my chakras need work, and which crystals I should use to work on that. I also wasn't sure how I'd feel about the resort's policy of not allowing electronics in most public places.
However, I actually enjoyed the experience quite a bit, and had a great time disconnecting. All the staff were friendly and passionate about what they do, the food was surprisingly great, and the landscape in this part of Arizona is simply breathtaking. Now, there are some things I wish I had considered going into the experience, which I'll cover below.
My only major criticism of the property is that parts of the resort (especially the rooms) desperately need a renovation, given the price tag. Okay, now let's get into the actual review…
Booking Miraval Arizona
I redeemed World of Hyatt points for our stay at Miraval Arizona. Since the property has a unique value proposition, Miraval properties have their own award chart. Our standard room redemption cost a total of 65,000 World of Hyatt points per night — 45,000 points for the first guest, and 20,000 points for adding a second guest.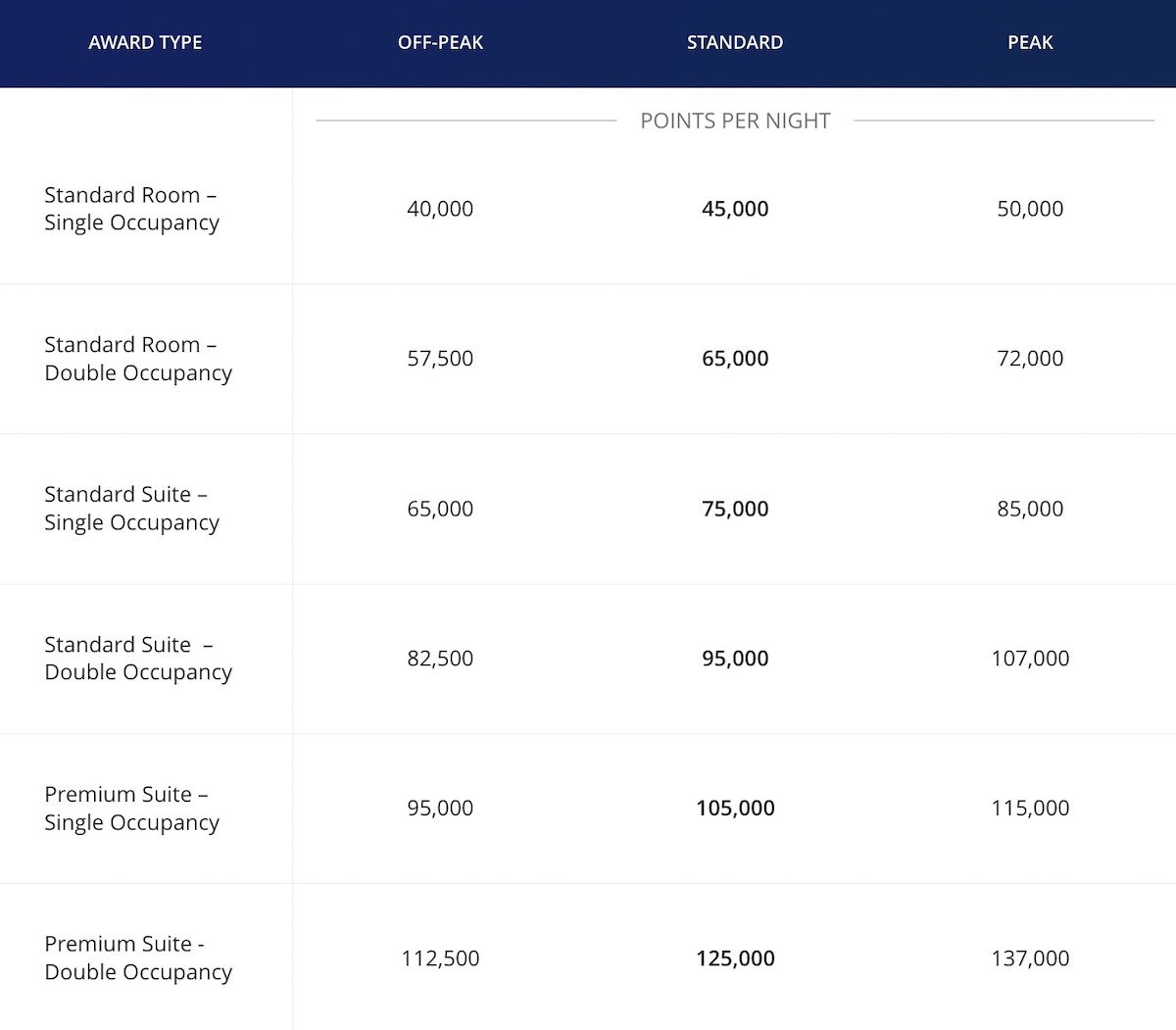 For context, I value World of Hyatt points at 1.5 cents each, so this is the equivalent of paying nearly $1,000 per night for a hotel stay. This was my most expensive Hyatt redemption ever. However, once on property nearly everything is included, so you won't be out of pocket much.
Even if you're not a Hyatt loyalist, earning World of Hyatt points can be pretty easy. In addition to being able to earn World of Hyatt points with the World of Hyatt Credit Card (review) and World of Hyatt Business Credit Card (review), you can also transfer over points from Chase Ultimate Rewards.
Earn World of Hyatt points with the following cards:
For what it's worth, for our dates a stay with cash would have cost a jaw-dropping $2,300 per night for two people, and that's before taxes and the 23% resort charge (though the resort charge is waived for all members when redeeming points, and also for Globalist members when paying cash).
If you're gong to book a cash stay at a Miraval, I'd recommend doing so through the Hyatt Privé program. Hyatt Privé rates cost the same as standard flexible rates (not member rates, advance purchase rates, AAA rates, etc.), and include additional perks, like an incremental $100 property credit, a room upgrade, a welcome gift, and more. Ford is happy to help with these requests, and can be reached at [email protected].
What's included with Miraval hotel stays
All Miraval packages (including when redeeming points) include the following:
Accommodations
Unlimited participation in complimentary daily yoga, fitness, meditation, and wellness lectures, outback nature walks, photography classes, and outdoor adventure activities
All meals, snacks, smoothies, and non-alcoholic beverages
Complimentary shared shuttle transfers to Tucson Airport (TUS), or valet parking for those driving in
Full access to Miraval's extensive resort amenities, including The Body Mindfulness Center and Life in Balance Spa
Most Miraval rates (including points redemptions) also include a $175 nightly per person resort credit that can be used toward spa services and paid classes and sessions. Miraval also has a non-tipping policy, which is something I really like. It's not just that tipping isn't required, but it's expressly not allowed.
What's not included with your Miraval stay? Alcoholic drinks, spa treatments, and select classes and sessions. But again, the $175 per person nightly resort credit can be applied toward most of those things.
I should also mention that while the hotel's check-in time is 3PM and check-out time is 11AM, you can actually enjoy the property for longer. You can arrive as early as 11AM and depart as late as 5PM, and during that time you can enjoy all the activities, meals, etc.
Miraval Arizona location
Miraval Arizona is located just north of Tucson, so Tucson Airport (TUS) would be the closest airport to fly into, and from there it's a roughly 40-minute drive to the resort. Best of all, the hotel offers a complimentary shared shuttle service to and from the airport. Note that the last shuttle from the resort to the airport departs at 2PM, so if you want to leave the resort later than that, you'll have to set up a private transfer.
You're probably not going to be leaving the property while staying here, so renting a car is unnecessary if this is your only stop.
We decided to fly into Phoenix Airport (PHX), as that's roughly a two hour drive away. The reason we flew into there was because that way we could fly nonstop from Florida, rather than having to connect. If you're driving yourself, just make sure you have directions properly loaded when you start your journey, since there's not much cell signal around the property, and it can be easy to miss the entrance.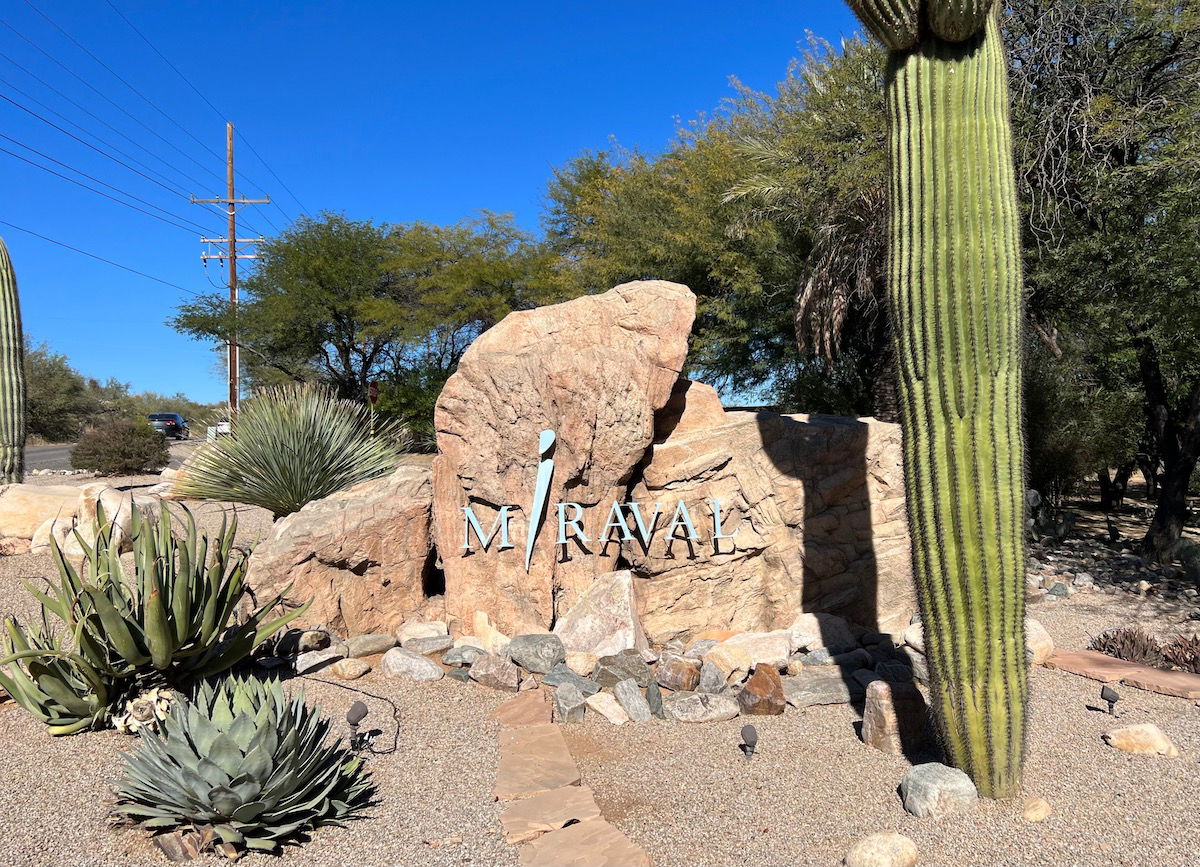 Miraval Arizona property overview
Miraval Arizona is set on 400 acres, with gorgeous views of the Santa Catalina Mountains. Let me first say that I absolutely love the landscape in this part of Arizona — I love the mountainous desert terrain, and I'd love to live in the area one day. It's just so beautiful and peaceful.
While the property is 400 acres, a vast majority of it isn't developed. For the actual developed part of the property, you could walk from one end to the other in 10 minutes or so. Below is a map that gives you a sense of the property's layout.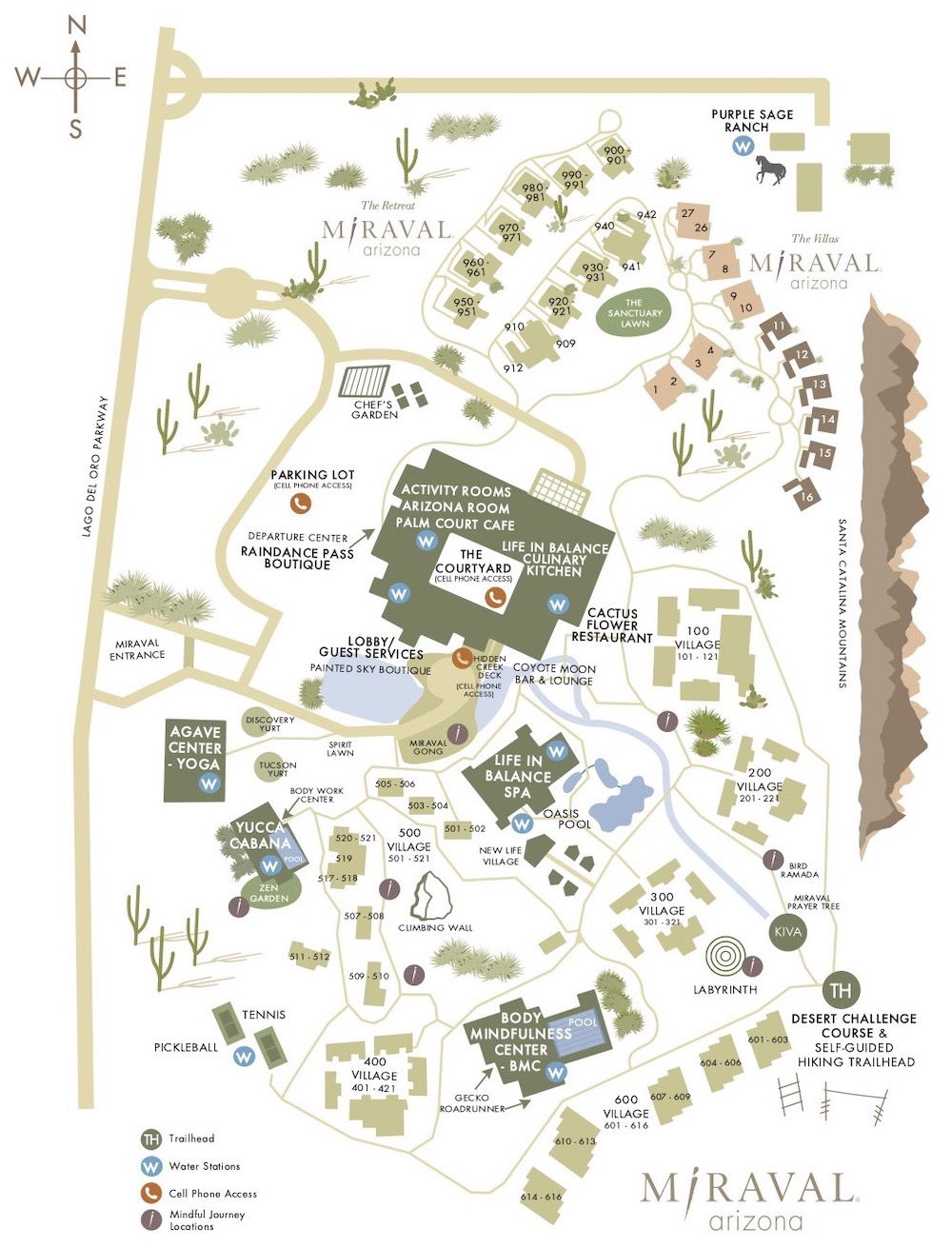 Being able to walk around the property and enjoy the nature, views, and climate, is a treat in and of itself. Below are some pictures of the property's grounds, to give you a sense of what to expect.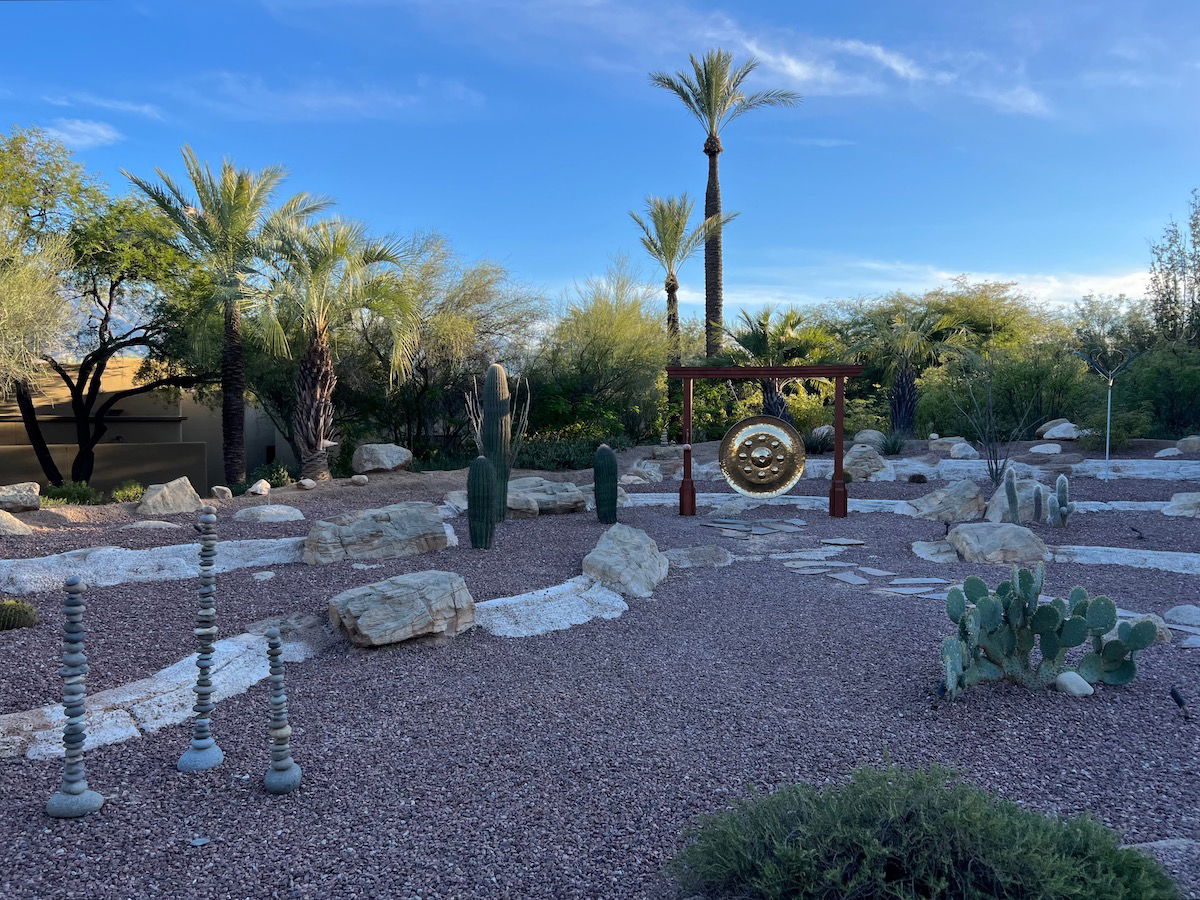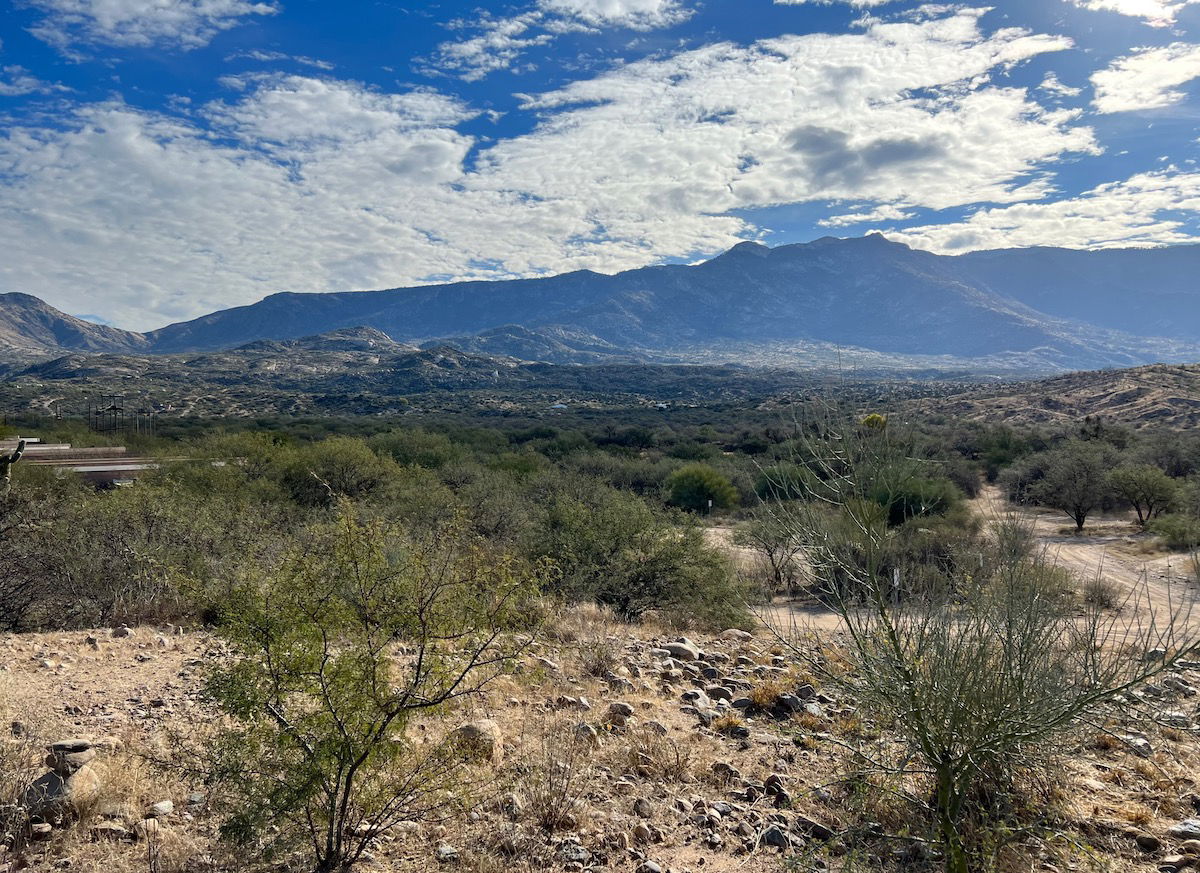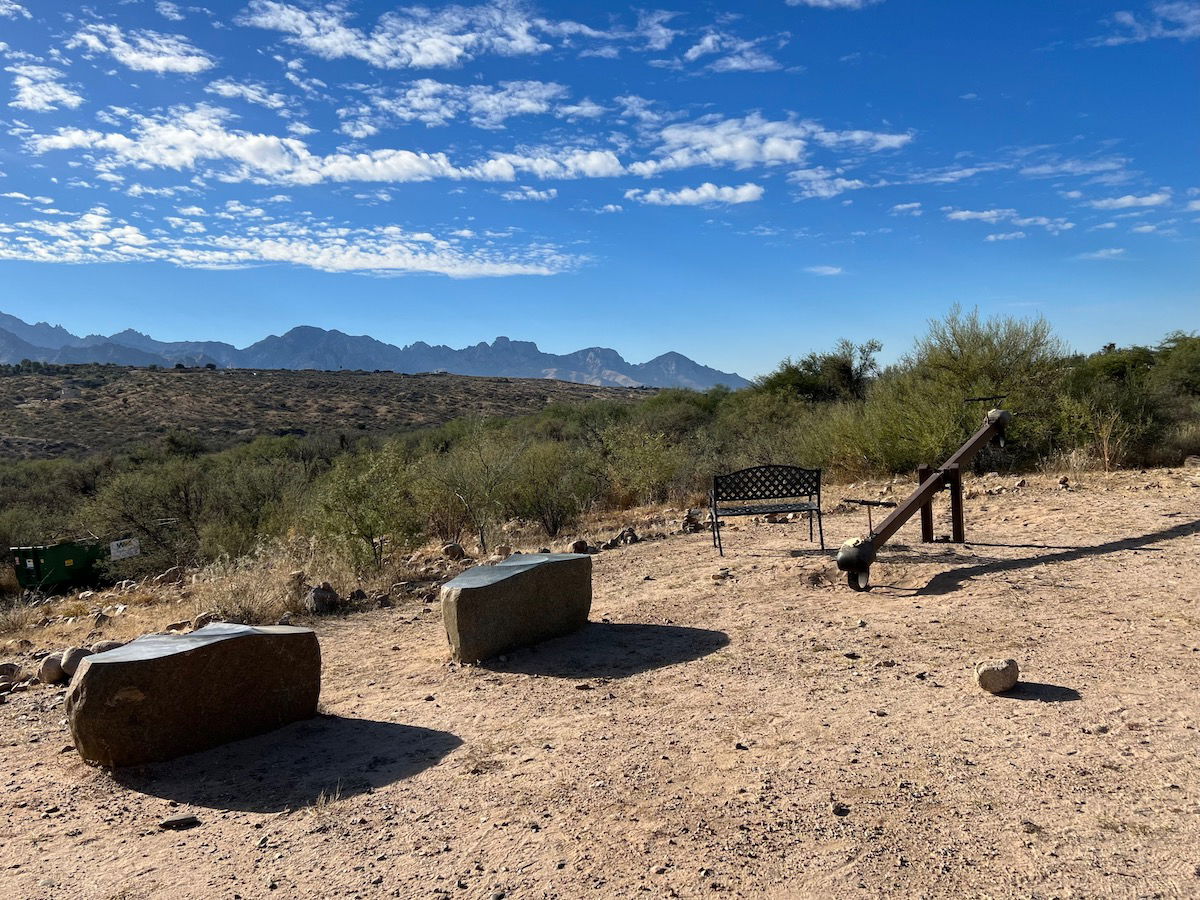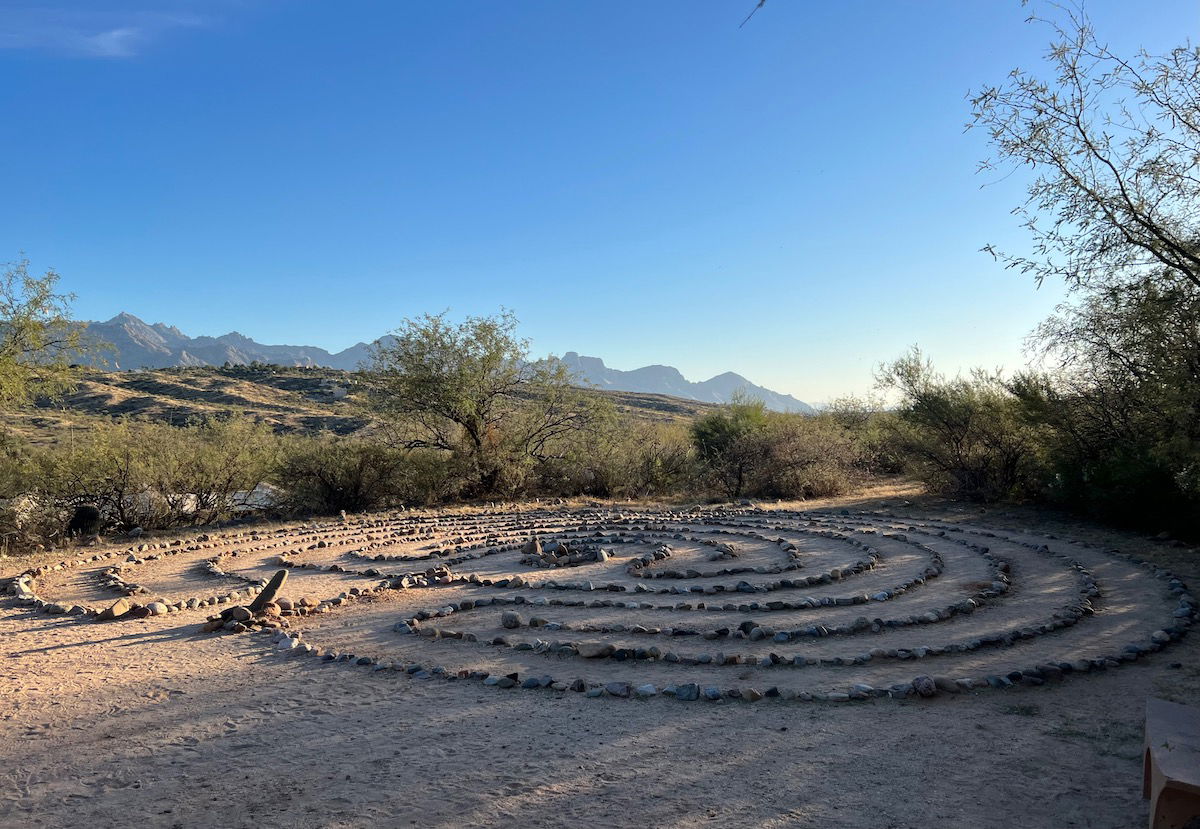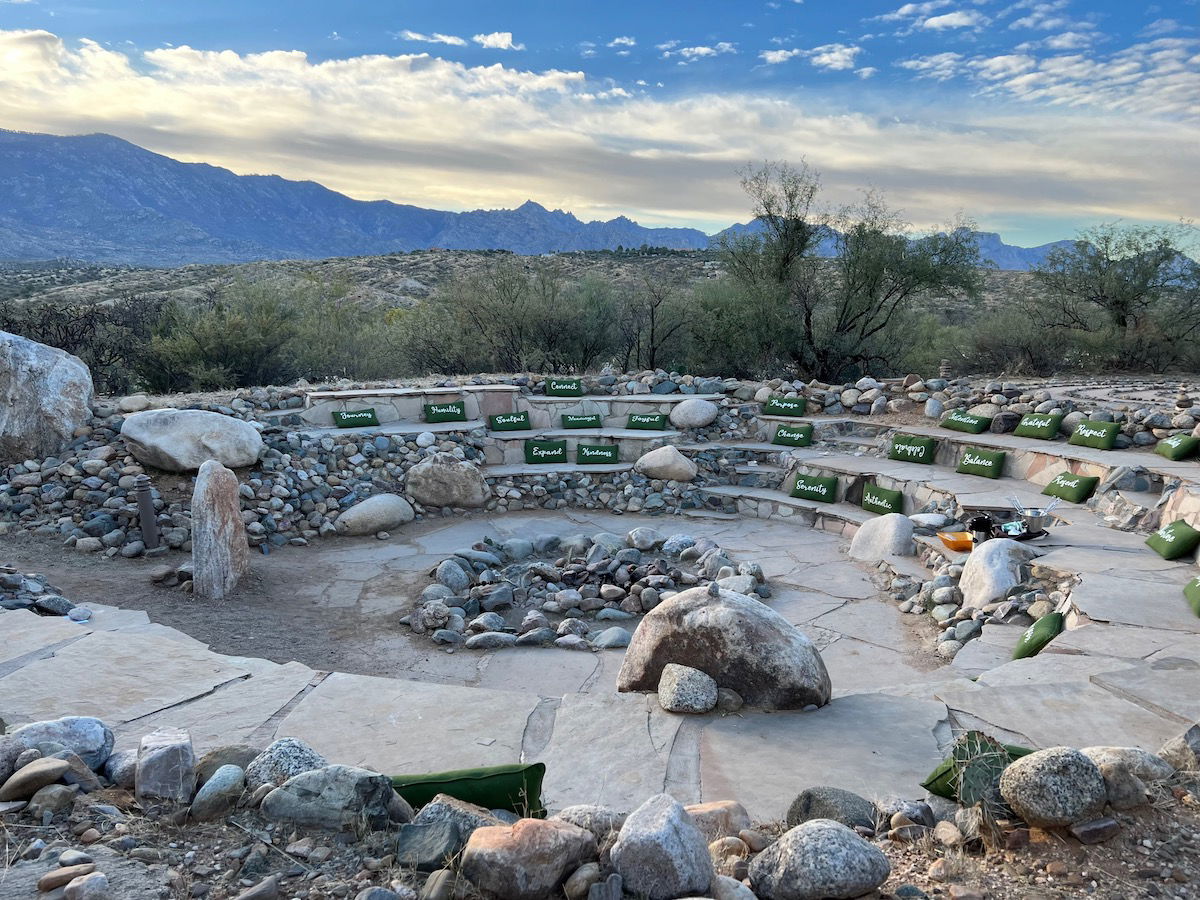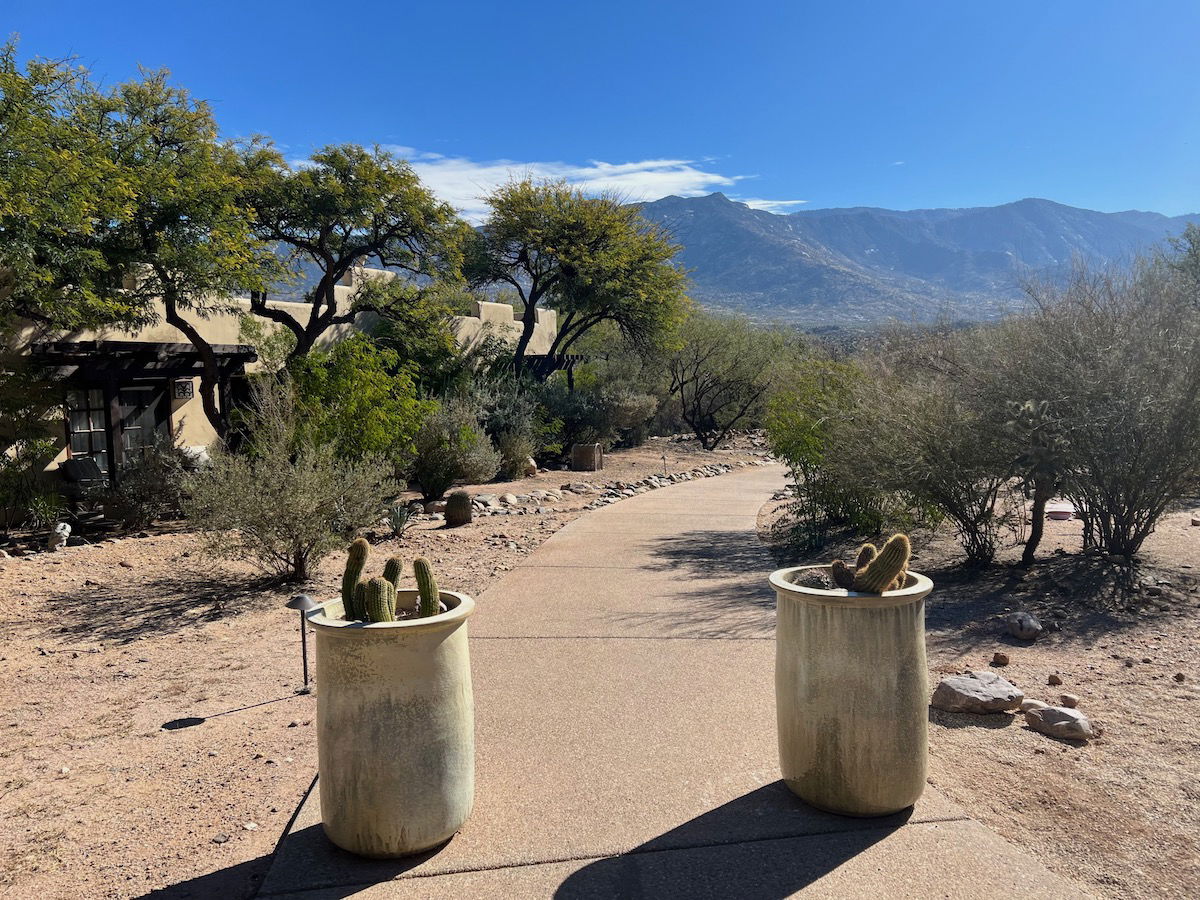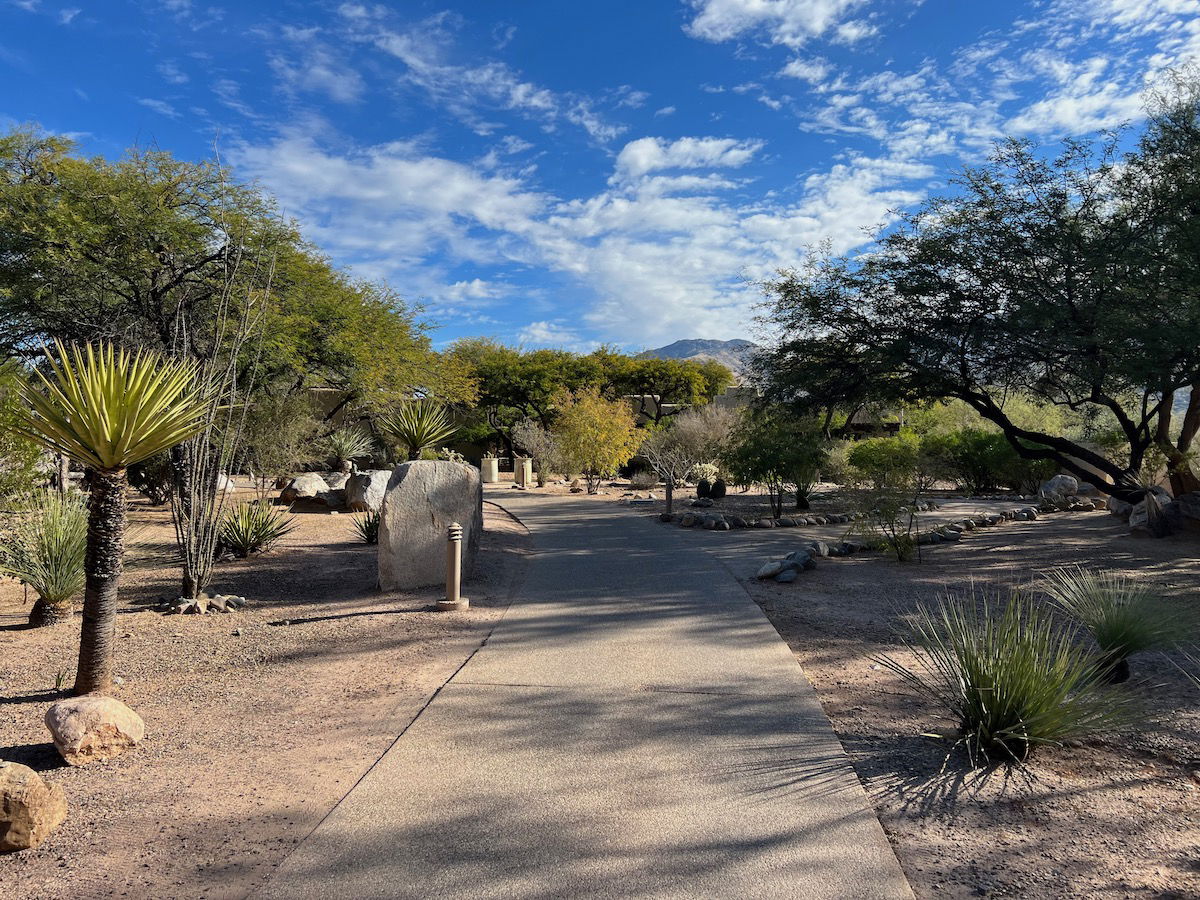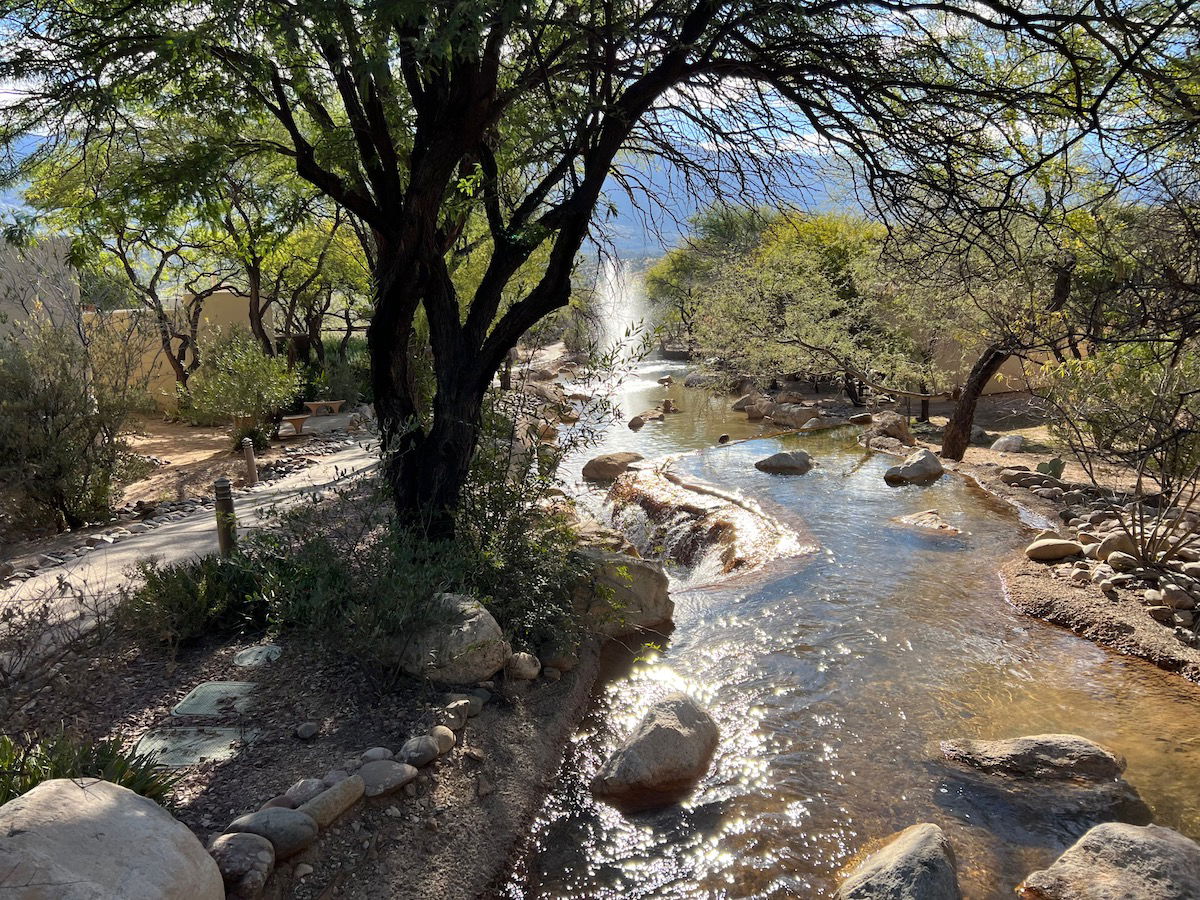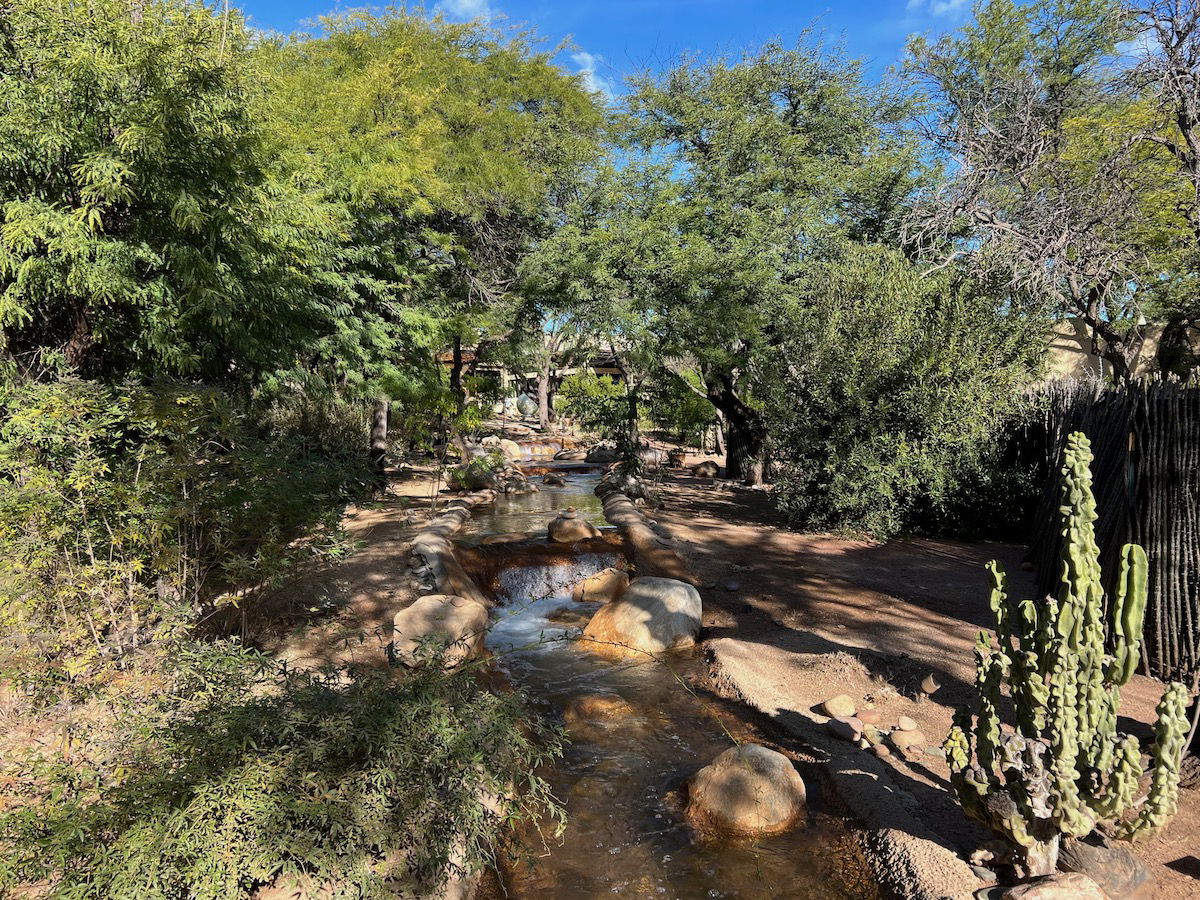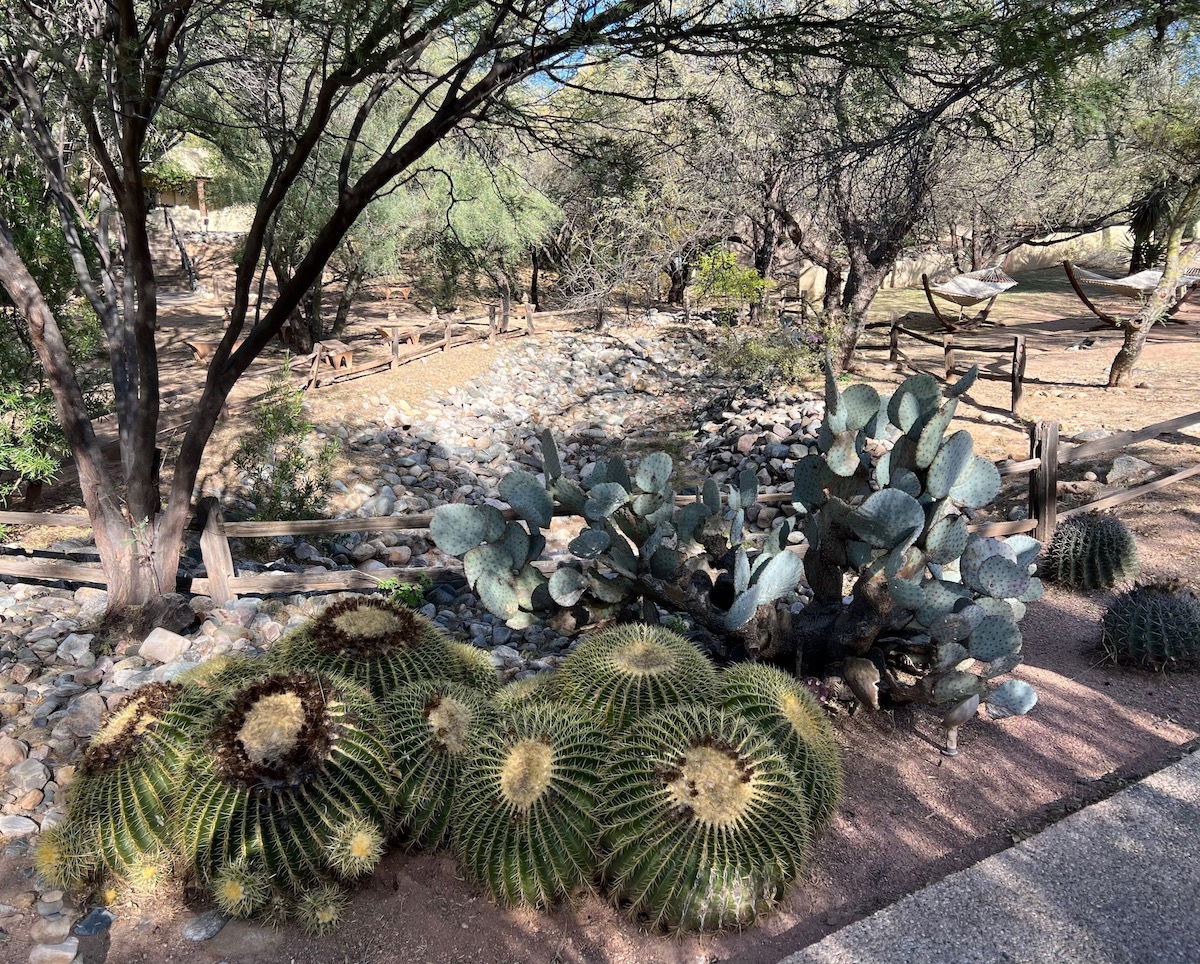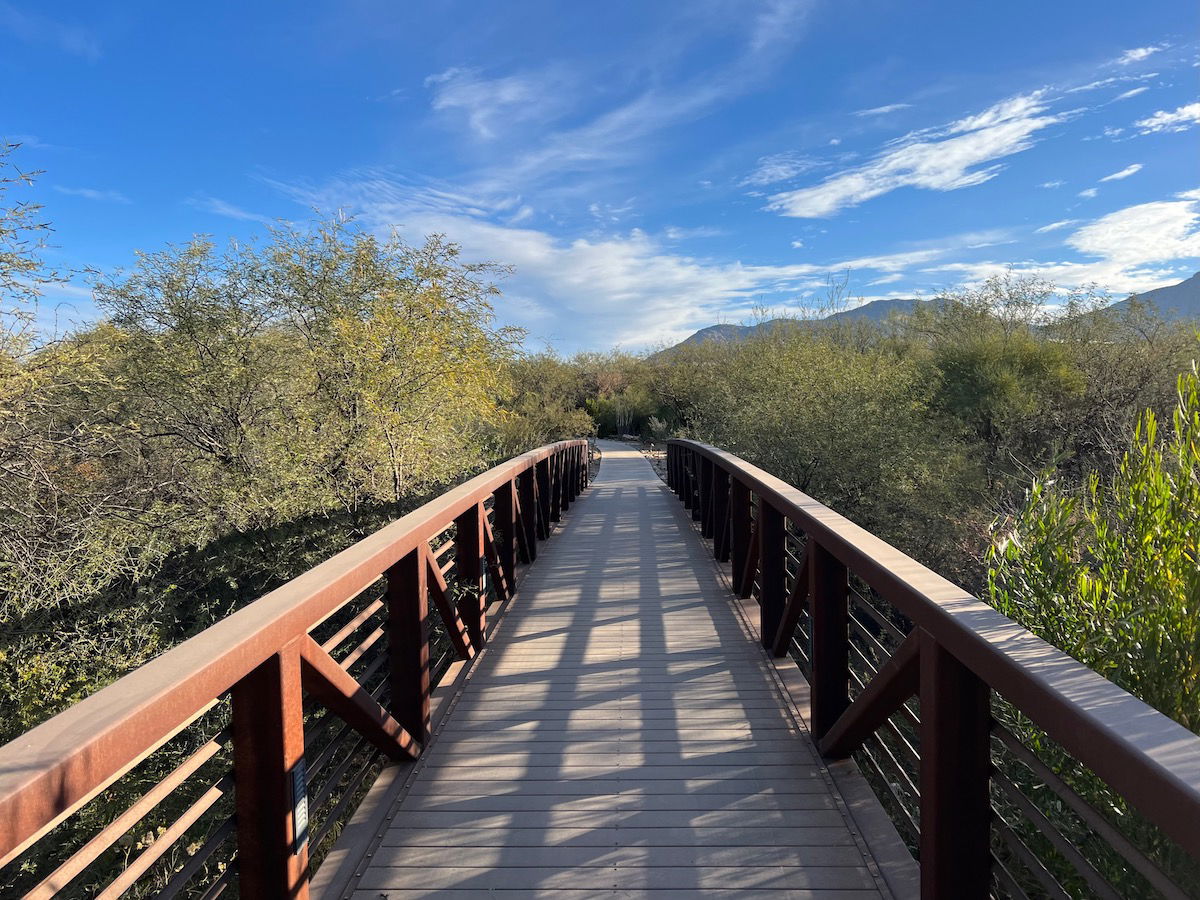 Miraval Arizona lobby & check-in
We arrived at Miraval Arizona around 1PM. As we pulled up, we were greeted by an employee who offered to valet our car, took our bags, and escorted us to check-in. We were immediately offered cold towels. As I mentioned above, parts of Miraval Arizona don't feel particularly high end, and the lobby area is definitely among those.
That's ultimately not a huge issue, since you're not really going to spend much time here, aside from when you arrive or depart.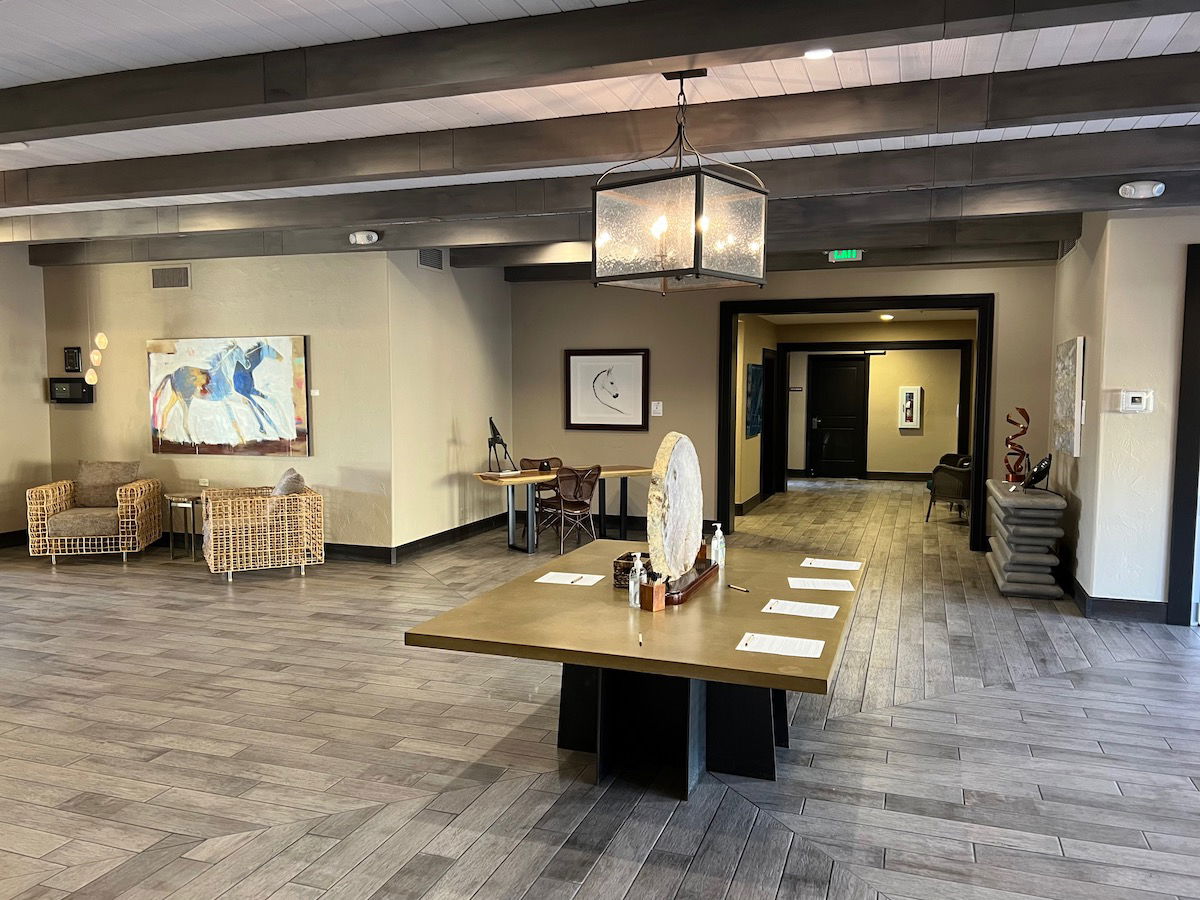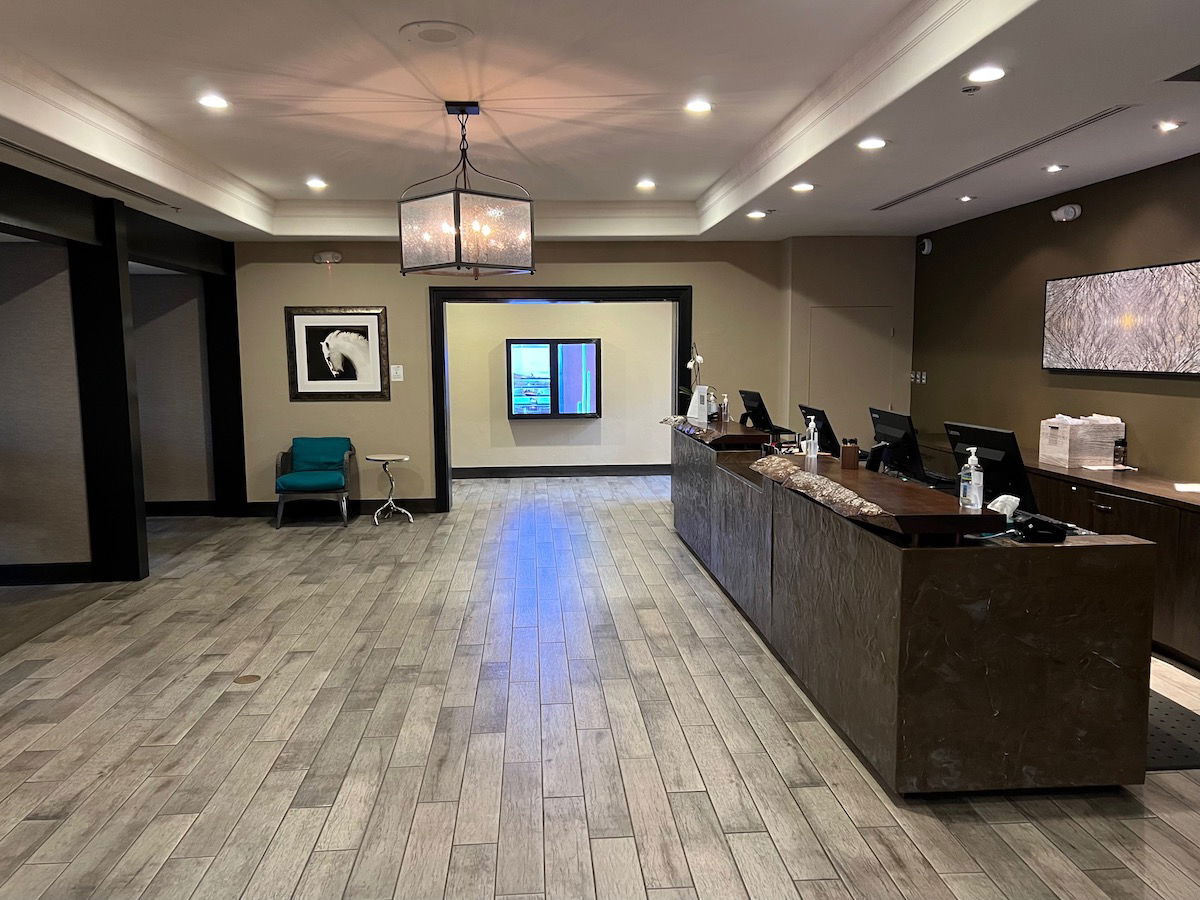 Our check-in process was efficient and friendly. Our room wasn't quite ready yet, but that wasn't an issue, as we could immediately enjoy the rest of the resort. We were also given Miraval tote bags and reusable water bottles, which are offered to all guests. You can use them on-property, and then also take them home. Heck, I'm drinking water out of this bottle as I write this review.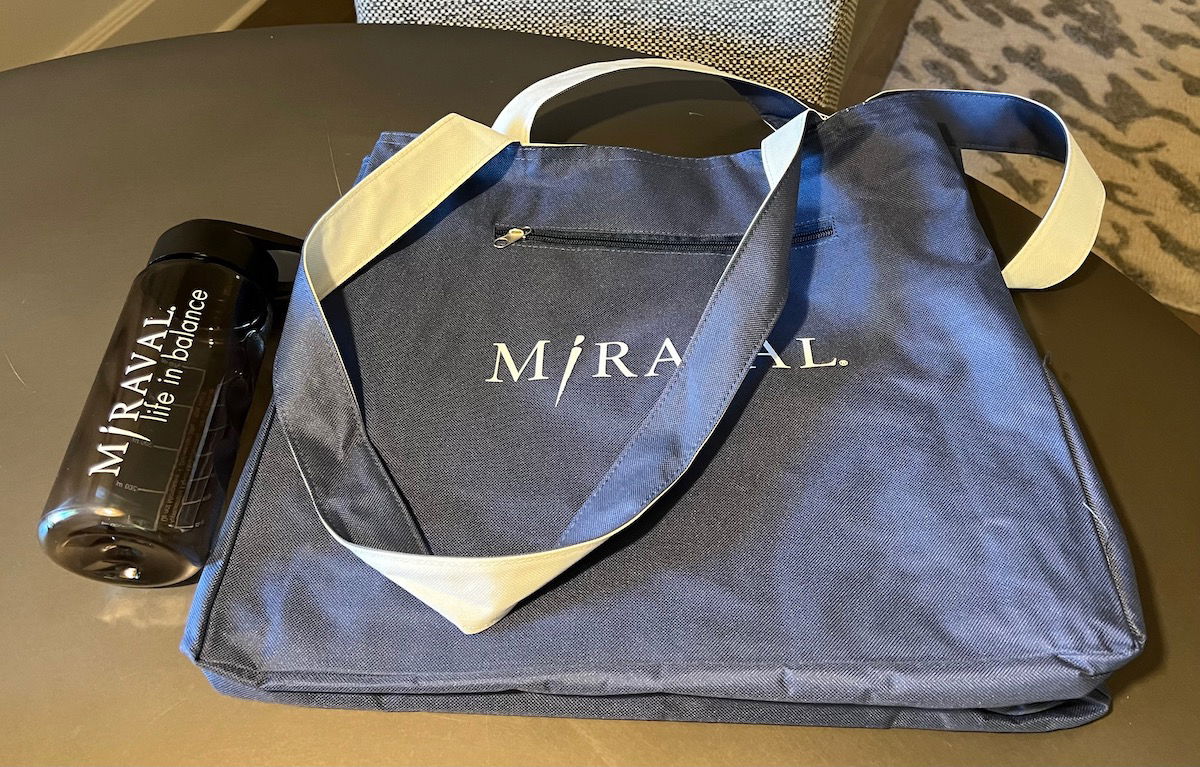 During check-in we were informed that we had been upgraded to a Sonoran Suite, which is a premium suite at the property. The hotel seems to do a good job with trying to upgrade Globalists. In this case the hotel was sold out, so I suspect that helped with the upgrade. Then again, after seeing the suite, I think we might have preferred a standard room…
Just outside reception is the courtyard.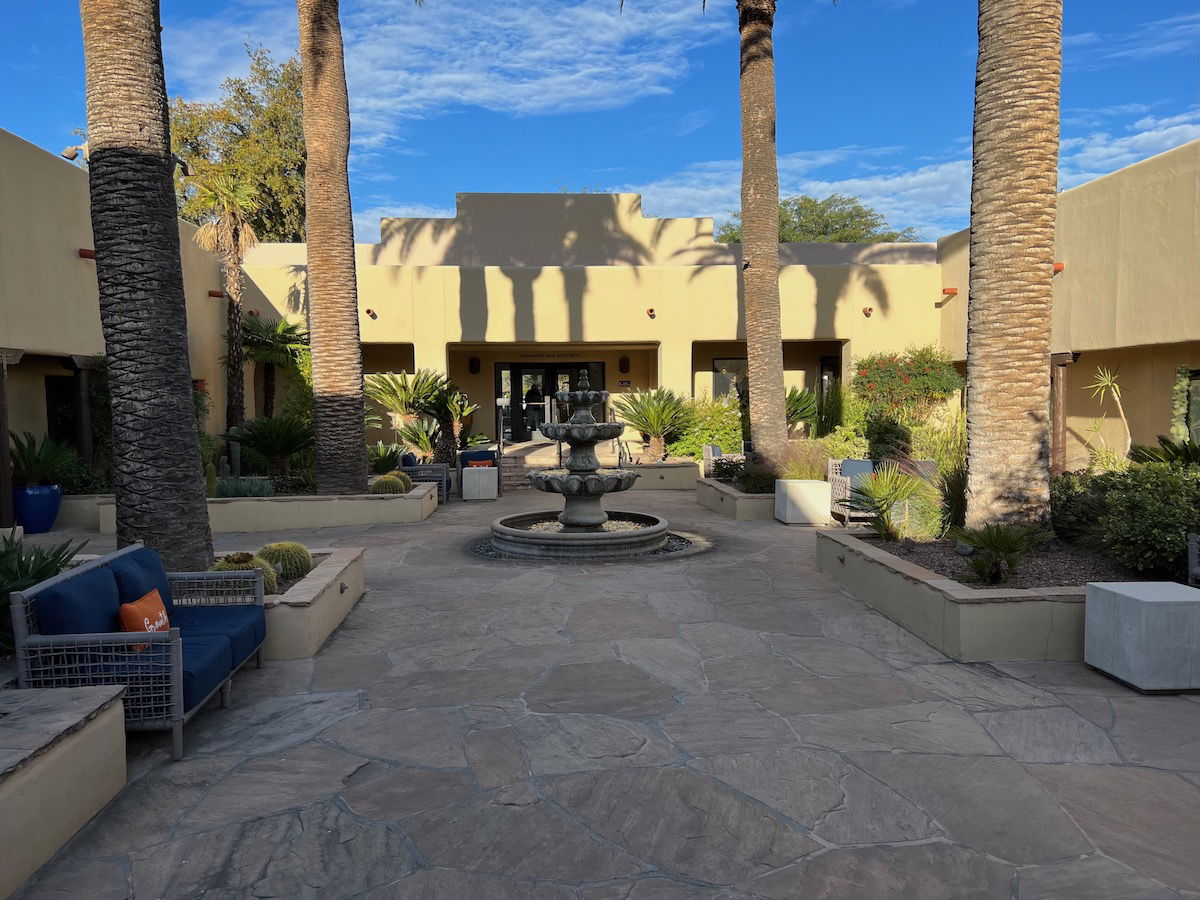 The courtyard is noteworthy because it's one of the few areas at the resort where use of electronics is permitted. The resort has a policy known as "Miraval Mode," which is intended to help guests disconnect. This isn't just a recommendation, but you have to sign a contract at check-in agreeing that you'll adhere to the policy.
This is described as a digital device-free policy, though it's not quite as extreme as it sounds. Essentially you can take as many pictures with your cell phone as you'd like, but that's about it. Think of it basically as having to keep your phone in airplane mode, and not connect to the Wi-Fi. The only exception is in your room, and in a couple of designated public zones.
Ford and I both ended up enjoying this policy. It's funny, because I feel like many of us refresh social media, email, etc., almost as a nervous habit. We constantly had to catch ourselves almost doing that, though within a day or so we were totally used to it. It was a good reminder to be a bit more present, and it's a lesson I've taken home with me as well.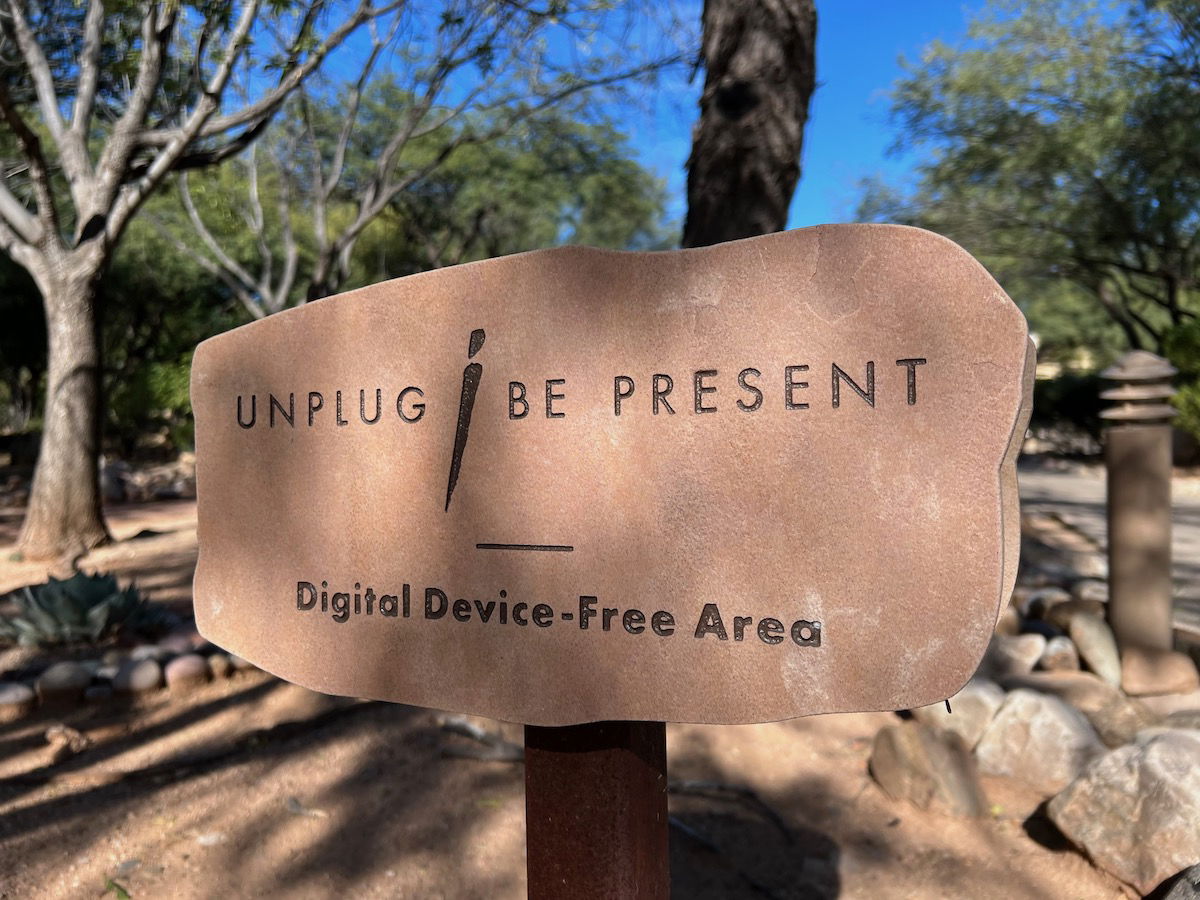 Miraval Arizona Sonoran Suite
Miraval Arizona has 146 casita-style rooms, suites, and villas. We were assigned room 121, which was in one of the closest buildings to reception and the restaurant. I found the building exteriors to be charming, and to have a great sense of place.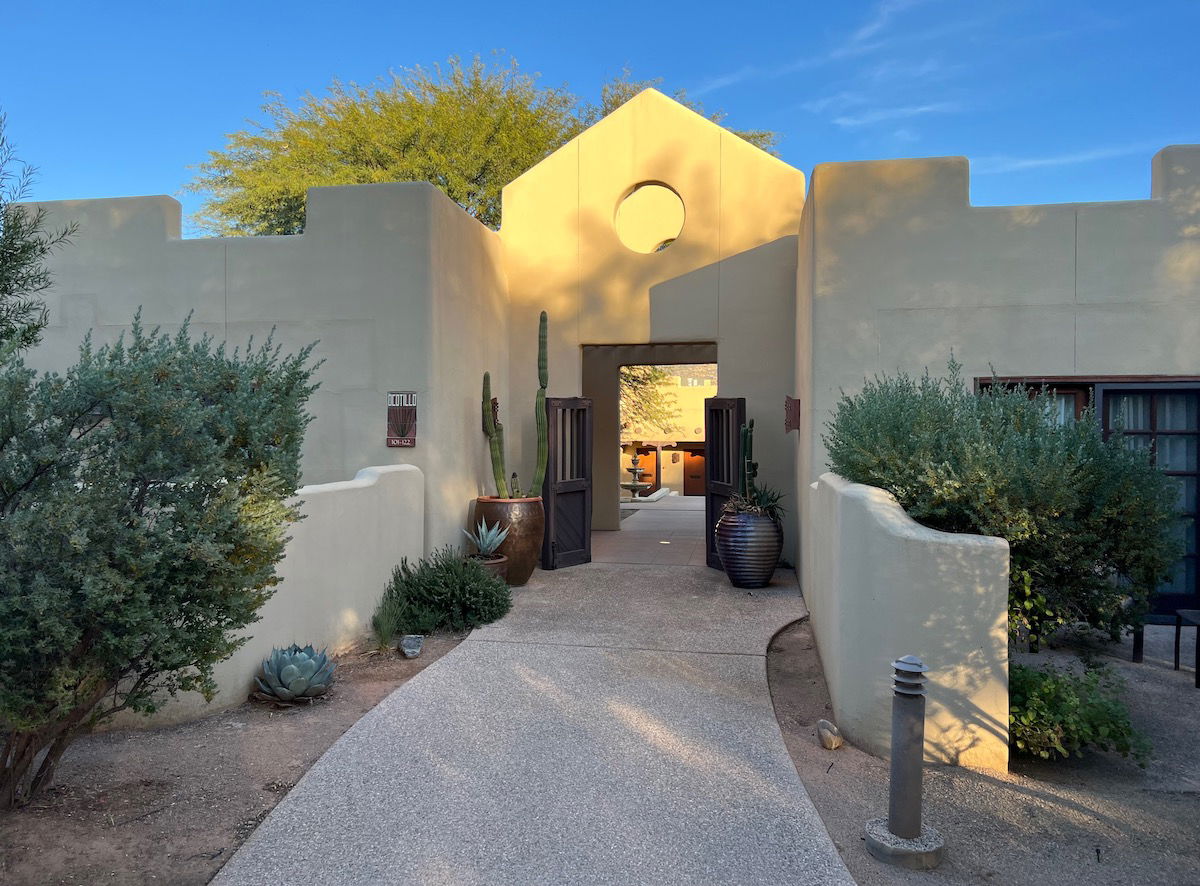 The interiors of the rooms are a different story, though. Our Sonoran Suite was massive, at 1,000 square feet. The pictures of suites on Miraval's website look great, though our suite looked nothing like this. While we had plenty of space, it really didn't feel luxurious at all. I actually think even the pictures I took make it look much nicer than it actually was.
The suite had a living room with a dining table, a large couch, a chair with an ottoman, and a desk.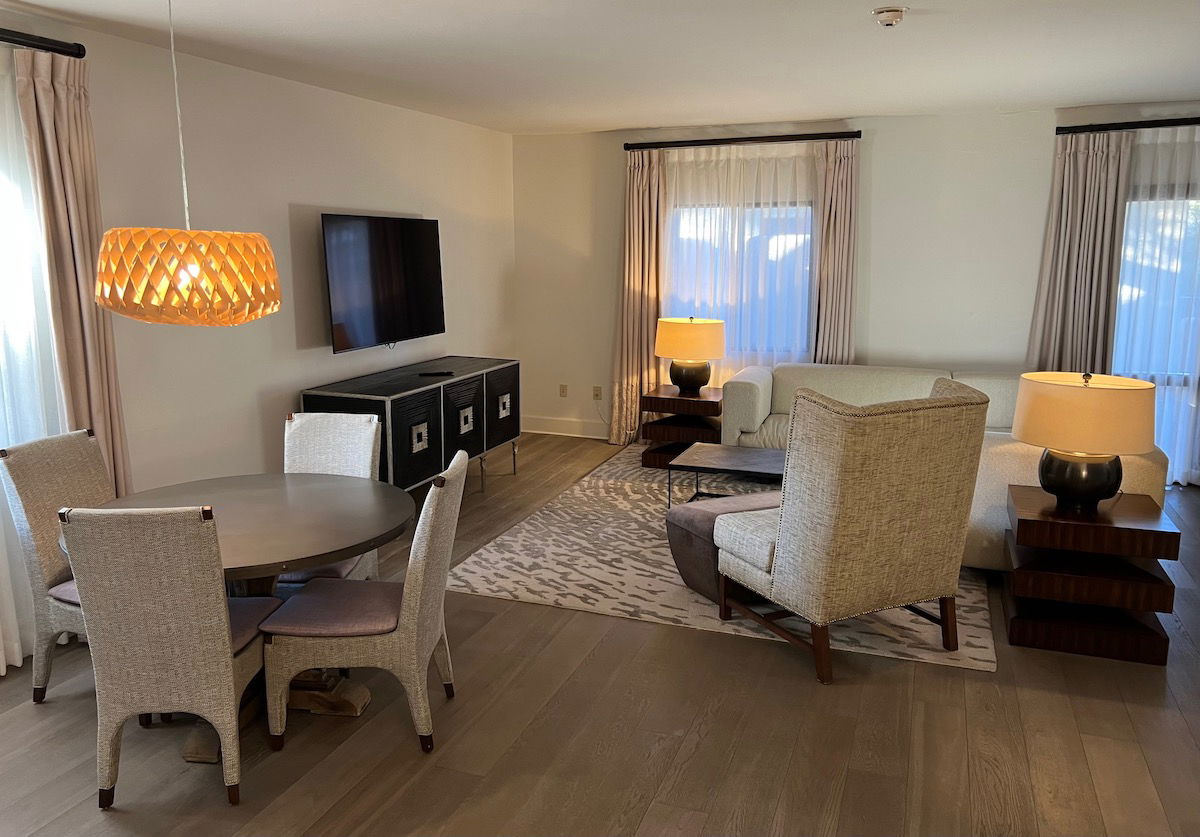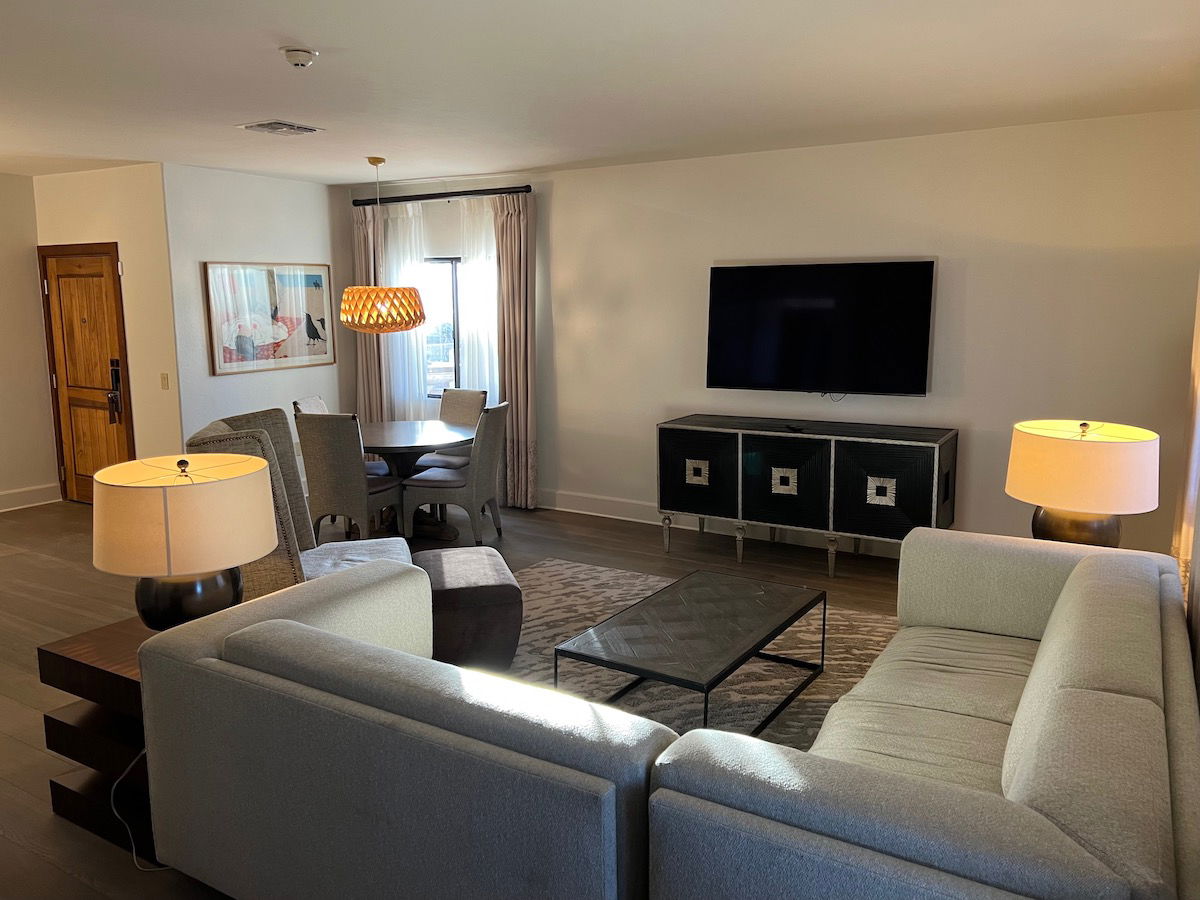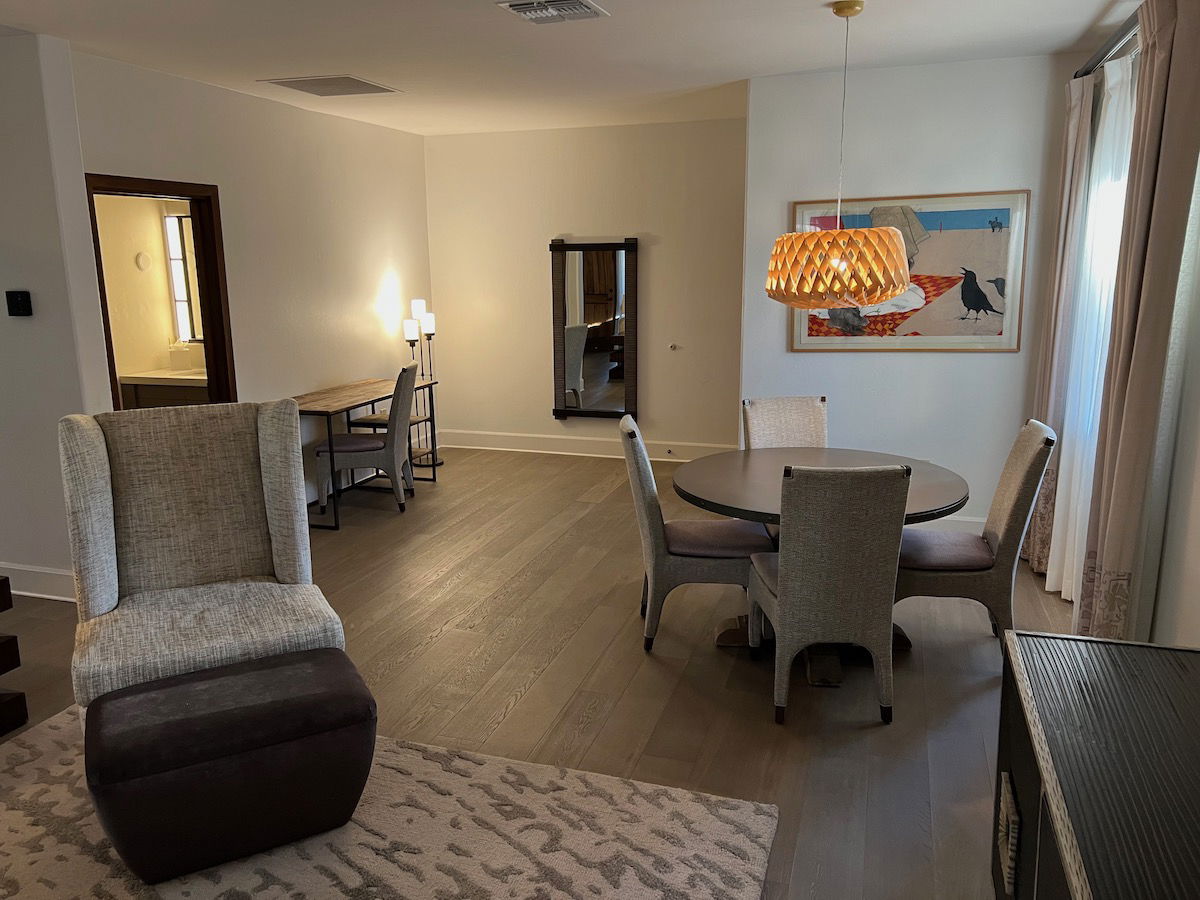 Everything just felt so worn. For example, just look at the condition of the cushions on the couch.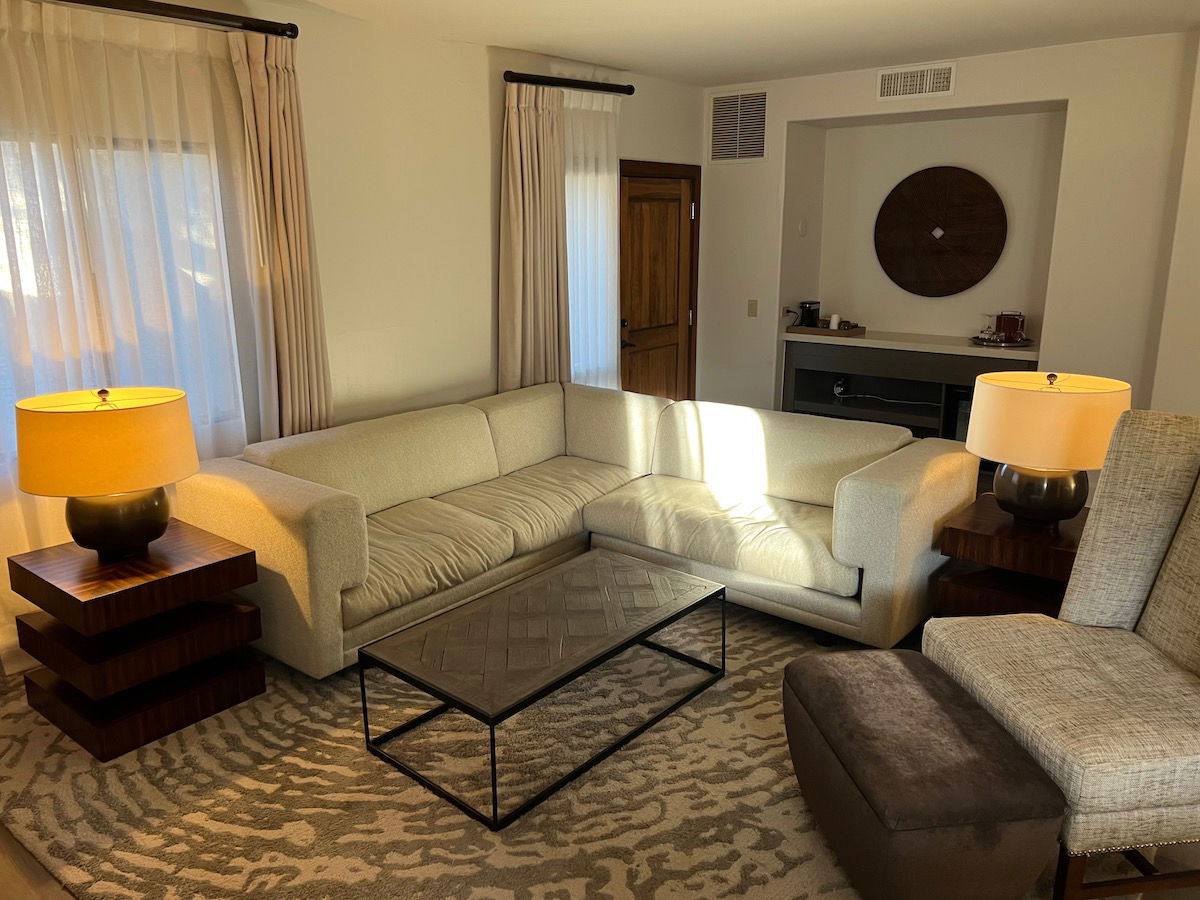 The living room had a mini-fridge with a pitcher of water in it, plus a coffee machine that you'd expect to find at an Aloft, and not at a property where base rooms are retailing for thousands of dollars per night.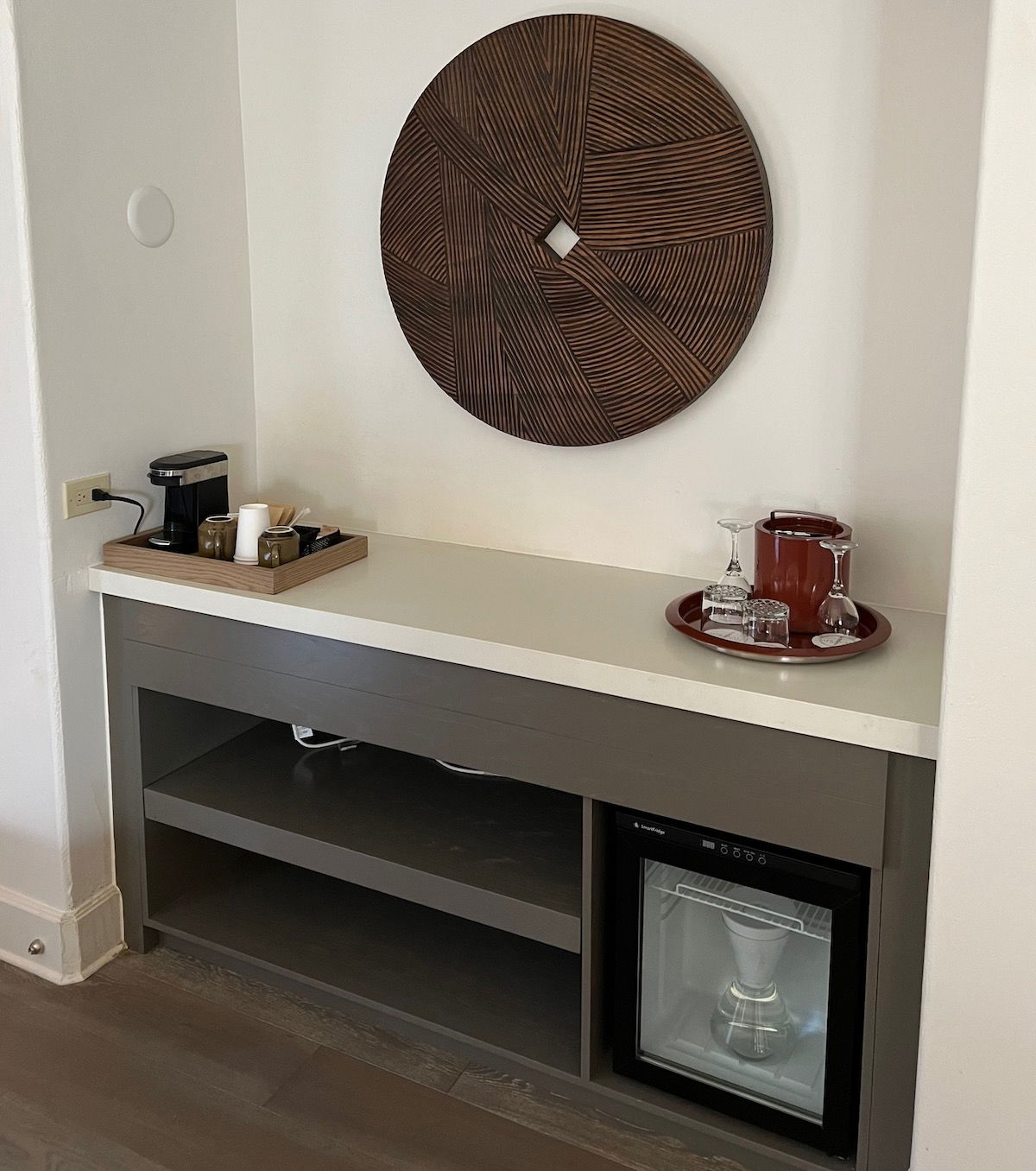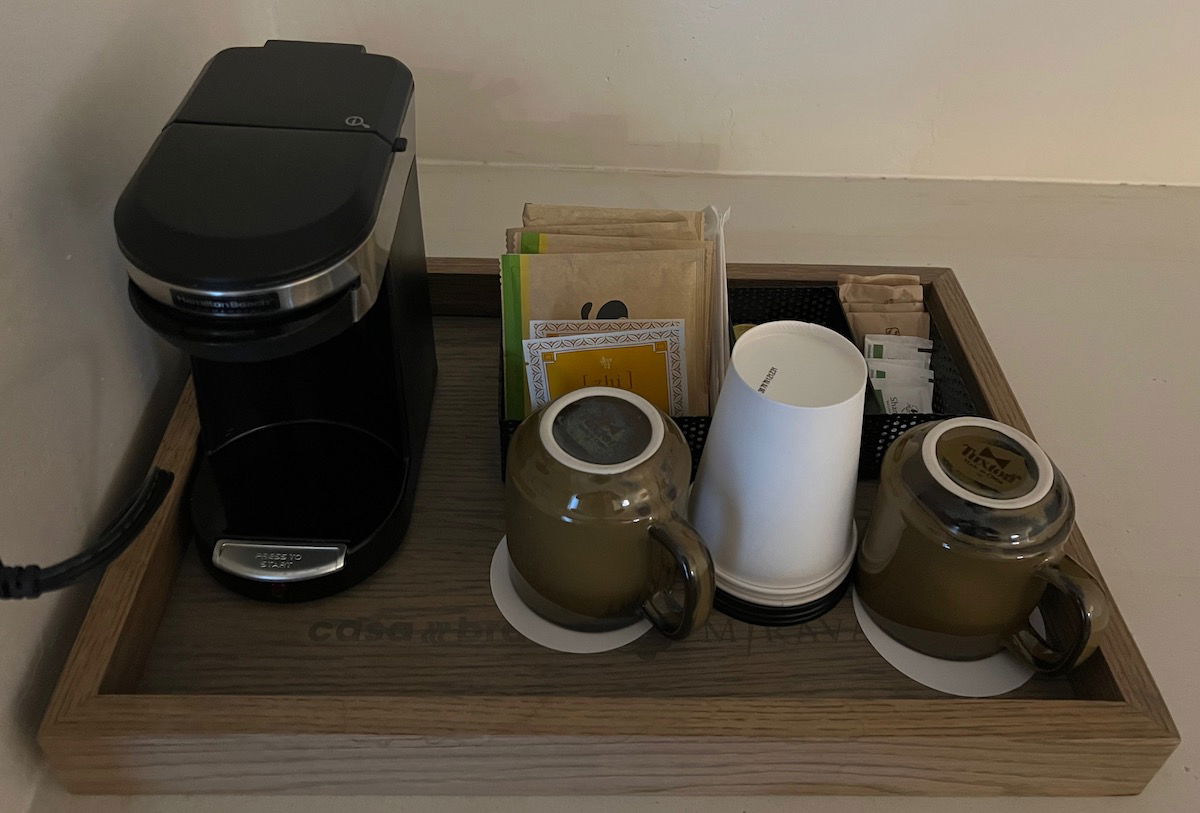 There was a half bath off the living room.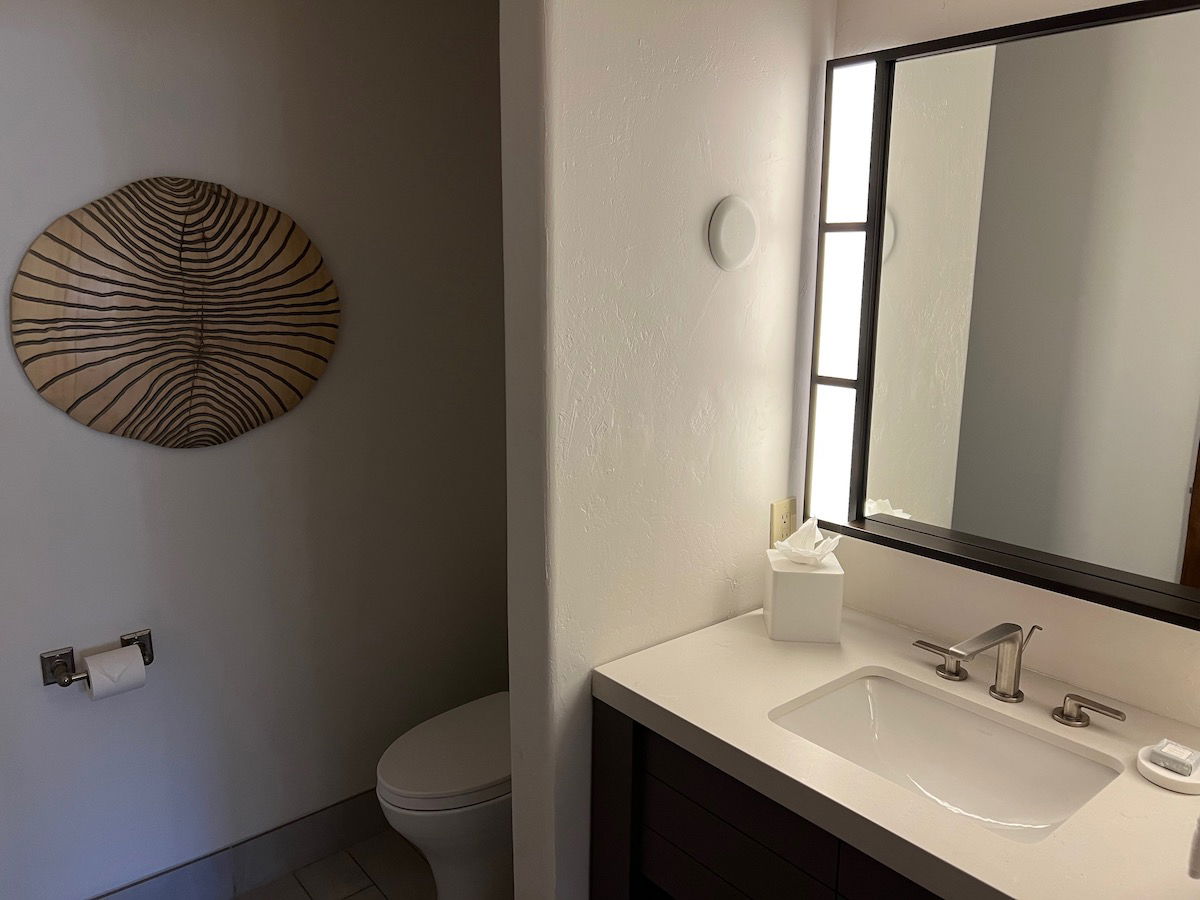 On the plus side, the bed was ridiculously comfortable, on par with Four Seasons beds, so I really appreciated that.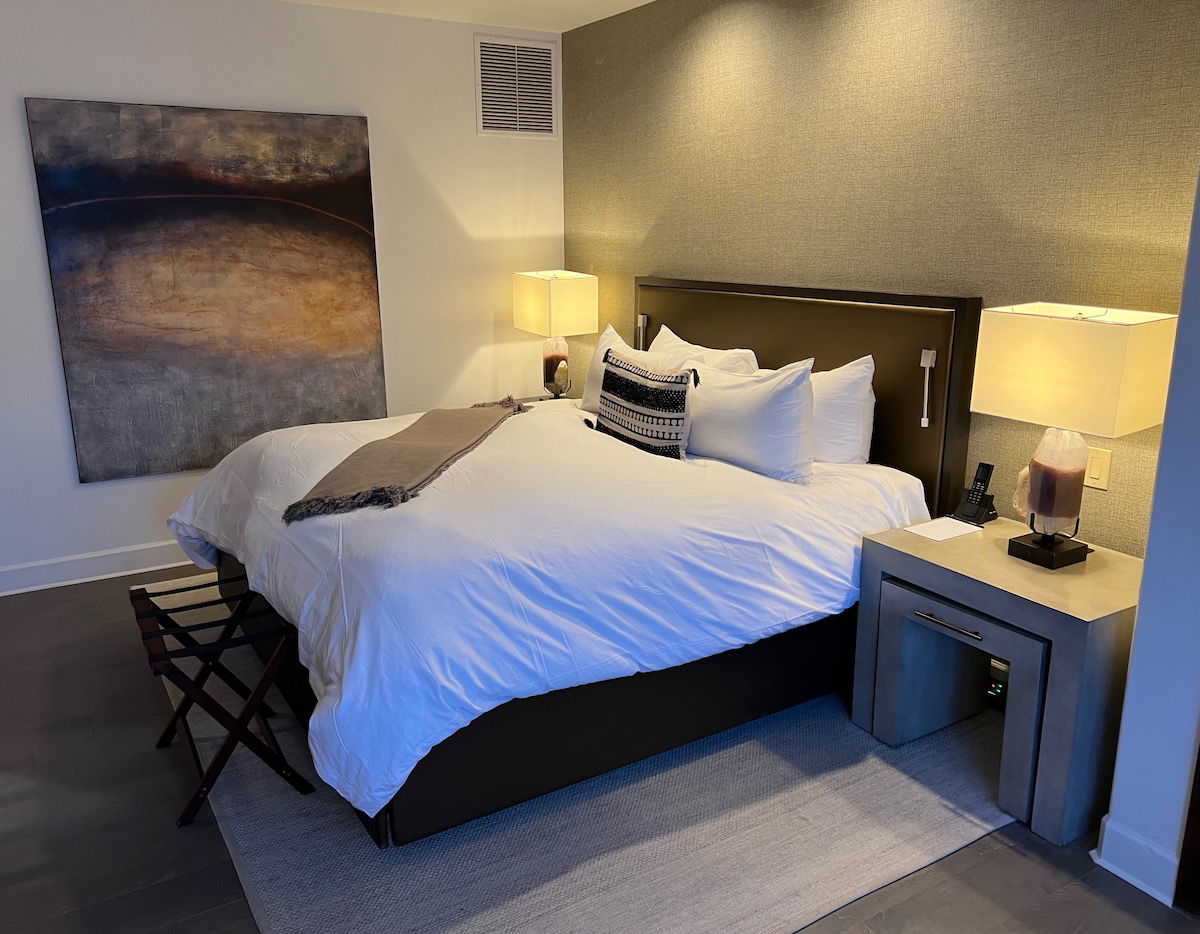 There were then two chairs in the corner of the room, plus a TV.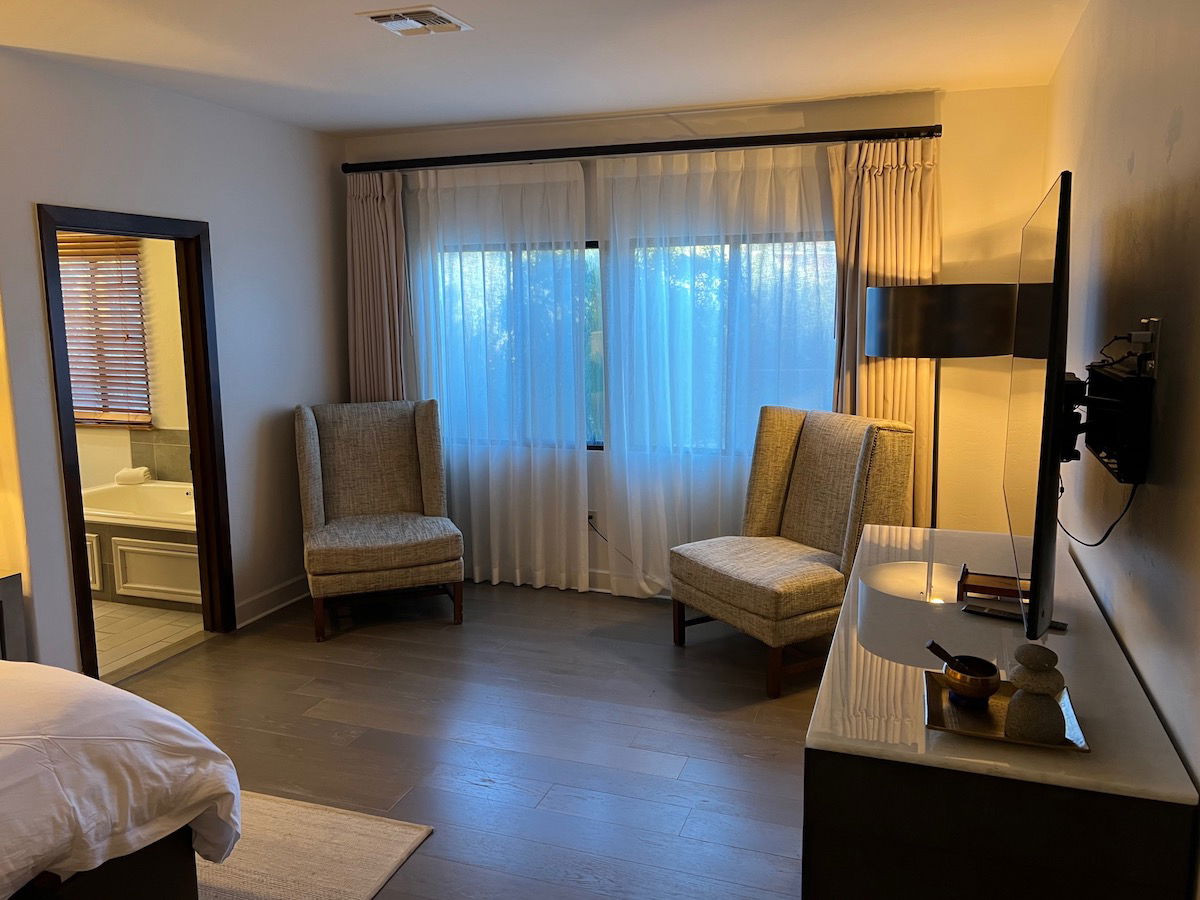 It's kind of cute how there's a pouch and a "bed" for your phone, so you can let it "rest" during your stay.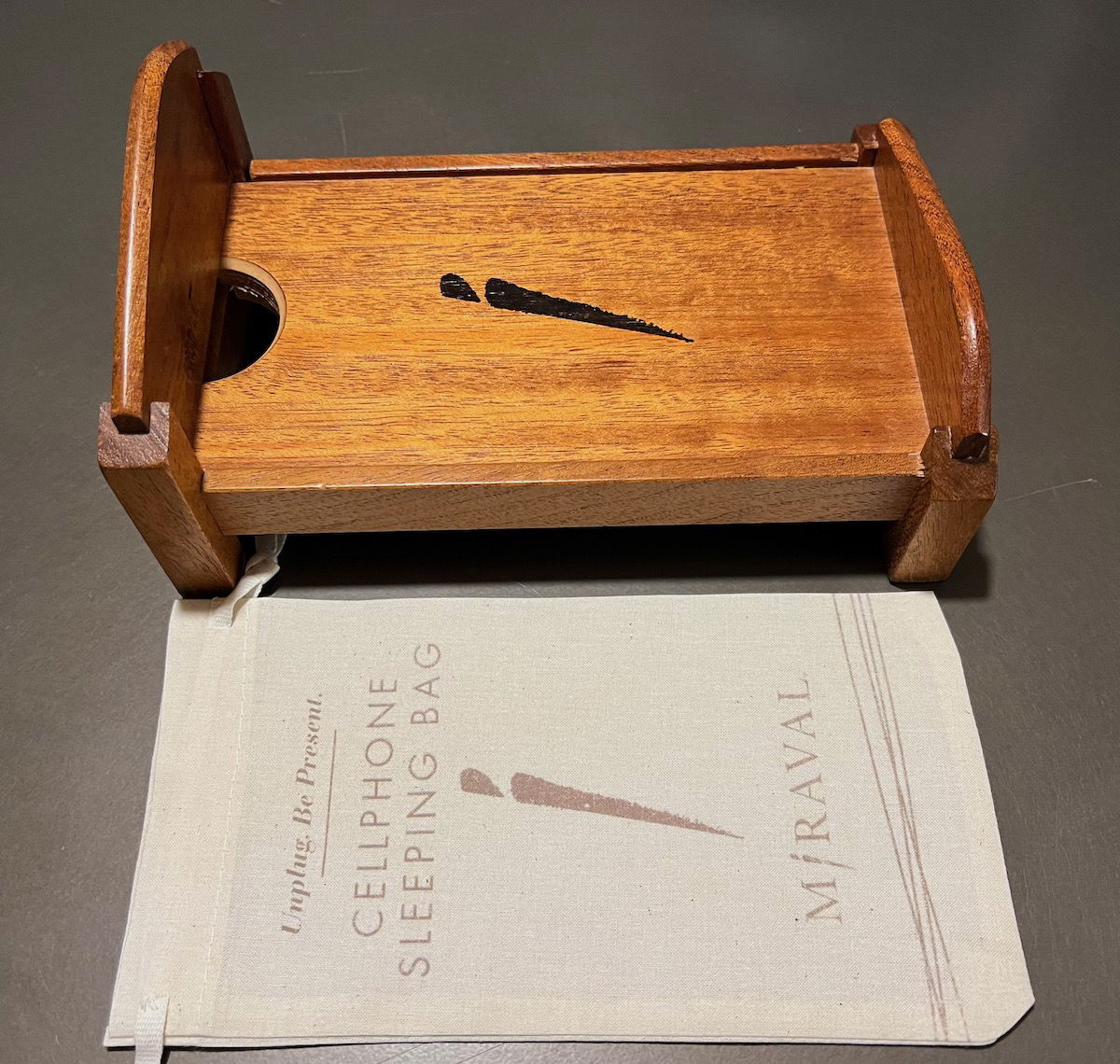 There's also a Tibetan singing bowl in each room at the hotel.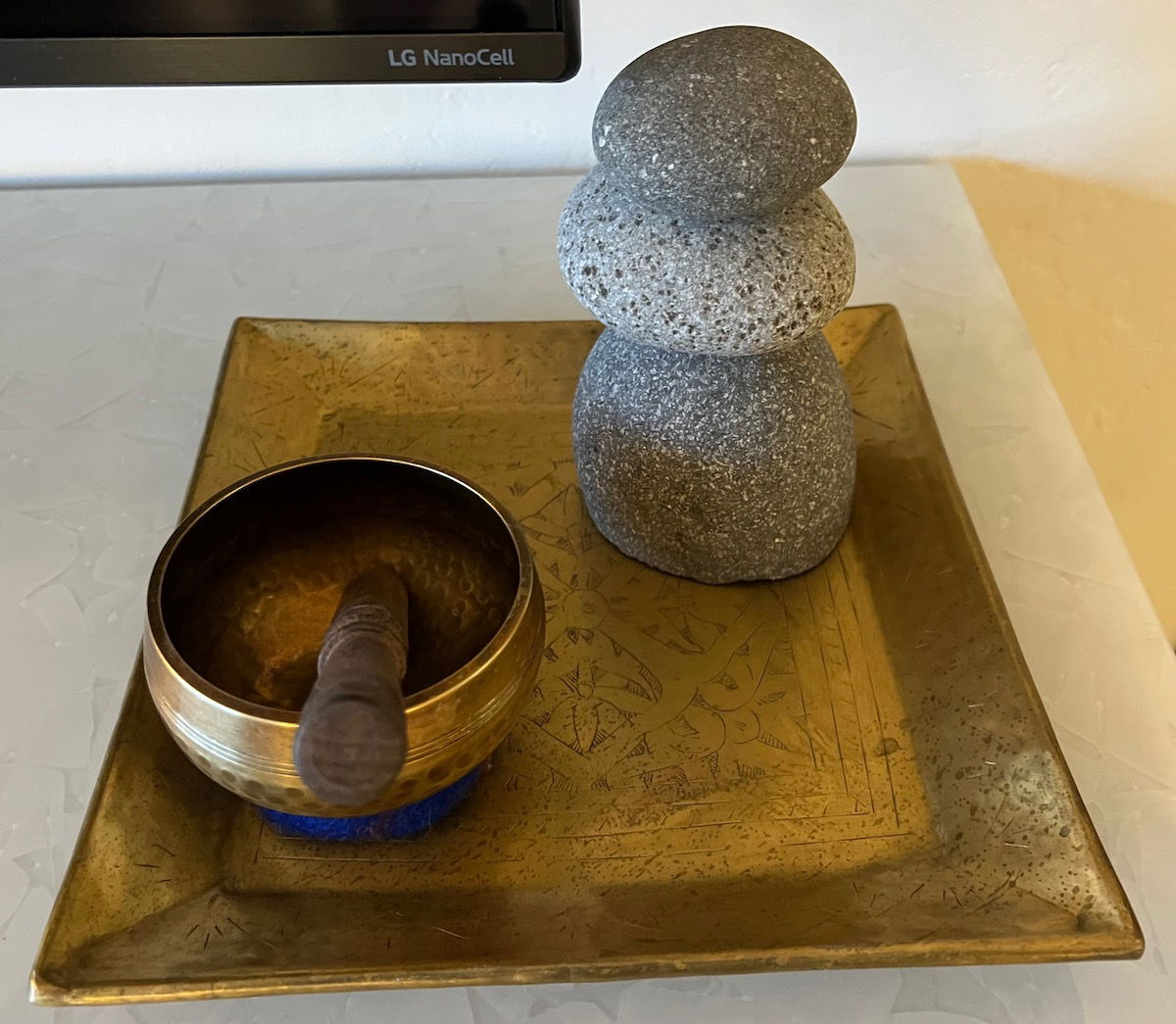 The main bathroom was off the bedroom, and featured double sinks, a bathtub, a walk-in shower, and a toilet.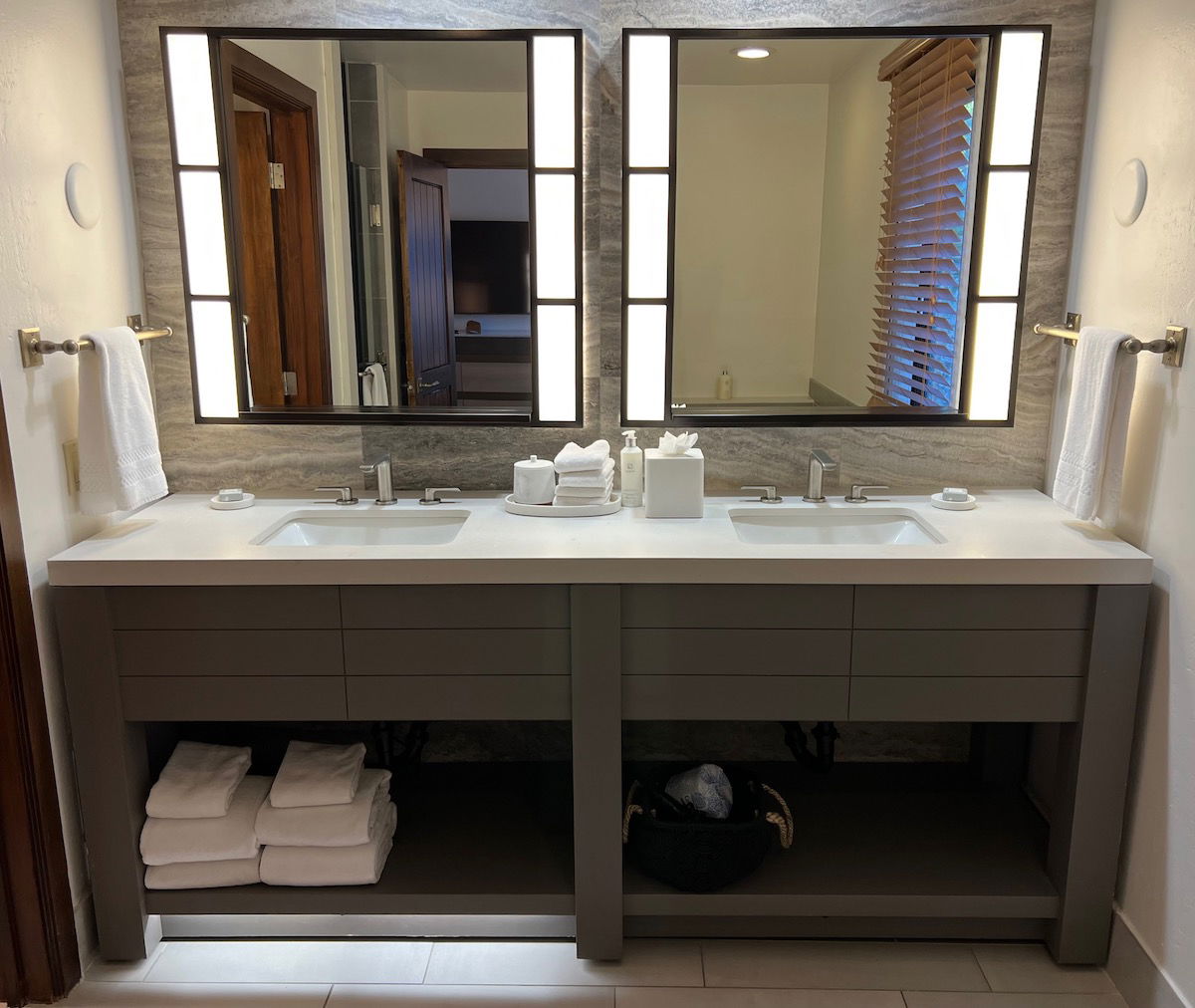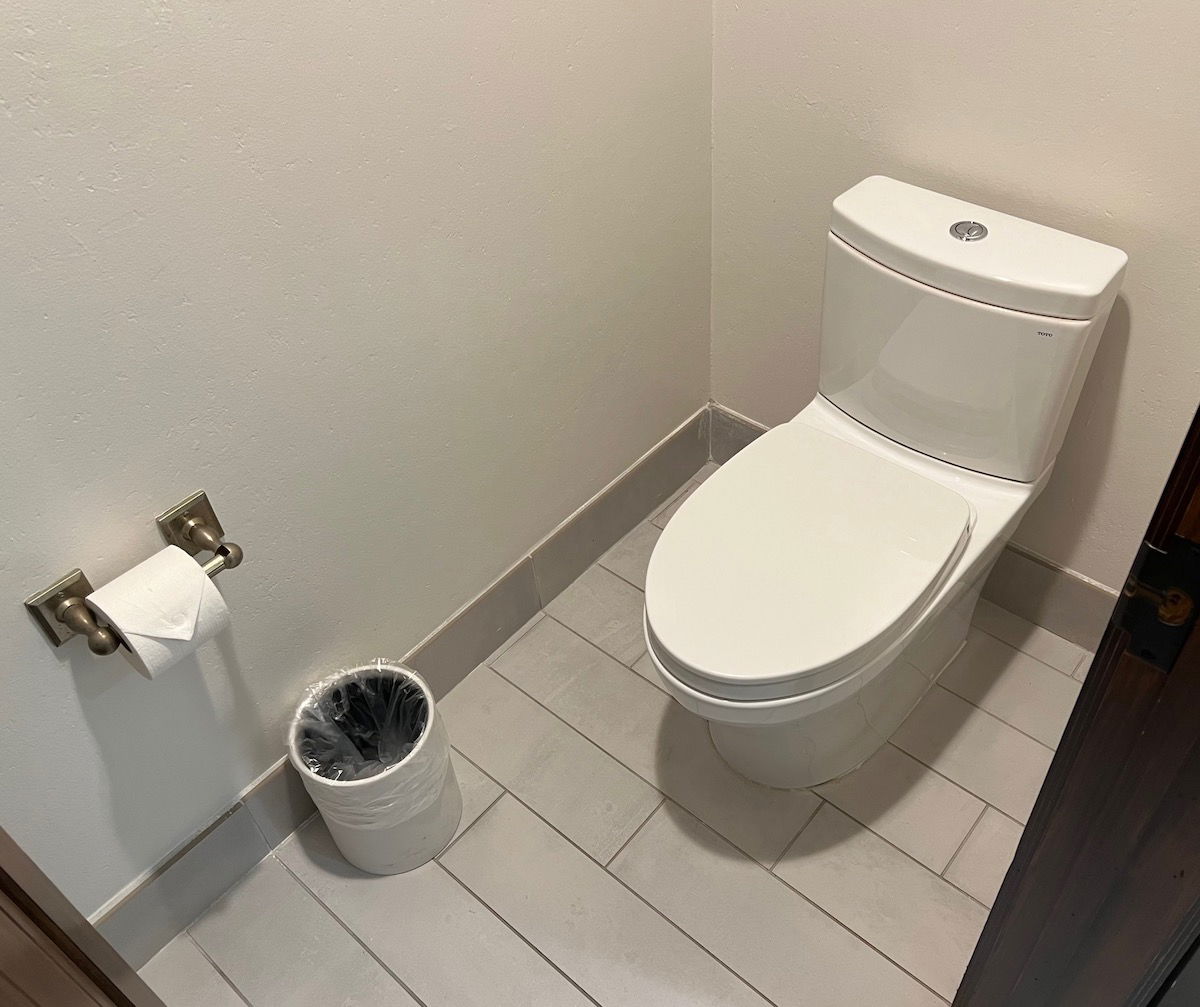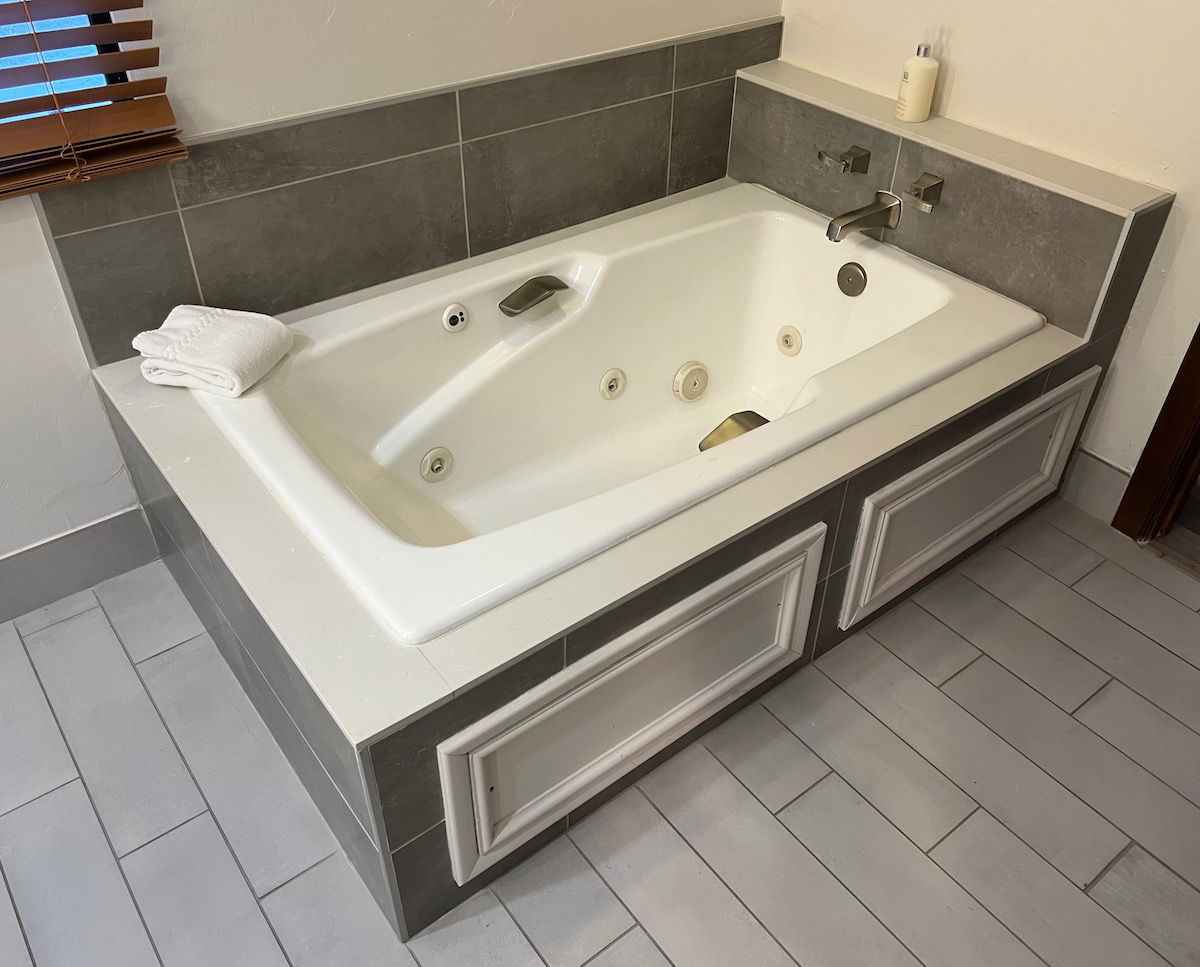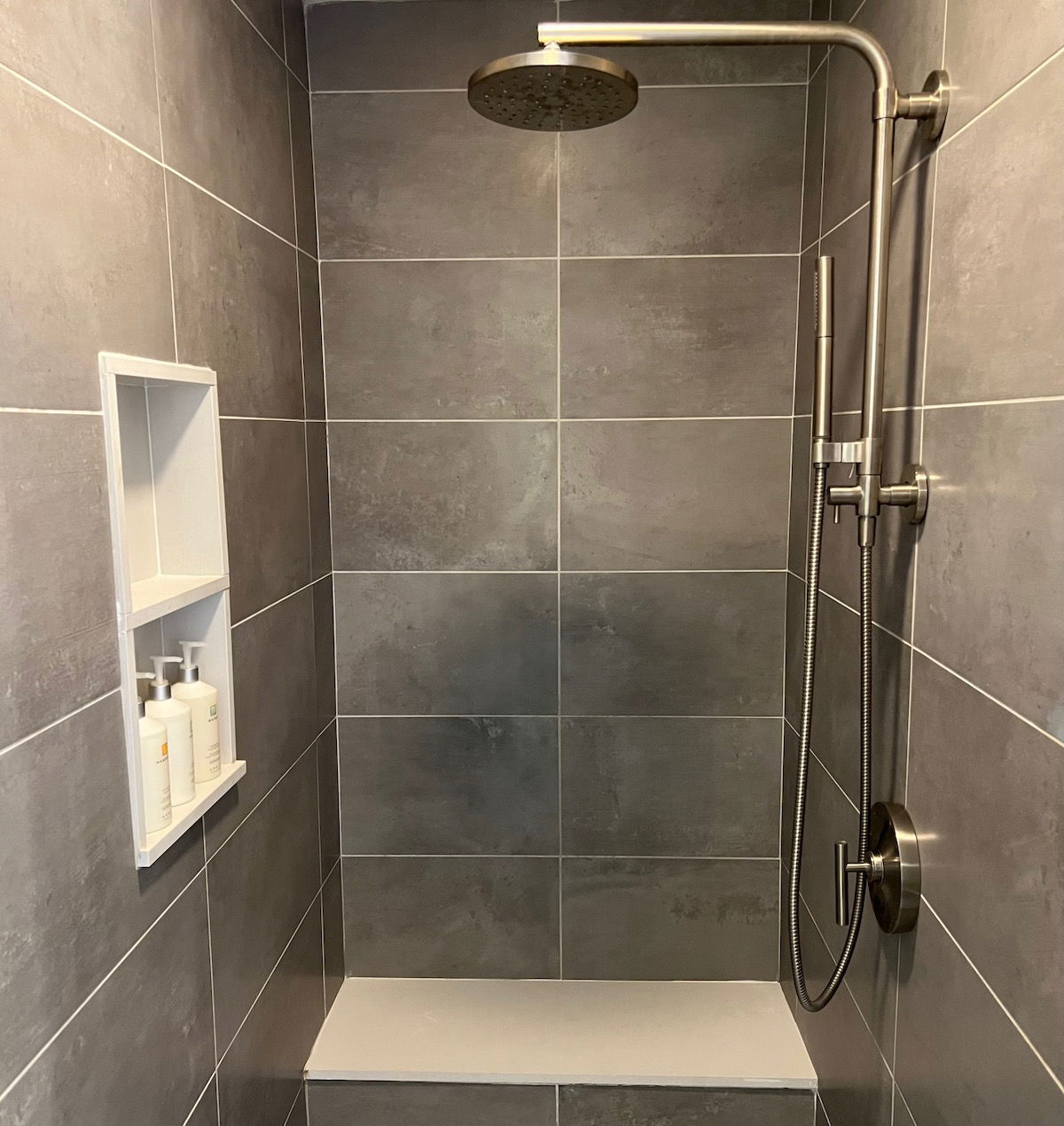 Toiletries were in reusable Miraval branded containers.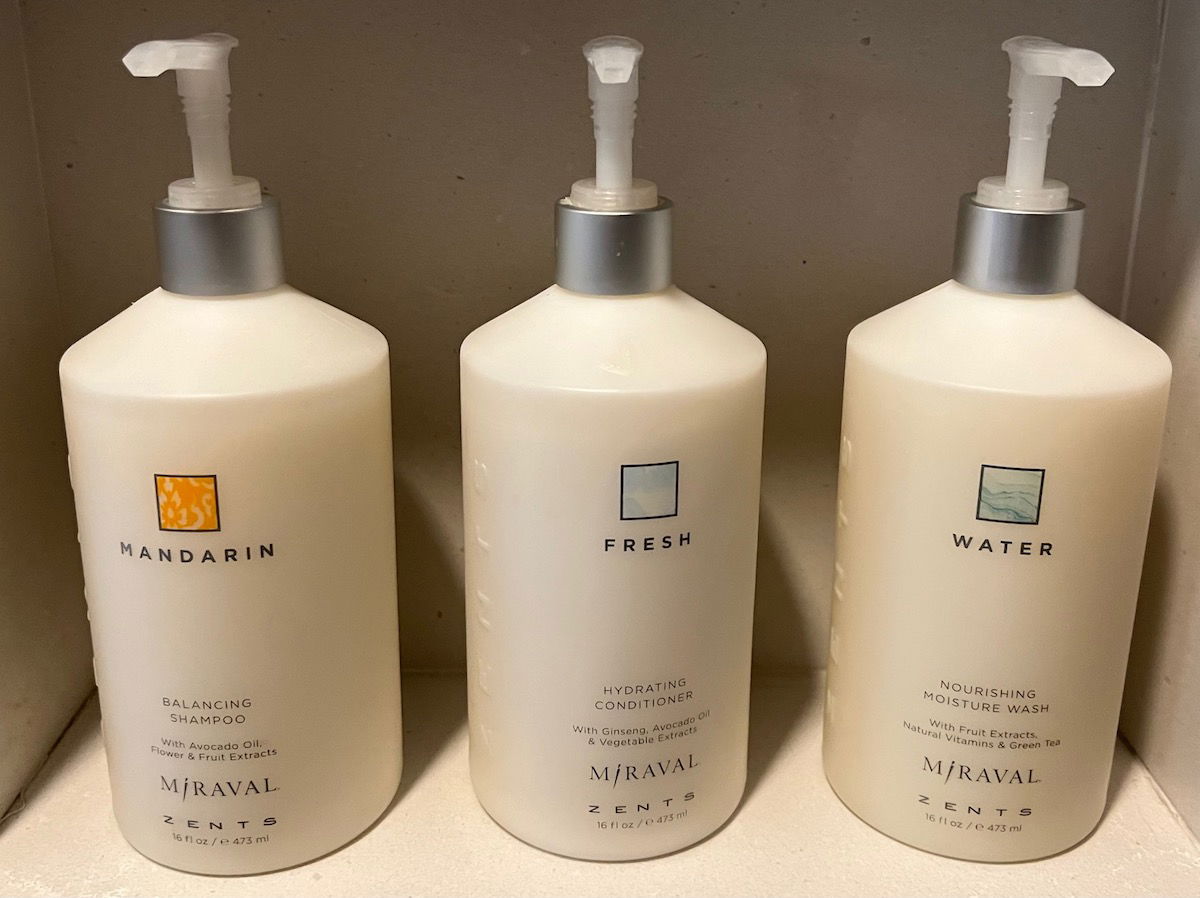 I know this is perhaps a minor detail, but the towels in the room seemed pretty low quality. Ford asked me for a towel while in the shower, and I handed it to him. He asked if that was actually a towel, or if it was a bath mat, since it was so thin and scratchy. That's not what you expect at a luxury wellness resort.
Given how beautiful the area is, perhaps what I found most disappointing about the suite was the views and outdoor space. There was a small space off the living room with two loungers that didn't feel like what you'd expect from a property of this caliber.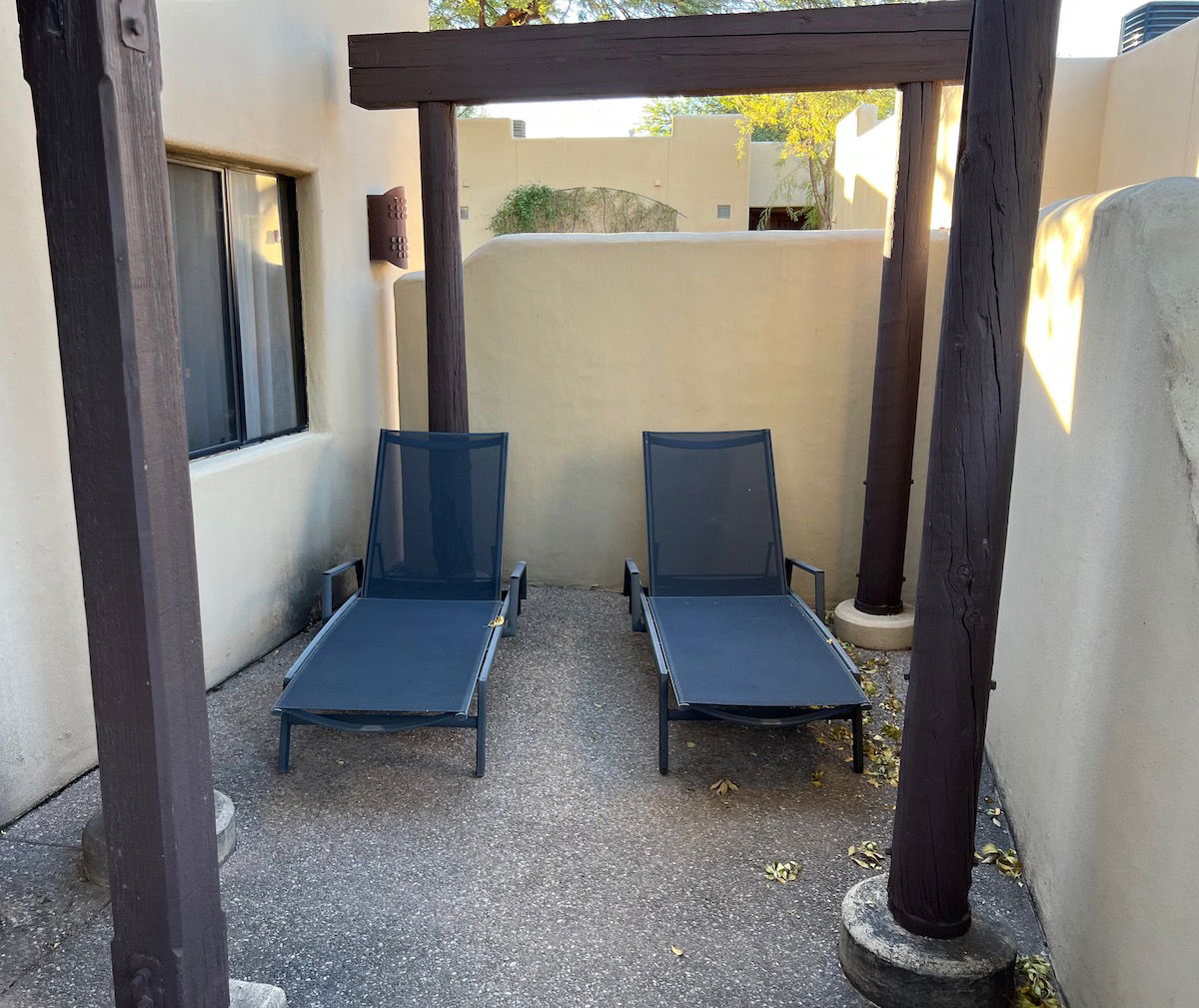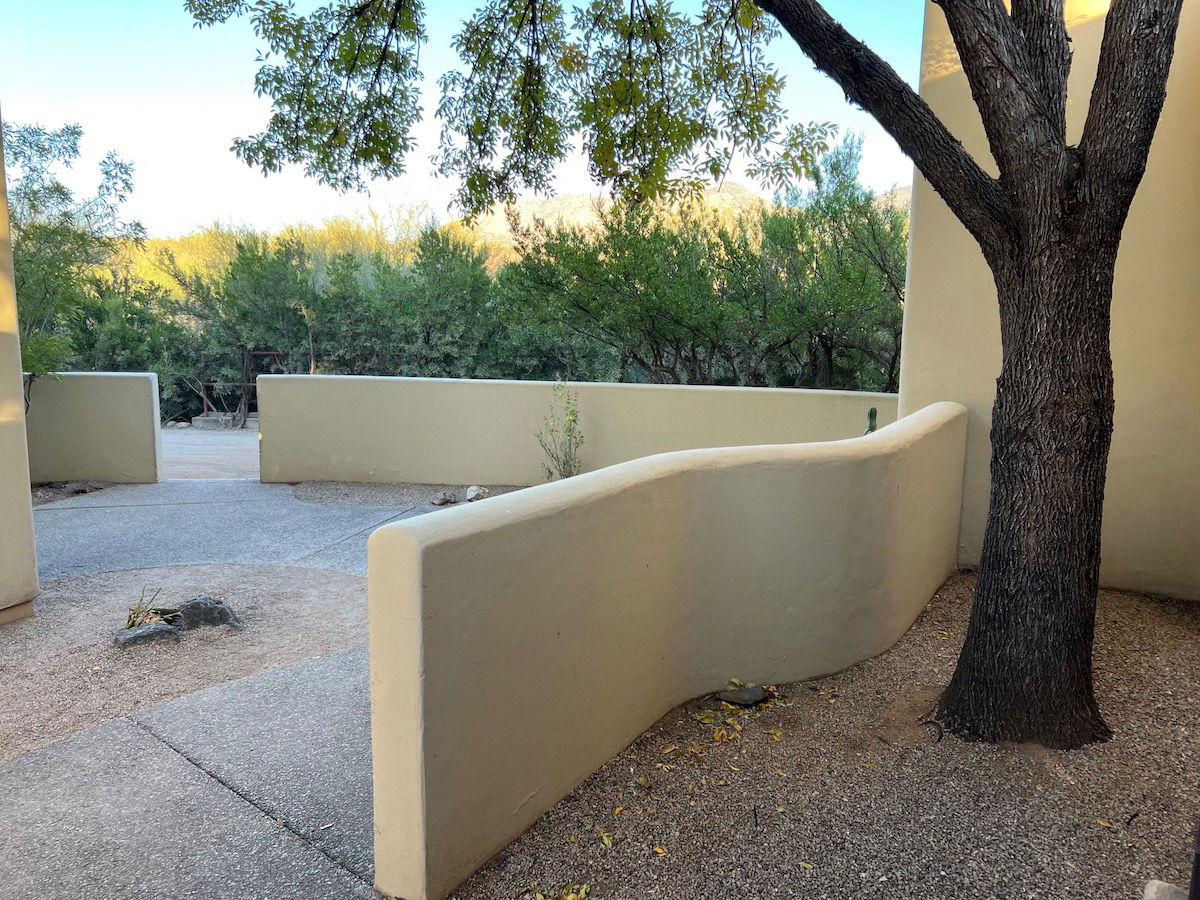 The only other view was from the bedroom, which looked at a dirt path, and had an obstructed view of the mountains.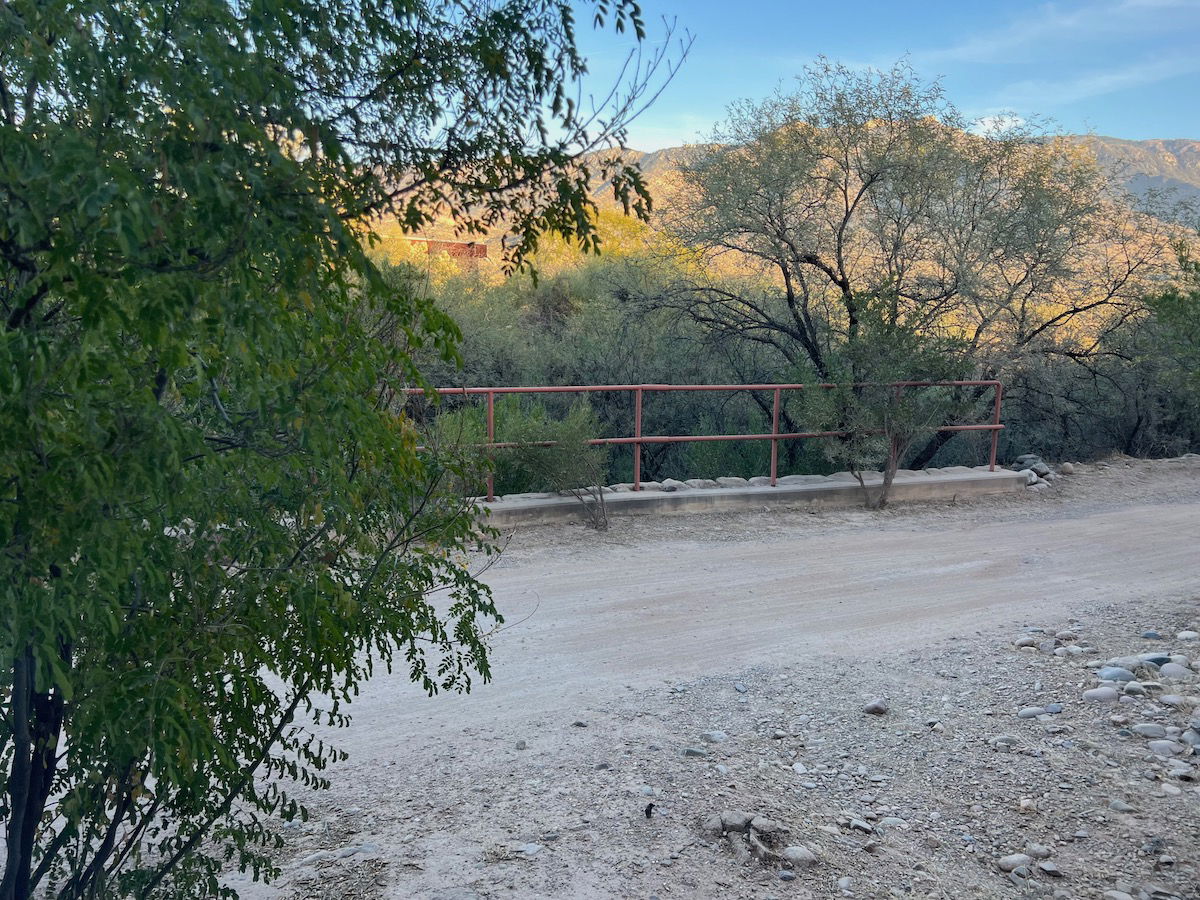 Of course I appreciated the generous upgrade, though I really think the rooms here need a refresh. That's something I've seen many recent reviews of this property mention, so clearly I'm not alone.
It just feels like there's a lack of effort. It's not just that the room doesn't feel particularly luxurious, but it also lacks character or personality. While a full refresh would be nice, at a minimum they could have better coffee machines, a bit more art on the walls, and a few more high-end amenities.
I think a little bit of TLC would also go a long way when it comes to some of the buildings. For example, while not our rooms, does the below really look like what you'd expect if paying this price tag?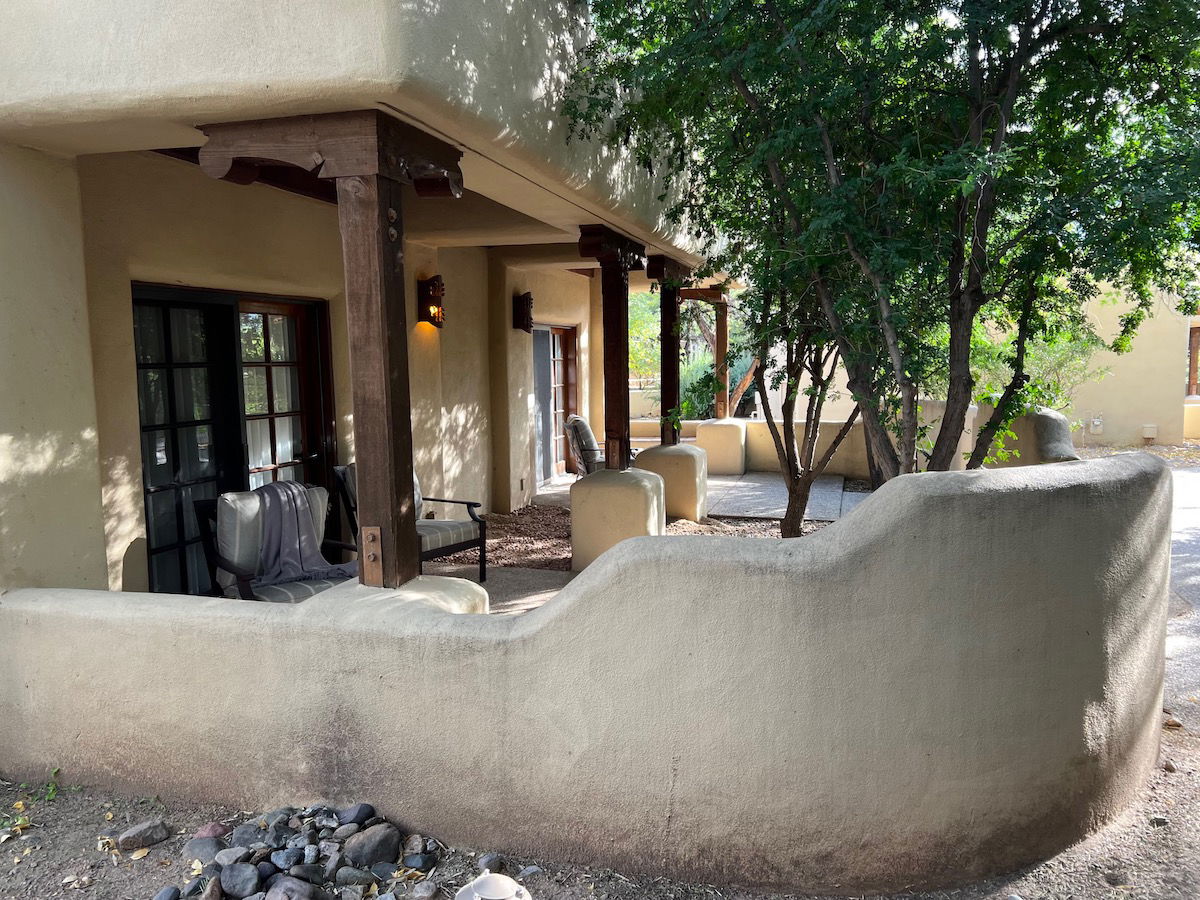 The good news is that the rooms are the low point of the property, and everything else about the experience is much better.
Dining at Miraval Arizona
All food and non-alcoholic drinks are included at Miraval Arizona. The dining venues are all located in the same building next to one another, and are as follows:
Cactus Flower Restaurant is where all meals are served, and it's open for breakfast (6:30AM until 10AM), lunch (11:30AM until 2PM), and dinner (5PM until 9PM)
Palm Court Cafe is a grab and go bar where you can get a smoothie, coffee, wellness shot, or snack, throughout the day; it's open from 6AM until 5PM
Coyote Moon Bar & Grill is the bar, where you can have a pre-dinner cocktail, or light snacks prior to dinner in the evening; it's open from 4PM until late
You can also enjoy any of your meals via in-room dining, and there's a flat $20 tray charge for that; given that the rooms were the least nice part of the resort, we never used this option
Overall I was extremely impressed by the selection and quality of food & drinks at Miraval. I have to say that based on some of the TripAdvisor reviews I've seen, you'd think that they're serving Fyre Festival food, but that wasn't at all my experience.
Miraval Arizona Cactus Flower Restaurant
Cactus Flower is a beautiful restaurant, with plenty of natural light, and the option to dine indoors or outdoors. I believe the restaurant was recently renovated, as it looked different than the pictures on Miraval's website (in a good way).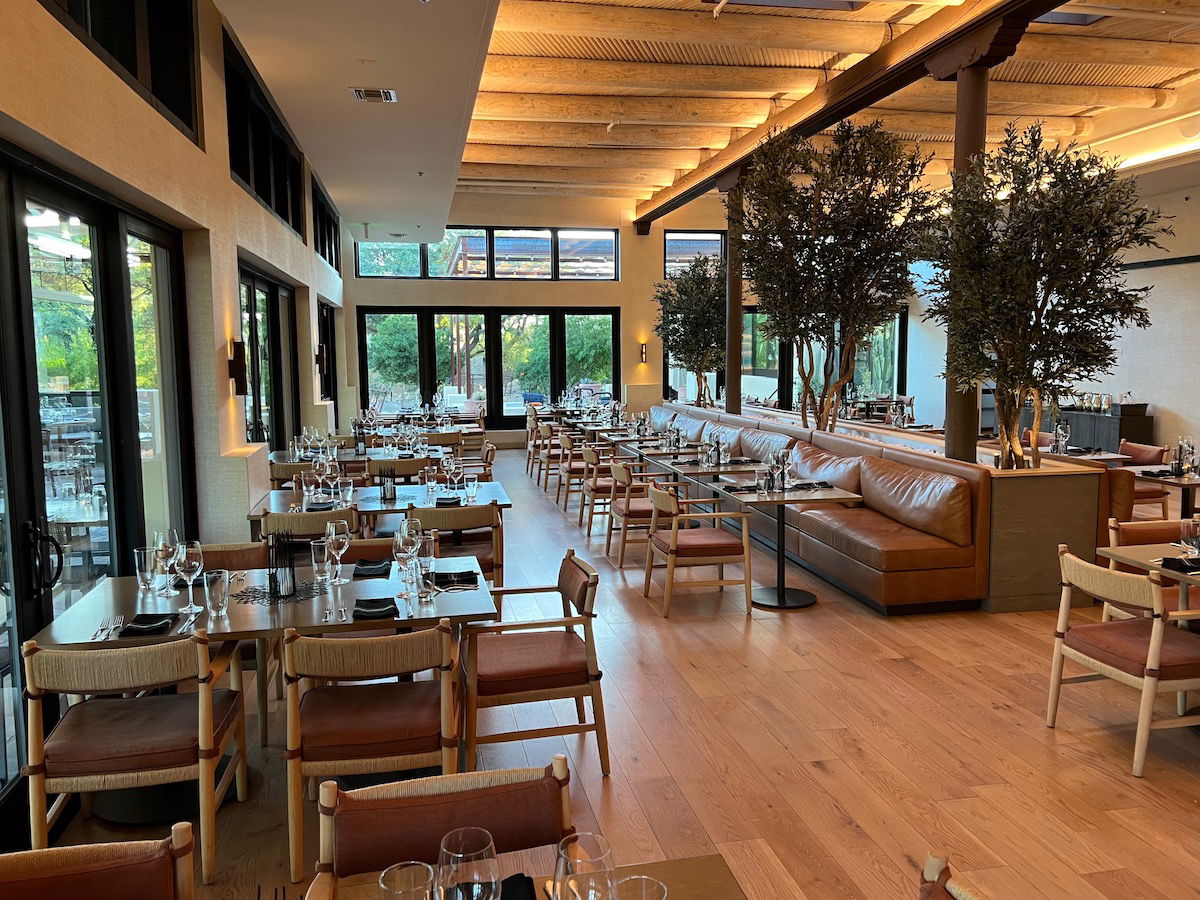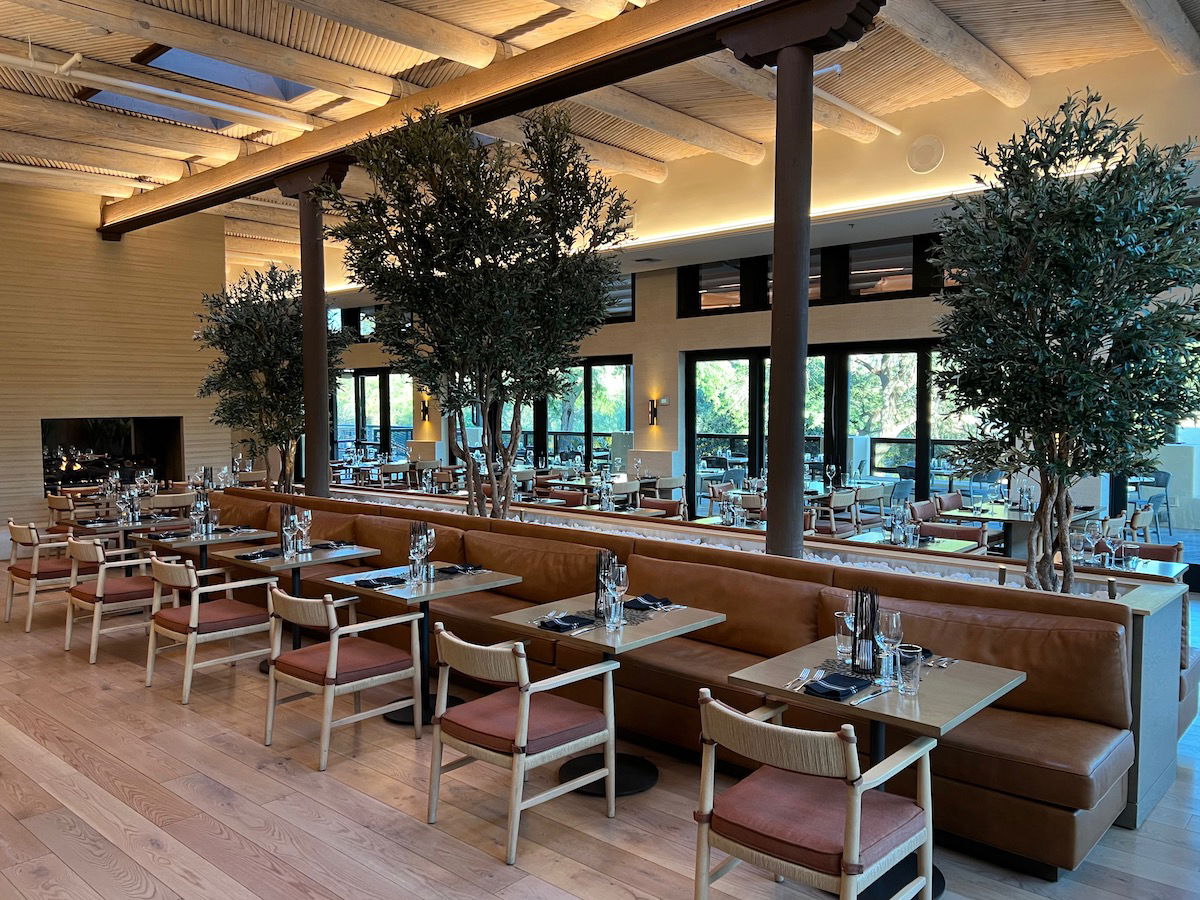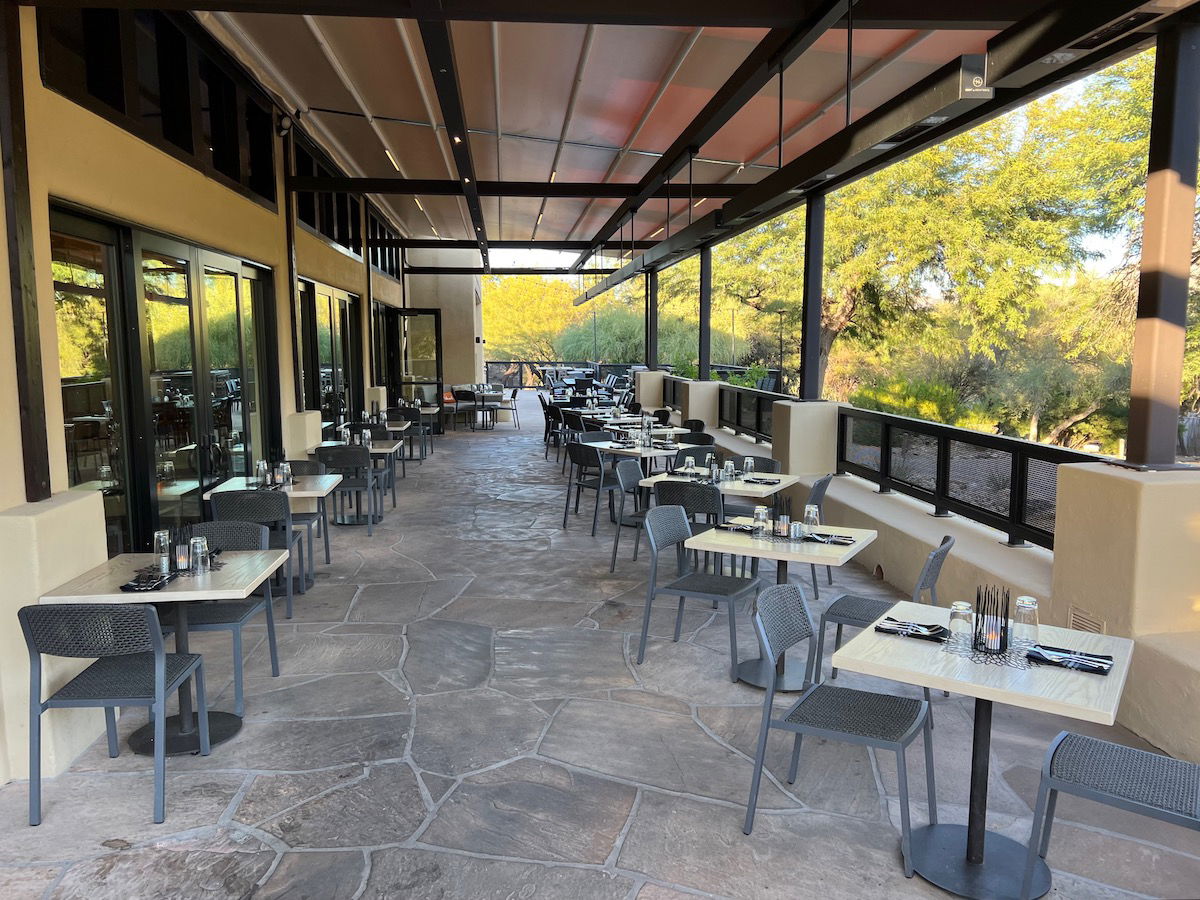 Let's go through the details of all three meals of the day. For breakfast, lunch, and dinner, there's both a menu and a buffet, and you can mix and match them as you'd like. There are no limits on how many things you can order. Let's work backwards, starting with dinner, and then lunch, and then breakfast.
Dinner is by far the best meal of the day, so let's start with that. Note that reservations are required for dinner, and ideally you'll want to make them well in advance, or you may not get your preferred time (you should be fine if you make them at breakfast each morning).
Below you can find the dinner menu with entrees. The menu is largely the same most evenings, with the exception of a couple of options rotating.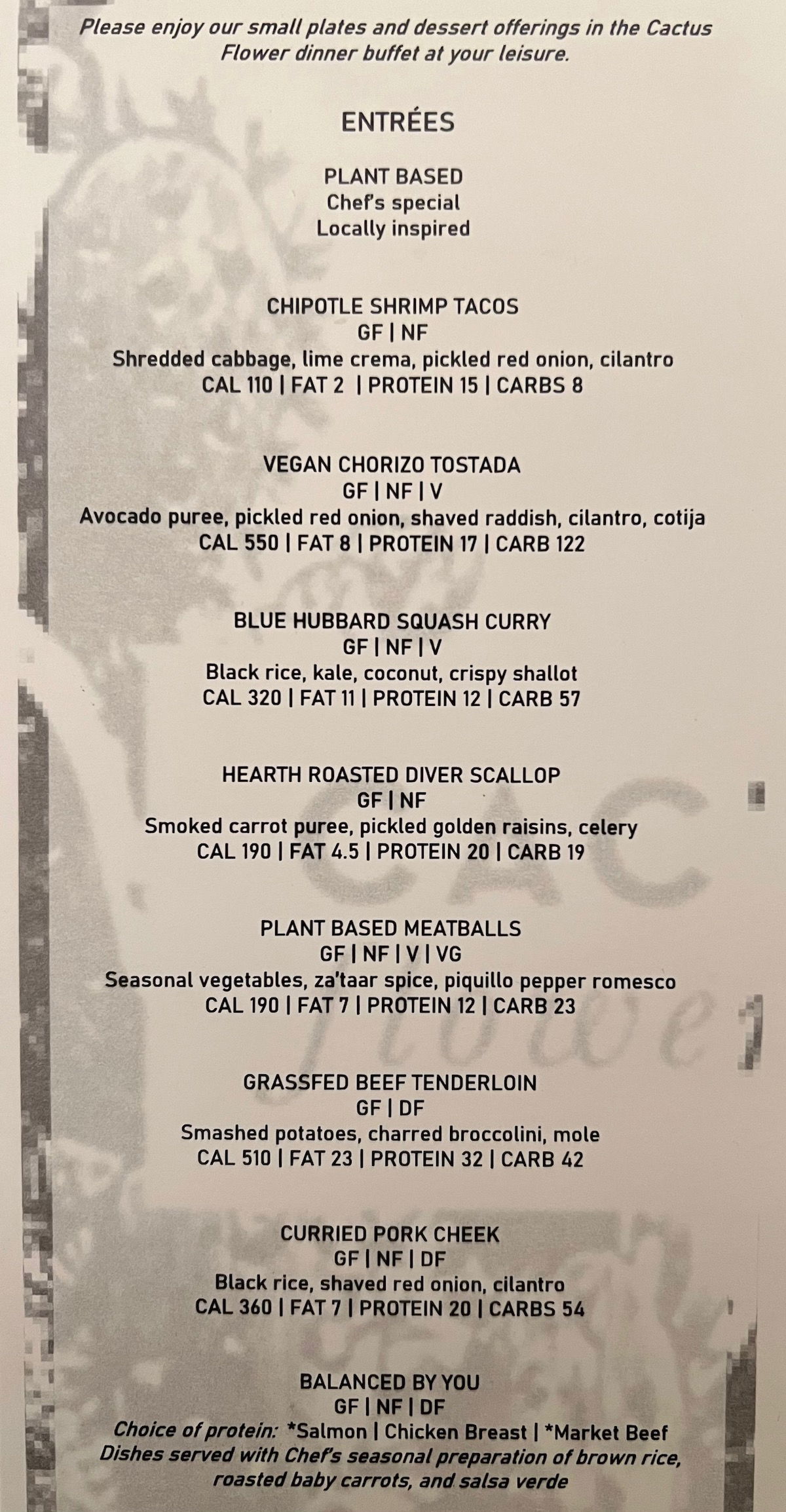 We enjoyed the chipotle shrimp tacos, the blue hubbard squash curry, the diver scallops, and the grassfed beef tenderloin. I love how they list the nutrition contents on the menu, and it really is impressive how healthy the preparation is, compared to what you'd otherwise find in a restaurant. Tacos with 110 calories, or curry with 320 calories? Nice!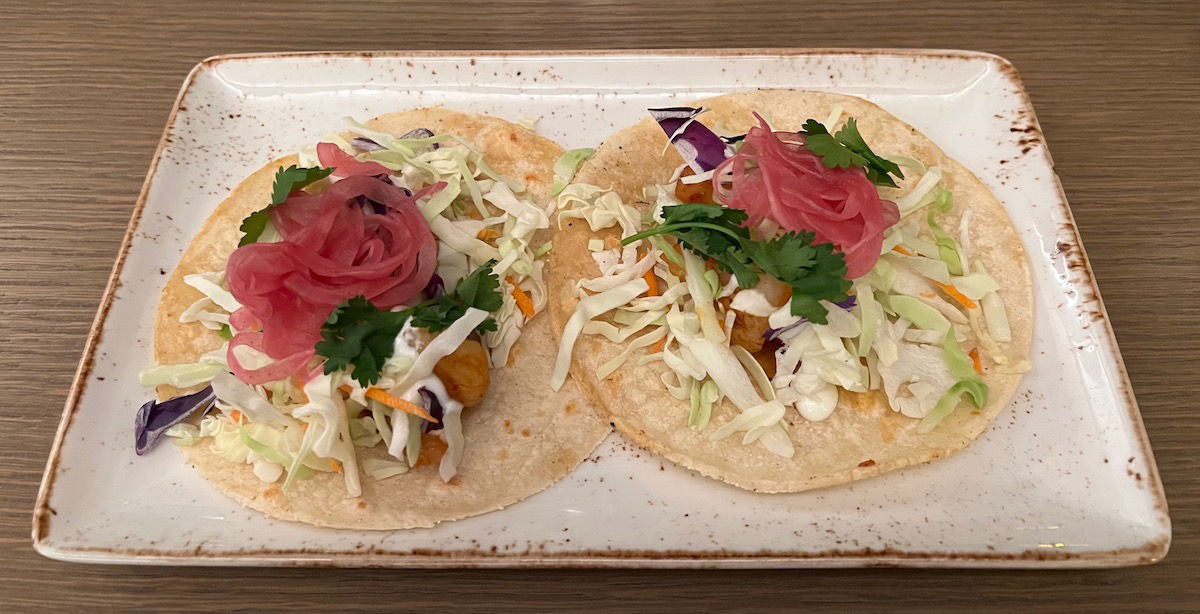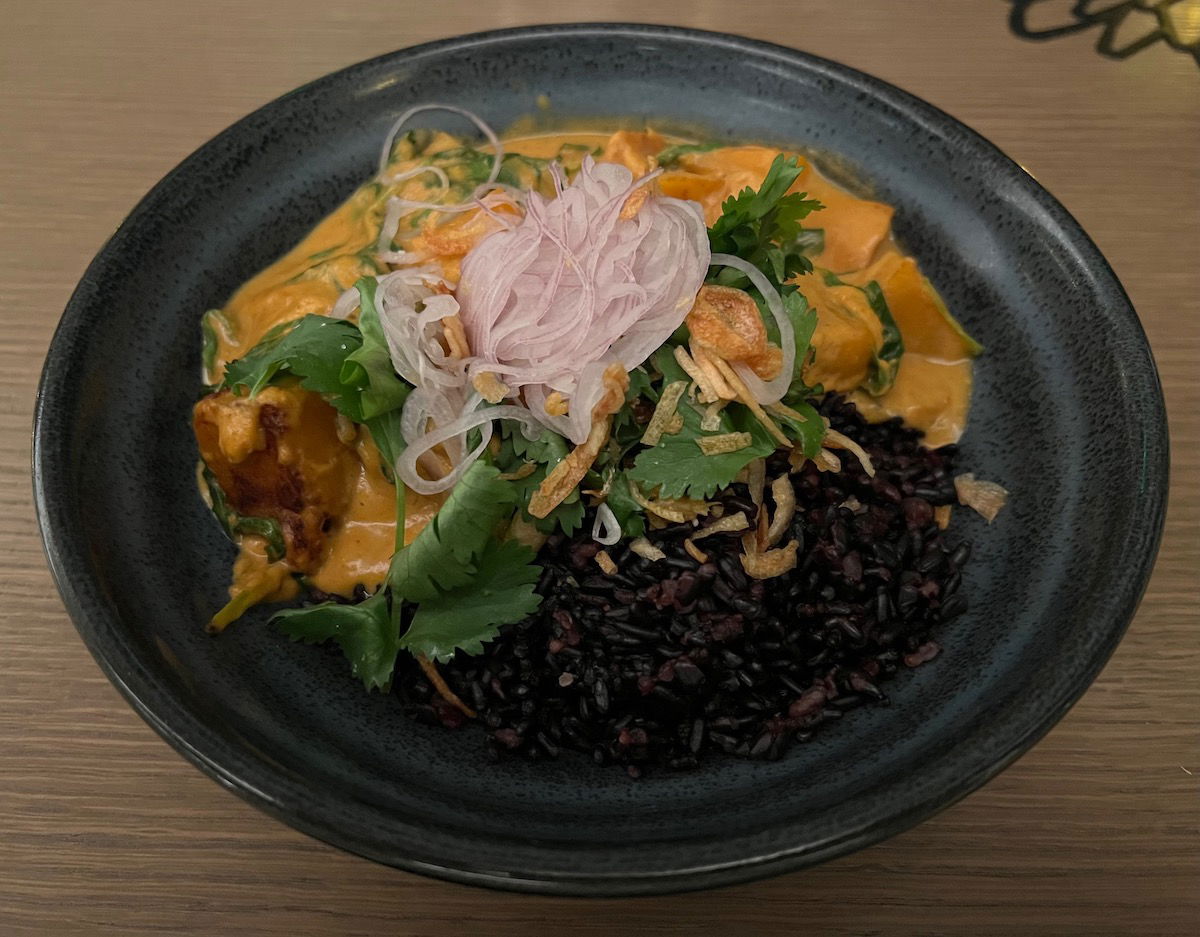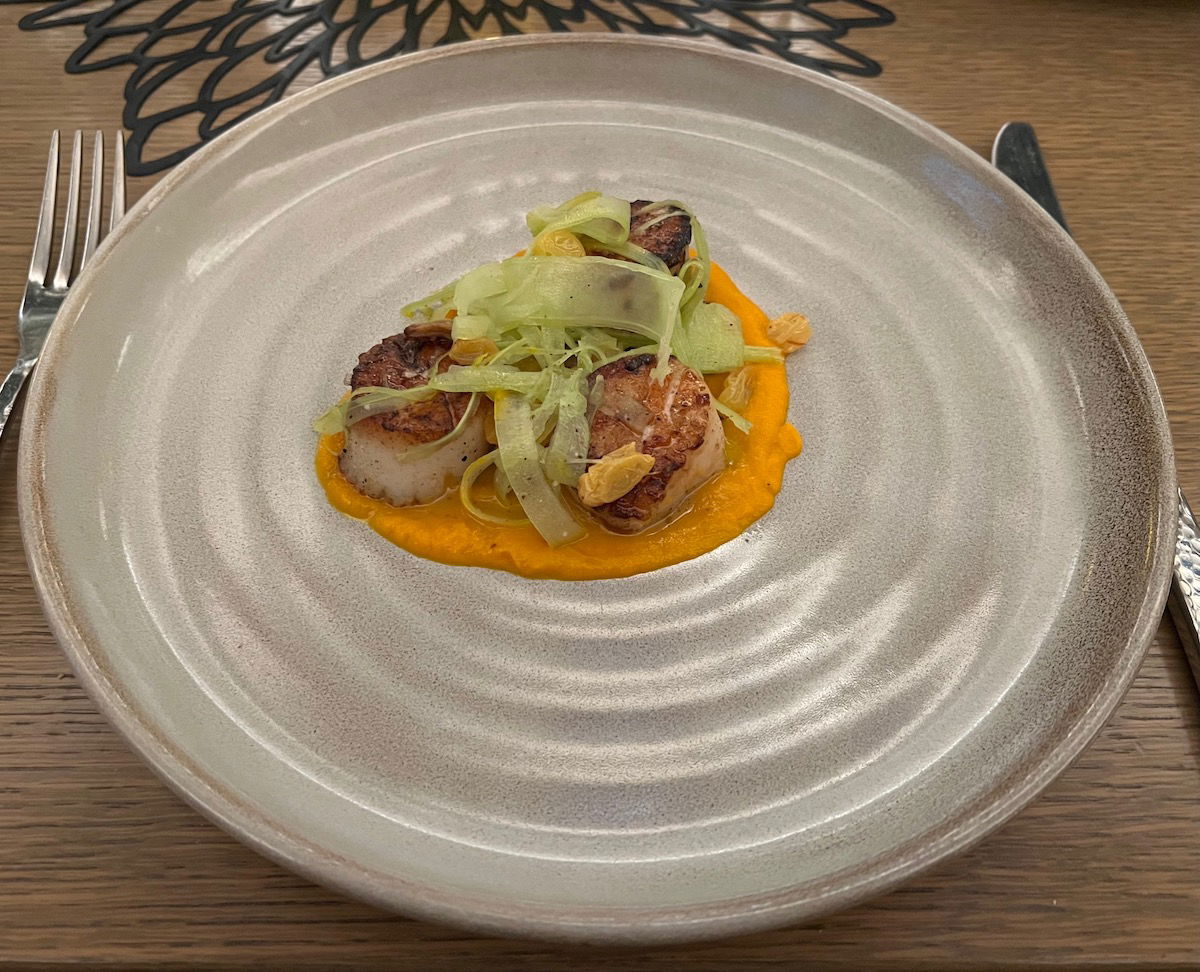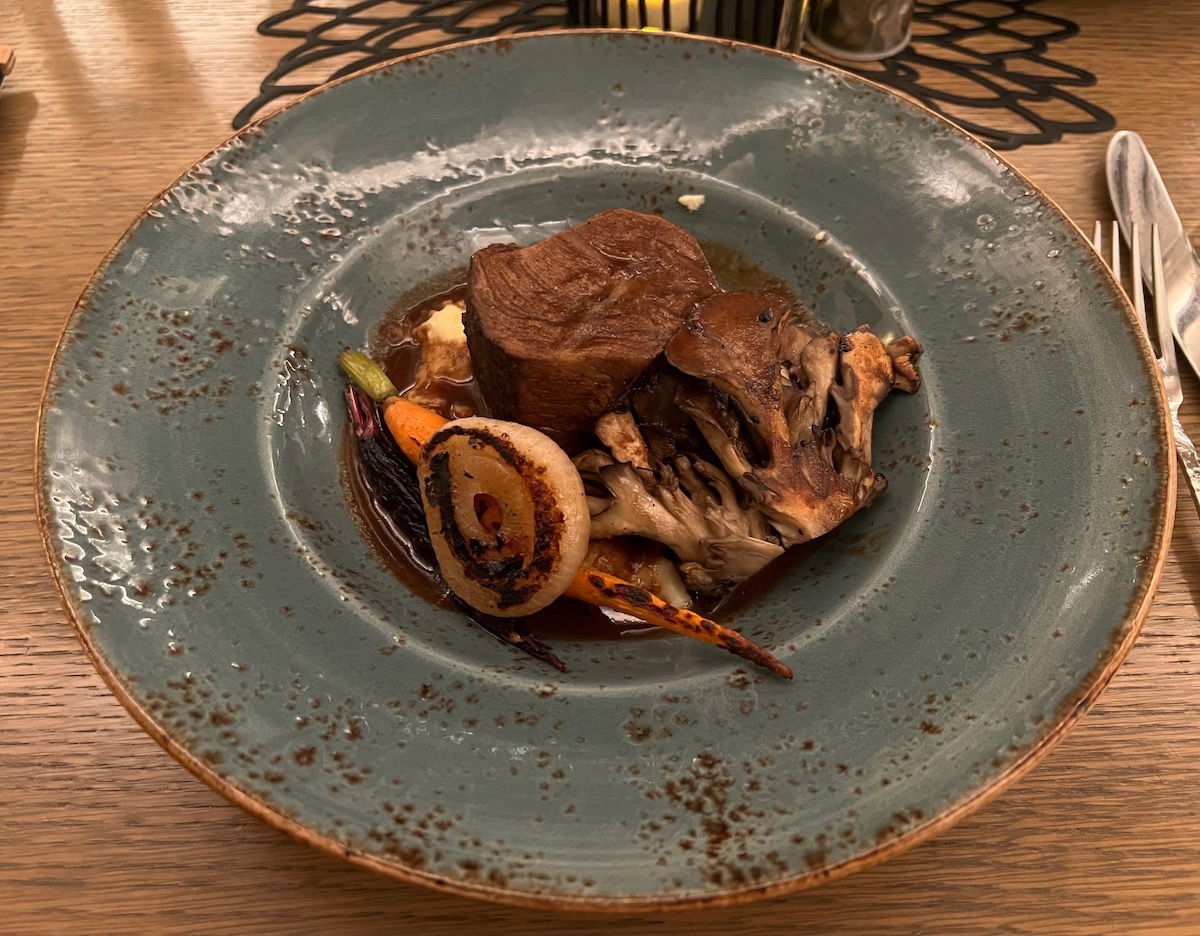 Just about all the dishes we had were great, and the buffet was top notch as well. It included everything from charcuterie, to pre-made salads, to a salad bar, to shrimp and oysters.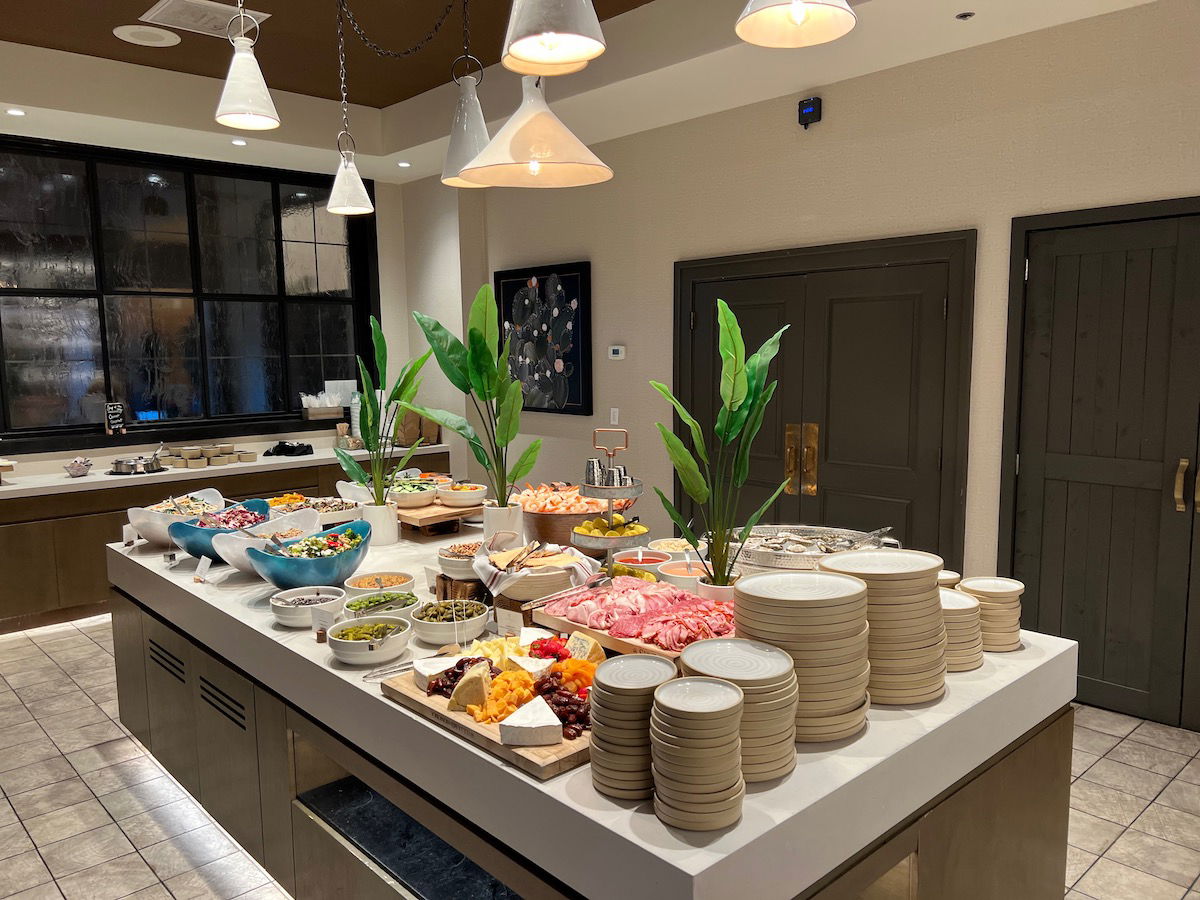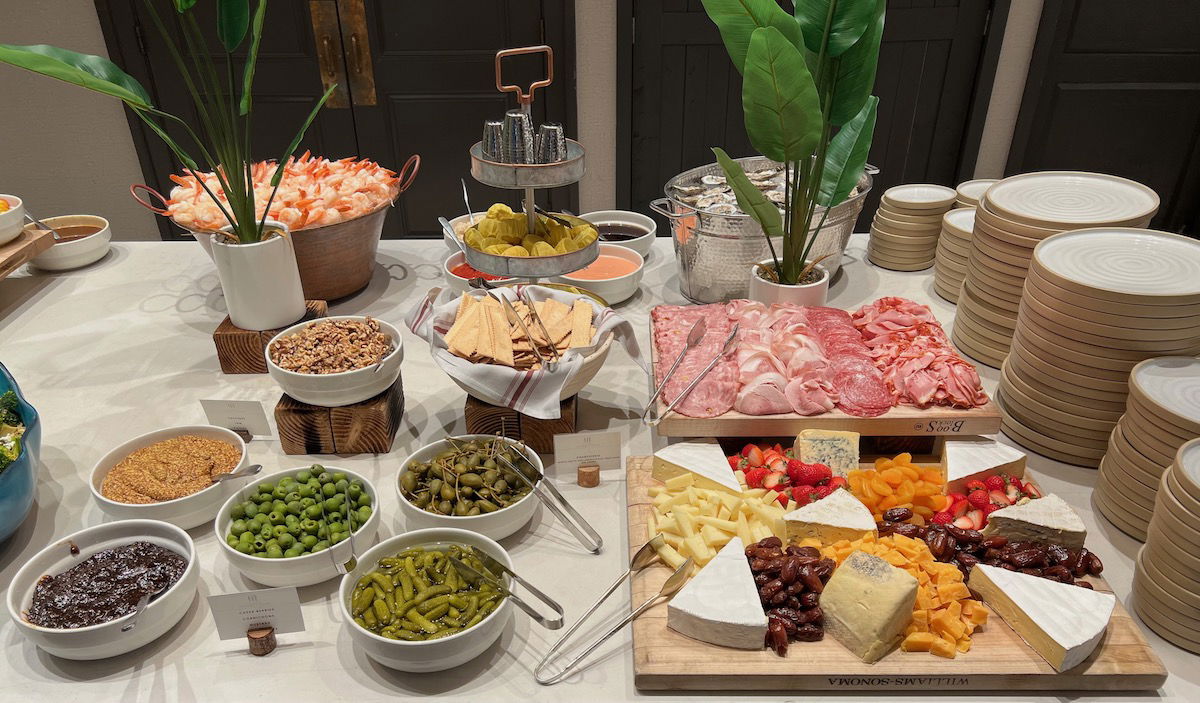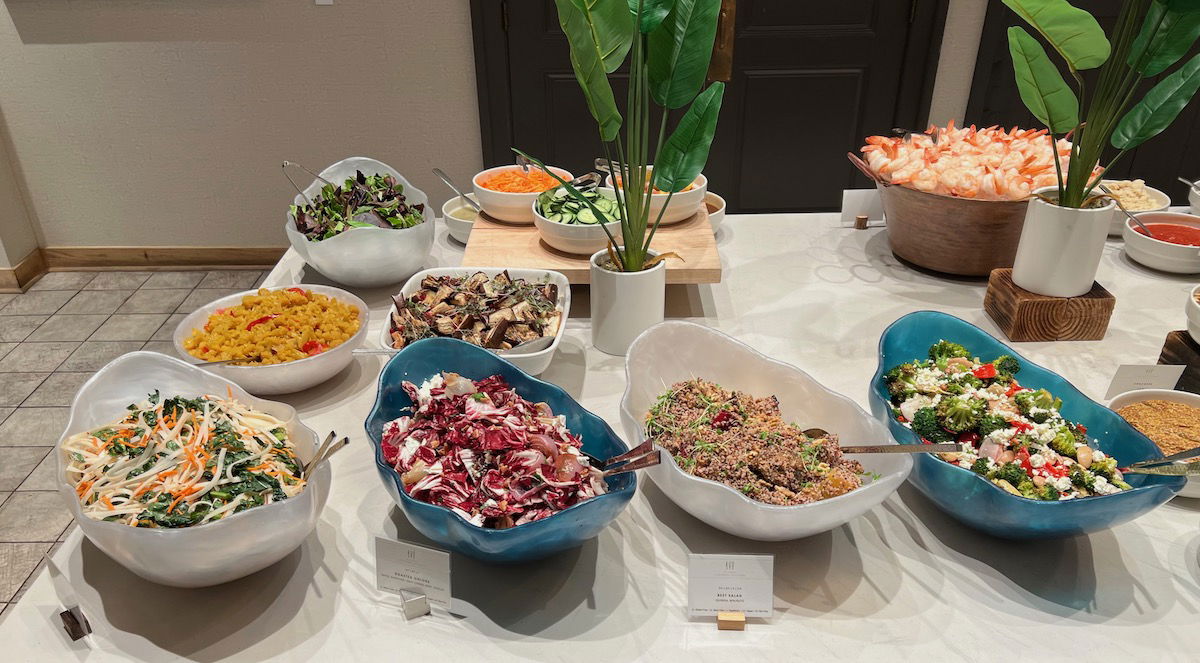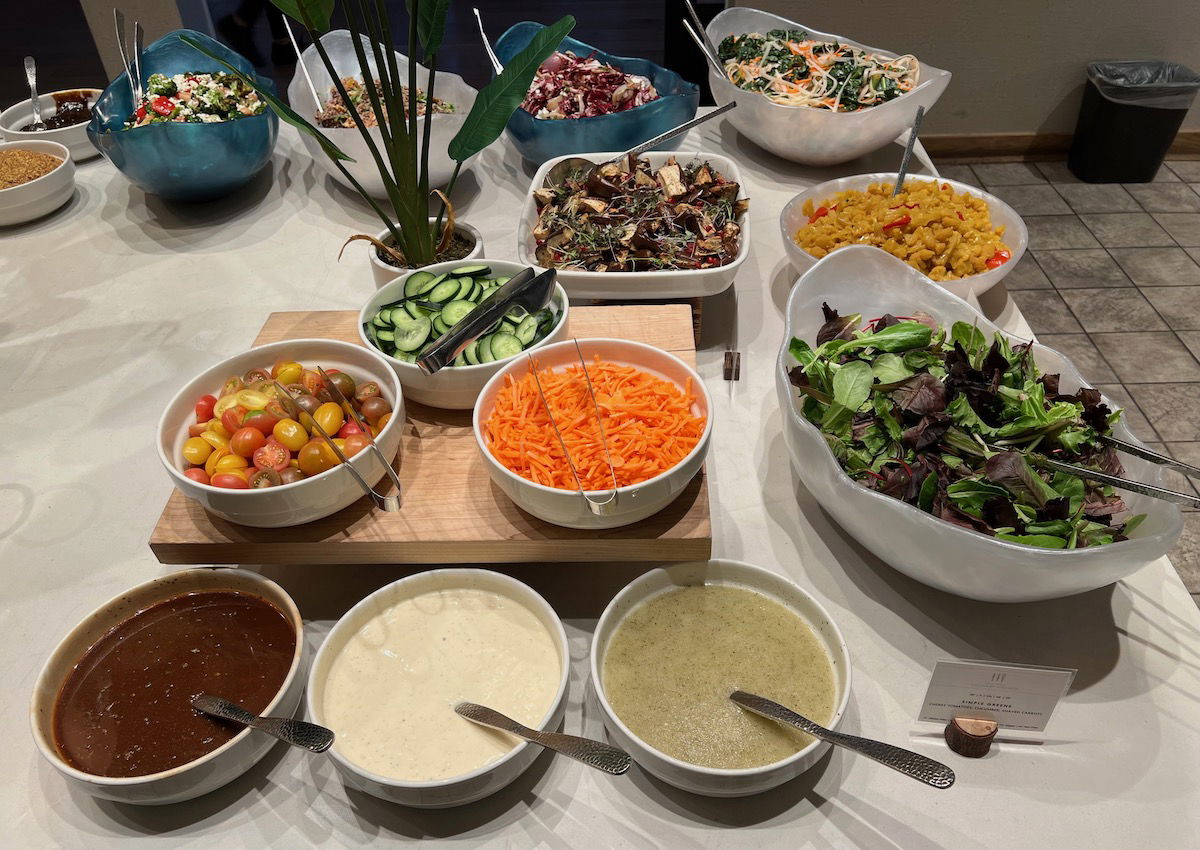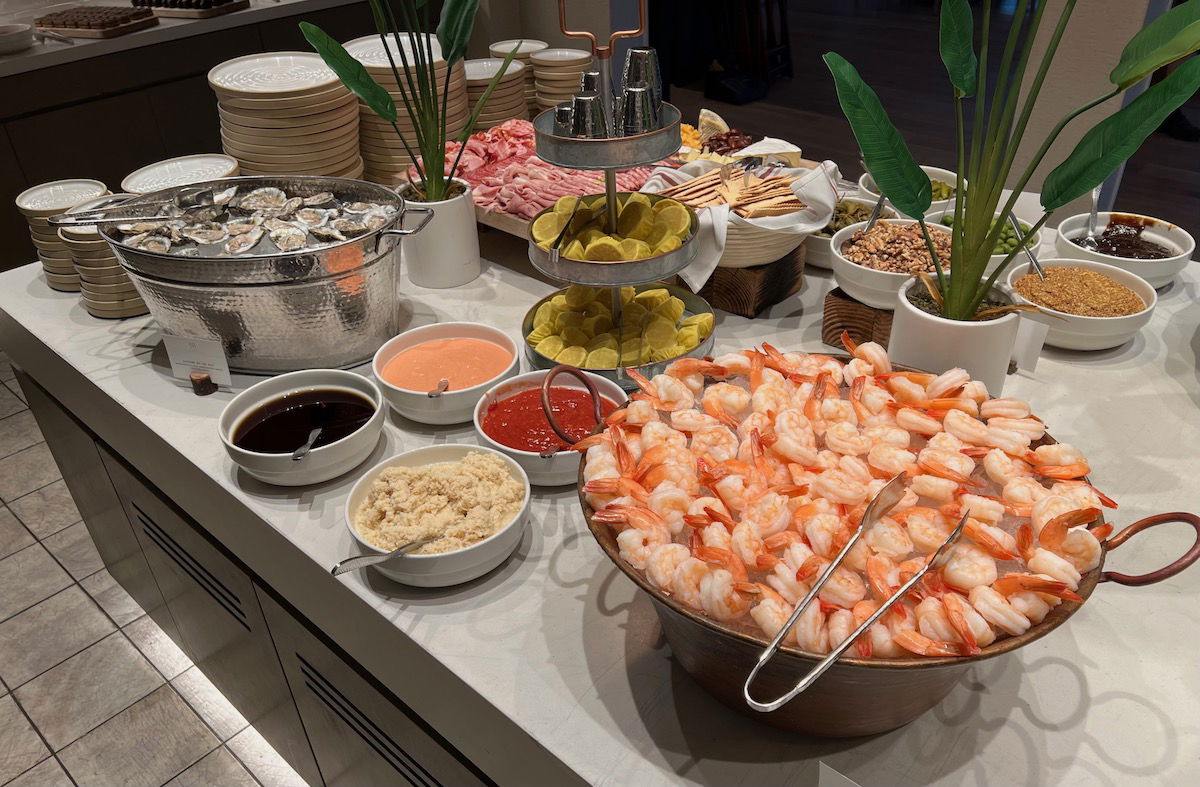 There was also a selection of tasty desserts, which you could even take back to your room if you wanted.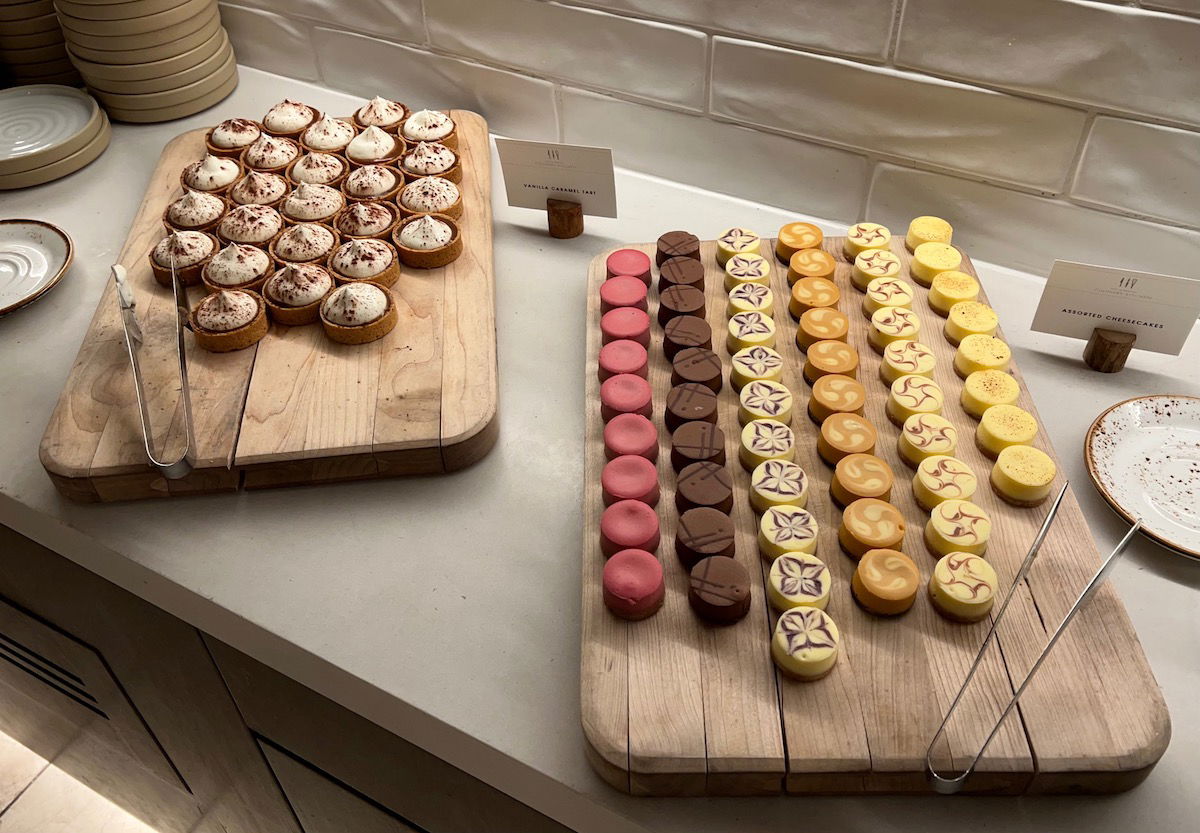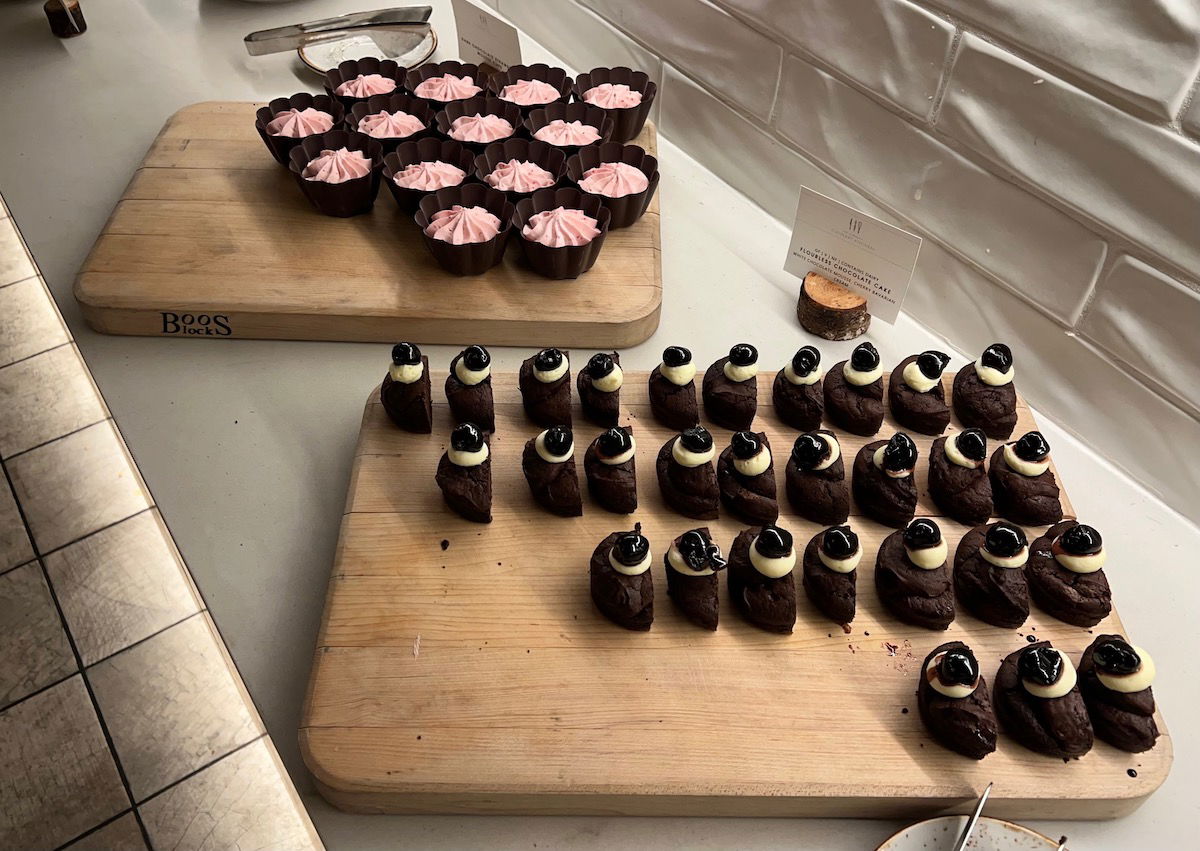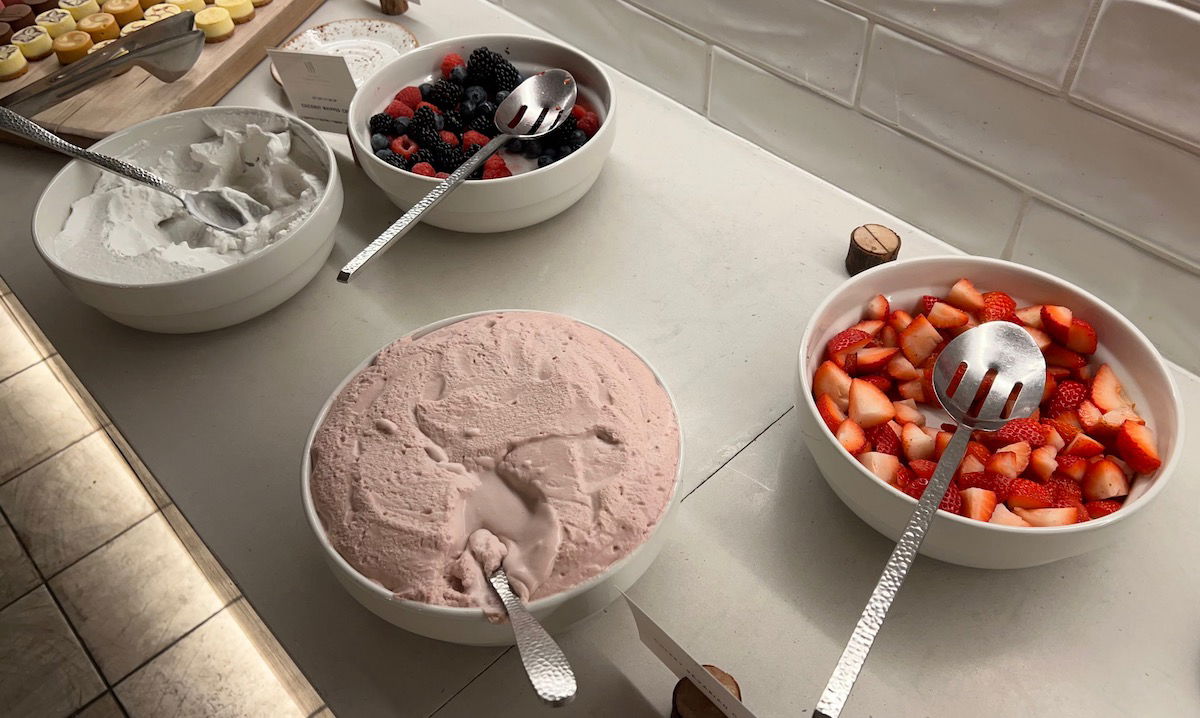 The staples of the buffet were the same each day, but there were some mild variations. For example, the specific types of salads and desserts differed.
Lunch at Miraval Arizona is a similar concept to dinner, except both the menu and buffet aren't quite as extensive. You can find the lunch menu below.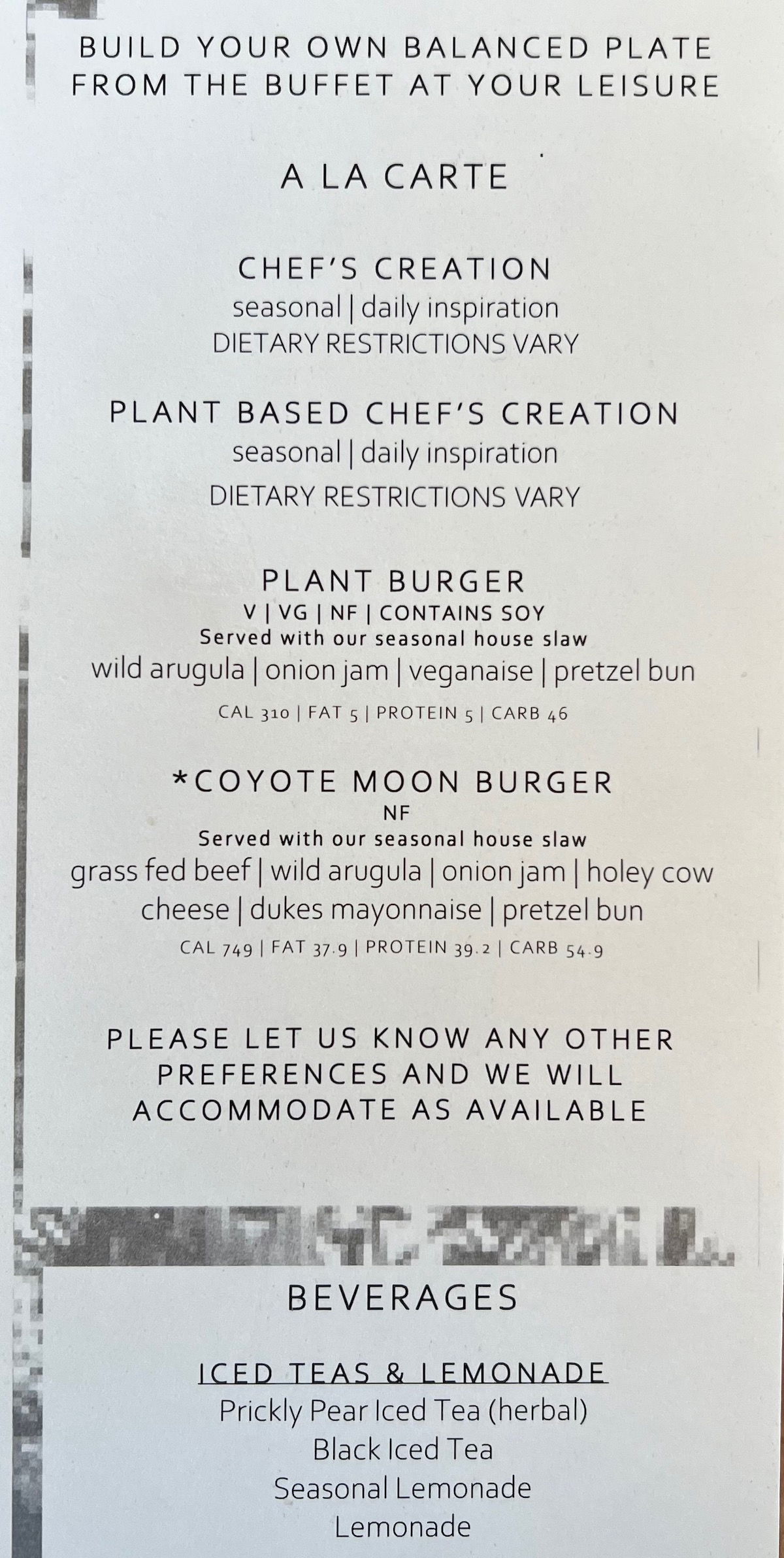 For lunch we mostly stuck to the buffet, but we did try the mahi mahi special one day, and another day had the plant burger.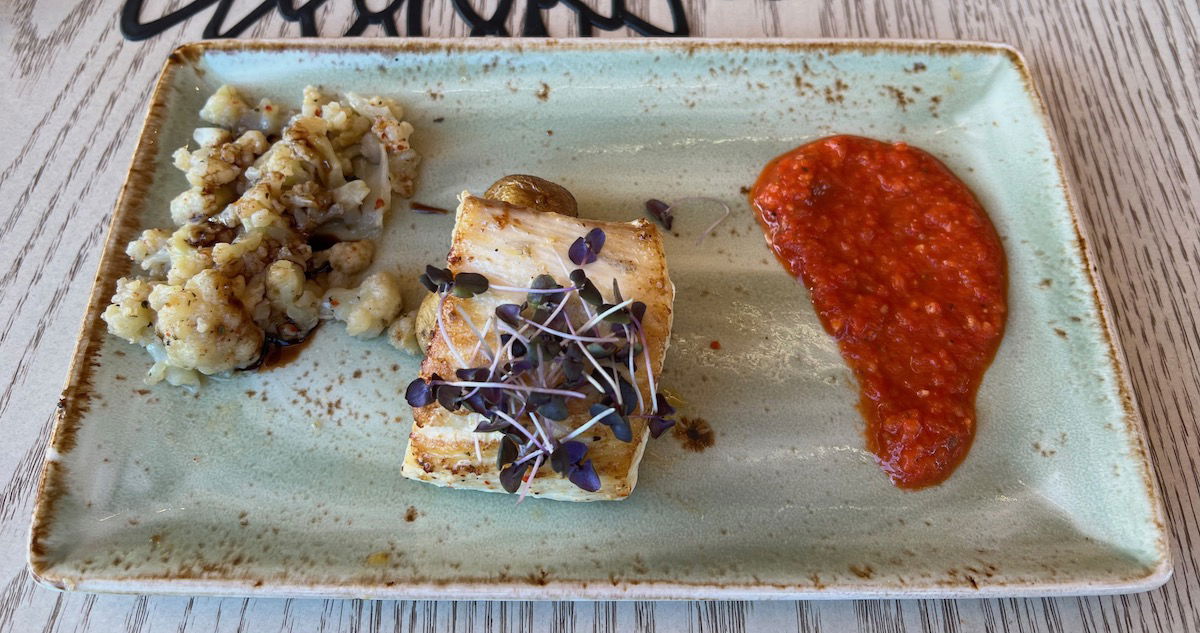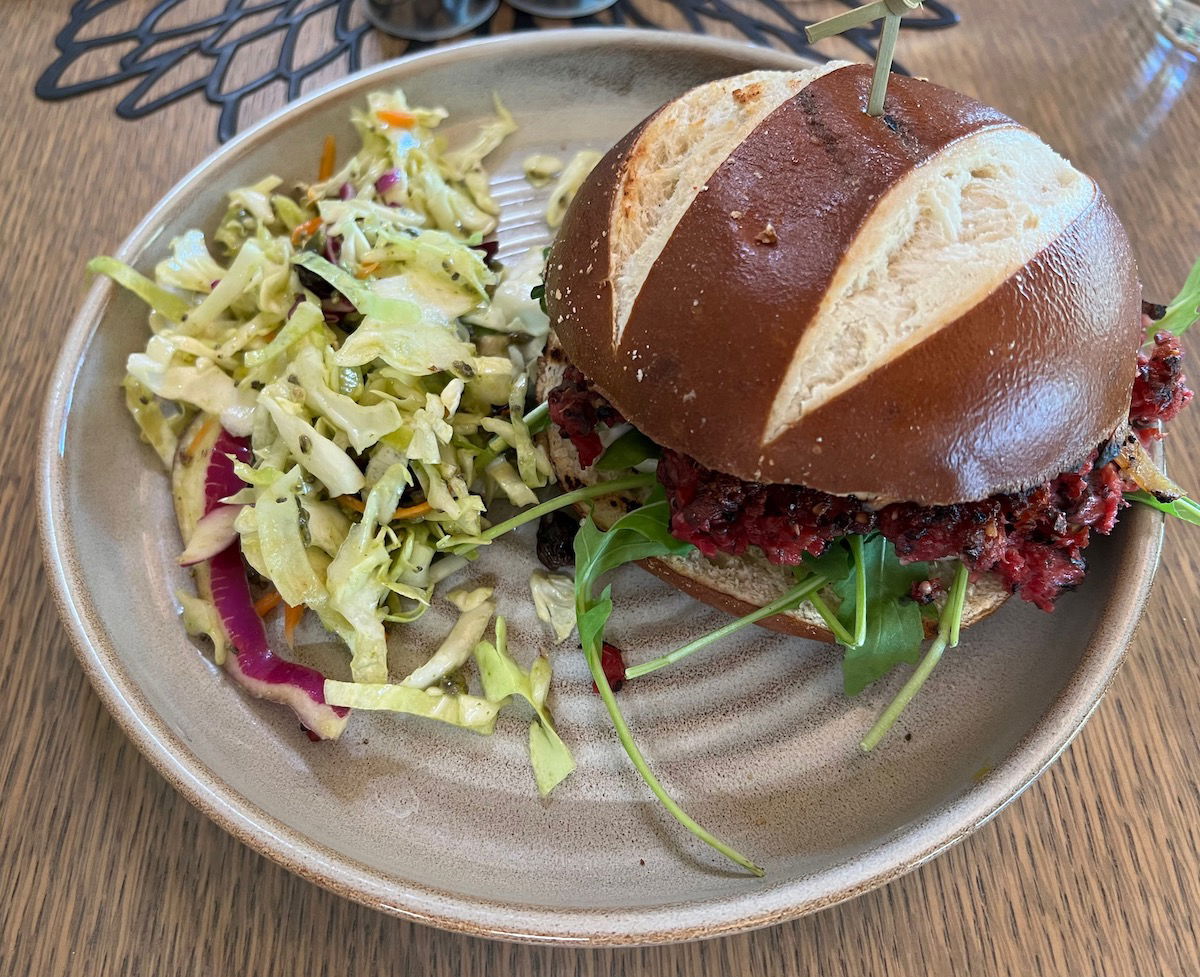 The buffet was great as well, with salads, sandwiches, several kinds of soups, cheese, and a small selection of desserts.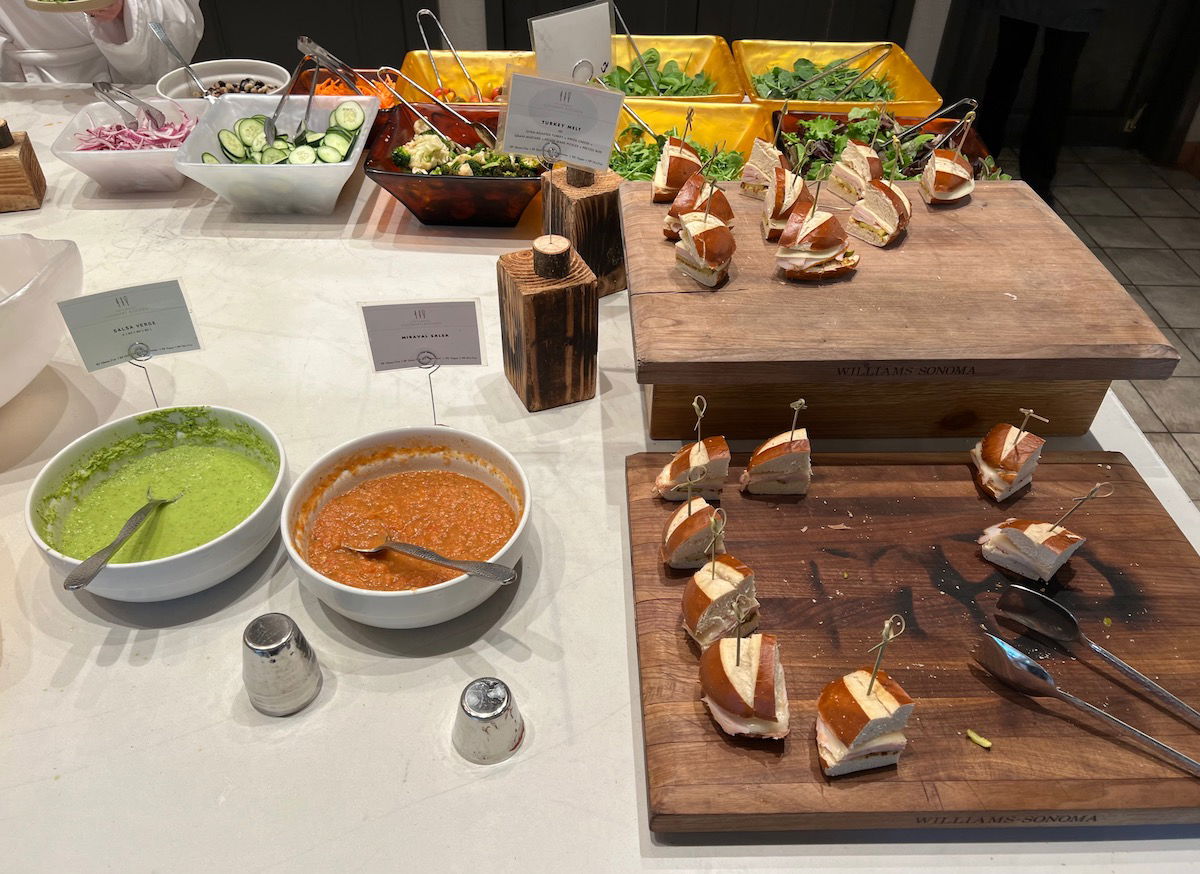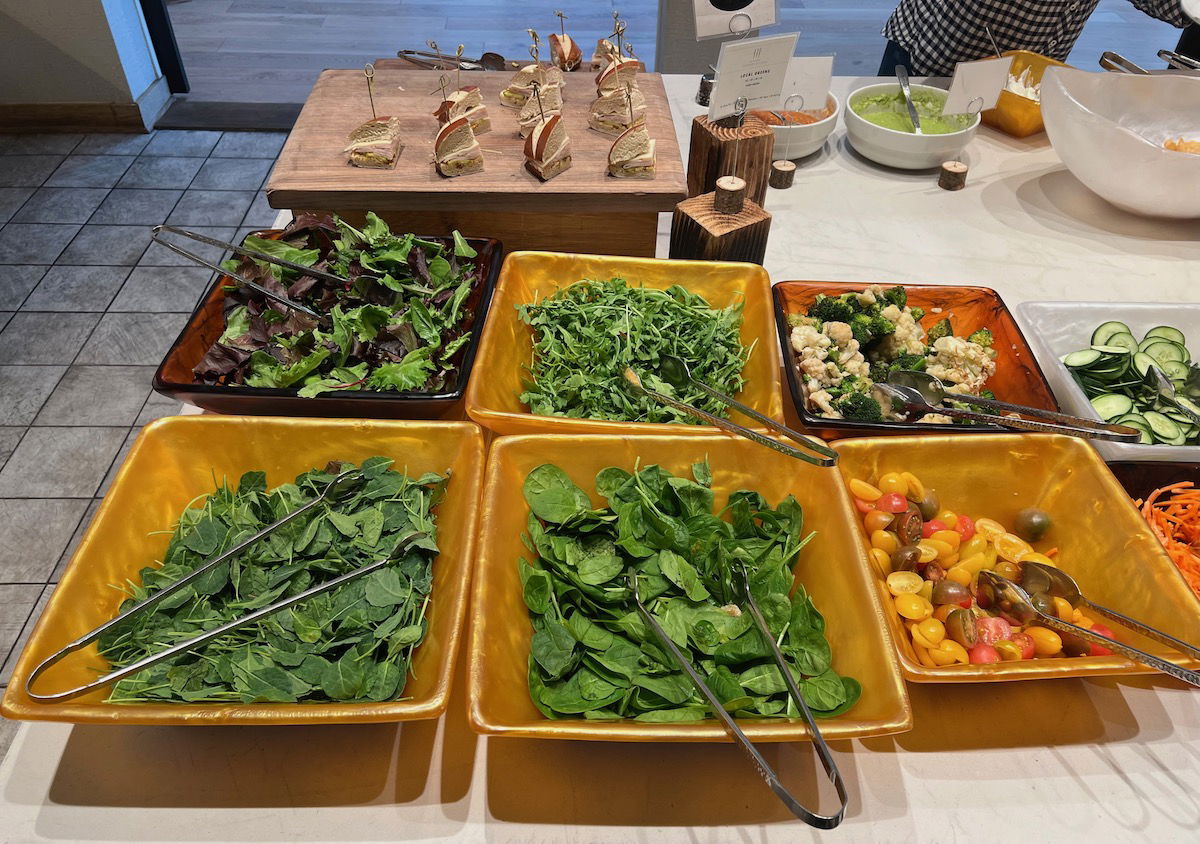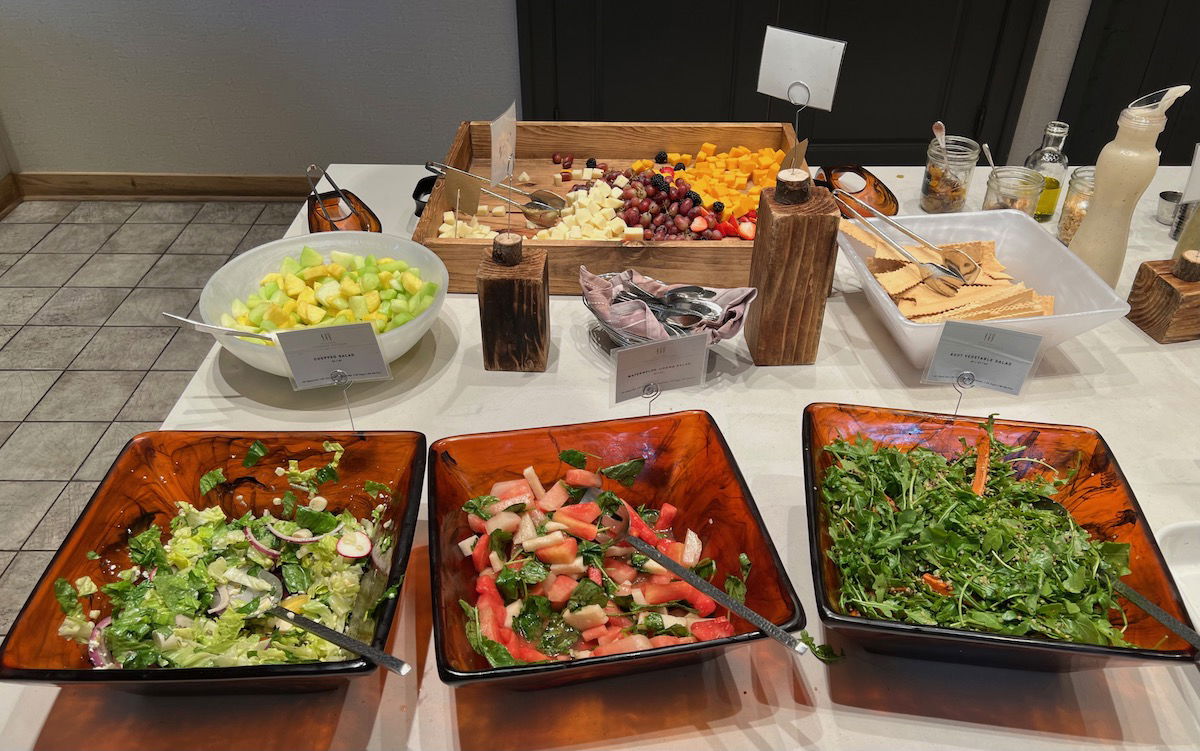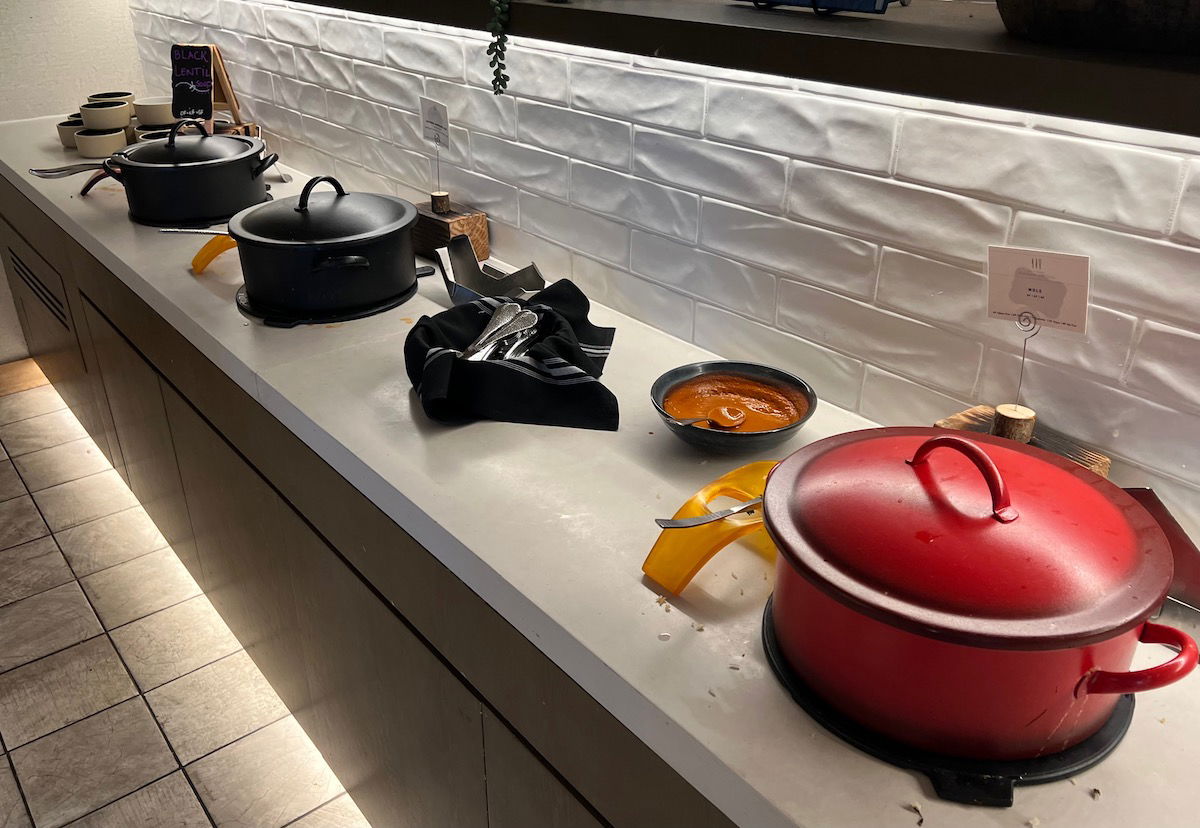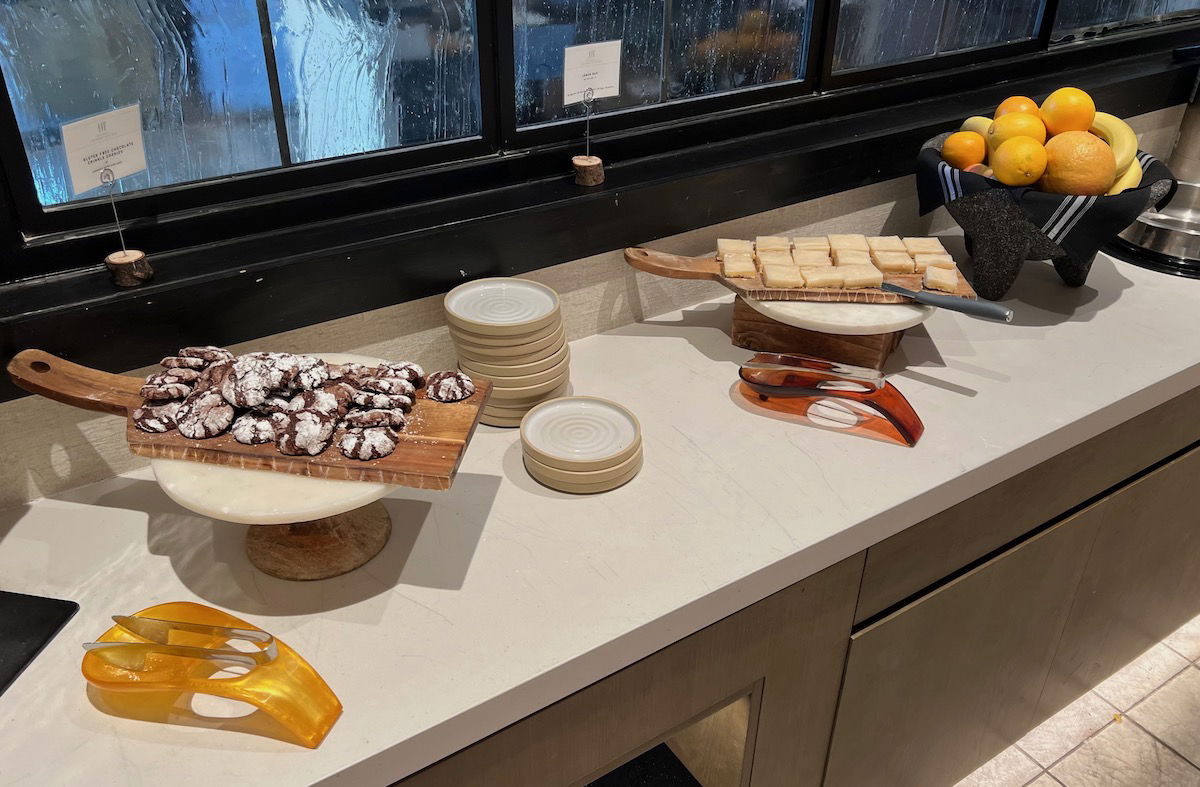 Below you can find the breakfast menu.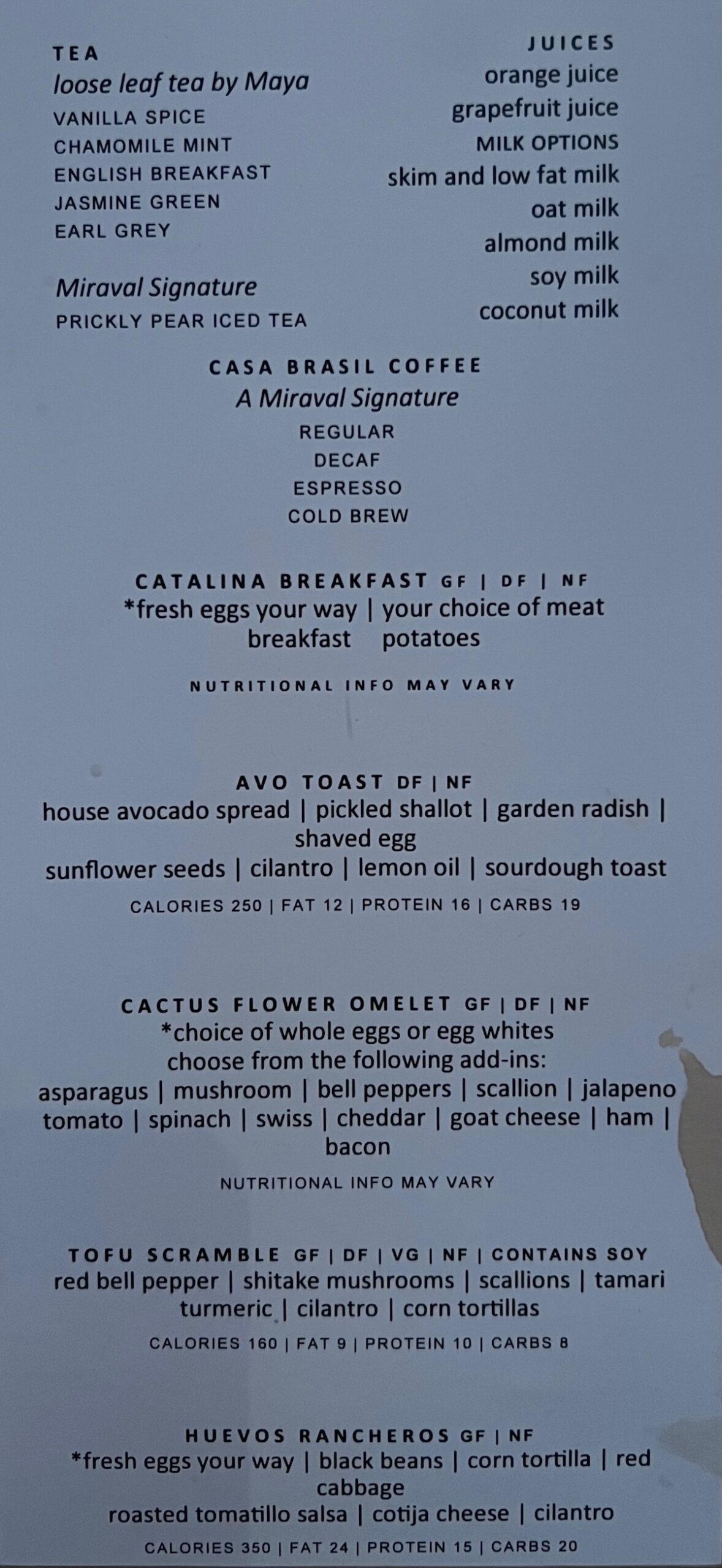 Both the coffee and cappuccinos were excellent.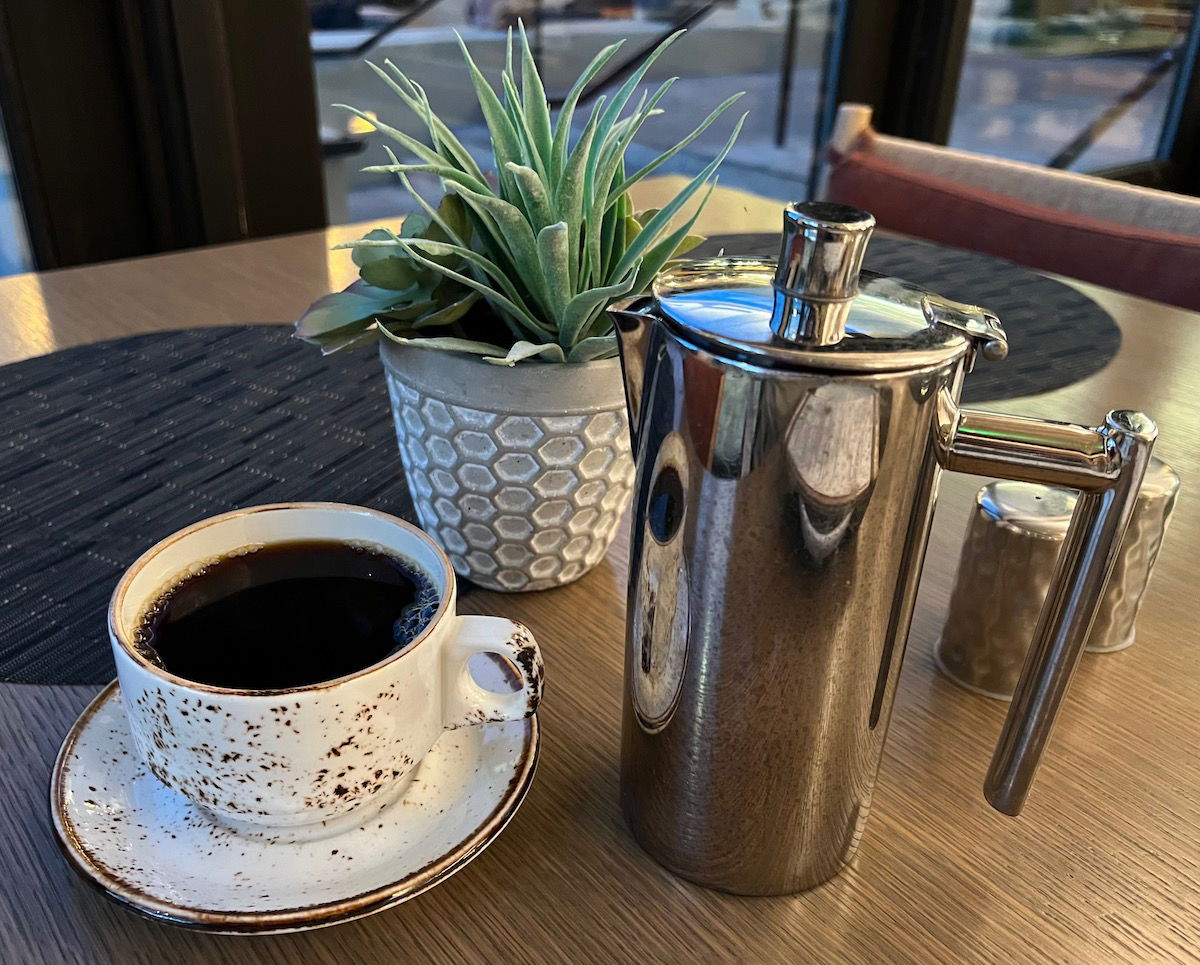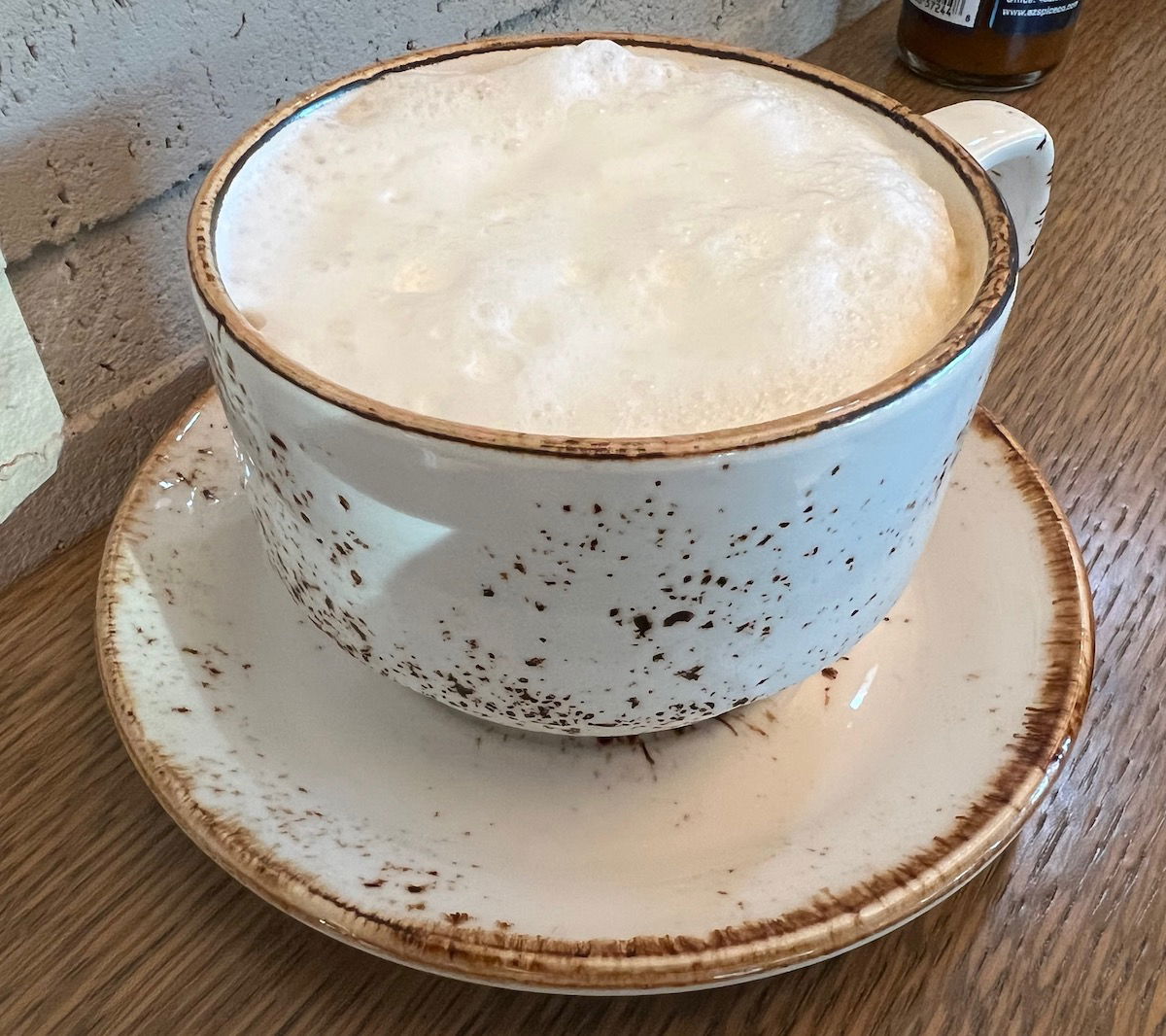 From the menu we enjoyed the huevos rancheros, omelet, and avocado toast.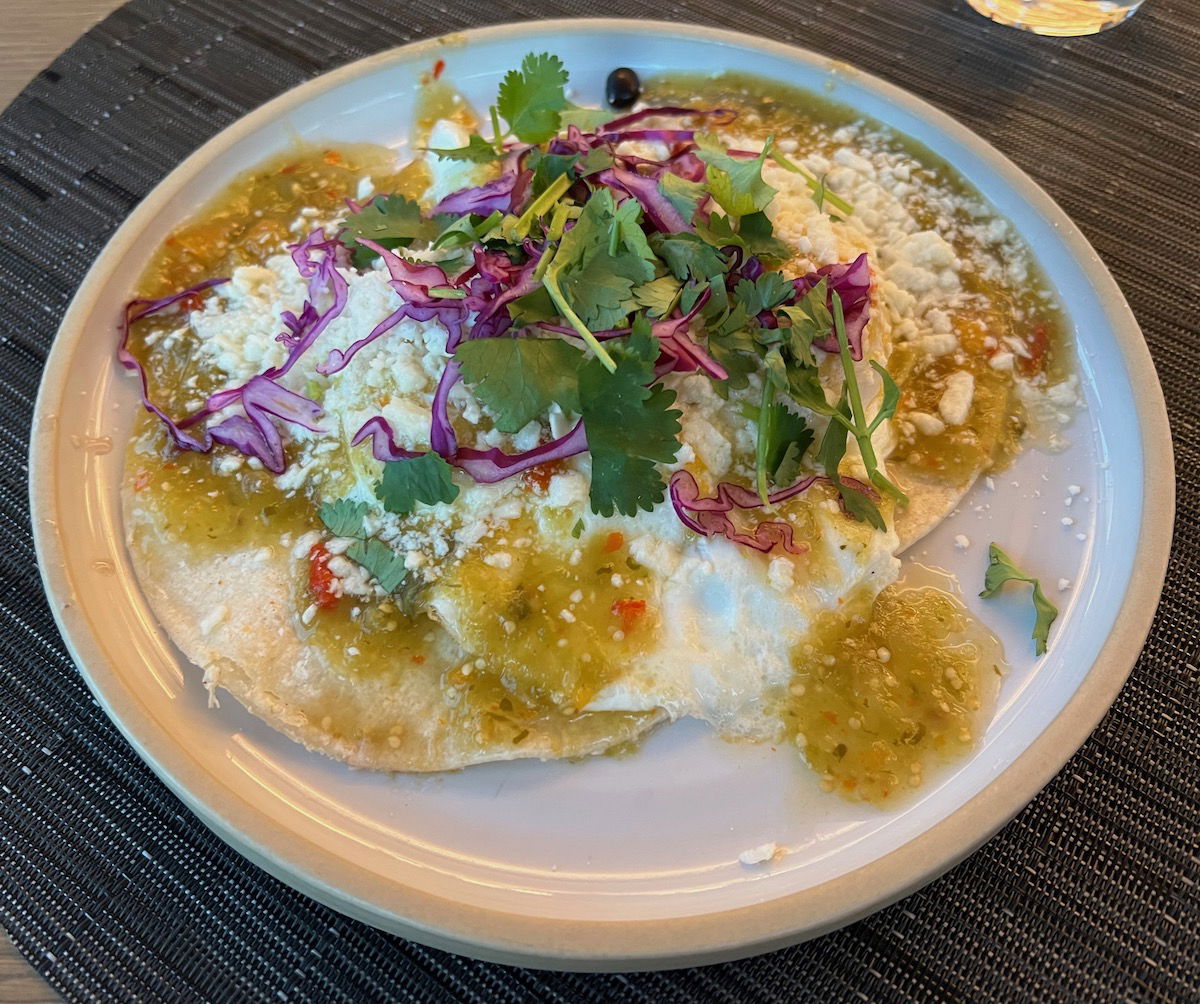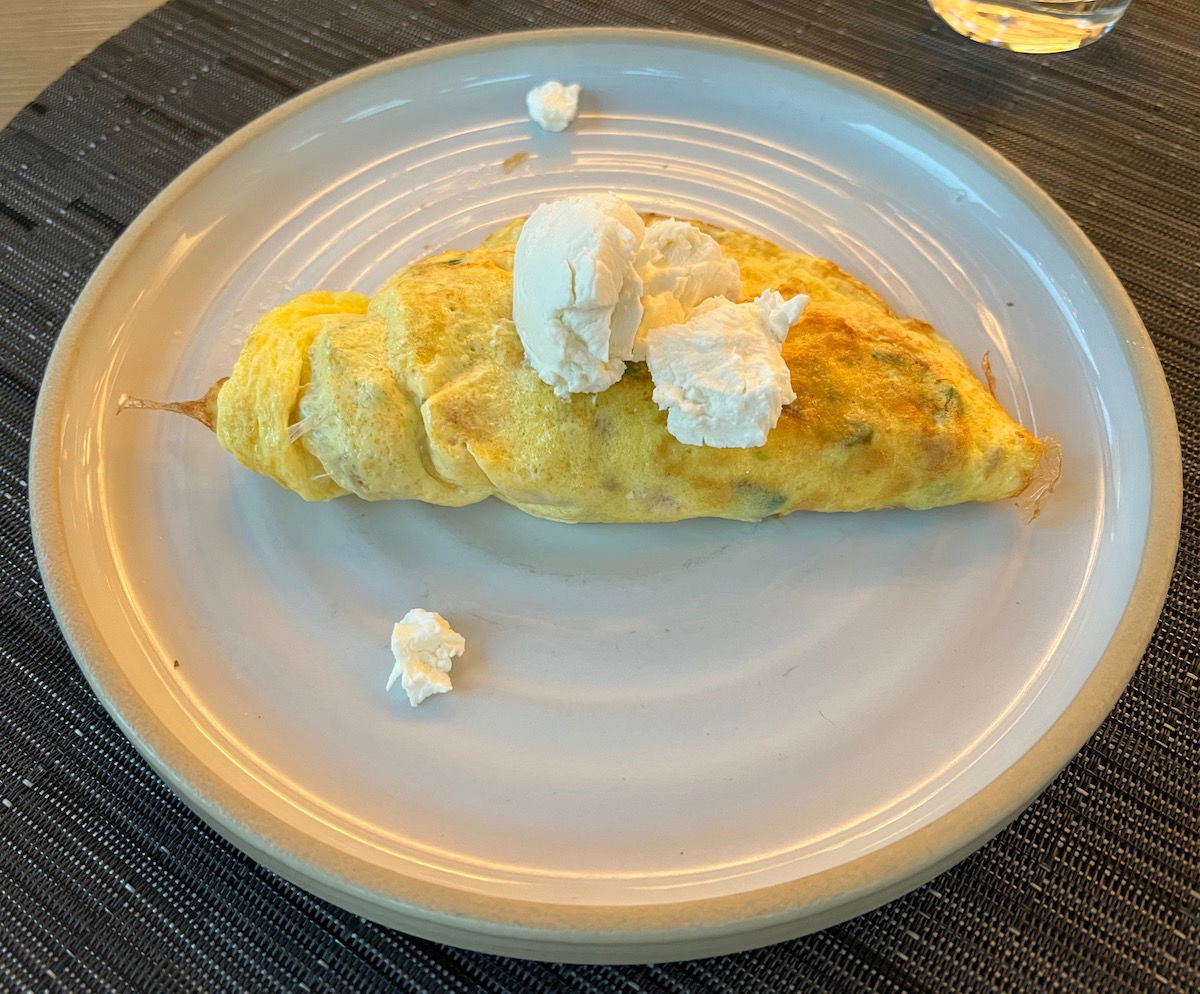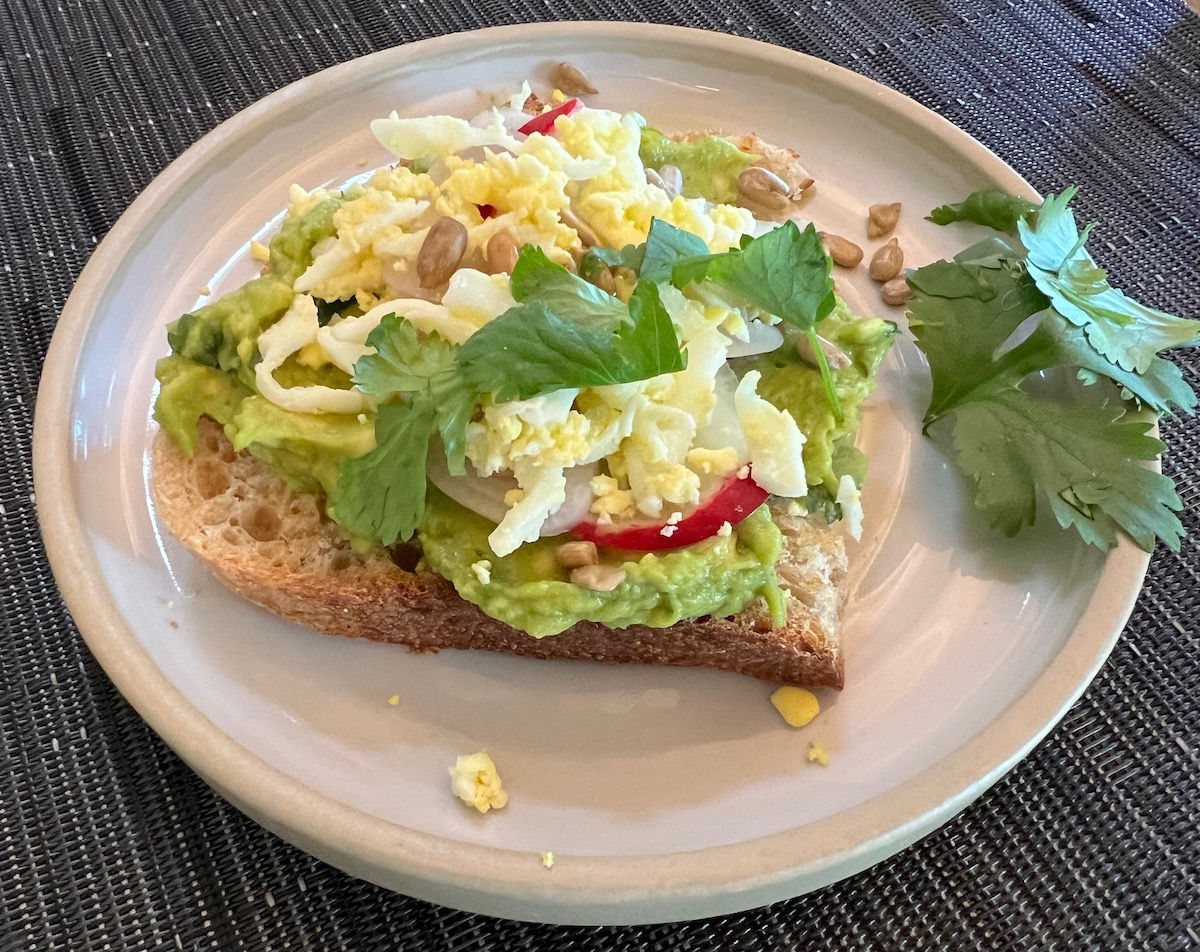 The breakfast buffet had all kinds of fresh fruit (I loved the selection and quality of berries), oatmeal, yogurt, smoked salmon, and several kinds of bread, bagels, and pastries.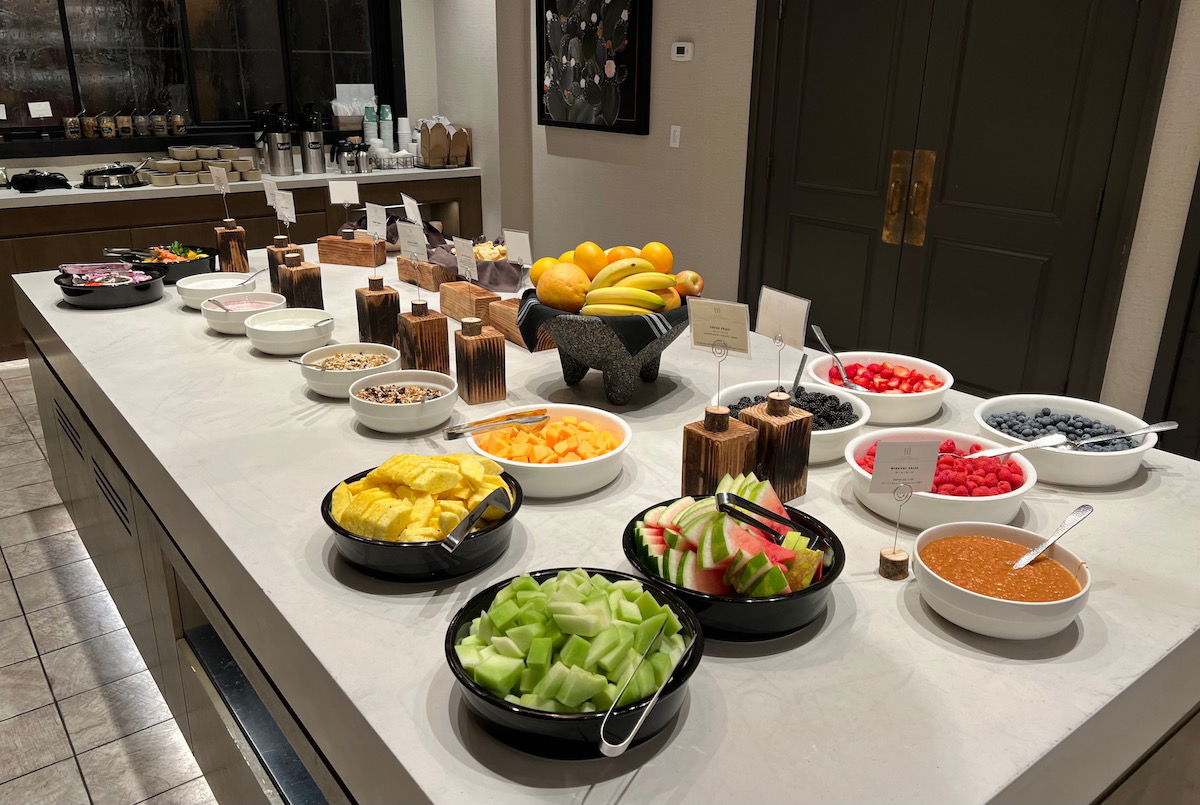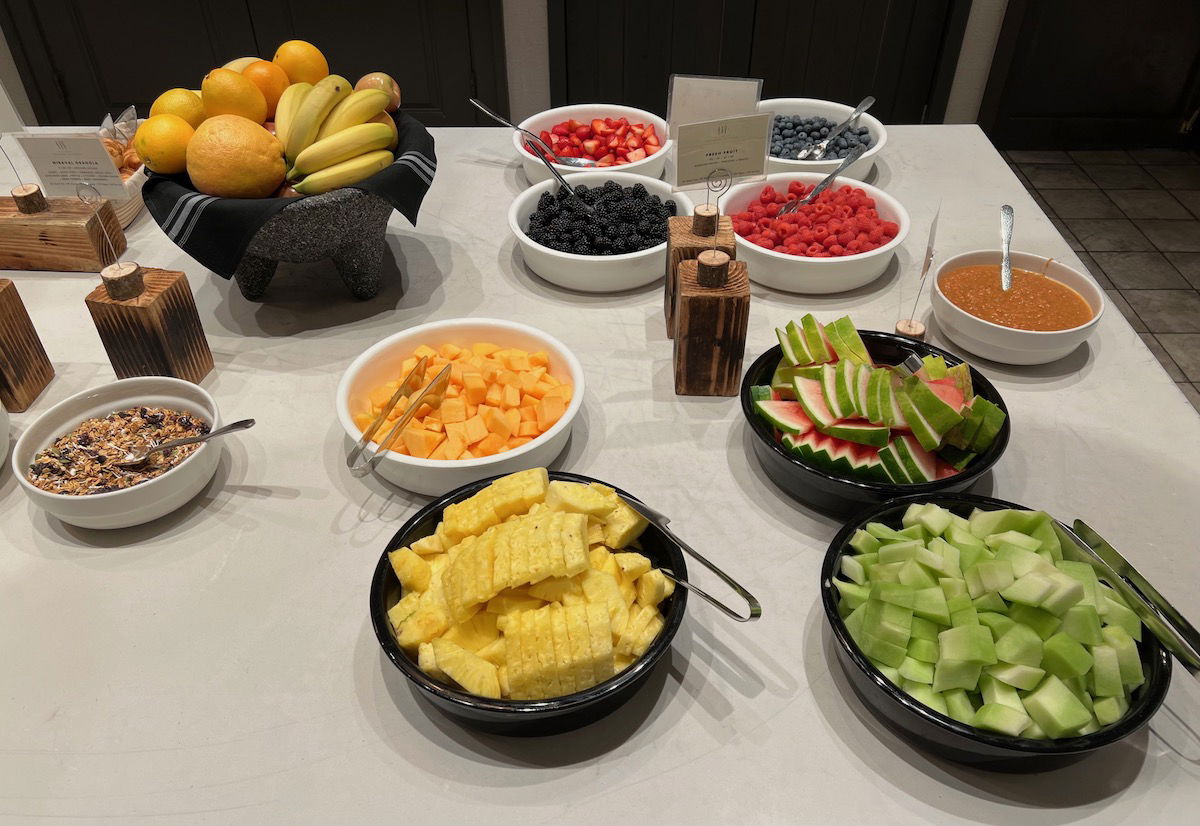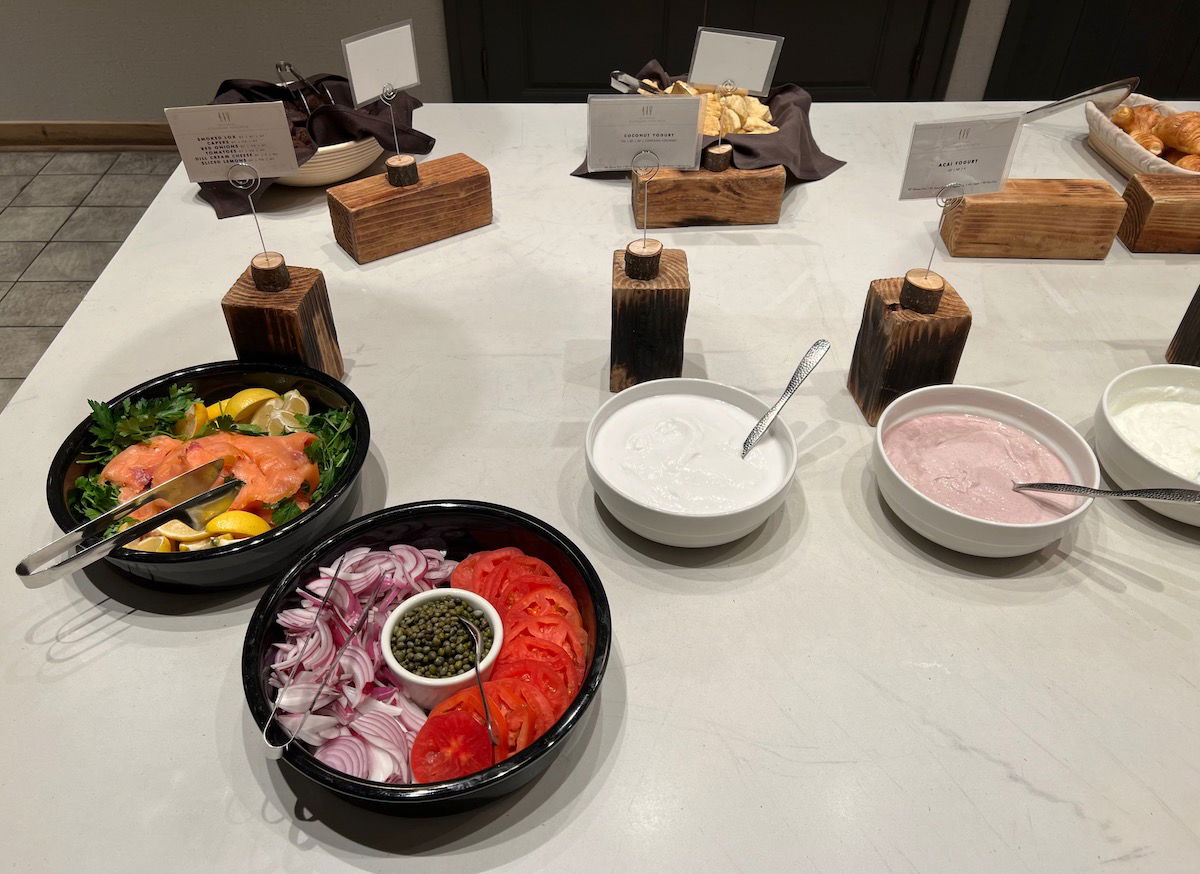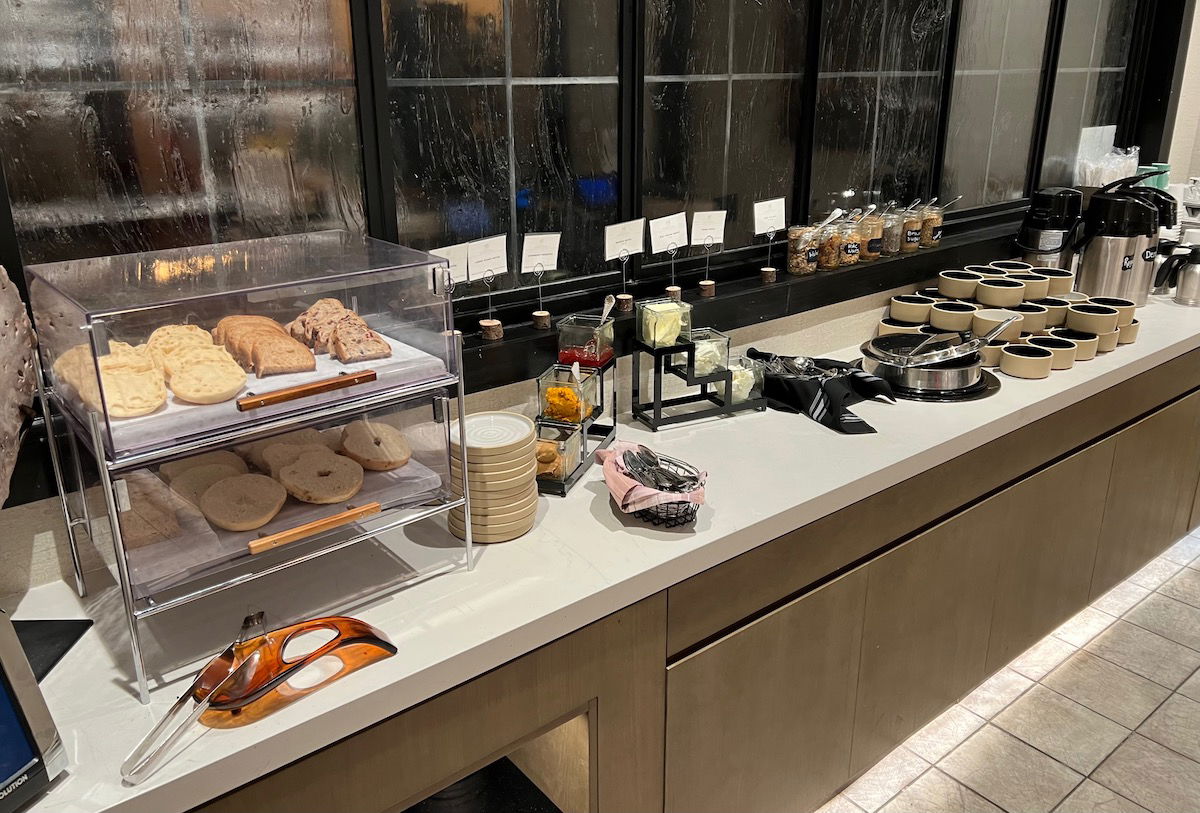 Then there were a rotating selection of hot dishes, including everything from chilaquiles, to pancakes, to scrambled eggs.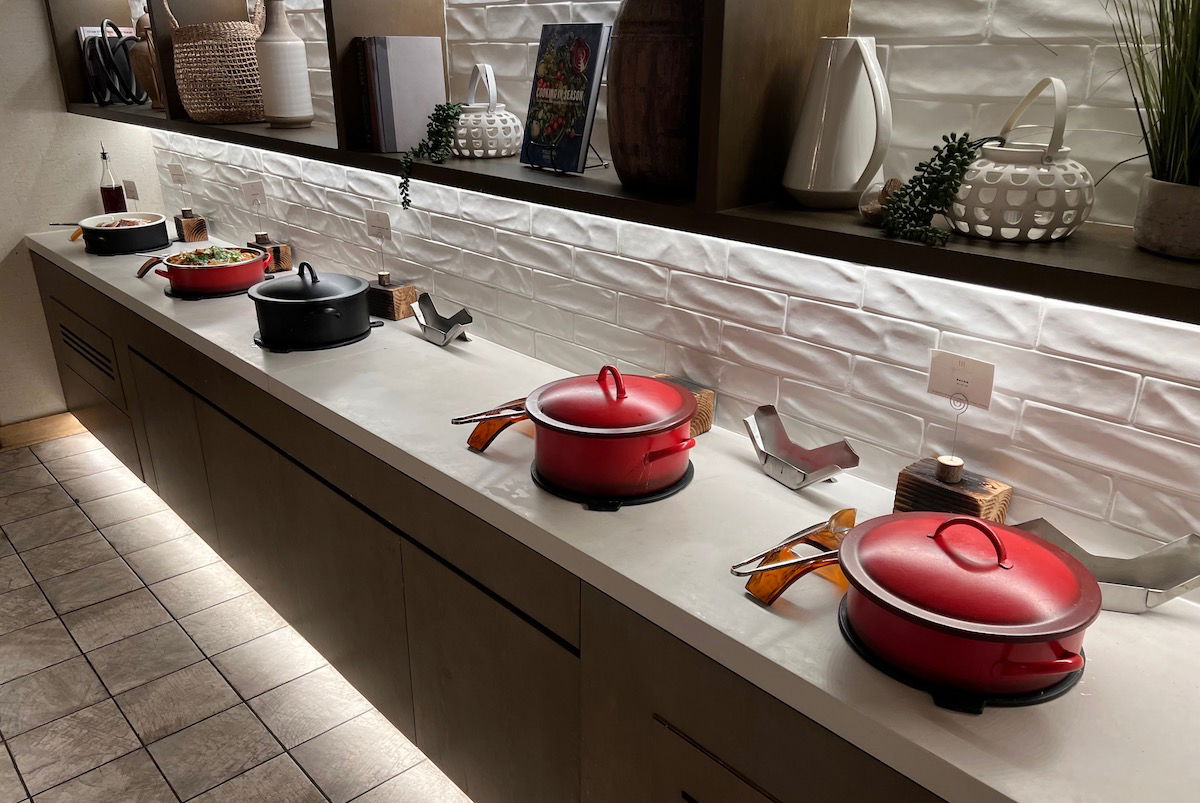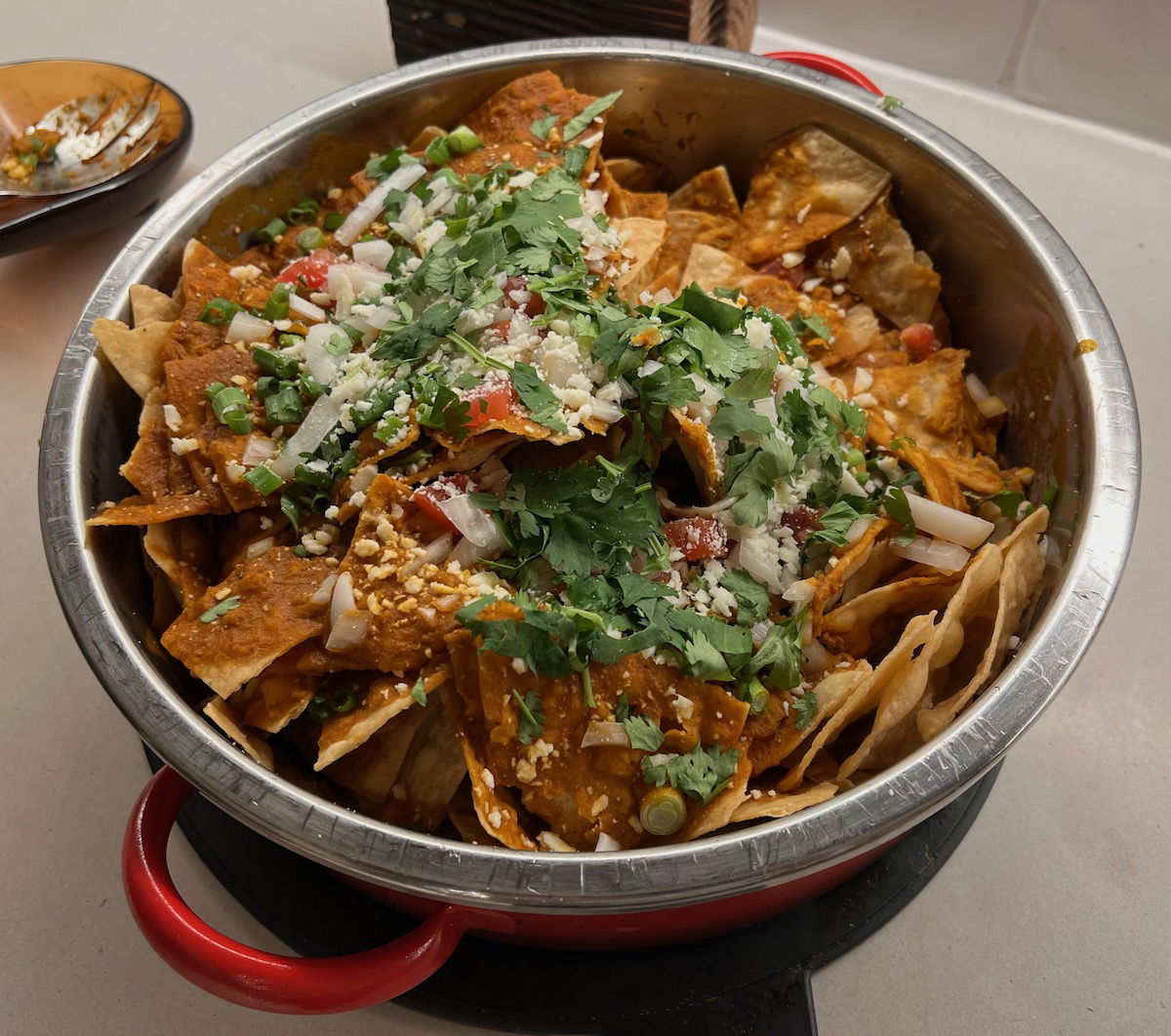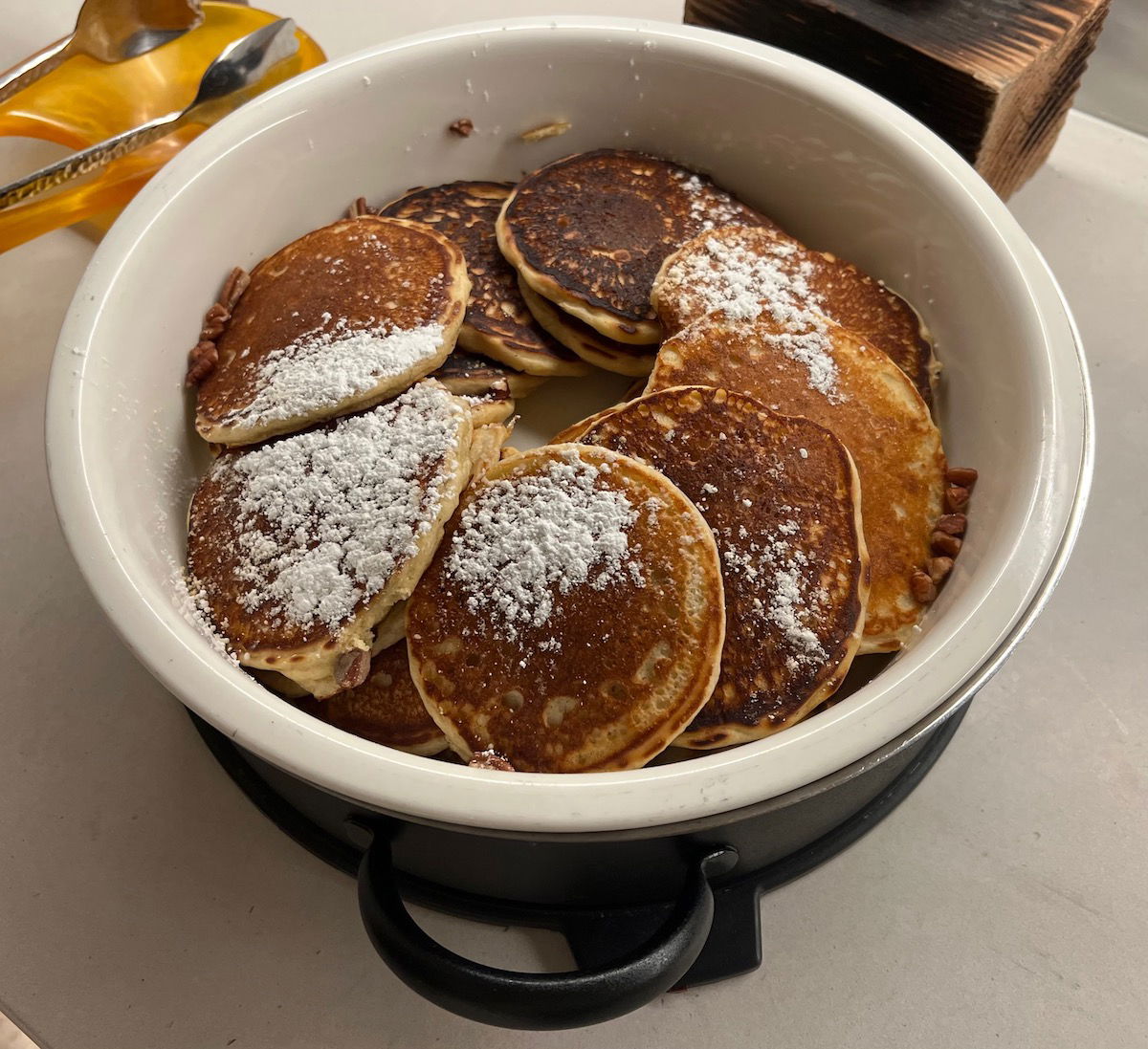 We both really enjoyed the food. I will say though that after three days we were ready to leave the property and eat elsewhere, simply because the variety wasn't huge. I do wish that Miraval had more than one main restaurant, though, since you have breakfast, lunch, and dinner in the same space every day.
The restaurant staff were universally friendly, almost creepily so (I mean that as a compliment — they were so nice). That being said, at times the service wasn't particularly polished. For example, extra cutlery (or cutlery specific to what was being served) was almost never proactively offered, but rather had to be asked for. Similarly, meal preparation times were highly inconsistent, especially at dinner. Sometimes entrees came out within 10 minutes, and other times it took over 30 minutes.
Miraval Arizona Palm Court Cafe
As someone who loves coffee, Palm Court Cafe might be one of my favorite hotel concepts anywhere. It's located near the main restaurant, and has drinks and snacks available all day.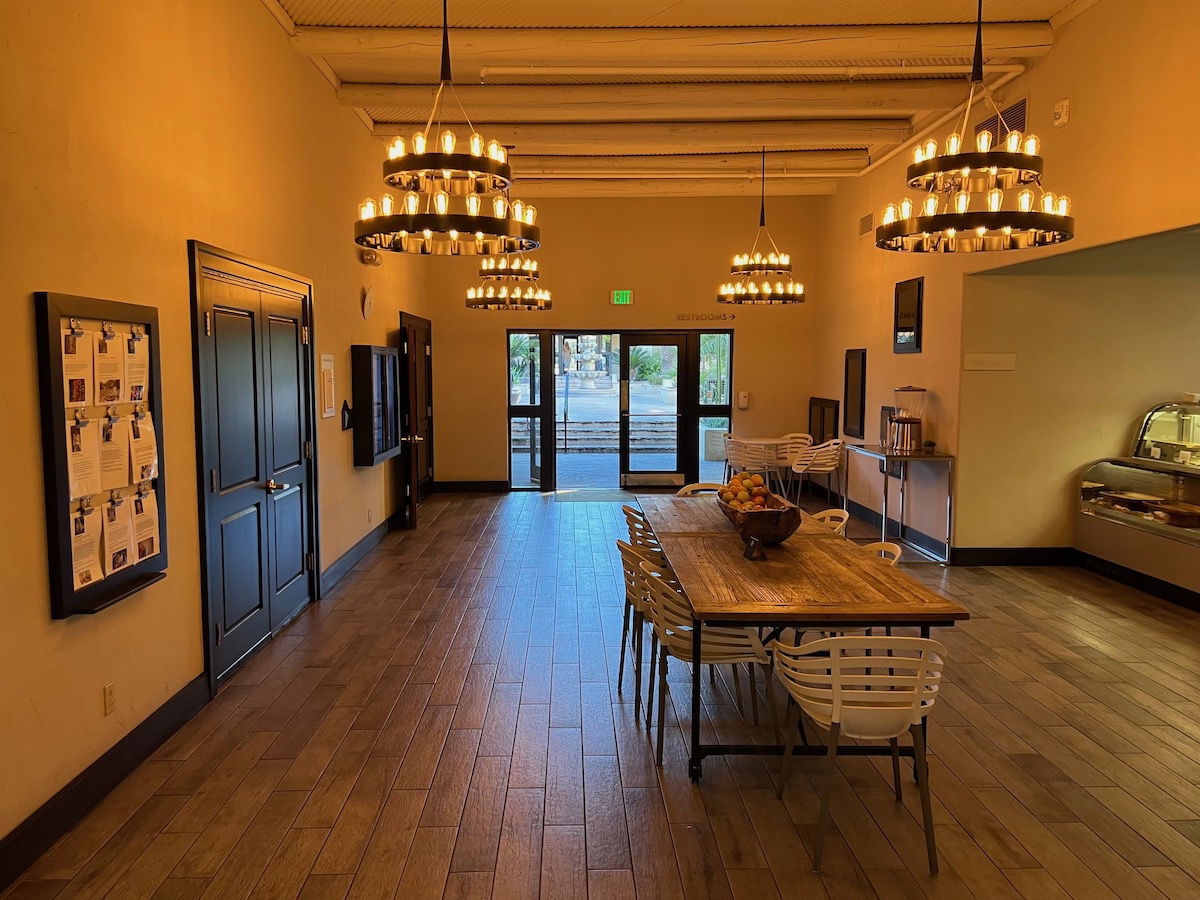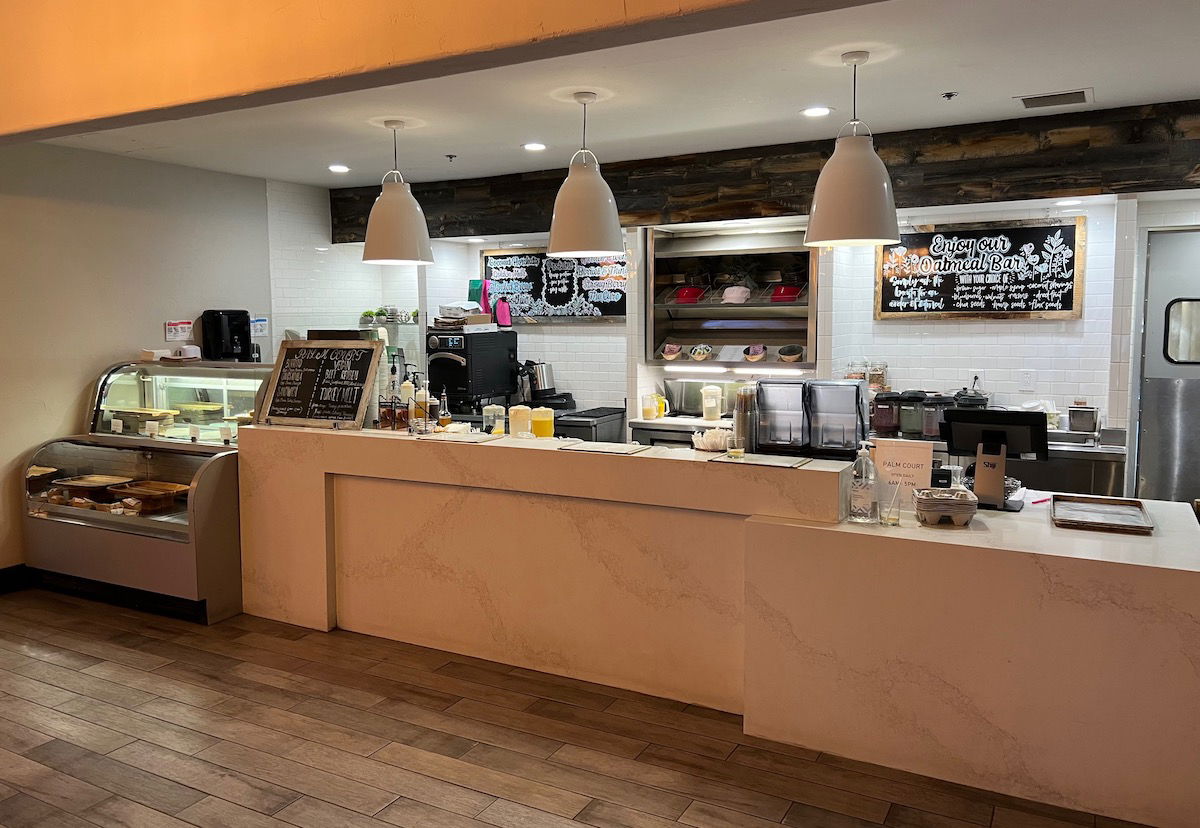 For one, there's a selection of fresh fruit cups, yogurt parfaits, cheese plates, all kinds of sweets, and whole fruit, which you can grab anytime you want.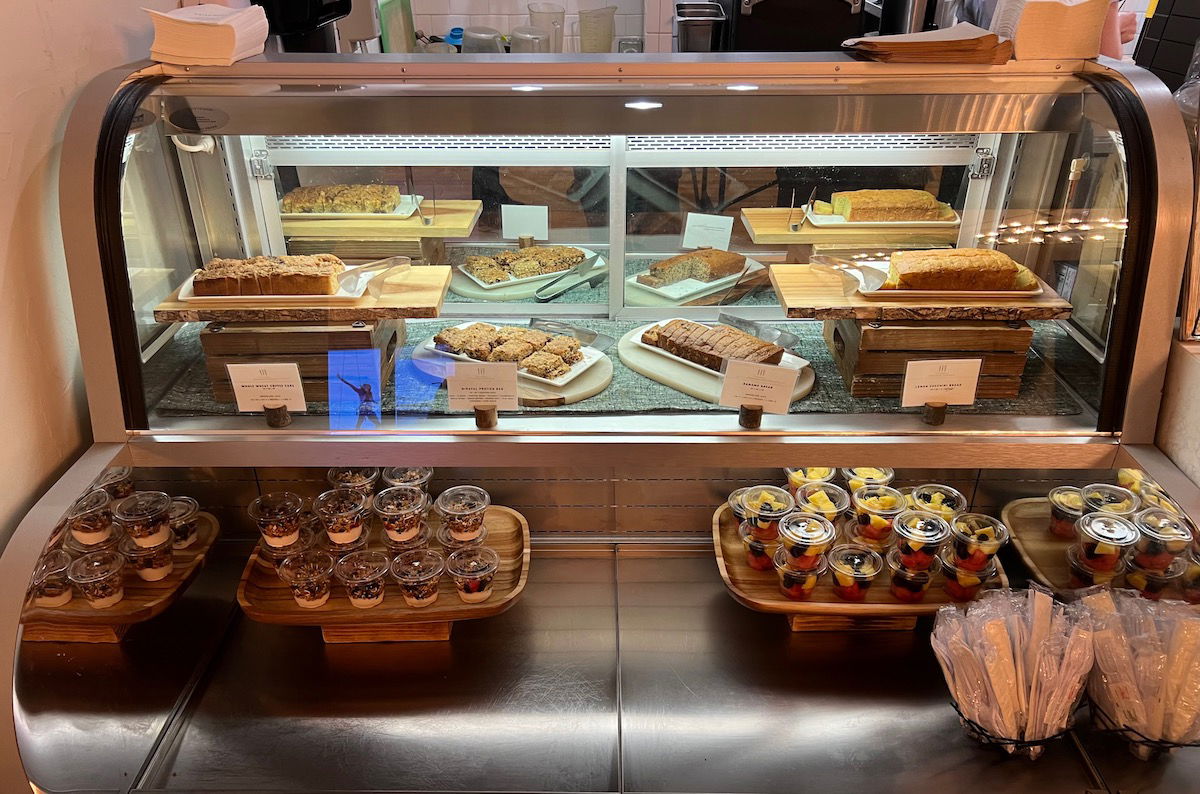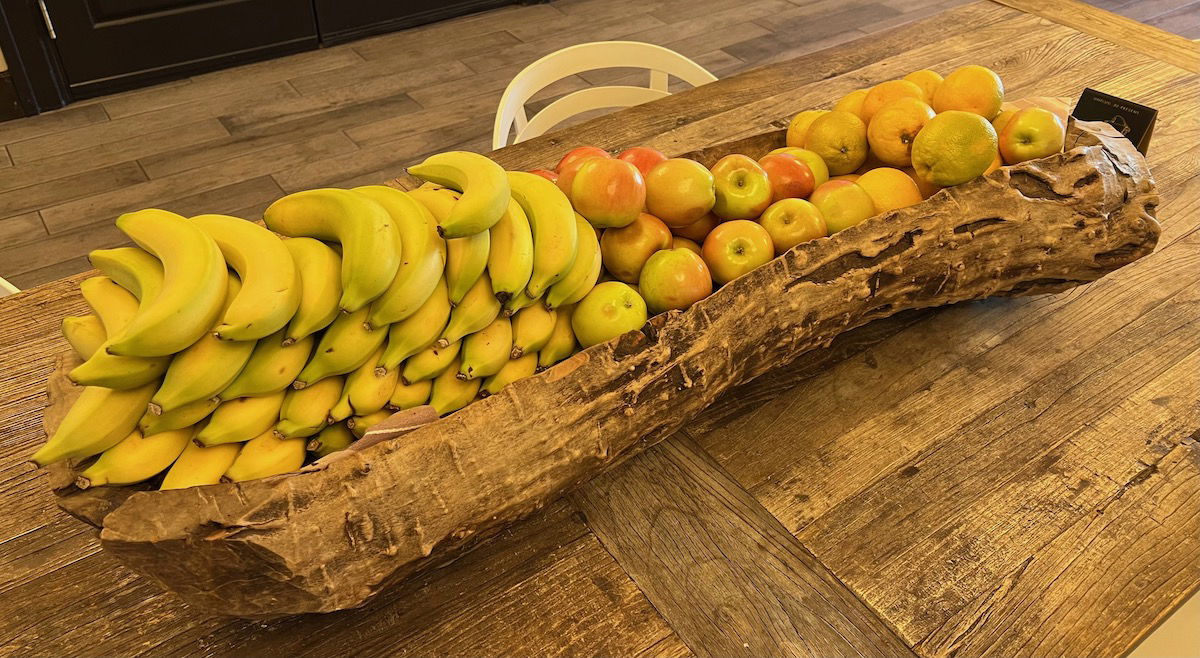 Then there's a selection of smoothies, wellness shots, and coffee. You can customize any of these however you'd like, which is pretty fun.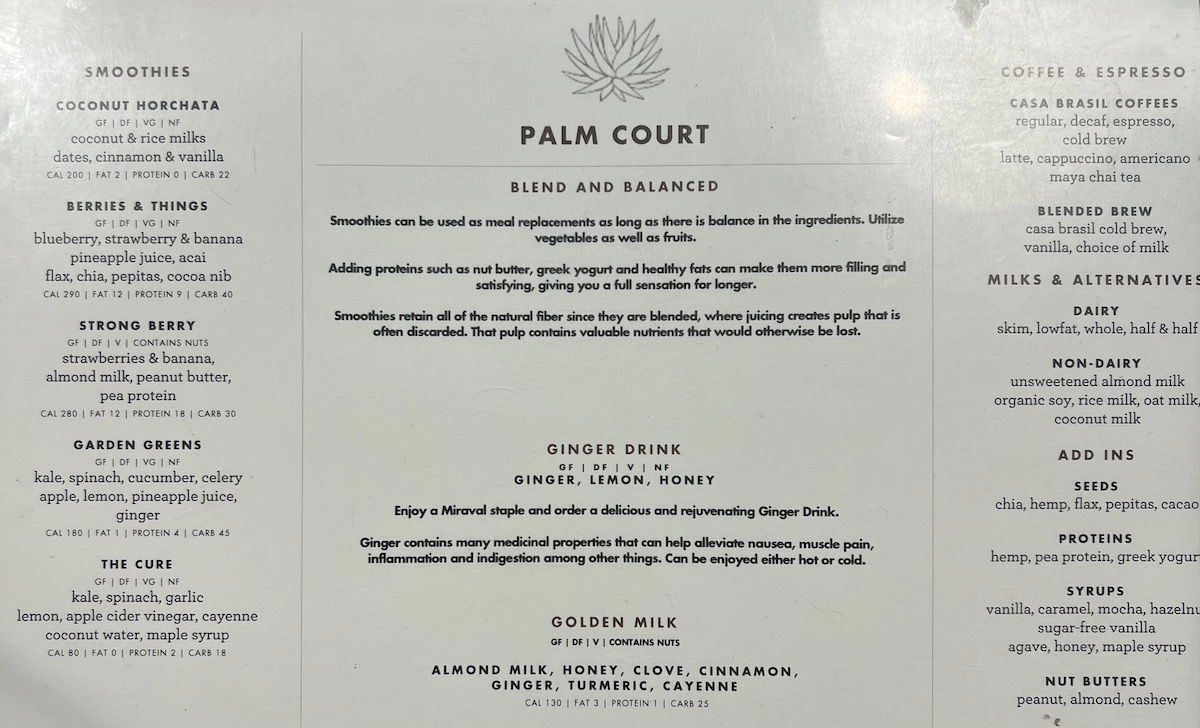 You can also order everything from burritos, to quesadillas, to sandwiches.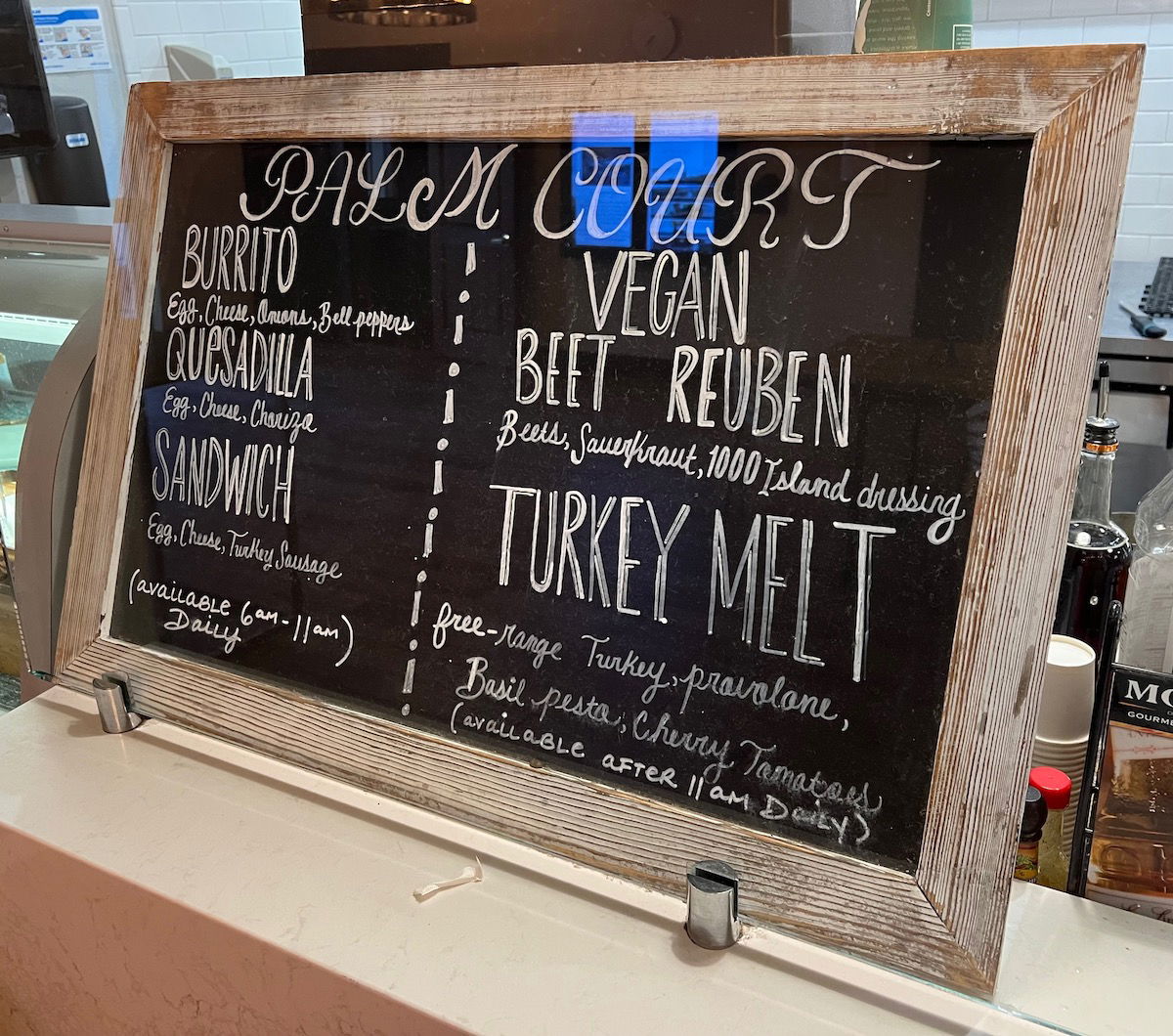 The cappuccinos at Miraval Arizona were really, really good, and I probably had way too many of them.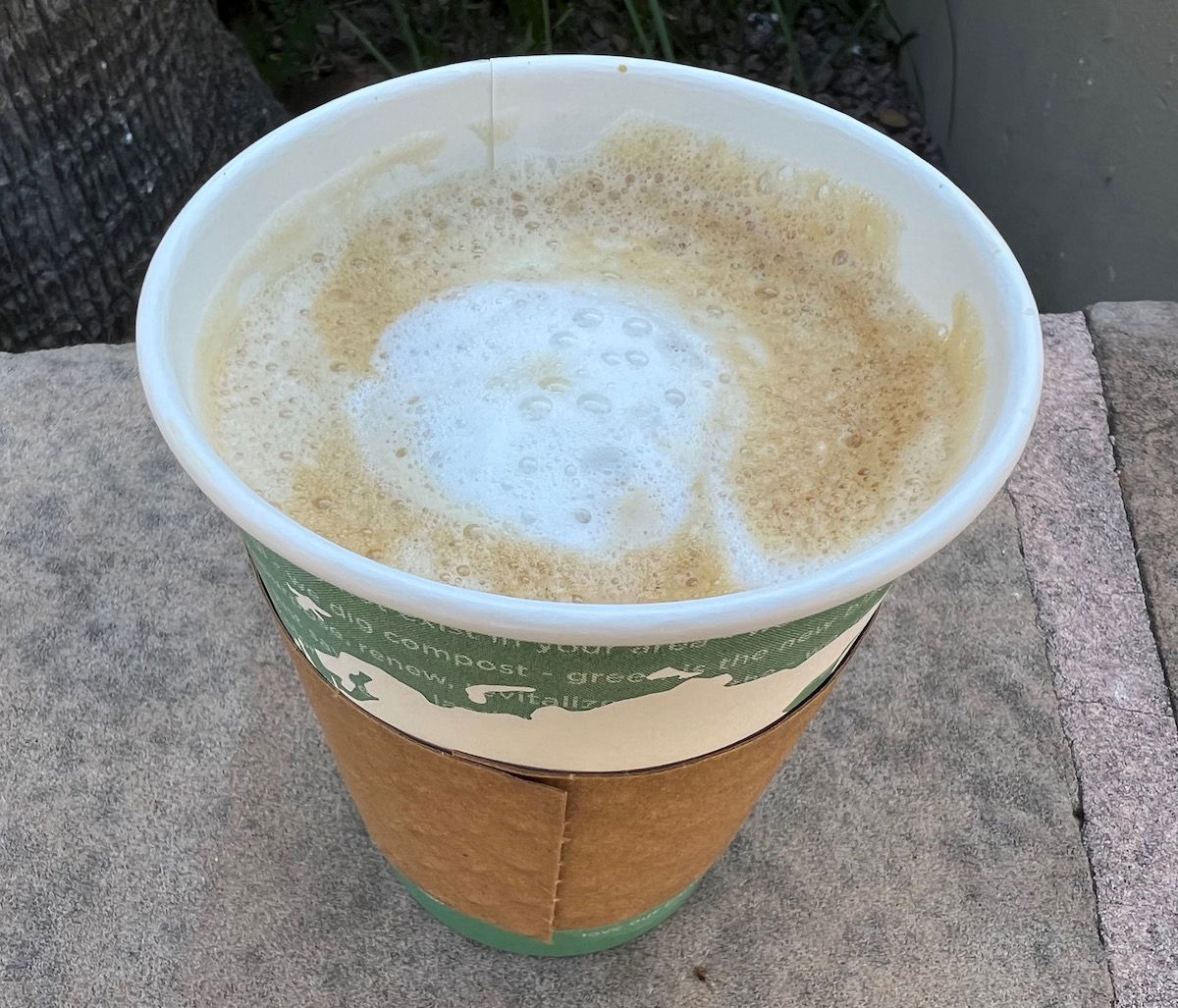 I also enjoyed the smoothies, and the wellness shots. It was nice to be able to grab a protein shake after going to the gym, which is something that so few hotels offer, even at a cost.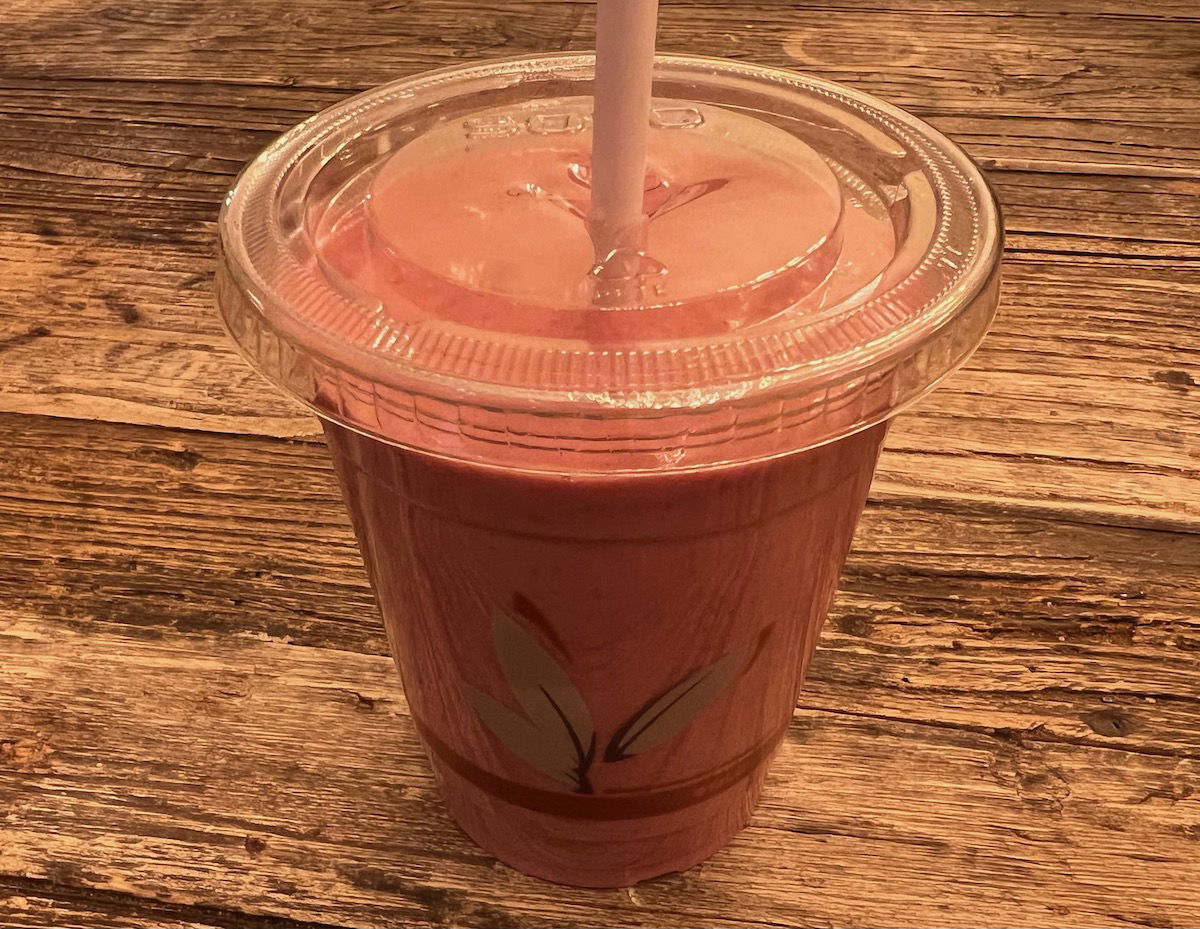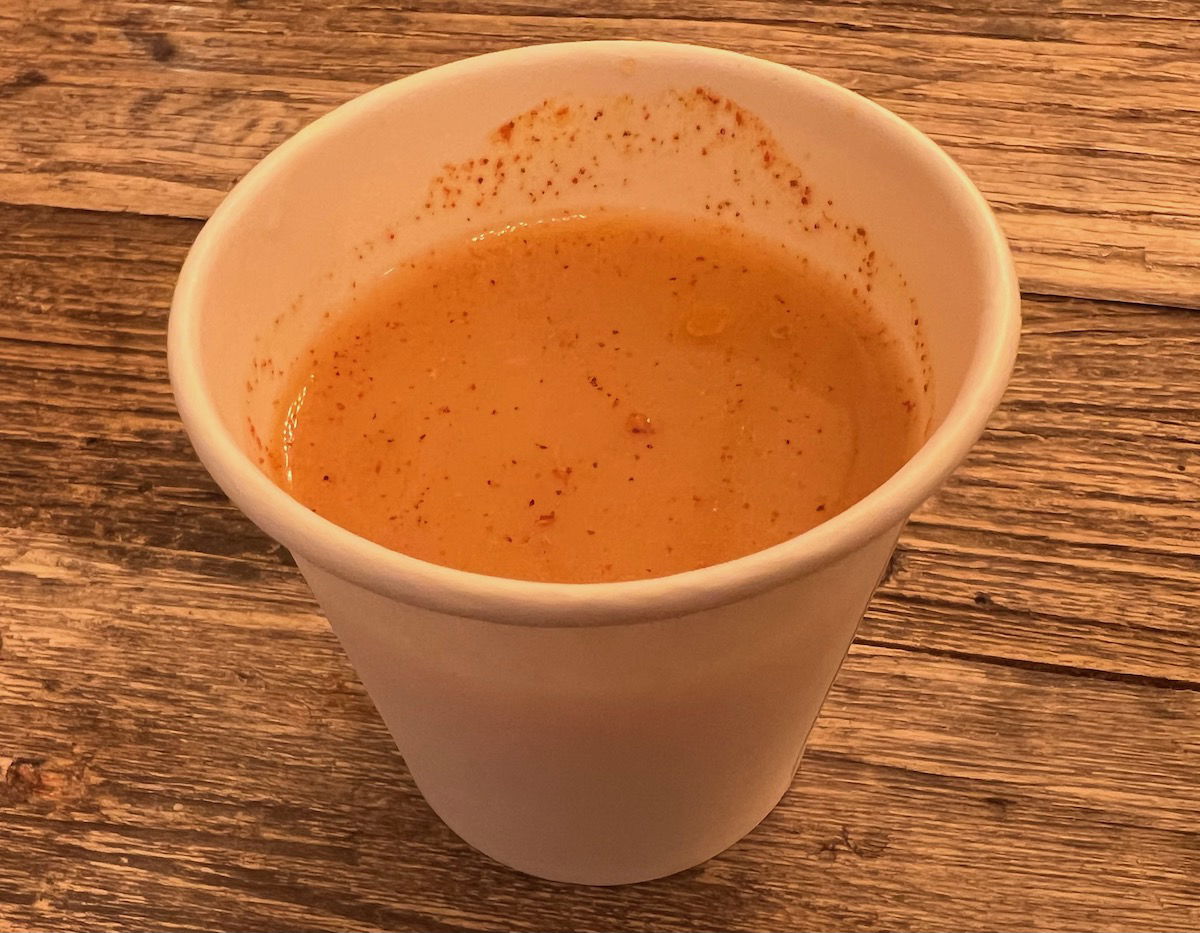 The prickly pear ice tea was excellent as well, and a great healthy alternative to soda. This could also be ordered in the restaurant.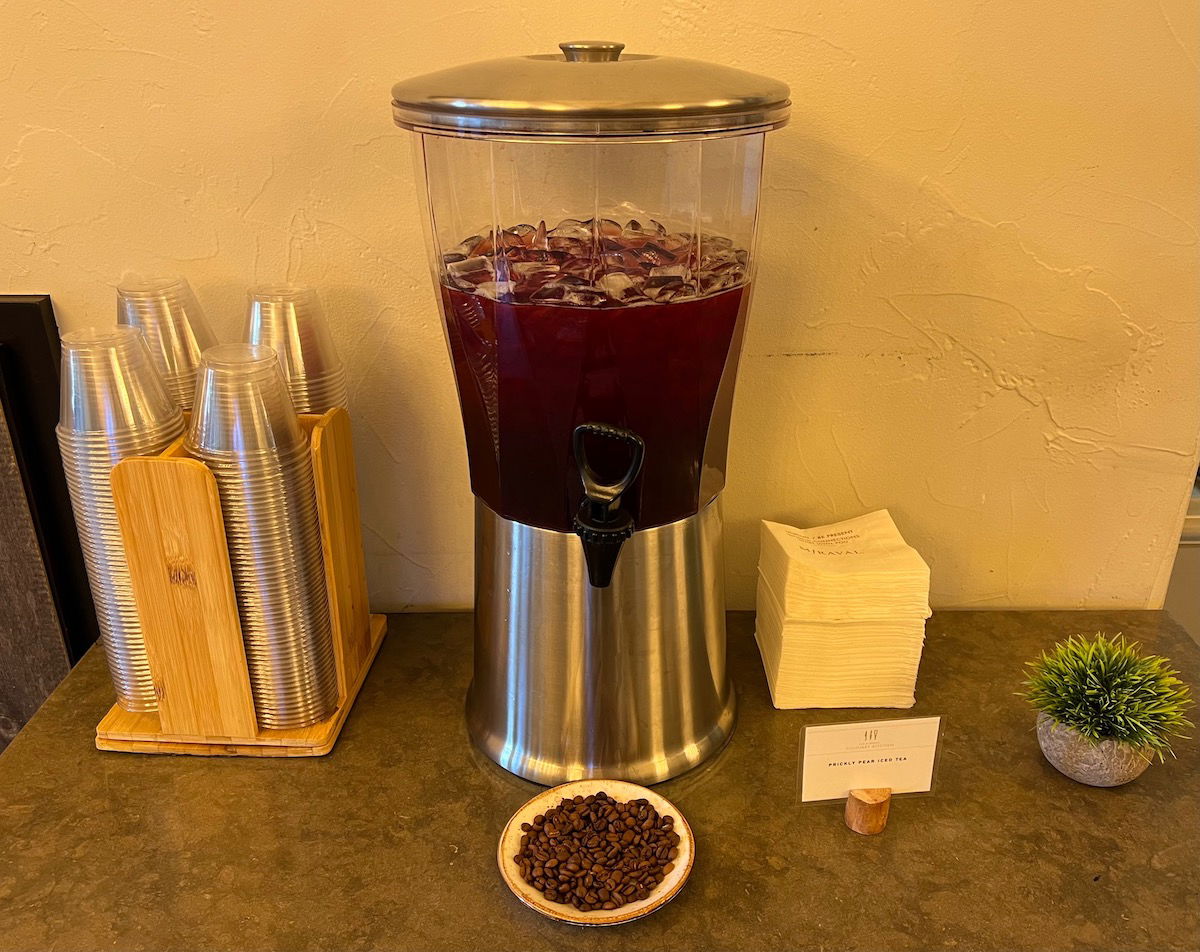 Miraval Arizona Coyote Moon Bar & Grill
Coyote Moon Bar & Grill is a cozy place to grab a drink before or after dinner, and there's plenty of both indoor and outdoor seating.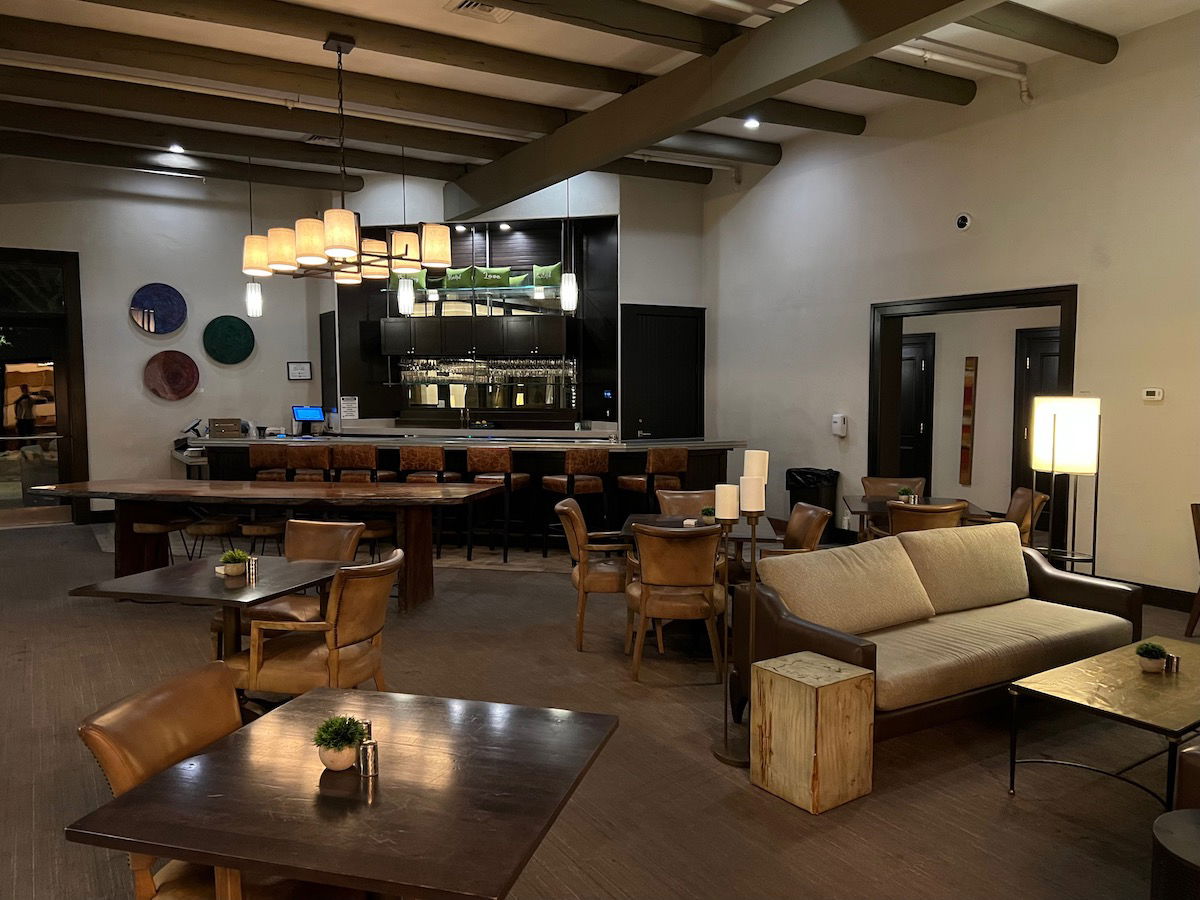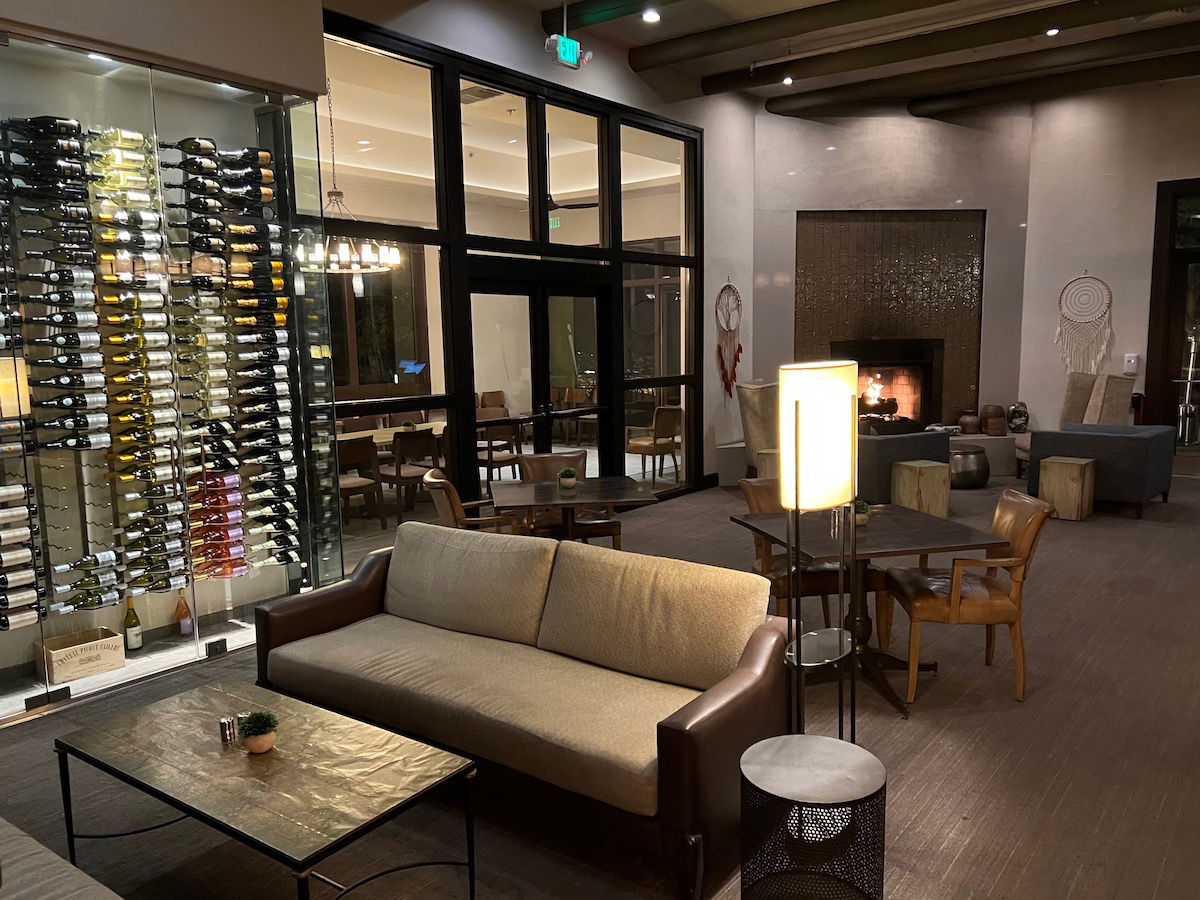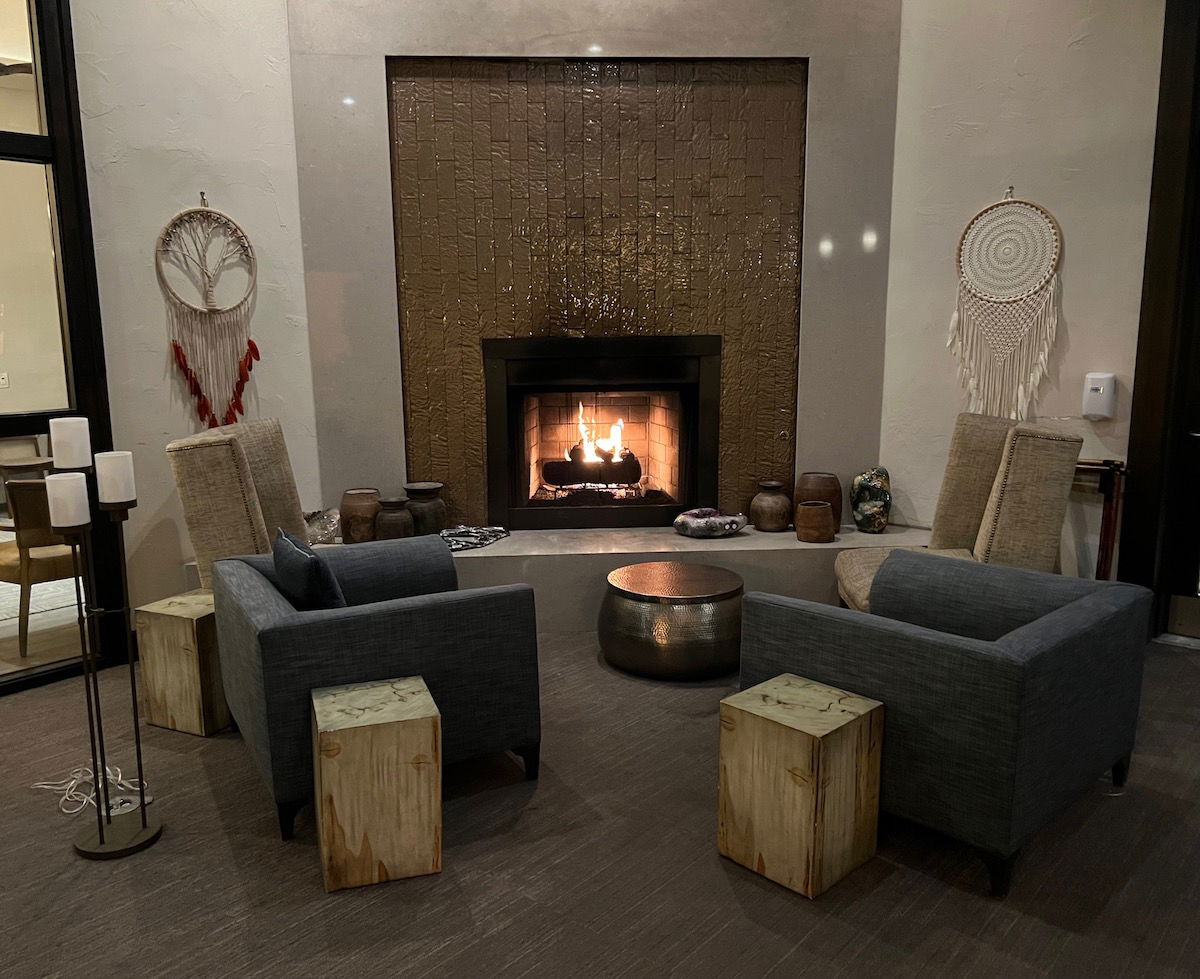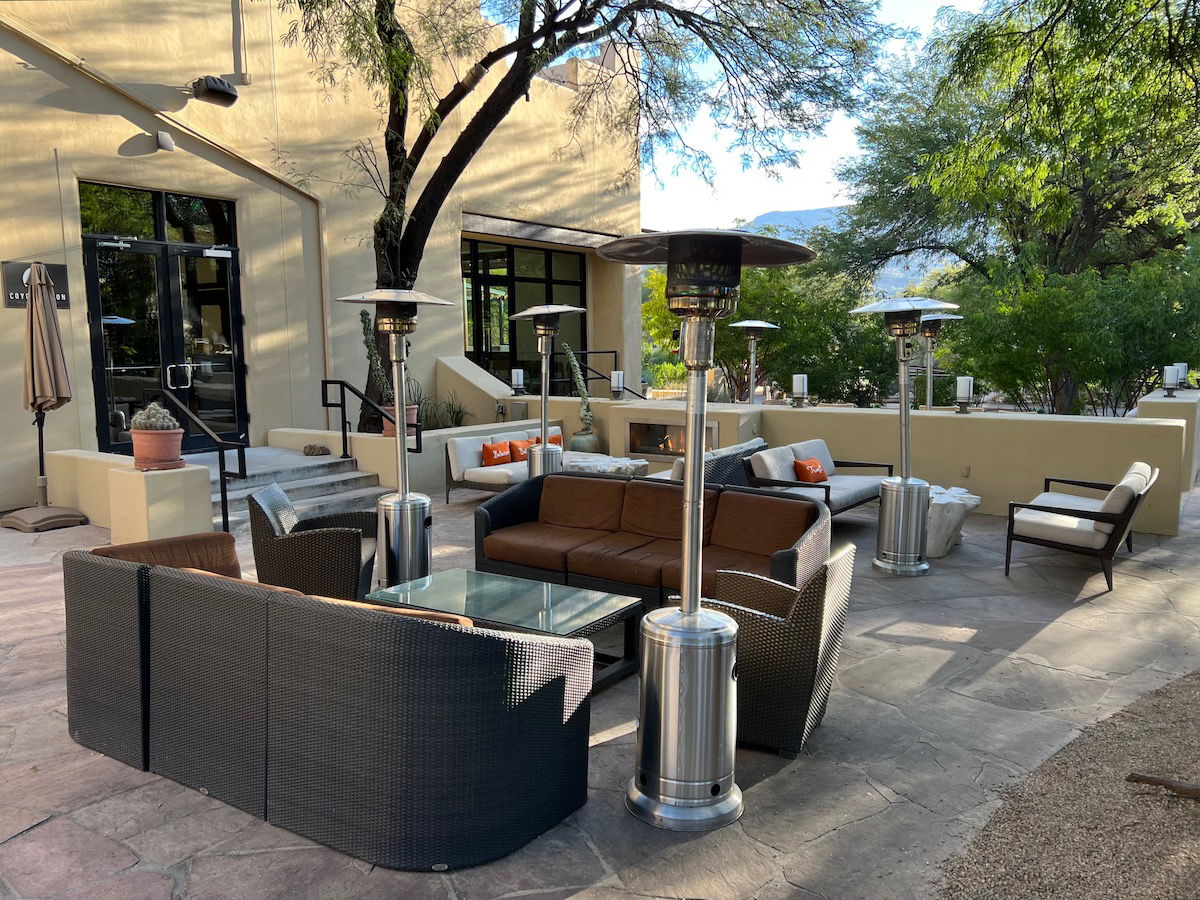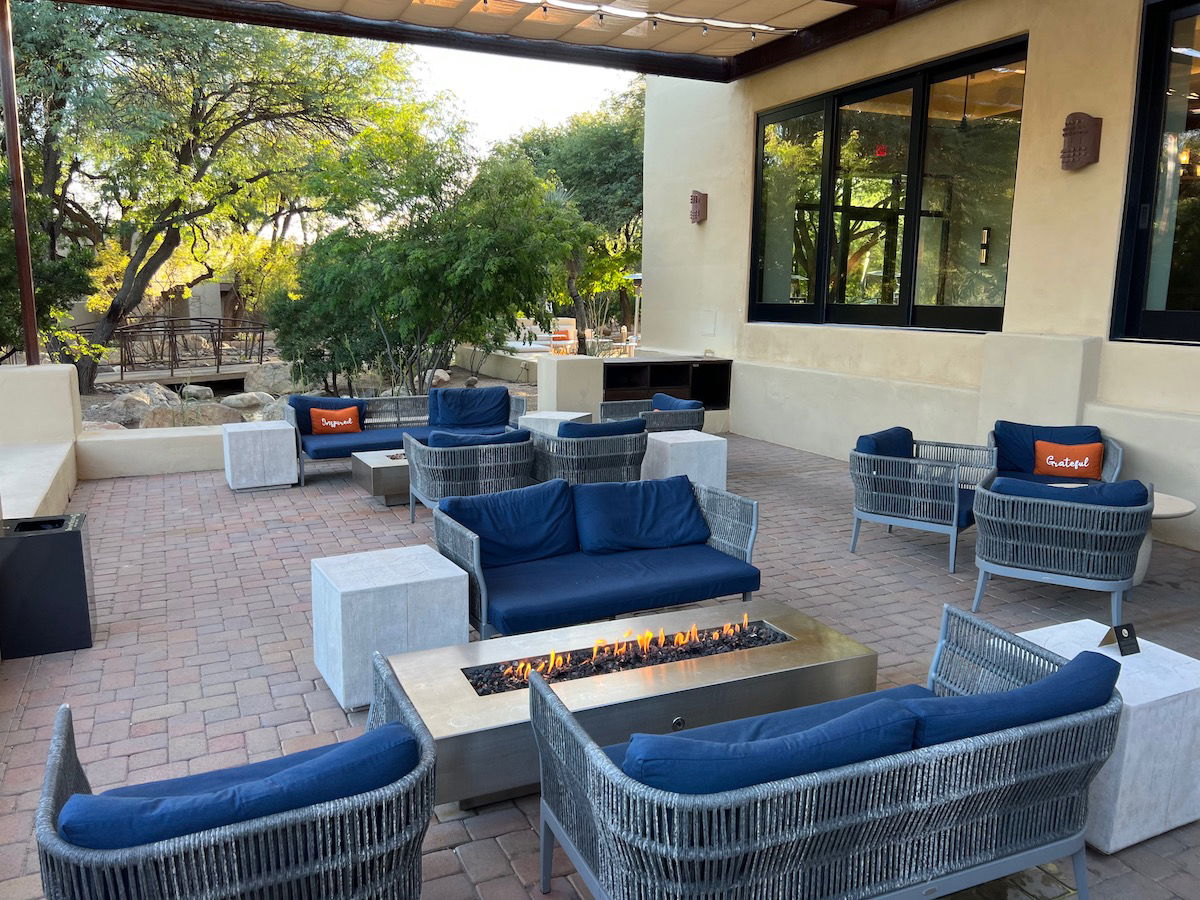 The cocktails weren't cheap, but then again, when you consider that there's no tipping and that these are the "all-in" prices, it wasn't too bad.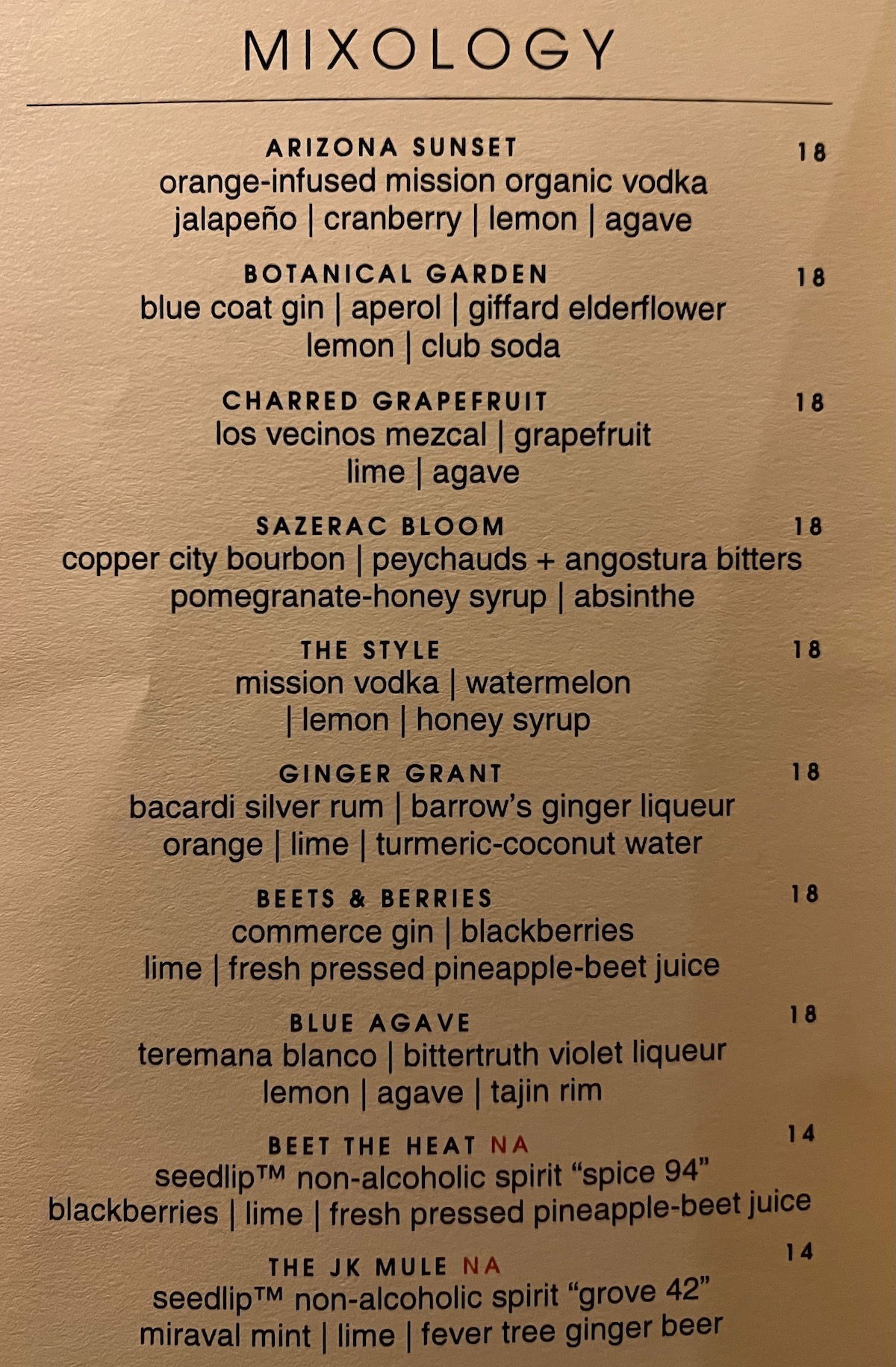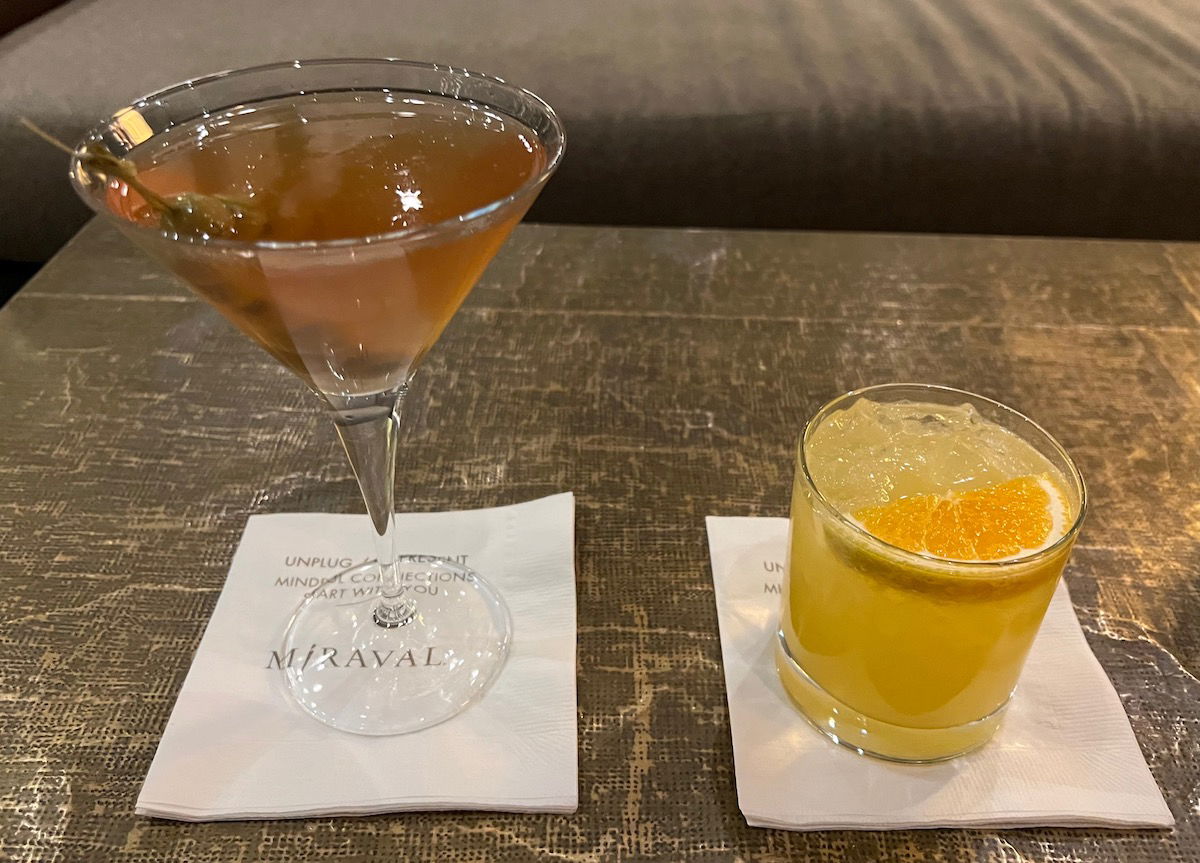 There was also a nice selection of wines, most of which were pretty reasonably priced for a hotel of this caliber.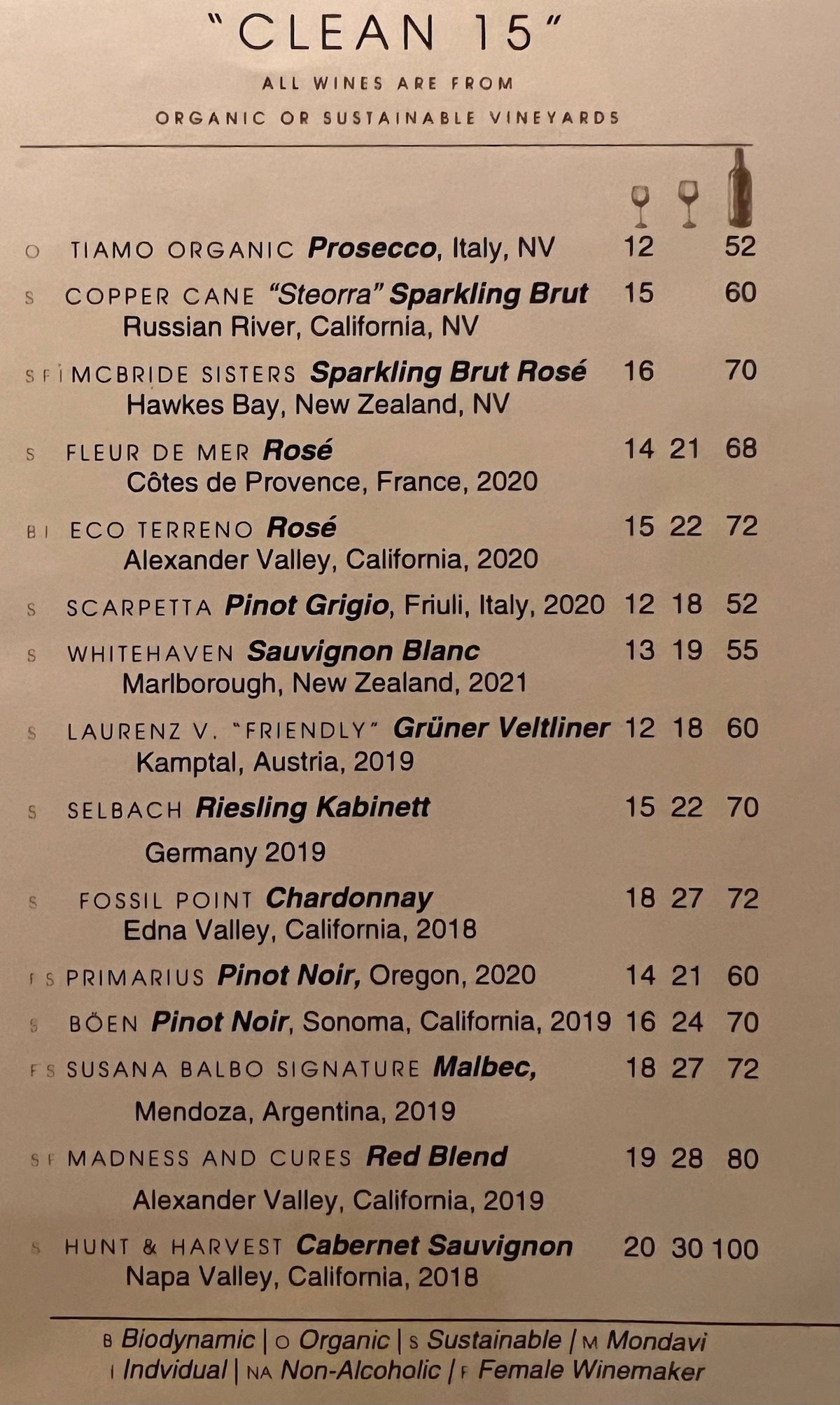 The bar also has a food menu, should you want a snack before or after dinner, or should you just want to have a light dinner here.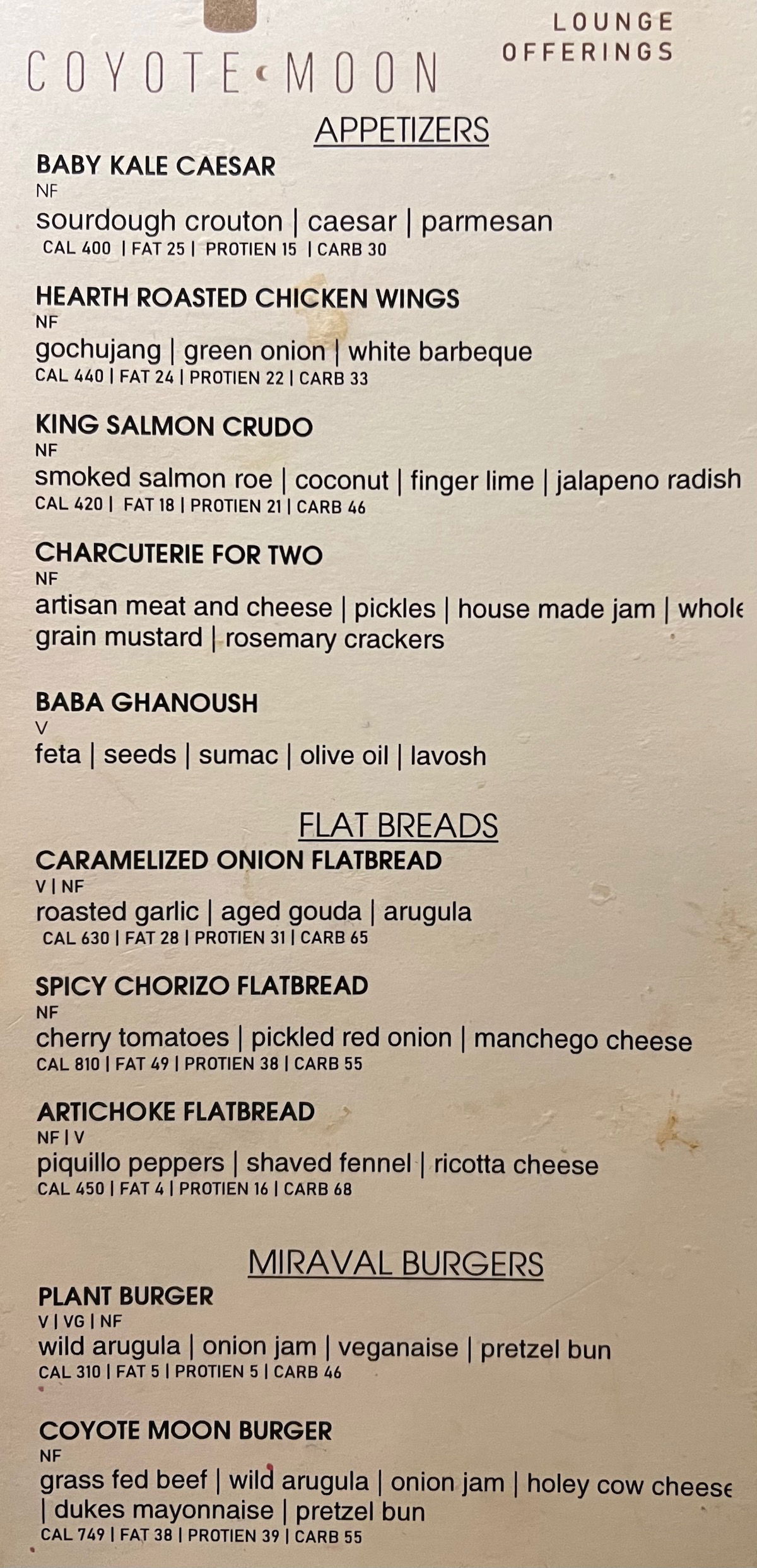 The bar also had some appetizers every evening, including crudités, chips, guacamole, hummus, and more.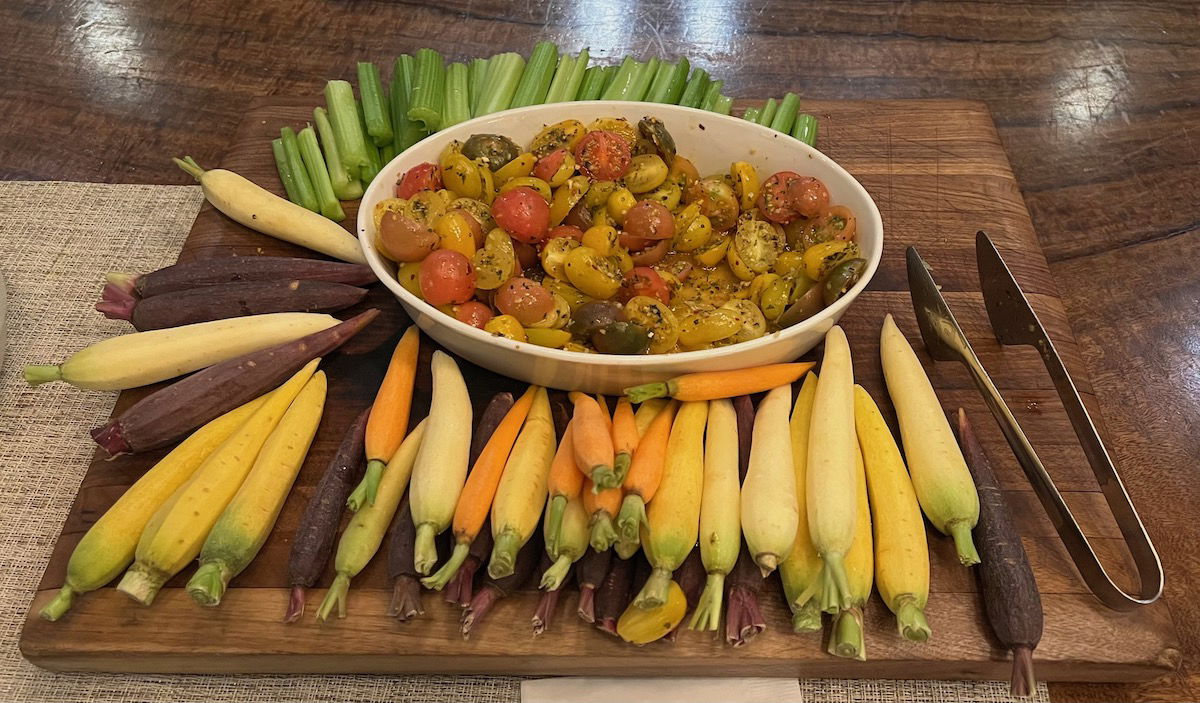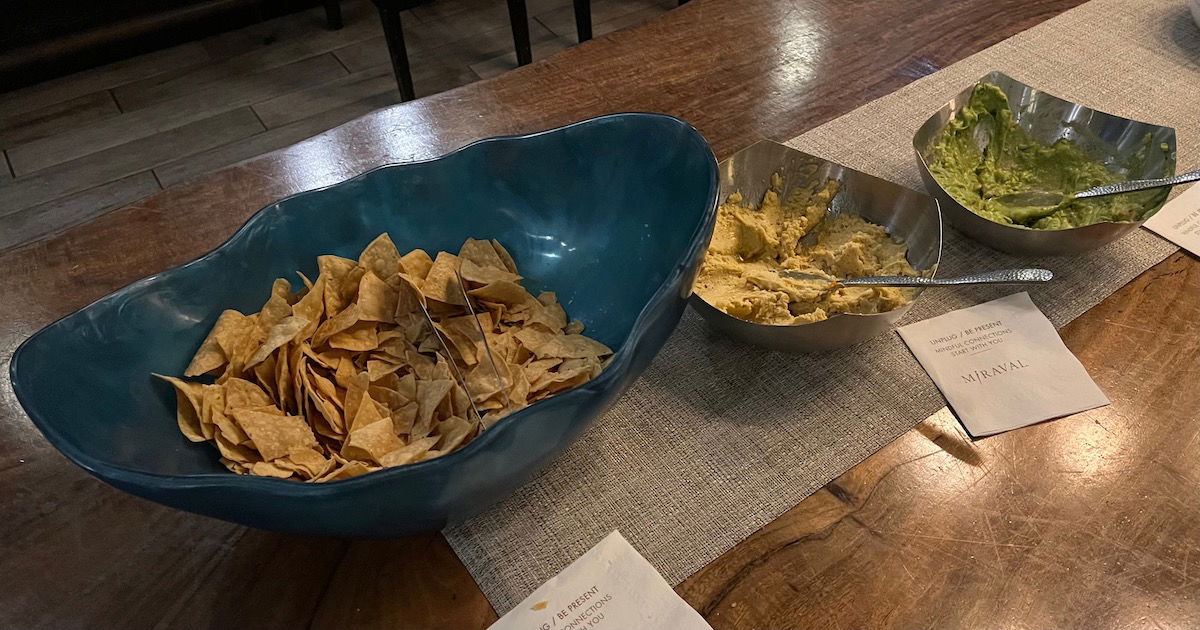 Honestly, the amount of food guests are offered at this property throughout the day is borderline obscene.
Miraval Arizona pools
Miraval Arizona has several sets of pools. The main pool area is the Oasis Pool, located by the spa. This consists of a hot tub and two pools, each on a different level.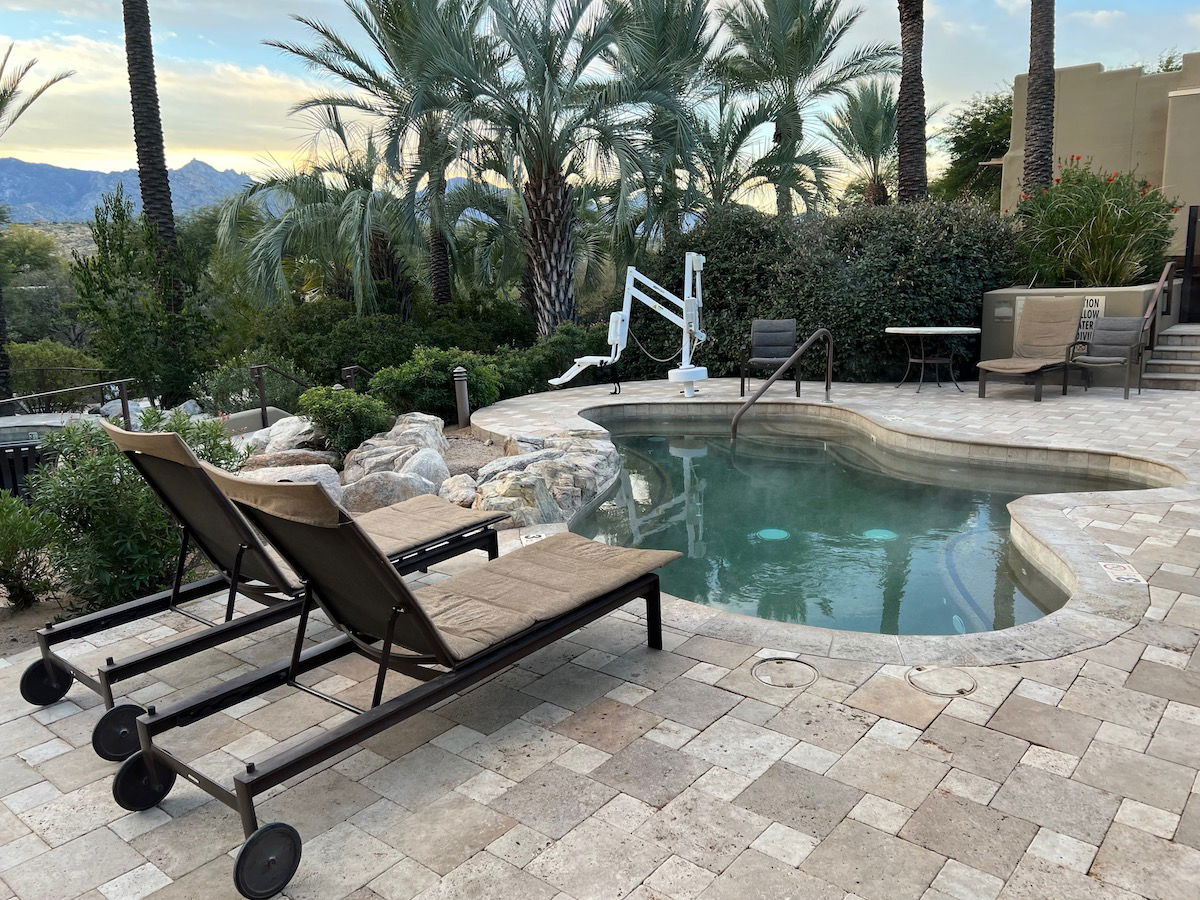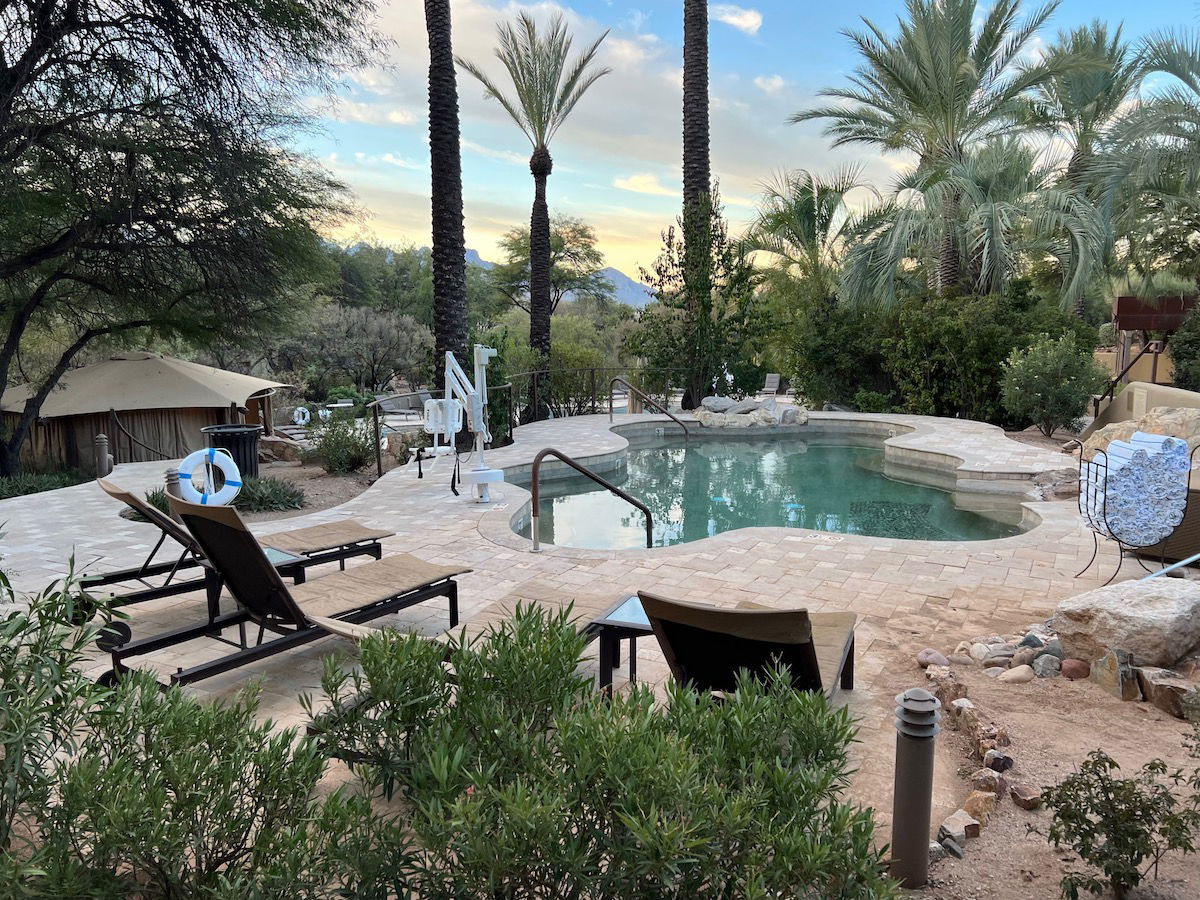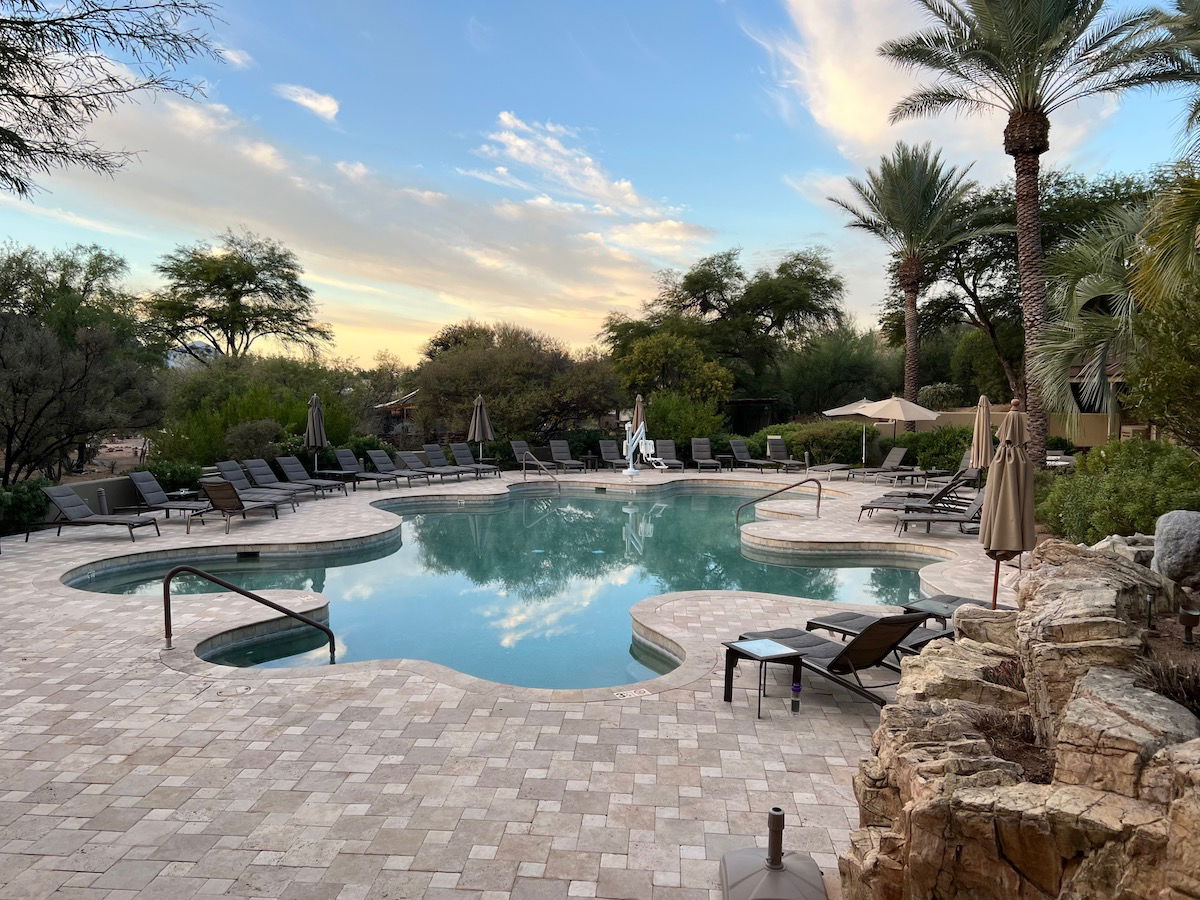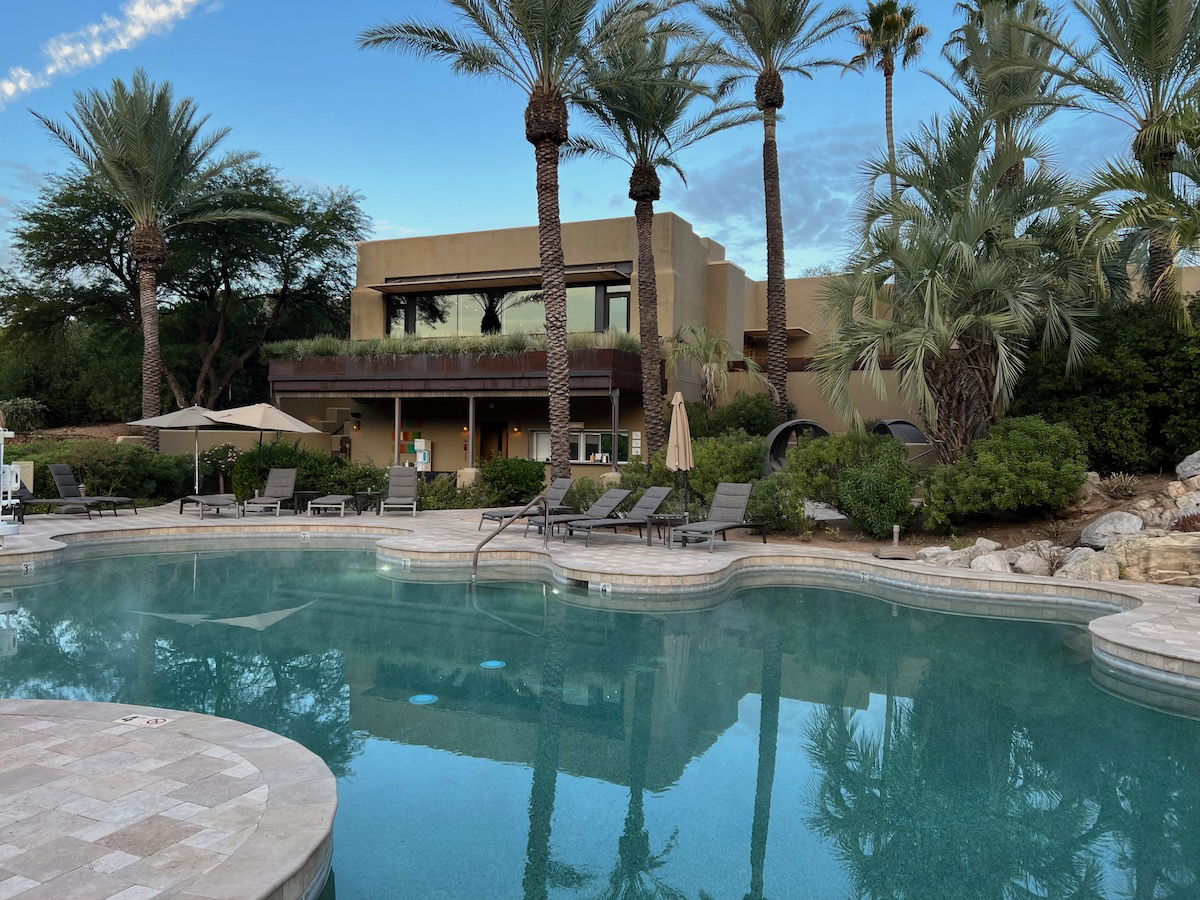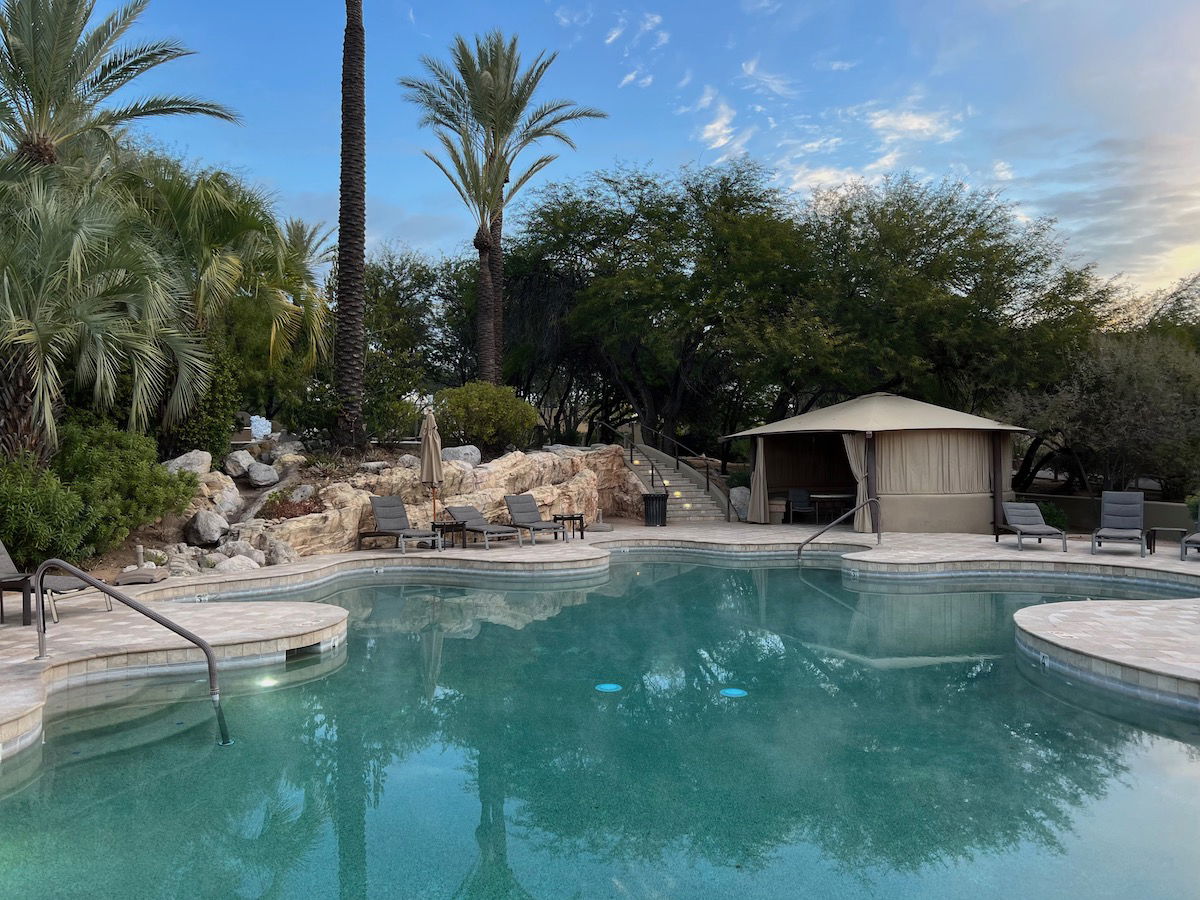 Then the Body Mindfulness Center had a massive lap pool.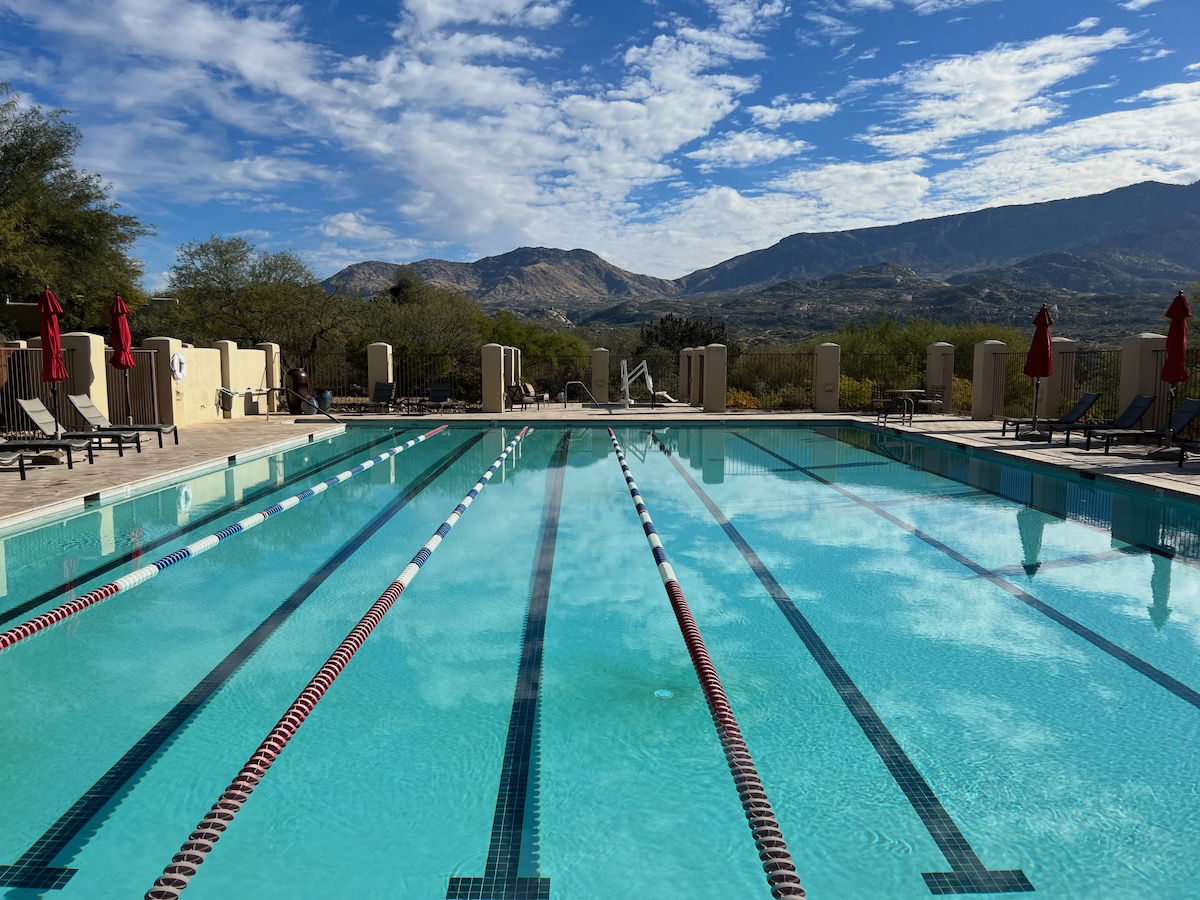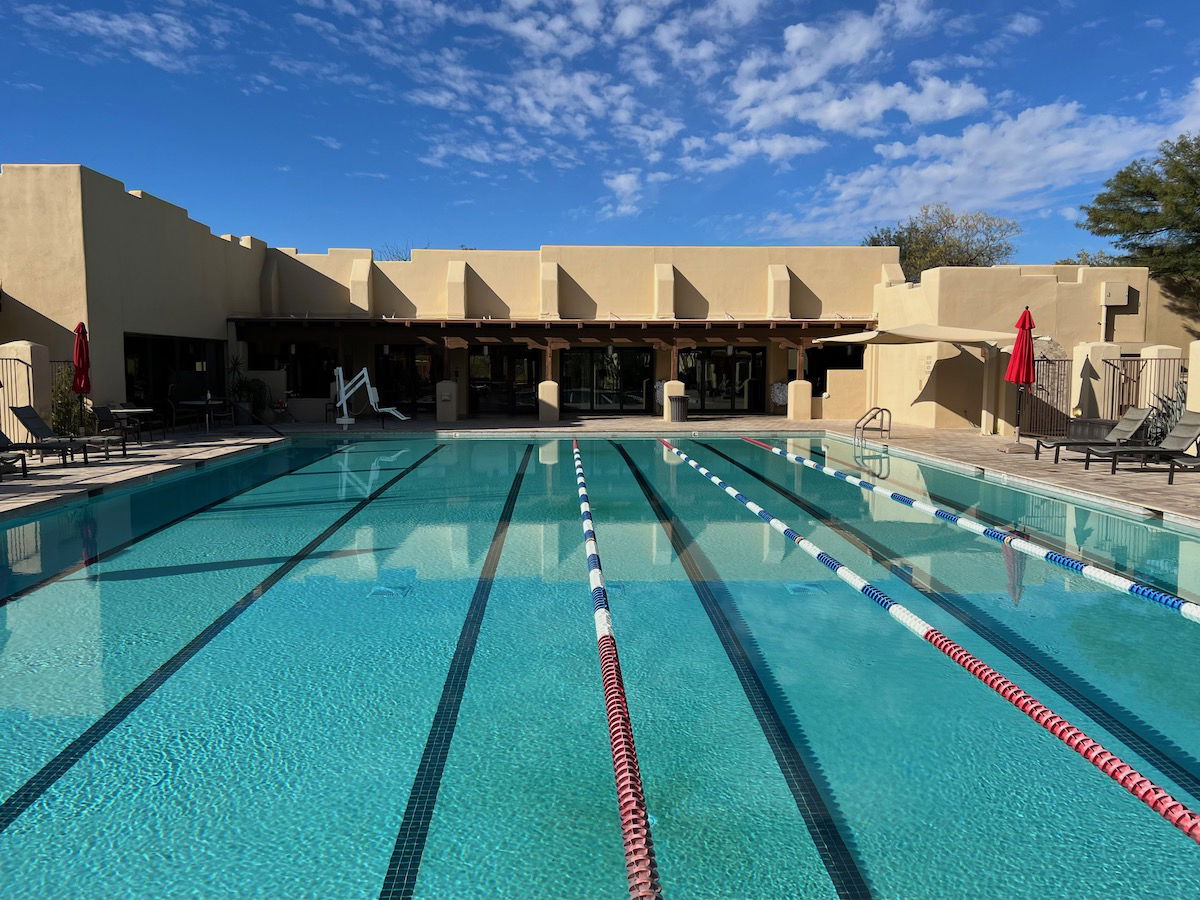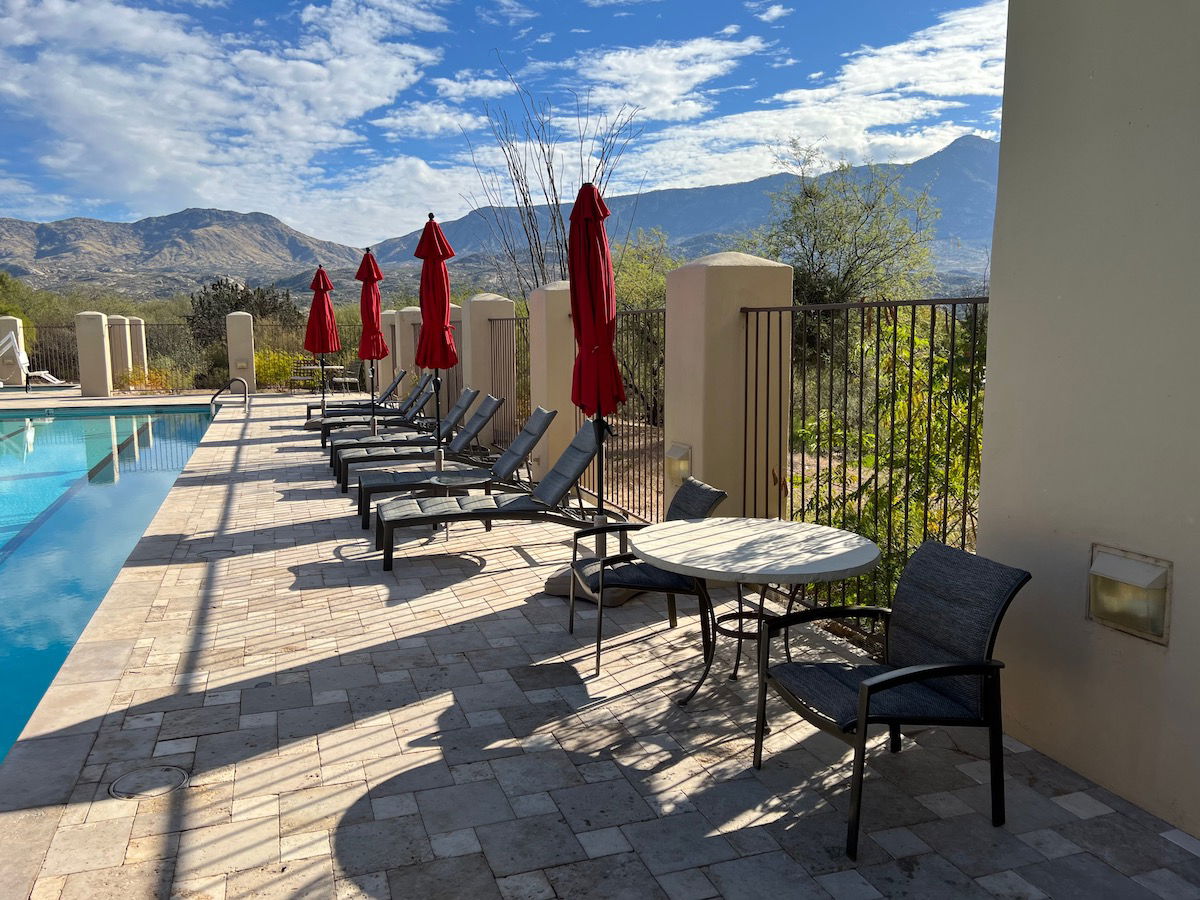 There was one more pool near the Yucca Cabana, though it paled in comparison to the other two pools.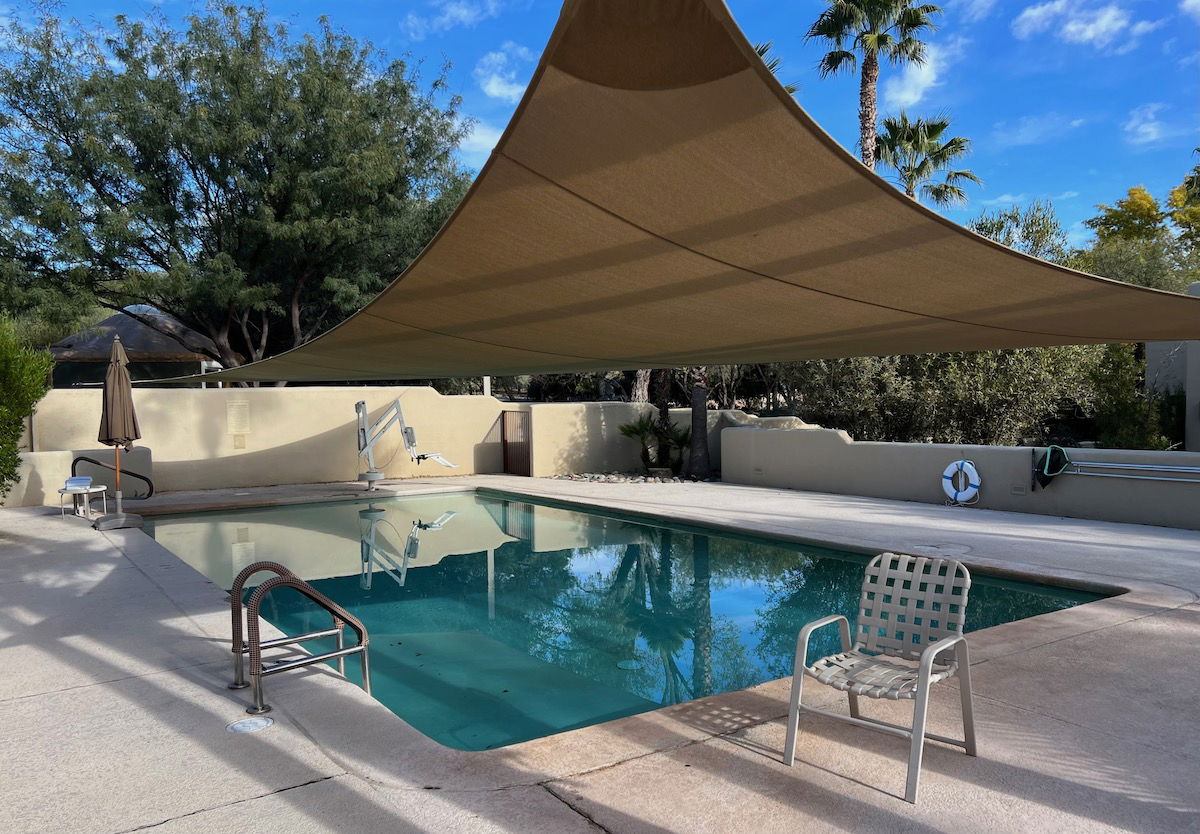 Miraval Arizona gym
The Body Mindfulness Center has the Miraval's gym. It's a huge gym, and wasn't used much, since most of the activities at the resort are pretty active. While I wouldn't say the equipment was cutting edge, I appreciated the variety of options available.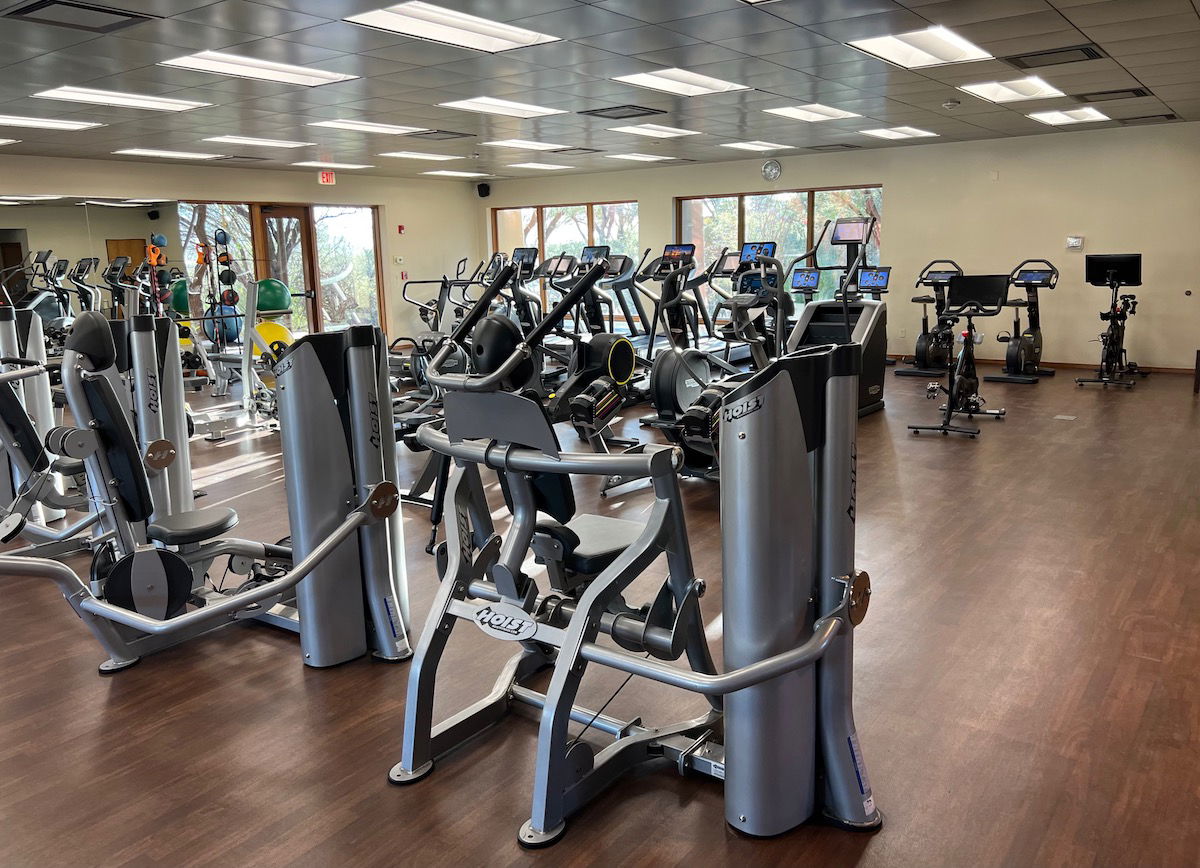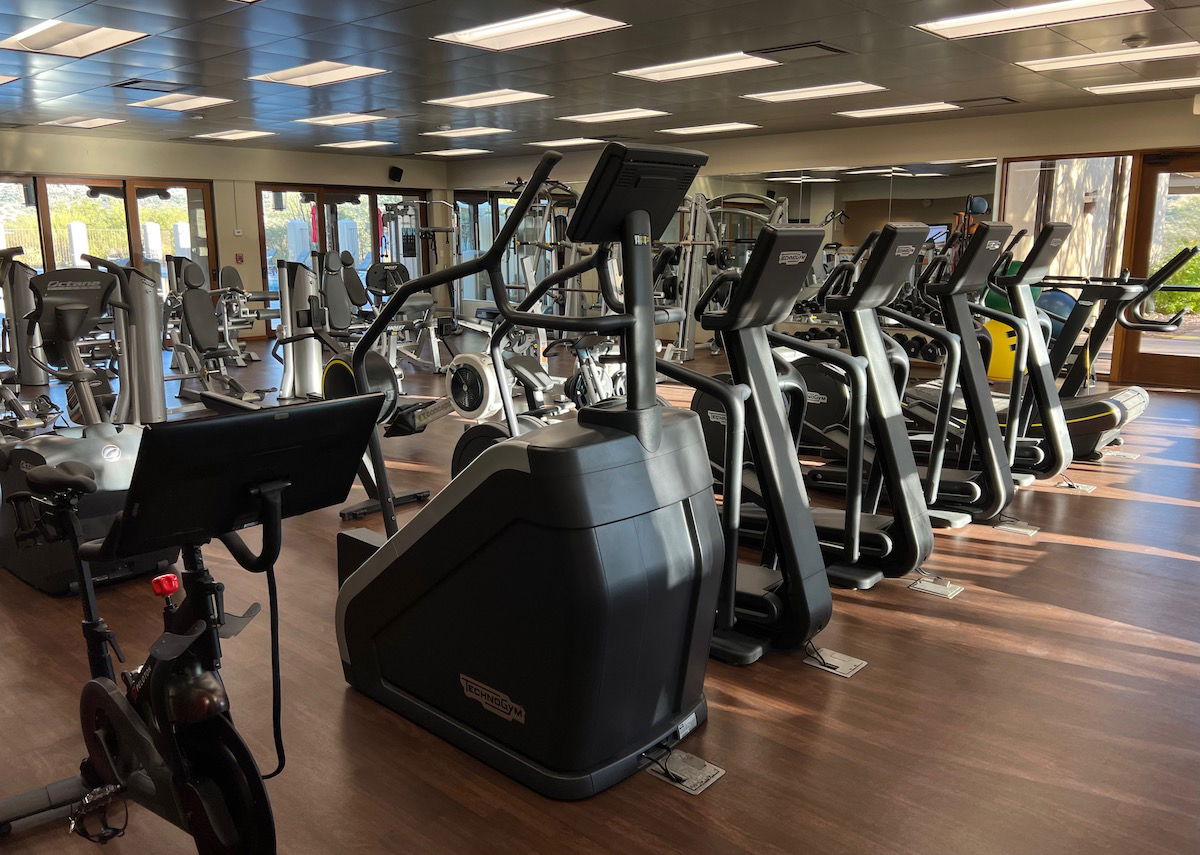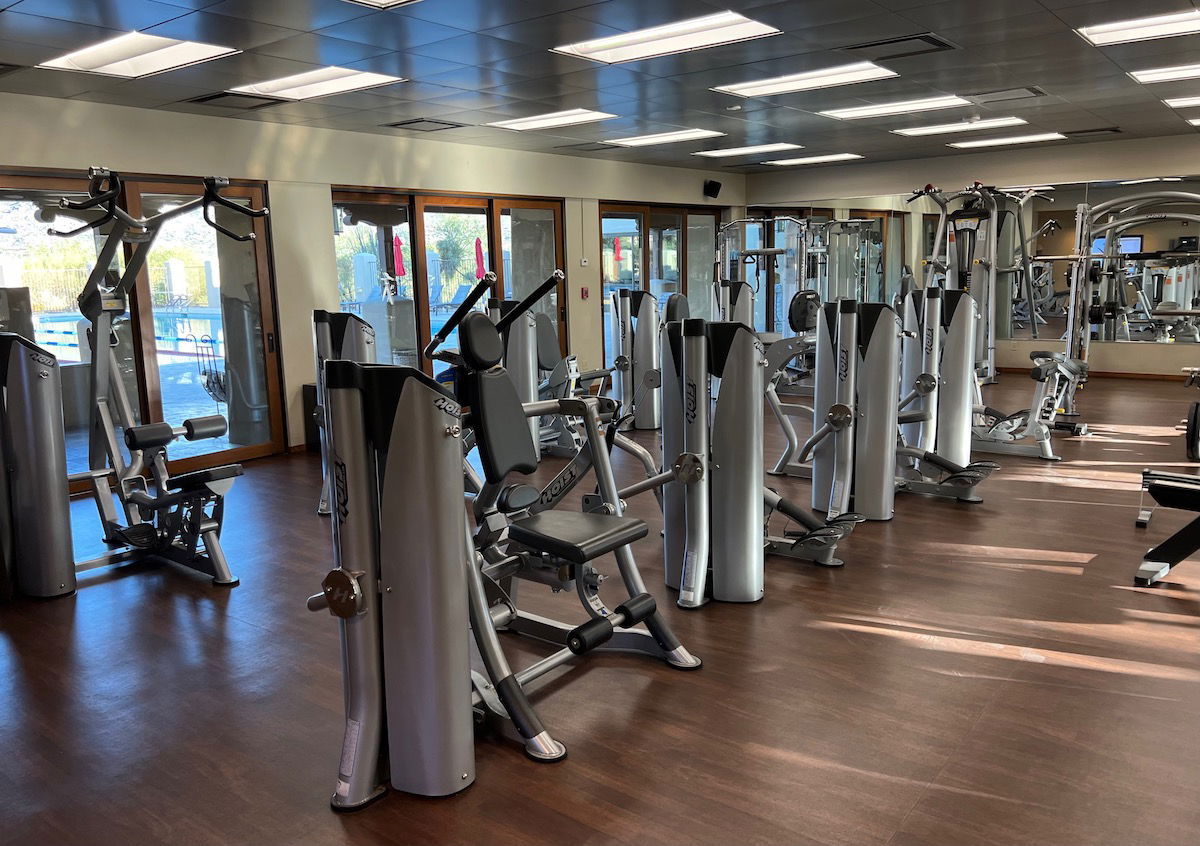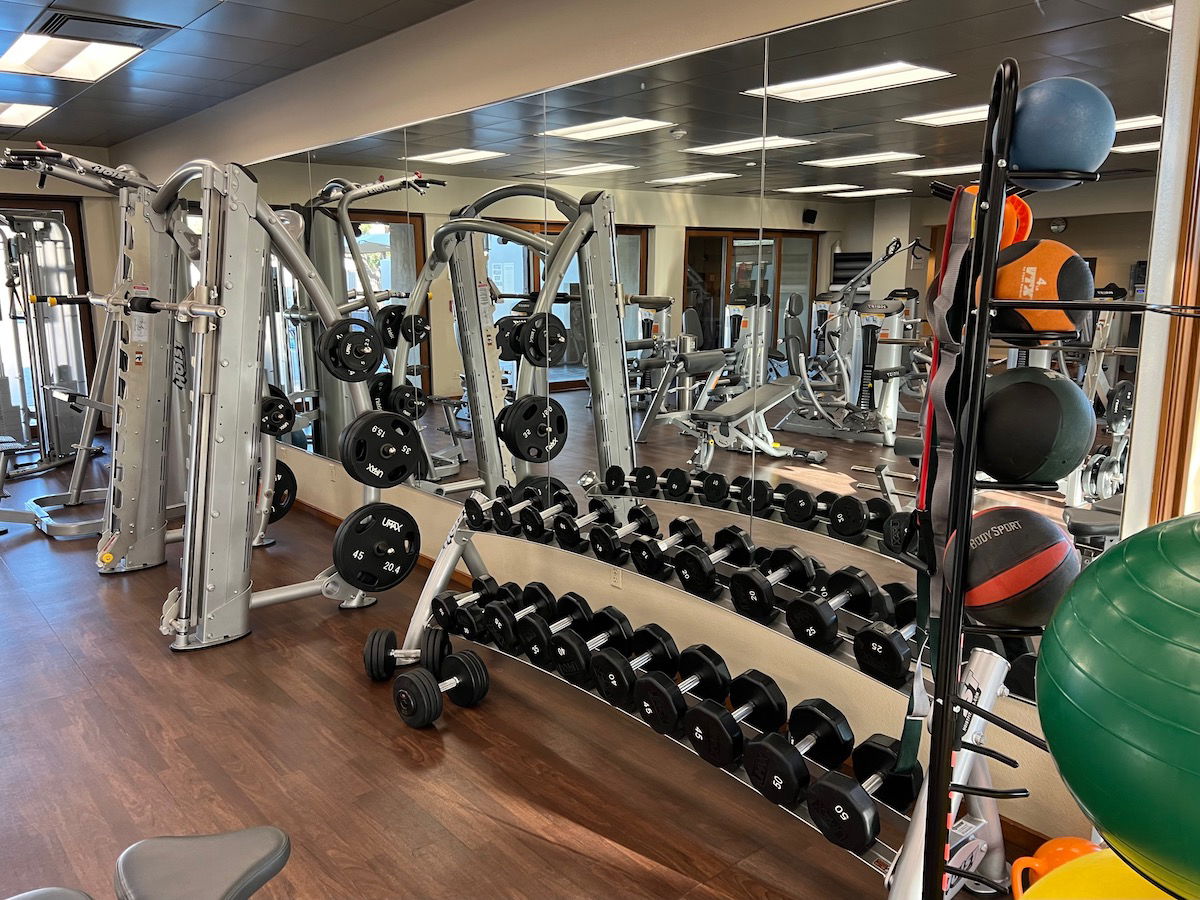 Miraval Arizona spa
The Miraval's spa is named Life in Balance, and it's a pretty nice facility. Guests can use the sauna, steam room, hot tub, and relaxation area anytime, even without an appointment.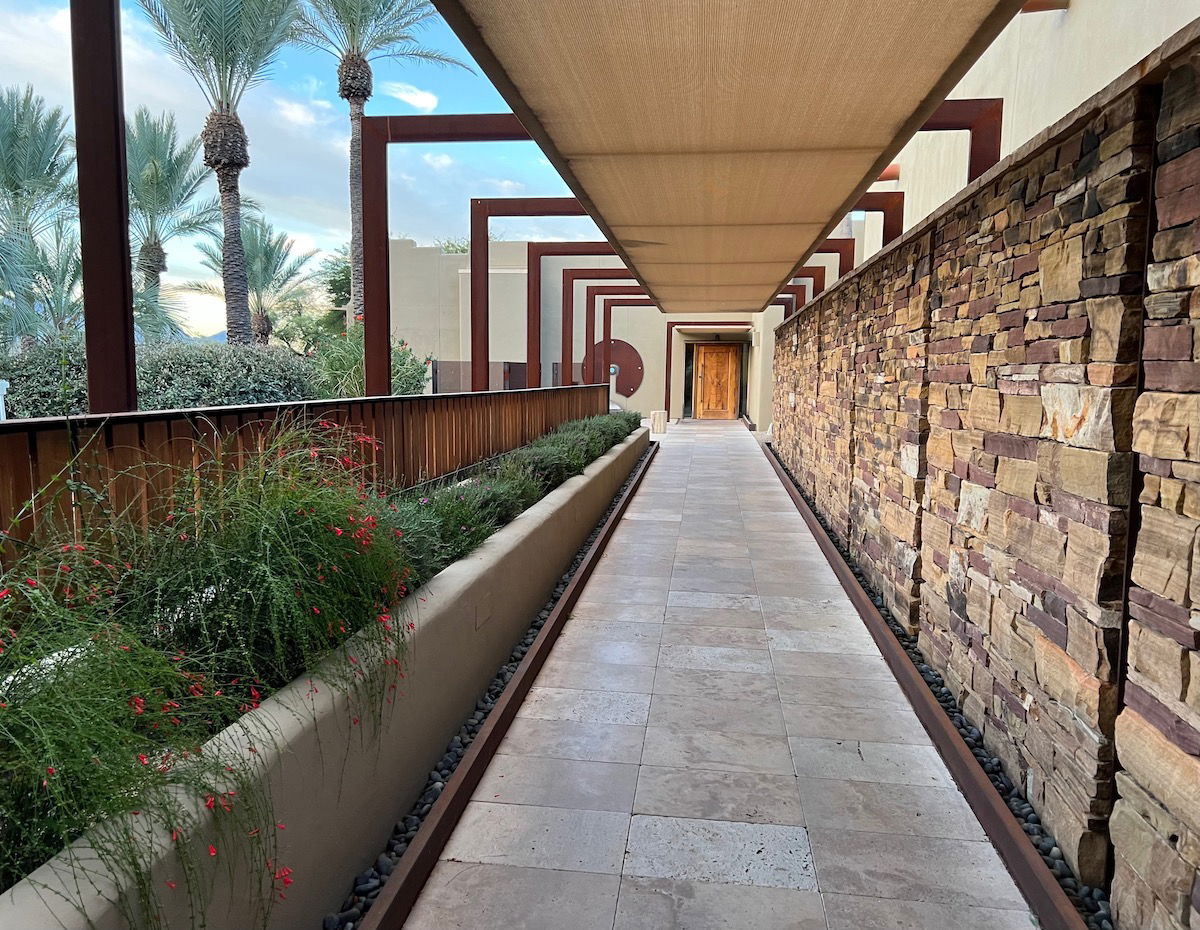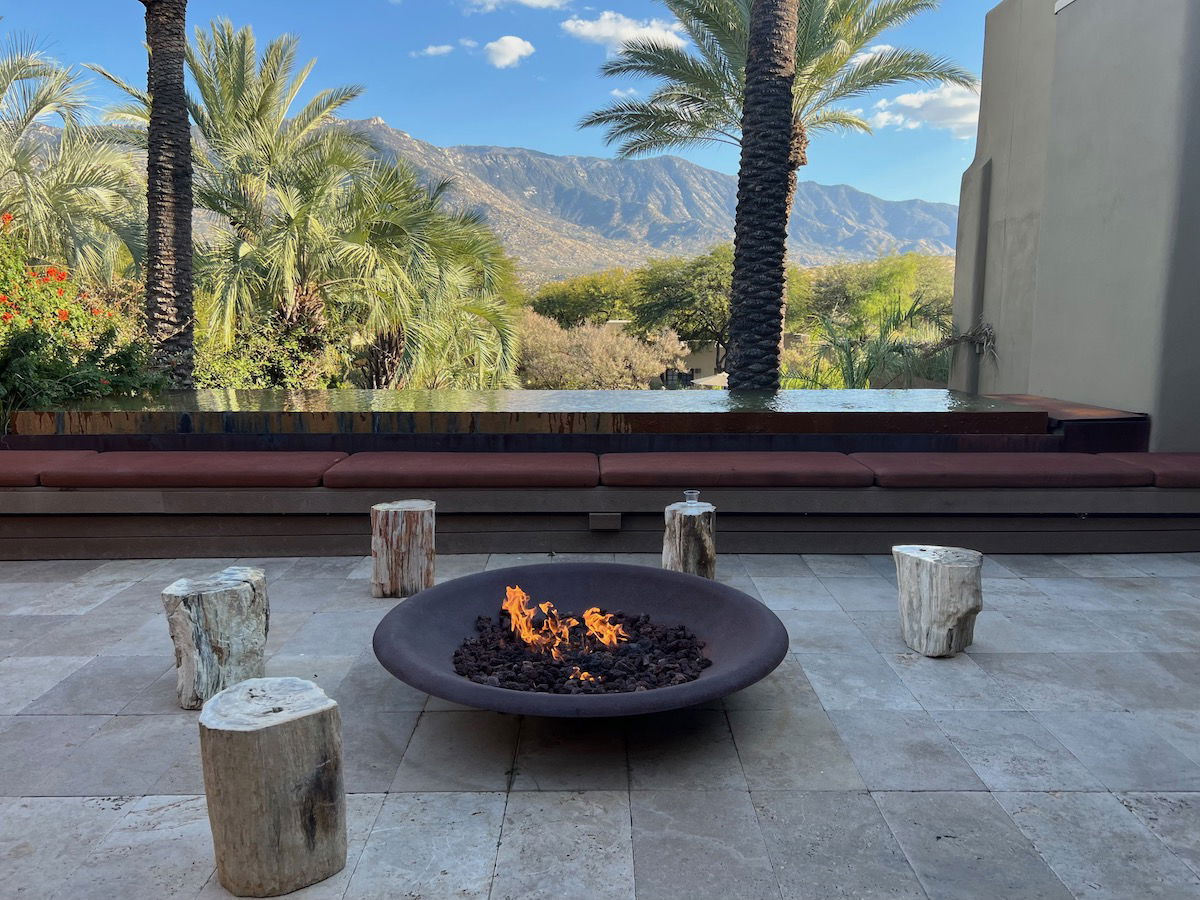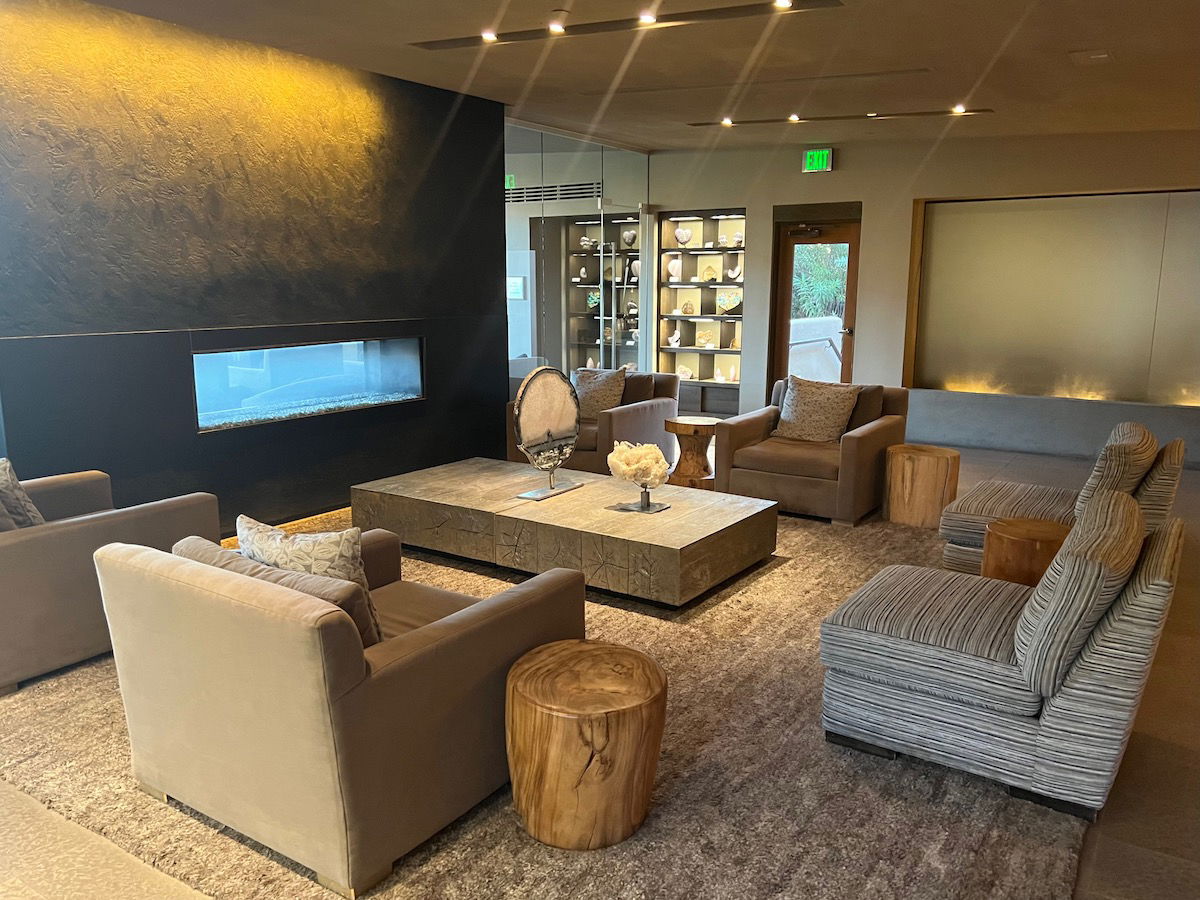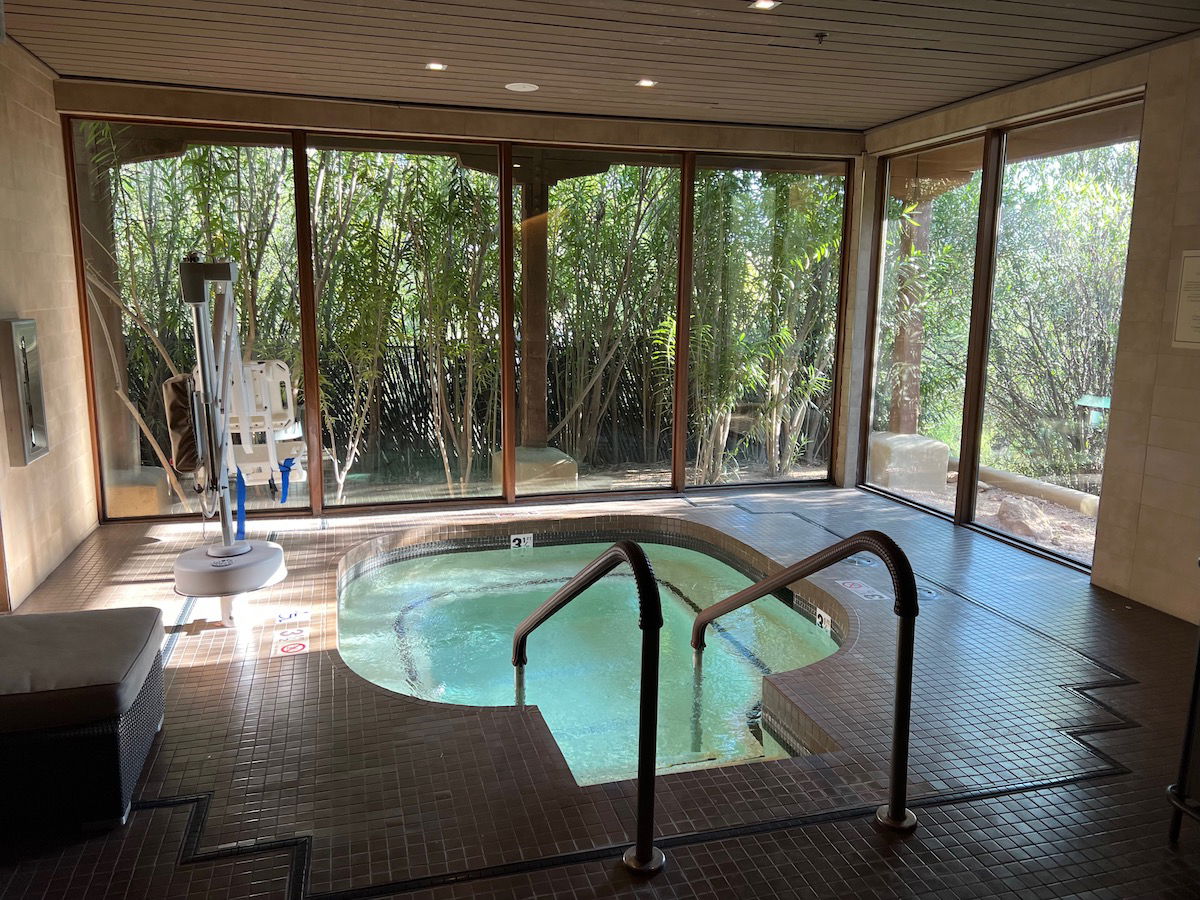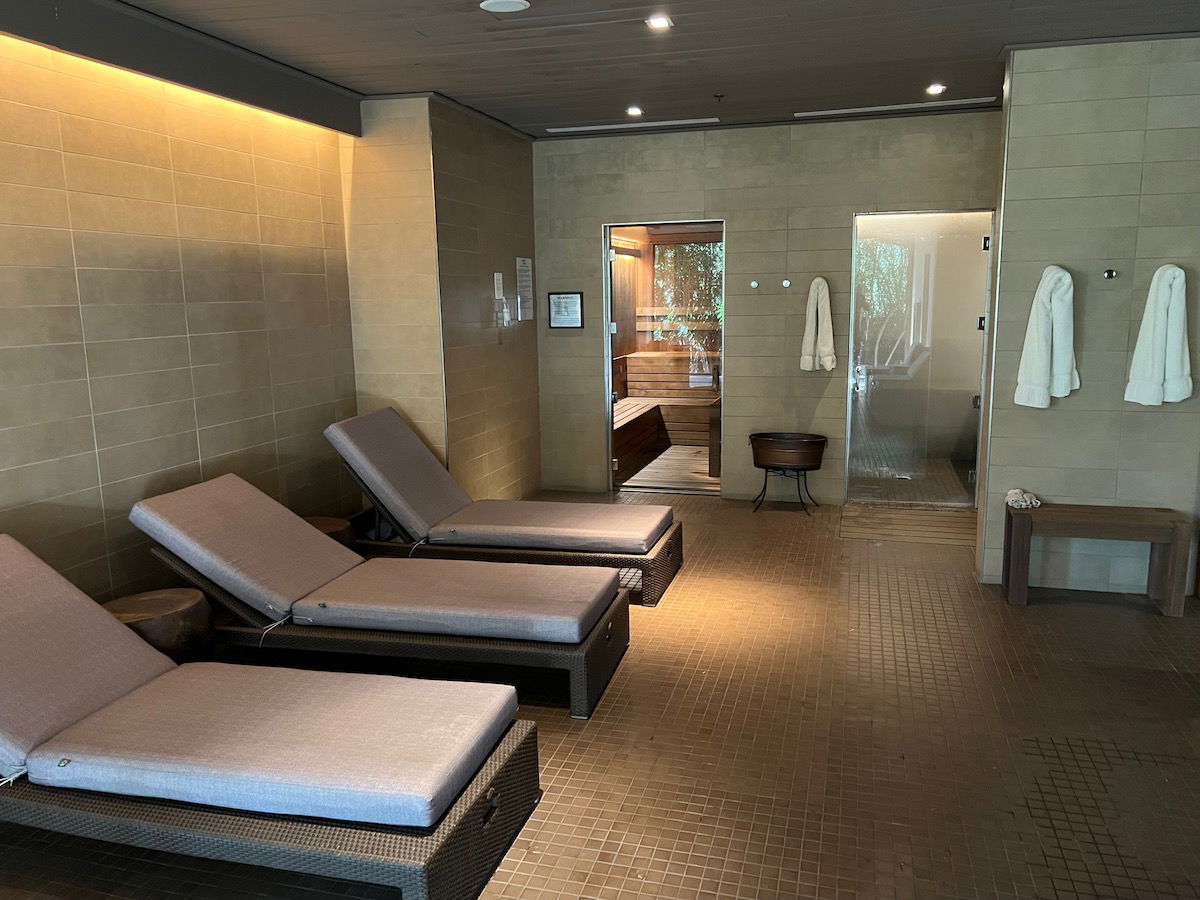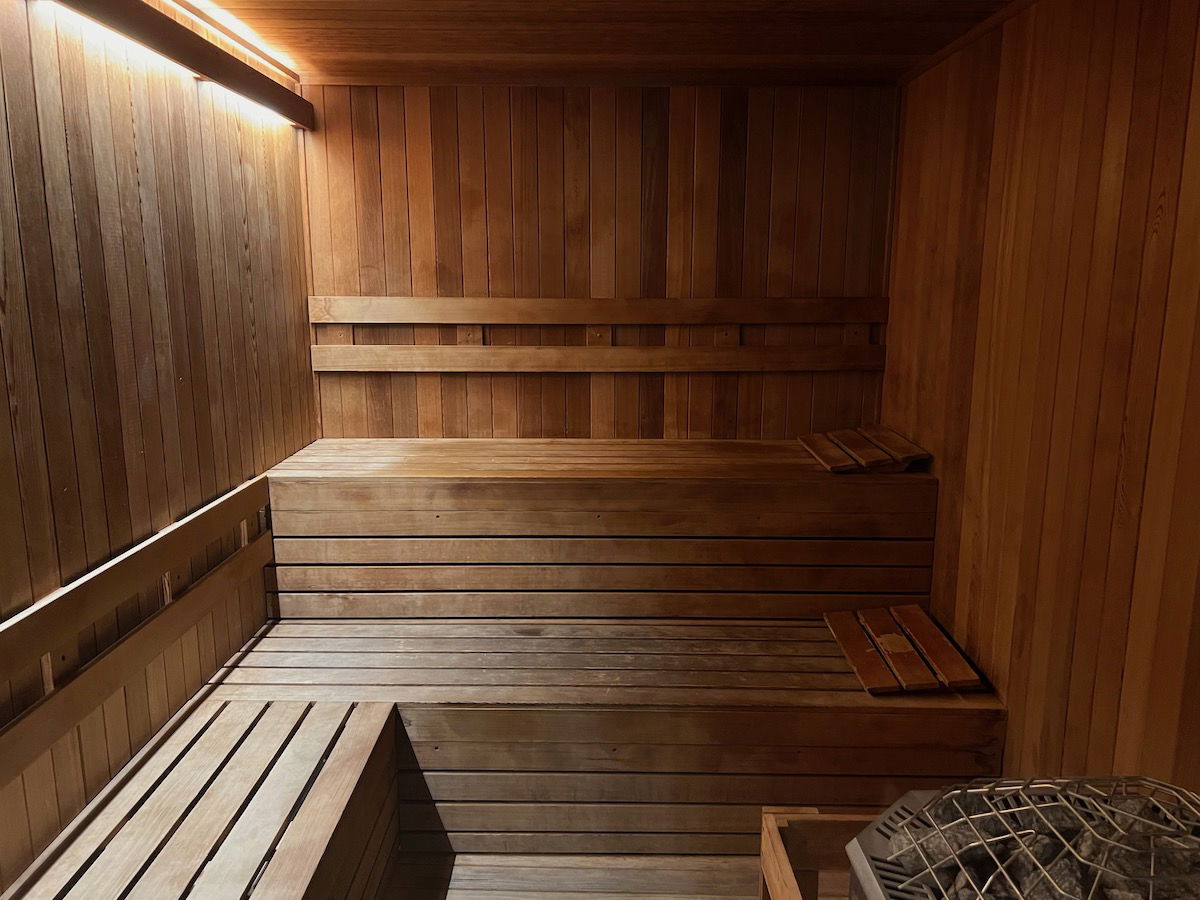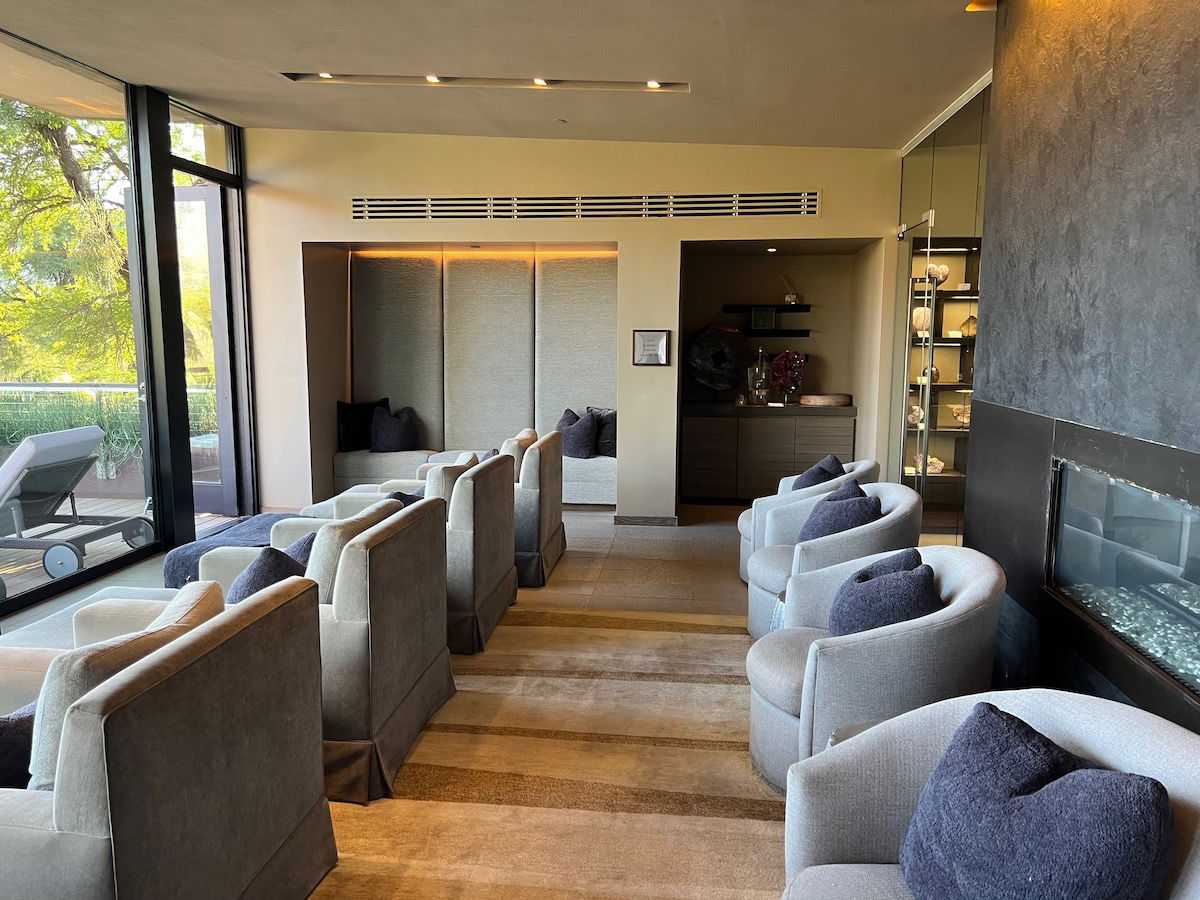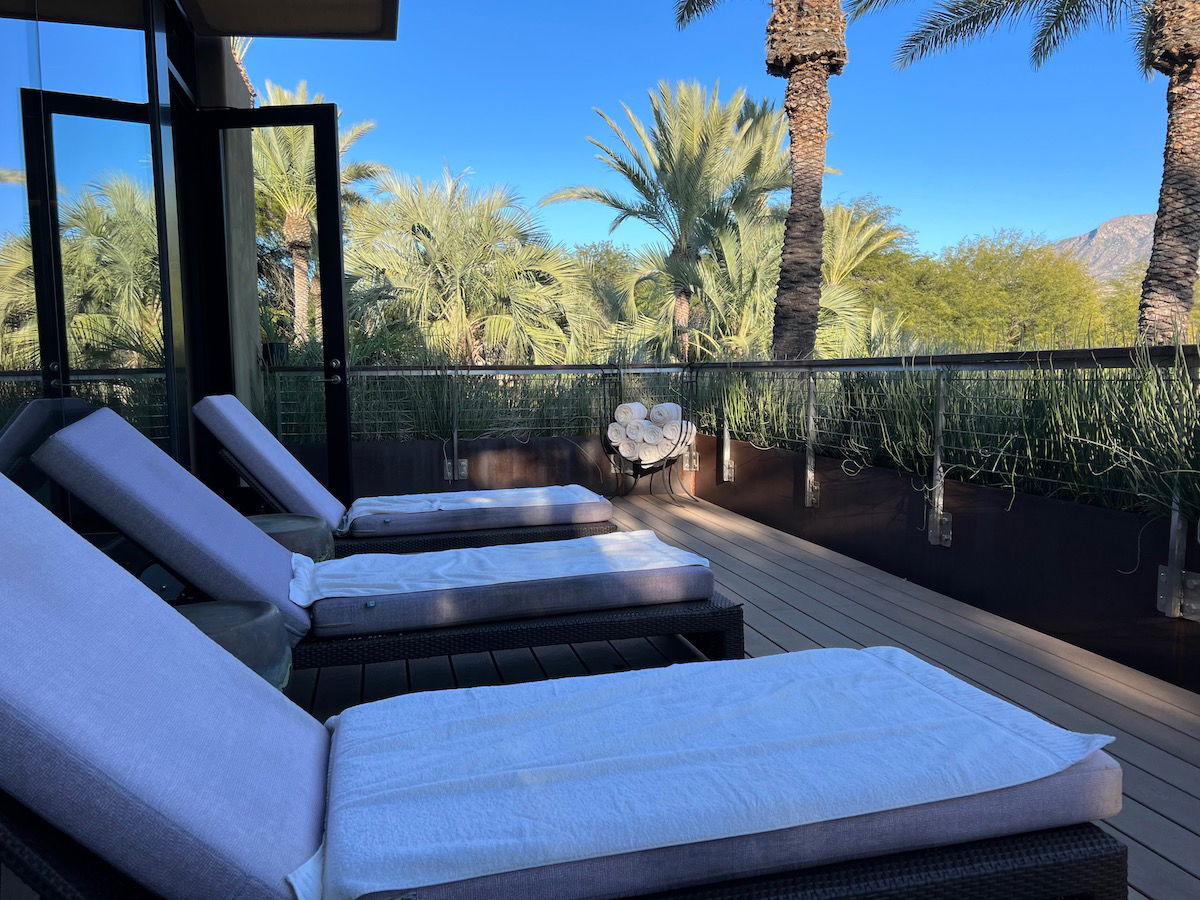 The spa also has a huge variety of treatments, and you can use your property credits toward this, just as you can toward any paid activities. You can find the spa treatment menu here. We each had a 50-minute Body in Balance massage, and enjoyed them immensely. For what it's worth, these were priced at $250.
Obviously that's expensive, though there's no tipping, and after the $175 per person credit, that's like paying $75 for the massage, if you want to view it that way. Credits at the property roll over day to day, so you can potentially totally offset the cost of a spa treatment, depending on how you're otherwise using credits.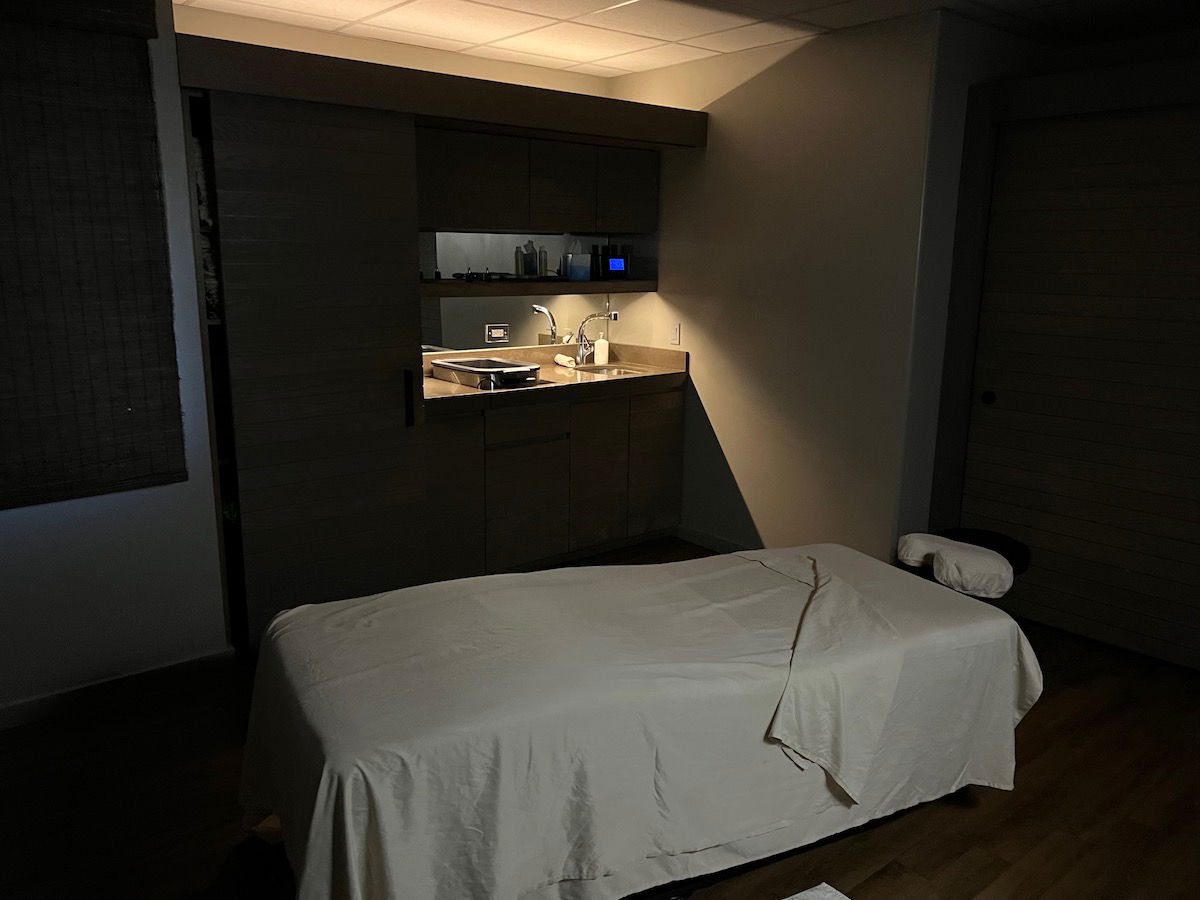 Miraval Arizona activities
The main reason people come to Miraval Arizona is for the activities. The property offers an incredible number of options, ranging from outdoor activities, to lectures, to fitness classes. You can find the daily activity schedule here, and as you'll see, there are multiple activities every hour. From a Q&A with a farmer, to a class about discovering your dosha, to cardio drumming, to improv, to an artisan taco class, to floating meditation, you really have endless options.
A few things to note:
You can book these activities well before you arrive on-property, and you absolutely should; I tried to arrange our activities a few days before arrival, and roughly half of the activities we wanted to book were already at capacity
Once you're on property, there are a couple of handy monitors (one across from Palm Court Cafe, and one in the lobby), which show all the same day activities that are still available; you can sometimes get availability last minute, thanks to cancelations
Some activities are complimentary, while others have a fee, which your $175 daily per person credit can apply toward; at times I felt like there was no rhyme or reason to whether something was free or chargeable, and even for the activities that cost extra, the relative pricing often didn't make sense to me
The temptation with maximizing your time is probably to plan several activities per day, though don't over plan yourself, or else you won't be able to relax and enjoy the property as such
Classes are various lengths, ranging from one hour, to half a day; personally I wouldn't do more than a few hours of activities per day
The lecture-based activities are mostly in conference rooms of sorts. While sitting in a conference room isn't usually my idea of a fun vacation, I enjoyed the workshops I attended.
We did the "Dharma Workshop: Create A Life with Meaning and Purpose" class, which was 90 minutes, and was described as follows:
Integrate ancient wisdom with modern living by exploring the concept of Dharma (your soul's true calling) and be introduced to the Five Pillars of Dharma, along with learning practical ways to implement them. Guests will then journey through an interactive self-inquiry prompt to help discover their Dharma and create a powerful mantra to align with it.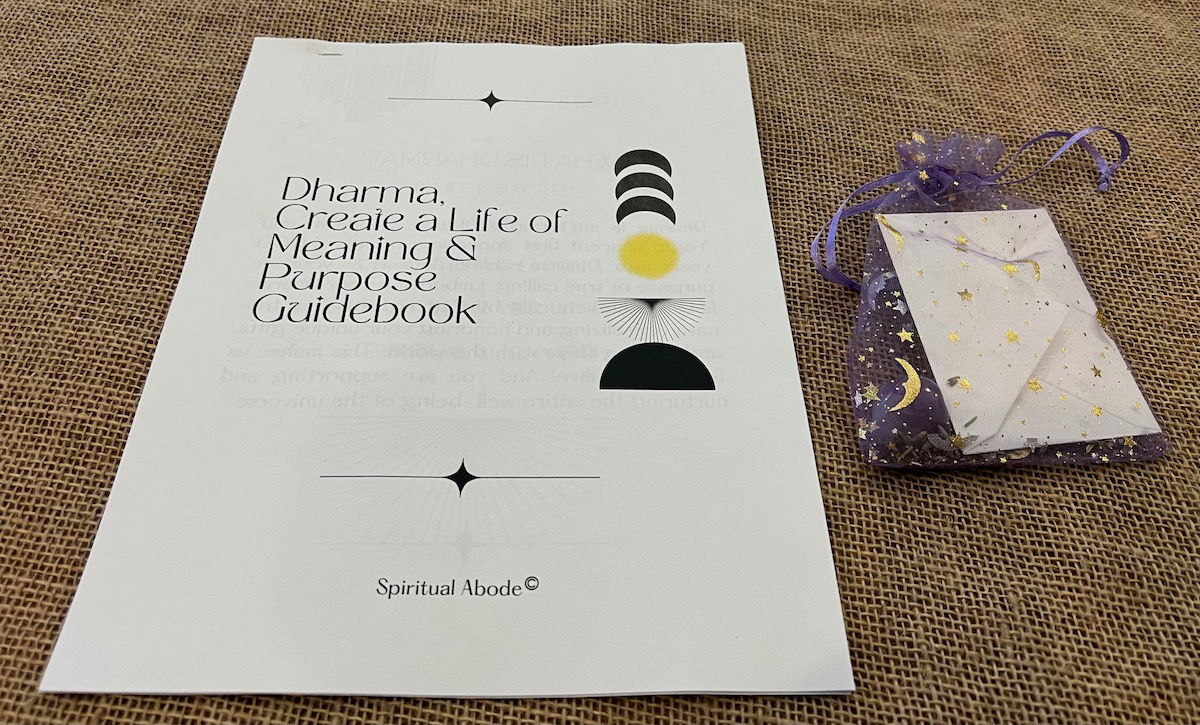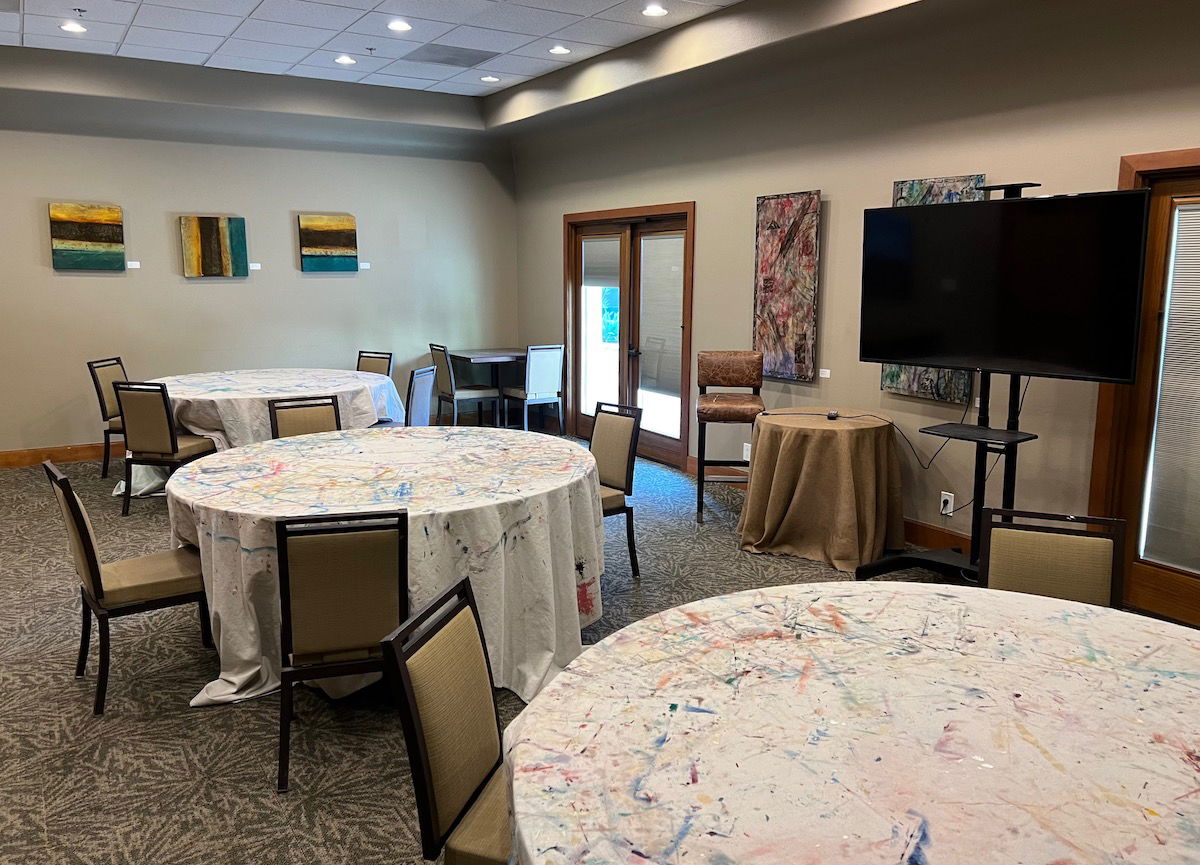 We also did the "Chorus of Crystals: Sound Meditation" class, which was 90 minutes, and was described as follows:
Experience this gentle, transformational, and healing meditation that helps balance the chakra system by resting in a crystal layout and bathing in the healing vibrations from Himalayan sound bowls and a quartz crystal harp. Leave this meditation with renewed and balanced energy, along with an understanding of each charka's role and recommendations for crystals that can help keep them in balance.
Then we did the "Floating Meditation" class, which was 45 minutes, and was described as follows (this was probably my favorite activity — I highly recommend it):
Experience the calming benefits of induced meditation while you are gently elevated above the floor in a silk hammock and rocked to the soothing vibrations of crystal bowls. Release your mind's stress, tension, or worry while you "float" weightlessly in the air.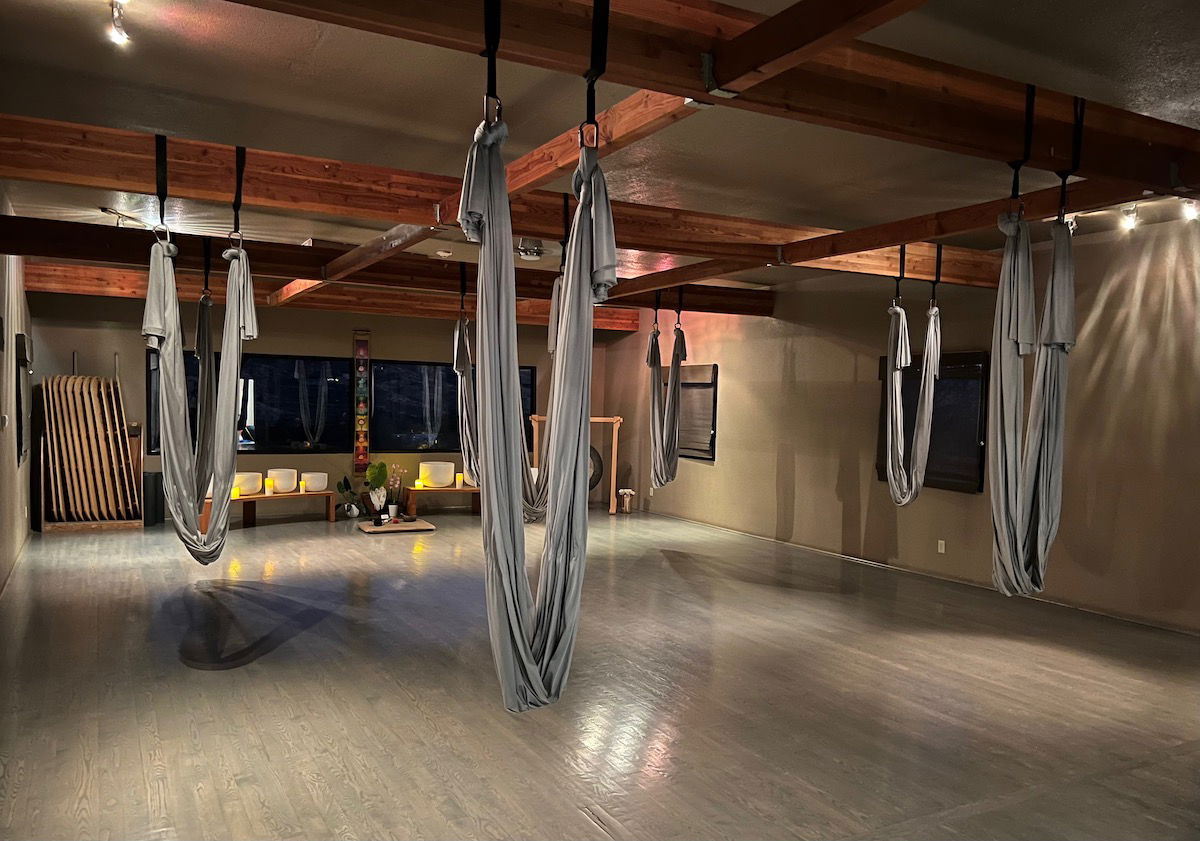 We also did a beginner climbing wall class, which we enjoyed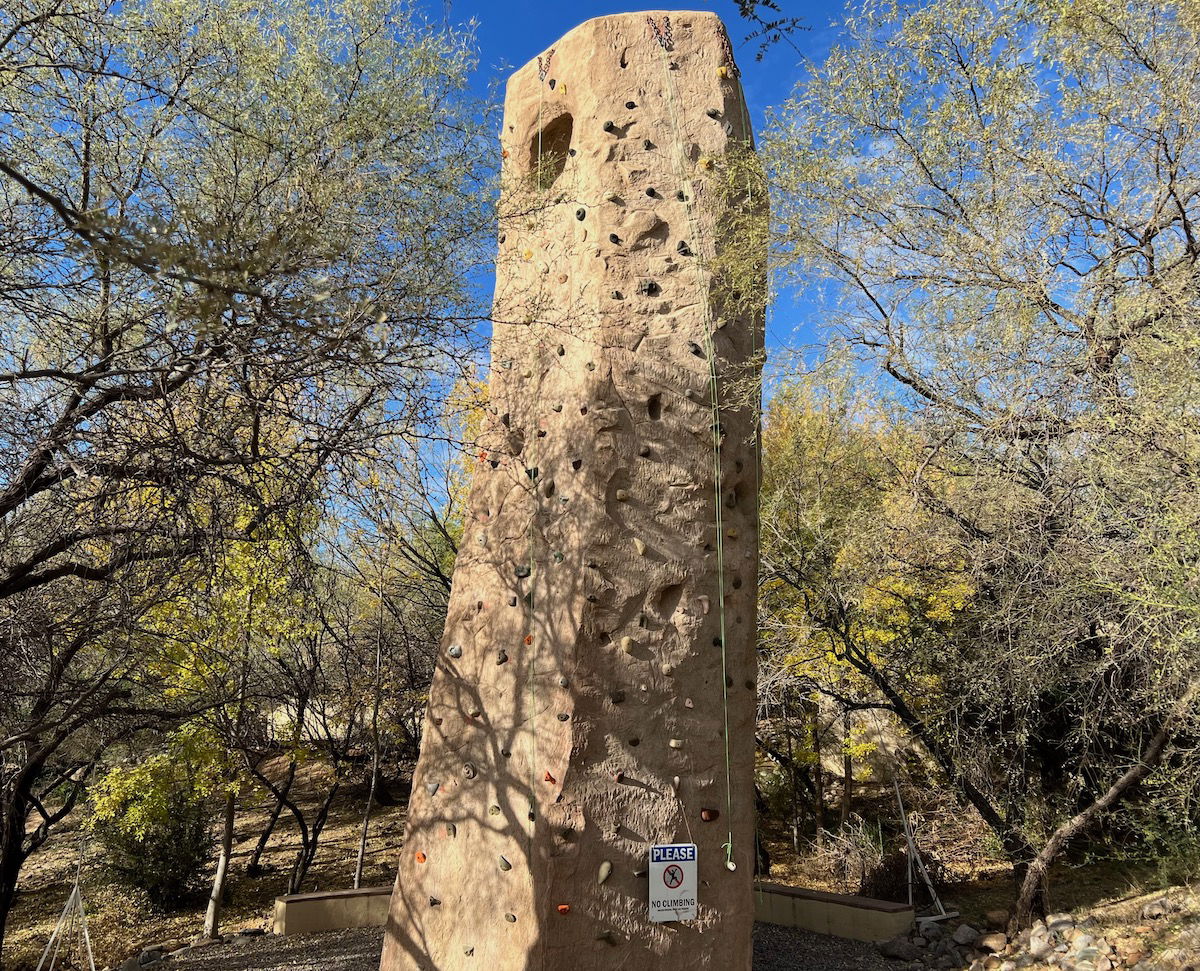 A few thoughts:
Has my life been changed, and am I ready to move to Bali to pursue a spiritual life? No, but there were certain things that made me think, and that will stick with me
The instructors were genuinely passionate and knowledgable about what they were talking about; I love learning from people who are passionate about their subject matter (whatever it may be), and they very much ticked those boxes
Note that many classes are interactive, so you may be put on the spot and asked to share your feelings, your strengths and weaknesses, etc., though this was done in a respectful way (in fairness, I didn't take the "women, sex, and desire" class, so I can't speak to how much sharing goes on there)
The classes are all very basic and assume that you know nothing about a particular topic; that's ultimately the only way to do it, but obviously this will be more valuable for someone who doesn't know much about a topic, rather than someone who is already knowledgable
We weren't able to do some of Miraval's most well known outdoor activities, like the "Giant's Ladder," where you're supposed to "integrate the importance of trust, balance, and cooperation as you climb a 40-foot ladder." Ford was bummed it wasn't available, though I'm not going to lie, this is something I was secretly very happy to skip. 😉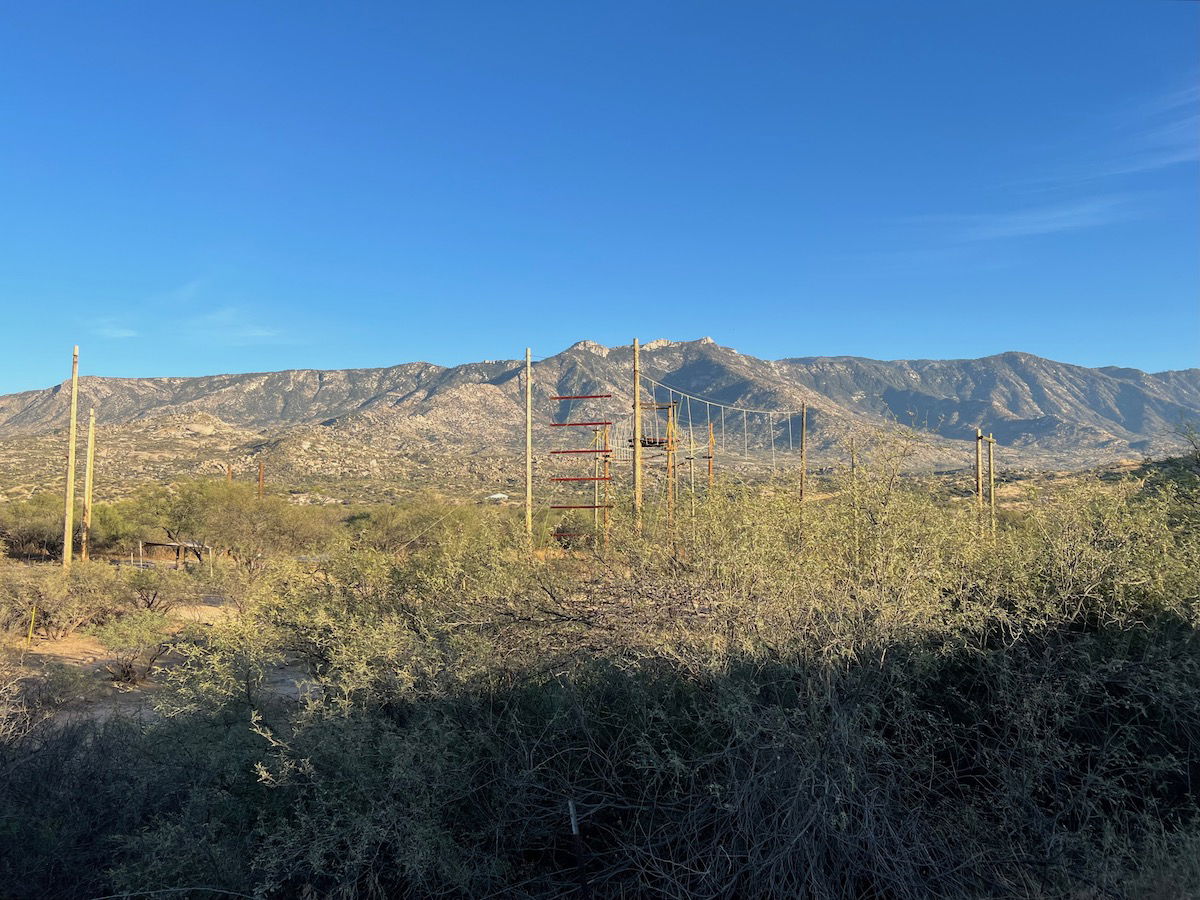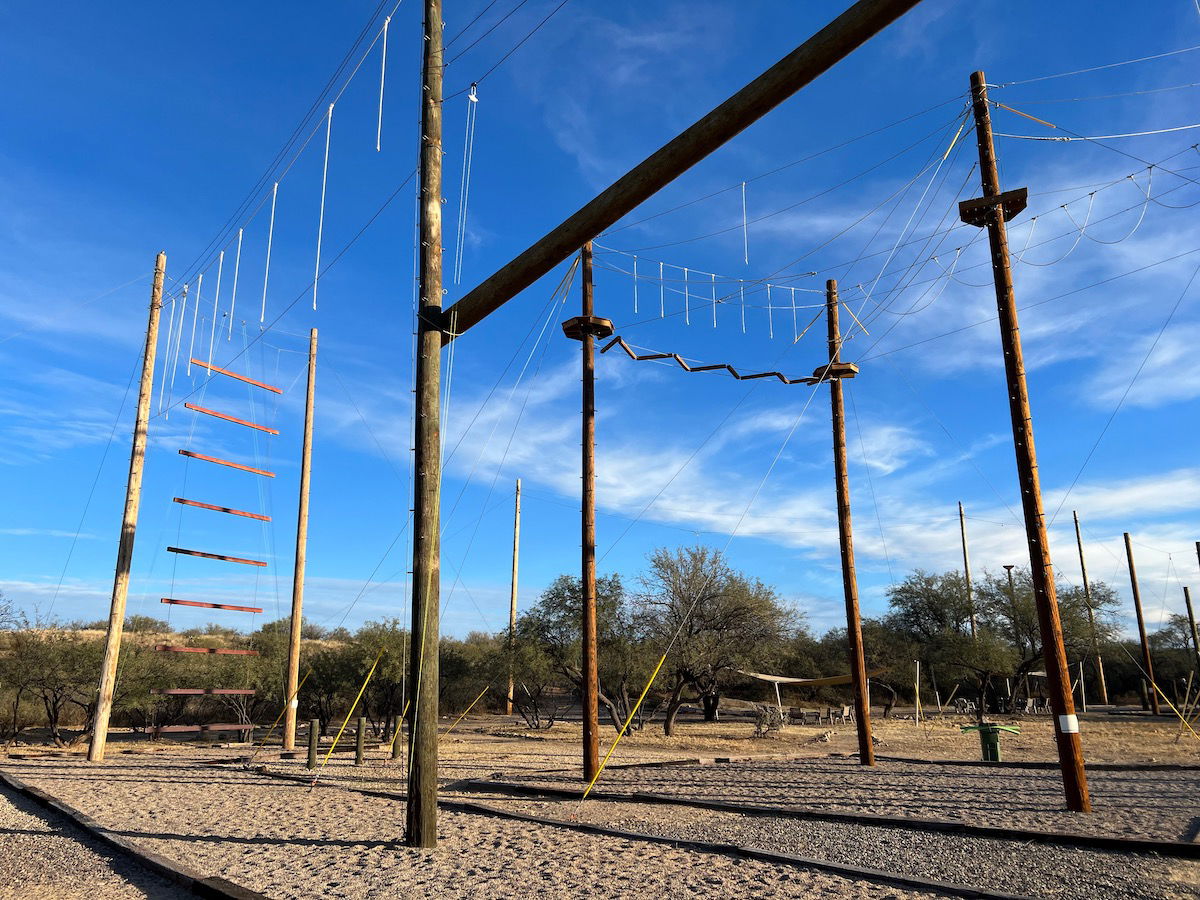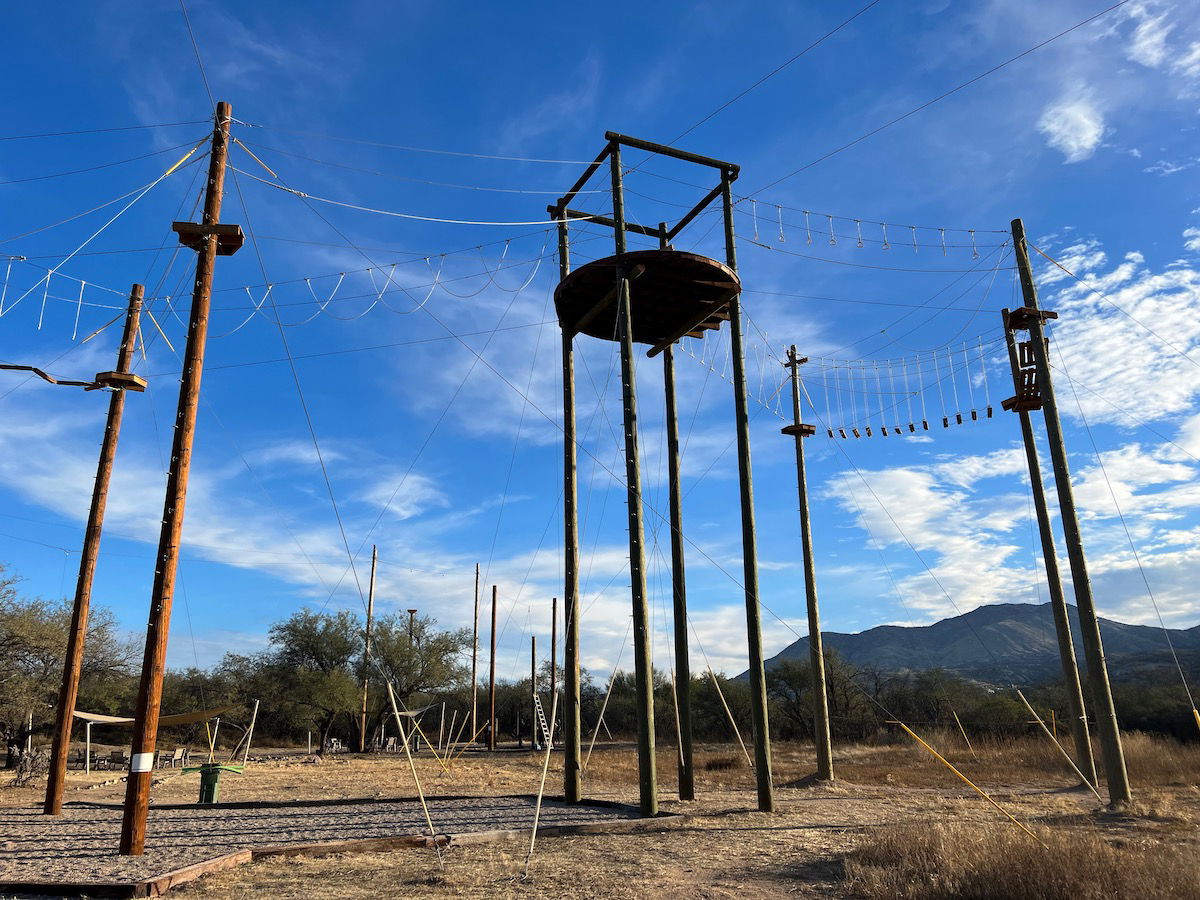 Bottom line
We really enjoyed our long weekend at Miraval Arizona. It's a totally different kind of vacation experience than we're used to. As someone who likes to learn and stay busy, I love this concept — I far prefer this to sitting at the beach and/or drinking all day.
Miraval Arizona has a gorgeous setting, a huge variety of interesting classes and activities, good food, and an amazing smoothie and coffee bar. That being said, the property could definitely use a refresh, and it sure would be nice if there were a bit more variety to the dining options (both in terms of the food as such, as well as the setting you eat in).
The price tag in cash was also rather steep given some of the shortcomings, but then again, luxury hotel pricing doesn't make much sense right now across the board. I thought the points pricing was fair, though, given all that's included.
After visiting Miraval Arizona, I'd love to visit Miraval Austin and Miraval Berkshires — I've heard Miraval Austin is a much more modern and updated property, while Miraval Berkshires is cool and has a totally different vibe, given where it is.
What do you make of the Miraval experience?