It's amazing how far business class seats have come over the years. We've seen a shift where each cabin has basically been "upgraded" by a level. In other words, the premium economy products we see nowadays are similar to the business class products we saw a decade or two ago, while the business class products we see nowadays are similar to the first class products we saw a decade or two ago (and in many cases even better). Perhaps that's why we're seeing many airlines remove first class and add premium economy in its place.
I've long said that reverse herringbone seats are my all around favorite business class hard product. Each seat features direct aisle access, the seat itself is quite spacious, and you don't have a seatmate. As an introvert who likes privacy, it's pretty tough to beat.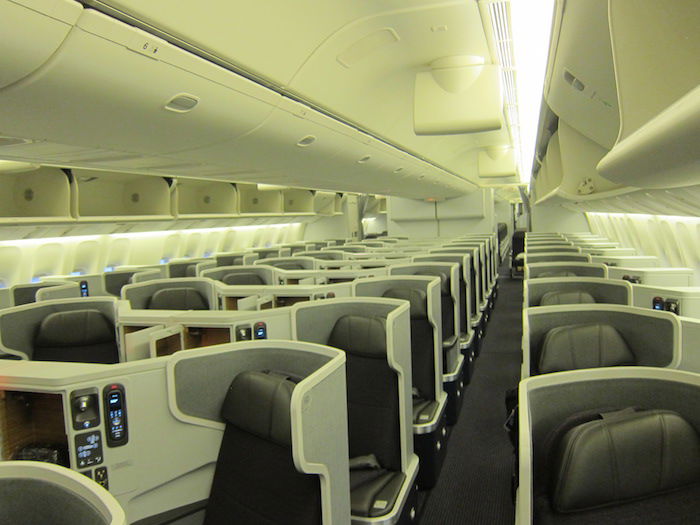 These reverse herringbone seats can be found on American, Cathay Pacific, Qatar Airways, SriLankan, and several other airlines.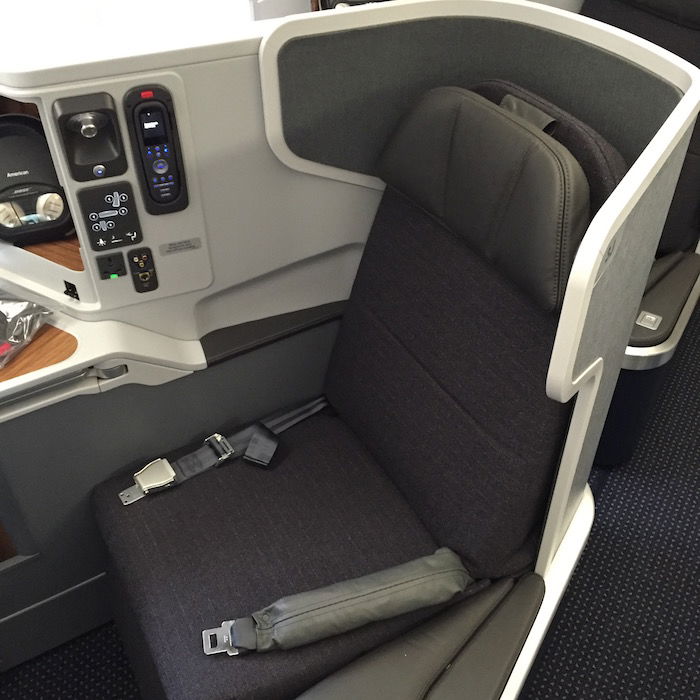 And I maintain that reverse herringbone business class seats are the most well rounded business class product, in the sense that there are no bad seats — no one is going to feel like they got screwed out of a seat in such a configuration.
Other business class hard products are more variable, where seats are of differing quality. Thanks to that variability, I've just found my new all around favorite business class seat.
Last night I flew Oman Air from Frankfurt to Muscat on one of their new 787s. Ironically the product I really wanted to fly was Oman Air's old business class, which looks a lot more like a first class cabin. I called their new business class product worse, even. For what it's worth, this is the same new business class product found on Japan Airlines.
But my gosh, was I wrong — the window seats in this business class configuration are the best business class seat I've ever experienced.
The business class cabin consists of just 18 seats, spread across three rows in a 2-2-2 configuration.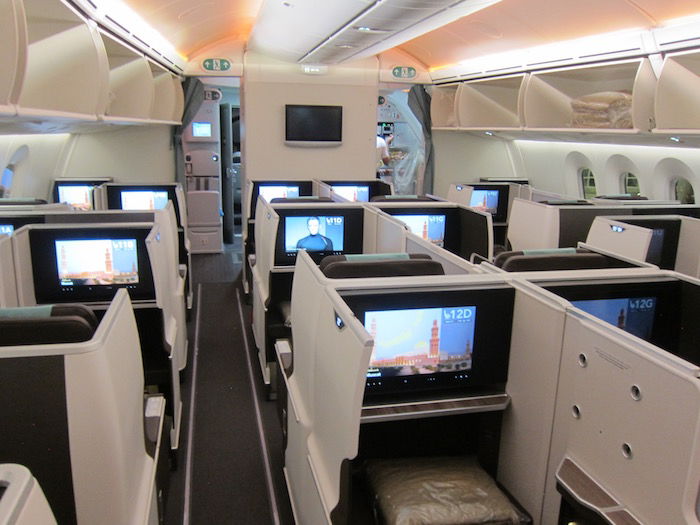 The four aisle seats in each row are perfectly nice and spacious, though nothing remarkable. They can't compete with reverse herringbone seats.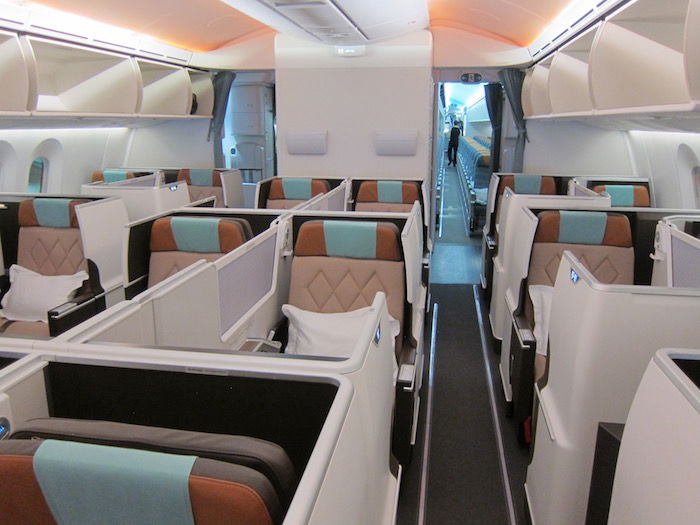 But the window seats are incredible. As you can see in the below picture, the aisle and window seats are somewhat staggered, where the aisle seat is positioned a few inches further back than the window seat.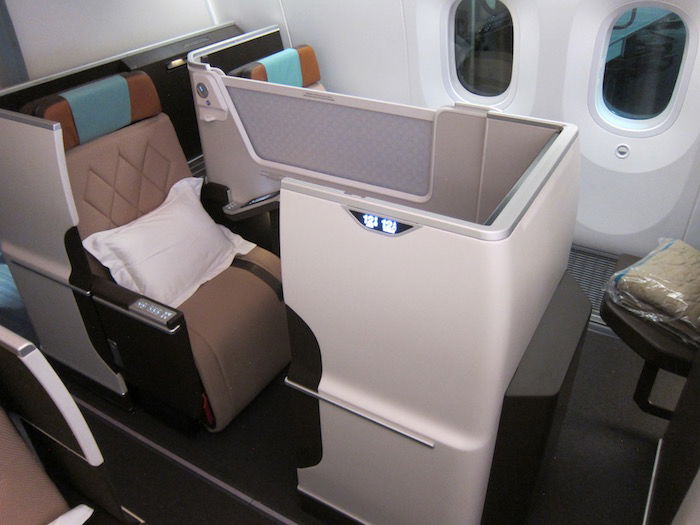 There's a spacious entryway to get into the window seat — there's no need to climb over the person seated in the aisle seat.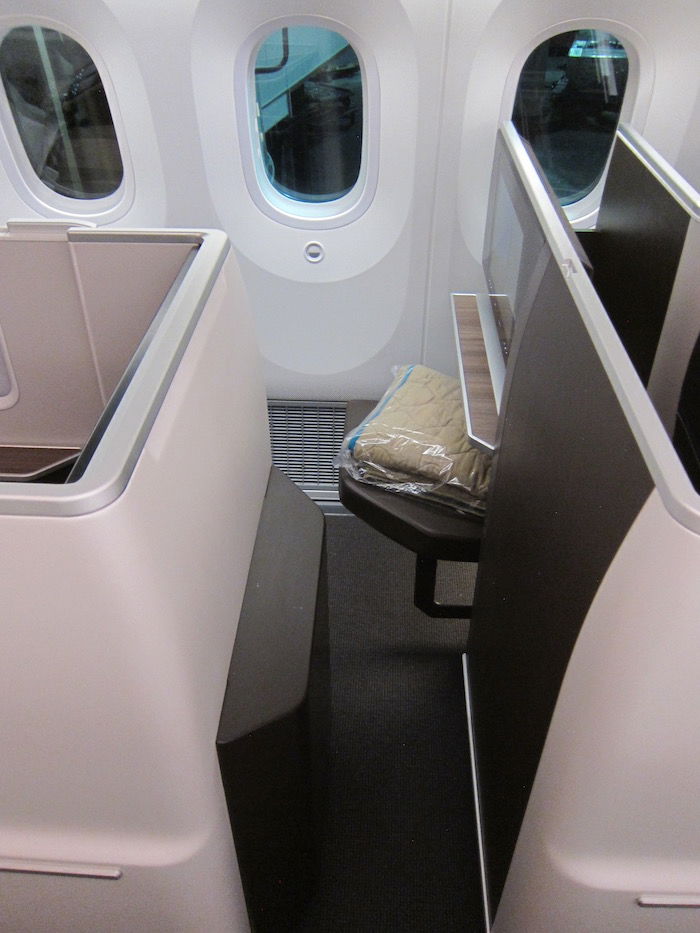 The seat itself is a good size. It's not the widest seat in the world, but more than sufficient width (I actually felt it was wider than it looks in the below picture).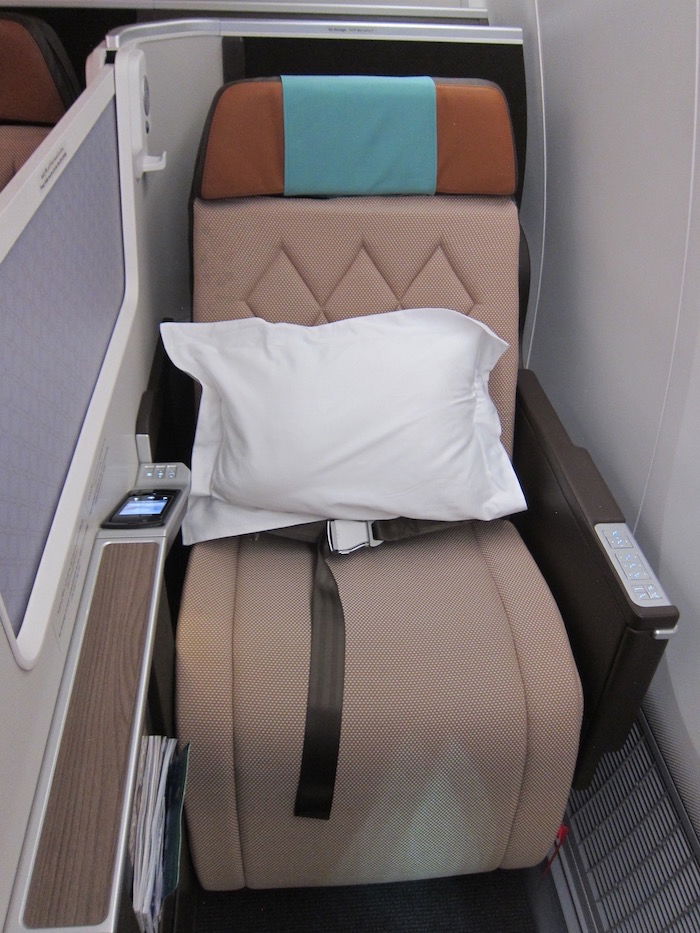 But the amount of personal space was unreal. I felt like I was in a first class suite rather than a business class seat. The ottoman was so far away that my feet couldn't even reach it in the upright position. And there was so much space under the ottoman that I could store a full sized carry-on there.
A friend joined me on this flight, and he was able to sit on the ottoman facing me with room to spare. What other business class seat has enough room for two people to sit face-to-face?
The seat is also extremely private, as there's a partition between the aisle and window seats, and the standard position for the partition is up, rather than down.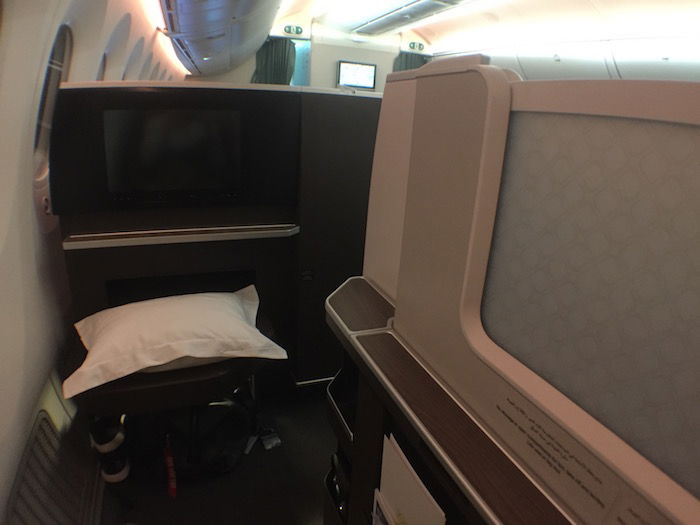 The seat also has ample storage. In addition to being able to store things under the ottoman, there are a couple of storage compartments along the center armrest.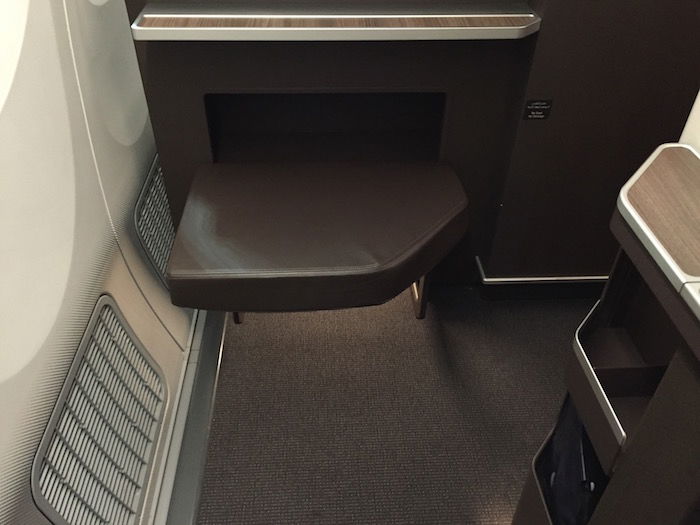 This seat is just so well done. What do I prefer about this seat over a reverse herringbone seat?
This seat is much more private, in the sense that no one can see you when you're sleeping, while you're somewhat "exposed" in a reverse herringbone seat
Reverse herringbone seats have limited space for your feet when sleeping, especially vertically, given that the area for your feet is "under" the console of the seat in front of you; this configuration has unlimited vertical space for your feet
In this configuration I could sleep with my knees bent facing in either direction; in many reverse herringbone seats there's not enough space to do that
Bottom line
The window seats in this product are incredible. Now that I've flown Oman Air's 787 business class I really want to fly Japan Airlines between the US and Japan, given that this is the product they have they have throughout most of their longhaul fleet.
I think it's important to point out that only a third of the seats (the two window seats in each row of six seats) are this comfortable, though. The other seats are mediocre.
It's sort of incredible that they sell all these seats at the same price, because the window seats are just that much better. Even if I were traveling with someone, I'd choose two window seats, given that they're much more spacious and private; the aisle seats feel exposed and confined.
So I'll continue to say that reverse herringbone is the most "well rounded" business class product, given that all seats are more or less equal. With this configuration, a third of passengers just really luck out.
Anyone else love this style of business class seat as much as I do?