Hello from Huntington Beach! I just wrapped up my busiest month of flying ever, so I'm happy to be on the ground for a bit. Next up Tiffany and I will be heading to Beijing in Delta One Suites, and then onwards from there. It's nice to recover and get some sleep for a few days.
On the points & travel front, this week I covered Singapore's new Suites, OMAAT celebrated 10 years, we saw several new hotel promotions introduced, I booked a flight in TAAG Angola first class, and more.
With that out of the way, here's a recap of this week on the blog:
Featured Stories
I'm not big into birthdays, or holidays, or anything. My favorite part of my birthday is when it's over. My favorite place to be on New Year's Eve is in bed sleeping. I know, I sound like a real joy.
The truth is that this is simply because I'd rather try to live every day to the fullest, which is why I don't like arbitrary milestones. Well, Tiffany emailed me Sunday morning to remind me that OMAAT is turning 10 years old, which is the only way I would have known.
Holy cow.
---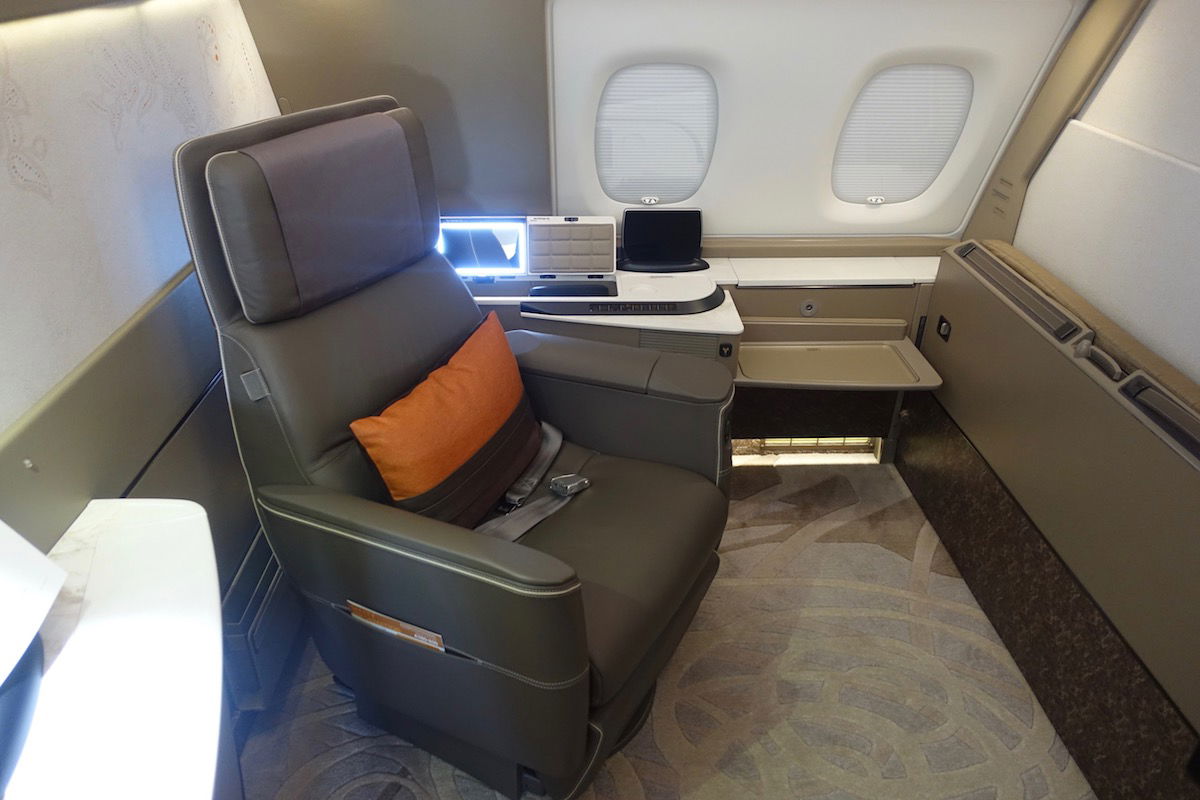 I've written a full review of Emirates' new first class already based on a flight from Dubai to Brussels, and over the weekend had the chance to fly Singapore's new Suites from Sydney to Singapore, which I've shared my initial thoughts on so far.
The most common question I've gotten from readers is "so, which of the new first class products is better?"
I remember when the pictures of the new cabins came out I initially thought that Singapore's new Suites would be more impressive. The footprint of each Singapore Suite is significantly bigger than of Emirates' new first class, and ultimately personal space is the most precious commodity on a plane. So I was surprised to find the opposite to be the case.
Don't get me wrong, both products are great, but…
---
Earlier this year I experienced one of my worst travel nightmares — my laptop became totally unresponsive, halfway through a trip in a destination where there was zero chance of getting it repaired, during a ridiculously busy work week. Ugh.
Fortunately, my husband was on this trip, so I was able to commandeer his laptop and avoid a complete disaster (though he runs Linux on a machine that is not optimized for me/travel, so it still took me forever to get anything done), but the day we got home I headed right to the Apple Store to see what could be done.
My Macbook Air is only ~14 months old, but this particular machine has been a problem child from the beginning. I don't remember exactly why I didn't purchase AppleCare when I bought the computer, but I've been dreading whatever post-warranty nonsense I was going to encounter since I realized the opportunity to purchase AppleCare had expired.
---

TIPS: Earning Miles & Promos
Virgin Atlantic Is Offering 40% Off Award Tickets To Miami
IHG Rewards Club Just Keeps Giving Me Points!
Starwood's 35% Discount On Purchased Points Is Back
Comparing The $95 Annual Fee Hilton Amex Personal & Business Cards
Does It Make Sense To Spend Money On Other Cards If You Have The "Chase Trifecta?"
Best Western Is Offering A $10 Gift Card Per Stay This Spring
8 Things I Love About The Amex Business Platinum Card
Targeted: IHG Is Offering 10,000 Bonus Points After One Kimpton Stay
Hours Remaining For The Citi AAdvantage Card 60K Sign-Up Bonus
Accor Is Offering Up To 6,000 Points After Three Stays
Great Deal: Wyndham Is Offering A Free Night After Just Two Stays
Check If You're Eligible For Starwood's New Member Exclusive Promotion
LifeMiles Is Offering A 100% Bonus When You Transfer Miles
Hilton Is Offering Up To A 100% Bonus On Purchased Points
Review: Capital One Venture Card
Your Last Chance To Buy Alaska Miles With A 40% Bonus
Now Live: Score Up To 1,500 Marriott Rewards Points During The Super Bowl
TRICKS: Redeeming Miles
Starwood 2018 Hotel Category Changes: 276 Hotels Are Changing In Price
Marriott Rewards 2018 Hotel Category Changes: 1,300+ Hotels Are Changing In Price
Do Flight Attendants Know If You Redeemed Miles For Your Seat?
American's Married Segment Restriction On Award Tickets
TRAVEL With Ben (Lucky)
Credit Card Warranty Success!
I'm Flying TAAG Angola Airlines First Class!!!
A Pleasant Redeye In China Eastern First Class
Well, I Guess I'm Not Breaking This Round The World Flying Record…
Celebrating 10 Years Of Blogging — THANK YOU!!!
REVIEWS & Trip Reports
China Eastern's Longhaul First Class: Surprisingly Decent
Comparing The New Emirates & Singapore First Class Suites
Dining At Singapore Changi's Priority Pass Restaurant
My Experience Flying Singapore's New A380 Suites
NEWS & Updates
YouTuber Repeatedly Denied Business Class Upgrade On Emirates, Upgrades Himself Anyway
Video: Ice Falls From The Sky, Narrowly Misses Street Cleaner
United Is Making More Cuts To Their Polaris Service
SonAir Is Discontinuing Flights Between Houston & Luanda
Qatar Airways Is Adding Flight To Mykonos As Of May 2018
Muscat Airport's New Terminal Opens March 20, 2018
Korean Air Flight Attendant Who Was Abused By "Nut Rage" Executive Speaks Out (Again)
United Will Fly The 777-300ER Between Newark & Frankfurt This Summer
Woman Claims Spirit Airlines Told Her To Flush Emotional Support Hamster Down Toilet
More Details On Singapore Airlines' 787-10, Debuting In April 2018
Orlando International Airport Is Considering Firing The TSA
Air India To Add Flights To San Jose?!?
Vietnam Airlines Admits They'd Lose Money Flying To The US, Plans To Do So Anyway
Star Alliance Wants To Add Low Cost Carriers As Partners
Lufthansa's Confusing New Brand Design Revealed
Alcoholic Former Alaska Airlines Pilot Appears In Court
Air India Will Use Saudi Arabian Airspace For New Flight To Tel Aviv
Is This The Most French Way To Get From The US To Paris?
United Will Only Begin "Designing" International Polaris Lounges In 2019
The W Hotel St. Petersburg Leaves Starwood
Qatar Airways Implements Unprecedented Downgrades To Upgrades
Updated Timeline For Oman Air's New 787-9 First Class
Transition To Istanbul's New Airport Happening In October 2018
The Ridiculous Reason Brussels Airlines Is Forced To Cut Flights To Kinshasa
Maldives Declares State Of Emergency
Awesome: Air China To Begin Flying Between Houston & Panama City
Japanese Baggage Handlers Caught On Tape
The Grand Hyatt New York Has A New $25 Destination Fee
Air New Zealand Rumored To Be Announcing Flights To Chicago
The St. Regis New York Added A "Destination Charge," And I Sort Of Like It?
Sheraton New York Times Square Adds $25 Daily "Destination Fee"
---
I hope everyone has a great rest of the weekend!