A couple of weeks ago I wrote a series of posts about the world records relating to flying around the world on commercial flights in the fastest amount of time. This started after an Etihad Airways executive set a new round the world flying record, as he flew from Shanghai to Auckland to Buenos Aires to Amsterdam to Shanghai.
This made me realize that there are actually several different ways that "round the world" flying is defined for the purposes of these records. The record this guy set was for the fastest round the world trip using approximate antipodal airports. He completed the journey in 52hr34min, and while that's impressive, I don't love the concept of setting a record based on antipodal points, since it limits creativity. That's because there are very few major airports connecting several continents that are at antipodal points.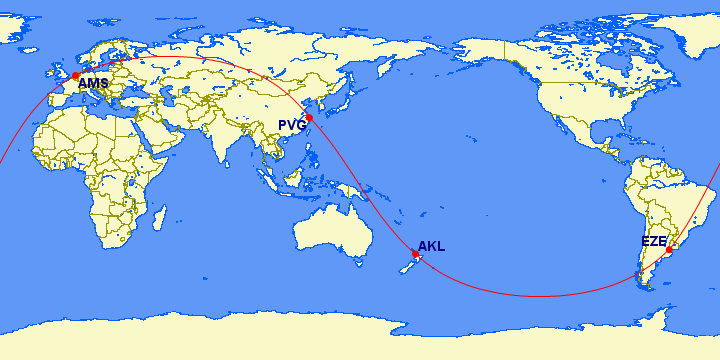 This made me realize that the much more interesting record (as far as I'm concerned) is flying to all six inhabited continents in the quickest time possible. The world record for visiting all six continents was 66hr31min, as someone flew from Singapore to Sydney to Los Angeles to Houston to Caracas to London to Cairo to Kuala Lumpur to Singapore.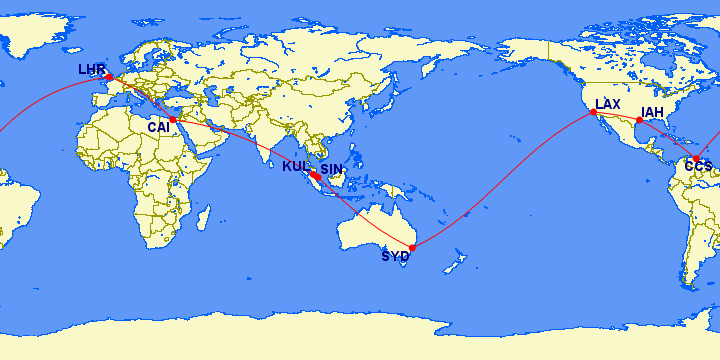 I started contemplating potential ways to break this record, and @ladakn99 came up with a routing that would visit all six continents in 57hr40min.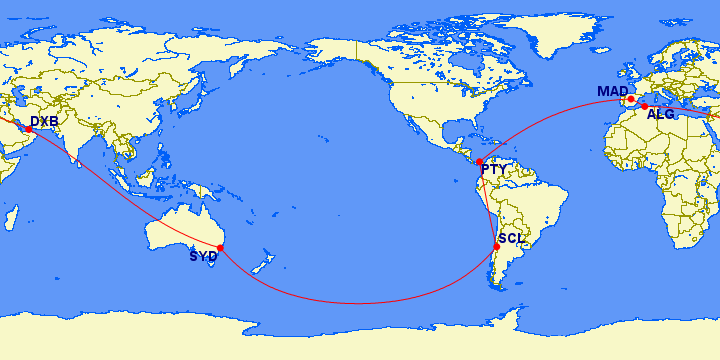 Here's the routing that was proposed:
QF0027 Sydney to Santiago departing 12:50PM arriving 11:10AM
CM0118 Santiago to Panama City departing 12:04PM arriving 4:52PM
IB6346 Panama City to Madrid departing 6:35PM arriving 10:30AM (+1 day)
IB3308 Madrid to Algiers departing 11:55AM arriving 1:25PM
EK0758 Algiers to Dubai departing 3:10PM arriving 12:40AM (+1 day)
EK0414 Dubai to Sydney departing 1:55AM arriving 10:30PM
A group of three guys is claiming to have broken the world record in the past few days, as they flew around the world in 56hr56min (the record is calculated from takeoff to touchdown, which explains why it's a bit shorter than the above time, since the schedule is based on gate-to-gate times). The routing? Exactly the same as the above…
I'd note that while they wrote on January 5 they were going to try to break the record, they didn't publish their routing. So I don't think the reader who suggested this routing was "borrowing" it from them, and similarly, I don't think they were borrowing it from the post I published. Instead there are only so many routings that will work, so I suspect they came to the same conclusion.
They had tried to break the world record with a team of five people in 2017, but they misconnected halfway through, so this wasn't their first attempt.
Congrats to them, though given that they I was actively in the process of planning this, I'm sort of bummed. I guess I should see if there's a better way to do it, though I'm not sure there's much more time that can be shaved off here. I suppose some people might just try to take the same routing and hope the travel time is a minute less, or something, but that doesn't seem like fun.