Brussels Airlines is being forced to reduce their flights from Brussels to Kinshasa, in the Democratic Republic of Congo, from daily to 4x weekly. No, they're not being forced to do this by Lufthansa, but rather by Jean Tshiumba Mpunga, the General Manager of the Democratic Republic of Congo Civil Aviation Authority.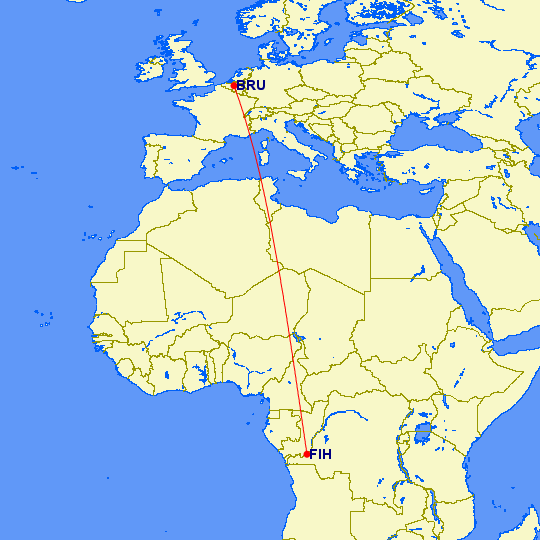 This move comes as EU officials have condemned the DRC government's violent crackdown on protests against President Joseph Kabila. His regime has been criticized for corruption, repression, and incompetence, and while his second term in office expired more than a year ago, he has stayed in power. The election to replace him has now been delayed until December, despite a deal having been brokered that was supposed to see him replaced late last year.
So it's obvious that Brussels Airlines being forced to cancel flights is politically motivated, though what's pathetic is the reason that the DRC is giving for forcing Brussels Airlines to reduce flights. Per aviation24.be:
"I hereby inform you that, in the absence of reciprocity in the operation of international air services between the Democratic Republic of Congo and the Kingdom of Belgium, the weekly frequency numbers allocated to your Brussels Airlines airline are reduced by seven (7) to four (4), from Monday, February 5, 2018.

TOP CONGO FM has more news on the story: "The government of the DRC is applying 'appropriate measures' to re-balance the trade between the two countries," a member of the cabinet of the Ministry of Foreign Affairs explained. "In that framework, both Congolese and Belgian airlines have rights to 4 weekly flights", the member of the cabinet added.
The DRC is acting as if they're not punishing Brussels Airlines, but rather they've just decided to allocate four weekly slots in the market to Congolese airlines, and four weekly slots in the market to Belgian airlines. The only slight problem with giving the rights to four weekly flights to Congolese airlines is that the country doesn't have any airlines capable of operating the flight. The country only has a couple of very small airlines, and none of them have the widebody aircraft needed for this route (Brussels Airlines flies an A330 to Kinshasa).
Sadly the party being harmed most by this change is the DRC. Air service has a positive financial contribution to a country (both directly and indirectly). But I guess it doesn't come as much of a surprise that the current regime isn't looking out for what's in the best interest of the country.
I'm curious to see if this service suspension lasts…