Over the years, "resort fees" have become common at many vacation destinations. Hotels have two motivations for charging these ridiculous fees:
They're a way for hotels to try and get more revenue without increasing the room rate
It works out better for them than an increase in the room rate, since they don't have to pay travel agents a commission on the resort fee; in some areas it also allows them to skirt the typical occupancy tax that otherwise applies on the room rate
Historically we almost exclusively saw these fees at resorts, but lately we've seen them spread to city hotels more. At this point there are dozens of hotels in New York City with "destination fees," which are the city equivalent of resort fees.
Last November I wrote about how the Hilton New York, which is New York City's biggest hotel, added a $25 daily "urban destination charge."
It looks like Starwood's biggest New York City hotel, the 1,750 room Sheraton New York Times Square, is following their lead. As of February 1, 2018, the Sheraton New York has a $25 daily destination fee.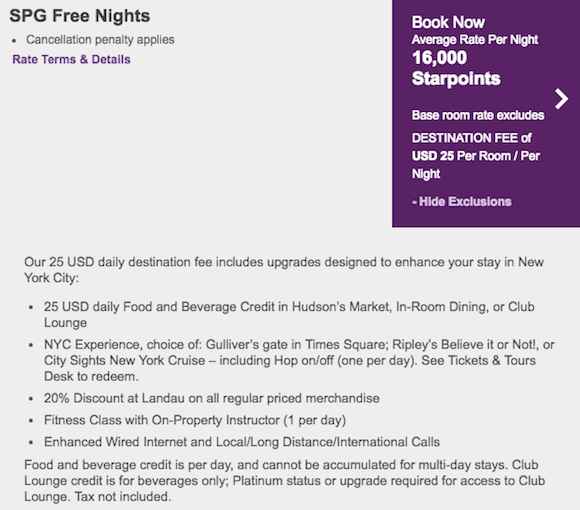 This fee includes "upgrades designed to enhance your stay in New York City," as they describe it. This includes the following:
25 USD daily Food and Beverage Credit in Hudson's Market, In-Room Dining, or Club Lounge
NYC Experience, choice of: Gulliver's gate in Times Square; Ripley's Believe it or Not!, or City Sights New York Cruise – including Hop on/off (one per day). See Tickets & Tours Desk to redeem.
20% Discount at Landau on all regular priced merchandise
Fitness Class with On-Property Instructor (1 per day)
Enhanced Wired Internet and Local/Long Distance/International Calls
Food and beverage credit is per day, and cannot be accumulated for multi-day stays. Club Lounge credit is for beverages only; Platinum status or upgrade required for access to Club Lounge. Tax not included.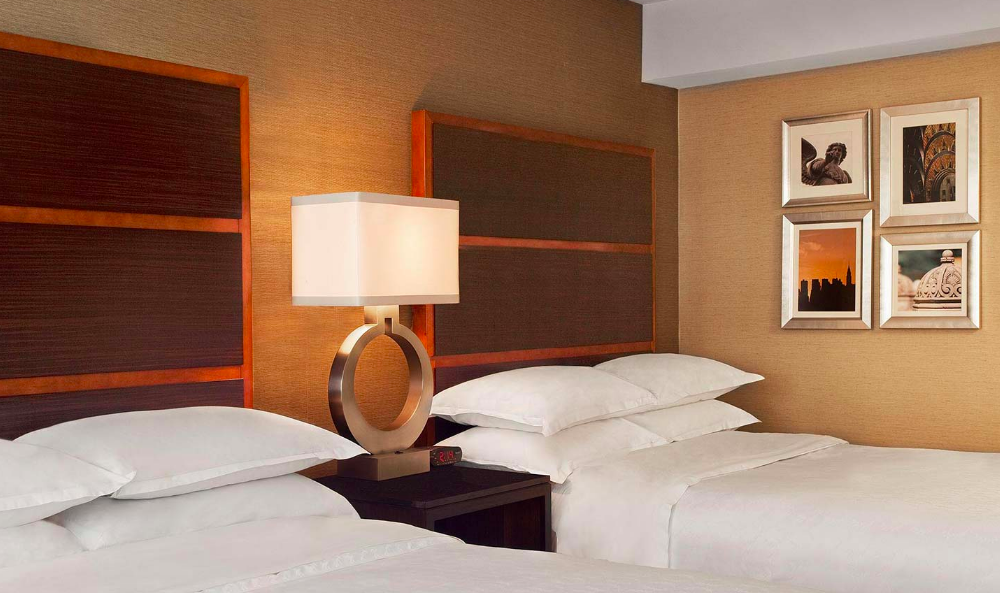 Okay, so of course I hate these fees, though at least this is one of the less awful fees we've seen. The cost is $25 per day, and for that you get a daily $25 food and beverage credit to use at Hudson's Market (which is the hotel's all day dining restaurant, and not one of those airport stores, as you may assume based on the name), in-room dining, or the club lounge. As you can see, the credit is on a per day basis, though can't be accumulated over multiple days, meaning that you need to spend that credit every day or you lose it.
The real cost of this to the hotel is probably only a tiny fraction of the $25 retail value, because:
Many people won't use the credit on a daily basis (do you really want to eat in the Sheraton's restaurant or order room service when you're in a city with as much amazing food as NYC)?
Many people will way overspend, generating additional revenue for the hotel
Service charges, taxes, and tips aren't included, so if you order from in-room dining, presumably that comes with all kinds of fees
So this sucks, though at the same time as far as New York City BS "destination fees" go, this one delivers slightly more value than the others.
What do you make of the Sheraton New York's new "destination fee?"
(Tip of the hat to Points, Miles & Martinis)