In the interest of full disclosure, OMAAT earns a referral bonus for anyone that's approved through some of the below links. These are the best publicly available offers (terms apply) that we have found for each product or service. Opinions expressed here are the author's alone, not those of the bank, credit card issuer, airline, hotel chain, or product manufacturer/service provider, and have not been reviewed, approved or otherwise endorsed by any of these entities. Please check out
our advertiser policy
for further details about our partners, and thanks for your support!
Earlier this year I experienced one of my worst travel nightmares — my laptop became totally unresponsive, halfway through a trip in a destination where there was zero chance of getting it repaired, during a ridiculously busy work week. Ugh.
Fortunately, my husband was on this trip, so I was able to commandeer his laptop and avoid a complete disaster (though he runs Linux on a machine that is not optimized for me/travel, so it still took me forever to get anything done), but the day we got home I headed right to the Apple Store to see what could be done.
My Macbook Air is only ~14 months old, but this particular machine has been a problem child from the beginning. I don't remember exactly why I didn't purchase AppleCare when I bought the computer, but I've been dreading whatever post-warranty nonsense I was going to encounter since I realized the opportunity to purchase AppleCare had expired.
The guy at the Genius Bar looked like he wanted to cry when we went over the issues that were occurring (keyboard, trackpad, and SD card reader not functional).
"I hate to tell you, but you're just outside the warranty period, and this is going to be a really expensive repair. It might not even be worth it…"
And while I probably will have to replace my laptop sooner than I would like, I knew that I'd purchased this one with my Chase Sapphire Reserve® Card, which offers an extended warranty benefit for just these circumstances.
Other premium cards, like The Platinum Card® from American Express and Citi Prestige Card offer a similar benefit, but Chase offers this perk on all their Visa Infinite and Visa Signature products, and since many of you have Chase Visa cards, I figured I'd go through the details of my experience.
Chase Visa Extended Warranty Protection Terms
Fundamentally, how this works is that you get an extra year on your manufacturer warranty if you "charge some portion of the item's purchase price to your Account or use reward points earned on your Account toward the purchase." If the repair or replacement would have been covered under the original warranty terms, and you purchased the item with a Chase Visa Infinite or Signature card, you basically get an extra year of warranty coverage under the same terms as the original agreement.
If it wouldn't have been covered (for example, if you have a penchant for combining orange juice with your laptop, like some people around here have done multiple times), then Chase won't cover it either.
There are some other limitations:
Extends the free repair period under the original manufacturers repair warranty up to one additional year on eligible warranties of three (3) years or less, up to a maximum of ten thousand ($10,000.00) dollars per claim, and a fifty thousand ($50,000.00) dollars maximum per Account.
And of course, some items are excluded entirely:
Boats, automobiles, aircraft, and any other motorized vehicles and their motors, equipment, or accessories, including trailers and other items that can be towed by or attached to any motorized vehicle

Any costs other than those specifically covered under the terms of the original manufacturer- written U.S. repair warranty, as supplied by the original manufacturer, or other eligible warranty
Items purchased for resale, professional, or commercial use
Rented or leased items or items purchased on an installment plan and for which the entire purchase price was not paid in full at the time of the occurrence
Computer software• Medical equipment
Used or pre-owned items
So you can't use this benefit for buying a new car, but in a situation like mine, where you're deciding whether or not to purchase extra coverage through AppleCare or similar, the automatic warranty through your credit card can be a great perk.
What Documentation Is Needed?
Like many things in life, the key to success here is in the preparation. If you have an item that you purchased with a Chase card and think is eligible for the warranty benefit, you'll want to collect the following info:
The original purchase receipt
A copy of the credit card statement showing the original purchase on your Chase Visa Signature card
The original manufacturer warranty
Any repair or replacement estimates
It's worth noting that for some products, you may be required to get a replacement quote from a designated repair specialist. For Apple products, however, the Genius Bar is the designated specialist, so it's relatively easy.
In my case, I didn't have a paper receipt for the purchase, but a PDF from my email was fine: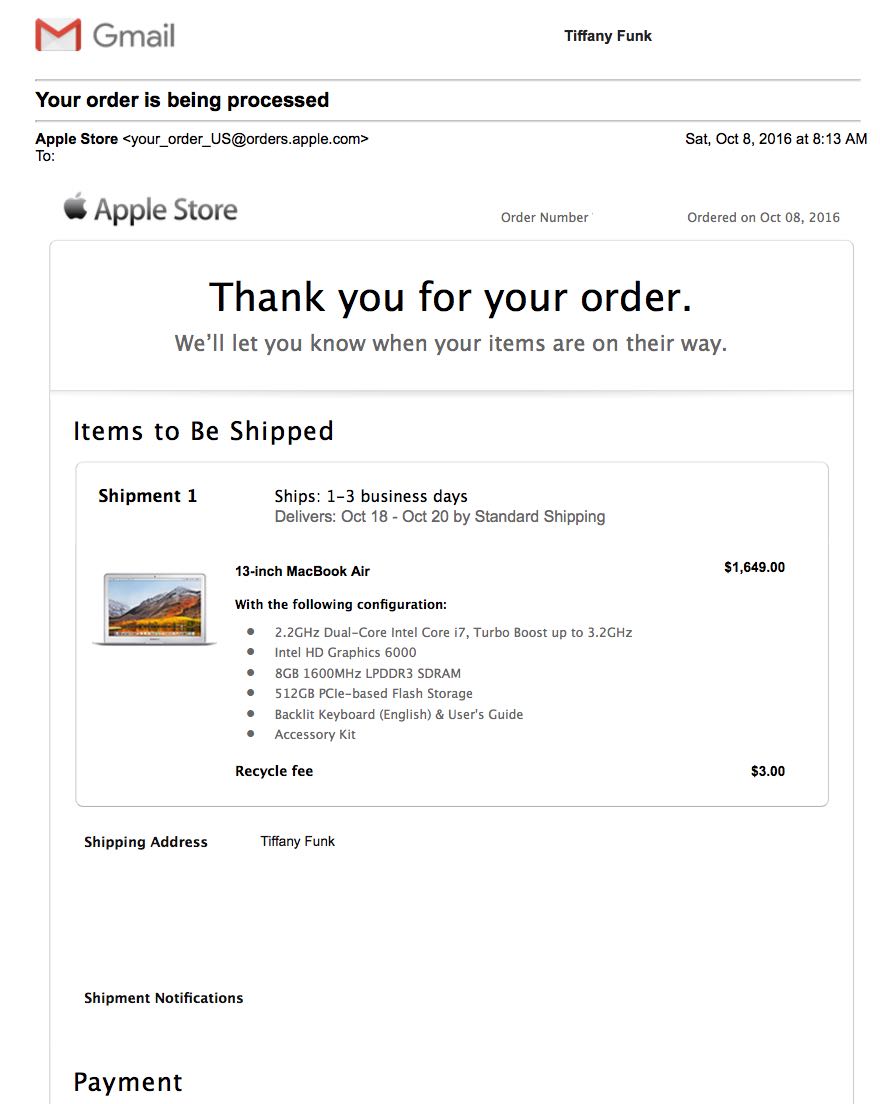 And while I could have scanned the printout from Apple for the as-expensive-as-promised estimated repair, a copy of the email was once again fine: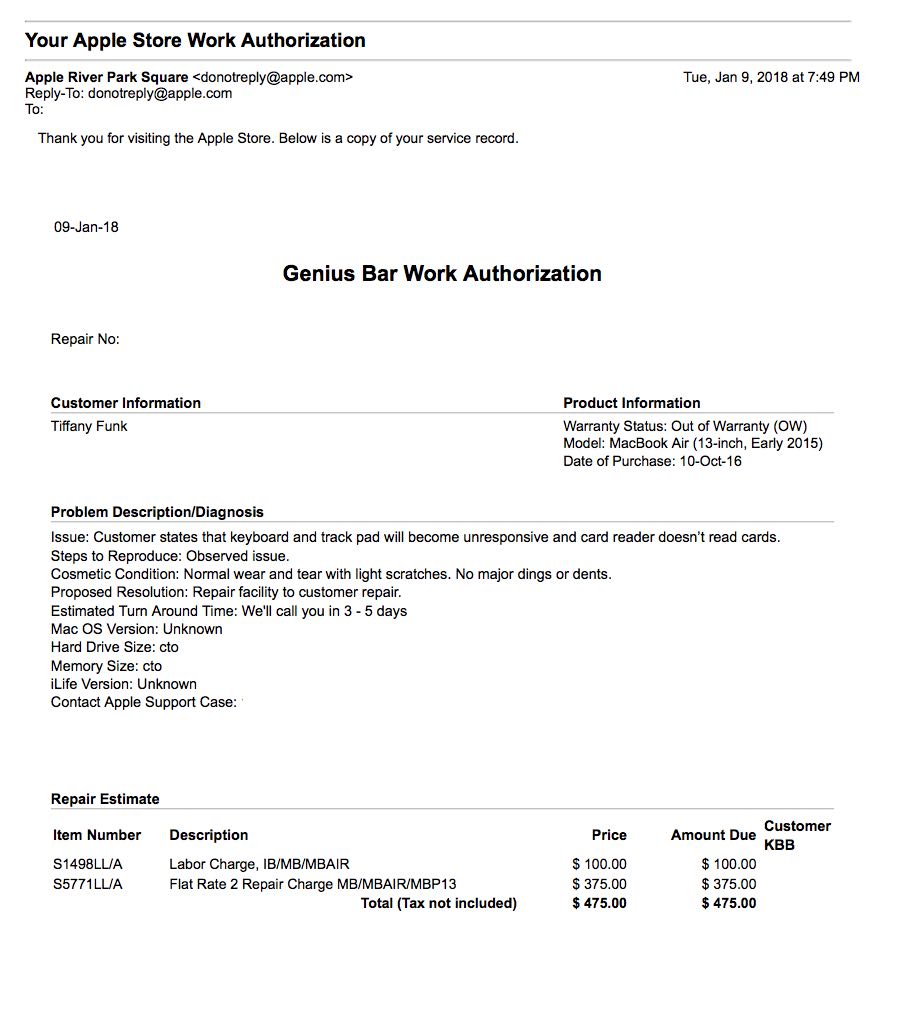 With everything I sent in, I made PDFs of each of the documents, with very specific and numbered file names. I don't know if that helped or not, but my experience with insurance companies and banks is that if I appear super organized they give me less of a hassle. 😉
Submitting a claim
Regardless of which card you have, all the warranty benefits are managed by a company called Card Benefit Services. You can technically call them at 800-874-7702 to start a claim (or if you have questions about your coverage), but since you're going to have to submit a bunch of documents anyway it's easier to just do everything on their website of cardbenefitservices.com.
If it's your first time using the service, you'll be prompted to create an account, otherwise you can just log in. Again, this service supports all the Chase Visa Infinite and Signature cards, so you only need one account here regardless of how many cards you have.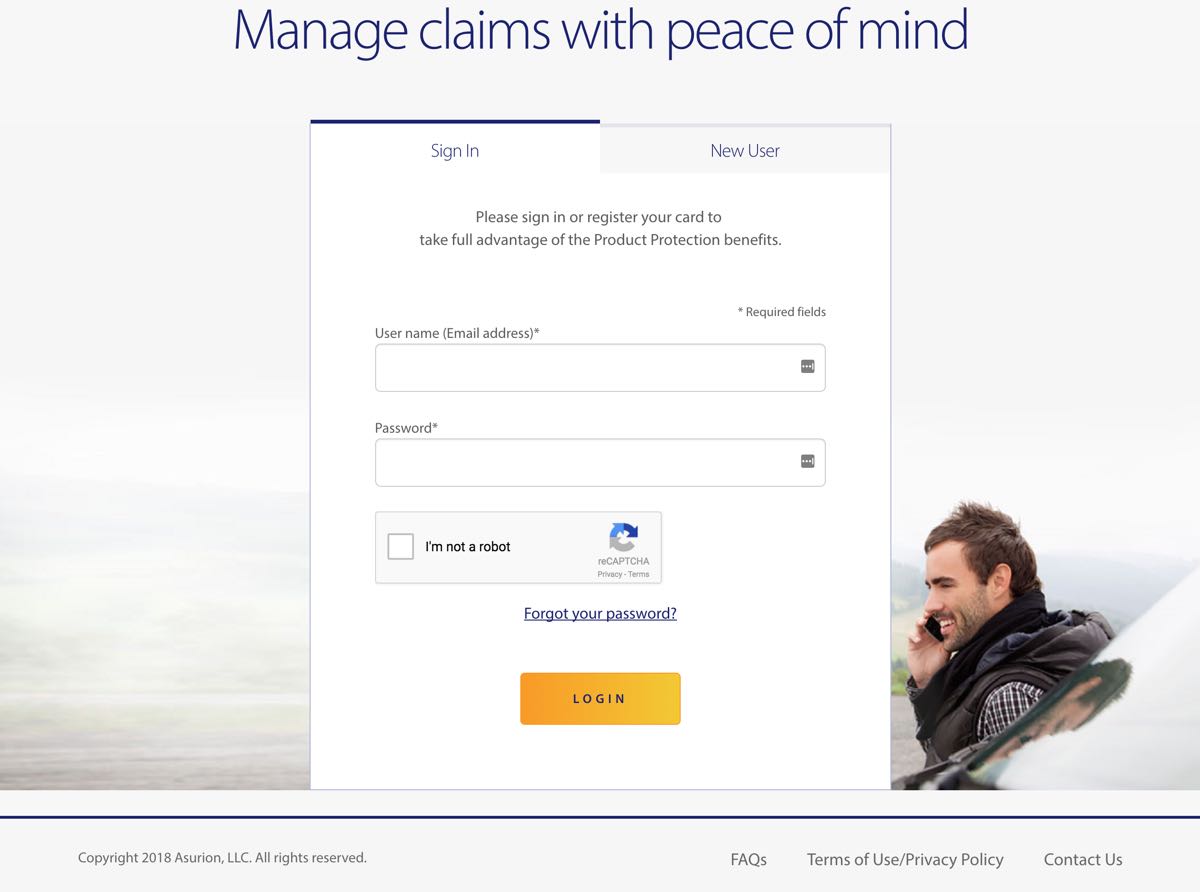 From there, you have options to file a claim, register a product, manage products, or manage claims: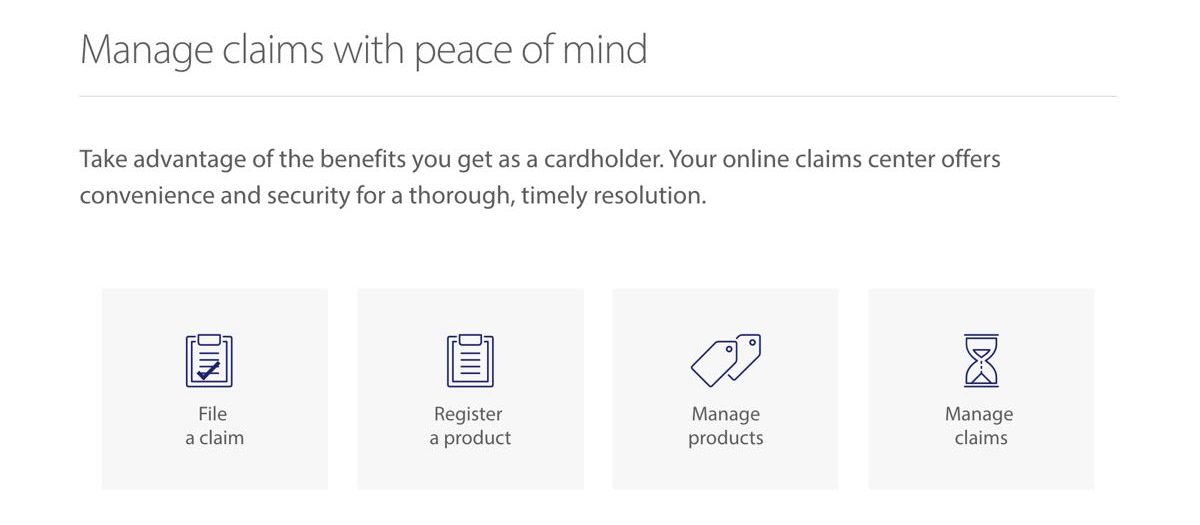 You can register a product as soon as you purchase it, which from an organization perspective is possibly even better than waiting until it breaks. Just enter some basic details about your new gadget, including any model numbers and serial numbers: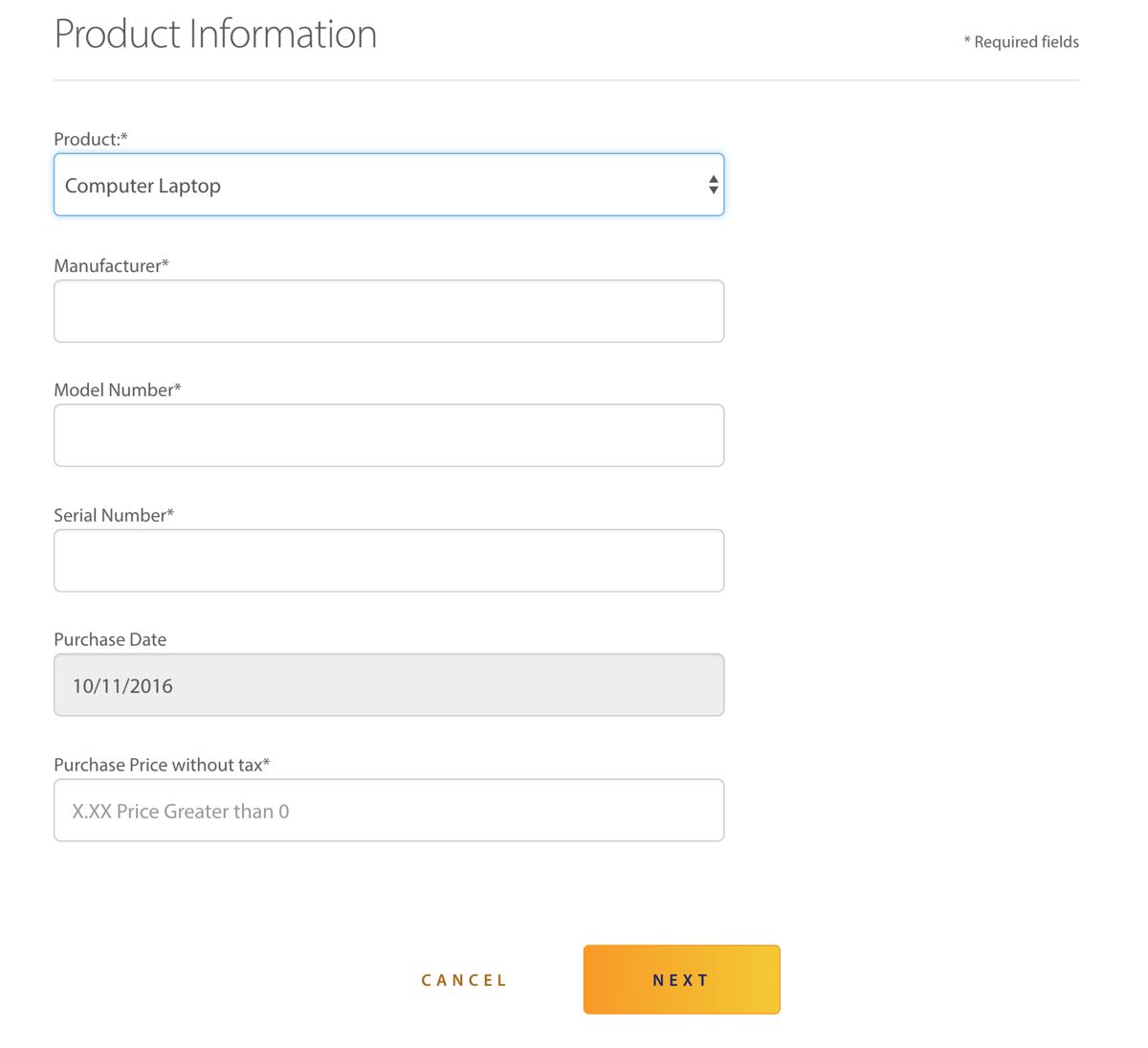 You can also go ahead and upload the warranty, receipt, and card statement so that everything is in the system for future use.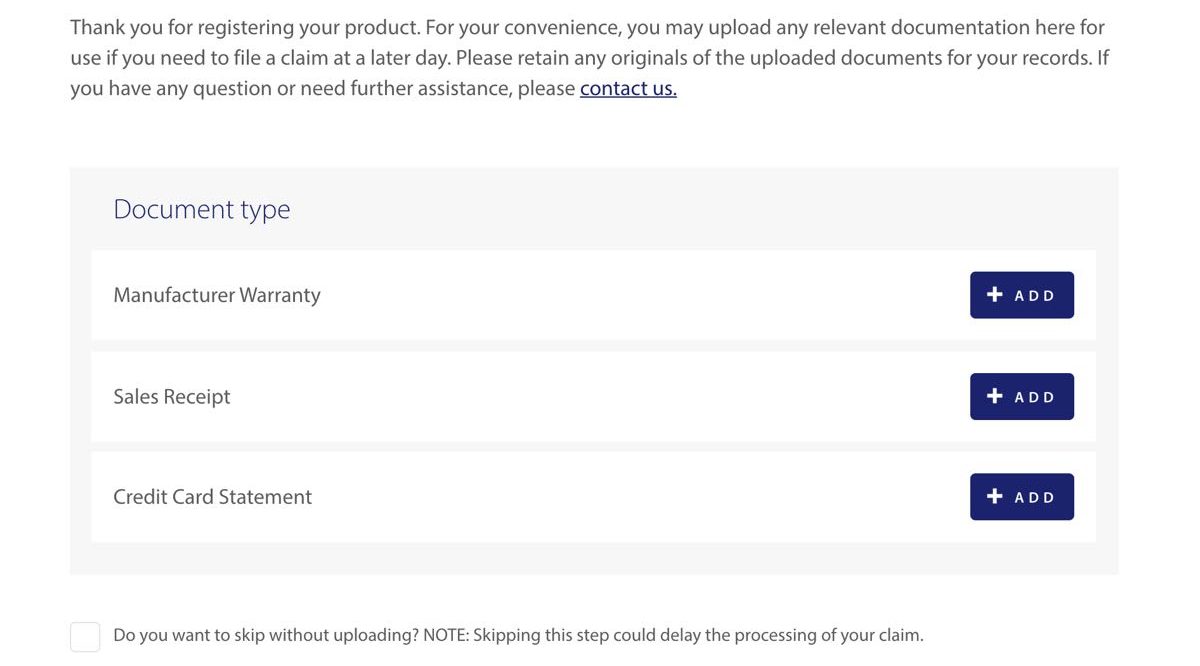 To file a claim, you'll start by entering your full card number. I know it seems like they should have this information, but remember this is all handled by a third-party company.

You'll then be asked how organized you are if you previously registered this product with Card Benefit Services.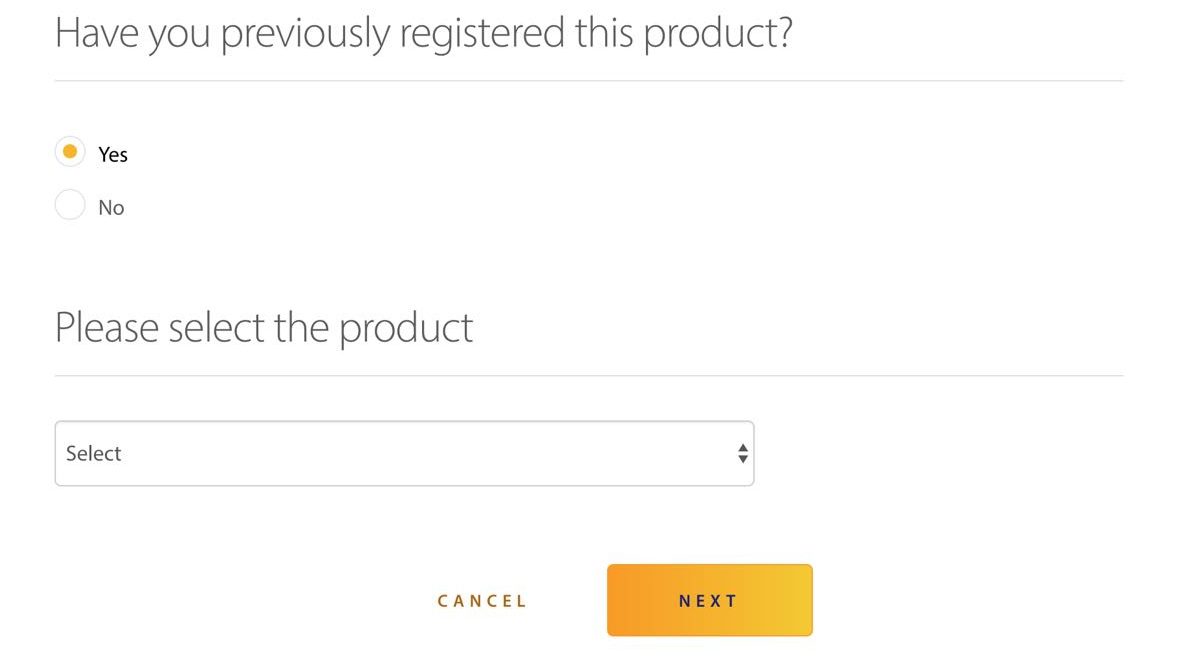 If you have, the product will show up in the dropdown menu. If you haven't, you'll be prompted to go through the steps above. From there, you'll want to select that the "Product failed within manufacturer terms."

And then you just have to enter a few details, and agree to some terms: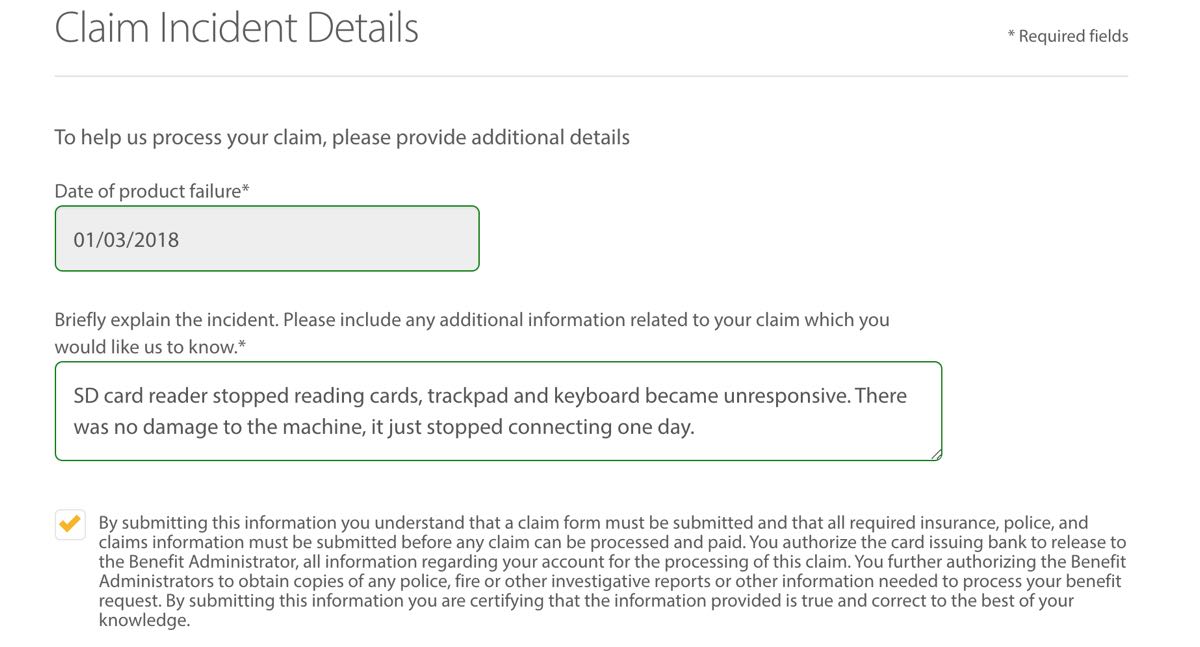 Then you choose how you want to be reimbursed, which is honestly confidence-inducing. I chose a check, but you can give them a debit card number as well.

At this point you'll be prompted to enter any information you haven't already uploaded. In my case the product was already registered, so I just had to add the repair details.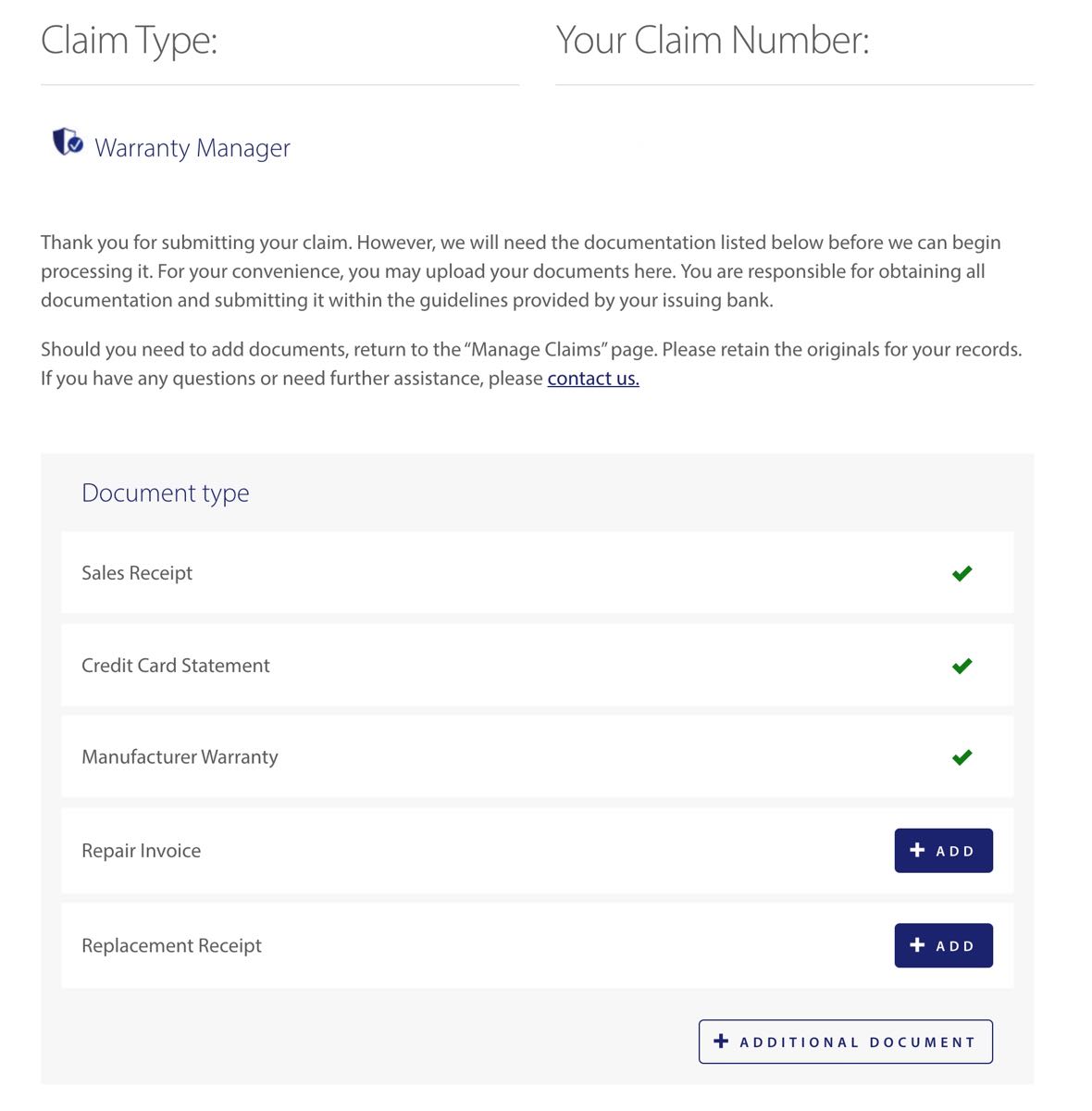 With that done, I was given a claim number, and the claim appeared in my account under "Manage Claims":

How long does it take for a claim to be processed?
I submitted my claim just before a holiday weekend started, so I think mine took a bit longer than normal. Card Benefit Services says they'll respond to claims within five business days of the documentation being reviewed, but getting to the point of anything actually being reviewed took a few weeks. For about ten days the status was this:

And then on January 22nd (12 days after I submitted the claim), I received a voicemail saying the claim had been approved and payment was being sent.

Sure enough, a check arrived in the mail a few days later:

Super easy, and I especially appreciated that they added a bit more for sales tax without my having to say anything!
Bottom line
This is the first time I've had a product fail outside of the standard manufacturer warranty, and I'm so glad I'd made this purchase with my Chase Sapphire Reserve® Card so I could take advantage of the extended warranty benefit. The process was straightforward, and I appreciated that there weren't lengthy negotiations about what exactly was or was not covered.
And while I used a super-premium card for this purchase, I think it's especially impressive that this same benefit is available on other Chase products as well, including those with no annual fee!
Chase Sapphire Reserve®
Earn 60,000 bonus points
Terms Apply.
3x points on Travel after the $300 Annual Travel Credit

3x points on Dining

$300 Travel Credit

$550
Have you used Chase's Extended Warranty? What was your experience?