Airline executives tend to be overly optimistic about the routes they plan on launching, so it's not unusual to hear them say that they're going to be announcing a new route shortly, and then it doesn't actually happen. Last August I wrote a post about seven rumored ultra longhaul flights to the US, along with the status of them. We're talking routes like Kigali to New York on RwandAir, Jakarta to Los Angeles via Japan on Garuda Indonesia, and more.
Ultra longhaul flights are notoriously difficult to make money on, though they're becoming more feasible than in the past. That's thanks to planes like the 787 and A350, which have a long range and are low capacity, which allows airlines to maximize yields. There's one very important consideration, though — in order for an ultra longhaul flight to be profitable, there needs to be demand from business travelers. For the most part leisure travelers are looking for the lowest fares, and while a nonstop flight sounds nice, they'll typically take an option with a connection if it's even just marginally cheaper.
Vietnam Airlines has repeatedly stated that they want to launch flights between Ho Chi Minh City and Los Angeles using the Airbus A350-900, though as of now nothing official has been announced yet. Reuters ran a story about how Southeast Asian airlines are looking to launch nonstop flights to the US despite profit challenges, and the story has some remarkably honest quotes from Vietnam Airlines' CEO, Duong Tri Thanh.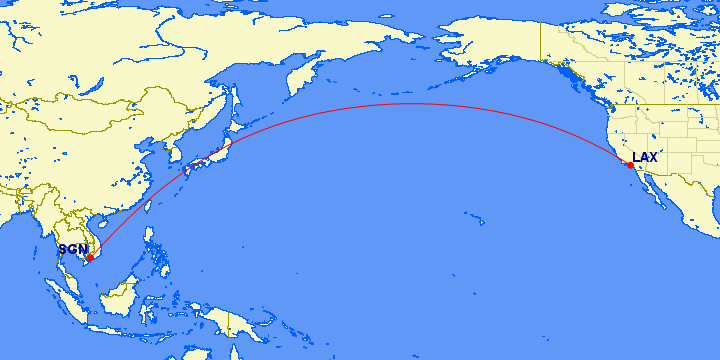 Essentially he says that making money flying to the US will be nearly impossible, but that they're trying to balance the government's desire for growth with what's in the airlines' best financial interest:
"The philosophy of the company is to help the economy and try to be viable and profitable," Thanh told Reuters on the sidelines of a conference ahead of the Singapore Airshow.

"But growing the economy is more of a mandate. You can see on most of the intercontinental routes we are not making money. But we are helping to get people in and out."

Thanh said his airline benefited from a diaspora of 2 million Vietnamese living in the United States, but most of the traffic was more likely to be driven by price rather than the convenience of saving a few hours of travel time.

"It is quite a big headache, to be honest," he said, of coming up with a viable business plan for the flights.
Those quotes sound like that they could just as easily be coming from the CEO of a Gulf carrier. Then again, Vietnam Airlines is majority owned by the government, so I guess that shouldn't come as much of a surprise. So, what's the plan as of now? Vietnam Airlines wants to start flying to the US by the end of 2019:
"The plan is the end of 2019. But if it is not feasible and it is too much we have to wait to find a way to work with partners to improve the traffic mix. Like most of the airlines, like Philippines and Thai, we don't have enough business travelers. We are just dependent on visiting friends and relatives. That is no way to make money."
I don't remember the last time I've seen an airline CEO be so honest. He's basically saying that this route is a recipe for losing money, that they lose money on most of their longhaul routes, but that they still do it for the sake of the country. That might sound crazy, but this is more common than you'd think…
Do you think Vietnam Airlines will follow through on launching flights to the US?
(Tip of the hat to Live and Let's Fly, featured image courtesy of Long Nguyen)