---
I was so excited about this flight. Emirates and Singapore both introduced new first class products just weeks apart, and having flown Emirates' new first class weeks prior, I was looking forward to seeing how Singapore's new Suites compared. I've reviewed Singapore's "old" Suites before, and couldn't wait to see how the product evolved.
Singapore Airlines 232
Sydney (SYD) – Singapore (SIN)
Saturday, February 3
Depart: 12:15PM
Arrive: 5:35PM
Duration: 8hr20min
Aircraft: Airbus A380
Seat: 2A (Suites)
I boarded through the forward door of the upper deck, where I was greeted by the same crew I had on the flight out. Since I spent just one night in Sydney, our "layovers" were the same length. The chief steward, Dennis, escorted me to my seat. "Mr. Schlappig, welcome back. Let me show you to your Suite."
Singapore's A380 Suites cabin is gorgeous. My first thought was that it looked very similar to Etihad's A380 First Class Apartments, since there's just a single aisle in the cabin. However, this layout was even more spacious. Singapore Airlines has just six Suites, while Etihad has nine First Class Apartments plus The Residence in the same area. The pictures don't really do justice to how beautiful the cabin is when you first see it.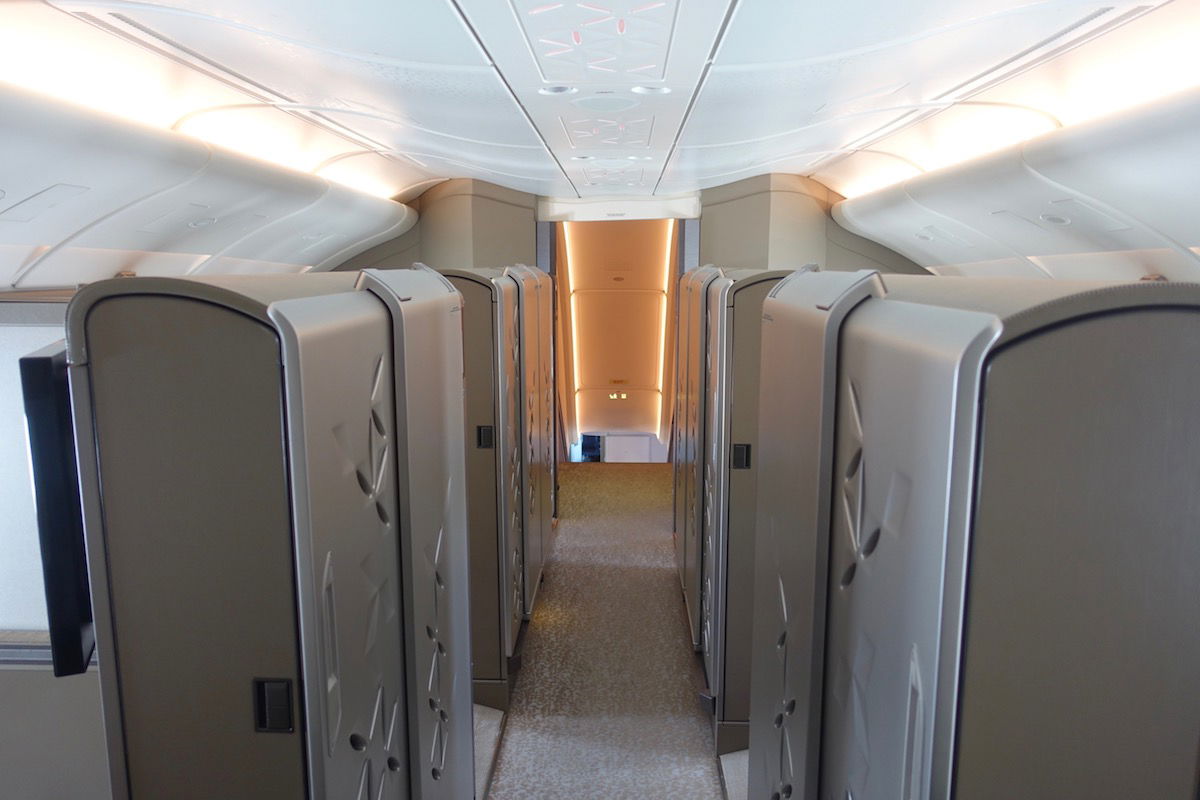 Singapore Airlines A380 Suites cabin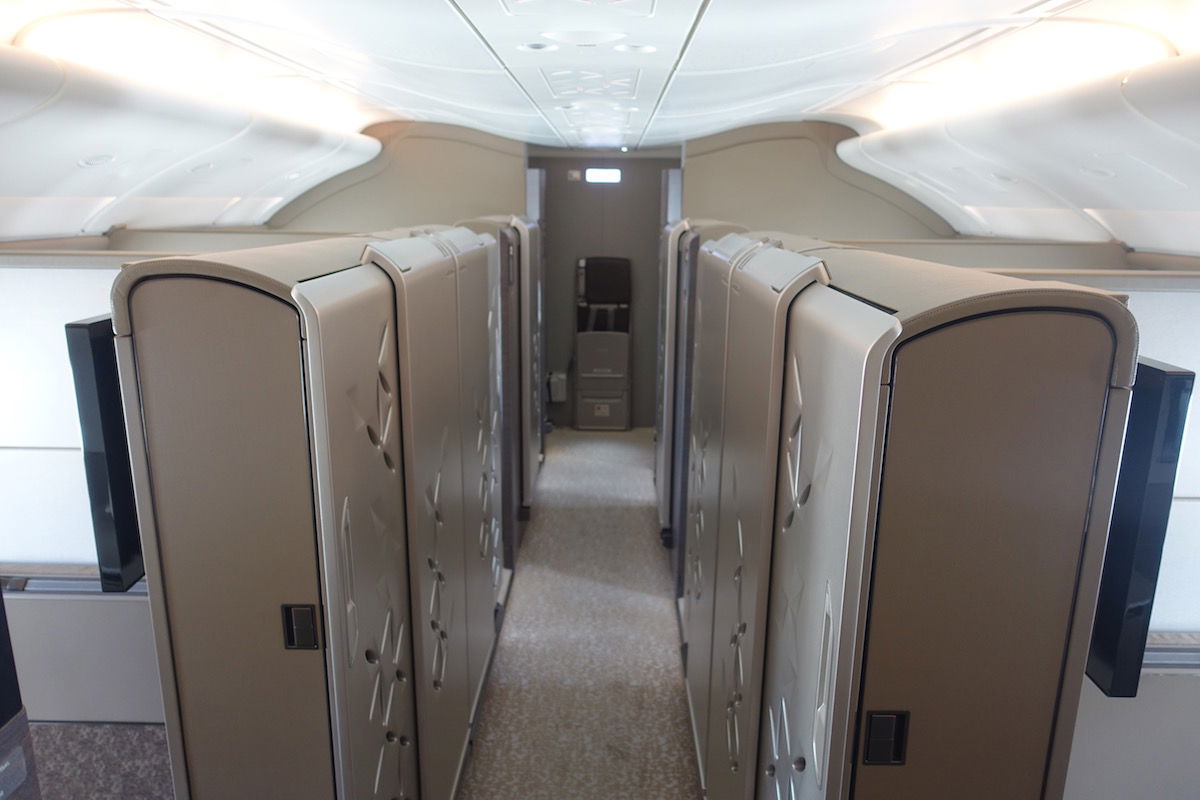 Singapore Airlines Suites cabin A380
While I was seated in 2A, I decided to first check out some of the other Suites, given that I was the first passenger onboard, and it would be a full flight. First I checked out the Suites in row one. The Suites in row one are configured slightly differently, both due to the curvature of the plane, and also because the Suites in rows one and two can turn into a double bed (so if you're traveling with someone, you'll want to choose seats that are behind one another in rows one and two).
What was unique about row one is that there was a small TV on the bulkhead, presumably for the safety video. That's because the main TV in the Suite was located behind the seat.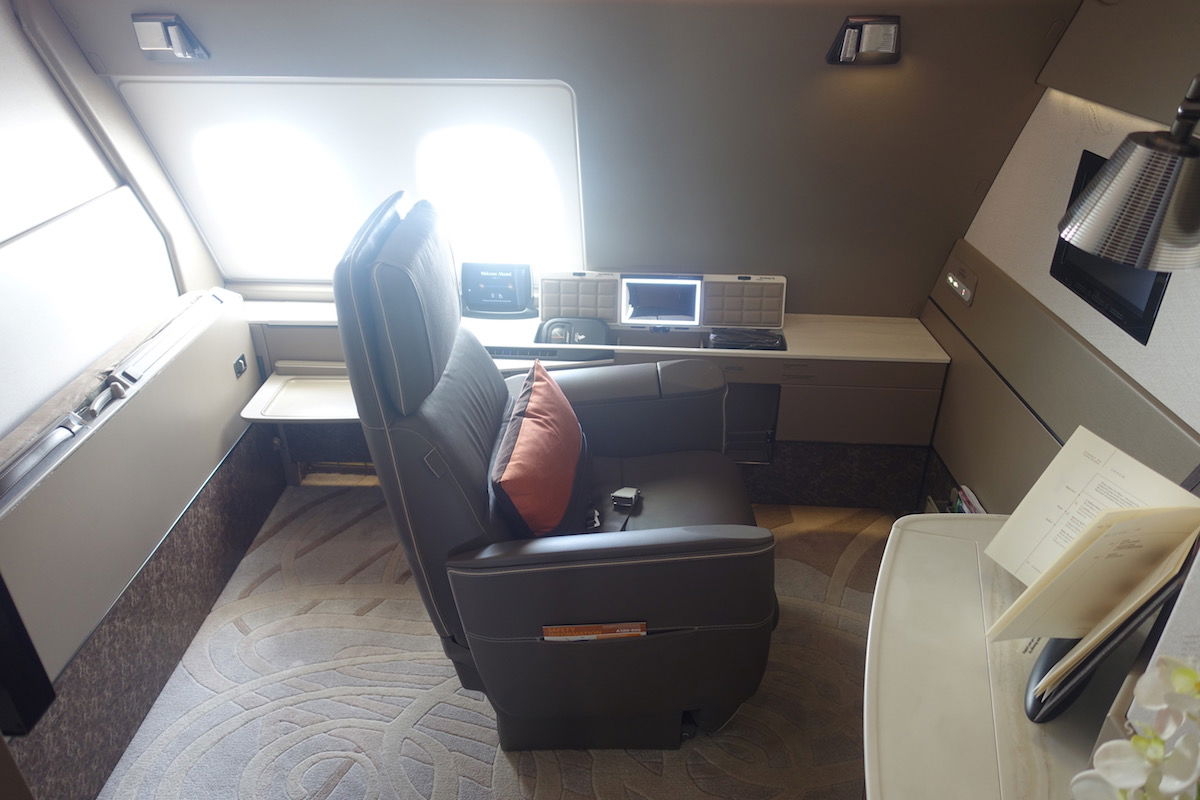 Singapore Airlines' new A380 Suites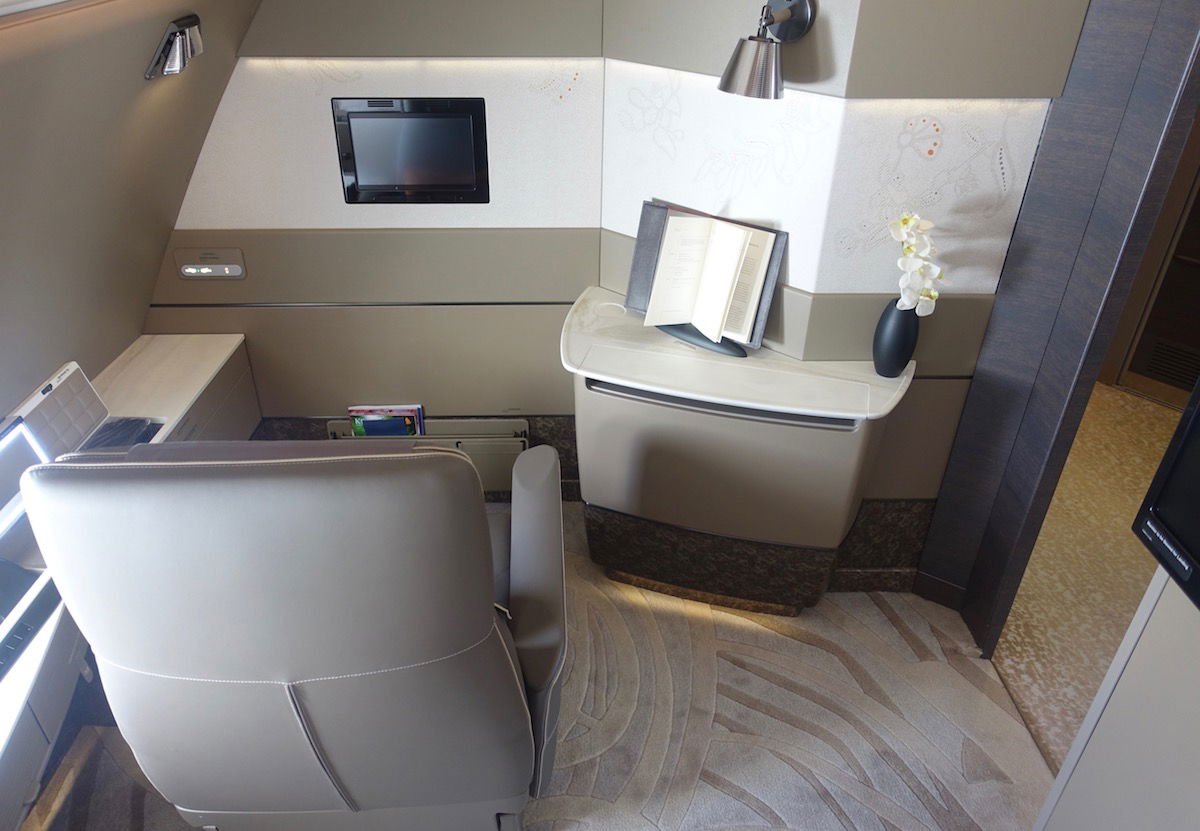 Singapore Airlines' new A380 Suites
The Suite across the aisle was similarly configured.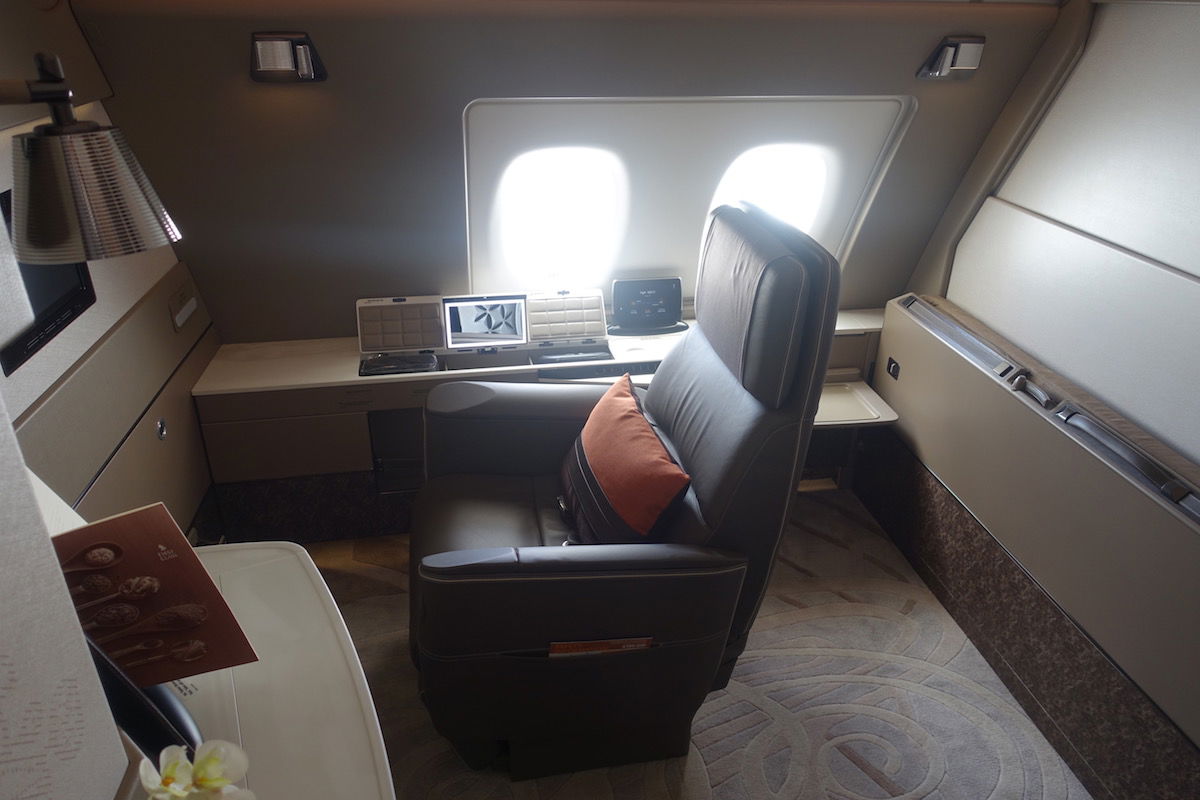 New Singapore Airlines A380 Suites
Rows two and three are more or less identical, so let's take a look at my Suite. My first reaction was extremely positive. There has been so much innovation when it comes to first class seats, and the fact that we've gotten to the point where a first class seat is actually an enclosed room with a separate seat and bed is impressive. It'll make any airline product geek giddy.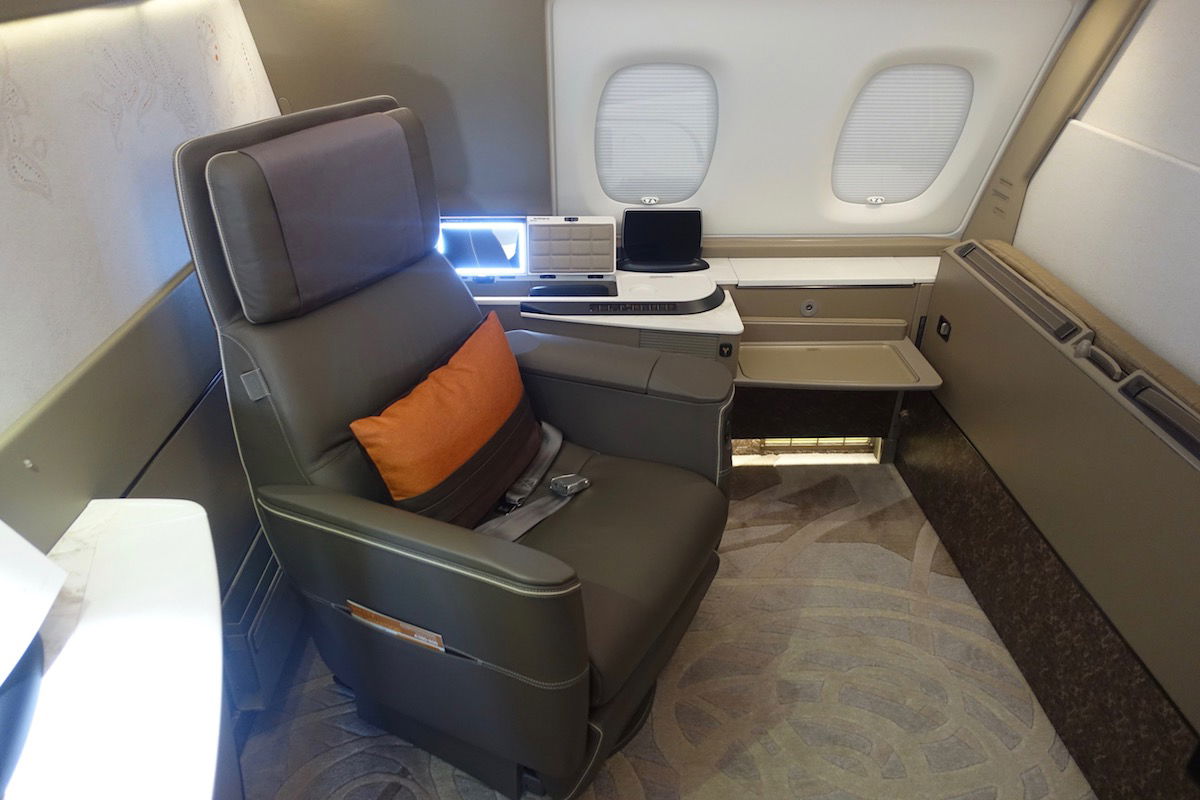 Singapore Airlines A380 Suites
In the standard position, the seat faced nearly forwards. Next to it was a side table, which is also what houses the tray table.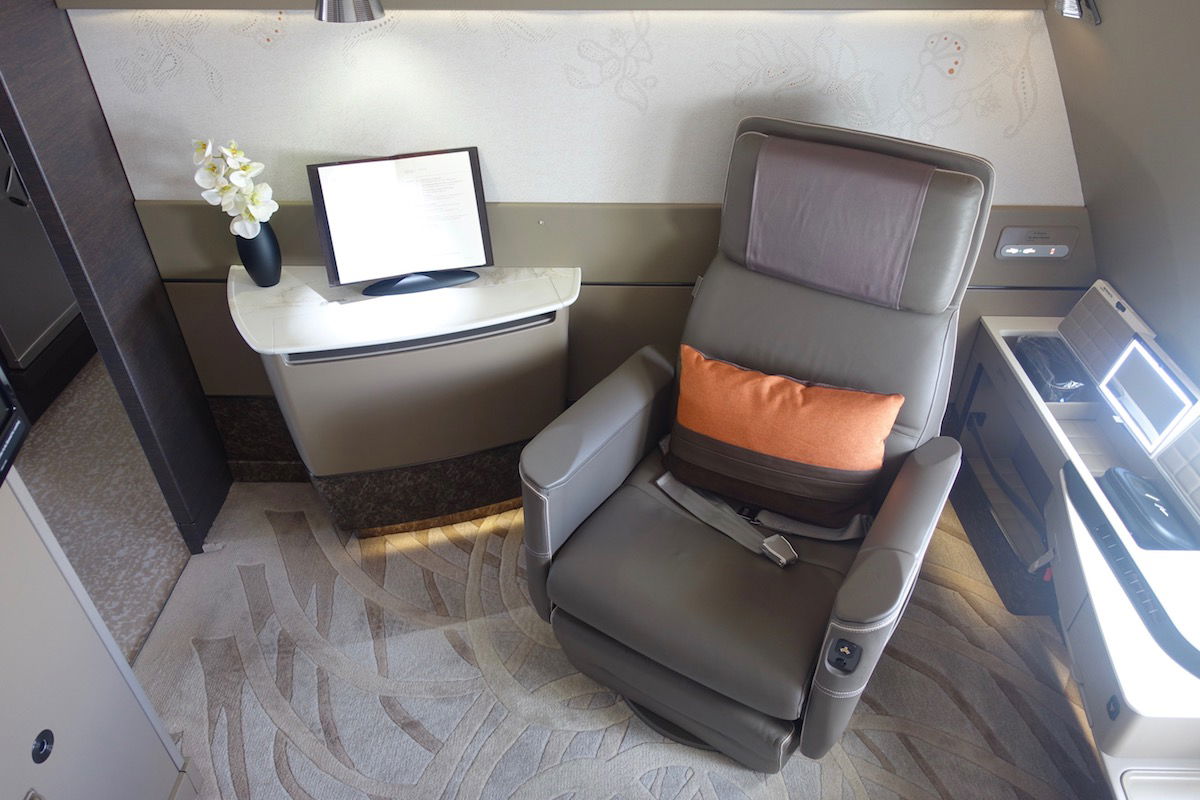 Singapore Airlines A380 Suites
On the table was a beautiful flower, as well as the menu, with a reading light pointed at it. What a thoughtful design.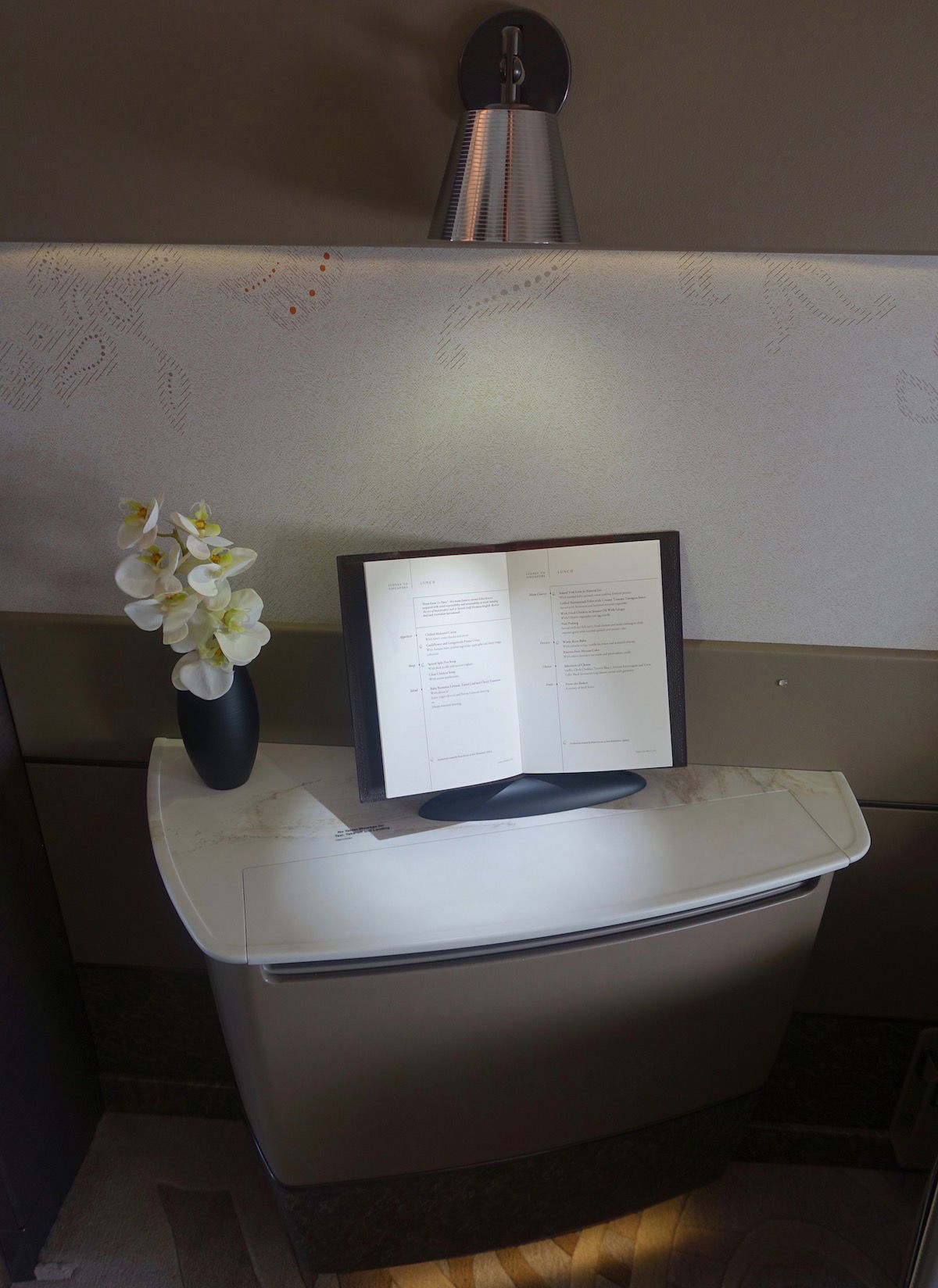 Singapore Airlines A380 Suites table
The tray table was large and beautiful, though I wish they had designed it so that it could be folded in half, or so that it could be moved around a bit more. When the tray table was out it was hard to otherwise maneuver around the Suite.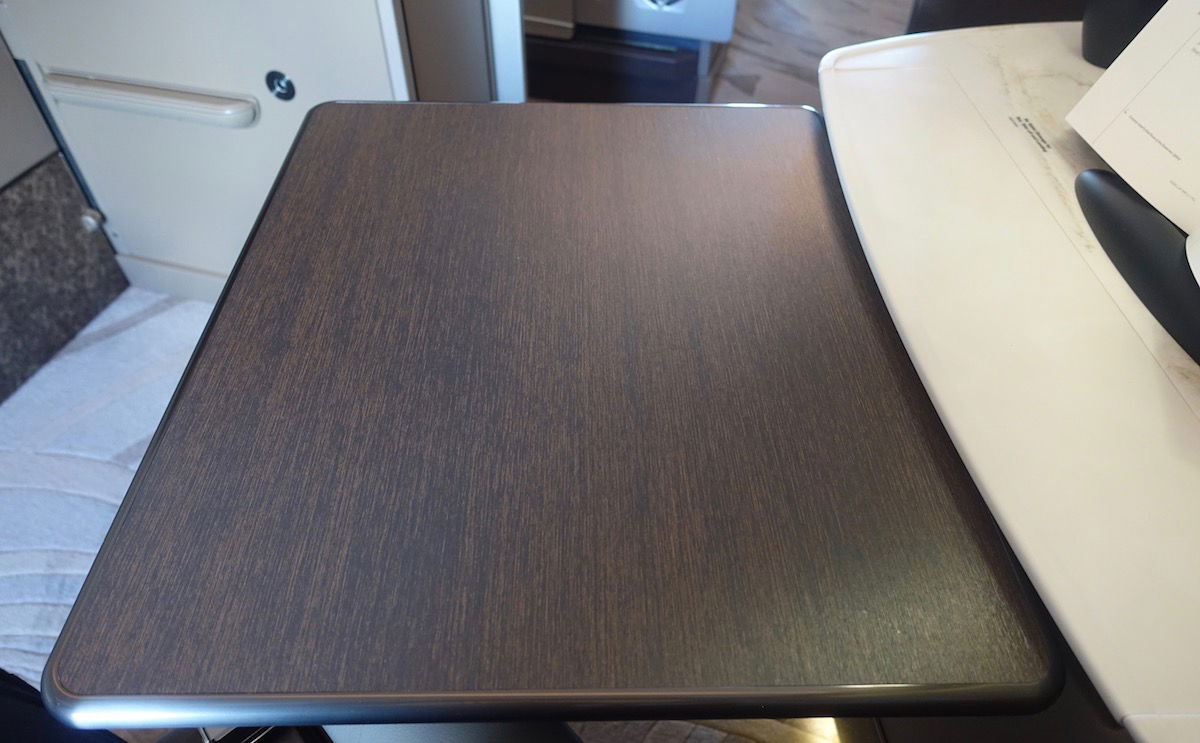 Singapore Airlines new Suites tray table
The seat itself had soft leather and was comfortable to sit in. However, it didn't feel especially sturdy, and even wobbled a bit during turbulence. Furthermore, while it's comfortable to sit in while in the upright position, I can't say it's the most comfortable seat for lounging (which I'll talk more about later).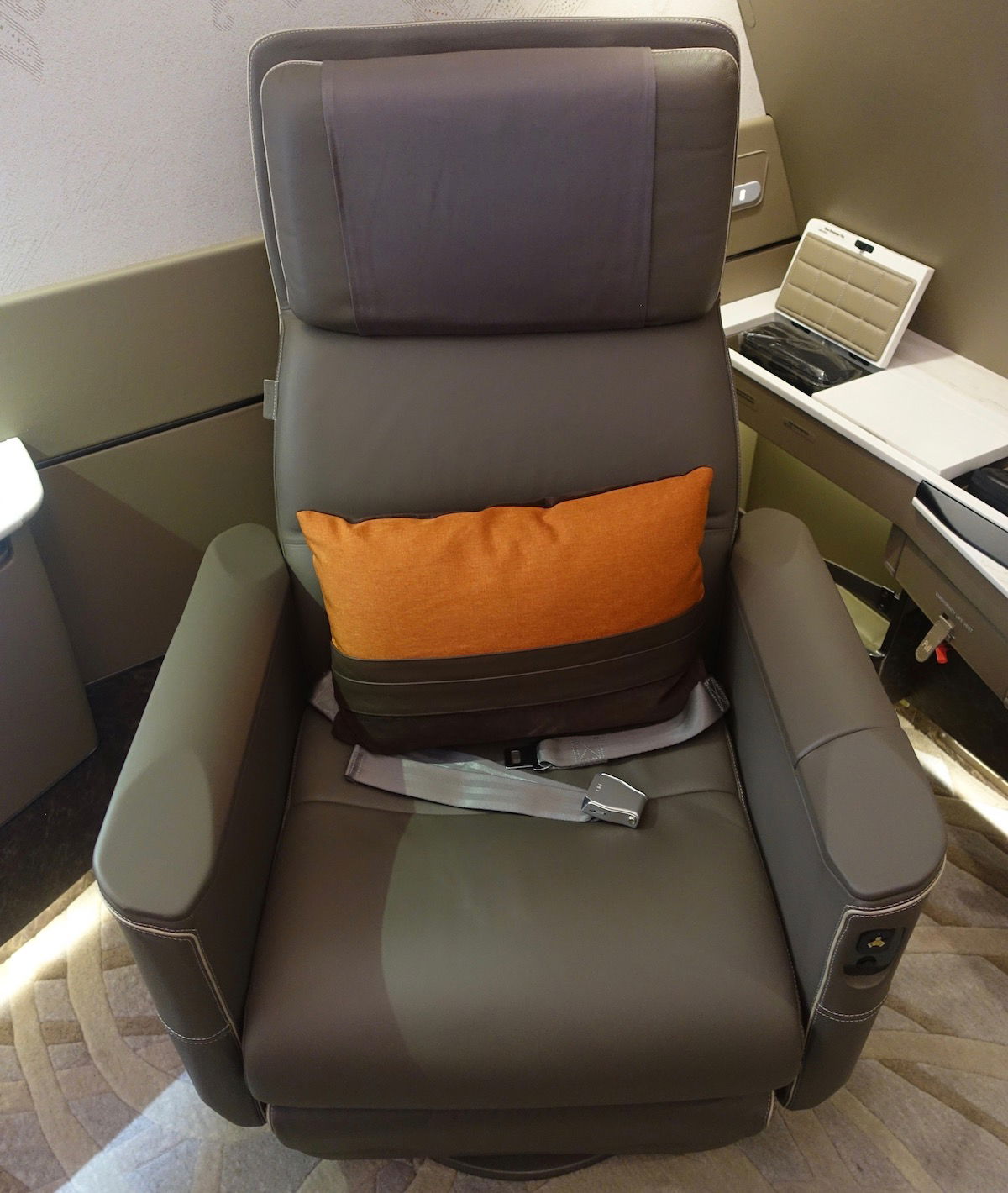 Singapore Airlines A380 Suites chair
One of the armrests had a simple entertainment controller, as well as the basic seat and TV controls, so that you could move both of those into your preferred position.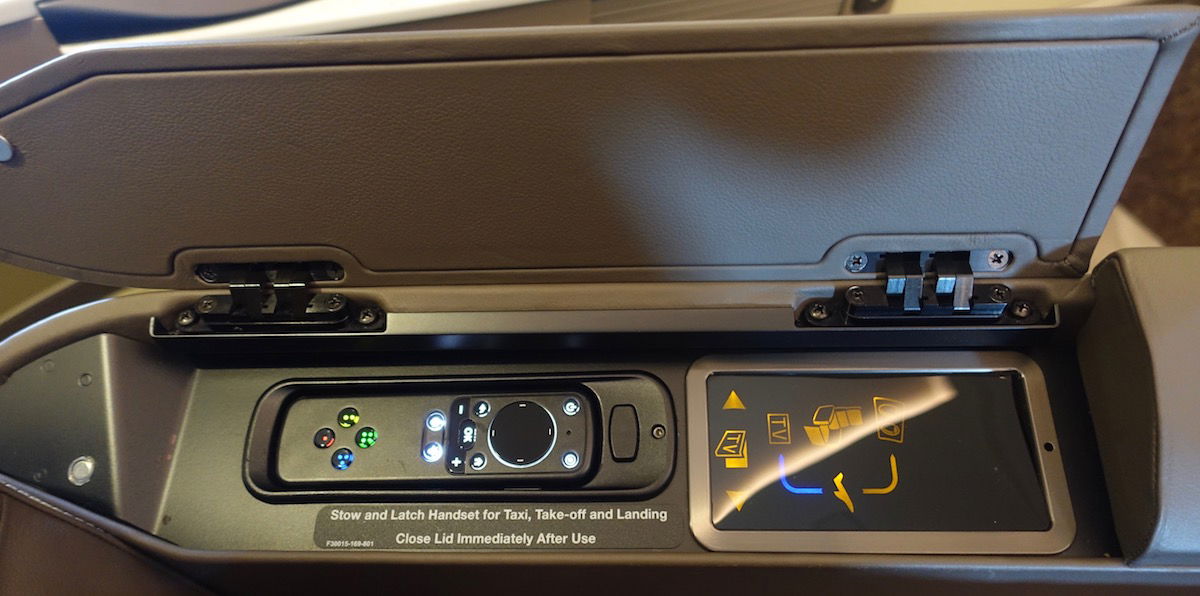 Singapore Airlines A380 Suites entertainment & seat controls
Along the forward wall and on the aisle-side of the Suite was the TV monitor, which could be swiveled with the push of a button, based on where you want to watch TV from.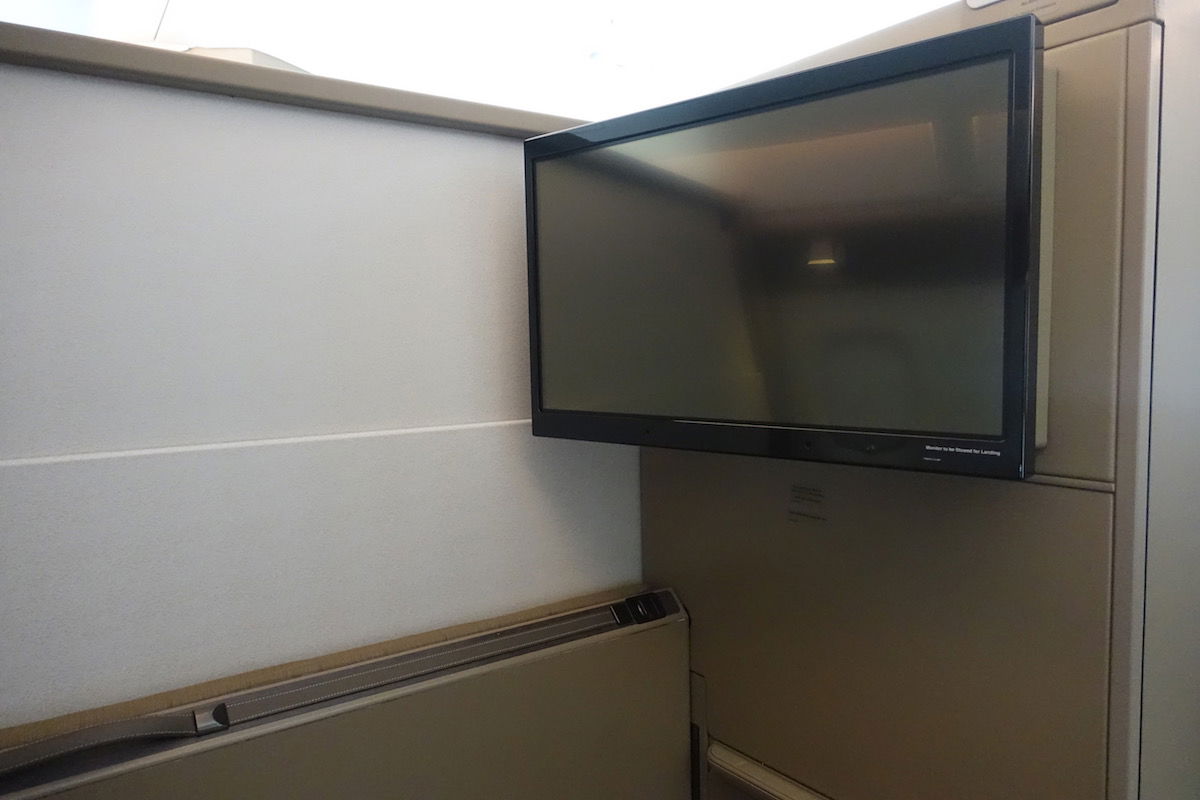 Singapore Airlines A380 Suites TV
Also on this wall was the fold-out bed. While I appreciate how big each Suite is, there's just something that feels poorly thought out with the design. Having what looks like a murphy bed that folds out of the wall feels like something you'd expect at camp, and not in the world's most exclusive first class product.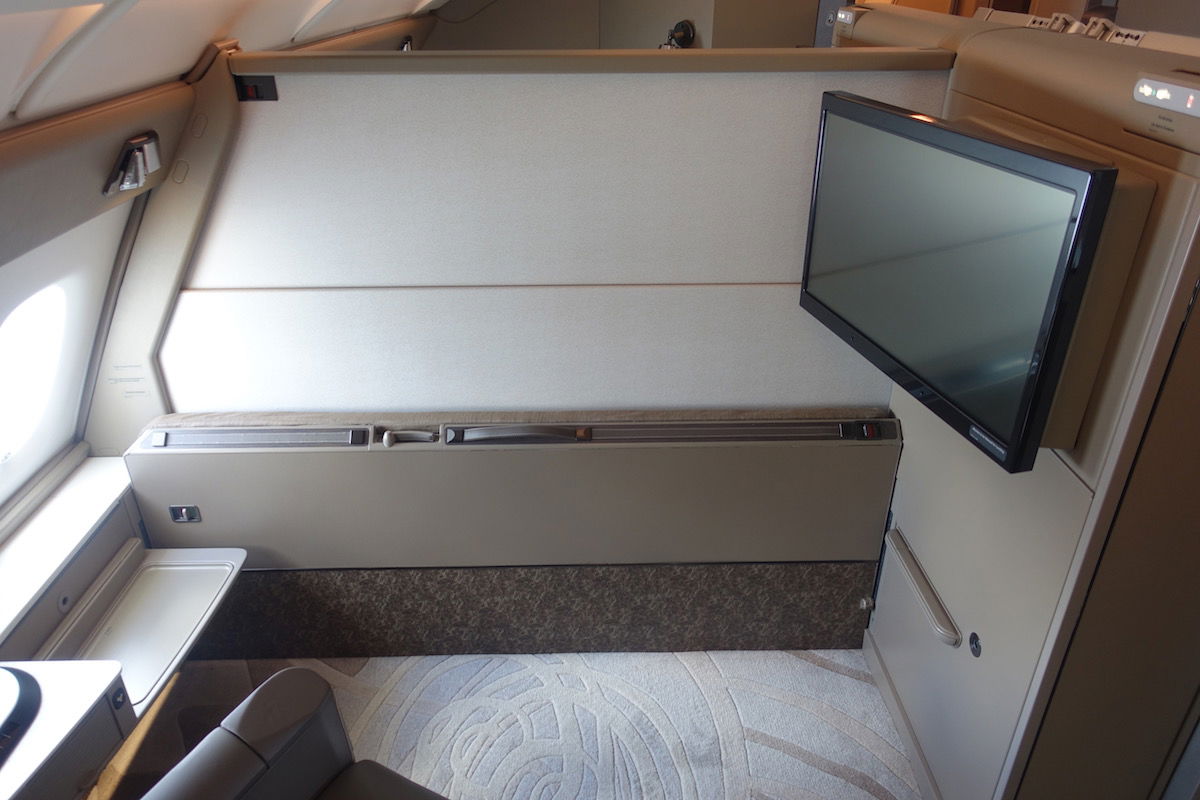 Singapore Airlines A380 Suites bed
Next to the fold-out bed was an area that had to be kept clear, which is used to support the bed when it's folded out.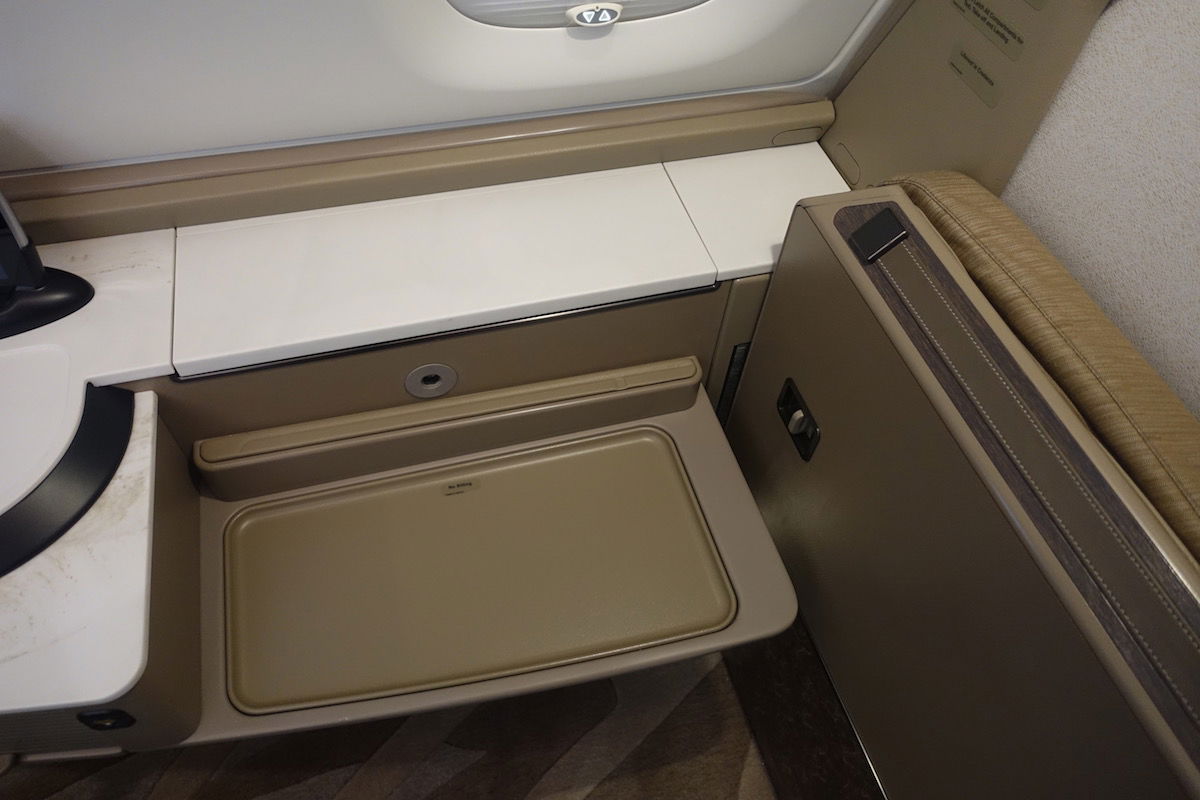 Singapore Airlines new Suites bed
Along the exterior of the Suite was a large closet, big enough for a carry-on, clothes, and anything else you may want to put there.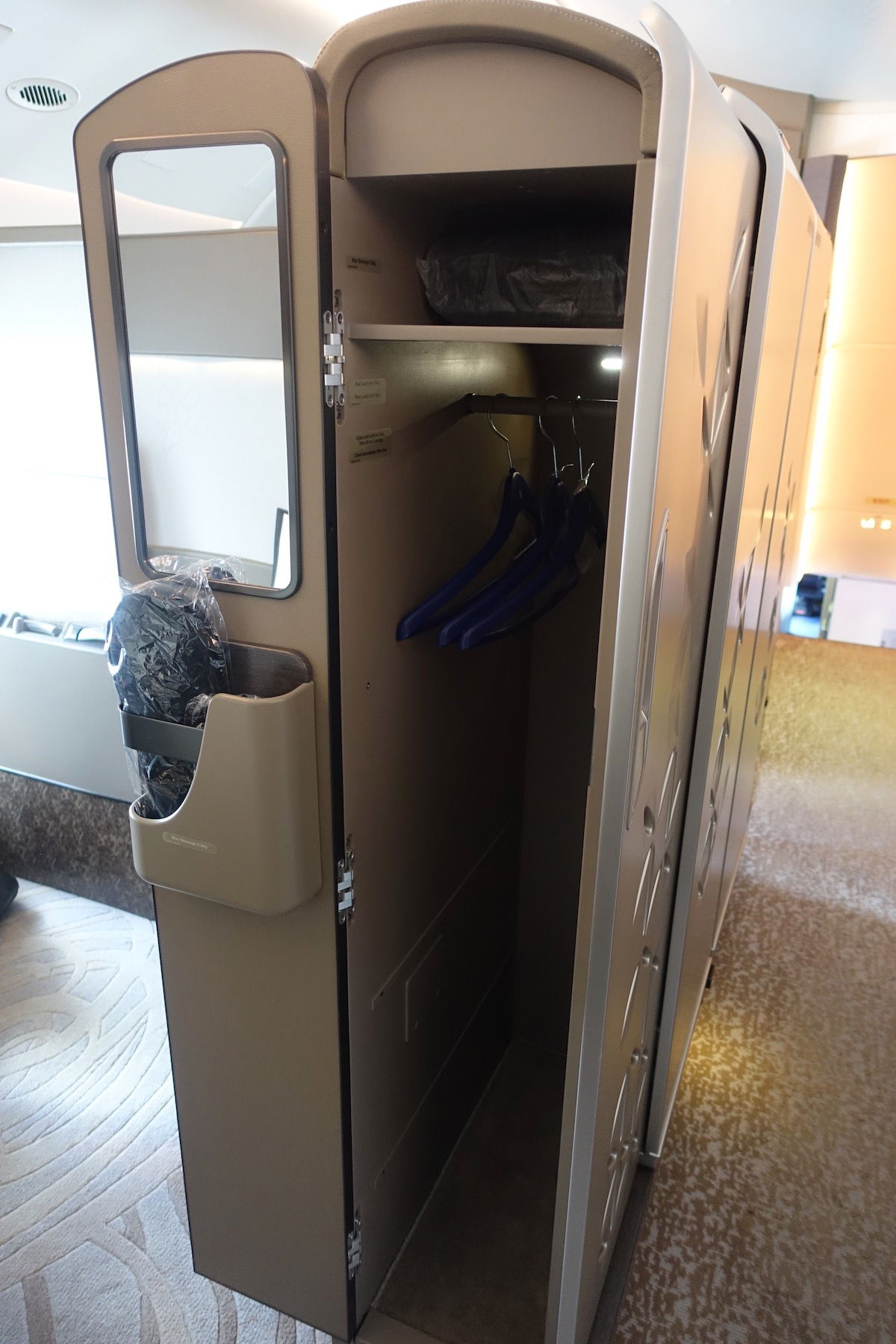 Singapore Airlines A380 Suites closet
My Suite had two windows, both of which had electric shades.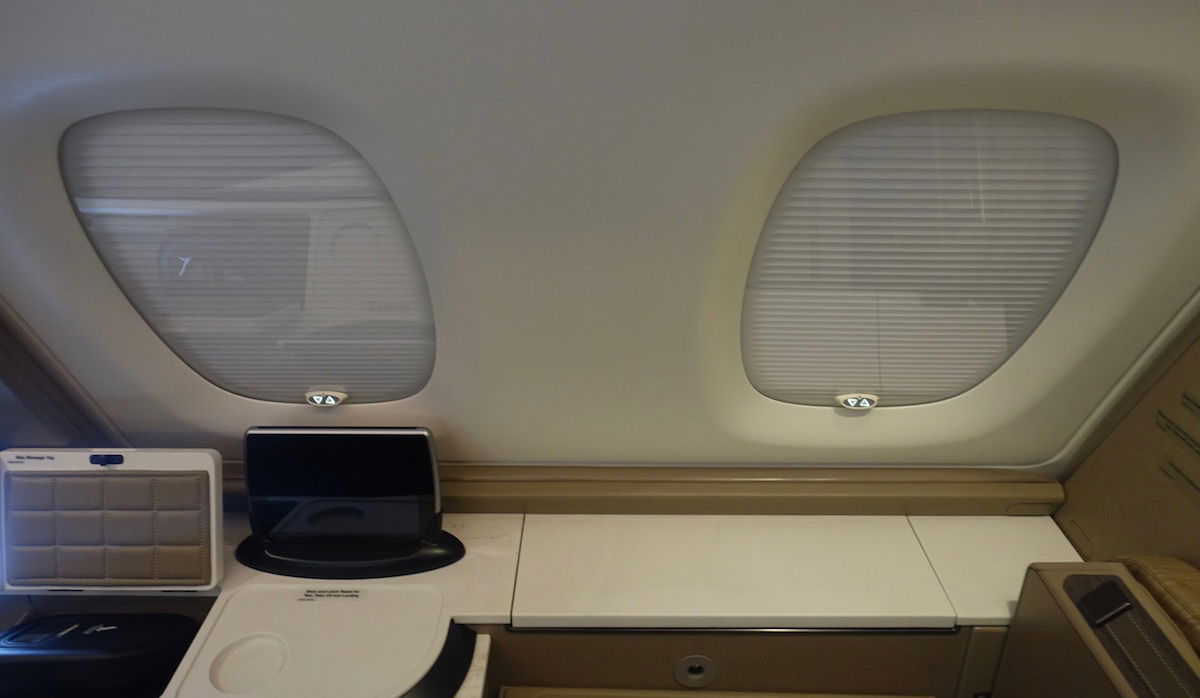 Singapore Airlines A380 Suites windows
Along the window-side of the suite were beautifully designed storage compartments. There were three of them, as well as a backlit vanity mirror. Next to that were seat controls, as well as a tablet that you could use to control the entertainment selection, seat controls, and more.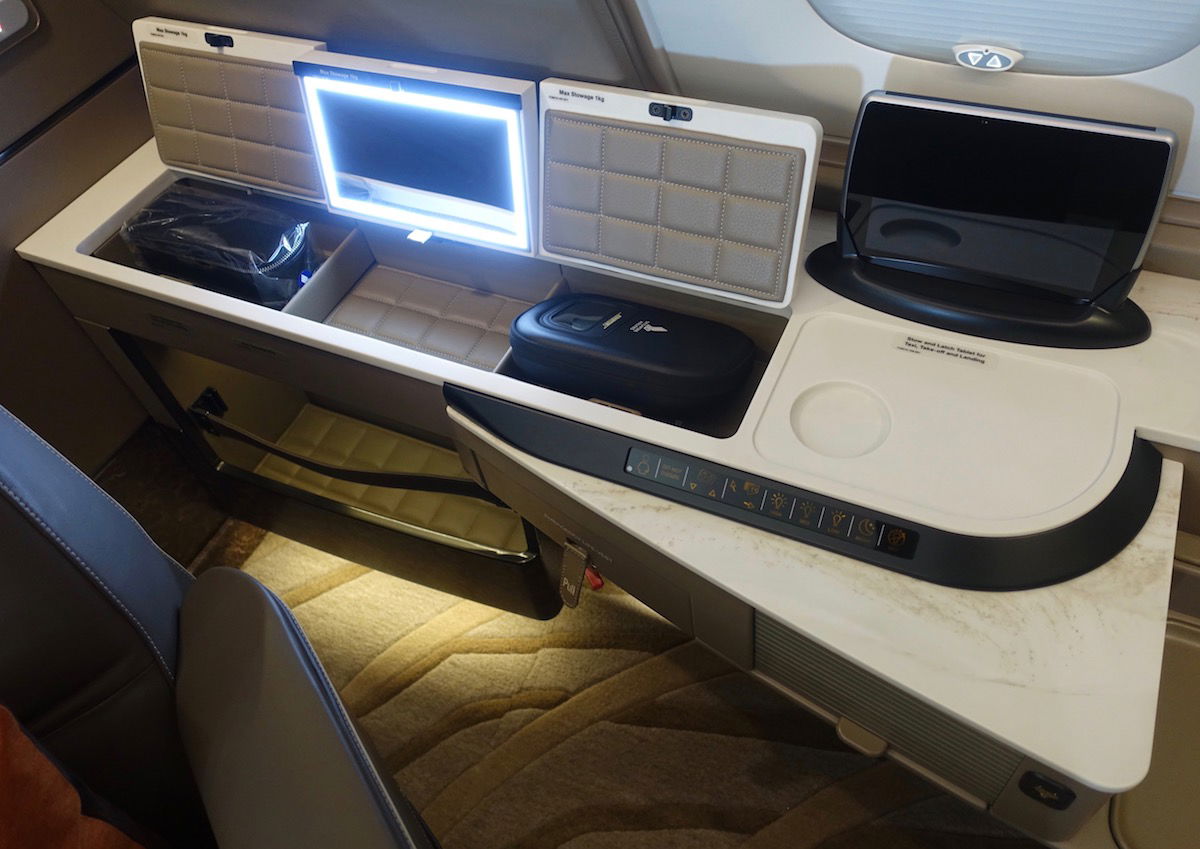 Singapore Airlines A380 Suites storage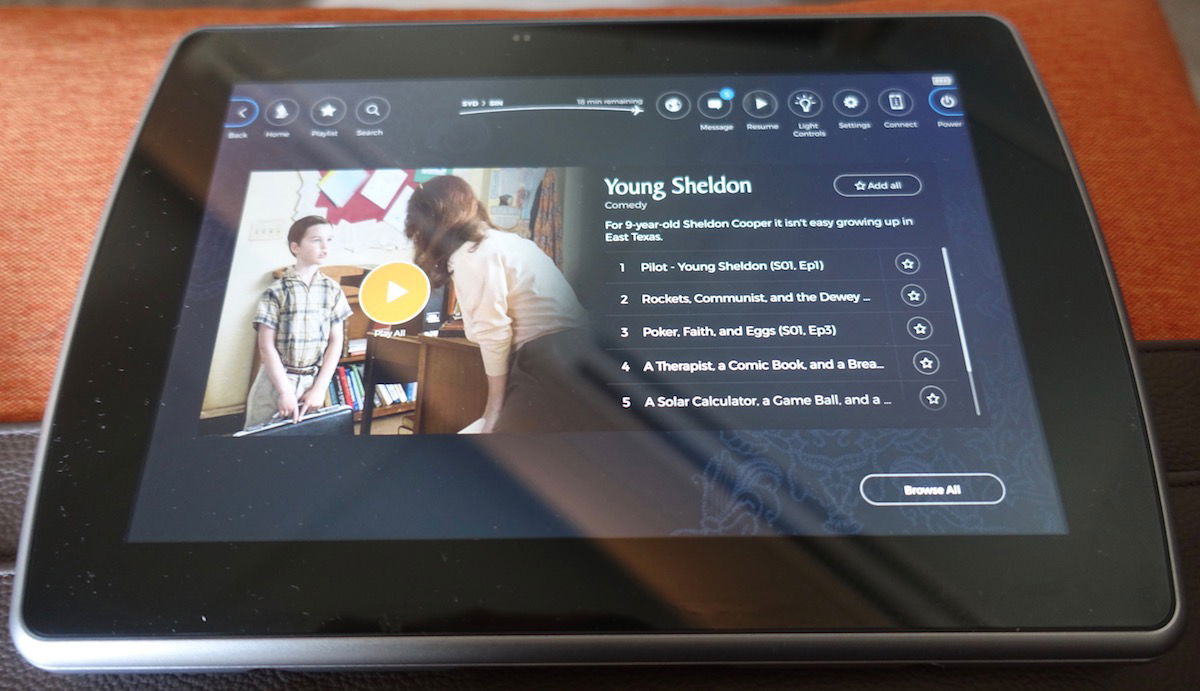 Singapore Suites tablet
Underneath that was an exposed storage compartment.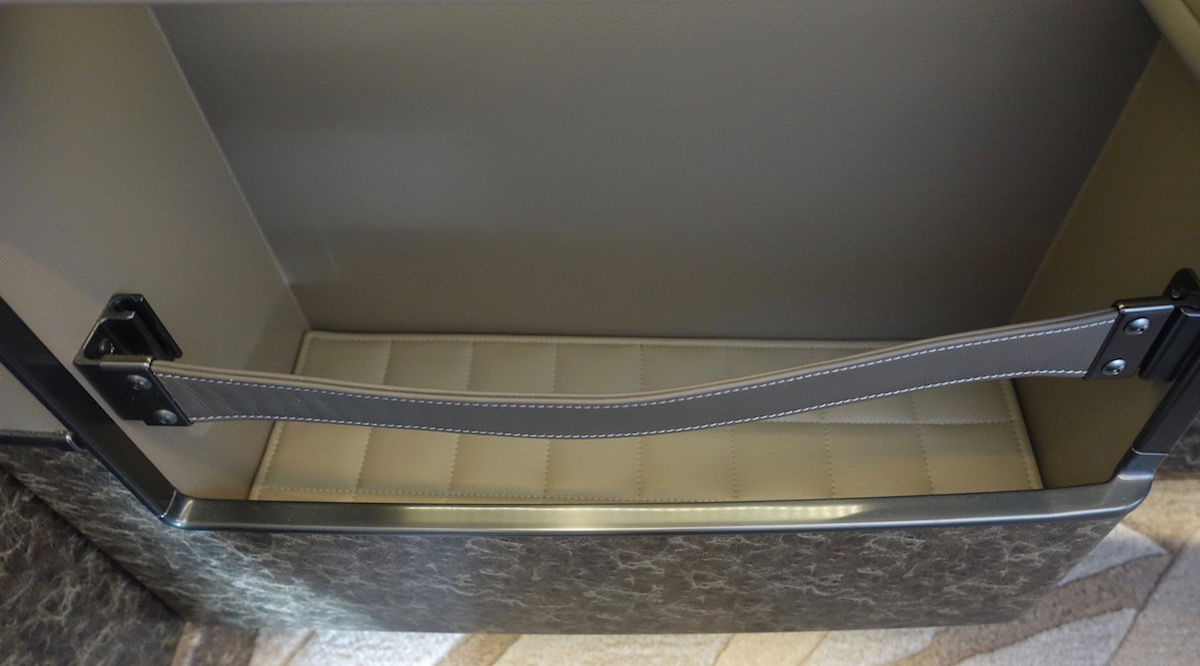 Singapore Airlines A380 Suites storage
Next to the tablet was a covered area with a USB outlet, 110v outlet, and more.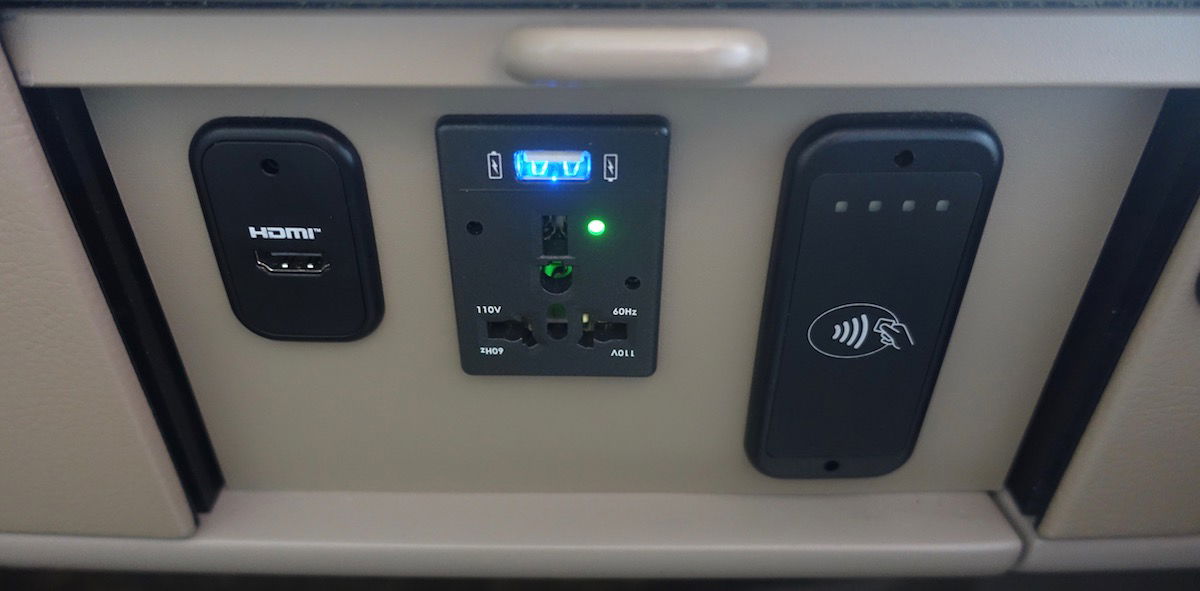 Singapore Suites outlets
That was one of two outlets at the seat, as there was another one on the opposite side of the Suite.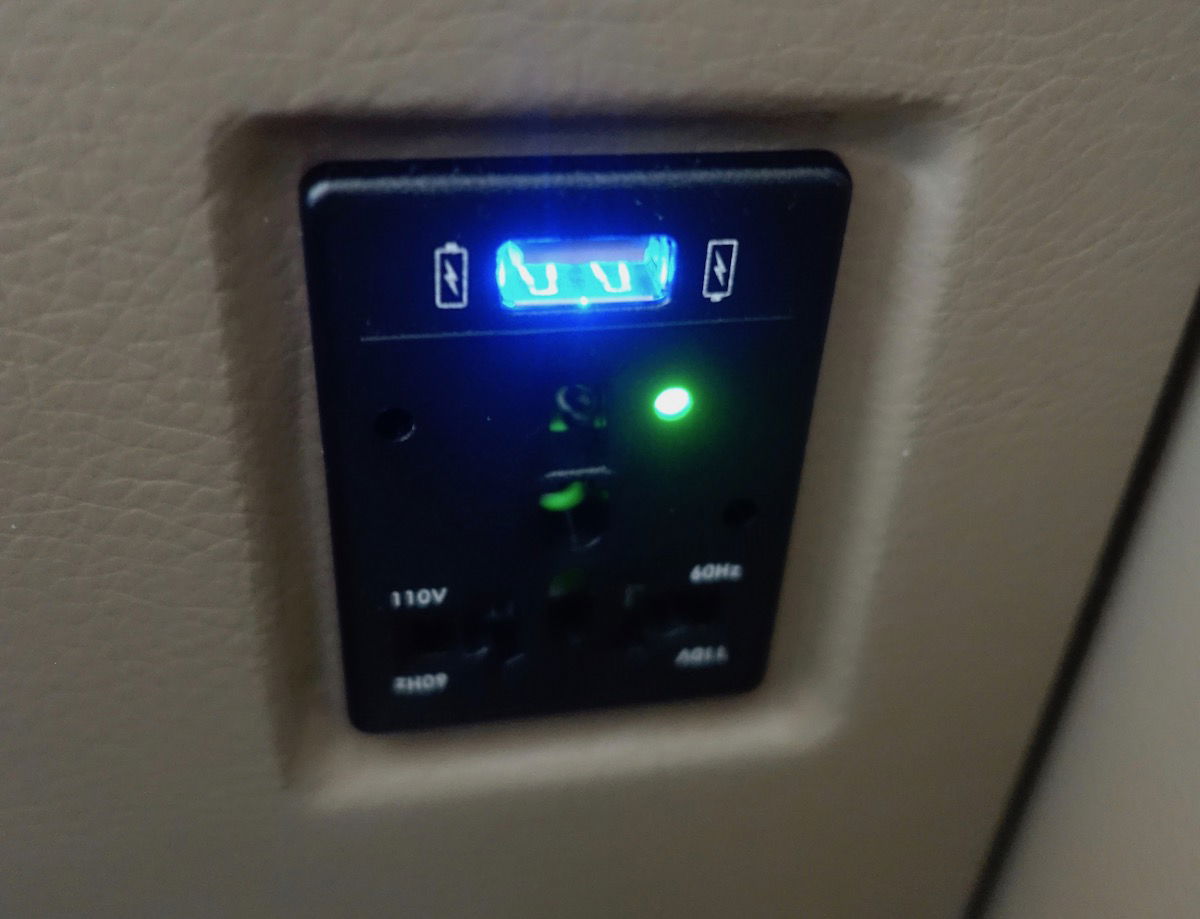 Singapore Airlines A380 Suites power outlet
I liked how high the walls were around the Suites. I'd say they're about 5'6″ high.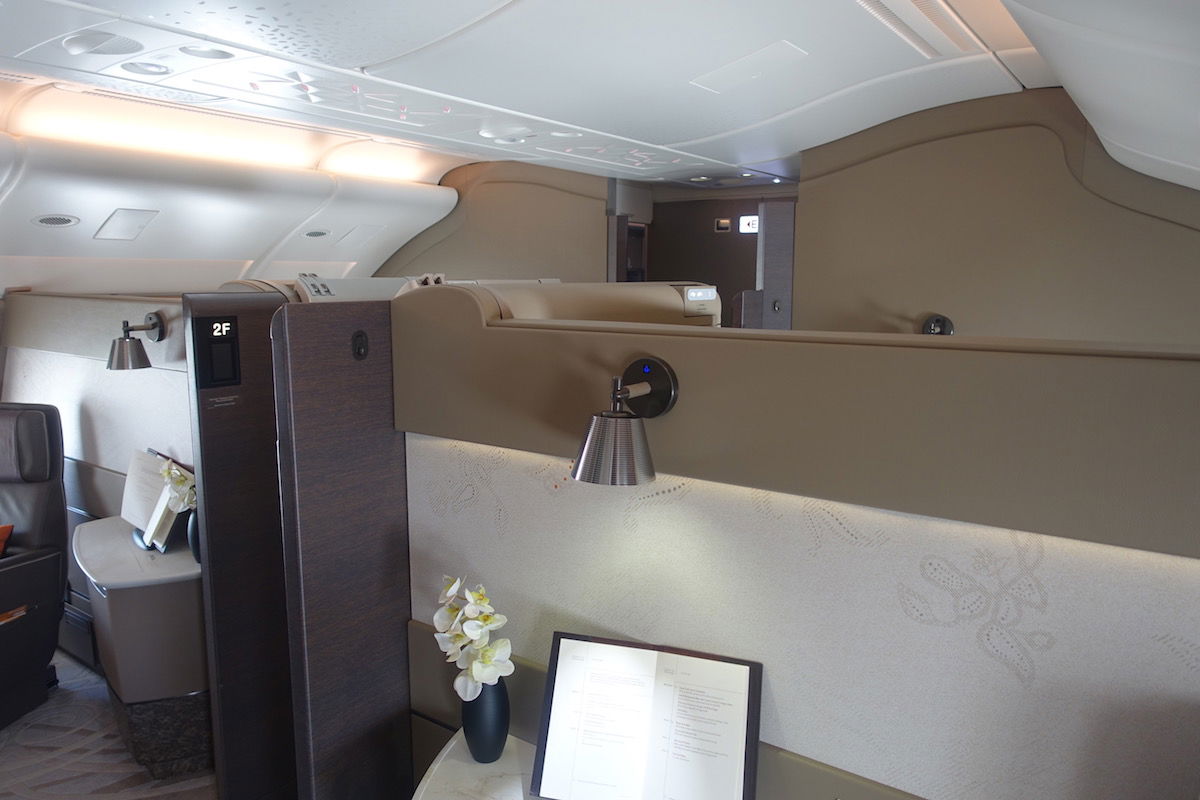 Singapore Airlines A380 cabin
Waiting at my Suite on boarding were a pair of Bose headphones.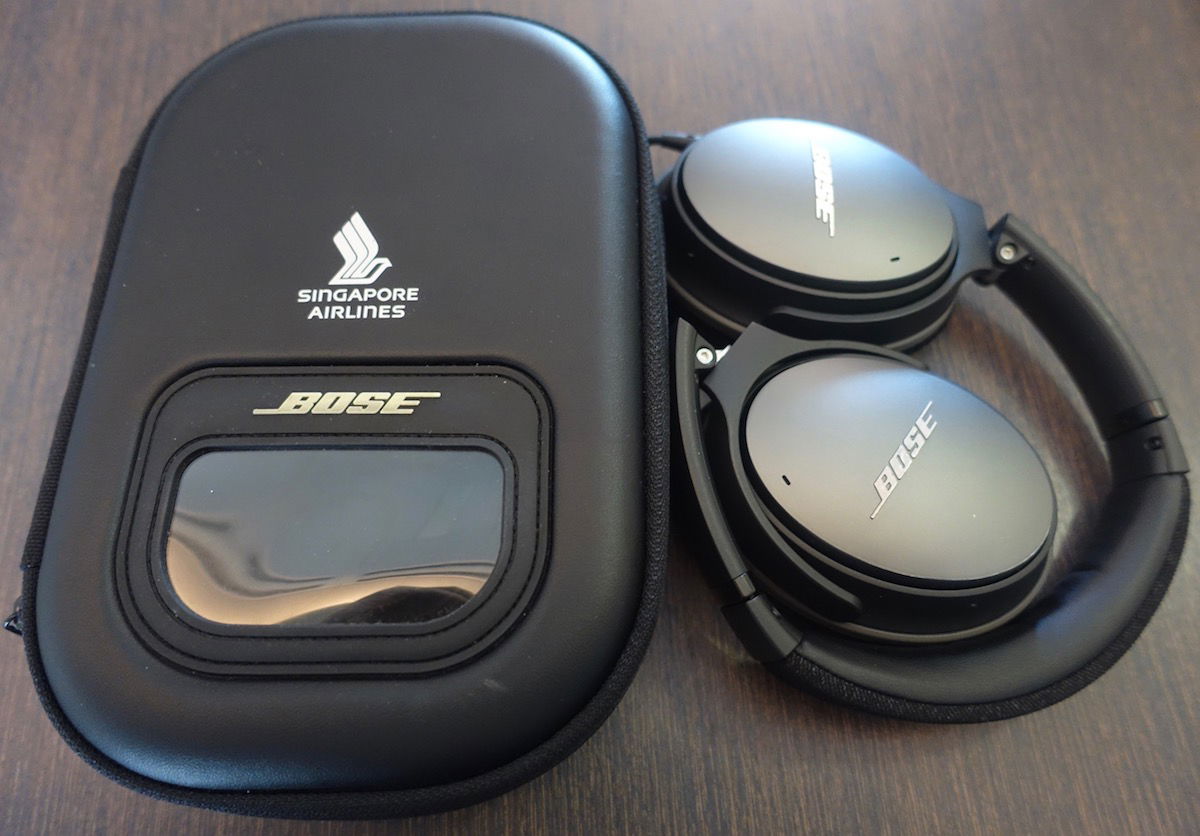 Singapore Airlines Suites Bose headphones
I also explored the Lalique amenity kit, which was top notch.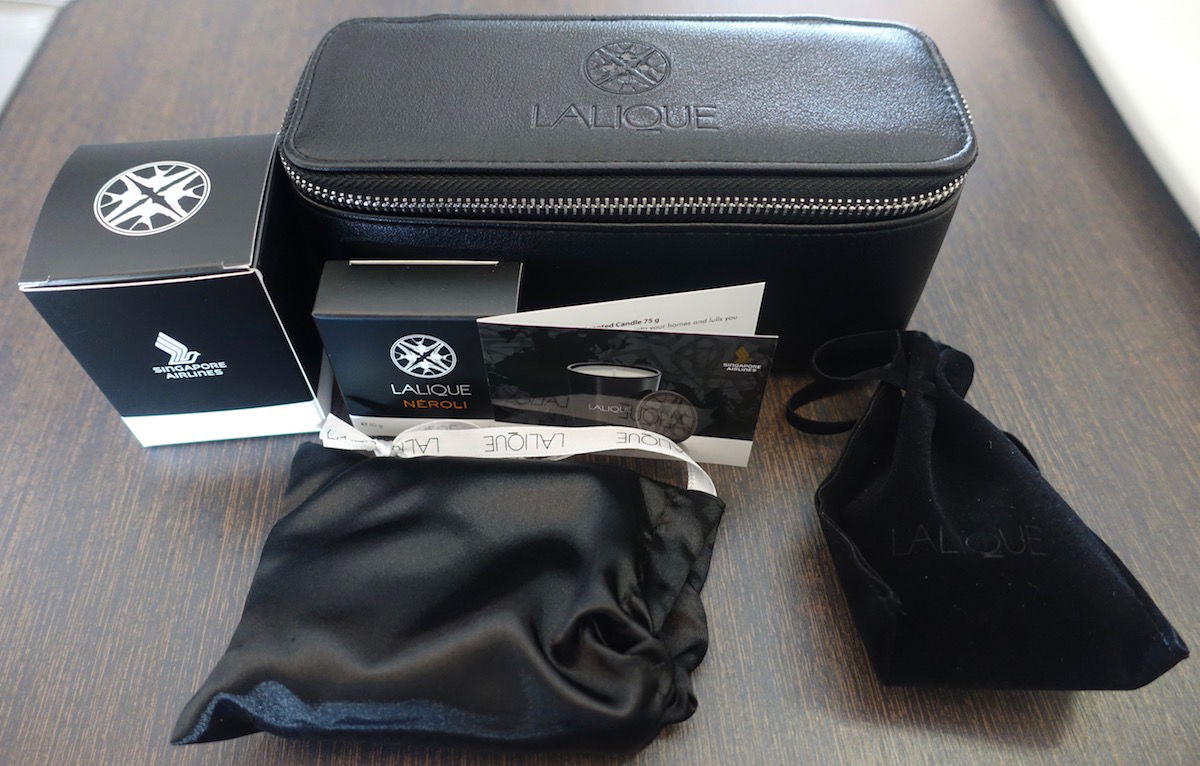 Singapore Airlines Suites Lalique amenity kit
The amenity kit had some unique things, like a candle (which you obviously can't burn on the flight), a bar of soap, as well as some sort of scented fish thing. The kit seemed to be designed as something you take home, rather than something you'd use onboard.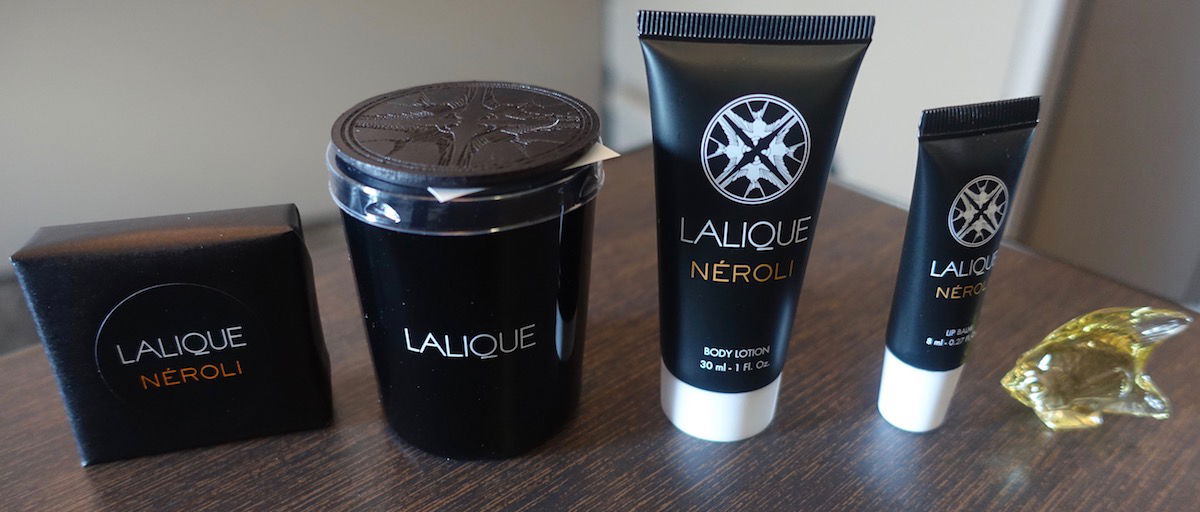 Singapore Airlines Suites Lalique amenity kit contents
I was also offered a pair of socks.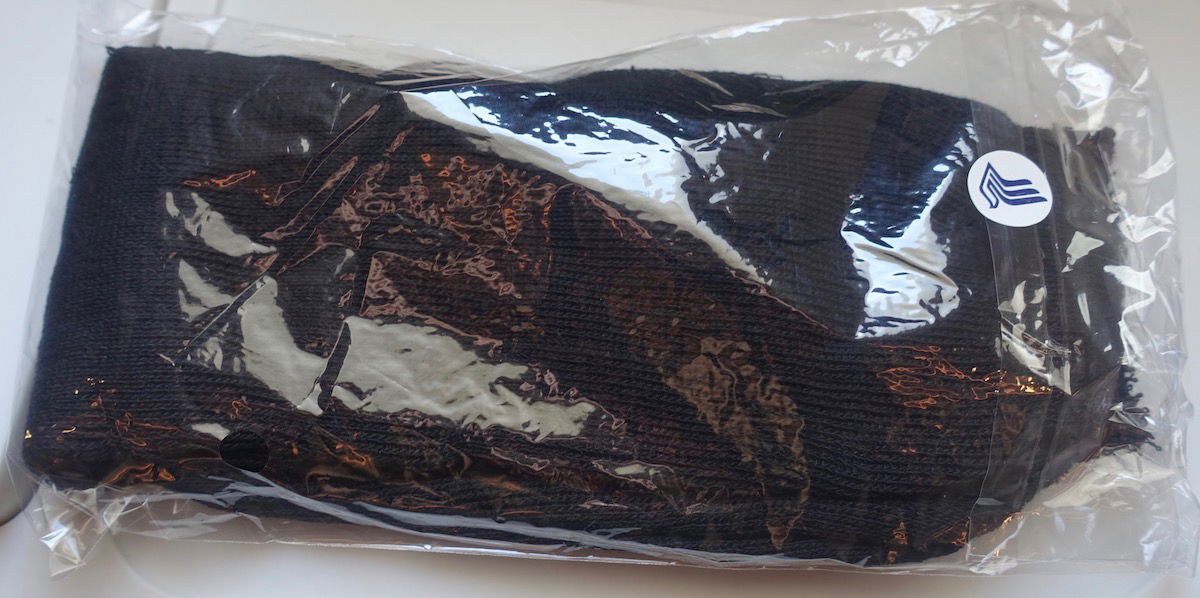 Singapore Suites socks
Once settled in, I walked to the front of the cabin to check out the lavatories, which are located right next to the staircase leading to the lower deck.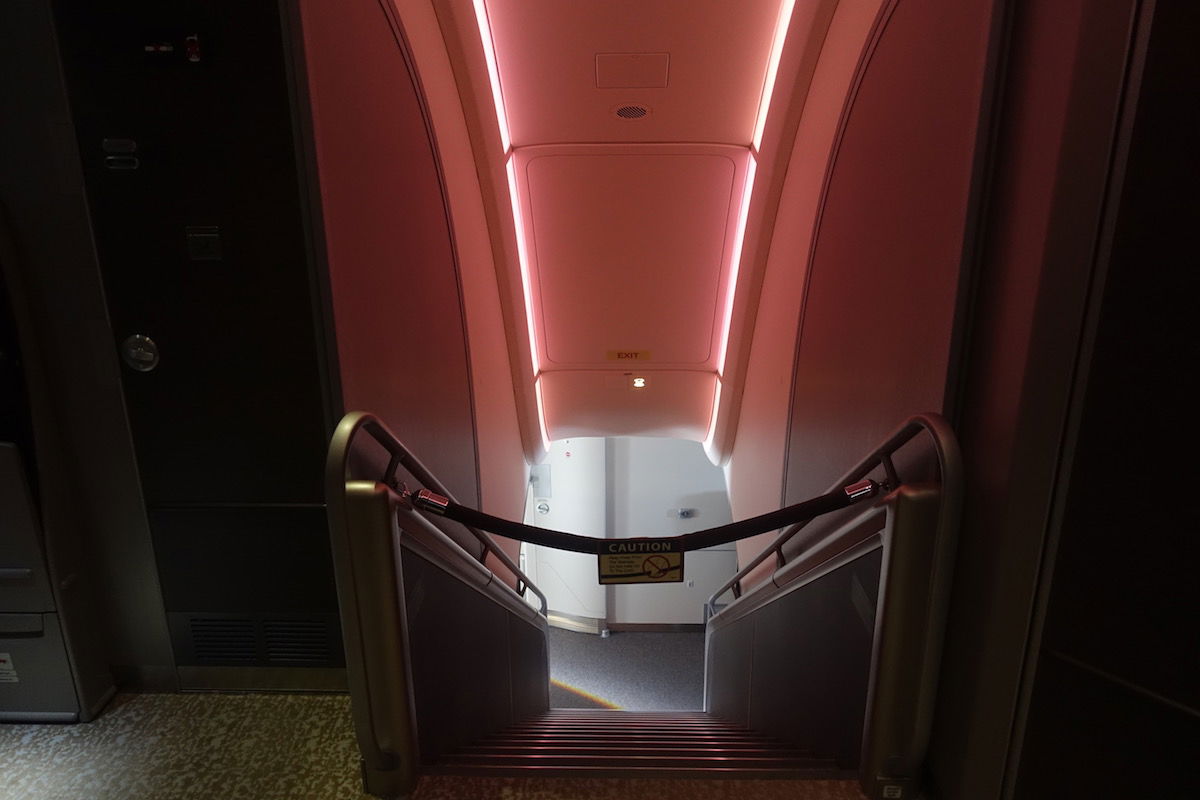 Singapore Airlines A380 staircase
While Singapore Airlines doesn't have showers on the A380, they do have two very large bathrooms. The largest bathroom is to the right, and featured a toilet, sink, and vanity. This is easily the nicest non-shower bathroom I've seen on a plane (the Emirates A380 shower spa is still the ultimate airplane bathroom).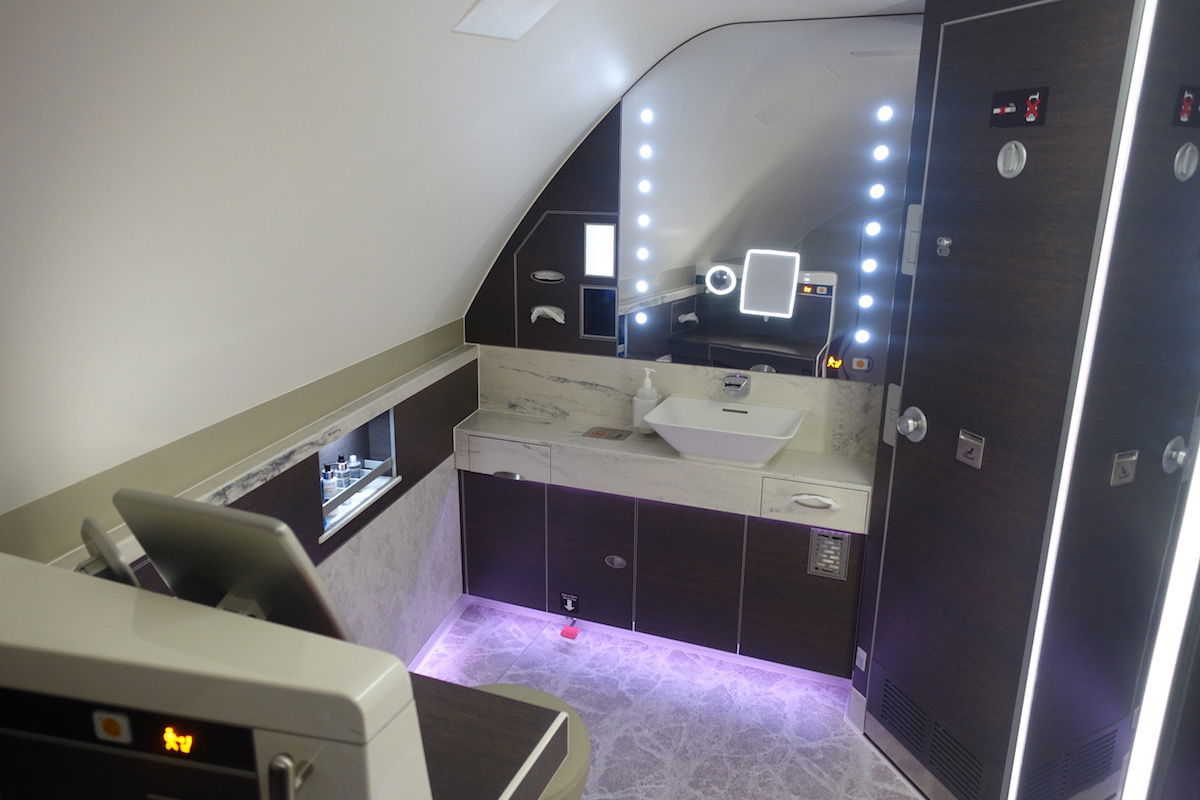 Singapore Airlines new Suites lavatory A380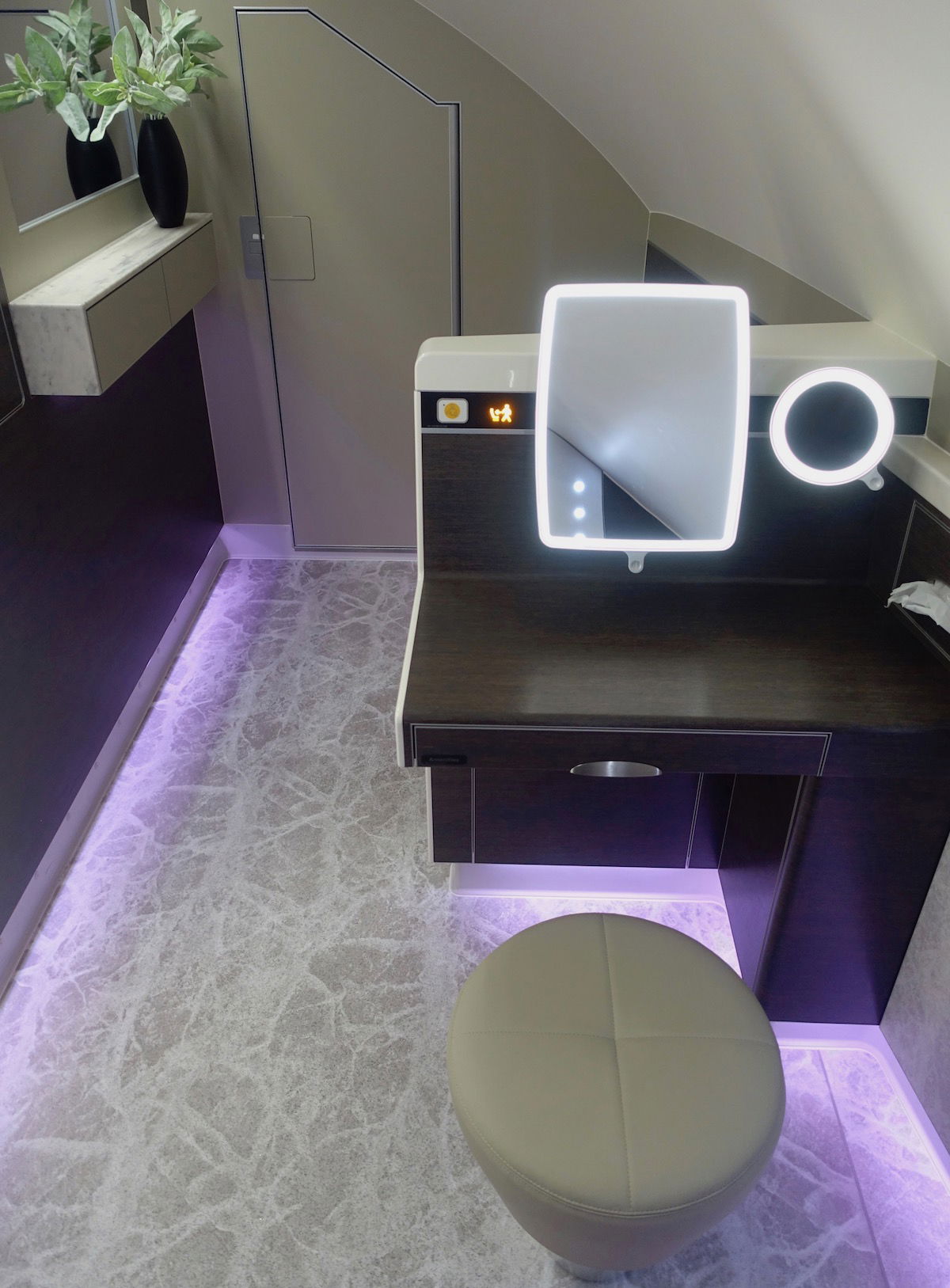 Singapore Airlines new Suites lavatory A380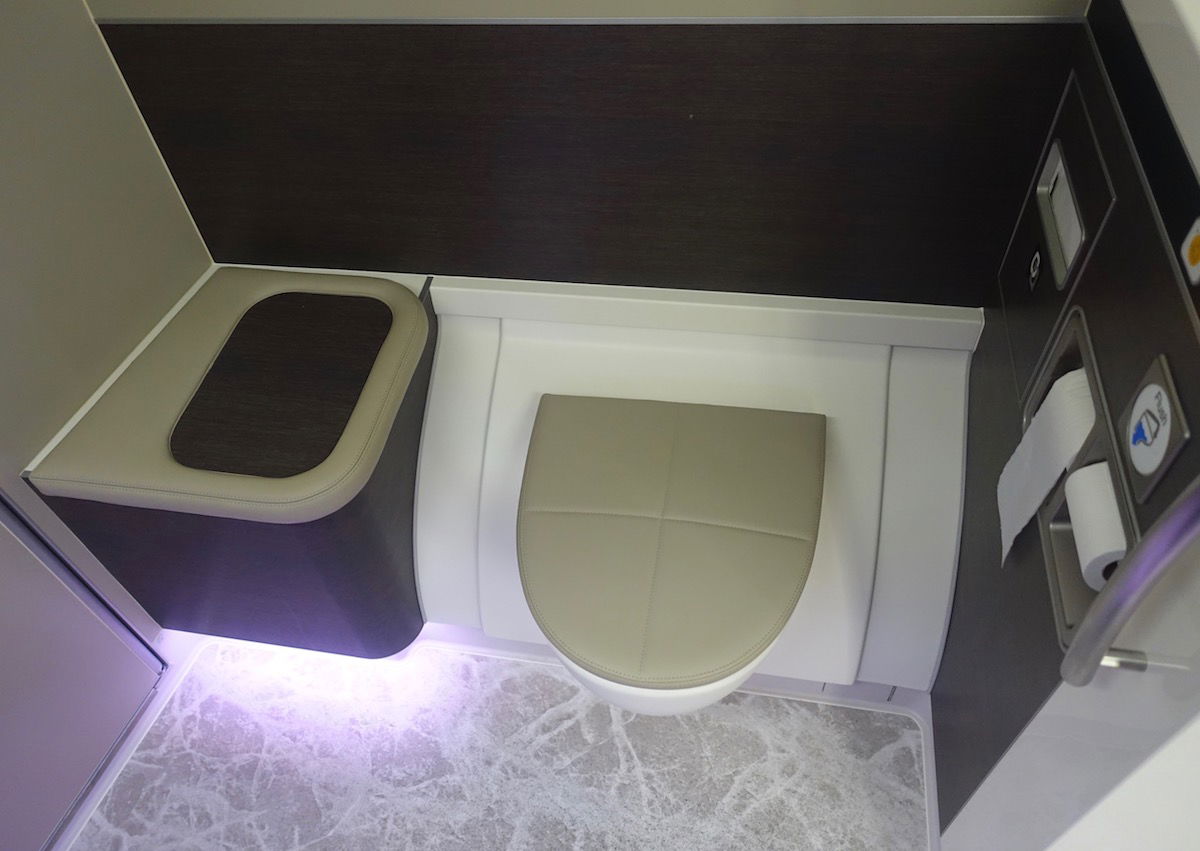 Singapore Airlines new Suites lavatory A380
The bathroom on the left was also nice, though not quite as large.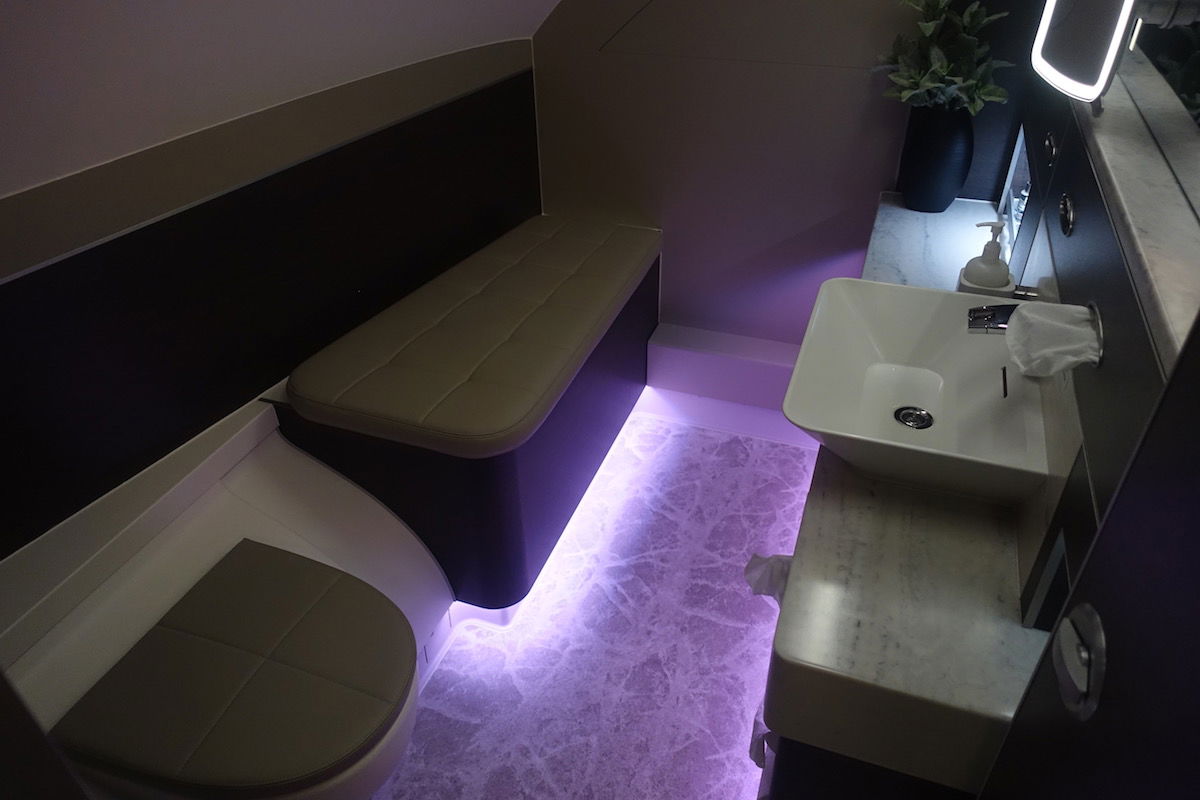 Singapore Airlines new Suites lavatory A380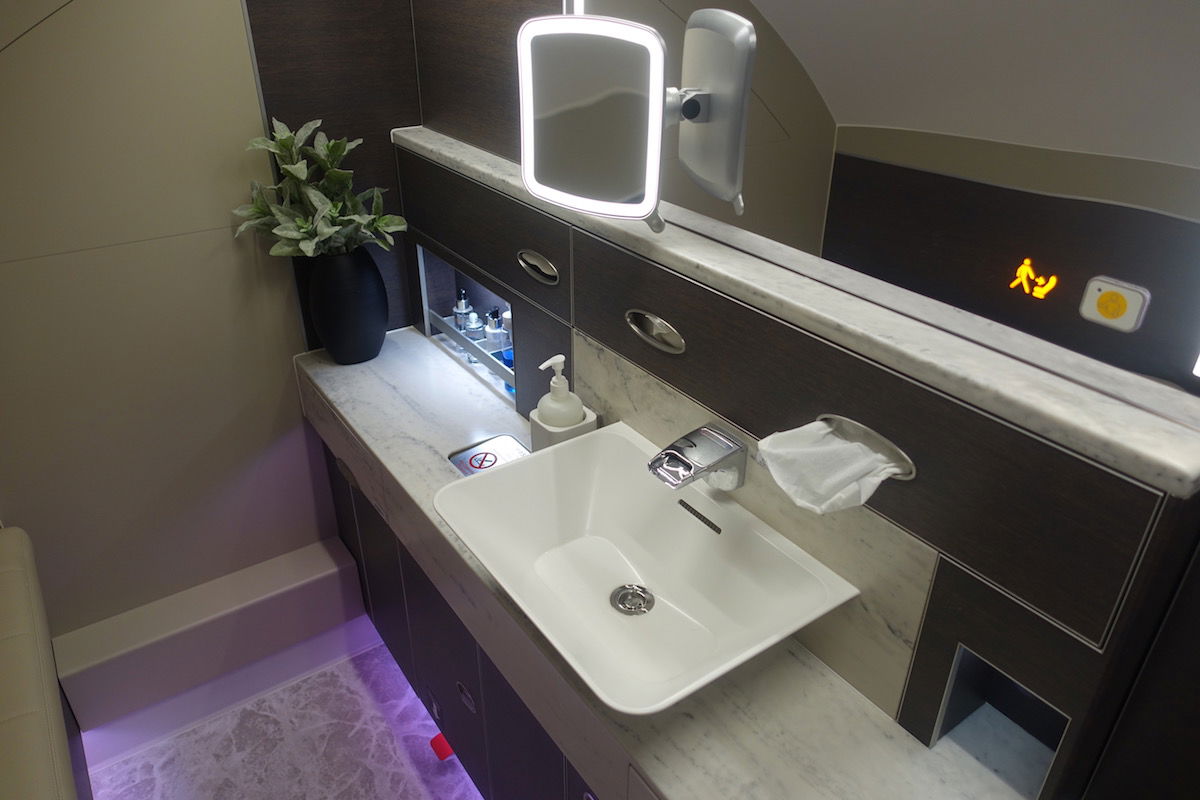 Singapore Airlines new Suites lavatory A380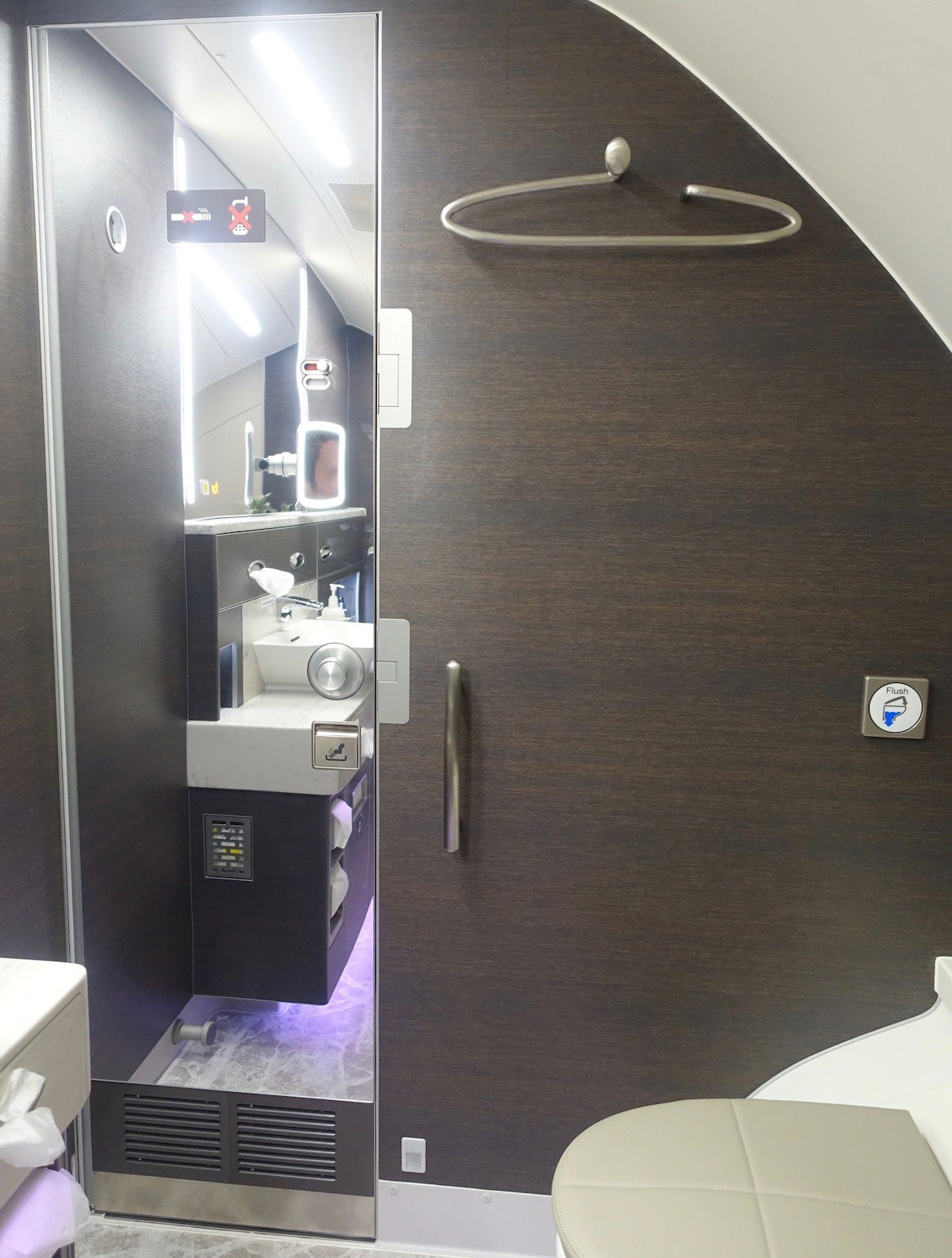 Singapore Airlines new Suites lavatory A380
Each of the lavatories was stocked with things like shaving kits, toothbrushes, cotton pads, and more.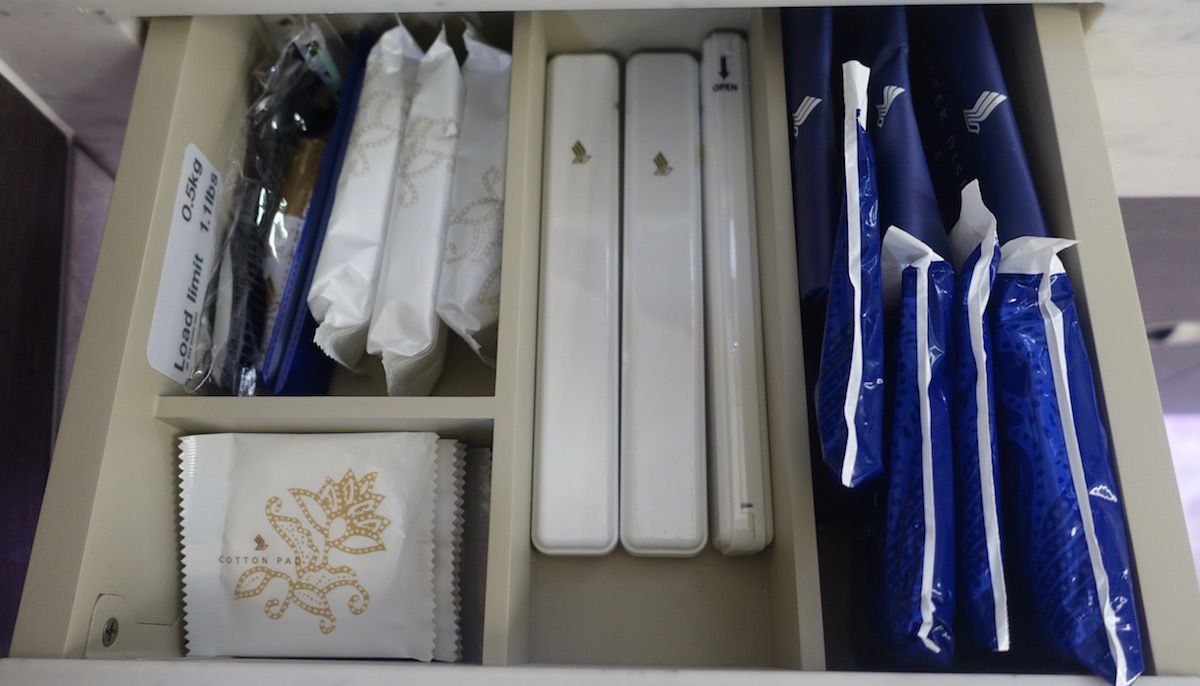 Singapore Airlines A380 Suites amenities
As an introvert I can officially say that the jumpseat in this area would be my ideal place to sit for takeoff or landing, if I were a flight attendant. 😉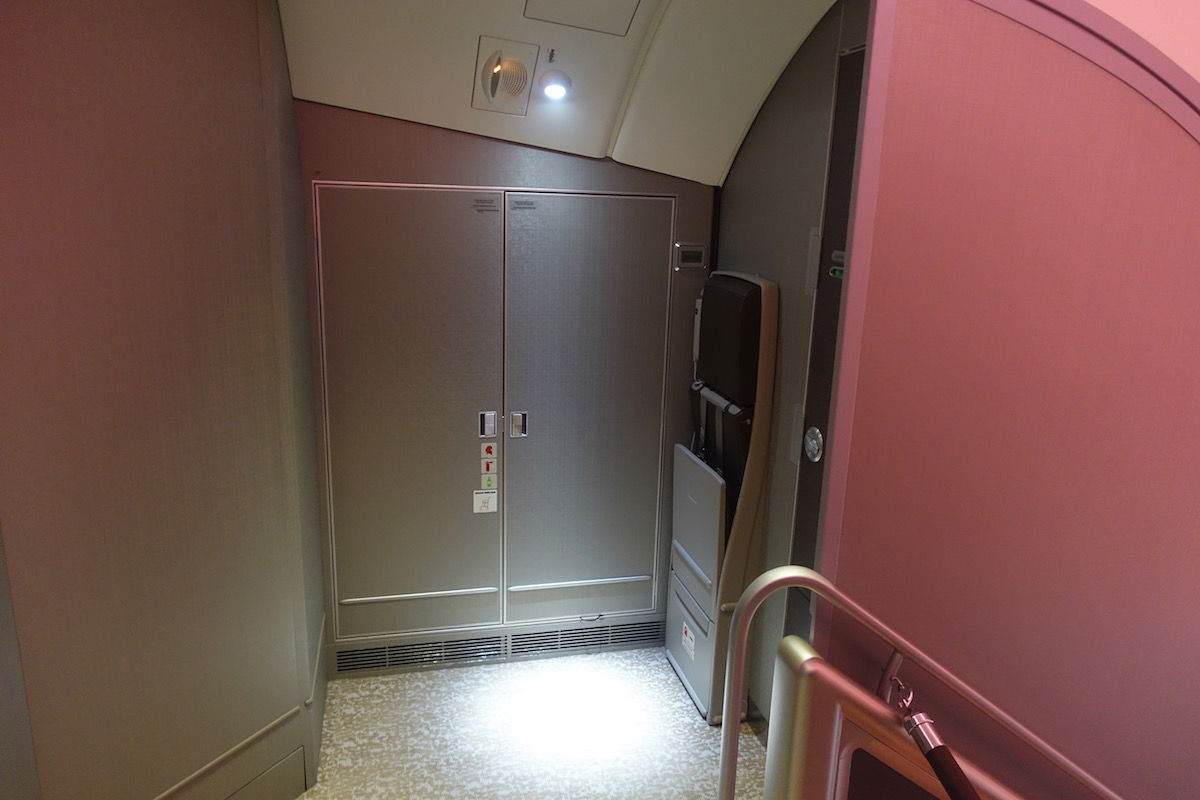 Singapore Airlines A380 lavatory area
Once back at my seat, Dennis came by to familiarize me with the features of the Suite, inform me of the flight time of 7hr25min, and offer me a pre-departure beverage. "Mr. Schlappig, perhaps you'd like some champagne? We have Dom or Krug to choose from." You know you're having a good day when that's the toughest decision you have to make. 😉
I selected the Krug, though had completely forgotten that at the moment Singapore Airlines is serving the very special 2004 vintage, which was spectacular (and also far from cheap).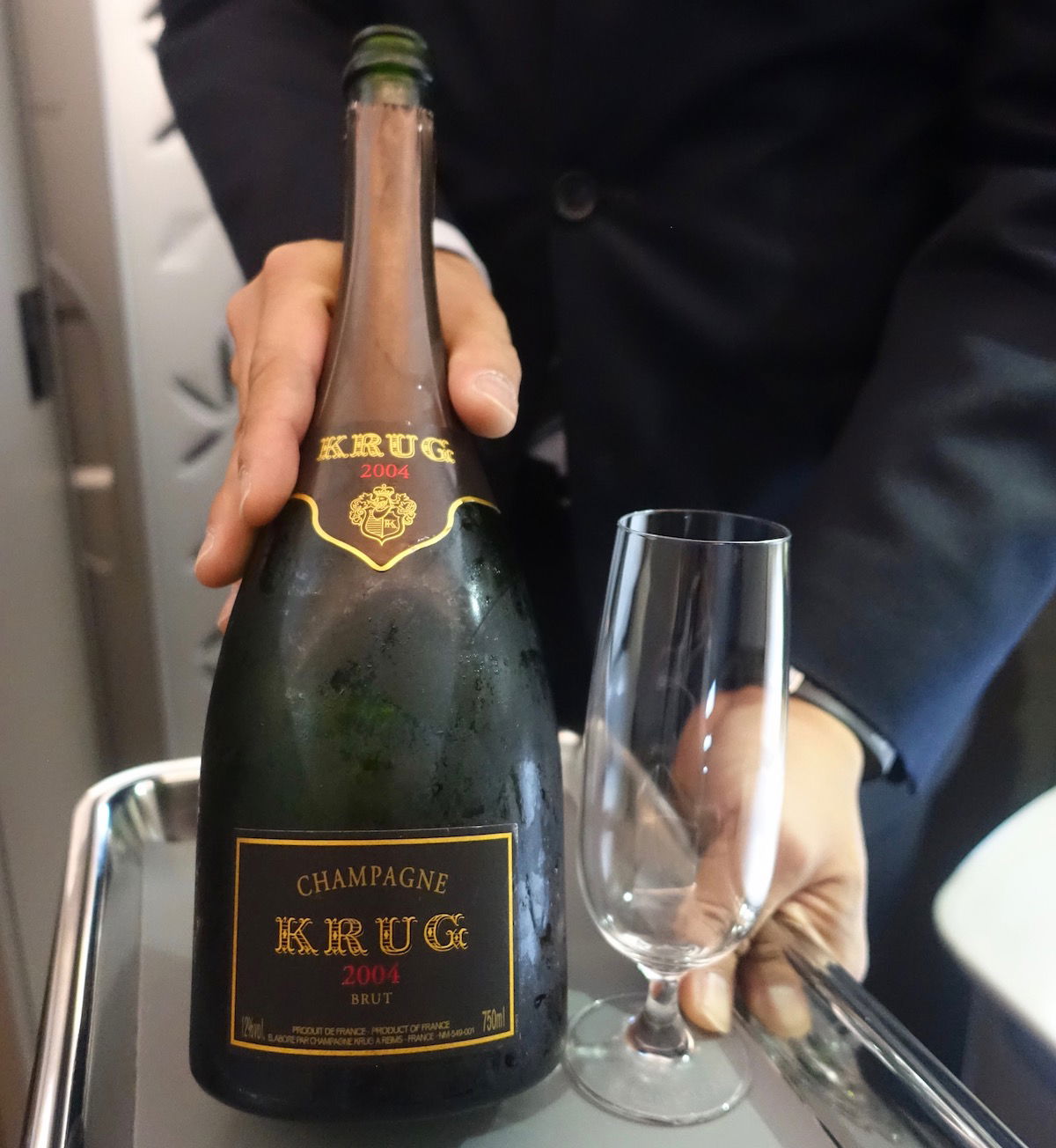 Singapore Airlines Suites pre-departure champagne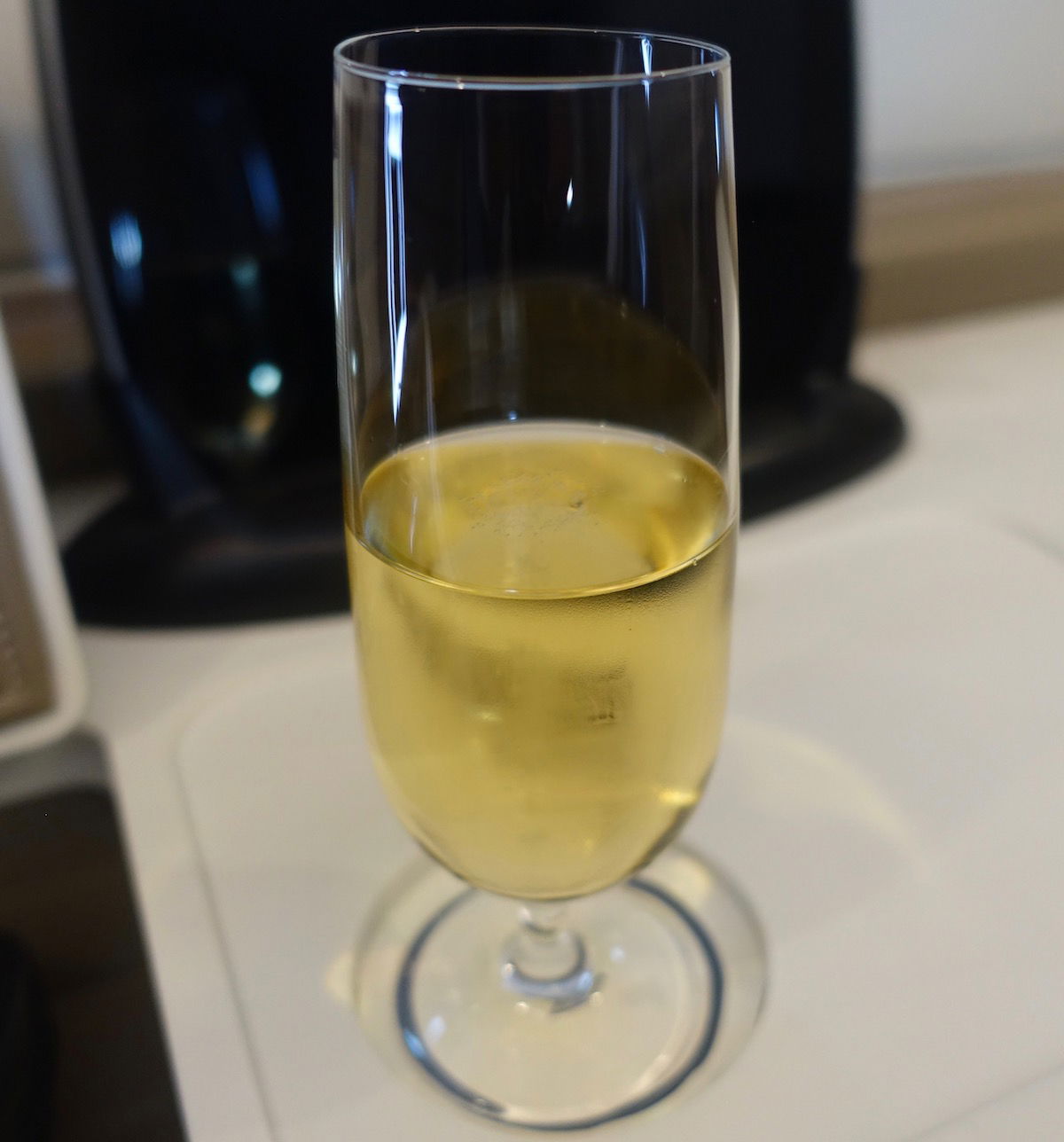 Singapore Airlines Suites pre-departure champagne
I was offered a warm towel moments later, as well as a selection of reading materials (which I passed on, since I had plenty to keep me entertained).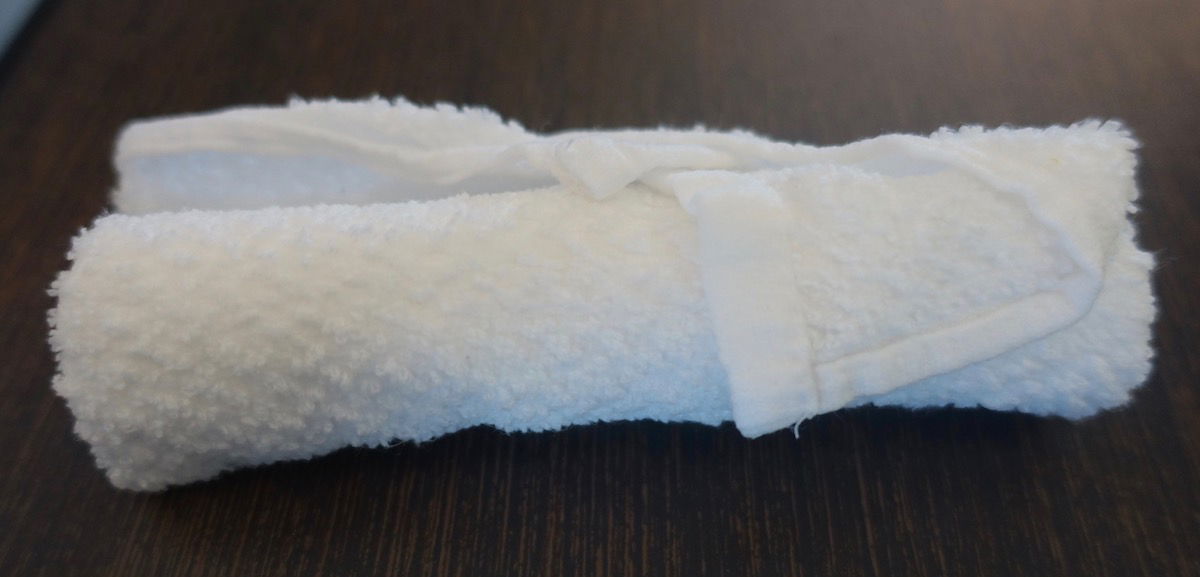 Singapore Airlines Suites pre-departure warm towel
Leading steward Shawn, and leading stewardess Jamie, shortly came by my seat to introduce themselves as well.
Being in Suites you really don't experience any of the stress of boarding, so the only thing I witnessed was the other five passengers traveling in the Suites cabin. There was a friendly Australian gentleman seated across from me who seemed to be a regular on Singapore Airlines, but caught off guard by the new cabin. Then there was a family of four (or something?) traveling together. I don't know, they were an odd group. There was a (much) older man, a young woman in very high heels with the shortest dress I've possibly ever seen, and then two women who I believe were the guy's daughter (I'm pretty sure they were older than the other woman).
At 12:05PM the main cabin door was closed, at which point the welcome aboard announcement was made, including informing us that there were 26 crew members onboard. At 12:10PM we began our pushback, and at 12:15PM we started our taxi. At that point the safety video was screened. The crew adjusted my seat for me during the safety video, and then after the safety video they moved it back into the fully forward position for takeoff.
One thing I don't love about the upper deck of the A380 is how small the windows are, and that there's a screen several inches from the window, so you can't get a great view outside. On top of that, in this particular configuration you're seated quite far from the window. Unlike other airlines, Singapore Airlines also doesn't have a tail camera on the A380, best I can tell.
At 12:30PM we were cleared for takeoff, and just five minutes later the seatbelt sign was turned off. As we climbed out I browsed the entertainment selection, which was excellent. KrisWorld has a huge variety of movies, and I also like how many episodes they have of each sitcom in their library. There's no shortage of good entertainment options on Singapore. I ended up watching several episodes of The Big Bang Theory that I hadn't seen before.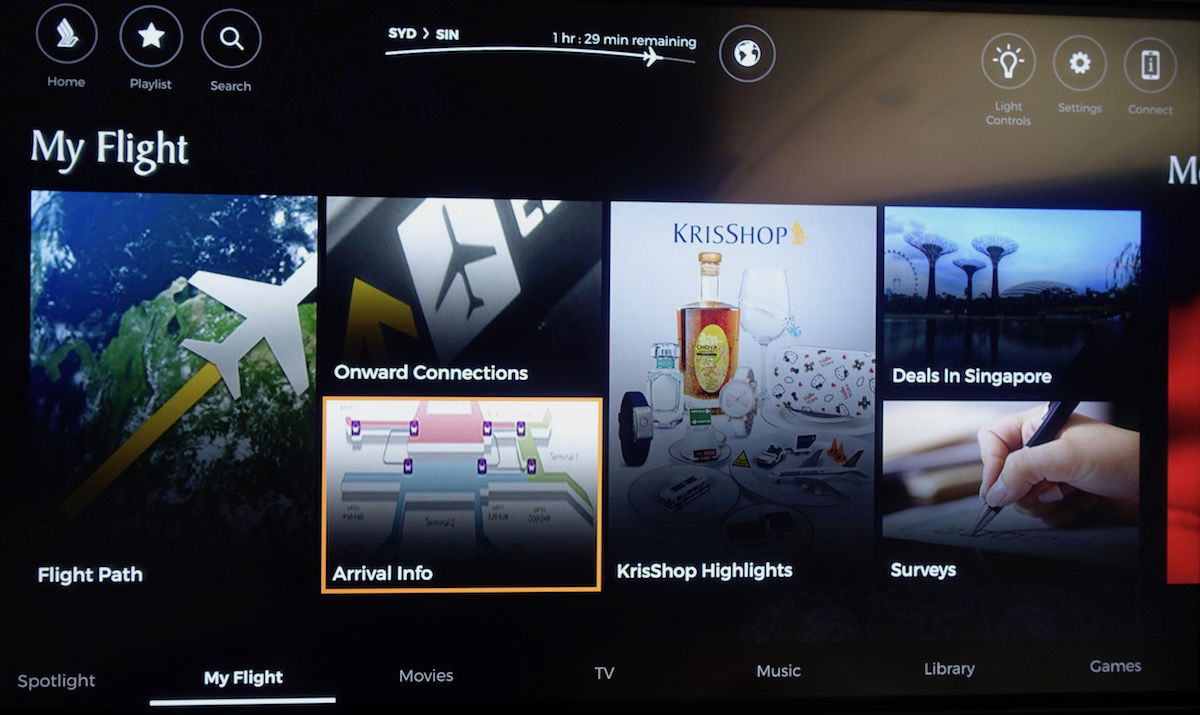 Singapore Airlines KrisWorld entertainment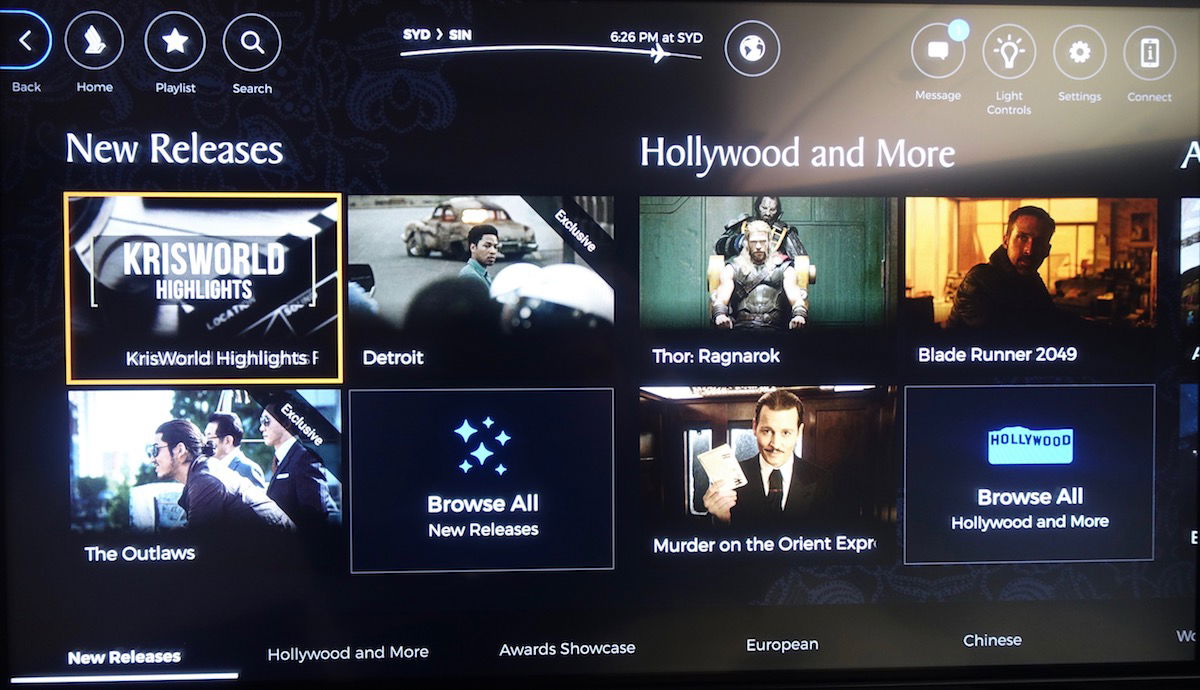 Singapore Airlines KrisWorld entertainment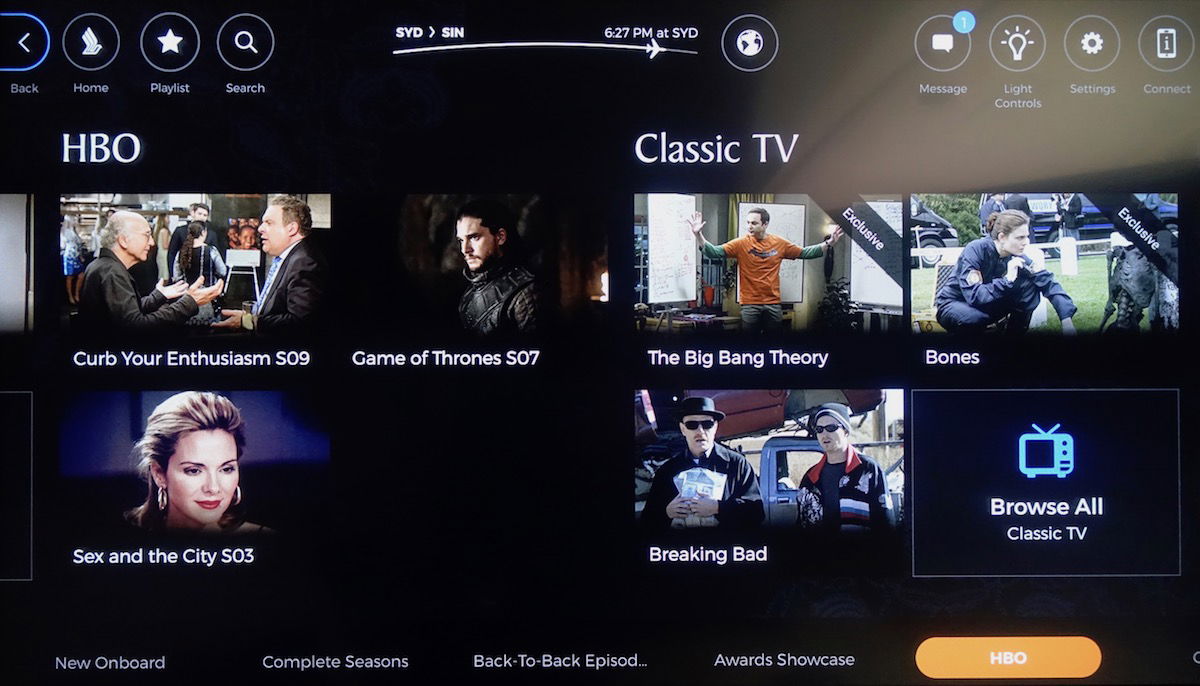 Singapore Airlines KrisWorld entertainment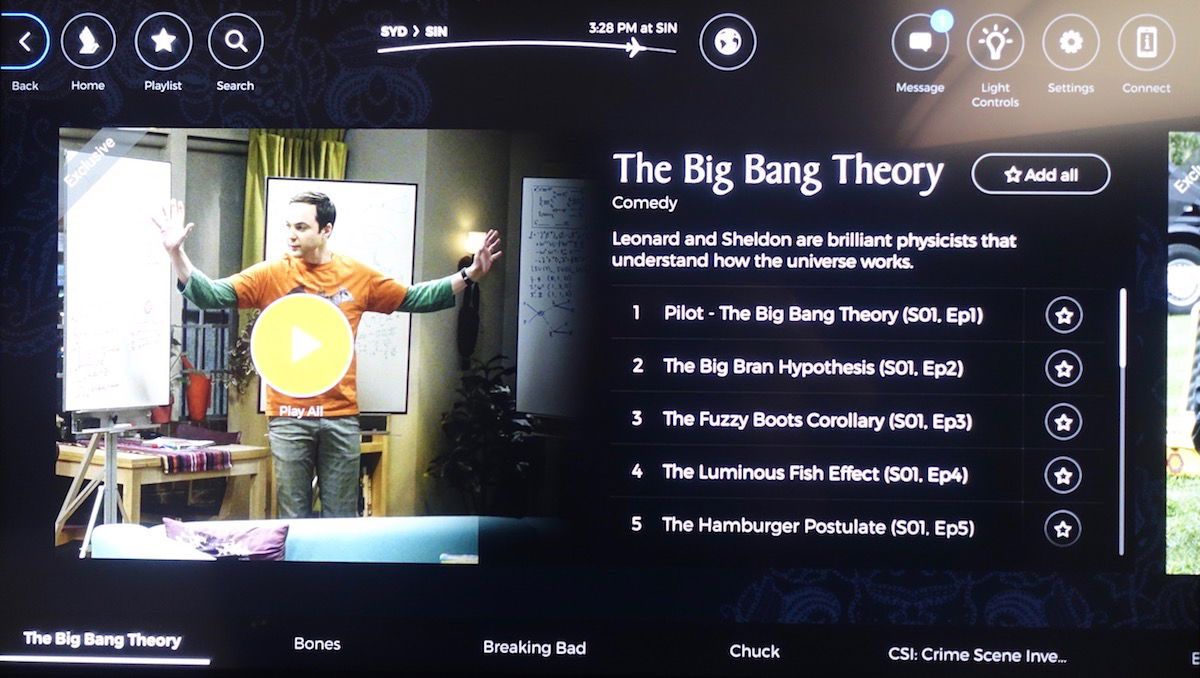 Singapore Airlines KrisWorld entertainment
As I noted on the outbound flight in business class, one of the fantastic things about Singapore's new A380 is that they have a new Wi-Fi system. This is among the fastest inflight internet I've had on any airline. Unfortunately they charge based on a combination of time and data consumption, and the pricing is as follows:
30 min and up to 30MB of data — 4.99USD
Three hours and up to 150MB of data — 12.00USD
Entire flight and up to 500MB of data — 29.99USD (for a promotional period it was only 19.99USD)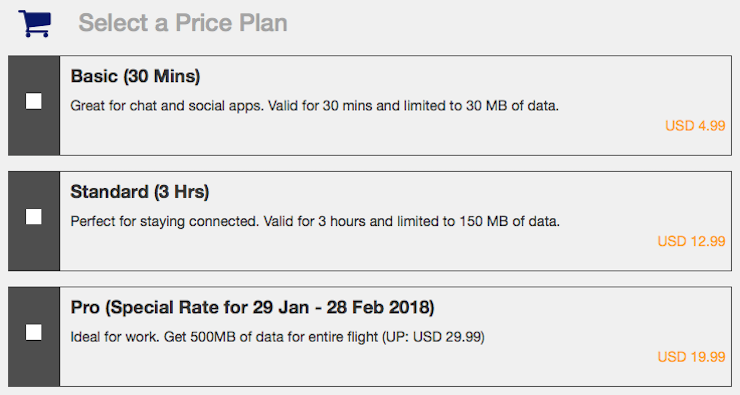 Singapore's new A380 Wi-Fi pricing
This is such a huge improvement over Singapore's old A380 Wi-Fi, which was ridiculously slow and expensive. I think the new pricing is quite reasonable given the quality.
About 15 minutes after takeoff I was presented with the pajamas for the flight. The pajamas and slippers are also provided by Lalique. While they're very high quality, the pajamas are also warm. That's a bit of a problem, since Singapore Airlines keeps their cabins pretty warm, and these Suites don't have individual air vents.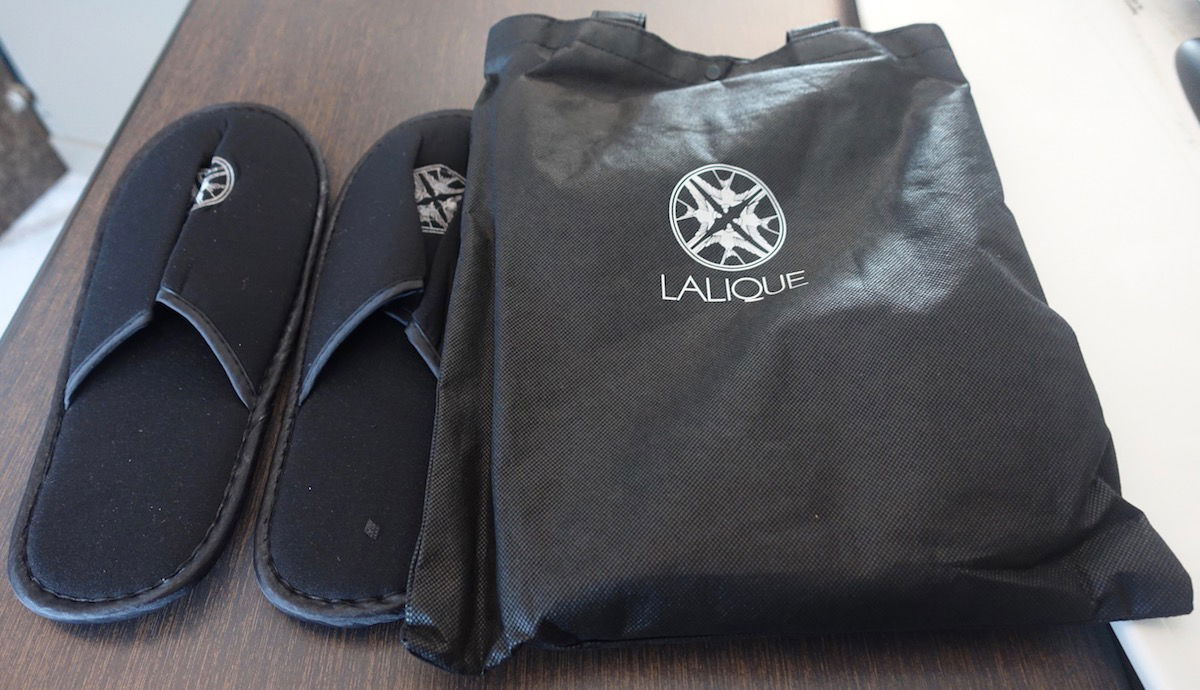 Singapore Airlines Suites Lalique pajamas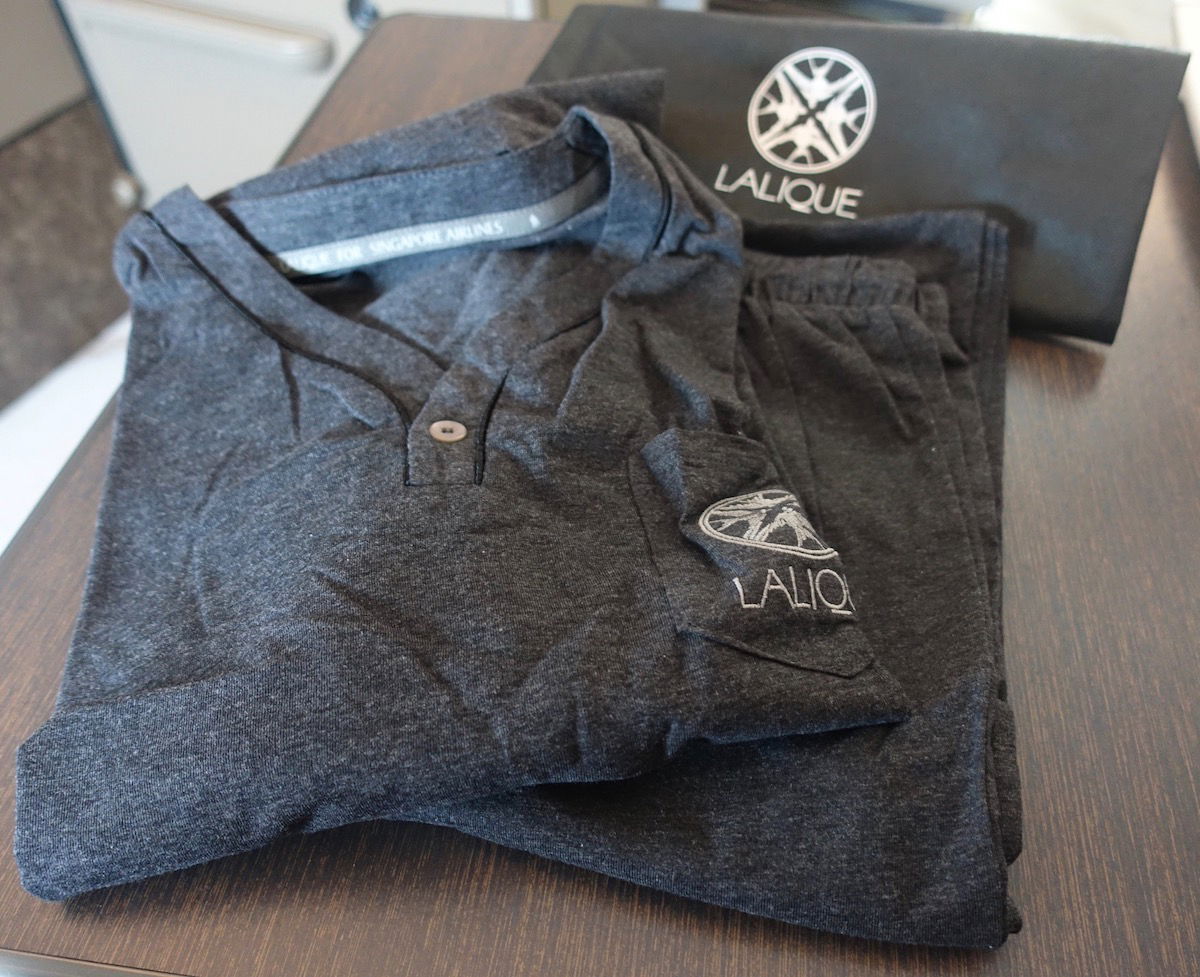 Singapore Airlines Suites Lalique pajamas
Shortly after takeoff, Jamie came by my seat to take my meal order. Singapore Airlines offers a dine on demand menu, and on this flight they had lunch and a refreshment service. I indicated that I wanted lunch towards the beginning of the flight, and the meal was perfectly tailored to my preferences.
The lunch menu read as follows: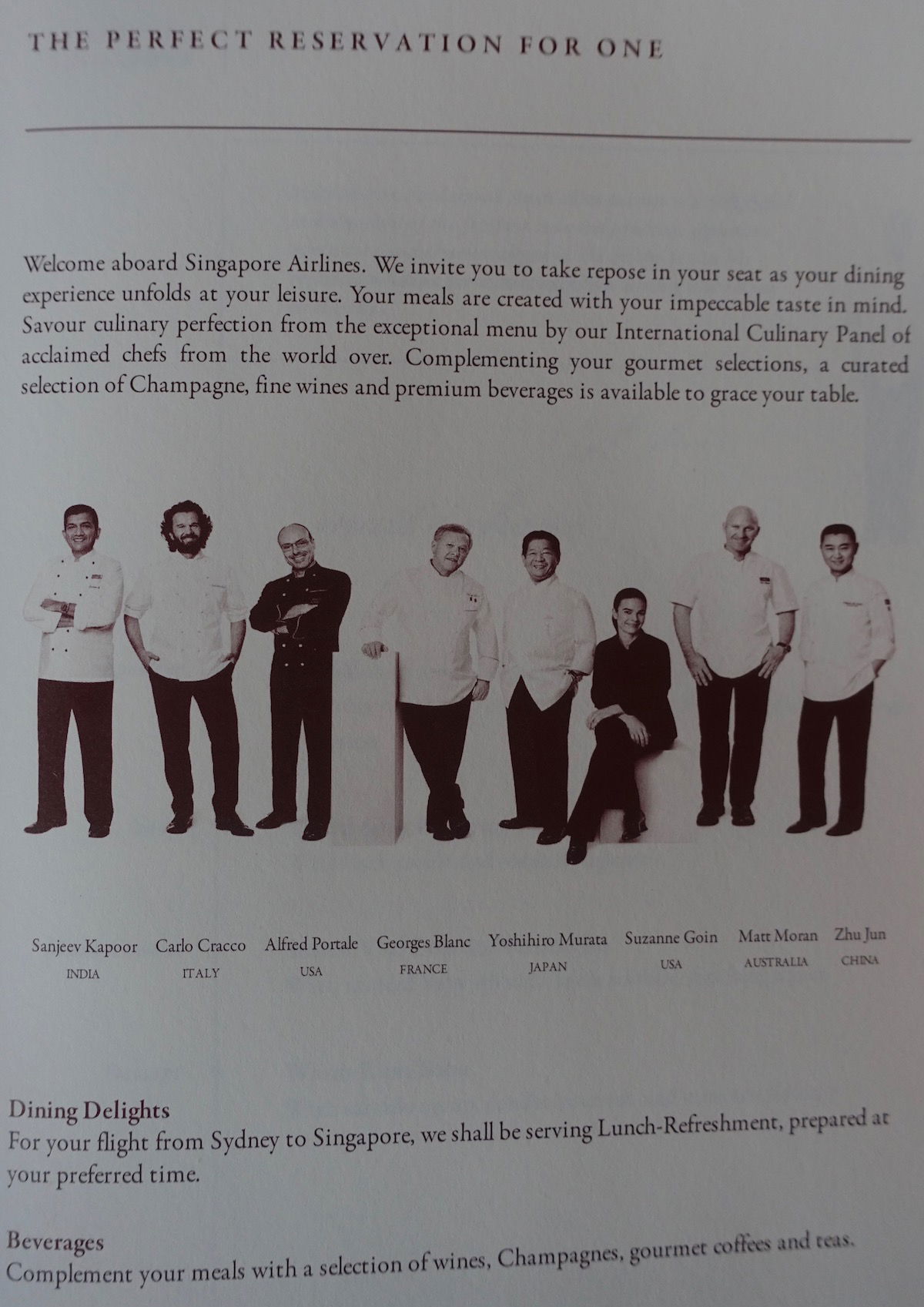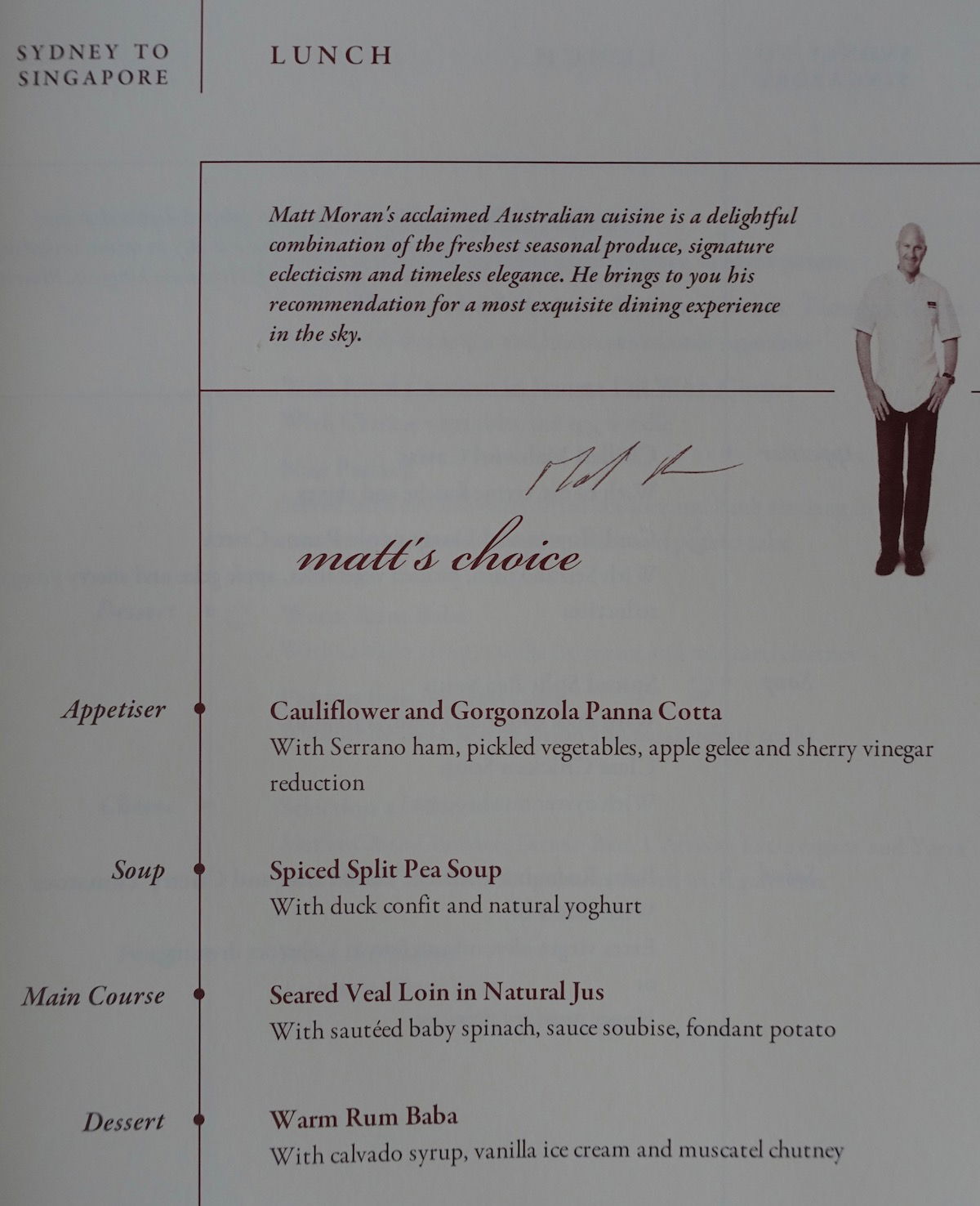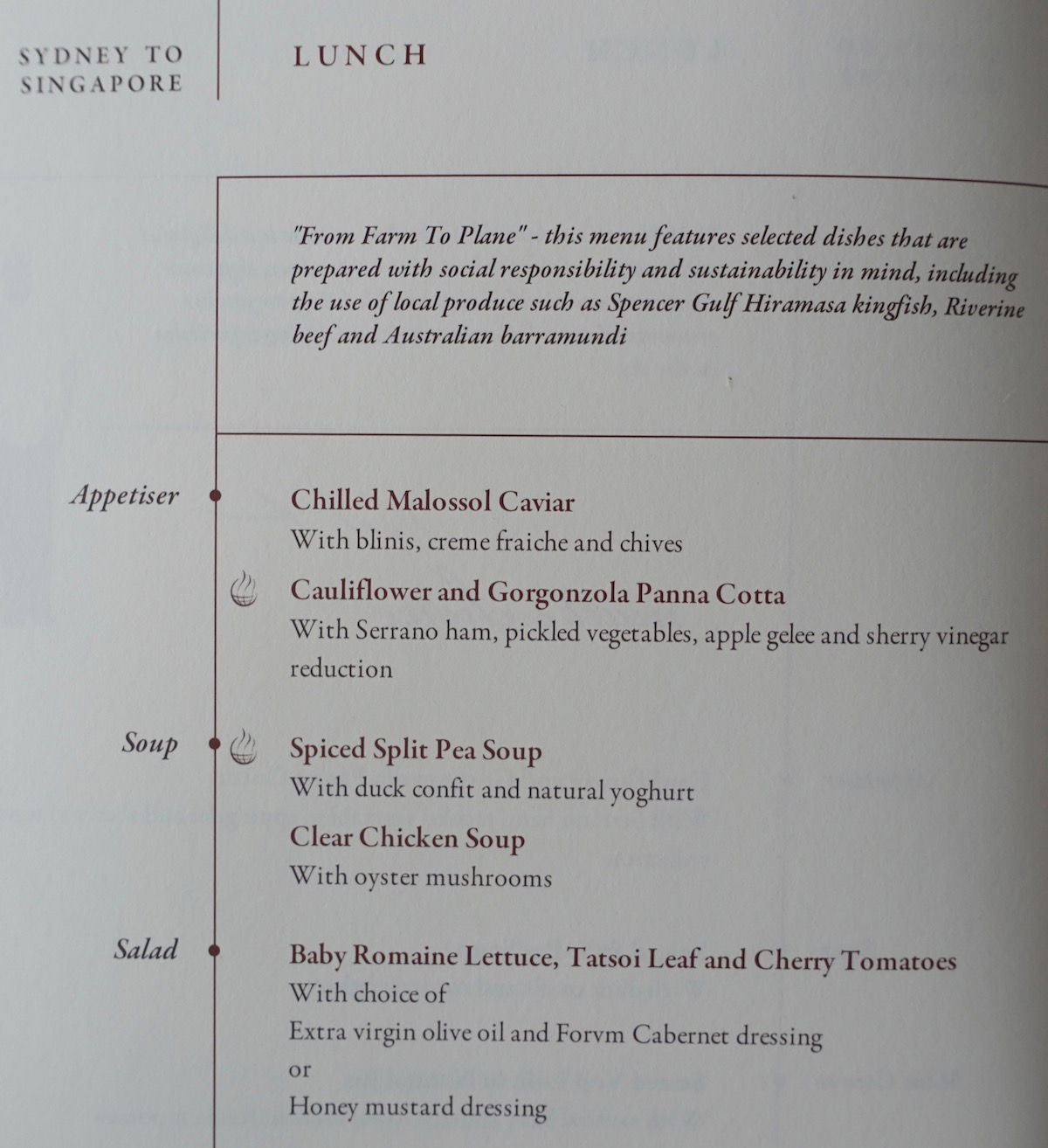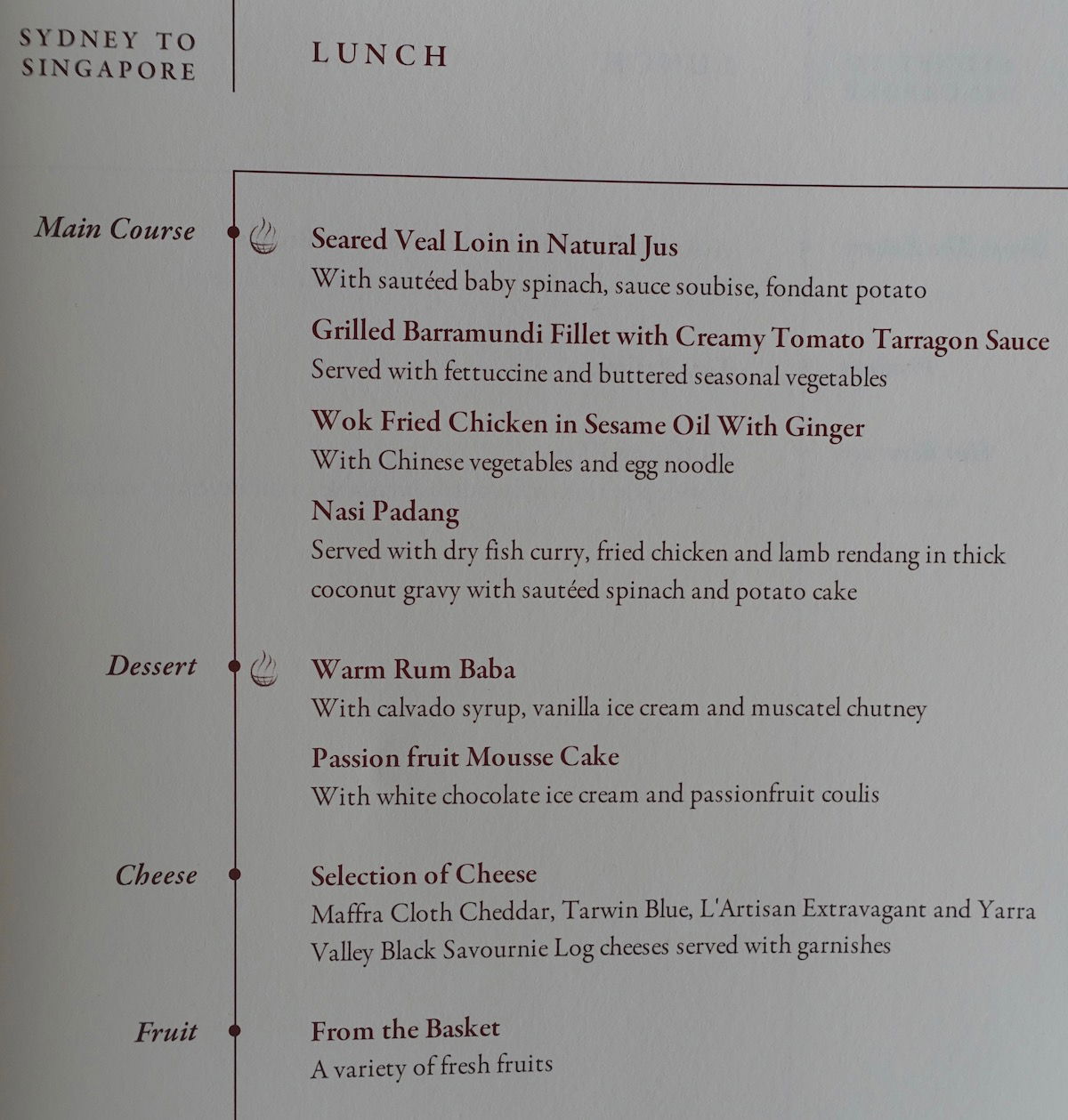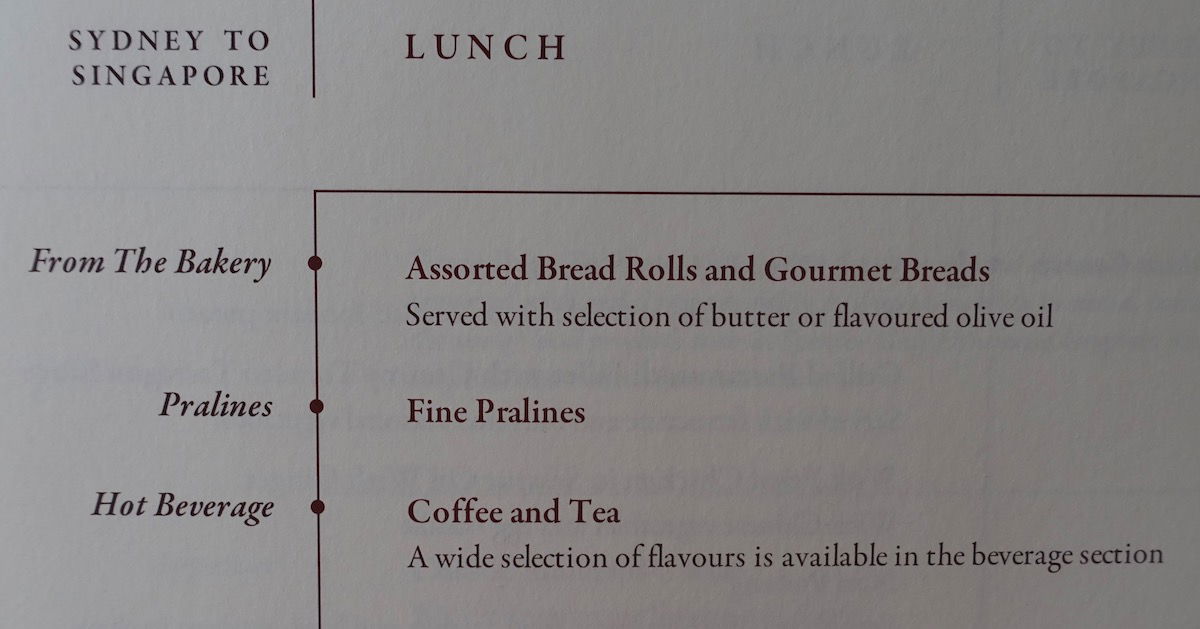 The wine list read as follows: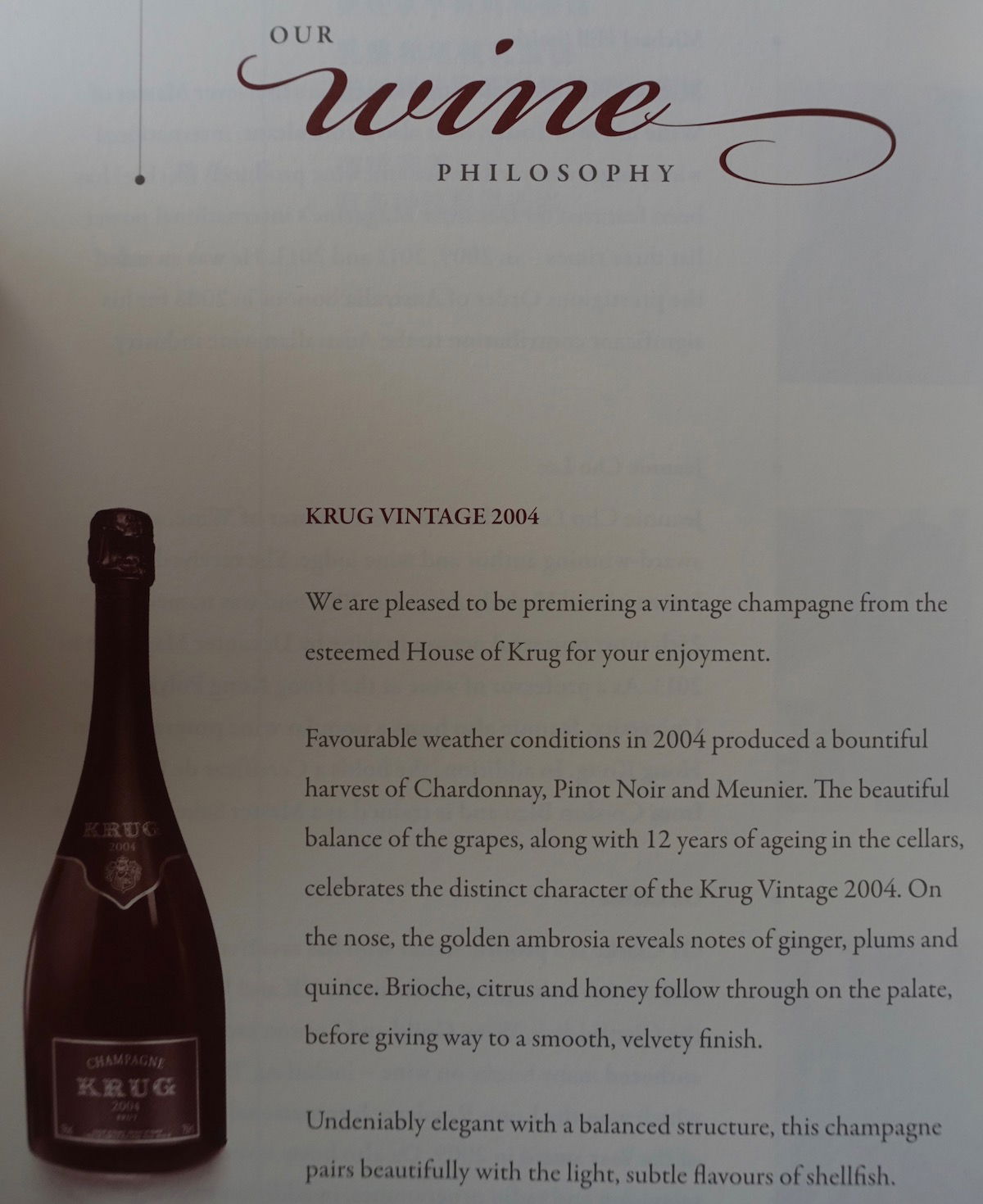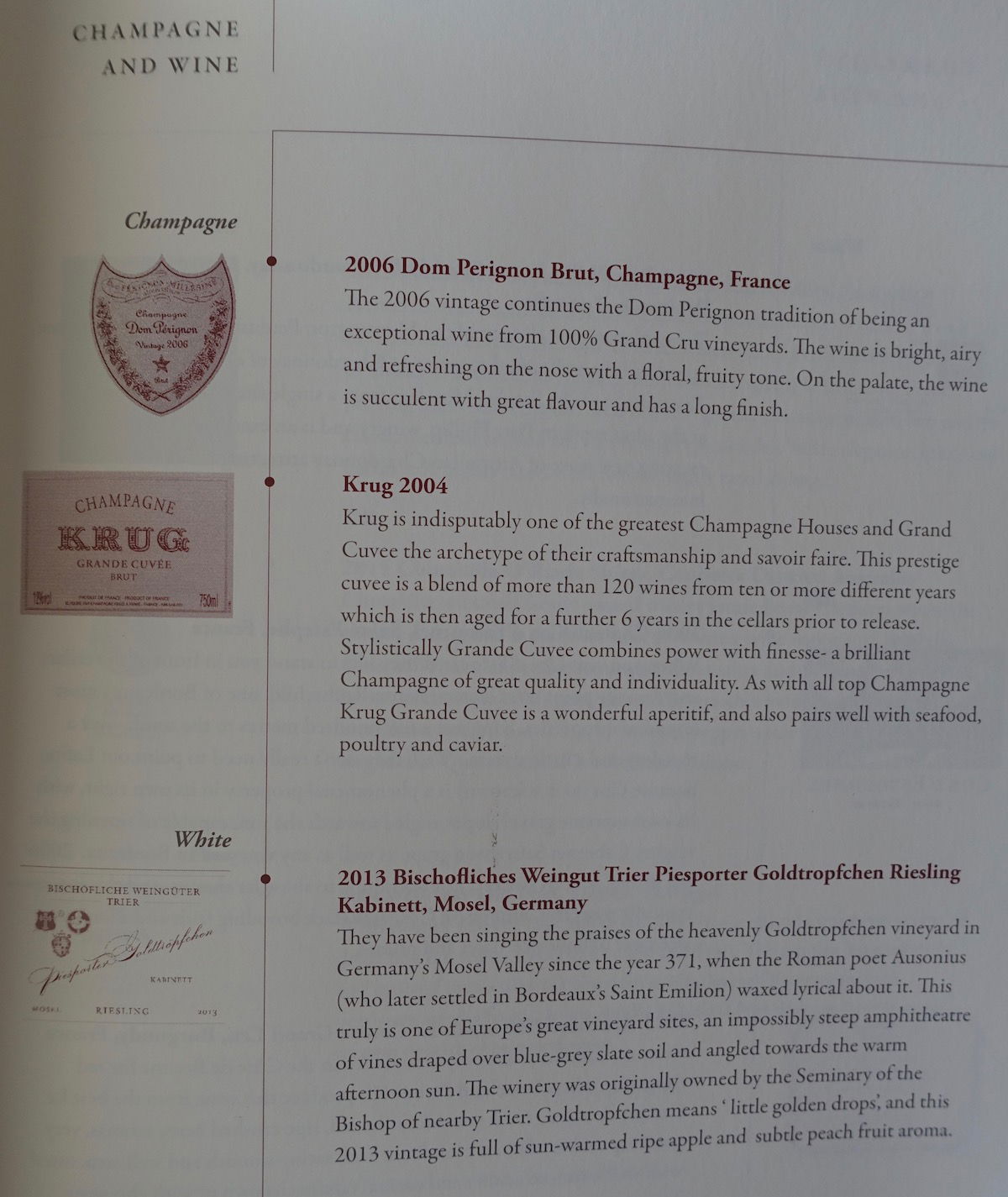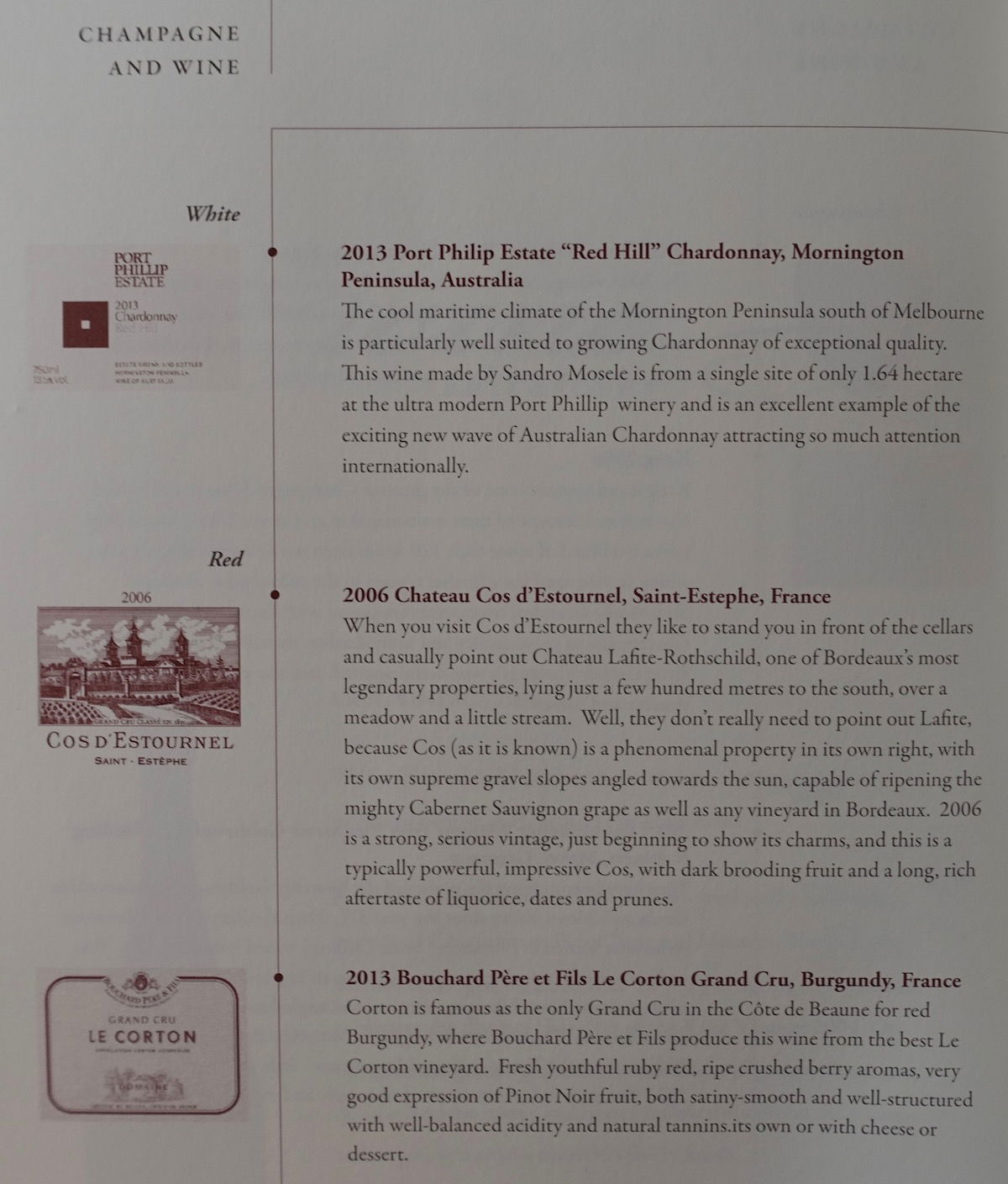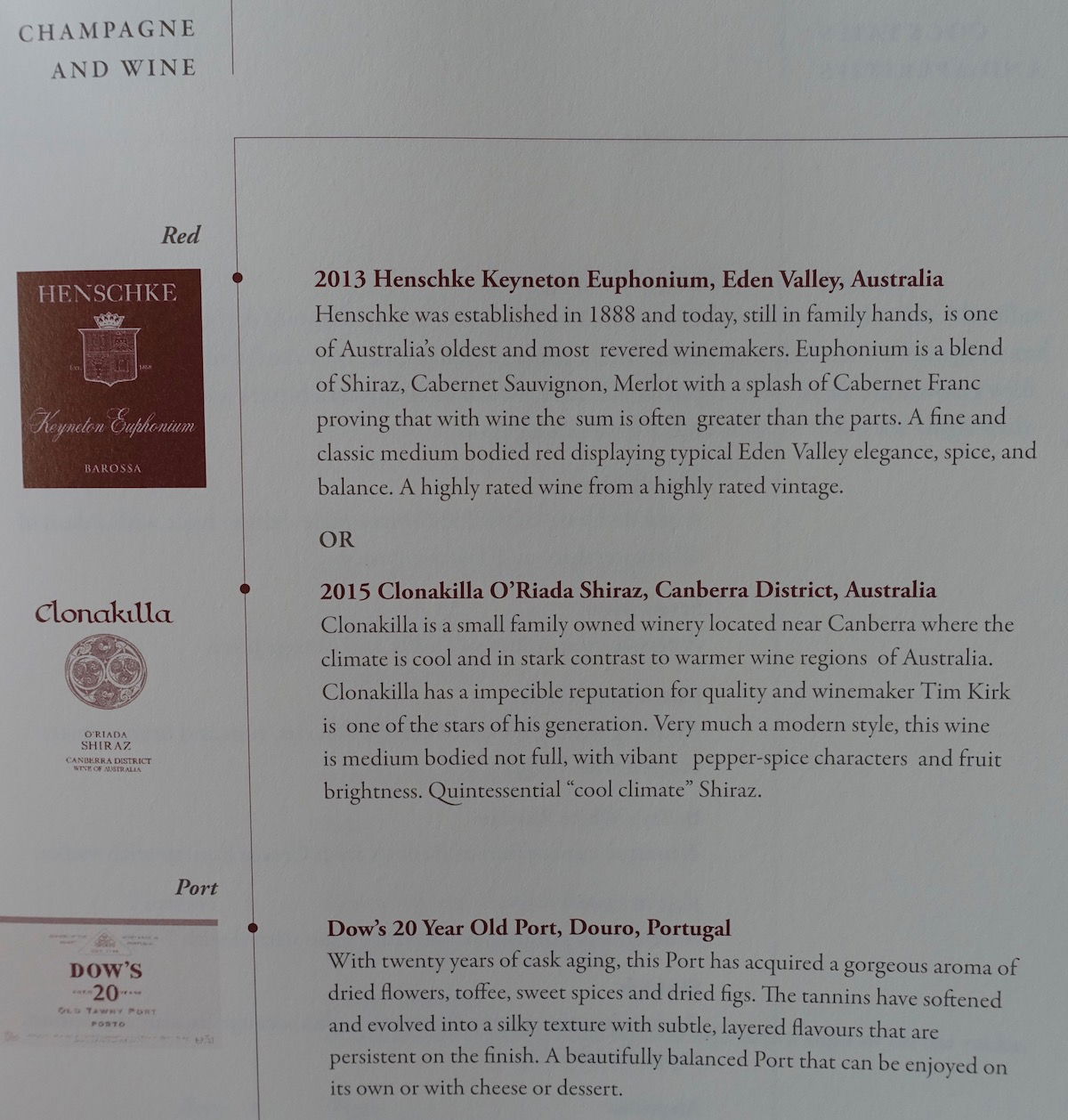 The rest of the drink list read as follows: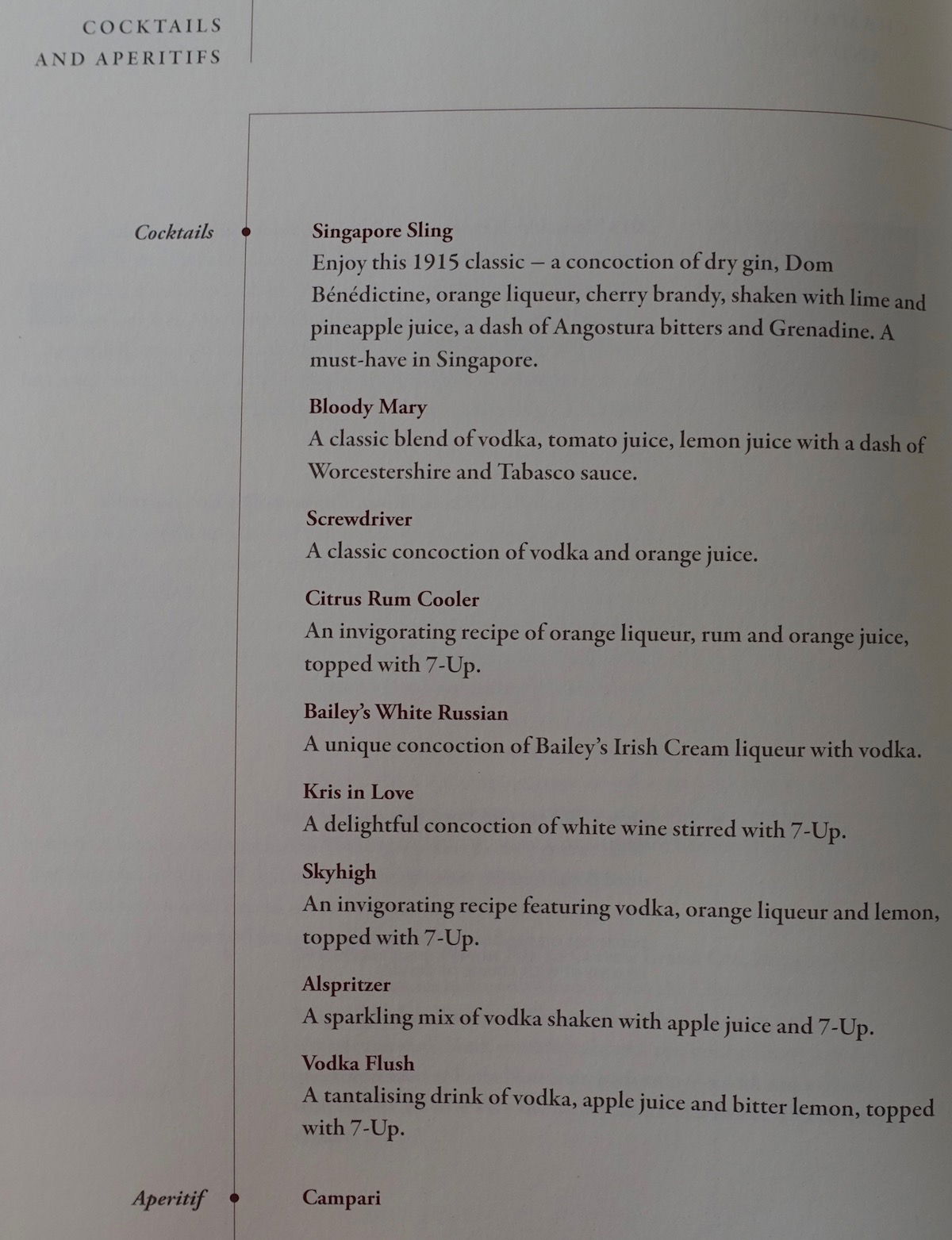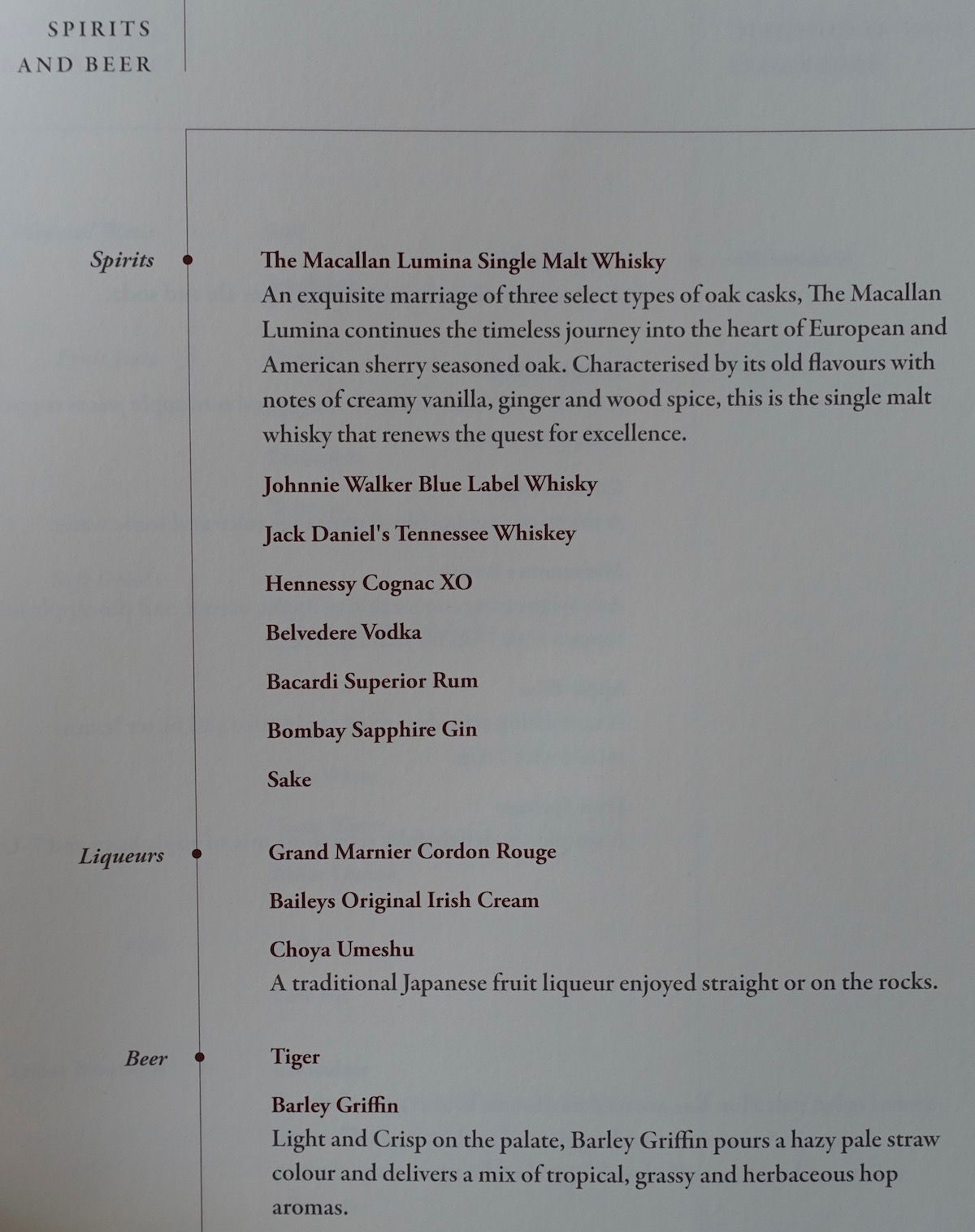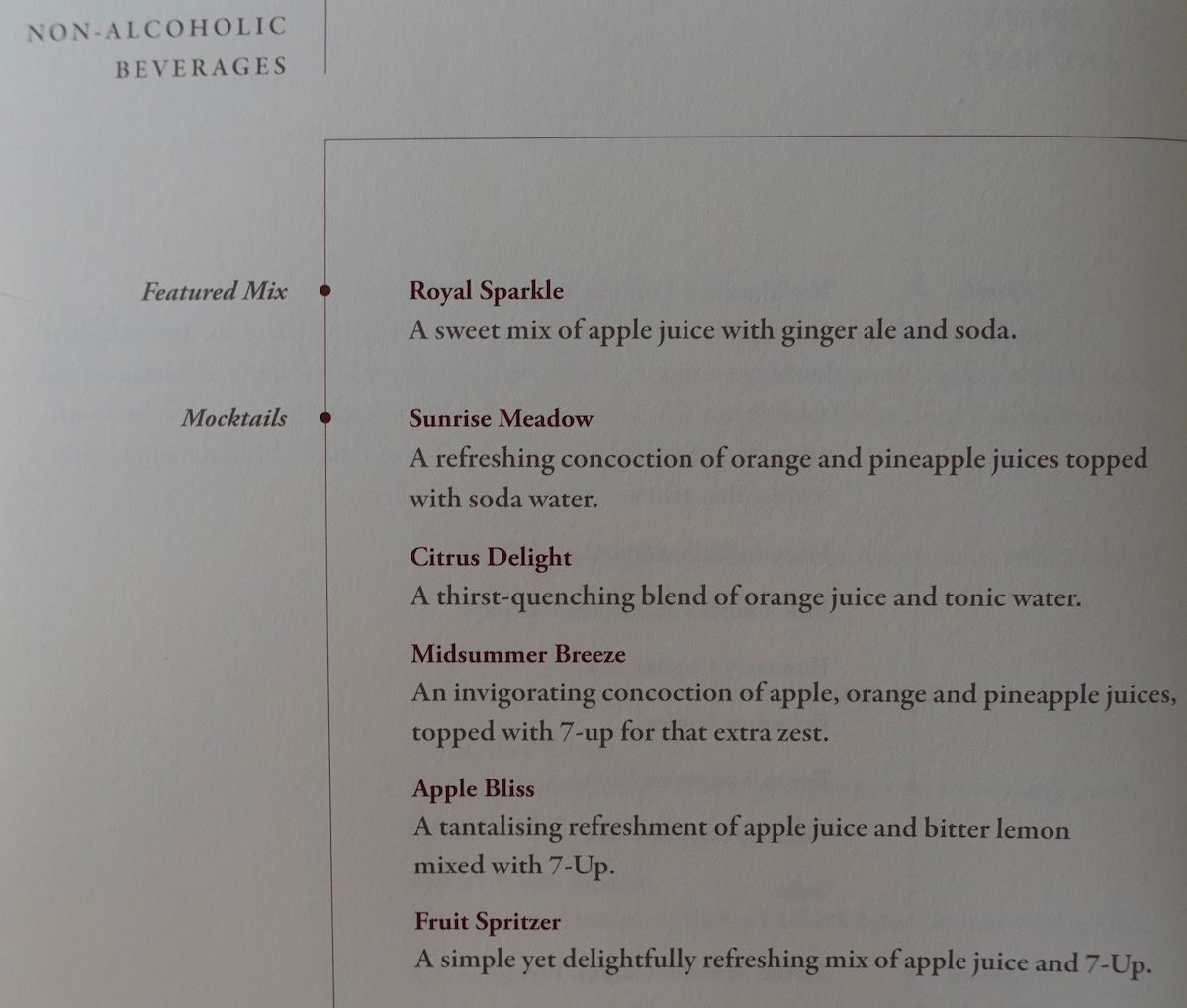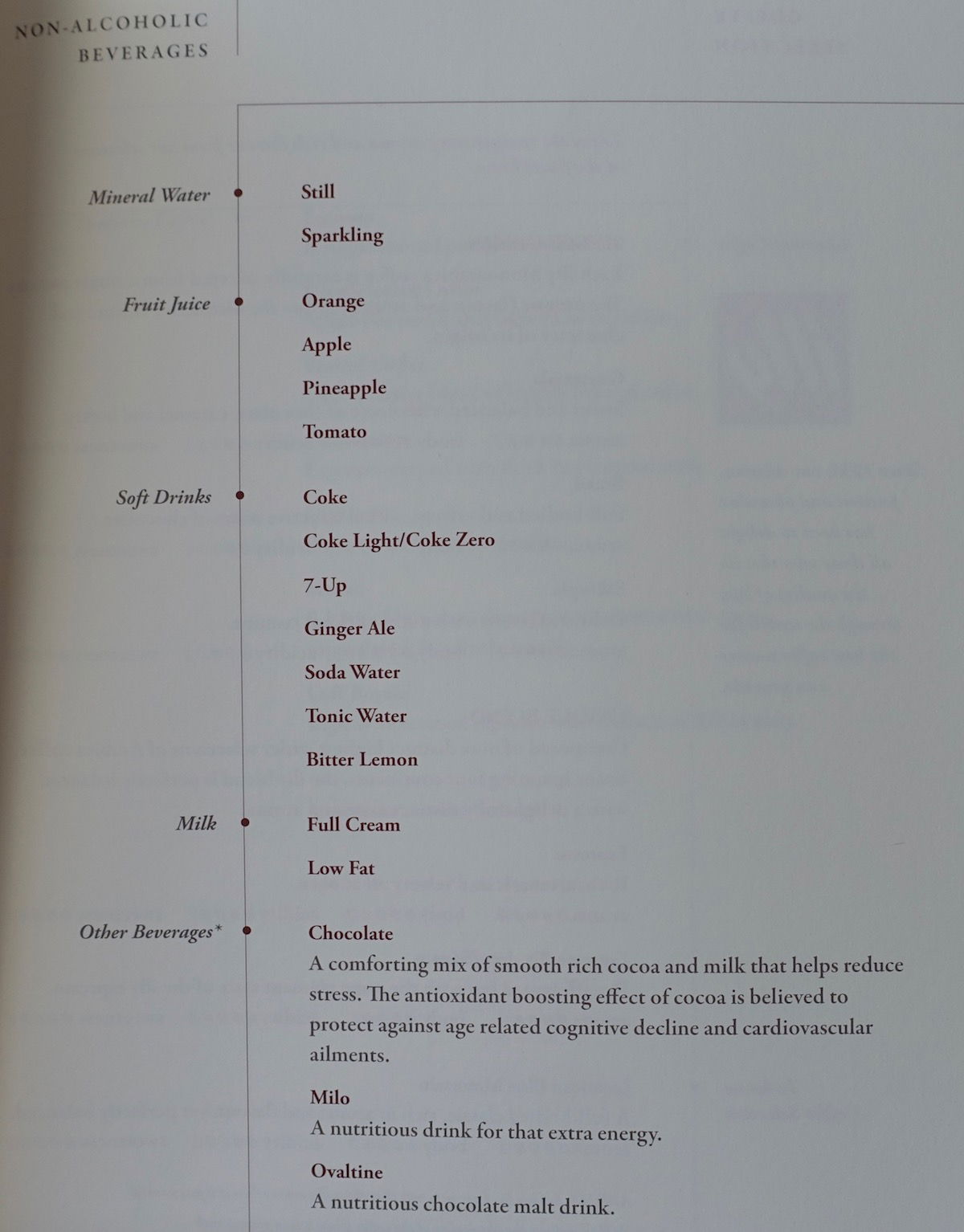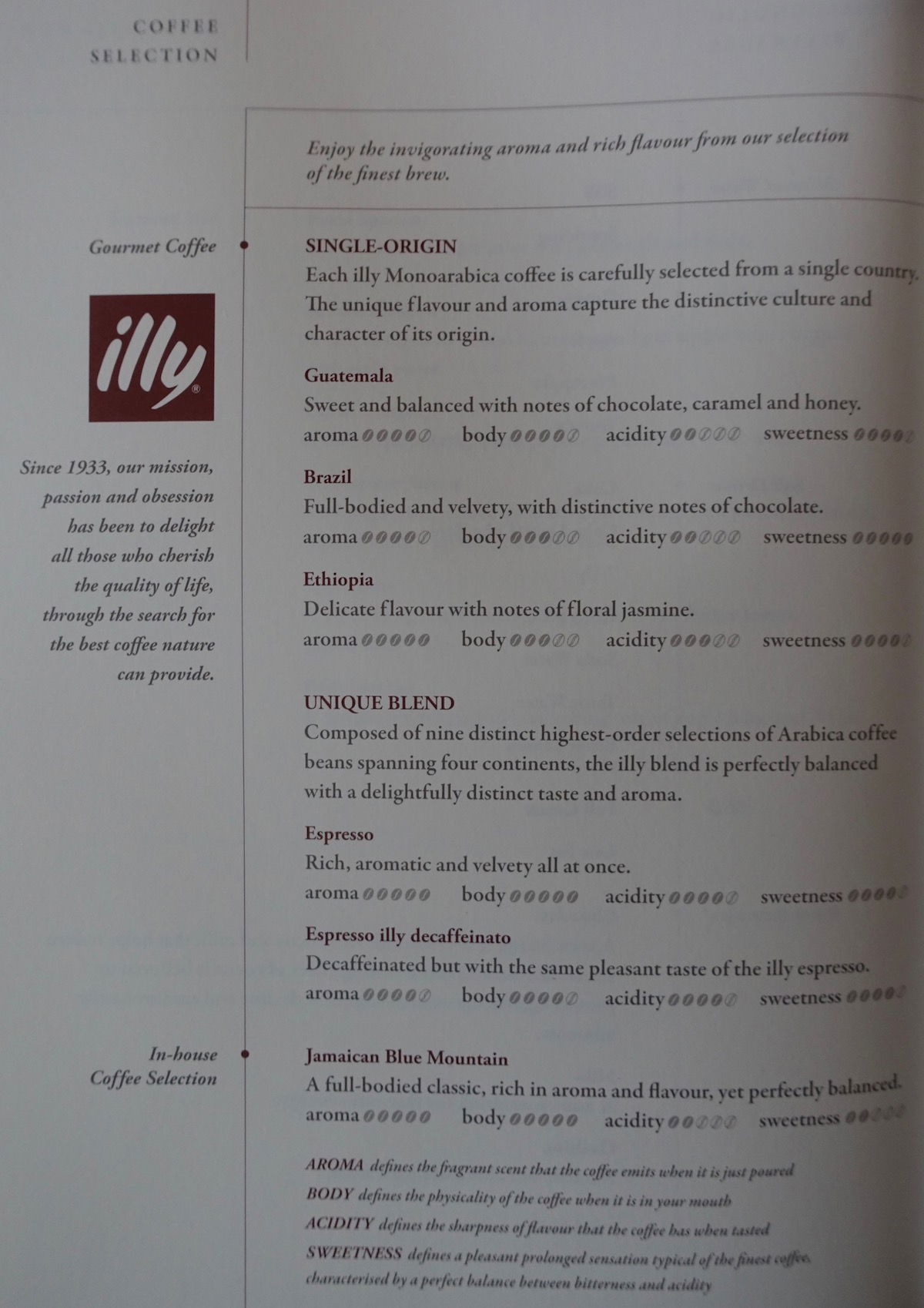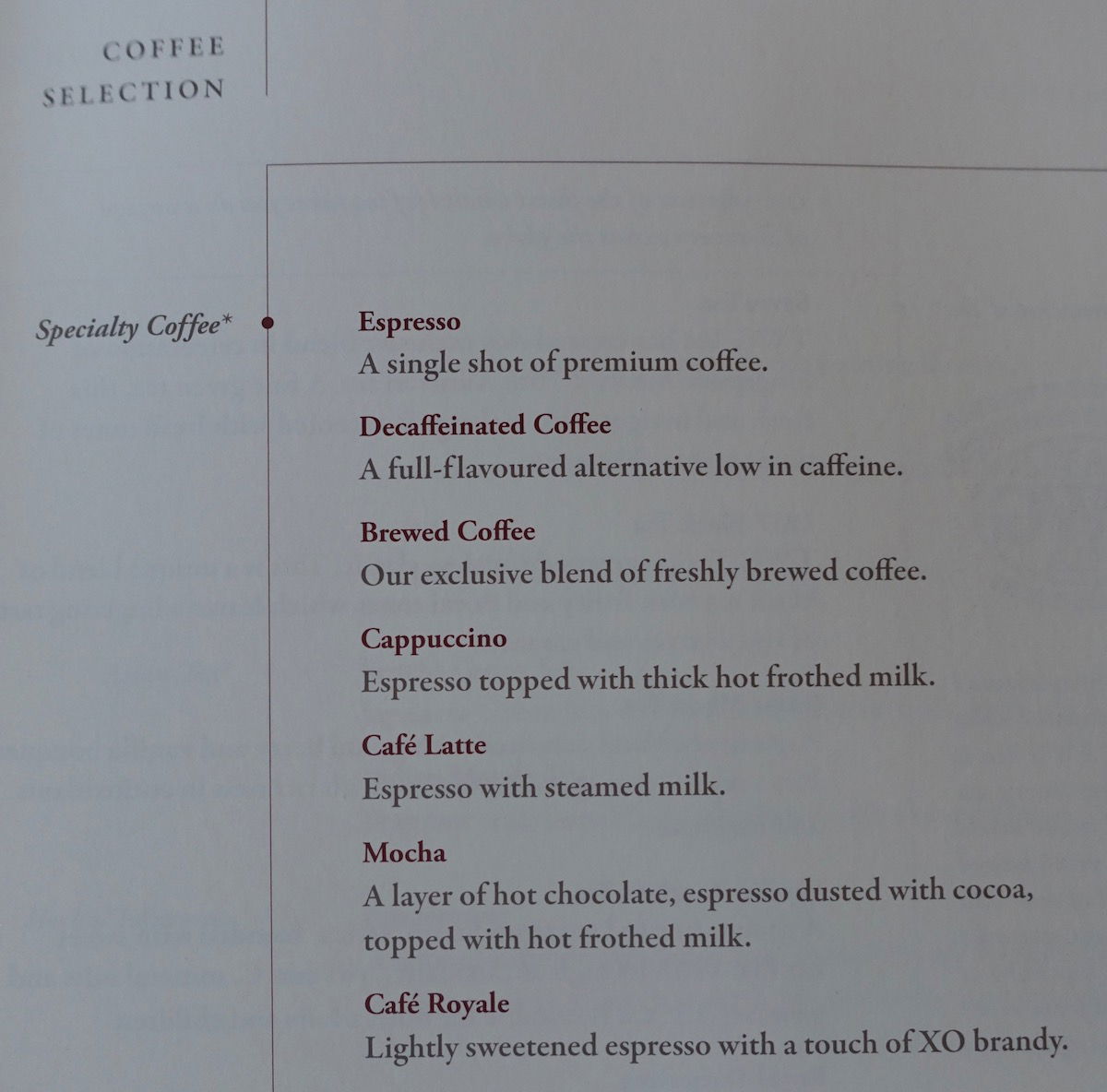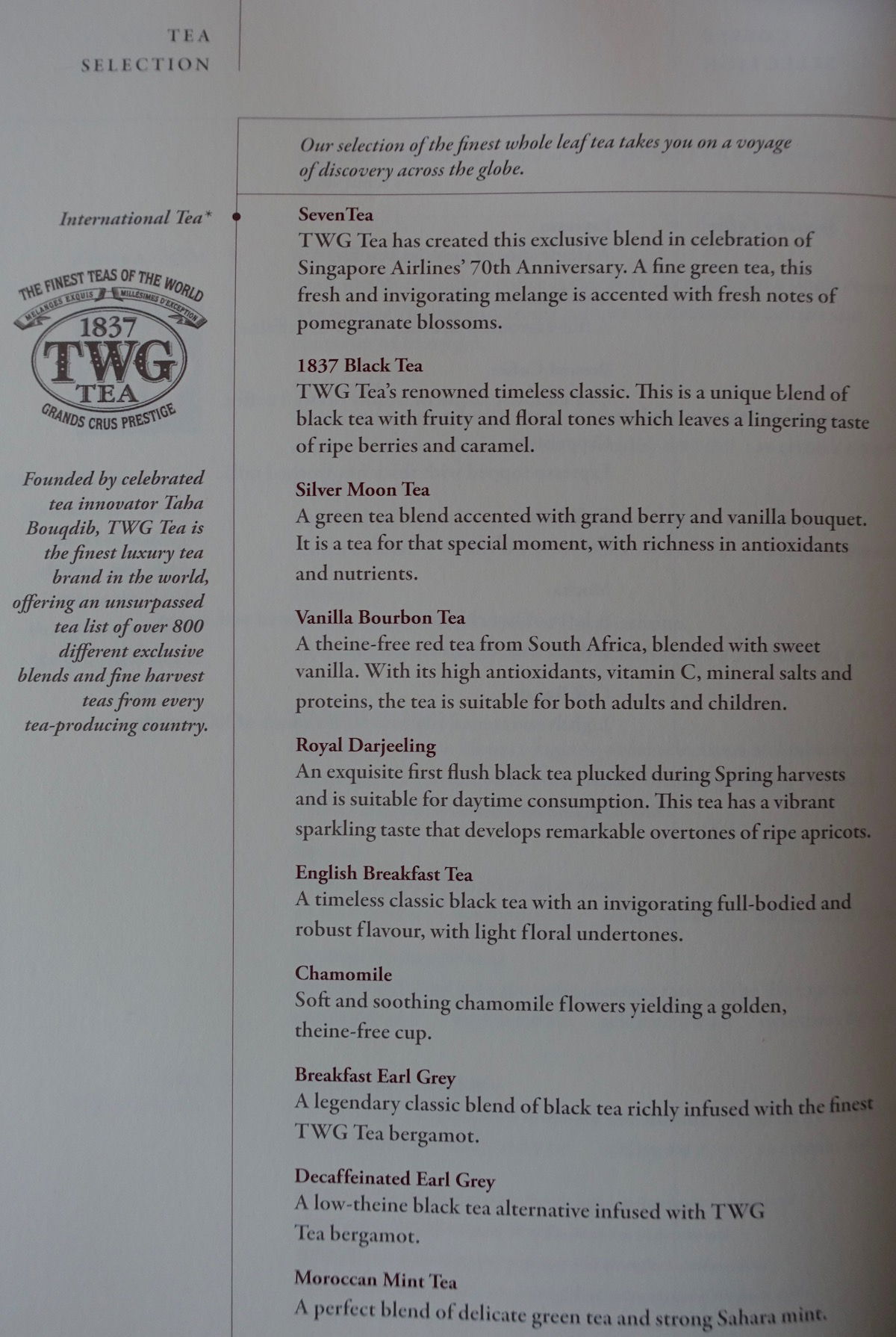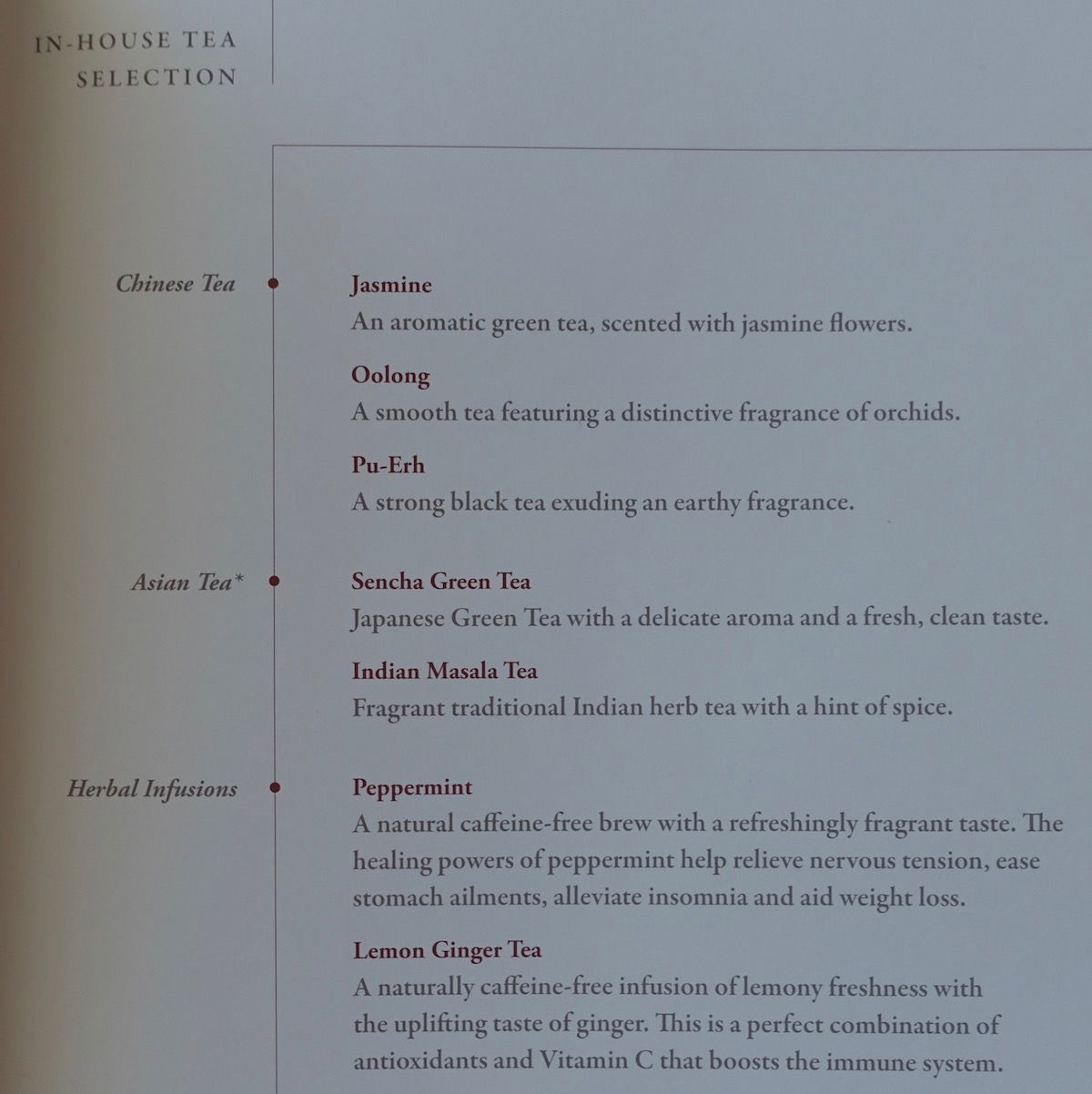 About 20 minutes after takeoff I was served some more champagne, along with mixed nuts.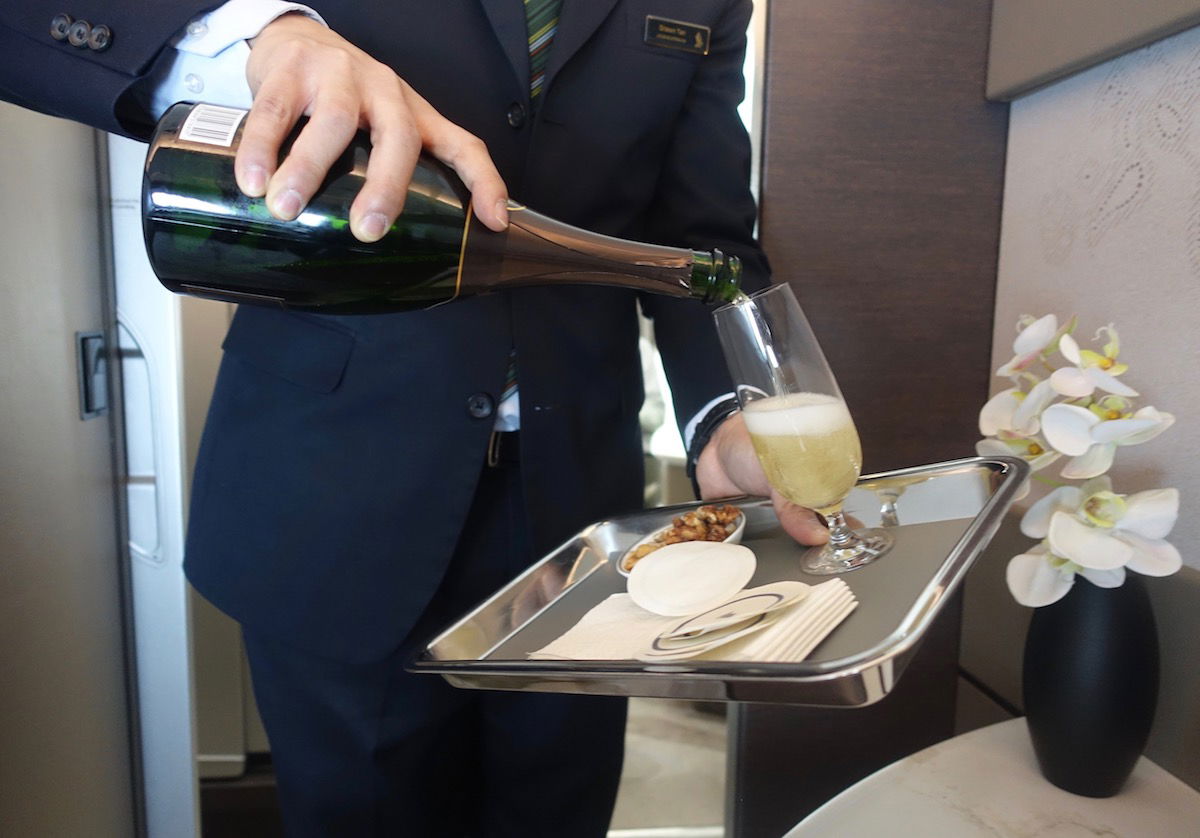 Singapore Airlines Suites lunch — Krug and mixed nuts to start
Yum!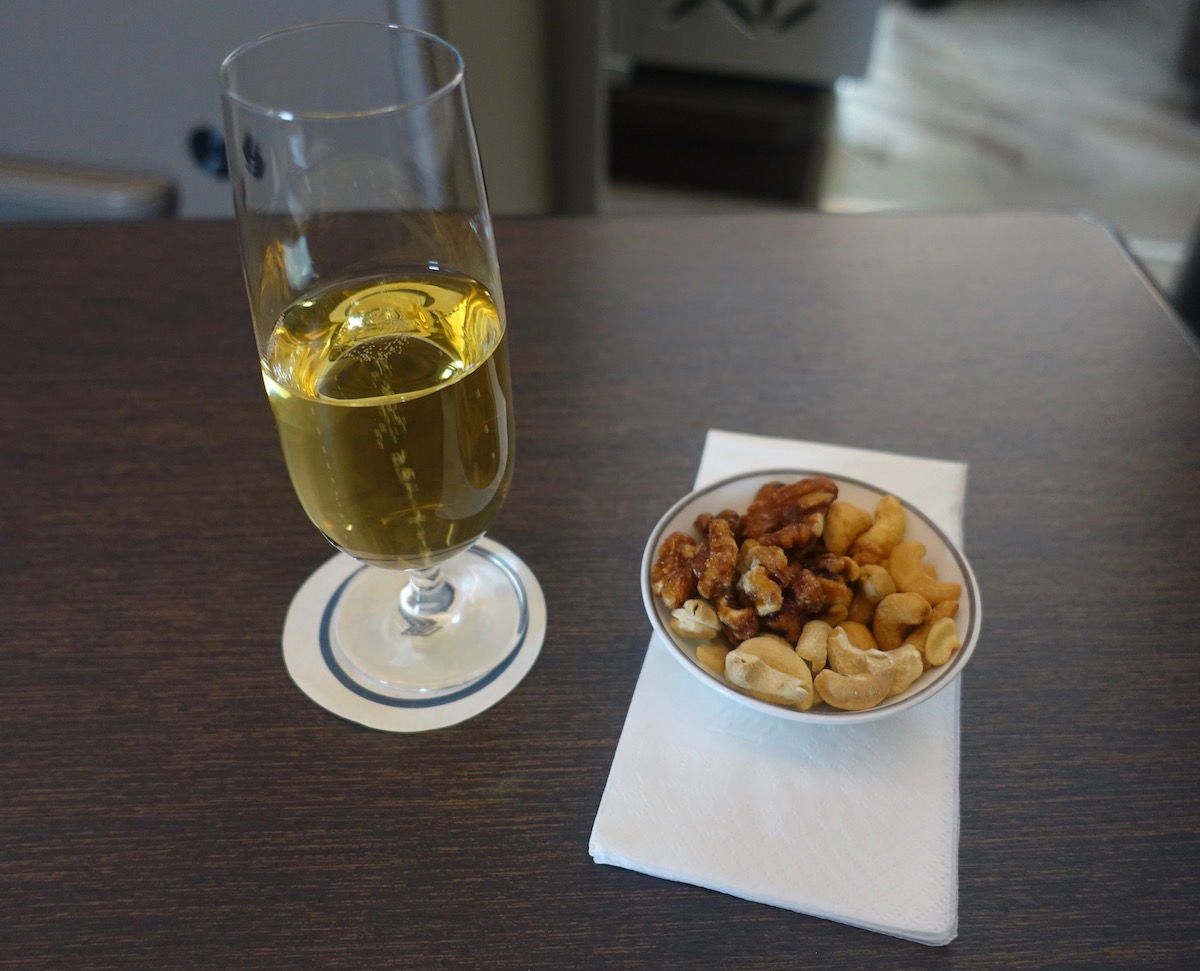 Singapore Airlines Suites lunch — Krug and mixed nuts to start
About an hour after takeoff my tray was set for the meal service (I asked them to hold off a bit).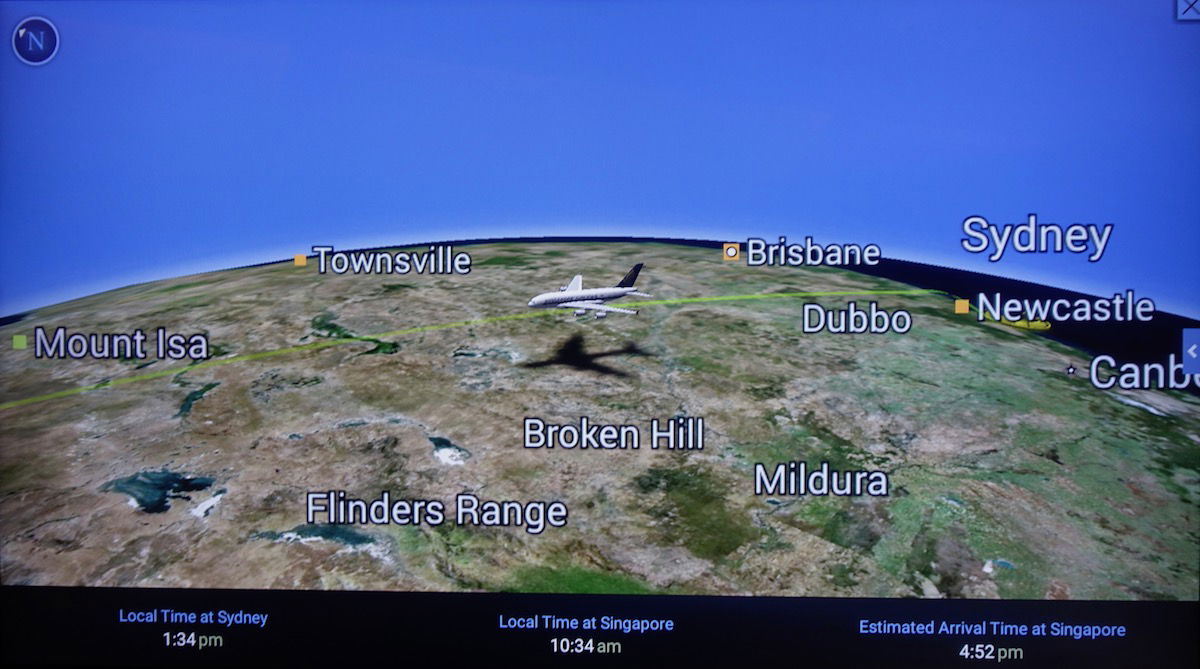 Airshow enroute to Singapore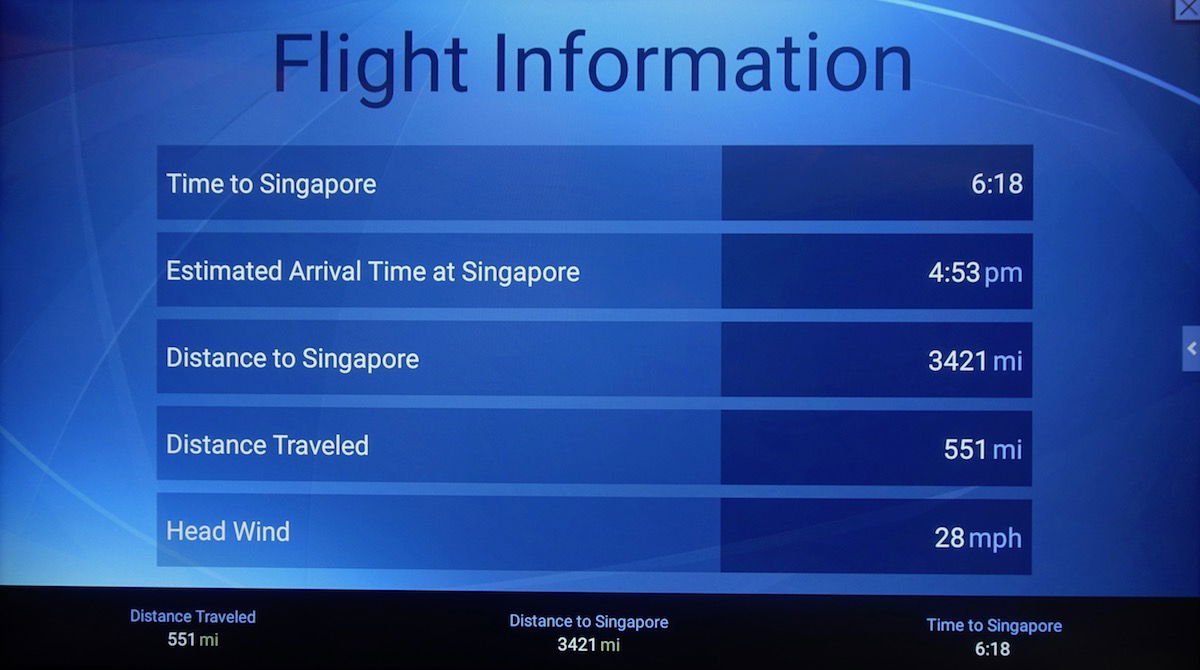 Airshow enroute to Singapore
My tray was set with an incredible amount of precision. I love the attention to detail that Singapore crews put into their job.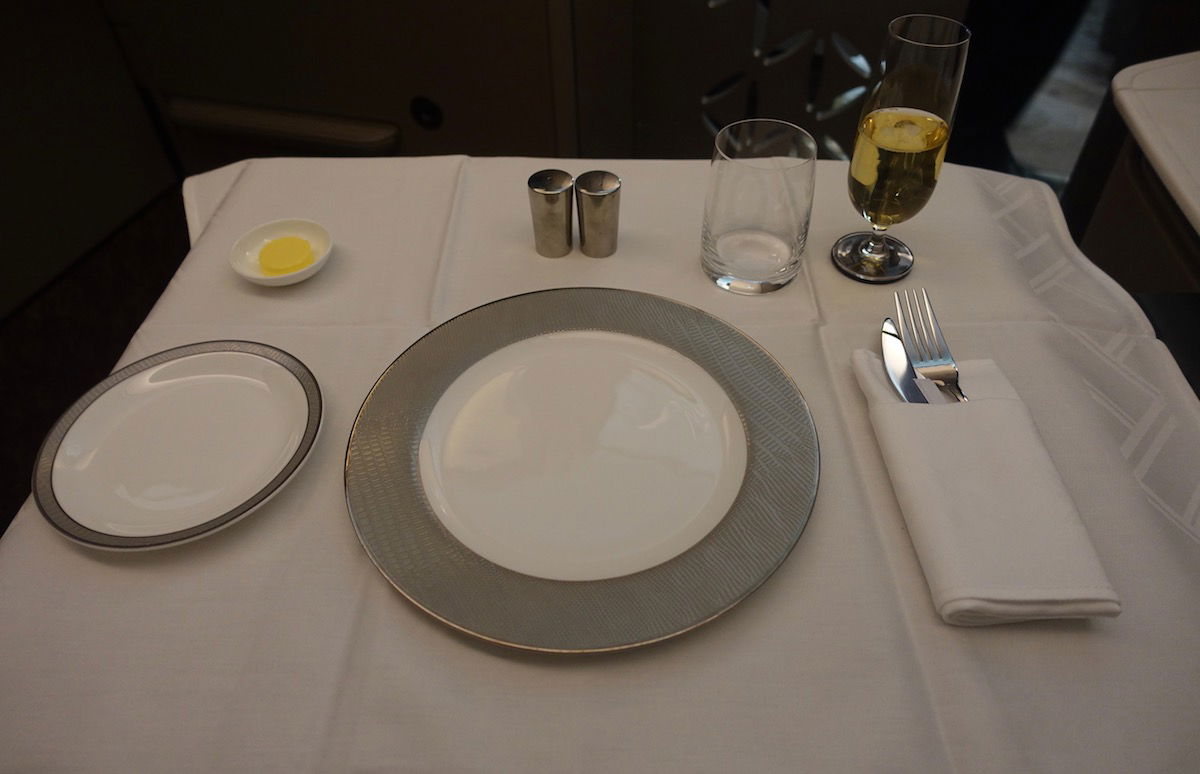 Singapore Airlines Suites lunch — table setting
First I was offered a selection of bread. Singapore Airlines consistently has excellent bread, and their garlic bread in particular is to die for.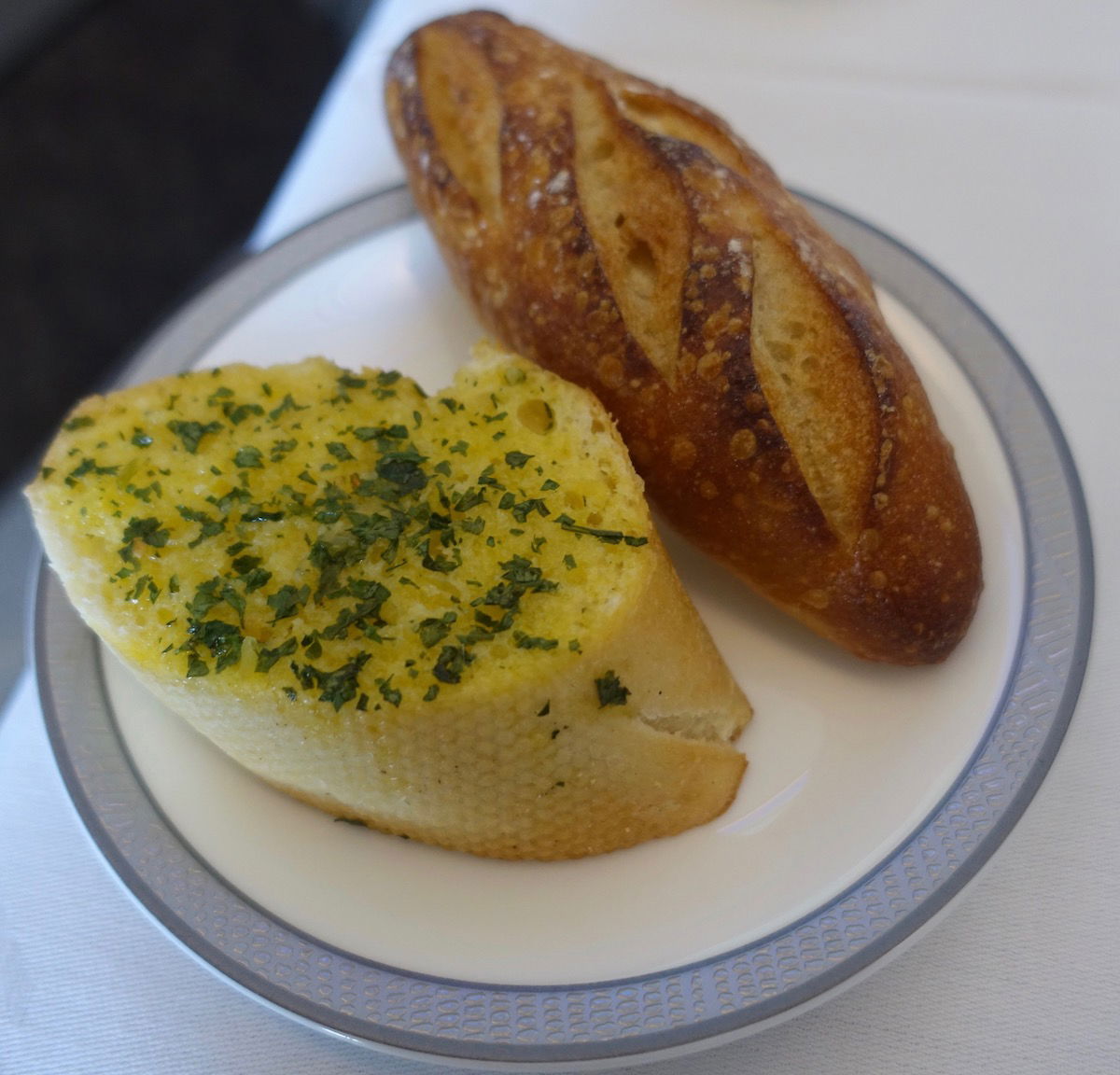 Singapore Airlines Suites lunch — bread selection
First up was the caviar course, with blinis, creme fraiche, and chives.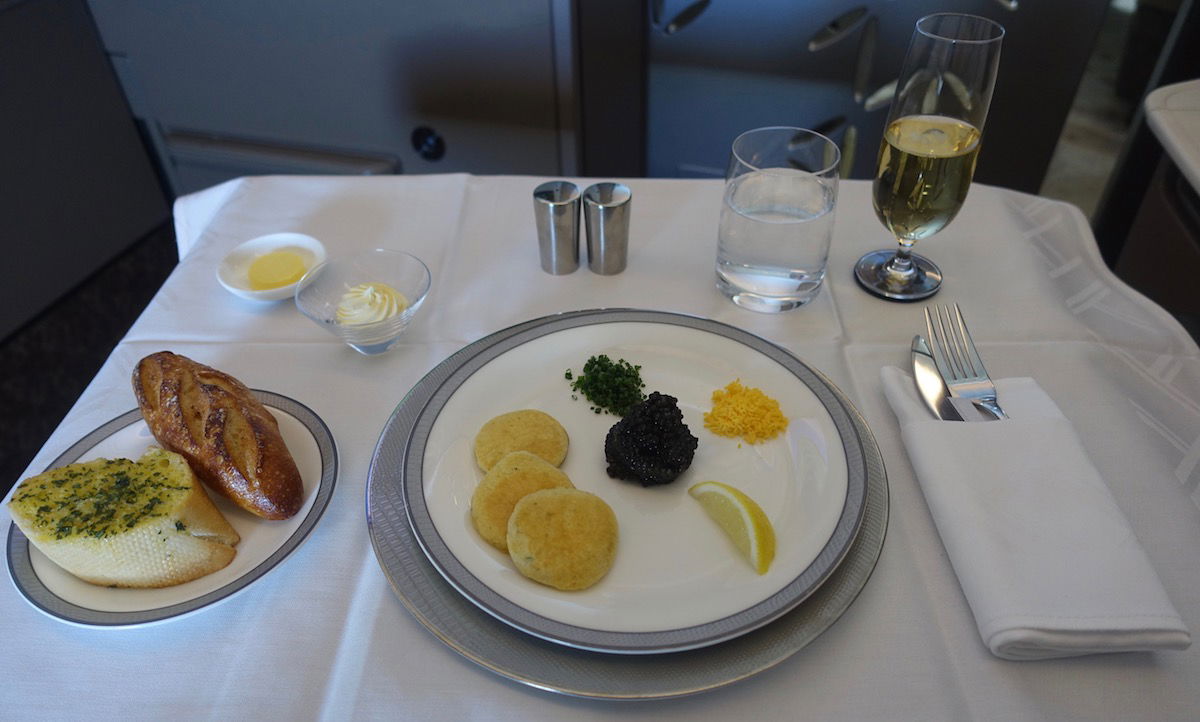 Singapore Airlines Suites lunch — chilled malossol caviar
Simply divine, with great presentation!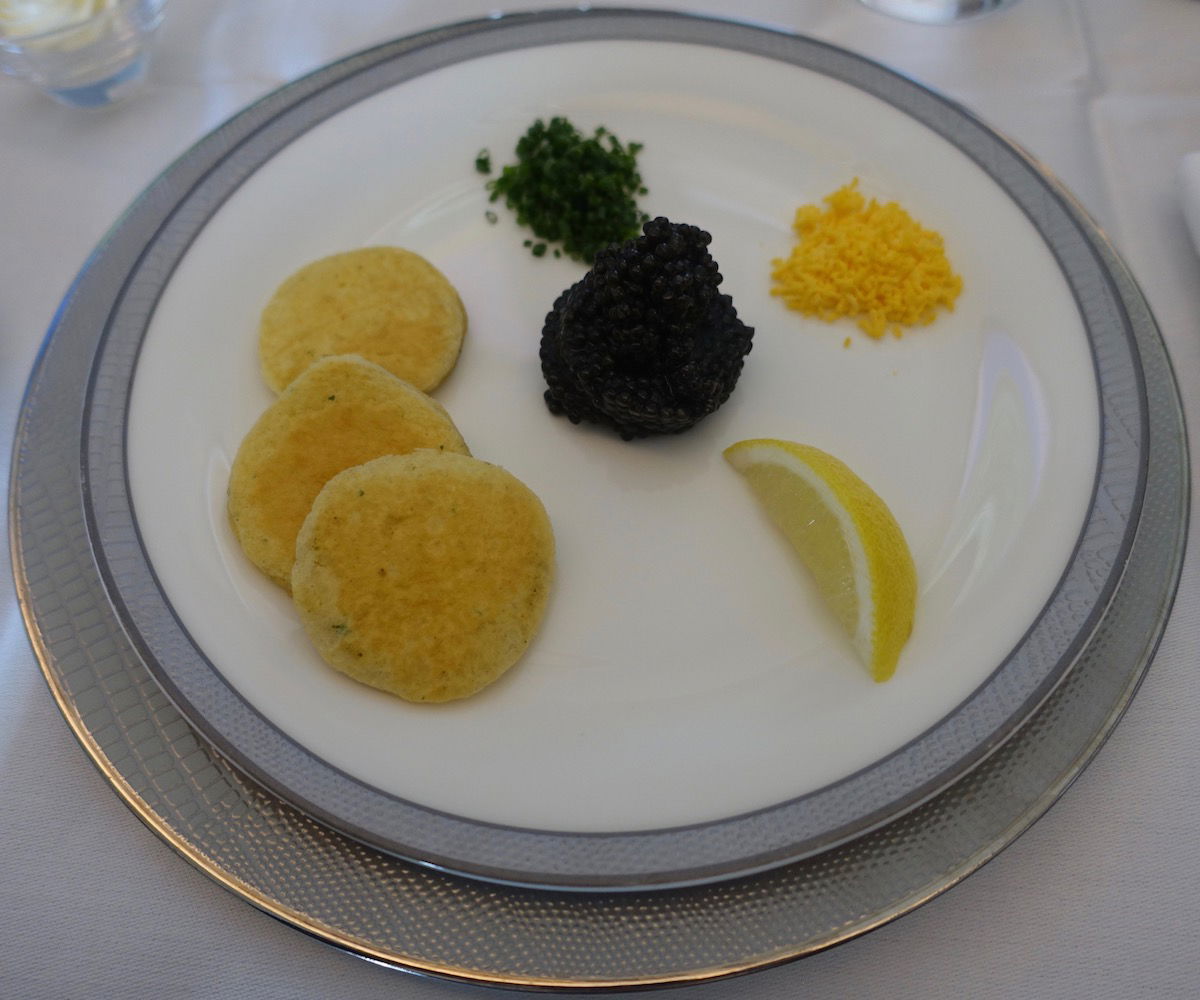 Singapore Airlines Suites lunch — chilled malossol caviar
Once that was cleared, it was time for the soup. I selected the spiced split pea soup with duck confit and natural yogurt. The soup was spicy and flavorful.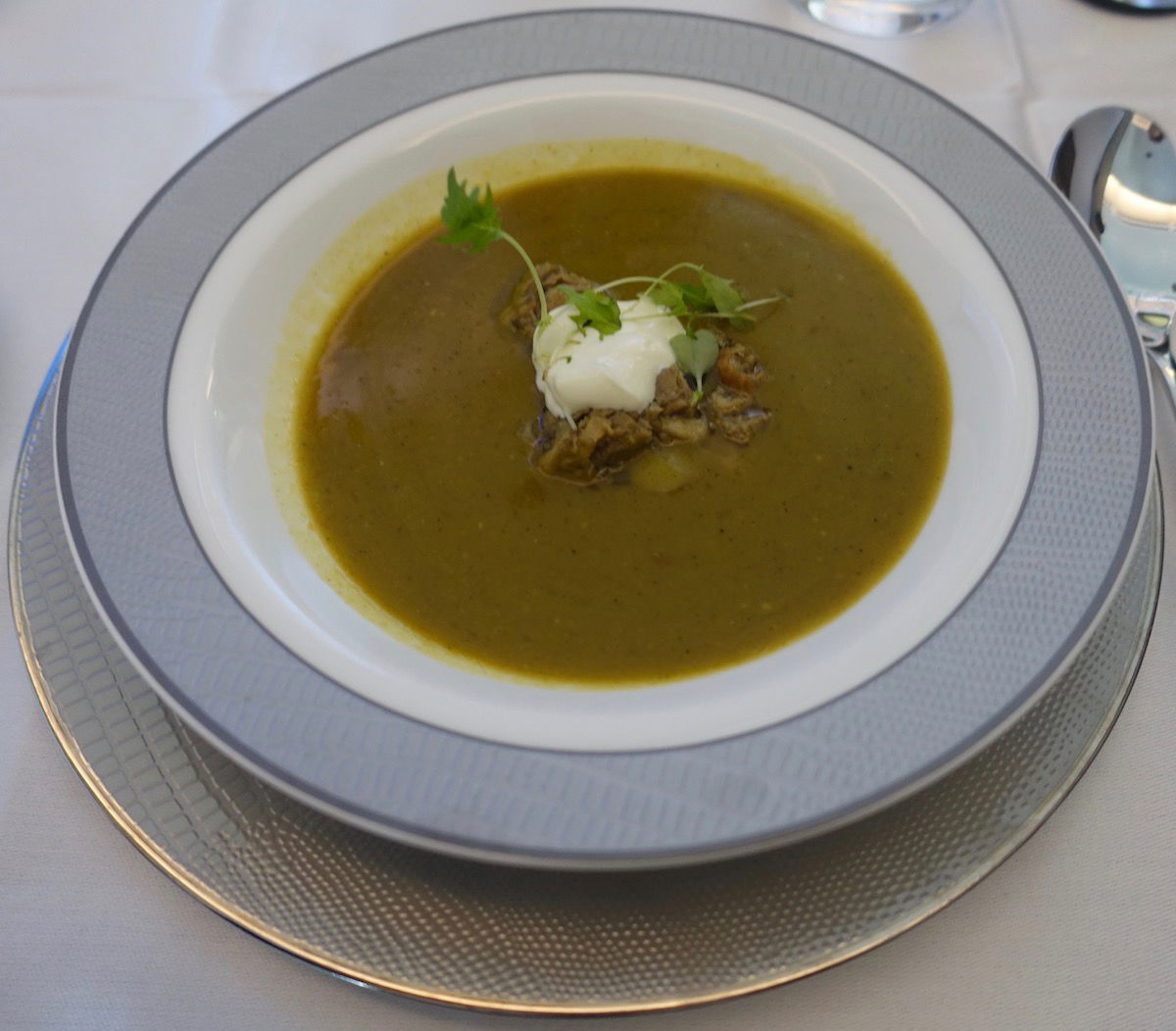 Singapore Airlines Suites lunch — spiced split pea soup
Next up was the salad, which was the weak point of the meal. It wasn't bad, but rather was just basic. It had baby romaine lettuce, tatsoi leaf, and cherry tomatoes, with extra virgin olive oil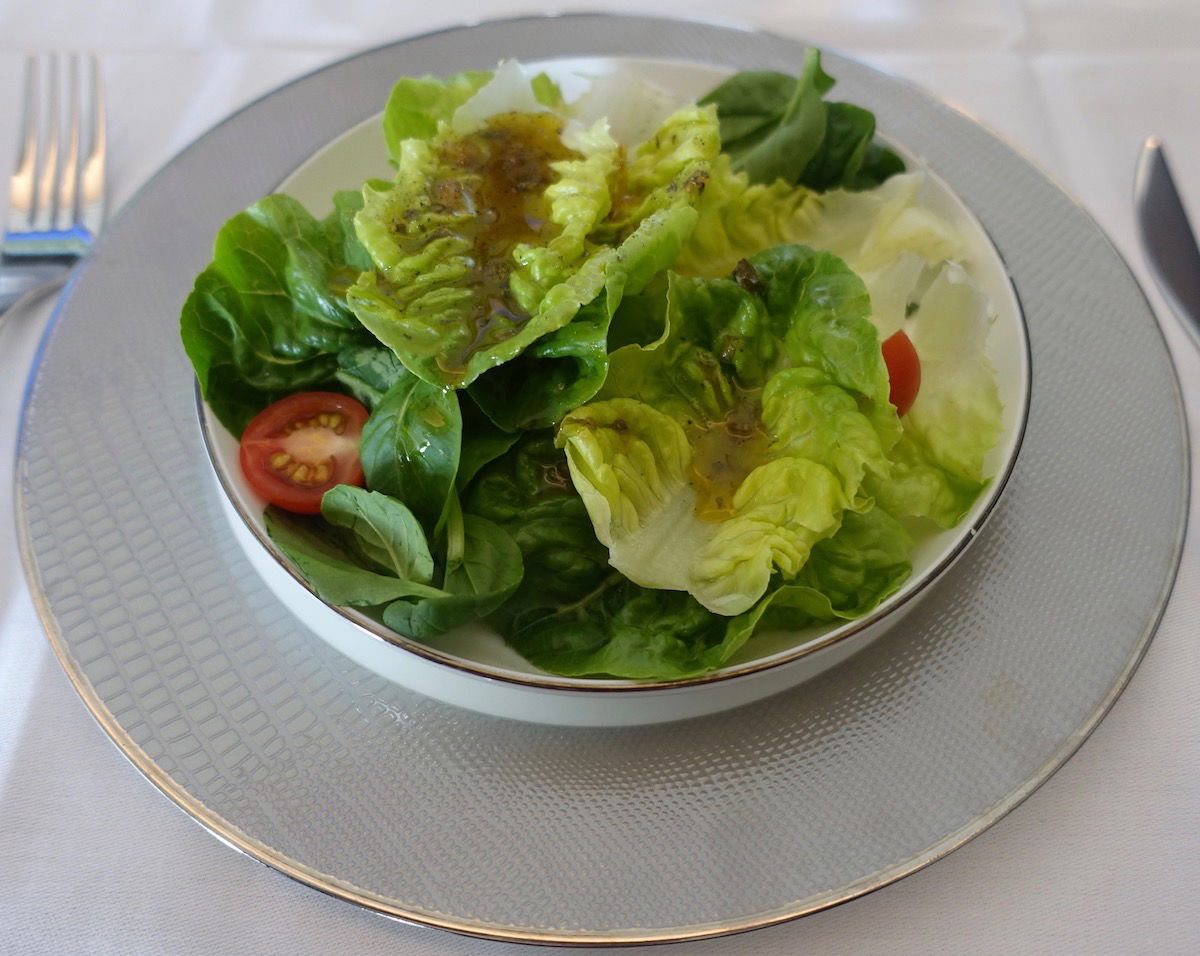 Singapore Airlines Suites lunch — salad
For the main course I used Singapore's "book the cook" option, where you can pre-order your meal from a much more extensive menu. I chose their signature dish, lobster thermidor, which was exceptional.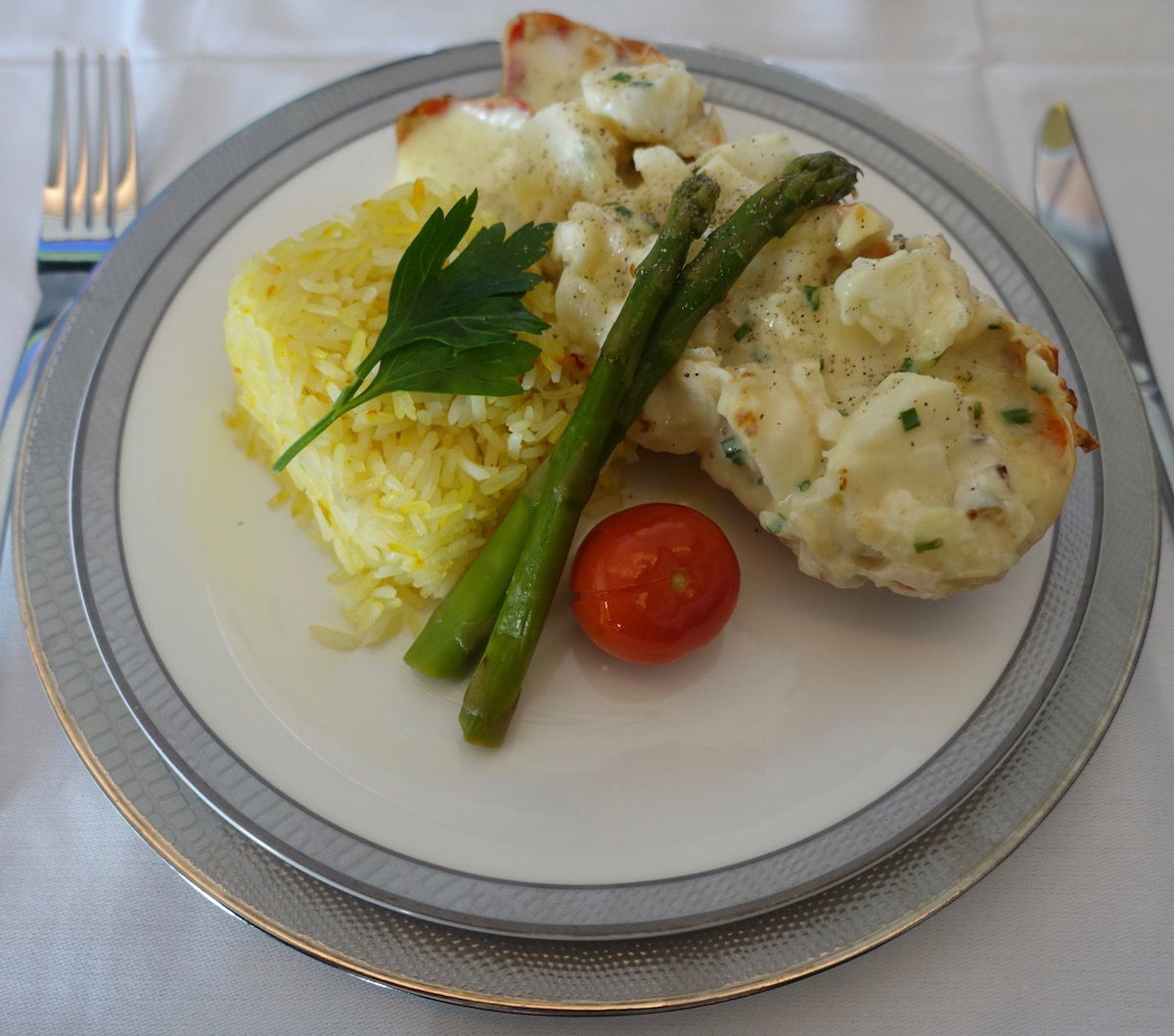 Singapore Airlines Suites lunch — lobster thermidor
Lastly was dessert, for which I selected the warm rum baba with calvado syrup, vanilla ice cream, and muscatel chutney. This dessert was incredible, possibly one of the best I've had on a plane. It tasted even better than it looked, if that's possible.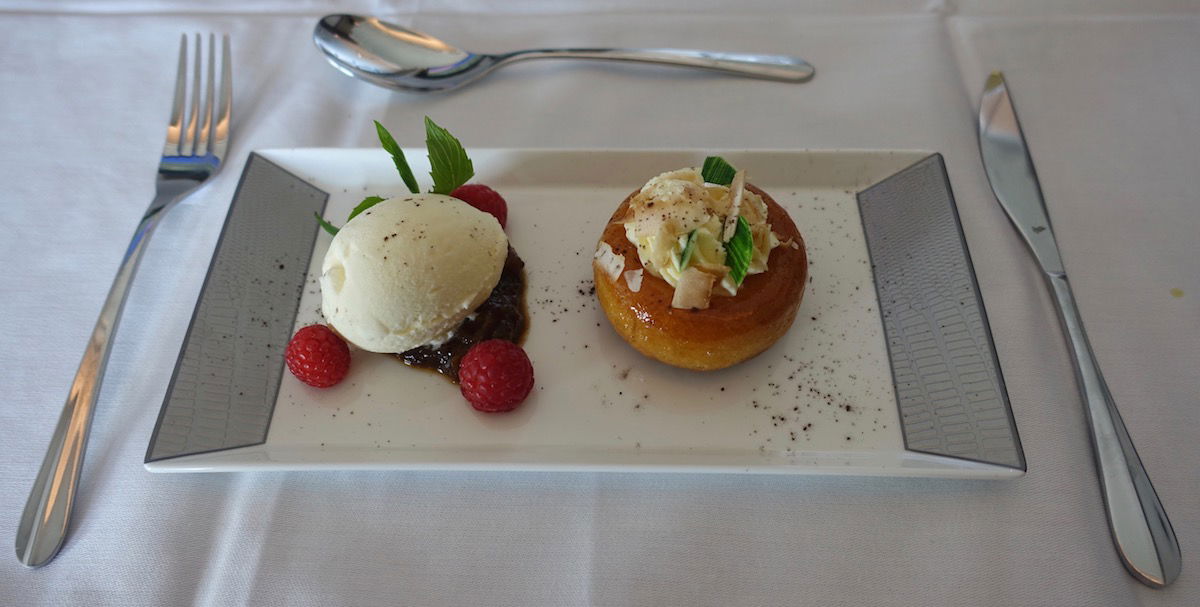 Singapore Airlines Suites lunch — warm rum baba
The entire meal took just over an hour, and was perfectly paced. Dennis, Shawn, and Jamie were utmost professionals, and the service couldn't have been more professional and warm. When you get a good Singapore Airlines crew, they're truly the best in the world.
I do have some beef with the design of Singapore's Suites as it relates to the meals, though. You have to position your seat towards the tray table during the meal, and that has you looking almost directly at the aisle. This seems so poorly designed, in my opinion, since you're basically looking at the person seated across from you.
If you close your Suite door, then the crew can't provide you with attentive service. If you keep it open, it's borderline awkward. The guy seated across from me went so far as to say to me "well this is just weird."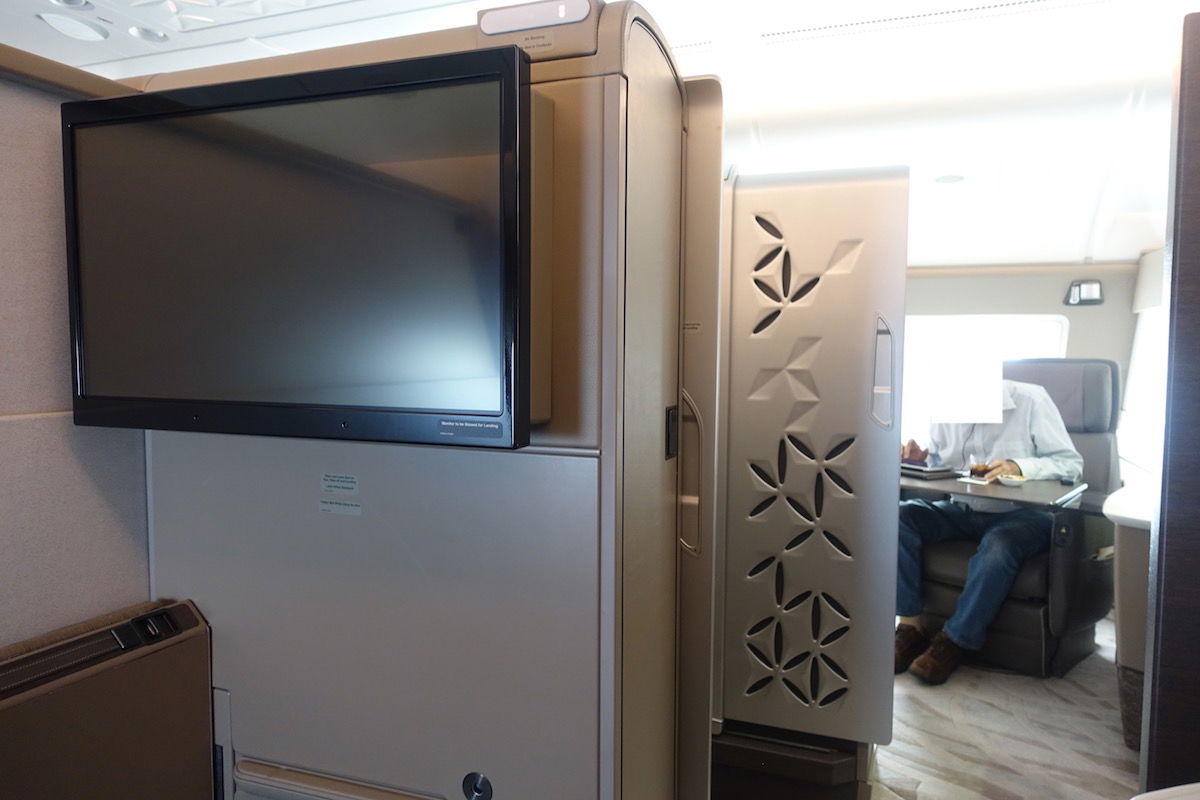 Dining facing a stranger in Singapore Suites
After lunch there were just over five hours remaining to Singapore, so I asked for my bed to be made. While the crew did that I changed into pajamas and freshened up in the lavatory, and when I returned I found my suite ready to go.
Again, I have mixed feelings here. On one hand, it's really cool that you have a separate seat and bed. On the other hand, neither the seat nor the bed are particularly comfortable.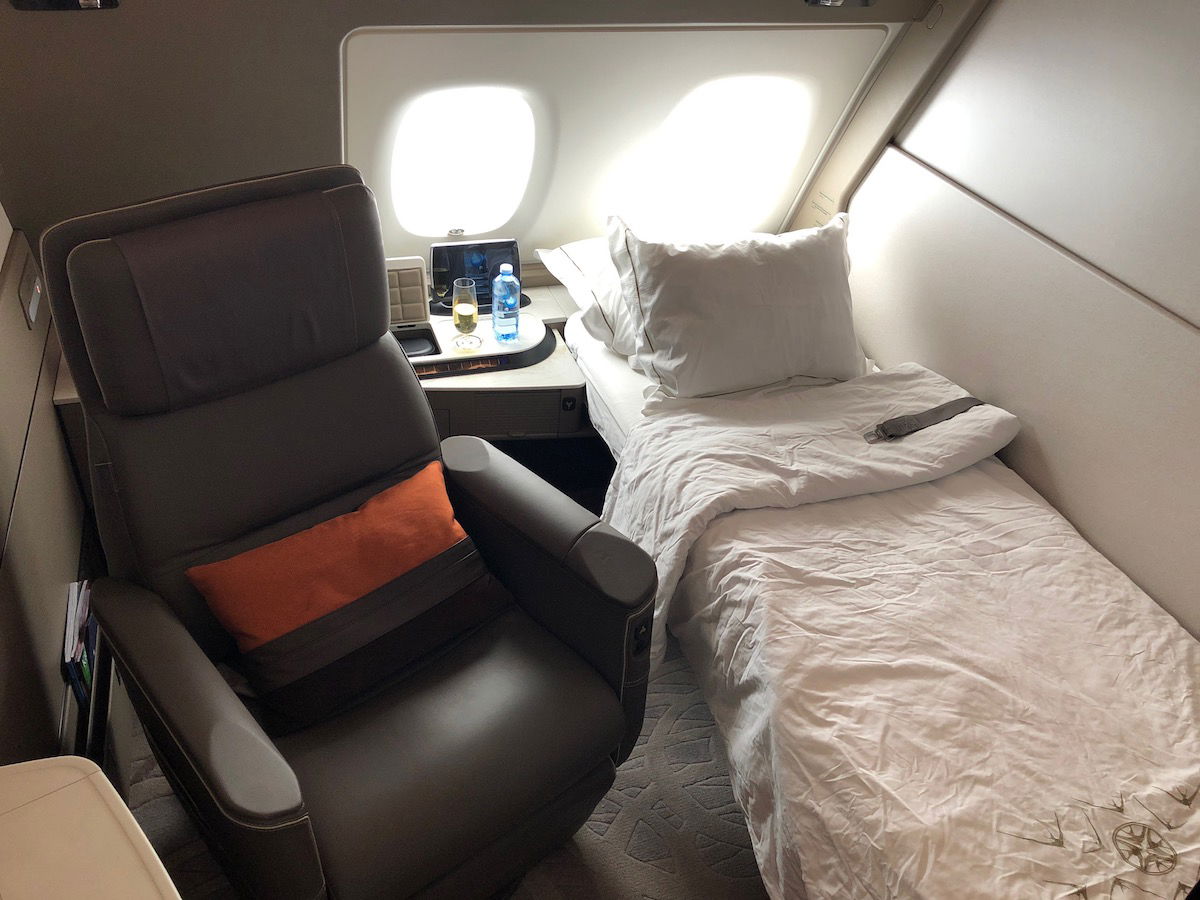 Singapore Suites turndown service
The bed itself is hard. I know in Asia a lot of people prefer hard beds, so I get that, but it would be nice if they offered a choice of mattress pads. Instead I felt like they almost just had a mattress sheet on there. The bed is also not especially big. Singapore's new Suites have the largest footprint of any first class seat in the sky, but they bed isn't any bigger. I would have loved to see them create a bed that's more comfortable and larger than what else is out there.
Also, this is by no means the fault of the crew, but I feel like they need to load the sheets differently so that they don't look so wrinkled.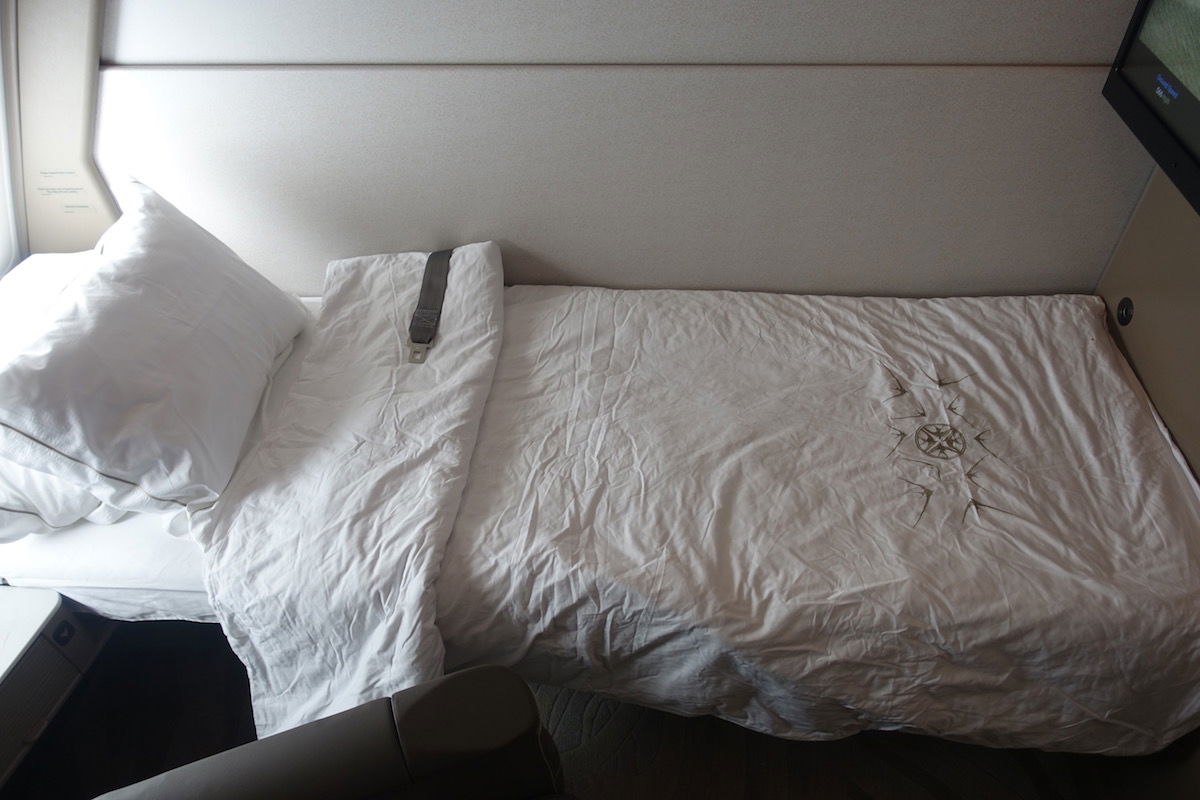 Singapore Suites bed
If you wanted, the bed could be raised a bit so that you can sit up and watch TV. I appreciate this feature, though am I the only one who feels like this looks like a hospital bed at this point?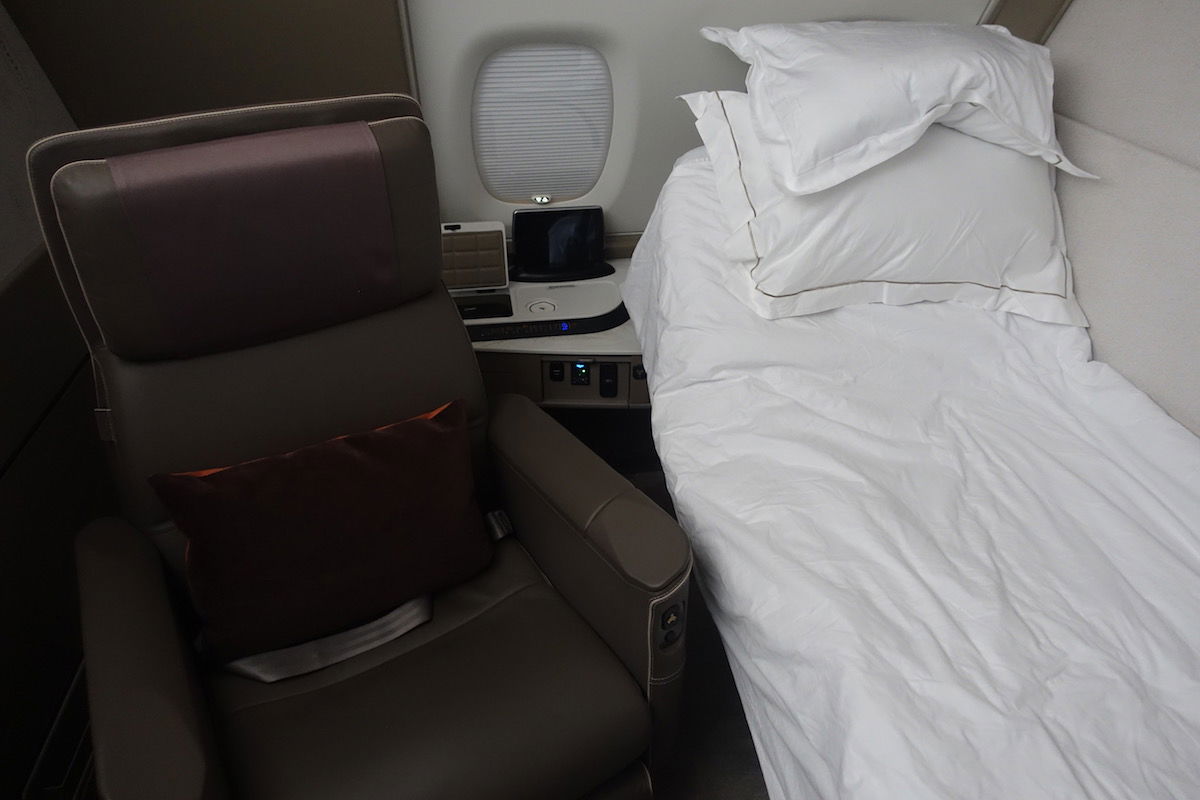 Singapore Suites bed
The seat itself had limited recline, and the legrest wasn't long enough for my feet, so they just dangled off the end. When reclined it was like a less comfortable version of a dentist's chair.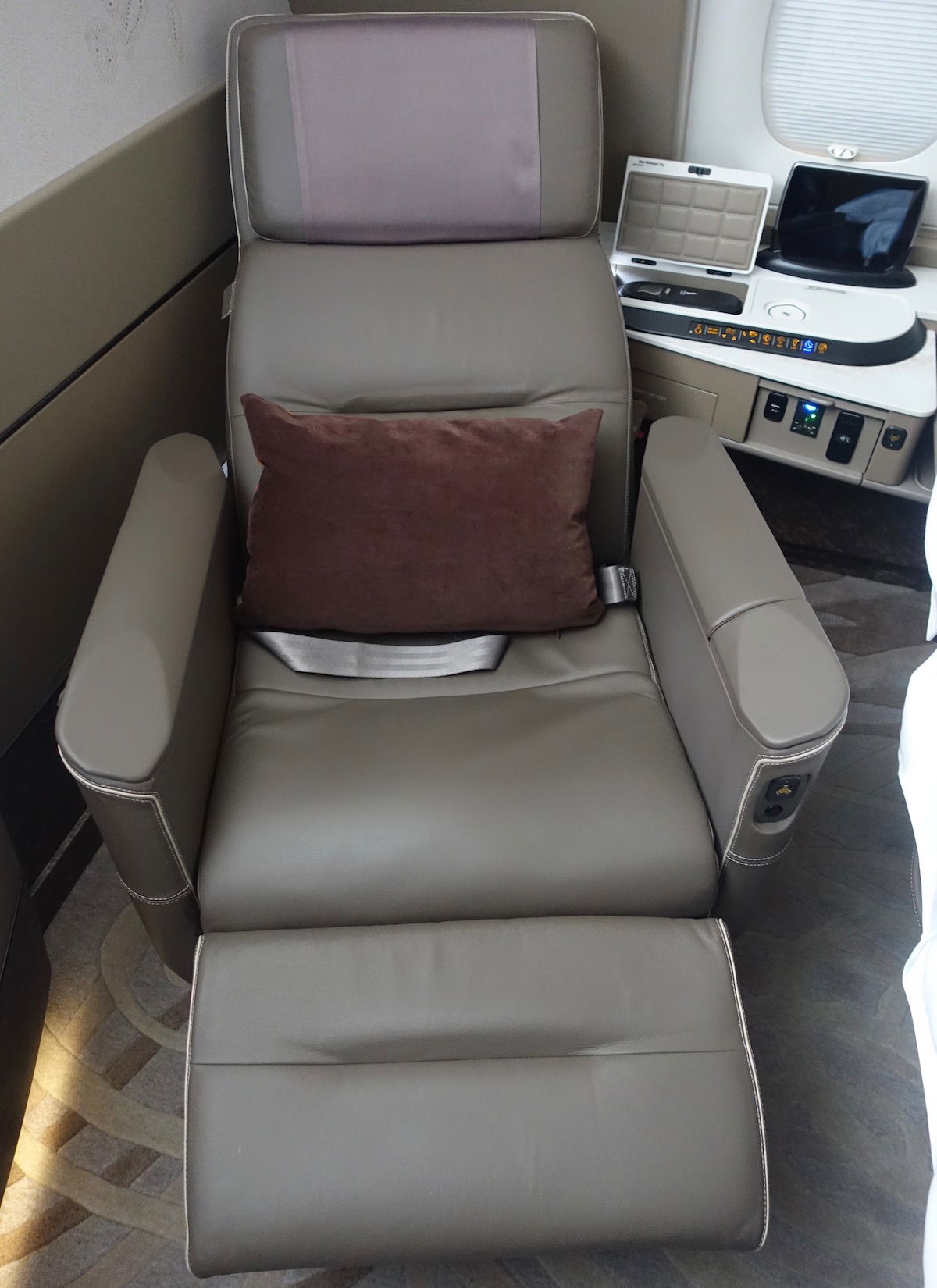 Singapore Suites chair
Still, the Suite was very large, and with the door closed it was a private space.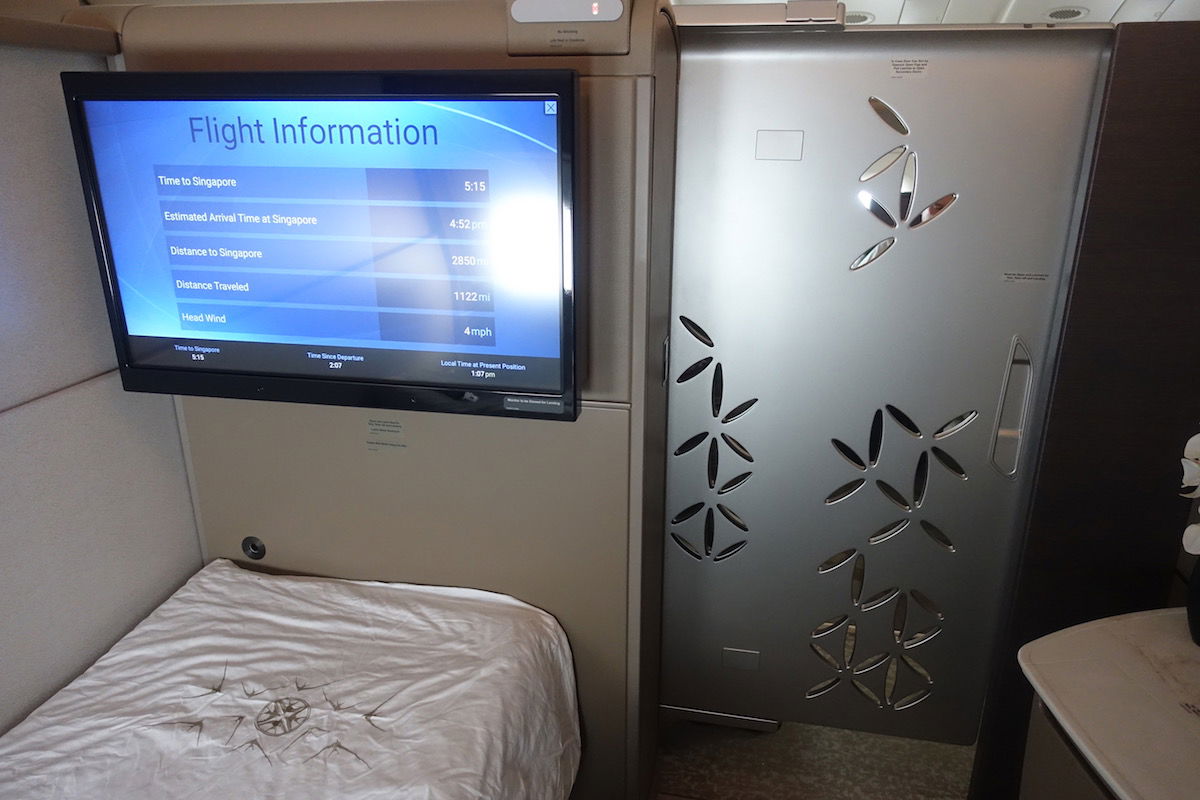 Singapore Suites with door closed
Not that it really matters, but the Suite door doesn't go down to the floor. There's maybe a 6-8″ gap at the bottom, which I wasn't aware of going in.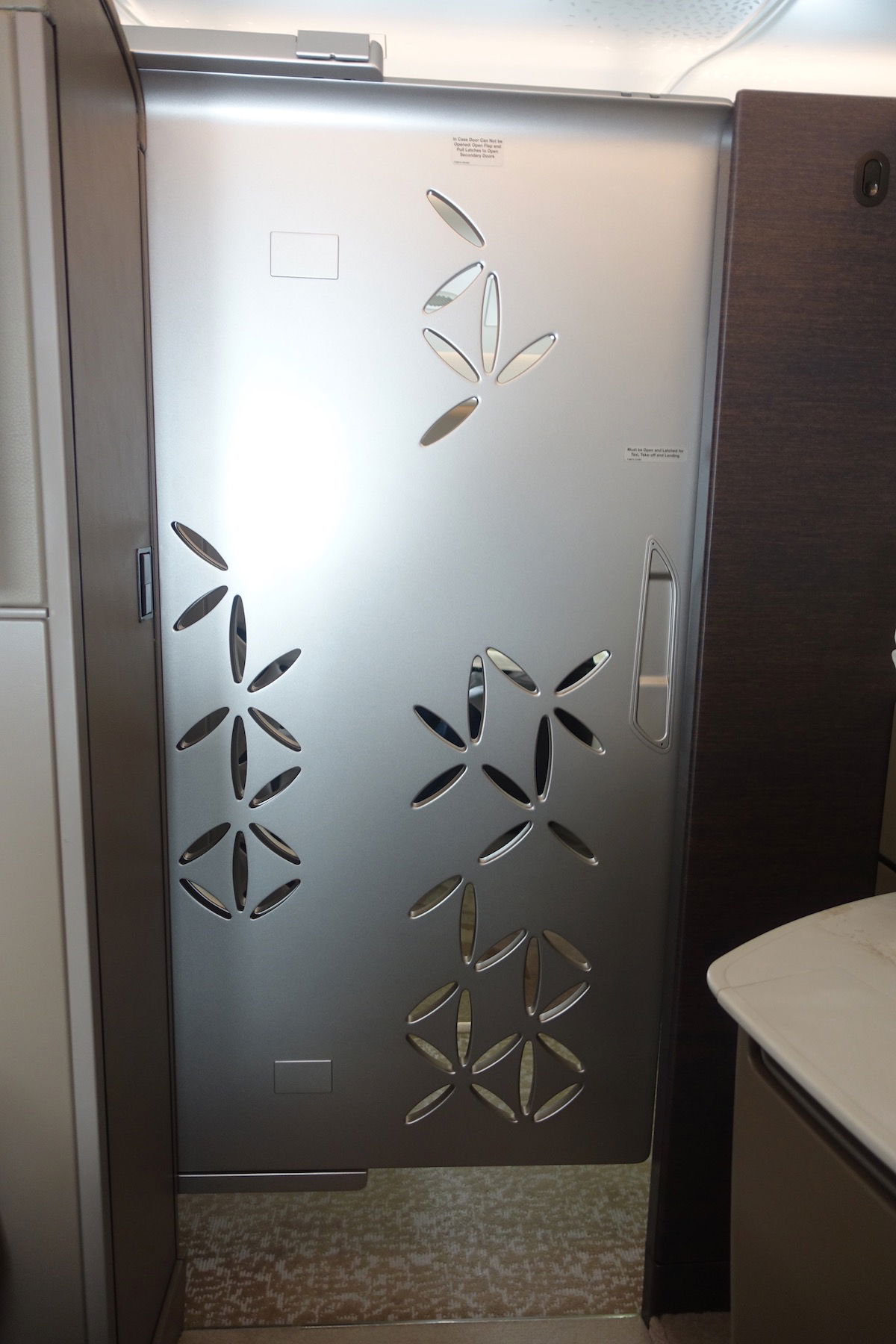 Singapore Suites door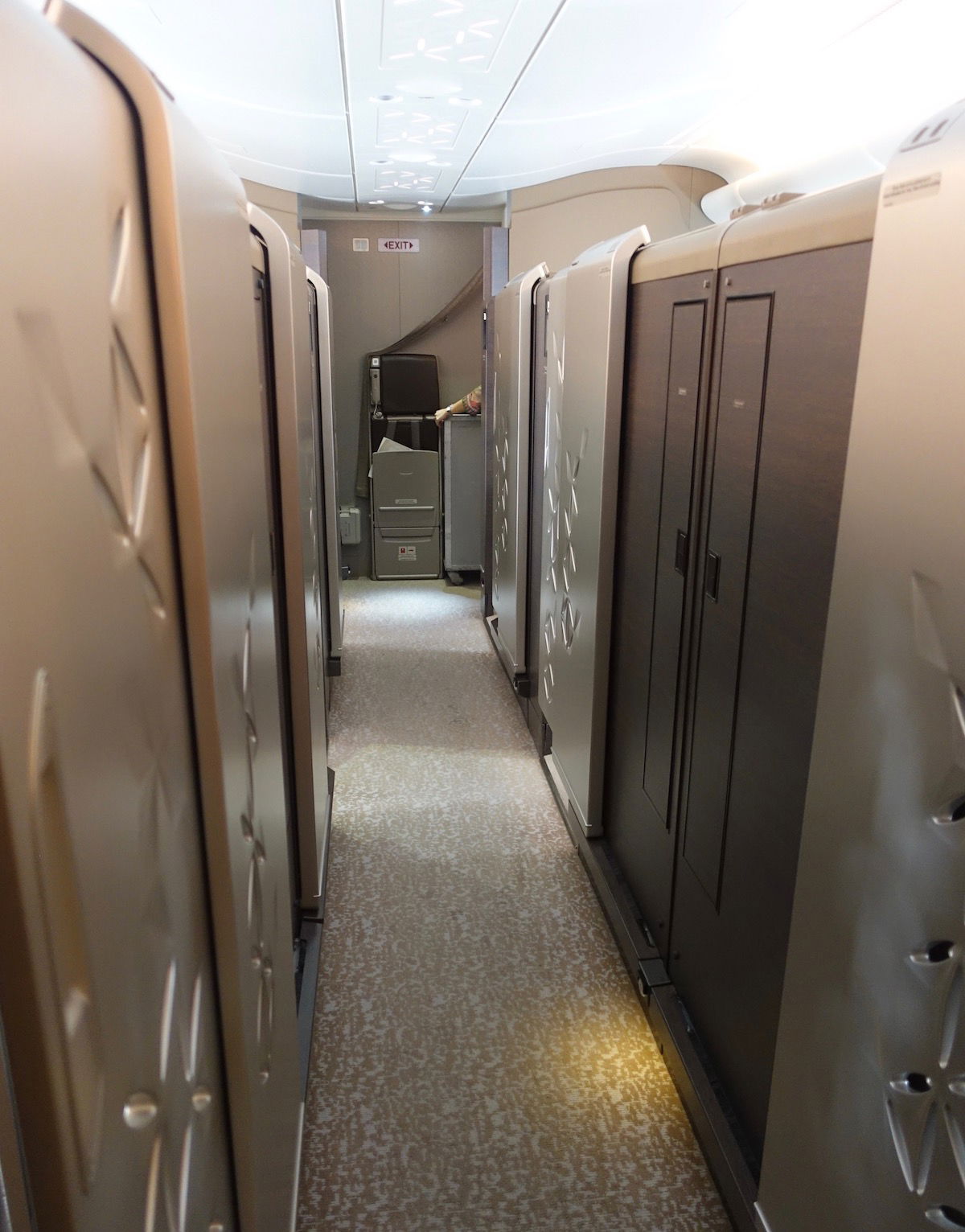 Singapore Suites cabin with doors closed
It had been a long day for me up until this point, so I decided to get some rest. Not only was the bed hard, but I also felt like there was no airflow in the suite. You're sleeping next to a wall and there are no air nozzles, so I was sweating.
Eventually I managed to fall asleep, and woke up a bit over 90 minutes before landing, as we were passing Bali.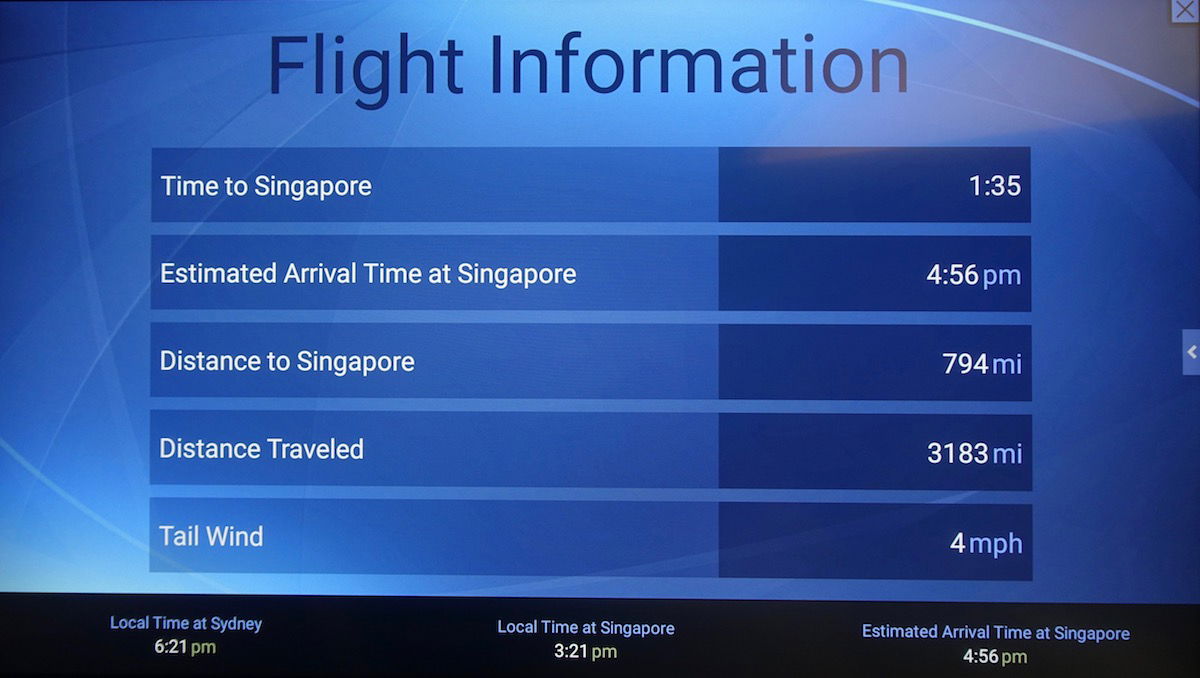 Airshow enroute to Singapore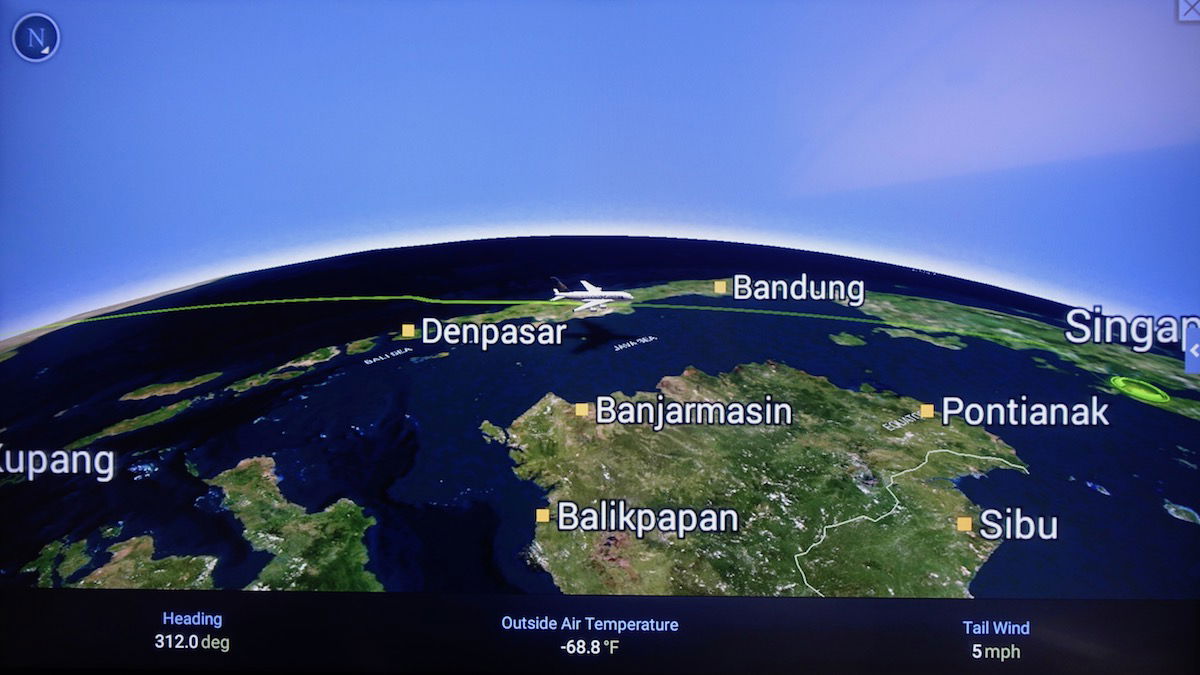 Airshow enroute to Singapore
Singapore Airlines flight attendants are ninjas, and within moments of waking up I was asked if I wanted anything to drink. I ordered a sparkling water and cappuccino. You've gotta love that Singapore Airlines lets you choose what kind of a coffee bean you want in your drink — I selected Ethiopian (just to keep it in the Star Alliance). 😉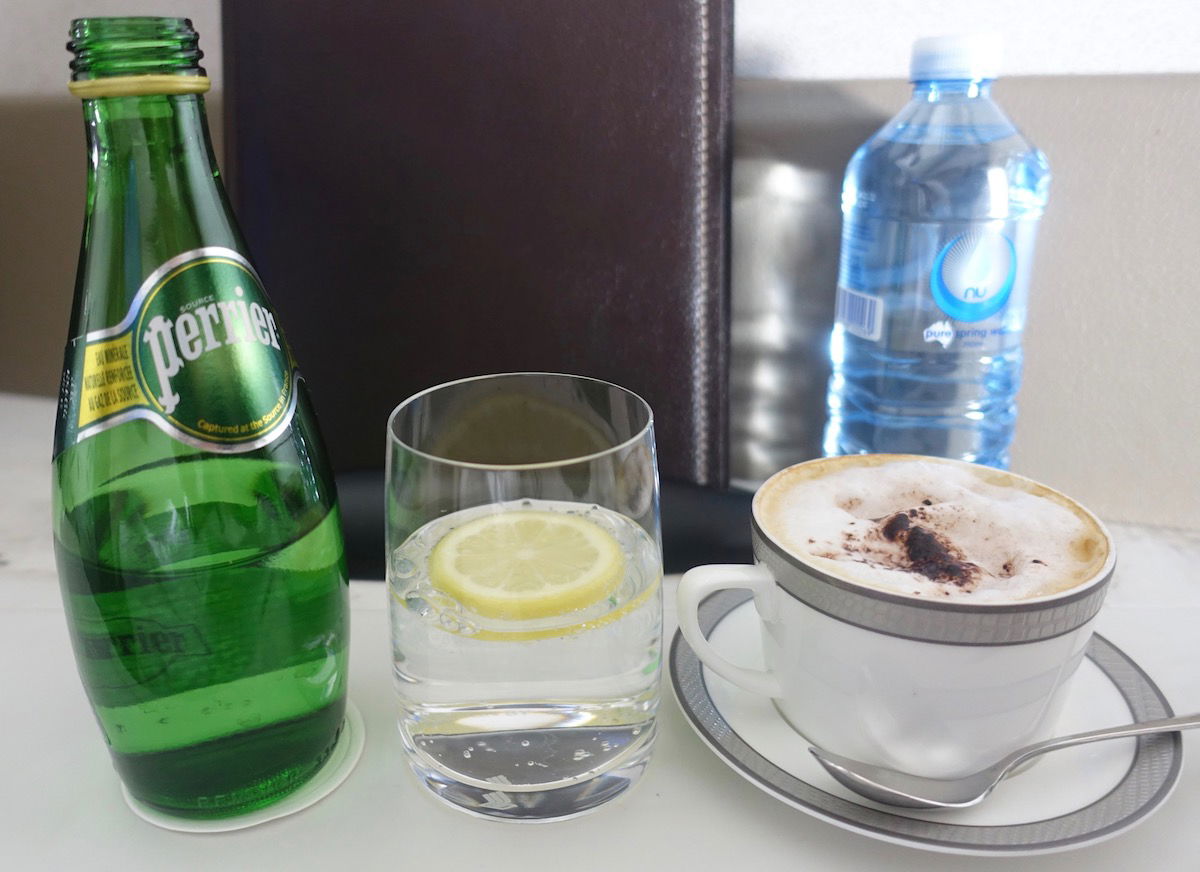 Singapore Suites — sparkling water and cappuccino
About 30 minutes later I was asked if I wanted the pre-landing meal. The refreshment menu read as follows: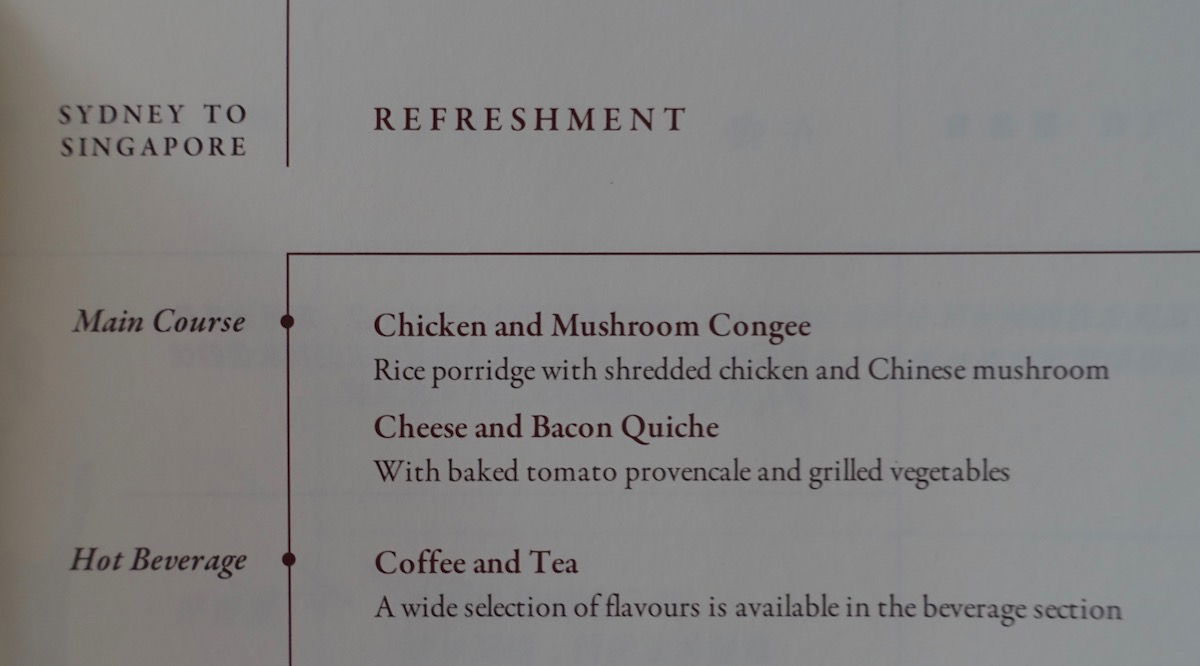 I was still stuffed, and neither of the options appealed to me, so I asked if I could just have a cheese plate.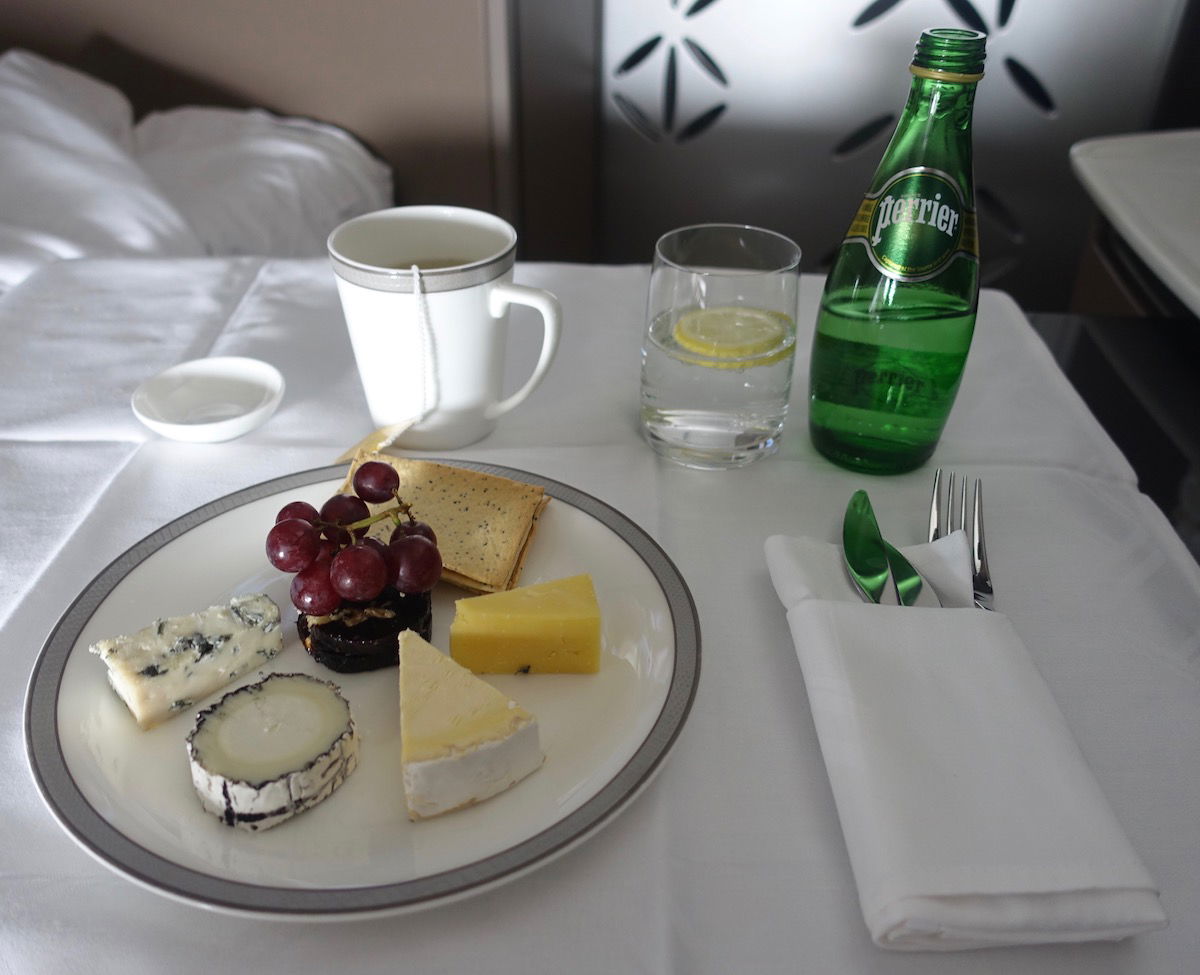 Singapore Airlines Suites refreshment — cheese plate
Before we descended I played around with the seat a bit more, and only then realized that the seat could swivel towards the window. While I like the idea of that, the issue is that it's not actually comfortable to sit like that — there's no tray there, the legroom is extremely limited, and you're looking away from the TV. This is an area (perhaps the only one) where American's first class is much better.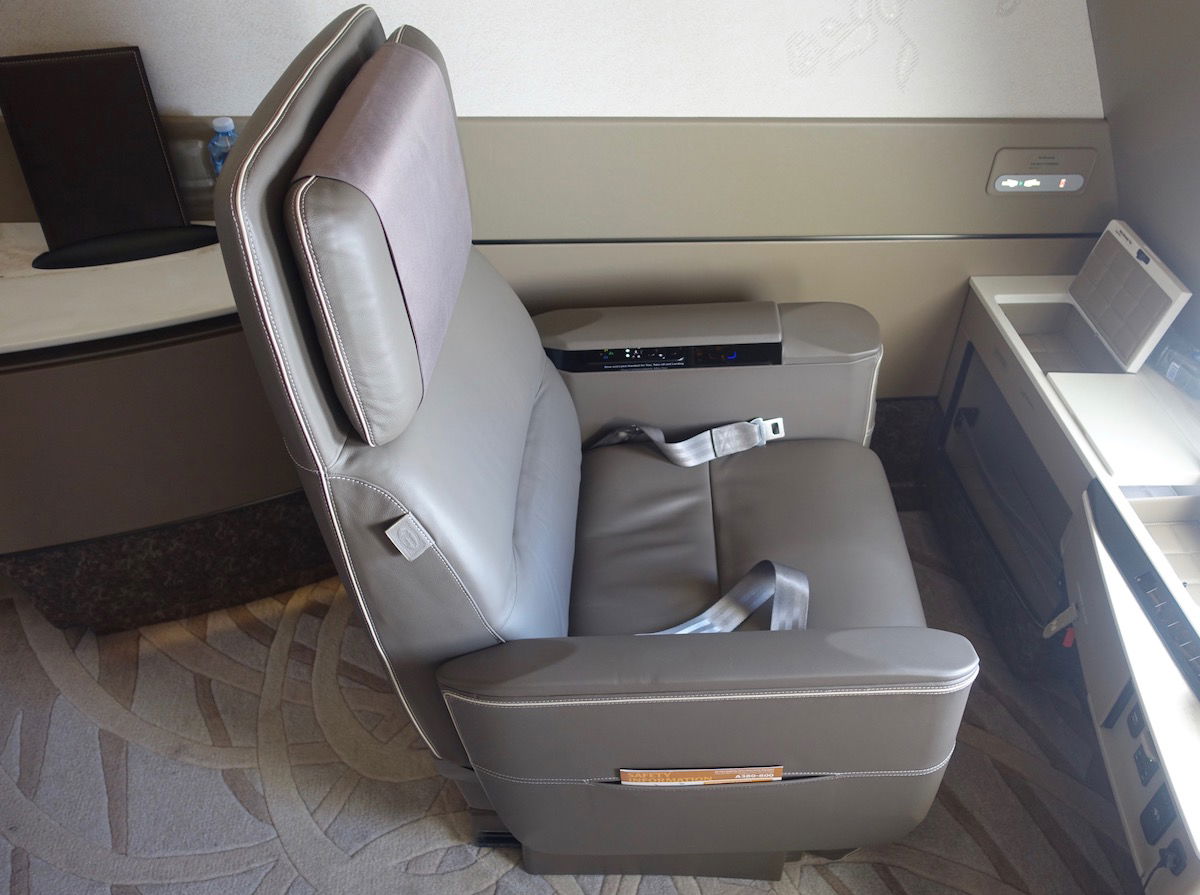 Singapore Suites chair facing window
At 4:15PM the senior first officer announced that we'd be landing at 5PM, a bit ahead of schedule. A few minutes later the crew started preparing the cabin for arrival, and all too soon my Singapore Suites experience was nearing an end.
Service of course was over the top, and once I changed out of my pajamas I was offered a pair of slippers to take with me, as well as a teddy bear. The crew also came around with landing cards for Singapore, as well as mints.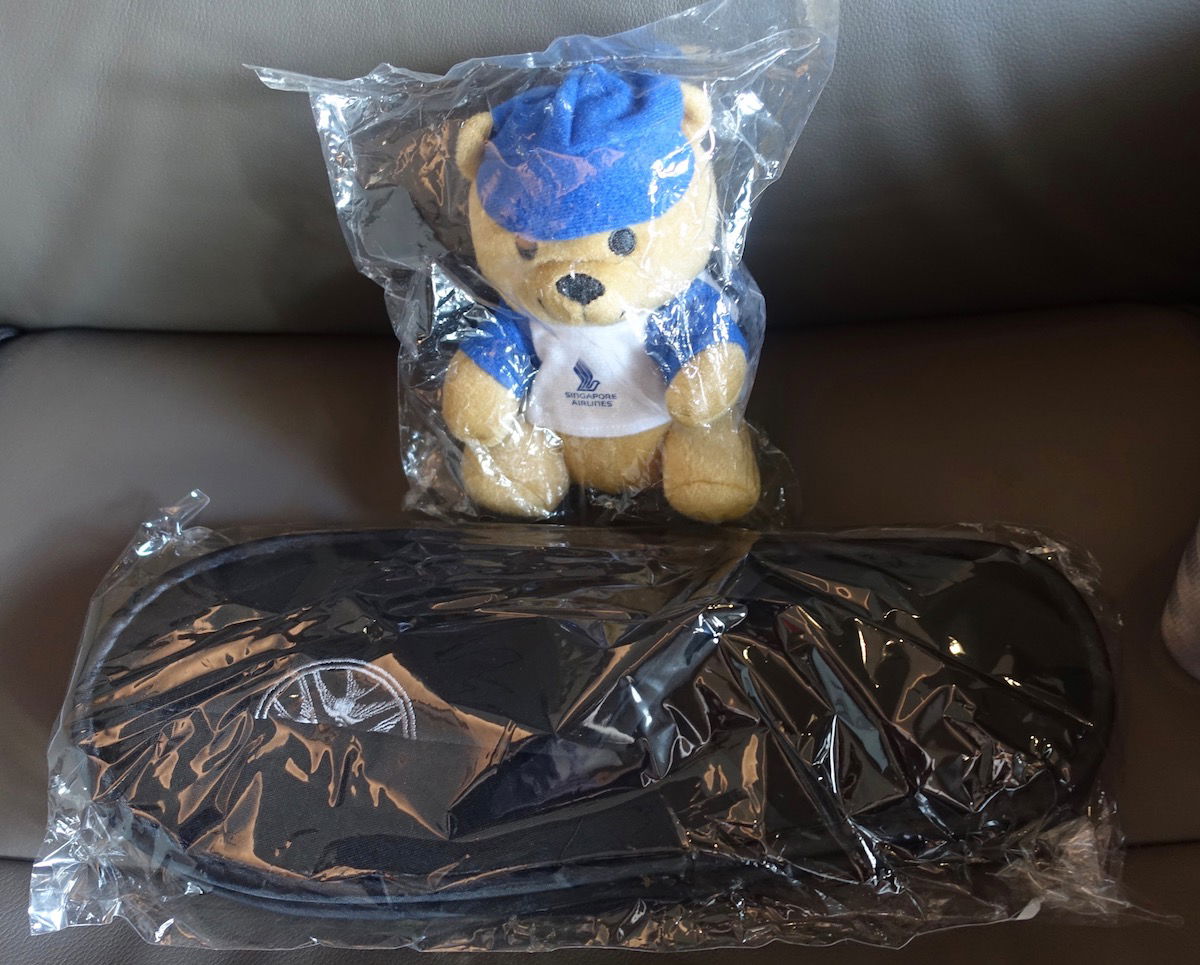 Singapore Suites slippers and teddy bear
At 4:40PM it was announced that there was some congestion, and that we'd be holding for 15-20 minutes. Once we were back on approach, the crew fully prepared the cabin for arrival, including placing my seat in the forward facing position again.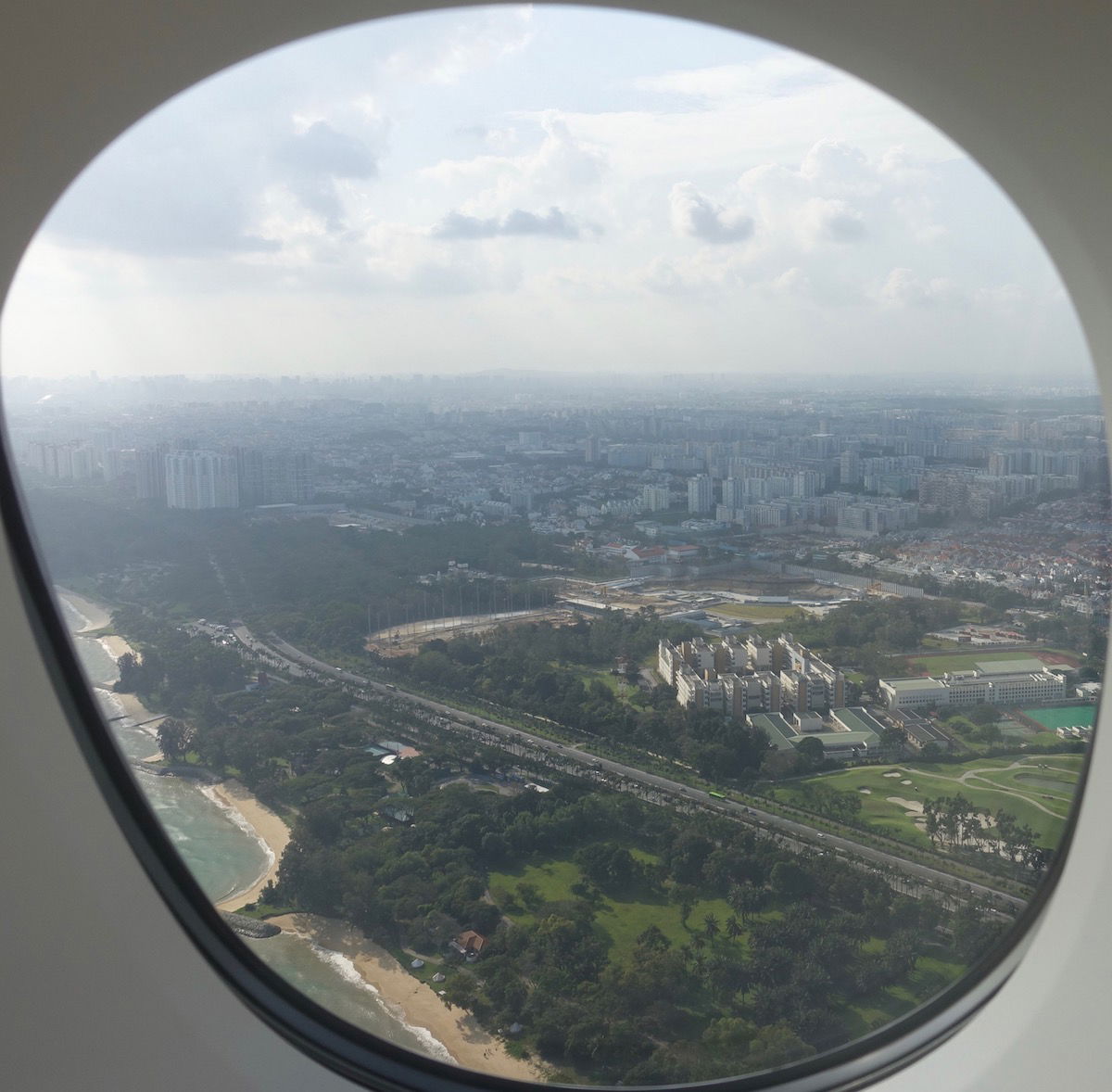 View approaching Singapore
We touched down at Changi Airport at 5:15PM on runway 2L, and then had a three minute taxi to our arrival gate. I bid farewell to the crew, and was sad that the experience was over as fast as it started. Till next time, Singapore Suites!
Singapore Suites A380 bottom line
I have mixed feelings about Singapore's new Suites. That's how I felt right after the flight, and I figured after a while I'd form stronger opinions. It has now been several weeks, and I'm not sure how to feel.
Let's start with the positives. Singapore Airlines has some of the best service, food, and drinks, of any airline in the world. The soft product simply can't be faulted, so huge kudos to Singapore Airlines there. The entertainment selection and improved Wi-Fi are also big positives.
Singapore Airlines also deserves credit for the sheer spaciousness of the new Suite. It's the world's most spacious first class product, and overall the cabin is gorgeous.
All that being said, I feel like Singapore Airlines didn't live up to their full potential with the new Suites. I feel like they went about the design process backwards, and started with the concept of wanting a separate seat and bed, and wanting it to look a certain way. Somehow in the process they sort of lost the plot.
The bed isn't especially big, and isn't soft. There are no individual air nozzles. The seat isn't especially comfortable when lounging, and is awkwardly placed. You're forced to face the aisle when you eat, and if you want to face the window, you can't even sit especially comfortably, given the limited space in that direction.
Maybe I'm being especially critical here. We're often toughest on the ones we love most. Historically Singapore Airlines has been such an innovator, and there has always been such substance and style to their premium cabins.
This is a great product, but I don't think it lived up to its full potential. This should have easily been the world's best first class. They should have added the most comfortable bed in the sky. There's no reason they couldn't have added a bed that's as big as the one in the Etihad Residence. But instead they have a huge suite that has an average bed, an average seat, and some funky design aspects that seem like they didn't undergo enough testing.
This is still a great cabin, and you'll no doubt be "wowed" when you fly it. But as someone who cares a lot about the functionality of a seat, I expected better. For me, Emirates' new first class is a significant step up over this.