I'm probably way more excited about this than I should be, but that's nothing new, really. It's the random things in life that get me giddy. Last week I wrote a post sharing the three international first class products in the world that I still need to book — Kuwait Airways, Oman Air, and TAAG Angola Airlines. Once that's complete, I'll have flown every international first class product in the world.
As I said in the previous post, I felt like trying TAAG Angola will be the most difficult and costly, given that their first class tickets aren't cheap, and given the degree to which I'll need to position in order to fly with them. But they're also the airline I'm probably most obsessed with, in a backwards way. I wrote about them for the first time in May 2016, after seeing one of their beautiful planes at Johannesburg Airport.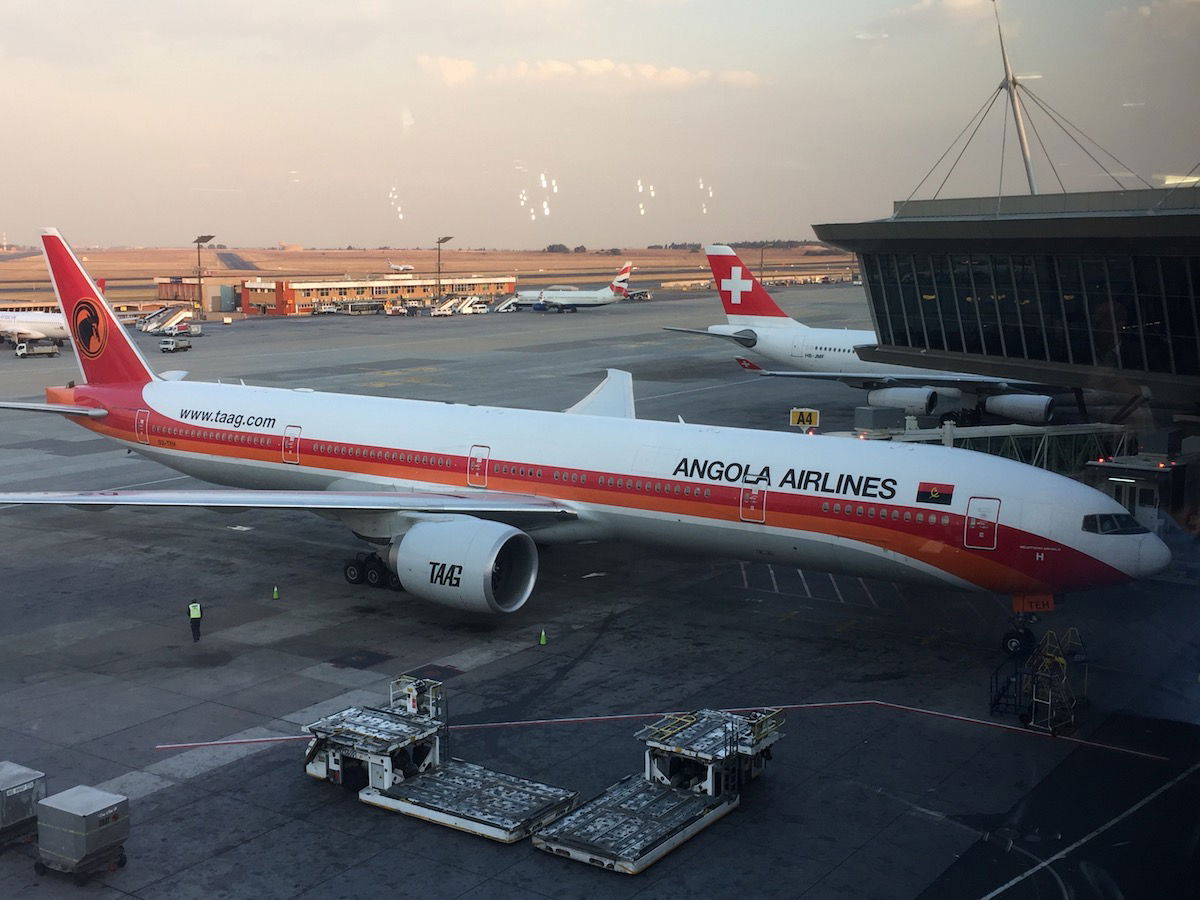 When I wrote the post, the cheapest fare I had found on them was a ~$2,660 one-way ticket from Johannesburg to Luanda to Sao Paulo. The airline has a tag flight from Sao Paulo to Rio de Janeiro that I could have added at no additional cost, and as tempting as it is to book a tag flight on TAAG, I figured there would be easier options to get back to the US from Sao Paulo.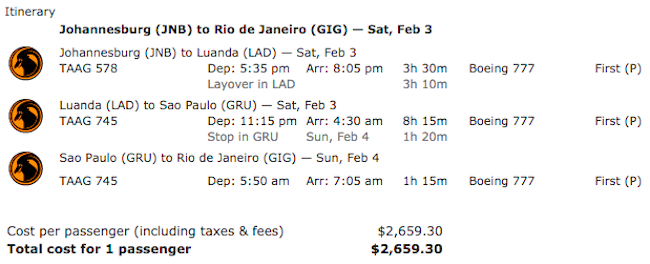 However, the brilliant zoqfotpik noted in the comments of the previous post that TAAG Angola has a significantly cheaper first class fare from Lisbon to Luanda to Sao Paulo, which lets me experience their service on two longhaul flights. That's 7,644 glorious miles in TAAG's first class.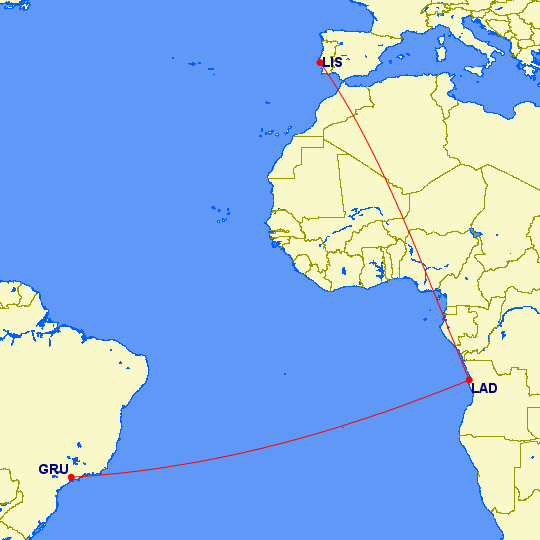 Best of all, it looks like the planes feature two different types of first class cabins (at least as of now). One flight has the 777 with just eight first class seats (which I believe is their new first class suite), while the other flight features their older 14 seat first class cabin.
TAAG's first class fare from Lisbon to Sao Paulo (which can be booked using the multi-city feature on their website) is ~$1,880.

Given that this is by far the best fare I've ever seen for TAAG first class, I had to pull the trigger on it. Best of all, two friends/avgeeks are joining me, which should make it all the more fun. I have high expectations based on this:
It's ranking Top 90 from "The World's Top 100 Airlines – 2015," according to Skytrax, and carries the company slogan "TAAG a Sua Companhia de Sempre" which means "TAAG Always Your Company" in English.
TAAG's website also notes that their first class has "the best meals," so I look forward to putting that to the test.
Unfortunately TAAG doesn't have many airline partners, so it looks like I won't be earning any useful miles for this. TAAG's own Umbi Umbi Club is possibly the least lucrative frequent flyer program in the world. You get one mile for every dollar you spend, and Silver status requires 25,000 miles, while Gold status requires 60,000 miles. That's a spend requirement of $25,000 and $60,000, respectively. For spending an extra $25,000 you get a generous extra 5kg baggage allowance, priority check-in, priority baggage, and lounge access. Yow!
Now I just need to figure out how to get to Lisbon, and how to get back from Sao Paulo to the US. I'm tempted to maybe book Norwegian Premium Class to London Gatwick (since I think it could be interesting to review the premium cabin of one of these ultra low cost carriers), and then maybe American first class back to the US, to see how that's holding up.