Air India has been doing quite well on their US flights lately, which is great to see. It seems like they picked up some momentum when the US electronics ban was put in place against Gulf carriers, and they've been able to maintain that ever since.
In December 2015, Air India launched 3x weekly flights between San Francisco and Delhi (their longest route), a flight which now operates 6-7x weekly. On top of that, Air India has added flights between Washington and Delhi, and also added a new flight between Newark and Ahmedabad, which operates via London.
Now, before I share this interesting new route claim, I should note that Air India "officials" seem to do a lot of talking, and a lot of what they say doesn't actually materialize. For example, last year Air India's former CEO announced a specific date that the airline would launch flights to Los Angeles, and also said that they'd fly to Dallas before the end of 2017, though neither of those things have happened.

Add in the fact that Air India is in the process of being privatized (or something), and all of this becomes even less certain. However, that doesn't make it any less fun to talk about.
The Economic Times has a story about Air India's expansion. A "senior Air India official" claims that all their US routes are now making money, except their Newark to Ahmedabad service:
"All our flights to the US are making money barring the one which is to Newark via London. We've been seeing consistently good passenger load factor on the US routes. The San Francisco flight is also clocking over 80 per cent seat factor since the launch in December 2015."
The same Air India official claims that the airline intends to add 3x weekly flights between Mumbai and San Francisco, as well as a flight to Silicon Valley (presumably San Jose):
"This has prompted to us to connect Mumbai directly with San Francisco and we plan to launch a flight service to the Silicon Valley from the coming summers," the official said.

The proposed flight will be operated three times a week with a Boeing 777 aircraft, as per the official.
Delhi to San Francisco is already Air India's longest route, though Mumbai to San Francisco would be an additional 700 miles longer, so that would be quite a haul, clocking in at 8,407 miles. Having taken Air India's flight from Delhi to San Francisco, I couldn't imagine being on that plane for even longer.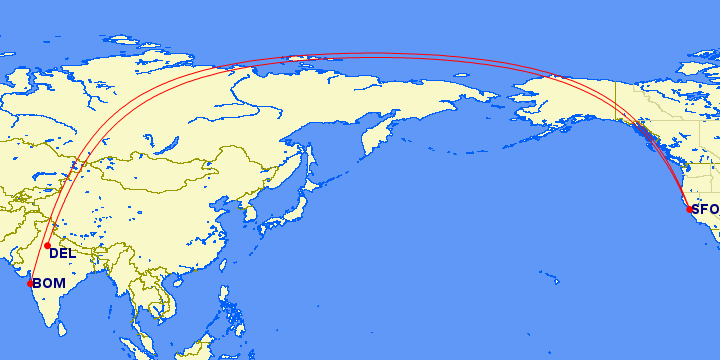 As far as the "Silicon Valley" service goes, I'm especially skeptical about that. On one hand you'd think there would be demand for the flight, but it doesn't seem like Air India would add 3x weekly flights between Mumbai and San Francisco and also add flights to San Jose.
So for now I'd take this with a grain of salt, since this is per an anonymous "senior official" at Air India, when even the information coming from Air India's CEO with exact dates often isn't accurate (and to be clear, Air India's management isn't alone in making empty promises — plenty of other airline executives do the same).
I'd be interested to see how much of this expansion happens. Given Air India's success in the Bay Area so far, it would be cool to see them add even further flights.
Do you think Air India will add flights from Mumbai to San Francisco, or from Delhi to San Jose?