In the interest of full disclosure, OMAAT earns a referral bonus for anyone that's approved through some of the below links. These are the best publicly available offers (terms apply) that we have found for each product or service. Opinions expressed here are the author's alone, not those of the bank, credit card issuer, airline, hotel chain, or product manufacturer/service provider, and have not been reviewed, approved or otherwise endorsed by any of these entities. Please check out
our advertiser policy
for further details about our partners, and thanks for your support!
Air Canada Aeroplan is the most useful frequent flyer program in the world… if you know what you're doing. In this post I wanted to dig a bit deeper into the program, and talk about how you can maximize value with it.
Why you should care about Air Canada Aeroplan
Even if you're not an Air Canada frequent flyer, you should still care about the Aeroplan program. Why?
Aeroplan points are easy to come by, as the program is transfer partners with Amex Membership Rewards, Capital One, and Chase Ultimate Rewards; on top of that, there's the Aeroplan® Credit Card (review) in the United States, which is phenomenal
Aeroplan has 45+ airline partners, more than any other frequent flyer program in the world; not only does the program partner with Star Alliance airlines, but it has all kinds of other partners, ranging from Air Mauritius, to Bamboo Airways, to Etihad Airways
Aeroplan has incredibly generous routing rules, allowing you to plan some pretty wild itineraries, if you're into that
Aeroplan allows stopovers for 5,000 extra points; this is an amazing opportunity, especially combined with the generous routing rules, since it means you could fly from the United States to Asia via Europe with a stopover there
You'll almost consistently get the best value redeeming your Aeroplan points on partner airlines. Award pricing on Air Canada can be steep, as it's dynamic, while travel on most partners has consistent pricing.
Just how far can Aeroplan points be stretched? Well, I recently redeemed 115,000 Aeroplan points for a six segment, one-way business class award from Chicago to Vienna to Rome to Bahrain to Singapore to Ho Chi Minh City to Hanoi. Not bad, eh?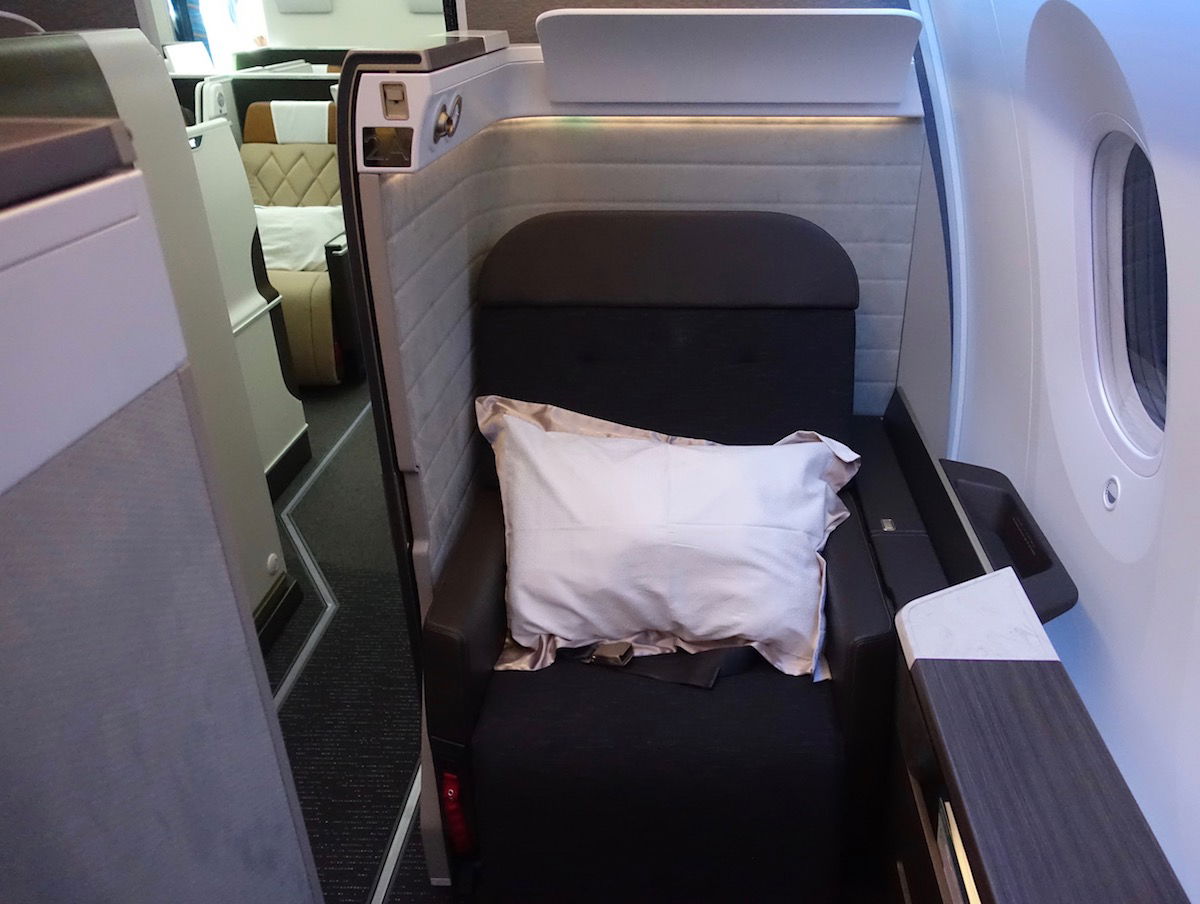 Aeroplan award charts & award pricing
Aeroplan takes a unique approach to award pricing. I appreciate Aeroplan's transparency, as the program publishes award charts with pricing for travel on partner airlines.
To start, it's worth understanding that Aeroplan breaks the world up into four zones:
North America — this includes North America and Central America
Atlantic — this includes Europe, Africa, the Middle East, India, etc.
Pacific — this includes North Asia, Southeast Asia, the South Pacific, etc.
South America — this includes South America
Below is a map showing which countries belong to which regions.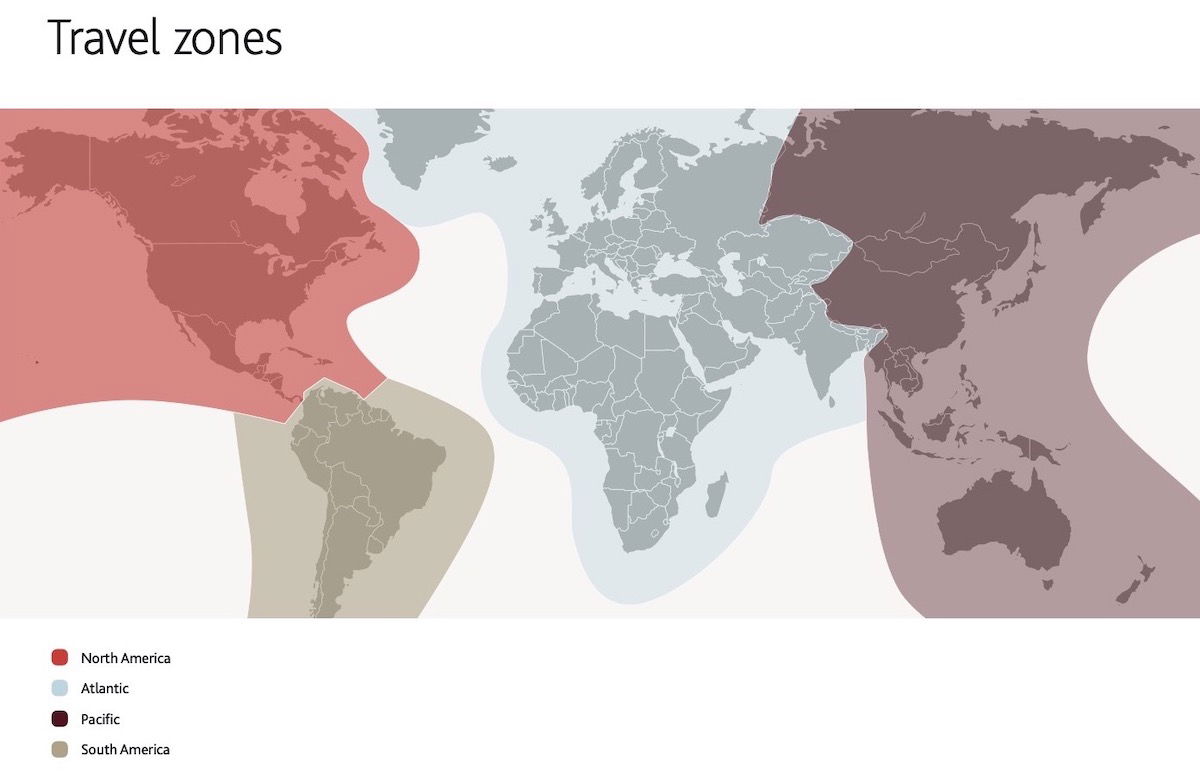 Aeroplan then publishes distance based award charts for travel within and between each of these regions. That means there are a total of 10 Aeroplan award charts. In other words, the cost you'll pay for your award ticket is a combination of the zones you're traveling between (or within), combined with the distance.
Note that the pricing is based on the cumulative distance traveled during your one-way journey. All pricing is one-way, so it never matters if you're traveling one-way or roundtrip. Also, you'll want to focus on the "partner airlines" pricing, since pricing on Air Canada is dynamic, and falls within a certain range.
Anyway, below you can find Aeroplan's 10 current award charts.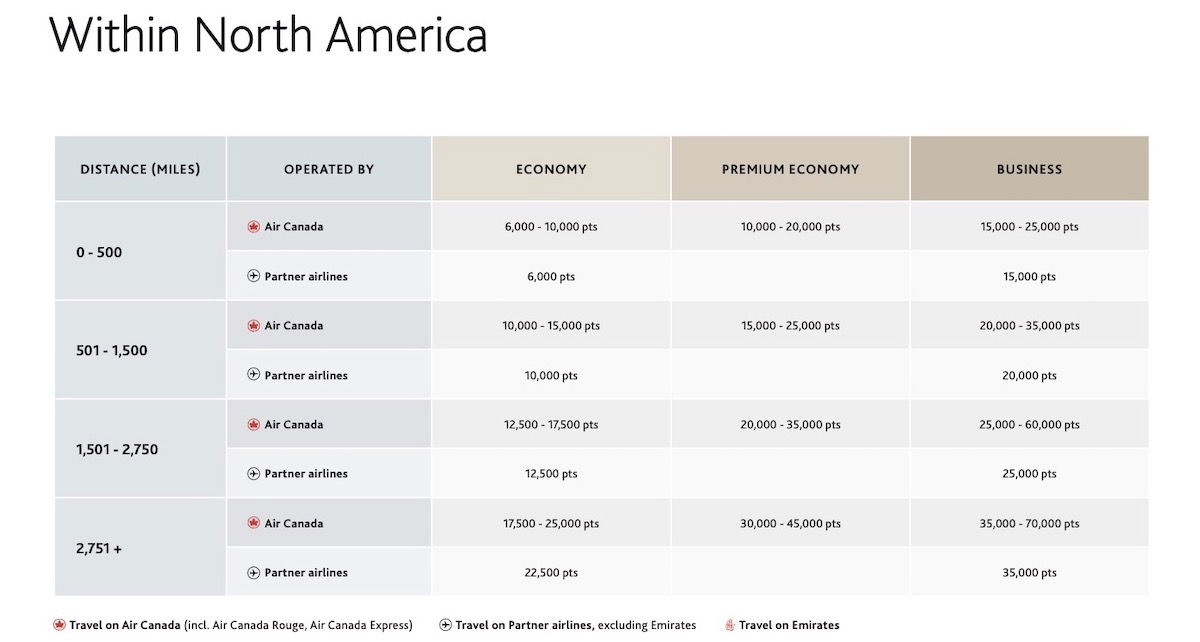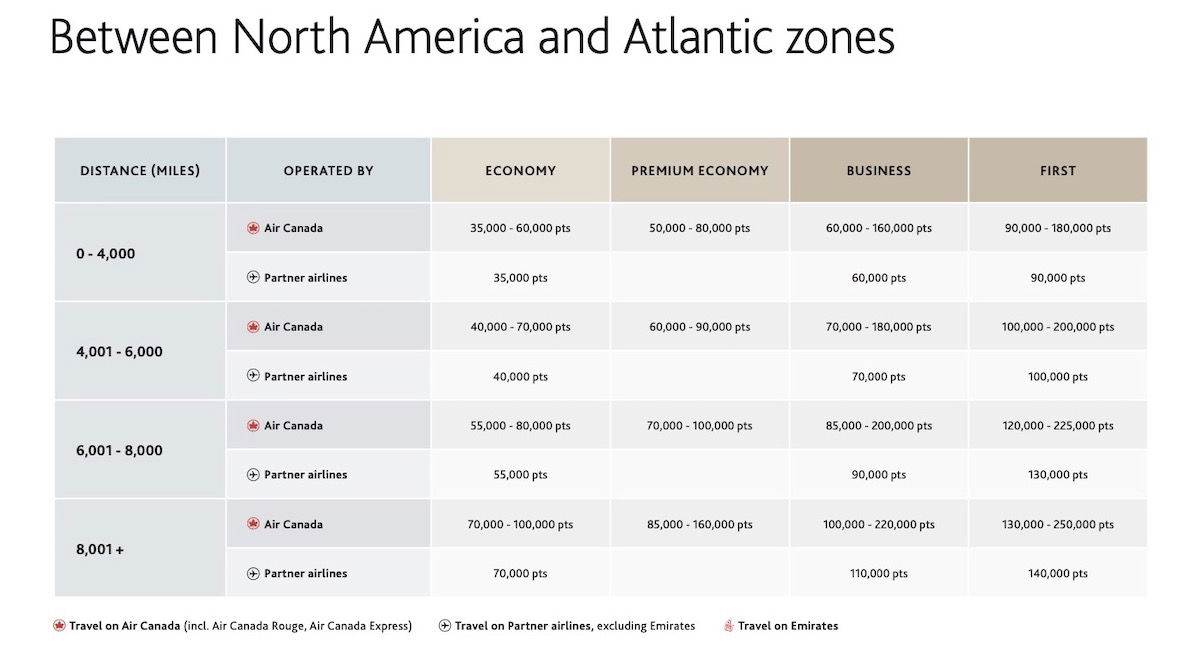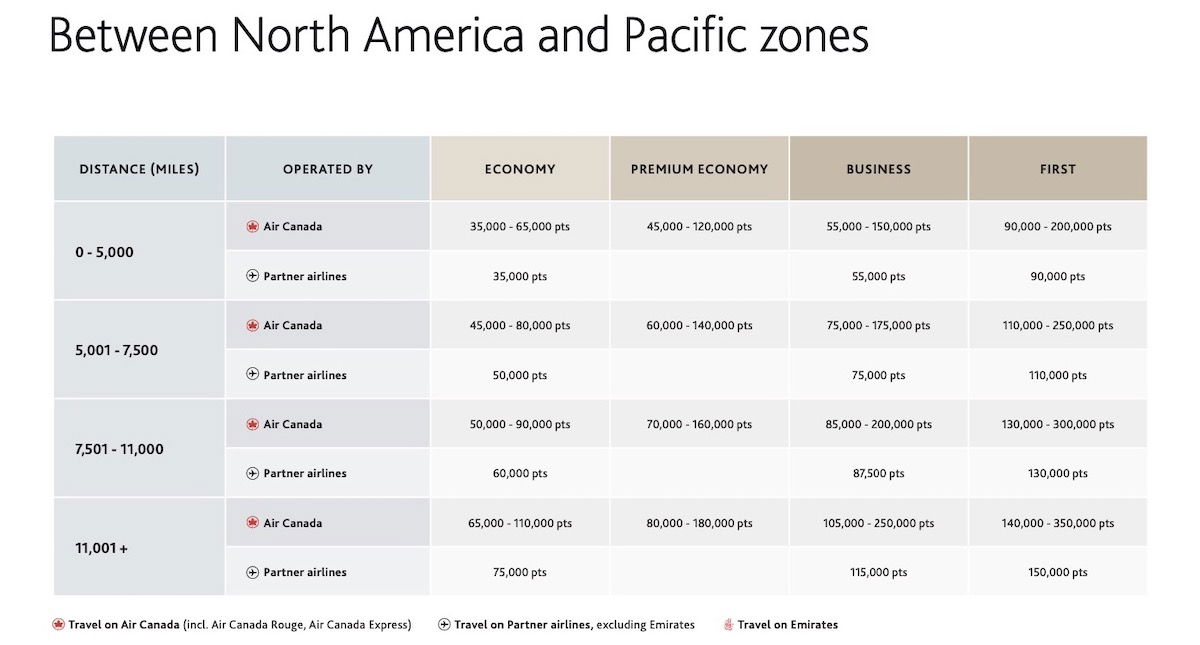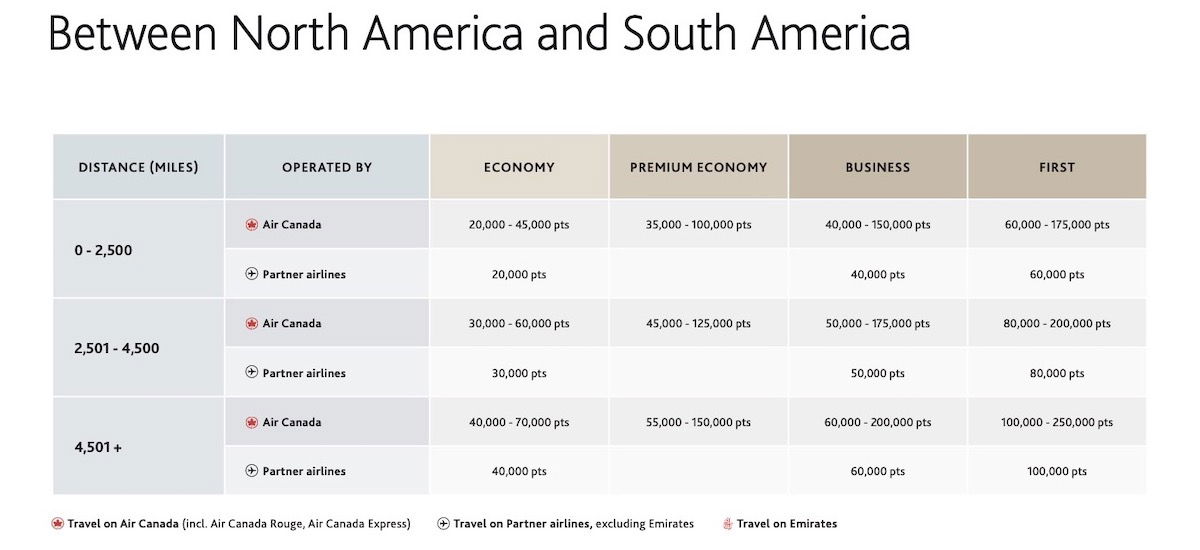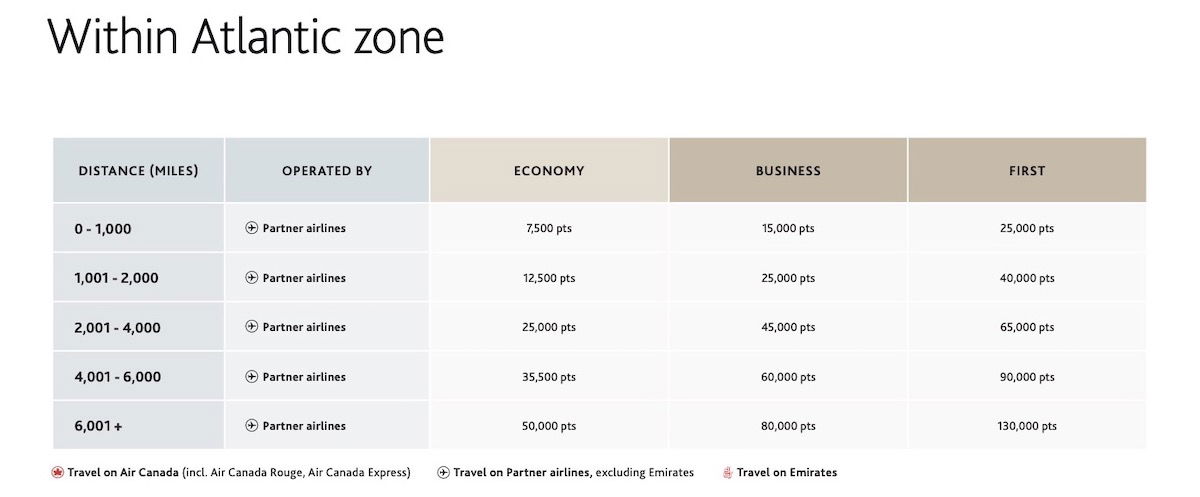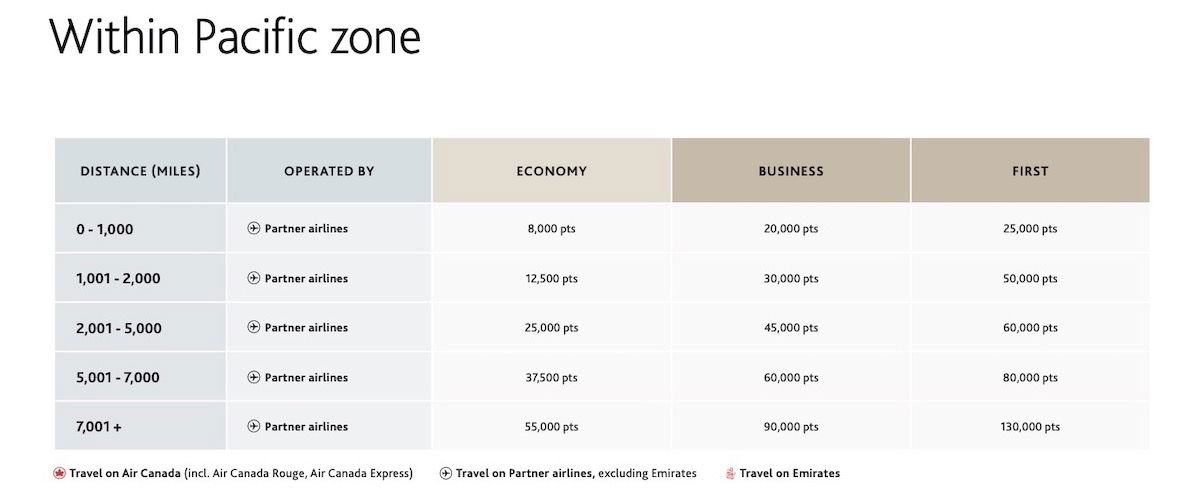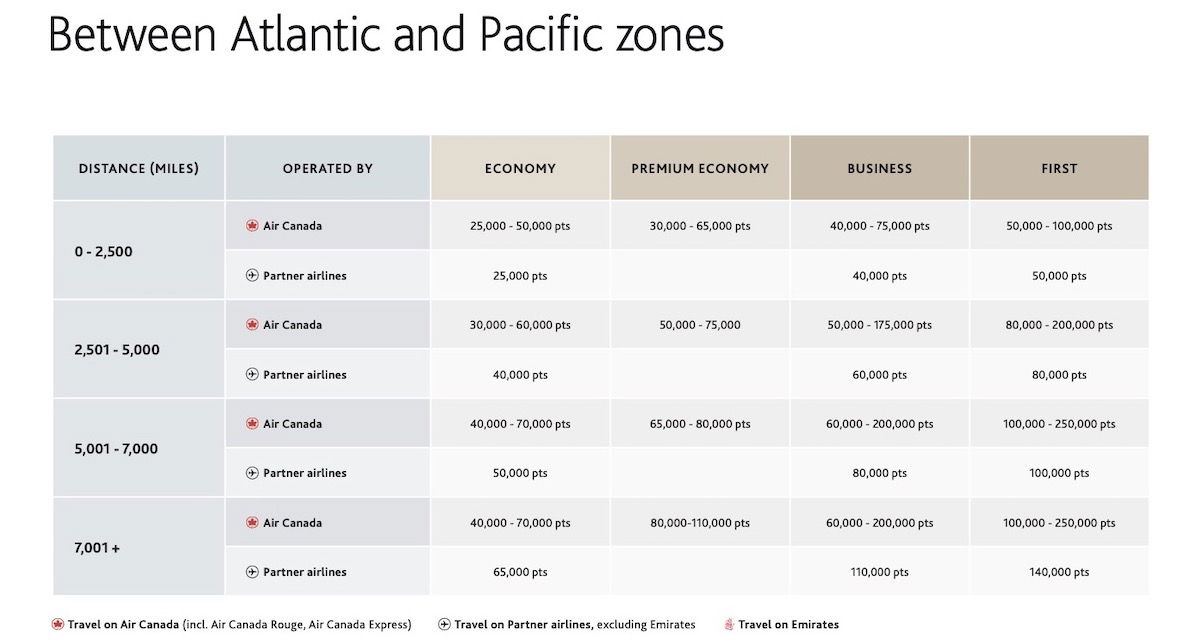 All Aeroplan partners have the same award pricing, except one partner — Emirates. Emirates was recently added as an Aeroplan partner, and the airline has a completely separate award chart with variable pricing.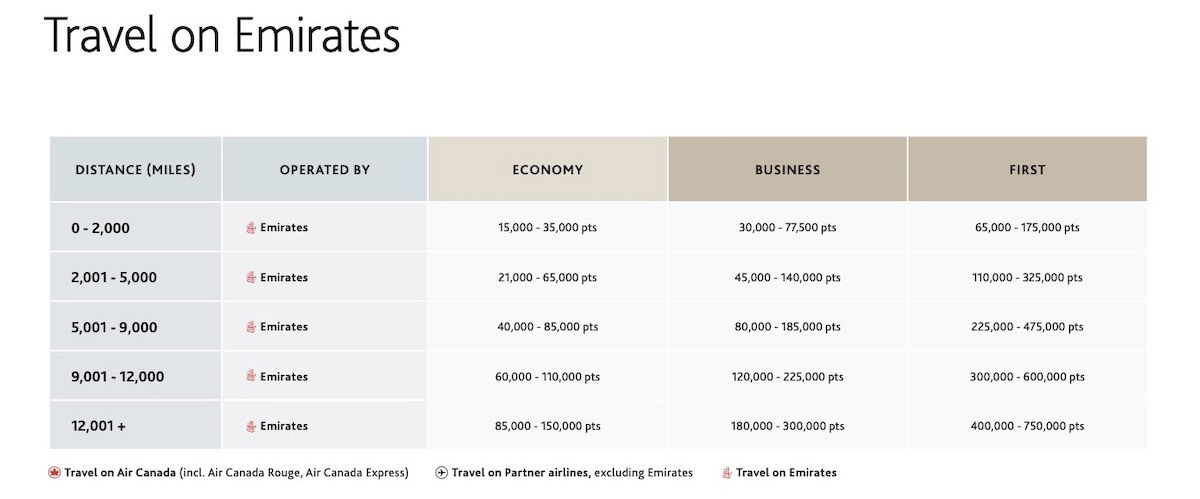 While you can mix and match Emirates awards with travel on other partners, it would follow the higher award chart pricing.
The basics of redeeming Aeroplan points
With the details of Aeroplan's award pricing out of the way, let's talk a bit about the logistics of actually redeeming Aeroplan points. What are the fees like, are there fuel surcharges, what are the routing rules, how do stopovers work, how do you actually book, etc.?
Aeroplan has an amazing array of airline partners
The single greatest thing about the Aeroplan program is just how many airline partners Aeroplan has. Aeroplan has over 45 partners. Not only does Air Canada belong to the Star Alliance, but Aeroplan has all kinds of other airline partnerships, with carriers ranging from Air Mauritius, to Bamboo Airways, to Etihad Airways, to Gulf Air, to Oman Air, etc.
The possibilities are endless, and I can't emphasize enough how valuable this is. Nowadays it seems like we're seeing many airlines reducing their number of partnerships, so it's incredible to see the flexibility you have with Aeroplan points.
See this post for full details on all Aeroplan airline partners.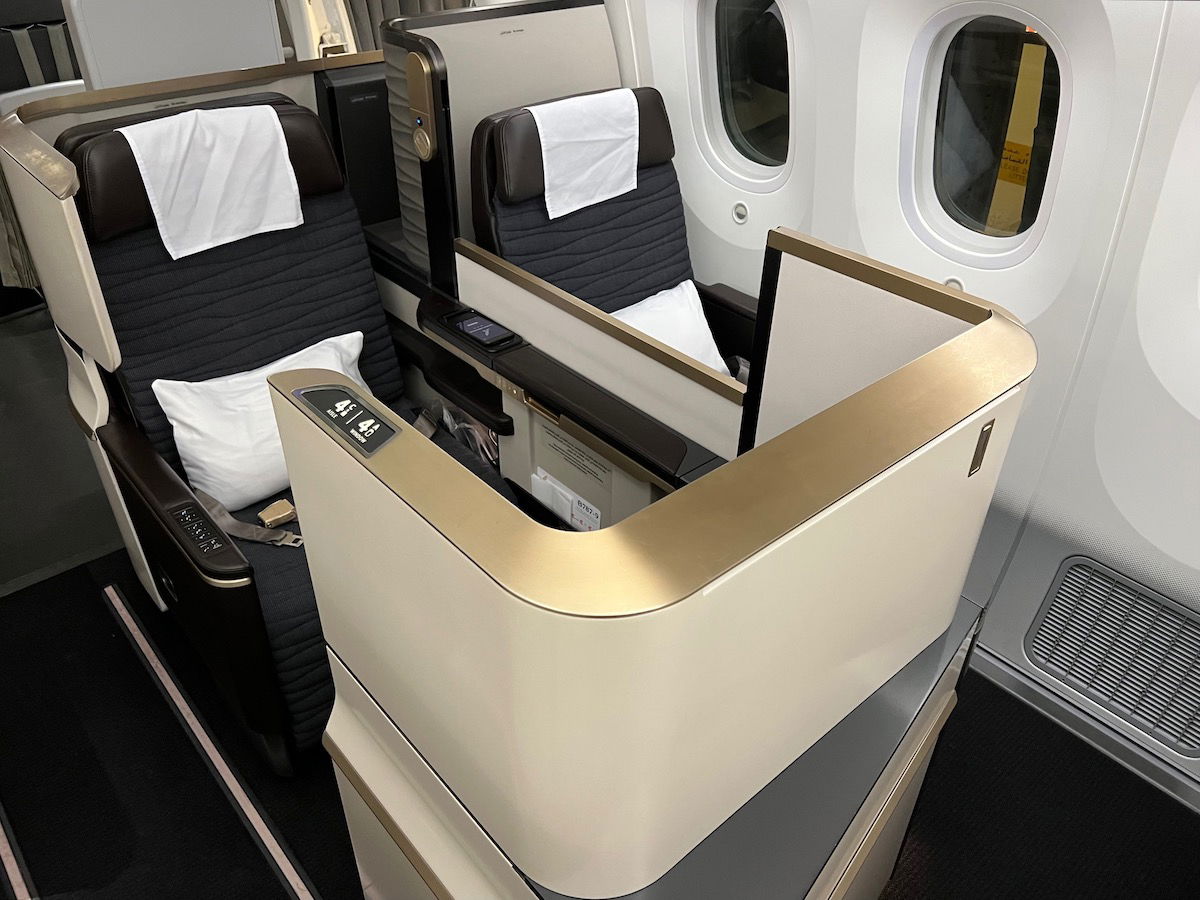 Aeroplan allows stopovers for 5,000 points one-way
Nowadays there aren't many frequent flyer programs that allow stopovers, so that's another special aspect of Aeroplan. Aeroplan will let you add a stopover on a one-way award for just 5,000 additional points. You can include a stopover with each one-way award.
Stopovers are not available on awards for travel wholly within North America. Stopovers can even be booked directly on aircanada.com, making the ticketing process seamless.
The value of this is simply massive, especially since you can have a stopover in a different zone altogether. Traveling from the United States to Mauritius? You could have a stopover in Europe. Traveling from the United States to Australia? You could have a stopover in Asia.
Note that if you're connecting on a long haul award within less than 24 hours, you can do that without it counting as a stopover. So you can add as many ~23 hour stopovers along the way as you'd like.
See this post for full details on the Aeroplan stopover policy.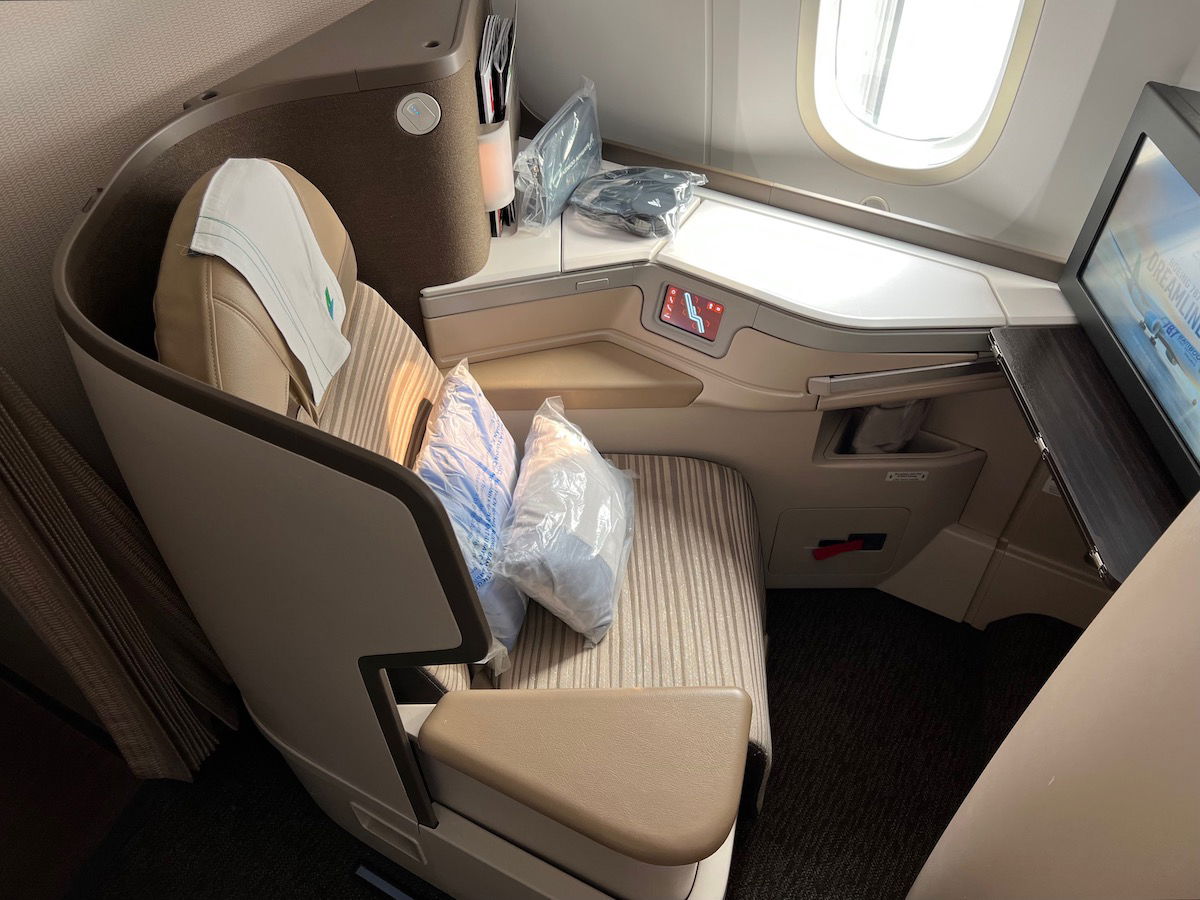 Aeroplan has very generous routing rules
Aeroplan probably has the most generous routing rules of any frequent flyer program. While most programs are pretty strict in terms of the routings you can take and how much you can exceed the direct distance, Aeroplan really lets you push it to the extreme.
As a general rule of thumb, you should have no issue exceeding the direct distance between two cities on a long haul award by 50%, and you may be able to fly even more than that. For example, I booked an award from Chicago to Hanoi via Vienna, Rome, Bahrain, Singapore, and Ho Chi Minh City.
Now, admittedly on some level you pay for a circuitous routing due to the distance based award chart. But still, the value is potentially huge.
Aeroplan doesn't explicitly publish how far you can push routing rules, and the added challenge is that most complicated itineraries would need to be booked via the call center. So there is some trial and error here, but you'll probably be delighted by what's possible.
US to Asia via Europe? That shouldn't be an issue at all. US to Australia via Asia? That also shouldn't be an issue. Now, there are some limits. For example, it's unlikely you'd be able to travel from the US to Europa via Asia, for example.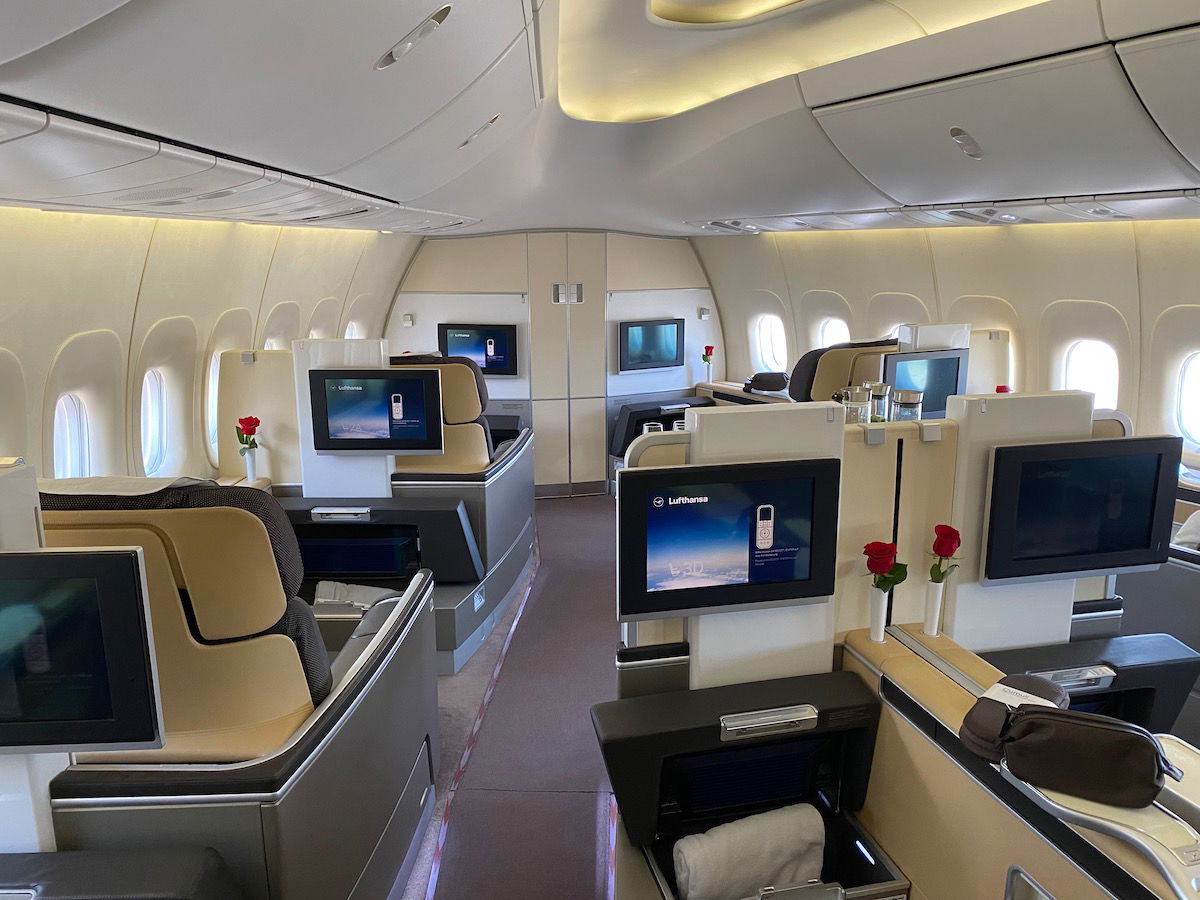 Aeroplan allows six segments per one-way
When redeeming Aeroplan points, you can book up to six segments on a one-way award. Admittedly most people probably wouldn't want to fly six segments one-way, but that is the limit. That's what I managed to do with a recent award, as I flew from Chicago to Hanoi via Vienna, Rome, Bahrain, Singapore, and Ho Chi Minh City.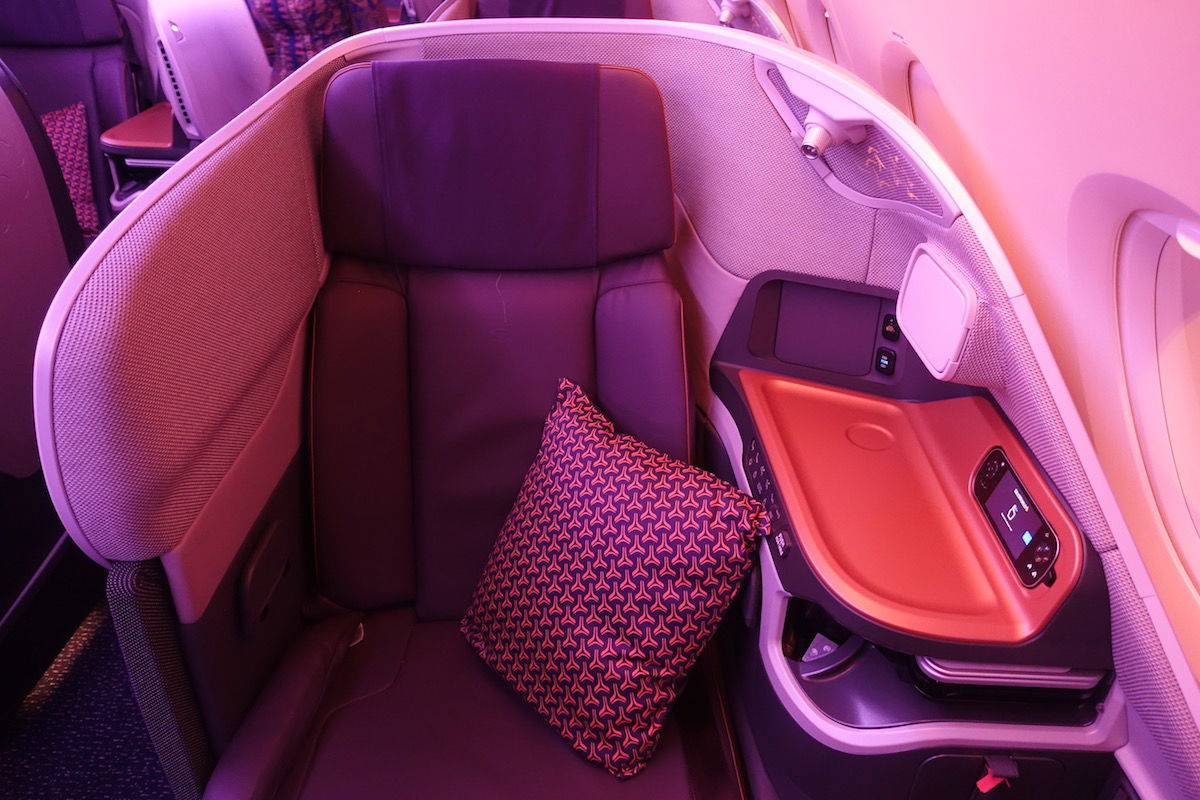 Aeroplan has no fuel surcharges
One fantastic thing about Aeroplan is that the program doesn't have carrier imposed surcharges (often referred to as fuel surcharges) for travel on any partner airline. That's hugely valuable, given how expensive these can be through other programs.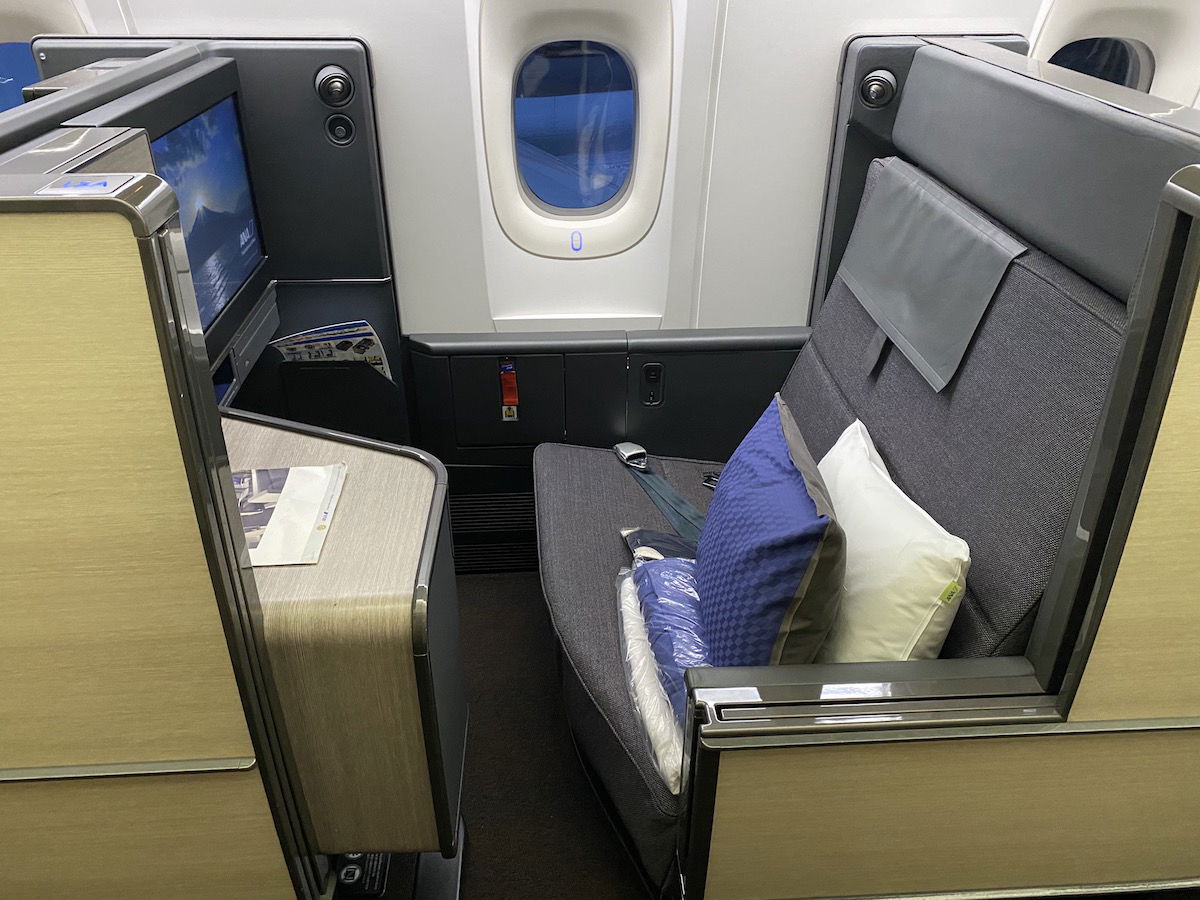 Aeroplan booking, change, & cancelation fees
What kind of fees can you expect to pay with Aeroplan? To start, there are potentially some ticketing fees, as follows:
There's a 39 CAD partner booking fee, which applies to each partner award ticket booked, regardless of whether it's done online or by phone
There's a 30 CAD phone ticketing fee, for reservations ticketed by phone rather than through aircanada.com
On top of that, there are fees if you need to change or cancel an Aeroplan award. As a general rule of thumb, you can expect that a ticket change on a standard award will cost you 100 CAD, while a ticket redeposit on a standard award will cost you 150 CAD.
Fees are potentially lower if you're booking a higher priced award, and you can also expect to pay more to refund a ticket through the call center (though there's no reason to do that, since you can easily redeposit awards on aircanada.com). Also note that fees are per direction of travel, so you'll pay even more if you're traveling roundtrip on one itinerary.

Personally I'd consider change and redeposit fees to be the single biggest weak point of the Aeroplan program. Several other popular frequent flyer programs have eliminated these fees, so you'll want to avoid speculative bookings.
Aeroplan lets you buy points at time of booking
One potentially useful feature of Aeroplan is that you can buy points at an attractive cost at the time that you're ticketing an award. Let's use a Lufthansa first class award from San Francisco to Frankfurt as an example, which costs 100,000 points.

When you go to ticket your award, you'll see a few different options:
The standard is that you can redeem 100,000 Aeroplan points and pay 72.90 CAD (54.43 USD) in taxes & fees
If you don't want to pay any cash, you could redeem an extra 7,290 Aeroplan points to avoid paying those fees; I wouldn't do this, since you're only getting 0.01 CAD of value per Aeroplan point
You can potentially reduce the number of points you have to redeem by 20% or 40% by paying extra cash; for example, you could reduce your points requirements by 40,000 by paying an extra 767.90 CAD (~573 USD), which is essentially a way to buy Aeroplan points for ~1.43 cents each (in USD)

This could potentially be a great deal, so it's definitely something to be aware of.
Aeroplan award booking process
In general you'll want to do what you can to search and ticket your Aeroplan awards directly on aircanada.com:
You can search award availability on the home page by clicking the "Book with points" button
All Aeroplan airline partners show availability through aircanada.com, and I find that Aeroplan has among the fewest issues of phantom award availability
You can even book a stopover directly through aircanada.com; once you initiate a search, just click the "Multi-city/Stopover" button, and then you can select your origin and destination, stopover city, and how long of a stopover you want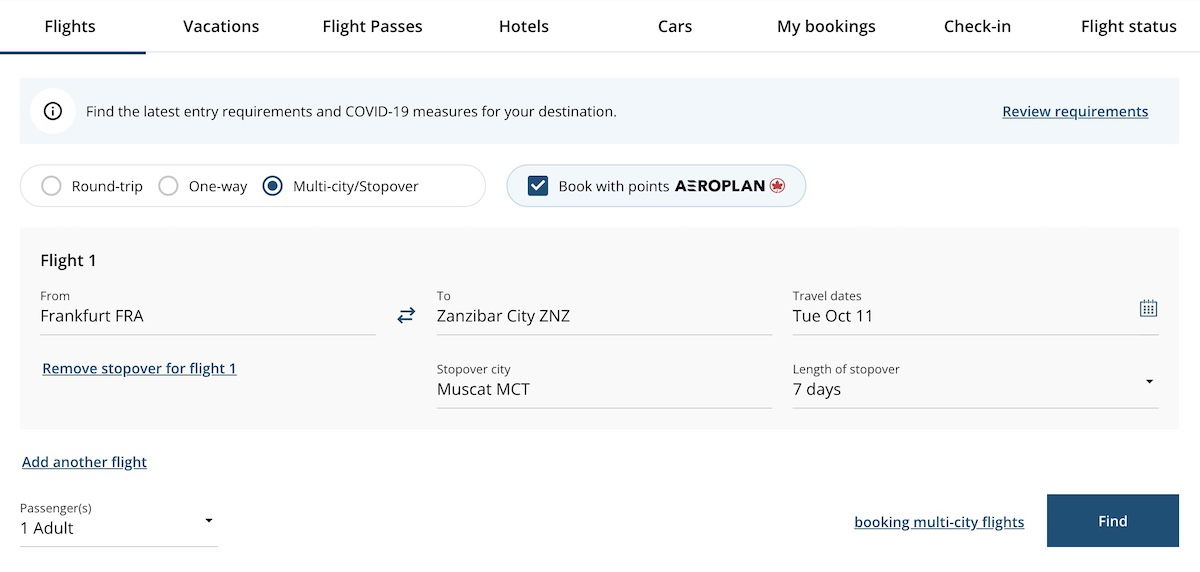 Complicated itineraries will generally have to be booked via the call center. Aeroplan often has long hold times, though I find that calling at opening time helps with minimizing how long you have to wait. You can reach Aeroplan at 800-361-5373.
How to book amazing Aeroplan itineraries
All of the above probably sounds great, though how do you actually go about finding amazing deals? For example, I recently published my trip report introduction about an adventure I booked with Aeroplan. To start, let me recap what I booked.
My outbound journey covered a total of 12,948 miles across six segments. I booked the following in business class for 115,000 Air Canada Aeroplan points plus $112.82 in taxes & fees:
1/05 OS66 Chicago to Vienna departing 4:20PM arriving 8:20AM (+1 day)
1/07 OS501 Vienna to Rome departing 7:55AM arriving 9:30AM
1/07 GF26 Rome to Bahrain departing 11:10AM arriving 6:35PM
1/07 GF165 Bahrain to Singapore departing 11:50PM arriving 12:25PM (+1 day)
1/08 SQ186 Singapore to Ho Chi Minh City departing 5:30PM arriving 6:40PM
1/08 QH256 Ho Chi Minh City to Hanoi departing 10:10PM arriving 12:20AM (+1 day)
My return journey covered a total of 10,608 miles across three segments. I booked the following in business class for 87,500 Aeroplan points plus $150.11 in taxes & fees:
1/09 QH73 Hanoi to Frankfurt departing 9:40AM arriving 5:15PM
1/10 AC841 Frankfurt to Toronto departing 9:45AM arriving 12:30PM
1/10 AC1204 Toronto to Miami departing 6:30PM arriving 9:40PM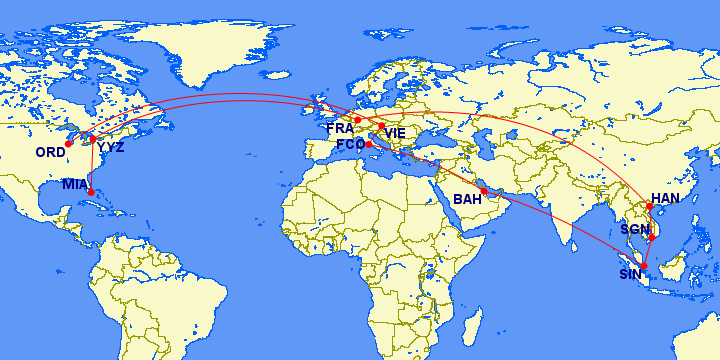 How did I go about booking that? While I've written in the past about how to go about finding good Aeroplan deals, let me explain in a bit more detail, because as you might expect, aircanada.com didn't recommend the outbound itinerary I chose. 😉
How to find Aeroplan award availability
Let me share the step-by-step of how I went about finding the above routing. Finding a truly great redemption takes a lot of effort and a significant amount of patience. While I'd like to think I'm pretty good at this, I put a significant amount of time into planning this, so don't expect you'll be able to put something like this together in five minutes.
Maybe you're used to going to aircanada.com and seeing awards for travel on Air Canada that are priced at 300K+ points one-way? That's totally normal, but that's not how I like to redeem my Aeroplan points.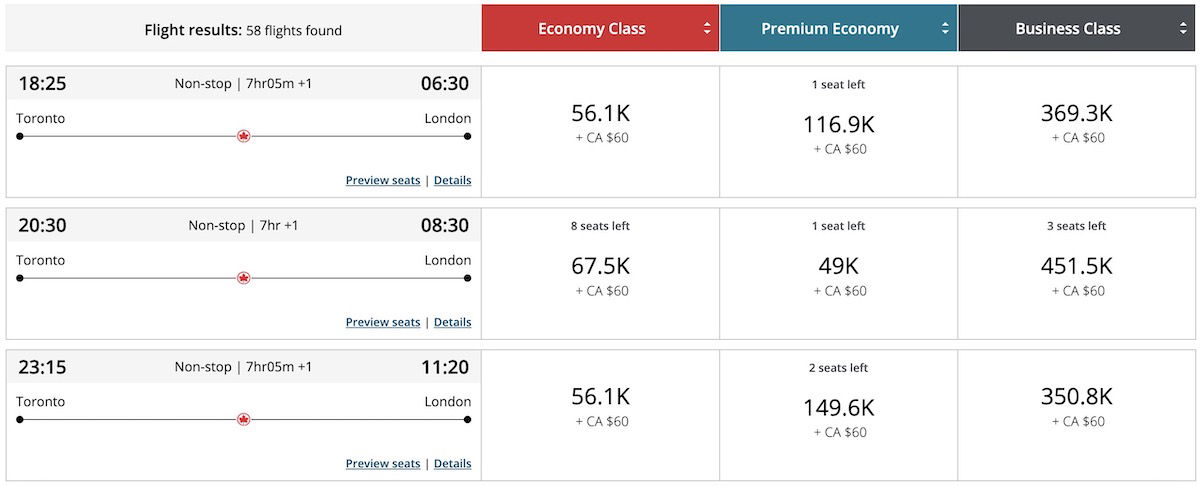 Let me emphasize that I took this trip specifically to be able to review as many new airlines as possible, so my itinerary choices were motivated largely by airline products I wanted to try. Furthermore, to the average person, taking a six segment one-way routing probably sounds like hell, rather than something fun. I feel like that disclaimer is necessary.
Anyway, let's start with the return. Amazingly enough, Air Canada's website showed an itinerary from Hanoi to Miami via Frankfurt and Toronto. That included travel on Bamboo Airways and Air Canada. Per Aeroplan's award chart, a one-way award between the Pacific and North America that covers a distance of 7,501-11,000 miles costs 87,500 points in business class.
What a great value, and there wasn't even any effort required to book, since it could be done directly online.

The return itinerary seemed way too simple for me, so I decided to see how extreme I could go with the outbound. 😉 With Aeroplan's distance based award chart, I'm always looking at the different distance thresholds, since obviously I want to maximize that.
In this case I was aiming to fly 11,001+ miles, which would be the highest mileage band between North America and the Pacific, and which would cost me 115,000 Aeroplan points.
How did I find the routing that I wanted? Well, I had a few airlines I knew that I most wanted to fly, so I pieced things together. I knew that I wanted to fly via Europe, so I started by searching award availability between Europe and Asia.
I saw that Gulf Air had business class award availability from Rome to Bahrain to Singapore, on both the Airbus A321LR and Boeing 787-9, so I knew I wanted to fly that.

Now I just needed to figure out how to fly from the United States to Rome, and how to fly from Singapore to Hanoi. I ended up searching availability from major gateways in the United States (including Boston, Chicago, New York, Washington, etc.). Eventually I found an Austrian Airlines itinerary from Chicago to Rome via Vienna, which would allow me to review the Boeing 777-200ER and Airbus A320. Awesome!

Lastly, I needed to find award availability from Singapore to Hanoi. I saw that Air Canada's website was showing availability from Singapore to Ho Chi Minh City on the Boeing 787-10, and then from Ho Chi Minh City to Hanoi on the Bamboo Airways Airbus A321neo.

I know to most people that routing sounds horrifying, though to me it sounded fun. How did I actually go about booking that, though?
See this post for my top tips on redeeming airline points.
How to ticket complicated Aeroplan awards
At least as of now, Air Canada's website won't allow you to ticket itineraries that are this complicated, so you need to book via the call center. As you might expect, that's half of the adventure. After all, how do you explain to a phone agent that you'd like to fly from Chicago to Hanoi via Vienna, Rome, Bahrain, Singapore, and Ho Chi Minh City? You'd probably expect to get a response like this…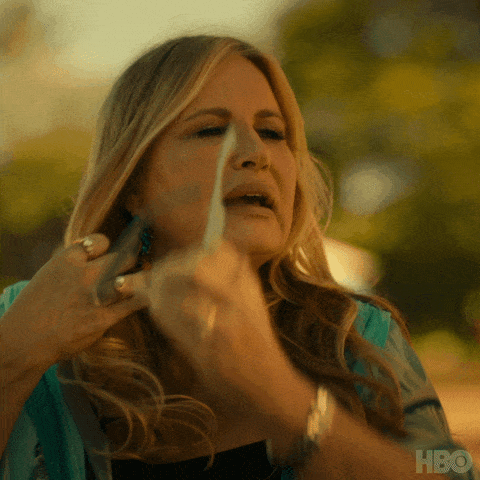 Well, if you get a good agent, it shouldn't be complicated at all, and they might not even be fazed by your peculiar preferences. Once I was on the line with an agent, it took only 14 minutes to ticket the above itinerary from start to finish. That surprised even me.
How did I go about explaining what I was looking for? The conversation went something like this:
Me: "Hi there, I'm looking to redeem Aeroplan points for a business class ticket from Chicago to Hanoi, but it's a complicated itinerary with six segments, and I wasn't able to book this on aircanada.com. Would you be able to help, please?"
Agent: "Sure, I can't guarantee it will price, but let's give it a try. What did you have in mind?"
To avoid overwhelming the agent too much, I decided to break it down in segment pairs, to match up with what Air Canada's website was showing. Furthermore, since there's sometimes married segment availability, this is usually the best option for actually finding availability. So the call continued like this:
Me: "I was looking to travel from Chicago to Rome on January 5, from Rome to Singapore on January 7, and from Singapore to Hanoi on January 8. I can give you the flight numbers, if that will help."
Agent: "Let me just pull up availability, give me a moment."
Agent: "Okay, which flights were you looking at?"
Me: "On January 5 I was looking at OS66 from Chicago to Vienna, connecting to OS501 from Vienna to Rome, on January 7."
Agent: "Yep, I got that."
Me: "Great! Then from Rome to Singapore I was looking at GF26 from Rome to Bahrain, connecting to GF165 to Singapore."
Agent: "I see that as well."
Me: "Awesome! Lastly, I was looking to fly from Singapore to Ho Chi Minh City on SQ186, connecting to QH256 to Hanoi."
Agent: "I see that as well."
Sure enough, a moment later later the agent confirmed the price. I'd note that Aeroplan agents tend to not bat an eyelid to complicated itineraries. They've been trained that circuitous routings are allowed, given the combination of the zone and distance based award chart.
Furthermore, there's no manual review here as to whether a routing is allowed or not. Rather it all comes down to what the computer prices. I was fully prepared to hear…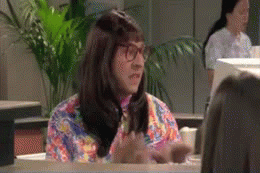 …but nope, it worked out!
Bottom line
Air Canada Aeroplan is an incredible frequent flyer program, thanks to reasonable award redemption rates, a generous stopover policy, a huge number of airline partners, and very generous routing rules. I redeem more points through Aeroplan than through any other frequent flyer program, and consistently get great value.
The key is that you have to put in some work to maximize Aeroplan points — it takes some research and time to find the good options, but when you do, they're disproportionately rewarding.
If you haven't yet booked an awesome adventure through Aeroplan, hopefully this is the encouragement you needed. Hopefully it also sheds some light on my Aeroplan booking process.
Have any OMAAT readers redeemed points through Aeroplan?