In the interest of full disclosure, OMAAT earns a referral bonus for anyone that's approved through some of the below links. These are the best publicly available offers (terms apply) that we have found for each product or service. Opinions expressed here are the author's alone, not those of the bank, credit card issuer, airline, hotel chain, or product manufacturer/service provider, and have not been reviewed, approved or otherwise endorsed by any of these entities. Please check out
our advertiser policy
for further details about our partners, and thanks for your support!
For the next portion of my whirlwind Aeroplan adventure, it was time to fly Singapore Airlines' Boeing 787-10 business class from Singapore to Ho Chi Minh City. I was looking forward to this flight, as this plane features Singapore Airlines' new(ish) regional business class product, which I hadn't yet flown.
I'm happy to report that the flight didn't disappoint. As usual, Singapore Airlines delivered in just about every way.
How I booked my Singapore Airlines business class ticket
I booked my Singapore Airlines business class ticket using points. Specifically, I redeemed 115,000 Air Canada Aeroplan points to fly from Chicago to Vienna to Rome to Bahrain to Singapore to Ho Chi Minh City to Hanoi, all in business class.
For more details on how I booked that, see my post about how to redeem Aeroplan points like a pro. Aeroplan points are easy to come by, as the program is transfer partners with Amex Membership Rewards, Capital One, and Chase Ultimate Rewards. On top of that, there's the Aeroplan® Credit Card (review) in the United States, which is phenomenal.
Specific to the Singapore Airlines portion of my trip, here's the flight I took:
1/08 SQ186 Singapore to Ho Chi Minh City departing 5:30PM arriving 6:40PM
Singapore Airlines business class lounge & boarding
In the previous installment I reviewed the Singapore Airlines SilverKris Business Class Lounge in Terminal 3, where I spent most of my layover. My flight was departing from gate F58 in Terminal 2, with boarding scheduled for 5PM, 30 minutes ahead of the 5:30PM scheduled departure.
Terminal 3 and Terminal 2 are connected via an easy people mover. I couldn't help but chuckle at some of the coronavirus messaging on the tram, like this tagline — "let us be gracious and keep Changi spacious." Lol…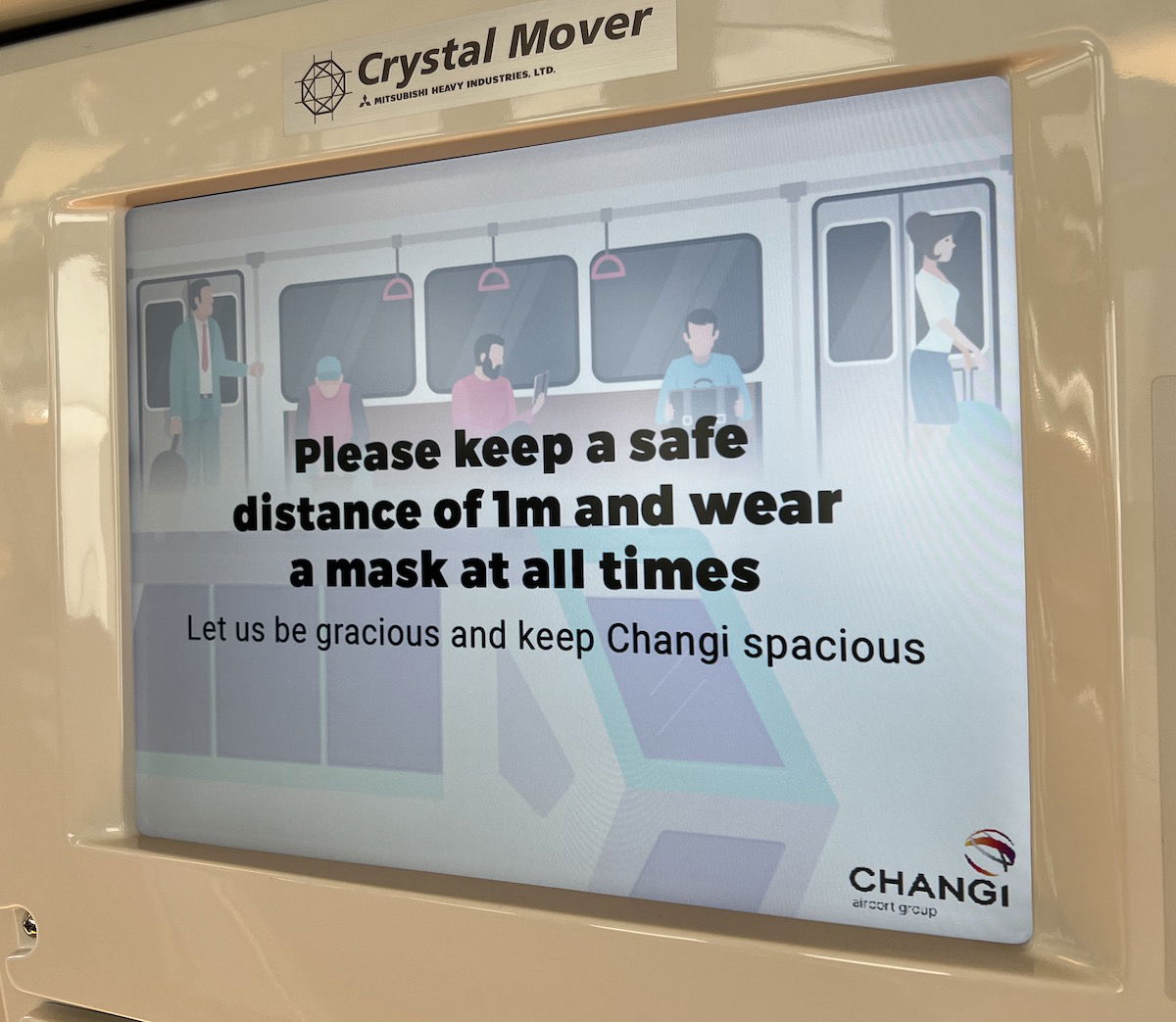 As is standard at Changi (well, except at Terminal 4), security is at each individual gate. I headed over to the gate pretty early, and security opened at 4:20PM, 40 minutes ahead of the scheduled boarding time, and 70 minutes ahead of departure.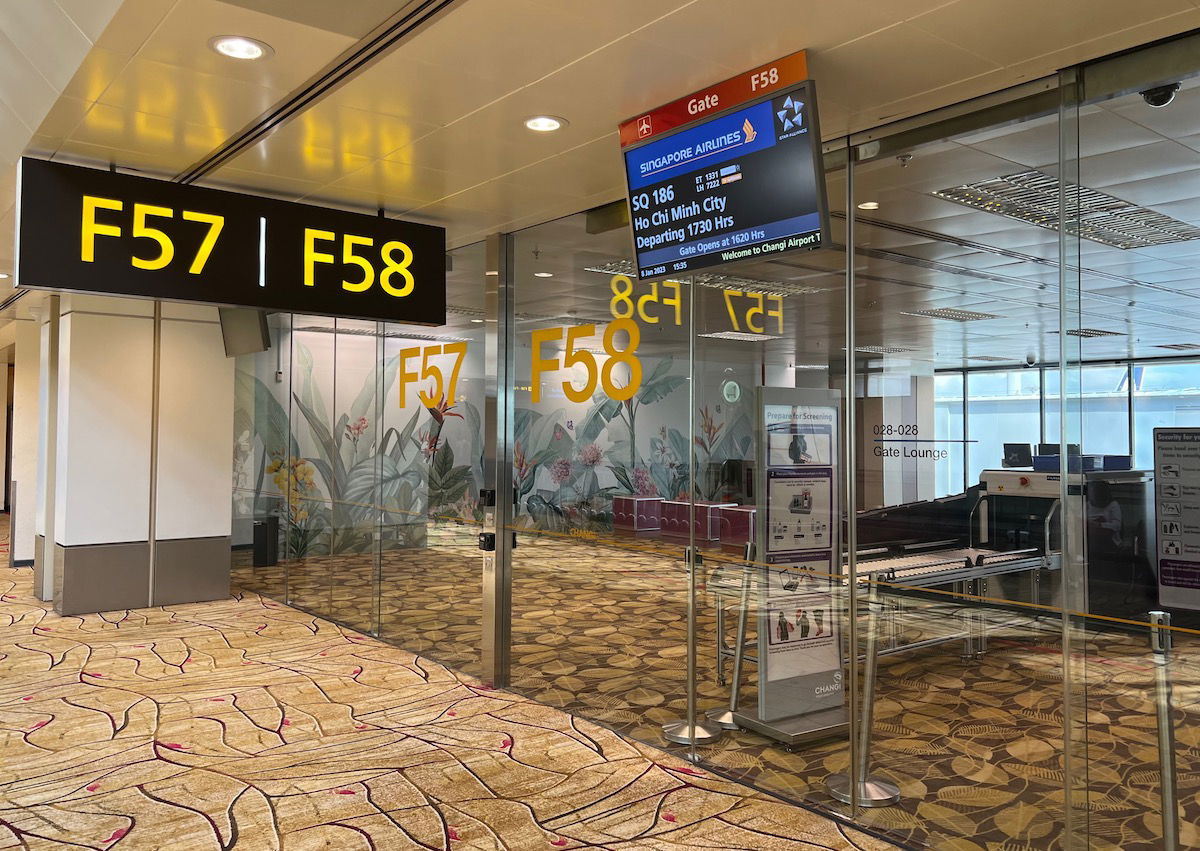 Once you go through security, your boarding pass is already scanned, so you're basically considered to be onboard for all practical purposes, and don't need to show your passport anymore.
I was excited to feast my eyes on the Boeing 787-10 that would be flying us to Ho Chi Minh City. What a beauty! I was flying on 9V-SCB, one of Singapore Airlines' oldest 787s, at nearly five years.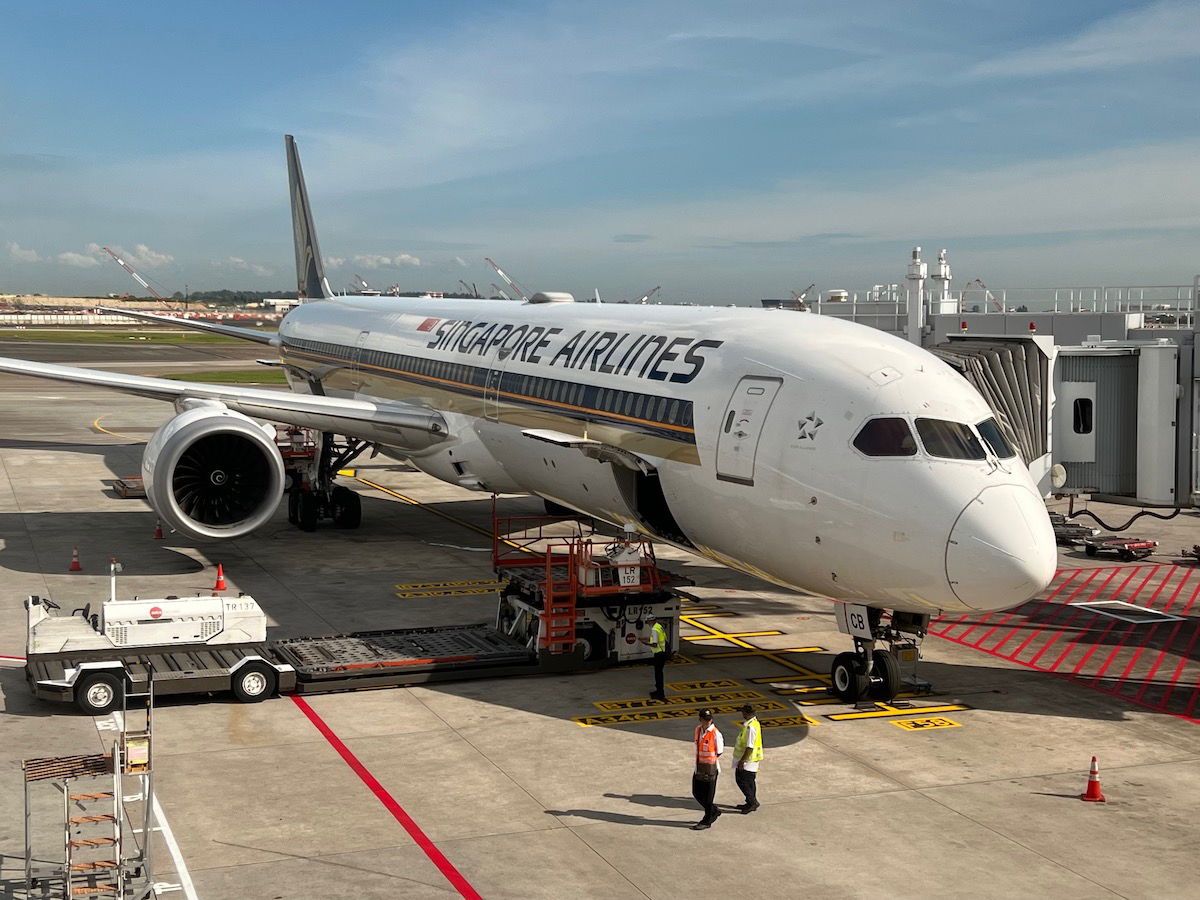 Boarding started at exactly 5PM, with business class being invited to board first. Vietnam still has a mask mandate for flights, so everyone was required to put on their mask as they boarded.
Singapore Airlines 787-10 business class cabin & seats
Ah, there's something so pleasant about boarding a Singapore Airlines flight. I boarded through the forward door, where I was greeted by one of the flight attendants, asked for my boarding pass, addressed by name, and then brought to my seat.
Singapore Airlines operates its Boeing 787s as regional aircraft, so they have a different business class product than you'll find on long haul routes. Specifically, the Boeing 787-10s (and select Airbus A350-900s) have the Stelia Aerospace Symphony business class seat. This is an upgraded version of the Stelia Aerospace Opal business class seat, which you'll otherwise find on airlines like Air Senegal, Aircalin, Turkish Airlines, Vistara, and Uganda Airlines. The seat is a bit wider and bigger.
Singapore Airlines' 787s have a total of 36 business class seats, spread across nine rows in a 1-2-1 configuration.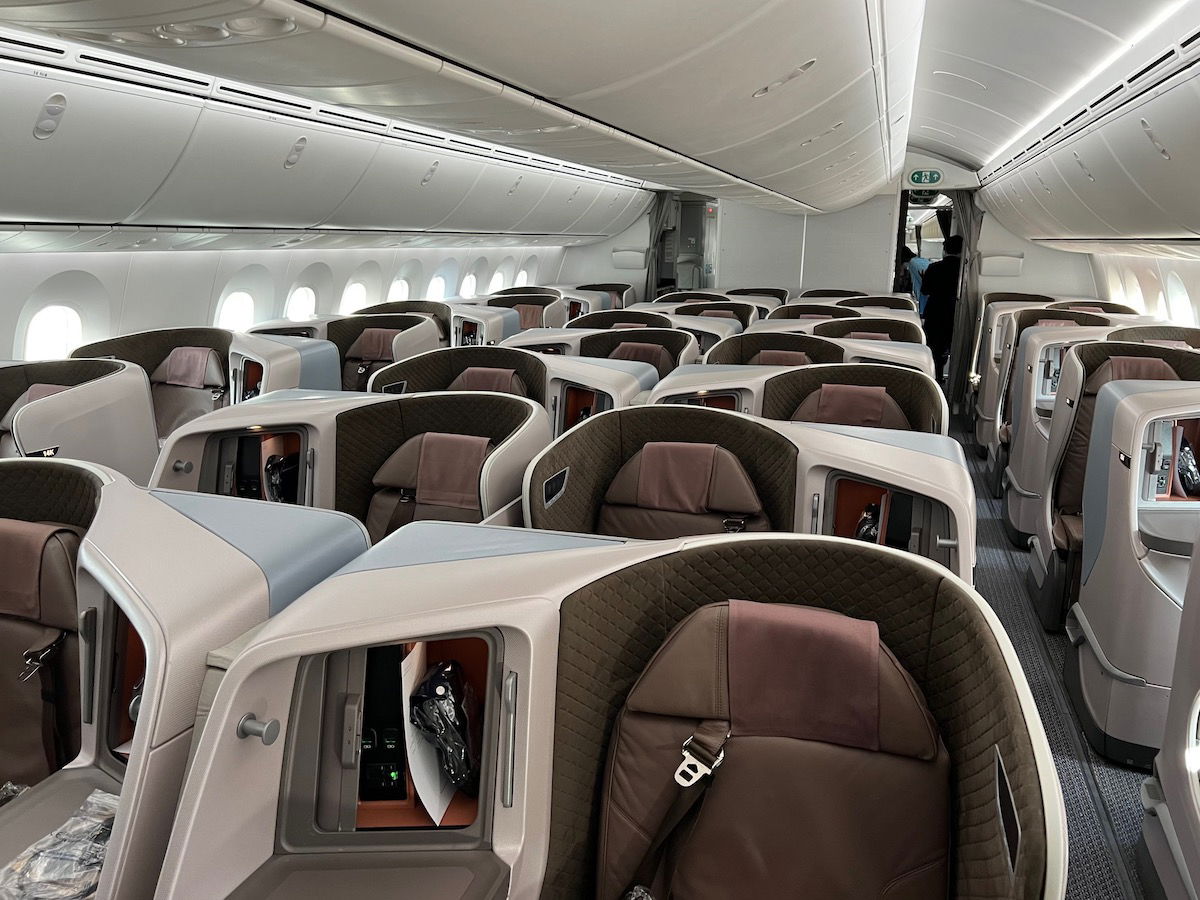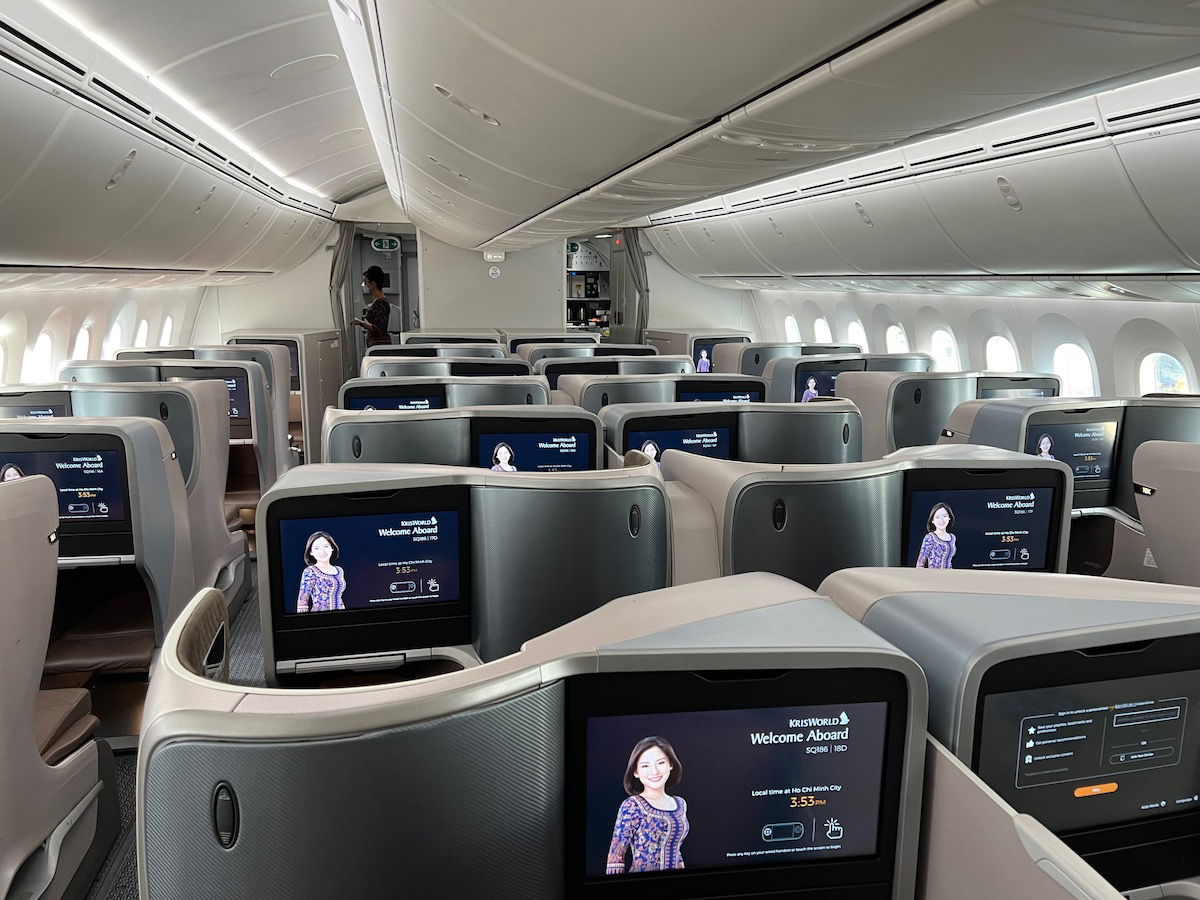 This is a staggered business class product, meaning that the layout varies in every other row. That's because space is maximized by placing the footwell for seats to the side of the seats in front.
As far as the center seats go, every other row has what are commonly referred to as "honeymoon" seats, which are close to one another, and ideal if you're traveling with someone. Even if you're traveling alone you may like these, since there's a partition in the center that you can raise, and this gives you some distance from the aisle.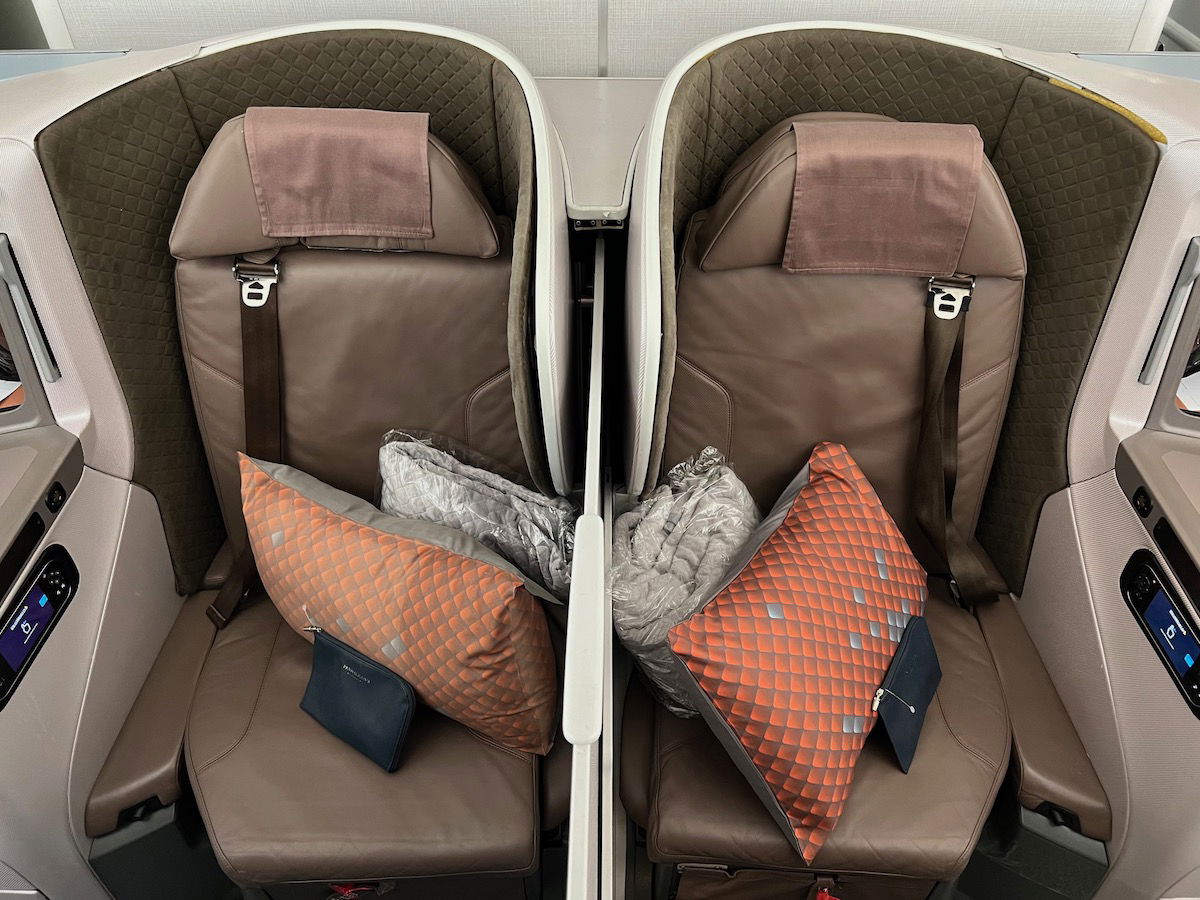 Meanwhile in the other rows, the seats in the center section are closer to the aisles.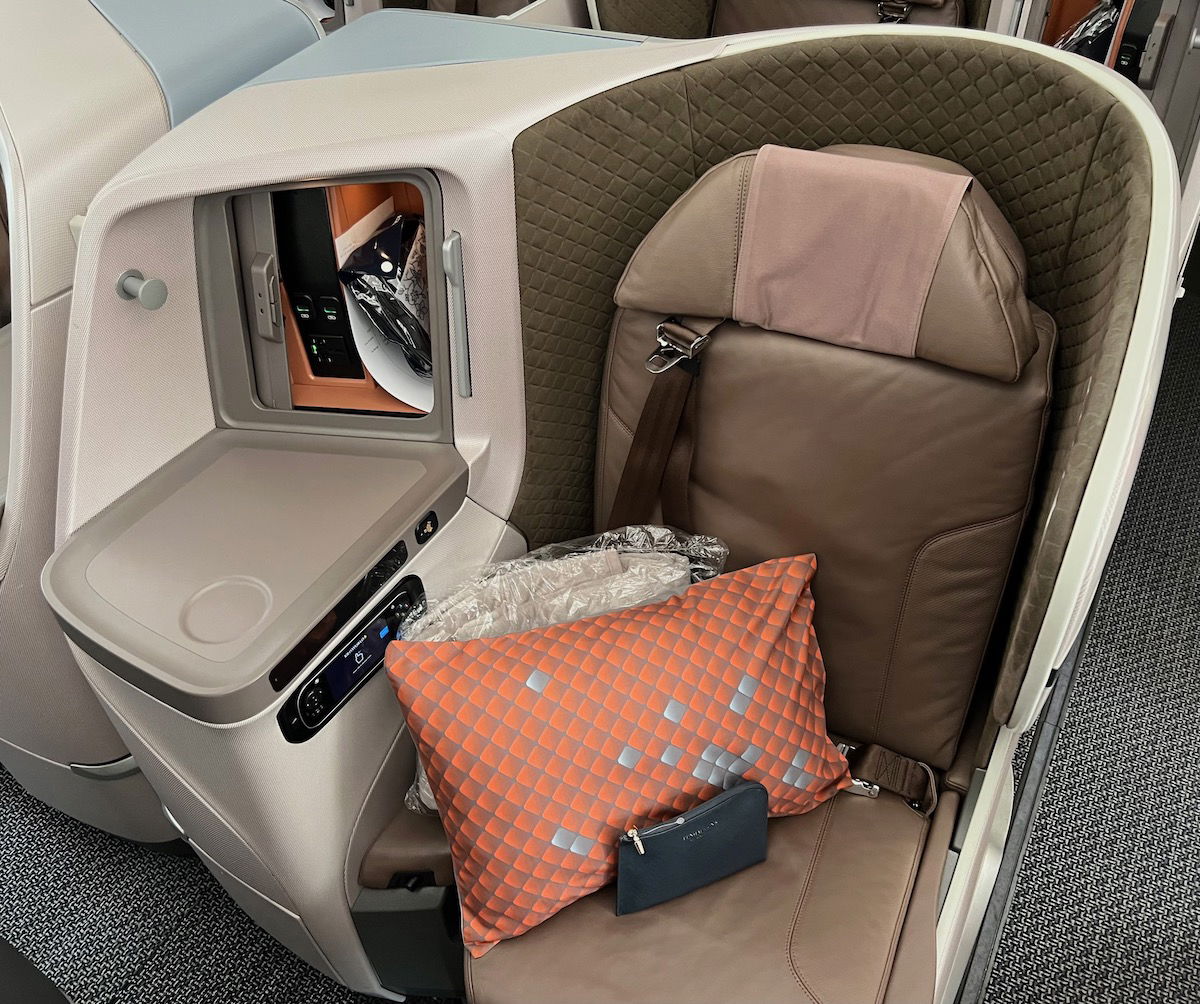 As far as the seats by the windows go, they alternate between being closer to the aisles and closer to the windows. The seats closer to the aisles don't give you much separation from the aisle (as you'd expect), though at least this product offers quite a bit of privacy, thanks to the big shield along the aisle-seat of the seat. So you won't feel overly exposed, and shouldn't be bumped into by people in the aisle.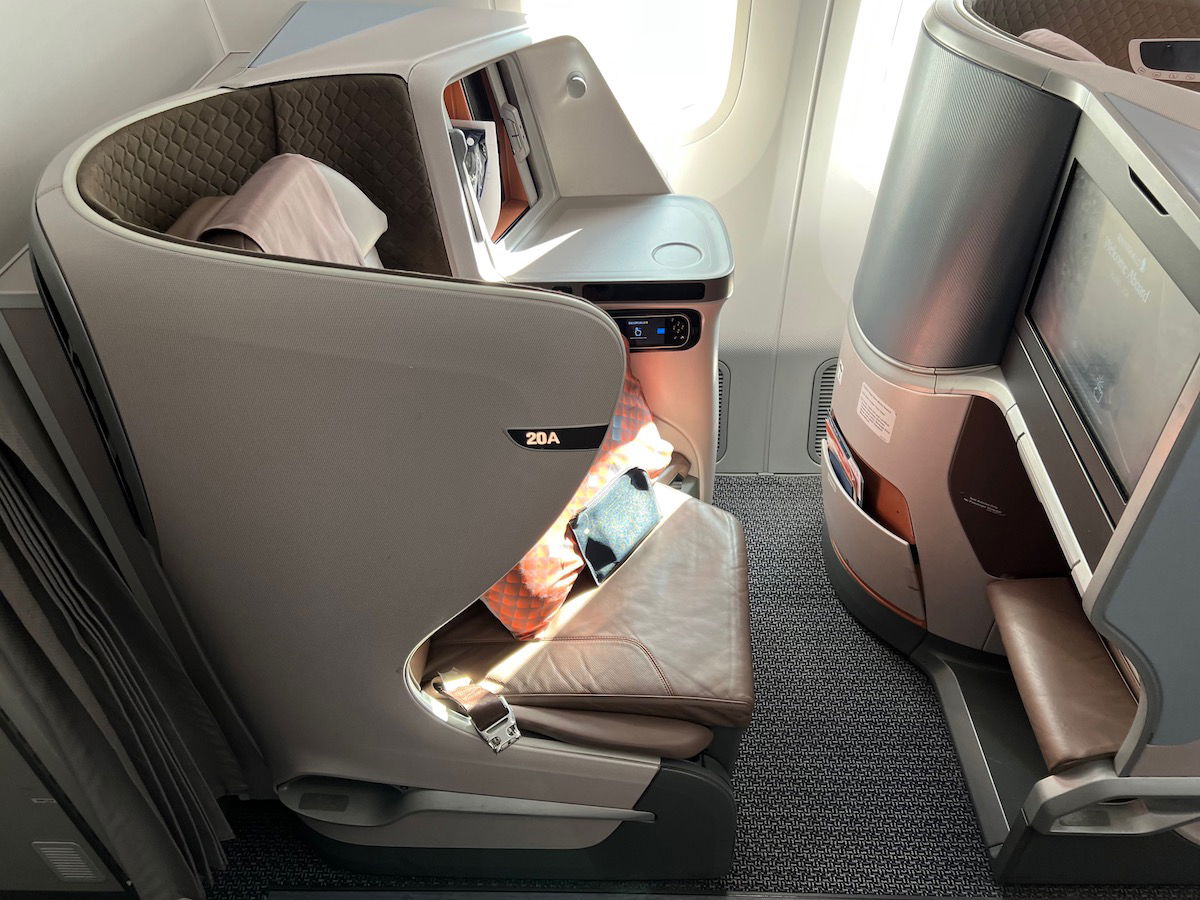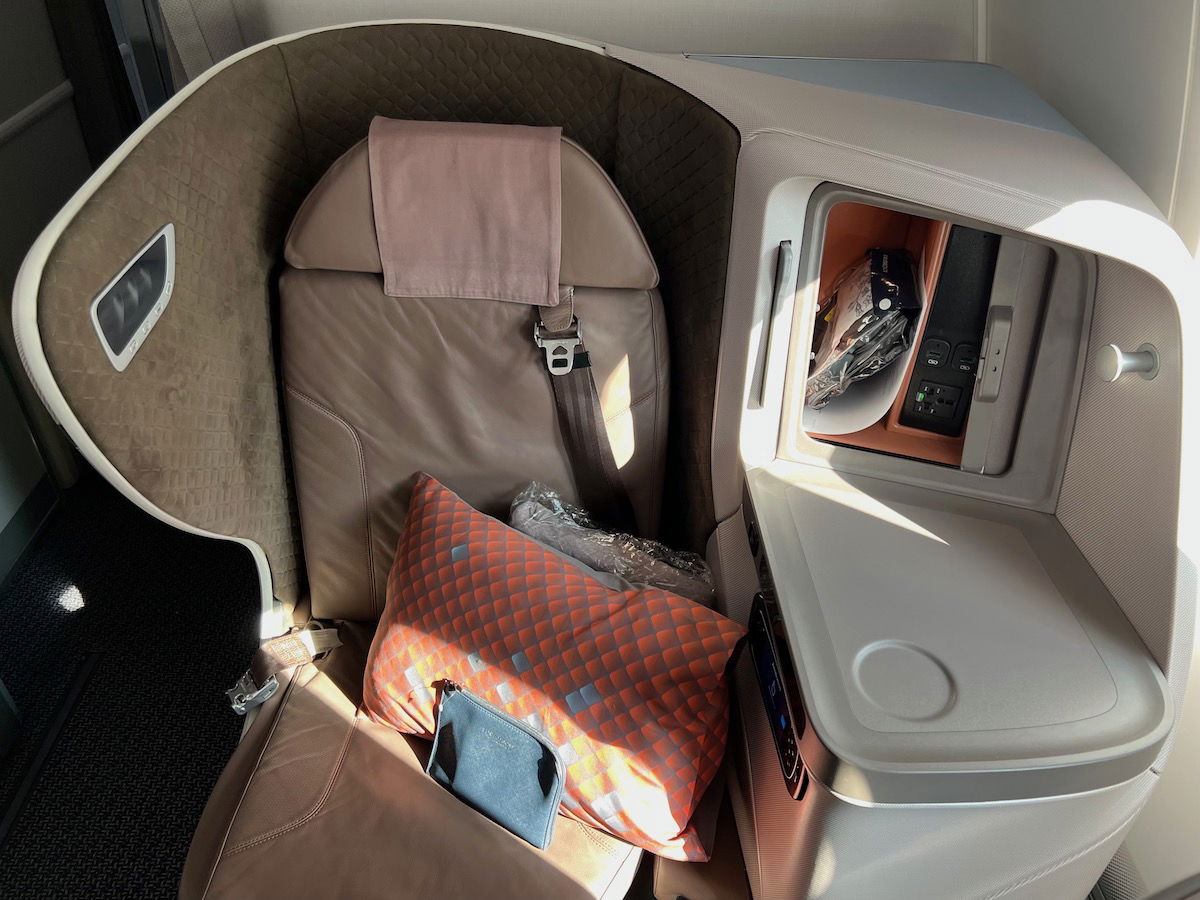 Then the best seats on the plane are the "true" window seats, which get you closer to the windows and farther from the aisles. I assigned myself seat 19A, which was the window seat on the left side in the second to last row of the cabin.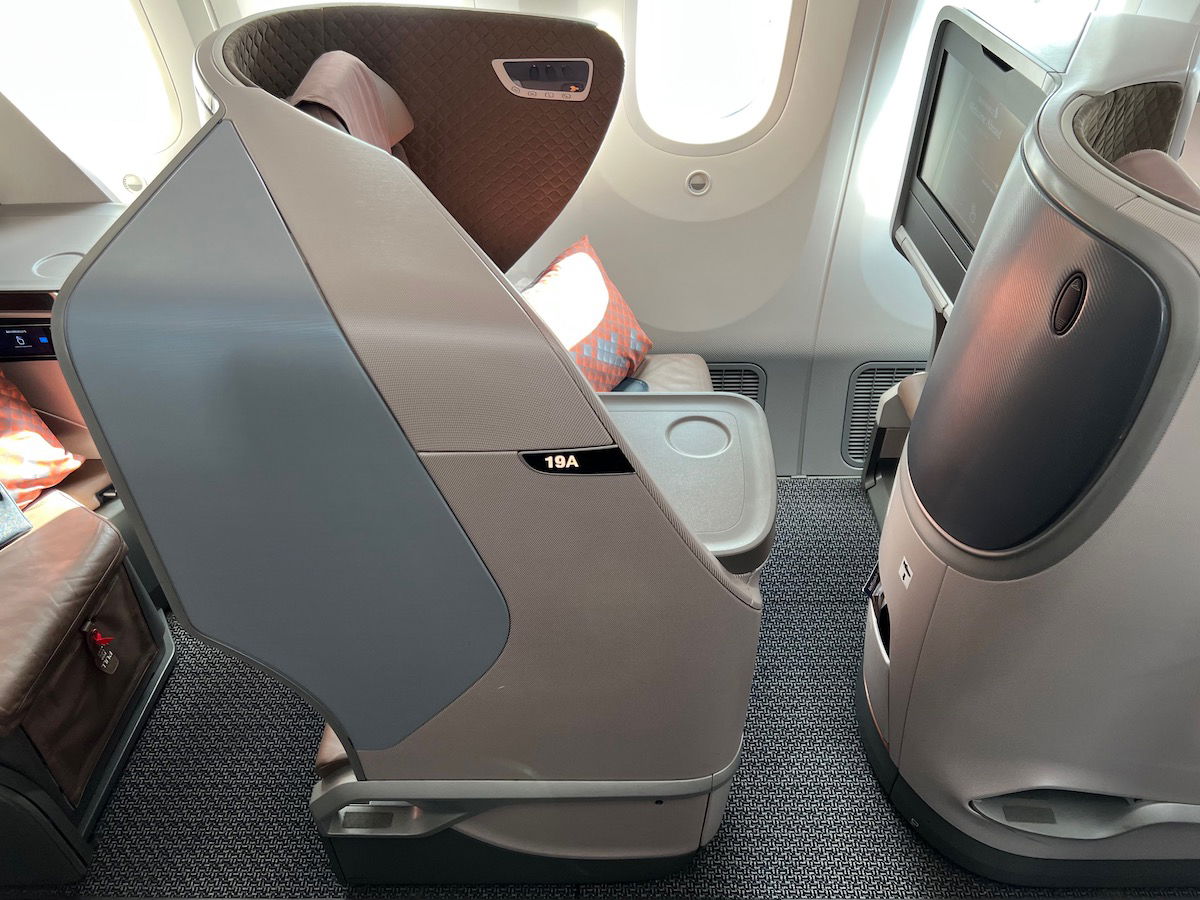 This seat not only features a ton of privacy, but really feels like a cocoon, thanks to the shield along the side of the seat. Some might find the seat to be a bit tight or claustrophobic — personally I kind of like that cozy feeling, but others don't. I do find it a bit strange how even the seats right by the windows have the privacy shield along the fuselage, which may block your view out the window, if anything.
I can appreciate that it's most efficient to just manufacture all seats in the same way, though arguably it's not only unnecessary, but counterproductive.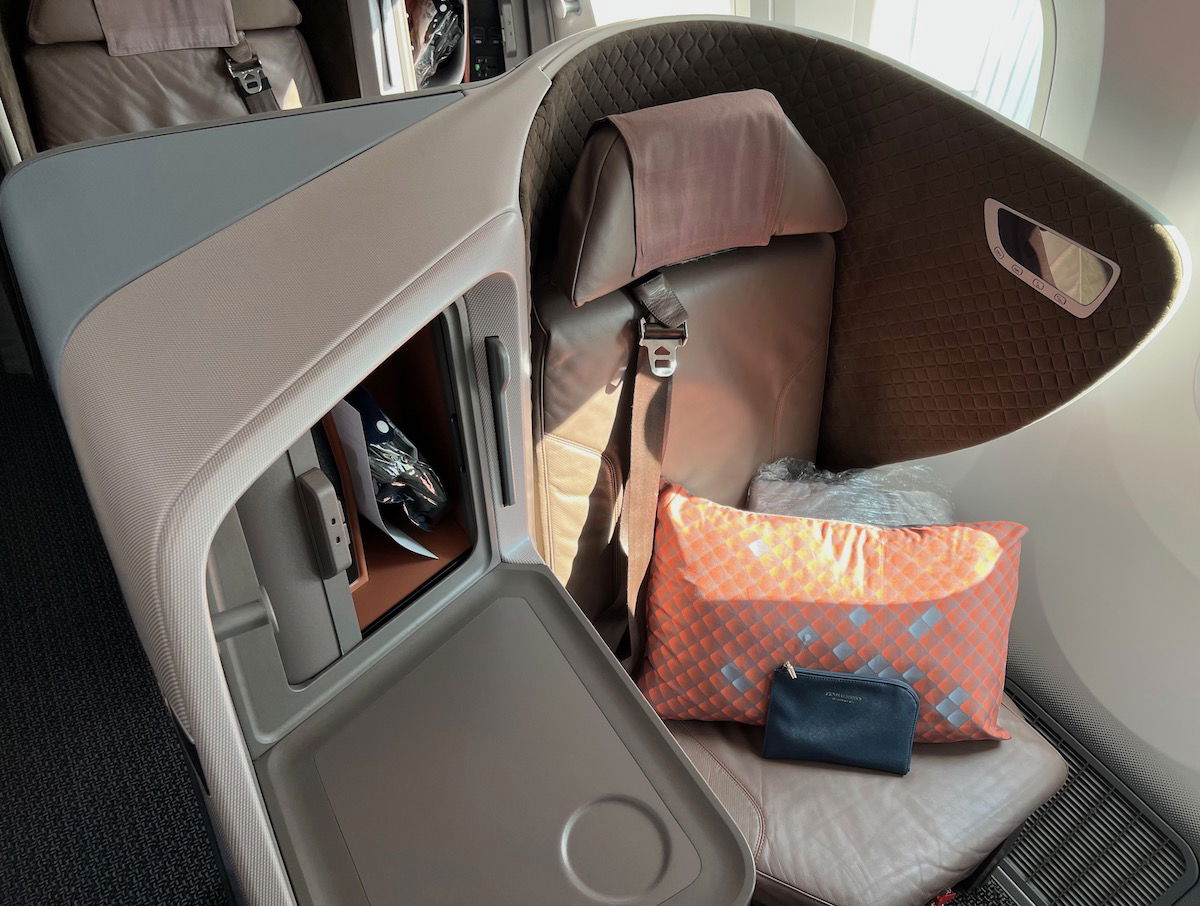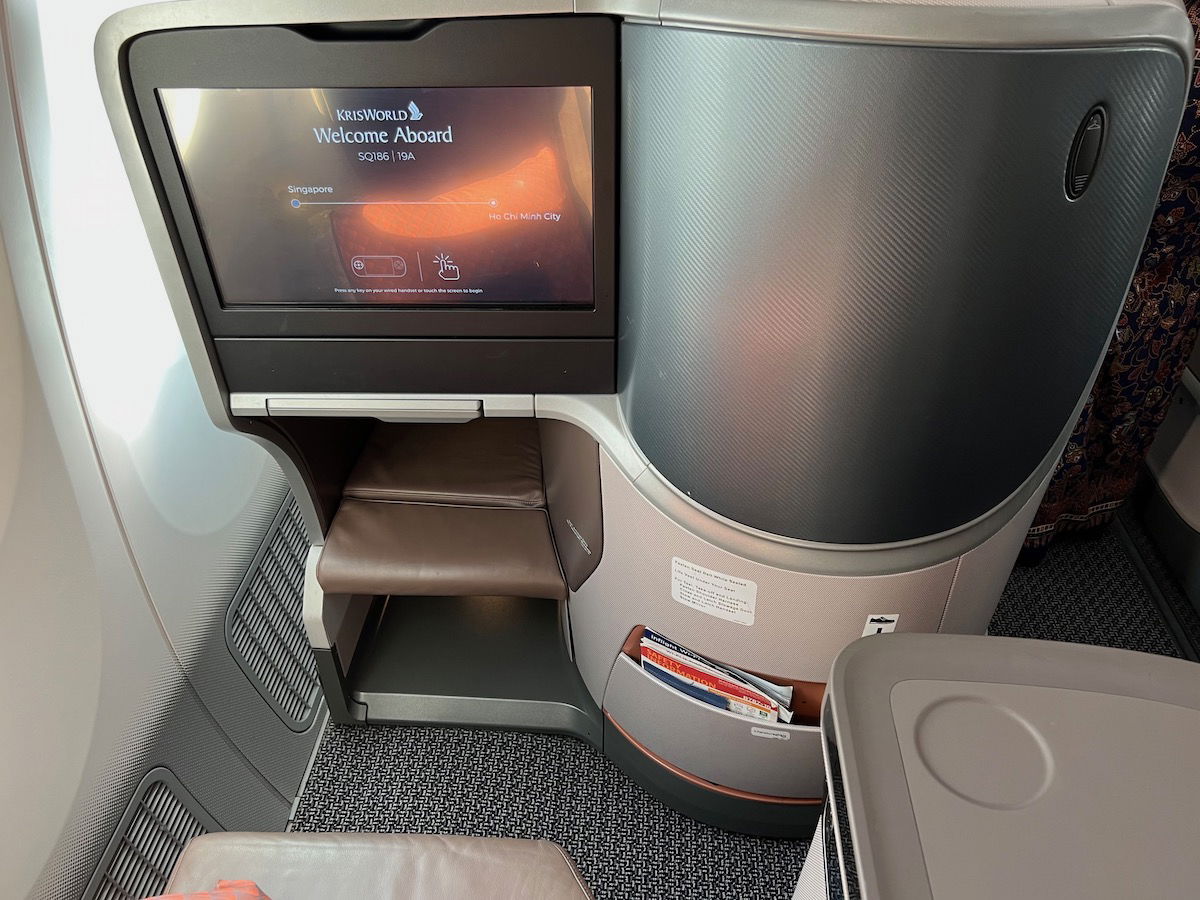 There's a lot to like about Singapore Airlines' seat finishes. Along the aisle-side of the seat is a large counter that's big enough for placing a laptop during the flight. There's also a large storage compartment, which can be fully closed.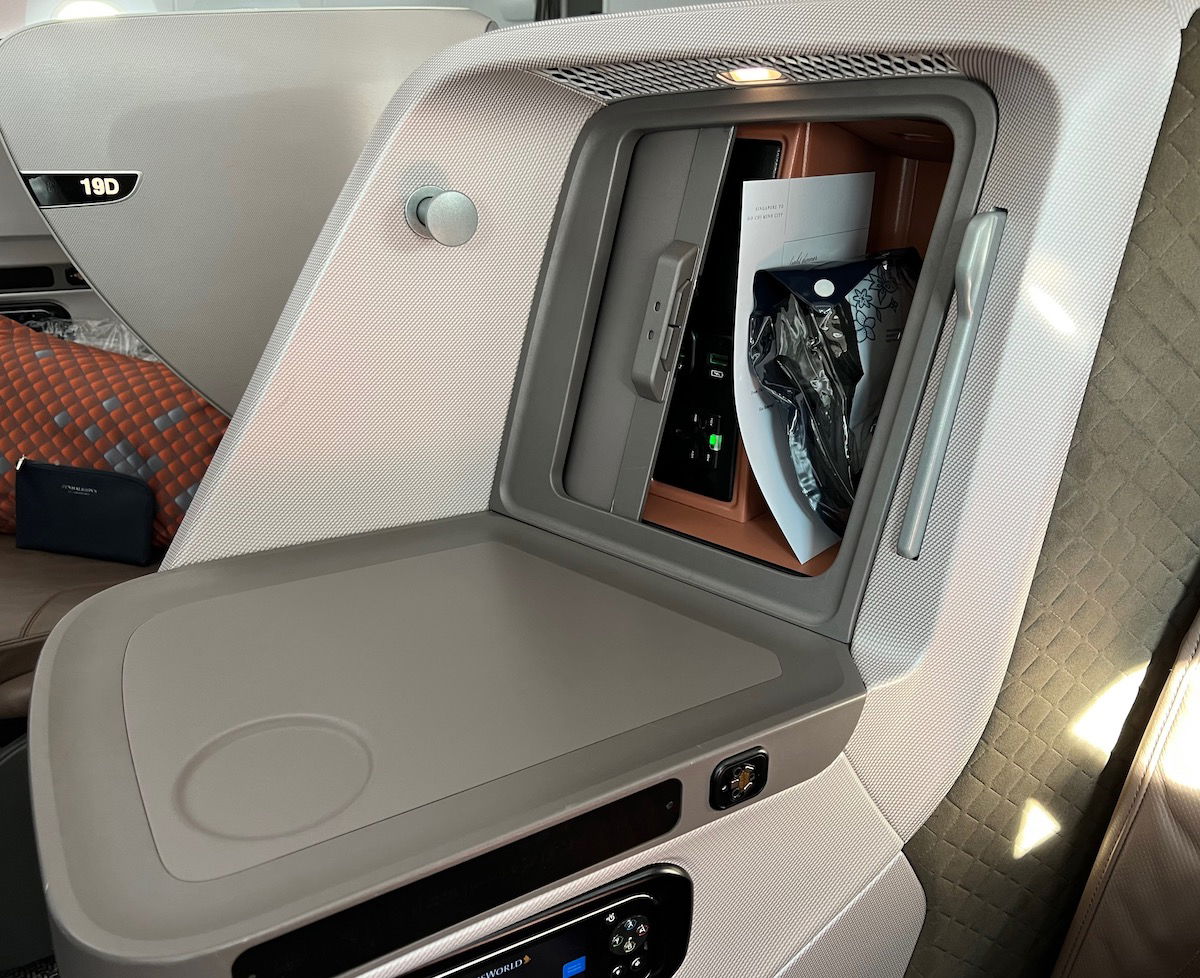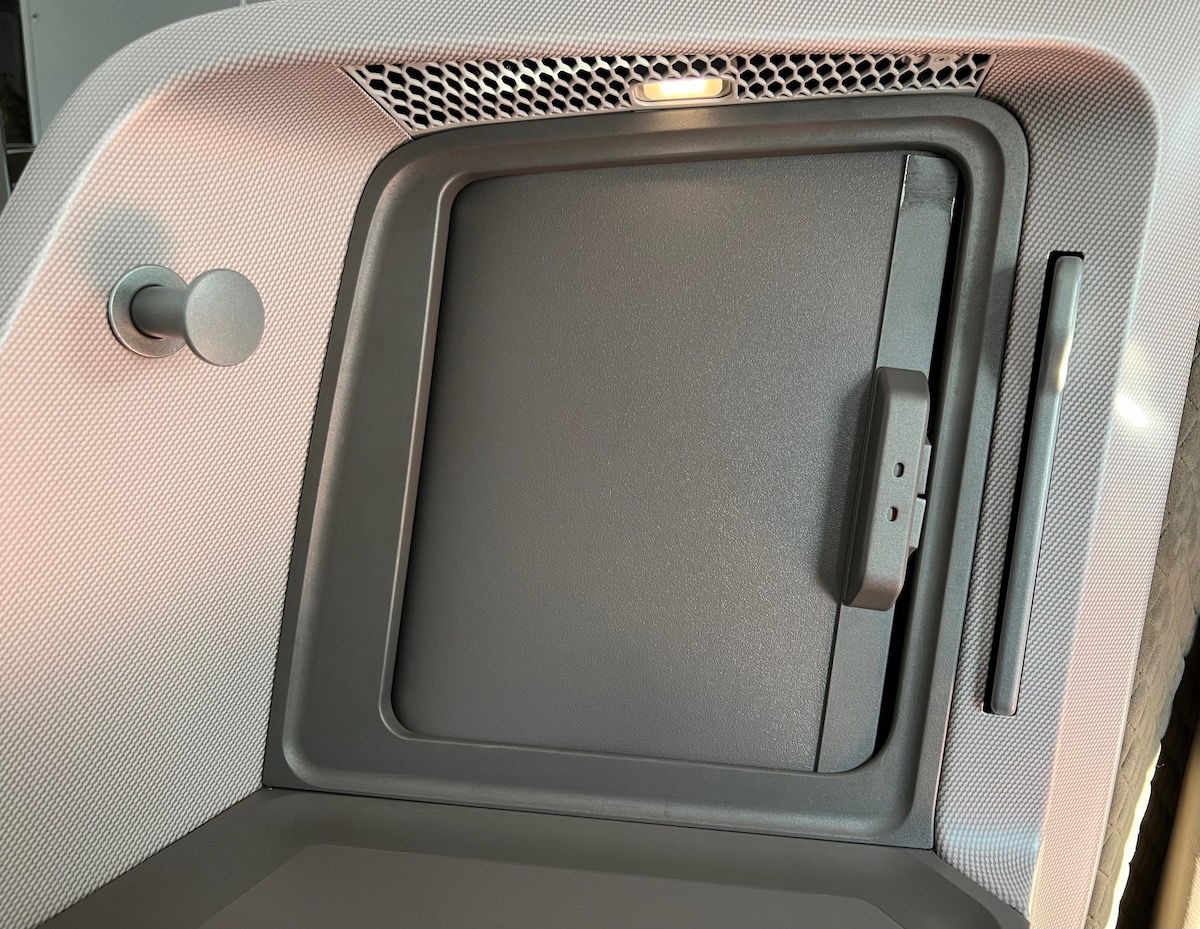 The compartment has enough space for lots of smaller items (headphones, phones, glasses, a wallet, etc.). It also has two USB outlets and an AC power outlet.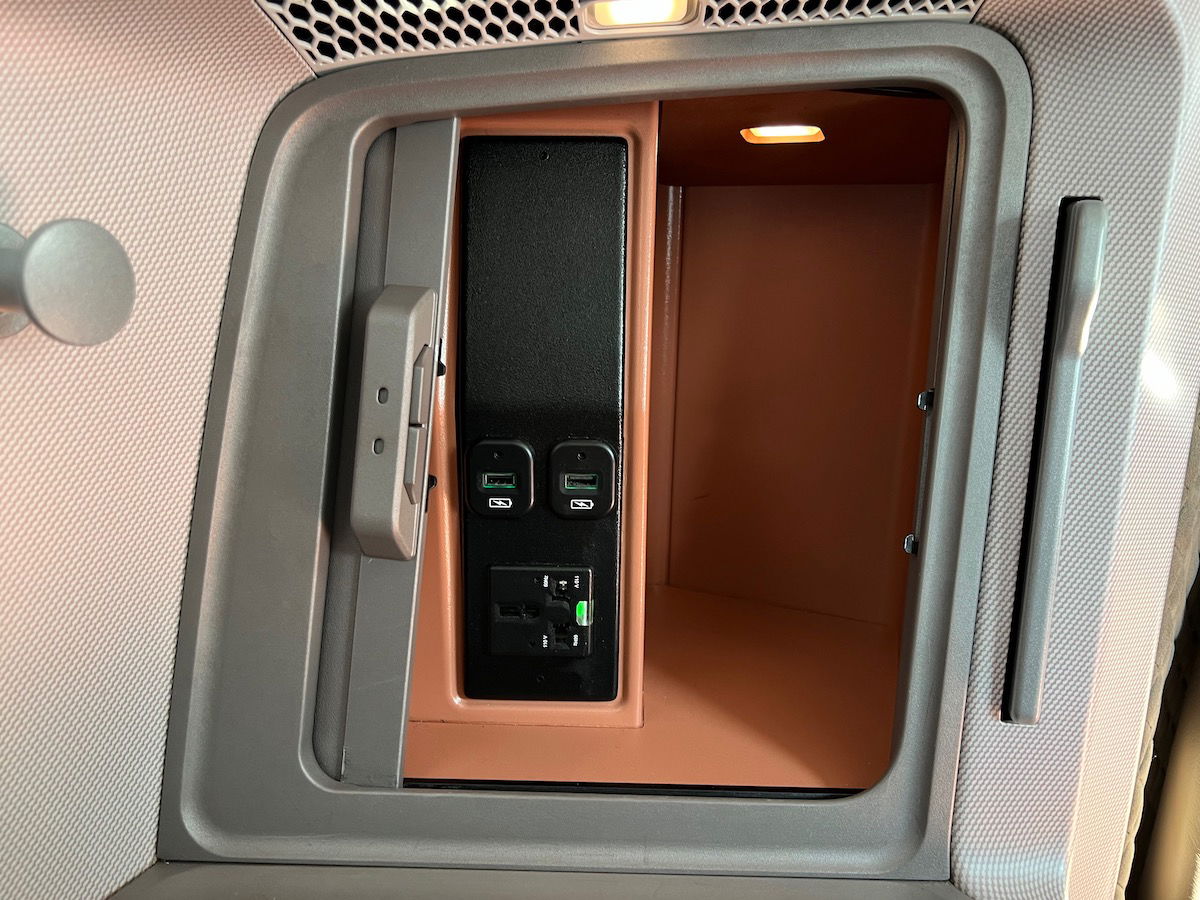 There's also a small mirror that can be extended from the side of the seat, which is a feature many will appreciate.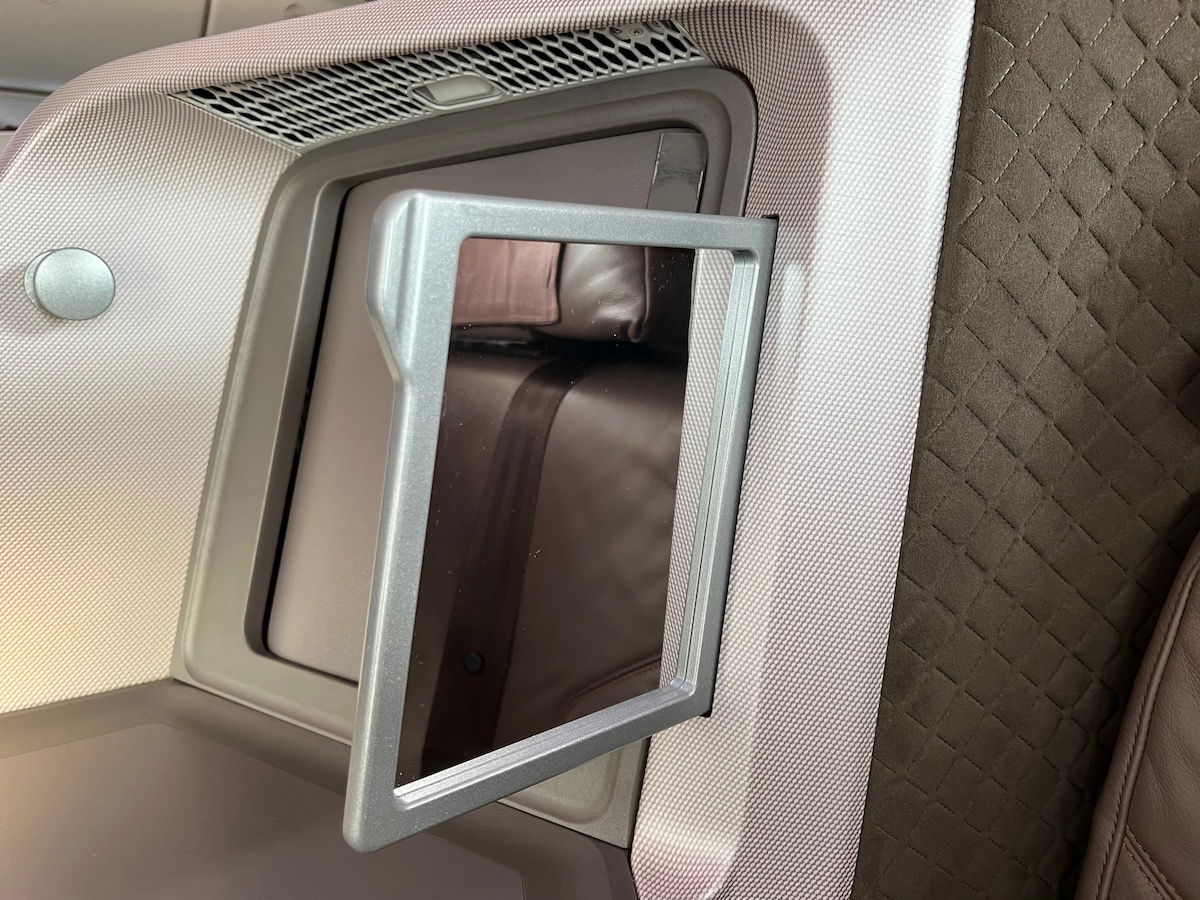 Underneath the console are the seat and entertainment controls. The seat controls can be tough to figure out at first, since the screen goes totally "black" if it's not touched. However, as soon as you touch it, the buttons light up, allowing you to adjust your seat, turn on lights, etc.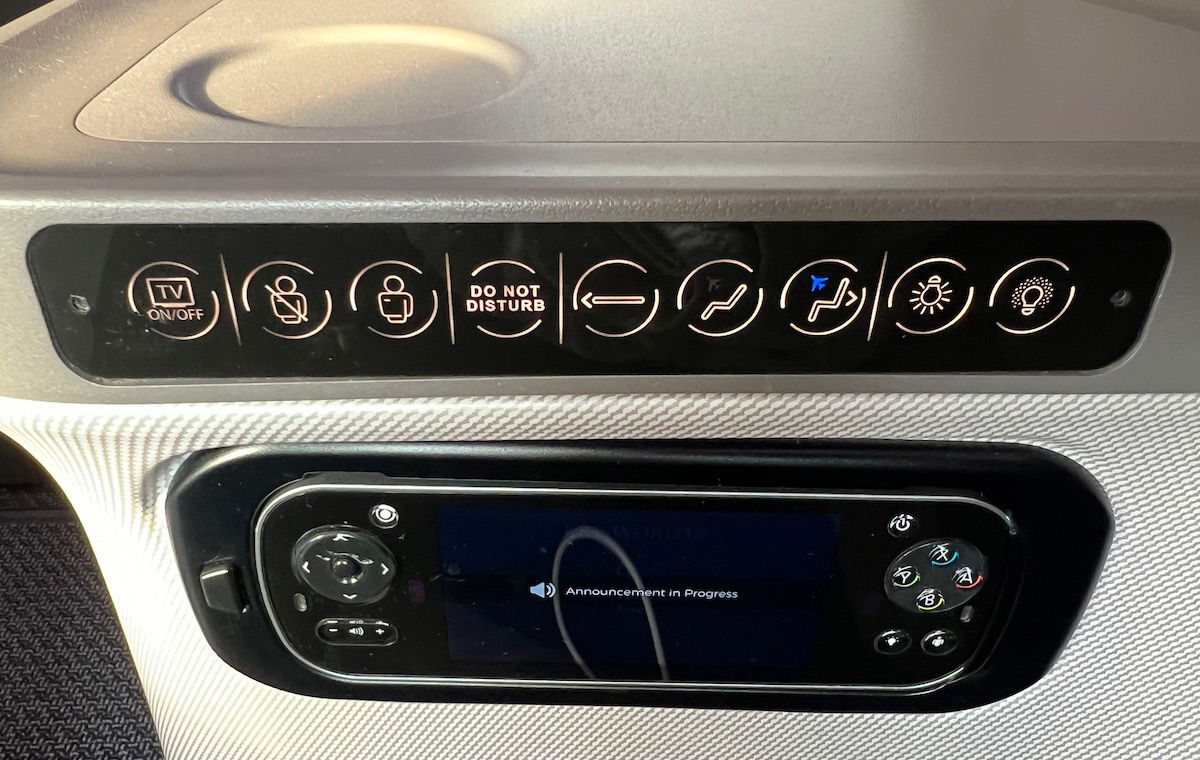 Then there's the entertainment controller, which can be extended and used to control the functions on the personal television. However, the TV is also touchscreen, so I didn't end up having much use for this.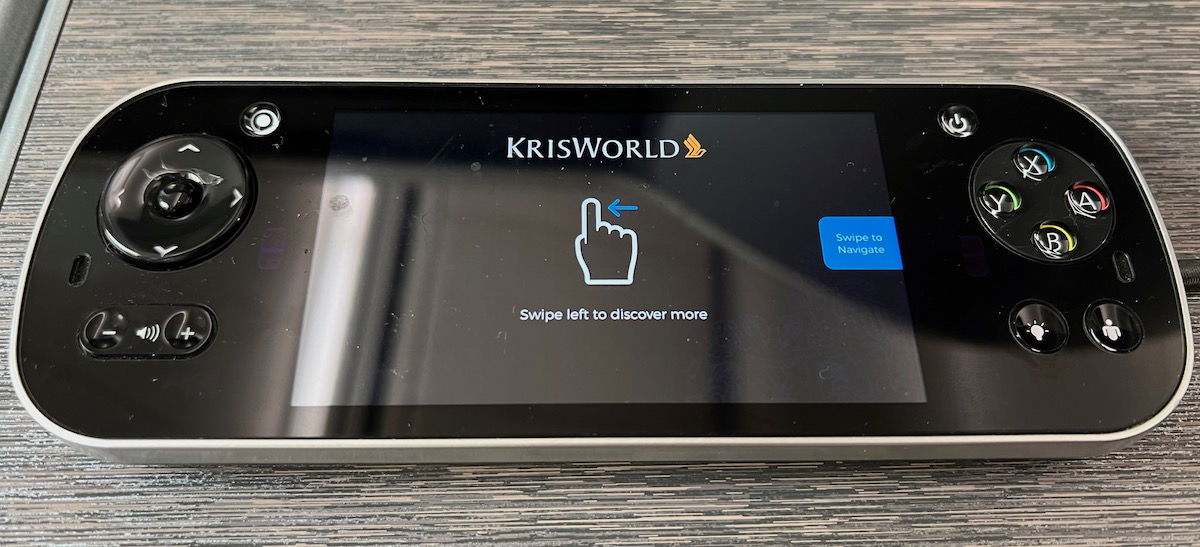 Underneath the seat and entertainment controls is an armrest, which can be lowered to create a wider surface, if you'd like.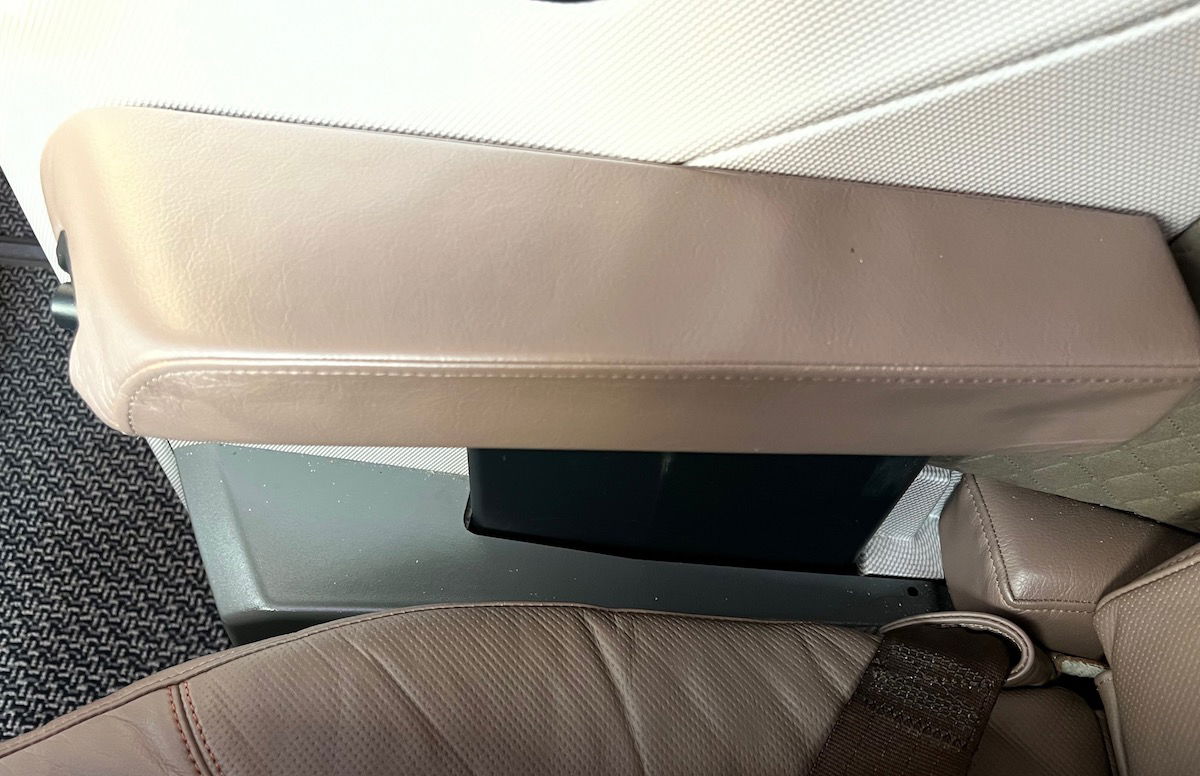 The tray table in this configuration folds out from underneath the personal television. When stored, it's folded over in half, so you can extend it by pushing a button, pulling it out, and then flipping it over.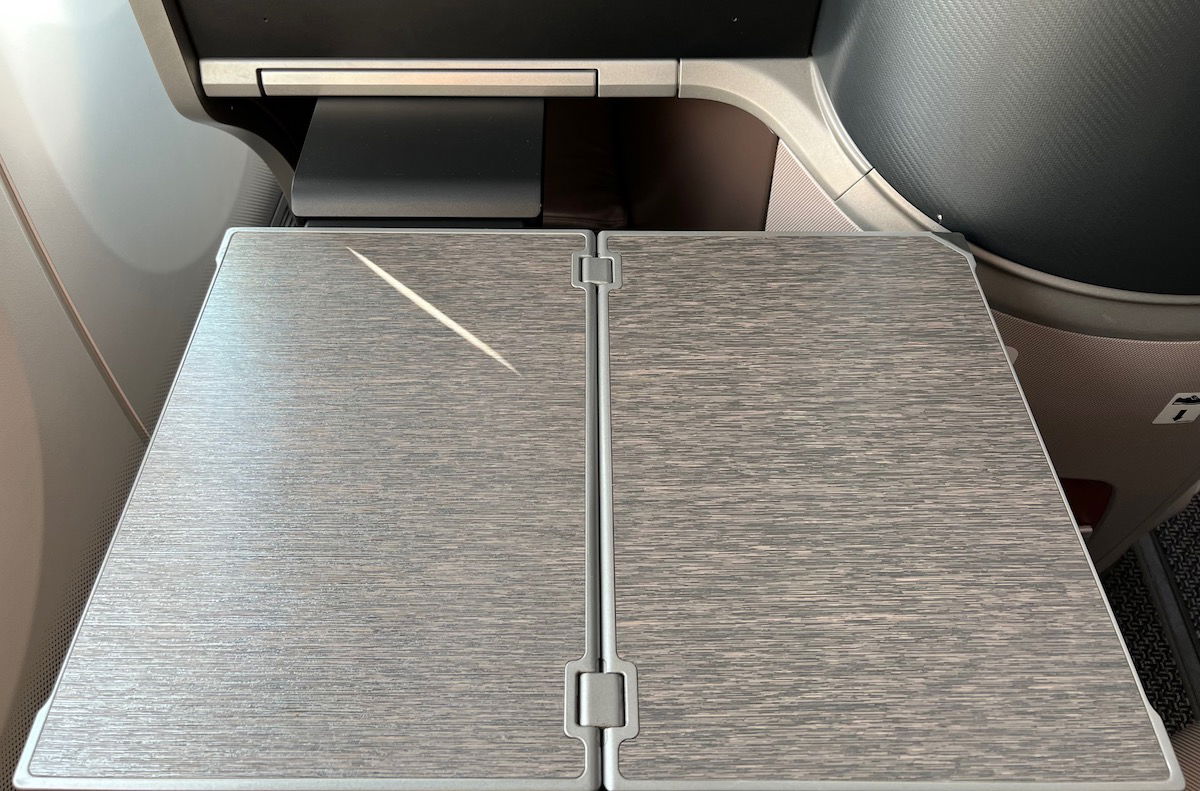 One challenge with staggered configurations can be that footwells are quite limiting, though I found this to be one of the larger footwells out there, so I was happy about that.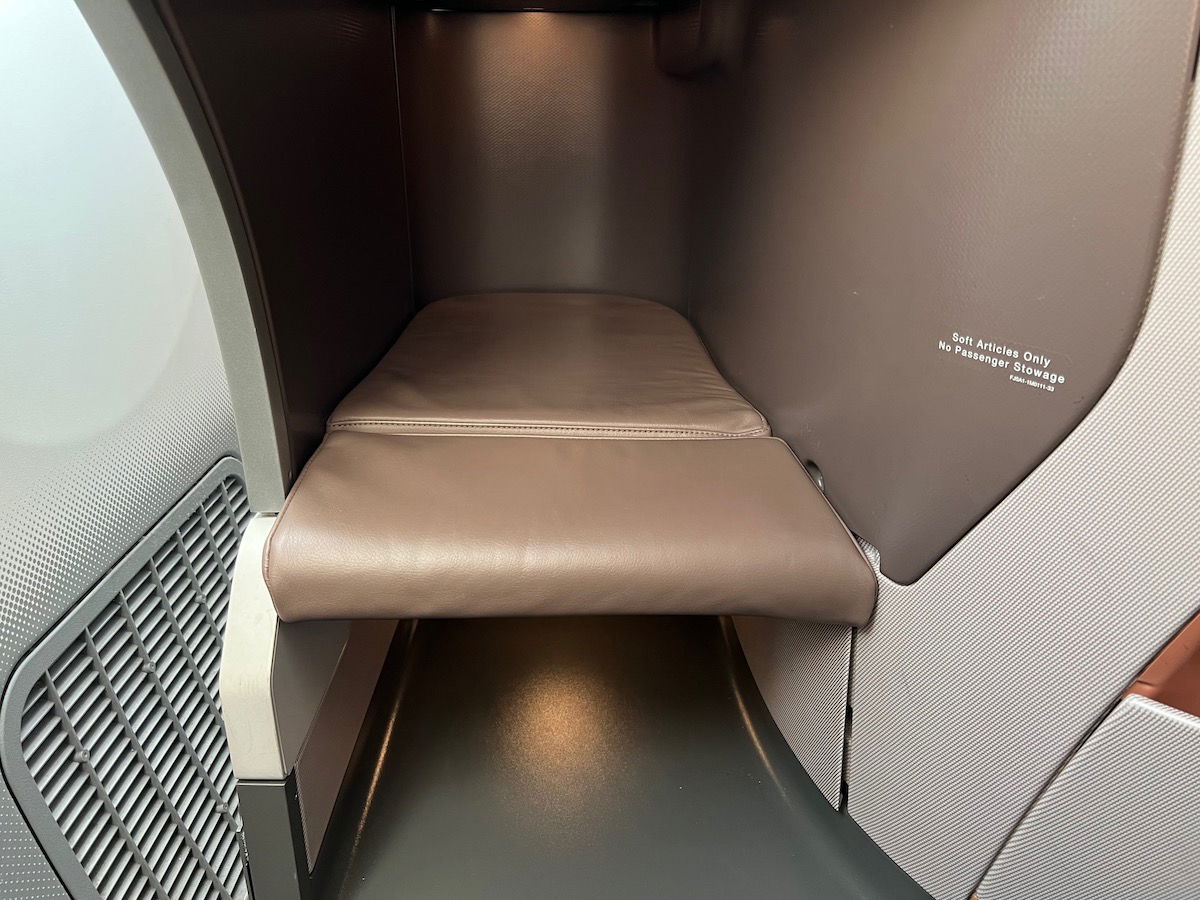 As mentioned above, the privacy shield along the window is a bit odd, but in this case it wasn't a big deal, since it didn't block the window by my seat.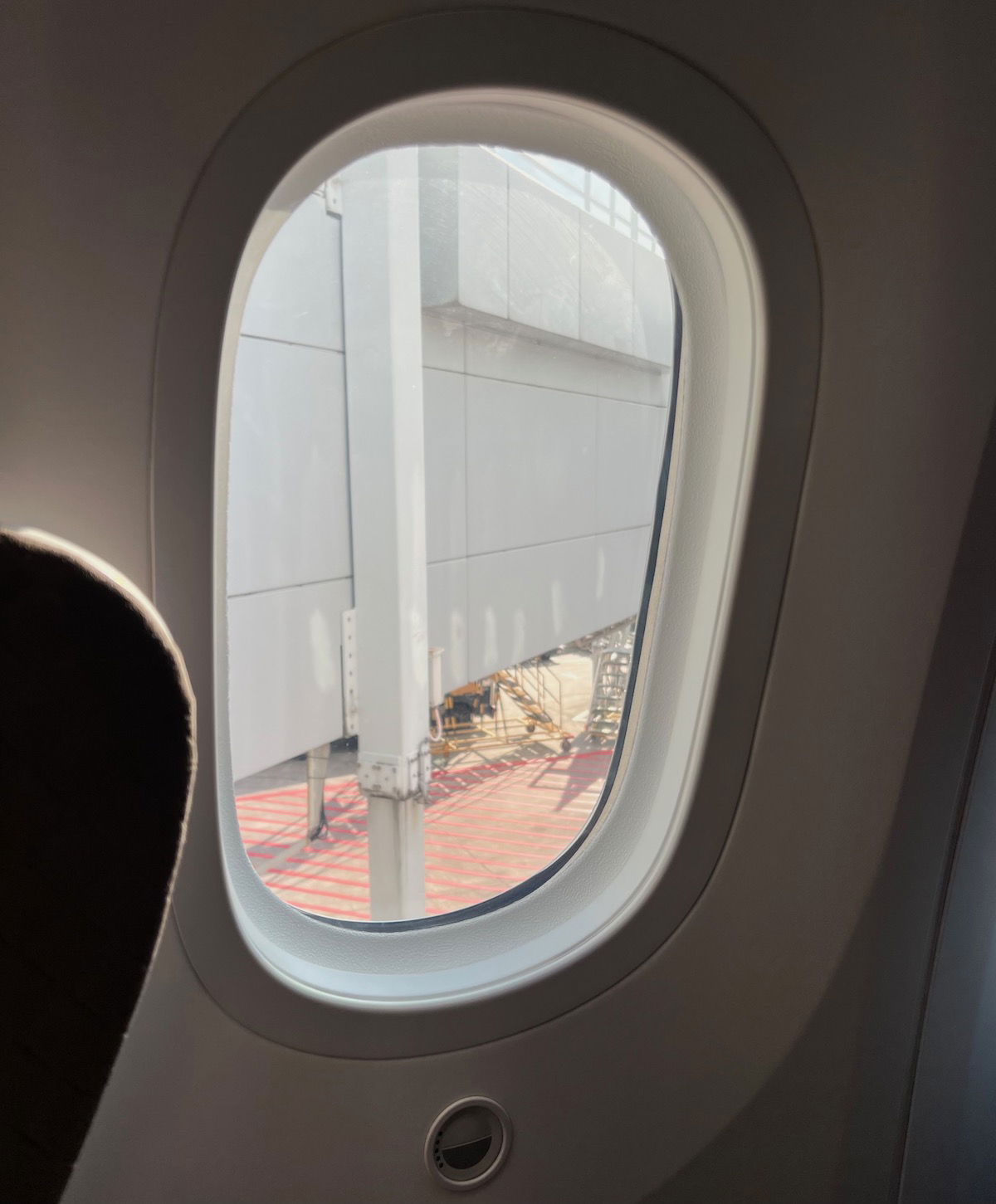 This shield also contains several reading lights.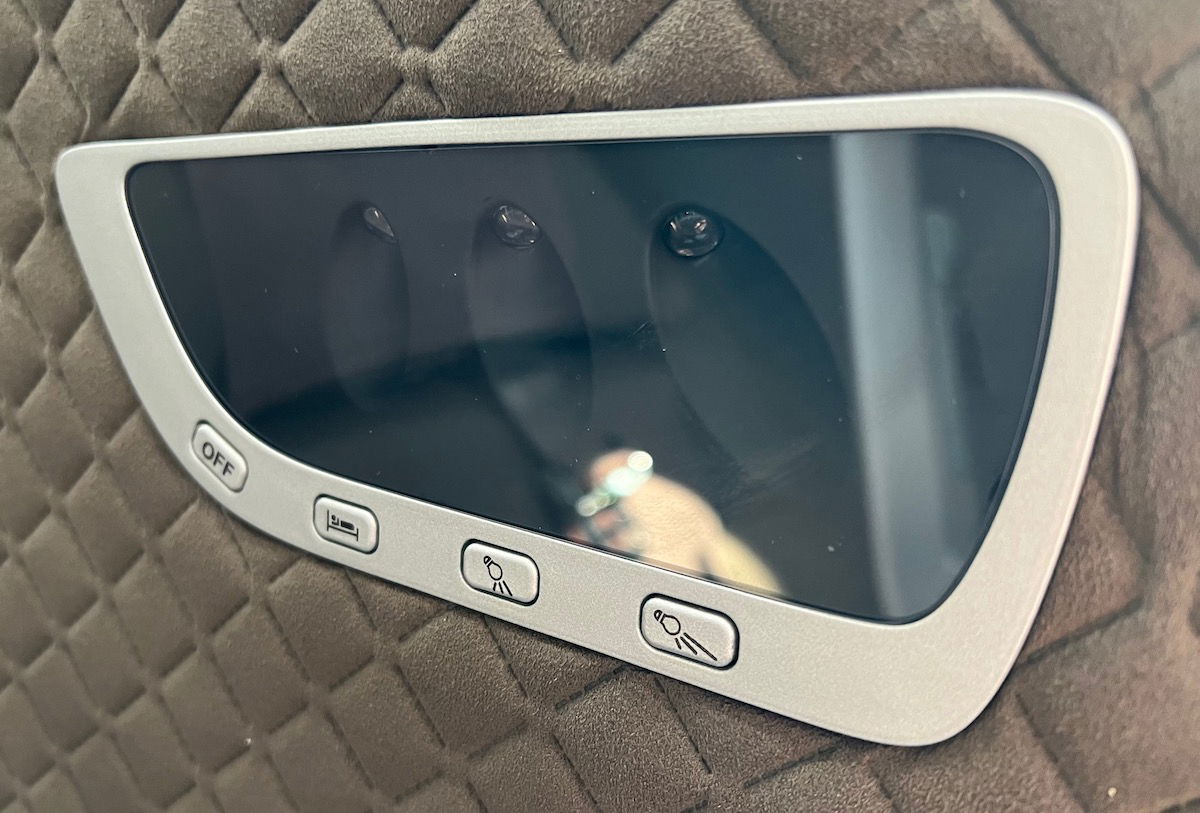 My only real criticism of this product is the lack of individual air nozzles. Why is Singapore Airlines so opposed to air nozzles?!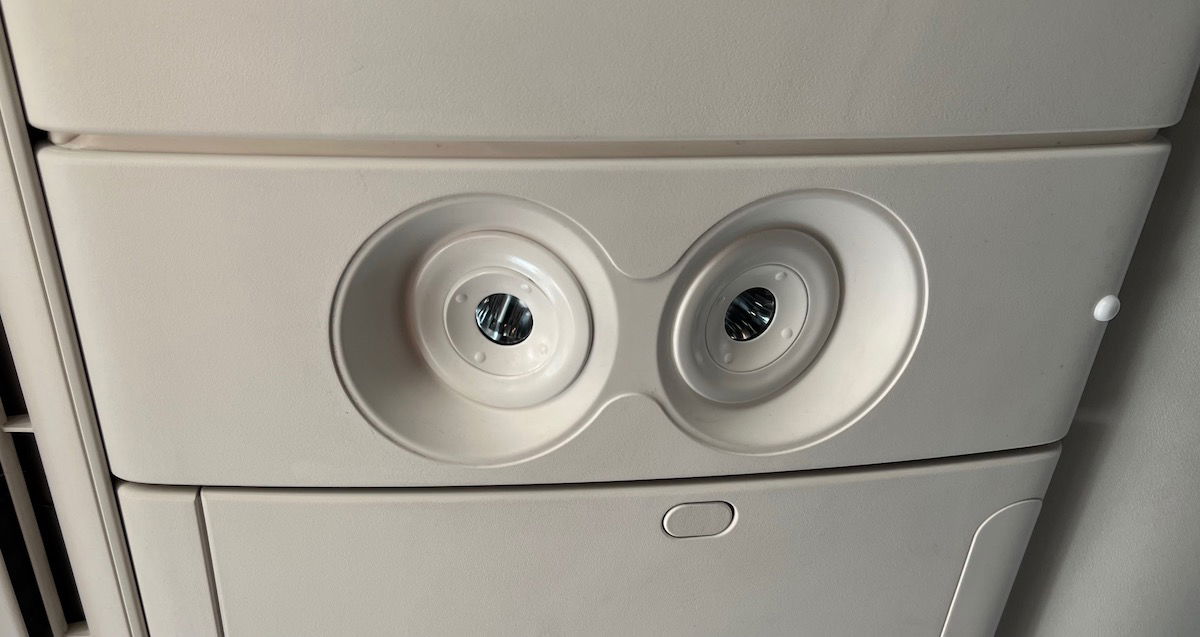 Anyway, all-in-all this would be a solid long haul business class product, and it's a spectacular regional business class product. For a 90-minute flight, it doesn't get much better that. Let me take it a step further — I think I actually prefer this seat to Singapore Airlines' long haul business class seat.
Singapore Airlines business class amenities
As far as amenities go, there were a pillow and blanket at my seat, which were not only pretty, but very comfortable. The pillow was large and thick, while the blanket was cozy.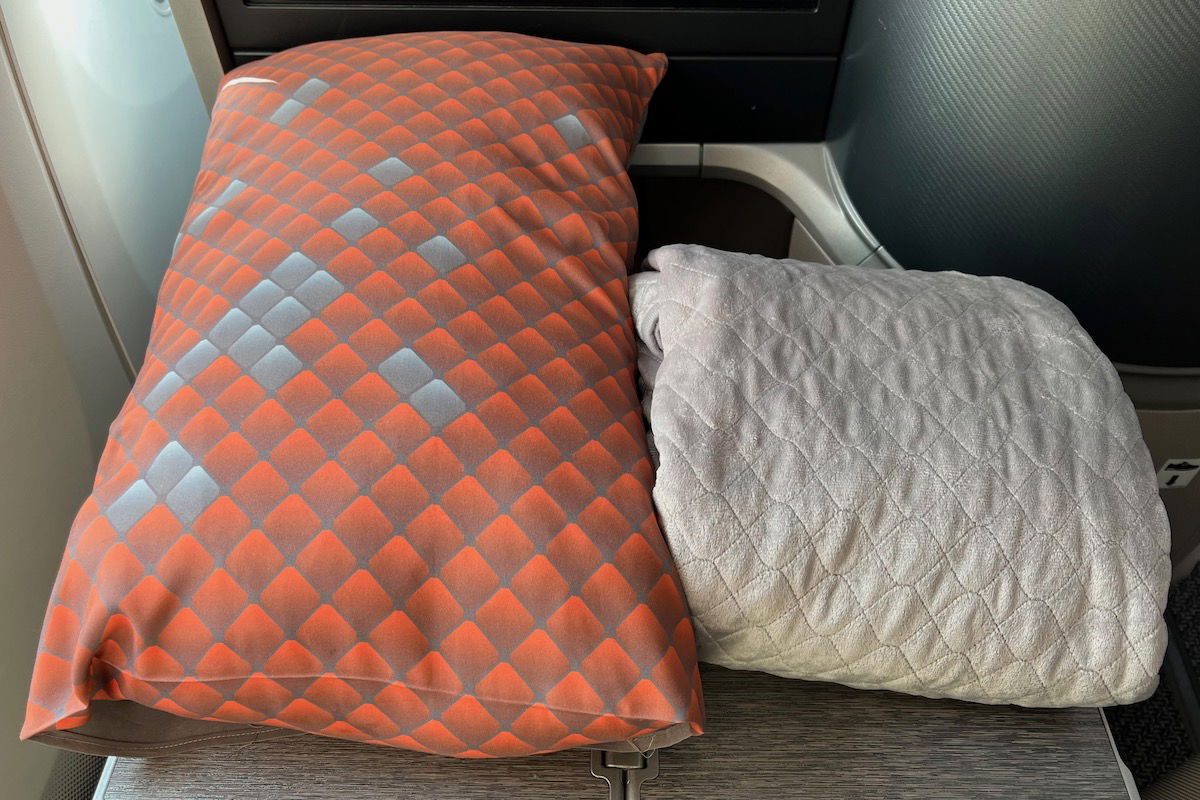 There were also a pair of headphones waiting at each seat. Singapore Airlines' headphones are just fine — they're not bad, but it's not an exceptional part of the experience either.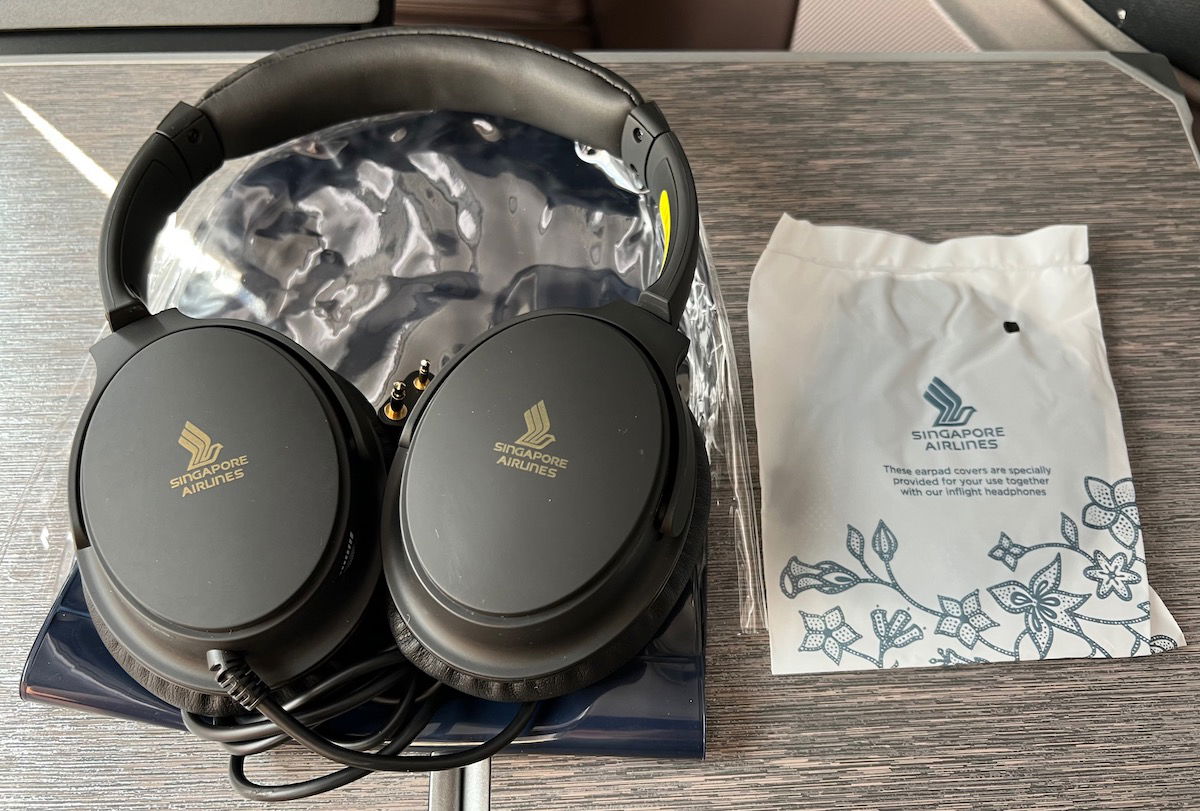 For years Singapore Airlines didn't have any sort of amenity kits in business class, but that finally changed in late 2020. Now the airline even has small amenities in short haul business class. The kit was from Penhaligon's, and consisted of hand lotion, lip balm, and facial mist.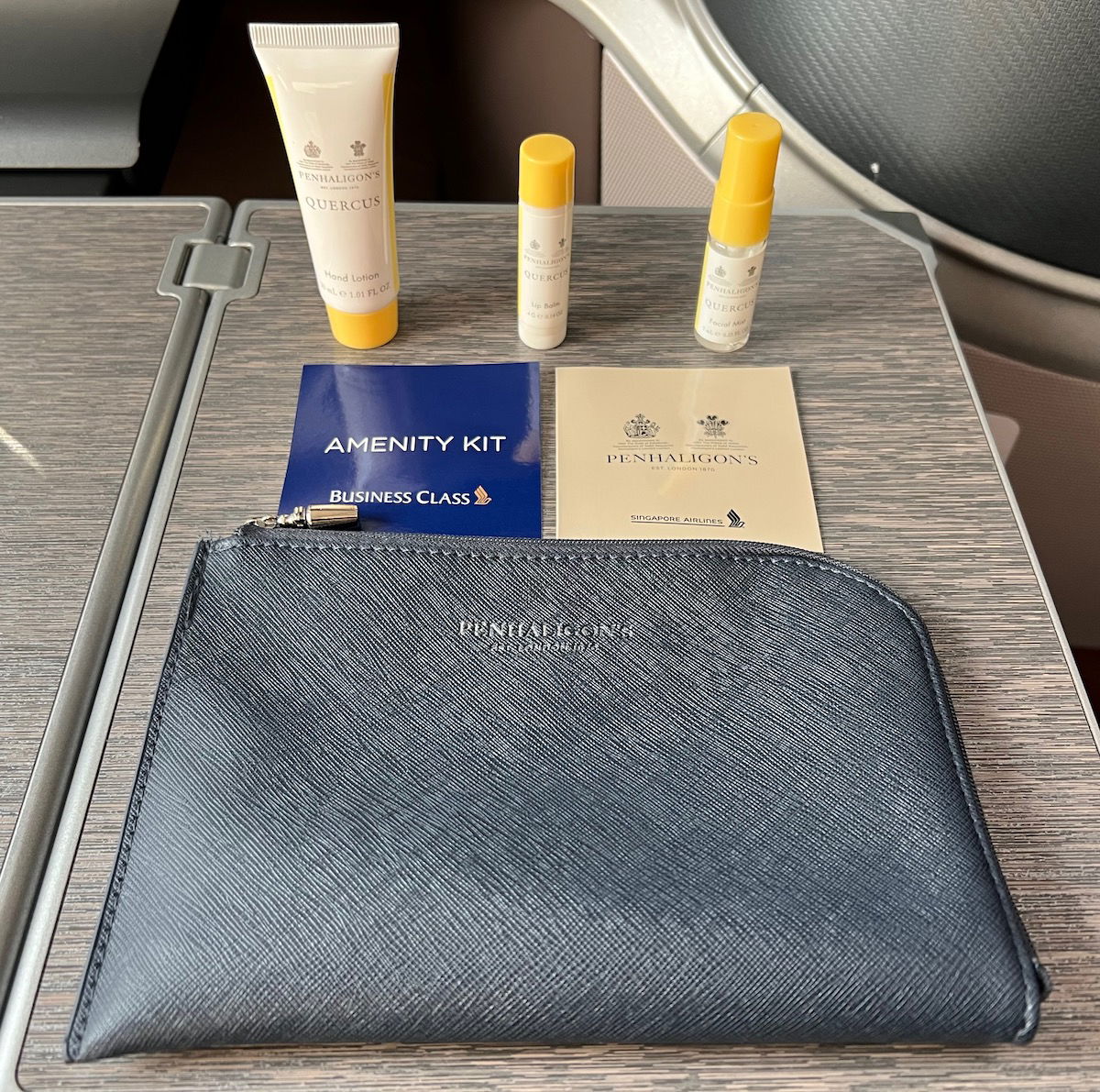 As is standard on Singapore Airlines, the crew welcomed each passenger, and asked if they had any questions about the seat. Pre-departure drinks were served, with the choice of champagne or orange juice. I selected the former.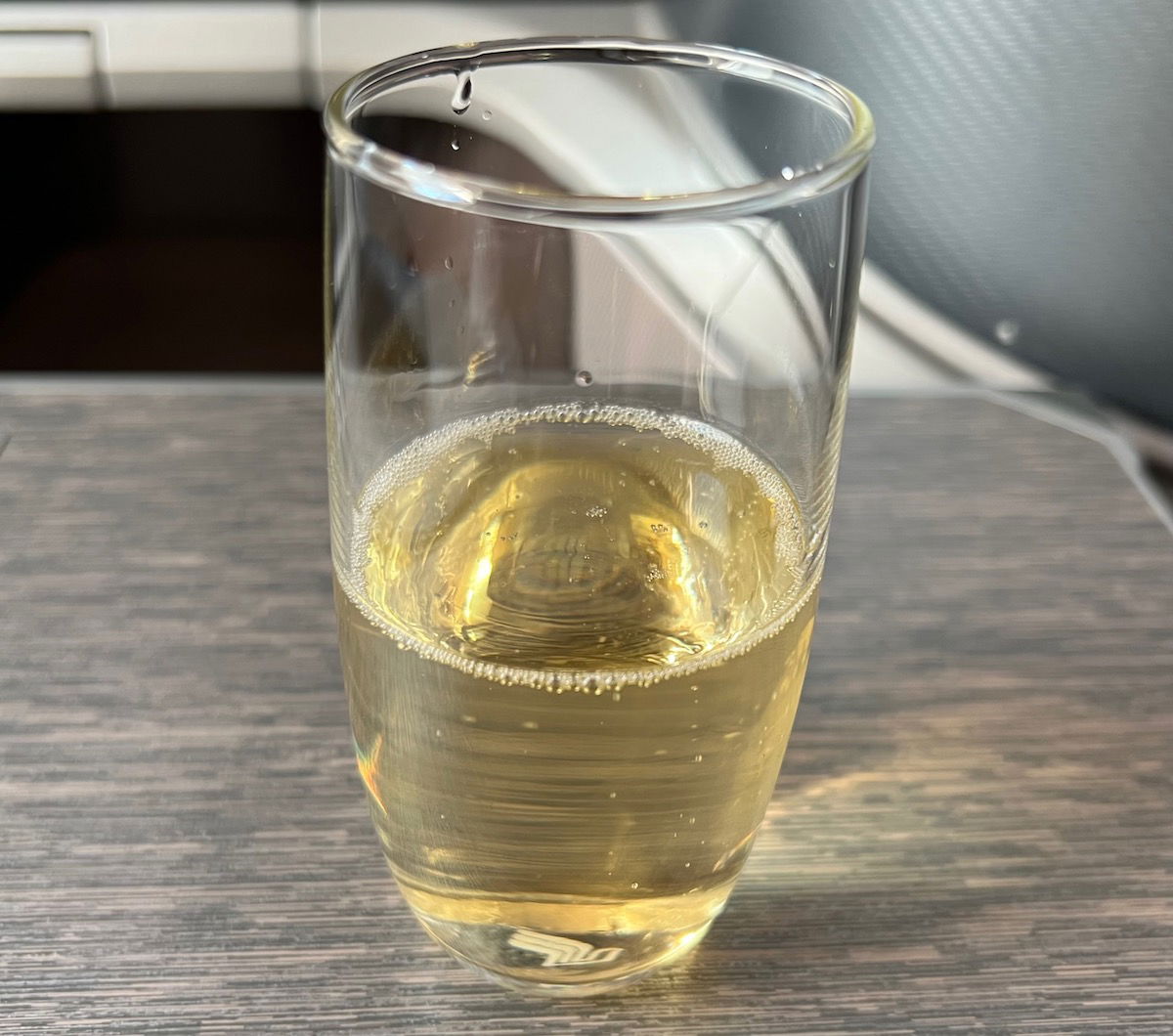 Singapore Airlines 787-10 departure from Singapore
The flight was packed, though boarding was extremely efficient, and was completed by 5:15PM. There were only three empty seats in business class, while economy class was also quite full.
At 5:20PM, the captain made his welcome aboard announcement, informing us of our flight time of 90 minutes. Okay, this is going to sound weird and random, but the crew was in the gate area prior to boarding, and my eyes were drawn to the captain's flight bag, which had a bunch of Boeing 787 stickers on it. There was something about his vibe that just gave off that he was a huge avgeek. I was already thinking to myself "I like this guy."
Then there was his welcome aboard announcement, which was perhaps my favorite and most professional announcement I've ever heard from a pilot. Often pilots are fumbling and say "ummm, folks, ummm, this is, ummm, your ummm captain speaking."
I always takes notes on my phone while reviewing flights, so let me just copy and paste what I had written at the time — "captain sounded like most professional robot ever — I'm not convinced he's human, because it's that professional and perfect." He didn't fumble a single word, and it was so perfect that you'd think he was reading it off a script, yet he said it with such enthusiasm and confidence that I don't think he did."
Sorry for that tangent, and thank you captain. If you ever sell an album with your inflight announcements, I'd like to be your first customer. Otherwise, Singapore Airlines really should have this guy make automated announcements that play onboard, in the terminal, etc.
At 5:30PM the main cabin door was closed, at which point the safety video was screened. I enjoy Singapore Airlines' current safety video, and find it to be calming, much like the carrier's boarding music.
At 5:35PM we began our pushback, and then at 5:40PM we began our taxi.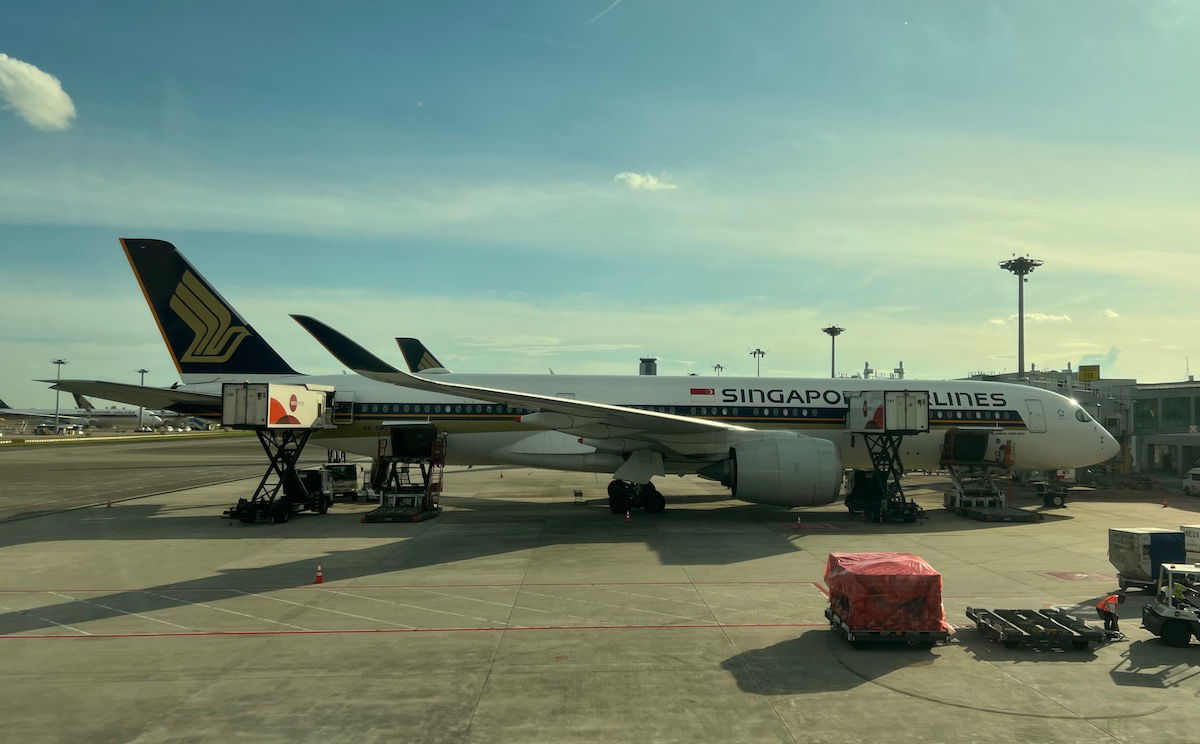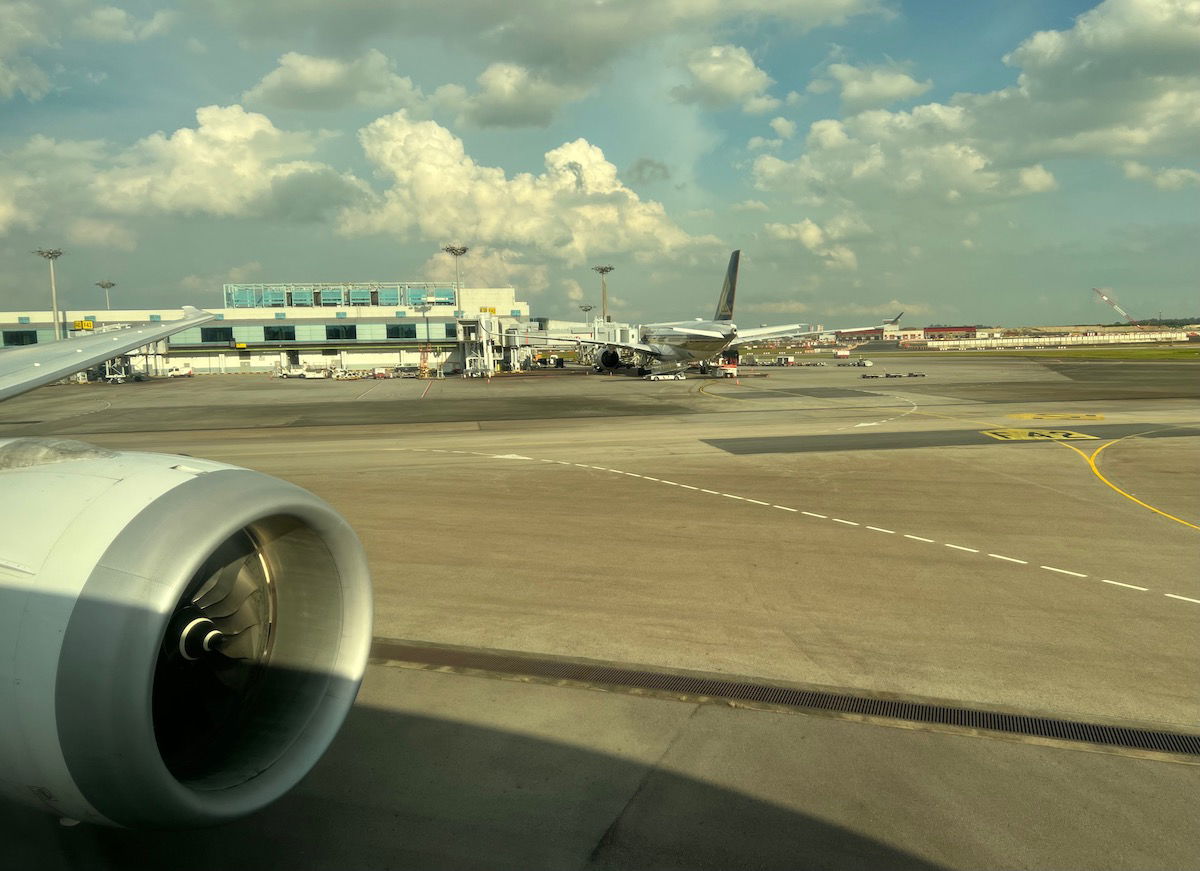 We had a roughly 15 minute taxi to runway 2R, and then we had about a five minute wait for takeoff, as we had to wait for AirAsia and Bangkok Airways planes to depart.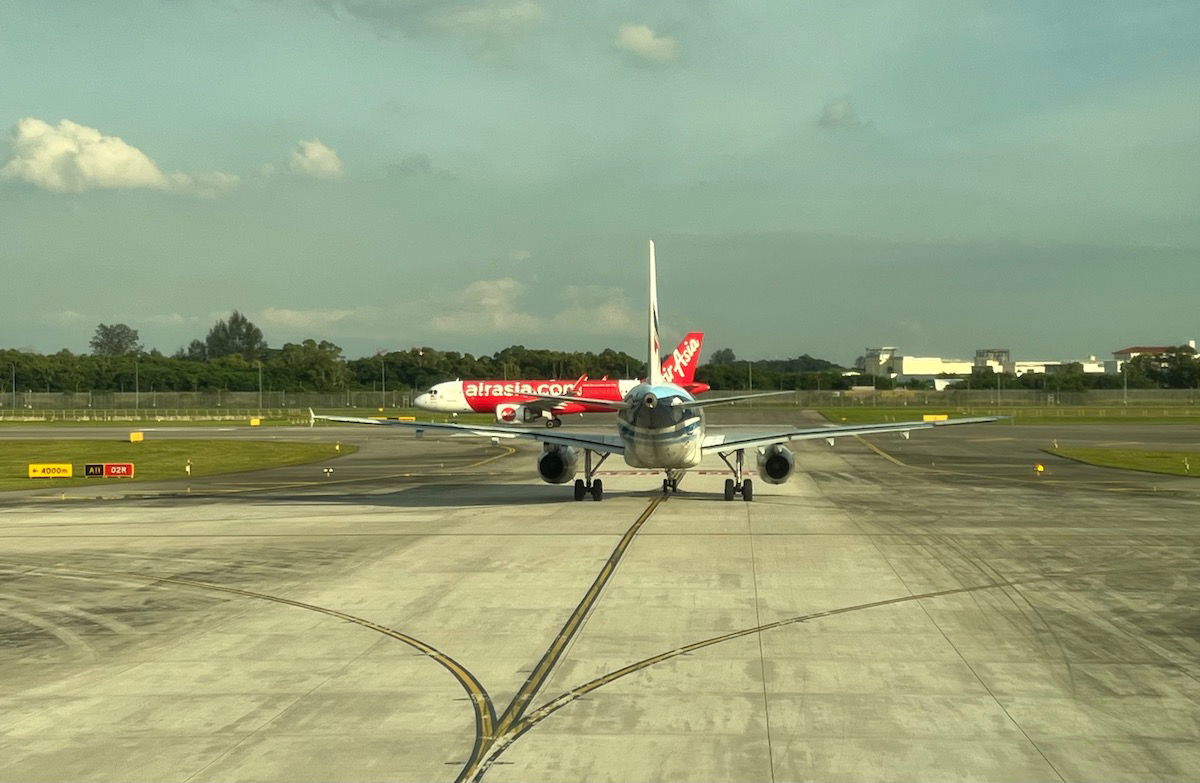 By 6PM we were cleared for takeoff, and rocketed down the runway.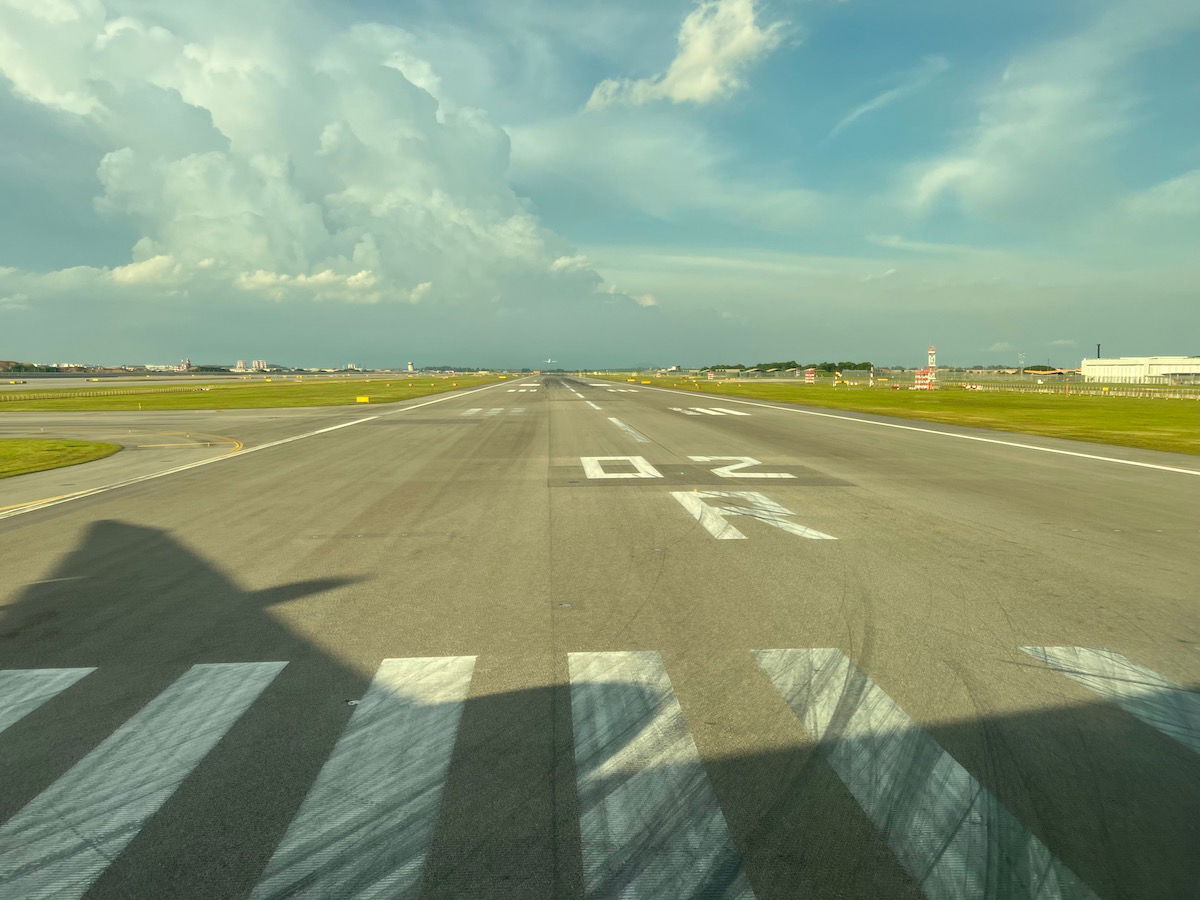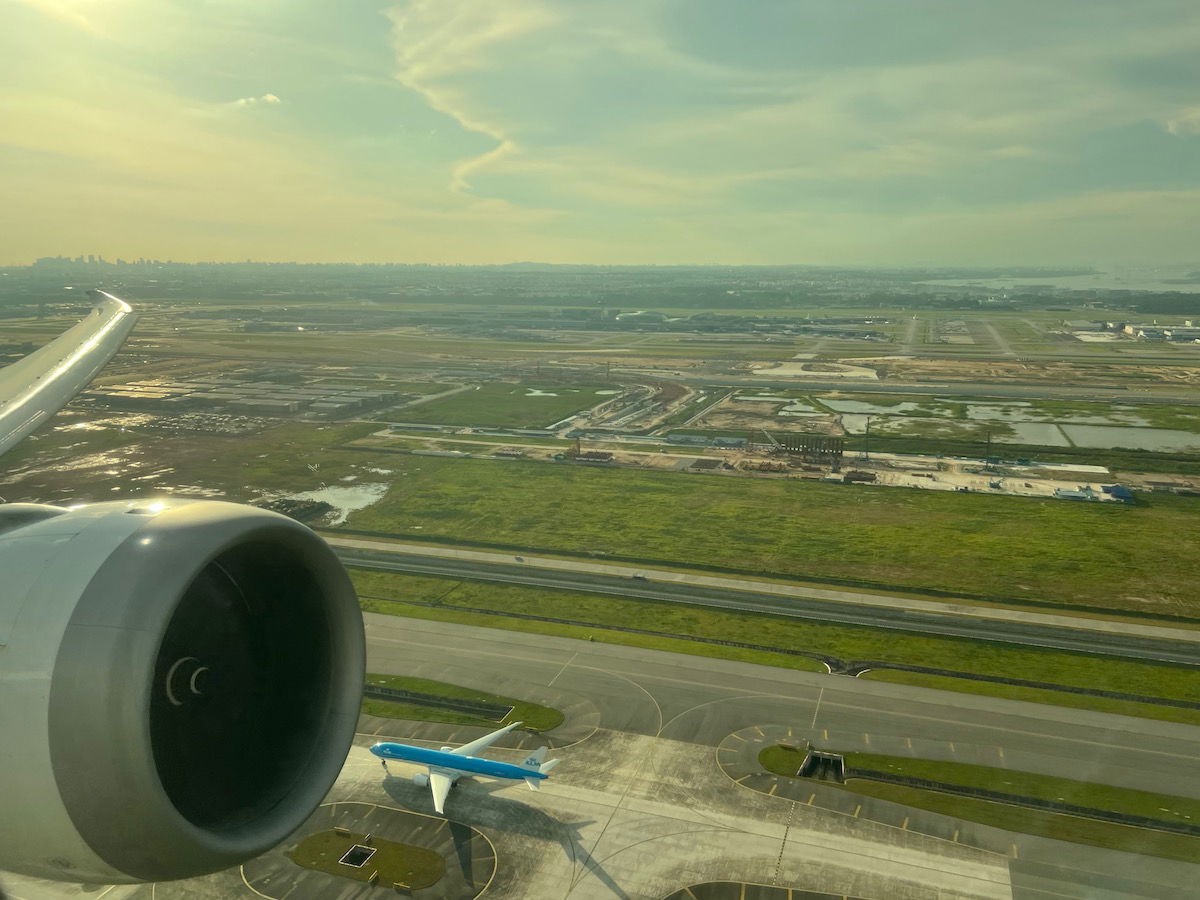 The seatbelt sign stayed on for 10 minutes (a bit longer than usual), as we had quite a bit of turbulence on the initial climb out, due to some thick clouds.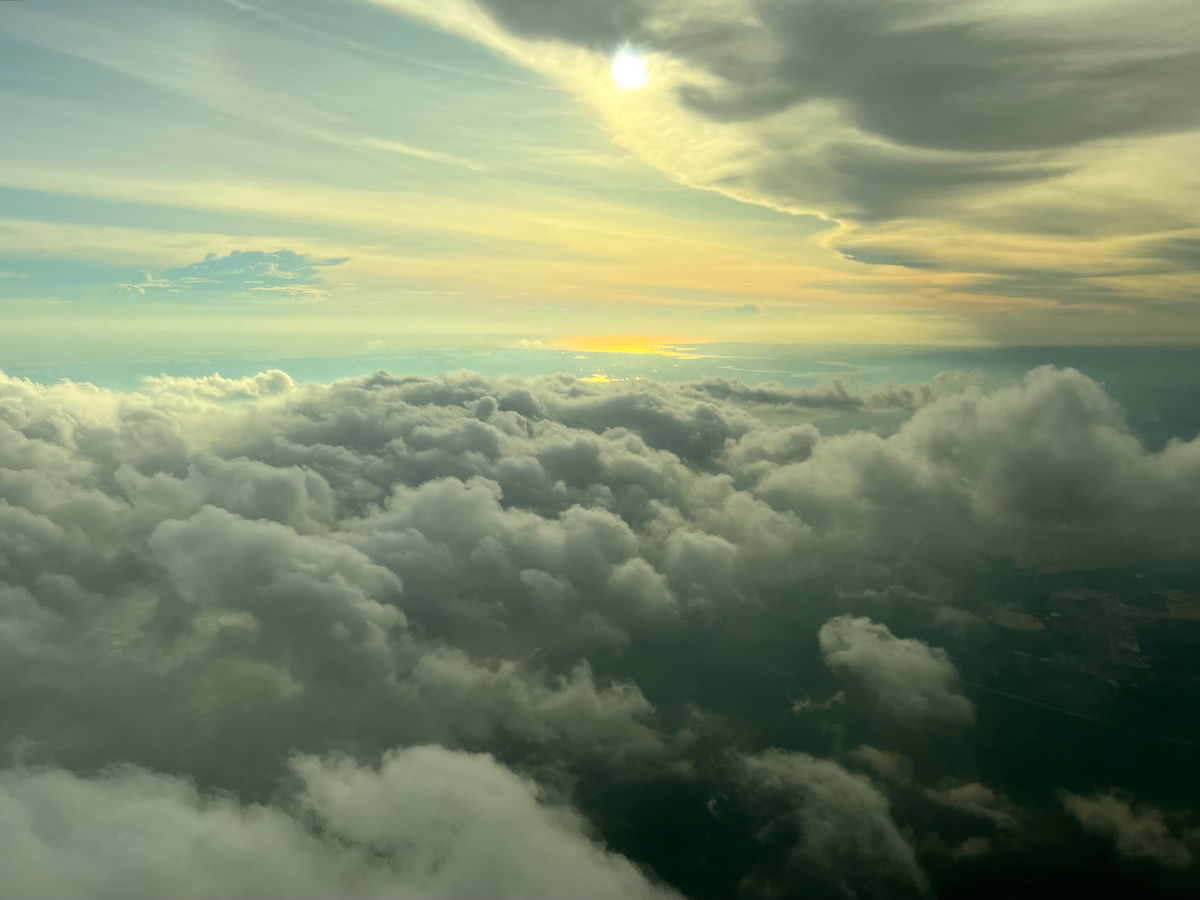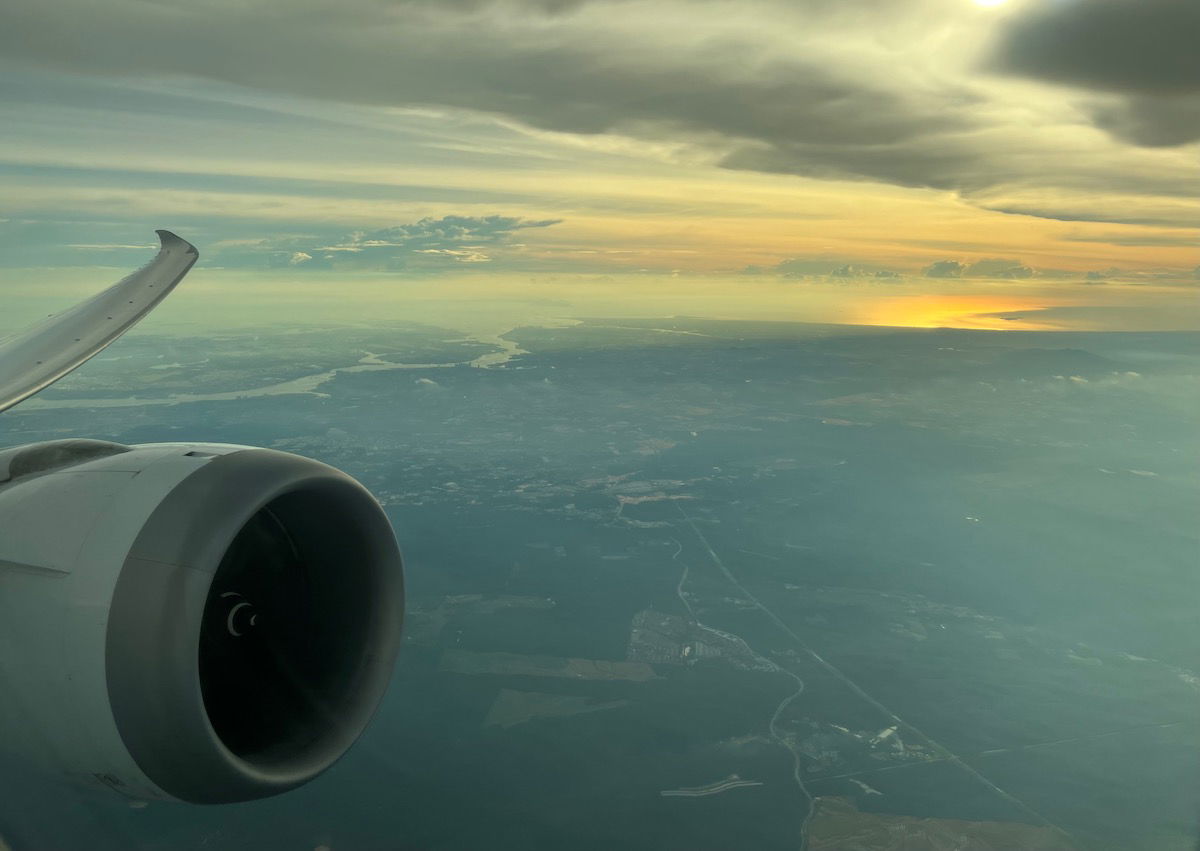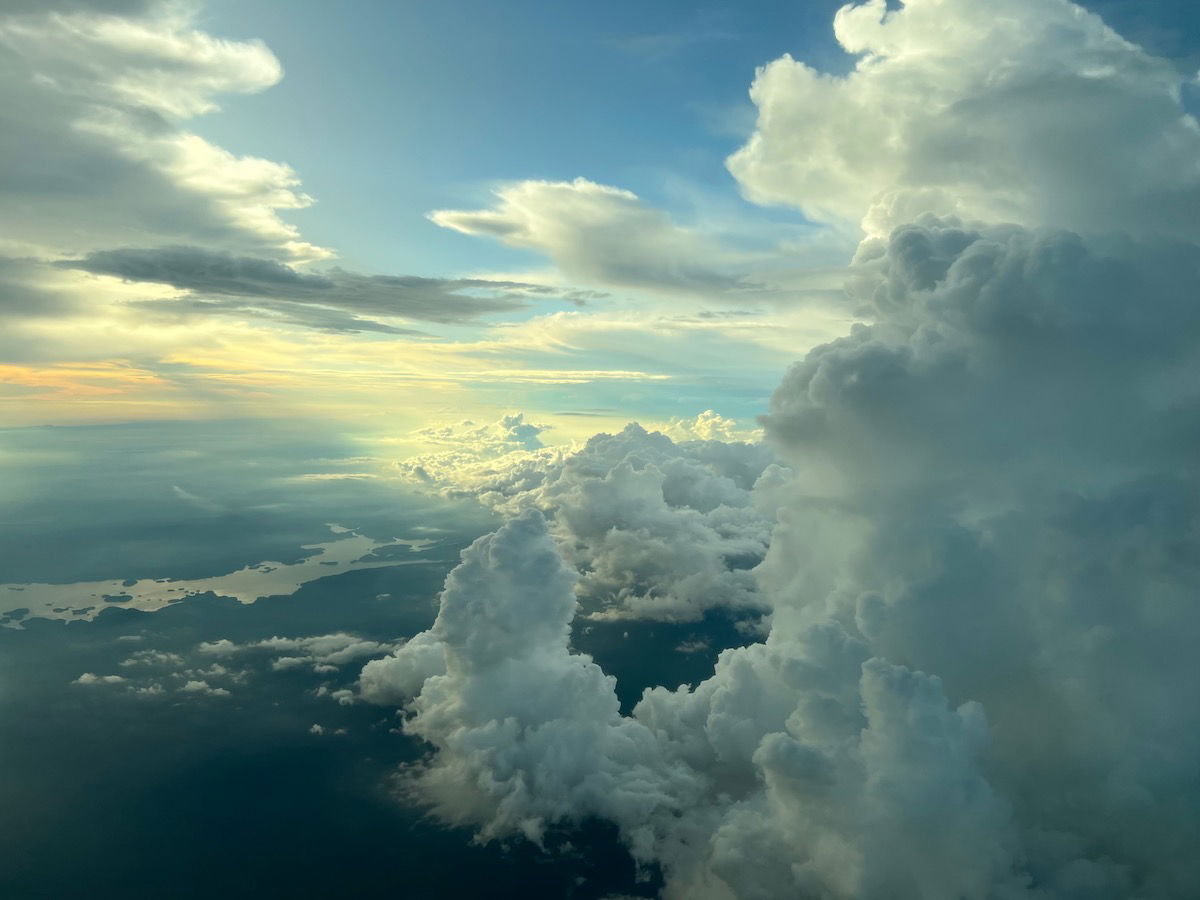 The second we cleared the clouds, the seatbelt sign was turned off, and crew sprung into action.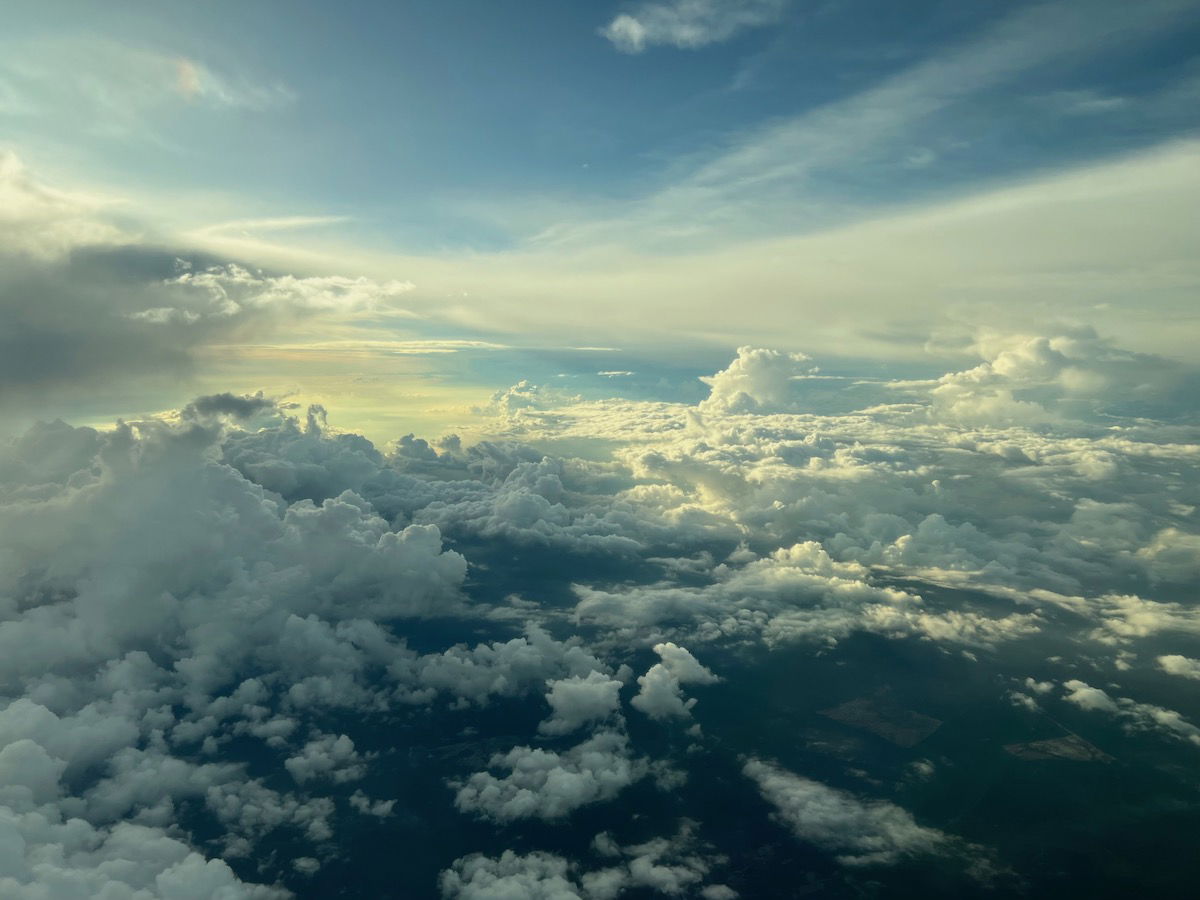 Singapore Airlines 787-10 entertainment & Wi-Fi
Singapore Airlines' overall entertainment offering is among the best out there, between the huge library of movies and TV shows, live TV, and even complimentary Wi-Fi in business class.
I started by browsing the KrisWorld entertainment system, which had endless options, from movies to TV shows. I particularly appreciated how the library has entire seasons of TV shows, so that you can easily binge watch (I mean, that's probably more useful on an 18-hour flight than a 90-minute flight, but still…).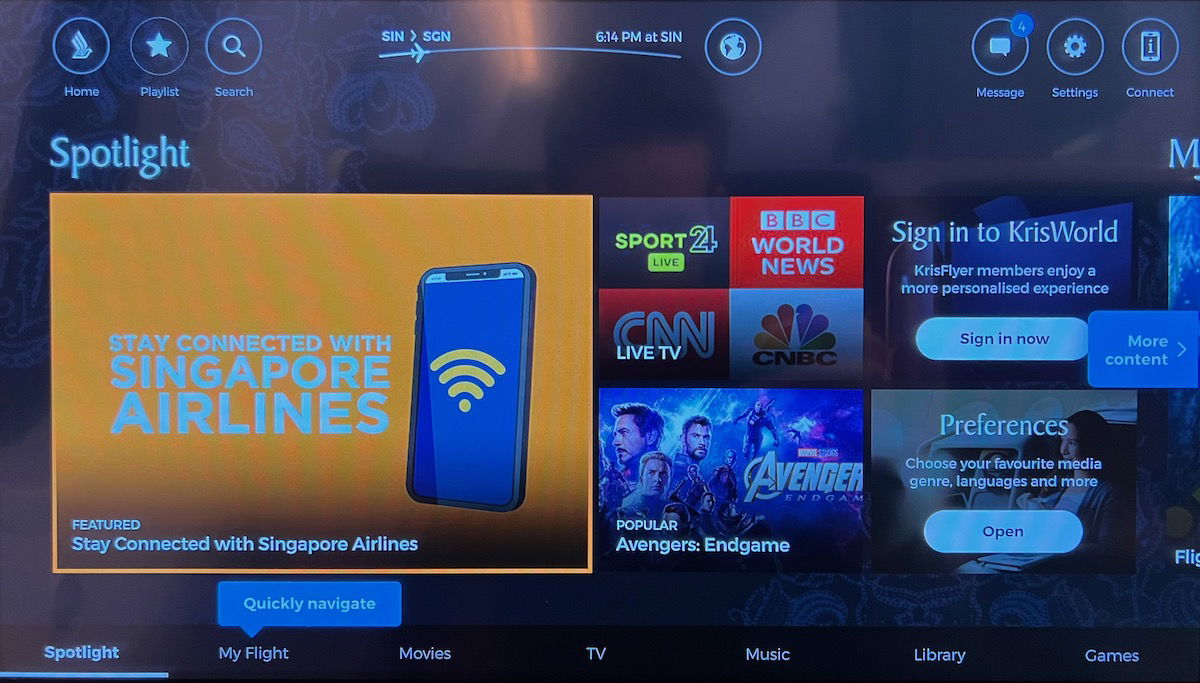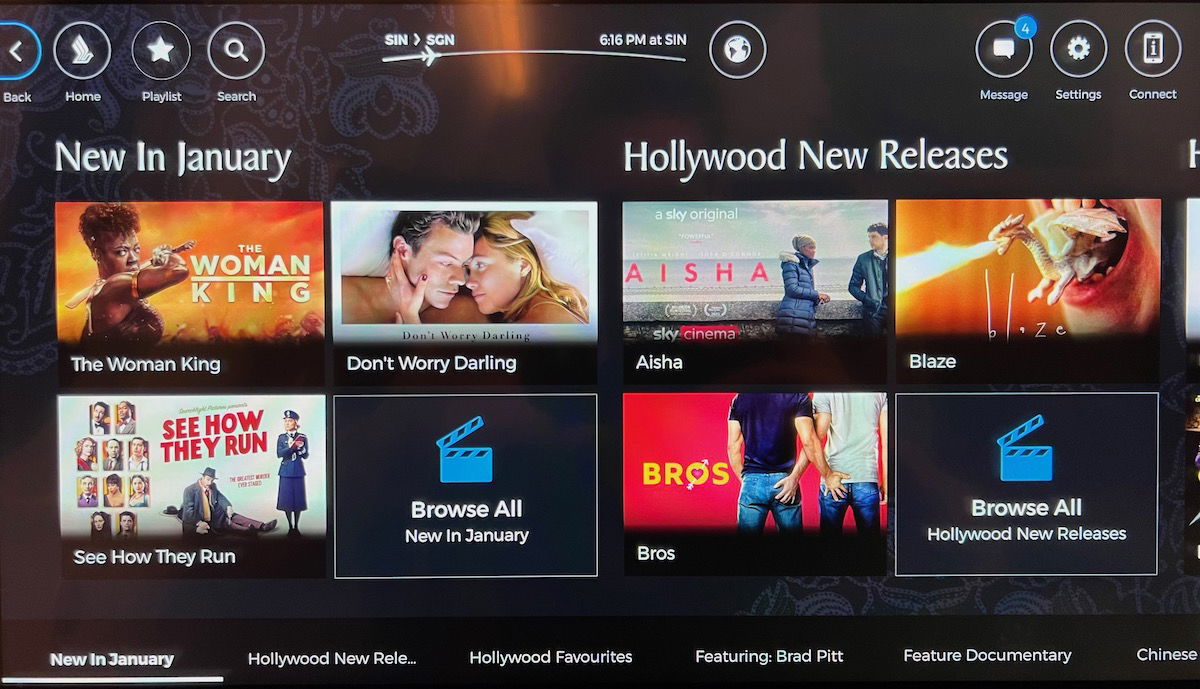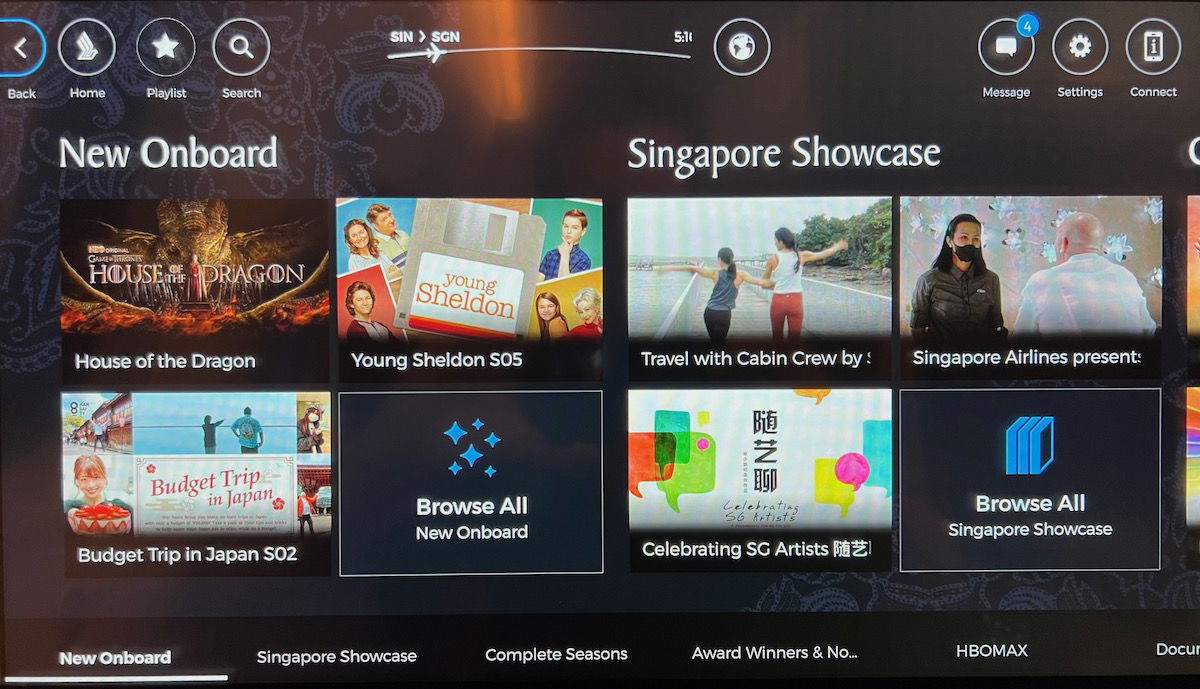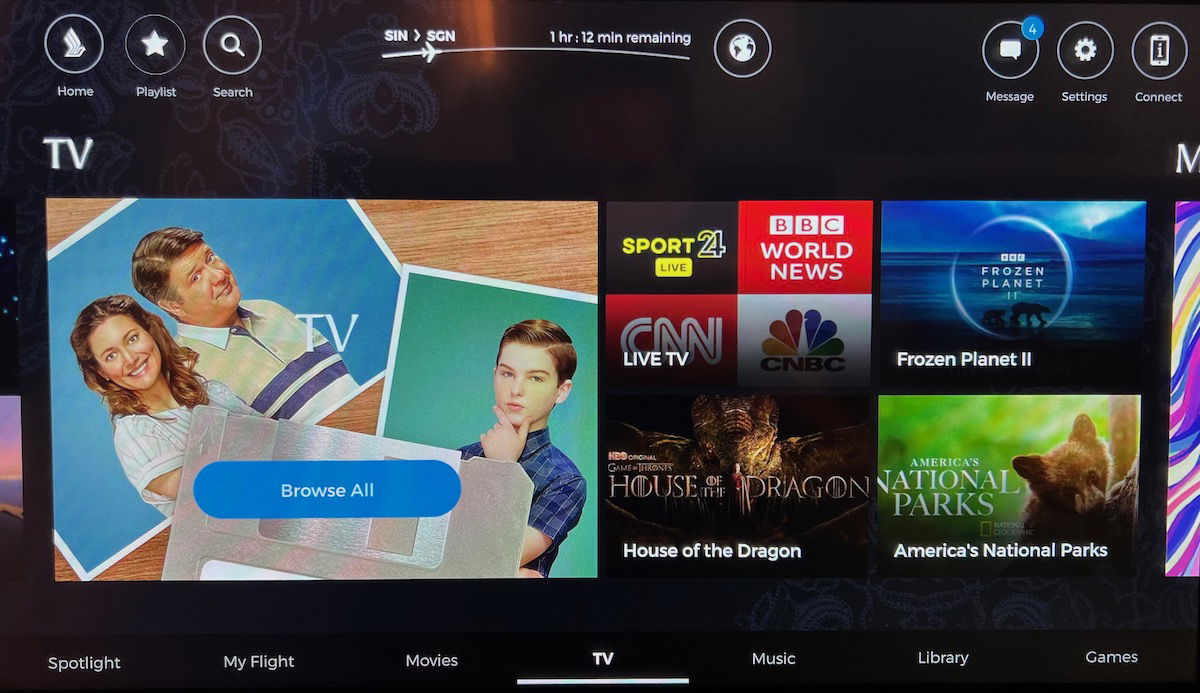 There's also a selection of music, plus several channels of live TV.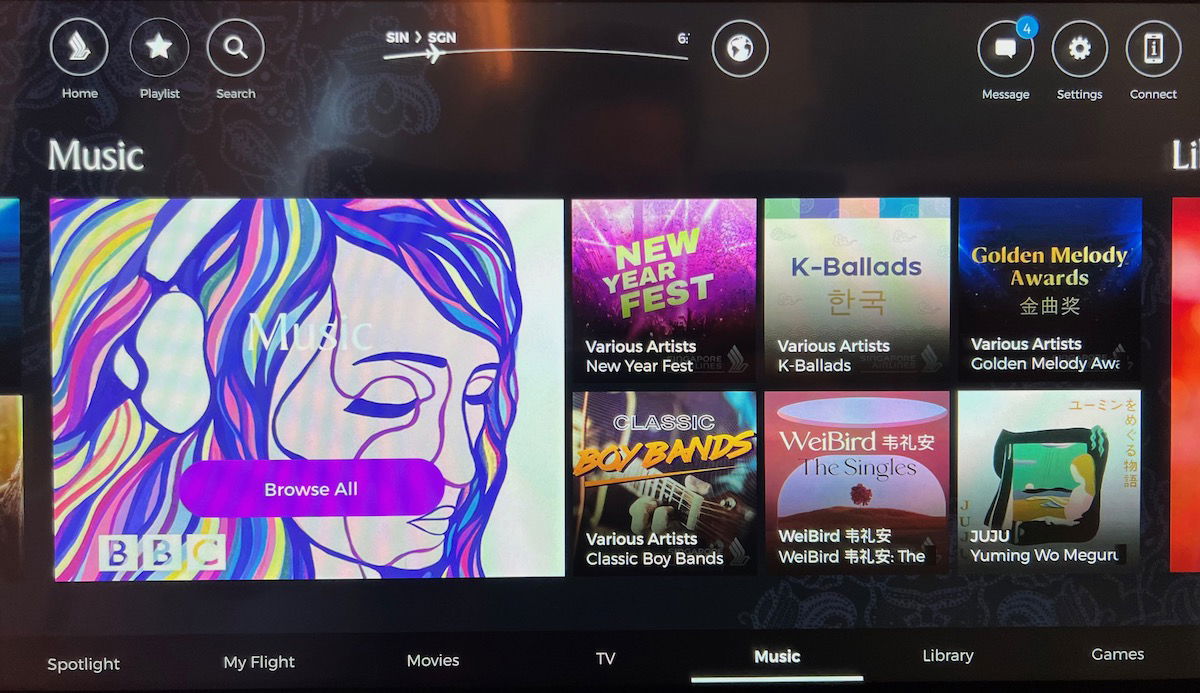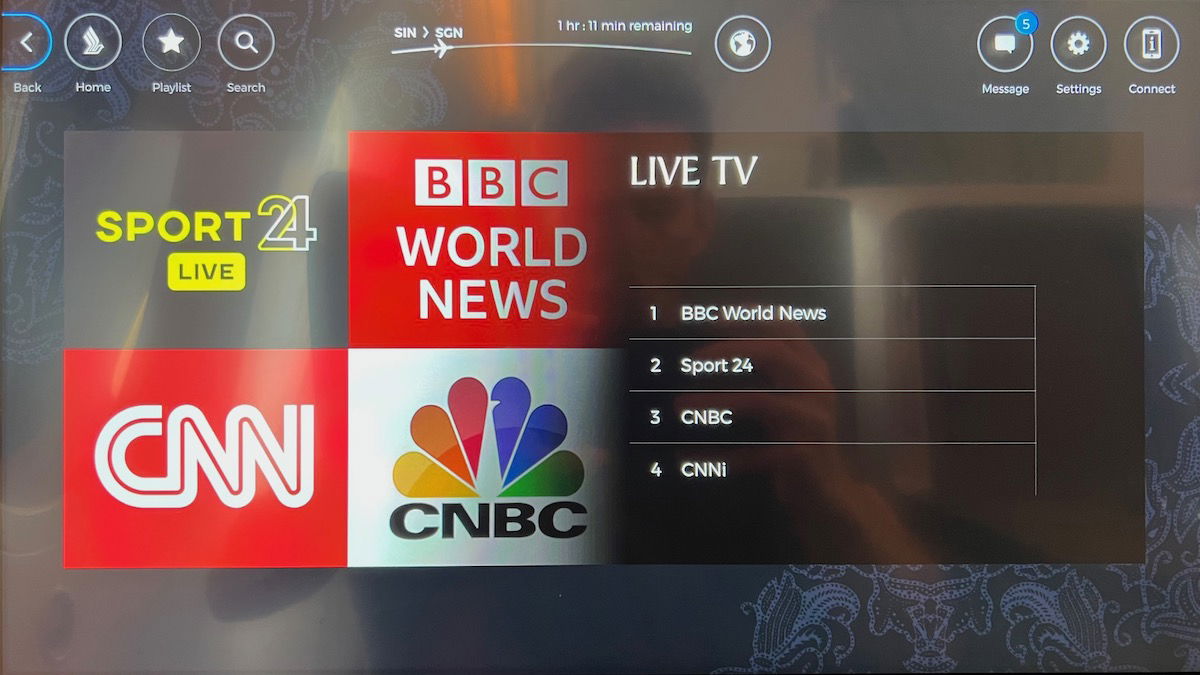 At this point I hadn't yet seen The White Lotus, so I watched that for most of the flight (if you're one of the seven people who hasn't seen it, you really should).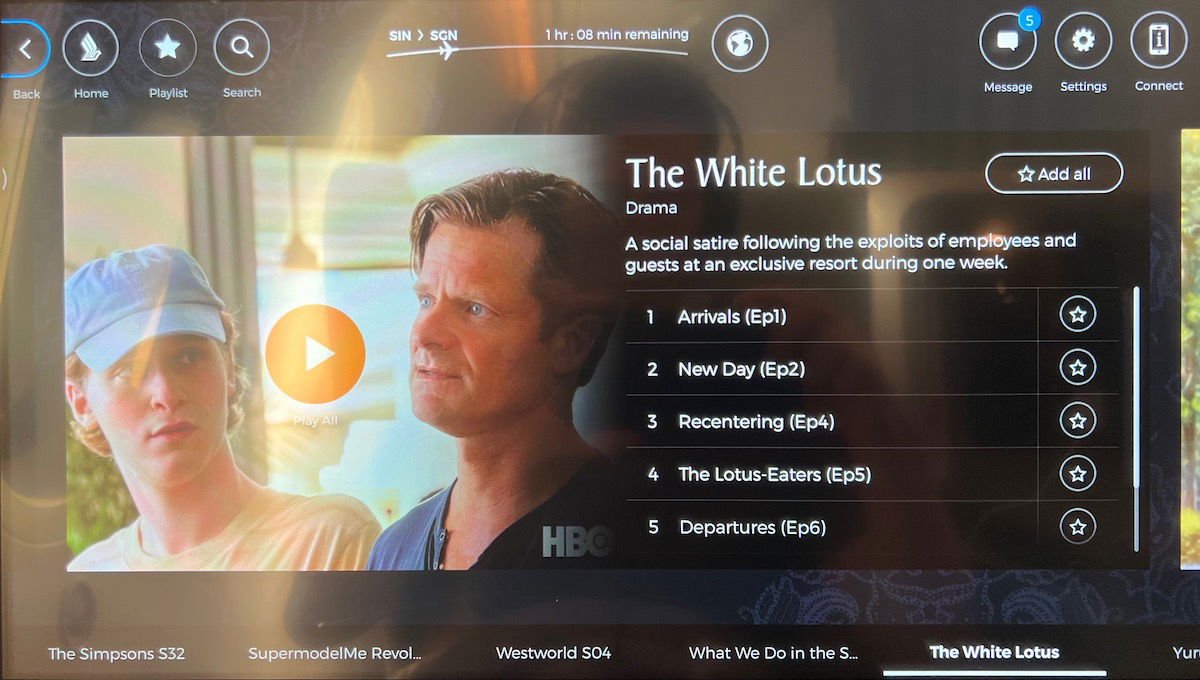 I also took a look at the map feature, which was easy to customize depending on the view you wanted.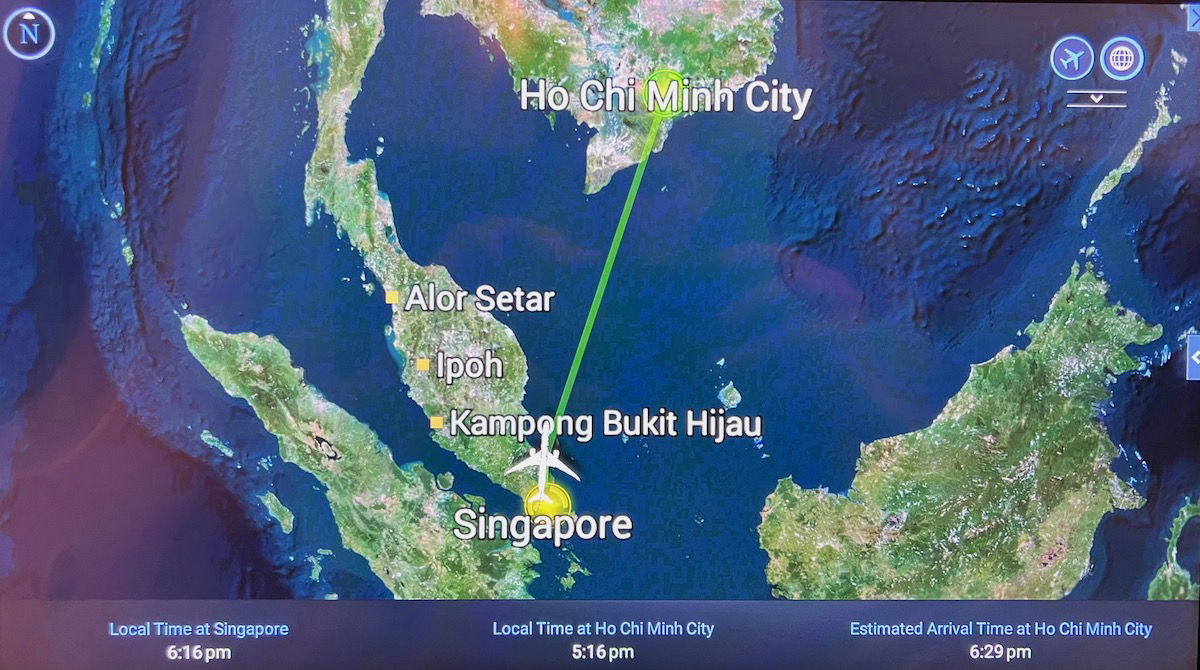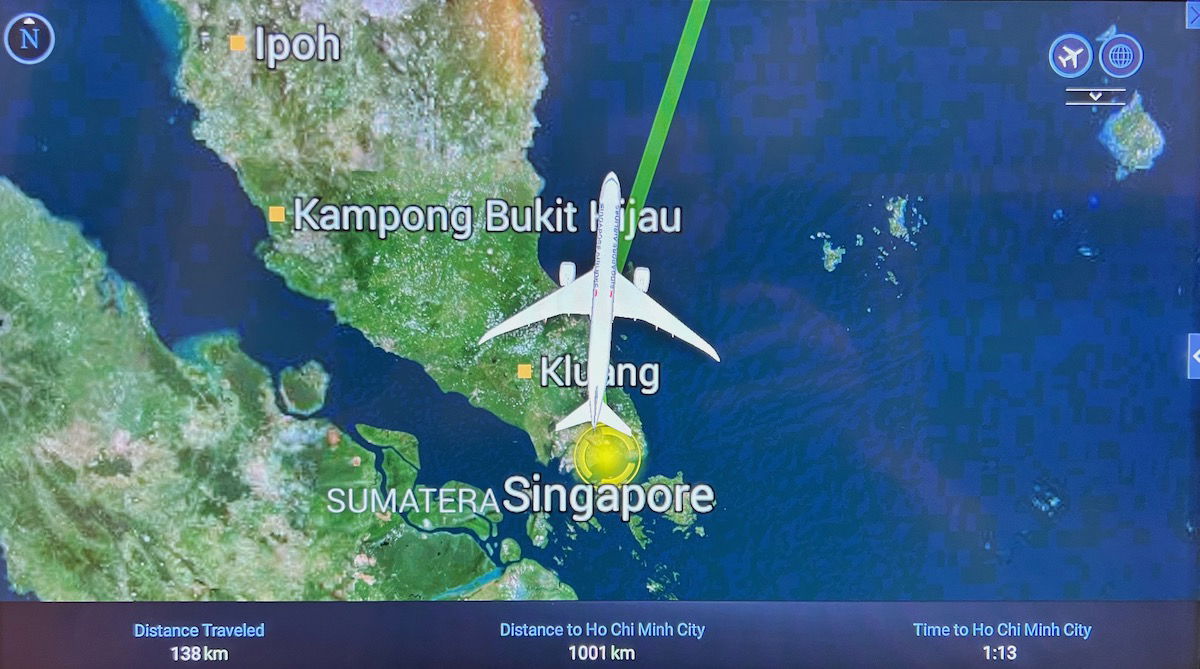 Just as impressive as the entertainment selection is that Singapore Airlines nowadays offers complimentary Wi-Fi in business class.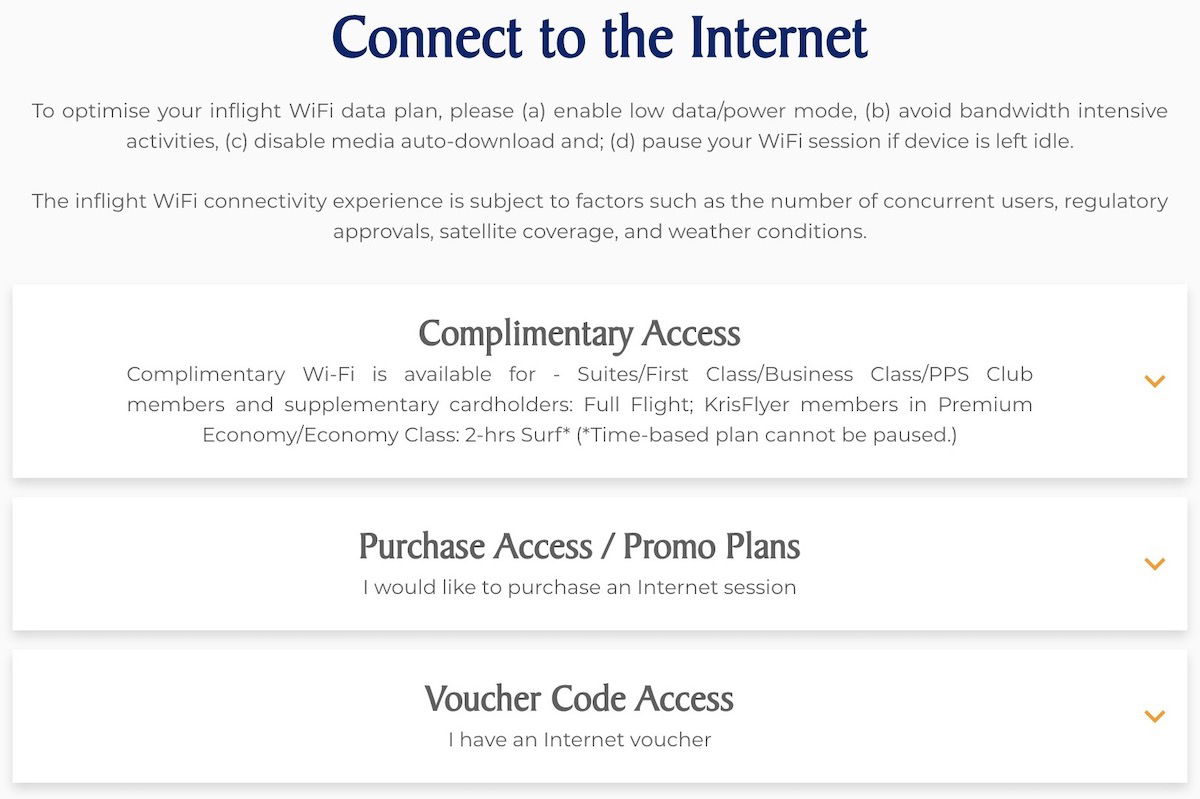 I just had to enter my last name, email address, and seat number, and I could then immediately connect. The speeds were excellent, and there were no data caps.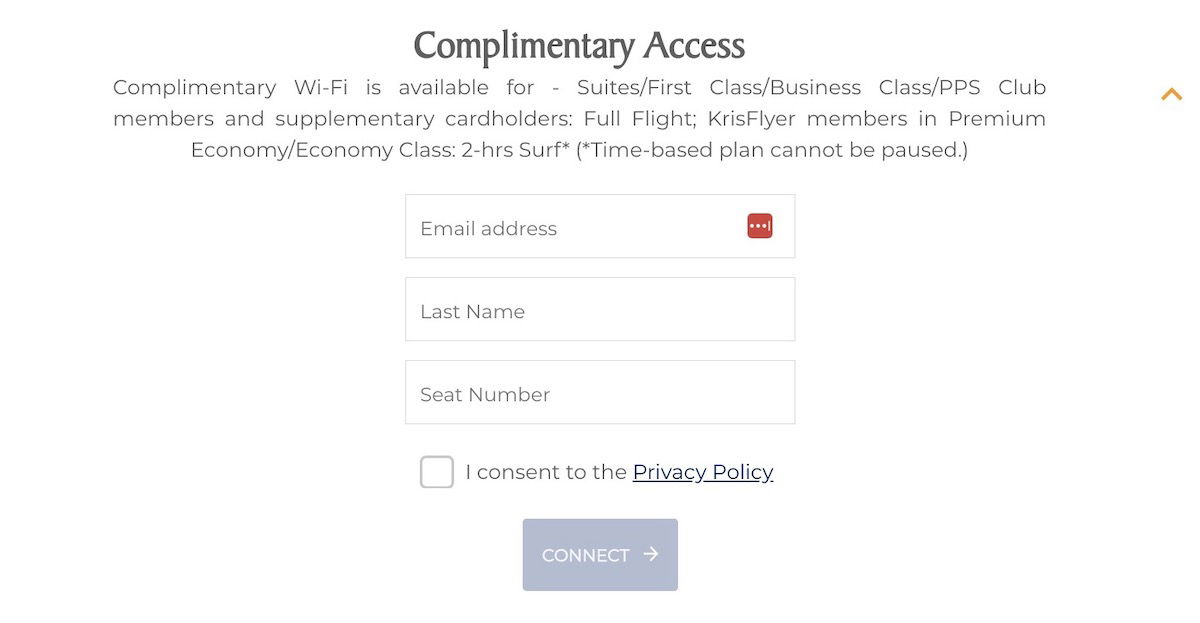 For those curious about the pricing otherwise, Wi-Fi cost anywhere from $3.99 to $15.99, depending on the plan you wanted.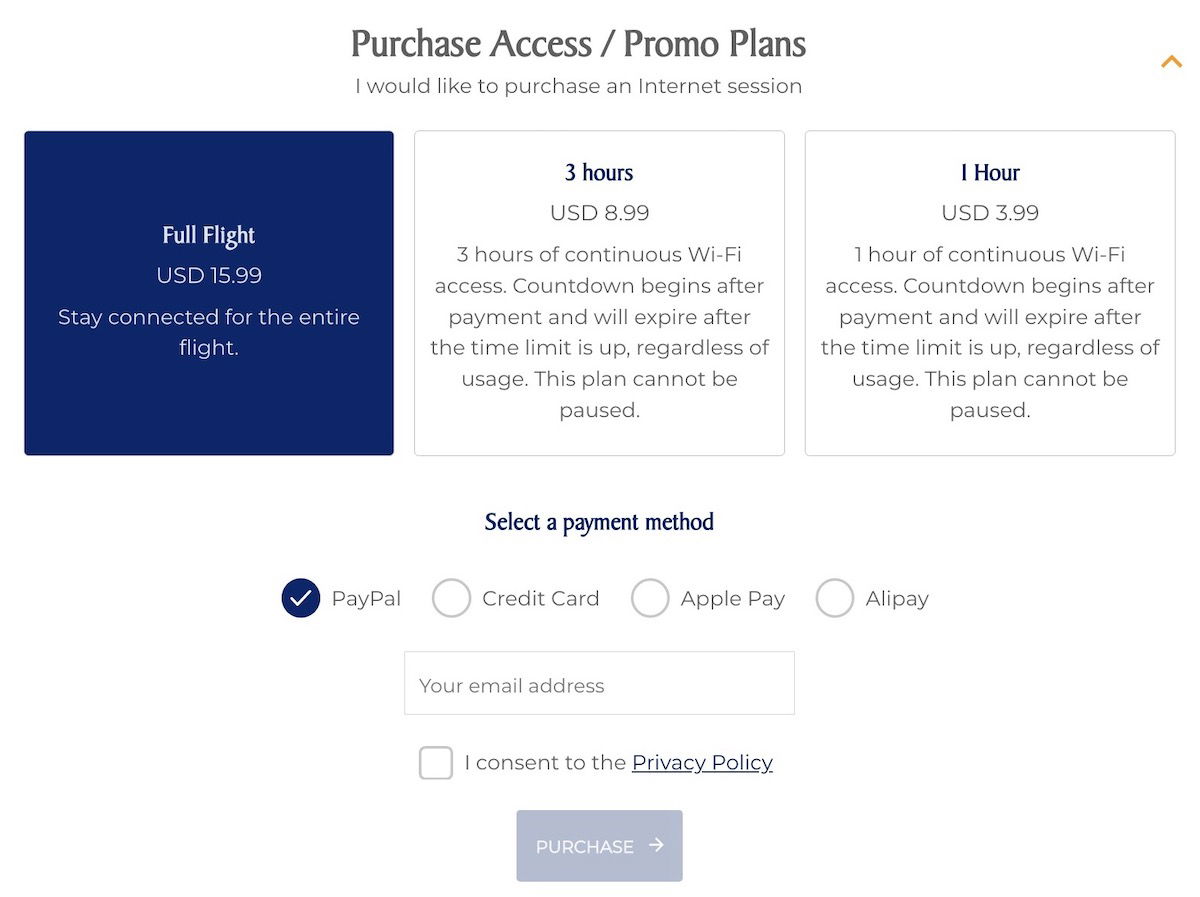 Singapore Airlines business class dinner
There was a dinner service on this short flight to Ho Chi Minh City, and you can find the menu below (which was at my seat upon boarding).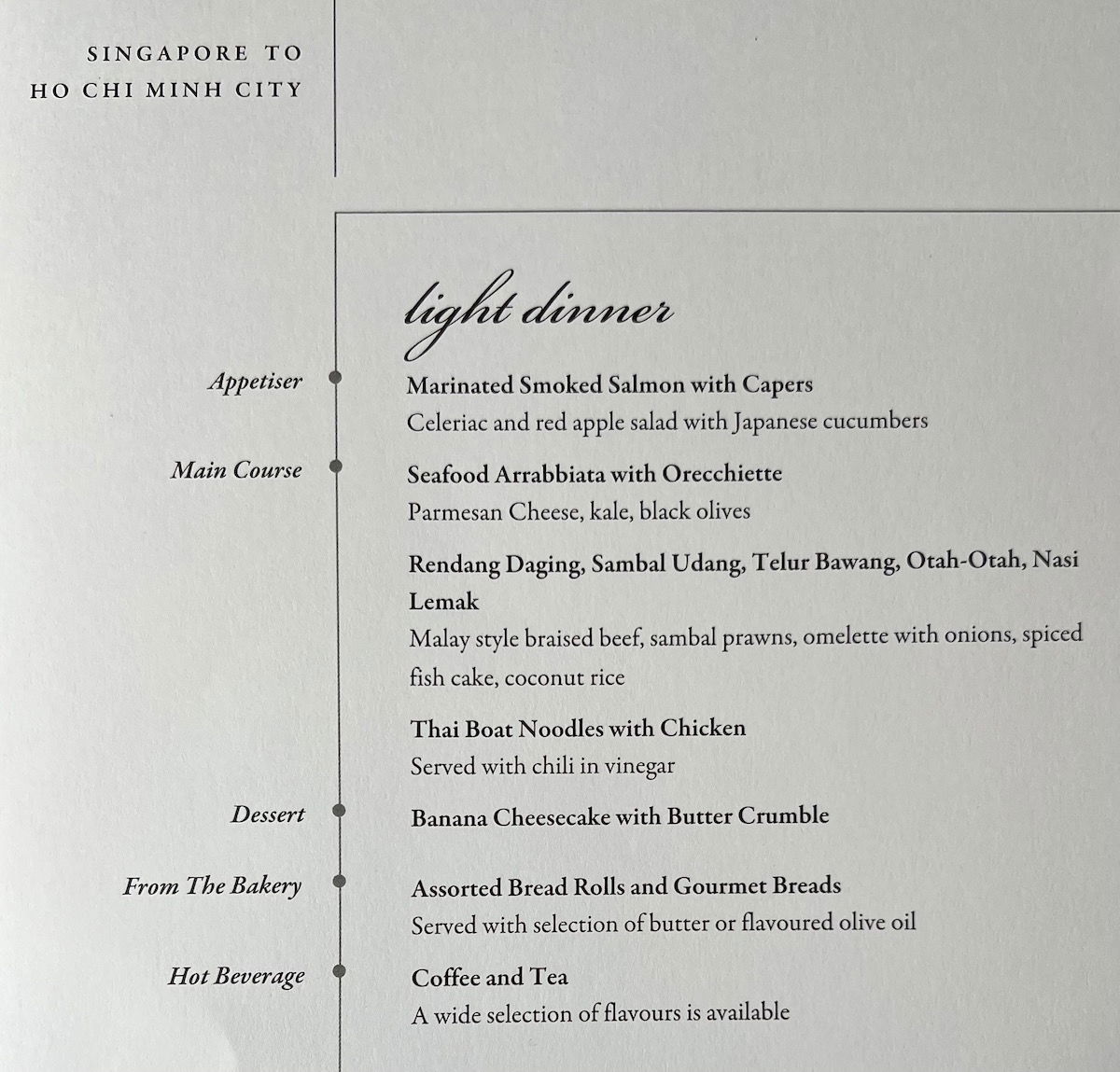 On this flight there was one flight attendant in each aisle with a cart, and they worked their way down the aisles front to back serving dinner. Meal orders weren't taken in advance, but rather were asked for when the flight attendant got to your seat (unlike on US airlines, I find that Singapore Airlines rarely runs out of options).
Of the three main course options, I selected the Malay style braised beef, sambal prawns, omelette with onions, spiced fish cake, and coconut rice. This was served with an appetizer of marinated smoked salmon with capers, and a dessert of banana cheesecake with butter crumble. There was also a selection of bread, including the always tasty garlic bread. Drinks were offered off the same cart, and I selected a glass of the New Zealand sauvignon blanc.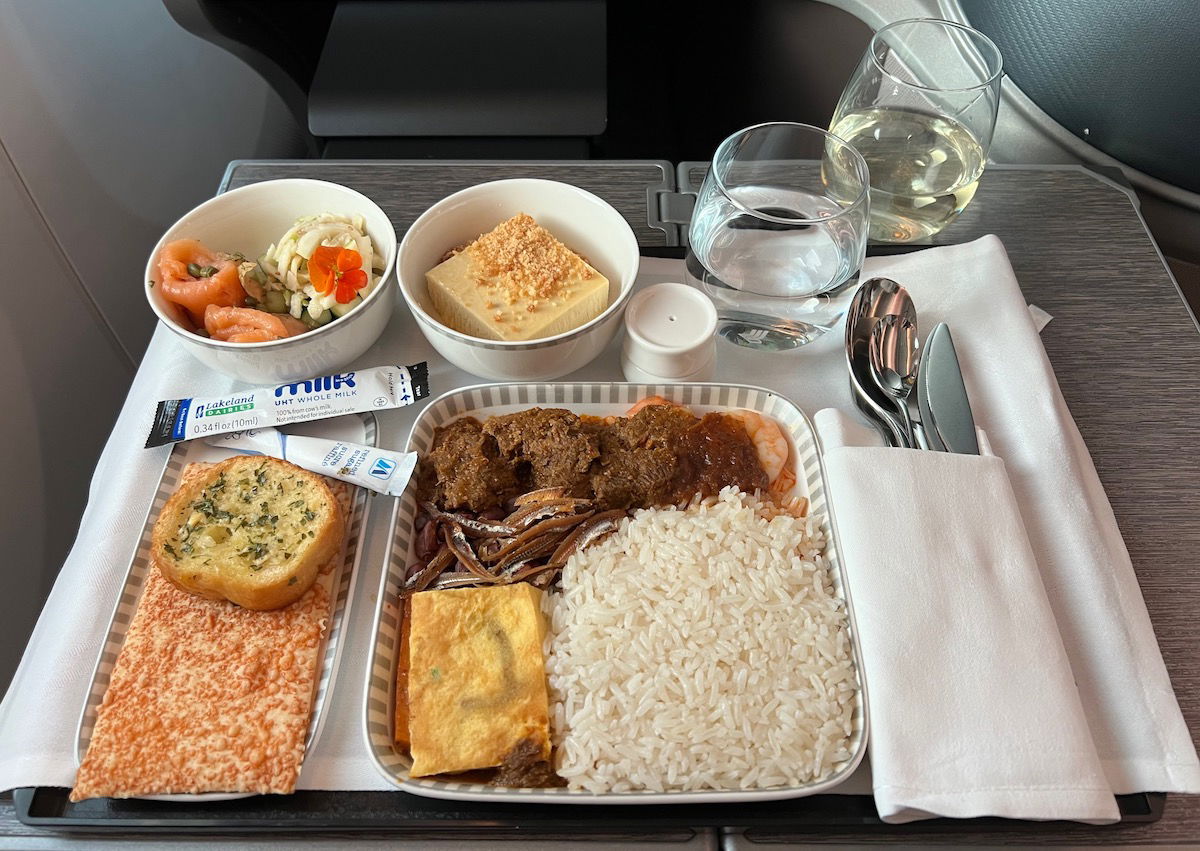 A few minutes later the cart was rolled down the aisle again, both to collect trays, offer drink refills, and also to serve coffee and tea. I requested a cup of coffee.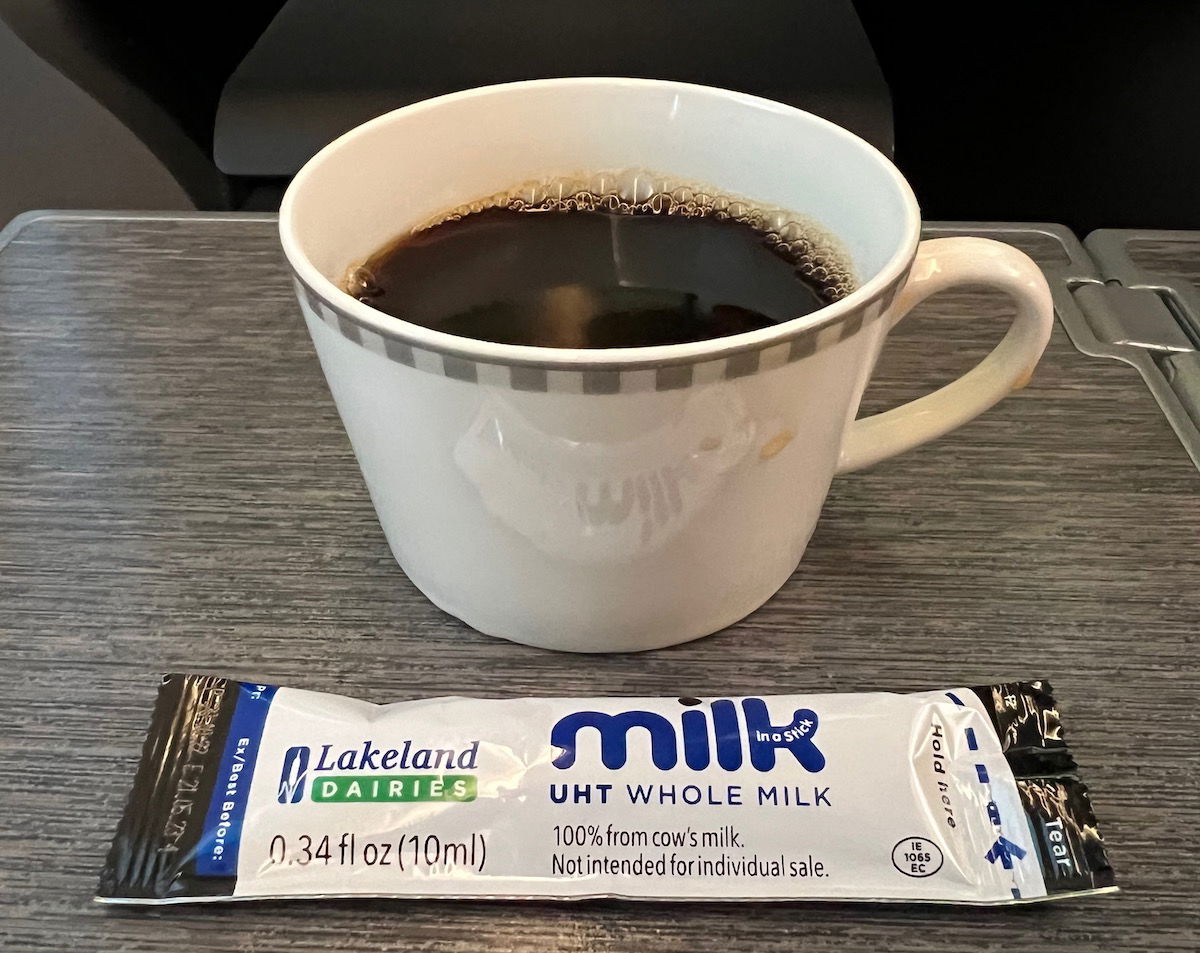 The meal was honestly phenomenal, especially for such a short flight. It's funny how Singapore Airlines marketed this on the menu as a "light dinner." It was a pretty full dinner, if you ask me.
Singapore Airlines 787-10 business class bed
While there was no time to actually sleep on this flight, I did want to test out the bed, to see how comfortable it is. As a side sleeper, I found it to be especially comfortable to sleep facing the windows, and could easily fold my knees. I also thought the footwell was plenty spacious.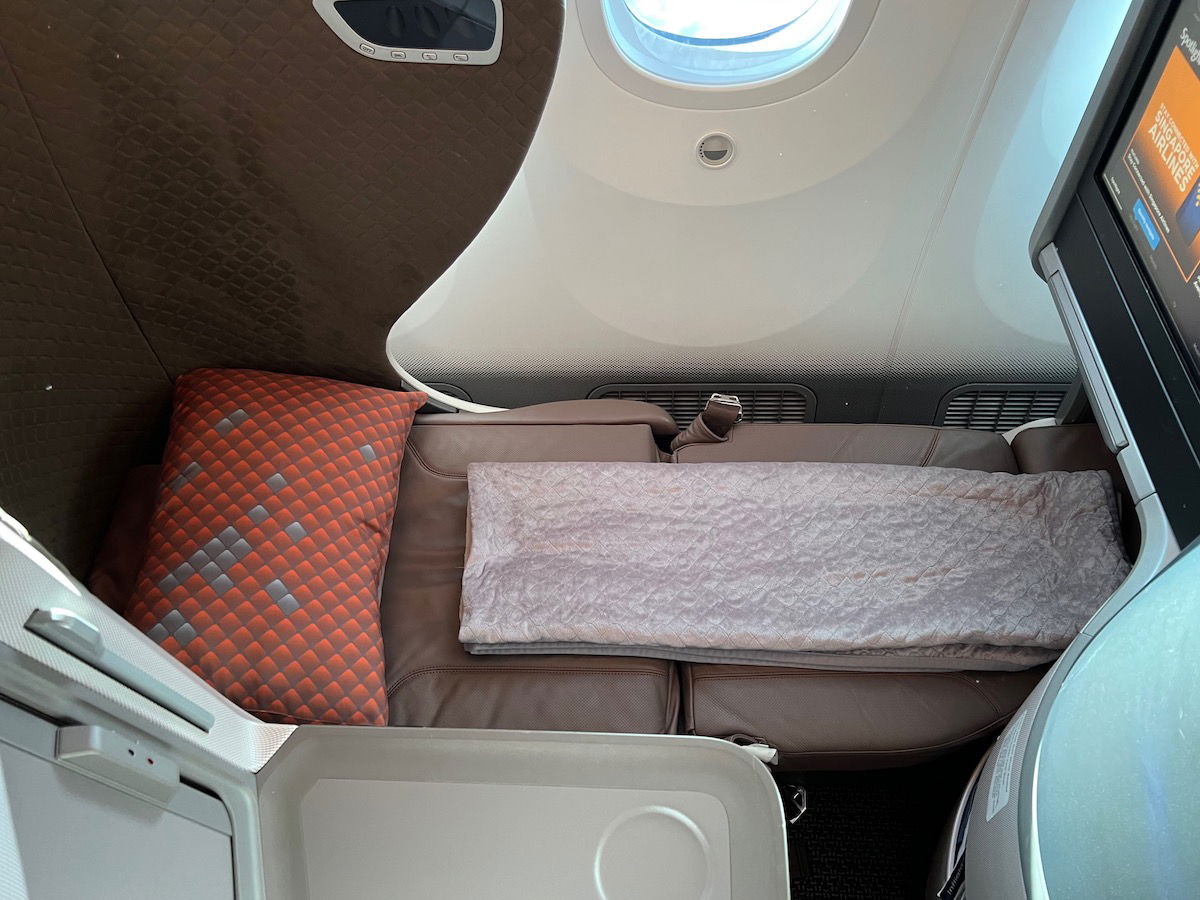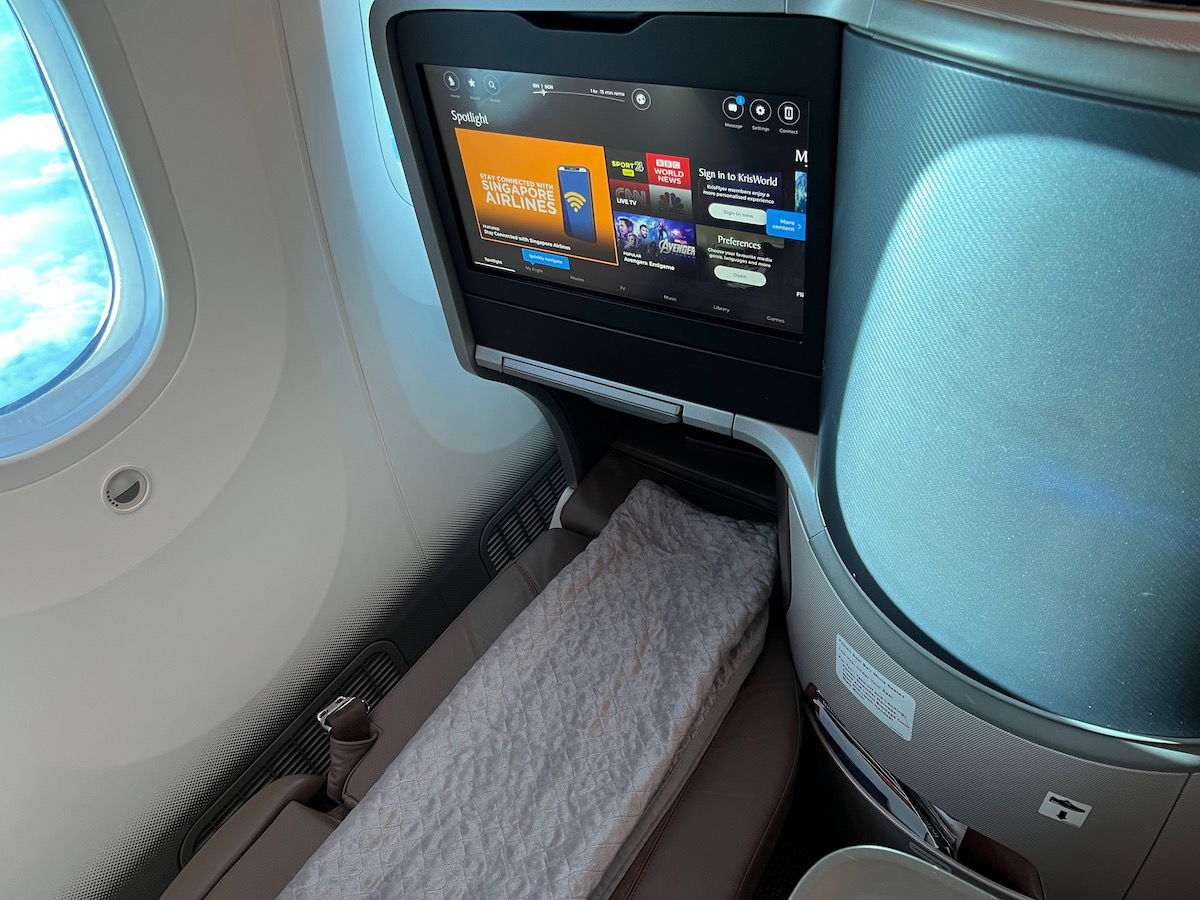 Singapore Airlines 787-10 business class lavatory
There were two lavatories in front of the business class cabin, and then two more behind the cabin. They were immaculately clean, and also had dental kits, as well as products from Penahligon's.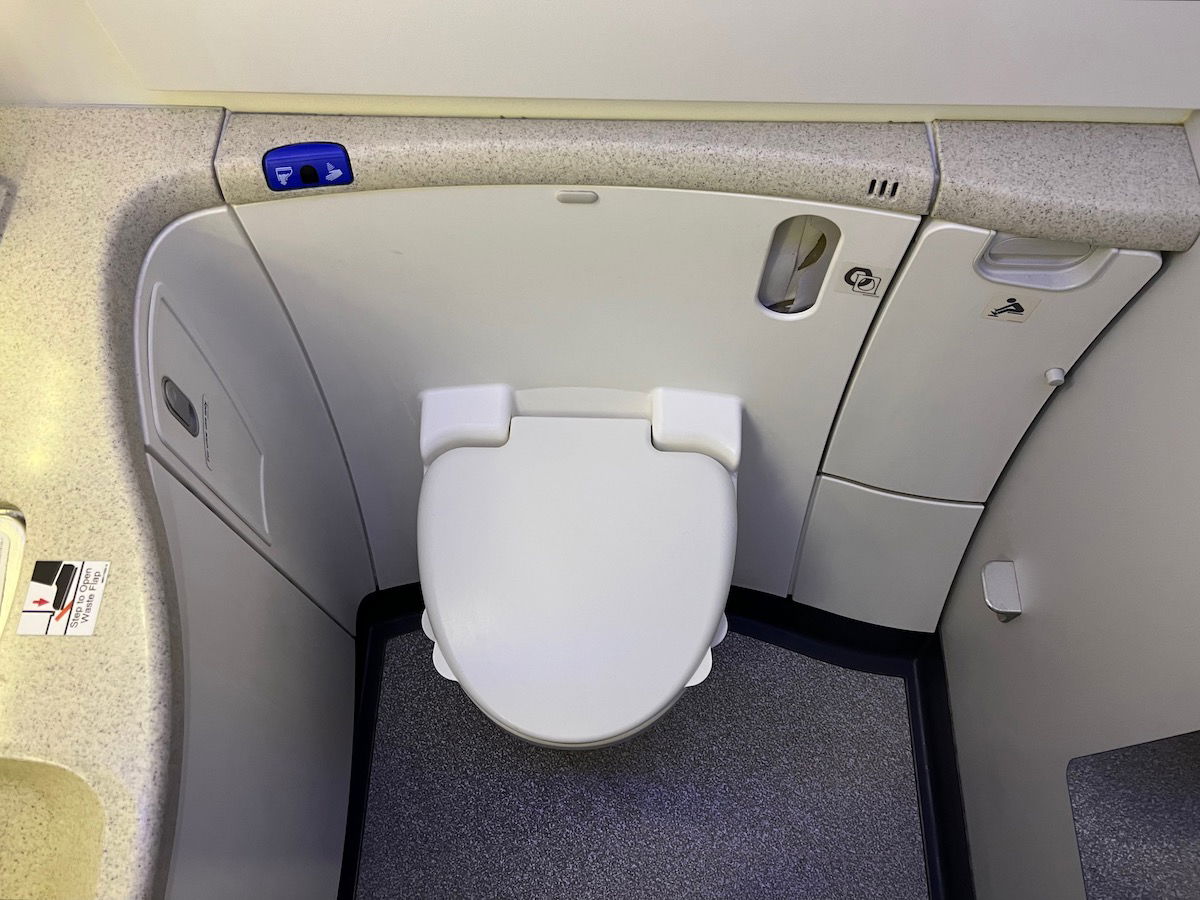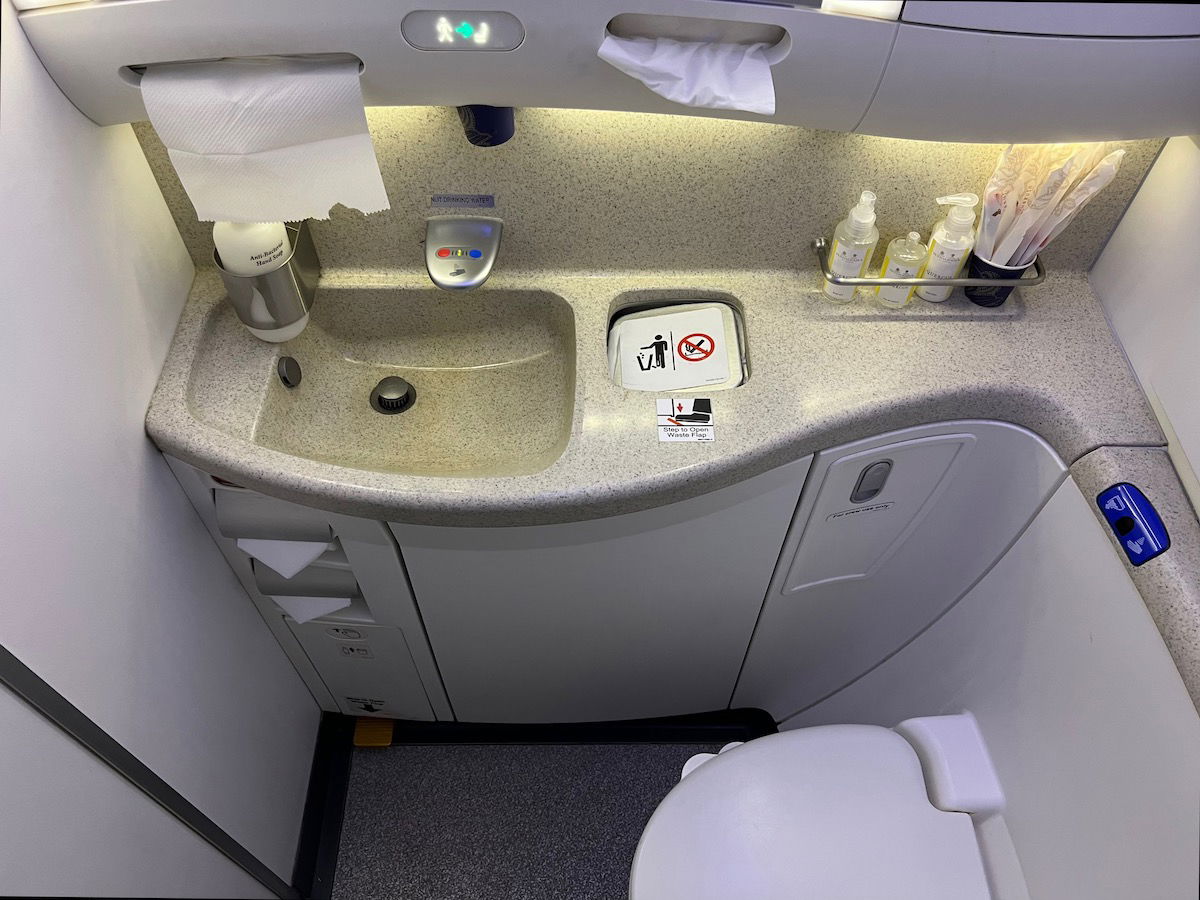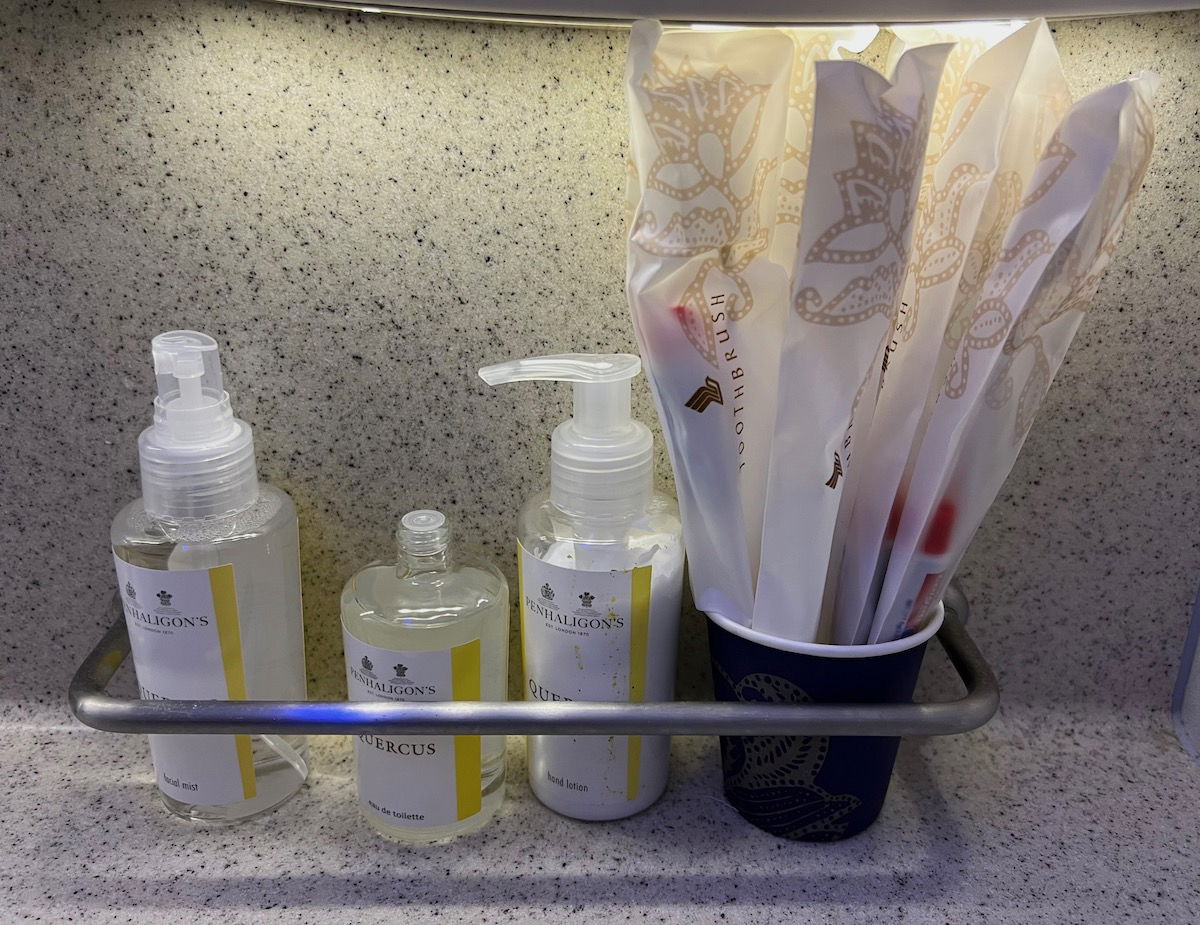 Singapore Airlines business class service
Singapore Airlines is one of the most consistent airlines in the world when it comes to service, and this crew was no exception. They just perform service with such grace, warmth, and precision. From greeting each passenger upon boarding, to how they address passengers by name during the service, to their attention to detail, I consistently find Singapore Airlines to be great in this regard.
As I wrote about in a separate post, the guy behind me had some serious complaints about the flight, and I was impressed by how professionally the crew handled that situation. It's nice to see a crew trained in deescalation and customer service, rather than what we all too often see in the United States.
Singapore Airlines 787-10 arrival in Ho Chi Minh City
One hour after takeoff, the captain was back on the PA to inform us that we were at 38,000 feet and would be starting our descent in about 10 minutes, with a landing expected at 6:45PM (Ho Chi Minh City is one hour behind Singapore). Sure enough, we started our descent 10 minutes later, and then at 6:15PM the seatbelt sign was turned on, and the crew was told to prepare the cabin for landing.
It's always strange to me how service starts so quickly after takeoff on Singapore Airlines, but then service has to end so soon, with the cabin being prepared for arrival so early. As we descended, Singapore Airlines' traditional landing music was played, which I enjoy even more than the boarding music.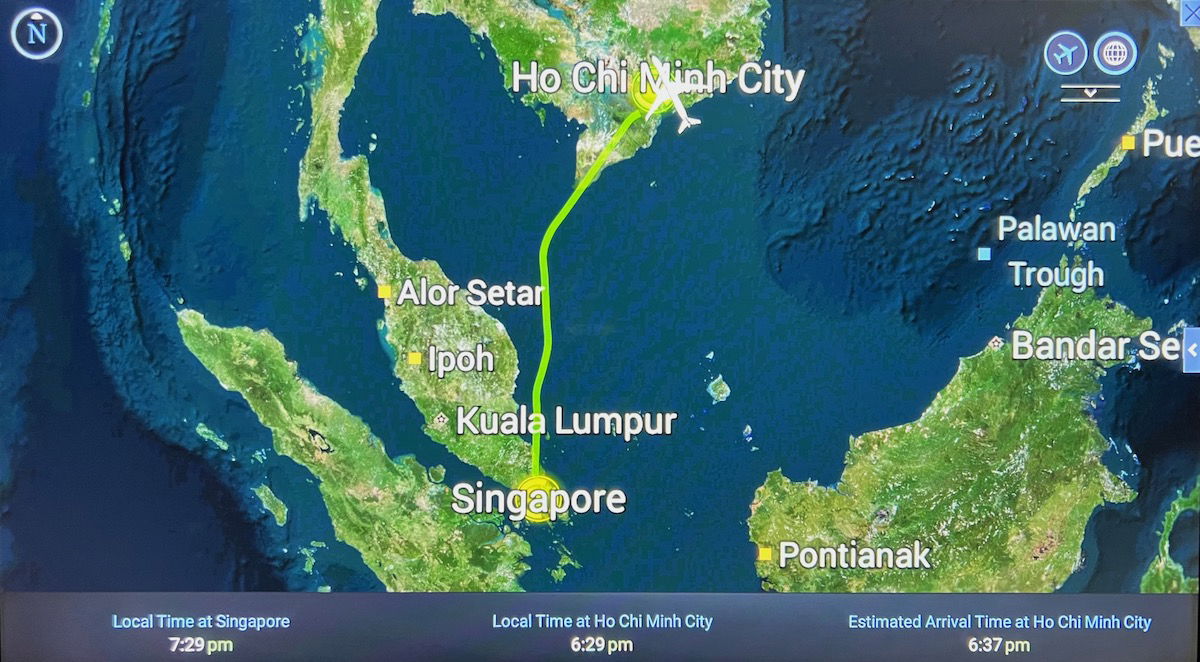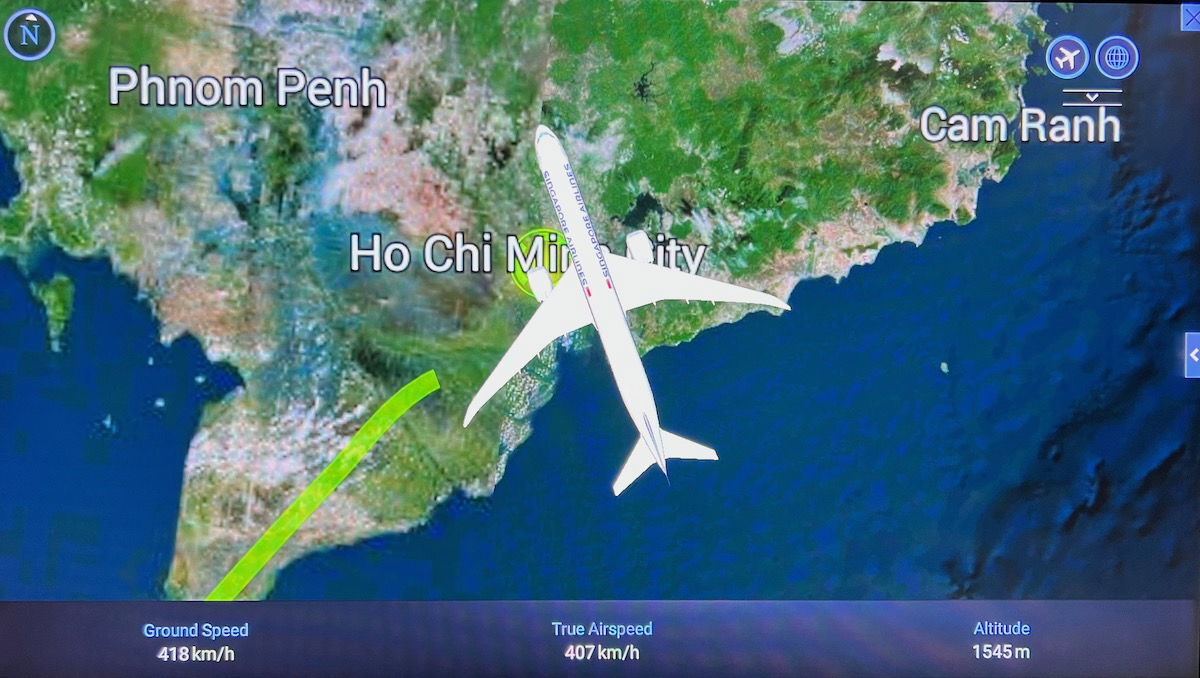 We ended up touching down at Ho Chi Minh City Airport at 6:40PM. From there we had a 10-minute taxi to our arrival gate, where we parked next to a Cathay Pacific Airbus A330. We deplaned through the forward door, where the captain personally said goodbye to each passenger.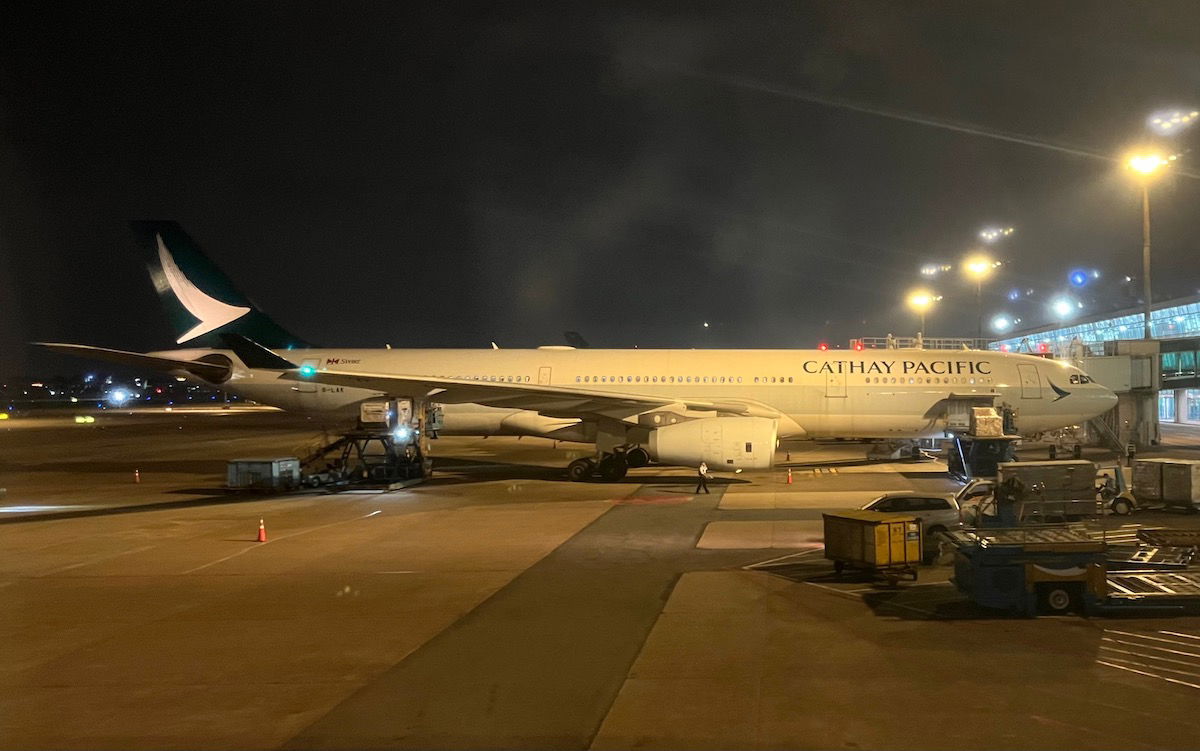 I then headed for immigration, where there was an hour-long queue (each of these lines is for a single immigration officer). Ugh, going from Singapore Airlines business class to this line was quite the adjustment.
Perhaps even worse than the long line was that the lady behind me tried to cut me every few minutes. She'd consistently start standing in front of me, I'd stare her down, then she'd move behind me again. And that happened over and over and over. WTF.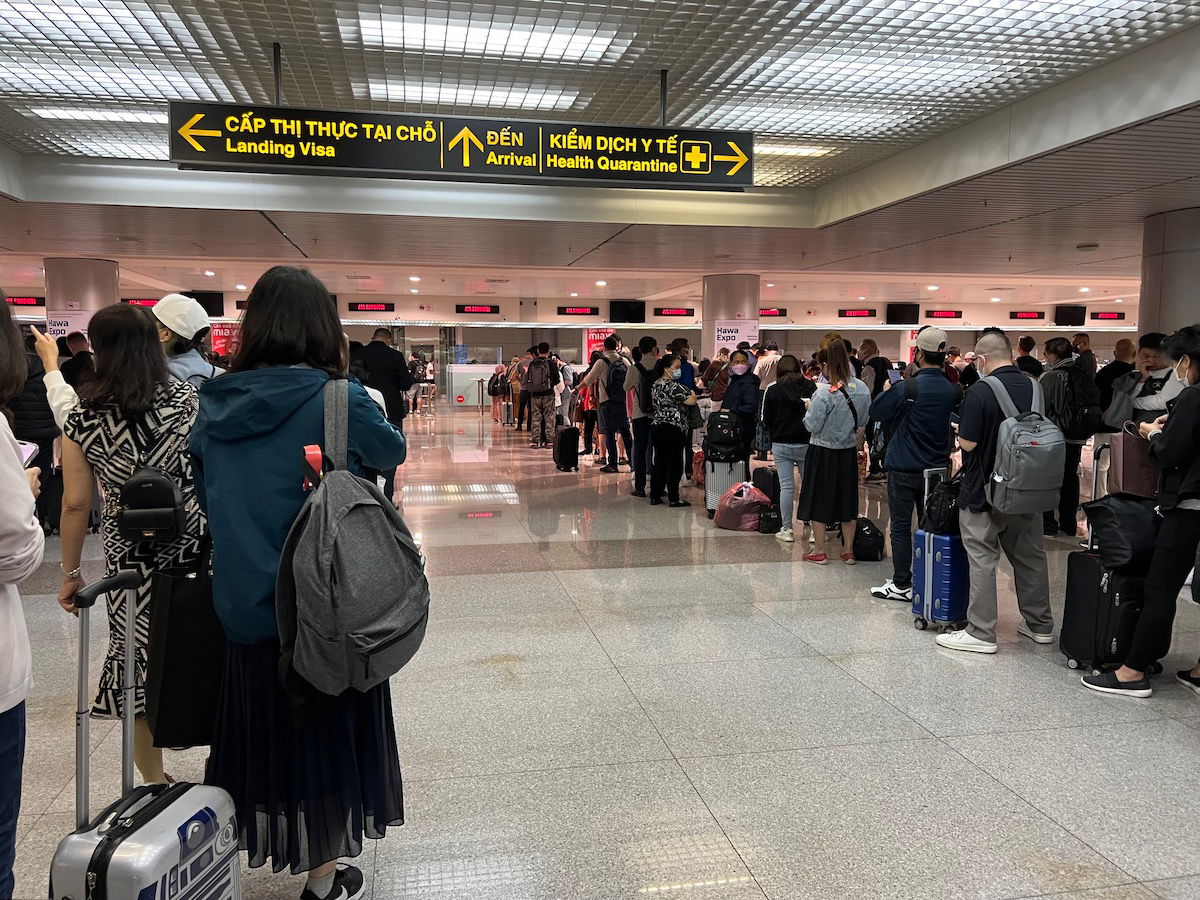 After clearing immigration, it was time to head to the domestic terminal for my adventure on Bamboo Airways. I was equal parts exhausted and excited!
Bottom line
Flying with Singapore Airlines is always such a treat. 90-minute flights don't get much better than this, between the comfortable seats, great amenities, delicious food, free Wi-Fi and endless entertainment, and gracious service.
It sure is hard to go back to the United States and fly with US carriers after experiencing this kind of service.
What do you make of Singapore Airlines' 787 business class?