In the interest of full disclosure, OMAAT earns a referral bonus for anyone that's approved through some of the below links. These are the best publicly available offers (terms apply) that we have found for each product or service. Opinions expressed here are the author's alone, not those of the bank, credit card issuer, airline, hotel chain, or product manufacturer/service provider, and have not been reviewed, approved or otherwise endorsed by any of these entities. Please check out
our advertiser policy
for further details about our partners, and thanks for your support!
For the last portion of the outbound journey of my whirlwind Aeroplan adventure, I was flying Bamboo Airways' A321neo business class from Ho Chi Minh City to Hanoi. As an avgeek, I can't even put into words how excited I was to fly Bamboo Airways. I had seen virtually no reviews online about this product, and to me there's a real thrill in an experience like this, where you have no clue what to expect.
Well, I'm happy to report that Bamboo Airways' domestic product exceeded my expectations, with comfortable seats, good food, and friendly service. Being the only business class passenger certainly didn't hurt either…
How I booked my Bamboo Airways business class ticket
I booked my Bamboo Airways business class ticket using points (you've gotta love how many unique airline partners Aeroplan has!). Specifically, I redeemed 115,000 Air Canada Aeroplan points to fly from Chicago to Vienna to Rome to Bahrain to Singapore to Ho Chi Minh City to Hanoi, all in business class.
For more details on how I booked that, see my post about how to redeem Aeroplan points like a pro. Aeroplan points are easy to come by, as the program is transfer partners with Amex Membership Rewards, Capital One, and Chase Ultimate Rewards. On top of that, there's the Aeroplan® Credit Card (review) in the United States, which is phenomenal.
Specific to the Bamboo Airways portion of my trip, here's the flight I took:
1/08 QH256 Ho Chi Minh City to Hanoi departing 10:10PM arriving 12:20AM (+1 day)
For what it's worth, the following day I flew from Hanoi to Frankfurt on Bamboo Airways' Boeing 787. That was the start of my return journey, so I'll talk more about that booking process when I review the flight.
Bamboo Airways business class check-in & lounge
After my Singapore Airlines Boeing 787 business class flight from Singapore, I cleared immigration and headed over to the domestic terminal. There I easily found Bamboo Airways' check-in area. I know I'm strange, but I got downright giddy seeing anything Bamboo Airways branded "in the flesh" for the first time.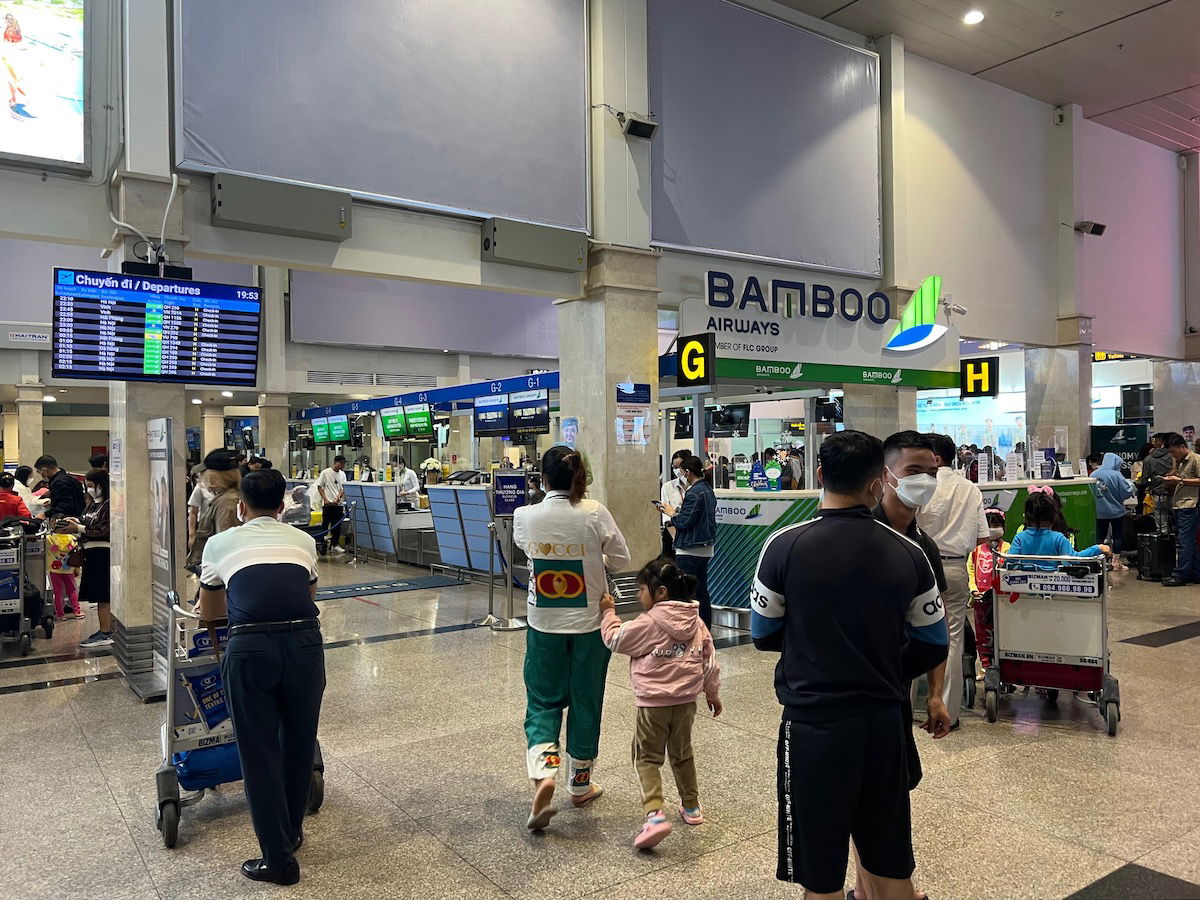 While there was a wait at the main Bamboo Airways check-in counter, there was no queue for business class, and I was helped immediately. I explained which flight I was on, but oddly was asked for my ticket number before the agent even tried to look up my reservation (so it's not that she couldn't find my reservation). Odd, but okay…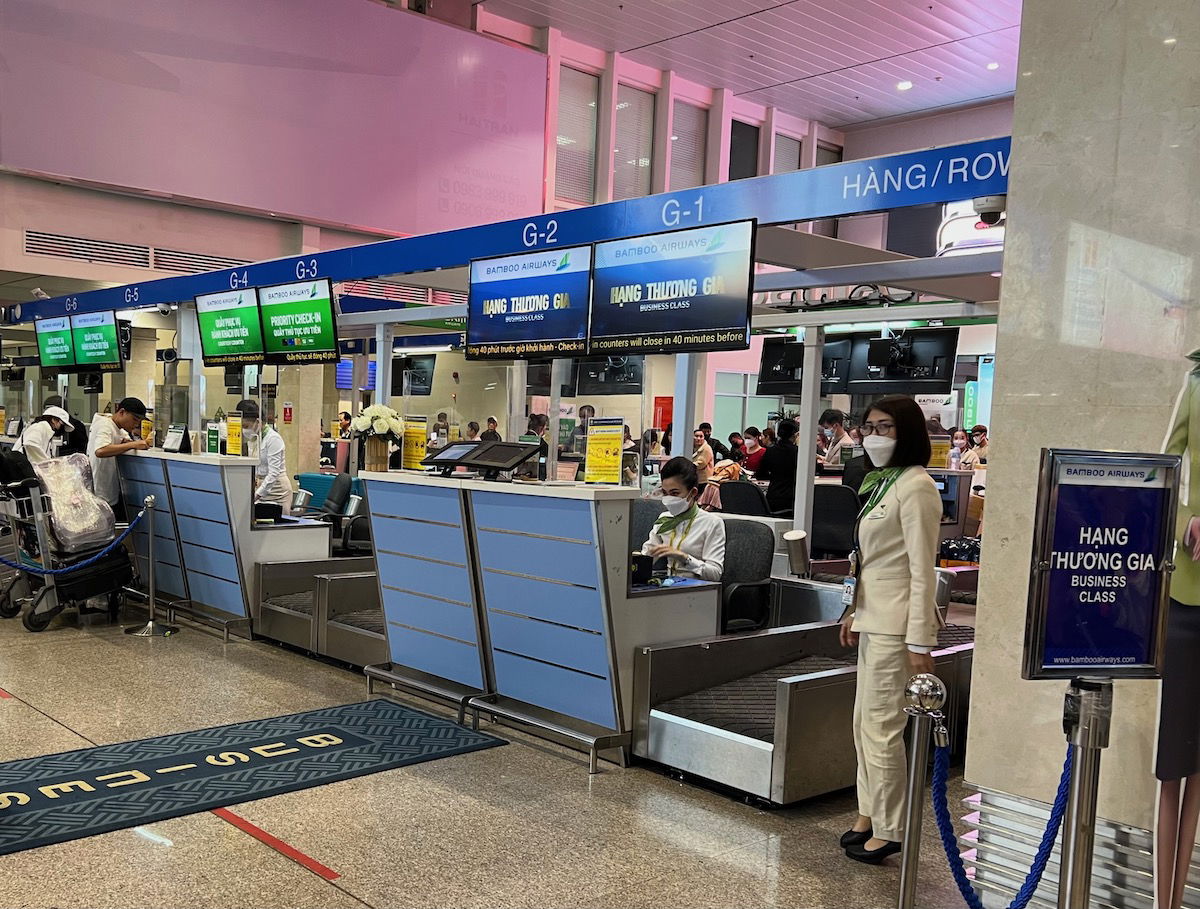 Once I provided my ticket number, the check-in process was efficient, and I was shown a seatmap of the plane I'd be flying (an Airbus A321neo), to confirm my seat selection.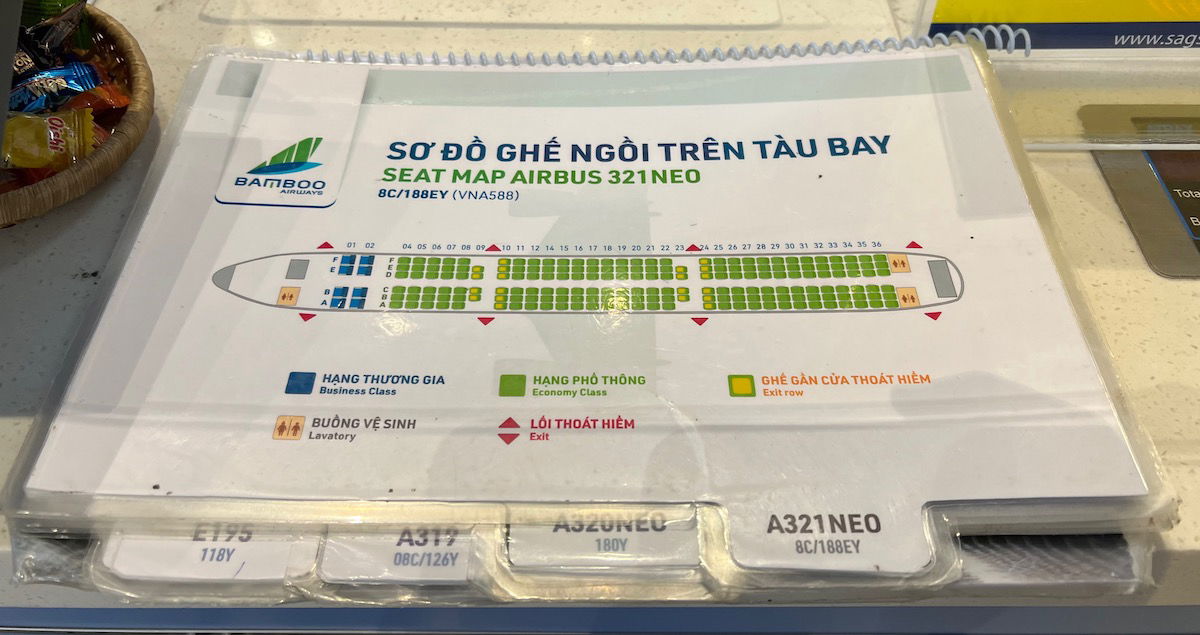 At this point the check-in agent handed me over to her colleague, who escorted me to the entrance of the premium check-in line. It's nice that the domestic terminal at the airport offers a totally separate premium queue, since the main security area was packed. I was through security within five minutes.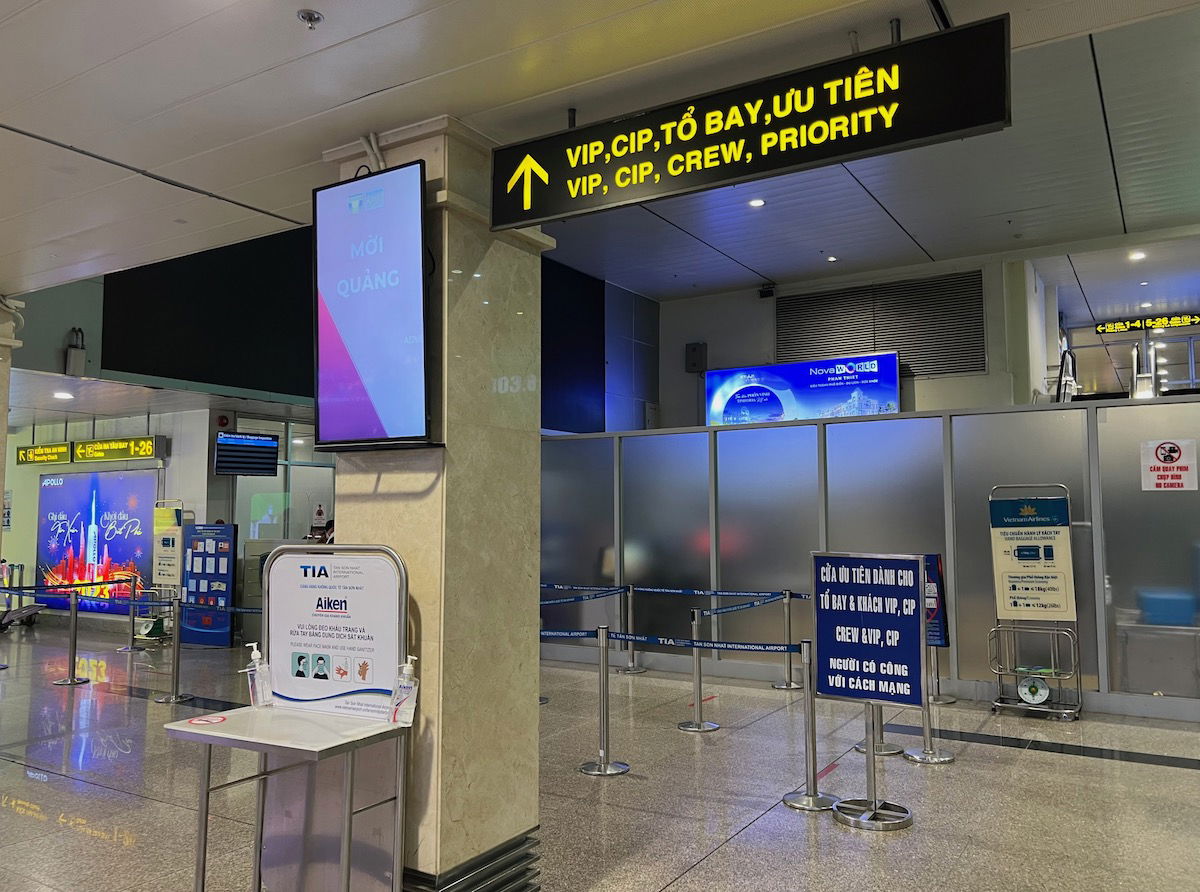 From there I headed to Le Saigonnais Business Lounge, which Bamboo Airways business class passengers can use (it's the only lounge in the domestic terminal). I reviewed the lounge in a separate installment.
Bamboo Airways business class boarding
Boarding for my Bamboo Airways flight was scheduled for 9:30PM, 40 minutes before my 10:10PM departure. Boarding was scheduled for gate 14, located just a short walk from the lounge. I knew the flight would be departing from a remote stand, as there were stairs leading down to the bus area.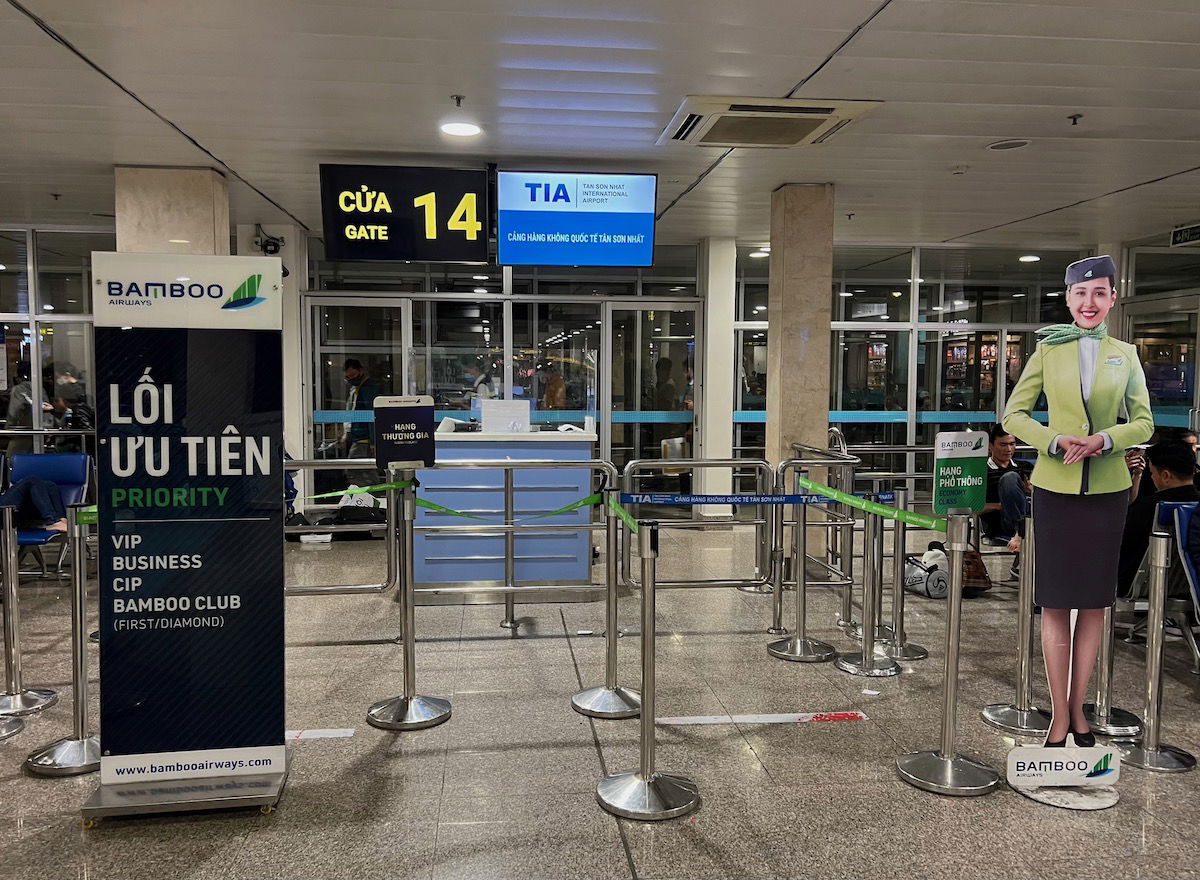 There were no announcements in English, so it was hard to make sense of what was going on when boarding started. Usually business class passengers are invited to board first, but in this case I was asked to just stand to the side, while seemingly half the plane boarded.
The gate agent was trying to explain there would be a separate bus for business class, and I should wait. Sure enough, after about 10 minutes she motioned for me to proceed to the gate.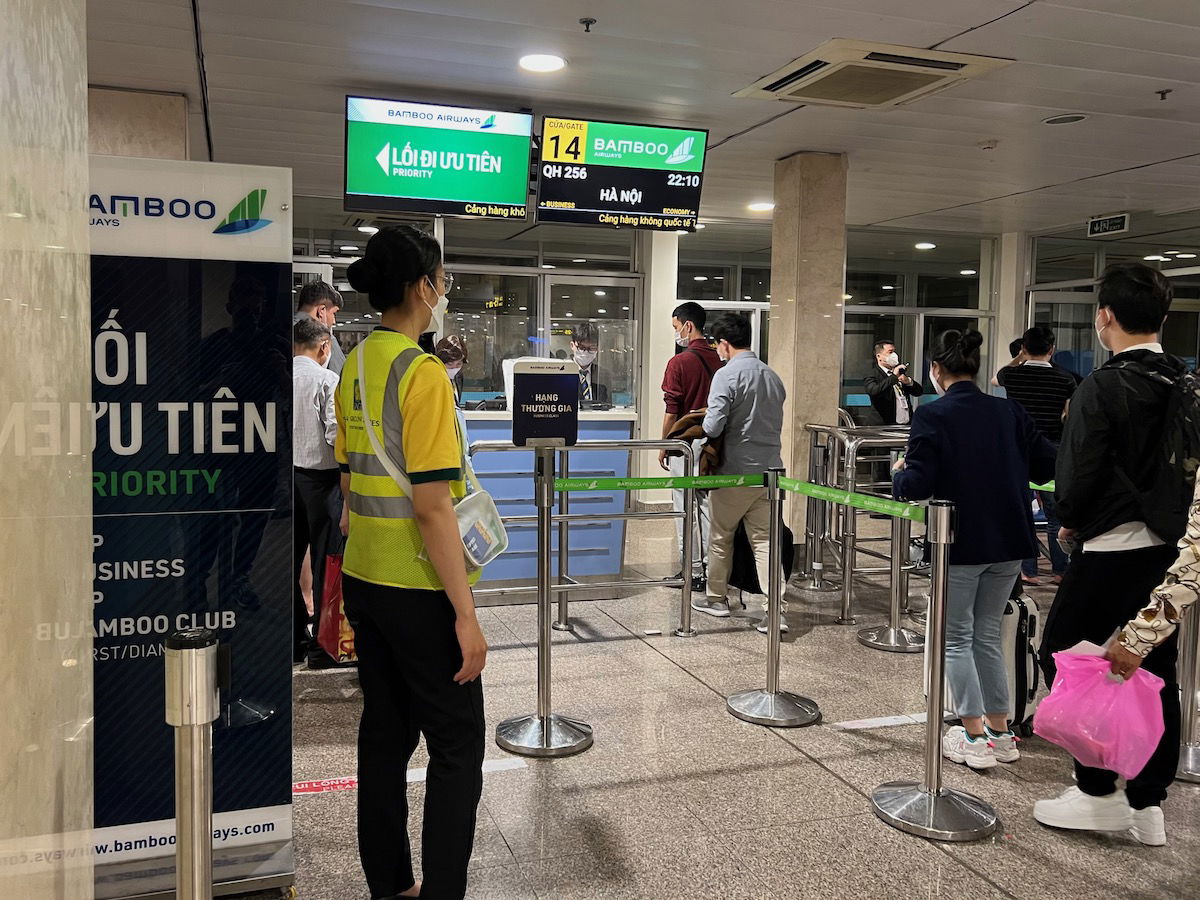 At this point my boarding pass was scanned, and I was asked to follow one of the gate agents. This was rather awkward, as there was a line all the way down the stairs to the bus, but she made everyone move so that we could squeeze through.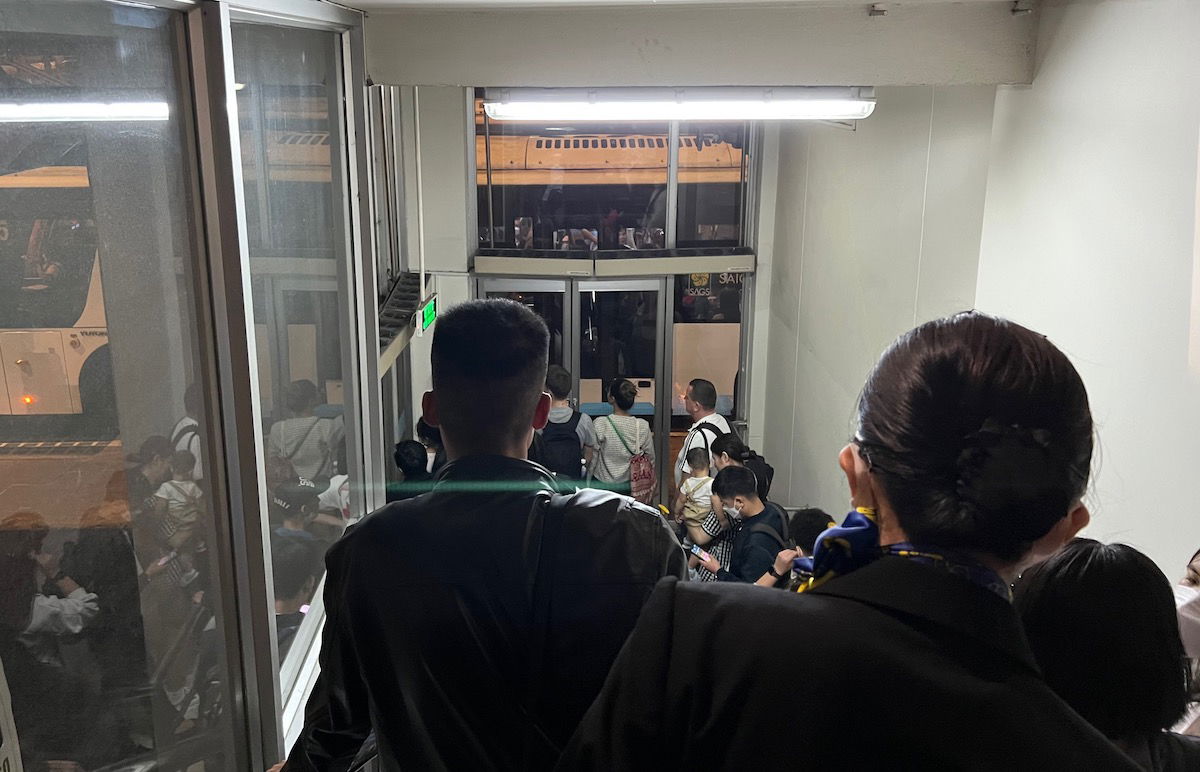 At this point I was put on a 16-person bus. Once the door closed, it became pretty apparent to me that I was the only one in business class — awesome!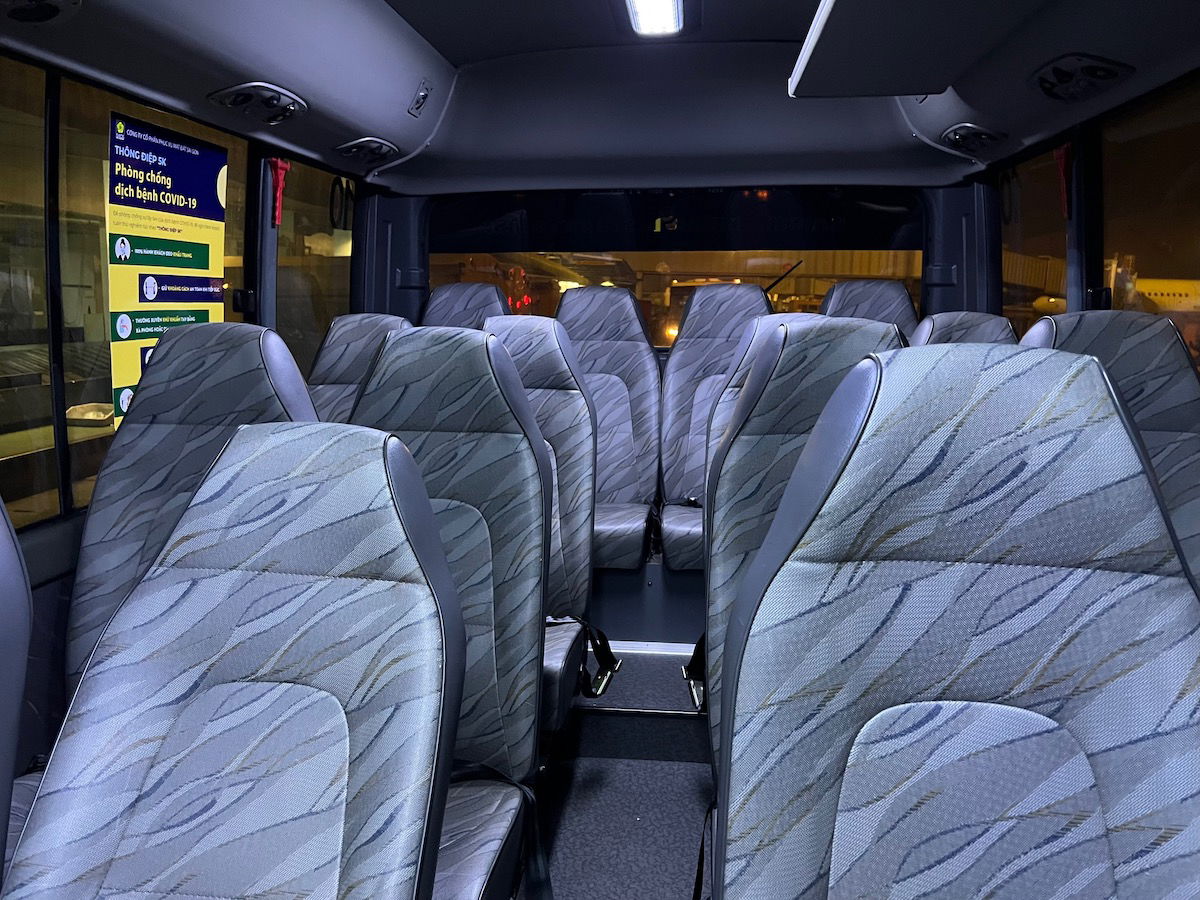 We drove right behind the first "regular" bus to the plane, and it was quite a long drive.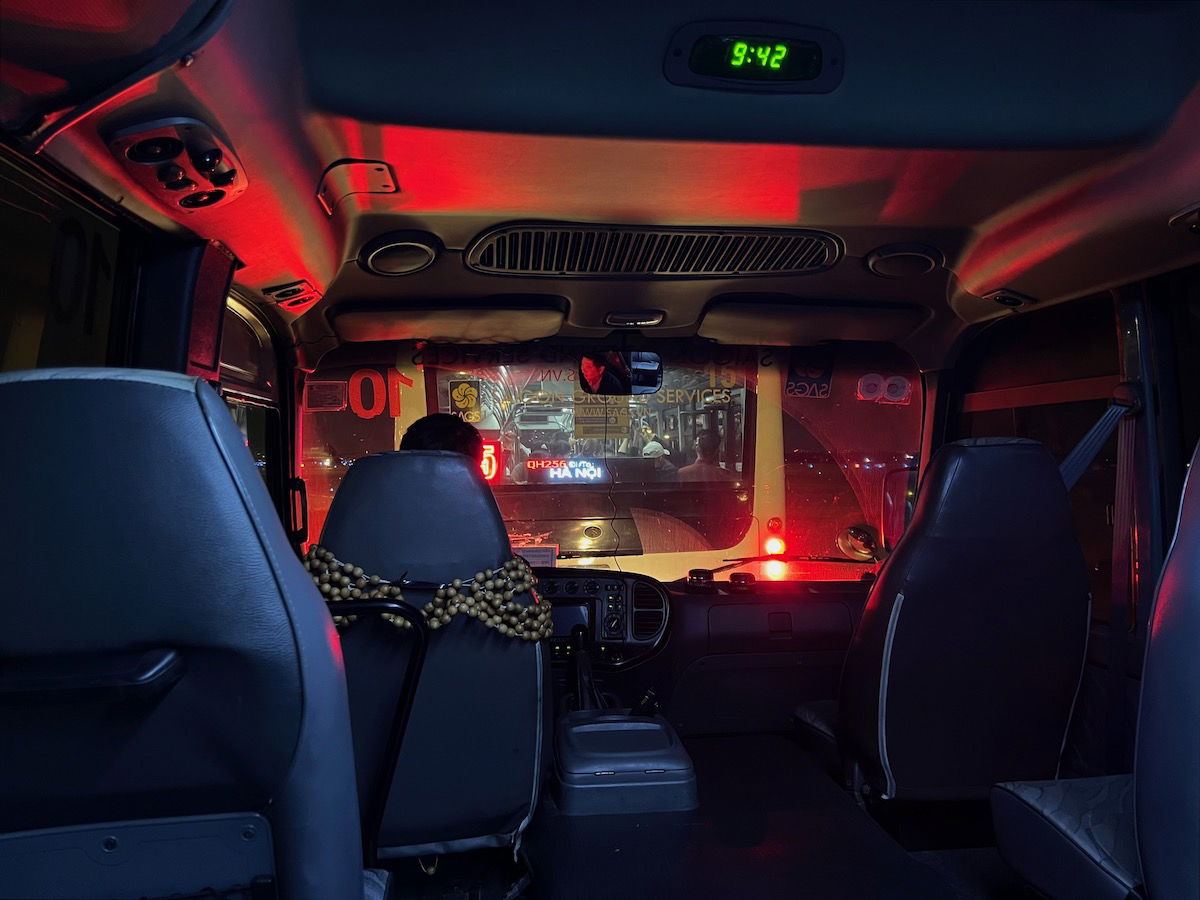 When we pulled up to the plane, the crew wasn't quite ready for boarding, so I was asked to wait for about five minutes. At that point I was invited to board first, while the passengers were then allowed to get off the other bus. My goodness, this is about as close as you'll get to a Lufthansa First Class Terminal or Air France La Premiere Lounge experience while in business class!
Bamboo Airways A321neo business class cabin & seats
My flight was operated by a just over one-year-old Bamboo Airways A321neo with the registration code VN-A228. Bamboo Airways' A321neos feature a total of 196 seats. I quickly glanced into the economy cabin (since I was the first to board). That cabin features 188 seats, with pitch starting at 30″.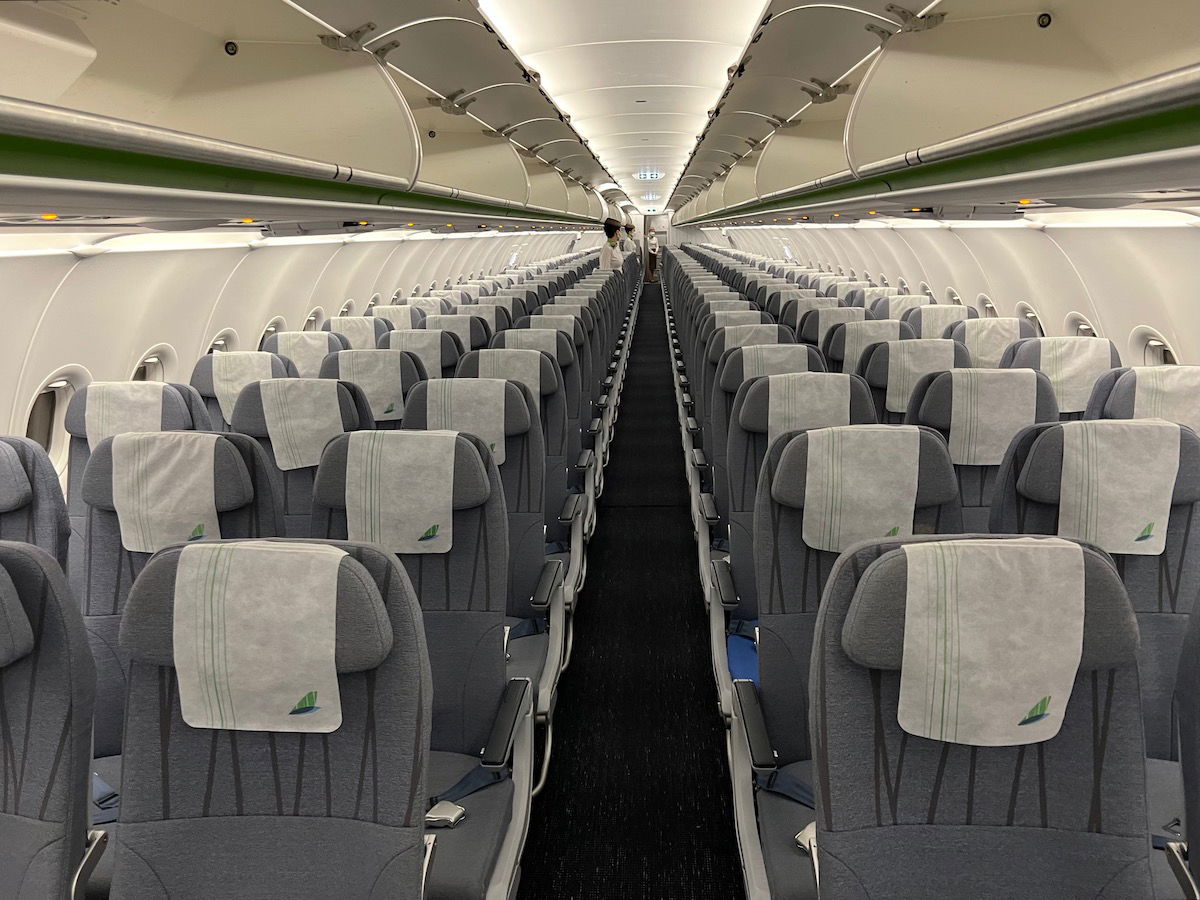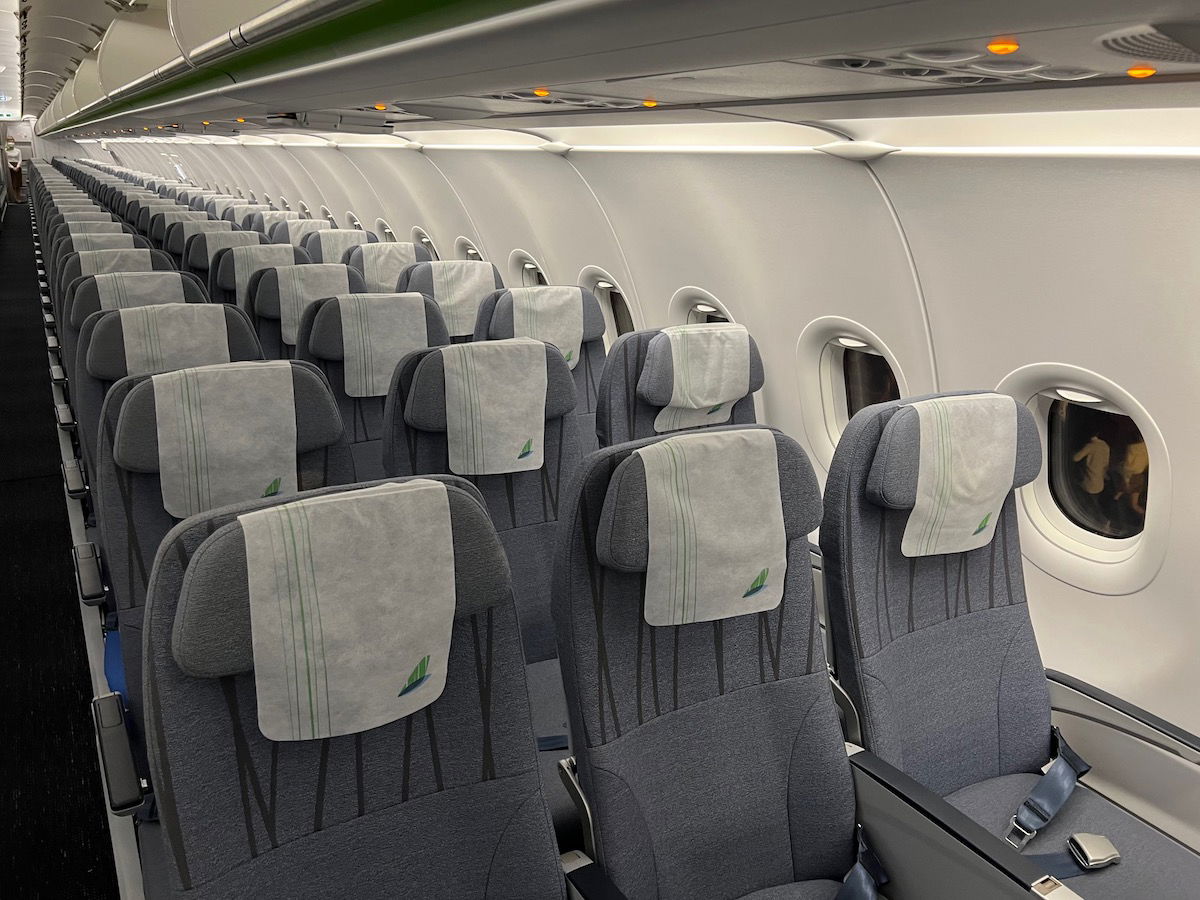 Meanwhile there are eight business class seats, spread across two rows in a 2-2 configuration. These seats should look familiar, as they're from the same seat manufacturer as American's domestic first class seats. As you can see, there isn't a proper bulkhead between business and economy, though there are thick curtains that more or less give you full privacy.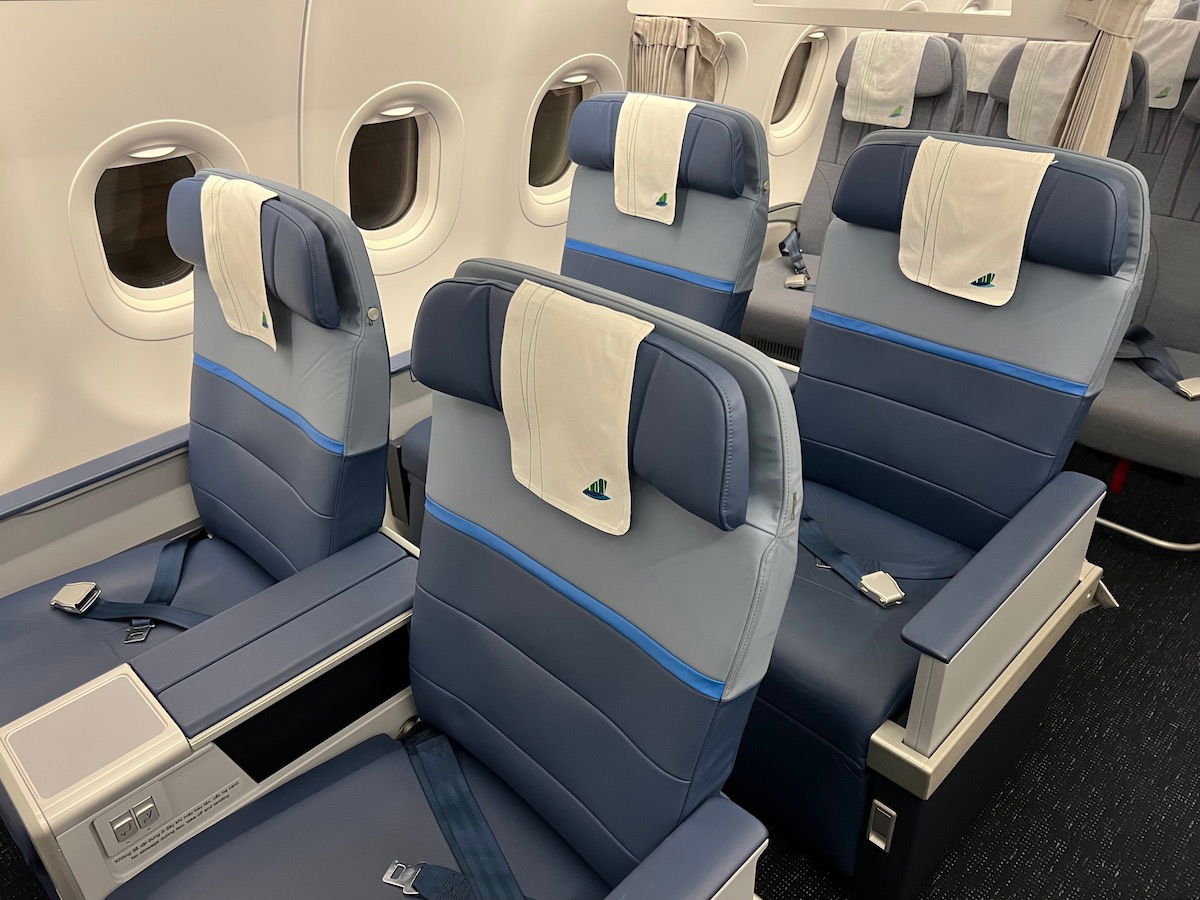 Seat pitch on Bamboo Airways' A321neos is 38″, which is a bit better than you'll find in first class on most US airlines nowadays. I'm also a fan of the seat finishes, which add a bit of personality to the cabin.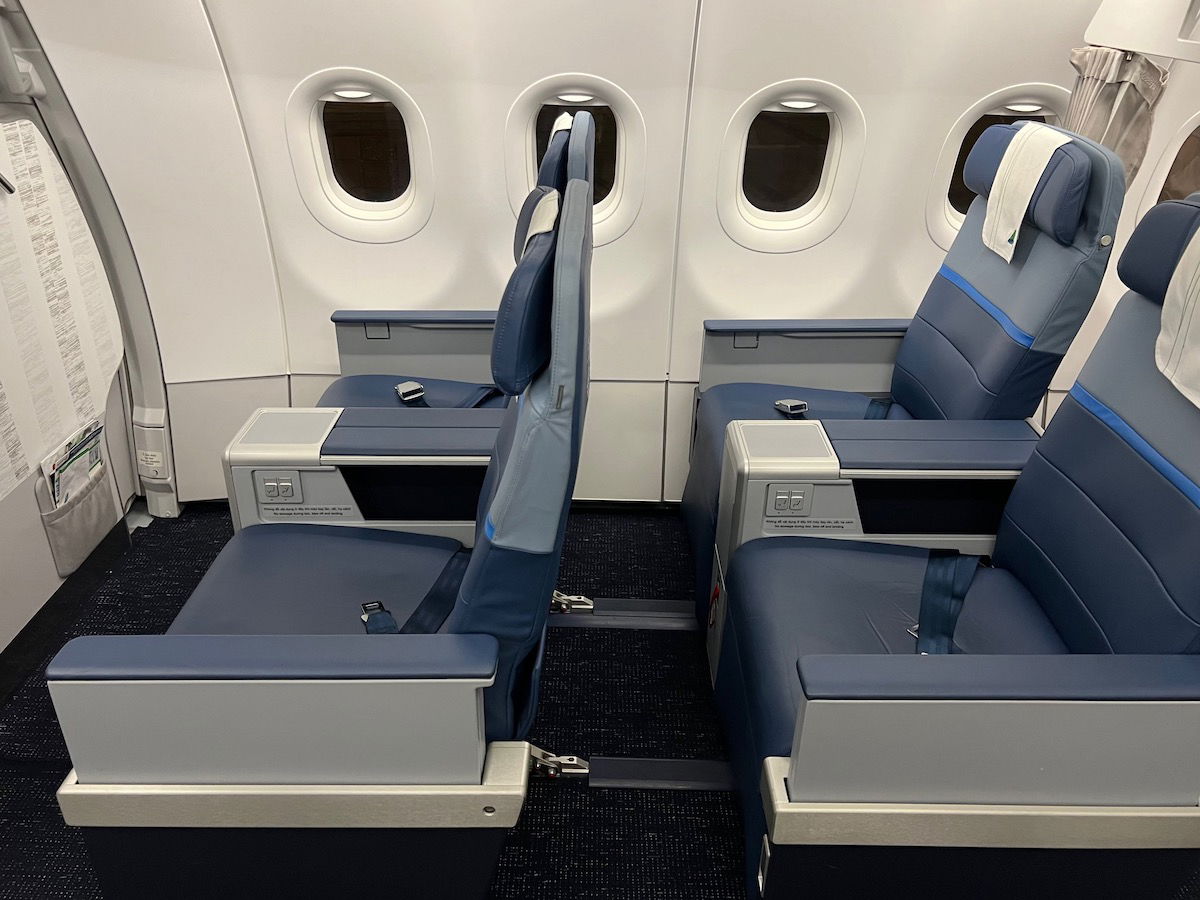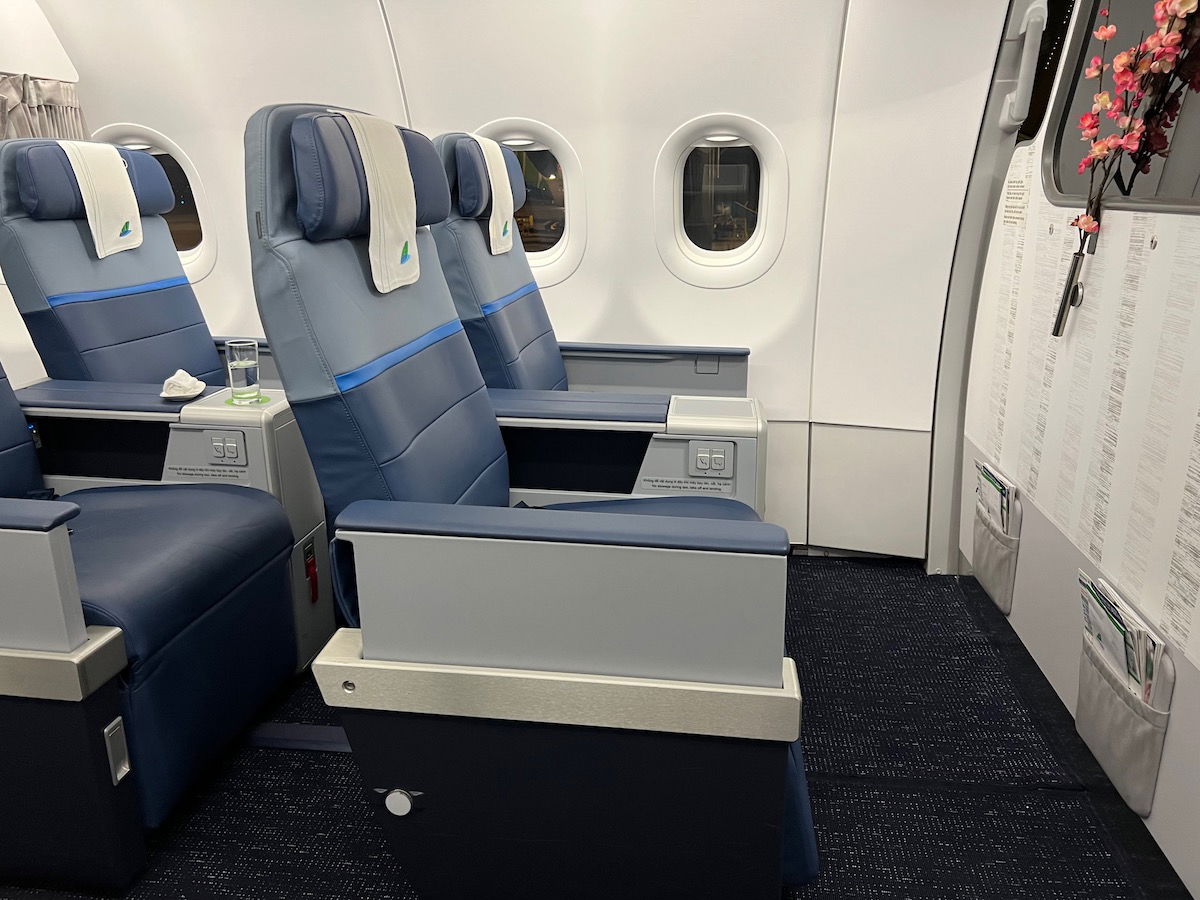 I assigned myself seat 2A, the window seat on the left side in the second row.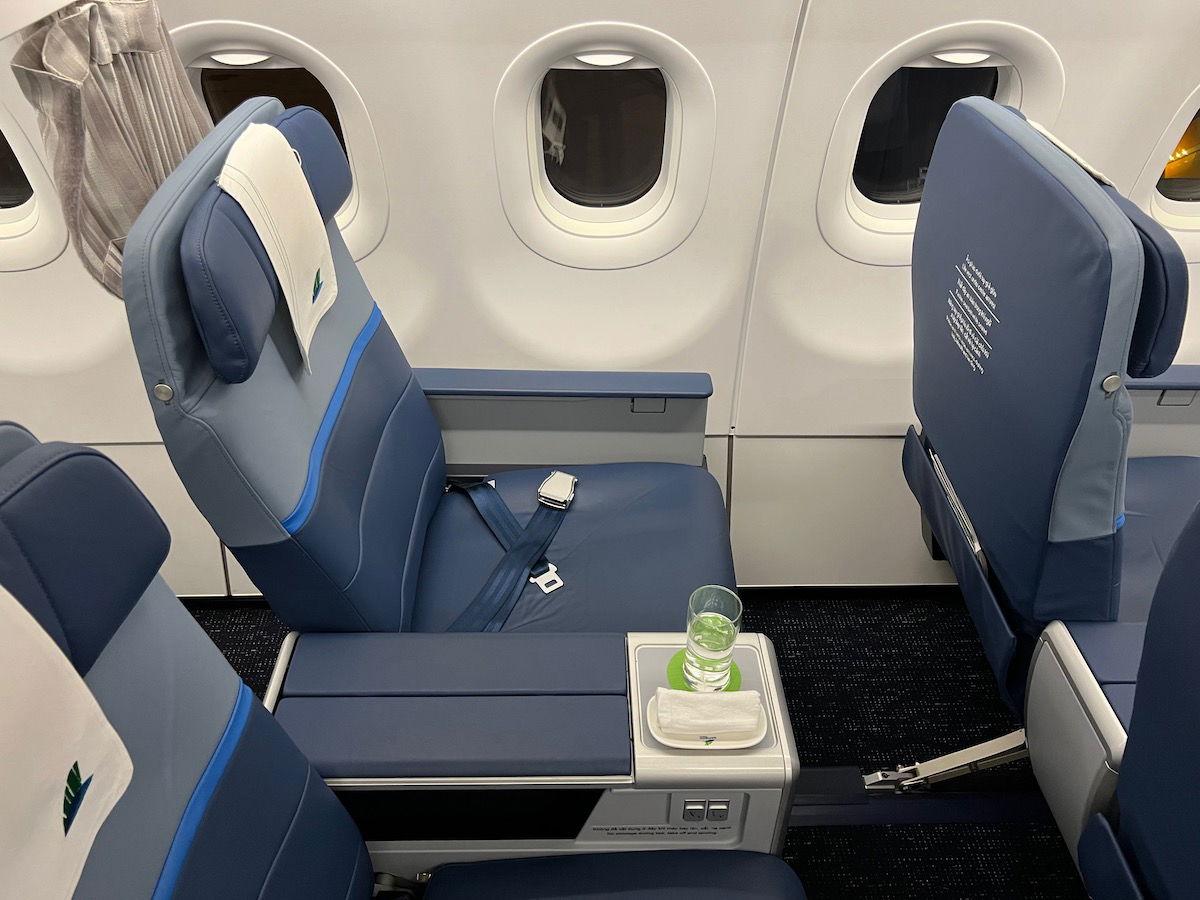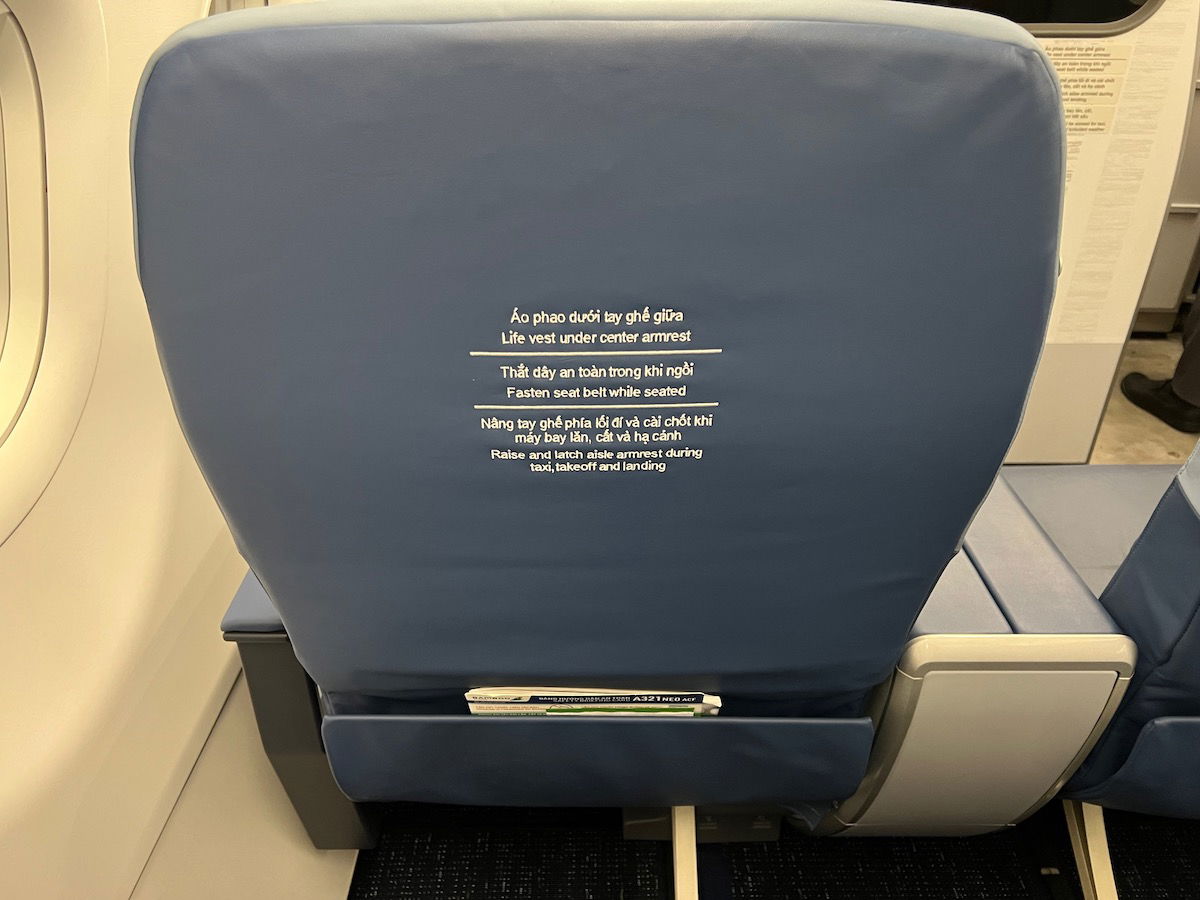 The seats have buttons on the center console, which can recline the seat or raise the legrest. It's nice that Bamboo Airways has legrests on its A321neos, unlike what you'll find on US airlines.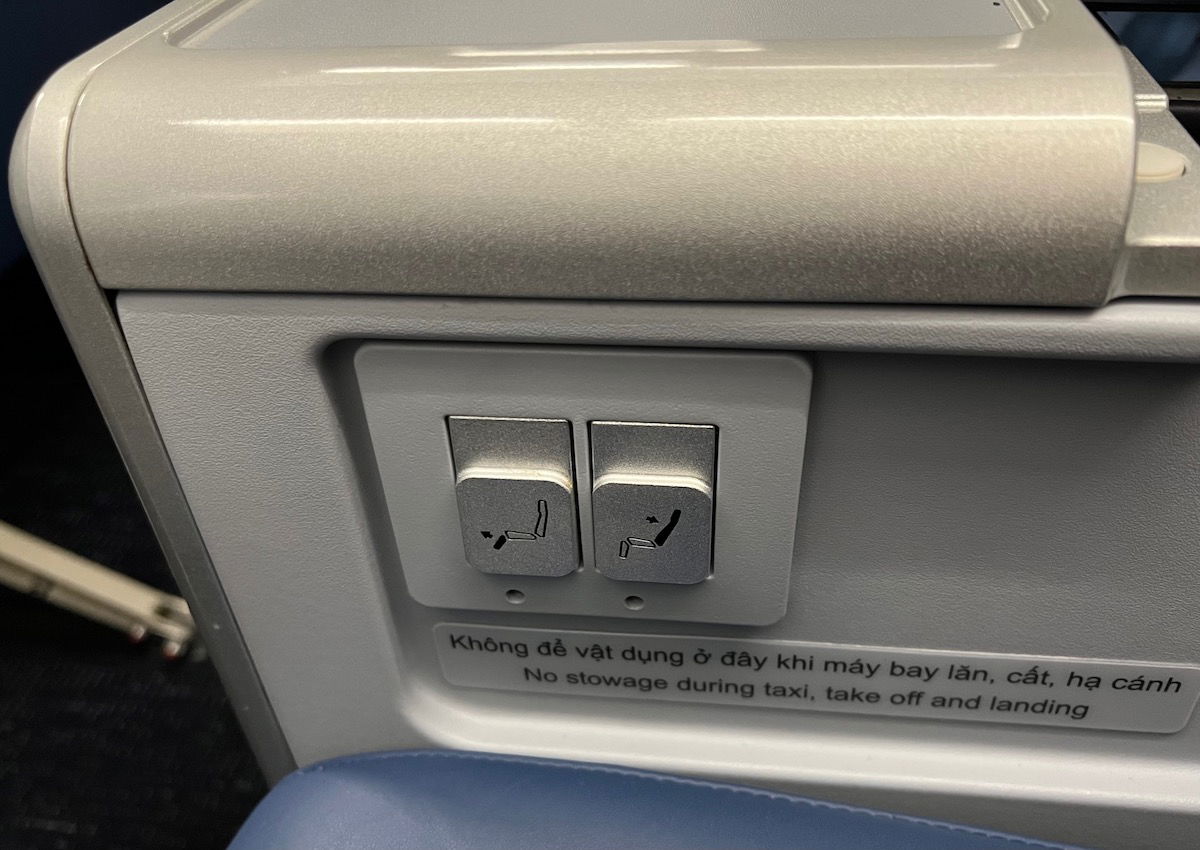 Below is a picture taken later in the flight of the seat recline and legrest.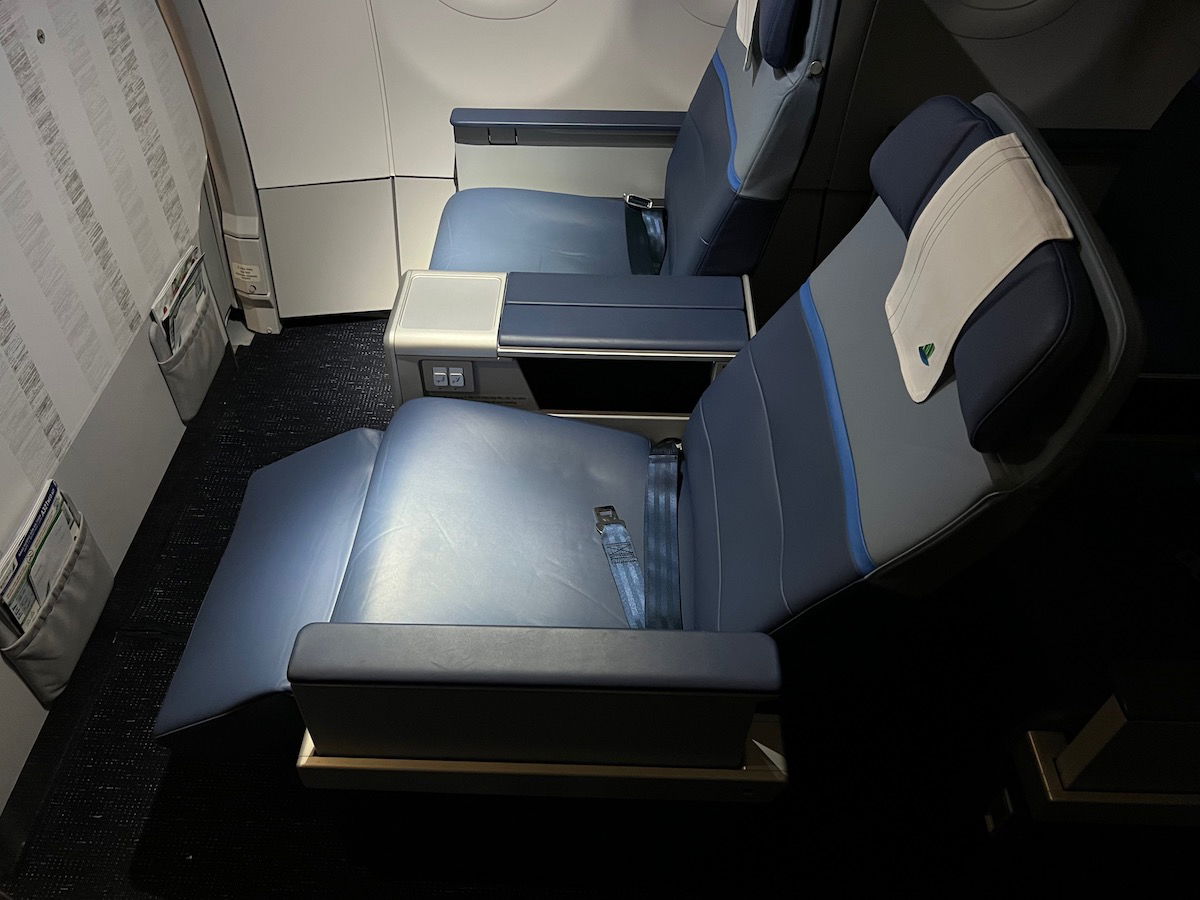 There's a center console between seats where you can place drinks during the flight, if you'd like.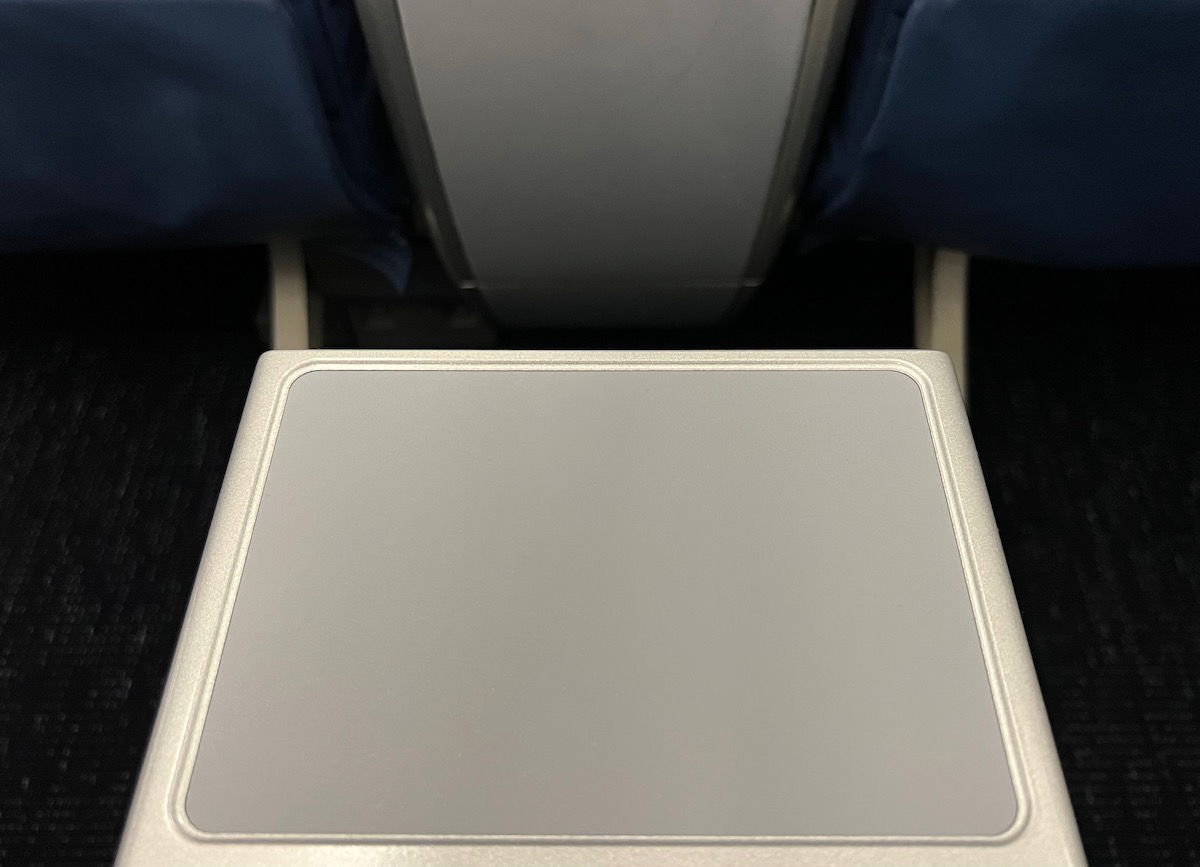 The armrest can be raised, and under it is a storage compartment, as well as the power outlets.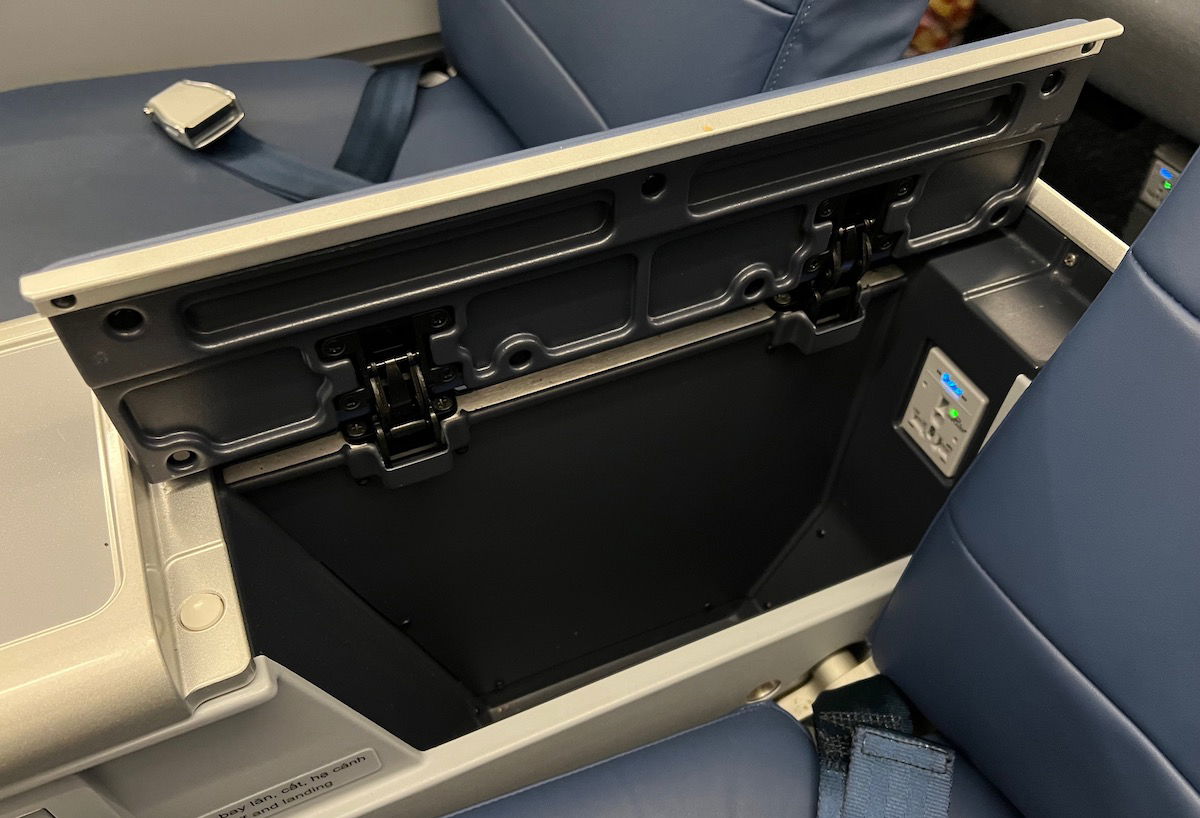 The outlets feature both AC and USB power.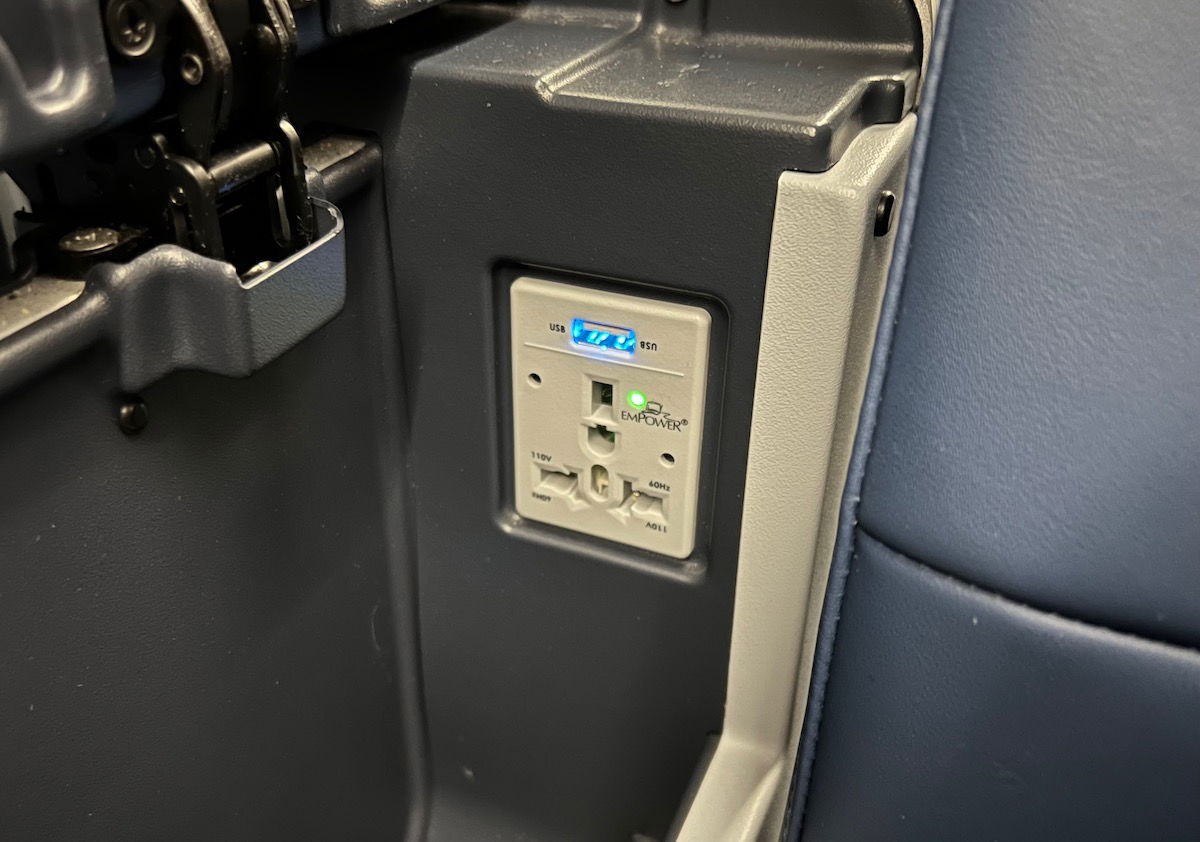 The tray table extends out from the far armrest, and can be folded over in half.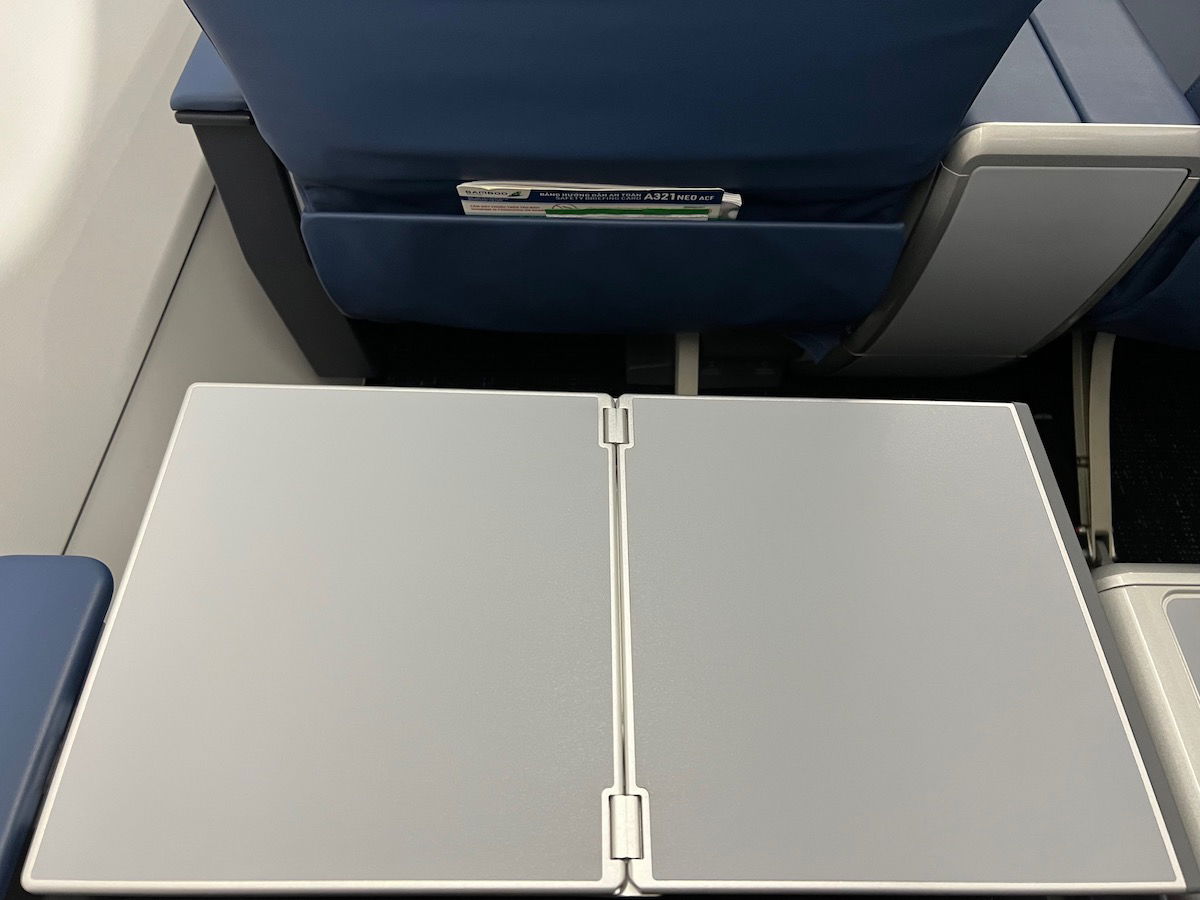 I also like how Bamboo Airways' A321neos have both individual air nozzles and reading lights in the overhead consoles.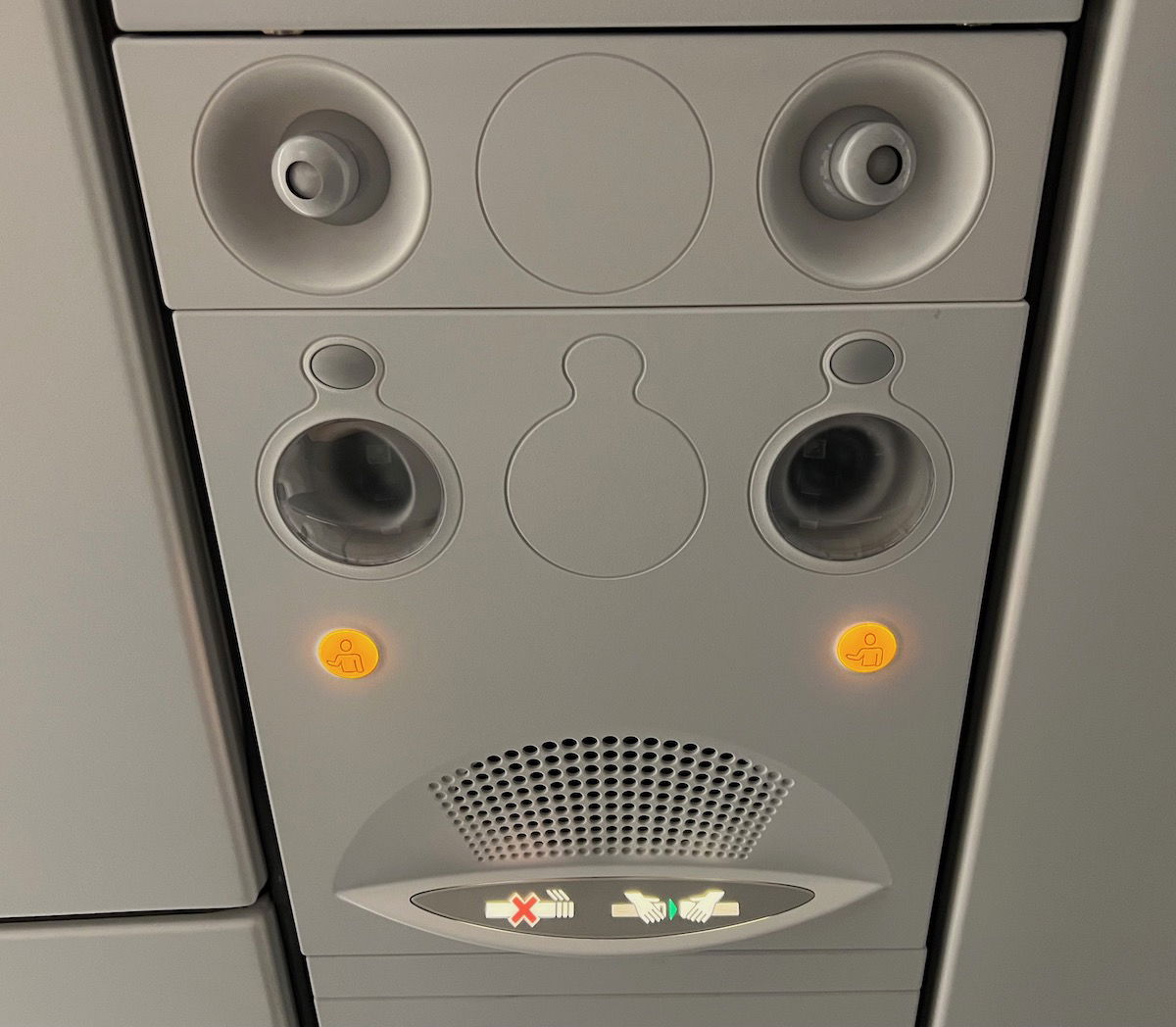 It's cute how Bamboo Airways has orchids on the bulkheads — that's a nice touch that I wish we'd see on more airlines, as it adds color and warmth to the cabin.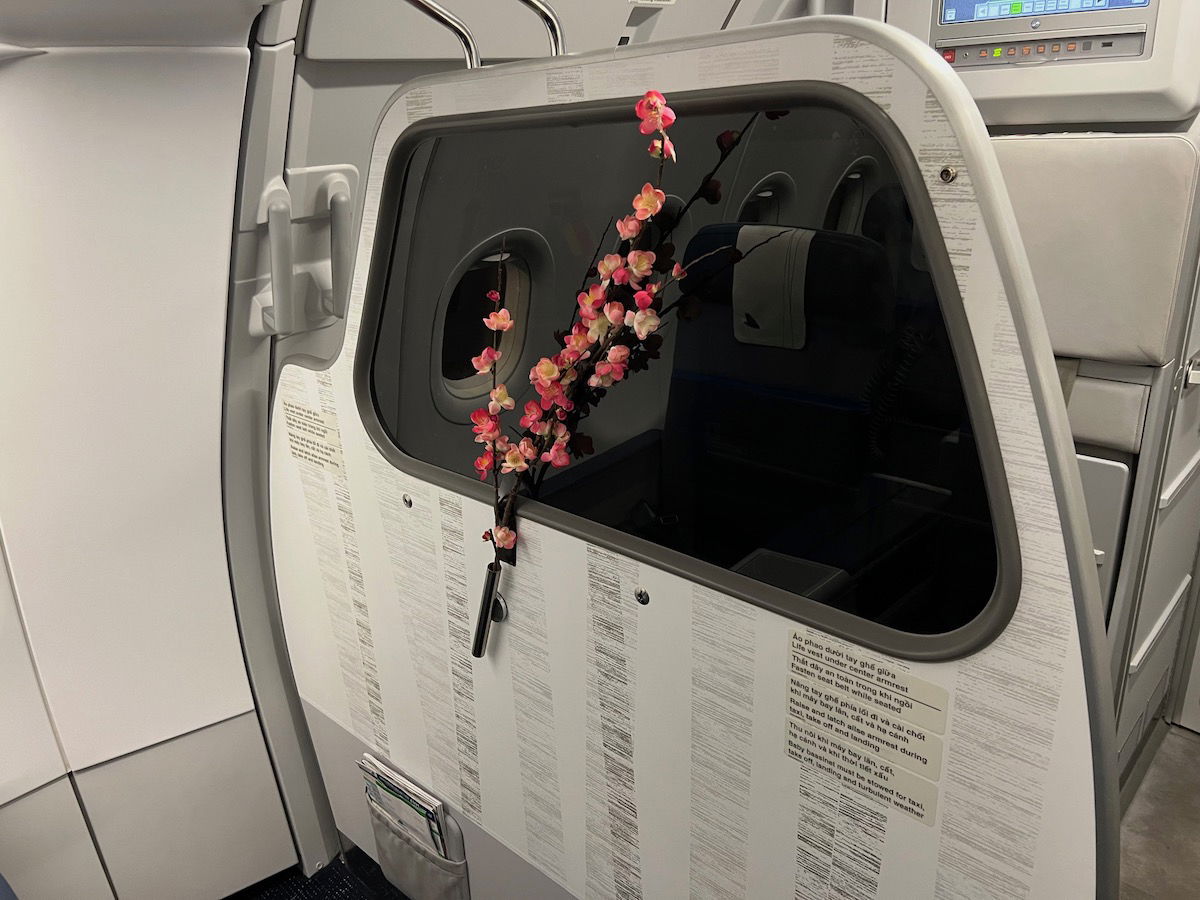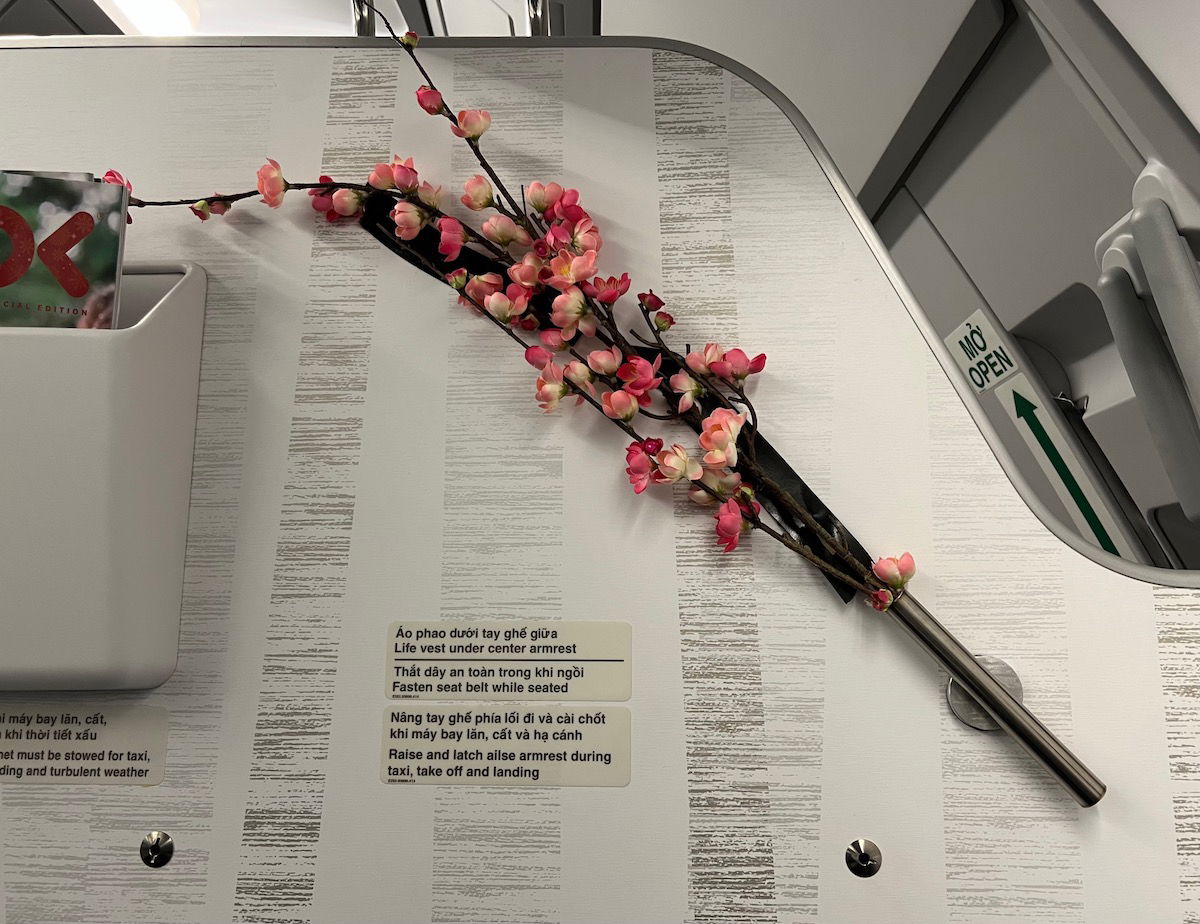 All-in-all, this is a lovely cabin for a domestic flight. It's a bit more comfortable than you'll find within the United States, and on top of that the cabin felt brand new. For what it's worth, Bamboo Airways also flies 787s on some domestic routes, but I specifically avoided that, since I'd be flying it on a long haul flight the next day.
Bamboo Airways A321neo entertainment & Wi-Fi
Bamboo Airways' Airbus A321neos don't have Wi-Fi, and also don't have any personal entertainment. This isn't a huge deal on a short domestic flight, though on a flight of several hours within Asia, that sure would be a valuable feature.
Hopefully the airline considers at least introducing streaming entertainment in the future. In the meantime, make sure you bring your own entertainment.
Bamboo Airways business class amenities
Within a minute of settling in, one of the two lovely business class flight attendants was by my seat to offer me the choice of water, orange juice, or apple juice, as well as a cold towel. I felt a bit bad that they poured all three glasses (since I was the only passenger) rather than just asking me.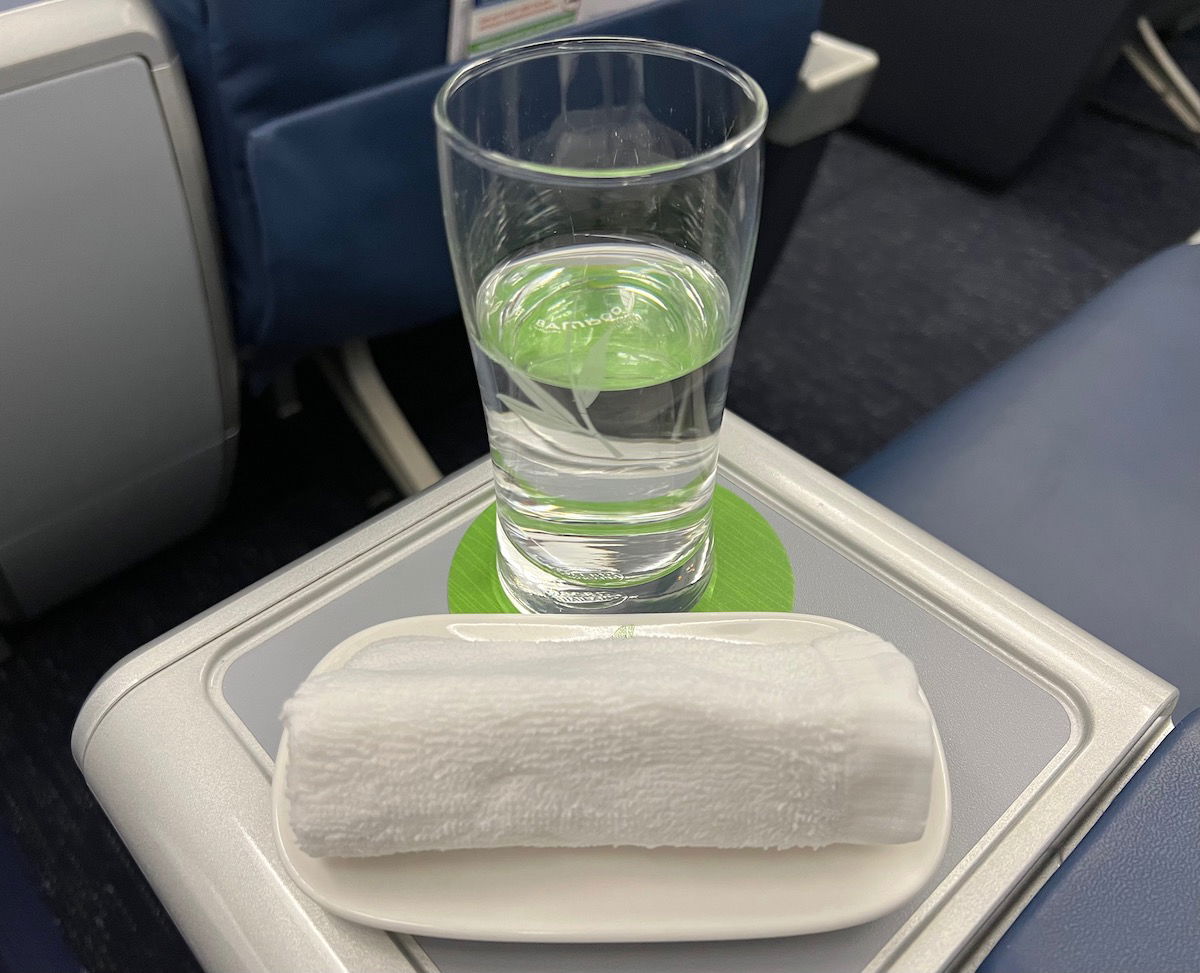 As far as other amenities go, I was also offered a rather mediocre blanket, which was fine for a short domestic flight. There were no pillows.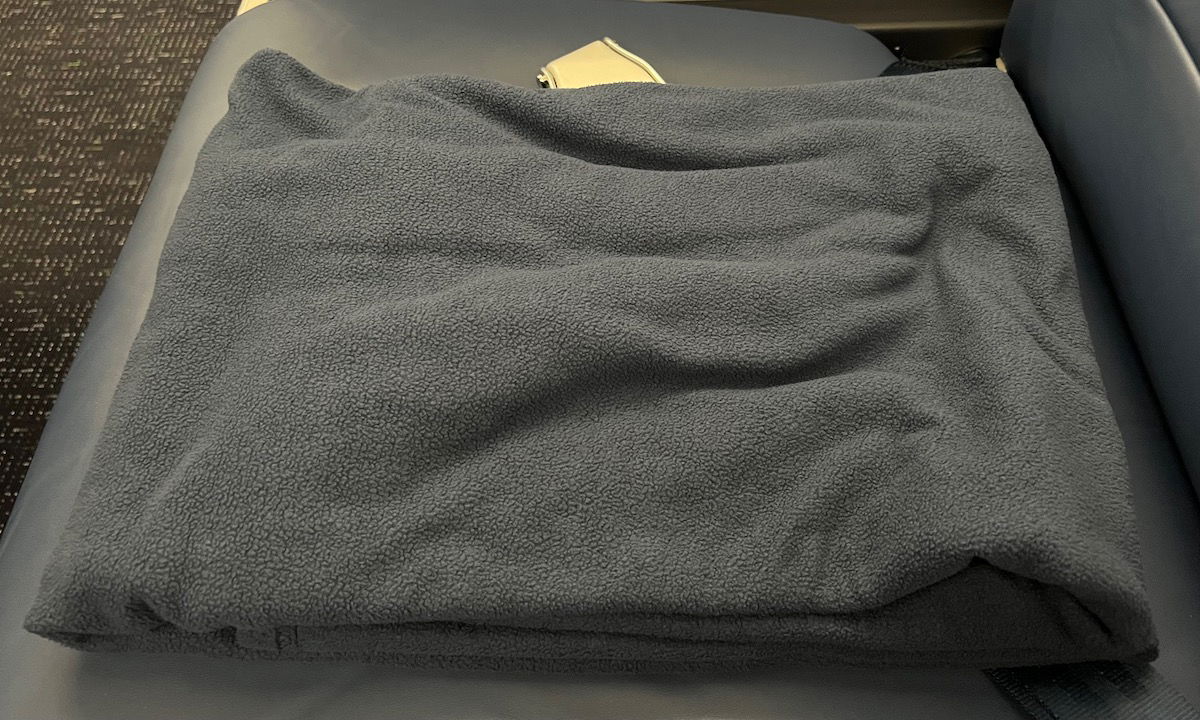 Bamboo Airways A321neo departure from Ho Chi Minh City
Boarding was pretty efficient, and by 10:10PM the main cabin door was closed. A moment later the lead flight attendant made his welcome aboard announcement. At this point the crew members stood throughout the aisle with their hands on their hearts and bowed, which was a charming touch. That was the first of three times during the flight where that happened. We were informed of our flight time of 1hr40min.
Shortly thereafter the manual safety demonstration was performed, in both Vietnamese and English. The crew's English was definitely lacking a bit, and that was apparent during the safety briefing. It was like he was trying to read the letters off a script without understanding what the words meant. In fairness, I don't have much room to talk, as my Vietnamese isn't great. 😉
At 10:20PM we began our taxi — there was no need for pushback, as we just started taxiing forward, since we were at a remote stand facing a taxiway.
We had a short taxi, and by 10:25PM we were cleared for takeoff on runway 25L. We had a smooth climb out, and the seatbelt sign was turned off within five minutes. The crew immediately closed the curtains between the galleys and cabins.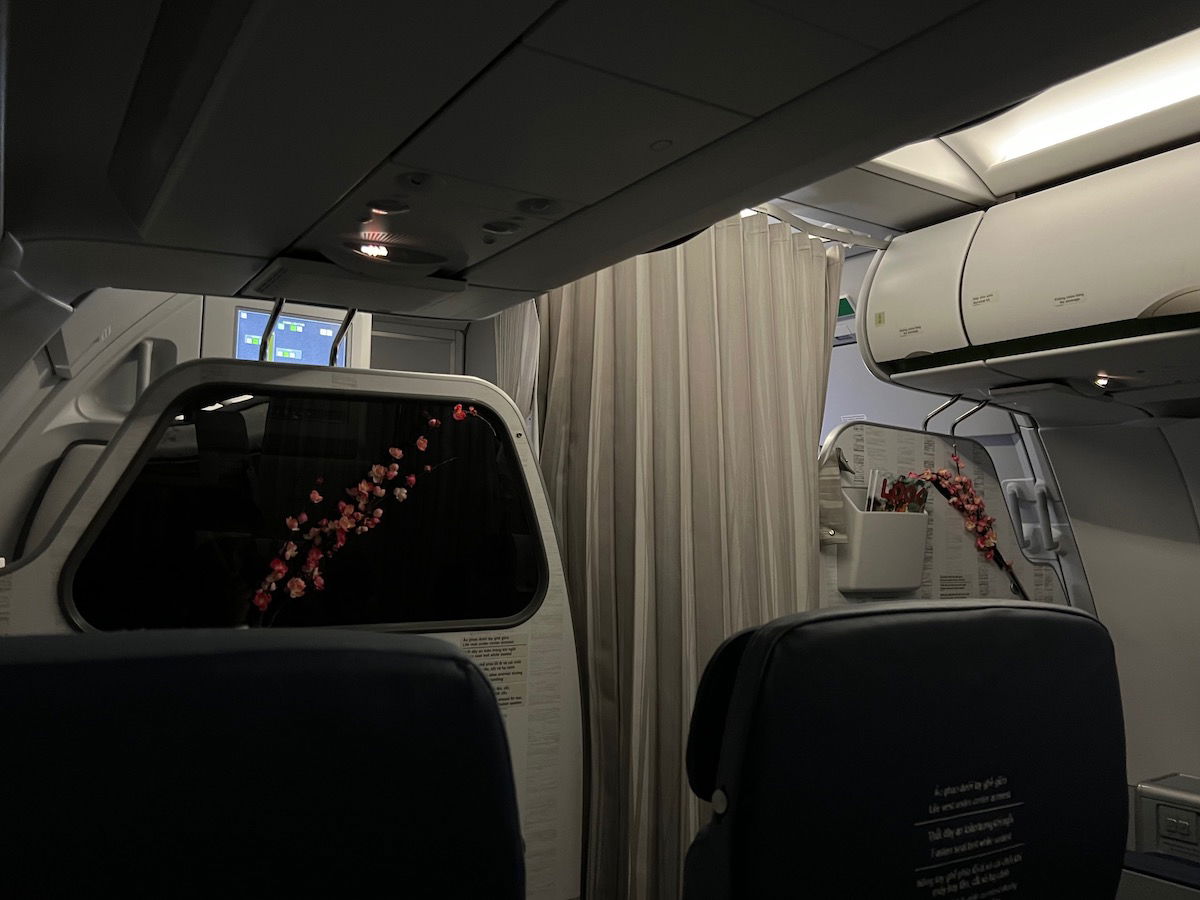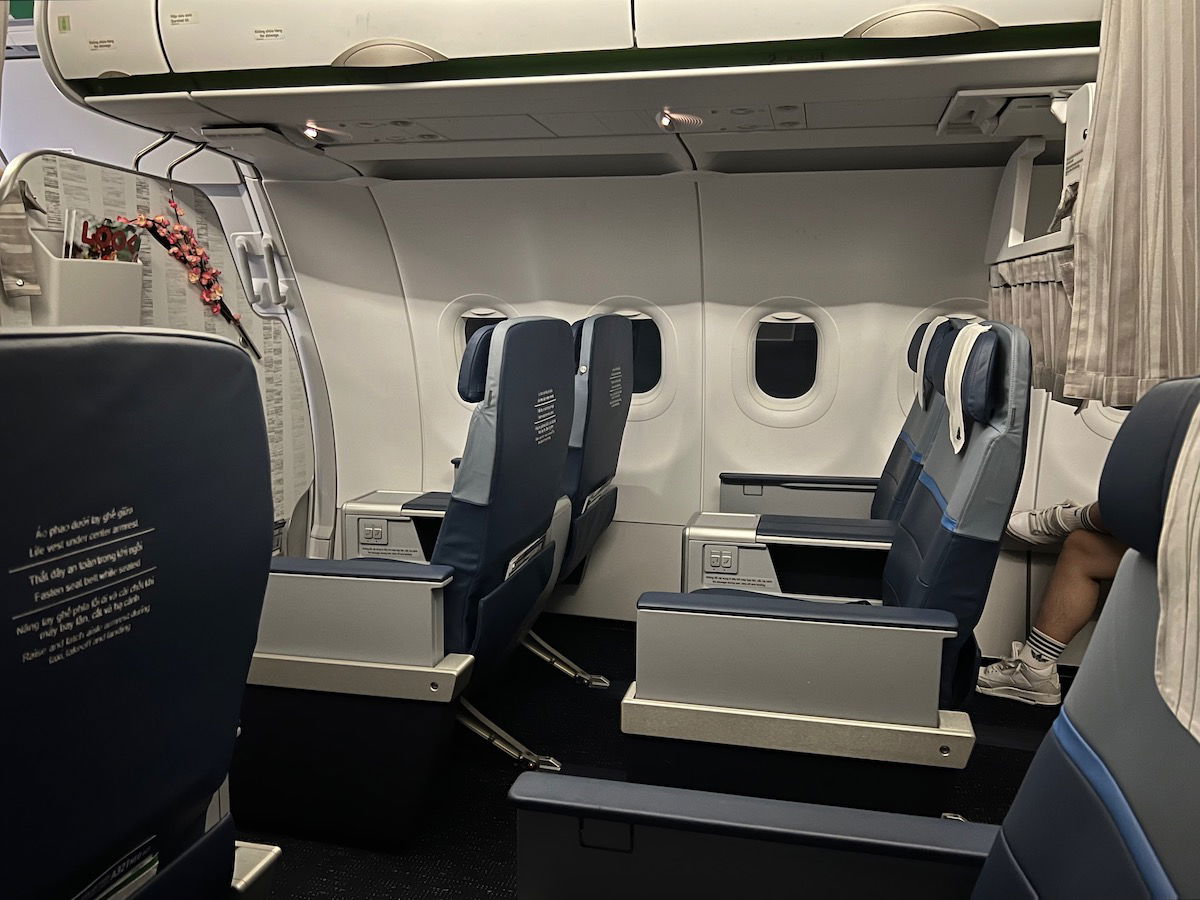 Bamboo Airways business class food & drinks
As soon as the seatbelt sign was turned off, one of the flight attendants came by my seat to take my dinner order. There were no paper menus, but rather I was shown an iPad that had the choice of meals and drinks. You can find a picture of the options below.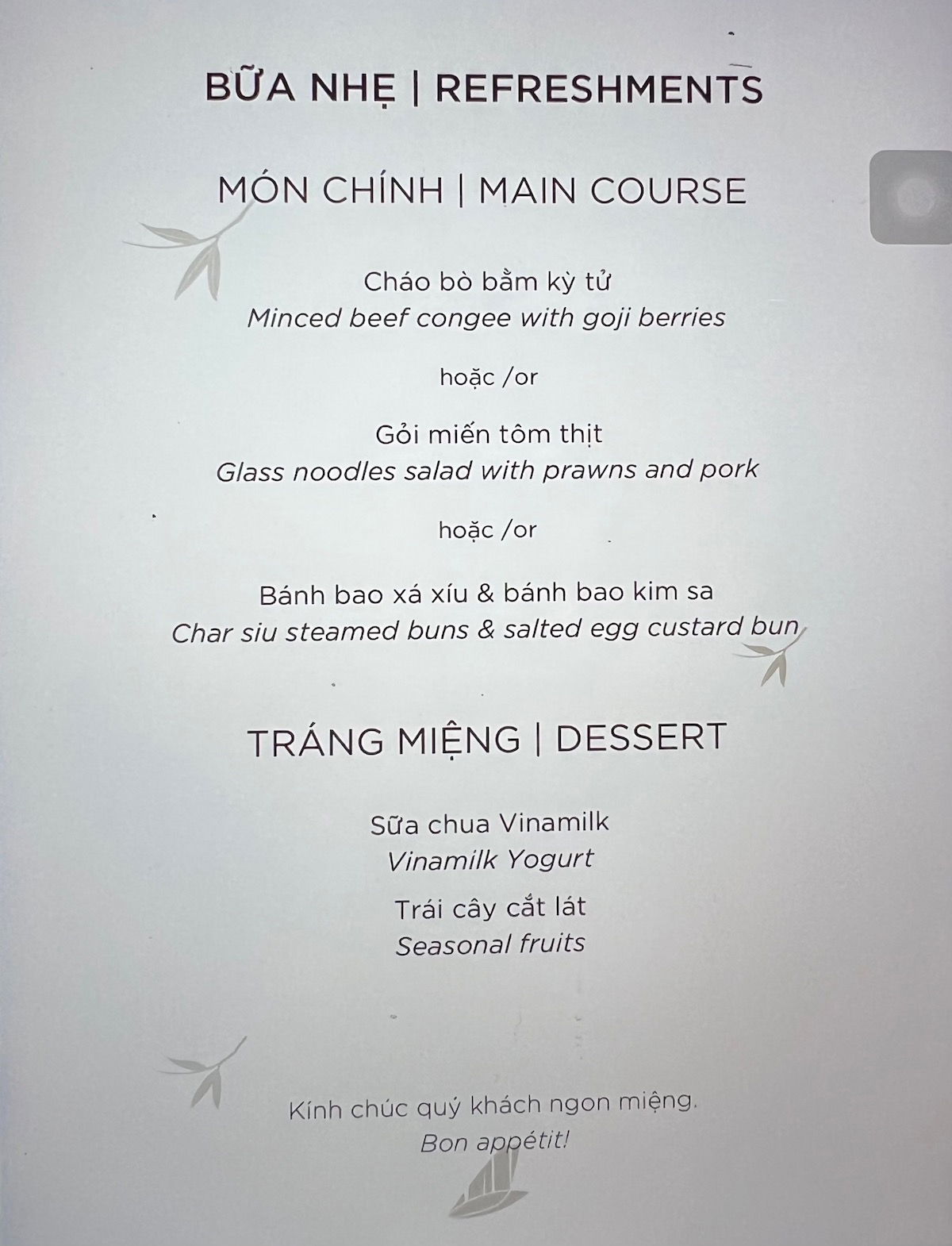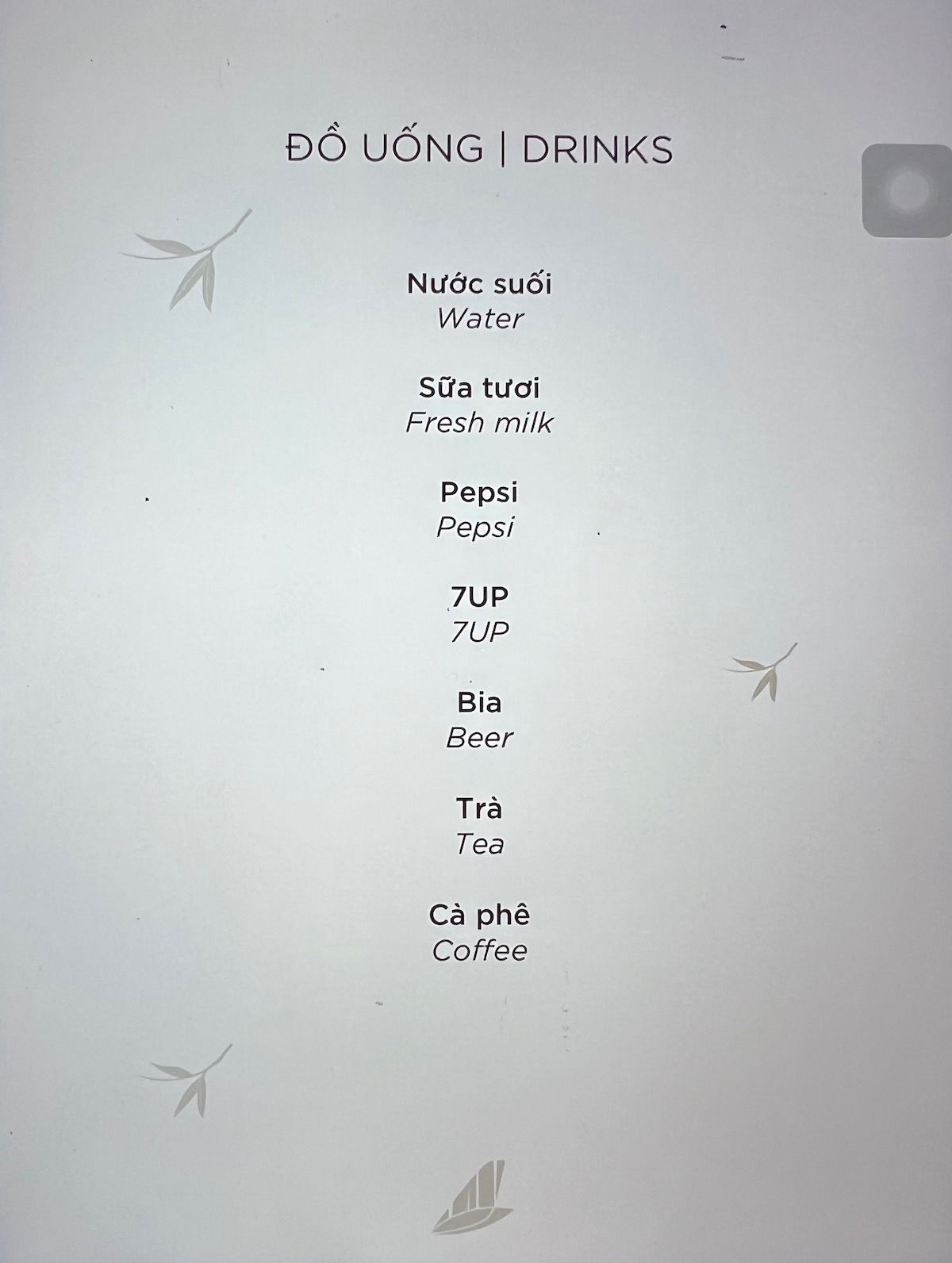 It's quite impressive to have three meal options on such a short domestic flight! Unfortunately since I don't eat pork, that eliminated two of the options. As a result, I selected the minced beef congee with goji berries. As you can see, the drink selection was quite limited. The only alcoholic drink that Bamboo Airways serves on domestic flights is beer.
Shortly after my meal order was taken, I was presented with a tablecloth.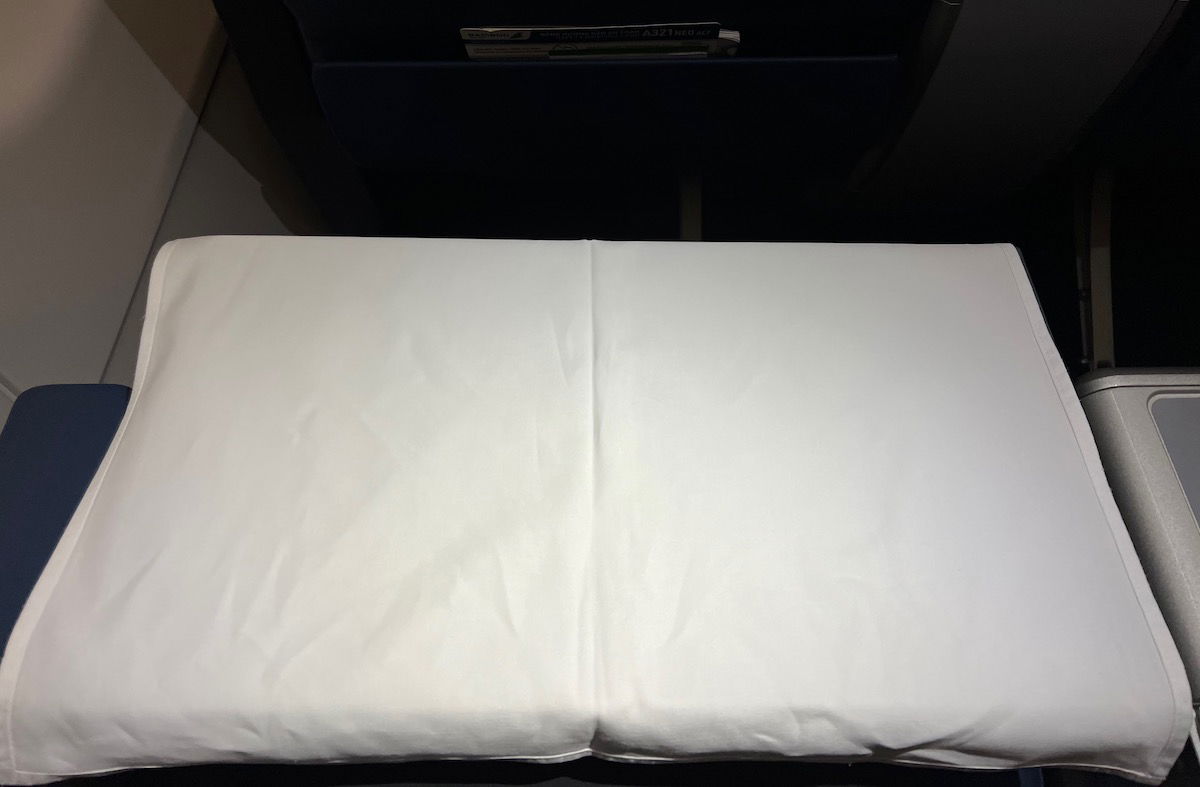 Then about five minutes later I was brought my meal. I've gotta say, the meal was very good. It came with two pieces of bread, a side of yogurt, and a side of fresh fruit.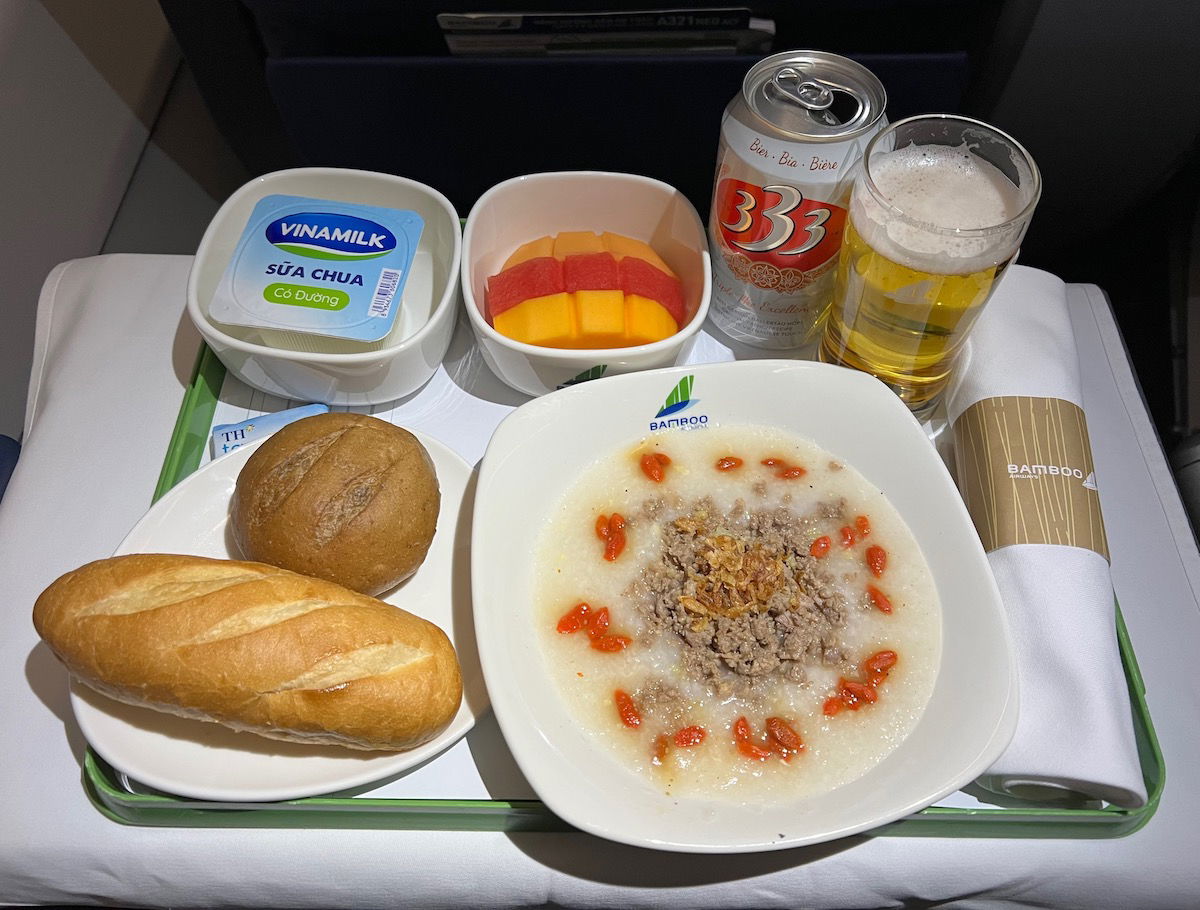 I loved how everything was Bamboo Airways branded, including the salt & pepper shakers.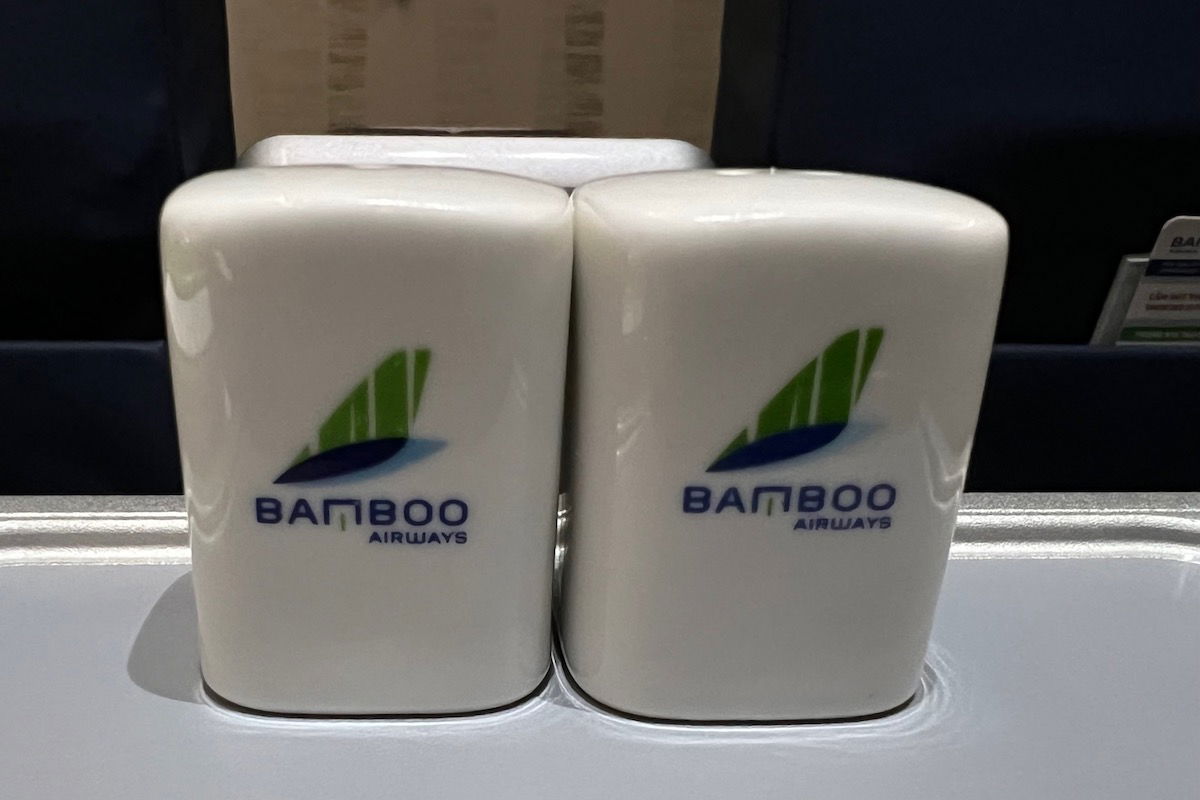 To drink, I ordered a beer, even though I hate beer. Why? Well, I mean, I'm trying to review the product, and I figured I wouldn't have a whole lot to say about a glass of water, so I ordered this instead. I can confirm that I still hate beer, though I recognize others feel differently.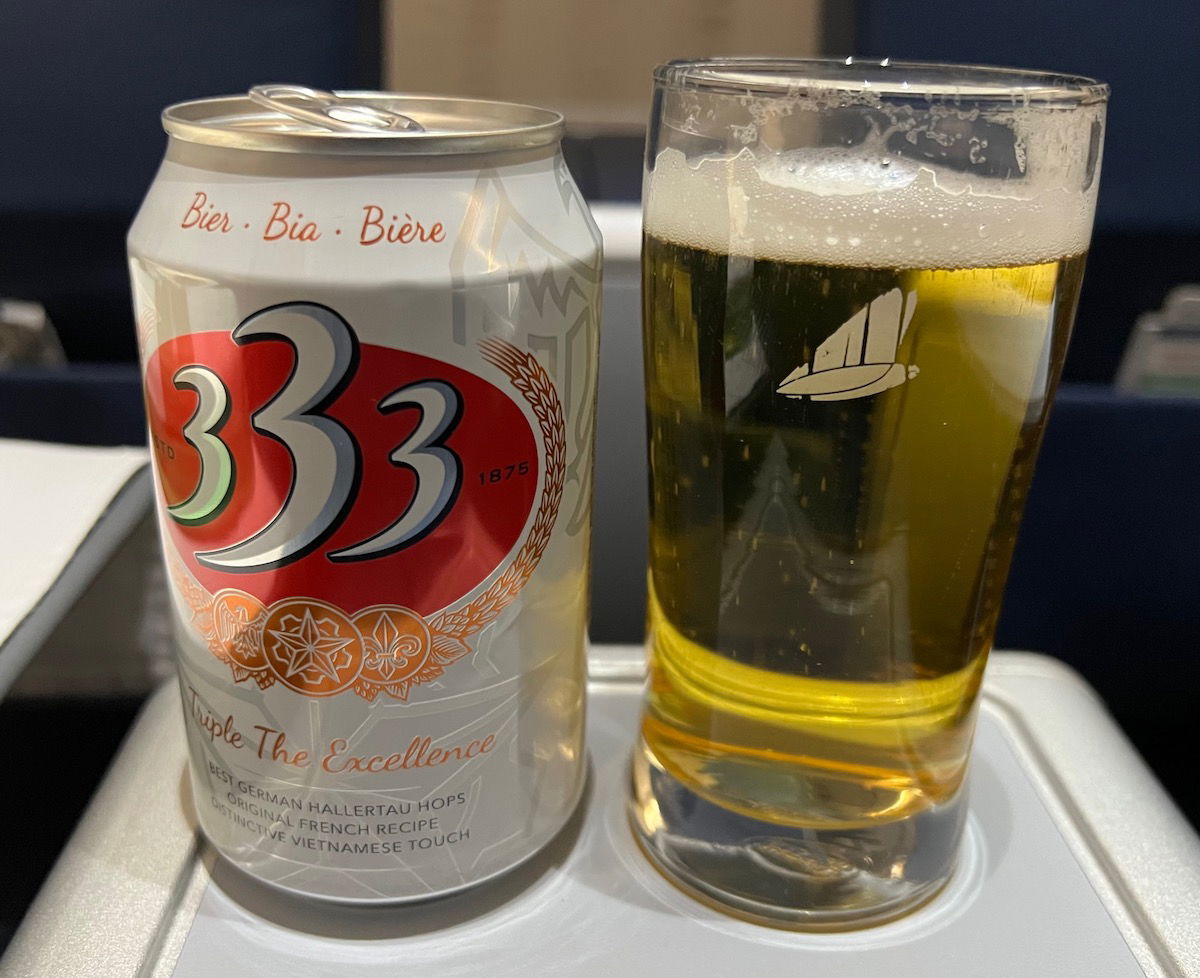 After the meal, I was asked if I wanted anything else. I requested a cup of coffee, and was asked if I wanted it hot or iced. Wait, Bamboo Airways has iced coffee?!? Yes please! The flight attendant made me a tasty (sugary) Vietnamese iced coffee.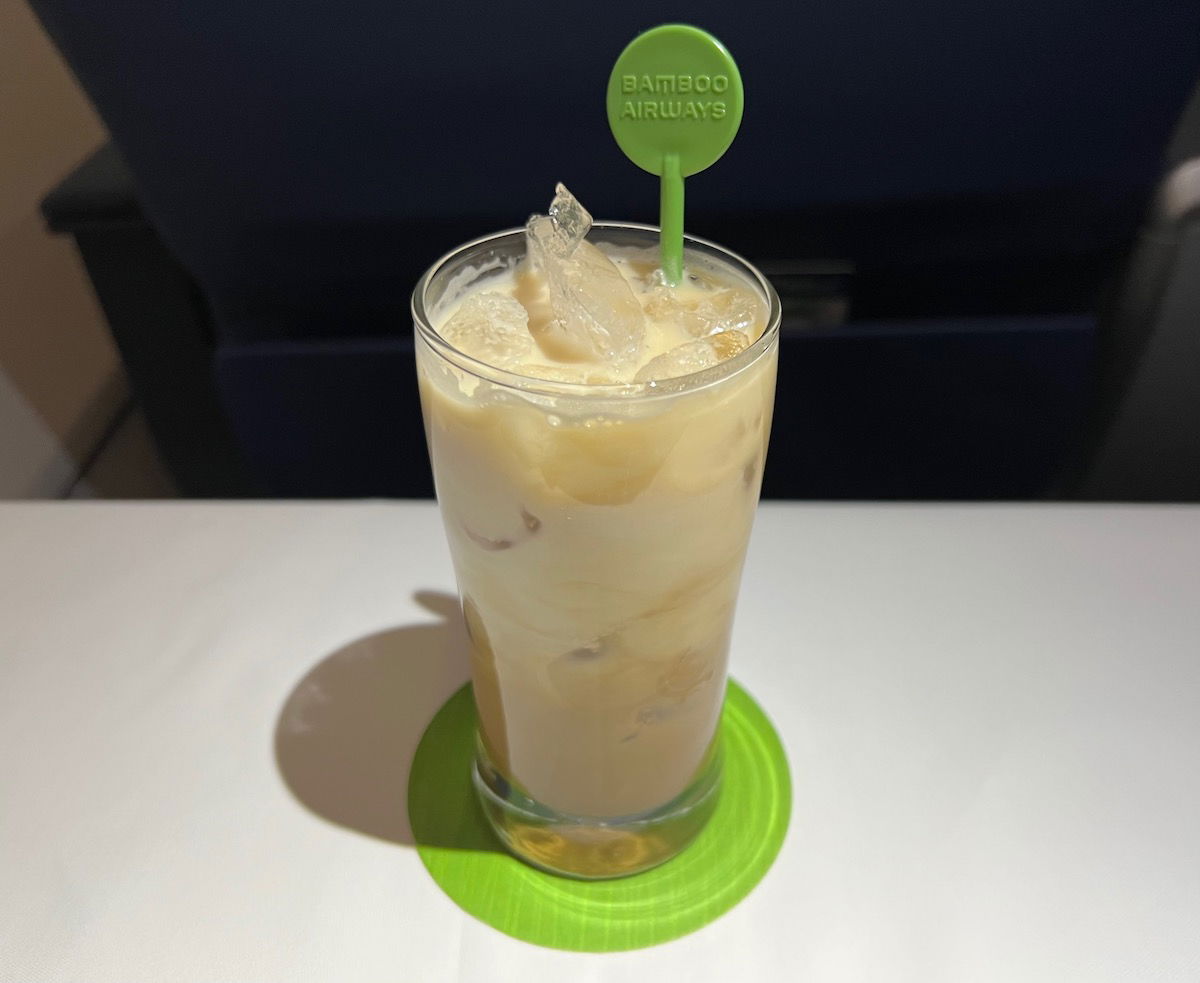 After that, I was given a warm towel at the conclusion of the meal.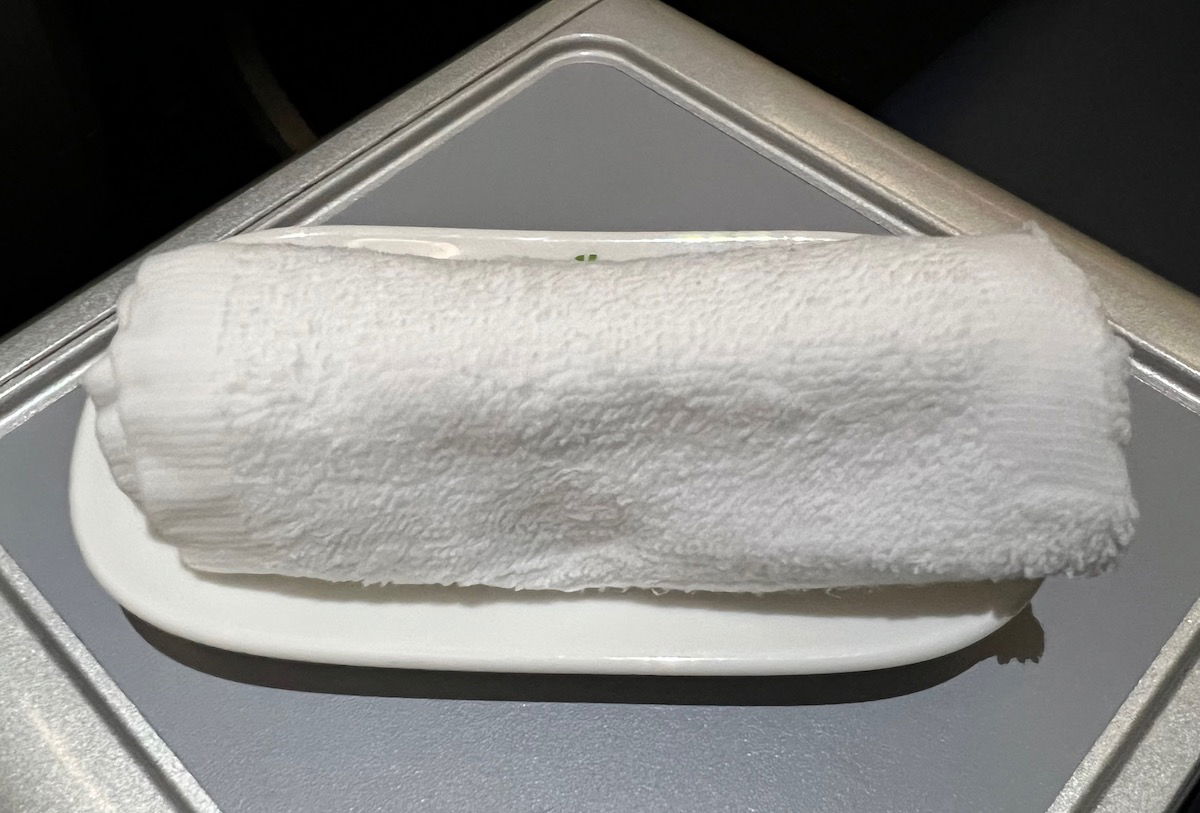 I dozed off for around 30 minutes, and then as we started our descent the crew proactively brought me a glass of water.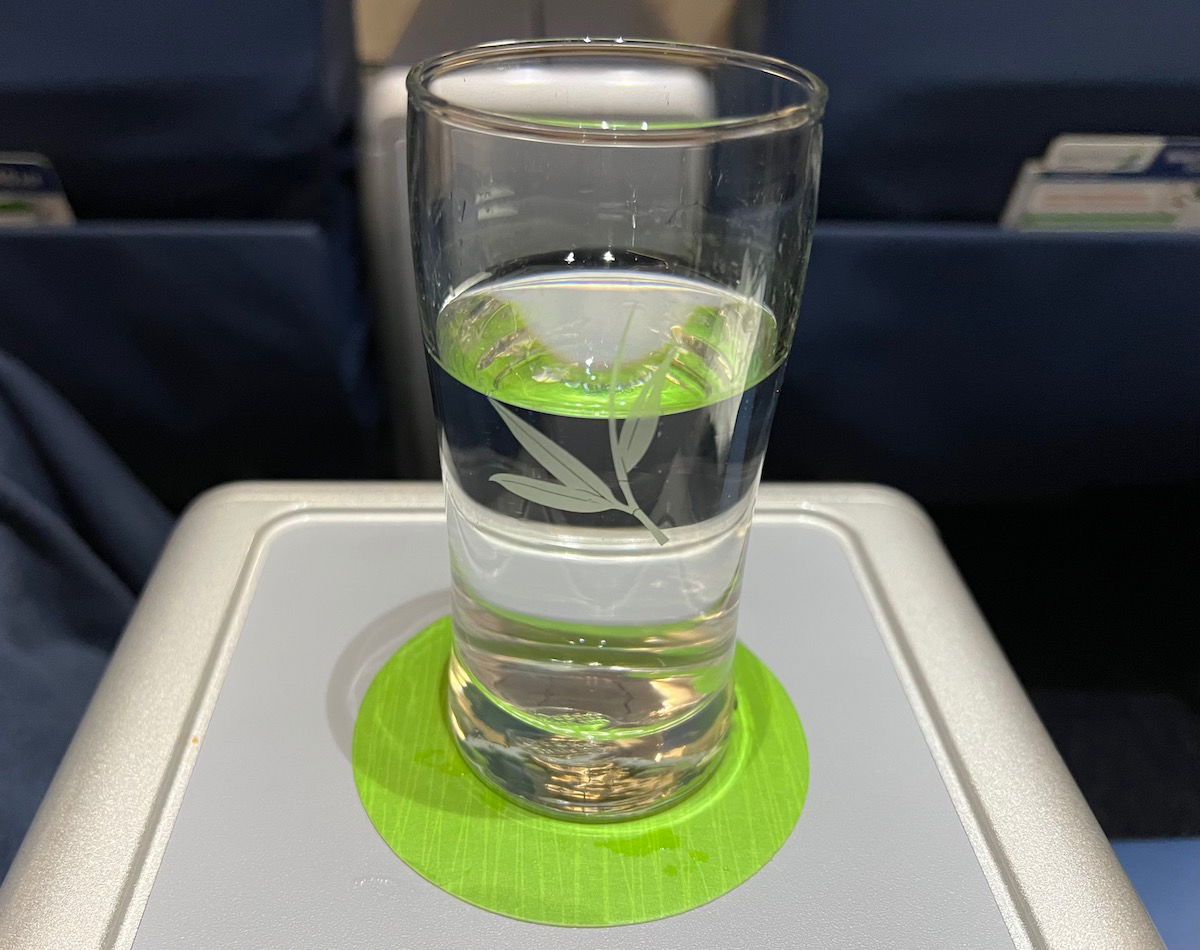 Bamboo Airways business class service
While the crew didn't have a great grasp of the English language, other than that, they were lovely and professional:
Bamboo Airways uniforms are really sharp, and the crews take great pride in their appearance, which is good to see, even on such a late night flight
They seemed well trained in how to provide premium service; for example, when I was using my laptop, the flight attendant opened the tray table in the empty seat next to me, and placed my drink there, so I'd have more space
It's cute how the crew members bowed in the aisle on three occasions with their hands over their hearts
Also, while I can't credit the crew for this, Bamboo Airways has hilarious automated announcements. I'm not sure if they're intended to be funny, but, well, they are.
For example, when the seatbelt sign goes on, there's a very excited voice that says "there goes the seatbelt sign, please sit down and buckle up, thanks." That was then repeated two more times. Come and think of it, I'd probably appreciate it less on an overnight flight, as it would make me up every time.
Similarly, when we arrived at the gate, there was an automated announcement saying "we're heeeeerre, we're heeeeerre, we're heeeeerre."
I also found it interesting how there was an announcement saying "we hope you enjoyed your experience, if you have any complaints, please contact our cabin manager."
Bamboo Airways A321neo business class lavatory
There was a lavatory at the front of the A321neo cabin, exclusively for business class passengers. The lavatory was immaculately clean (down to having folded toilet paper), had cool wallpaper, and even had a diffuser with Bamboo Airways' signature aroma.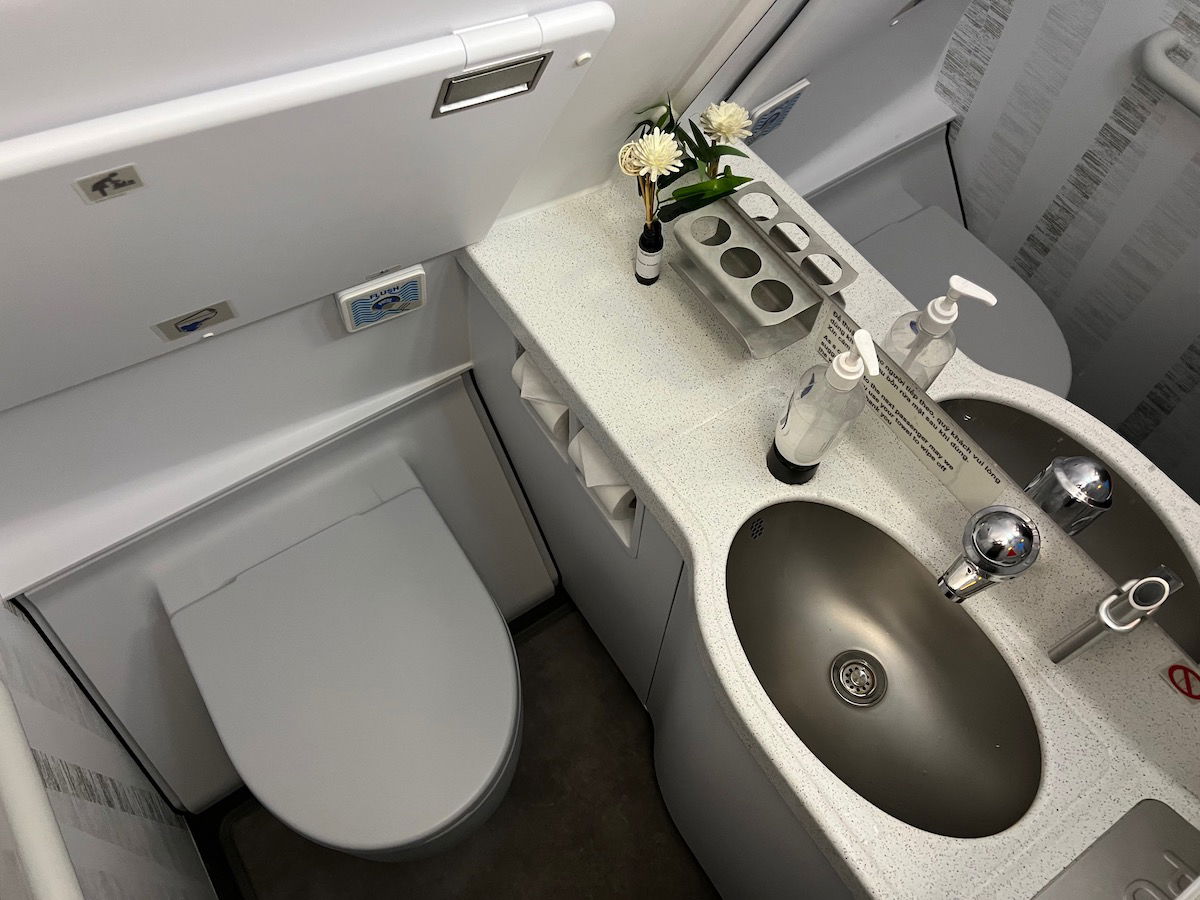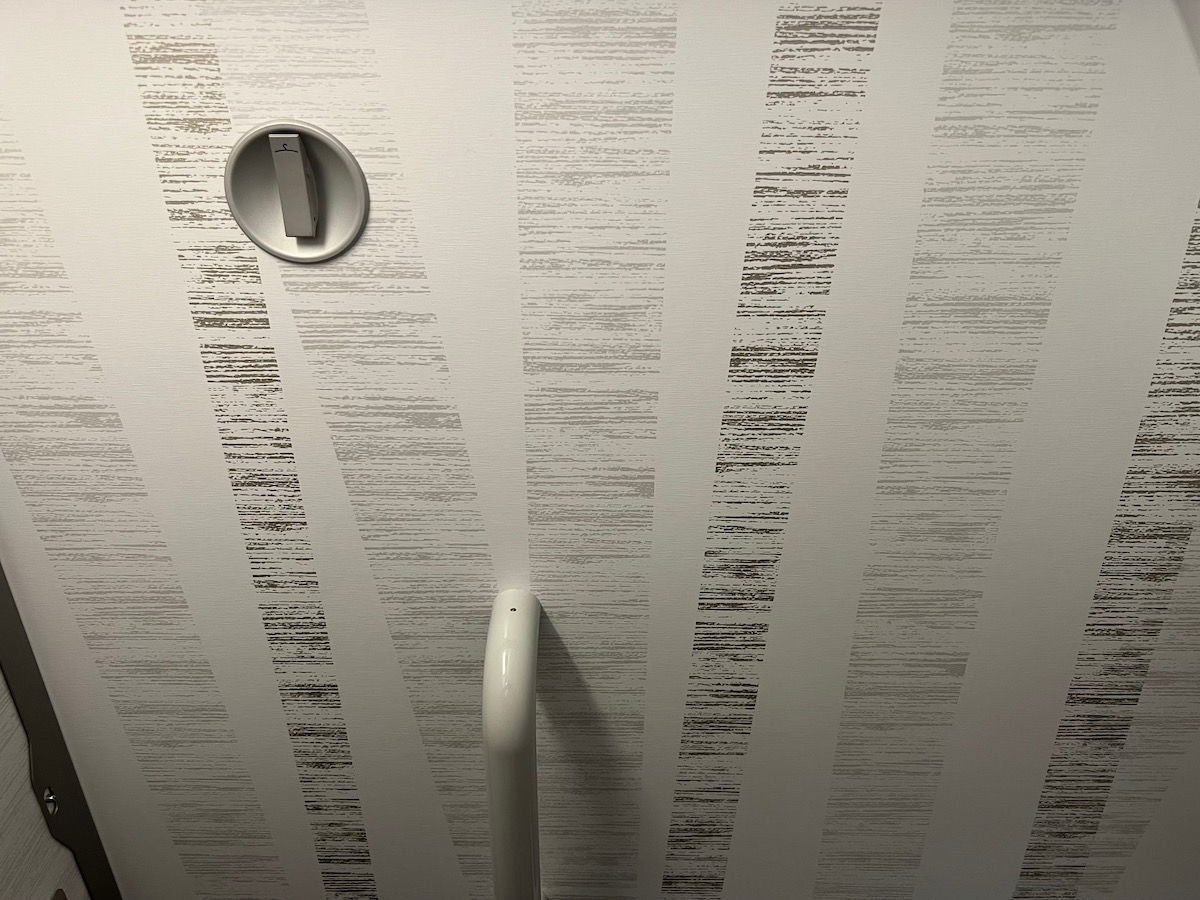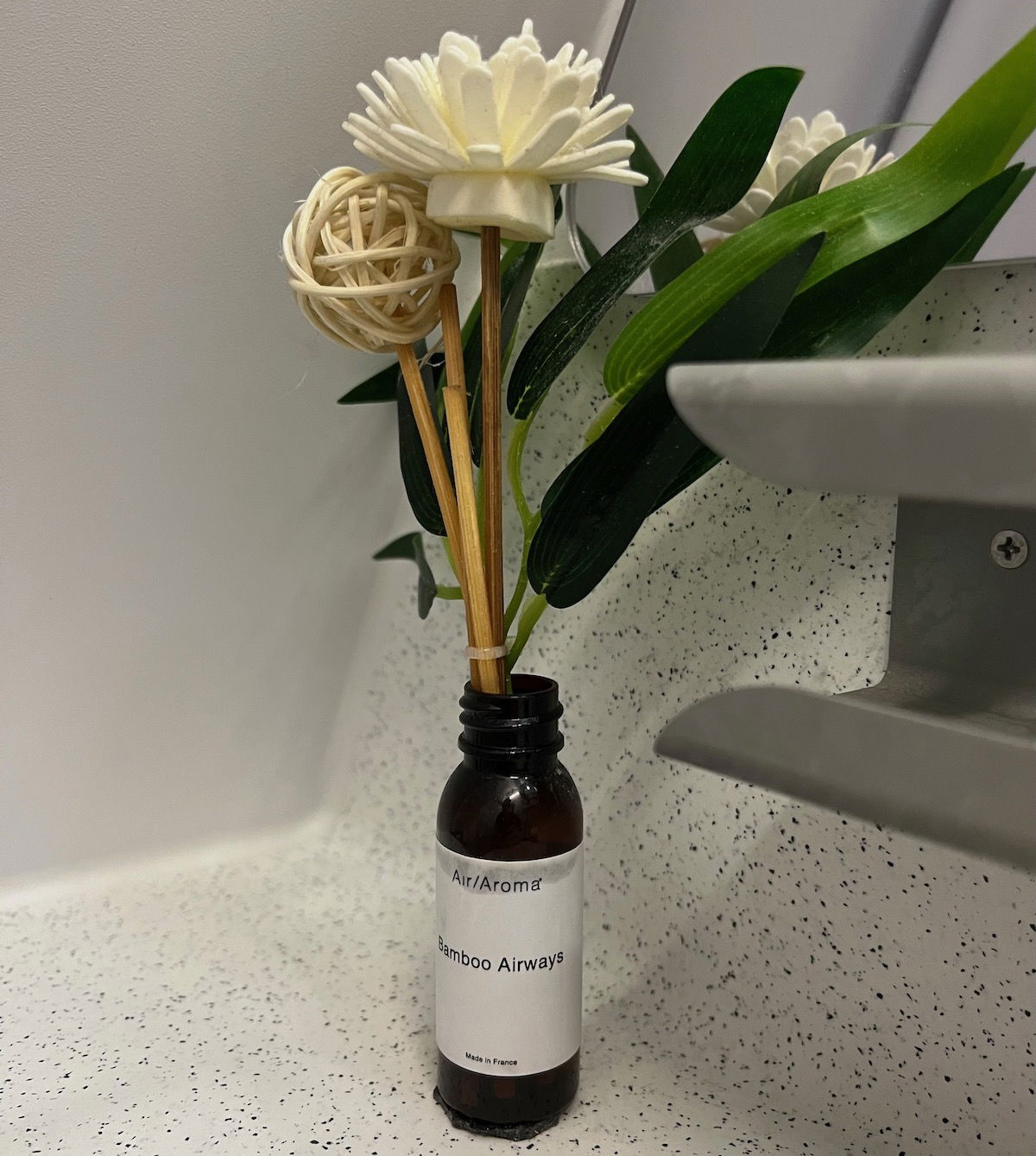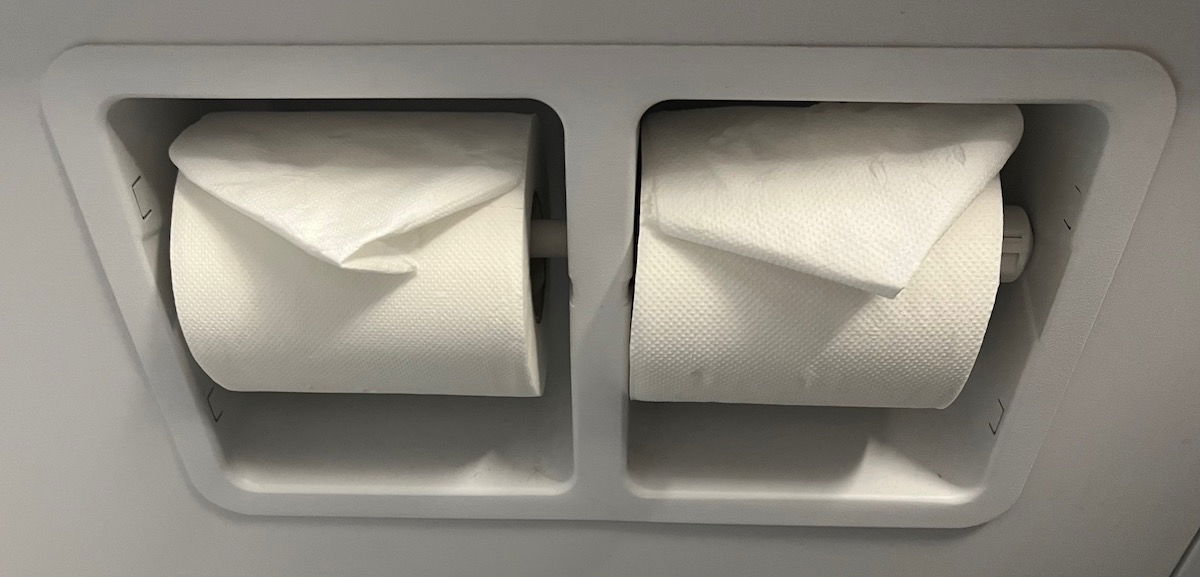 Bamboo Airways A321neo arrival in Hanoi
Almost exactly 30 minutes before landing we began our descent toward Hanoi. At this point the crew started preparing the cabin for landing, and then 20 minutes before arrival the seatbelt sign was turned on.
It was a nice night in Hanoi, and we had a smooth approach. We touched down there at 12:10AM, and had a short five minute taxi to our arrival gate. We taxied past a VietJet Air A330 and Bamboo Airways 787.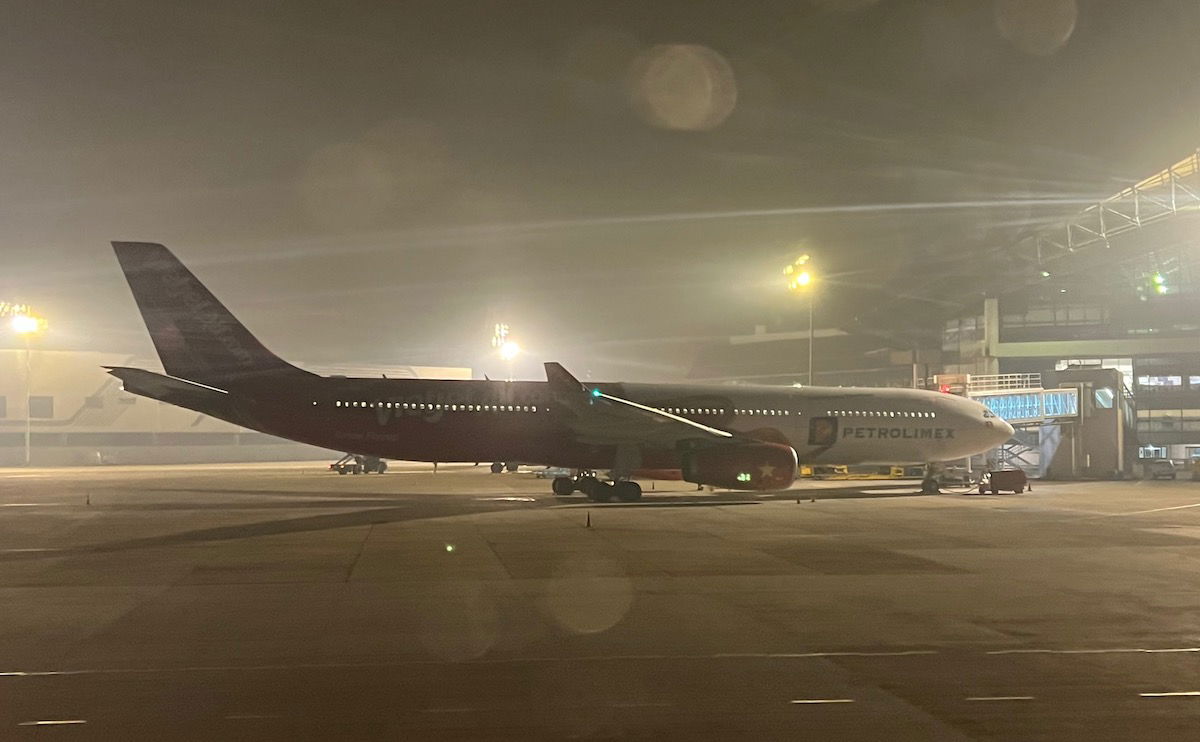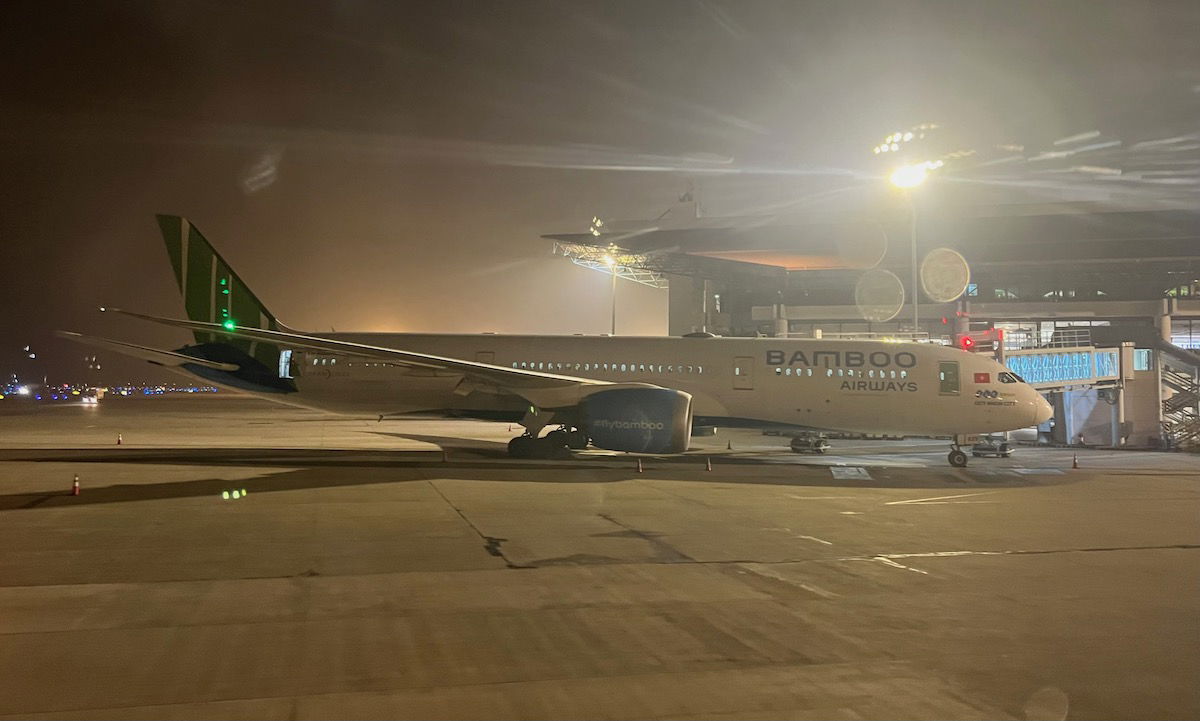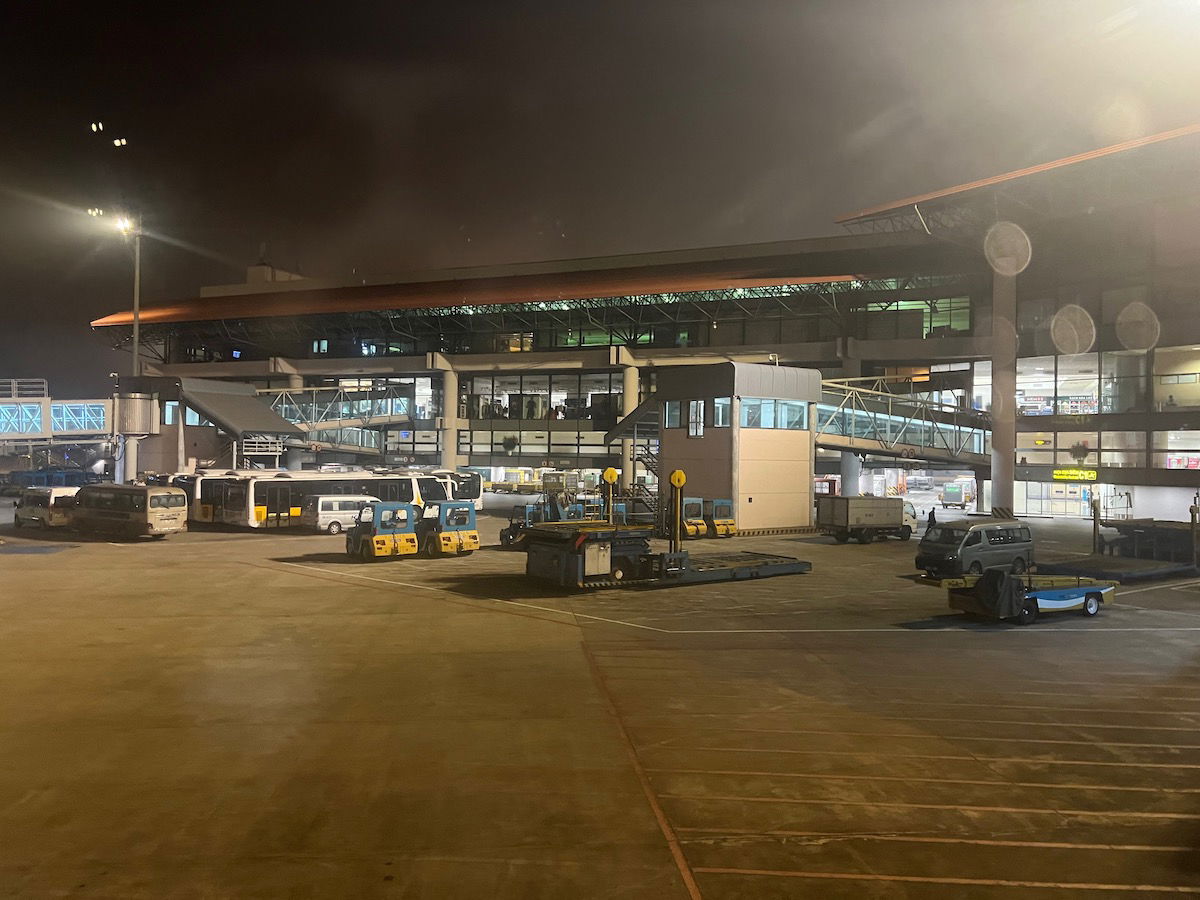 I bid farewell to the crew, and prepared for a quick overnight in the airport sleep pods, which was an experience that I don't need to repeat anytime soon (more on that in the next installment).
Bottom line
Bamboo Airways offers a great experience on its Airbus A321neos. The planes are brand new, the crews are friendly, the food is pretty good, and the airline offers a good ground experience for business class passengers, with a separate bus. While it would be nice to have Wi-Fi and/or some sort of entertainment, that's not a big deal on a short flight.
I'd fly Bamboo Airways' A321neo again in a heartbeat…
What do you make of Bamboo Airways' A321neo business class?