In the interest of full disclosure, OMAAT earns a referral bonus for anyone that's approved through some of the below links. These are the best publicly available offers (terms apply) that we have found for each product or service. Opinions expressed here are the author's alone, not those of the bank, credit card issuer, airline, hotel chain, or product manufacturer/service provider, and have not been reviewed, approved or otherwise endorsed by any of these entities. Please check out
our advertiser policy
for further details about our partners, and thanks for your support!
To kick off my whirlwind Aeroplan adventure, I flew Austrian Airlines' Boeing 777-200ER business class from Chicago to Vienna. It had been a few years since I had flown Austrian business class, so I was curious to see how the product was holding up.
For the most part I had a great experience, as Austrian has an above average soft product, including solid food and drinks, an awesome coffee menu, and friendly service. However, there were also some things I didn't love quite as much, like the lack of Wi-Fi and individual air nozzles, some of the amenities, and the seats.
How I booked my Austrian business class ticket
I booked my Austrian business class ticket using points. Specifically, I redeemed 115,000 Air Canada Aeroplan points to fly from Chicago to Vienna to Rome to Bahrain to Singapore to Ho Chi Minh City to Hanoi, all in business class.
For more details on how I booked that, see my post about how to redeem Aeroplan points like a pro. Aeroplan points are easy to come by, as the program is transfer partners with Amex Membership Rewards, Capital One, and Chase Ultimate Rewards. On top of that, there's the Aeroplan® Credit Card (review) in the United States, which is phenomenal.
Specific to the Austrian Airlines portion of my trip, here were the two flights I flew on Austrian (I'll be reviewing the second segment in a separate installment):
1/05 OS66 Chicago to Vienna departing 4:20PM arriving 8:20AM (+1 day)
1/07 OS501 Vienna to Rome departing 7:55AM arriving 9:30AM
Austrian business class lounge & boarding Chicago
Austrian Airlines departs from Terminal 5 at Chicago O'Hare (ORD), probably my least favorite international terminal in the United States. Austrian business class passengers are sent to the SAS Lounge, which I reviewed in a separate installment (I also checked out the Swissport Lounge, possibly the worst lounge in the United States).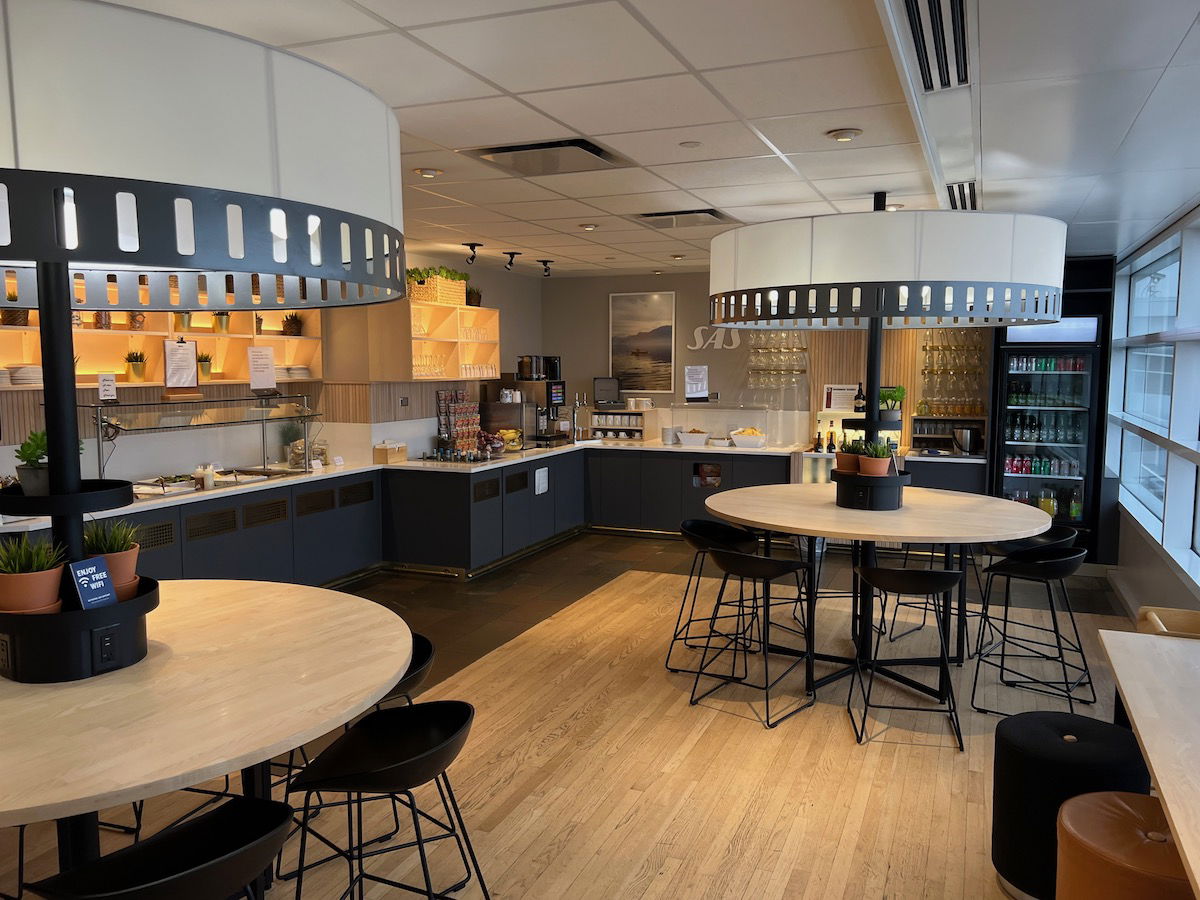 My Austrian flight was scheduled to depart from gate M16, with boarding at 3:30PM, 50 minutes before departure. Sure enough, boarding started right on-time, with business class passengers being invited to board first.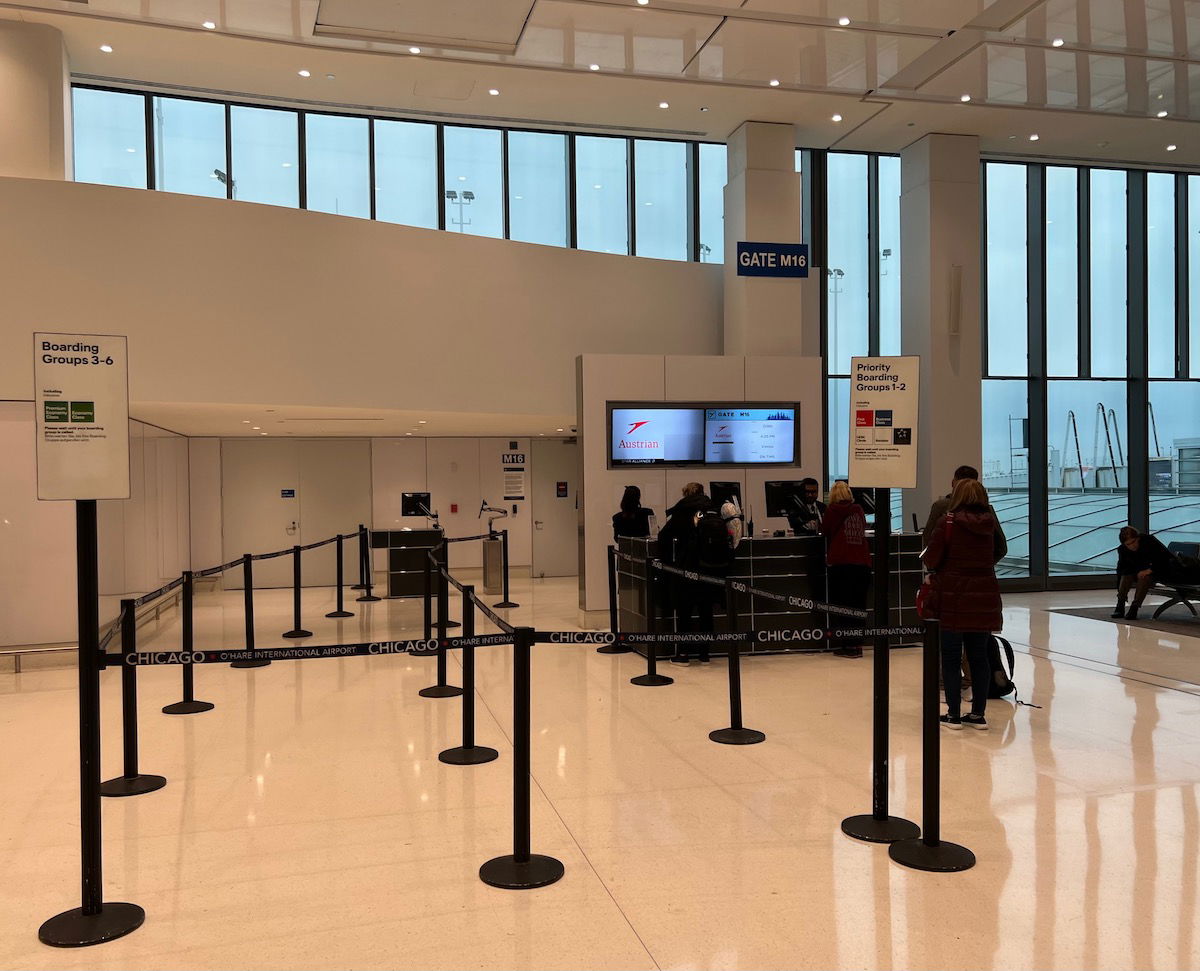 Austrian 777 business class cabin & seats
Austrian Airlines has staggered seats in business class, specifically Thompson's Vantage product. The Boeing 777 has a total of 40 business class seats, though Austrian is in the process of reducing the size of this cabin to 34 seats (by replacing the mini cabin with more premium economy seats).
Austrian's main 777 business class cabin consists of 34 seats. Seats alternate between being in a 1-2-1 and 2-2-2 configuration. That's because this configuration efficiently utilizes space by essentially placing a footwell to the side of the seat(s) in front.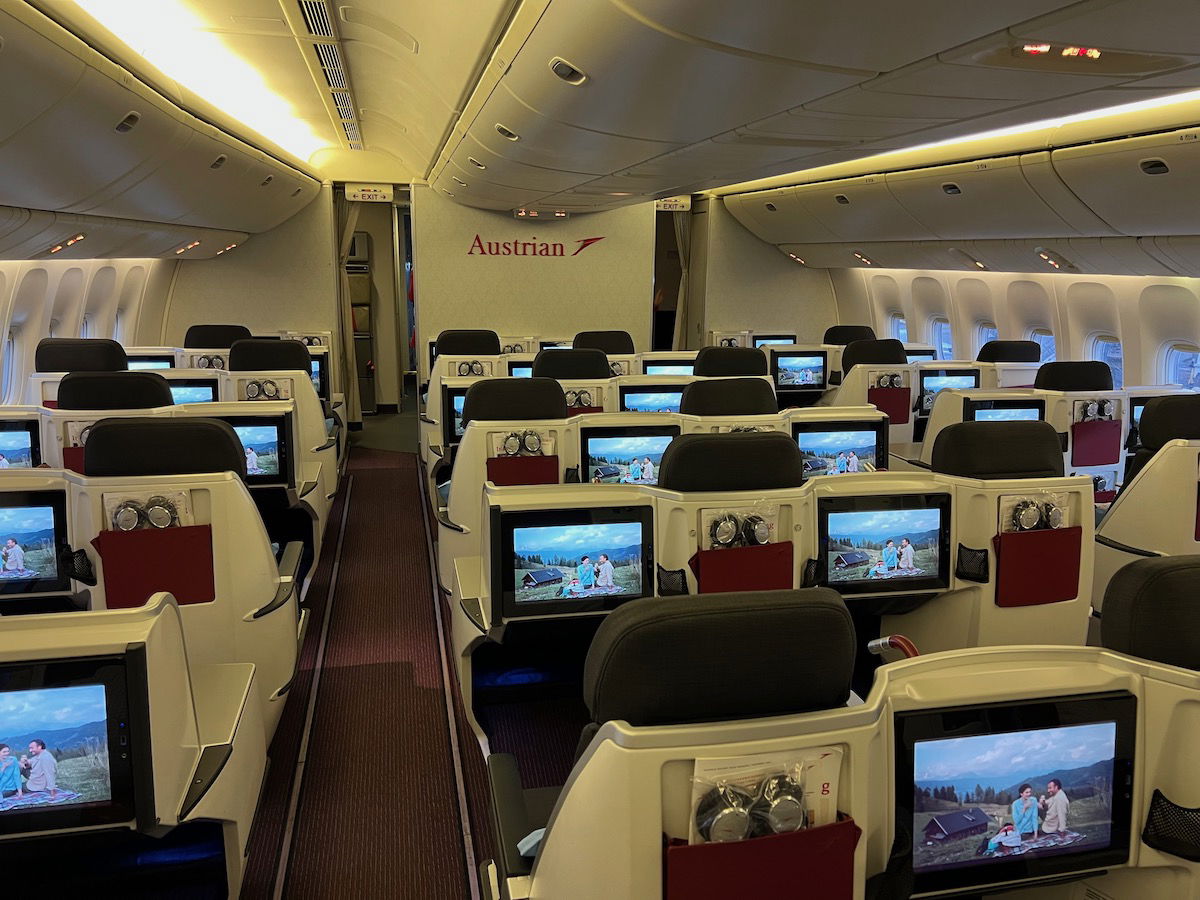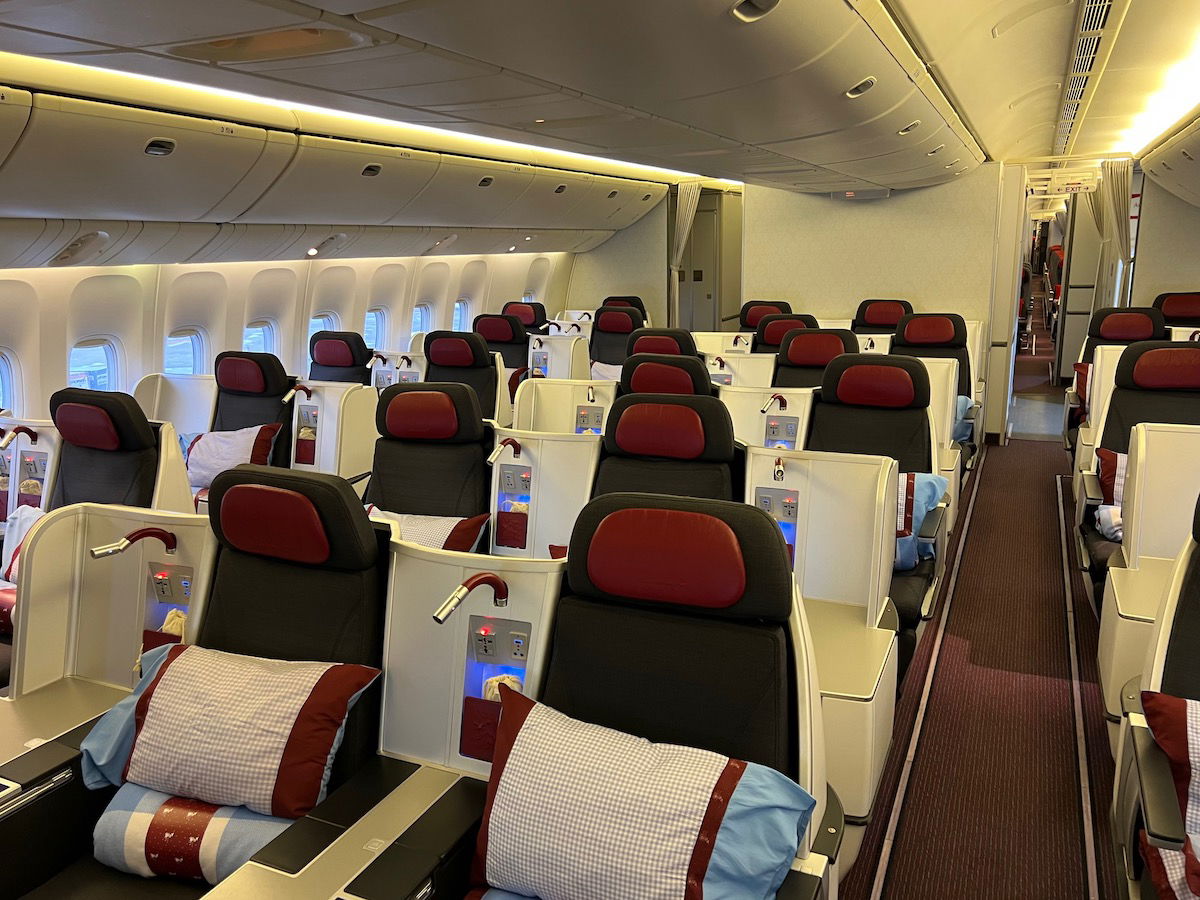 The center section always has two seats, with the only variance being the distance of the seats to the aisle.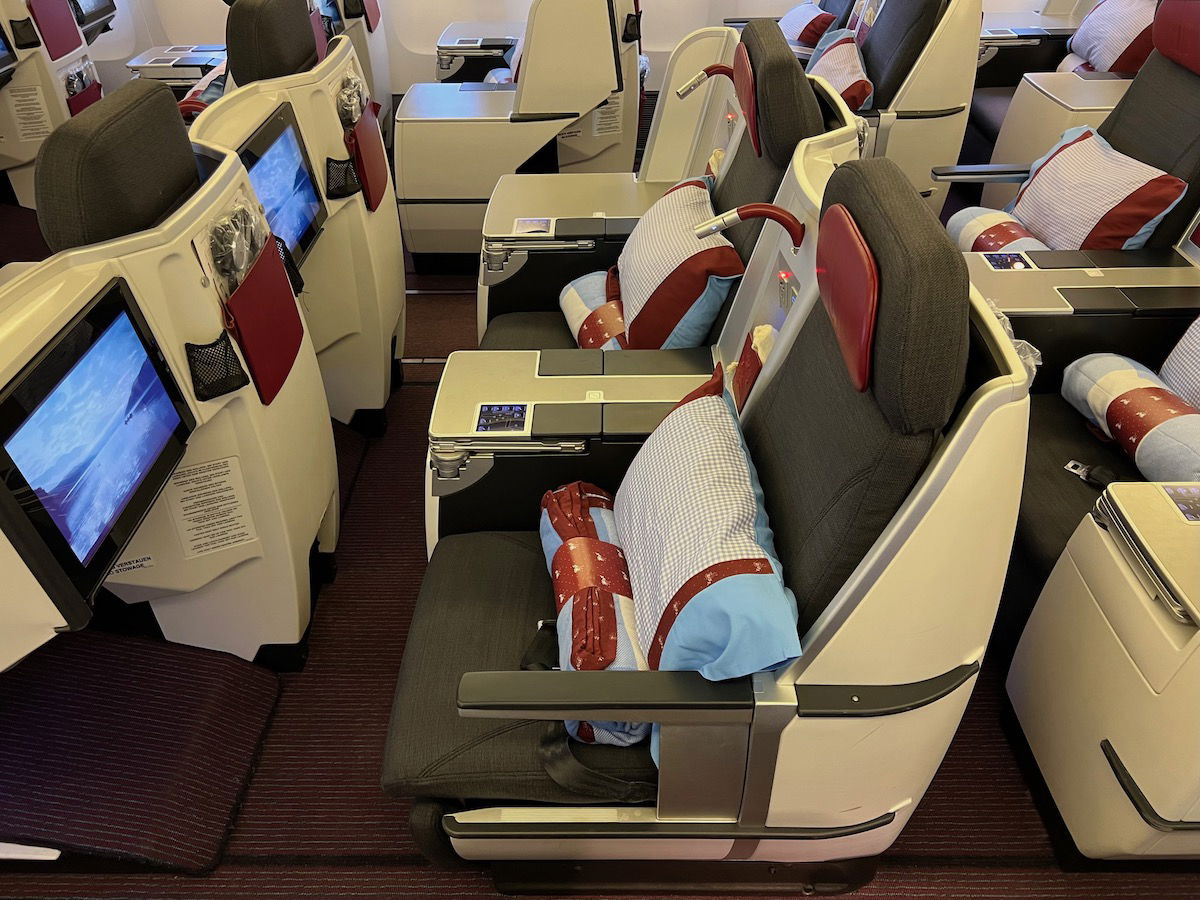 In even numbered rows, there are always pairs of seats by the windows. The window seats in these pairs are the only seats in this configuration without direct aisle access. I'd avoid these seats if you're traveling alone (since you probably don't want to step over someone to access the aisle, or vice versa). However, if you're traveling in pairs, you may like these seats, since you can sit together and enjoy the window views.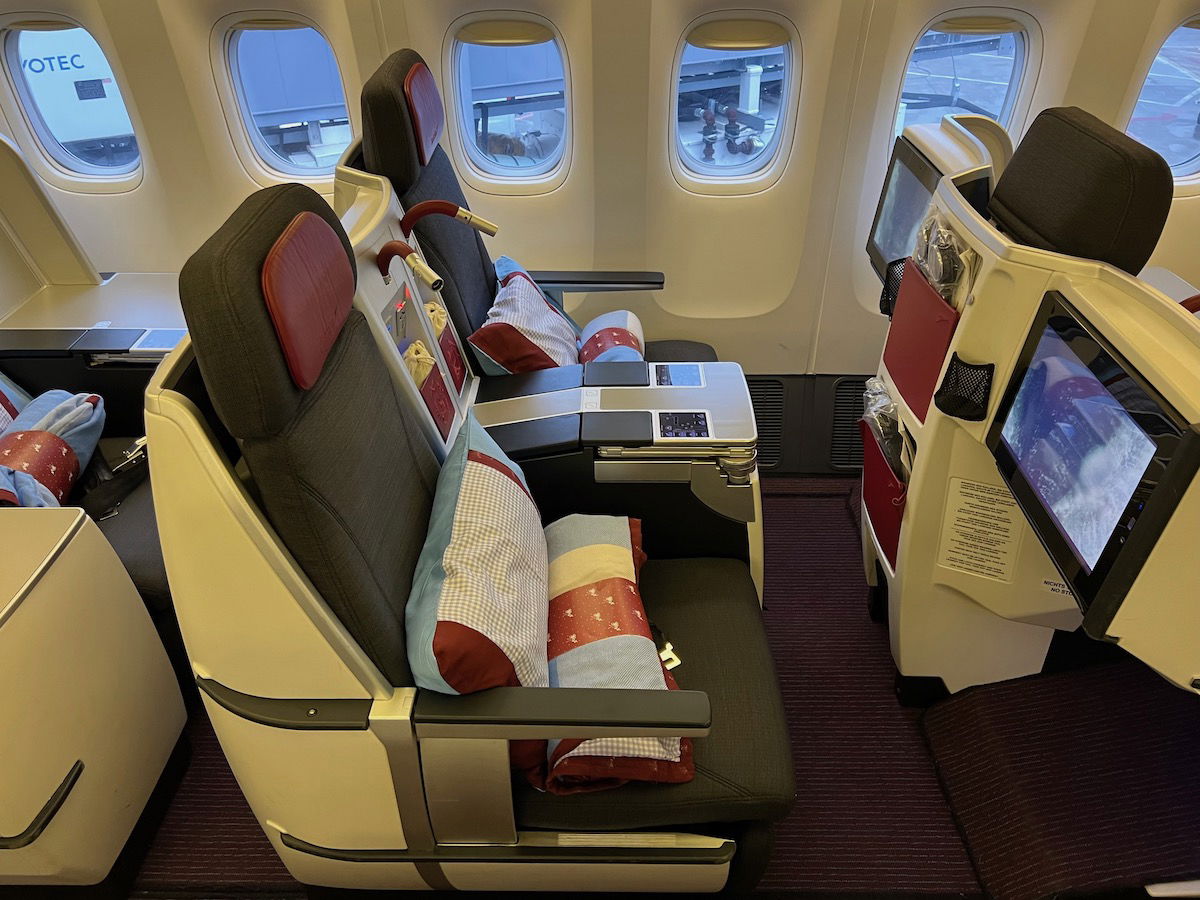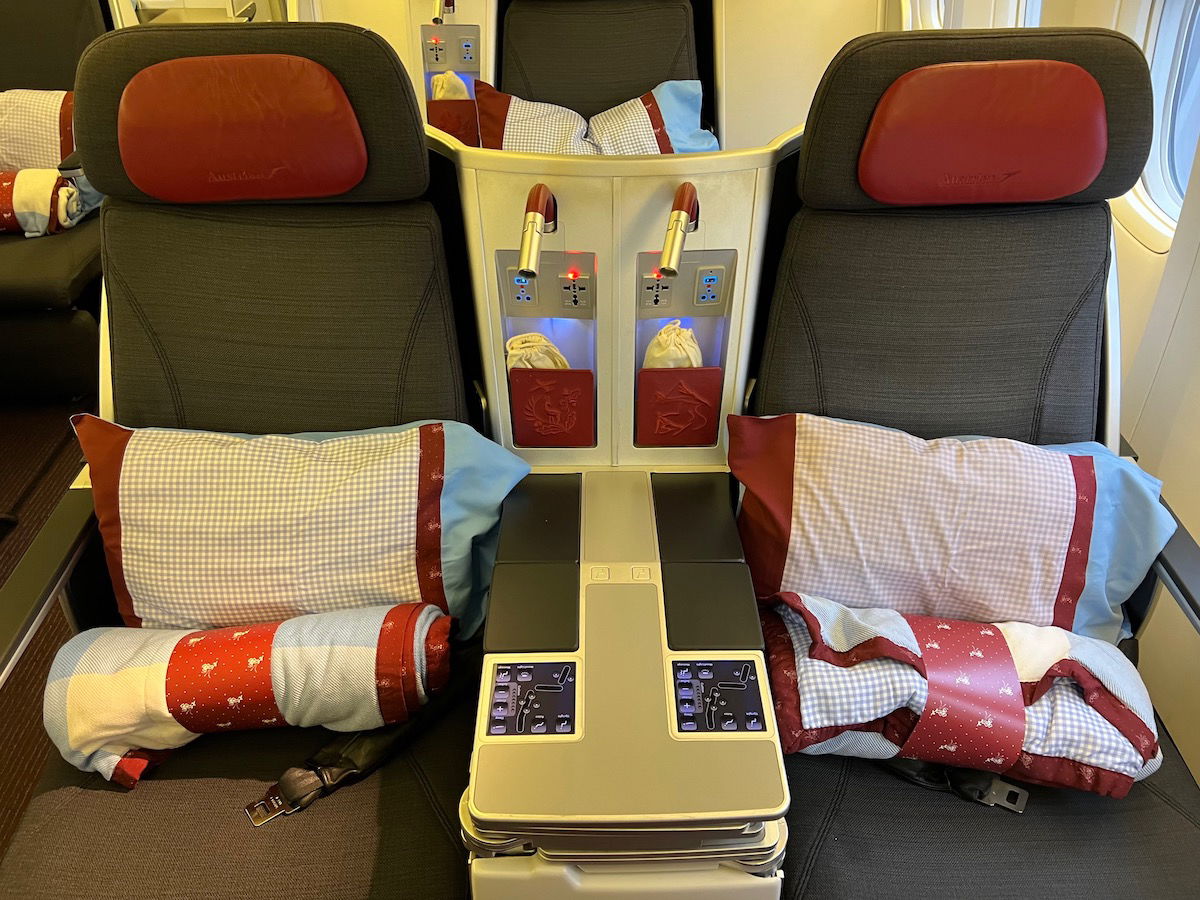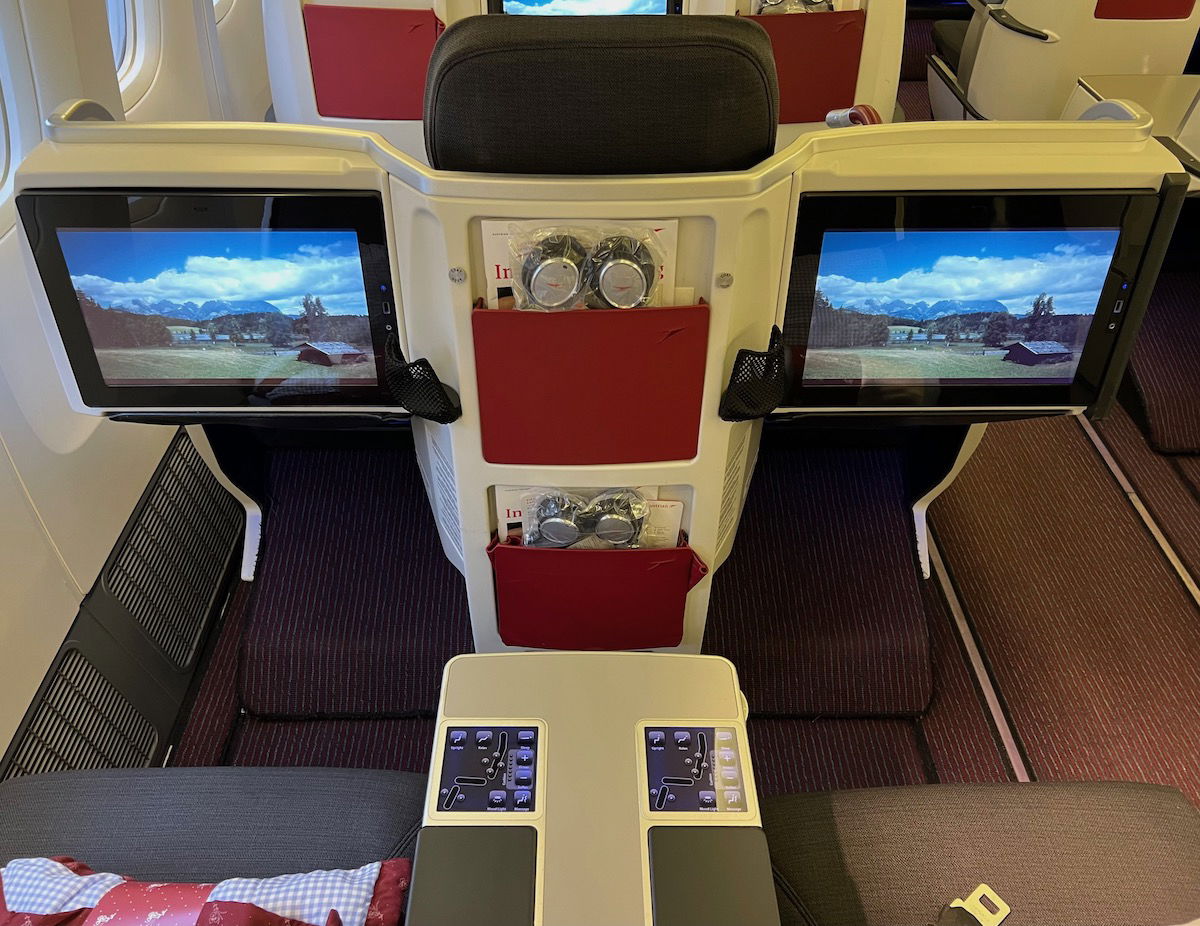 Arguably the best seats in this configuration are the window seats in odd numbered rows, which are known as "throne seats." Austrian charges extra for these seats if reserved in advance, though you can assign them for free when online check-in opens (which is what I did). I assigned myself seat 5A, located toward the back of the cabin (the main business class cabin has seven rows).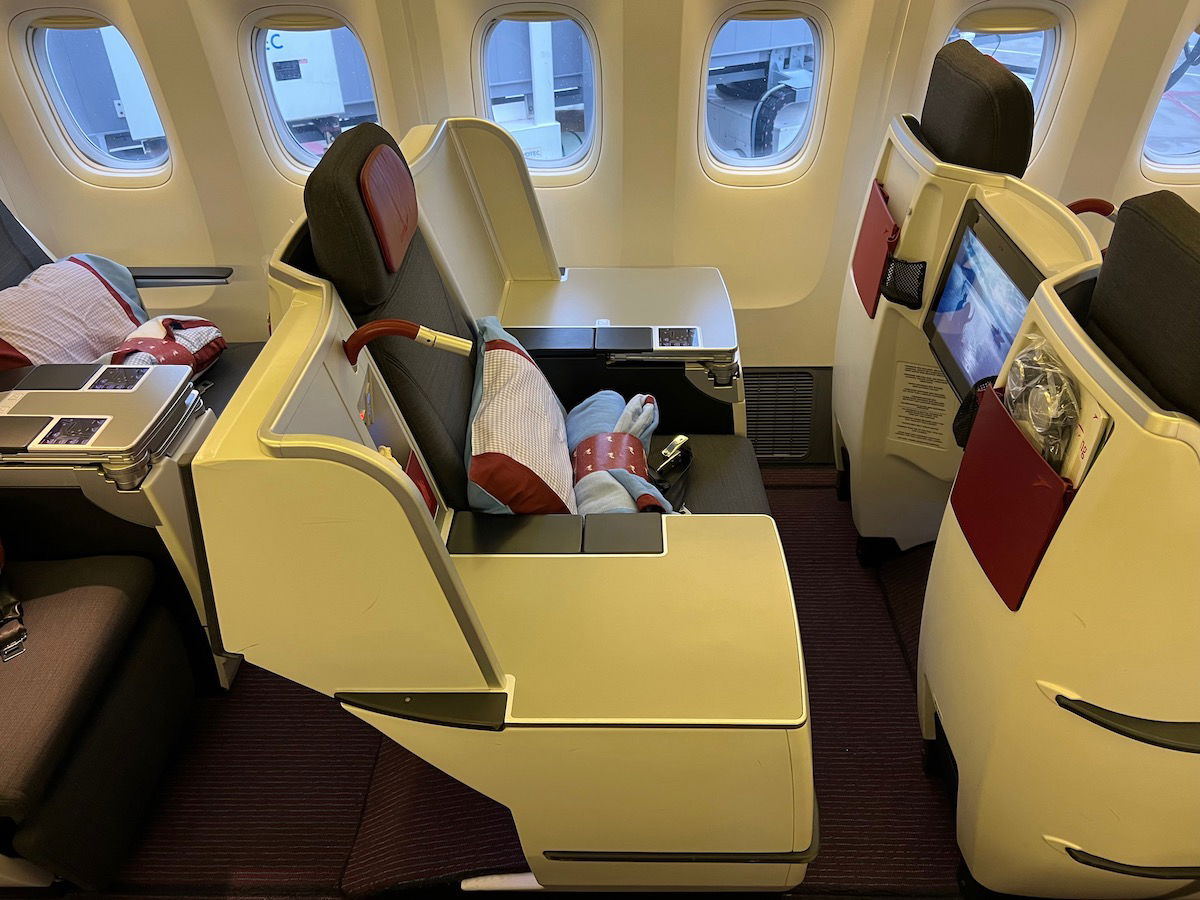 The beauty of these throne seats is that you have direct aisle access, and a ton of space next to you on both sides. As you can probably tell by the picture, the seat as such is quite narrow, though, which is true of all seats in this configuration.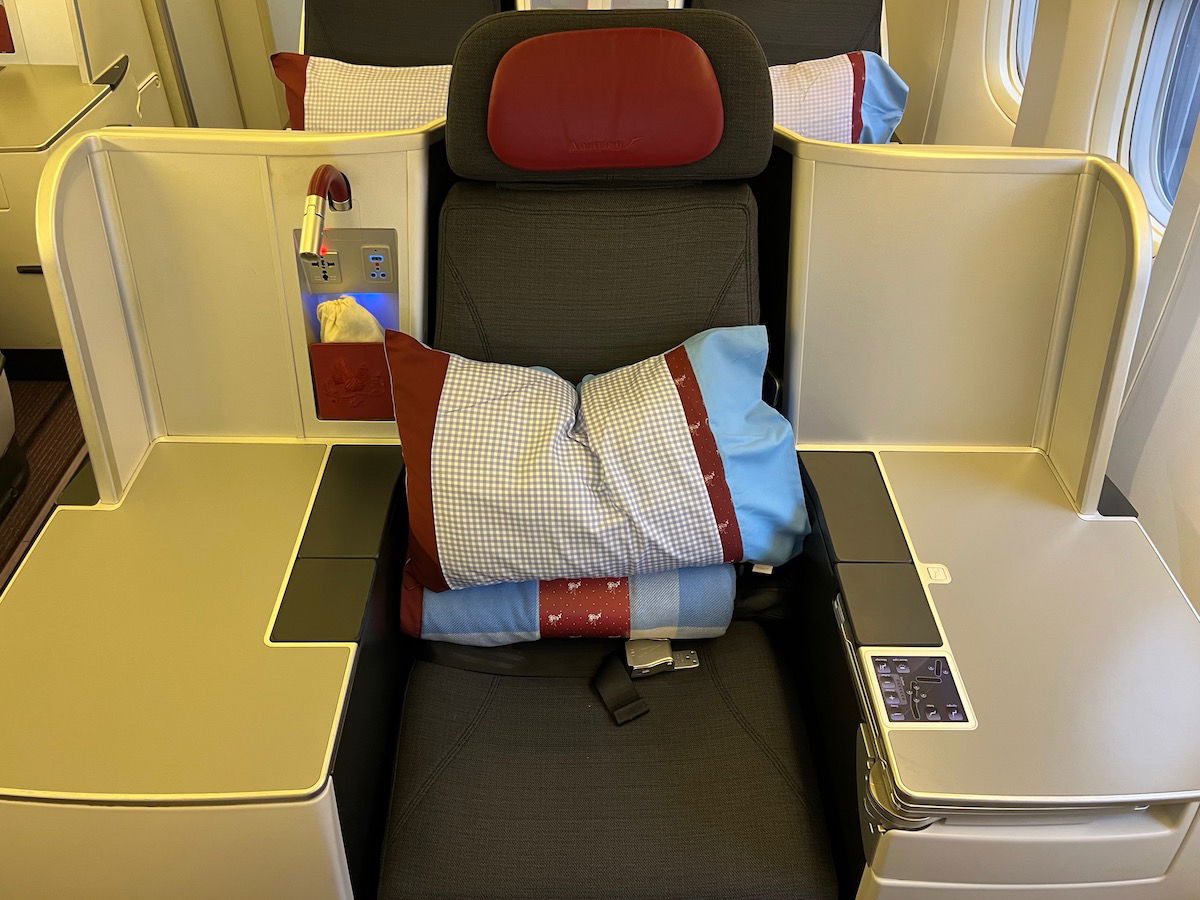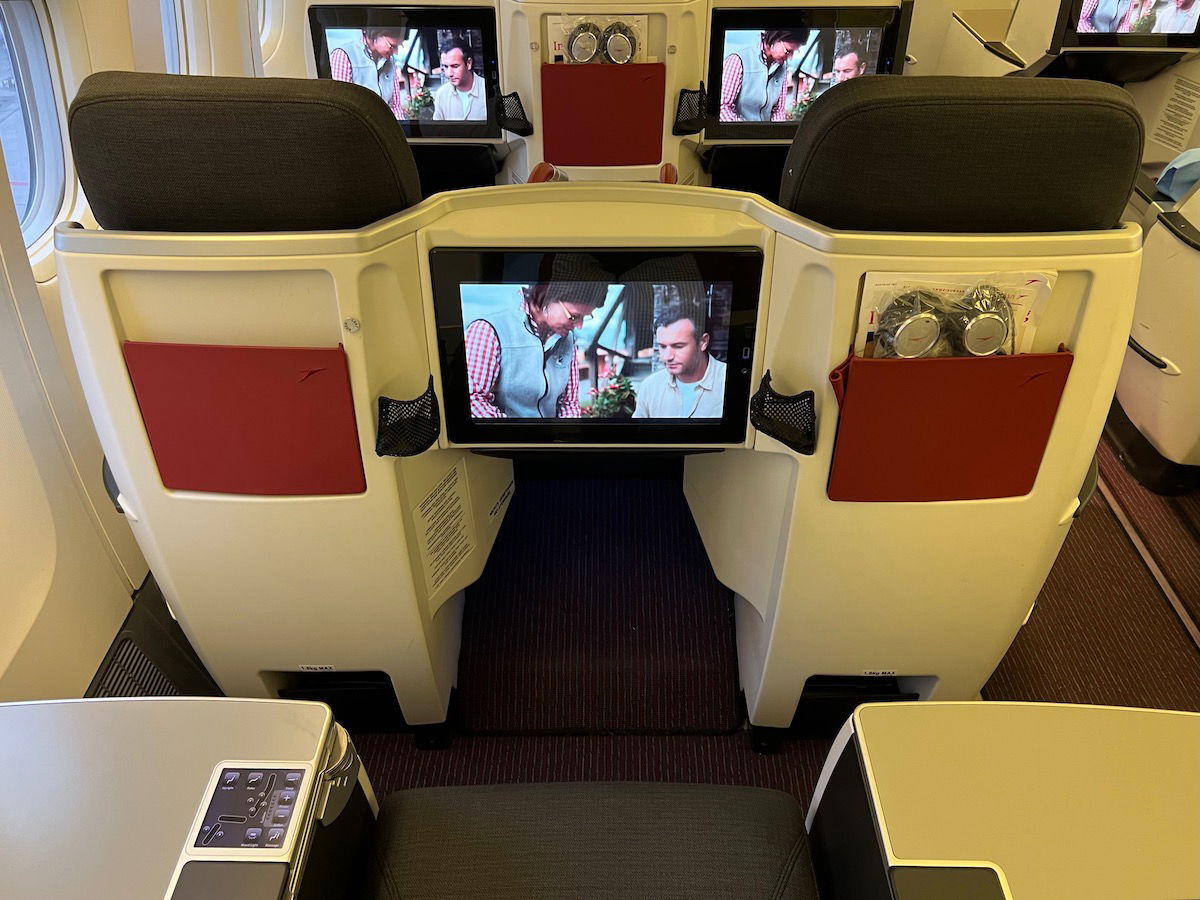 The main downside to staggered seats are that your feet have to go in small footwells, and the throne seats have the smallest footwells of all the seats. That's definitely something to be aware of, especially if you have big feet.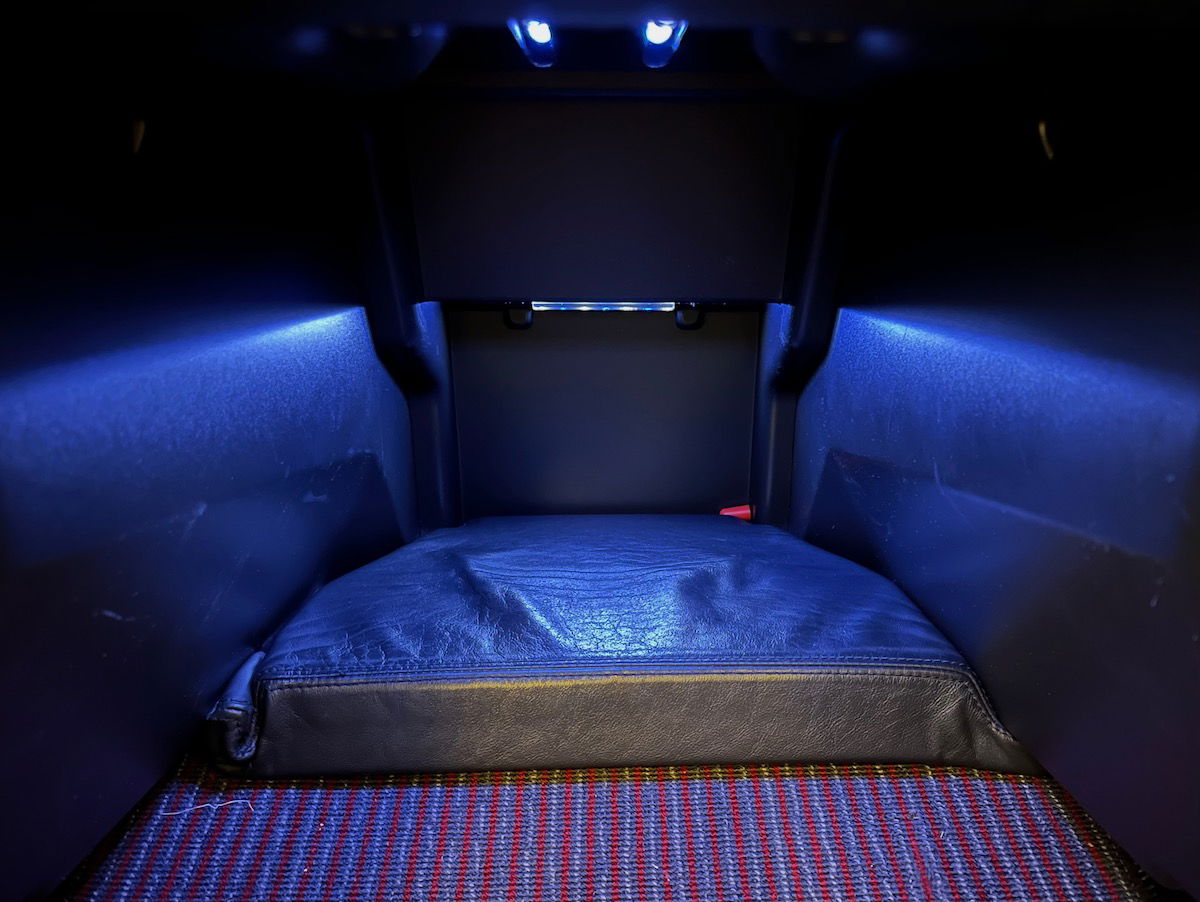 As far as the seat features go, on each side of the seat was a literature pocket and a water bottle holder. The left side also had a coat hook.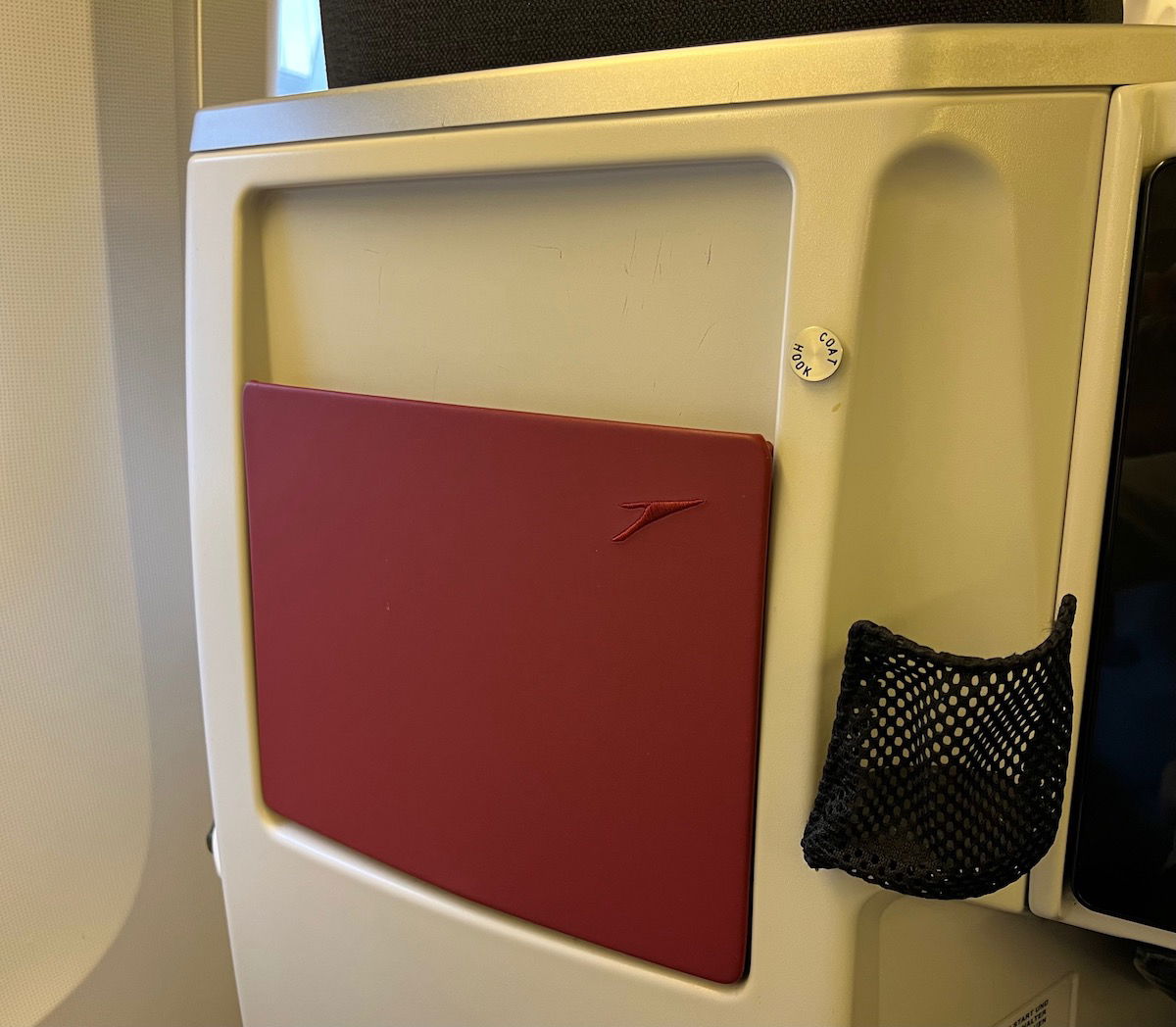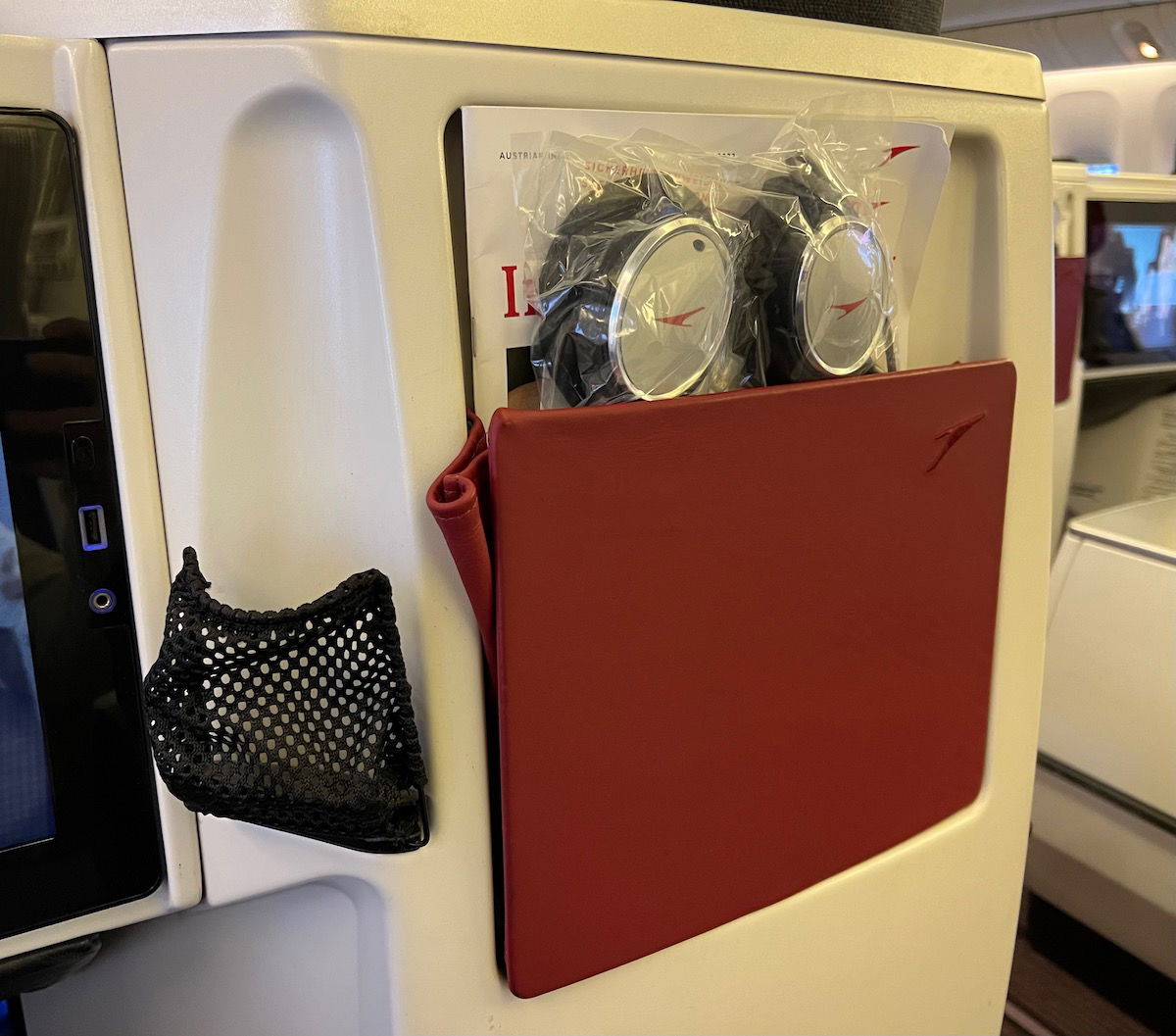 The seat controls were located on the left side of the seat. They're easy to use, arguably too easy to use — with these kinds of controls I always find myself accidentally adjusting my seat just because of where I'd naturally rest my arm.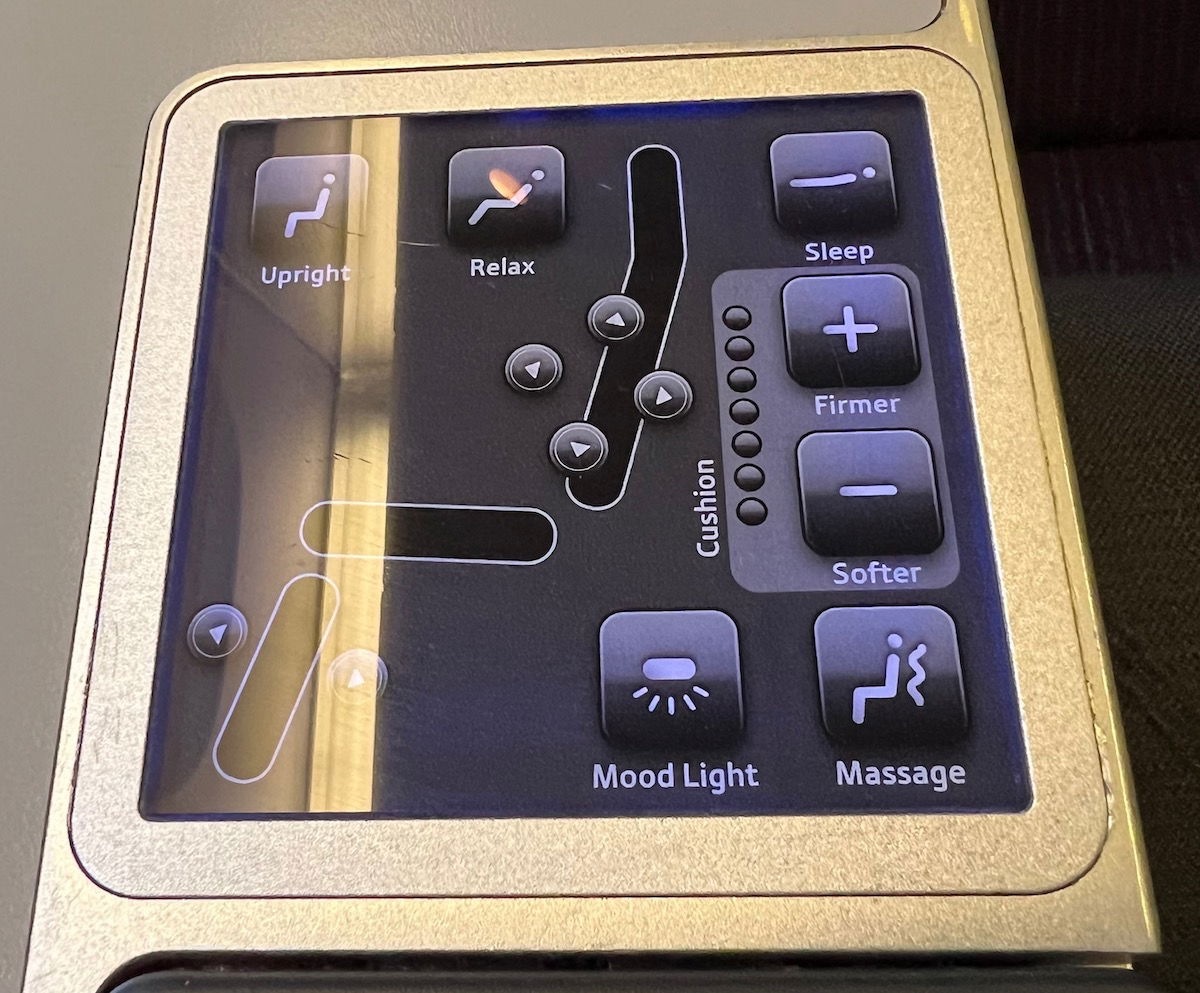 The tray table also folded out from the left side of the seat. If you've ever flown in the Thompson Vantage seat, you probably know just how complicated these tray tables are to put back in place.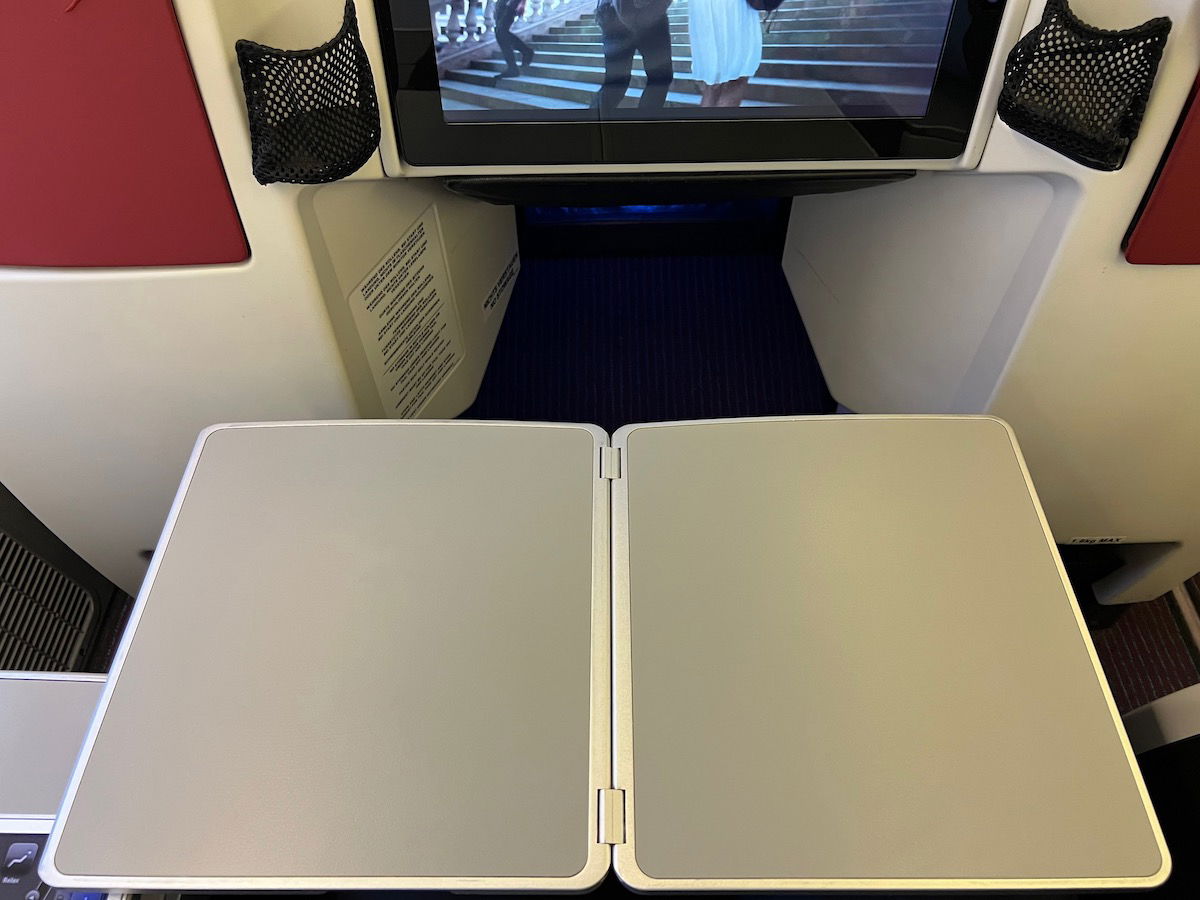 Underneath a panel on the left side of the seat was the entertainment controller. This can be extended out so that you can use it in a more natural position. The unique feature of this is that you essentially use your finger as a "mouse" to browse the entertainment, which I know some love and others hate.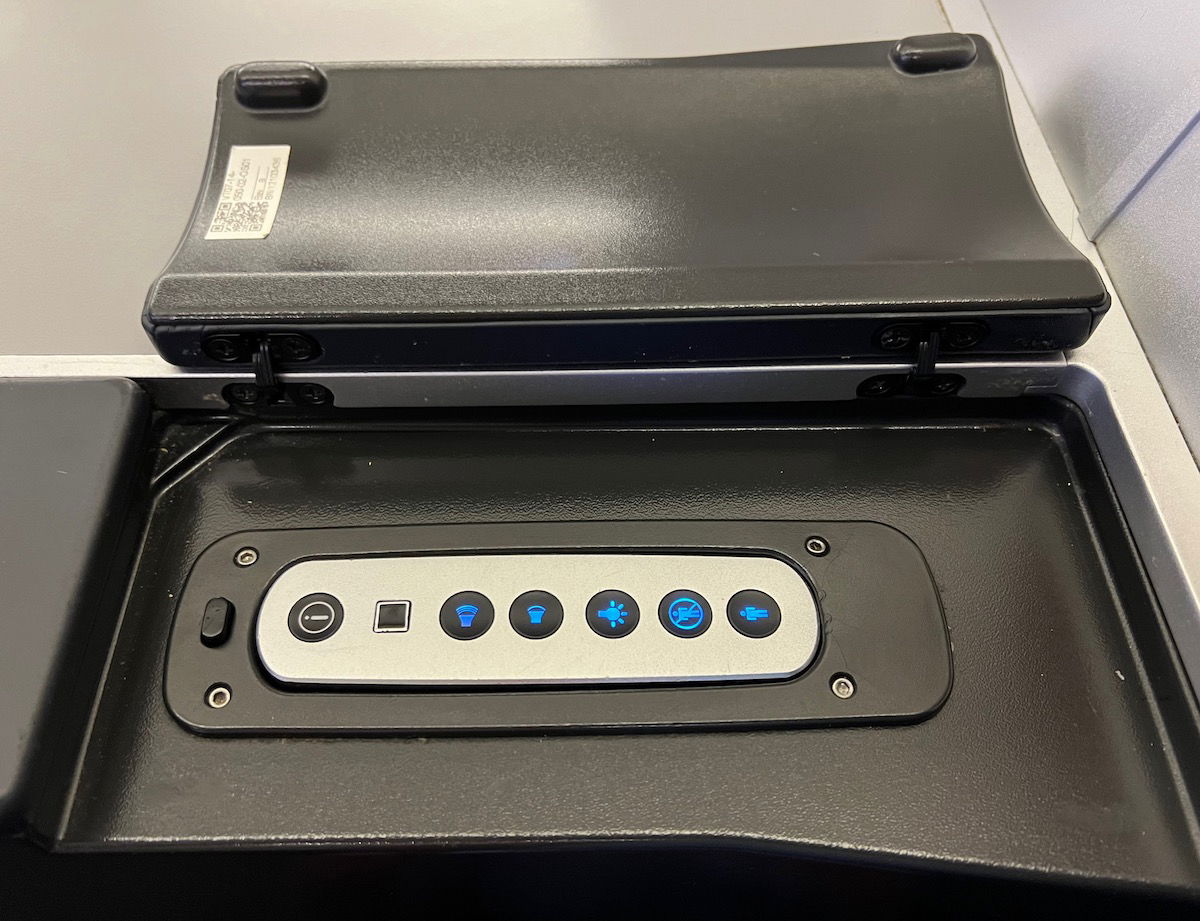 Along the back right of the seat was a reading light, the headphone jack, and AC and USB power outlets.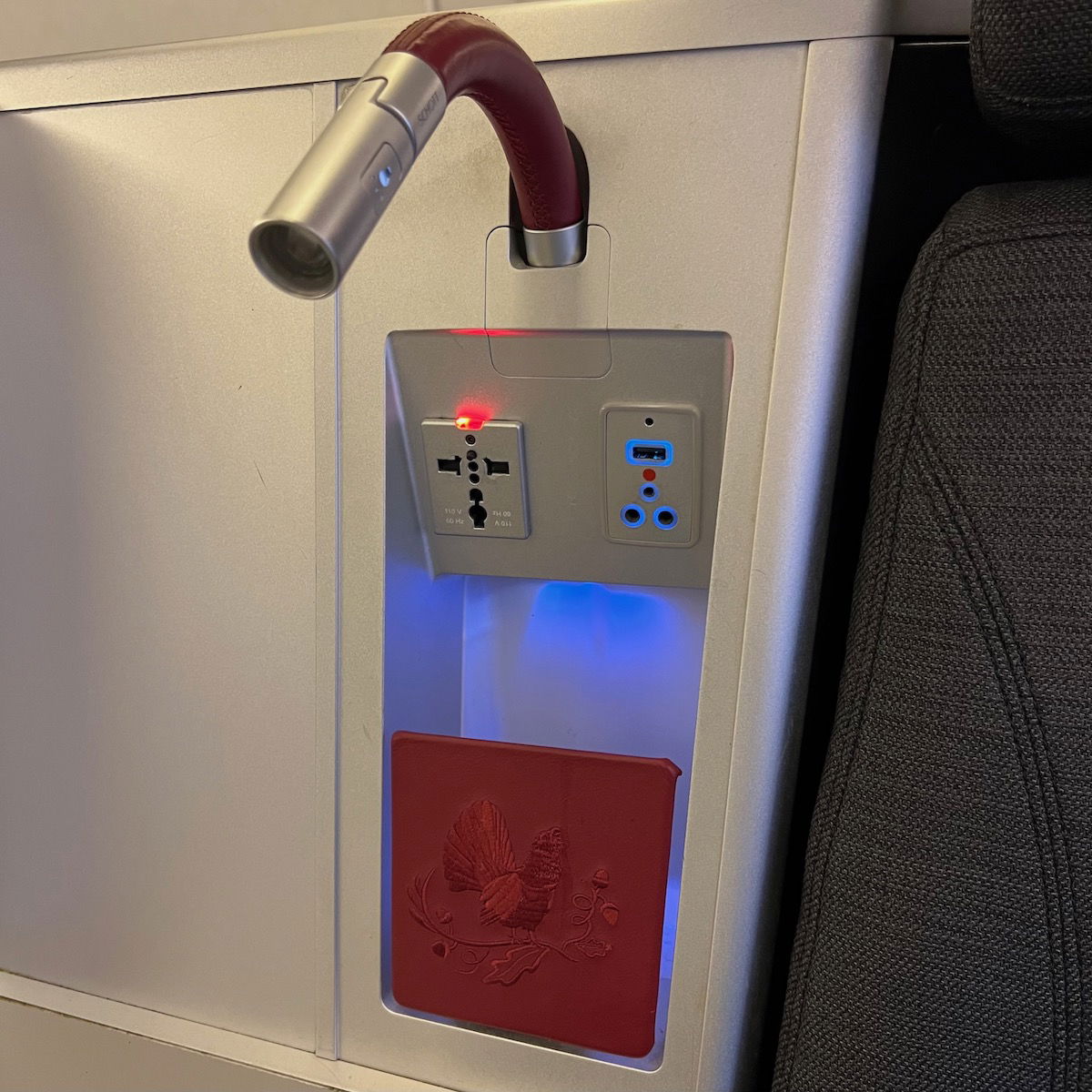 Unfortunately Austrian doesn't have individual air nozzles on its 777s. Usually that's something I'd value, but I was pleased to find that the cabin was kept quite cold throughout the flight, so it wasn't really needed anyway.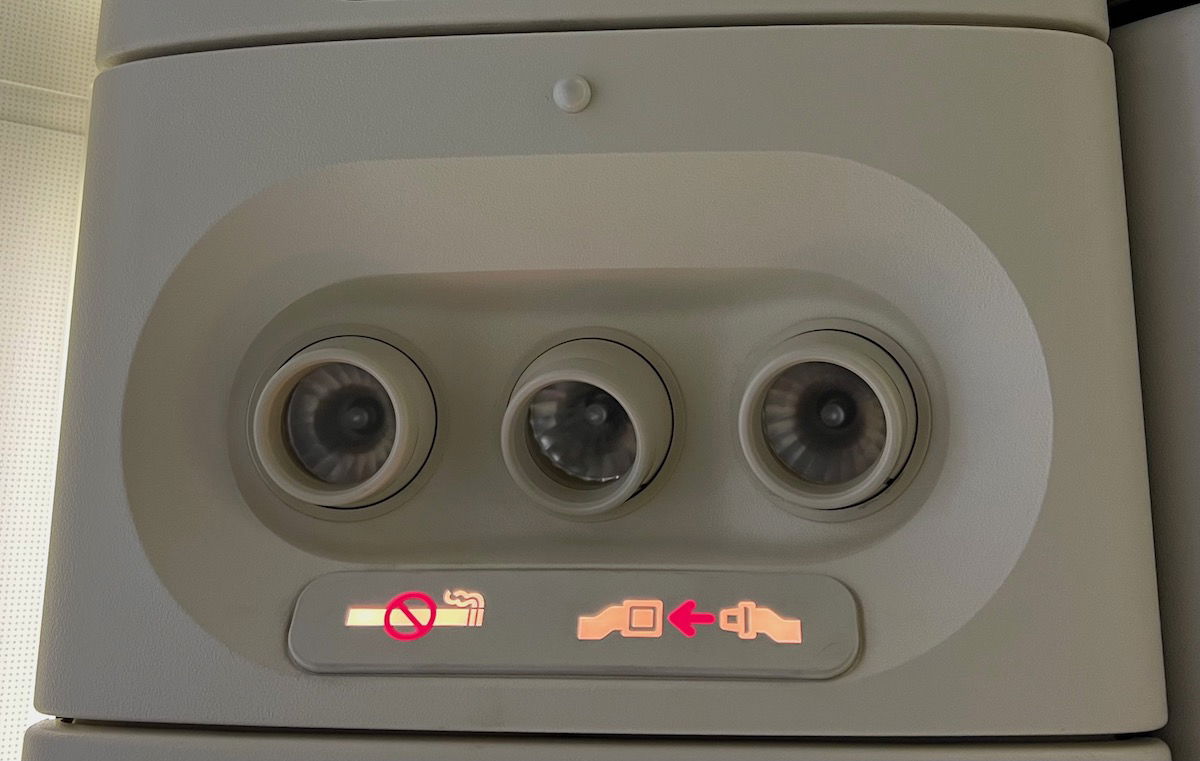 While I think that covers most of the basics of the cabin, there are a few other things I'd like to point out. First of all, the throne seats in row one are probably the best on the plane, as they have significantly larger footwells than the other seats. That's because your feet aren't being squeezed between the seats in front.
There's a tradeoff, though, as these seats are closer to the galley, so may have more noise and light.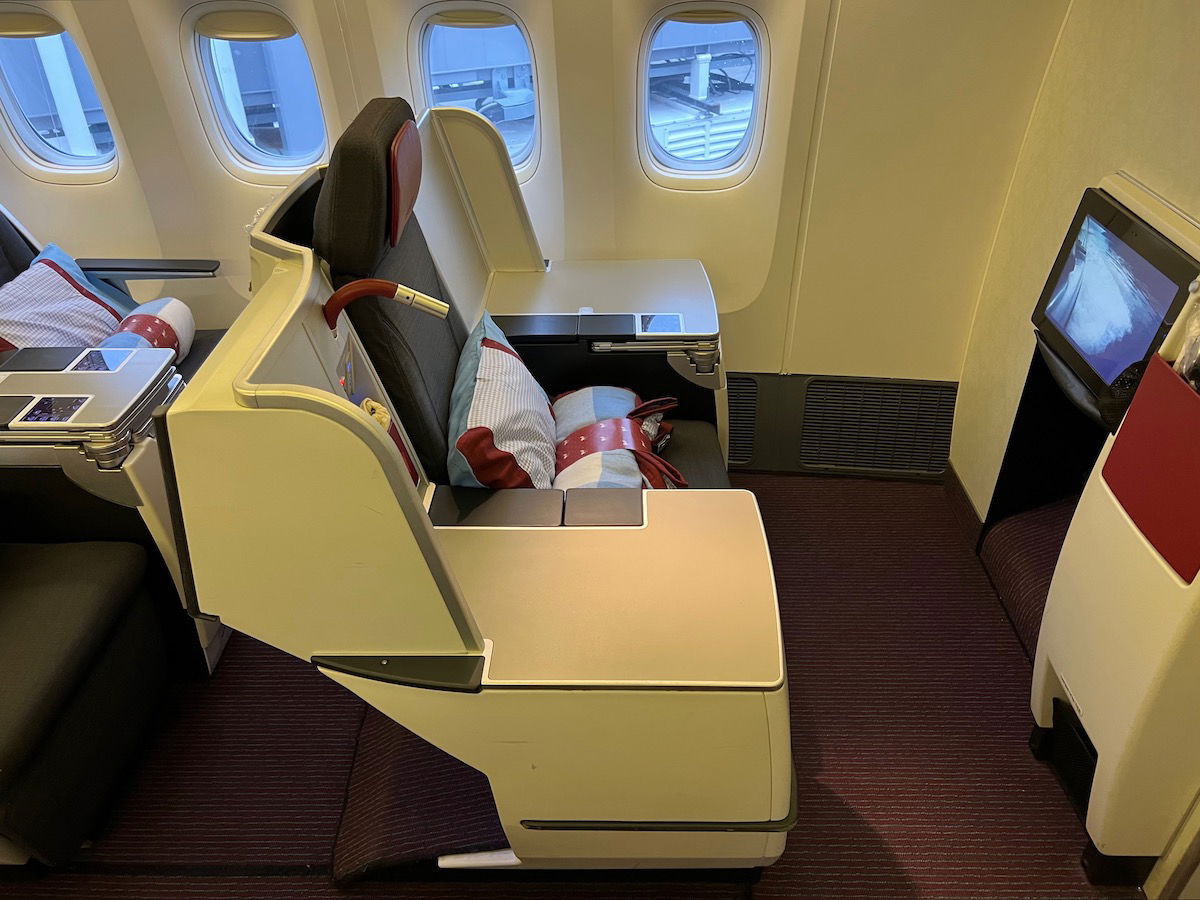 Furthermore, while there are single window seats in row seven, these aren't proper throne seats. For whatever reason, they don't have the console on one side, so they wouldn't be my first pick.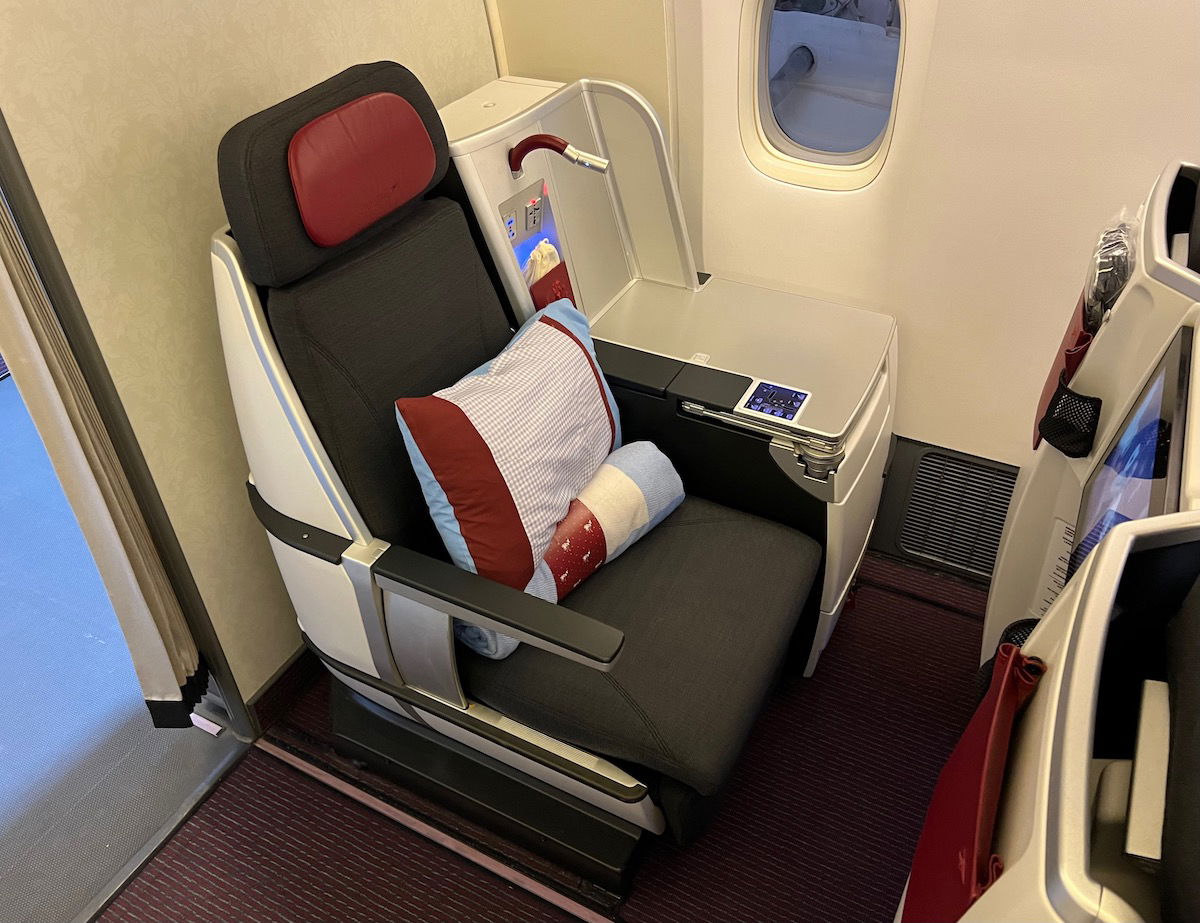 Lastly, as I mentioned above, there's currently a mini cabin with six business class seats, in a 2-2-2 configuration. That's going to be eliminated in the coming months, and I can appreciate why — there's quite a bit of wasted space there.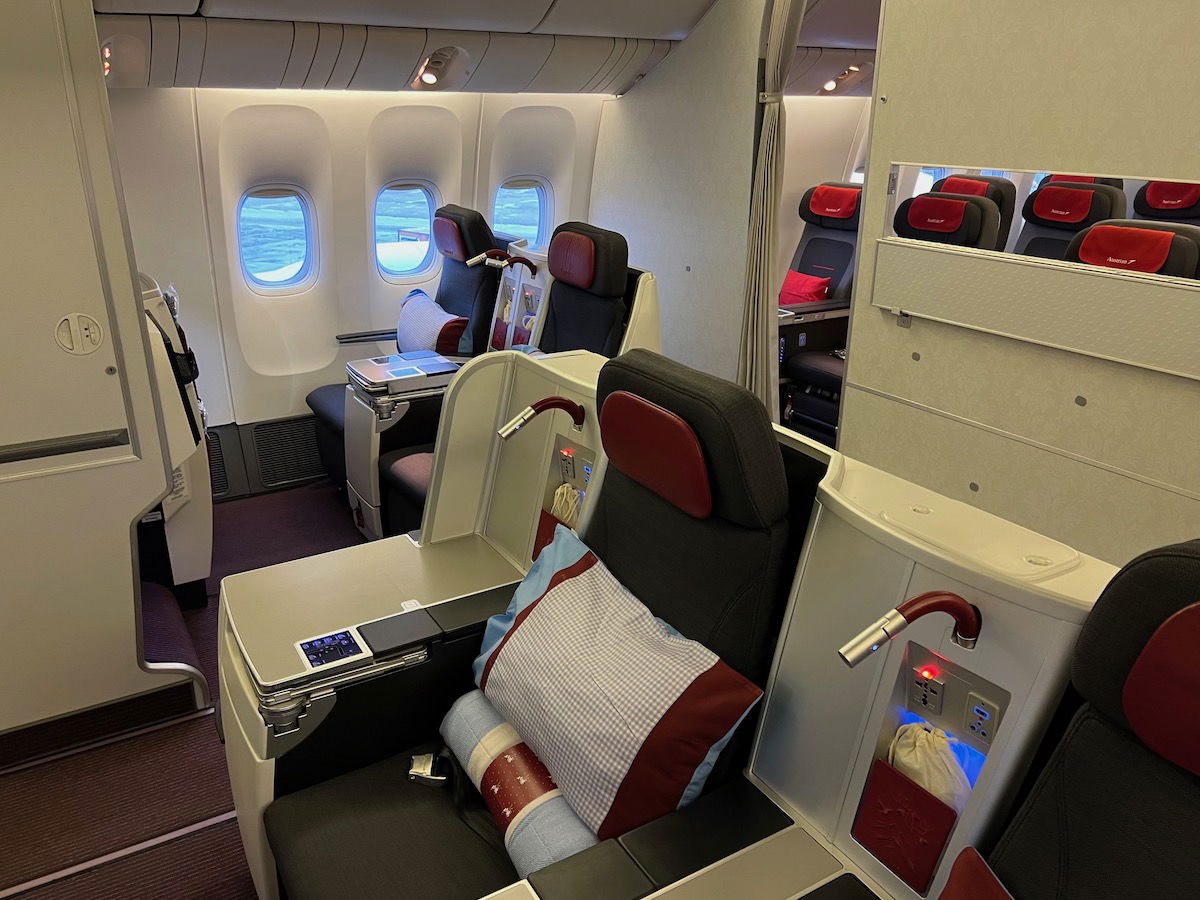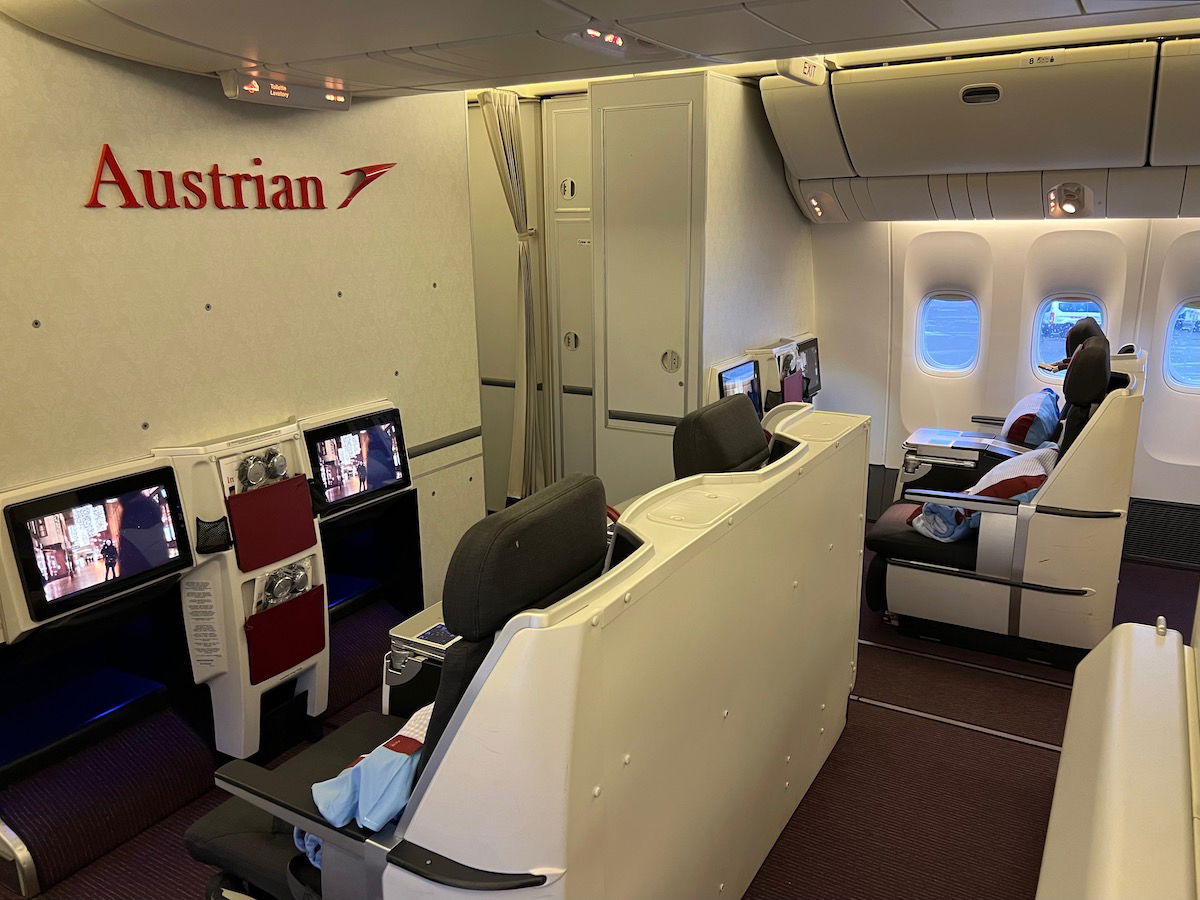 Instead you can expect Austrian's premium economy cabin to get significantly larger.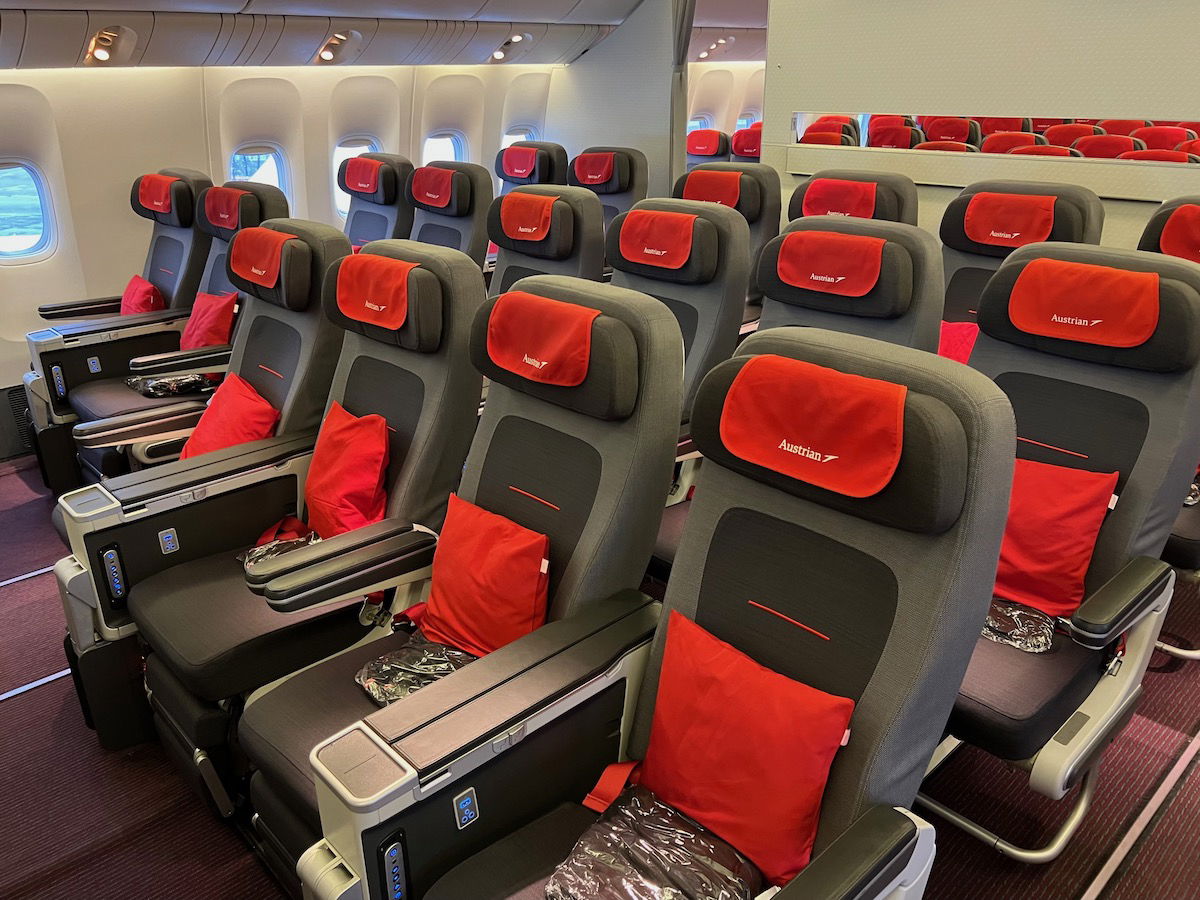 One last thing to note about the cabin… I was flying on the 777 with the registration code OE-LPE, and the plane was roughly 24 years old. The cabin felt like it was in really good shape for a plane that age.
Austrian business class amenities
As far as Austrian business class amenities go, waiting at each seat upon boarding was a colorful pillow and blanket. In terms of comfort I thought they were perfectly fine, but nothing special, though admittedly we all have different preferences when it comes to firmness and padding.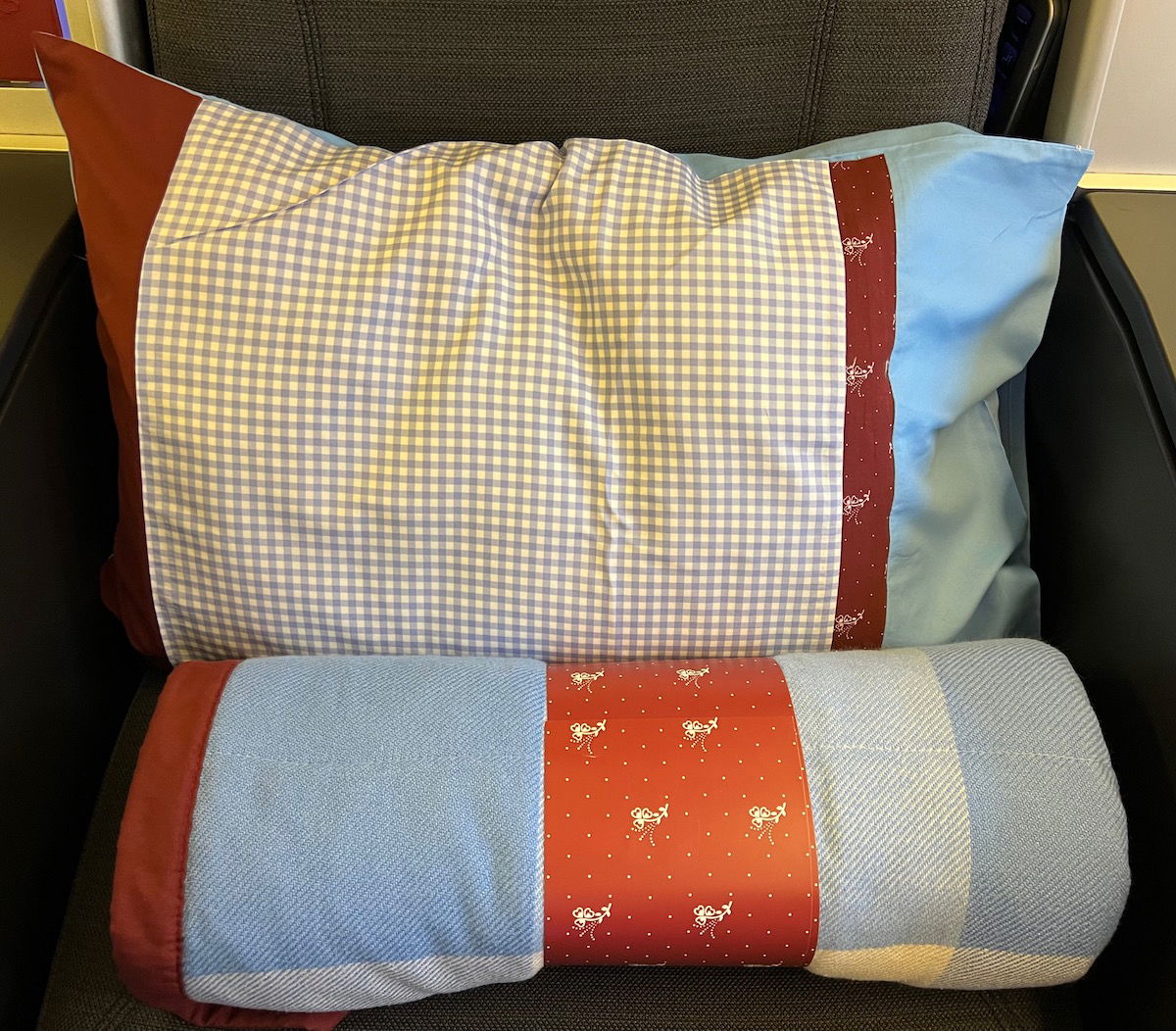 There were also a pair of noise canceling headphones waiting at my seat, which I thought were okay, in terms of both noise cancelation and comfort.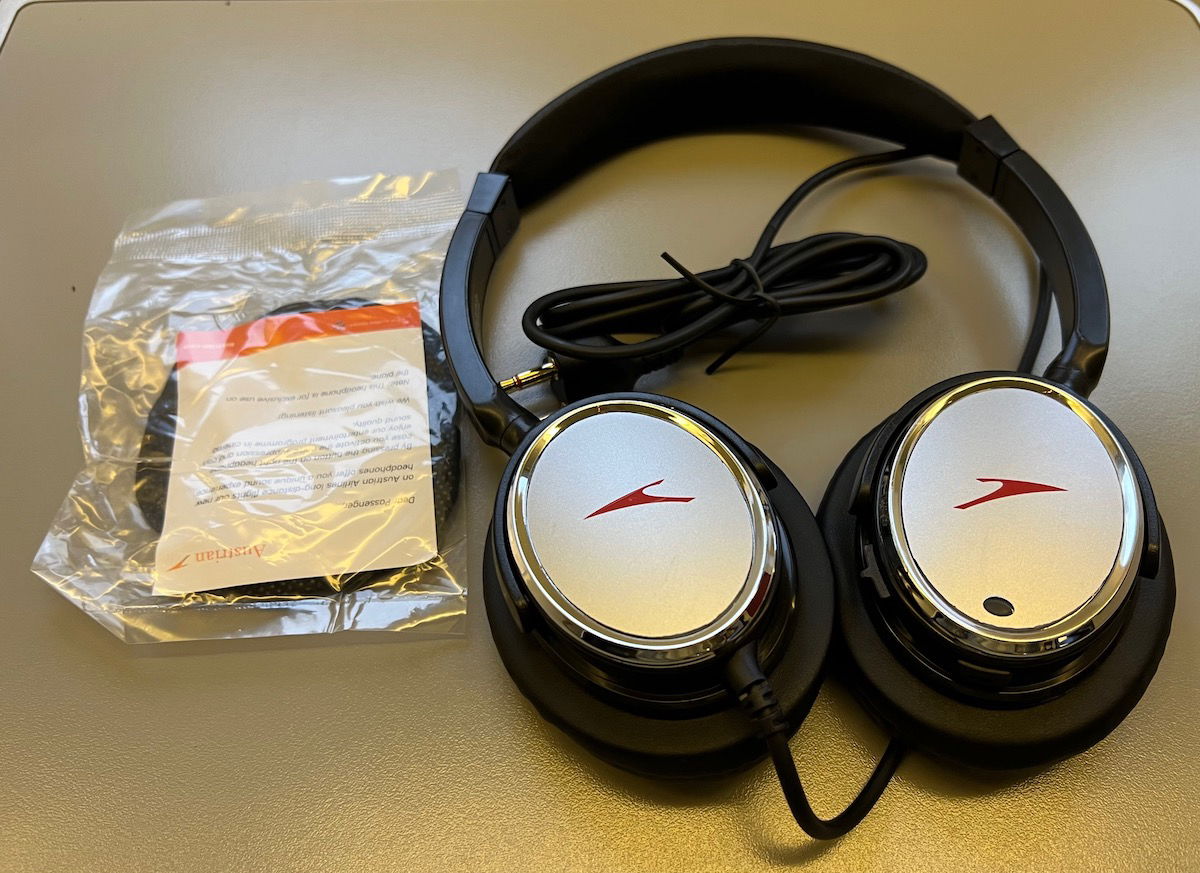 Lastly, there was a really basic amenity kit (more like an amenity pouch), with eyeshades, socks, earplugs, and a dental kit. This has to be one of the less inspired amenity kit designs I've ever seen.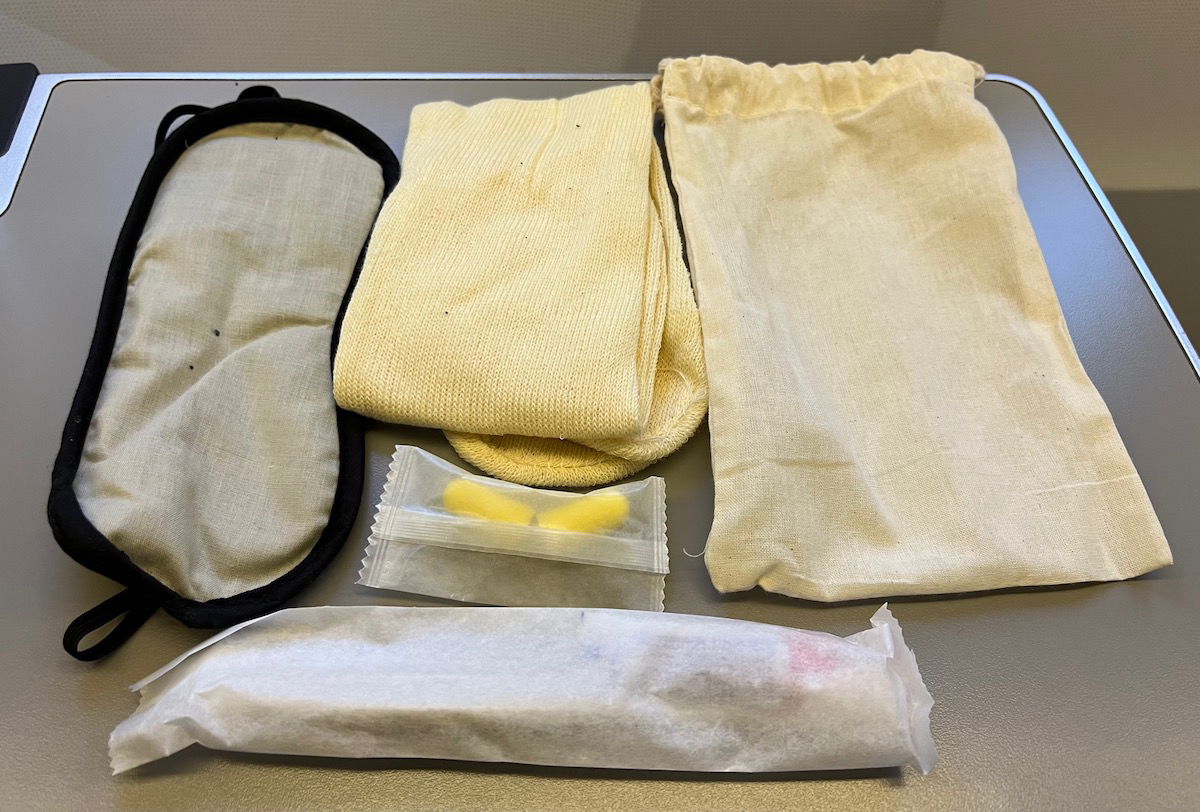 Shortly after most business class passengers settled in, pre-departure drinks were served in proper glassware. The choice was between apple juice, orange juice, or water. I ordered apple juice, and was even offered a refill, which was a nice touch.
Austrian doesn't serve champagne on the ground in the United States, which is pretty cheap (taxes have to be paid on this, though most airlines are willing to pay that to be able to offer a drink).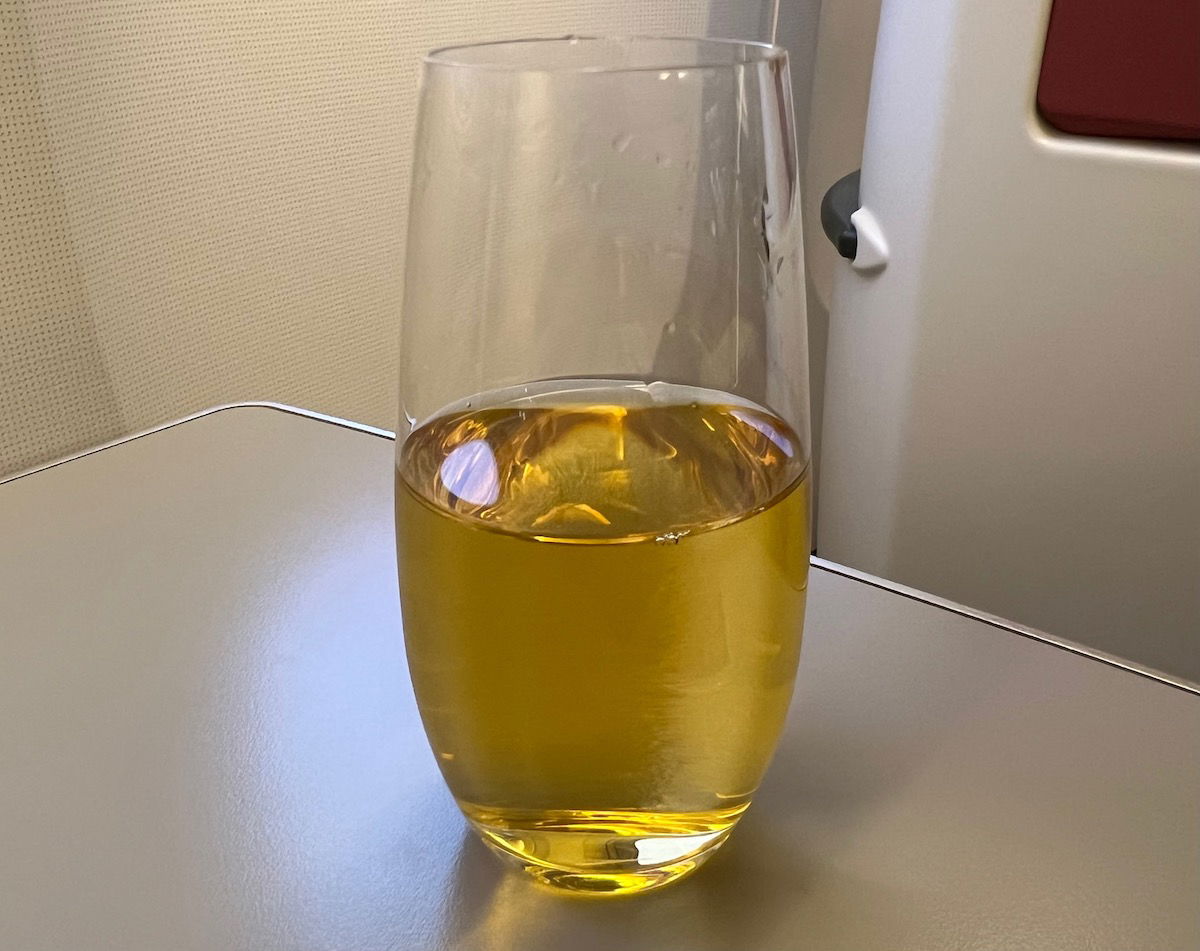 The menu, drink list, and coffee menu, were all also distributed while on the ground. Meal orders were taken shortly after that.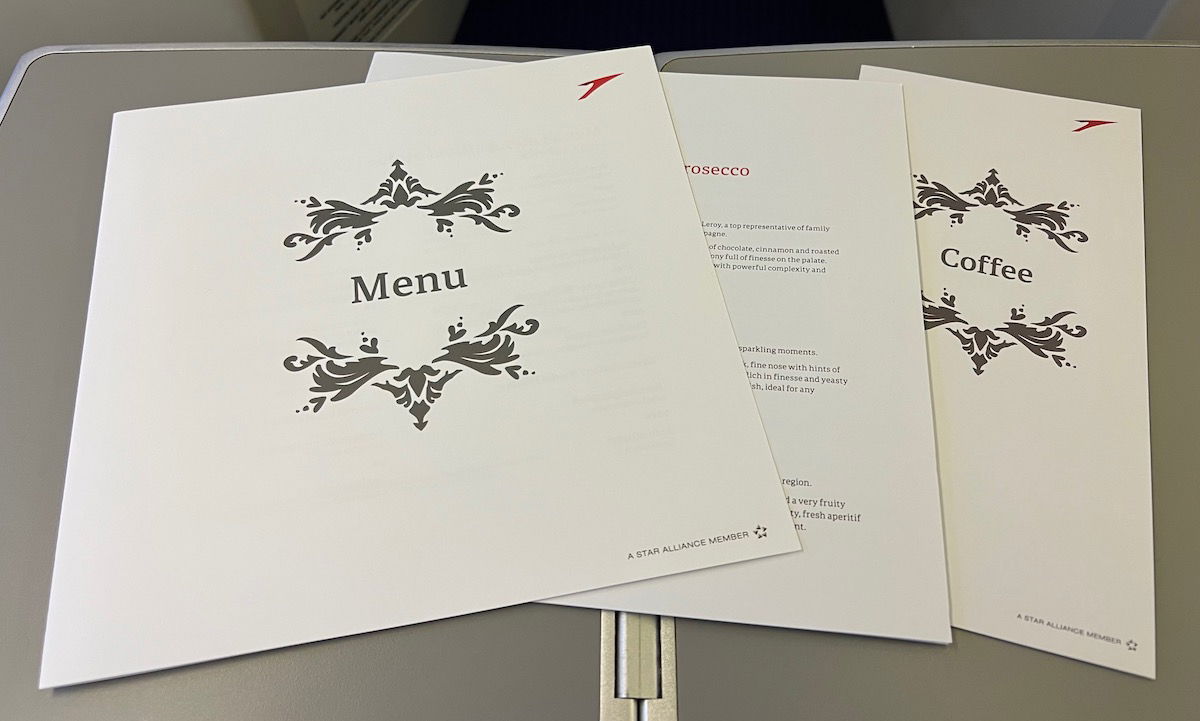 As someone who loves airline boarding music, I enjoyed Austrian's relaxing symphony track.
Austrian 777 departure from Chicago
Boarding was pretty efficient, and by 4:10PM the captain made his welcome aboard announcement, 10 minutes ahead of scheduled departure. He announced that all passengers had already boarded, and we were just waiting on bags to be loaded. He advised that the flight time would be 8hr15min.
For what it's worth, the flight was almost completely full. The day prior to the flight, the business class seatmap was roughly half empty, though I believe there were lots of upgrades and/or non-revs.
At 4:25PM we began our pushback, next to a SWISS A340-300.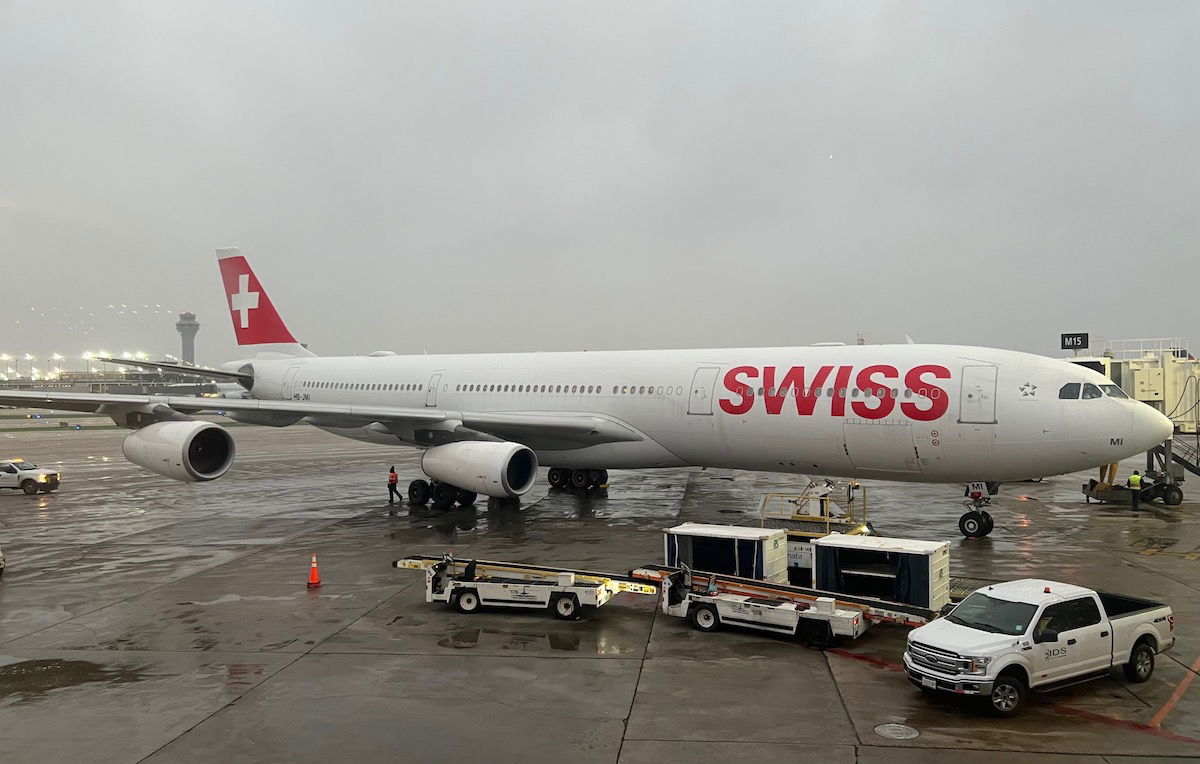 Then at 4:35PM we began our taxi to the departure runway. Around this time the safety demonstration was screened. It was rainy on the way to the runway, so unfortunately I couldn't get any good pictures. We had a fairly short taxi, and at 4:45PM were cleared for takeoff.
While it was a yucky day underneath the clouds, we were treated to a beautiful sunset above the clouds!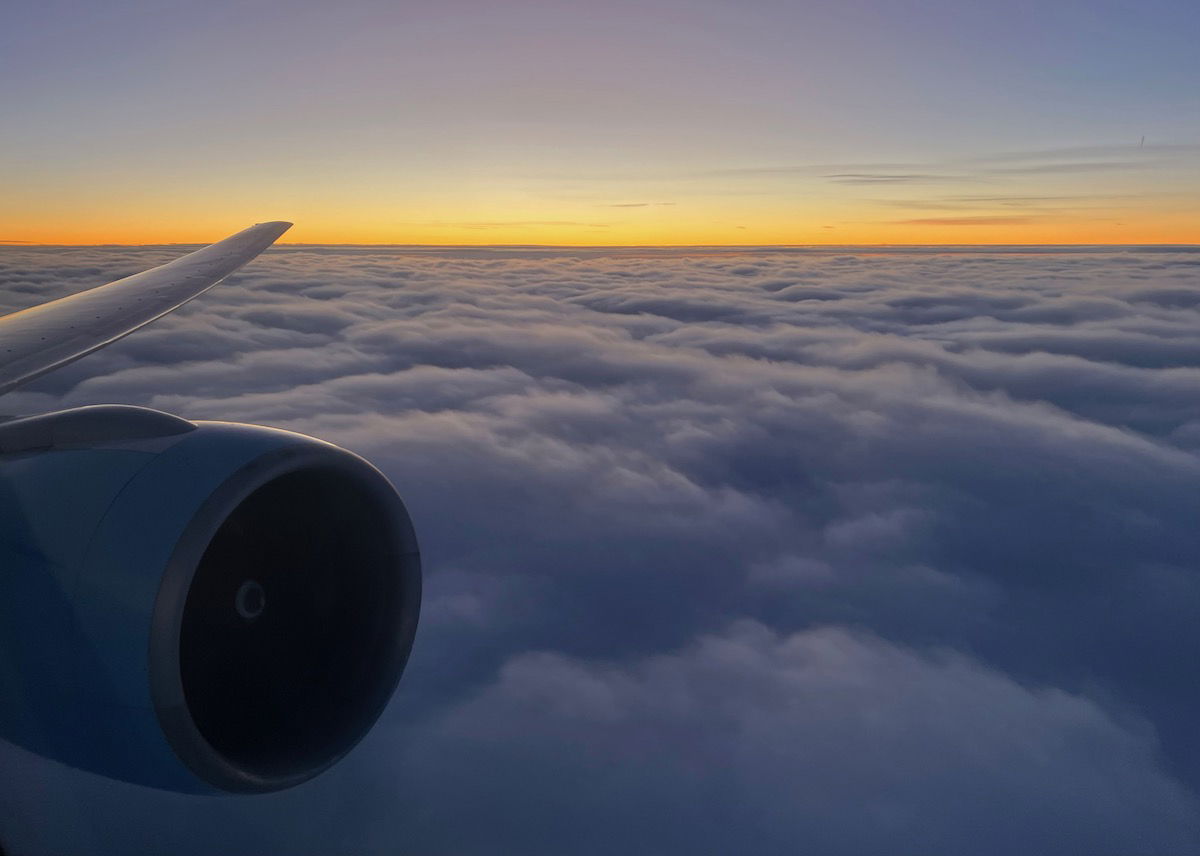 The seatbelt sign was turned off just 10 minutes after takeoff.
Austrian 777 entertainment & Wi-Fi
As we climbed out, I browsed Austrian's entertainment selection. The monitor is touchscreen, but can also be controlled via the handheld controller. The screen does have quite a bit of glare, but that wasn't an issue on this flight, as it was dark outside, and the cabin lights were dimmed.
Austrian's entertainment selection includes movies, TV shows, audio books, games, and more.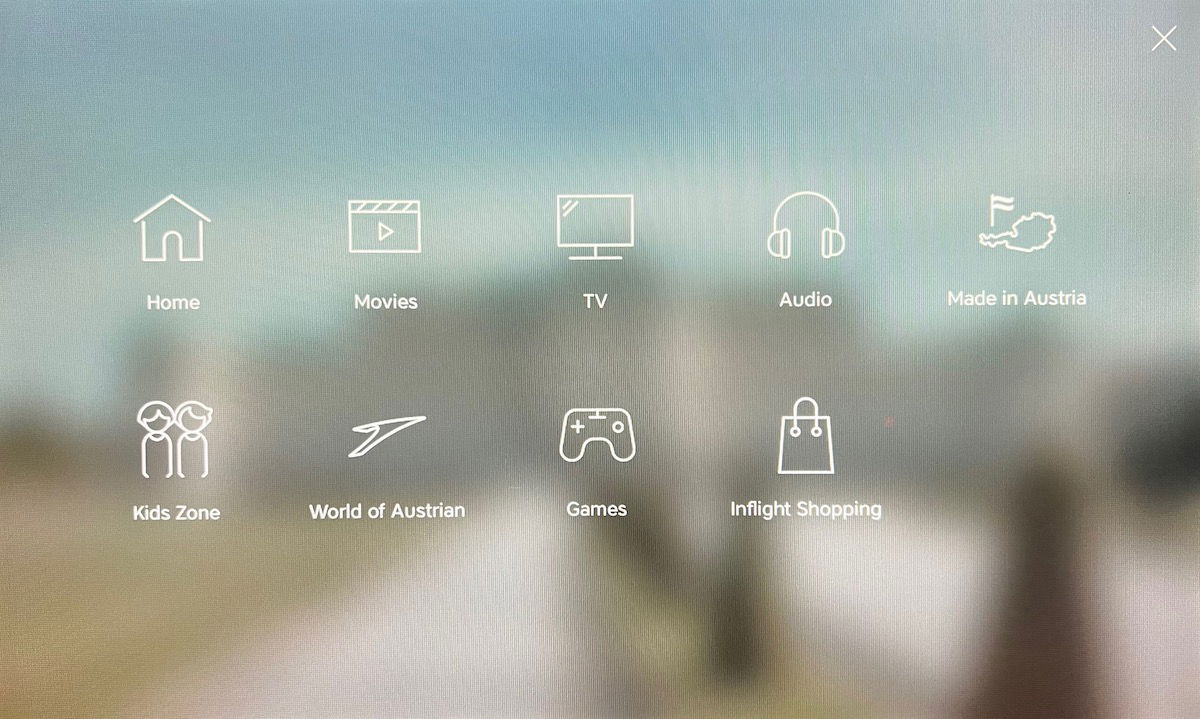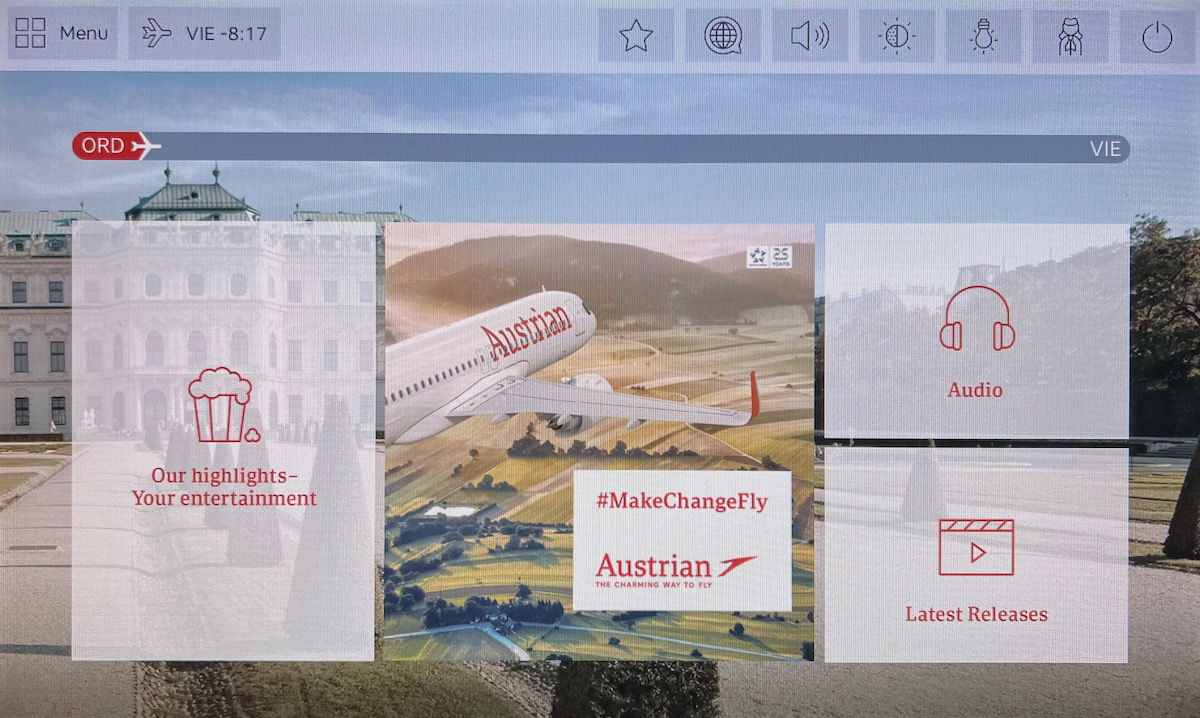 The entertainment system on my flight had a total of 109 movies and 158 TV shows. That's a fairly decent selection, though certainly nothing like Emirates ICE or Singapore KrisWorld.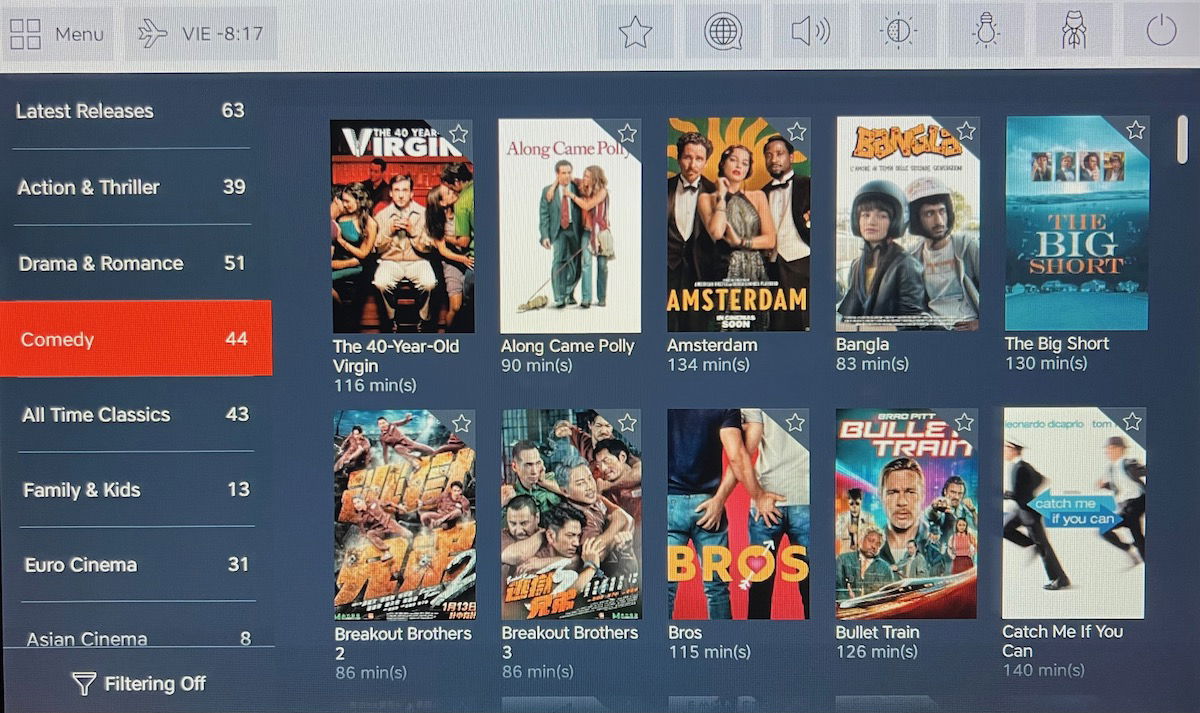 I love how Austrian had some aviation content in its library. Specifically, I watched a documentary (in German) about how Lufthansa took an Airbus A340-600 parked in Teruel out of storage, as the airline has reactivated some of these jets.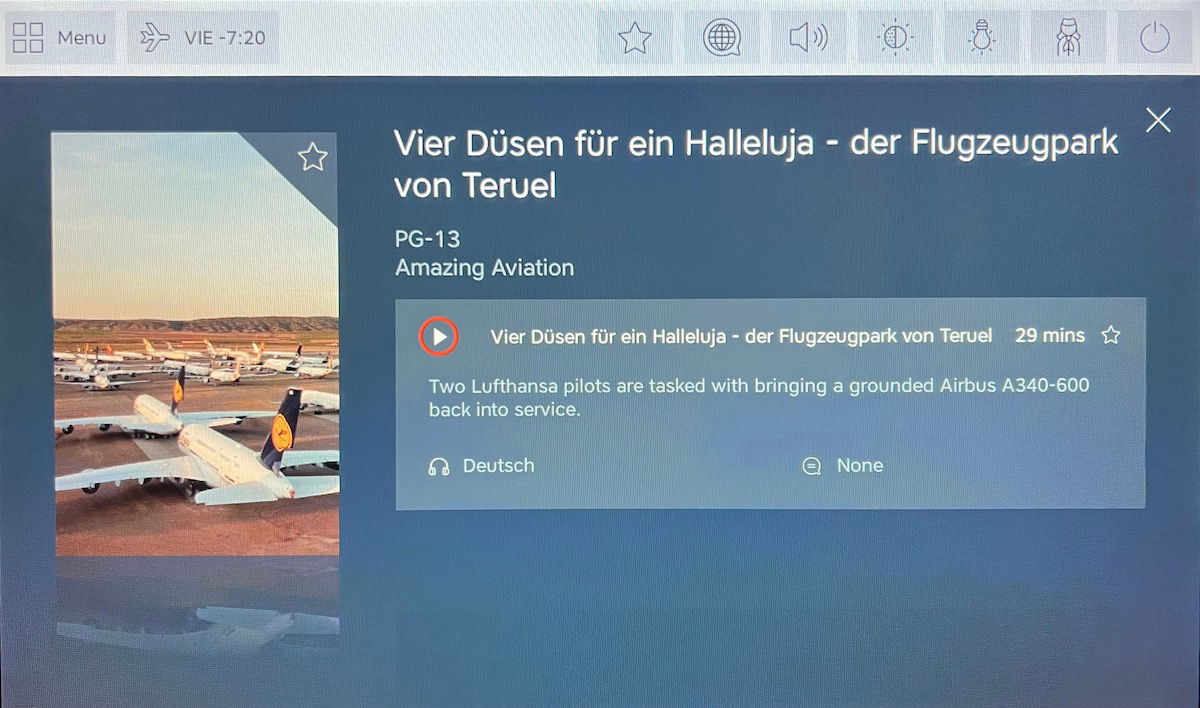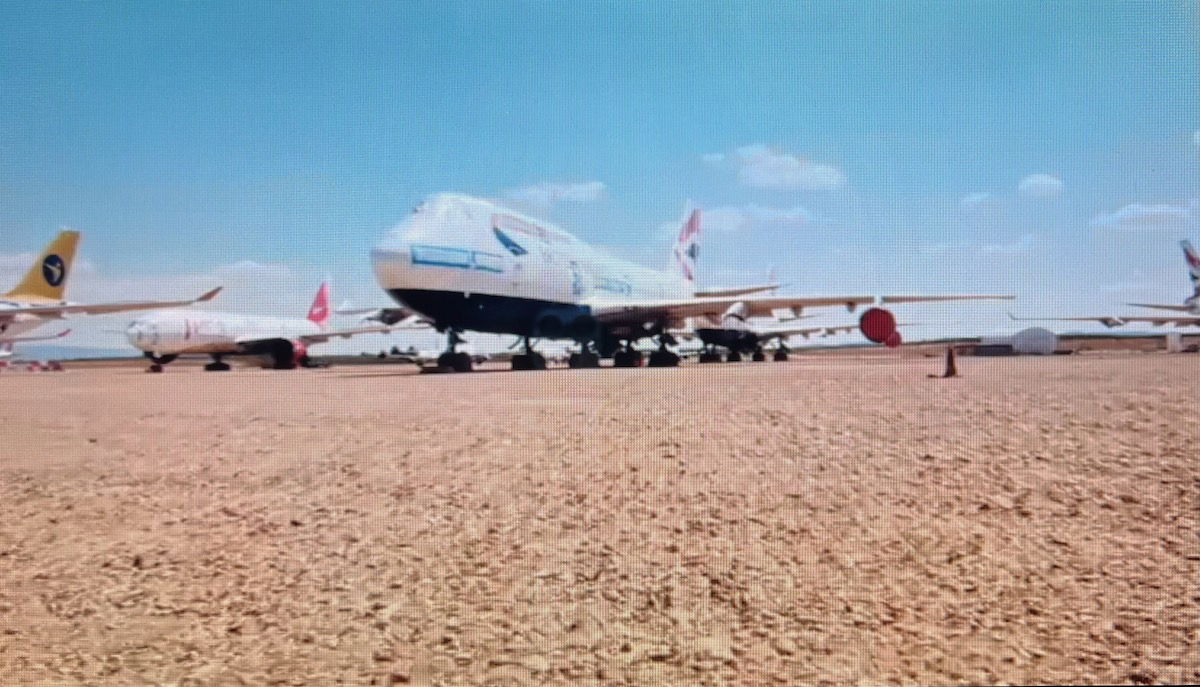 This was such a cool show, and if you want, you can watch it below (I found it on YouTube just now). You might enjoy it even if you don't speak German, because this is some amazing airplane porn.
After that, I decided to watch "Hacks," a sitcom I oddly hadn't seen before. I don't really have the attention span for movies (especially when I'm trying to sleep on a flight), so I thought this was pretty easy watching and entertaining.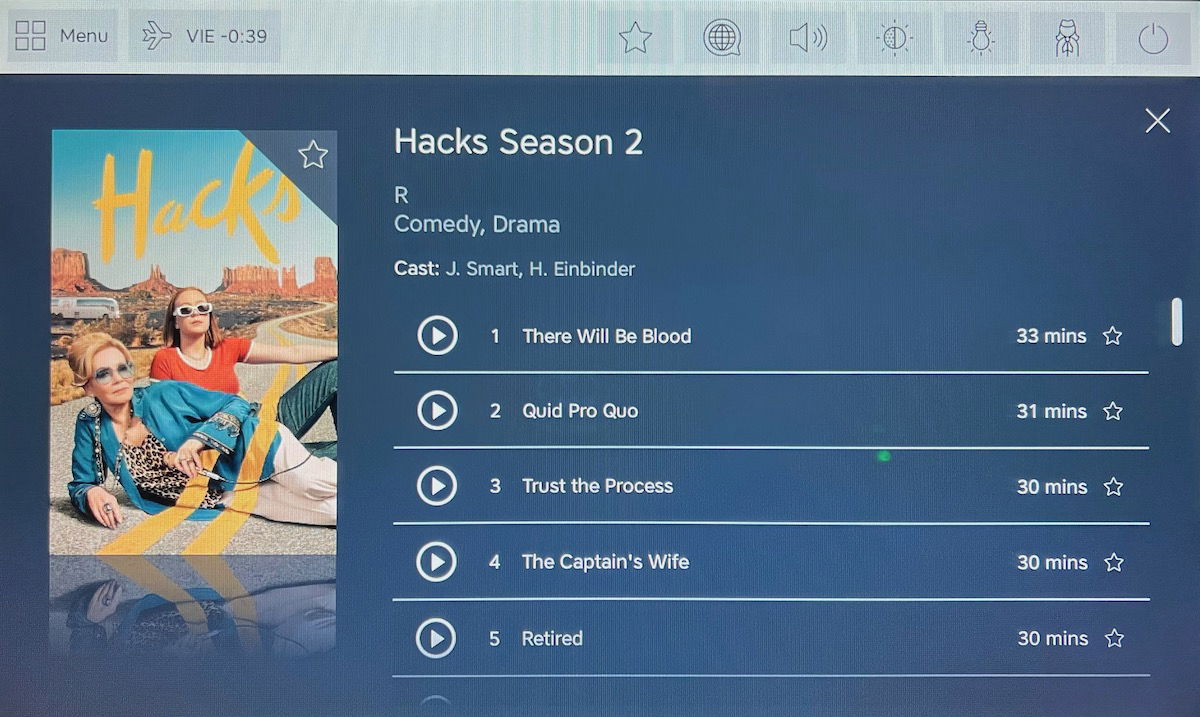 I also checked out the map feature, which I always enjoy following along with.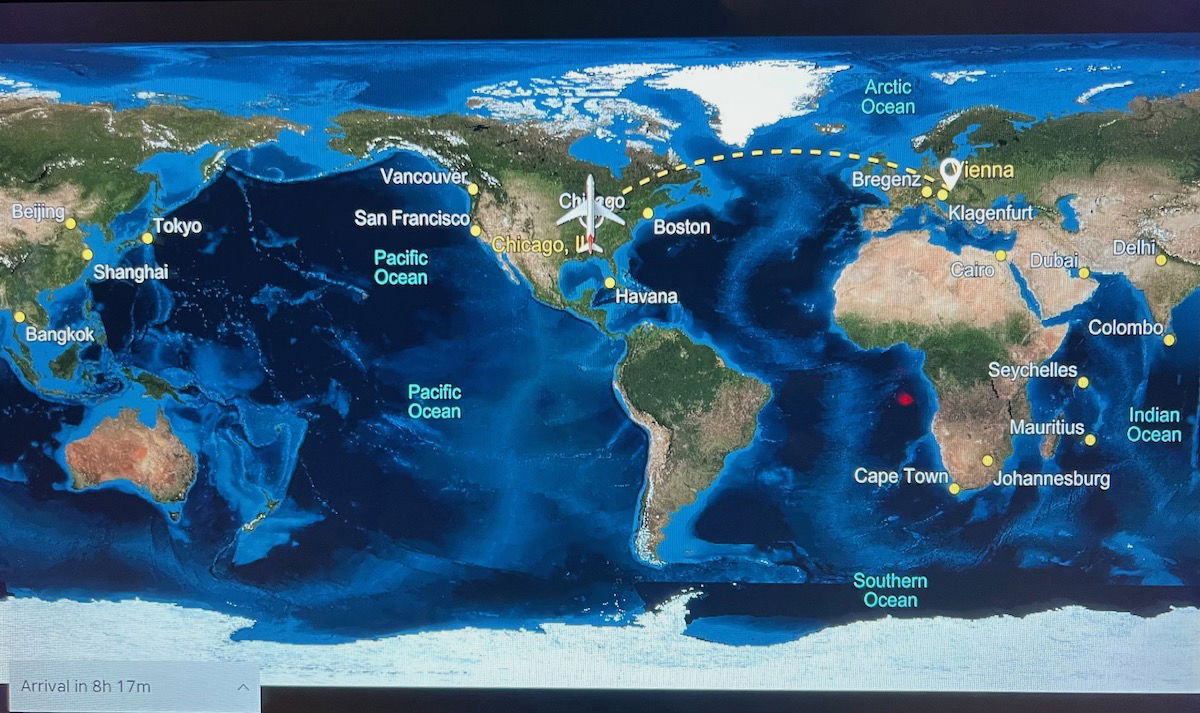 The major downside to Austrian's 777s is that there's no Wi-Fi. Austrian doesn't have Wi-Fi on any of its long haul aircraft, unfortunately. This wasn't an issue on an overnight flight, but on a daytime flight would bother me more.
Note that it's expected that Austrian will eventually get some Boeing 787s as part of the Lufthansa Group order, and I'd expect those will feature Wi-Fi, plus an all-new business class product.
Austrian business class dinner & coffee service
Austrian is known for its great inflight catering, and the dinner service on this flight was a treat. You can find the dinner menu and drinks list for the flight below.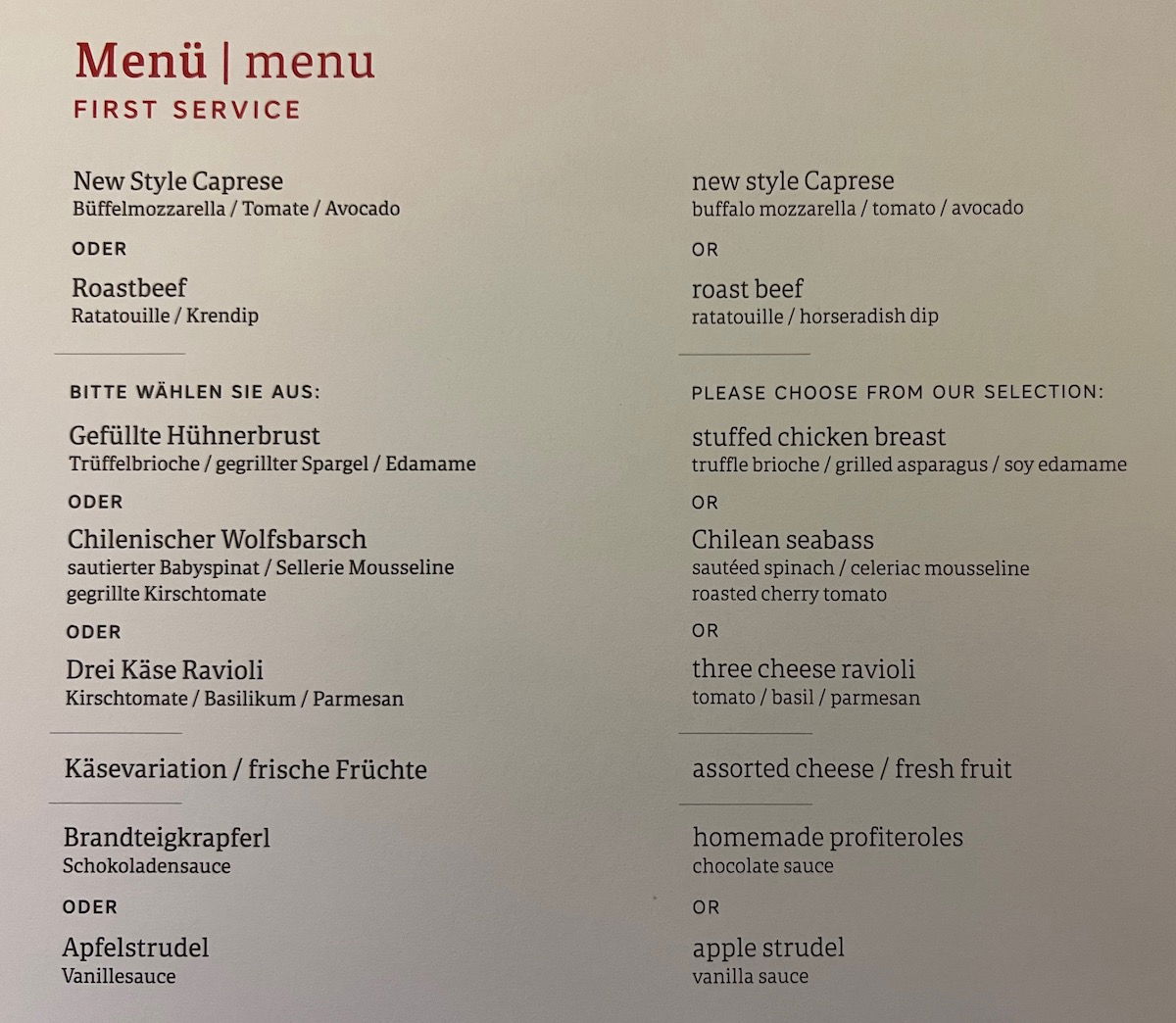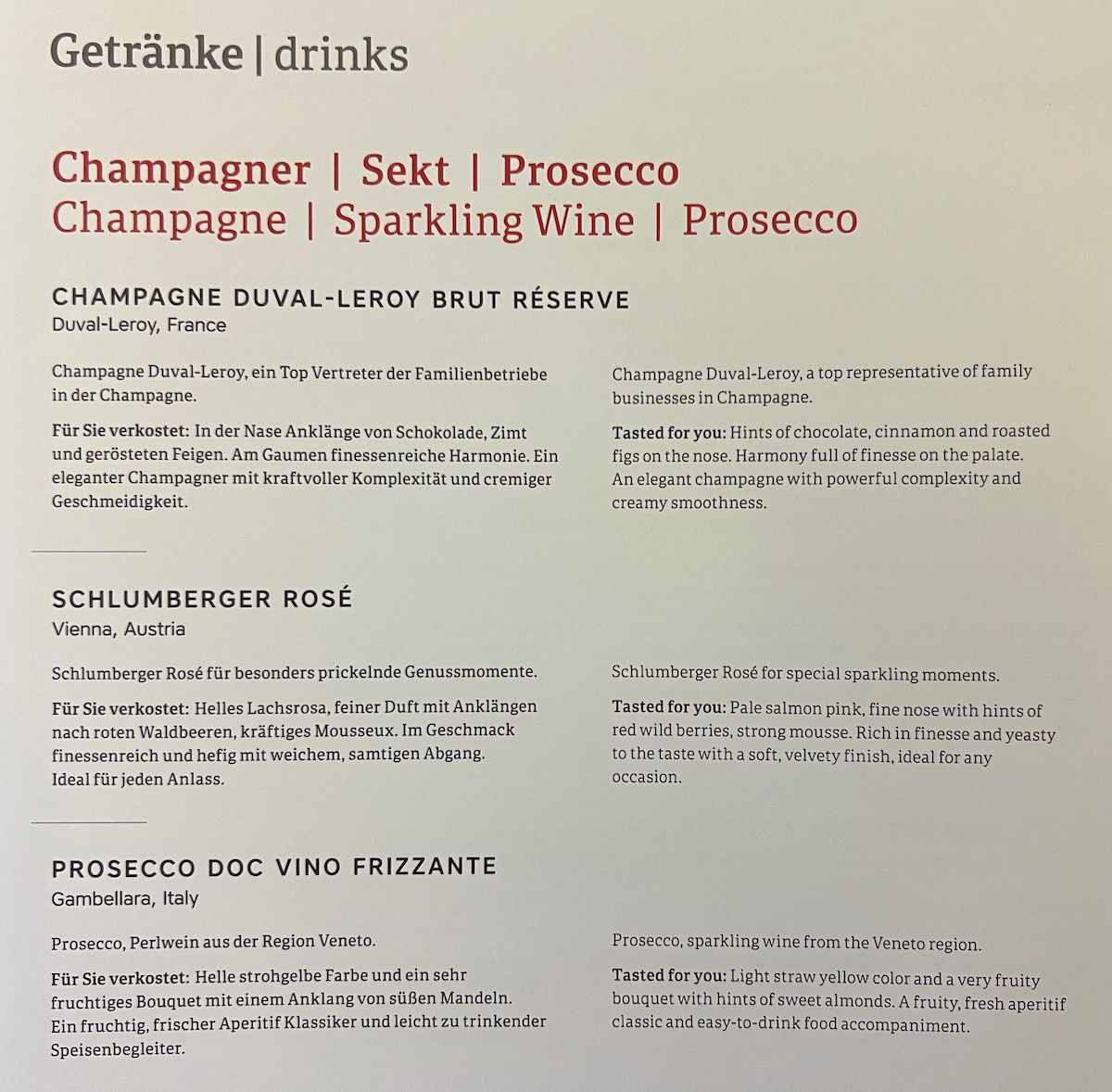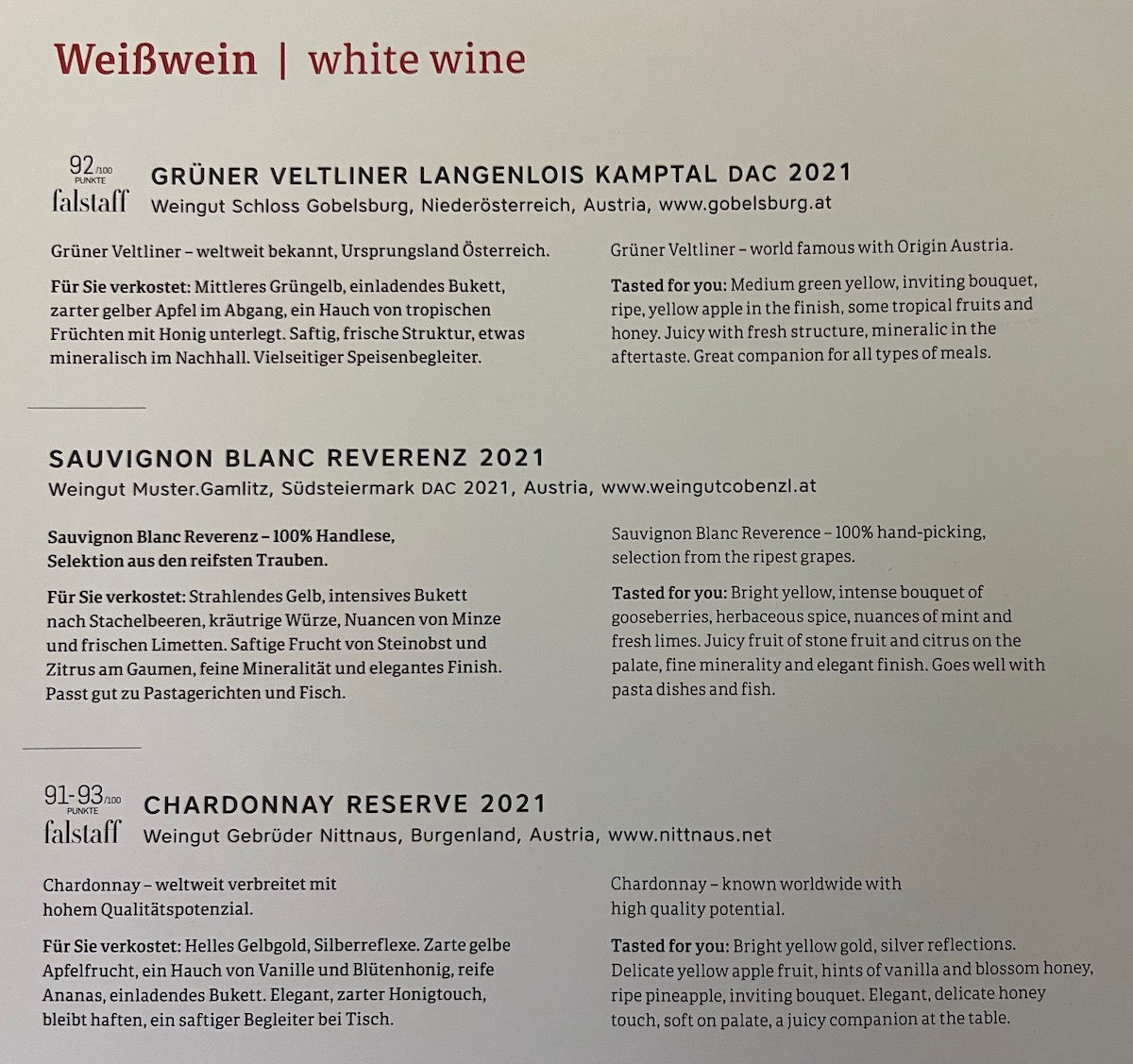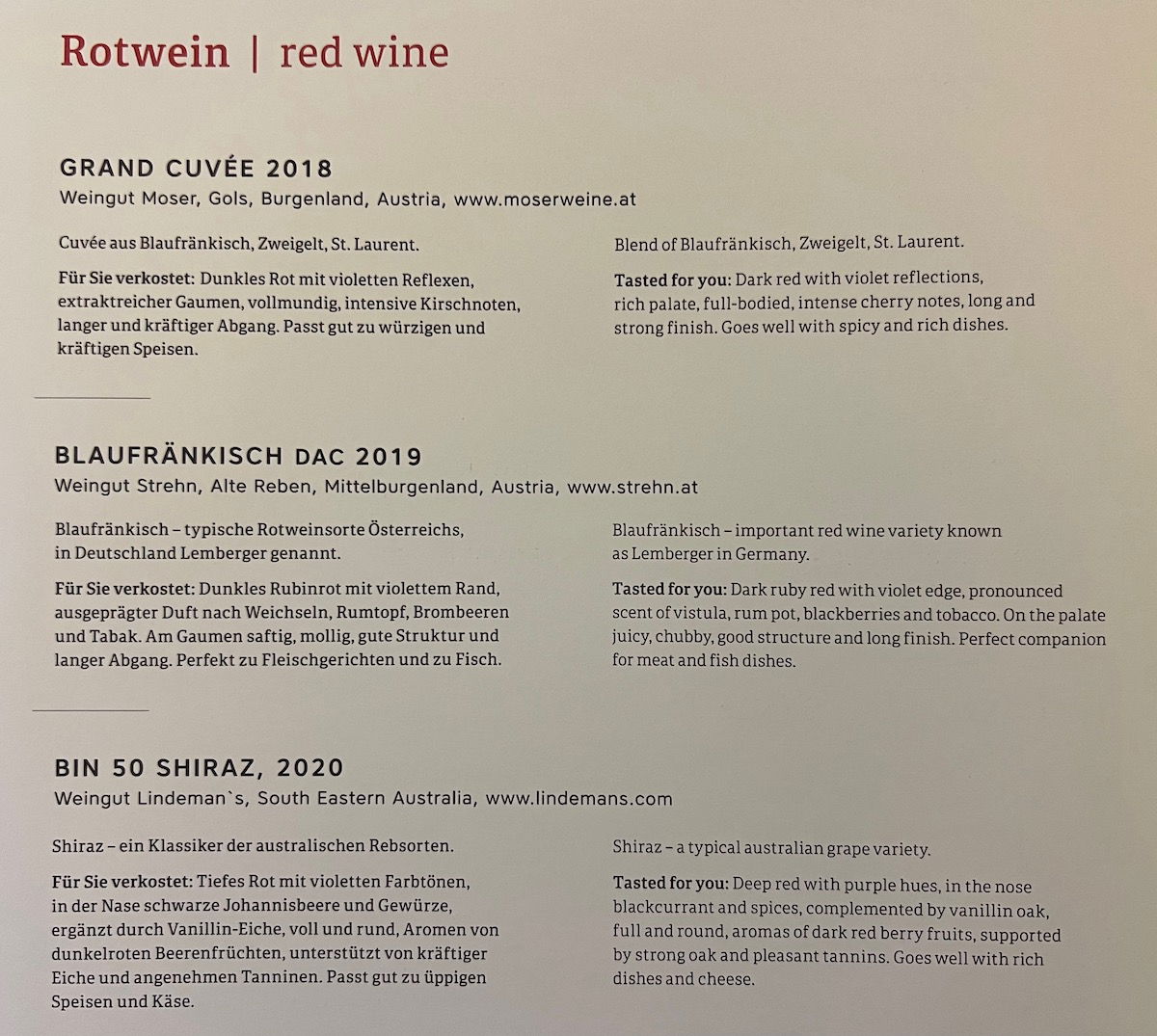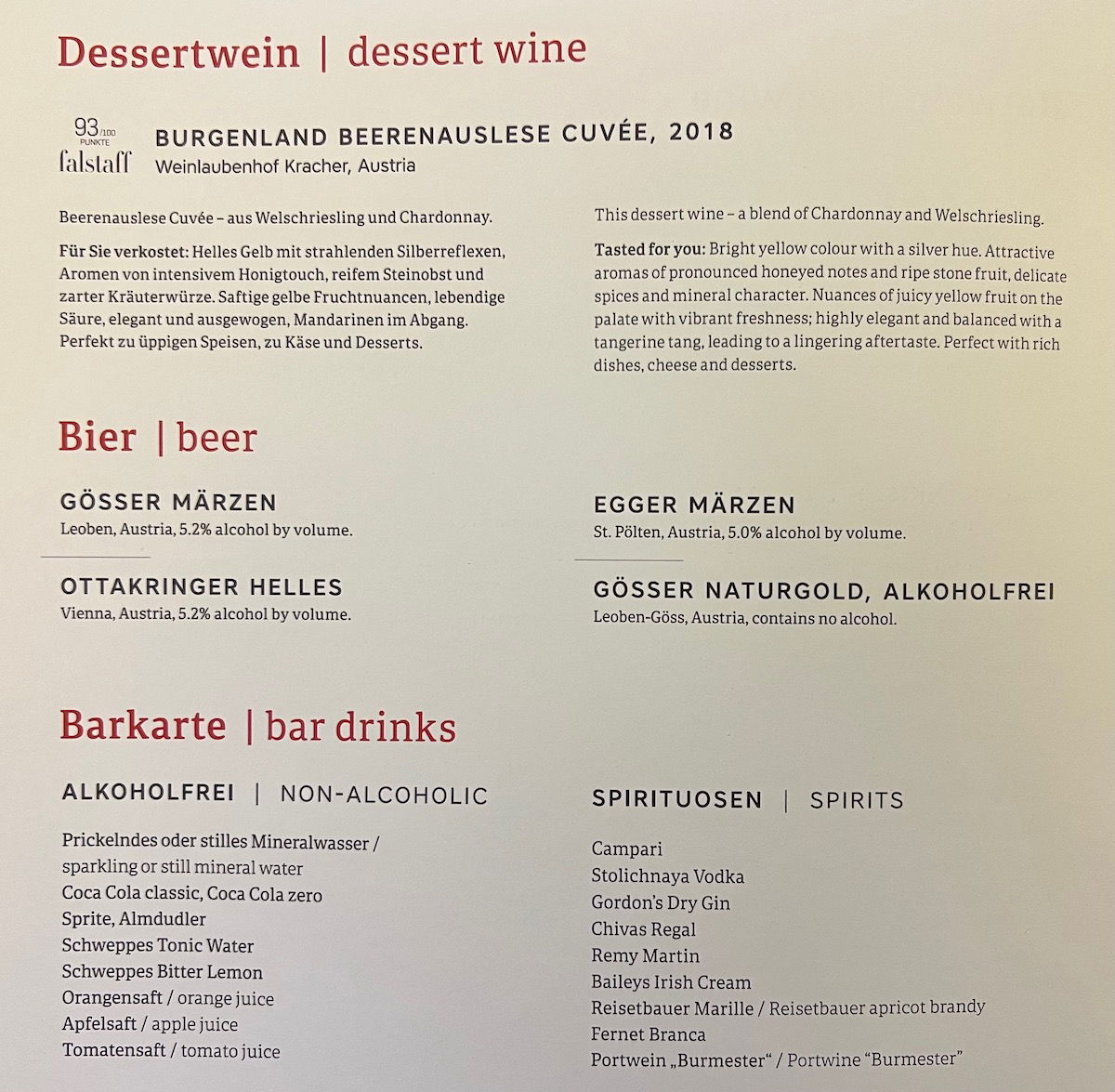 I appreciated how quickly service began after takeoff, in order to allow people to maximize rest. To start, warm towels were distributed just 20 minutes after takeoff.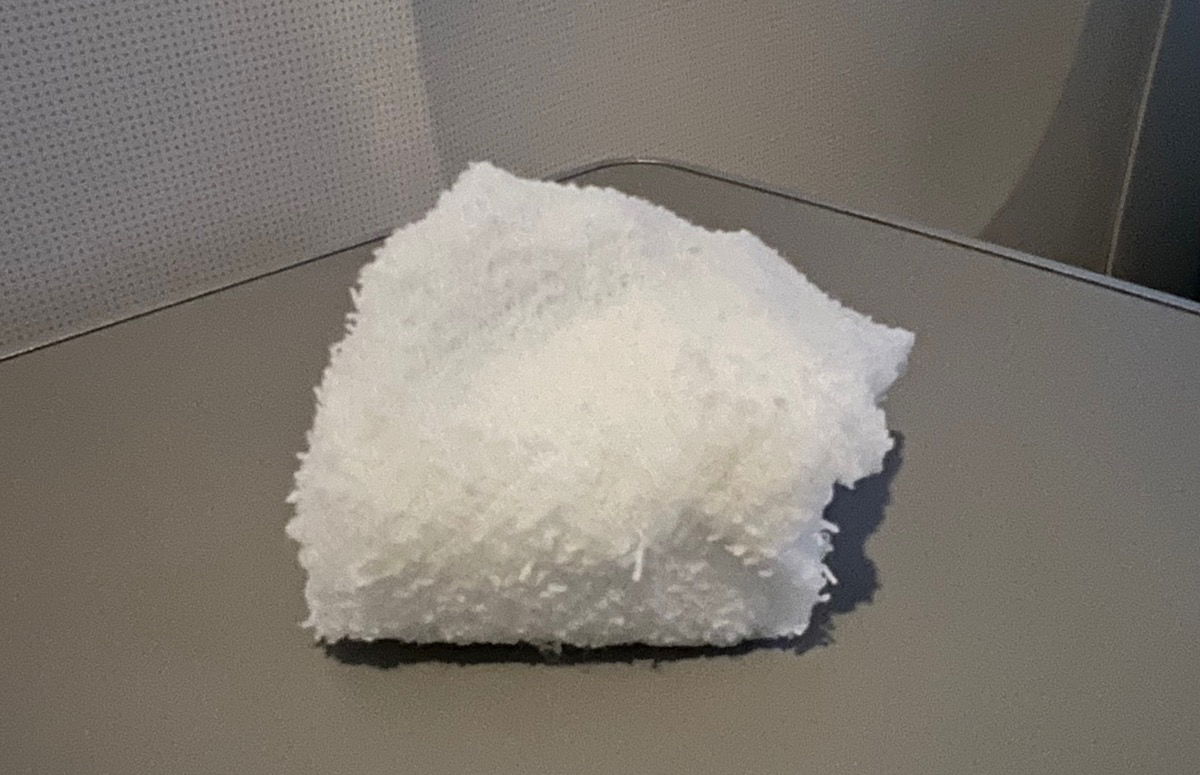 Tablecloths were brought out 25 minutes after takeoff, and then carts were rolled down the aisles with drinks. I was served my first drink less than 40 minutes after takeoff. I love how the airline highlights many local wines, and in theory I was impressed by the huge selection of wines.
However, it seems Austrian only loads a subset of the options. For example, I tried to order a glass of the Schlumberger Rose, but that wasn't available. I instead ordered a glass of the Grüner Veltliner, which I enjoyed. The drinks were served with some packaged rosemary crackers.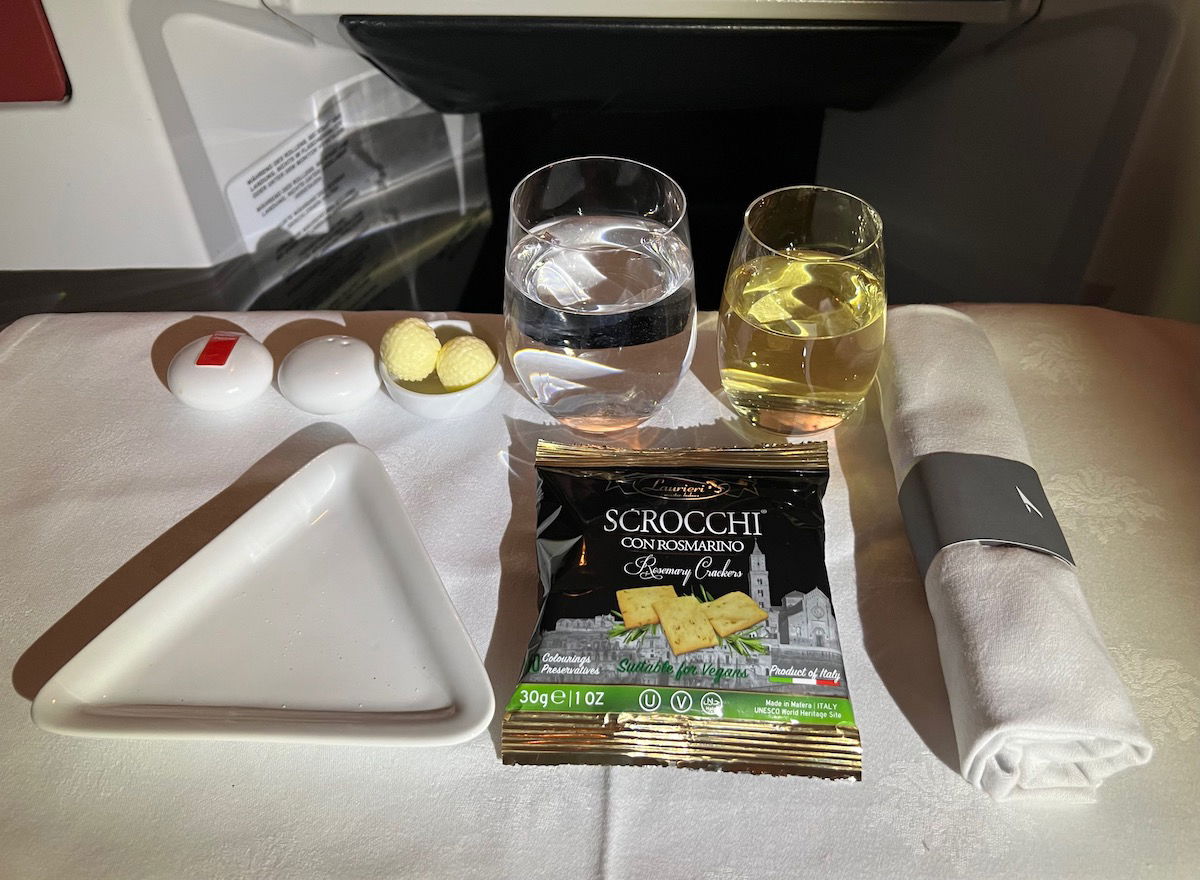 A trolley was then rolled down the aisle with a choice of two appetizers, including new style caprese with buffalo mozzarella, tomato, and avocado, or roast beef with ratatouille and horseradish dip. I selected the former, and enjoyed it greatly. I was also offered a selection of bread, and chose the pretzel roll, which was delicious.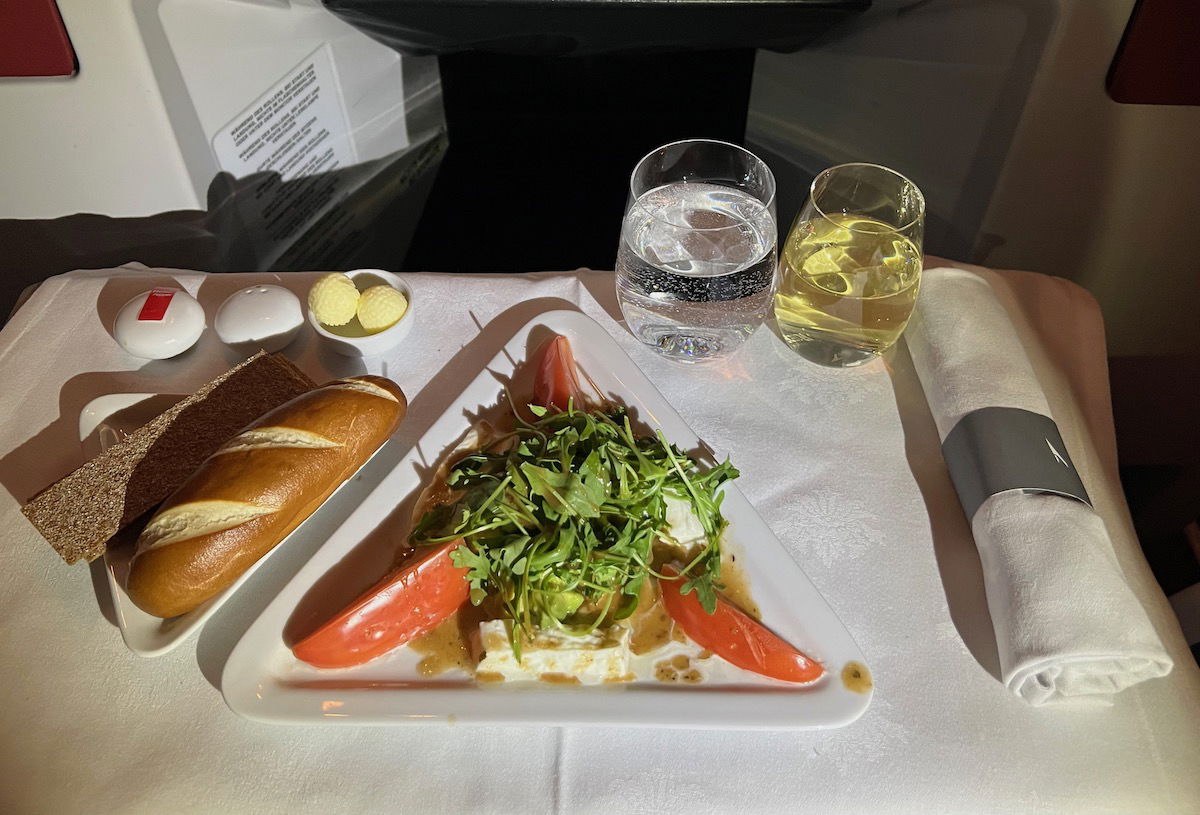 Then there was a choice of three main courses, all presented on a trolley as well. These included stuffed chicken breast, Chilean seabass, and three cheese ravioli. I ordered the seabass, which was served with sautéed spinach, celeriac mouseline, and roasted cherry tomato. The dish was tasty, and beautifully presented.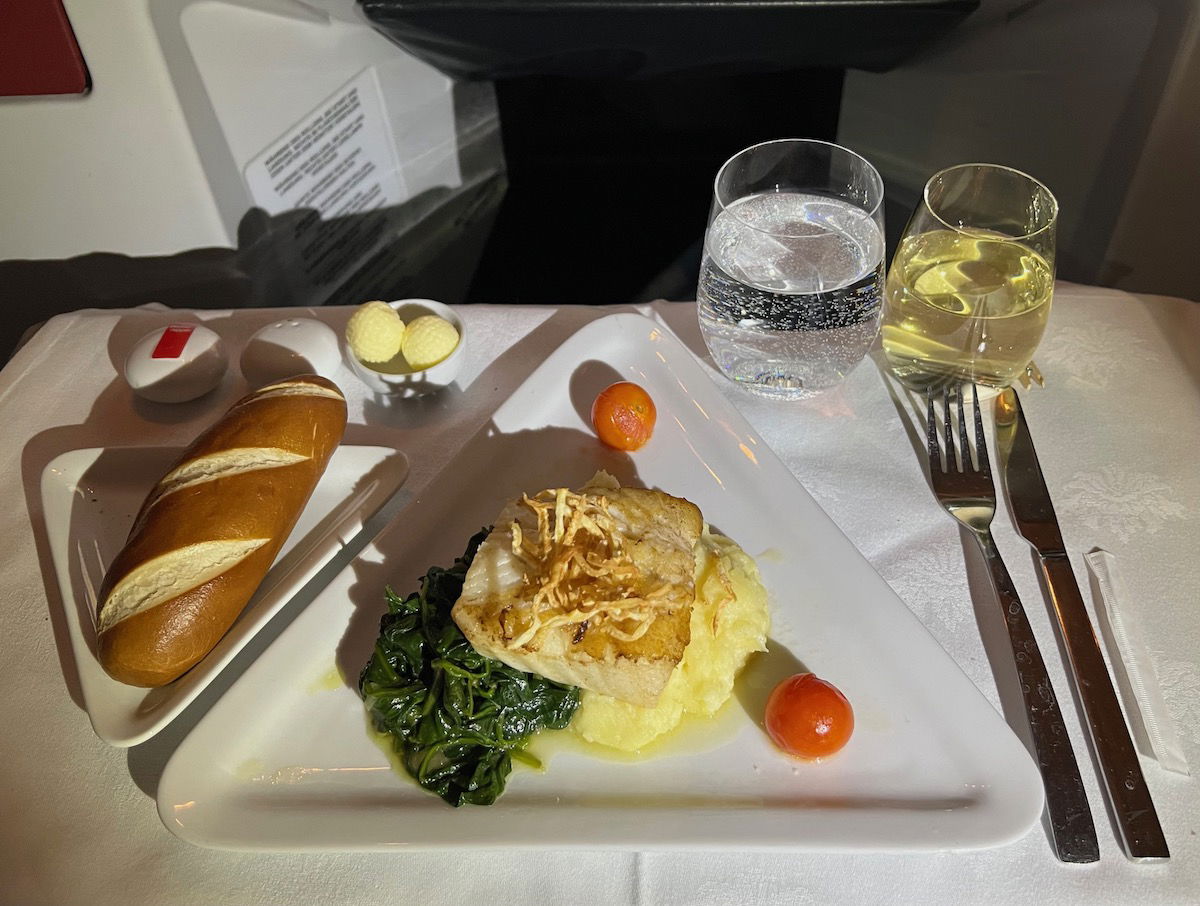 Next up, there was a dessert trolley, with homemade profiteroles, apple strudel, or an assortment of cheese (it's kind of funny when something produced in an airport catering facility is referred to as "homemade," no?). I asked for the apple strudel, the cheese, and I was also talked into a tasty dessert wine, the Burgerland Beerenauslese Cuvee.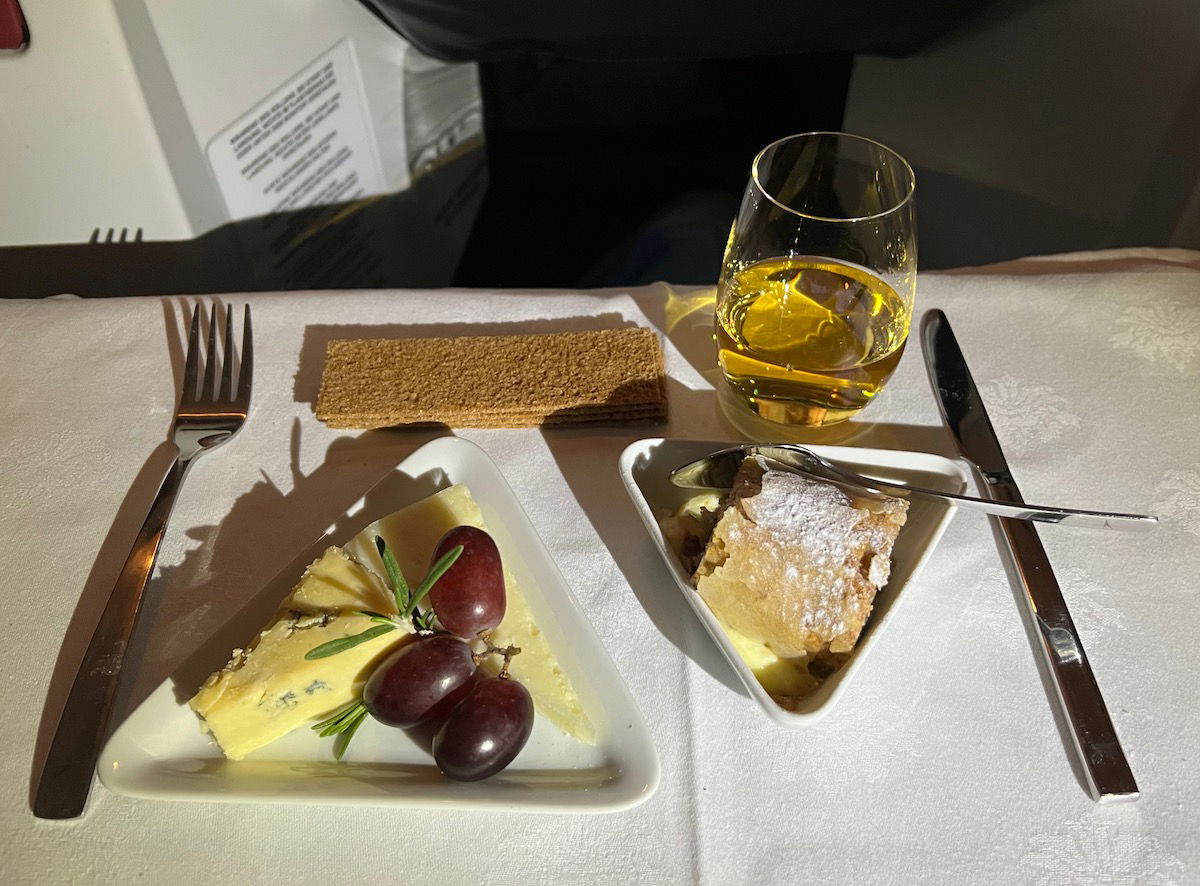 Obviously in and of itself this would have been an incredibly satisfying meal, but on Austrian there's always one further aspect to the main meal service, which is Austrian's menu with coffee specialties. The orders for this are taken around the same time as the dessert is brought out, and this is basically brought out as a post-dessert.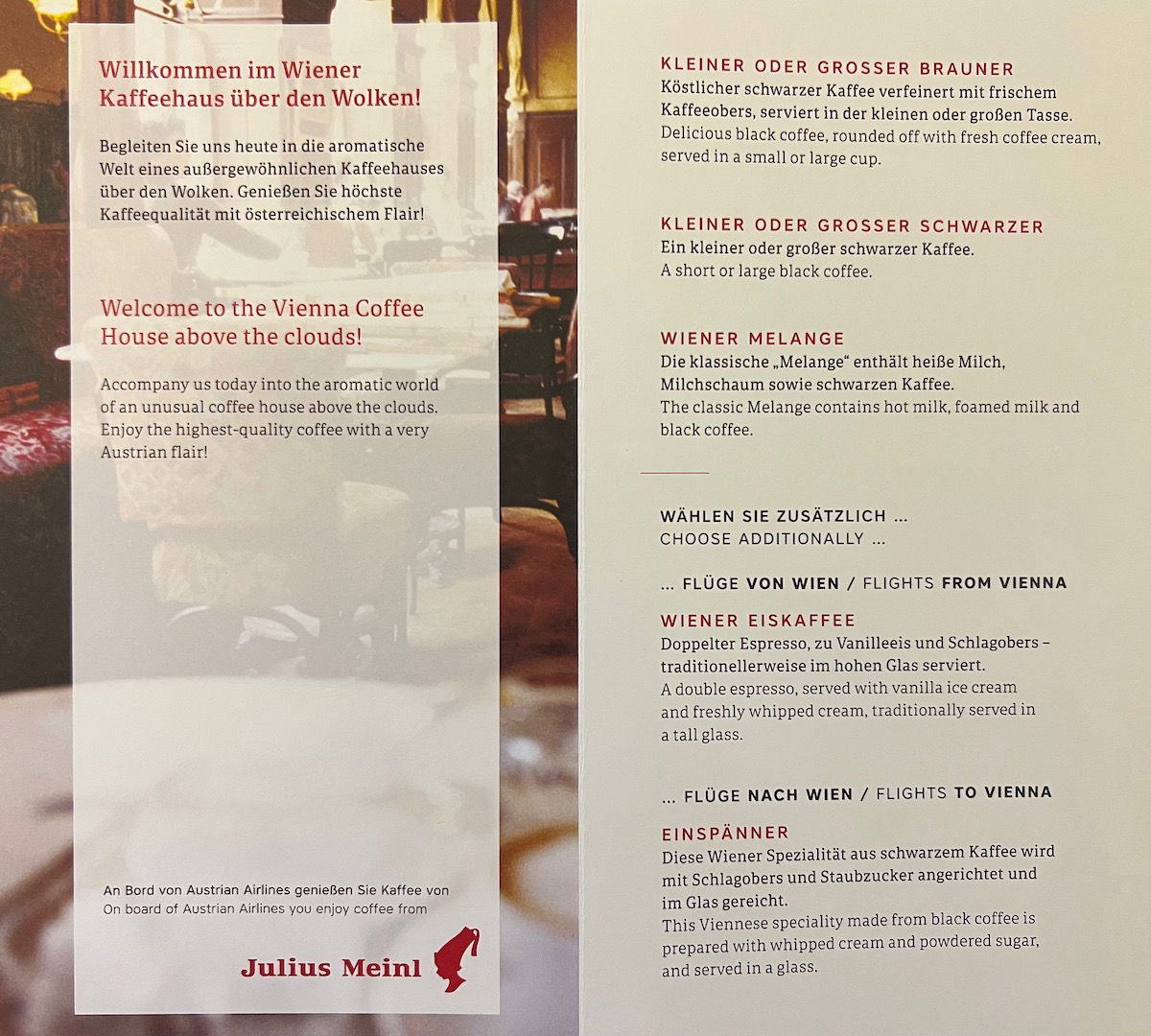 While consuming coffee just prior to going to sleep probably isn't ideal, I couldn't help myself. Austrian offers a specialty coffee menu on long haul flights, which you won't find on any other airline.
I decided to order an Einspänner, a Viennese specialty made from black coffee with whipped cream and powdered sugar. Okay, of course it's worth acknowledging that this would horrify coffee purists — this is intended to be a dessert, and not a black coffee replacement. I loved the presentation of this, as it was served with a glass of water and a chocolate, as you might find if ordering something similar at a cafe in Vienna.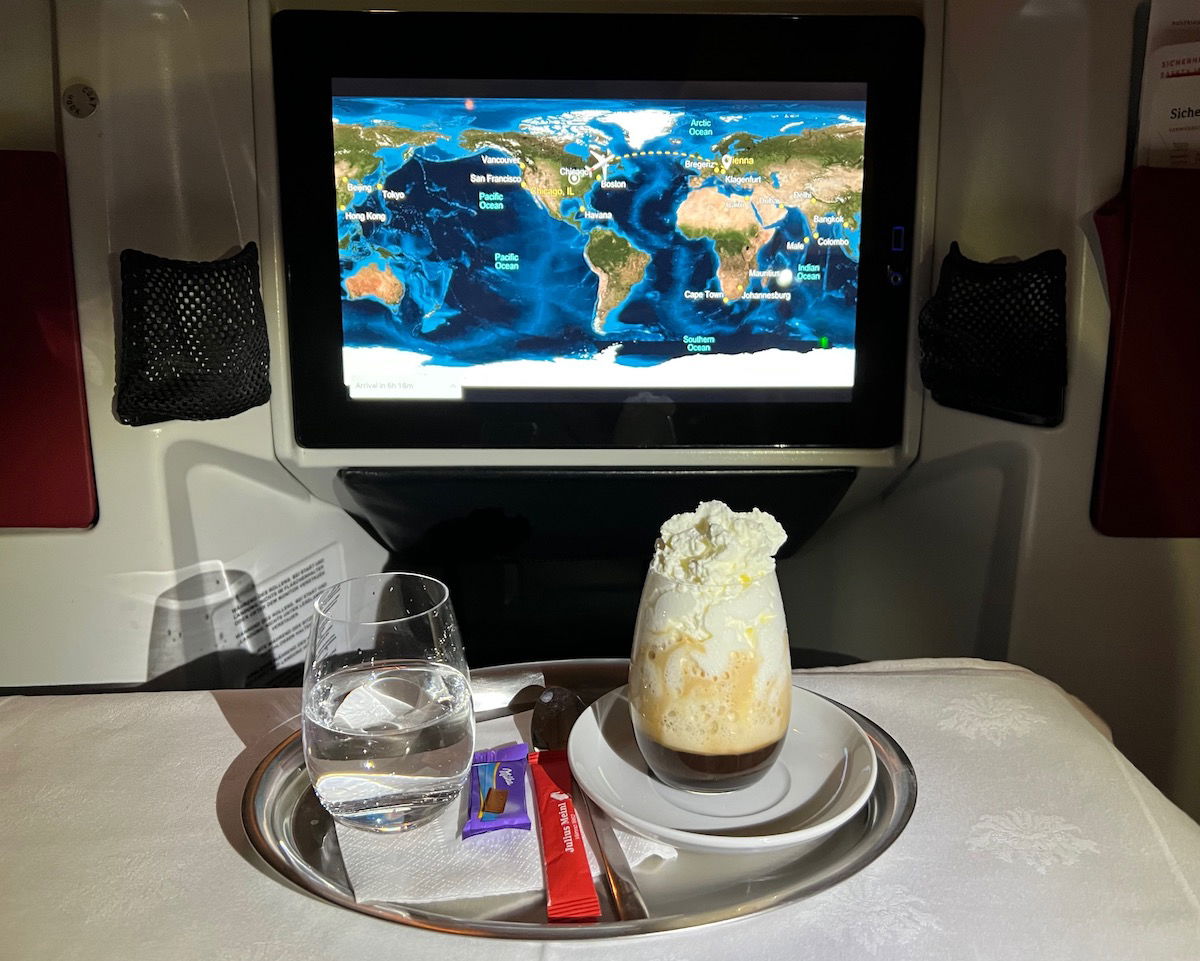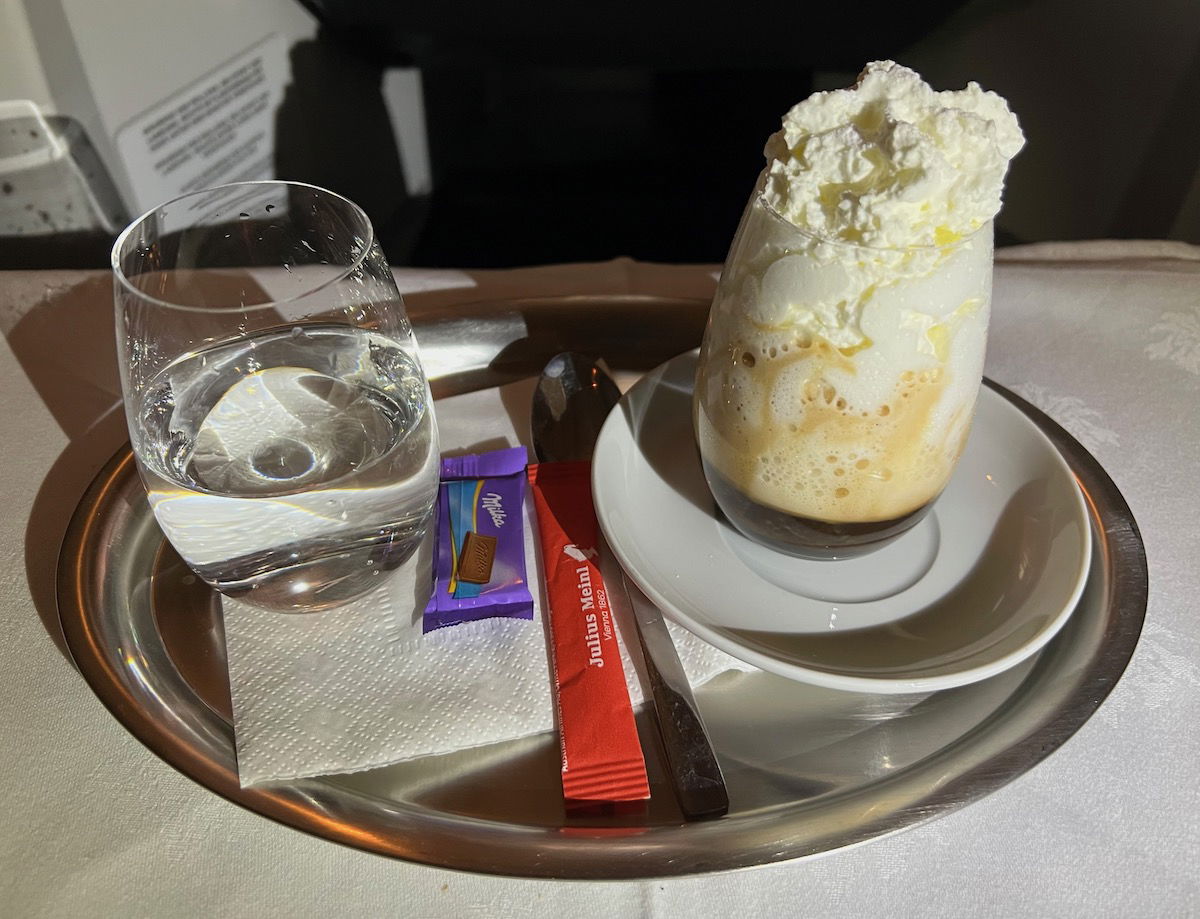 Just to be able to report back, I ordered a second coffee drink as well. Specifically, I had the Wiener Melange, with hot milk, foamed milk, and black coffee.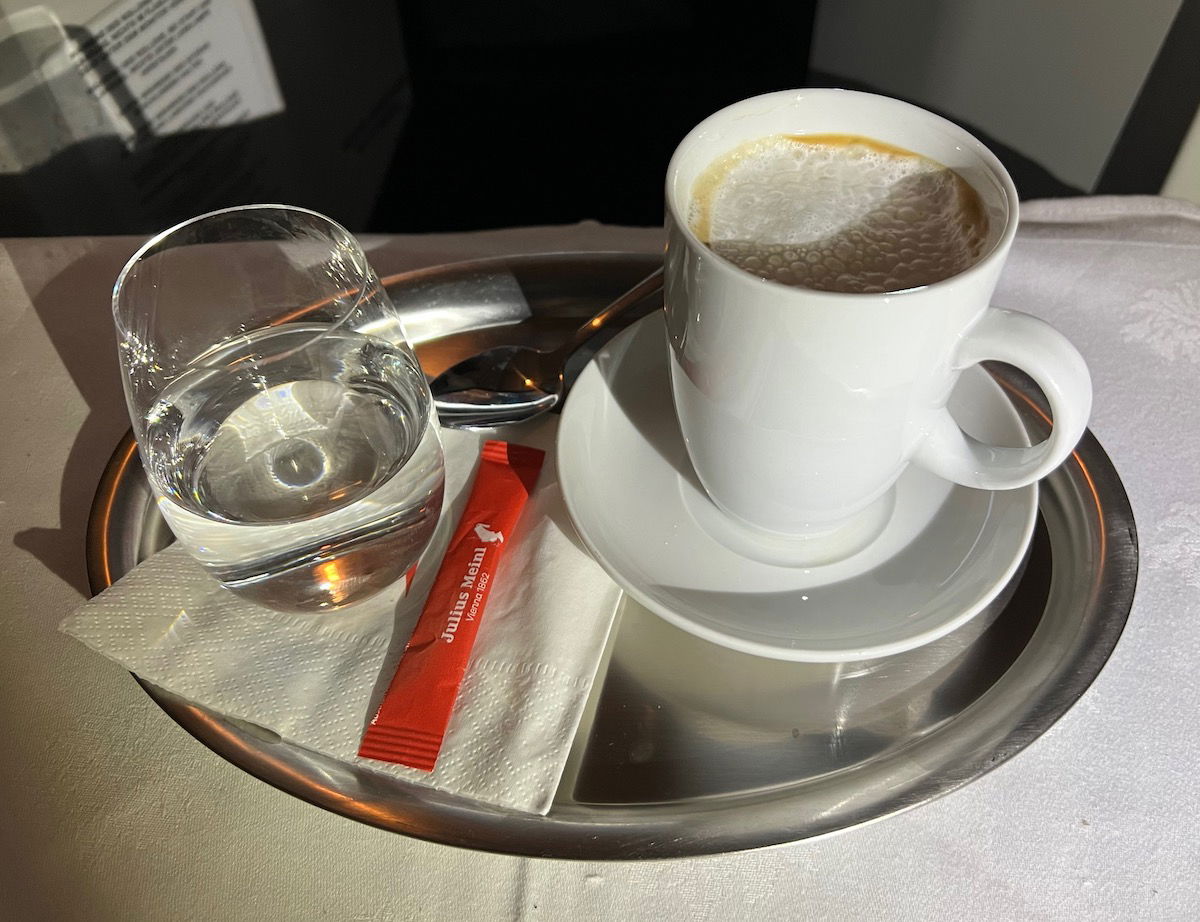 The entire meal service took a bit over two hours. Given just how extensive the service is, I'd say that's pretty efficient. By the time I was headed to bed, we were over Northeastern Canada, with just over six hours remaining to Vienna.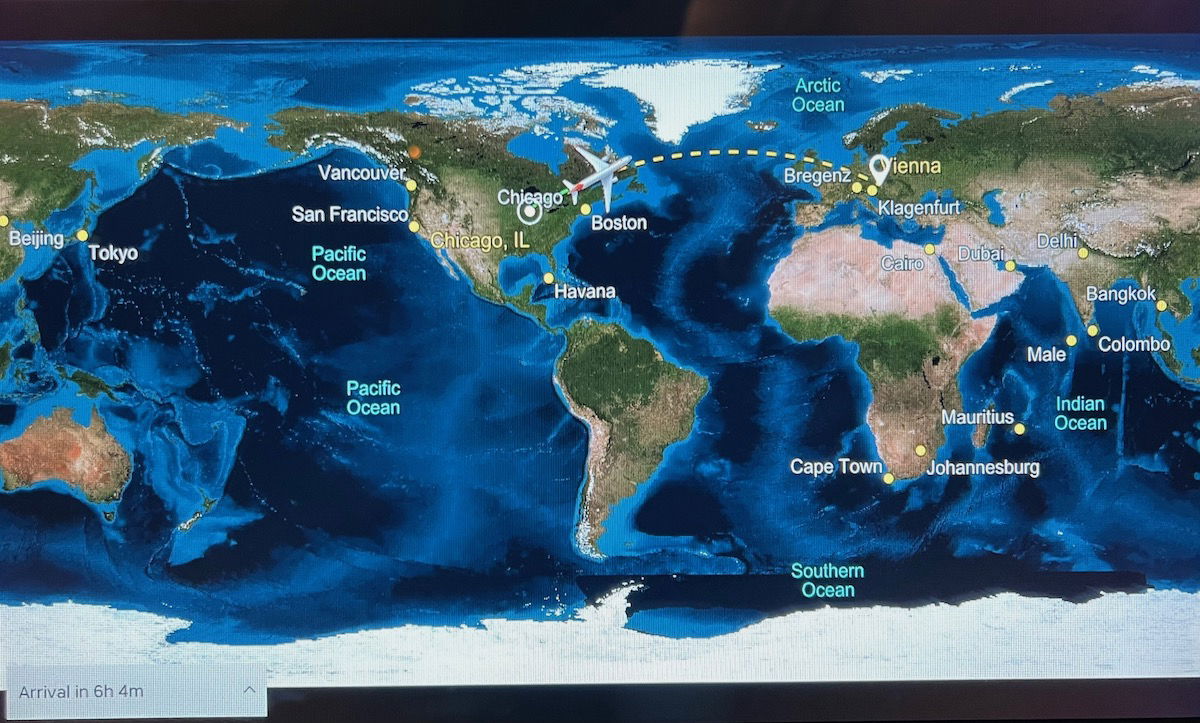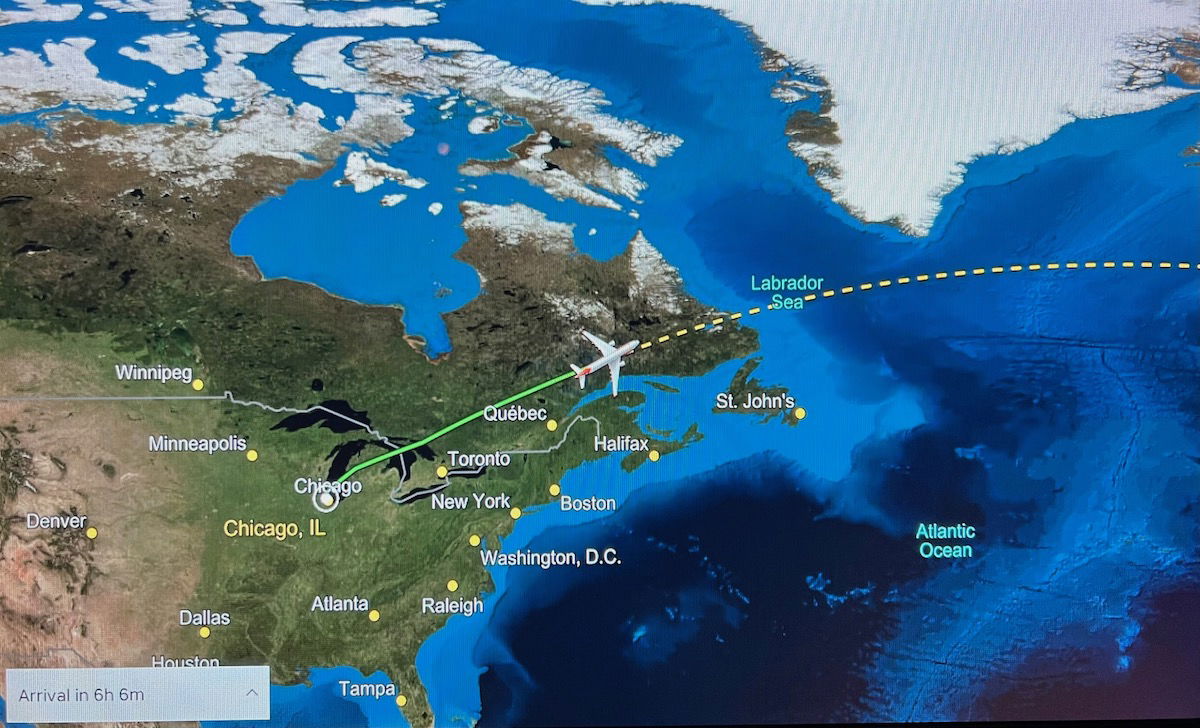 I thought the meal service was excellent, and fortunately it should be getting even better soon. Austrian is bringing back its inflight chefs, which means we can soon expect a more customized dining experience, more coffee options, etc.
Austrian 777 business class bed
After dinner I tried to get some rest. I put the seat into bed mode. On the plus side, I appreciated the general privacy of the seat. However, I found the seat to be quite narrow, really hard, and also found the footwell to be quite small.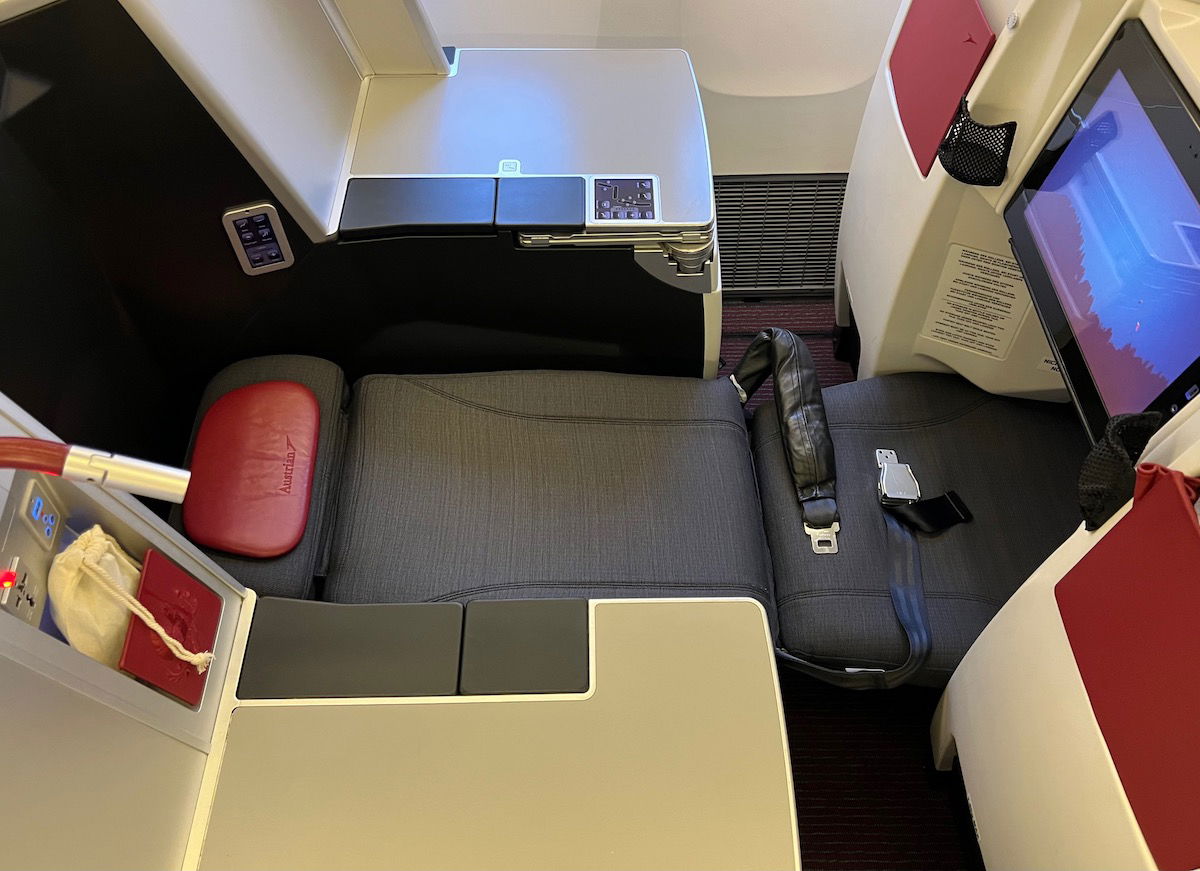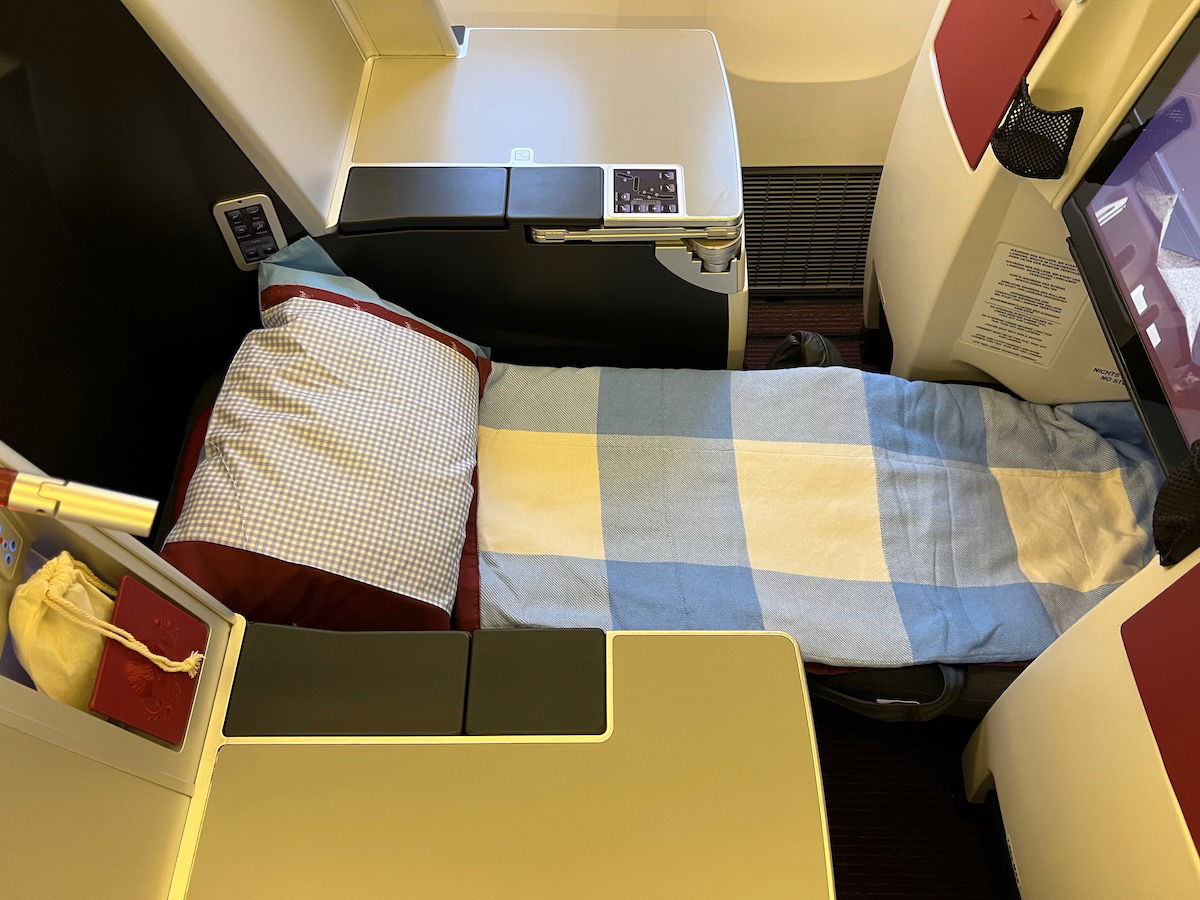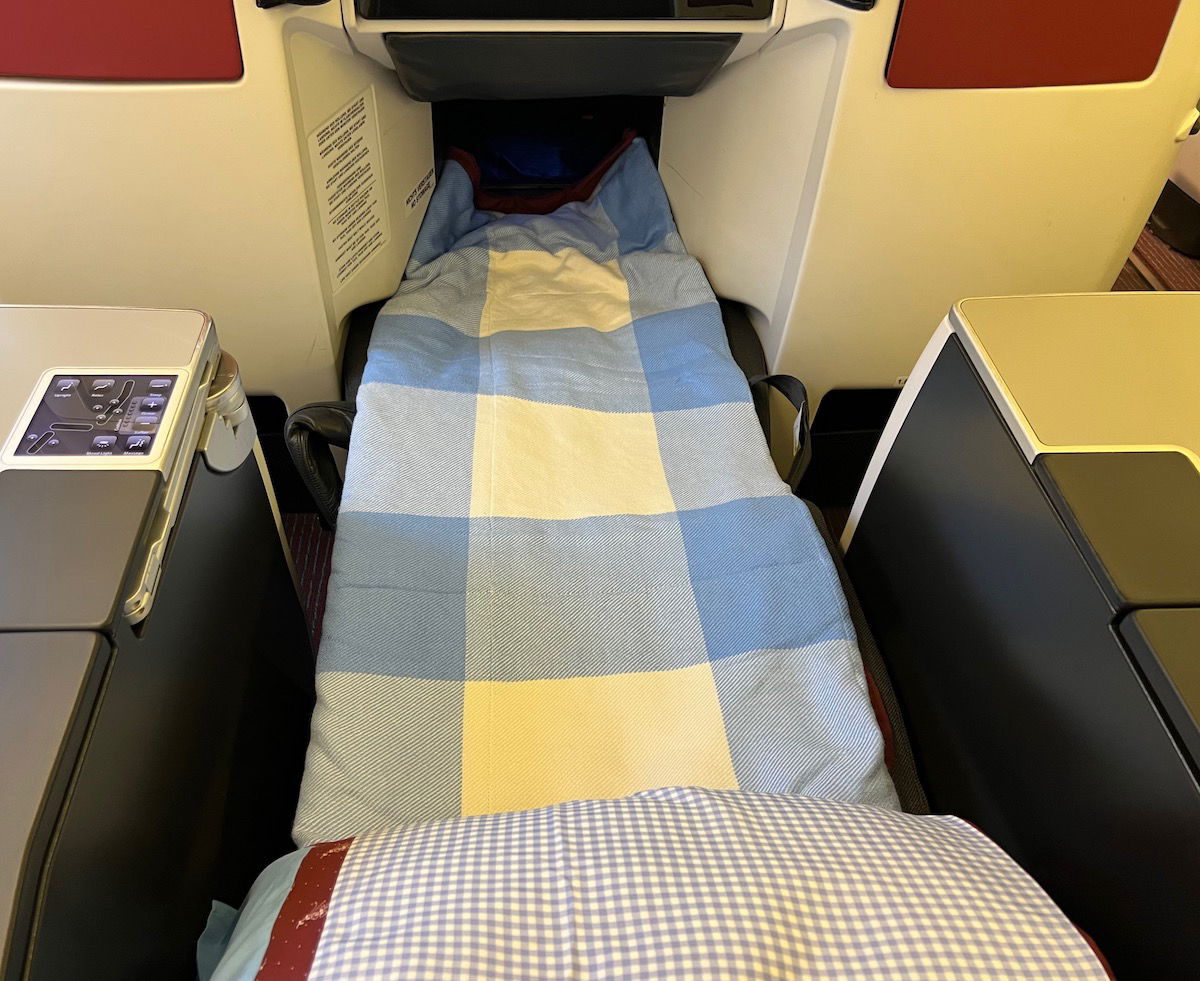 I'm a terrible airplane sleeper, and I was reclined for around 3.5 hours. However, I slept for at most half of that time, as I tossed and turned and had a pretty hard time getting comfortable.
Austrian 777 business class lavatories
There's no shortage of lavatories in business class on Austrian's 777s, as there are two in front of the cabin and two behind the cabin. While Austrian did a great job updating the interiors of these old planes, the lavatories were the only areas where you reminded of the aircraft's age.
The forward lavatories were pretty standard…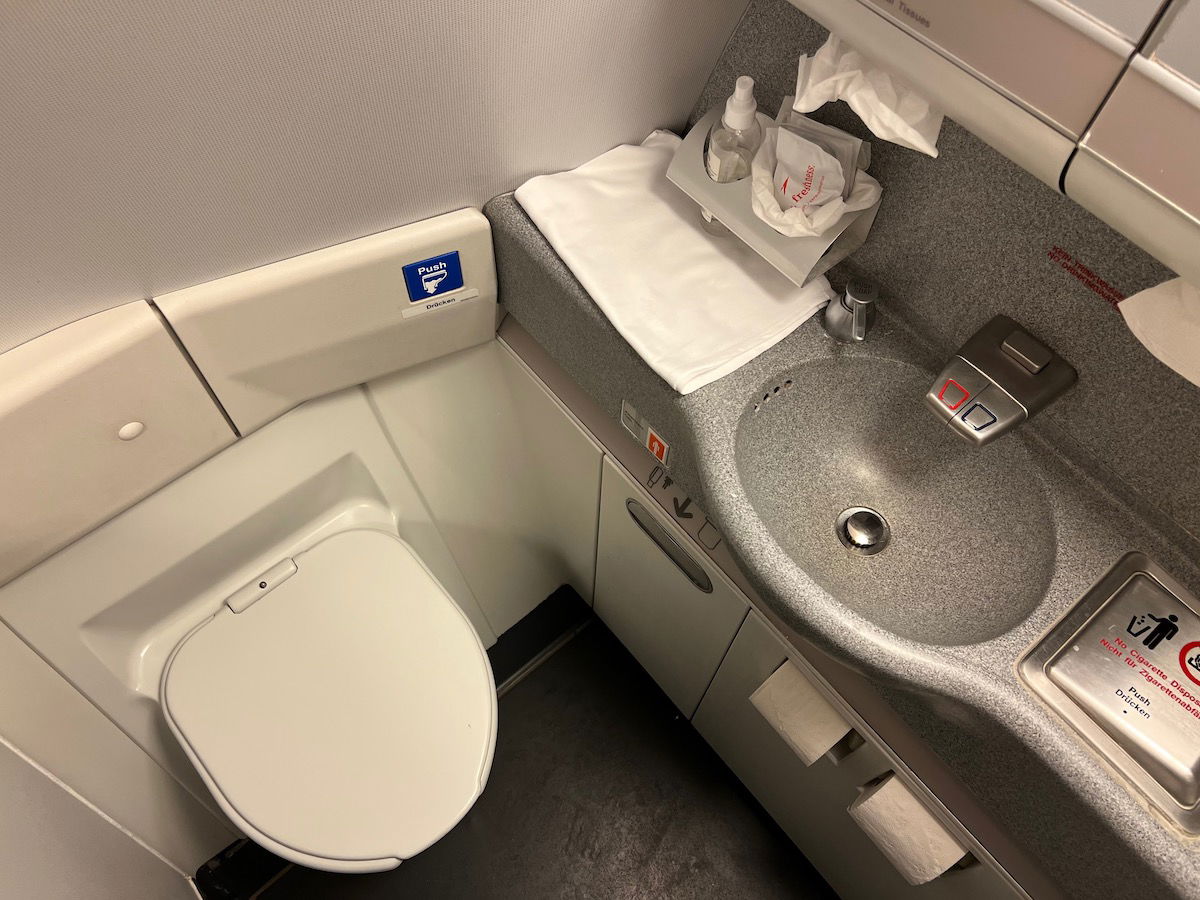 …meanwhile the ones behind the cabin had tons of space, so I recommend those.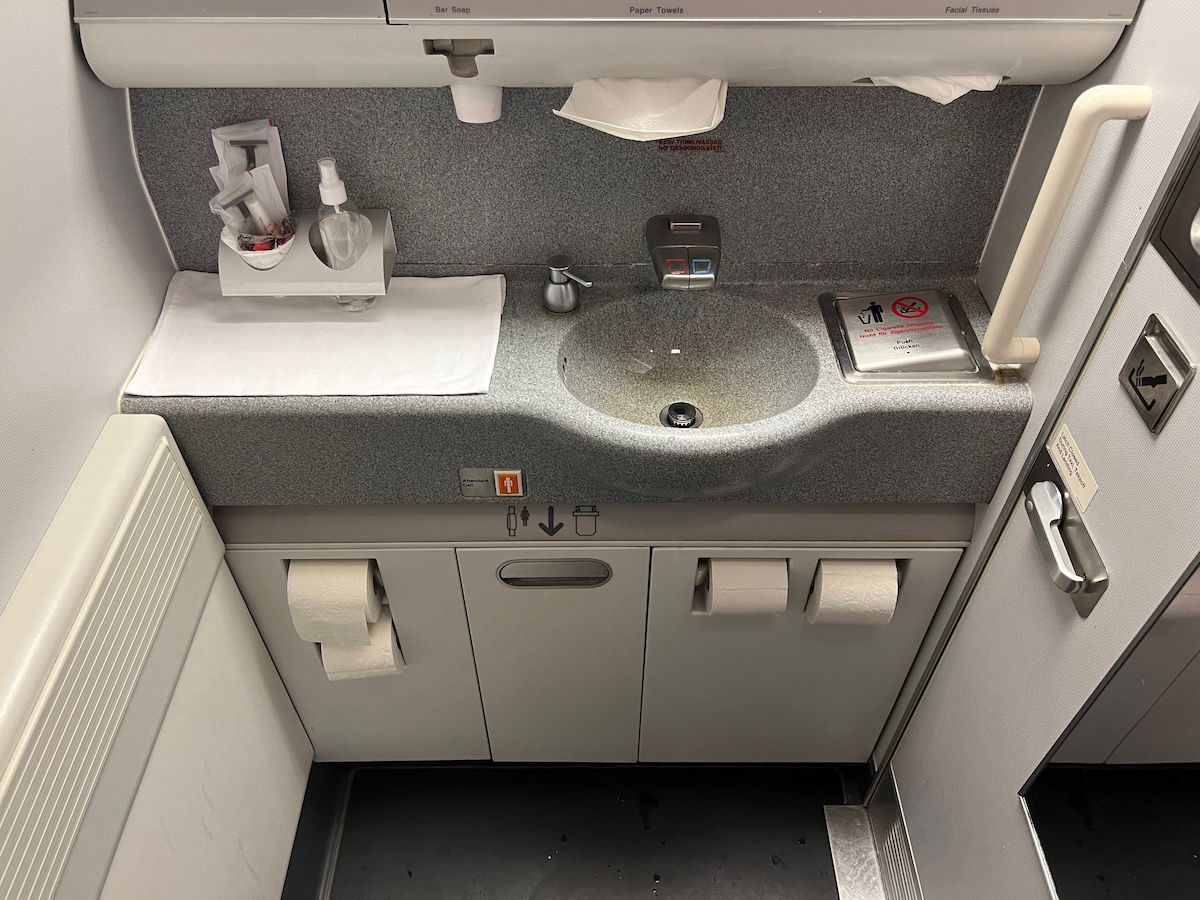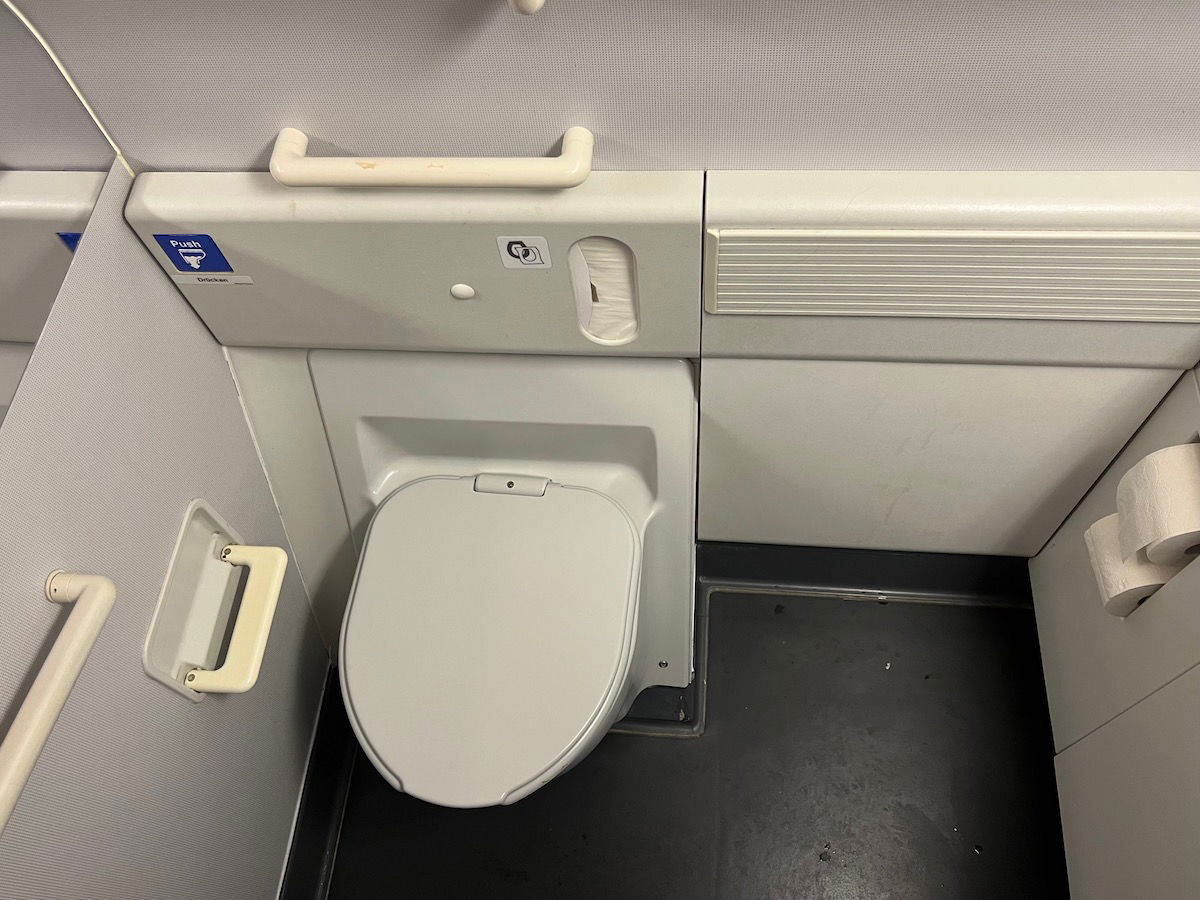 The lavatories also had some basic amenities, like shaving kits.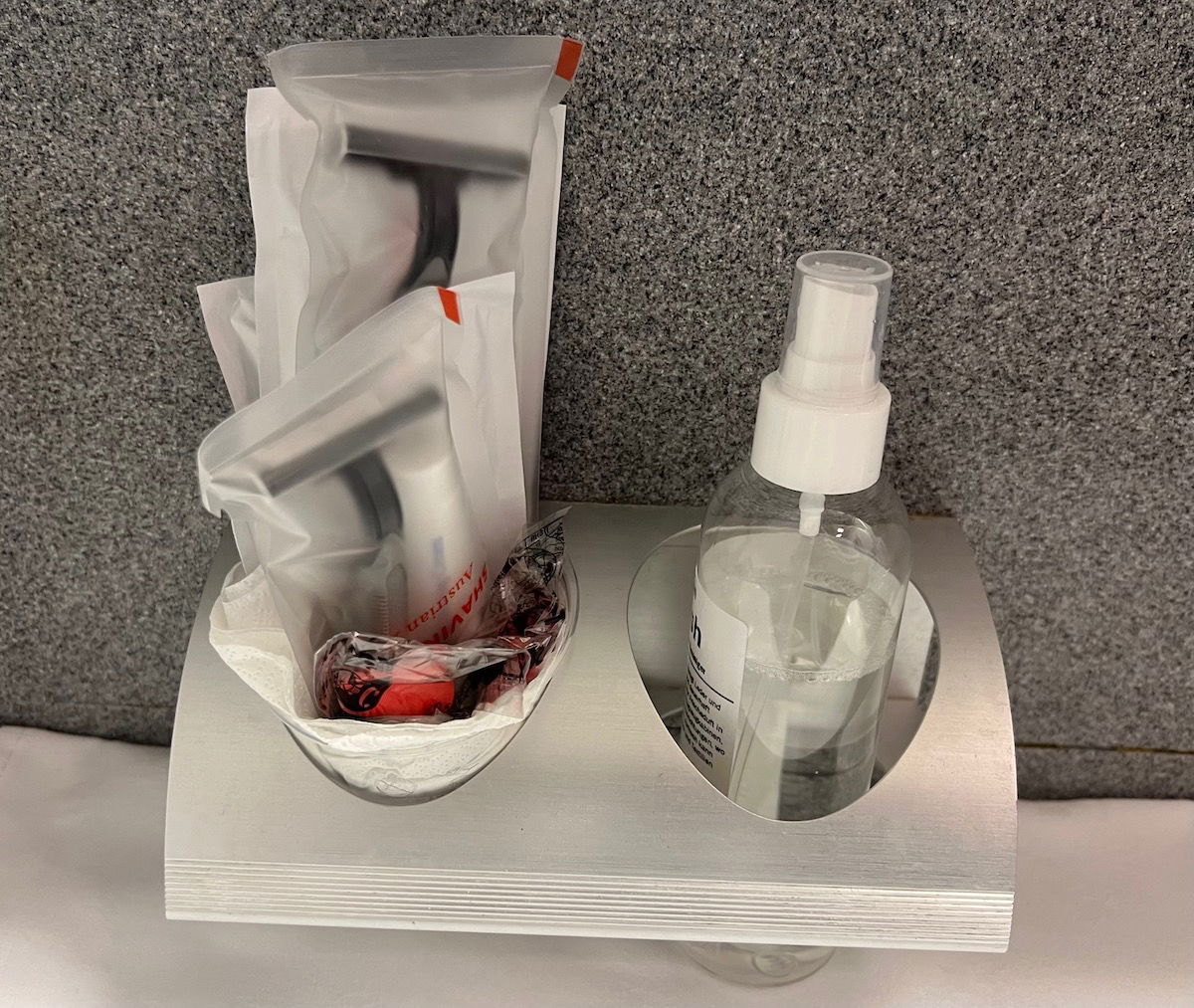 Austrian business class breakfast service
The breakfast service began around 90 minutes before arrival, while we were over the UK.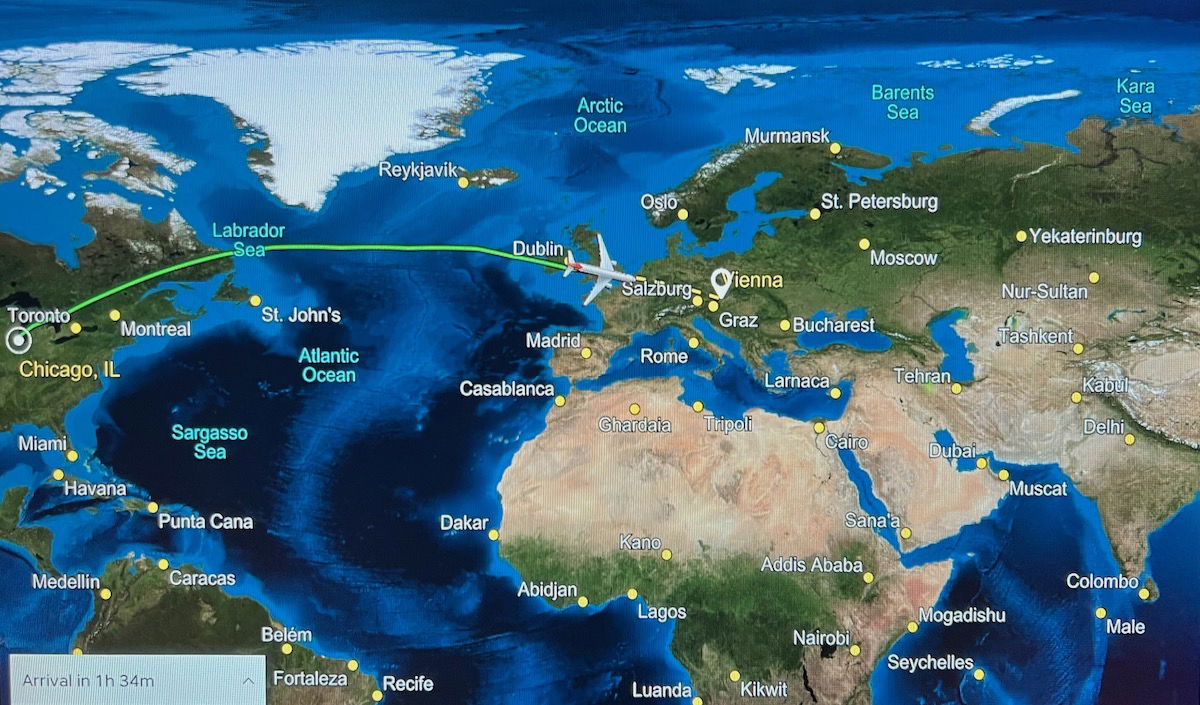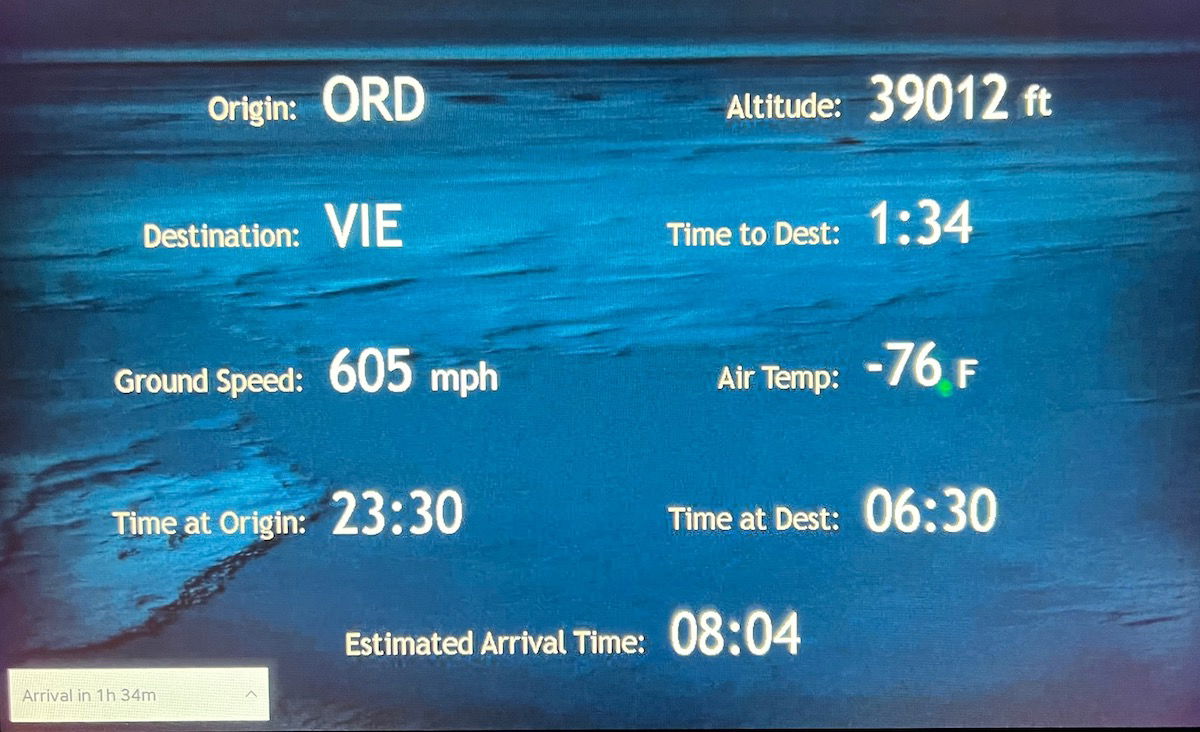 You can find the breakfast menu below.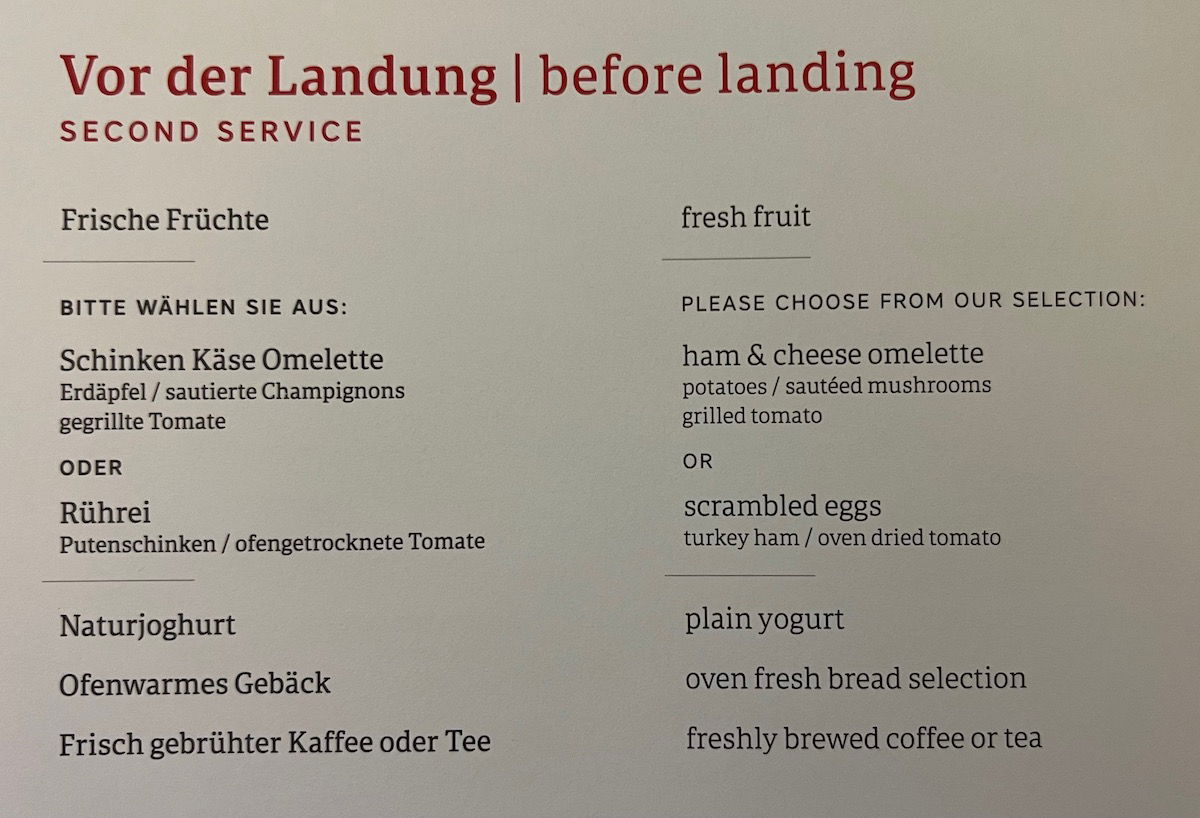 Service began with warm towels being distributed. Breakfast was then served off a cart, with the choice of a ham & cheese omelet or scrambled eggs. Stupidly I ordered the omelet (I totally forgot it had ham, which I don't eat, and the flight attendant just asked if I wanted the omelet or scrambled eggs, so I wasn't thinking).
Nonetheless I appreciated the overall presentation, and I love Austrian's triangular plates. This was served with some plain yogurt, fresh fruit, muesli, and a roll. I also ordered a cup of coffee. The cup was comically small, but the flight attendant was great about providing refills.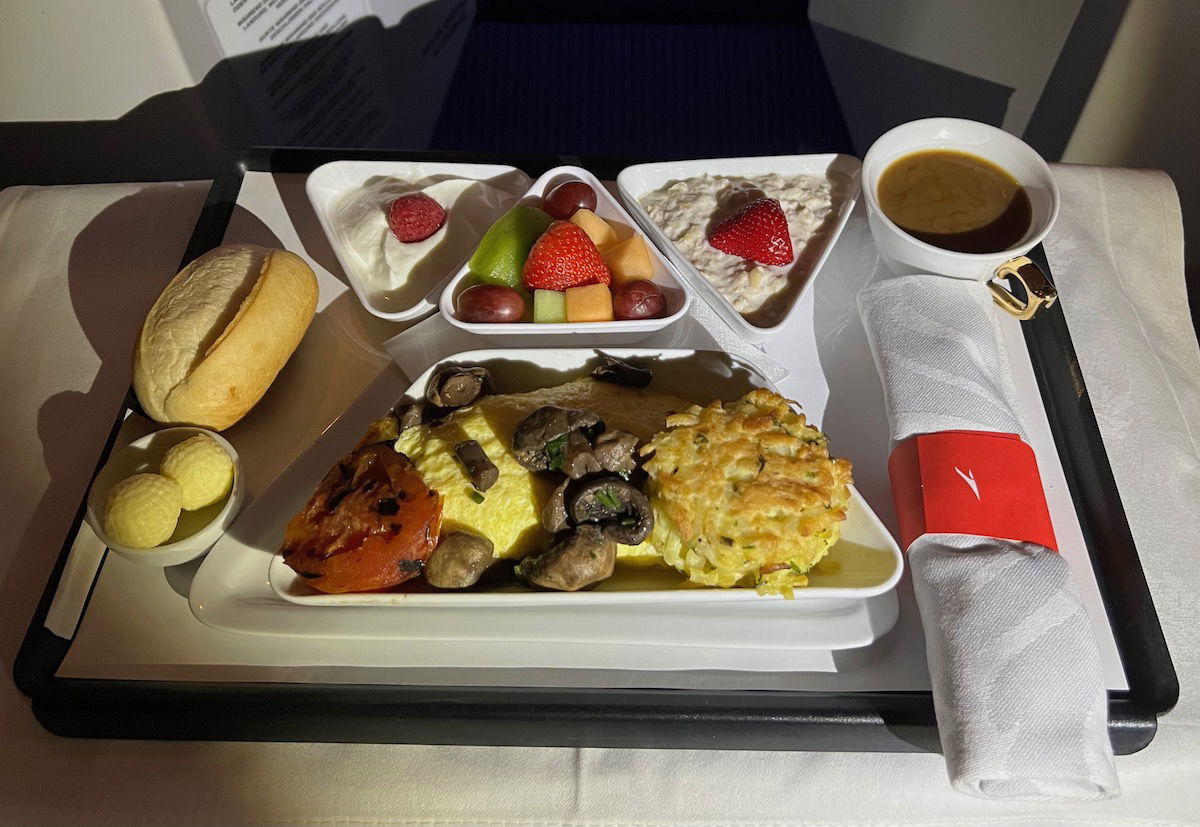 Austrian business class service
The crew working business class on this flight was excellent. They were friendly, professional, and attentive. Even though the cabin was full, they provided personalized service, and made sure glasses were never empty, and that empty plates were quickly removed.
I also appreciated how the crew left the cabin lights off for the entire flight. Understandably some people want to go straight to sleep on an overnight flight, so they performed the service in a way that minimized disruption.
On transatlantic flights service flow is important, and this crew came across as seasoned veterans, rather than as newbies.
Austrian 777 arrival in Vienna
At 7:30AM local time, the first officer announced that we were already descending, and would be landing in around 30 minutes. Just as there was a lovely sunset at the beginning of the flight, there was a great sunrise at the end of the flight. As someone who loves sunrises and sunsets, these are my favorite kinds of flights.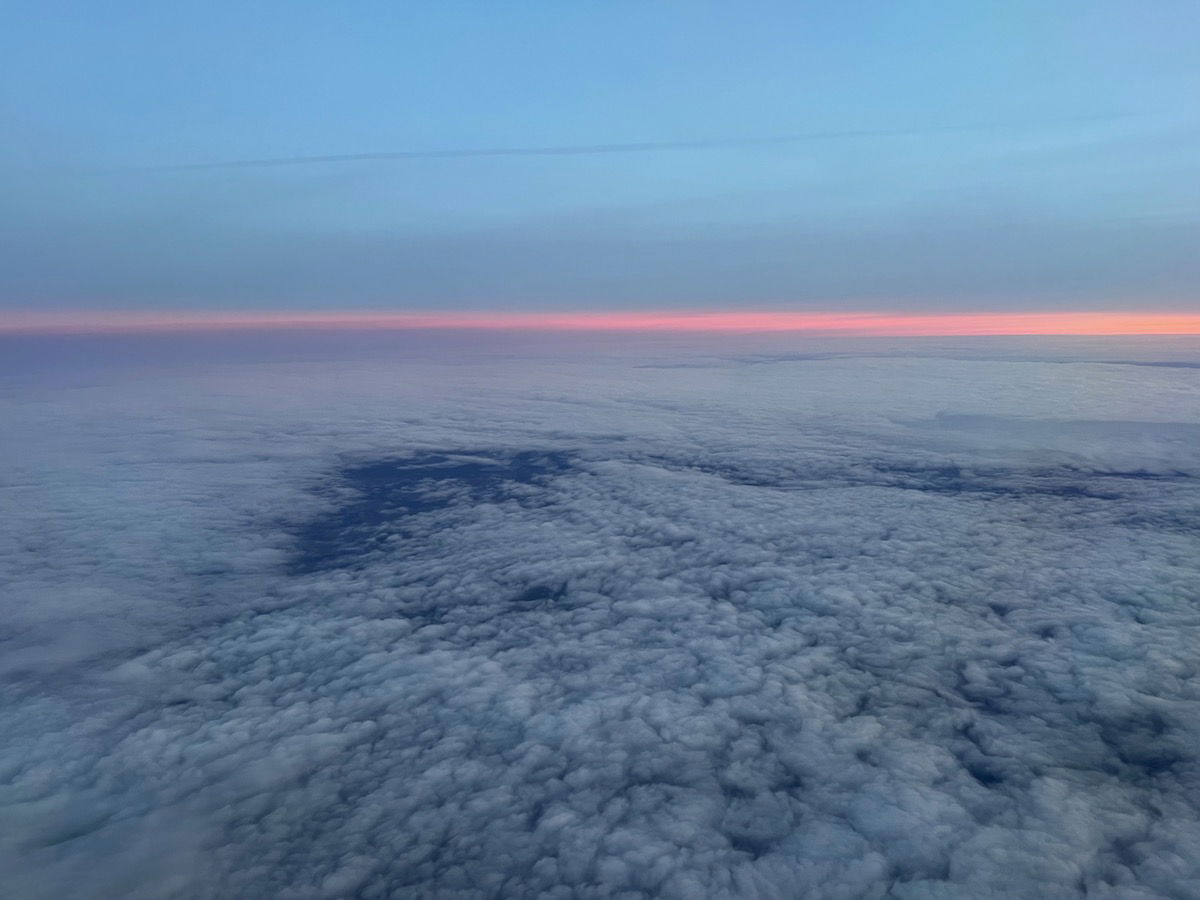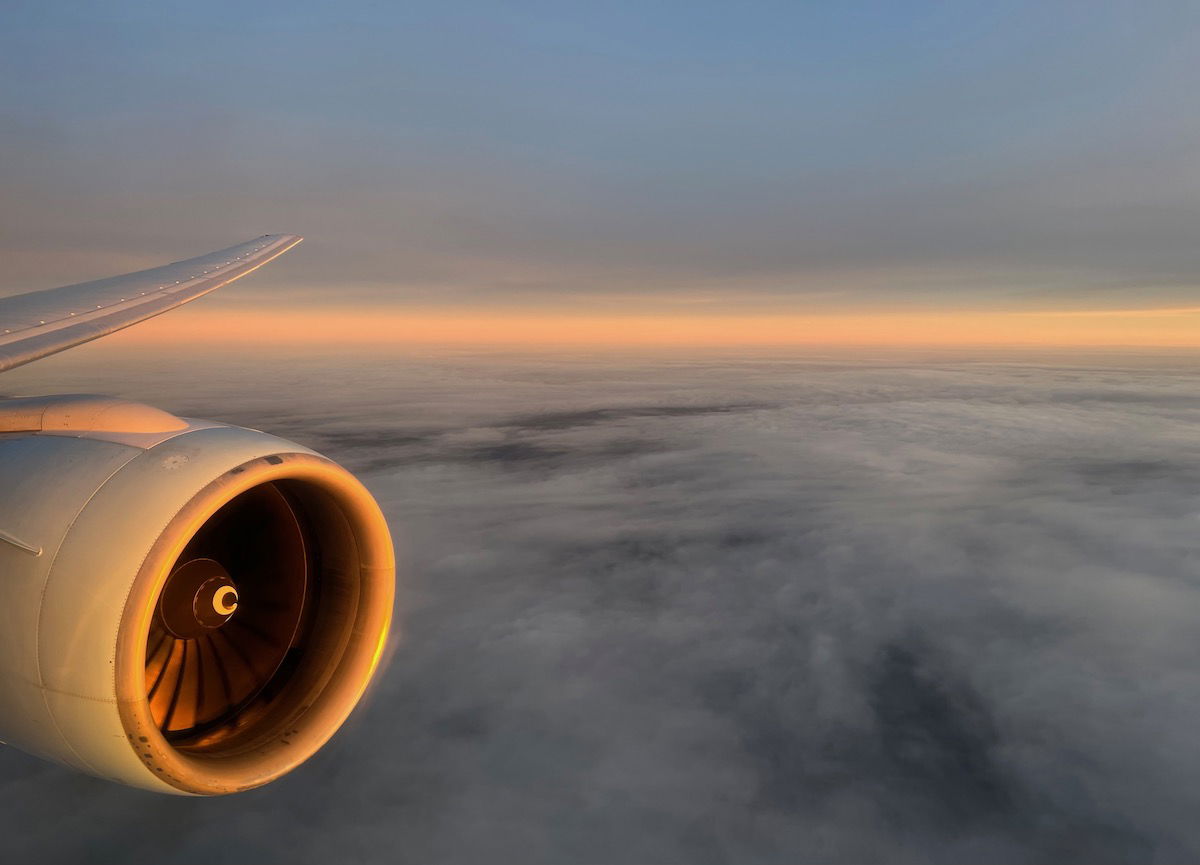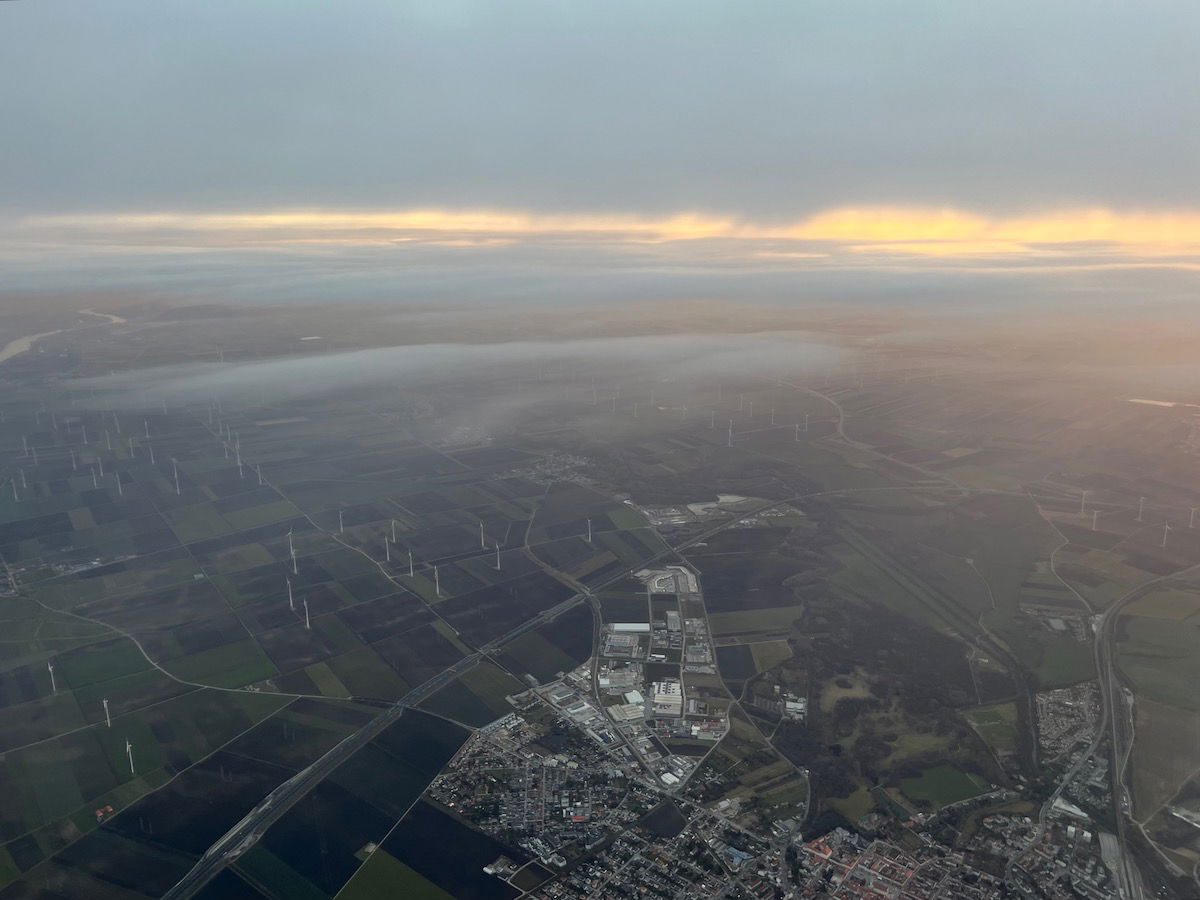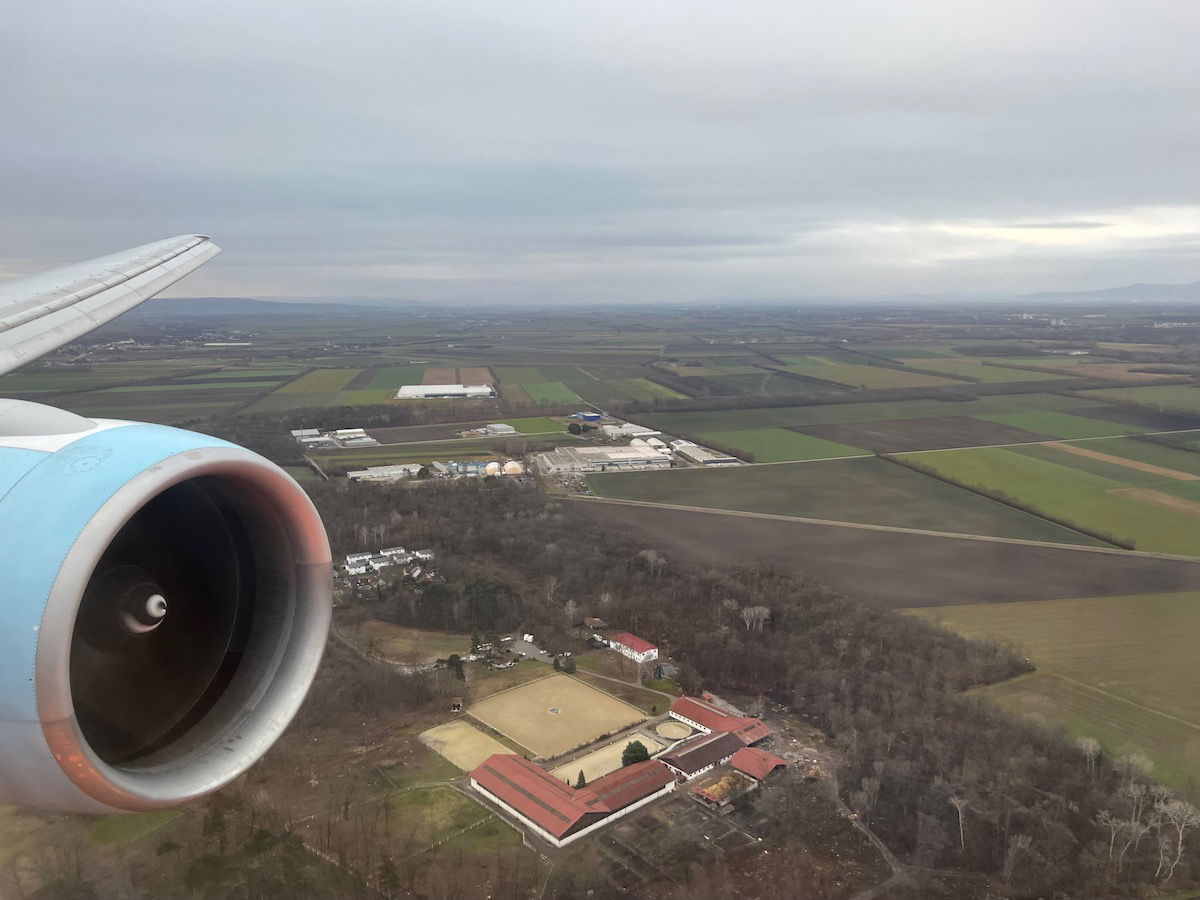 We had a smooth touchdown in Vienna at 8:05AM, and from there had a short five minute taxi to the gate, where we parked next to a Pegasus Boeing 737.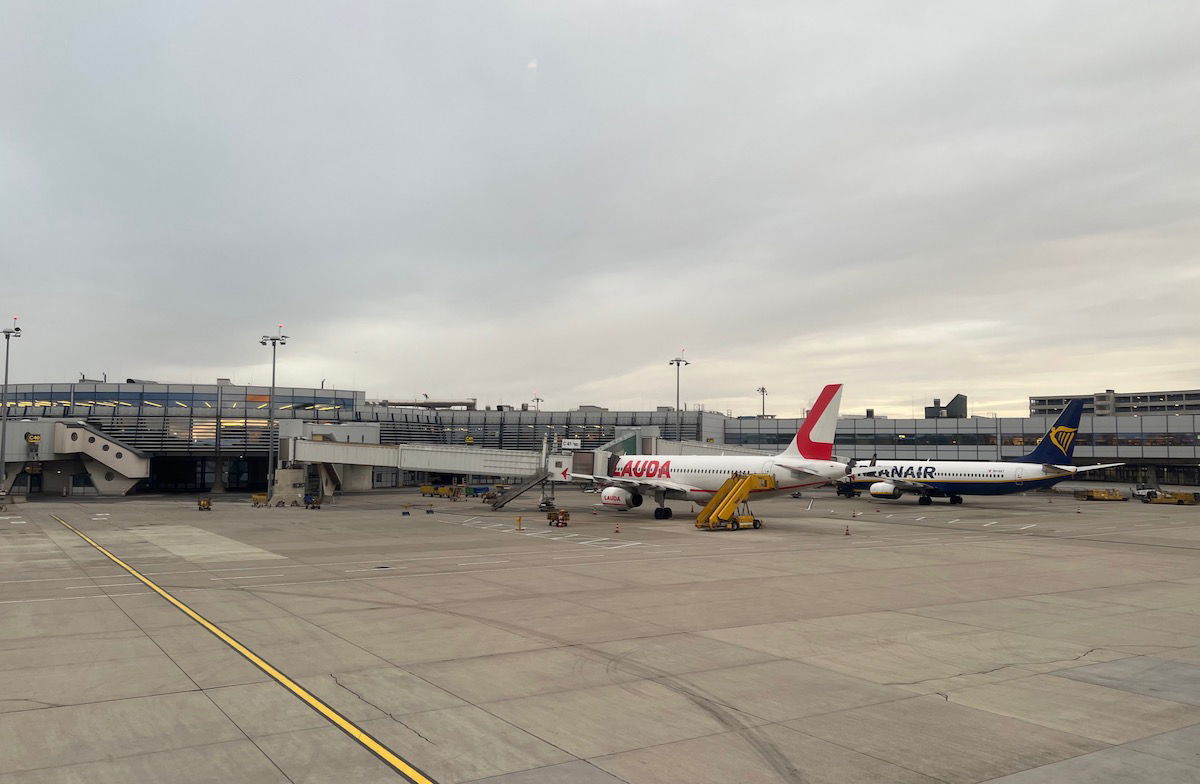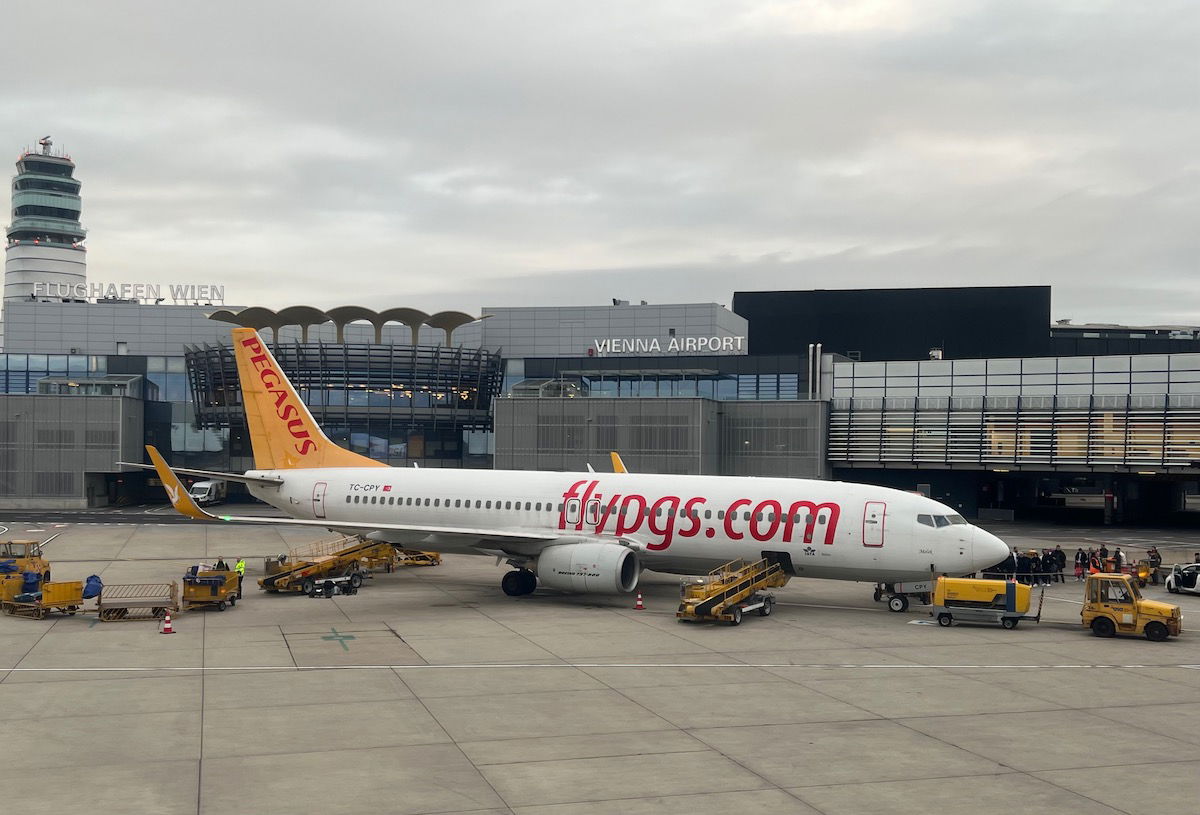 I quickly proceeded through immigration, and 30 minutes later was at the Andaz Vienna, where I'd be spending the night.
Bottom line
I had a pleasant transatlantic flight on Austrian Airlines. The airline offers the best business class soft product you'll find in the Lufthansa Group, and it should be improving even more soon, with the return of the flying chefs.
The downsides to Austrian business class are the lack of Wi-Fi, the seats, the lack of individual air nozzles, and that some of the amenities could be improved.
Austrian is expected to refresh its long haul fleet in the coming years with Boeing 787s, and then the airline will really be a force to be reckoned with across the Atlantic.
What do you make of Austrian's business class product?