In the interest of full disclosure, OMAAT earns a referral bonus for anyone that's approved through some of the below links. These are the best publicly available offers (terms apply) that we have found for each product or service. Opinions expressed here are the author's alone, not those of the bank, credit card issuer, airline, hotel chain, or product manufacturer/service provider, and have not been reviewed, approved or otherwise endorsed by any of these entities. Please check out
our advertiser policy
for further details about our partners, and thanks for your support!
After my Bamboo Airways flight from Hanoi, I had a night at Frankfurt Airport, prior to continuing on Air Canada to Toronto the following morning. I figured I'd check out the renovated Sheraton Frankfurt Airport, given that I tried the Marriott Frankfurt Airport during my last overnight at the airport.
Background on the Sheraton Frankfurt Airport
Over the years I've probably stayed at the Sheraton Frankfurt Airport at least a dozen times. However, some major changes have been made to the hotel in recent years. The Sheraton Frankfurt Airport used to feature 1,000+ rooms, and in early 2020 it as announced that the hotel would be split into two.
Rather than having a single Sheraton with 1,000+ rooms, there would instead be a Marriott with 233 rooms and a Sheraton with 779 rooms. As part of this redevelopment, the property has also undergone a major renovation. So this was my first time staying at the (slightly) smaller Sheraton, and my first time staying there since it was renovated.
Booking the Sheraton Frankfurt Airport
Ordinarily I wouldn't redeem points or free night certificates for a stay at an airport hotel, but this situation was different. Something was going on in Frankfurt during my stay that was causing very high rates, and the cash cost for one night would have been 280+ Euro.
For a free night redemption, the hotel was charging 33,000 Marriott Bonvoy points for the night, and I had a Marriott Bonvoy free night award valid at a property costing up to 35,000 points, which I got through the Marriott Bonvoy Business® American Express® Card (review). So I decided to redeem that for my stay, and I'd say it worked out pretty well.
Sheraton Frankfurt Airport location
The Sheraton Frankfurt Airport has an unbeatable location, as it's connected directly to Terminal 1. To access the hotel, just go to the check-in hall on the departures level (one level above arrivals). There's the A & Z check-in hall, and then there's the B & C check-in hall, and between the two you'll see an escalator.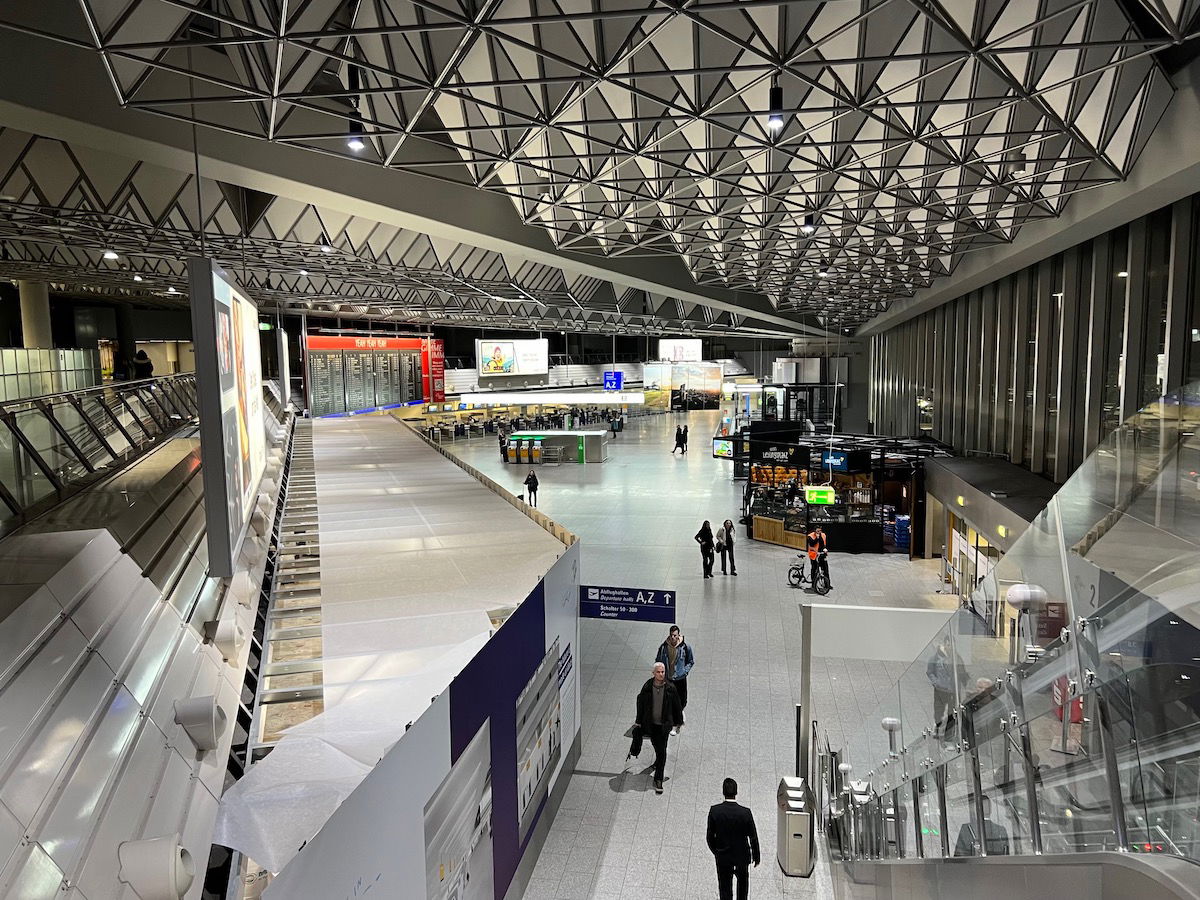 Take the escalator up a level, and then take the enclosed bridge that goes toward hotels, the Squaire, etc. You'll then just want to follow the signage toward the Marriott and Sheraton, as the two hotels share an entrance.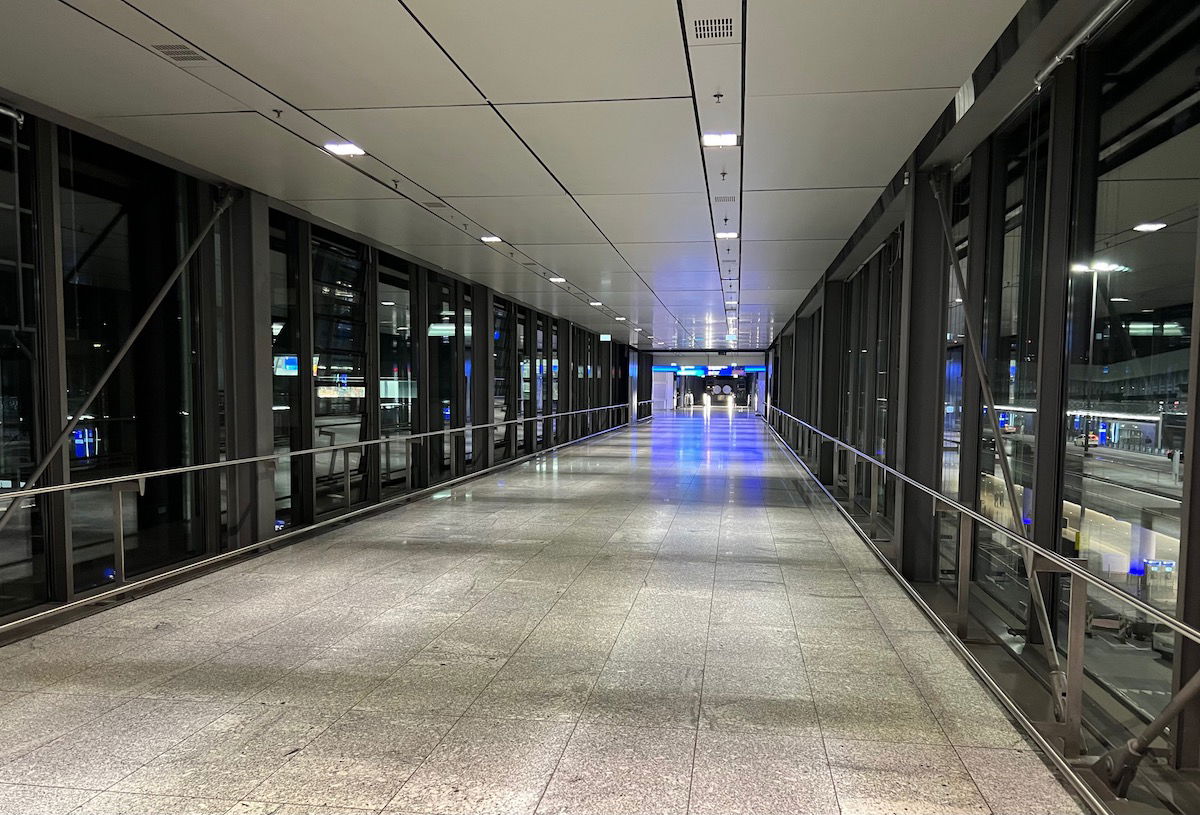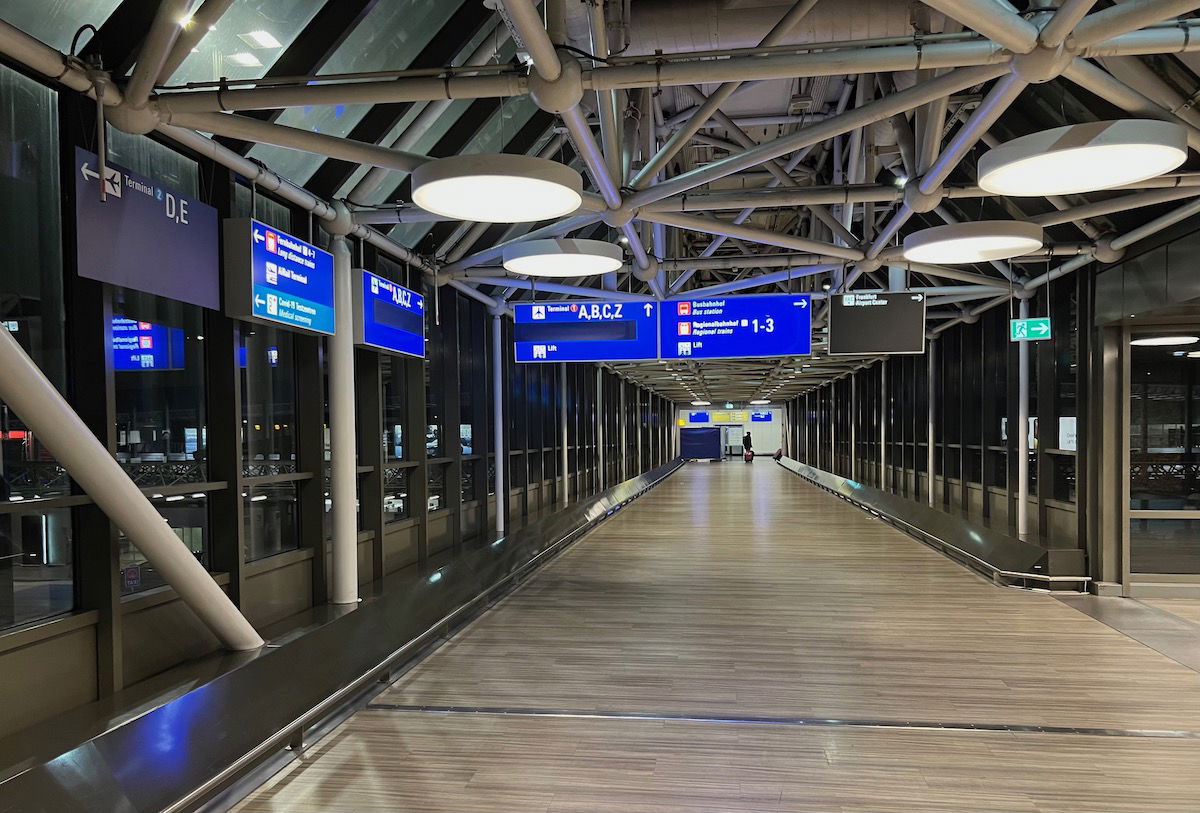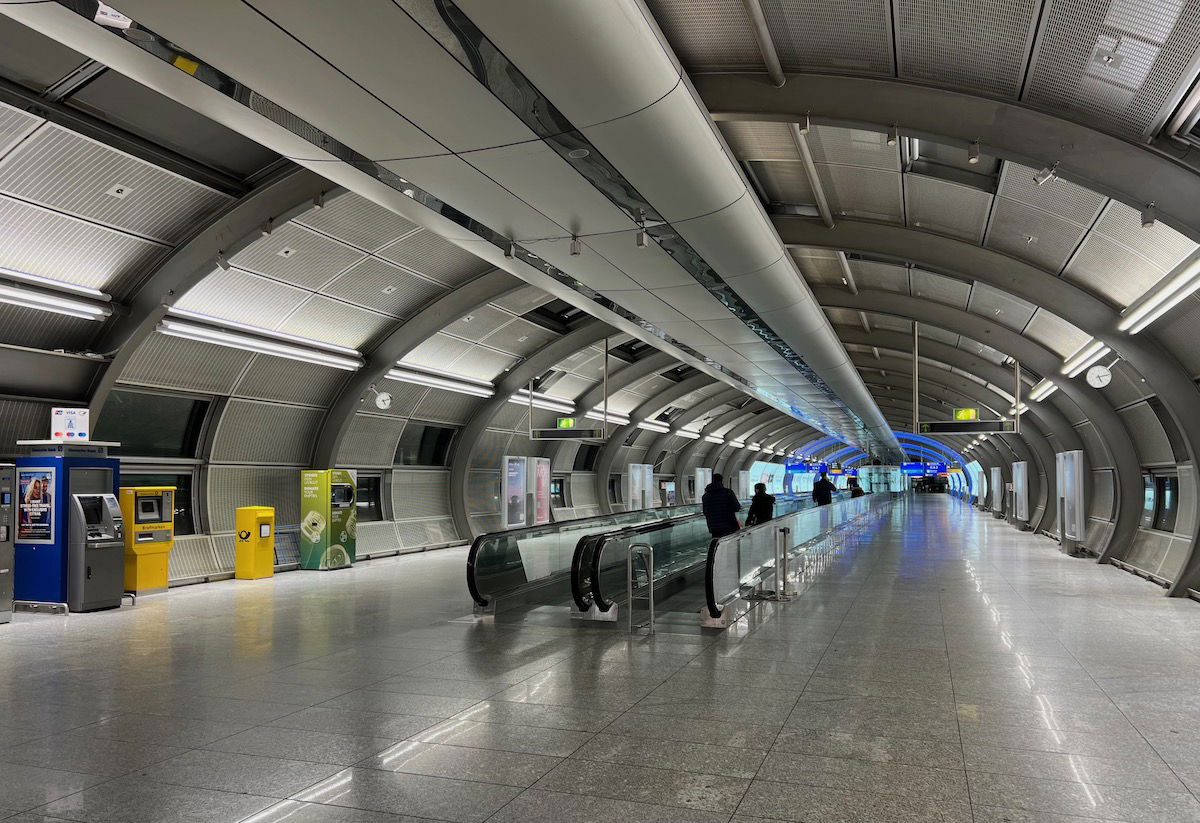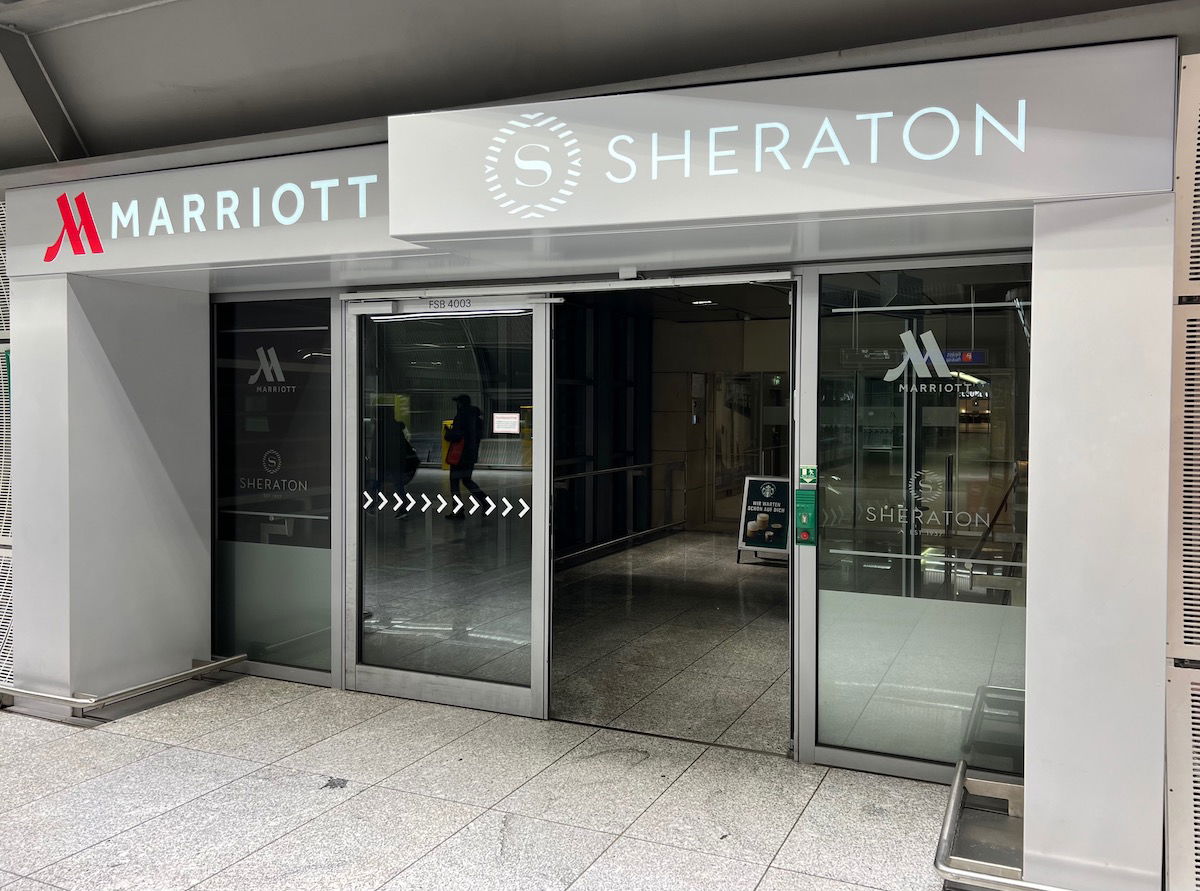 There's then a central area where the Marriott is in one direction, while the Sheraton is in another direction.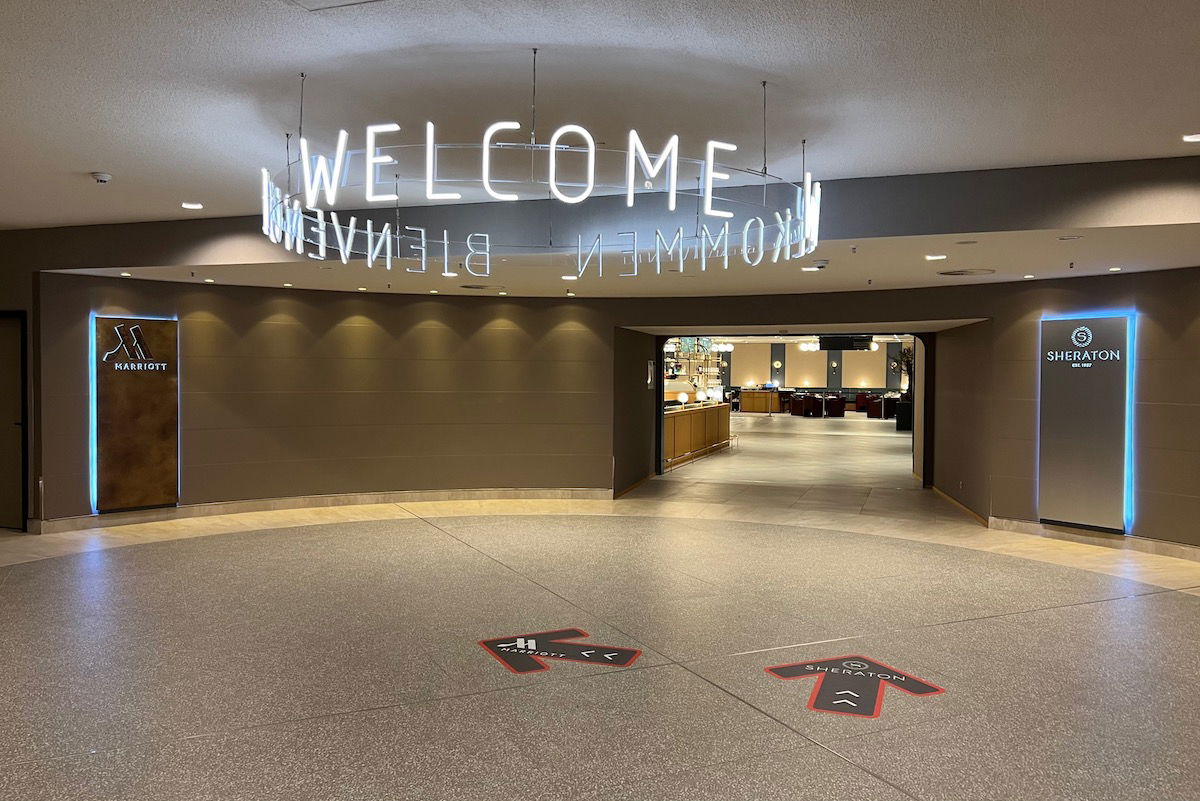 Sheraton Frankfurt Airport lobby & check-in
They really did a great job with the renovation of the Sheraton. It used to be kind of dumpy, while now it looks pretty elegant. The reception area is easy to find, and despite the size of the hotel, there was no wait at check-in, and I was helped immediately. I was thanked for being a Bonvoy Titanium member, and informed that I had been upgraded to a club room (suite upgrades at this property are extremely rare).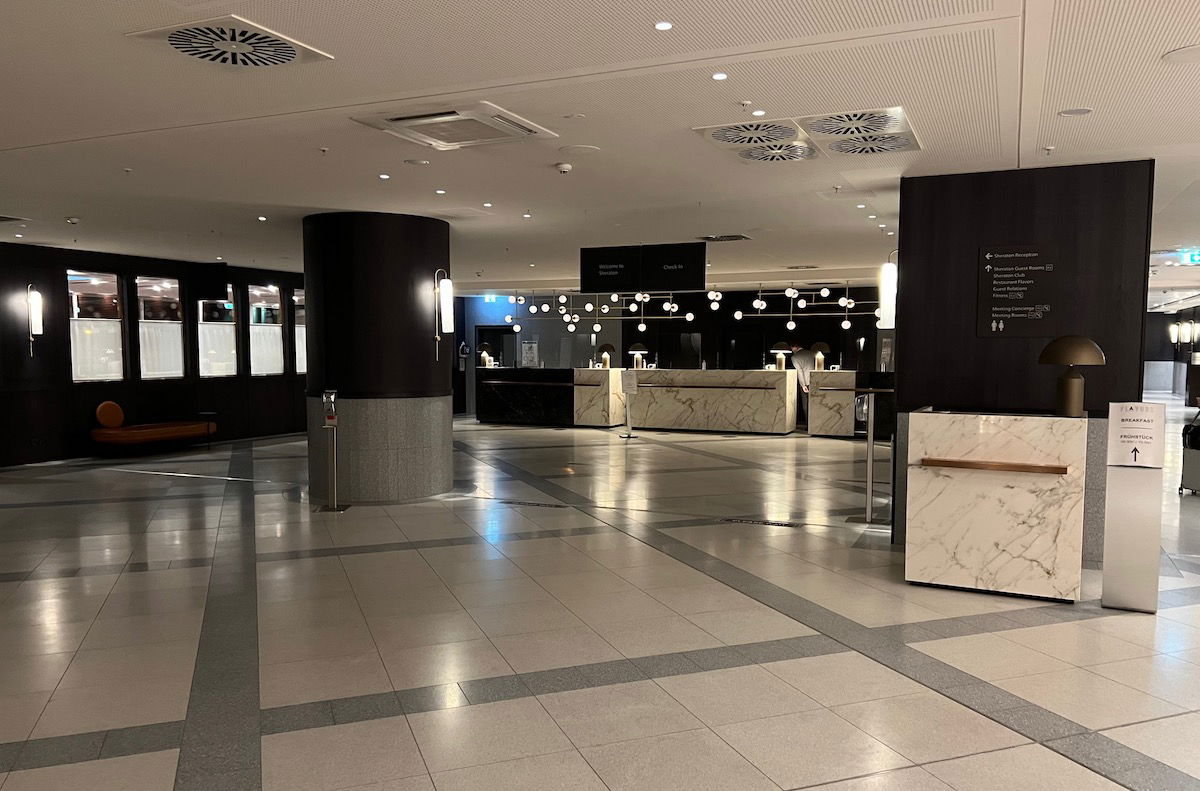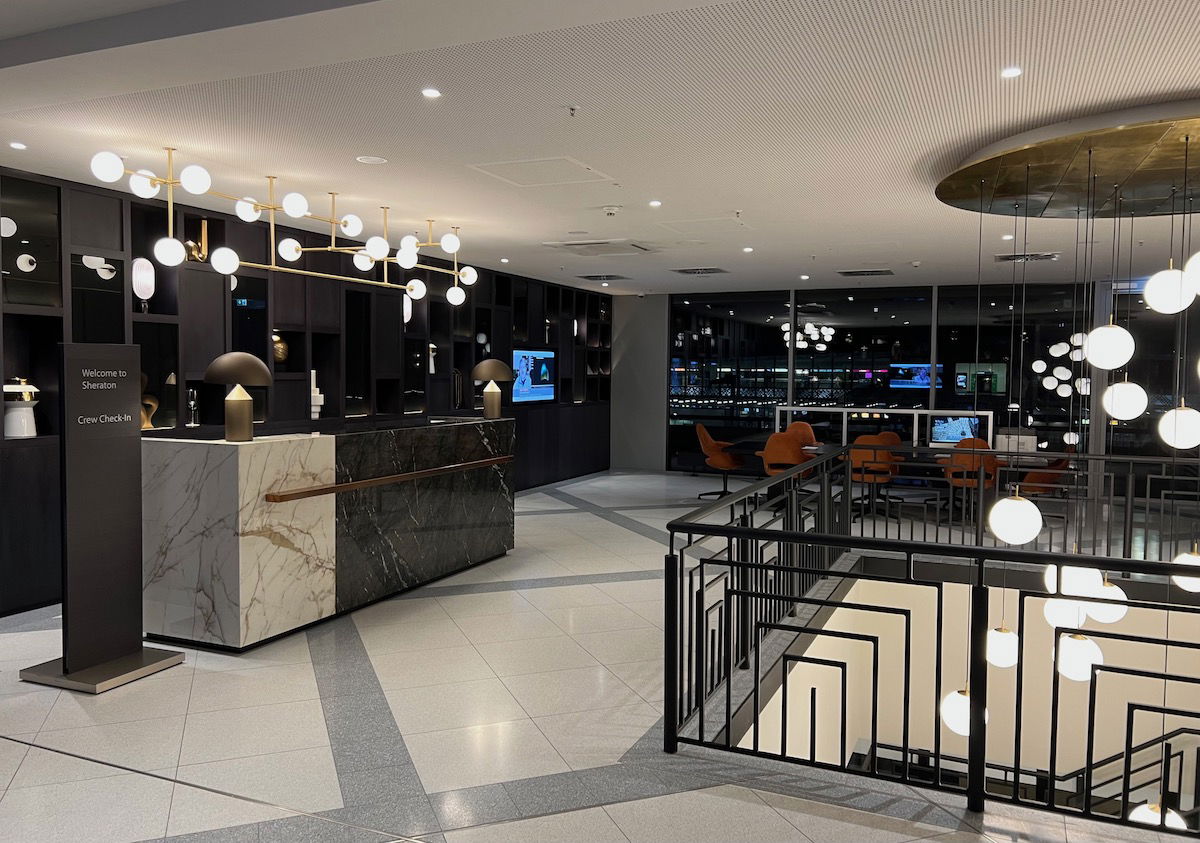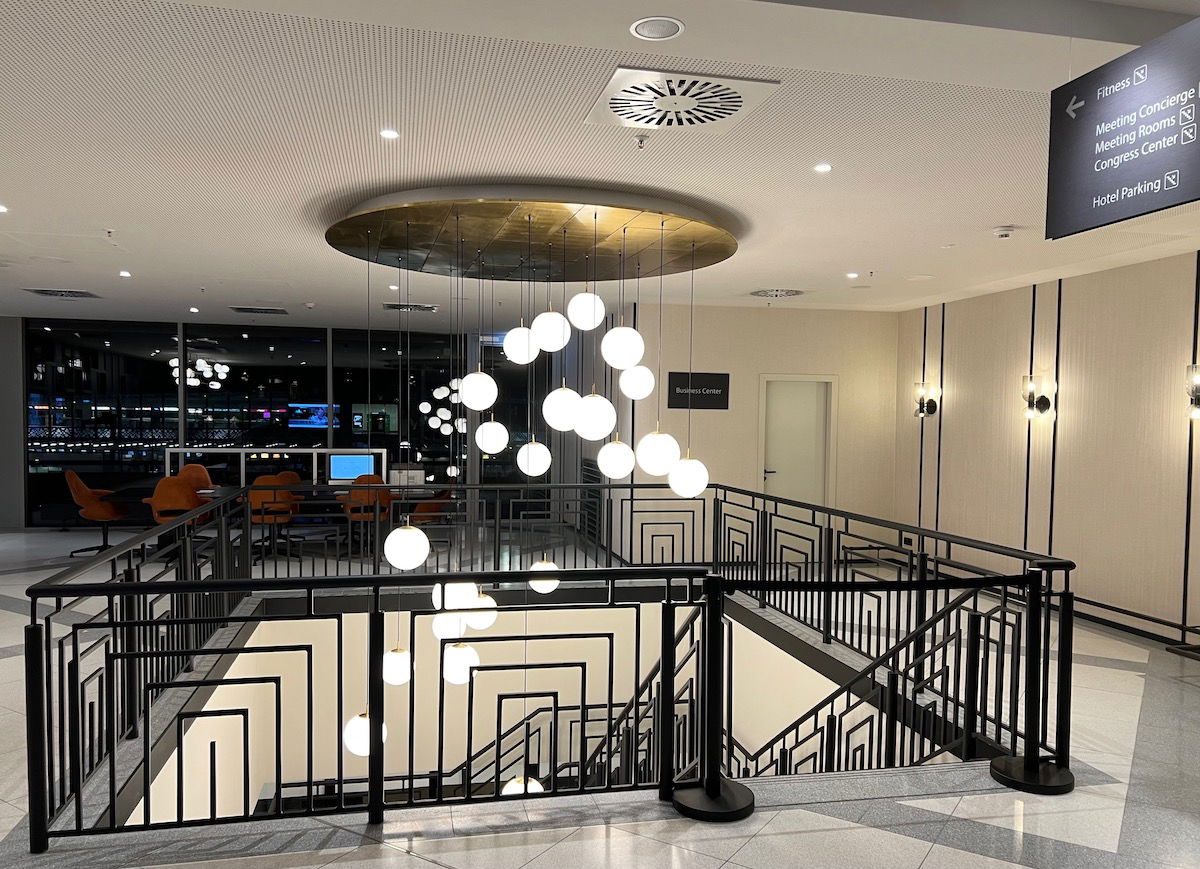 Within a couple of minutes I had keys in hand, and headed down the hall to the elevators.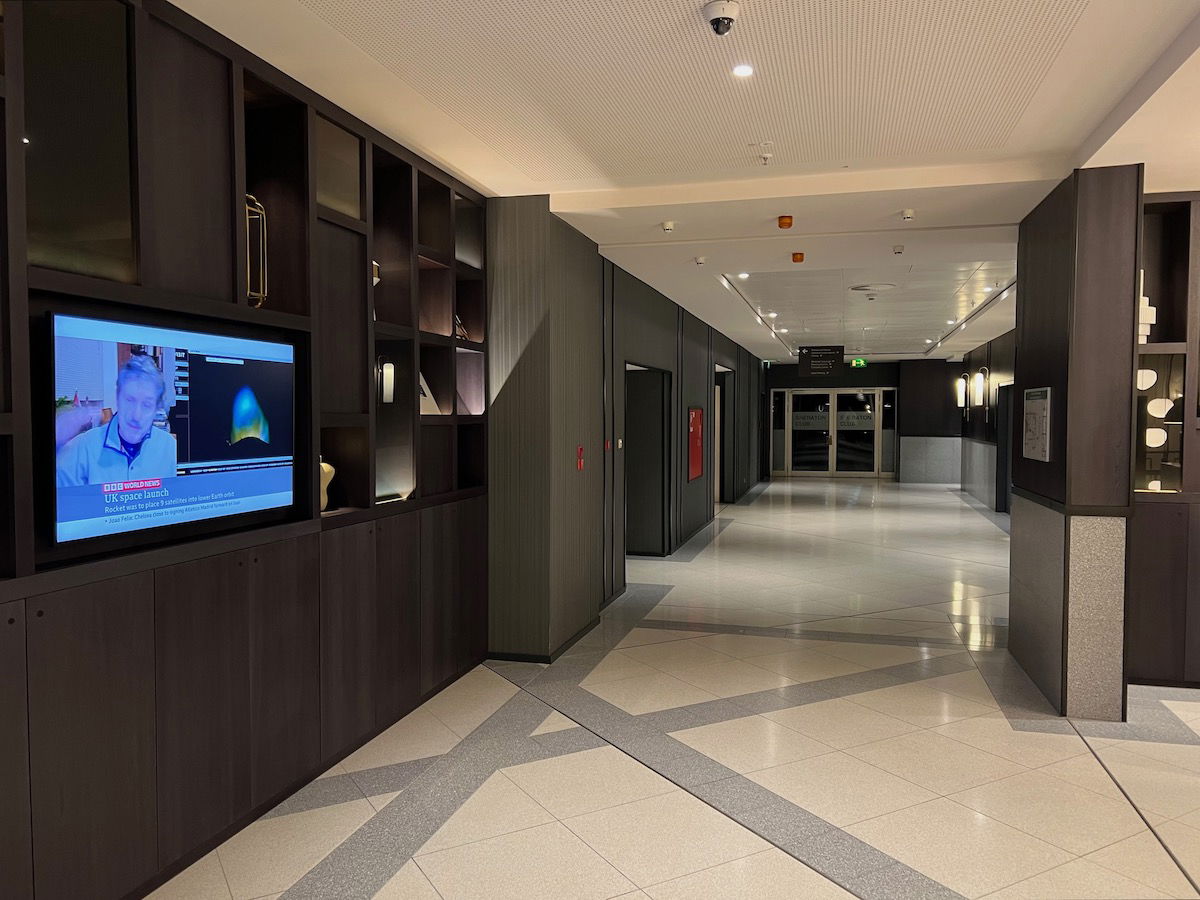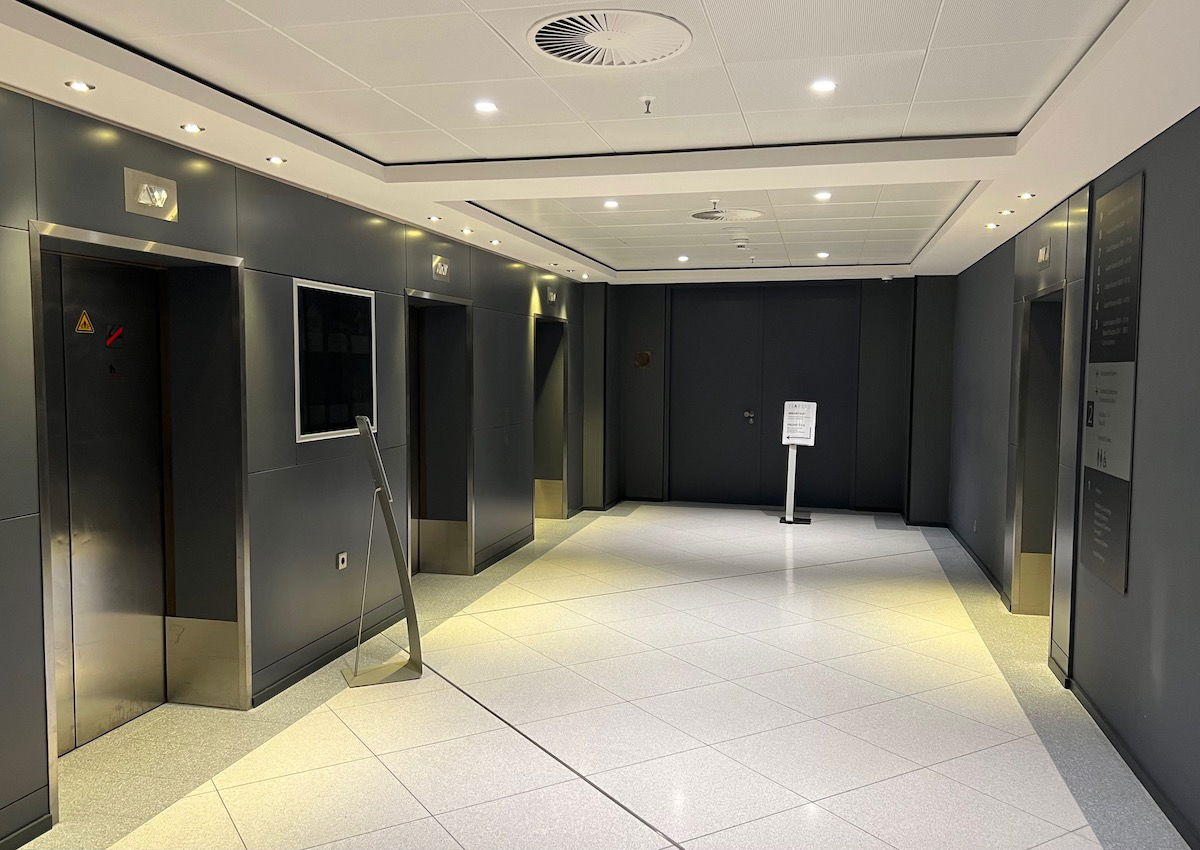 Sheraton Frankfurt Airport guest room
I took the elevator up to the eighth floor (the hotel has nine floors), and headed toward my room, 8091. Given what a huge hotel this is (there are around 100 accommodations per floor), it can be quite a long walk to get to your room. That was the case for me, as my room was way down the hall and on the right.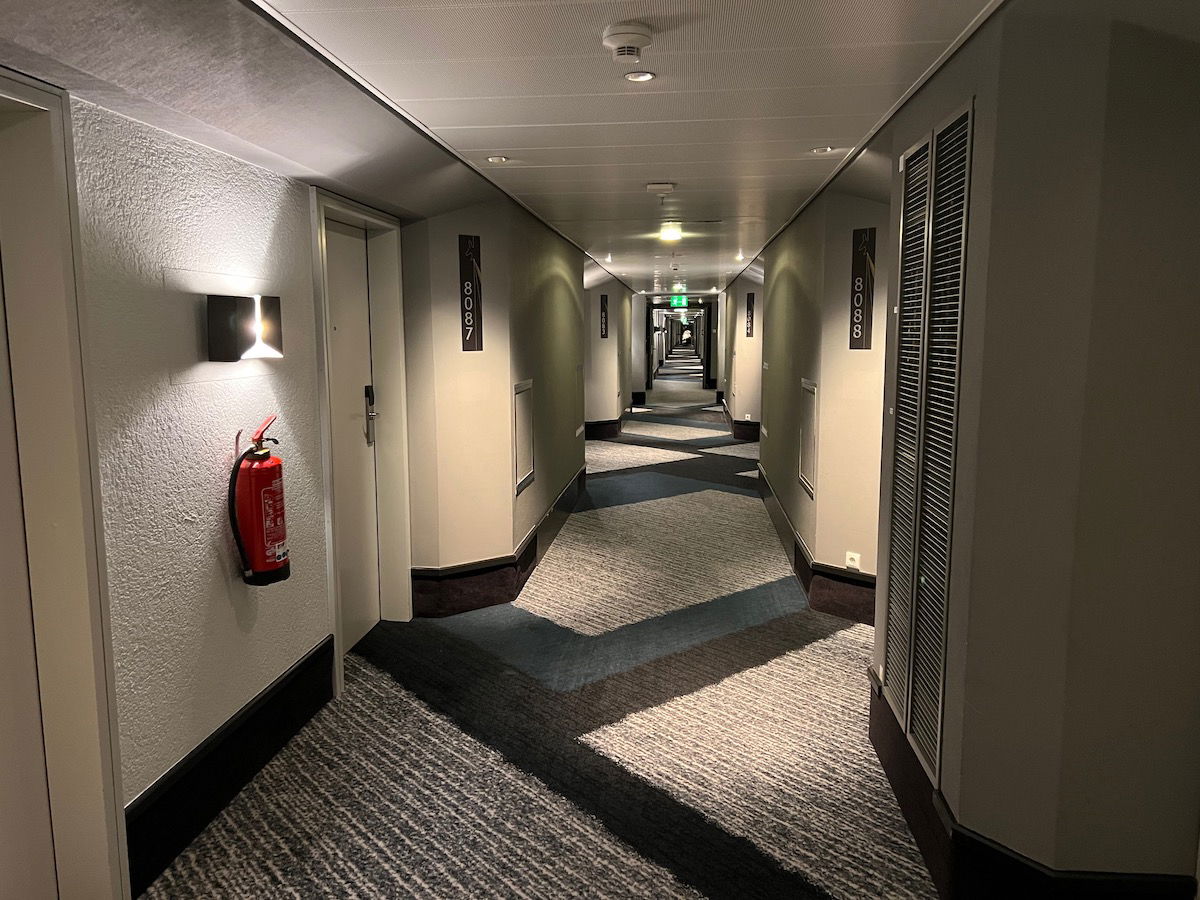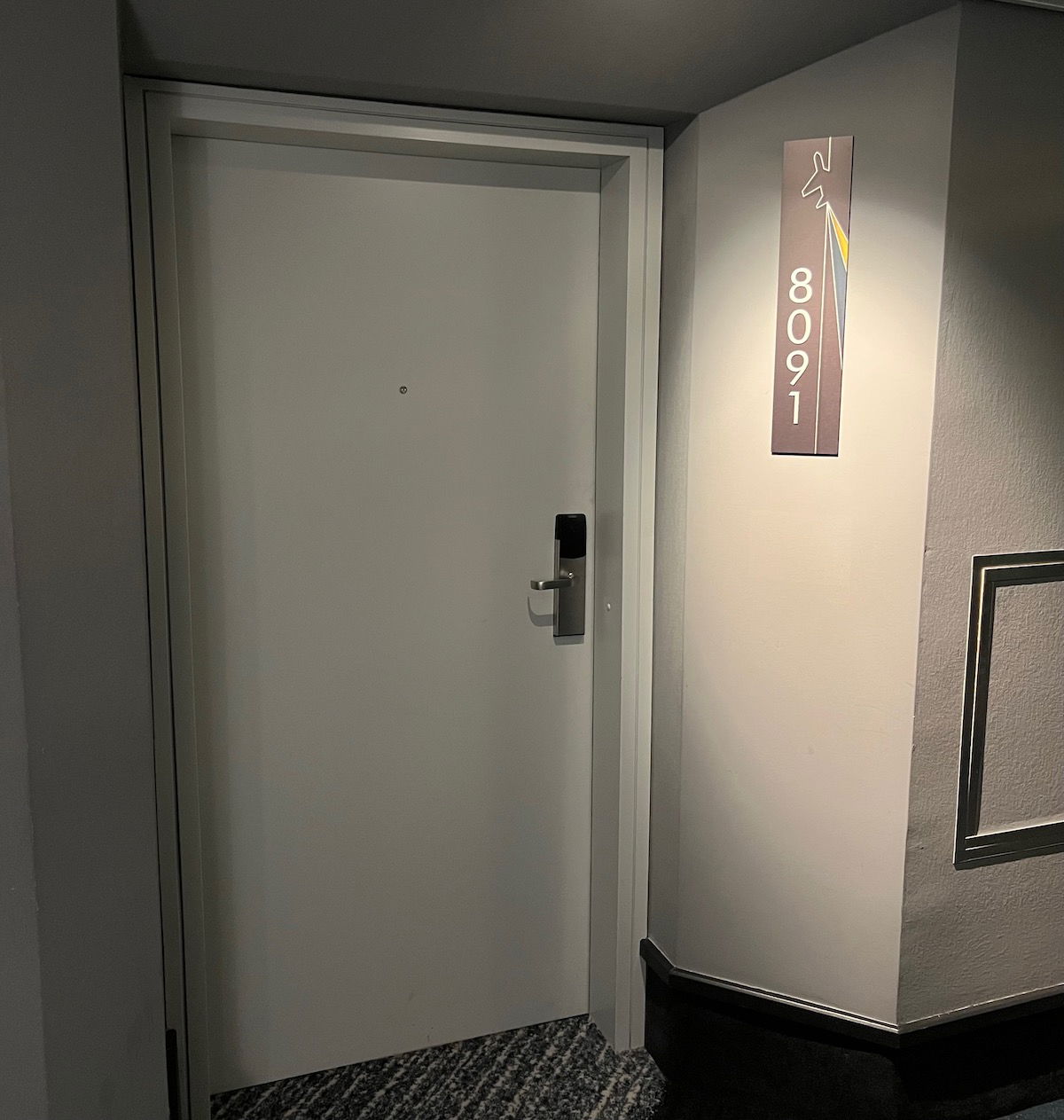 The Sheraton did a solid job with its renovation. My room with a king bed was around 300 square feet, and felt fresh and functional. The room had an entryway with the bathroom to the right and some closets and luggage storage to the left.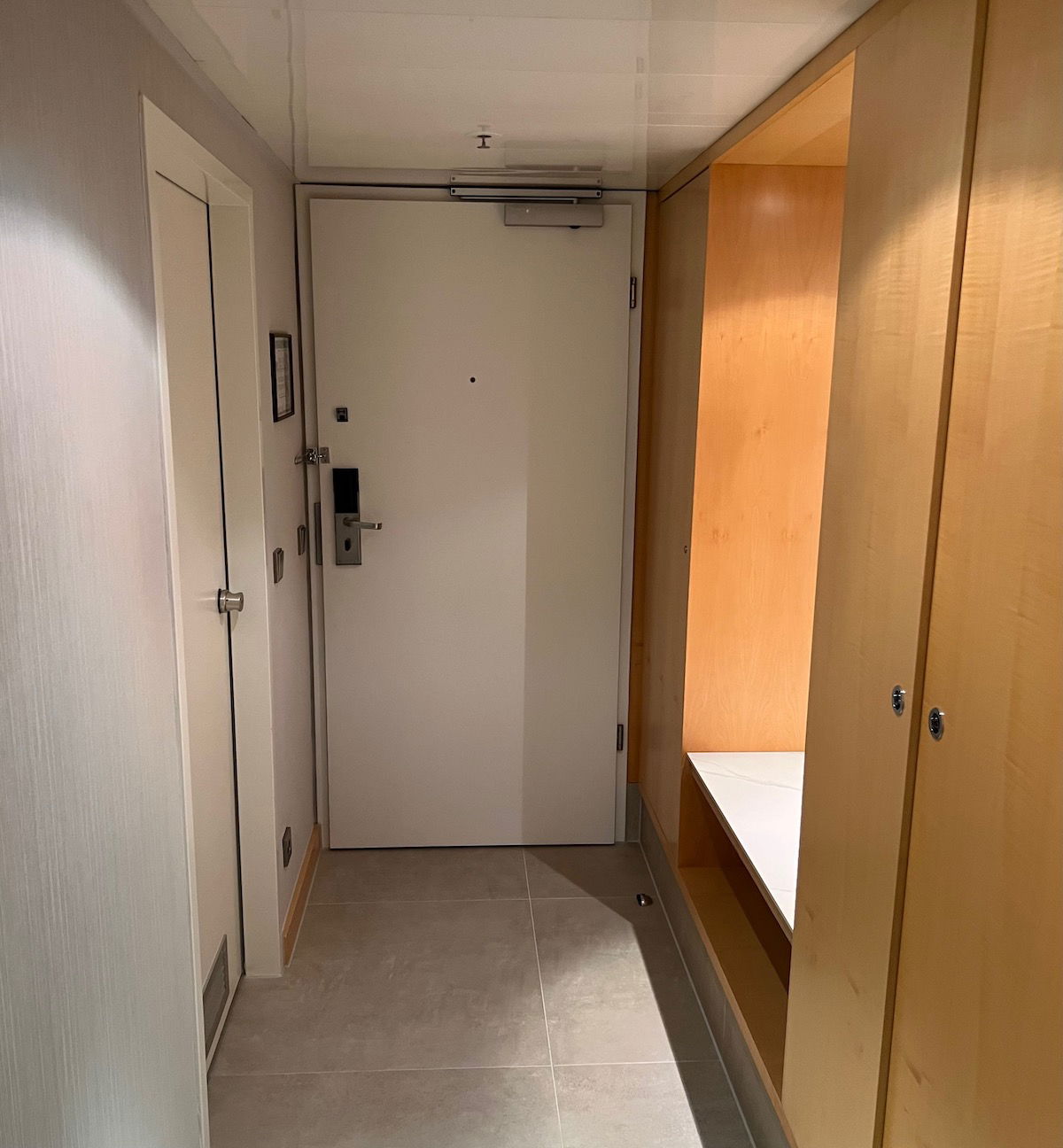 The bed was definitely a bit on the firm side, and I wish there were more than two flat pillows (and I was traveling alone!), but both of those are things that are pretty common in Germany.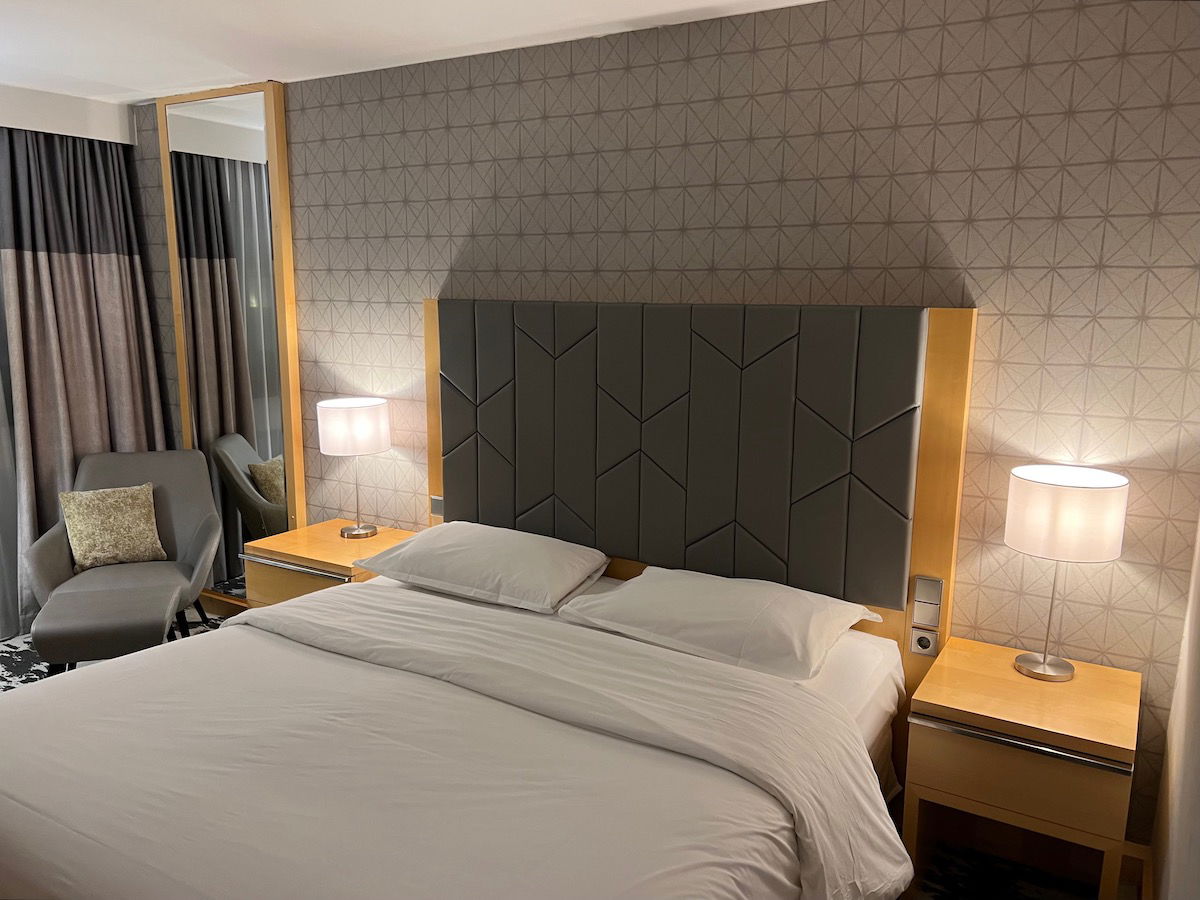 There was a dresser with a TV across from the bed, a desk with a chair, and a lounger with an ottoman in the corner.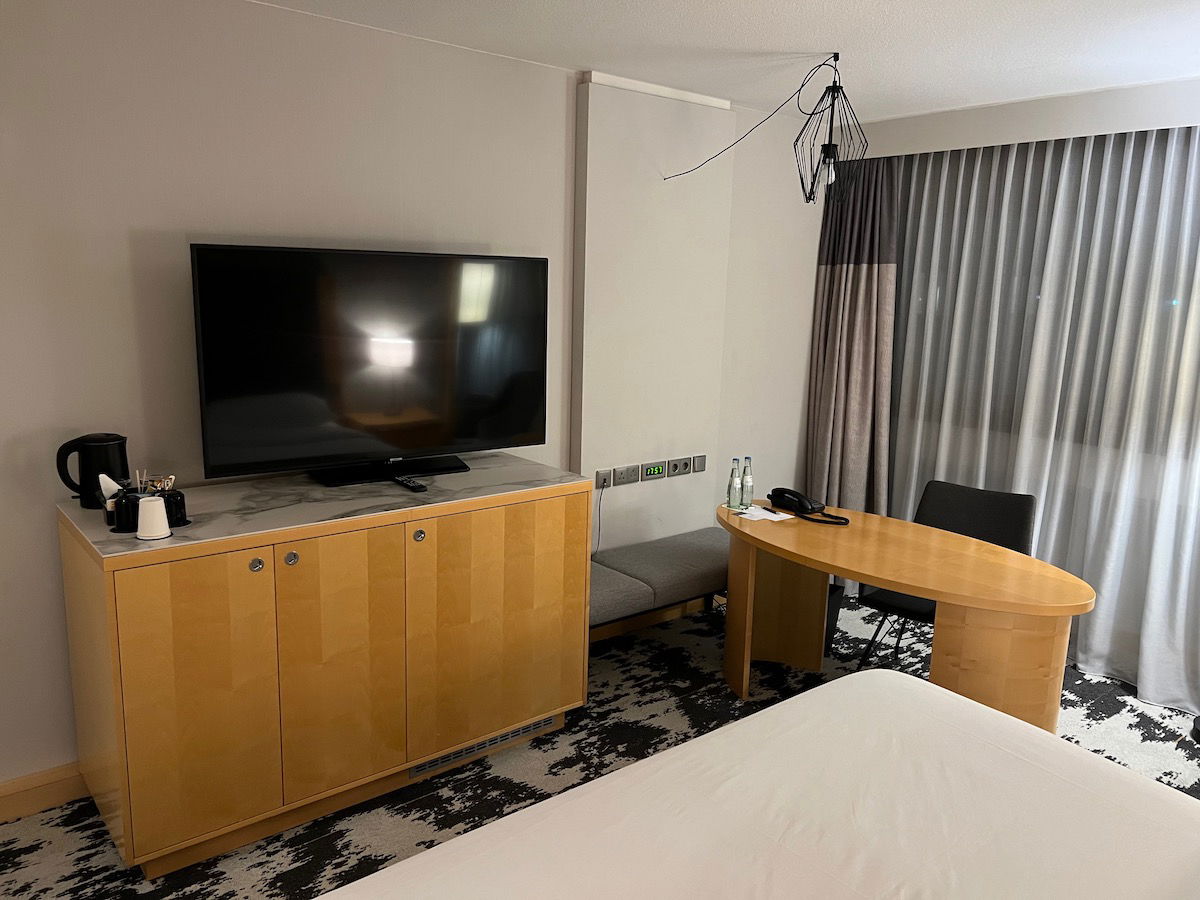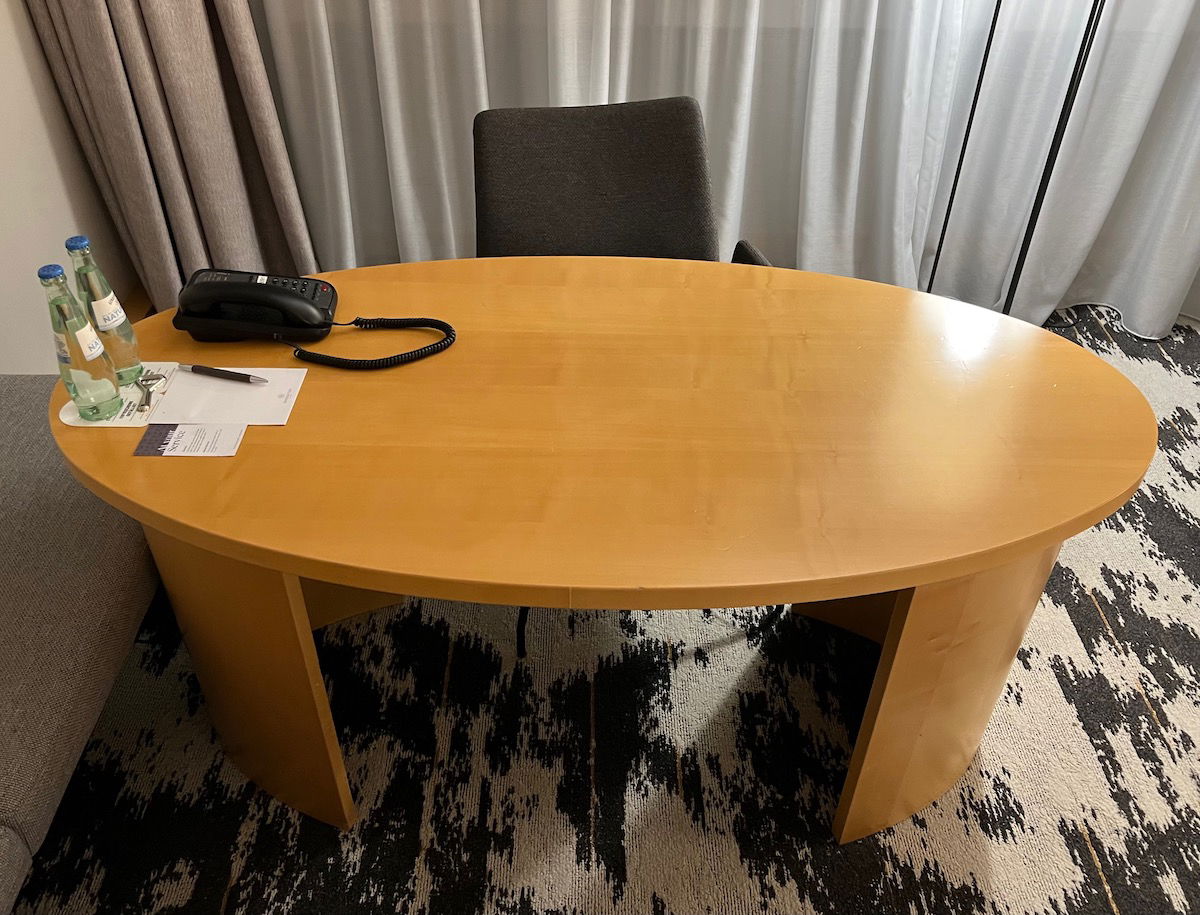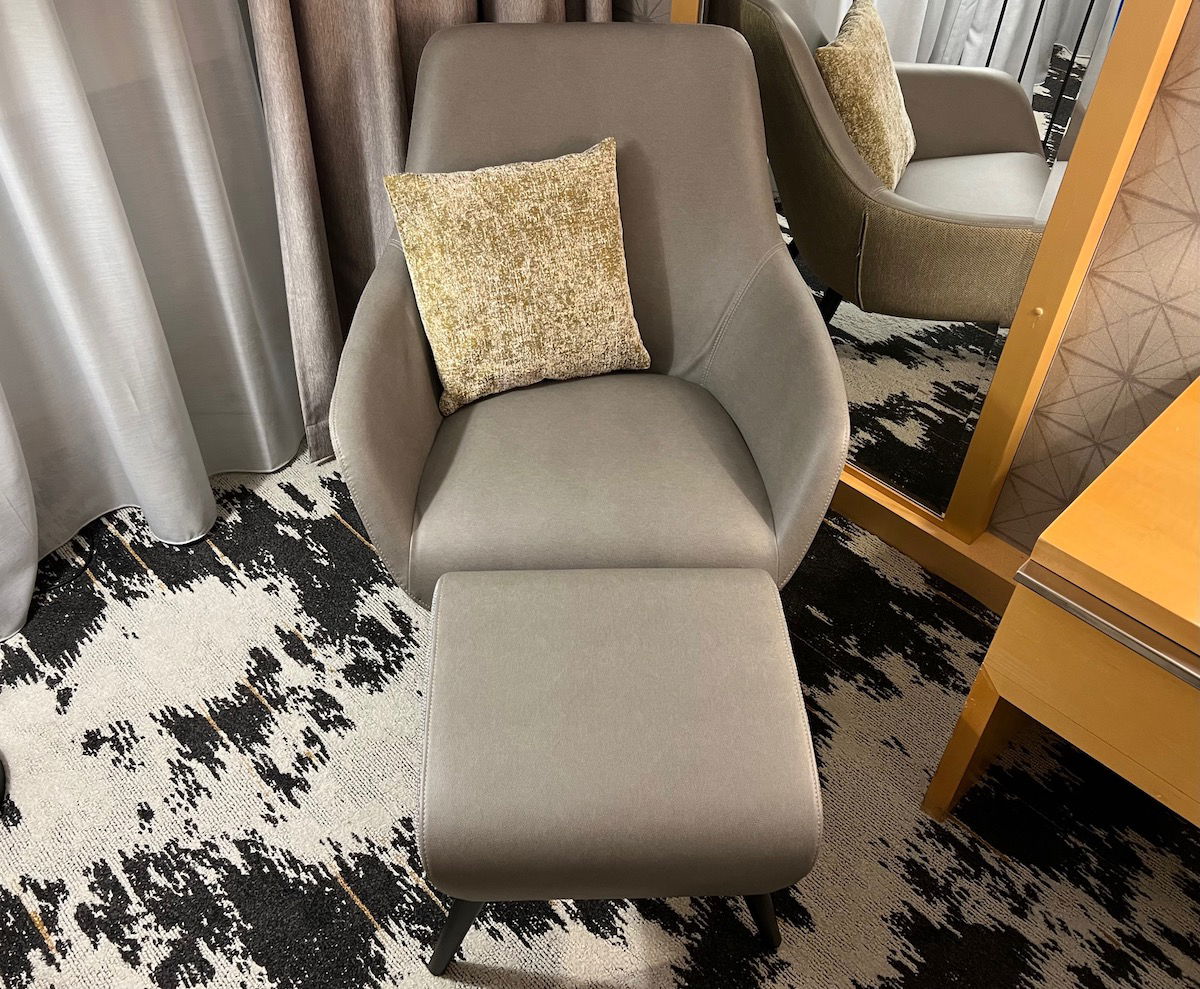 I thought the room decor was pretty fun, between the different textures and colors, and the carpet. It wasn't necessarily the most luxurious-feeling room ever, but it's much less drab than it was before the renovation, and I imagine this was all done on a budget.
Waiting in the room on the desk were two bottles of water, as well as a kettle with some instant coffee and tea.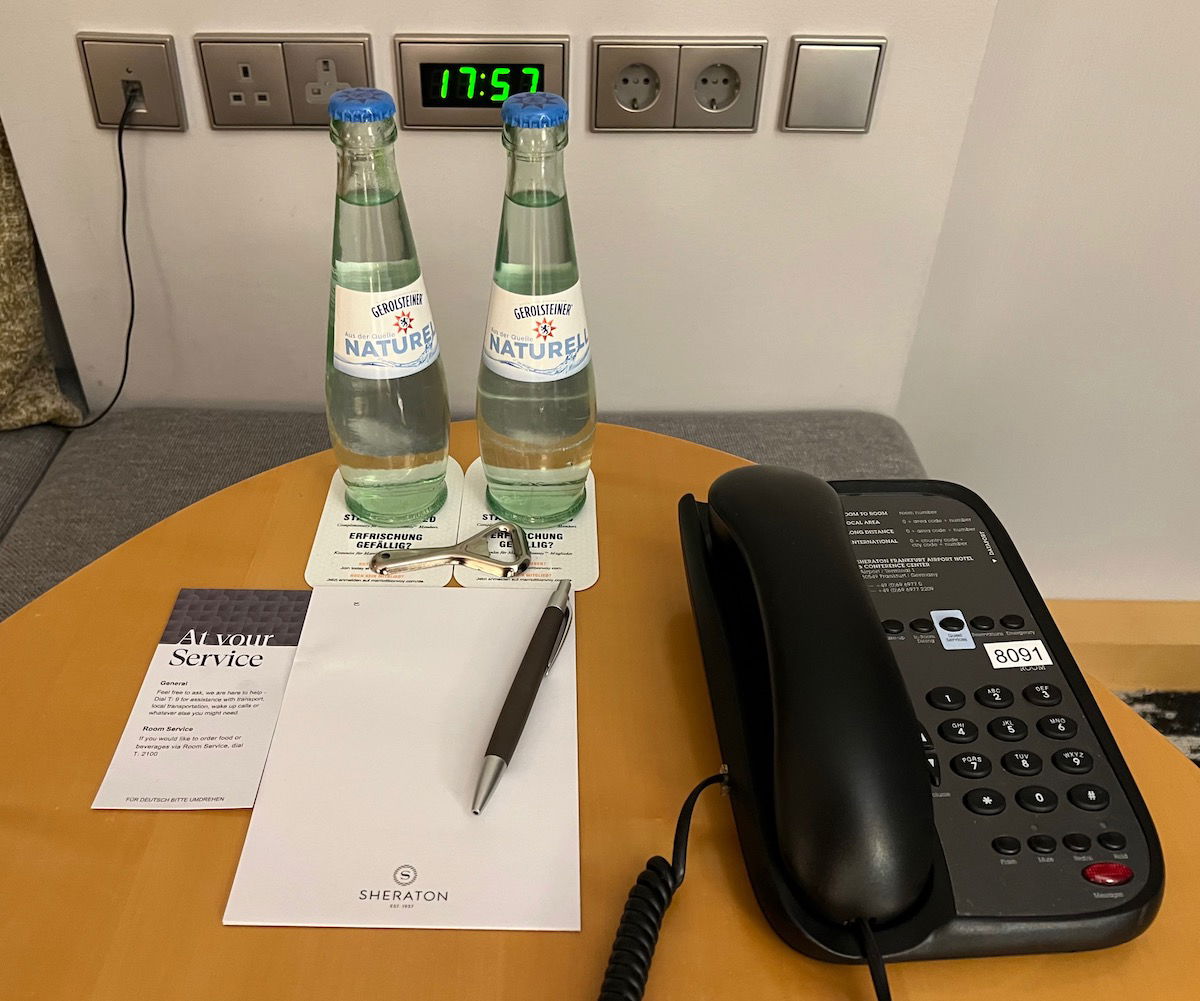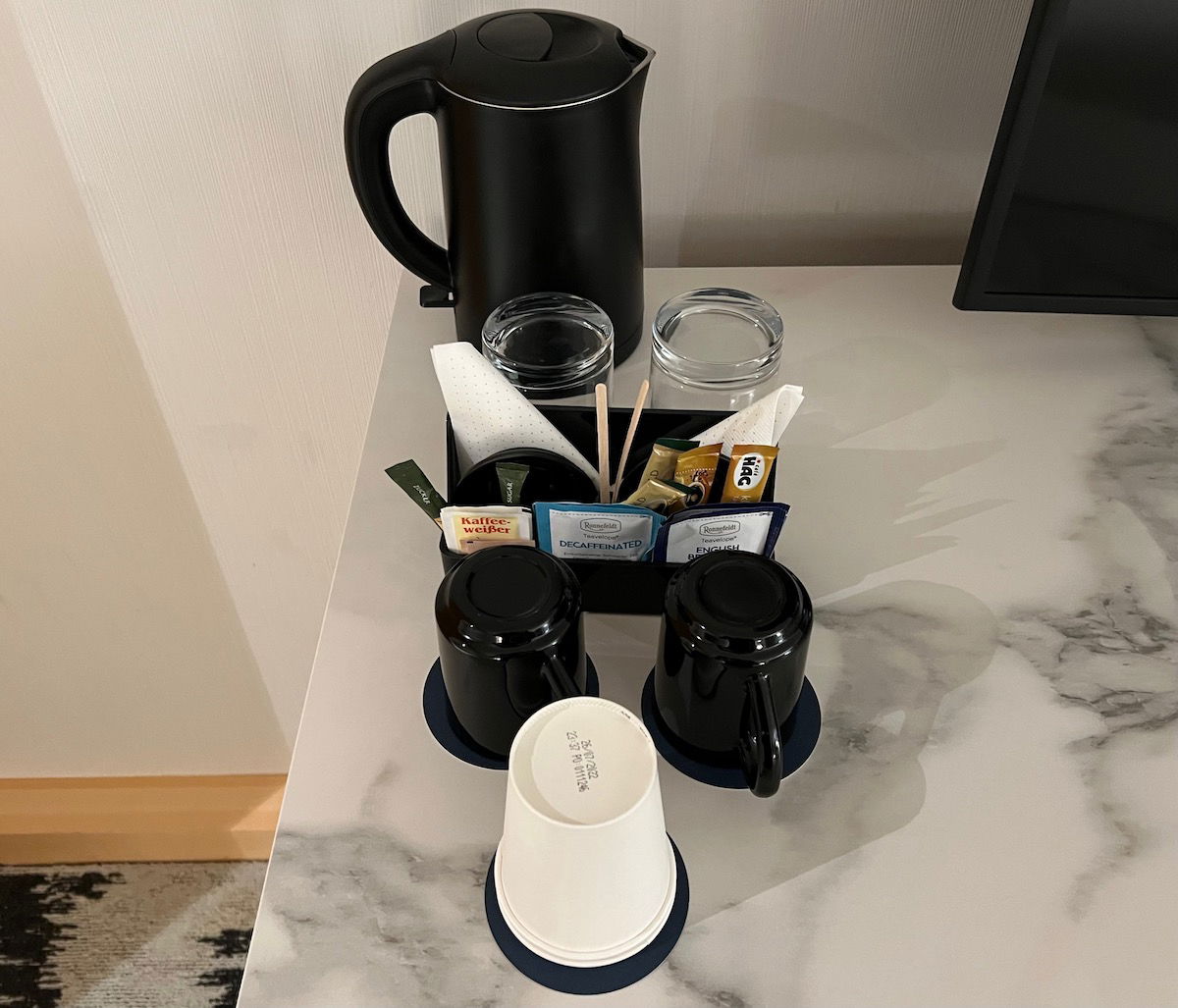 There was also a mini-fridge, which was empty.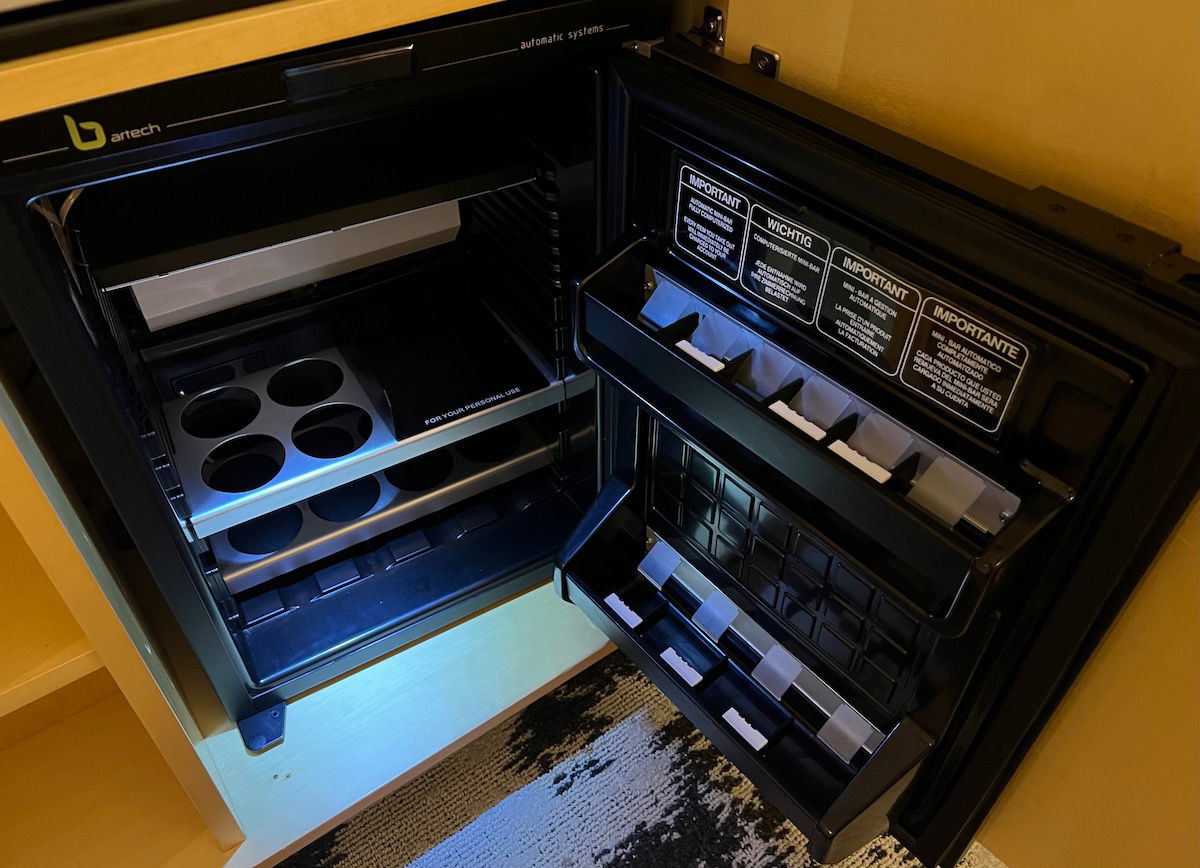 The bathroom was also nicely renovated, with a backlit circular mirror, a sink, a toilet, and a walk-in shower (which annoyingly only had half of a glass shield and then opened into the rest of the bathroom, which I don't love).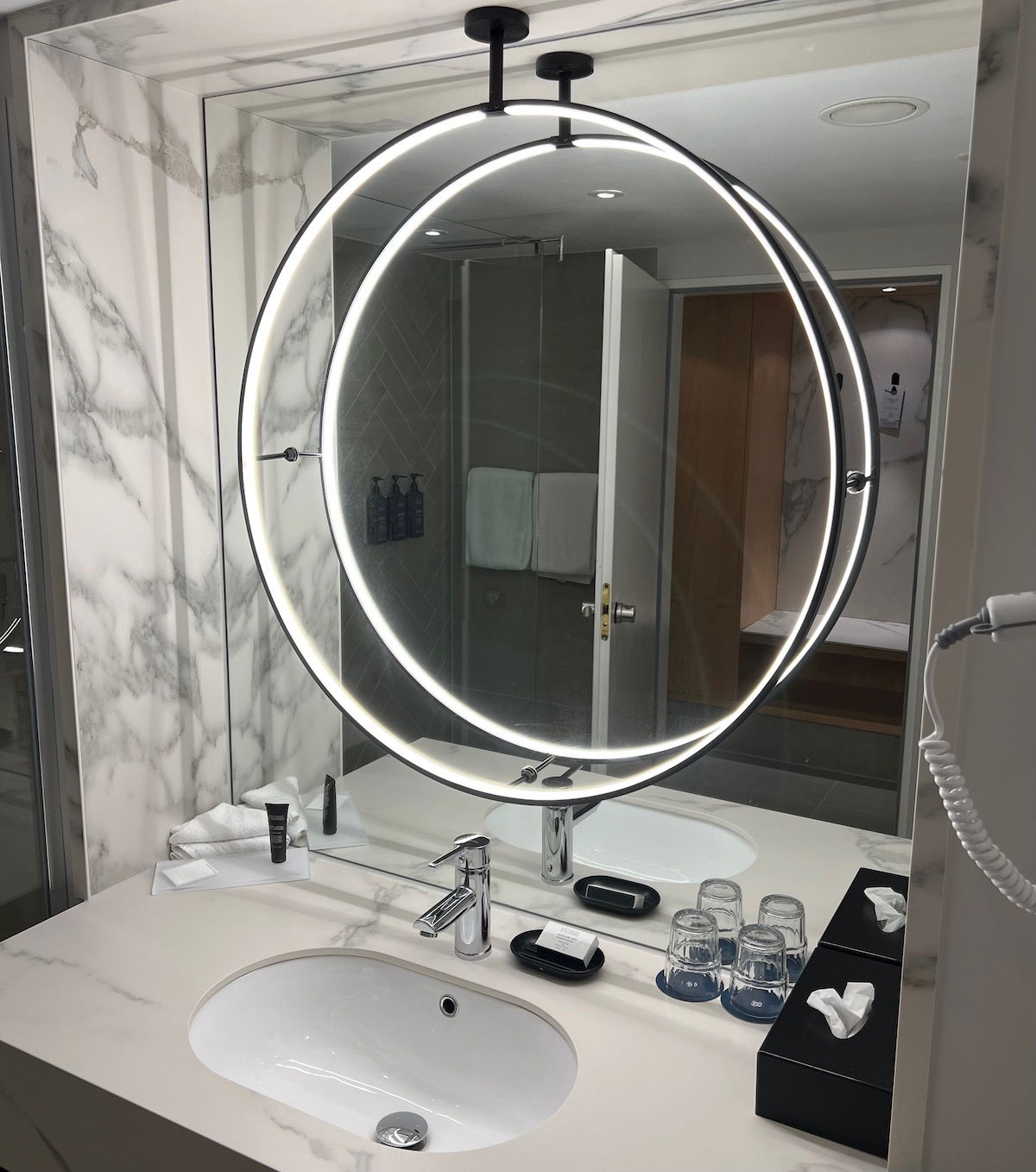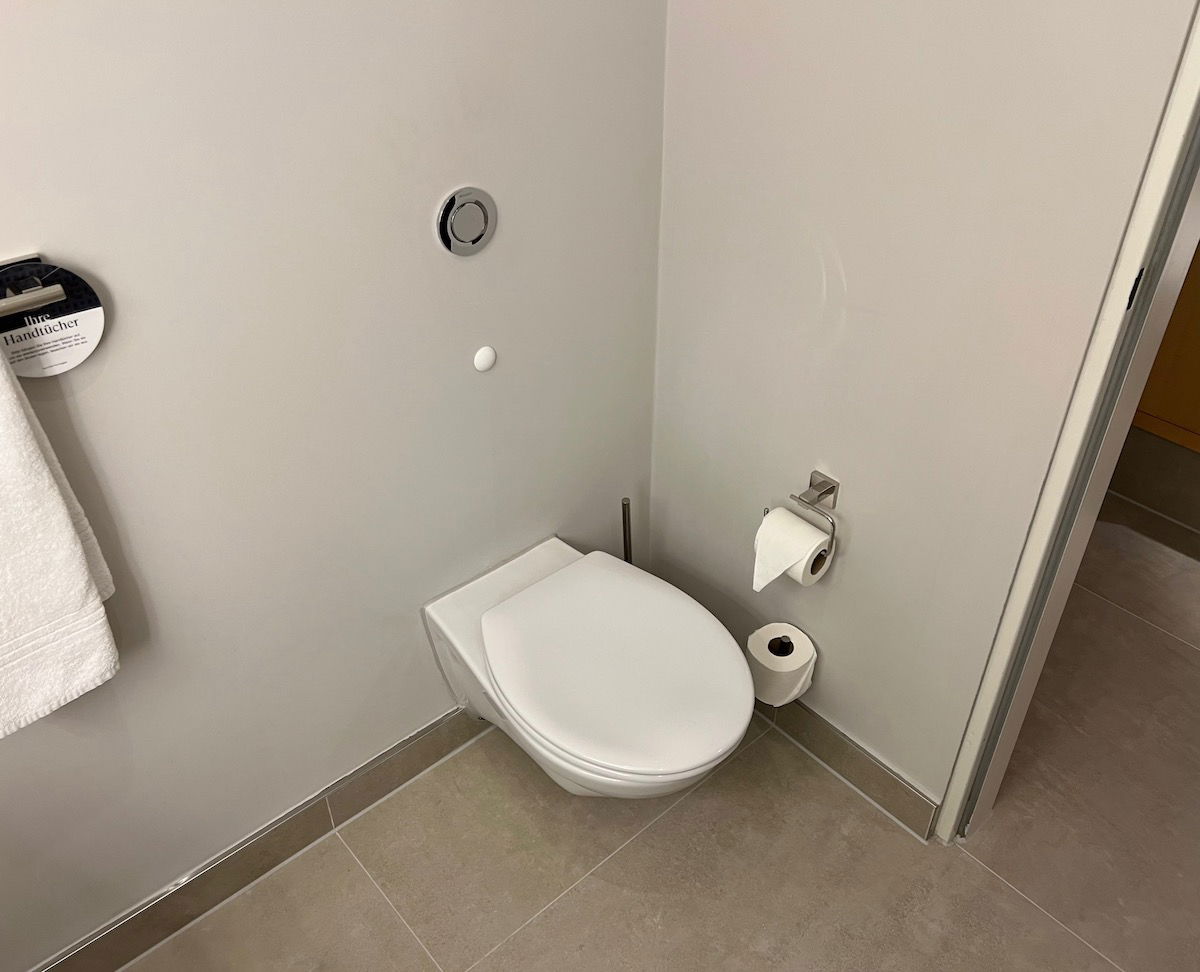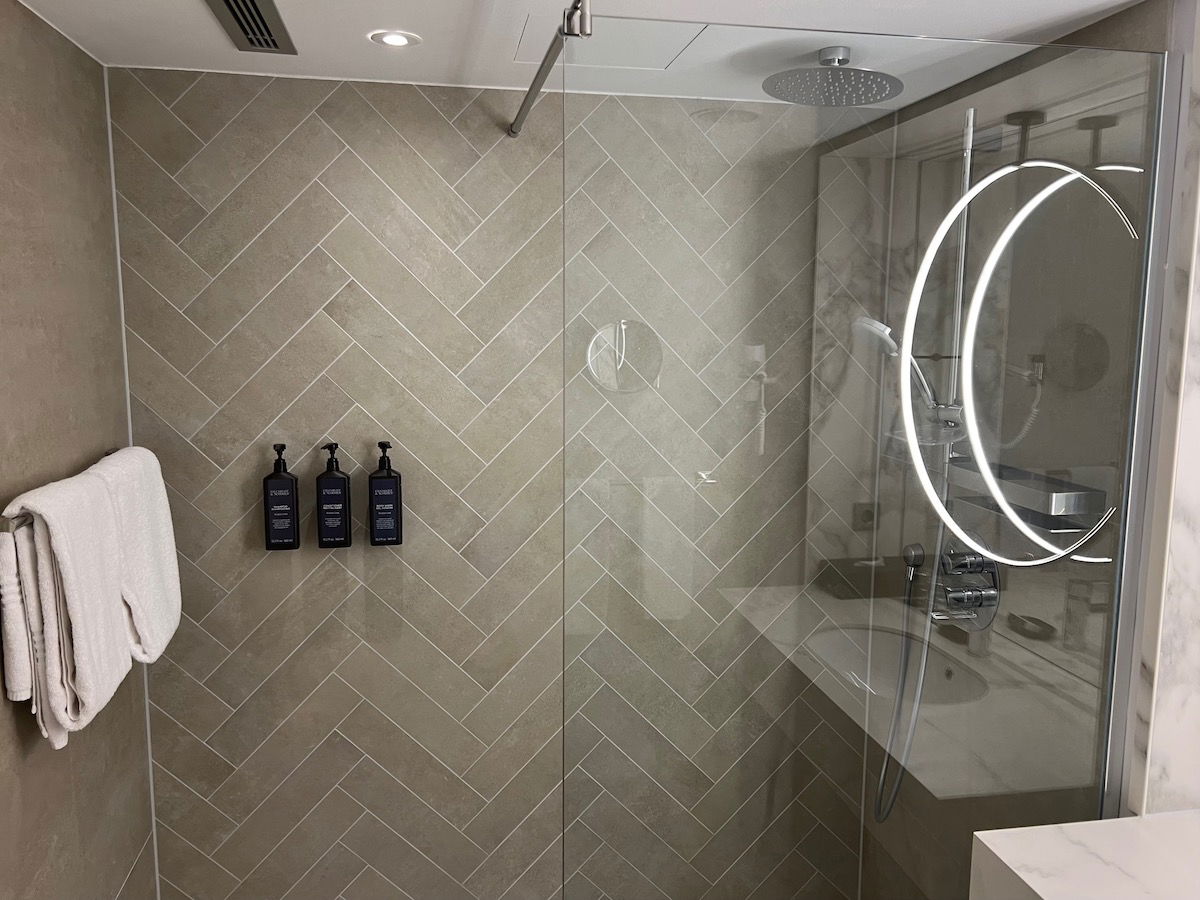 Toiletries were in wall-mounted reusable containers from Gilchrist & Soames.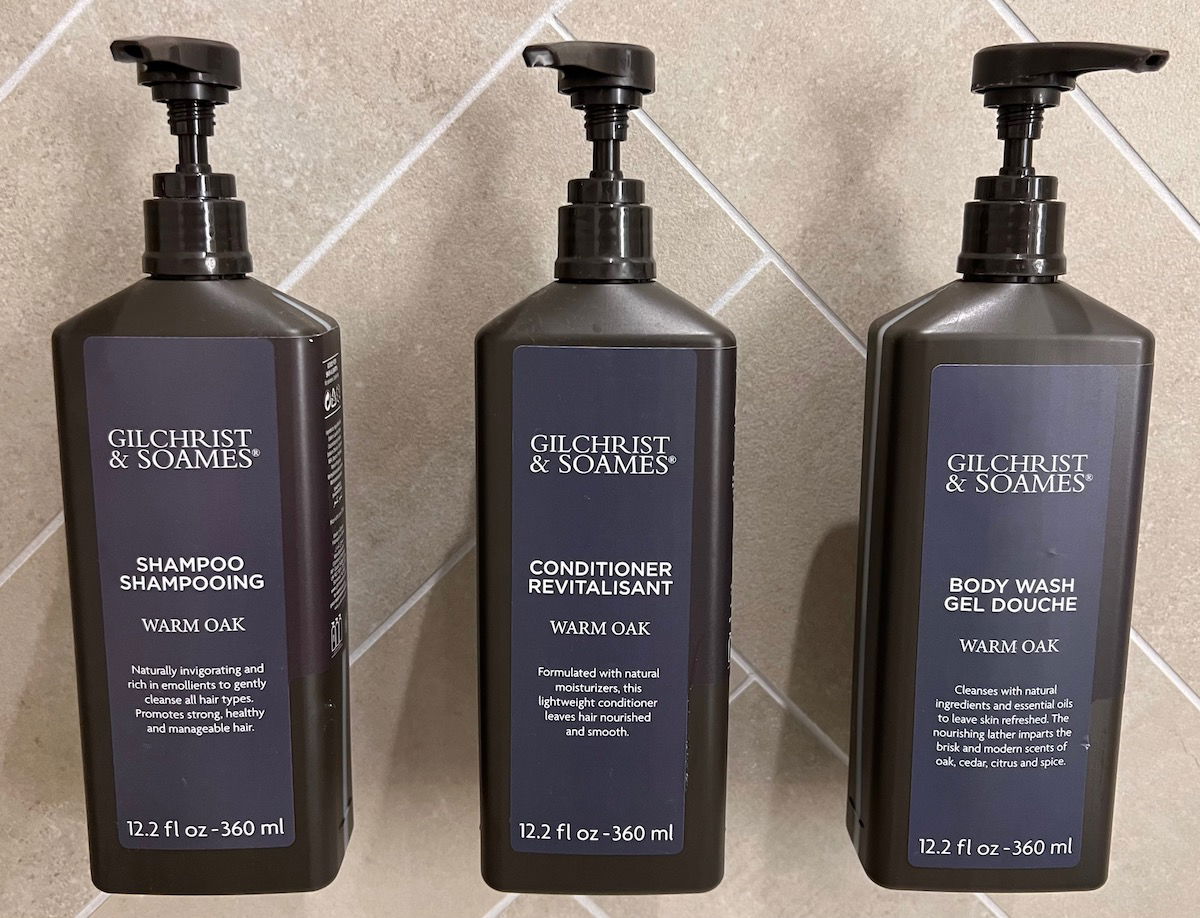 In terms of views, my room faced the Terminal 1 check-in area, and I could see some planes in the distance.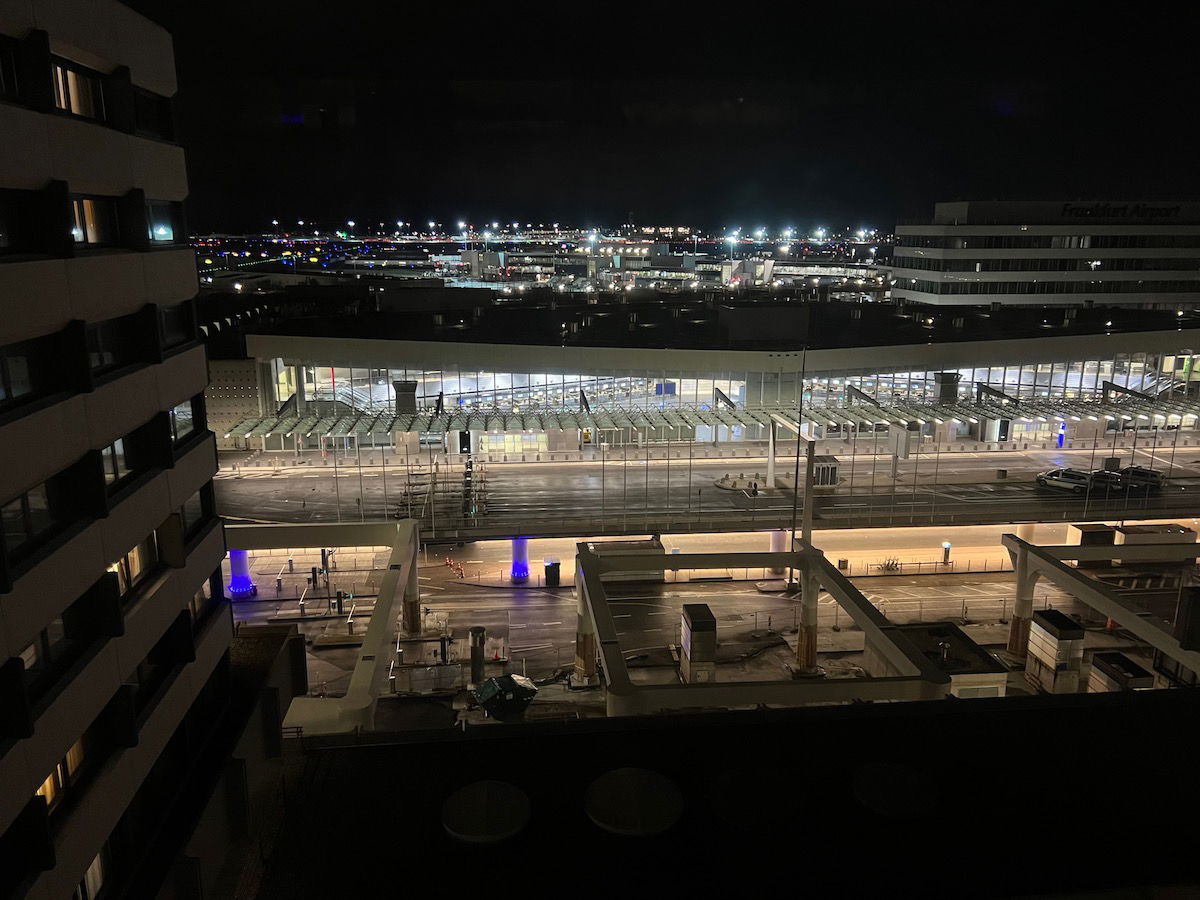 This is much better than the pre-2020 Sheraton, so kudos to the hotel on the renovation. I'd say that the adjacent Marriott still feels a bit more premium, but this was nice.
One other thing to note is that temperature controls in the rooms are fairly limited. This wasn't an issue during this stay (since it was winter and cold), but it can be tricky if it's warm outside. The hotel only turns on air conditioning certain times of the year, so in the spring or fall you may find yourself in an uncomfortably warm room (at least by US standards).
Sheraton Frankfurt Airport club lounge
The evolution of the club lounge situation at the Sheraton Frankfurt Airport is strange to me:
The former club lounge is in the location of what's now the Marriott; that club lounge was fully renovated, but sits empty, and isn't being used by the Marriott for the time being (I have such fond memories of this lounge, as I spent countless hours there over the years)
The Sheraton club lounge is now located down the hall from the lobby
Both the Marriott and Sheraton send their guests to the Sheraton club lounge
While the club lounge is great, I don't get why they don't instead send all guests to the Marriott club lounge, since it has much nicer views, and more natural light. I suppose they don't want extra traffic in the Marriott elevators, but one has to wonder if the Marriott club lounge may eventually open or if it'll just stay closed forever.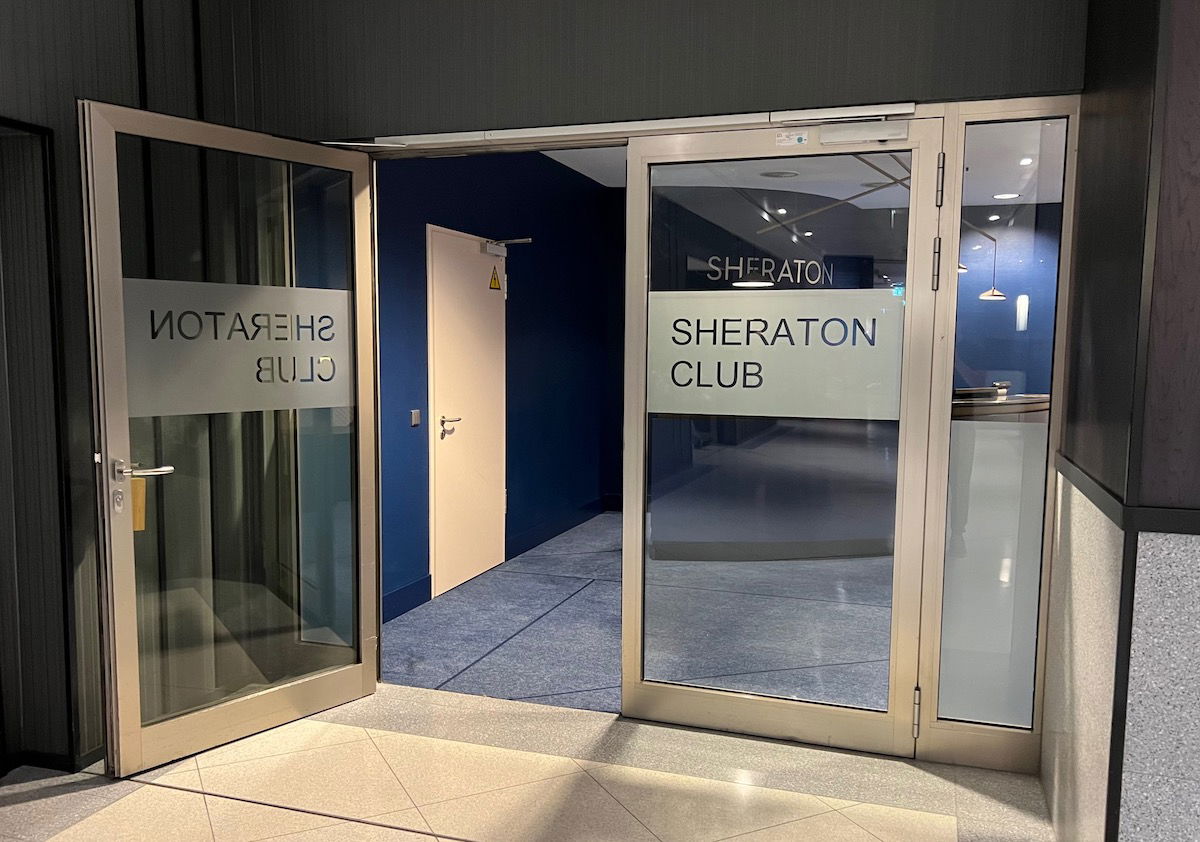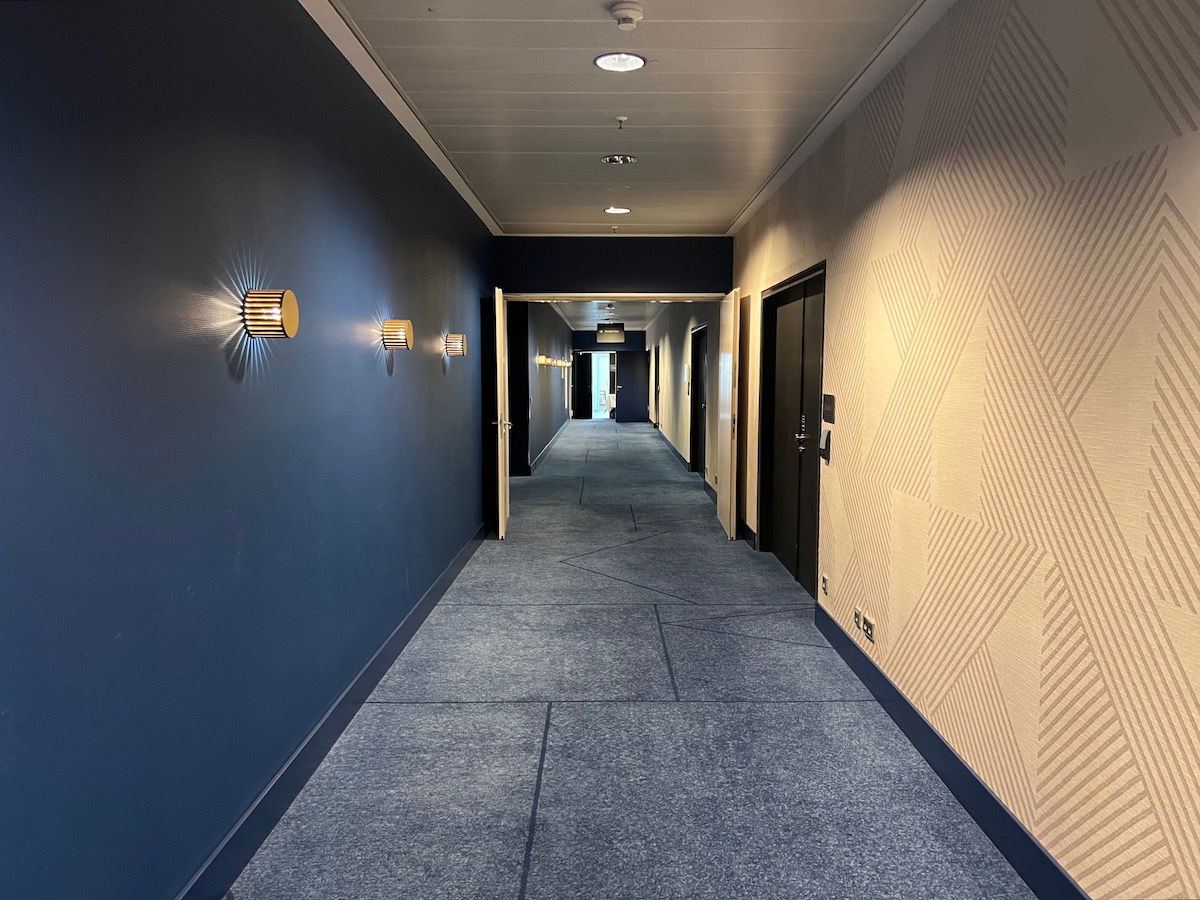 While I preferred the location on a higher floor, this is still a really solid club lounge. I liked the decor, and the variety of seating options, from couches, to communal tables, to dining tables.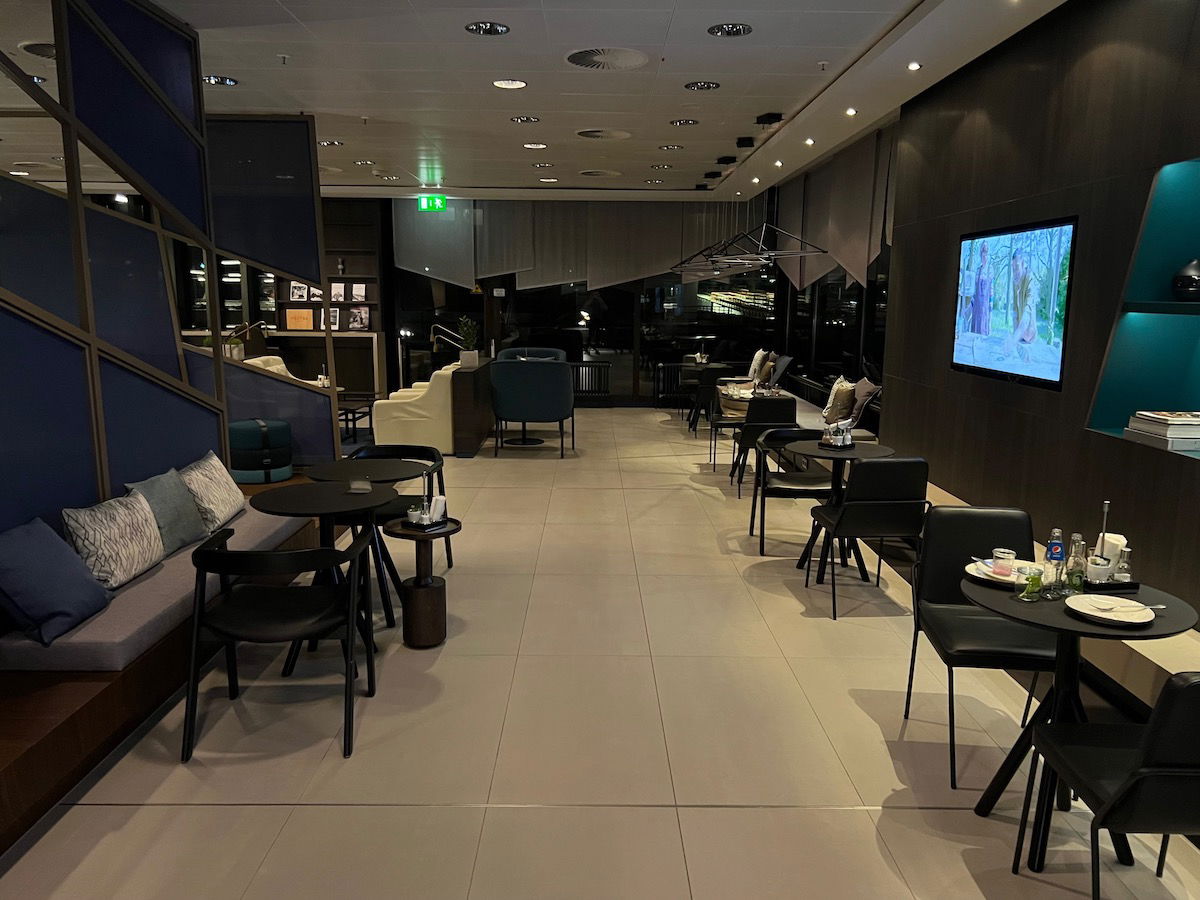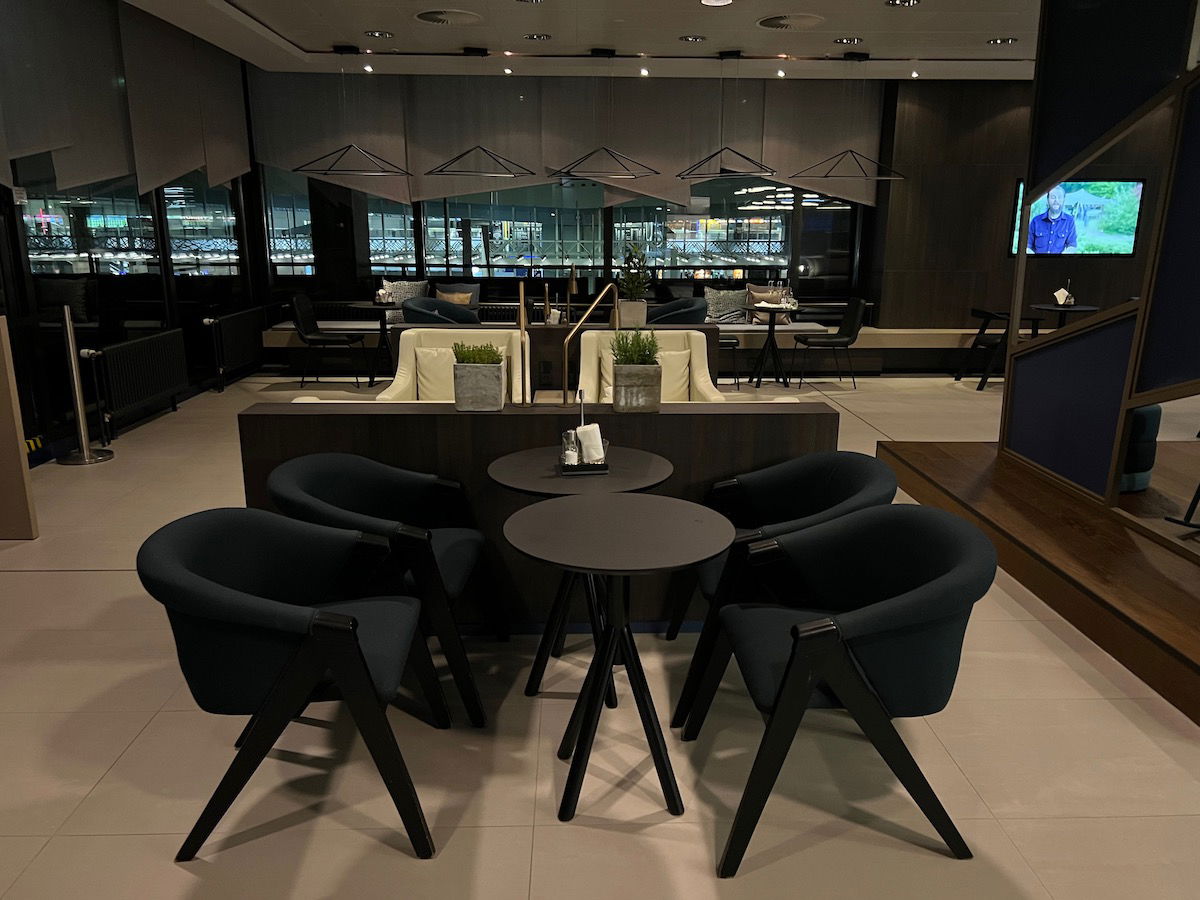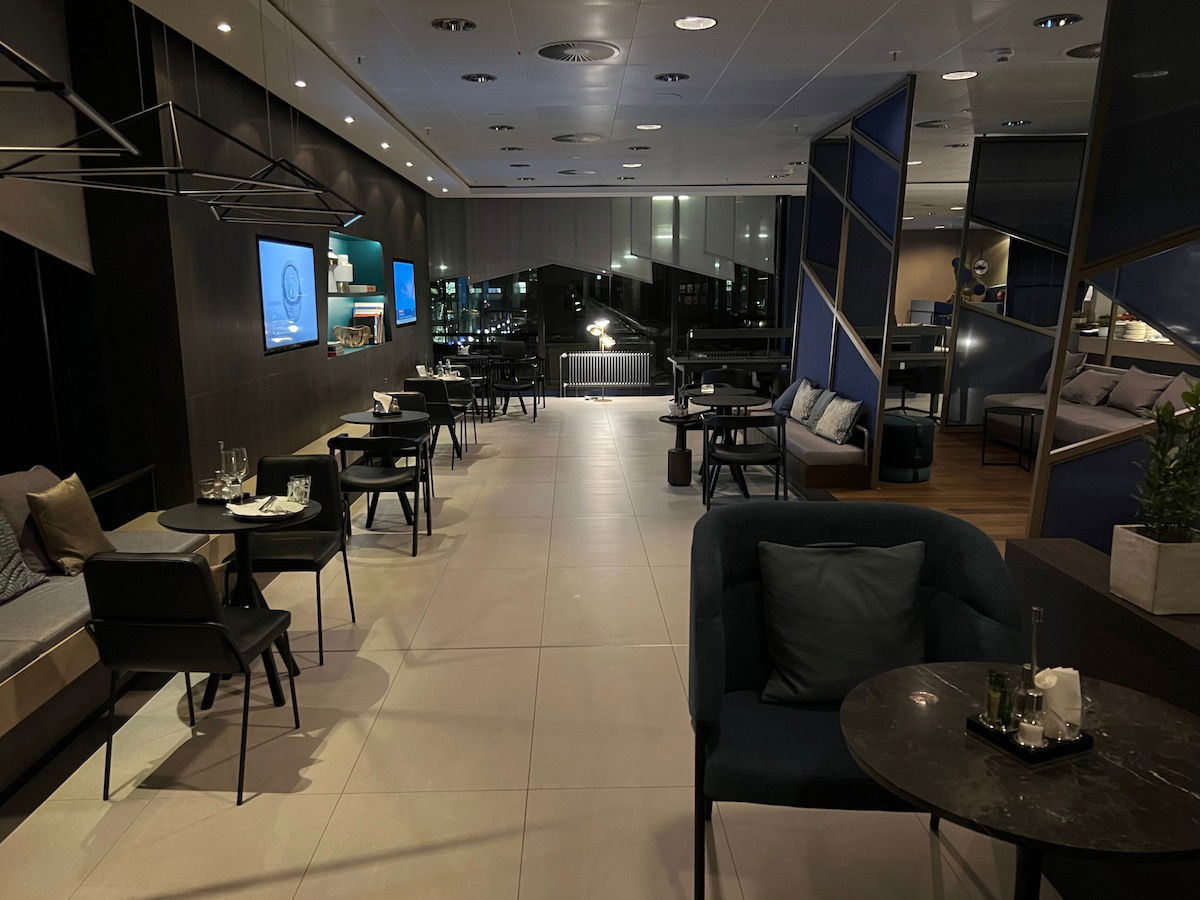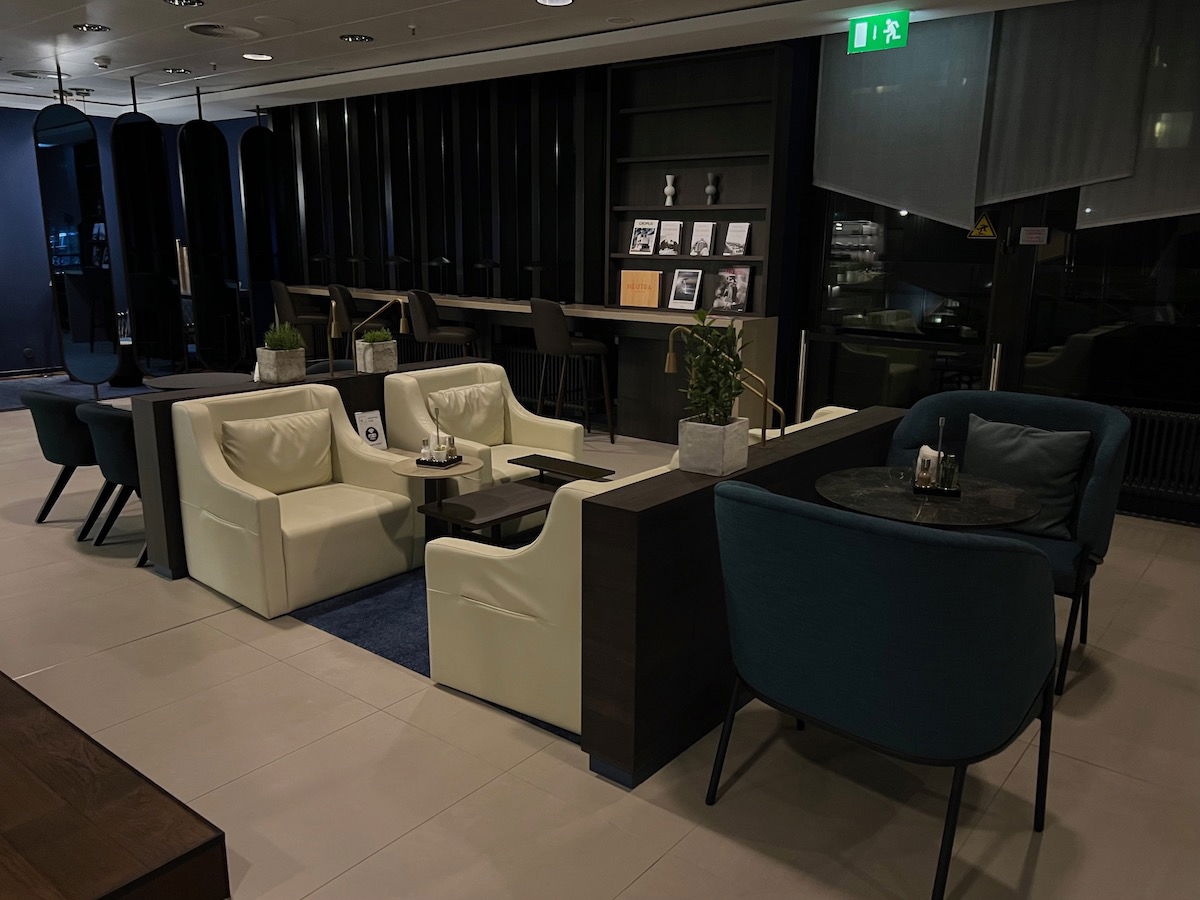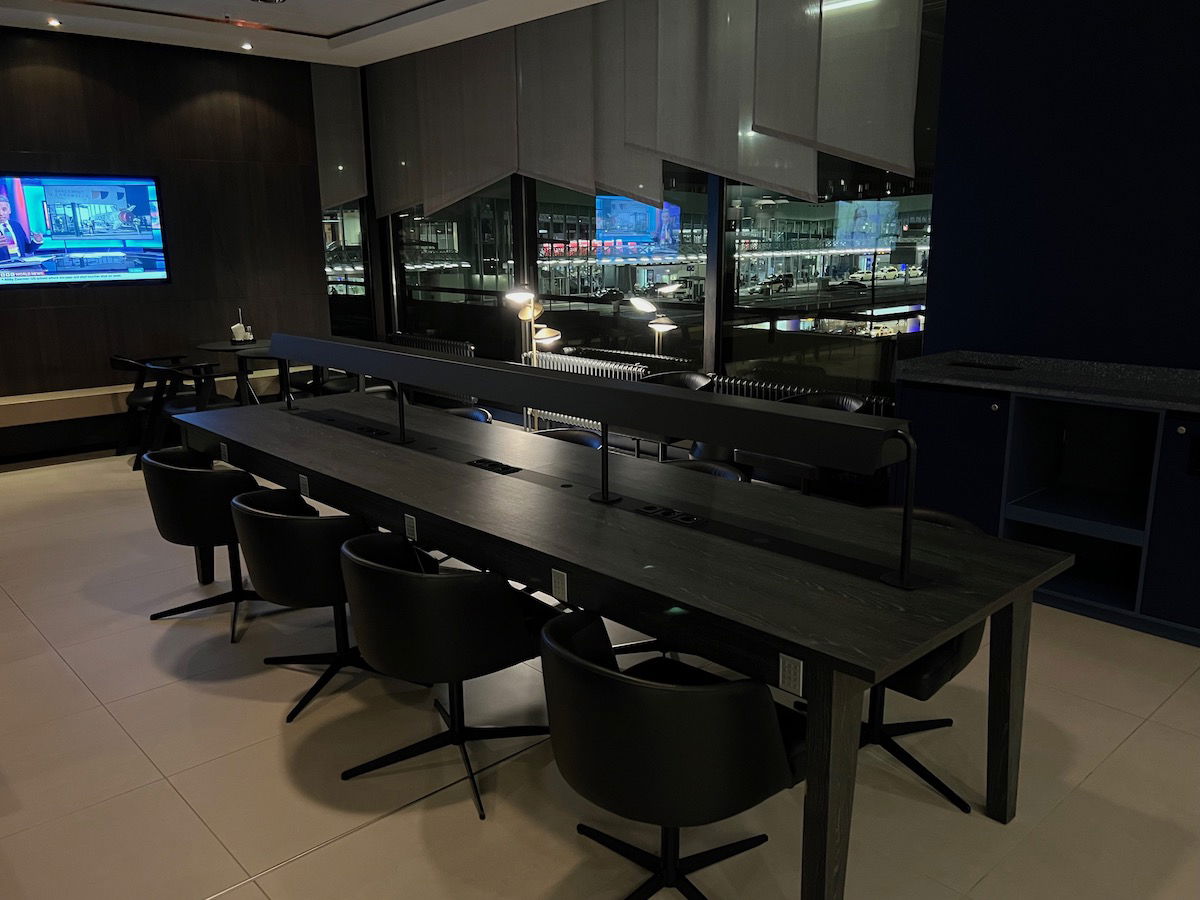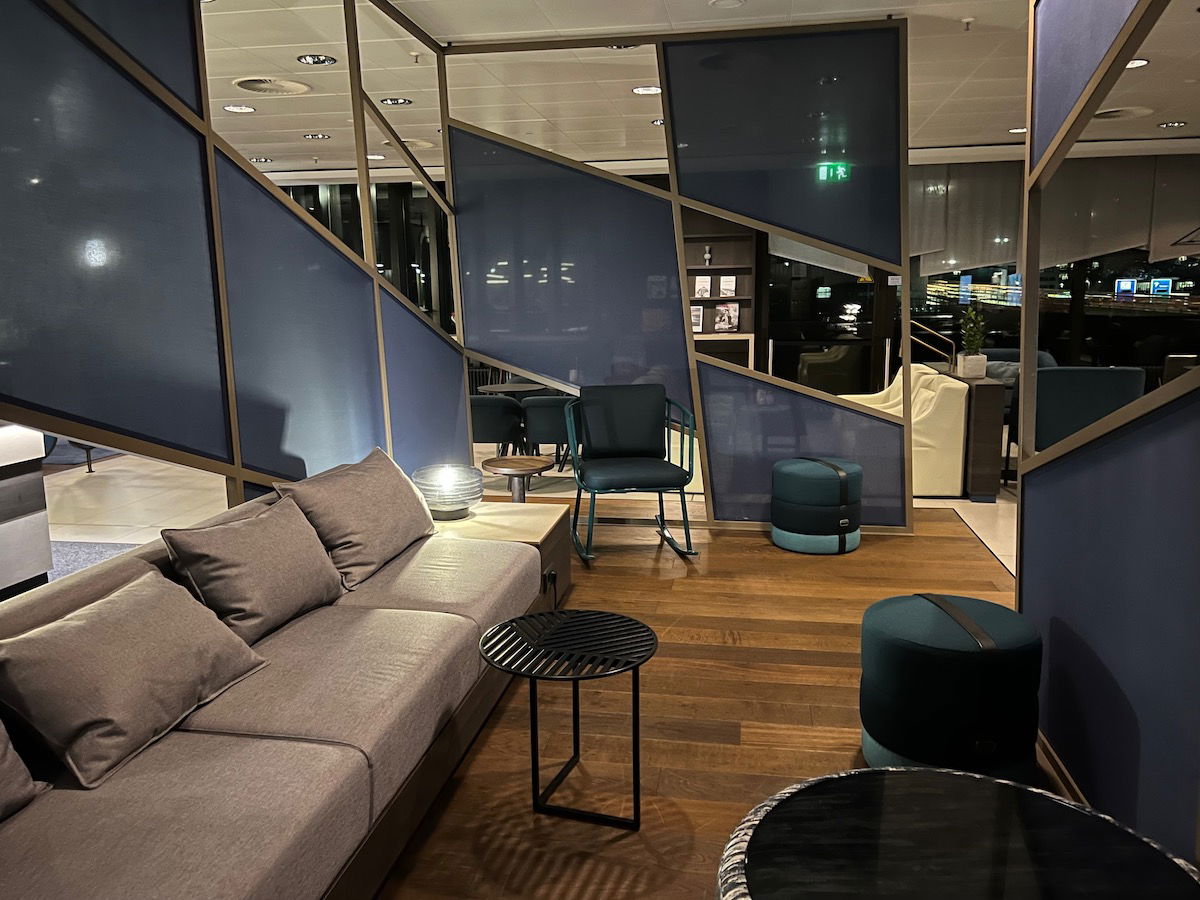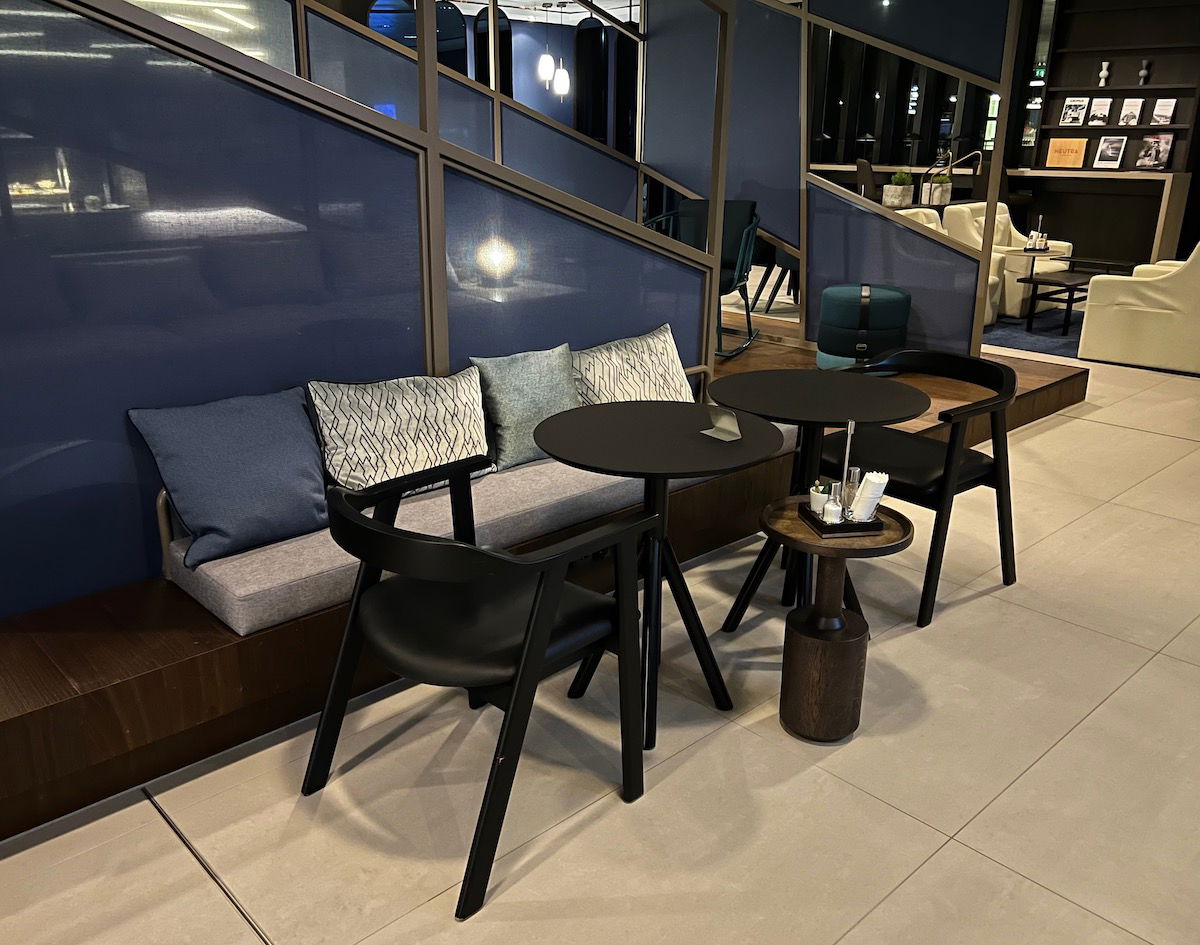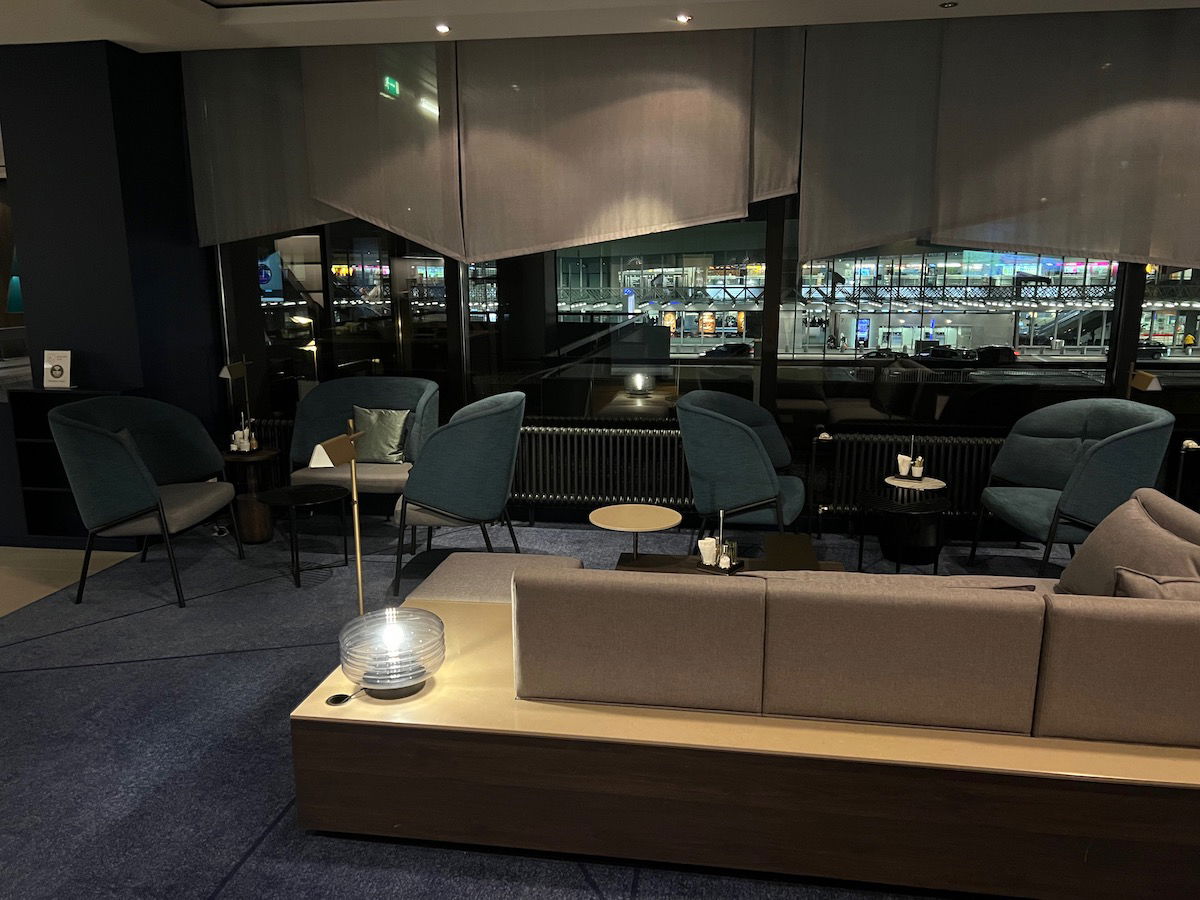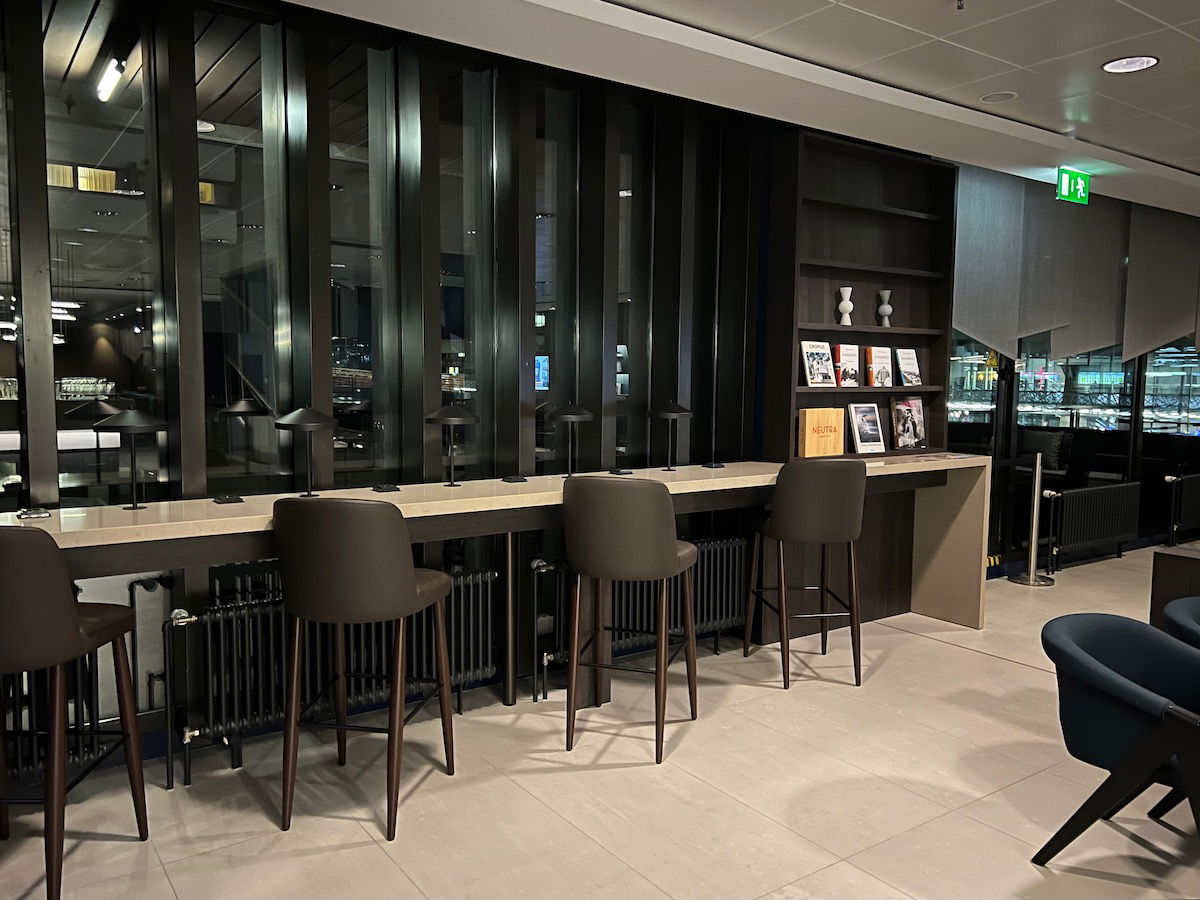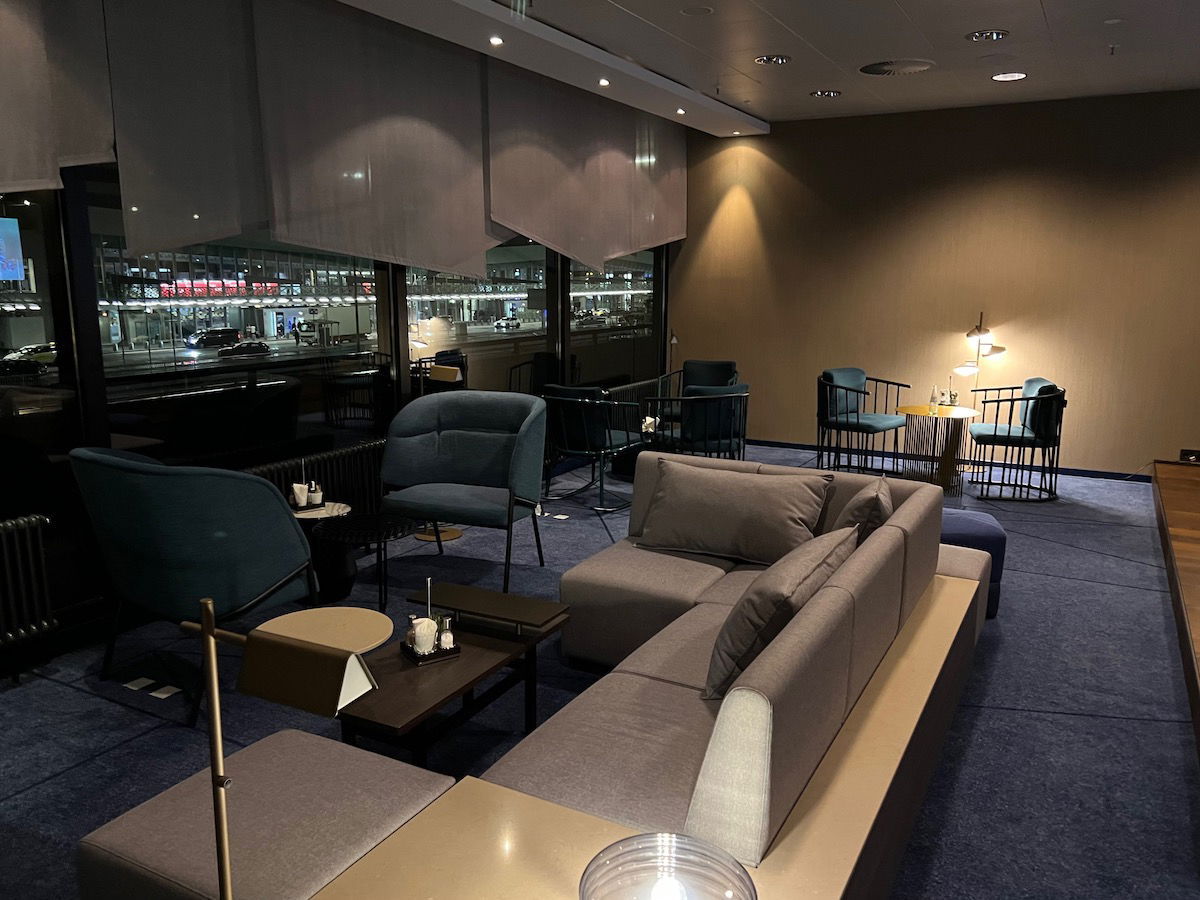 After arriving at the hotel, I headed down for the nightly spread. The Sheraton Frankfurt Airport has its evening happy hour from 5PM until 10PM, with most food being available until 8PM, and then dessert being available after that.
I'm happy to see that the buffet at the Sheraton Frankfurt Airport club lounge is every bit as good as back in the day. If you're used to Sheraton club lounges in the United States, you'll be blown away.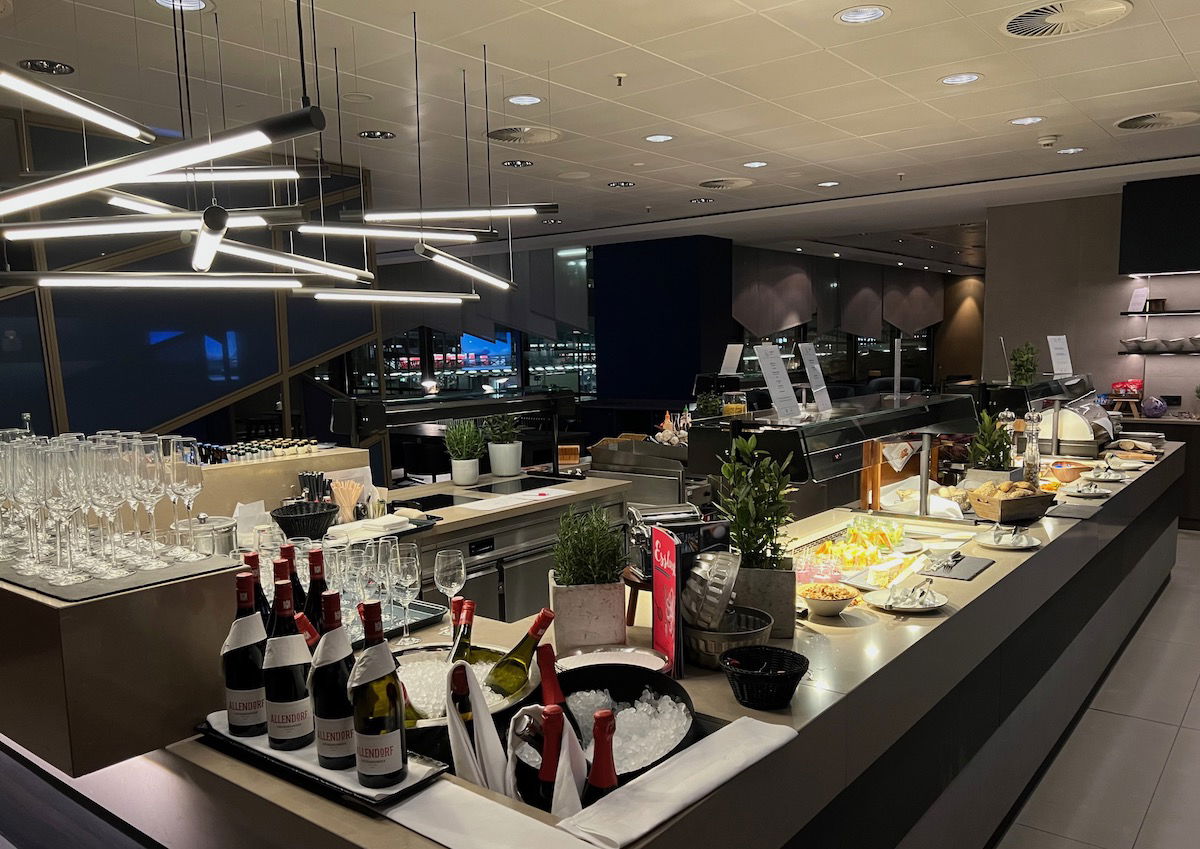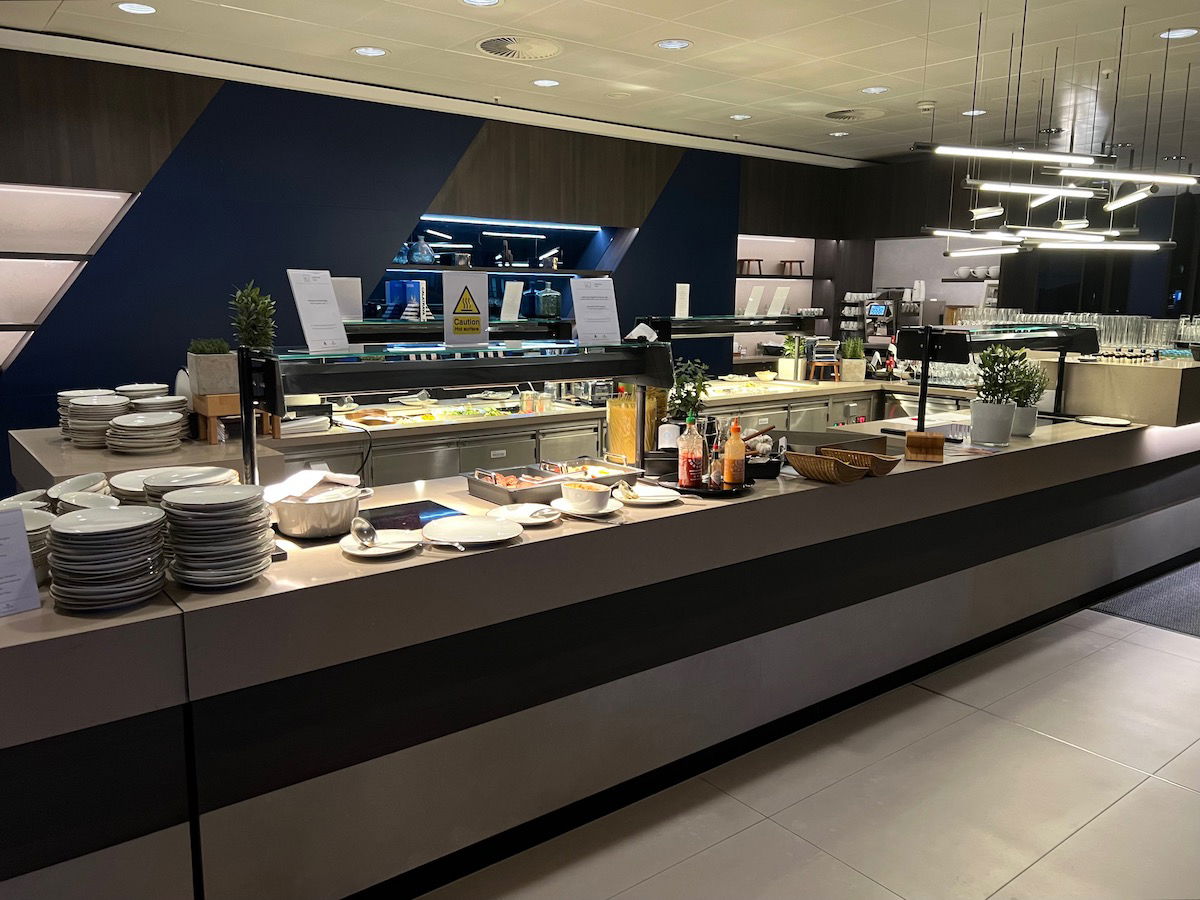 The food selection was extensive, with veggies, sandwiches, several salads, cheese, desserts, bread, soup, and two additional hot dishes. You could easily have a filling dinner here if you'd like.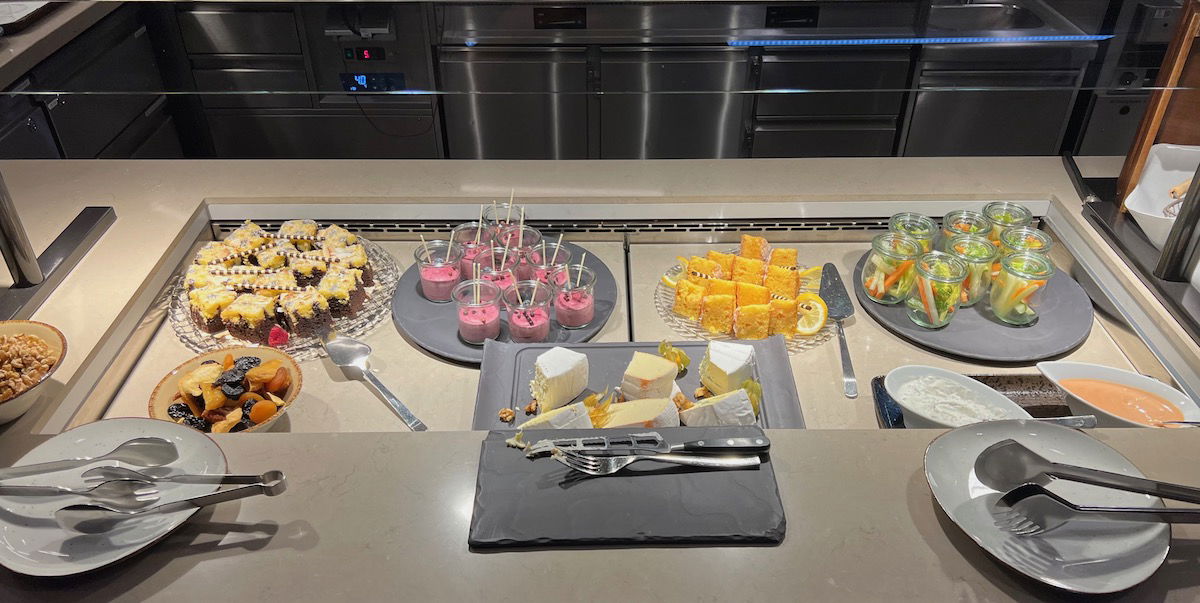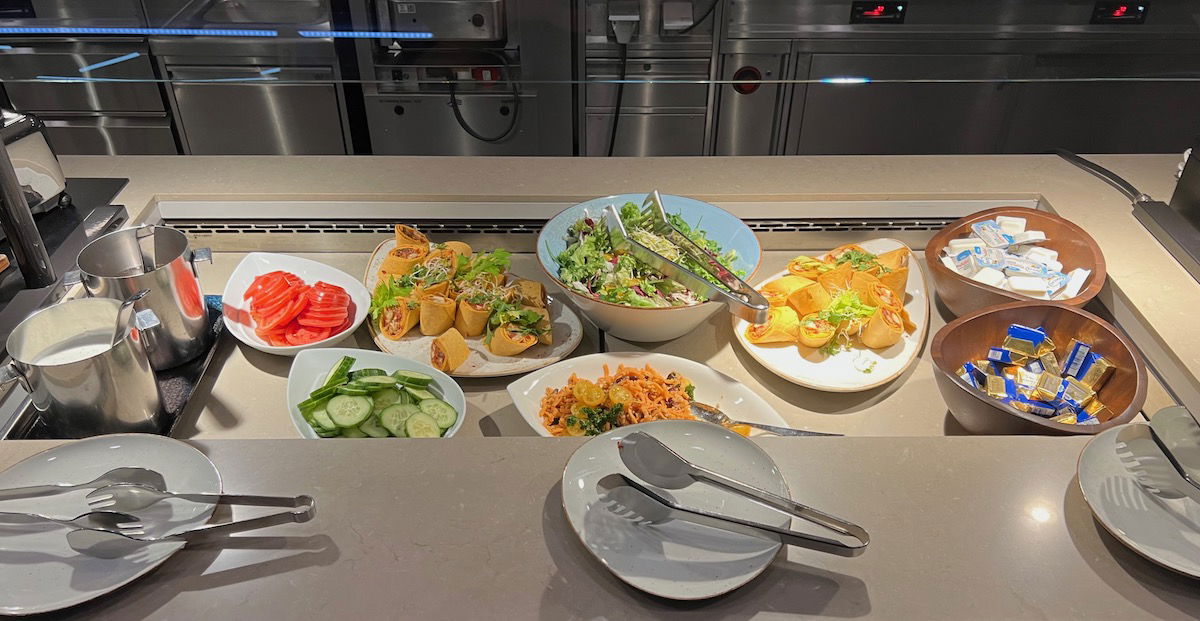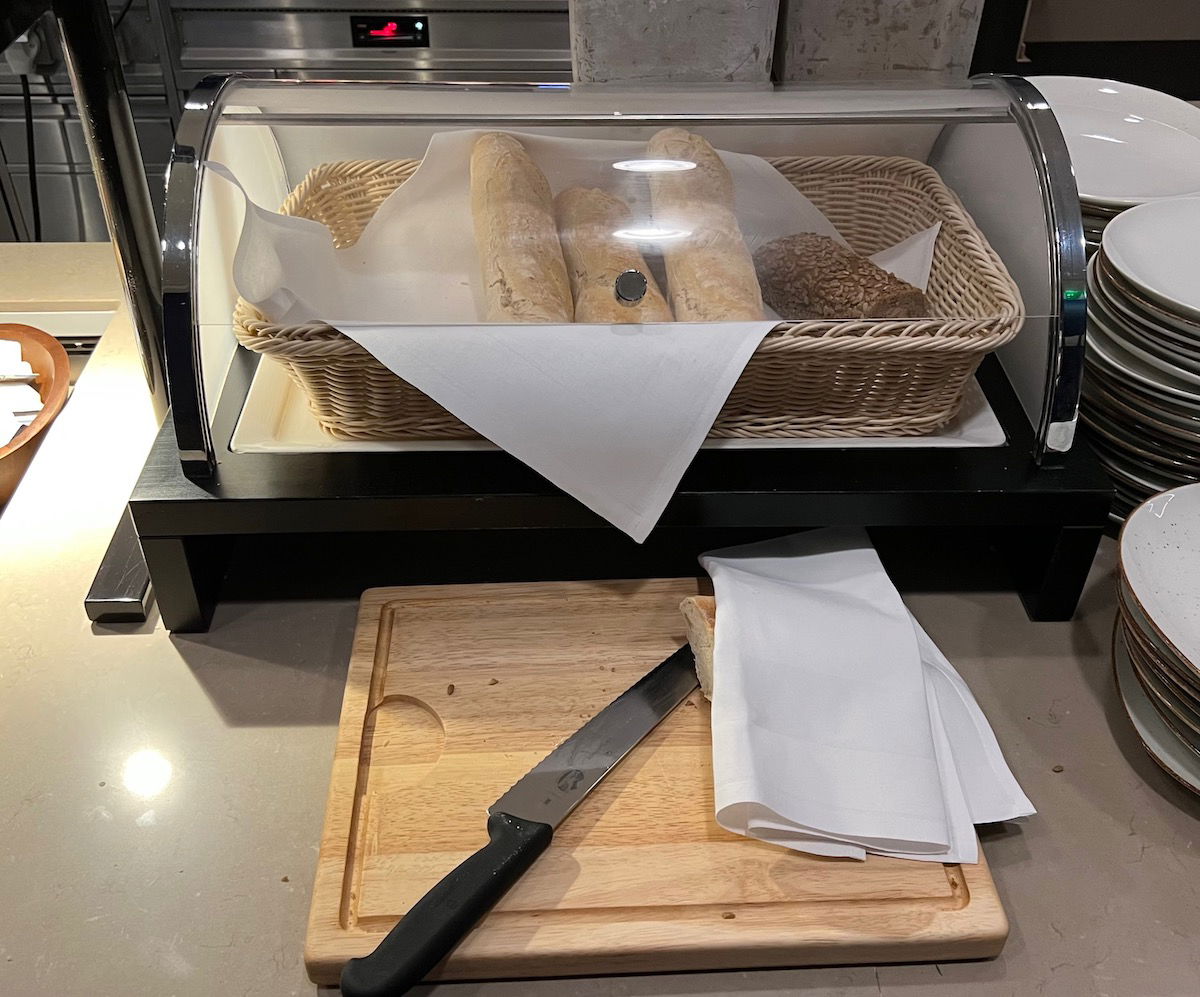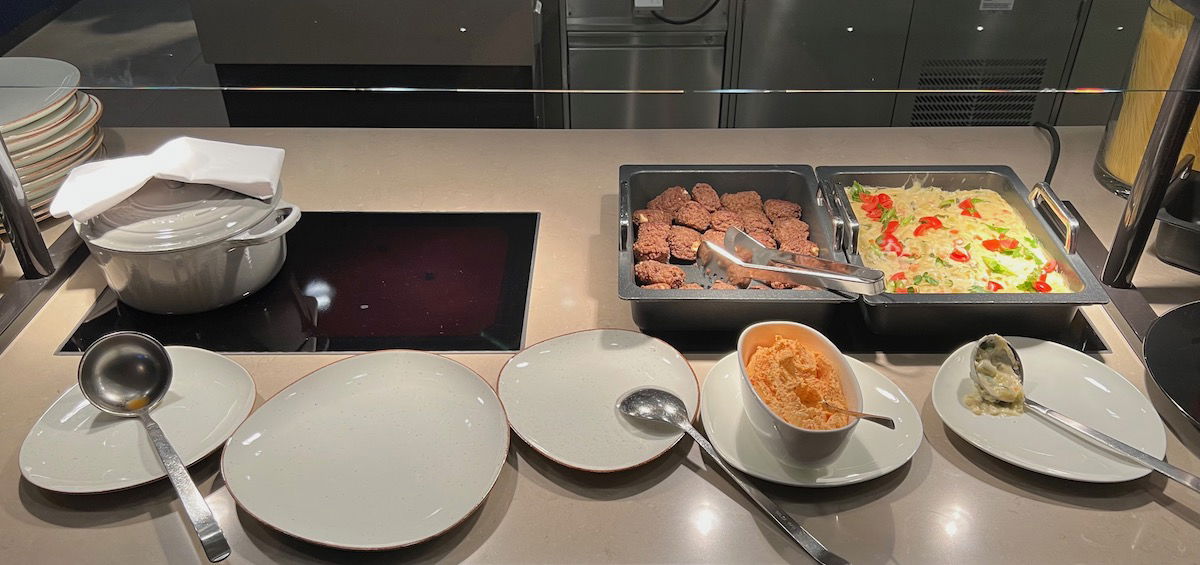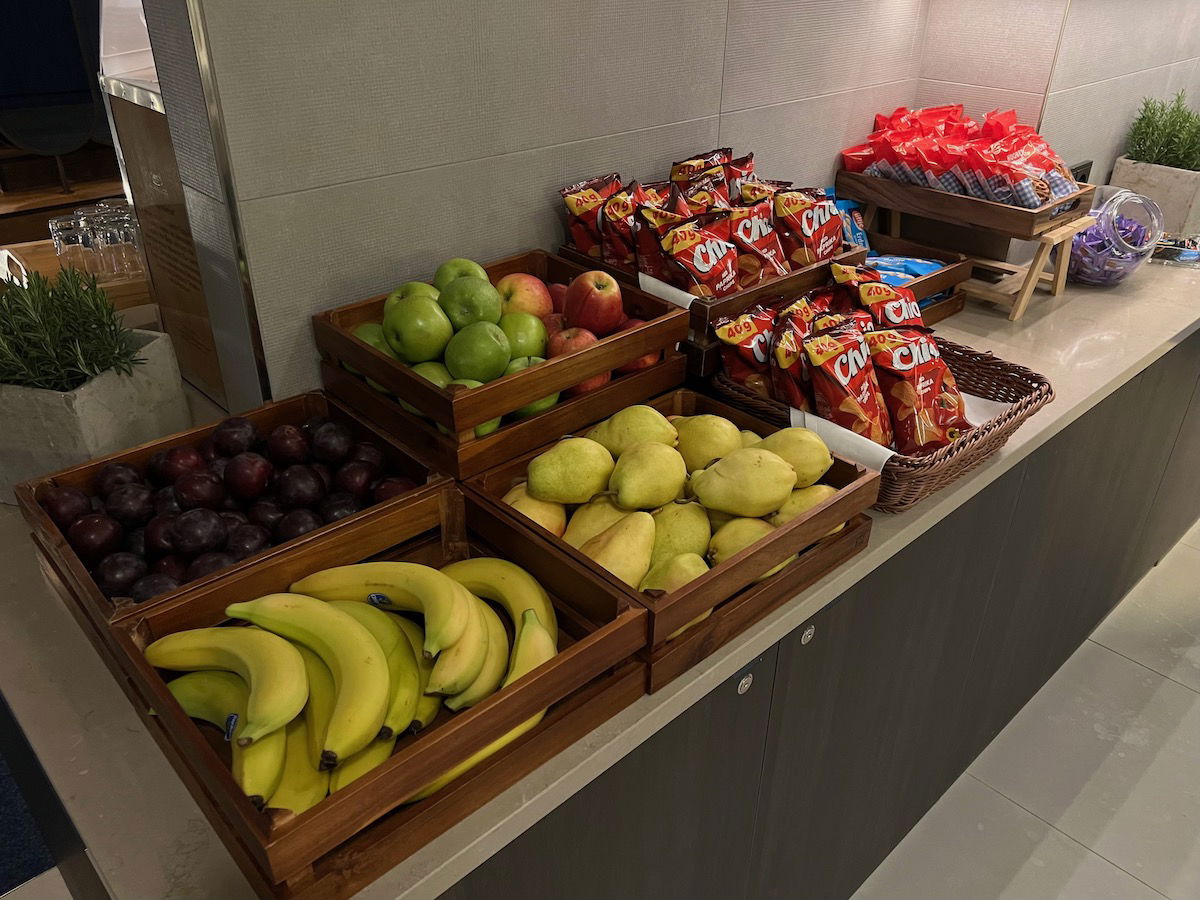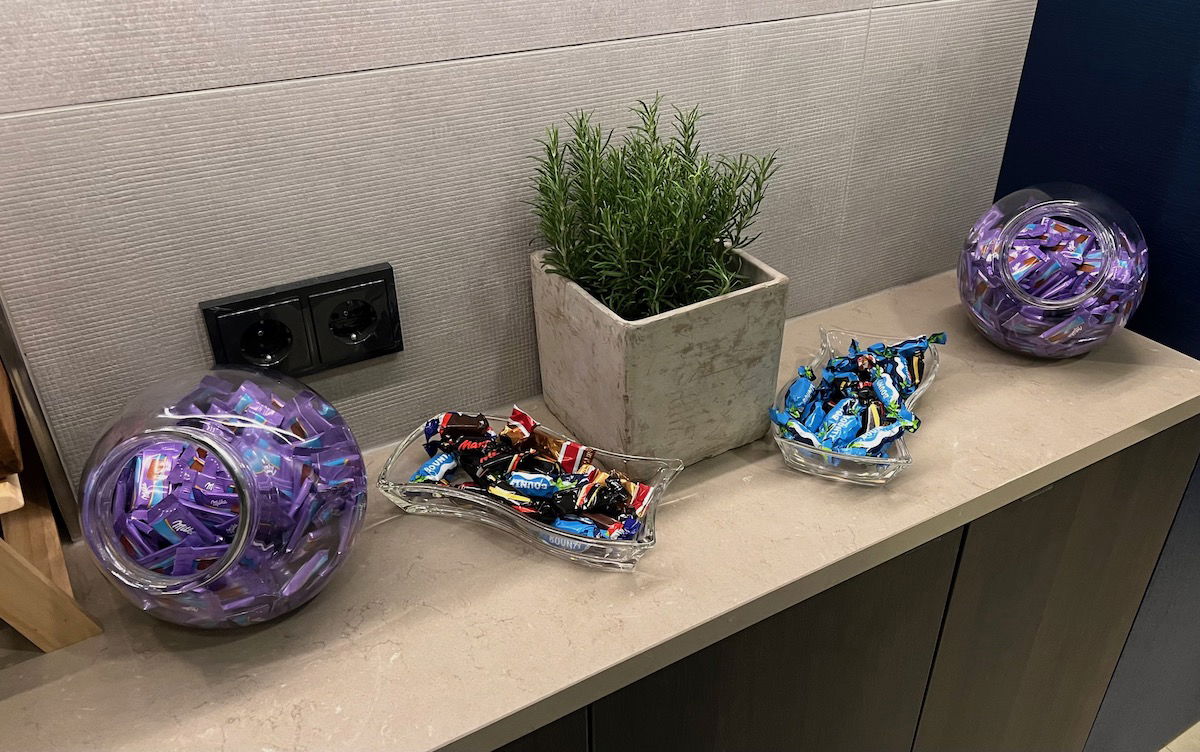 There was also a large selection of complimentary drinks, including a coffee machine, soft drinks, beer, and wine.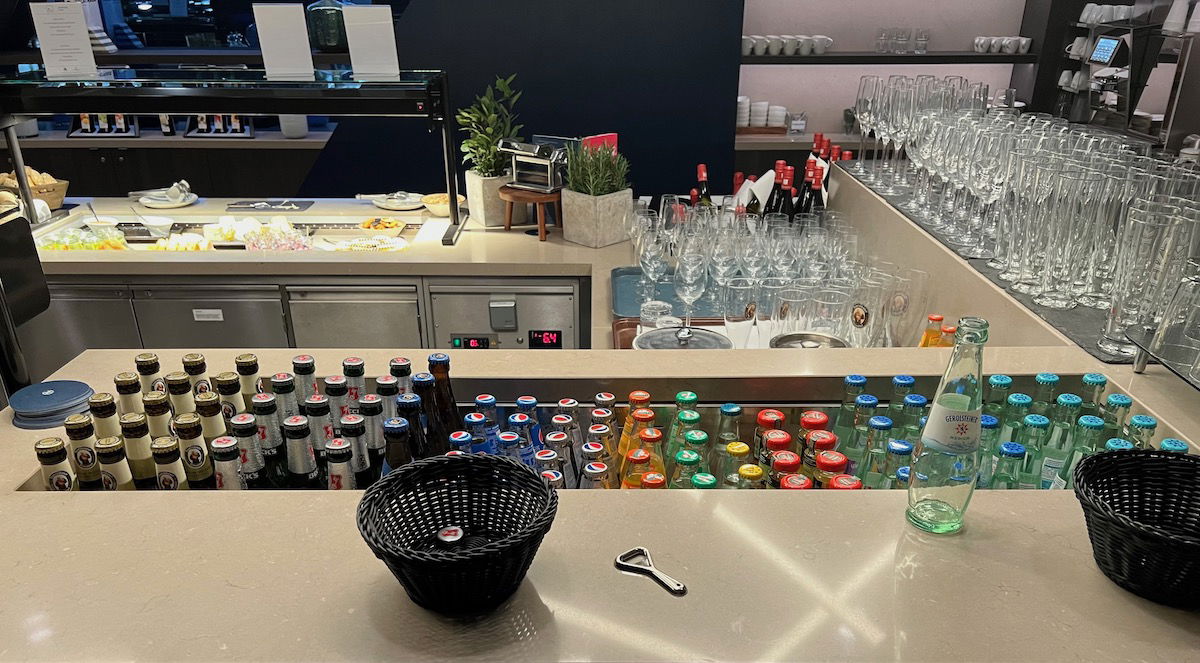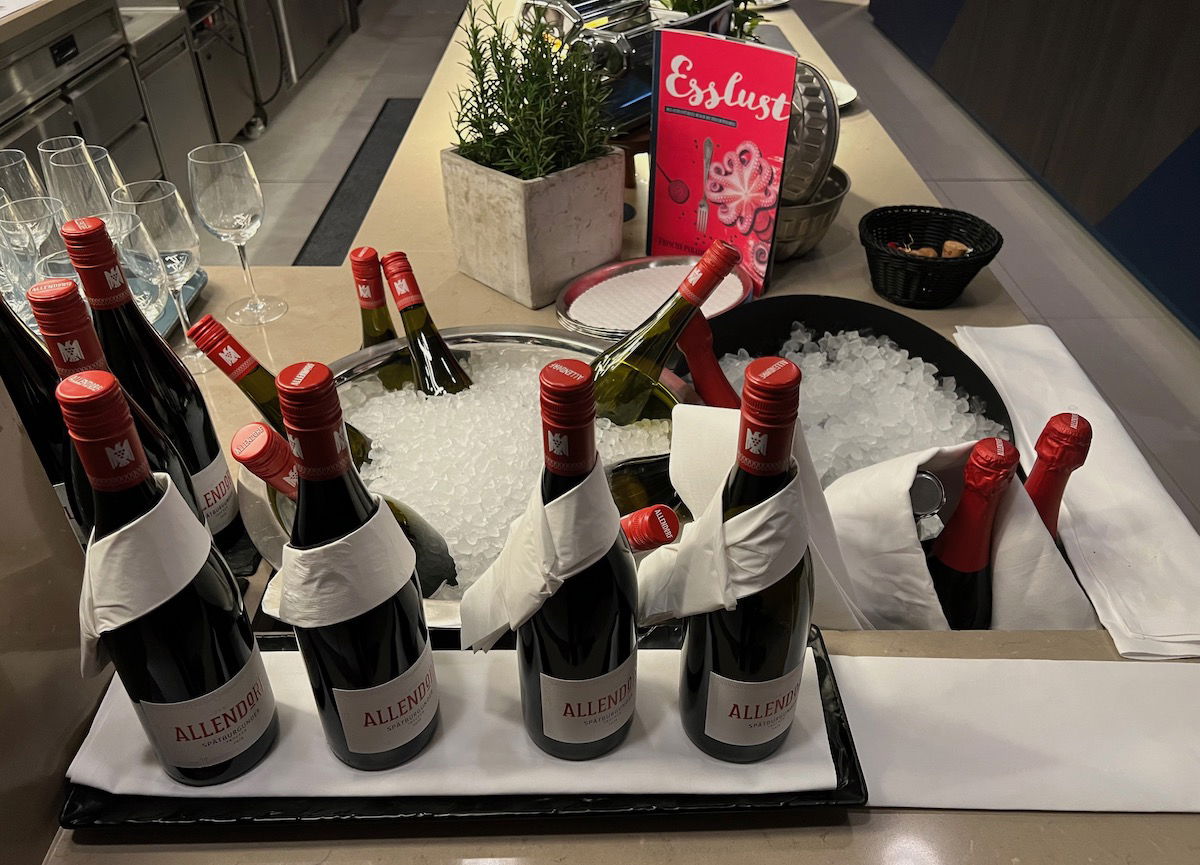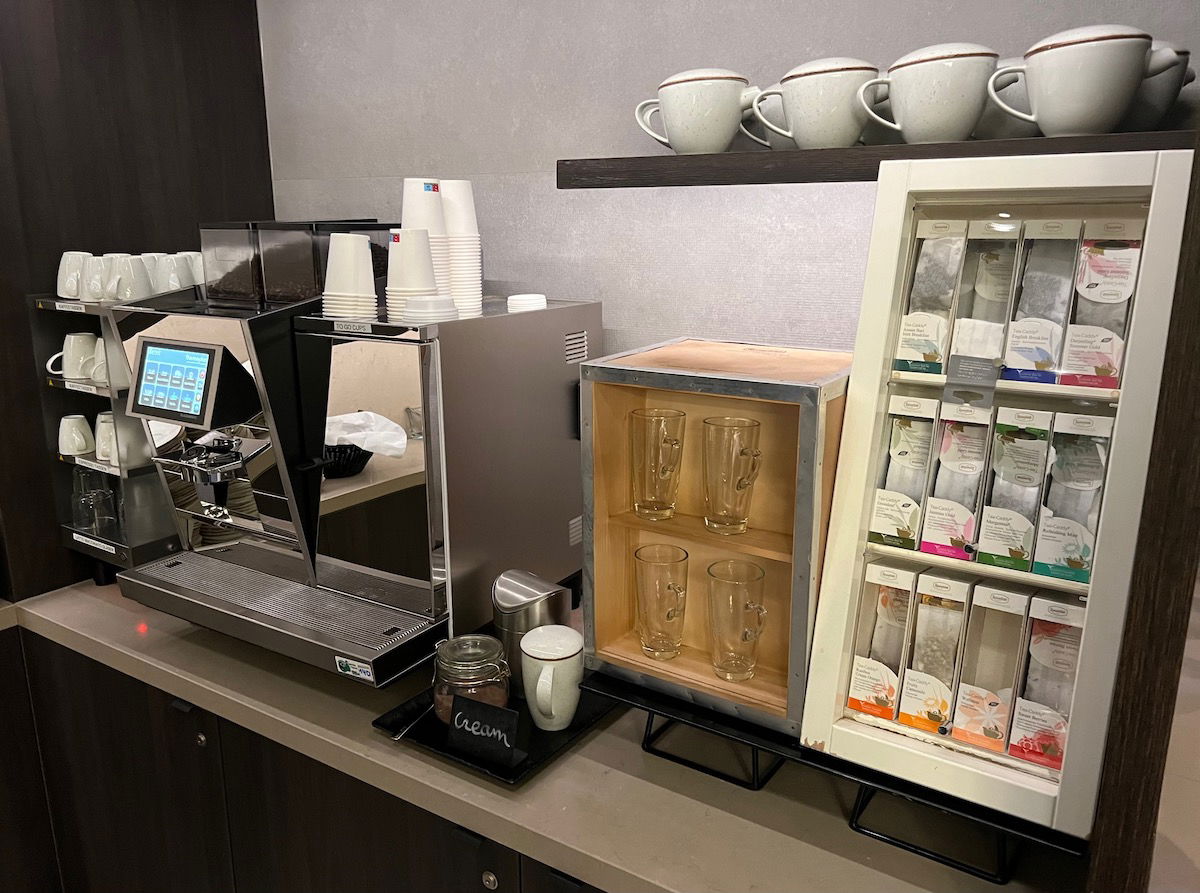 Currently club guests can enjoy breakfast in the restaurant, though I left the hotel the following morning before breakfast started, so I can't speak to the quality of that (though I'd imagine it's pretty decent).
Okay, as you can tell, I've been pretty positive about the club lounge until now. So let me share a negative of the experience. As usual, I was taking pictures of the club lounge, and it's not like I was violating anyone's privacy (as you can tell by looking at my pictures). The two guys working in the lounge saw me taking pictures. They didn't say anything, but rather they looked at me in a suspicious and disgusted way.
For example, they'd often go into the back room, and then I could see them peeking around the corner looking at me and shaking their heads. They wouldn't say anything, but they'd give me the dirtiest glare, and they'd ignore me and wouldn't clear my plates. It was bizarre, because they were incredibly sociable and kind to everyone else, just not me. They'd clear plates at tables on both sides of me, but then skip me.
I just don't get their thought process? Like, I'm literally taking pictures because I'm impressed by the selection and want to share that on the internet. If they were so concerned about my picture taking, maybe they could have politely said "are you enjoying everything?" That would be a subtle way to see if everything is okay, and figure out what my intentions are.
One would typically think that if people are taking pictures, they might be sharing this online (like on TripAdvisor, which hotels are obsessed with). So you'd think that if anything, they'd treat you better than others, rather than worse.
Anyway, I just found the whole thing strange. Maybe I should have proactively said something to them, but I'm not sure what I would have said? "Hey, the food looks great, so I'm just taking pictures if that's okay," or "do you have a problem with what I'm doing?" I try to stay fully "undercover" in my reviews, which is why I didn't say anything. I'll just chalk this up to Germany being weird about pictures sometimes…
Sheraton Frankfurt Airport dining
The Sheraton and Marriott share a few dining options, the most popular of which is the Eatery Kitchen & Bar, which is located between the two hotels. This is an all-day dining restaurant, and while I didn't eat here, it's physically quite nice.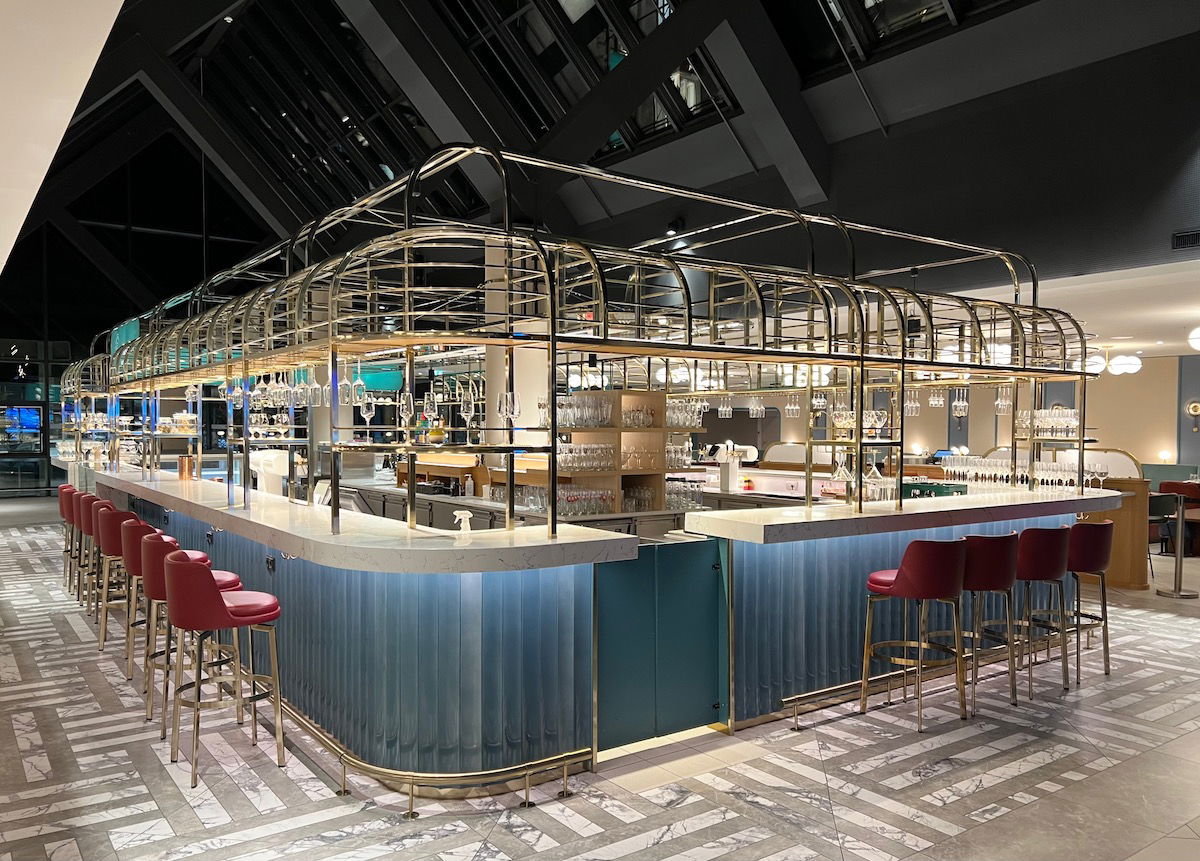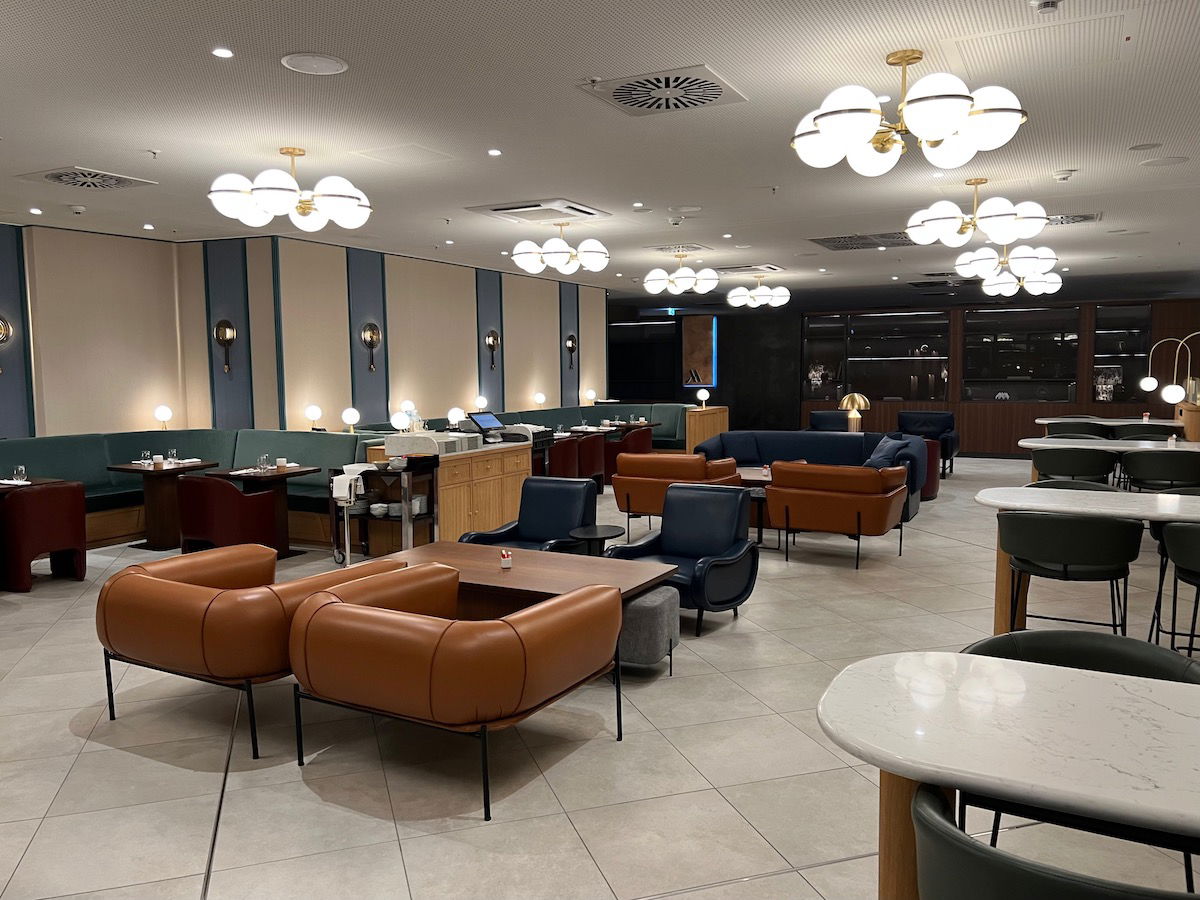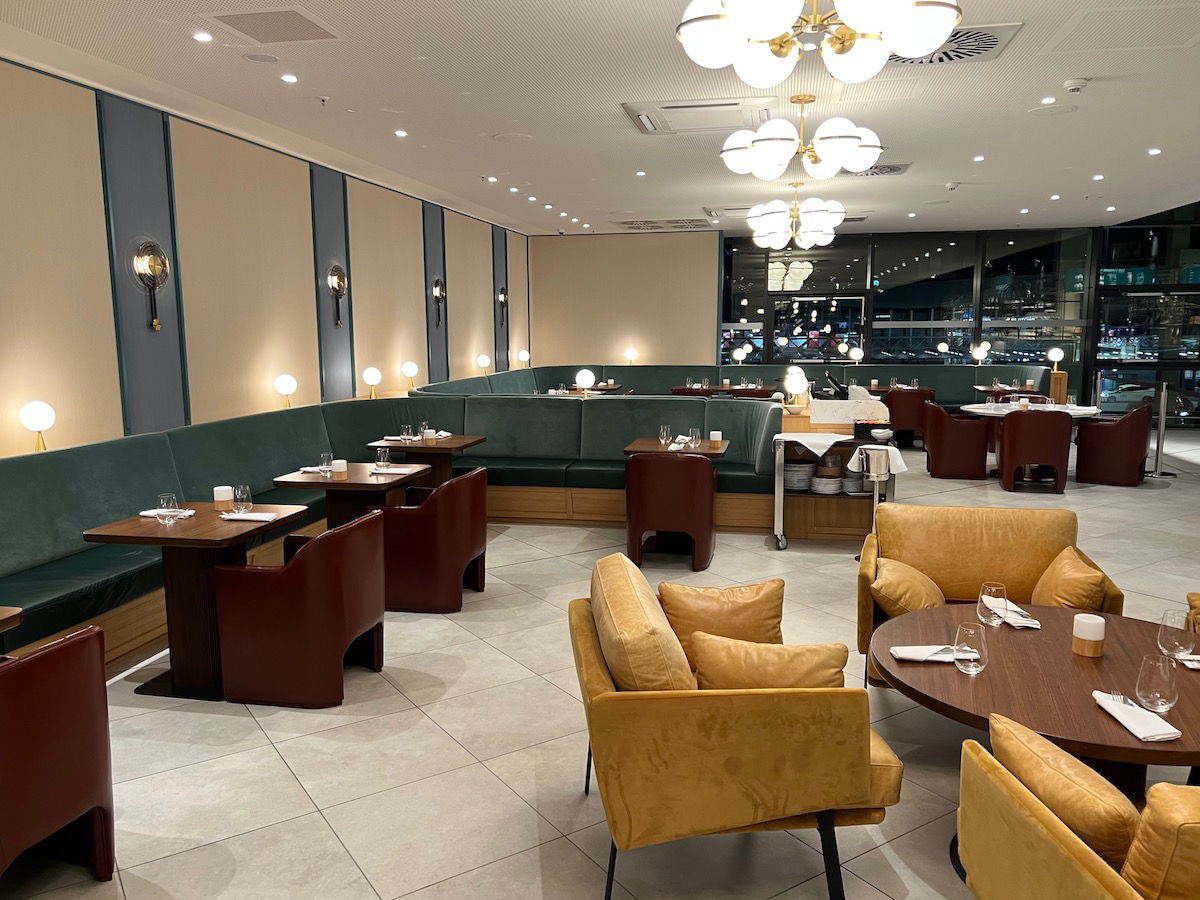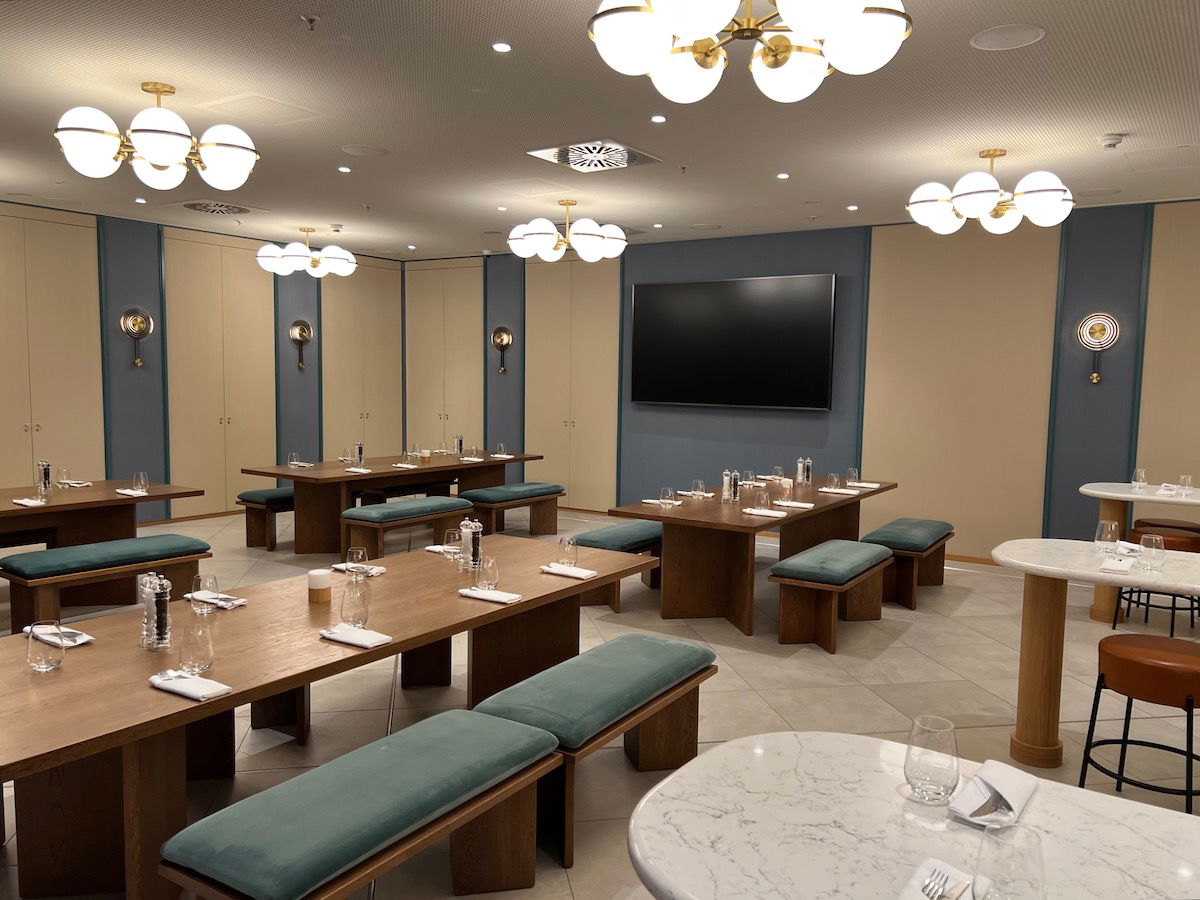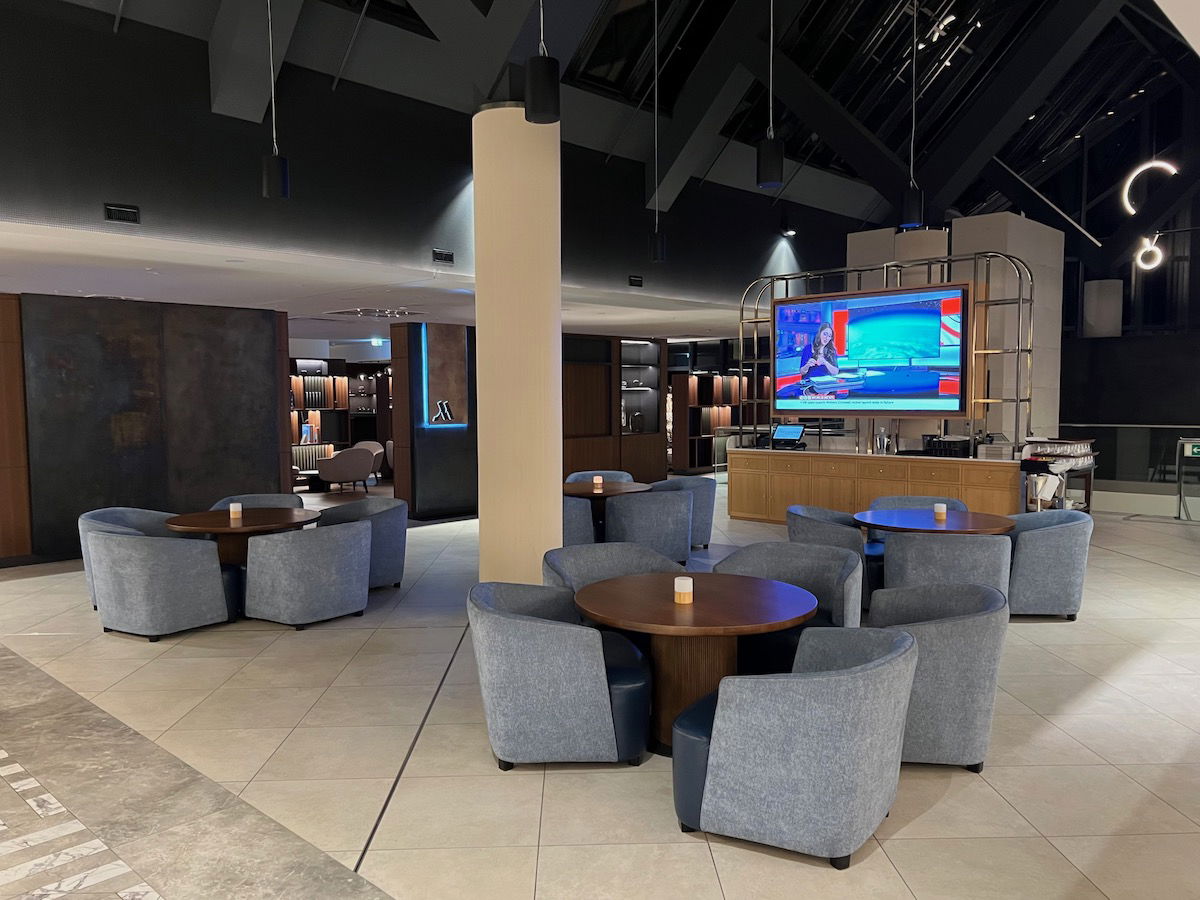 Sheraton Frankfurt Airport gym
One area of the hotel that hasn't been renovated is the gym. This is shared between the two hotels, and it's on the small side when you consider that there are 1,000+ rooms. Then again, perhaps airport hotels don't get as much gym use as some other hotels.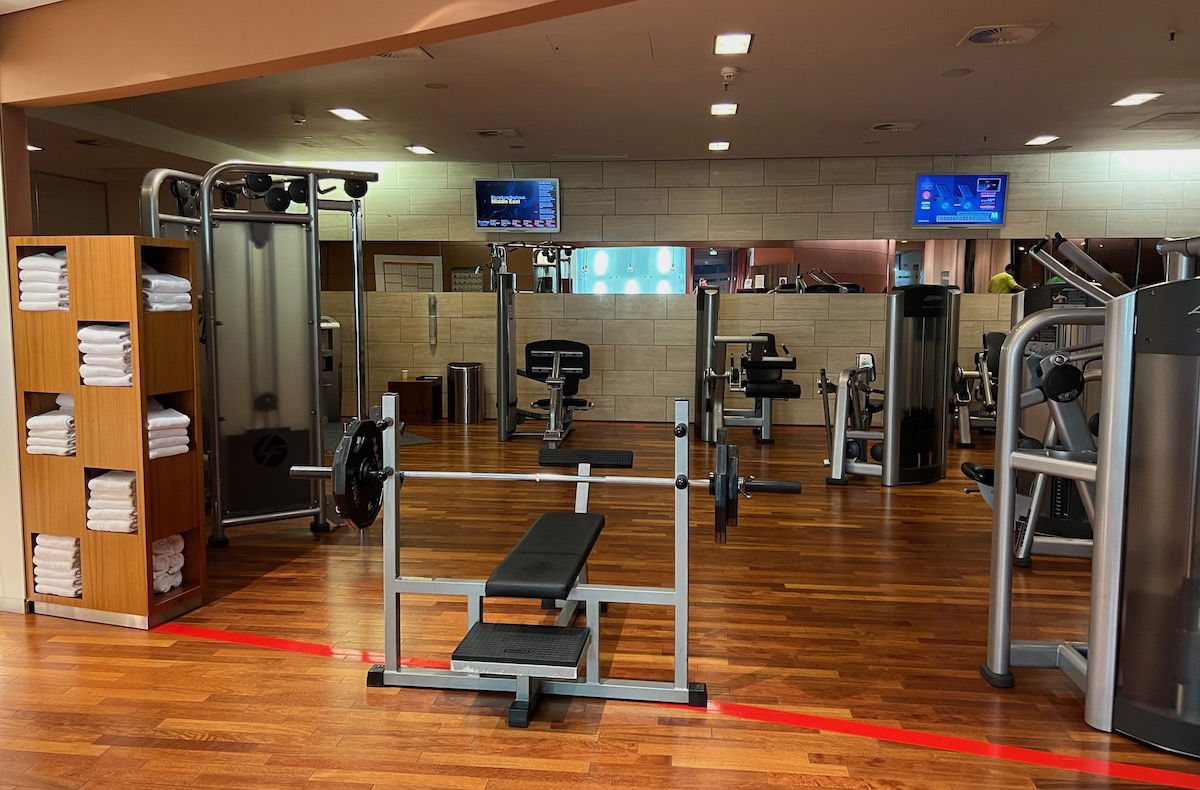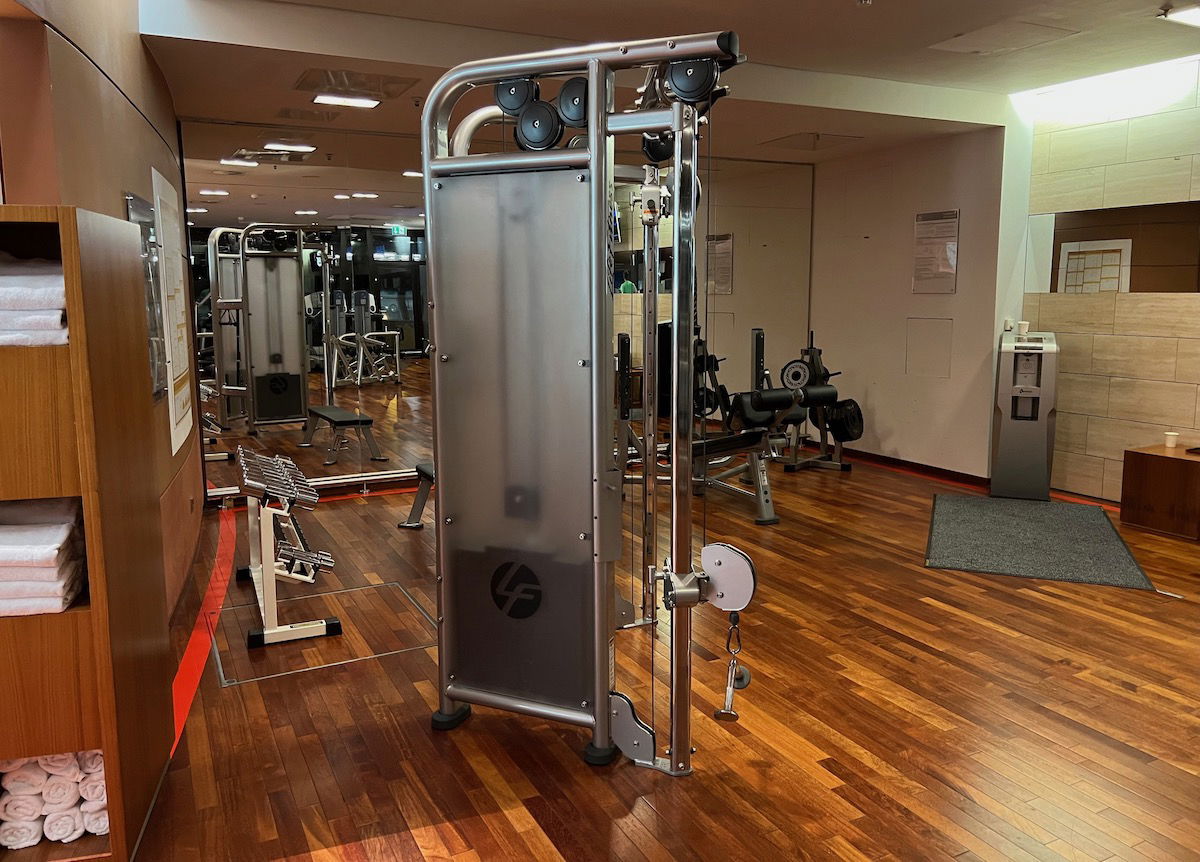 Bottom line
The Sheraton has an unbeatable location if you're overnighting at Frankfurt Airport. The hotel has also been significantly improved since undergoing a renovation, and it's better than ever before. The hotel has renovated rooms, and a modern club lounge with an extensive food and drink selection.
I'd say I slightly prefer the Marriott to the Sheraton, and maybe I'd pay an extra $20 to stay there. But I'd gladly stay at either hotel, and don't really have a strong preference. I really do appreciate an airport hotel where you don't have to take a shuttle, and that's an area where this hotel delivers.
What do you make of the Sheraton Frankfurt Airport?