Prior to my Air Canada 777 business class flight from Frankfurt to Toronto, I decided to check out a couple of lounges at Frankfurt Airport. In addition to visiting the Air Canada Maple Leaf Lounge, I also decided to check out one of the non-Schengen Lufthansa Business Lounges, which I'll be reviewing in this post.
As a Star Alliance Gold member I could have used a Lufthansa Senator Lounge, but I reviewed one of those at the airport recently, so figured I'd check out the business class lounge options. Let's get into the review…
Lufthansa Business Lounge Frankfurt location
There are four Lufthansa Business Lounges currently open at Frankfurt Airport, between the Schengen and non-Schengen areas of the terminal. Frankly the decor and food & drinks are so consistent between them that you might not even be able to tell them apart.
I visited the Lufthansa Business Lounge Concourse B West. This lounge is in the non-Schengen area, so you need to clear passport control to enter this lounge (and therefore wouldn't use it if you're only traveling within the Schengen area).
After clearing security and passport control, I followed the signage in the direction of gates B41-48. Oddly the signs listed the Air Canada Maple Leaf Lounge and Lufthansa Senator Lounge as being in this direction, but didn't list the Lufthansa Business Lounge, even though it's also this way.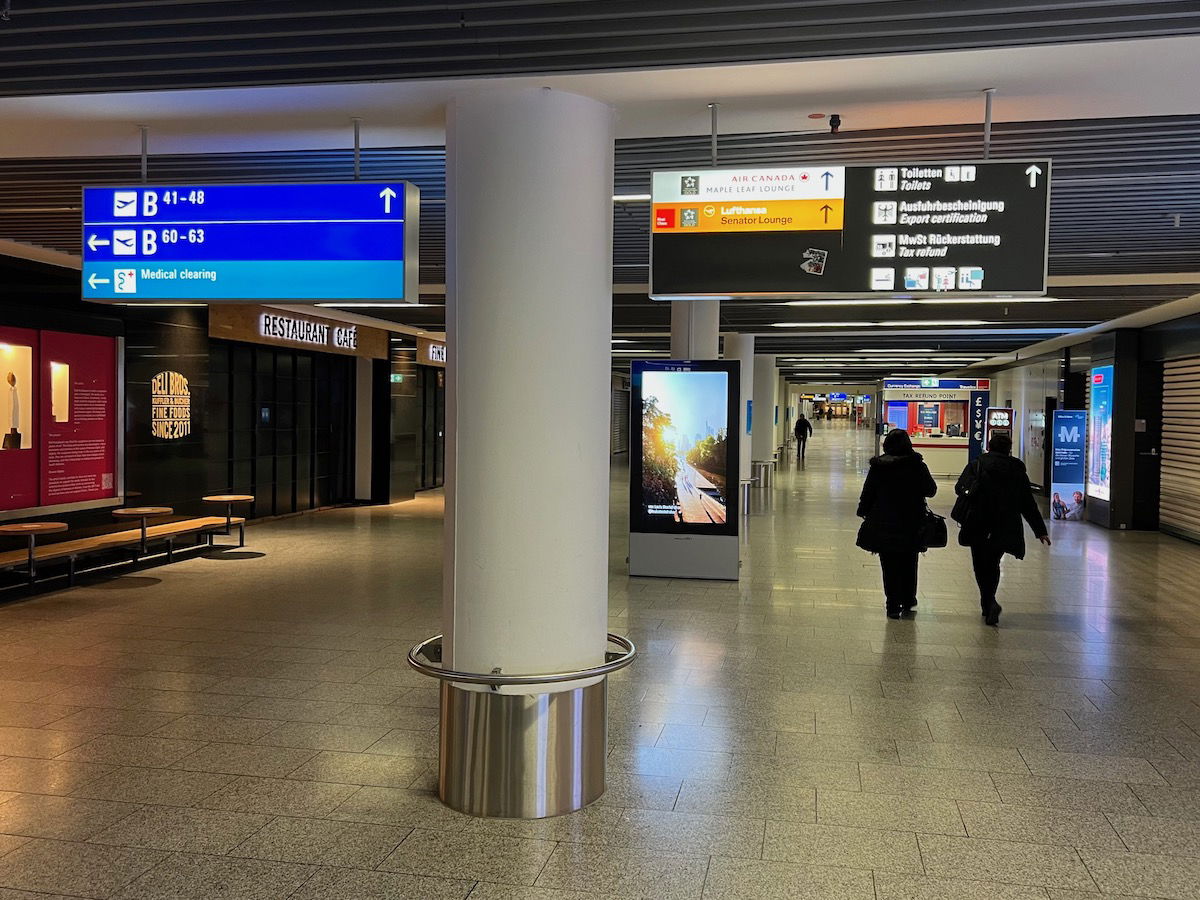 Eventually you'll find yourself in a circular area for gates B44-48. Right there on the left you'll see the entrance to the Lufthansa Business Lounge. There's a representative on the concourse level who will scan your boarding pass and admit you, and then you can either take the stairs or an elevator up to the lounge.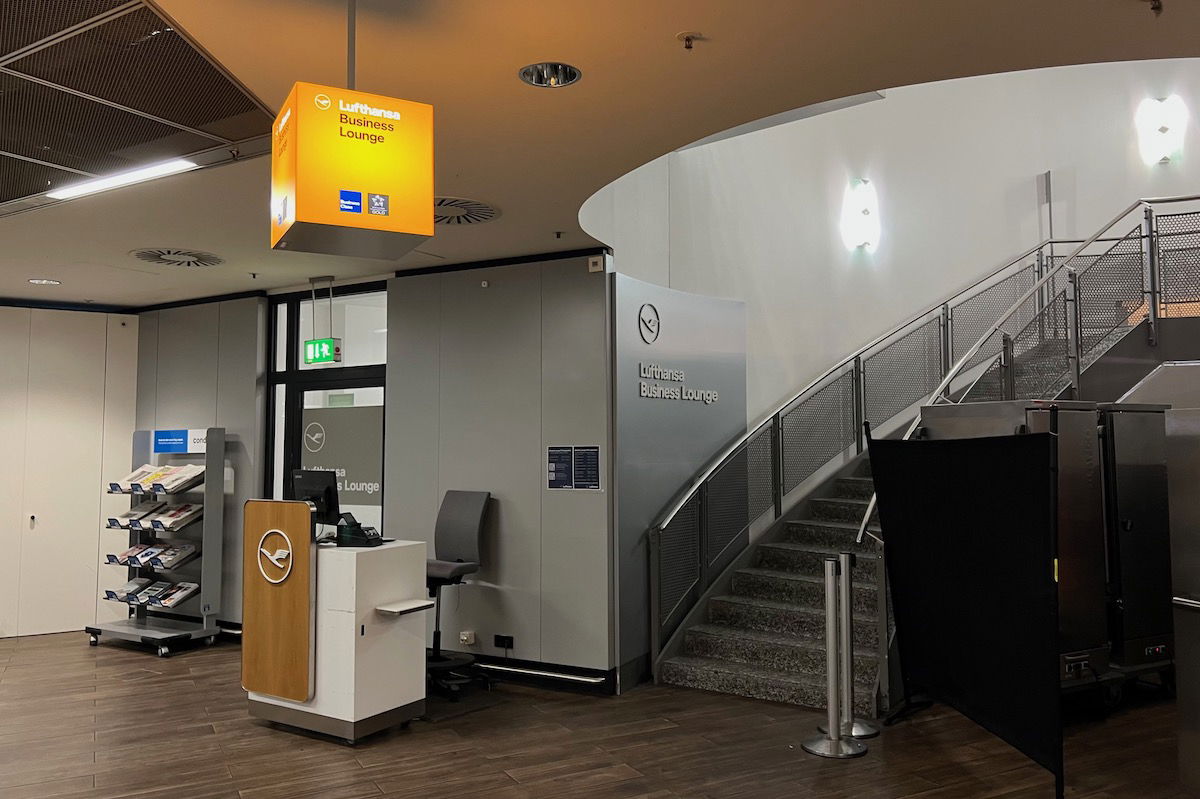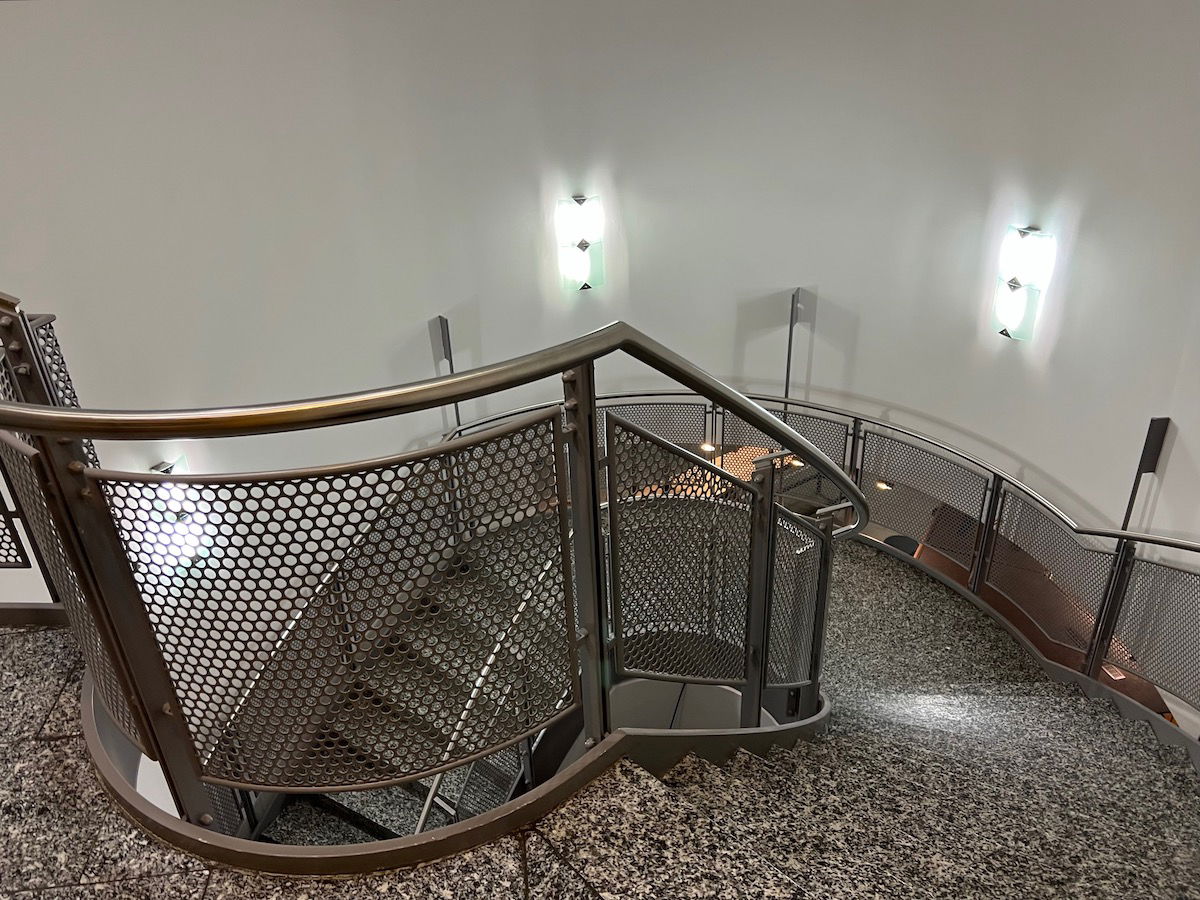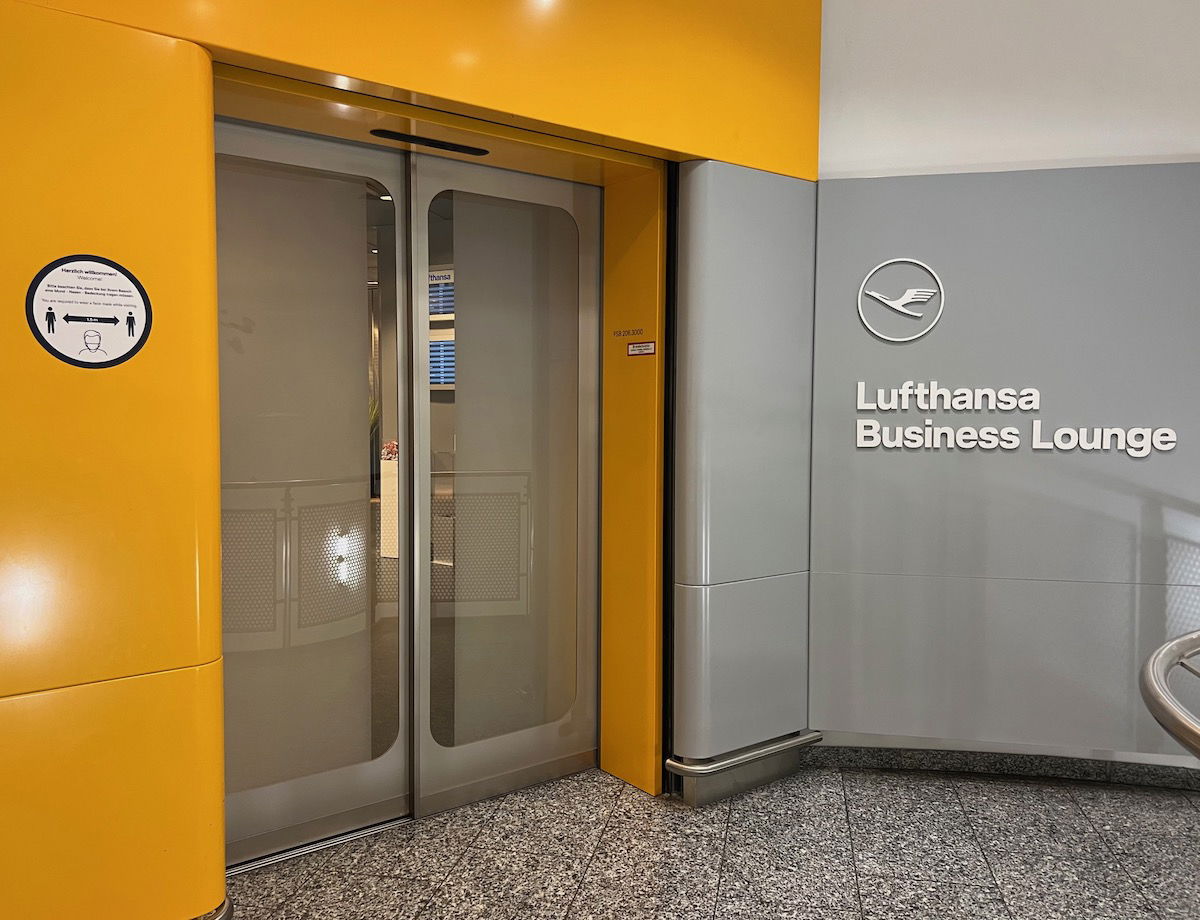 Lufthansa Business Lounge Frankfurt hours
The non-Schengen Lufthansa Business Lounges at Frankfurt Airport are currently open daily from 6AM until 9:30PM, covering all scheduled Star Alliance departures from the airport.
Lufthansa Business Lounge Frankfurt entry requirements
Lufthansa Business Lounges are standard Star Alliance business class lounges, so can be accessed by:
Lufthansa business class passengers, as well as business class passengers on all Star Alliance partner airlines; no guests are allowed
Star Alliance Gold members can also use the lounge and bring a guest when flying Star Alliance the same day; however, they can also use the (theoretically better) Lufthansa Senator Lounges
Lufthansa Miles & More Frequent Traveller members (which otherwise only equates to Star Alliance Silver); no guests are allowed
Those with the Amex Platinum Card can access the lounge when traveling in economy on Lufthansa, as part of the card's overall lounge perks
Lufthansa Business Lounge Frankfurt seating & layout
I don't think there's an airline in the world that's more consistent with lounge decor than Lufthansa. The lounges almost all have the same sorta nice but also very sterile design, and this lounge was no different.
This lounge is in a sort of circular shape, as it covers the upper level of this portion of the concourse (which is also circular). The seating options are broken up into several zones. When you first enter the lounge, there are some benches with tables, as well as some chairs in rows facing one another. This is the area to be if you just want to relax, and aren't looking to eat.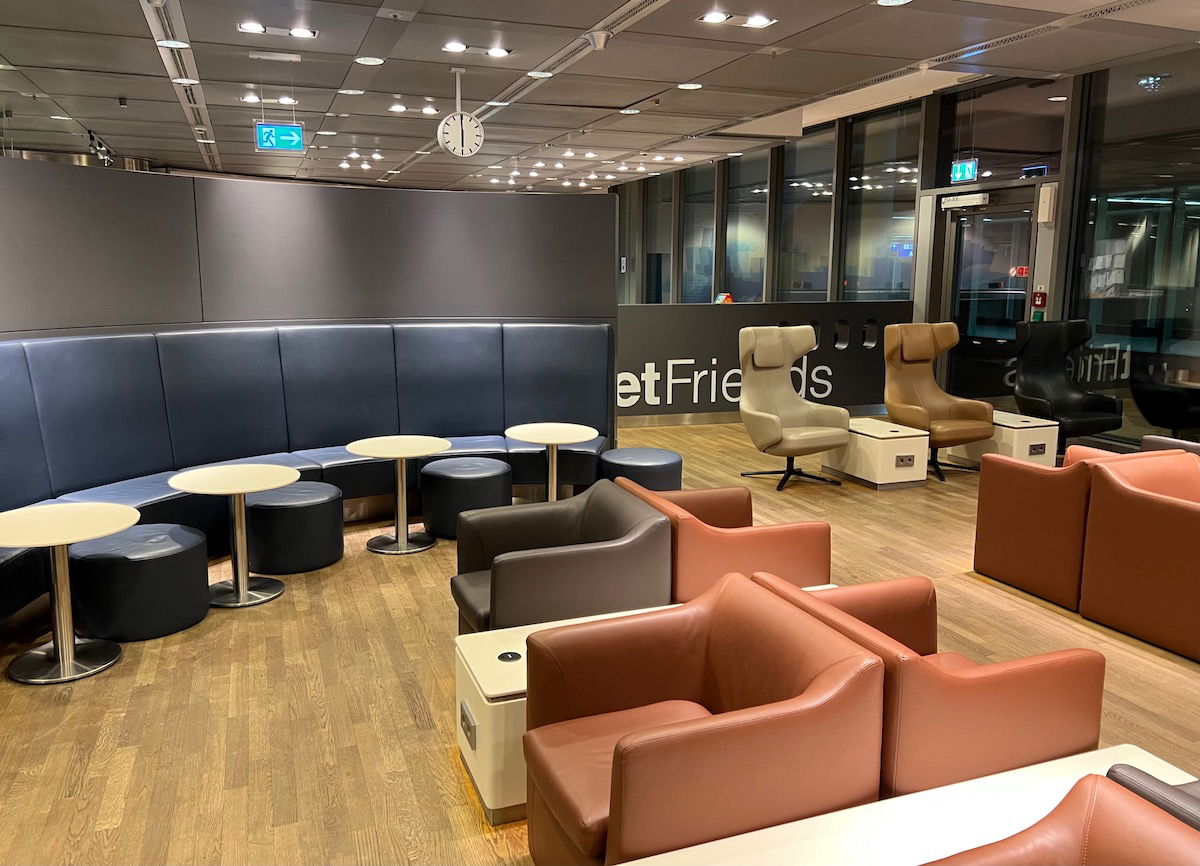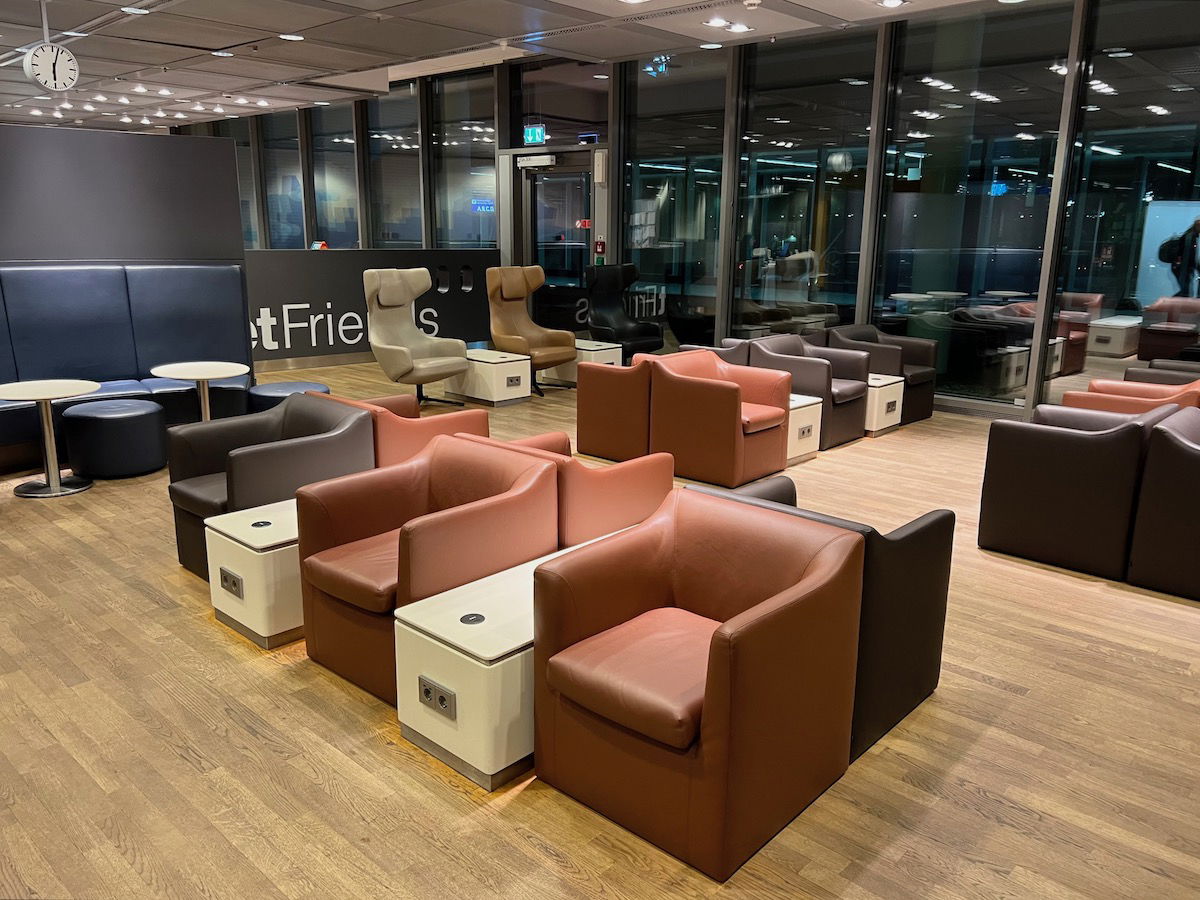 Further into the lounge is some high-top seating, as well as cafe-style tables with four seats each, perfect if you're looking to grab a bite to eat.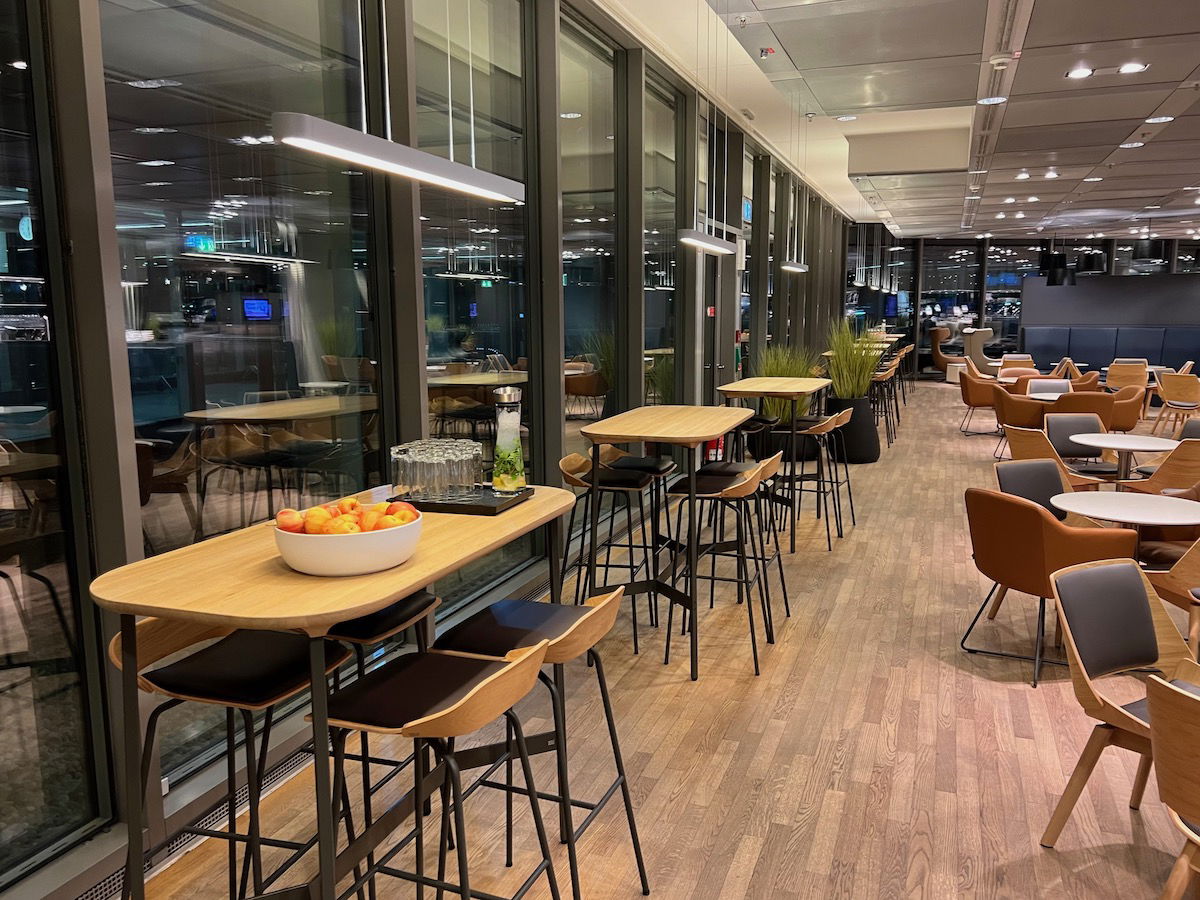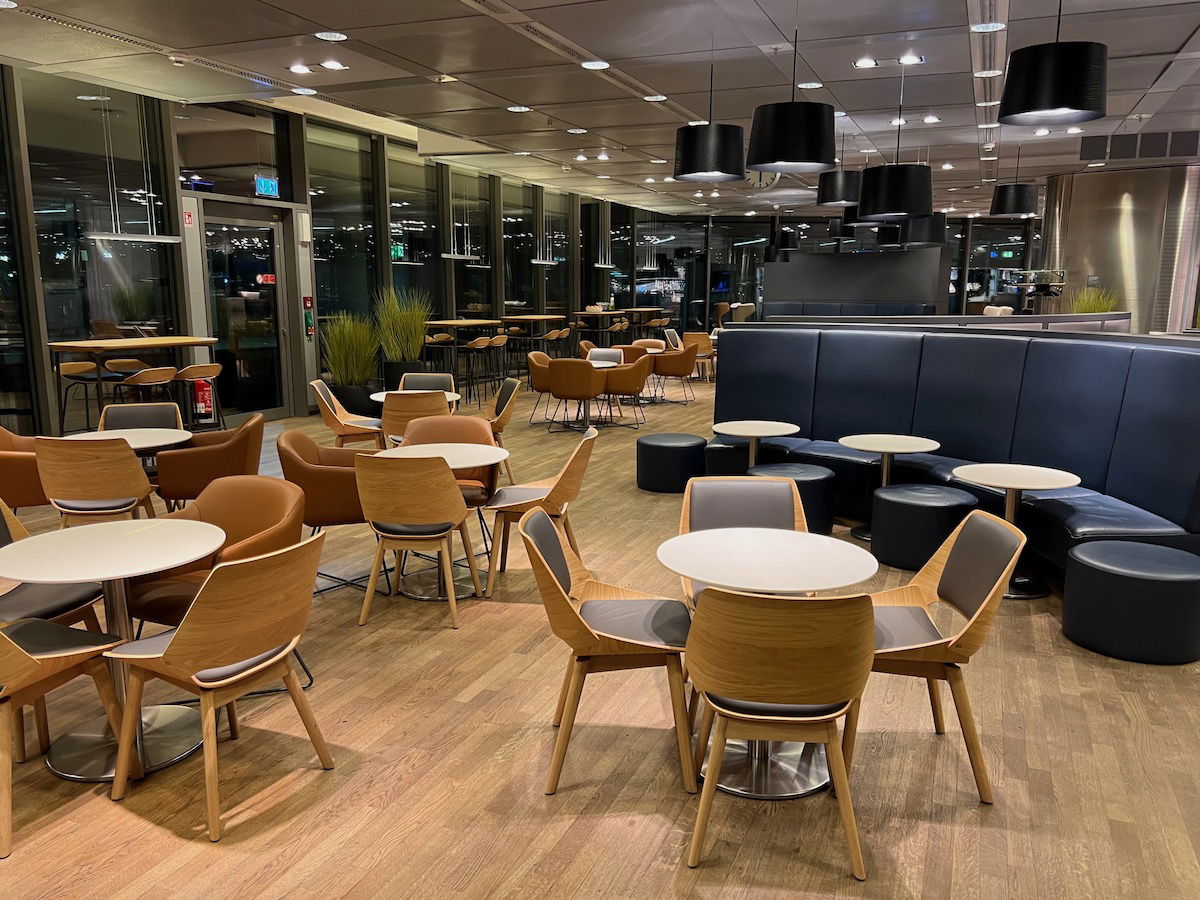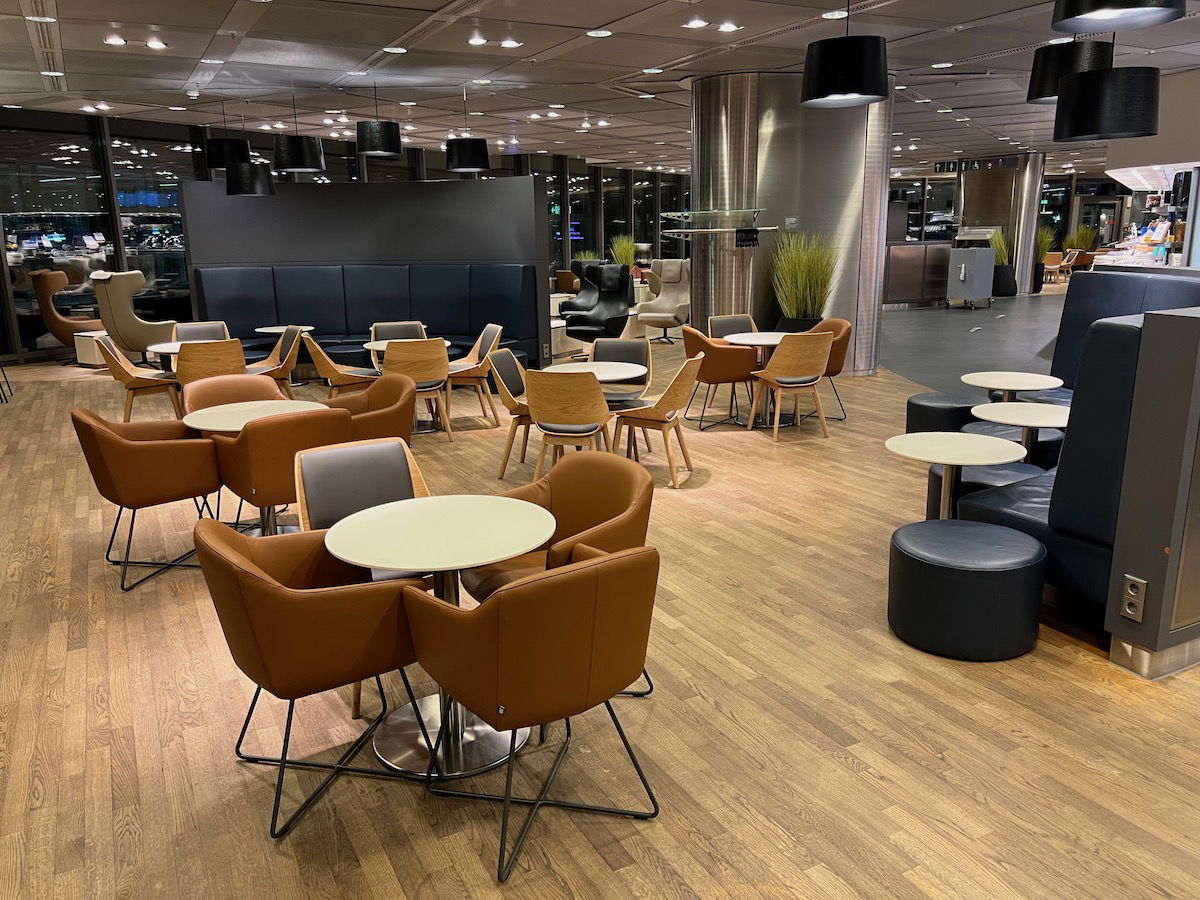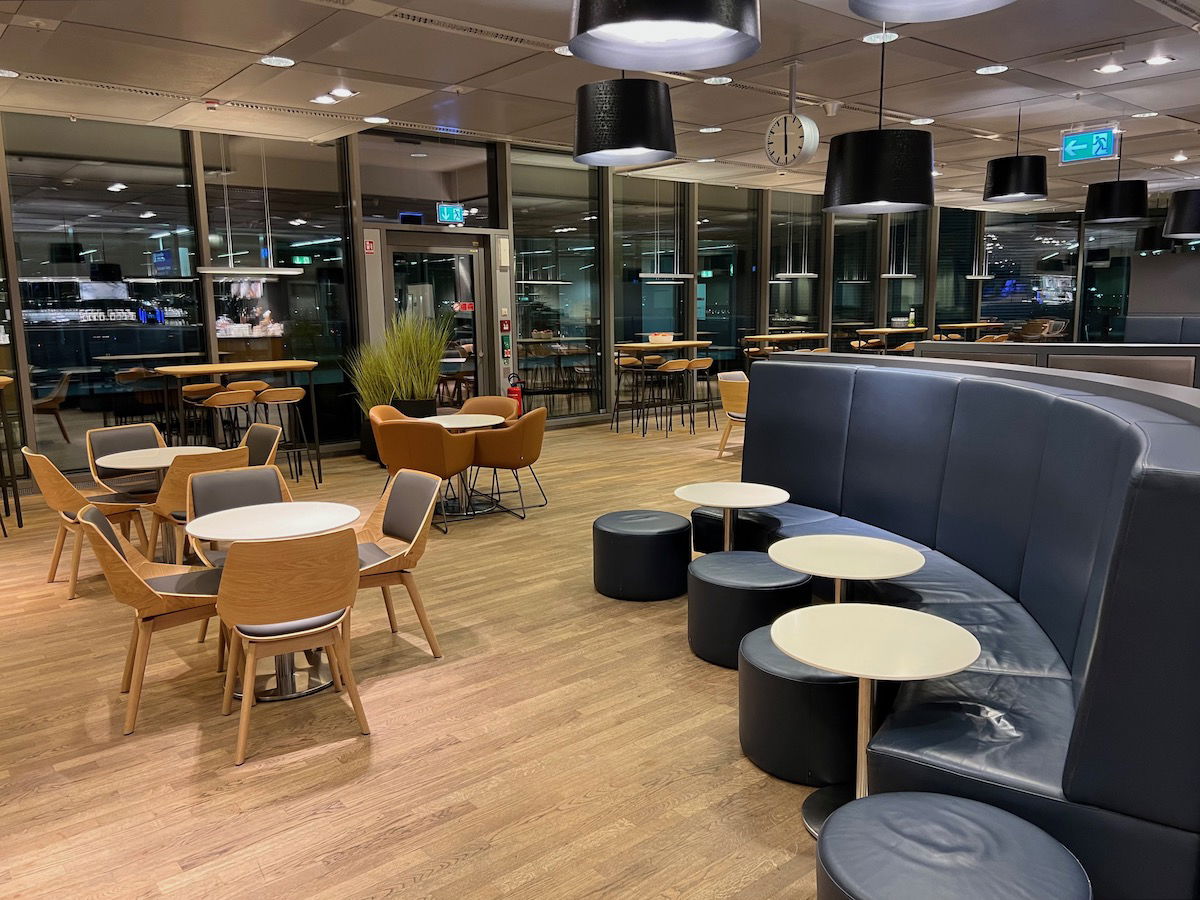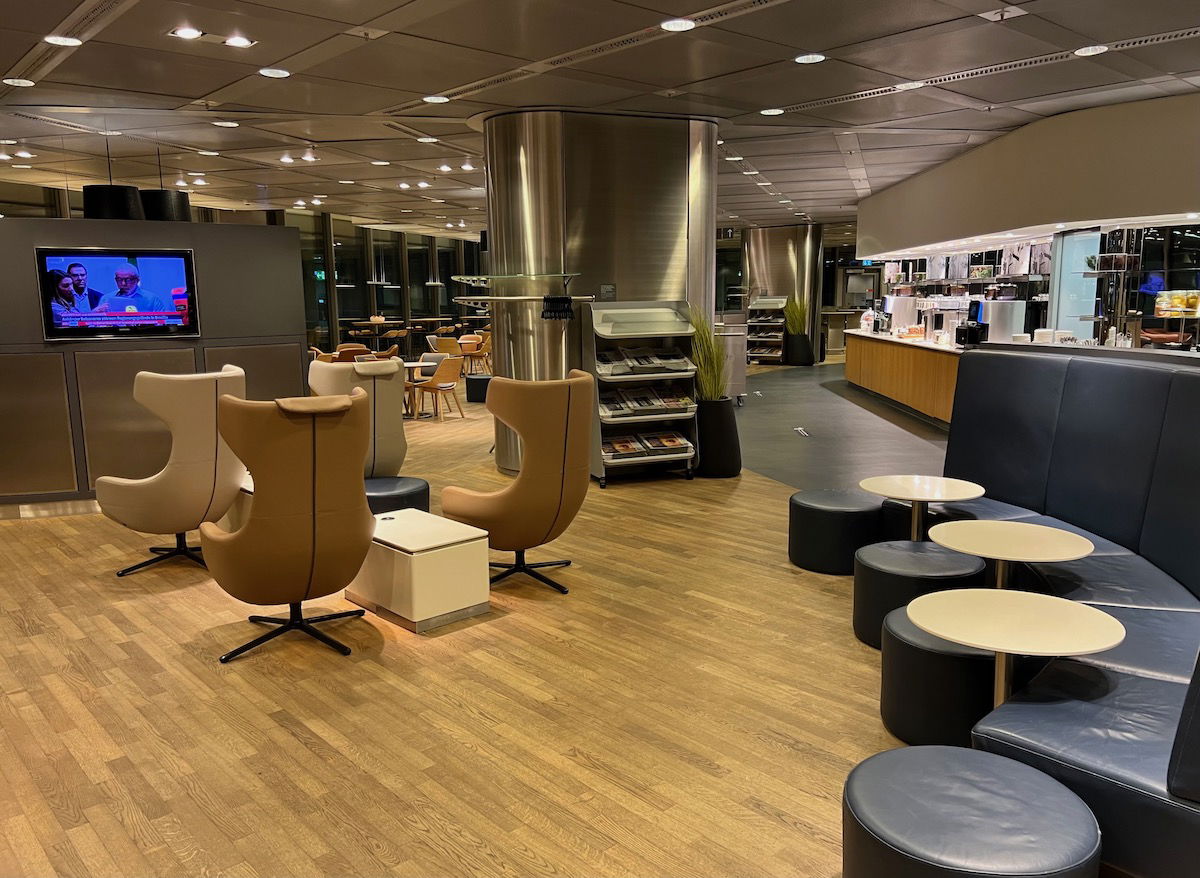 Further into the lounge are more rows of seats facing one another, each with a side table.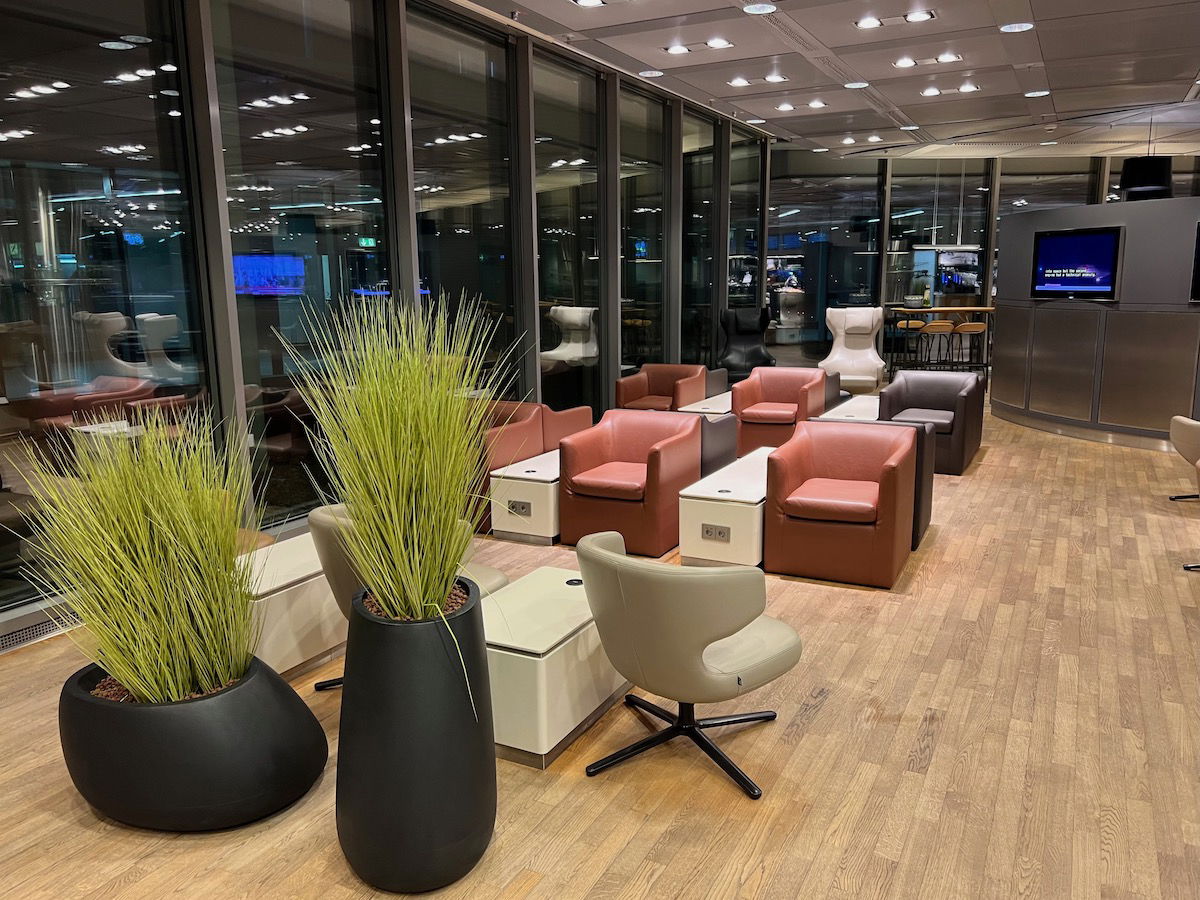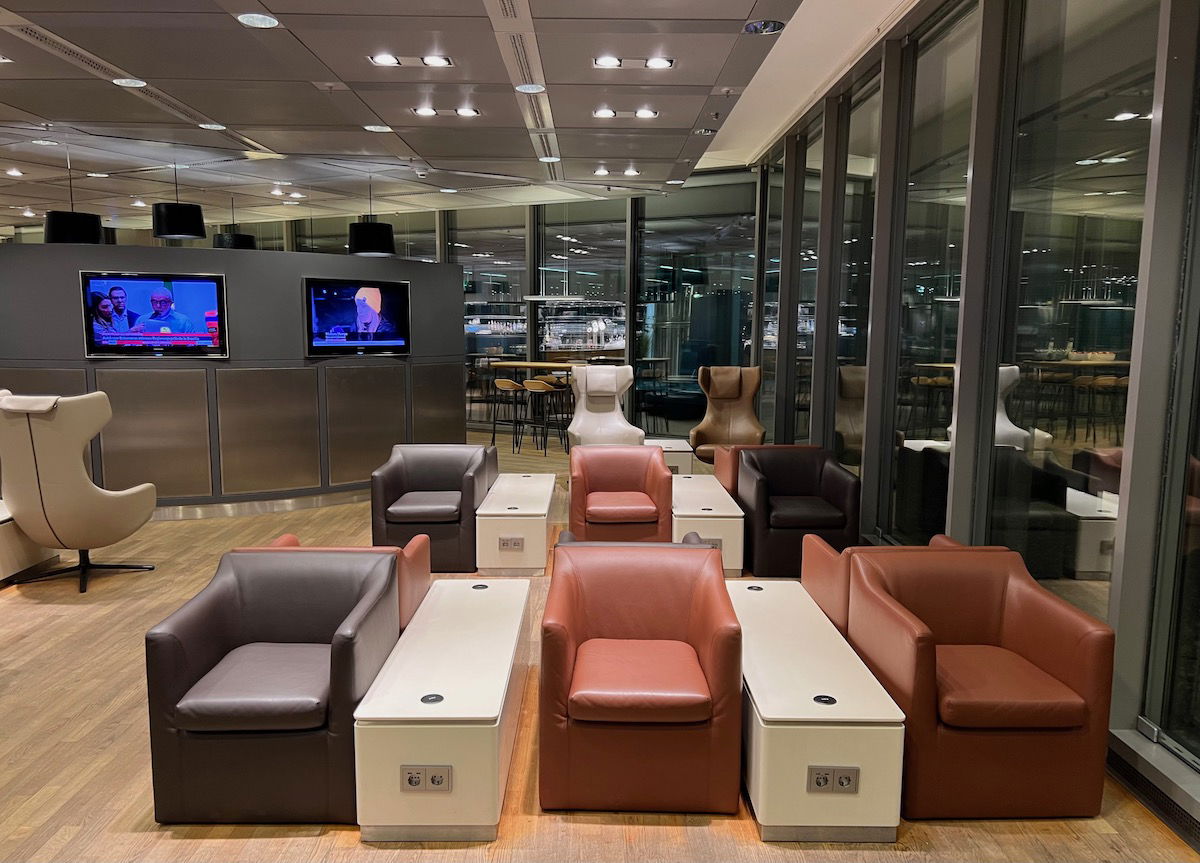 As you continue around the lounge, there are some stools with communal workstations, and then there are also some desks with chairs.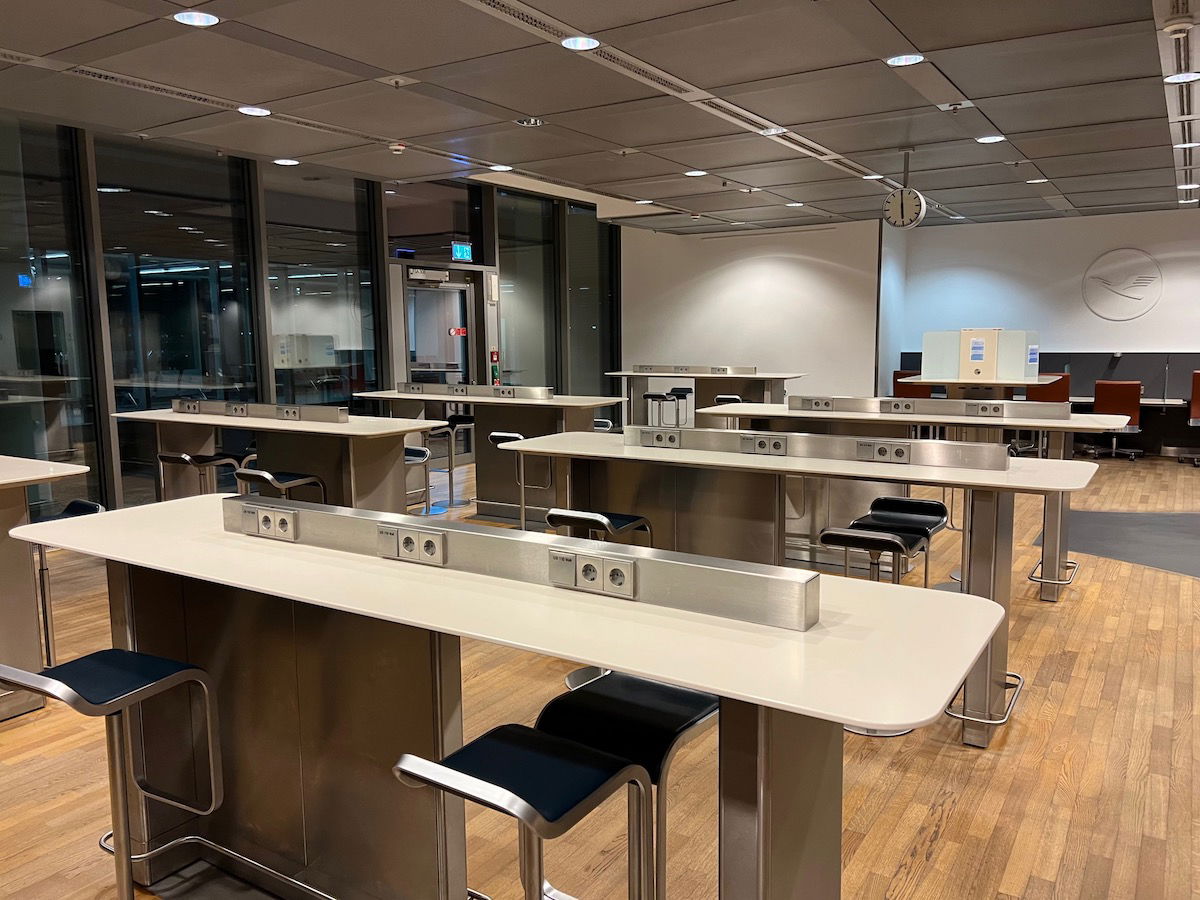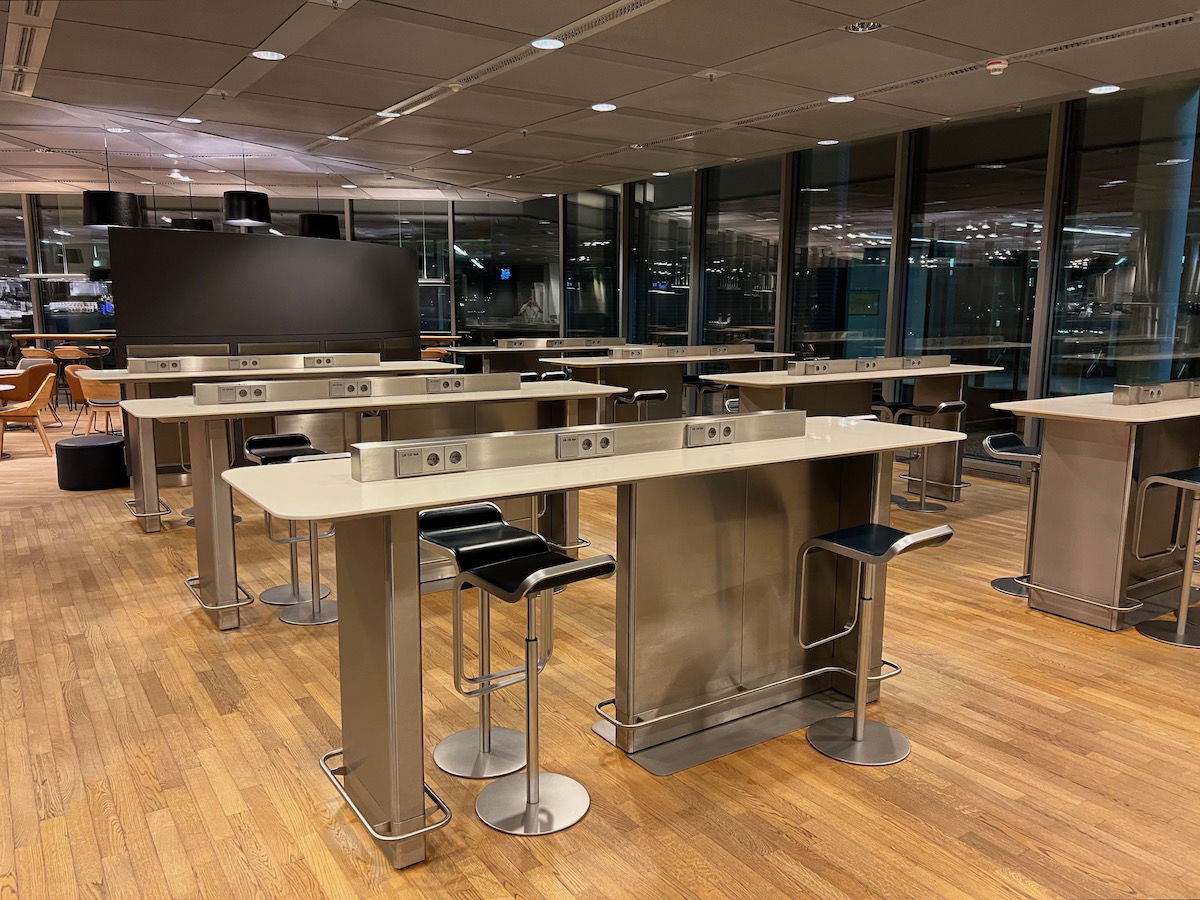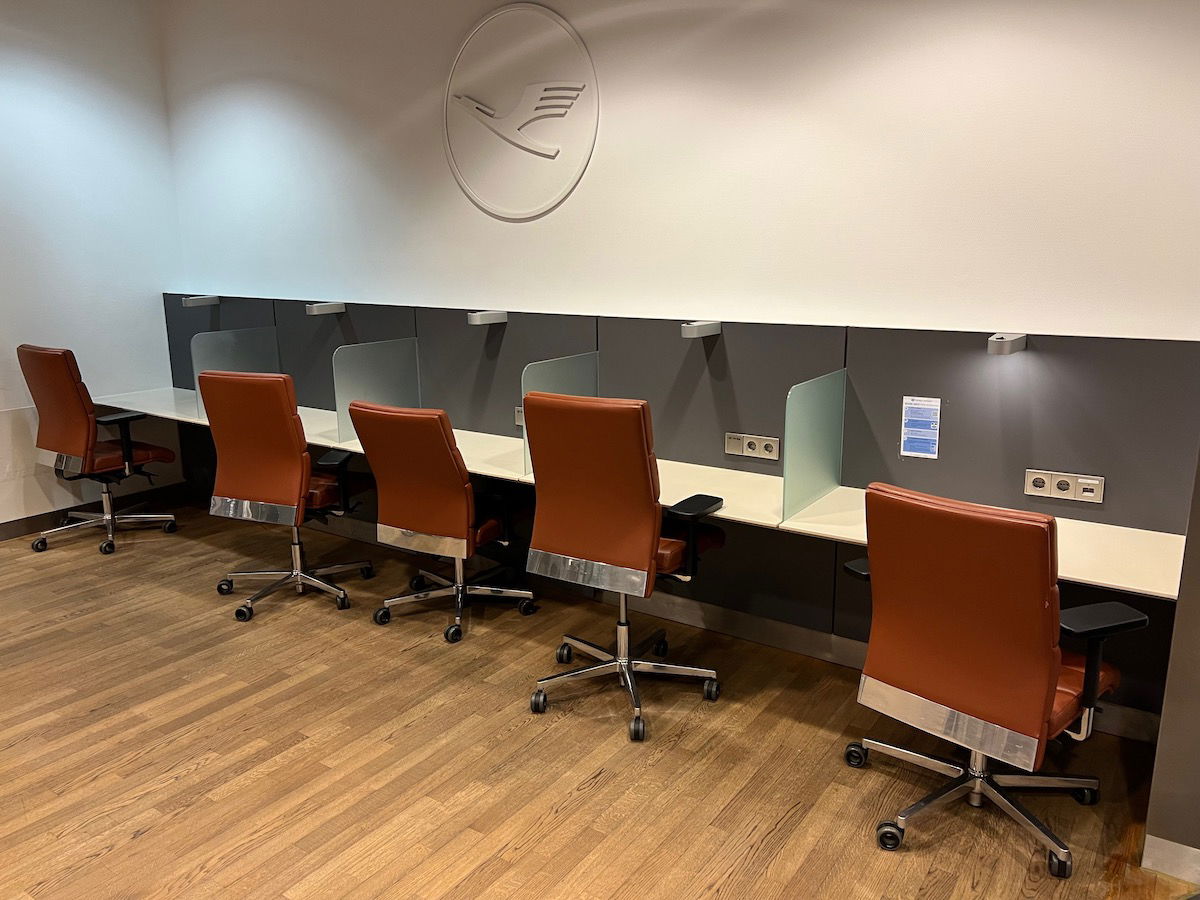 There are also some phone booths, should you want to make a private phone call.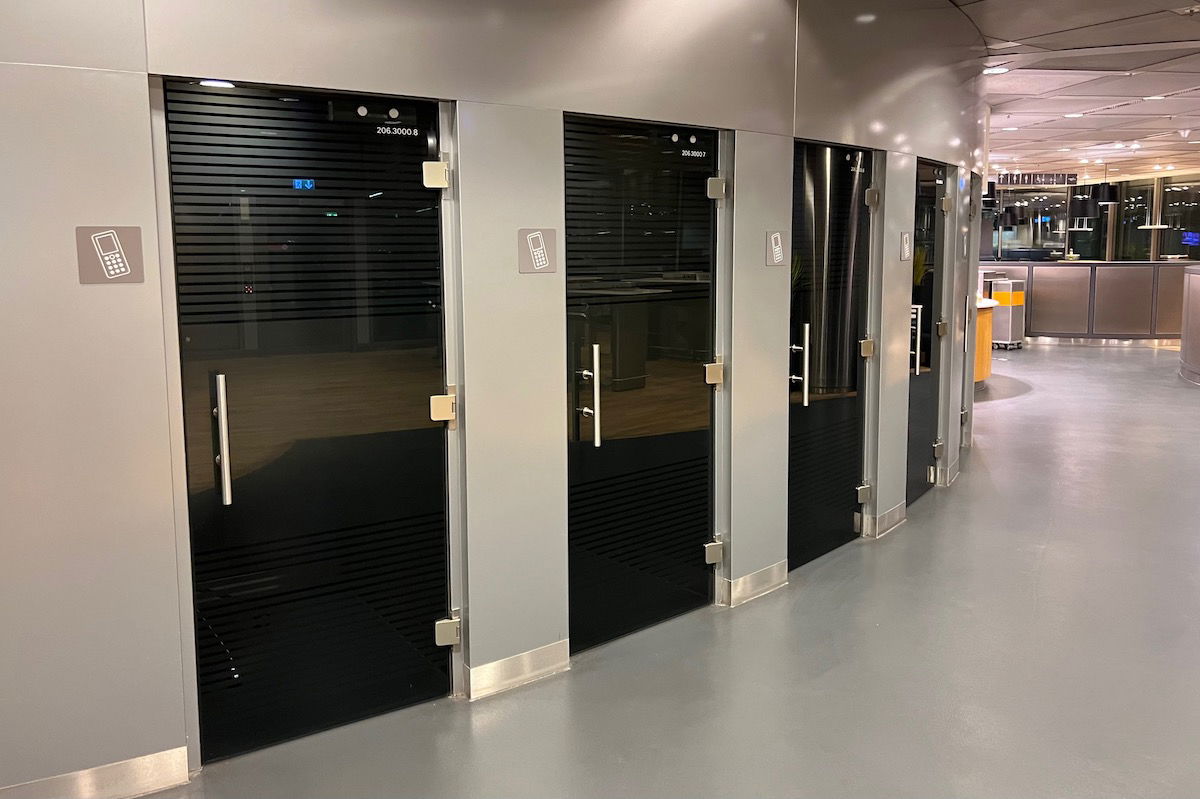 There's also a large play area for kids, which parents will likely appreciate (though this seems like a lot of space to allocate to families, given how busy lounges tend to get).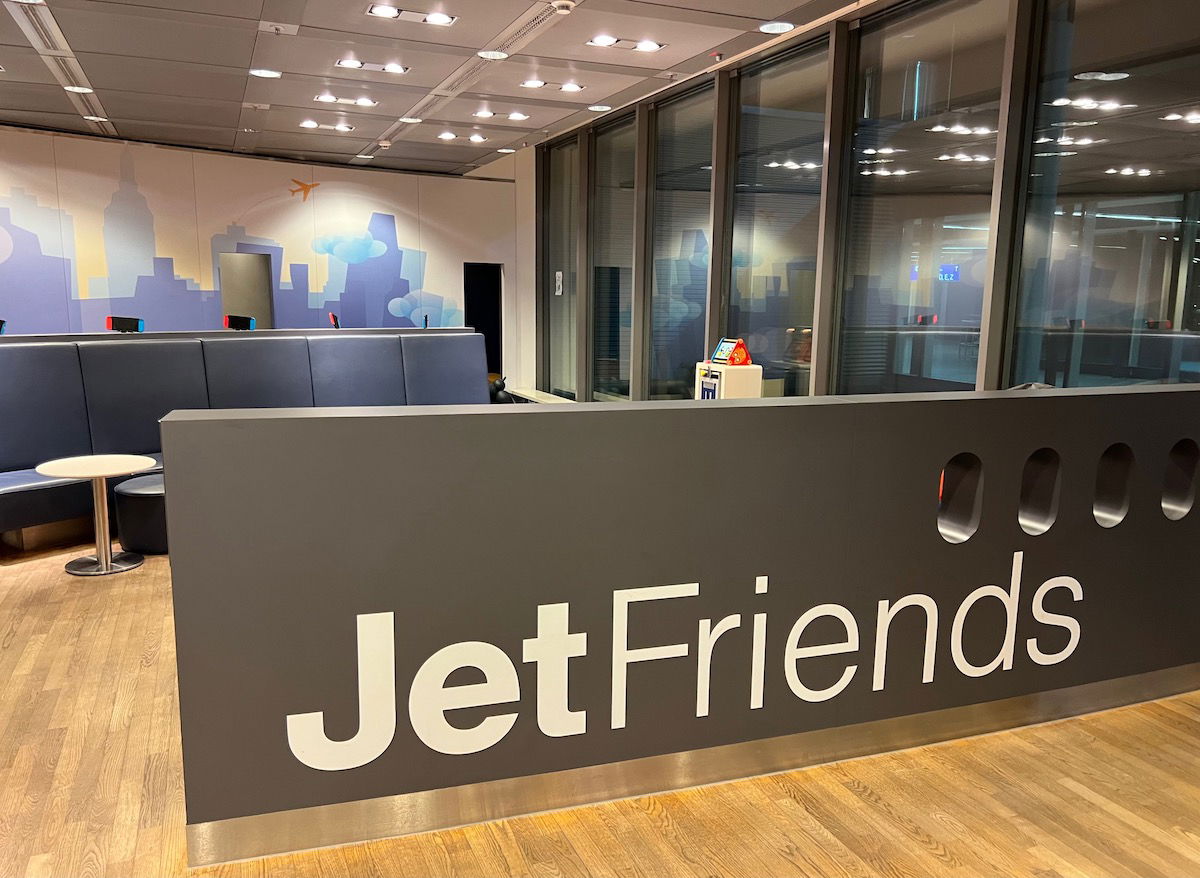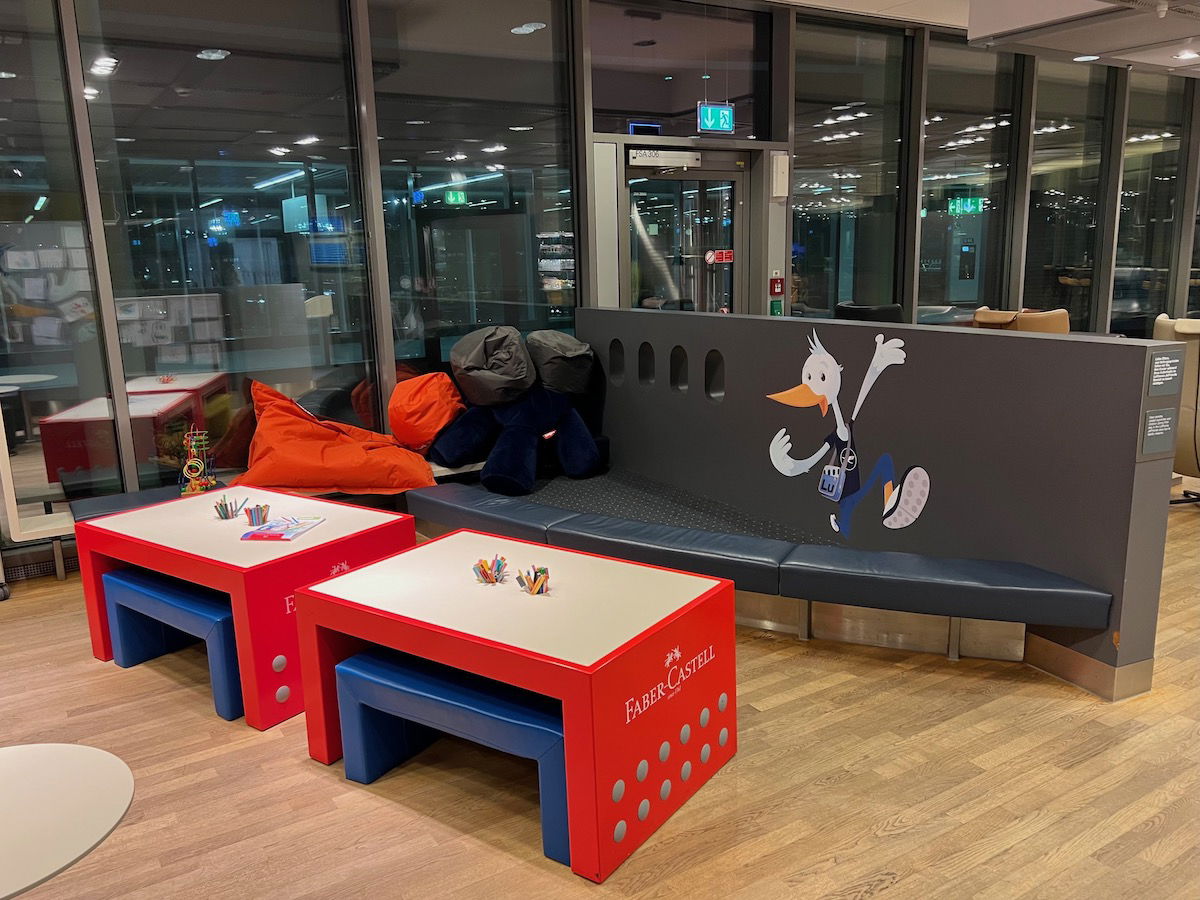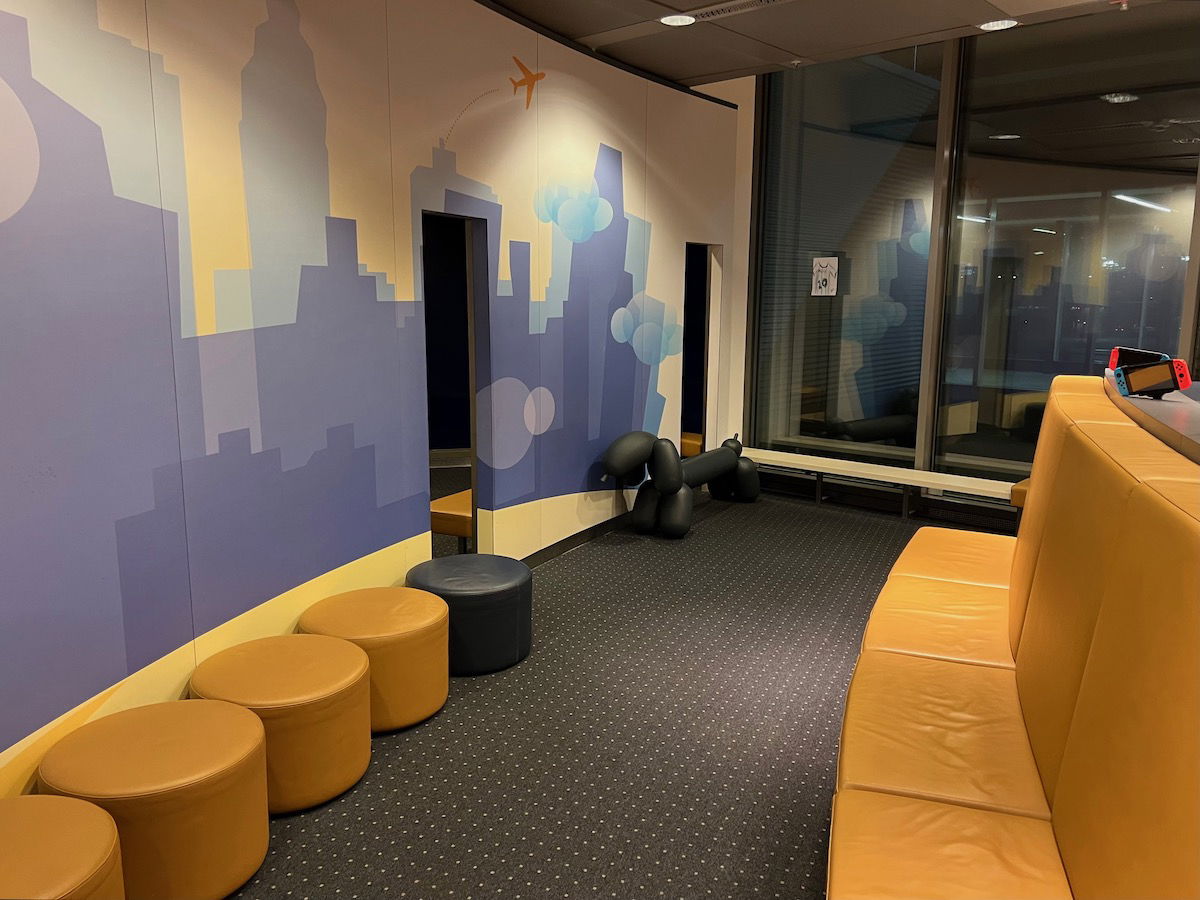 There were also lockers for luggage storage.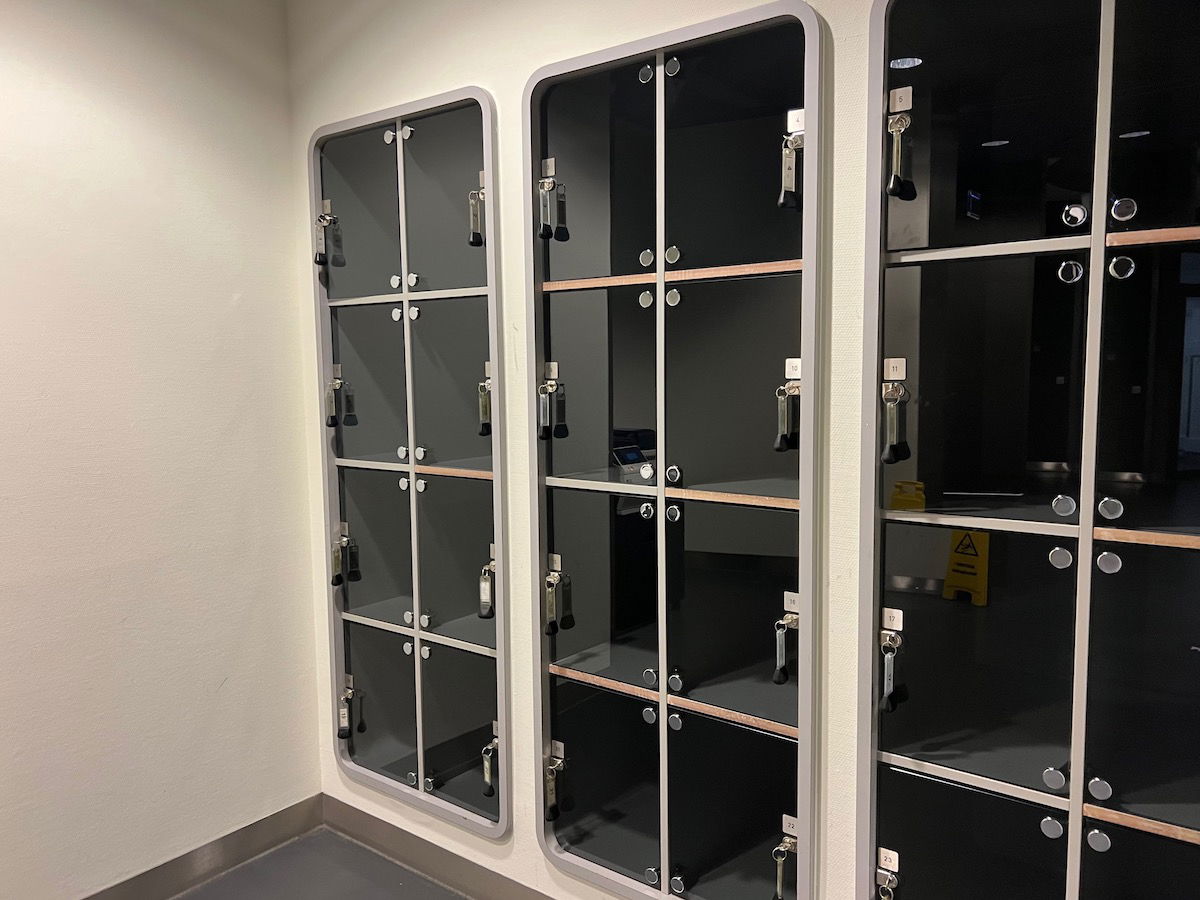 It's a perfectly nice lounge. As you can tell based on the pictures, I visited as soon as the lounge opened, so it wasn't busy at the time. However, I don't think I've ever been in a Lufthansa lounge in Frankfurt or Munich that wasn't packed during peak hours, so I imagine that's the case here as well.
The lounge had pretty nice views of the apron
Lufthansa Business Lounge Frankfurt food & drinks
Much like with design, Lufthansa Business Lounges are also consistent when it comes to the food & drink selection. Everything is available from a buffet, with no a la carte options.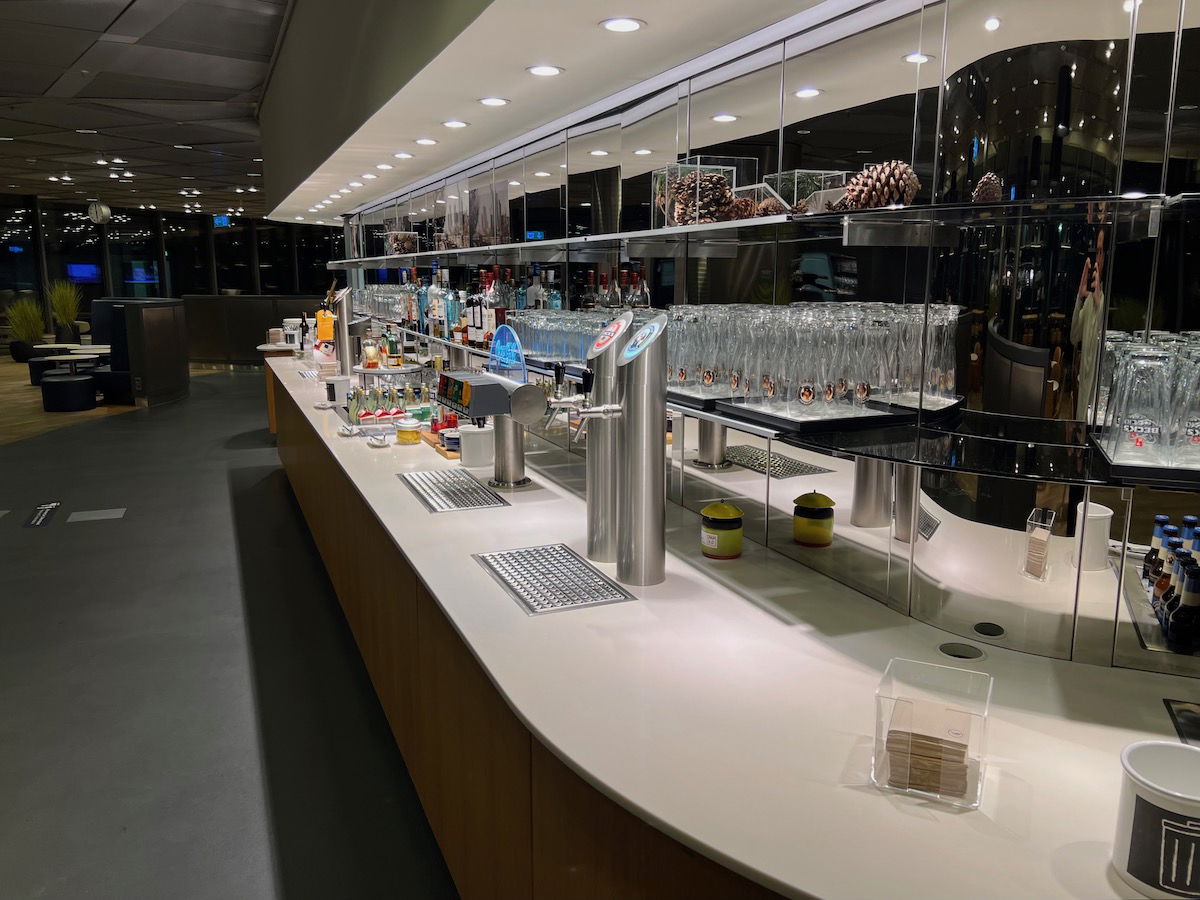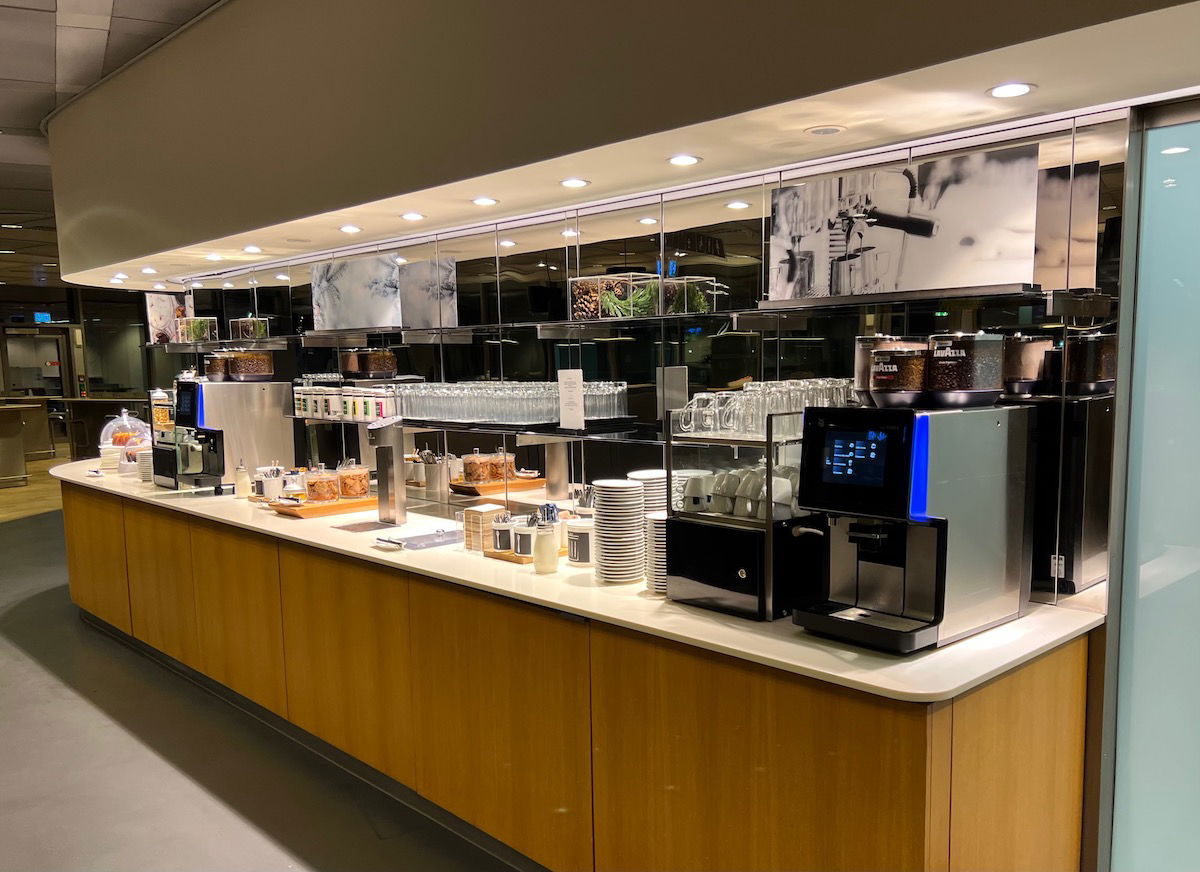 As far as food goes, breakfast options included muffins, cake, cereal, muesli, a variety of rolls and croissants, fresh fruit, yogurt, cold cuts, veggies, dips, eggs (scrambled and hardboiled), sausage, baked beans, and candy. I was saddened by the lack of pretzels!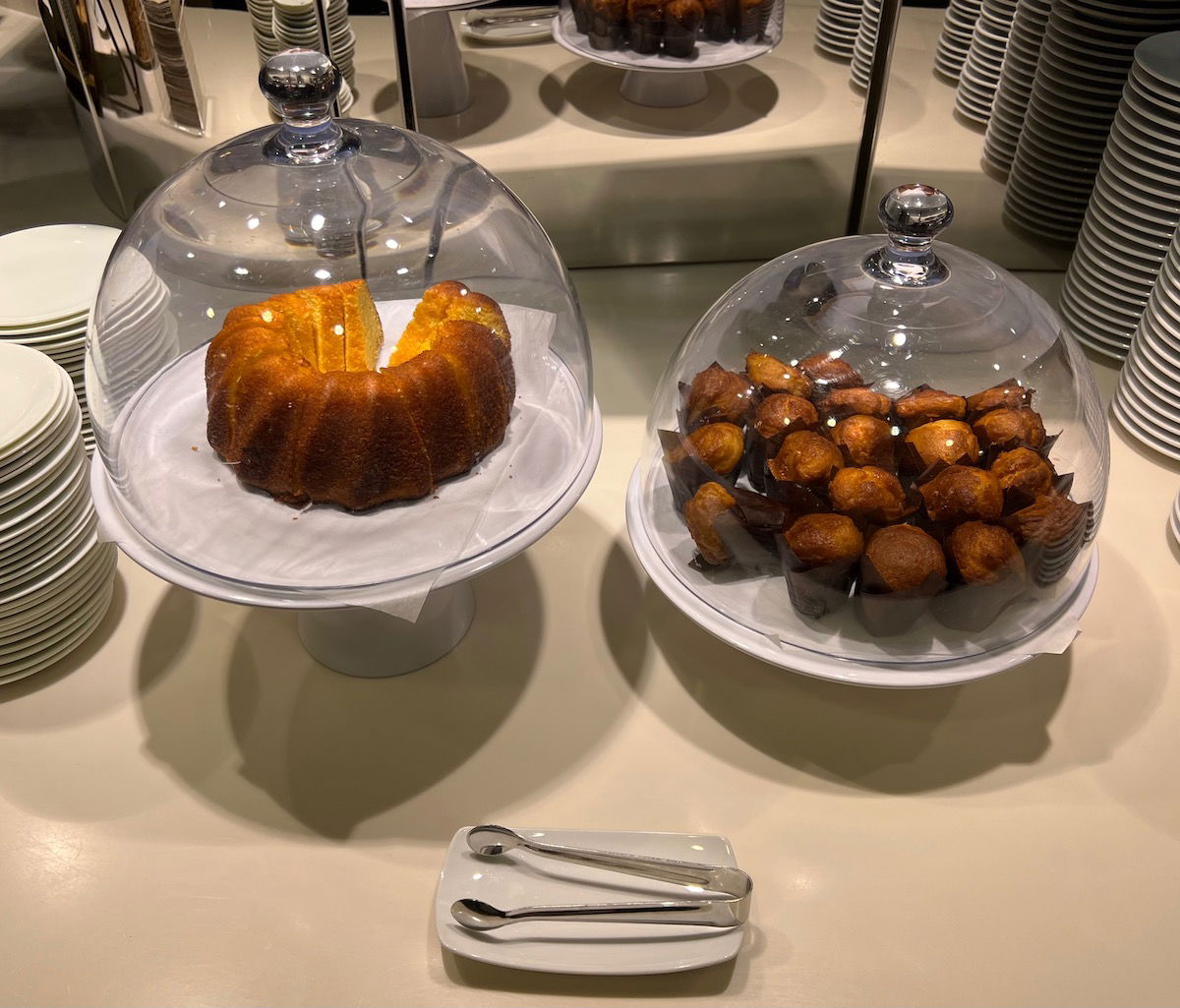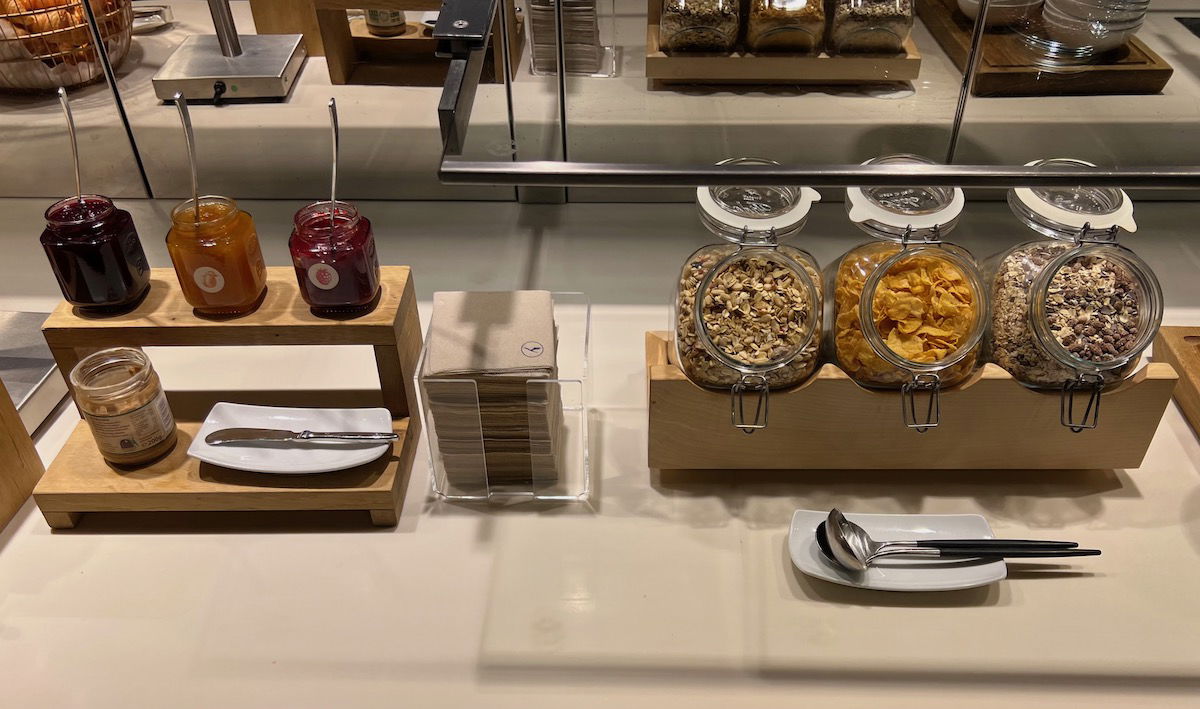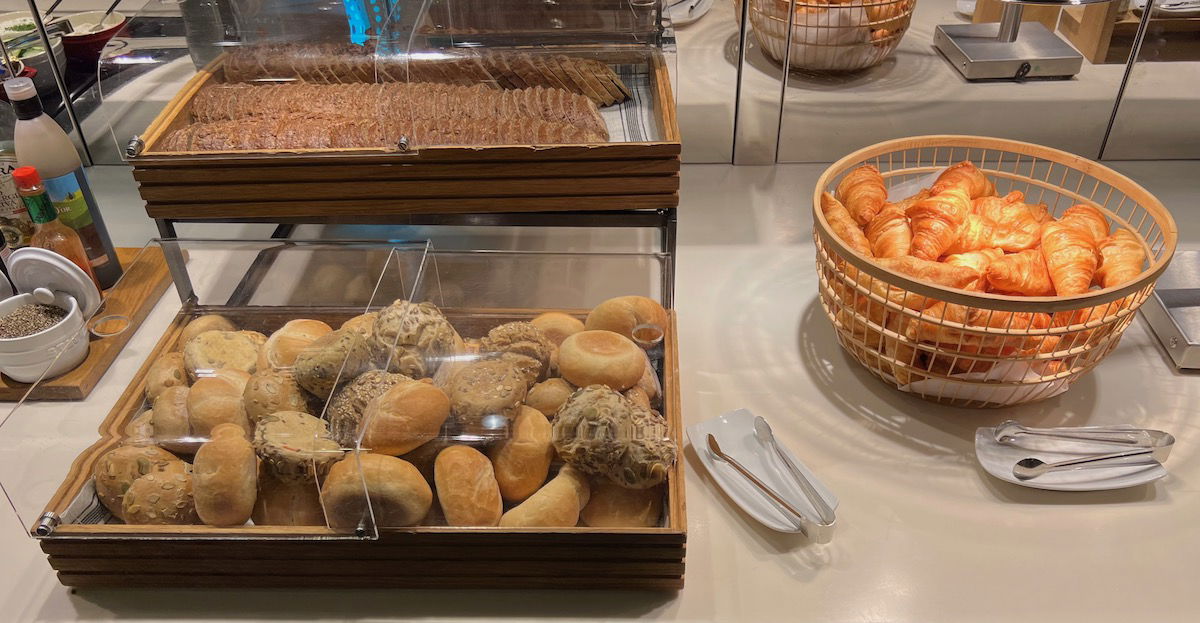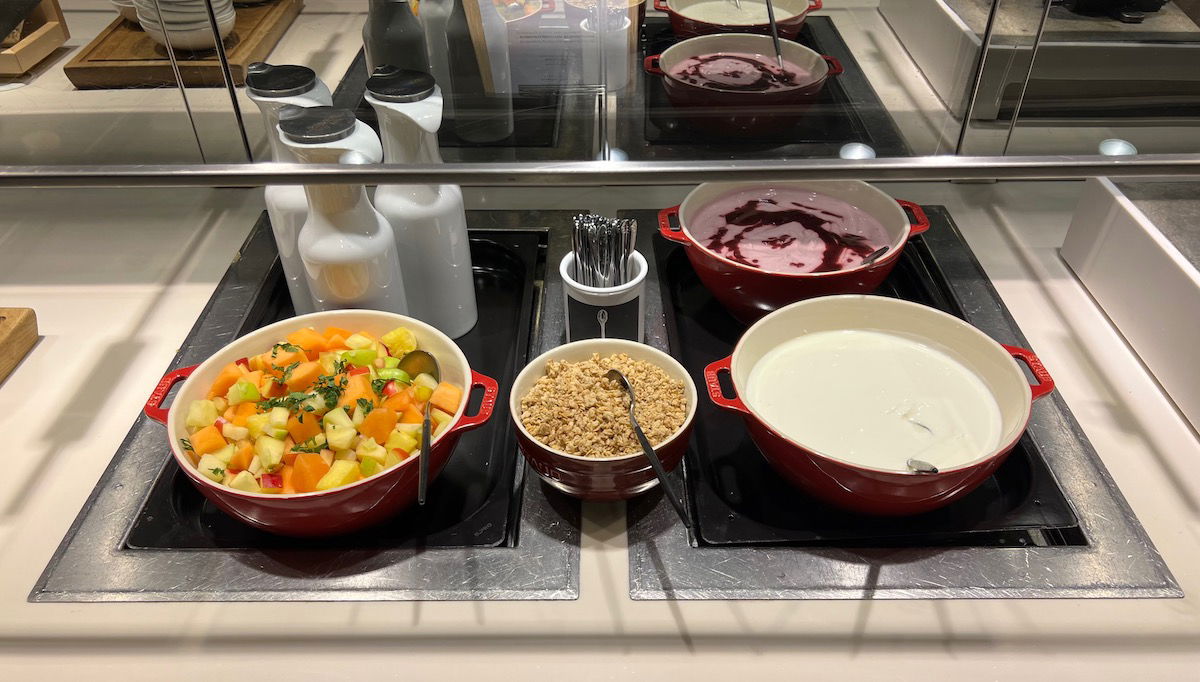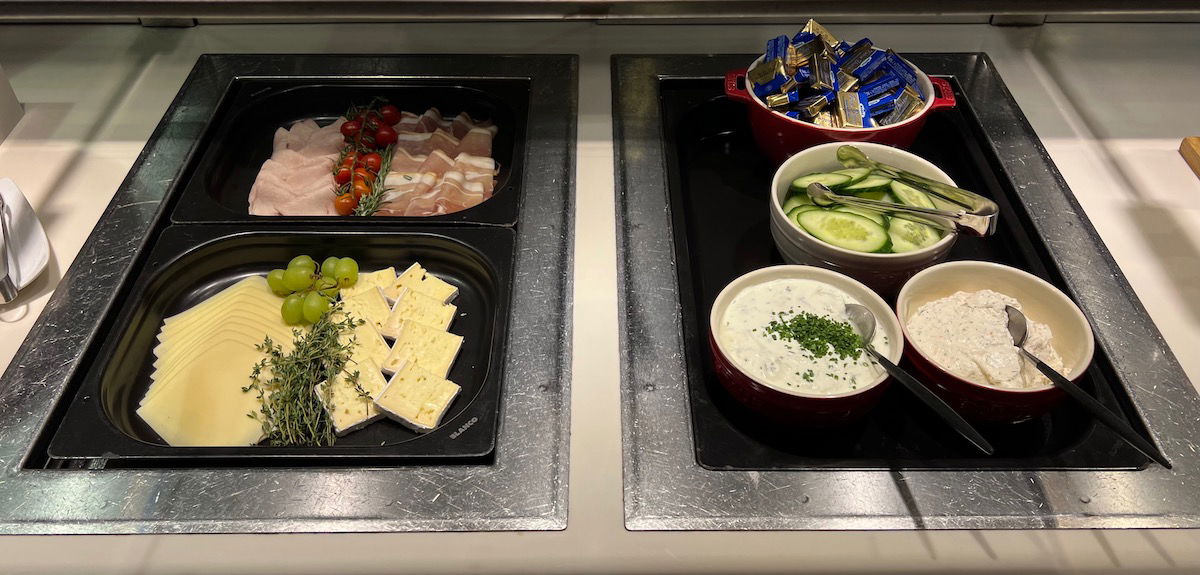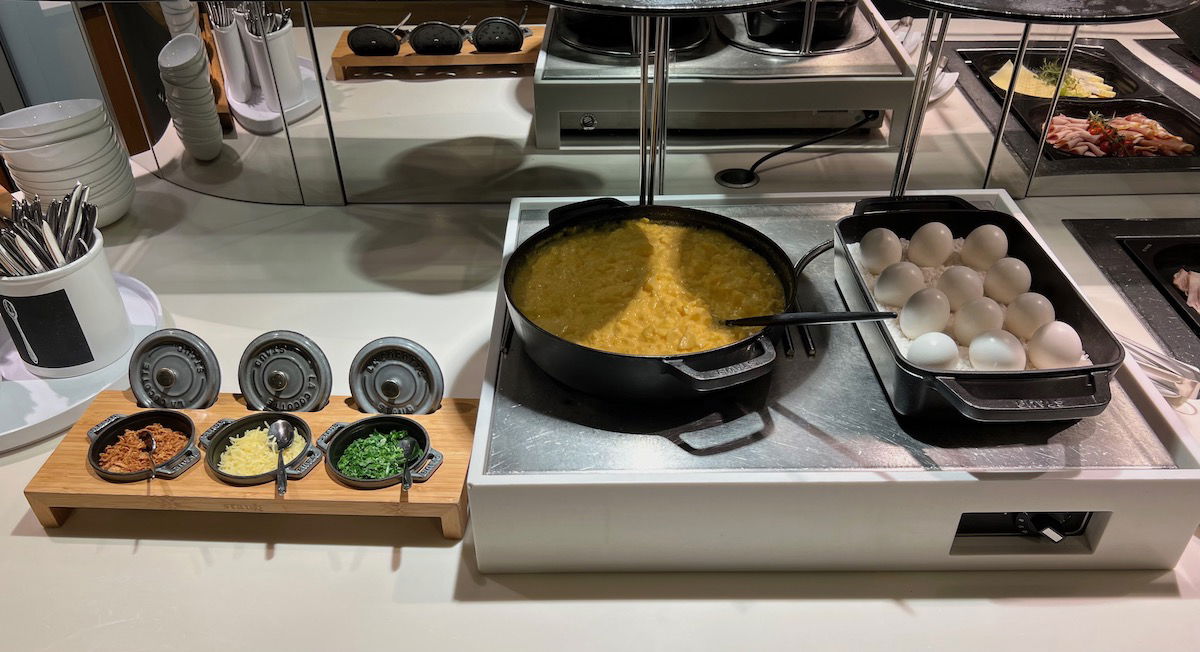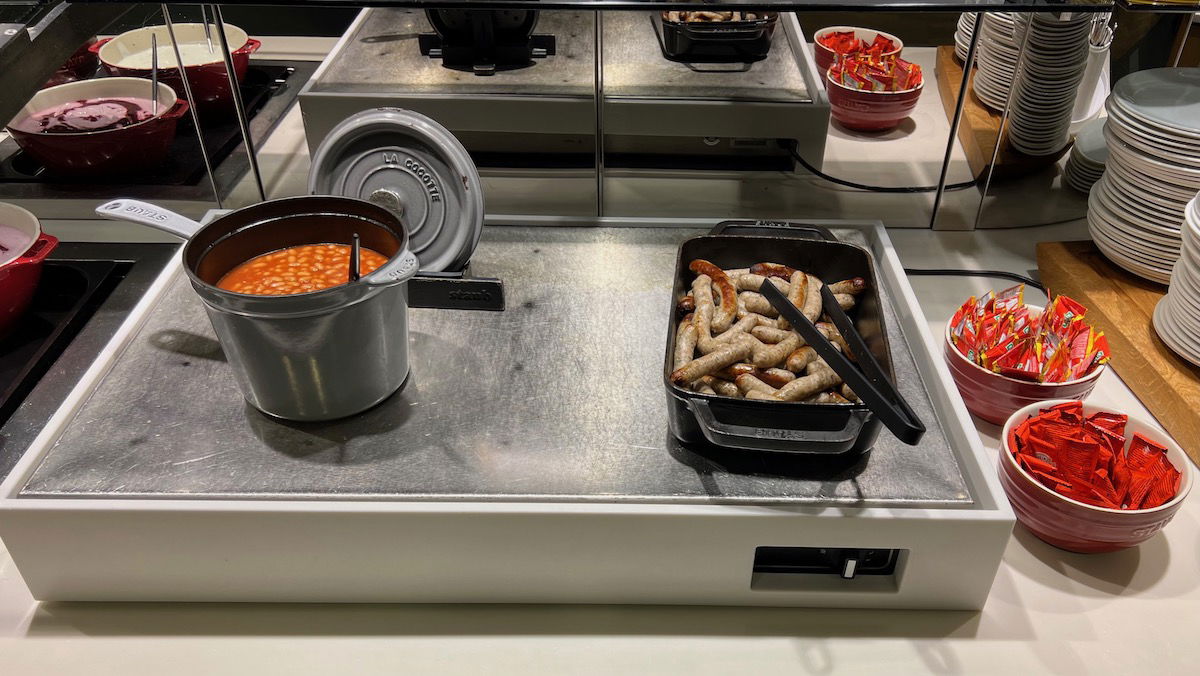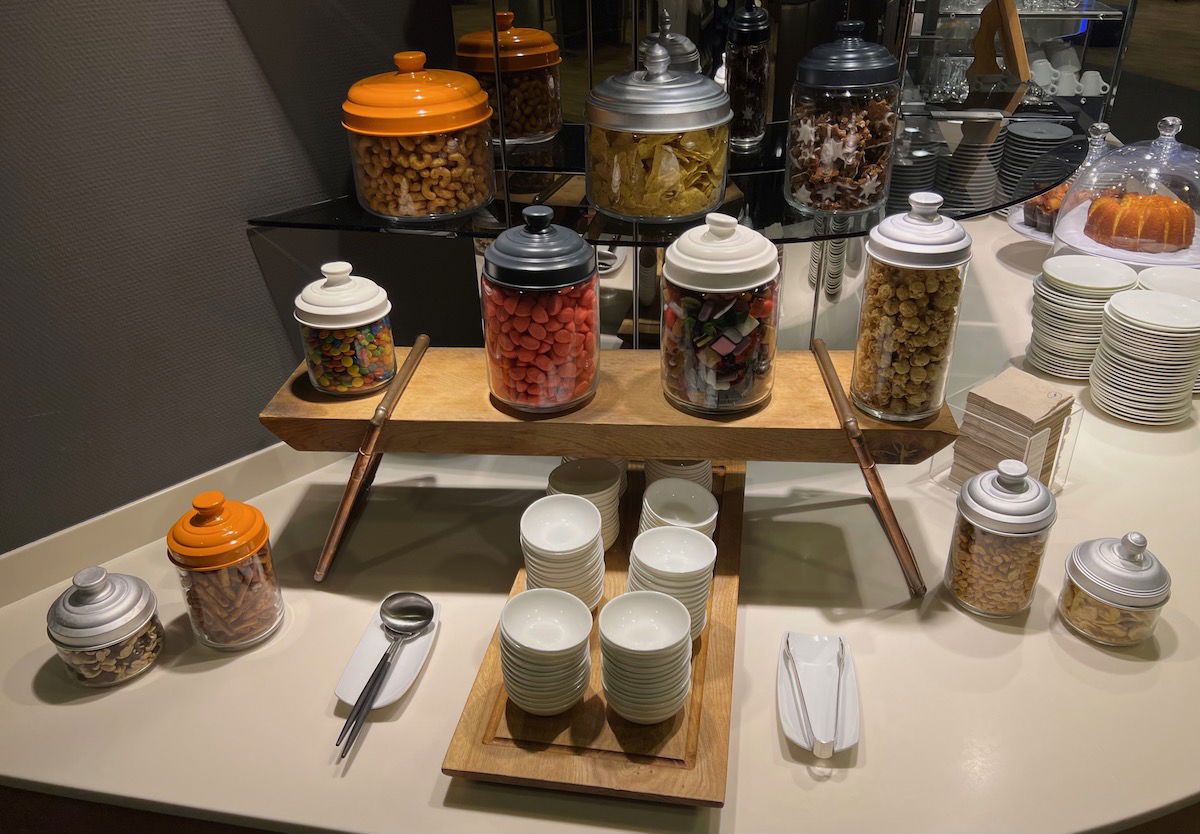 As far as drinks go, there were Lavazza coffee machines, tea, a soda fountain, beer, wine, and liquor. You've gotta love how lounges in Germany have beer standing there on ice at 6AM.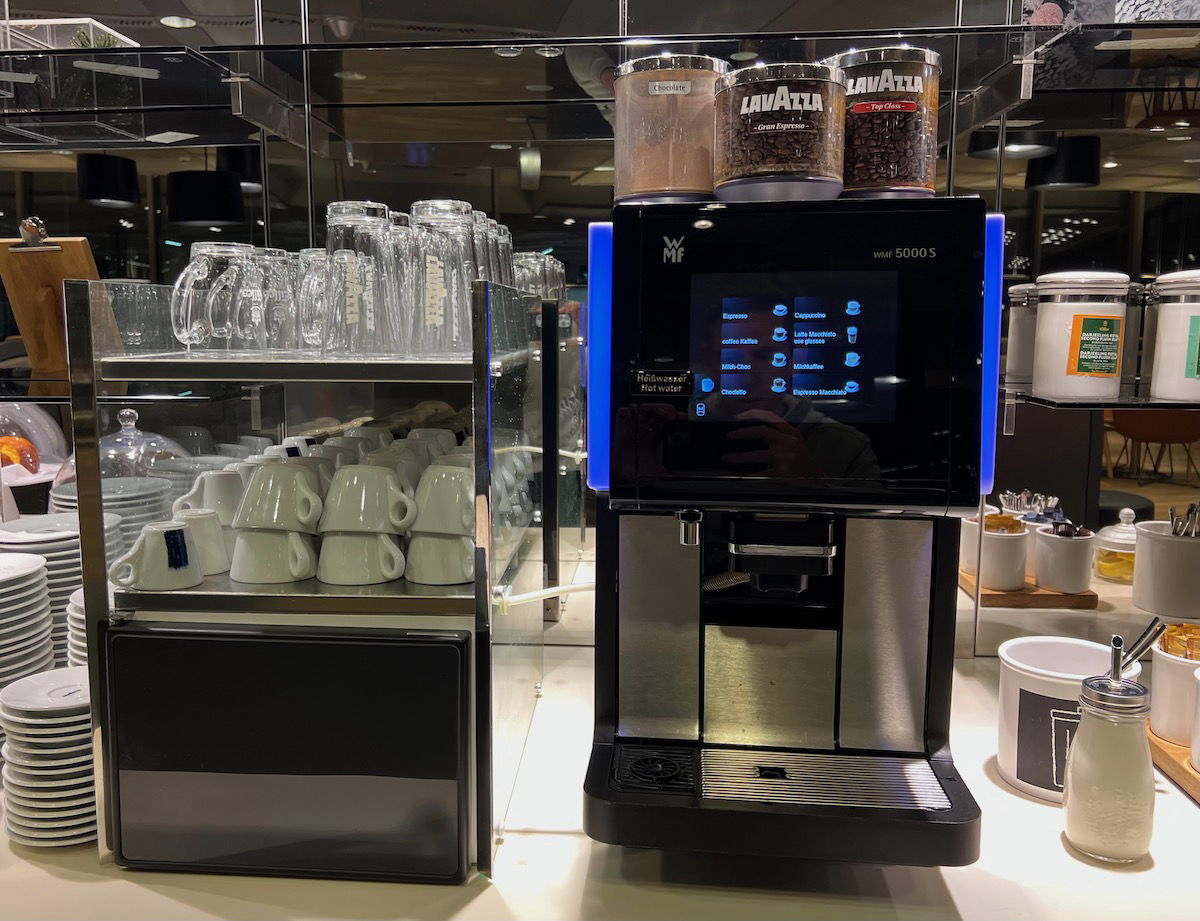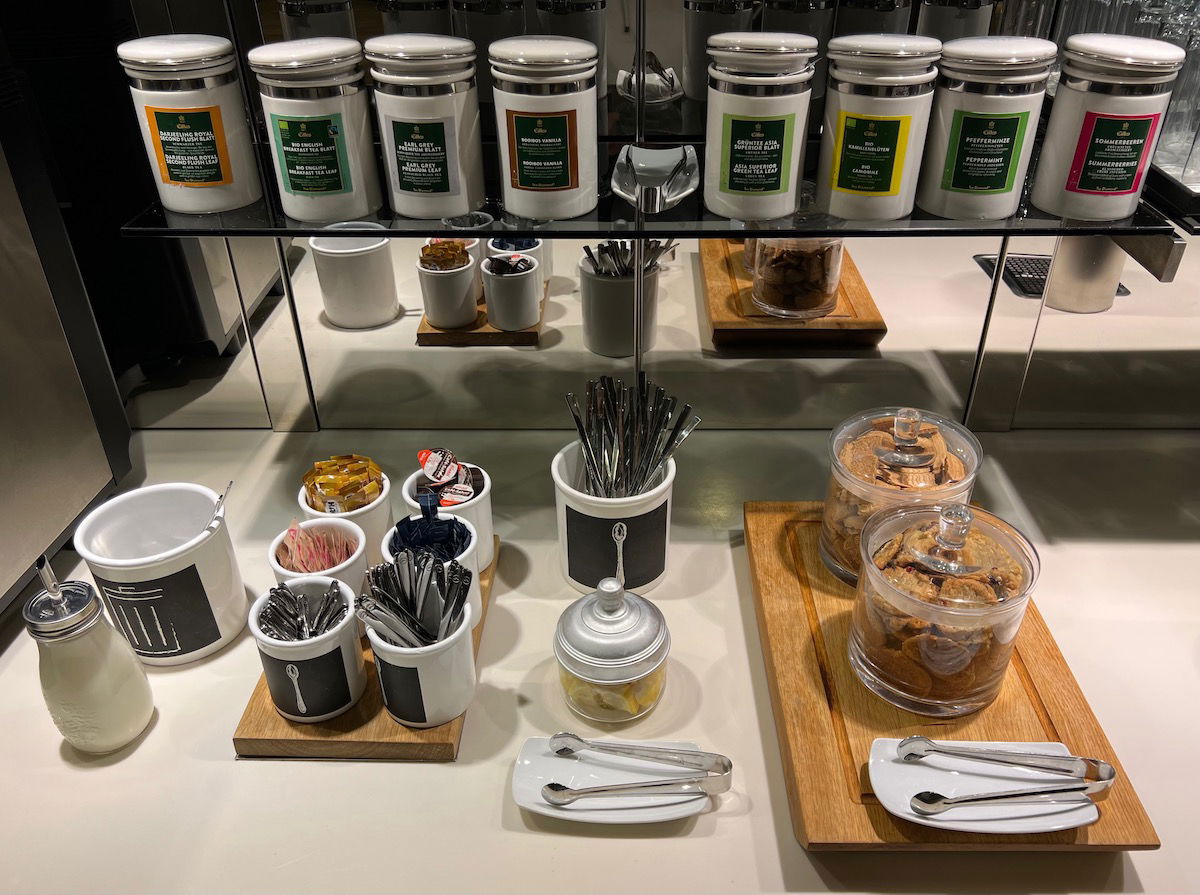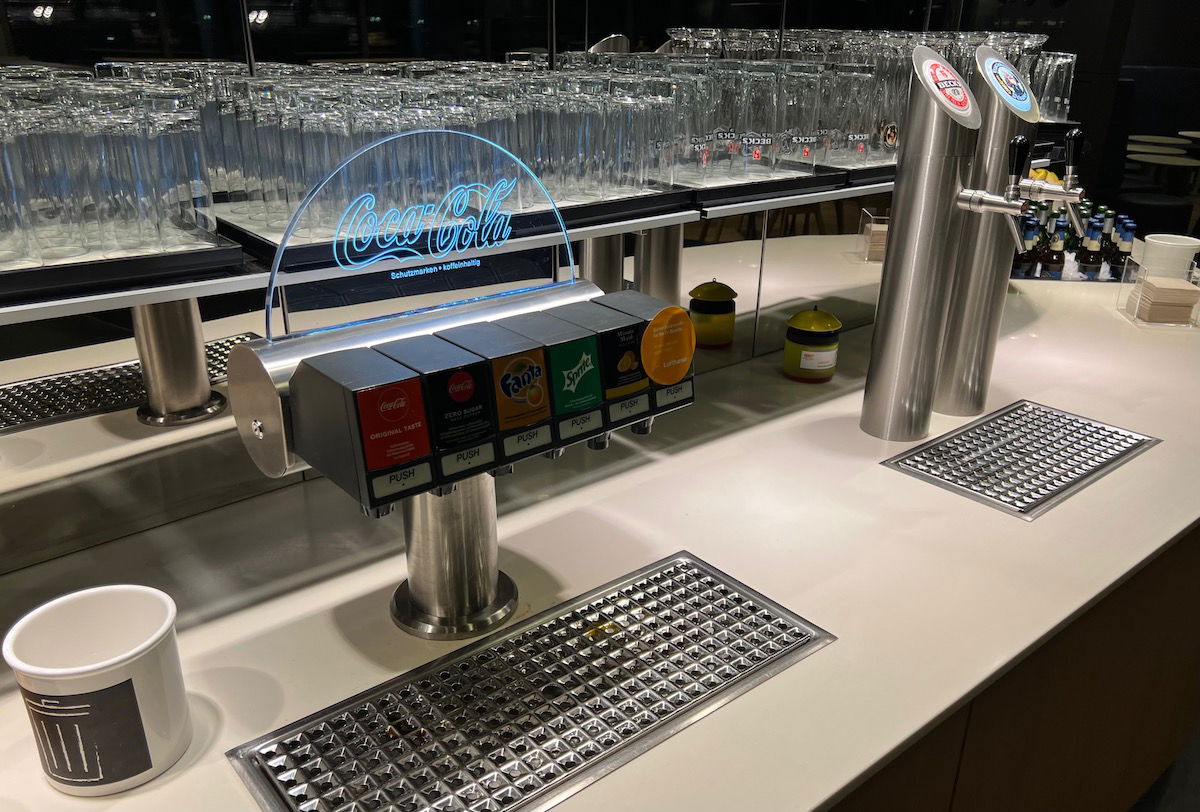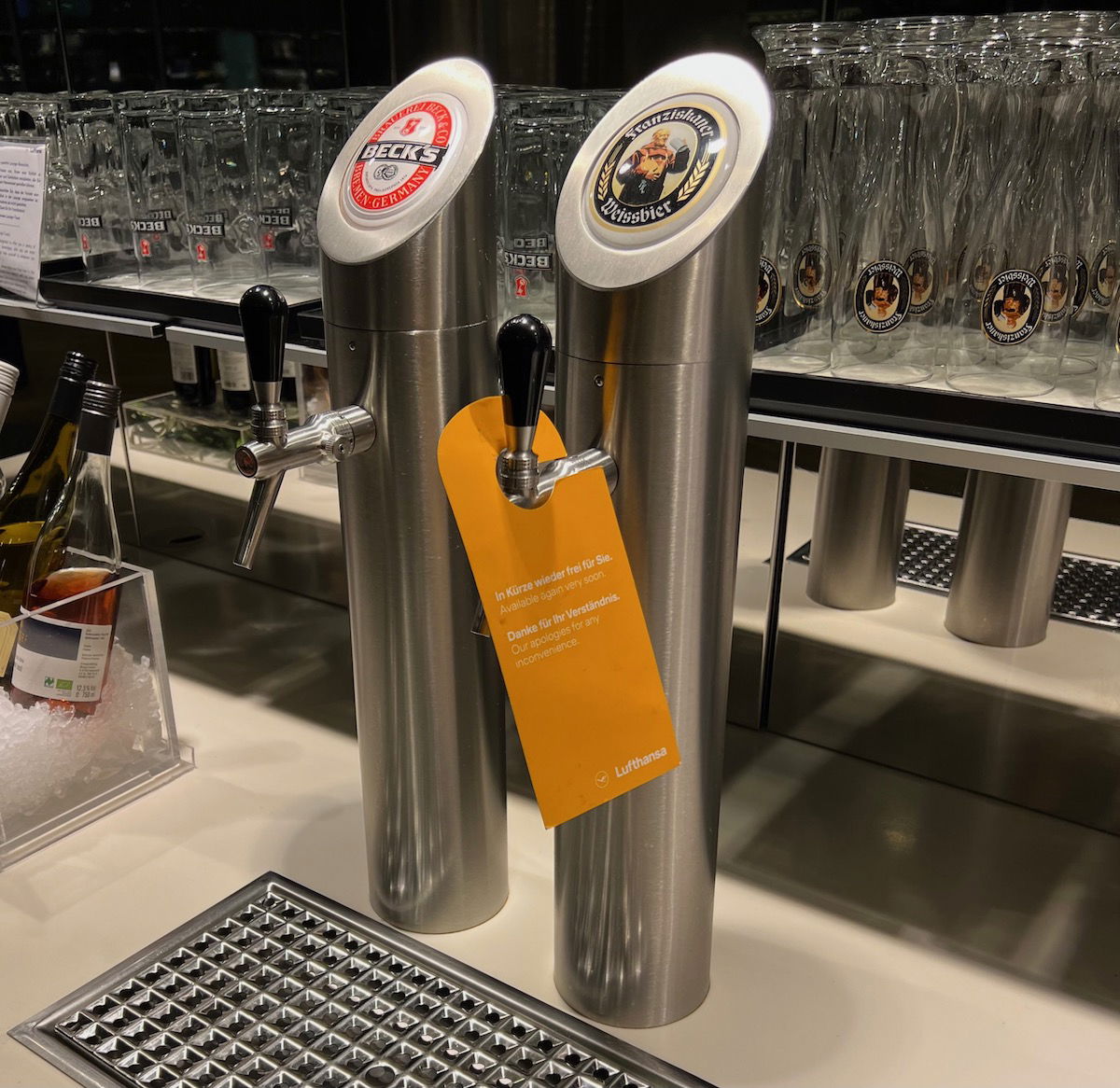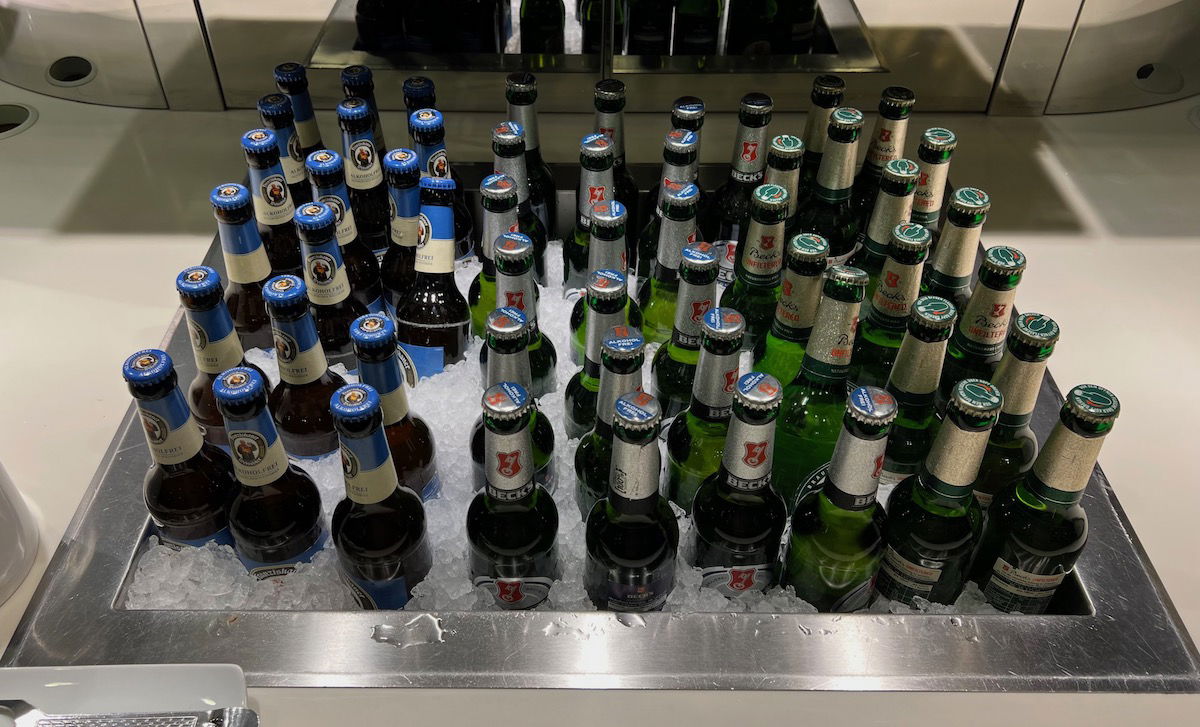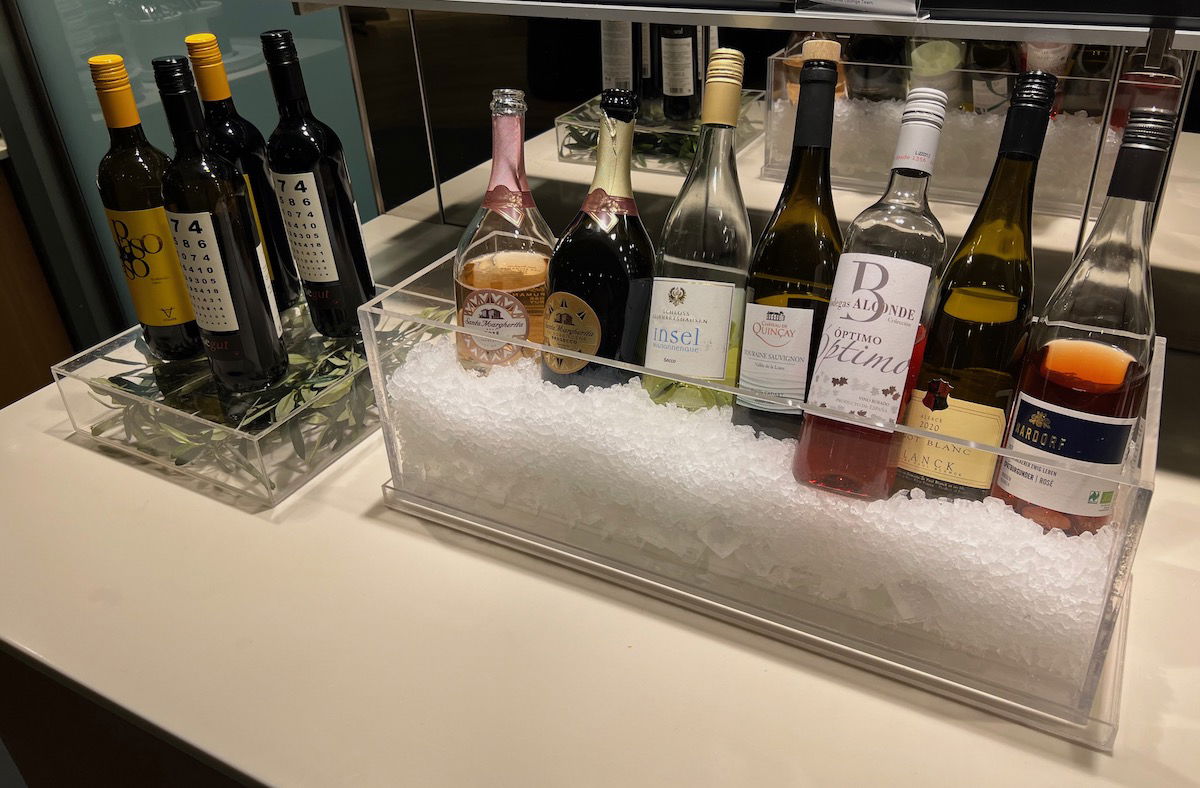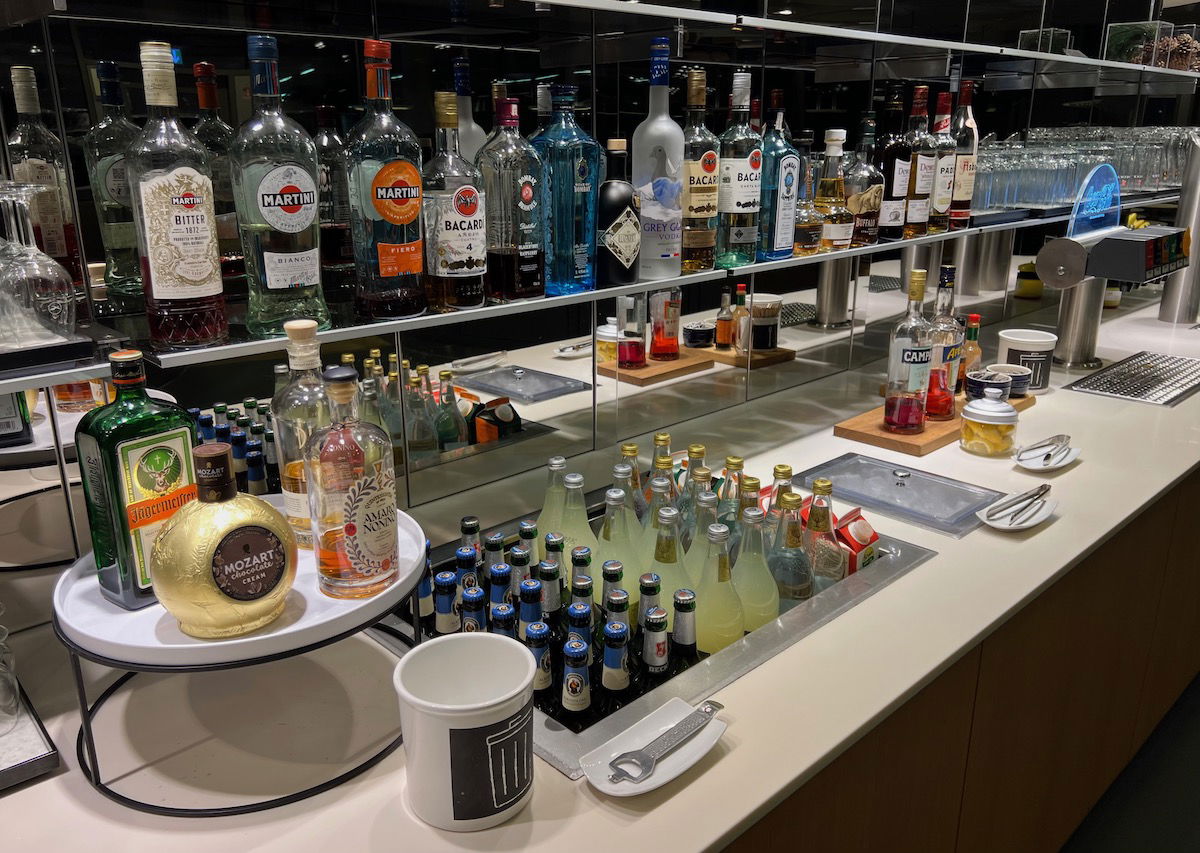 For a business class lounge, I'd say it's a pretty good selection.
Lufthansa Business Lounge Frankfurt bathrooms & showers
The bathrooms were pretty limited given the size of the lounge. The mens restroom had a few stalls and urinals.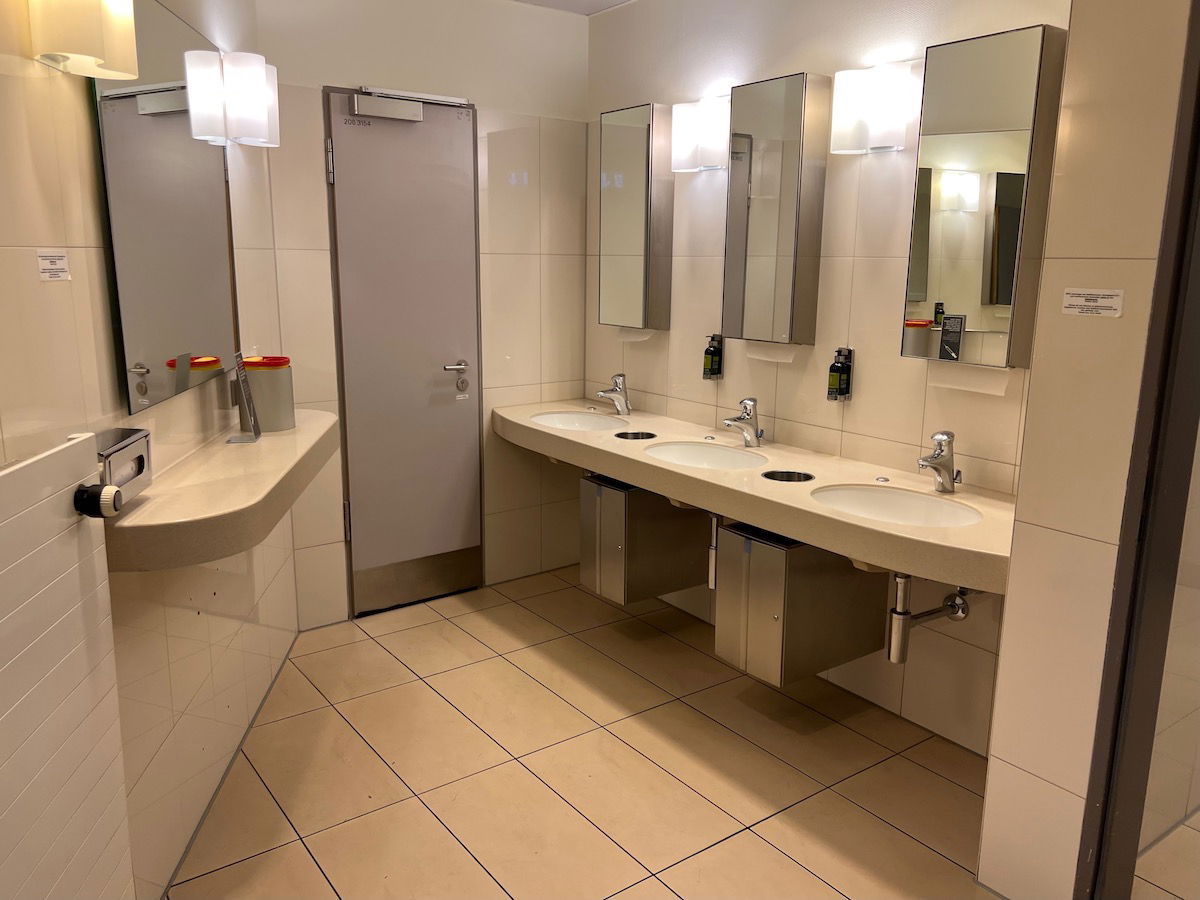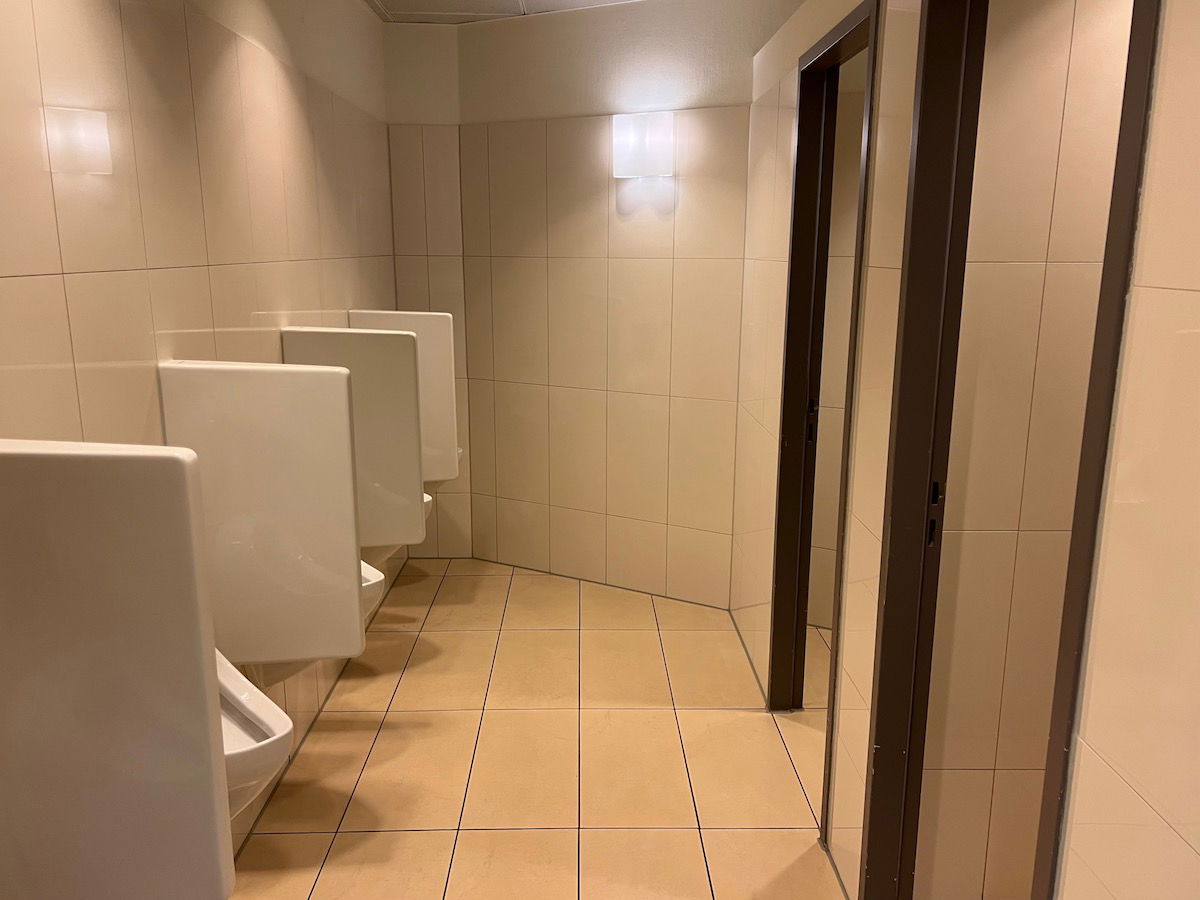 The Lufthansa Business Lounge also has five shower rooms. They're functional and have L'Occitane amenities, but not about to win any awards for design.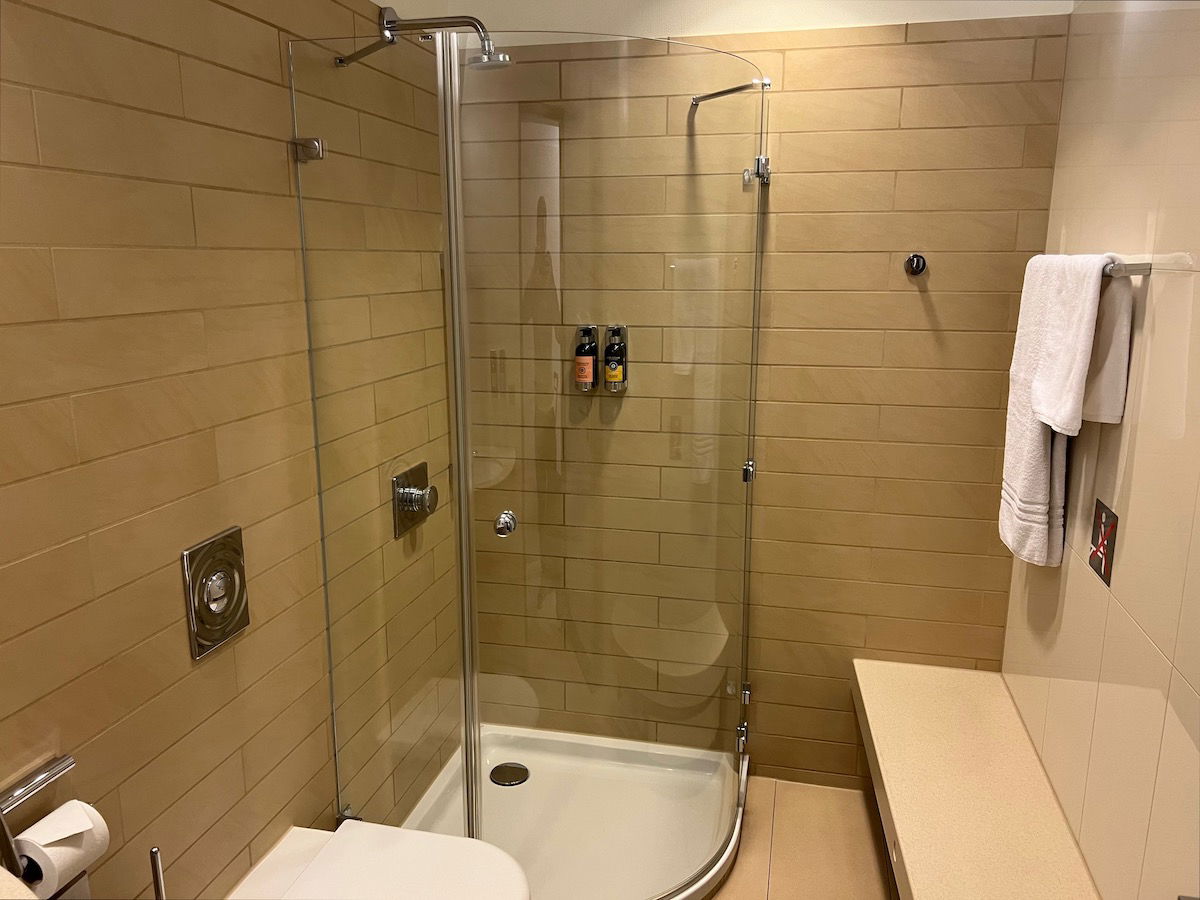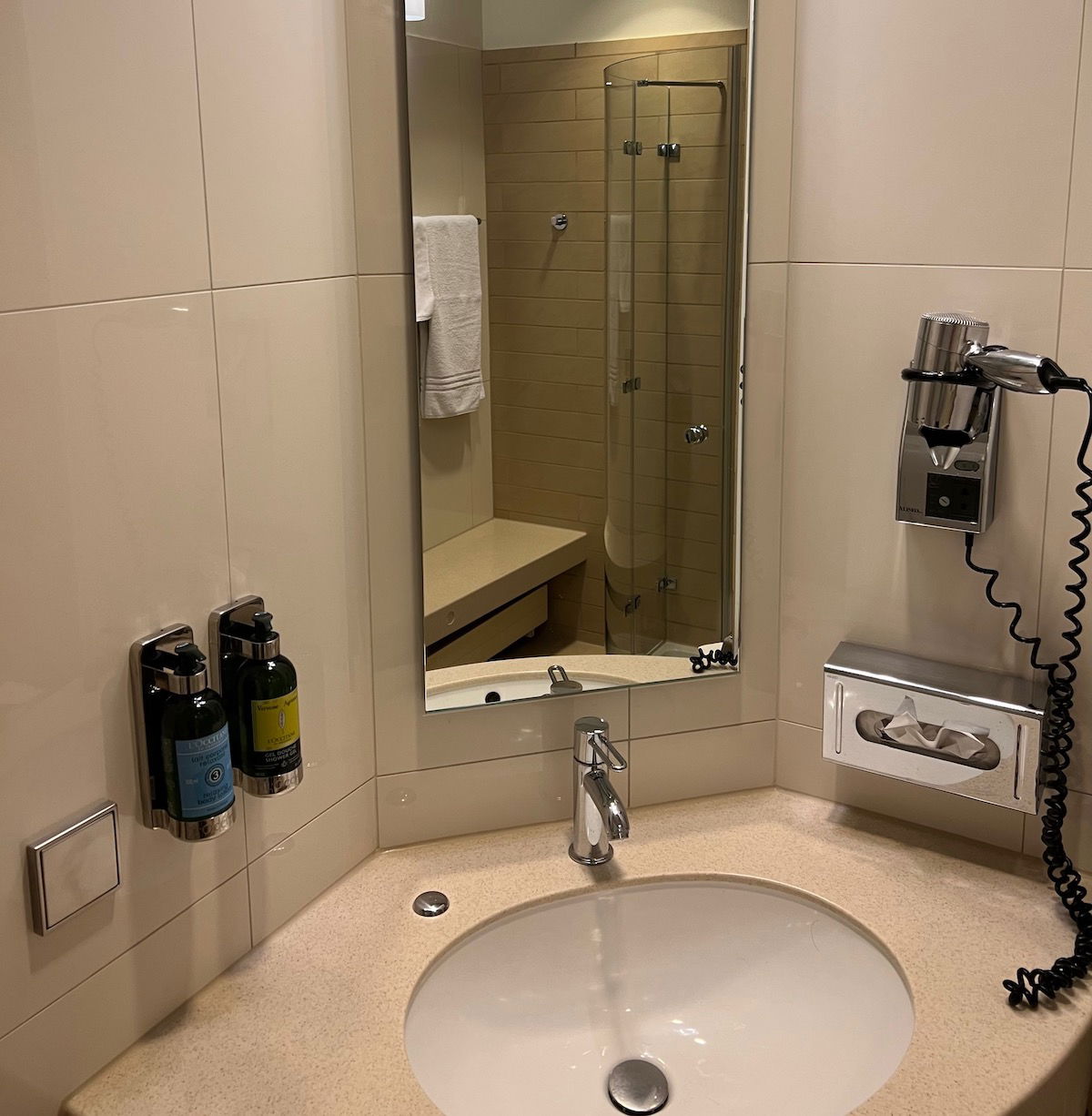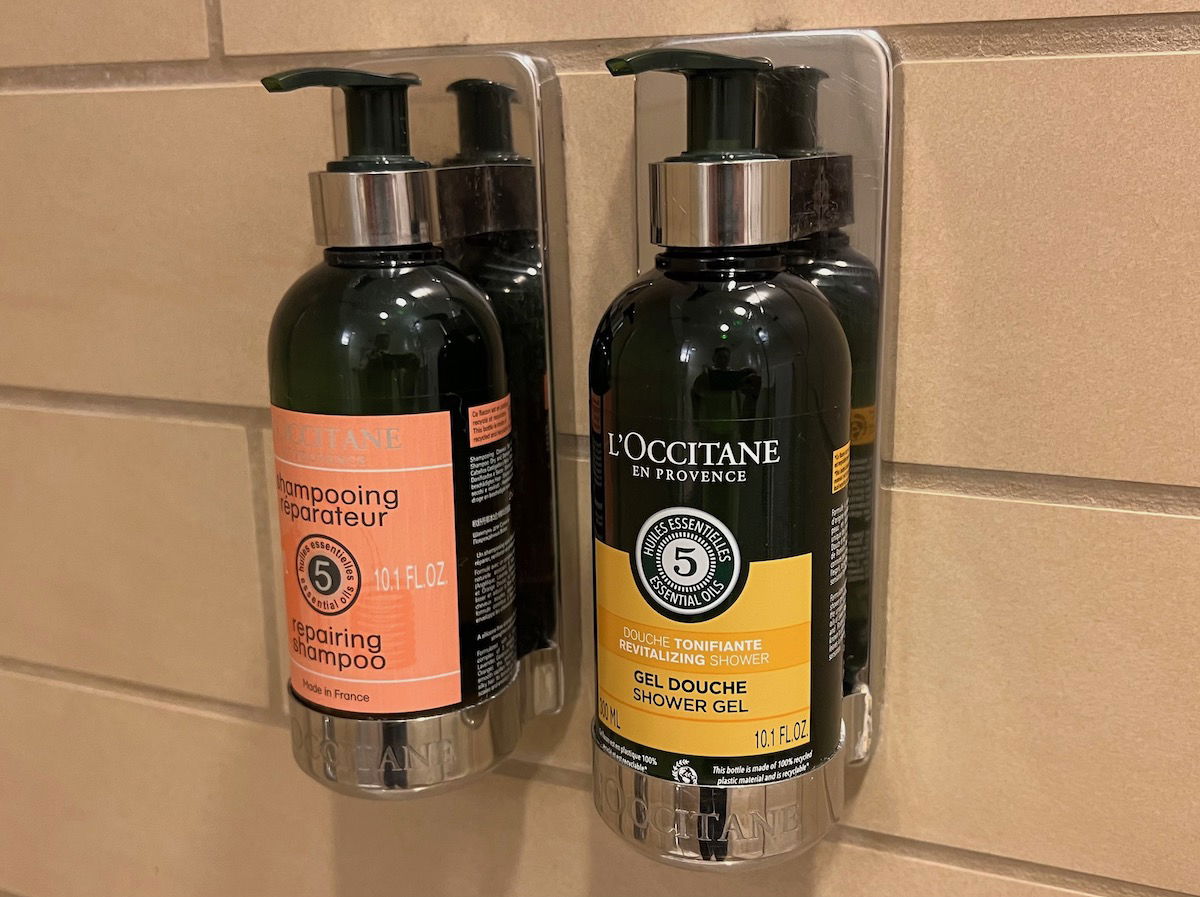 Bottom line
The Lufthansa Business Lounge Frankfurt is perfectly fine, with pleasant but sterile decor, and a good selection of food and drinks. The lounge doesn't really have any x-factor, though, and you can expect that it will get extremely crowded over peak hours.
As much Lufthansa Senator Lounges are supposed to be more exclusive than Lufthansa Business Lounges, I don't notice any real difference.
What do you make of the Lufthansa Business Lounge Frankfurt?