In the interest of full disclosure, OMAAT earns a referral bonus for anyone that's approved through some of the below links. These are the best publicly available offers (terms apply) that we have found for each product or service. Opinions expressed here are the author's alone, not those of the bank, credit card issuer, airline, hotel chain, or product manufacturer/service provider, and have not been reviewed, approved or otherwise endorsed by any of these entities. Please check out
our advertiser policy
for further details about our partners, and thanks for your support!
After a couple of flights on Austrian Airlines (on the Boeing 777-200ER and Airbus A320), I continued my whirlwind Aeroplan adventure with a couple of segments on Gulf Air, including on the Airbus A321LR and Boeing 787-9.
I started by flying Gulf Air's Airbus A321LR business class from Rome to Bahrain, which is a flight I was looking forward to. Gulf Air has been working on reinventing itself, and I was curious to see what Gulf Air's new narrow body business class experience was like.
In the end I was… moderately impressed? Gulf Air is really close to being great, but there are some easy areas for improvement, which would give Gulf Air a world class product.
Let's get into the review.
How I booked my Gulf Air business class ticket
I booked my Gulf Air business class ticket using points. Specifically, I redeemed 115,000 Air Canada Aeroplan points to fly from Chicago to Vienna to Rome to Bahrain to Singapore to Ho Chi Minh City to Hanoi, all in business class.
For more details on how I booked that, see my post about how to redeem Aeroplan points like a pro. Aeroplan points are easy to come by, as the program is transfer partners with Amex Membership Rewards, Capital One, and Chase Ultimate Rewards. On top of that, there's the Aeroplan® Credit Card (review) in the United States, which is phenomenal.
Specific to the Gulf Air portion of my trip, here were the two flights I flew on Gulf Air (I'll review the second segment in a separate post):
1/07 GF26 Rome to Bahrain departing 11:10AM arriving 6:35PM
1/07 GF165 Bahrain to Singapore departing 11:50PM arriving 12:25PM (+1 day)
Gulf Air business class lounge & boarding Rome
I didn't have all that much time in Rome, as I landed at 9:30AM from Vienna, and was connecting at 11:10AM to Bahrain. During that time I had to change terminals, go through security, and clear passport control. I decided to visit the Plaza Premium Lounge Rome, which I access with my Amex Platinum Card.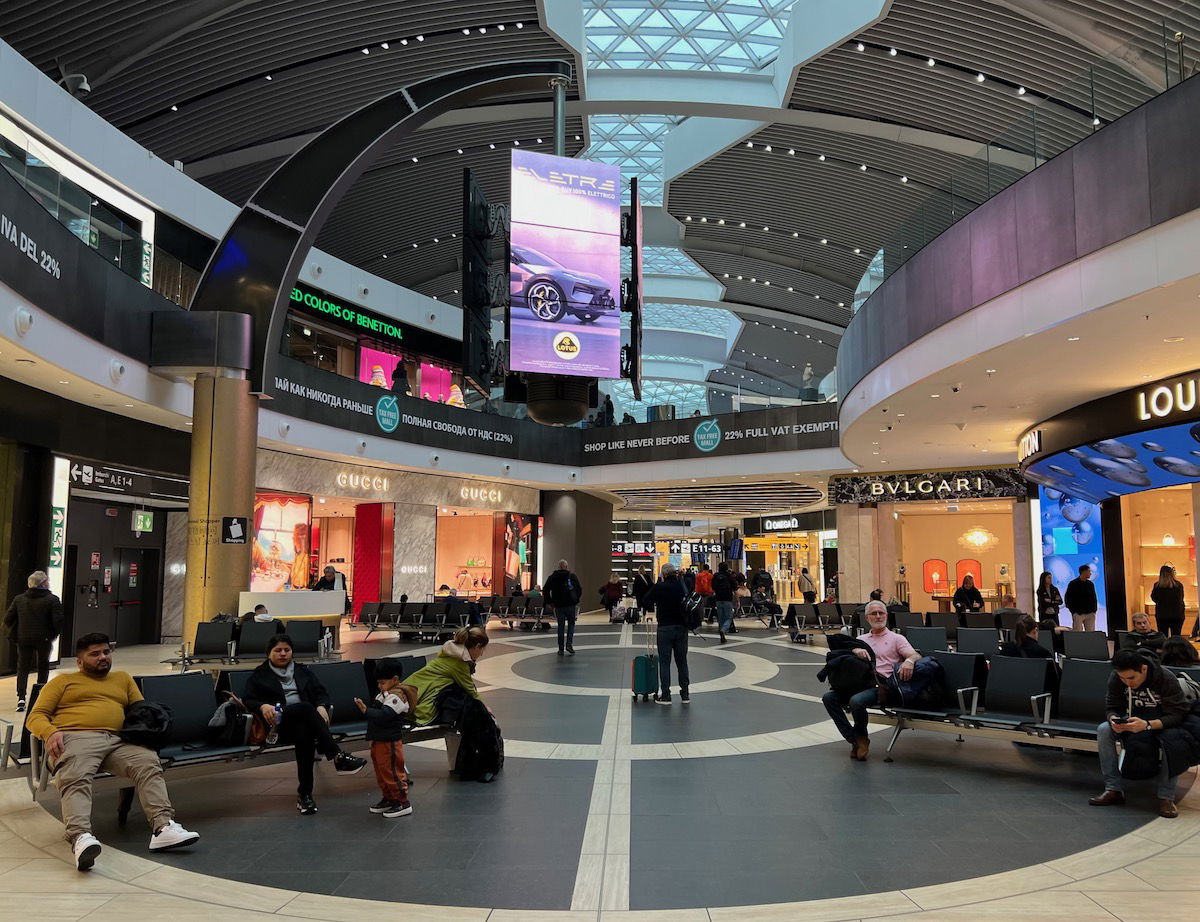 While Gulf Air sends its premium passengers to the Premium Vista Lounge, I didn't have the chance to check it out, though I'd guess it's not as nice as the Plaza Premium Lounge.
My flight was departing from gate E38, with boarding scheduled 40 minutes before departure, at 10:30AM. It can take some time to get to this area of the terminal, as you need to take a train to get there.
Unfortunately my flight was delayed a bit. Gulf Air's service from Rome to Bahrain operates as part of a larger service, as Gulf Air flies from Milan to Rome to Bahrain. Gulf Air seems to have quite a few of these "direct" flights with a stop nowadays.
While the departures monitor showed the flight as being on-time, I saw on Flightradar24 that the inbound aircraft from Milan was around 40 minutes late, so I wasn't expecting we'd depart on-time.
The A321LR isn't a very big plane to begin with (it has 166 seats), and even between the two stops in Italy, the flight still wasn't anywhere close to full. I'd say there were maybe a few dozen passengers who boarded in Rome, so the gate area was pretty quiet.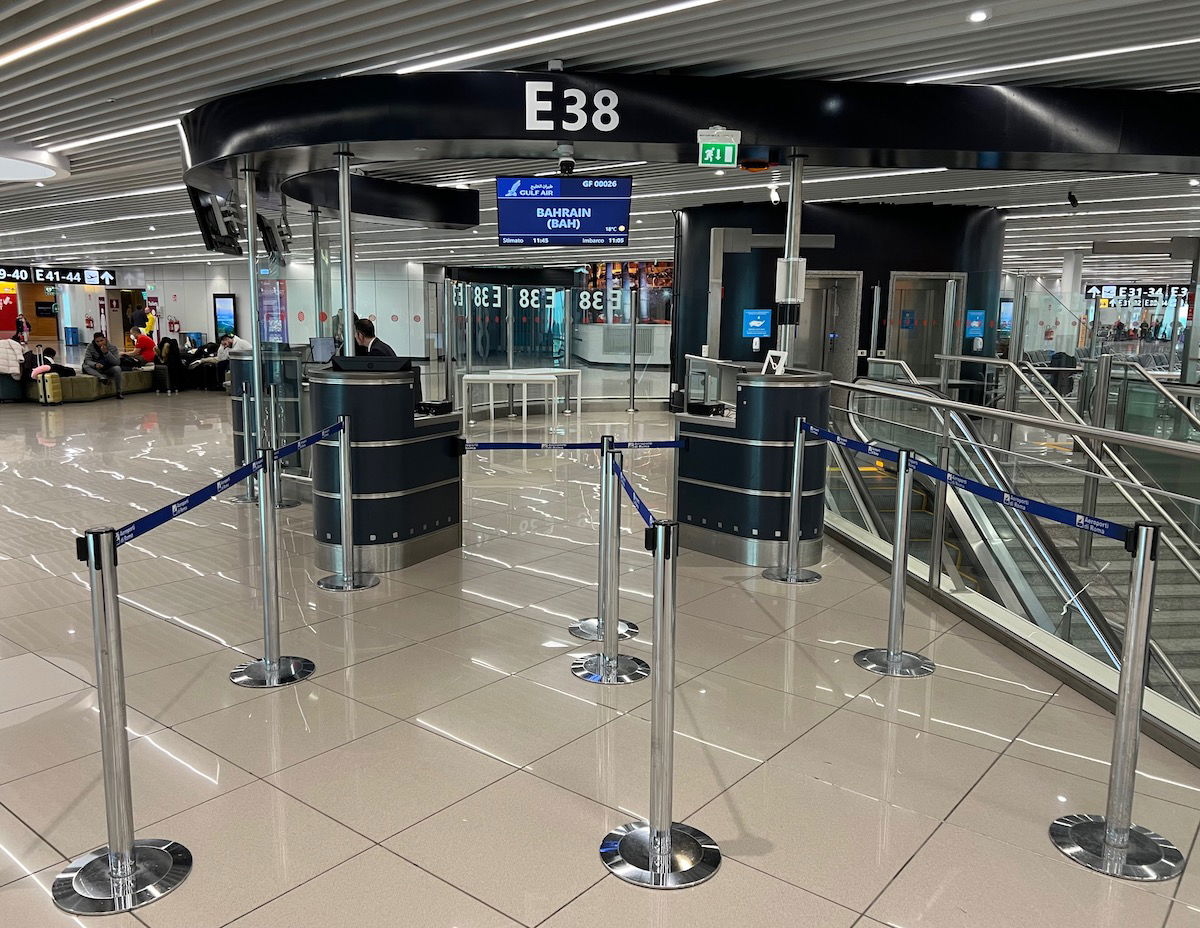 Boarding ended up starting at 10:50AM, with business class passengers being invited to board first.
Gulf Air A321LR business class cabin & seats
I love to get "clean" cabin pictures, though unfortunately passengers originating in Milan didn't deplane in Rome, so I was getting on a partially boarded aircraft, where half a dozen business class seats were already occupied.
Gulf Air's Airbus A321LRs have Collins Aerospace Diamond seats in business class, which are fully flat. The cabin featured a total of 16 seats, spread across four rows in a 2-2 configuration. For a narrow body business class product, this is pretty solid.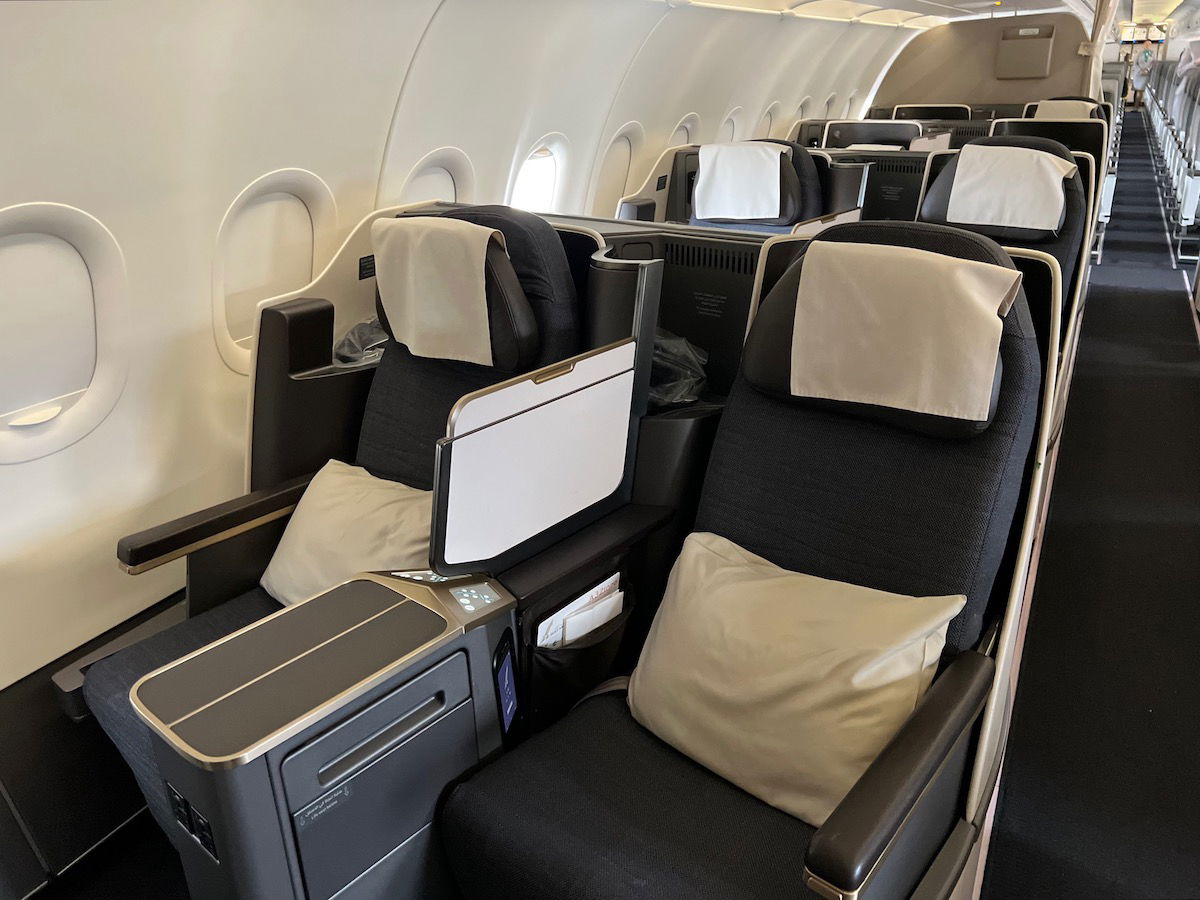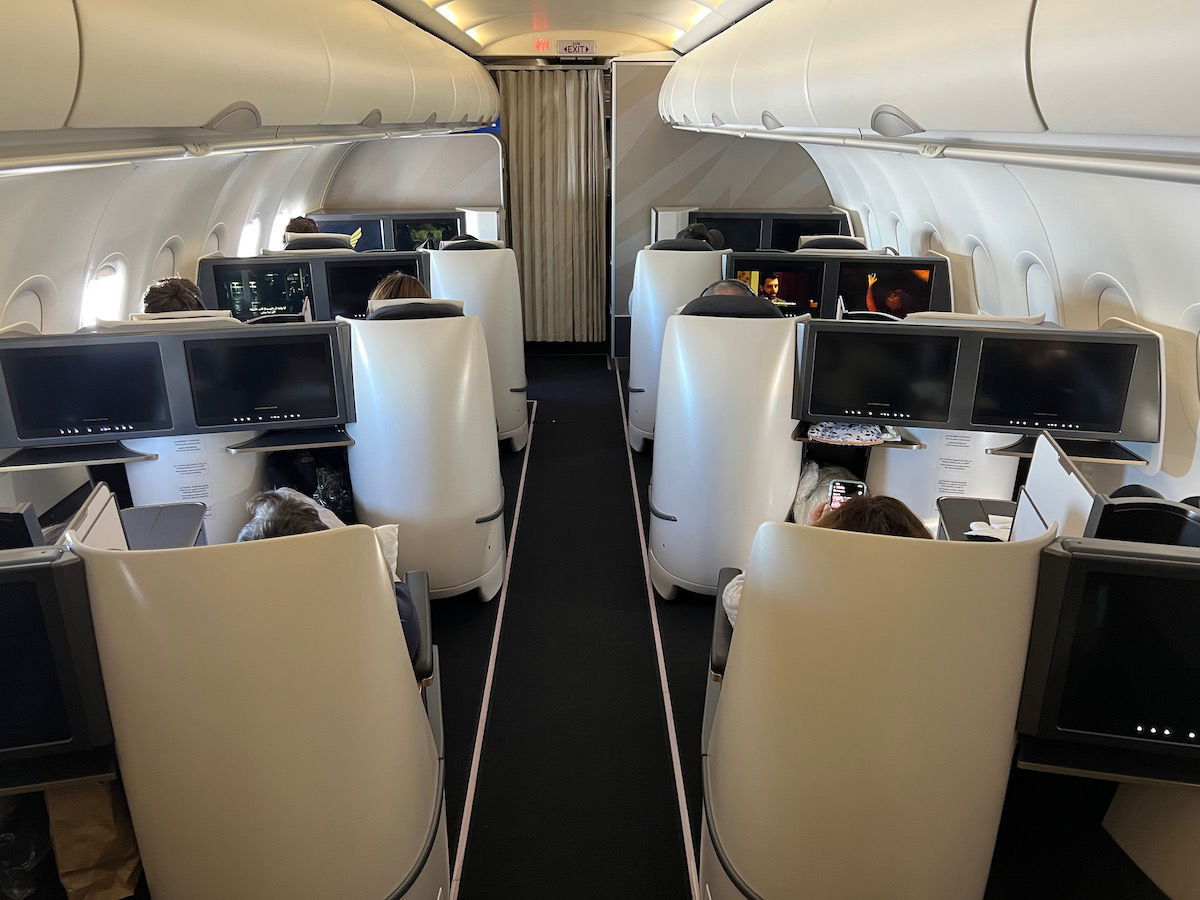 I assigned myself seat 4F, the window seat on the right side in the last row of the cabin.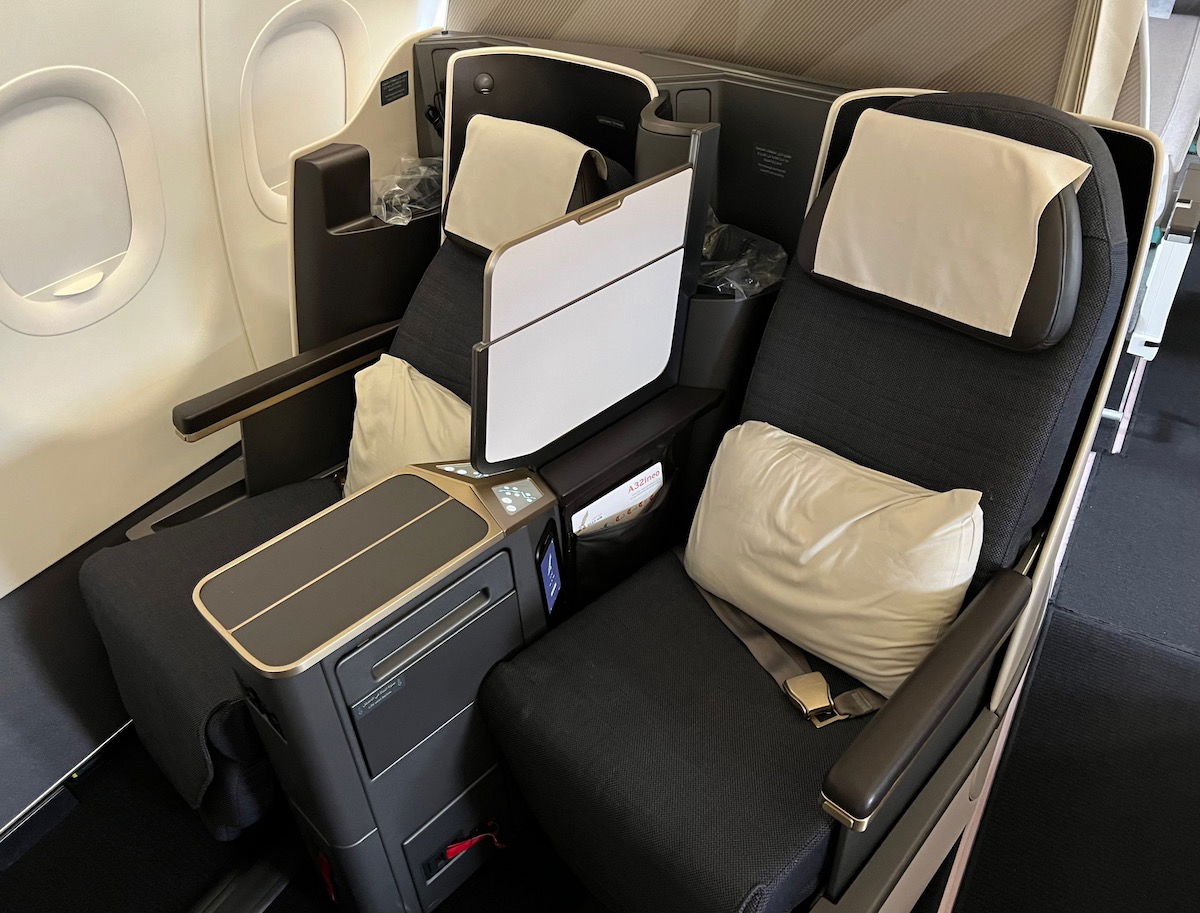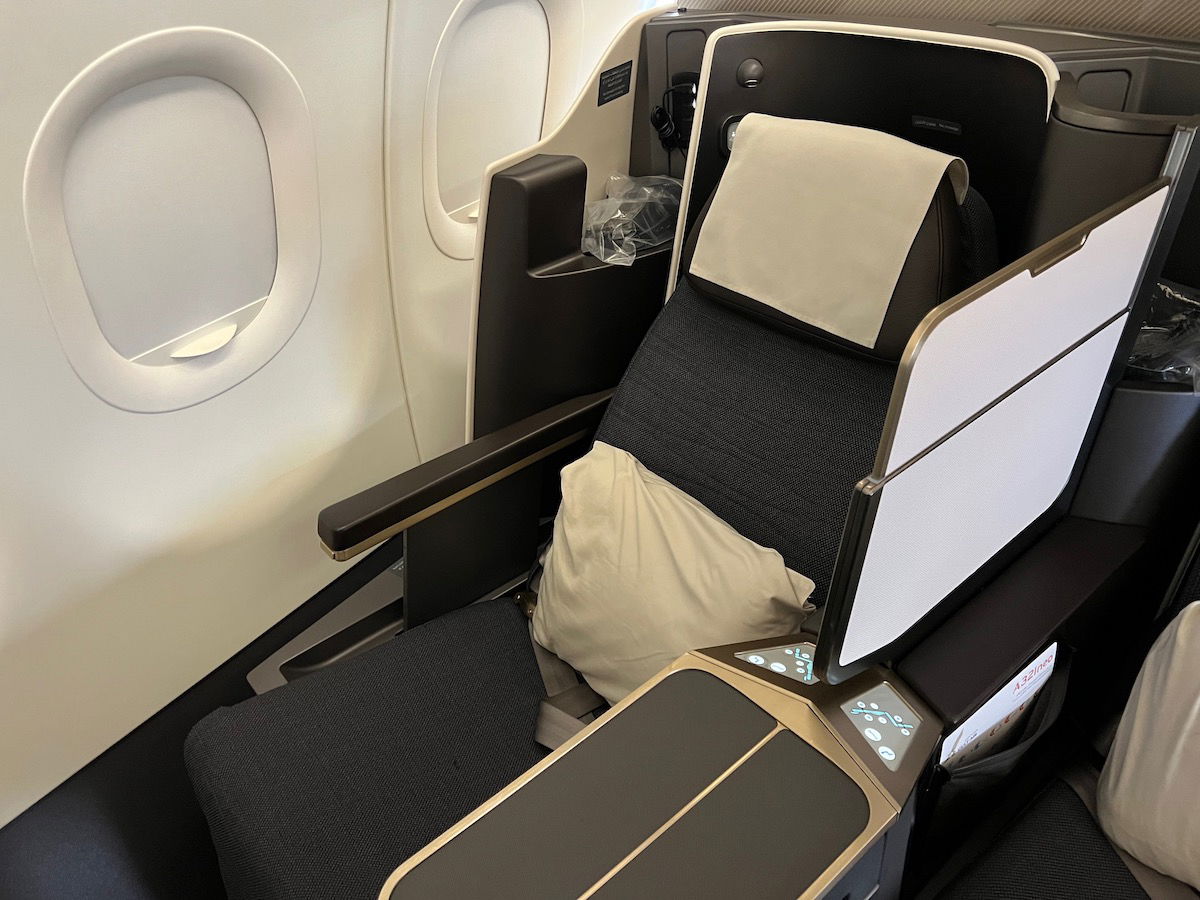 One of the reasons that airlines offer this business class product is because of how efficiently it utilizes space. The downside to these seats is that they have pretty small footwells, which are essentially to the side of the seat in front of you. If you have big feet, you might find this configuration to be pretty restrictive in that regard.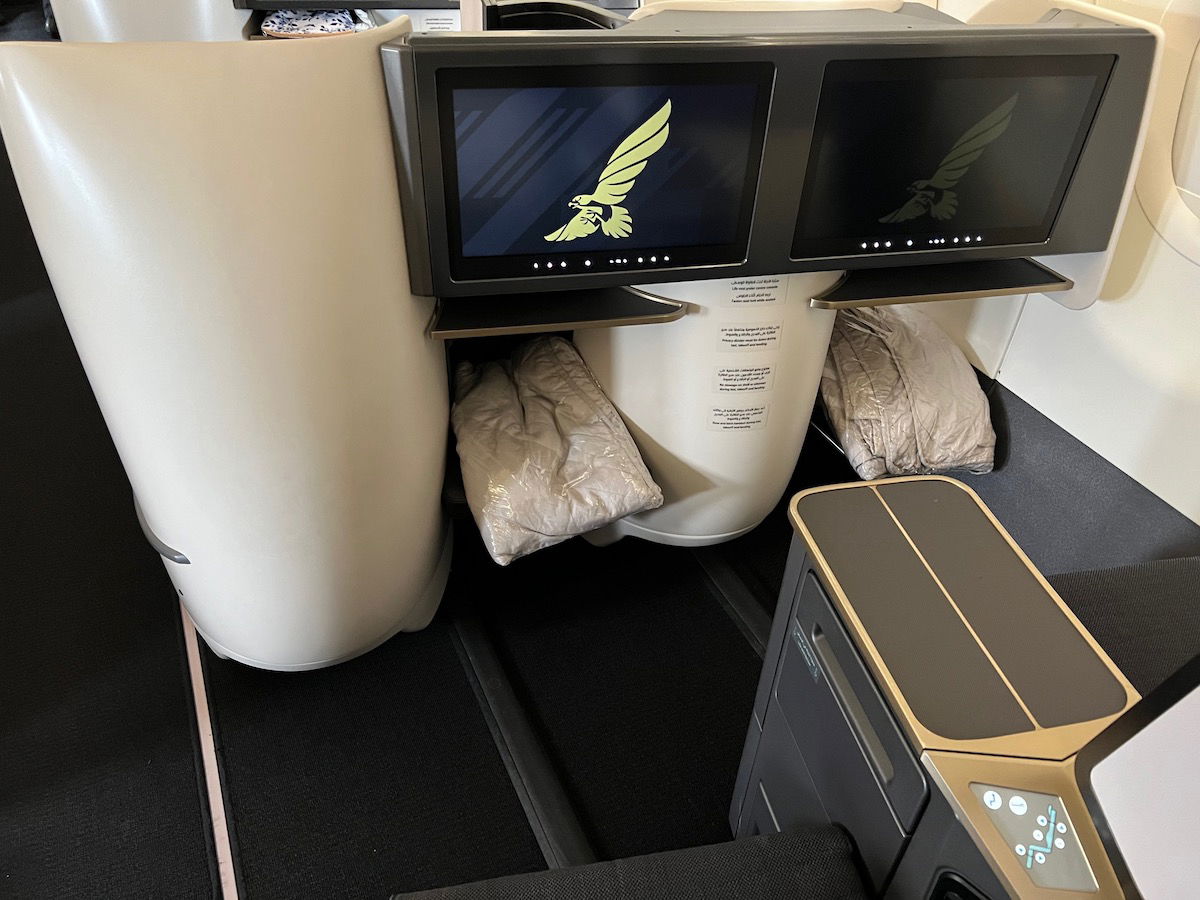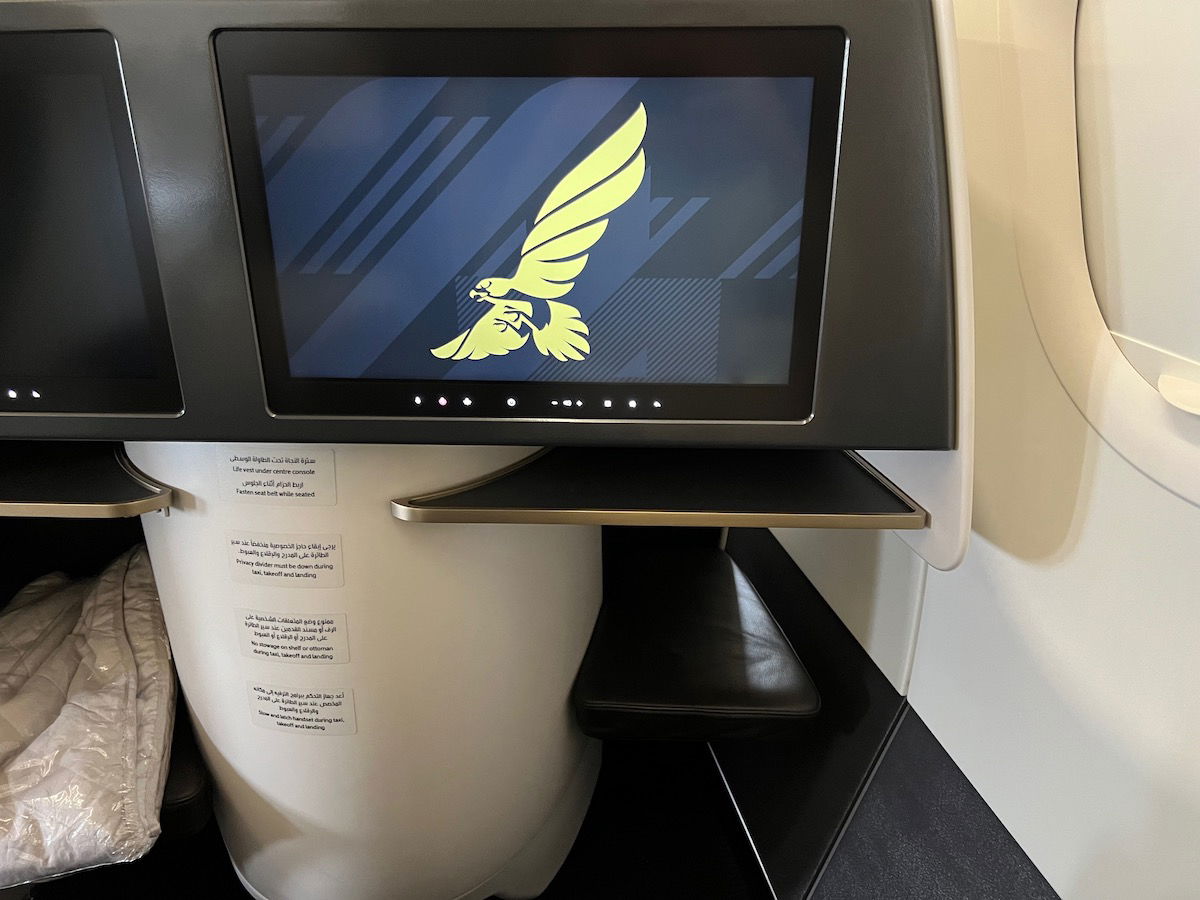 This could be one benefit to booking a seat in the bulkhead row, as the seats in the first row do feature larger footwells.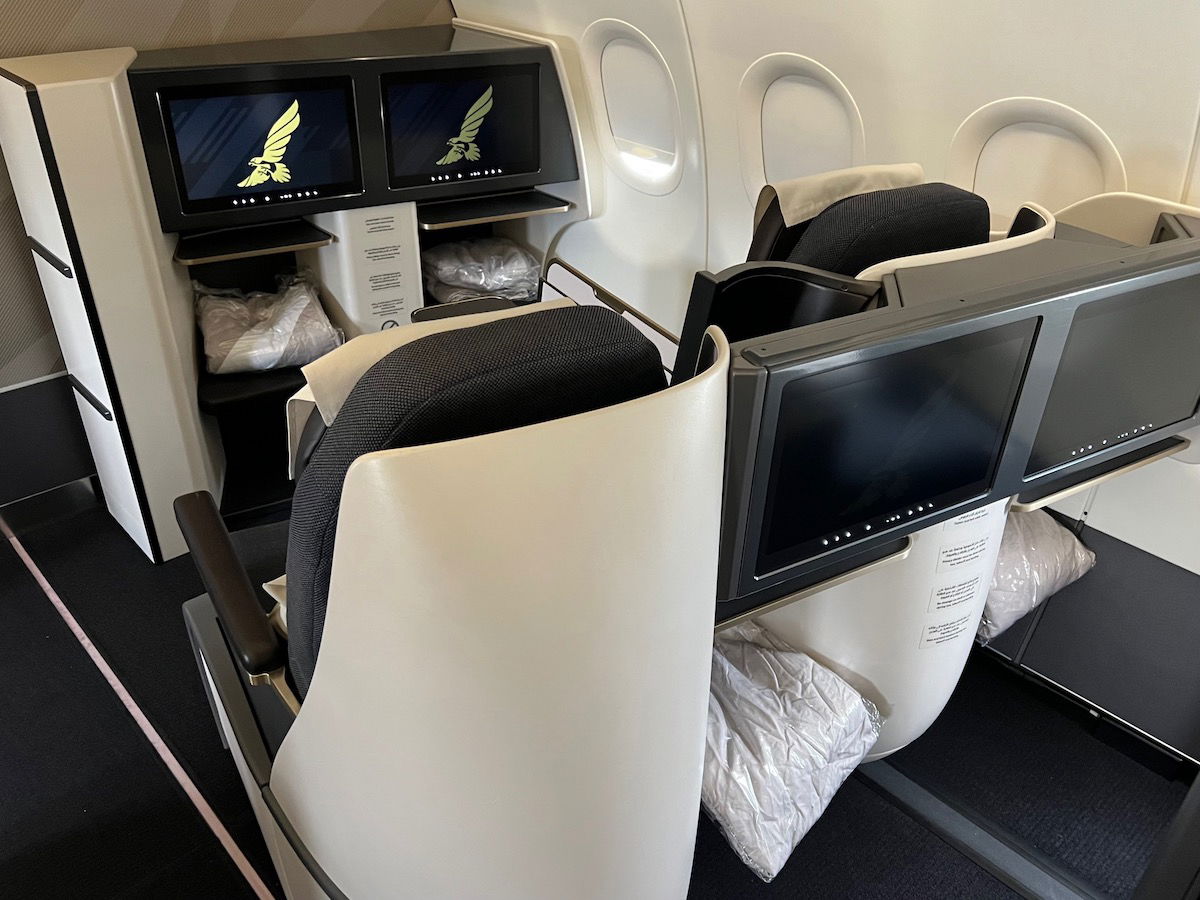 As far as the seat features go, on the center console were the seat controls, which were easy to use. There were two pre-sets (for fully reclining the seat or putting it upright), and then several options to customize individual settings.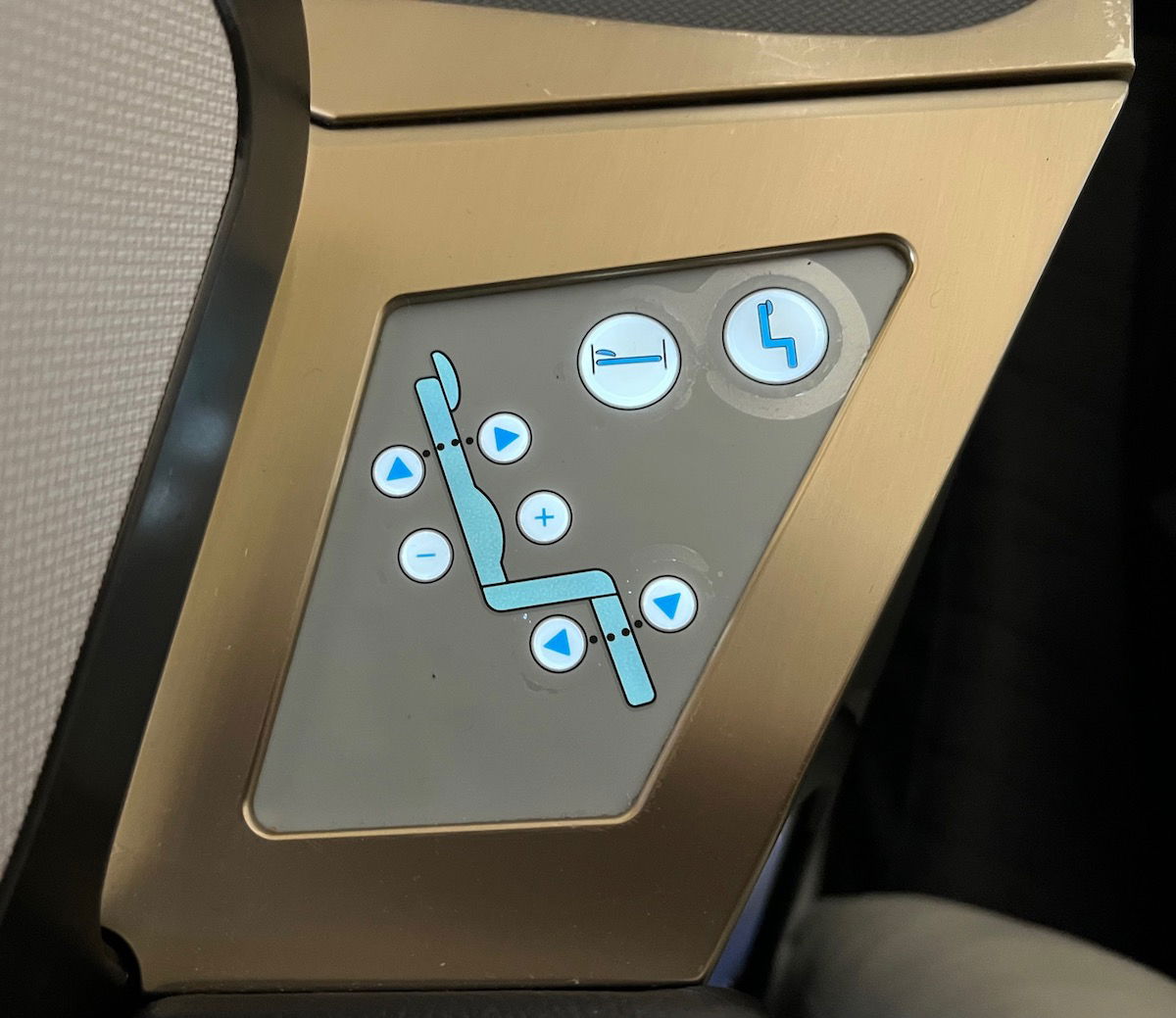 You'll find these same seats on many airlines, though what I really appreciated about this configuration was the size of the privacy partitions, as you really felt like you had full privacy between passengers, thanks to the really high shields. These could be lowered, in the event that you're traveling with someone.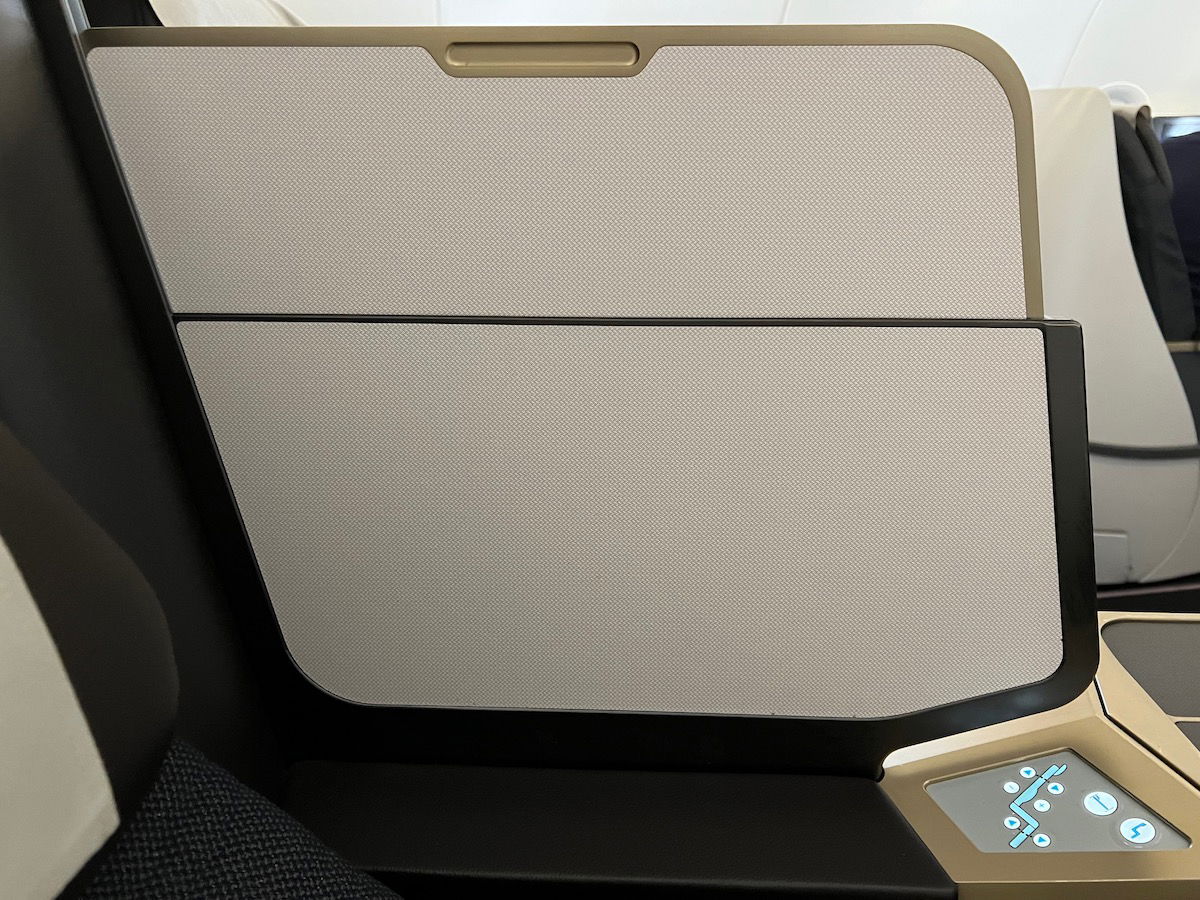 The seat unfortunately only had exposed storage, which was in the back corner of the seat. This was also where the headphone jack and reading light were located.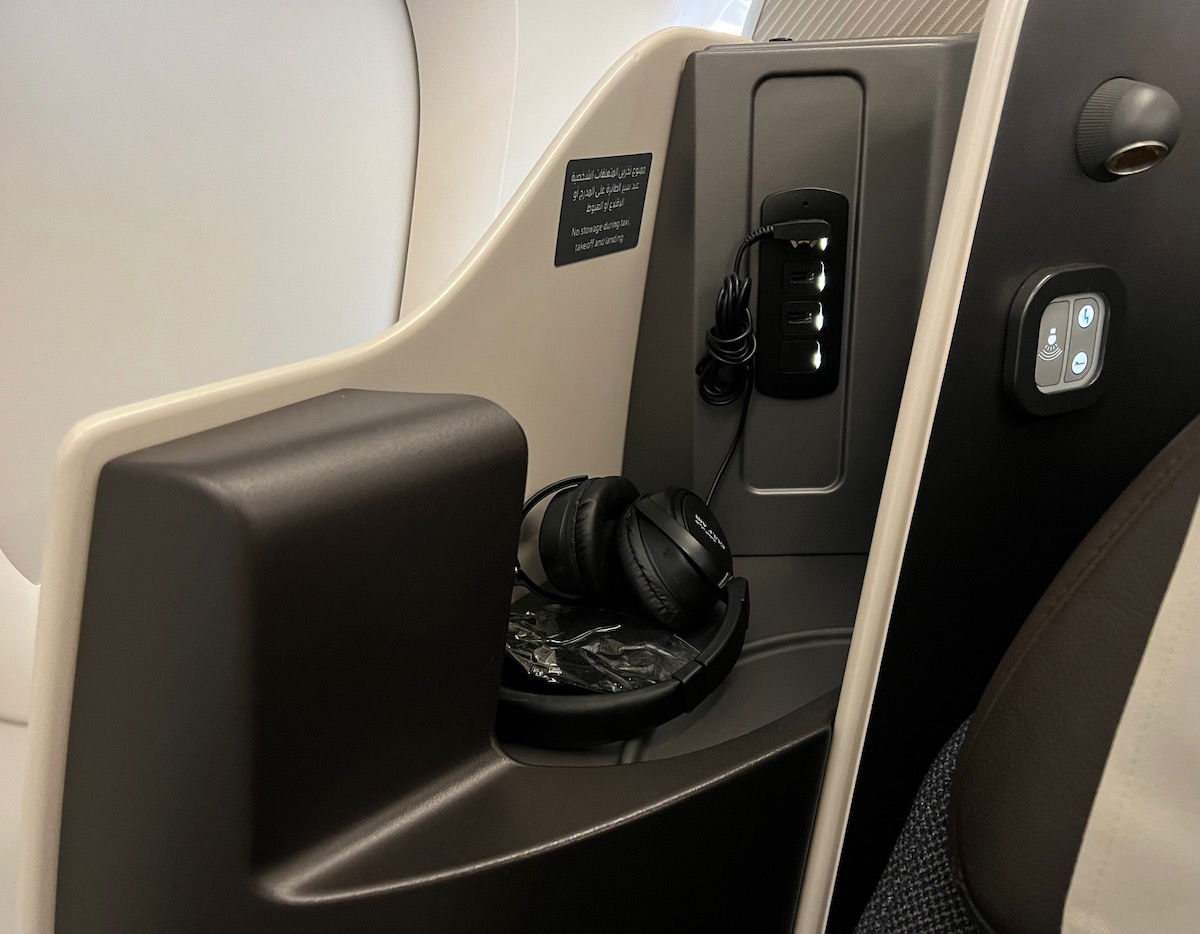 The only other storage was a small shelf above the footwell. Just be careful with what you place there, since it can easily slide, especially during takeoff.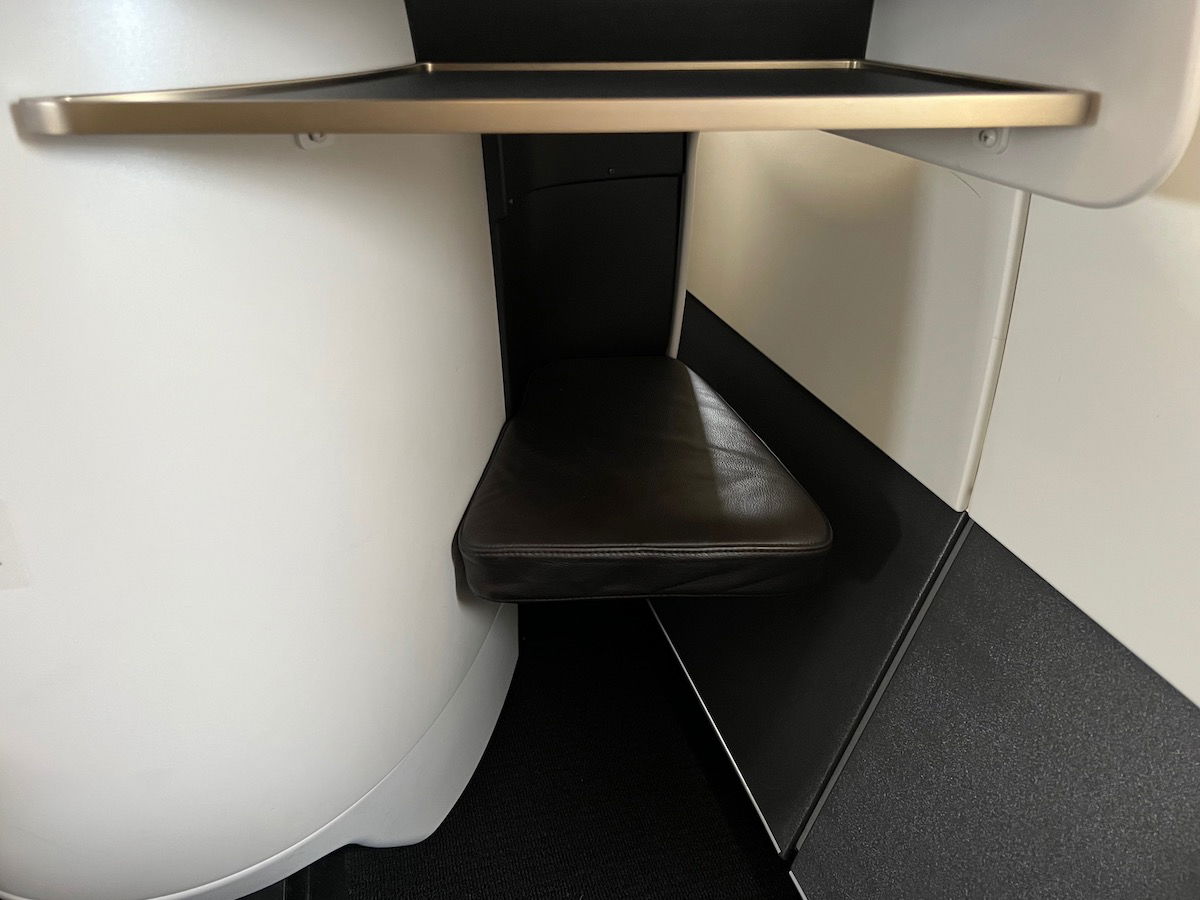 The tray table folded out from the center console, and could be folded over in half.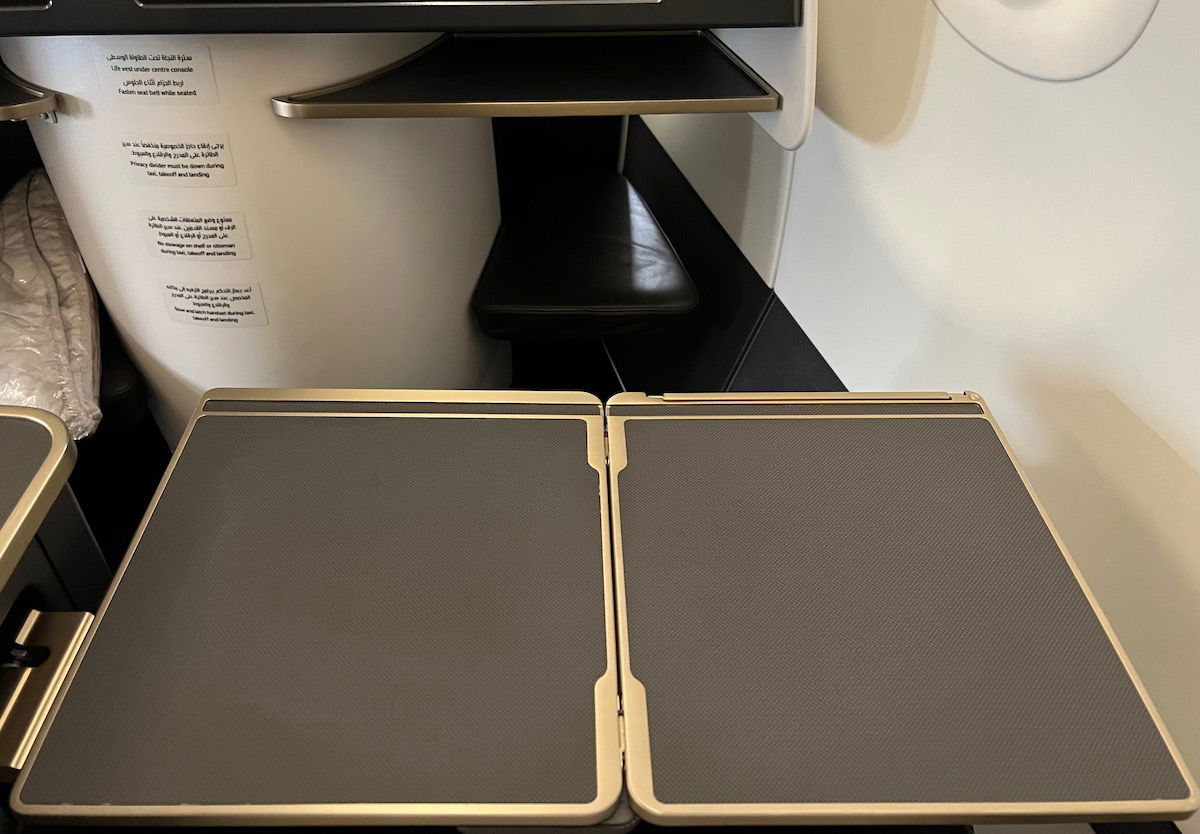 When folded over in half, there was also a further panel you could raise, so that you can rest your personal electronic device on it, should you want to use that for entertainment.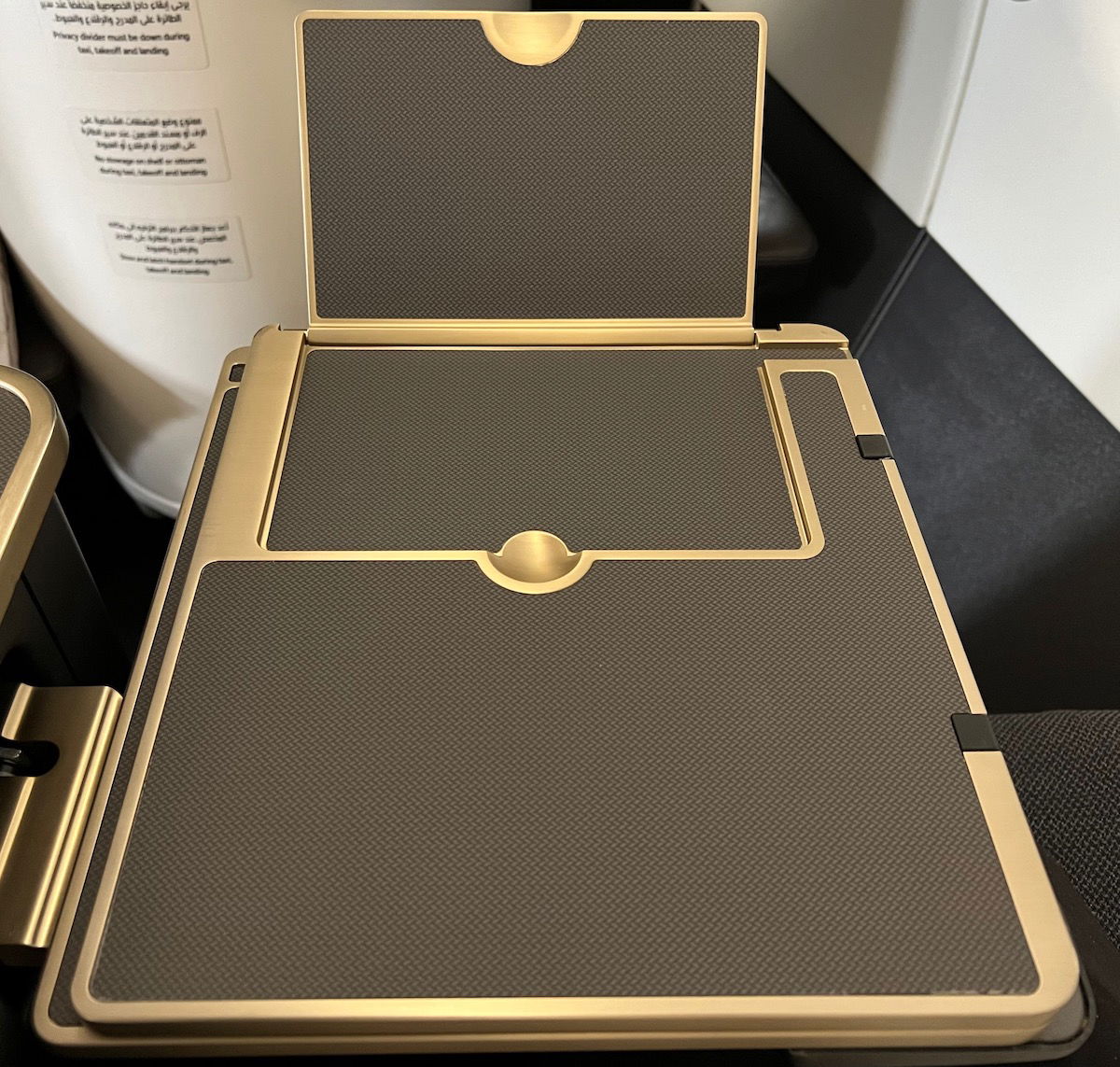 The entertainment controller could also be extended from the center console, and was quite large.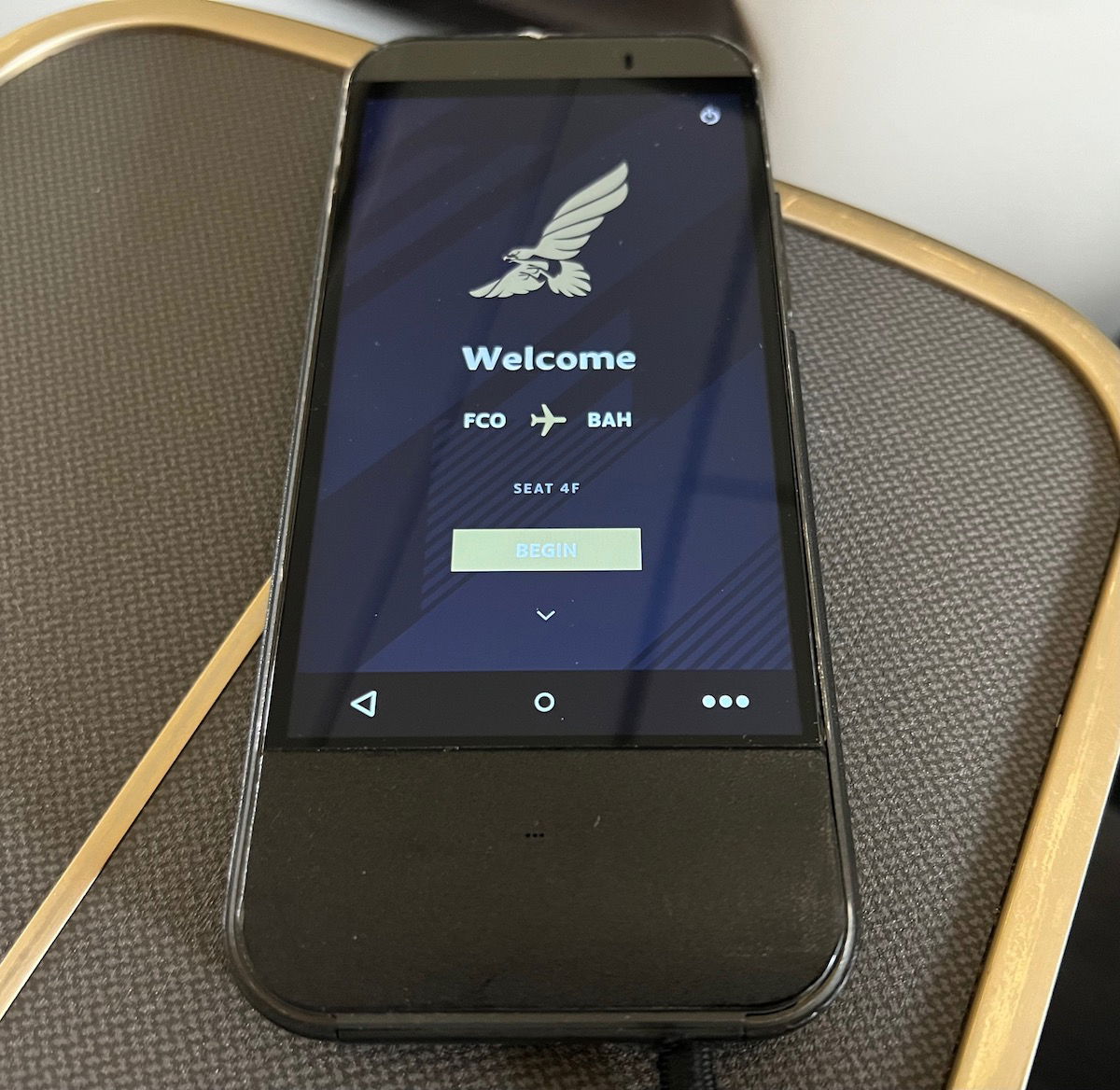 AC and USB power outlets were located in front of and underneath the seats, in the center section.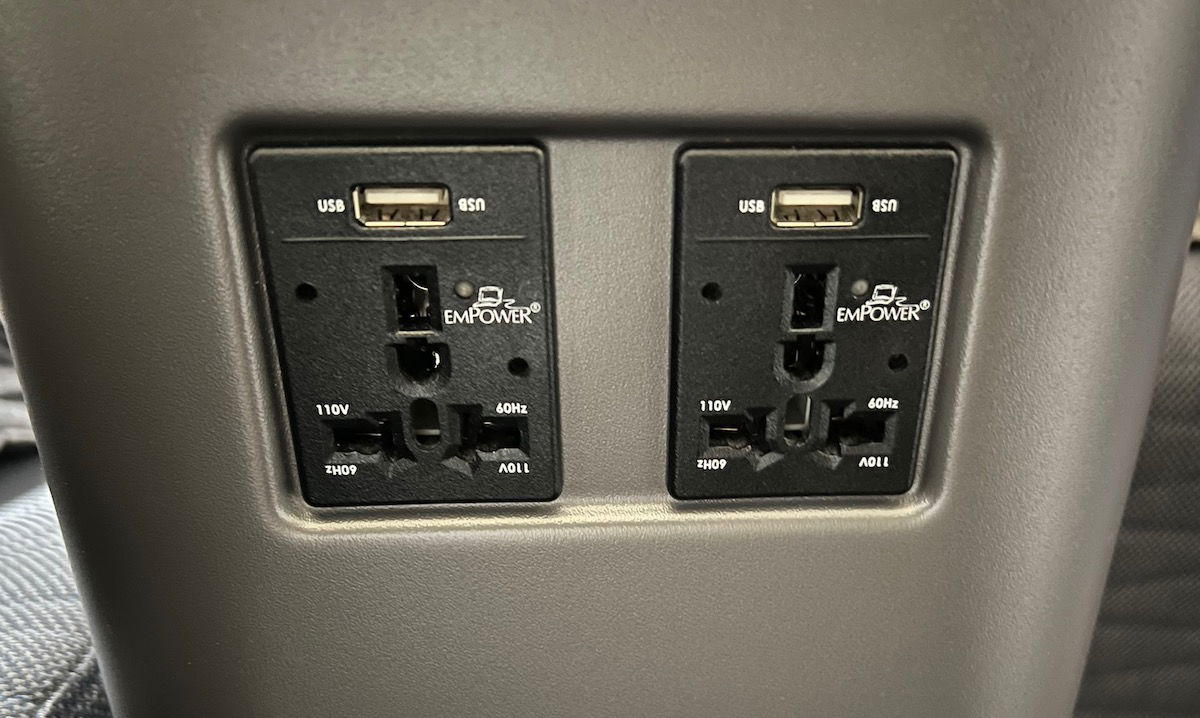 I appreciated that the overhead consoles had individual air nozzles, in addition to reading lights.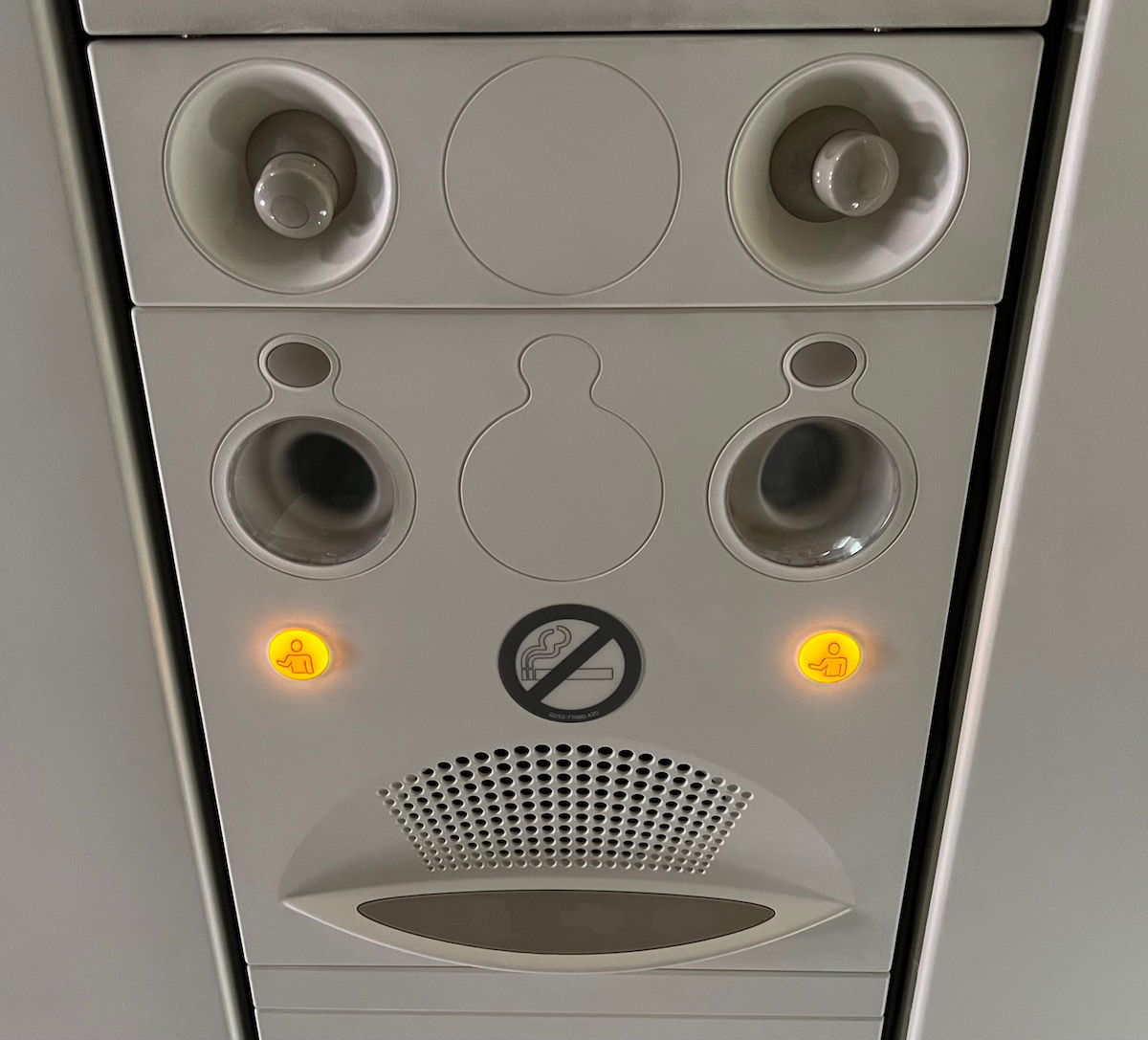 I loved some of the attention to detail with the cabin design, like the airline branded seatbelt buckles.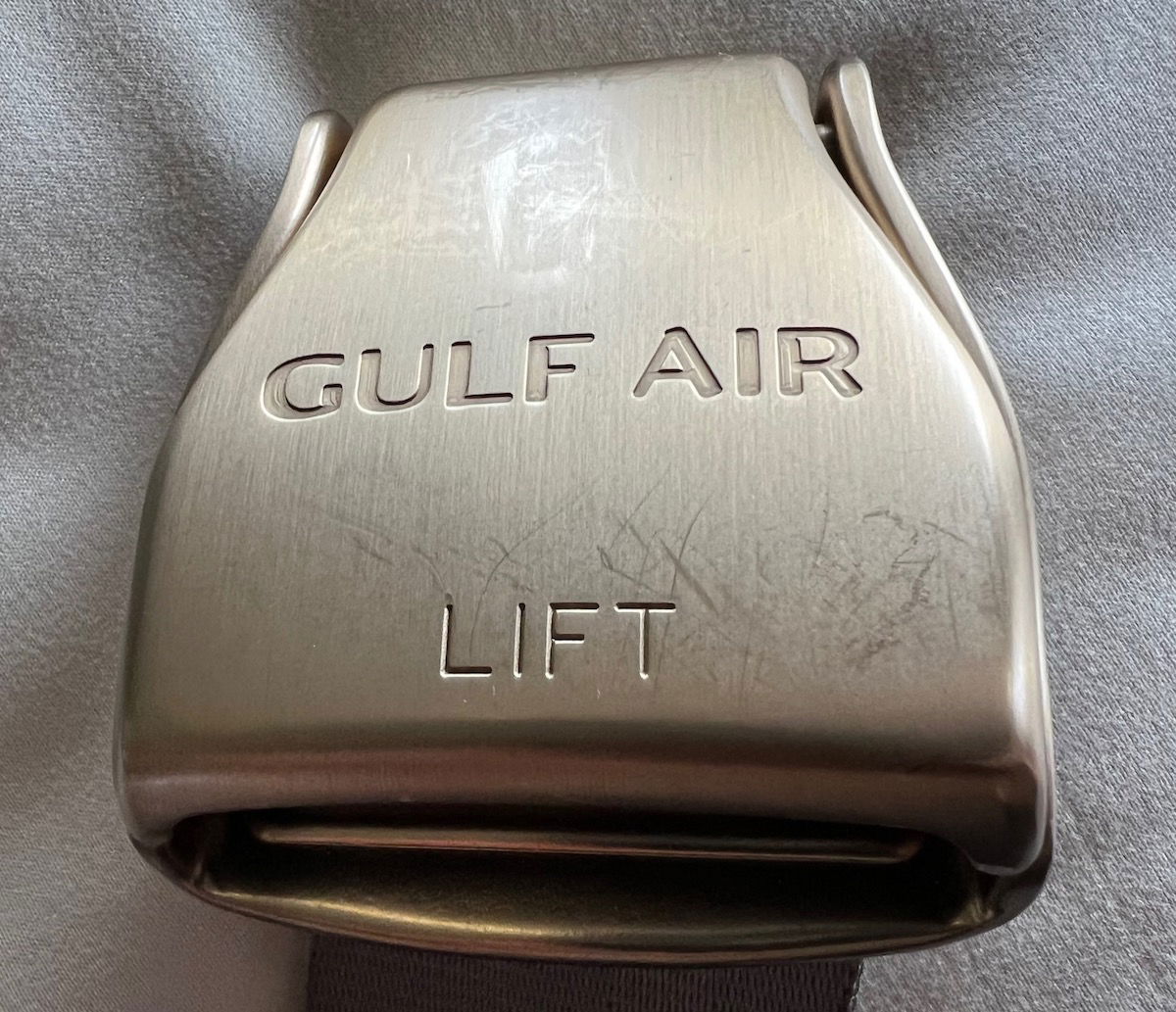 During boarding I also quickly glanced into economy, which looked relatively comfortable.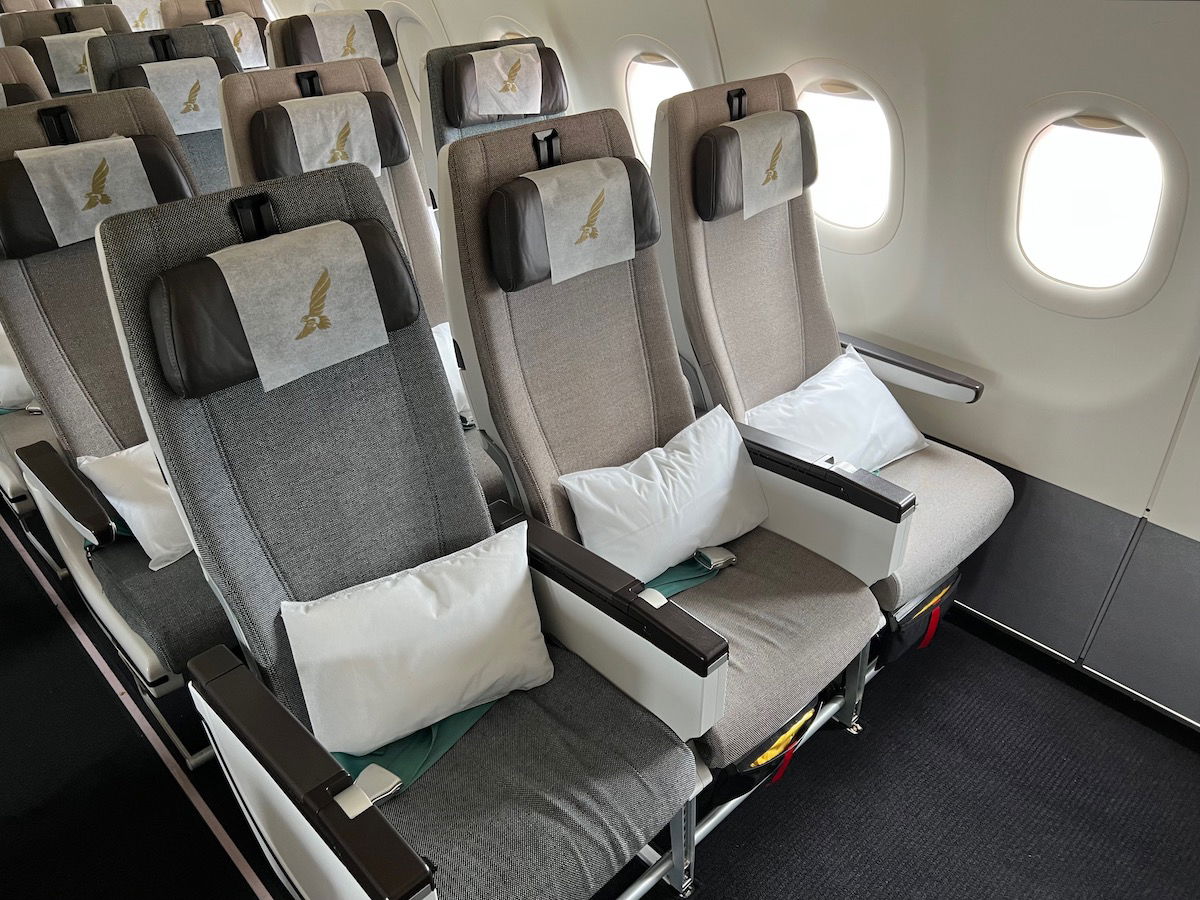 All-in-all, this is a perfectly lovely business class hard product, especially if you have an empty seat next to you (as I did). For a five hour daytime flight, this was more than sufficient.
Gulf Air business class amenities
For a non-long haul daytime flight, the amenities on this flight were very good. For one, there was a pillow and blanket. I'd say they were both fine — they were nothing special, but weren't bad either.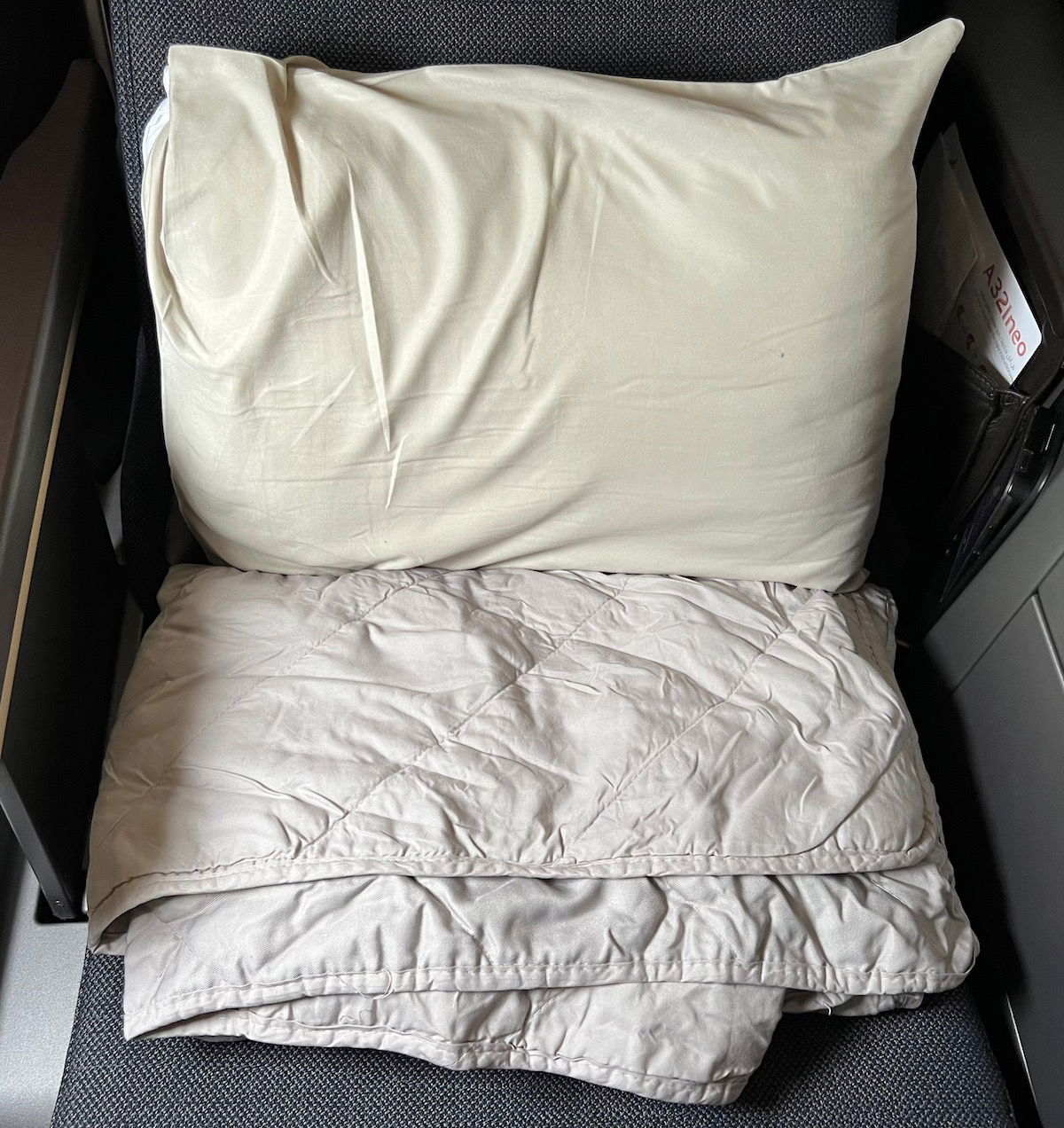 On top of that, there were a pair of noise canceling headphones at each seat upon boarding. Again, they were totally fine, but nothing special.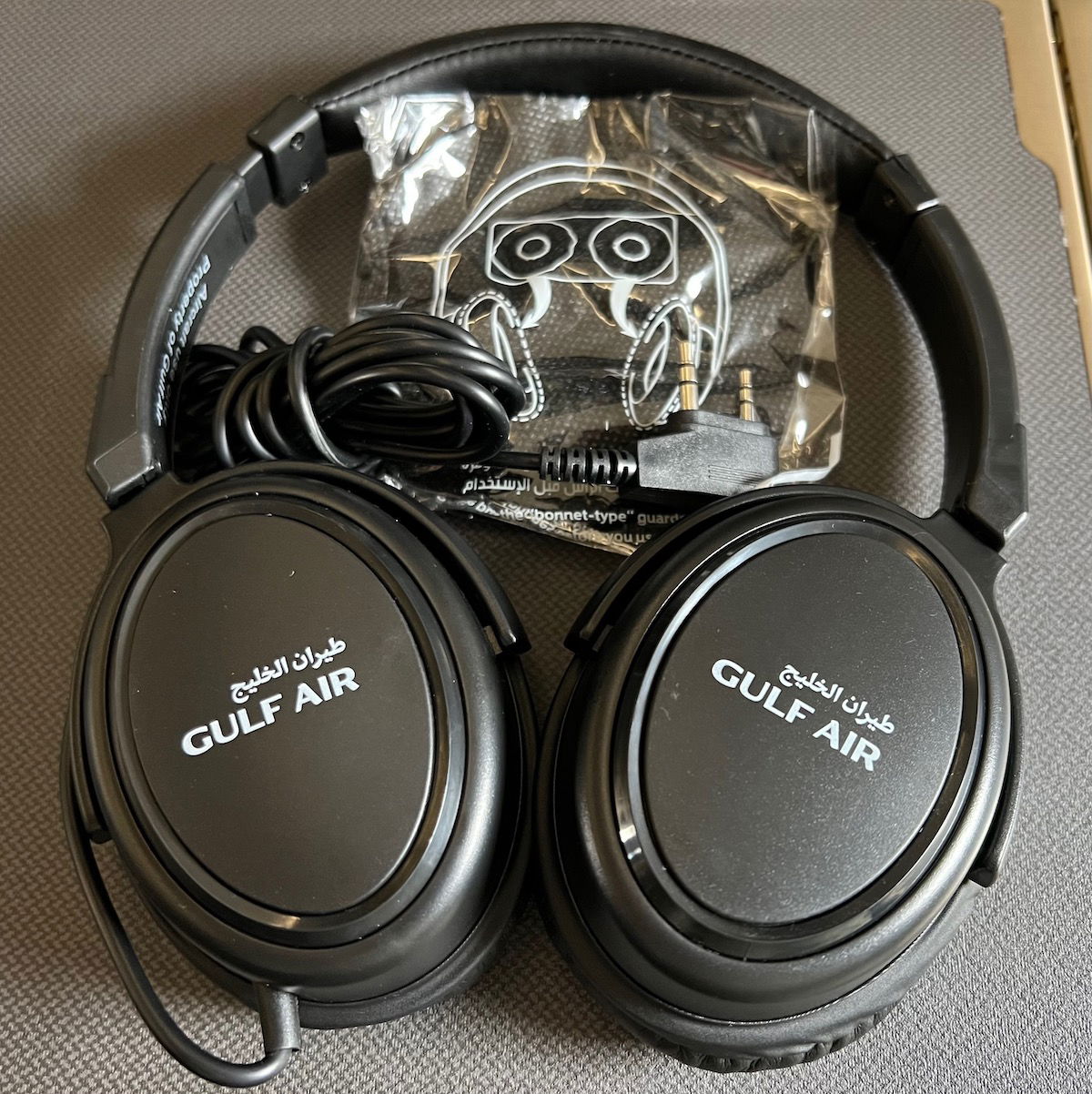 Moments after settling in, the friendly crew offered pre-departure drinks, with the choice of champagne, orange juice, or water. I selected the champagne, which was served in proper glassware.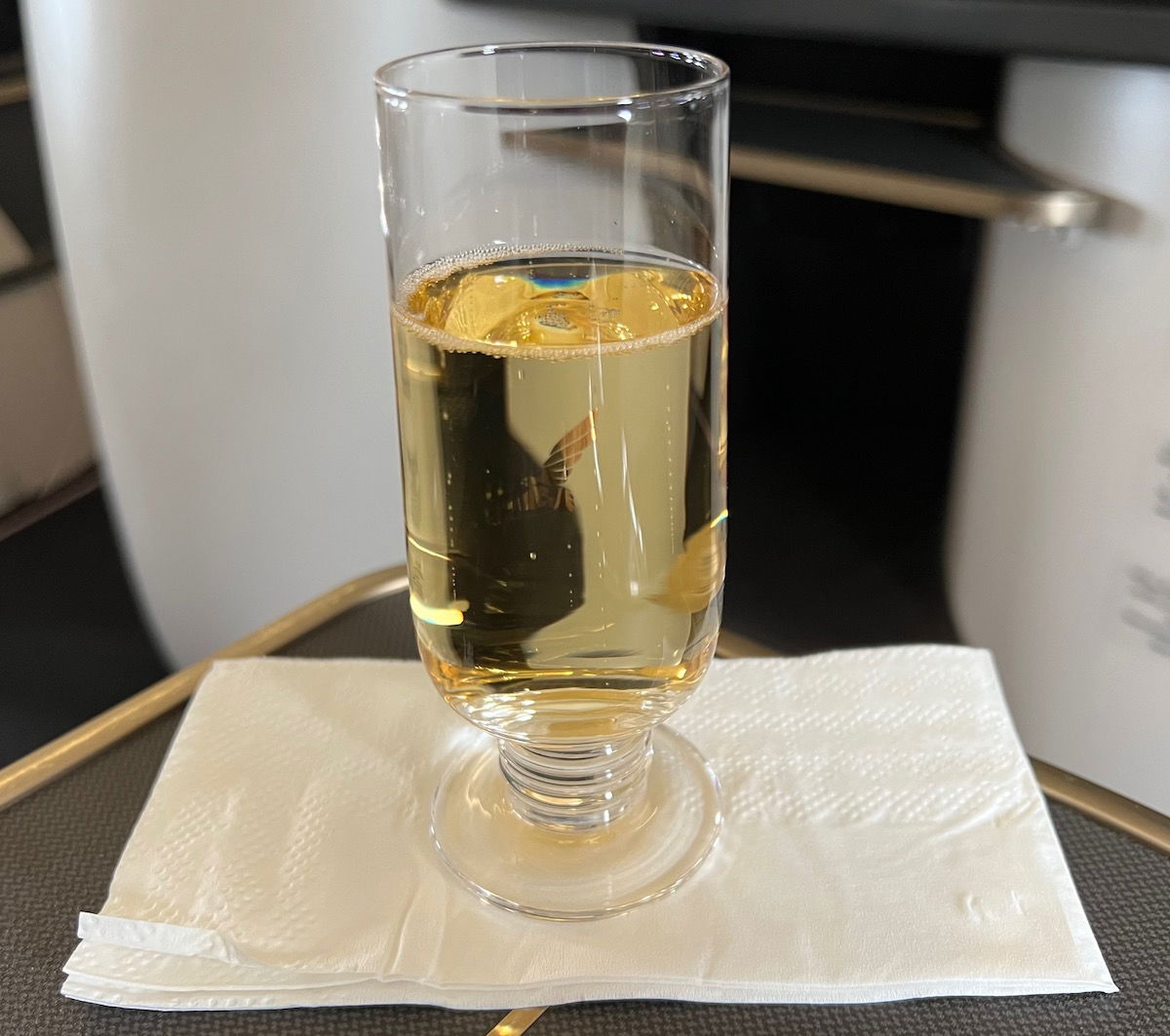 Next up, the choice of warm or cold towels was offered — it's always nice to be able to choose!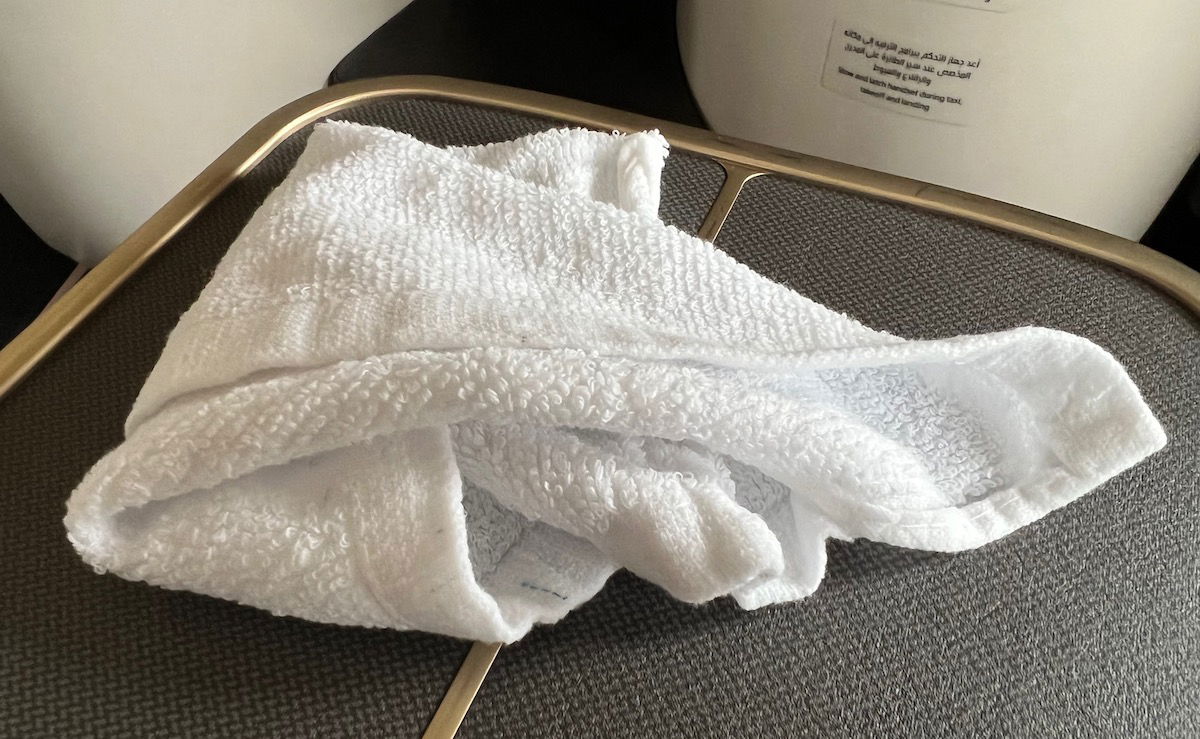 Arabic coffee and dates were then distributed, which is also a nice local touch, as you won't find that in business class on Emirates or Qatar Airways.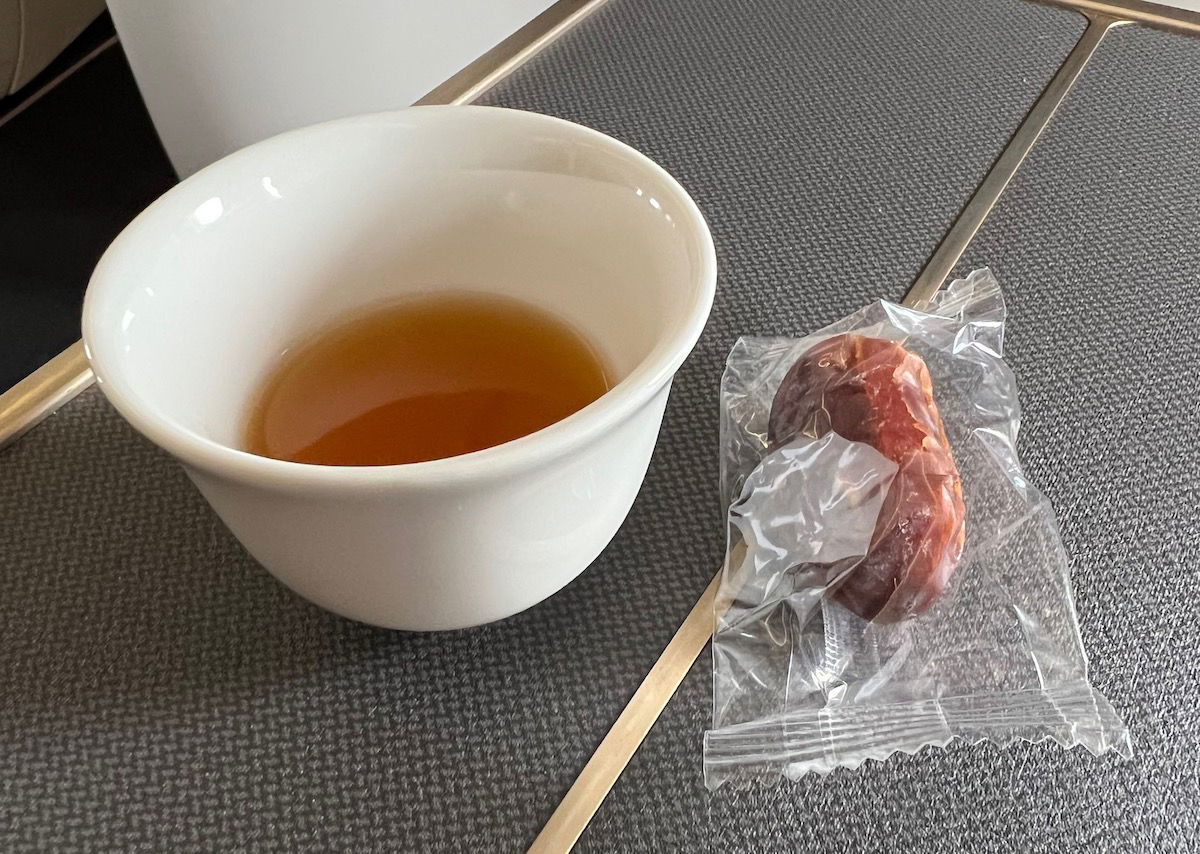 Furthermore, menus were distributed. I'm not a huge fan of how Gulf Air goes about this, though. The crew distributed them, then took meal ordered a few minutes later, and immediately collected the menus again. I always appreciate being able to hold onto the menu so that I can reference the selection throughout the flight.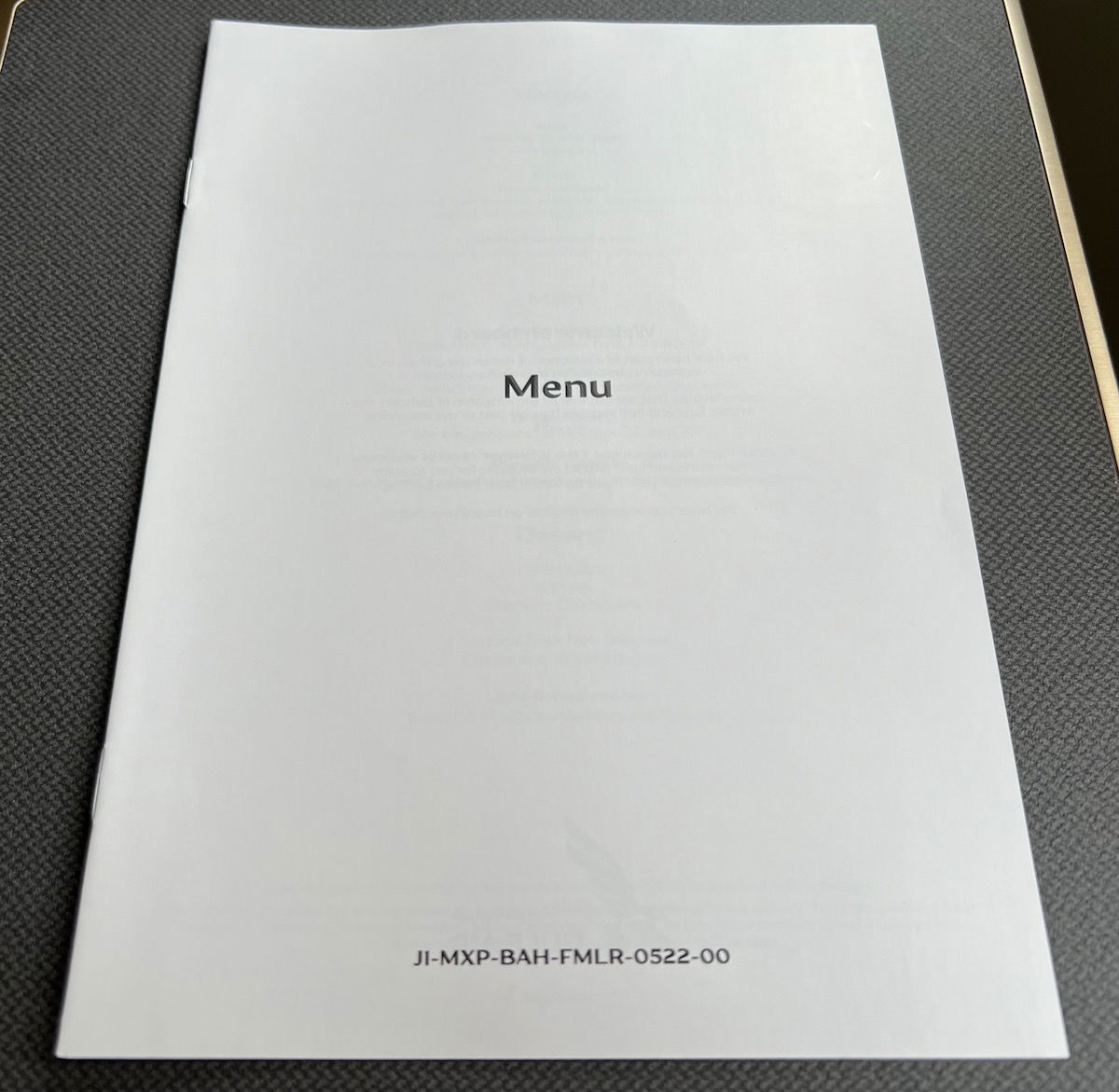 Perhaps most impressive was the selection of amenities offered. First of all, amenity kits were distributed, with a cool horse-themed kit. The kit contained socks, a dental kit, mouthwash, earplugs, a comb, and a few wellness products from THANN.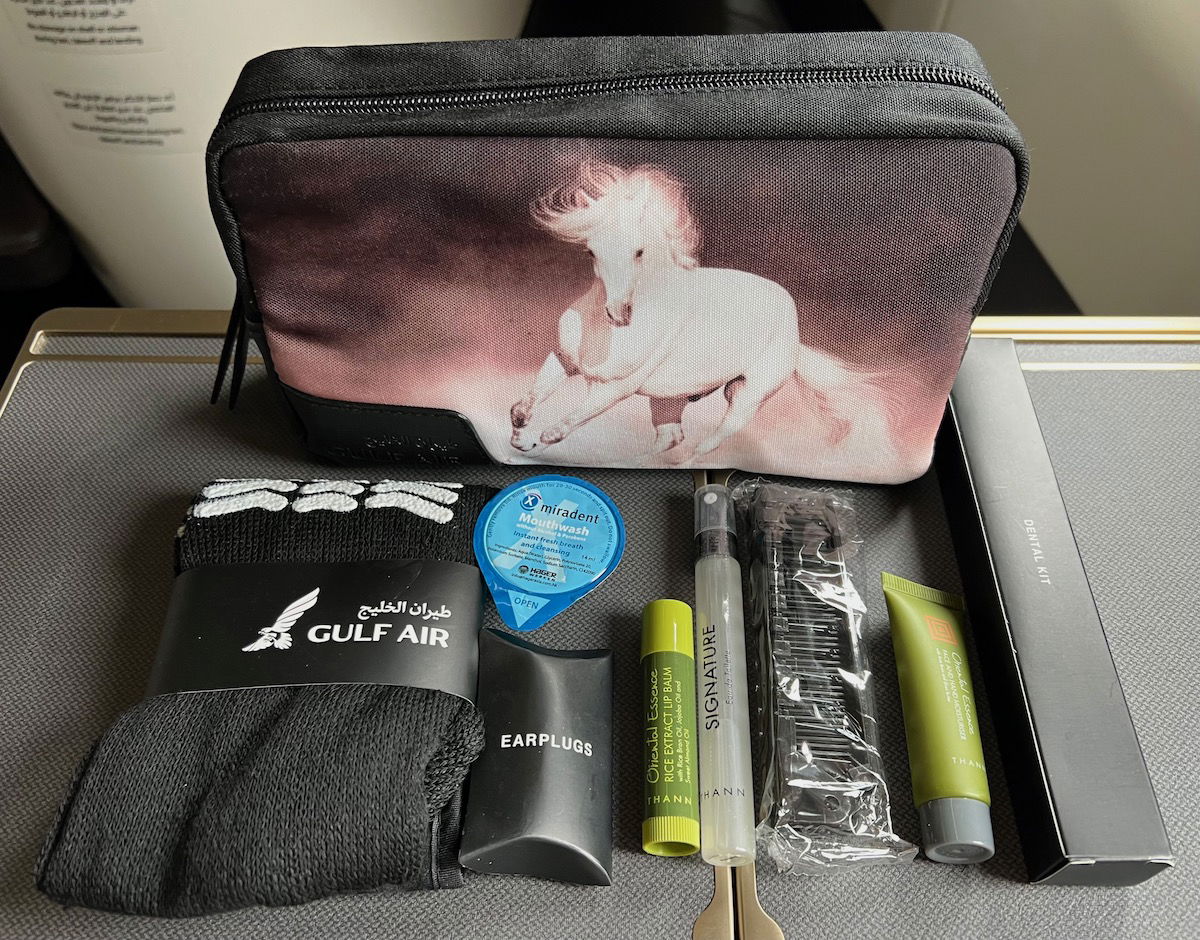 Not only was there an amenity kit, but pajamas were also offered on demand. It's my understanding that these are proactively offered on overnight flights, and then they're available on demand for daytime flights. It sure is nice to get pajamas on a flight like this, though I can't say they were the most interesting pajamas I've gotten on a plane.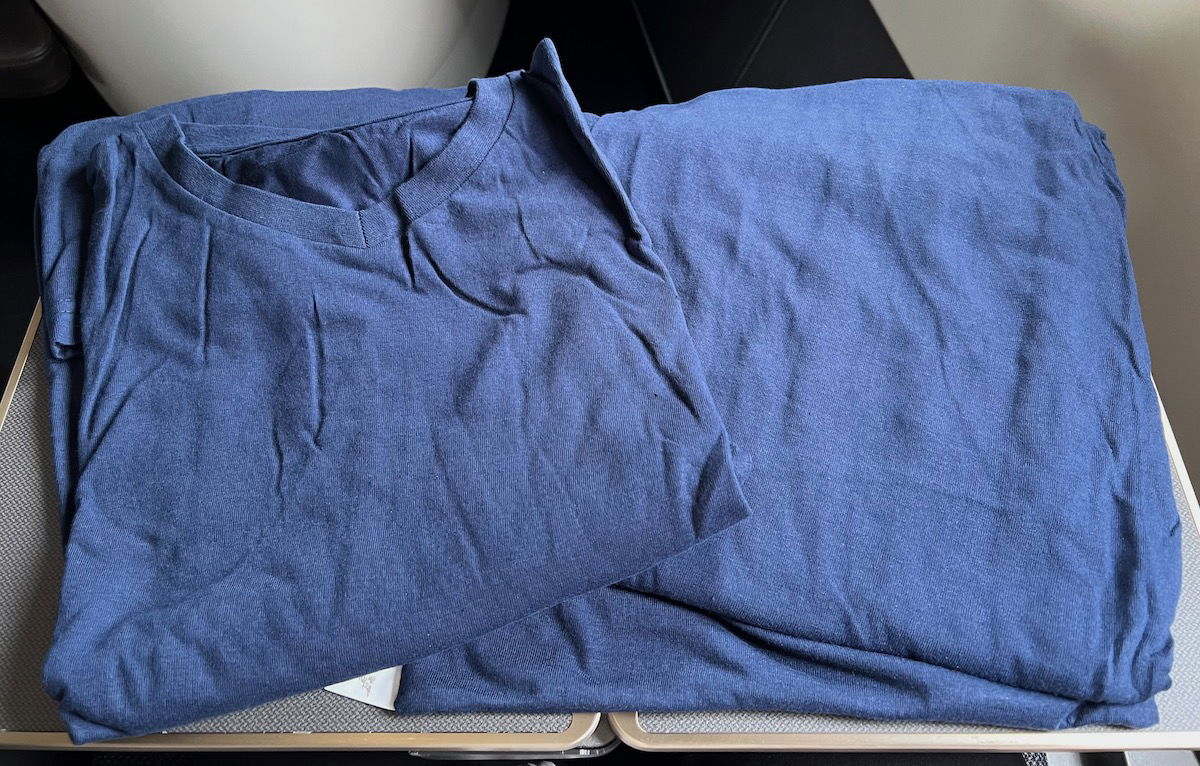 Lastly, slippers were also available on demand.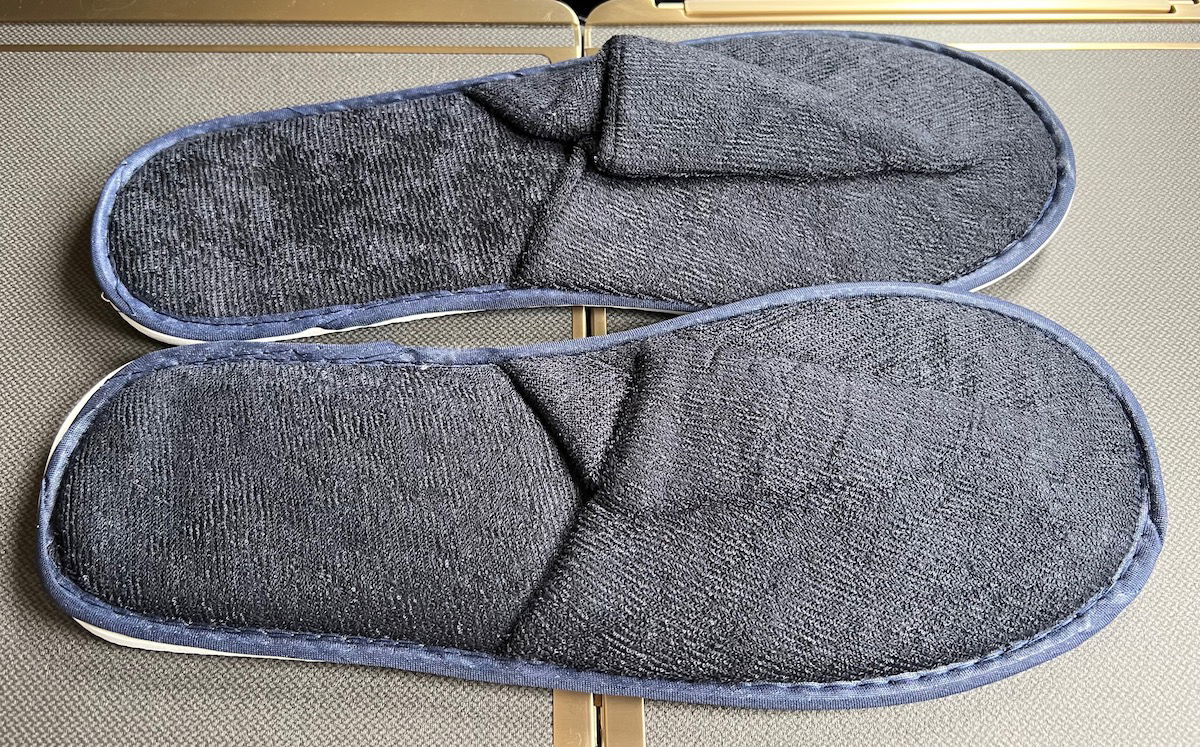 You won't find better amenities than this on just about any airline for a five hour daytime flight, so kudos to Gulf Air.
Gulf Air A321LR departure from Rome
While boarding was finished in a matter of minutes (only a few dozen people boarded), unfortunately we weren't quite ready for departure yet, as the plane had to be refueled.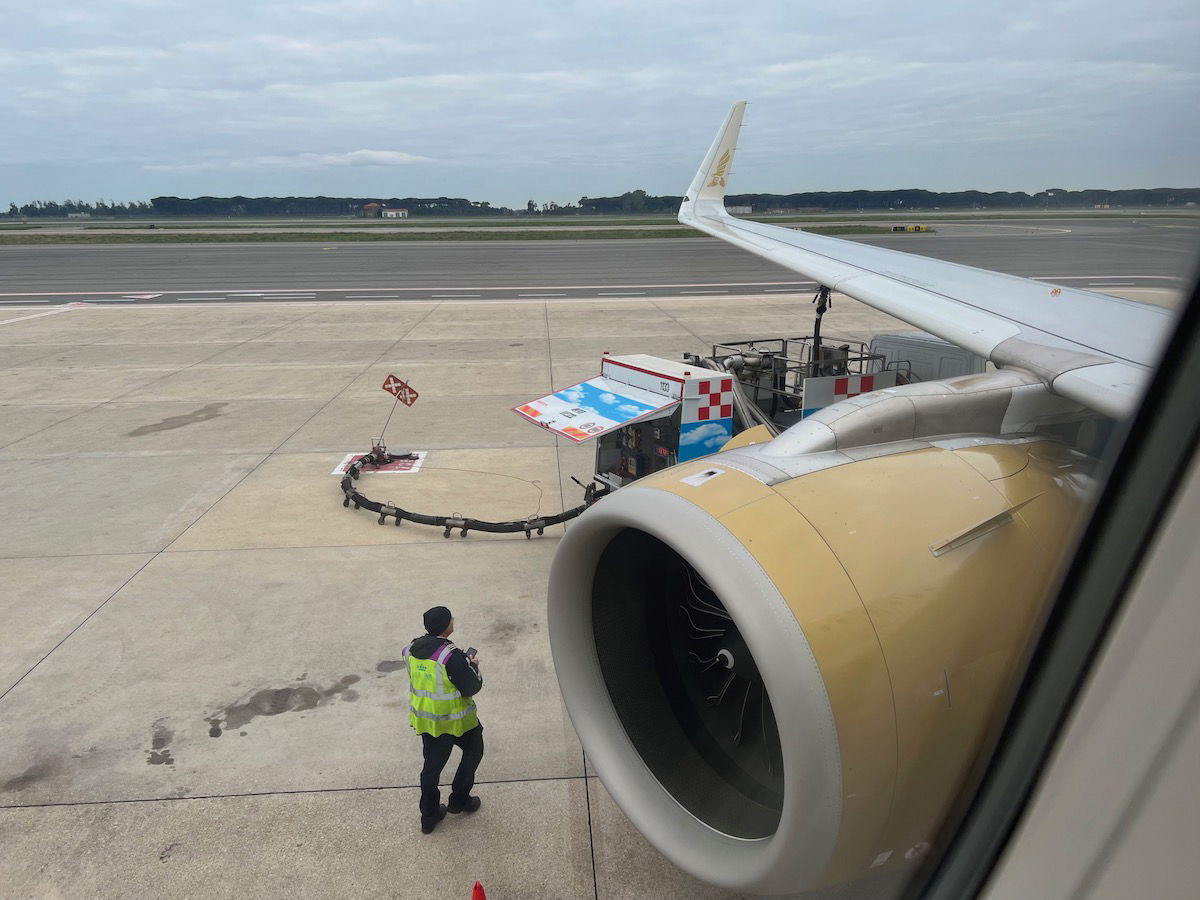 A day before departure, only four of the 16 business class seats showed as occupied on the seatmap. The seatmap continued to fill up until departure, and moments before boarding, 12 of the seats were occupied. Then shortly before the door closed, a family of three was moved up from economy, meaning 15 seats were occupied. I lucked out, as the one empty seat ended up being next to me.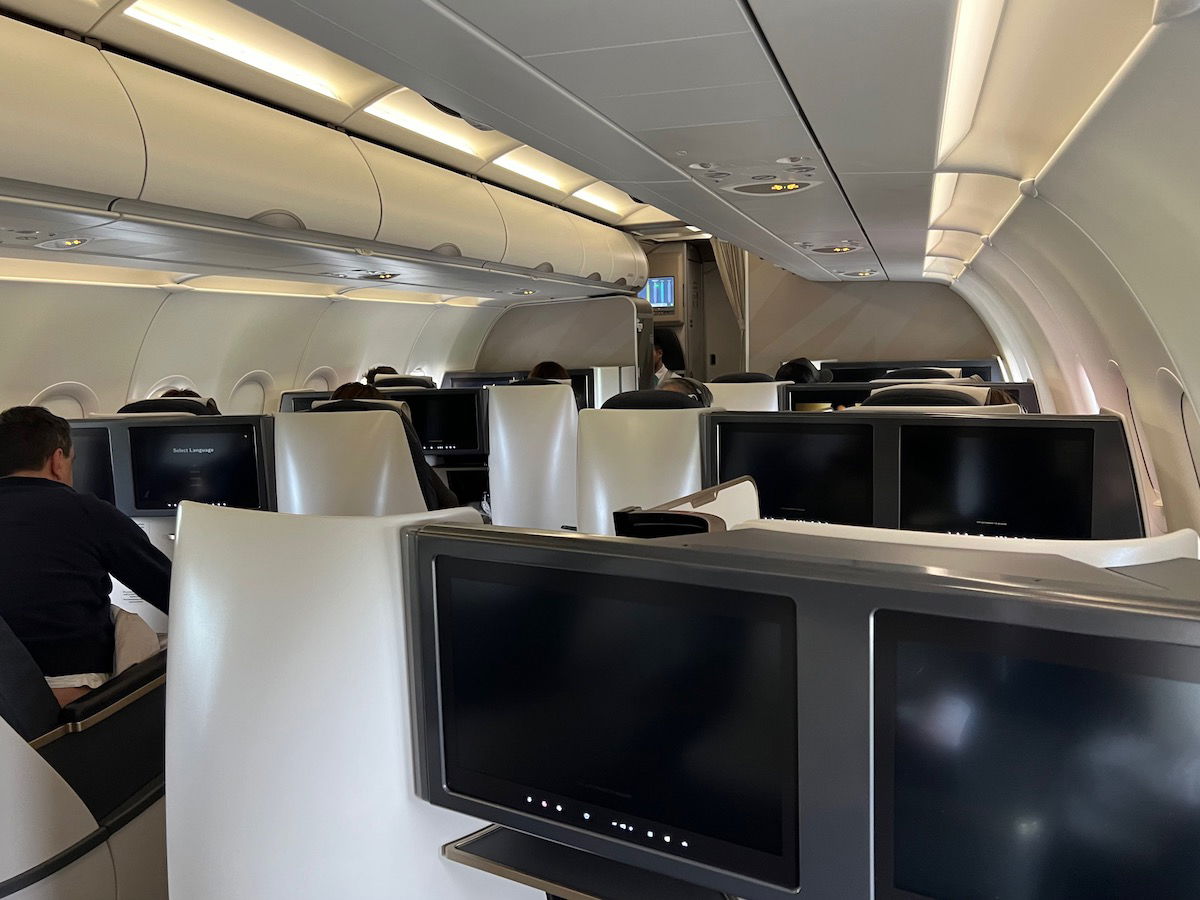 Finally at 11:30AM the main cabin door closed, at which point the captain made his welcome aboard announcement, informing us of our flight time of five hours, and our cruising altitude of 37,000 feet. A moment later we began our pushback, at which point the rather interesting safety video was screened.
At 11:40AM we began our taxi. As usual, my eyes were drawn to all the ITA planes at the airport. At first I didn't know what to make of ITA's livery, but I kind of love it now. Is it just me?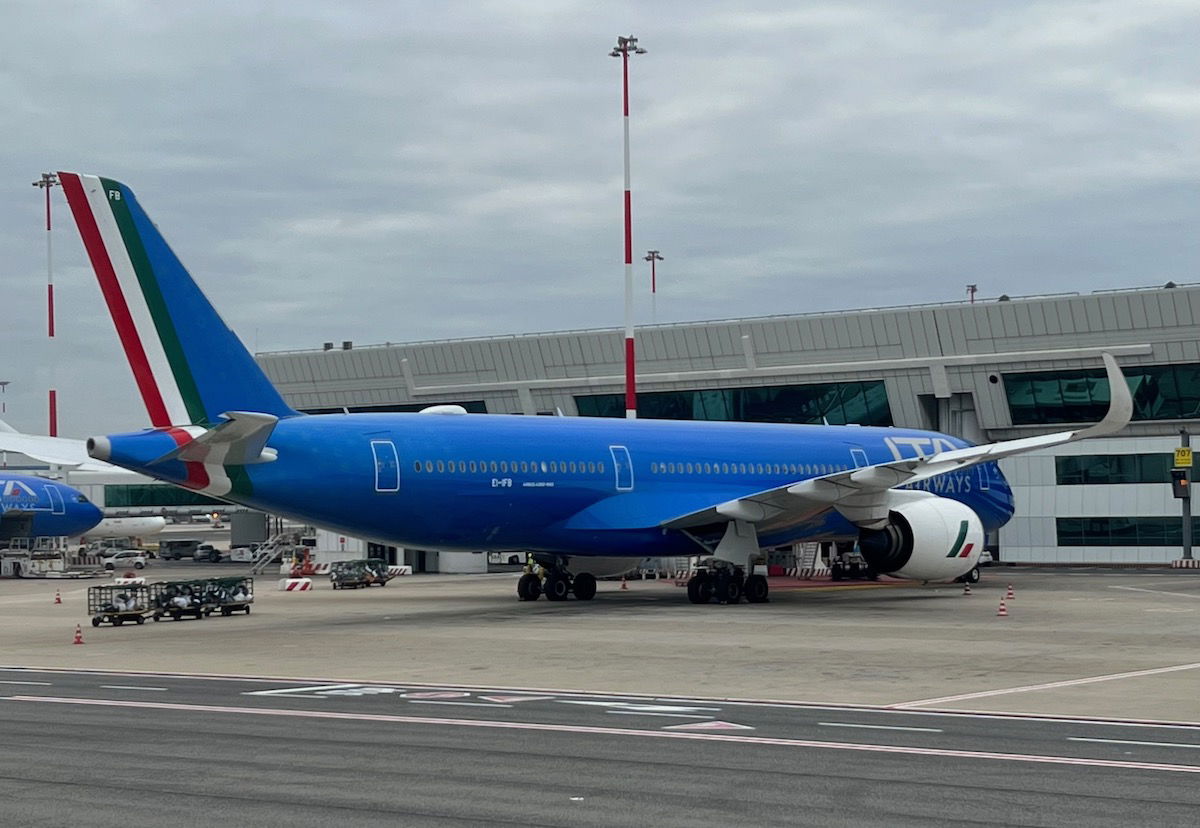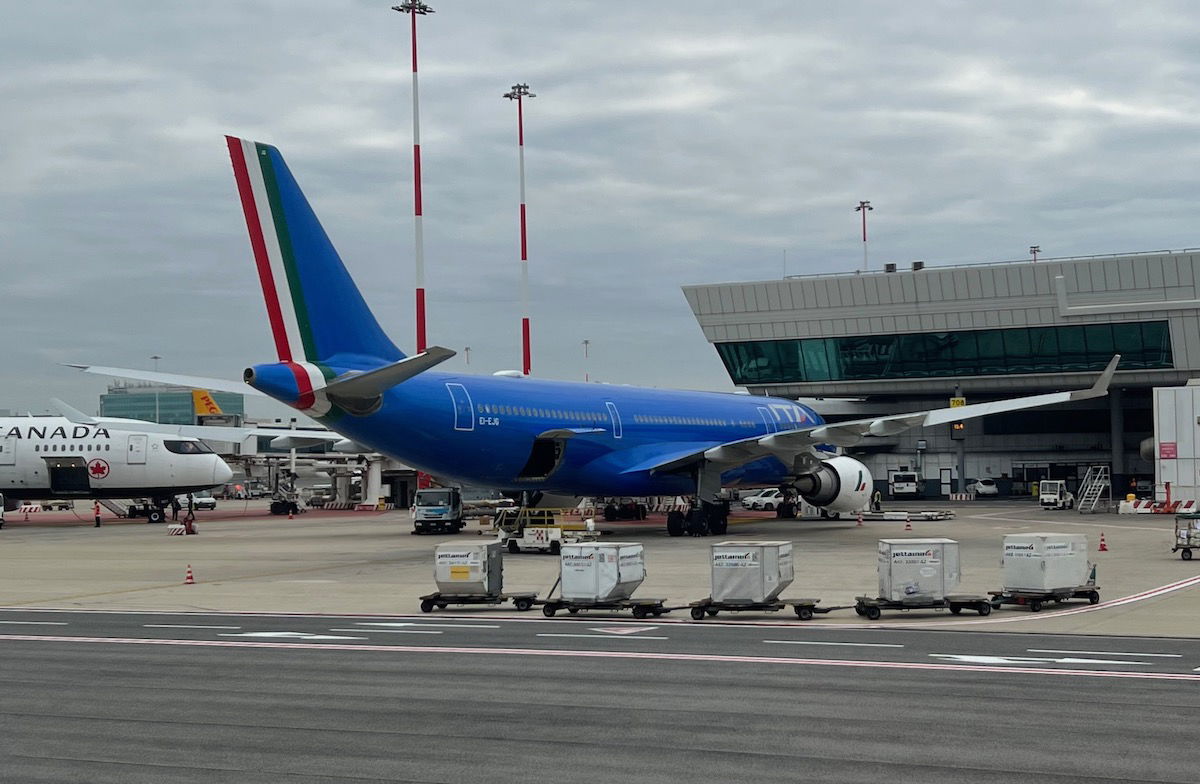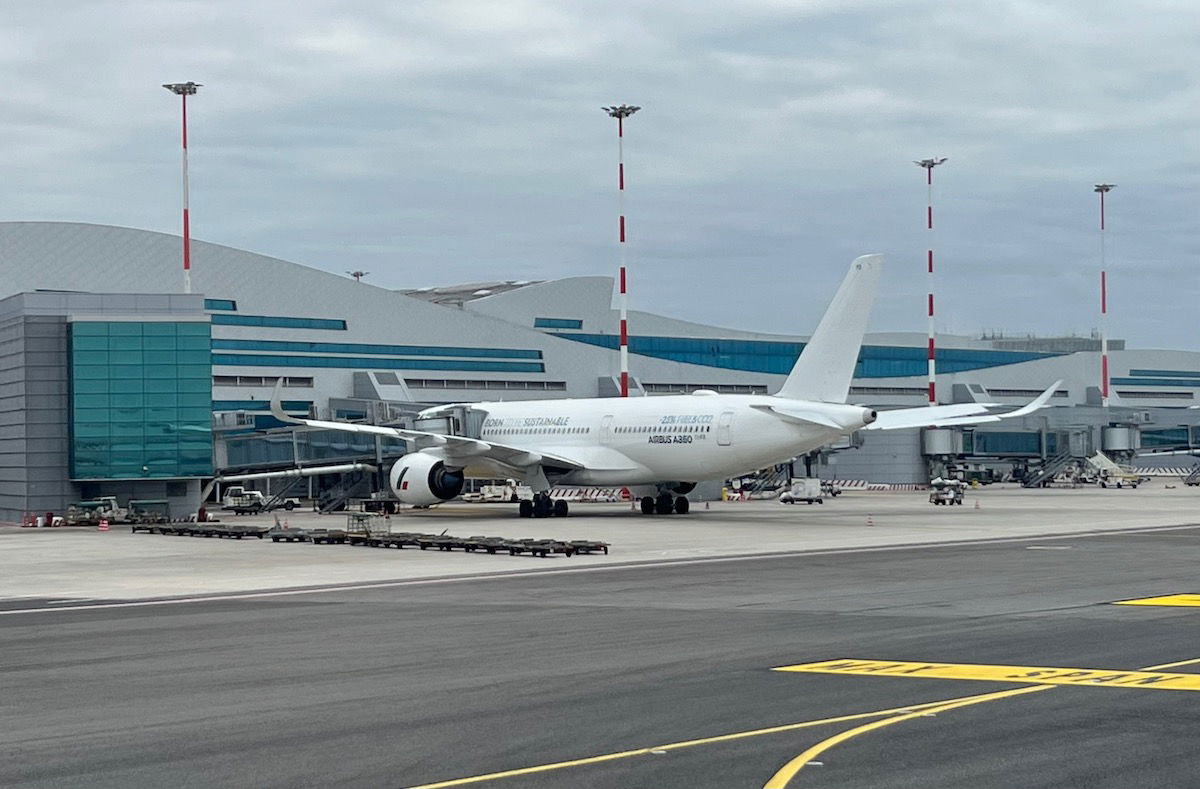 We had a fairly short taxi to our departure runway, and by 11:50AM we were cleared for takeoff. I enjoyed the views as we climbed out of Rome.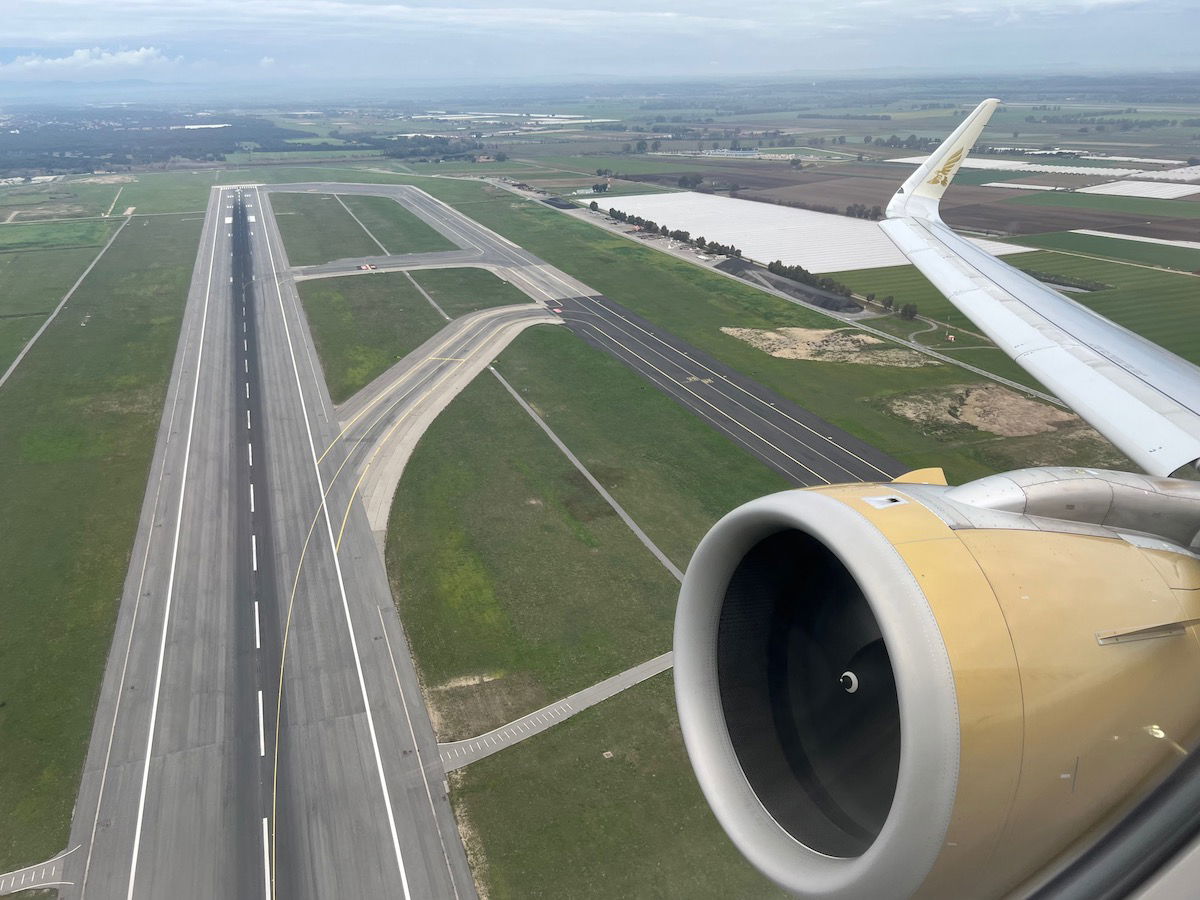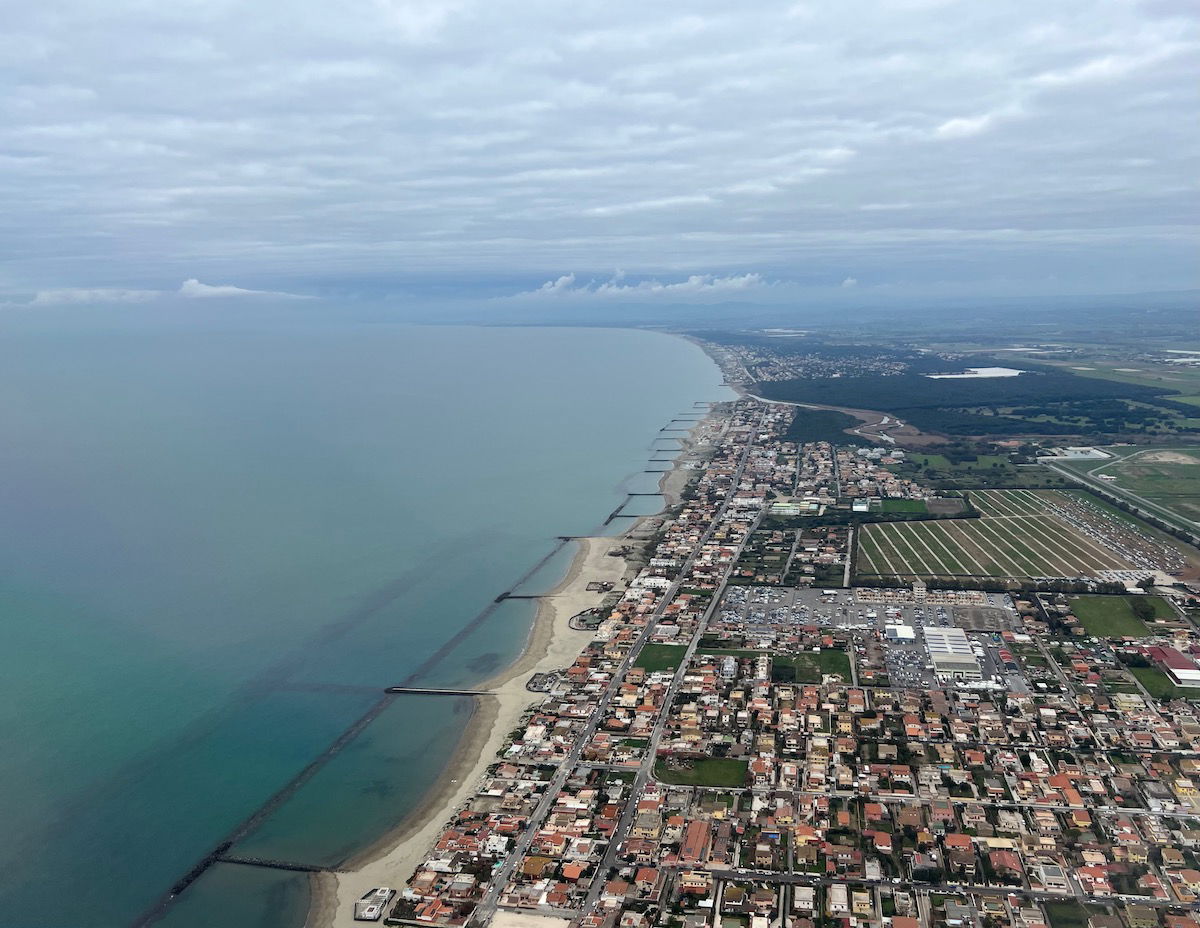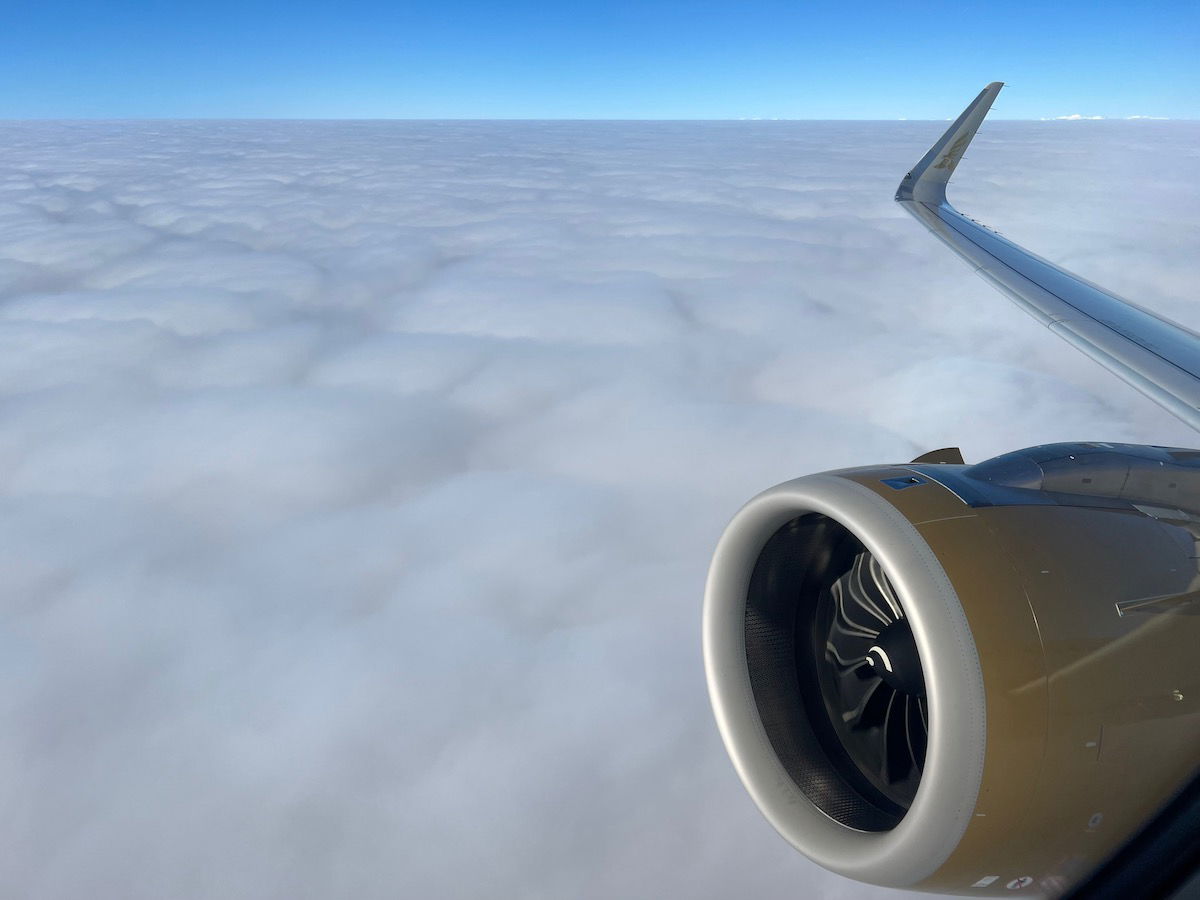 The seatbelt sign was turned off about five minutes after takeoff.
Gulf Air A321LR entertainment & Wi-Fi
As we climbed out of Rome, I decided to familiarize myself with the entertainment system and Wi-Fi onboard. Gulf Air's entertainment system can either be controlled via the entertainment screen as such, or with the handheld device. Personally I prefer just directly using the monitor.
Gulf Air's entertainment selection was a bit strange. There were over 150 moves to choose from, though the library largely felt like it was from a decade ago. There were fairly few new Hollywood releases, for example.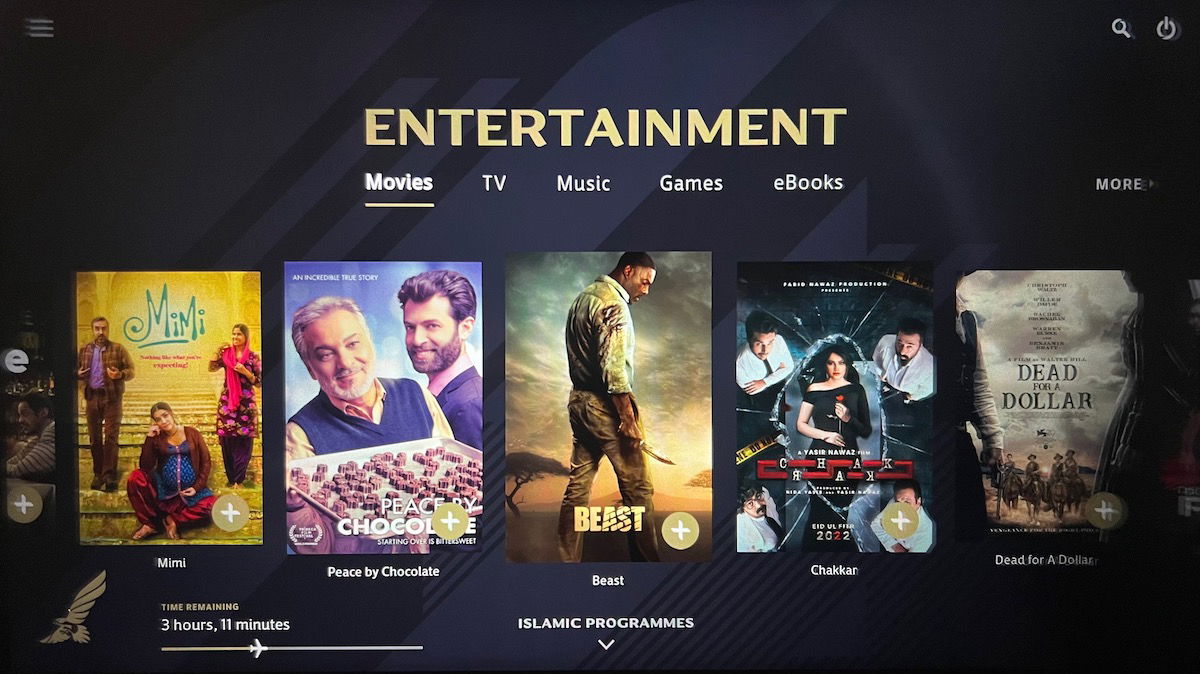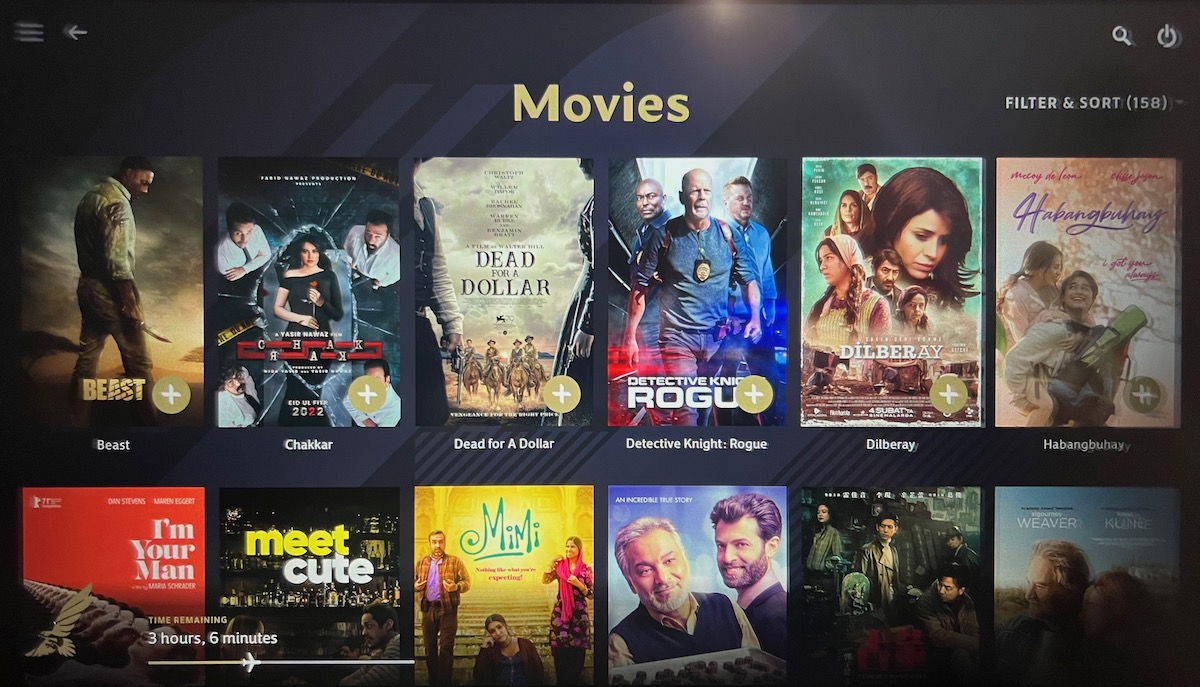 The TV selection was extremely limited, with none of the options you'd regularly expect to find on airlines (I feel like some sitcoms are almost made just for airplane viewing). 😉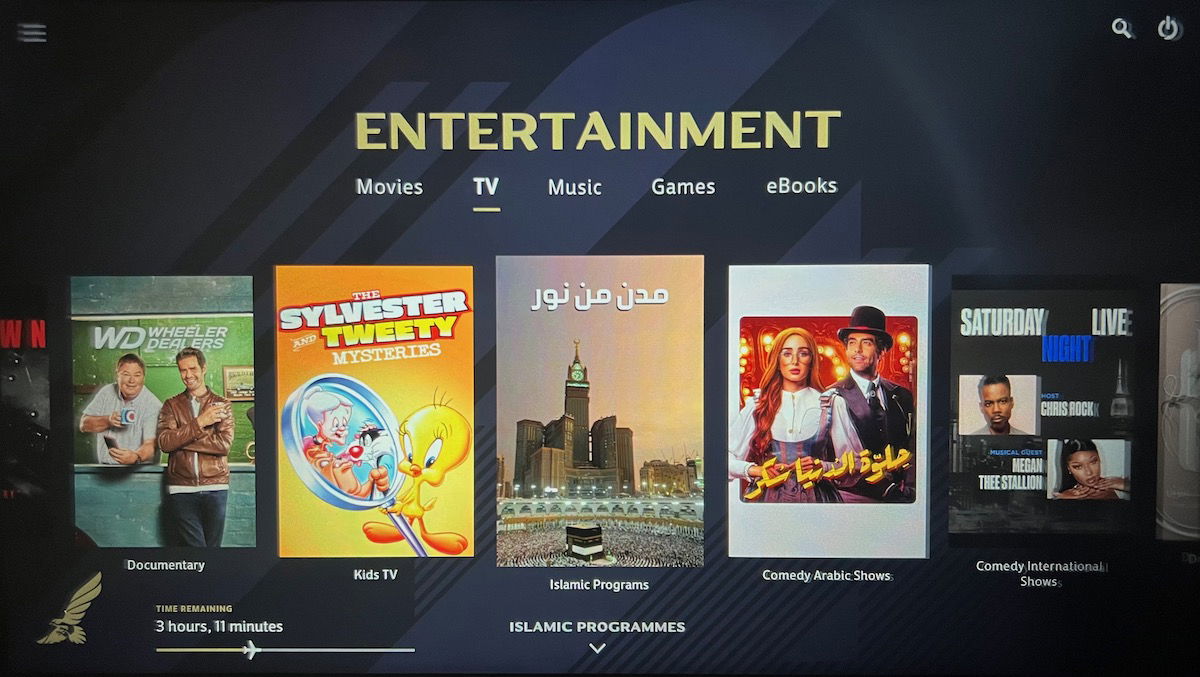 There was also quite a music selection, though don't expect Shawn Mendes…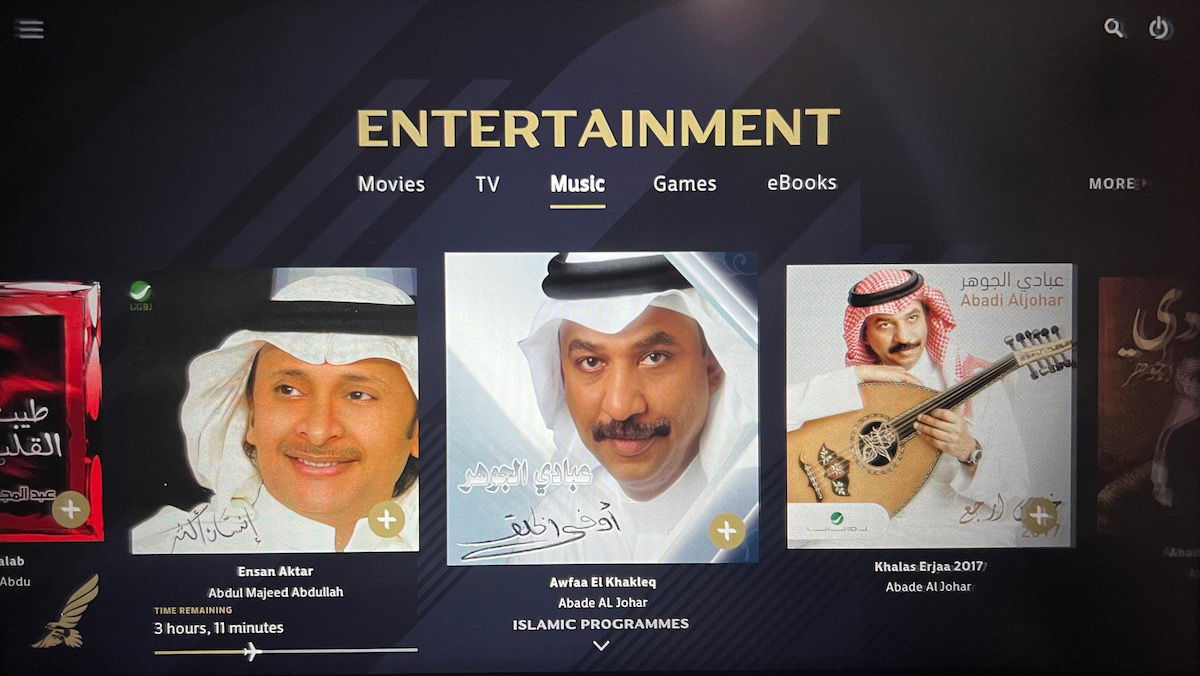 It's funny that Gulf Air rebranded a few years ago, but the entertainment system still shows the old branding, not to mention it displays a plane that the airline no longer flies.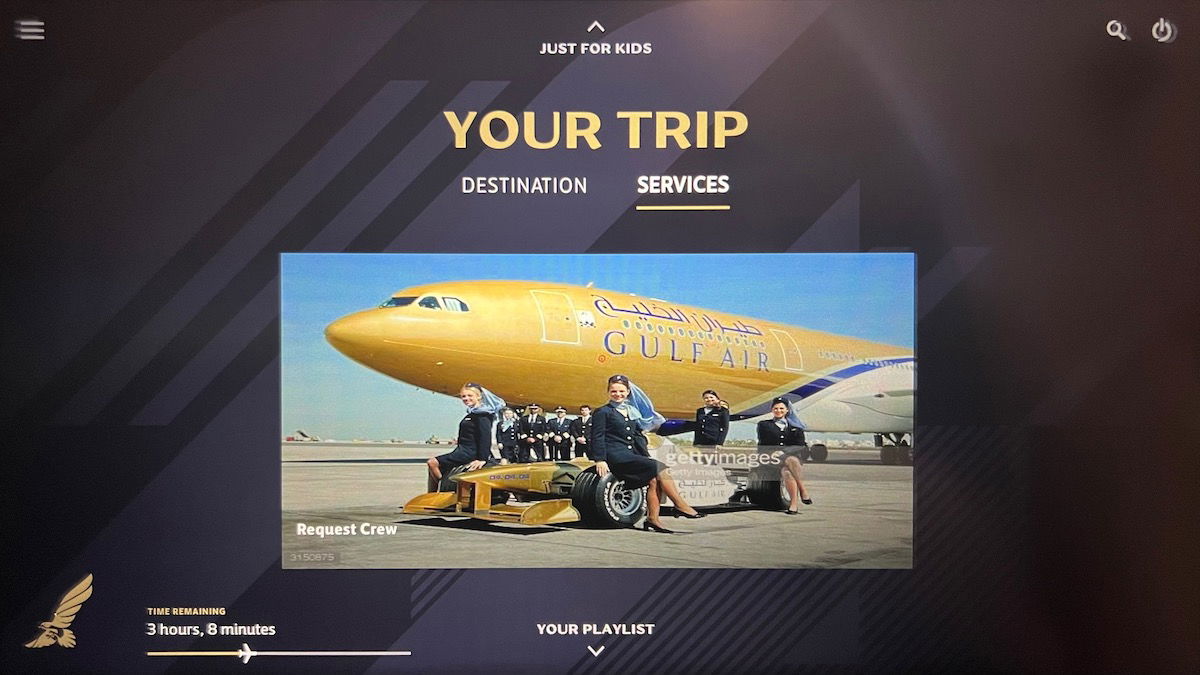 Last but not least when it comes to the entertainment system, there's the map feature, which I enjoyed.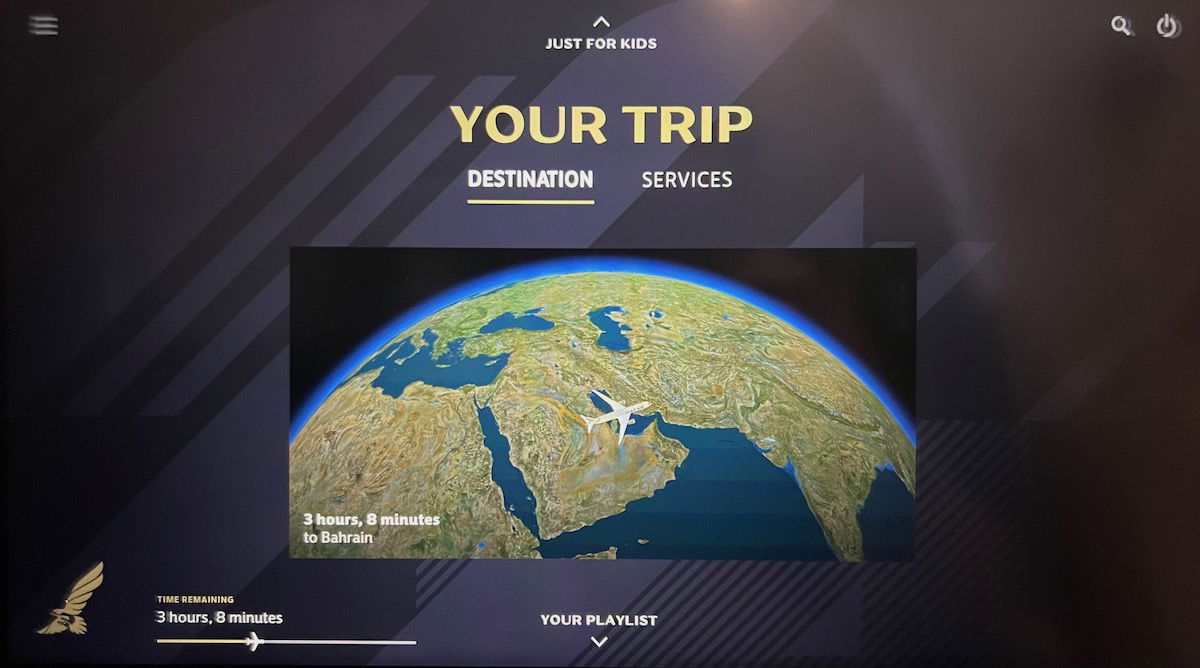 Gulf Air has a pretty interactive map display, where you can control the views you get, and choose at any time to see how far away you are from your destination.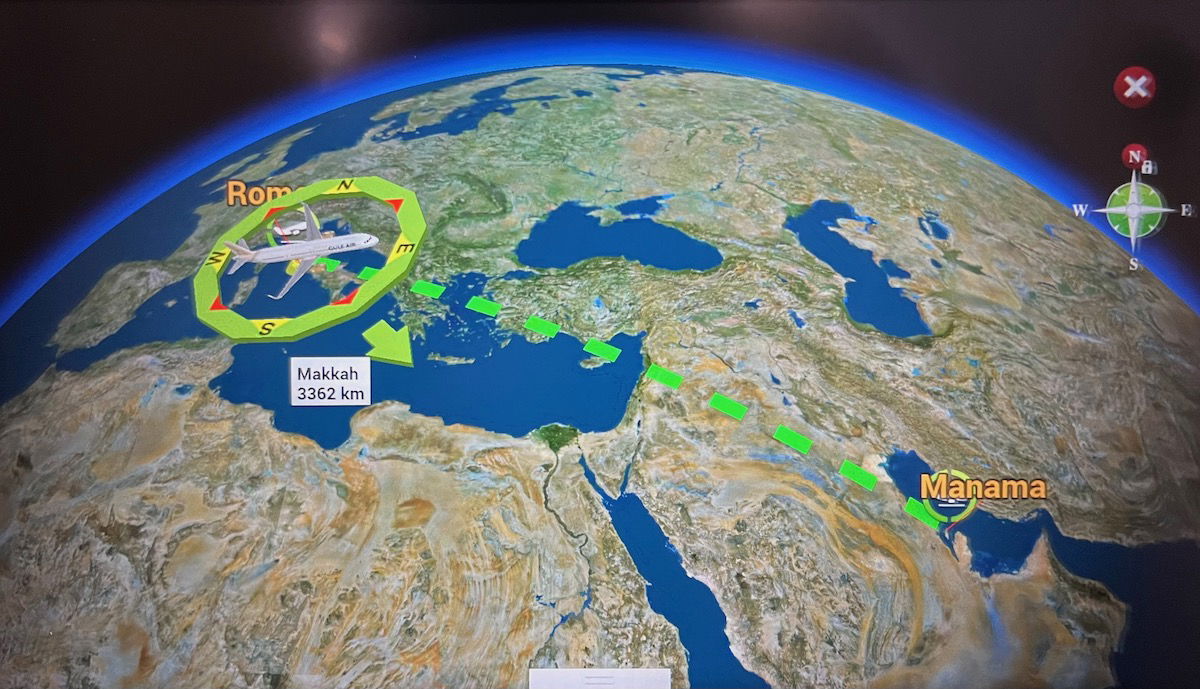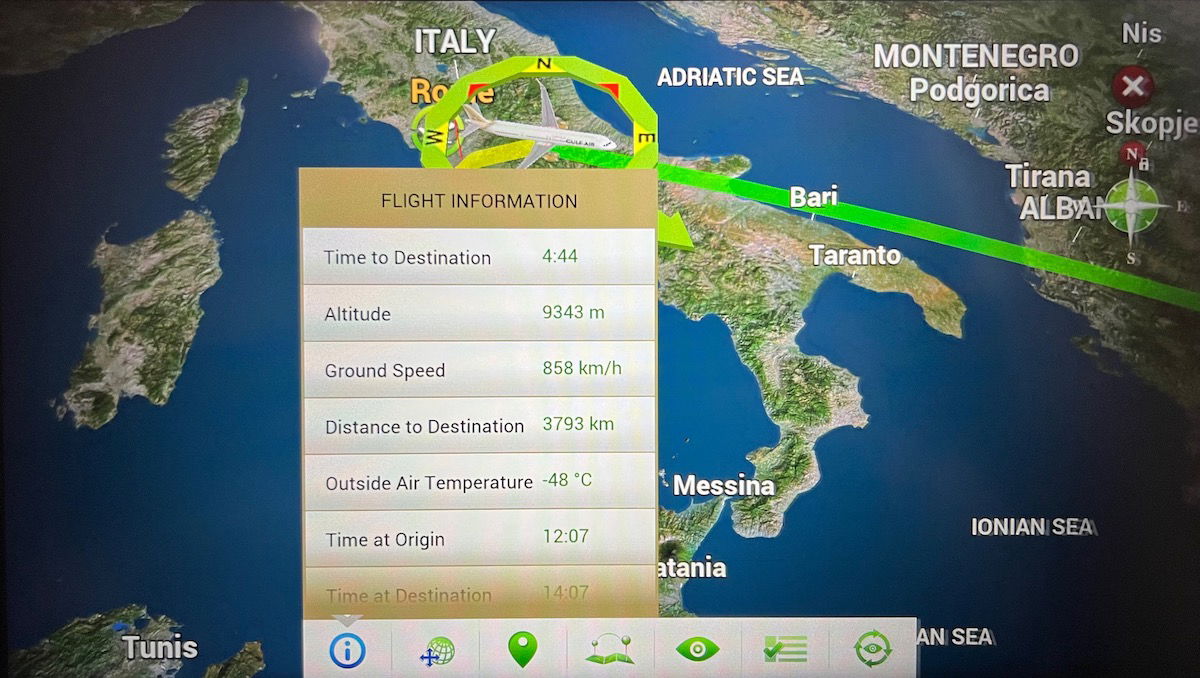 Gulf Air's Airbus A321LRs also have Wi-Fi, which is an amenity I greatly value.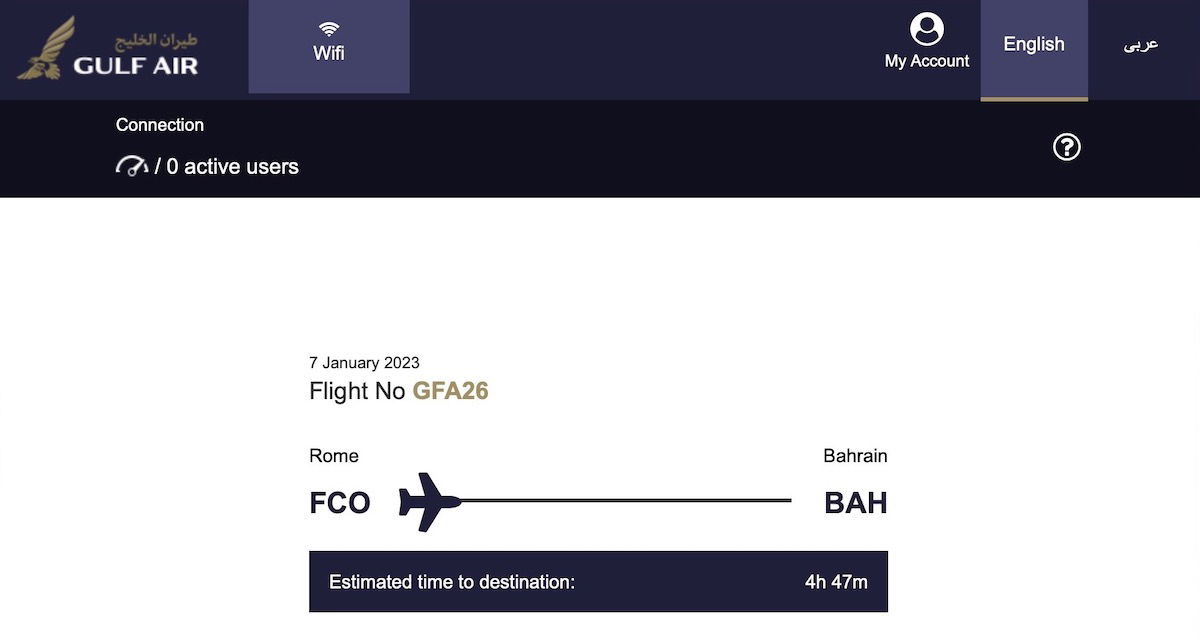 There were a couple of different pricing tiers:
There was a "Chat" plan for $10, "ideal for social media sites as well as messaging"
There was a "Smart" plan for $15, the "perfect choice for surfing the web"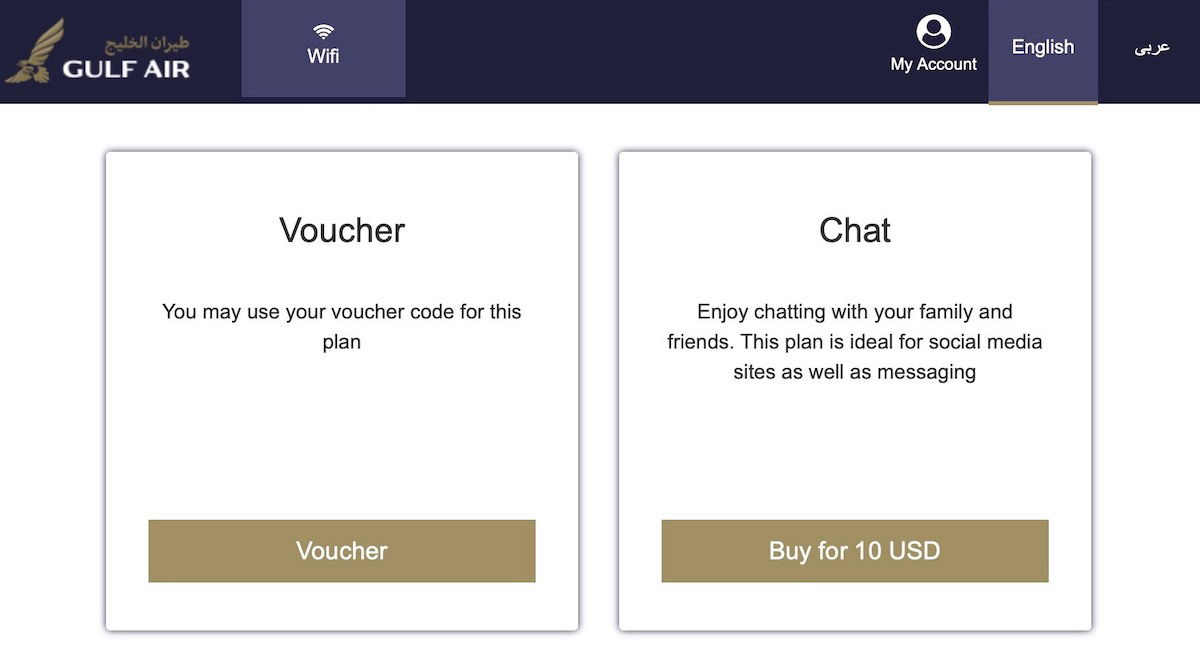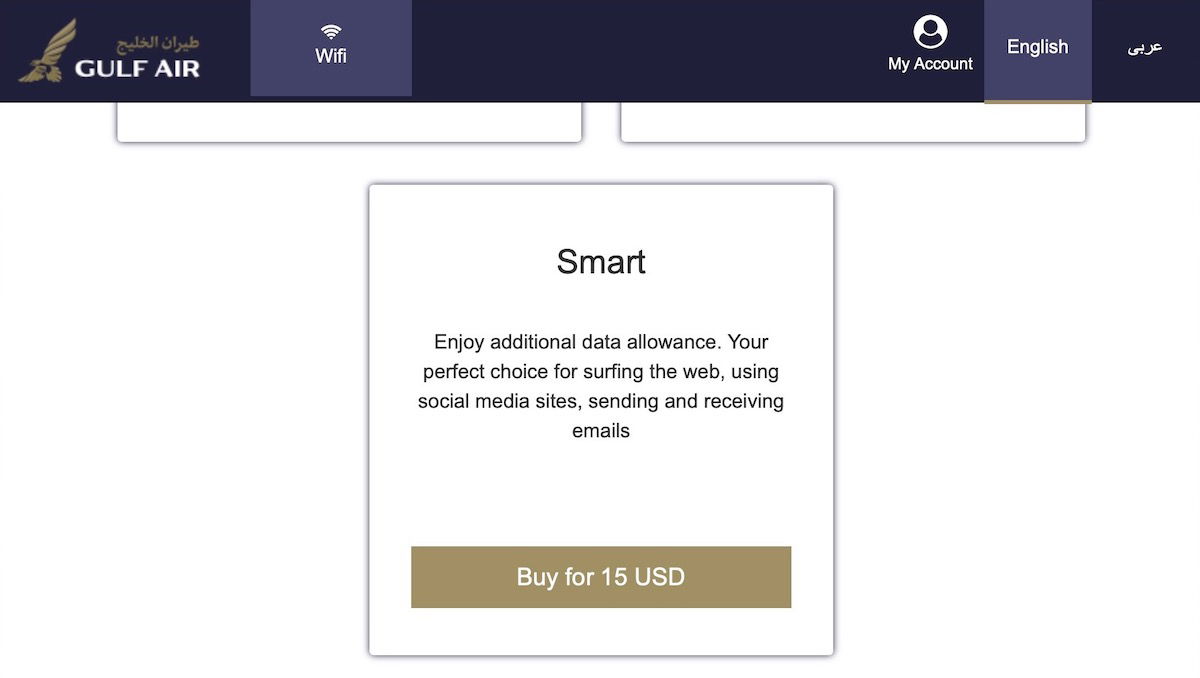 I selected the $15 plan, and that gave me unlimited Wi-Fi with no data caps for the entire flight. I found the Wi-Fi speeds to be quite good, enough to stay productive without interruption.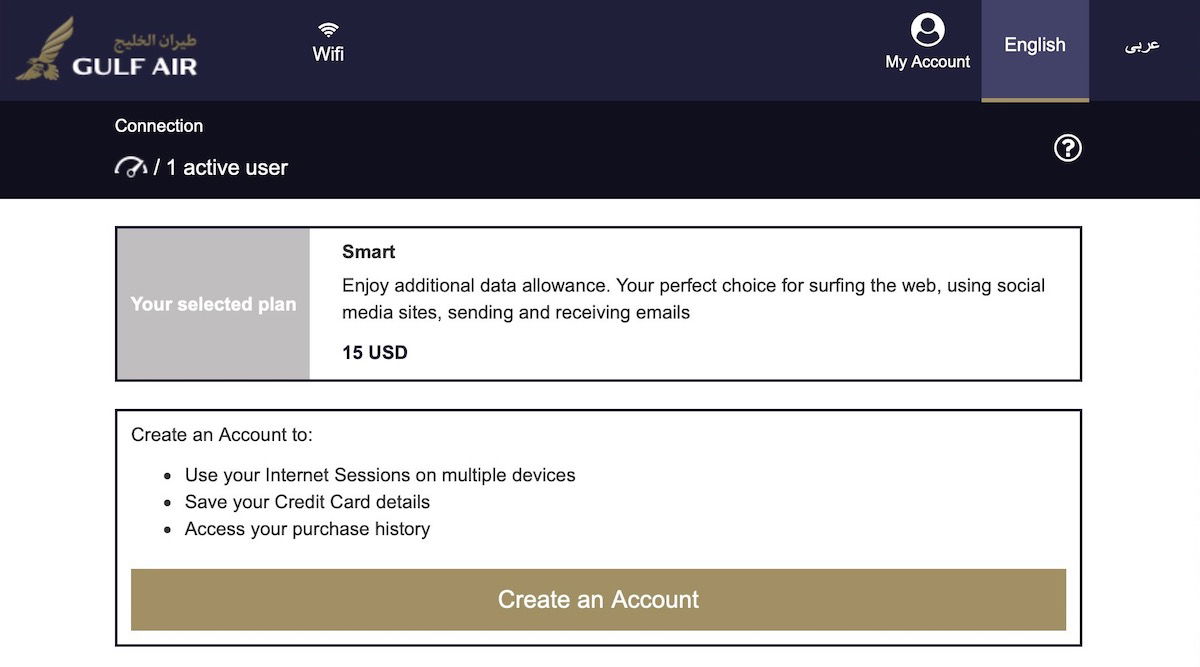 Gulf Air business class meal service
The crew was pretty quick to get started with the service after takeoff. As I mentioned above, meal orders had been taken on the ground. The menu indicated that you could dine whenever you wanted to, and I decided to eat after takeoff. You can find the menu below.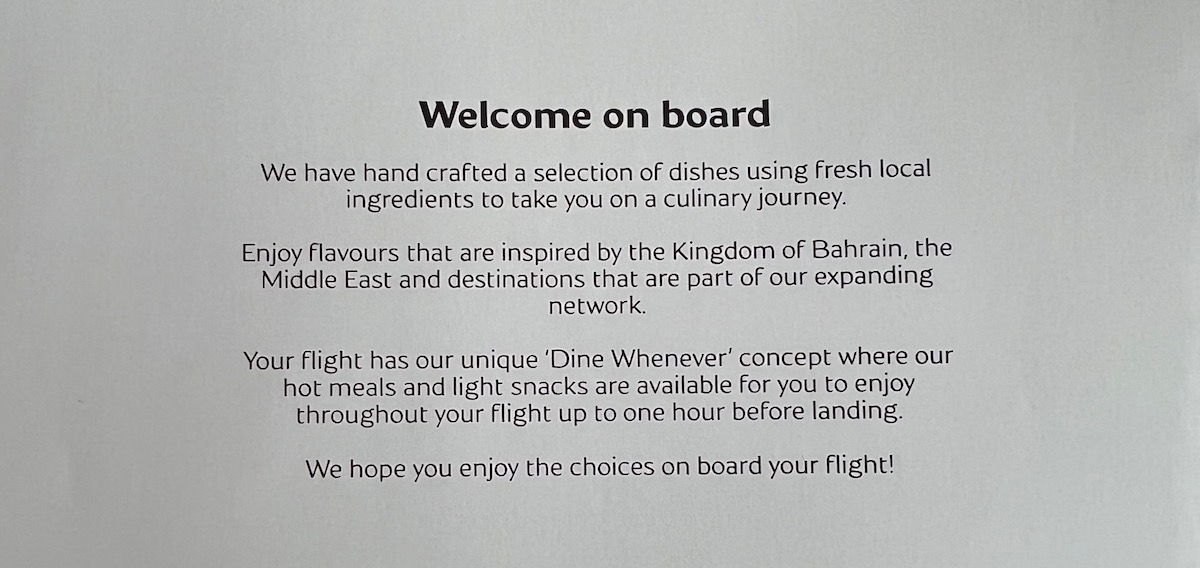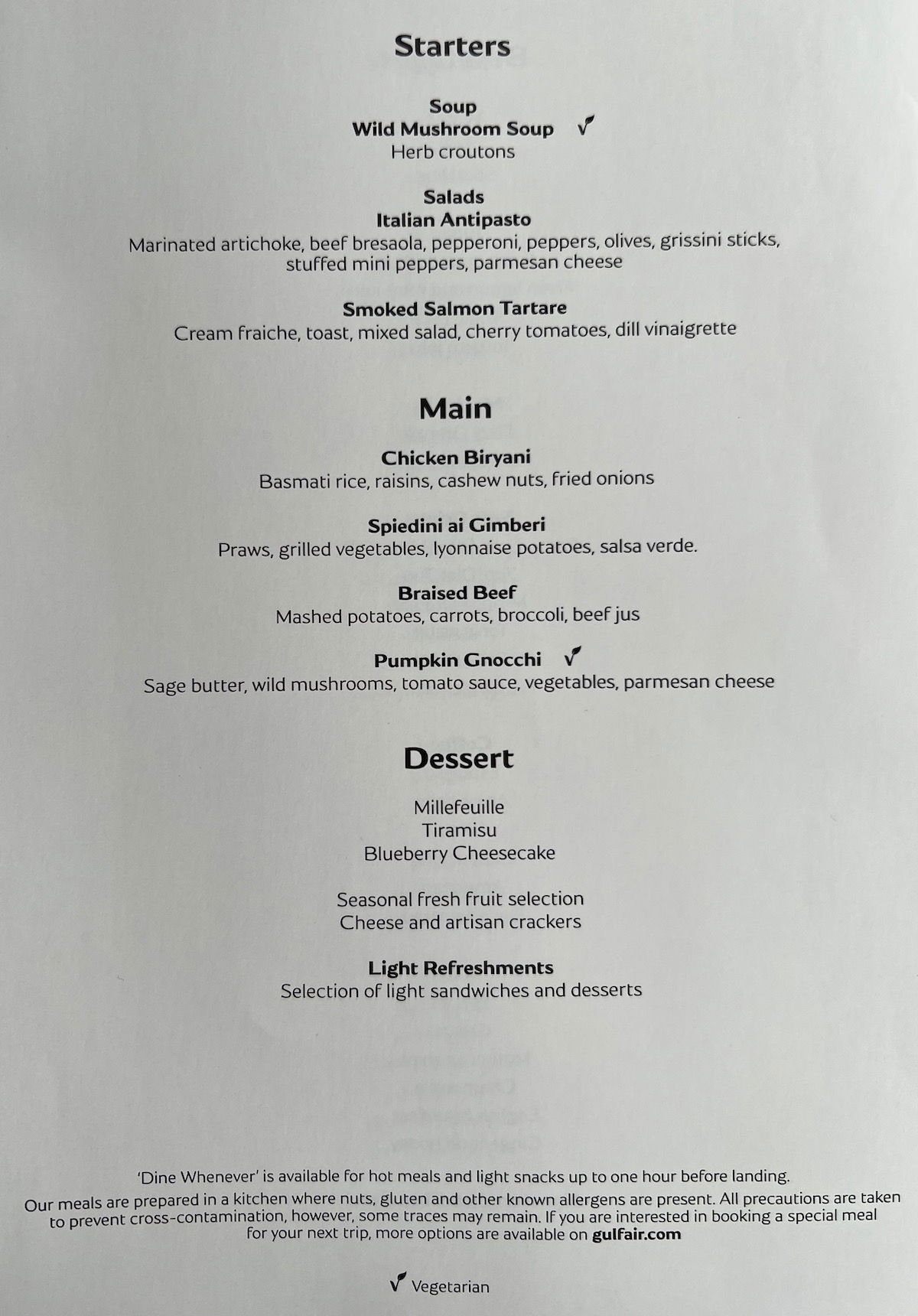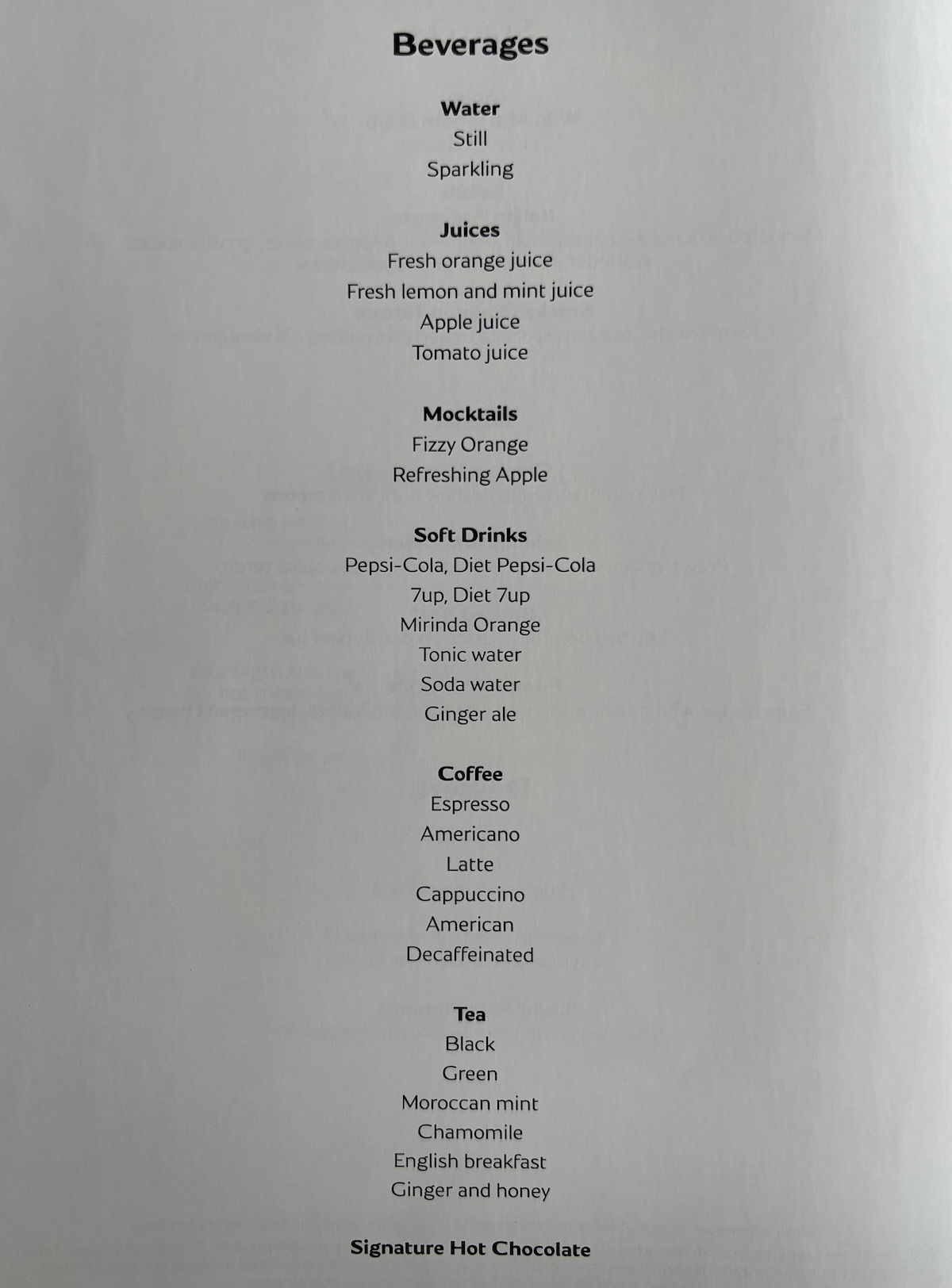 My first drink was served around 30 minutes after takeoff. I do wish that Gulf Air had a proper wine list, as the only way to find out the options are to ask the crew, and they're not necessarily as well trained on wines as Singapore Airlines flight attendants, for example.
I asked what kind of white wine was available, and I was told there was an Australian or Italian one. Without much more to go on, I just selected the Italian one. It was pretty decent, though it would also be nice if the crew brought out the bottle and poured it at each seat, rather than just bringing it in a glass. To go along with the drink, I was served with some snack mix with mixed nuts and dried fruit.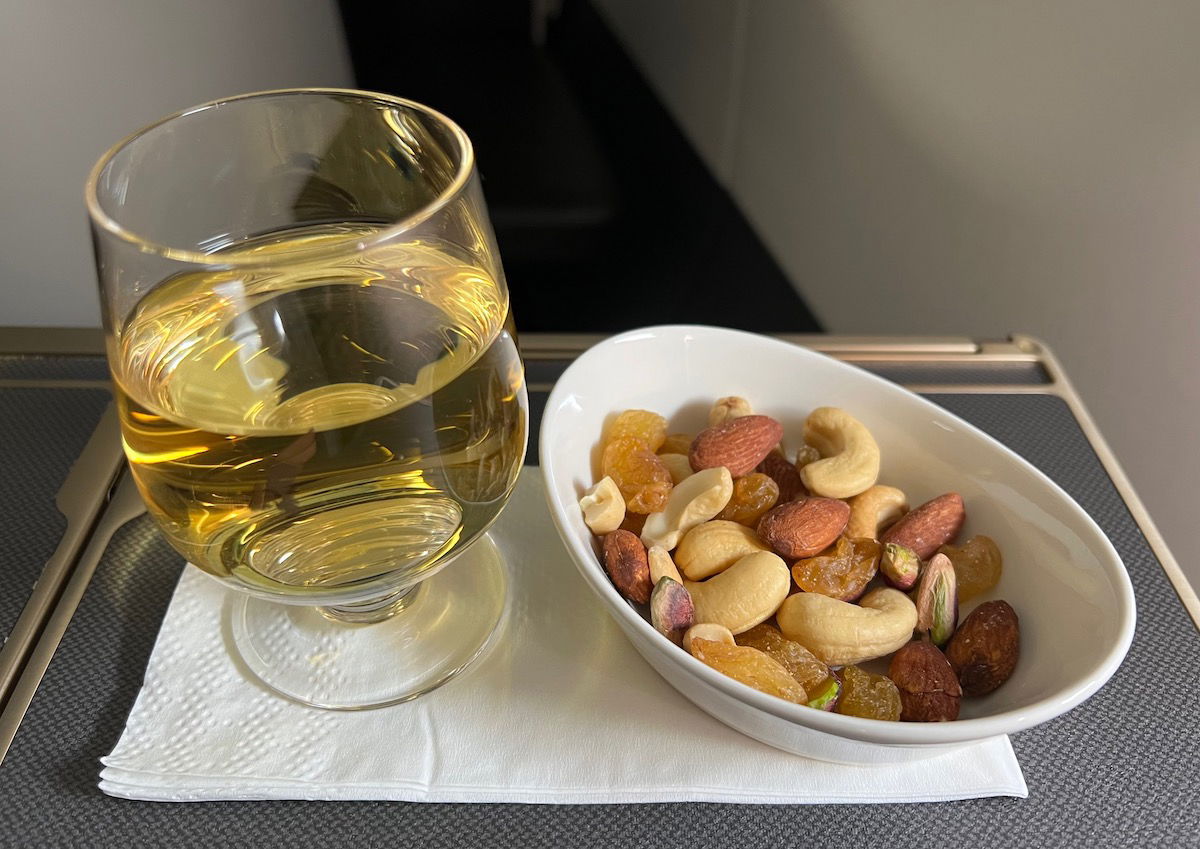 Since I try to review inflight service as thoroughly as possible, I had tried to order a soup and an appetizer, since the way the menu was structured made me think that was totally possible. The flight attendant was initially surprised when I ordered both, but then said it wouldn't be an issue.
However, the soup never came, but rather I was just served the appetizer, around 55 minutes after takeoff. I selected the Italian antipasto, with marinated artichoke, beef bresola, pepperoni, peppers, olives, grissini sticks, stuffed mini peppers, and parmesan cheese. I was also offered a selection of bread, and chose the focaccia and garlic bread. Both the appetizer and bread were very good.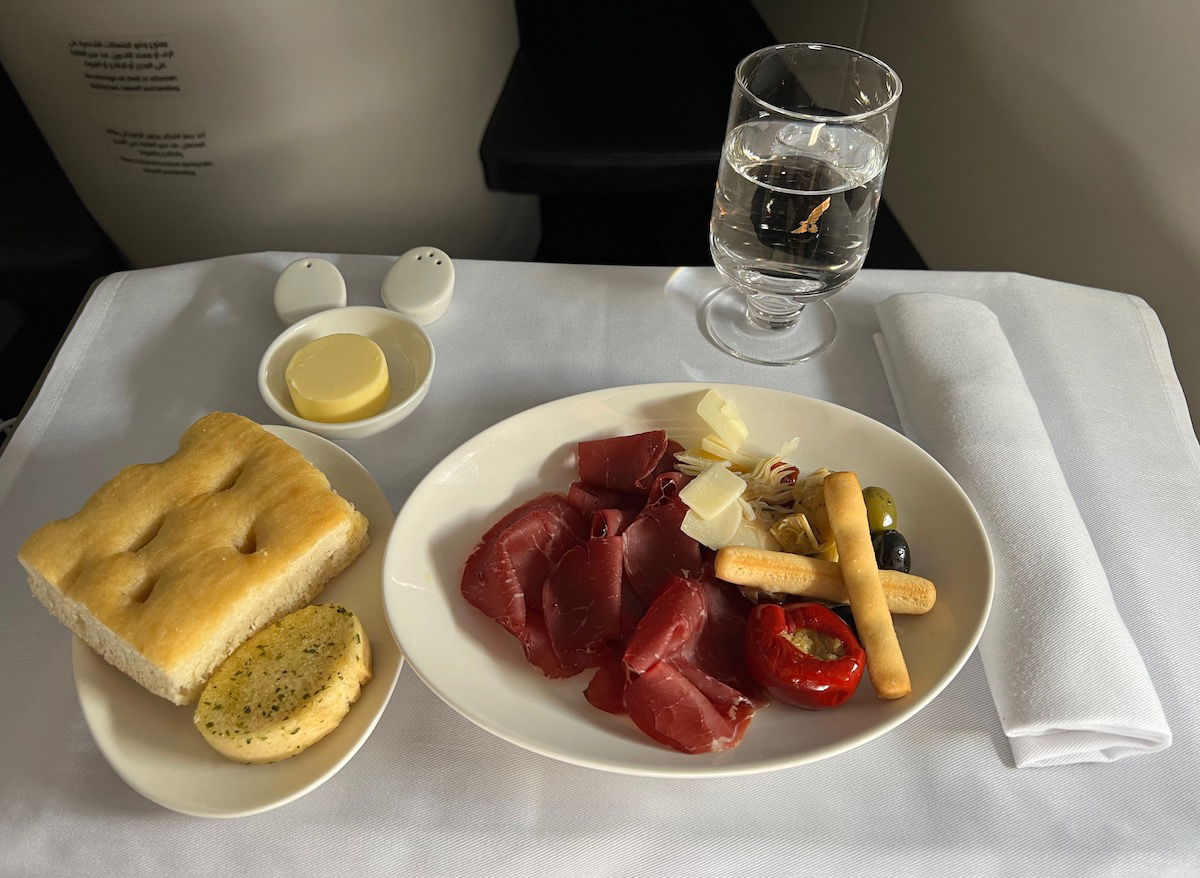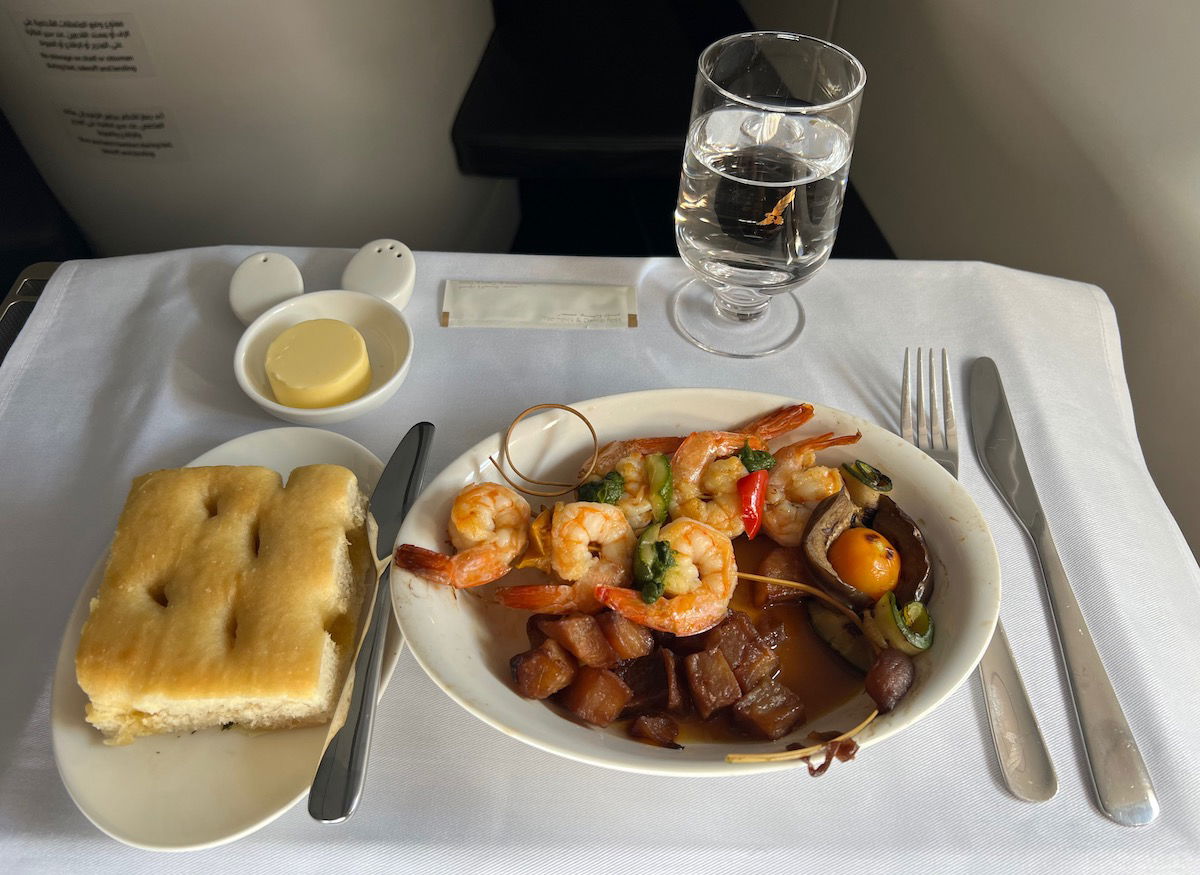 For the main course I ordered the Spiedini ai Gamberi, consisting of prawns with grilled vegetables, lyonnaise potatoes, and salsa verde. While the presentation wasn't amazing, the dish tasted very good.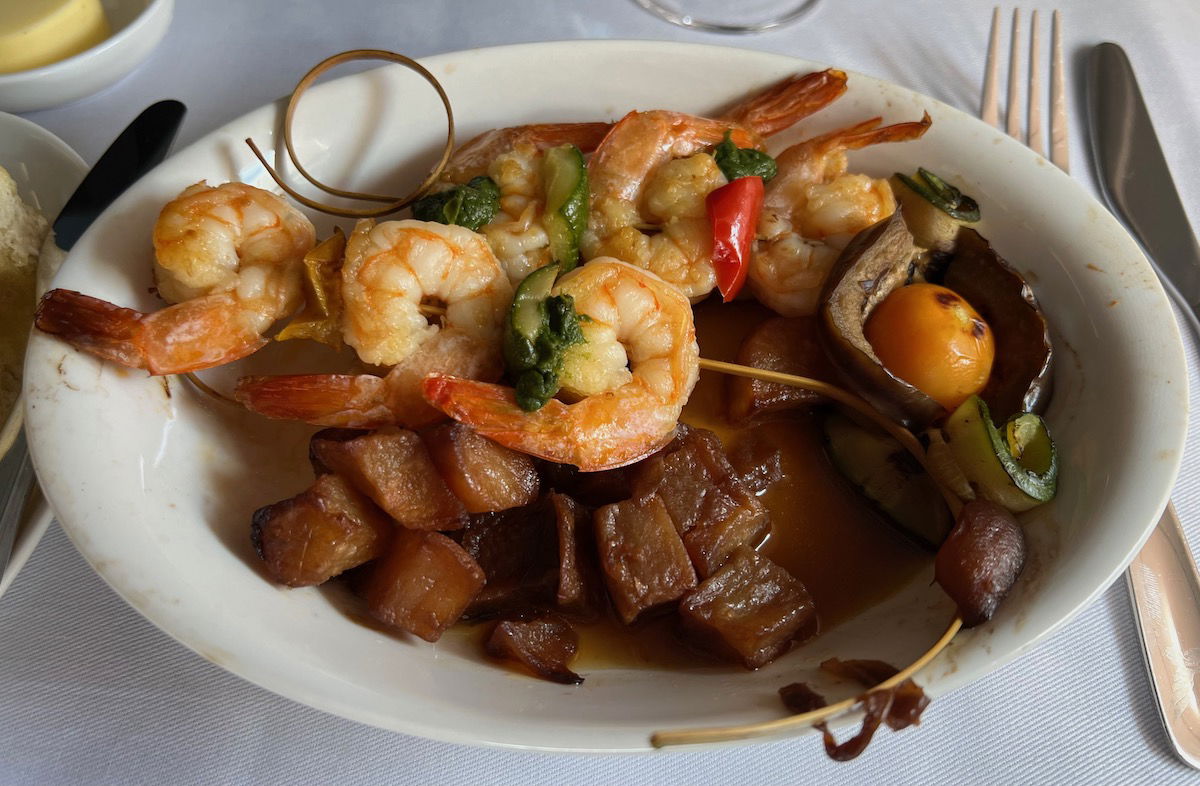 I had also ordered a glass of champagne before even receiving my appetizer, but it only ended up arriving five minutes after my main course, despite following up about it.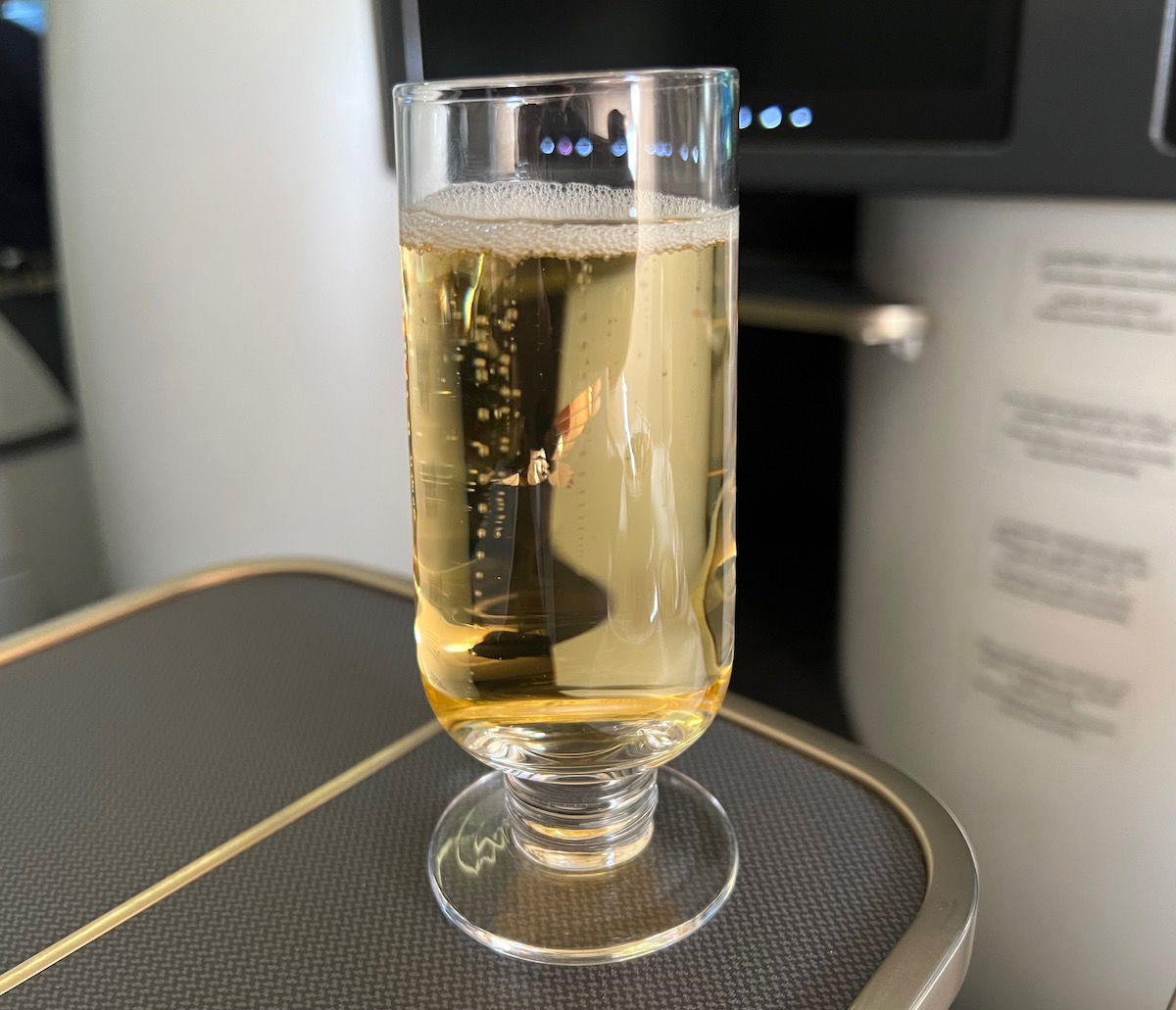 Around two hours after takeoff, a beautiful trolley was rolled down the aisle, with a generous selection of cheese, fruit, and desserts. Each dish was plated directly from the trolley, so you could choose whatever you wanted. I asked for some cheese, as well as a delicious chocolate treat.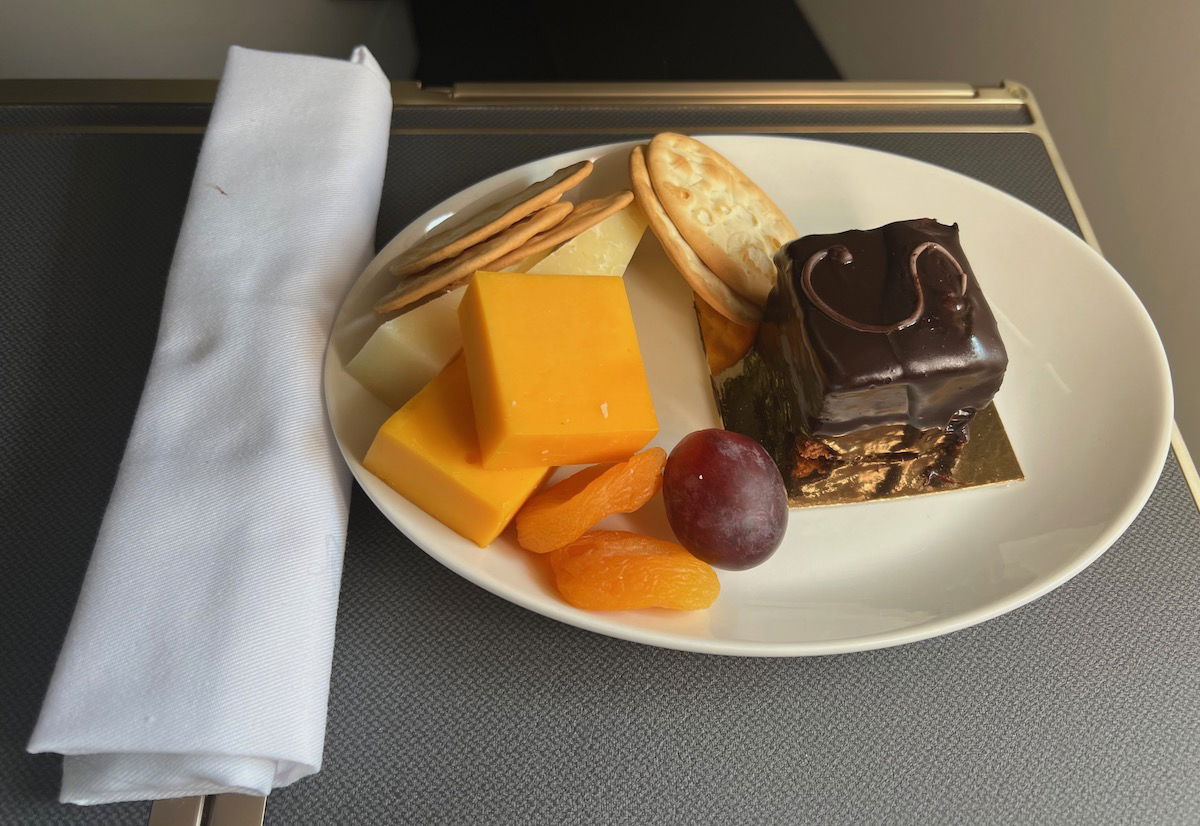 The menu showed that Gulf Air offers cappuccinos, so I was excited for one of those. Unfortunately I was disappointed when I found out that this was in fact powdered cappuccino, and a very bad one at that. It tasted to me like dirty water. If you're not going to have proper cappuccinos, don't even put them on the menu, in my opinion.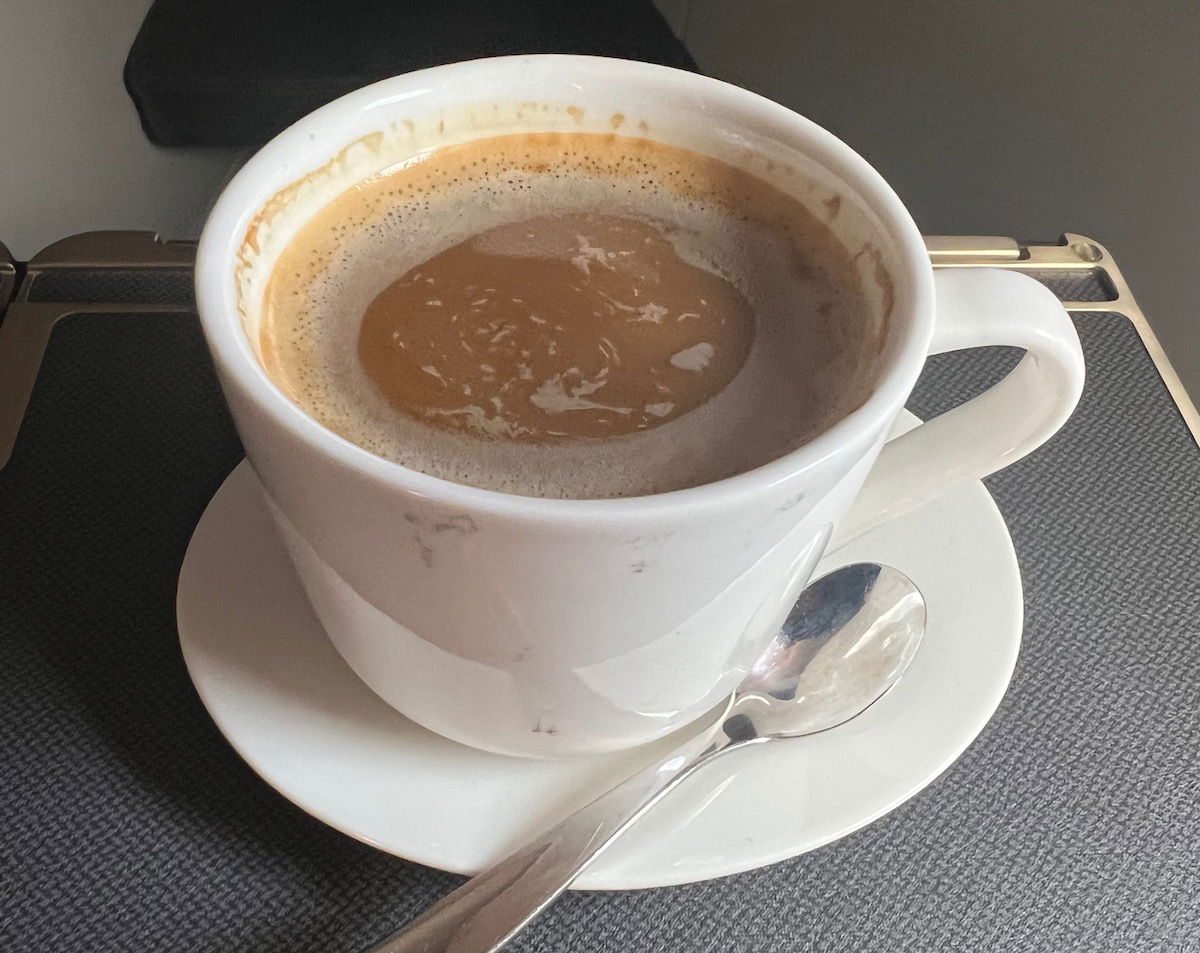 Anyway, while the service flow was a bit strange, I still found the food to be great, in terms of quantity and quality. By the time the service was wrapping up, we were just over Greece, with around three hours remaining to Bahrain.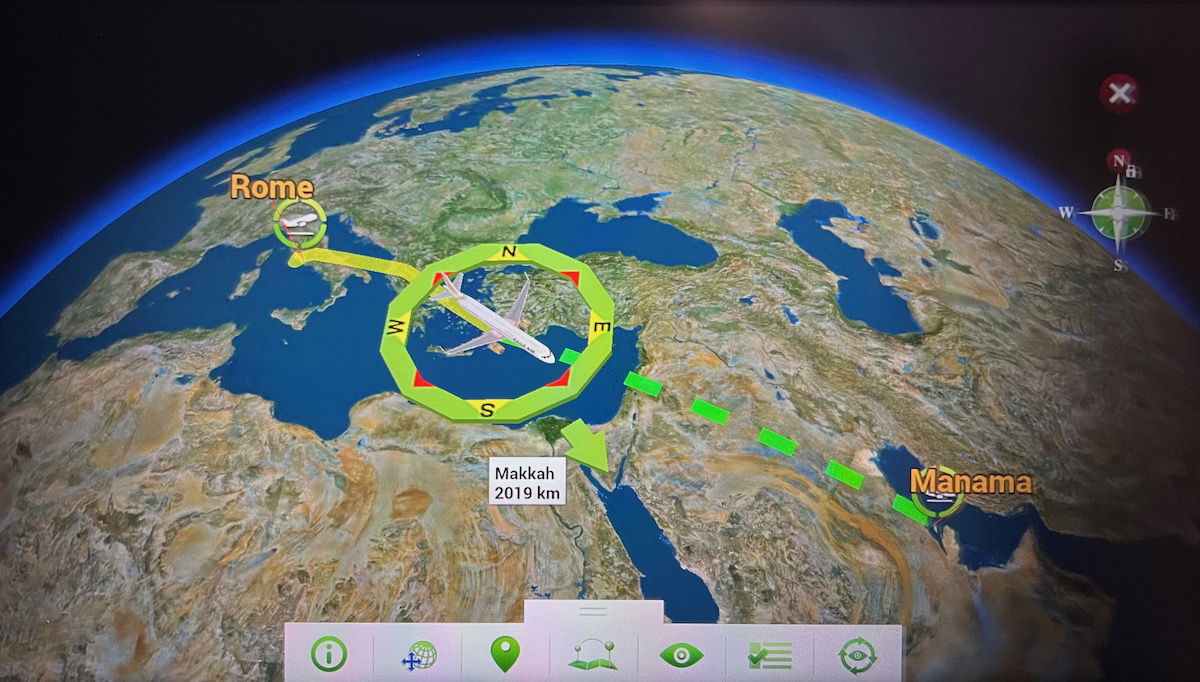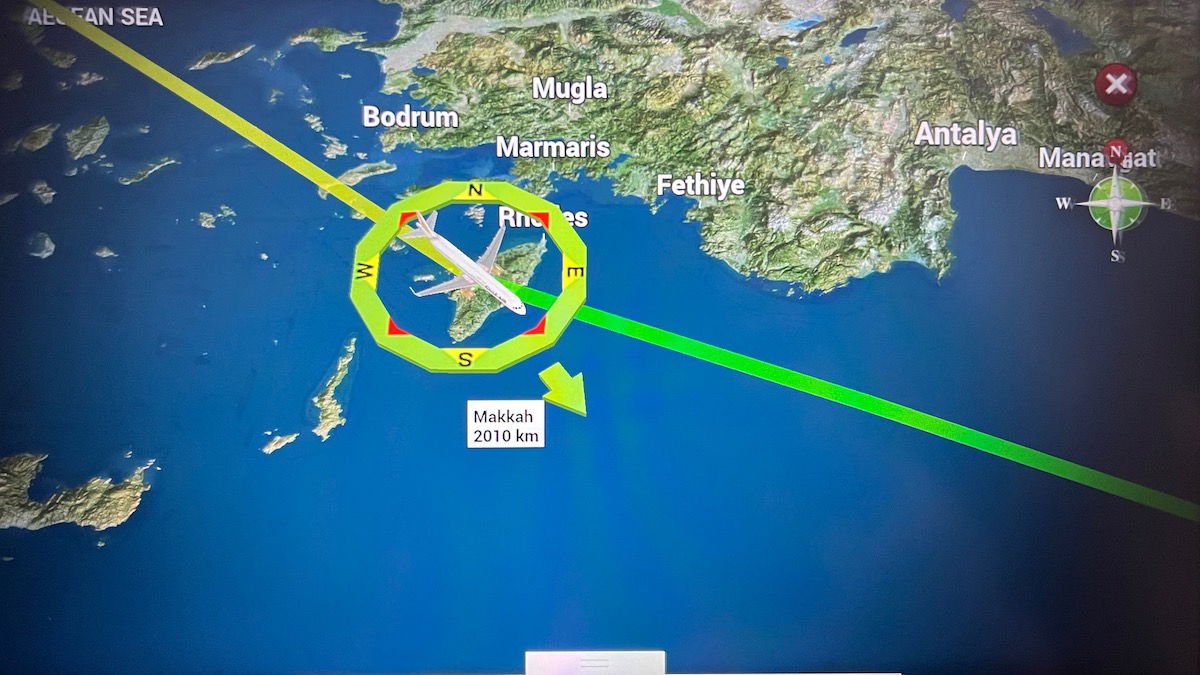 Gulf Air business class service
The cabin crew on Gulf Air are a mix of local men and foreign women. Unlike on Saudia, I found that the locals were every bit as hard working as the foreigners, so that's nice to see. Both of the flight attendants working business class were genuinely friendly — they were welcoming, smiled throughout the service, and seemed like they enjoyed their jobs.
However, there were just so many little service mishaps, and I couldn't wrap my head around why. The crew seemed totally capable, it just seemed like they weren't properly trained with how to provide service. From drink refills taking forever, to empty dishes and plastic wrappers not being removed, to the crew just not proactively passing through the cabin, there were some very obvious areas for improvement.
The thing is, any time you requested something from the crew, they'd take care of it with a smile (sometimes quickly, and sometimes not). But it just seemed like they weren't trained in how to provide proactive service, and how to have an eye for detail.
Gulf Air A321LR business class bed
While most people didn't sleep on this sector, I was quite tired, as I hadn't slept much the night before in Vienna (and the night before that I was on a redeye flight). So after the meal service I reclined my seat and tried to get some rest, with just under three hours remaining to Bahrain.
Personally I find the window seats in this configuration to be pretty cozy, especially if you don't have anyone next to you.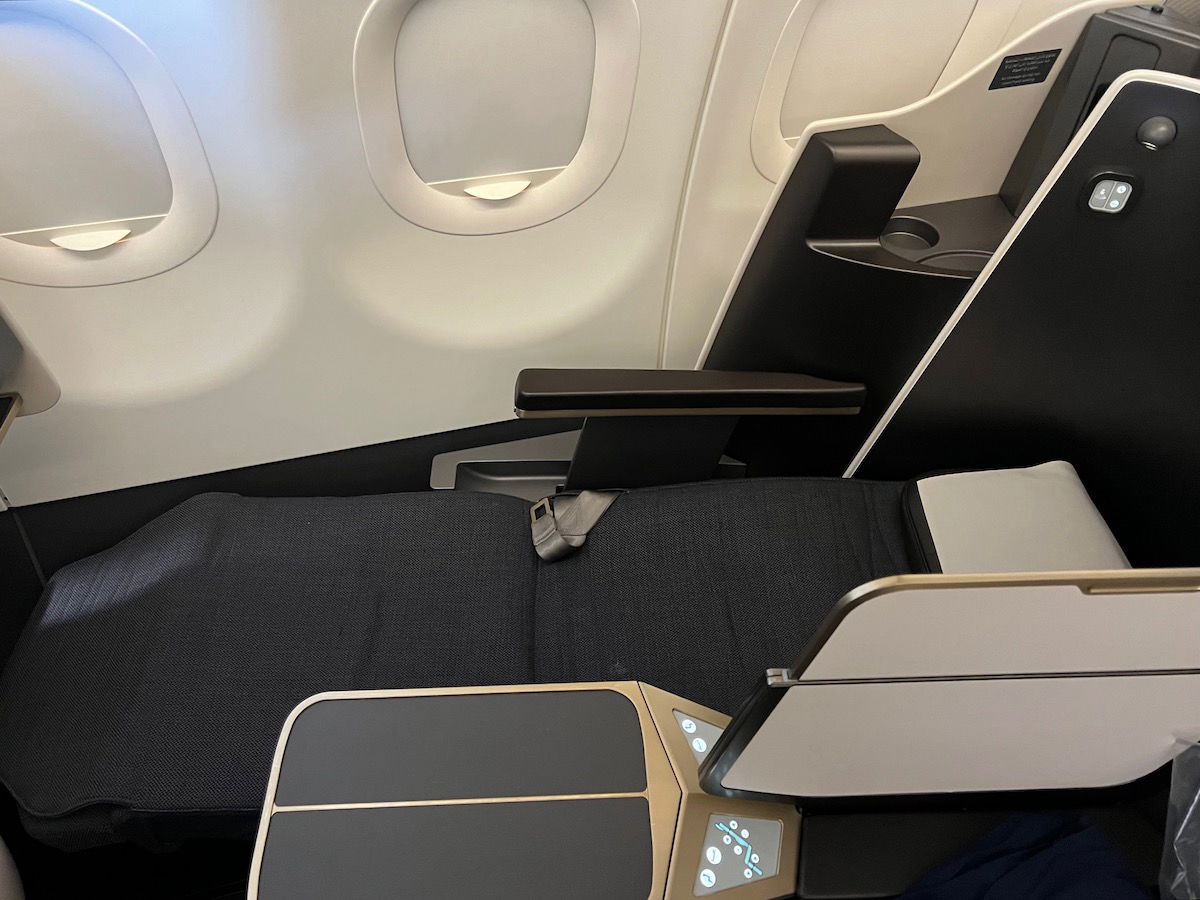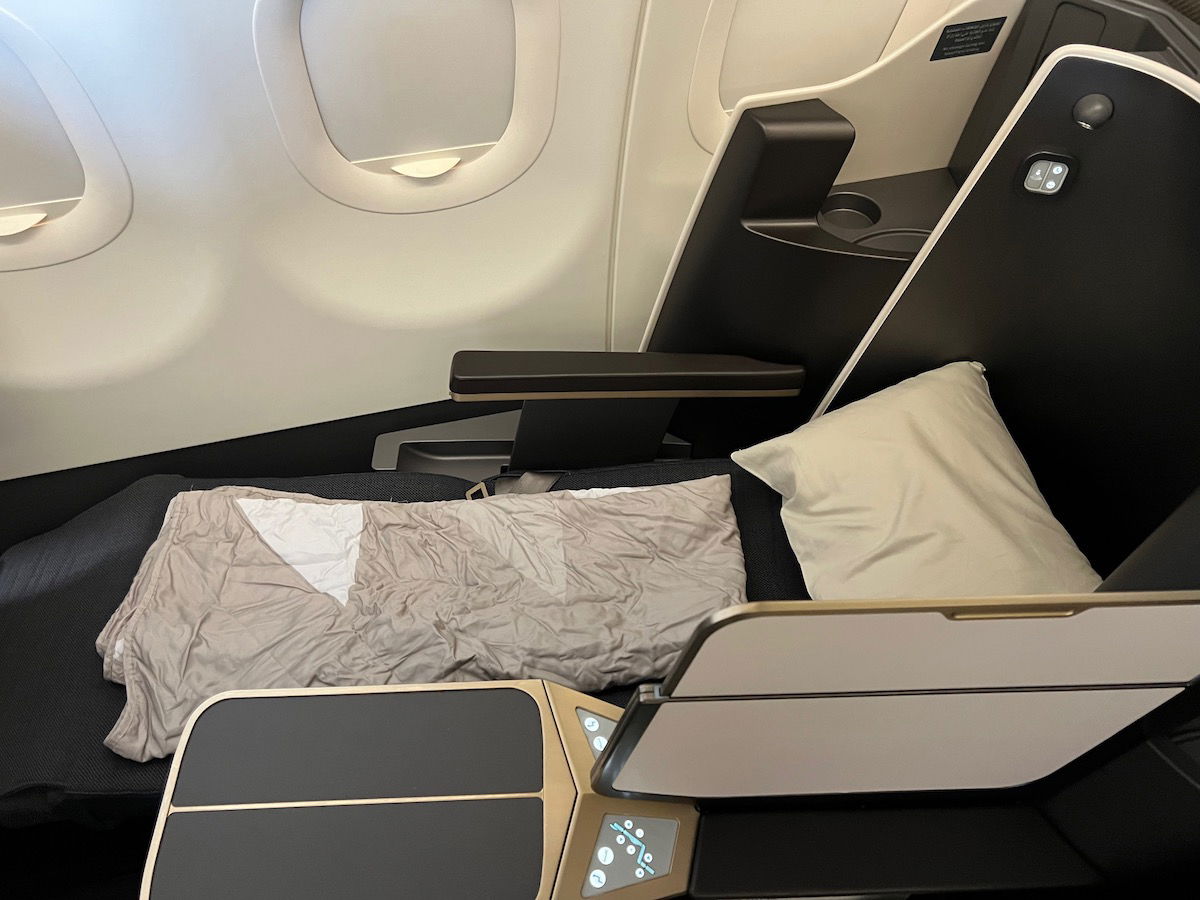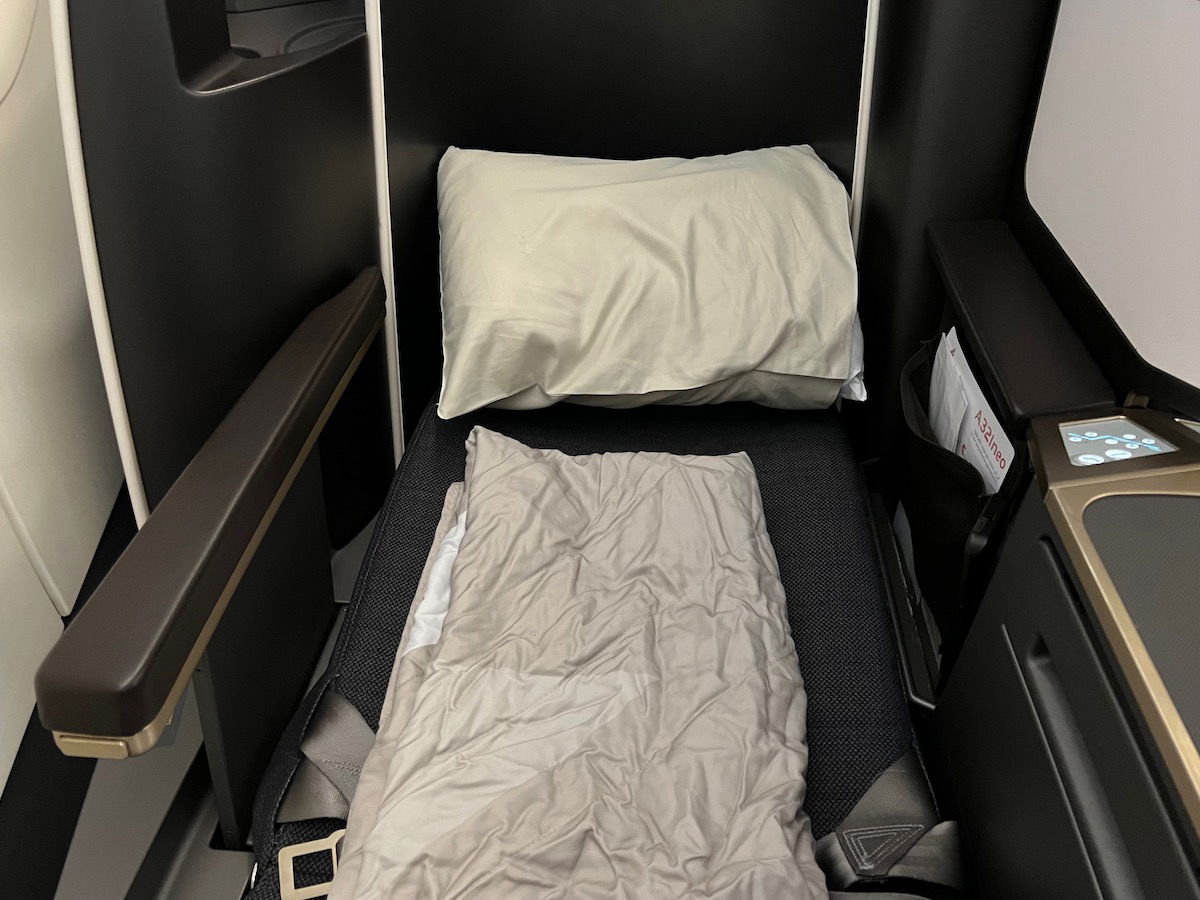 I managed to sleep for a bit over 90 minutes. I fell asleep as we were approaching the Middle East, and woke up over central Saudi Arabia. When I woke up, we had just under an hour remaining to Bahrain.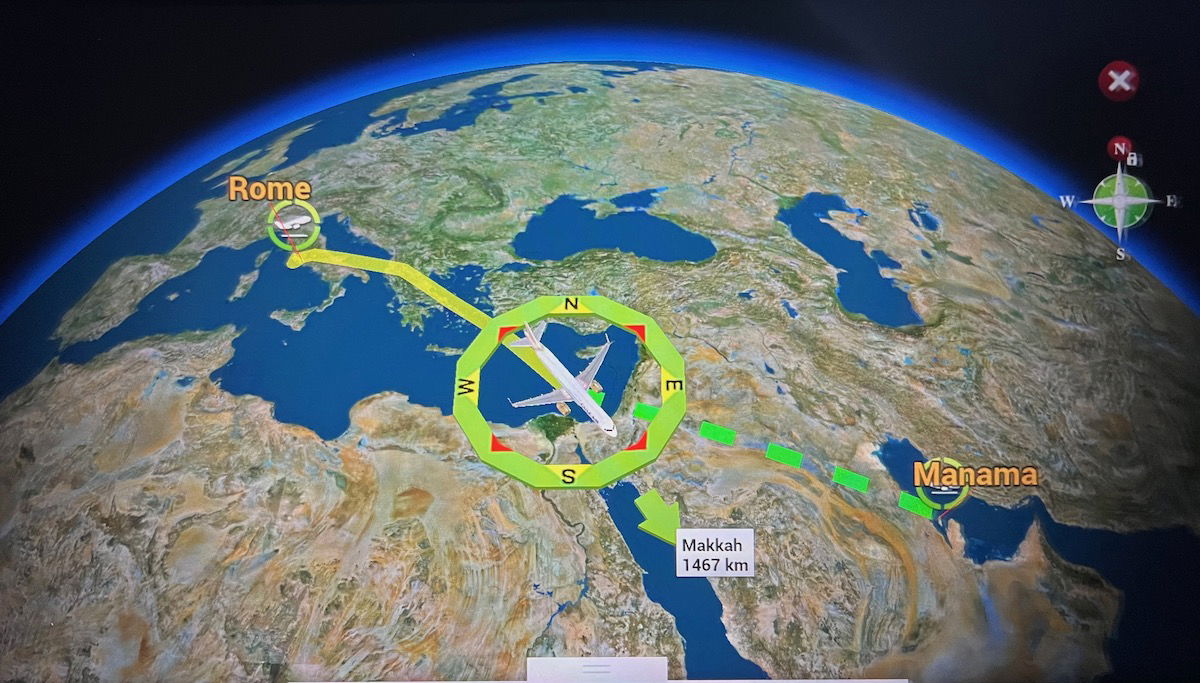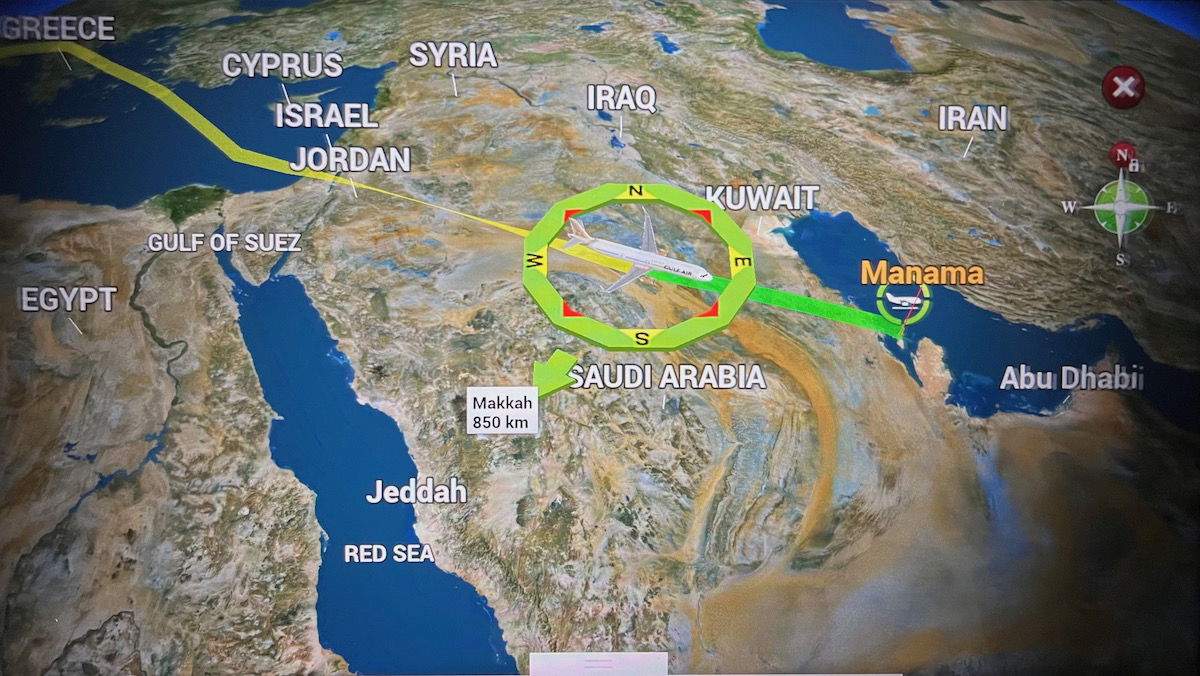 Gulf Air A321LR business class lavatory
There was a lavatory at the front of the A321LR cabin, reserved exclusively for business class passengers. It was pretty no frills for a premium cabin lavatory, with soap in Gulf Air branded containers.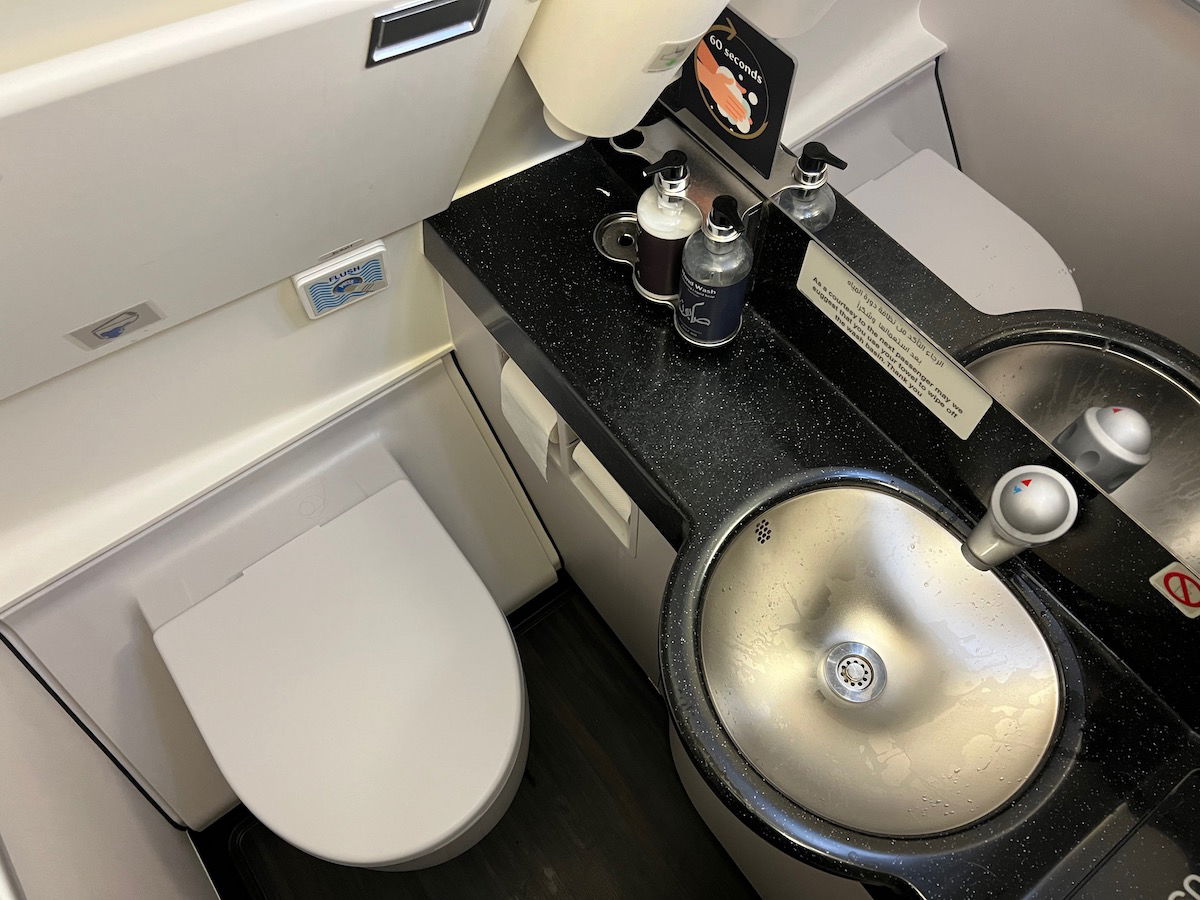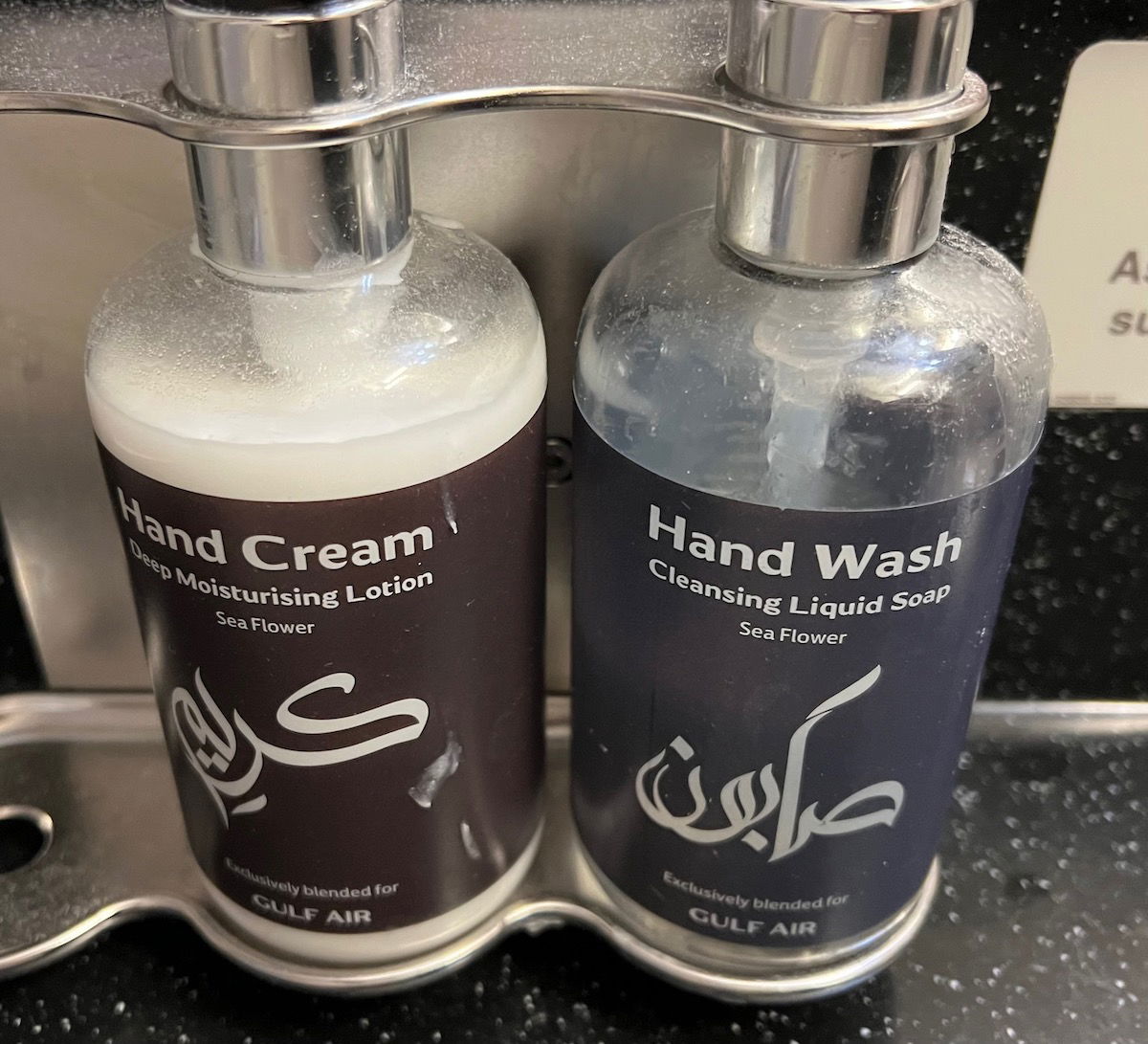 Gulf Air A321LR arrival in Bahrain
Upon waking up I ordered a cup of coffee and asked for some water. The crew wasn't in the cabin, so I pushed the call button, and they brought this to me within about five minutes.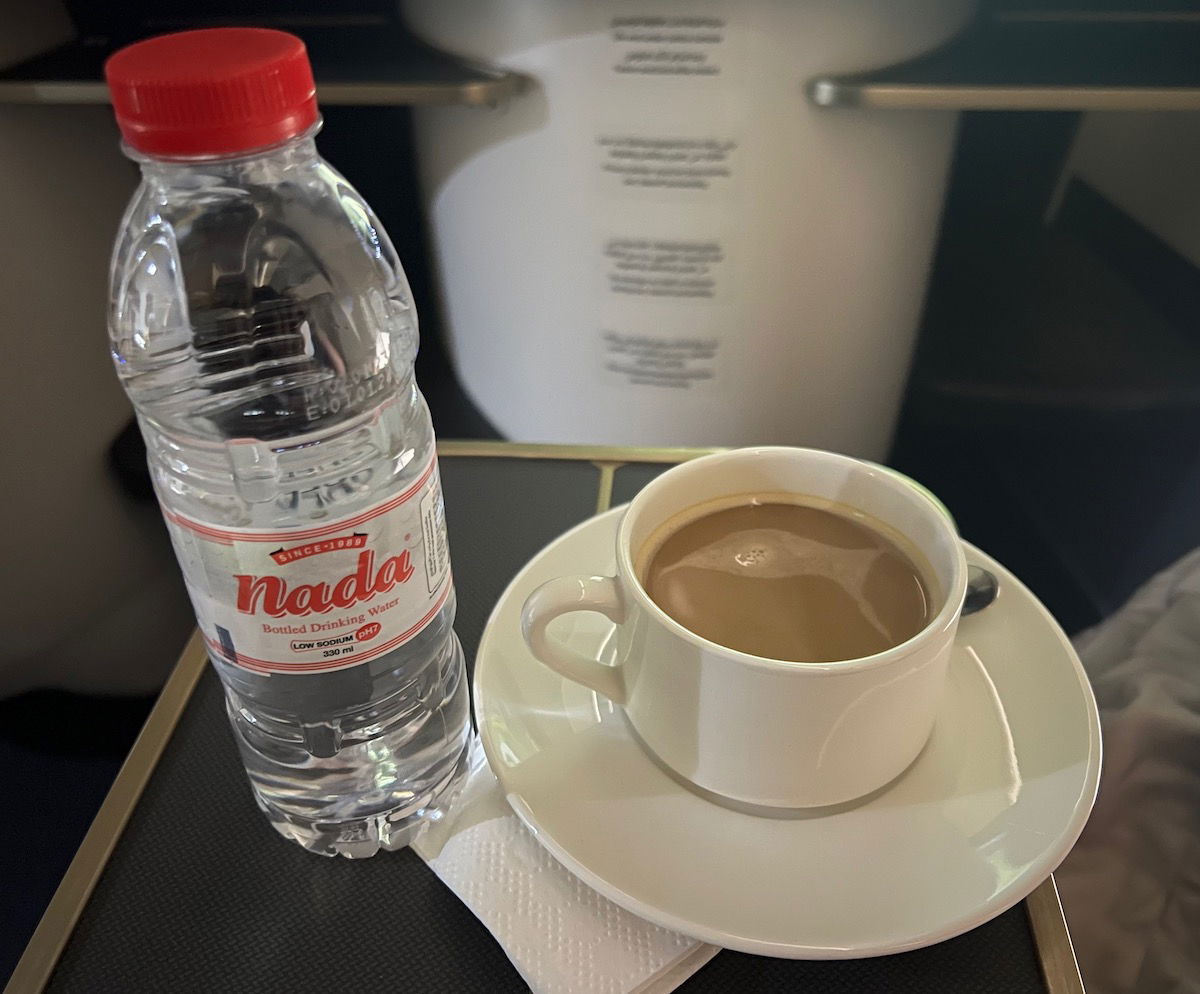 At this point there was a beautiful sunset outside. Gosh, sunrises and sunsets from planes are some of my favorite things in the world.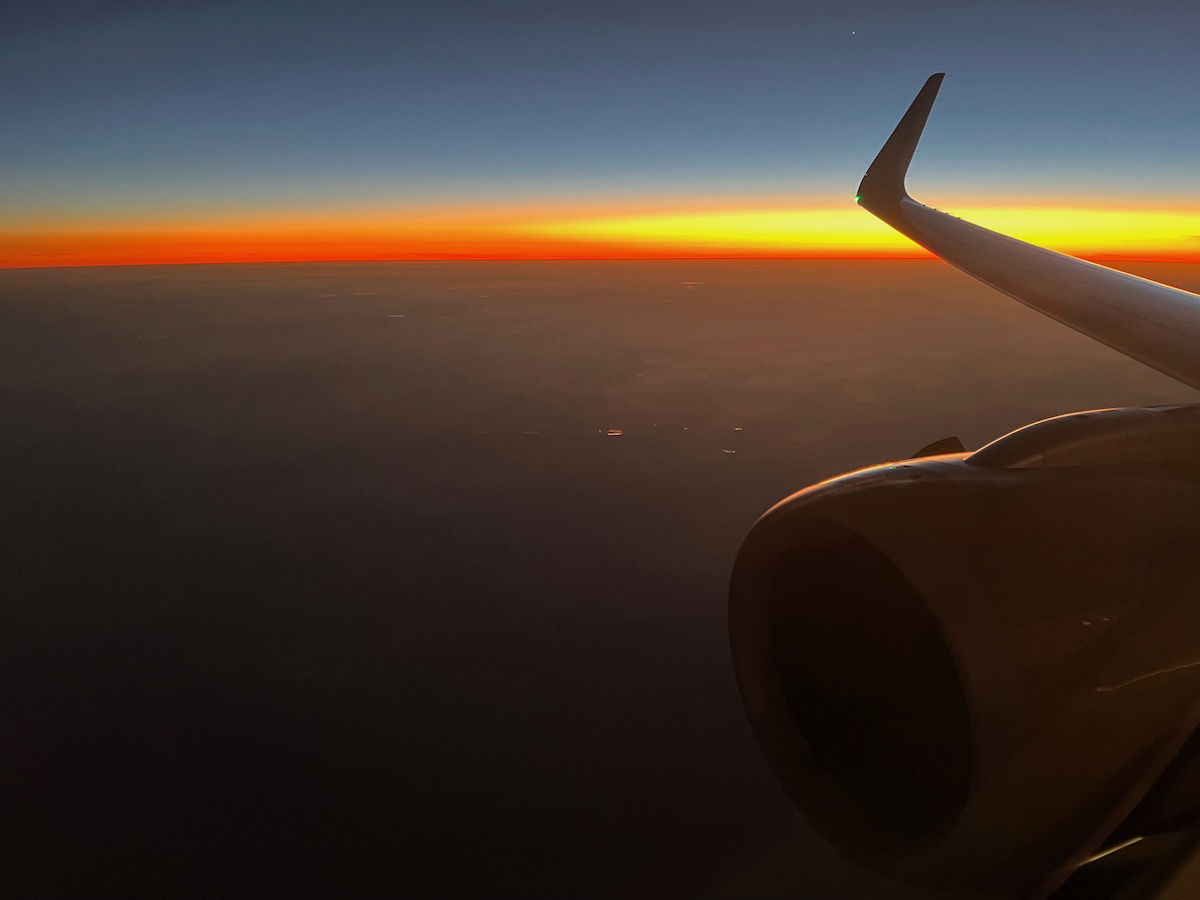 About 30 minutes before landing the captain announced we should be touching down at 6:50PM. Moments later we began our descent. During the descent, the crew passed through the cabin with a gold bottle with rosewater. The idea is that you hold out your hands and some is sprayed at you, in an effort to provide some refreshment. It's a cute, local touch.
There were some views of Saudi Arabia on the approach, before making the very short water crossing over to Bahrain.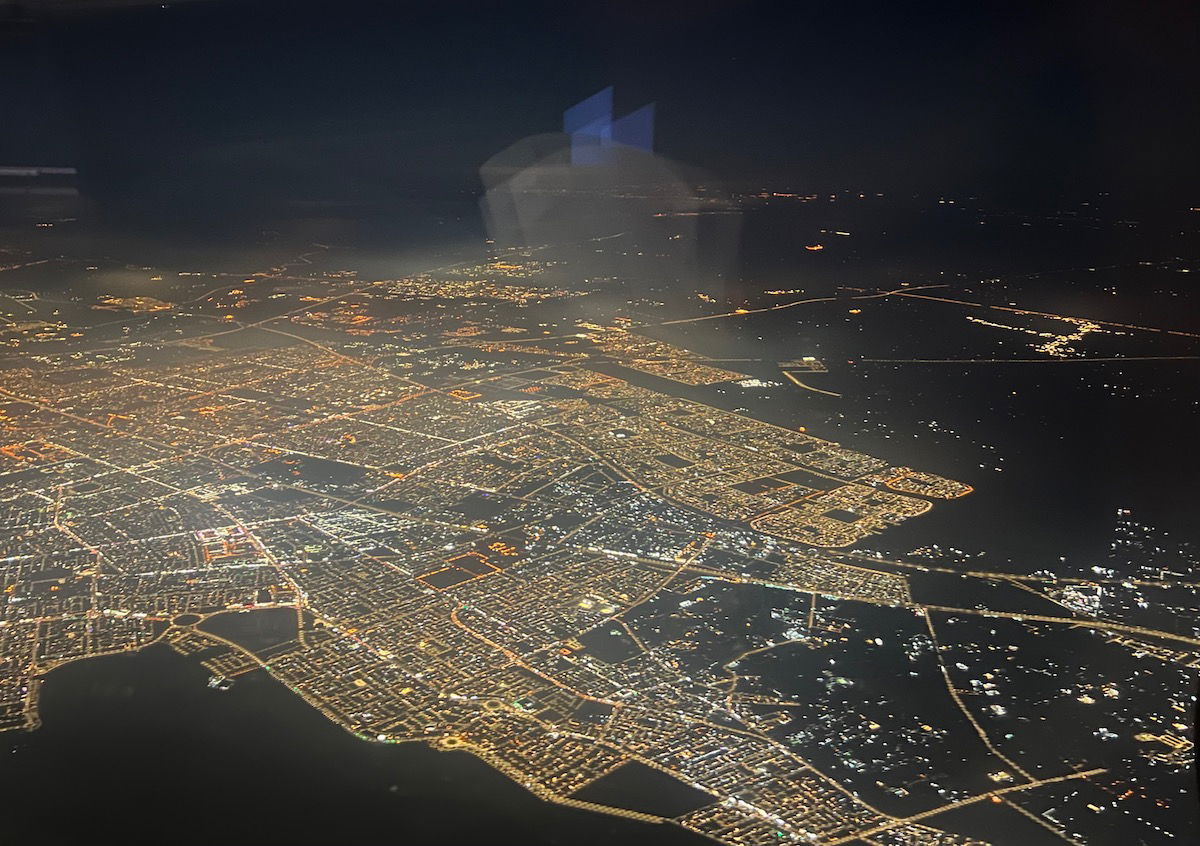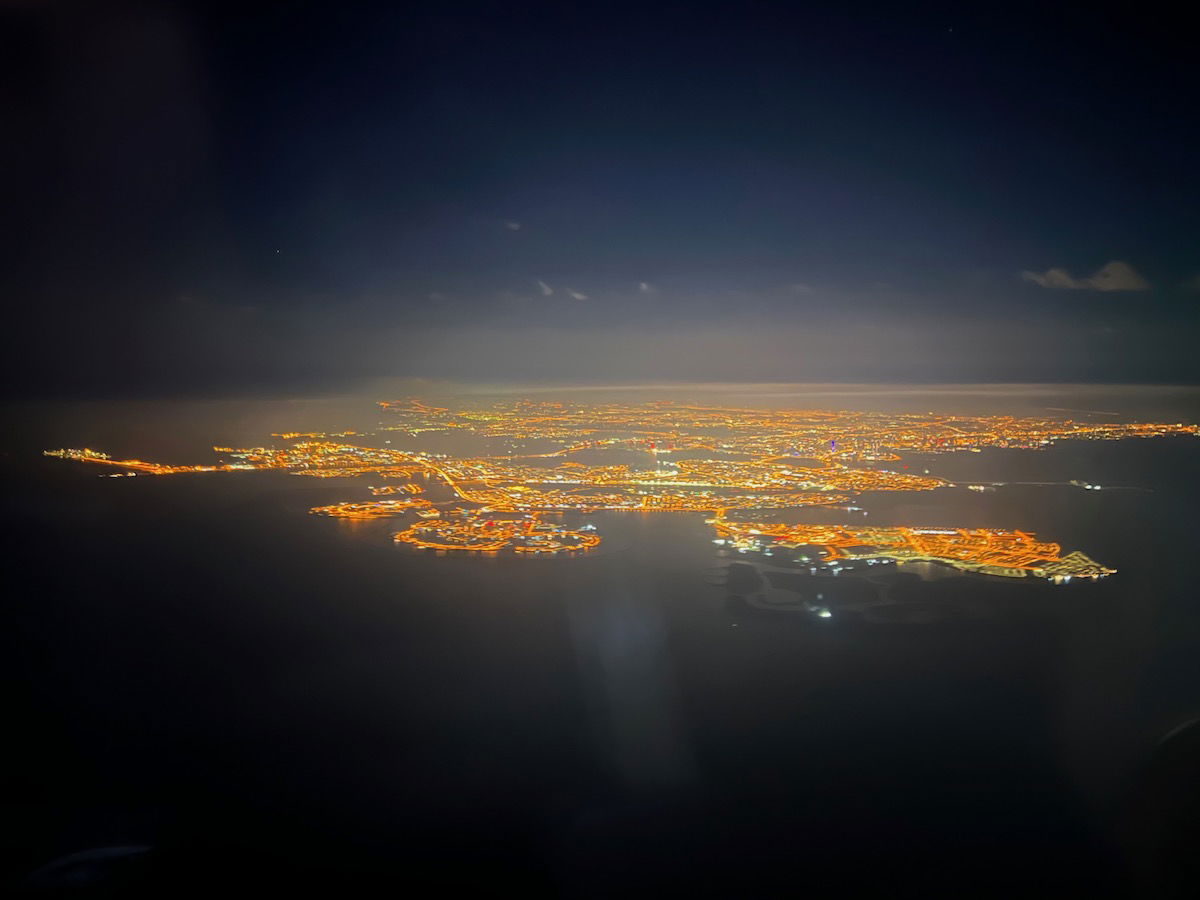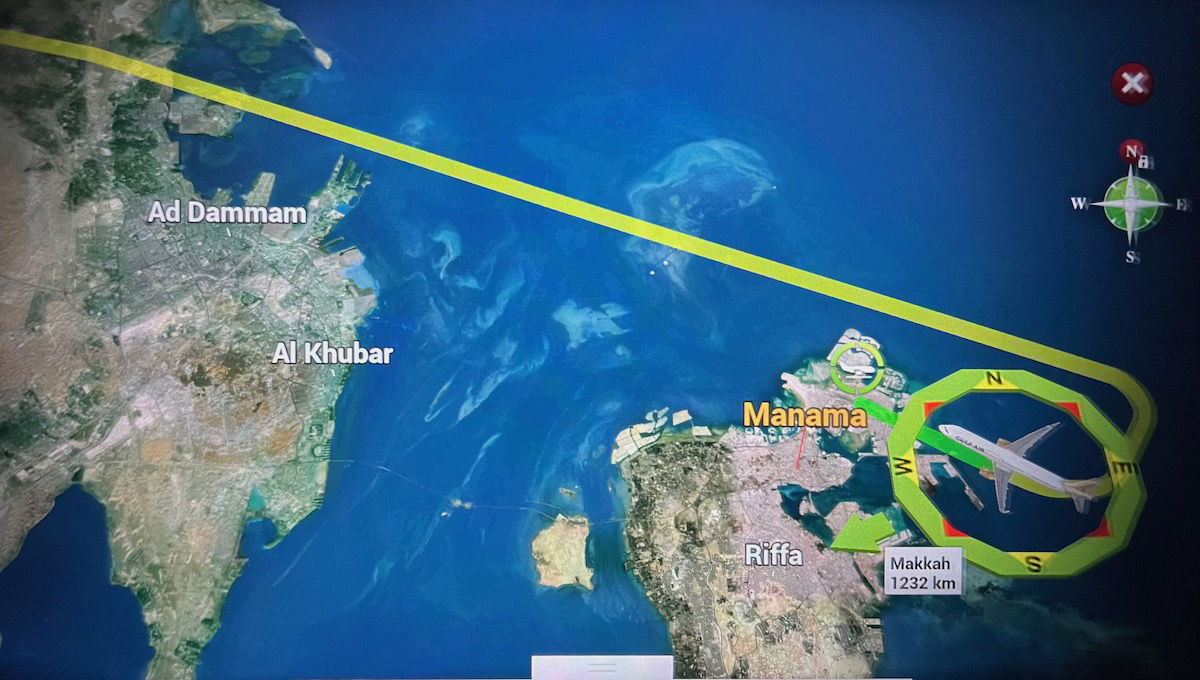 We touched down in Bahrain at 6:50PM, and from there had a roughly two minute taxi to our arrival stand, where we arrived a bit over 15 minutes behind schedule. I was looking forward to checking out the new terminal at Bahrain Airport, as well as the new Gulf Air Falcon Gold Lounge.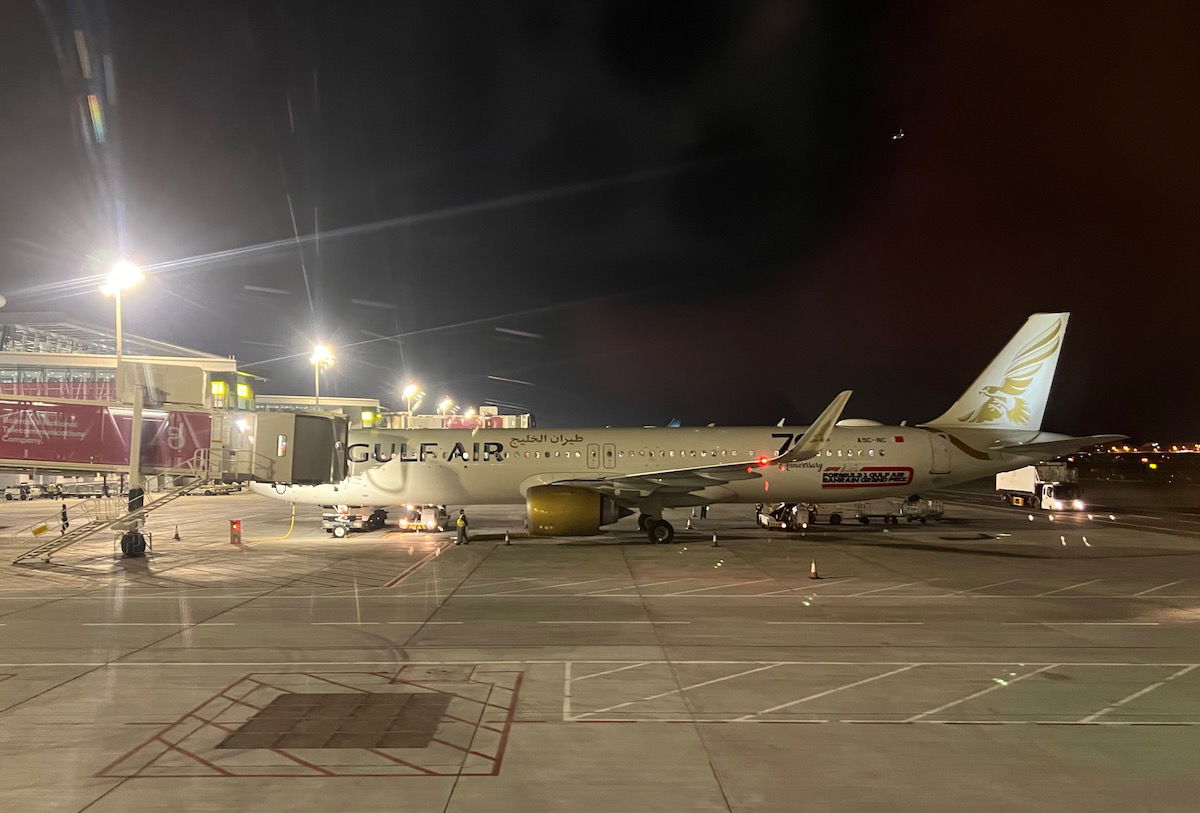 Bottom line
I'm so happy I had the chance to fly Gulf Air after the airline underwent a major refresh. The airline has certainly come a long way since I last flew with it.
There's a lot to love about Gulf Air's Airbus A321LR business class, including comfortable seats, great amenities, tasty food, friendly service, and Wi-Fi.
However, there are also some areas for improvement. Most notably, I wish the airline would invest a bit in service, as it's very clear that you're not flying with Emirates or Qatar Airways when it comes to service execution. If the airline just invested a bit in that in its service, this would be a top notch product.
What do you make of Gulf Air's A321LR business class?