In the interest of full disclosure, OMAAT earns a referral bonus for anyone that's approved through some of the below links. These are the best publicly available offers (terms apply) that we have found for each product or service. Opinions expressed here are the author's alone, not those of the bank, credit card issuer, airline, hotel chain, or product manufacturer/service provider, and have not been reviewed, approved or otherwise endorsed by any of these entities. Please check out
our advertiser policy
for further details about our partners, and thanks for your support!
For the last segment of my whirlwind Aeroplan adventure, I flew Air Canada's Boeing 787-8 business class from Toronto to Miami. Fortunately this trip ended on a high note, as this flight was spectacular, by far the best 2.5 hour flight I've ever had within North America.
Getting to fly a wide body on flights within North America is always a treat, but Air Canada takes it to the next level by offering a similar soft product to what you'd get when traveling long haul. Furthermore, unlike on my long haul flight, the crew on this sector was friendly and professional.
How I booked my Air Canada business class ticket
I booked my Air Canada business class ticket using Aeroplan points. Specifically, for the return portion of my ticket I redeemed 87,500 Air Canada Aeroplan points to fly from Hanoi to Frankfurt to Toronto to Miami, all in business class (I've already reviewed the Bamboo Airways Boeing 787 and Air Canada Boeing 777 experiences).
For more details on how I booked that, see my post about how to redeem Aeroplan points like a pro. Aeroplan points are easy to come by, as the program is transfer partners with Amex Membership Rewards, Capital One, and Chase Ultimate Rewards. On top of that, there's the Aeroplan® Credit Card (review) in the United States, which is phenomenal.
Specific to the Air Canada portion of my trip, here are the flights I took:
1/10 AC841 Frankfurt to Toronto departing 9:45AM arriving 12:30PM
1/10 AC1201 Toronto to Miami departing 6:30PM arriving 9:40PM
Air Canada business class lounge & boarding
In the last installment I reviewed the Air Canada Maple Leaf Lounge Toronto, located in the transborder area of Terminal 1. It offered a pretty good experience for a lounge specifically for North America flight, with a particularly good selection of food and drinks.
Boarding was scheduled for 5:50PM, 40 minutes before departure. Sure enough, that's exactly when boarding started, with business class being invited to board first.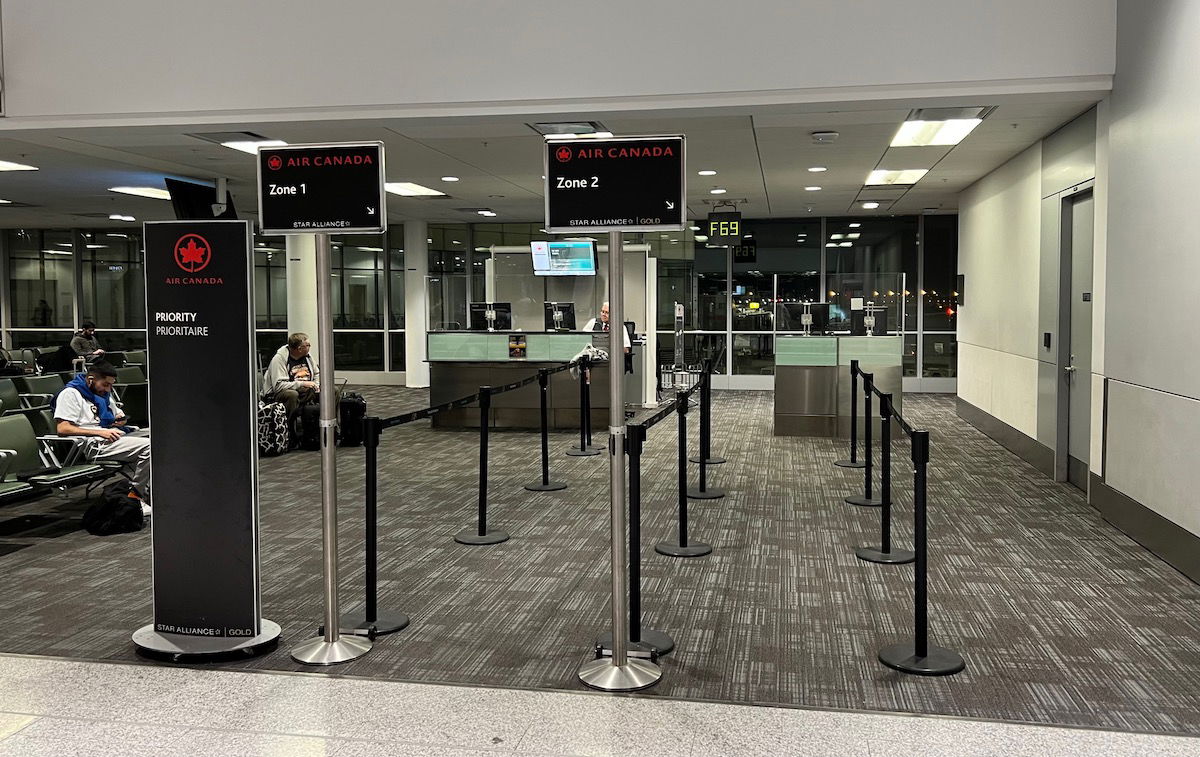 Air Canada 787 business class cabin & seats
Air Canada has great product consistency throughout its wide body fleet, as you'll find the same Collins Aerospace Super Diamond seats on all planes. Air Canada's Boeing 787-8s have a total of 20 business class seats, spread across five rows in a 1-2-1 configuration. This takes up the entire space between doors one and two.
The Boeing 787-8 might just have my overall favorite Air Canada business class cabin. I appreciate the intimate feel of the business class cabin, with so few seats. On top of that, I like how the second half of the cabin doesn't have overhead bins in the center section, which makes the cabin feel more spacious. Combined with the typical Dreamliner touches, it's a great cabin.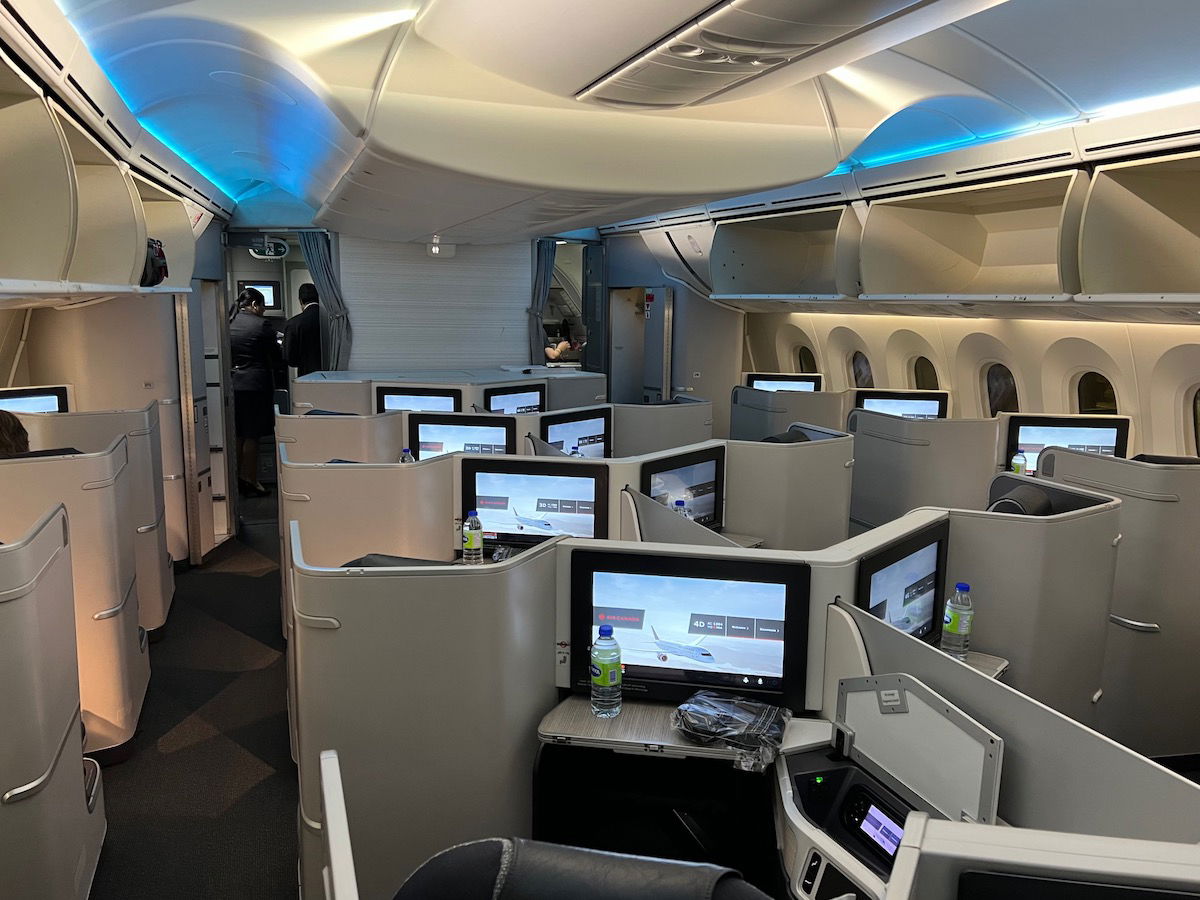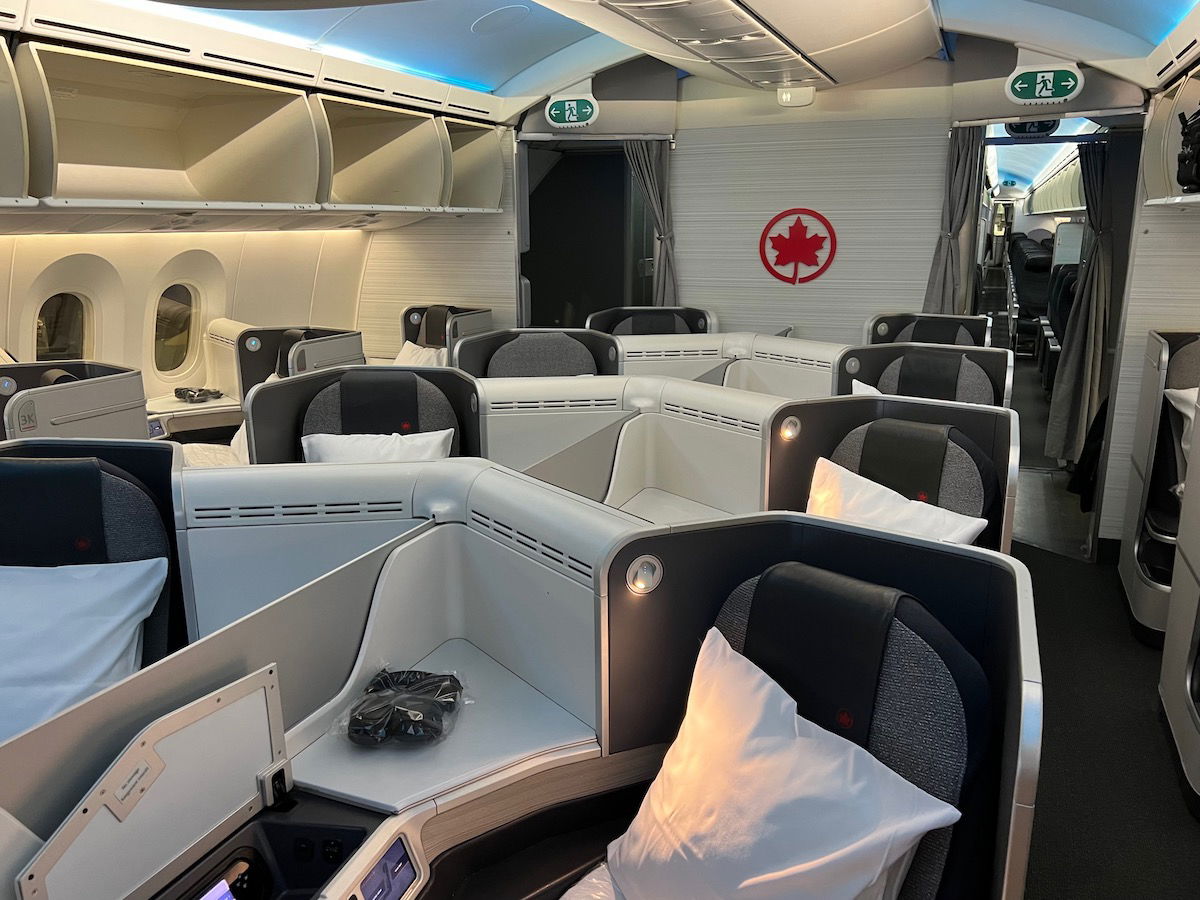 If you're traveling with someone, you may prefer to sit in the center section. However, be aware that there are dividers between the center seats, and they can't be lowered on the 777s and 787s (meanwhile they can be lowered on the A330s).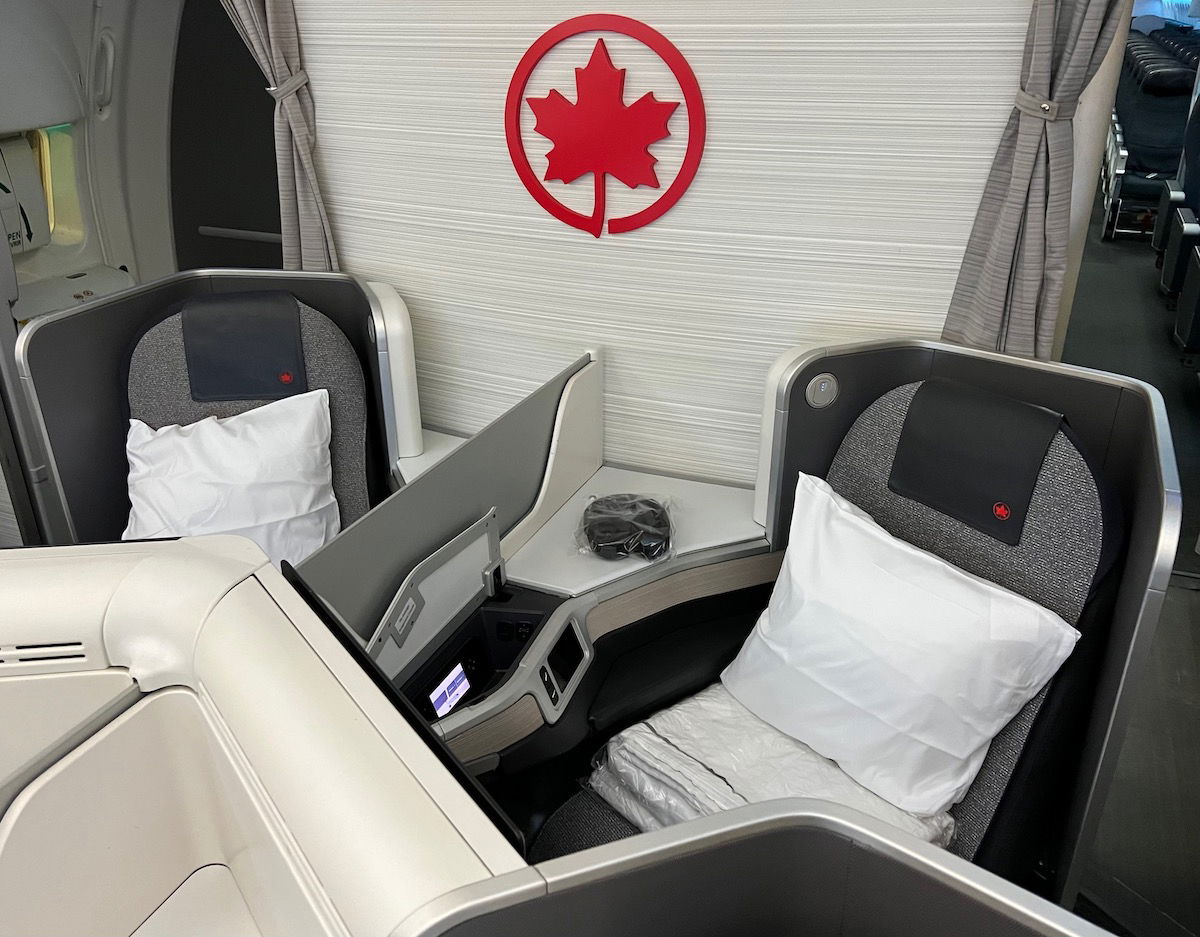 I assigned myself seat 5A, the window seat on the left side in the last row. Yes, this seat is totally missing a window, so that's something to be aware of. However, on this late evening departure in the dark, that didn't bother me. Seat 4A was also empty, so I could have moved forward if I wanted to. Personally I preferred having the seat in front of me and the seats across from me empty.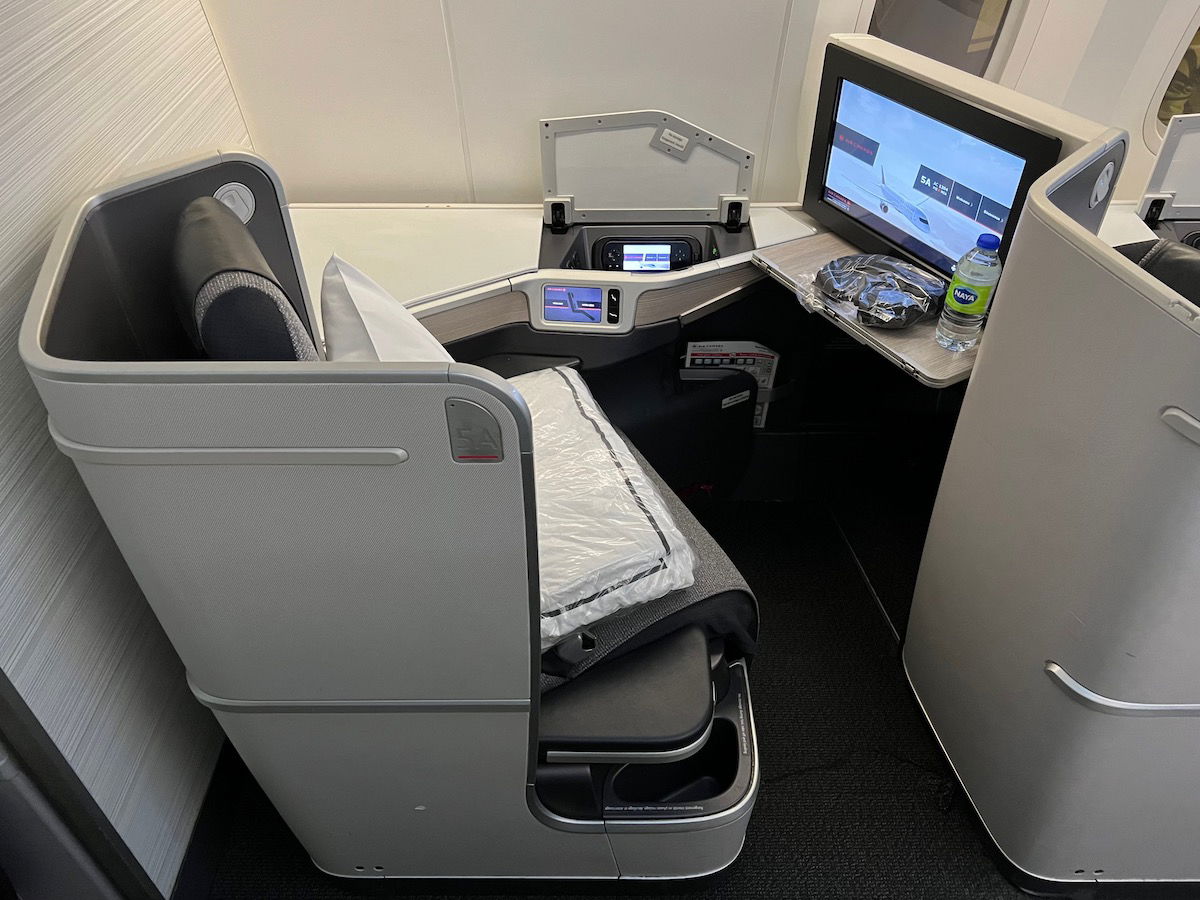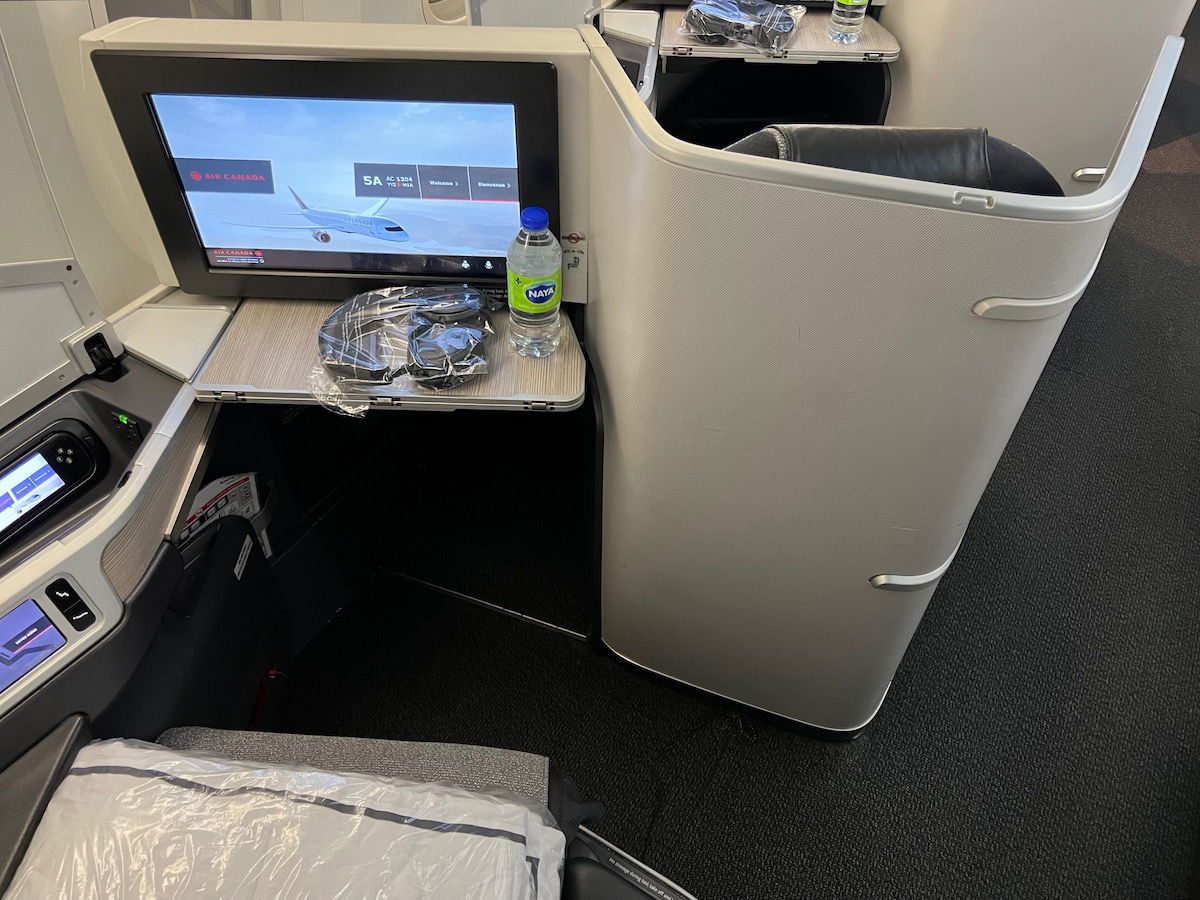 As is standard with these reverse herringbone seats, there was a console to the side of the seat that could be opened. Not only could it be used for storage, but it also contained the entertainment controller, USB-A outlet, AC power outlet, and plug for headphones. Immediately underneath that was a monitor for controlling seat functions.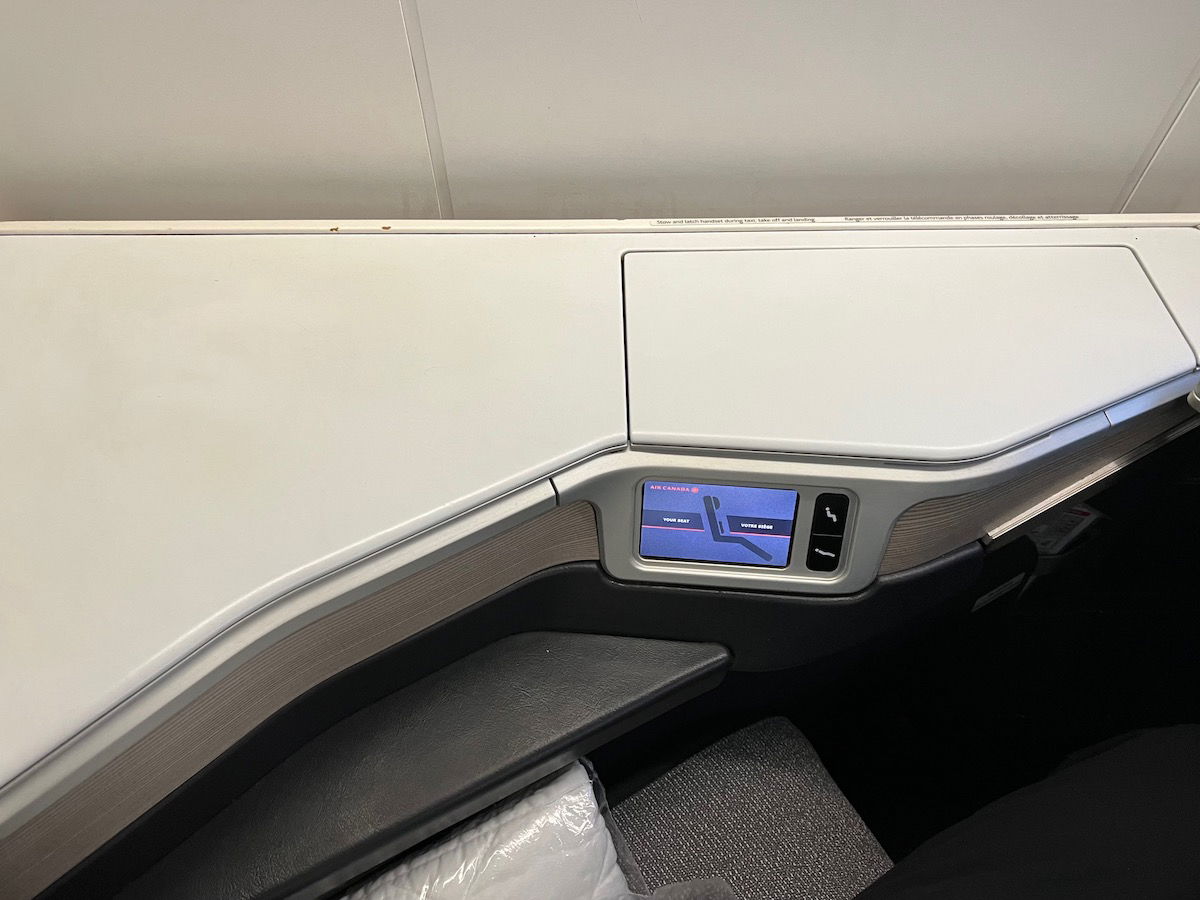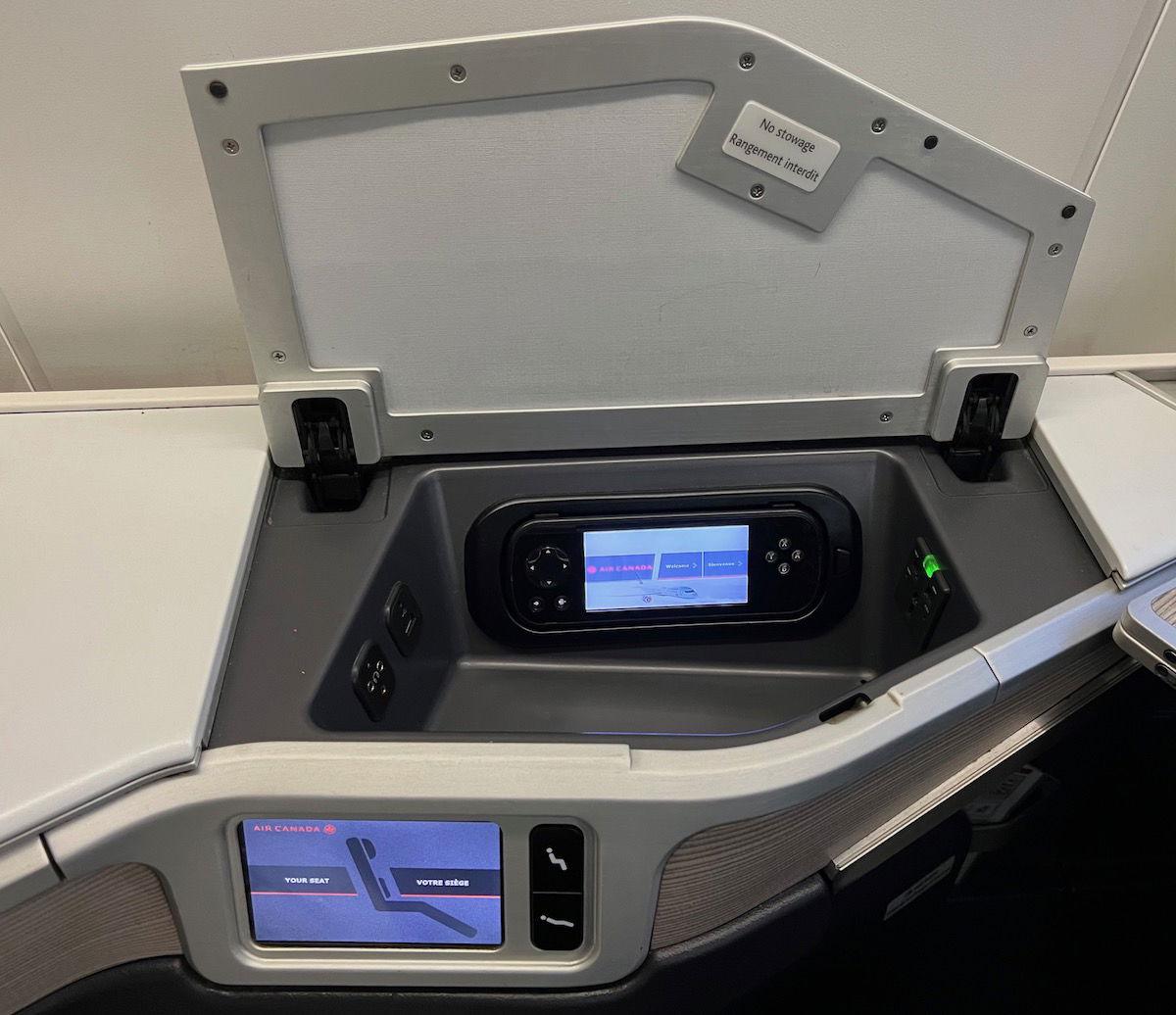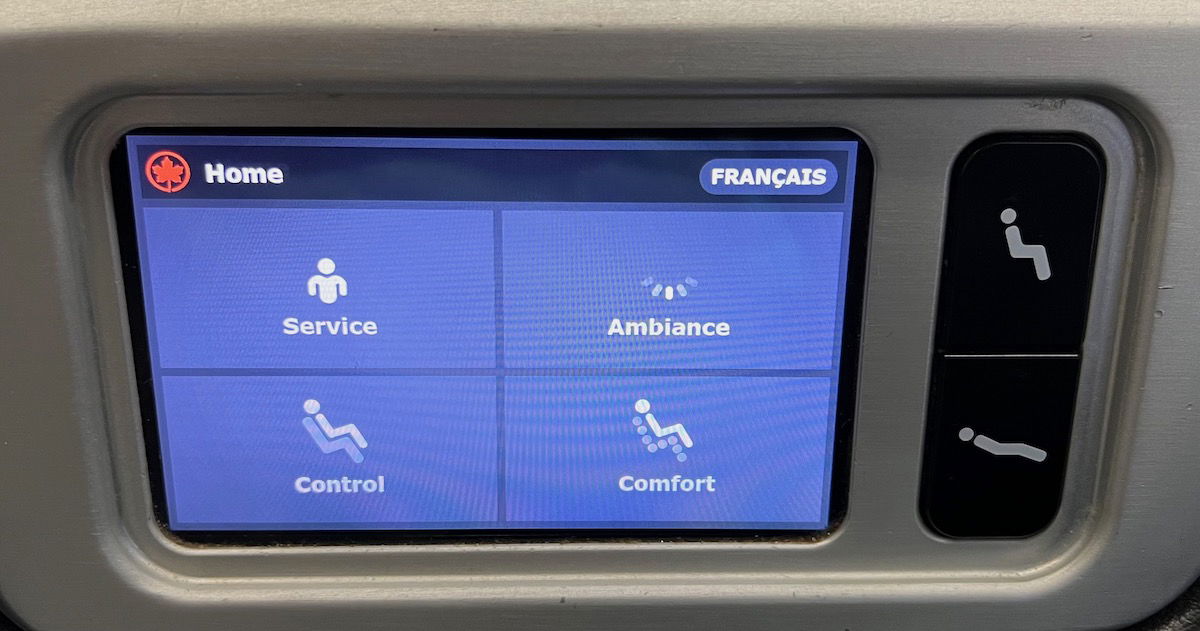 The tray table extended from underneath the fixed personal monitor.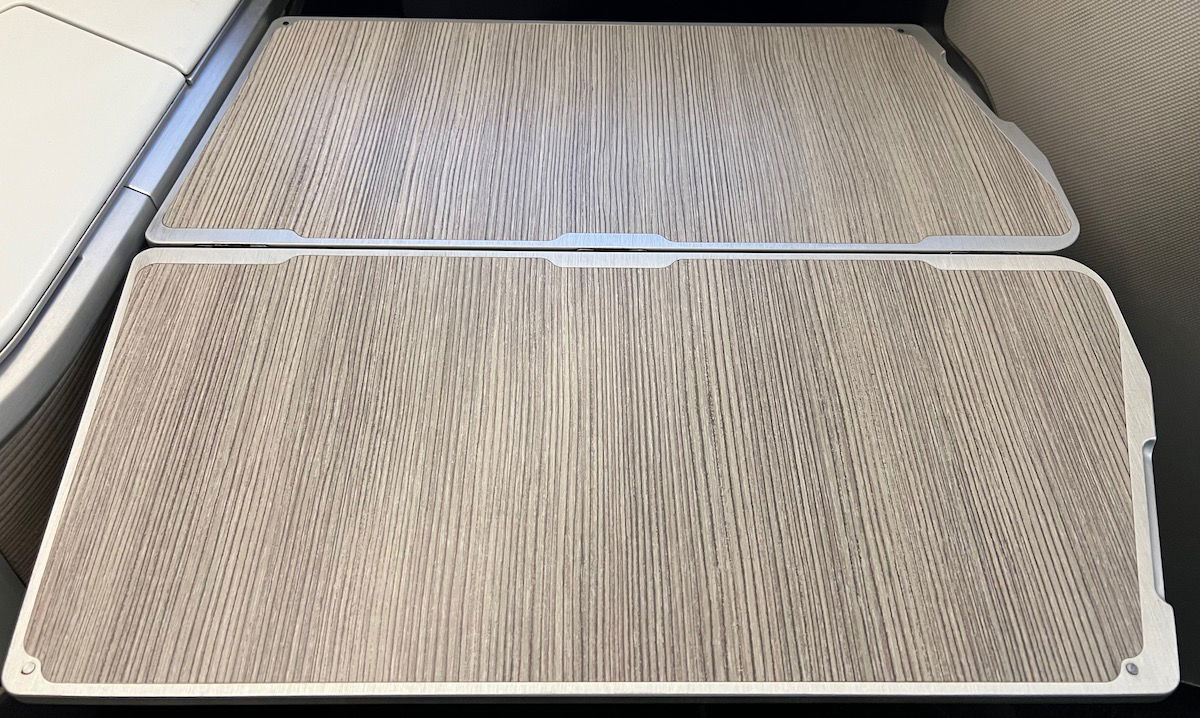 The seat had a footwell, which felt a little tighter than on the 777, but that's to be expected given that the fuselage of the 787 isn't quite as wide.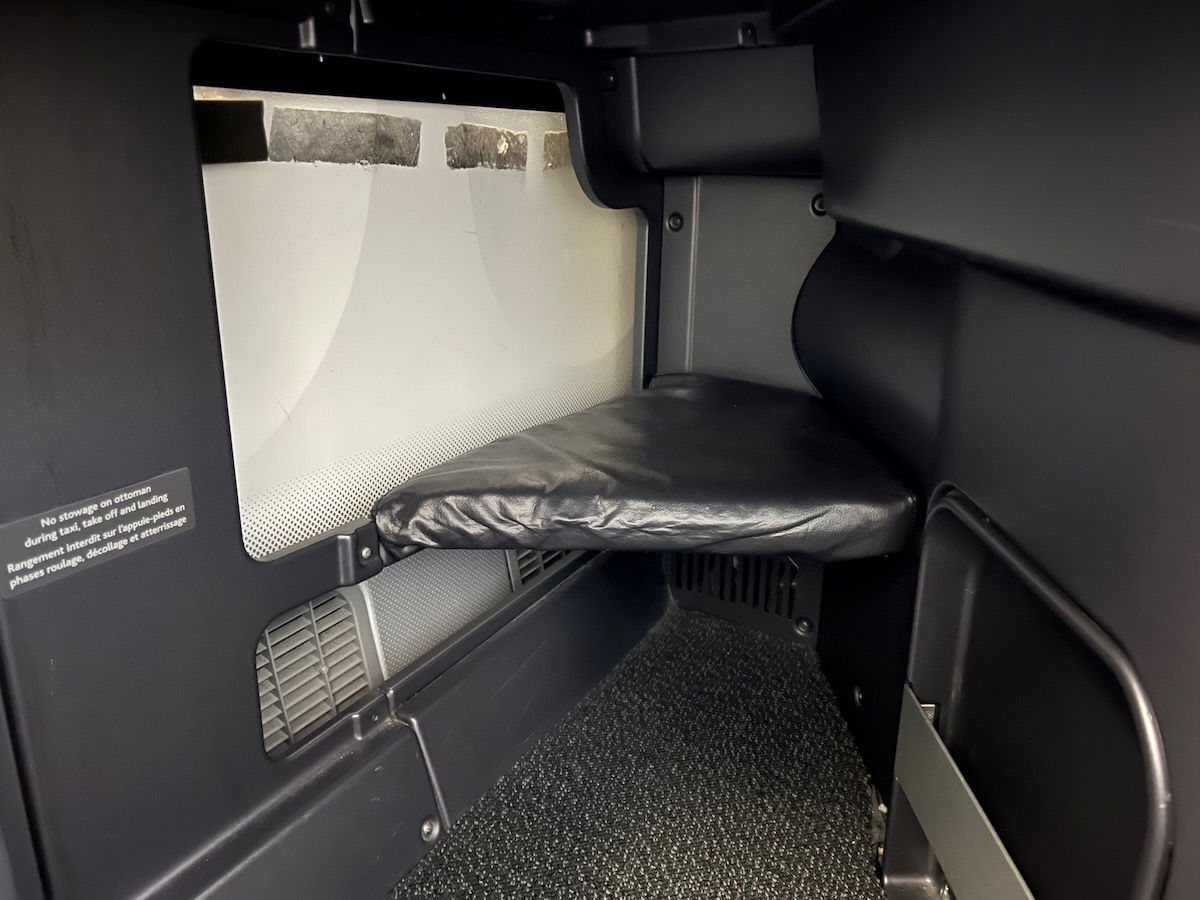 There was also an aisle-side armrest, which could be raised and lowered, and which had an exposed storage area.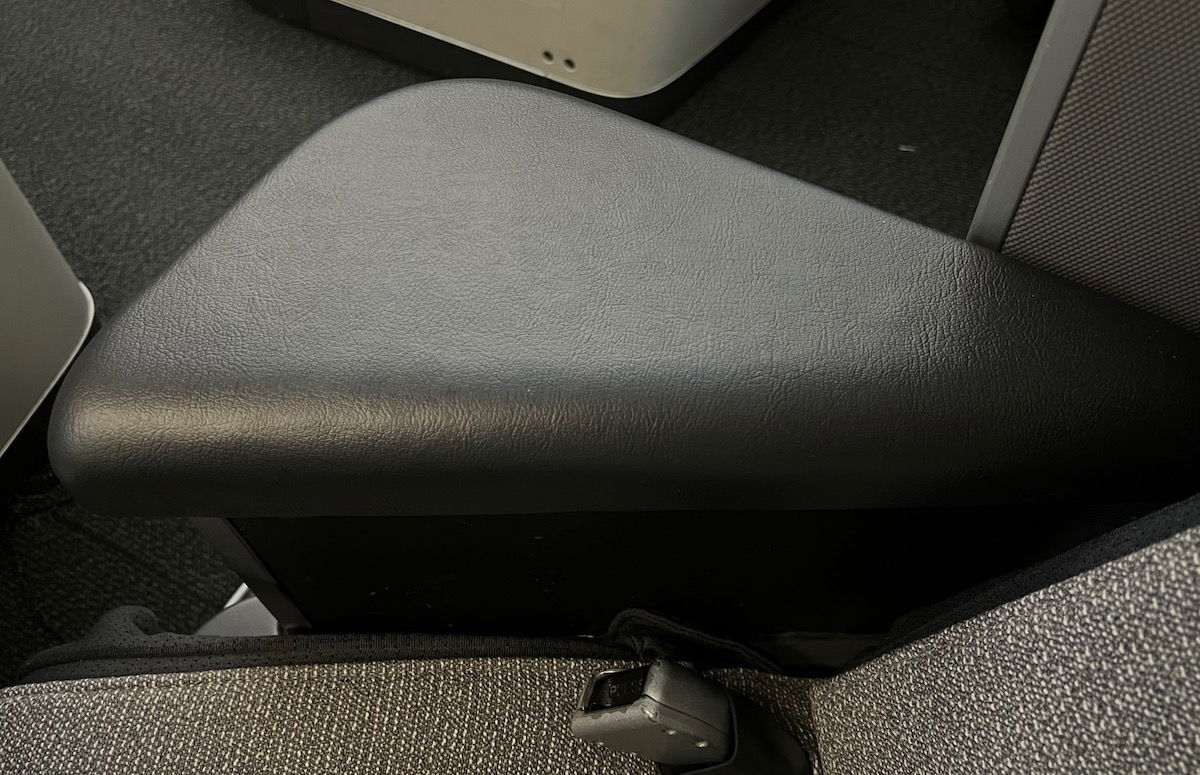 Lastly, as you'll find pretty consistently on Air Canada, there were individual air nozzles.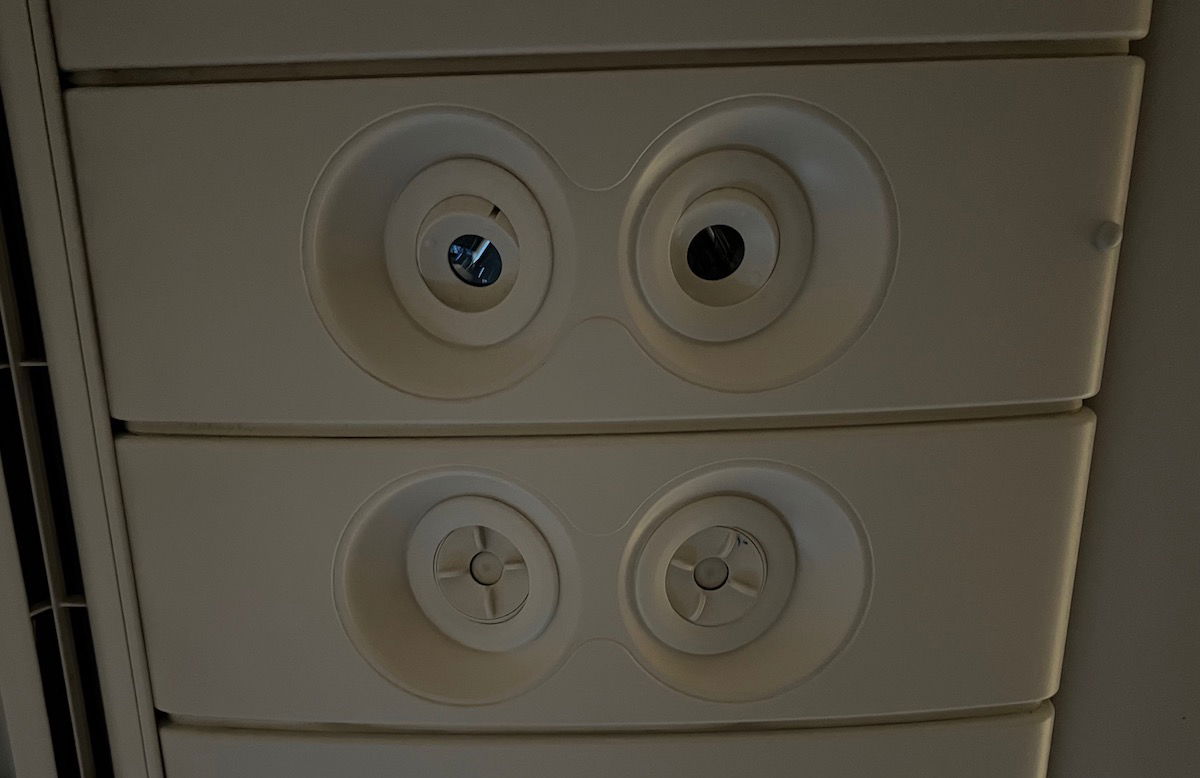 This is a solid business class product, especially when you consider I was just flying 2.5 hours from Toronto to Miami.
Air Canada business class amenities
What delighted me most about this experience is that Air Canada largely offers its long haul business class experience on shorter flights operated by wide body aircraft. For example, my seat had the full bedding set, including a pillow, blanket, and mattress pod.
I've taken a countless number of American wide body flights from Miami to Dallas and New York, and it's always a bit disappointing how there's no bedding, so you can't really enjoy the spaciousness of the seat. I really love that Air Canada does this right.
On top of that, there were the same headphones as on the long haul flight.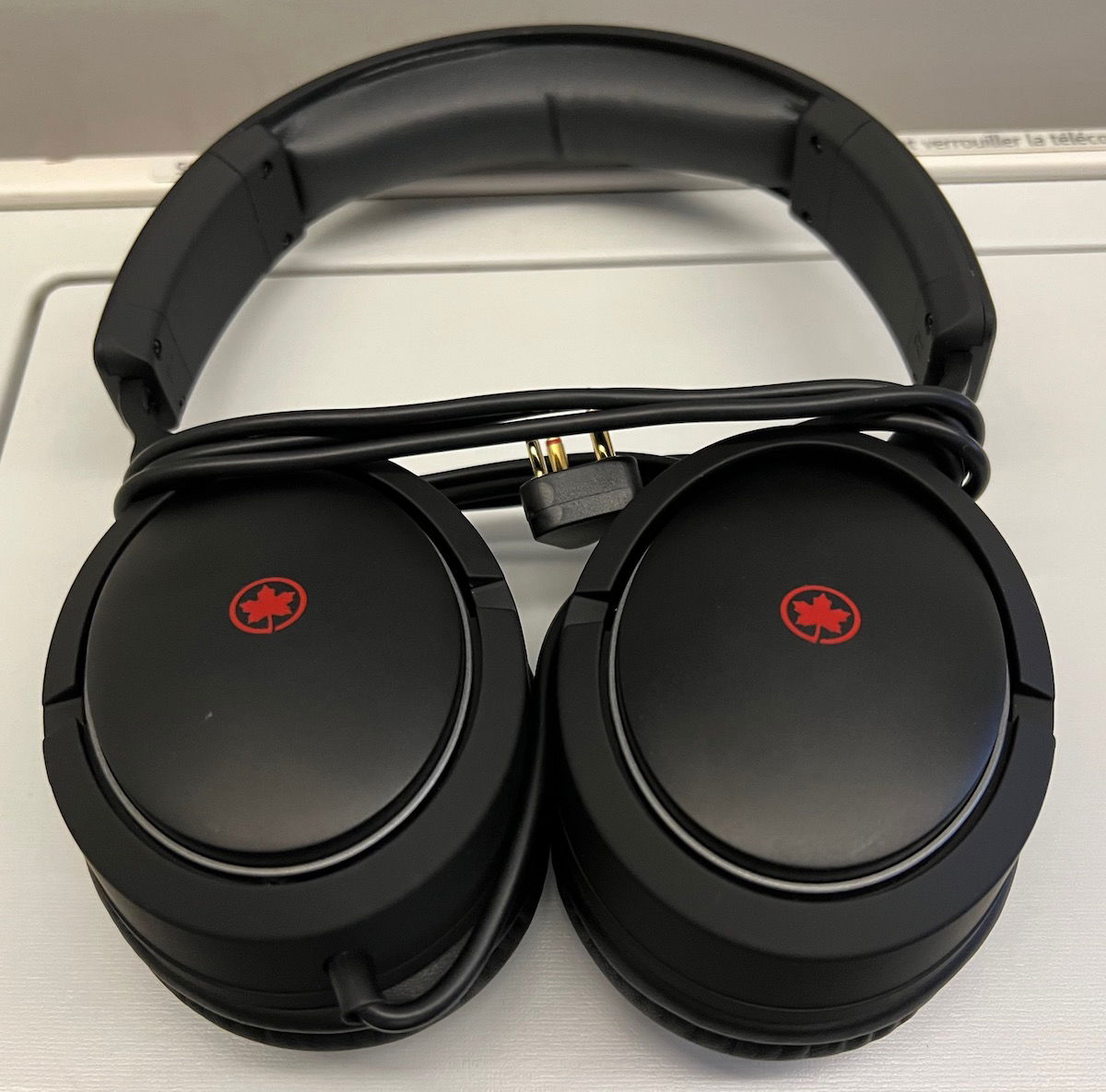 There was also a bottle of water waiting at each seat.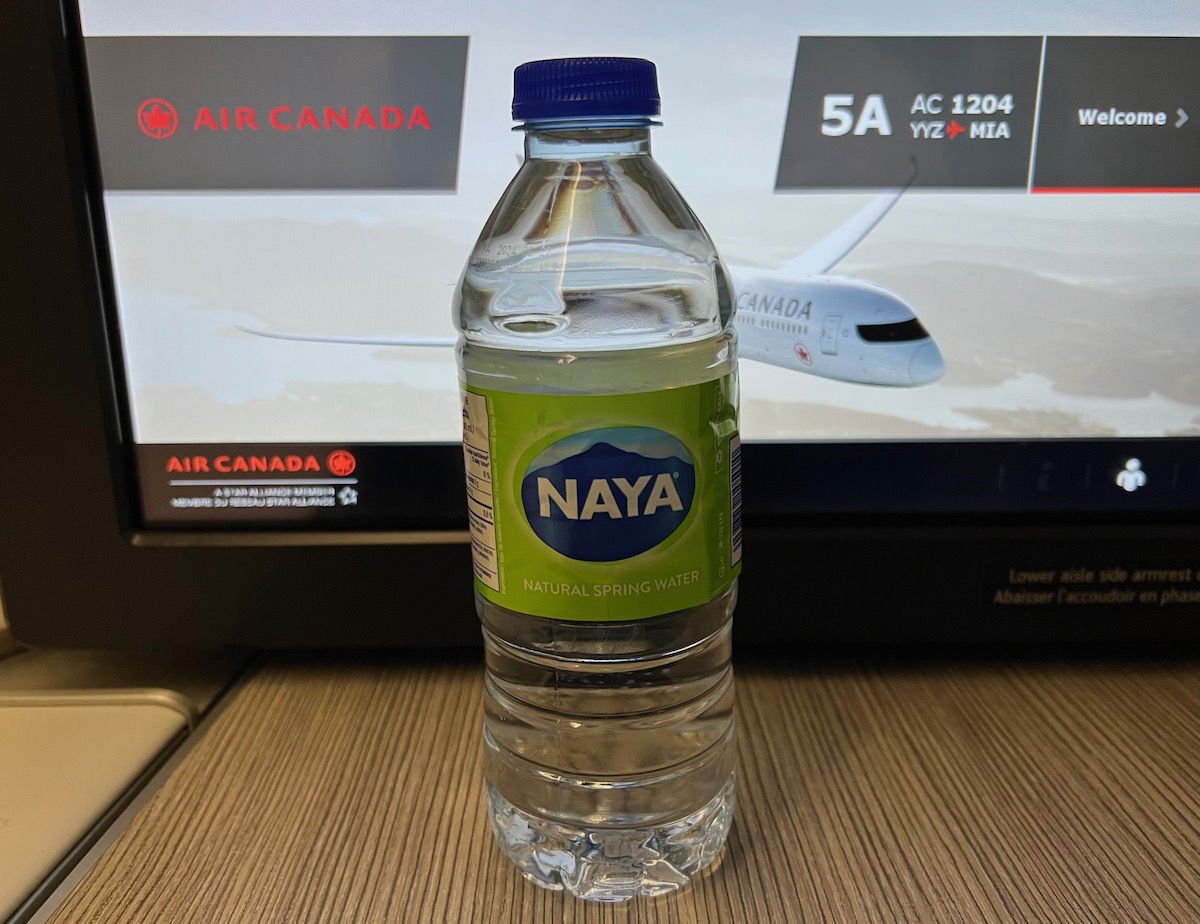 Menus and the wine list were distributed during boarding.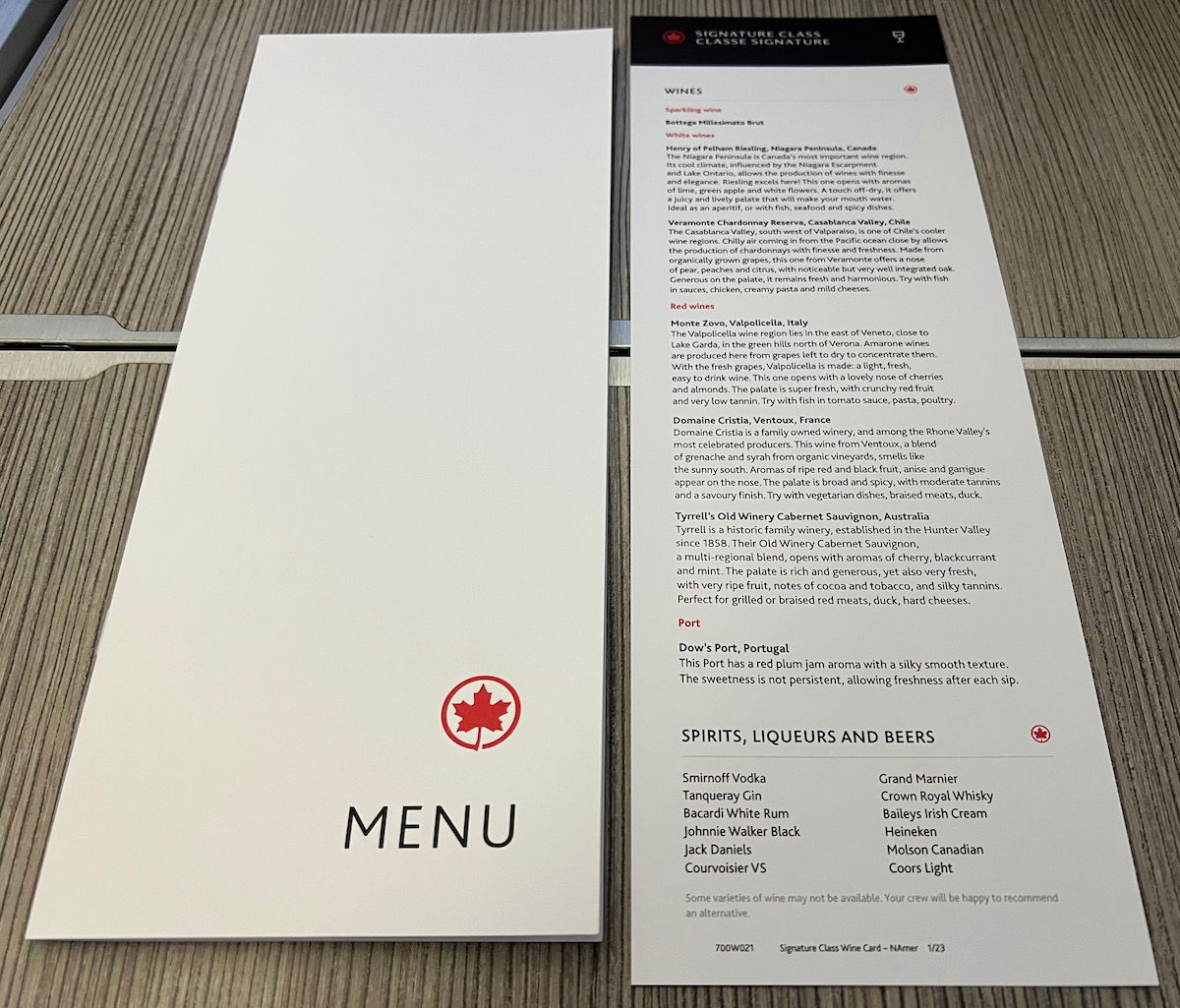 The only thing that was different than on the long haul flight is that there was no amenity kit, which is fair enough.
Air Canada business class entertainment & Wi-Fi
Air Canada excels when it comes to entertainment, and has a huge library of movies and TV shows. While the selection was the same as on my previous flight (operated by a Boeing 777), it's interesting that the interface looked different.
The way I view it, the previous Boeing 777 flight had a much more modern interface than on the Boeing 787, which is surprising (since the 787 is a much newer plane). Is there something I'm missing, or is my impression of what's "modern" just off?
Anyway, the selection of movies and TV shows was huge, and I had no problem staying entertained.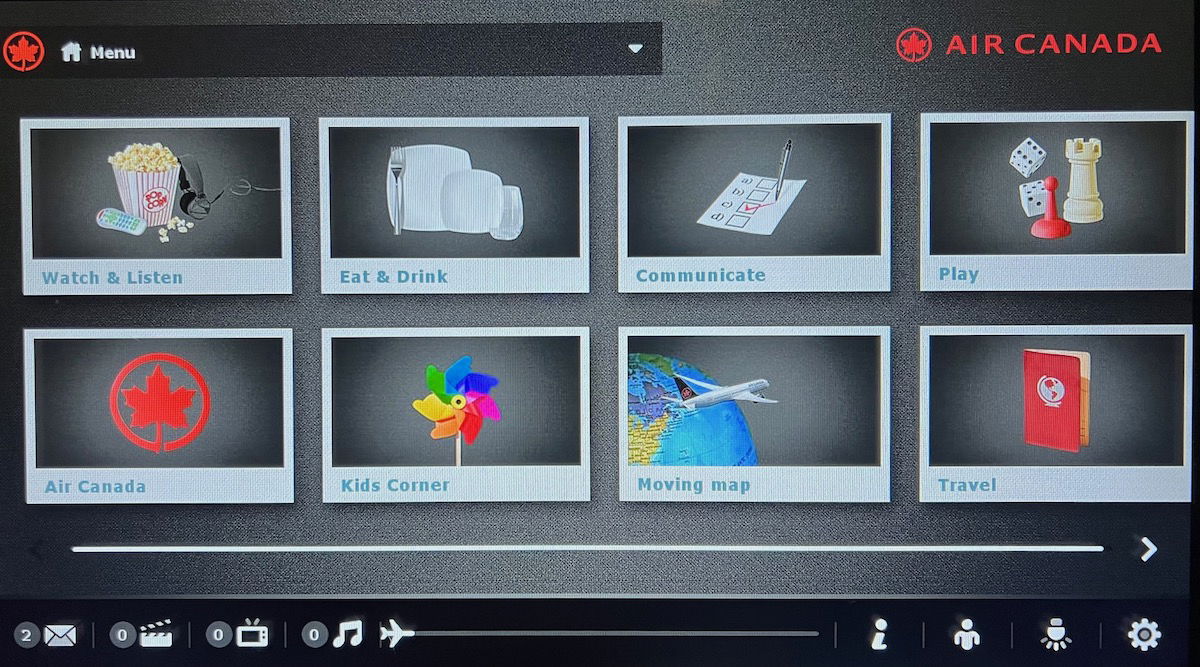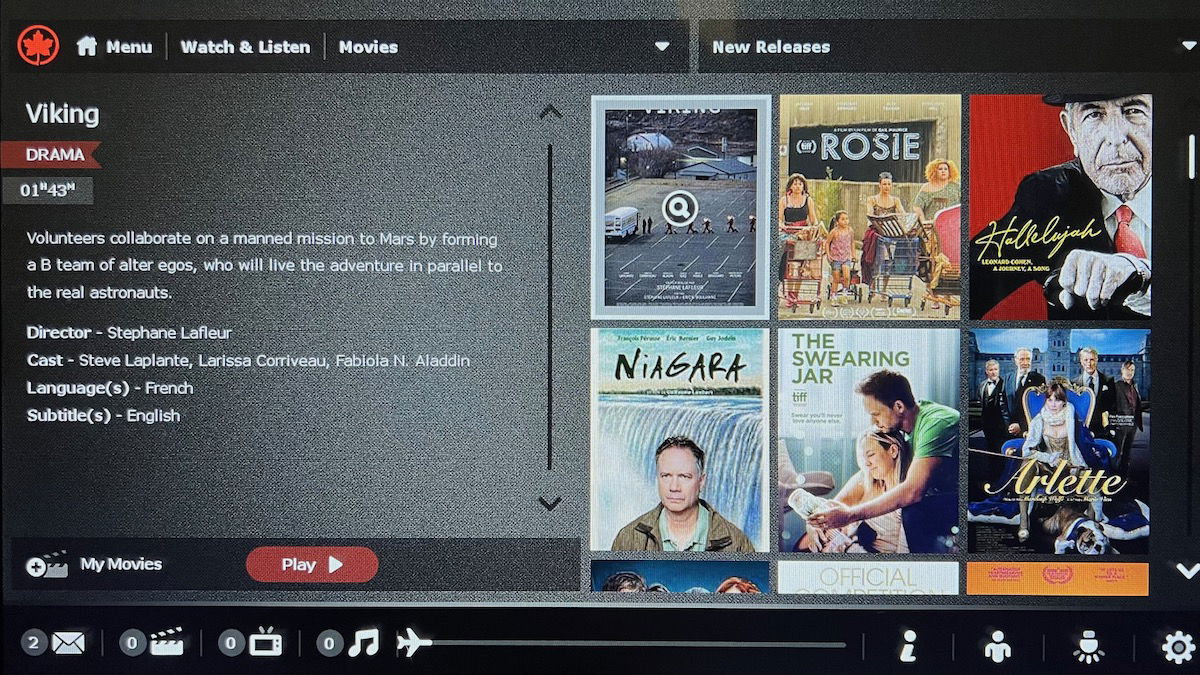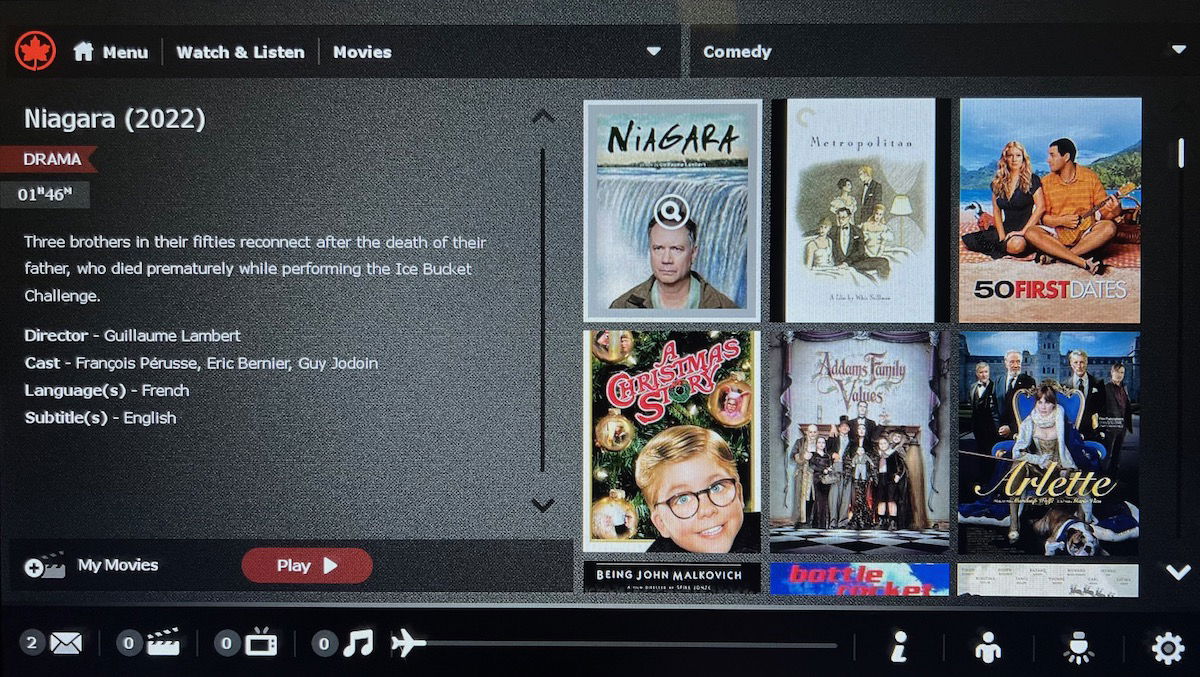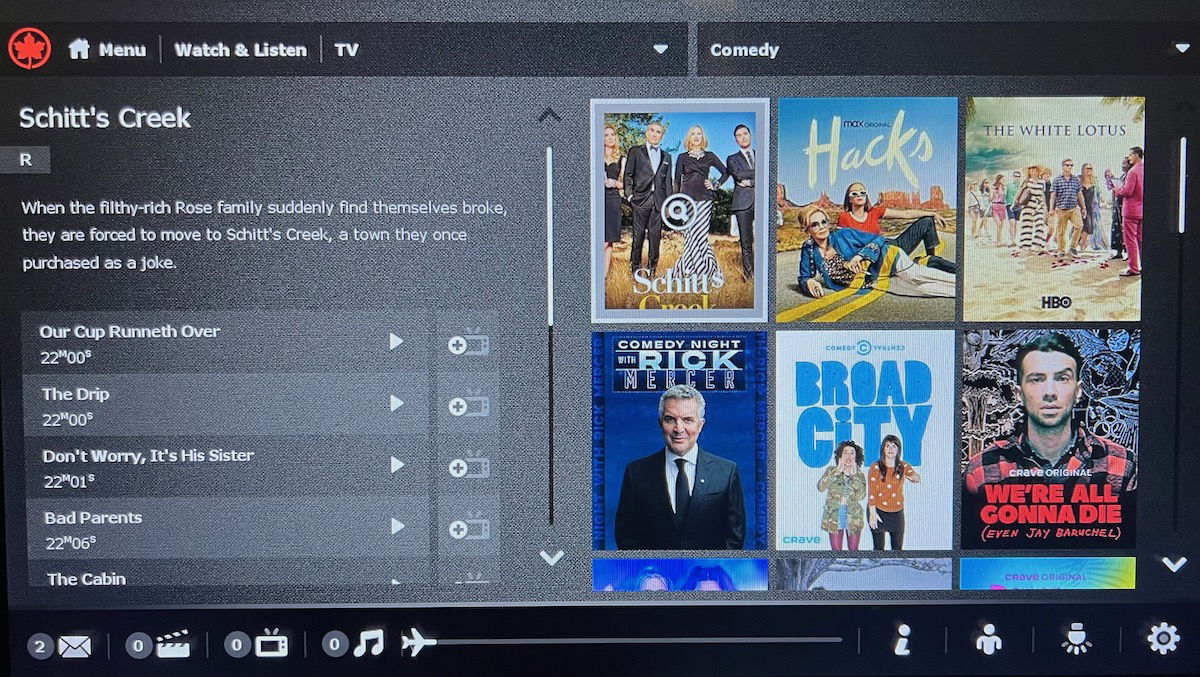 I also enjoyed the map feature throughout the flight.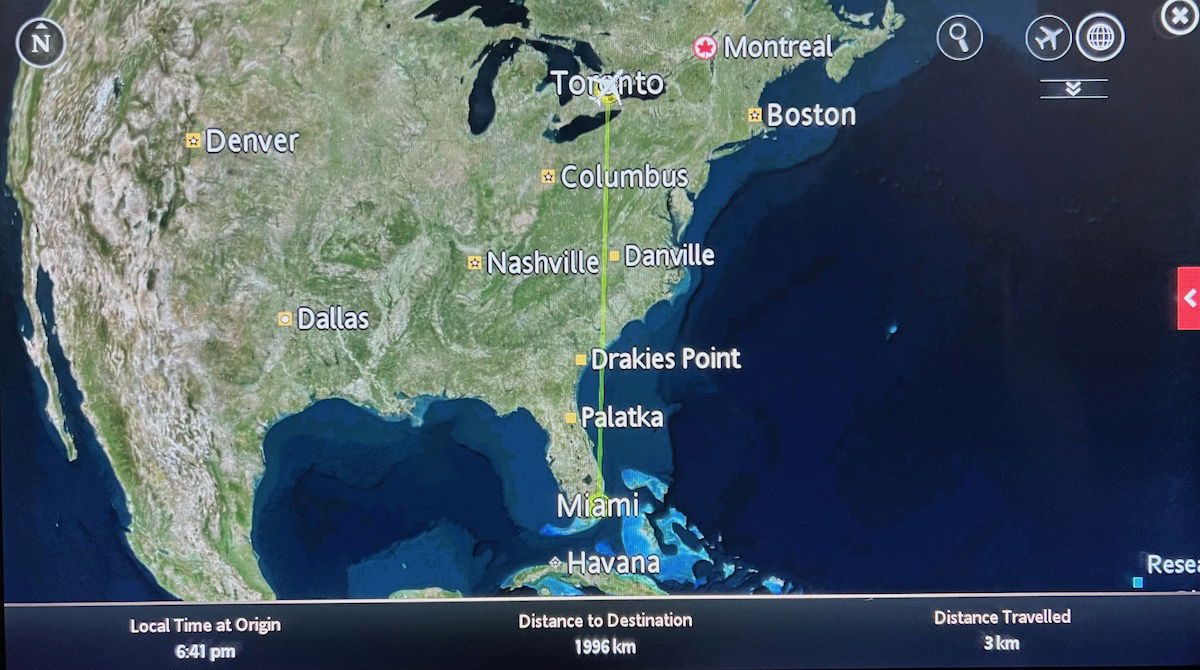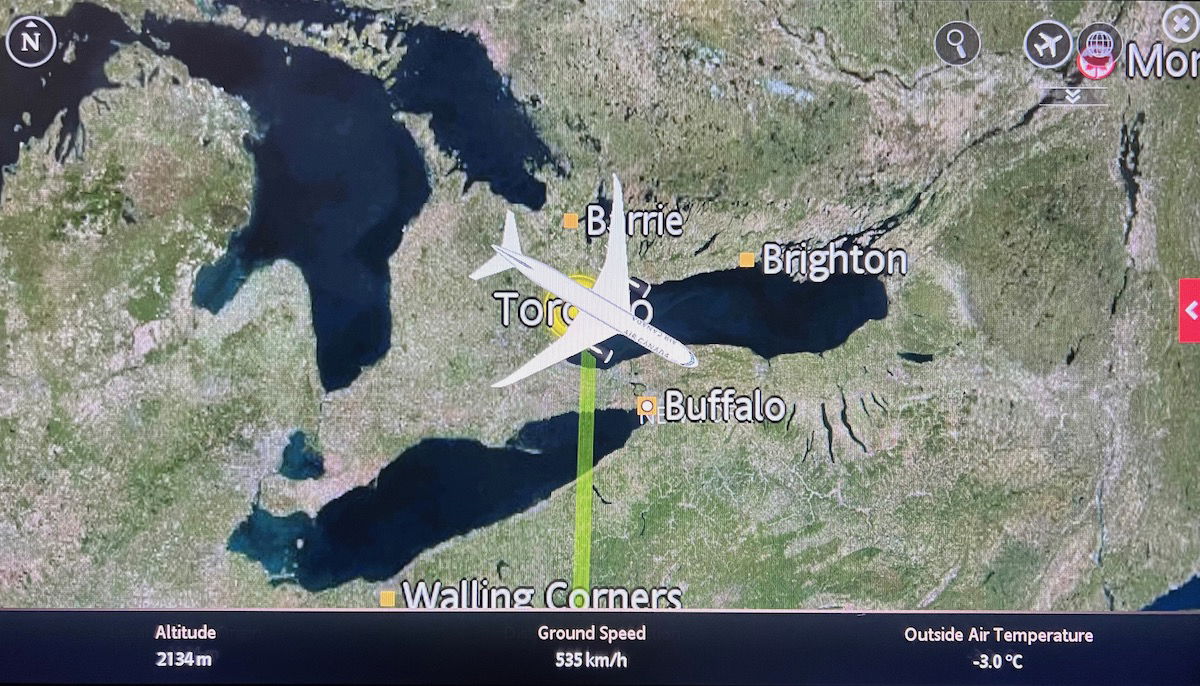 Air Canada's Boeing 787s have Wi-Fi, and specifically have Gogo 2Ku, which is quite fast. There were three different pricing plans for the Wi-Fi:
The Browse plan cost 9.75 CAD for the full flight, and supports light browsing, email, messaging, and social media
The Stream plan cost 15.50 CAD for the entire flight, and offers faster speeds that support streaming sites and browsing
The Ultimate plan cost 20.75 CAD and offers premium internet service that supports higher quality streaming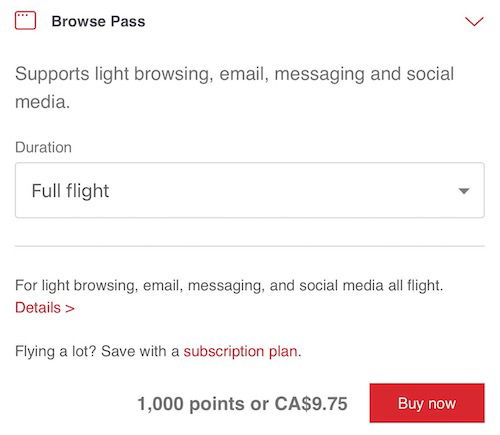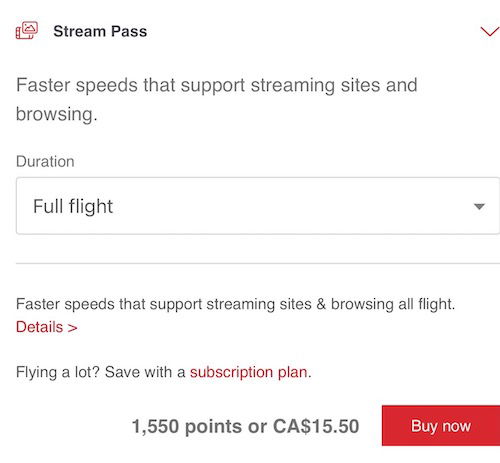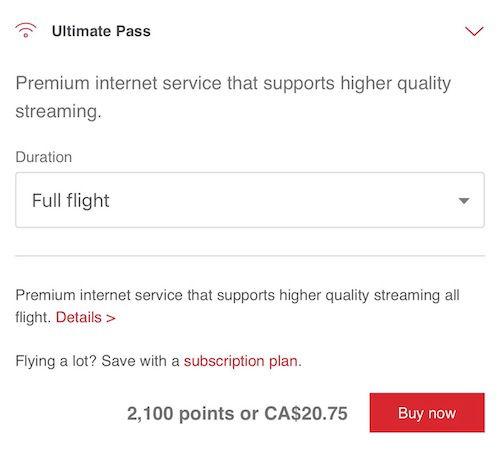 I purchased the most premium pass, and found the speeds to be excellent.
Air Canada 787 departure from Toronto
Air Canada flies a lot of wide bodies between Toronto and Florida in winter, for obvious reasons (soft demand across the Atlantic, while lots of Canadians want to enjoy the warm weather in Florida). Yet oddly this flight was empty. 14 of the 20 business class seats were taken, and I'd estimate that there were otherwise a few dozen people on the plane otherwise. There were probably 60 passengers onboard at most. Hopefully the plane was busier on the return the following morning!
At 6:20PM the main cabin door closed, and at the same time the captain made his welcome aboard announcement, informing us of our flight time of 2hr30min, and our anticipated early arrival in Miami.
We started our pushback at 6:25PM, and at the same time the safety video was screened. We had a roughly 15 minute taxi to the runway, and were cleared for takeoff by 6:40PM.
Air Canada business class dinner service
A full dinner service was available on this quick hop to Florida, and you can find the full menu and drink list below.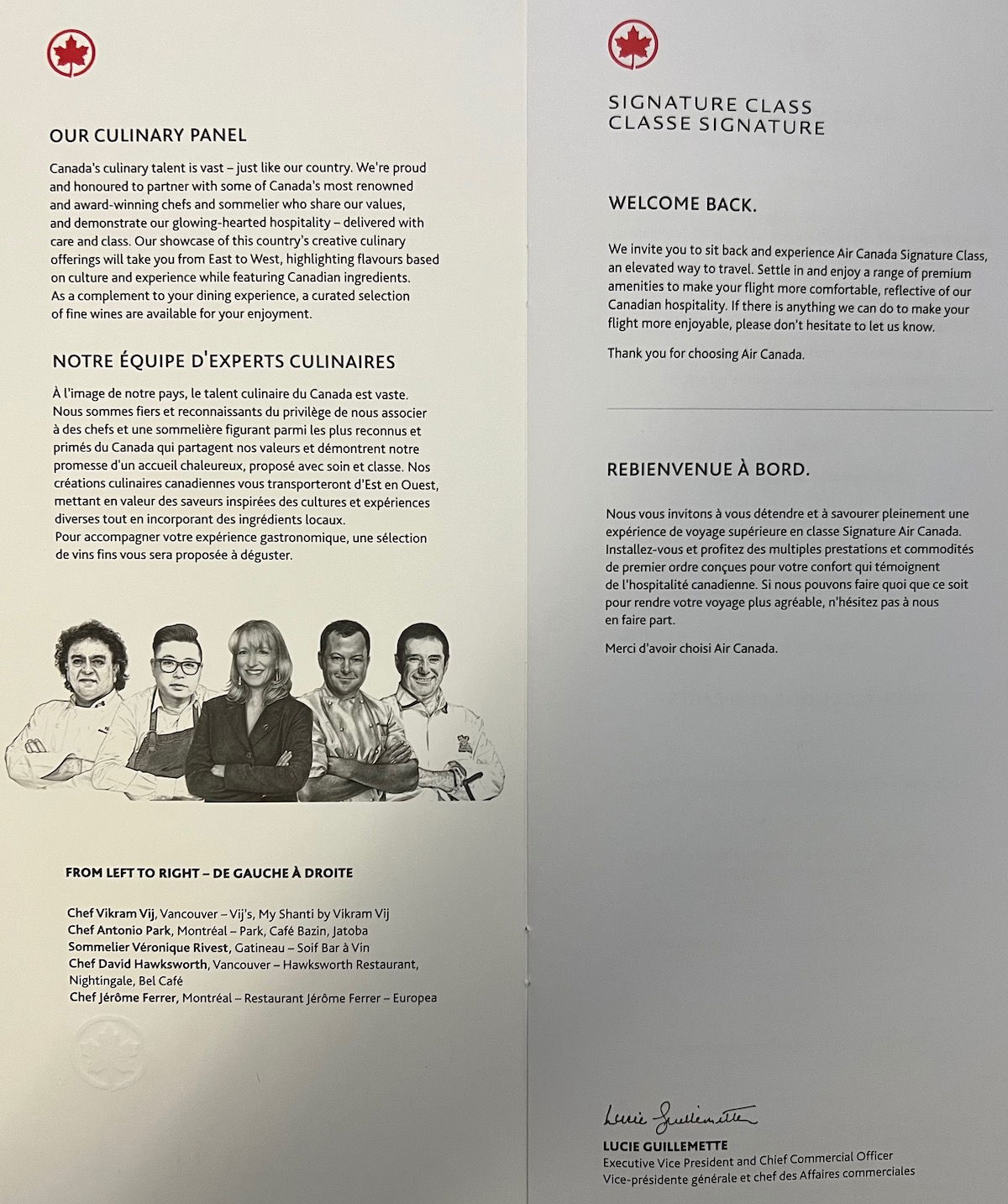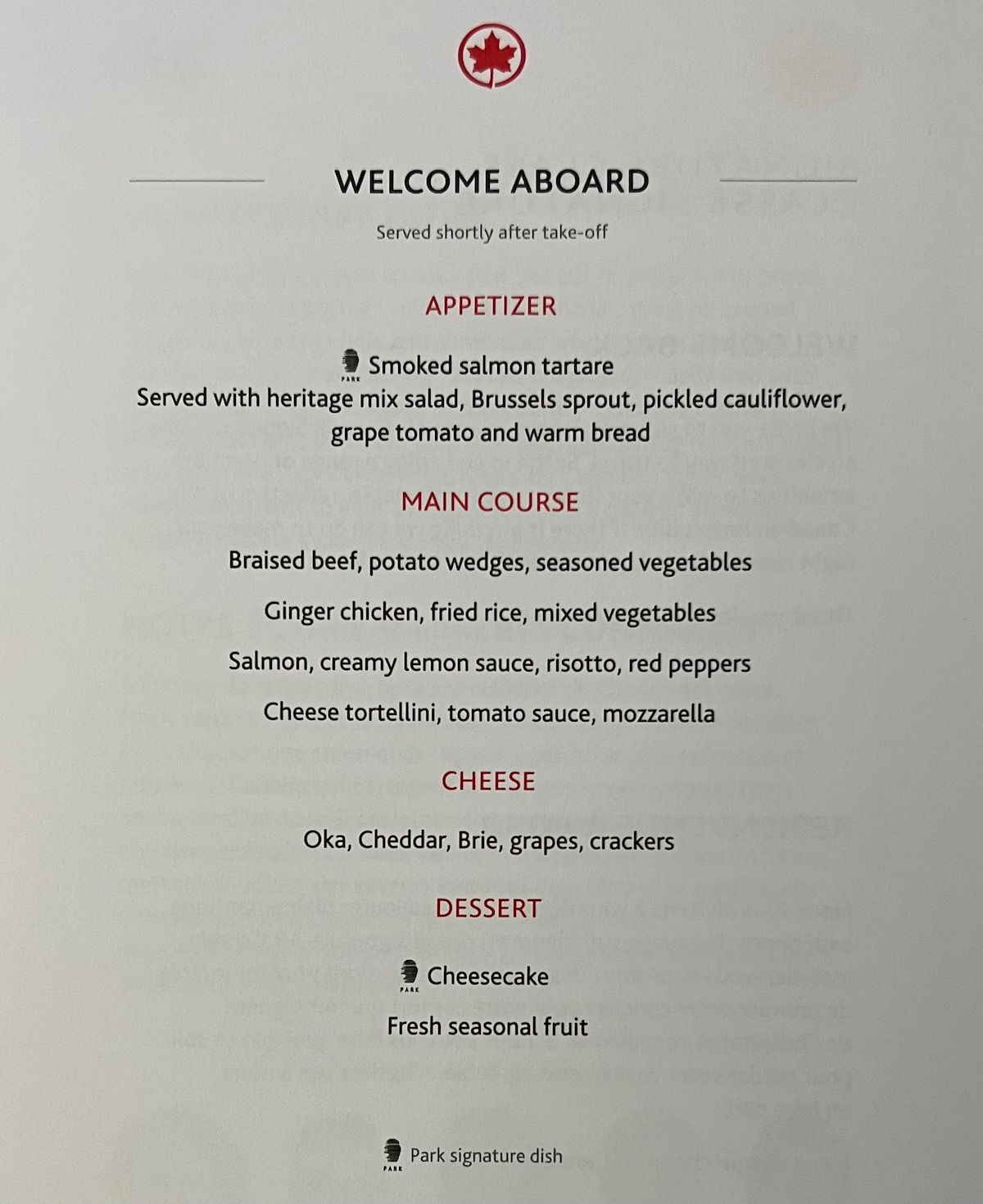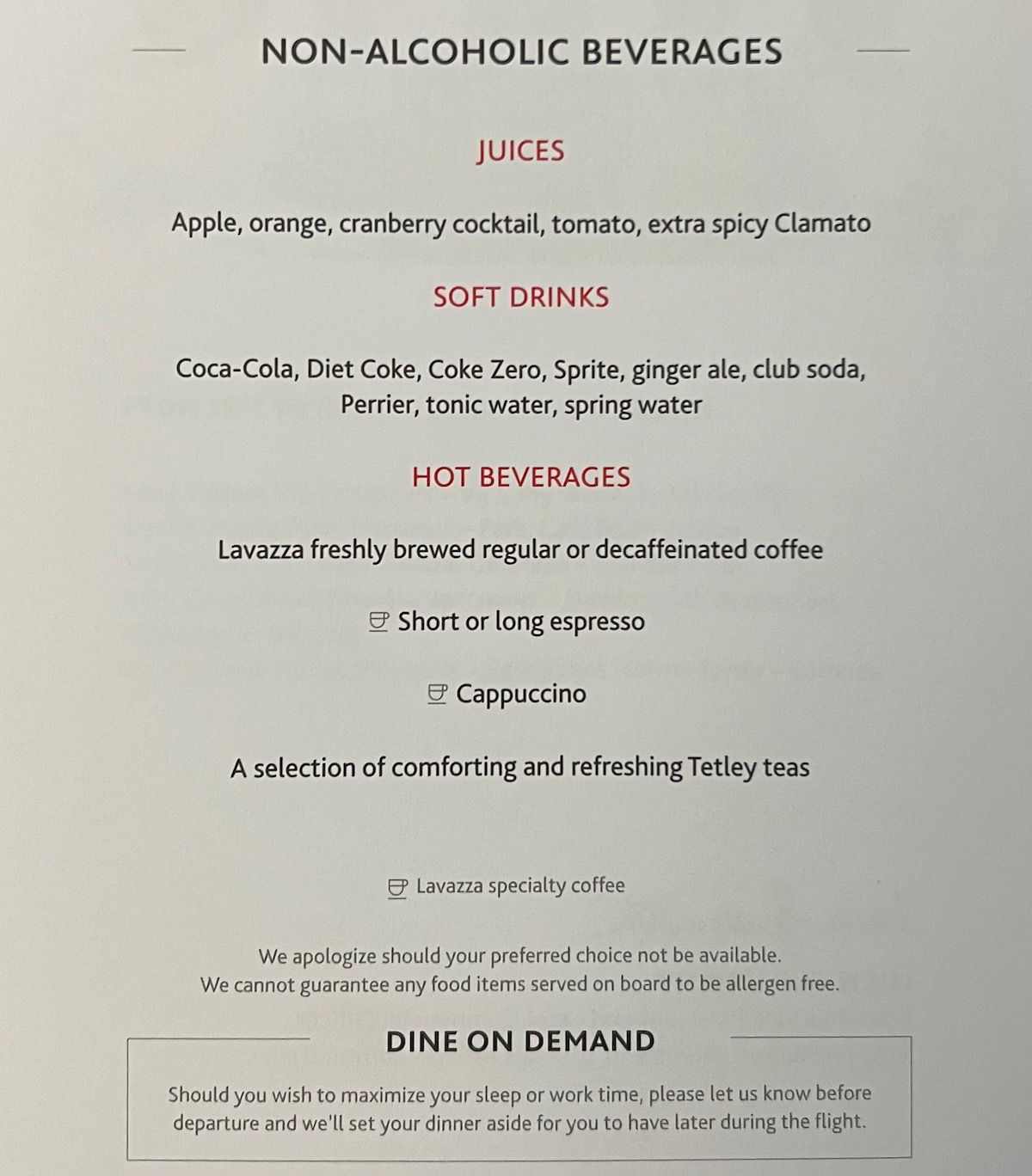 The seatbelt sign was turned off about 10 minutes after takeoff, at which point the crew sprung into action quickly. The curtains were immediately closed between the cabin and galleys.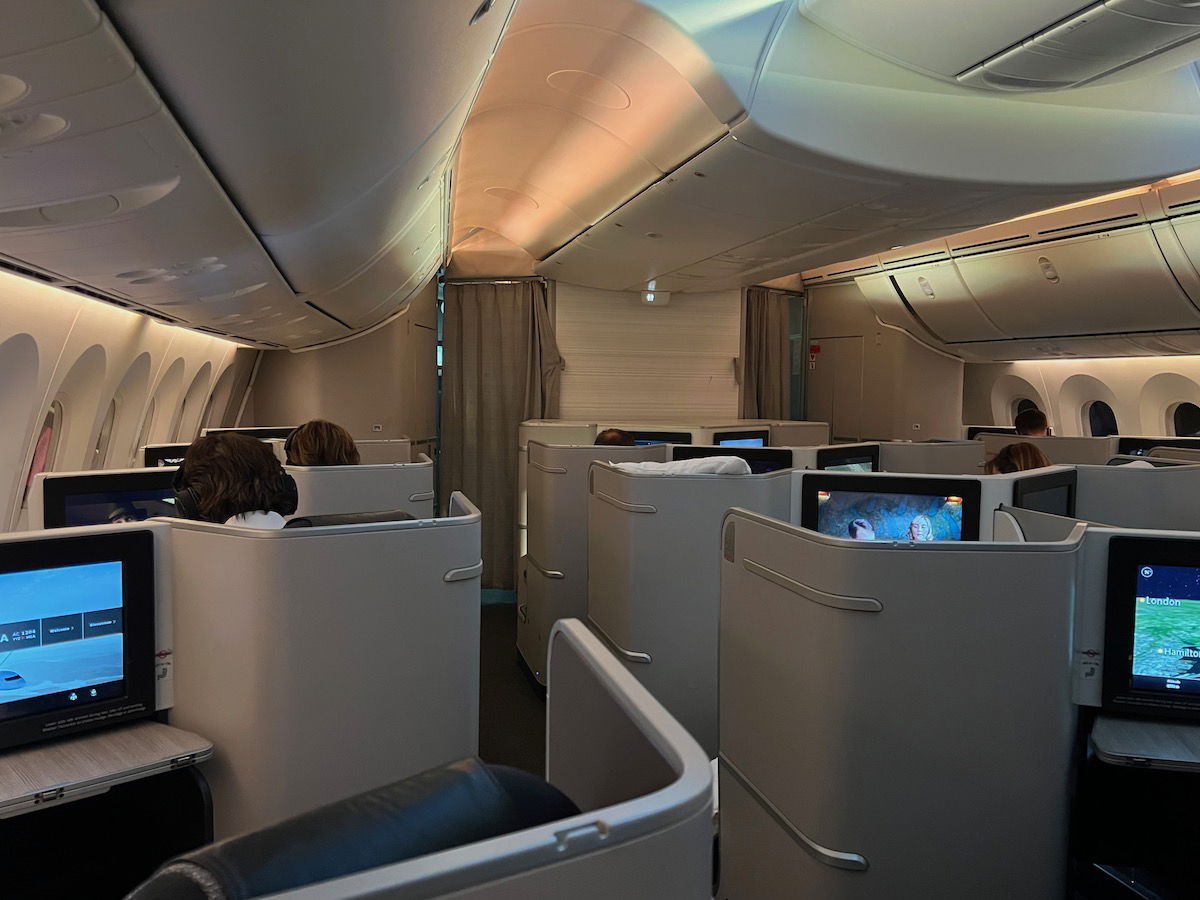 I think there's something to be said for how quickly after takeoff a crew can get started with service, and this crew deserves awards on that front. Warm towels were distributed 12 minutes after takeoff.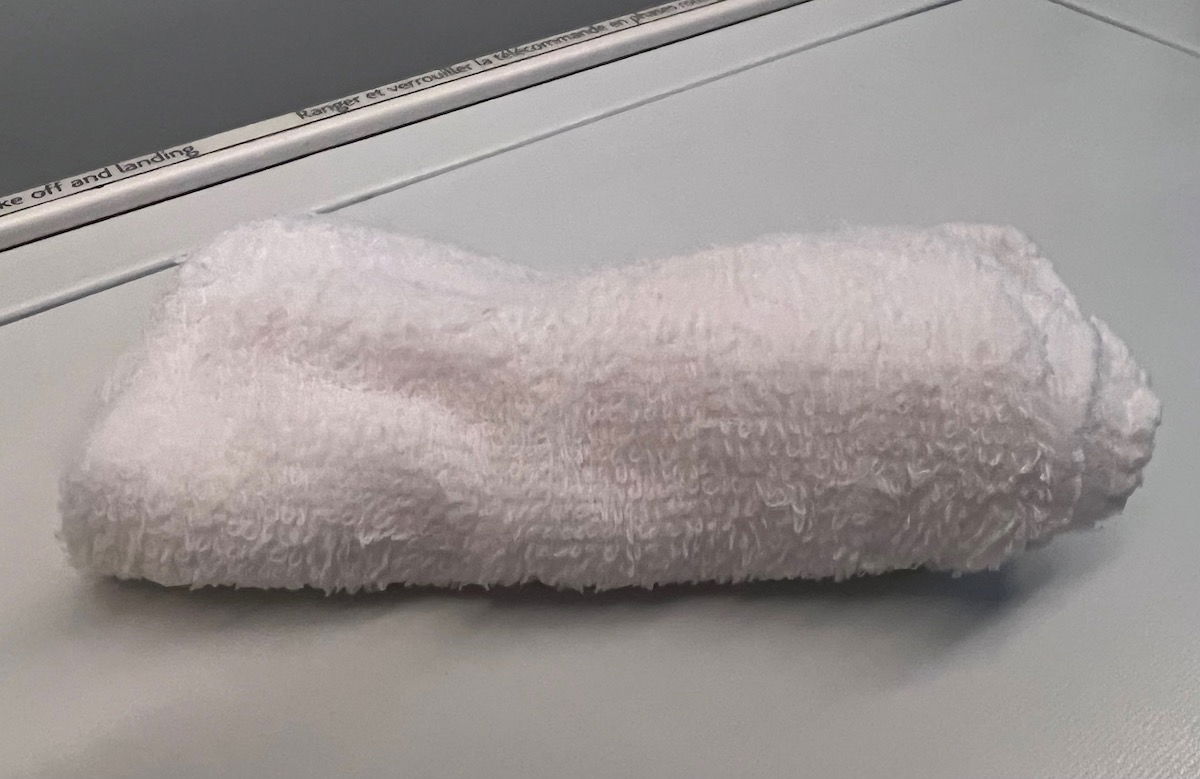 Then carts were rolled down the aisles with drinks, and I had my first drink just 14 minutes after takeoff. That has to be some sort of a record, aside from flights within the Gulf region.
To drink I ordered a glass of the sparkling wine, which was Bottega Millesimato Brut (which is quite a downgrade compared to the Laurent-Perrier on the previous segment, but still good enough). The drink was served with a ramekin of mixed nuts.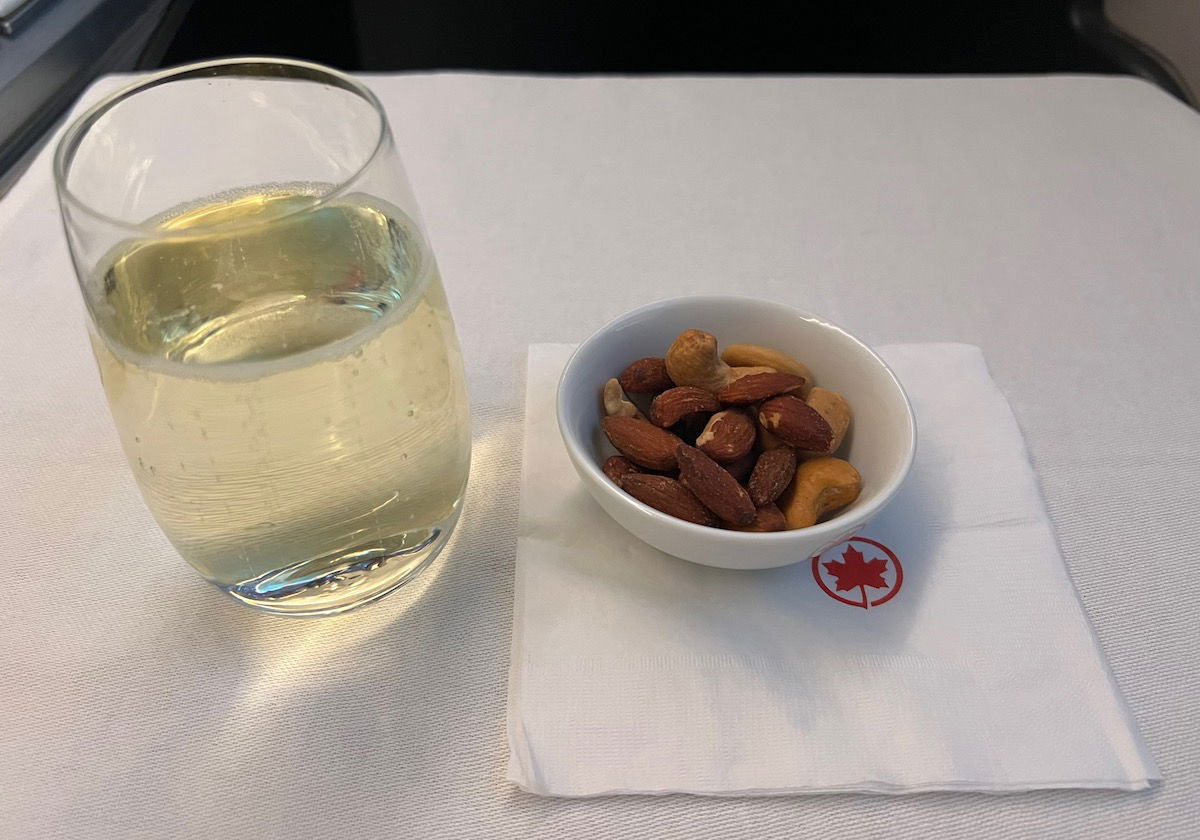 35 minutes after takeoff cart were rolled down the aisles with the salad and appetizer. The appetizer consisted of smoked salmon tartare, and it was tasty. While I was also offered bread, I passed, as I had certainly eaten my fair share of carbs for the day (starting with pretzels in the Air Canada Maple Leaf Lounge Frankfurt).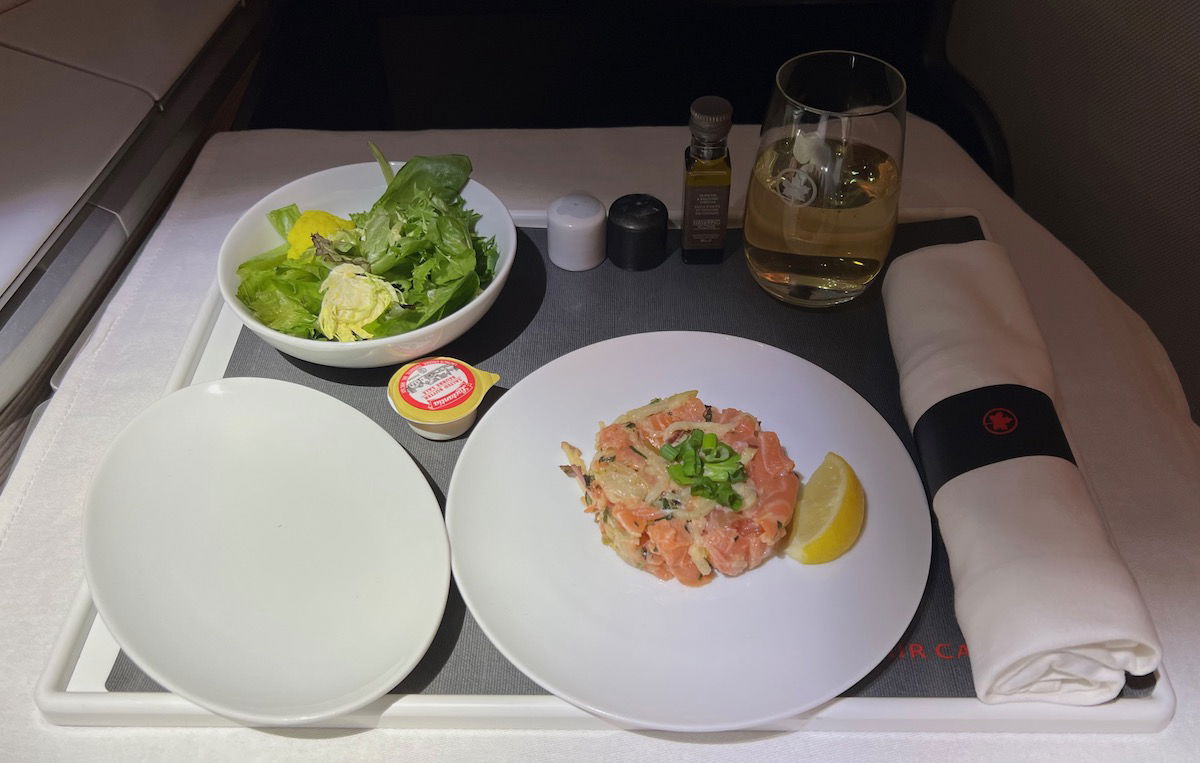 The main course was served 45 minutes after takeoff. It's pretty impressive to have four main course options. For this I selected the salmon with creamy lemon sauce, risotto, and red peppers. While the sauce was perhaps a bit overpowering, this was otherwise a great dish. I enjoyed the salmon and the risotto.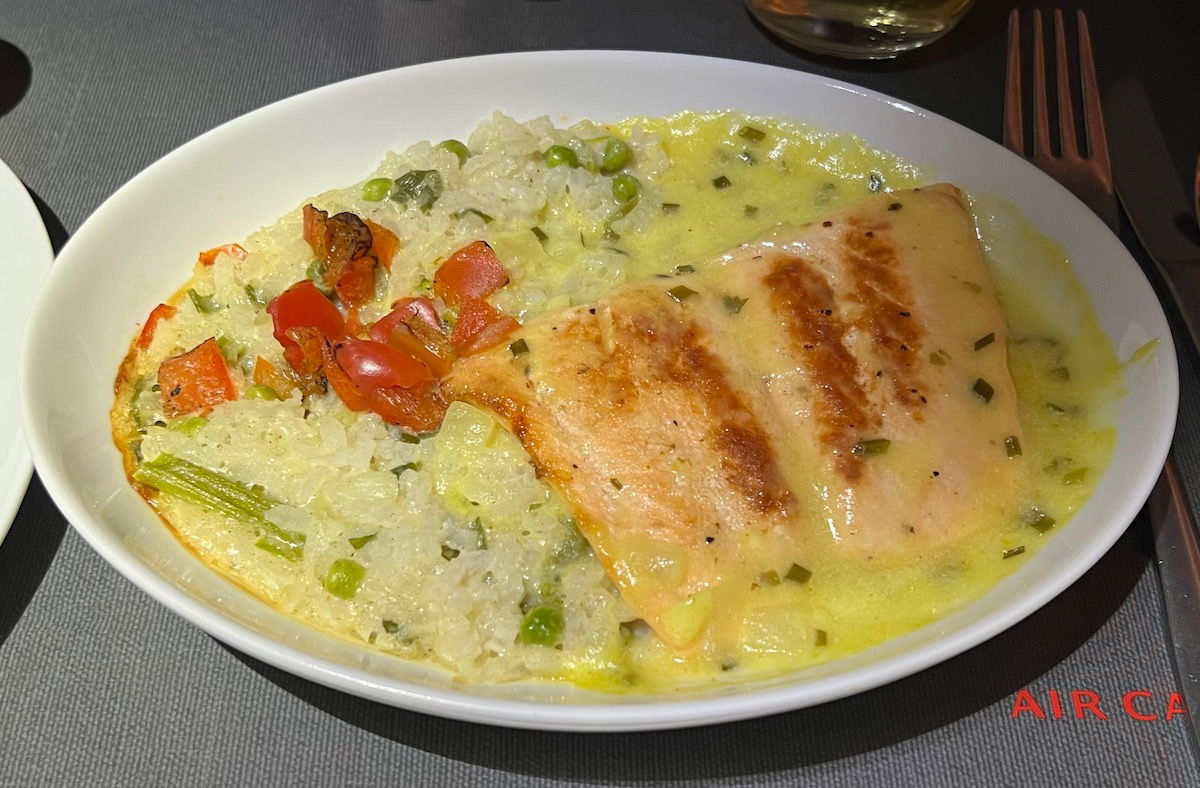 Lastly, around an hour after takeoff, a trolley was rolled down the aisle with cheese, fruit, and dessert. I asked for the dessert (which was a cheesecake) and a cheese plate. Good thing I'm not lactose intolerant (most days)!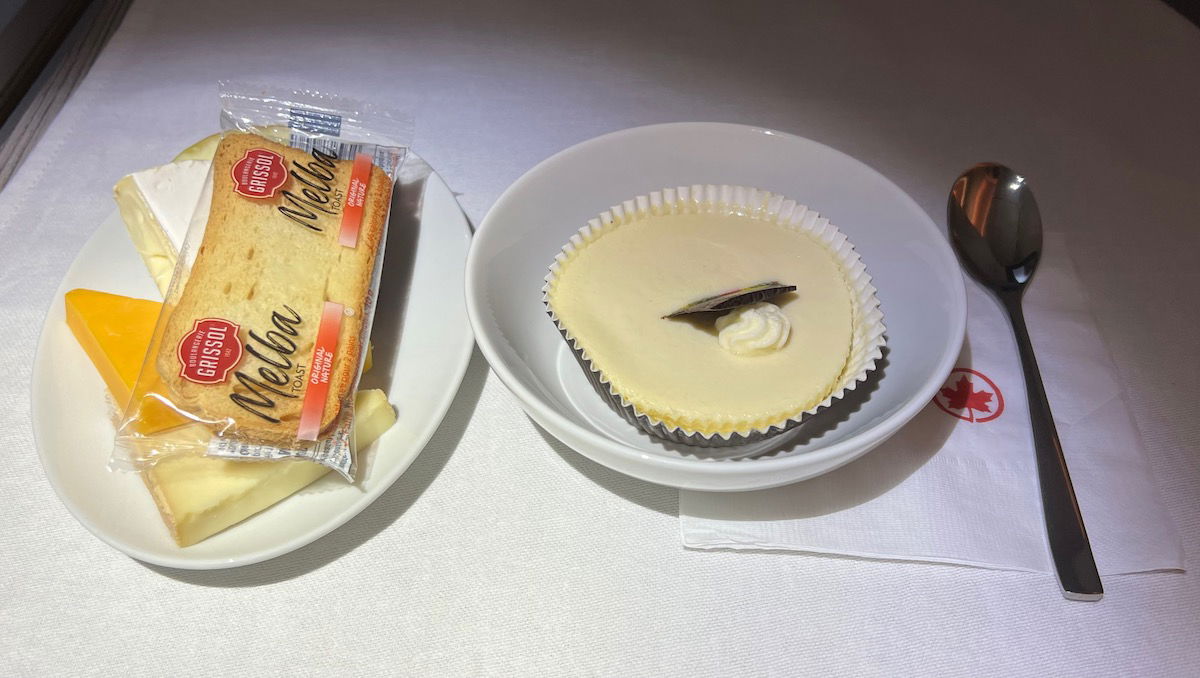 What a fantastic meal for such a short flight. There's not another 2.5 hour flight within North America where you'll get this kind of meal service, so two thumbs up to Air Canada.
Air Canada 787 business class bed
After the meal I reclined my seat and tried to get some rest. I found the bed to be fairly comfortable. It was a bit tight around the knees, but that's normal for reverse herringbone seats on 787s.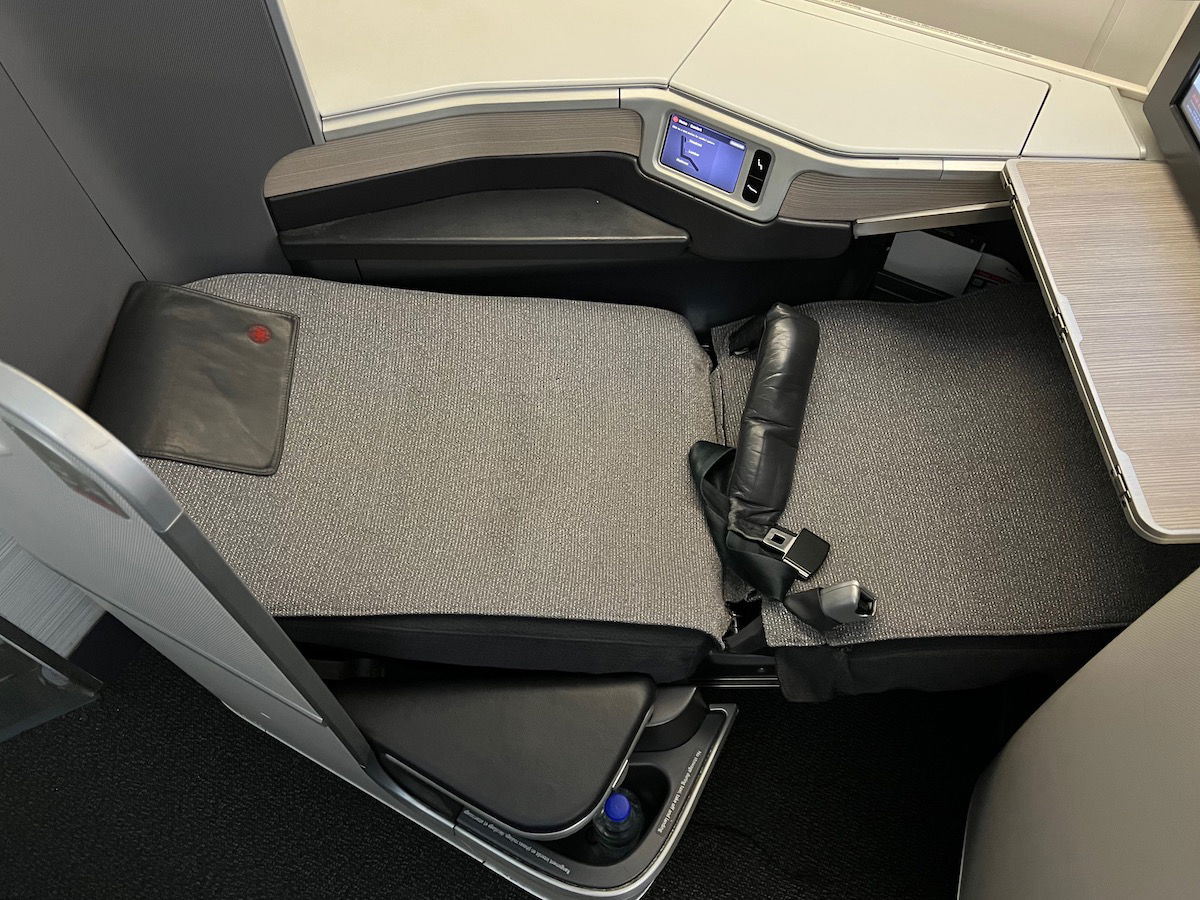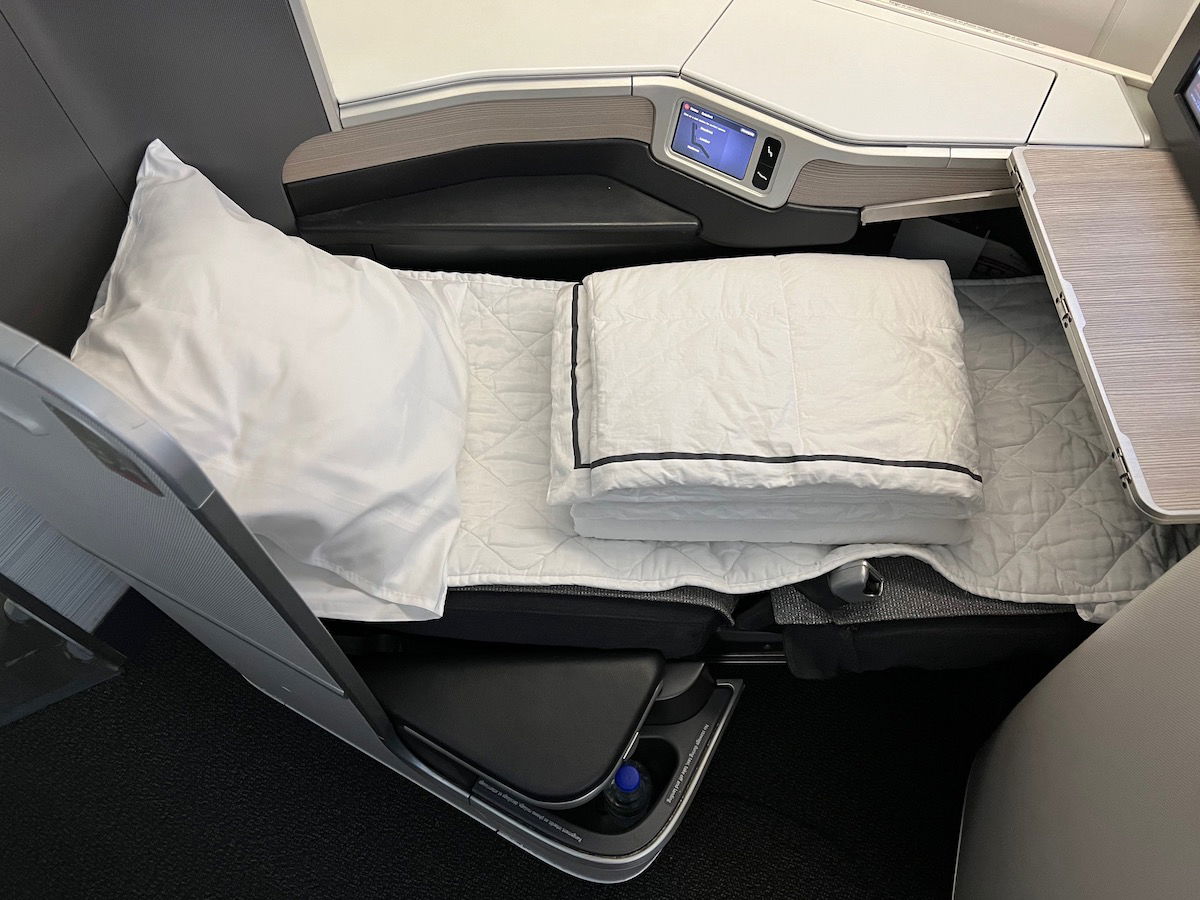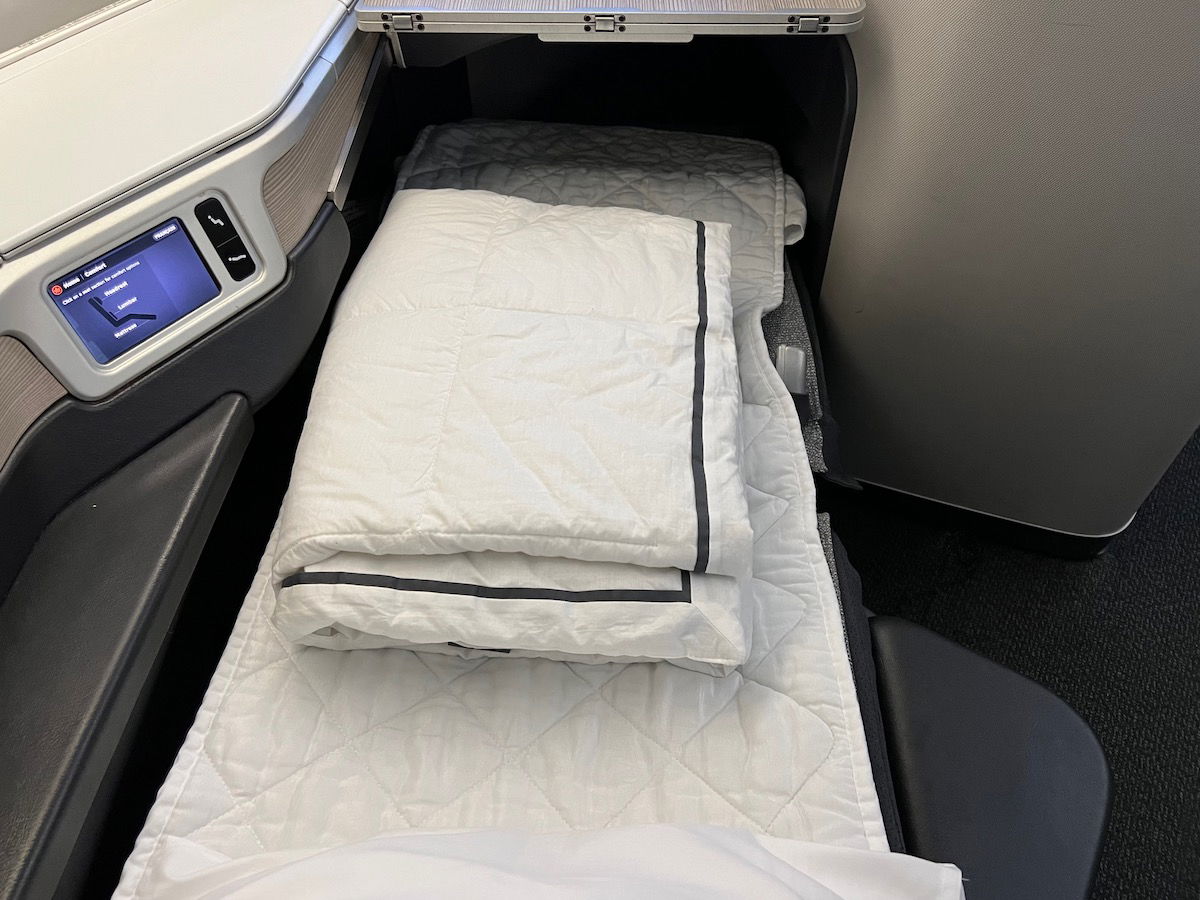 While I tried to get some sleep, it got really turbulent for the second half of the flight, so it was too bumpy to fall asleep. That wasn't an issue, since I'd shortly be in my comfortable bed at home!
Air Canada 787 business class lavatory
The Air Canada Boeing 787-8 had three lavatories around business class — one at the front of the cabin, and two behind the cabin. I think the ones behind the cabin might at least partly be shared with premium economy, but there was never a wait to use the bathrooms.
The lavatories were pretty typical ones for a Dreamliner, and were modern. I also liked the wallpaper, which added some Canadian flair to the space.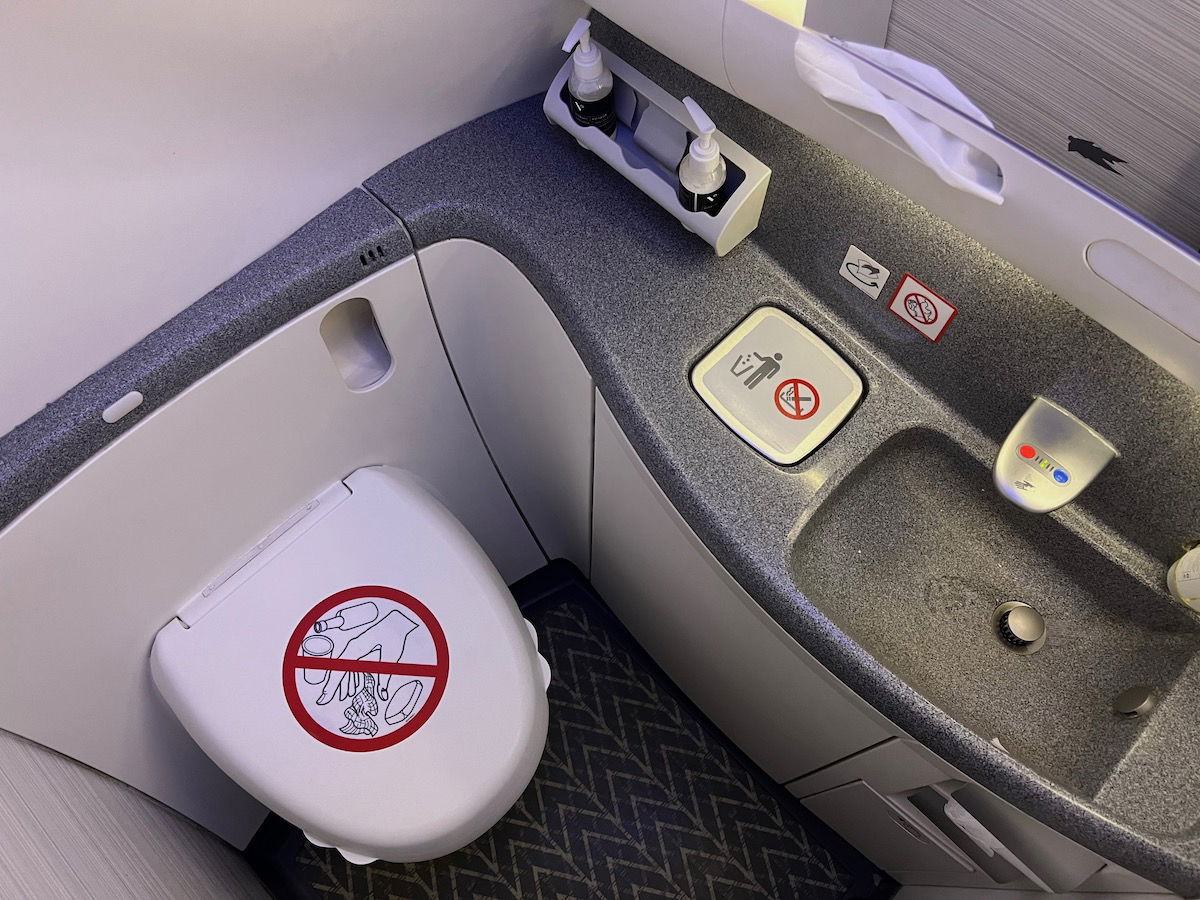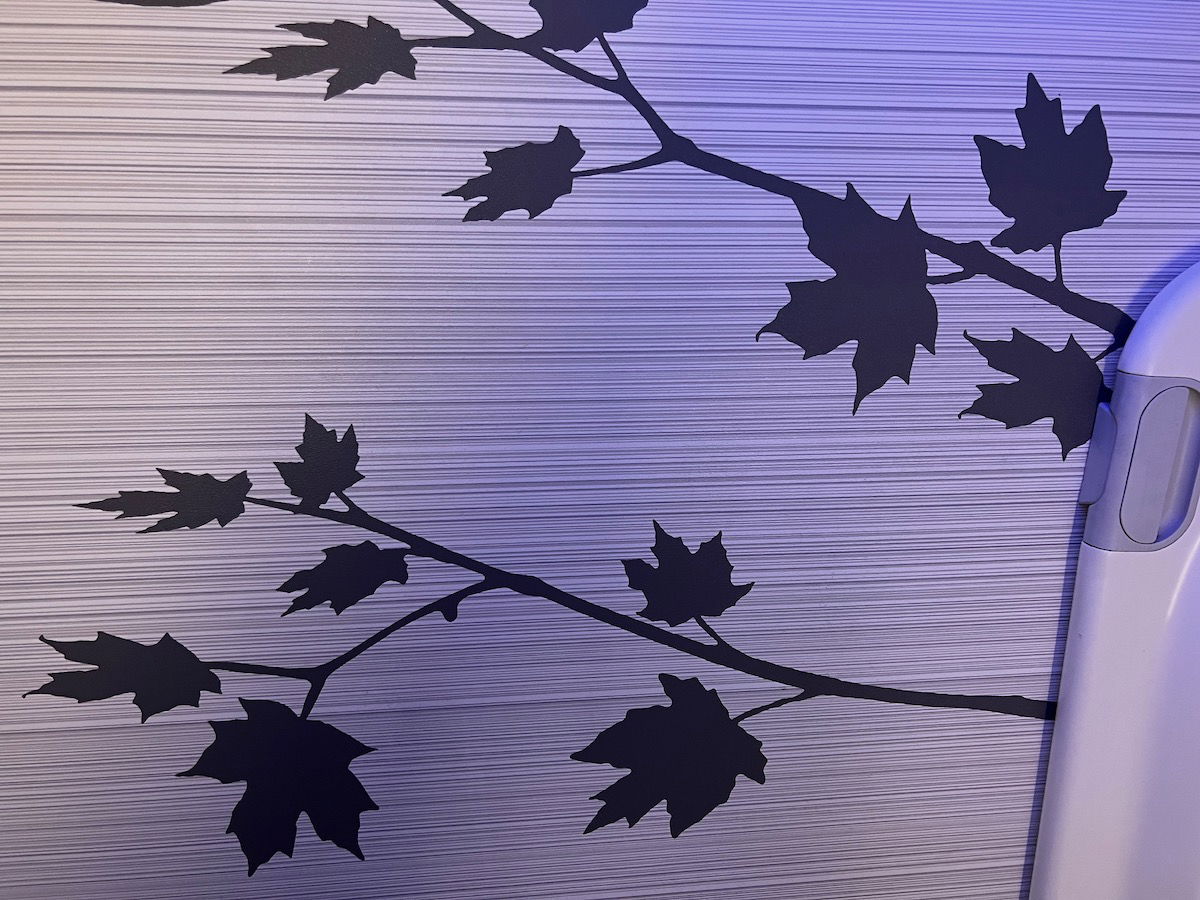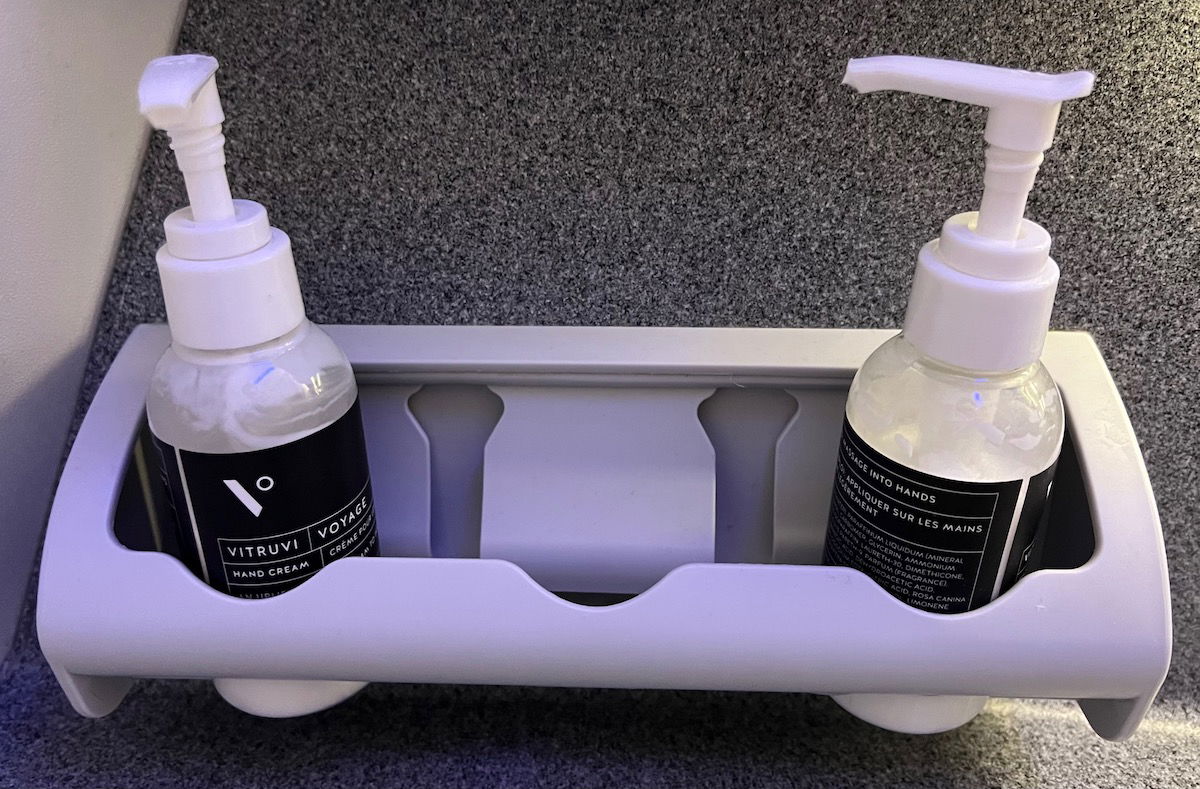 Air Canada business class crew service
Unlike on my previous flight, the crew on this flight was great. Not only were they incredibly attentive and efficient, but they were also friendly and seemed to enjoy their jobs. I couldn't ask for anything more.
It's amazing how much of a difference crew attitude can make when it comes to the perception one has of a flight. A flight is just so much more enjoyable when you feel like you're being served by people who aren't actively unhappy to be there.
Air Canada 787 arrival in Miami
At around 8:35PM the captain announced we'd be starting our descent shortly, and should be landing in about 30 minutes. At this point the crew collected headsets (offering to replace them with disposable ones), and started to prepare the cabin for arrival.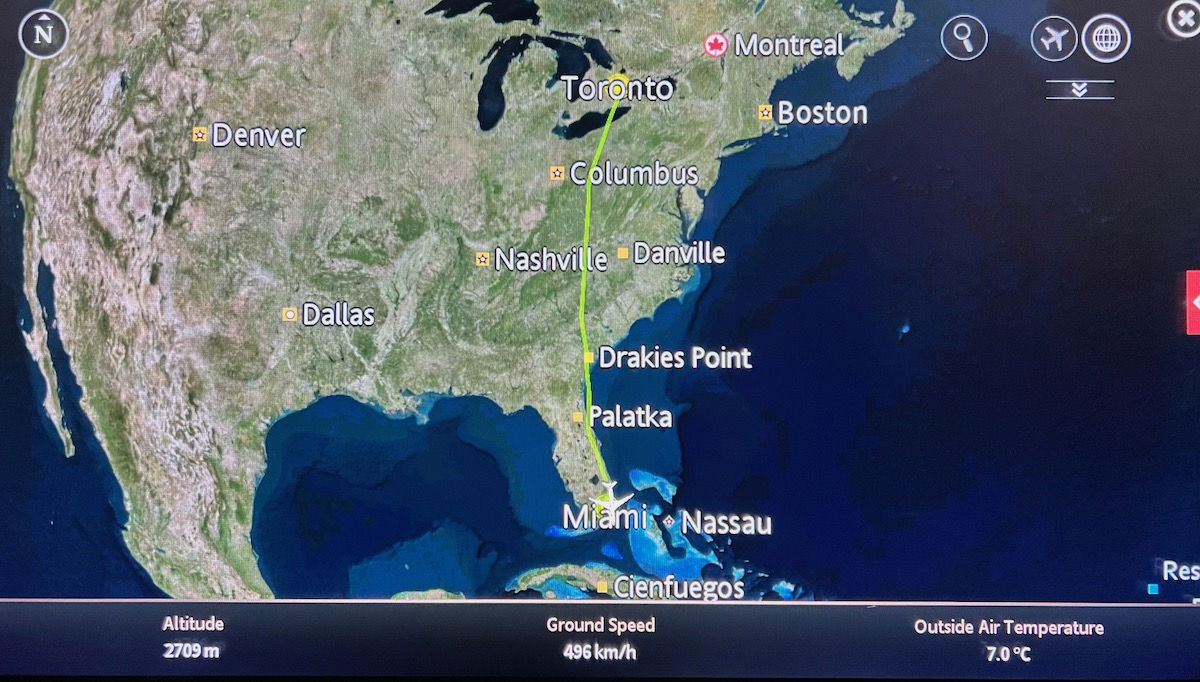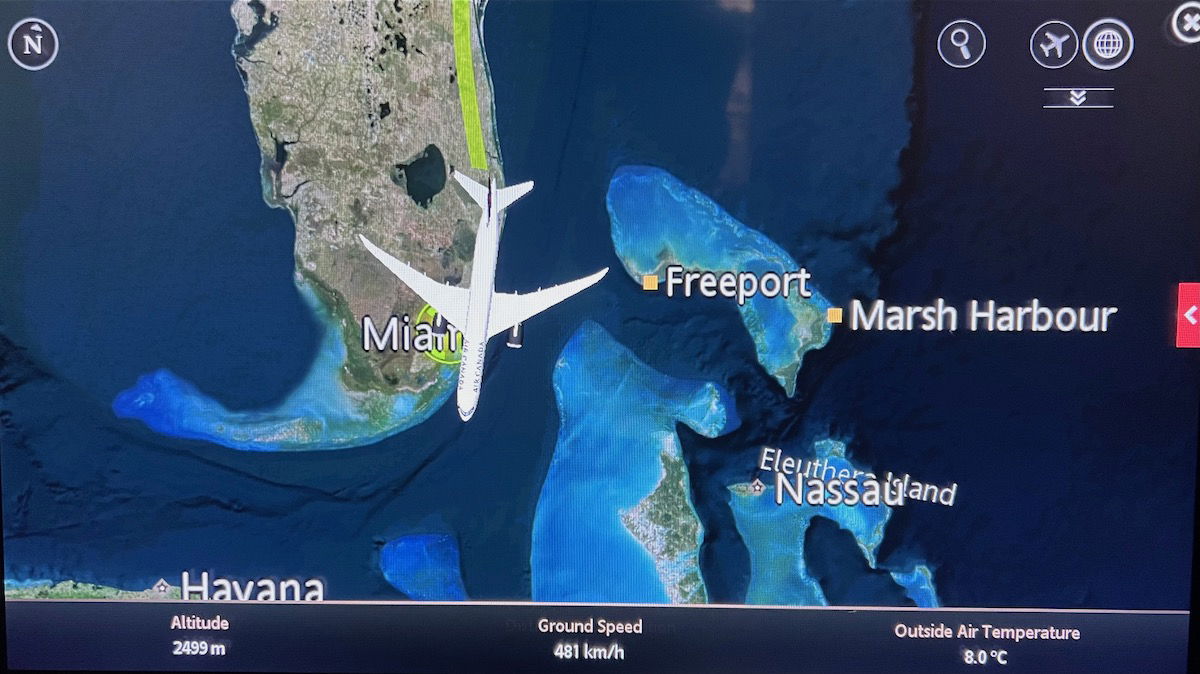 We ended up touching down in Miami at 9:05PM. From there we had a 10 minute taxi to our arrival gate, where we pulled in at 9:15PM, 25 minutes ahead of schedule. While I had an amazing trip, I was oh-so-excited to go home and see my family!
Bottom line
I had a phenomenal Air Canada flight from Toronto to Miami. It's enough of a treat just to get a wide body on a short flight within North America. Air Canada really takes it to the next level, though, by offering its full premium bedding and long haul meal service on these sectors. Add in the great crew, excellent entertainment and Wi-Fi, and intimate Boeing 787 cabin, and this was a lovely flight.
This was by far the most pleasant 2.5 hour flight I've ever had within North America.
What do you make of Air Canada's Boeing 787 business class?