During my whirlwind Aeroplan adventure, I had a quick overnight at Hanoi Airport. Rather than trekking into the city, I decided to spend the night in the VATC Sleep Pods inside the terminal, as that seemed most convenient.
I'm usually a huge fan of the sleep pod concepts, and I love the Yotel brand. Well, let me tell you, the VATC Sleep Pods are no Yotel…
My tricky overnight layover in Hanoi
I went back and forth as to what I should do for my overnight in Hanoi, Vietnam. I was arriving from Ho Chi Minh City at 12:20AM, and was due to depart for Frankfurt at 9:40AM in the morning, so I had a roughly nine hour layover.
Initially I was going to head into the city and stay at the Hyatt Regency, which could be booked for just 5,000 points per night (a real bargain). However, when I started doing the math on how much time I had, I ultimately decided against it:
I figured I would get to the hotel roughly one hour after landing, around 1:30AM
Since I'm reviewing flights, I always try to get to airports early so I can check out the lounges before they get crowded, etc., so I wanted to be at the airport by 6AM; as a result, I figured I had to leave by 5:30AM or so
Going all the way into town for just four hours in a hotel didn't seem worth it; not just from a cost perspective, but from an inconvenience perspective, in terms of how much time I'd spend in a car
There were no name brand hotels near the airport, so at that point I decided to settle on the VATC Sleep Pods, which are sleep pods in the Hanoi Airport terminal. That would allow me to maximize my rest, and hopefully at least get several hours of sleep.
Booking the VATC Sleep Pods Hanoi Airport
There are VATC Sleep Pods in both Terminal 1 (the domestic terminal) and Terminal 2 (the international terminal). You can't easily walk between the terminals, and the shuttle only runs between 6AM and 12AM, so I decided to book the VATC Sleep Pods in Terminal 1, where I was arriving (since my flight landed after midnight).
Oddly, the VATC Sleep Pods don't have their own website, meaning you have to book through an online travel agency (which is surprising, given the massive commissions that online travel agencies tend to get). So I booked through Agoda, and the rate for the night was 1.4 million VND (~$60). That's pricey, though in fairness, I booked the rate with the greatest flexibility, and there were other rates for a bit under $50.
Furthermore, that booking was for a check-in at 2PM and check-out at 12PM, as I couldn't find a way to book a shorter stay than that online.
VATC Sleep Pods Hanoi Airport location
The VATC Sleep Pods Hanoi Airport Terminal 1 are located landside. In other words, they're before security, so you could stay here without actually having a flight ticket (not that you'd want to).
After exiting the sterile part of the terminal, I turned left, and saw a few elevators. The VATC Sleep Pods are on the third floor, so I took the elevator up there.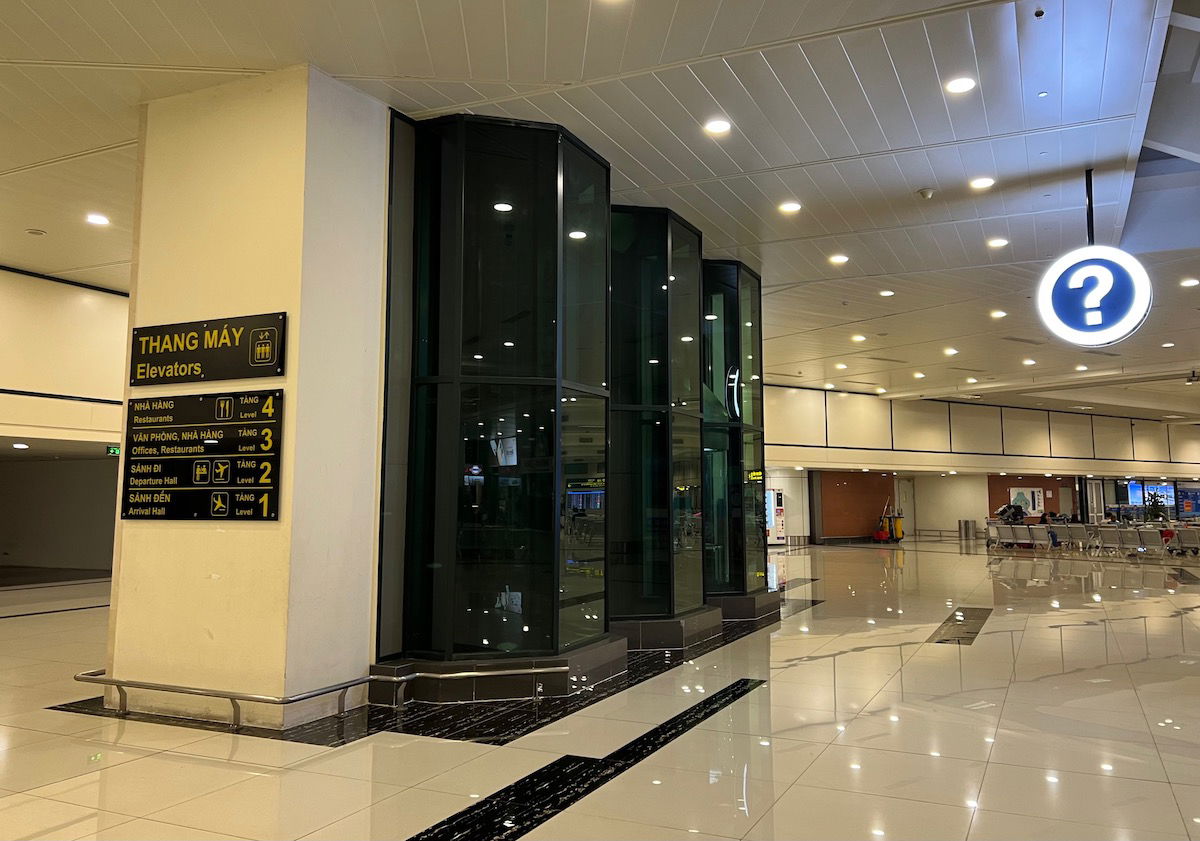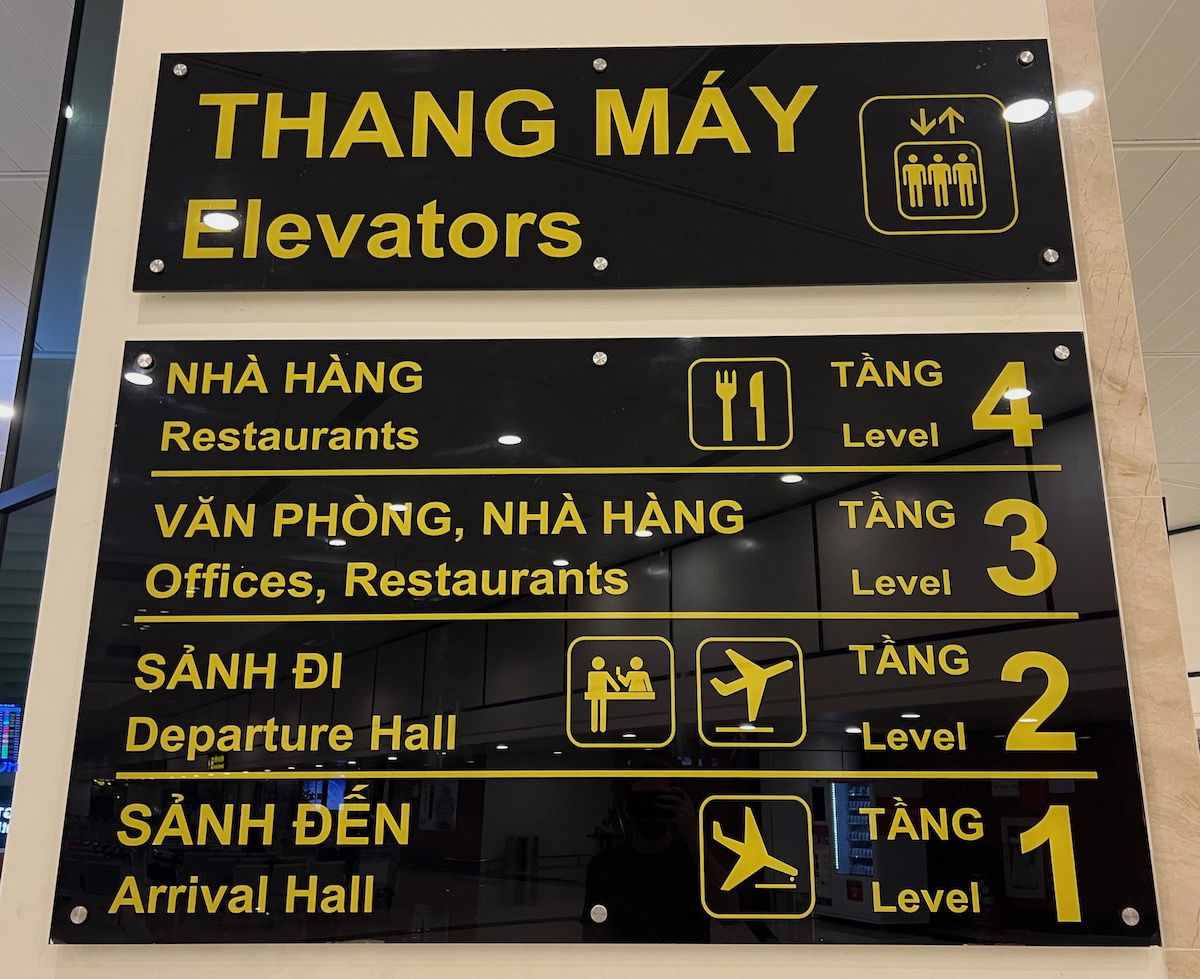 Once out of the elevator, it was easy to spot the VATC Sleep Pods straight ahead.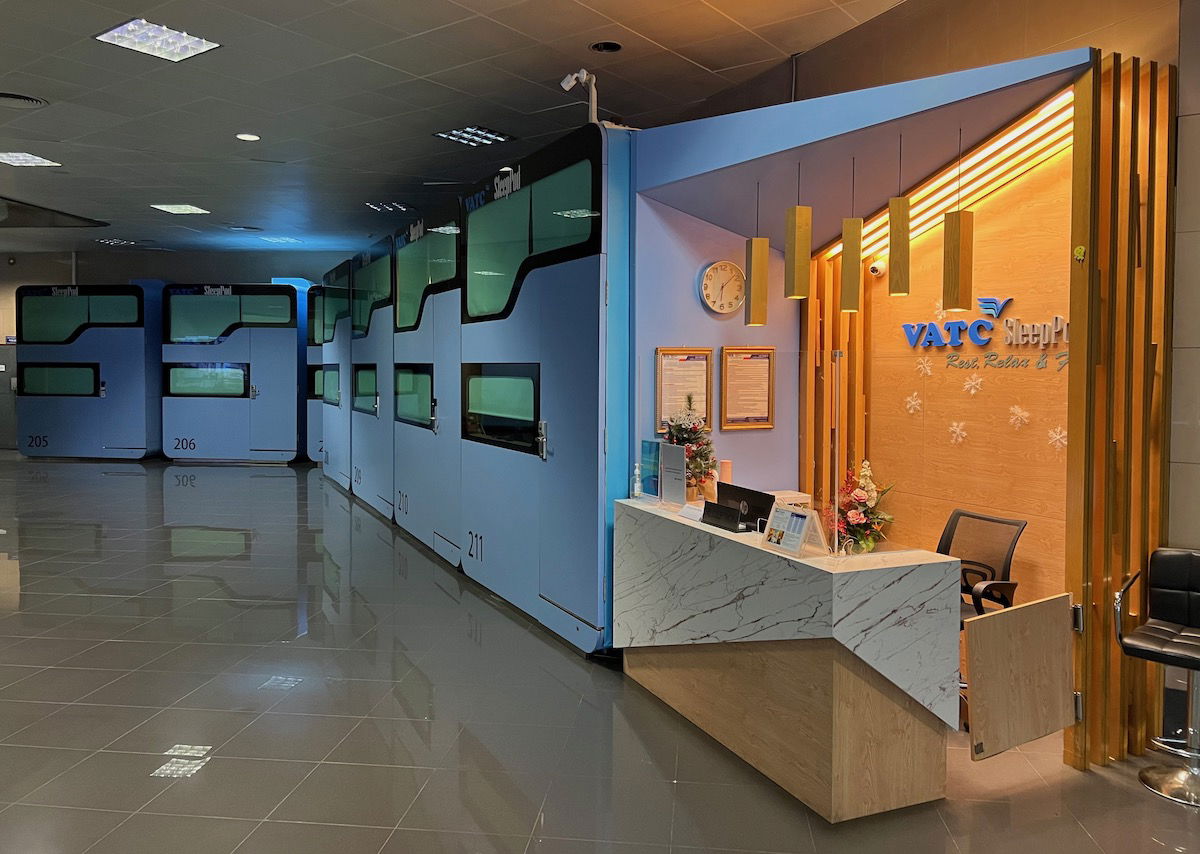 VATC Sleep Pods Hanoi Airport check-in
The VATC Sleep Pods have a staffed reception desk.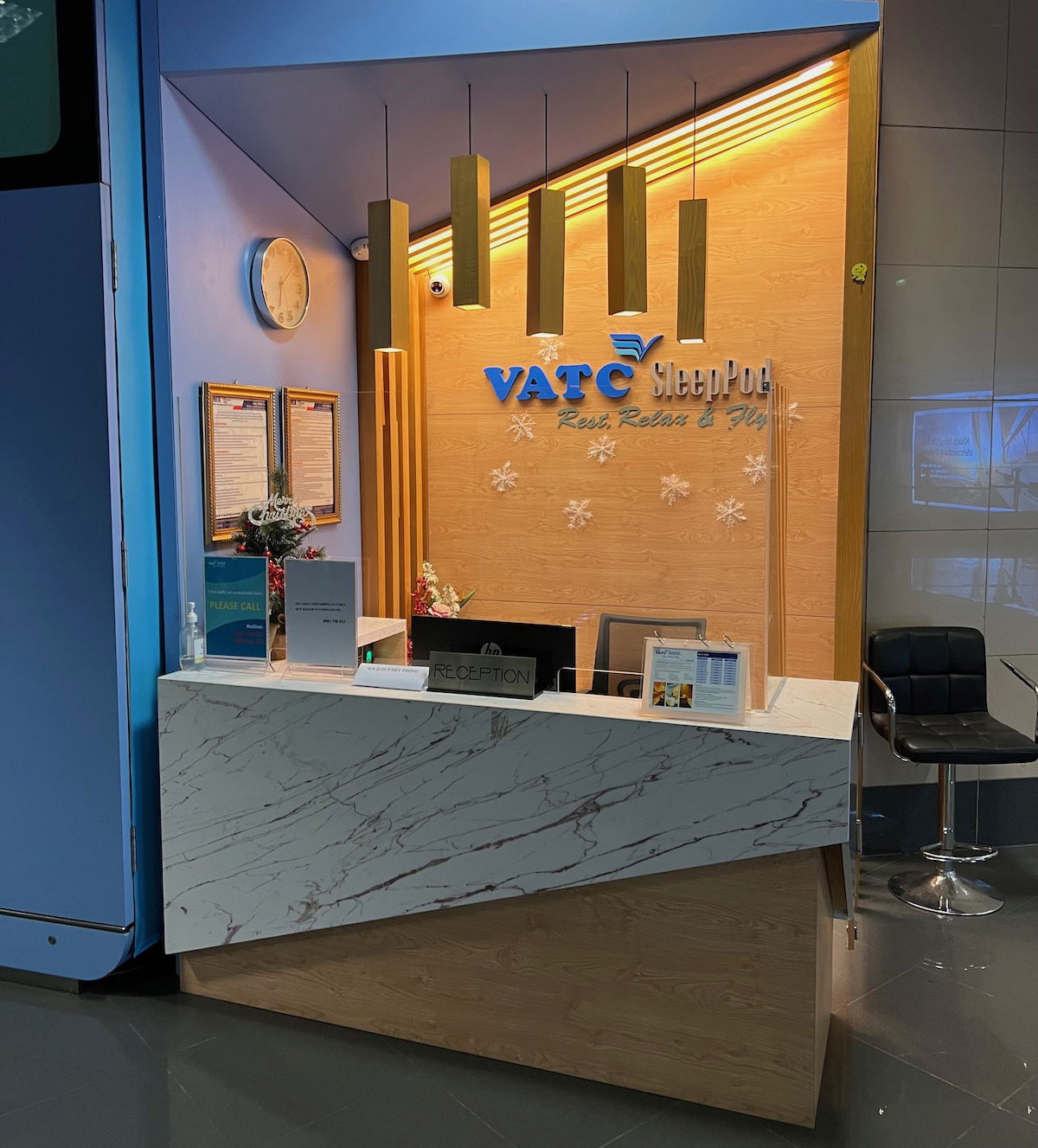 I presented my passport and credit card, and after photocopies were taken, I was informed that the credit card machine wasn't working. Hmmm. I was advised to go get cash from an ATM. There was a language barrier, and it took about 10 minutes for me to actually find an ATM.
Then when I returned, the agent informed me that she had no change, so I had to overpay by ~$5, based on the bills that I had.
Obviously none of this is a huge deal, but it rubbed me the wrong way on principle. If you're catering to international guests and my reservation is secured with a credit card, I should also be able to pay with a credit card. And if you can't accept credit cards due to a system being out, you should at least have change. Just to be clear, I recognize that this probably wasn't the the fault of the person working, and I was nice to her.
I don't want to be a conspiracy theorist, but I also can't help but wonder if the machine was actually broken, or if this is a scheme to instead get foreigners to pay in cash, and possibly overpay, by not having change.
For what it's worth, below is the pricing list at check-in for the VATC Sleep Pods. As you can see, you can rent pods for as little as an hour, though there doesn't seem to be an easy way to book that online in advance.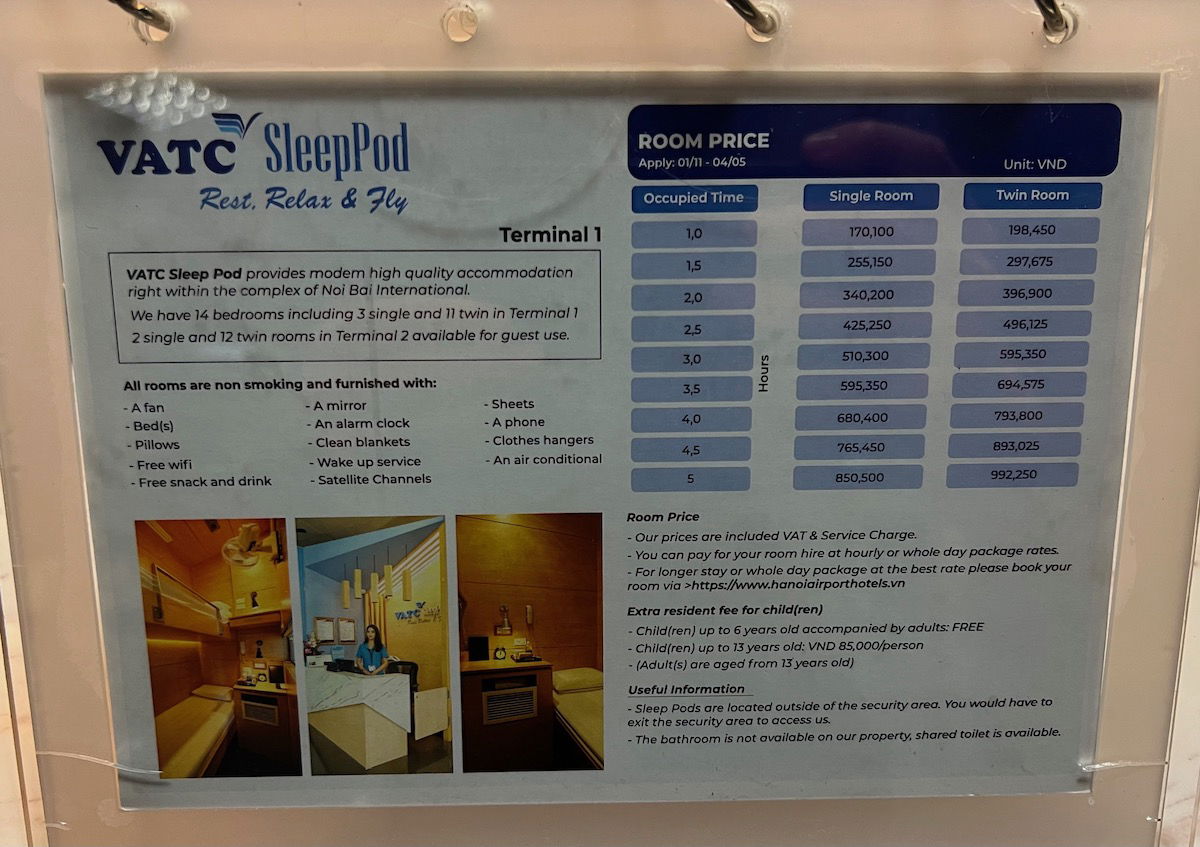 VATC Sleep Pods Hanoi Airport bed & features
There are a total of about a dozen VATC Sleep Pods at the facility, and they're fairly spacious for pods, especially vertically.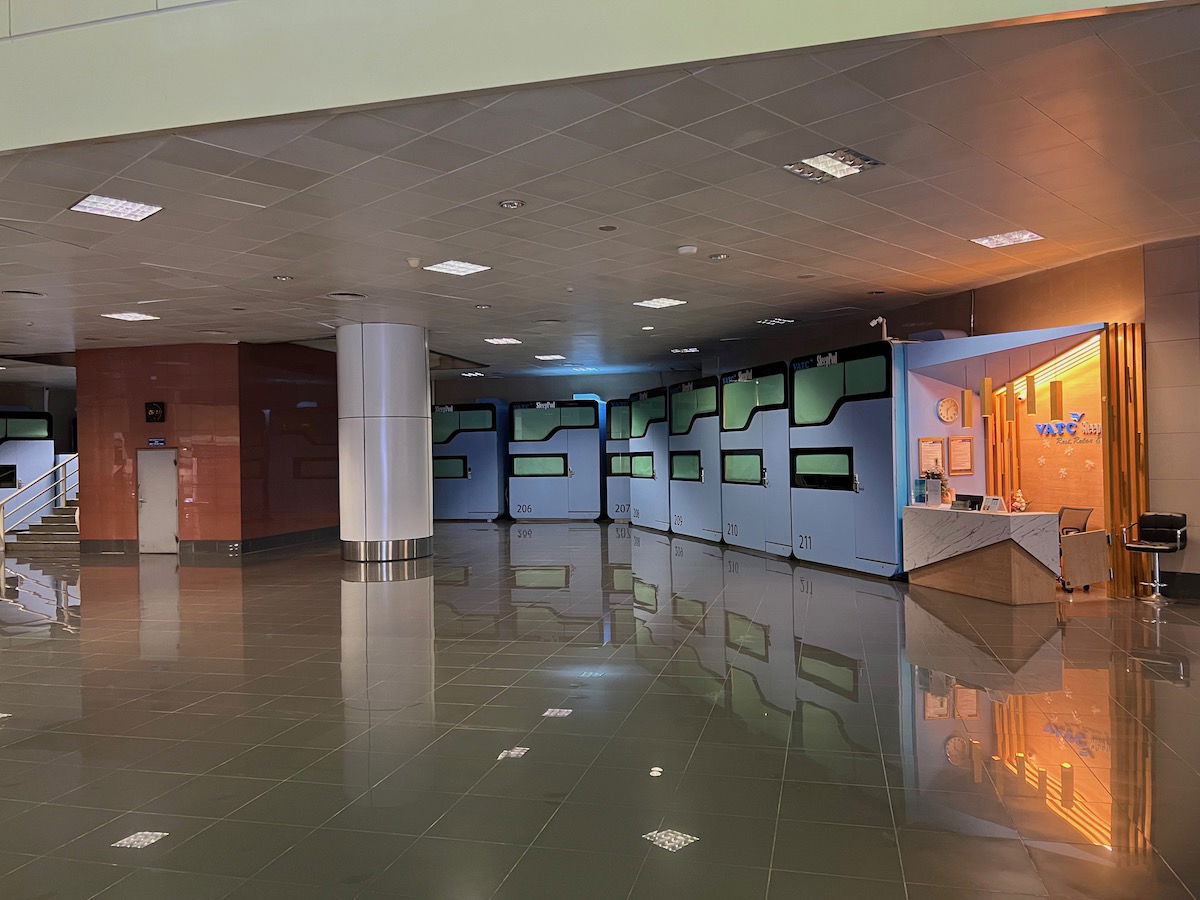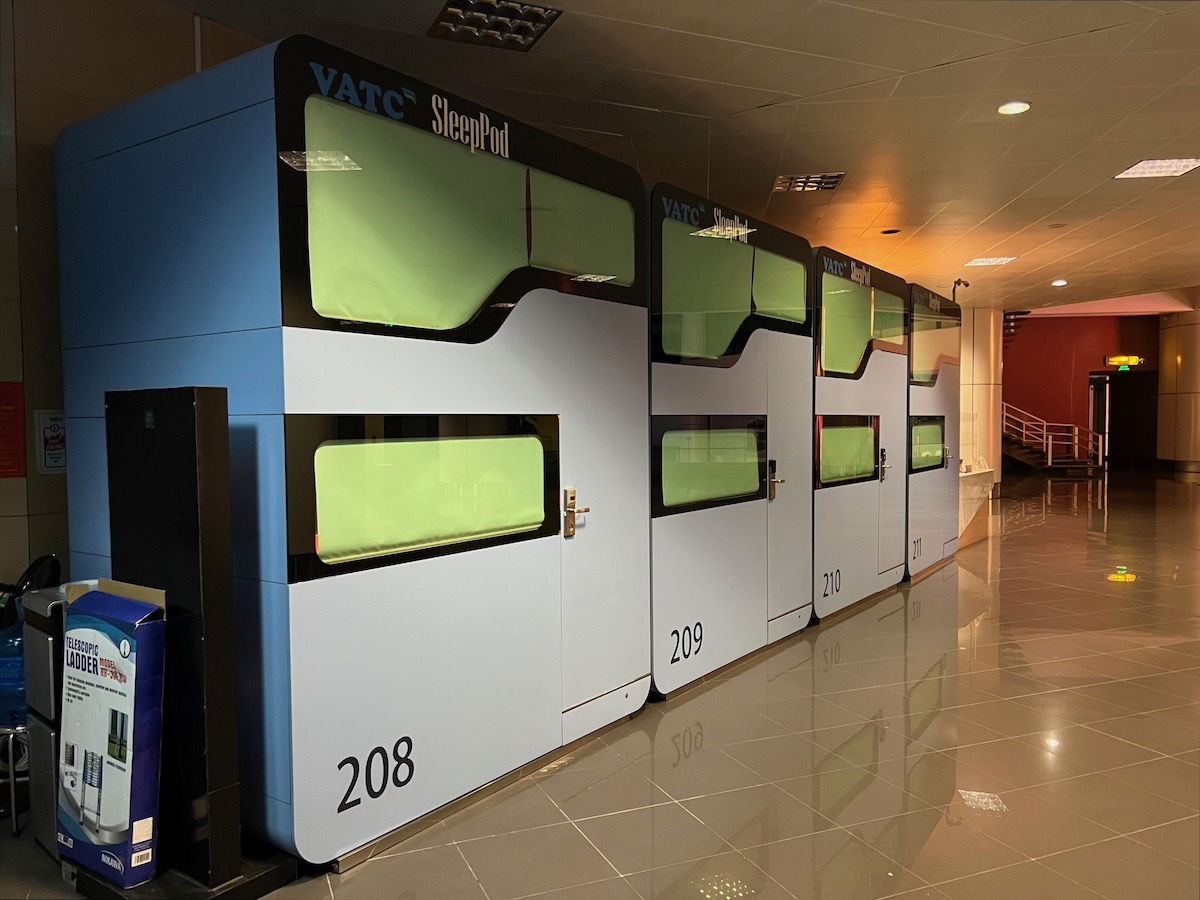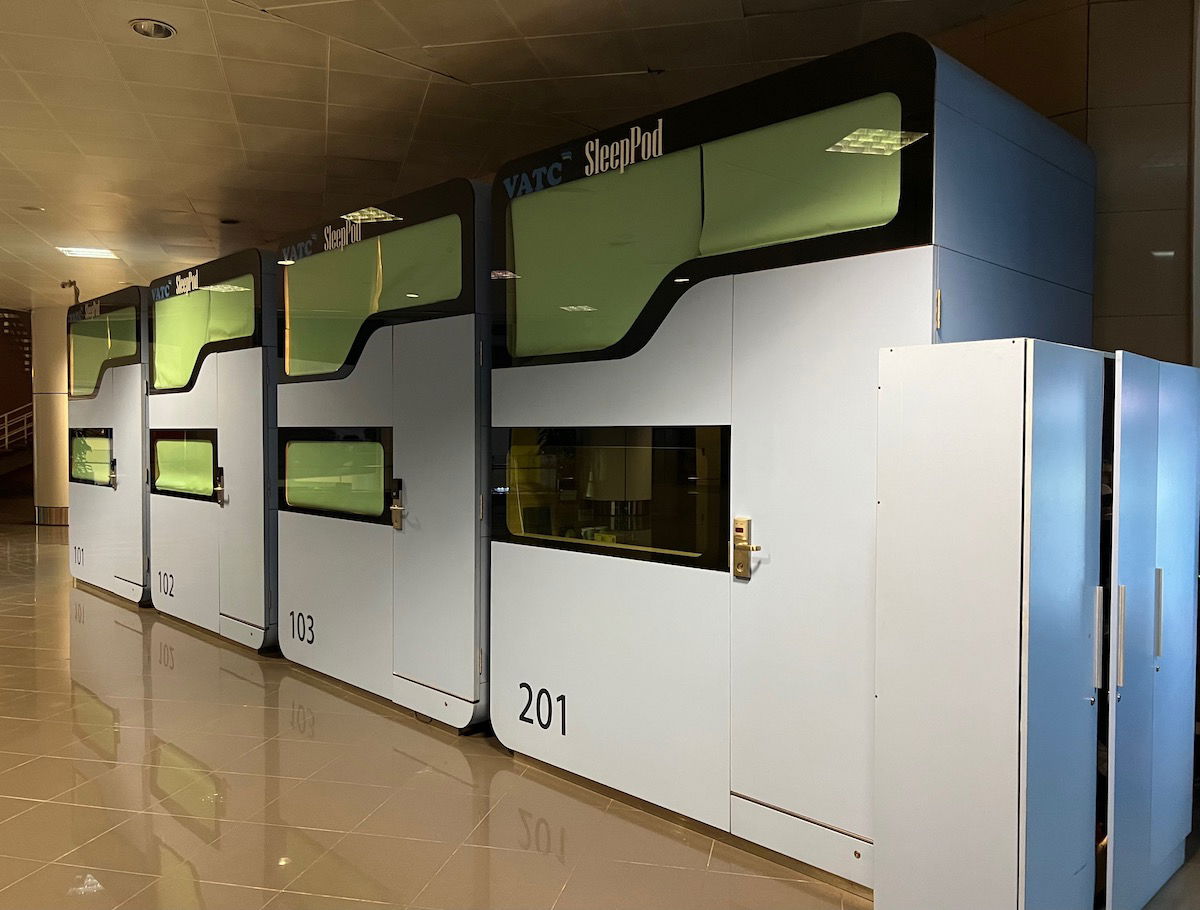 I was assigned pod 209, very close to reception.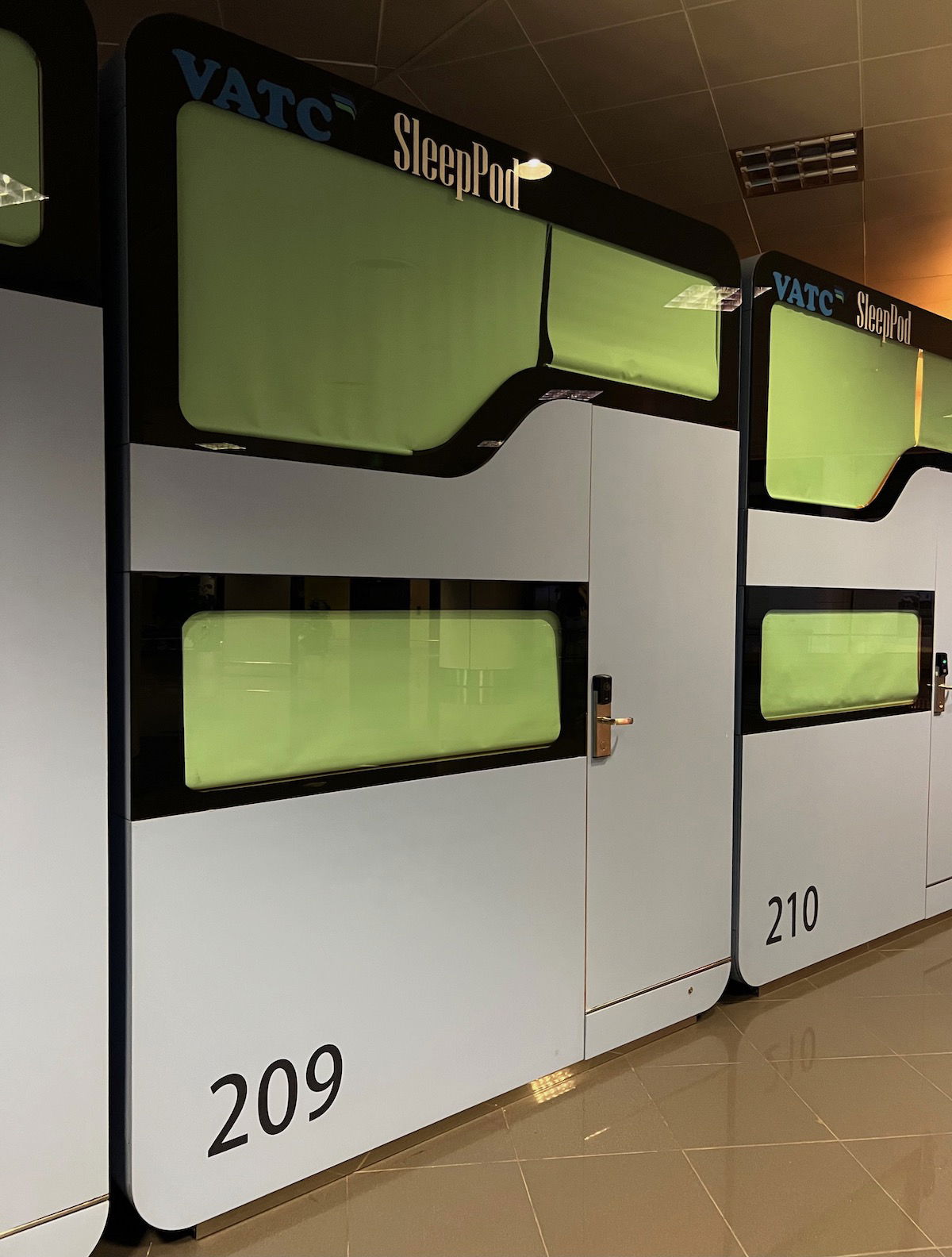 The pod was reasonably comfortable, and the bedding felt clean. There were actually bunk beds in the pod (they seemed to be twin beds), so this space could accommodate two guests.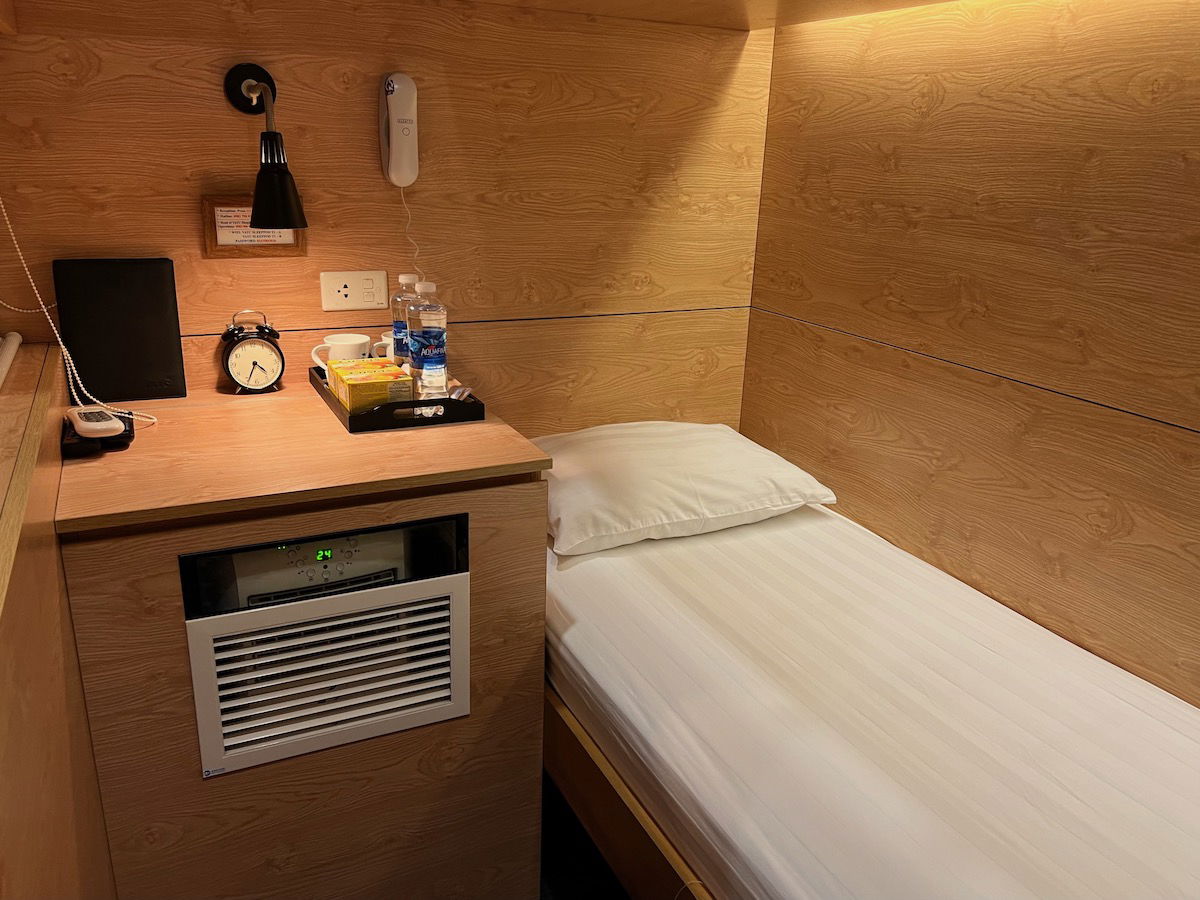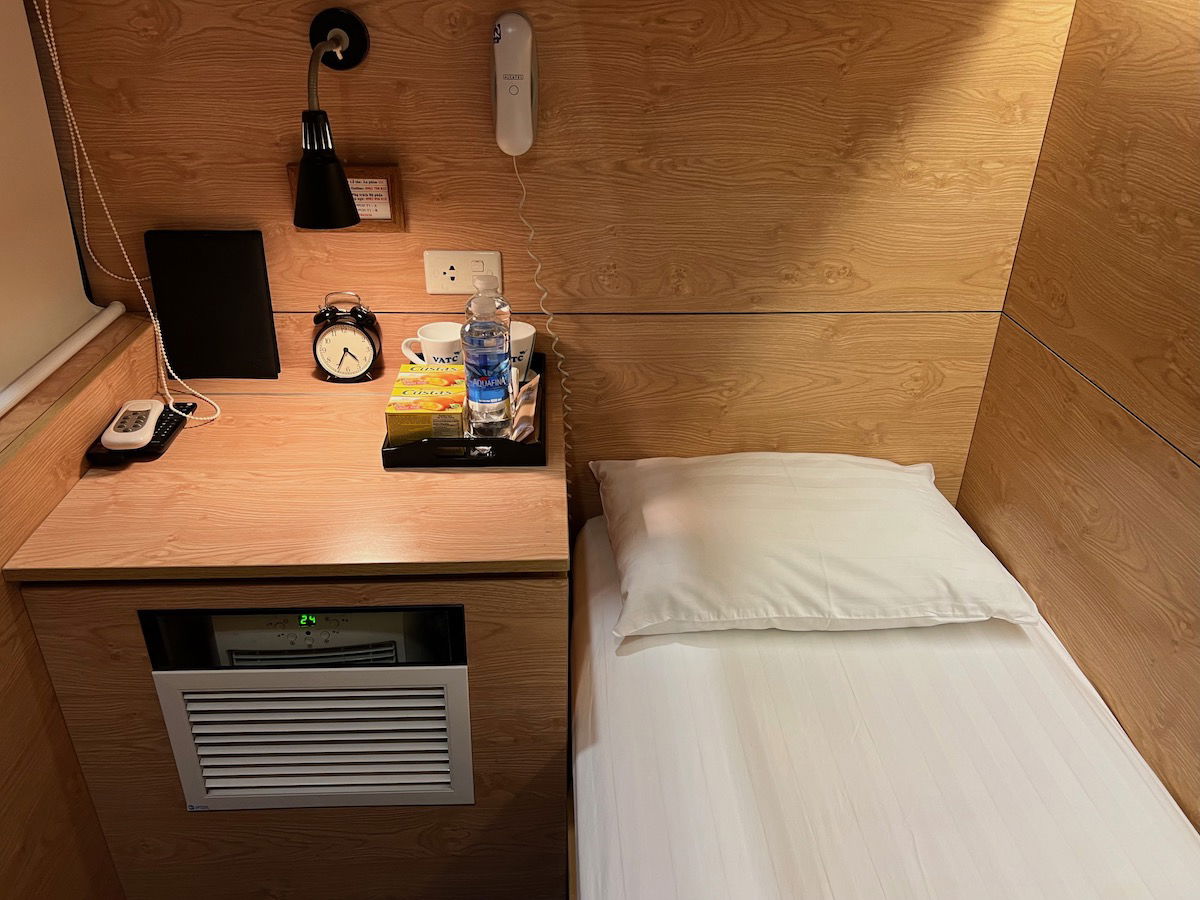 There was a television along the wall, next to the stairs leading up to the top bunk.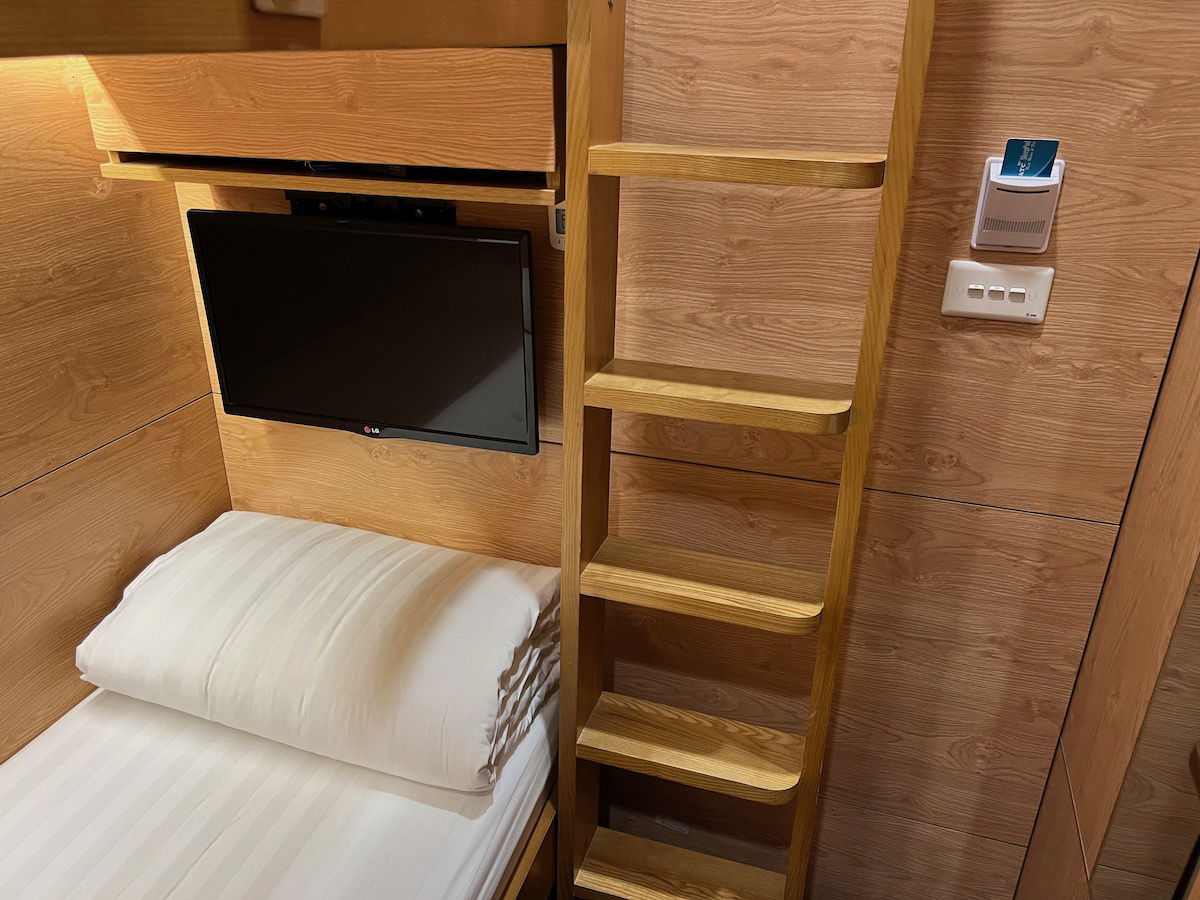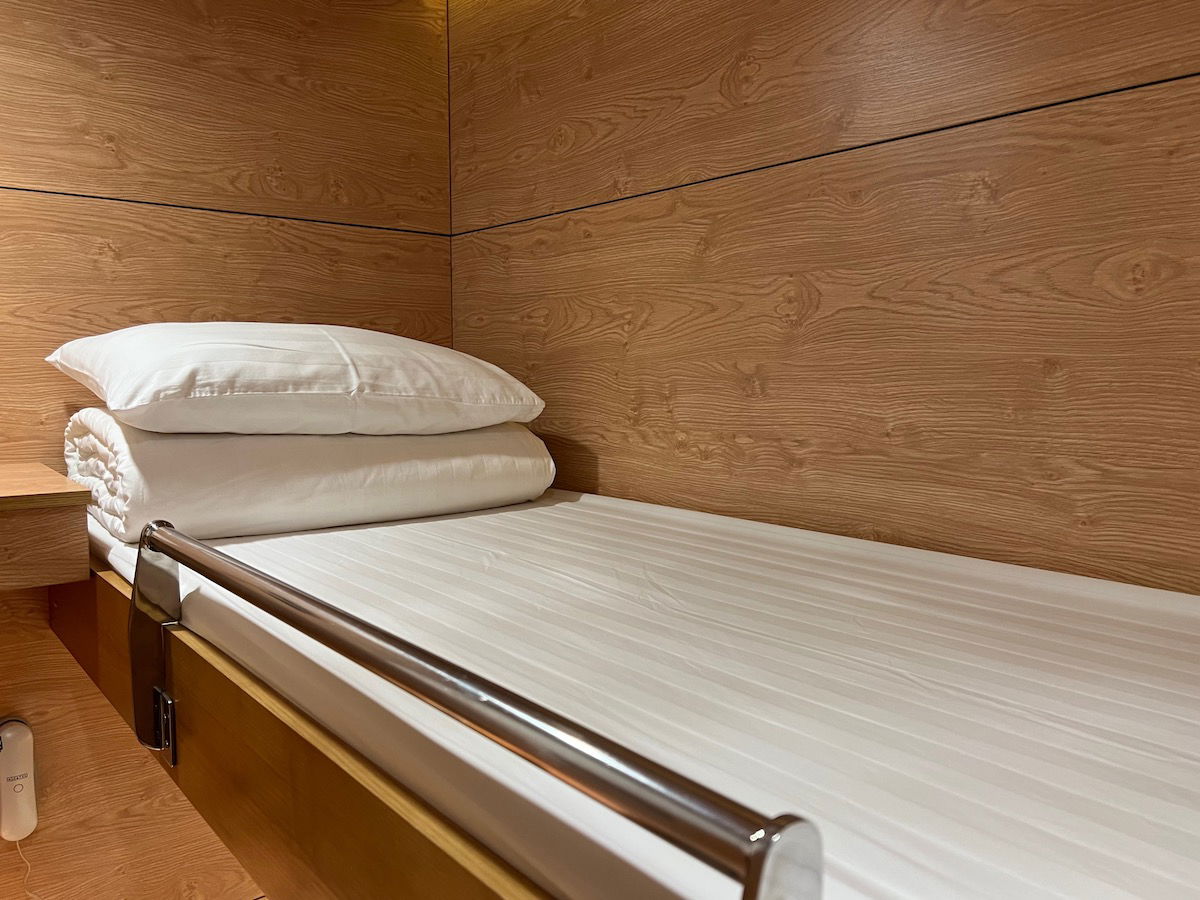 There was a table with two bottles of water and two packaged custard desserts, which were complimentary. There was also an alarm clock, outlets, as well as remotes for the TV and air conditioning.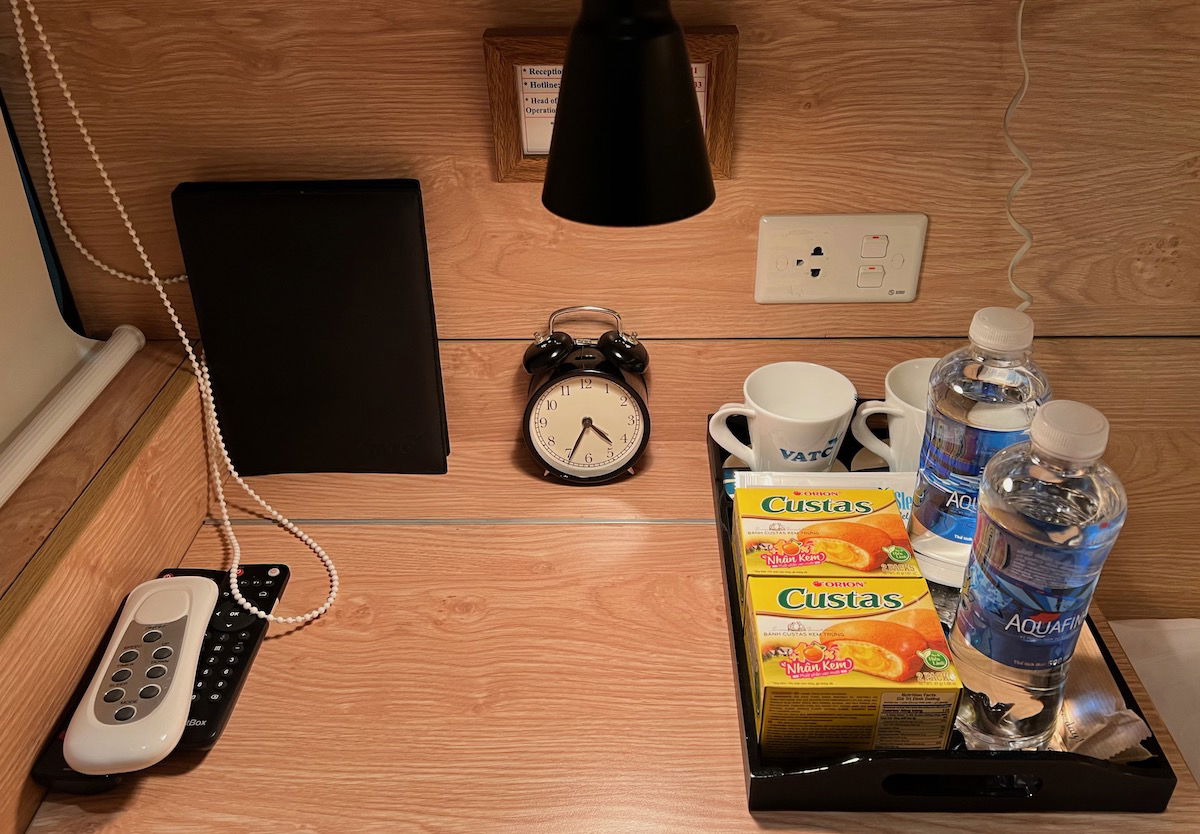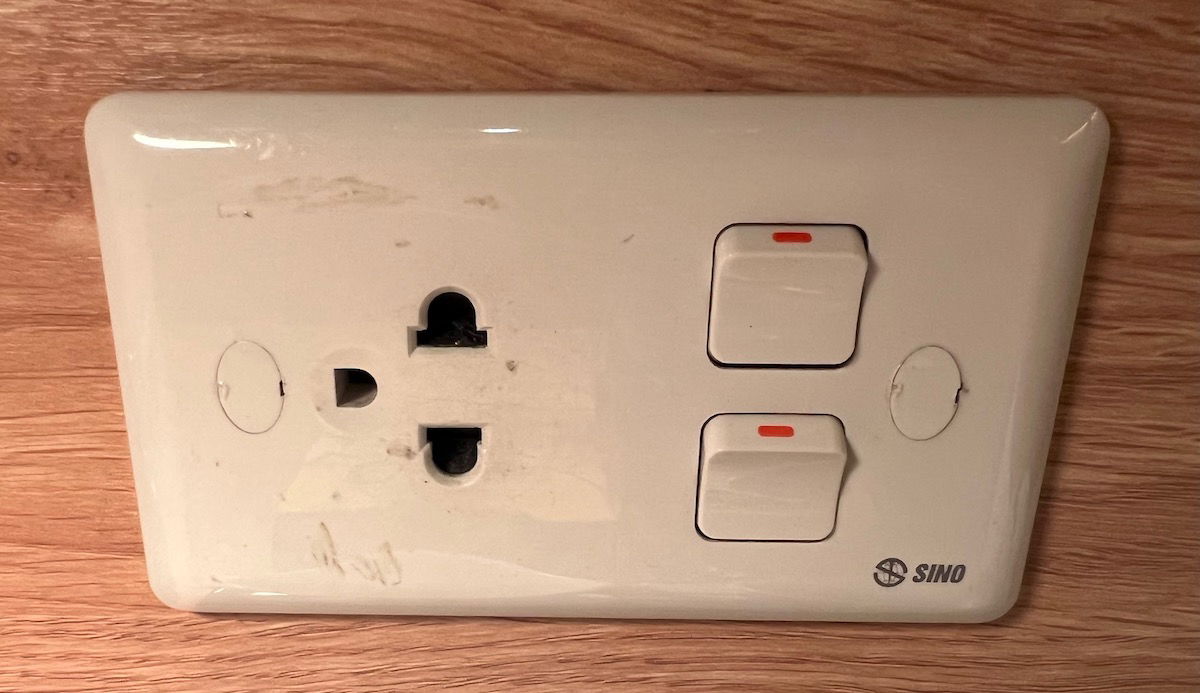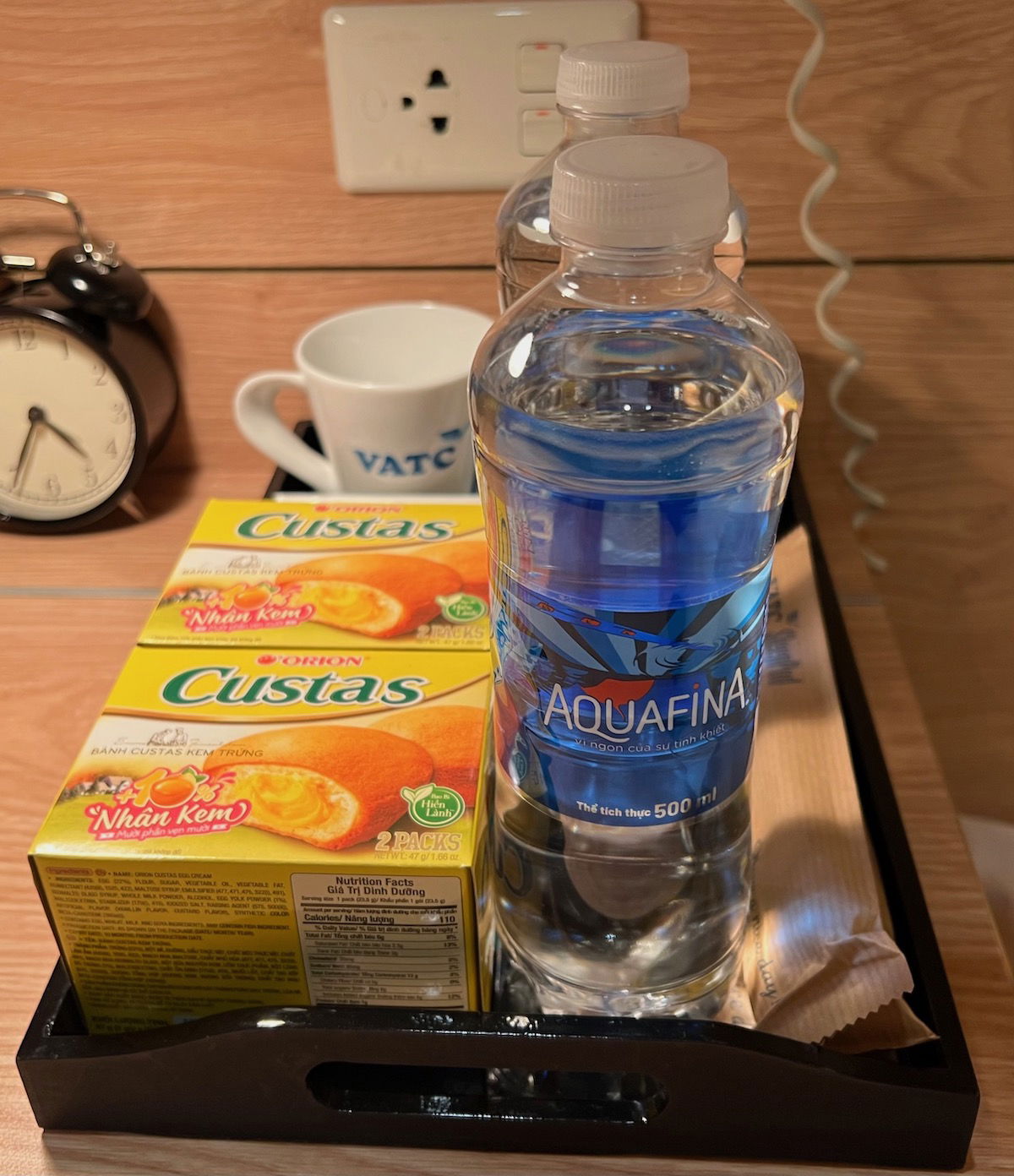 The pod had blackout shades, so it could get totally dark. I was only in the pod overnight from around 12:30AM until 6AM, so it was nice and quiet, though I've heard that it can be really noisy in these pods during the day, when the terminal is bustling.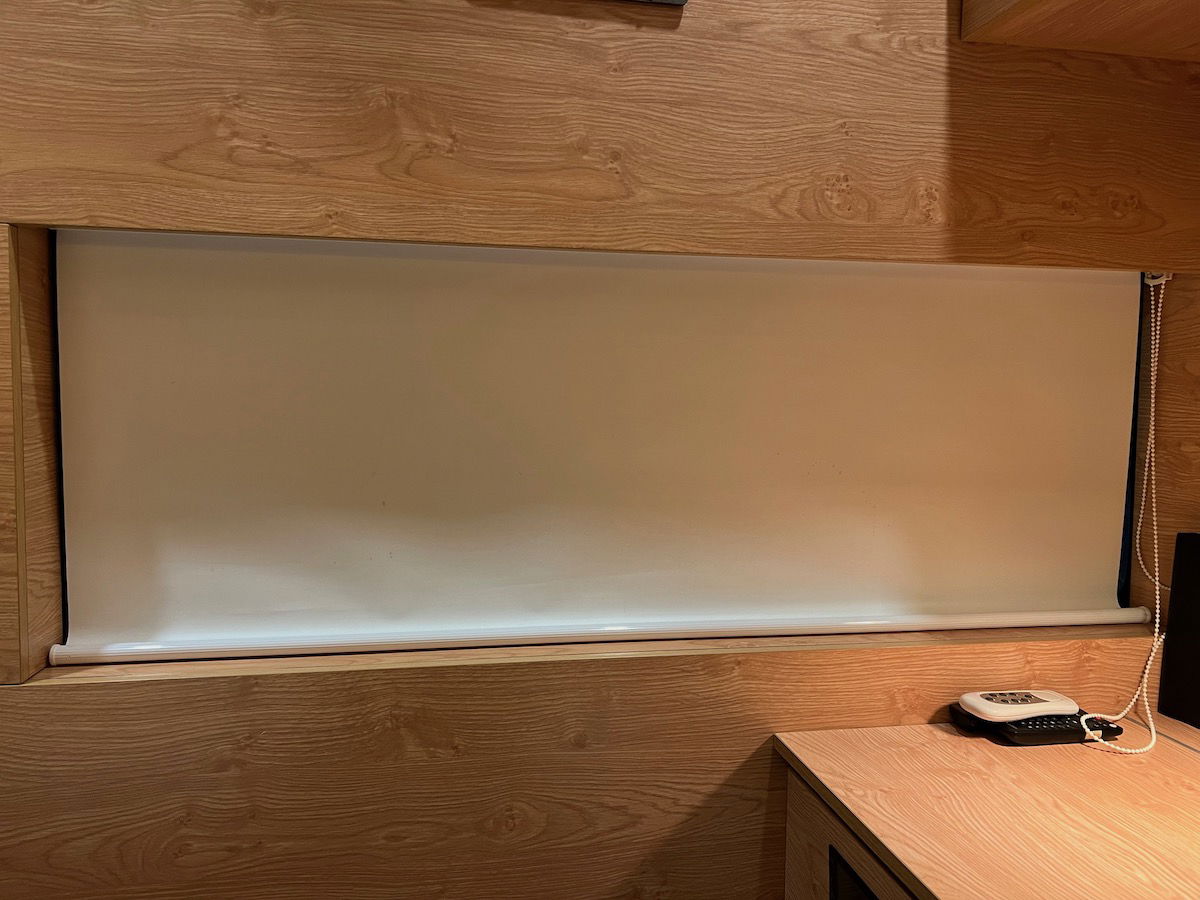 The pod had its own air conditioning, though I found that it couldn't actually get that cold. It wasn't terribly hot, but it also didn't work as well as I would have hoped.
For the most part, the pod as such was fine. I should mention that there was nowhere to sit aside from the bed — I do appreciate how Yotels usually have a seat or somewhere to sit, despite such a small space.
As a selective germaphobe, I was grossed out by there being carpet in the room, as it smelled kind of bad, and was also discolored. I wish they would have gone with a different surface that could more easily be cleaned.
There was Wi-Fi in the pod, which was semi-functional, but certainly not fast.
VATC Sleep Pods Hanoi Airport bathrooms
The biggest negative of the VATC Sleep Pods is that they don't have bathrooms. I don't just mean that you have to share bathrooms, but the facility doesn't have any bathrooms. Rather you have to go quite a ways down the hall to the public restroom.
The hallway to the bathrooms felt like something out of "The Shining," and it was dimly lit with flickering lights.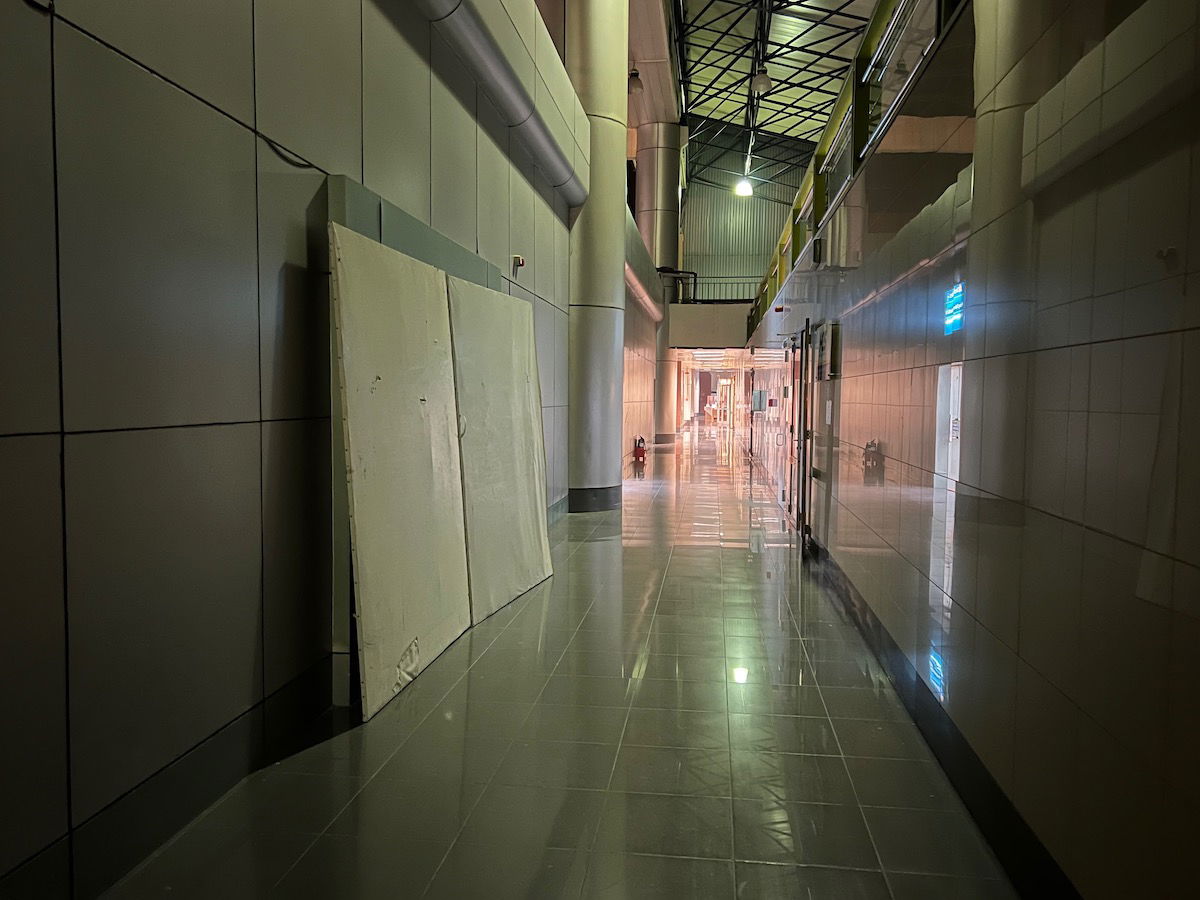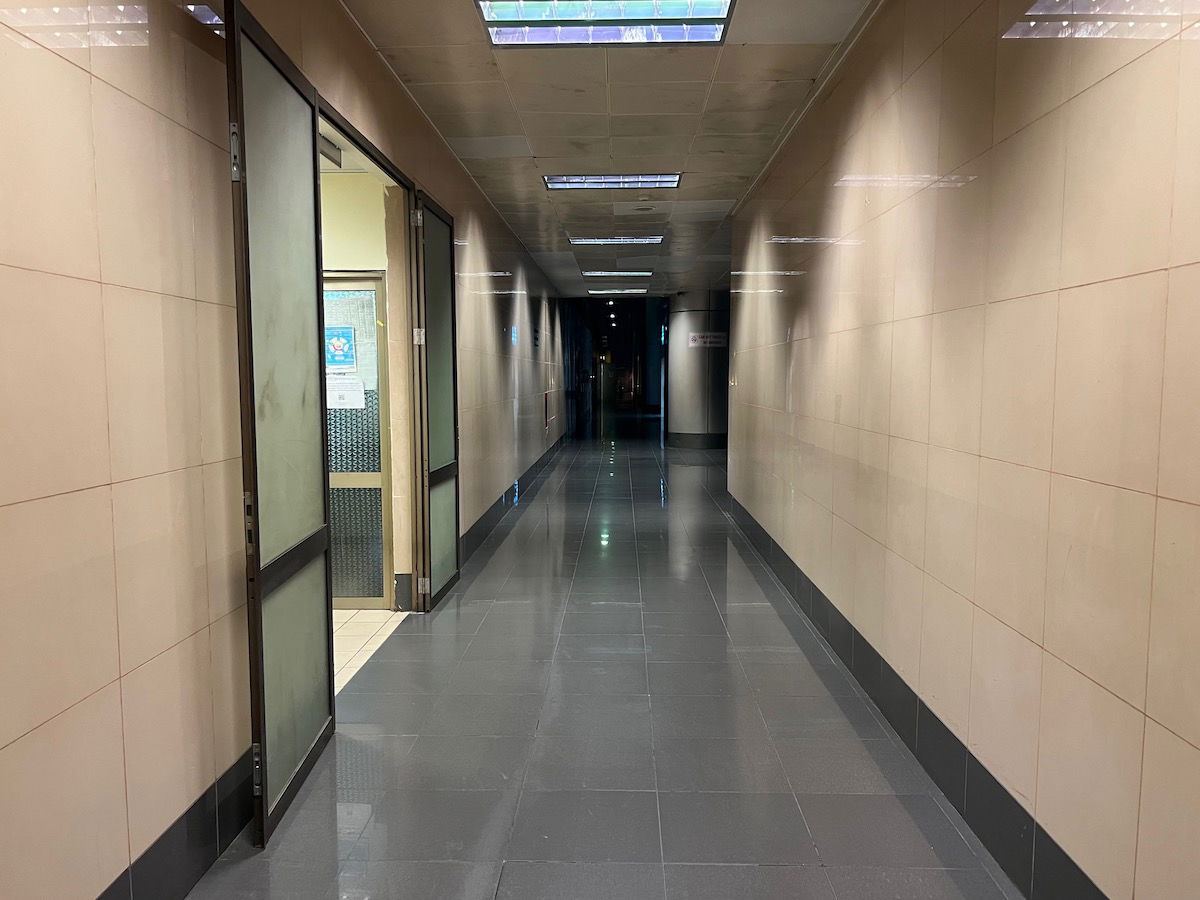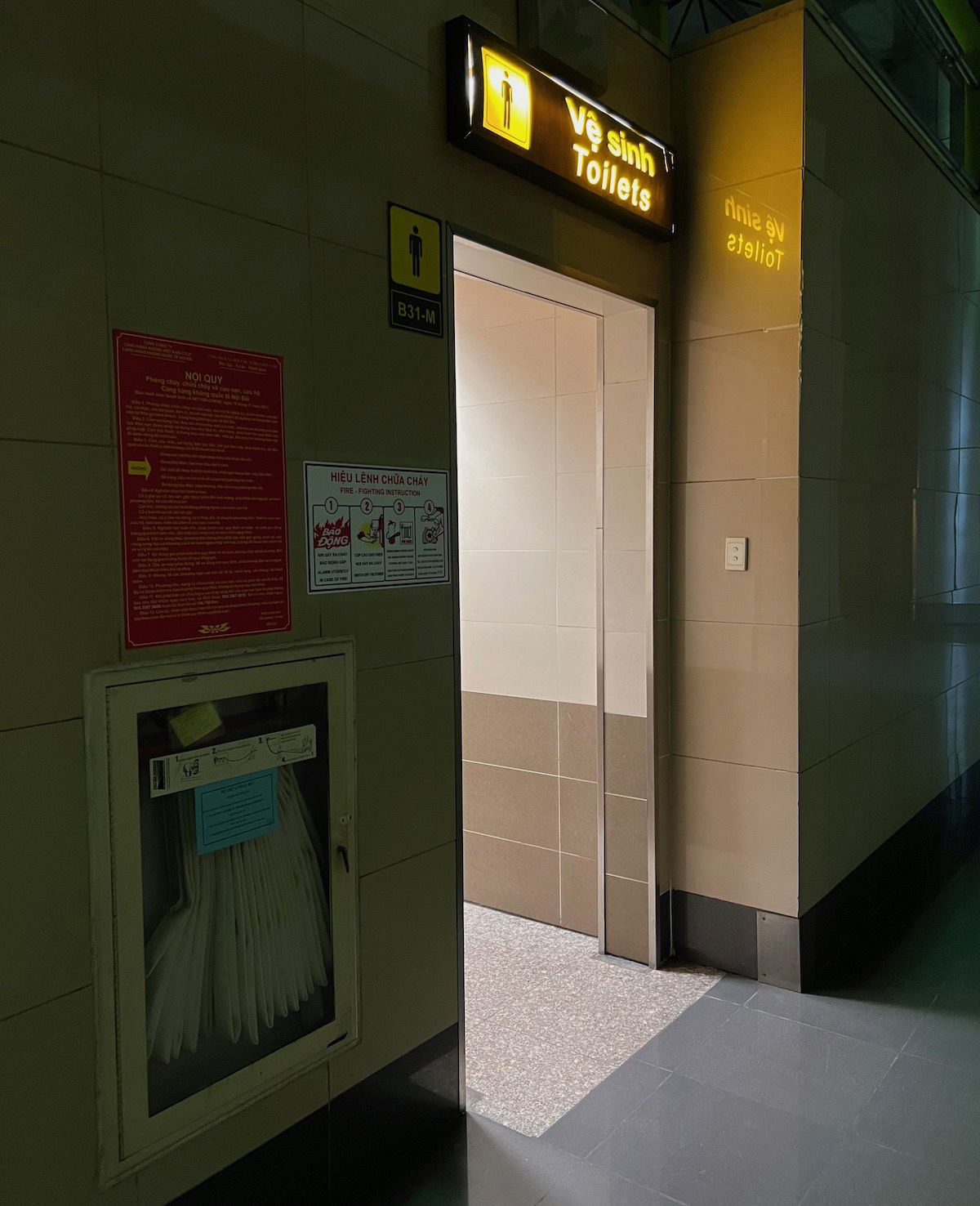 The bathrooms were in awful condition, and there weren't even paper towels. So if you want to brush your teeth or wash your face, too bad.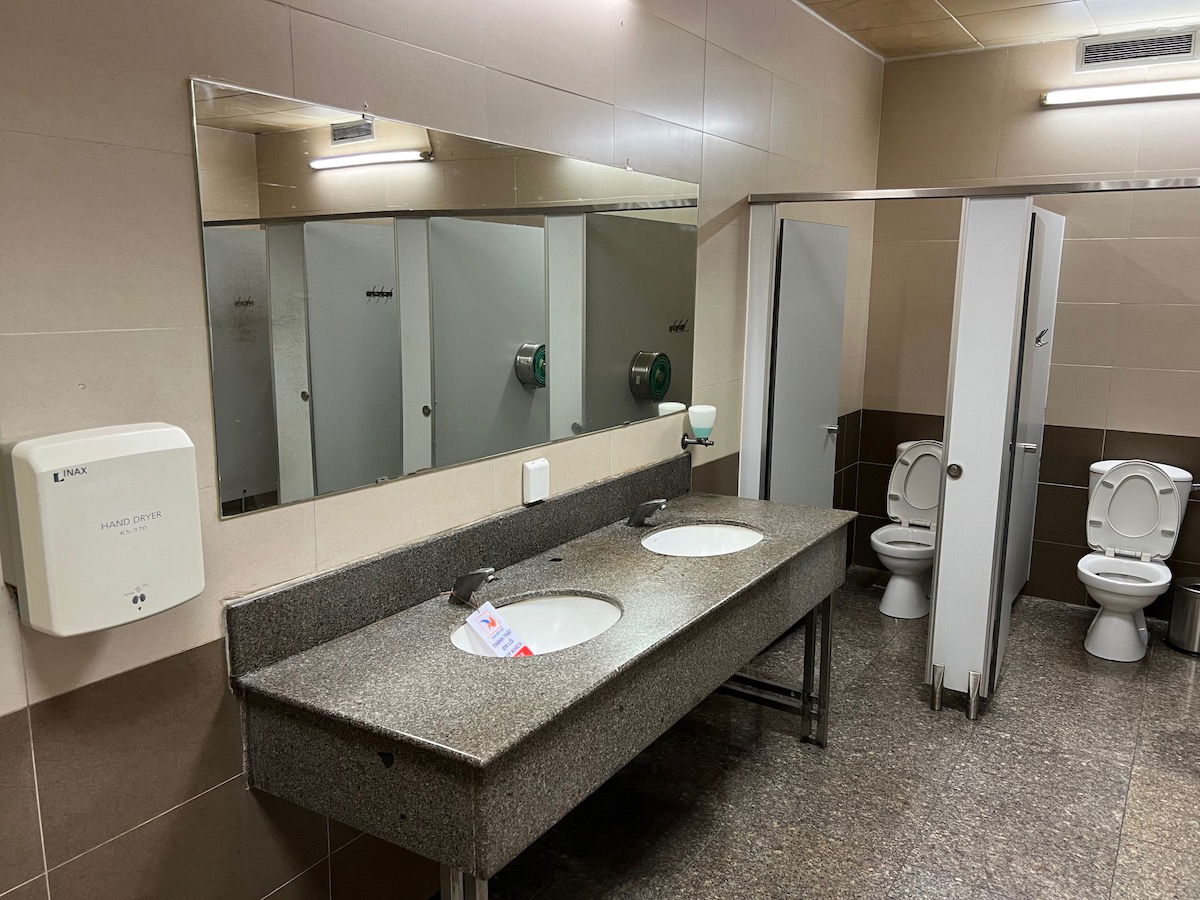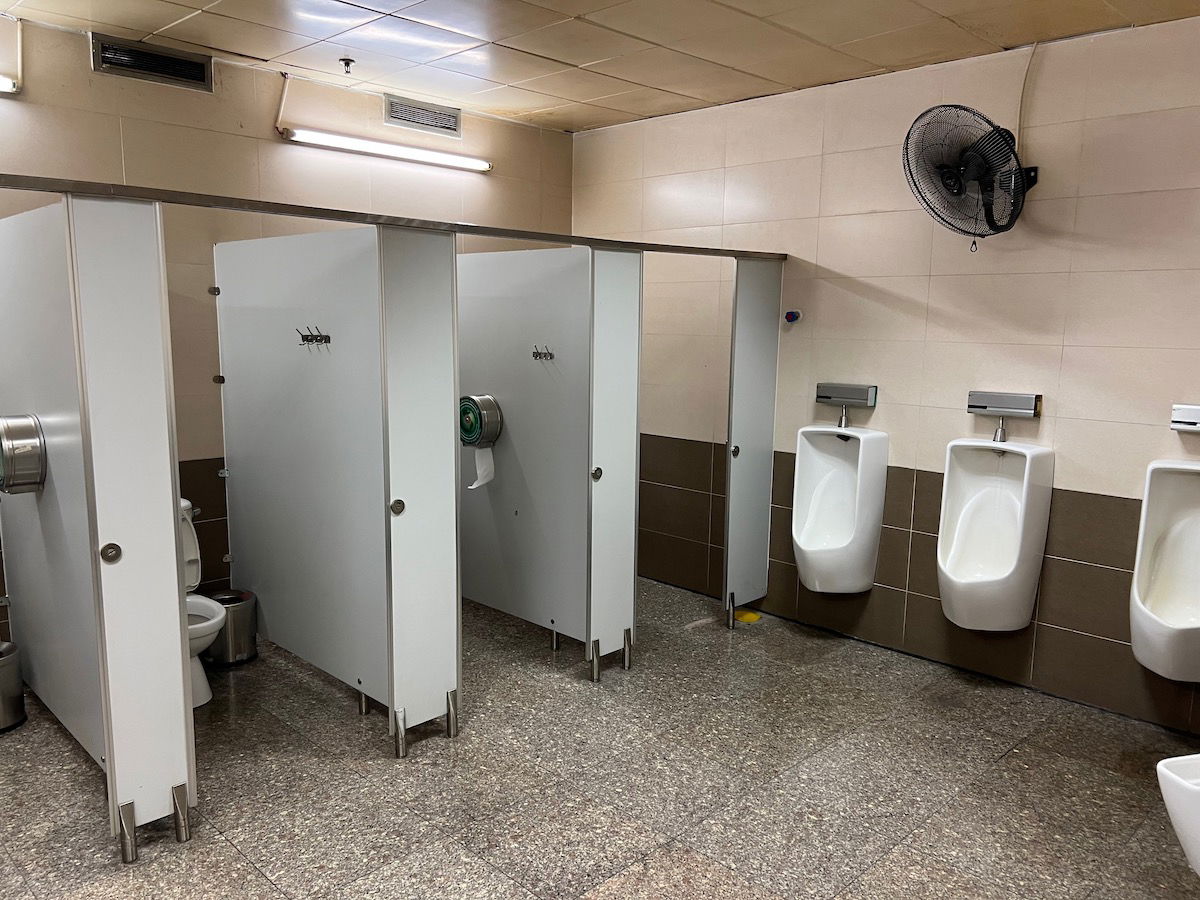 Ugh. Not even having access to relatively clean bathrooms is probably the biggest downside of this place to me.
VATC Sleep Pods Hanoi Airport dining
While everything in the terminal was closed during my visit, there are some dining options if you have a longer layover here. For one, there are some coffee shops and convenience stores on the ground floor, near the arrivals area.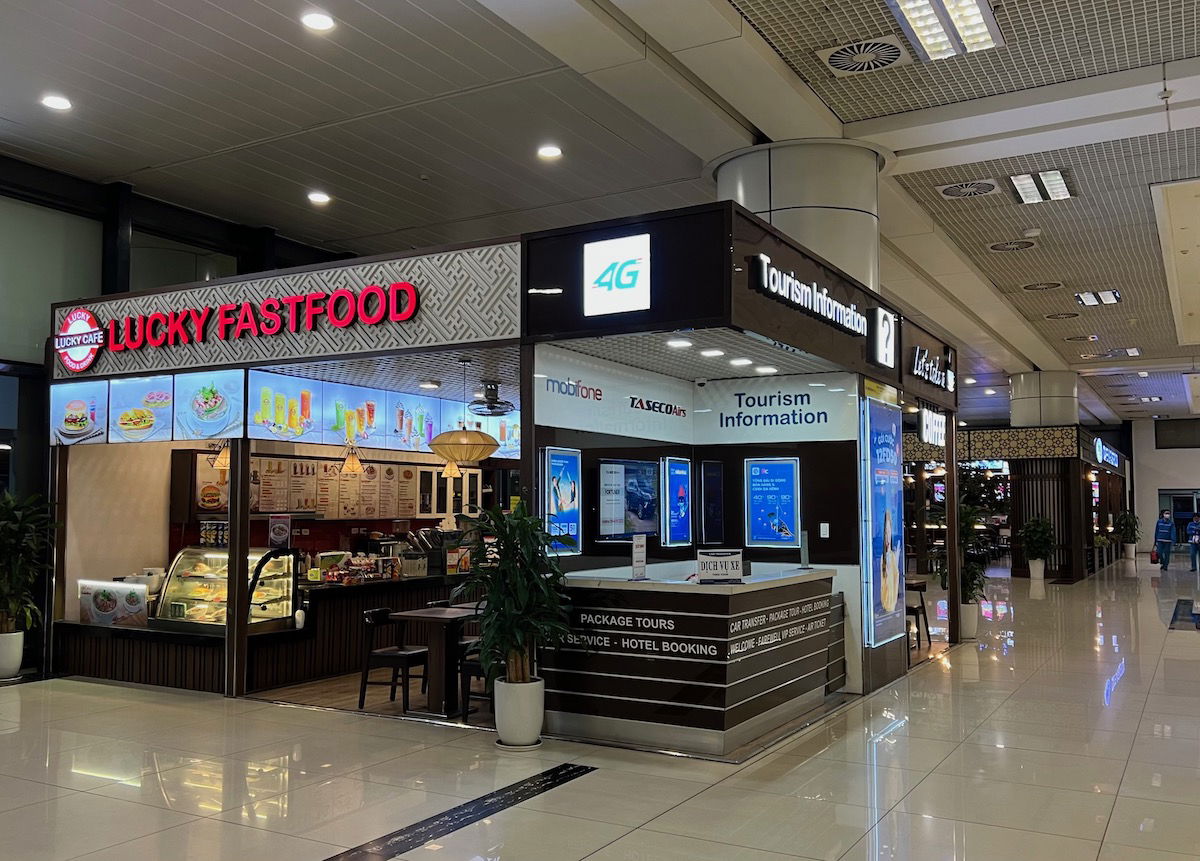 On top of that, the fourth floor has plenty of dining. However, I can't speak to the quality of the options, since I didn't have anything.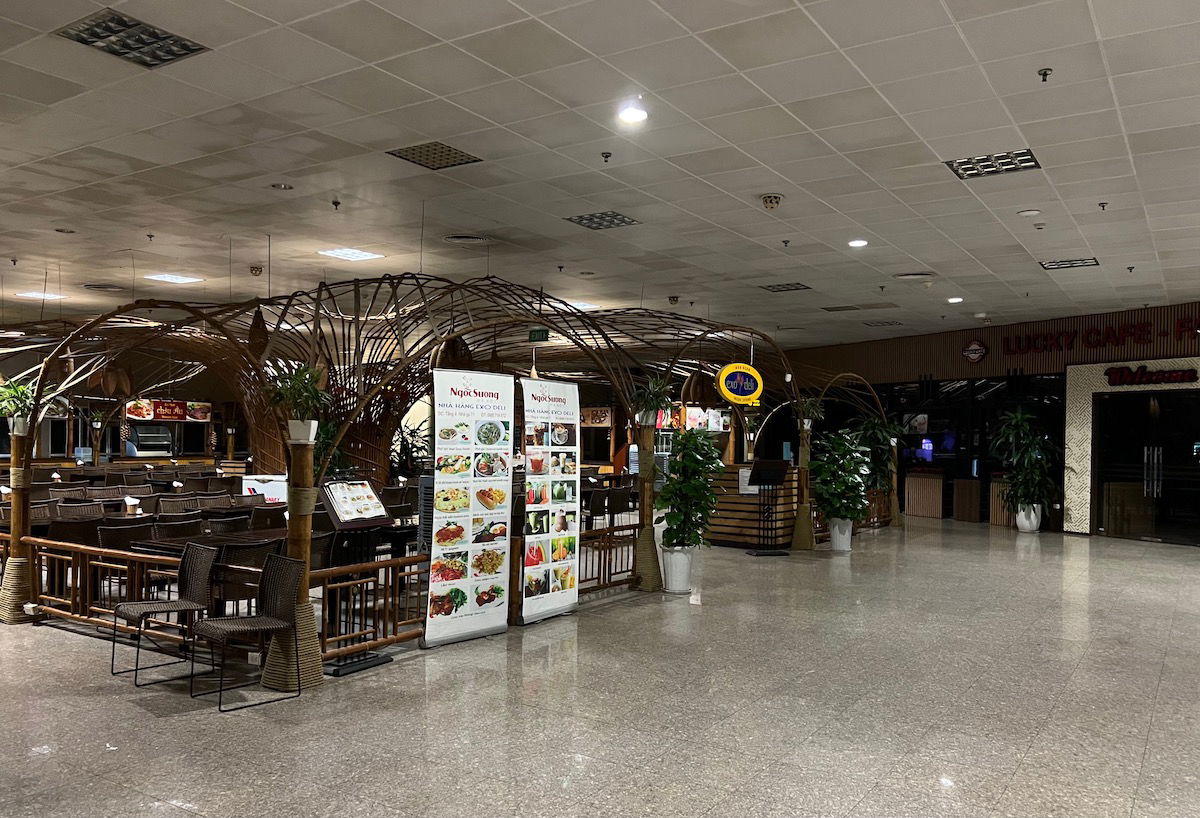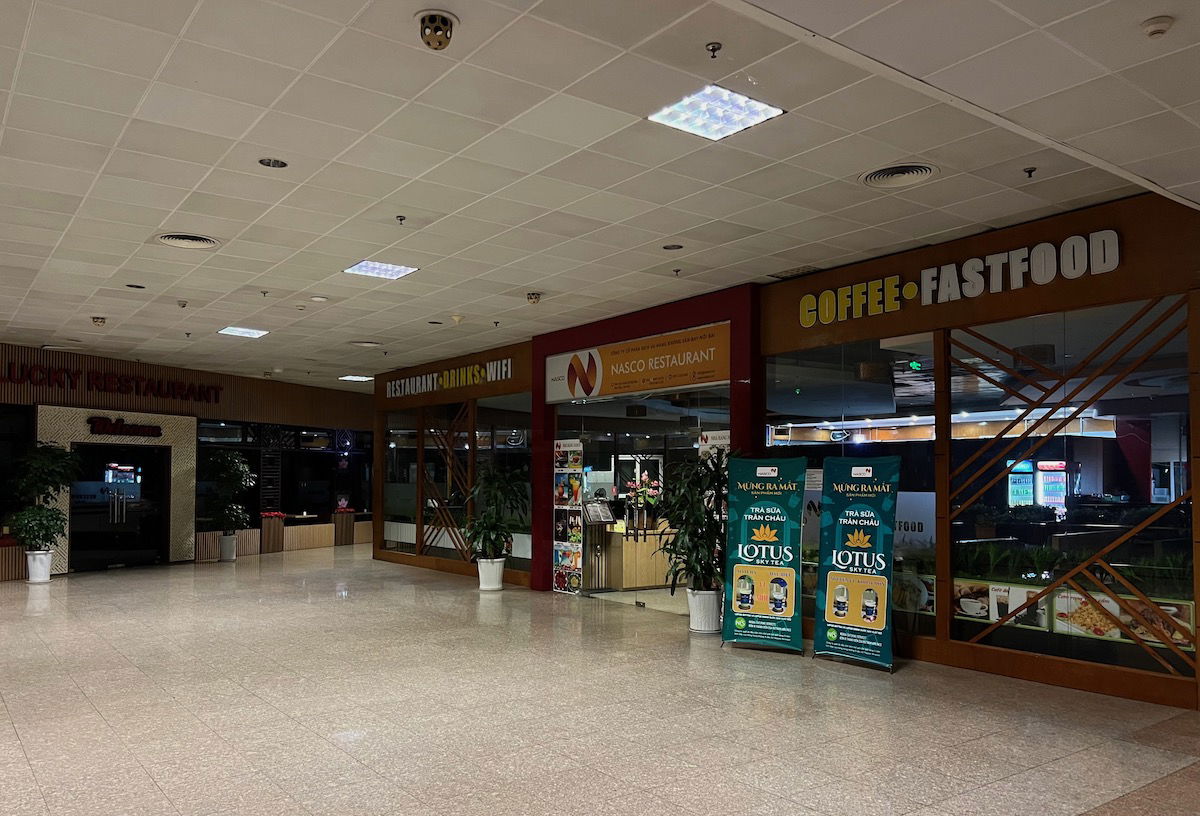 Bottom line
I'm a big fan of airport sleeping pods, so VATC Sleep Pods Hanoi Airport are the most convenient option if you have a quick overnight. However, this was probably the least pleasant sleeping pod experience I've had at any airport.
Most significantly, the lack of decent bathrooms really detracted from the experience, and on top of that the pod didn't feel quite as clean as some of the other ones I've stayed in. Lastly, the whole credit card machine being broken, while there also not being any change, left a bad taste in my mouth.
So while I didn't have a great stay, I'm not sure I would have necessarily done anything differently in retrospect? I got around four hours of solid sleep, which is more sleep than I would have gotten if I stayed at a hotel in town.
What do you make of the VATC Sleep Pods Hanoi?