Air Canada and Emirates have a partnership, and in December 2022, the airlines introduced reciprocal points redemptions. This had a bit of a soft launch, as first class awards on Emirates weren't initially available through Aeroplan. That has finally changed, and the full reciprocal redemption opportunities have now been rolled out.
Aeroplan redemption rates on Emirates
It's now possible for Air Canada Aeroplan members to redeem points on all Emirates flights worldwide. However, award pricing is different than with other partners. To start, below is the Aeroplan award chart for travel on Emirates.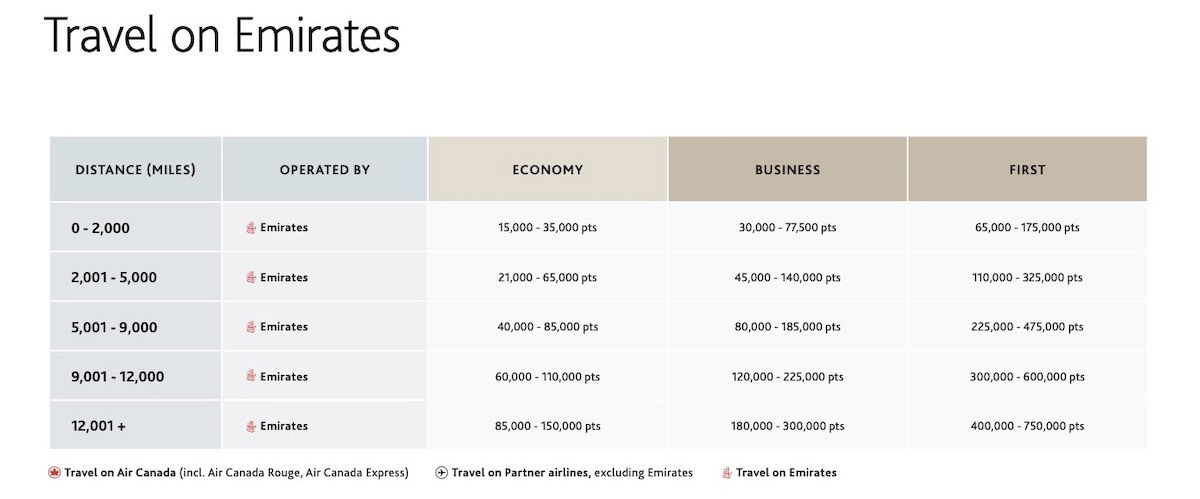 There are several things to understand:
There are no carrier imposed surcharges on these award tickets, making Aeroplan the only program without surcharges on Emirates
Emirates redemptions can be fully combined with Air Canada and 45+ airline partners, and the same routing rules, change fees, stopover policies, etc., apply; if you include other partners, everything prices per the above award chart
Emirates awards can be booked through aircanada.com, or through the Air Canada contact center
The distance bands above apply worldwide, and not to a specific geography (unlike Aeroplan's regular award charts)
Despite the pricing ranges, Aeroplan award availability comes out of the same award buckets that Emirates uses, which includes "Z" for first class and "O" for business class
Aeroplan may only have access to a subset of Emirates' own award seats; that means if Skywards doesn't have availability, you also won't find any through Aeroplan, though you may find availability through Skywards but not through Aeroplan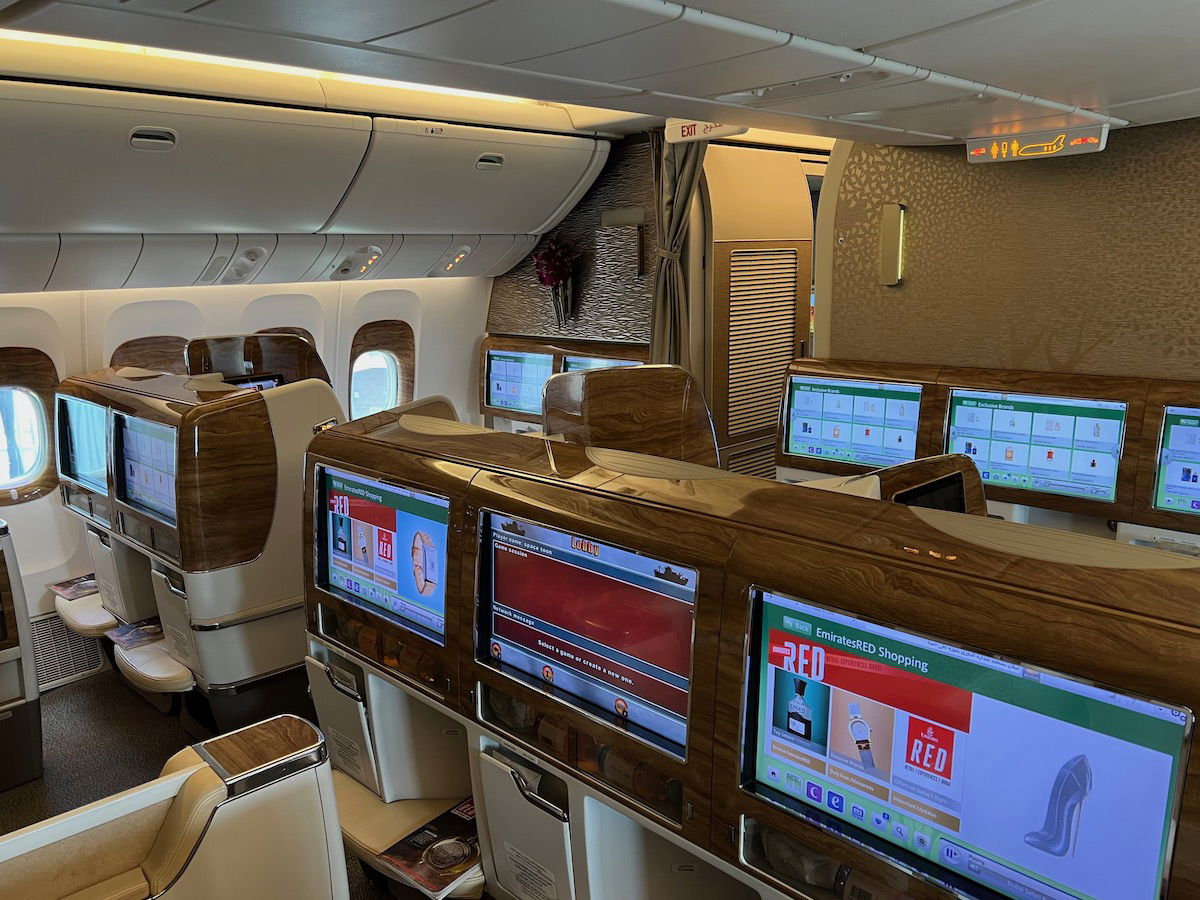 My take on Emirates awards with Aeroplan points
Aeroplan is an incredible frequent flyer program, especially given the number of airline partners Aeroplan has, as well as the ability to have stopovers on one-way awards for just 5,000 points. There are some amazing award values if you know what you're doing. Seeing the program now add Emirates as a partner is awesome, especially as it complements so many other great airlines.
It goes without saying that the Aeroplan award chart for travel on Emirates isn't some kind of slam dunk sweet spot across the board. That being said, I think context is important.
In recent years, Emirates has cut many of its most lucrative partnerships (like with Alaska Mileage Plan), leaving relatively few ways to redeem for travel on Emirates, outside of Emirates' own Skywards program. Furthermore, Emirates has cut first class awards for nearly all partners.
So it's pretty remarkable that Aeroplan has access to Emirates first class awards (I'm sure that took quite some negotiating), and that Aeroplan is Emirates' only partner without fuel surcharges.
The way airlines reimburse one another for award tickets varies greatly throughout the industry. There's not one set arrangement, but rather airlines take very different approaches. I think over the past few years we've learned a few things about Emirates Skywards:
The program doesn't want much award space booked through partners
The program wants to restrict first class awards as much as possible
If redeeming for travel on Emirates, the program wants members to primarily use the Skywards program
So it's great that Aeroplan has access to all these Emirates awards, but the pricing also reflects the above reality. I'd imagine this is the case in two different ways:
There are lots of ways to earn Aeroplan points, and obviously award pricing needs to reflect the costs Aeroplan incurs for these redemptions
Similarly, I wouldn't be surprised if Emirates added its own restrictions on how Aeroplan could price awards (or just did that indirectly by making reimbursement rates really high), to avoid a sweet spot through another program that would cannibalize Skywards' own business
So it very much seems like Aeroplan did everything it could with these partner redemptions, while still keeping it sustainable for the program. The way I view it, the big benefit of booking Emirates awards through Aeroplan is the ability to have free stopovers, the lack of fuel surcharges, and the ability to combine these awards with travel on other airlines.
In some cases booking through Emirates Skywards will still be a better value, even with the program's recent devaluation.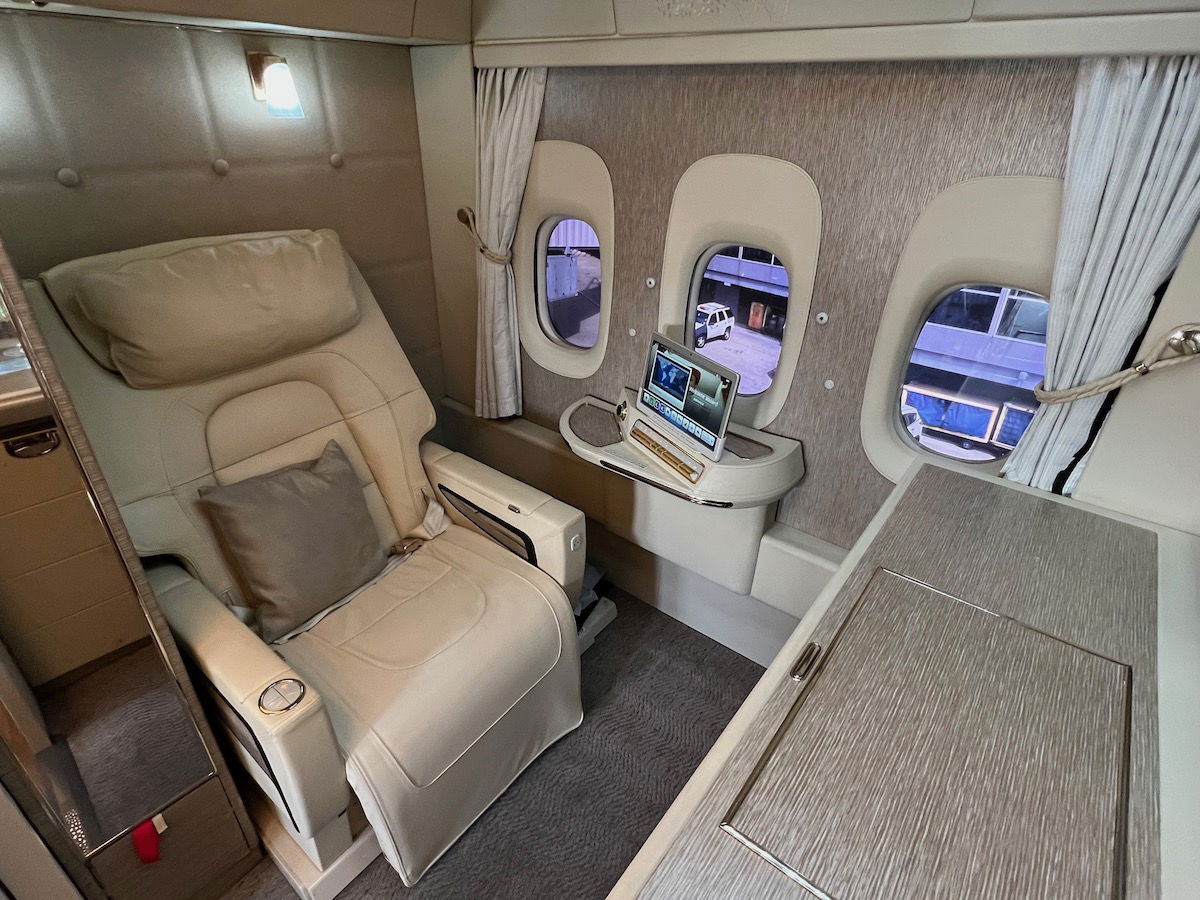 Comparing Aeroplan & Skywards award pricing
Now that we have the final product when it comes to award pricing, are there situations where booking through Aeroplan represents a better deal than booking through Skywards, all else being equal (meaning you have transferable points that you could transfer to either program)?
Based on my initial searches, it seems to me like business class redemptions through Aeroplan typically represent a better value, while first class redemptions through Skywards typically represent a better value.
Let me show some examples, starting with first class. For example, New York to Dubai one-way in first class costs 163,500 Skywards miles plus $837.60, or 300,500 Aeroplan points plus $77.17.


Frankfurt to Dubai one-way in first class costs 102,000 Skywards miles plus $492.71, or 153,000 Aeroplan points plus $117.64.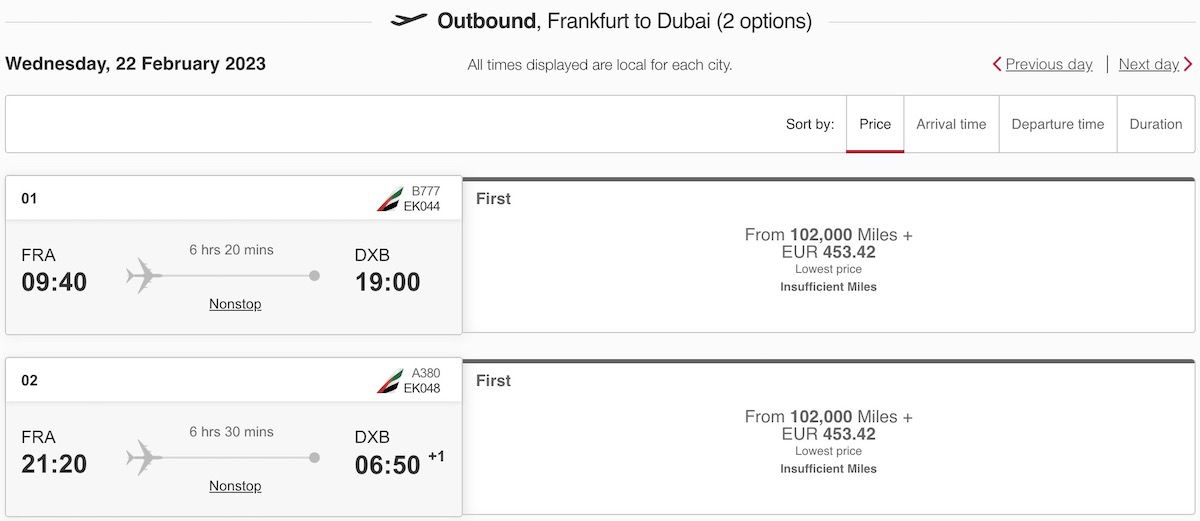 Newark to Athens one-way in first class costs 102,000 Skywards miles plus $104.20, or 222,000 Aeroplan points plus $75.69.


Now let's take a look at some business class examples. Orlando to Dubai one-way in business class costs 138,000 Skywards miles plus $837.60, or 106,000 Aeroplan points plus $77.14


Munich to Dubai one-way in business class costs 87,000 Skywards miles plus $477.68, or 55,000 Aeroplan points plus $102.60.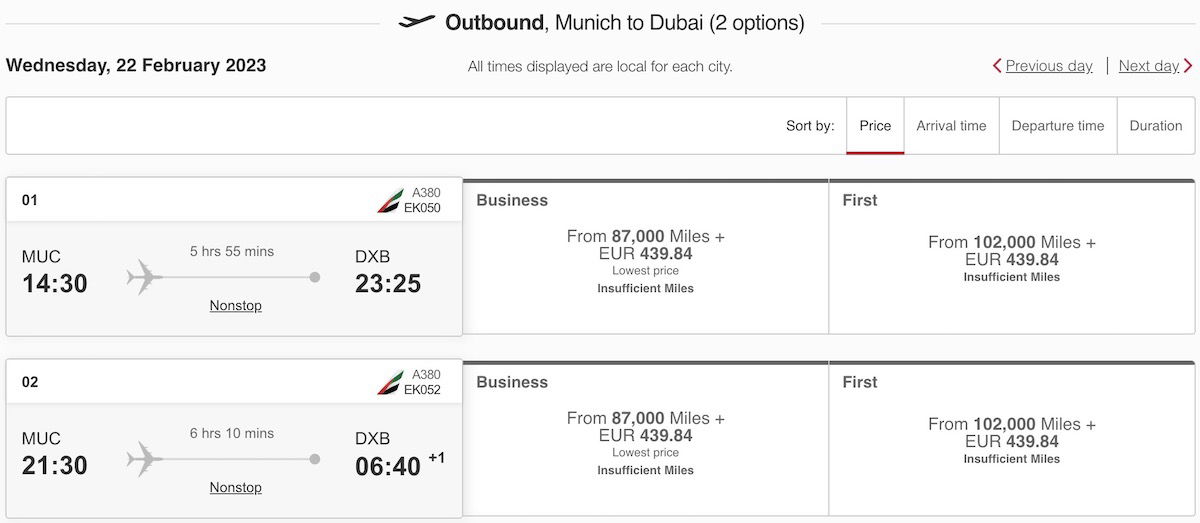 Dubai to Cairo one-way in business class costs 54,000 Skywards miles plus $264.08, or 36,000 Aeroplan points plus $64.42.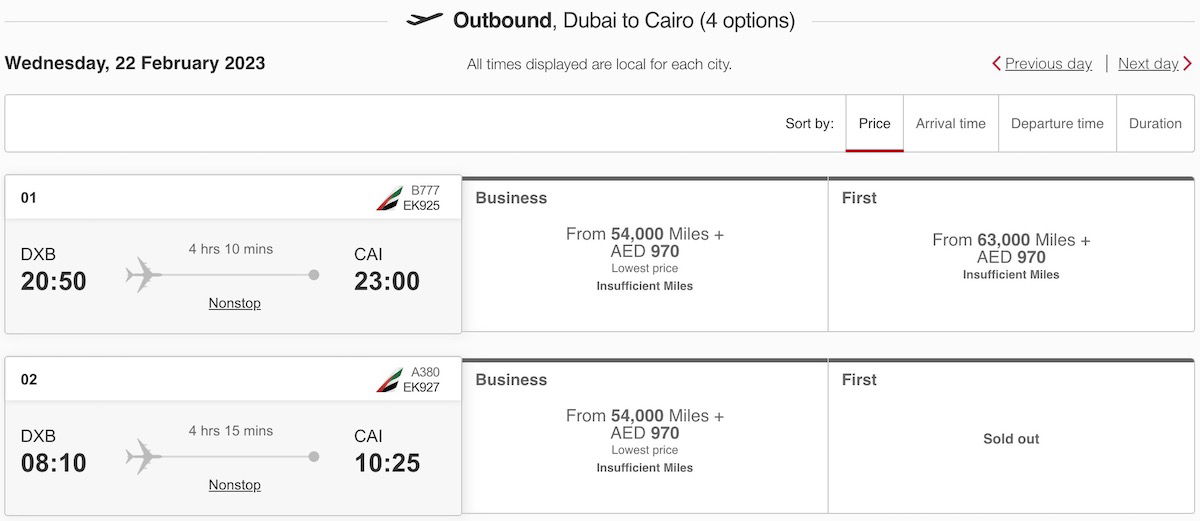 So the redemption values in business class are amazing, with Aeroplan consistently having better pricing than Skywards. Meanwhile in first class it's a different story. It's pretty clear that Emirates is looking to protect its first class product, and is charging Aeroplan a lot of money for these awards.
Bottom line
It's now possible to redeem Aeroplan points for travel on Emirates in first class, business class, and economy class. It's awesome that Aeroplan has access to Emirates first class awards, unlike most of Emirates' other partners.
The catch is that Emirates redemptions follow a new award chart, which largely has higher pricing. This presumably reflects the economics of Emirates redemptions in terms of the cost for Aeroplan. Based on my initial searches, it would appear that pricing in business class is attractive, better than through Skywards, while pricing in first class is largely steeper than through Skywards.
What do you make of the new Aeroplan redemptions on Emirates?