Aeroplan is one of my all-around favorite frequent flyer programs, thanks to the huge variety of airline partners, the ability to have stopovers on one-way awards for 5,000 points, and the generally great online booking experience.
Well, Aeroplan has just gotten even better, thanks to some additional award space with a popular partner airline. I first wrote about this in late November, but there were some technical glitches with availability, so it had to be pulled. I'm happy to report that this availability is now back.
Book Singapore Airlines business class awards with Aeroplan
Singapore Airlines is known for being one of the best airlines in the world. The catch is that Singapore Airlines has historically only released most long haul business class award space to members of its own KrisFlyer frequent flyer program.
Most partner frequent flyer programs historically haven't had access to this award space… until now. Air Canada Aeroplan now has access to an impressive amount of Singapore Airlines long haul business class award space, which wasn't previously the case (and this isn't available through most other partner programs — Alaska Mileage Plan and Lufthansa Miles & More sometimes have extra award space, but it doesn't represent as good of a value).
For example, take a look at the amount of award availability between New York and Singapore, where you have the choice of flying business class nonstop on the world's longest flight, or can travel through Frankfurt.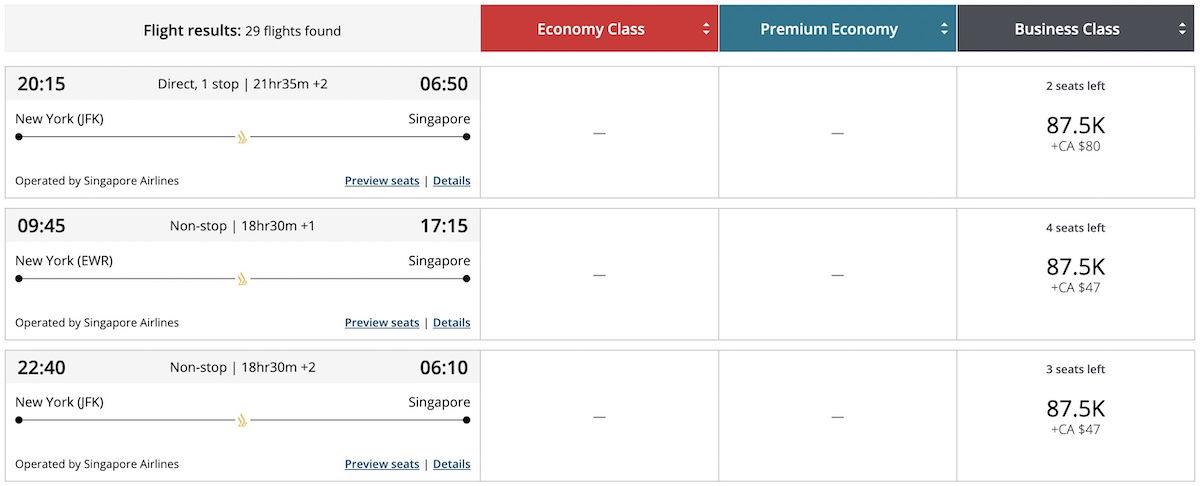 Similarly, take a look at the amount of award availability from Los Angeles to Singapore.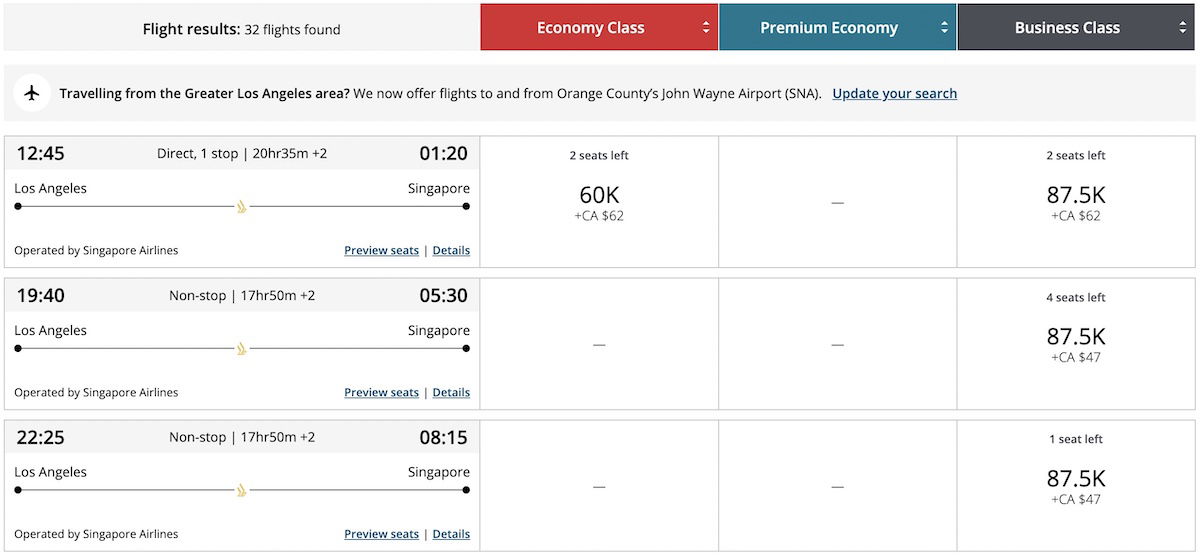 This can also be a great way to cross the Atlantic, with plenty of award space on Singapore Airlines' fifth freedom flight between New York and Frankfurt.

Now, admittedly Singapore KrisFlyer is transfer partners with most major transferable points currencies, so you can also book Singapore Airlines through KrisFlyer. However, the beauty of Aeroplan is that you can combine these flights with any of Aeroplan's other partners on a single award, you can have stopovers, etc.
So whether you want to fly Singapore Airlines from New York to Singapore with a seven day stopover in Frankfurt, or want to fly from New York to Hanoi via Frankfurt on a combination of Singapore Airlines and Bamboo Airways, this is a pretty exciting opportunity.
This award availability is not a mistake
While I can't guarantee that Aeroplan's award availability on Singapore Airlines will always be as good as it is now, I have been able to confirm that this award availability isn't a mistake. That's to say that someone at Aeroplan obviously worked hard to make this happen.
While I don't know how Aeroplan negotiated this, all I can do is use my imagination, and point out that the folks at Aeroplan are both really committed to building a great program, and also somehow really convincing with their airline partners.
Aeroplan isn't perfect — phone hold times can be bad, and ironically award availability on Air Canada is hard to come by at reasonable costs. However, there's almost no arguing that the folks at Aeroplan are unrivaled in terms of the effort they're putting into building a great program, especially for partner redemptions.
It's clear that Aeroplan isn't just focused on the breadth of airline partner relationships (that's something Aeroplan has very much proven in the past couple of years), but also the depth of relationships.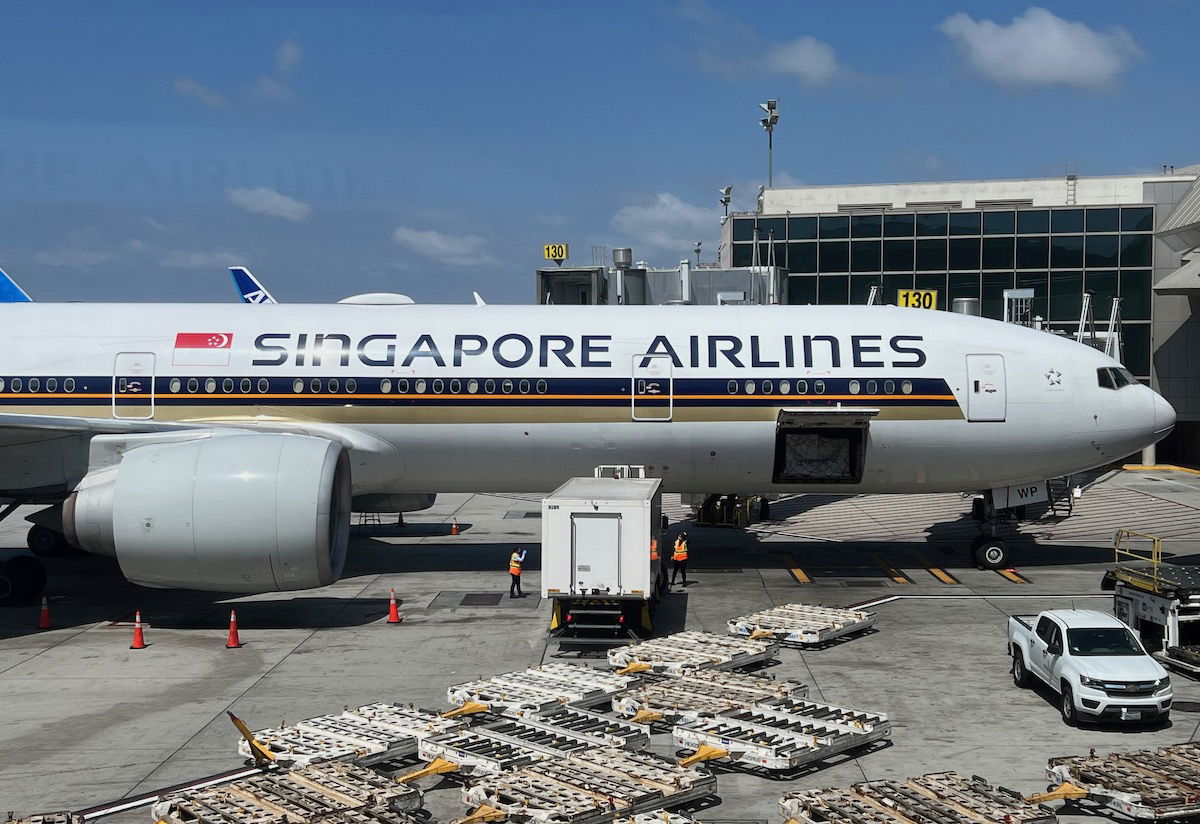 Bottom line
Air Canada Aeroplan now has access to long haul Singapore Airlines business class award seats. These awards are bookable directly on Air Canada's website, and award availability is excellent.
This is an exciting opportunity, since you can add stopovers on awards for just 5,000 points one-way, and you can also combine multiple Aeroplan partners on a single award. Well done, Aeroplan!
What do you make of Aeroplan's access to Singapore Airlines award seats?