Hello from Vienna! To kick off my review trip, I flew Austrian Airlines' Boeing 777-200ER business class from Chicago to Vienna, and wanted to report back with my initial impressions.
It has been years since I've flown long haul with Austrian (and even longer since I've flown on an Austrian 777), so what was the experience like? While I'll have a full trip report soon, here are some thoughts on what I loved, what I'm lukewarm about, and what I didn't like.
Austrian 777 business class: what I loved
In terms of soft product, Austrian offers my favorite business class experience of any Lufthansa Group airline. In particular, the airline does a great job with its inflight catering, and that's despite the fact that the airline made permanent cutbacks at the start of the pandemic (Austrian no longer has inflight chefs, the service flow is different, and the coffee menu is smaller than before).
But still, Austrian's catering is really good, way better than what you'd find on Lufthansa and SWISS, and most other airlines flying across the Atlantic, for that matter.
It's not often you get this elaborate of a meal service on an overnight transatlantic flight. Service began with drinks and rosemary crackers. I particularly like how many local wines Austrian has on its menu — it's always nice when airlines highlight regional food & drinks.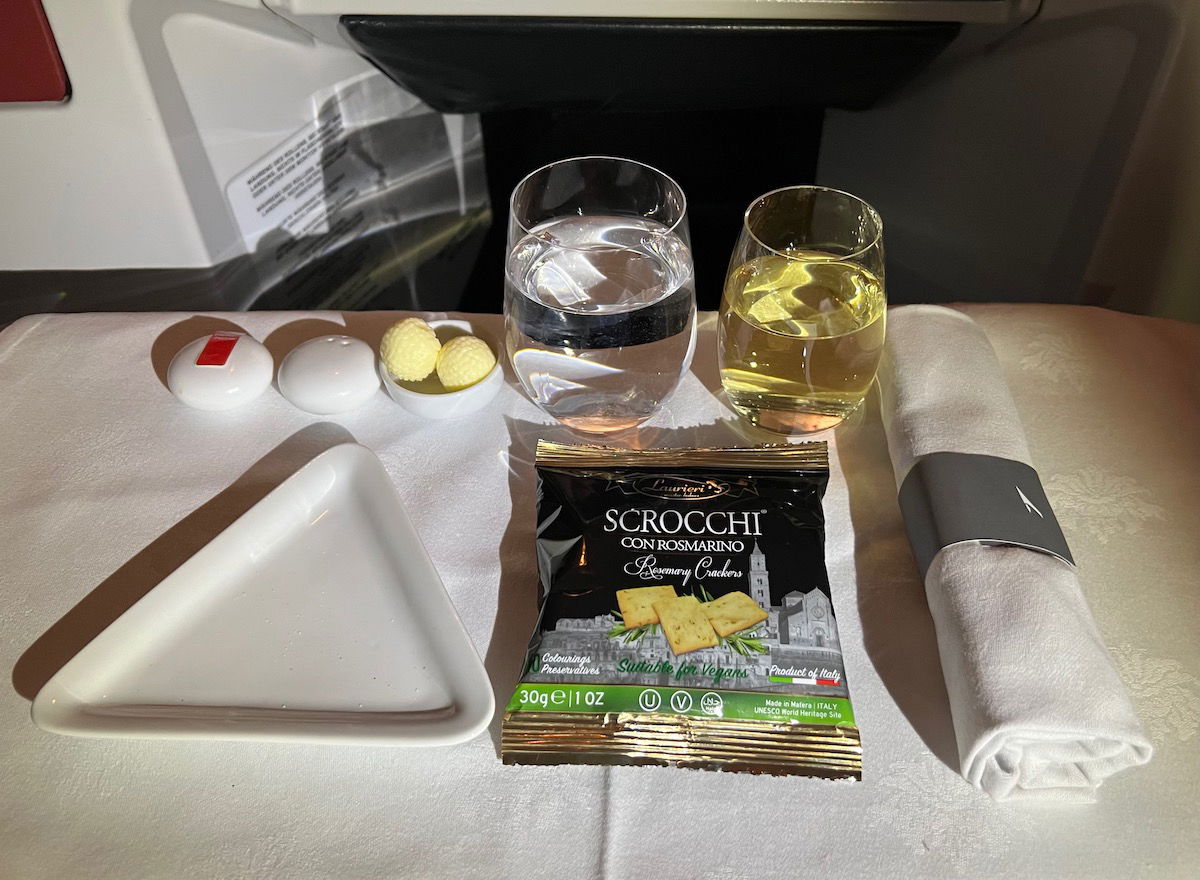 Then there was a choice of two substantial appetizers, with all kinds of bread options. I selected the tomato, avocado, and buffalo mozzarella starter.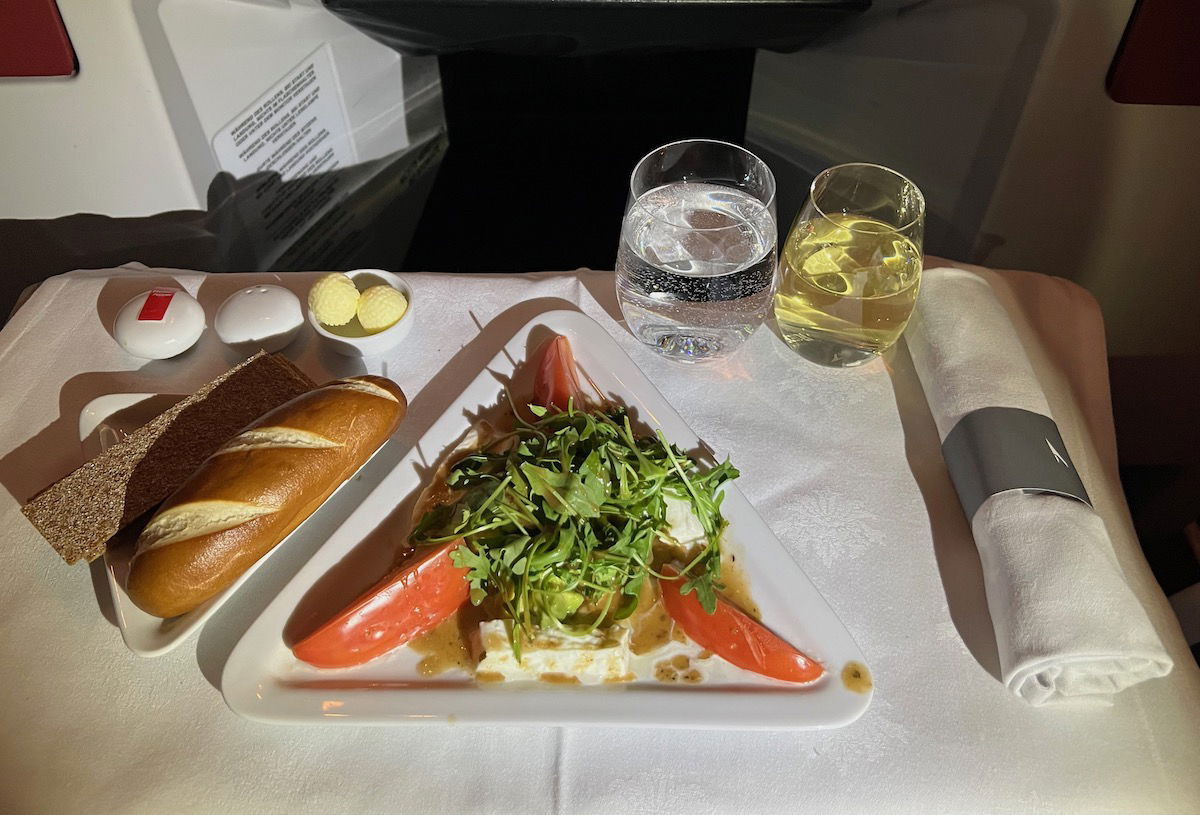 Then there were three mains to choose from. I ordered the Chilean seabass with sautéed spinach, celeriac mousseline, and roasted cherry tomato.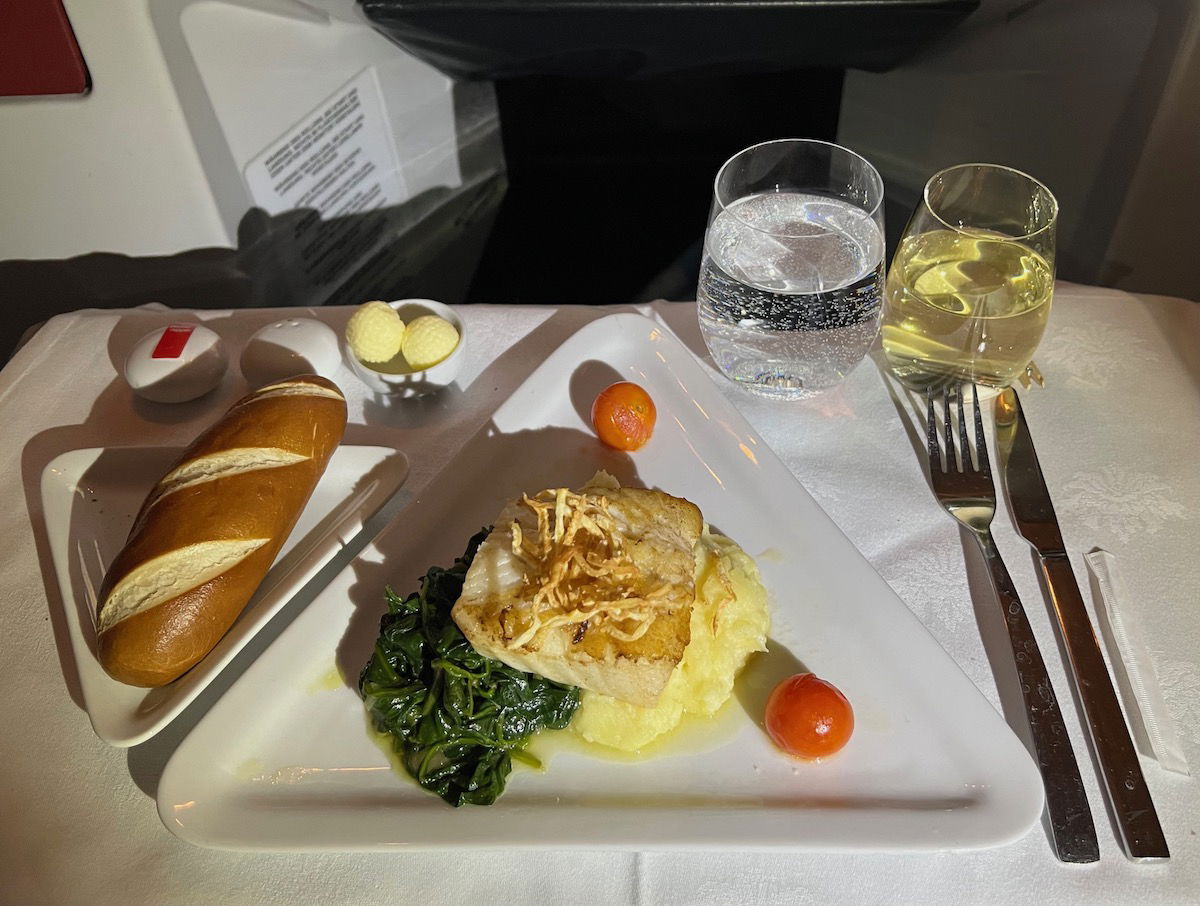 Next up was a cheese plate, as well as a choice of two desserts. I selected the apple strudel.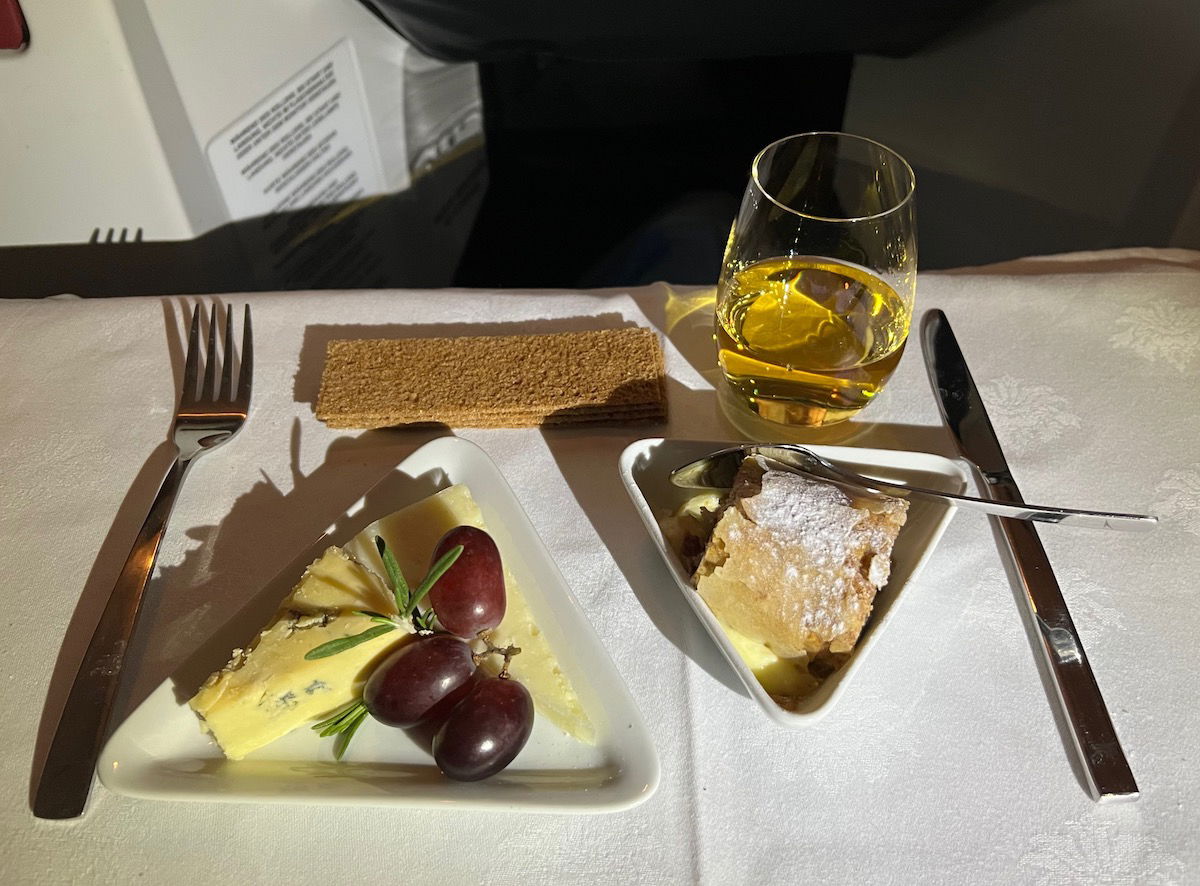 Last but not least was Austrian's signature coffee selection, which I'll cover more in a separate post — it's an aspect of the Austrian experience that really sets the carrier apart.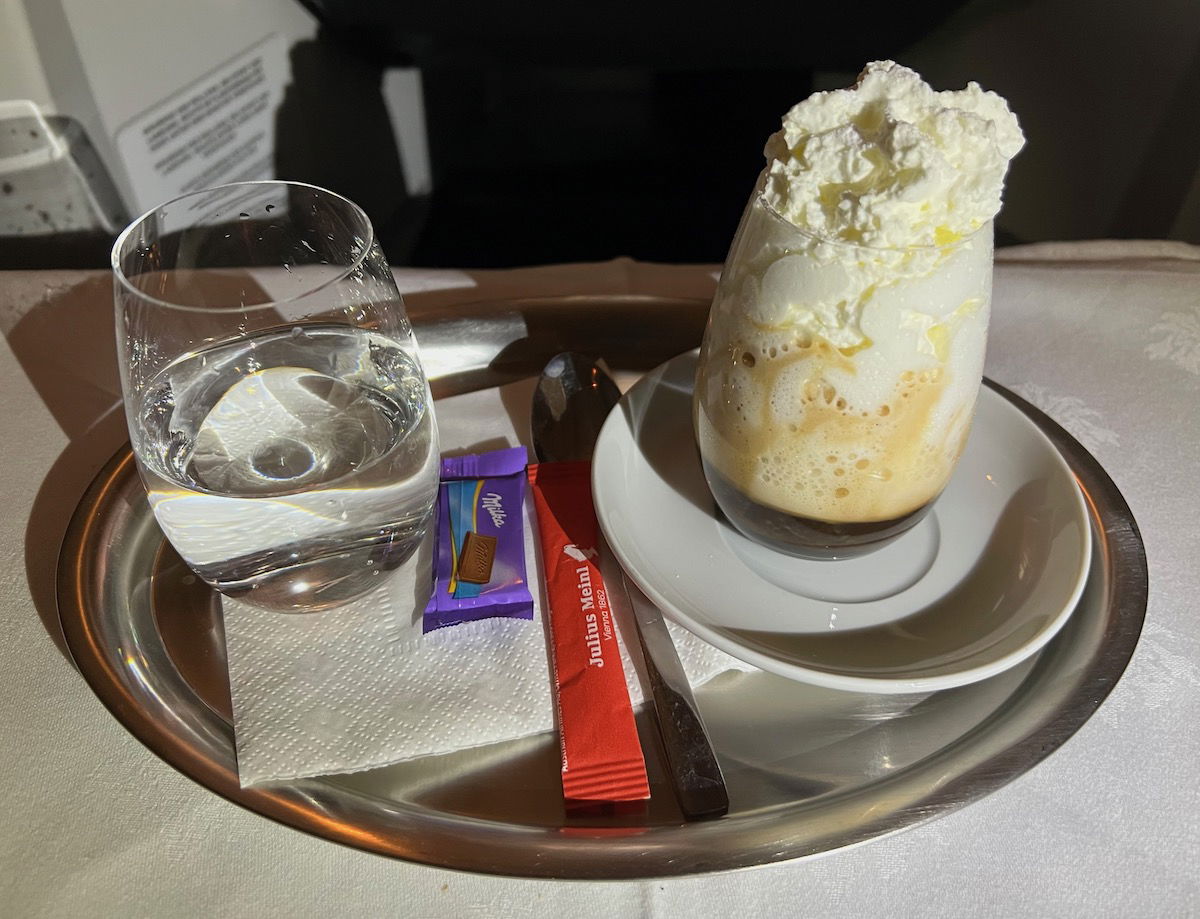 There was also quite a substantial breakfast 90 minutes before landing.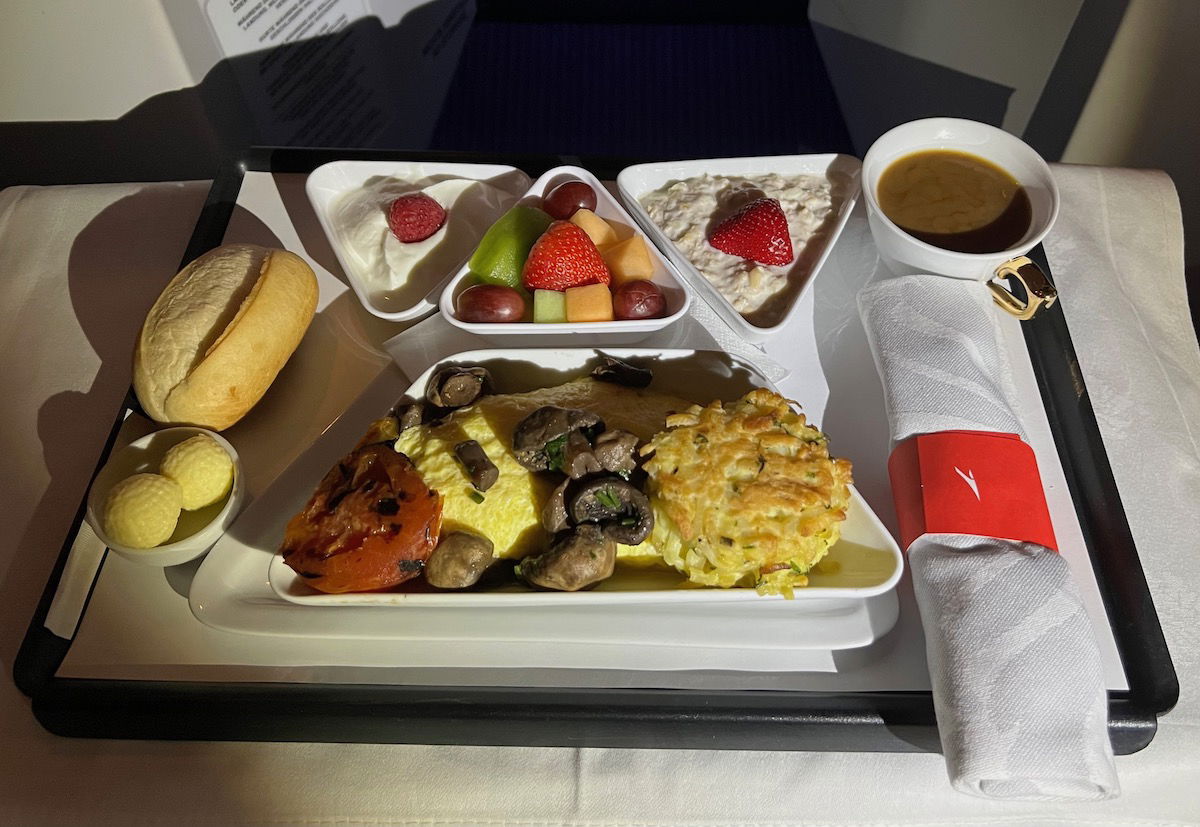 Admittedly many people just like to board an overnight flight and go straight to sleep, and in that case this doesn't matter. However, this is way better than what you'll find on other airlines, and you certainly won't get off your Austrian flight hungry. The crew also deserves credit for keeping the cabin lights off throughout the service, and being really quiet.
Speaking of the crew, they were lovely on this flight. I've found service on Austrian to be hit or miss — I've had some awesome crews, and some not-so-great crews. This crew was professional, friendly, and attentive.
Austrian 777 business class: what I'm lukewarm about
Business class is all about the seat, and that's an area where Austrian doesn't particularly impress. The airline has staggered seats in business class, so the cabin alternates between a 1-2-1 and 2-2-2 layout. Now, as far as Lufthansa Group airlines go, this is arguably quite a good product.
However, this is an area where other airlines (like American and United) offer a better experience across the Atlantic. I do have to say, given that this was a 24 year old jet, it was very well maintained.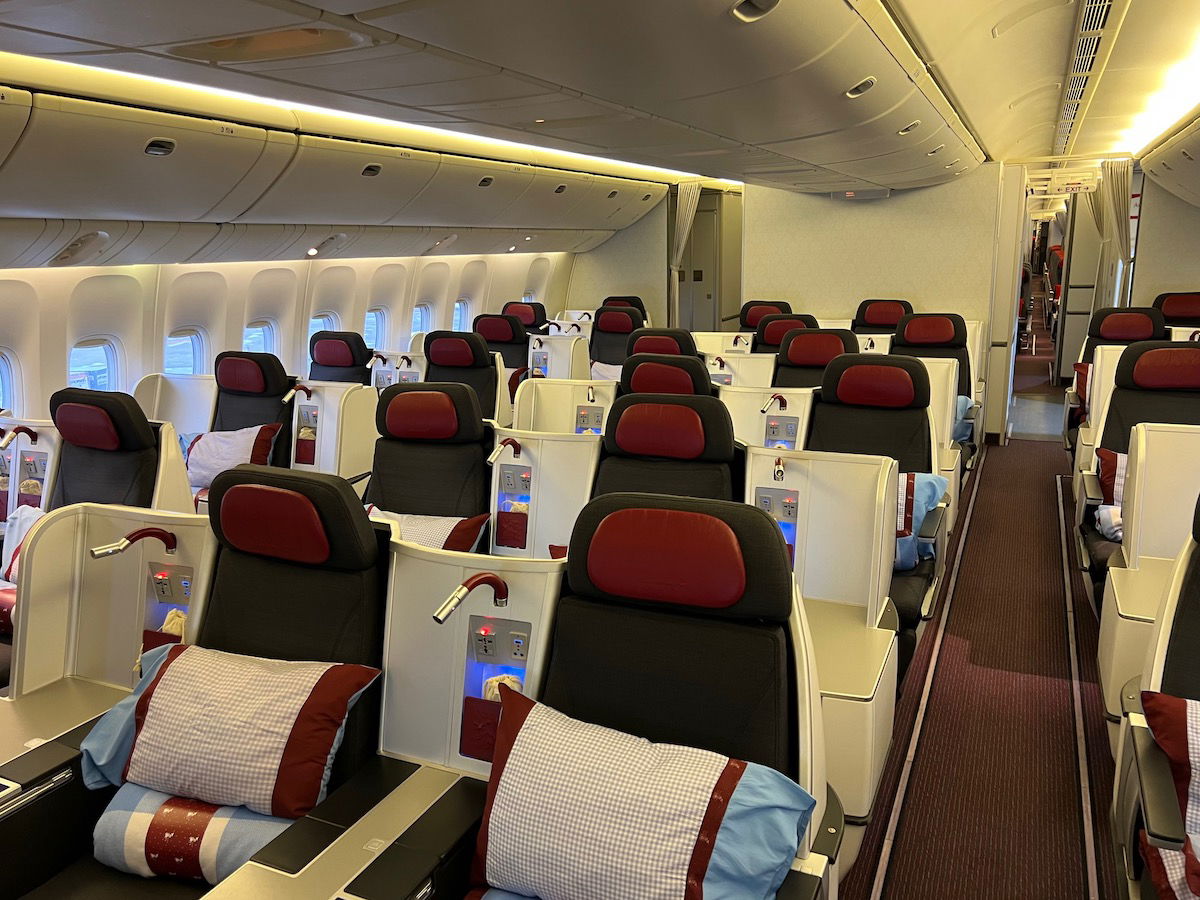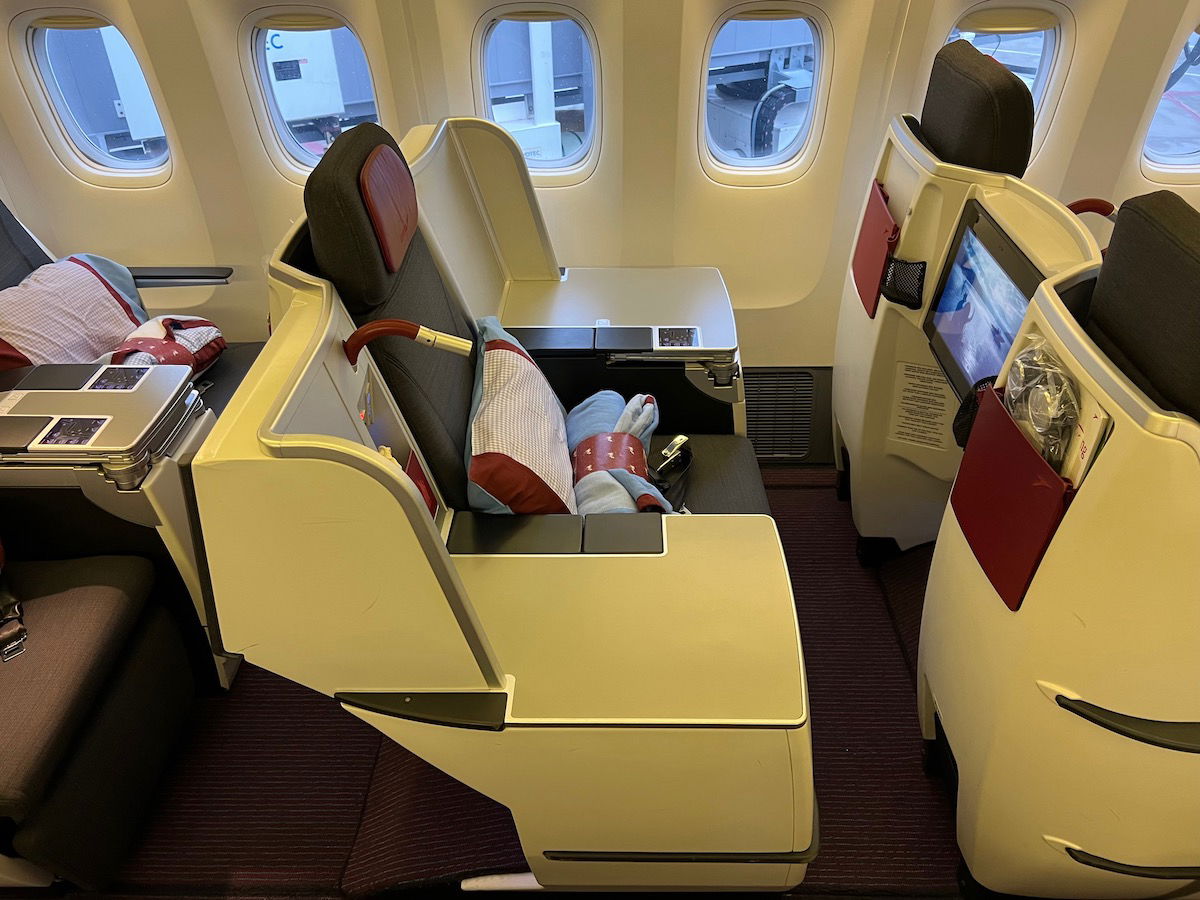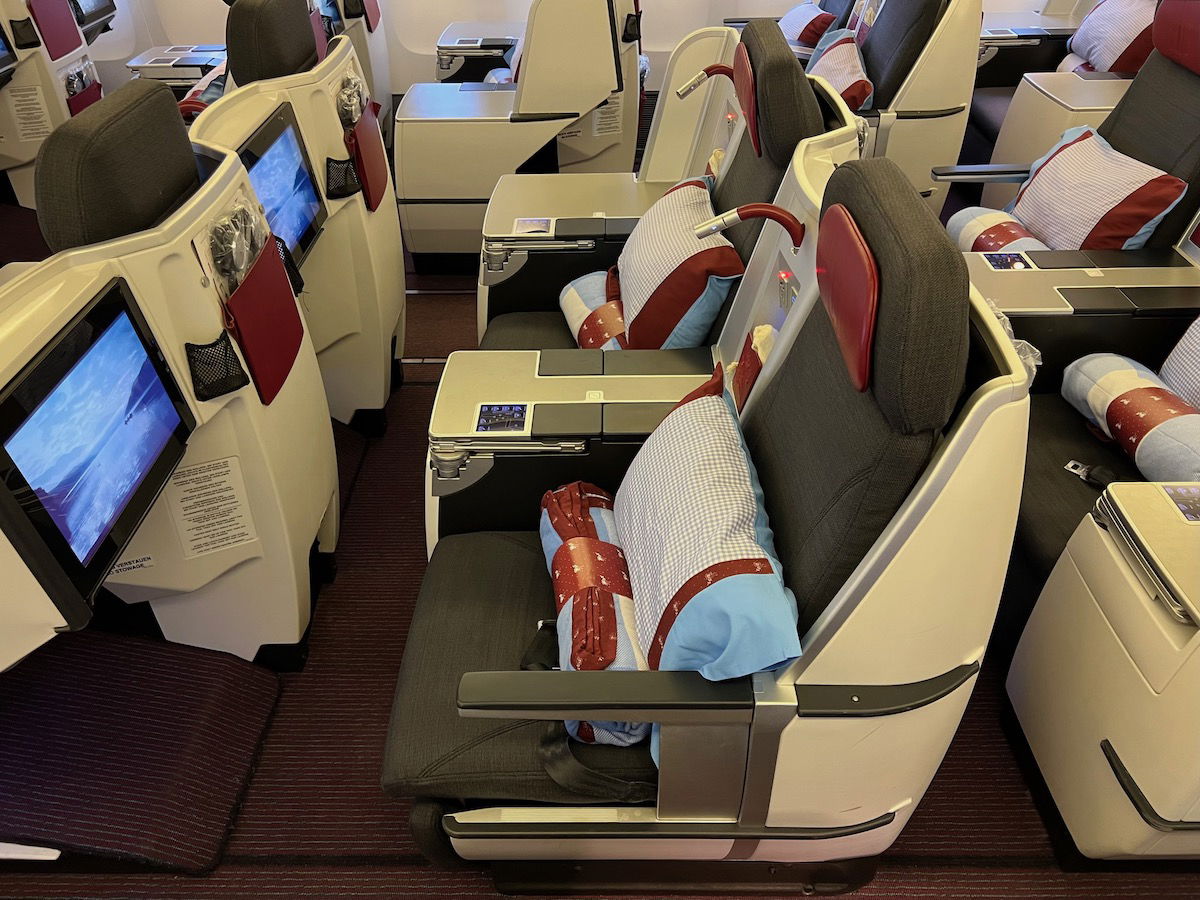 I'd say the non-food and service aspects of the soft product were also just fine. While the pillow and blanket have a cute design, they're not particularly comfortable.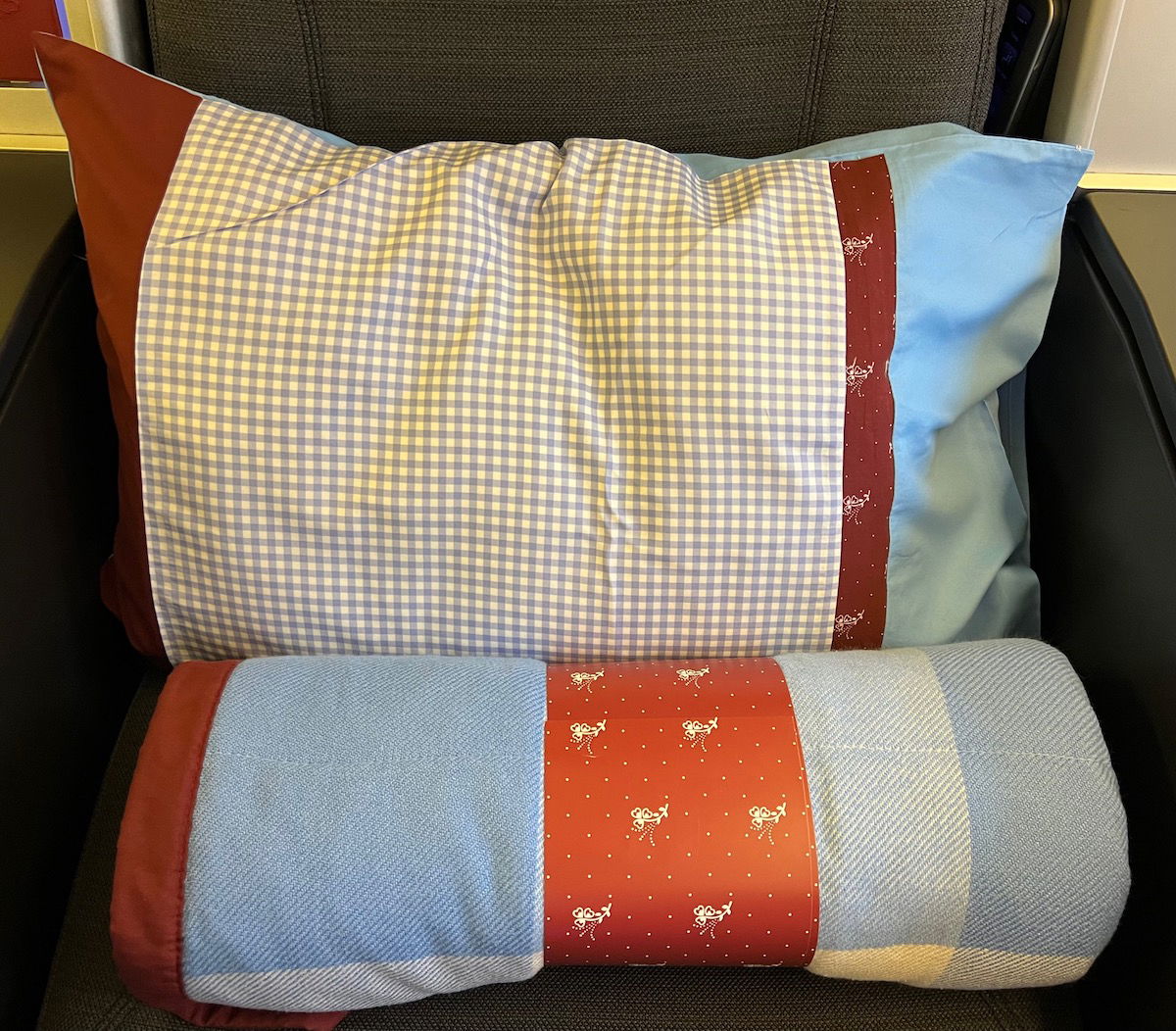 The amenity kit offered by Austrian is quite unremarkable, both in terms of design and contents.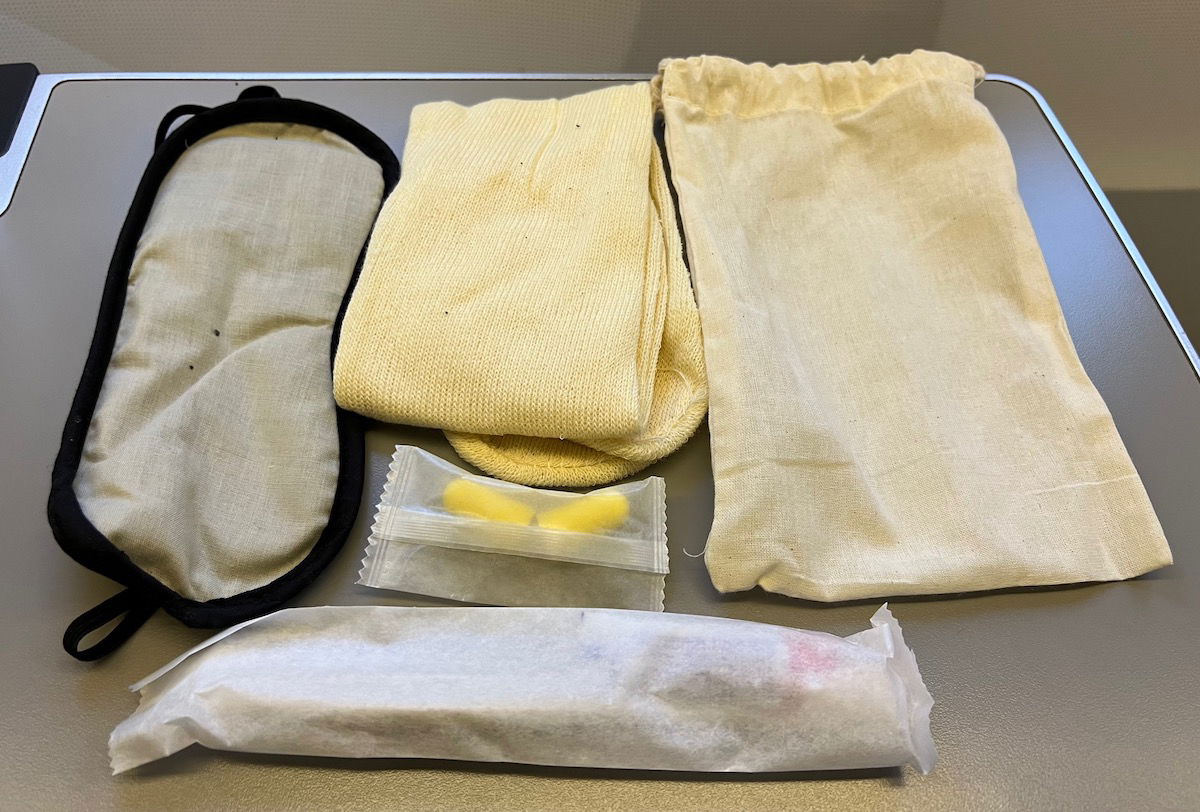 The noise canceling headphones offered by Austrian are just okay, both in terms of noise cancelation and comfort.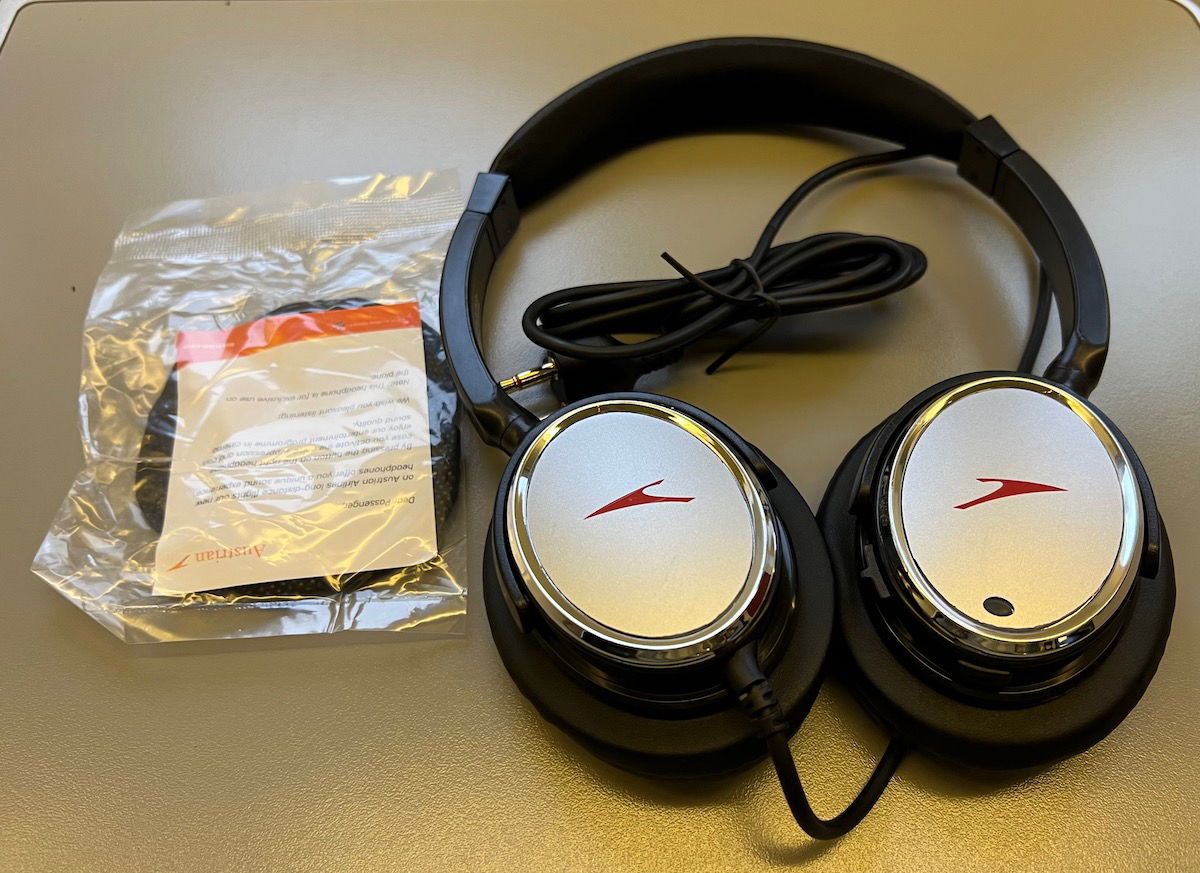 The entertainment selection was also just okay. There were a total of 109 movies and 158 TV shows, though many of the options weren't exactly new releases.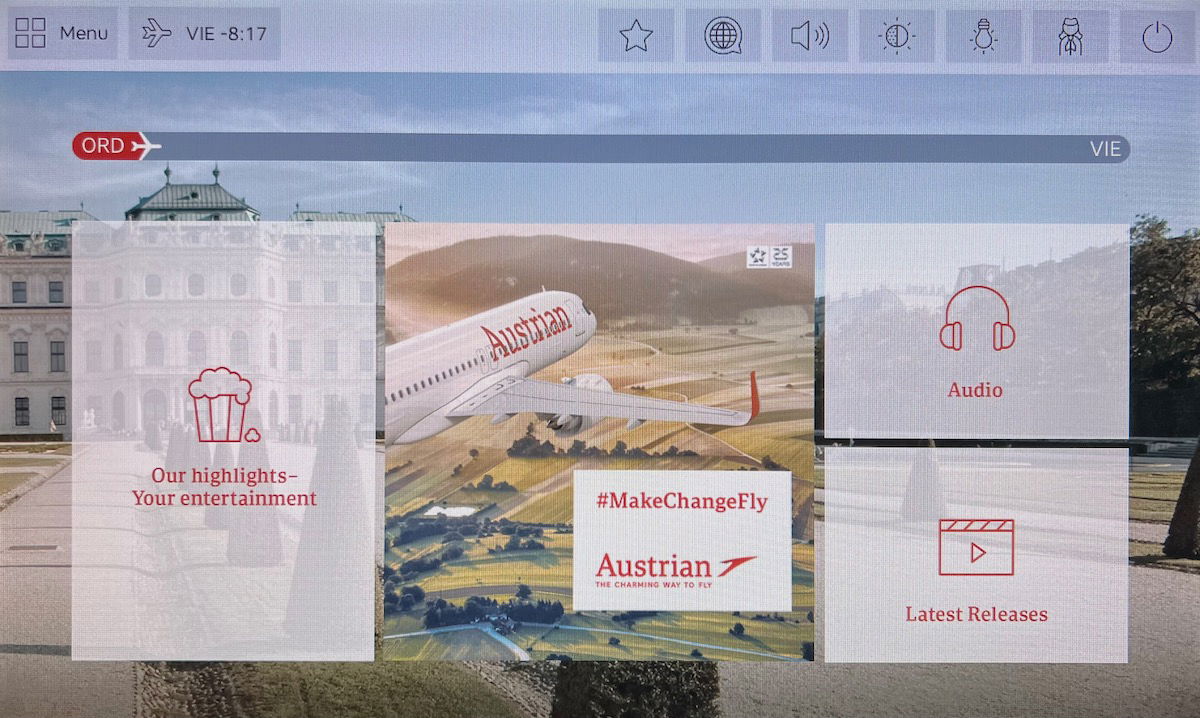 I did really enjoy a German documentary about Lufthansa bringing an A340-600 back into service, after it was parked in Teruel for a couple of years.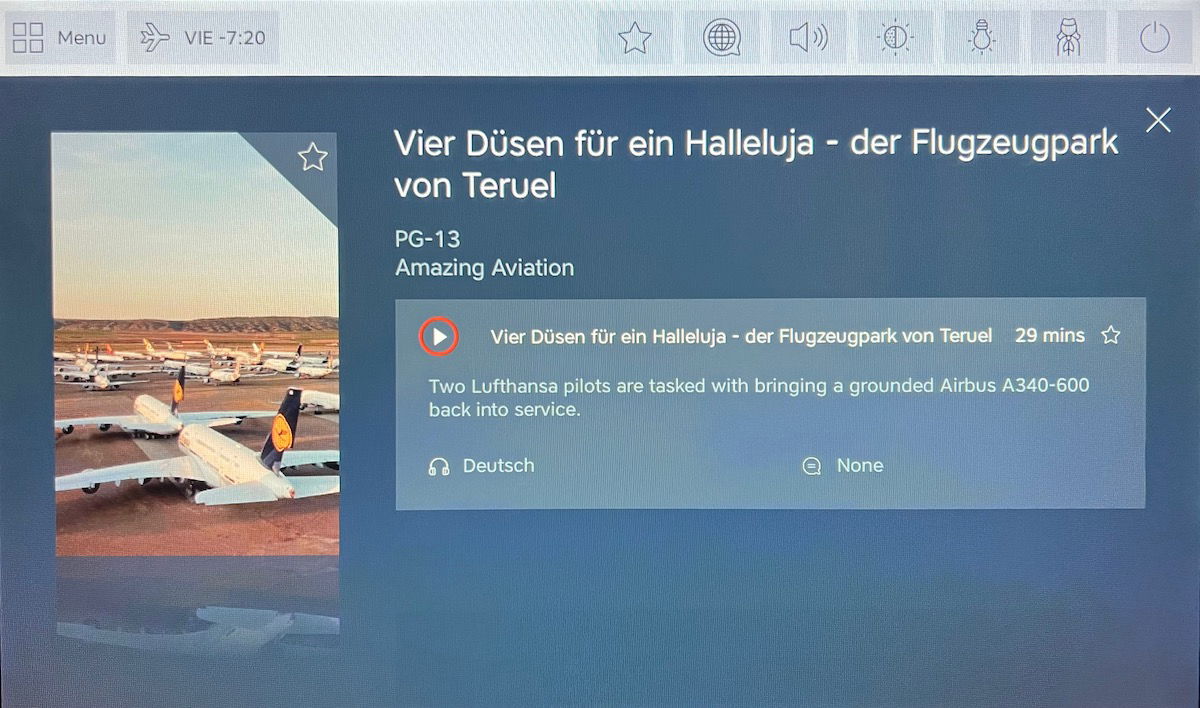 Austrian 777 business class: what I didn't like
I really only have one serious gripe about Austrian — the airline doesn't have Wi-Fi on its Boeing 767s and 777s, and has no immediate plans to install it either. To not even have plans to install Wi-Fi on long haul jets in 2023 certainly puts the airline behind the times.
Wi-Fi has become a standard amenity on long haul flights, so to not offer that is surprising. Now, in fairness, that didn't bother me much on an overnight flight to Europe, though I would have felt very differently about it if flying in the other direction.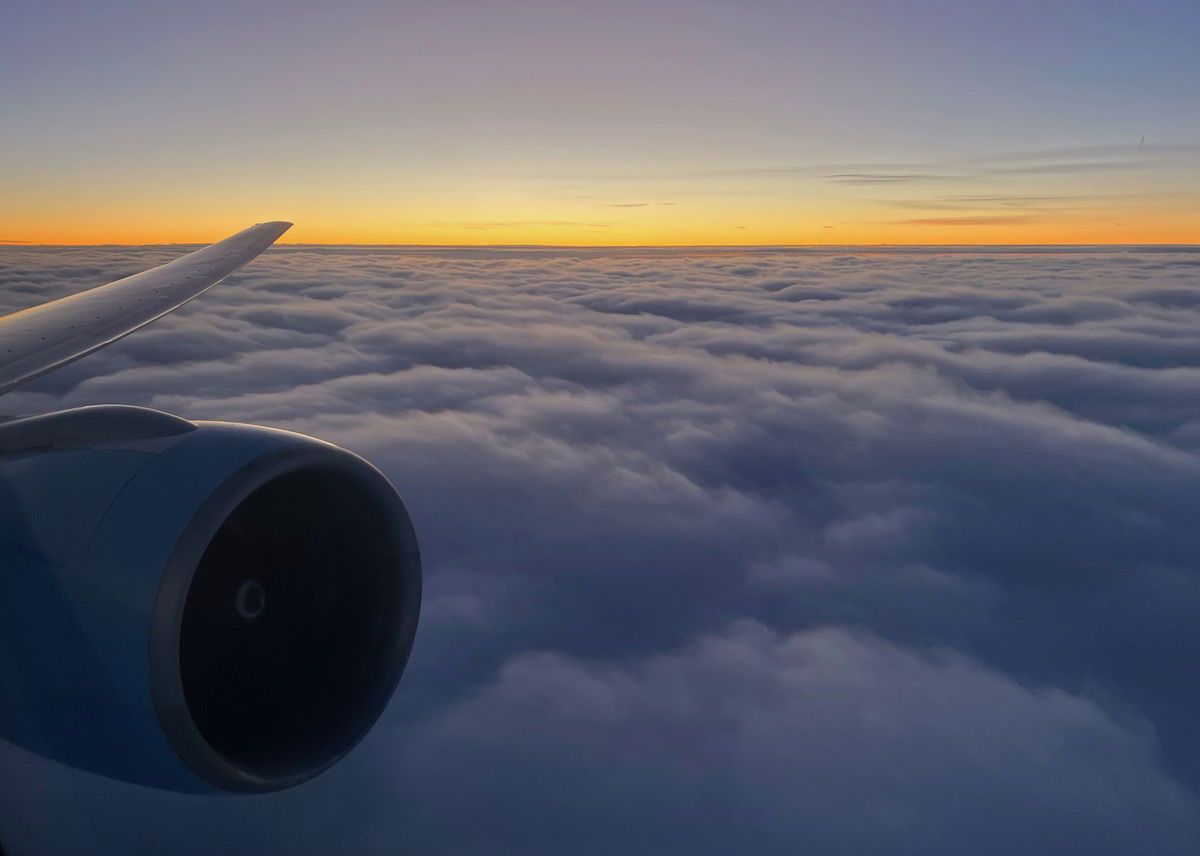 Bottom line
Austrian Airlines is probably my favorite Lufthansa Group airline in business class. Even though some cutbacks have been made to Austrian's meal service, the airline still has one of the best business class meal services across the Atlantic.
As far as the seats go, I'd say Austrian's staggered seats are perfectly okay, though not industry leading. My biggest gripe about Austrian is the lack of Wi-Fi.
It's expected that Austrian will get some Boeing 787s in the next few years, which should feature a new business class product (matching Lufthansa's) and Wi-Fi. When that happens, Austrian will truly be a force to be reckoned with across the Atlantic, in my opinion.
If you've flown Austrian business class, what was your experience like?