Hello from Singapore, as I continue my whirlwind review trip. After flying Gulf Air's Airbus A321LR from Rome to Bahrain, I connected on Gulf Air's Boeing 787-9 from Bahrain to Singapore. I was excited about this flight, given Gulf Air's excellent seats on the 787s. How was the experience? Well…
Gulf Air 787 business class: what I loved
Business class is ultimately primarily about the seat, and that's an area where Gulf Air excels on its Boeing 787s. The airline has Apex Suites, which I rank as one of the best business class seats. From looking at the cabin, you might not think much of the 2-2-2 layout.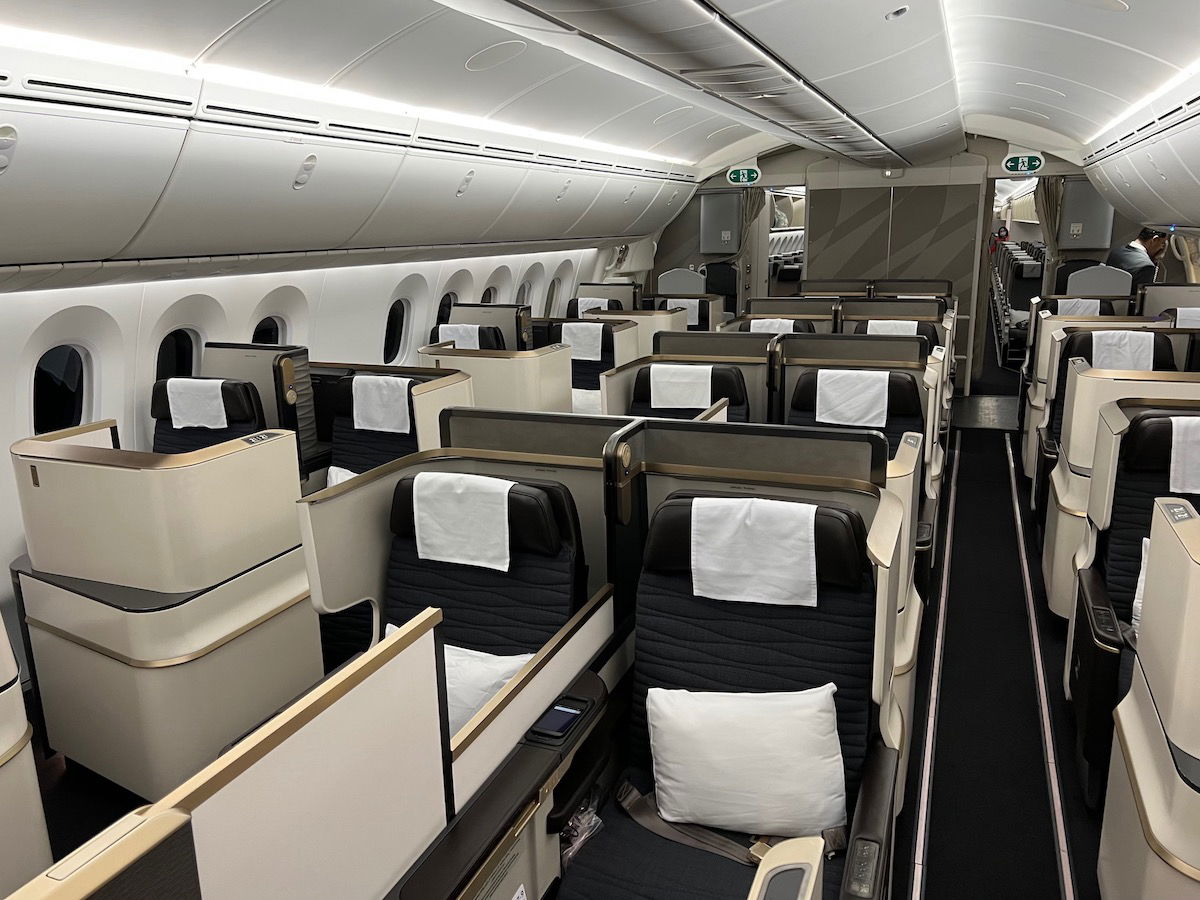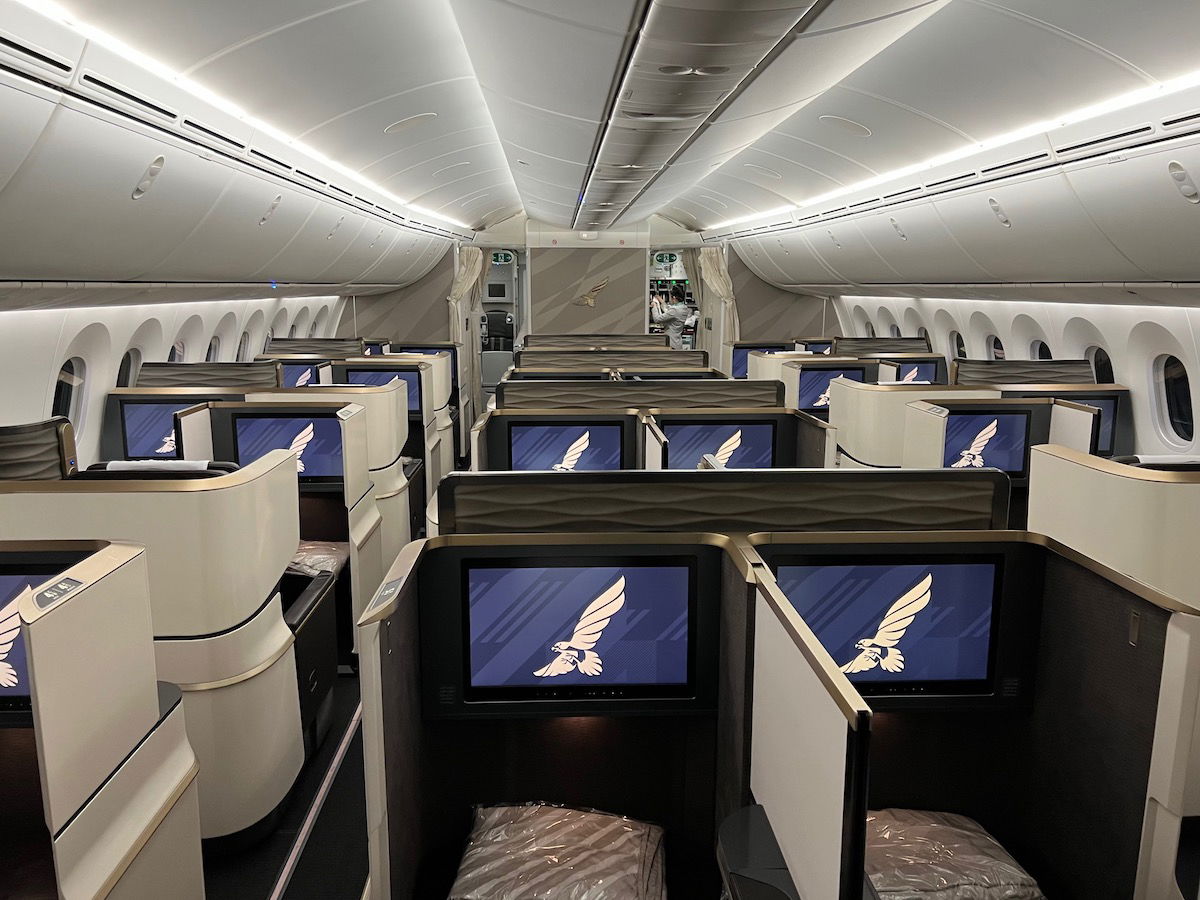 What's so exceptional about this product, though, is the window seats. That's because they're some of the most private and least space constrained seats out there. The window seats have a narrow walkway from the aisle leading to them, so this configuration features direct aisle access from all seats.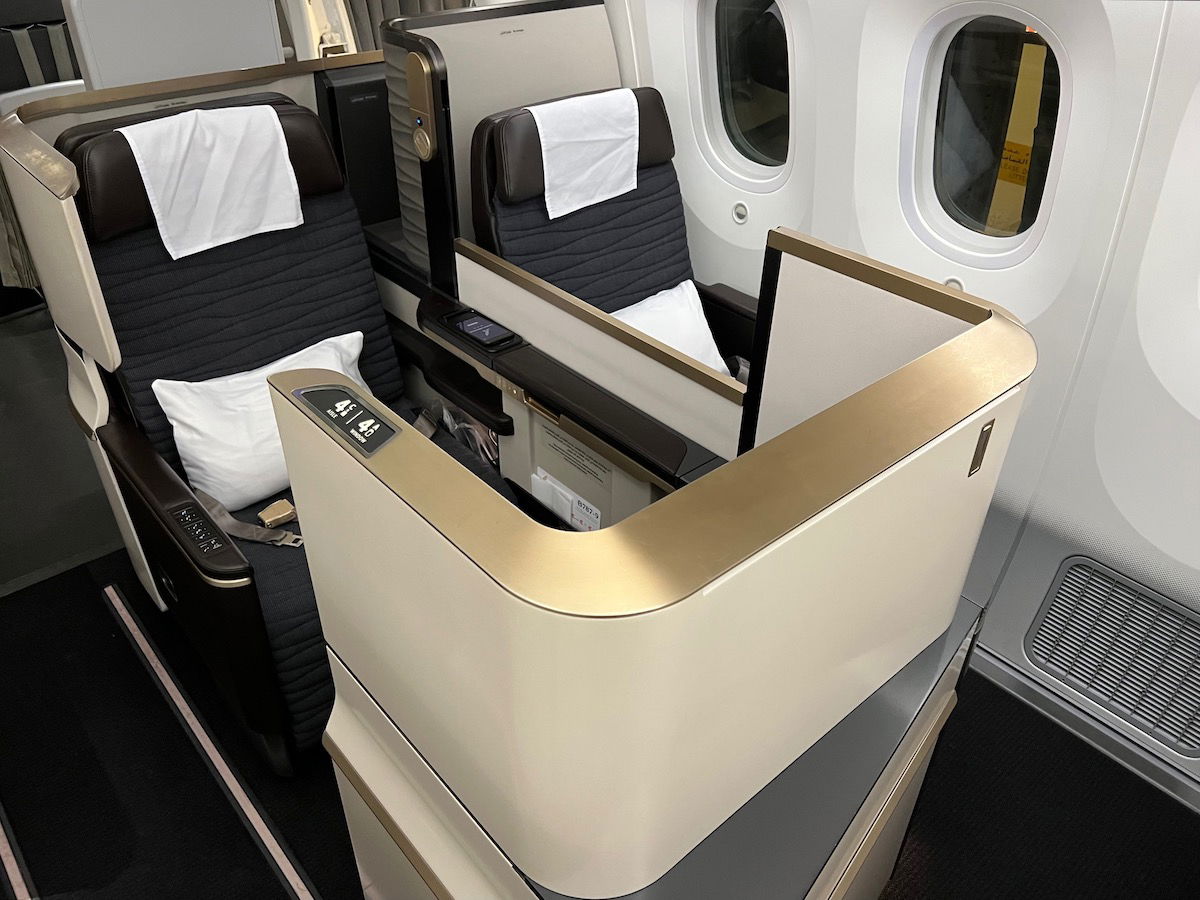 Then there's a shield you can raise, which gives you unparalleled privacy. There's significantly more privacy than you'd find in a business class seat with a door, and this is a product where it really doesn't matter whether you have a seatmate or not.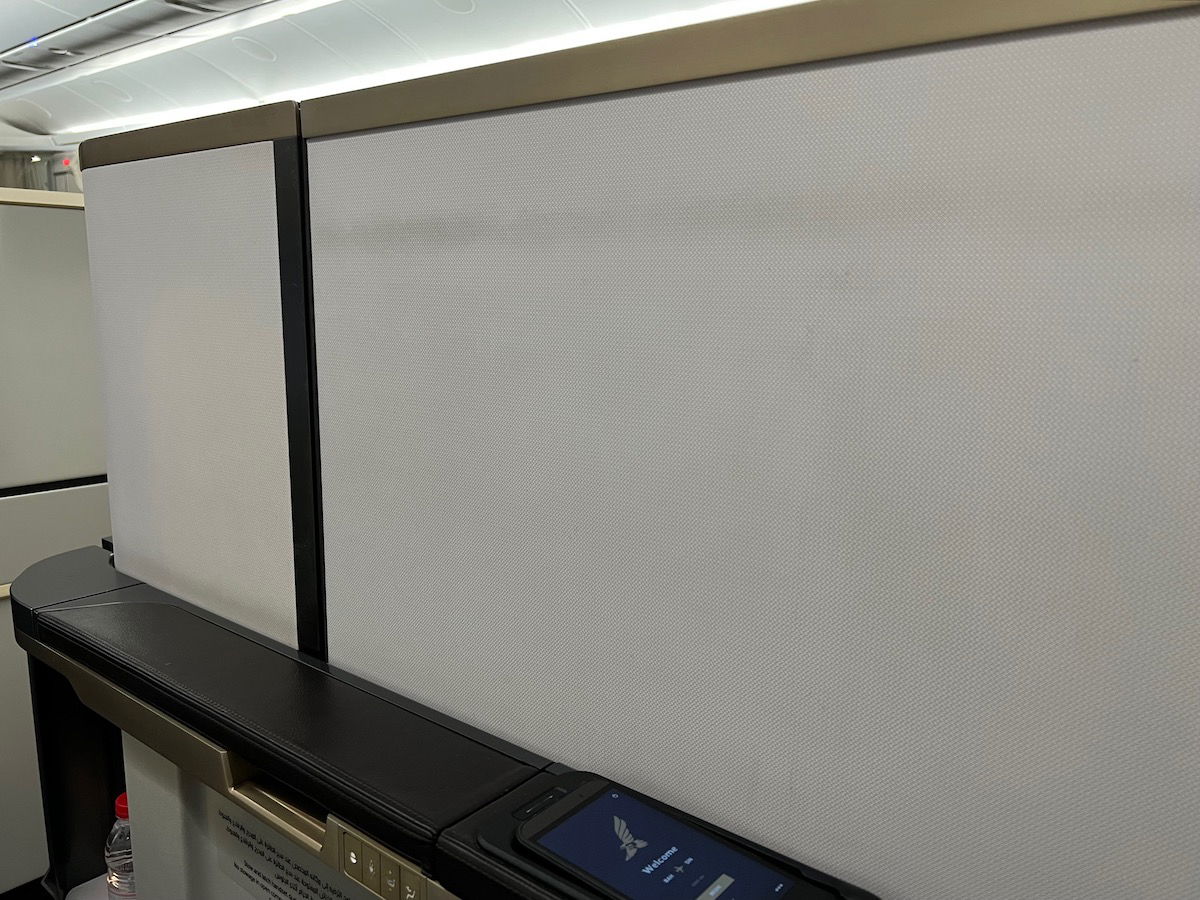 There's then an ottoman that folds down in front, which also becomes part of the bed. While in many business class seats you have to stick your feet in some small footwell when sleeping, that's not the case here. The seat is simply so spacious, which I love.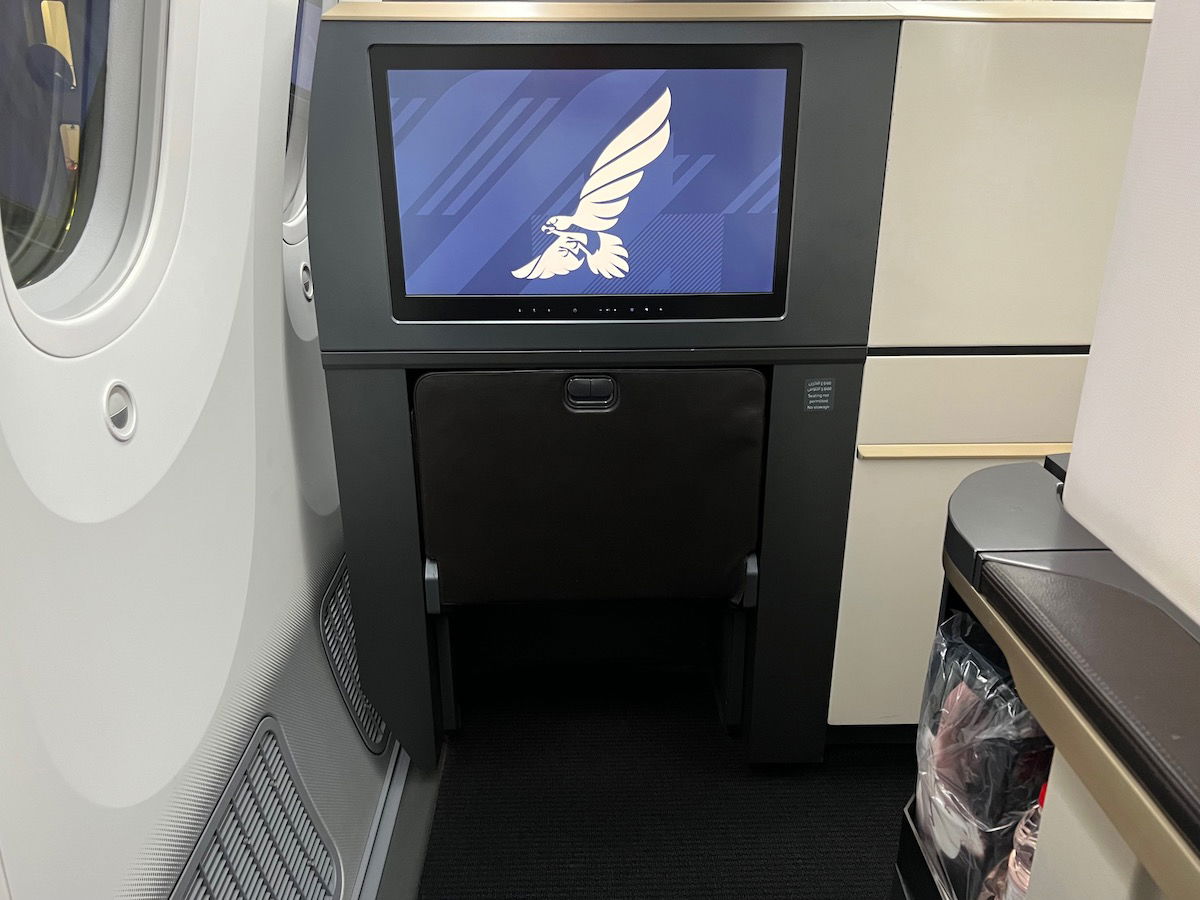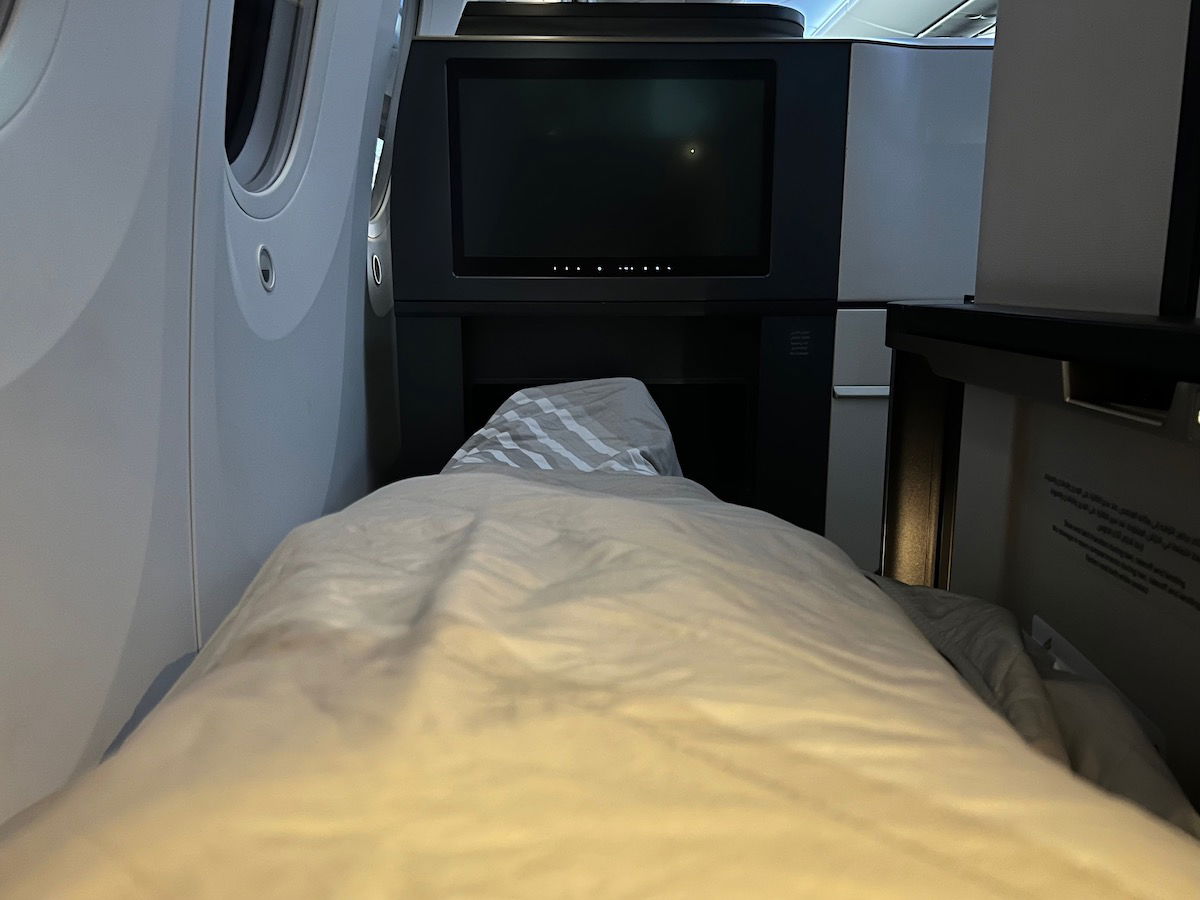 Now, there are a few quirks to the product — there's limited storage, and the power outlets are oddly positioned. However, that's a small price to pay for an otherwise exceptional seat.
I also think that Gulf Air might just have the most elegant Apex Suites of any airline. I loved the cabin finishes, from the patterns to the tones.
As on the previous flight, I also appreciated the amenities. There were very nice amenity kits, and pajamas and slippers were also offered. It's not often you get that in business class on a seven hour flight.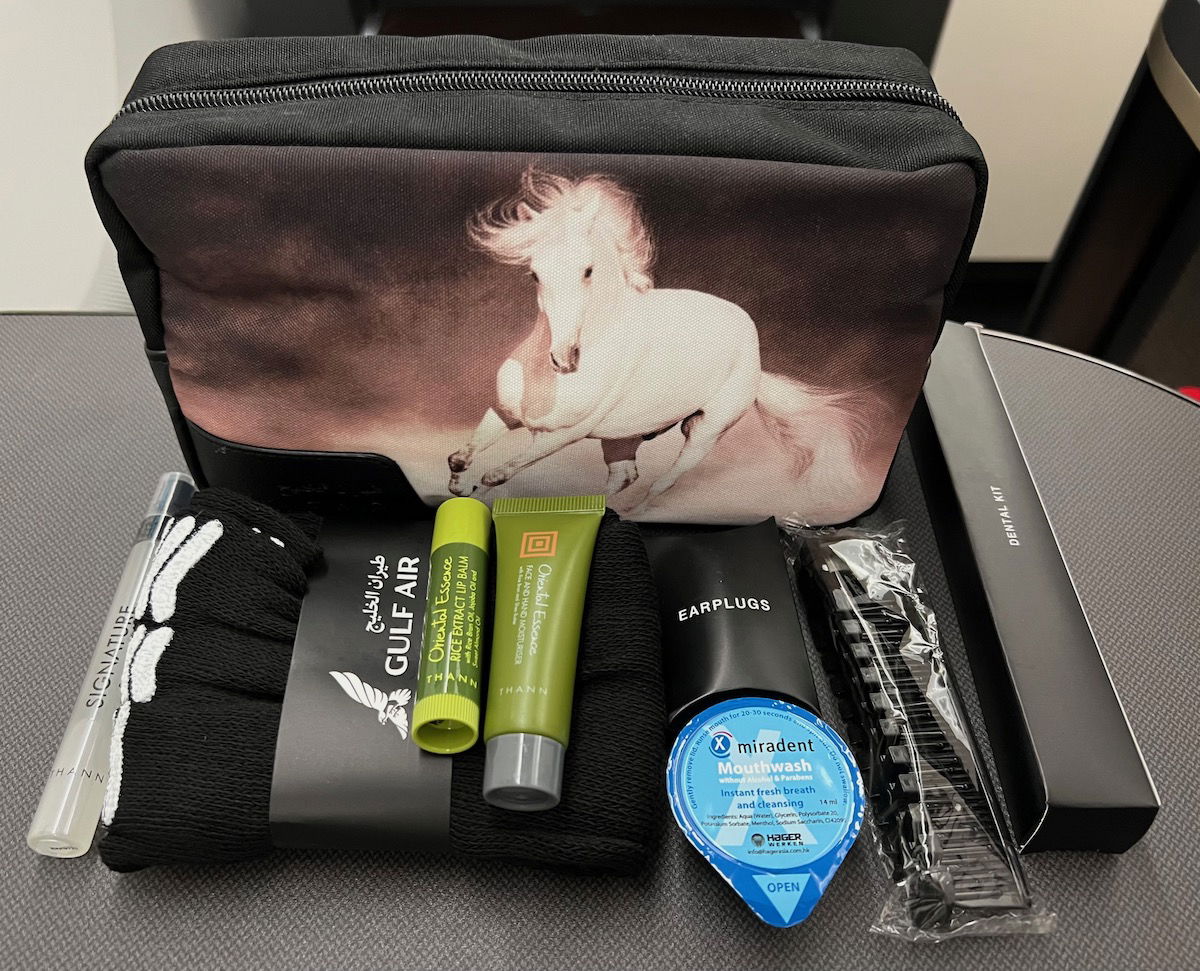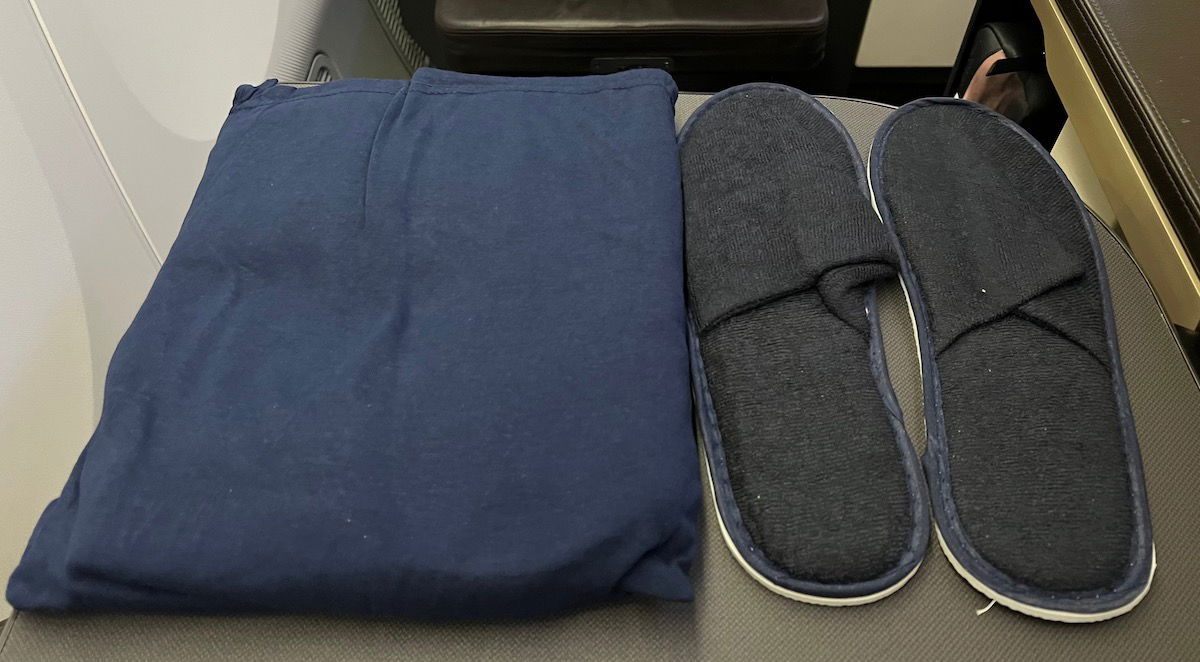 Lastly, the cabin manager on this flight was a rockstar. While the rest of the crew consisted primarily of female flight attendants from Thailand, the cabin manager was Bahraini. Among Middle Eastern airlines that hire some "locals" as cabin crew, the service can sometimes be… not great. They often view themselves as superior to the rest of the crew, and feel they don't have to work so hard. Not this guy, though.
For one, he was so genuinely hospitable and seemed to love his job. He came around to each passenger and told them with a smile "you are most welcome onboard, if you need anything at all, please call me." Not only that, but he was in the cabin the entire flight working, from providing turndown service, to serving meals.
He was the best "local" cabin crew I've ever had on a Gulf carrier.
Gulf Air 787 business class: what I'm lukewarm about
The meal service on this flight was… okay? Admittedly this seven hour flight had odd timing, departing at 1AM and arriving around 12PM, and it's never easy to plan a meal service on flights like this. There was a snack served after takeoff, and then breakfast was offered before landing. That's what I'd expect, but it's the execution that was less than great.
After takeoff, drinks and snack mix were served.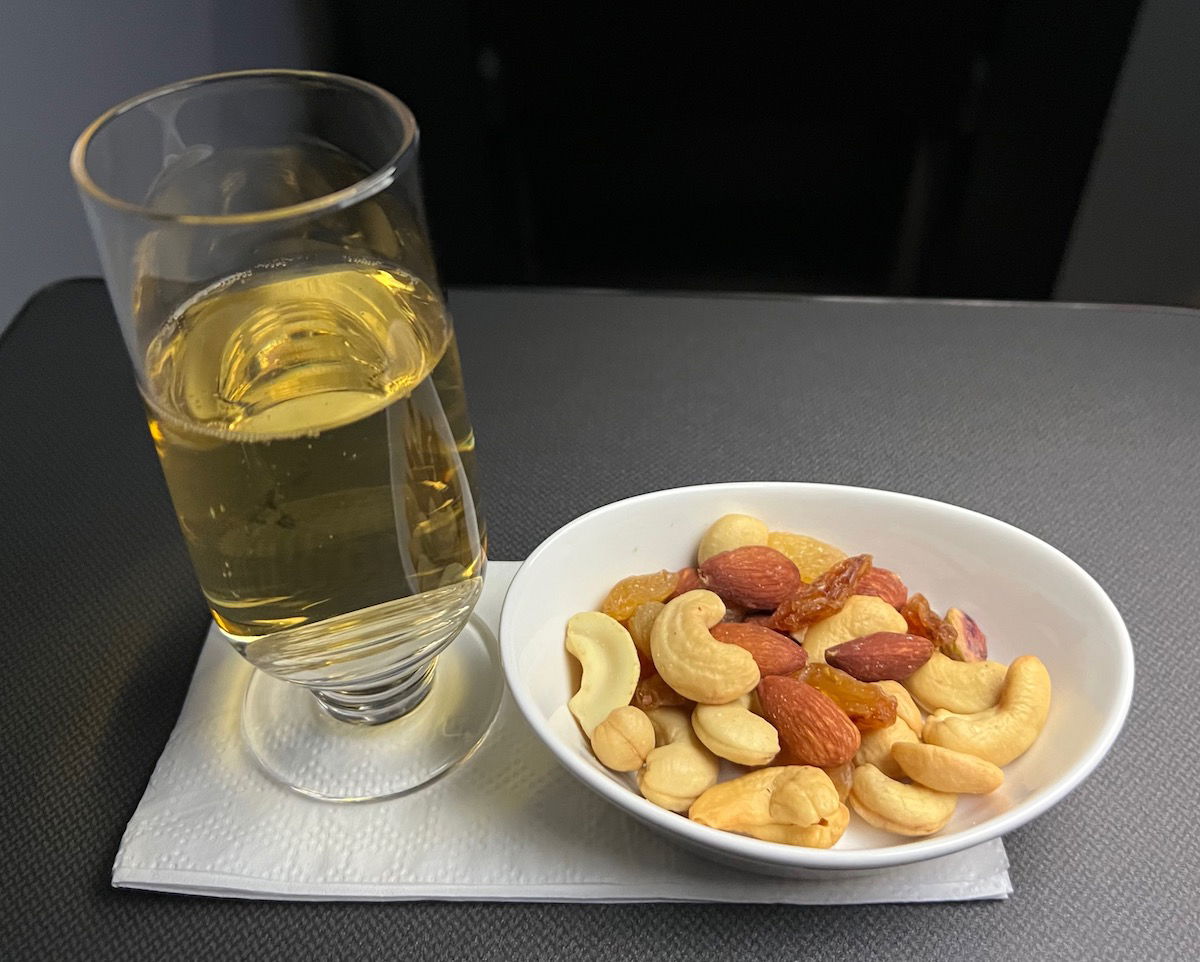 Then the after takeoff snack as such was really limited. You could order one thing, ranging from a soup, to a mezze platter, to a stuffed croissant. There was no option to order multiple things. My issue wasn't necessarily with the size of the meal, but rather that it was only served 75 minutes after takeoff. I think either serve something more substantial, or serve this really fast, so that people can maximize their rest.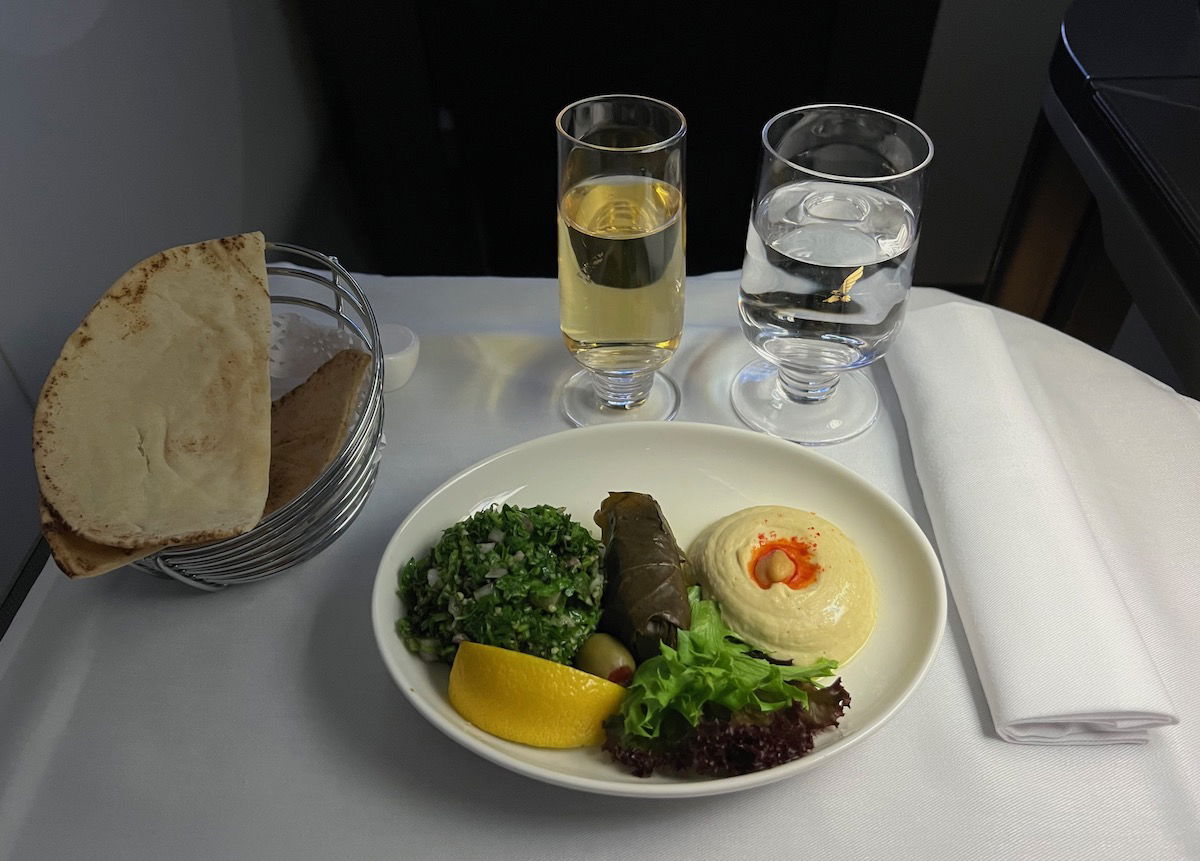 Then there was a more traditional, full breakfast served before landing.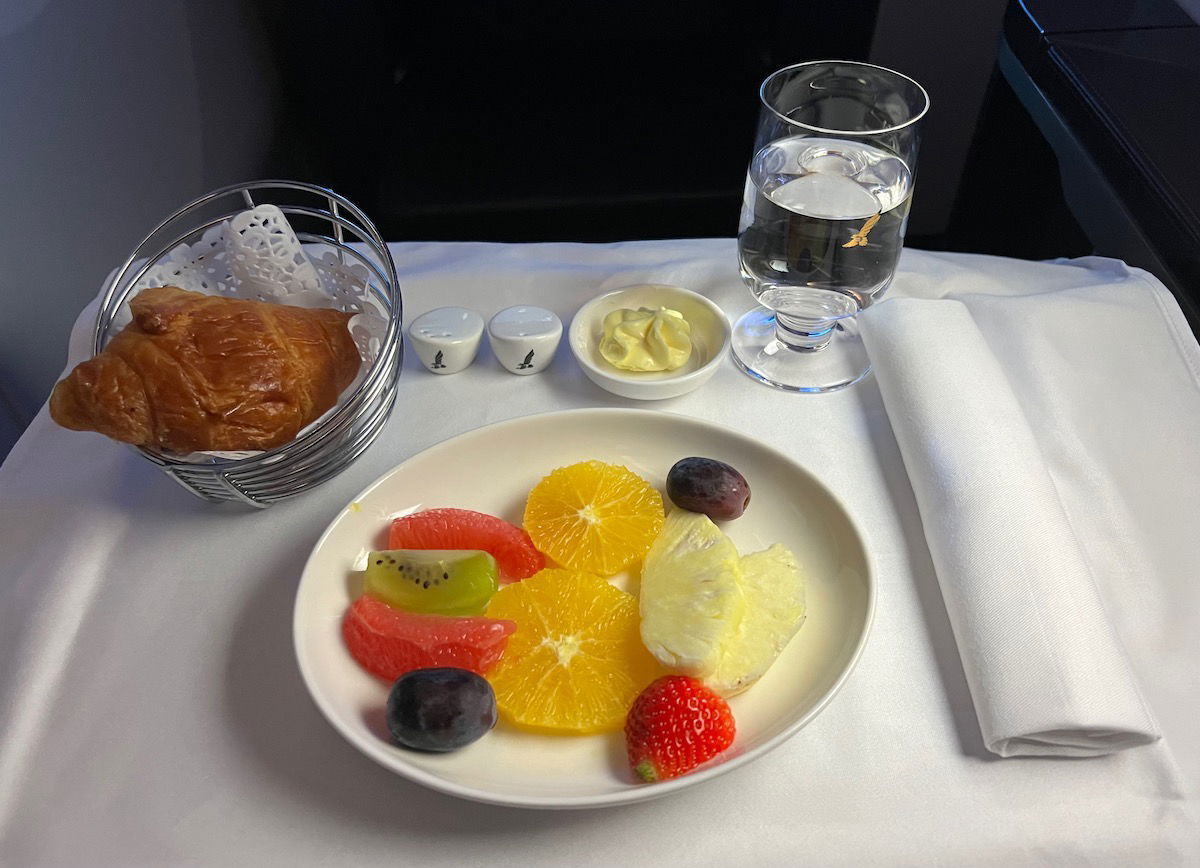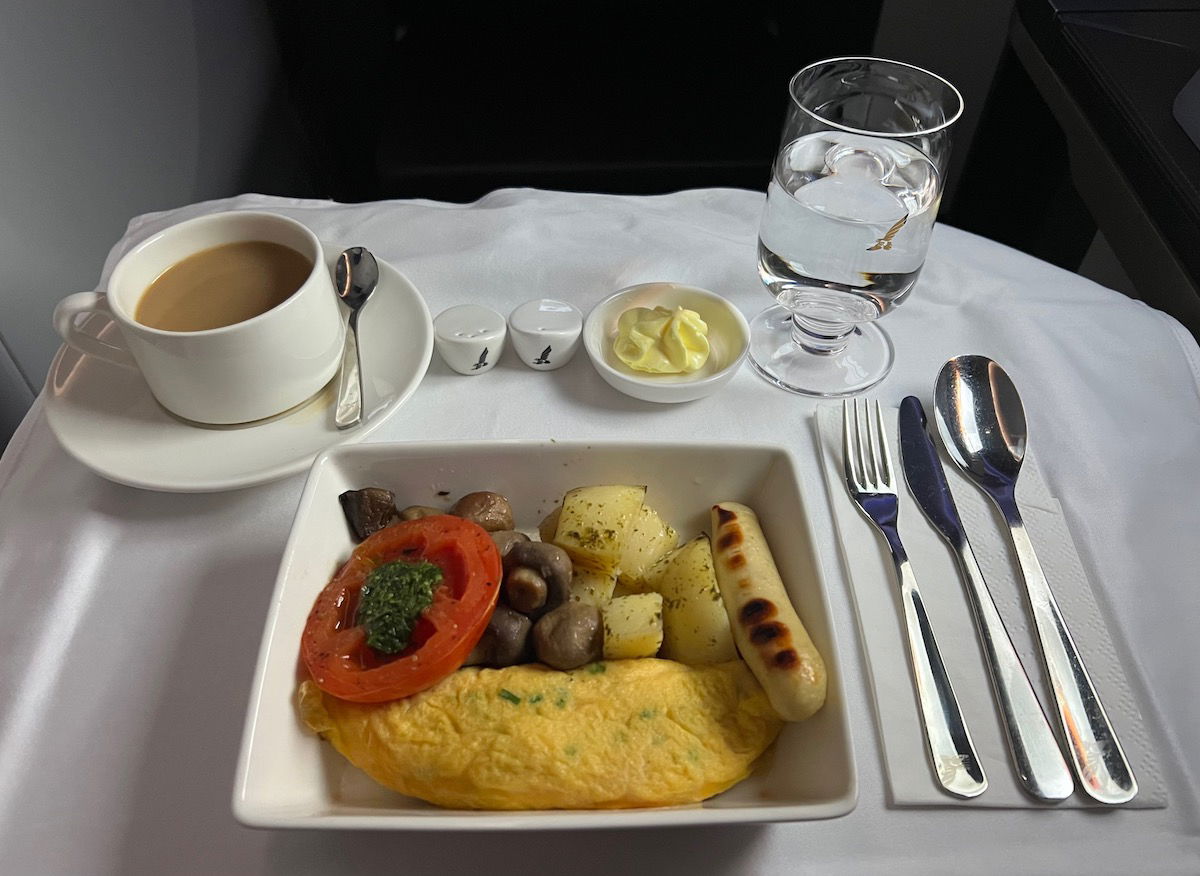 Gulf Air 787 business class: what I didn't like
While I love Gulf Air's 787 business class seat, I found it to be oddly hard when in bed mode. While there's a turndown service where they essentially put a sheet on the seat, it doesn't actually add much padding. The fact that the bedding is lackluster doesn't help either — Gulf Air just offers passengers a small pillow and a blanket that's not particularly plush.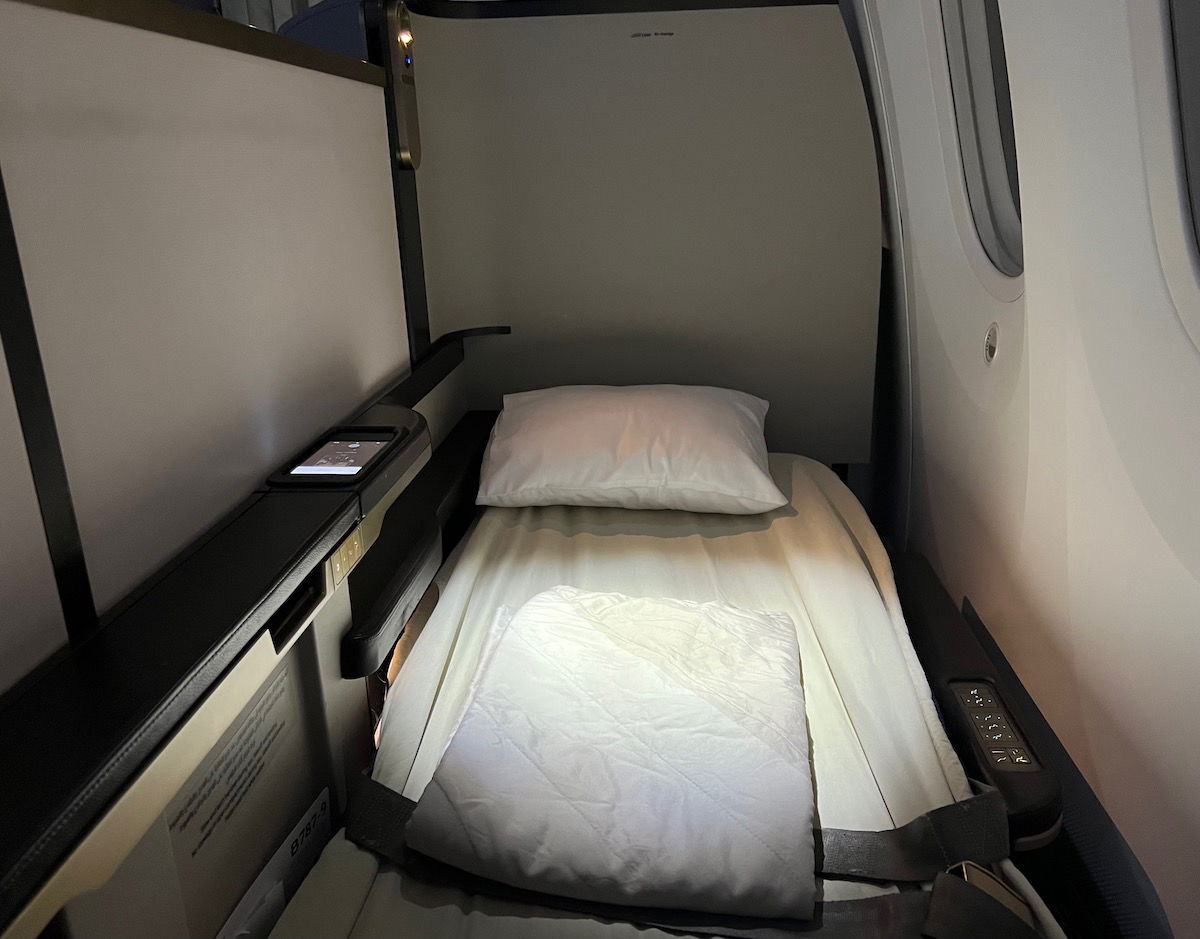 Apex Suites are an expensive investment for the airline. After all, the seats are pretty inefficient, as they have a big footprint. If you're going to invest in this product, it seems like a waste to not complement it with great bedding so that you can truly get solid sleep.
Lastly, much like on the last flight, the service flow was simply off once again. Ironically the Bahraini cabin manager was the most attentive and detail oriented crew member, while the rest of the crew was just kind of lacking with attention to detail.
I'll have more details in the actual review, but just to give a sense of the breakfast service:
Breakfast orders were taken in advance, and I ordered a coffee, which I would have liked to have prior to even being served any food; instead it was served five minutes after the main course (let alone that it didn't come with the starter), despite me asking a couple of times
The bread basket was brought around, and then jam and honey were brought around five minutes later
The crew took away my silverware with the starter, and I assumed it would be replaced; it wasn't, and when the main course was brought out, the flight attendant didn't notice she was putting the dish on a tray with no silverware
Individually these are all minor things, it just seems like there's a lack of training about service flow and attention to detail at Gulf Air, compared to rivals in the region. Airlines like Qatar Airways consistently nail service flow, while Gulf Air definitely doesn't.
Meanwhile to the Bahraini cabin manager's credit, when he noticed my empty coffee cup (after I finished the first one), he asked if he could get me another one, and returned 30 seconds later with it.
Bottom line
Gulf Air has come a long way, between a refreshed fleet and a beautiful new terminal in Bahrain. There's a lot I loved about Gulf Air's 787 business class product, from the Apex Suites, to the cabin finishes, to the amenities, to the exceptional service from the Bahraini cabin manager.
At the same time, there was something a bit off about the service flow, and I find the airline cuts corners in strange places. For example, as much as I love that Gulf Air offers pajamas, I'd rather the company invest in significantly better bedding, as I think that would make much more of a difference (not to mention it would be cheaper, since bedding can be reused).
What do you make of Gulf Air's 787 business class product?