In the interest of full disclosure, OMAAT earns a referral bonus for anyone that's approved through some of the below links. These are the best publicly available offers (terms apply) that we have found for each product or service. Opinions expressed here are the author's alone, not those of the bank, credit card issuer, airline, hotel chain, or product manufacturer/service provider, and have not been reviewed, approved or otherwise endorsed by any of these entities. Please check out
our advertiser policy
for further details about our partners, and thanks for your support!
After crossing the Atlantic in Austrian's Boeing 777 business class and spending the night at the Andaz Vienna, I connected in Austrian's Airbus A320 business class to Rome.
Intra-Europe business class is rarely anything to get excited about, and usually the differences between airlines are very subtle, since you typically get an economy seat with a blocked middle and better catering. The differences comes down to whether there are power outlets or Wi-Fi, how good the food is, and if the legroom is just not great or downright awful.
On balance, my experience on Austrian was pleasant. Let's take a closer look…
How I booked my Austrian business class ticket
I booked my Austrian business class ticket using points. Specifically, I redeemed 115,000 Air Canada Aeroplan points to fly from Chicago to Vienna to Rome to Bahrain to Singapore to Ho Chi Minh City to Hanoi, all in business class.
For more details on how I booked that, see my post about how to redeem Aeroplan points like a pro. Aeroplan points are easy to come by, as the program is transfer partners with Amex Membership Rewards, Capital One, and Chase Ultimate Rewards. On top of that, there's the Aeroplan® Credit Card (review) in the United States, which is phenomenal.
Specific to the Austrian Airlines portion of my trip, here were the two flights I flew on Austrian (I reviewed the first segment in a separate post):
1/05 OS66 Chicago to Vienna departing 4:20PM arriving 8:20AM (+1 day)
1/07 OS501 Vienna to Rome departing 7:55AM arriving 9:30AM
Austrian business class lounge & boarding Vienna
In the last installment I reviewed the Austrian Senator Lounge Vienna, which I visited prior to my flight. My flight was departing from gate F8, roughly a five minute walk from the lounge. The flight was scheduled to depart at 7:55AM, so I headed to the gate at around 7AM, to leave some extra time.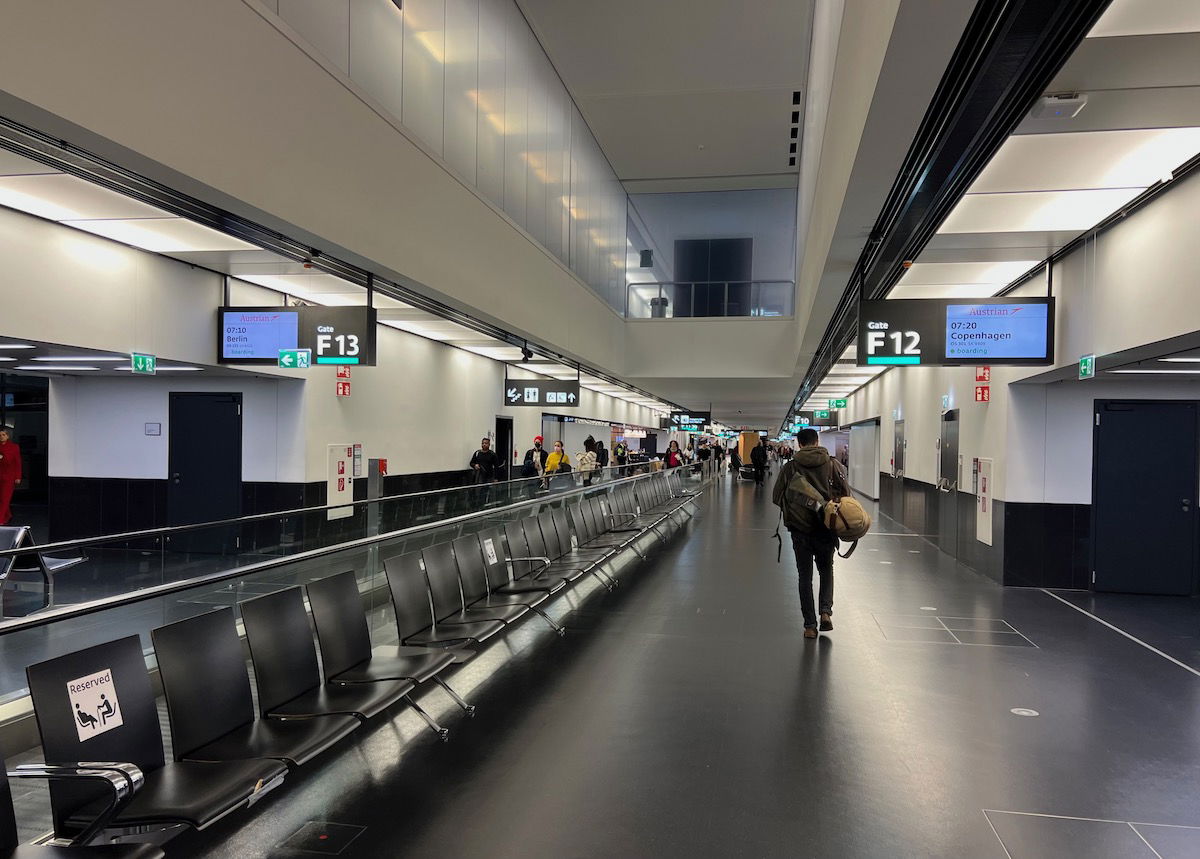 I generally find that boarding in Europe is pretty civilized, as people typically only approach the gate when boarding is announced. Well, that wasn't the case here. For whatever reason, seemingly just about everyone on the plane lined up 50 minutes ahead of departure. The gate agent asked everyone to take a seat and told them boarding would happen in a specific order, but no one listened.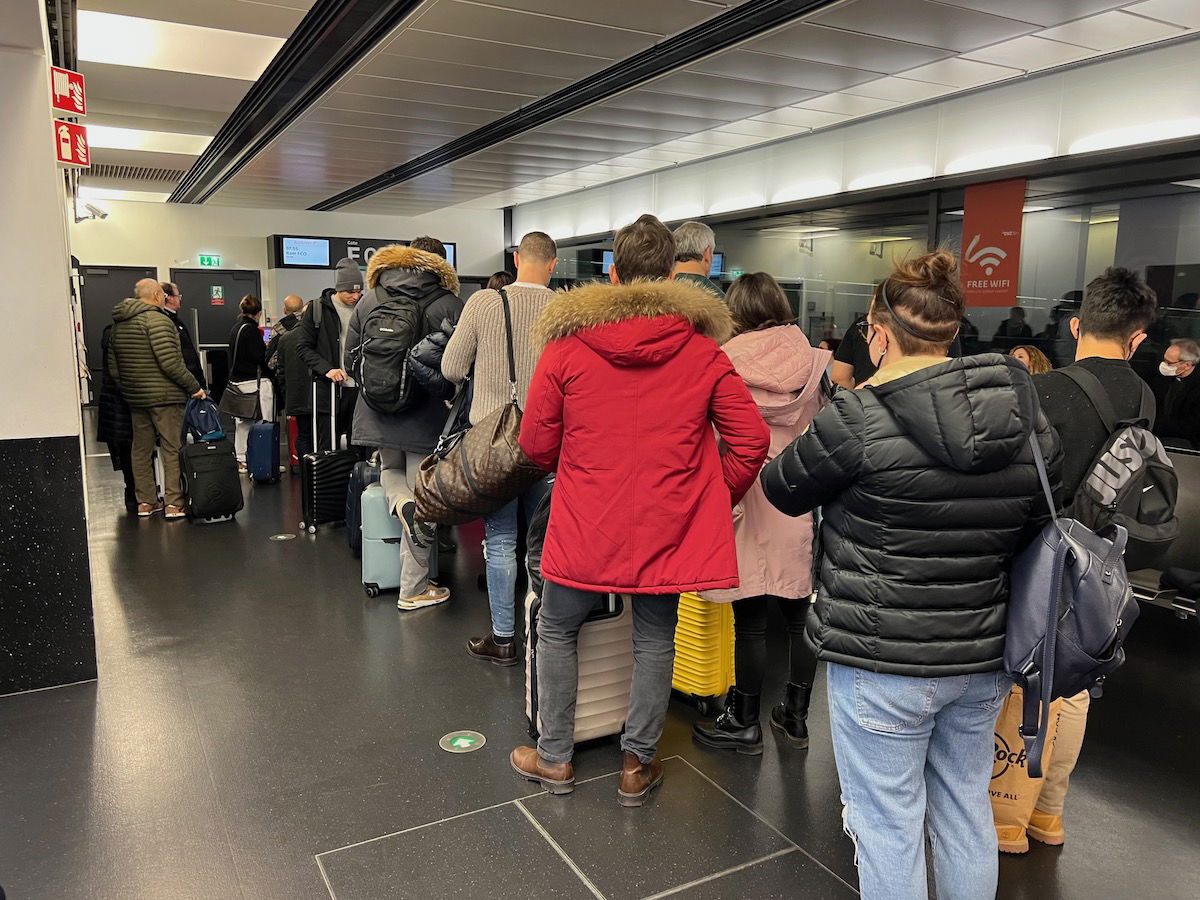 Boarding ended up starting at 7:25AM, 30 minutes ahead of schedule, with business class passengers being invited to board first. As you'd expect, getting around all these passengers wasn't easy, since no one seemed to understand that it wasn't a free for all.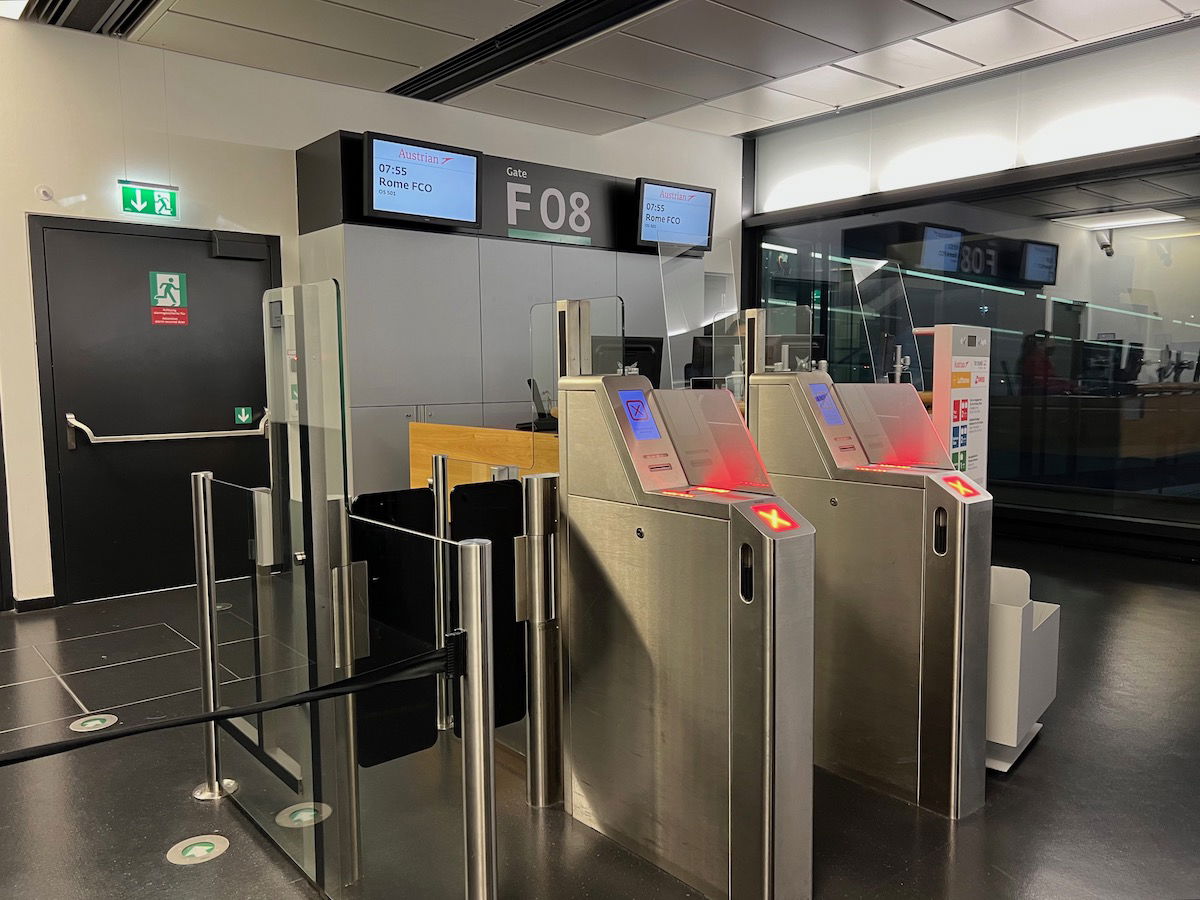 Austrian A320 business class cabin & seats
As is standard on intra-Europe flights, business class simply consisted of economy seats with a blocked middle. There's a curtain between cabins which can be moved with each flight, giving the airline the ability to adjust capacity to reflect demand.
On this flight there were a total of two rows of business class, for a total of eight seats.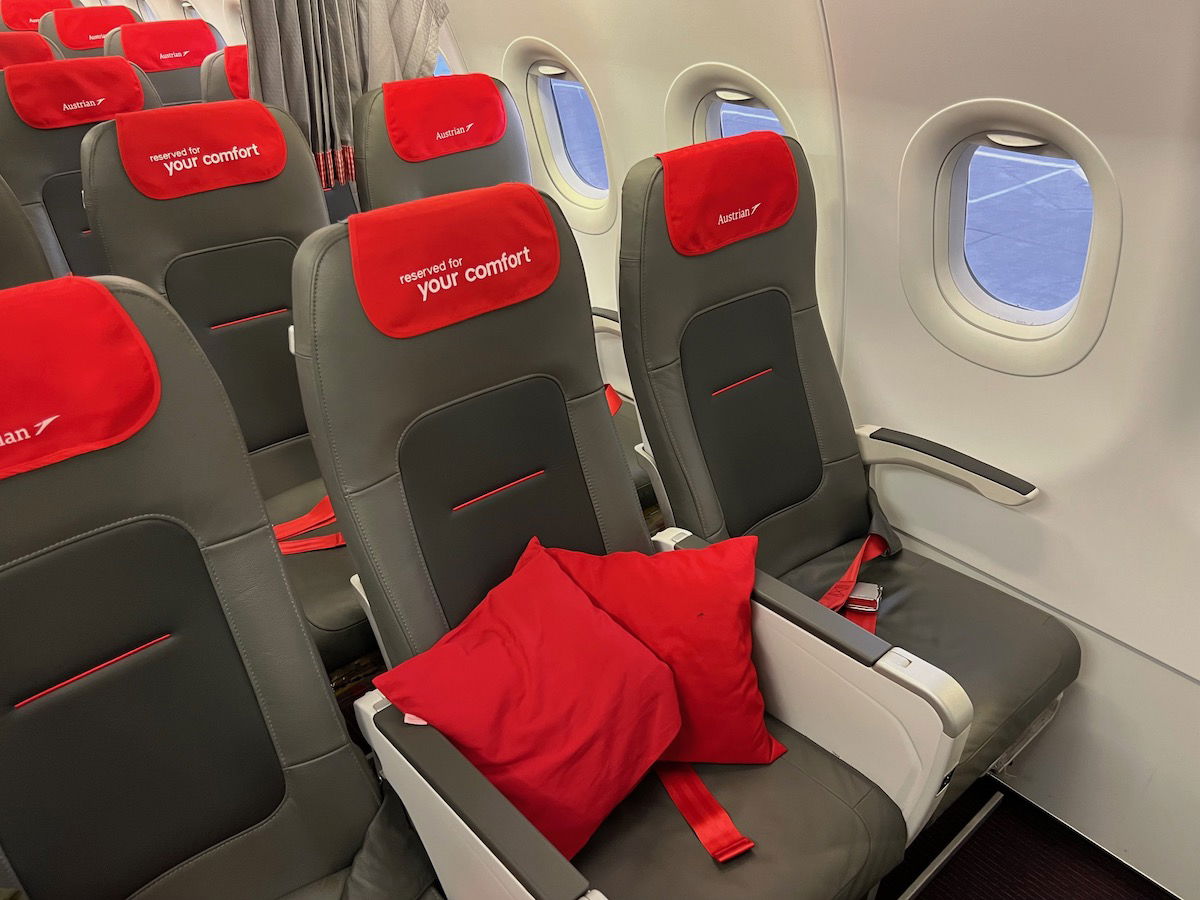 While I usually avoid bulkhead seats, on intra-Europe flights they're typically the best option, since they do feature significantly more than standard economy legroom.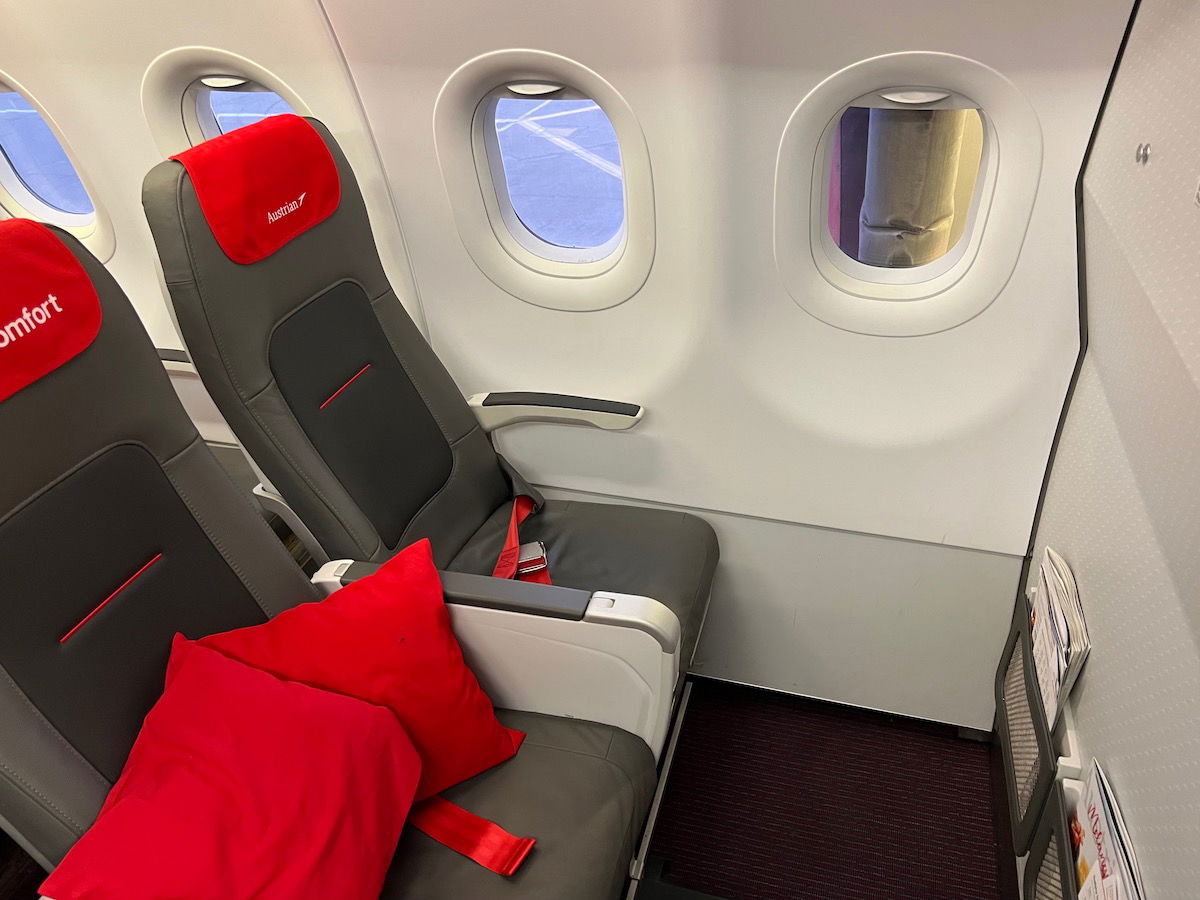 Only three of the eight business class seats were occupied, and both of those passengers were seated in the window seats in the first row. As a result, I selected 2A, the window seat on the left side in the second row.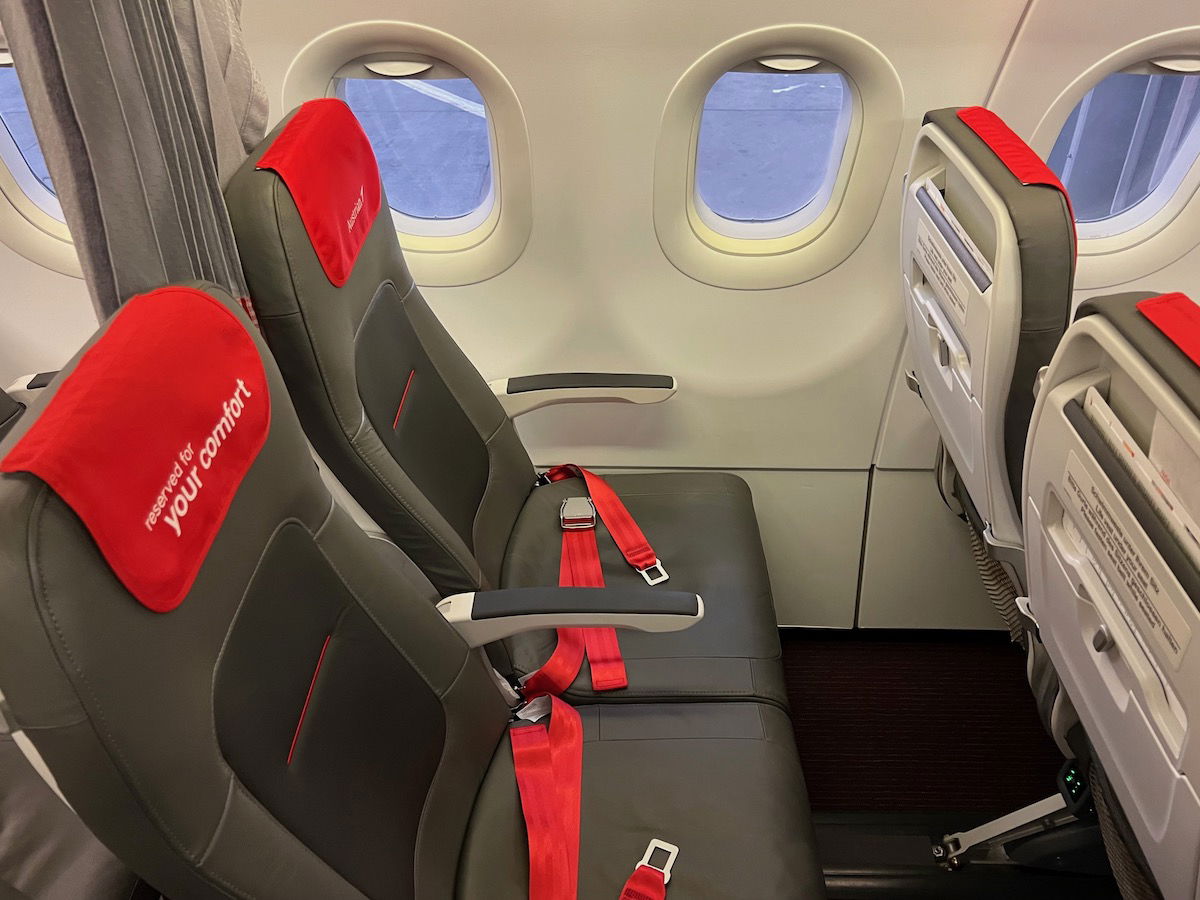 While the middle seat was blocked, there was no little tray table on the center seat, as you'll find on some airlines. Rather there was just a headrest indicating that the seat was reserved for more comfort.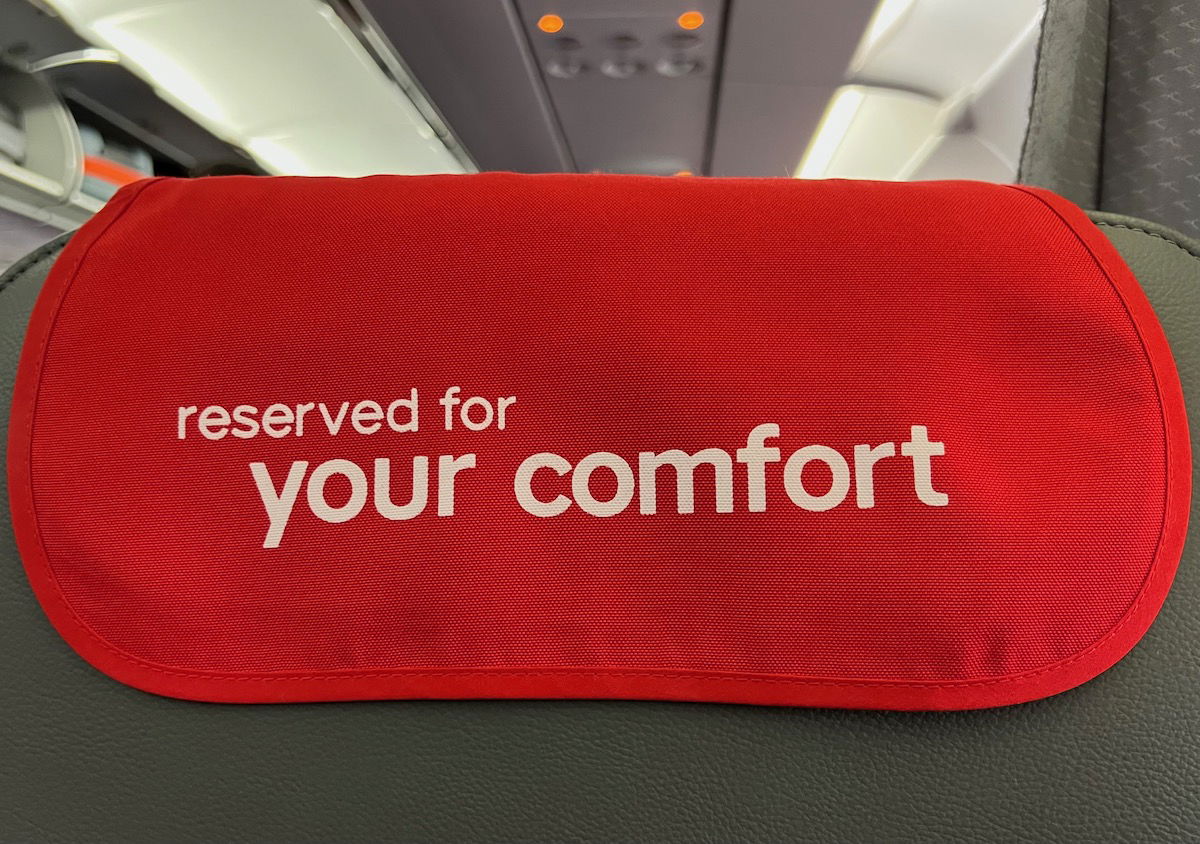 I was pleasantly surprised by the legroom. It was by no means spacious, but it felt better than on many other short haul planes in Europe. While Austrian allegedly has 30″ of pitch on its A320s, I wonder if the first few rows might have a bit more space, because it didn't feel quite that tight.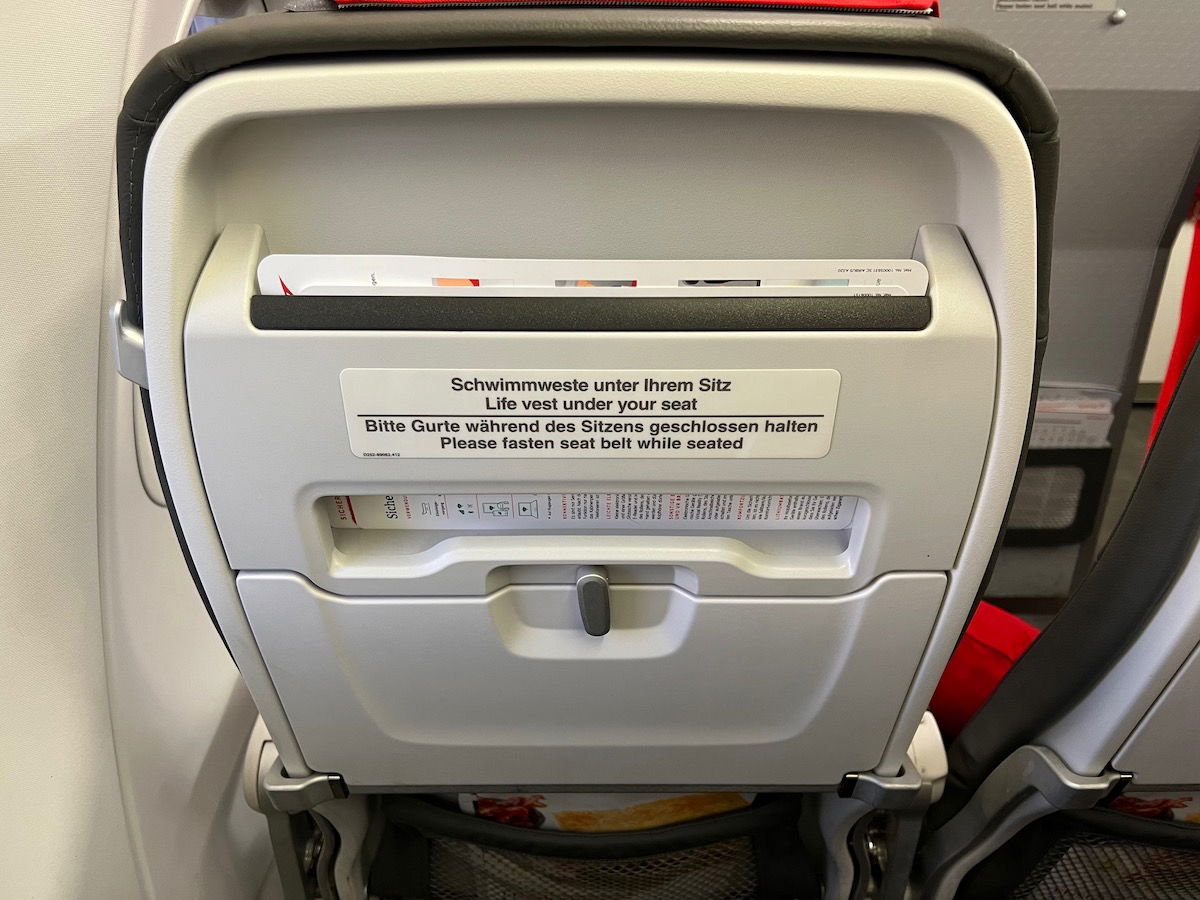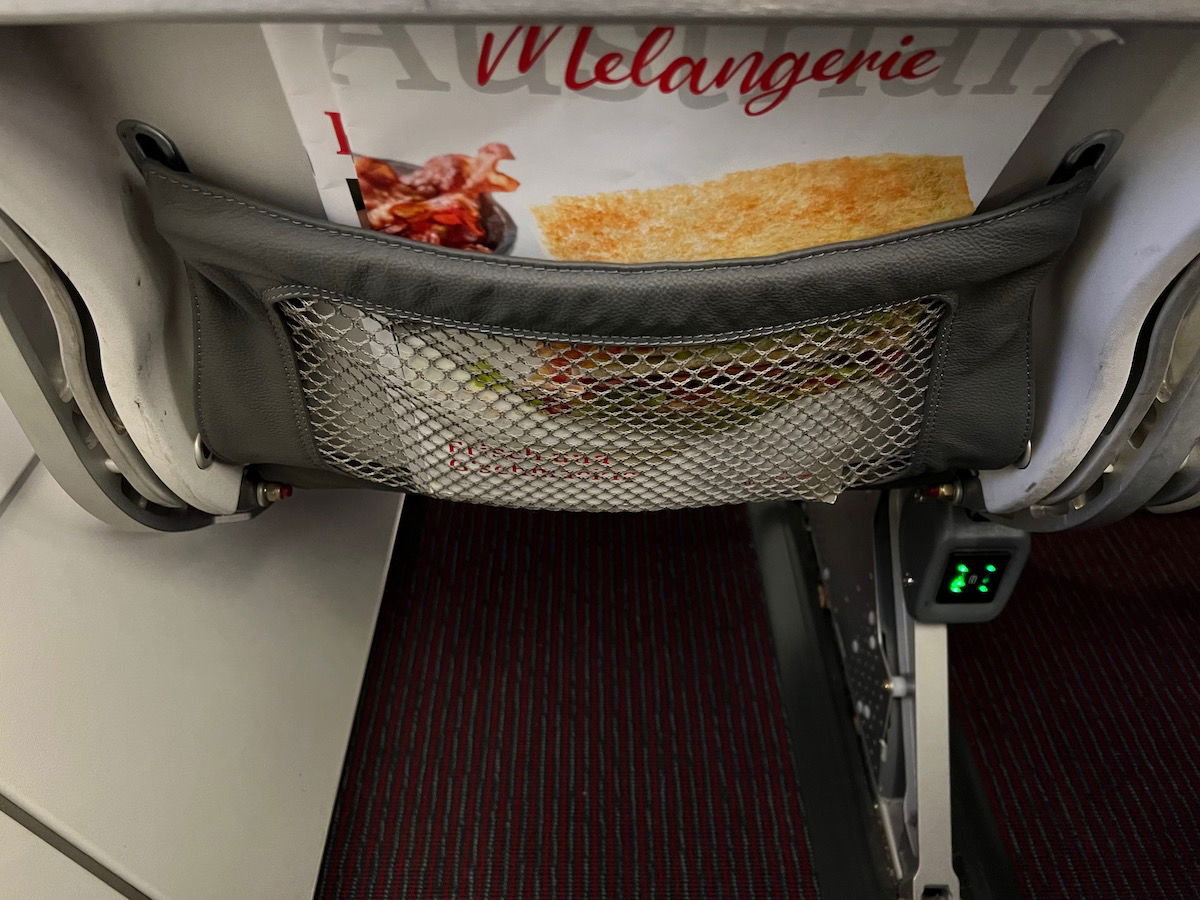 On the seatback in front was a tray table that folded down, and then a literature pocket underneath that.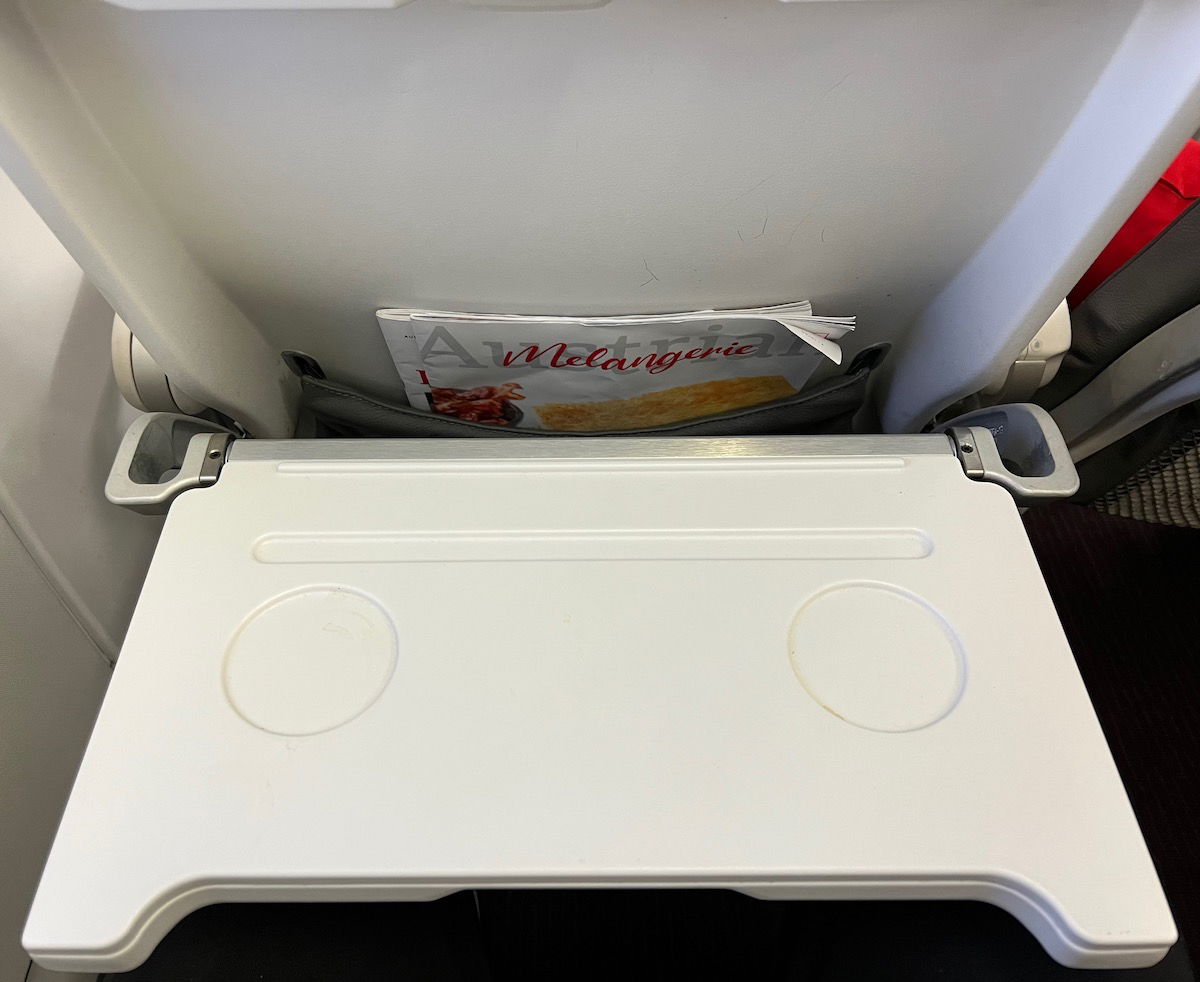 Underneath the seat were USB-A and USB-C outlets, so that was nice at least. While it would be ideal to also have an AC power outlet, this is a lot more than you'll find on many other airlines.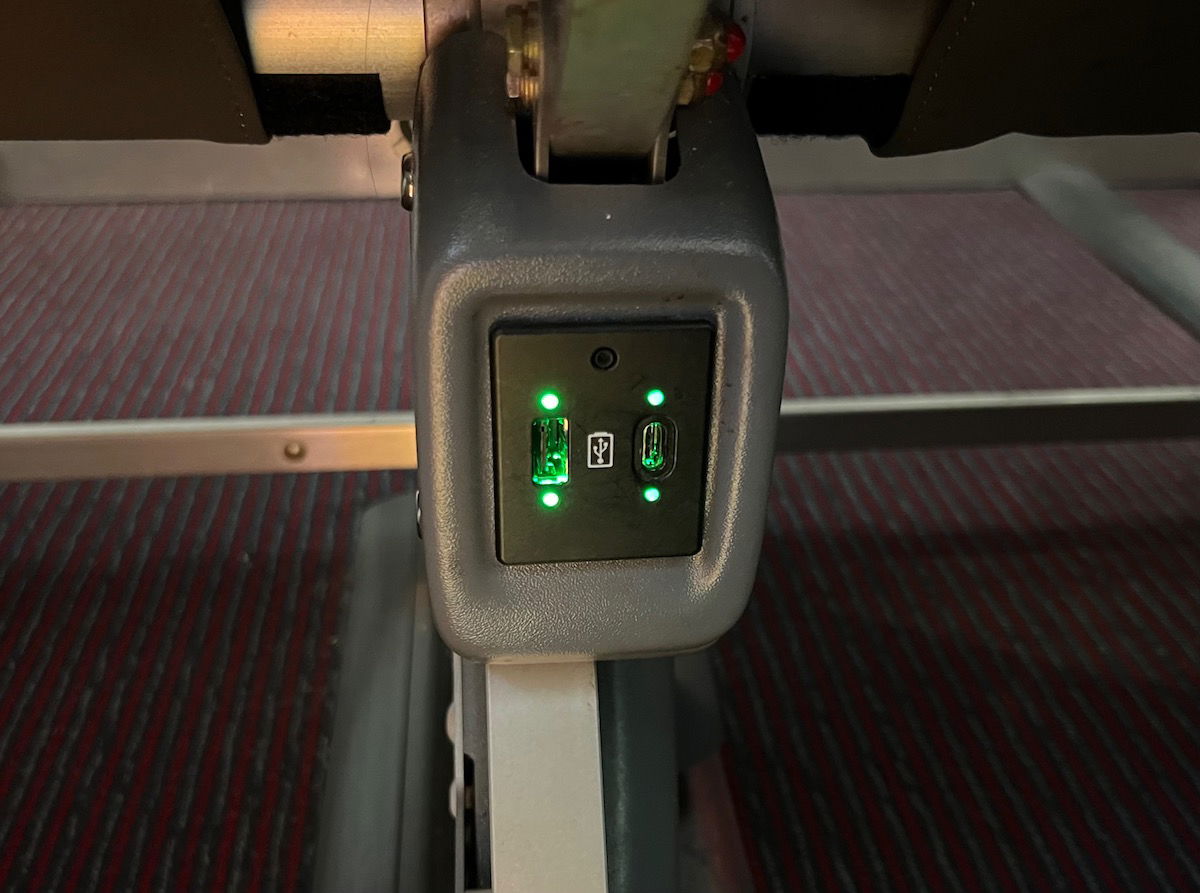 The overhead consoles had reading lights and individual air nozzles.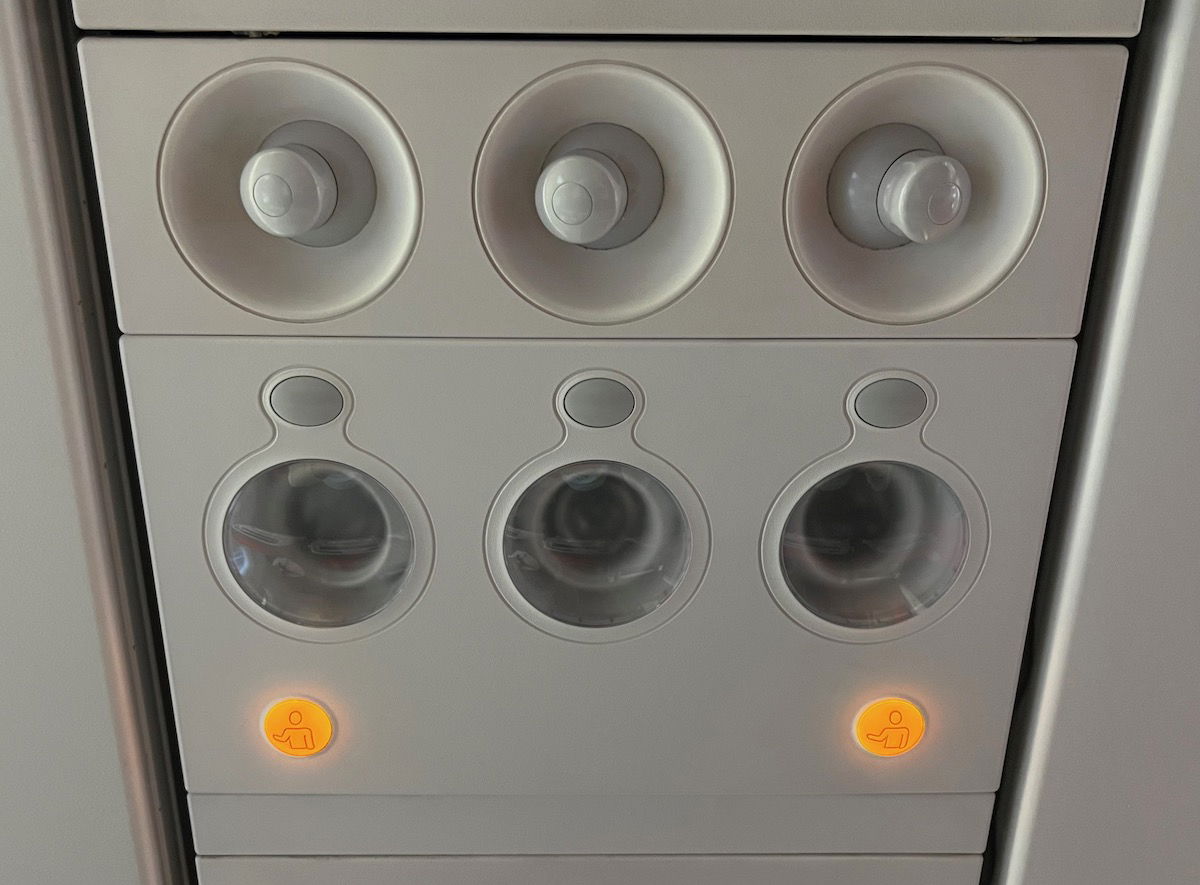 While I've had more comfortable premium seats, it was cozy to have the whole second row to myself.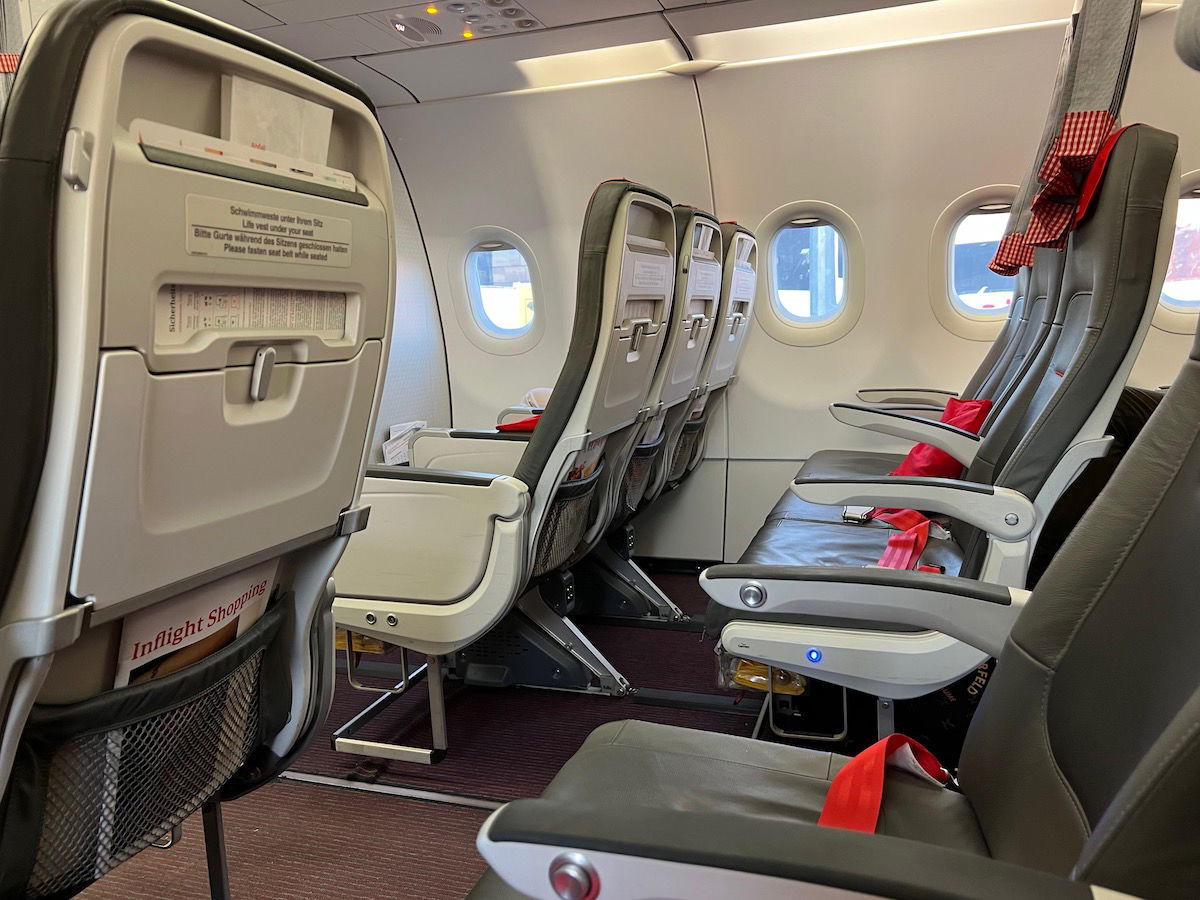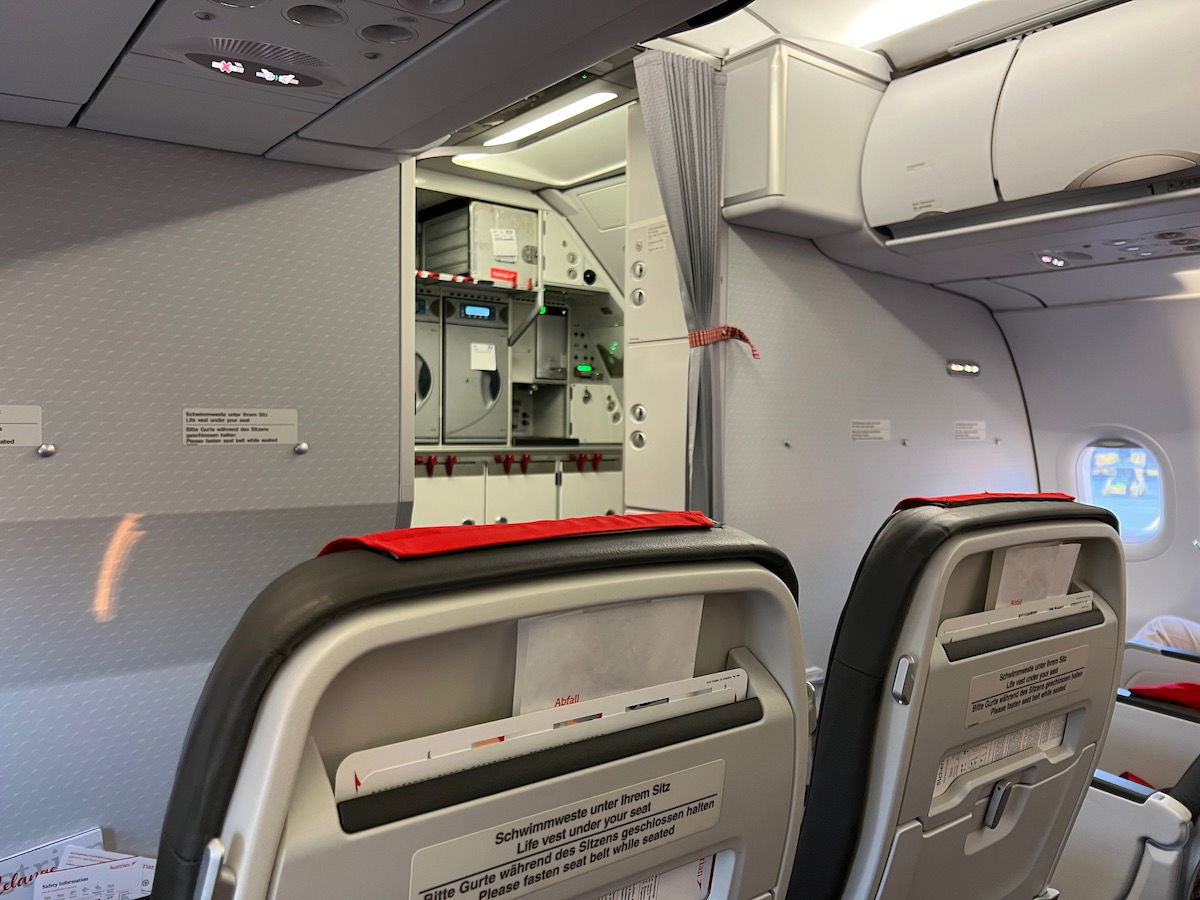 The only real additional business class amenity was that there was a small, bright red pillow for each passenger.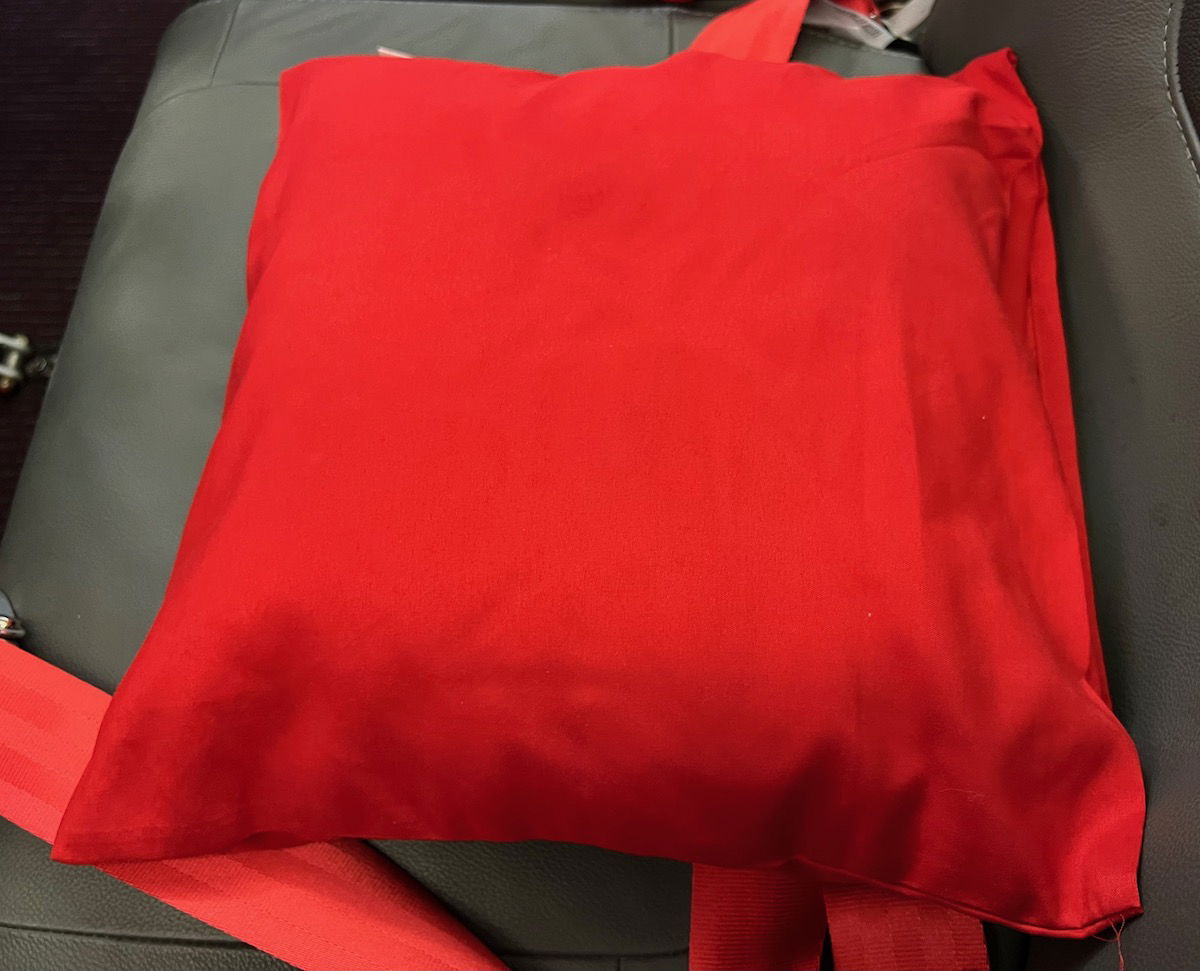 It's my understanding that Austrian is installing Wi-Fi on its Airbus A320s, though the plane I was flying on unfortunately didn't feature this.
Austrian A320 departure from Vienna
Usually I find that boarding in Europe is pretty efficient, but that wasn't really the case on this flight. Admittedly the flight was full, but even so, boarding seemed to be taking forever. It was interesting to observe the process.
While the purser was very friendly to business class passengers during the flight, she didn't have the same warmth toward passengers during boarding. Rather than greeting passengers, she avoided eye contact, and just stared at each passenger's bags as they boarded, without saying anything. She'd periodically make passengers place bags in the business class overhead bin just to demonstrate that they would fit, before allowing them to continue to be carried further. She'd also make comments about luggage ("even the little kids have to carry their own large bags!").
While I can appreciate the importance of ensuring there is enough room for bags, I think there's a polite way to go about it, while still greeting passengers.
A moment before 7:55AM the main cabin door closed, at which point the captain made his welcome aboard announcement, informing us of our flight time of 70 minutes. A moment later a manual safety demonstration was performed.
Around 8AM we began our pushback, just as the sun was starting to rise.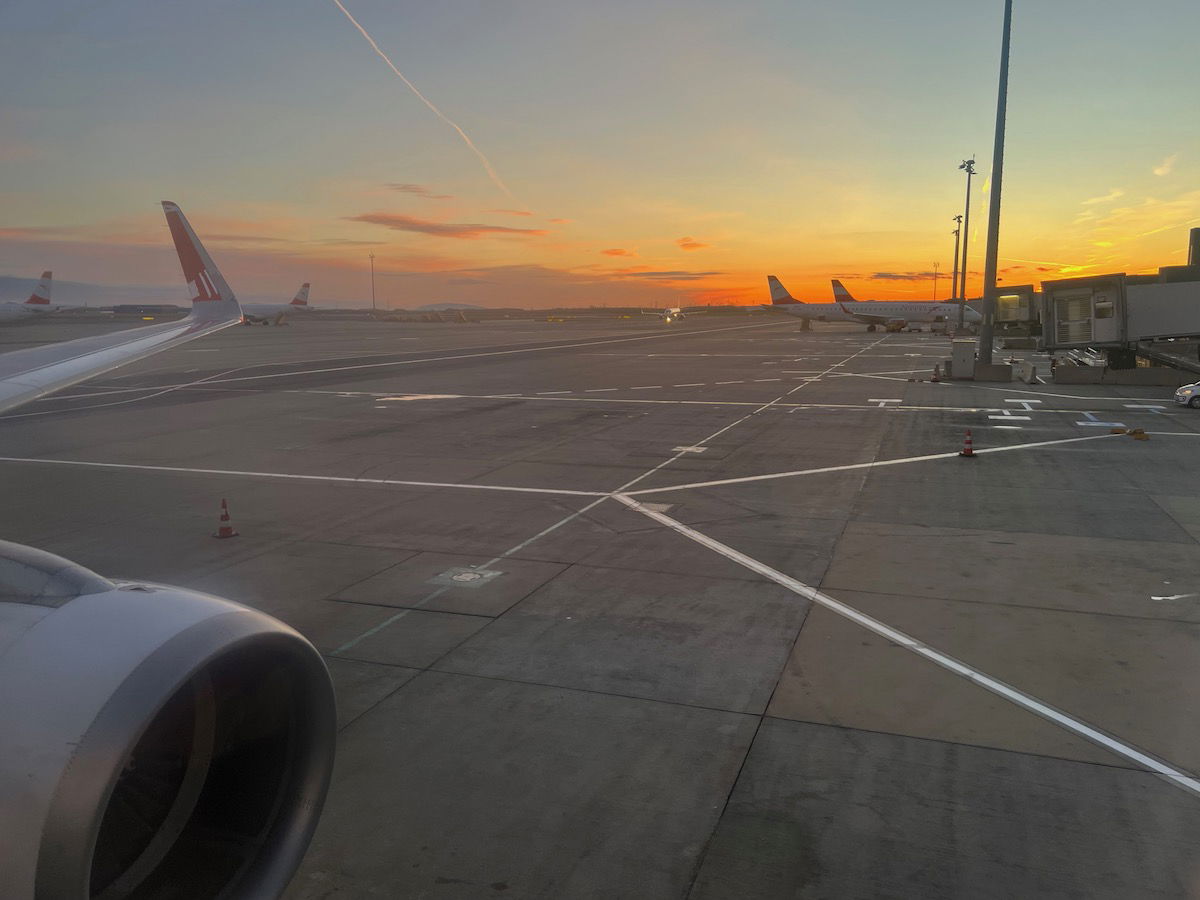 We started our taxi at 8:05AM. It was just a five minute taxi to the departure runway. During that time there were some nice plane spotting opportunities, as there were other Austrian jets parked at remote stands.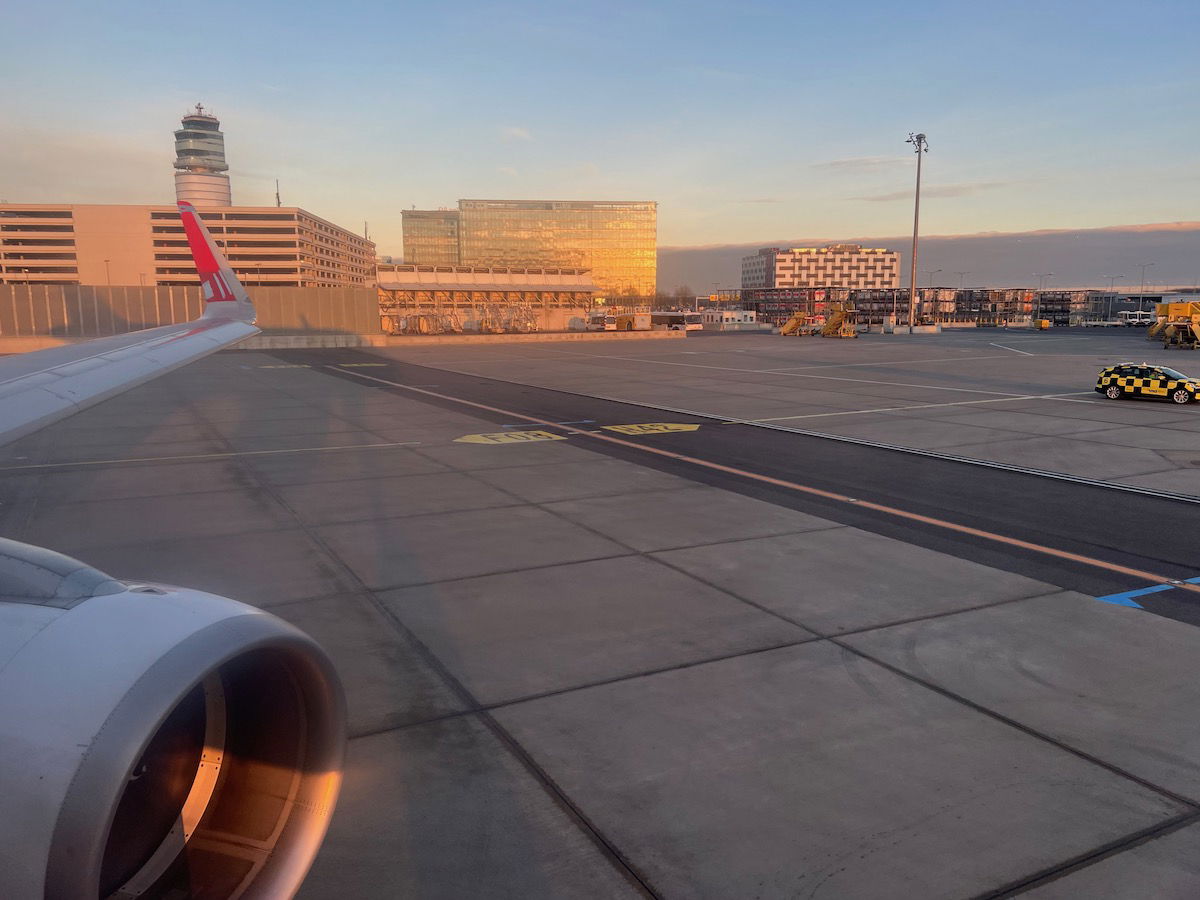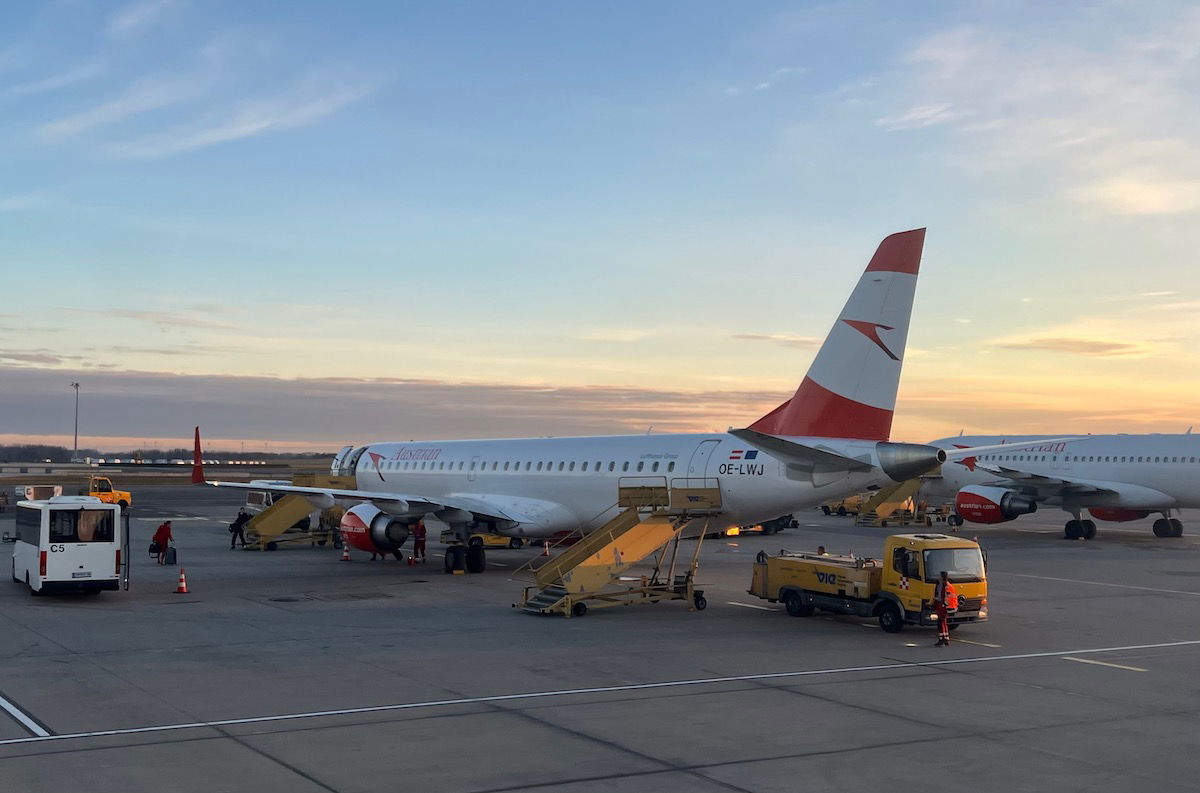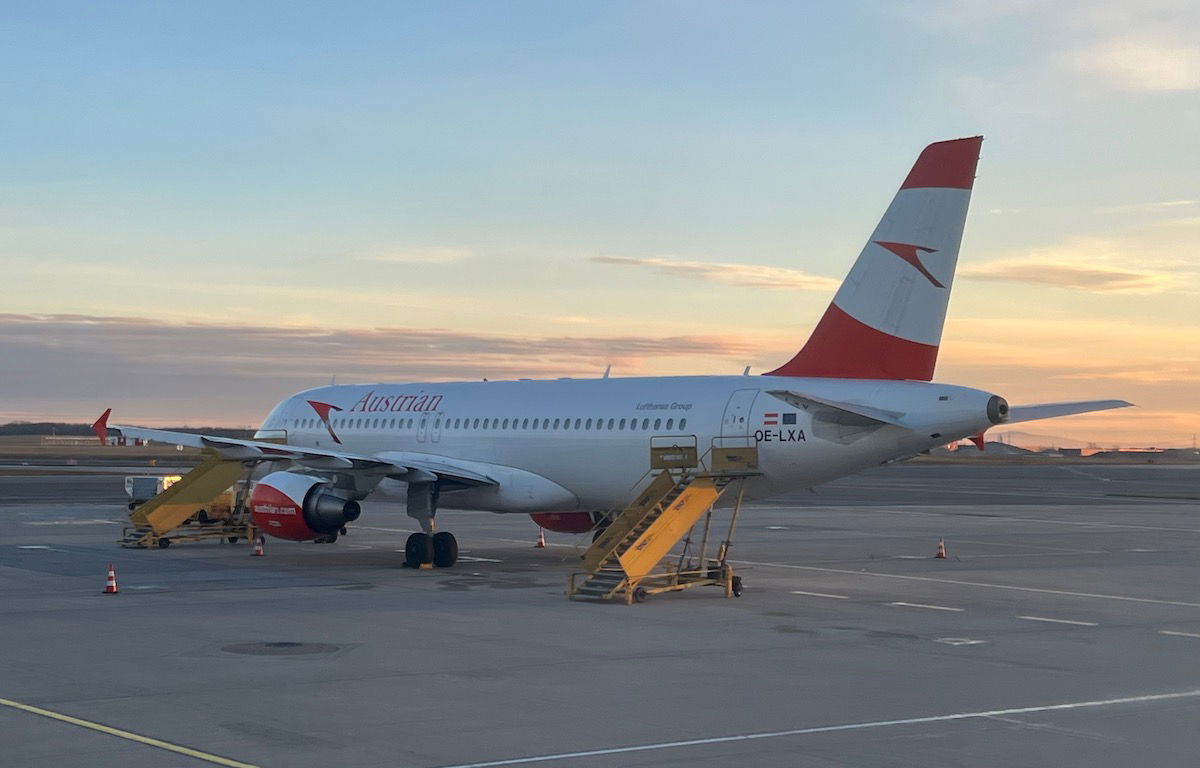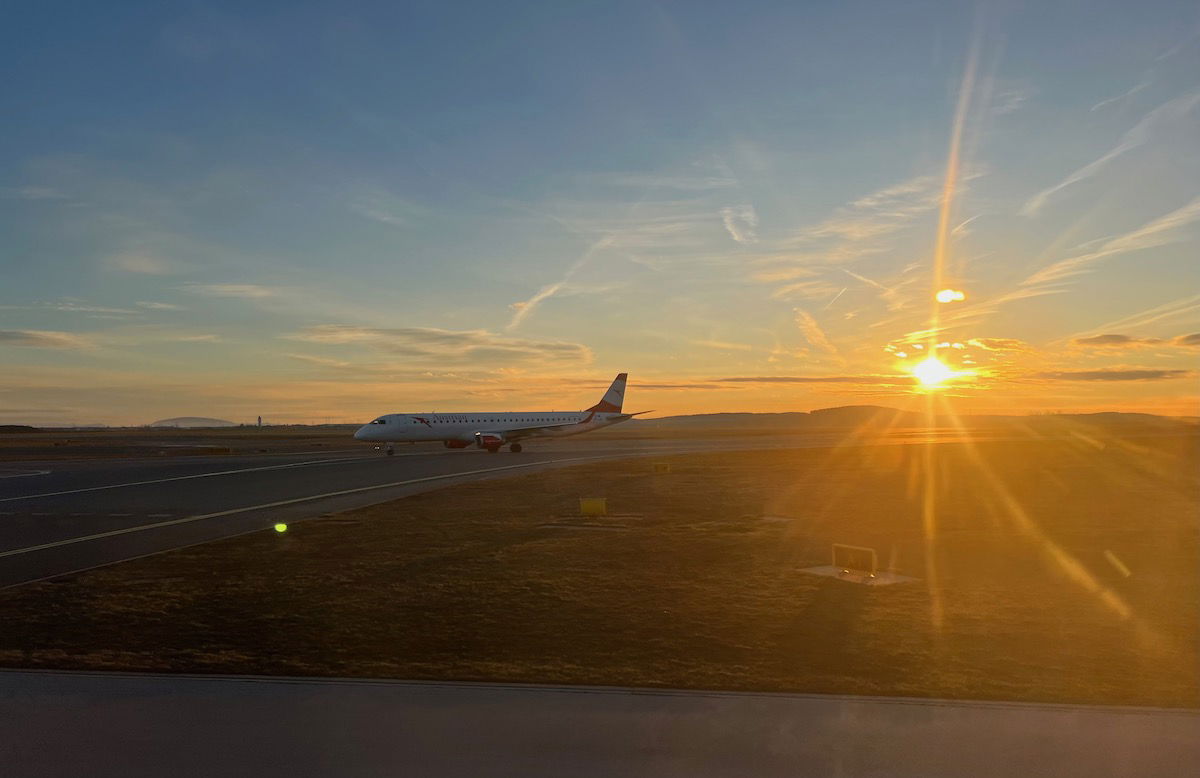 By 8:10AM we were cleared for takeoff, and we began a quick takeoff roll and steep climb for Rome. I just gazed out the window at the beautiful earth below.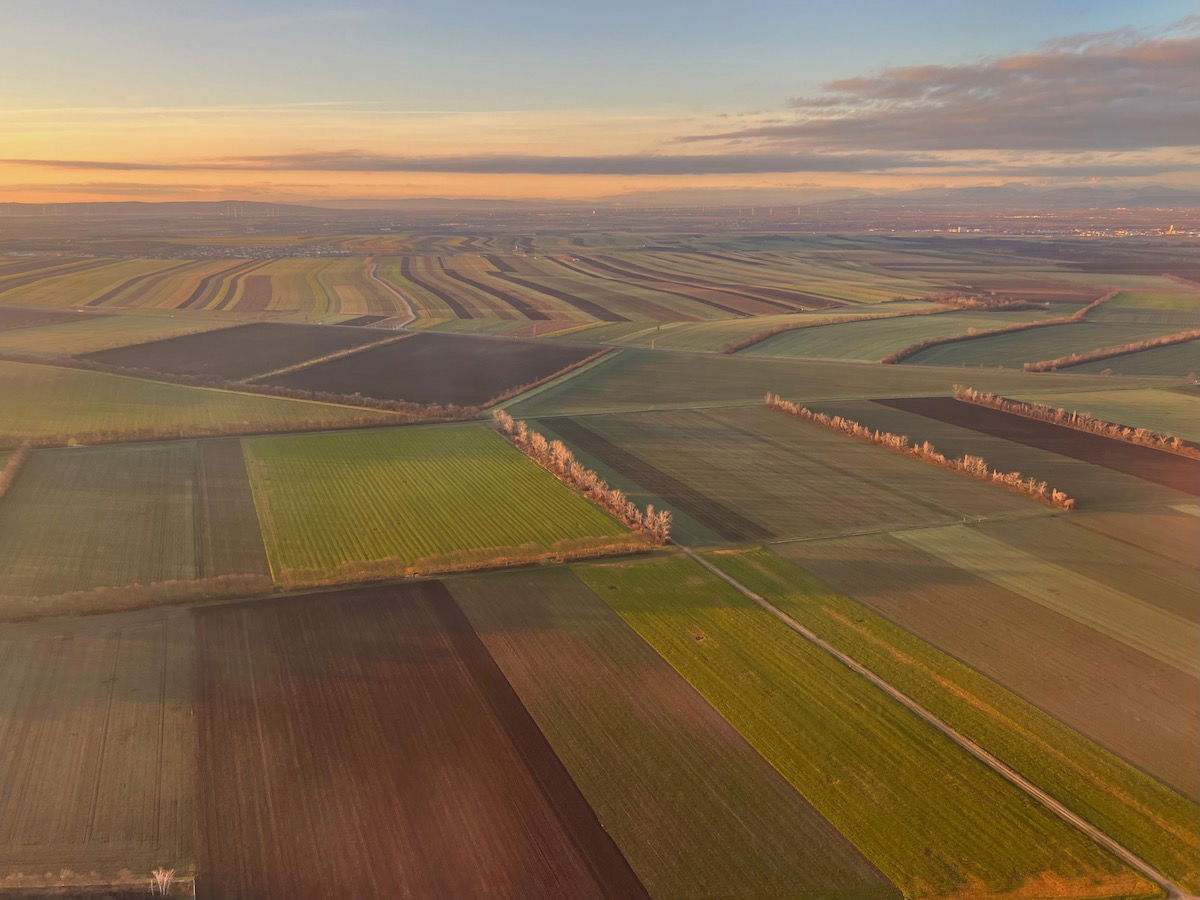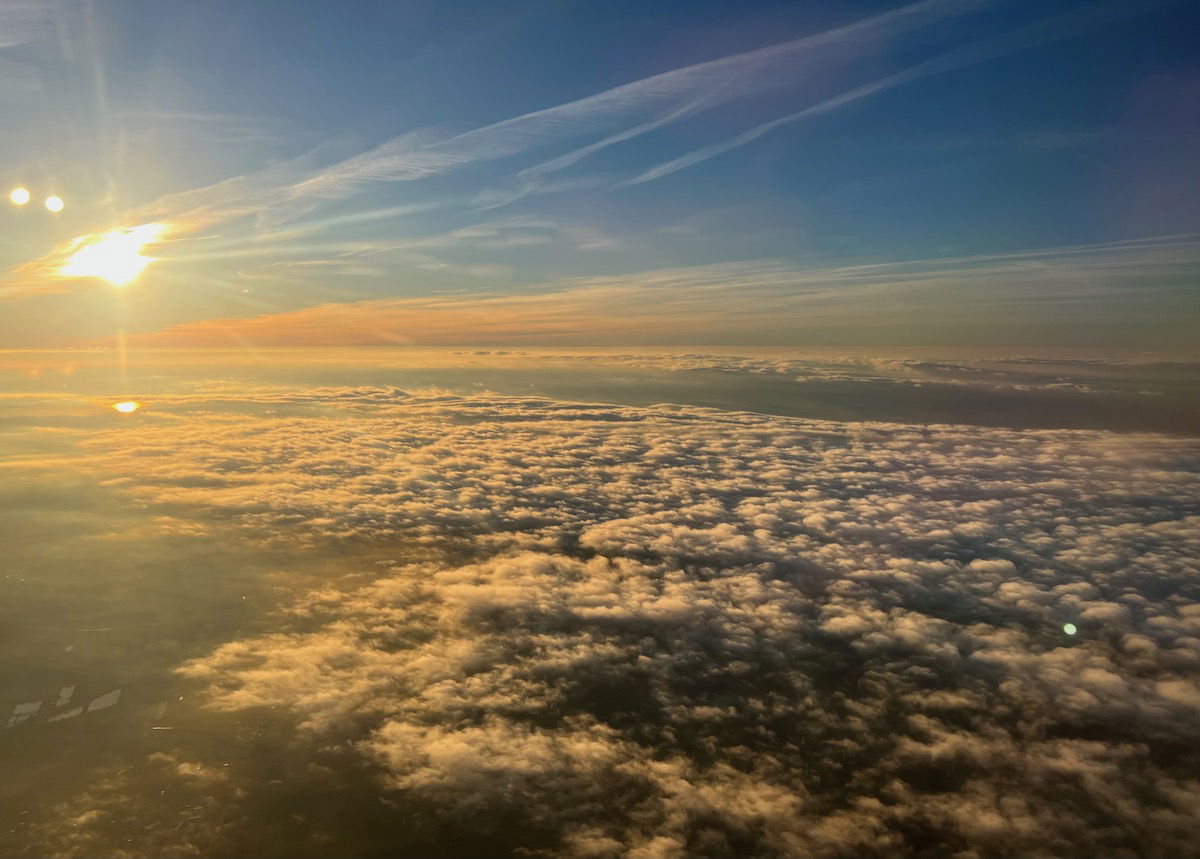 Austrian business class snack service
The seatbelt sign was turned off just five minutes after takeoff, at which point the curtains were closed between the galley and business class, and between business class and economy class.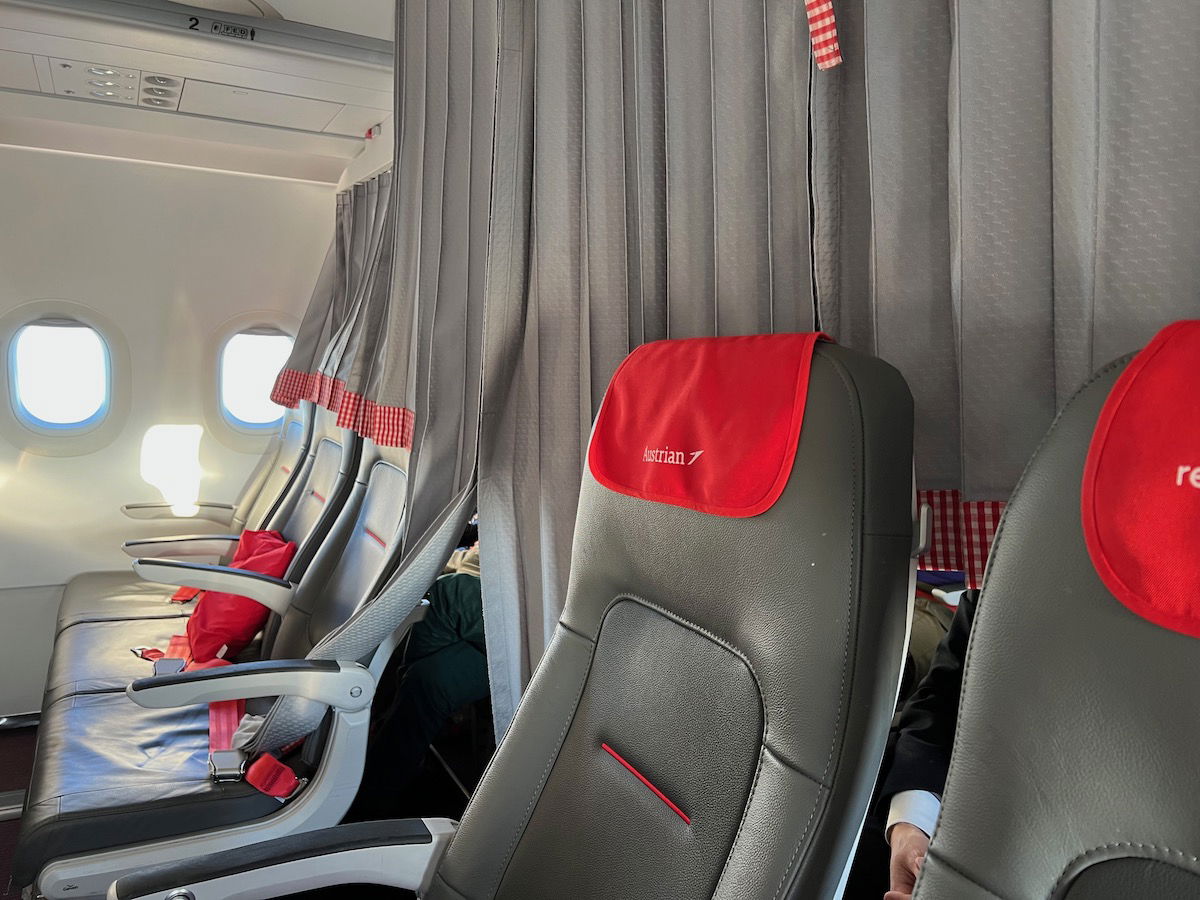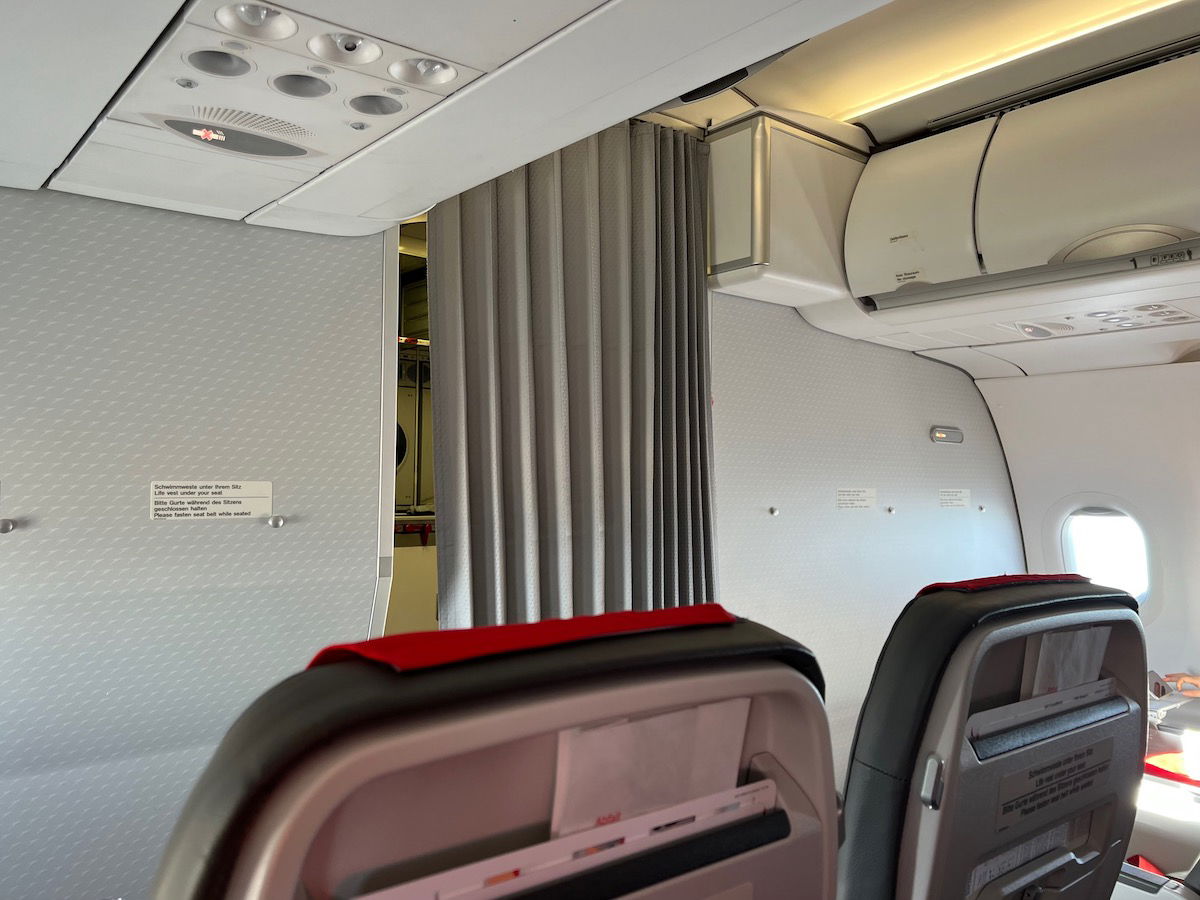 About 10 minutes later the purser served the inflight snack. On this flight it was a ham and egg crepe with a side of yogurt and a selection from the bread basket. There's no denying that Austrian's intra-Europe catering is significantly better than on many other airlines, as the airline serves hot meals on flights where Lufthansa and SWISS don't.
Personally I didn't love this meal since I don't eat pork, but that's also on me for not ordering a special meal (however, I generally avoid ordering special meals so that I can see what other people would be served).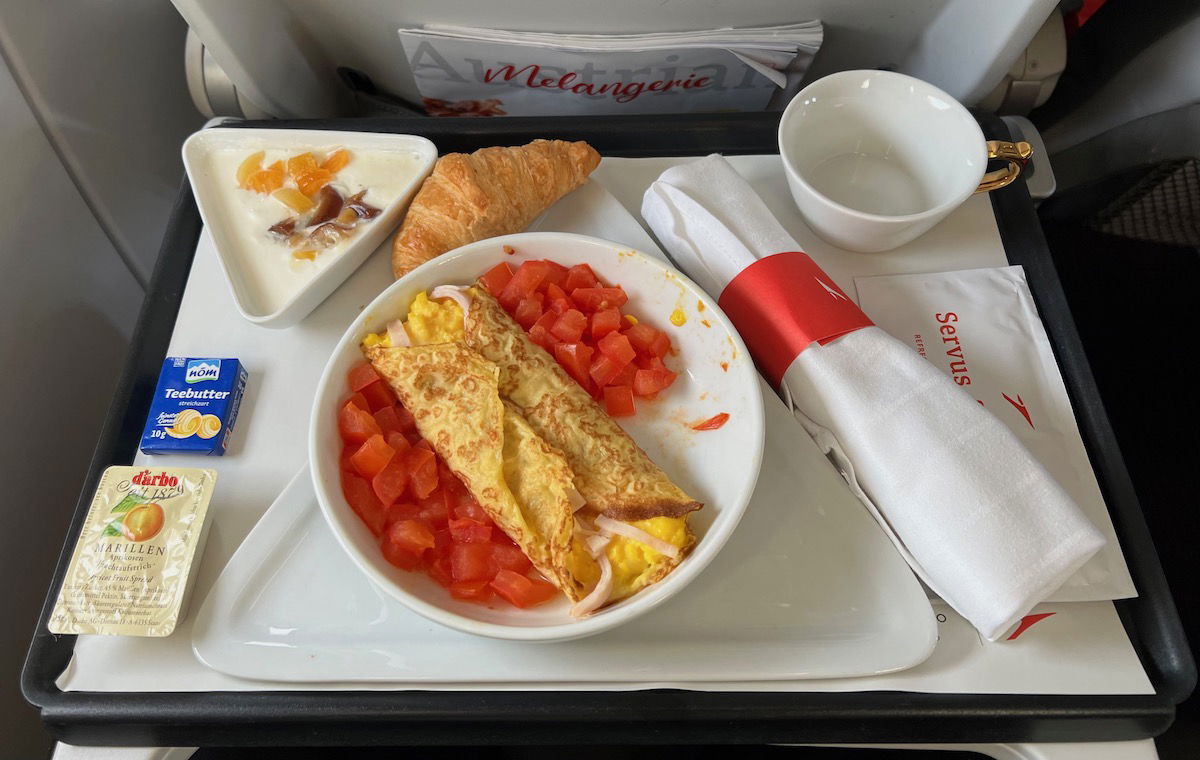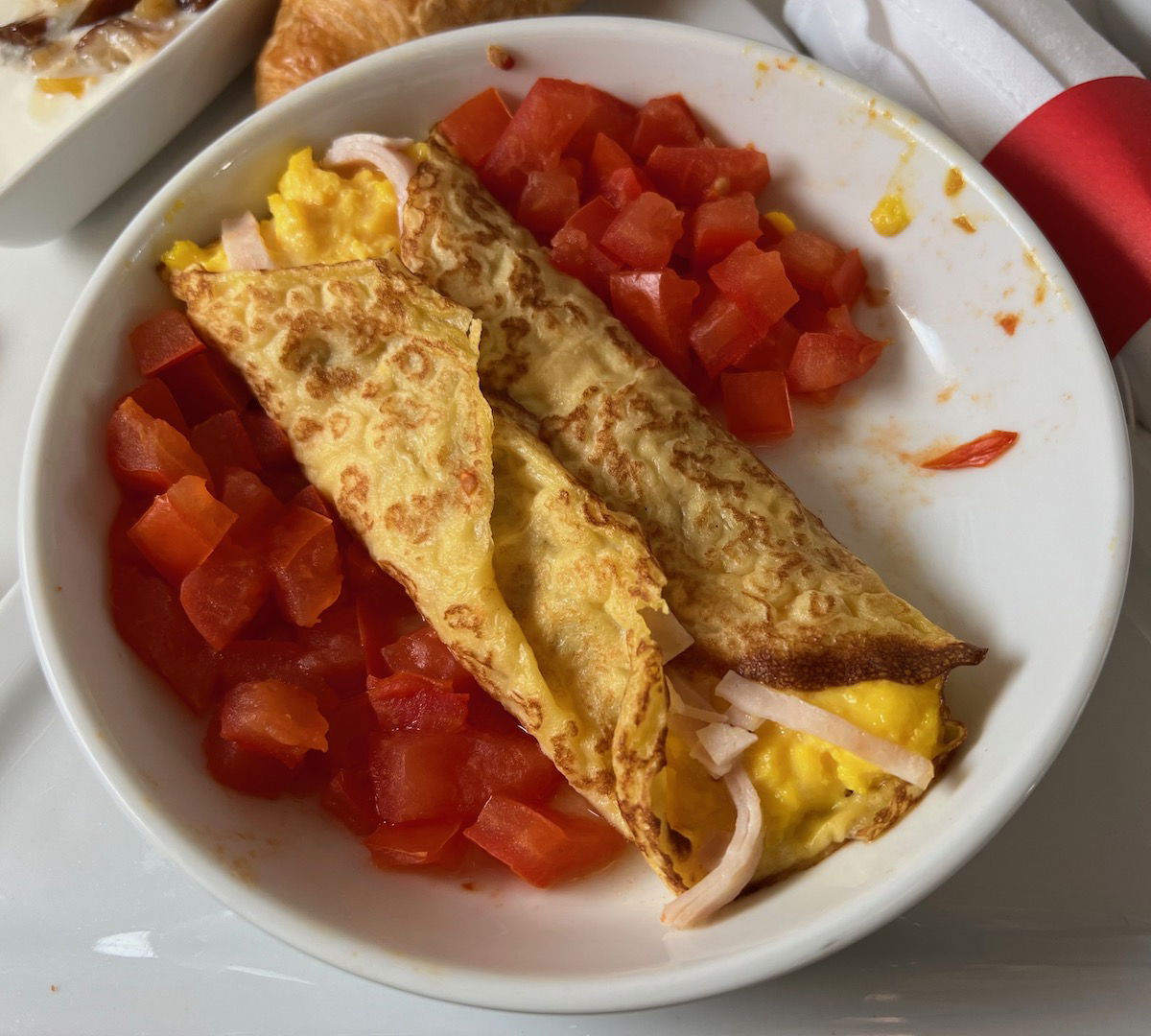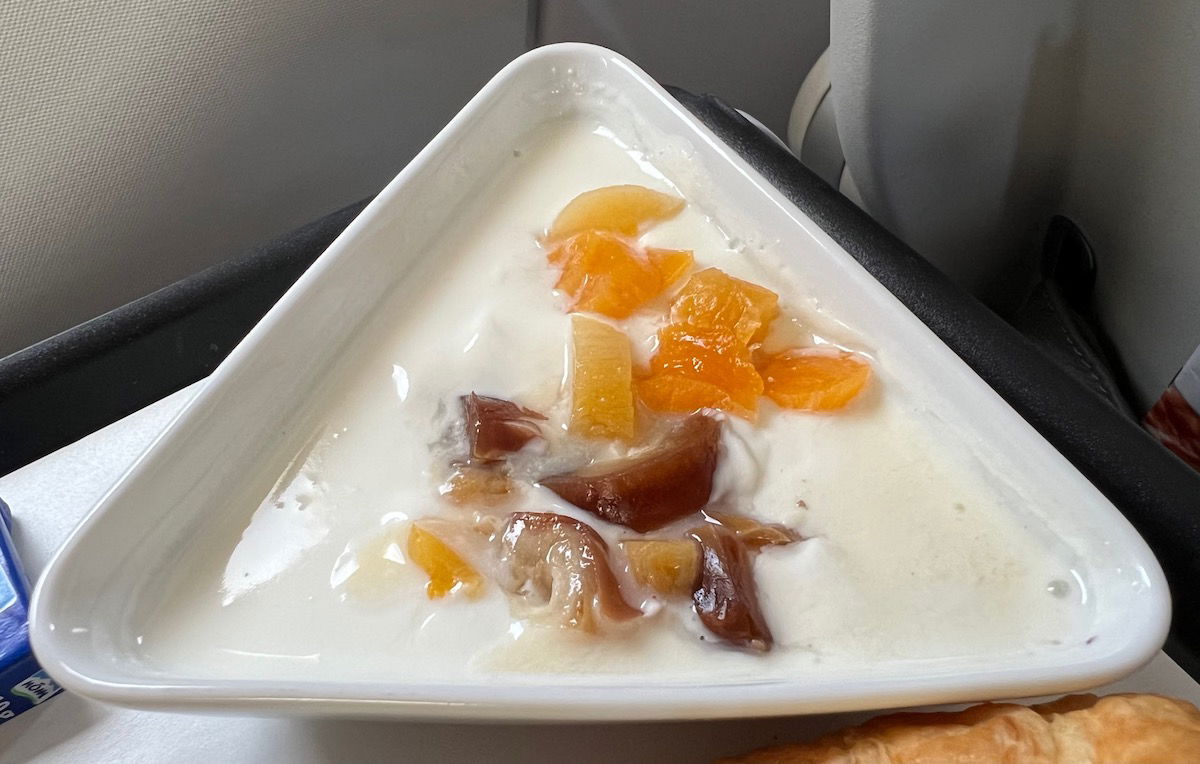 Once the trays were brought out, the crew served drinks. I ordered a glass of still water and a cup of coffee.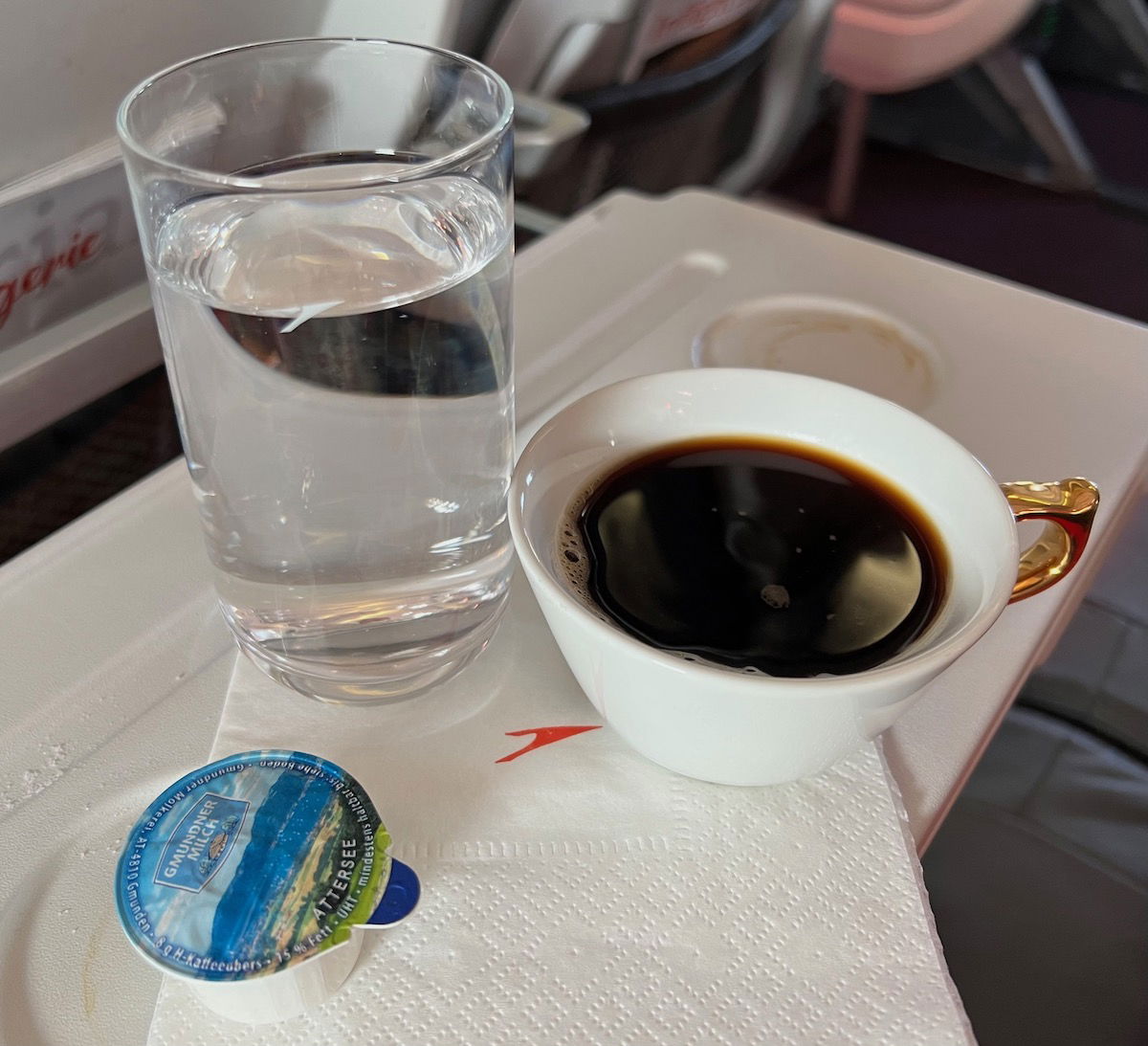 I have to say, the purser was very pleasant and attentive during the flight, and took great care of the three business class passengers.
At roughly the halfway point of the flight, the crew distributed chocolates, which I believe were also offered in economy (even though the airline otherwise has a buy on board service).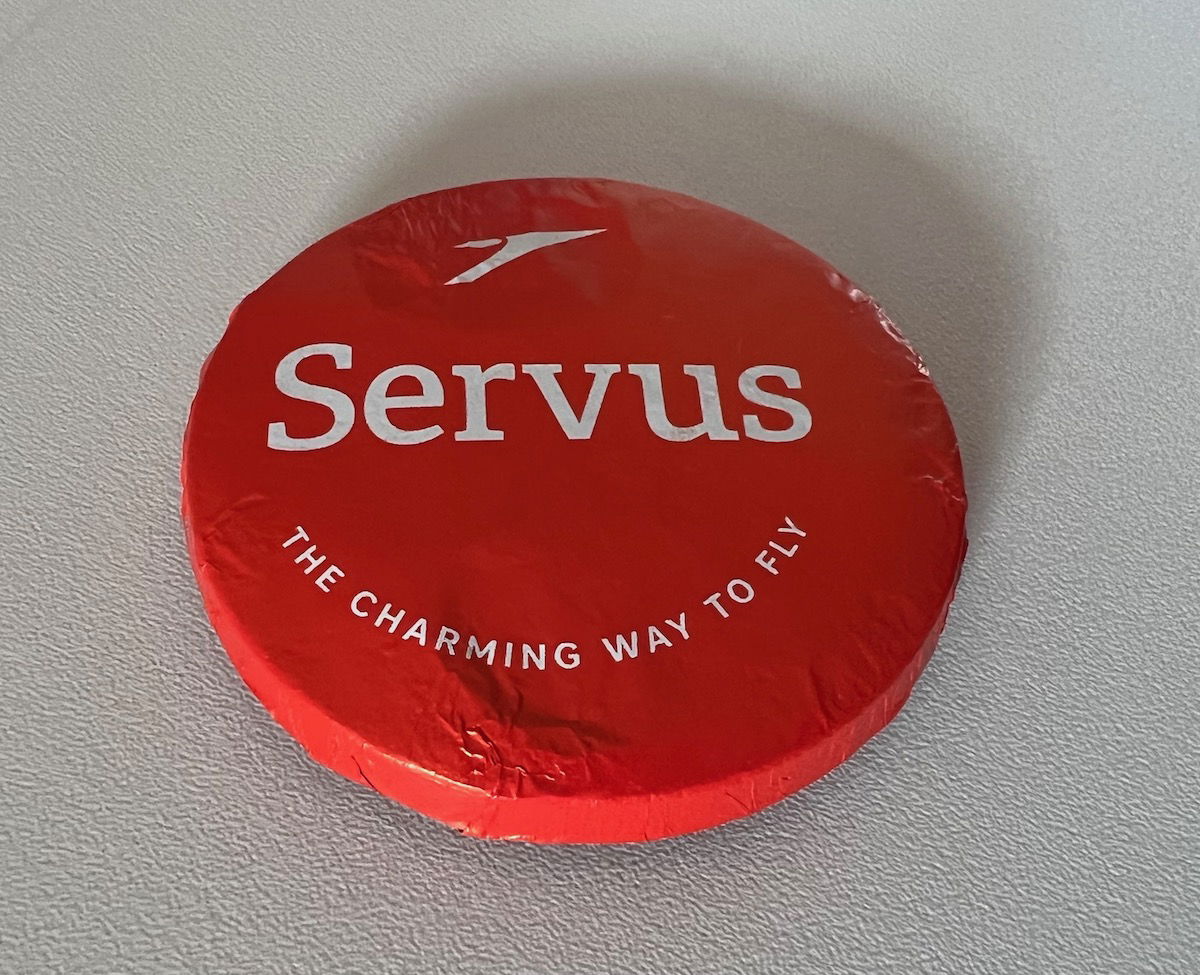 Austrian A320 business class lavatory
There was a lavatory at the front of the cabin, reserved for business class guests. It was exactly what you'd expect. However, I'd note that there were no special amenities, and for that matter the soap pump was empty as well, which wasn't ideal (and is a bit strange for the first flight of the morning).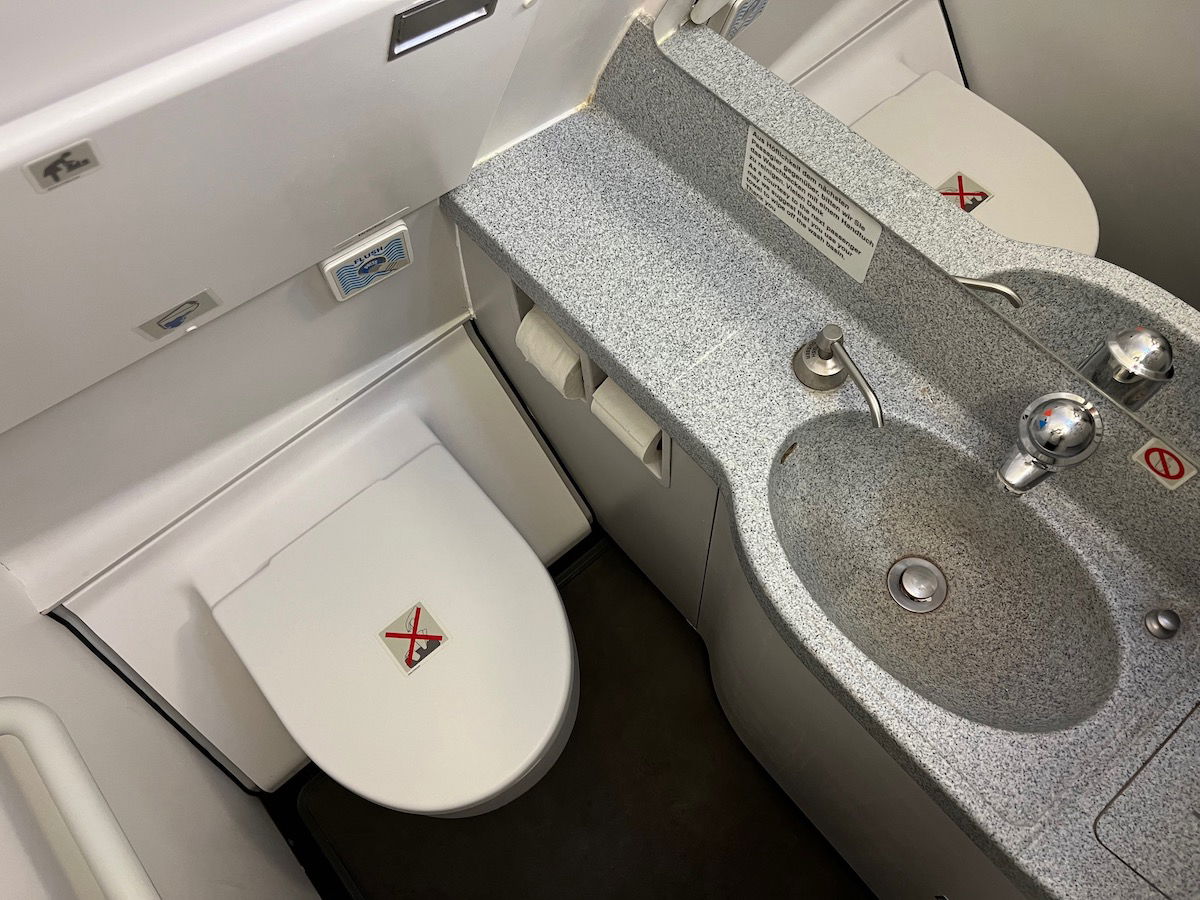 Austrian A320 arrival in Rome
At around 8:50AM local time the first officer announced we'd soon be descending. Even though it was an overcast day, the views on the entire descent were gorgeous, as you can see below.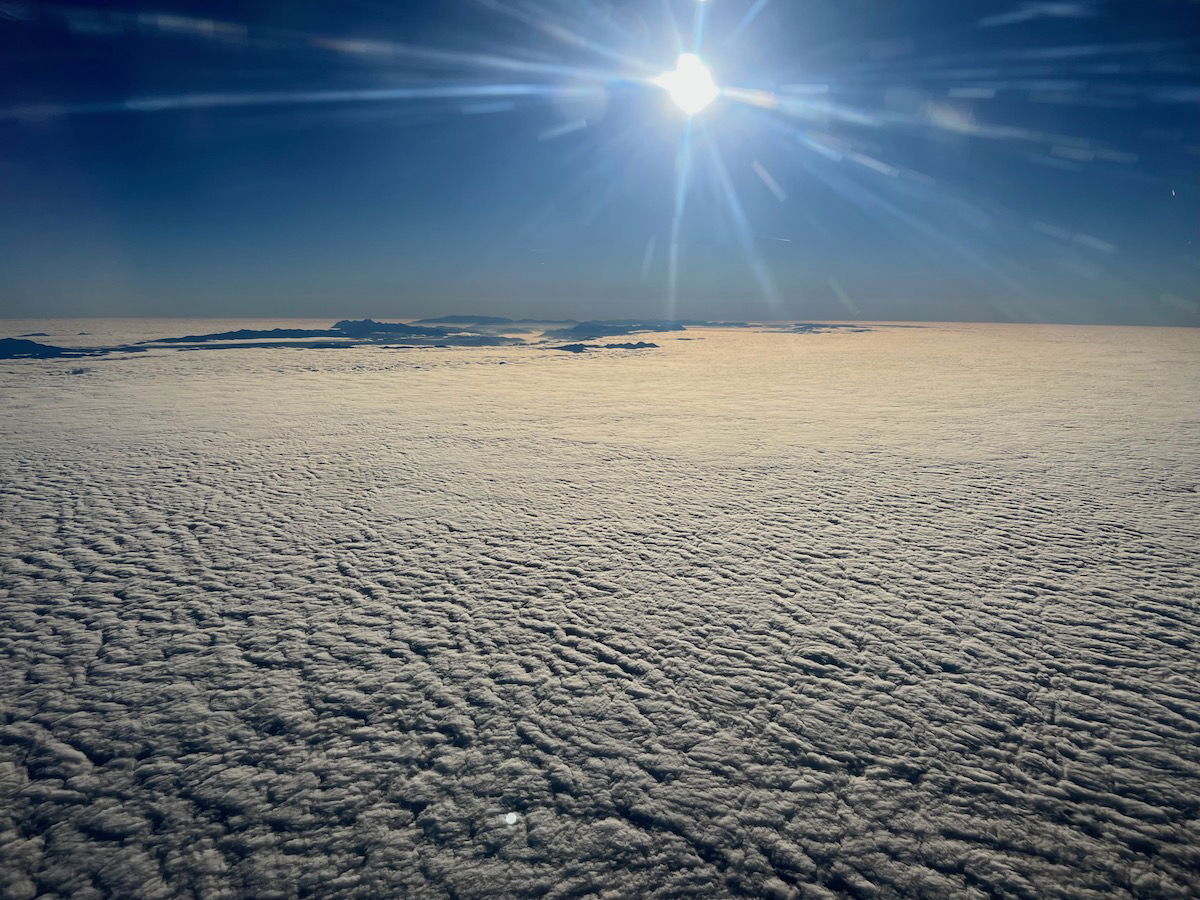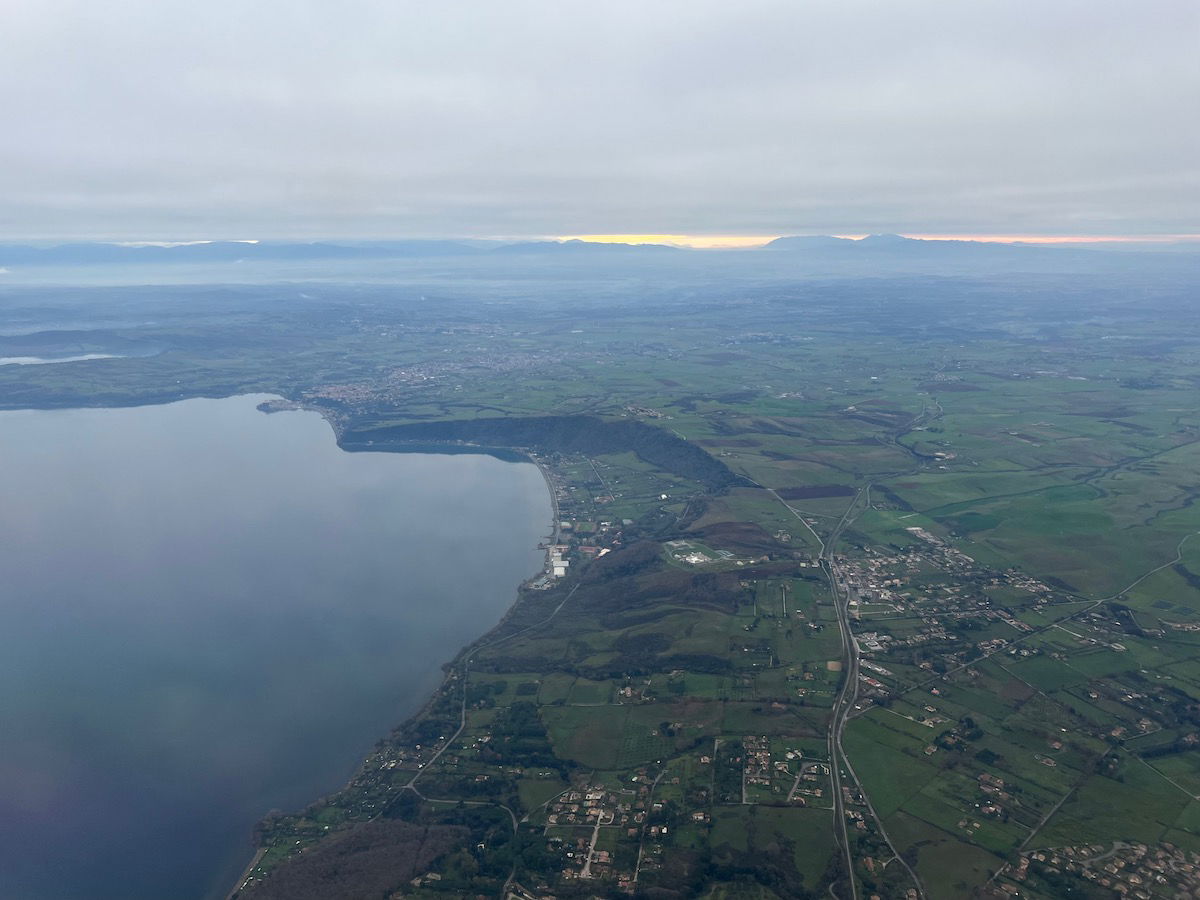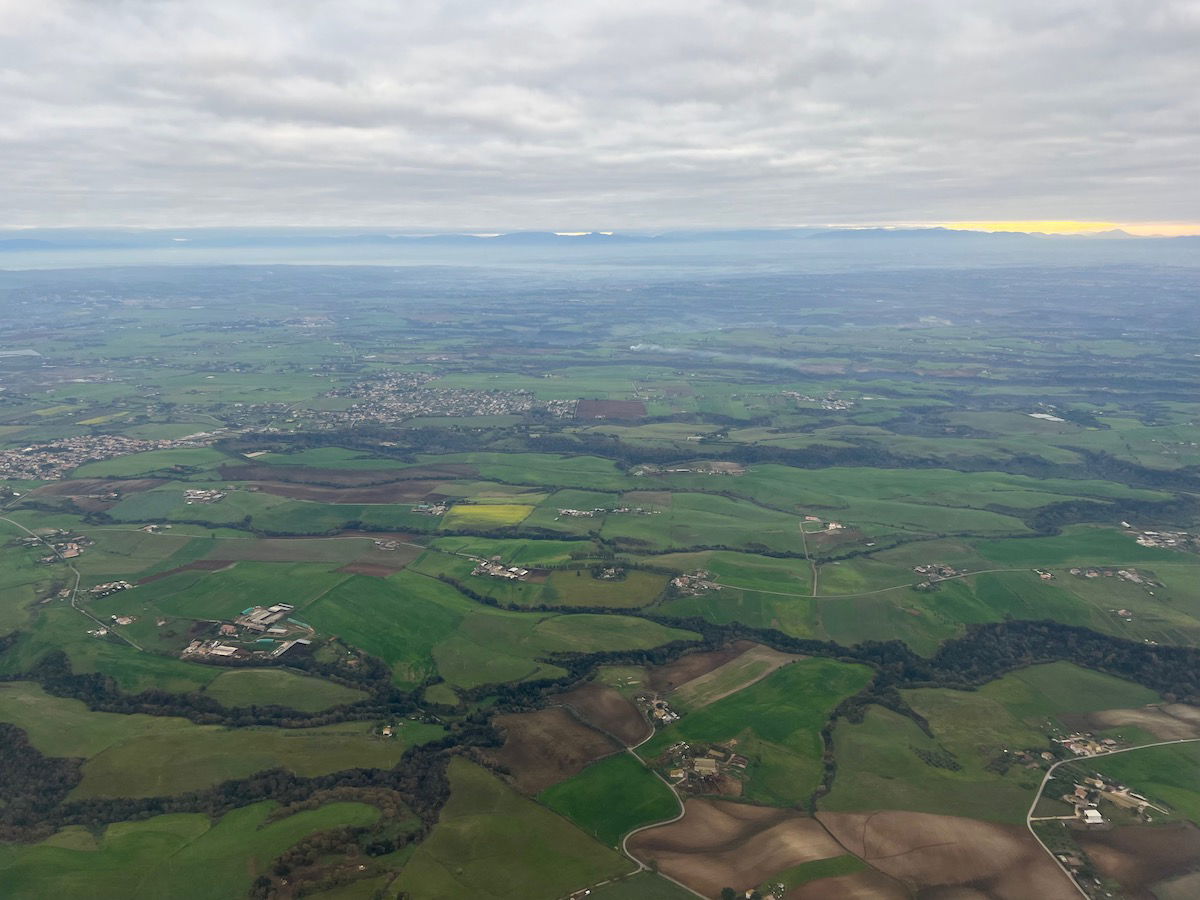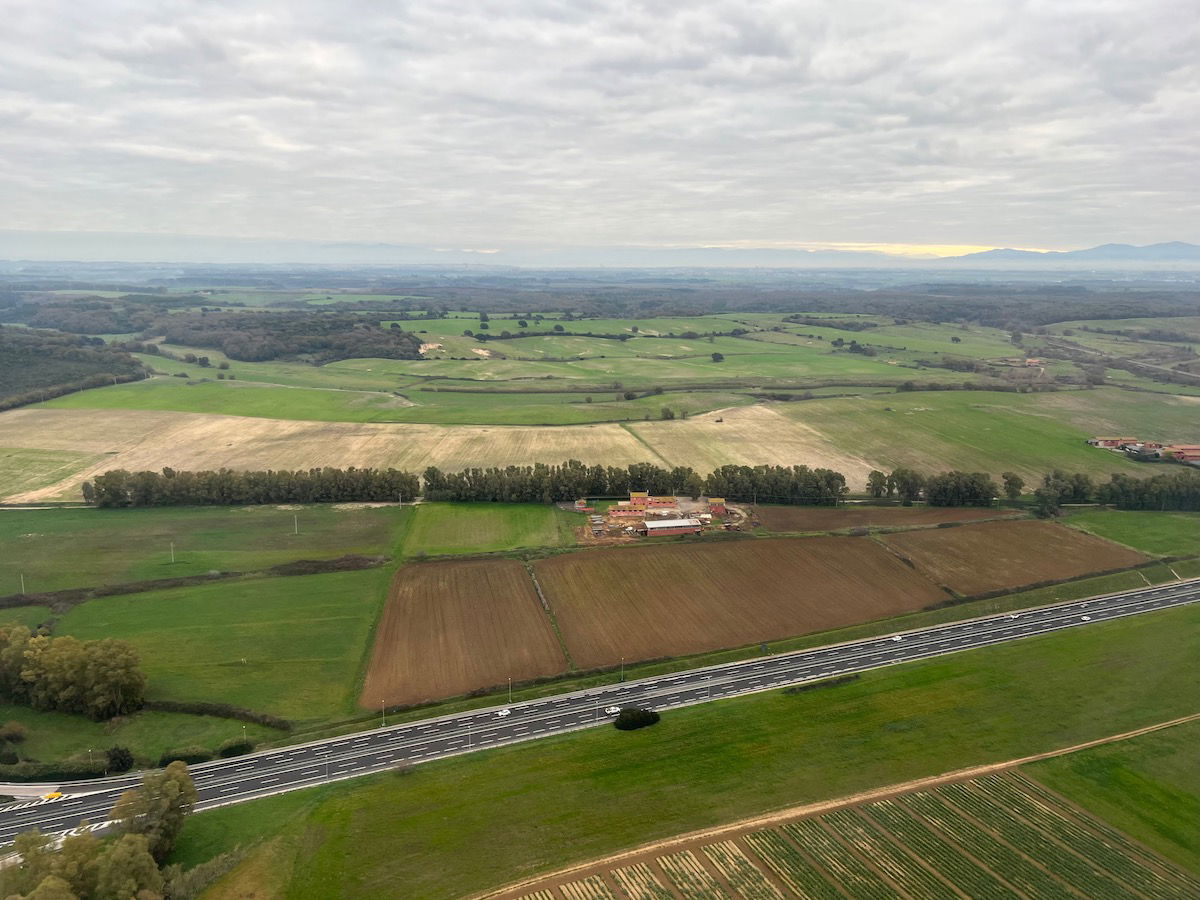 We touched down at Rome Fiumicino Airport at 9:20AM, and from there had a 10 minute taxi to the arrival gate. While my eyes are always glued outside when taxiing at airports, that's especially the case in Rome, given what a strange airline ITA Airways is.
On the one hand, I was kind of impressed by how many planes were already painted in the ITA Airways livery. On the other hand, I was amazed by how many planes were still flying around as Alitalia, roughly 15 months after the airline ceased to exist (technically).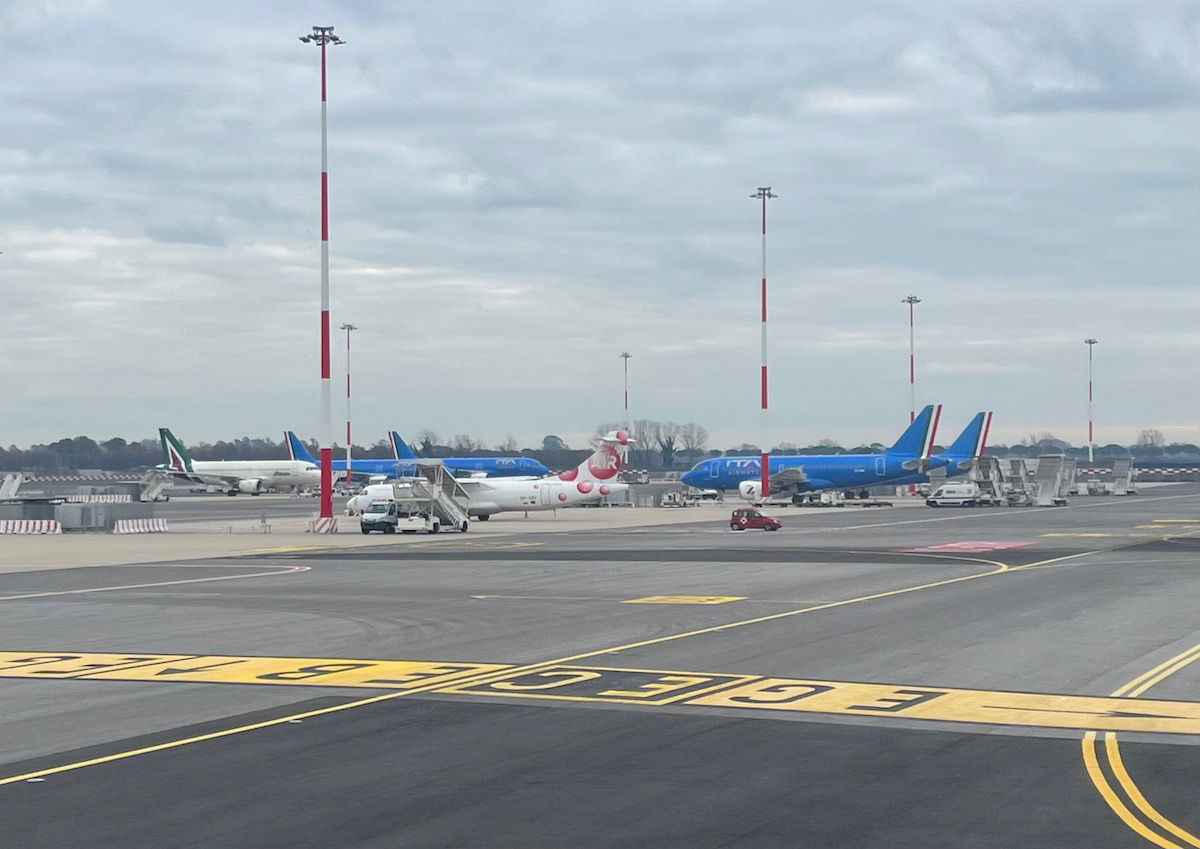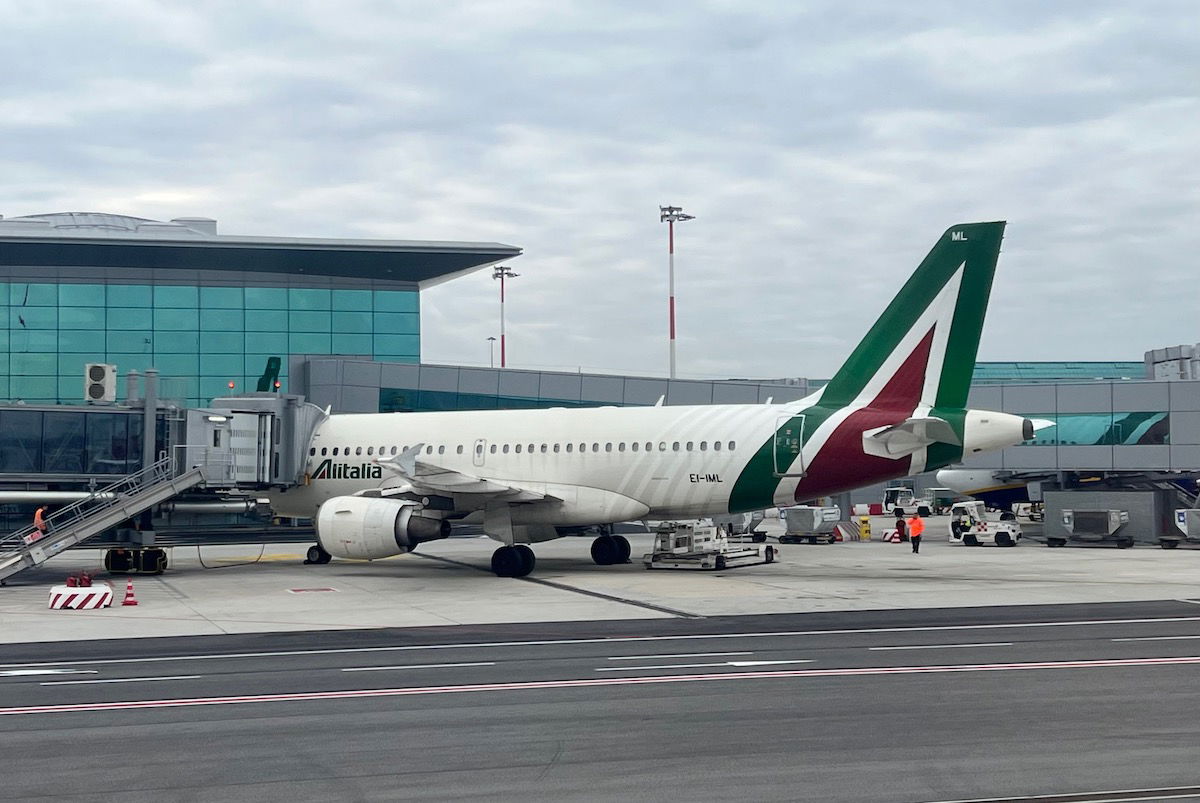 Also, are those Alitalia 777s really all parked at Rome Airport? You'd think that if they were to be put into long term storage, it would be somewhere else.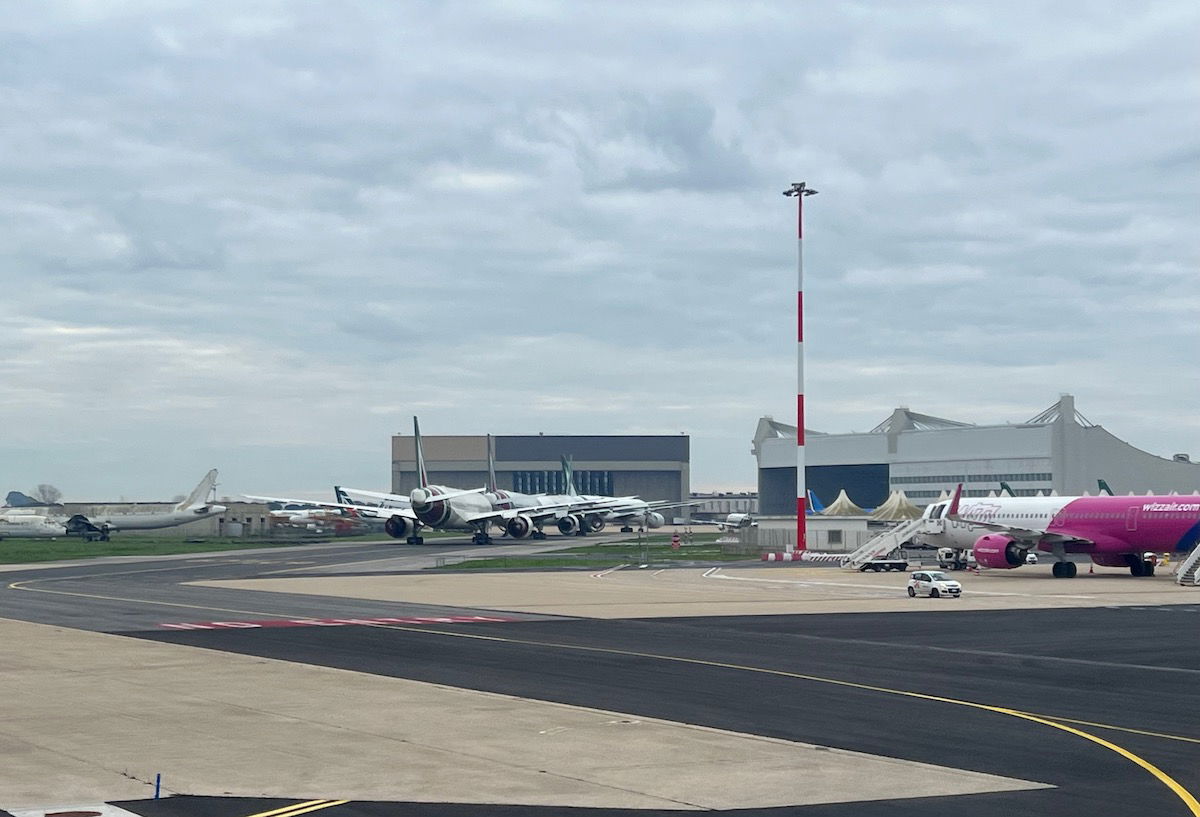 We ended up pulling into a gate right next to a Ryanair Boeing 737.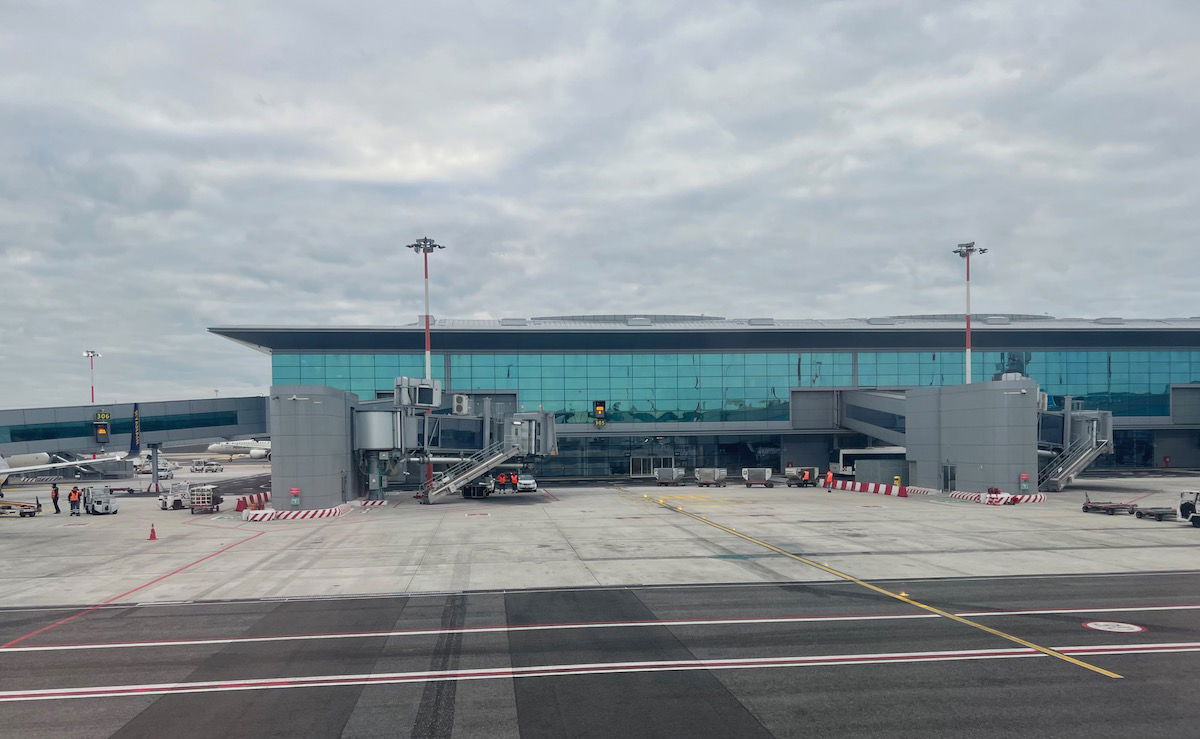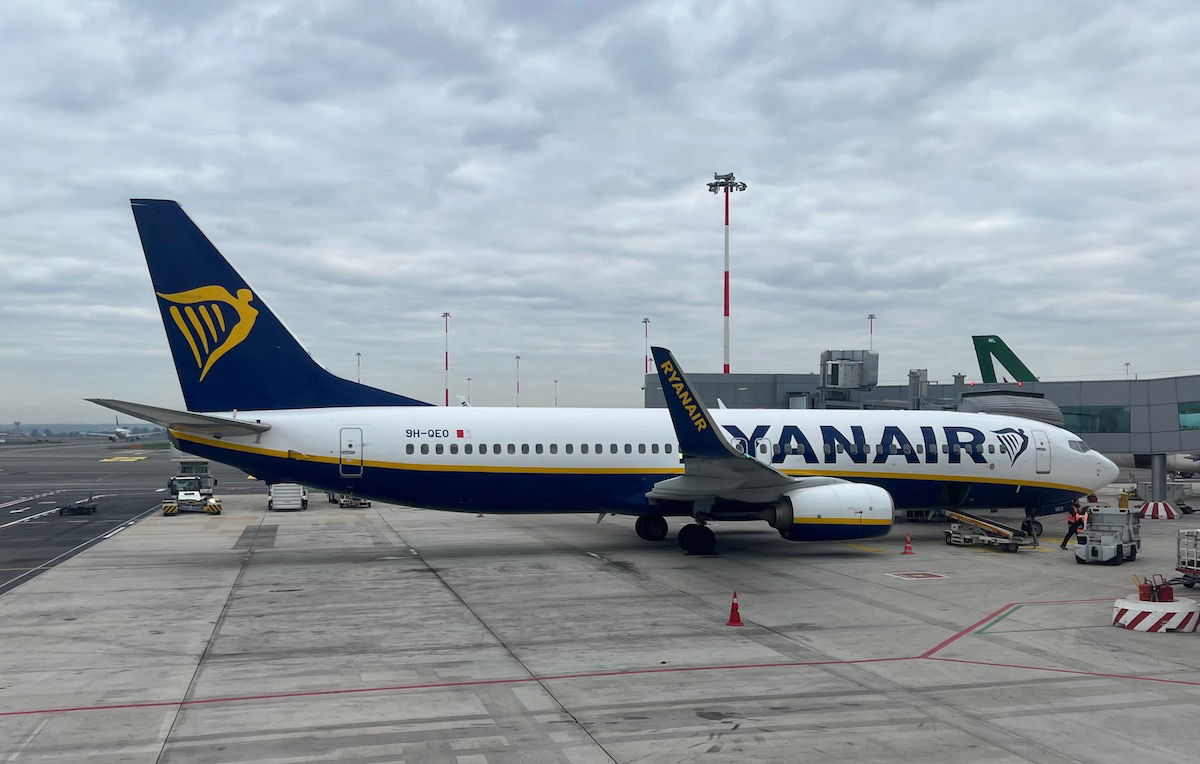 That also gave me my first view of the Austrian A320 I had just flown, as there was no view at the departure gate.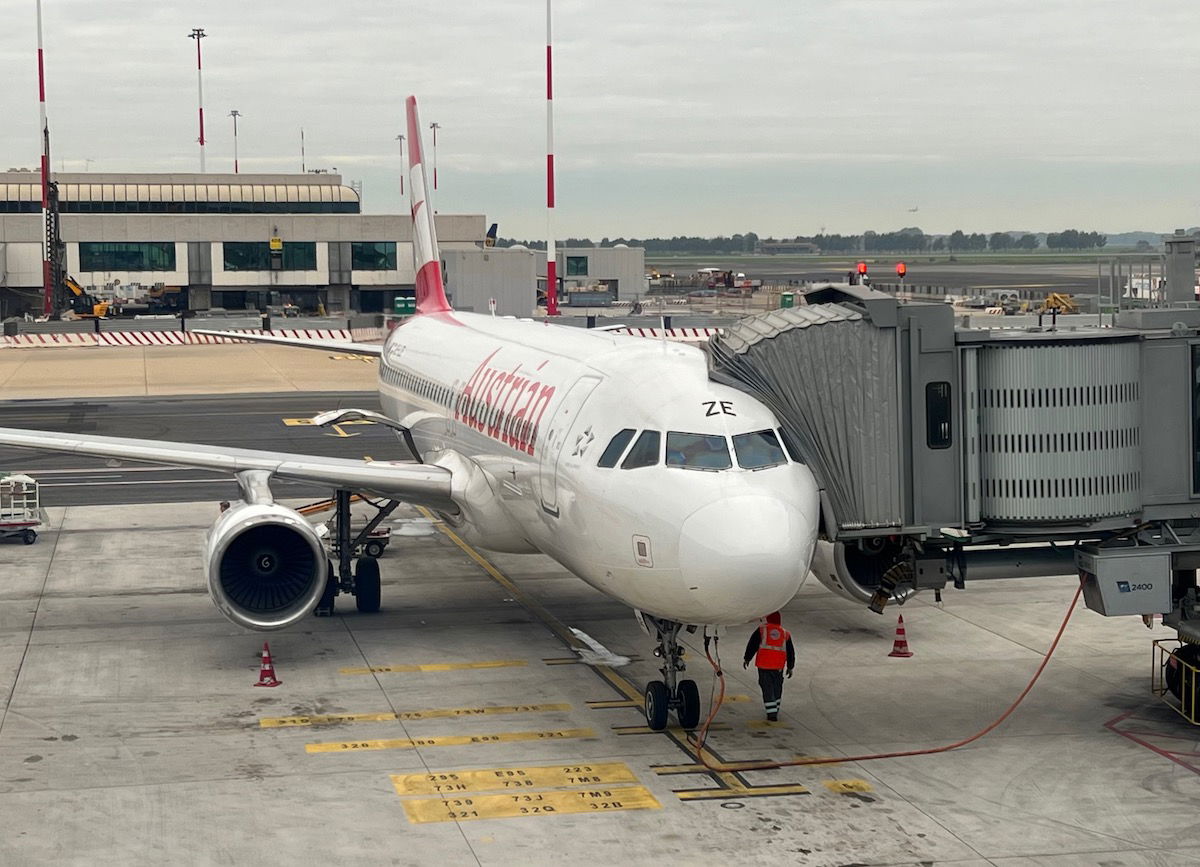 From there I had to hustle to make my Gulf Air connecting flight to Bahrain.
Bottom line
I had a perfectly pleasant 70-minute flight in Austrian's A320 business class. I appreciate that Austrian has power outlets, decent legroom, pillows, and hot meals, even on short flights. While the airline has Wi-Fi on many short haul jets, it wasn't my lucky day in that regard.
The only real downside to the flight otherwise was the chaotic boarding process, and the general attitude of the crew toward passengers at that time.
What do you make of Austrian's A320 business class?