During my whirlwind Aeroplan adventure, I had a roughly five hour layover at Bahrain Airport (BAH). I was arriving in Gulf Air's A321LR business class from Rome around 7PM, and departing in Gulf Air's 787-9 business class for Singapore around 12AM.
I spent much of my layover in the Gulf Air Falcon Gold Lounge, which is the carrier's flagship lounge at the airport. The terminal at Bahrain Airport terminal only recently opened, so I was excited to check out this lounge.
In the end, I thought the Gulf Air Lounge Bahrain was… decent? It features comfortable seating, is spacious, and has a pretty good selection of food. However, I had heard that the lounge featured a la carte dining and barista coffee, though unfortunately neither of those are being offered anymore, which was a disappointment. Furthermore, the lounge's shower situation leaves a lot to be desired, and I feel like a proper rest area would also be nice.
Gulf Air Lounge Bahrain location
Upon arrival at Bahrain Airport I cleared transit security, where there was a dedicated business class queue, so I was through in no time. Once through security, you'll find yourself in the central part of the terminal, where there's a circular atrium with a big screen in the middle.
There's a lounge on each side of this area — when facing the gates, you'll see the Pearl Lounge to the left, and the Gulf Air Lounge to the right. The entrance to the Gulf Air Falcon Gold Lounge is closest to gate 18, if you want to instead follow signage toward a gate.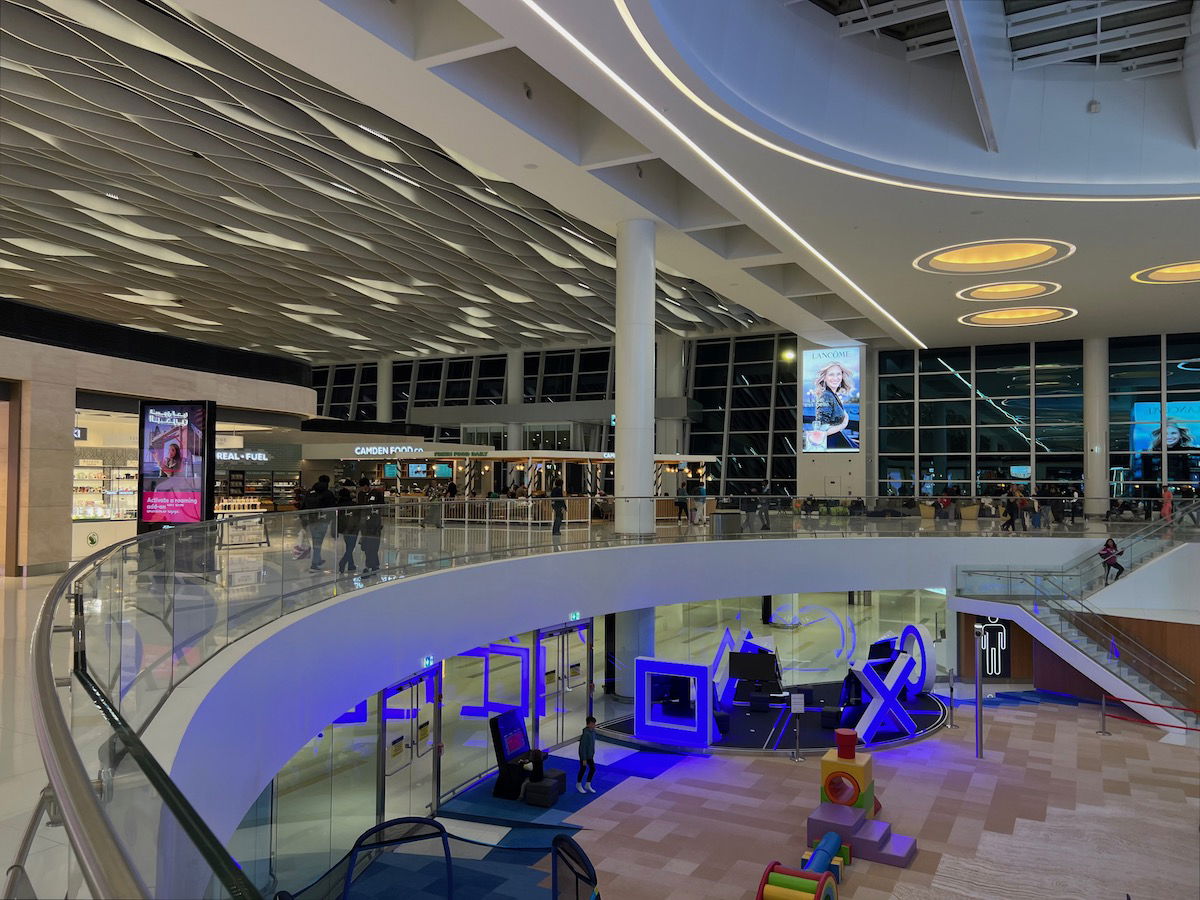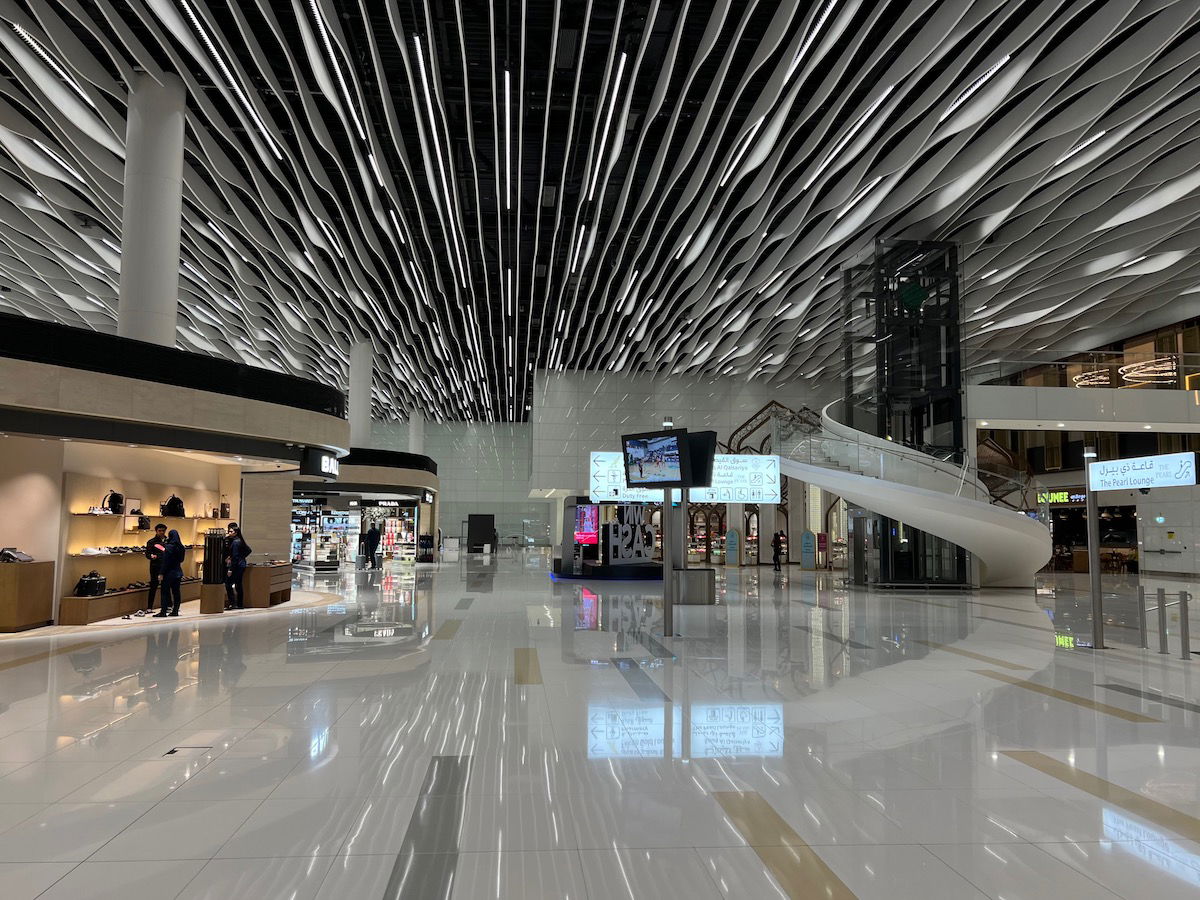 The lounge is located one level up from the main concourse, and it can be accessed by elevators or escalators.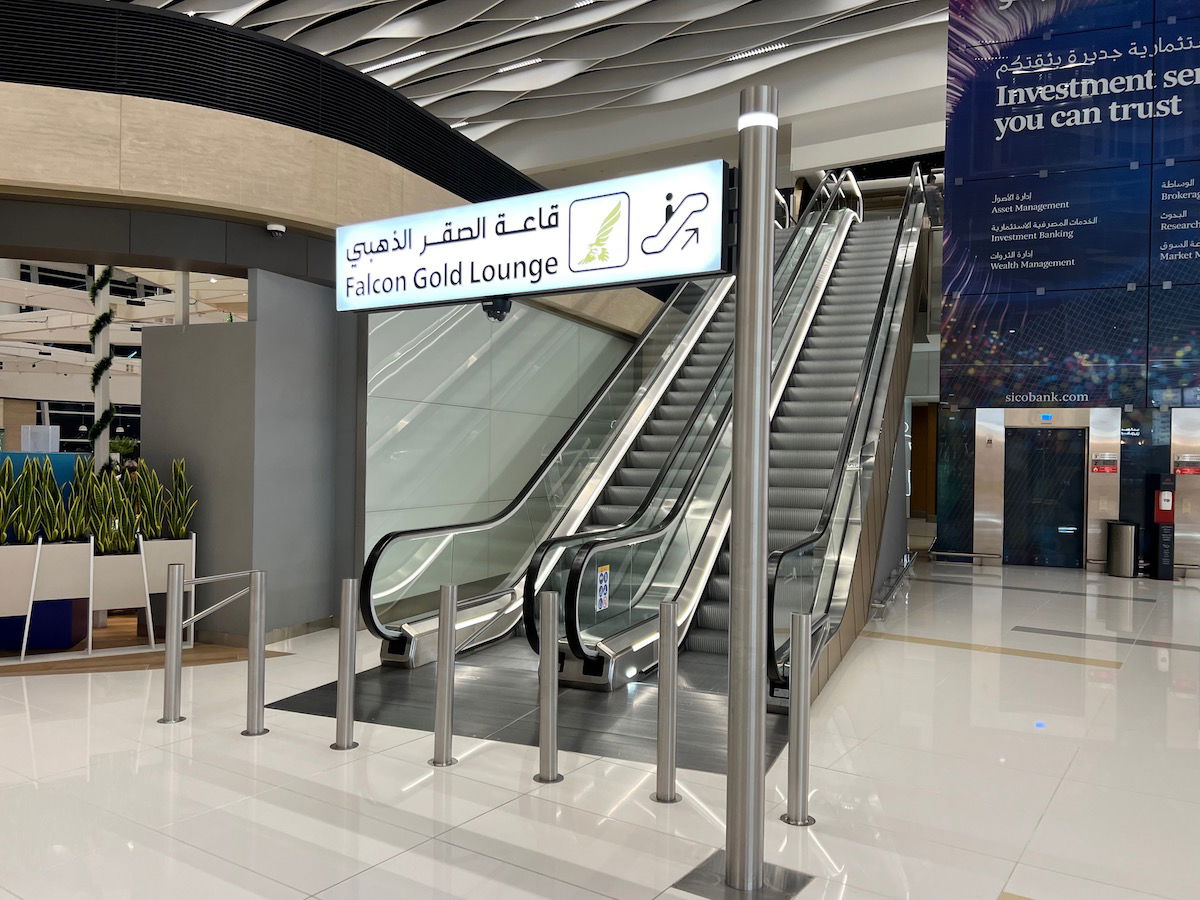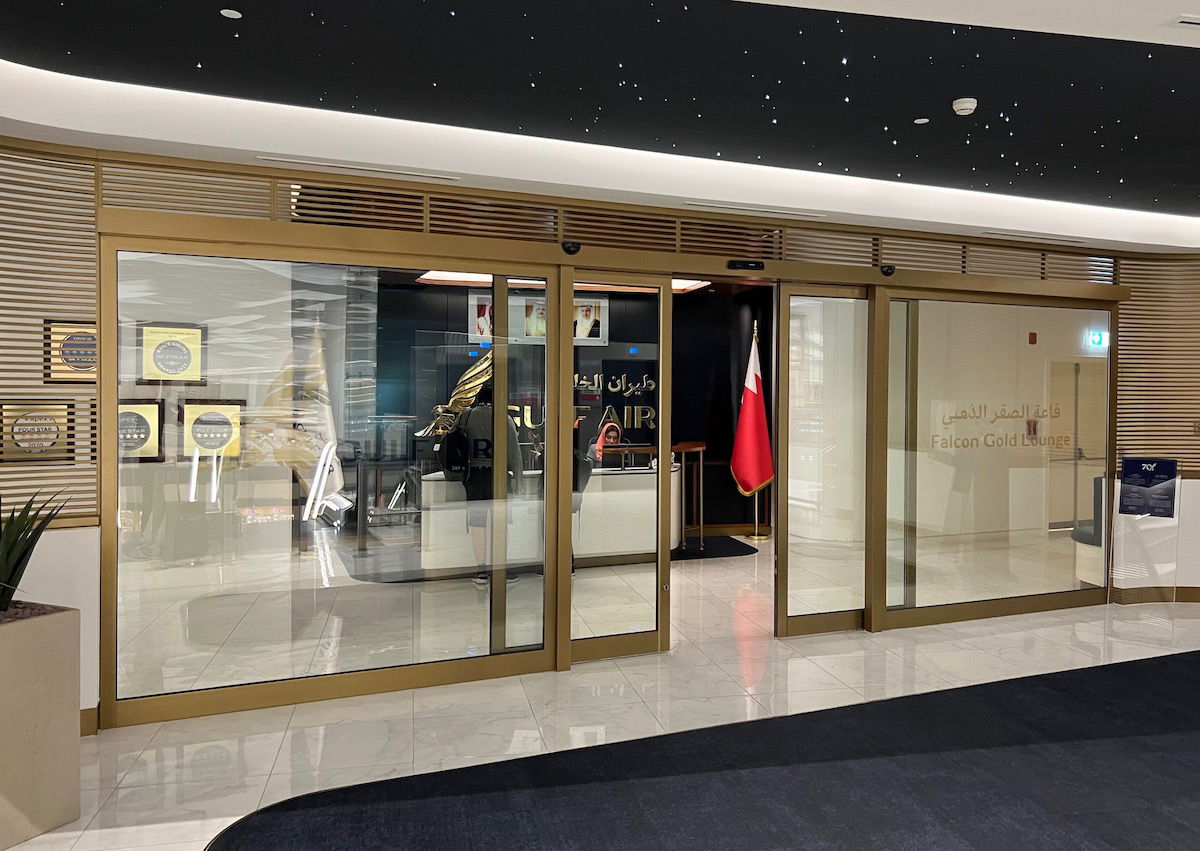 Gulf Air Lounge Bahrain hours
The Gulf Air Falcon Gold Lounge Bahrain is open 24/7, as you'd expect for a Gulf carrier. The middle of the night is rush hour in the region, so the lounge is going to be busiest right around midnight, before lots of overnight flights depart.
Gulf Air Lounge Bahrain entry requirements
The Gulf Air Falcon Gold Lounge Bahrain is open primarily to Gulf Air business class passengers. On top of that, Gulf Air Falconflyer Black, Gold, and Silver members, also have access to the lounge. Lastly, lounge access can be purchased if you're traveling in Gulf Air economy, though the price varies.
Note that the Gulf Air Lounge isn't open to Priority Pass members. Interestingly the contract lounge at the airport also isn't open to Priority Pass members, which I can't wrap my head around either, as it tends to be quiet. However, the Bahrain Airport Hotel has some Priority Pass options, which I'll be covering in the next installment.
Gulf Air Lounge Bahrain seating & layout
The Gulf Air Falcon Gold Lounge Bahrain measures roughly 6,500 square feet, with a capacity for 400 passengers. The lounge is by no means huge, but seems sufficiently big given that Gulf Air is a smaller airline than some of its rivals in the region. The lounge got fairly busy over some brief periods during my visit (right around my arrival, and again shortly before my departure), but at other times was mostly empty.
The lounge has an unusual layout, as it's not one big room broken up into areas, but rather consists of multiple areas that go in different directions. Inside the entrance to the lounge and to the right is a sitting area that's basically a "dead end," as there's nowhere to go from here, and no food & beverage stations. As a result, it tends to stay empty.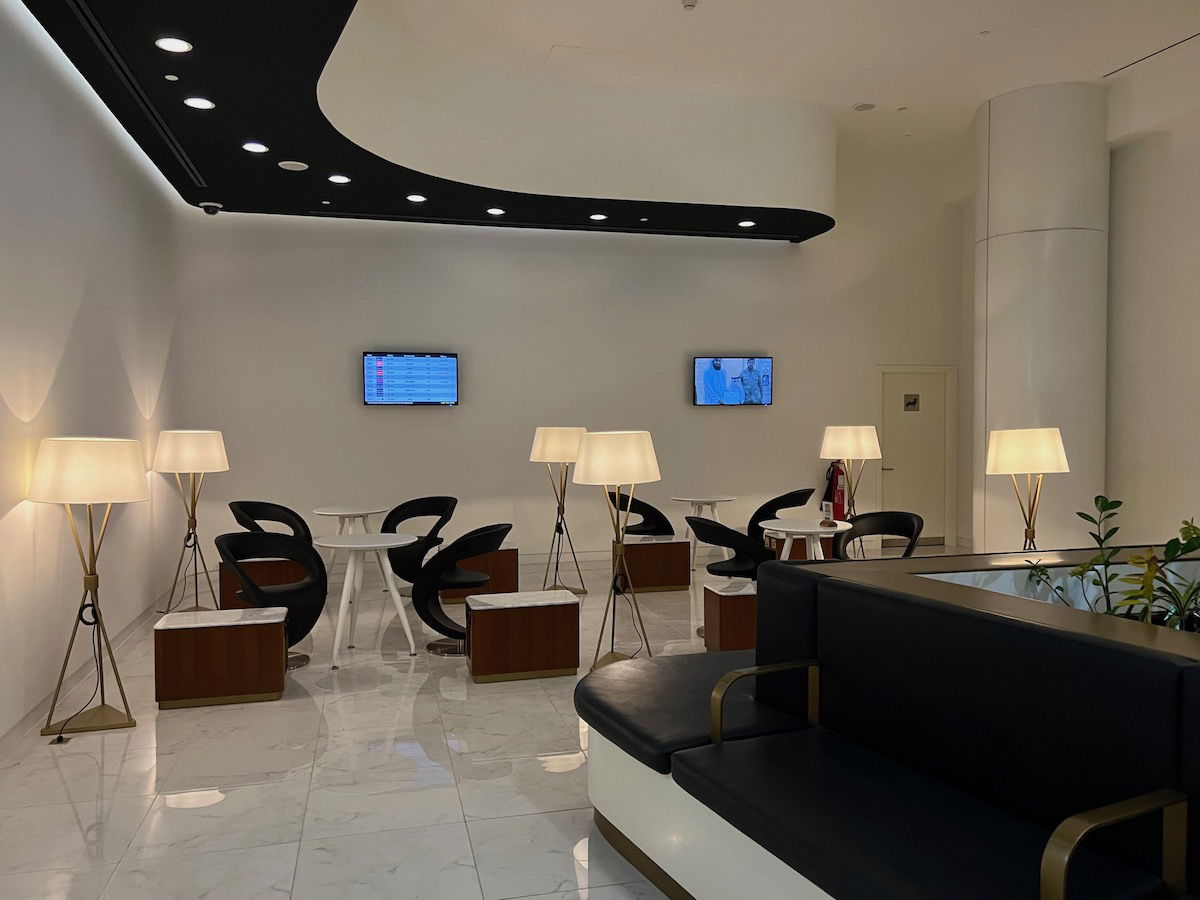 When you enter the main part of the lounge, you'll first see a business center on the right, with half a dozen monitors and a printer.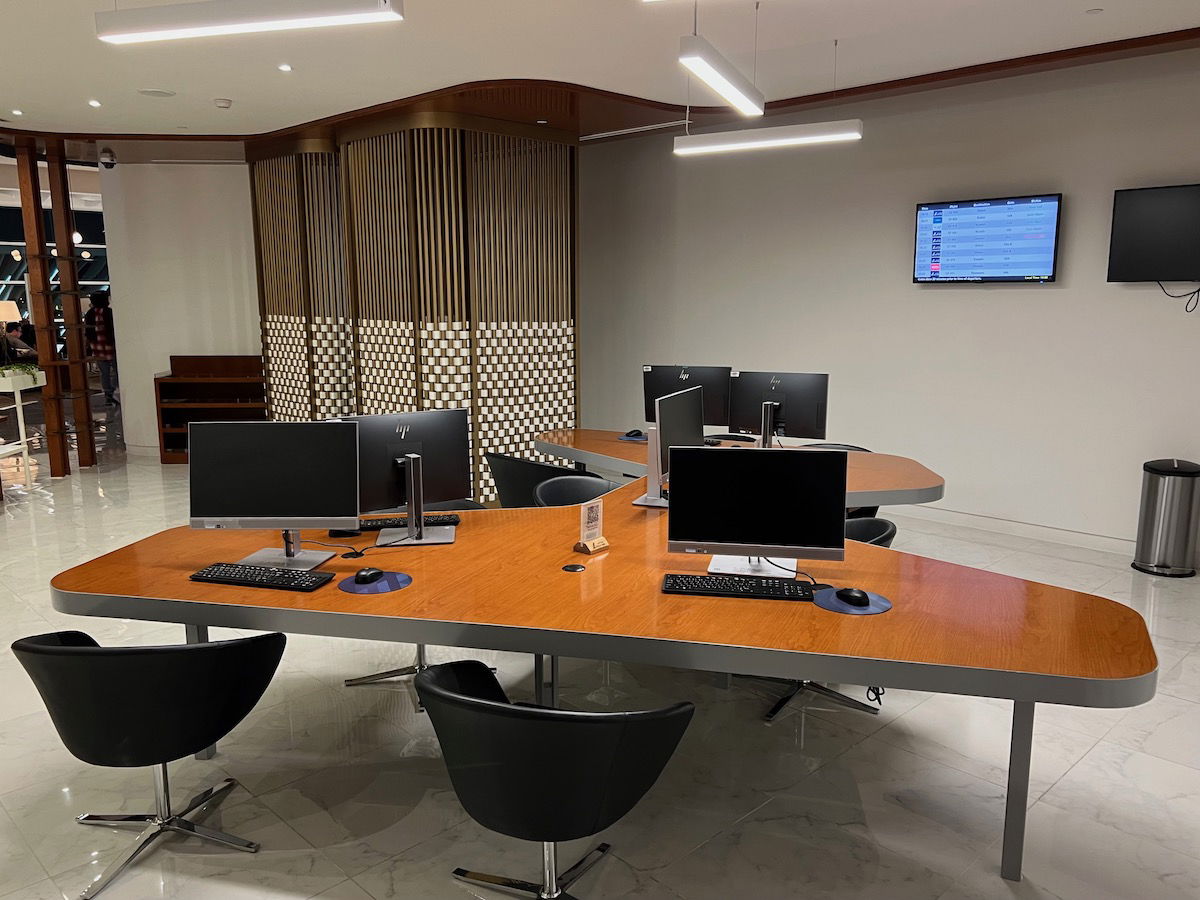 Past that is a bit of traditional lounge seating, with chairs arranged around tables, largely facing one another.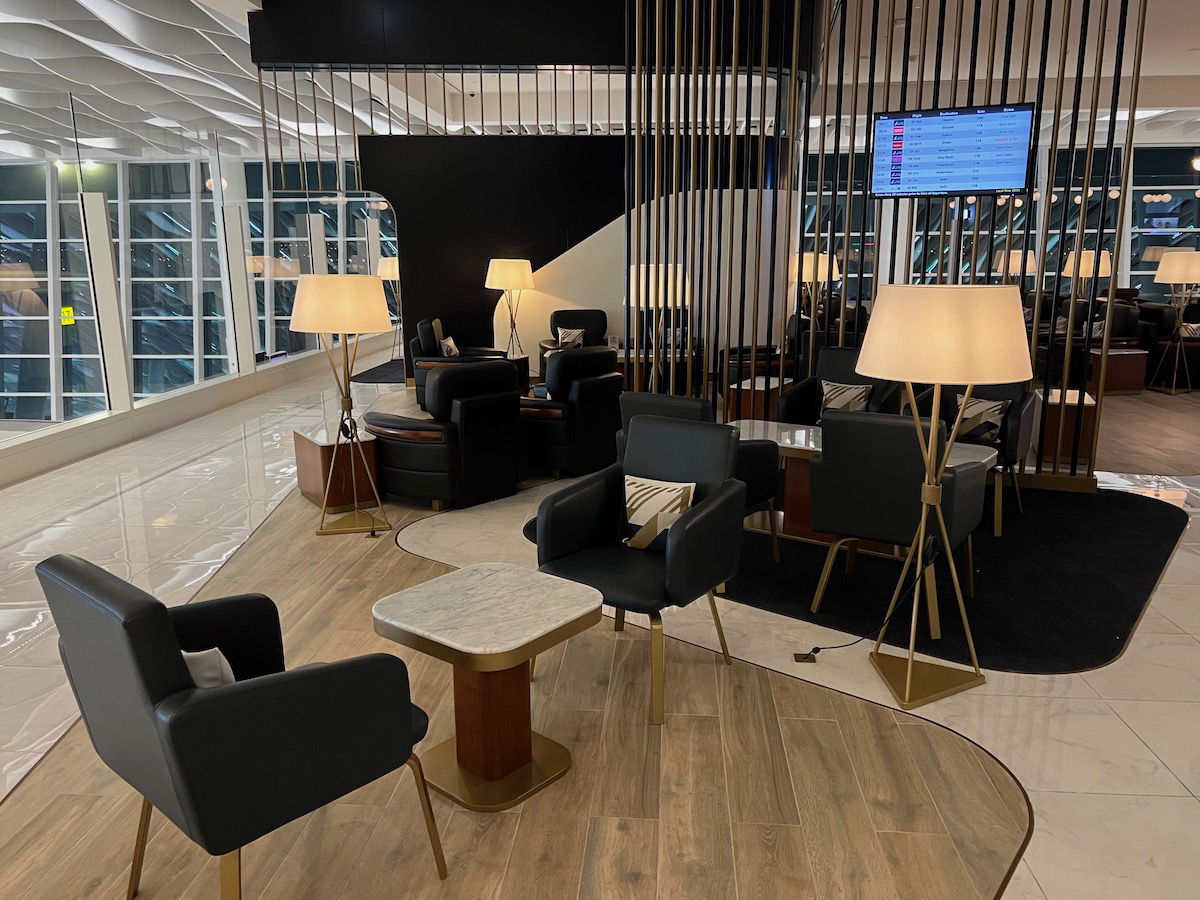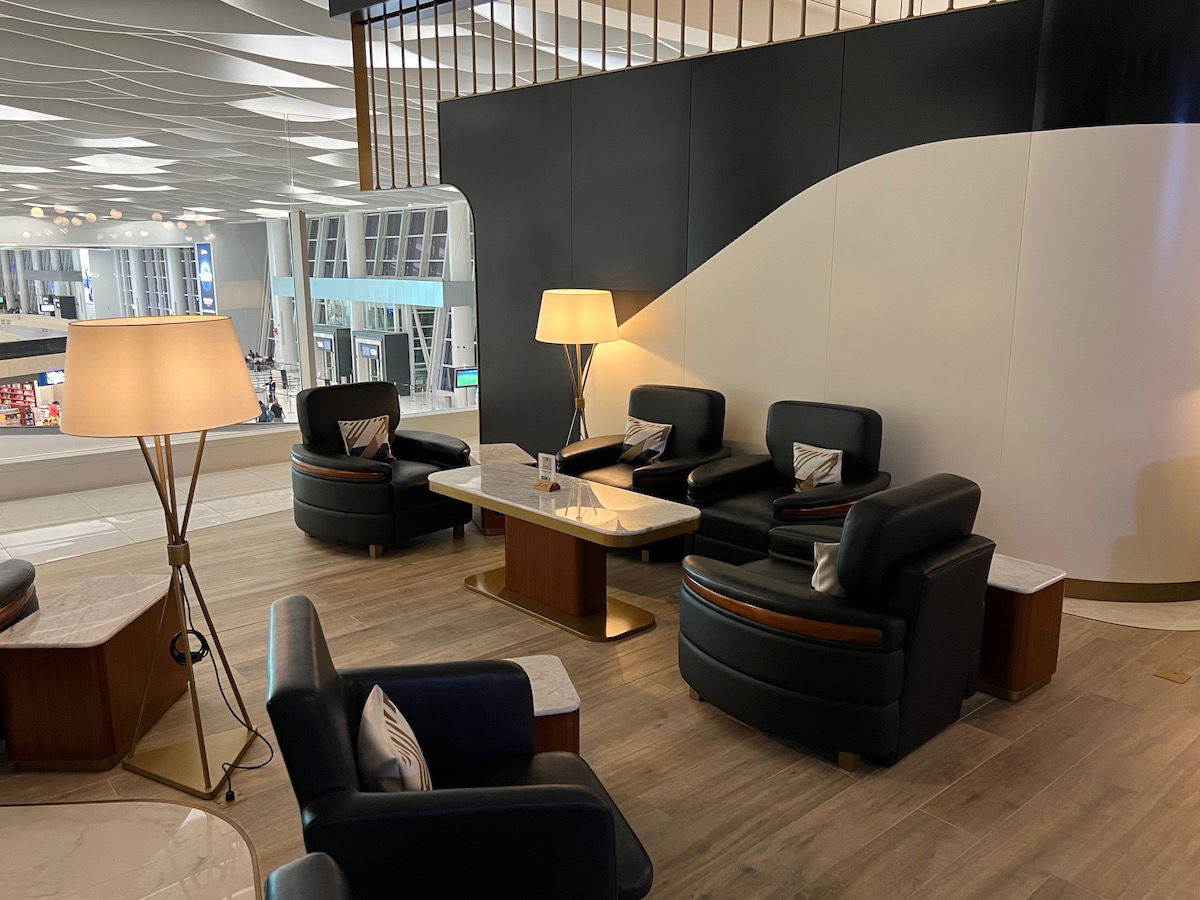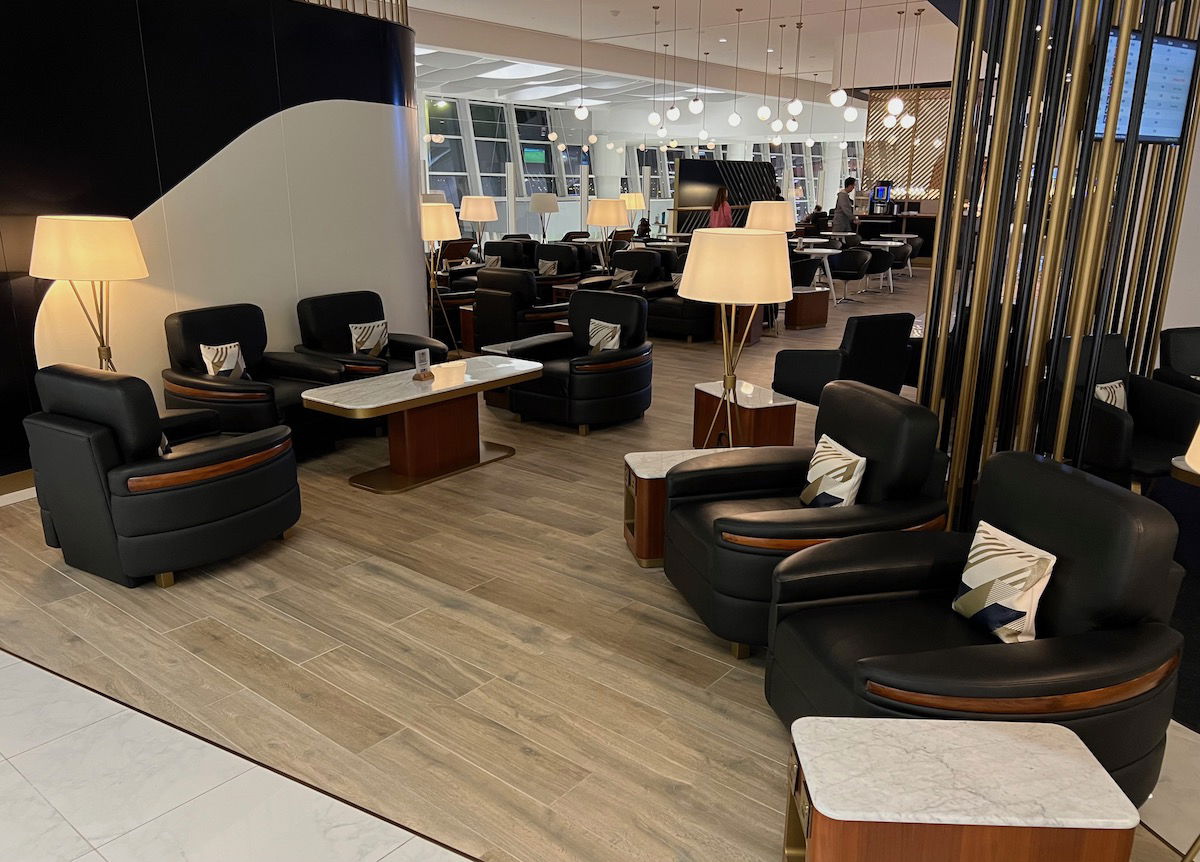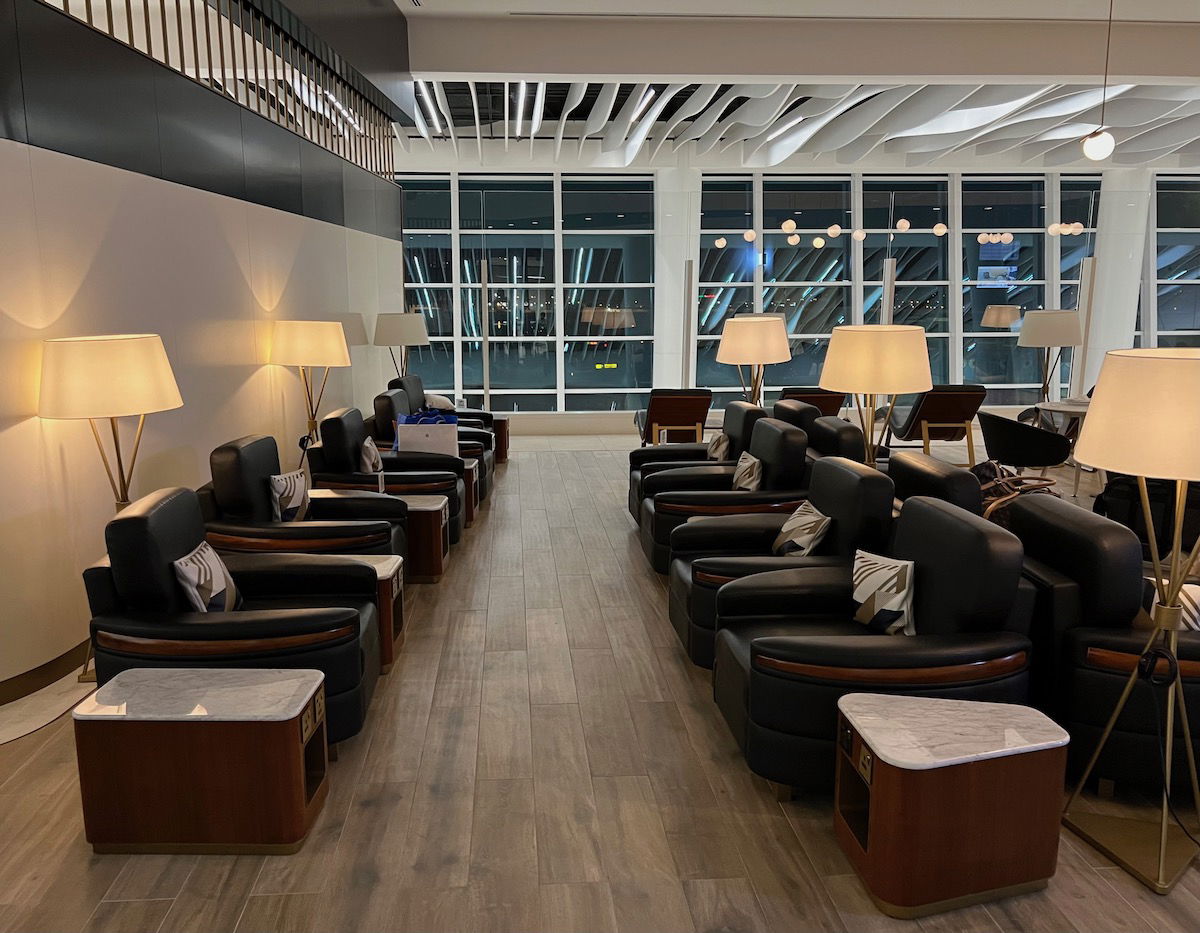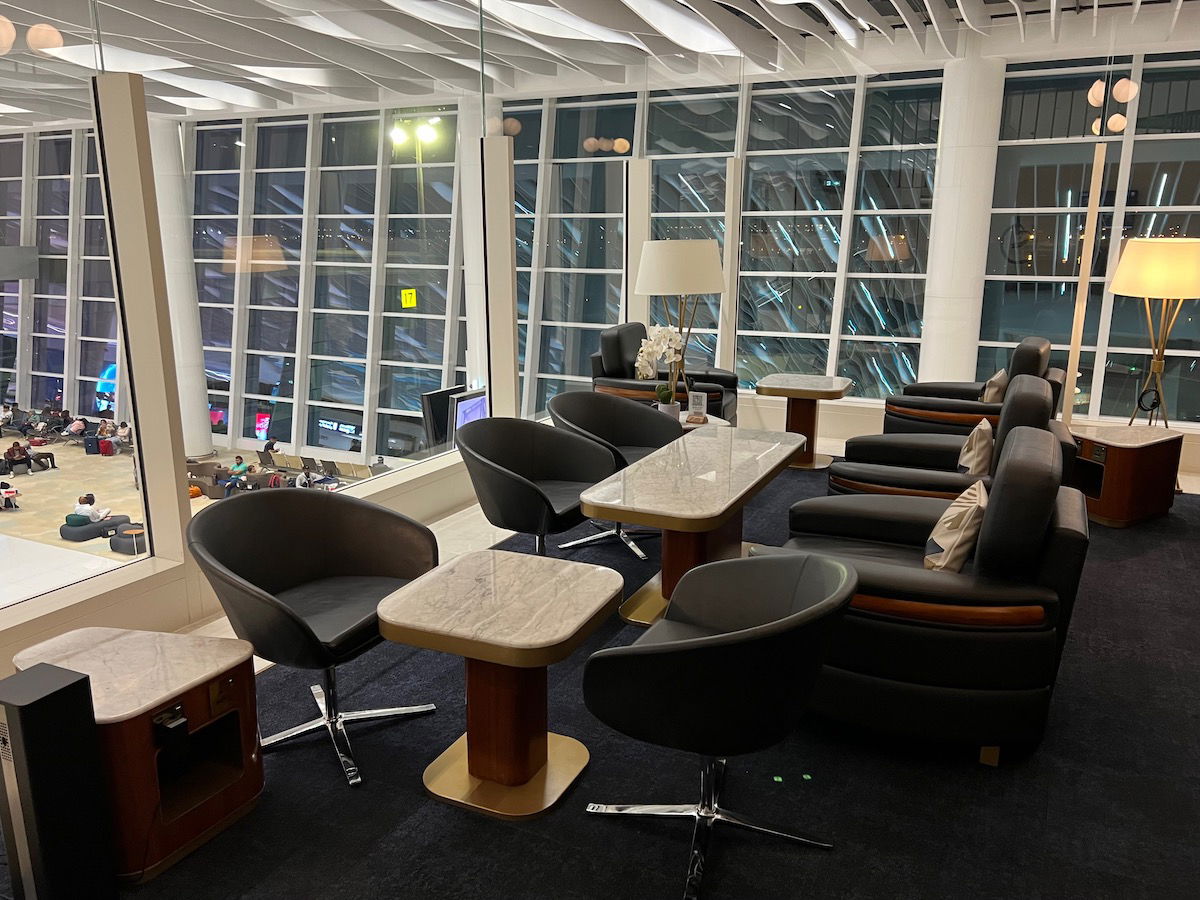 There's then a dining area, with several cafe-style tables, each featuring two seats.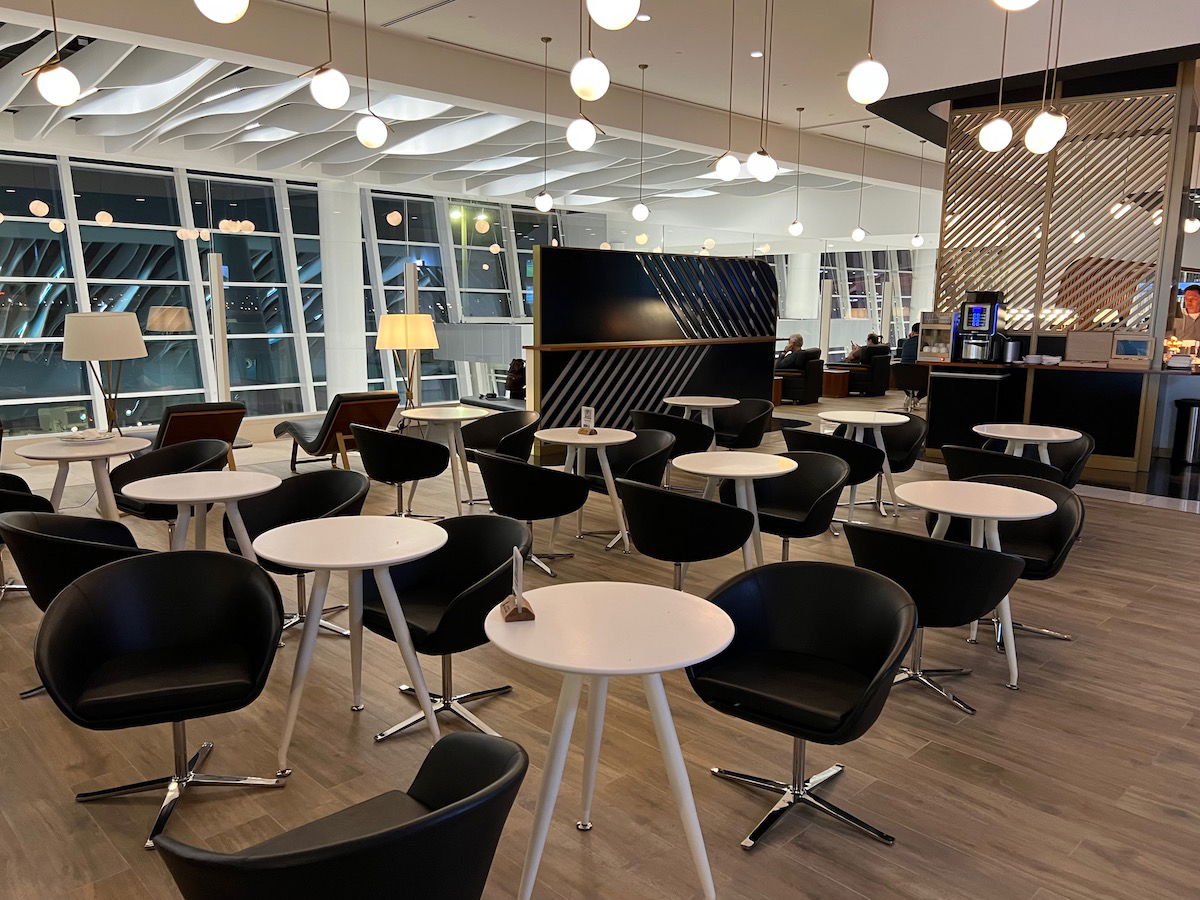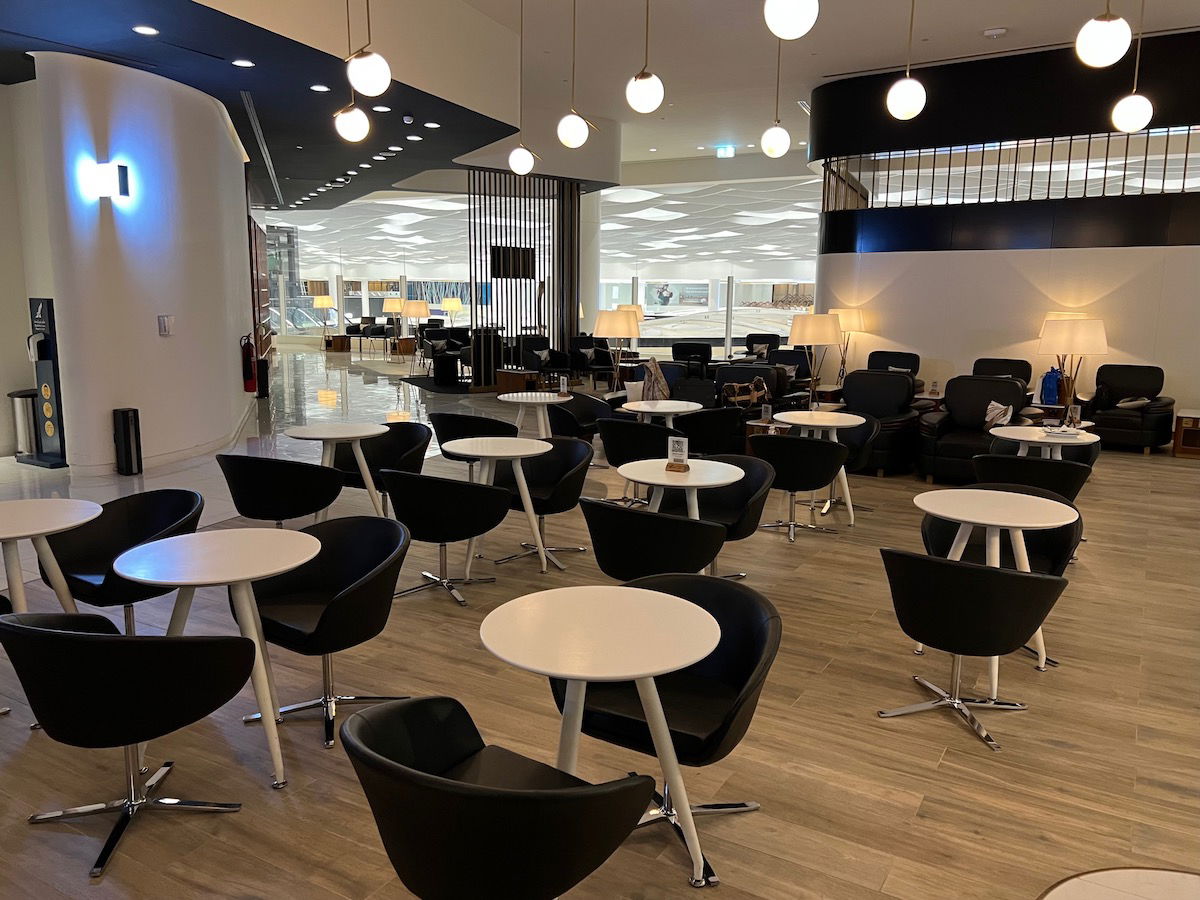 Next to that are five daybeds with pillows. You'd think they'd put this in a quieter area of the lounge, as it seemed odd to just put this right smack dab in the middle of the lounge, especially with the number of people in this lounge making phone calls on speakerphone (grrrrr).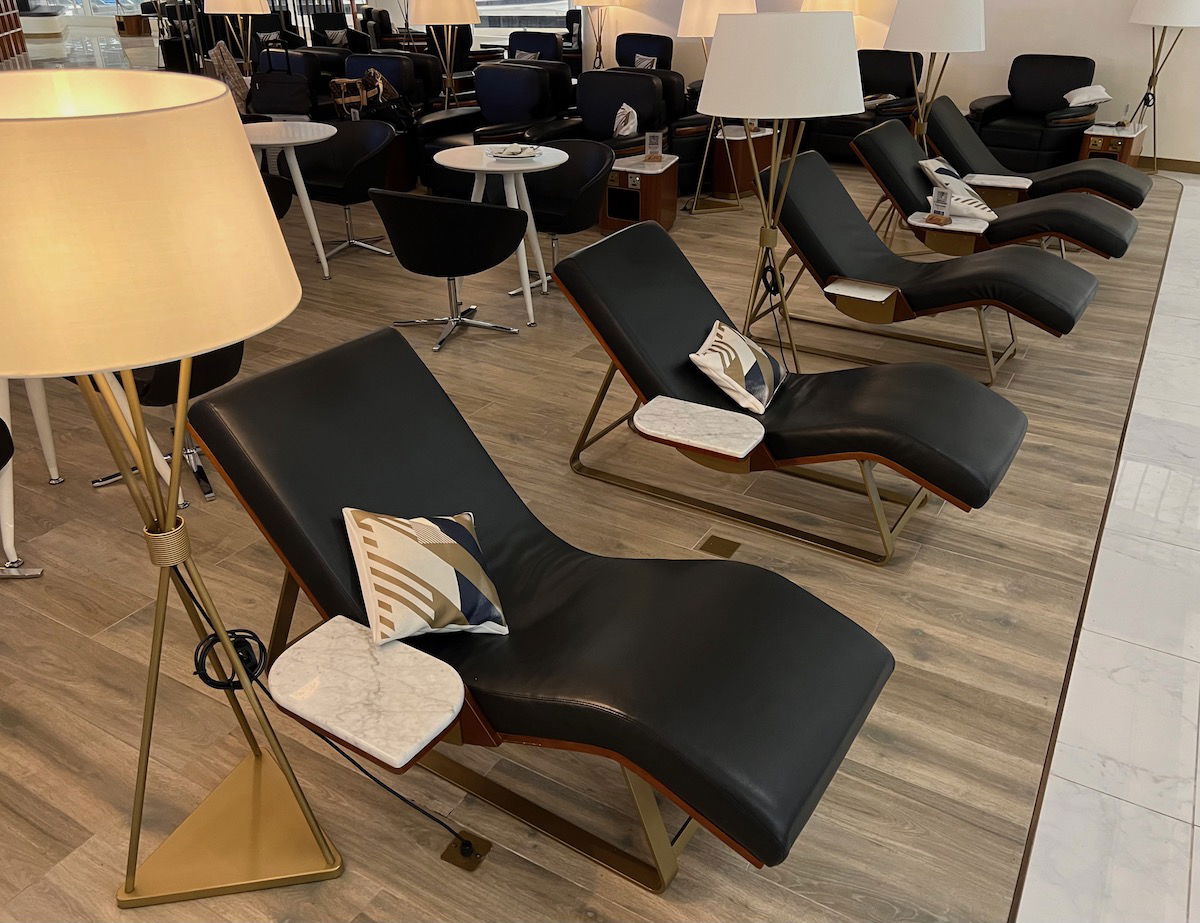 This portion of the lounge faces the interior of the terminal, which isn't too exciting of a view.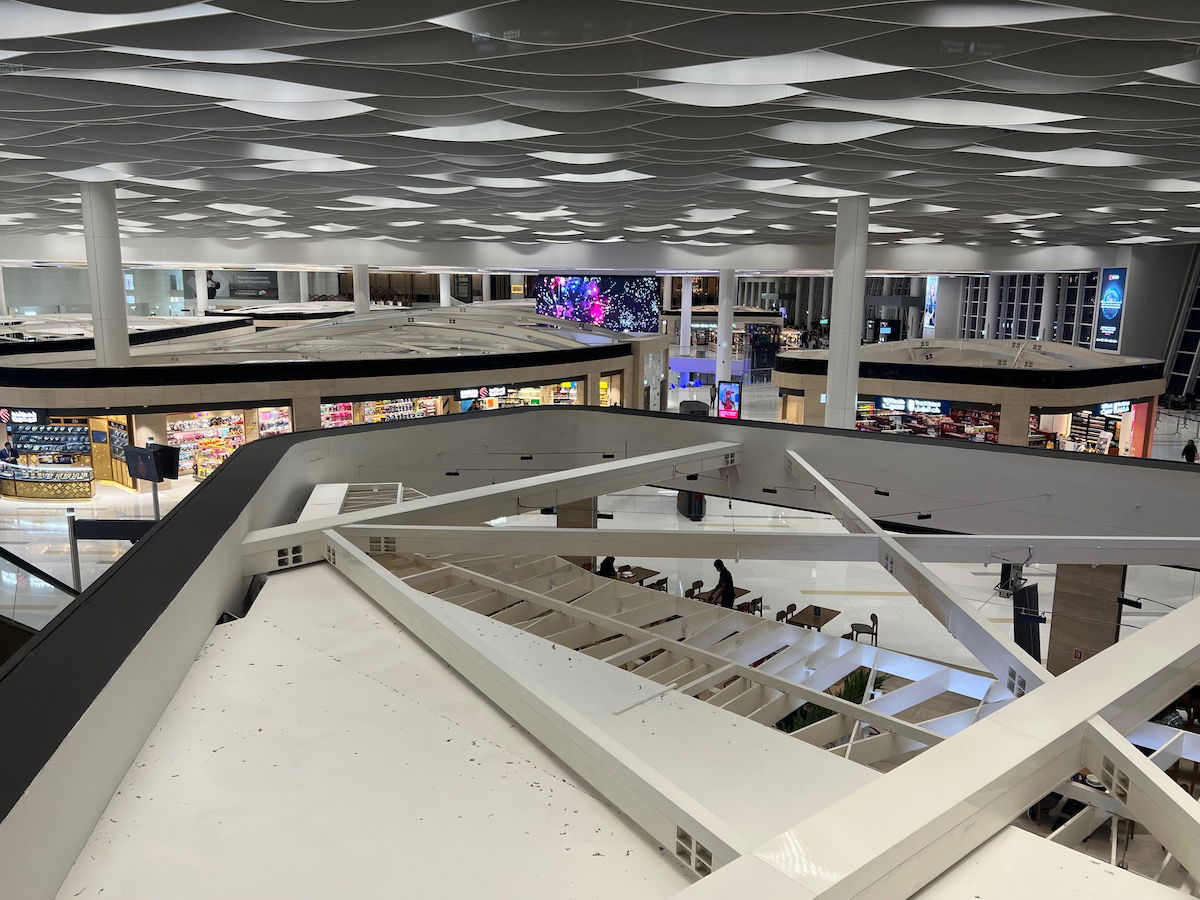 If you go deeper into the lounge, you'll see a customer service desk, as well as lots of seating along a central walkway.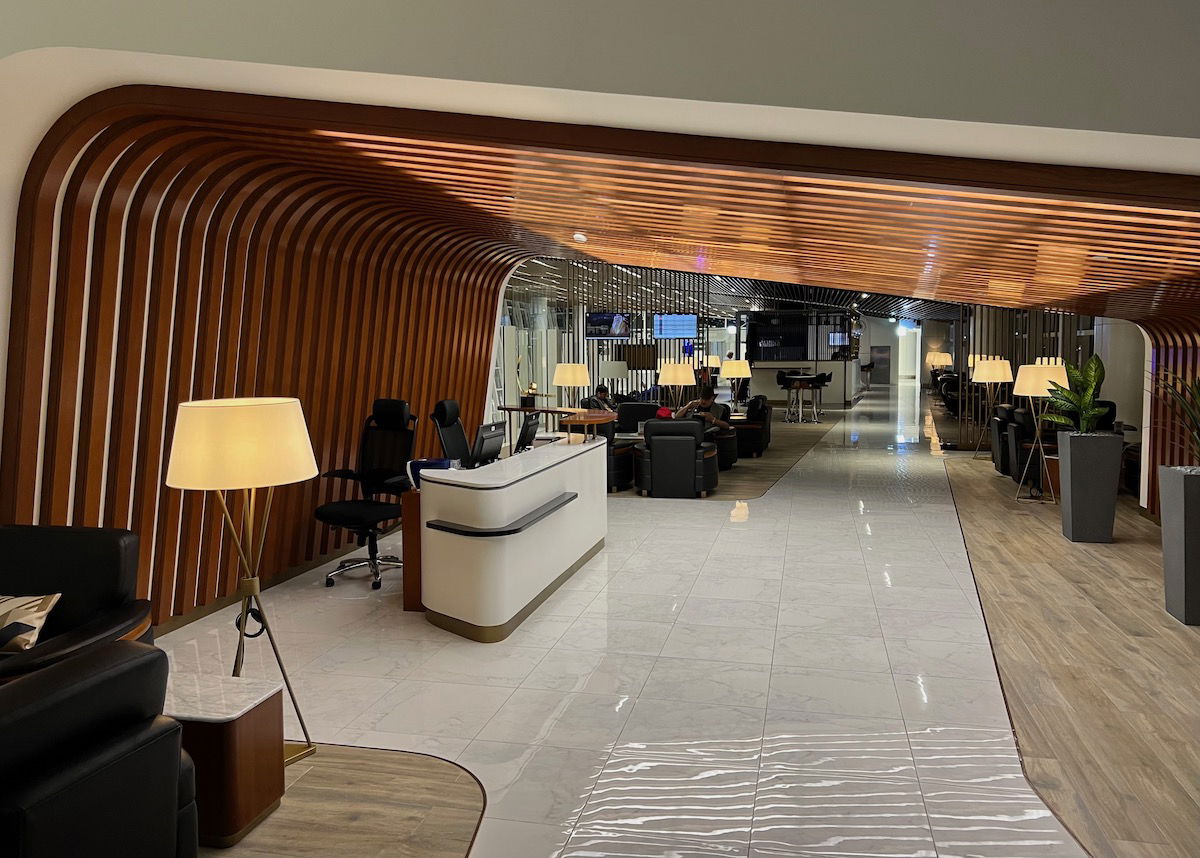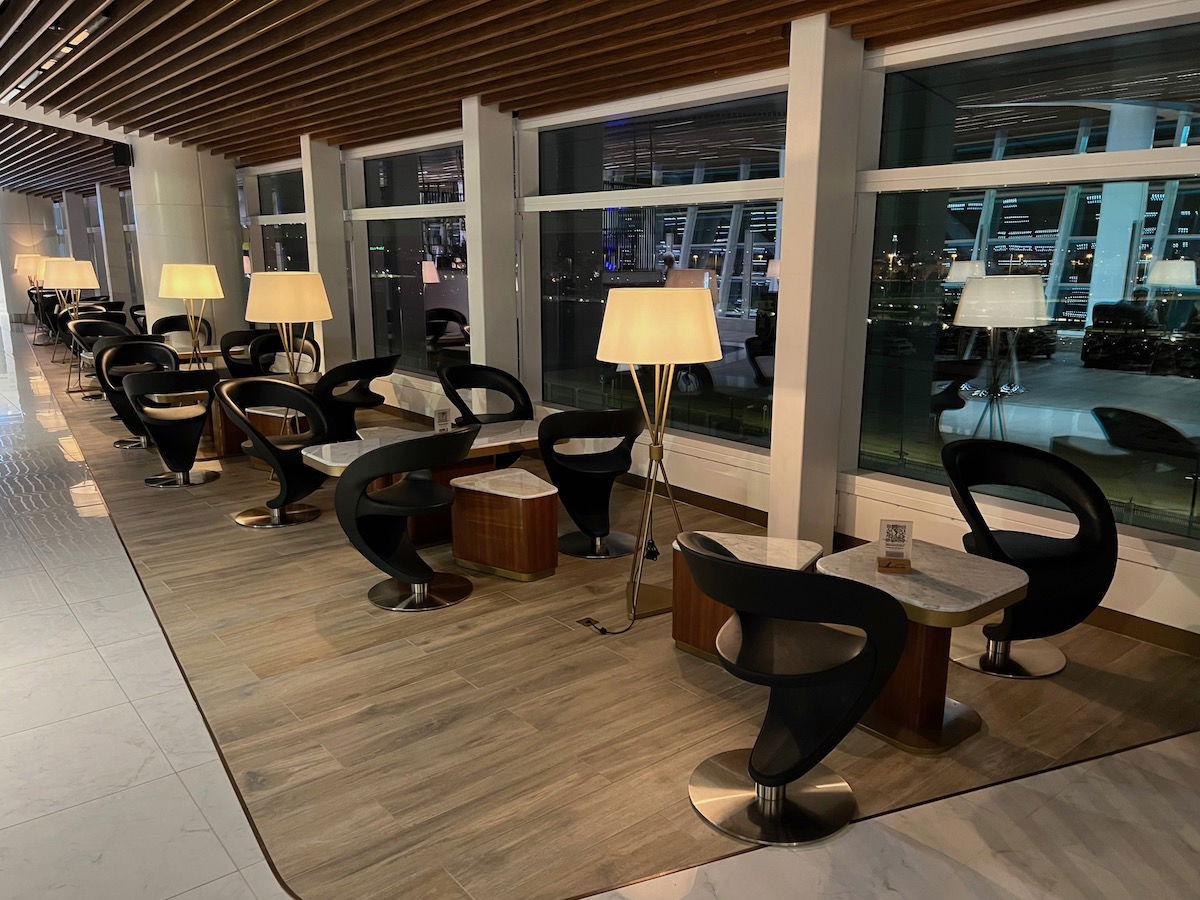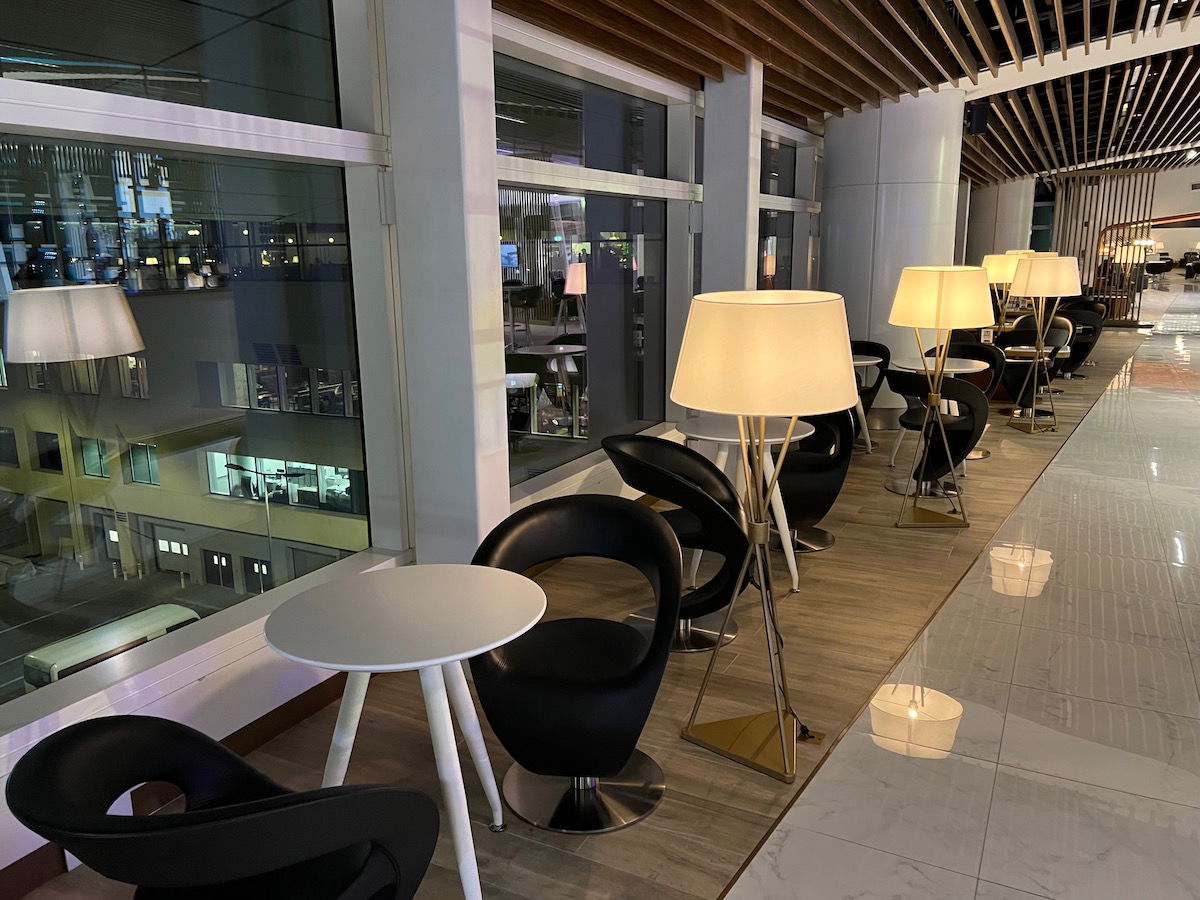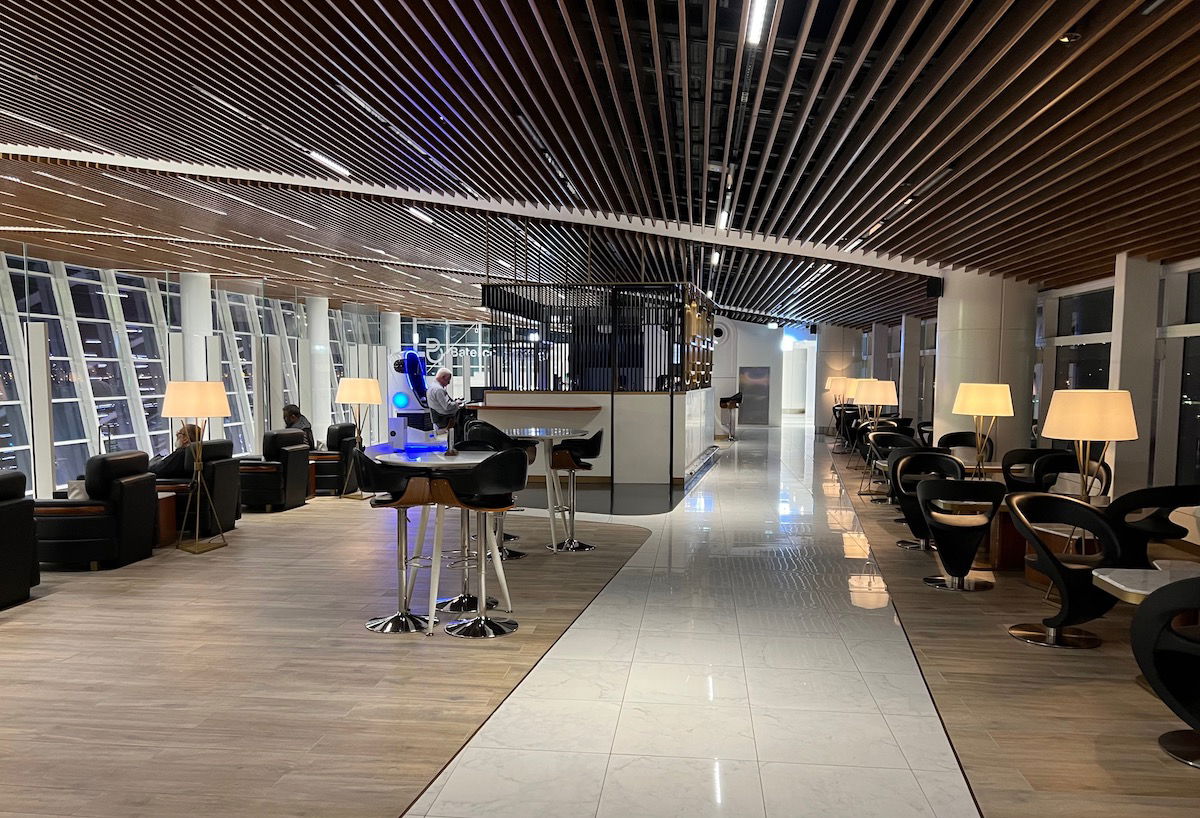 In the back of the lounge is the bar area, with high-top seating for seven people.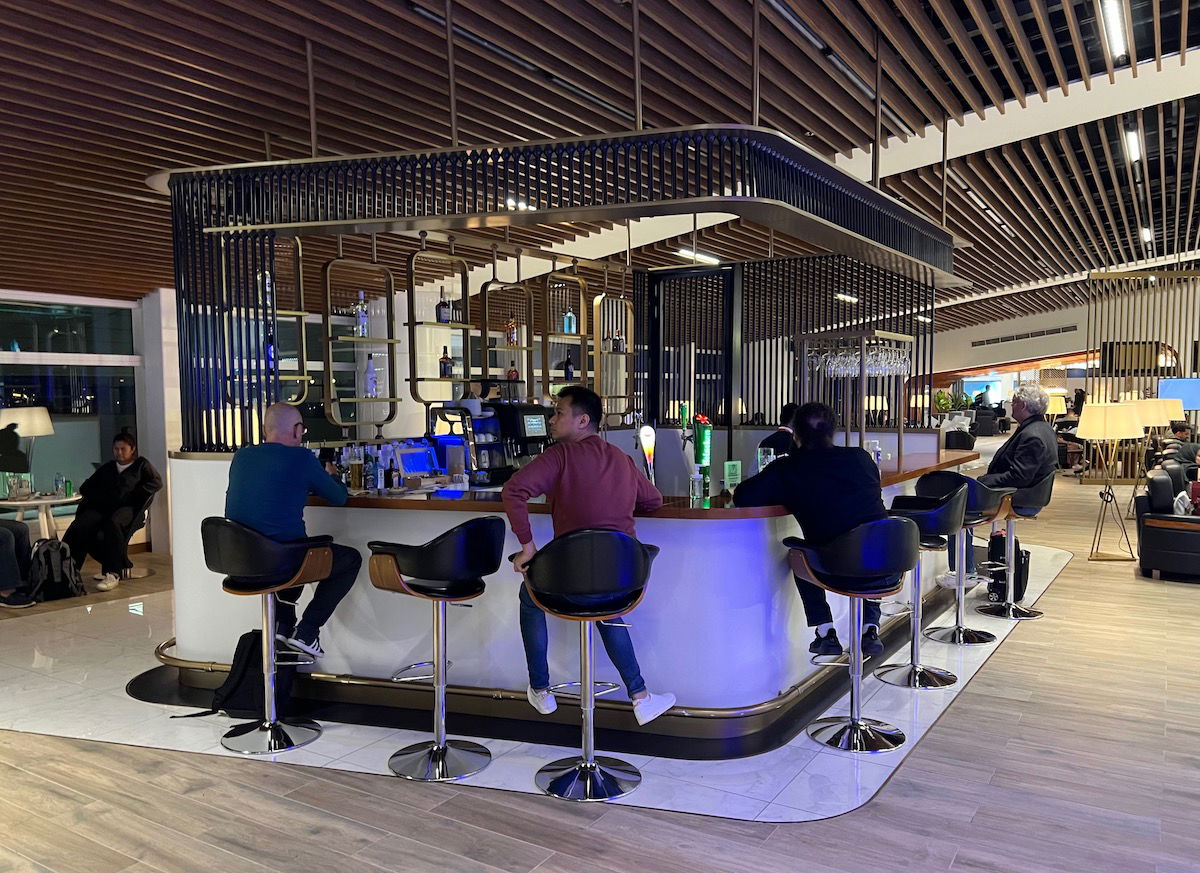 Behind the bar, there's a golf simulator (which didn't seem to be turned on), a foosball table, a pool table, and a car simulator (which also didn't seem to be turned on). The setup of this seemed pretty poorly thought out to me. This should be in a dedicated area, rather than by a walkway leading to the bathrooms. If you were playing pool, you'd constantly have people walking right past you to go to the bathroom.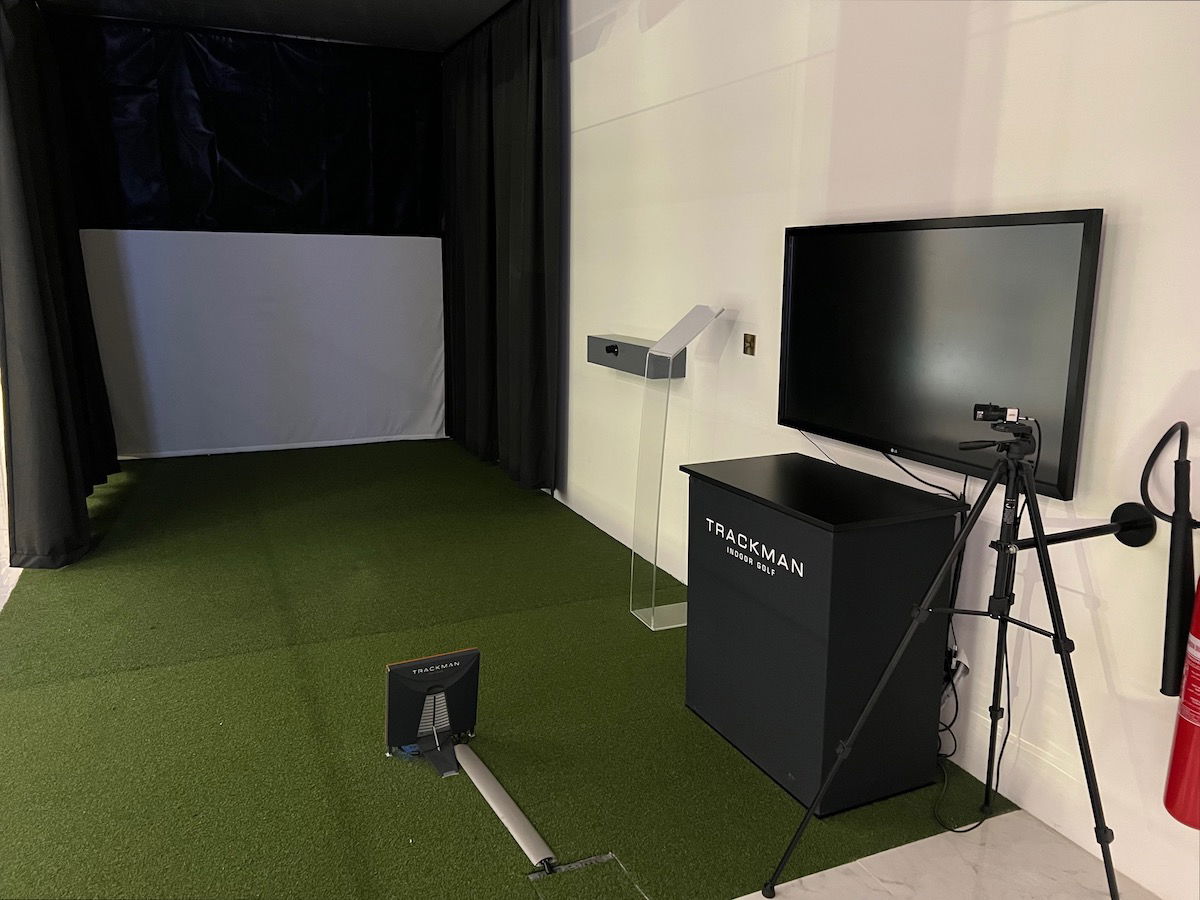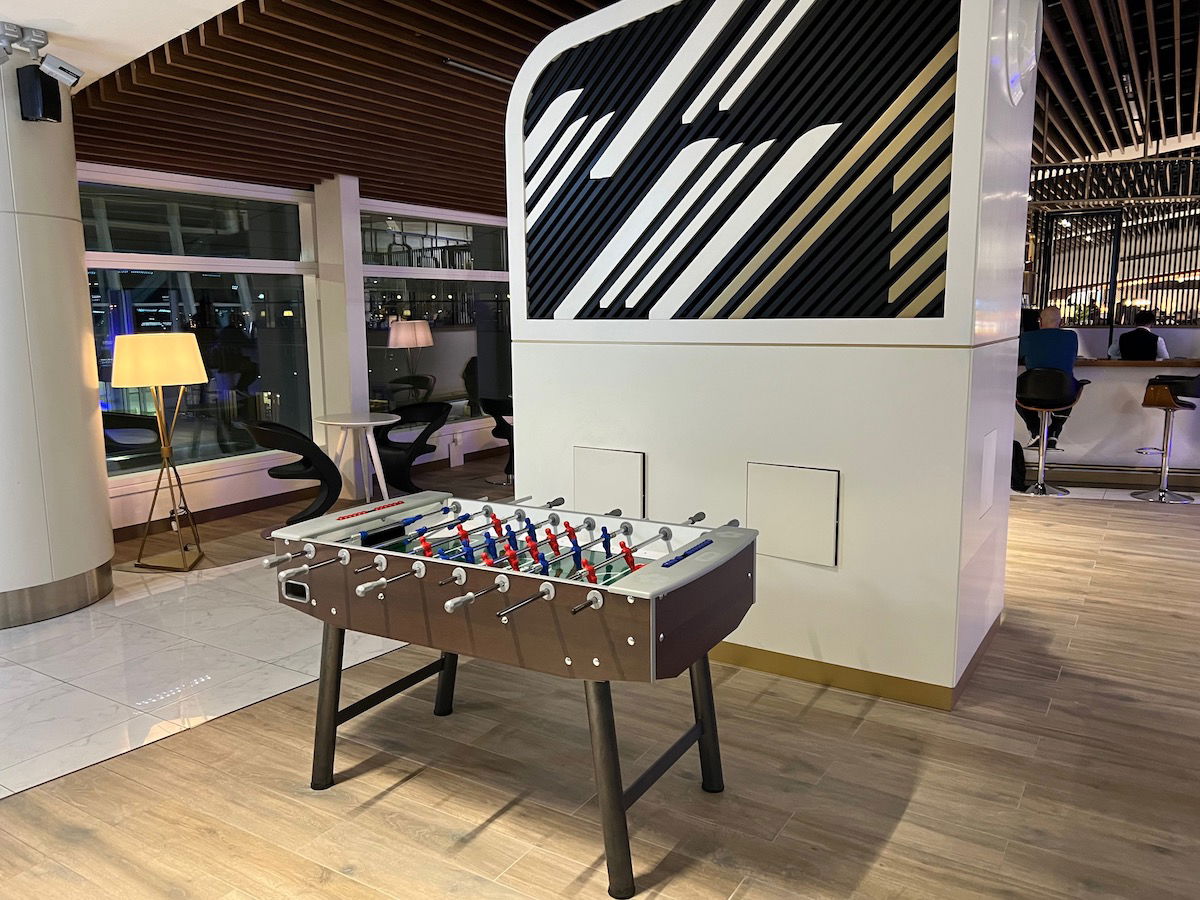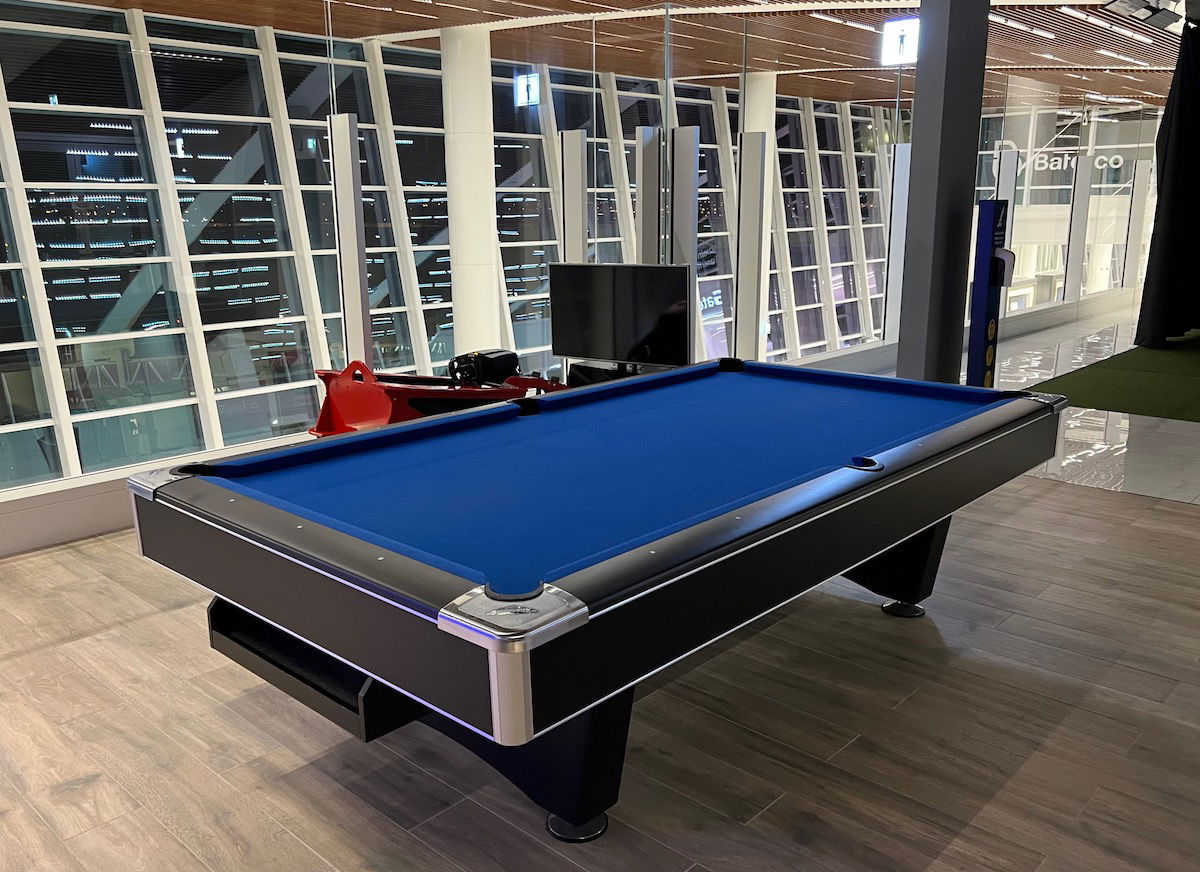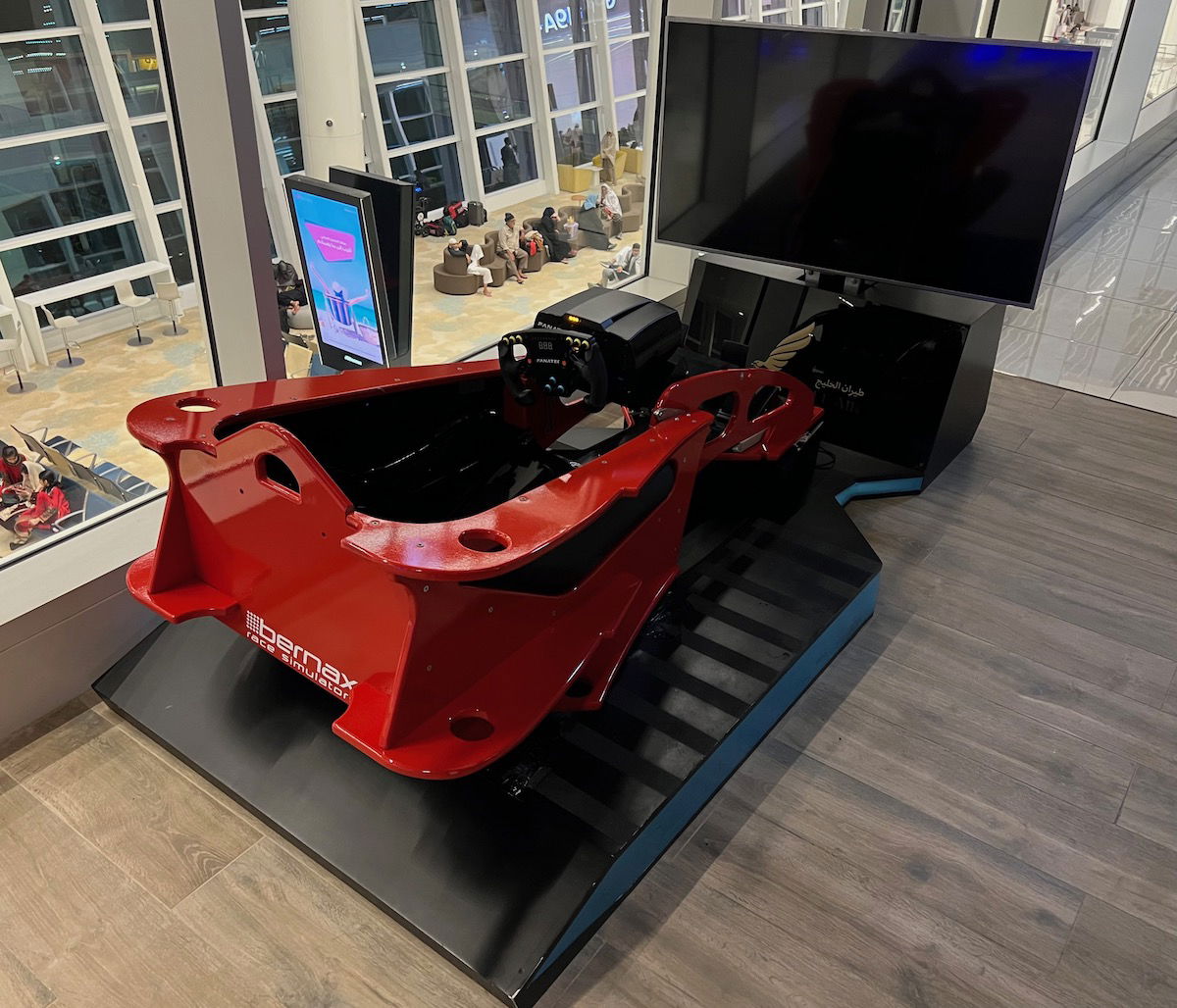 Back toward the entrance to the lounge and in the other direction is an entertainment area, with reclining seats and a wall of TVs.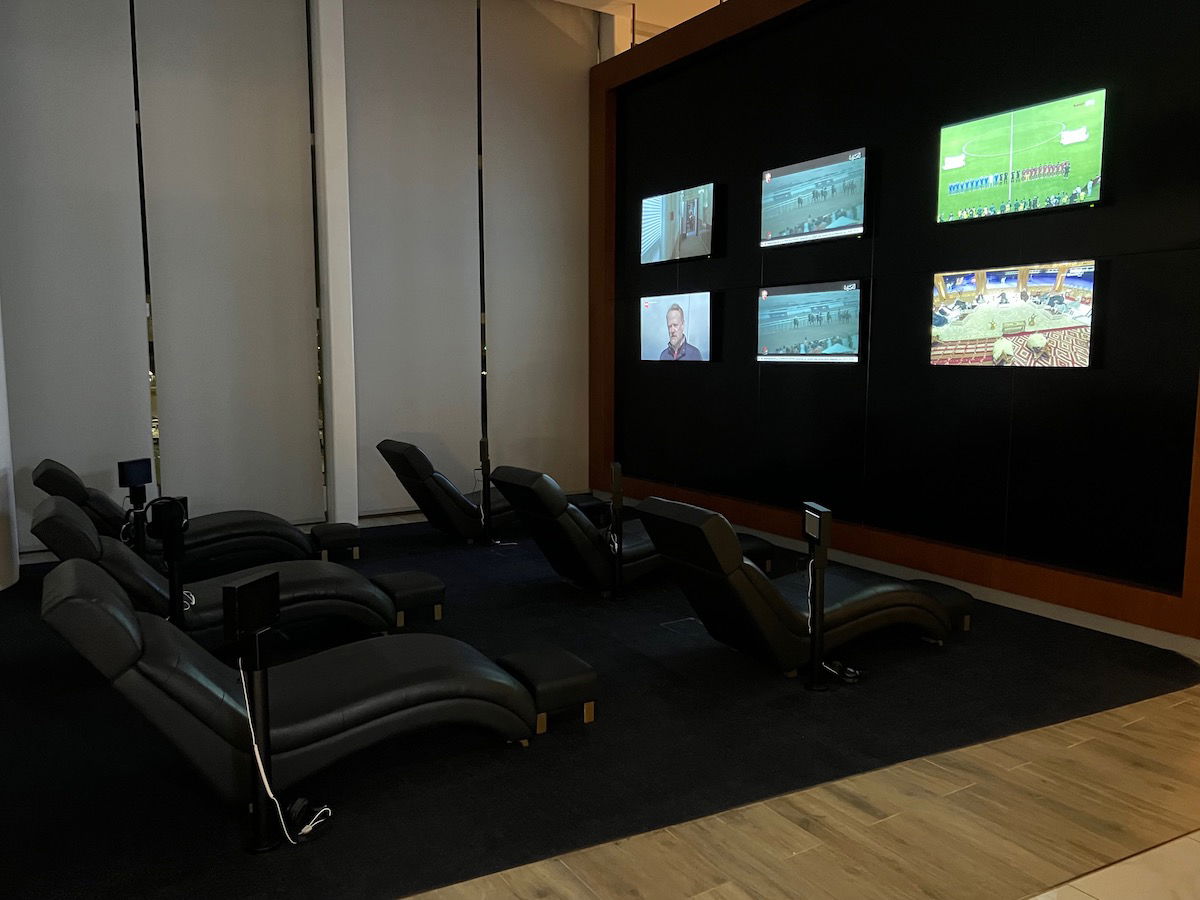 Past that is the main dining area, as most of this portion of the lounge features cafe tables, with two to four seats each.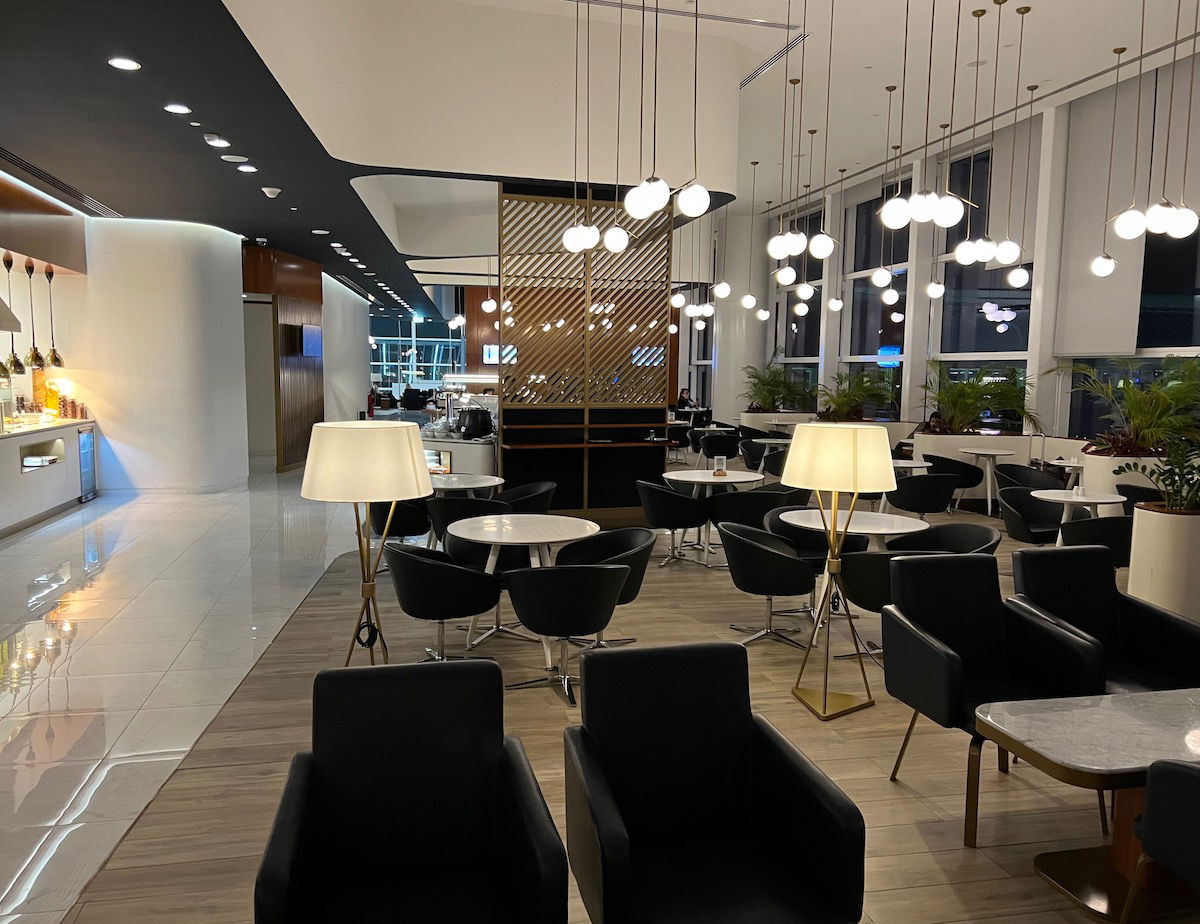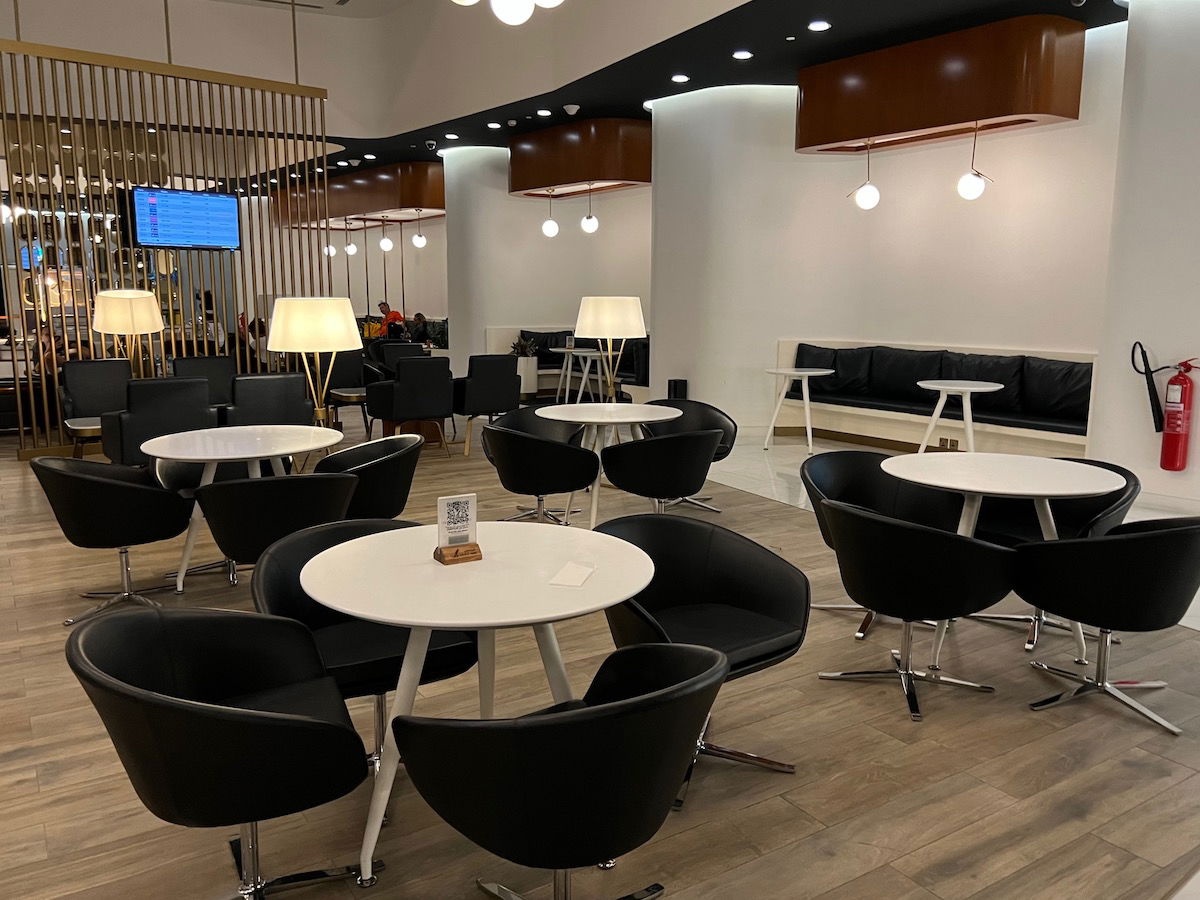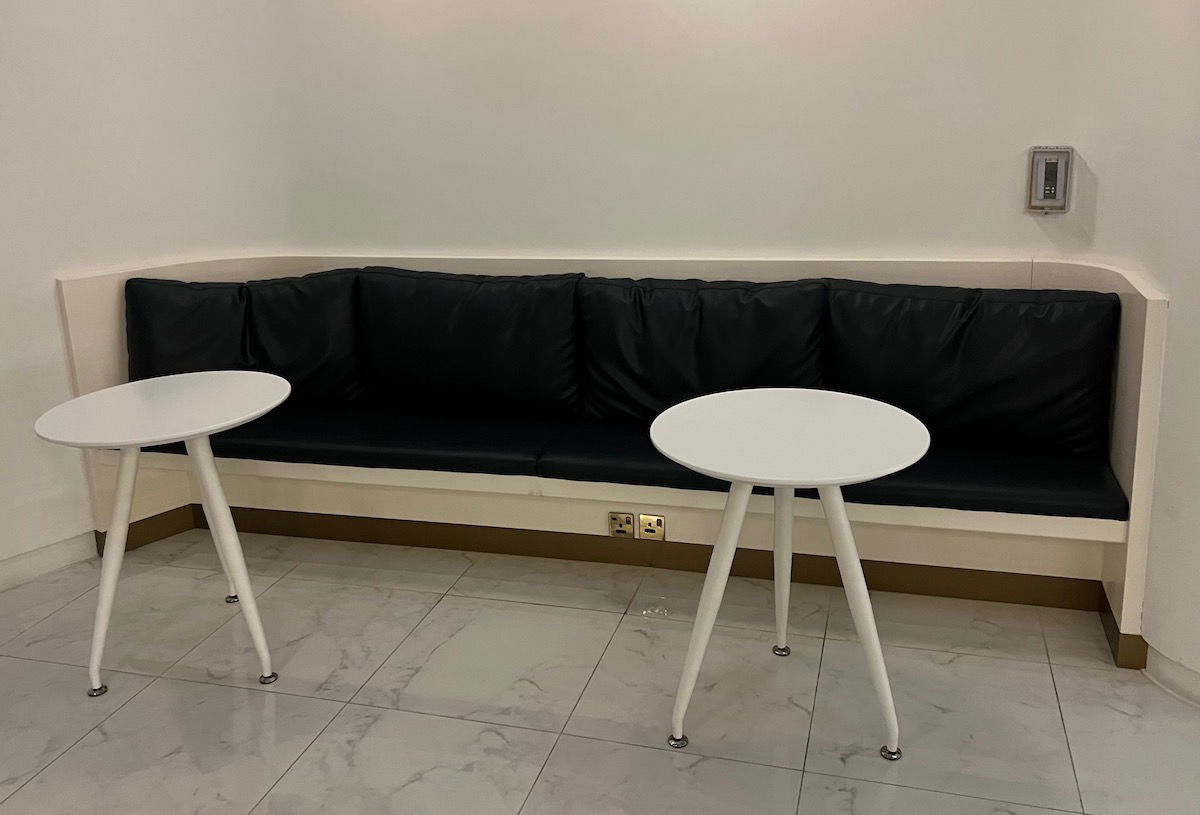 Behind this dining area is a play area for kids.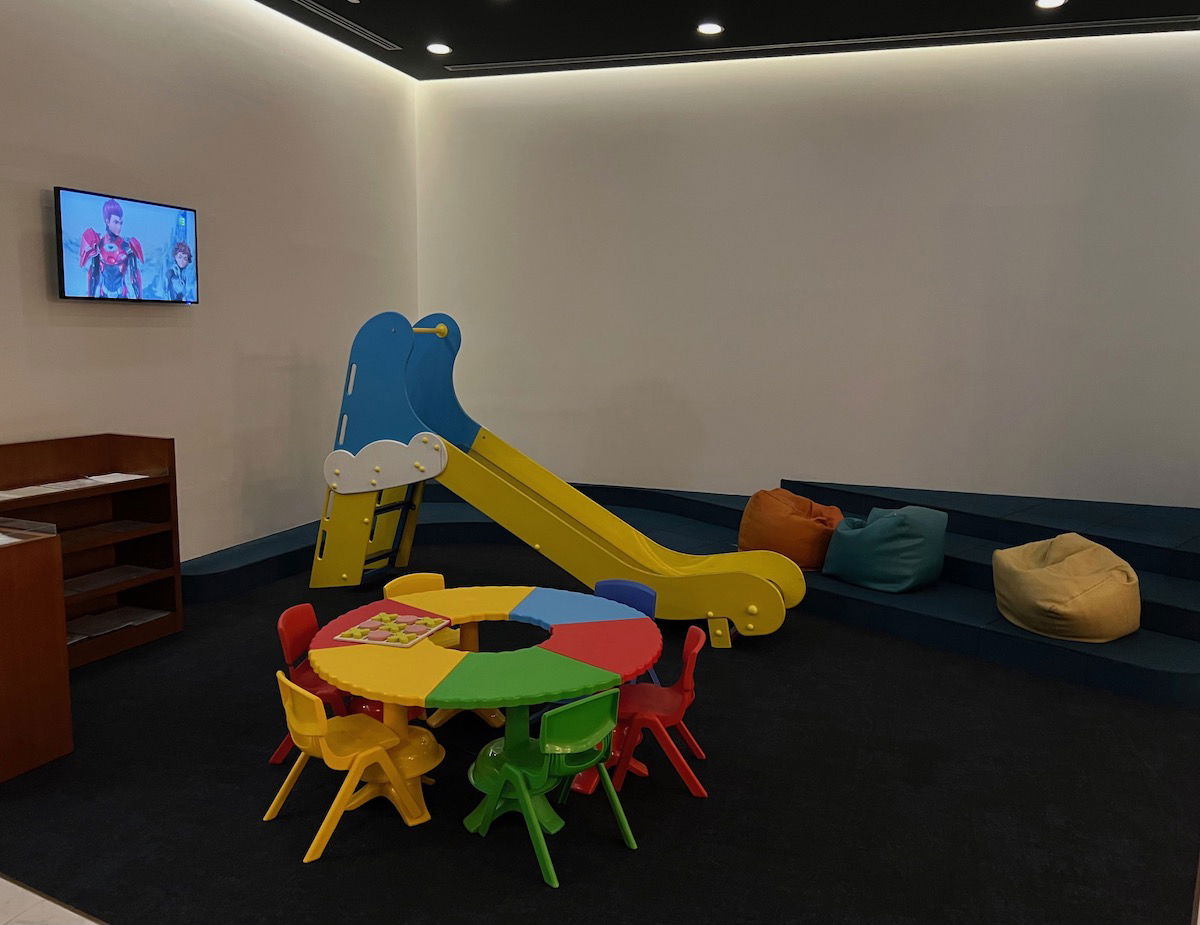 The other interesting feature of the lounge is that it has a terrace. This would be an awesome concept if it were well done, but… it's kind of not?
When I walked there, I wondered if I had accidentally ended up in an area I wasn't supposed to be allowed, because there was no signage, there was no one there, and it almost didn't feel like it was complete (maybe it isn't?).
It was a beautiful evening, so I almost wish they had a bar out here with food and drinks, so you could sit here comfortably. Furthermore, it would be nice if the lounge's Wi-Fi worked out there. Given that you have to walk up a set of stairs to get here, it's not really particularly practical to visit with luggage, food, etc.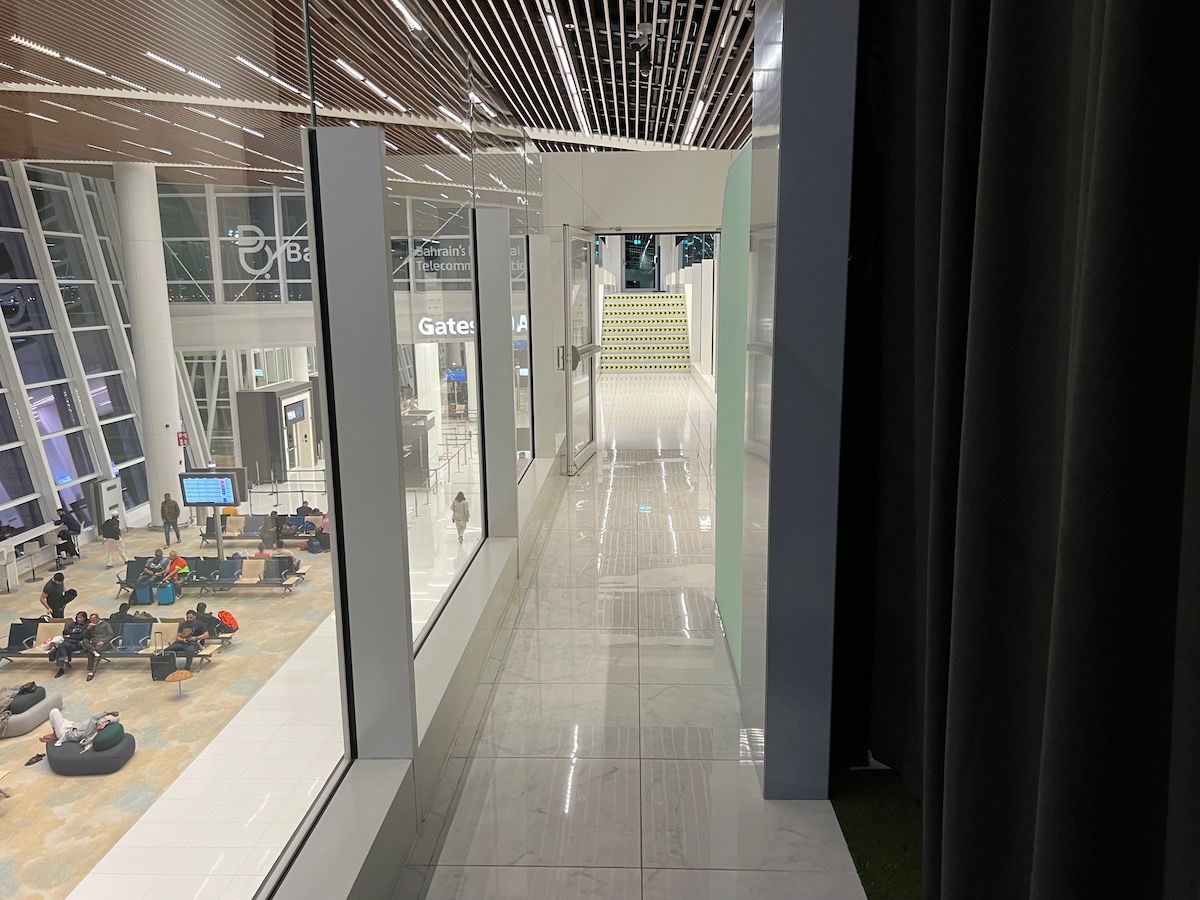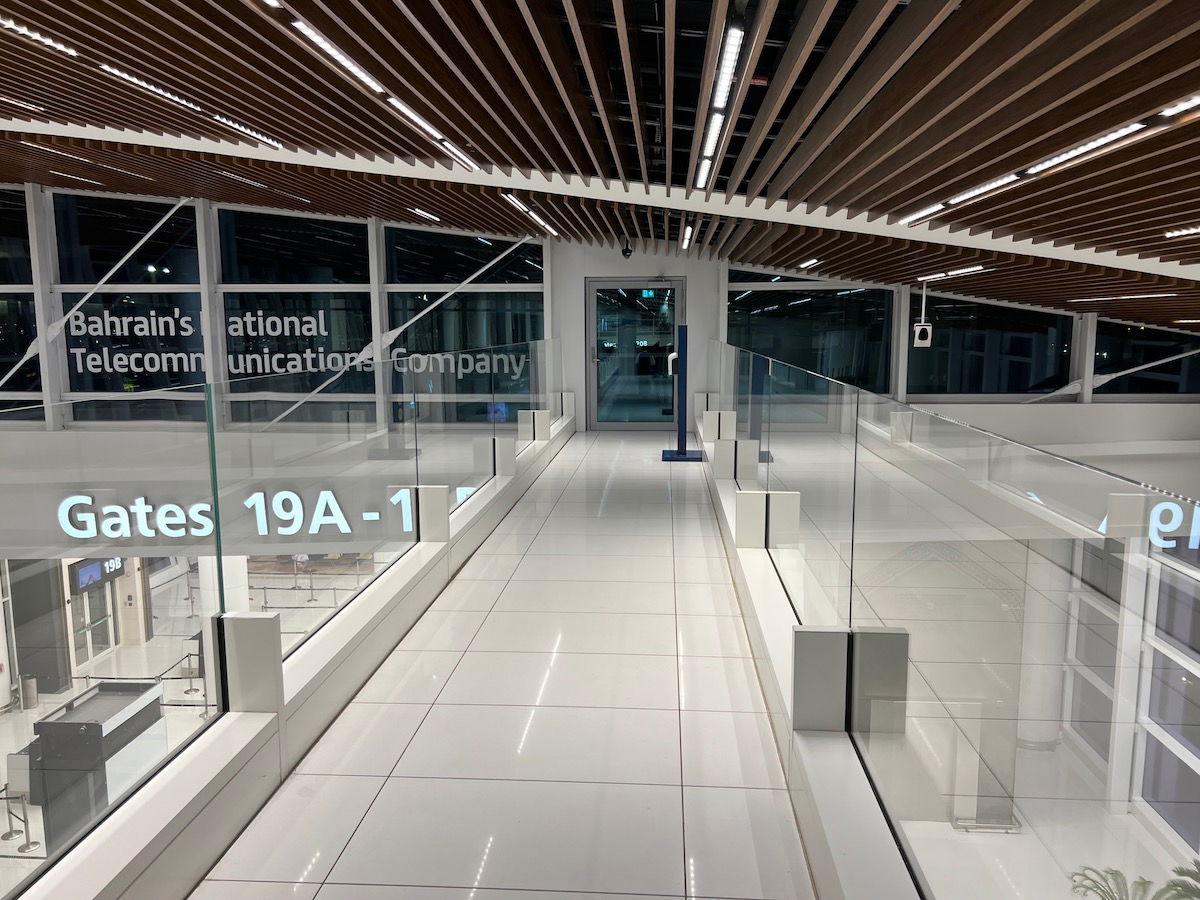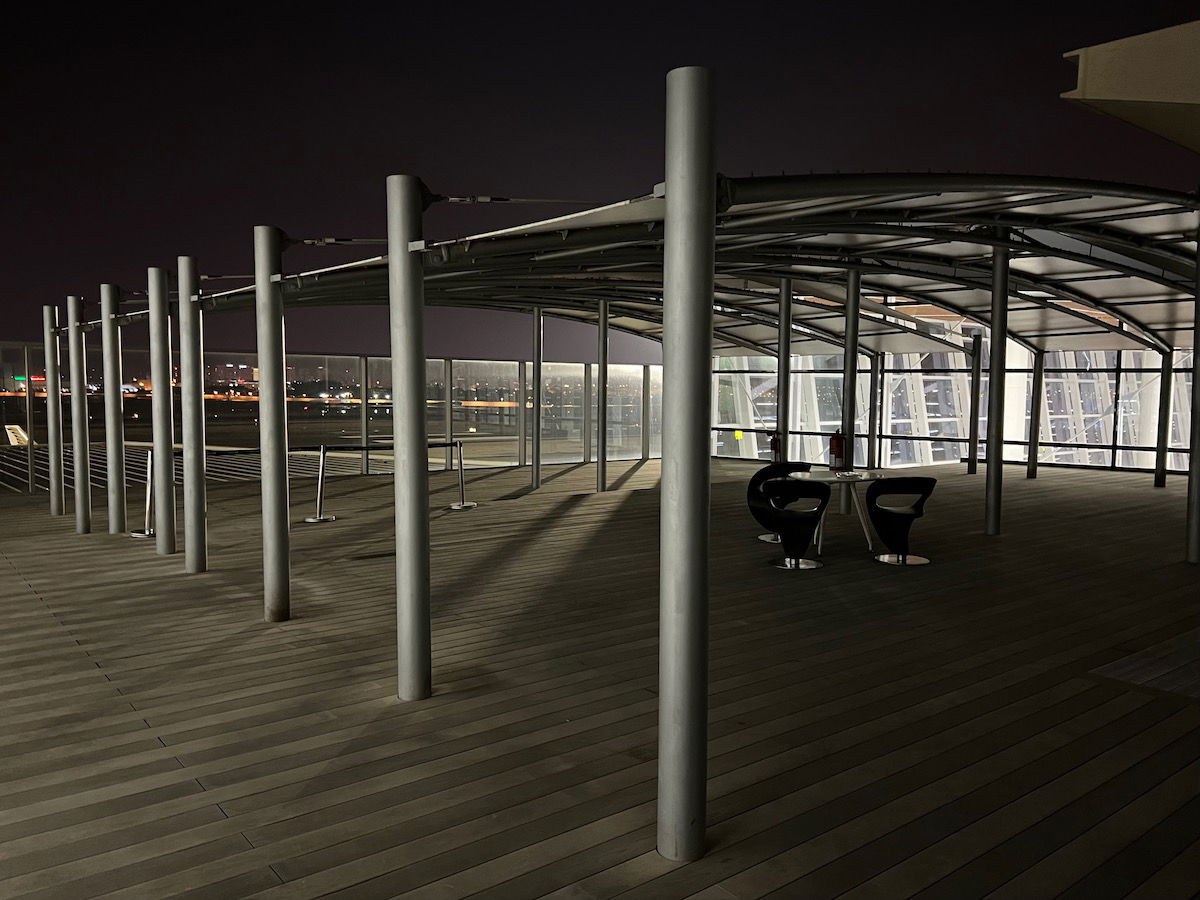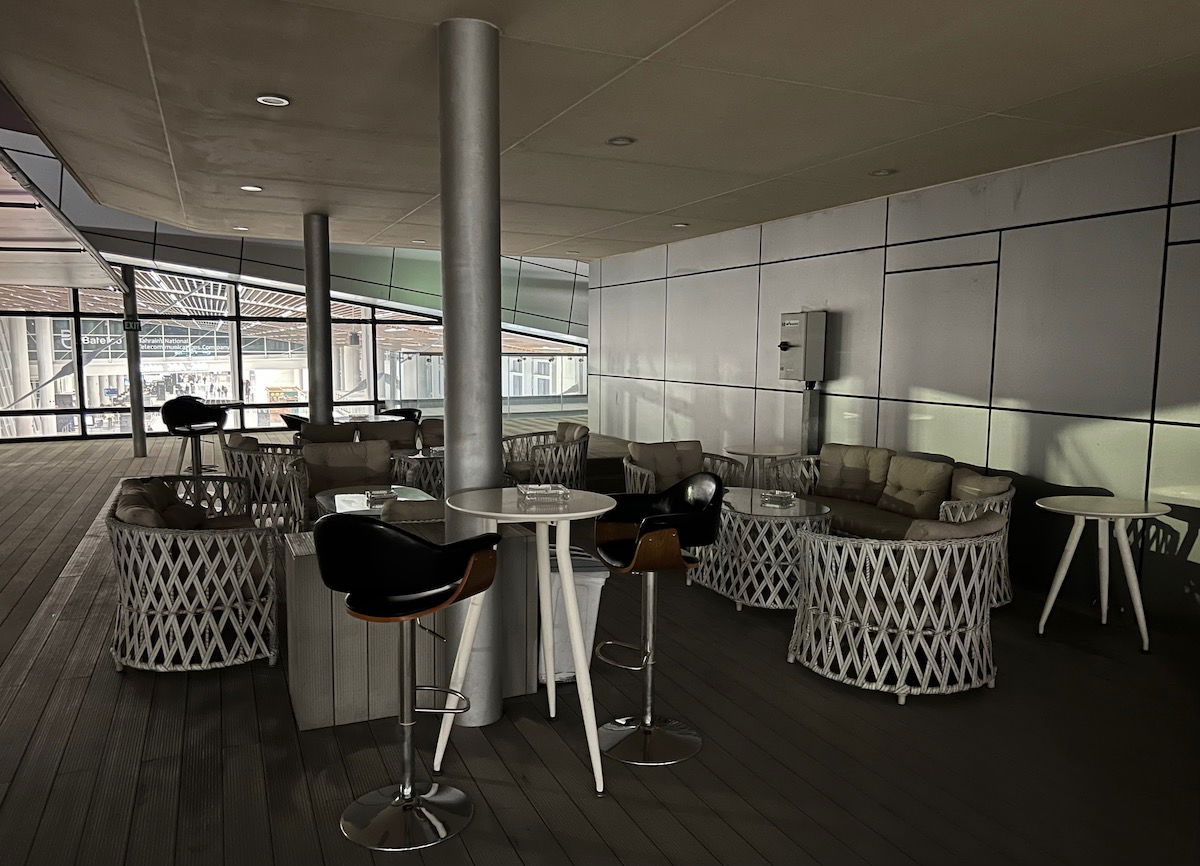 The design of the Gulf Air Lounge Bahrain is perfectly fine, but am I the only one who thinks it's a bit drab and uninspiring for a lounge that just recently opened? There's absolutely nothing bad about the design, but there's also nothing that makes me say "wow."
Gulf Air Lounge Bahrain food & drinks
Here's what kind of disappointed me, though it's probably just because my expectations were too high. The previous reviews I read of the Gulf Air Lounge suggested that the lounge had a small buffet, and then primarily had an excellent and extensive selection of a la carte dining.
As it turns out, that was just a temporary feature due to coronavirus, so the lounge no longer offers a la carte dining, aside from a few options on display, which can be heated for you.
The lounge has a couple of different areas with food and drinks. One is near the entrance by the first sitting area, while the other is in the back of the lounge, in the dining area. The main dining area consisted of three different buffet areas — one with cold options, one with hot options, and one with (sort of) made-to-order options and pizza.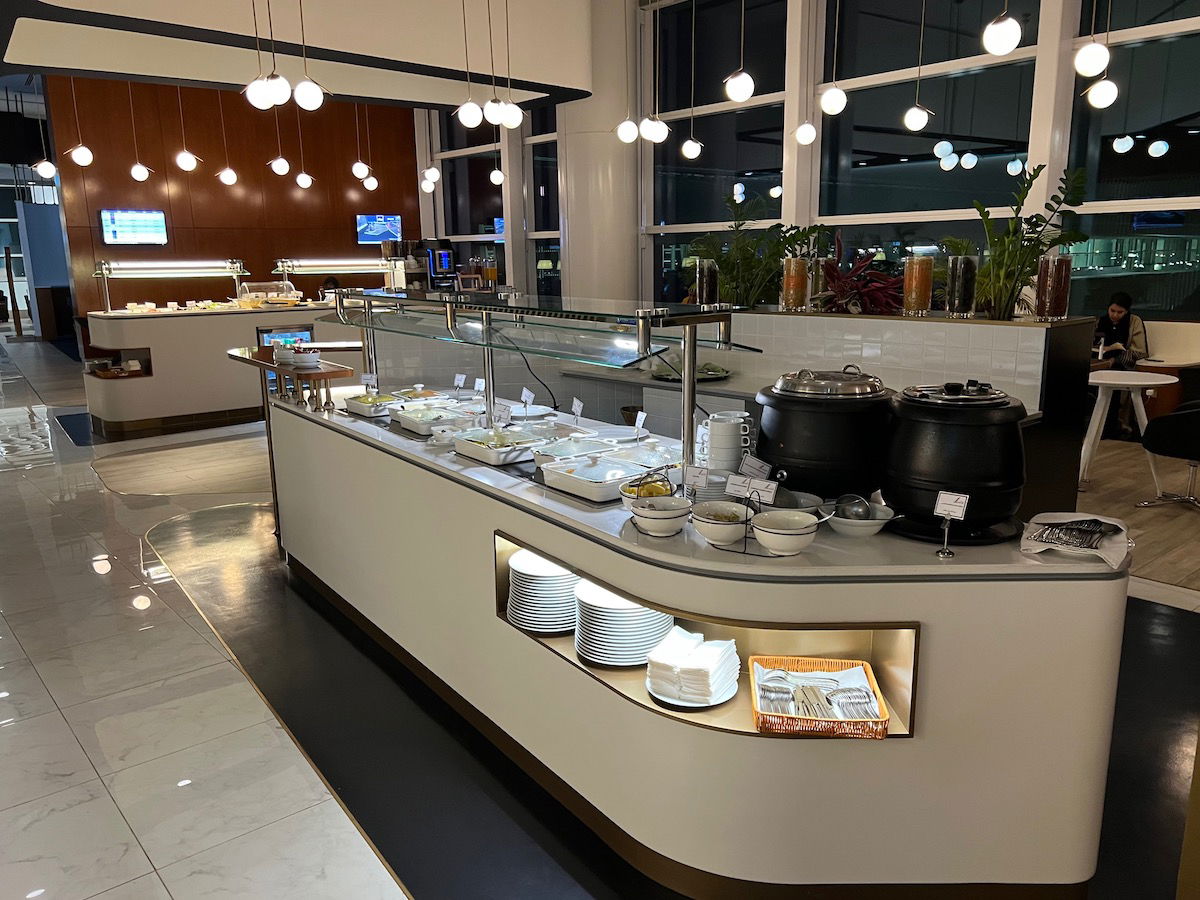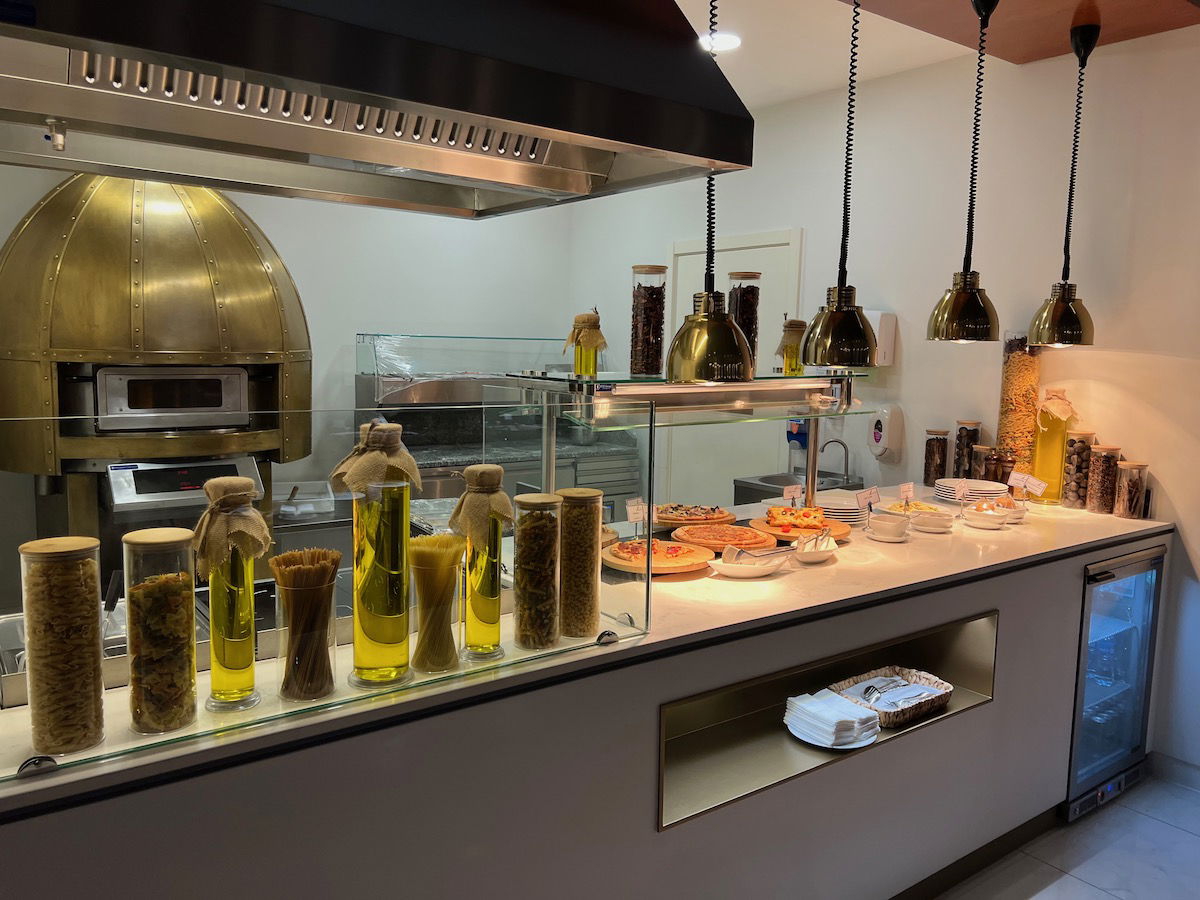 Cold options included a variety of salads and mezzes, bread, cheese, finger sandwiches, and some dessert.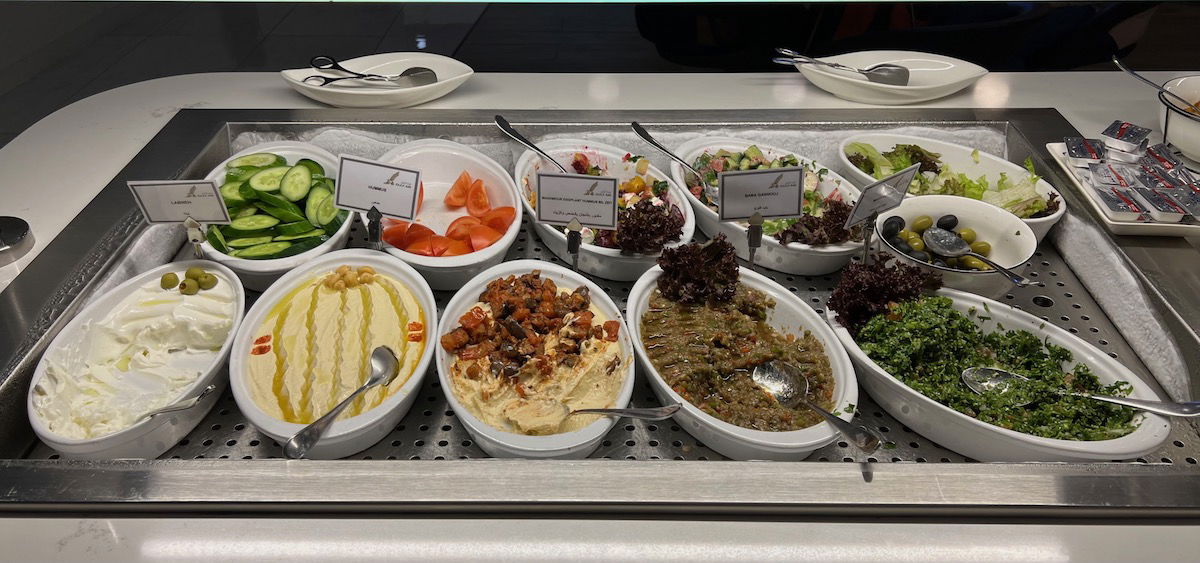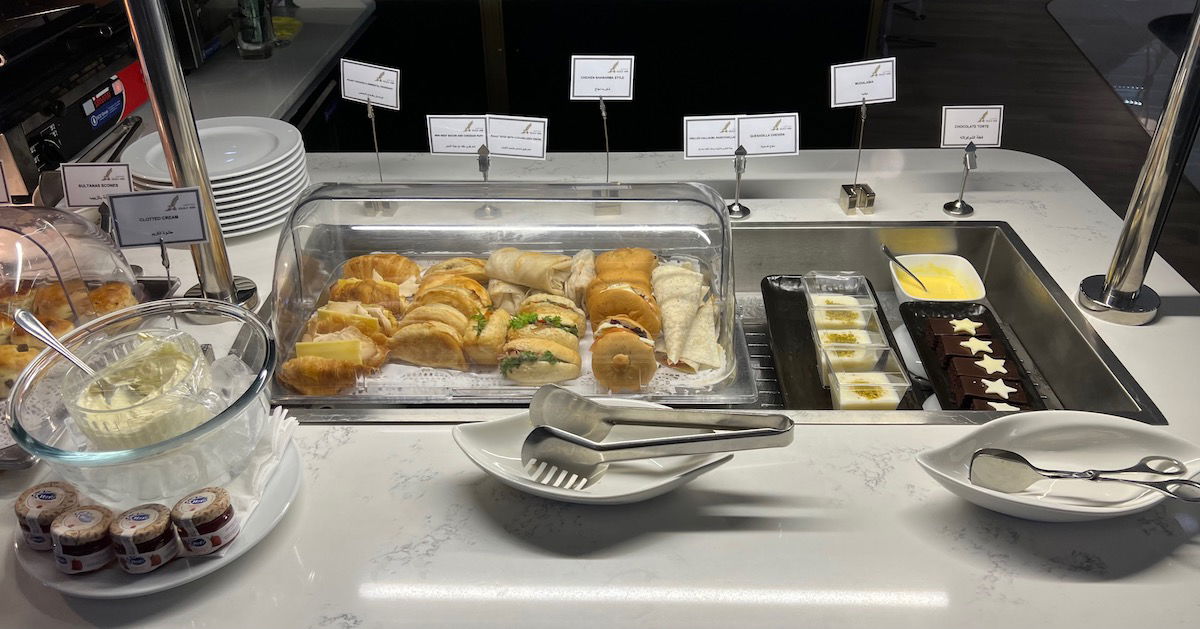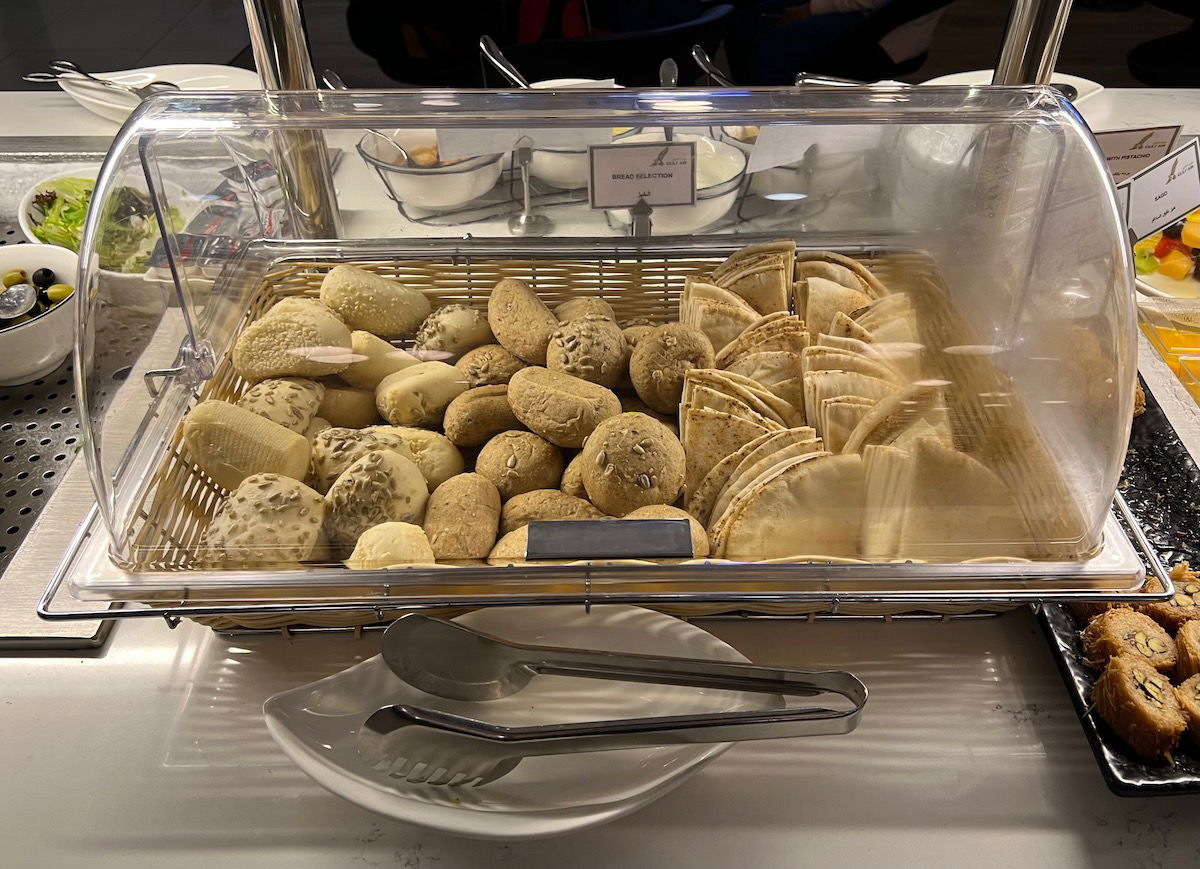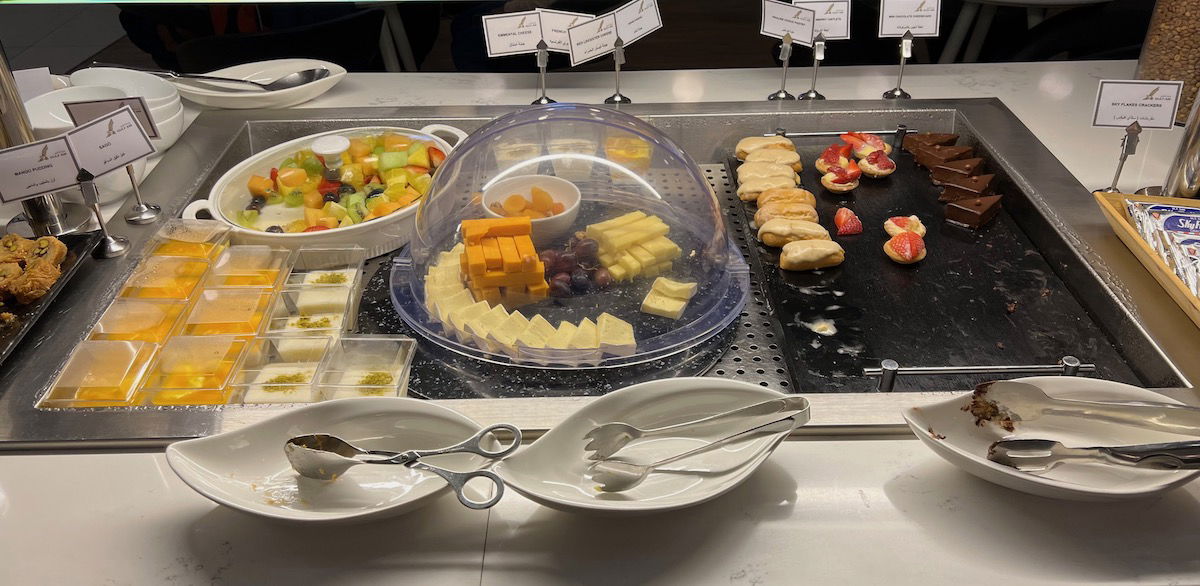 There were several hot options, including chicken biryani, beef stew, seared fish, steamed vegetables, a couple of types of soup, and more.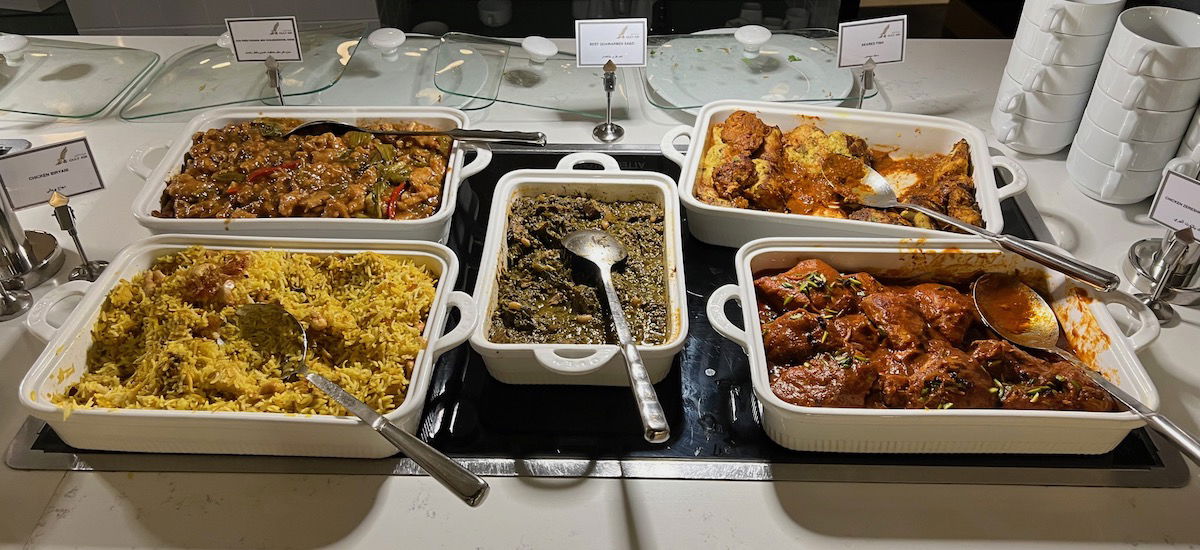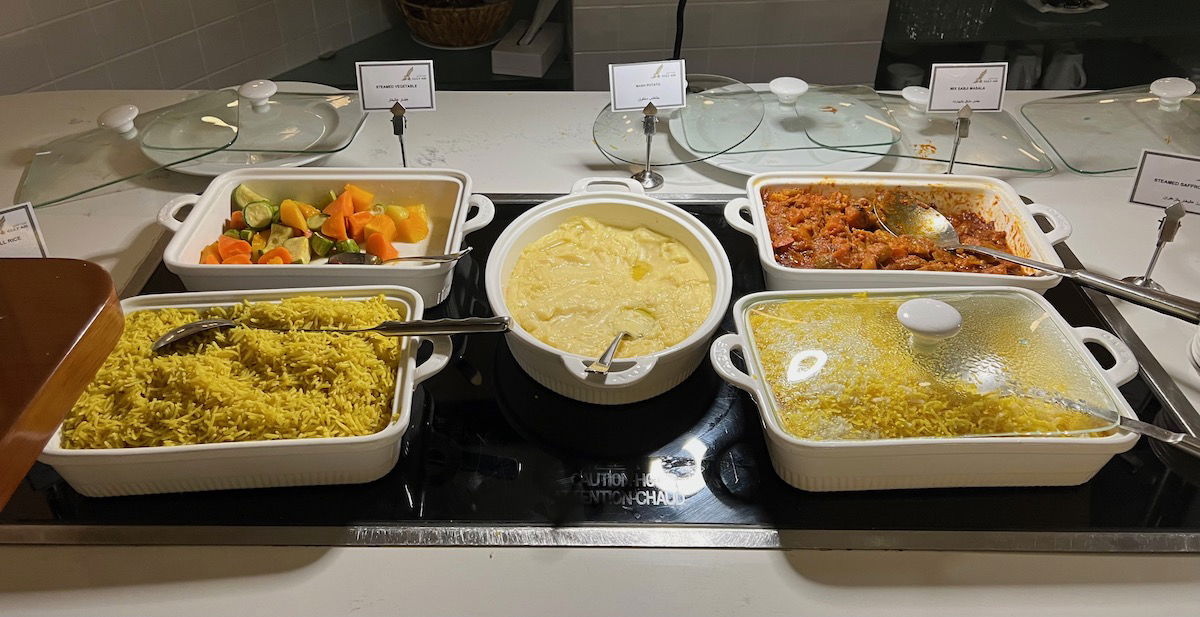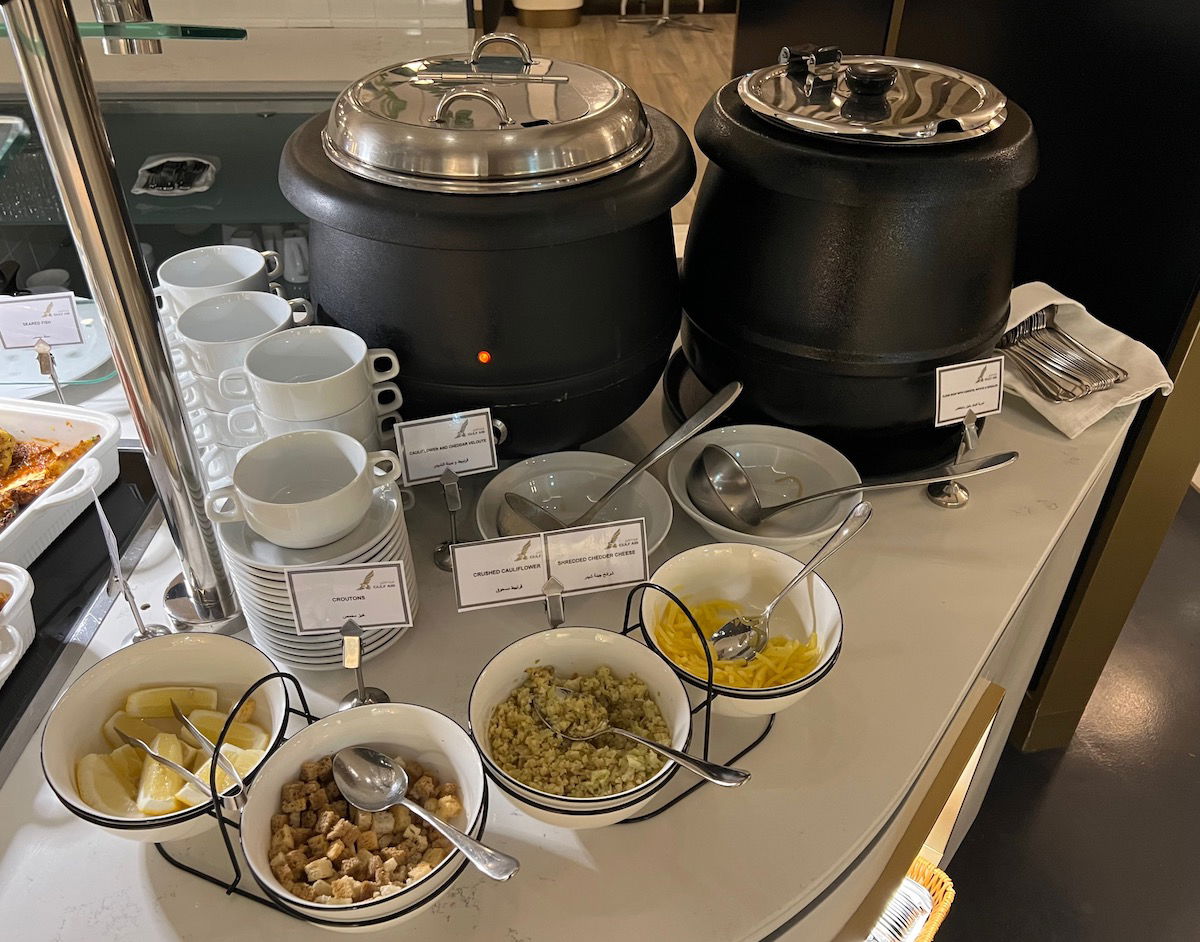 Then the other area had freshly prepared pizzas, as well as a few display items that would be prepared for you upon request, including Malay chicken skewers, mini chicken burgers, mini beef burgers, and a pasta dish.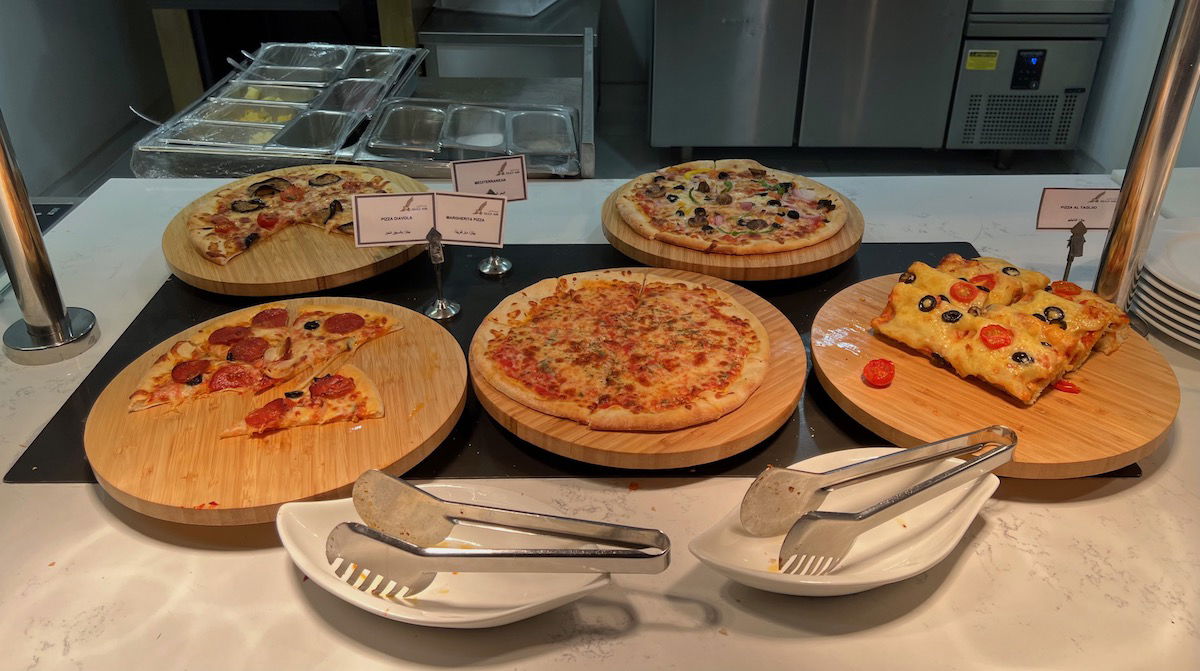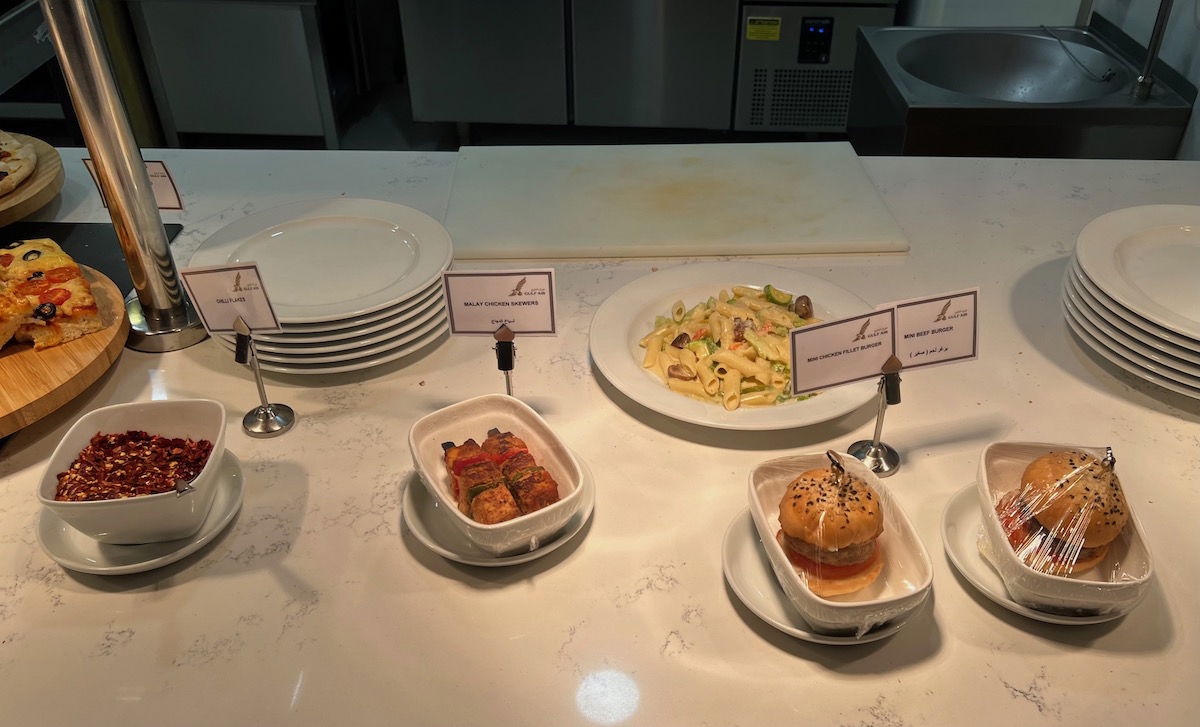 Next to the main buffet area was a counter with all kinds of ice cream and popcorn. This is a cute concept, but the lights were off and there was no one working the area. Was it not available, or are you just supposed to flag someone down?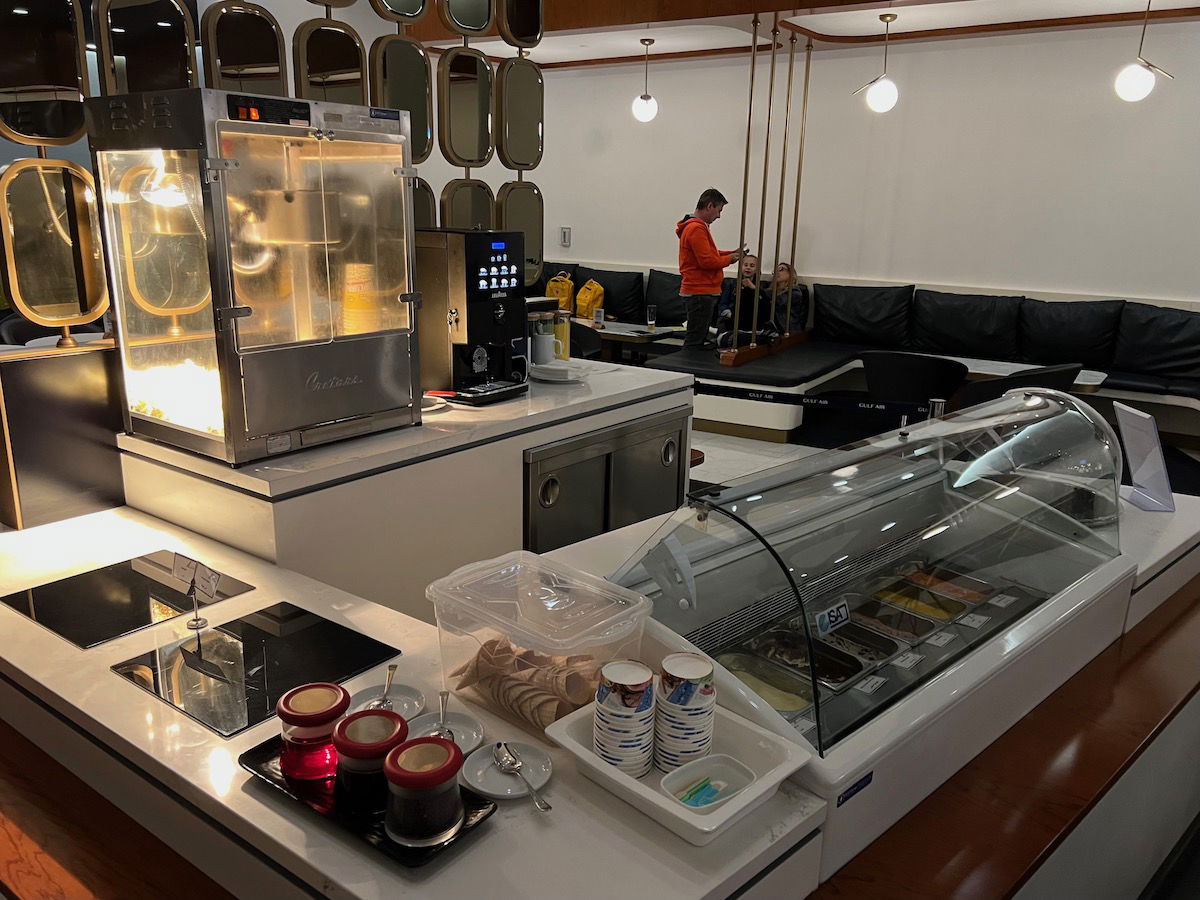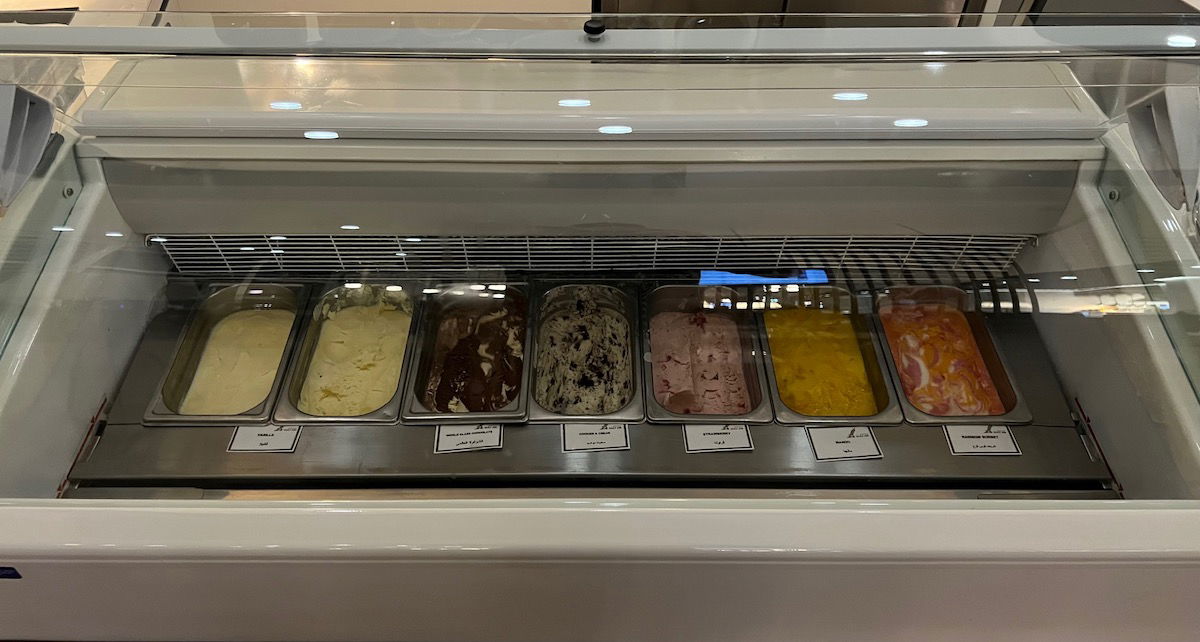 Near the entrance was a buffet area with bread, muffins, pastries, etc.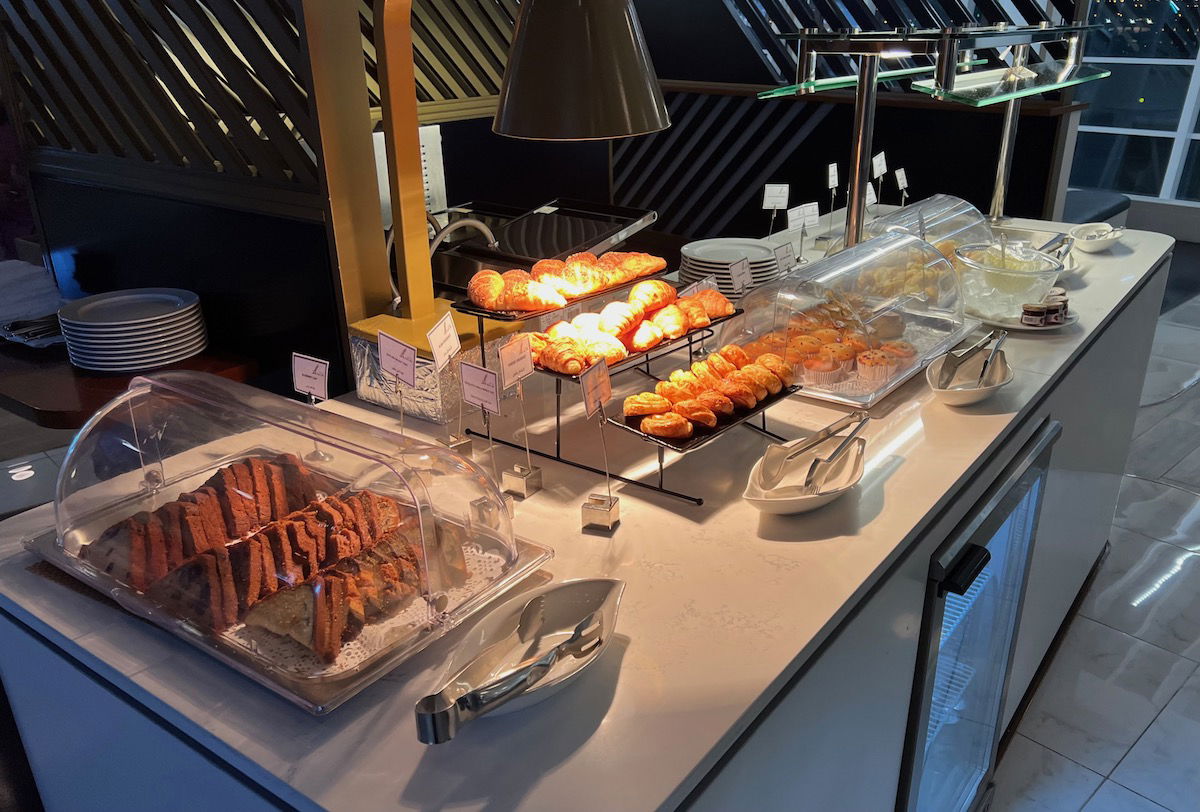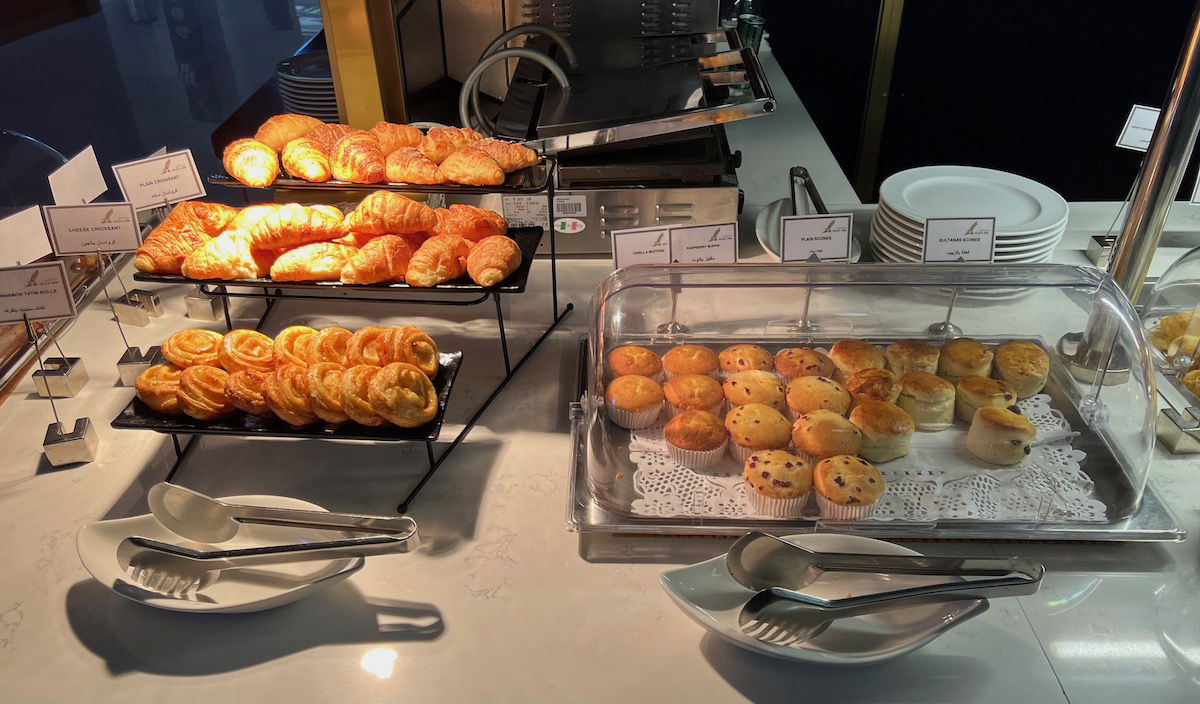 There were self-serve drink stations throughout the lounge, which included soft drinks, water, coffee, and tea. Alcoholic drinks are exclusively available at the bar.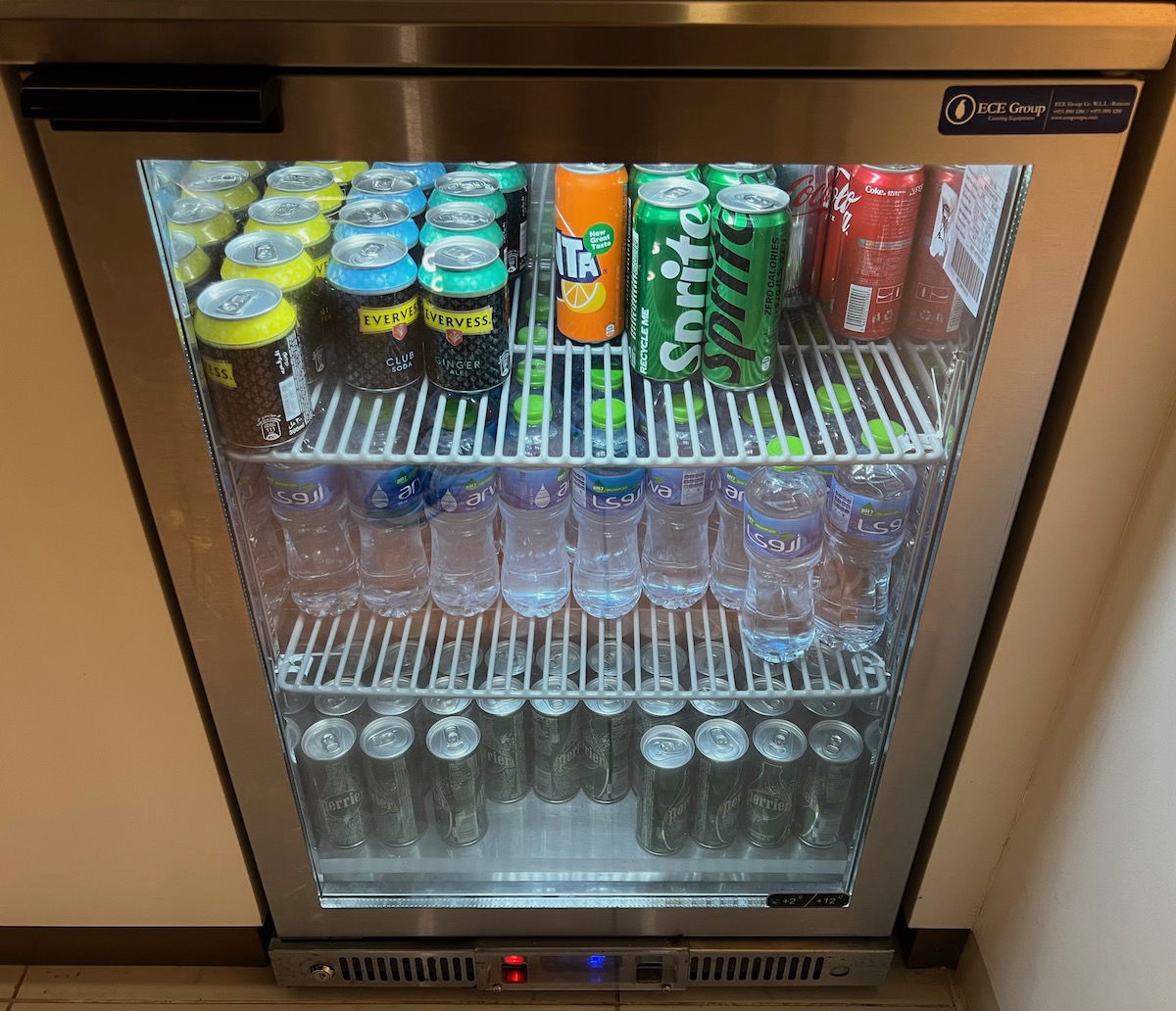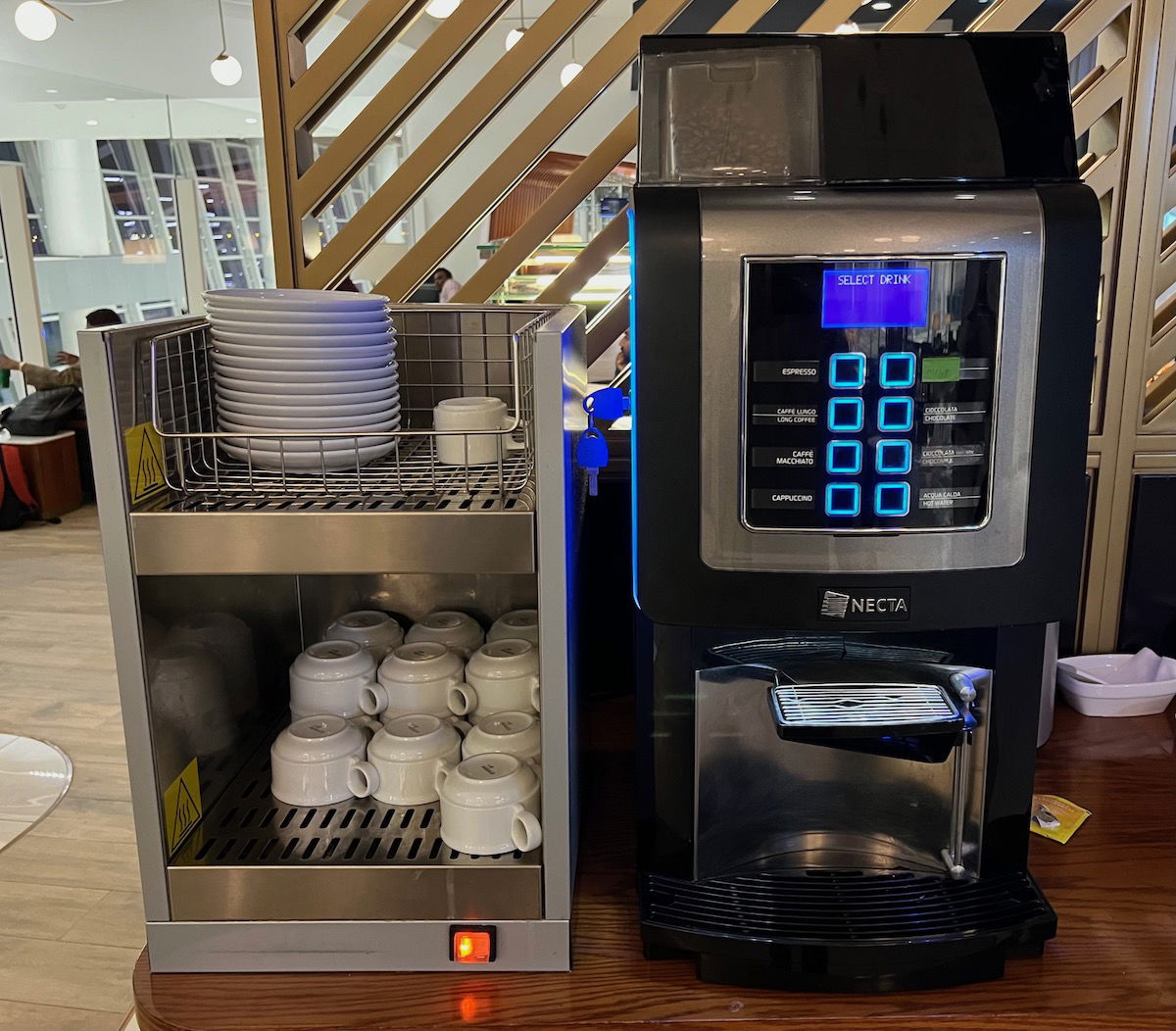 As a big fan of good coffee, I was excited to have read that you can get a barista-made coffee at the bar as well. However, when I went up to the bar, I was told that the machine there wasn't working, and there was a better option. The bartender went up to a machine, pushed a button, and made me a cappuccino that way. It wasn't great.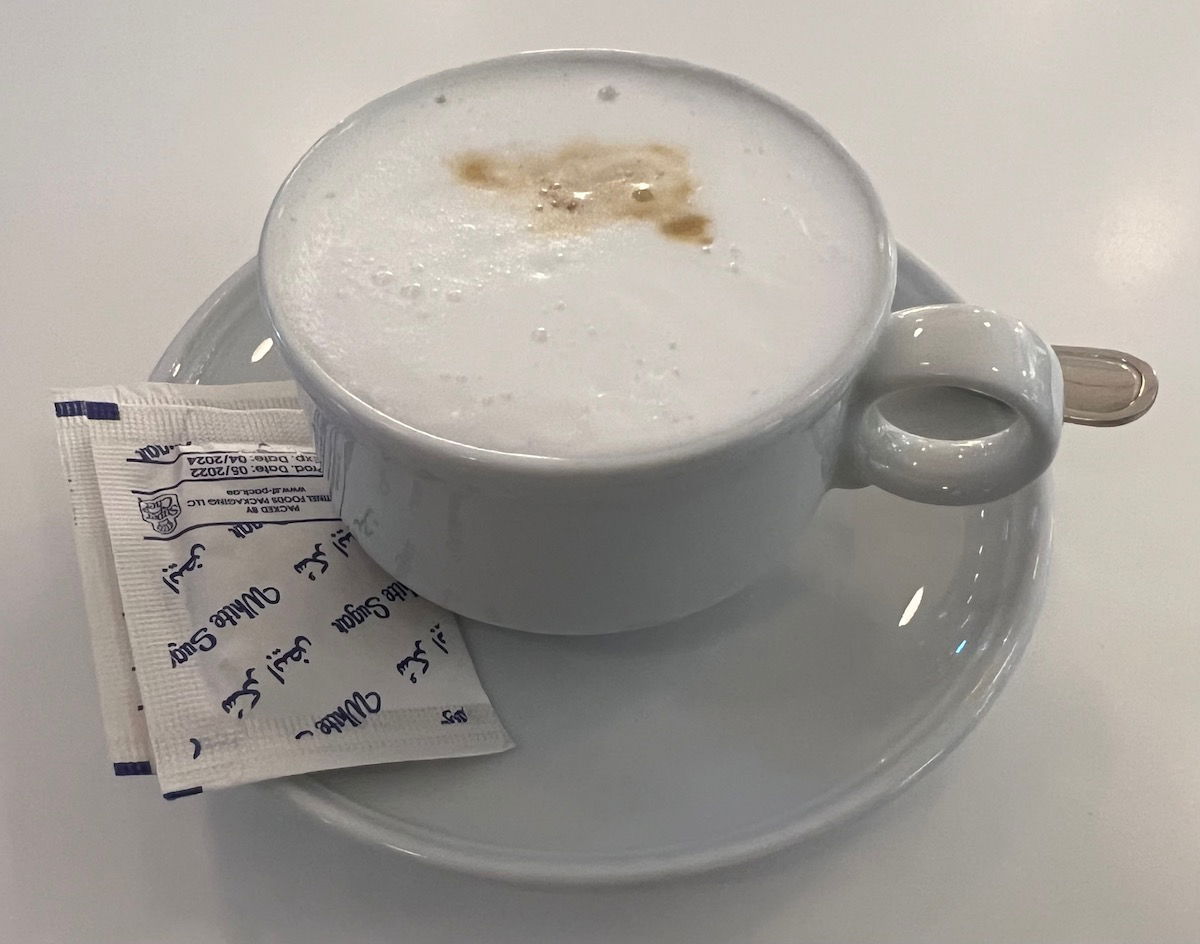 Gulf Air Lounge Bahrain bathrooms & showers
The Gulf Air Falcon Gold Lounge had two sets of bathrooms. I've definitely seen nicer airport bathrooms, and they also weren't that well maintained (unlike Emirates and Qatar Airways lounges, where they seem to go in after every use and clean — I feel bad for the people with that job!).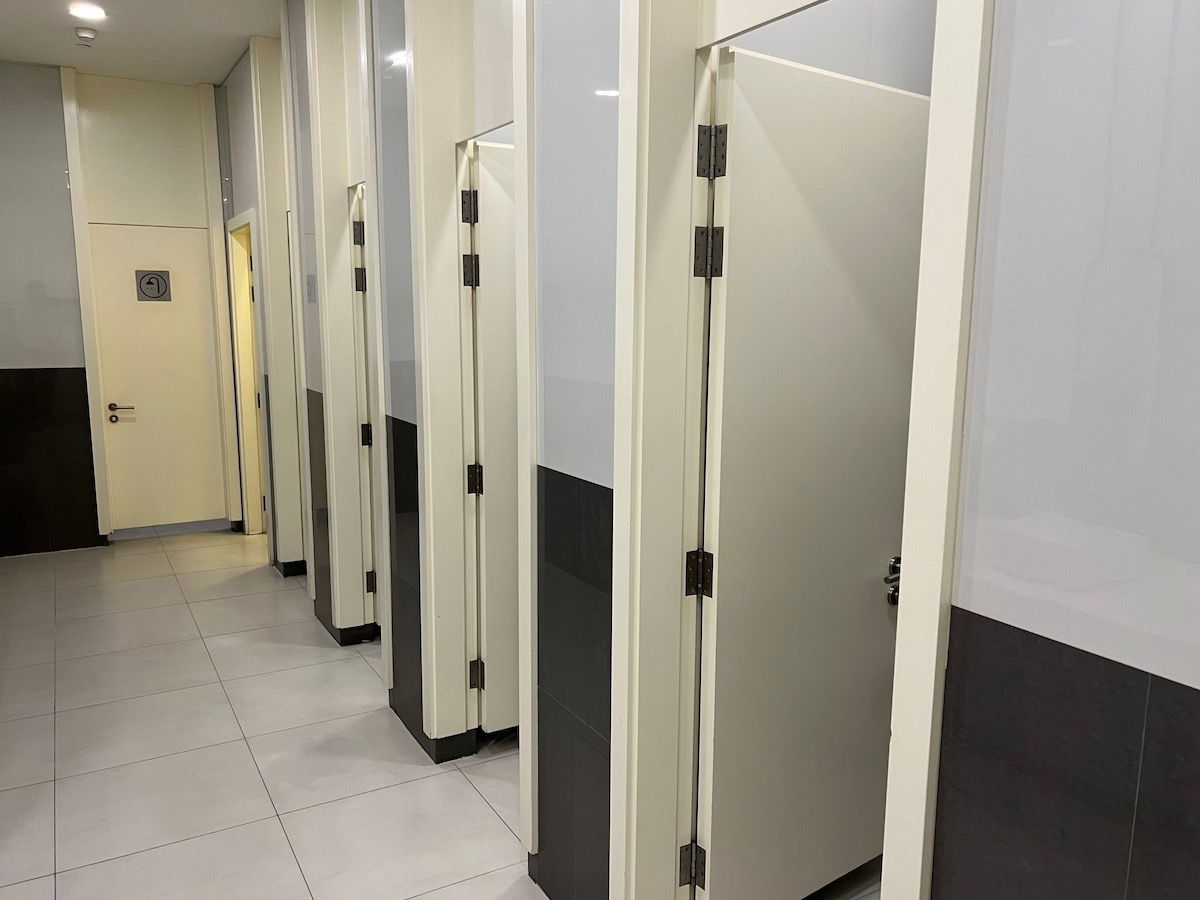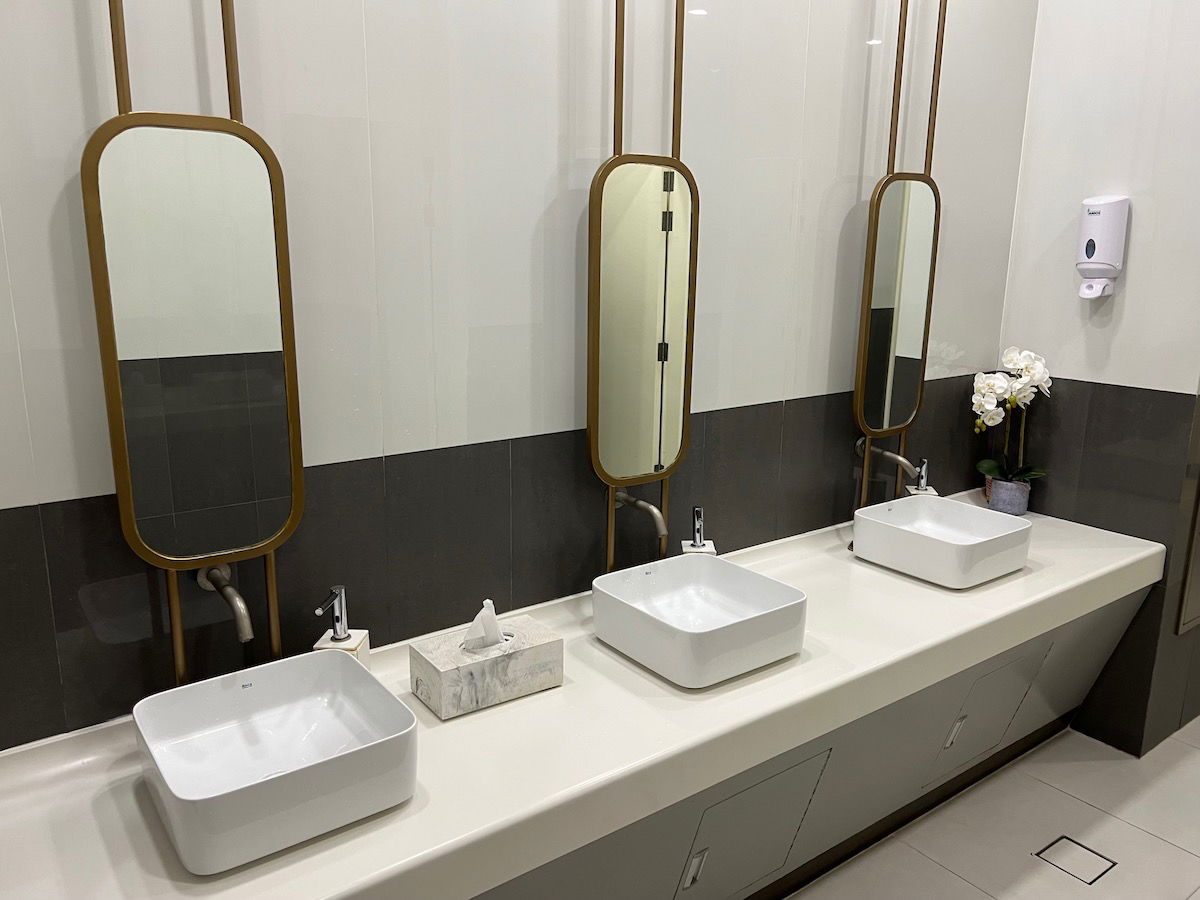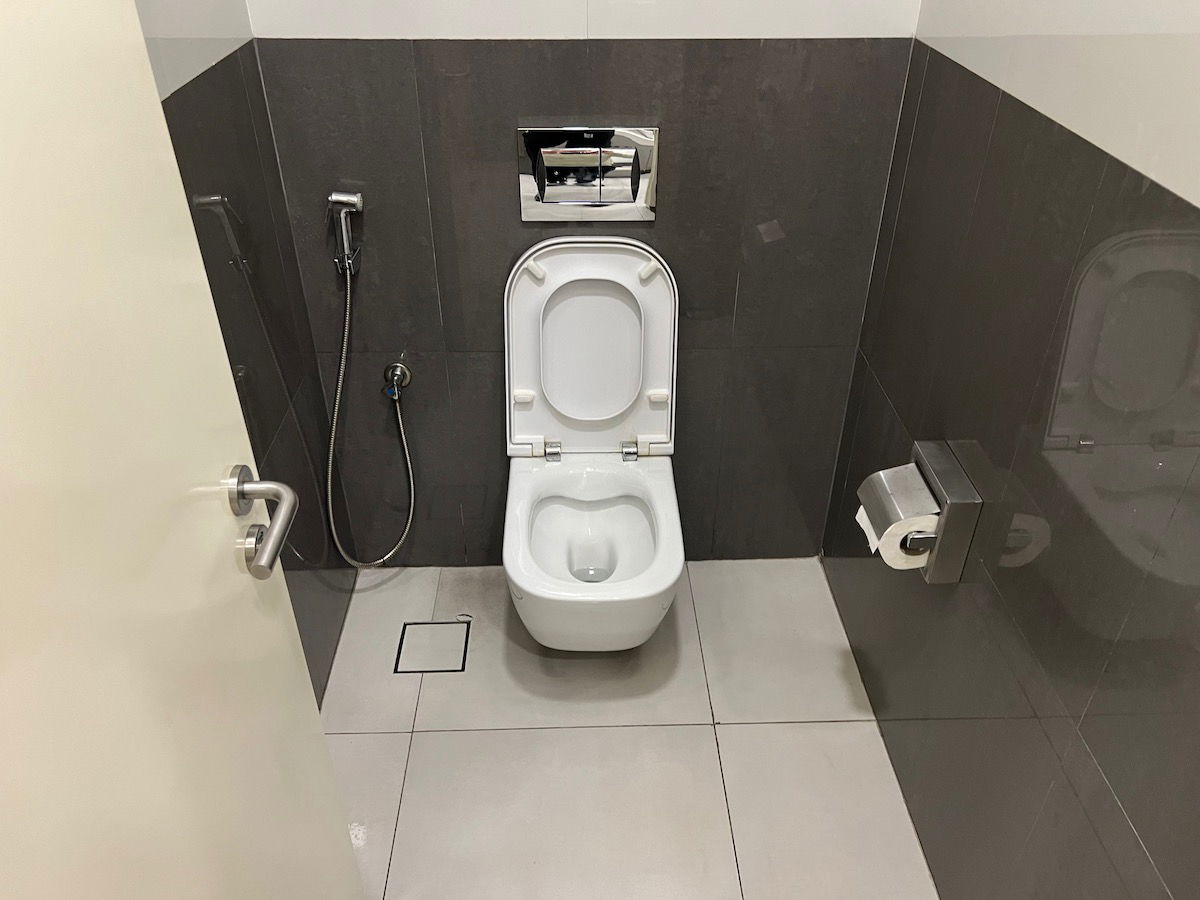 Most bizarre of all, though, was the shower situation. The men's bathroom had a single shower room in the very back of it, which almost felt like a janitor's closet. I'm confused how a Gulf carrier primarily transporting transit passengers with a new lounge that has just opened doesn't have a more impressive shower setup?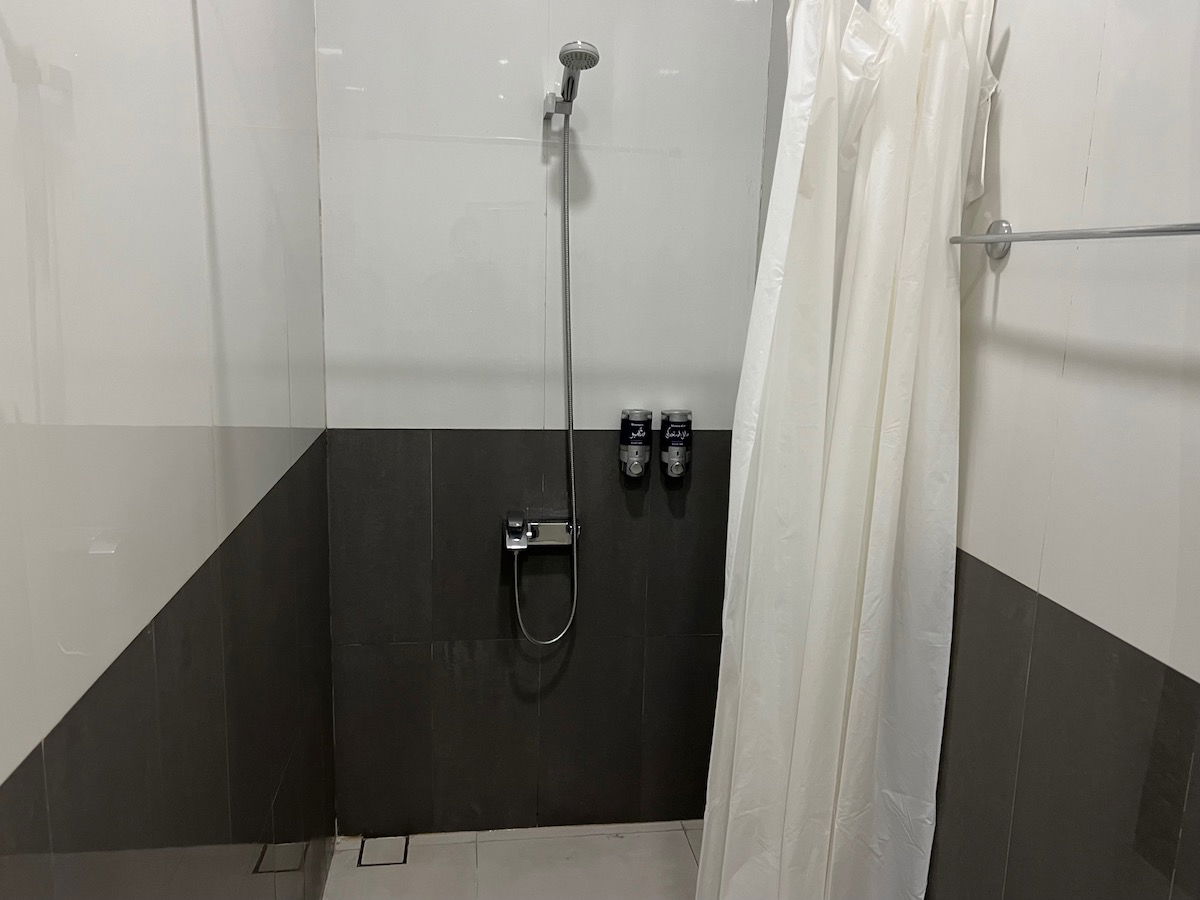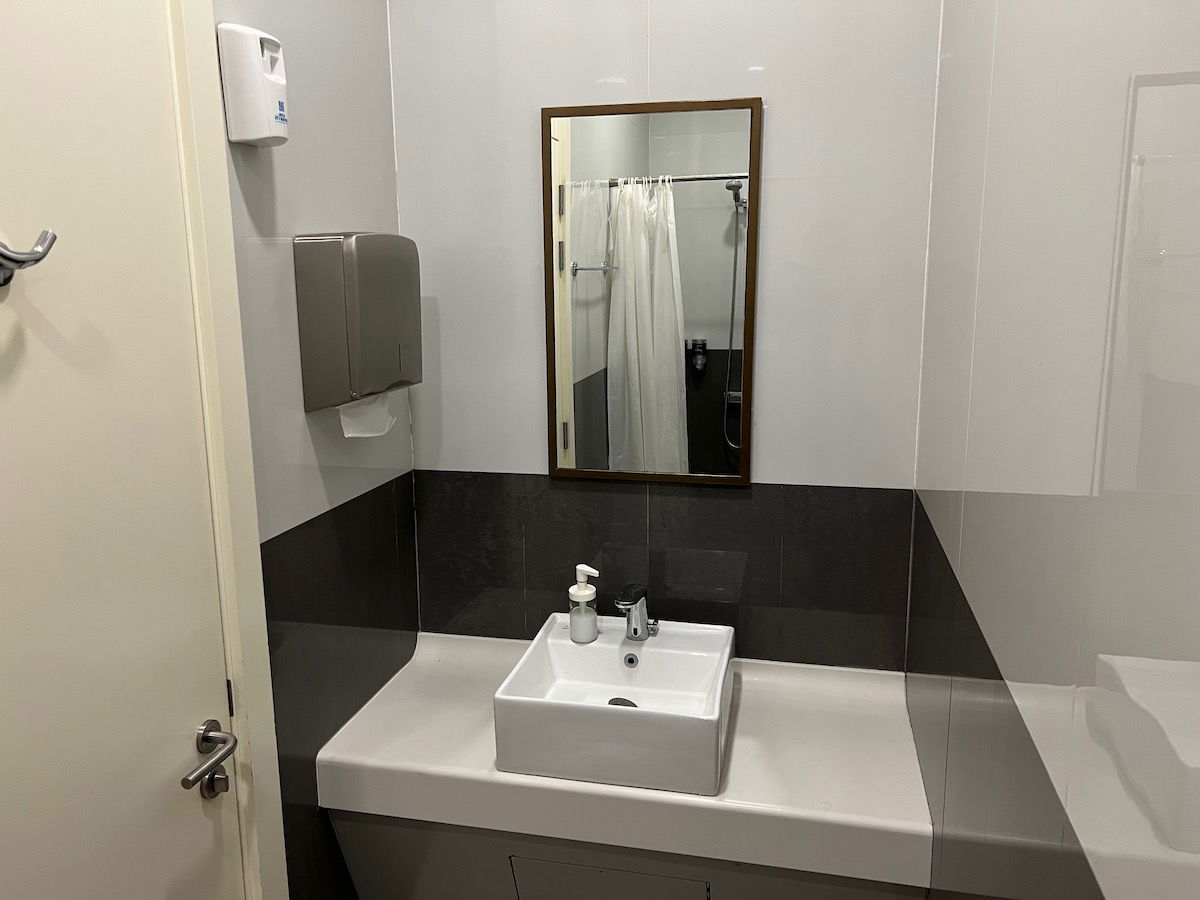 Bottom line
Gulf Air's hub has been massively upgraded with the recent opening of a new terminal. The new terminal and lounge represent a huge improvement over the old setup. However, dare I say that I'm a bit disappointed by Gulf Air's lounge, or at least I feel like the airline could have made it a bit better?
I'd say the only objectively bad thing about the lounge is the shower setup and the lack of a dedicated nap or rest area, which is embarrassingly bad for a new lounge in the region. However, beyond that I'd say the lounge is just okay, and nothing special. It has a decent selection of food and drinks, terrace, etc., yet many aspects of the design feel more like an afterthought than anything else.
Unfortunately I feel like the lounge is similar to the overall Gulf Air experience, in the sense that a bit more investment and effort would make a big difference. Unfortunately this isn't to the level of the Qatar Airways Al Mourjan Lounge Doha or Emirates Business Lounge Dubai.
What do you make of the Gulf Air Lounge Bahrain?