Up until 2011 Air Canada's (spun off) Aeroplan loyalty program was probably my single favorite frequent flyer program. They had outrageously low award rates for travel in first class on Star Alliance carriers (100,000 miles for roundtrip first class between the US and Europe and 120,000 miles for roundtrip first class between the US and Asia). Then in 2011 Aeroplan announced a huge award chart devaluation, which was quickly followed by them adding fuel surcharges for travel on most Star Alliance partner carriers without advance notice. For the person that was "maximizing" Aeroplan awards (flying from the US to Asia on ANA, Lufthansa, Thai, etc.), I'd say the value of their miles was cut in half virtually overnight.
Anyway, with the United devaluation kicking in February 1, Aeroplan's award chart is once again looking a bit better by comparison (even though Aeroplan adjusted their award chart again as of last week, though the changes weren't nearly as brutal as United's).
As a reminder, Aeroplan does not impose fuel surcharges for travel on Air China, Brussels, EgyptAir, Ethiopian, EVA Air, Scandinavian, Singapore, Swiss, Turkish, United, and US Airways, and the fuel surcharges on LOT are really low.
However, there's a workaround for avoiding fuel surcharges (for those partner carriers on which they're ordinarily imposed) on the return portion of an award ticket, which I'll explain in the form of an example.
Say you want to fly roundtrip in first class from Washington to Frankfurt, which costs 125,000 Aeroplan miles.
If you were to fly United roundtrip, you'd pay 125,000 Aeroplan miles plus $170.30 in taxes and fees. The taxes and fees are fairly low because Aeroplan doesn't impose fuel surcharges for redemptions on United.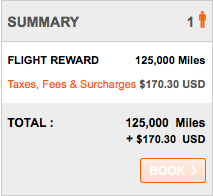 Meanwhile, say that instead you book an award on the same dates, except the return is in Lufthansa first class, on which Aeroplan does impose fuel surcharges. That same award will now cost you 125,000 Aeroplan miles plus $598.30 in taxes, fees, and fuel surcharges (the additional ~$430 account for the one-way transatlantic fuel surcharges that Lufthansa imposes).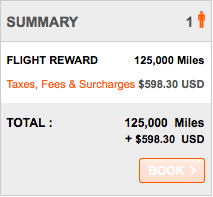 However, what's interesting about Aeroplan is that if you change an itinerary after travel commences they'll only charge you the $90CAD change fee, and not the difference in fuel surcharges that would apply.
So in the above example if you booked United roundtrip and flew Washington to Frankfurt, you could change your Frankfurt to Washington flight from United to Lufthansa and you would just be charged the $90CAD change fee, and not for the additional ~$430 worth of fuel surcharges that would apply if you had booked it in advance.
This should work for Aeroplan awards on all Star Alliance partner carriers, and is a nice way to at least fly some airlines that ordinarily impose fuel surcharges without paying the total amount.