For the less familiar, Aeroplan is the once spun-off but now recently-acquired loyalty program for Air Canada. So if you are earning Air Canada miles, you are actually accumulating miles with Aeroplan.
I know many bemoan the devaluations we've seen with Aeroplan over the years — perhaps, rightly so — but there's plenty of great ways to use Aeroplan miles if you know where to look. Value can be found in everything from complex sweet-spot awards to just leveraging the routing rules and partner network.
With that in mind, I wanted to put together some info to make redeeming Aeroplan miles a bit easier so you don't have to dig for info when you have questions. We'll cover how to book, award regions, stopovers and open jaws and more.
With that, let's dig into it!
Redeem Aeroplan miles on Air Canada and Star Alliance partners
Unlike some programs, Aeroplan uses the same award chart for both flights on Air Canada and its Star Alliance partners. It might not seem like a big deal, but it certainly makes it easier to remember what to expect when booking.
While Aeroplan offers "fixed mileage flight rewards" — e.g. saver level — and "market fare flight rewards," we're going to focus on saver level as that's what you'll want to book in almost all cases.
Market fare awards are only available on Air Canada flights and are similar to American's AAnytime awards and United's Everyday awards. As you can see in the example above, rates can be over 3X the saver rate.
You can redeem Aeroplan miles on the following Star Alliance airlines:
| | | | |
| --- | --- | --- | --- |
| Aegean Airlines | Austrian Airlines | EVA Air | SWISS |
| Air Canada | Avianca | LOT Polish Airlines | TAP Air Portugal |
| Air China | Brussels Airlines | Lufthansa | Thai Airways |
| Air India | Copa Airlines | Scandinavian Airlines (SAS) | Turkish Airlines |
| Air New Zealand | Croatia Airlines | Shenzhen Airlines | United Airlines |
| All Nippon Airways | EgyptAir | Singapore Airlines | |
| Asiana Airlines | Ethiopian Airlines | South African Airways | |
Star Alliance airlines
It's also worth noting that Aeroplan members have access to additional "saver" level space on Air Canada, which can come in handy, but you'll pay more in cash to redeem miles on Air Canada than other partners, as we'll discuss later on.
Keep in mind that Star Alliance partners Lufthansa, Singapore Airlines and SWISS restrict access to some premium cabin awards.
Lufthansa only allows partners to book first class awards about two weeks prior to departure.
SWISS will only allow Senator and HON Circle Miles & More members to book first class on their flights. You might remember the debacle when Aeroplan showed SWISS first class award space and then didn't honor the bookings. Yikes!
Finally, Singapore Airlines won't allow partners to book business or first class awards on their long-haul routes — occasionally, we've seen business class space on an A350 but it hasn't lasted long.
How to find award space and book with Aeroplan
You can use Aeroplan to search for award space on any Star Alliance partners, and their website is one of the better ones. However, if you don't have specific dates you need to travel, I would suggest starting your search with United's flexible date search option as you'll be able to see award availability across two months of dates.
Once you've found award space on dates that work for you, it's easy to login to Aeroplan and run a search to confirm availability. Unless United is showing phantom award space, the main thing to keep an eye on is that United provides more award space on United flights to its own members at times.
If your routing will have connections, you might have to search segment by segment with Aeroplan as it's not the best search engine if you need connections. But in general the pricing engine works well, and you'll be able to see the costs in miles, taxes, and surcharges before booking.
Calling Aeroplan
Aeroplan has evolved from having the worst hold times imaginable, and nowadays phone queues are very short.
If you can't get a route to show up with a simple search, but can find space searching each segment, give Aeroplan a call (1-800-361-5373) to book. The C$30 (~$24) phone booking fee is worth it.
Keep in mind that the Aeroplan call center is not 24 hour — their operating hours are 7AM to Midnight Eastern.
Surcharges on Aeroplan awards
While some carriers don't pass on surcharges for mileage tickets, Aeroplan is more of a mixed bag. Before you book, you'll want to know what you're getting into so use this list as a point of reference.
To avoid high fees when redeeming Aeroplan miles, fly the following carriers:
Aegean Airlines
Air China
Air India
Air New Zealand
Avianca
Brussels Airlines
Copa Airlines
Croatia Airlines
EgyptAir
Ethiopian Airlines
EVA Air
Scandinavian Airlines (SAS)
Shenzhen Airlines
Singapore Airlines
South African Airways
Swiss International Air Lines
Turkish Airlines
United Airlines
Yes, you read that correctly. Air Canada is not included. Aeroplan will impose surcharges on award flights on Air Canada — this is just silly to me, but considering the somewhat antagonistic history the two companies have had is perhaps not that surprising.
Aeroplan routing rules
While the surcharges can jack up the cash cost of your awards, Aeroplan has generous routing rules that can let you put together some fun trips. It helps that, unlike American AAdvantage, Aeroplan allows you to transit multiple regions on awards.
What does this mean practically speaking?
As an example, American wouldn't let you book an award on Finnair with a connection in Helsinki (HEL) on your way to Bangkok (BKK). But Aeroplan will let you book an award on SWISS that connects in Zurich (ZRH) on your way to BKK.
The previous MPM (maximum permitted mileage) restrictions have been replaced by more general guidance and point-to-point allowances. For the most part, these limits aren't a major factor — if you are trying to book a very complex itinerary with backtracking segments you might run into them, but otherwise it's not something I'd stress about when planning to use Aeroplan miles.
Stopovers and open jaws
Note: The Aeroplan program is changing stopover rules as of September 1, 2019.
Aeroplan's stopover and open jaw rules are where the real fun begins! You can utilize the same kind of routes we discussed above to see destinations on different continents on the same ticket.
On round-trip awards, you can include two stopovers or one stopover and one open jaw. No, you can't include a stopover on a one-way like you can with Alaska Mileage Plan, but this can still be very useful thanks to Aeroplan's routing rules.
If you're like me, you're probably thinking about how you could book a trip around the world. Off the top of my head, here's a fun example you could try to piece together:
Los Angeles (LAX) to Taipei (TPE) — stopover
TPE to Istanbul (IST) — destination
IST to Stockholm (ARN) — stopover
ARN to LAX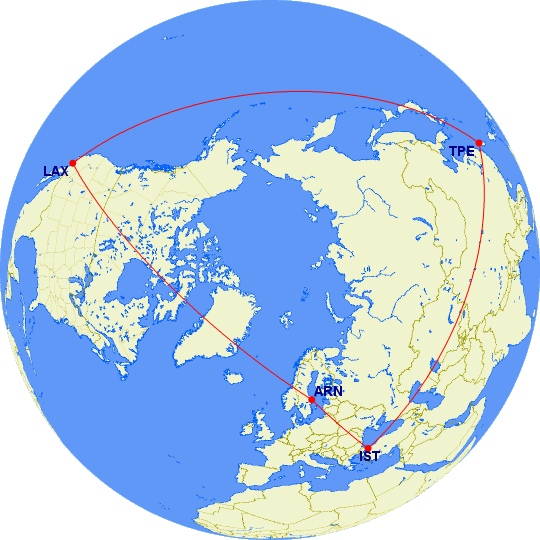 This round-trip award ticket — pretty much a round-the-world award with fewer stops — would require 150,000 Aeroplan miles in business class, with no fuel surcharges.
Come to think of it, maybe I should look into booking that.
If you want to book two stopovers or a stopover and an open jaw, you're going to have to call Aeroplan to book. Honestly, don't be surprised if you have to call if you want to include even one stopover.
Aeroplan award regions
Aeroplan has a simple region-based award chart with the following rates from the Canada / the continental U.S. and Hawaii:
If you'd like to see award rates between other regions, you can check out the full Aeroplan award chart.
Now, when it comes to determining the cost of your award, the below chart breaks down which countries, states, territories, etc. are in each region.
| | |
| --- | --- |
| Canada & Continental USA | Canada's 10 provinces & 3 territories; The 48 contiguous US states, plus the District of Columbia and Alaska. |
| Hawaiian Islands | Big Islands of Hawaii, Kauai, Maui, Oahu. |
| Caribbean & Central America | Antigua, Aruba, Bahamas, Barbados, Belize, Bermuda, Costa Rica, Cuba, Dominican Republic, El Salvador, Grand Cayman, Grenada, Guadeloupe, Guatemala, Haiti, Honduras, Jamaica, Martinique, Netherland Antilles, Nicaragua, Panama, Puerto Rico, St. Kitts, Saint Lucia, Trinidad and Tobago, Turks & Caicos Islands, US Virgin Islands. |
| Northern South America | Colombia, Ecuador (Incl Galapagos Islands), Guyana, Venezuela. |
| Southern South America | Argentina, Bolivia, Brazil, Chile, Paraguay, Peru, Uruguay. |
| Europe 1 | Austria, Belgium, Denmark, France, Germany, Ireland, Italy, Luxembourg, Netherlands, Norway, Portugal, Spain (incl. Balearic Islands; excl. Canary Islands), Sweden, Switzerland, United Kingdom. |
| Europe 2 | Albania, Armenia, Azerbaijan, Belarus, Bosnia, Bulgaria, Croatia, Cyprus, Czech Republic, Estonia, Finland, Georgia, Greece, Greenland, Hungary, Iceland, Latvia, Lithuania, Macedonia, Malta, Moldova, Montenegro, Poland, Romania, Russia (Western), Serbia, Slovakia, Slovenia, Turkey, Ukraine. |
| Asia 1 | China, Eastern Russia, Hong Kong, Japan, Macau, Mongolia, North Korea, South Korea, Taiwan. |
| Asia 2 | Brunei, Cambodia, Indonesia, Laos, Malaysia, Micronesia (Incl Guam), Myanmar, Philippines, Singapore, Thailand, Vietnam. |
| Middle East & North Africa | Algeria, Bahrain, Canary Islands (Spain), Egypt, Iran, Iraq, Israel, Jordan, Kazakhstan, Kyrgyzstan, Kuwait, Lebanon, Libya, Morocco, Oman, Qatar, Saudi Arabia, Syria, Tajikistan, Tunisia, Turkmenistan, United Arab Emirates, Uzbekistan, Yemen. |
| Indian Subcontinent | Afghanistan, Bangladesh, India, Maldives, Nepal, Pakistan, Sri Lanka. |
| East, West & South Africa | Angola, Benin, Botswana, Burkina Faso, Burundi, Cameroon, Cape Verde, Central African Republic, Congo, Chad, Equatorial Guinea, Eritrea, Ethiopia, Gabon, Gambia, Ghana, Guinea, Guinea Bissau, Ivory Coast, Kenya, Lesotho, Liberia, Madagascar, Malawi, Mali, Mauritania, Mauritius, Mozambique, Namibia, Nigeria, Republic of Congo, Rwanda, Sao Tome and Principe, Senegal, Seychelles, Somalia, South Africa, Sudan, Swaziland, Tanzania, Togo, Uganda, Zambia, Zimbabwe. |
| Australia, New Zealand & South Pacific | Australia, Cook Islands, Fiji, French Polynesia, New Caledonia, New Zealand, Norfolk Island, Samoa, Tonga, Vanuatu. |
Change and cancelation fees
If your plans change and you need to change or cancel your award, you'll need to pay a fee to do so. To change your itinerary whether the date or destination, you can pay C$100 (~$74) plus taxes per direction. This can be done up to 2 hours prior to your scheduled departure.
Canceling an award ticket and redepositing the miles will cost you C$150 (~$111) plus taxes — this can be done up to 22 days prior to departure.
Keep in mind that there isn't any grace period for canceling Aeroplan awards. While many airlines allow you to change or cancel tickets within 24 hours, Aeroplan is not technically an airline, and you'll pay change fees even if it's only been five minutes since you booked.
Earn Aeroplan miles
There are many ways to earn Aeroplan miles with many credit card transfer partners. Some of those cards available are:
Transfer points to Aeroplan with these cards:
Bottom line
Like many airline loyalty programs, the key to getting value out of Aeroplan takes more than just a quick glance at the award chart.
By understanding the stopover/open jaw rules and which carriers you can fly without surcharges, you'll be able to book some great awards with Aeroplan miles.
What other questions do you have about how to use Aeroplan miles?