Last week was rough for Air Canada flyers. Towards the end of the week the Air Canada 2015 elite program was announced, and it's ugly.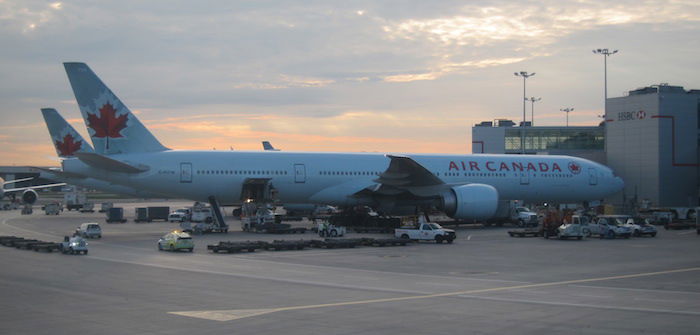 Air Canada is unique in that they've spun off their frequent flyer program, and in this instance no real changes were made on the mileage redemption side of things through Aeroplan… at least not yet.
Anyway, an inside source has informed me that Aeroplan will be announcing some changes to their routing rules a bit later in the week, and apparently they'll be positive overall.
Aeroplan's current routing rules
To briefly recap the major aspects of Aeroplan's current award rules:
On longhaul awards, in addition to your destination Aeroplan allows two stopovers (one in each direction) OR one stopover and one open jaw
For longhaul awards, Aeroplan lets you officially exceed the maximum permitted mileage for a city pair by 5% (airlines publish MPMs, which are the most number of miles you should be able to fly between a city pair, so basically they're letting you exceed that slightly, which is reasonably generous), and unofficially lets you exceed it by 10%
Award tickets are manually priced, so it's up to the agent to verify that the routing is valid — Aeroplan agents are among the most competent in the industry, so they'll almost always correctly validate routings
For example, the one-way MPM between Los Angeles and London is 6,544 miles. When you add 5% you're at 6,871 miles, and if you add 10% you're at 7,198 miles.


MPM between Los Angeles and London
That's a "fair" MPM. The MPMs are outrageously generous when routing from the US to Asia via Europe, though.
For example, the one-way Atlantic MPM between Los Angeles and Tokyo is 14,991 miles. Add in up to a 10% buffer, and you're looking at 16,490 miles. Crazy, huh?


Atlantic MPM between Los Angeles and Tokyo
Aeroplan used to have one of the most lucrative award charts, back before they devalued their award chart in 2011, and then began imposing fuel surcharges for travel on many partner airlines just a few months after that.
Still, there are some great values to be had. For example, Aeroplan charges just 90,000 miles for roundtrip business class travel between the US and much of Europe. Given that you're allowed two stopovers in addition to the destination, that's pretty darn good.
That means you could potentially fly an airline like Swiss (for which Aeroplan doesn't impose fuel surcharges between the US and Europe) and visit three destinations on a single ticket.
Aeroplan's new routing rules
Aeroplan will be announcing new routing rules on October 29, and they should kick in immediately.
The biggest change they're making is that Aeroplan's computers will start pricing and validating awards, so agents will no longer have to validate routings.
In the process of doing that, though, they're eliminating the restriction of only being able to exceed the MPM by 5-10%.
My source tells me that the new routing rules are considerably more generous.
Of course the potential downside is that if the computer won't price or validate an award, the agent won't be able to get around it. So there could be some cases where itineraries don't price when they previously would have.
But overall the new routing rules should work in our favor, I'm told.
There won't be any changes to fuel surcharges and stopover rules, though they are changing one aspect of open jaw rules. Specifically, open jaws will no longer have to be the shortest segment of the itinerary. That's not a huge change, ultimately, in my opinion.
Bottom line
I'm curious to see how the system prices awards in practice. I do suspect these will actually be positive changes, not necessarily by design, but rather because they're changing the way routings are validated. The QIK system will be pricing awards, so I'd expect a lot more to be possible. That comes at the expense of transparency in routing rules, though.
Mark this as "developing"…